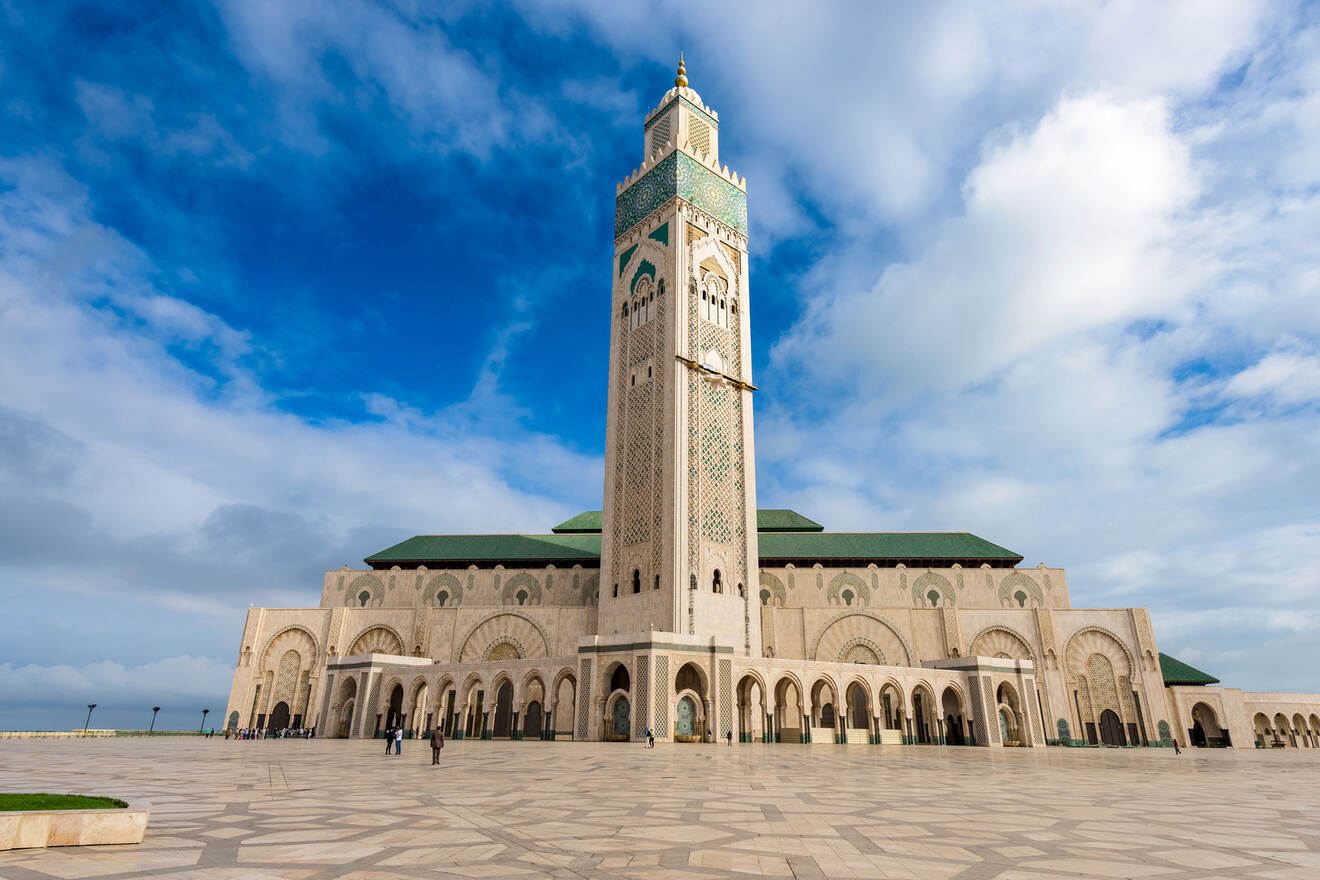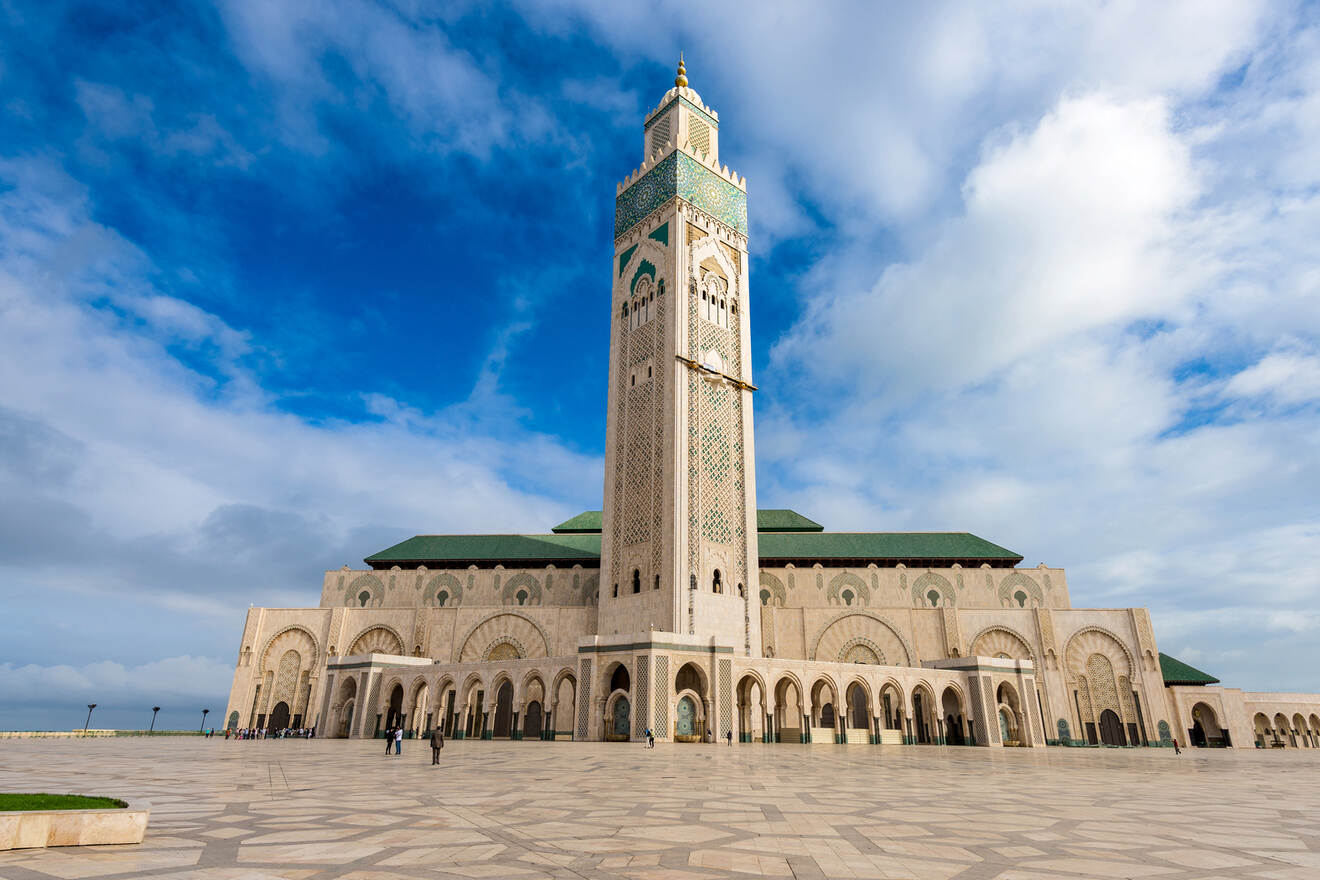 "Of all the gin joints in all the towns in all the world, she walks into mine"! If you know, you know! We're not talking about the Casablanca movie today, but we're taking a trip to Morocco's largest city and the economical capital of the country.
No one really knows the origins of this city, but it's enough to say that its beauty has impressed everyone and in 2013 it was named a UNESCO World Heritage Site! Home to the Hassan II Mosque, the 7th largest Mosque in the world, and unique architecture that mixes the old Moroccan styles with the French colonial design, this city is a magical place filled with amazing restaurants and great hotels.
By now you're probably wondering where to stay in Casablanca, Morocco, as every neighborhood has a special element and all the hotels from mid-range to luxury have amazing reviews. But fear not! I've looked through hundreds of Casablanca hotels lists to find you the absolute best one for each price range, and I only recommend the best-rated hotels that I would choose for myself!
Do make sure you book them in advance, this city's popularity has reached its peak in the last few years and the best hotels sell out super fast!
So let's go!
If you are in a hurry
If you want to book your trip now, here's a list of the best hotels for where to stay in Casablanca, all located in the City Centre
Here's a map that will help you visualize all the areas for where to stay in Casablanca that I will be talking about in this post
1. City Centre – where to stay in Casablanca for the first time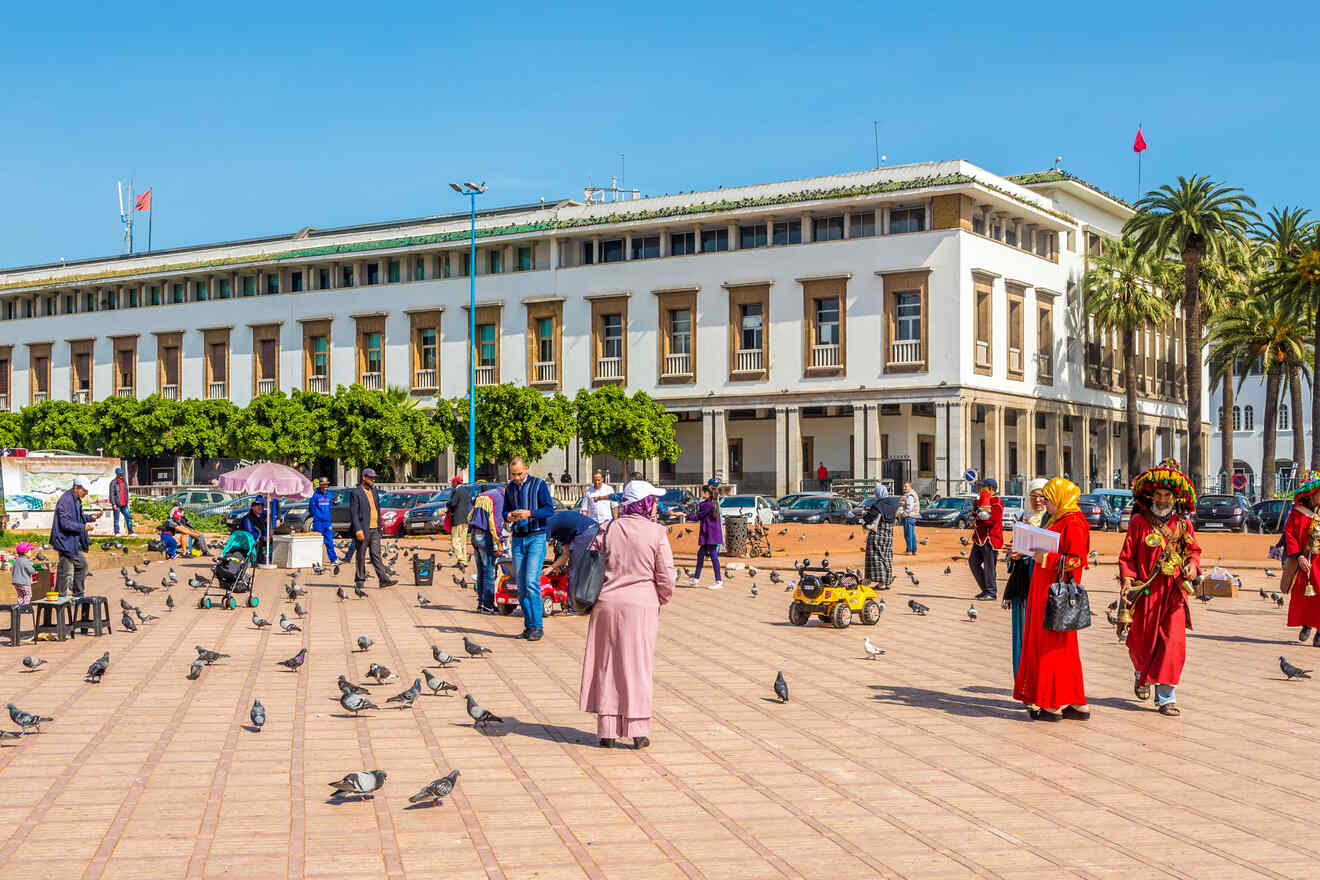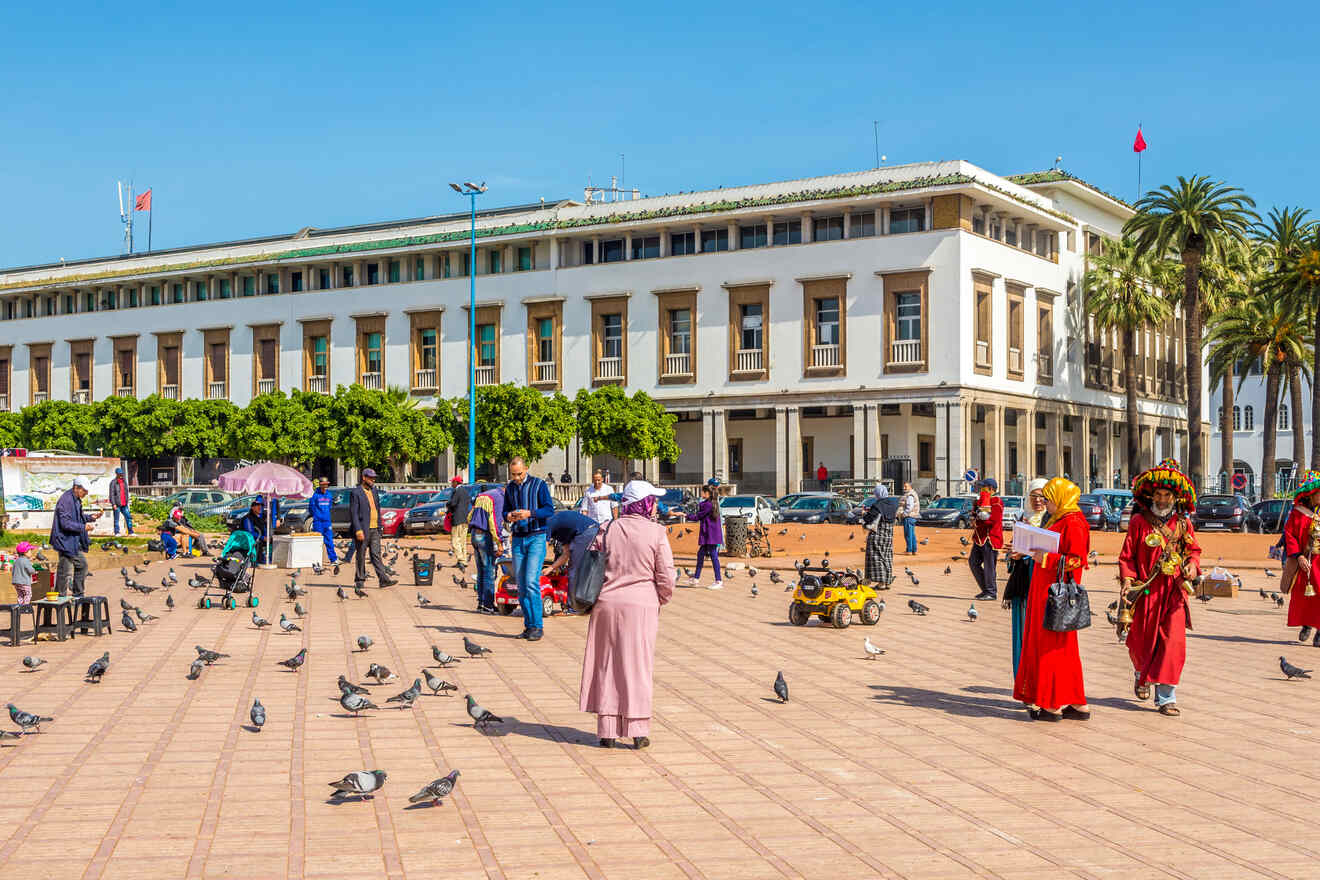 "I think this is the beginning of a beautiful friendship"! That's what the character in the famous movie "Casablanca" said at one point and to be honest it perfectly describes my feelings towards one of the best areas located in Morocco.
Say hello to the City Centre, a place that is perfect for anyone who is traveling to the largest city in the country for the first time. This lively neighborhood has tons of attractions, restaurants, shopping spaces, and hotels that range from budget to luxury! It also includes the Sidi Belyout business region so if that's the purpose of your trip, you're in the right place.
With a modern touch that blends perfectly with some of the old buildings, the City Centre is a top choice for where to stay in Casablanca for anyone who loves to walk around from one landmark to another and not use any public transportation.
But, if you're feeling adventurous you can go to the Casa Port train station and explore other parts of the city! Maybe you can visit Marrakech, and I'm sure this post with the best areas and hotels there will help you find your way around!
That's why I love staying in the centre area, the location will allow you to explore all day long without worrying about getting back to the hotel. If you're looking for a safe place to stay in Casablanca then the City Centre is definitely perfect for you as it is the most friendly area, and you won't have to worry about walking at night to admire Casablanca's beautiful architecture.
Other accommodation options in the City Centre
Things to do in City Centre
2. Old Medina – best place to stay in Casablanca for budget travelers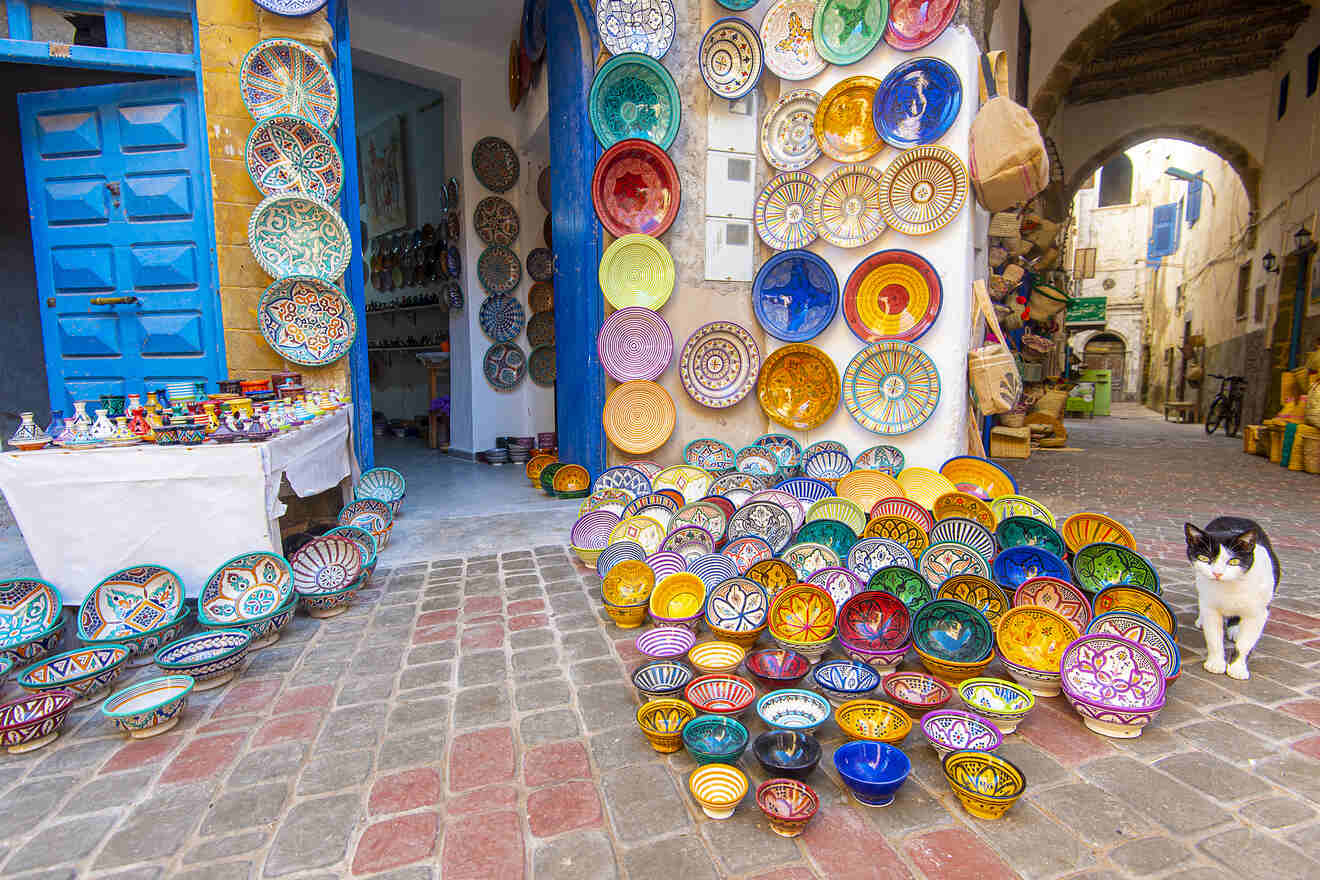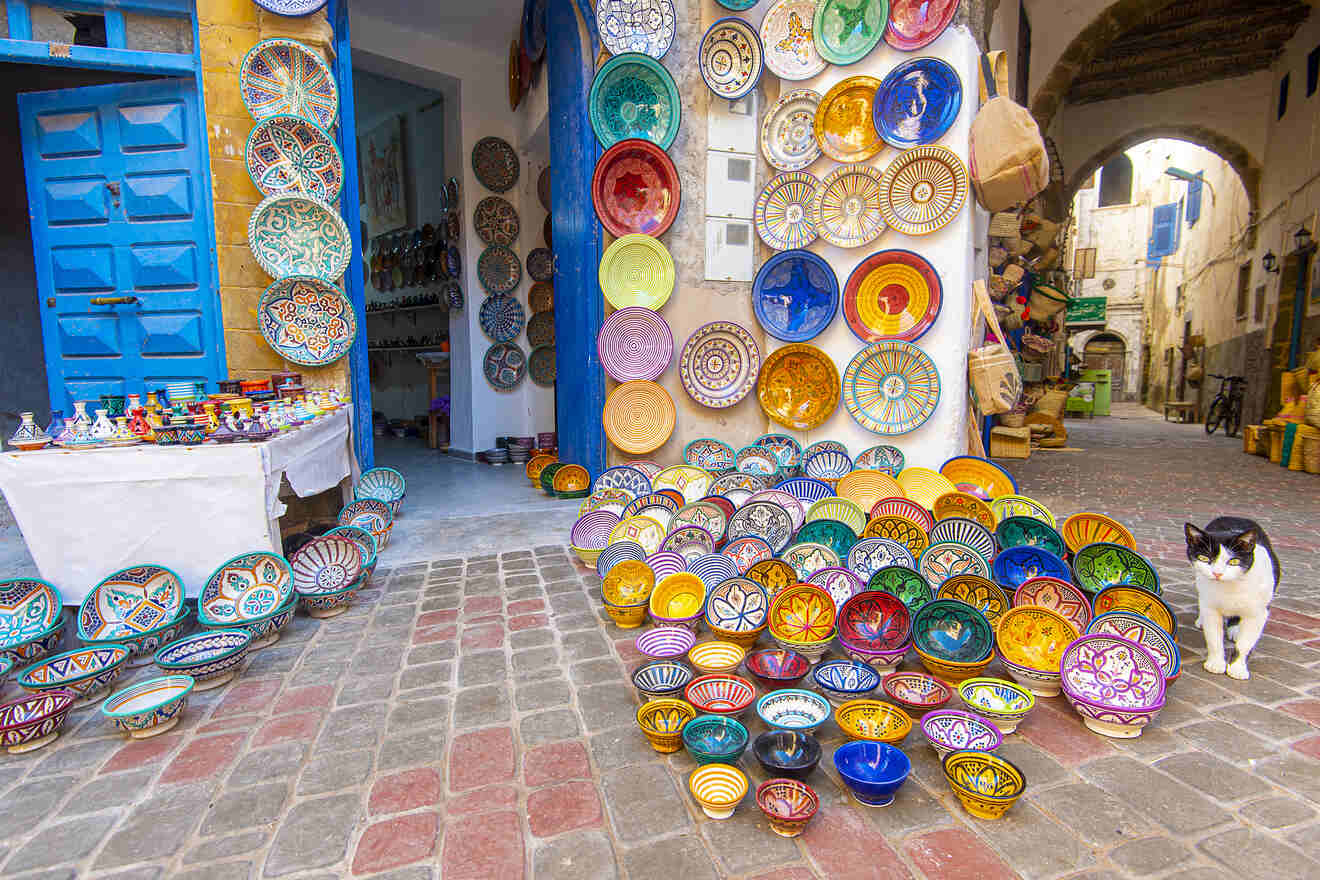 Located north of the City Centre, this neighborhood is a much-appreciated gem for anyone who loves their history! I feel like anyone who is looking for where to stay in Casablanca has a picture painted in their heads of colorful small houses, narrow streets, authentic shopping markets and they can already smell all the delicious traditional Moroccan food! The Old Medina neighborhood is one of the best places to stay in Casablanca to experience all of that!
This neighborhood is popular among backpackers so you'll find a lot of affordable hotels and hostel rooms and also includes the area of Casa Port within its boundaries.
Old Medina is quite magical, with its culture and legends it encompasses perfectly that old Moroccan atmosphere. You won't see any French elements here, only old traditional buildings and unique street art.
The markets are not the only attraction, from this location, you will be able to visit the unique Hassan II Mosque, the 7th largest Mosque in the world, and explore what's left of the 18th-century city walls. There's a lot of history waiting to be discovered here and if you're an architecture enthusiast and want to stay or at least see one of the famous Moroccan riads, then you have to explore Old Medina.
If you're looking for where to stay in Casablanca to feel that authentic atmosphere then this neighborhood is perfect for you! Just make sure to book your spot far in advance as hotels fill up quickly here!
Other accommodation options in Old Medina
Things to do in Old Medina
3. Habous & Maârif – for the whole Moroccan experience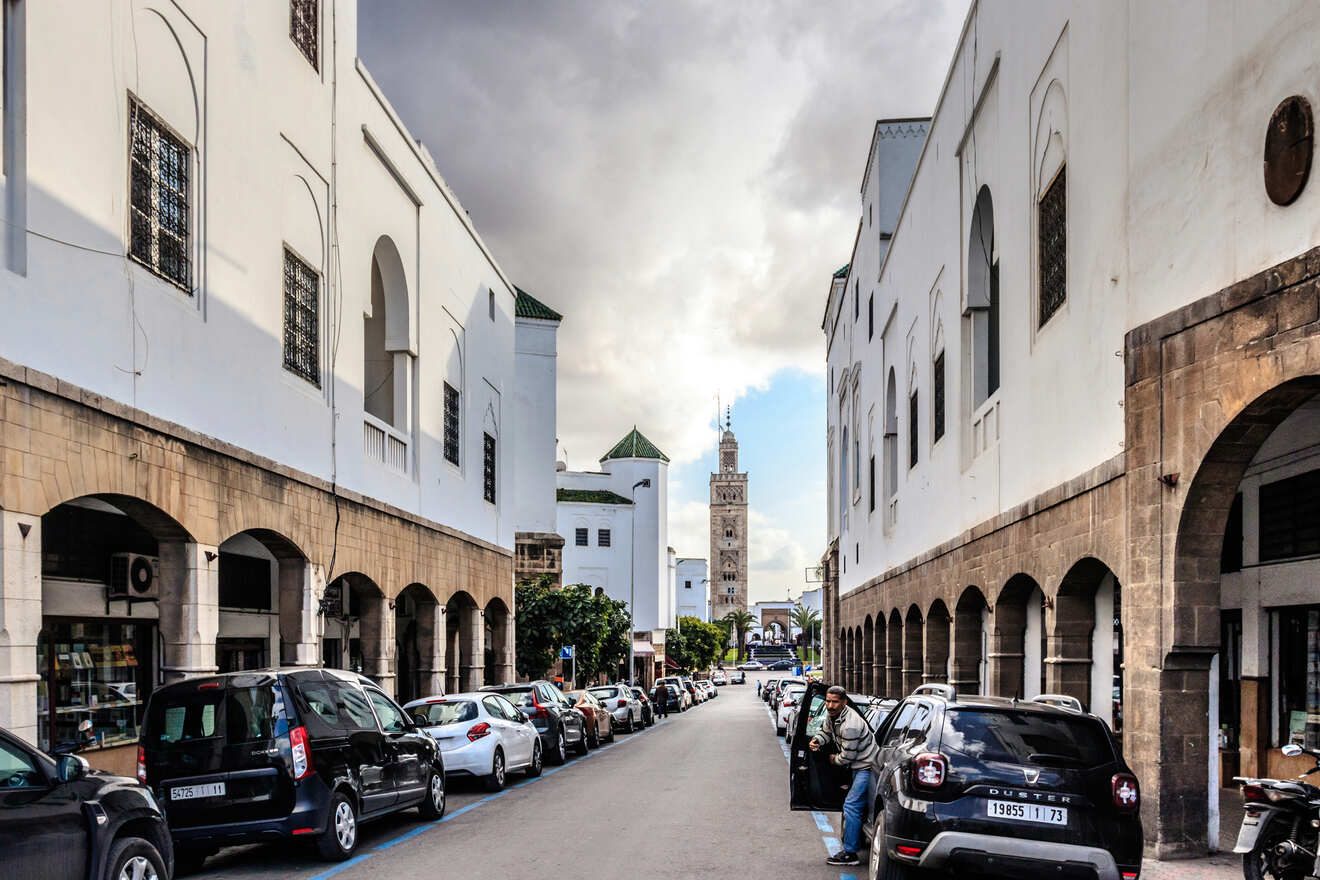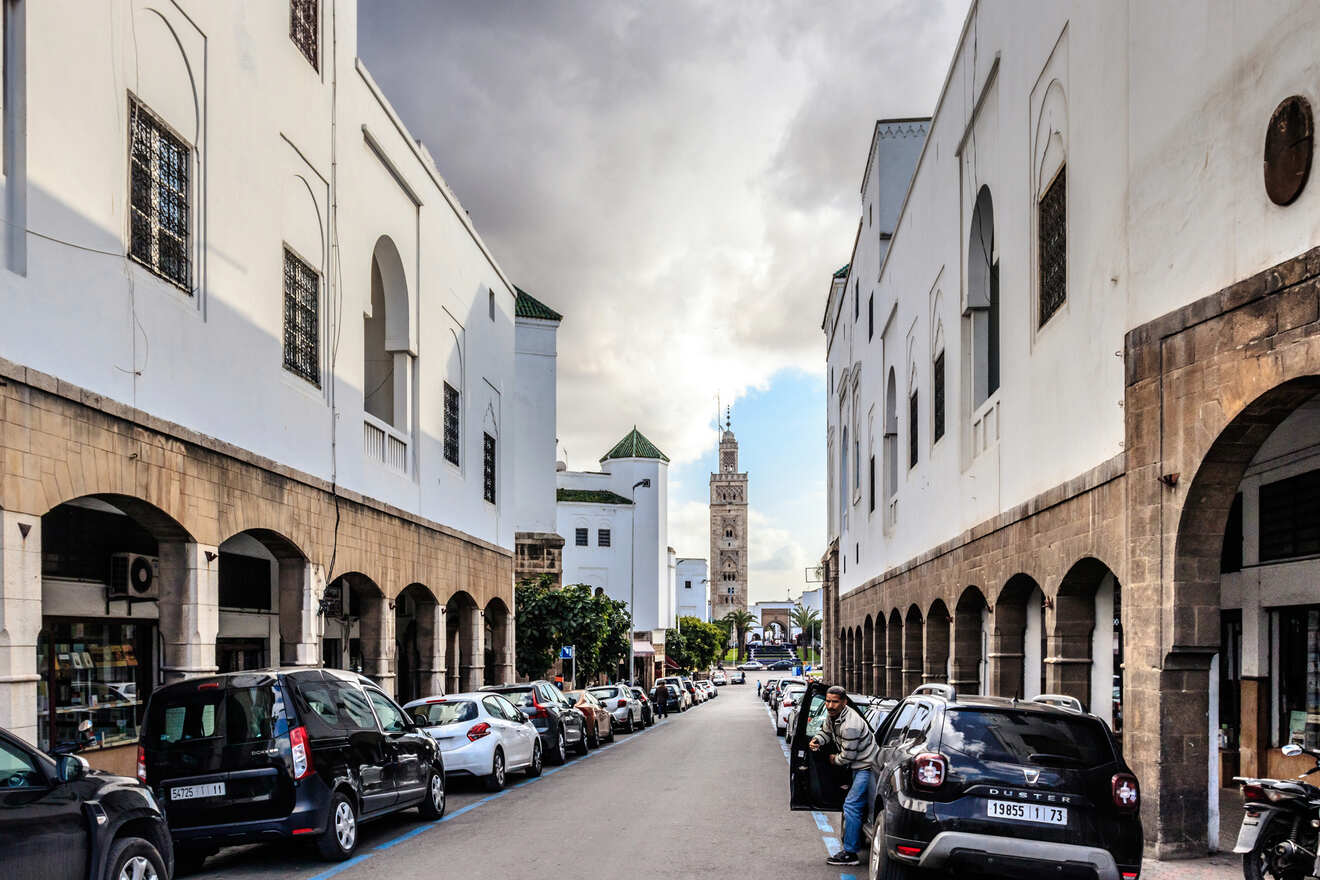 If the Old Medina is where tourists go to explore the old side of Morocco pre-colonization, Habous (Habbous, Hubous or the New Medina as the locals call it), is where everyone goes to try the whole Moroccan experience, meaning that you'll get to see a combination of the colonial part of the city plus the traditional Moroccan elements.
This area which blends into the next door Maârif neighborhood is located south of the City Center and was built by the French. Most buildings date back to the 1930s, that's why Habous Quarter and Maârif are some of the best places to stay if you like unique architecture.
This neighborhood too has tons of small lively markets and friendly spots from where you can buy souvenirs and eat some delicious street food. But if you're in the mood to check out the luxury stores in Casablanca city, you can visit the Maarif district, which is famous for its upscale shopping areas. Also, a lot of people choose Habous just so that they can access the Royal Palace easily.
This neighborhood has that homie village atmosphere that you shouldn't miss! Do make sure you book the hotels here in advance as the area is favored by all tourists who are coming to visit Casablanca!
Other accommodation options in Habous & Maârif
Things to do in Habous & Maârif
4. Ain Diab – best place to stay in Casablanca for nightlife
Located northwest of the city centre this neighborhood is also known as La Corniche and it's where everyone goes during their trip to Casablanca, Morocco to have some beach fun and enjoy the nightlife of the city!
I know everyone thinks of the desert when you mention Casablanca but here's a pleasant surprise for all of those who crave some beach time. If you're looking for where to stay in Casablanca so you can relax and just sunbathe all day long then this is the place for you. If you're feeling a bit more adventurous then there are tons of surf schools here if you want to learn a new sport!
The restaurants and bars in this neighborhood are usually open until late, which makes Ain Diab one of the best places to stay for any traveler who loves to party all night long and mingle with the friendly local people. Besides the French restaurants, you'll also find a more affordable choice for food at all the snack bars located along the beach! How great is that!?
Ain Diab is also the home of one of the biggest landmarks in the country, the Morocco Mall, which is actually the largest shopping center in Africa! I would definitely need someone to hold my purse here, I would shop until I drop!
It just feels like this neighborhood has it all! On top of the beach, nightclubs, and an amazing mall they also have the Sindibad Theme Park which is also a safari! I would definitely categorize Ain Diab as one of the best areas to stay in Morocco! And if you want to explore other parts of the city just head to the Casa Port train station to have a spontaneous trip!
Other accommodation options in Ain Diab
Things to do in Ain Diab
Frequently asked questions about Casablanca, Morocco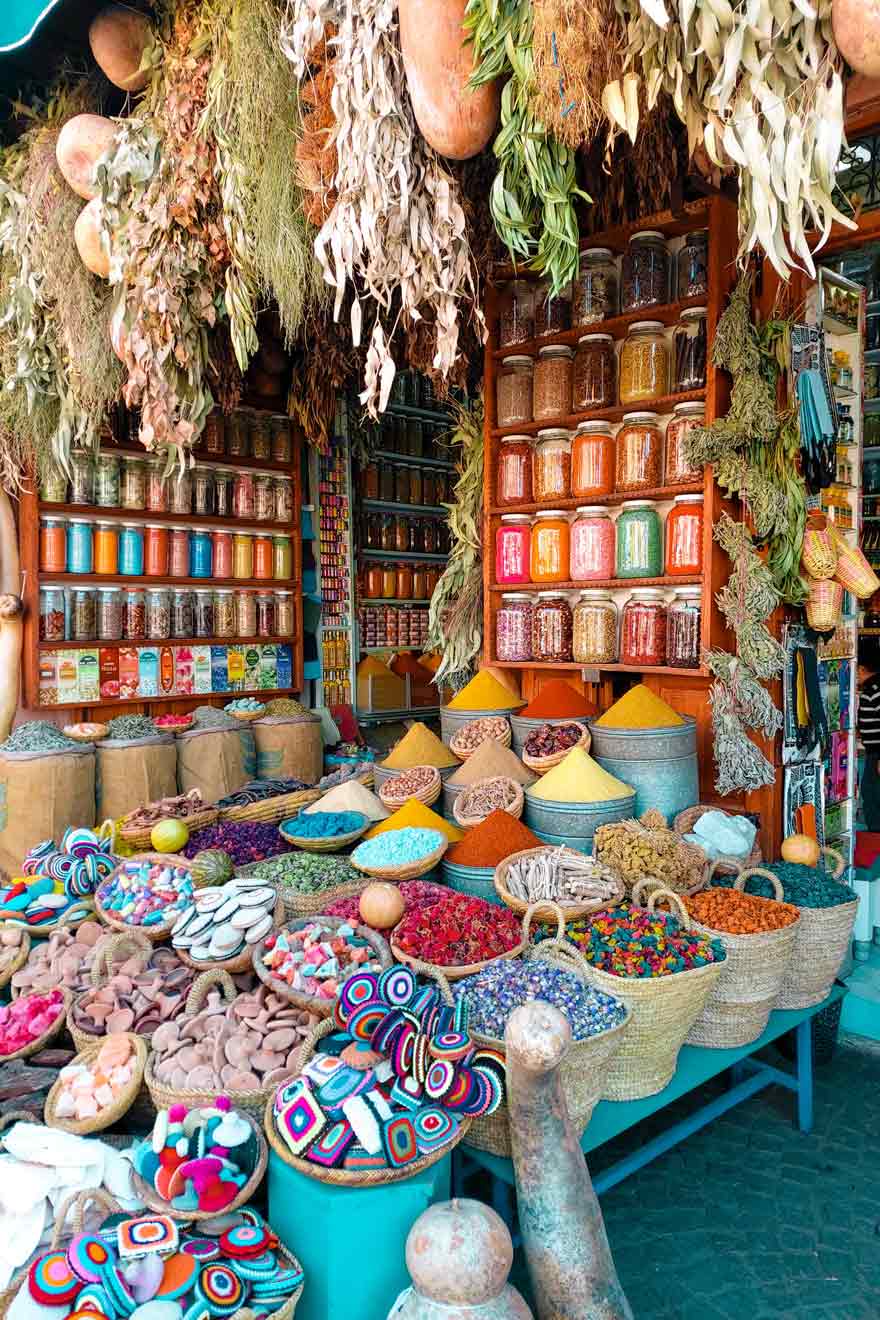 Conclusion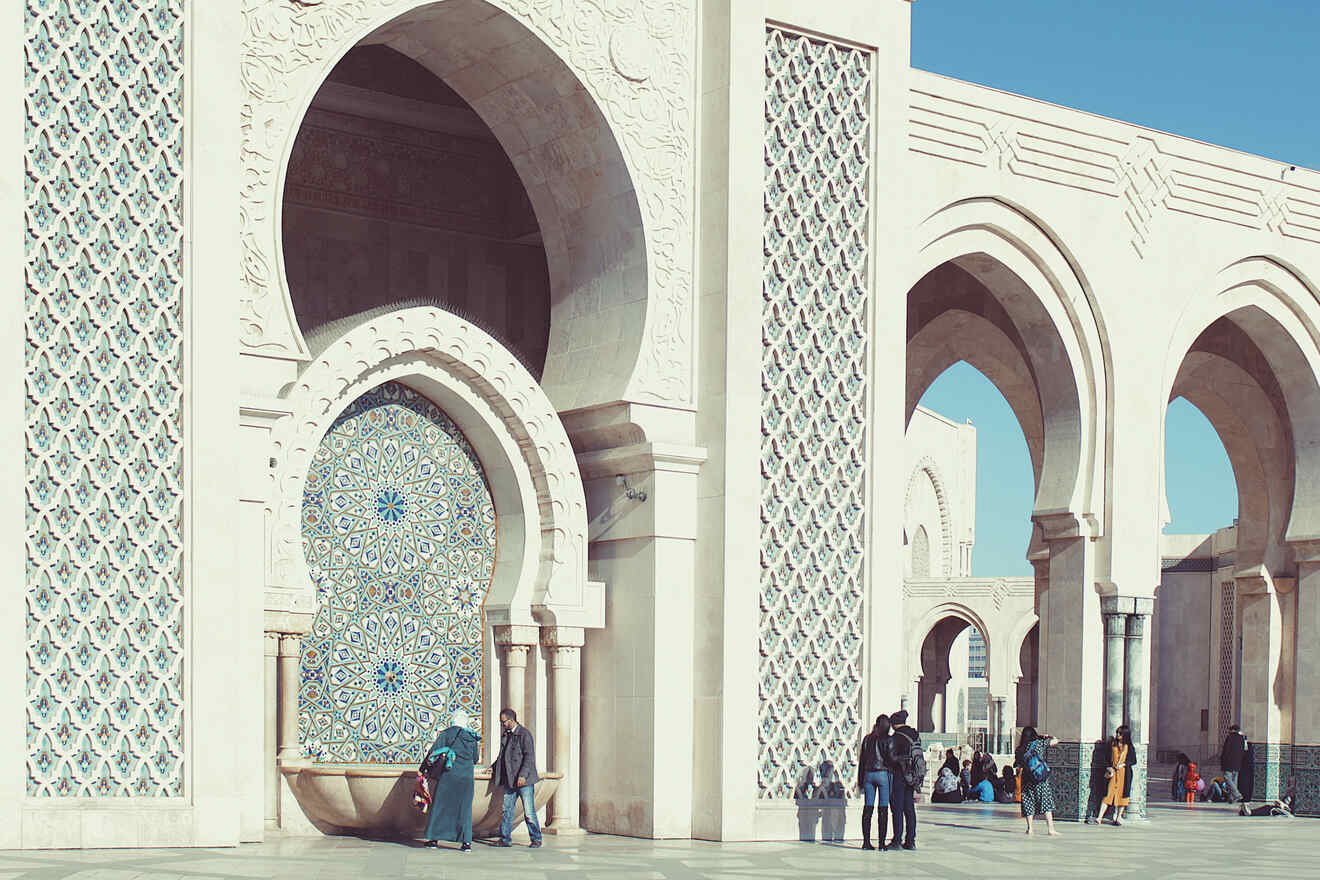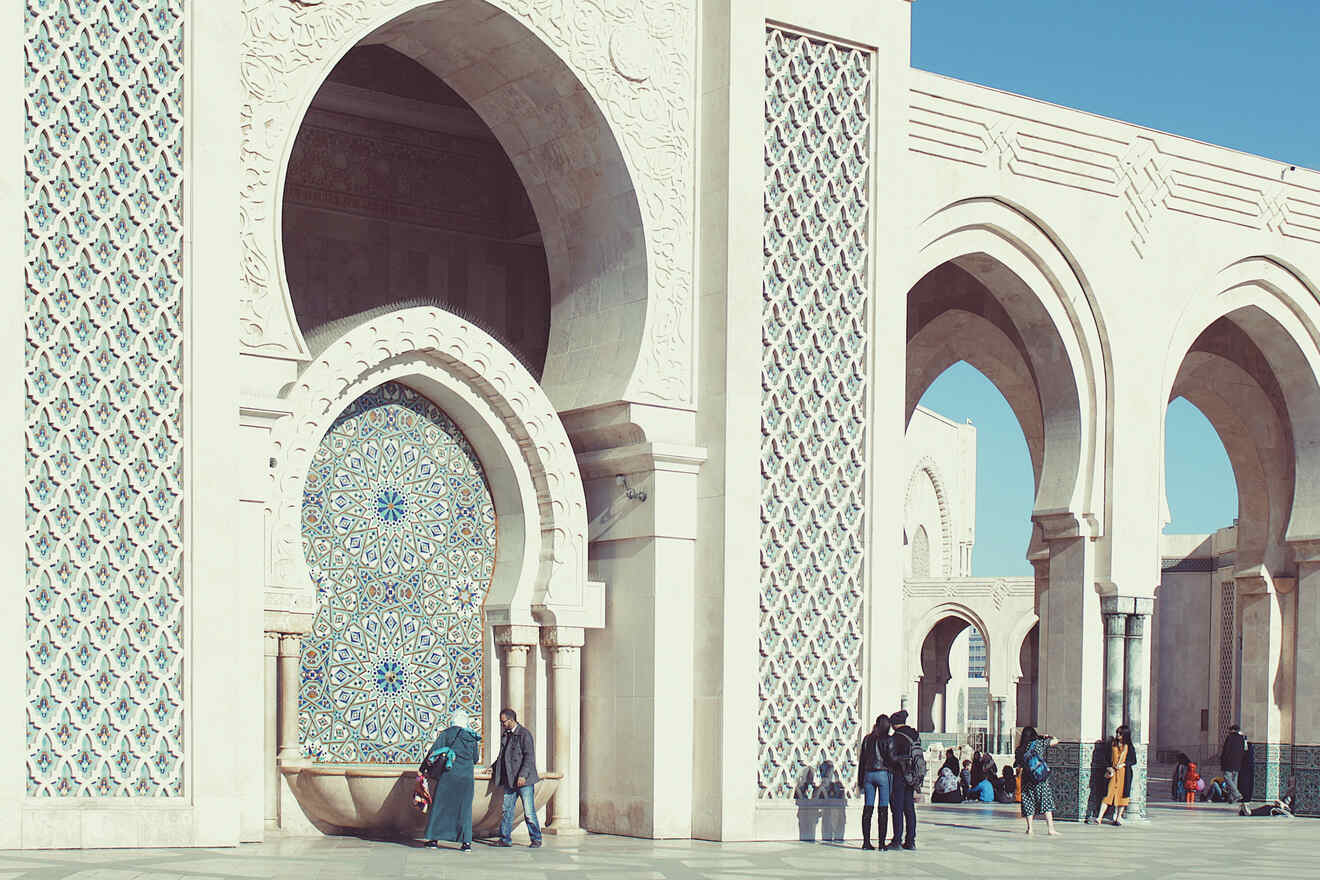 What a magical Morocco town Casablanca is! I hope this post will help you decide where to stay in Casablanca, which neighborhood is the best for you, and what hotels to choose. Make sure you book your hotels in Casablanca ASAP, this city in Morocco is very famous and all the good deals go fast!
I know I've given you tons of options and I'm sure you will stay in Casablanca best hotels but here are my top two favorites, both located in the City Center
Enjoy your stay in Casablanca Morocco and try all the amazing restaurants and bars in your neighborhood! Make sure to leave a comment if you have any more questions or suggestions!
Safe travels,
Victoria