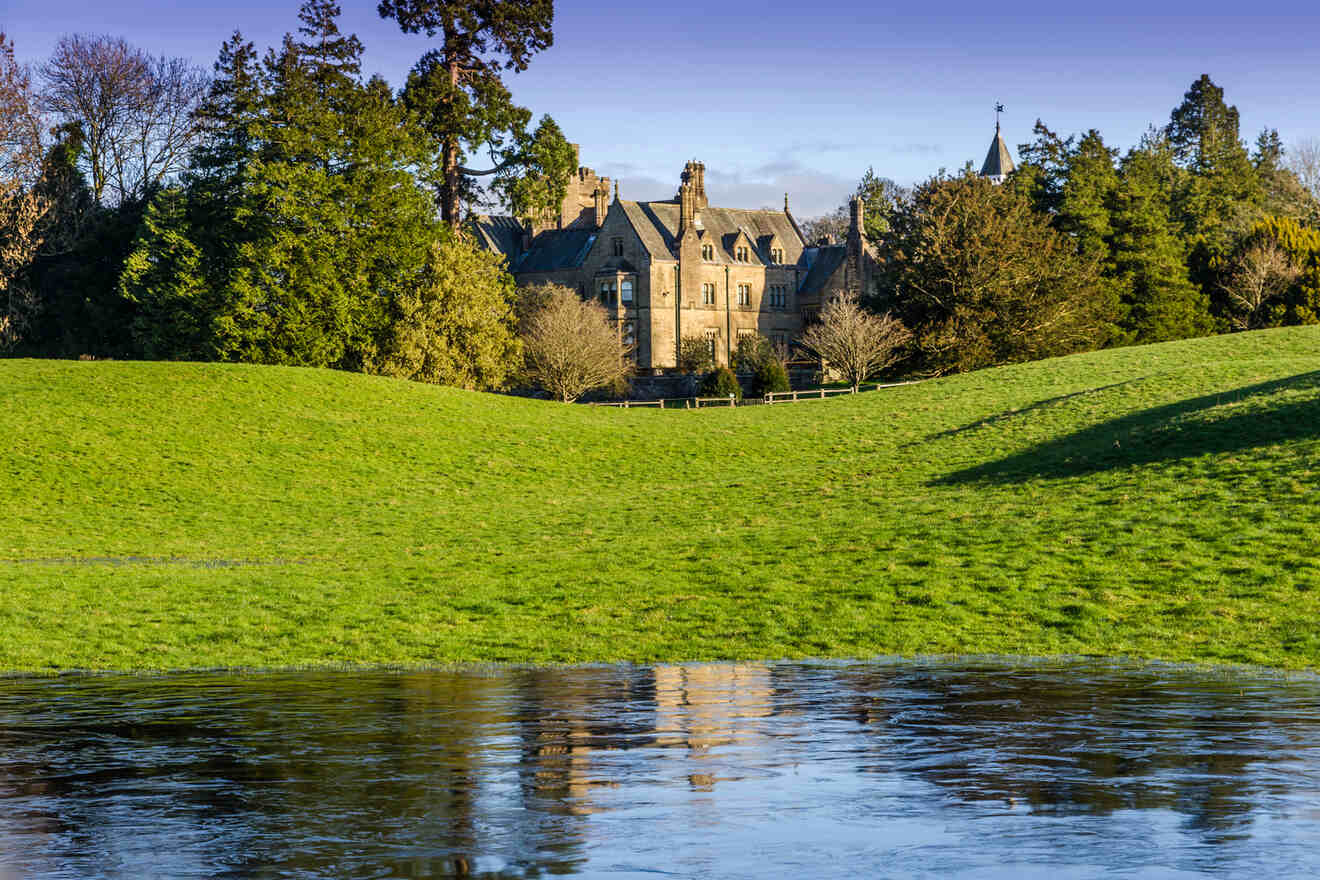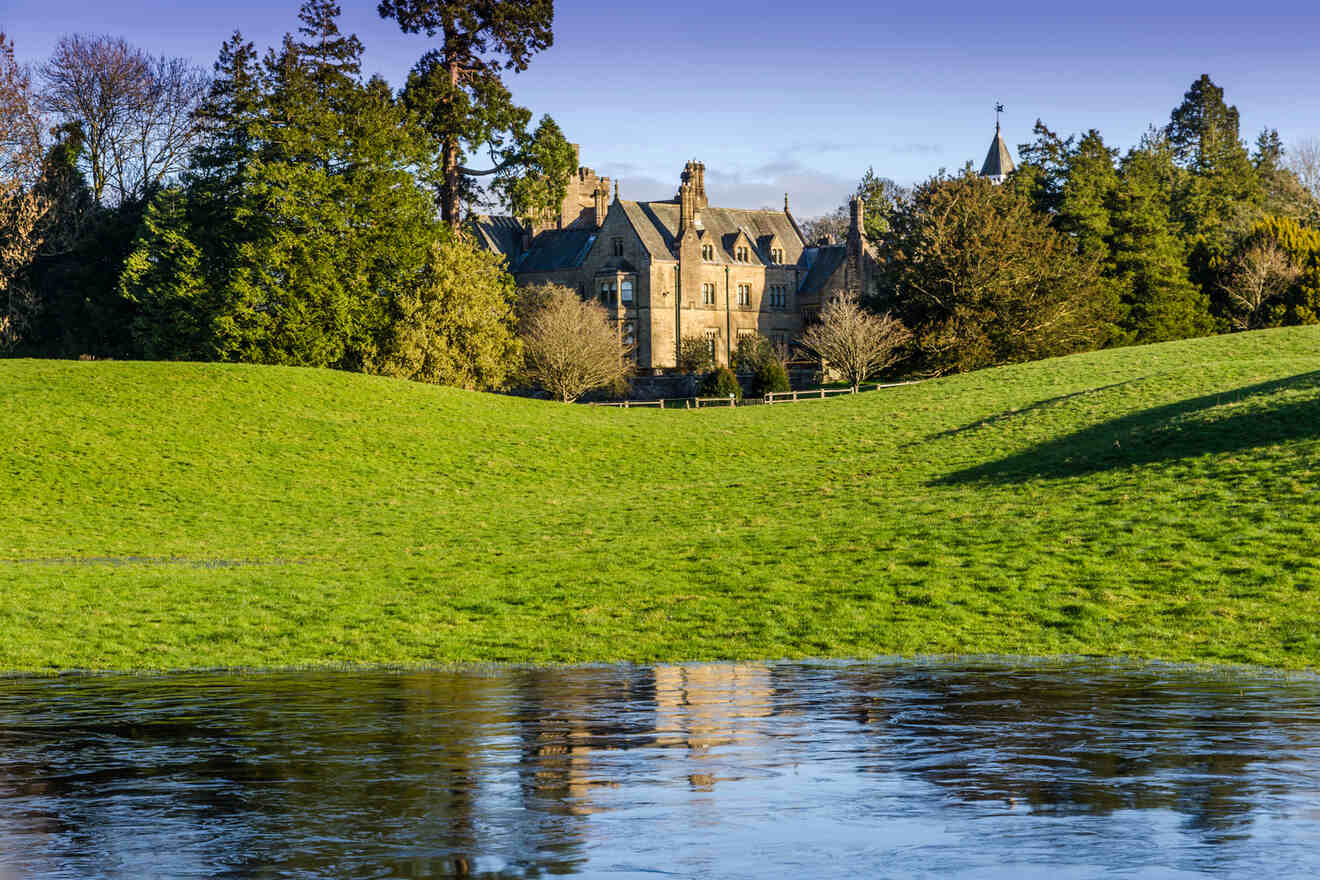 We all need a spa break a year (maybe more)! If you're planning one in magical Wales then come along, and let's discover top spa hotels here!
In this post, you'll find the best Spa hotels in Wales, which I handpicked personally so you can have the ones with the most amazing reviews! I've also listed them from most to least expensive, so you can easily choose.
If you're ready to forget about your worries in the aroma steam room and give those sore muscles a break in the relaxation pool, then let's start!
But not before I remind you that it's so important to book your favorite hotels and spa in advance! You probably know this, but the more you wait, the more you'll have to pay or lose your first pick.
Now we're ready to go!
If you are in a hurry
There's a lot of content to cover today so if you're not up to go through the whole post, check out this short list of the best spa hotels in Wales:
The location is just as important as the hotel! That's why I drew the map below so you can easily see all the places that I'll talk about in this post:
1. The Lake Country House Hotel – 19th century hotel with a steam room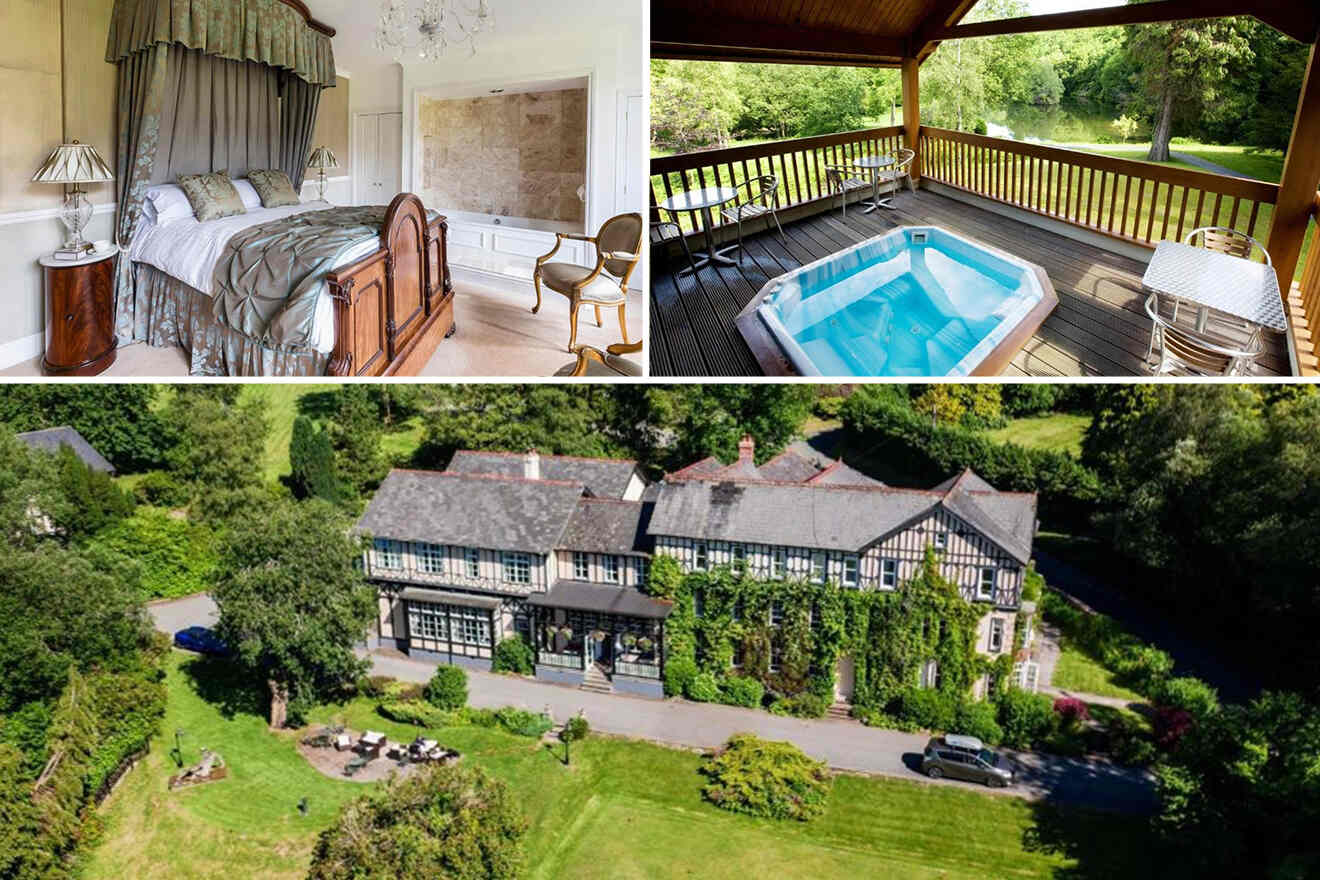 If there's one place where you can relax and enjoy a tranquil trip it is the Welsh countryside! And trust me, there are plenty of spa hotels in this charming area! This country house is one of the best! It offers a luxurious spa and a fabulous location between the hills!
The 19th-century house is decorated with fine antiques, paintings and vintage furniture. But it's the extensive beauty treatments, the sauna and the steam room that brings everyone running here! So get ready for a few days of chilling in the swimming pool (or outdoor hot tub), trying all sorts of dishes from the Celtic cuisine, and going horse riding!
2. Tre-Ysgawen Hall & Spa – with an award-winning restaurant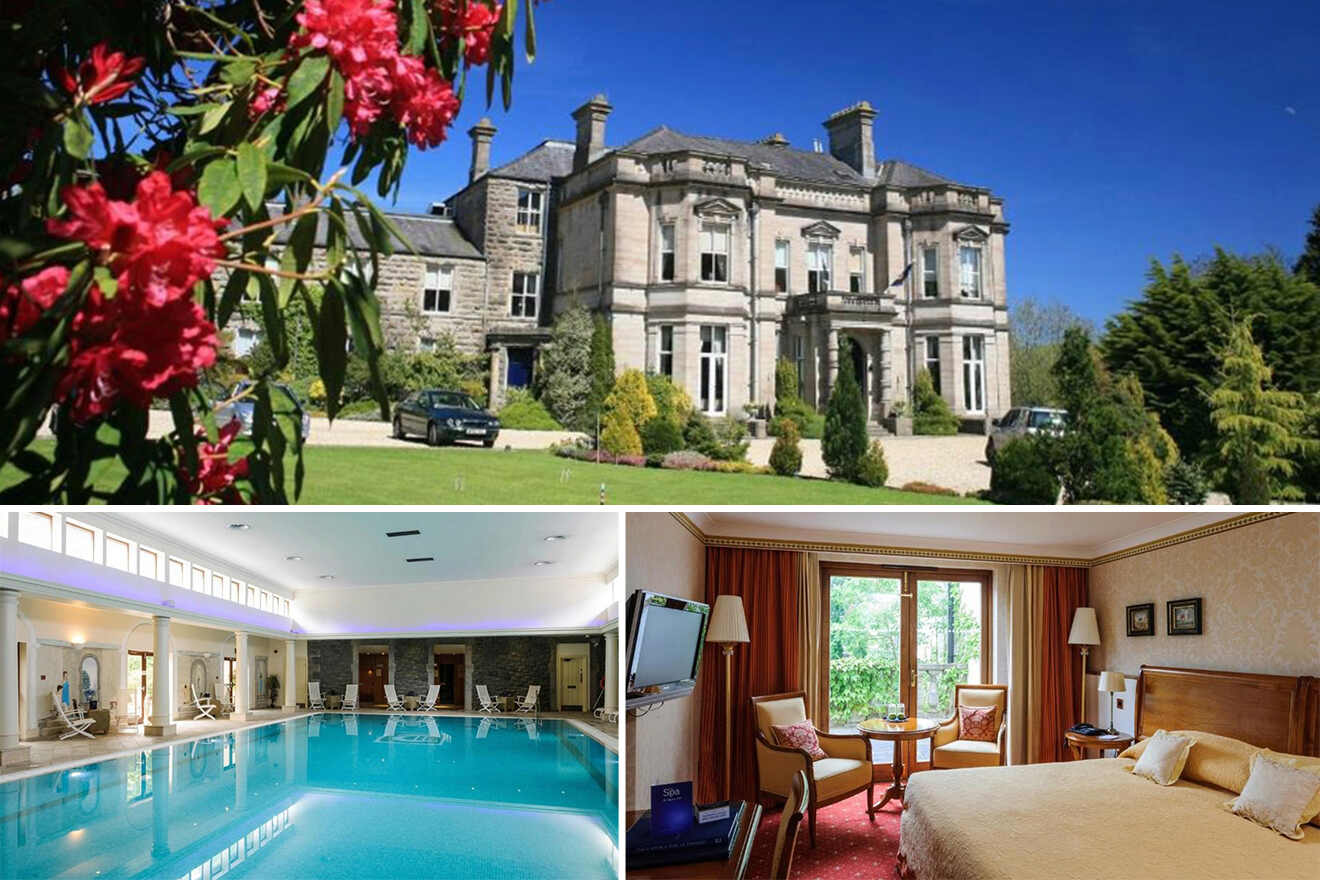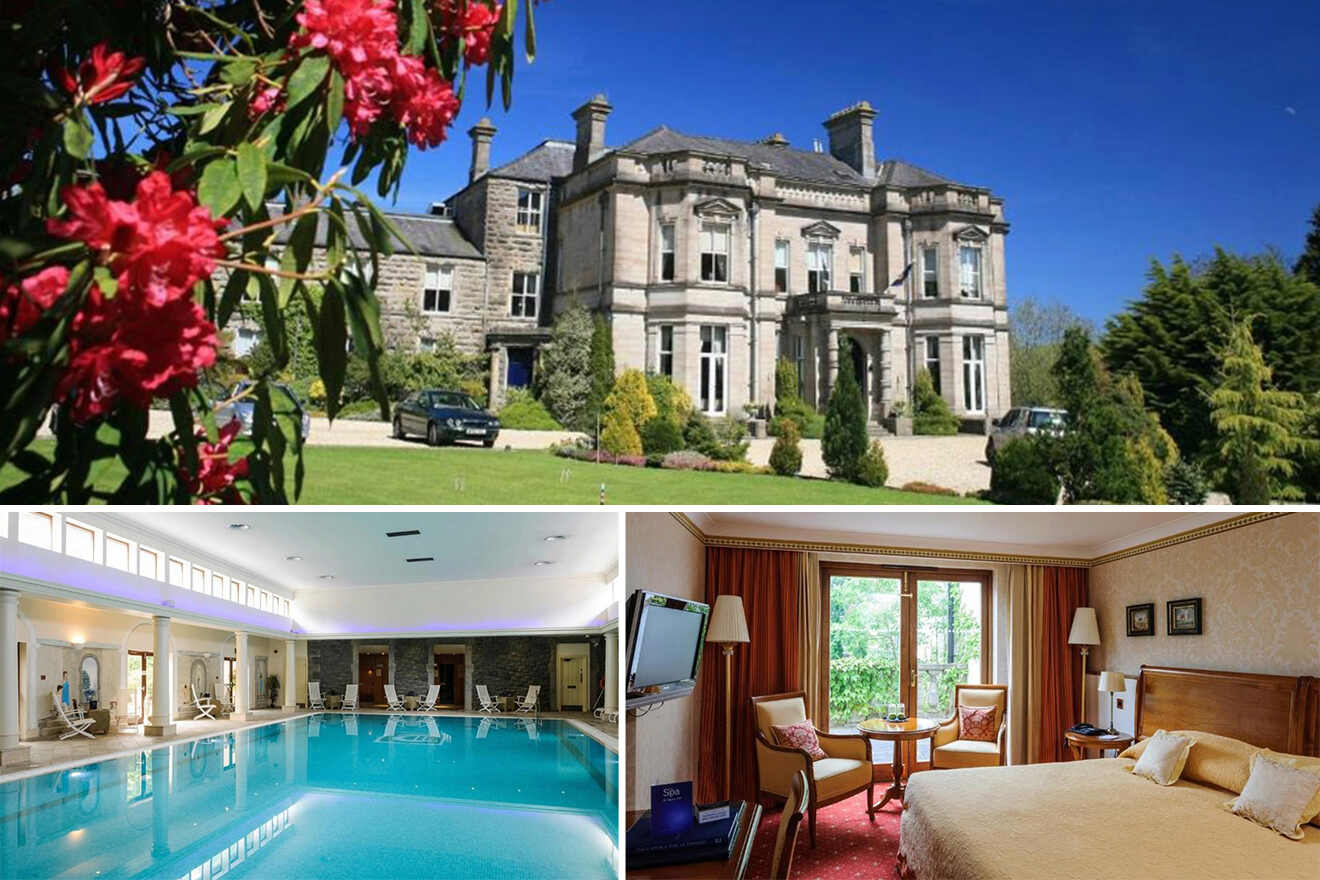 Can't get enough of the Welsh countryside? It really is breathtaking and it offers amazing accommodations! For example, this hotel perfectly combines its unique vintage decors with all the modern amenities of its luxury spa.
After your long flight or drive, get settled in your elegant rooms that have a private bathroom and get ready to get all pampered up at their spa. There are lots to try from swimming in the indoor pool to relaxing in the steam room or hot tub! The options are never ending! Don't forget, these are the best spa hotels in Wales, so it's super important to book in advance!
3. St Brides Spa Hotel – modern hotel with a hydrotherapy pool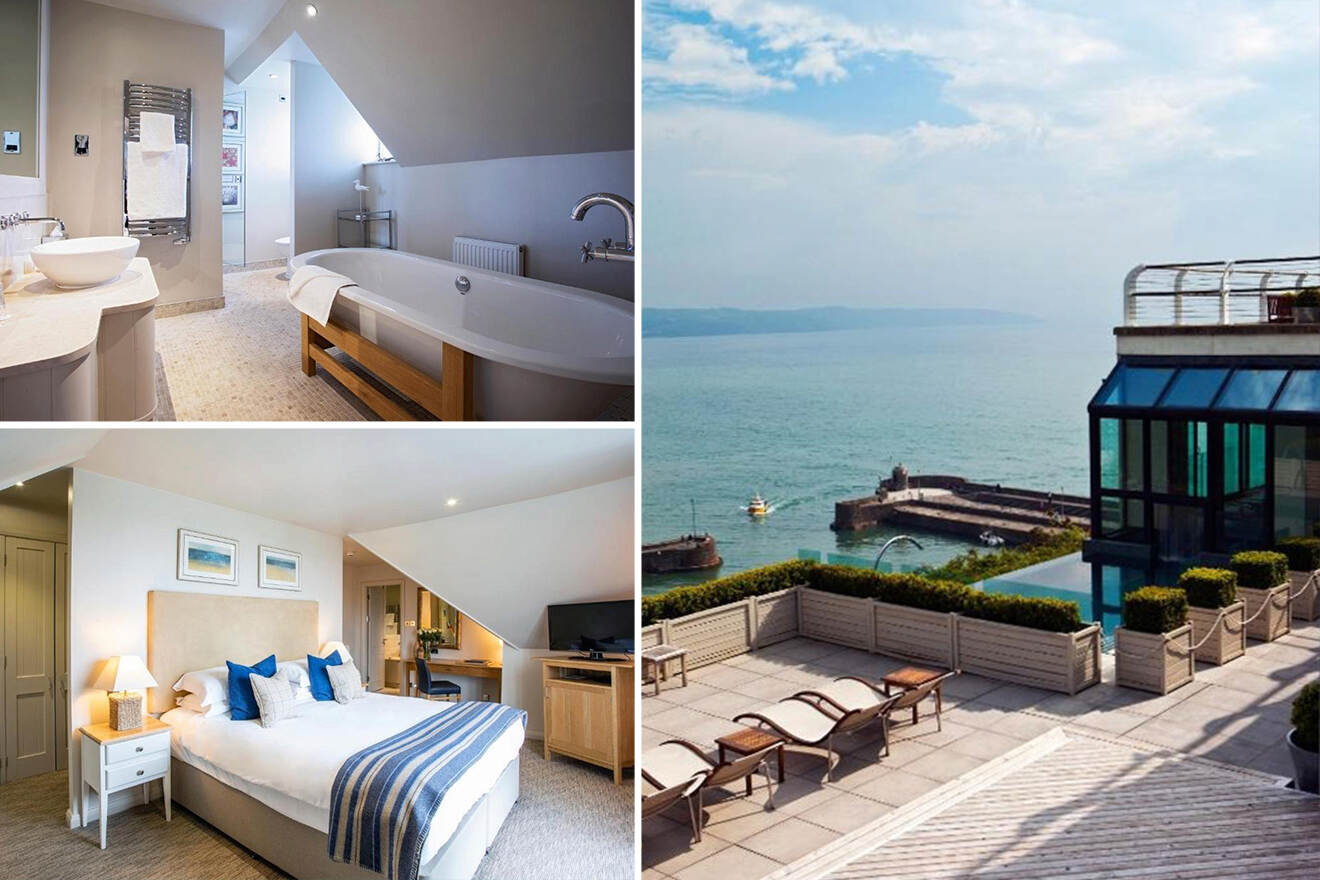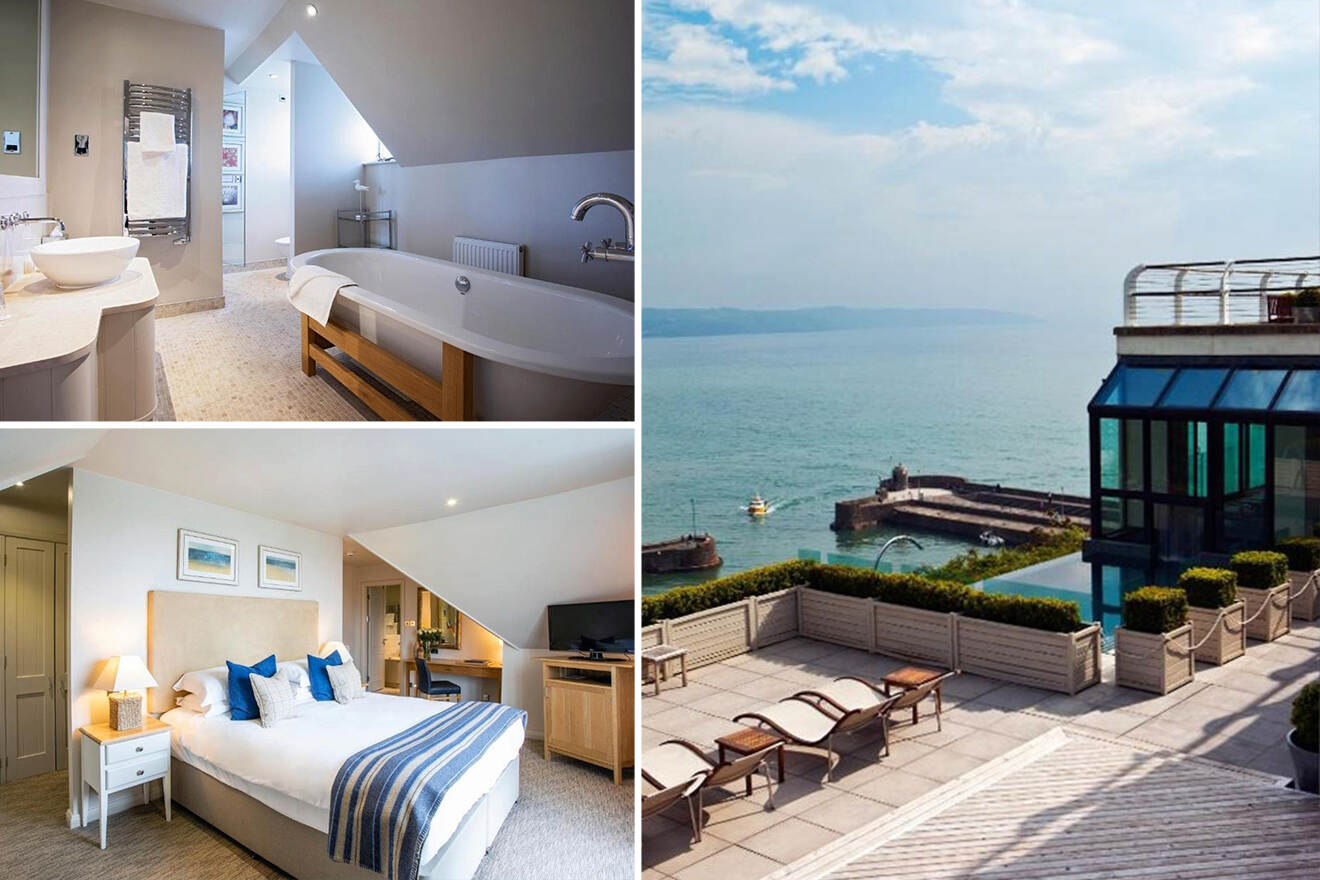 Fancy a traditional afternoon tea by the sea? Me too! The privately owned hotel is set above Saundersfoot Harbor in Pembrokeshire National Park. The views are incredible and you can even admire them from your room's private balcony!
The food? Absolutely delicious! Expect fresh fish every day and locally sourced meals! Now the part that everyone wants to know about: the spa! Well, there's much to say but to summarize it, this spa has it all! From a steam room to a rock sauna, ice fountain and a hydrotherapy pool, and an outdoor infinity pool. Good luck trying to leave this place, it'll be hard!
4. Holm House – boutique spa hotel with sea views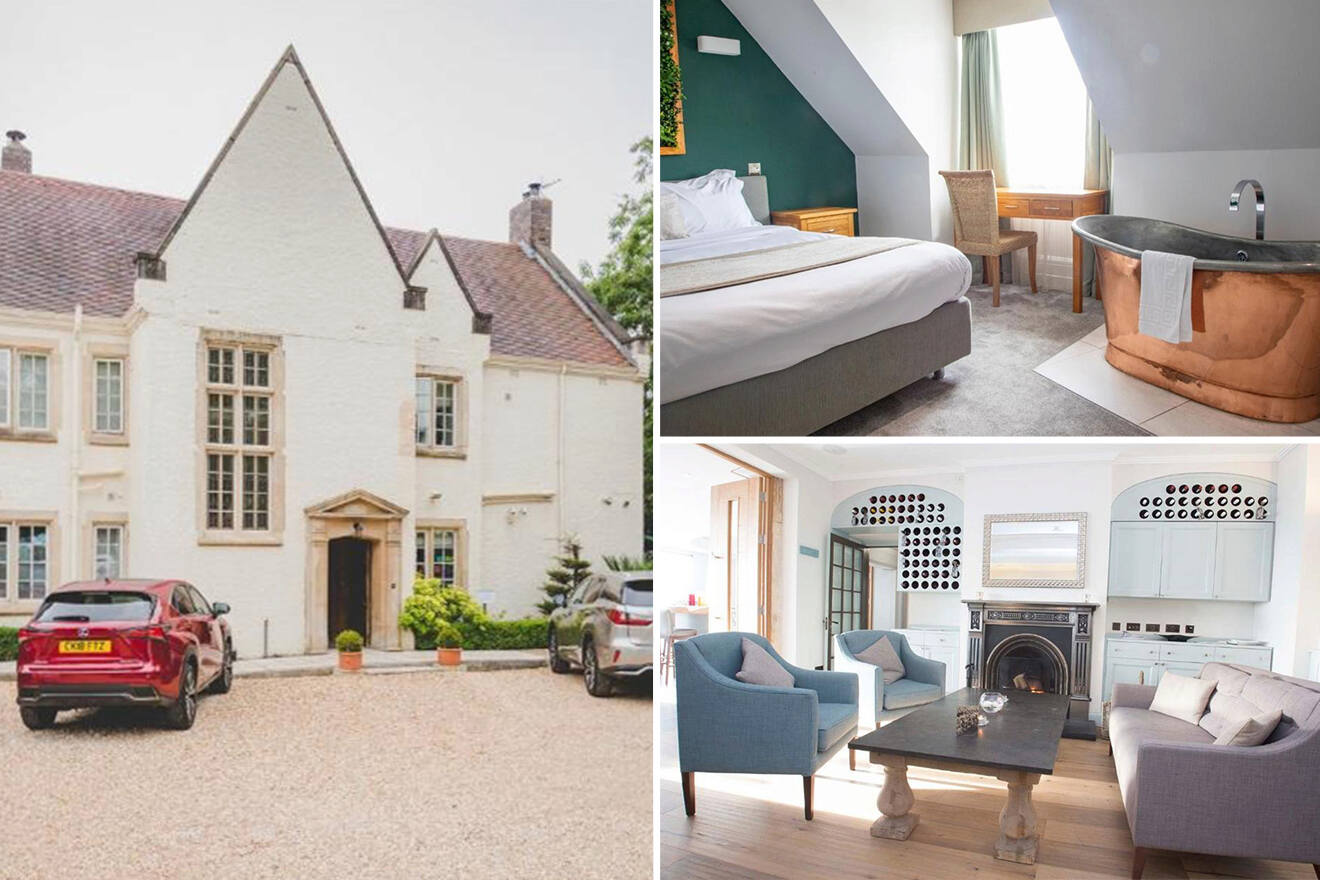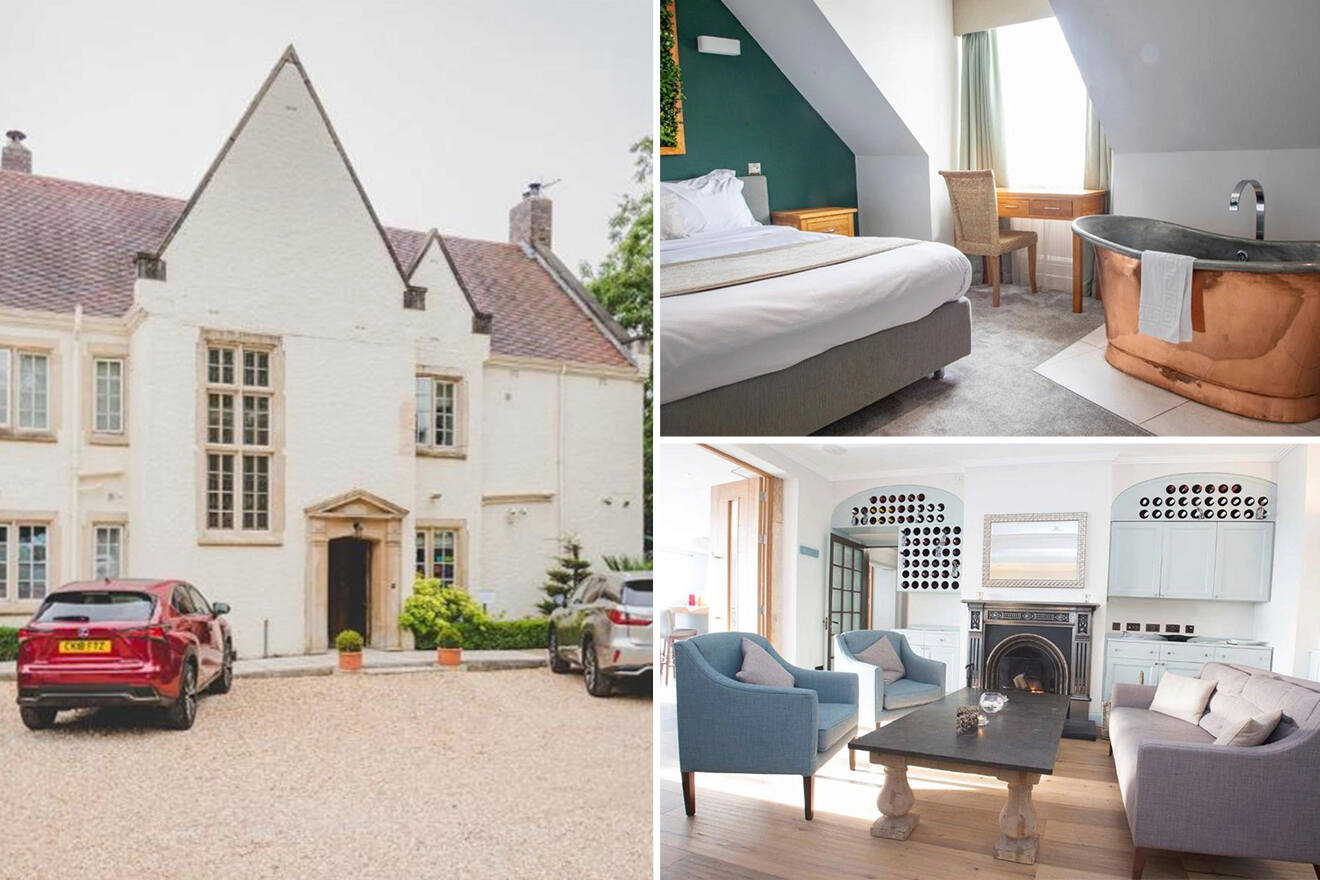 Located south of central Cardiff, this modern hotel will make you feel so at home! Designed in the 1920s, the house features guest rooms with en suite bathrooms, and a flat-screen tv. Start your morning with some room service and head down to the spa and wellness centre which offers sea views.
The luxurious spa facilities include a large hydrotherapy pool, beauty treatments and body massage. Release those stiff muscles and then jump in the hot tub for a few moments. Sounds like heaven, right? Just wait until you spend a cozy night on their terrace by the fireplace, drinking a glass of wine! That's just the cherry on the cake.
5. Peterstone Court Country House – historic hotel with many spa treatments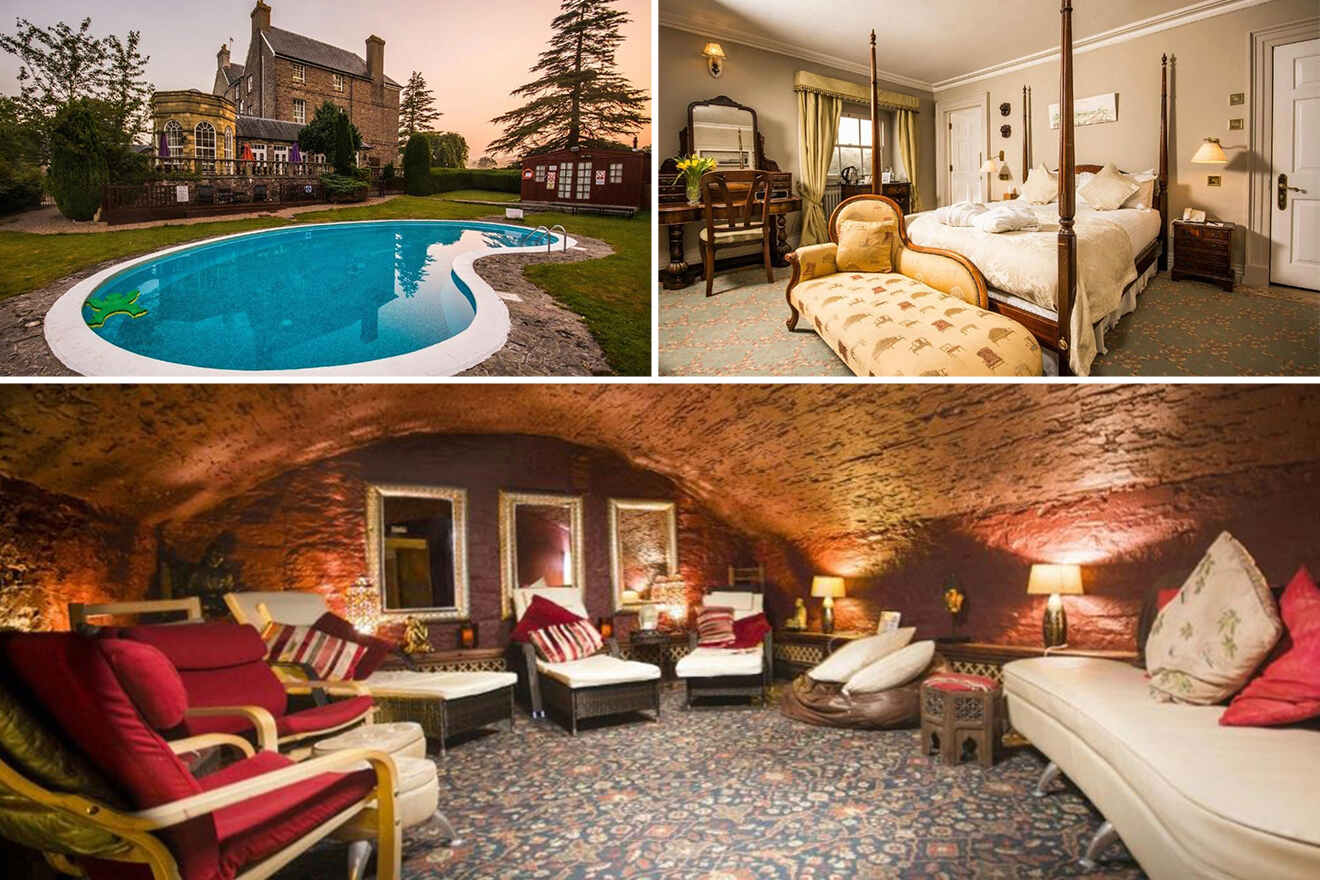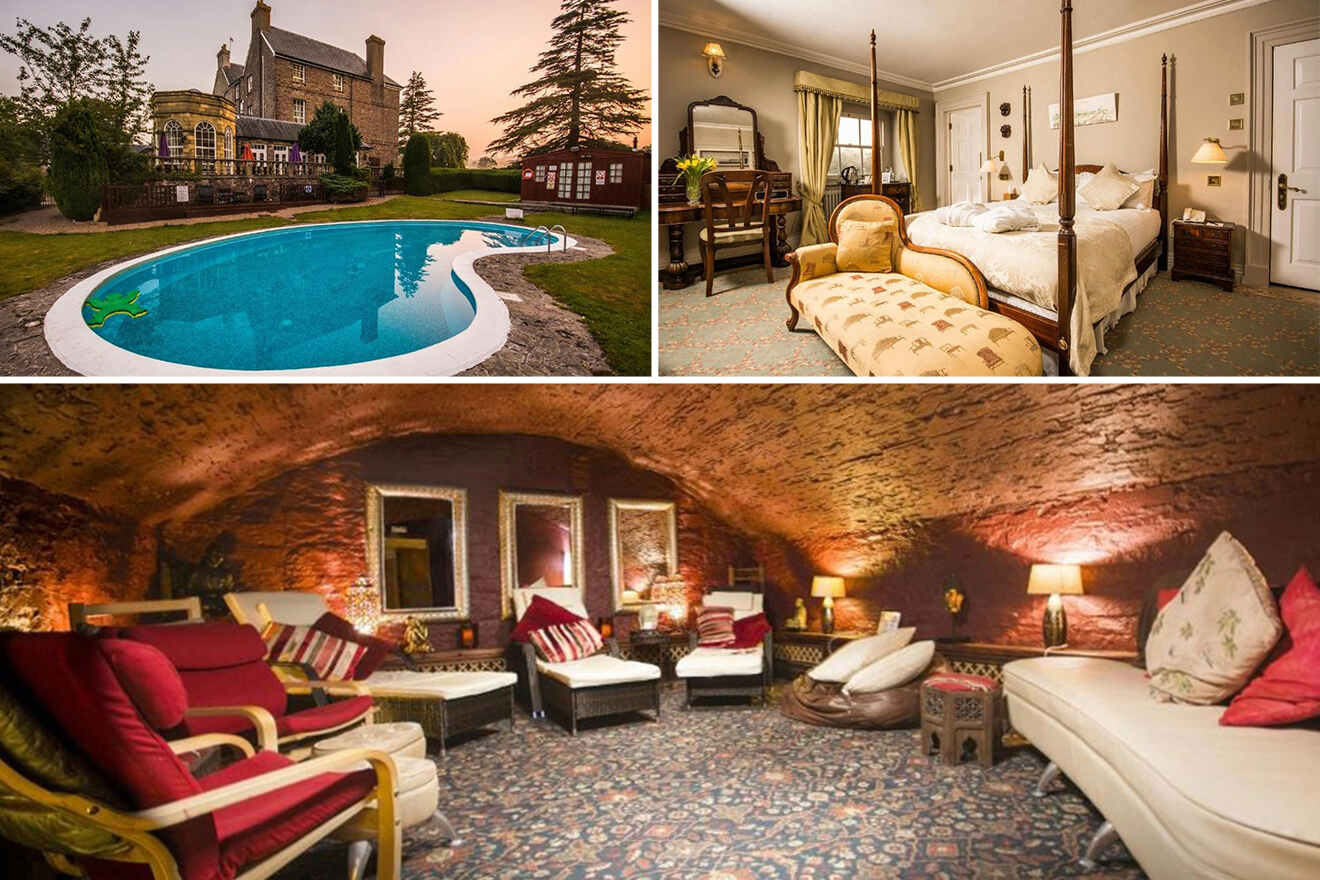 If you're a fan of historic country houses then check this one out this one that was built in the 1700. After all those years, the house managed to keep its old charm while at the same time offering guests the latest modern facilities, including a luxury spa.
The Peterstone Court & Country House Restaurant offers stylish accommodation, with beamed ceilings, four-poster beds, and extensive gardens! You'll feel as if you've landed in a Downton Abbey episode. I love the fact that their spa uses only natural, organic products. You can rest assured that you'll enjoy the best luxurious treatments.
6. Lake Vyrnwy Hotel & Spa – mountain estate with a tennis court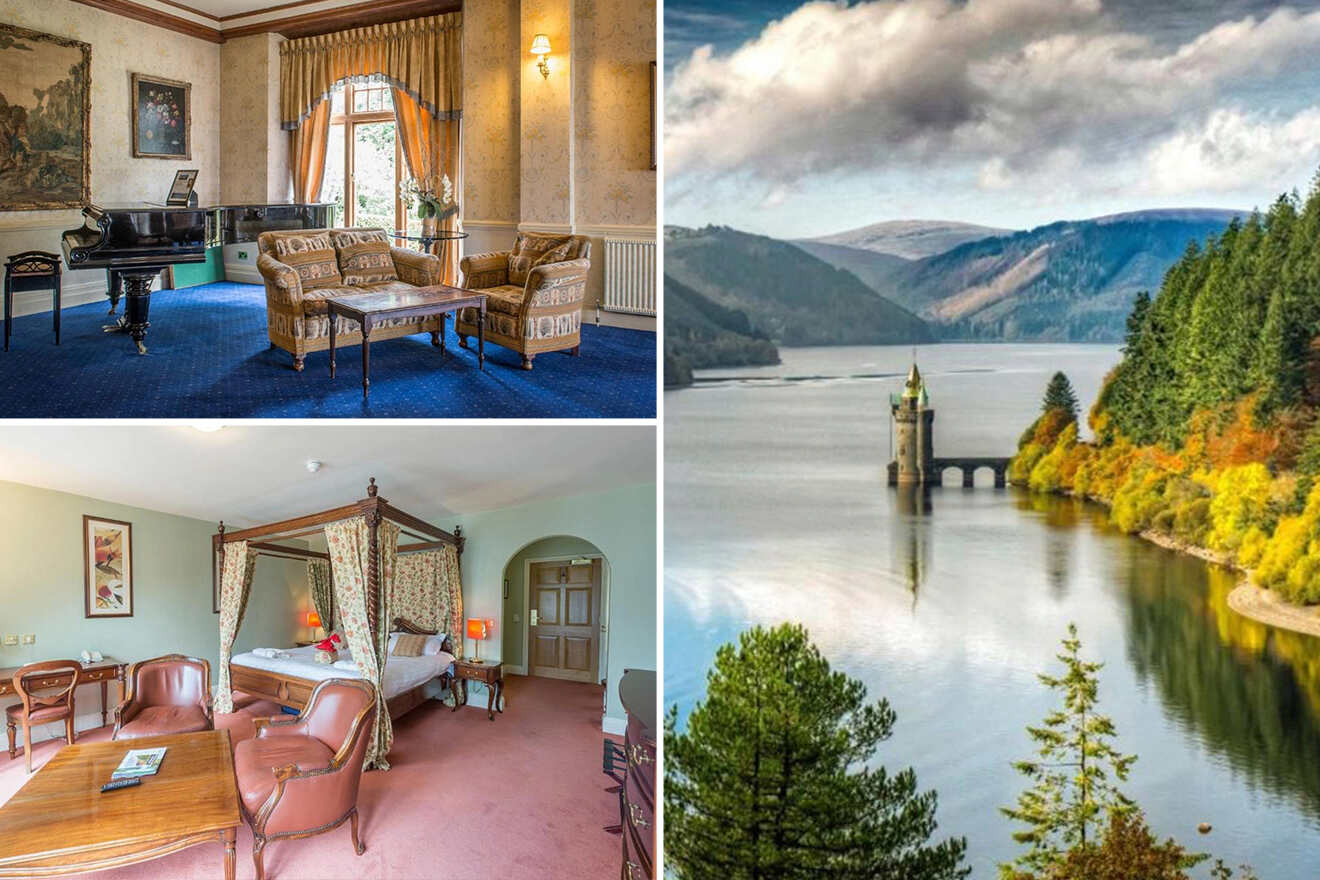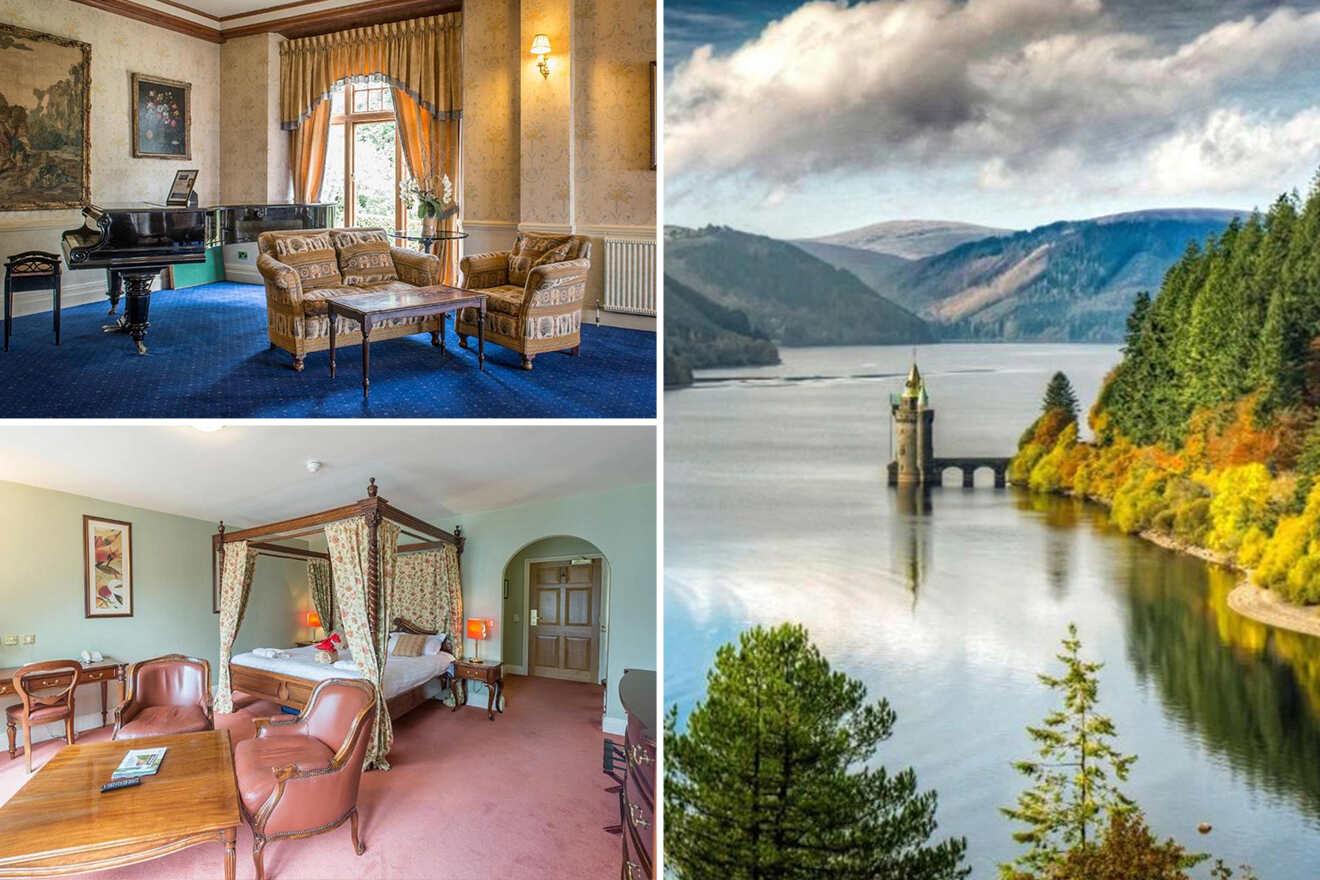 You will fall in love with the scenic location of this hotel! Sitting high on the hills of the Berwyn Mountains and overlooking Lake Efyrnwy, this estate is so dreamy that you'll never want to leave! Their award winning-restaurant and extensive spa facilities will convince you.
Enjoy a nice warming fire during the day and then head inside for a few moments of stillness and aromatherapy in their thermal suite spa that has a steam room, a spa pool and others. All the rooms feature amazing views and they come with a private bathroom with fluffy robes! Guests will have access to free on-site parking and to a tennis court!
7. Wolfscastle Country Hotel – stylish hotel with an outdoor hot tub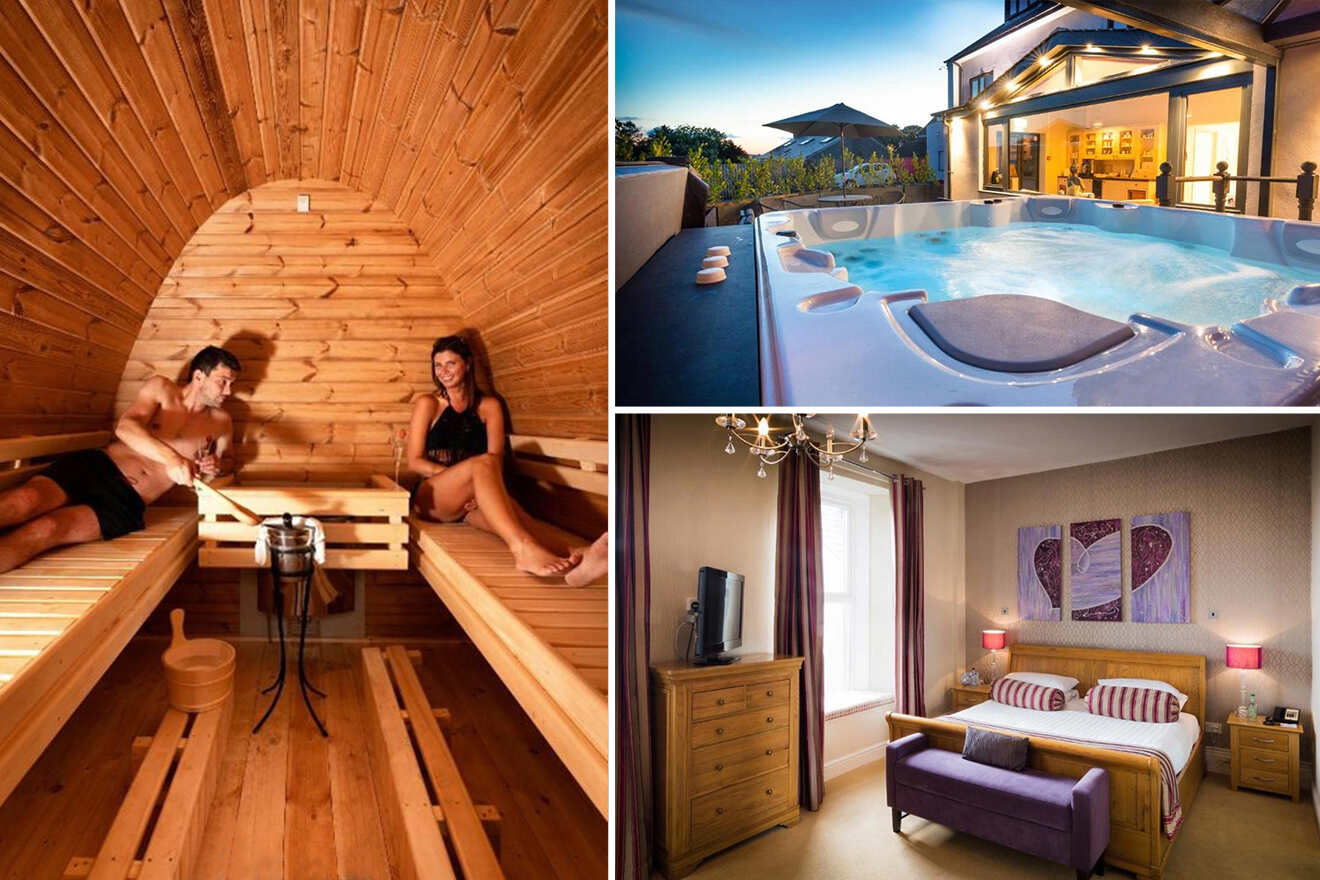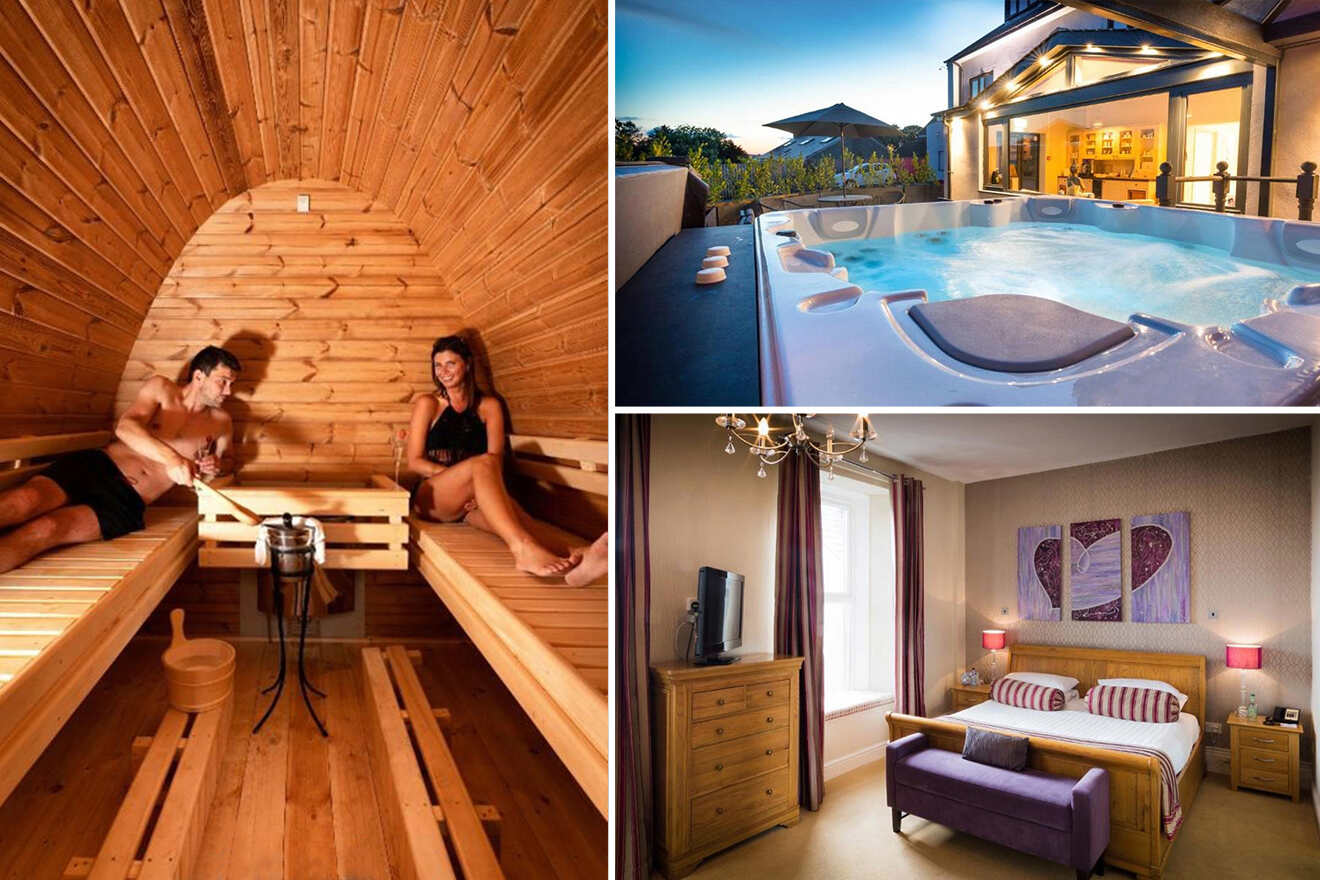 I hope you're ready for a fabulous spa break in Wales! These hotels are one of a kind and I'm sure you'll leave this place relaxed, happy and with a desire to come back! Located in Treffgarne, 2h away from Pembrokeshire National Park, this hotel features a garden with a terrace and a fantastic restaurant.
Of course, the spa center is simply amazing, offering lots of spa treatments, massages, a hot tub and body treatments. During the day you can explore the area, there are lots of beaches down the coast plus some magical woods on-land that I'm sure you'll love.
8. voco St. David's Cardiff – with a Marine Spa & Cardiff Bay views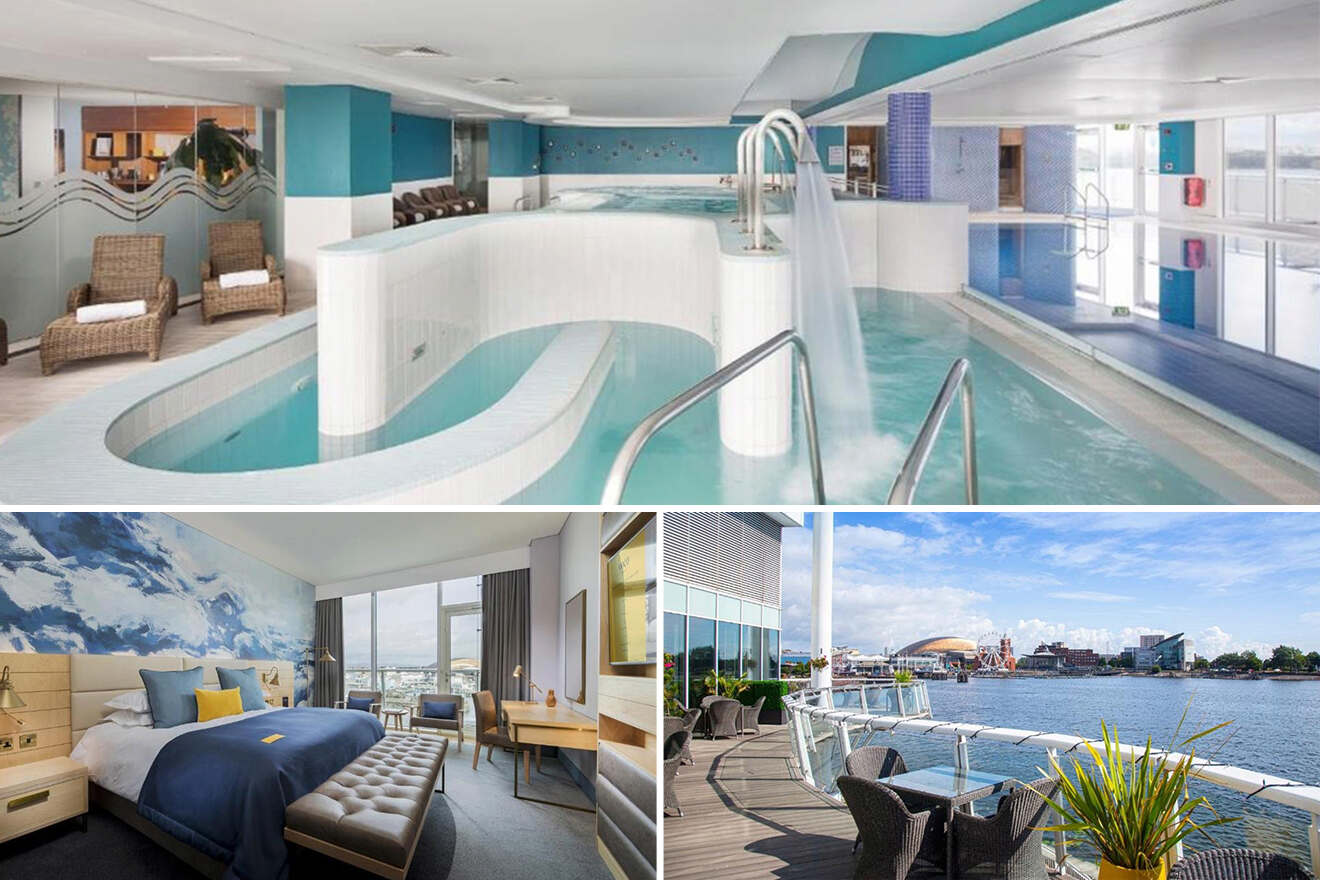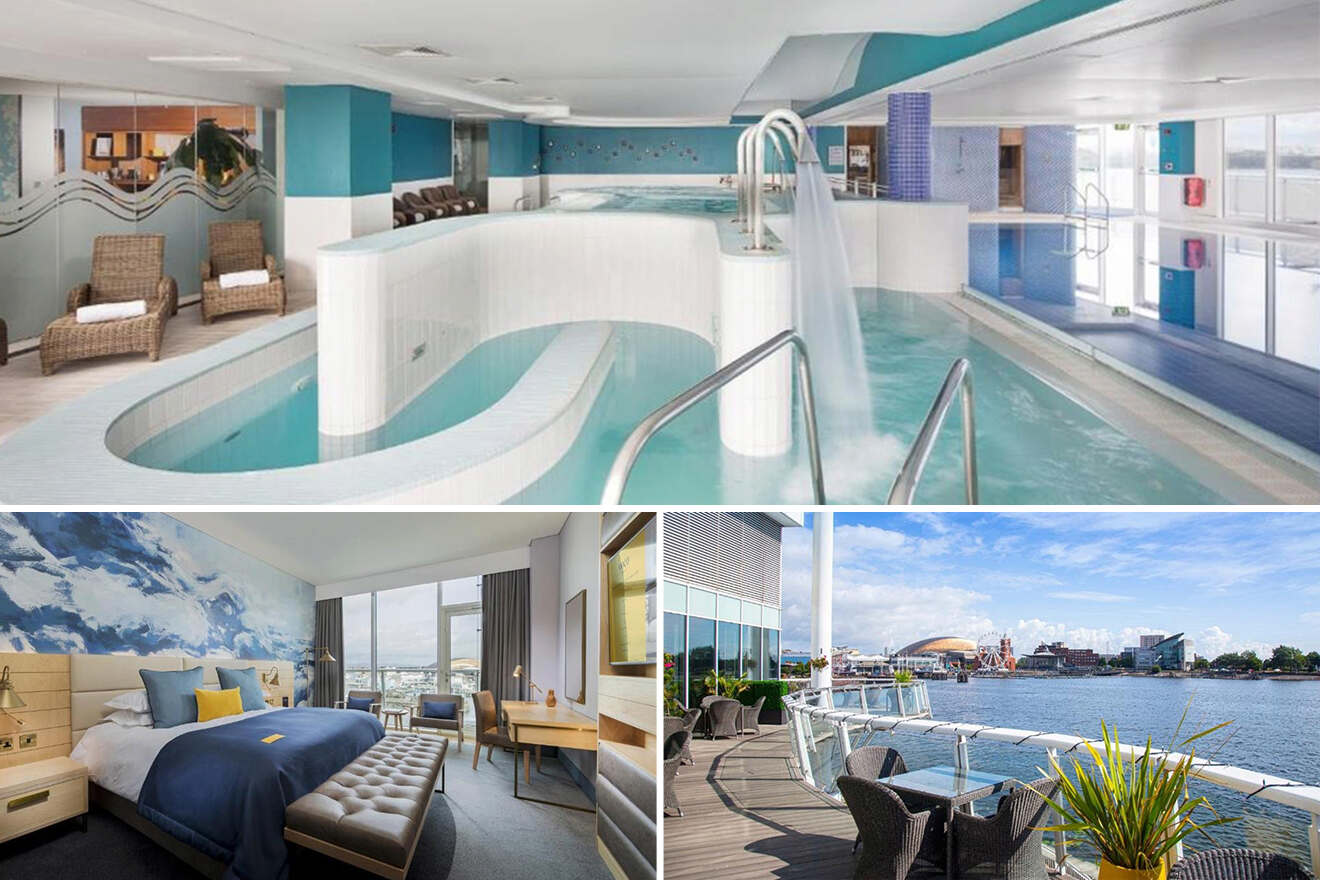 You'll always stumble across unique places in Cardiff and the hotels are just as fabulous! If you're looking for the perfect spa break destination in the city, then check out this place! Definitely made for some who like sea views, the accommodation offers modern amenities.
All the rooms are spacious, and they have large windows overlooking Cardiff Bay! Enjoy your coffee in bed, and then get ready for a few hours at their award-winning Marine spa. Indulge in all the beauty treatments, swim in the indoor pool and forget all about your worries in the relaxation room. End hour day with a drink on the waterside terrace!
9. Lanelay Hall Hotel and Spa – the perfect romantic getaway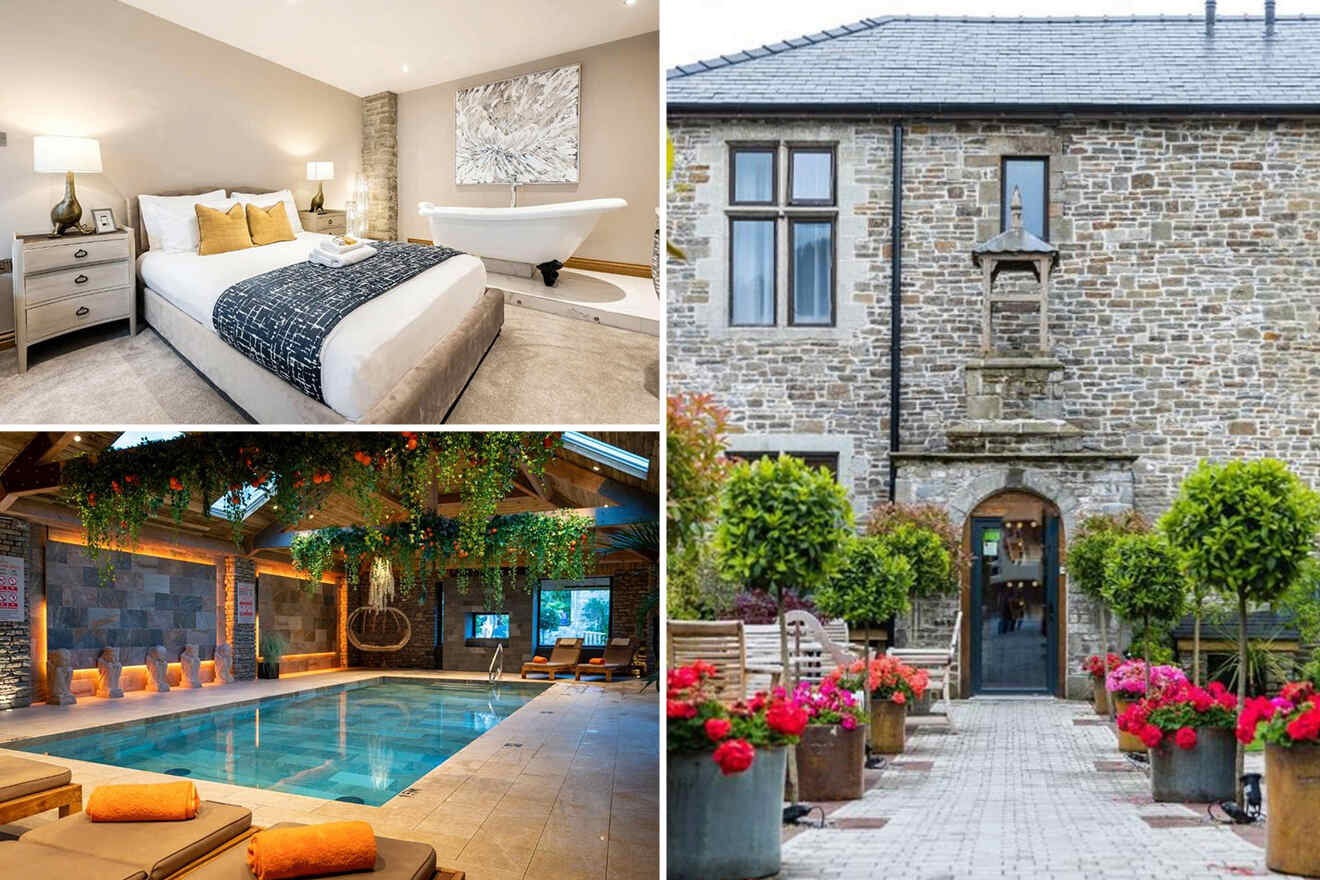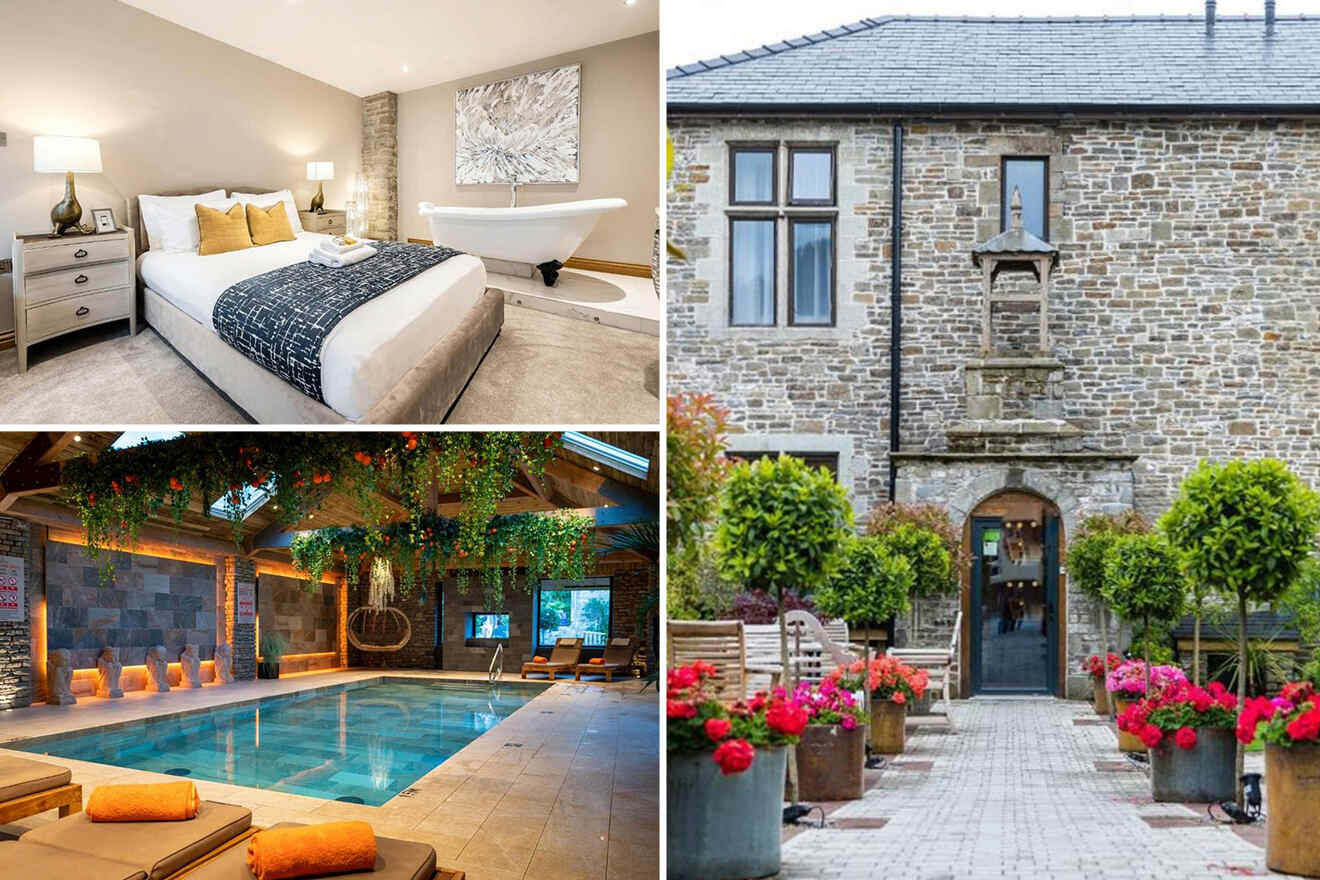 Planning the ultimate couple's getaway at one of the spa hotels in Wales? You're in for a treat! So get ready for some romantic couples massages, candle-lit dinners and lazy mornings spent in bed savoring your favorite coffee!
The treatment rooms at this hotel are waiting for you! Leave your worries at home and enjoy a nice shoulder massage and some time in the sauna. The Lanelay Hall Hotel has such an elegant design, and all the rooms come with a large tub. Hotel guests are welcome to use the indoor swimming pool whenever they want and enjoy traditional afternoon tea in the dining room.
10. Heywood Spa Hotel – simple hotel with a swimming pool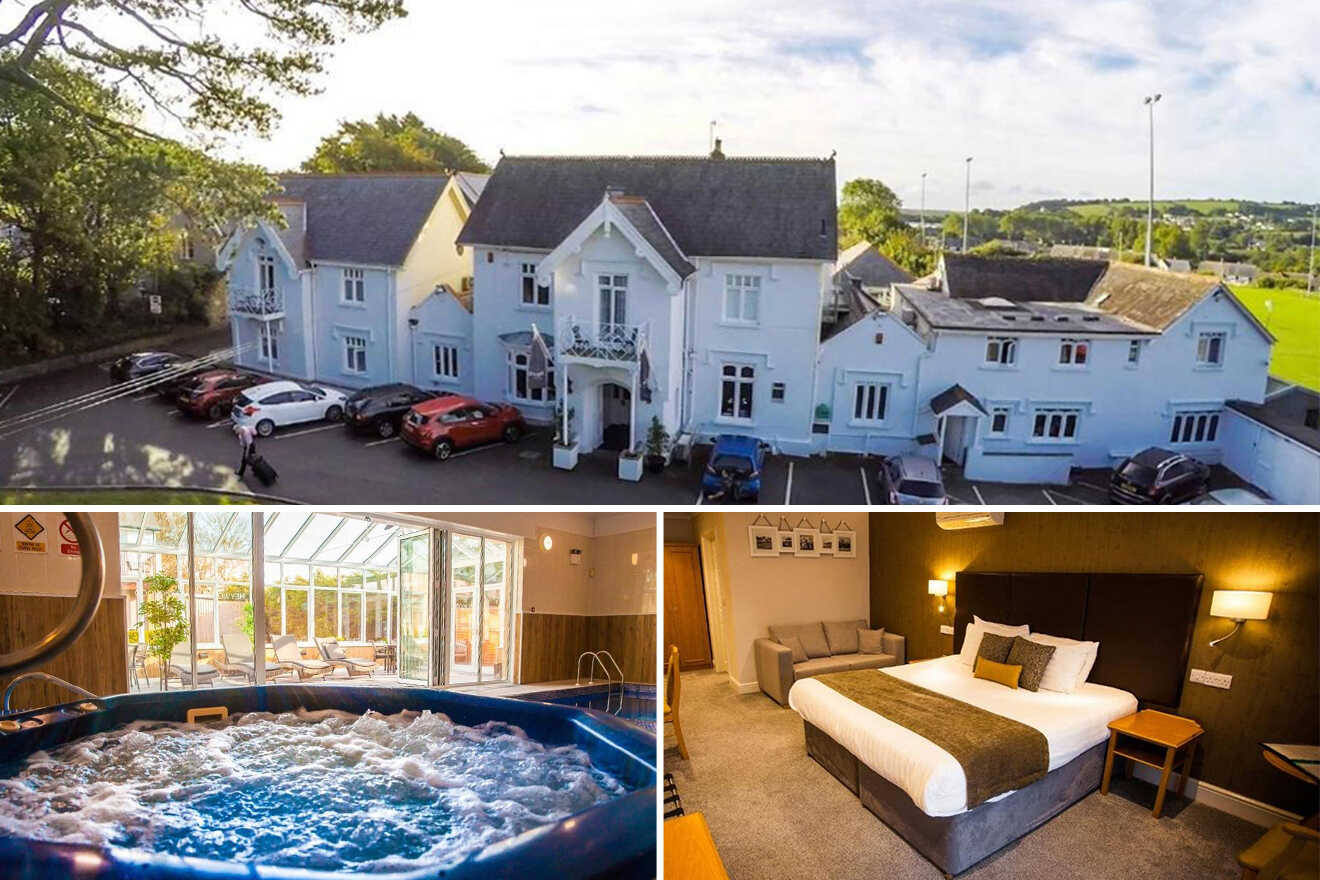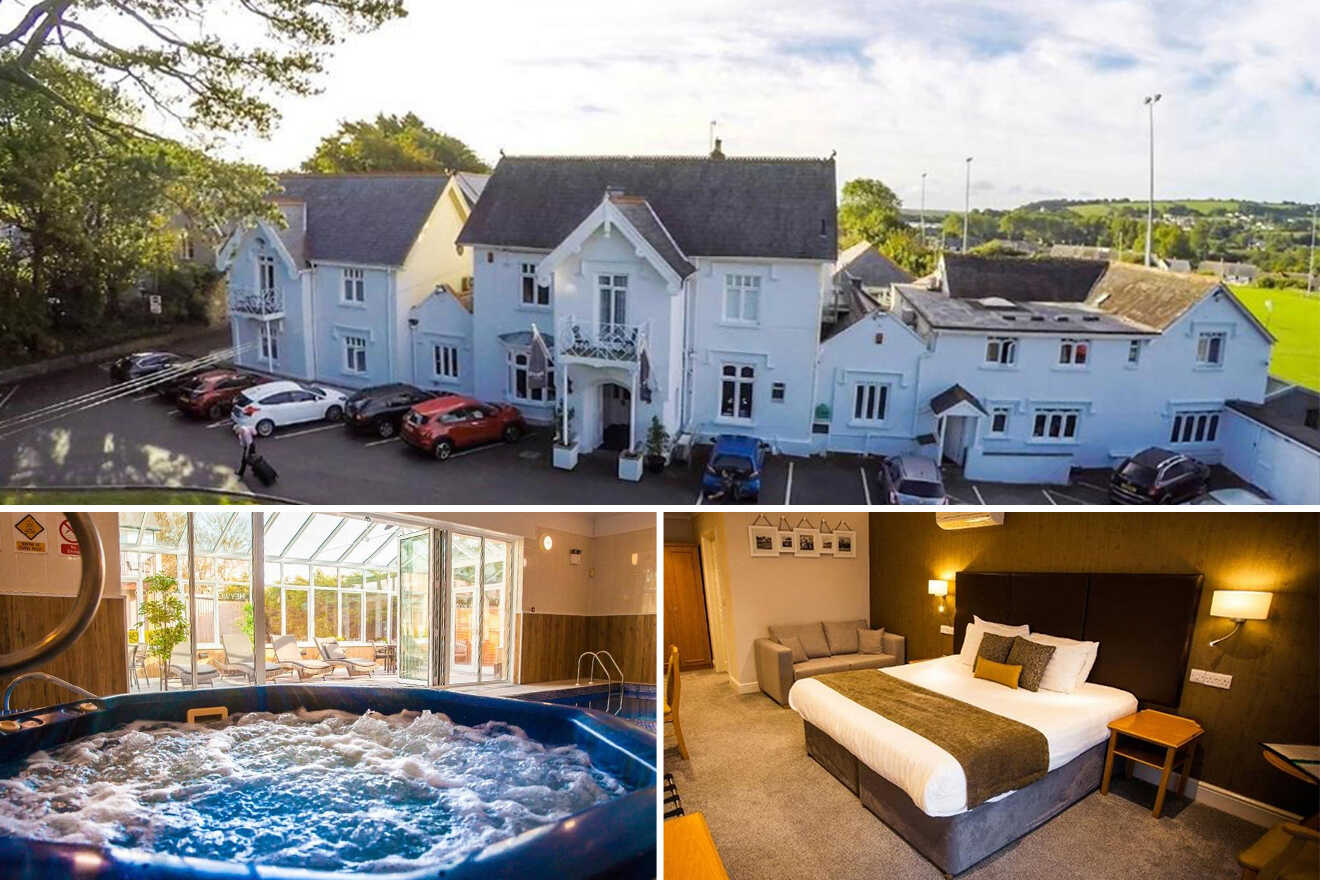 Truth is you don't have to spend a fortune to enjoy a nice relaxing holiday in some of the best spa hotels in Wales! I've found some amazing places just like this one that offer such a pleasant atmosphere and many spa facilities!
This accommodation offers free private parking, buffet breakfast and nice colorful gardens where you can spend your lazy holiday mornings or enjoy afternoon tea. The wellness center has beauty treatment rooms, an indoor swimming pool and a hot tub as well! Pack your swimsuit and your favorite book, and hit the road!
11. LLety Cynin – spa hotel with a indoor pool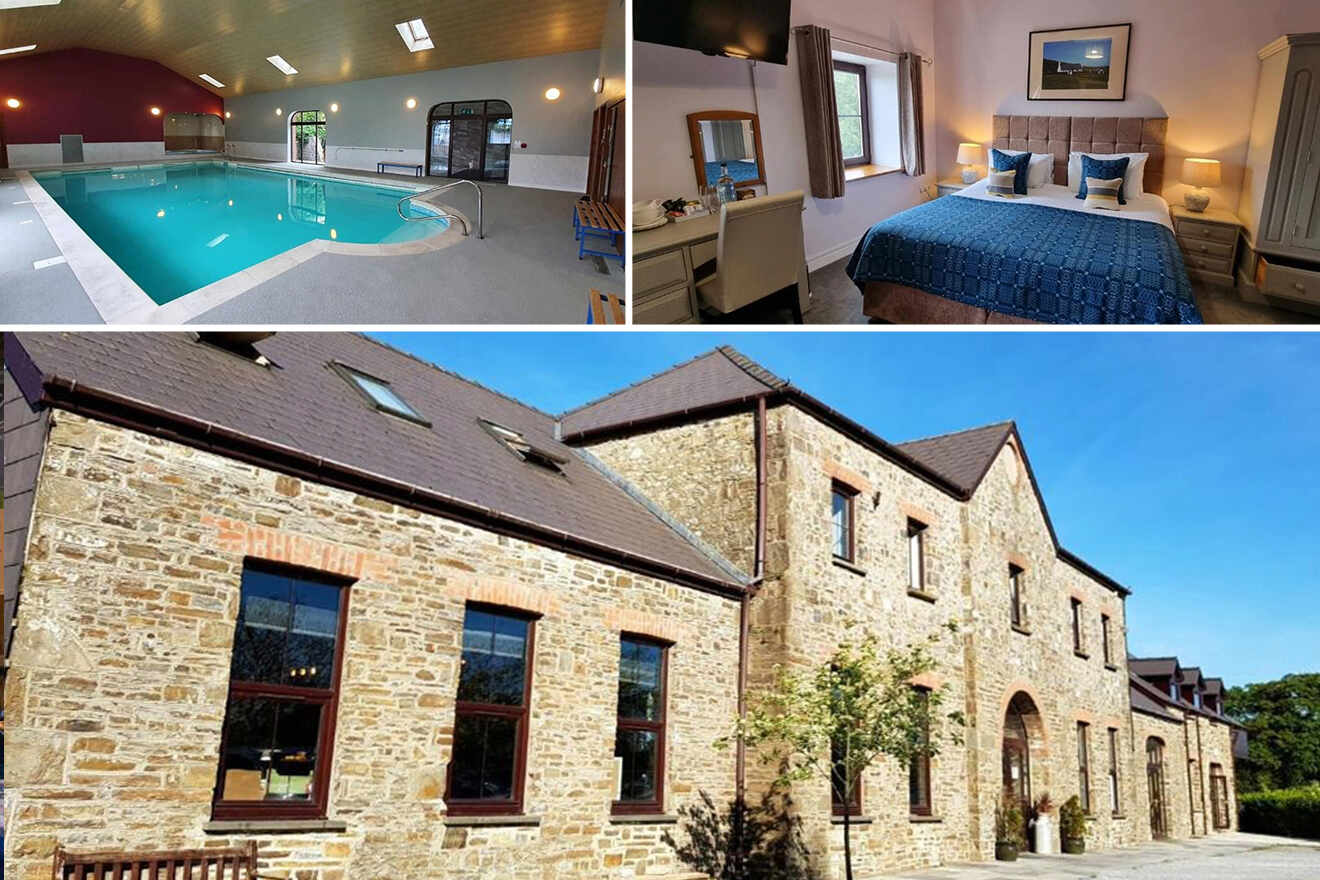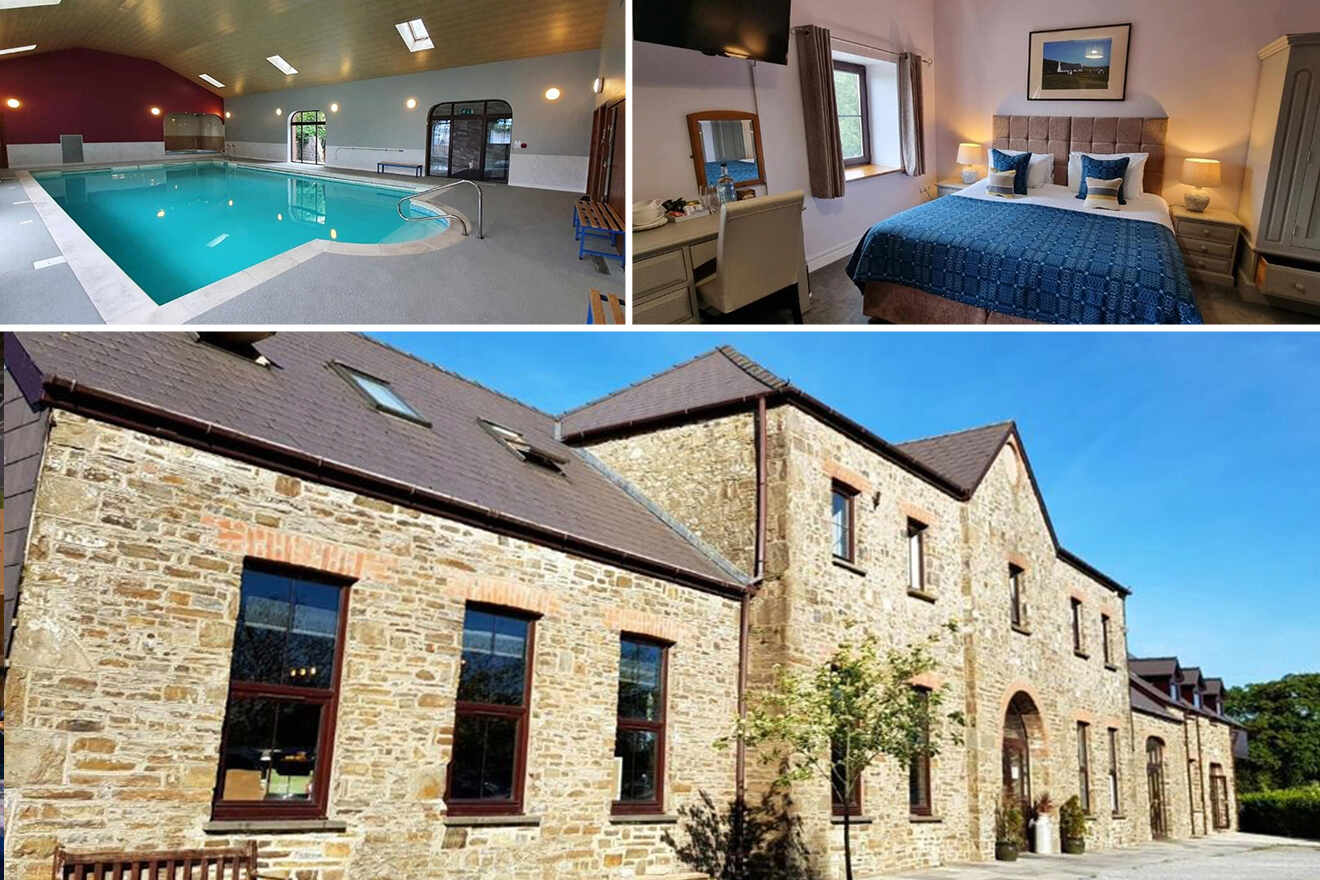 Do you love spending your time exploring the forests and looking for quiet places to read your favorite book? Well, this spa hotel has plenty of those! Tucked away between the trees, the accommodation offers on-site leisure facilities and comfortable rooms.
Their spa facilities are super diverse, and they offer everything from yoga classes, to a steam room, different treatment rooms, and massages. Guests will also have access to the indoor swimming pool and spa pool. After a day of relaxation head to the restaurant for a delicious dinner and a glass of wine to celebrate this fun spa break!
12. The Parkgate Hotel – city hotel with a restaurant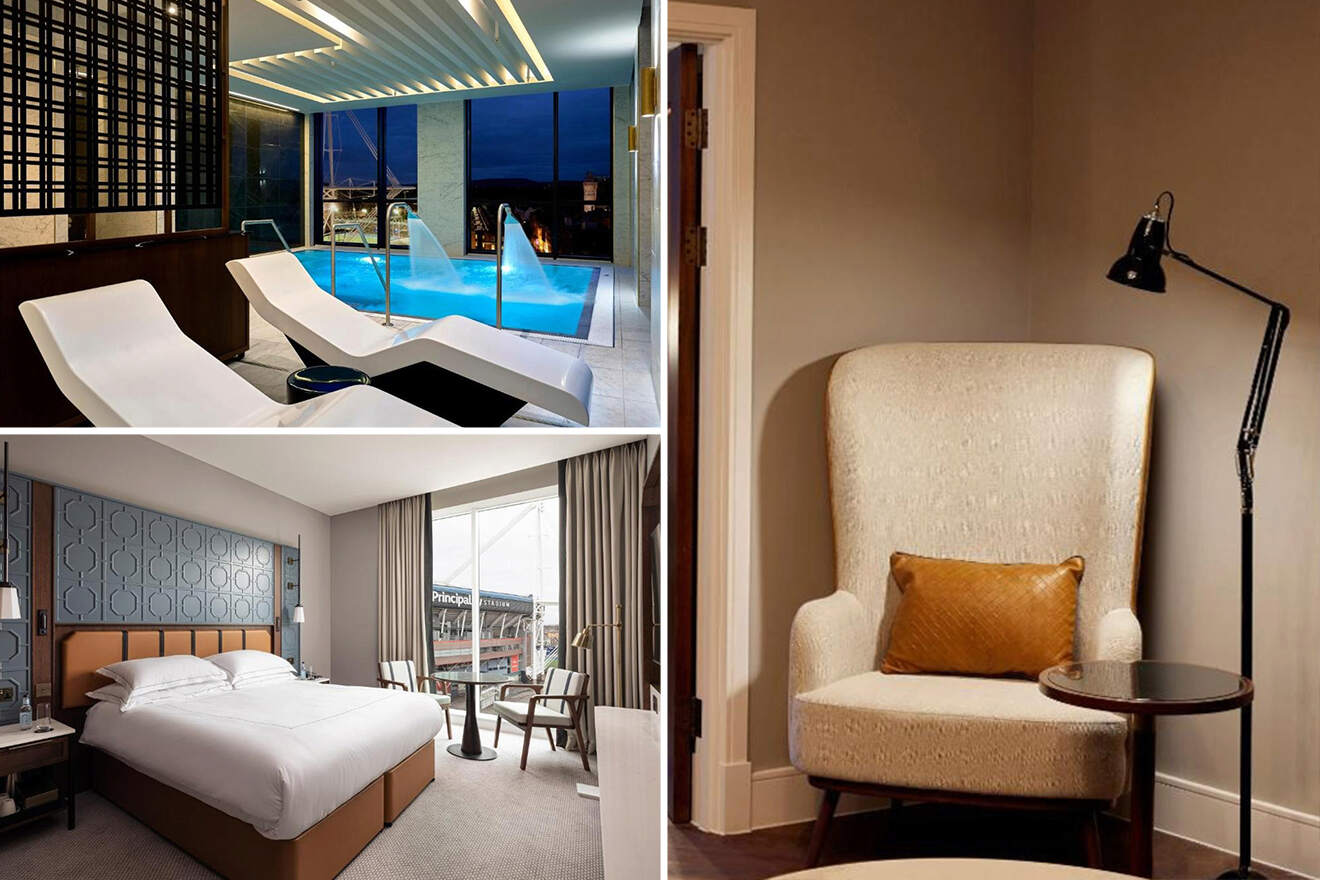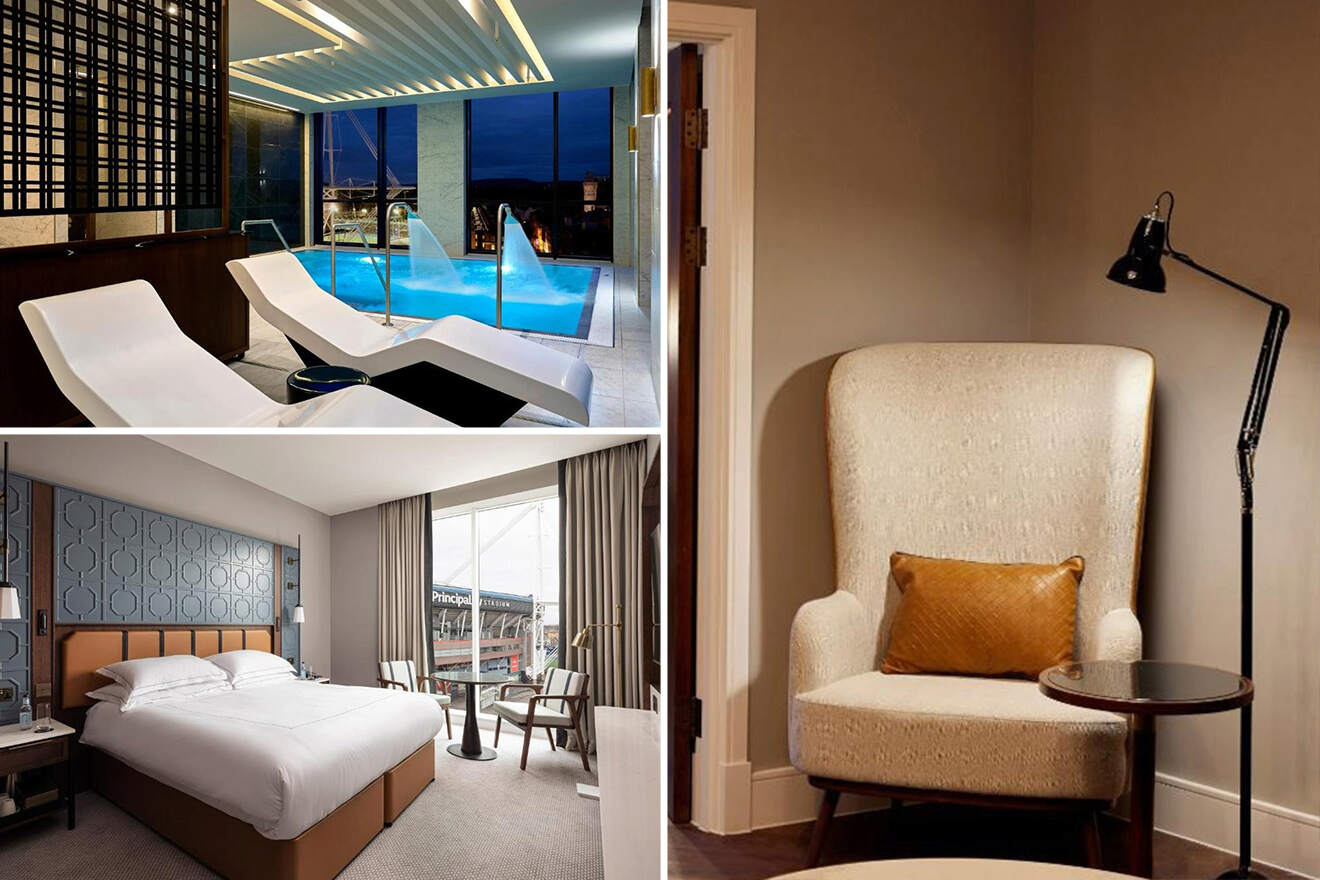 It looks so fancy you'll feel as if you're filming an episode of The Crown!
Don't want to stray away too much from the city? Don't worry, there are plenty of spa hotels in Cardiff as well! This one is one of my favorites! It has such elegant decor and modern facilities.
Although you won't find as many treatment rooms as you would in the other bigger hotels, there are a fair amount of leisure facilities that I'm sure will leave you relaxed! Massages, heated loungers and beauty treatments are just some of them! And of course you've got to try their afternoon tea.
13. The Quay Hotel and Spa – North Wales hotel with a steam room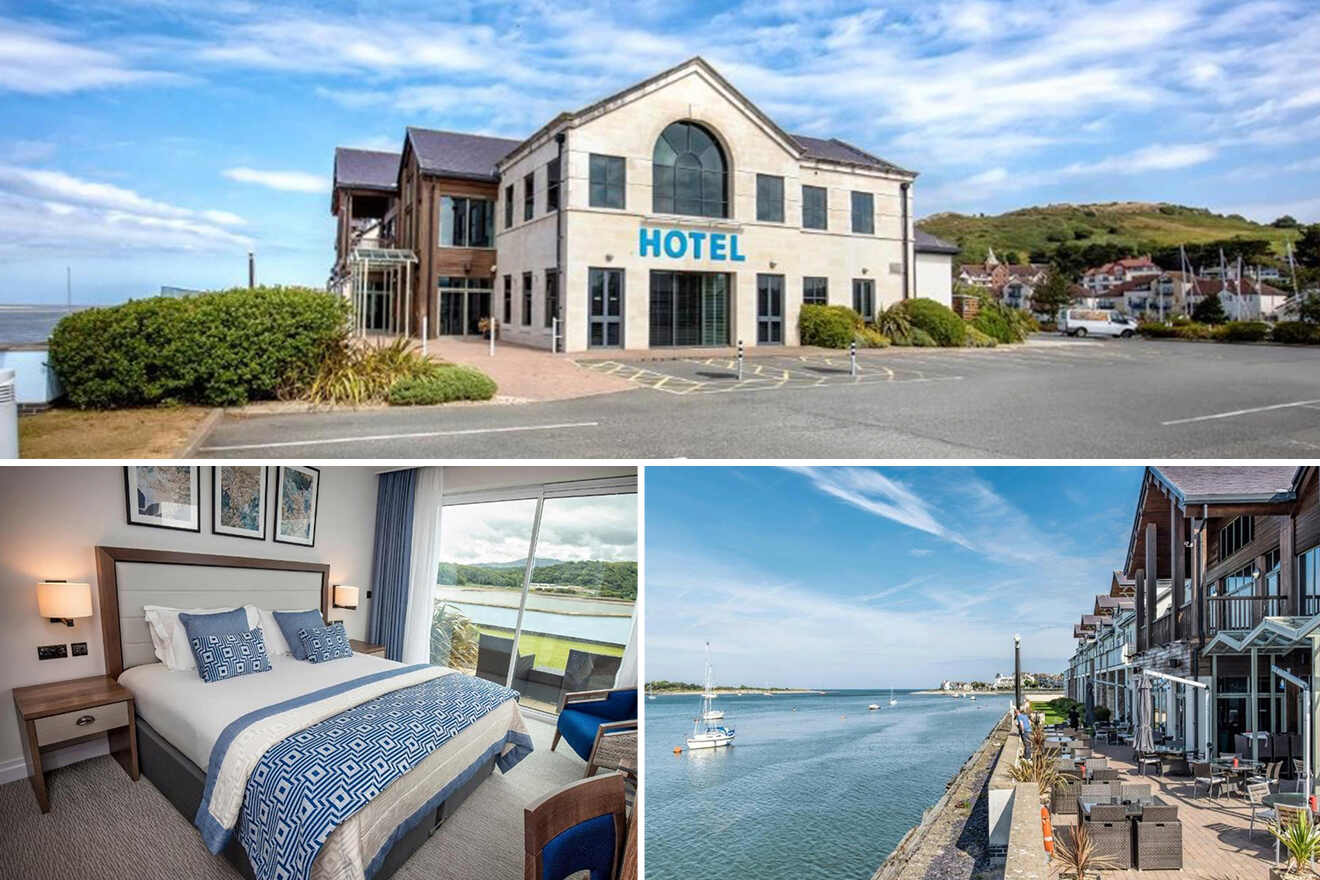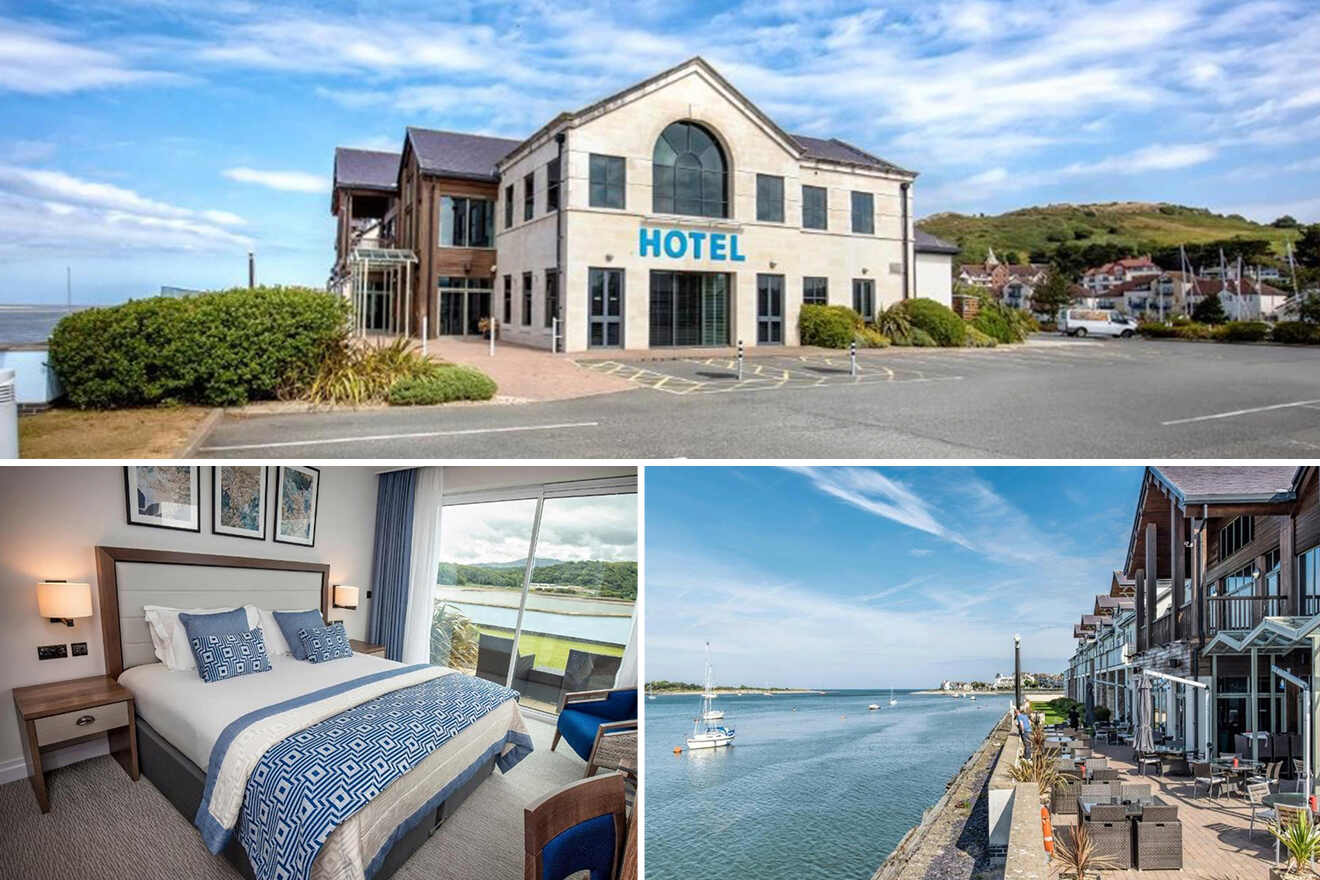 This hotel's chill atmosphere brings tourists from everywhere to enjoy its hospitality and fabulous services! And who am I kidding, to forget all about their worries in the spa treatment rooms! The contemporary Quay hotel offers colorful rooms with unique wallpapers and a private balcony overlooking the water in North Wales.
Whether you're coming with your partner or by yourself, the spa is ready to take you in its relaxation room and help you chill! There are many things you can try here from beauty and body treatments to massages, and steam rooms. And what better way to end a day of that than with a yummy cocktail and dinner at the restaurant on-site.
14. Old Radnor Barn – homie hotel perfect for nature lovers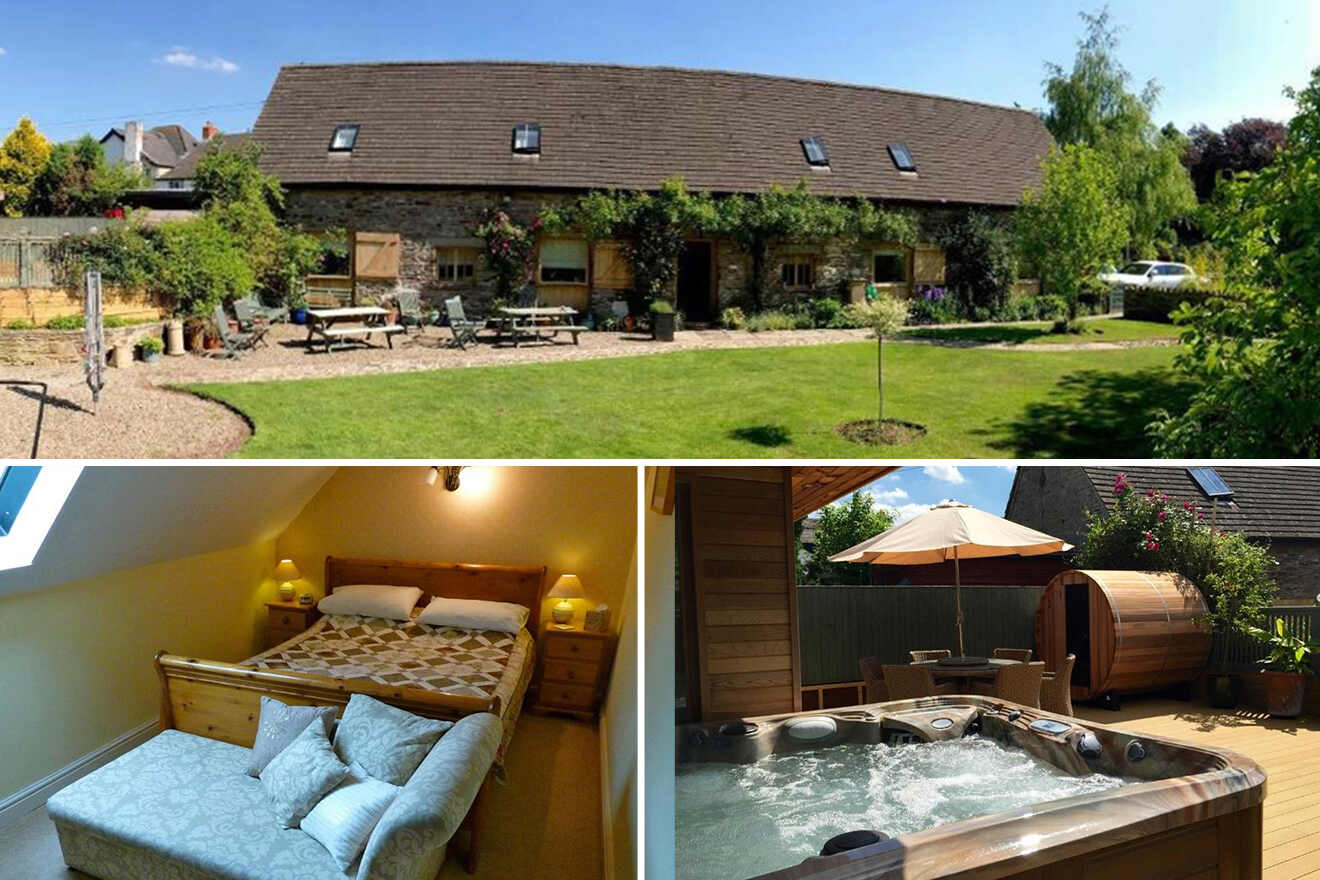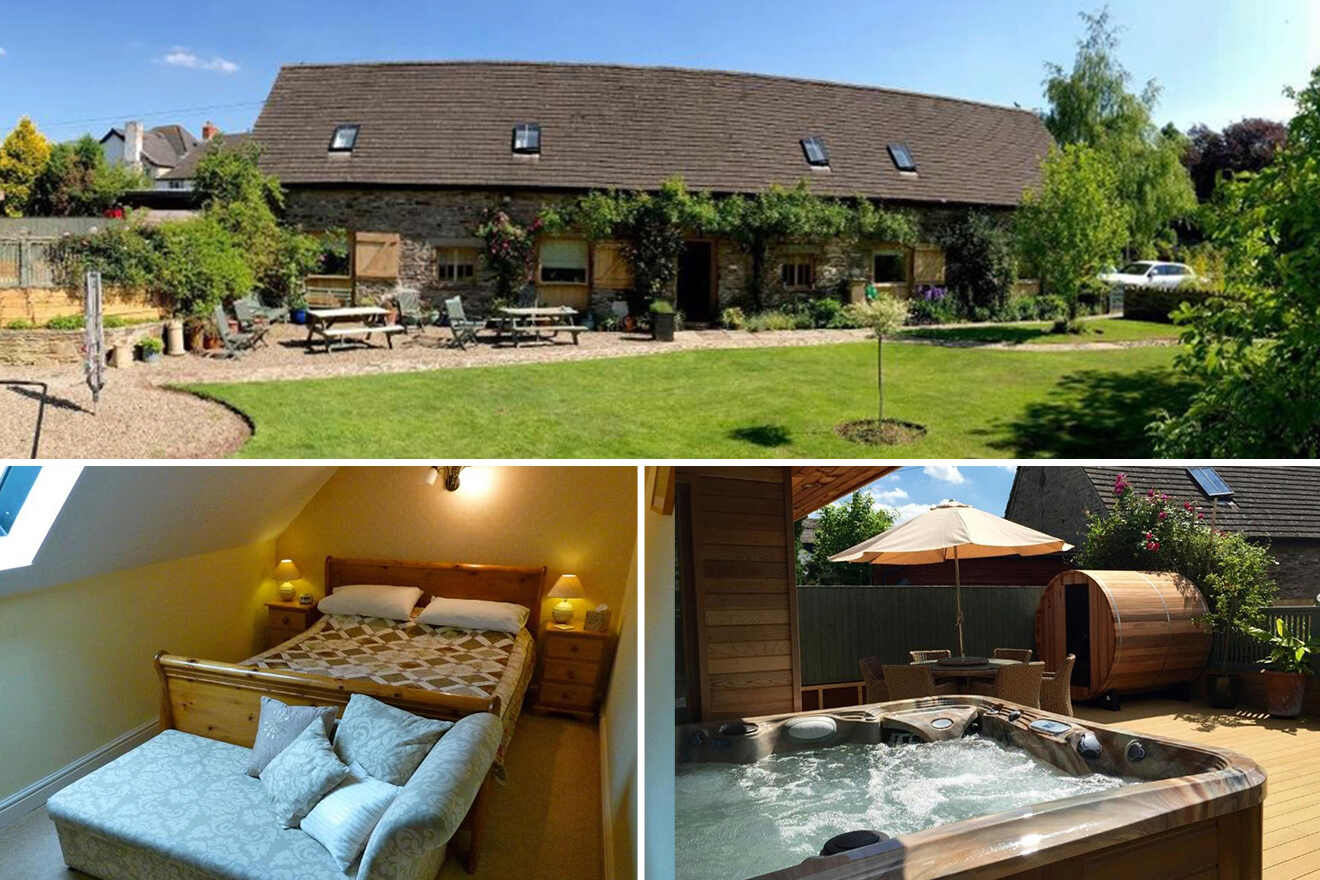 You'll love this accommodation! It's set within Brecon Beacons National Park and it's the perfect getaway location in Wales! This place has a homey vibe and it's surrounded by trees which I'm sure outdoor enthusiasts will like very much!
Dating back to the 1700s, the building offers spacious rooms with a private bathroom and coffee-making facilities. Make sure you wake up in time for breakfast because it's so delicious! Home-made jams, locally sourced ingredients and other yummy things. After that you'll be ready to enjoy the sauna and sit in the relaxation lounge.
15. Three Rivers Hotel – cozy hotel with a swimming pool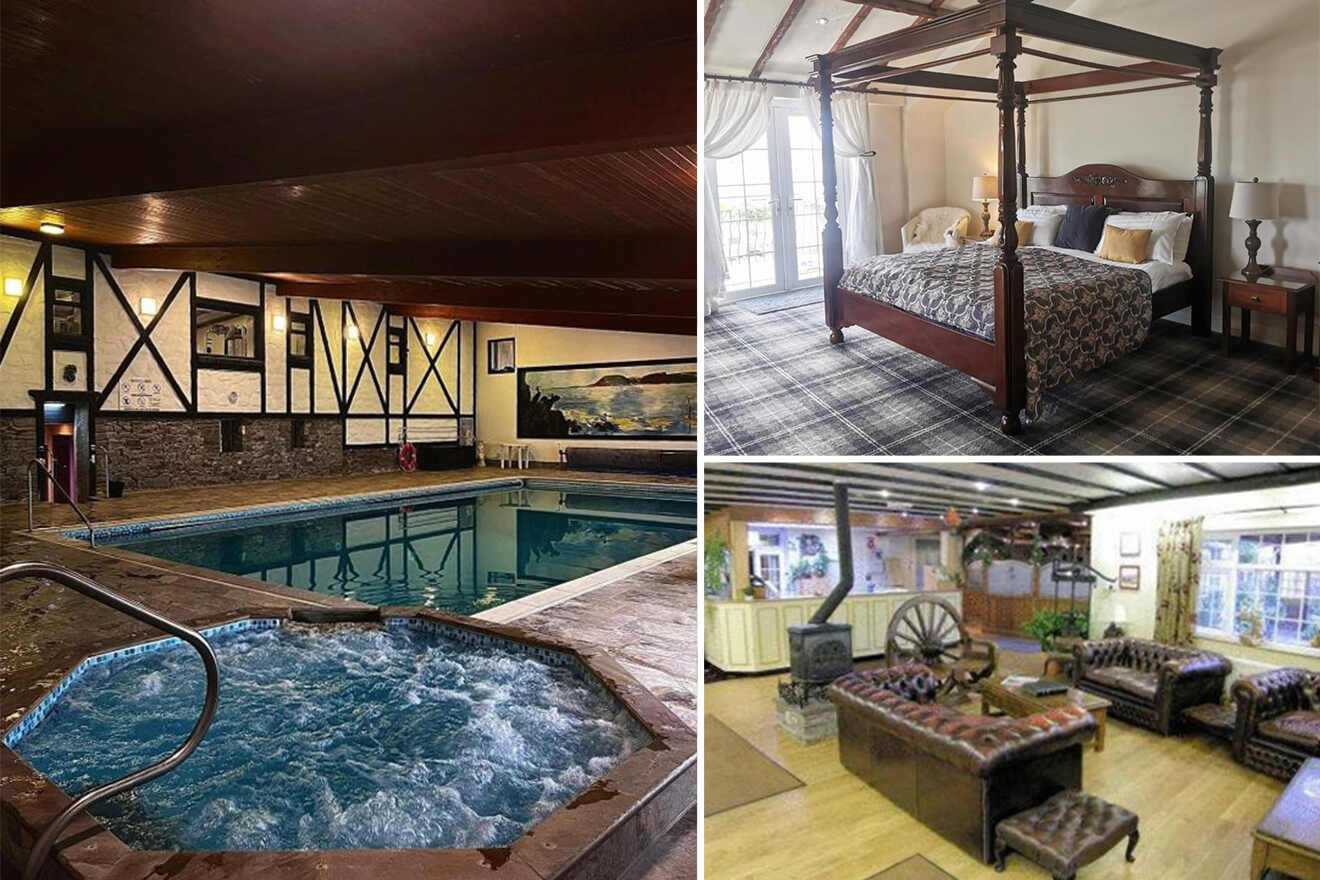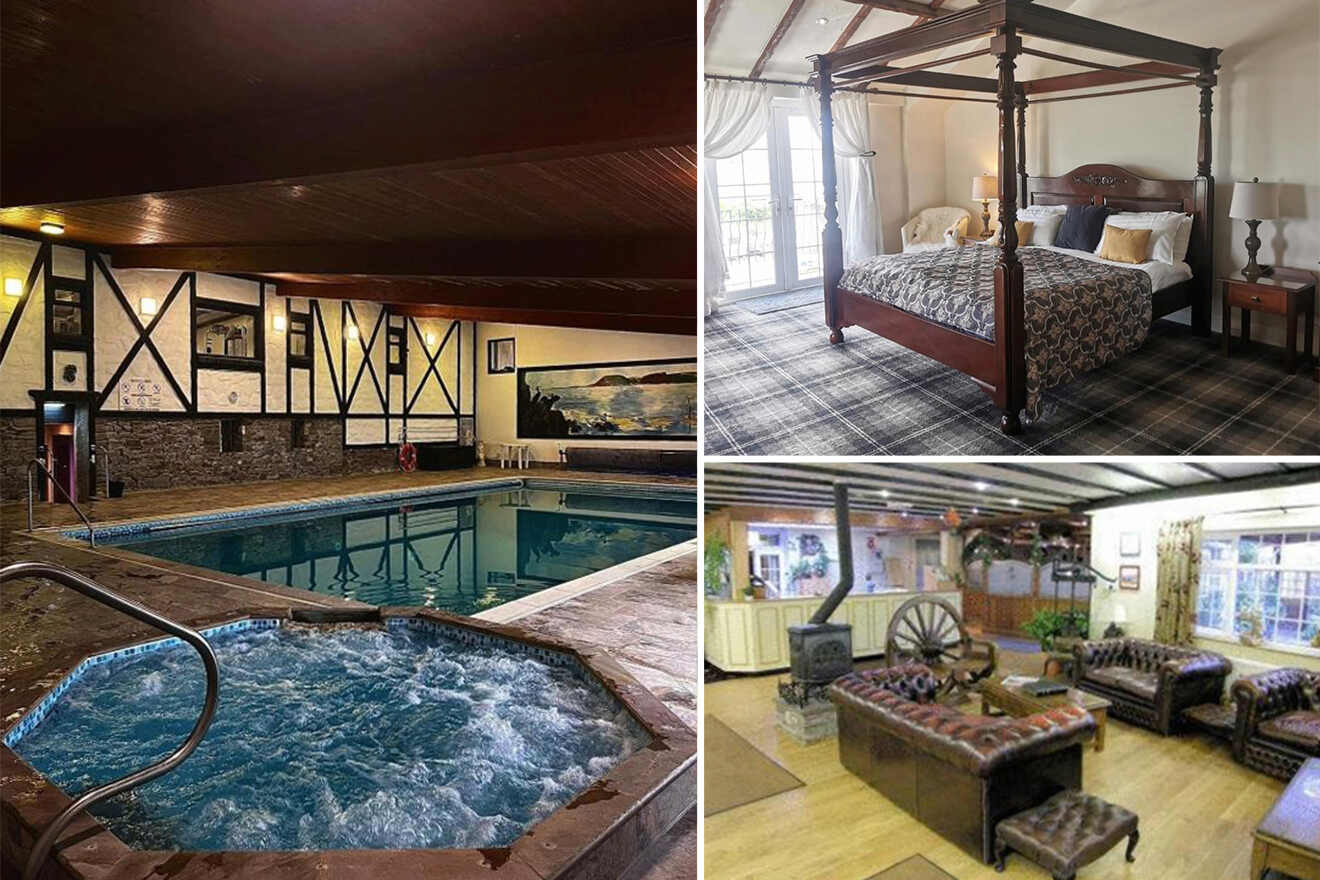 Who doesn't love seaside villages? Lucky for you there are many in Wales! Set in Ferryside, this accommodation offers a nice ambiance, elegant decor and some rooms with four-poster beds for anyone who's a fan.
Equipped with plenty of facilities like a fitness center, billiards and free private parking the hotel also offers some spa treatments. You'll find a steam room, a hot tub and massages available here, plus a large swimming pool! But don't get too caught up in all this that you forget you've got a beach nearby, just a short walk away.
16. Parkway Hotel & Spa – family-friendly hotel with a steam room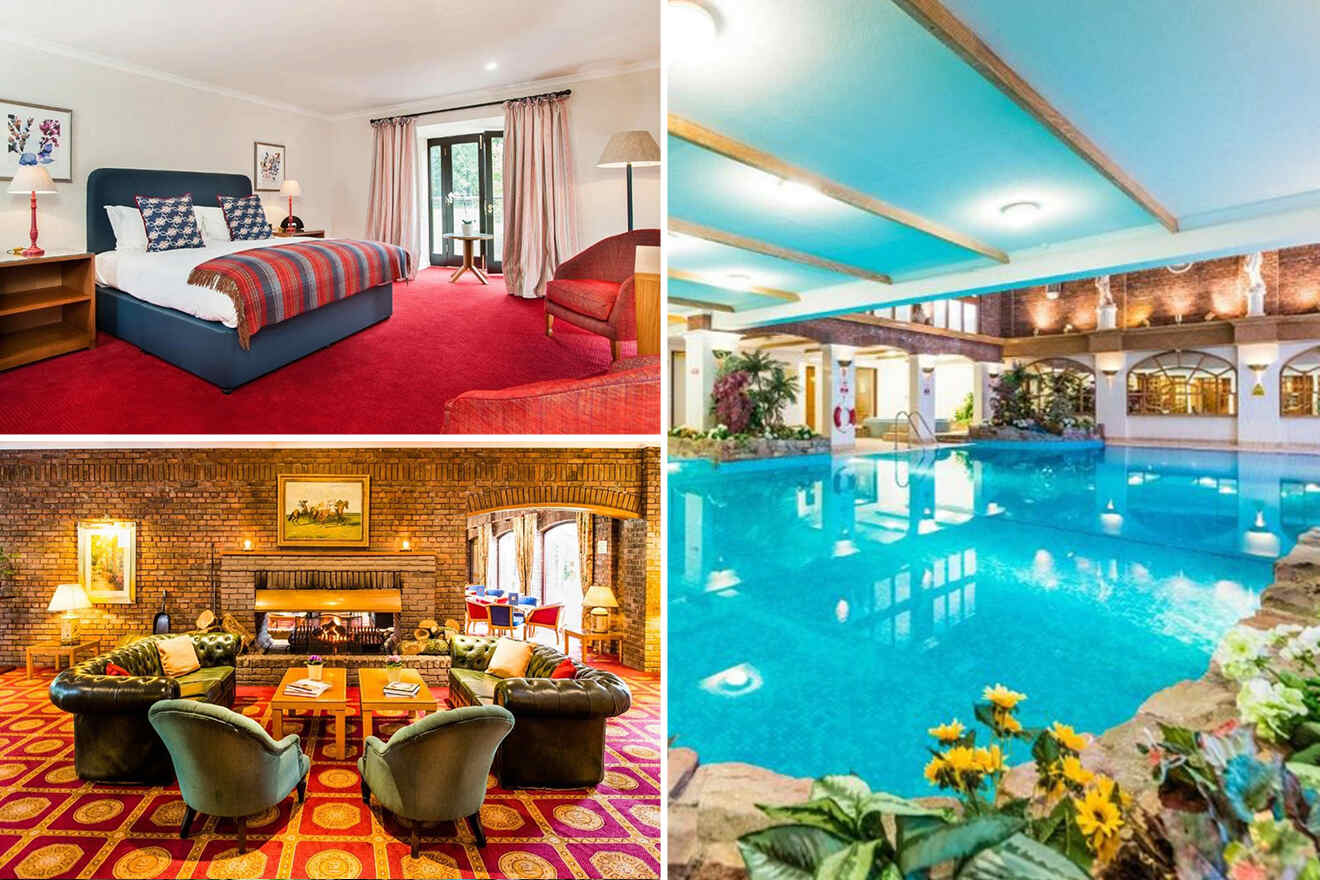 Planning a family spa break? Okay maybe the kids don't need it but the parents surely do! This hotel offers facilities for all ages so you can enjoy some relaxing time while the kids play in the indoor swimming pool, which is suitable for them.
The hotel features super colorful rooms which I'm sure the little ones will love and a restaurant that serves dishes with locally sourced ingredients. While you enjoy some me time in the treatment rooms and a nice shoulder massage the kids can play some badminton or go to the games room! Definitely a win-win for both parties!
17. Park Plaza Cardiff – city hotel with a spa bath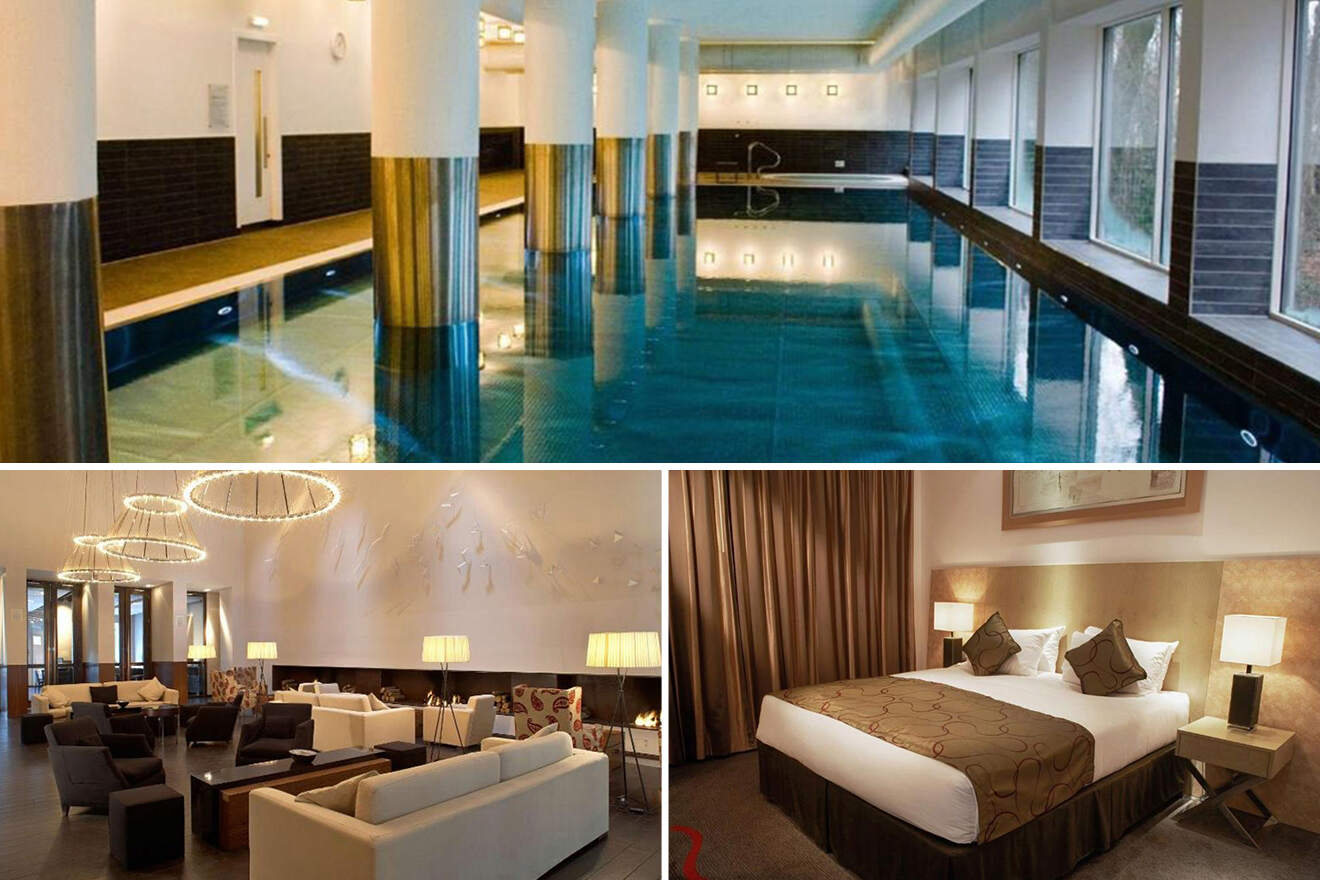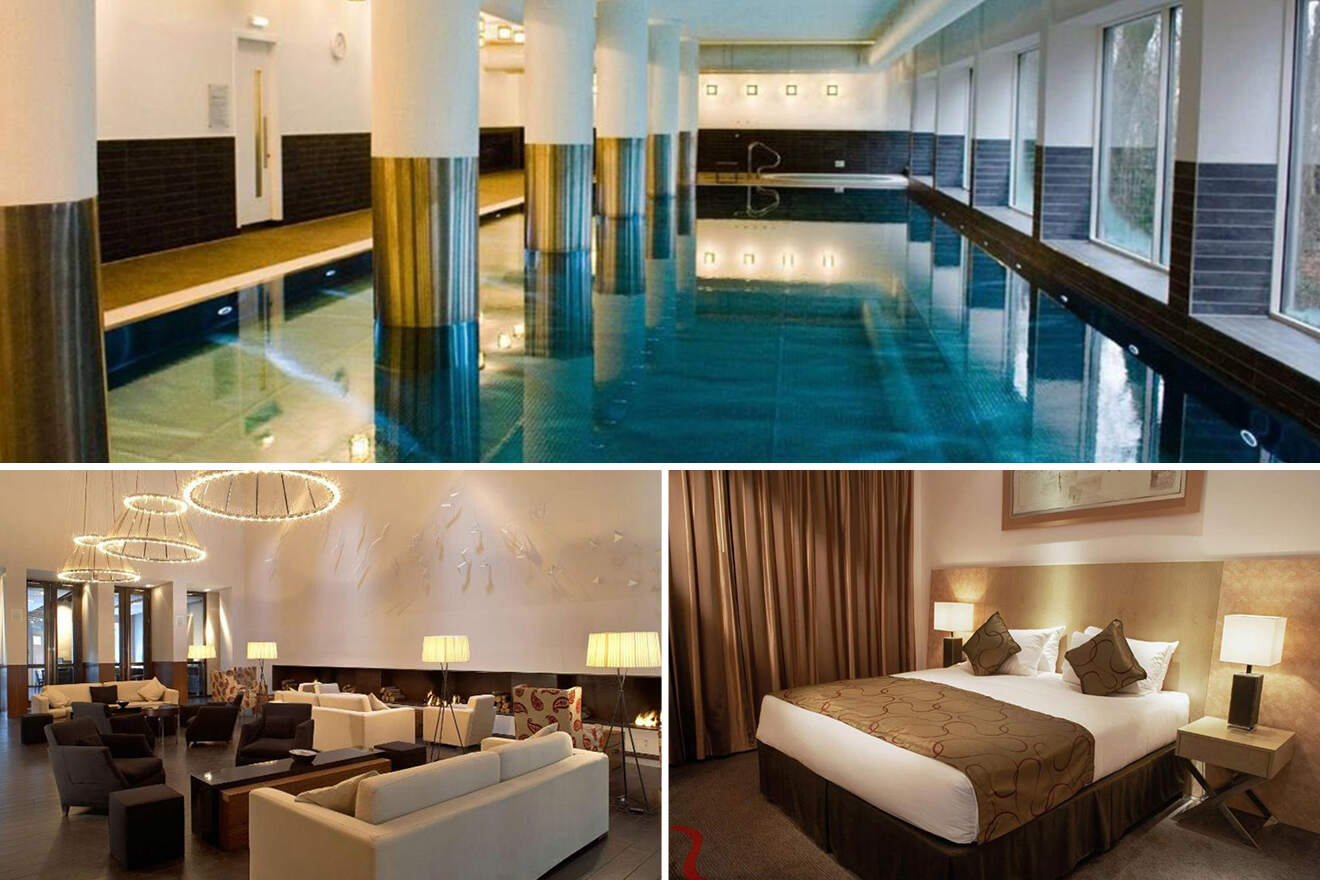 As I mentioned above, Cardiff is full of surprises and I've just found you a spa hotel that's set just a 5 min walk from Cardiff Castle! A pretty amazing location, right? This modern hotel features a simple decor but is super chic, with rooms that have a flat-screen tv and a private bathroom.
Their state-of-the-art Laguna Health and Spa features a spa bath, a large gym and a steam room! Plus many other treatments that you should try out! Enjoy a dip in the swimming pool and your time in the thermal suite before you head out to explore the town! You'll find lots of bars and restaurants nearby, but there's a really nice one on-site as well!
18. Celtic Haven – authentic cottages with relaxation rooms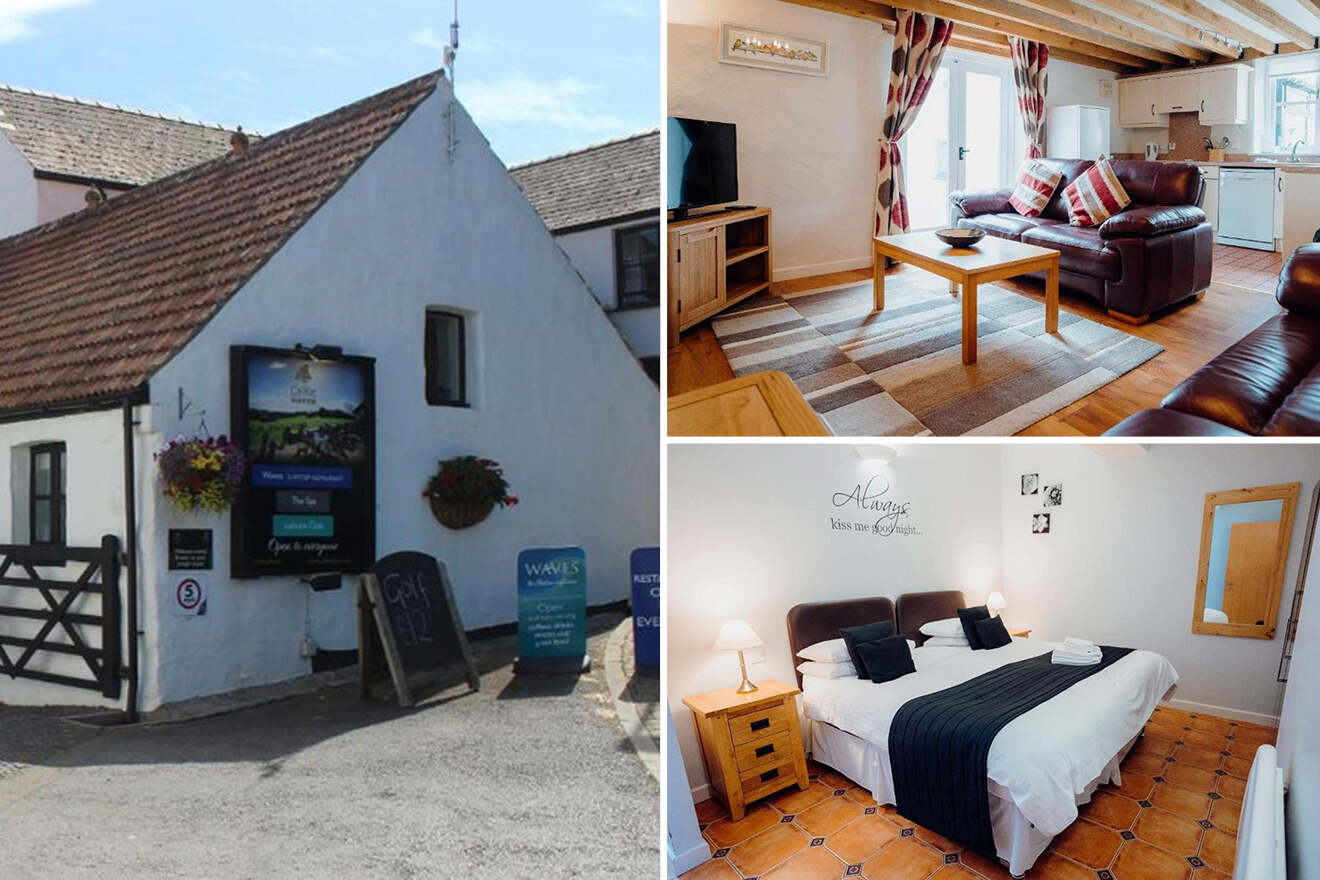 Live your country-side cottage dream in this amazing holiday park that's located in Pembrokeshire Coastal National Park! These cottages look so amazing and they're all equipped with all the facilities you need including a kitchen, free wifi and free parking.
Their Elemis Premier spa has all kinds of facilities from steam rooms to body treatments and a relaxation lounge and many others. What's great about the accommodation is that it also features many outdoor activities like golfing and tennis. Sports and relaxation at the spa, sounds like a good combo to me!
19. The Cliff Hotel and Spa – scenic location by the sea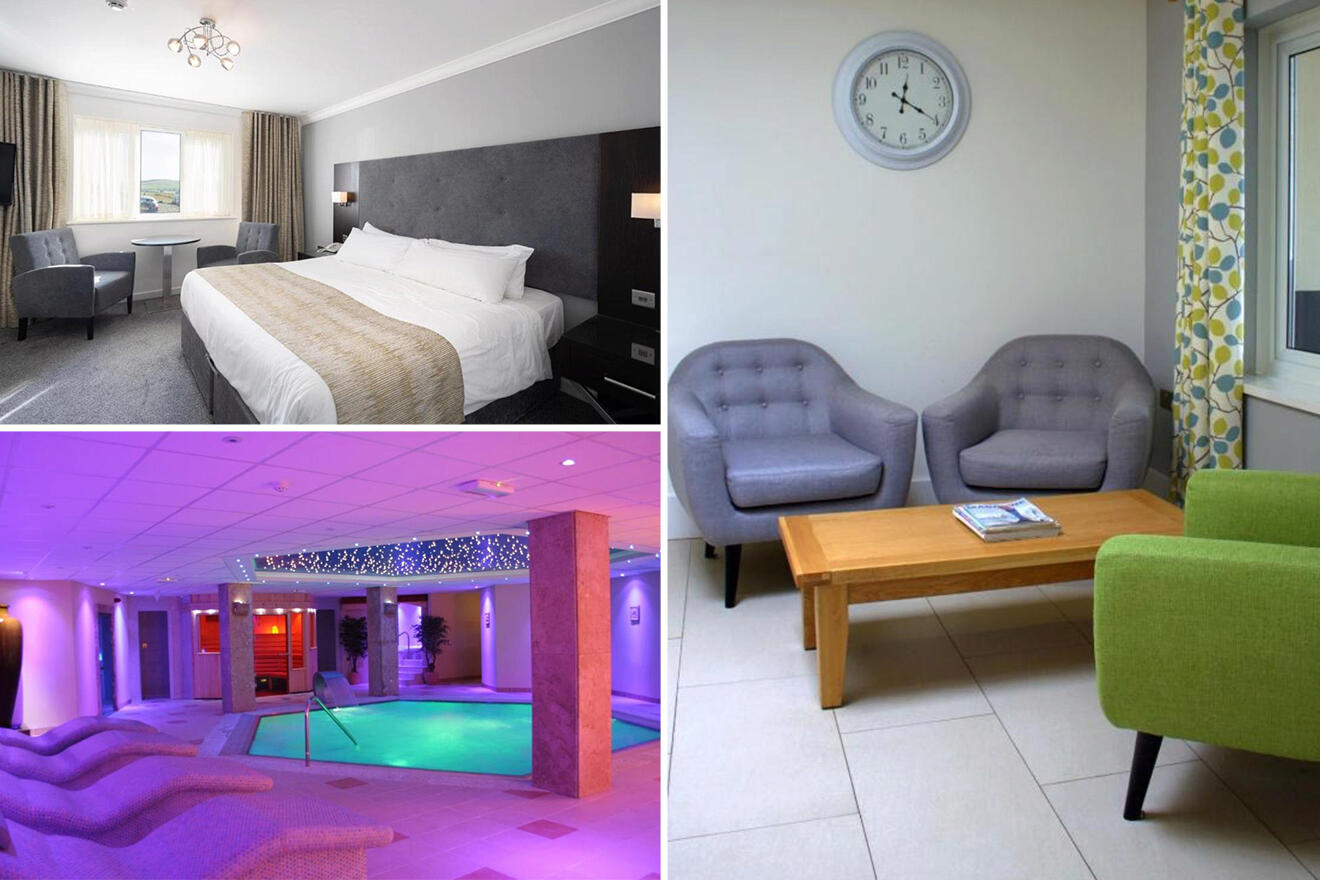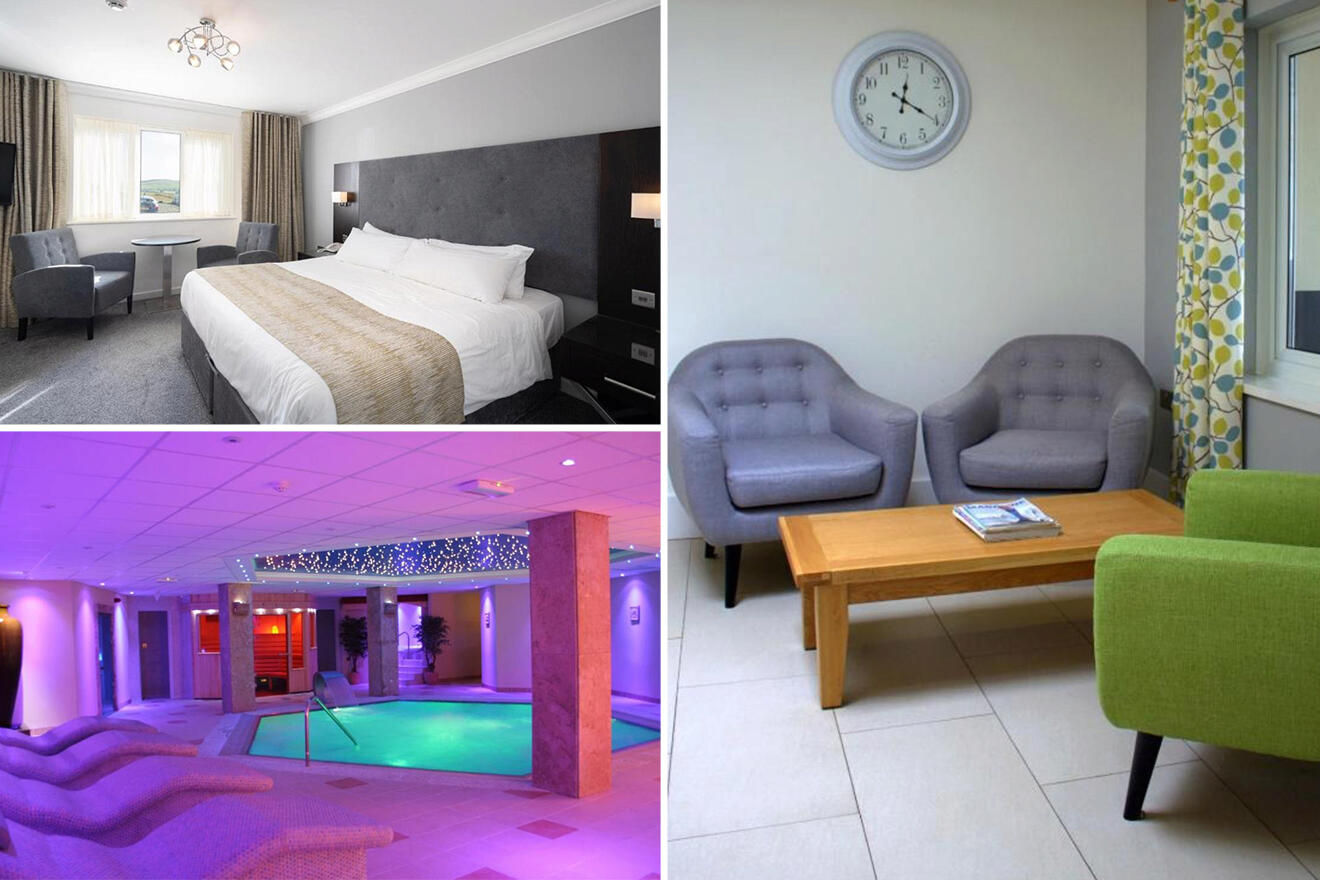 Let's just say that you've hit the jackpot of amazing views if you book a room at this spa hotel! The accommodation overlooks Cardigan Bay, the rugged coastline, the Teifi Estuary and the broad sweep of Poppit Sands!
Wow! Even some rooms come with sea views! That's surely a good coffee spot for the morning. But let's check out the spa features. The thermal suite includes a salt water hydro spa, a steam room and a sauna. Plenty of things for you to try on. But don't forget that the location is also pretty amazing and there are many hiking places around the hotel!
20. Vale Resort – countryside hotel with a pool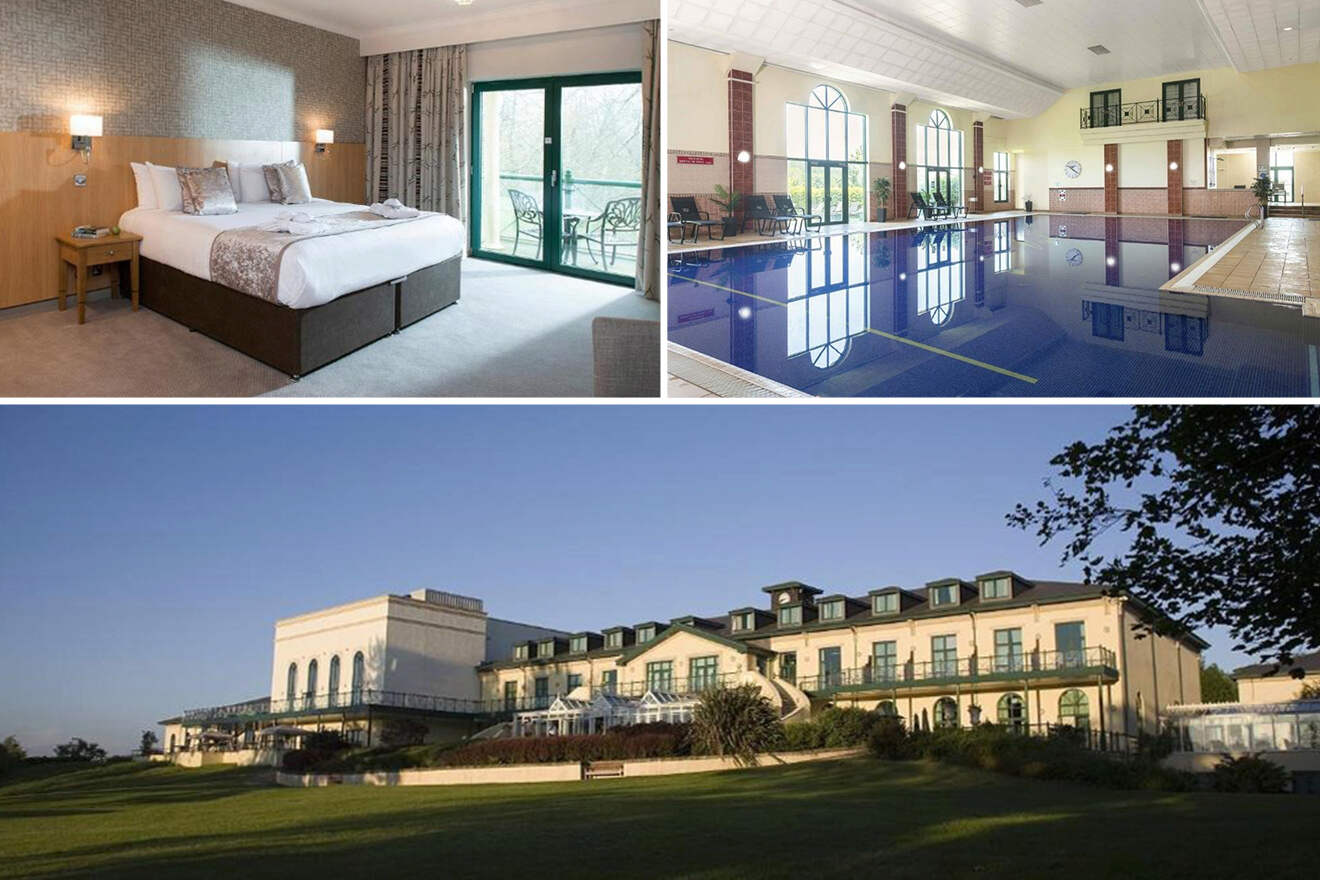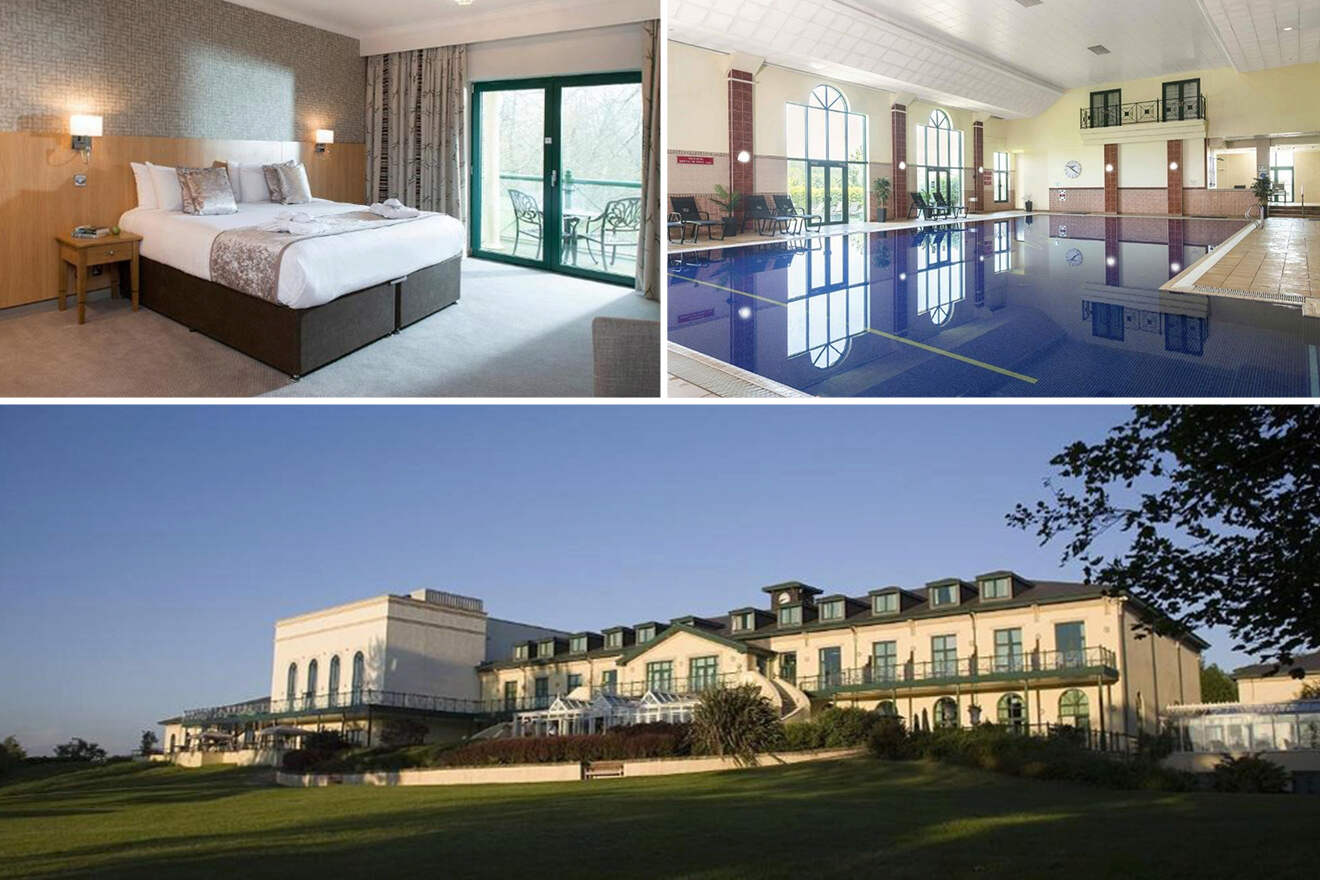 Let's wrap this list of the best spa hotels in Wales with a bang! Vale resort features all the things you'd want in a hotel and spa. A fabulous location in the countryside, great food and lots of fun activities to try like golfing and archery!
Their thermal suite includes lots of treatments from beauty, body massages, steam rooms and a sauna! Sounds like a dream! Start your morning with some room service (I love a good cup of tea in bed in the cozy sheets). Their food is made with locally sourced ingredients so you're in for a treat! Then head down to start your fabulous holiday!
FAQs about spa hotels in Wales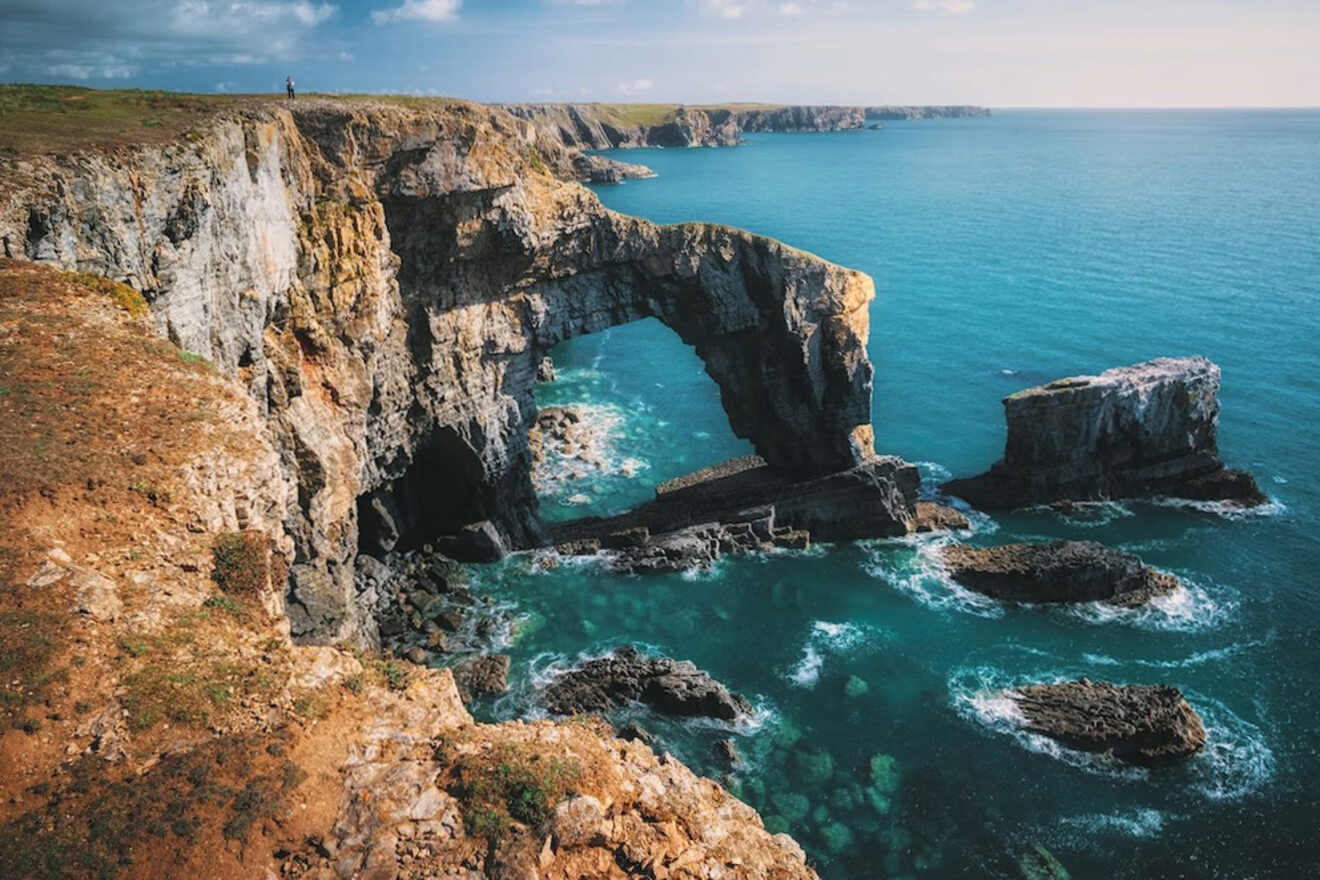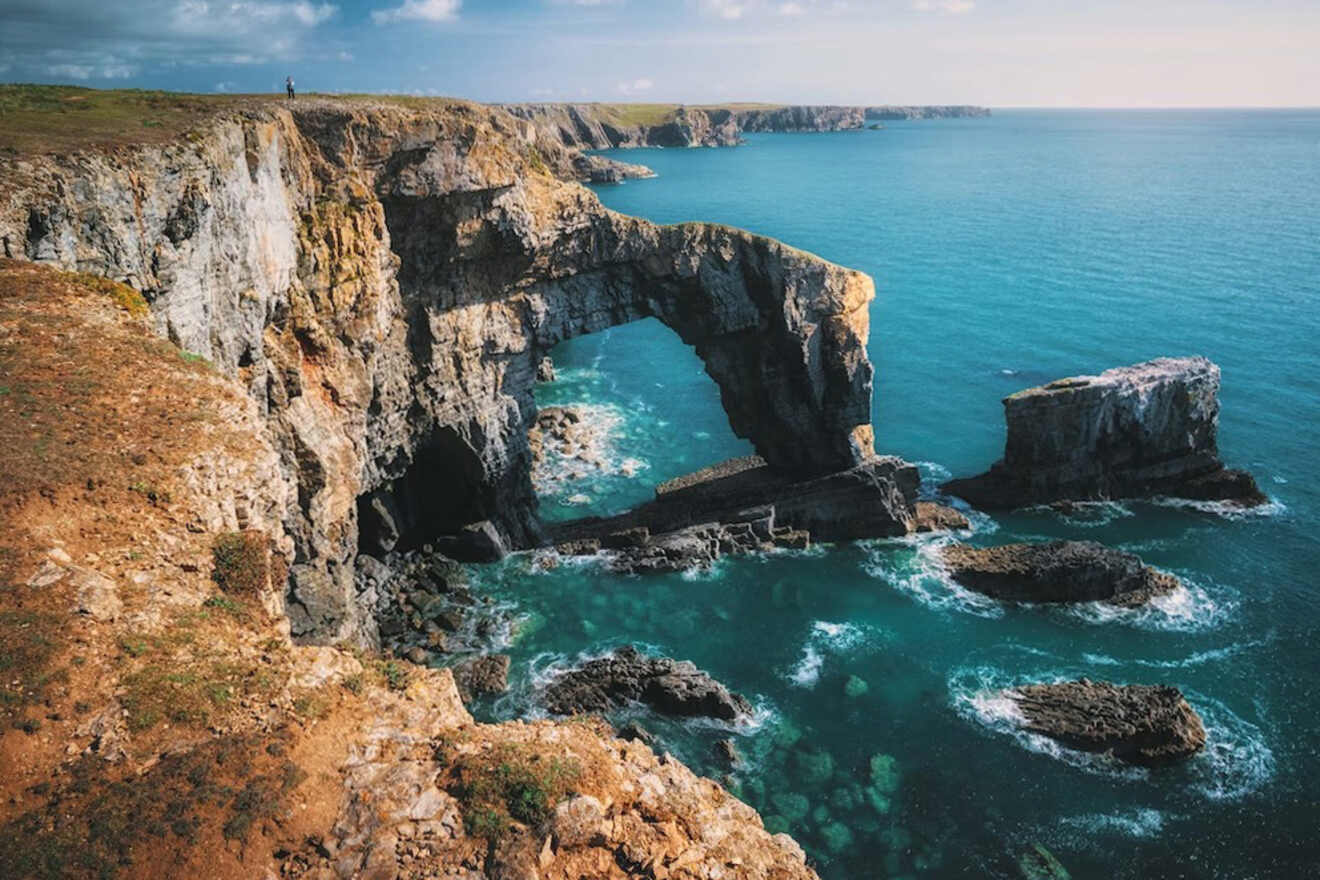 🌟 Which are the best 5 star spa hotels in Wales?
🌊 Which hotels and spa in Wales are by the sea?
📅 How many days should I spend in Wales?
I recommend spending between 4 and 5 days in Wales. That way you'll have lots of time to spend in the spa and explore around North Wales and the other areas.
👪 Which are some great family-friendly hotels in Wales?
Conclusion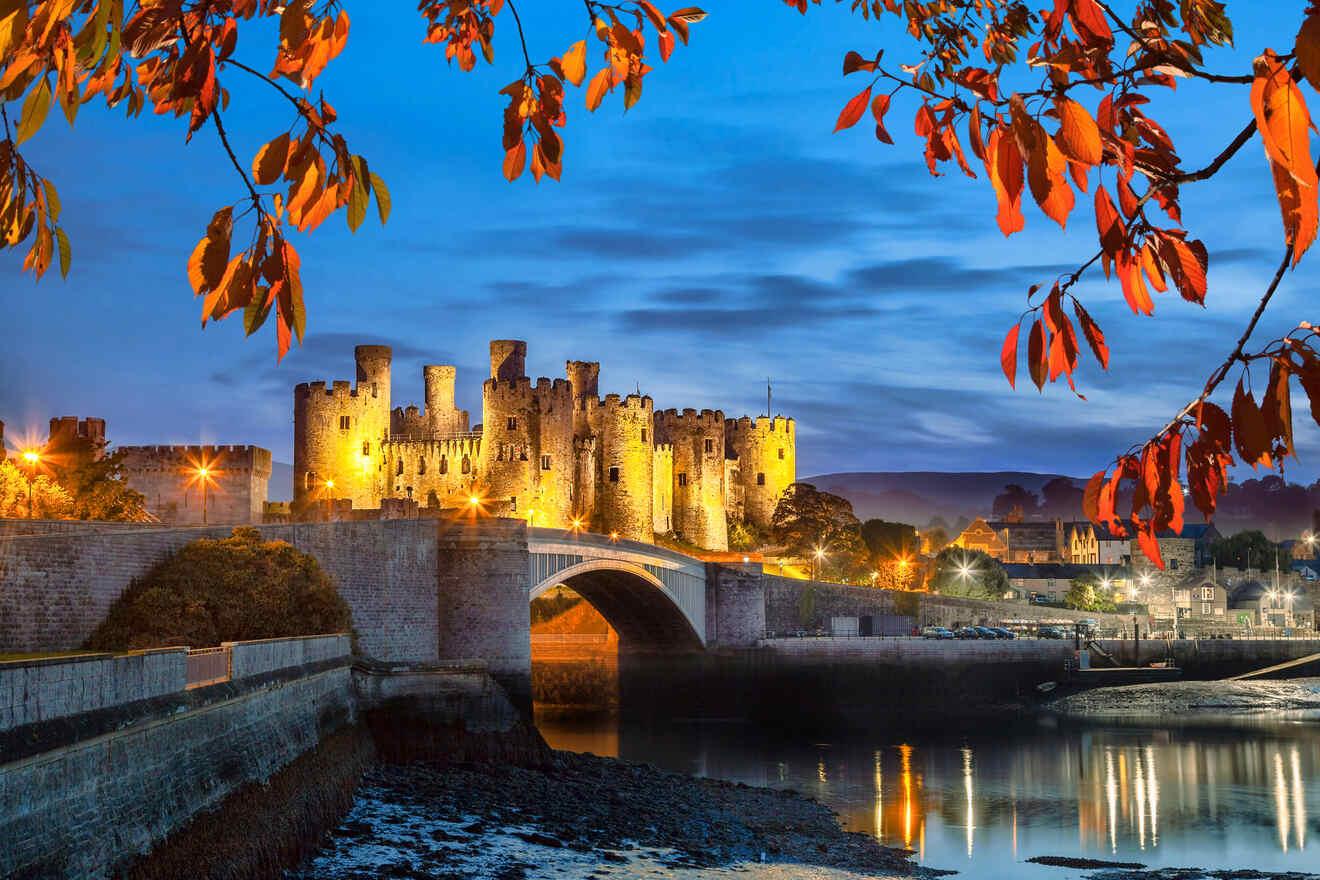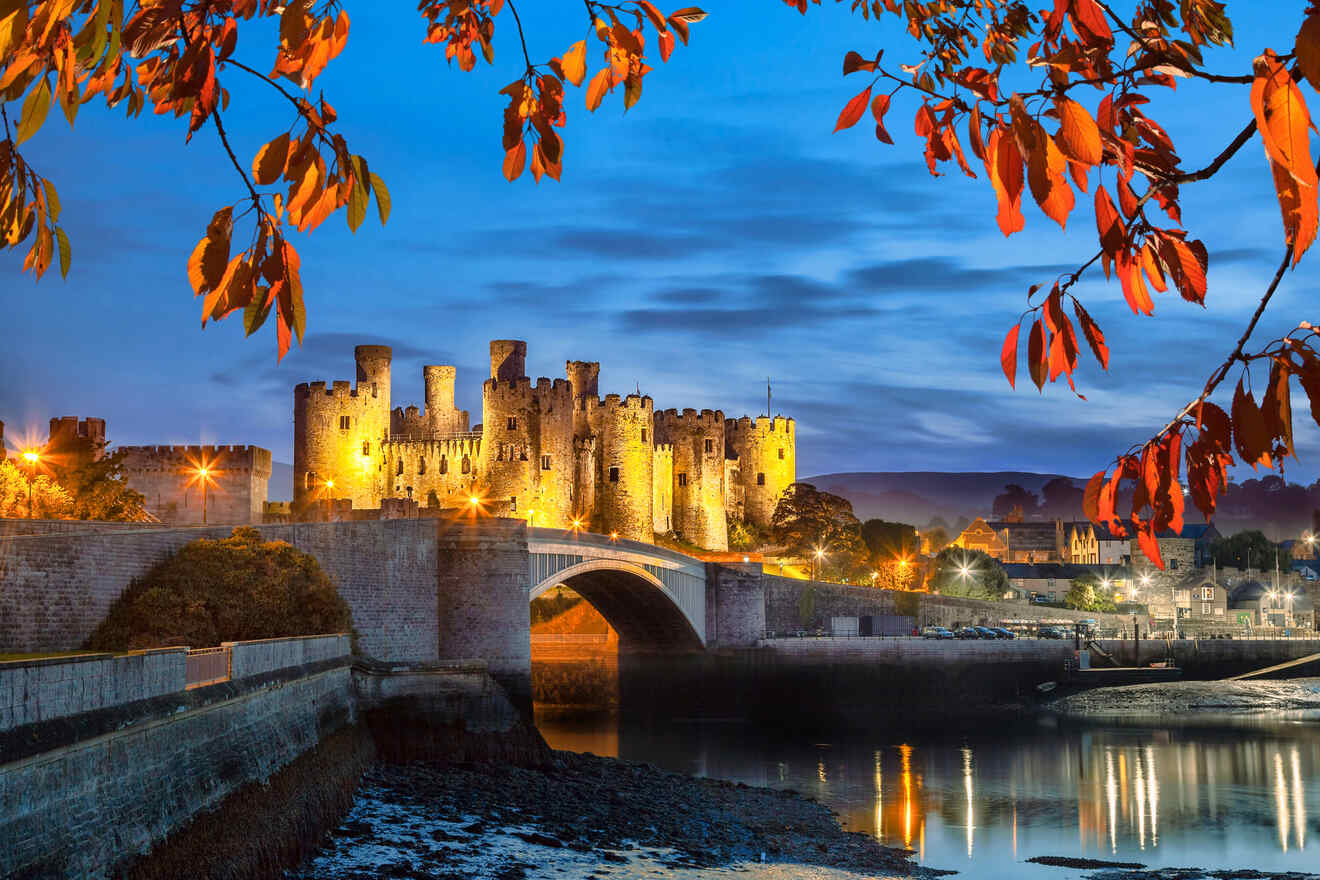 Dreaming of building your own ice fountain or rock sauna? Me too! But hey, luckily we've got these amazing places where we can go to enjoy that!
Let's wrap up this post with a quick recap:
As I mentioned this post has the best spa hotels in Wales listed from most to least expensive.
The number of hotels is big! But it's better to have a broader range. Still, if this is a bit too much for you, then check out my 2 favorite options:
These places are the best of the best, which can mean only one thing. They won't be available for too long! Make sure to book the one you like early, it will save you money and time!
And if you have any questions about the hotels just leave me a comment below and I'll be sure to answer! I'll leave you to your search now, enjoy!
Safe Travels,
Victoria
---
Pin it for later!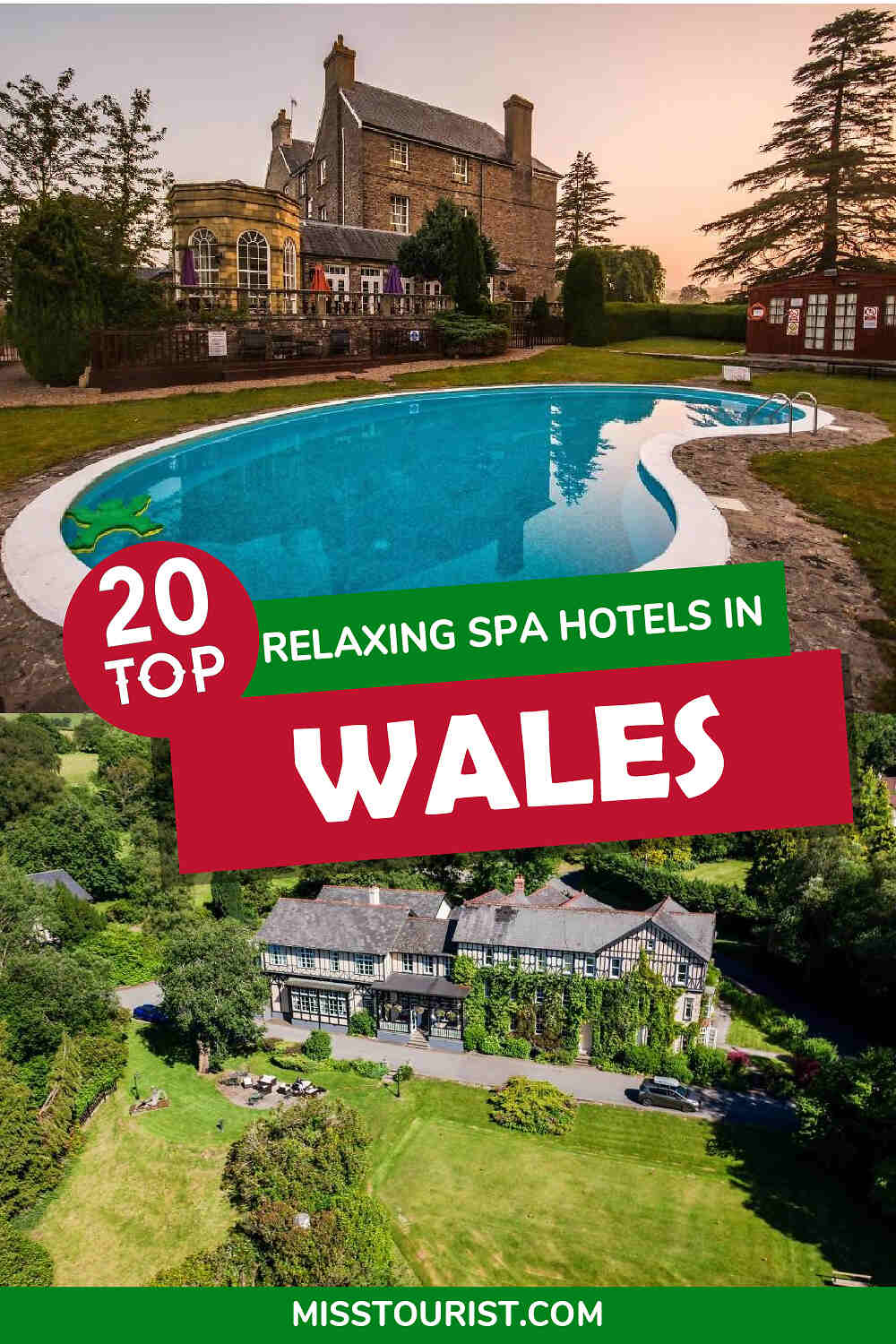 Pin it for later!