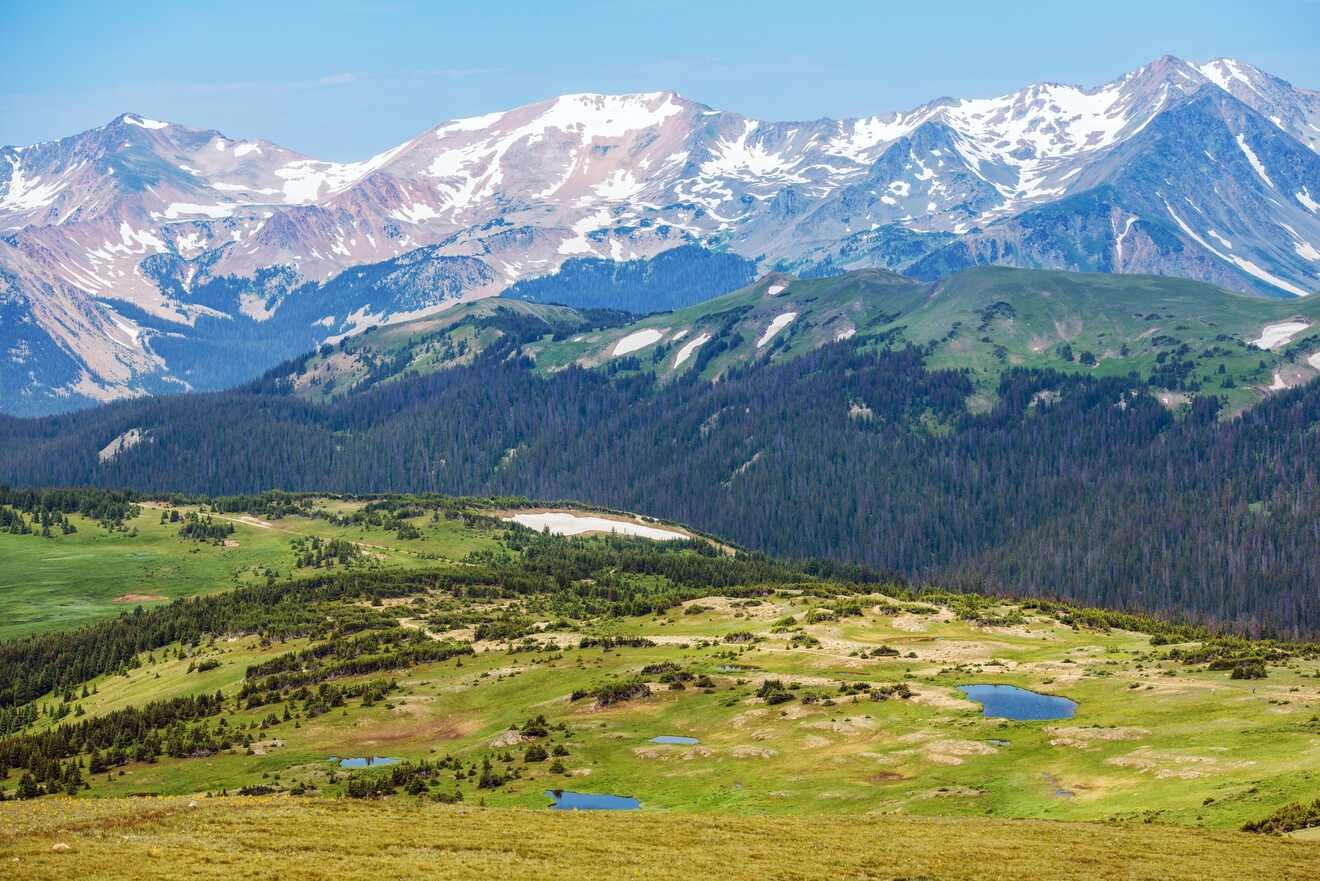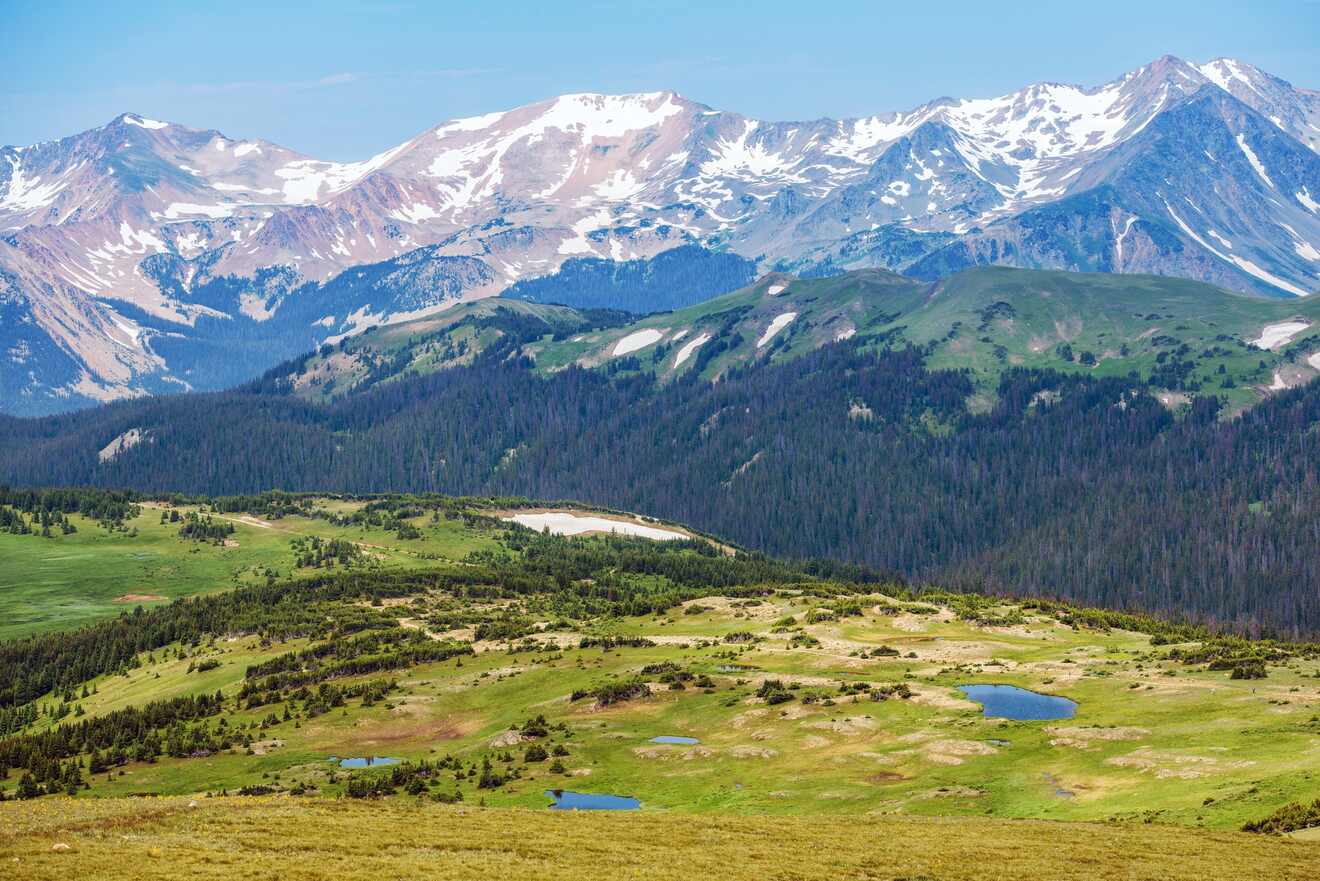 Are you ready to see some of the most amazing scenery in America? Because I sure am ready to tell you all about it! Located in the western half of the United States, Colorado is one of the most beautiful states in the country, offering its visitors unique natural spots and rich history. Home to the world's deepest hot springs and the largest flattop mountain in the world, the Grand Mesa, this state has got tons of surprises in store for you!
But nature isn't the only thing that attracts people here, there are many amazing museums and award-winning restaurants that convince people to buy a one-way ticket and spend as much time here as possible!
With this post I hope I can help you find where to stay in Colorado! It's a pretty big state so that a little help will come in handy. I divided the areas by interest and hotel prices for all types of travelers. Needless to say that the accommodations are so awesome here, but remember that if you want to get the room you want at a good price, you'll have to book in advance. Trust me, you'll sleep better at night!
Let's go, the woods are calling us!
If you are in a hurry
If you want to book now, there's no reason to wait a minute longer, so here's a shortlist of the best hotels all located in Denver
Here's a map of all the areas where to stay in Colorado that I will be talking about in this post:
1. Denver – where to stay in Colorado for the first time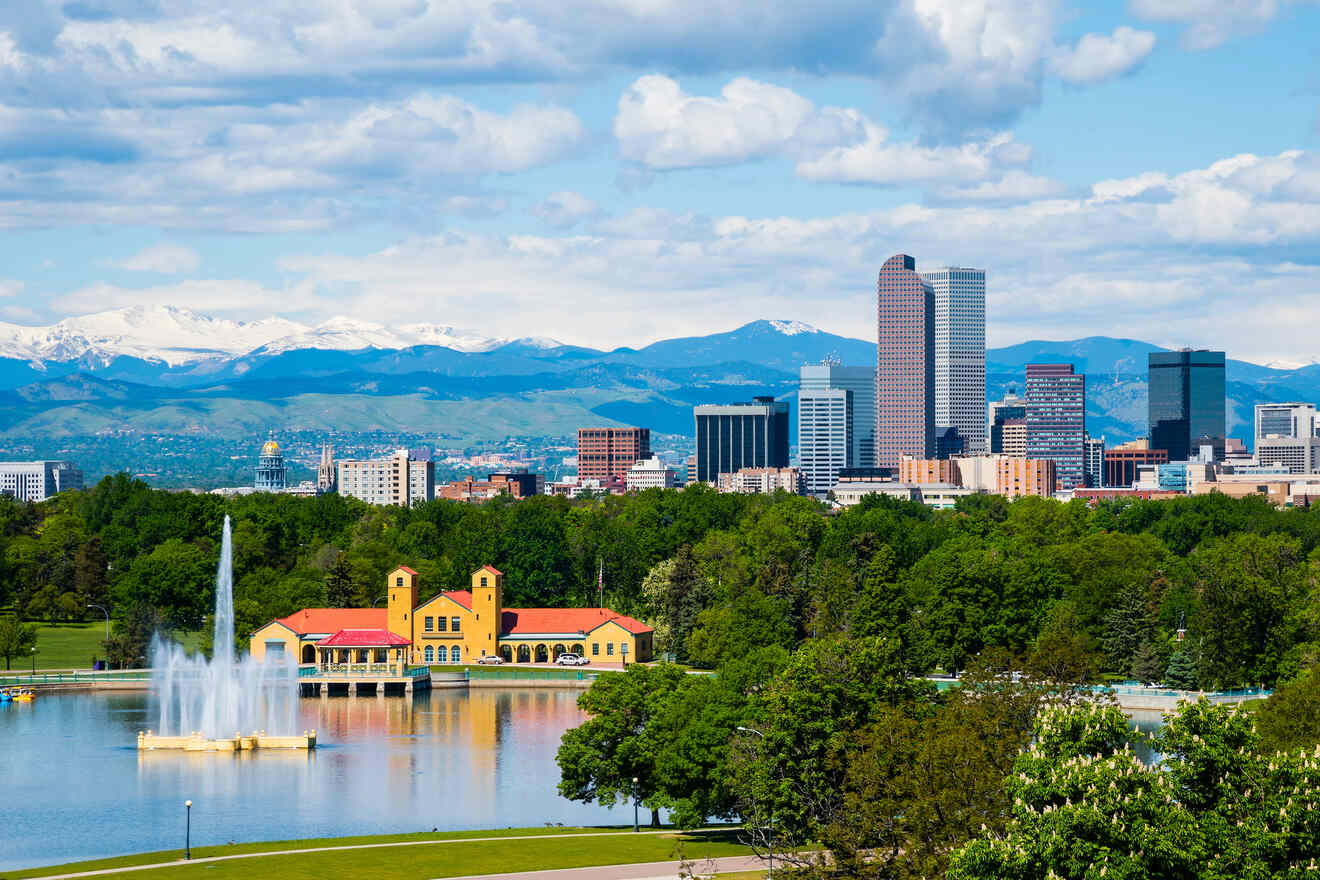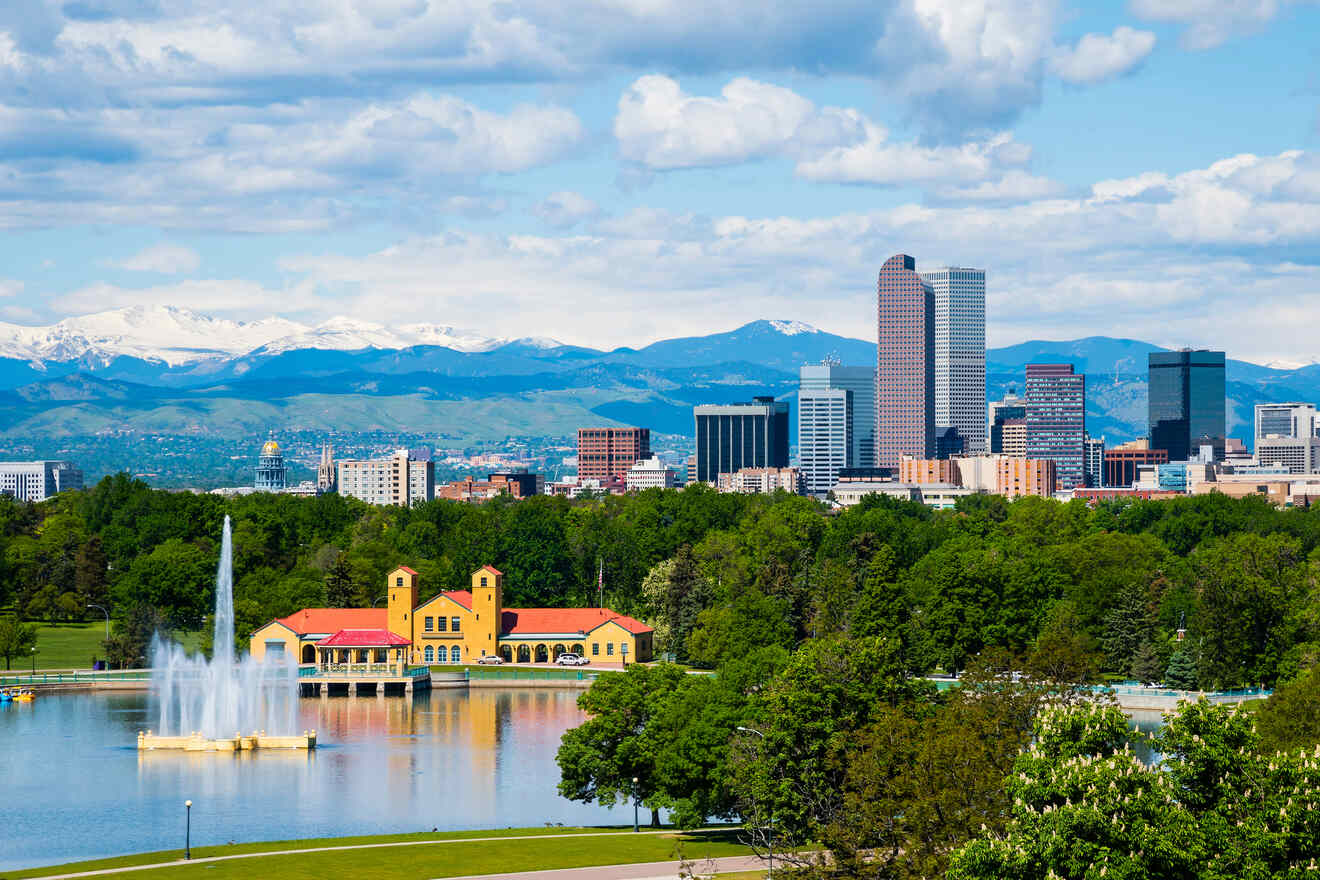 Proudly named the capital city of Colorado, Denver has an interesting history that goes way back to the days of the Wild West era, a period of cowboys, pioneers, and outlaws. However, now Denver is mostly a cosmopolitan city surrounded by the spectacular scenery of skyscrapers and mountains.
If you're visiting Colorado for the first time, this Mile High City is the place for you! Of course, the Downtown area is where you'll find most of the attractions, which are mostly located within walking distance of the hotels, and where you can enjoy the city's nightlife! And if you want to discover the city in more detail, here's a post with tons of things to do here and more hotels.
Whether you're visiting by yourself or with your families, you'll find something to do in Denver for each type of traveler, that's the benefit of staying in such a diversified city! Museums, shopping stores, art galleries, and the rich history will make you fall in love with this town.
Just wait until you take kids to the Denver Zoo or visit the Denver Art Museum! It's going to be so exciting that you'll probably be out of your hotel room all day! However, once you see the hotels in the city, you may want to spend a day or 2 in! The Denver accommodations are super trendy, but oh they sell out so fast! I highly recommend booking in advance to avoid any inconvenience or paying a higher price.
Other accommodation options in Denver
Things to do in Denver
Admire the stunning architecture of the Colorado State Capitol
Dance all night at The Church Club and enjoy the city's nightlife
Play with the cute animals at the Denver Zoo
See all the cool art at the Denver Art Museum in Downtown Denver
Dive into the rich history of the city at the Molly Brown House Museum
Spend a whole day in the Denver Botanical Gardens
Go shopping in all the stores on Larimer Square
Enjoy the light show at the International Church of Cannabis
2. Aspen – where to stay in Colorado for winter sports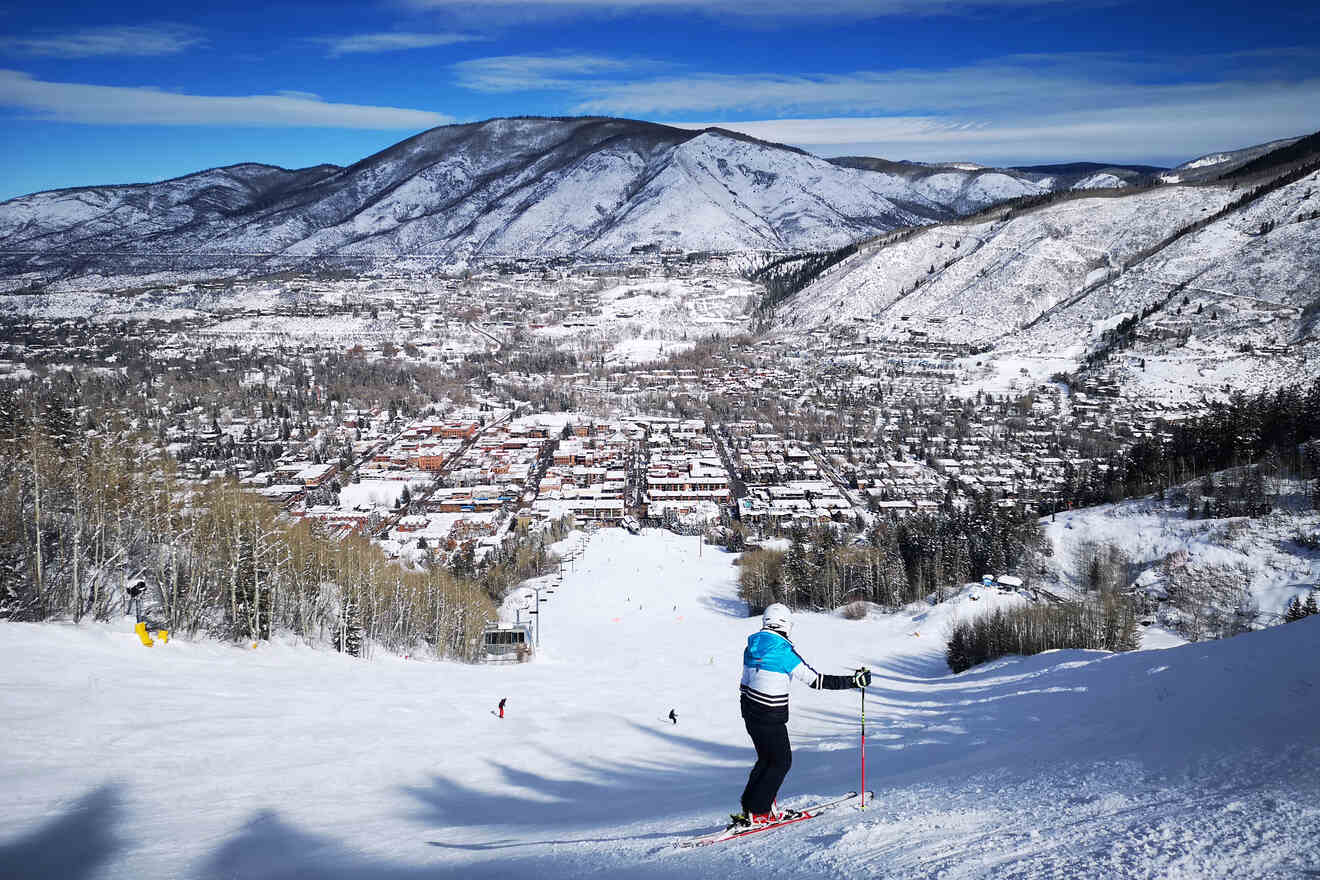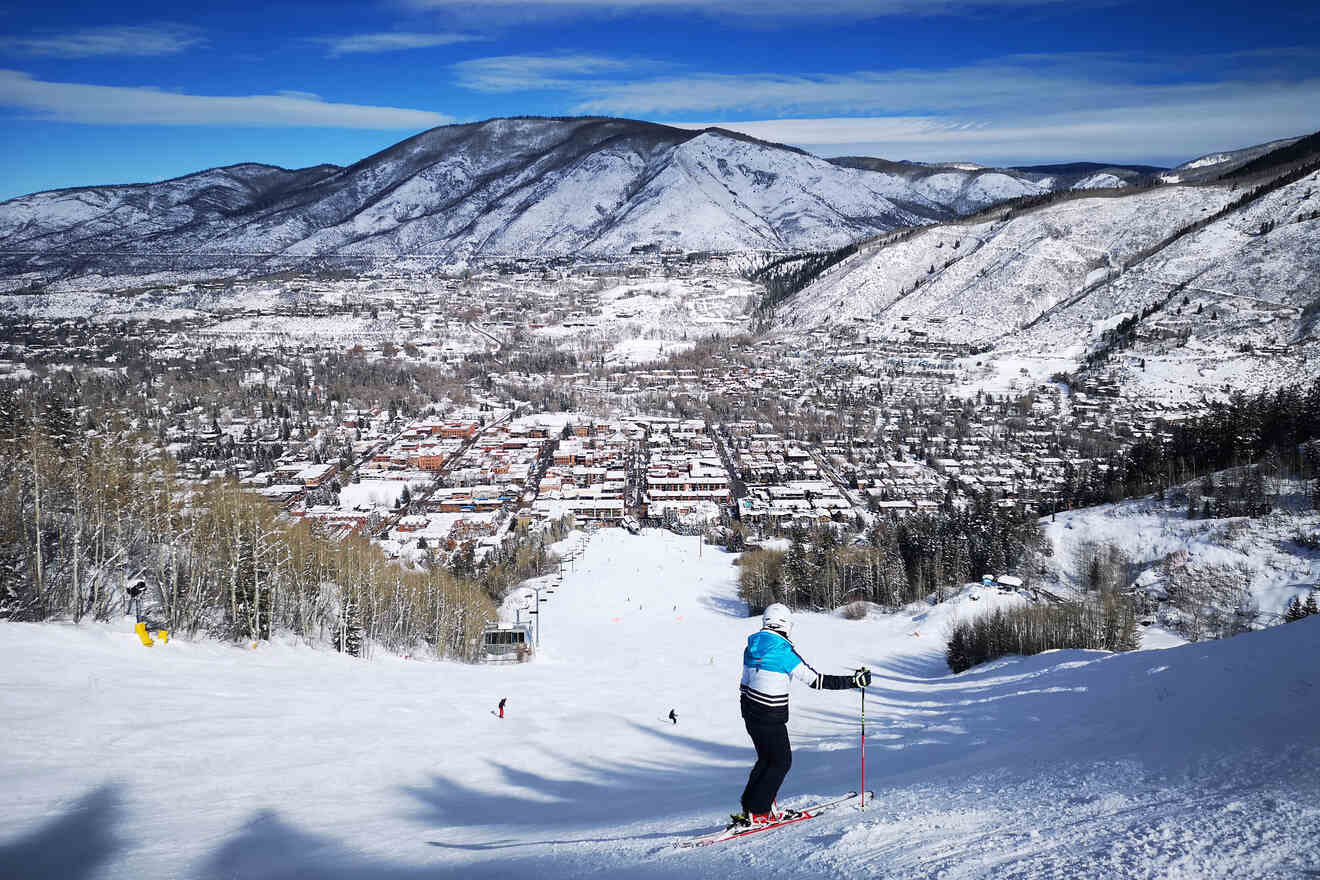 Located 200 miles (320 km) southwest of Denver, Aspen is a ski resort town or Winter Wonderland as I like to call it, that's famous among winter sports enthusiasts. Although you can visit this spot all year round to do other outdoor activities like hiking or mountain biking, the real magic happens when the first snow sticks to the ground!
This mountain town is a top holiday spot for many celebrities, like Kate Hudson or the Kardashians, so be on the lookout! Maybe you'll spot your favorite actor or singer here! However, you might find yourself a bit busy with the stunning views of the Colorado Rockies mountains and with all the outdoor adventures.
Although the ski resorts are the stars of the show in Aspen, while you stay in town, you'll discover a whole different part of it that you don't always see in the pictures. The Downtown area of Aspen looks like it's been taken out of a Christmas movie, even during the summer! The atmosphere is so lovely, and there are tons of small quaint shops and local restaurants that serve amazing food.
I would take a break from all the skiing and hiking and set myself on a mission to enjoy a day of sightseeing around this magical town!
Other accommodation options in Aspen
Things to do in Aspen
Go on an outdoor adventure at Aspen Mountain Ski Resort
Explore Downtown Aspen and buy souvenirs from the unique shops
Visit the Aspen Art Museum
Enjoy some outdoor adventures in the John Denver Sanctuary
Learn new things at the Aspen Center for Environmental Studies
Eat some delicious food at Meat & Cheese Restaurant
Dive into the history of the town at the Wheeler/Stallard Museum
Check the golf course and tennis courts at Aspen Golf Club
3. Colorado Springs – best place to stay for adventure junkies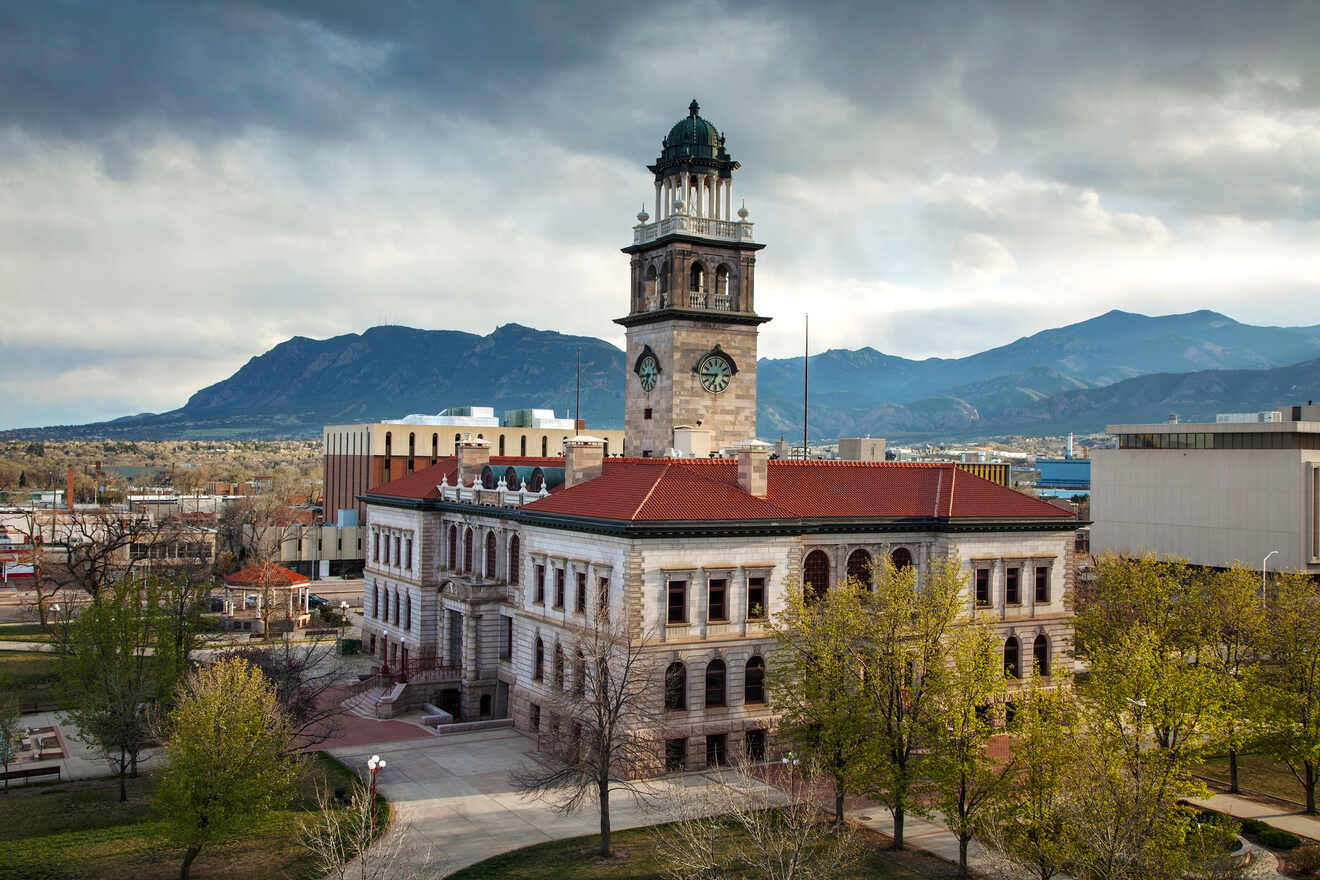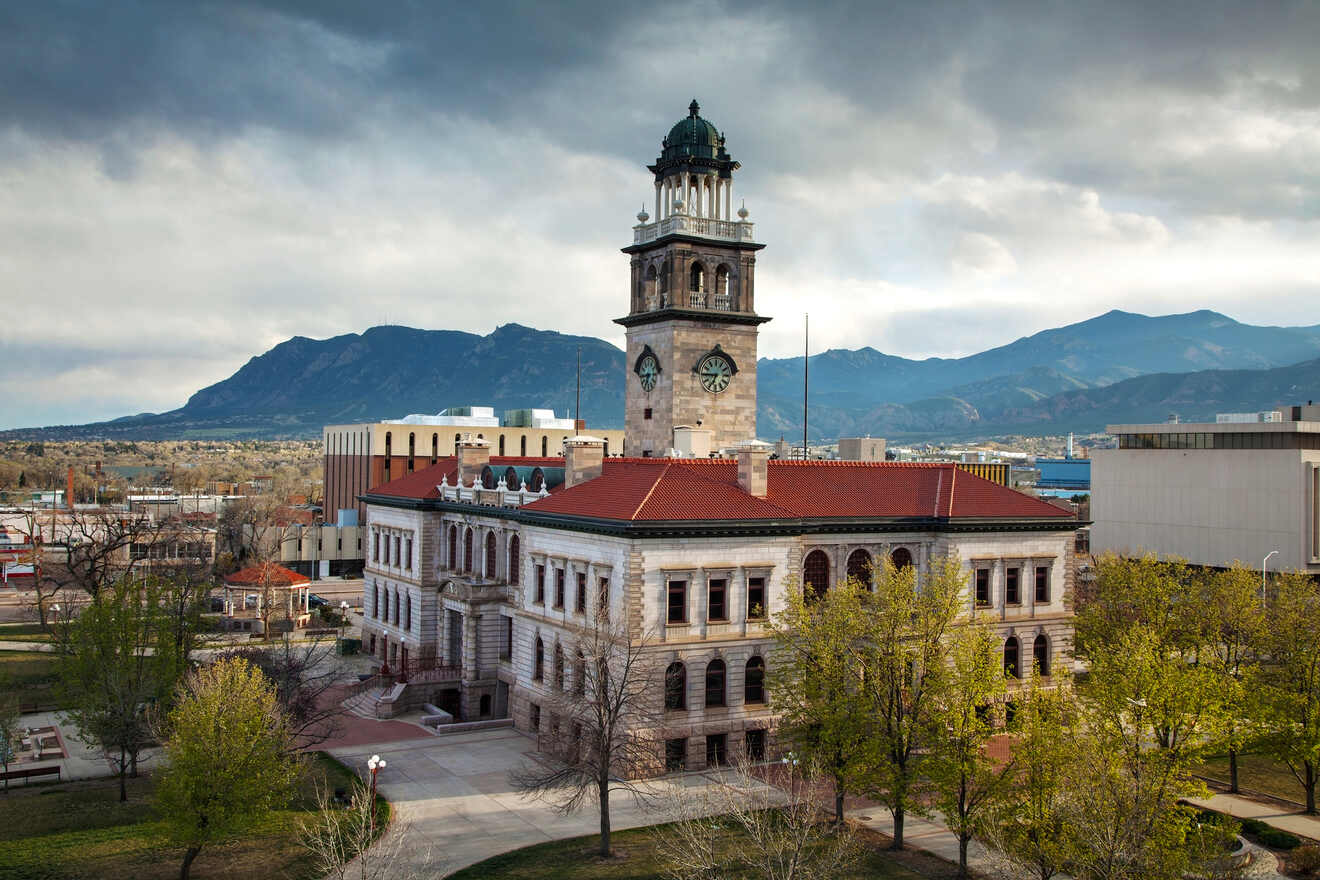 Located 70 miles (110 km) south of Denver, this unique place is for those of you who are ready for a serious outdoor adventure! The scenery here is unbelievable, and you'll probably want to explore the hiking trails all day long, but this city also has some cool museums that you'll want to squeeze into your schedule, maybe when you're feeling too tired to go mountain biking!
The most famous spot in Colorado Springs is the Garden of The Gods, an incredible place filled with sandstone formations that once you see, you'll understand why it wears this name. The panoramic views of this place are just breathtaking, and the park has several scenic hiking trails where outdoor enthusiasts can spend most of their time.
Don't worry though, that's not the only place where you can enjoy outdoor activities. The Red Rock Canyon Open Space and Palmer Park are perfect for some long hours of mountain biking and hiking. And if you're looking for super quirky places to stay in Colorado, here are some awesome Airbnbs that you should check out.
After a great deal of physical effort, what can be better than a hot, delicious meal? Luckily you'll find a few nice restaurants in Colorado Springs where you can recharge your batteries, like the Lake Terrace Dining Room. Suppose you've managed to leave all those beautiful surroundings because we all know how addictive spending time in nature can get. In that case, you should explore the museums and the other tourist attractions in Downtown Colorado Springs.
Other accommodation options in Colorado Springs
Things to do in Colorado Springs
Explore and go hiking in the stunning Garden of the Gods
Have a delicious meal at the Lake Terrace Dining Room in Colorado city
Take the kids to the Cheyenne Mountain Zoo
Enjoy some outdoor activities in the Cheyenne Mountain State Park
Visit the Manitou Cliff Dwellings
See the cool Ghost Town Museum
Check out the US Air Force Academy building
Go mountain biking and hiking in the Red Rock Canyon Open Space or in Palmer Park
4. Boulder – the best place to stay in Colorado for culture & an urban feel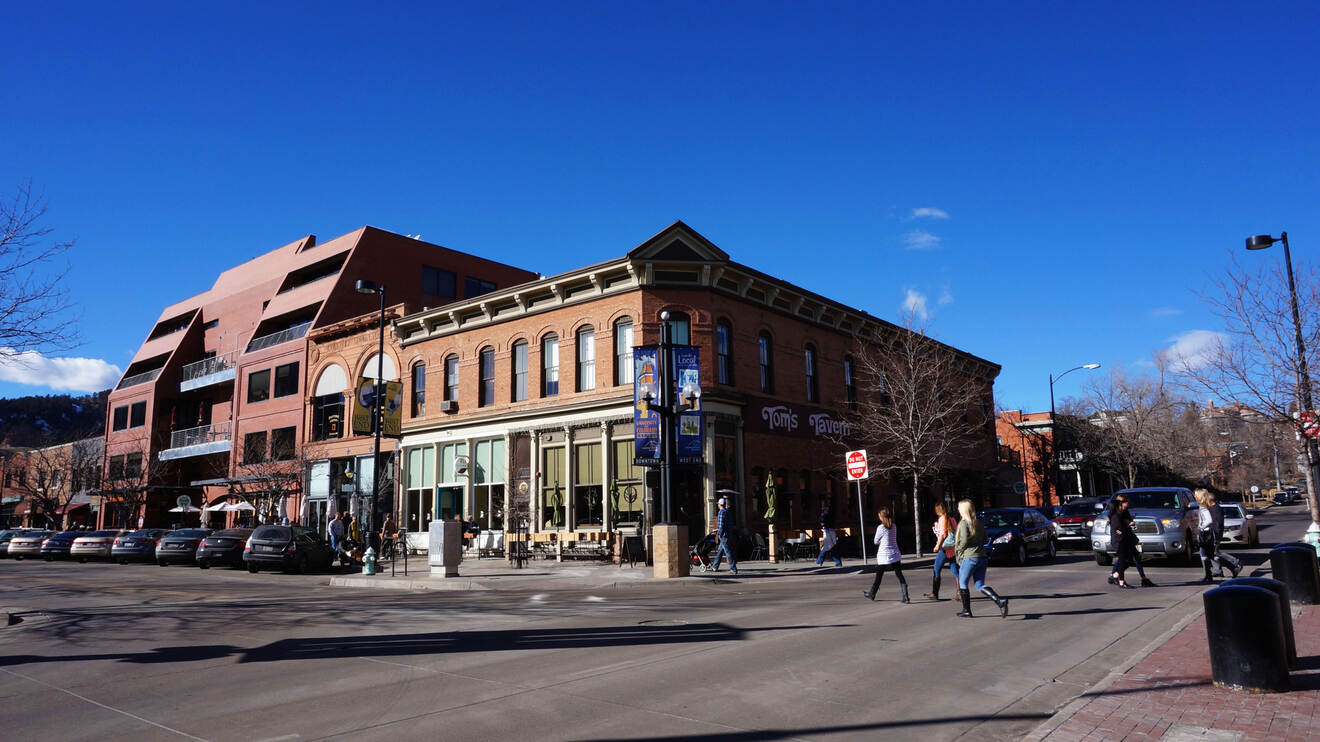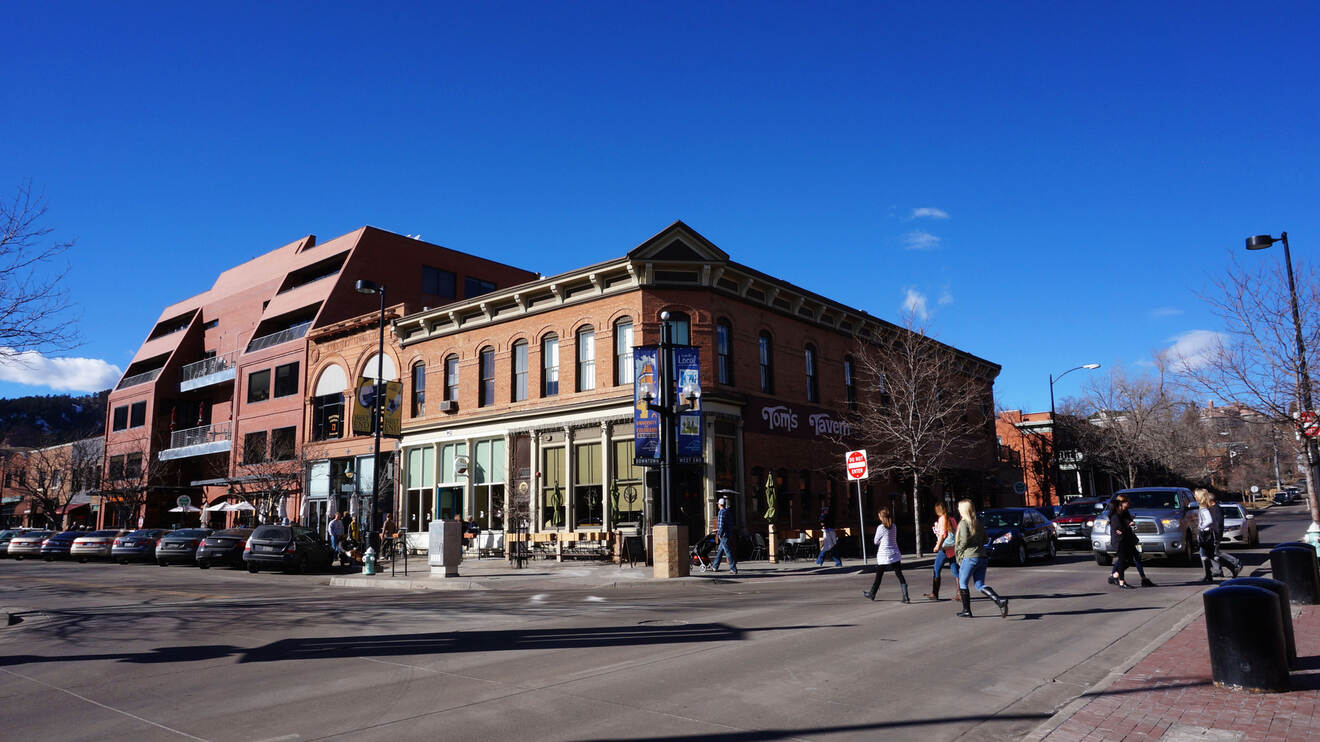 I like Colorado because you can find towns that have a perfect mix of outdoor activities and cultural things to do, which will submerge you in the city's culture and trends. Boulder, located 30 miles (50 km) north of Denver, is that kind of place!
A university city, Boulder is situated at the base of the Rocky Mountains and has a super laid-back atmosphere. Here you'll find a super-wide range of activities suited for both outdoor enthusiasts and people who prefer to visit museums, eat at nice restaurants, and go shopping in some cool stores. The Pearl Street Mall is a good place to start your adventure around the Downtown area as there are many shops and sometimes even some cool street performances!
Boulder is also home to some great art galleries and museums like the Boulder Museum of Contemporary Art. But if you're in desperate need of a break from all the sightseeing and busy streets, don't worry! The city is surrounded by a few natural spots where you can relax and forget the city noise, like the Boulder Reservoir or the Boulder Creek Path.
Other accommodation options in Boulder
Things to do in Boulder
Go shopping at Pearl Street Mall
Learn new things about the city's culture at the Boulder Museum of Contemporary Art
Drink a delicious cup of tea at The Boulder Dushanbe Teahouse
Visit the Boulder History Museum
Take the kids to the Fiske Planetarium
Buy some delicious local products from the Boulder Farmers Market
Spend some time in the outdoors and explore the scenic hiking trails at Boulder Creek Path
5. Rocky Mountain National Park – where to stay in Colorado for nature lovers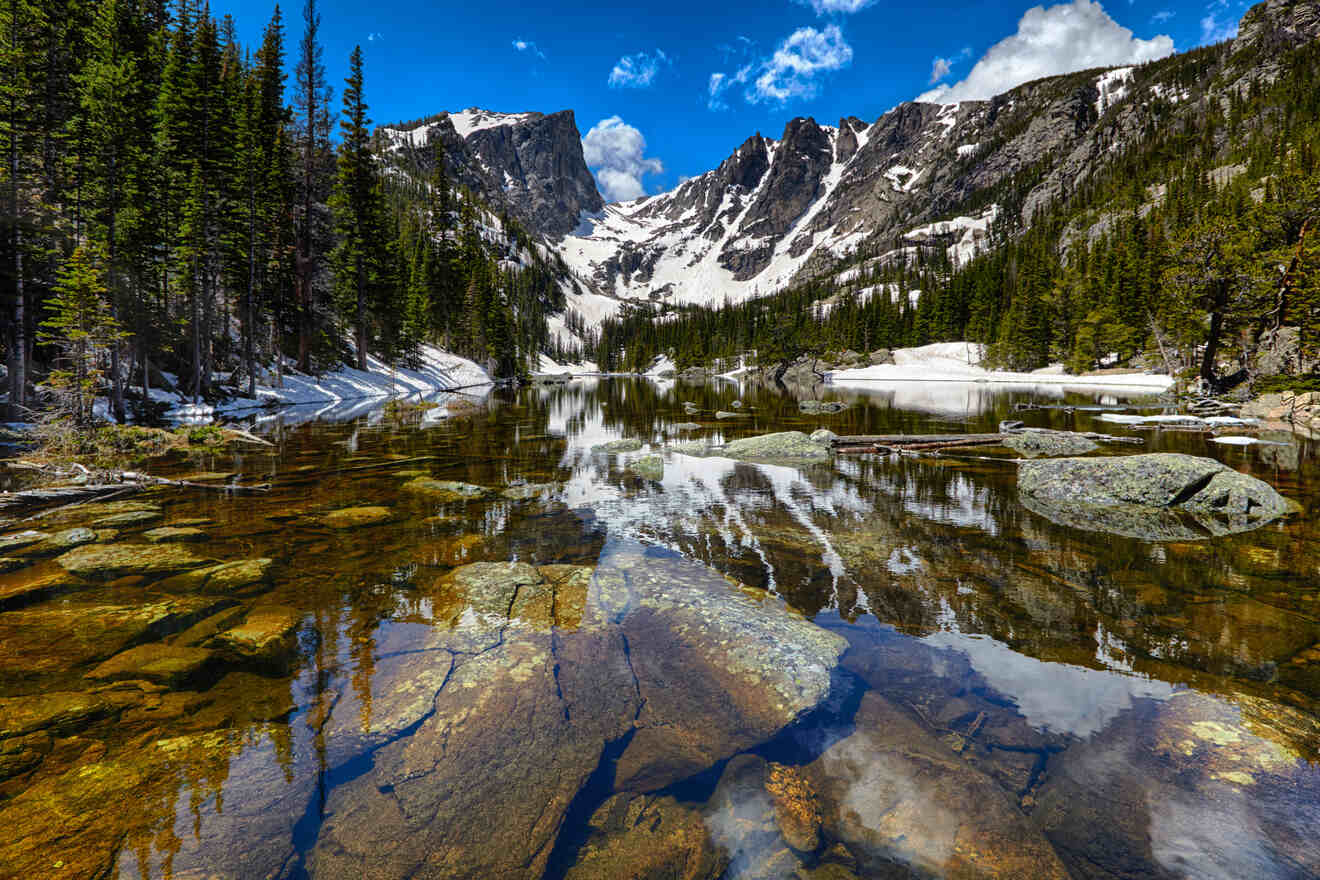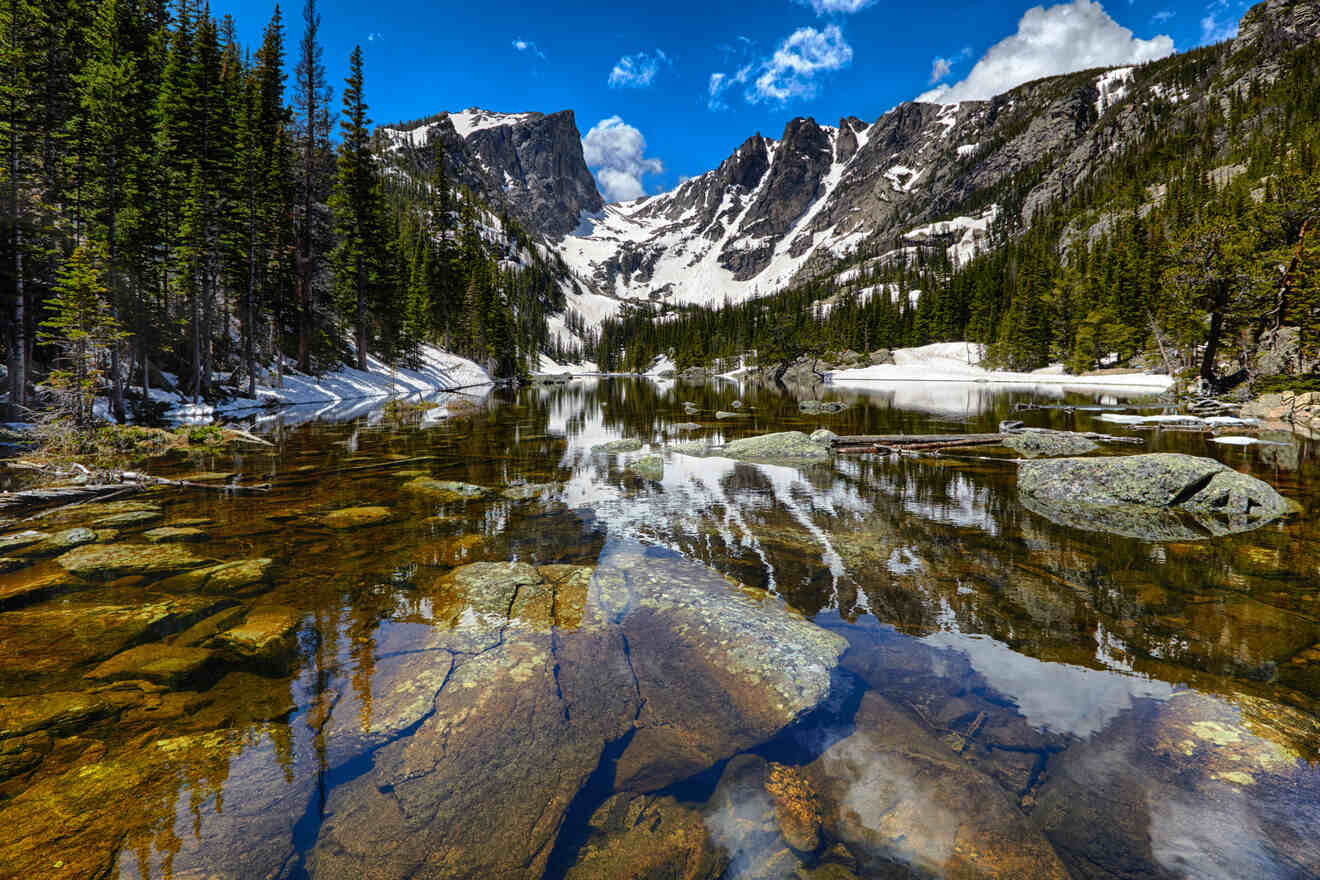 If heaven were a place on earth, it would look like this park! Located 70 miles (100 km) northwest of Denver, this beautiful natural protected area is a dream come true for anyone who loves spending time in nature!
Forests, stunning hiking trails, valleys, and cute animals, you'll find all that and more in the majestic Rocky Mountains. Whether you're more into exploring the area on foot and stopping every 5 minutes to take a picture of a pretty flower (like I usually do), or you're more courageous and want to climb and hike one of Colorado's tallest mountains, the Longs Peak, the park is perfect for both types of activities.
The nearest town is Estes Park, located 4 miles (6 km) away from the Rocky Mountain National Park. And this is where you'll find most accommodations, but it also has a charm of its own, so I wouldn't miss the chance to explore Estes Park as well as its attractions and restaurants. If you'd prefer to stay inside the actual Rocky Mountain National Park premises, there are campgrounds which you can rent and sleep under the starry skies.
Other options in Rocky Mountain National Park
Things to do in Rocky Mountain National Park
Climb up the Longs Peak Mountain and admire the stunning views
Try some fishing in Lily Lake
Have some family fun at the ​​Estes Park Ride-A-Kart
Get tipsy on wine at the Snowy Peaks Winery in Estes Park
Take some pictures of the beautiful Bear Lake, Colorado
Visit the Estes Park Museum
Go hiking around Dream Lake
Spend a whole day having fun at the Open Air Adventure Park in Estes Park
6. Mesa Verde National Park – best place to stay for history lovers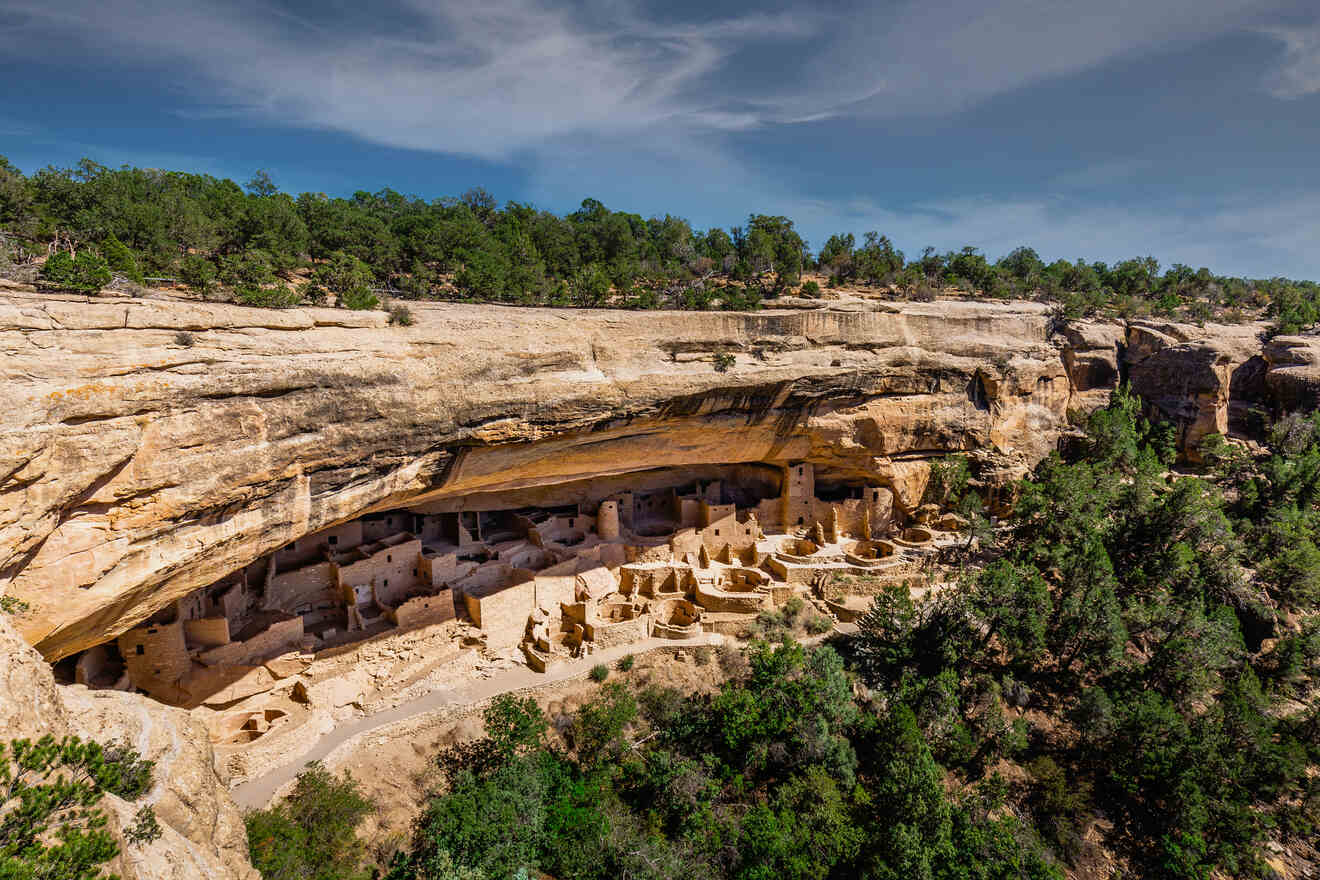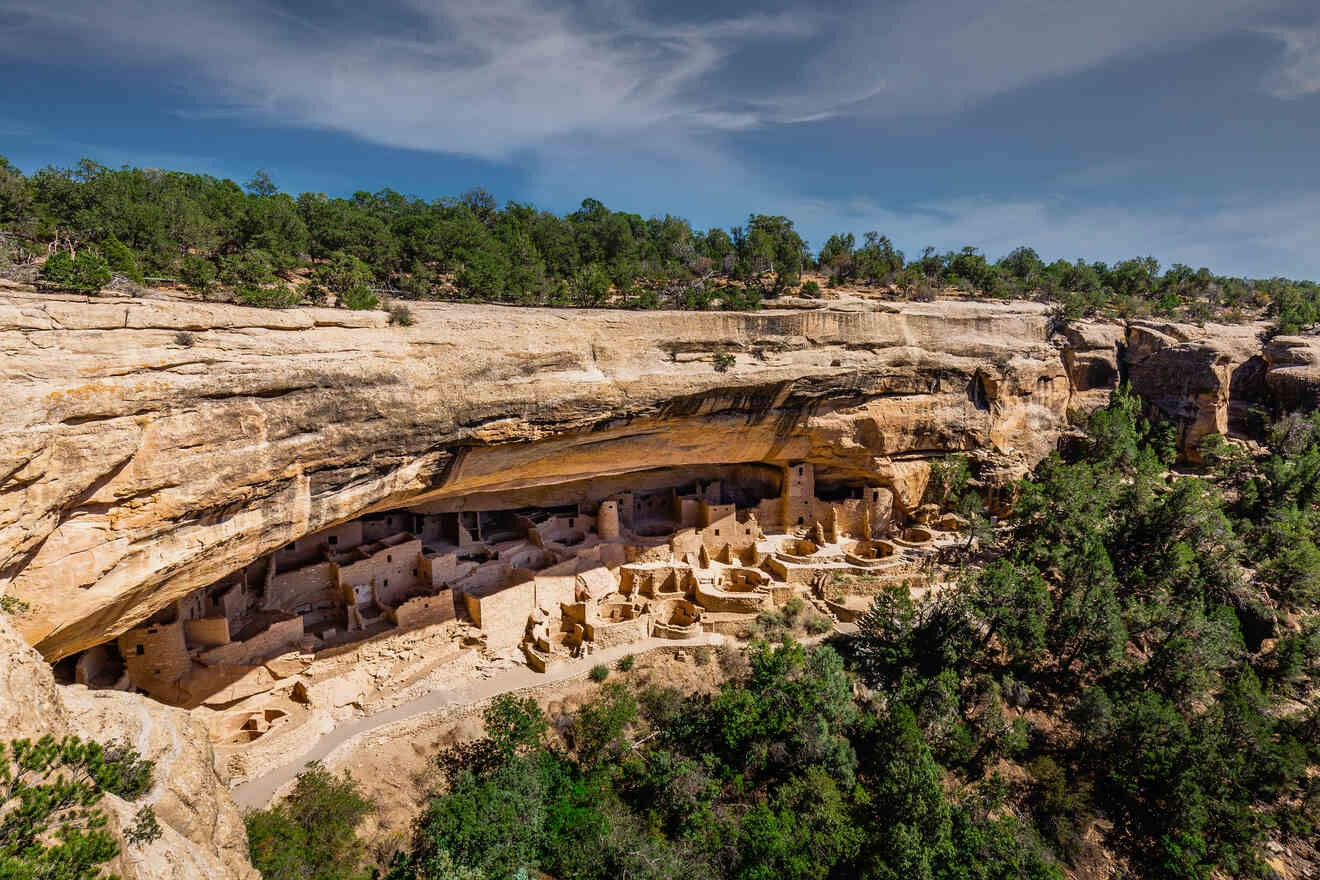 Located 370 miles (600 km) northwest of Denver, this national park is a bit different from the previous one, although it has many natural wonders, Mesa Verde National Park is a place filled with history.
The park was established in 1906 to protect the archeological sites that were once the home of some Native Americans, also known as the Ancestral Puebloan people. There are 5000 archeological sites inside the park, which include 600 cliff-dwellings, the biggest attractions here. And if you want to learn more about their origin and the people who lived here, you can take a guided tour with one of their specialists.
But don't think that's all there is here, we're still in a national park, so it's bound to find some hiking trails, or if you're looking for some adventure, you can go horseback riding at the Mesa Verde Stables! That's one thing that I wouldn't miss!
Most accommodations are located near the Mesa Verde National Park, but there are a few campgrounds and lodging inside the park's premises that you can book if you want to be super close to the action.
Although there aren't any luxury hotels to stay in near the park, and as you know I only recommend the best of the best places. But here are 3 hotels which I'm sure you'll love!
Other accommodation in Mesa Verde National Park
Things to do in Mesa Verde National Park
Learn new things about the history of this place at the Cliff Palace
Explore the Soda Canyon Overlook Trail
Enjoy the panoramic scenery near the Sun Point View
Go horseback riding, at the Mesa Verde Stables
Check out the interesting Sun Temple inside Mesa Verde National Park
BONUS 1: 4 Best hotels in Colorado with stunning views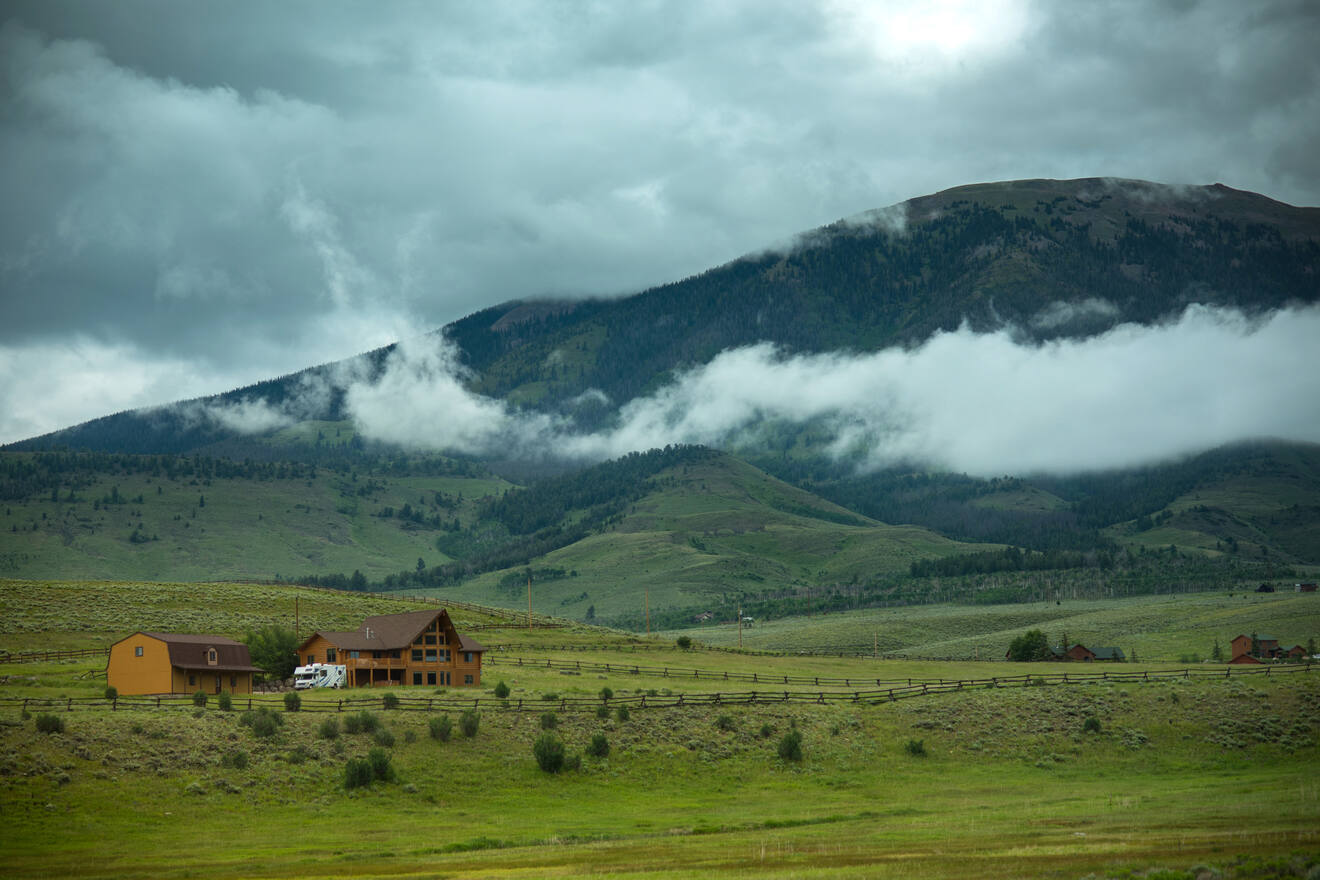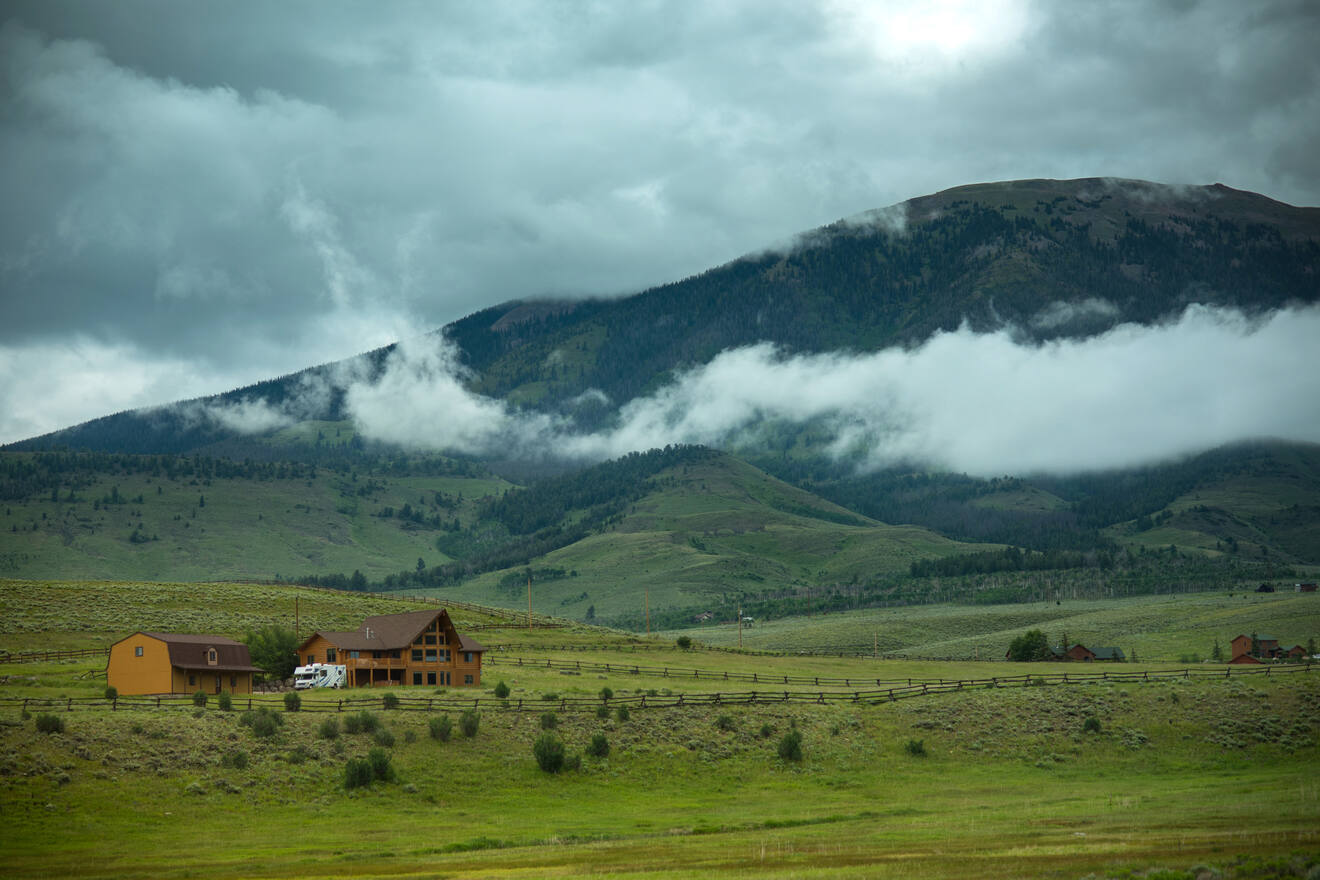 We all know how important it is to find a hotel that suits you perfectly! I, personally, love accommodations that have a fire pit or maybe an indoor pool or some type of feature that makes me want to book it instantly!
In a place like Colorado surrounded by amazing landscapes and mountain sights, it's only fair to search for a hotel that offers its guests some great views. So I decided to come up with a list of the best hotels in Colorado that offer great scenery.
1. The Arrabelle at Vail Square
Say bye-bye to your worries in this luxurious resort in Vail that offers ski in ski out access rooms with fireplaces! Can you believe those views from the balcony? Get your favorite book, a glass of wine, and enjoy the good life! The hotel has an outdoor pool, and you can admire the scenery from there as well! You'll also find a restaurant, a bar, and a fitness center on-site.
2. The Broadmoor
Lake views, mountain views… does it get any better? Whether you chill by the outdoor pool all day long or play some golf with your friends, you won't escape the stunning scenery of this hotel in Colorado Springs. You can even spot it from inside the hotel! Take a break from all the activities and spend some time doing nothing but relaxing in the spa center. The accommodation has 6 restaurants! So 1 restaurant for each day and spacious family rooms.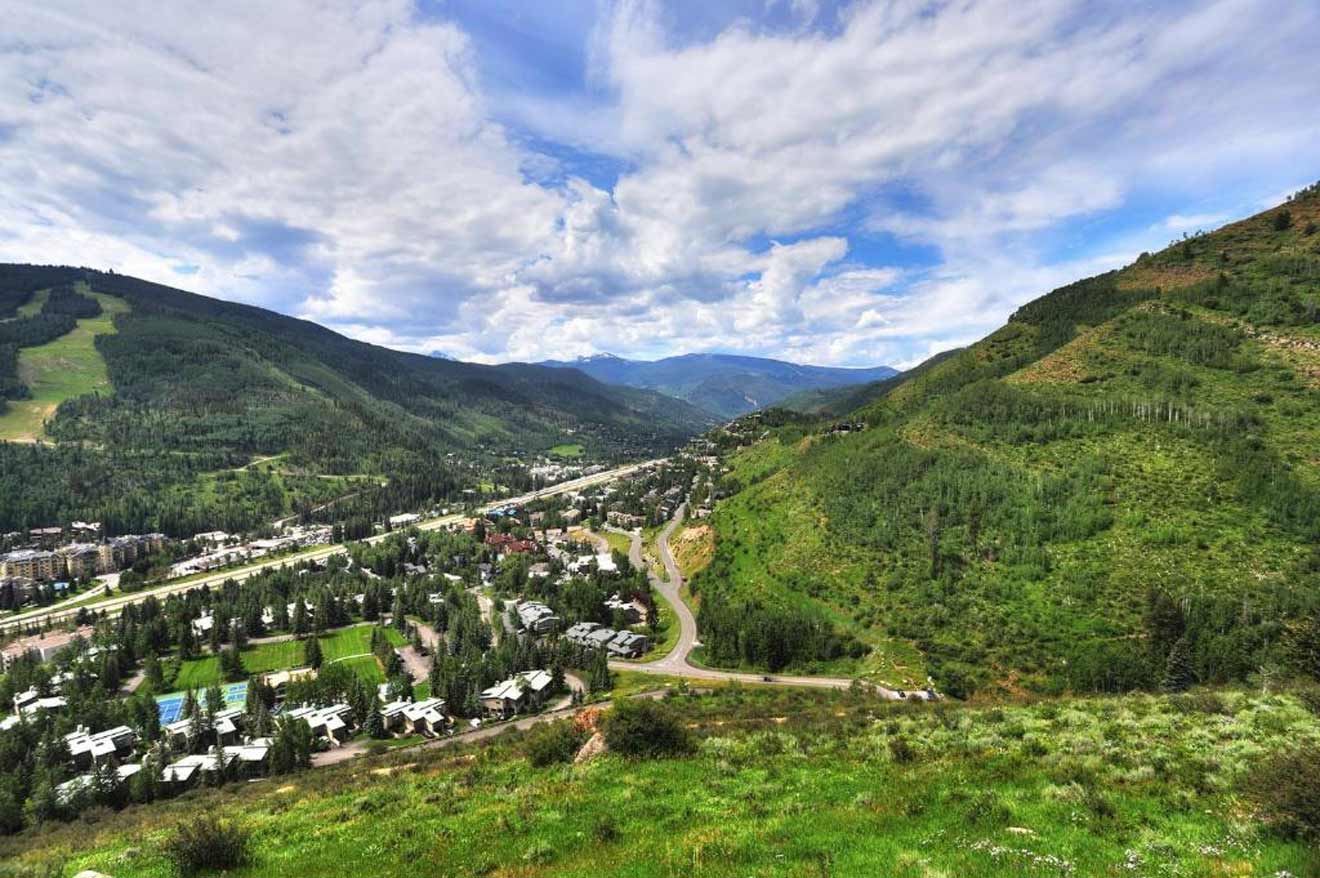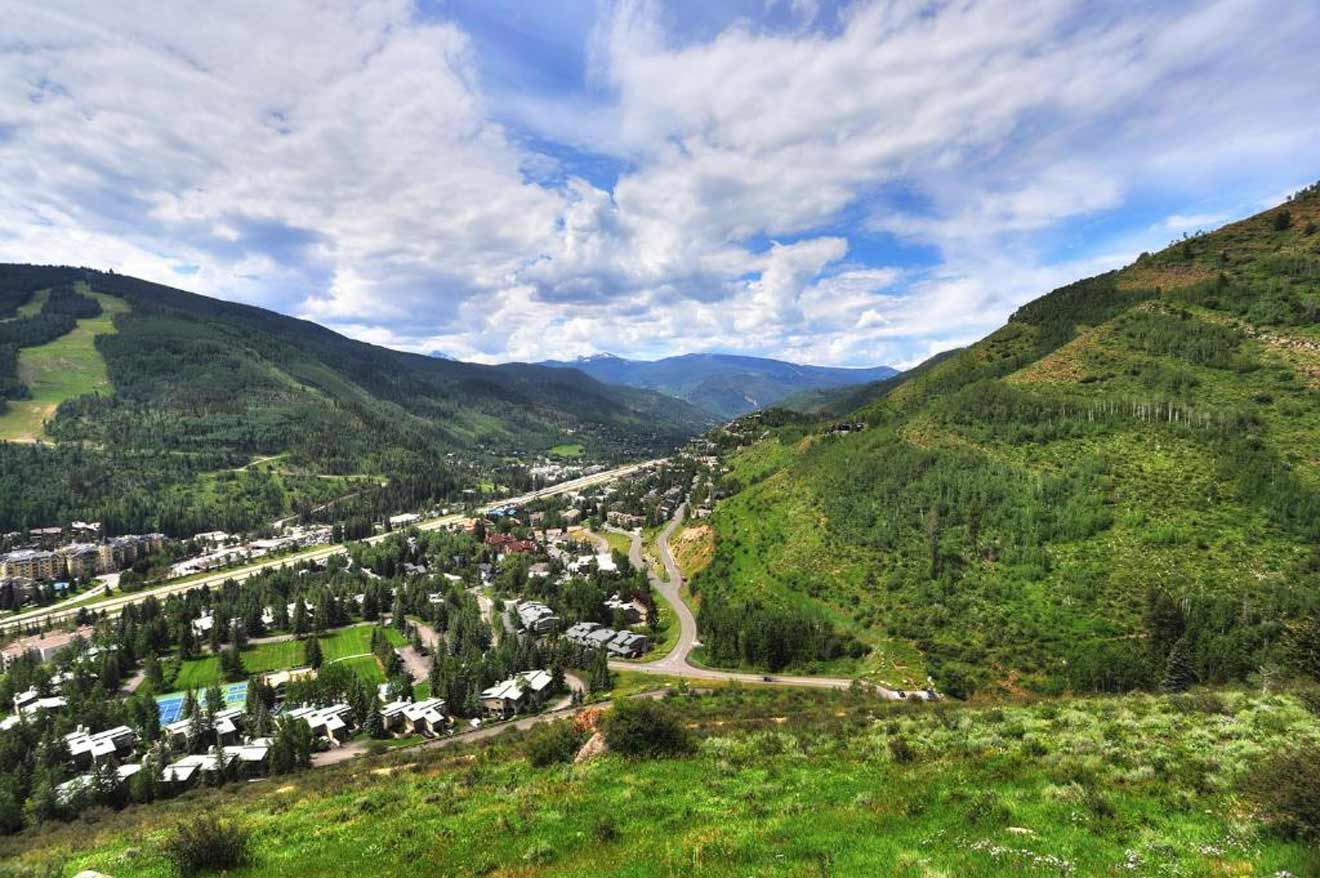 3. Garden of the Gods Club & Resort
This luxurious resort in Colorado Springs sure knows how to help one relax! Admire the stunning scenery surrounding the accommodation by the outdoor pool or colder warm-up by the fireplace. The rooms are spacious and have a small patio to drink your morning coffee and order room service. Head to the tennis courts for some exercise or to the spa for some relaxation.
4. Grand Hyatt Vail
There's nothing better during a cold wintery day than staying inside in some cozy, fluffy clothes and watching the snowfall on the ground! Add some pretty large windows and a tall room, and you've got yourself a movie set! This beautiful hotel in Vail offers spa services and some incredible rooms. Get a cup of hot cocoa and warm up by the firepit or head to the heated outdoor pool, and enjoy a quiet night.
BONUS 2: Where to stay in Colorado for the hot springs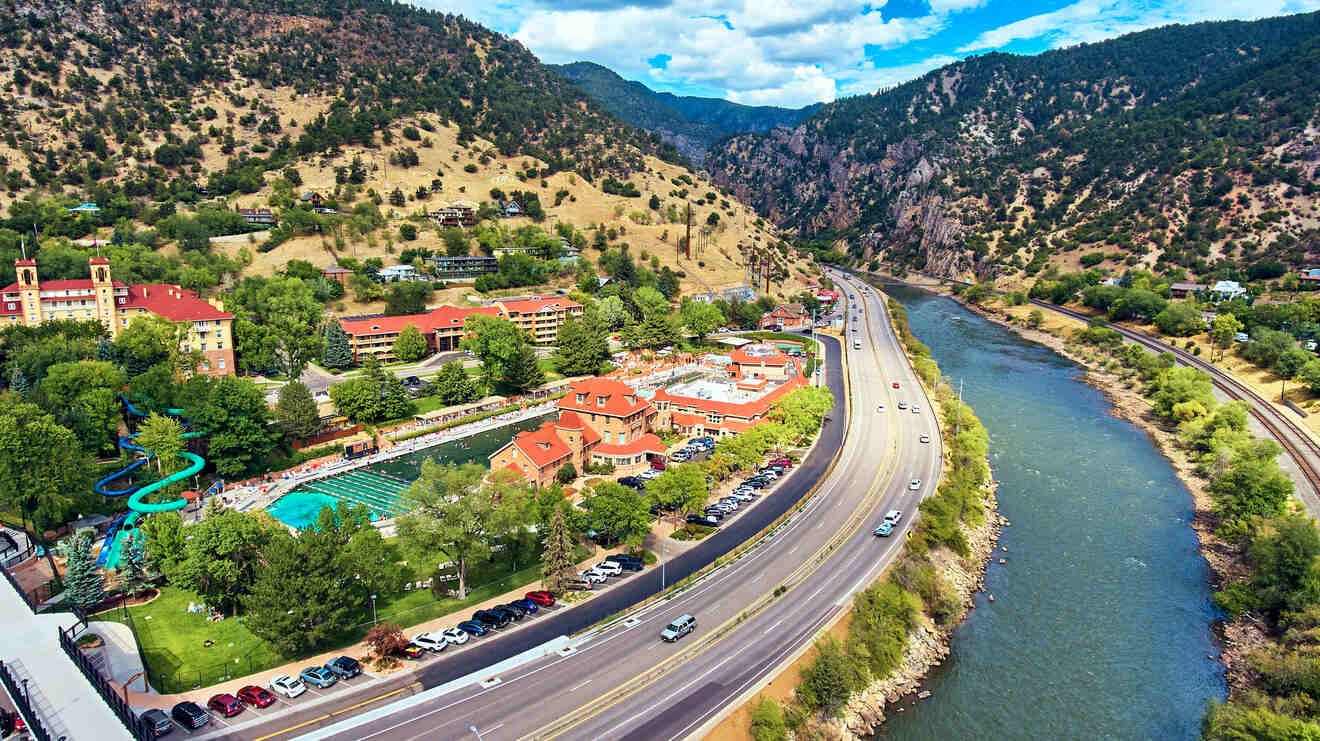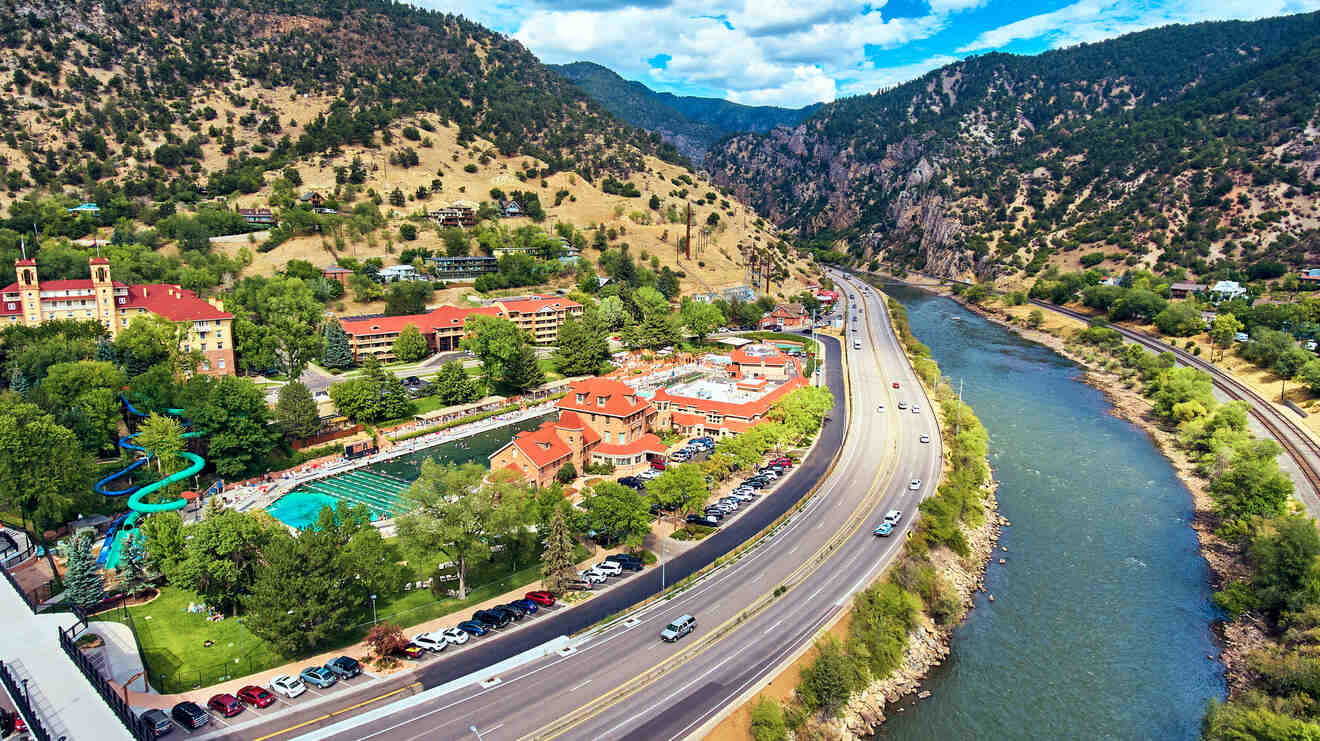 Colorado is famous for its natural hot springs, and I can't tell you how amazing they are! You'll find them in Steamboat Springs, a city located in northern Colorado's Yampa Valley, which is also popular among the skiing community.
Luxury (US$380 and up)
Residence Inn by Marriott Steamboat Springs – Enjoy the mountain views and some relaxing time in the hot tub before you go exploring all the hot springs in Steamboat Springs. This hotel has an outdoor swimming pool, and it offers its guests a continental or buffet breakfast.
Mid-range (US$90 – US$200)
Strawberry Park Hot Springs – Enjoy the outdoor pools with natural hot spring water and the scenery at Strawberry Park Hot Springs, it's simply breathtaking. You'll be surrounded by trees, beautiful flowers, or white snow, depending on when you're coming! This Steamboat Springs resort offers lodging on-site, a few cabins, or covered wagons, but you'll have to book very early if you want to get one of those!
Budget (up to US$90)
Club Wyndham Steamboat Springs – Fancy some time at the sauna at this great hotel that has an outdoor swimming pool and an indoor one too! Drink your coffee on the balcony of your rooms and relax in front of the fireplace after a long day of exploring around Steamboat Springs and Fish Creek Falls.
Frequently asked questions about Colorado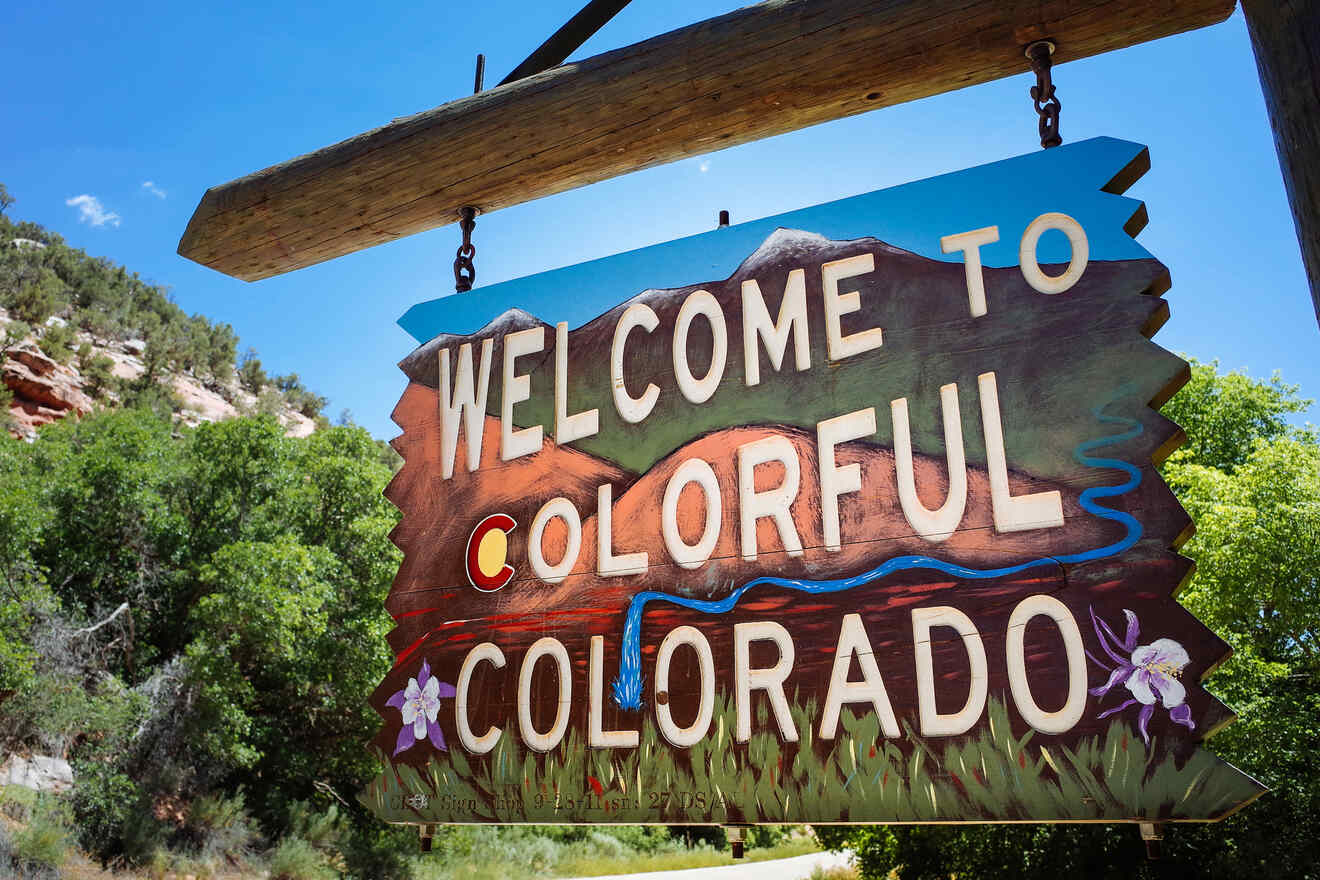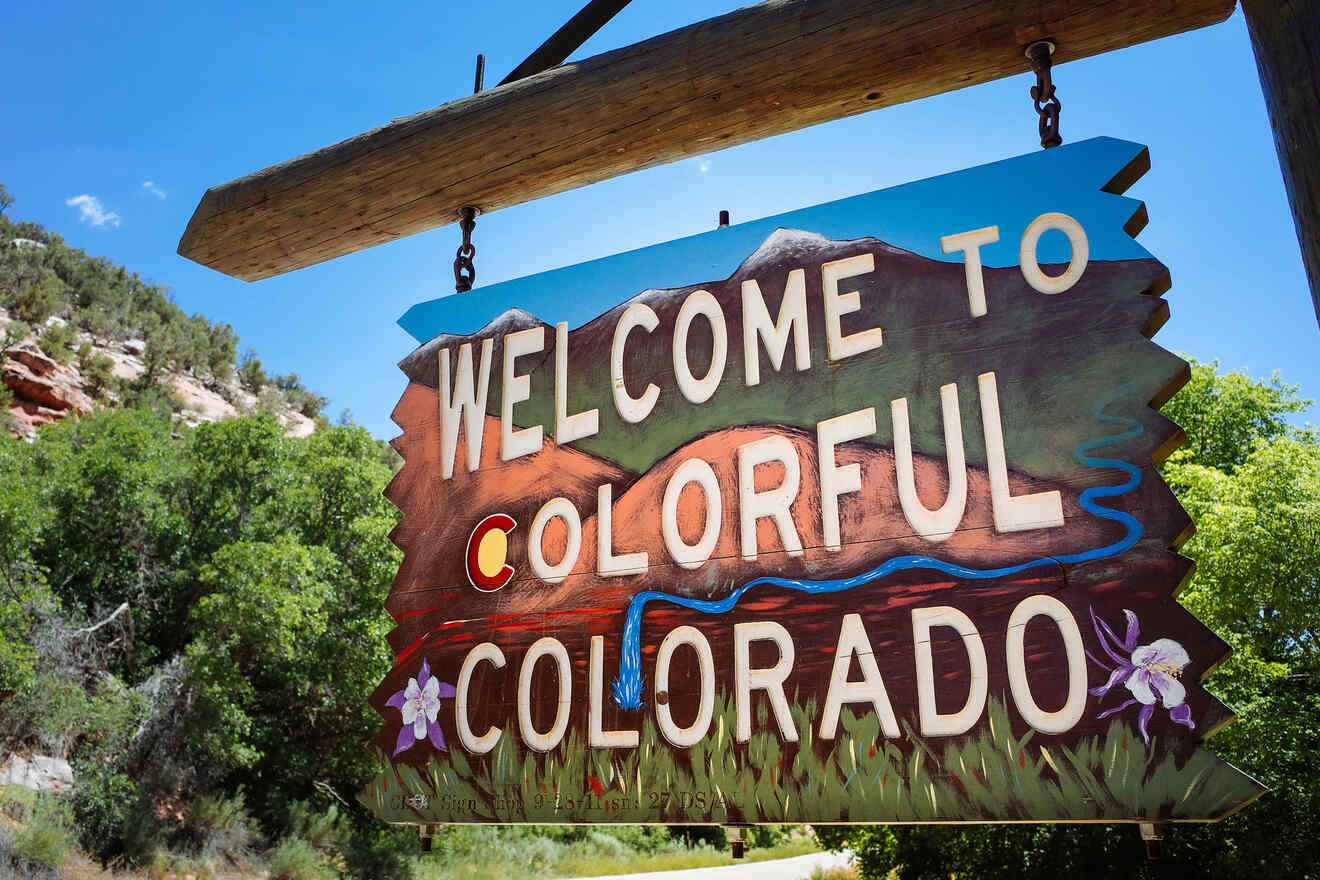 Conclusion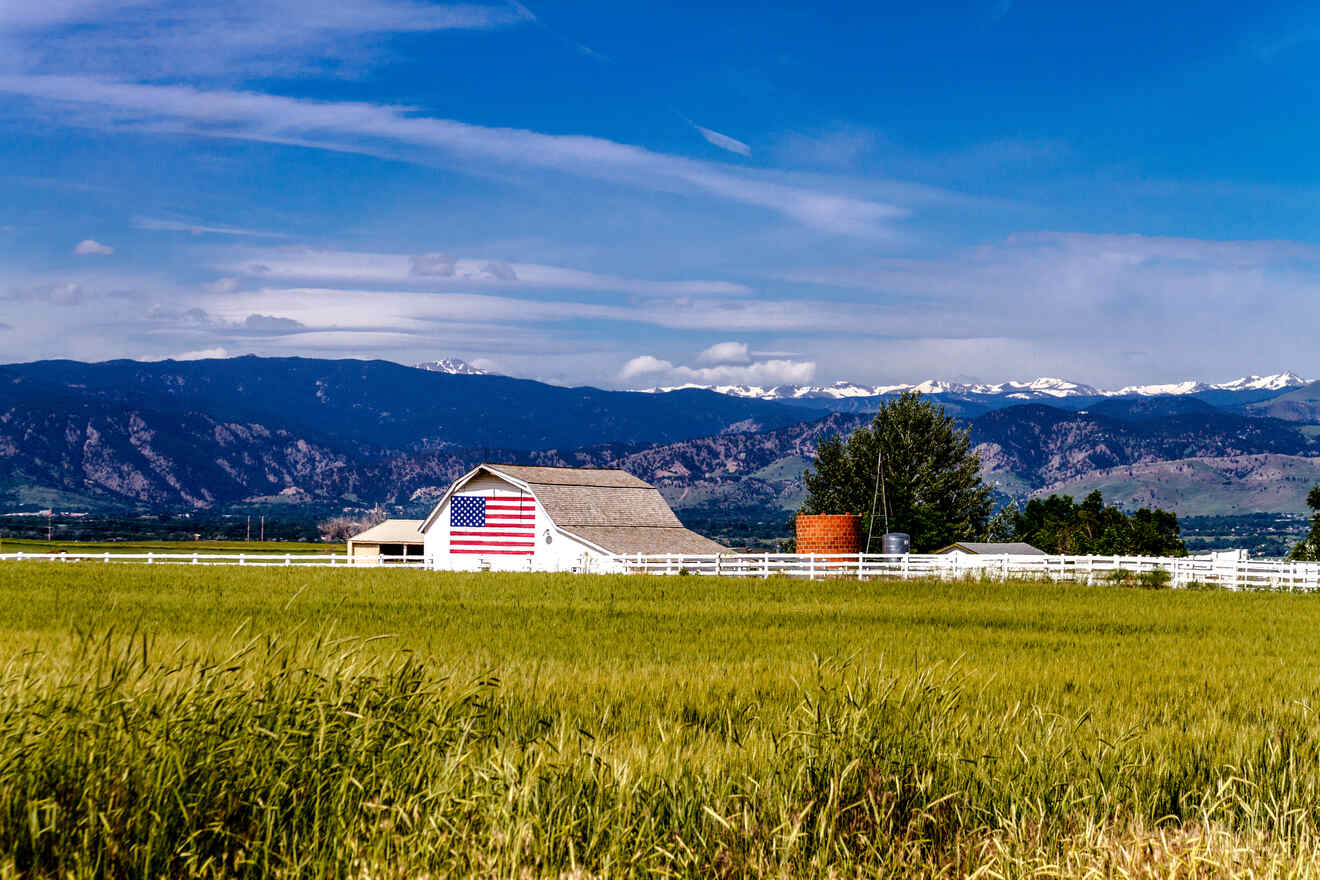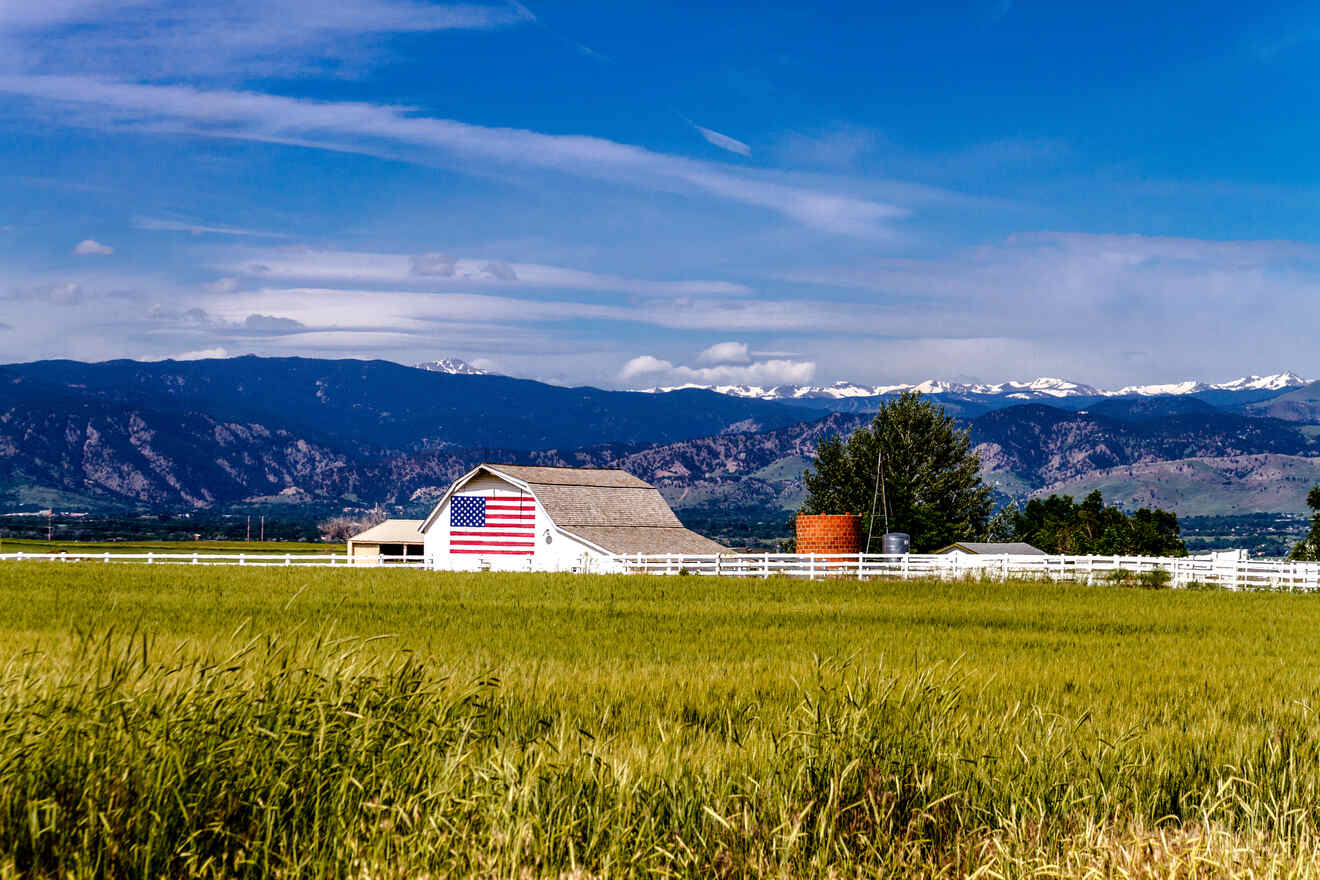 All I want to do now is get my bike and go in the mountains, and finish my day with a sauna session, let me know if you feel the same! I hope this post helped you decide where to stay in Colorado and which ski resort is the best for you!
There are tons of amazing hotels in this post, but I know how hard it is to choose one so here are my top 2 favorites, both located in Denver
I highly recommend booking the hotels in advance, that way you can avoid some of the issues that I've always encountered when booking last minute, like the super high prices for accommodation that wasn't so spectacular. And I hope that doesn't happen to anyone!
Have the best time in this stunning state! Enjoy the views of the Colorado Rockies, relax in the hot springs, and at the sauna, and go on fun adventures in the forests! By the time your trip ends, you'll want to stay longer, of that I'm sure! And if you have any questions about the hotel here or you have any suggestions for our travel community, leave me a comment below, and I'll answer it in no time!
Safe travels,
Victoria
---