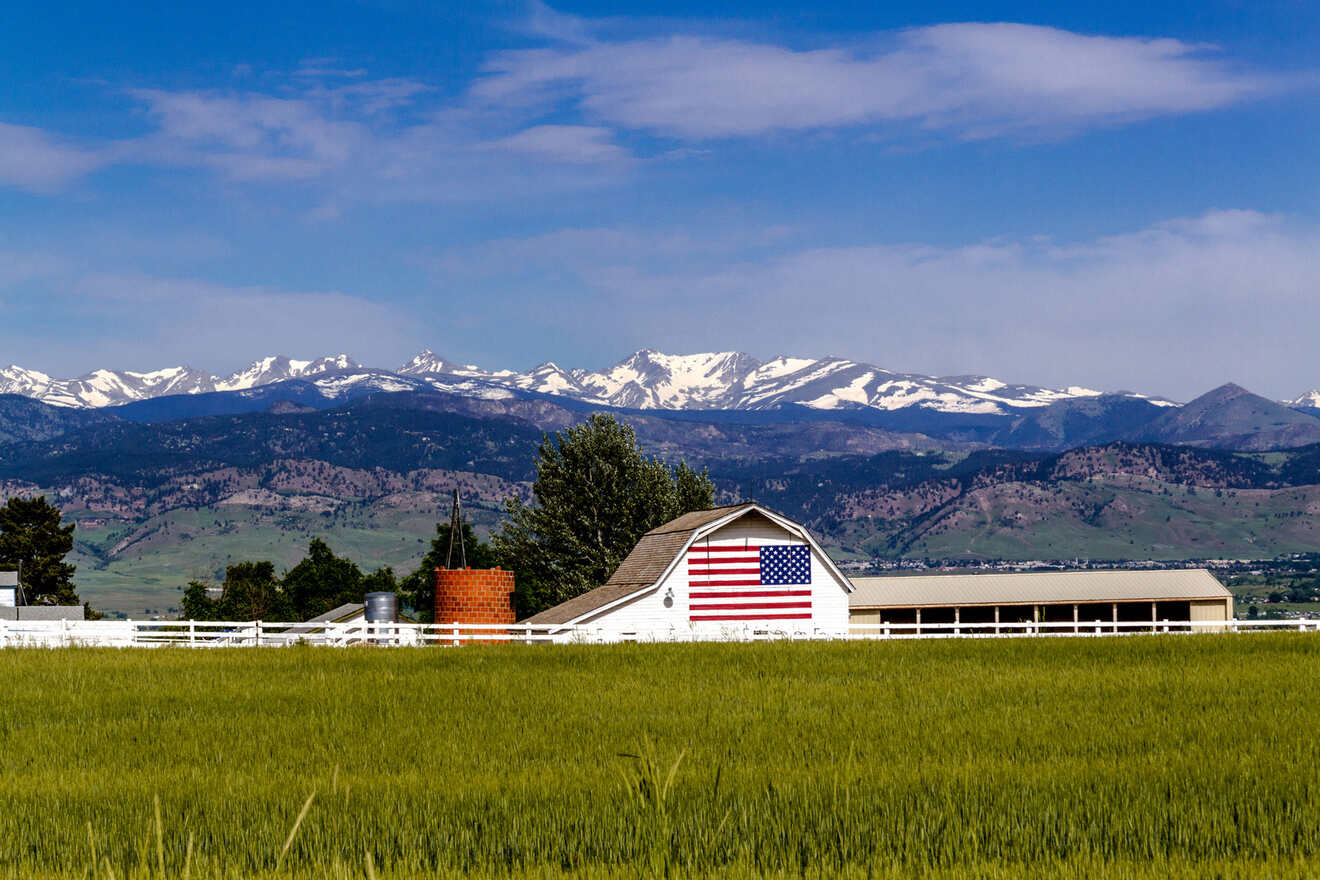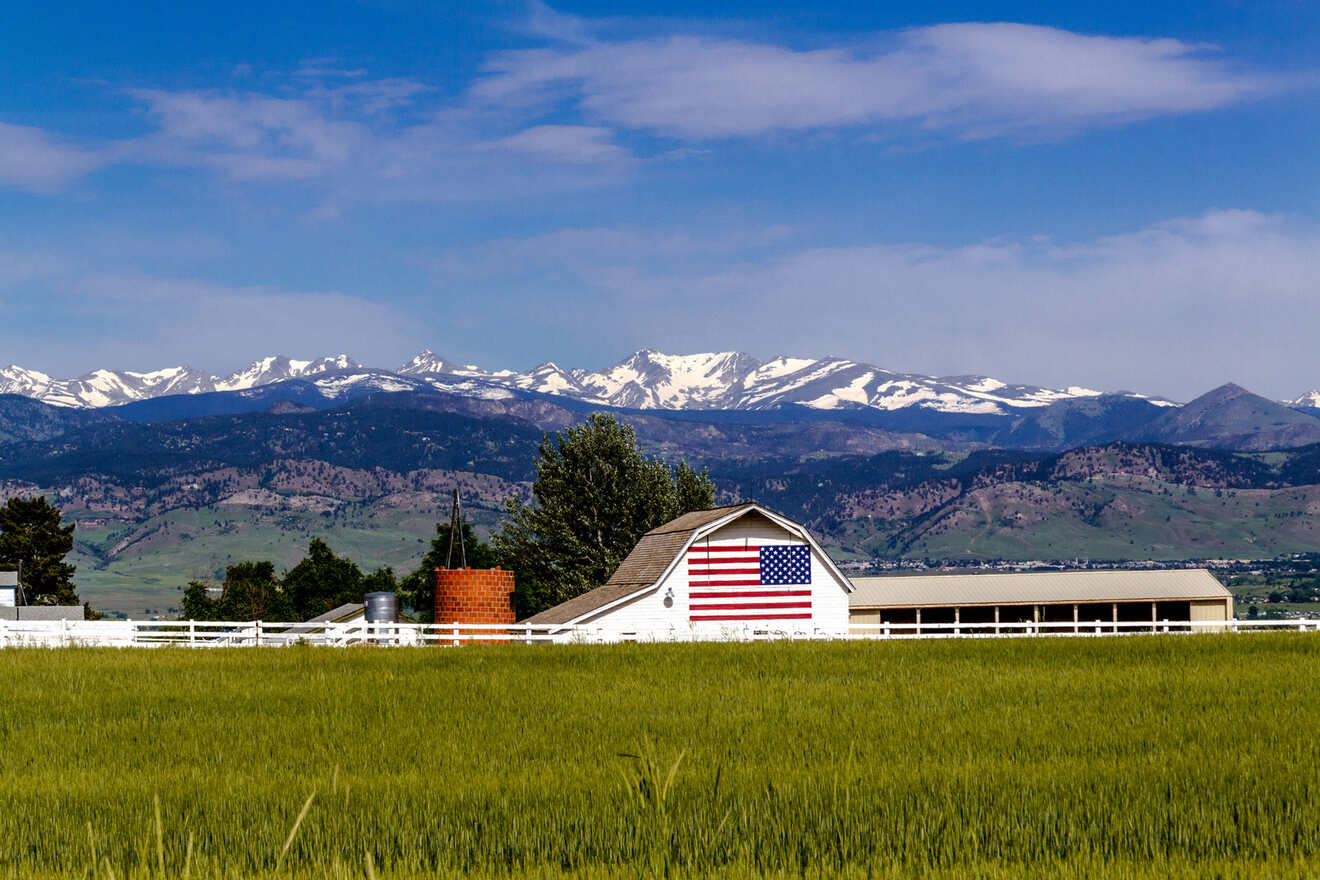 Boulder, CO, is an amazing laid-back town nestled at the base of the Rocky Mountains, offering many natural attractions from stunning parks like the Chautauqua Park and Boulder Mountain park, to challenging hiking trails among the peaks!
For this reason, Boulder has become one of the most favorite tourist towns in Colorado and has many accommodation options for any taste. But which one is the best for your travel needs? You will find it out in this blog with the TOP places to stay in Boulder, CO!
In this guide, I included all the best hotels in Boulder divided by price range, from luxury to more affordable options (thanks to the presence of the University of Colorado there are a lot!). And I've even included a bonus with the best Airbnbs if you want a little bit more privacy.
Just remember to book your favorite hotel some months in advance if you want to be sure to find the spot as places sell out quite fast!
NOTE: The prices you will see in the post are from the low season in winter. In summer the prices in Boulder rise significantly and you can expect to pay up to $150 more for the same rooms.
If you are in a hurry
If you are in a rush and you need to book now, check out this quick list of the best Boulder hotels for each price range:
Check out this map to get a mental image of where all the best hotels in Boulder are located:
Luxury (US$200 and up)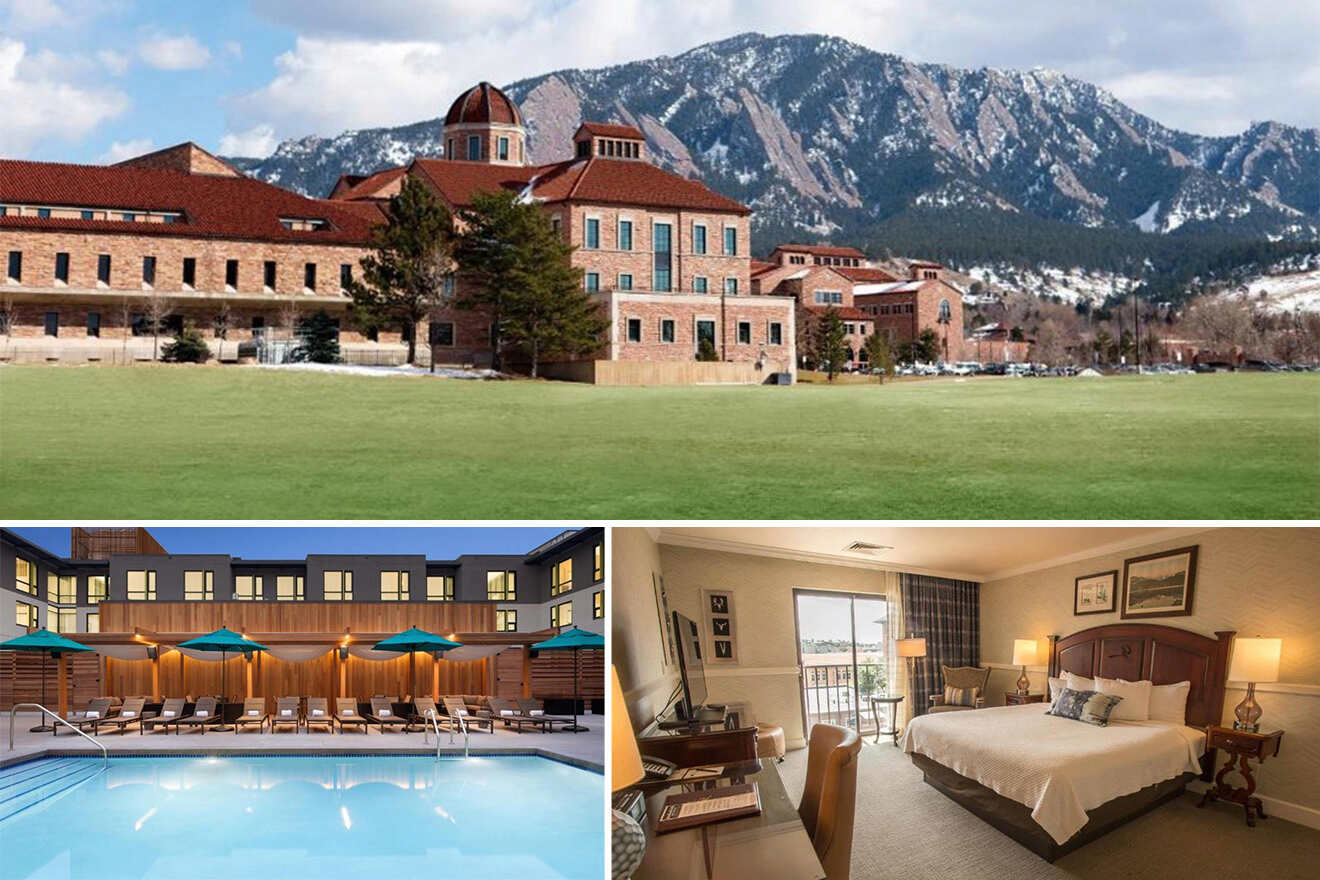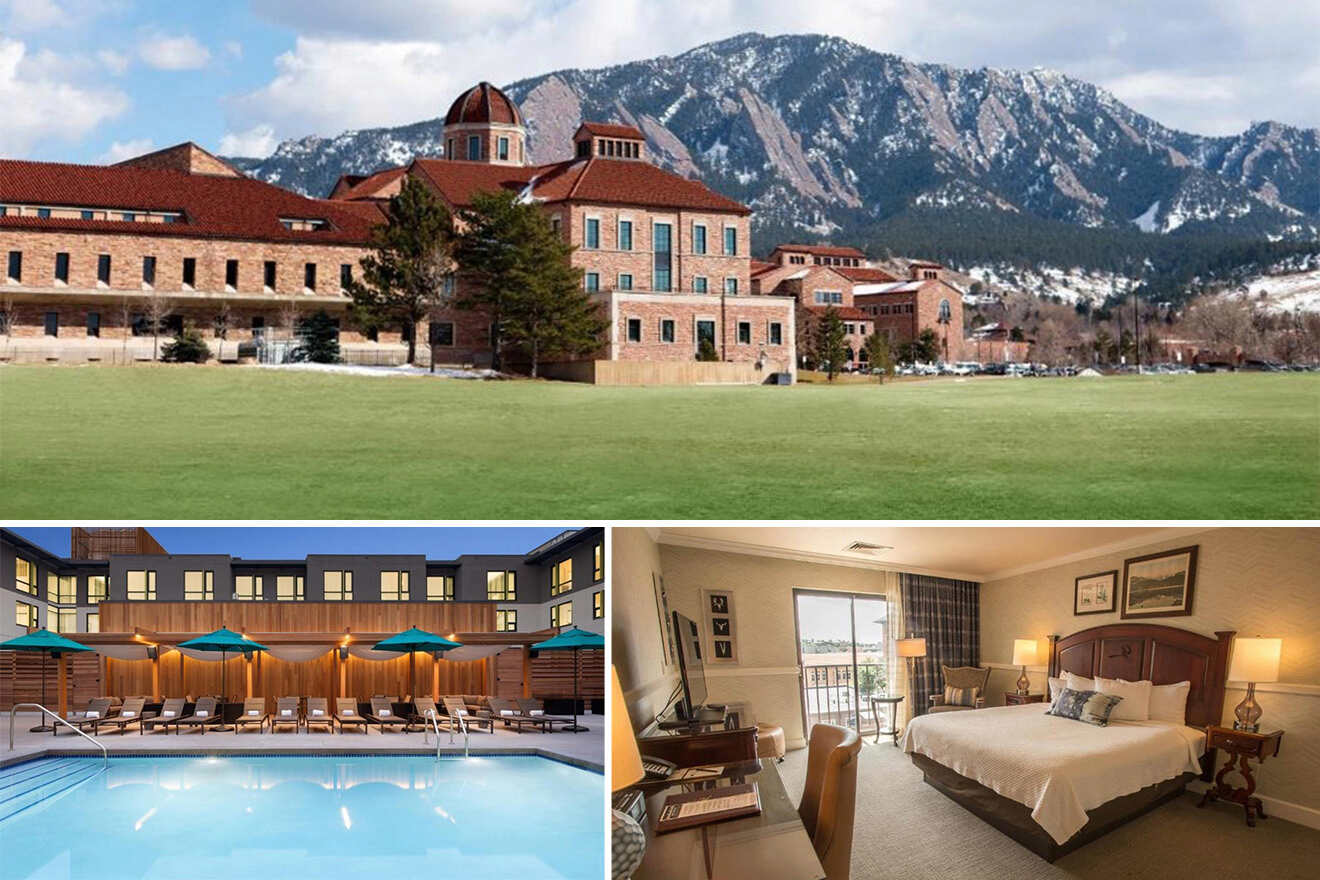 Mid Range (US$140 – US$190)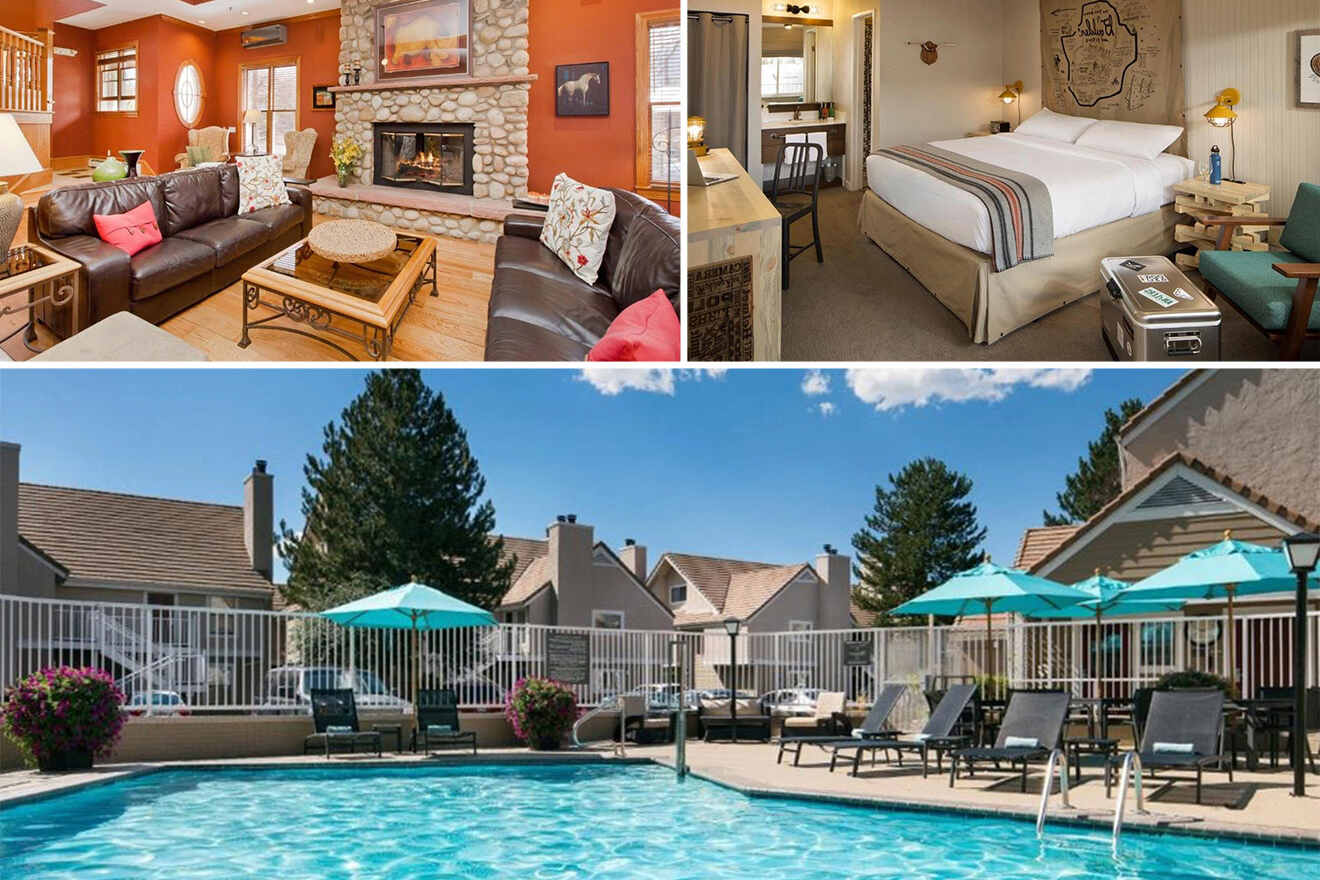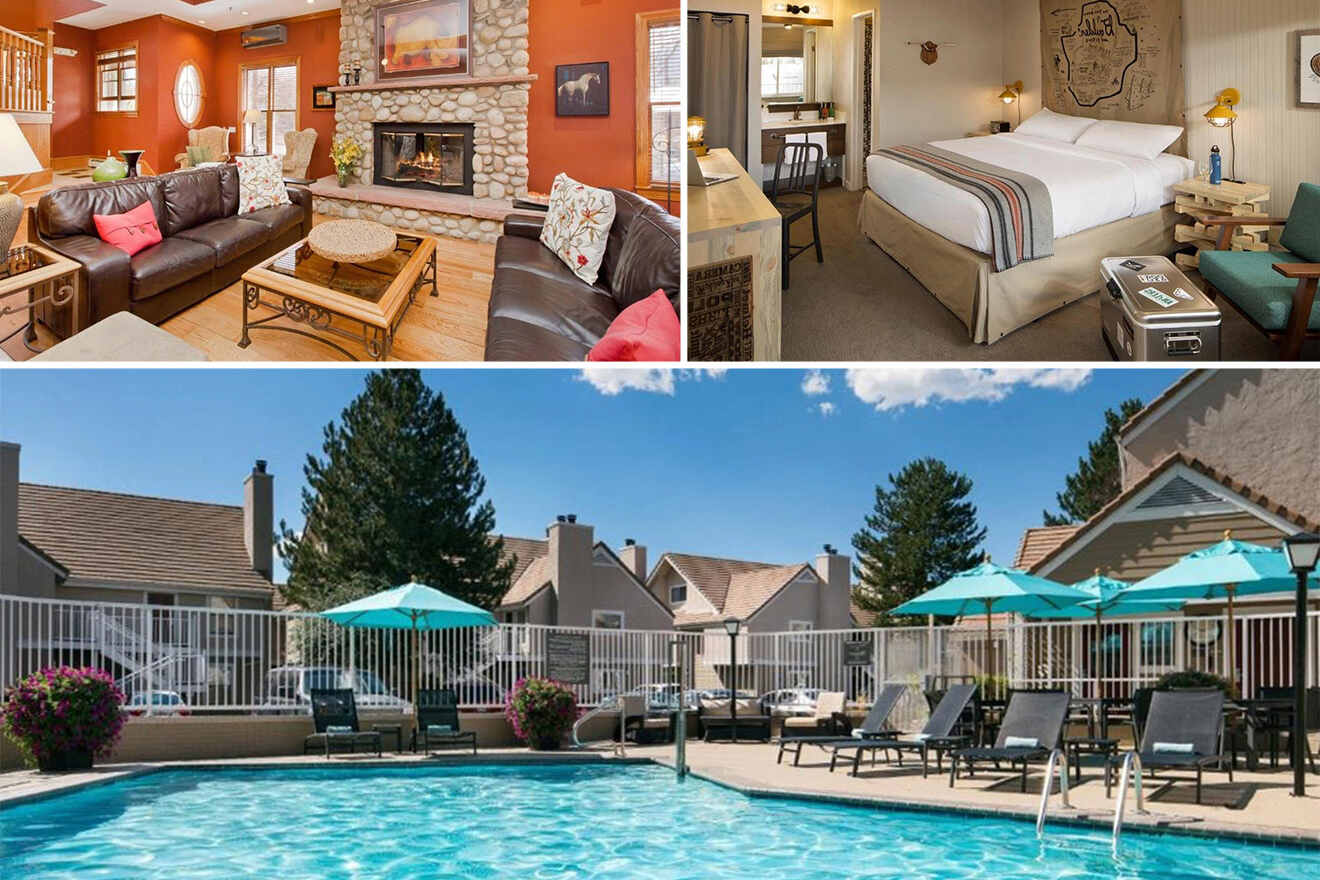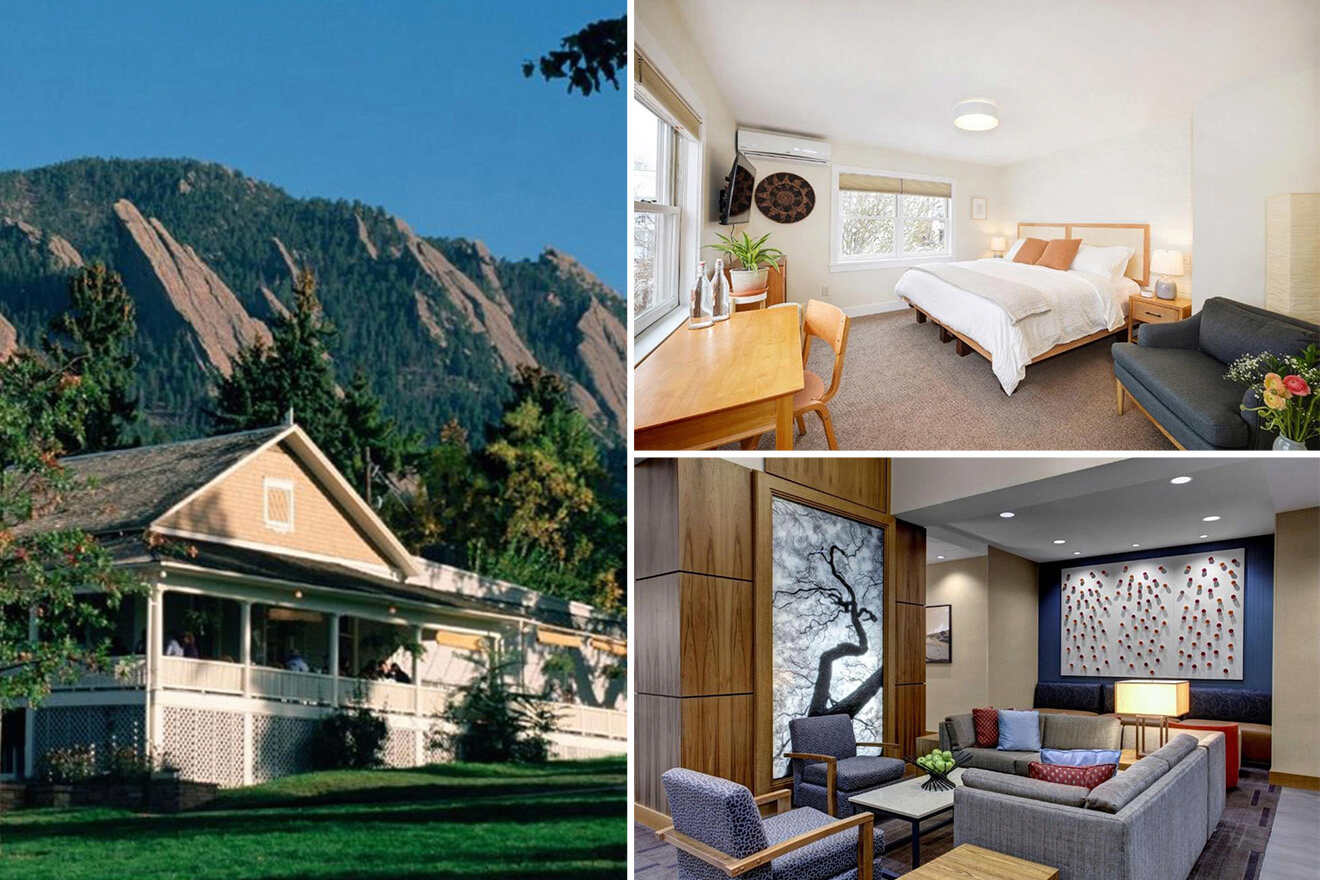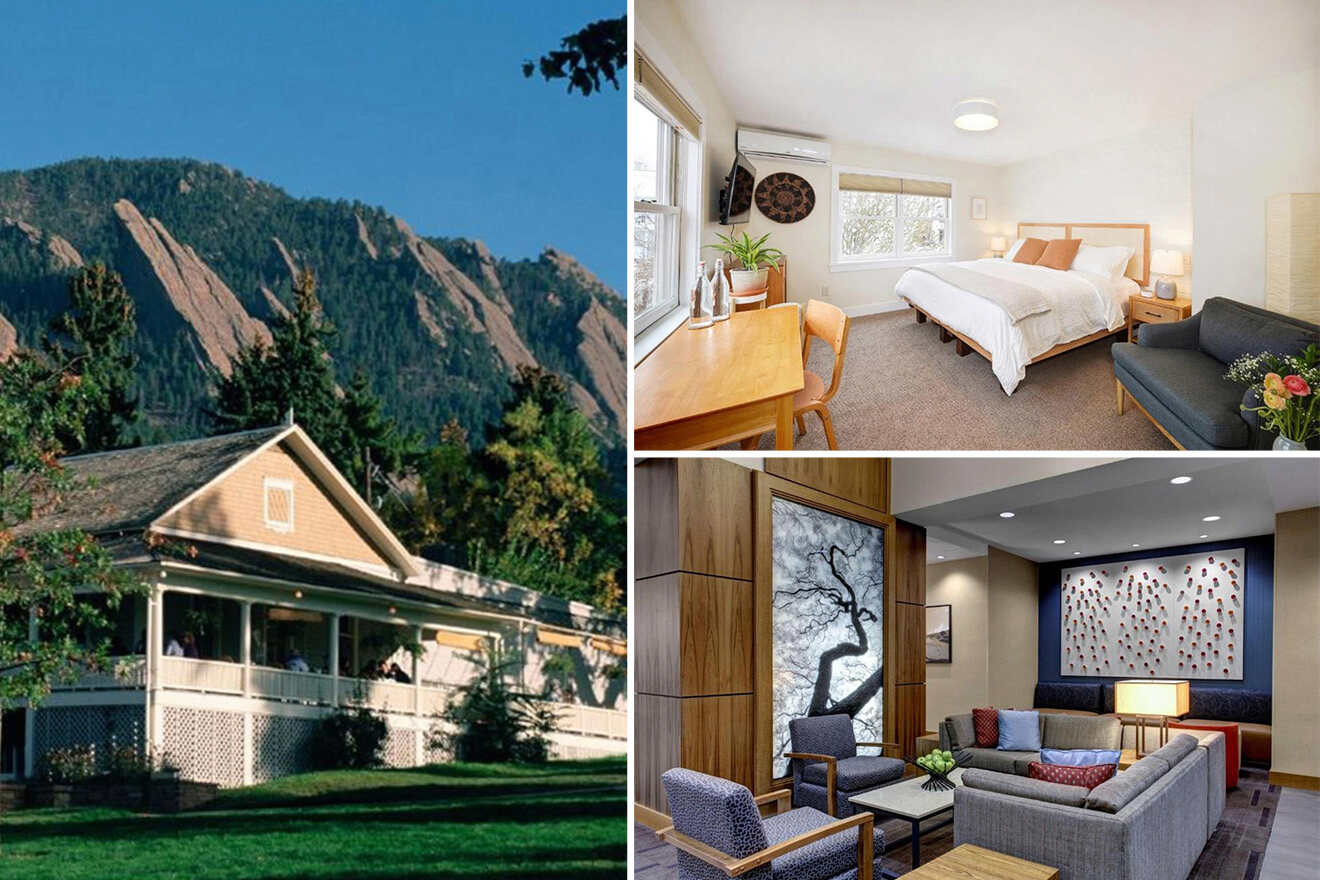 Hyatt Place Boulder/Pearl Street – Want to have a luxury treatment for reasonable prices? Then check out this pet-friendly hotel, offering family rooms with views of the beautiful rocky mountains: one of Boulder's top icons! Hyatt Place Boulder/Pearl Street also offers access to many outdoor activities like cycling, hiking, and skiing (you can even find ski storage on site), and to the Chautauqua Park, only 4 miles from the property.
Boulder Guest House – I am sure you will love this eco-friendly Guest House in Boulder, located within walking distance of the famous Pearl Street, where you can find the best restaurants and shopping options! They even offer parking if you want to explore the greater Boulder area and natural attractions, like the Rocky Mountain National Park. Another plus? The property is super quiet, perfect if you want to enjoy some deserved relaxation and peace!
Colorado Chautauqua Cottages – If you want to have a comfy and cozy stay in Boulder, Co, Colorado Chautauqua Cottages is the perfect option for you! Being close to Boulder Mountain Park, this property gives you access to many outdoor activities: hiking trails along the Rocky Mountain foothills and rock climbing… so you can spend time enjoying the fresh air surrounded by nature! The hotel also offers an amazing restaurant: the Chautauqua Dining Hall, serving delicious American cuisine.
Budget (up to US$140)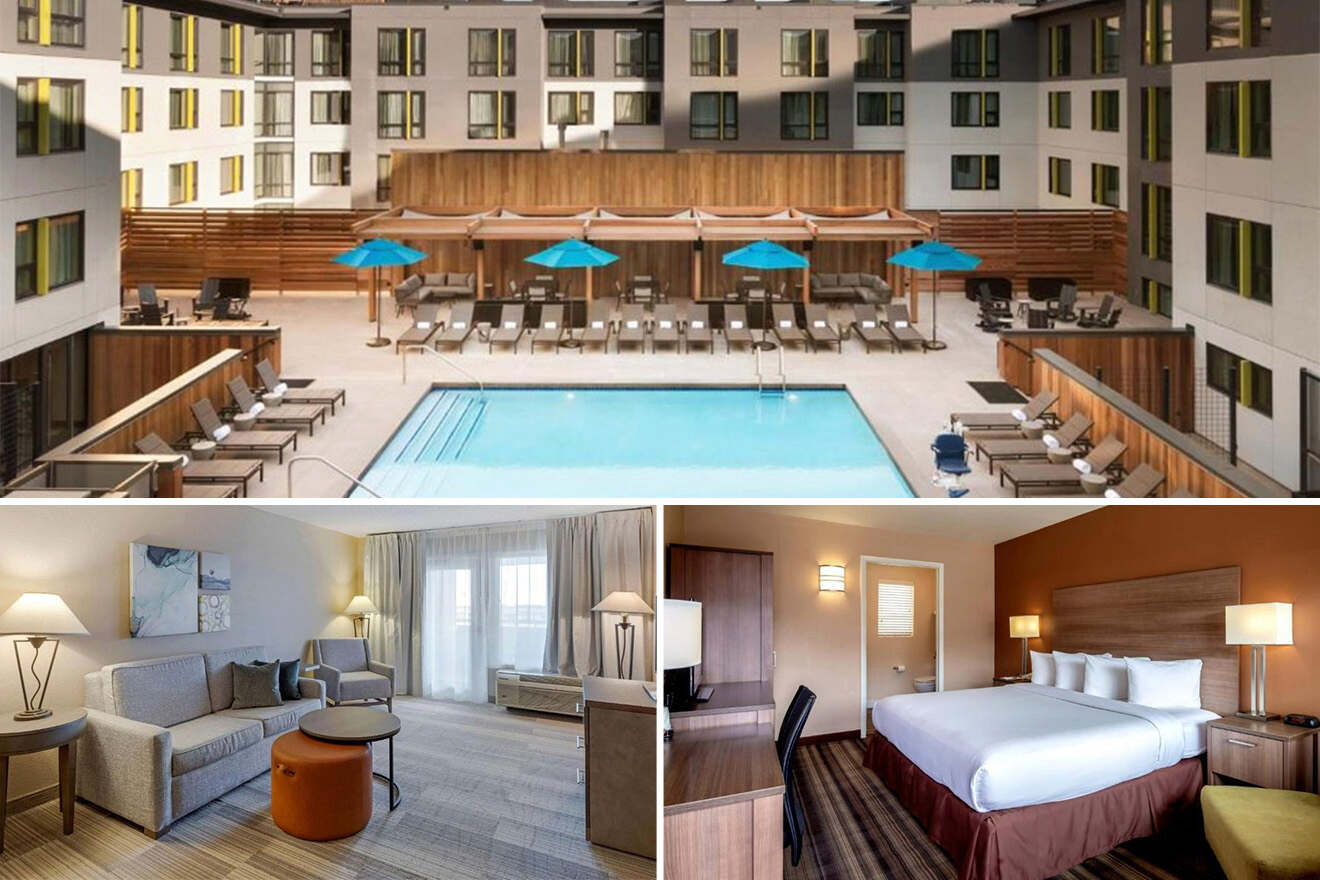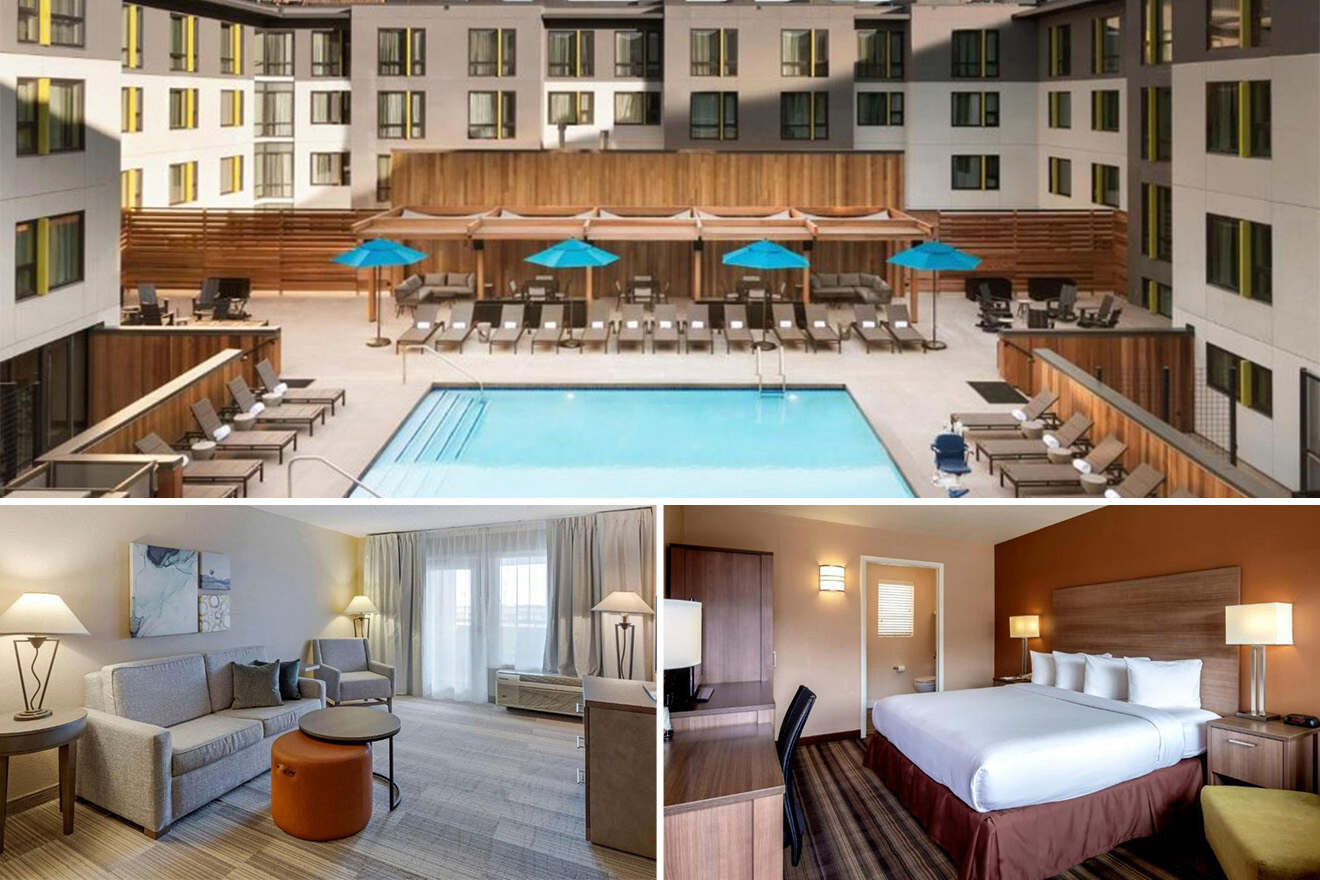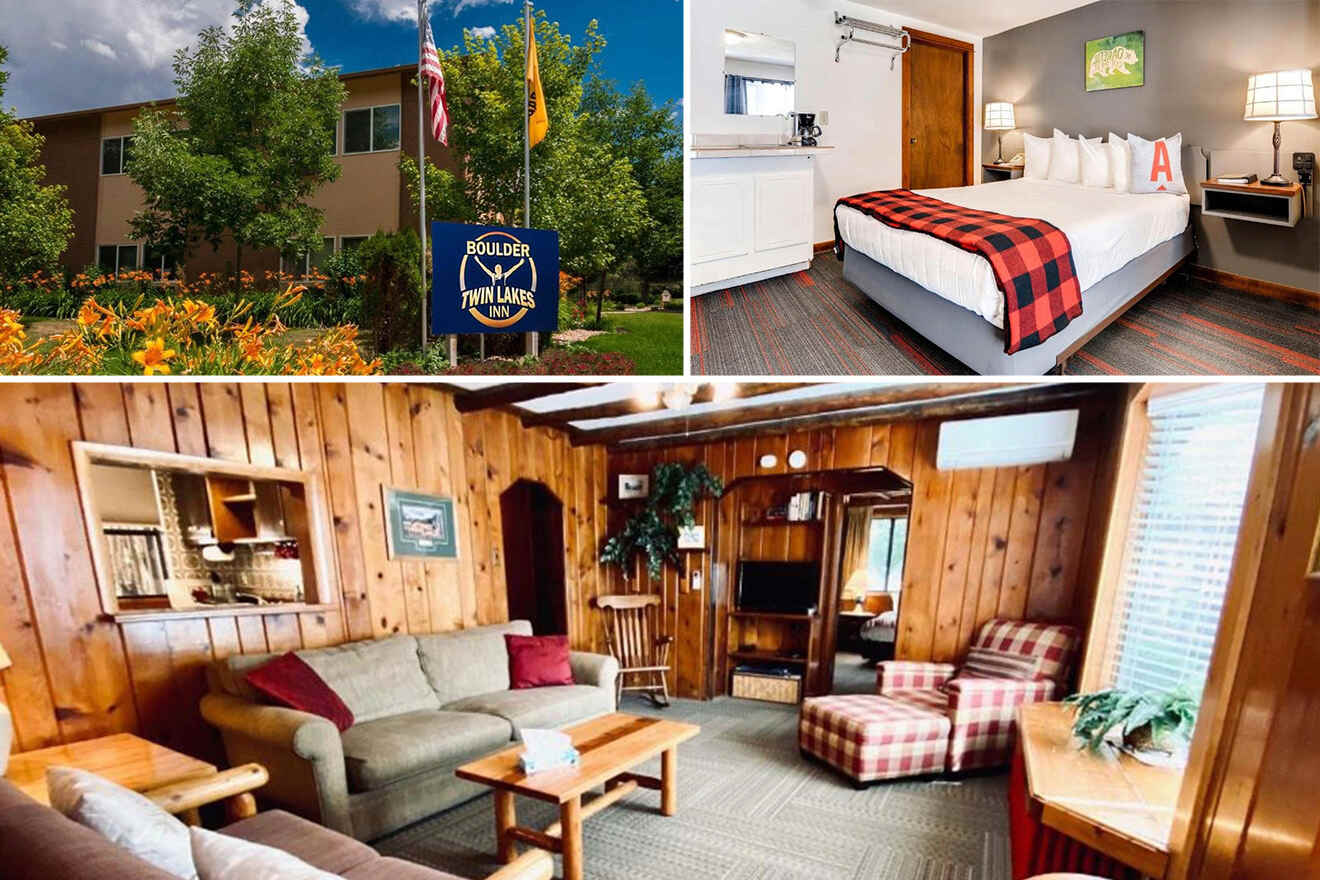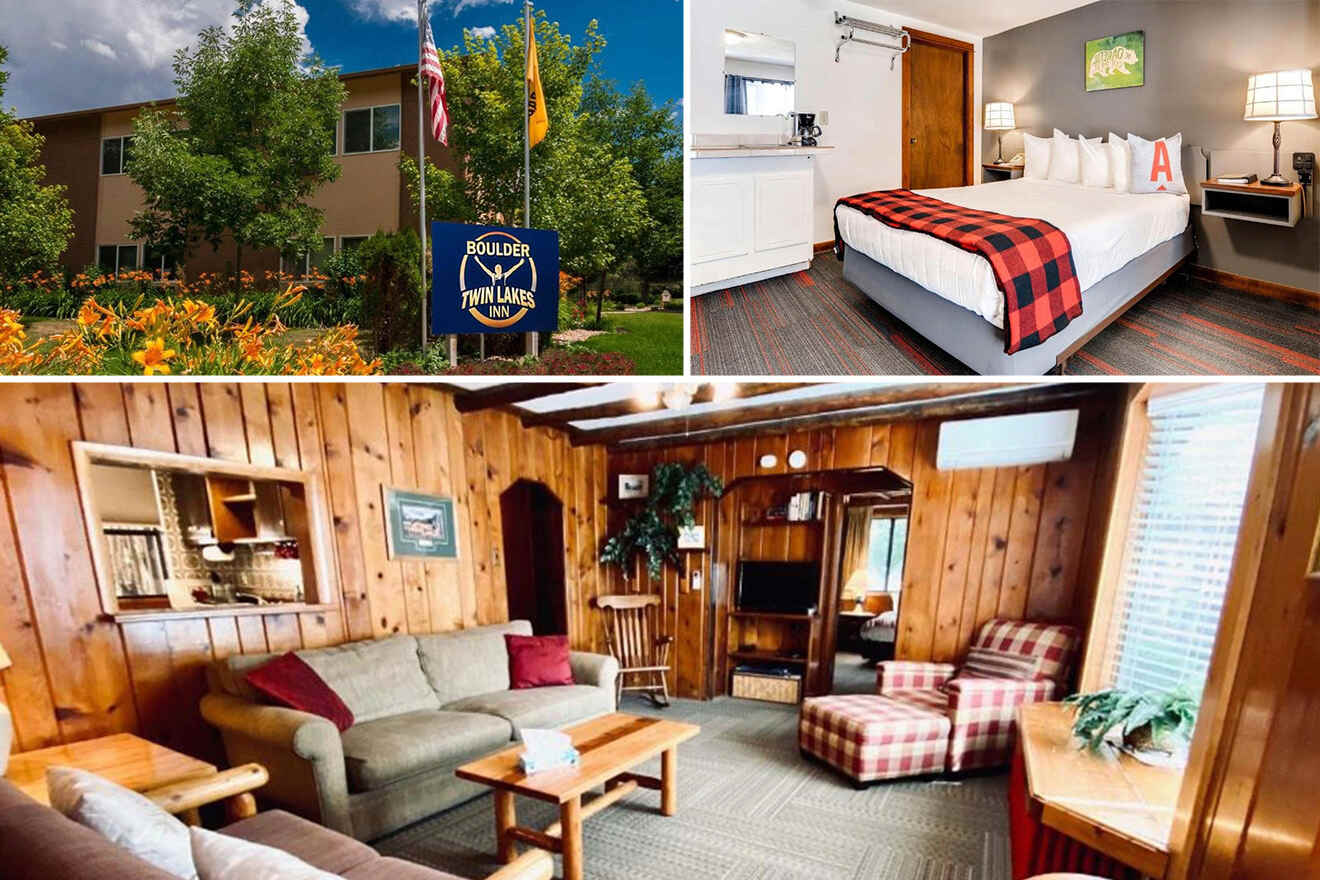 Foot of the Mountain Motel – Foot of the Mountain Motel is the perfect place if you want to enjoy a vacation nestled in nature. Being located (as you might have guessed) to the foot of the mountain and close to Boulder Creek, this rustic and charming motel gives you access to the best walking trails and to Boulder city center at the same time. Enjoy the stunning views of the mountains either from the outside seating areas or directly from your room!
A-Lodge Boulder – I am sure you will fall in love with this incredible hotel in Boulder! Sitting on seven acres of mountain terrain, Boulder Adventure Lodge is the ideal place for those that want to relax during their stay: they have their own trail inside the property, and a creek runs by the rooms… making a very relaxing sound for your sleeping! And if you ever want to leave the property, you can enjoy many outdoor activities in the surrounding area like biking, hiking, fishing, and rock climbing!
Boulder Twin Lakes Inn – This cozy hotel is located just a 15-minute drive from Boulder and just next to the beautiful Twin Lake Park, where you'll find a pond and trails. The hotel's suites offer everything you might need during your stay: free WiFi., fully equipped kitchens, spacious living and dining areas, as well a work desk… you will feel at home! And if this wasn't enough, here you'll also have access to a hot tub and free bikes to explore the area.
BONUS: Best Airbnbs in Boulder, CO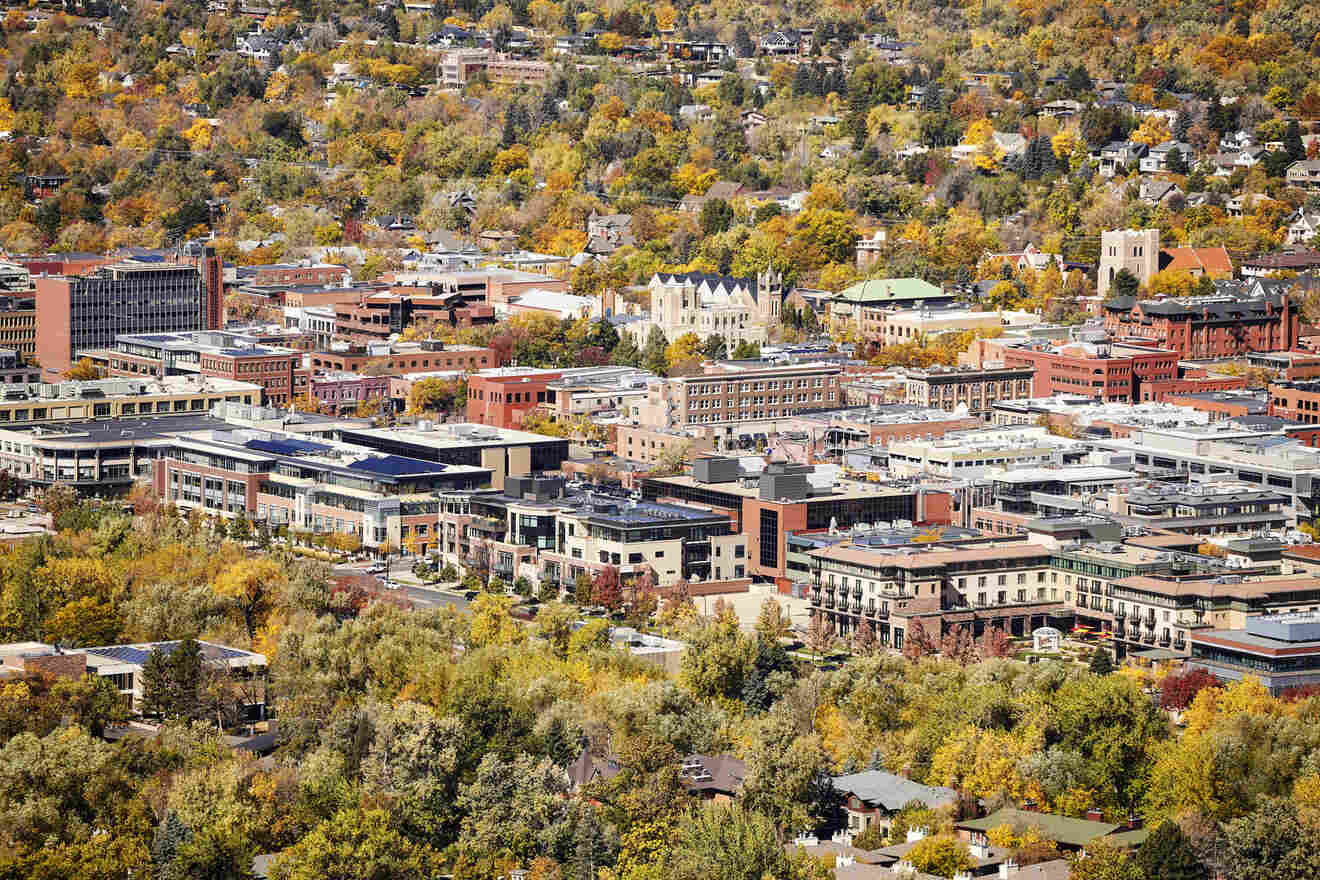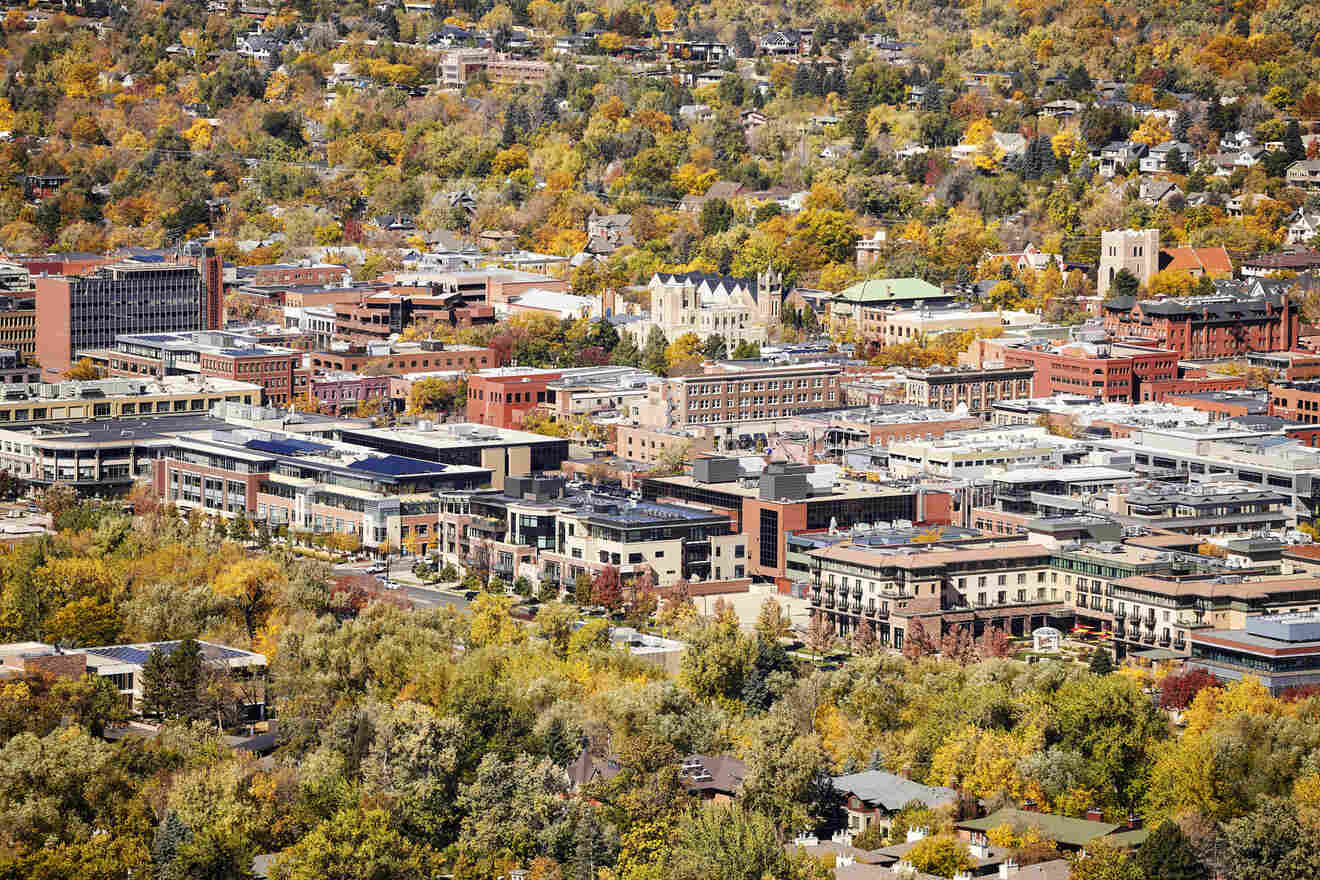 If you don't want to renounce the comforts of having your own house and privacy during your holiday in Boulder, I get you, there's nothing better than feeling at home away from home!
For this reason, I made a list of the best Airbnbs in Boulder offering all the amenities you need: kitchens, dining and living areas, private bathrooms, balconies with stunning views, and much more!
Some of them are located right in the center while others are closer to the tranquil nature, so there's something for any taste, but take into consideration that they're all in the mid-range to luxury price range but I've listed them in descending order from $600 – $250.
P.S.: You can find great Airbnbs and other accommodation options all over Colorado and we have another post if you are looking for other amazing towns to stay in Colorado!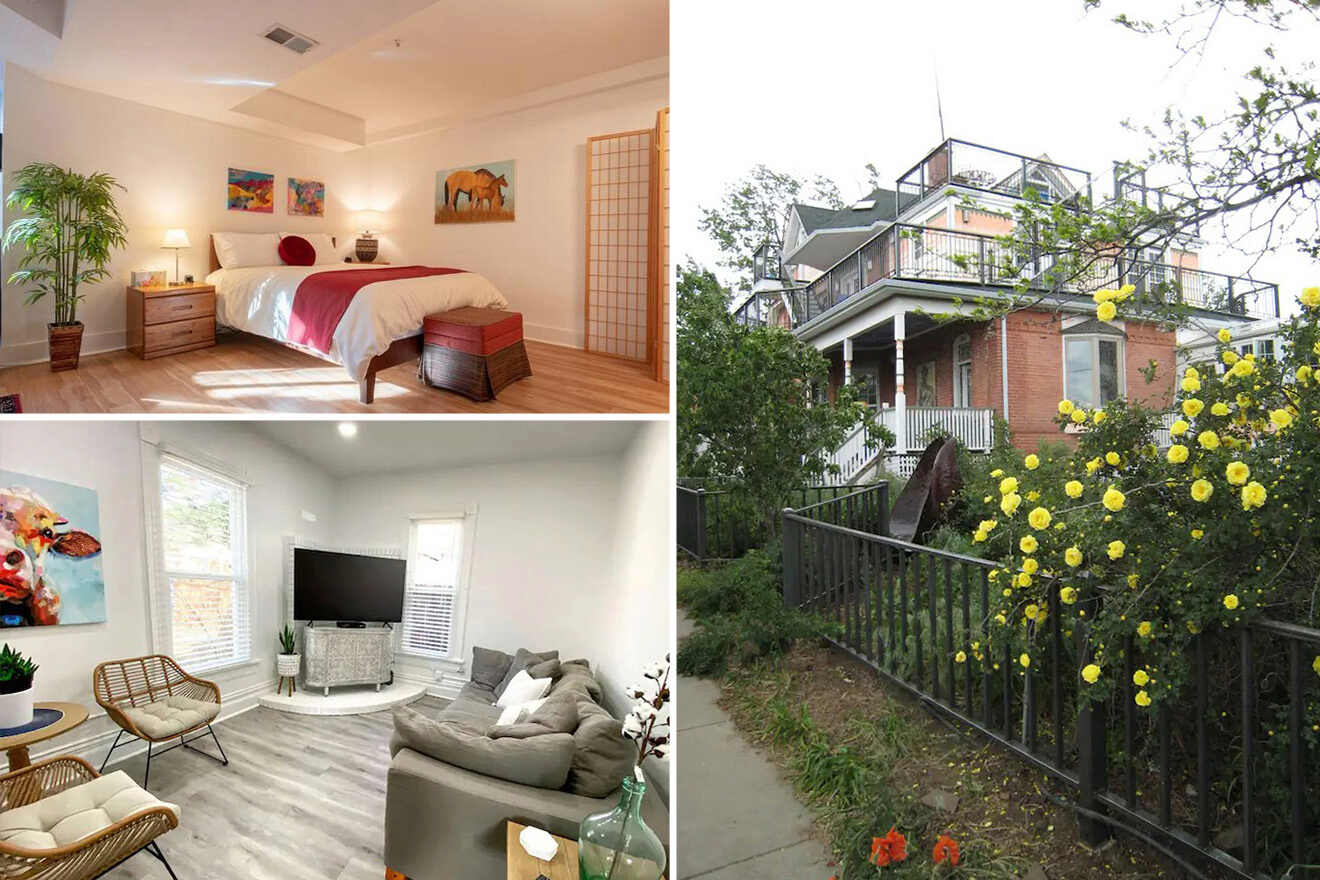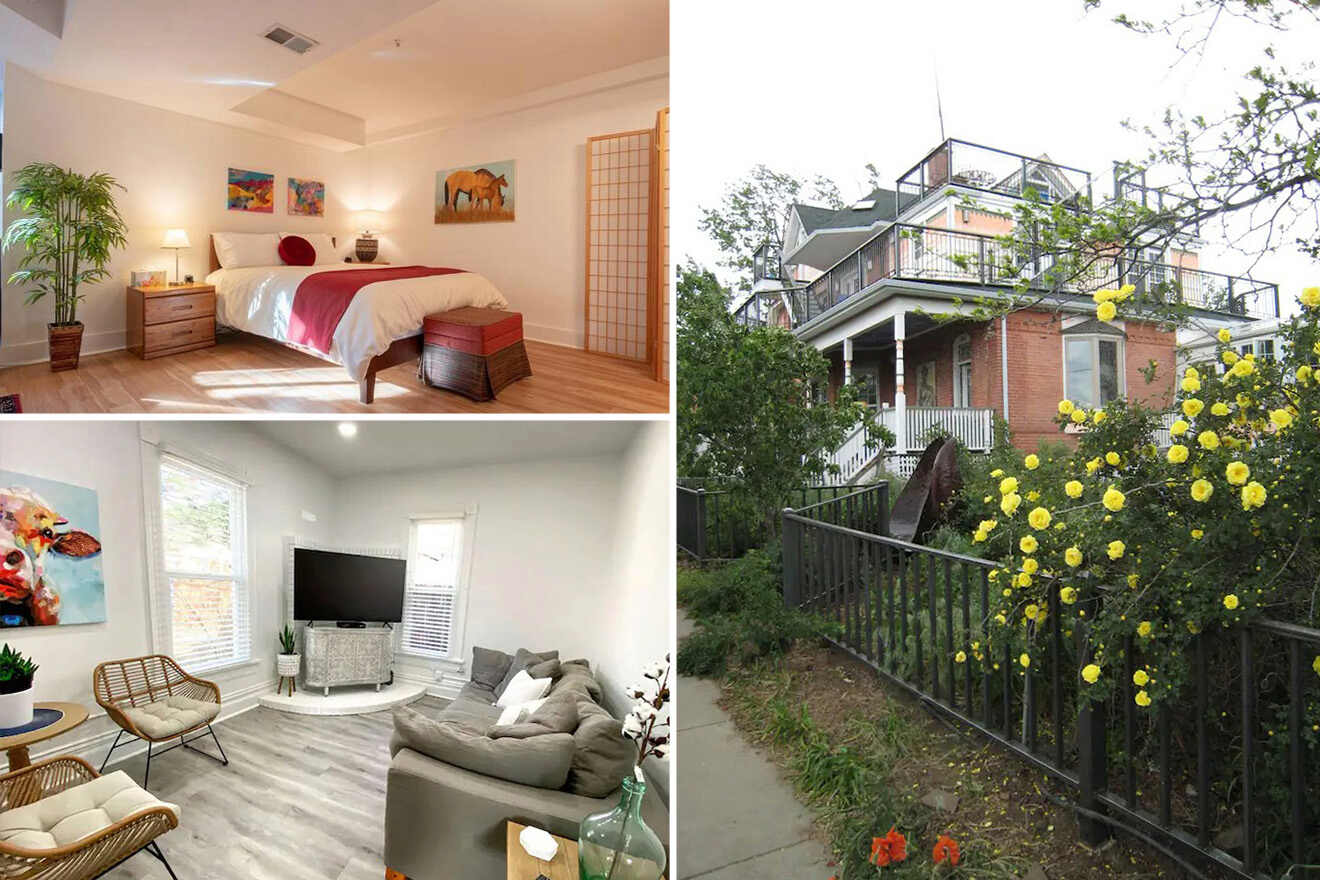 Frequently asked questions about hotels in Boulder, CO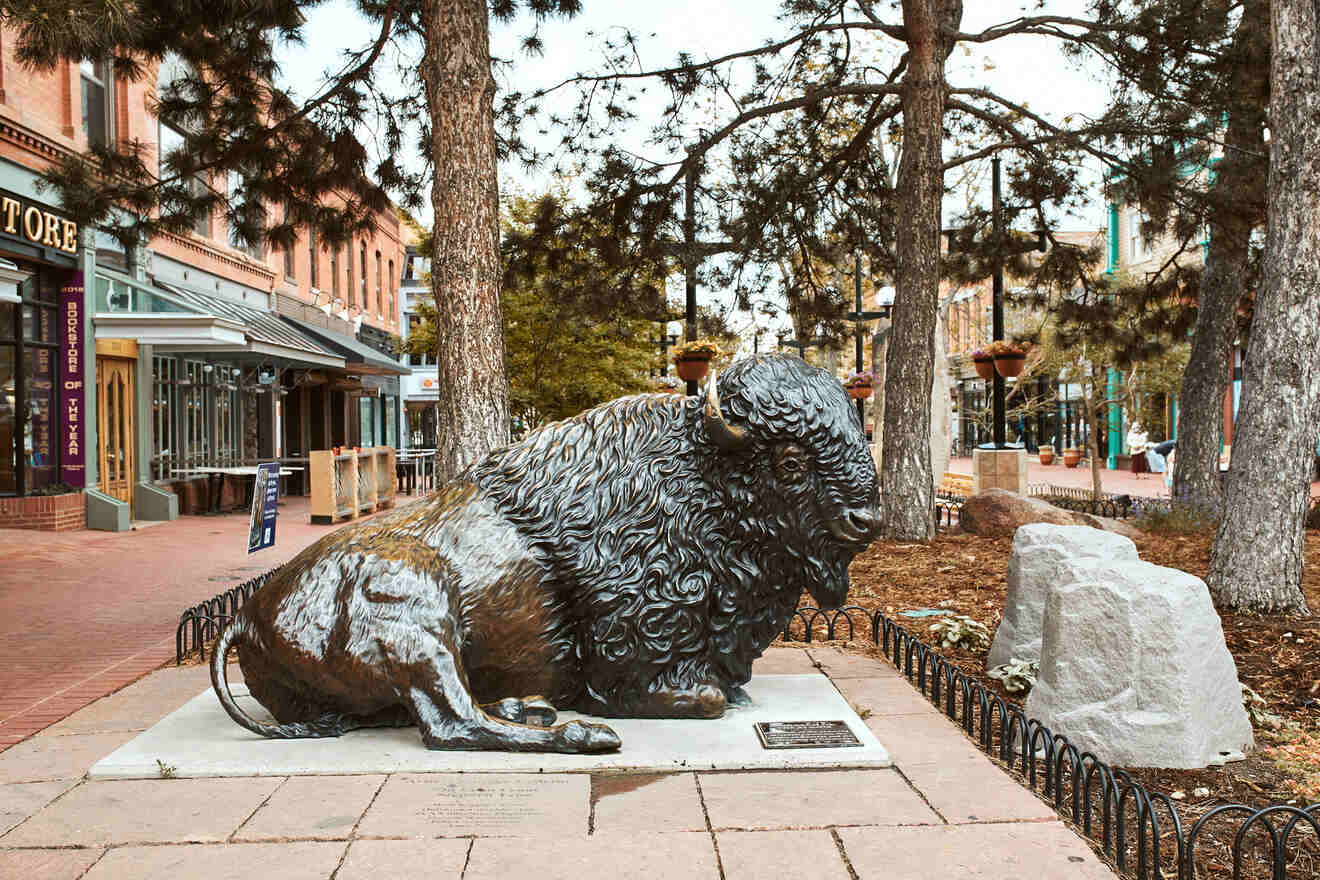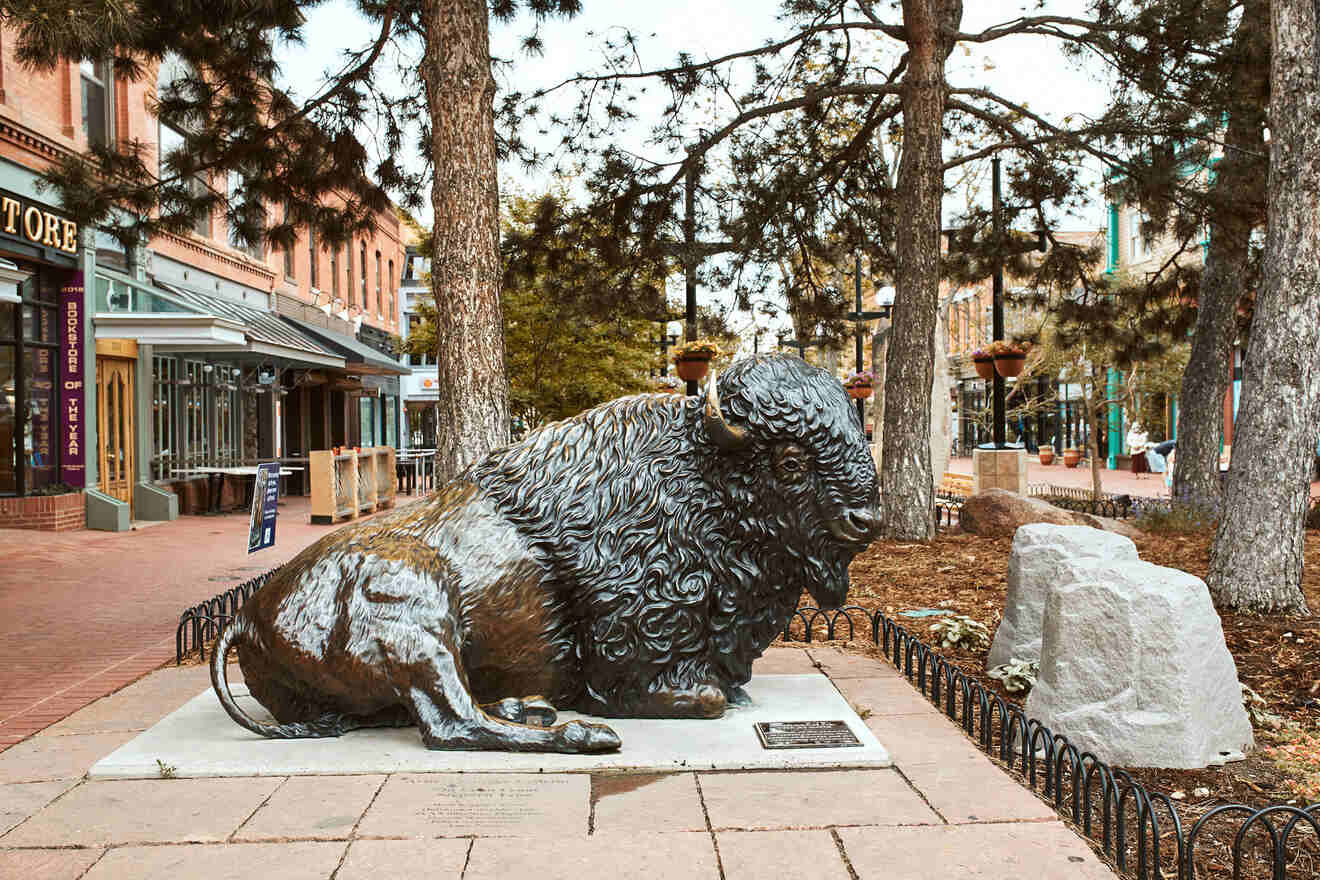 👑 Which are the best places to stay in Boulder, CO
🔍 Which are the best things to do in Boulder, CO?
The best things to do in Boulder, CO, are visiting the Rocky Mountain National Park, having a shopping evening at the Pearl Street Mall, or joining some outdoor activities like rock climbing, hiking, and skiing in winter!
📅 How many days should I spend in Boulder, CO?
3 days in Boulder is enough time to visit its main highlights and natural attractions like the Rocky Mountains, eat in the many delicious restaurants, and explore Boulder downtown!
🚶‍♀️Is Boulder, CO, a walkable city?
Yes, Boulder has a nationally recognized pedestrian-friendly community, earning the Gold-level Walk Friendly Community in 2020. This is thanks to the pedestrian-only Pearl Street Mall and to its many paths and hiking trails, attracting visitors from all over the world!
💸 Which are the best places to stay in Boulder, CO, on a budget?
The best places to stay in Boulder, CO, on a budget are A-Lodge Boulder, featuring its own trail and creek inside the property, or Foot of the Mountain Motel, located right at the foot of the mountain and close to Boulder Creek.
Conclusion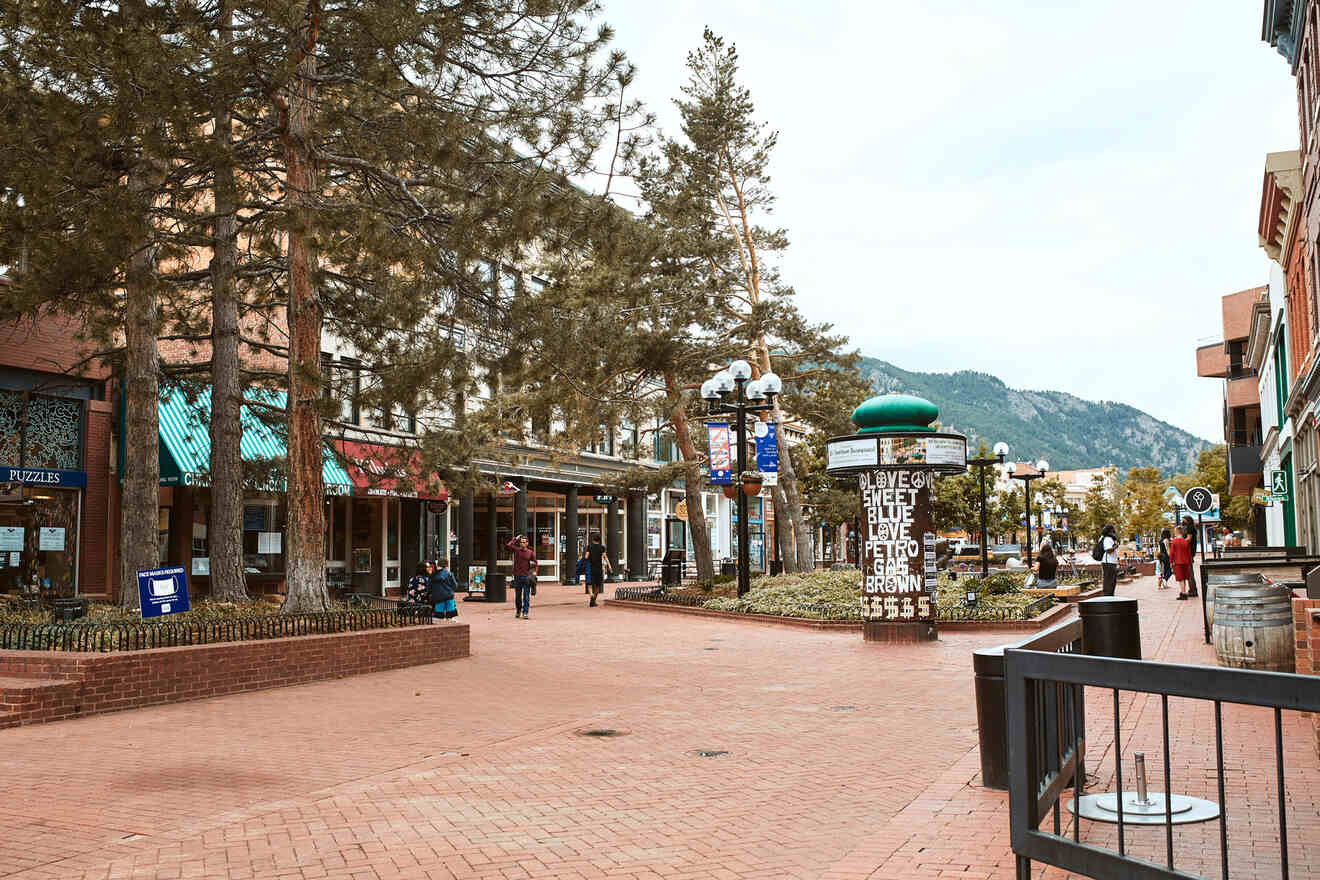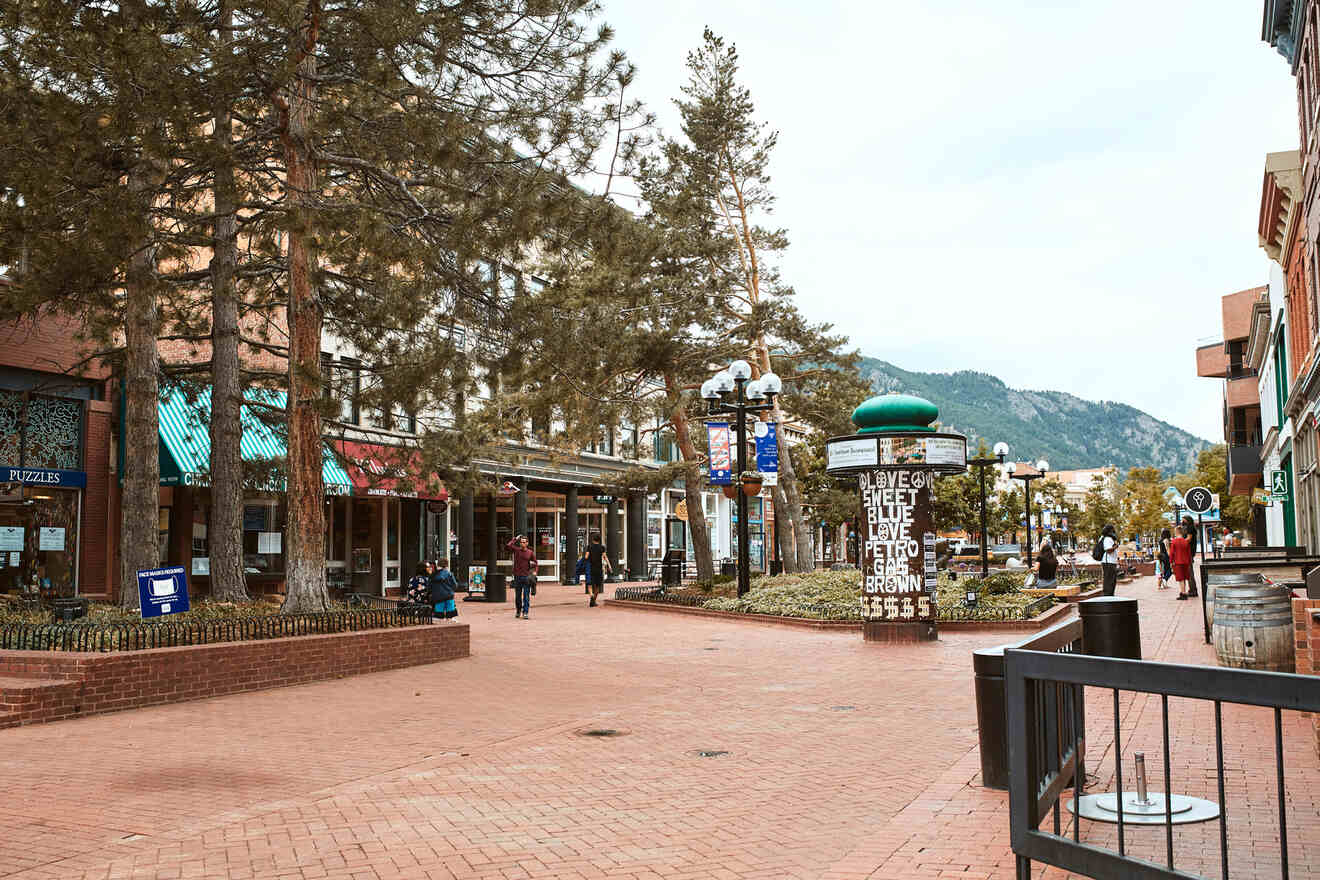 Here we are at the end of this travel guide to the best places to stay in Boulder, Colorado, including hotels for any price range and cozy Airbnbs if you prefer to have your own privacy during your holiday.
I hope this guide will help you find the perfect stay for your travel needs and expectations!
With such a wide choice of accommodation options, I am sure you will find the perfect hotel for your vacation, but if you're still undecided, here are my 2 absolute favorites, with great value for price and location:
Boulder Marriott – If you want to have a luxury stay, this hotel is for you, offering spacious rooms with views of the Rocky Mountains
Hampton Inn & Suites Boulder North – One of the best hotels in Boulder, offering many amenities like an indoor swimming pool and a hot tub
If you like them, make sure you book them as in advance as you can, or you might lose the spot: Boulder is one of the most popular tourist towns in Colorado!
And if you still have some doubts or questions for me (or you just want to share your experience in a Boulder accommodation), please share them in the comments below, I am looking forward to answering you!
Have an amazing holiday!
Elena