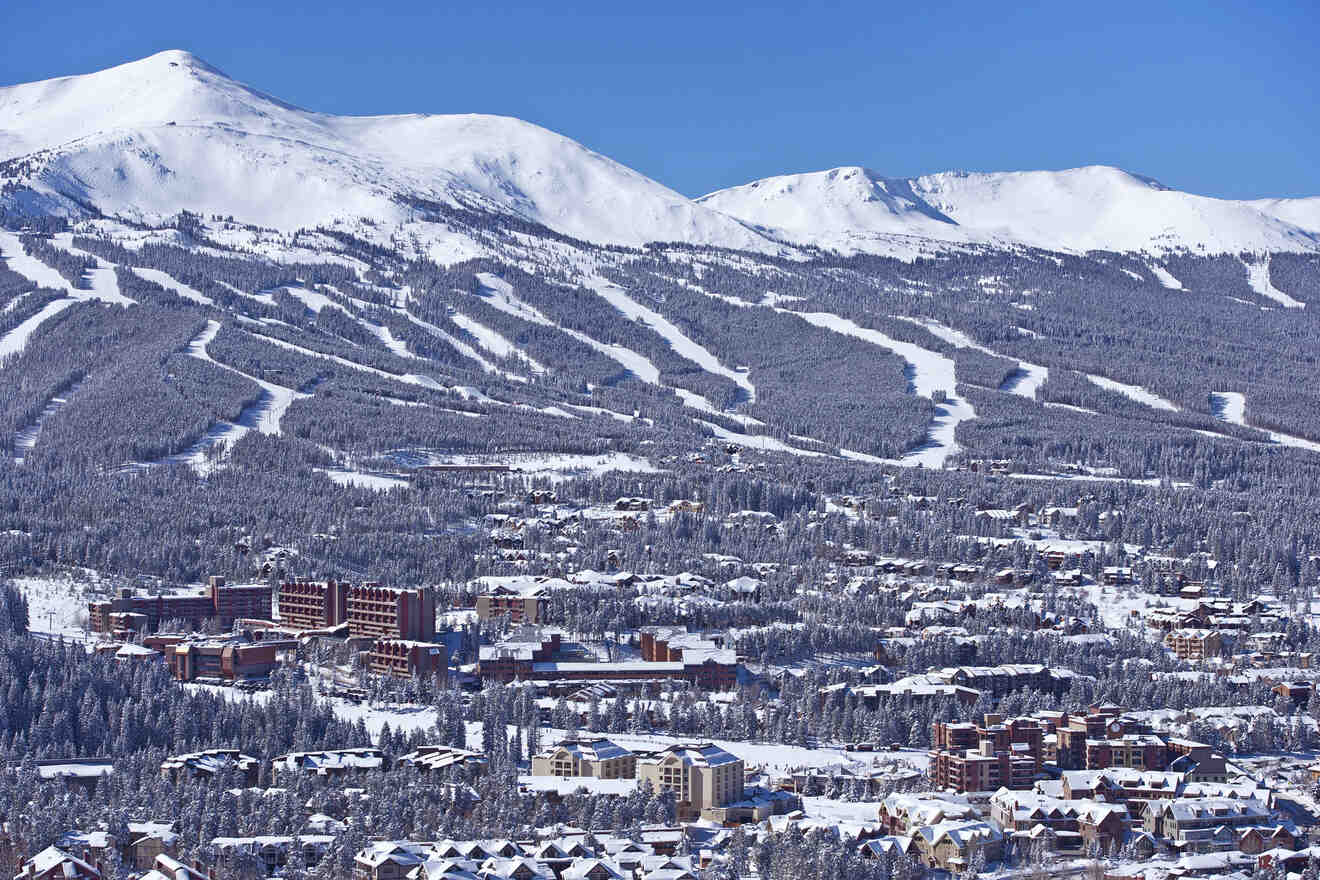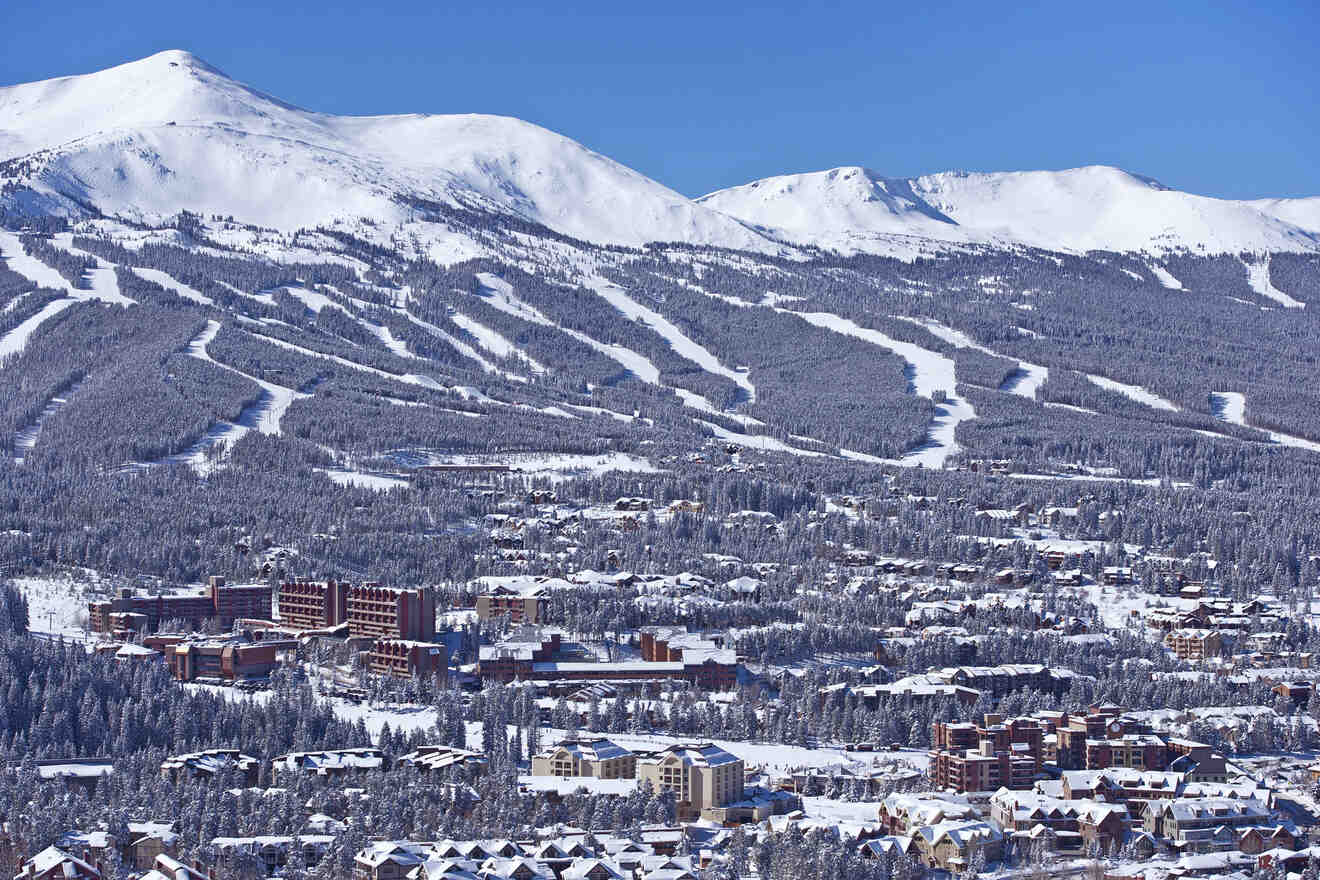 Nestled in the heart of the Rocky Mountains, in Colorado, Breckenridge is one of the most loved mountain towns in the US and a real paradise for outdoor lovers and adrenaline seekers.
Floating 10,000 feet above sea level, you can imagine Breckenridge Colorado offers any kind of activity to have fun with the snow, from skiing to dog sledding, but also countless hikes, trekking spots, and activities for the summer like horseback riding and kayaking, just to name a few!
With 300 days of sunshine per year and 300+ inches of average snowfall, this resort destination is worthy all year round, and will make every member of the family happy!
Besides the fun surrounded by natural beauty and the many adventures, this quaint Victorian town has a growing art scene, a historic center, and more than 200 shops and almost 100 restaurants and bars, so you won't have any problems in finding good dining and nightlife spots!
In a nutshell, there are infinite reasons why you'll love this town, so now it's just time to choose the perfect accommodation for your holiday! Luckily for you, the city also has an incredible choice of lodging, from hotel rooms to historic bed and breakfasts, condos, and vacation cabins.
To help you decide where to stay in Breckenridge, I went through many booking sites and grouped in this guide all the best accommodation options divided by area and price range, so you don't have to make any effort… just keep reading!
P.S. I strongly suggest you book at least 6 months in advance at your hotel, it's very hard to find a spot last-minute here!
Ready? Let's start!
If you are in a hurry
If you want to book now, then waste no more time, check out this quick list with the best hotels in downtown Breckenridge, from Luxury to budget:
Here's a map of all the areas I will be talking about in Breckenridge to get you orientated: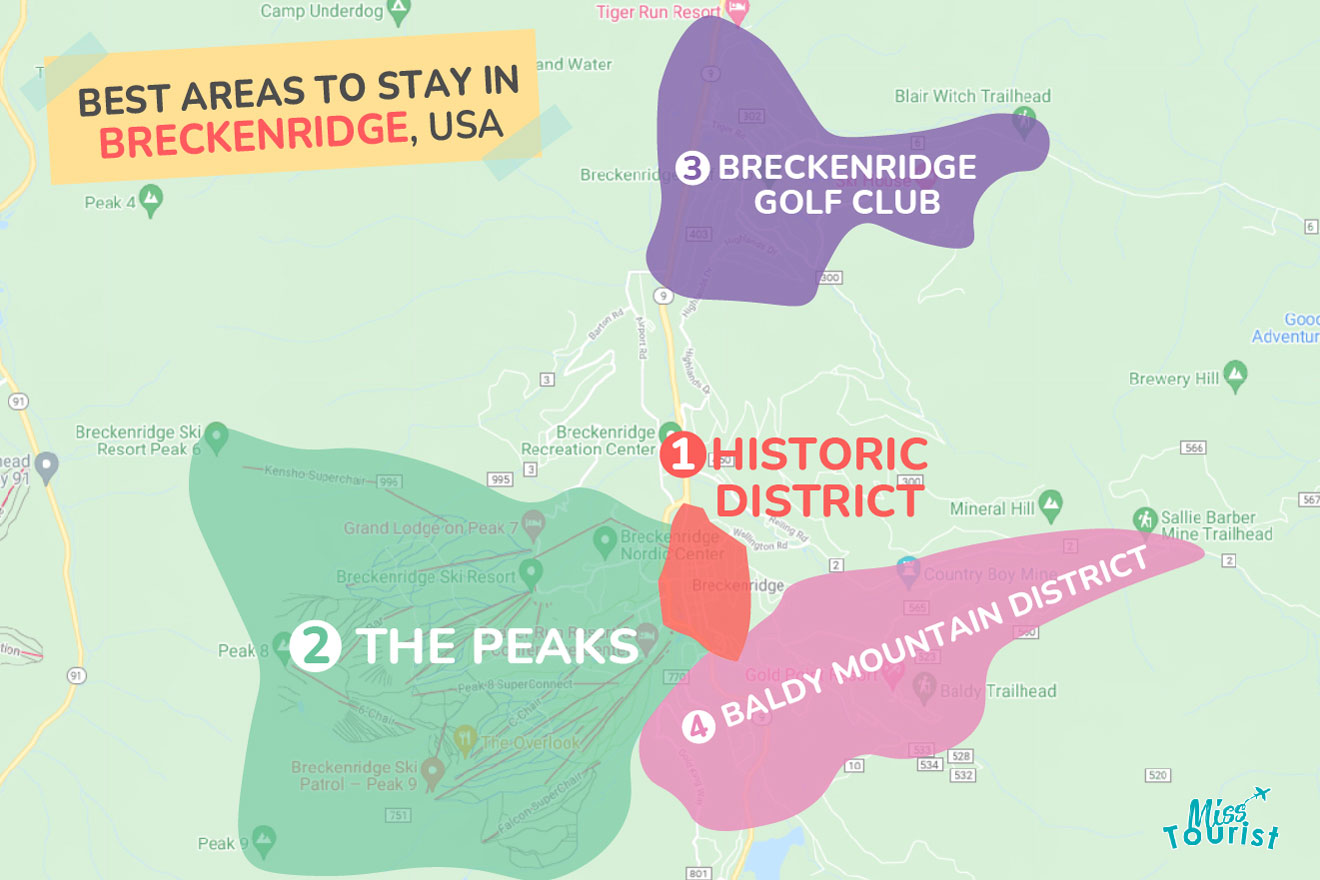 1. Historic District (Downtown Breckenridge) – for the first time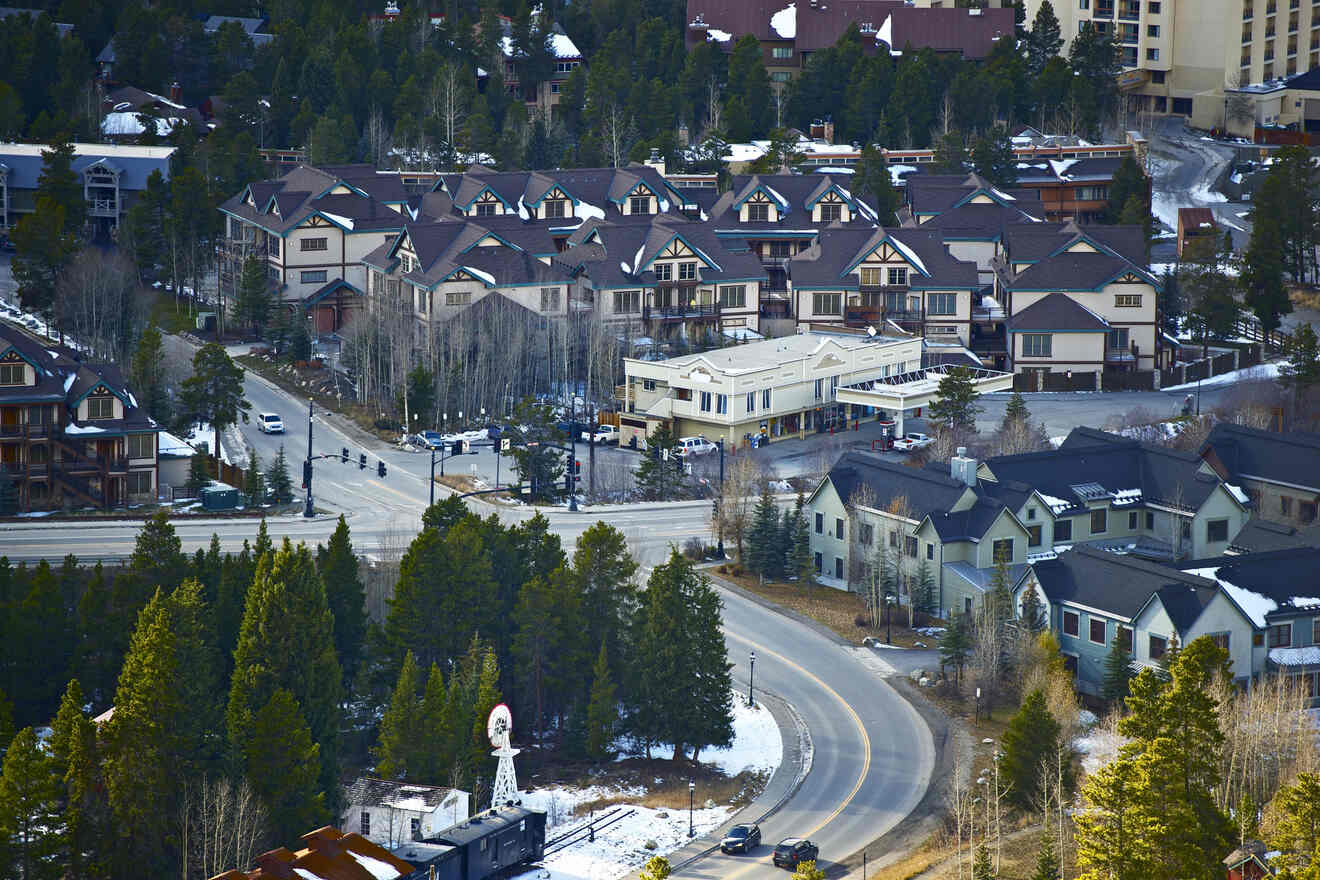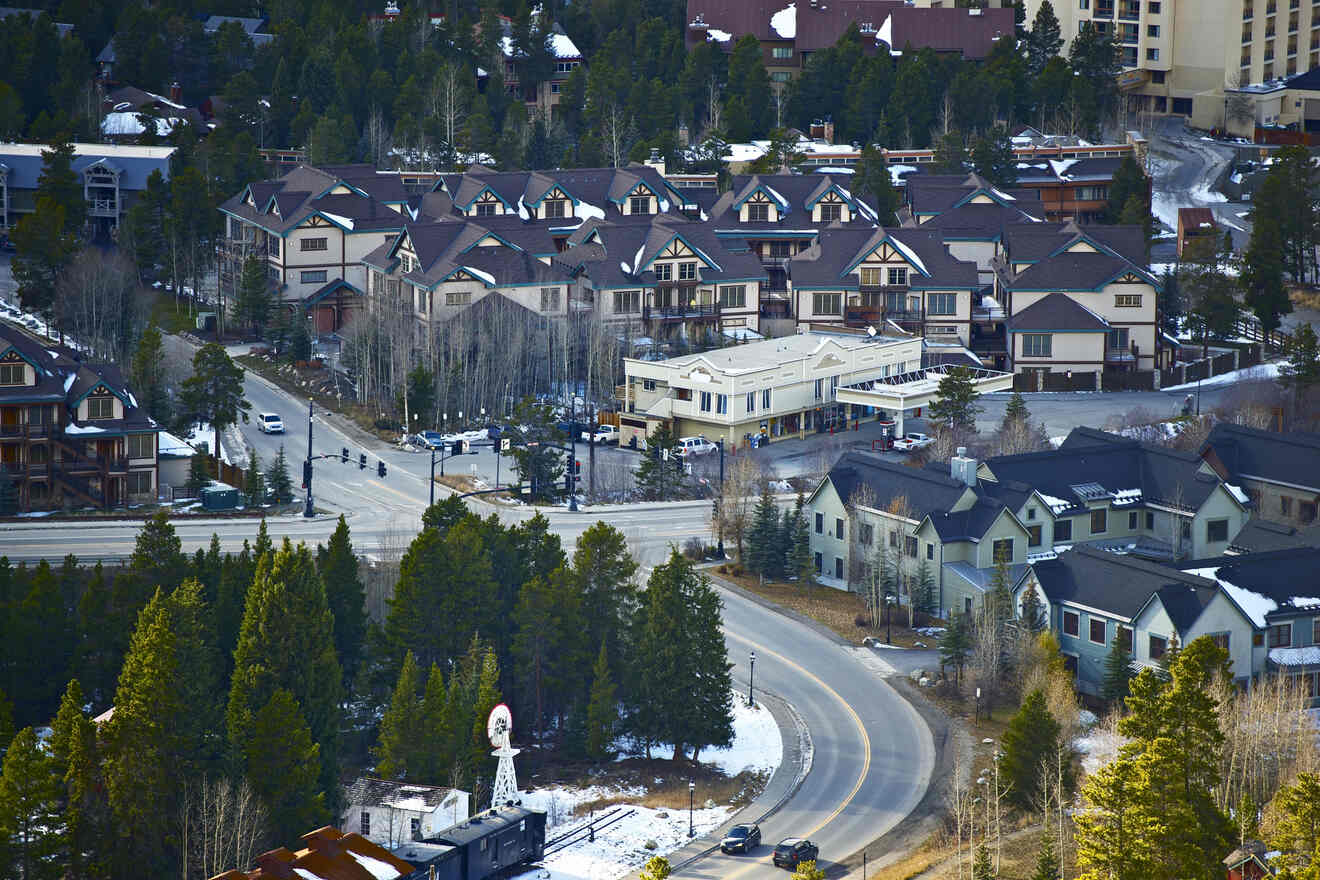 If you're in town for your first time and you want to be close to everything, you can't really go wrong staying in the historic downtown Breckenridge, Colorado.
This colorful and lively area brims with historic buildings, restaurants, shops, and ski resorts… – most of them concentrated in the historic Main Street. There is even a picturesque riverside walk perfect for a stroll with the family or your special one, imagine how beautiful it can be with the snow!
If it also sounds to you like a movie set, you won't be surprised knowing that it actually is: they shoot many movies here, like the famous Dumb & Dumber.
In terms of accommodation, Breckenridge Historic District and the surrounding hills offer many hotels, vacation rentals, and lodging, most of them at walking distance to downtown entertainment and the panoramic ski gondola, just outside the city center.
Let's take a closer look, but make sure you book them as soon as you can if you want to secure yourself a spot here:
Luxury hotel
Residence Inn by Marriott Breckenridge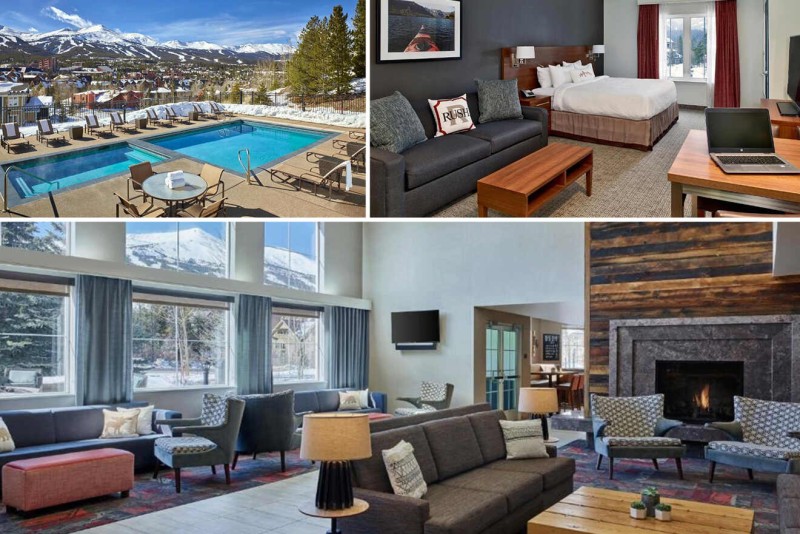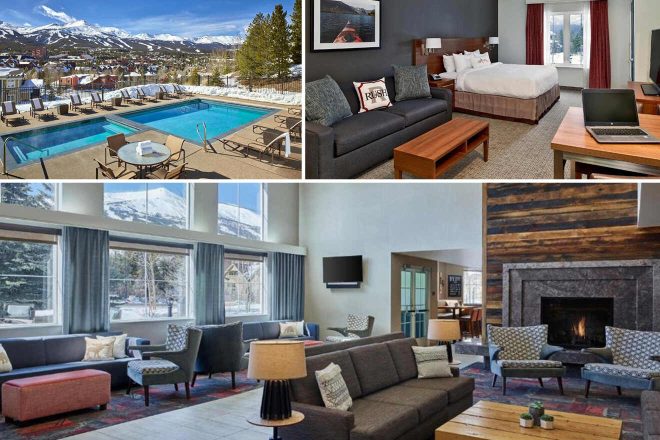 Residence Inn has a great location on the vibrant Main Street, close to shops, bars, restaurants, and ski lifts that will bring you to the best slopes of Breckenridge Ski Resort. This pet-friendly accommodation will give you access to an outdoor pool, free wi-fi, and a free shuttle service… all you need for a comfortable stay!
Other accommodation options in Historic District
Mid-Range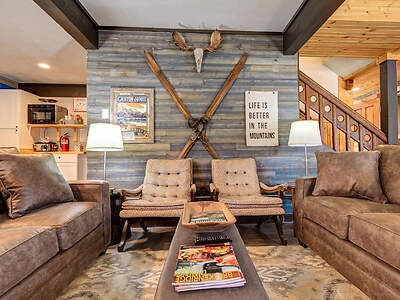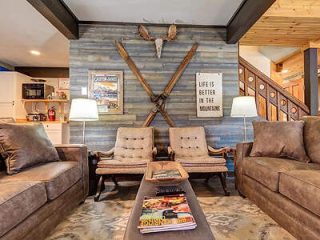 Lovely Bed and Breakfast with access to free parking, free wifi, a hot tub, and a private balcony in your room!
Budget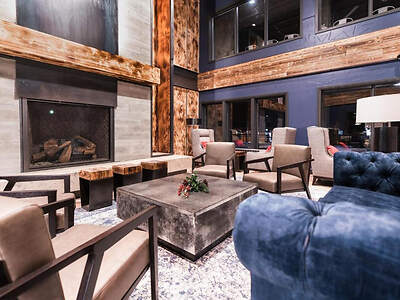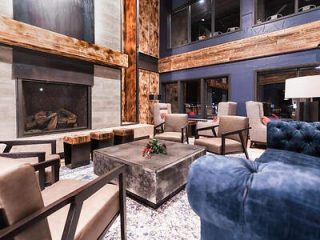 Modern hotel with a fitness center, a co-working space, and a spa service where to enjoy some relaxation
Airbnb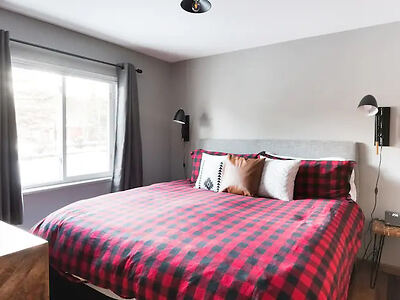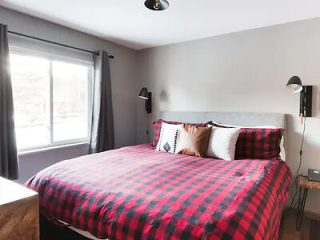 Room with a hip modern mountain style, walking distance from the Main Street and the gondola!
Things to do in Historic District
2. The Peaks – where to stay in Breckenridge for skiing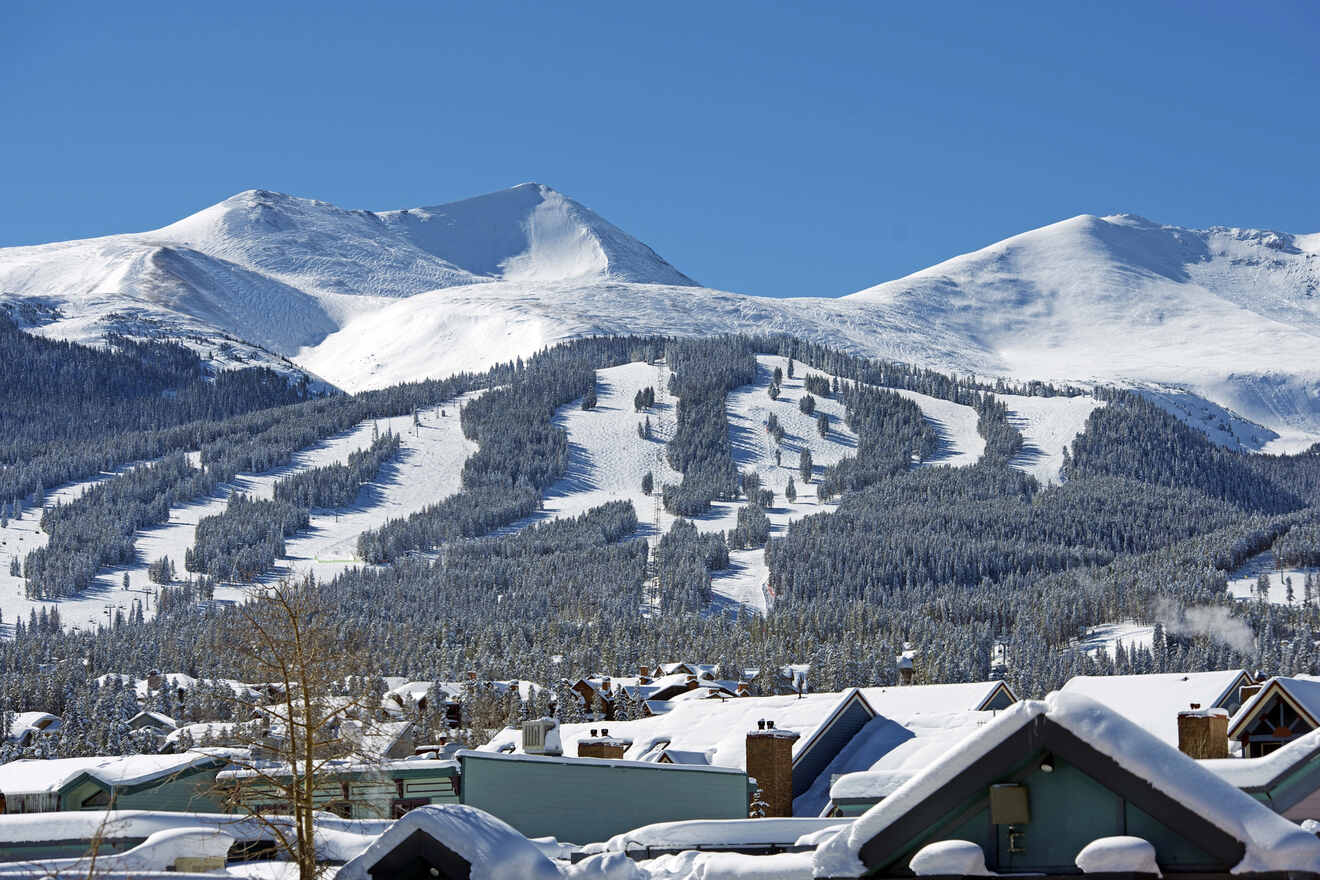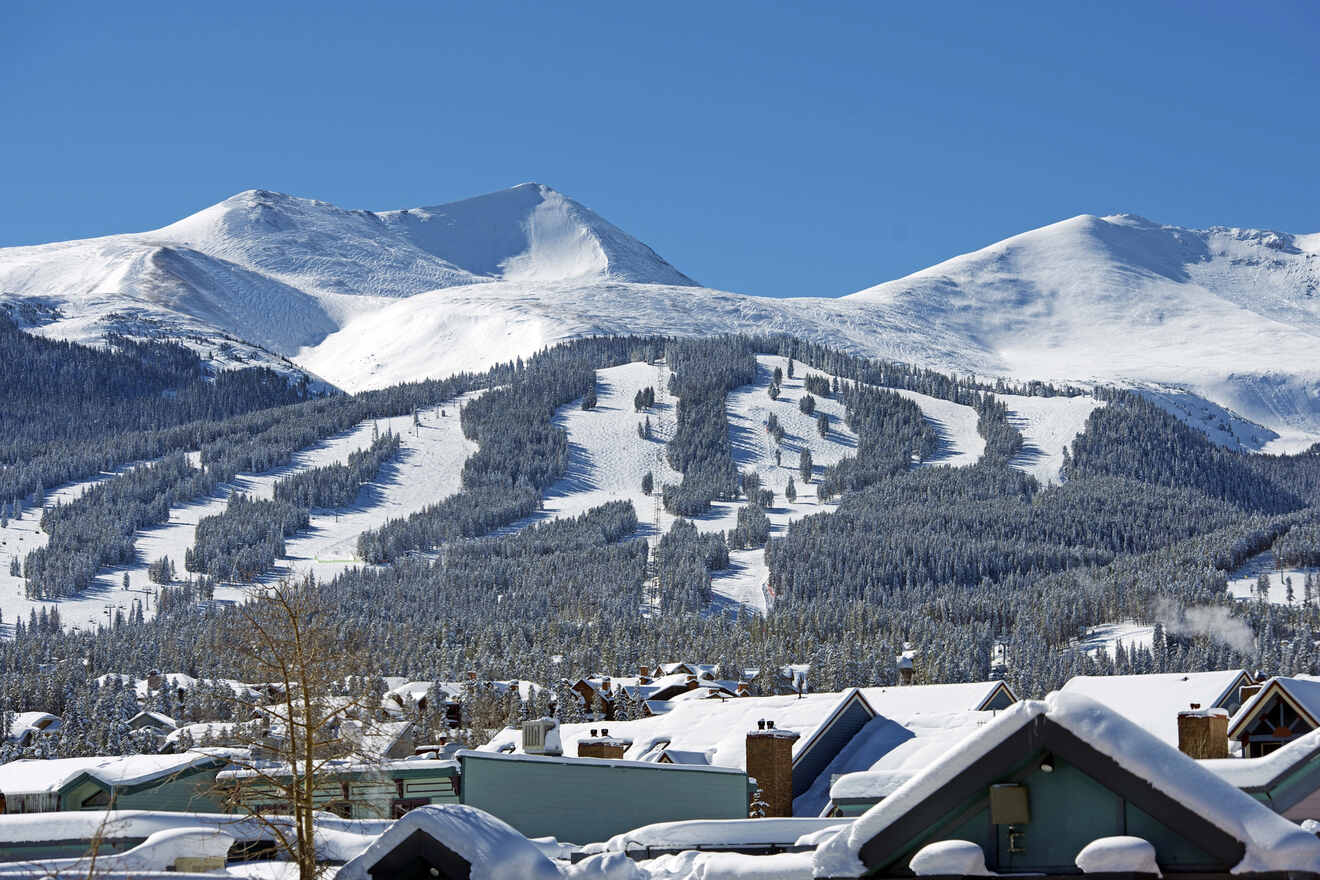 Breckenridge is home to five amazing peaks that rise dramatically above the town, precisely West of downtown, from which the area takes the name.
Needless to say, this is where to stay in Breckenridge for skiing, snowboarding and everything in between, together with family and friends!
Staying close to Breckenridge's 5 expansive peaks, which are peaks 6, 7, 8, 9, and 10, will permit you to have the best experience on and off the slopes! In particular, the Breckenridge Ski Resort, is one of the most popular alpine resorts in the United States, having the highest chairlift in North America and giving you easy access to peak 6.
If you're in town for skiing, you will love the exciting turns of Peak 6, especially if your level is intermediate to advanced, otherwise, each peak has its own personality, and countless runs with breathtaking mountain views, so you will definitely find your favorite spot.
And if you're in Breckenridge during the summer months, the Peaks will also give you access to wonderful hiking trails, like the Trail via Breckenridge, featuring a beautiful lake, perfect to go from April until September, and you can even bring your four legs friend!
Here there are many choices for ski-in/ski-out lodging so you don't need to have to bear the weight of skis, poles, etc… let's check them out:
Luxury hotel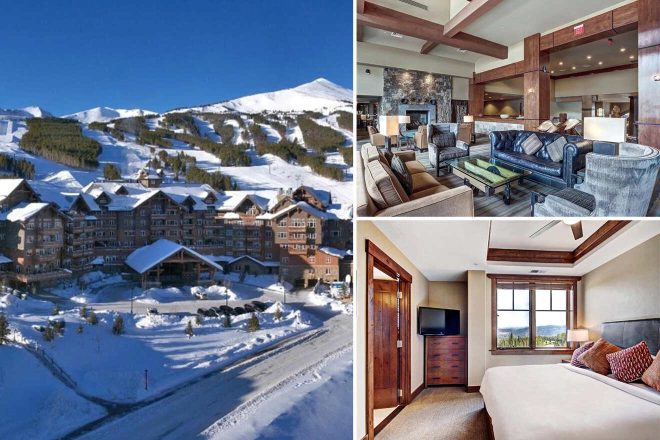 Luxurious hotel with a great location at the base of Peak 8, offering ski-in and ski-out access to Breckenridge Ski Resort… perfect to enjoy the snowy slopes! The spacious apartments have a seating area with a gas fireplace where to warm yourself and will give you access to free storage for ski equipment and even a bowling alley!
Other accommodation options in The Peaks
Mid-Range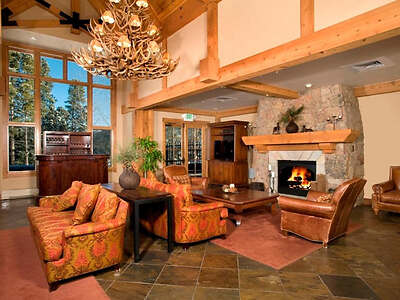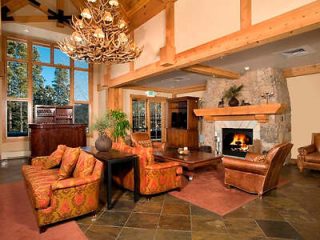 Mountain Thunder Lodge has cozy apartments with a gas fireplace and access to an outdoor pool and hot tub!
Budget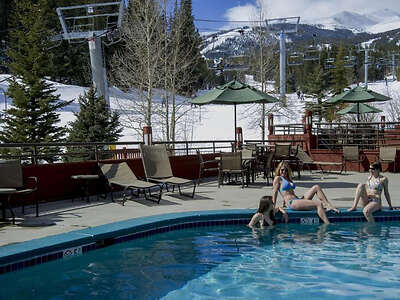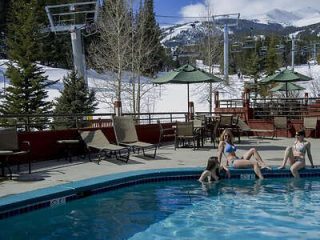 Ski-in/ski-out resort with indoor pool and outdoor pool, from where you can enjoy the fresh mountain air
Airbnb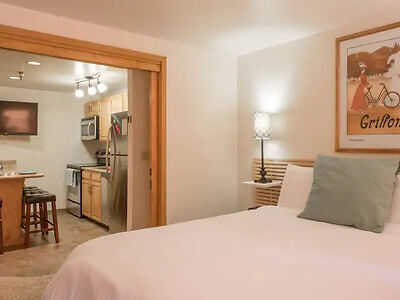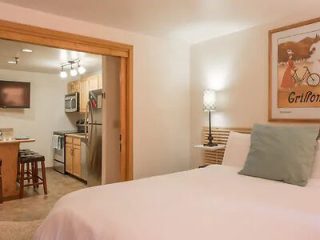 Enjoy this ski-in, ski-out Breckenridge hotel at the base of Peak 8, walking distance from the main street
Things to do in The Peaks
3. Golf Club Area (North Breckenridge) – to relax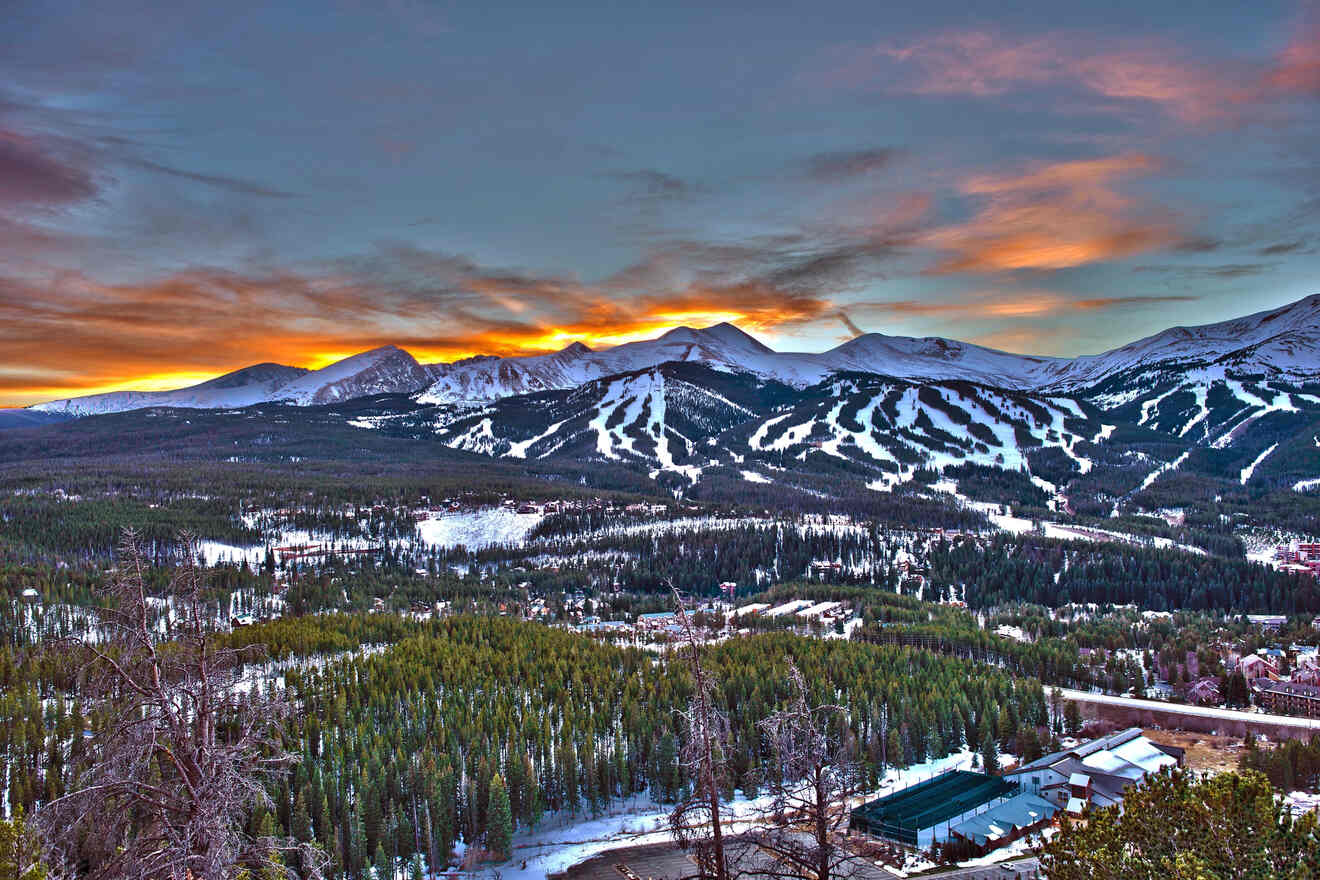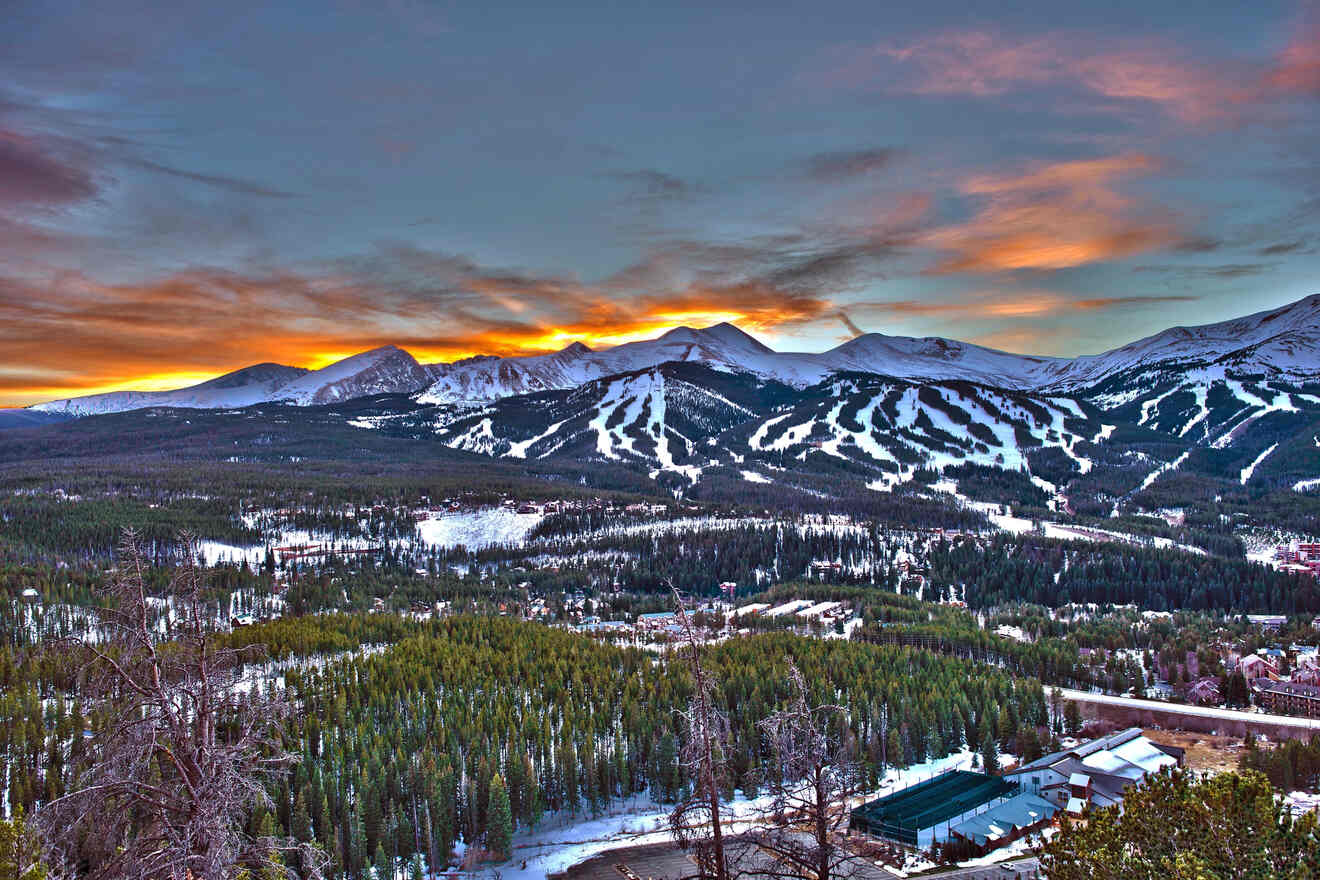 The Breckenridge Golf Club is located north of the town, precisely at about ten-minute driving from the Breckenridge Ski Resort and Breckenridge Downtown.
Being outside the city center (but not that far) makes it a more quiet and less crowded area, perfect if you want to have a relaxing holiday!
If golf is your passion, this will be your paradise! Here during summertime, you can golf in the 27-hole golf course while you enjoy mountain views and fresh mountain air, featuring a clubhouse, golf shop, and an on-site restaurant. During winter, instead, you can engage in the most various and fun activities such as snowshoeing, cross-country skiing, and fat-tire bikes, just to name a few!
North Breckenridge is also the right area to stay if you have a car, which will make it way easier to get around!
Luxury hotel
Welk Resorts Breckenridge The Ranahan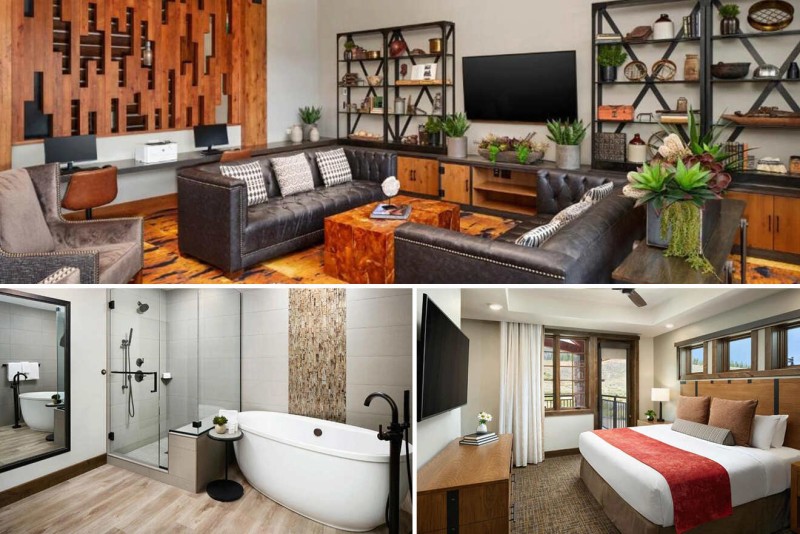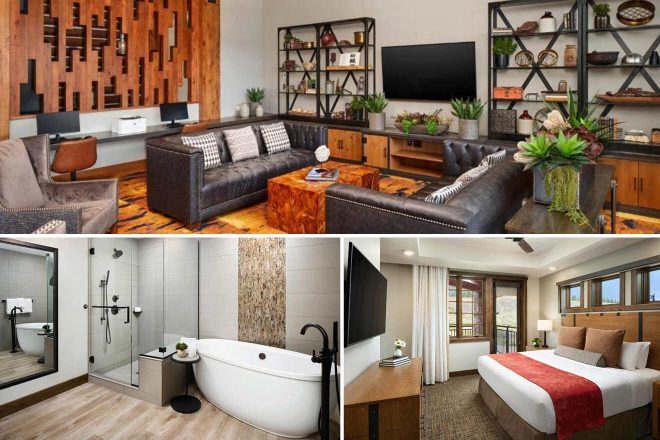 Do you want to allow yourself all the comforts during your vacation in Breckenridge? Then this 4 stars accommodation is for you! Boasting an outdoor pool and an indoor swimming pool, the rooms feature gas fireplaces and a wide range of wellness facilities like hot tubs where to fully relax after a day of hiking and skiing in the surroundings.
Other accommodation options in Breckenridge Golf Club
Mid-Range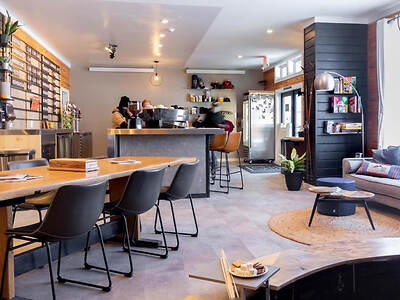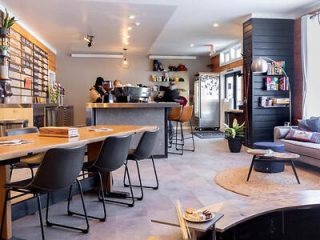 Pet-friendly hotel with free parking, free wi-fi, and a ski storage space. A plus? It has spacious family rooms!
Budget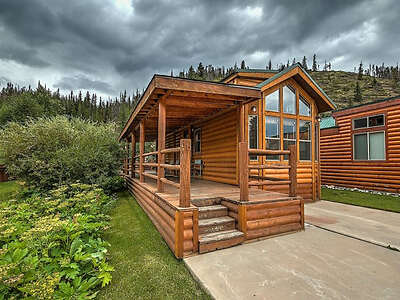 Beautiful resort featuring a clubhouse with a pool, hot tubs, fitness center, and laundry facilities!
Airbnb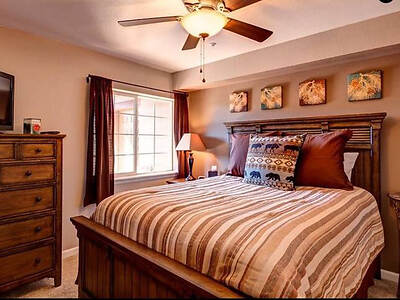 Enjoy beautiful mountain and wooded views from this elegant condo, in a quiet valley on the Swan River
Things to do in North Breckenridge
4. Baldy Mountain District (South Breckenridge) – for families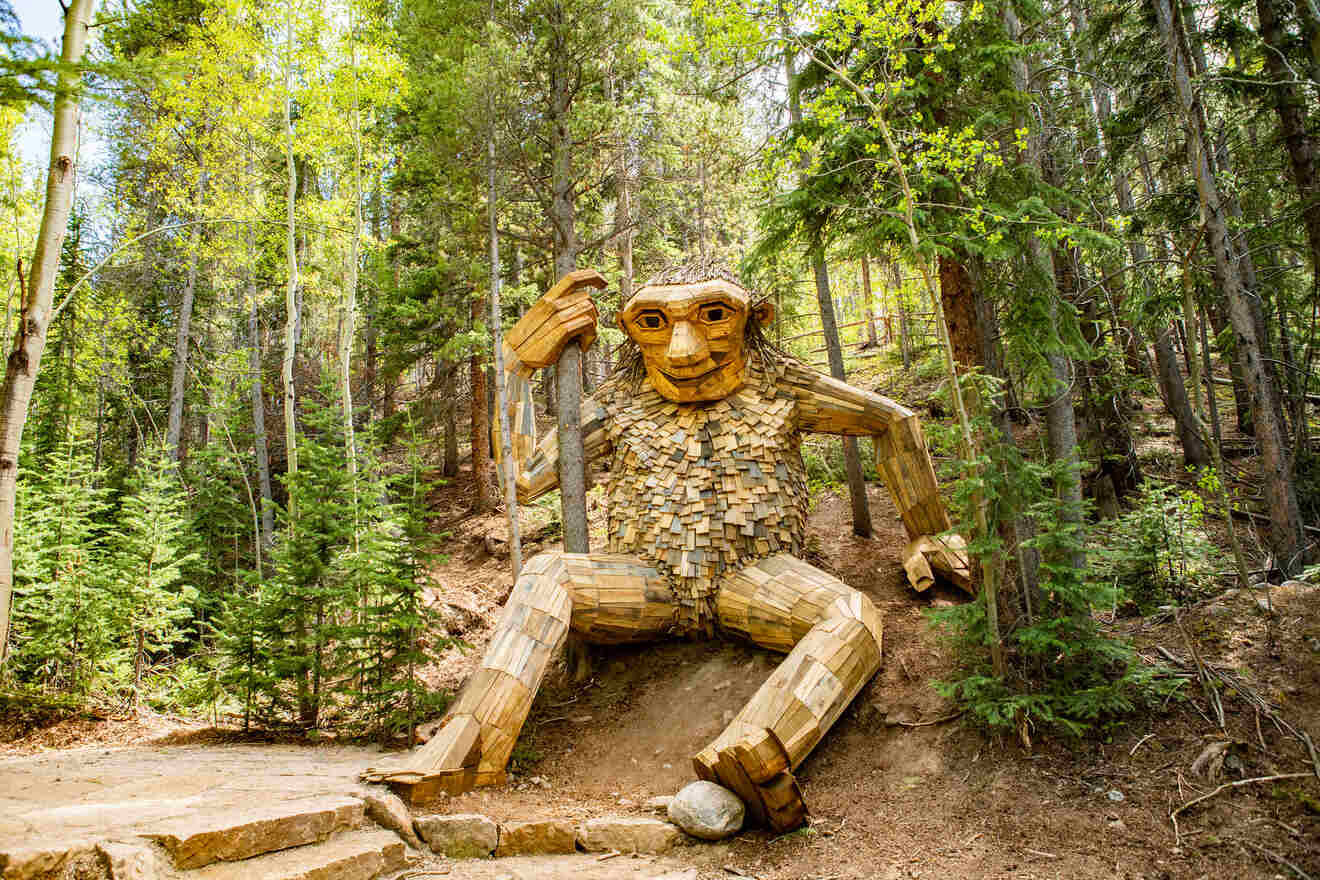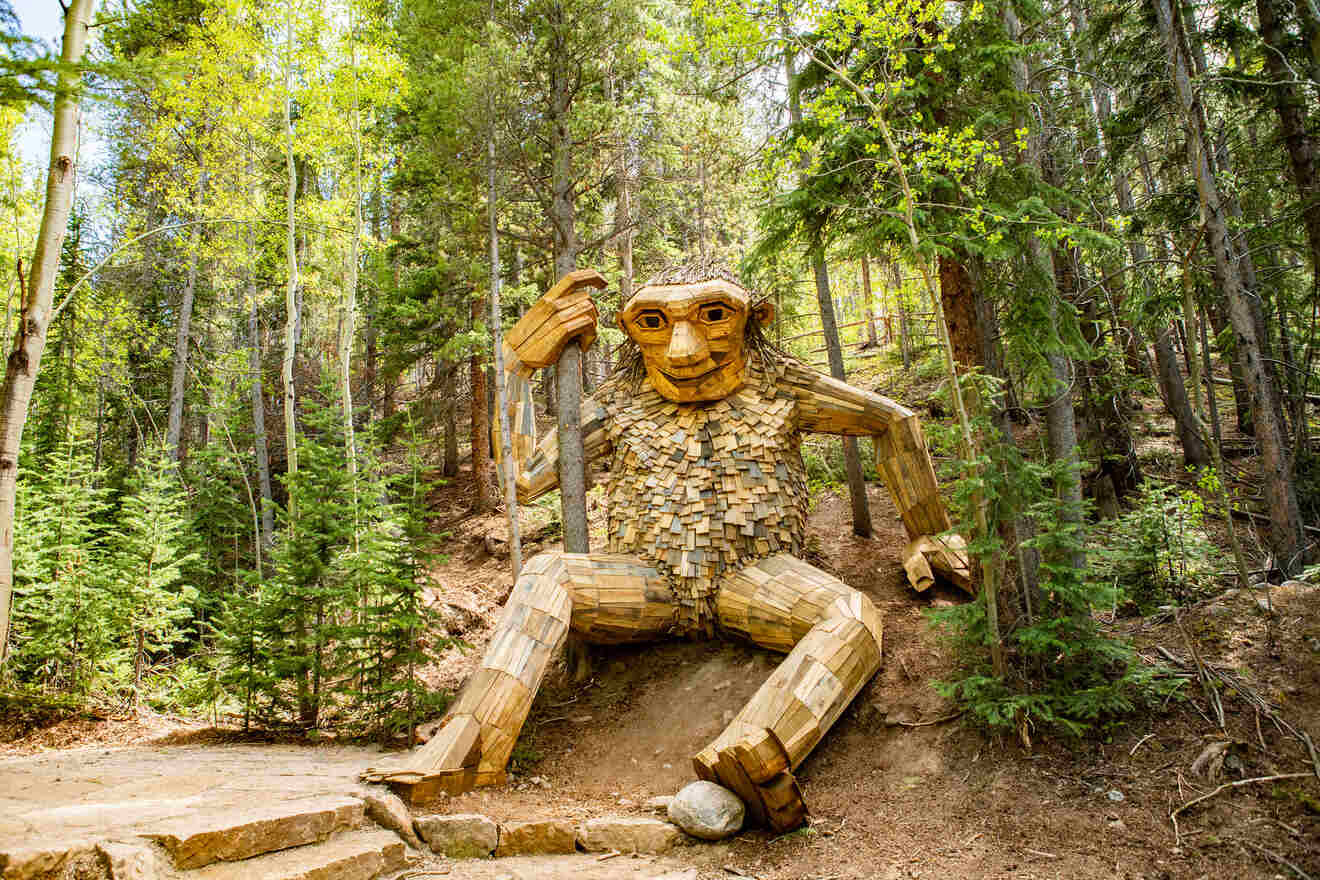 Baldy Mountain District is an area located just south of Breckenridge Downtown, home to many beautiful hiking and biking paths, the perfect place to reconnect with nature, but especially to enjoy sweeping views of the mountains!
Its strategic position will give you access to great hikes and super cool attractions, perfect for bringing the whole family! In fact, it's just on the way to Country Boy Mine, a real gold mine where you can also have lots of fun, featuring monster truck rides and award-winning treasure hunts!
Other things I am sure your kids will love are the historic museum High Line Railroad Park, the ice arena, where you can skate as well as engage in many ice sports, and the place where the "Breckenridge Troll" resides.
Luxury hotel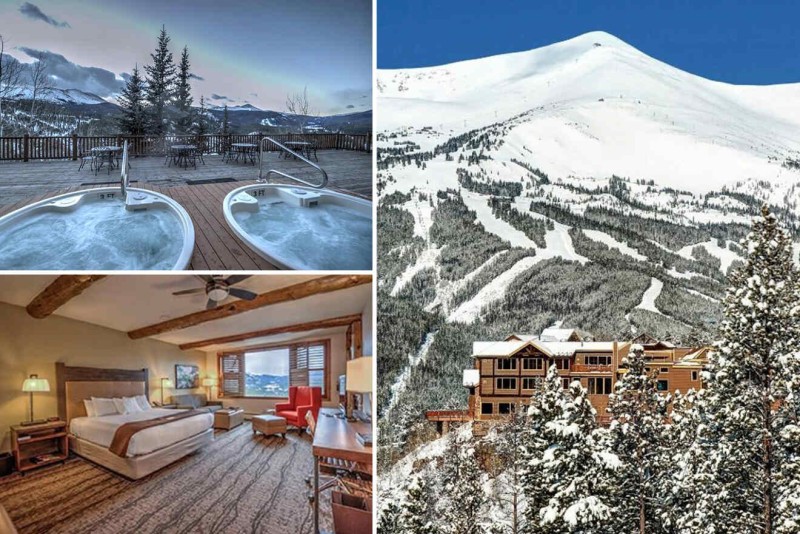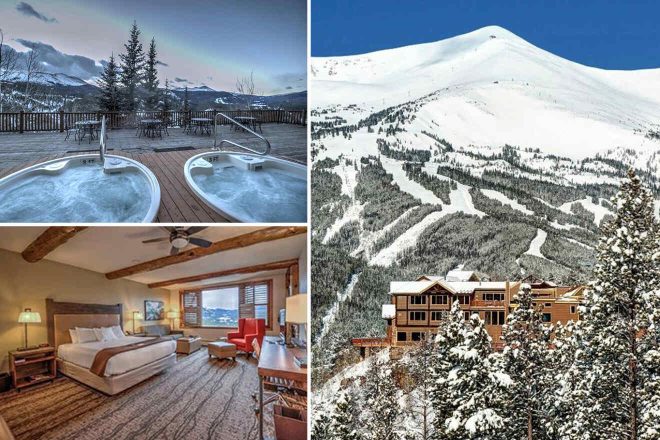 Treat yourself in The Lodge at Breckenridge's beautiful boutique hotel, where you can gaze at breathtaking mountain views from the two hot tubs or fully relax in the Alpine luxurious Spa onsite. And if you want to hit the slopes, during the winter months The Lodge at Breckenridge offers a complimentary shuttle service that brings you to skiing at Breckenridge Ski Resort.
Other options in Baldy Mountain District
Mid-Range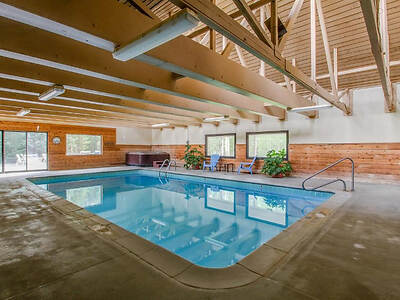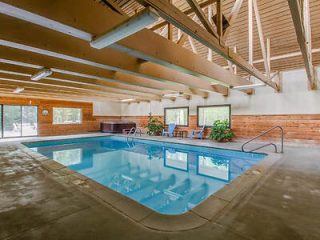 Cozy condo perfect for a big group of 5 people. It even offers a complimentary shuttle service!
Budget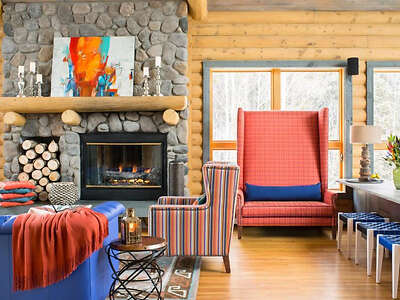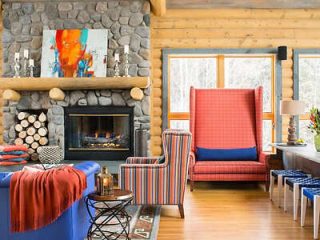 Enjoy some beer and good wine in front of exposed wood beams in this super affordable hostel!
Airbnb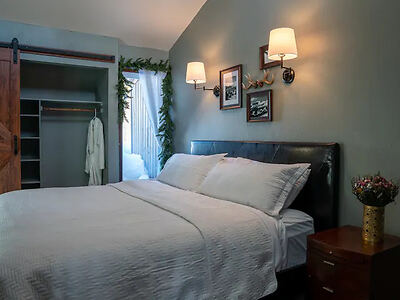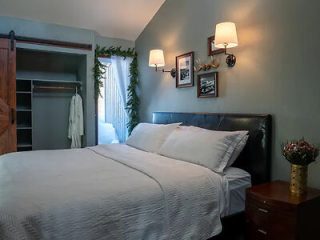 Great mountain fully equipped townhouse at walking distance from Main Street and the Peak 9 ski lifts!
Things to do in South Breckenridge
| | |
| --- | --- |
| 👑 Luxury price: | ❄️$800 / 🌳$250 |
| 💵 Mid Range: | ❄️$500 / 🌳$150 |
| 🛏️ Budget: | ❄️$200 / 🌳$100 |
| 🏠 Airbnb: | ❄️$450 / 🌳$200 |
| 💰Accommodation prices: | High |
| 📍Best area: | Downtown Breckenridge |
| 👪 Best area for families: | Baldy Mountain District |
| 🛎️ Best luxury hotel: | One Ski Hill |
| 🧳 Best mid-range hotel: | Fireside Inn |
| 👛 Best budget hotel: | Gravity Haus |
BONUS: Cool VRBOs in Breckenridge (chalet and Cabins)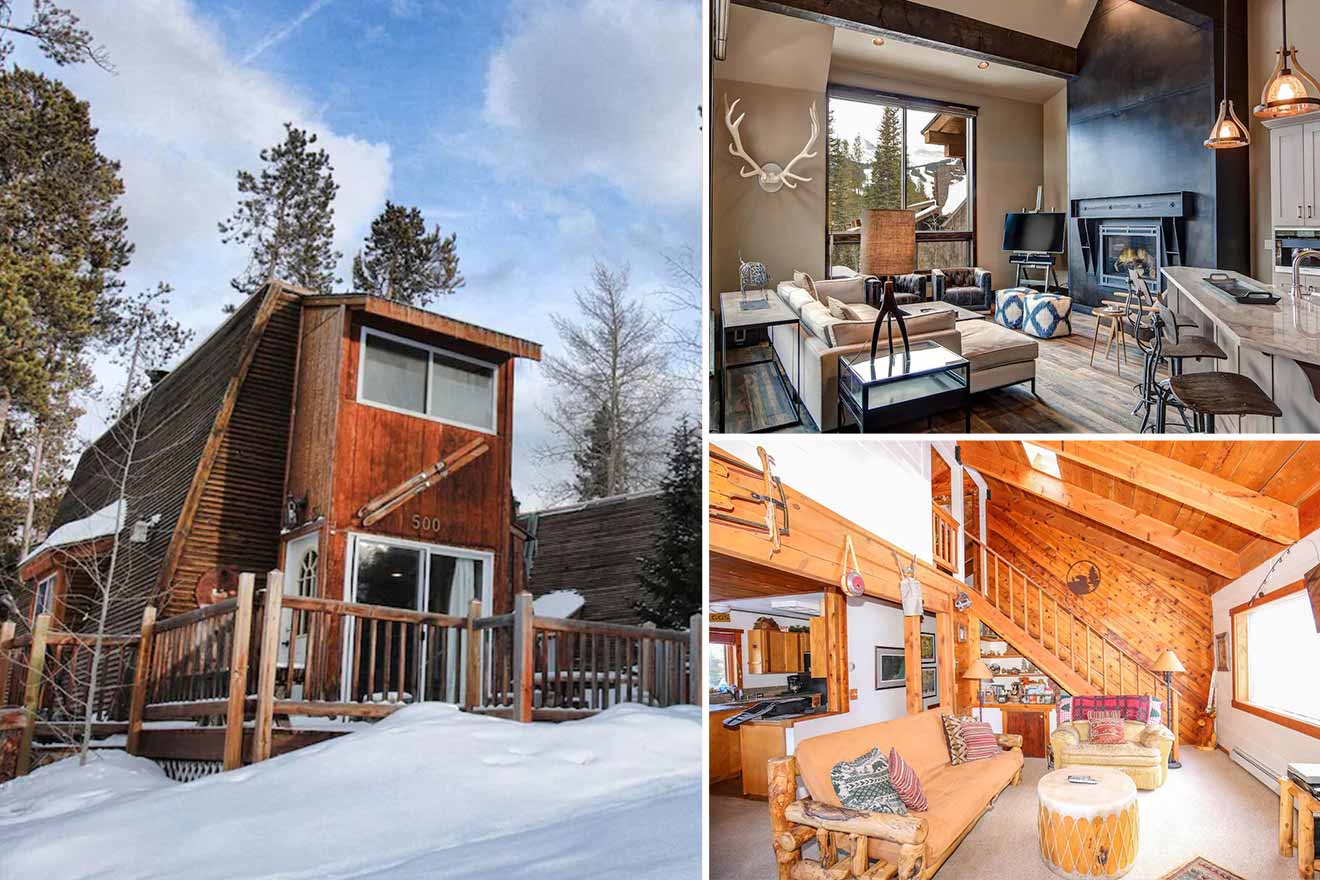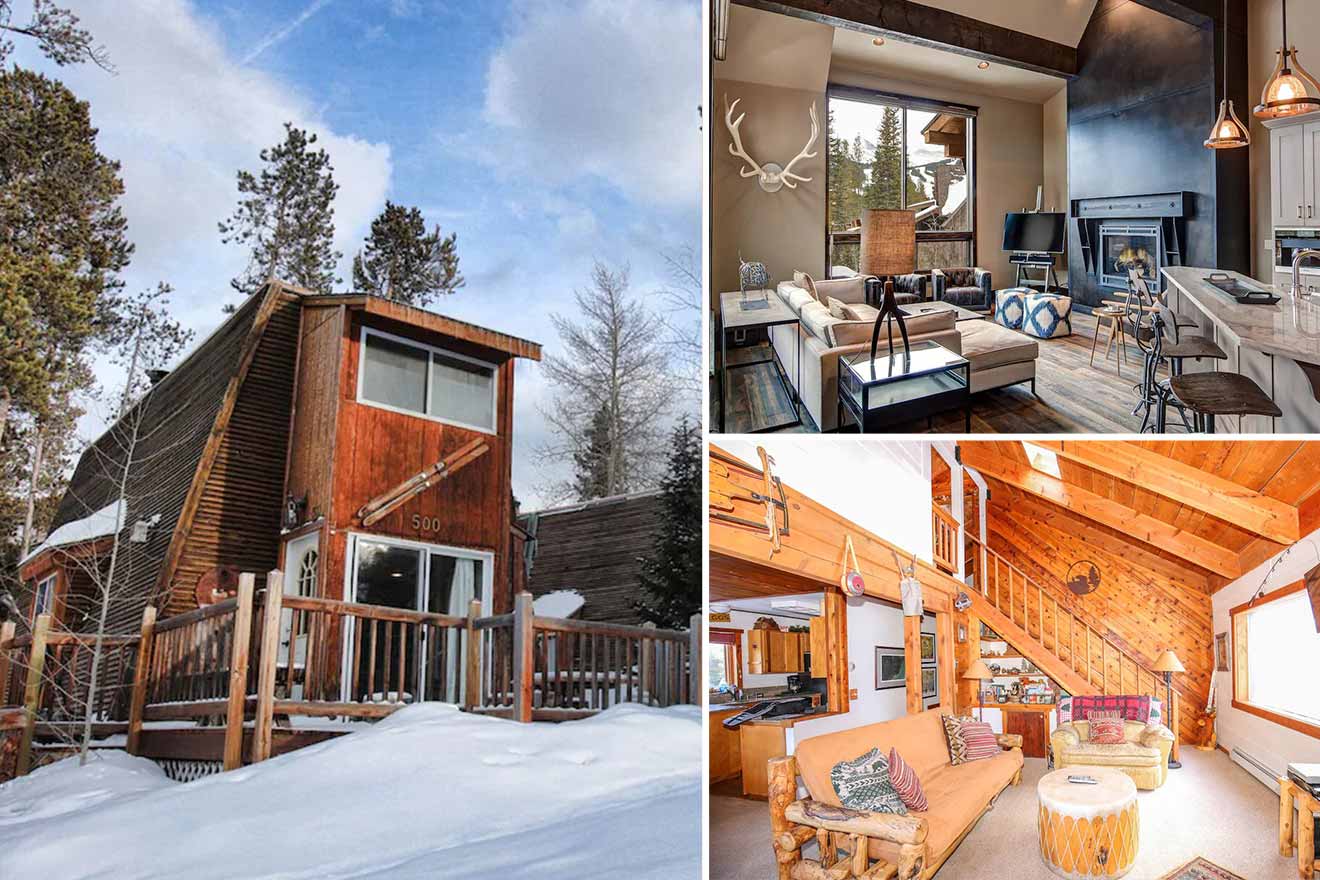 Breckenridge has become quite popular for the quality and variety of its lodging options other than the typical mountain hotel or ski resort: from large and luxurious houses to cozy cabins and chalets, in this town you'll find anything you could wish for a stay with friends, family or your special one!
And being in such a beautiful natural setting, the lodgings here are just to fall in love with! Check out the cool VRBOs I found just below: you'll find picturesque cabins in the woods, private homes with a wood-burning fireplace, mountain views, and many great amenities like hot tubs, and so much space to have some privacy and relax.
Enough talking, it's time to take a look at them! Just remember they're all requiring bookings for more than 3-4 nights and they are ordered from the most expensive to the least one!
Frequently asked questions about Breckenridge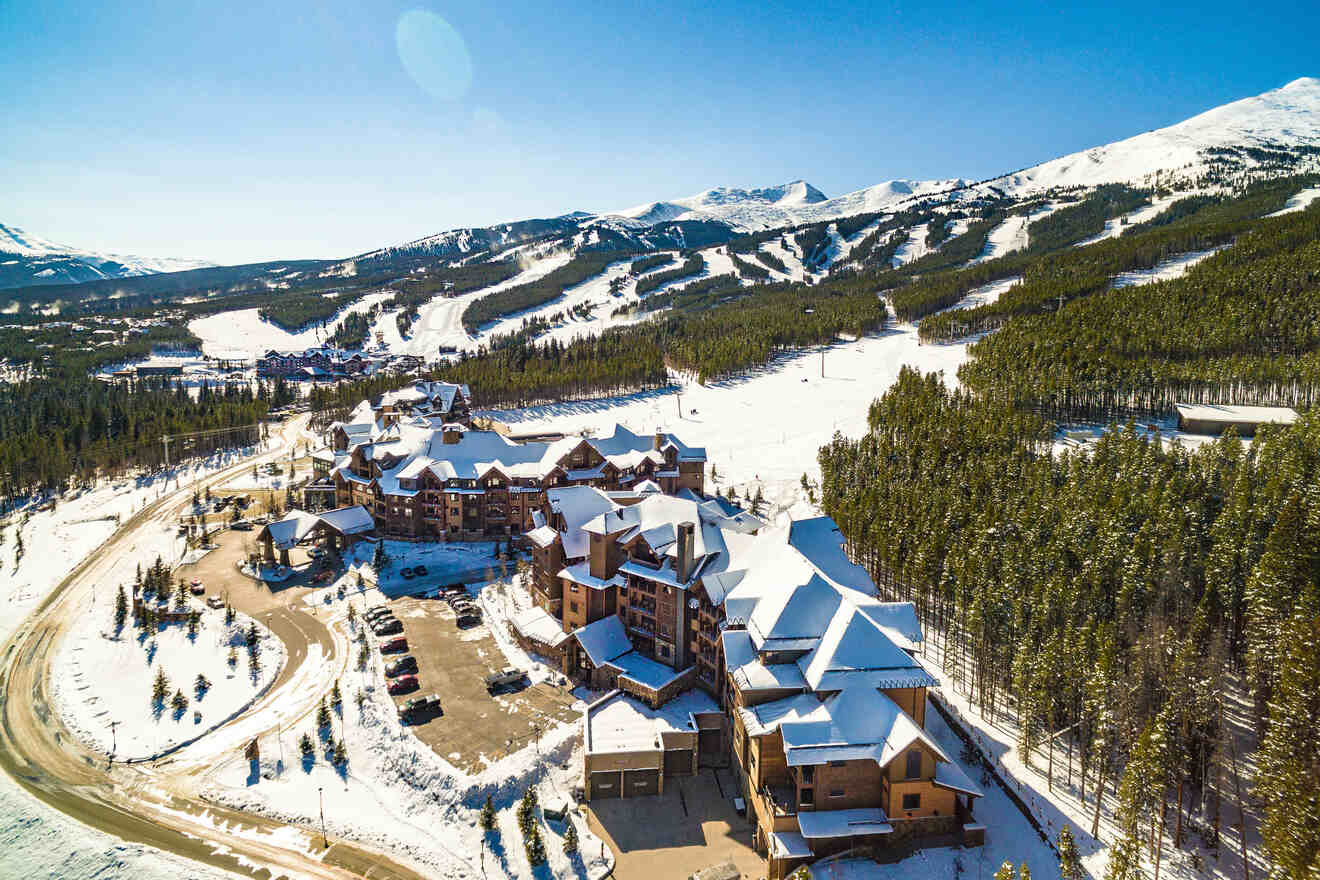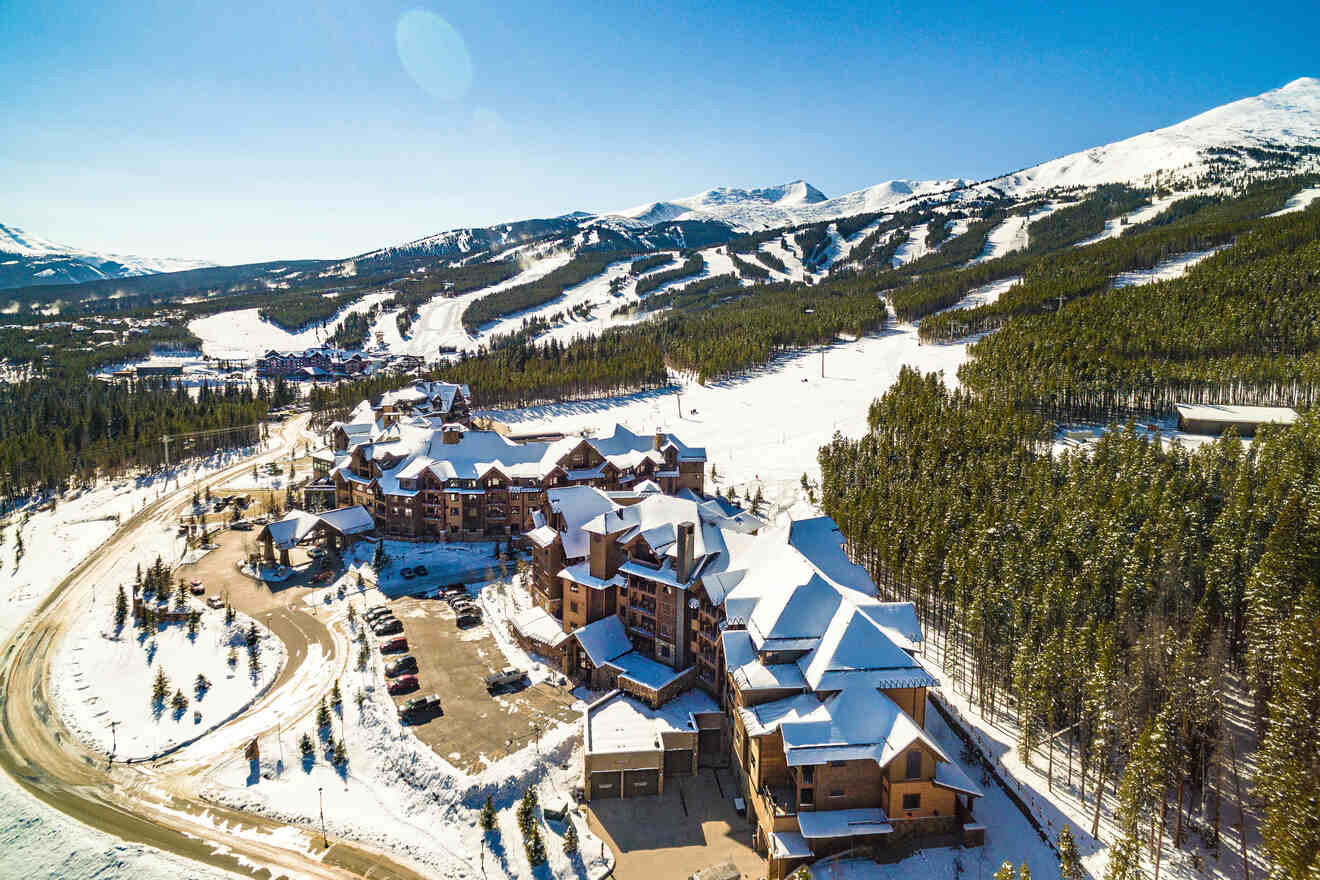 ❄️ Where should I stay in Breckenridge Colorado in the winter?
🏞️ Which is the best place to stay in Breckenridge Colorado?
👪 Where to stay in Breckenridge Colorado with the family?
The best area to stay in Breckenridge with the family is Baldy Mountain District, offering many outdoor activities and great attractions. Stay at Ski and Racquet Club Condo or The Bivvi Hostel, both offering great value!
💰 How much does staying at Breckenridge cost?
Breckenridge hotels are quite expensive, especially during the winter season, when a room ranges from $150 to $1200 per night, while most vacation rentals will cost $240 to $1500 per night for the entire lodging.
🐶 What are the best pet-friendly hotels in Breckenridge Colorado?
Conclusion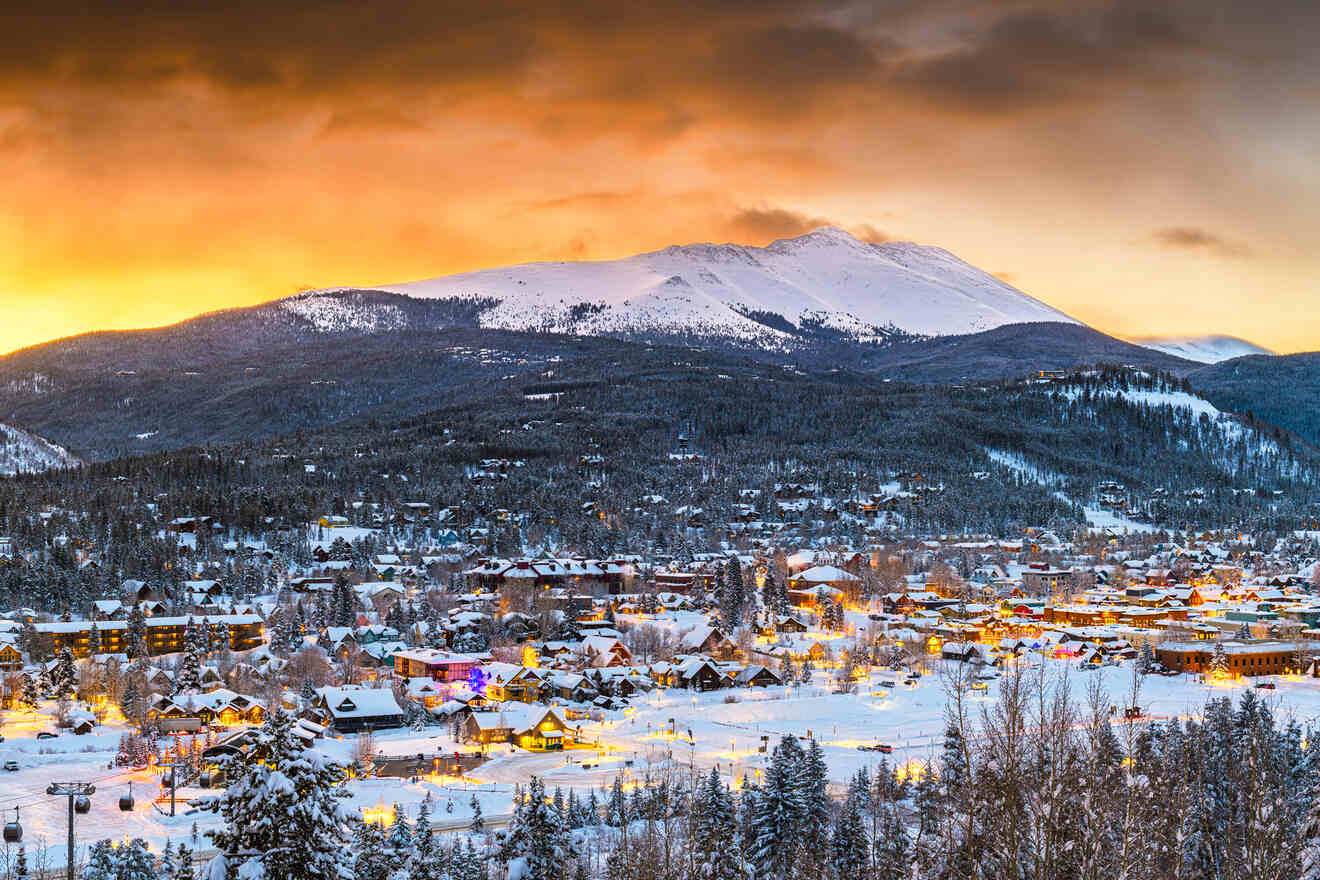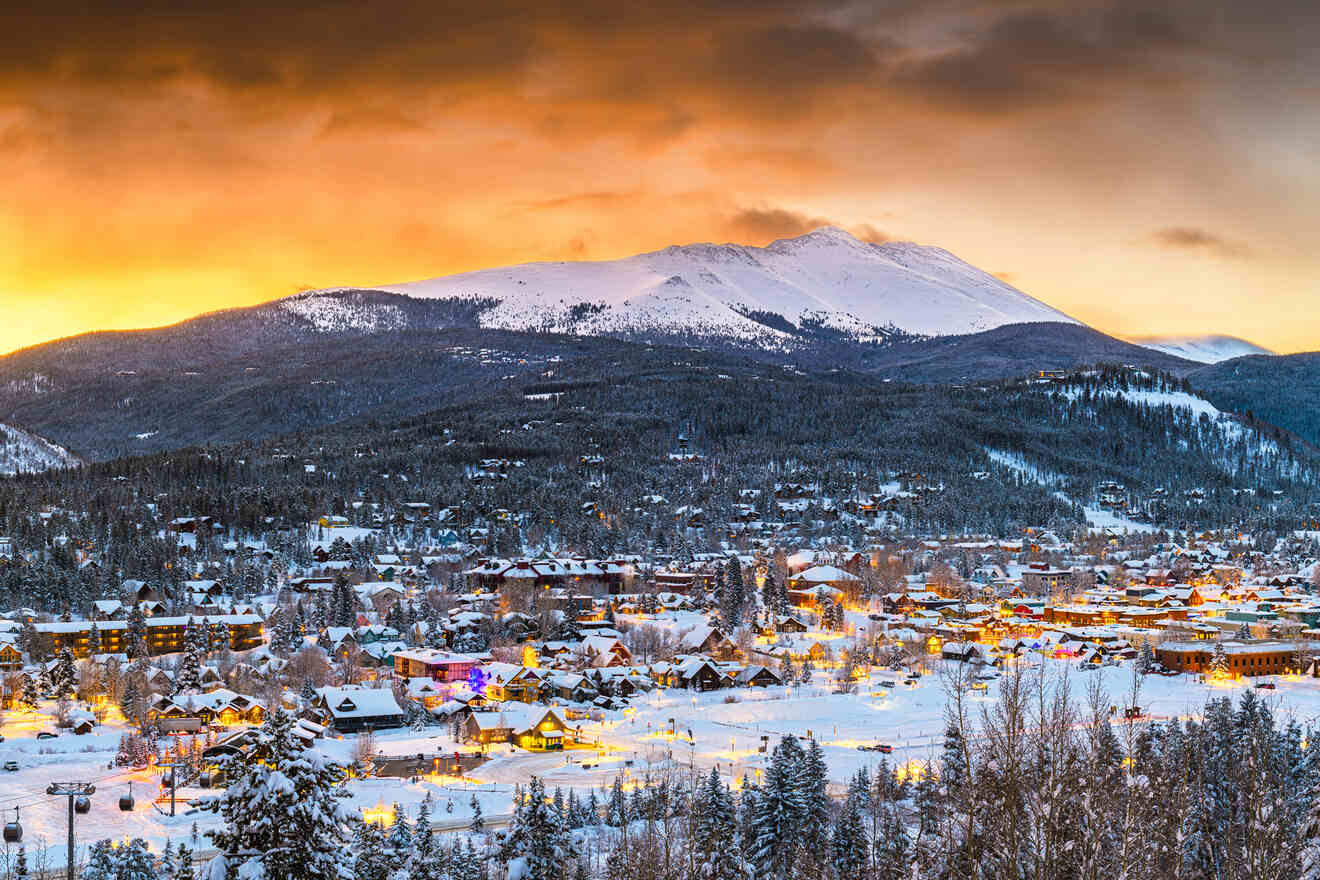 So, what do you think? Have you found the right place to stay in Breckenridge for a great holiday surrounded by mountains, snow, and great nature?
In this accommodation guide, we went through all the best accommodations and different areas in town, and I am sure it will help you in finding the best option for your interest and budget. If you're still undecided, here are my two absolute favorites, with the best location and reviews in Breckenridge:
Just a personal tip: make sure you book your favorite hotel or home rental as soon as you can (I would say at least 5 months in advance) since they're always fully booked!
I hope you had fun reading my guide as much as I had writing it, and if you have any doubts or questions about it, please leave them in the comments below: I am looking forward to answering them!
Have a lovely trip,
Elena
---
Pin it for later!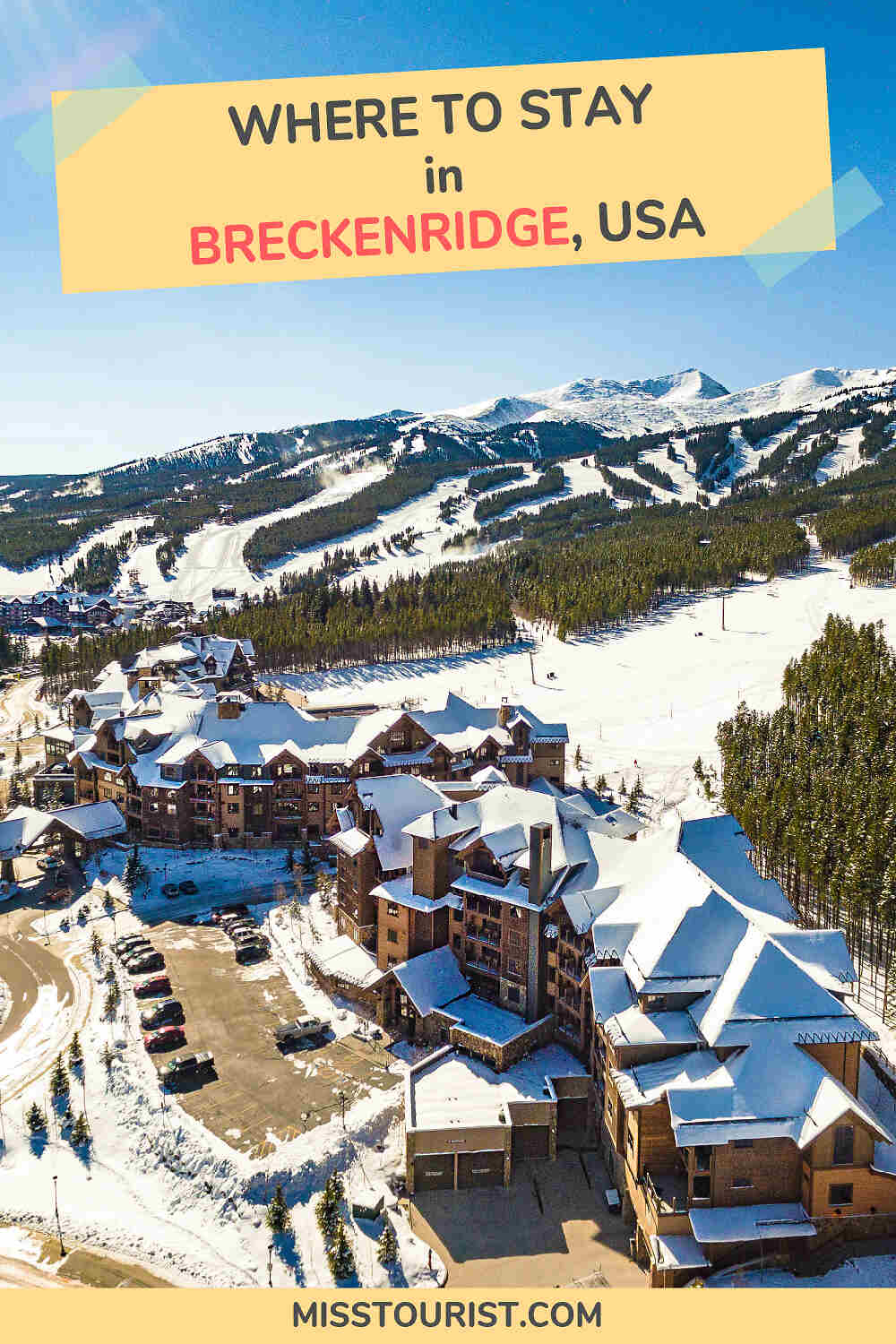 Pin it for later!