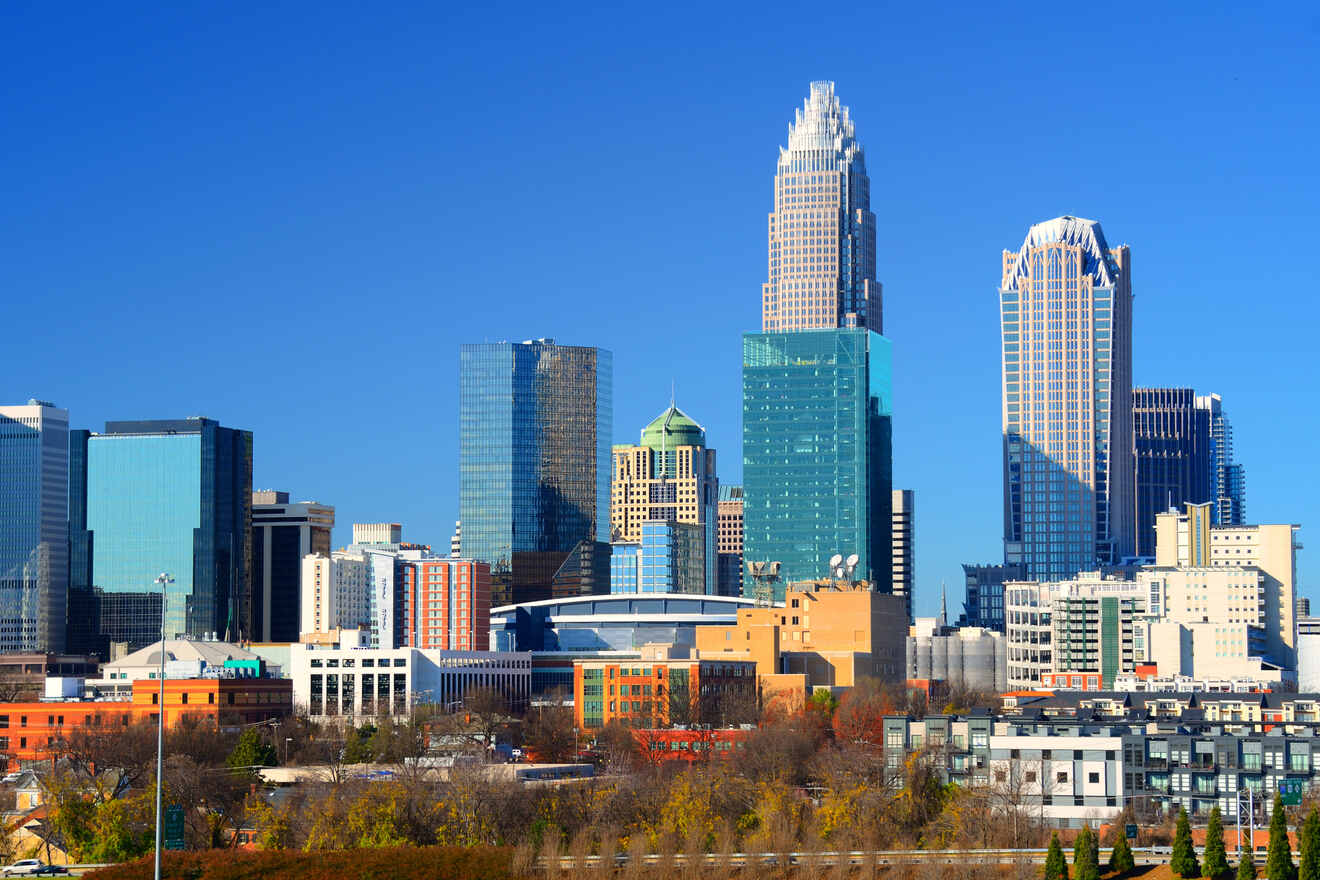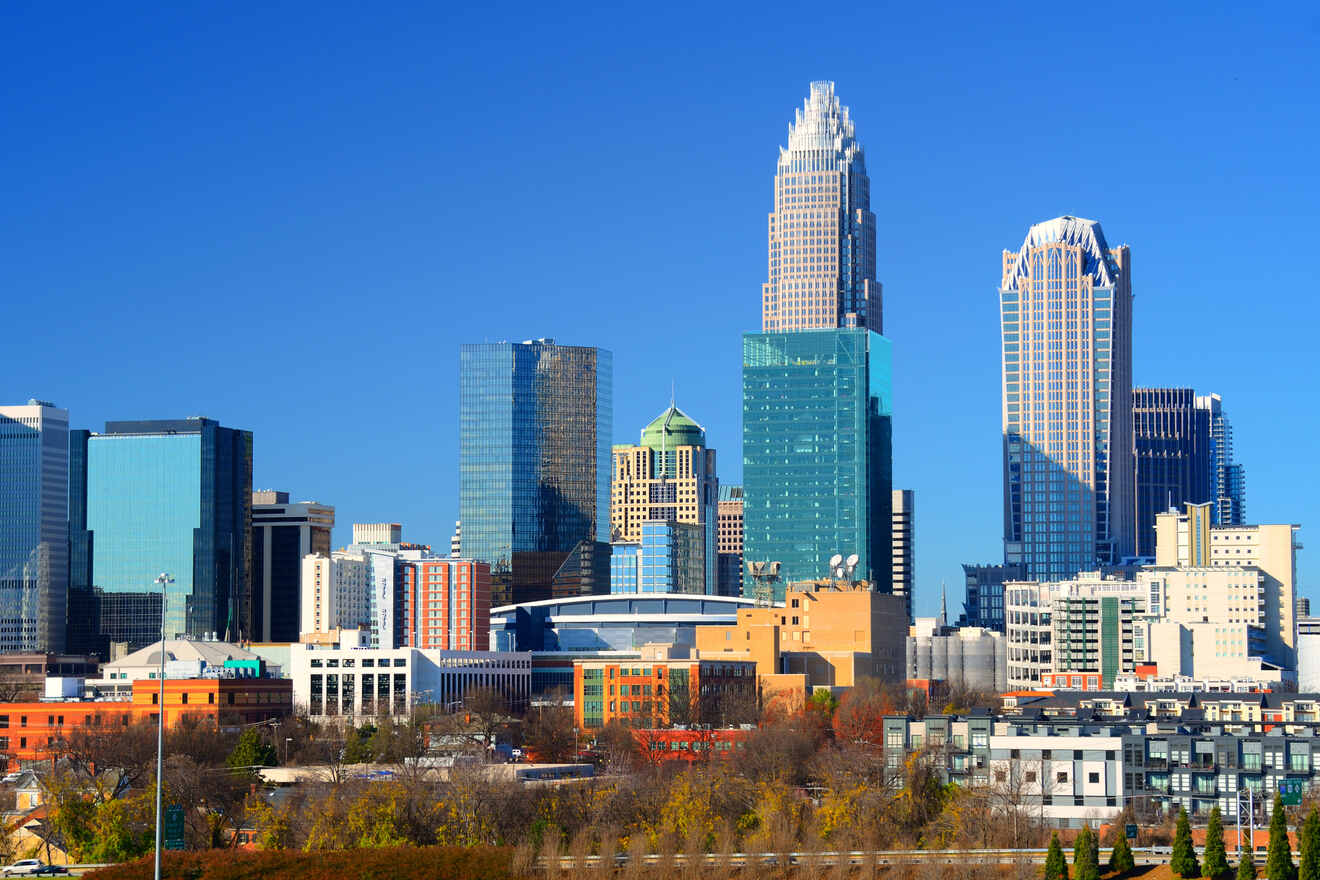 Named after Queen Charlotte, the wife of King George III of England, this charming and historical city in North Carolina was the location of America's first gold rush in 1799, a period in the US when people found tons of goldfields!
But that's not the only time that Charlotte has made the headlines. In the last few years, movies like The Hunger Games, Days of Thunder, and TV series like Homeland and The Bachelorette have put the city on the map again!
Although many people think of it as a business center, this city is much more than that, due to all the big companies with headquarters here! Follow me, and let's discover together some of the coolest and modern neighborhoods for where to stay in Charlotte.
Every area is super distinct, so it will be hard to decide which Charlotte hotel to book. But I've made the greatest list of hotels, some of them even have a spa center! All you have to do is make sure you book them in advance. They are the best, so everyone will hurry to secure a spot.
Let's see which Charlotte hotel suits you best!
If you are in a hurry
I know some of you have decided to book now, so here's a short list of all the best hotels located in Downtown Charlotte
1. Uptown (Downtown) – where to stay for the first time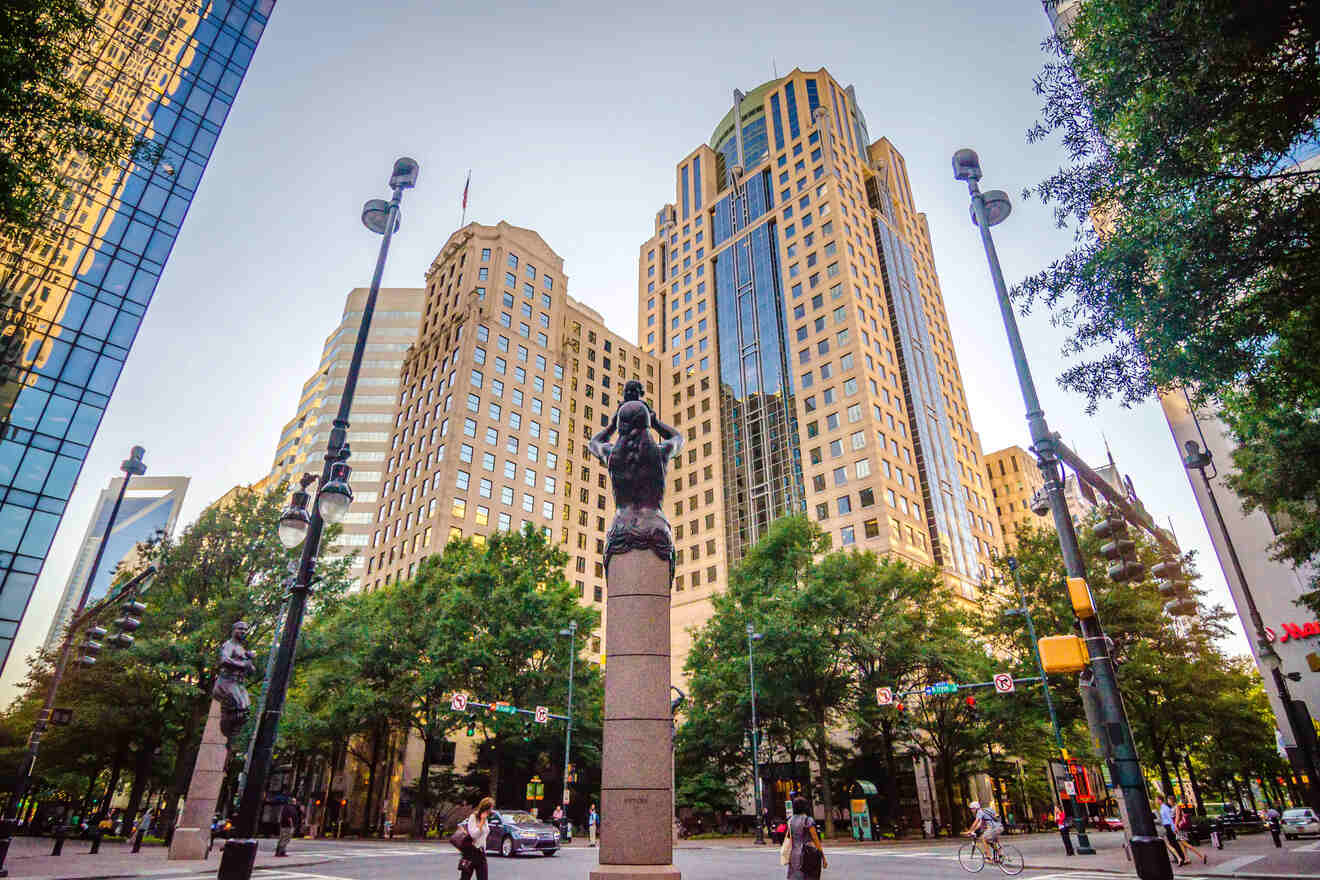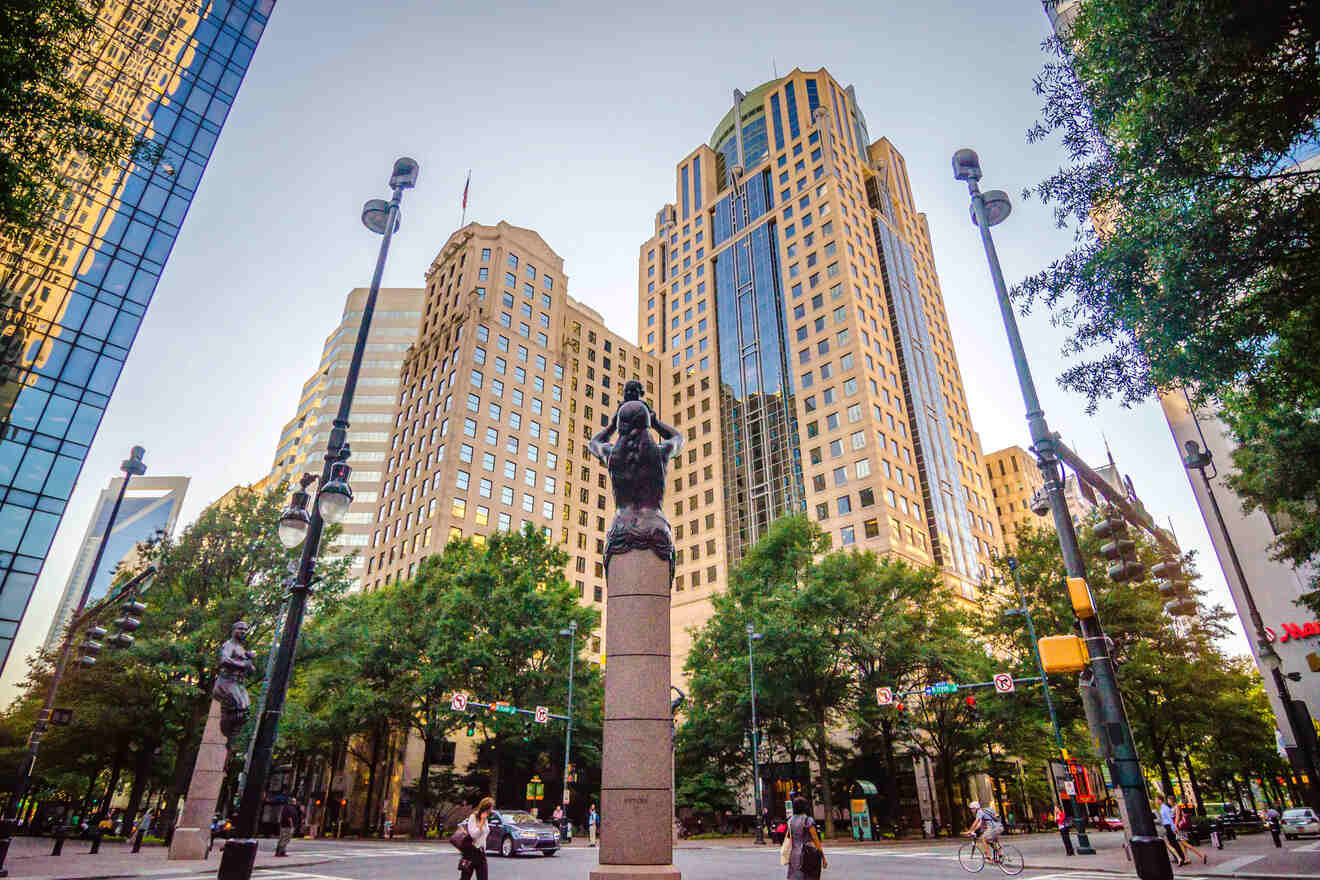 I know many will be confused by the name of this neighborhood since the Downtown/City Center of Charlotte is called Uptown.
This goes all the way back to the 1700s when the locals would use the phrase "Up to the Town " to describe the area, eventually, it was shortened to Uptown and the name stuck!
Now let's talk about all the cool and historic attractions that you'll get to see in Uptown Charlotte. This neighborhood is the city's central hub and is for sure one of the best places to stay if you're traveling here for the first time. It's not too far from Asheville, another cool town in North Carolina famous for its wide range of activities.
Uptown Charlotte is divided into 4 wards, and it's super pedestrian-friendly! Most attractions, like the Bank of America Stadium, are located within walking distance so you don't have to worry when you come back from a night spent at the bars because all the Charlotte hotels are located near the central area. So make sure you book them in advance because everyone will want to stay here!
If you choose to stay here I would definitely go visit the NoDa area which is not located inside the city center but just 5 miles (3 km) away, easily reachable by public transport. NoDa is super artsy and it's filled with hip cafes, art galleries, and music venues. Because there aren't any good hotels there I chose not to recommend NoDa as a place to stay in Charlotte, but I know you should still make sure you check it out!
Other accommodation options in Uptown
Things to do in Uptown
2. South End & Dilworth – the trendiest place in Charlotte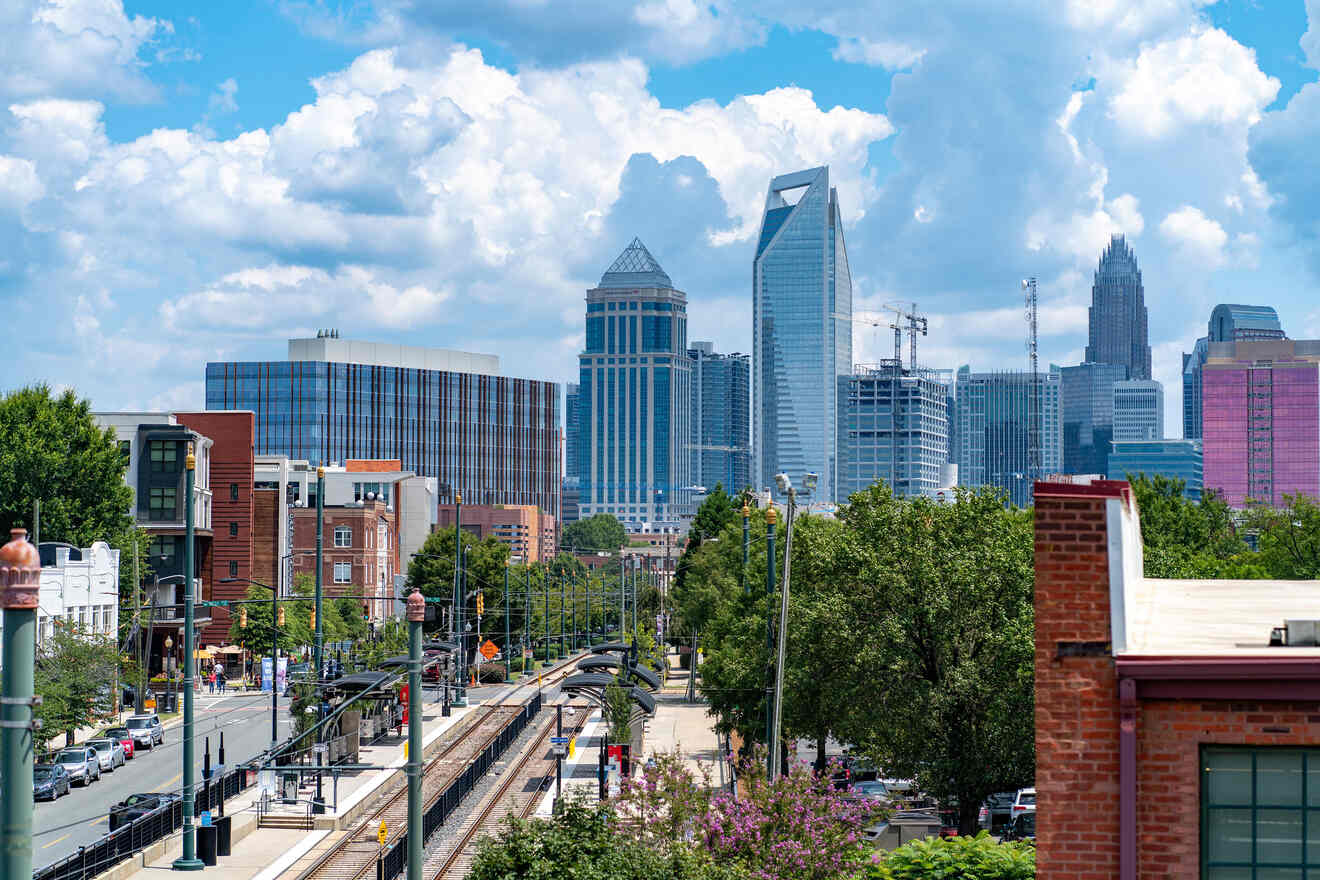 Located 2 miles (3 km) away from the Uptown area, the vibrant neighborhoods or South End and Dilworth are super friendly and it has tons of restaurants, so if you're a foodie at heart, I'm sure you'll have a great time here.
Among South End & Dilworth's many attractions, you'll find some cool breweries, art galleries, boutique shops, and bars, making them some of the trendiest neighborhoods to stay in the city. The best way to explore the area is by foot, that way, you can check every single brewery and coffee shop, maybe not in that order, though!
Of course, you can't miss walking on the famous Rail Trail, a 4 miles (6 km) public trail that connects the neighborhoods in the city. Everyone comes here to relax, cycle or admire the beautiful murals. And put a note in your calendar because if you're spending a weekend here, you'll be able to attend the famous Small Business Saturday and Front Porch Sunday markets. Who doesn't love a good market!?
Other options in South End & Dilworth
Things to do in South End & Dilworth
Have a drink at Wooden Robot Brewery
Walk the Rail Trail and admire the murals in Charlotte South
Go for a coffee at Roots Cafe
Attend the Small Business Saturday and Front Porch Sunday markets
Eat at Seoul Food Meat Company
Drink a cocktail at Lincoln Street Kitchen in South End & Dilworth
3. Pineville – best place to stay in Charlotte for families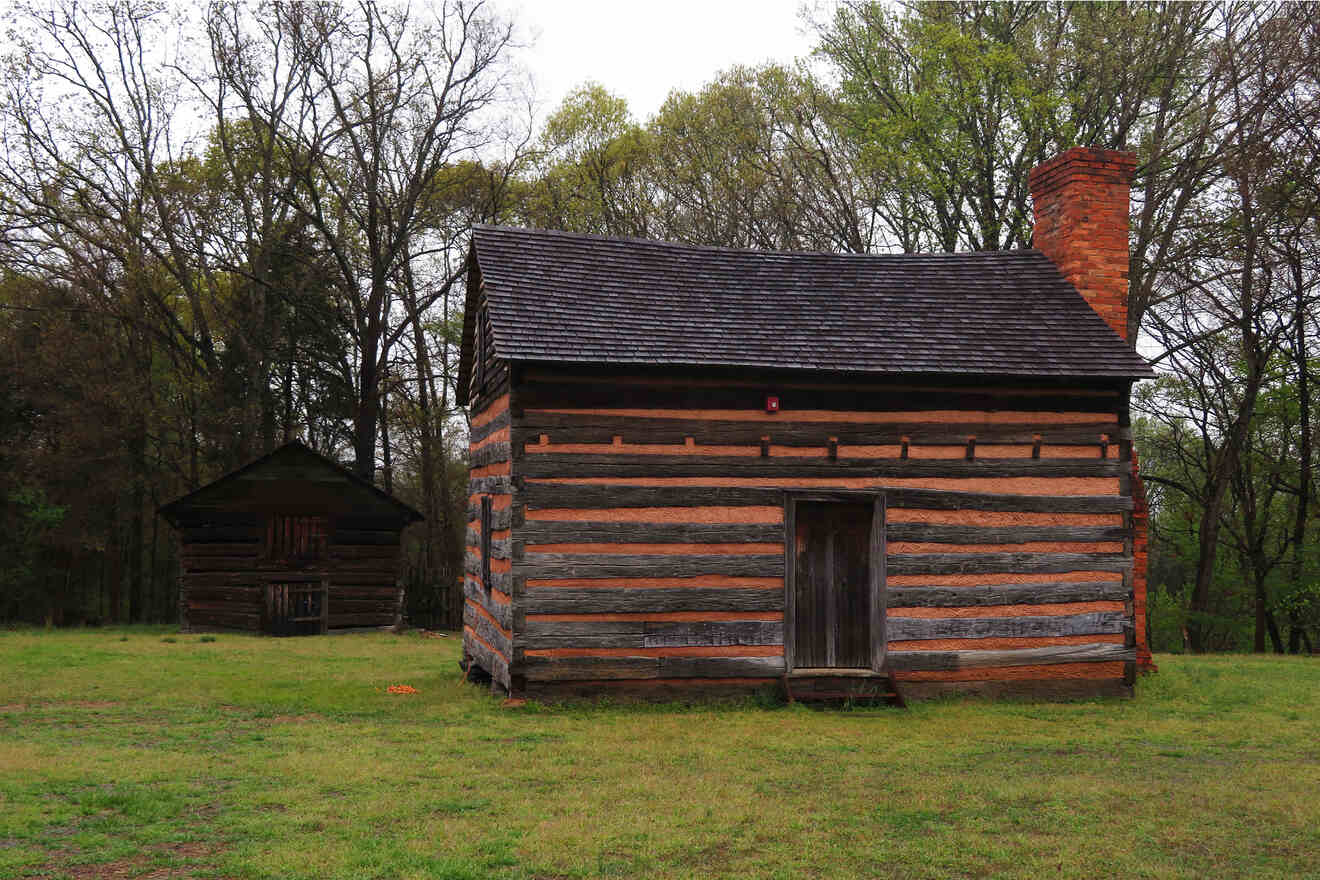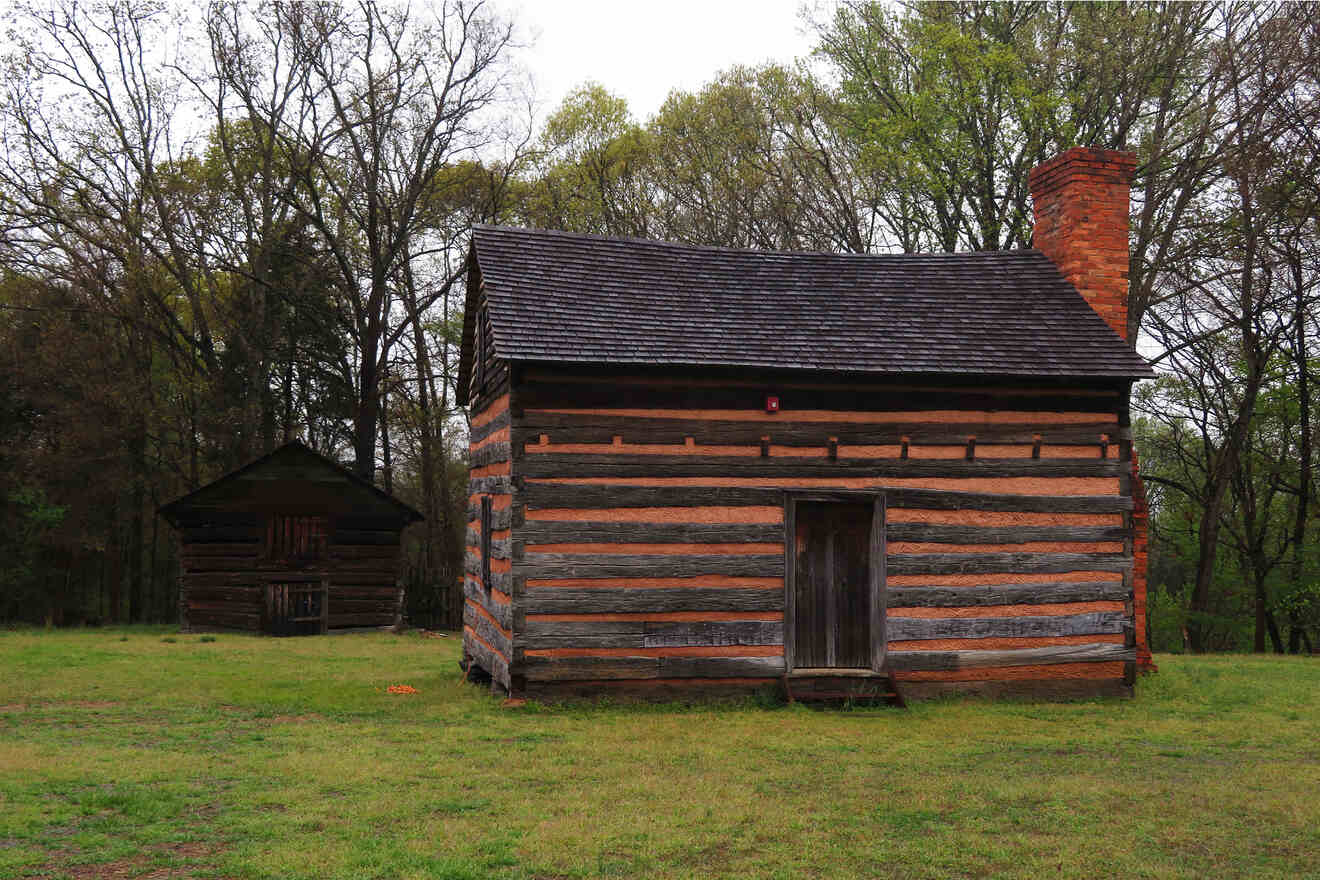 This lovely suburb is located outside Charlotte, right at the city's border, just 14 miles (22 km) south of the city center. Everyone traveling with their families should book their hotel rooms in Pineville, which was named after its many pine trees! And hey, if you're in the mood for a road trip to another peaceful town surrounded by nature, Gatlinburg, Tennessee, is just 3 hours away by car!
FUN FACT: The most famous former resident of Pineville was President James K. Polk, America's 11th president!
There are several reasons Pineville is a great place to stay for families. Firstly you're not that far from the Uptown area, and you can use public transport or rent a car to get there and visit all the attractions. Secondly, this areas has one of the safest hotels in Charlotte, NC.
Lastly, there are a few parks where you can take the kids out to play, and even a cool Sky Zone Trampoline Park, which I'm sure will be the highlight of their day! And last but not least, the area is super close to a few amusement parks and rollercoasters like the Carolina Goldrusher and Woodstock Express at Carowinds!
Other accommodation options in Pineville
Things to do in Pineville
Have some family fun the at Jack D. Hughes Memorial Park
Take the kids to the Sky Zone Trampoline Park
Family dinner at the Pineville Tavern
Ride the rollercoasters Carolina Goldrusher and Woodstock Express
4. South Park – best place to stay in Charlotte for shopping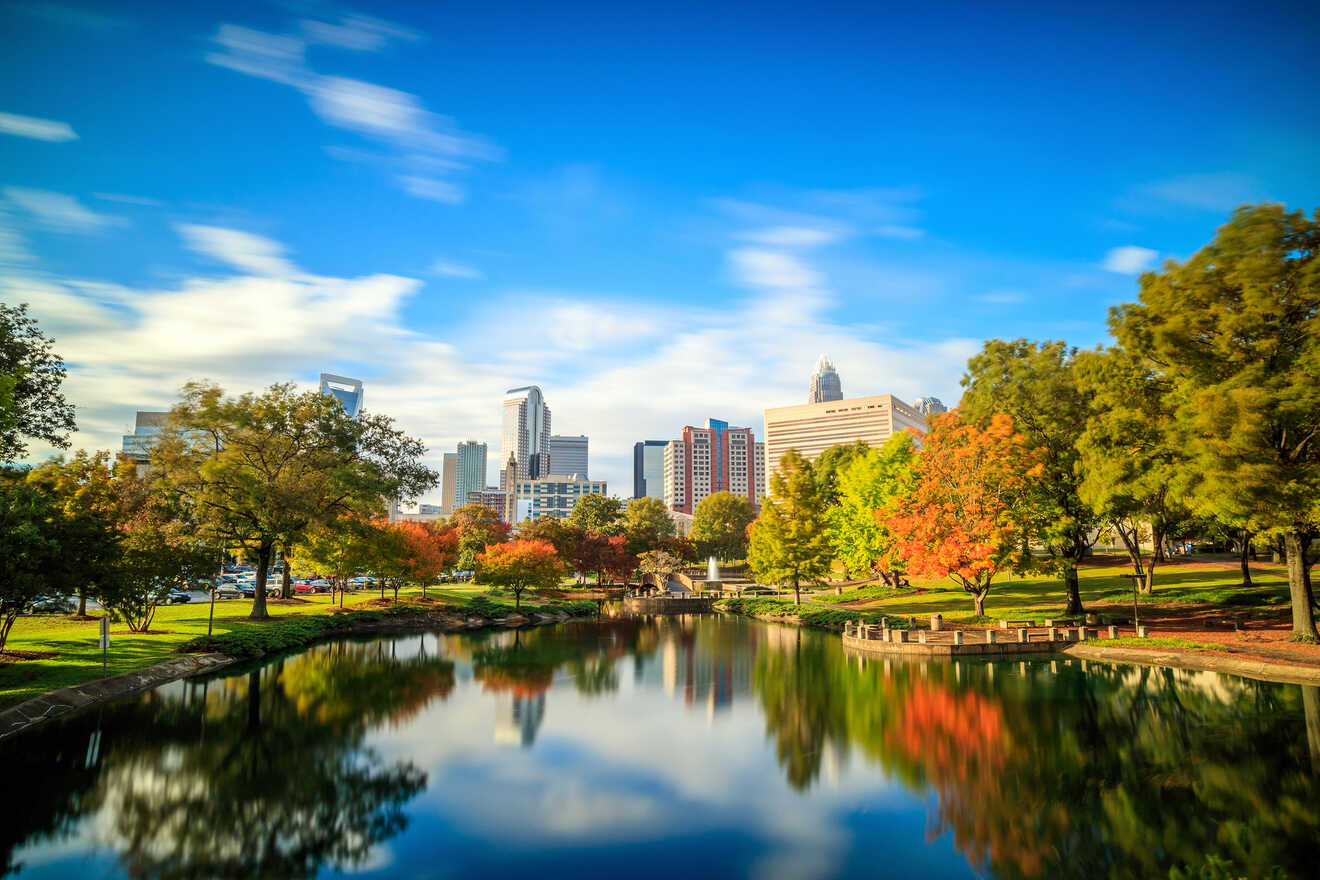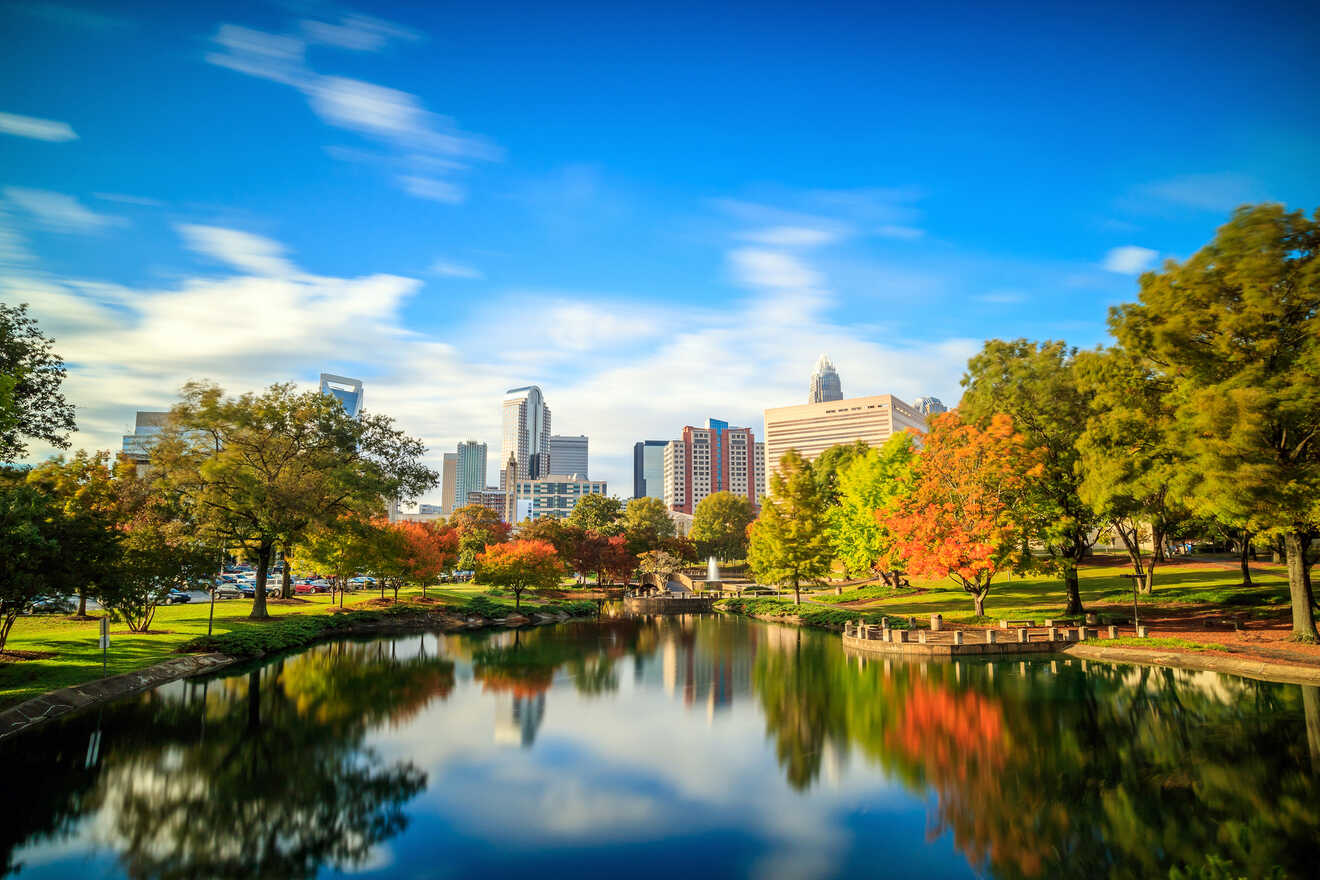 Located 6 miles (9 km) south of Uptown Charlotte, NC, Southpark is the kind of neighborhood where any shopaholic would go during their visit! Famous for its Shopping Mall, which hosts many high-end stores, restaurants, and bars, this friendly area is perfect for those who want to splurge during their holiday.
Besides the numerous luxurious brands you'll find in the shopping center, there are also some unique boutique shops within walking distance from the mall. I know every traveler will want to check them out, especially if you're more into, one-kind, special products. I love buying those while I'm in a new place and keeping it as a memory.
Southpark is super modern, and the buildings create that cool urban atmosphere that we all want to experience when we're in a city. Charlotte, NC, definitely has some of the best restaurants and cafes, no matter which part of the town you visit.
Suppose you want to escape all the city noise, in that case, you can go to Symphony Park, a beautiful green space where the Charlotte Symphony Orchestra holds its summer concerts. If you're in Charlotte during that time, don't miss this wonderful opportunity to listen to some great music in such a nice spot.
Other accommodation options in South Park
Things to do in South Park
Go for a luxurious shopping trip at the Shopping Mall
Eat a delicious brunch at Cafe Monte
Check out all the local boutique shops in Southpark
Go for a romantic walk in the Symphony Park
More shopping at Phillips Palace
Have a drink at Legion Brewing in Southpark
5. Belmont – where to stay in Charlotte for tranquility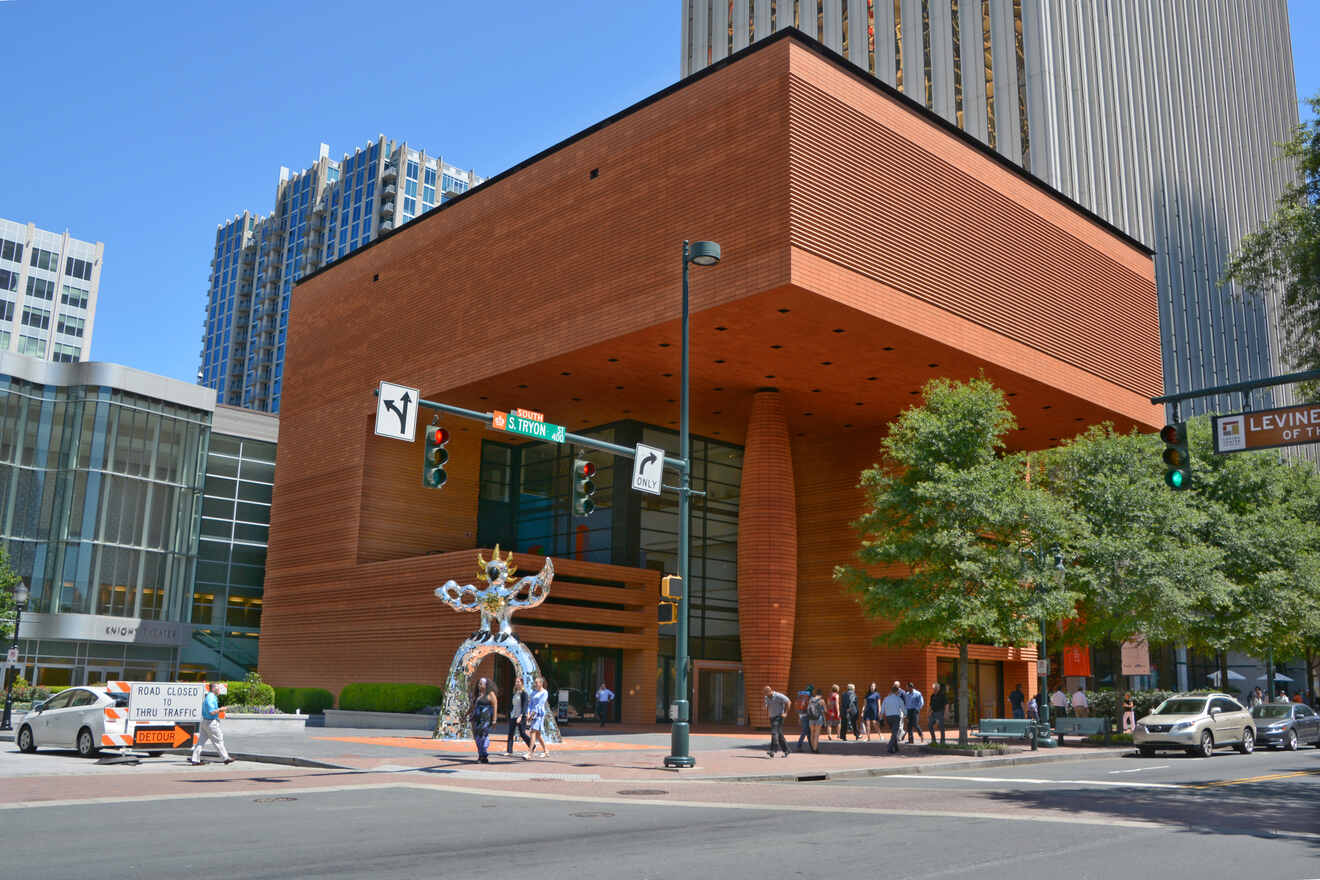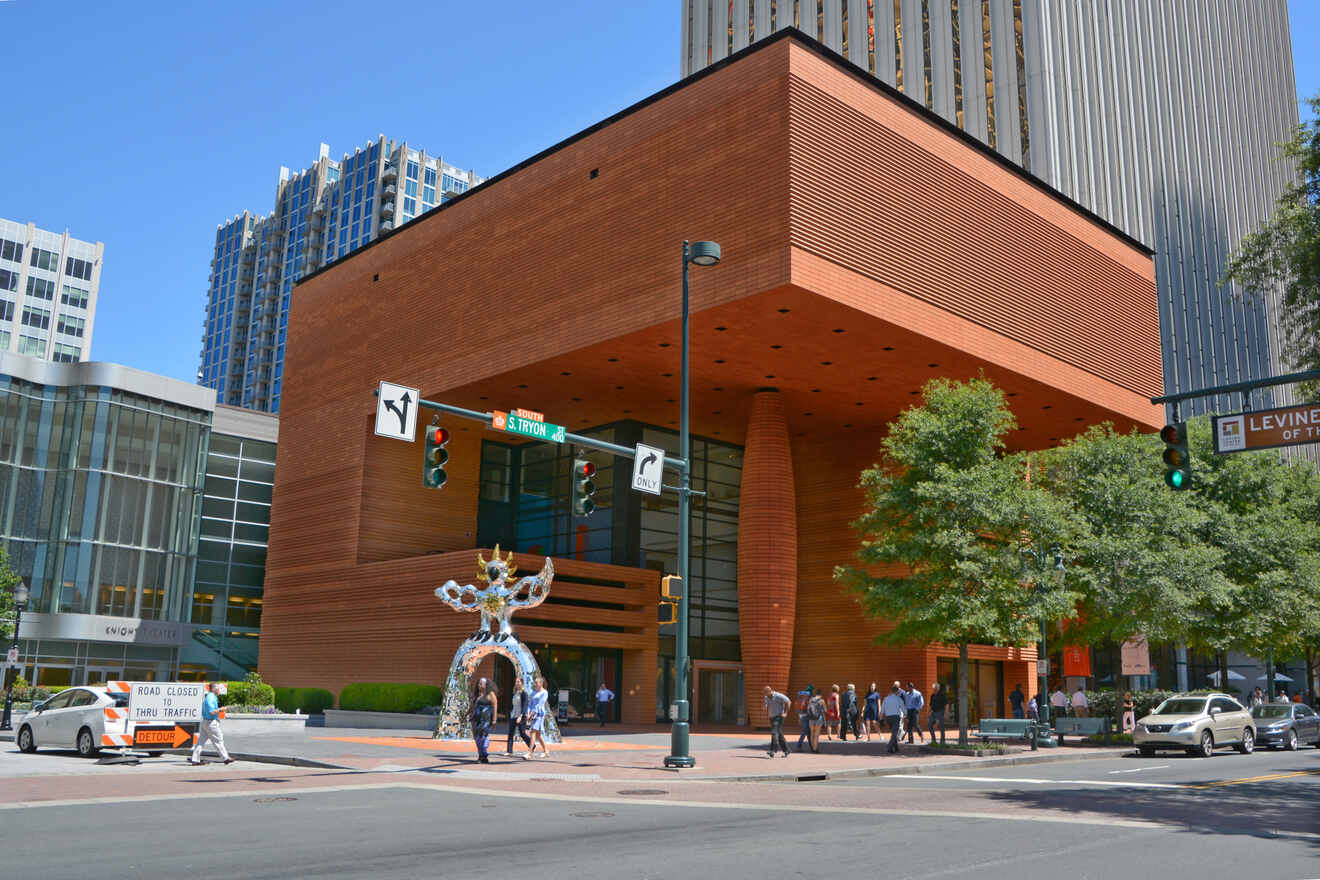 This area is actually a suburb of Charlotte city and it's located 14 miles (22 km) west of the Uptown neighborhood (not to be confused with the small area named Belmont just east of the city center). If some of you are looking for a quiet place to stay during your holiday then you've come to the right place!
I sometimes prefer these tranquil neighborhoods, especially when the city is super packed, plus there is always public transport, taxis, or a car rental that will take you to the heart of Uptown.
Located between Lake Wylie and the Catawba River and surrounded by the North Carolina mountains, Belmont is a historic neighborhood that offers visitors a chance to admire some unique old houses and lovely lake views. Although I'm sure you'll be busy walking around and exploring the parks in Belmont, there are a few attractions here like the Millican Pictorial History Museum and Belmont Abbey that you should visit too.
Although this suburb has kept its old town charm, don't worry, you'll find tons of amazing and modern restaurants and bars in Belmont too so you don't have to give that up.
As you know, I only like recommending the best of the best hotels. In this part of the city, there aren't any great luxury places to stay, but here are 3 options for the other price categories that have amazing reviews and tons of amenities.
Other accommodation options in Belmont & NoDa
Things to do in Belmont & NoDa
Explore the Millican Pictorial History Museum
Go kayaking at the Kevin Loftin Riverfront Park
Visit the historic Belmont Abbey
Spend a fun day with the kids in Stowe Park
Go for a romantic walk in the Rocky Branch Park
6. University Place – where to stay in Charlotte on a budget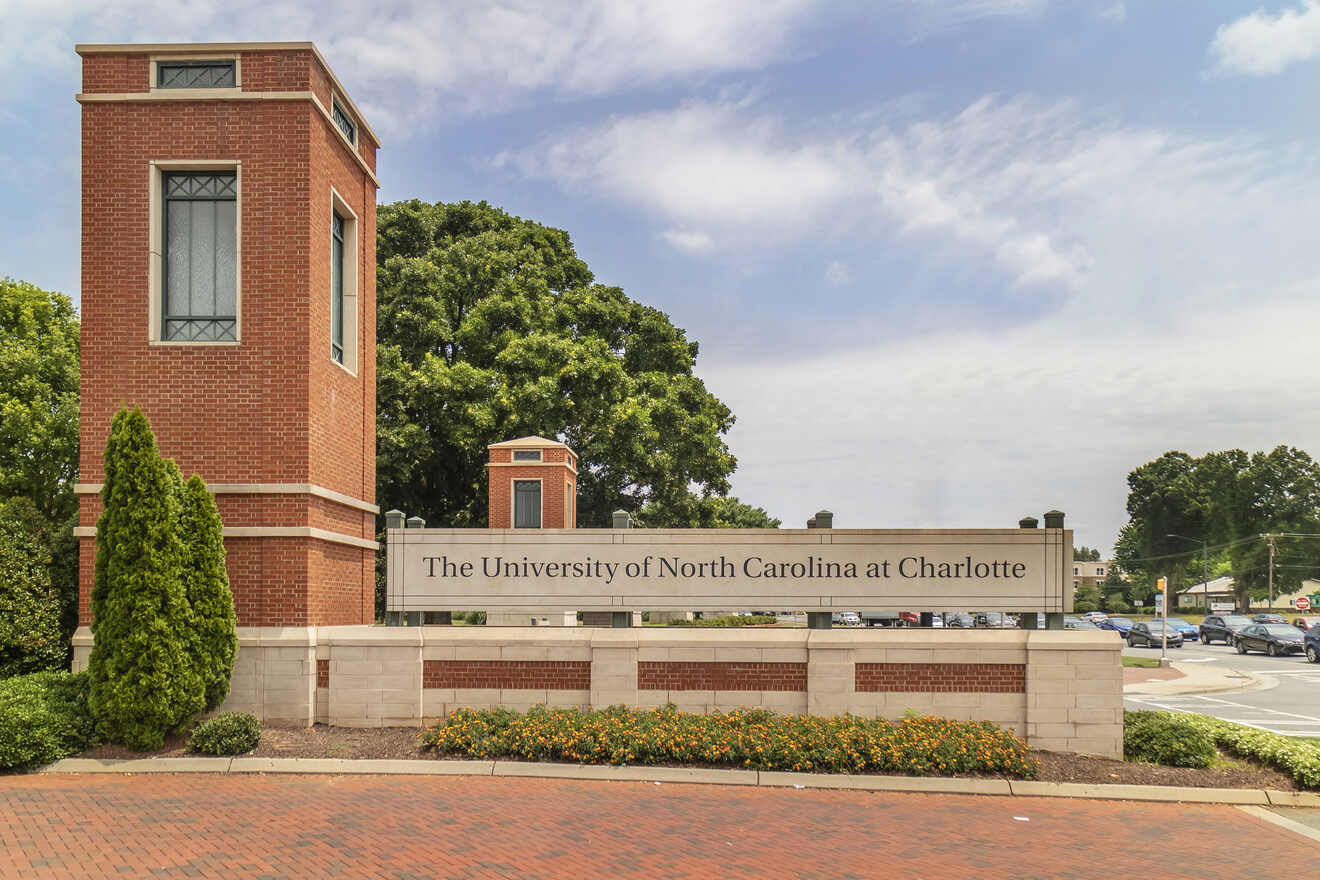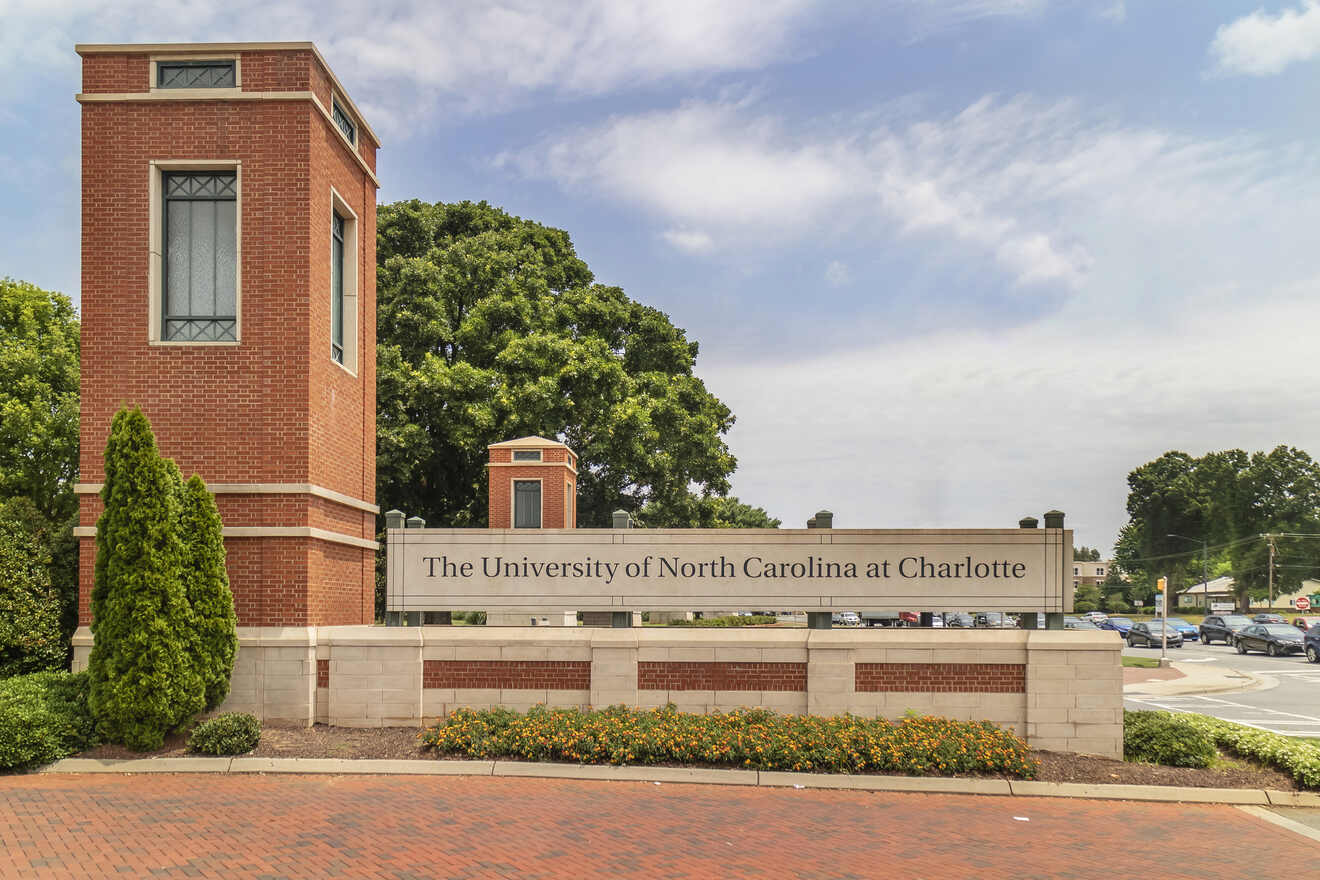 Located 11 miles (17 km) north of Uptown Charlotte above NoDa, this neighborhood is, as you might've guessed, the home of The University of North Carolina, which means only one thing for us: super cheap accommodations and hotels near the city center!
Naturally, as this is a student predominantly, all the lounge bars, and restaurants will be super affordable, so if you're traveling to Charlotte on a budget, this is just the right place for you. University Place has that super fun college atmosphere, and I love it! It's like there's always something to do, a pub to check out and tons of shopping stores to see.
Besides its main occupant, the campus university, this neighborhood is home to a few big companies, making the area look super modern and giving it that urban vibe. And if you want to escape the city heat, the Botanical Gardens, which are located on the university campus, offer lovely scenery perfect for those holiday pics. But my favorite has to be the Mallard Creek Greenway, a hiking area where you might be able to spot some cute beavers and hawks!
Other accommodation options in University Place
Things to do in University Place
Go shopping in the stores at Charlotte University Place
Check all the beautiful flowers at the Botanical Gardens
Spot a cute animal at the Mallard Creek Greenway
Have dinner at Le Kebab Grill restaurant
Catch a game at the Jerry Richardson Stadium
Go for a drink at Armored Cow Brewing
Take the Light Rail that goes through many areas like NoDa and enjoy a trip around the city
Frequently asked questions about Charlotte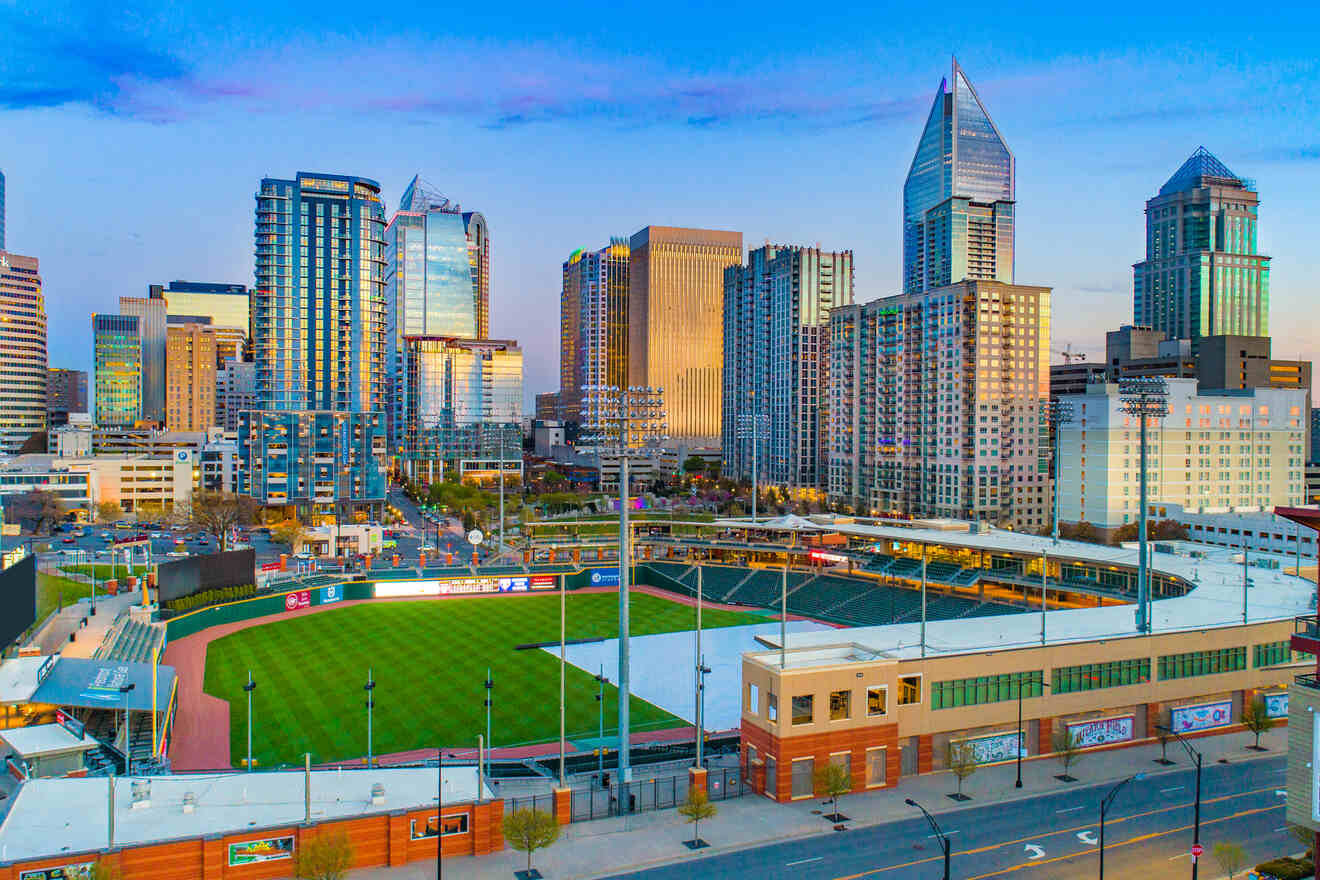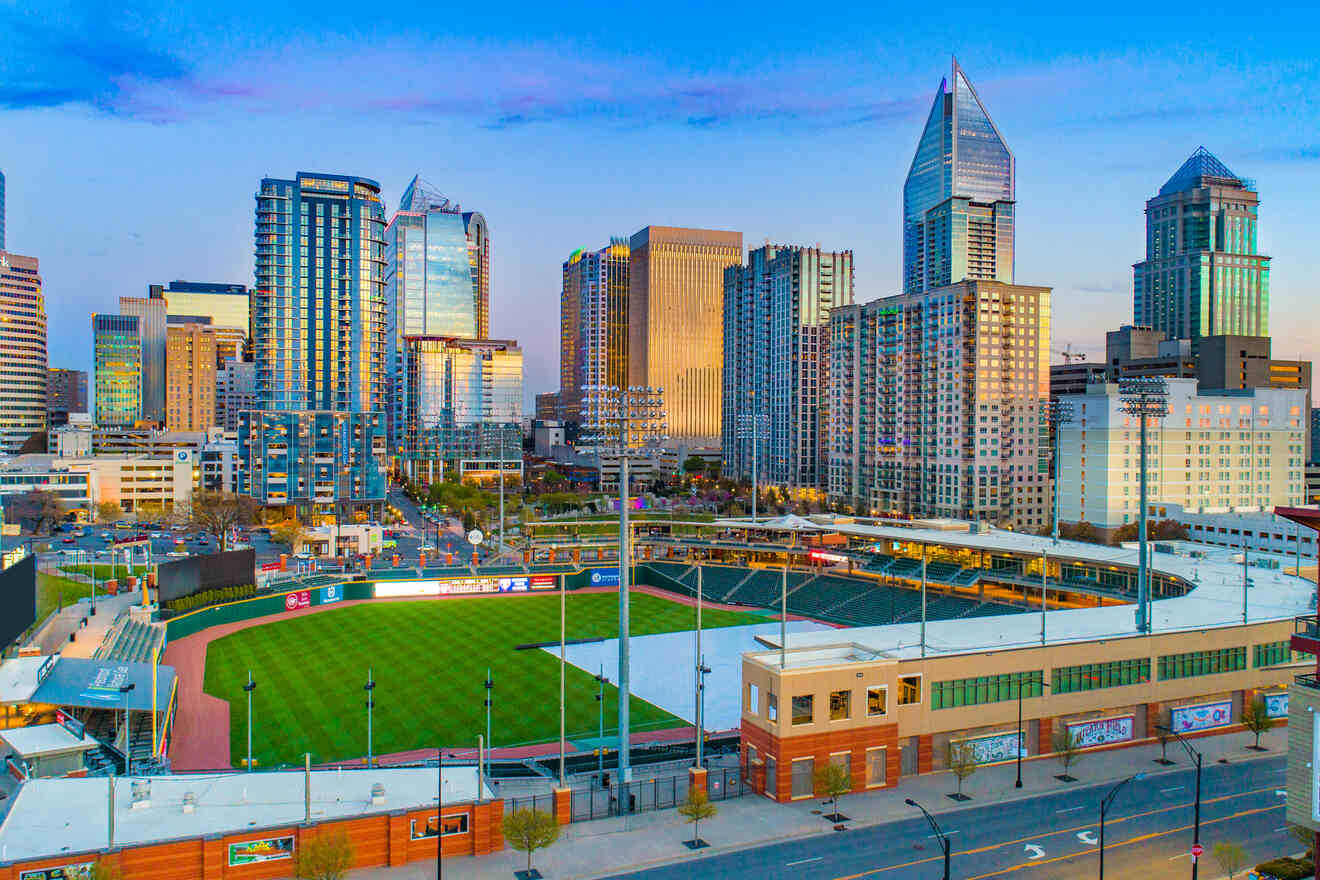 Conclusion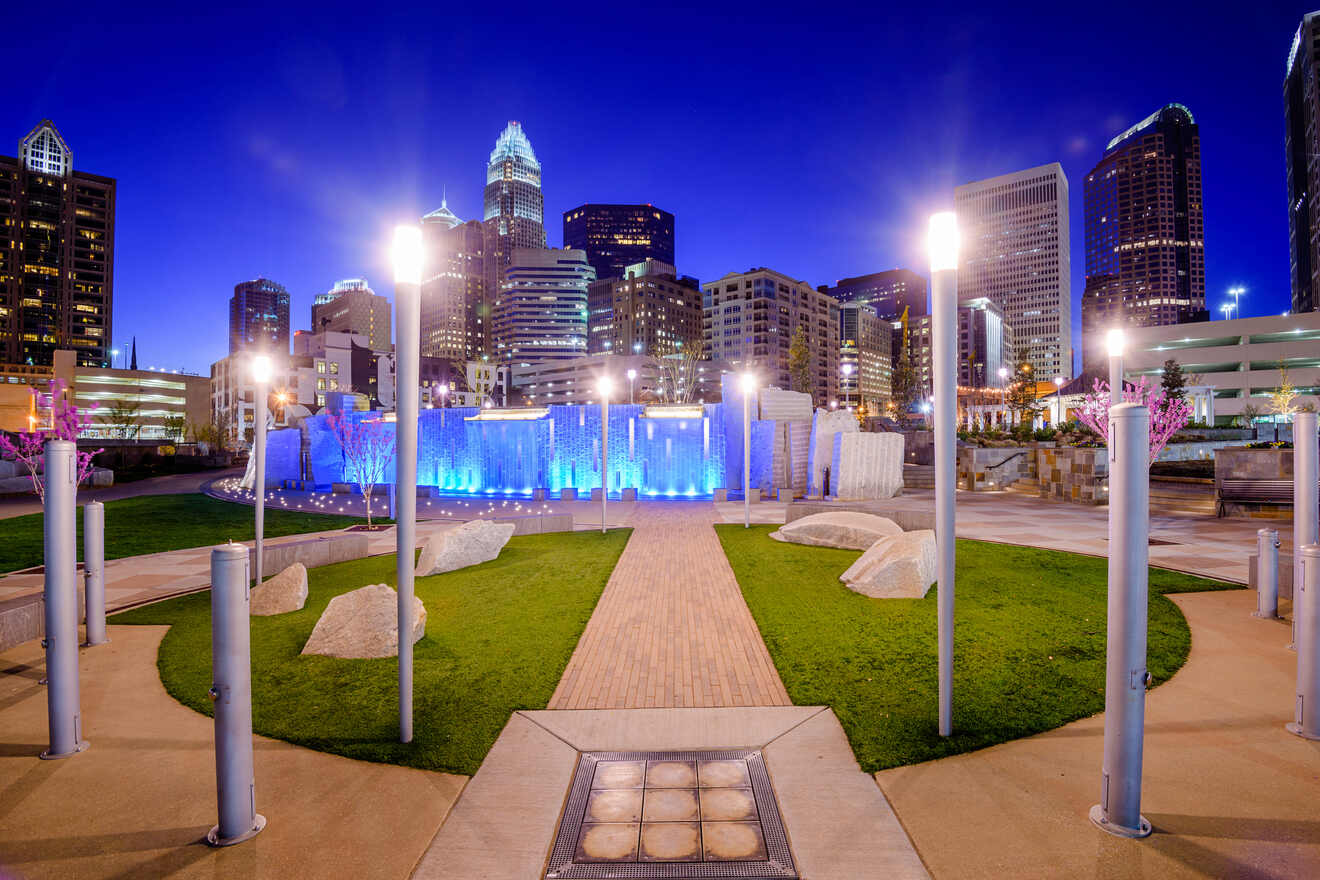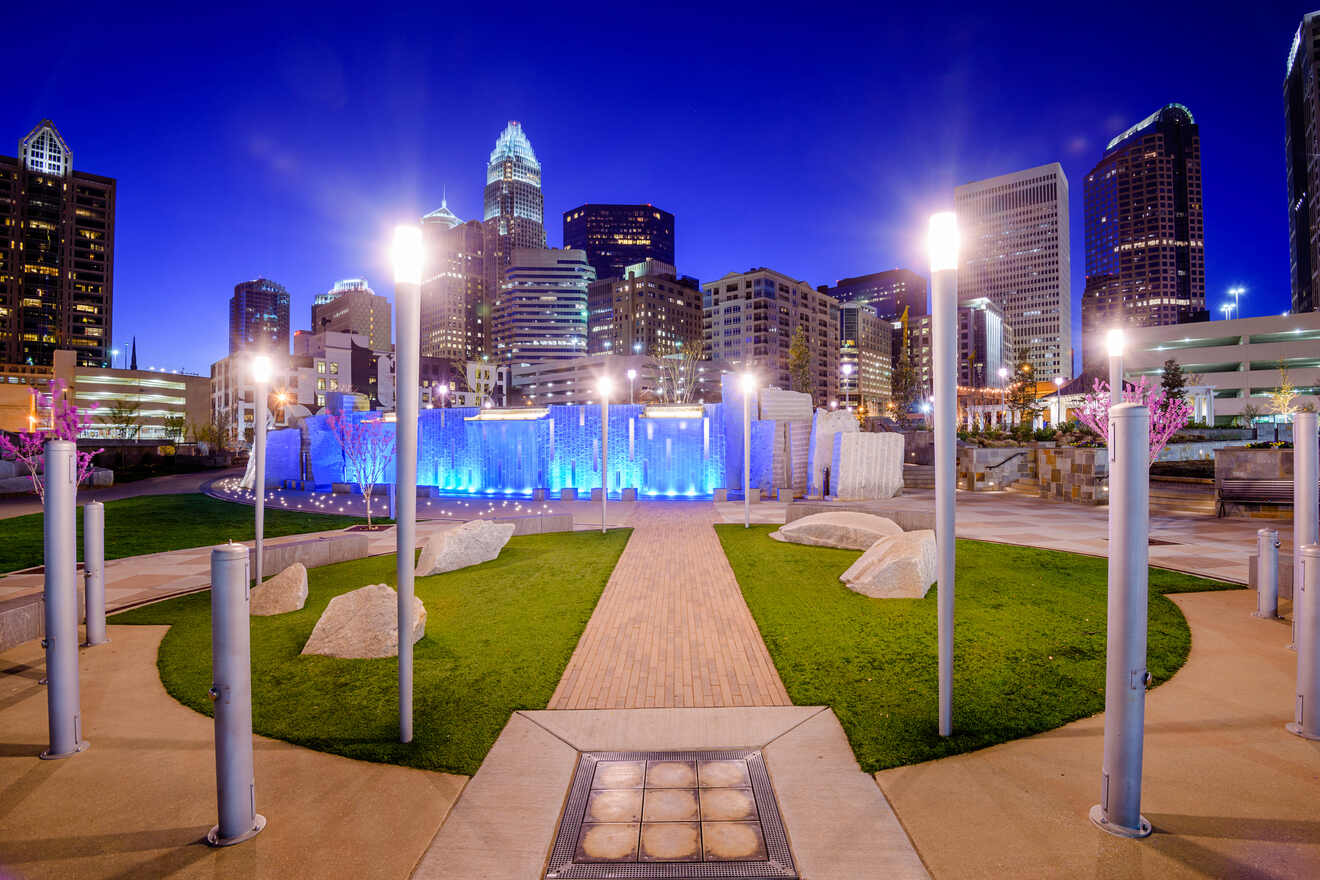 There are so many amazing things to see here and I really hope this post helped you decide where to stay in Charlotte and which hotel to book! You can't go wrong with any of these hotels, that's why it's super important to book them ASAP, that way you can get the best deals and also you don't have to worry that the rooms will sell out.
There are many unique places to stay in the city but here are my top two favorite ones both located in Uptown (Downtown) Charlotte
Enjoy your holiday in this historical North Carolina city and explore all the areas, including NoDa with the Light Rail tram! Catch the best sunsets at a rooftop bar and relax in the spa centers of your hotel. Welcome to the good life, my friend!
Safe travels
Victoria
---