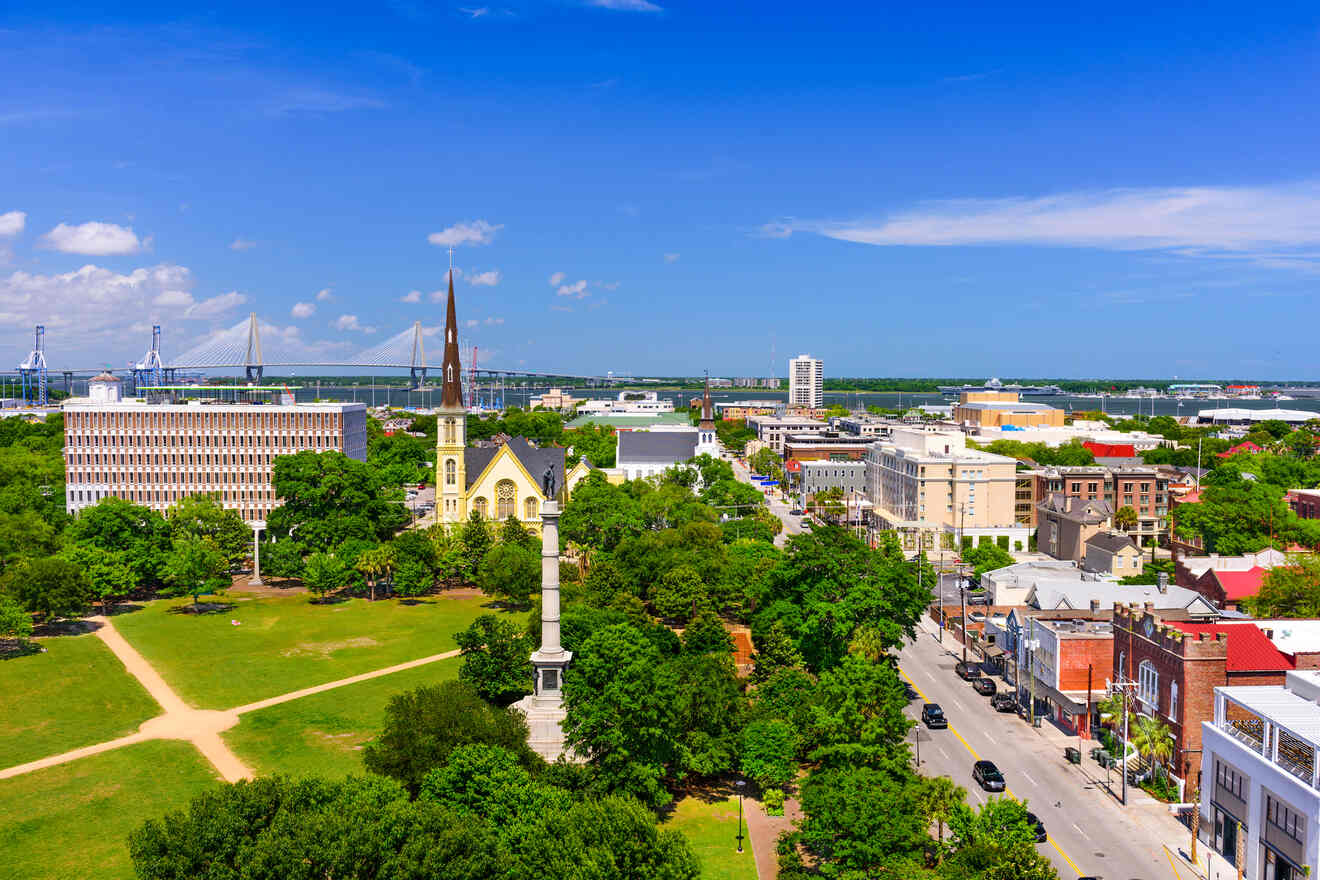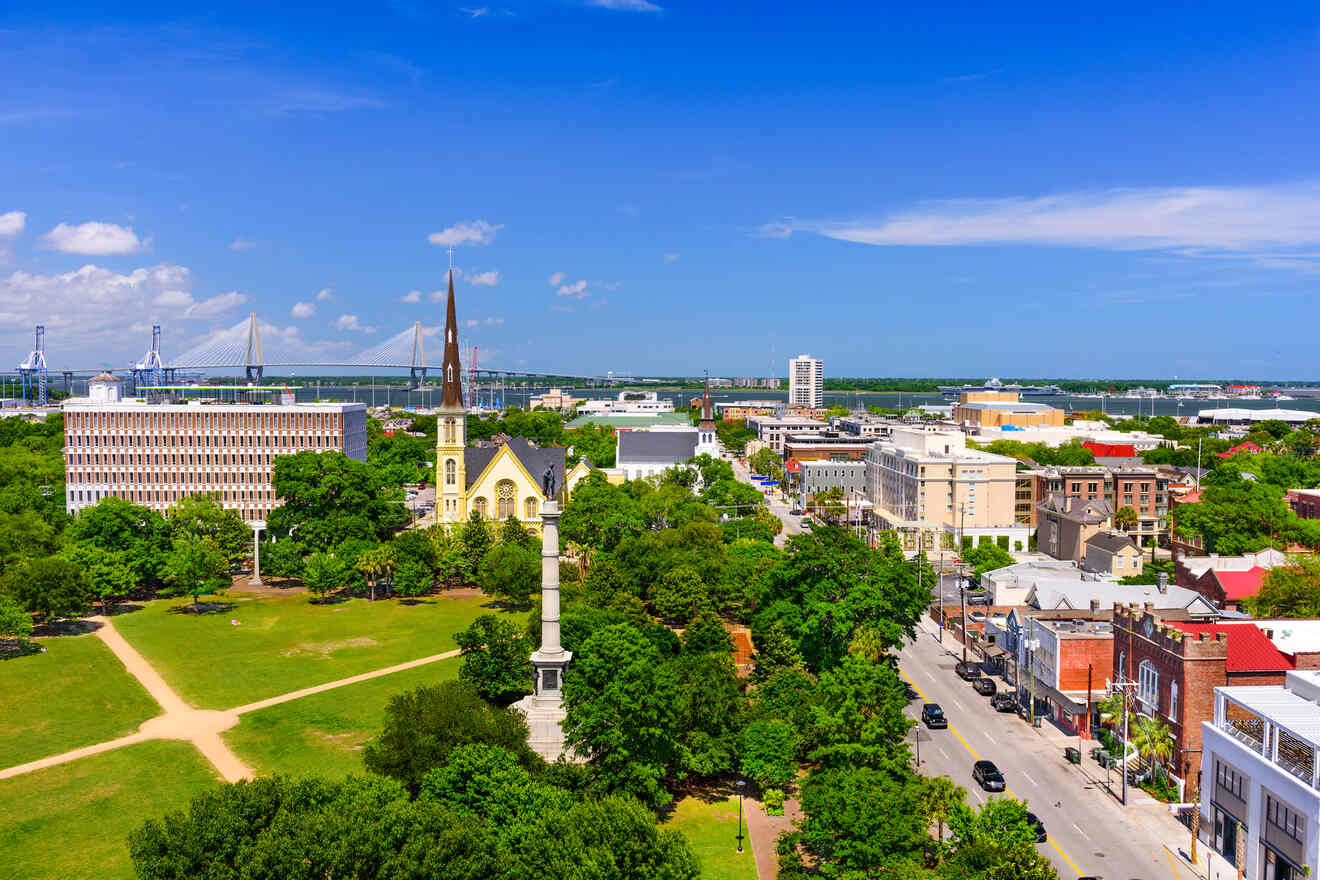 Welcome to the charming city of Charleston, where history meets the modern city life. Think postcard-ready cute colorful buildings, amazing ocean views, tons of art galleries, an epic food scene, and vibrant nightlife! Dear travelers, this is going to be an unforgettable vacation!
Charleston is the largest city in South Carolina and one of the most picturesque cities in the USA. Once you step onto the cobblestone streets and see the tons of historic buildings with amazing architecture, you will feel like you are in a fairytale.
Don't let the historic Charleston charm fool you. You will also be able to find modern cafes, upscale restaurants, shopping centers, and lively nightlife. So, I can tell that this city for sure attracts all kinds of travelers!
I have to say that in Charleston accommodation prices can be expensive, but you can always catch good deals by making an early reservation and I've already found the best of best hotels for all budgets so you have no excuse!
So, shall we find an answer for where to stay in Charleston?
If you are in a hurry
Here are the best places to stay in Charleston, South Carolina from luxury to budget. They all have very good reviews, good history, and excellent locations!
Here is a map for where to stay in Charleston, South Carolina with the 6 best areas I will be talking about in this blog post so you can easily understand them:
1. Downtown – where to stay in Charleston, SC for the first time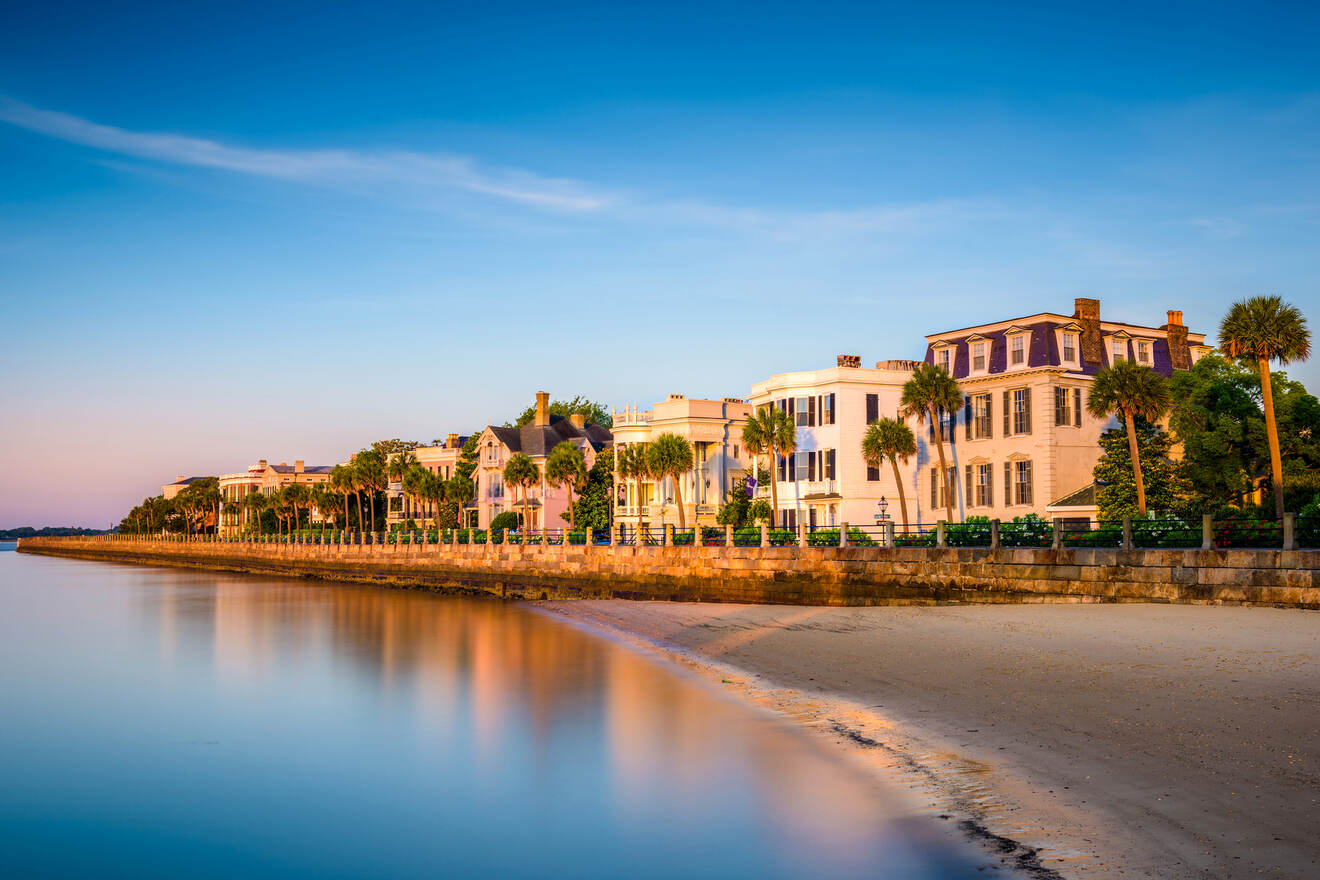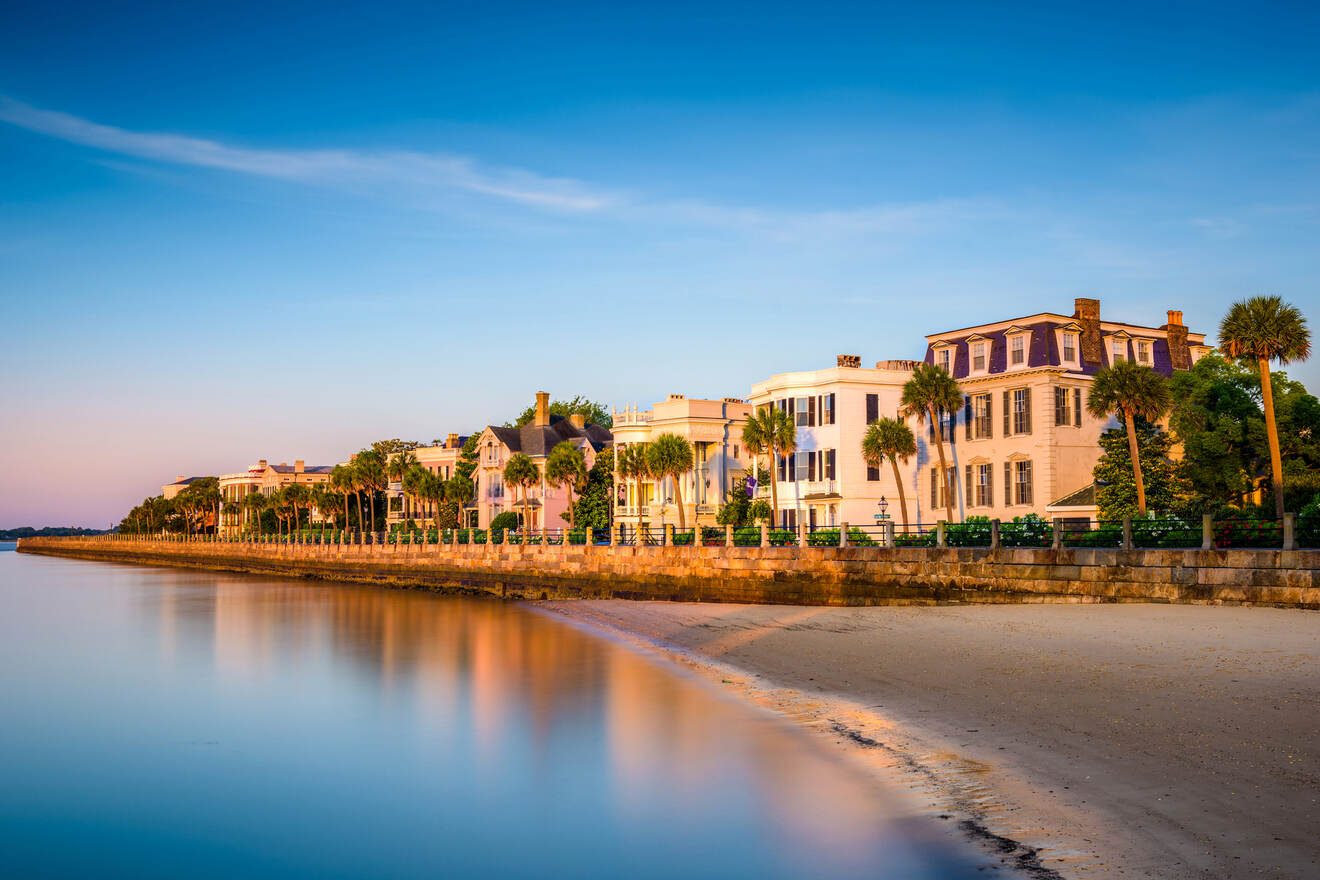 As you can guess from the name, Downtown Charleston is the heart of the city and has great proximity to all main attractions. Here your discovery will start with the stunning King Street. It is a very colorful street where you will see beautiful historic buildings, trendy cafes, and upscale restaurants.
For those who are into vibrant nightlife, there is no better place than Downtown Charleston as you will find tons of great bars with everything from cocktail lounges to rooftop bars and even a speakeasy or two. I can tell you that this trip will include a lot of good food and drinks!
Tip: If you want to have the best view of the city, head to the iconic Arthur Ravenel Bridge during the sunset to capture the best Charleston photo ever.
Downtown Charleston is a very good base to discover the lively city life and has easy access to discover other neighborhoods as well. It also has the best selection of hotels but you don't need to deal with that as I've already picked the top 4 ones among tons of places. Just make sure to secure your place by making an early reservation.
While you're at it, for those who are wondering if there are any other cool, close cities that can be added to your travel itinerary, I highly recommend you check out the best places to stay in Savannah.
Other options in Downtown Charleston
Things to do in Downtown Charleston
Go shopping and check out trendy bars and restaurants on King Street
Have a cocktail at The Cocktail Club
Take a pint and watch a game at King Street Public House
Go for a walk to the Battery and White Point Garden in the historic area
Try delicious local foods at The Grocery
Visit the historic Wentworth Mansion Downtown
Head to the iconic Arthur Ravenel Jr. Bridge over the Cooper River to see the stunning city view
2. French Quarter – the coolest area to stay in Charleston, SC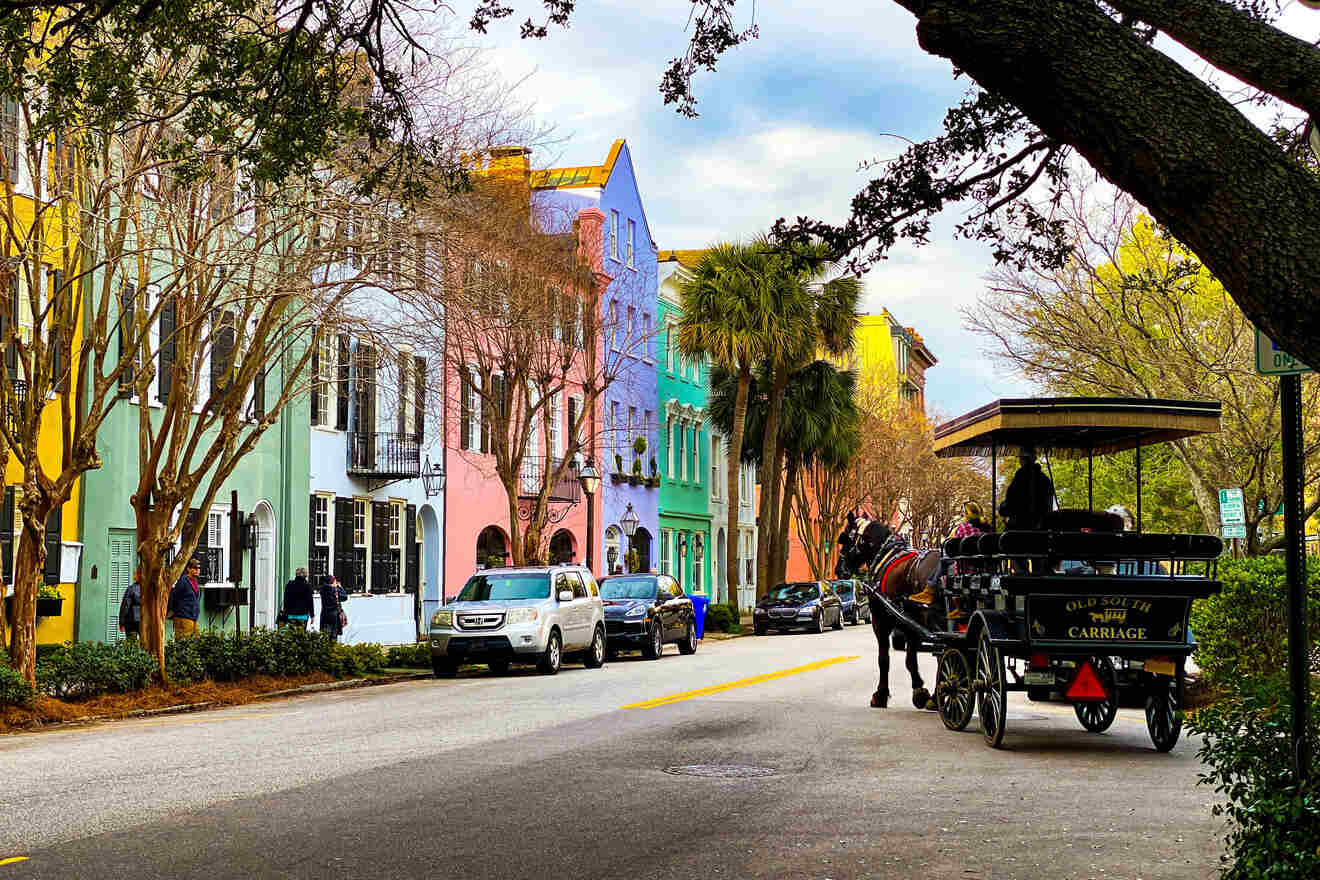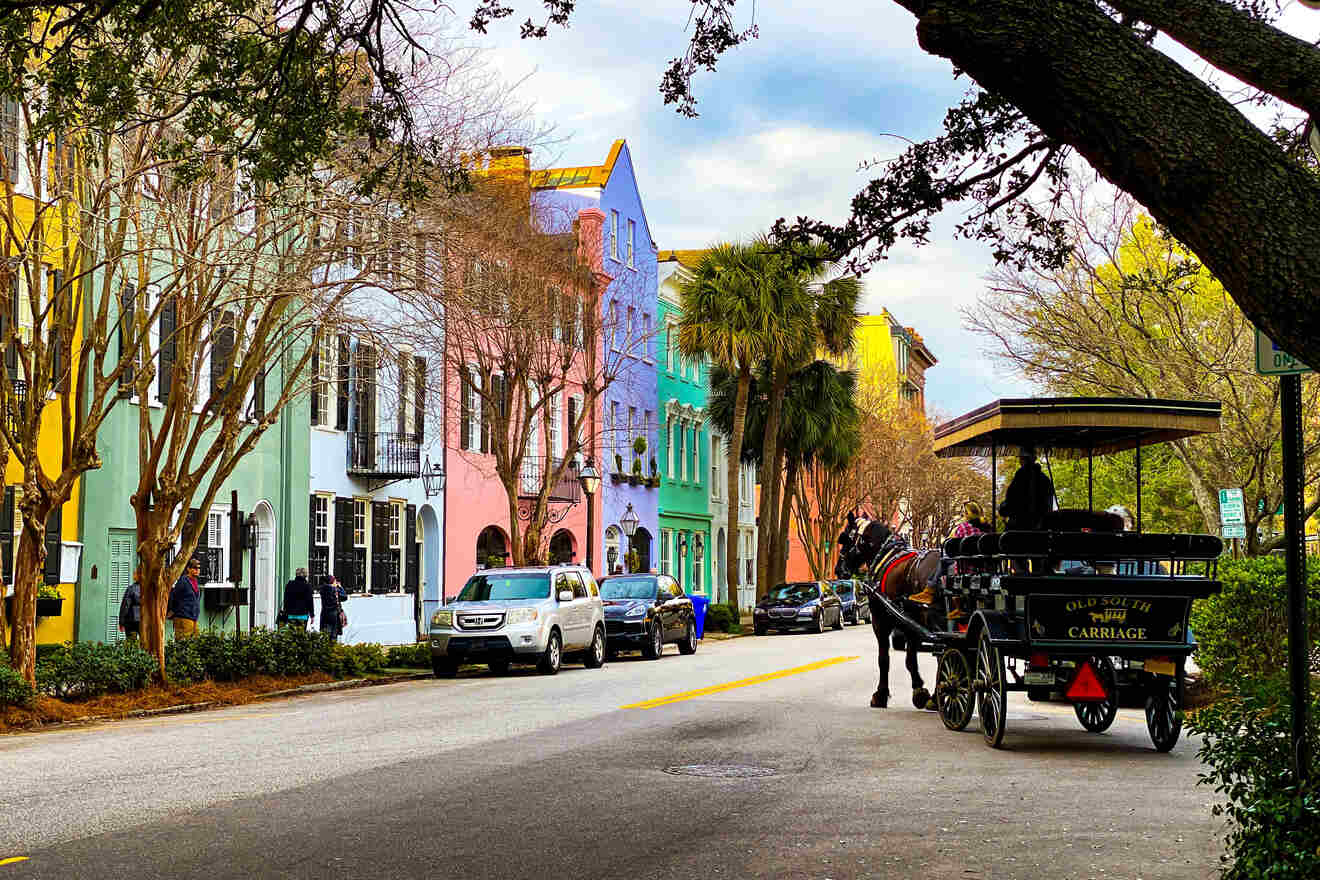 The French Quarter is a smaller part inside of downtown Charleston and is the historic district of the city with colorful buildings, cobblestone streets, historical churches, and great museums. I think it is so cool to stay in such a historic neighborhood at the heart of the city if you want to discover the culture and history of Charleston. So, let's start exploring!
If you are a person like me who enjoys discovering a place on foot and getting lost in the streets, French Quarter is that kind of neighborhood that is full of surprises. One thing is for sure, you can expect to see the beautiful architecture on every corner, historic landmarks, and nice art galleries.
The Charleston dance which became one of the most popular dance styles on Broadway in the1920's takes its name from Charleston City. But in fact, Charleston evolved from the dances of enslaved African-Americans. When they were banned from playing musical instruments they started to make beats with their body and claps and Charleston dance emerged.
Another beautiful thing about this area is the Ravenel Waterfront Park which has amazing lush green areas and spectacular views of the Charleston Harbor. Can the French Quarter get any better?
Even though I carefully picked the best hotels for all budgets, I have to tell you that hotels in the French Quarter have the most demand. That being said, do not forget to make your reservation in advance. Speaking of cool places, check out the best places to stay in Charlotte to get some travel inspiration for your next trip.
Other options in the French Quarter, Charleston
Things to do in the French Quarter, Charleston
Go shopping at the Historic Charleston City Market
Catch a show at the Dock Street Theatre
Learn about history at the Old Slave Mart Museum
Enjoy a stroll at the Ravenel Waterfront Park by the Cooper River
See the oldest church in Charleston, St Michael's Church, and the French Huguenot Church in the Historic District
Visit the historic Old Exchange and Provost Dungeon
Have a drink and check out the amazing city views from The Rooftop at The Vendue
Take a photo of colorful buildings at Rainbow Row
3. Mount Pleasant – safest area to stay in Charleston, SC, for families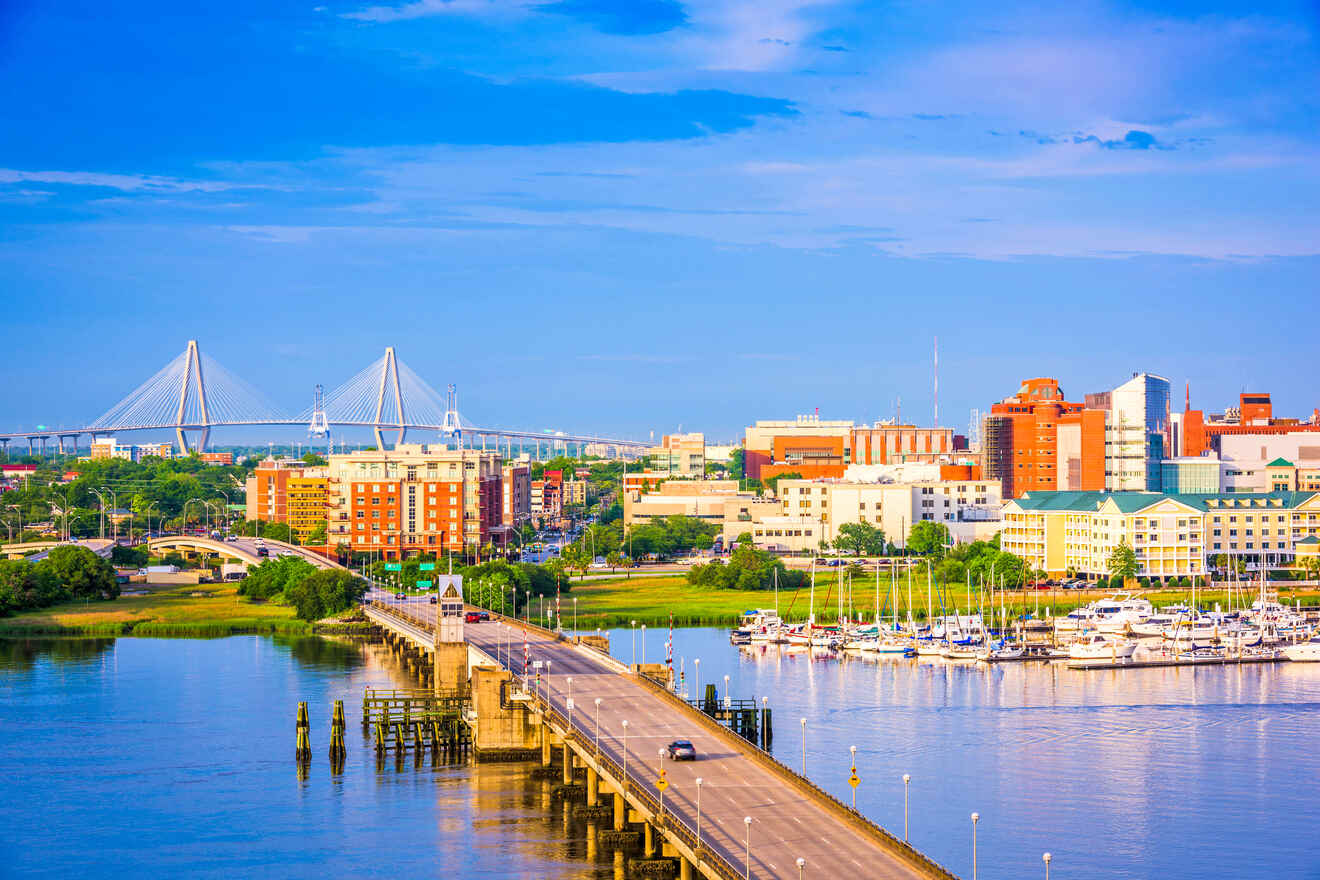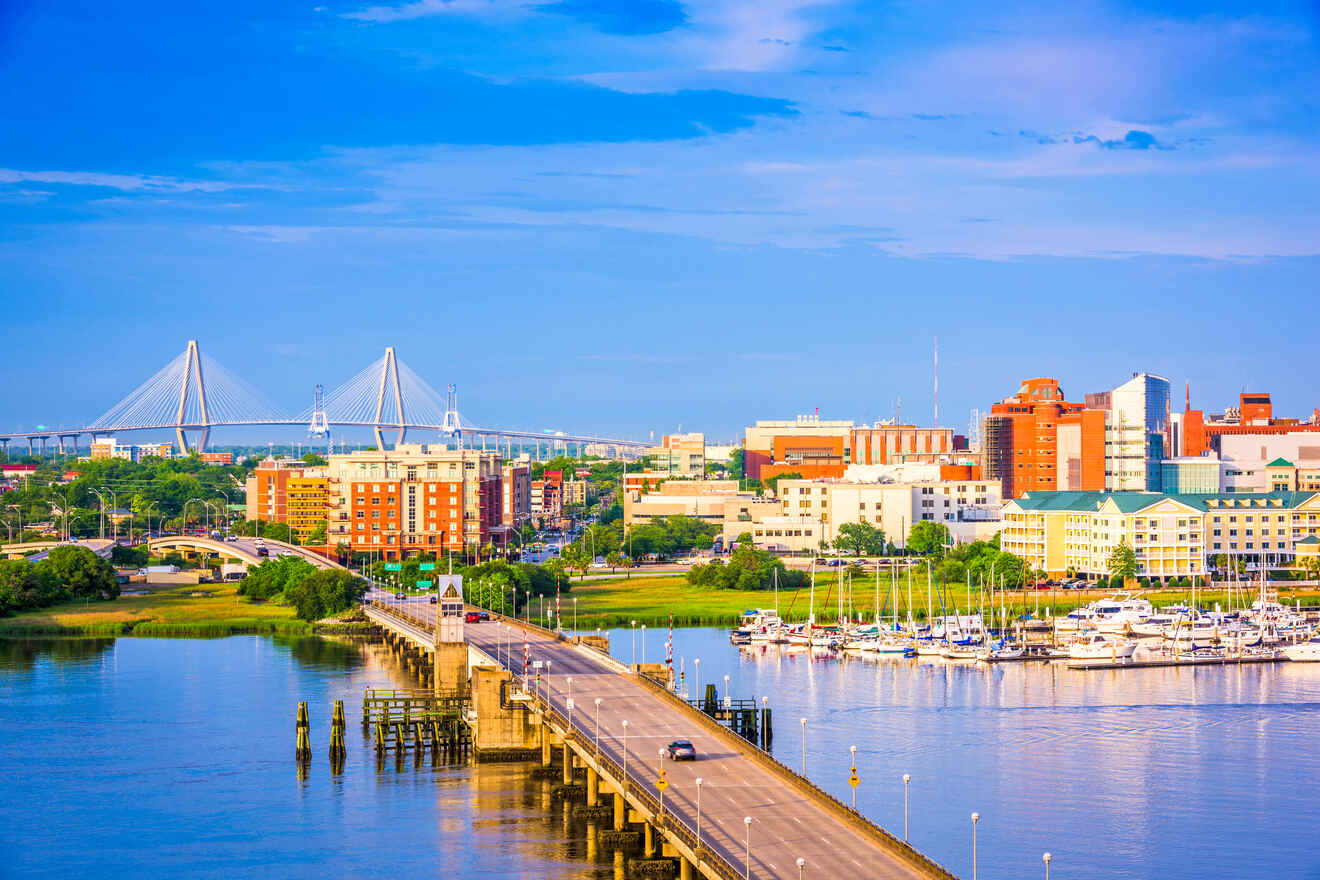 Mount Pleasant is located 8 miles (12 km) east of Downtown Charleston, across the Cooper River. It's a very peaceful area to stay with families away from the noise and crowd of the city center. This neighborhood itself has a lot of nice activities such as historical museums, lush green parks, great restaurants and you can still easily access other areas with day trips.
Start your day with a stroll to Mount Pleasant Waterfront Memorial Park and Mount Pleasant Pier which are the most beautiful landmarks of Mount Pleasant. After being amazed enough by the beautiful views, check out the great museums and restaurants that are surrounded by beautiful historic buildings.
It is not a surprise that thanks to so many historic houses this area is also called the Old Village. For families with kids, there are also so many nice parks at Mount Pleasant with children's playgrounds.
Among the many hotels in Mount Pleasant I picked the best ones for you to have a pleasant stay with your families, so, here we go.
Other accommodation options in Mount Pleasant
Things to do in Mount Pleasant, Charleston
Learn about history at the Patriots Point Naval & Maritime Museum and USS Yorktown
See the Fort Sumter National Monument
Enjoy a family dinner at Coleman Public House
Visit the Cold War Submarine Memorial at Patriots Point
Go for a stroll at Mount Pleasant Waterfront Memorial Park and Shem Creek Park
Have delicious foods at Crave Kitchen & Cocktails
Check out the amazing views of Mount Pleasant Harbor
Visit the beautiful Boone Hall Plantation & Gardens
4. North Charleston – unique place to stay Charleson to relax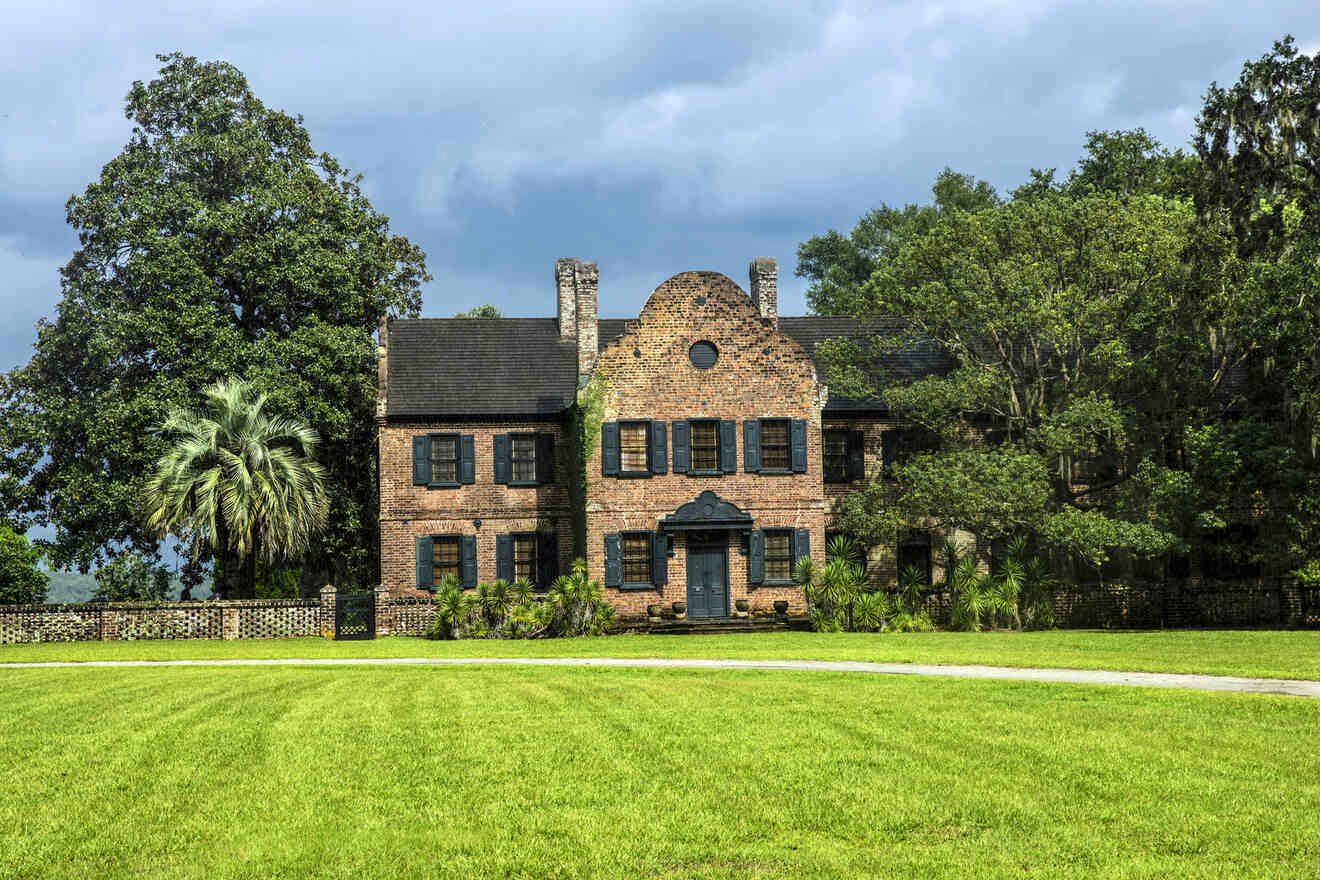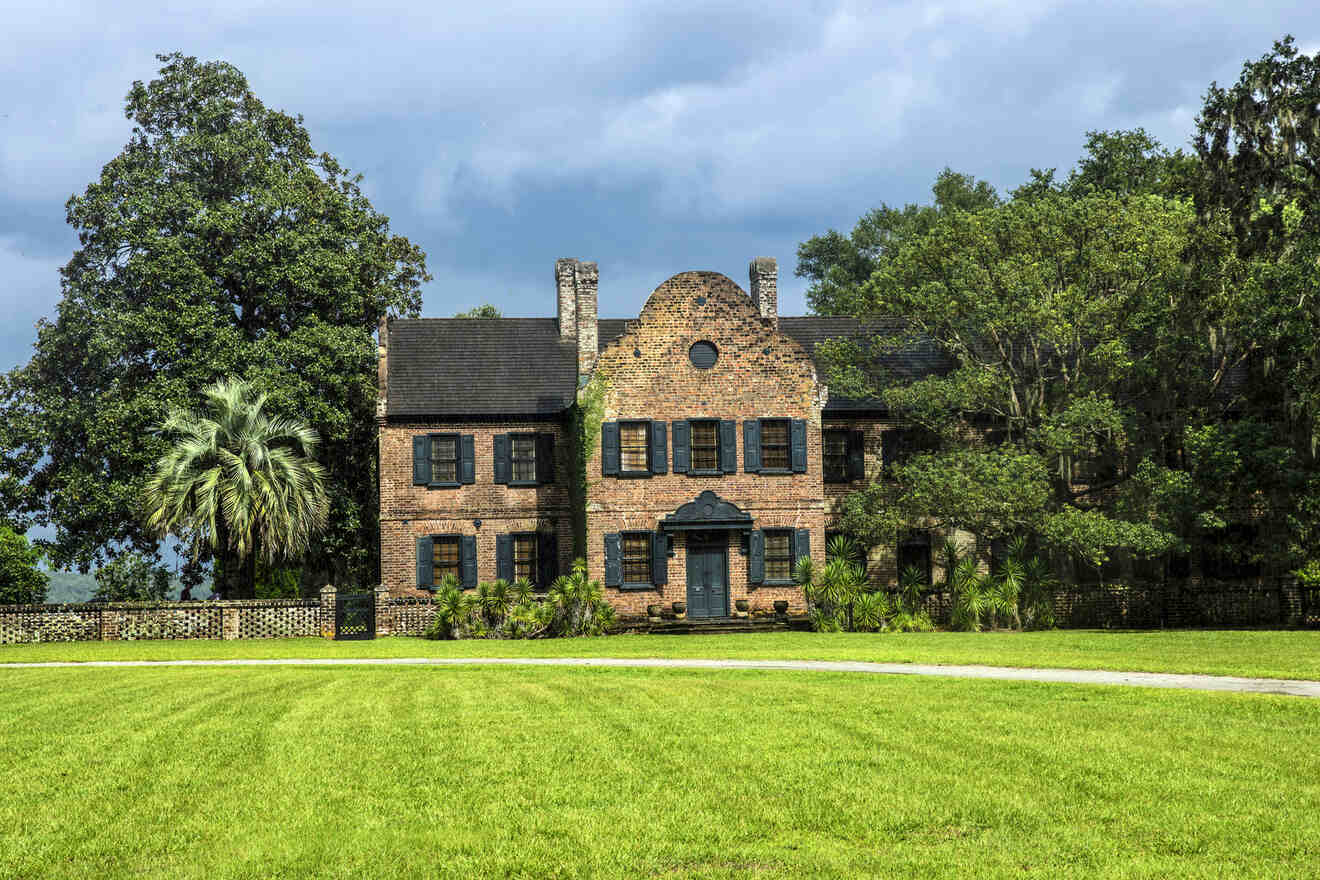 North Charleston is located 9 miles (12 km) north of downtown and is a very beautiful neighborhood with lush green parks and historical sites. If you want to stay in a relaxing area in the city, you will love the laid-back vibe of North Charleston.
In North Charleston, you can have a walk in some charming gardens and parks, catch a show at the famous event venue North Charleston Coliseum, and check out historic museums. By staying here you will also be close to the Charleston International airport.
For those who want to be away from buzzing city life and have a relaxing holiday, here are the best places to stay in Charleston.
Other accommodation options in North Charleston
Things to do in North Charleston
Go for a walk to Riverfront Park
Catch an event at the North Charleston Coliseum
Try local drinks at the Firefly Distillery
Visit the North Charleston Fire Museum
Go for a walk at the Audubon Swamp Garden
Learn about the history at the Friends of the Hunley
Take a pint at Holy City Brewing
Have fun at the Frankie's Fun Park with many attractions such as mini-golf and bumper cars
5. West Ashley – cheap place to stay in Charleston, SC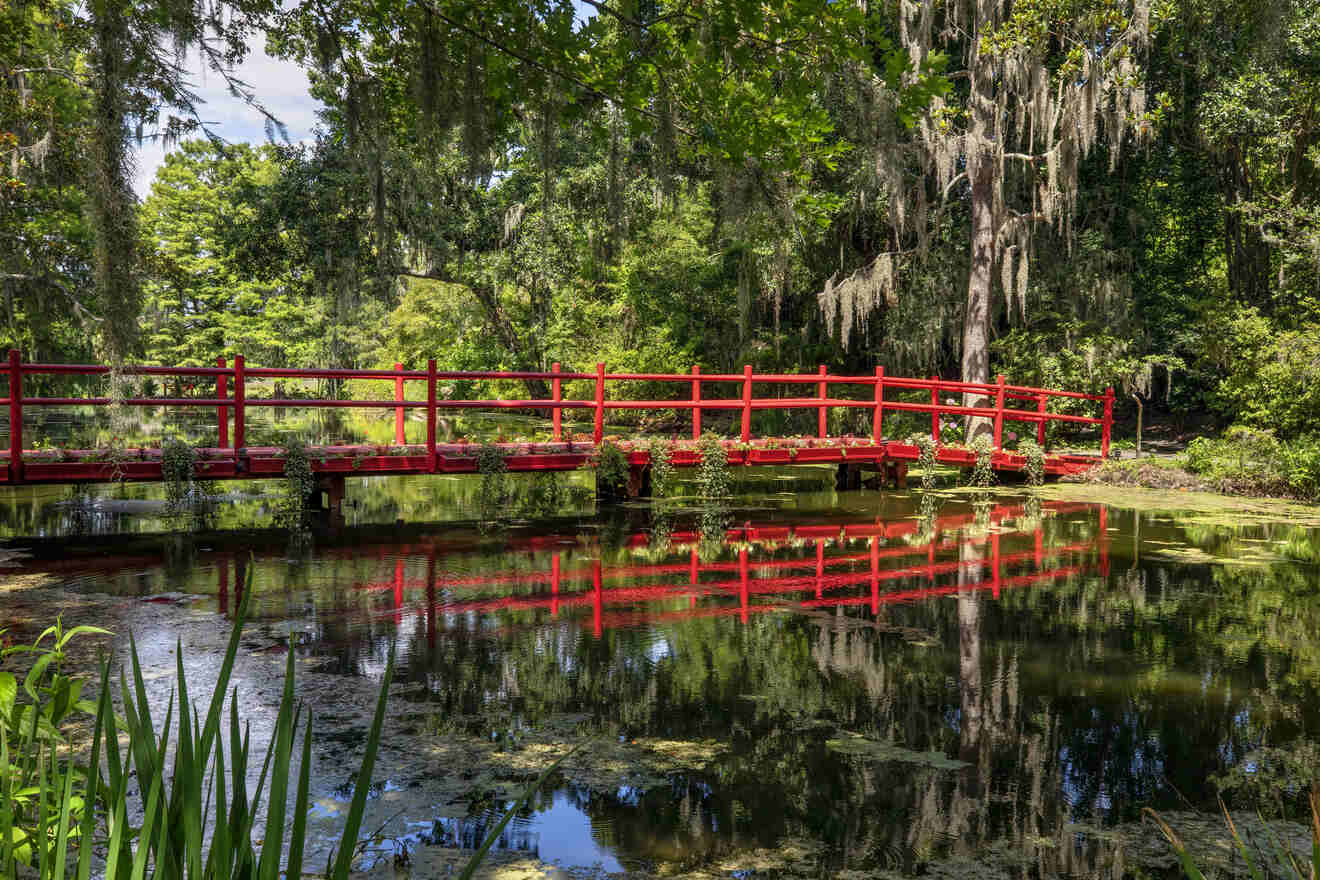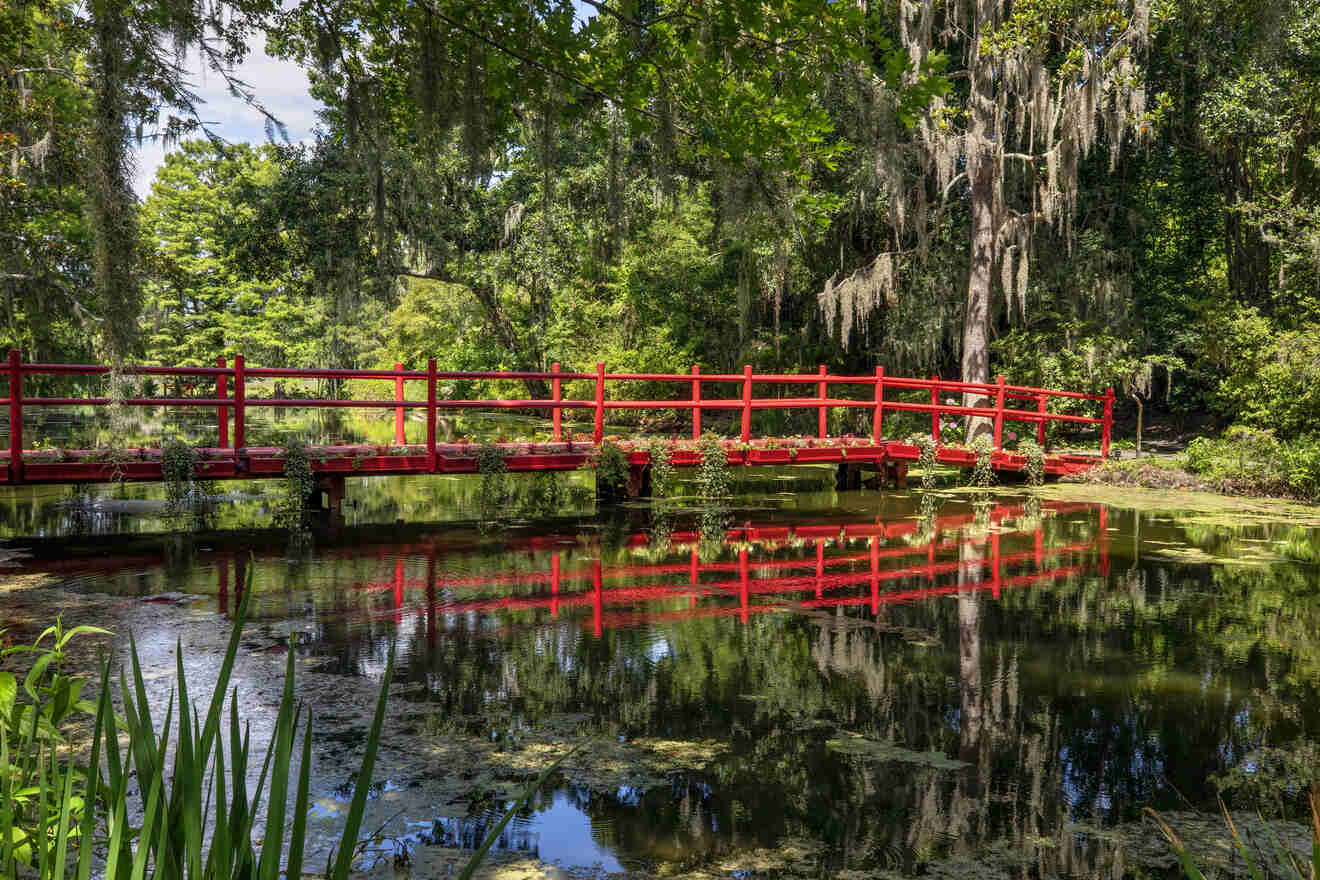 West Ashley is located in the western part of the city and is 5 miles (8 km) away from Downtown Charleston. Here you will be able to find relatively inexpensive places to stay in Charleston and still have easy access to the city center. Plus, there are also many nice attractions to see in West Ashley so I would say it is two birds with one stone for budget travelers!
Here you will find some of the most beautiful nature in the city at the amazing Magnolia Plantation Gardens and West Ashley Park. After enjoying time in the outdoors you should try one of the many local BBQ restaurants here. Also not to be forgotten, West Ashley is also a great place for shopping as you will find some of the most famous shopping malls and outlet centers here.
Now, let's have a look at the best places to stay in West Ashley, Charleston.
Other accommodation options in West Ashley
Things to do in West Ashley
Go shopping at Citadel Mall
Go for a walk at West Ashley Park
Take a pint and good snacks at Swig & Swine
Visit the beautiful Magnolia Plantation and Gardens
Enjoy a stroll at ​​the Stono River County Park
Have a delicious meal at Home Team BBQ
Take a day trip to Seabrook Island and Folly Beach
6. Isle of Palms – best place to stay in Charleston for beaches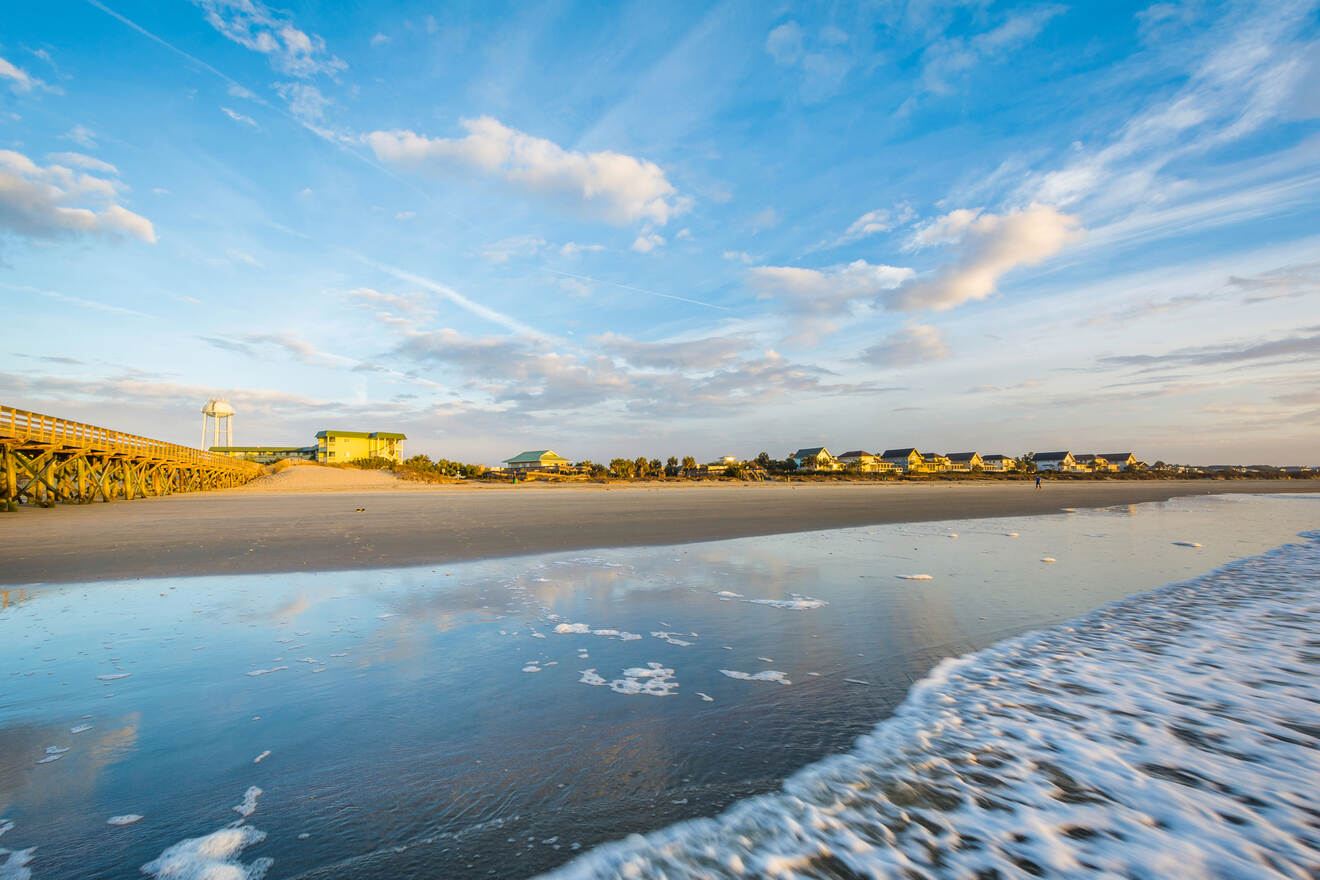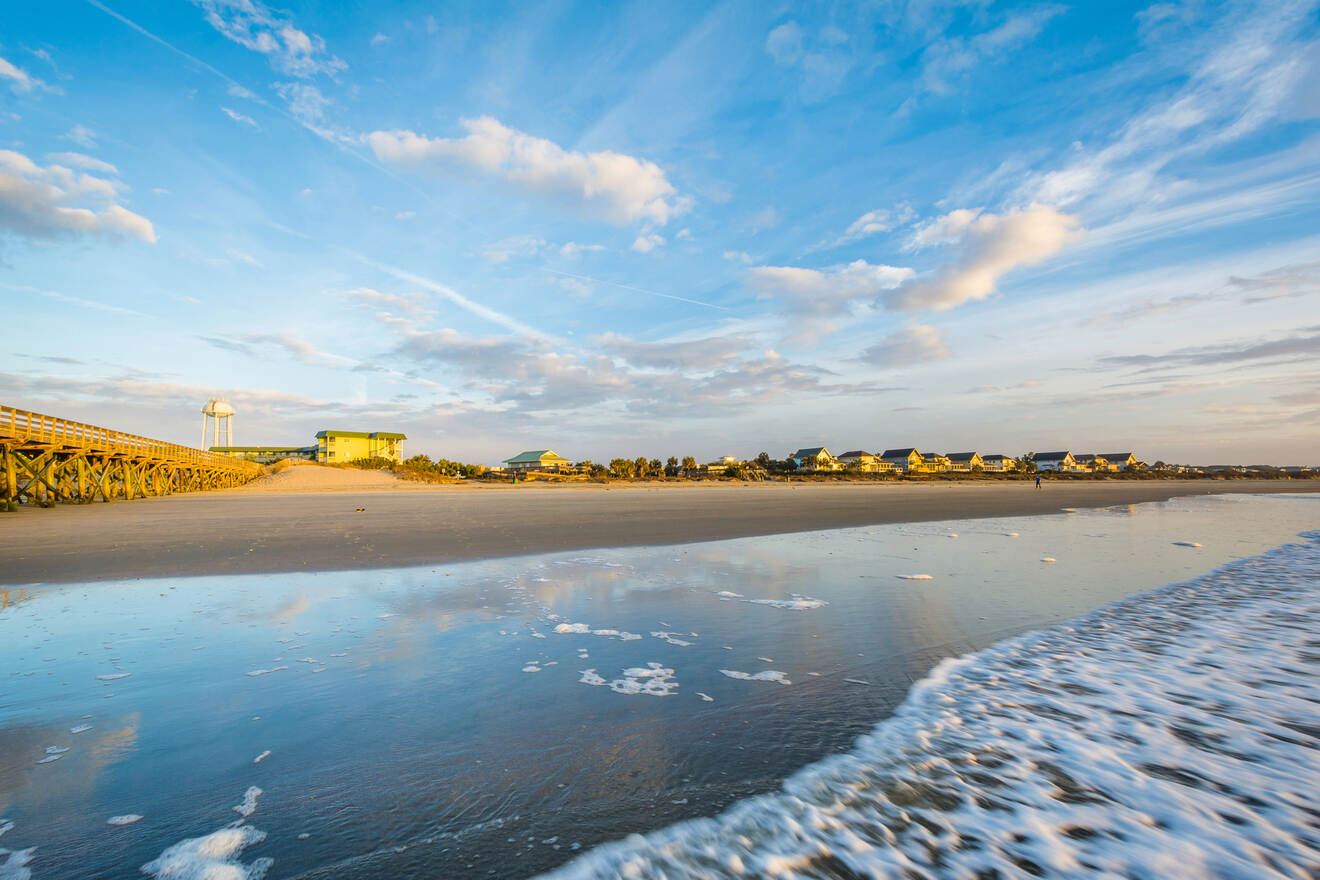 The Isle of Palms is located 8 miles (12 km) south of Mount Pleasant by the Atlantic Ocean and offers stunning white-sand beaches. Imagine yourself walking on the powdery sand, suntanning on the pristine beaches, and watching epic sunsets. Doesn't it sound tempting?
I am sure you will want to spend most of your time on the beautiful Isle of Palm Beach but this area is also famous for its golf courses, so why not take your first golf lesson! You will also love the fancy cafes and fine dining restaurants overlooking the beaches.
If you're interested in a bit of beach hopping, head across to the other side of Charleston Harbor to Visit Seabrook Island and Folly Beach. Seabrook Island is perfect for relaxing in the sun while Folly Beach is a great place to try anything from surfing to bird watching.
I recommend Isle of Palms not only for beach bums but also for luxury travelers who want to stay in an upscale neighborhood in Charleston. Already curious about the hotels here? Let's check them out!
Other options in Isle of Palms, Charleston
Things to do in Isle of Palms, Charleston
Get a suntan at the white sand beach, Isle of Palms
Take a golf lesson at Wild Dunes Harbor Golf Courses
Go for a walk at Isle of Palms Recreation Department
Take a boat to visit beautiful Goat Island
Enjoy a beach day at Isle of Palms County Park
Take a trip to Sullivan's Island
Frequently asked questions about Charleston, SC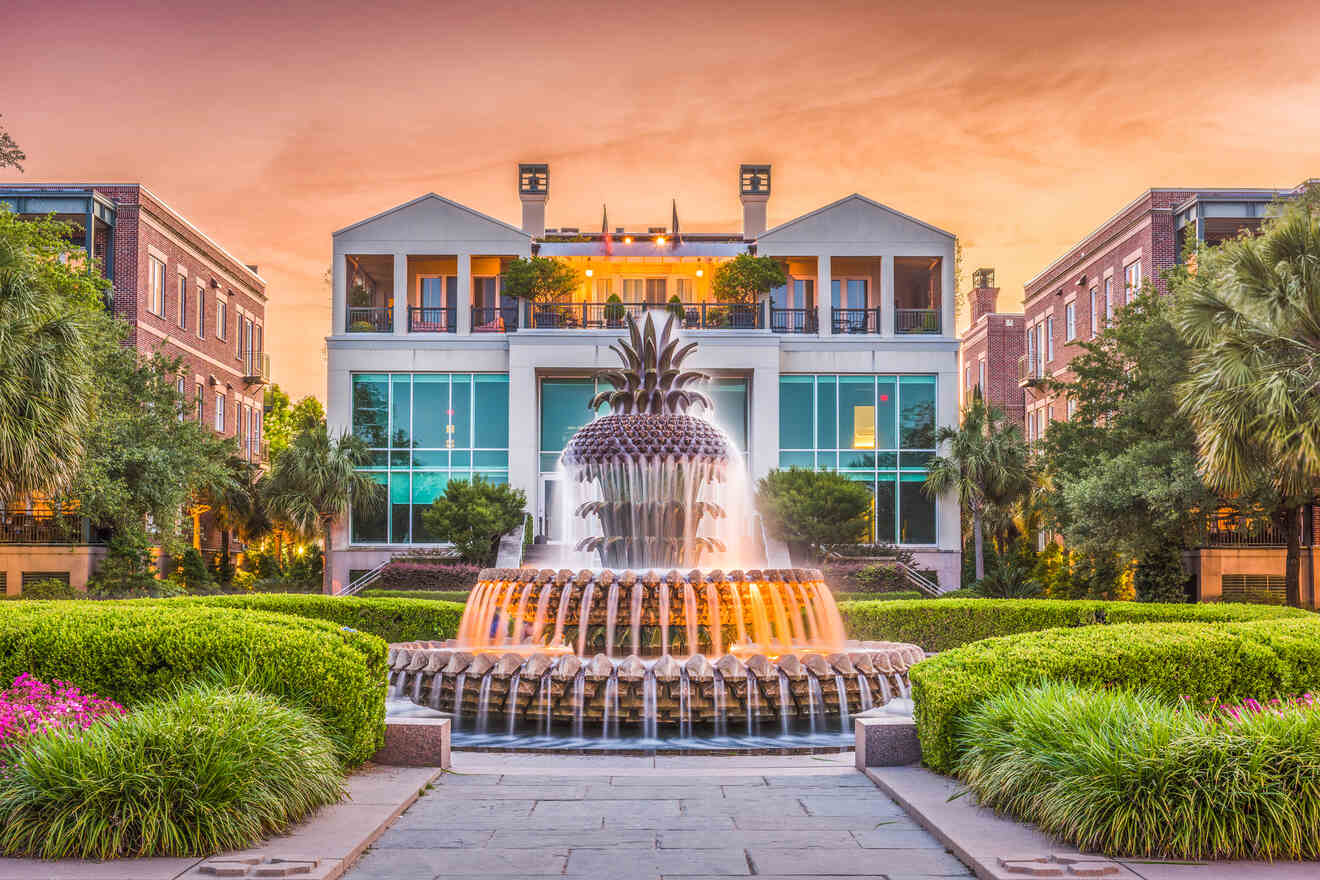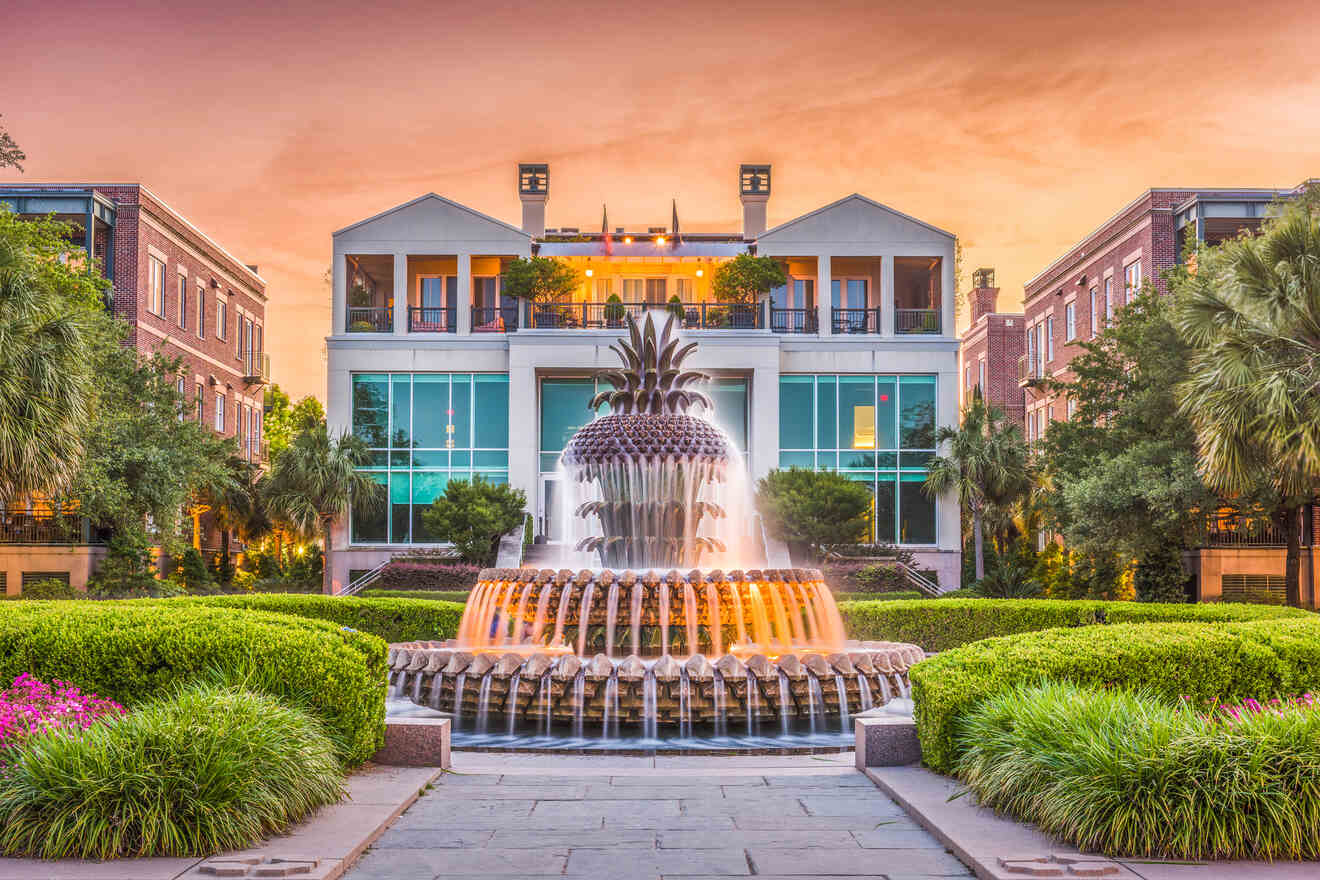 Conclusion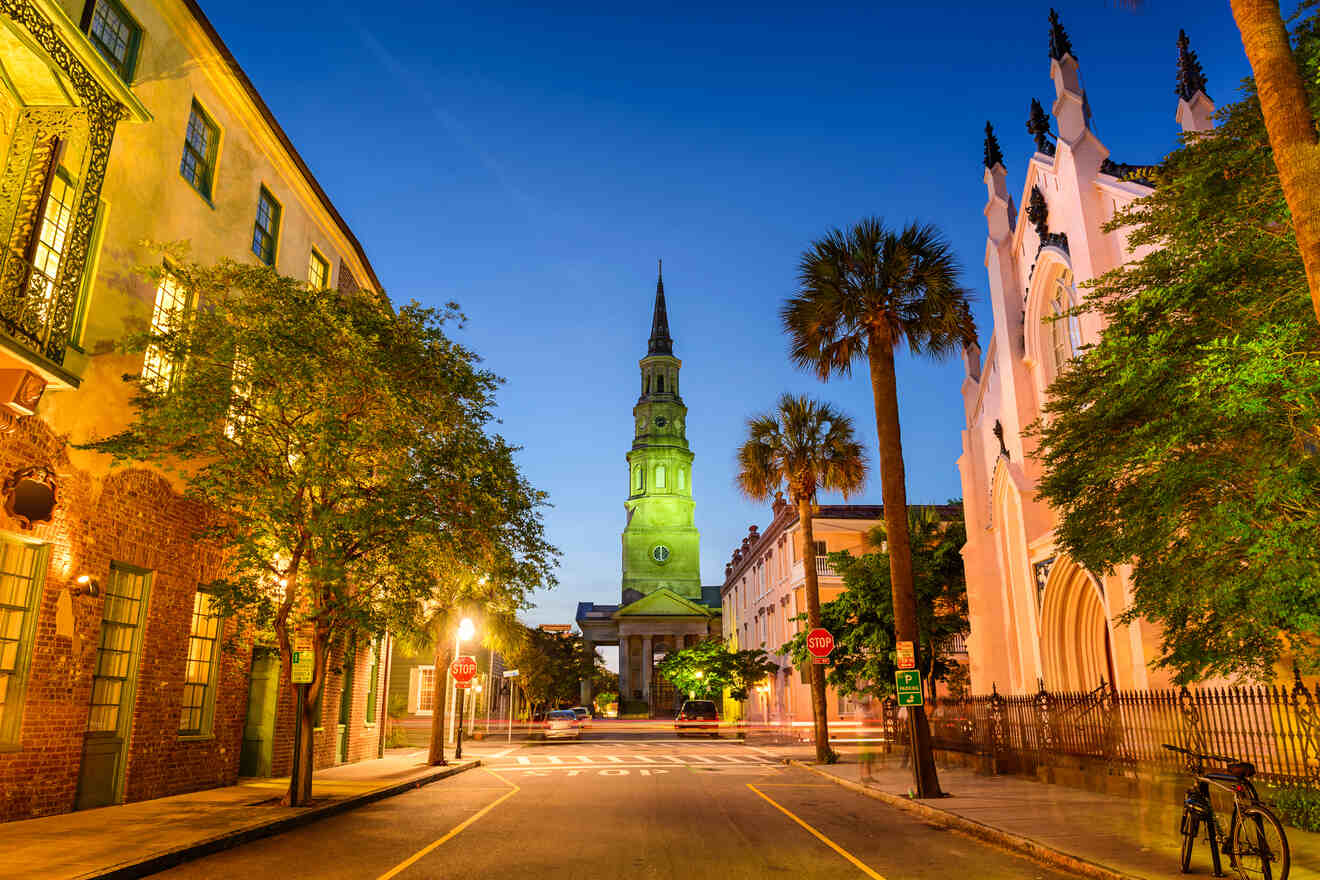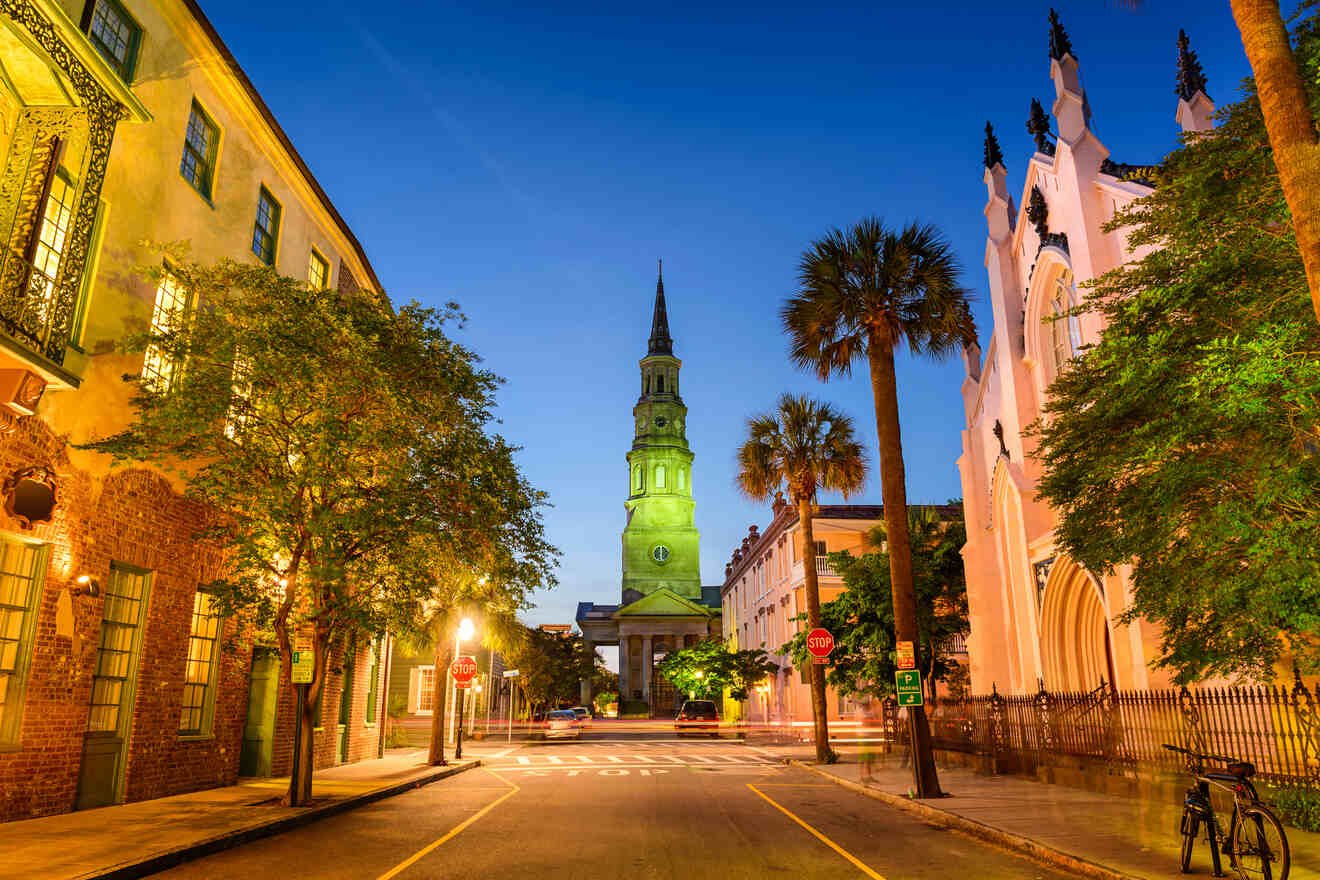 What a journey that was! I hope you enjoyed discovering the beautiful areas where to stay in Charleston as much as I did dear travelers! In this blog post, I talked about the best areas to stay in Charleston and shared the top hotels that I carefully handpicked for you.
I also mentioned the best things to do in each area but just want to add, no matter where you stay I highly recommend you take day trips to Kiawah Island and Seabrook Island!
Just remember that accommodation prices can be high and hotels sell out quicker than you think. That's why you need to make sure to make your reservation in advance. Other than that, enjoy every minute of your time in the lovely Charleston city!
I know I've already given so many places to stay in Charleston, SC but if you want to hear my absolute 2 favorite hotels in Charleston that have great locations and reviews, here you go:
The Dewberry Charleston – 5-star hotel with luxurious amenities and amazing rooms and is conveniently located in Downtown Charleston
Francis Marion Hotel – A great place to stay at the heart of Charleston that has great rooms and breakfast
If you have any other suggestions or questions about Charleston, South Carolina please do not hesitate to leave a comment below. I'll be glad to leave a reply to them. Hope to see you on another journey soon!
Have an amazing vacation,
Eylul
---