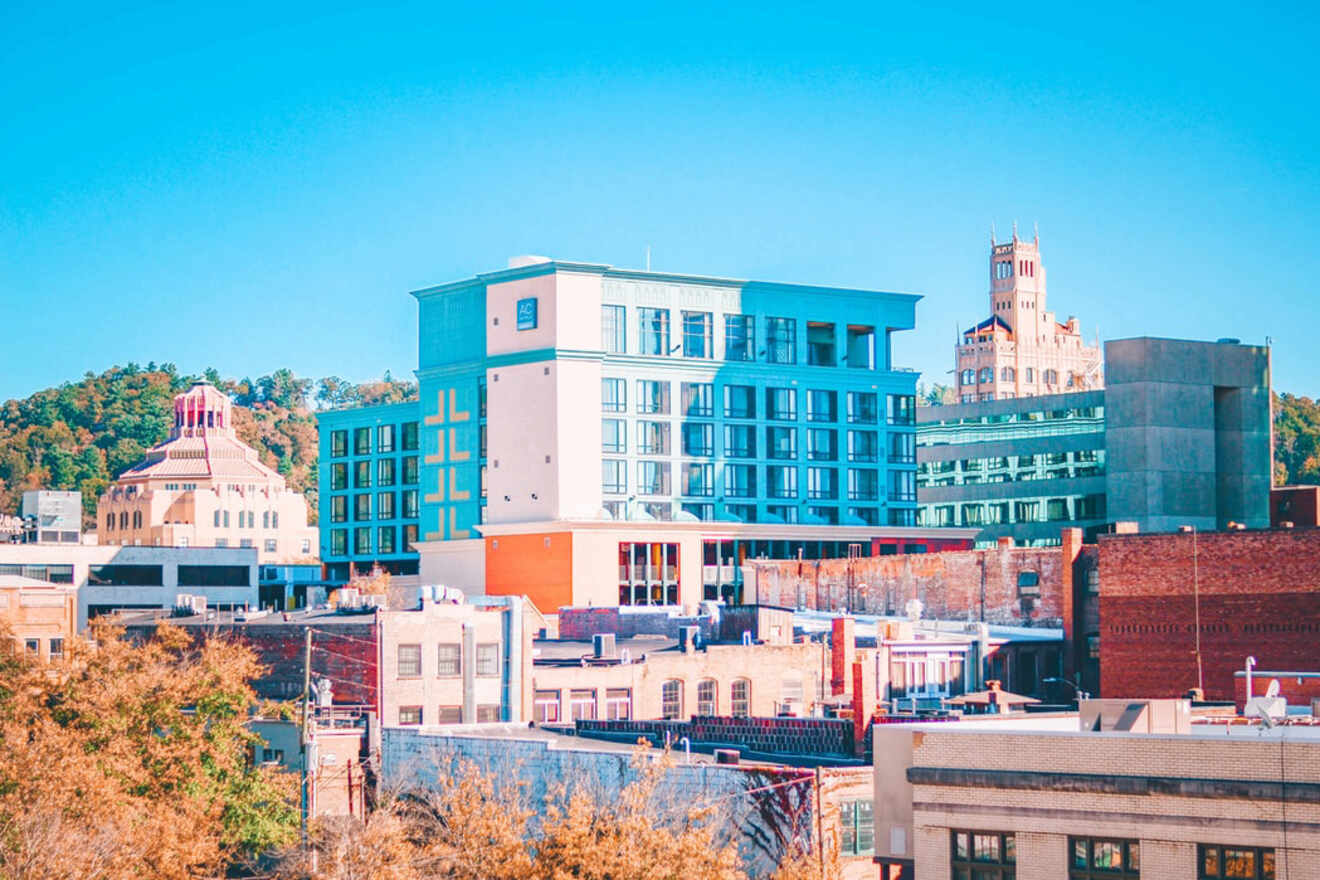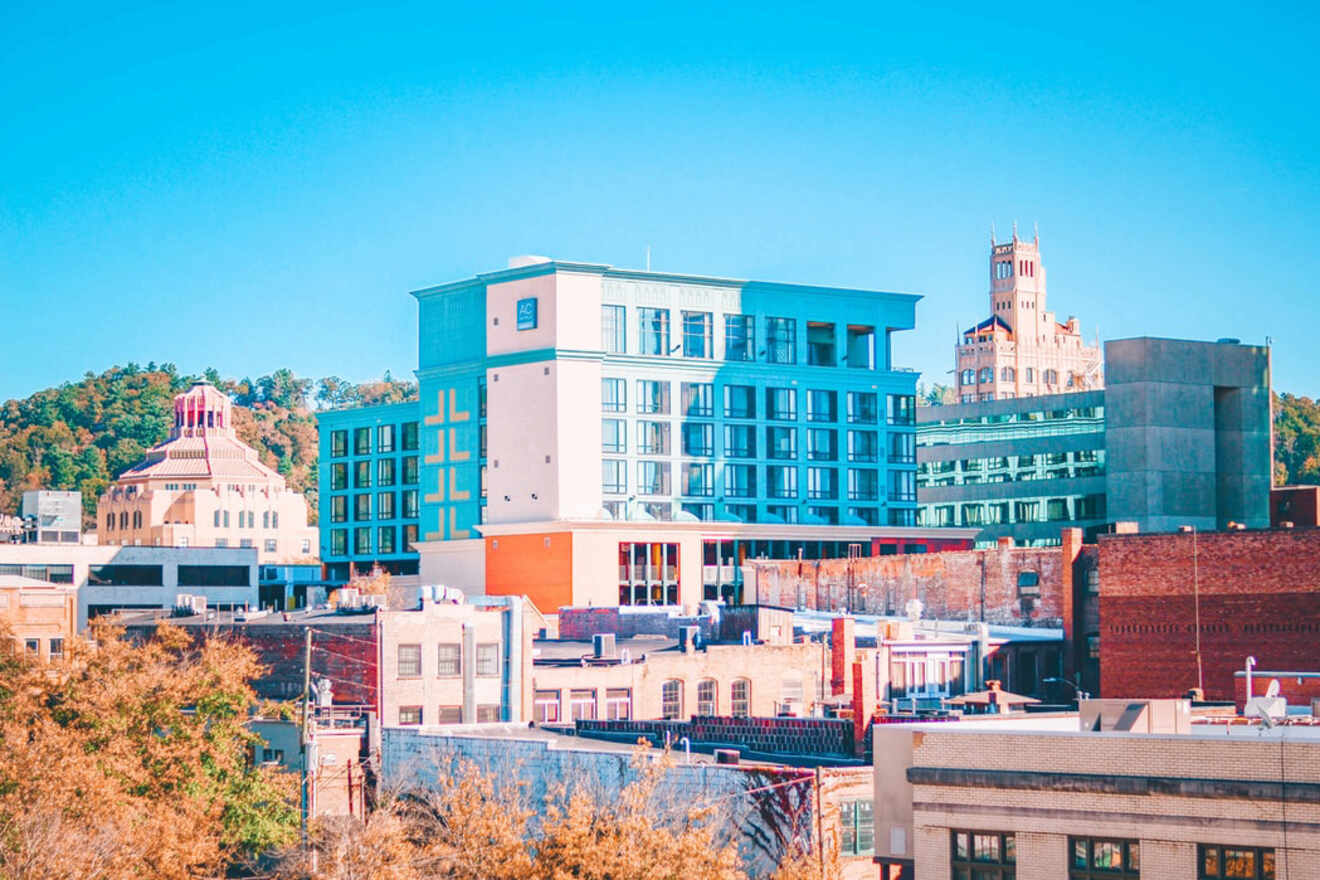 Asheville is the ultimate American destination for vacationers who are looking for a wide range of experiences. Nestled against Blue Ridge Parkway, the serene beauty that surrounds this town can't be beaten.
Beyond the impressive nature, which draws in adventurers from far and wide, is the vibrant arts scene in the city. Known for its impressive architecture and a downtown arts district that is filled with galleries and museums, this city is sure to satisfy all kinds of people.
But of course, I know that as wonderful and memorable as activities and adventures can be in a vacation, accommodation is what really makes or breaks a stay. A comfortable bed, a spacious kitchen, mountain views, maybe even a fireplace and hot tub. These are the stuff of dreams.
Amenities and prettiness that you don't get at home, that's what vacation accommodation is all about. But since extensive research and hair pulling is not the fun part of a vacay, I've done that part for you! Read on to find the ultimate Asheville Airbnb options for any traveler, no matter what it is you're looking for during your trip to Asheville.
In a Hurry: Best Airbnbs in Asheville North Carolina
If you don't have time to languidly scroll through this list of beautiful and exciting places to stay, I have you covered. Here are the best Airbnbs in Asheville, located near the center of town and sorted by price (high to low):
Best Airbnbs in Asheville
If you're looking for the best of the best, these are them. All highly rated with plenty of reviews under their belts, these places are guaranteed to make any vacation that little bit (or tons) better.
Choose between a perfect treehouse, a cozy cabin, a private room, or a beautiful loft. A house with mountain views of Blue Ridge might suit you better, or a home with plenty of beds and space for 10 people near the River Arts District. Whatever wonderful place you're looking for, this ultimate list has every perfect place amongst its numbers.
I also calculated a realistic price for each property, with the cleaning fee, service fee, and taxes included. Because no one wants hidden costs to dampen the fun. And you'll find that these places to stay are sorted by price: high to low.
1. The Snookmore, Mountainside Refuge – Great Airbnb Asheville for Groups | Hot Tub
Location: Snookville
Price: From USD $520 per night
Bedrooms: 3
Guests: 10
This absolutely perfect Asheville Airbnb cabin is ideal for a big family or friends getaway. With beds for up to 10, this cozy wooden home has plenty of spots for you to spend quality time with your loved ones.
Sink into the private hot tub, or spend your days rocking on the front porch with a view of the woods and the Blue Ridge Parkway and Mountains. When you eventually move inside, away from the natural beauty of Blue Ridge, you'll find that the interior is an absolute match in its stunningness.
2. Idyllic Mountain Cove Farm – Best Asheville Airbnb in Downtown Area
Location: North Asheville
Price: From USD $420 per night
Bedrooms: 3
Guests: 7
This large, spacious farmhouse is perfect for a family or friend retreat. With a contemporary design and modern amenities mixed in with its authentic farmhouse feel, this home is the best of both worlds.
This idyllic Asheville Airbnb was designed to optimize both indoor and outdoor living. It has a perfect rating, and it's not hard to see why. The outside fire pit has an incredible view of the green (or white, depending on the season) trees covering the mountains. Inside, you'll find a full kitchen, antiques, plush modern couches, and an atmosphere of peace.
3. Upscale Cozy Cabin – Well-located Airbnb Asheville Cabin with Hot Tub
Location: Downtown Area
Price: From USD $370 per night
Bedrooms: 2
Guests: 4
If you're seeking an active vacation, this one's for you. This Airbnb Asheville cabin is just off of a number of hiking trails, and along a rushing creek (where there's a picnic table!). It's also just minutes from downtown Asheville.
When it gets a little too chilly outside, retreat to the rustic but stylish interior. Make your favorite meal in the full kitchen before settling in front of the TV for a movie night. Or, hop into the hot tub to heat things up a bit.
4. Cedar Cabin with Forest Canopy Deck – Modern Asheville North Carolina Cabin Stay
Location: Mountainbrook
Price: From USD $330 per night
Bedrooms: 2
Guests: 6
If you're traveling with a baby or toddler, staying in this stunning, modern cedar cabin will make your life that bit easier. They provide a travel crib and a pack 'n play for your convenience.
Gather around the kitchen island while you cook up something incredible in the full impressive kitchen. You could even bounce onto the sofas to watch Netflix with the children.
This luxurious home also has soaring ceilings, a lovely fireplace, a screened porch, and an outdoor dining area. And since there's tons of space, you can either be together with your loved ones or spending a little alone time.
5. Downtown Artist Loft – Downtown Asheville Airbnb Apartment
Location: Downtown Asheville
Price: From USD $240 per night
Bedrooms: 1
Guests: 4
If you're wanting to be in the thick of it downtown, this loft is perfect. Ideal for a couple, but fitting up to 4 people, you'll find yourself right in the center of the action at this Airbnb Asheville North Carolina. The loft is within walking distance to award-winning restaurants, craft breweries, and vibrant local music.
Sip your morning coffee while watching the town come to life. The space inside is colorful, stylish, and endlessly comfortable. Sink into the sofa to watch a movie on the flat-screen TV, or whip up some gastronomic delight in the full kitchen, to enjoy at the old-school dining table.
6. Blend City and Country at Lucky W Cottage – Beautiful Airbnb Asheville Stay
Location: Beaverdam Valley, North Asheville
Price: From USD $210 per night
Bedrooms: 1
Guests: 4
The idyllic cottage is soaked in old school charm. With plenty of antiques inside and farm animals outside, it doesn't get much better than this if you're looking for a getaway from the fast-paced modern world. You'll even be treated to free-range eggs from the chickens.
In the warm summer months, dive into the sparkling shared pool. When it gets a little chillier, switch on the heating and the sound system, and enjoy the views from the sofa, through the plentiful large windows and french glass doors.
7. Eclectic and Stylish Simplicity in a Rustic Setting – Top Pet-Friendly Asheville Airbnb
Location: Riceville Valley
Price: From USD $210 per night
Bedrooms: 1
Guests: 2
This bright, light cottage is a nature lover's paradise. Just 15 minutes drive from downtown Asheville, you'll feel like you're far away from city life. Sip your morning coffee on the patio furniture with mountain views.
While the great location may feel like the biggest draw to this Asheville Airbnb, step inside and you'll see that it just won't be outdone. With a high ceiling, huge windows, and wood finishings, this unique home is just about perfect. And there's a full kitchen, so you don't even need to leave when your stomach starts to rumble.
8. Romantic. Moroccan-influenced Cottage – Bright, Romantic West Asheville Airbnb
Location: West Asheville
Price: From USD $180 per night
Bedrooms: 1
Guests: 3
One of the best romantic options, this artist created, Moroccan inspired sanctuary is a wonderful place to base yourself in West Asheville. Just minutes to the downtown area, cozy restaurants, and the Biltmore Estate, you'll be well situated for fun, if you ever want to leave the cottage.
If you're feeling bold, hop into the outdoor tub for a soak. Or lay yourself down in the hammock and try to balance a drink as you swing peacefully. This perfect place is colorful, bold, and artistic. With plenty of thoughtful touches, unique details, and local art, you'll feel at home, but better.
9. Solarium at a Zen Garden Suite – Unique Couples Airbnb Asheville
Location: Haw Creek
Price: From USD $170 per night
Bedrooms: 1
Guests: 2
If you're traveling solo or with a partner, this beautiful place is the absolute dream. It's central, sweet, and filled with sunlight. Whether you're basking in the sun on the loungers on your private covered patio, or looking out at the mountains from the comfort of bed, you're sure to find happiness here.
This Asheville Airbnb is simple but has everything you might need, including privacy and a handy home workspace. The entire house is brightened further by wood finishings, plenty of green plants, and a uniquely tiled floor.
10. Gashes Fluss Haus – Unique Airbnb in West Asheville North Carolina
Location: West Asheville
Price: From USD $160 per night
Bedrooms: 1
Guests: 2
If you're looking to step out of city life and experience a farm stay, book in at this West Asheville Airbnb. It's based in the backyard of another property, so it's not completely secluded, but it is absolutely stunning and sweet.
This rustic 2-story cottage was built over 100 years ago and is snug and well-insulated. The whitewashed stone walls and wood-burning stove will have you feeling like you've stepped into a good book. And with the addition of an espresso machine and a sound system, you'll be up for anything.
11. Mountain View Charming Space – Great Getaway with Fire Pit & View
Location: Mountainbrooke
Price: From USD $150 per night
Bedrooms: 1
Guests: 2
Located just 5 minutes drive from downtown Asheville and excellent restaurants, this charming studio apartment is a great option if you're wanting to be in the middle of all the action. However, the location is still peaceful and offers views of the wooded mountains.
This studio is stylish in a rustic way, and the thoughtful details throughout the apartment give it a home away from home feel. Get comfy in bed before watching a movie on the flat-screen mounted TV. Or laze out on the sofa with the wood-burning stove adding warmth and ambiance to the space.
12. Boutique Studio Perched on a Hill – One of the Best Asheville Airbnbs for Couples
Location: North Asheville
Price: From USD $140 per night
Bedrooms: 1
Guests: 2
If you're planning a romantic weekend (or way longer) away in Asheville, this studio apartment is the one you want. With everything you could want or need, you're sure to unwind and connect here, whether you're reading a book in bed, or sitting around the fire in the courtyard.
This place is filled with thoughtful details and incredible art pieces. The kitchenette allows you to make your own meals, which you can enjoy at the cozy dining table for two, with a great view of the trees.
13. Cozy Bungalow near Downtown & Biltmore – Best Airbnb Room Asheville Airbnb
Location: East View Association
Price: From USD $50 per night
Bedrooms: 1
Guests: 2
If you're looking for budget accommodation that is still absolutely lovely, this is the spot for you. A simple room in a bohemian, colorful home, this Airbnb is very well rated, and for good reason.
The shared area, which you'll have full access to, is plentiful and comfortable. And if you're visiting Asheville solo, you may find that sharing a house with like-minded travelers is the perfect way to experience this vibrant city.
Please note: Guests must be okay with the cat, Ravioli, who also calls this house his home.
BONUS: 3 Unique Airbnbs in Asheville
If you're looking for an experience that's a little out of the ordinary, I have you covered. Whether you're wanting to get a few miles from Downtown and be surrounded by only nature, or stay in a special cozy tiny house, it can be great to break out of your comfort shell a bit.
With these stays, you're sure to experience a different side of Asheville. Keep reading to find the best unusual Airbnb vacation rentals in Asheville. This cabin, treehouse, and tiny house space are sure to please.
1. New Log Cabin on Reems Creek – Pet-Friendly Cabin Airbnb Asheville Getaway
Location: Weaverville
Price: From USD $500 per night
Bedrooms: 3
Guests: 6
This fully wooden cabin abounds with charm and character. It's surrounded by lush greenery and chirping birds. So you and your family or friends will feel like you're far from civilization, while only being a 15 minutes drive from downtown Asheville.
Since this Asheville Airbnb cabin is pet friendly, your furry friend can sit at your side while you admire the stars beside the outdoor fire pit. And when you get hungry, you can head inside to the full kitchen to whip up something tasty. This is a 3 room guest house with a place for 6 people, so bring the whole family along.
2. Cozy Tiny House – Asheville Airbnb Near Downtown and Blue Ridge
Location: Downtown Area
Price: From USD $140 per night
Bedrooms: 1
Guests: 2
This wooden tiny house may be small, but it has everything you need, and its size only adds to its charm. The walls are covered with windows to let in the sunlight, and to allow you to look out at the trees in which you'll find yourself, like in a treehouse.
Enjoy your morning coffee (which is provided – medium roast) on the back deck with a view of the ravine and mountain. In the evenings, change over to wine on the sofa. Or, since the location is so central, take advantage of being walking distance to the Friday farmers market, or one of the wonderful nearby restaurants.
3. "Arrowhead" Cabin Minutes from Asheville – Tiny House Treehouse Airbnb Asheville
Location: Weaverville
Price: From USD $140 per night
Bedrooms: 1
Guests: 2
Another perfect tiny house that I just can't leave out is this romantic wooden cabin. Sitting on a raised platform in the woods, you couldn't be closer to the birds and squirrels that call this treehouse home. As you'll no doubt want to do after spending a day or two here.
Whether you're visiting from afar, or if you're based in nearby Asheville, this house is sure to rejuvenate and inspire you. The perfect place for a couple, you can spend your days lazing on the comfortable furniture inside or on the covered porch, or venture out to the nearby hiking trails.
Top 4 Airbnb Asheville Experience
If you're visiting Asheville to experience the area, it's a good idea to try out some of the popular experiences available. Here are my suggestions.
Conclusion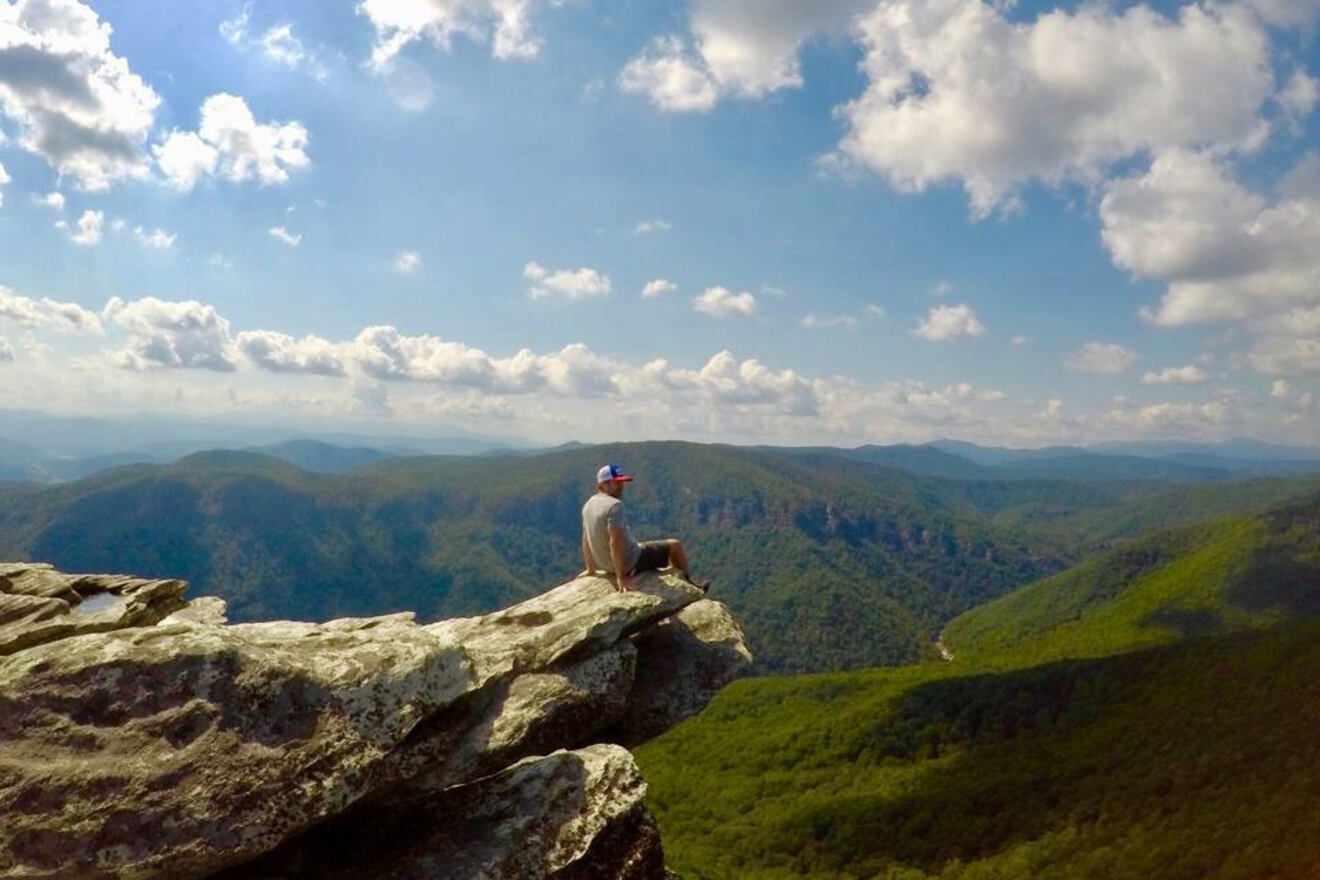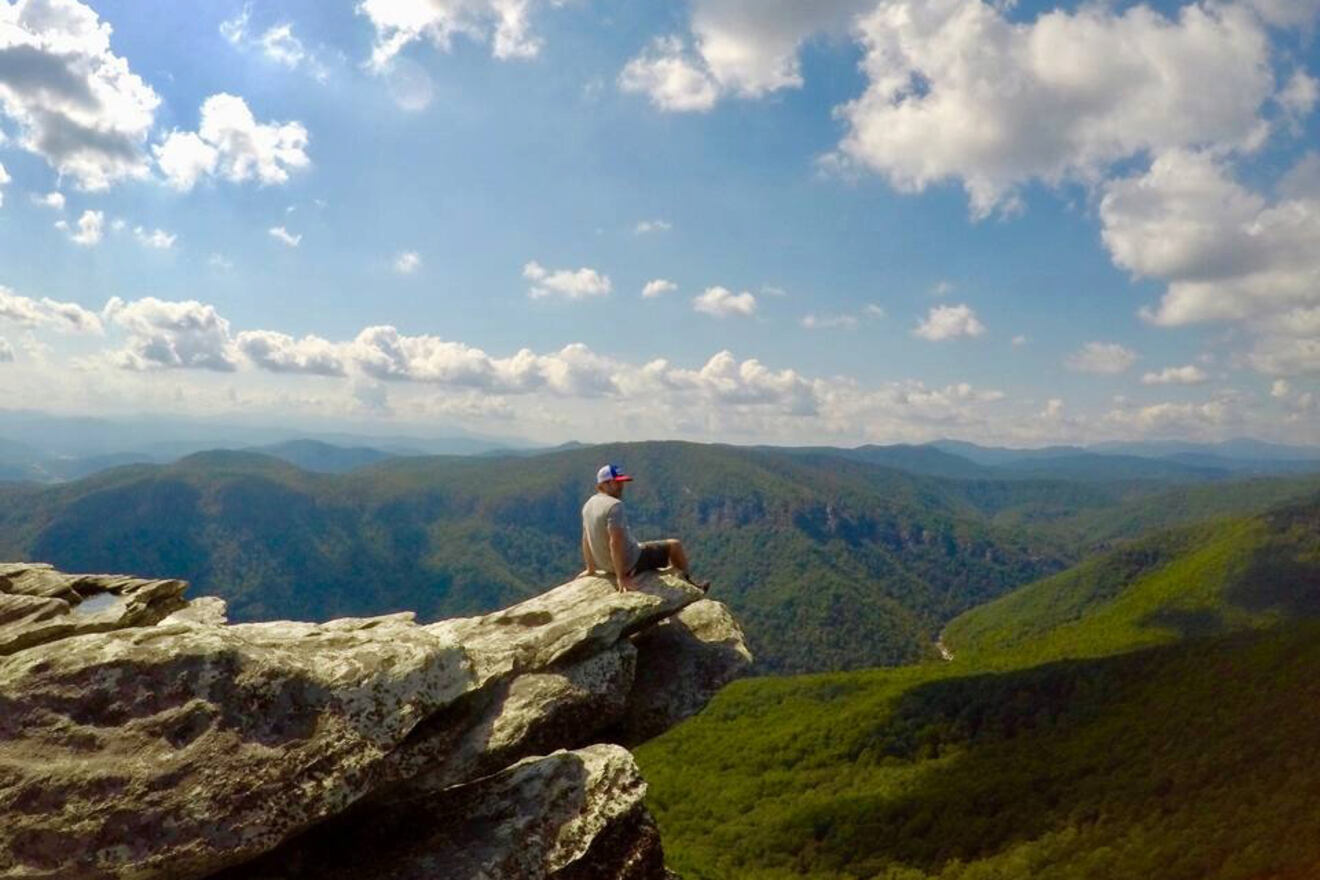 Asheville is filled with fantastic Airbnb accommodation options, and it's a wonderful thing to know that you really cannot go wrong with any of these choices. Whether you're looking for a treehouse, loft studio, sprawling cabin, or tiny house, you're sure to find an Asheville Airbnb that is unique and perfect.
My absolute favorites are The Snookmore and the Zen Garden Solarium. Because these places are really the best of the best, they do tend to book out pretty far in advance. To avoid disappointment, you should be sure to book well in advance.
And if you're thinking of taking a trip to Florida, check out where to stay in Tampa! I also have complete guides on where to stay in Nashville and the best Airbnbs you can find in Atlanta.
If you stay in one of the gorgeous places on this list, please let us know how the experience goes! And feel free to comment or leave any questions that you may have.