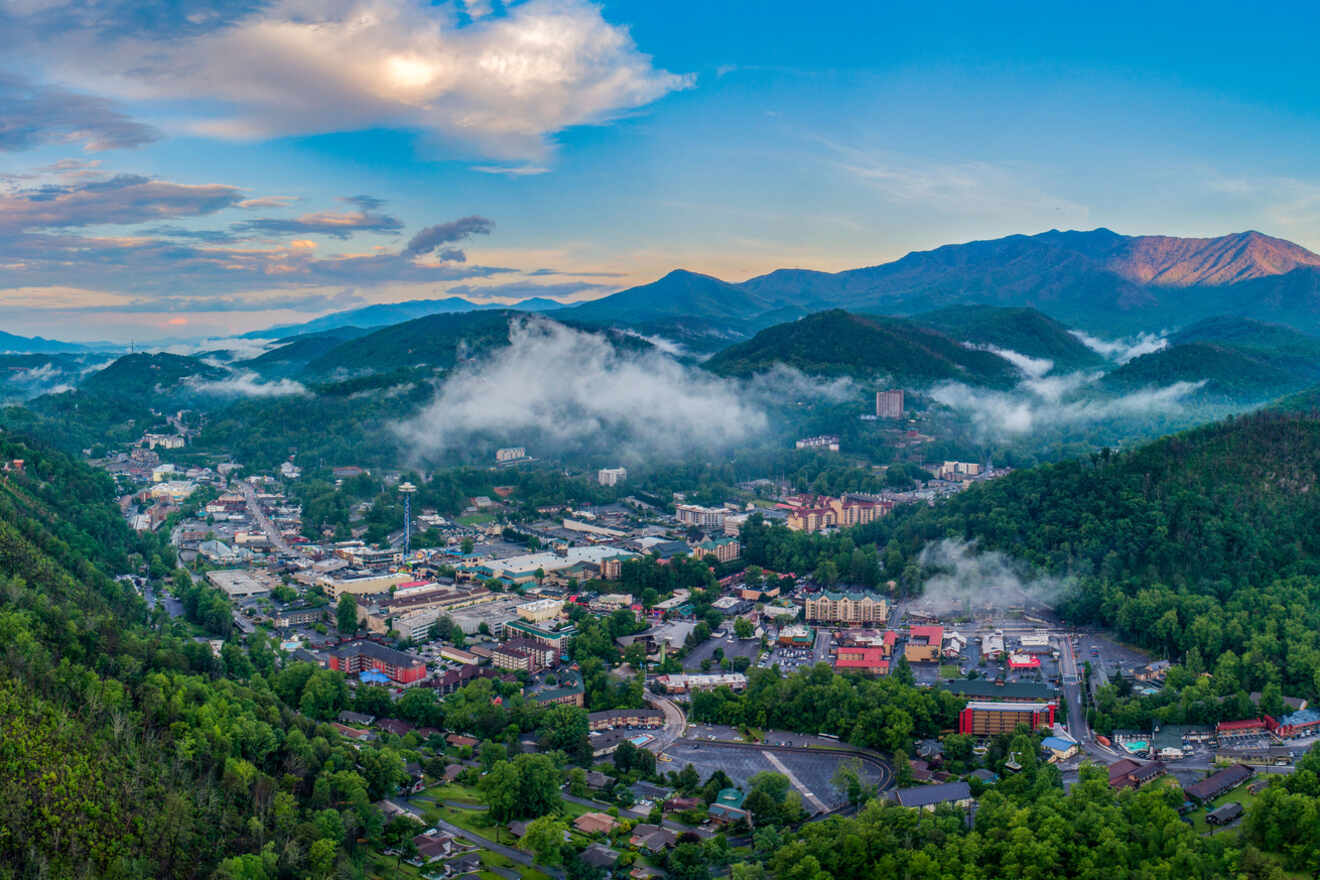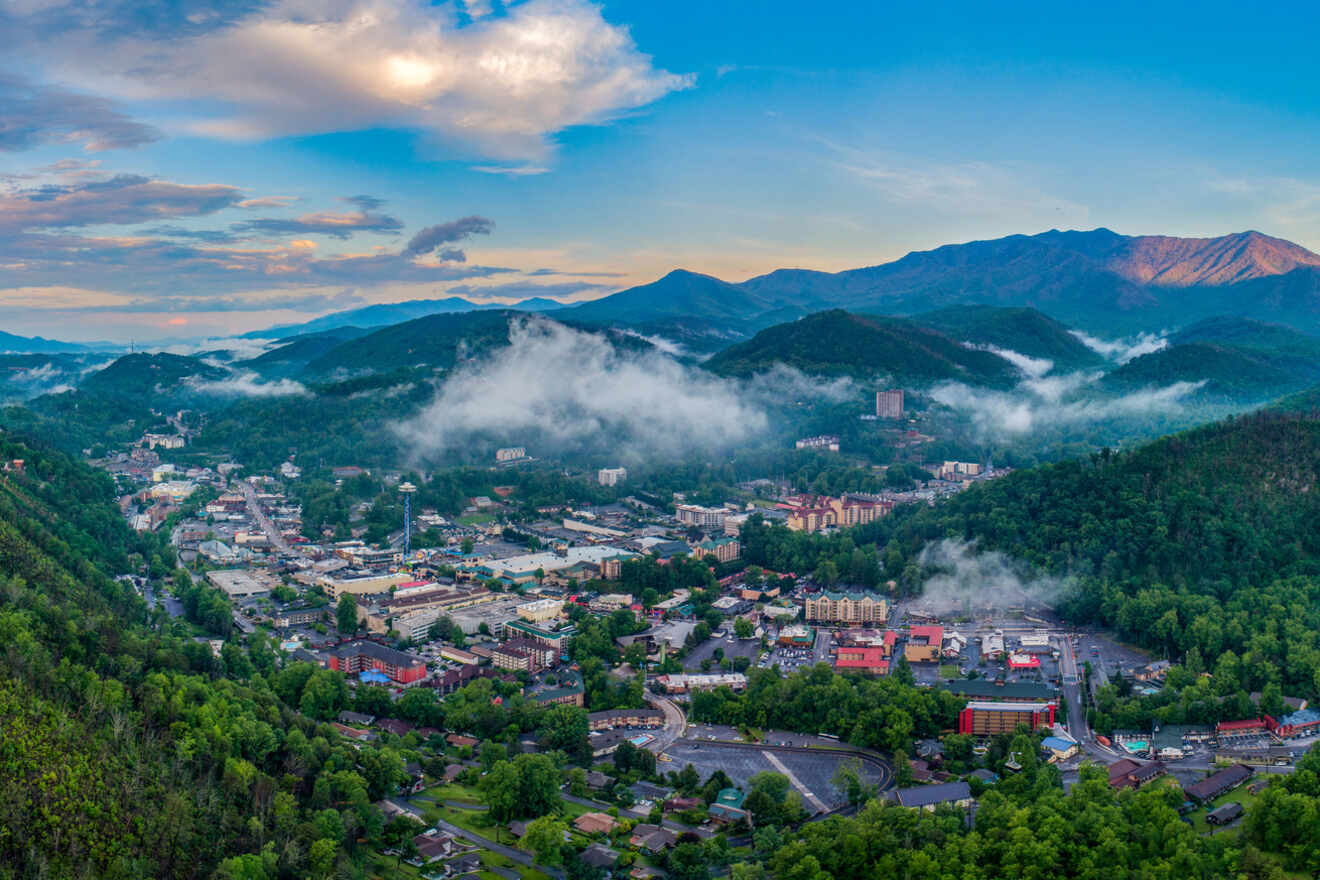 Nestled along the Great Smoky Mountains, the sleepy town of Gatlinburg is only home to around 5,000 people. The surrounding area is largely untouched from the bustle of city life, but you'll still find that friendly, Southern hospitality is prominent!
Planning a trip to the woodsy town of Gatlinburg? The first thing you need to do is book yourself a dreamy Airbnb Gatlinburg rental. Whether that be a cabin tucked away in the Great Smoky Mountains National Park, apartments in Gatlinburg downtown, or cabin rentals fit with their own hot tubs.
With endless opportunities for skiing in the winter, fishing in the summer, unwinding in autumn, or hiking in spring, Gatlinburg is a wonderful town to visit all year round.
And opting for one of the centrally located vacation rentals in Gatlinburg means you'll be a short distance from natural wonders, Dollywood (a whole town dedicated to Dolly Parton), or the vibey city center.
My list is designed to help you select one of the best Airbnbs in Gatlinburg or cabin rentals so that you can simply hop in the car or a plane and enjoy your time in the woods. I've included options for every type of budget and travel style!
If You Are in a Hurry: Top Airbnbs in Gatlinburg Tennessee
I know holiday planning can be a little busy, so if you're in a hurry, simply check out these 5 Airbnb Gatlinburg options and save yourself the time. They're all located in the city center and sorted by price.
Top 12 Airbnbs in Gatlinburg Tennessee
I've sorted through the best Gatlinburg TN vacation rentals so that when you book one, you know you're choosing from the top selection.
And to make things even easier, I've calculated the final price of a stay, which is done by adding up additional fees such as the cleaning and service fee. Because nothing's worse than landing up with a surprise bill.
These Airbnbs in Gatlinburg Tennessee have been sorted from the highest price to the lowest price, without skimping on quality. Plus, they're all a short walk or drive from downtown Gatlinburg, where entertainment is found around every corner.
1. Downtown Mountain Hideaway – Best Airbnb Gatlinburg for a Family
Location: Downtown Gatlinburg TN
Price: from USD$360 per night
Bedrooms: 2
Guests: 6
Let's start with the patio; straight away you can picture yourself flopping into one of the bobble chairs and lounging in the Tennessee sun. If you're traveling in winter, even better. The outdoor hot tub is a luxury for cold nights and star gazing.
Step inside this Superhost cabin-inspired mountain getaway and the decor will take your breath away. With a warm, yet light and airy feel, the living room is ideal for melting on the couches reading a captivating book.
The cottage is a short walk from downtown Gatlinburg, but also close enough to great hiking trails in the Great Smoky Mountains National Park.
2. Private Mountain View Log Cabin – A Dream for a Couples Stay
Location: Great Smoky Mountains area
Price: from USD$360 per night
Bedrooms: 1
Guests: 2
Wake up every morning and enjoy your fresh cup of coffee out on the deck, where you'll be greeted with mountain views and the rising sun. End your day with your feet up near the cozy fireplace in one of the quintessential cabins in Gatlinburg Tennessee.
Perhaps you'll take a dip in the heart-shaped jacuzzi bath right before bed, a cute touch for couples. Being completely private, you can enjoy each other's company in an ultra-convenient cabin kitted with all the household amenities.
Although this dreamy log cabin is tucked away in the woods, it's 3.5-miles from downtown Gatlinburg. As well as multiple entrances to the national park.
3. Cabin Airbnb in Gatlinburg – Great Mountain Views and Hot Tub
Location: Great Smoky Mountains area
Price: from USD$320 per night
Bedrooms: 2
Guests: 4
This is probably one of the most magical Superhost Gatlinburg cabins, and the perfect place to soak up the natural wonders of the Great Smoky Mountains! Perched on your balcony is a private hot tub where you can spend all day enjoying the amazing views.
Instead of picturing a log cabin fit for a lumberjack, this quaint cabin features modern finishes and a king bed. As the evening starts to chill, light up a fire, cozy up on the comfortable sofa, and watch as the stars begin to twinkle.
When you're ready for an adventure, a 10-minute drive will lead you to Gatlinburg's best restaurants and attractions.
4. Renovated Hillside Cabin Close to Downtown Gatlinburg
Location: Downtown Gatlinburg TN
Price: from USD$300 per night
Bedrooms: 1
Guests: 4
From the comfort and coziness of your own king-sized bed look upon the artwork of the iconic Mount Leconte, the third highest peak of the Great Smoky Mountains.
This loft close to downtown has been inspired by cabins in Gatlinburg but has its own unique twist. High vaulted ceilings create an open and spacious feel, and the open-plan designs make it even roomier. With doors opening up to your own private patio, a hot tub awaits you.
Patio chairs and mountain views are all you practically need for a perfect vacation. But if you're in the mood for venturing out, 3.5-miles away is Gatlinburg Tennessee city center.
5. Entire Condo in the Middle of Gatlinburg – Great for a Friends Stay
Location: Downtown Gatlinburg TN
Price: from USD$270 per night
Bedrooms: 1
Guests: 4
What a gorgeous Superhost Airbnb Gatlinburg this is! The dark wood is a wonderful touch that embraces the natural beauty that's found all around Tennessee. And barn doors add that extra bit of country magic.
As well as being beautiful, it's right in the middle of all the town action. Exactly why this is superb for friends looking to have an exciting time in a charming town.
Anakeesta, a unique outdoor experience, is also right around the corner. You can experience the thrill of walking on a Treetop Skywalk, checking out observation towers, and visiting the lush botanical Vista Gardens.
6. Cabin with Spectacular View – Romantic Couples Getaway
Location: Just outside of Gatlinburg TN center
Price: from USD$260 per night
Bedrooms: 1
Guests: 2
Hidden away in a lush scape of trees lies this cozy cabin close to downtown. While it's dreamy enough by simply being a cabin, the view is what makes this Gatlinburg home so fantastic. The views from the balcony overlook much of Smoky Mountain National Park.
And when you're not gazing at the mountaintops, put on your hiking boots and head on a walk on one of the nearby trails. Reward yourself with an hour in the hot tub once your adventure is over.
With a stone gas log fireplace and comfy king bed, you can spend your vacation unwinding while still being minutes from Gatlinburg city center and Dollywood.
7. Condo in Downtown Gatlinburg – Best for Small Families
Location: Downtown Gatlinburg TN
Price: from USD$250 per night
Bedrooms: 1
Guests: 4
This newly renovated condo comes with all the comforts of home, which make it a great escape from the hustle and bustle of some of the larger cities. With a fully-kitted out kitchen, cook up a storm, and then treat yourself to a classic film on the big screen TV.
As it's situated in the center of Gatlinburg, there's no need to drive anywhere, you can simply enjoy the outdoors and walk to any of the town's shops. Nearby attractions like mini-golf and the Arcadia make it a great choice for those traveling with kiddies.
8. Mountain Views at a Calm, Cozy Cabin – Best Gatlinburg Rental for Privacy
Location: Just outside of Gatlinburg TN center
Price: from USD$240 per night
Bedrooms: 2
Guests: 4
This top-rated, Superhost Airbnb is minutes from downtown but is also in a great location for losing time in nature and exploring the trails in the Gatlinburg TN National Park.
The interior of the cabin features hardwoods and elegant touches and you can spend your time relaxing into the mountain life. Soaking in the hot tub with the breathtaking Tennessee view adds that extra bit of luxury.
9. Romantic Cabin with Hot Tub – Perfect for Couples
Price: US$257
Bedrooms: studio
Guest: 2
Honeymooners or not, you'll surely fall in love with this place. Probably you will keep coming back, like a regular in a restaurant. This cabin offers one of the best views you can ever find, and these killer views can be effortlessly seen from anywhere in the cabin!
The place is ideal for picnics and hiking. You have a picnic table ready in the front yard and a grilling station. And if you are looking for a game to kill some time, the place has a multicade with 12 classic arcade games.
And after a day's activity, there's no better way to relax than soaking in the outdoor hot tub facing the spectacular mountain views!
10. Pet-friendly Cabin with Private Hot Tub – Best Rental for Pets
Price: US$380
Bedrooms: 2
Guest: 8
Dogs are part of the family, and this cabin will let you bring your furry friend on vacation. The big fenced-in yard is the perfect place for your dog to freely run around.
Once you step inside, you'll experience immediate relaxation and peace of mind. The deck is equipped with an outdoor dining area perfect for serving tasty meals to your family and friends while enjoying the forest views. And after a long day hiking, treat yourself to a bubbly hot tub.
This Airbnb is at the doorstep of the Great Smoky Mountains National Park, so you can hike and bike all you want.
11. Newly Renovated Loft in Downtown Gatlinburg – Ideal for a Friends Trip
Location: Downtown Gatlinburg TN
Price: US$223
Bedrooms: 2
Guest: 6
You can find this newly renovated condo in downtown Gatlinburg. Everything looks modern, and the combination of wood designs and white furnishings makes the place extra homey.
And yes, this is more spacious than you could imagine – 2 bedrooms that can comfortably accommodate up to 6 guests. There's an indoor fireplace to keep you warm on winter days and an outdoor pool waiting for in the summer!
You can also cook, do laundry, and if you're planning to bring a car, parking is free!
12. Hot Tub Access and Mountain Views – Gatlinburg Hideaway for Couples
Location: Downtown Gatlinburg TN
Price: from USD$130 per night
Bedrooms: 1
Guests: 4
As an Airbnb Plus (and going for an affordable price), this is possibly one of the best Airbnbs in Gatlinburg. Not to mention how beautifully decorated the interiors and mountain views are.
Boasting a convenient location, travelers can plan their itinerary to match their needs perfectly. In the mood for a challenging hike through one of the most spectacular national parks in Tennessee? Well in just 10-minutes you'll be there.
Just a few minutes' drive away is Ober Ski Mountain Lodge, for an exciting experience showing off panoramic views of the mountain.
Perhaps you're looking for more of a vacation where you can get a feel for town-life. The professionally decorated condo is a quick drive to get to the picturesque town of Gatlinburg.
BONUS: Best Unique Airbnbs in Gatlinburg Wilderness
As delightful as Gatlinburg cabins rentals and the central Airbnbs are, the surrounding areas and outskirts of town hold their own charm.
If you're looking for something a little more on the outskirts of town, and not one of the usual cabins in Gatlinburg Tennessee, I recommend giving these Airbnbs a look.
1. Mason Jar Treehouse Lodge – Hot Tub and Great Smoky Mountains National Park View
Location: Gatlinburg Tennessee
Price: from USD$420 per night
Bedrooms: 2
Guests: 6
Cabins in Gatlinburg are exciting, but not the only option for wanderers. Situated 4 miles from the Gatlinburg Strip is this mountain-inspired lodge that looks like a treehouse made for adults. There are multiple decks and viewing points that are designed to make you feel as though you're sitting on a treetop.
Surrounding the property are numerous strawberry and blackberry plants that bear tasty fruits in the summer season.
The treehouse lodge is completely private and you and a group of friends can book this rental for an entirely comfortable stay. A bar that resembles a log cabin is at your disposal, as well as an outdoor hot tub, flat-screen TV, and a wood-burning fireplace.
2. Secluded Luxury Cabin – Mountain Cabin Ideal for a Big Family Vacation
Location: Gatlinburg Tennessee
Price: from USD$310 per night
Bedrooms: 3
Guests: 6
This is without a doubt one of the best cabin rental Airbnbs in Gatlinburg for a big family getaway. It's not so much a cabin as it is a luxury lodge tucked away in the Smoky Mountains.
Cabins in Gatlinburg are all about homely comforts and an authentic Tennessee experience out in the country. An outdoor fire pit means that there's plenty of opportunities for sitting around the fire and gazing at the stars shining above the treetops. Beautiful views can be enjoyed when you light up the gas grill to prepare a feast of burgers and chicken.
You've probably guessed that there's a hot tub, but the rental also comes with a pool table. The added pool table just means you can be spending more time indoors with the family during the winter months.
The cabin's location on a ski mountain makes it an easy option for skiing enthusiasts. The ski slopes of Ober Gatlinburg Tennessee are just a 7-minute drive away.
3. Newly Built Mountain Retreat – Cabins in Gatlinburg with Amazing Views
Location: Gatlinburg Tennessee
Price: from USD$200 per night
Bedrooms: 2
Guests: 4
Escape from the city and hide away in this cozy cabin in Gatlinburg TN. As cabin rentals go, this boasts sweeping views of the mountain valley and is in a great location for wandering travelers.
It's a short 10-minute drive to Pigeon Forge, where you can visit a comedy barn or Dolly's Dream Spa. Minutes to Gatlinburg city center by car, you can pop in and out of town to visit the Great Smoky Arts & Crafts Community.
Back at your secret hideaway, lounge around on the rocking chairs and soak up the mountain view. This brand new cabin has a hot tub on the deck, which can be enjoyed on cold winter nights and early summer mornings. Plus, air conditioning will help chill the hot summer afternoons.
4. Canopy Ridge Safari Tent – Best Airbnb Gatlinburg Cabin Rentals for a Unique Stay
Location: Gatlinburg Tennessee (20-minutes from downtown Gatlinburg)
Price: from USD$180 per night
Bedrooms: 1
Guests: 2
And last to make my listicle of lofts and cabins in Gatlinburg is one that is neither. Instead, get as close to Tennessee nature as you can and sleep out in a luxury-styled tent. It is close to downtown Gatlinburg, Pigeon Forge city center, and the Great Smoky Mountain National Park.
It's an ideal option for those of you who would like to make the most of your time in the spectacular outdoor wonderland found in Tennessee. While the only thing you're missing out on is one of the classic Gatlinburg hot tubs, you'll appreciate your natural surroundings.
Listen to the sounds of nature whilst you sit on your deck chairs each evening or light a fire in the fire pit and view the woods at night.
Top Airbnb Experiences in and Around Gatlinburg
To make your experience of the area even better, why not consider a fantastic Airbnb Gatlinburg experience? There's also the chance to participate in an experience just outside the town and get to know the surrounding areas.
Top-rated moonshine/whiskey walking tour – Sample moonshine and whiskey as you embark on a tour through various distilleries.
Wine and food tour in Pigeon Forge – Experience the Appalachian culture and wander around Pigeon Forge sampling spirits and eating a great lunch.
Conclusion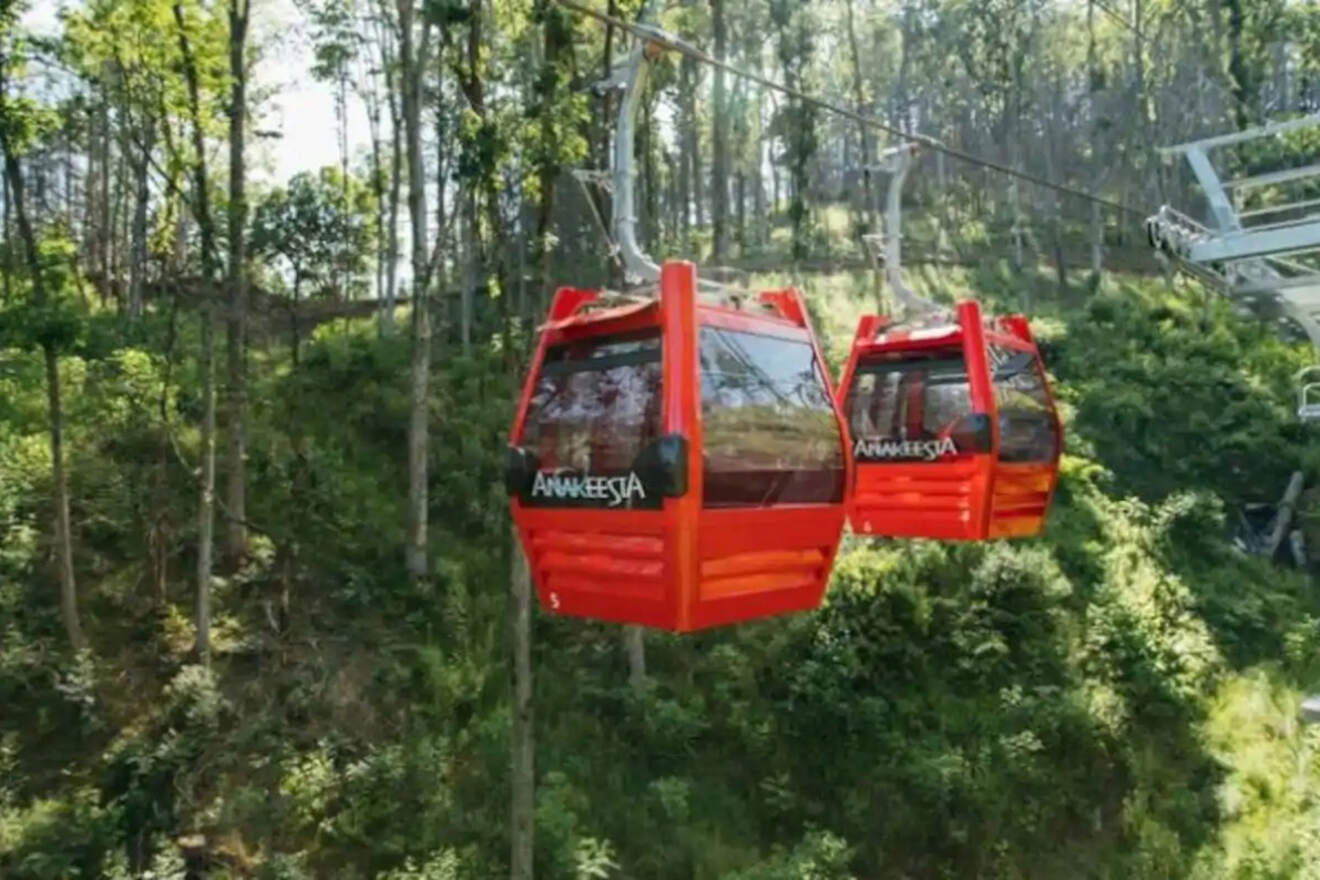 You'll definitely find an Airbnb Gatlinburg with a hot tub, but you're also guaranteed to have the most magical time in the friendly, slow-paced town. From cabins in the Gatlinburg mountains, lofts with views of the Great Smoky Mountains National Park, and luxury condos in the heart of the town.
For those traveling with the family and hoping to stay in a gorgeous villa that's close to downtown Gatlinburg, the best Airbnb is the Mountain Hideaway. It's a Superhost rental that is stylish and spacious, has enough parking, and features a hot tub.
I'd suggest staying at this Hillside Log Cabin if you're looking for a quiet time in nature while enjoying the beauty and view of nature. Both of these Gatlinburg cabins come with hot tubs.
To ensure you find a great Airbnb Gatlinburg, book ahead to avoid missing out on your dream rental. If you've ever been to this sweet town, let me know how your experience went, I'd love to hear all about it in the comments below.
Cabins in Gatlinburg are treasures. I hope my list helped you find a great little rental that steals your heart!