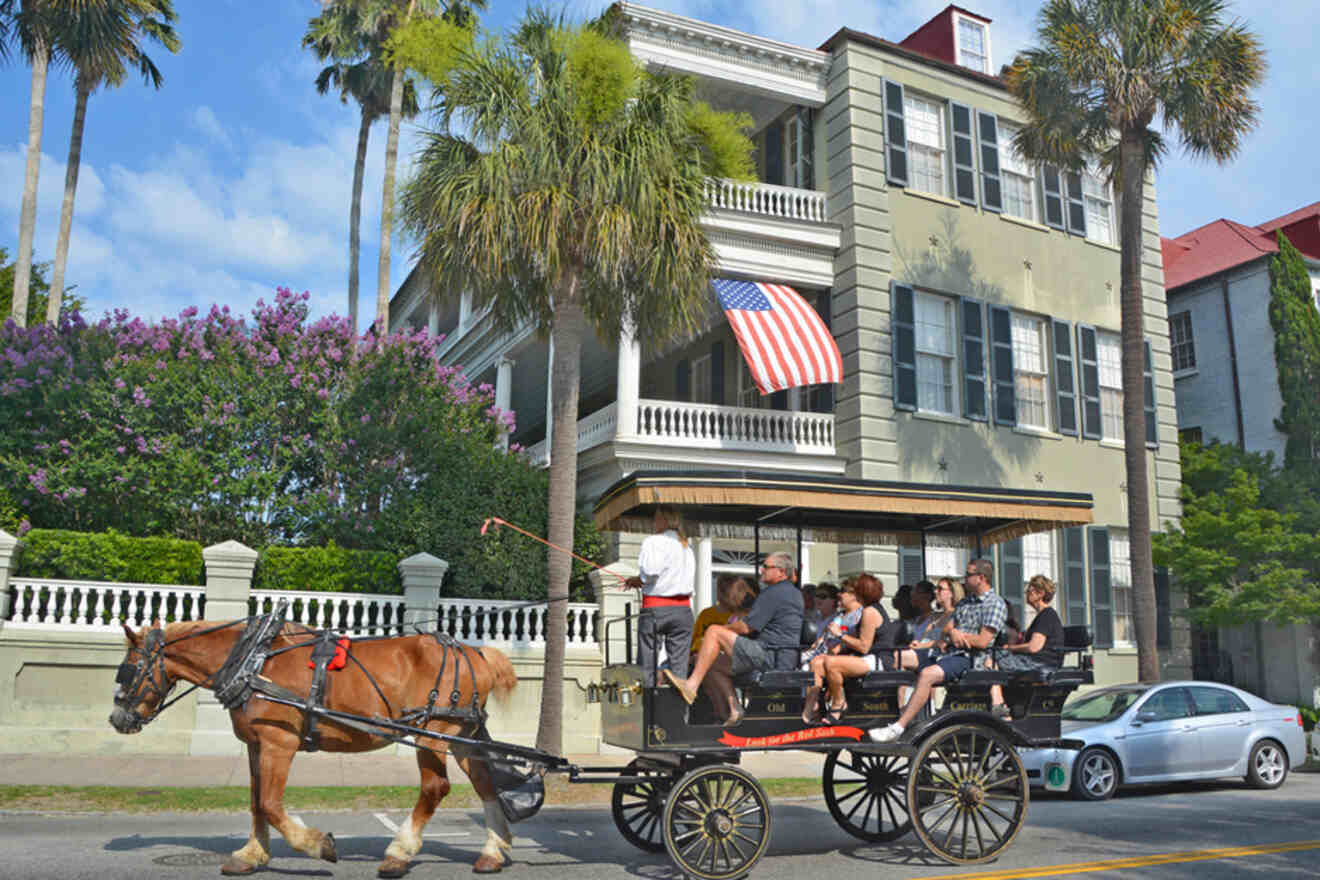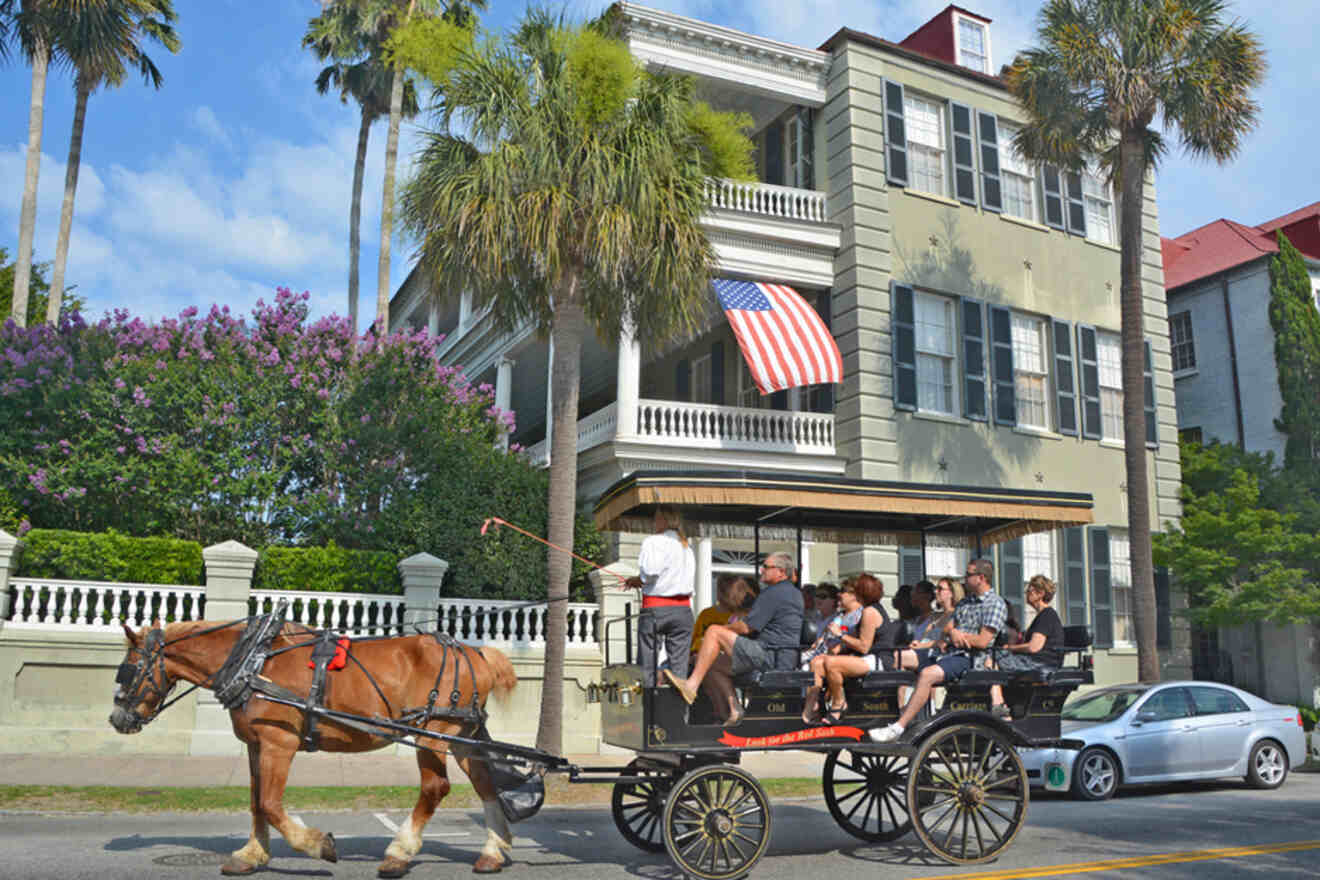 Charleston isn't only famous for its historical significance, spooky history, and captivating cemeteries, it's also well-known for offering unique and memorable carriage rides to its visitors. And if you want to embark on this experience, you should only choose the very best carriage tours in Charleston.
This city truly has every possible carriage tour option you can think of, from historical and spooky tours to evening, combo, and private options. And if you want to save money while traveling, fear not, those tours are very affordable!
Since I know how time-consuming investigating all of these tours can be, I decided to save you time and energy and compile the comprehensive list of the top carriage rides Charleston has to offer. I also included an awesome bonus of the other types of tours you can take while in Charleston.
I feel like I need not say how popular these tours are. After all, they are usually visitors' first choice. So I think it's smart to book ahead and save yourself from headaches.
Let's start!
If you are in a hurry
If you don't have time to read through the post, here are the best carriage tours in Charleston to book in advance:
1. Take a Charleston City Market tour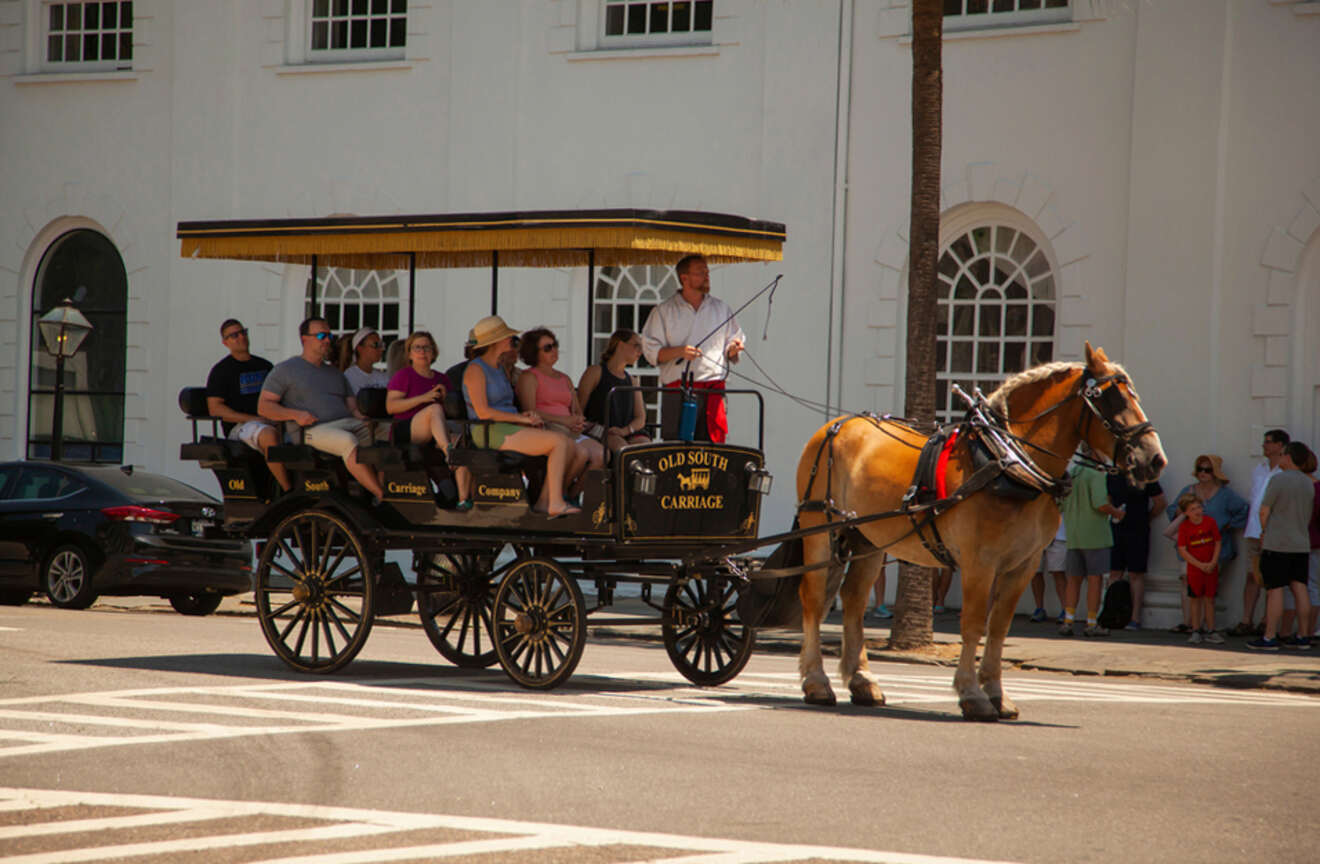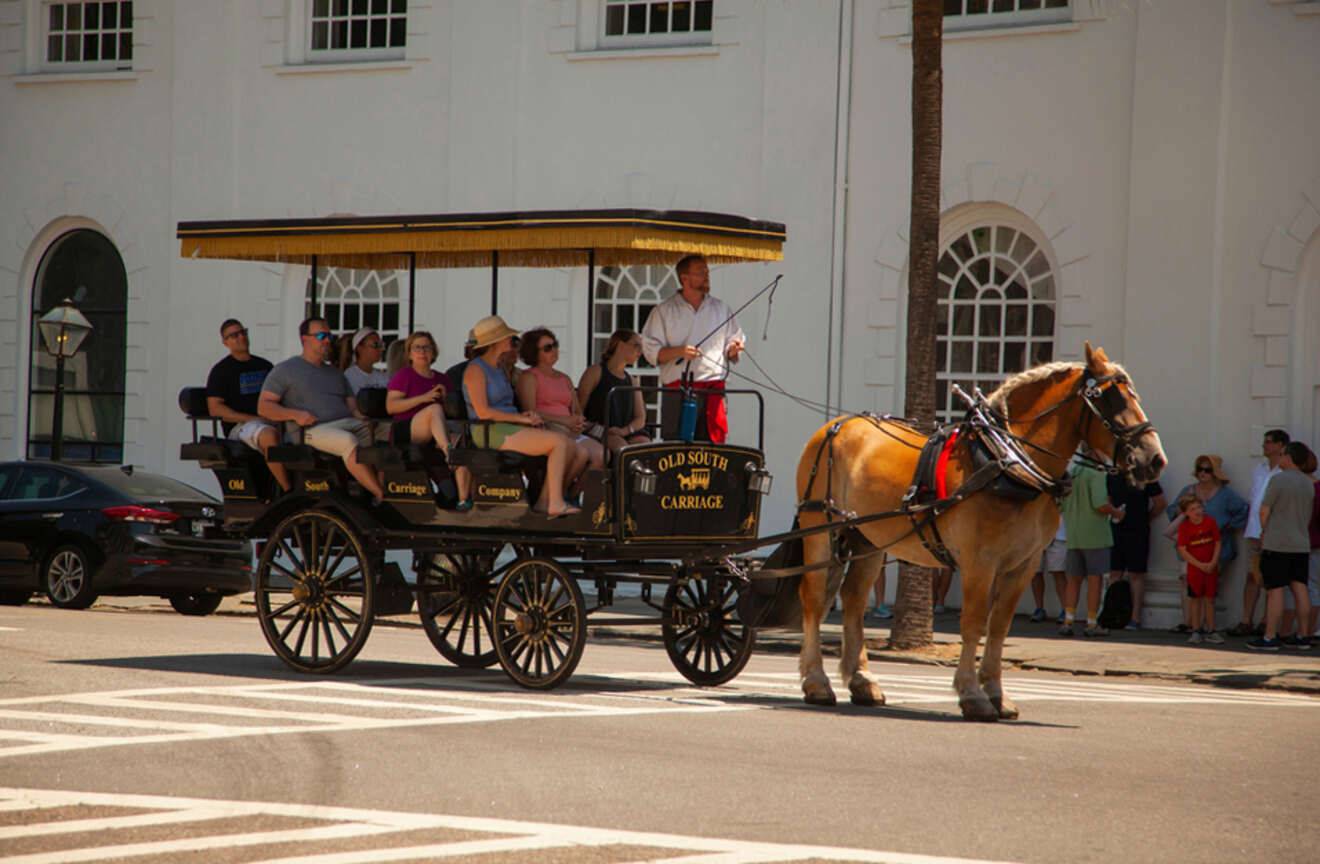 Duration: 1 hour
Price: from US$50
Why you should take it: the most popular tour
This delightful horse carriage ride will take you on a journey back in time and help you become a part of Charleston's history. It's offered by a well-respected Old South Carriage Company, a company that is known to provide splendid carriage tours accompanied by licensed guides.
In this fully narrated tour, you'll visit lush gardens, historic sites, and charming streets spanning 30 blocks of real estate. Along the way, you'll stop outside historic homes such as Gov. William Aiken's House. The carriage's loading platform is convenient – it's inclined, so you can get on easily. Plus, Old South Carriage Company offers an educational video for you to watch, and you'll have drinks and restrooms available.
You'll ride out from City Gate near the Market and follow a route assigned by the City of Charleston. There are lots of church steeples around there, too, no wonder they call it "Holy City."
2. Explore Charleston on a family-friendly carriage tour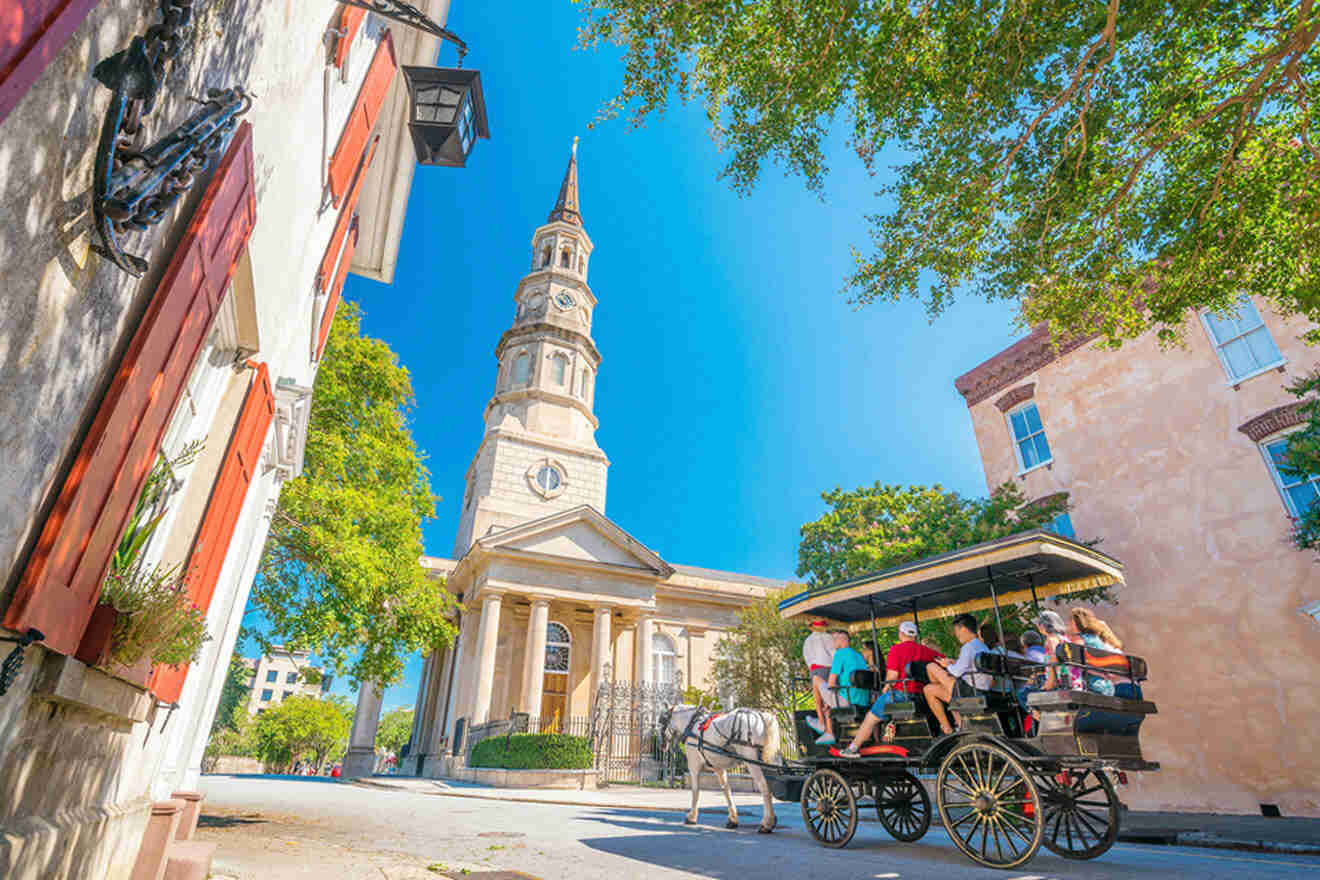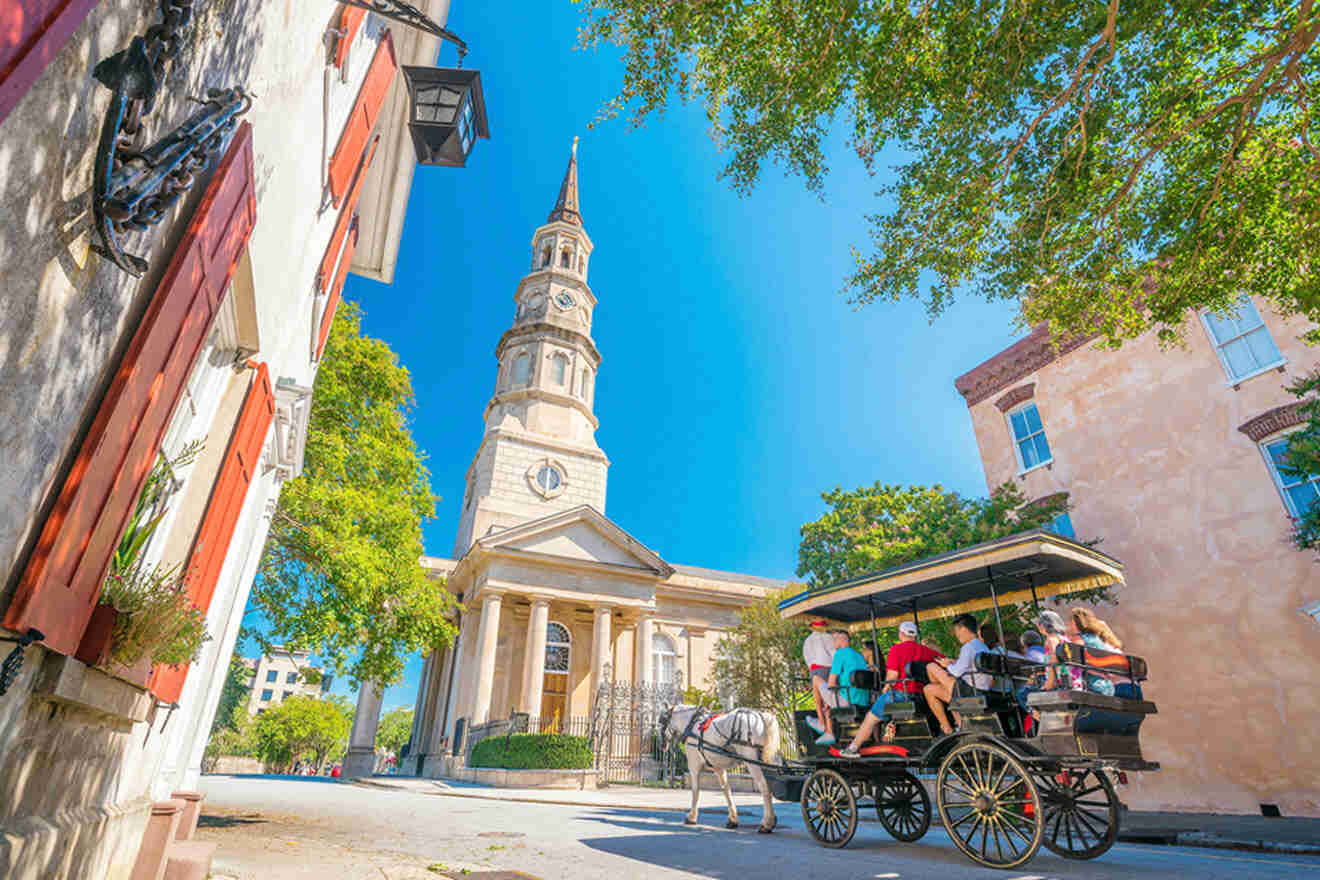 Duration: 1 hour
Price: from US$50
Why you should take it: perfect for families, departs every 30 minutes
This tour will take you on a ride of a lifetime with your little ones to experience the magic of Charleston, a city that oozes culture, class, and charm. You'll explore Charleston Harbor with picturesque views and century-old homes that have been kept in great shape by the residents, with your tour guide providing historical insights along the way.
This tour operator's horse carriages are lighter and more comfortable than most, making it an enjoyable experience for both rider and passenger! It's only 1 hour long, so it's only convenient if your kids have a short attention span and get bored easily. And it departs every 30 min, so you can easily fit it into your schedule.
When you return to your cozy hotel, you might feel a bit tired, but trust me, your brains will be bursting with new knowledge, and your hearts full of unforgettable memories.
3. Tour Charleston's Historic Downtown District
Duration: 1 hour
Price: from US$50
Why you should take it: oldest carriage tour company tour
With this tour, you'll enjoy a ride down Charleston's Historic District with Palmetto Carriage Works, the oldest among the Charleston carriage tour companies.
The tour starts at Big Red Barn, where your horse-drawn or mule-drawn carriage will take you to dive into the city's historic district! You'll be guided by a knowledgeable local, who will regale you with fascinating stories about iconic landmarks, churches, buildings, and everything in between.
The tour is packed full of amazing sights as you follow a route that weaves through some of the finest mansions and gardens Charleston has to offer. Find out about all sorts of fascinating events that shaped Charleston's dramatic history through time, so in a way, you'll also get a Civil War tour. Finally, your enchanting journey concludes where it began – at The Big Red Barn, where you hop off feeling enriched with newfound knowledge of the old walled city!
4. Embark on a Charleston history tour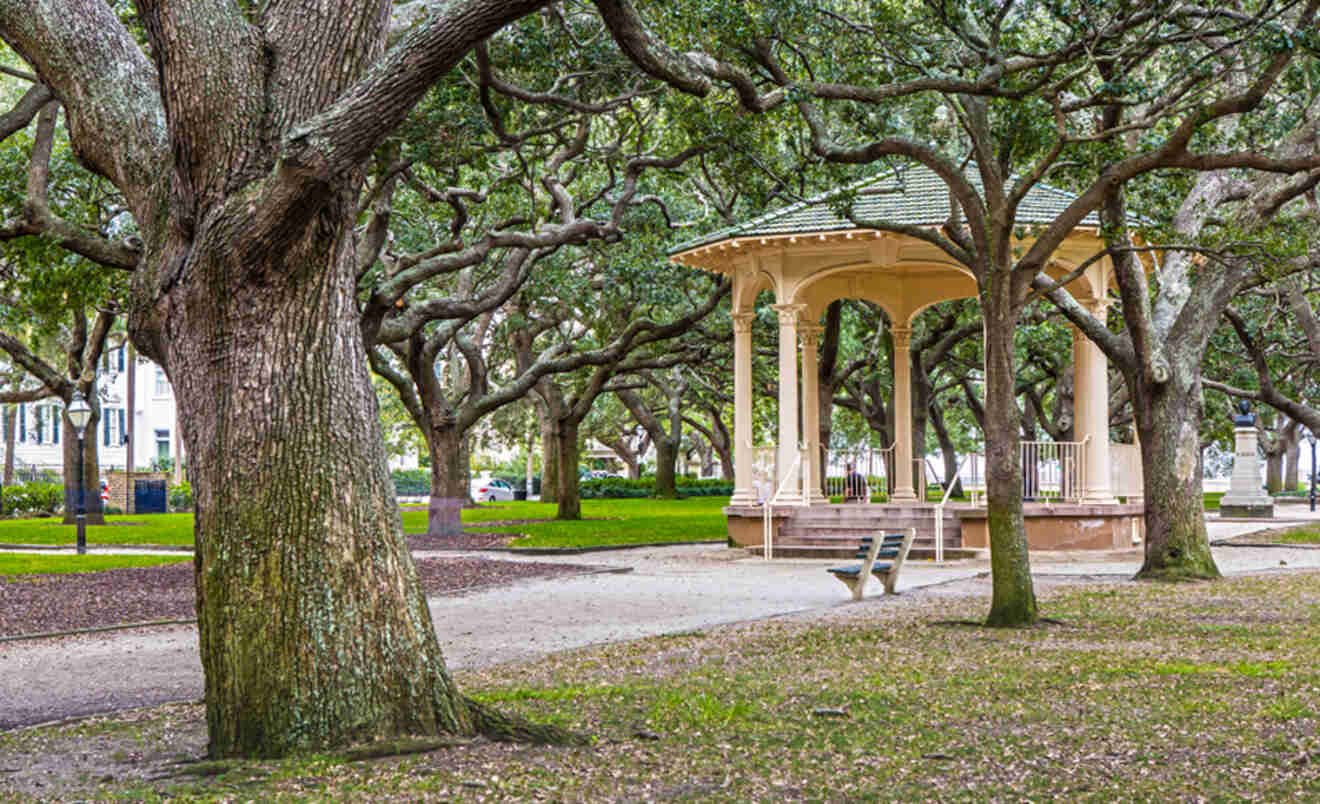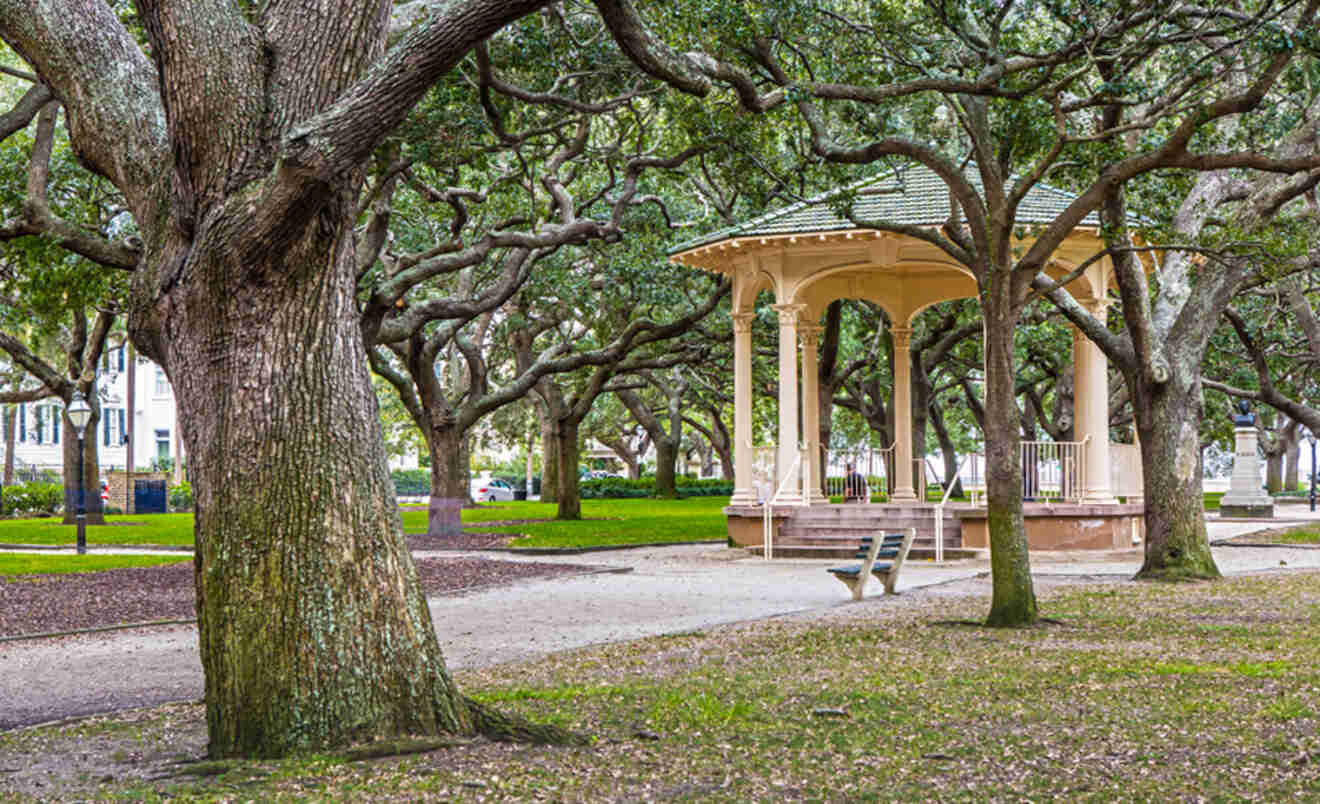 Duration: 1 hour
Price: from US$45
Why you should take it: several tour routes offered
If you are visiting Charleston and want to explore its rich history on a horse-drawn carriage tour, I have an exciting tour option for you. It lets you choose your own route and consequently learn about the part of history you're interested in the most.
All routes will start and end in the commercial district, a convenient spot from which you can plan your next Charleston adventure. Depending on the route you choose, you'll have a chance to see breathtaking sights such as White Point Gardens, nicknamed "The Battery," Rainbow Row's colorful houses, Nathaniel Russell House, or St. Philip's Church, among others.
The admission tickets for the stops are free for all, and each visit lasts from 5 – 10 minutes (again, it depends on the route). The tour will have a maximum of 16 travelers.
5. Travel back in the past on a haunted history carriage tour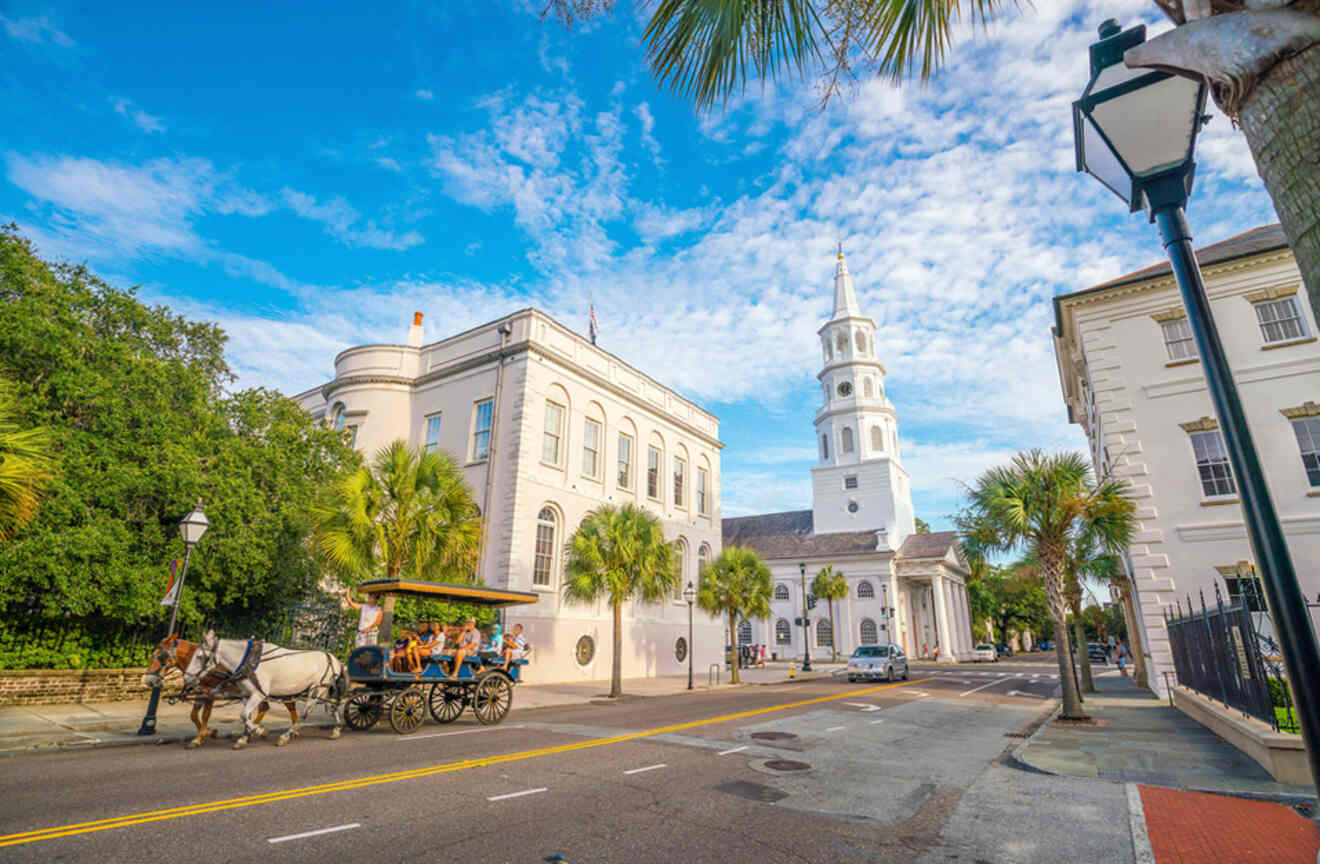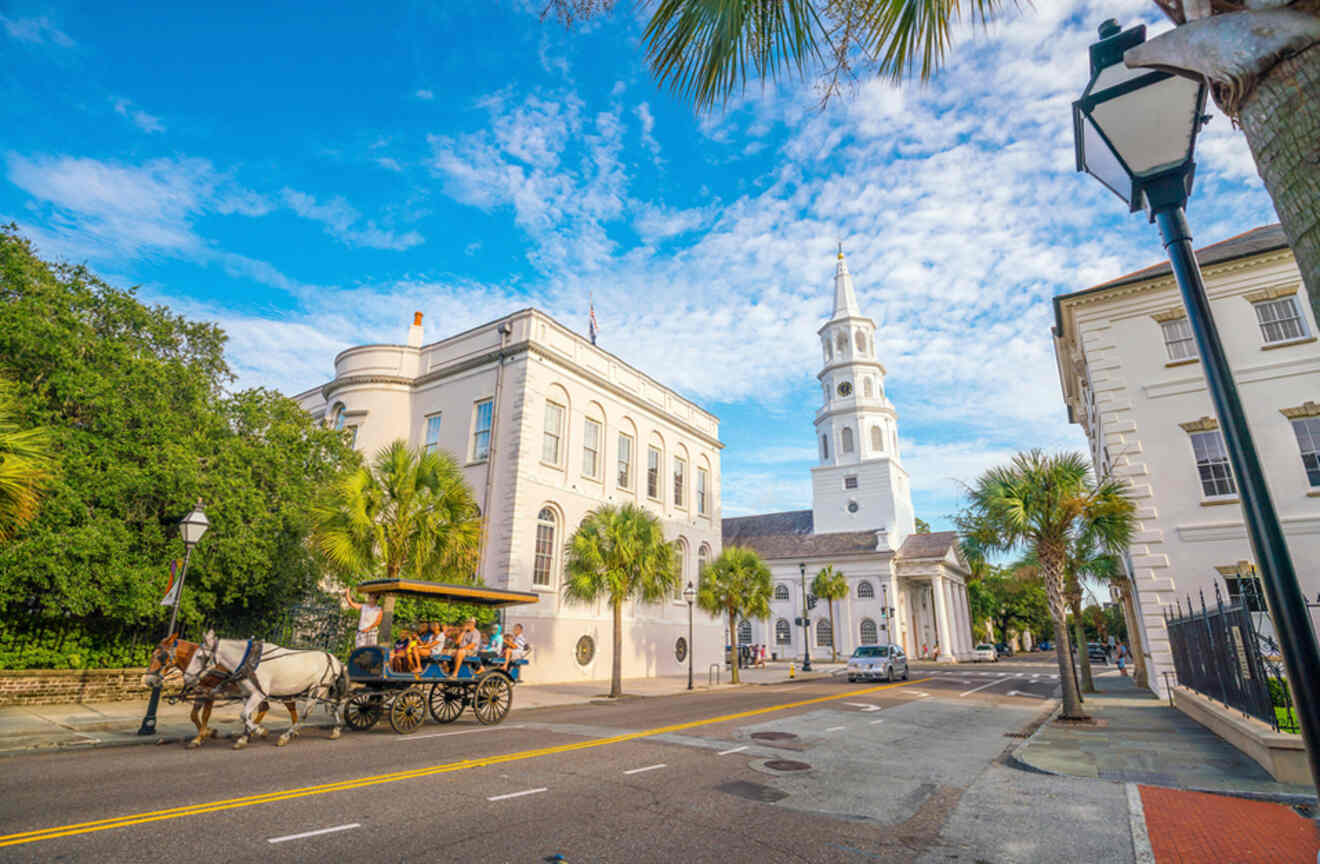 Duration: 40 min
Price: from US$50
Why you should take it: ghost-themed carriage tour
Get ready for a hair-raising trip through Charleston's haunted history with this haunted carriage tour! Your expert guide will take you on an exciting journey through the city's most mysterious places, where villains and pirates once roamed.
You're going back in time over 300 years, together with your guide, who will lead you through Historic Charleston. You'll discover incredible landmarks like the creepy Circular Congregational Church and Graveyard, bustling Charleston City Market, and beautiful St. Michael's Episcopal Church.
You'll hear thrilling stories about the infamous pirates and daring criminals who once called Charleston home, and you might even get to see some ghostly appearances yourself. They are said to still roam around the city. You're in great hands as all of the tour guides are part of the highly esteemed Palmetto Guild, for which they had to pass a comprehensive examination of Charleston's history.
6. Enjoy an evening carriage tour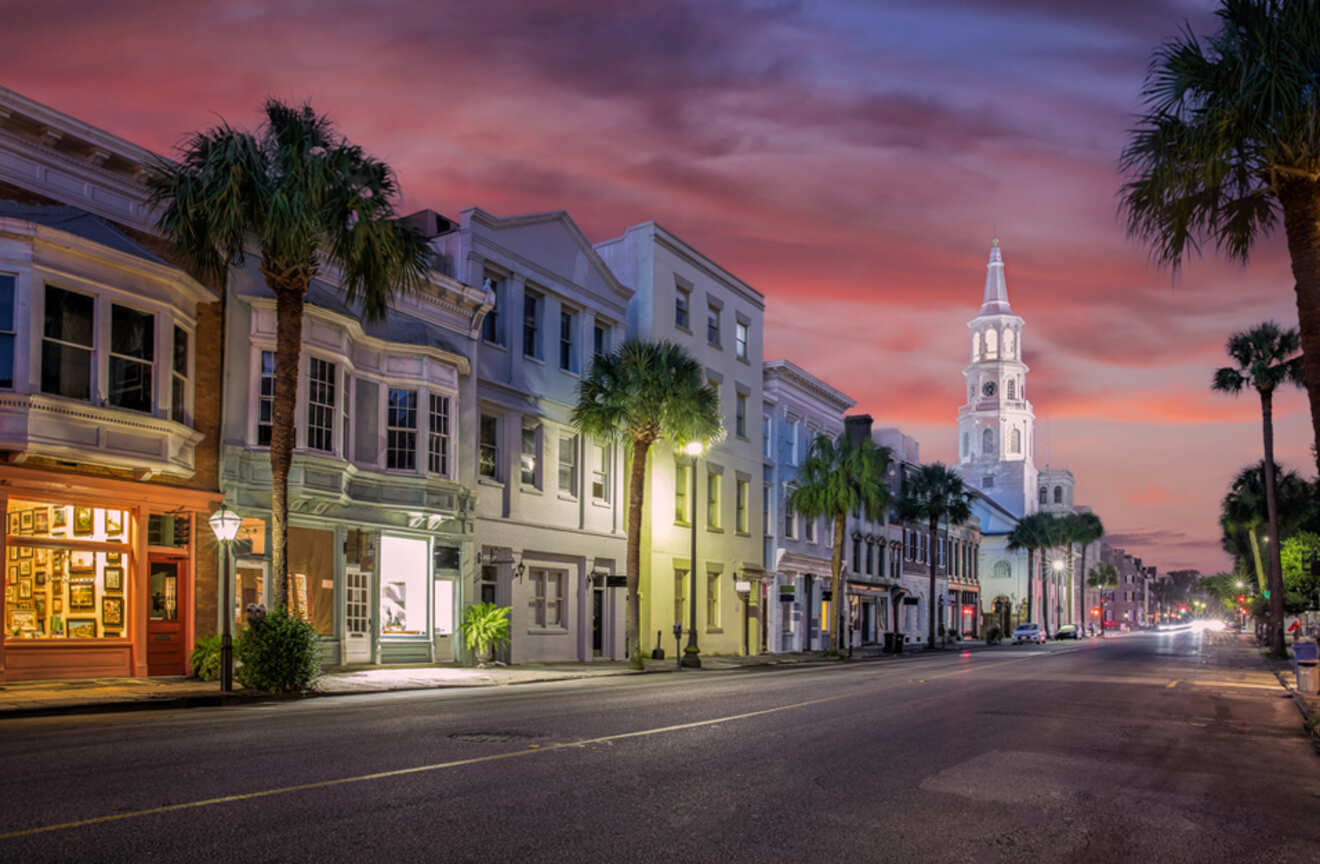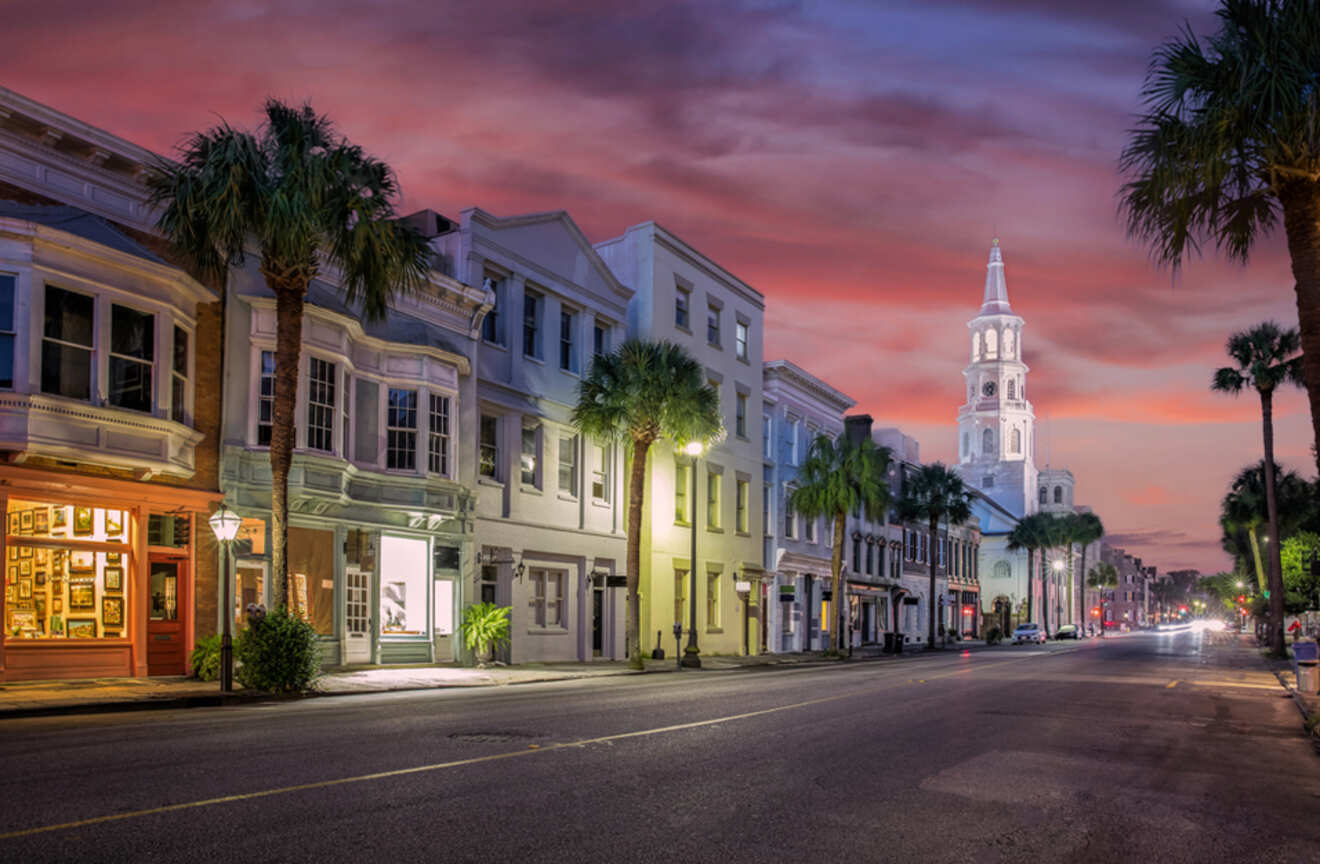 Duration: 35 min
Price: from US$45
Why you should take it: great if you're short on time
I don't know about you, but evening tours are my favorites. They provide a unique perspective of the location and have a calmer atmosphere overall. And this short night carriage tour is exactly like that. You'll see famous spots like the Charleston City Market and Old Walled City while learning all about the people behind them.
But it's not all history – you'll also pass by modern landmarks like Cooper River Waterfront Park that show how Charleston has transformed into a thriving community.
And if you're an animal lover like me, you won't want to miss a visit to The Big Red Barn at 8 Guignard Street before or after your tour. You'll get to meet the well-treated horses and mules that will be pulling your carriage and learn more about their training and welfare program.
Everyone can join in on this adventure – the company makes it easy to load up the carriage, plus there's limited mobility accessibility.
7. Immerse yourself in a private carriage tour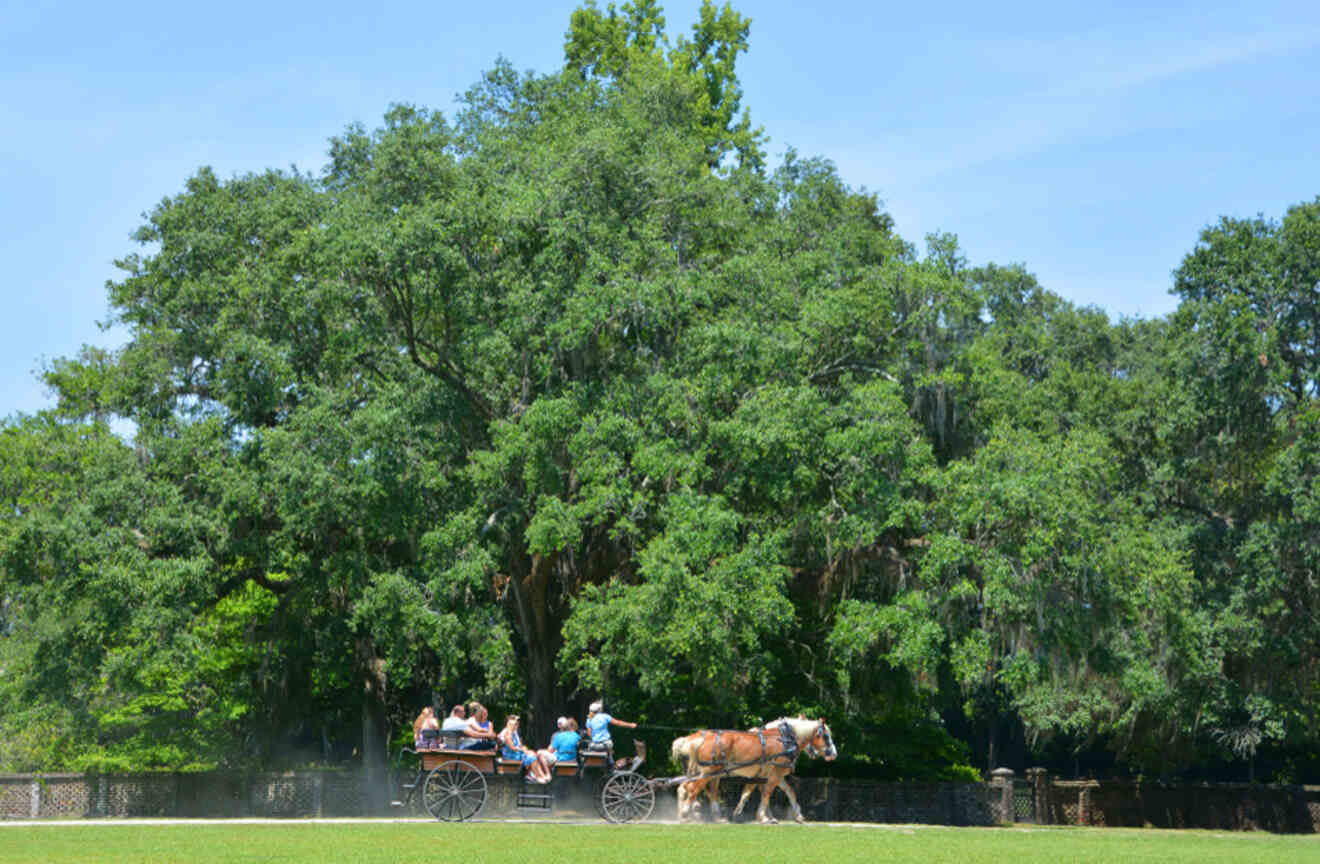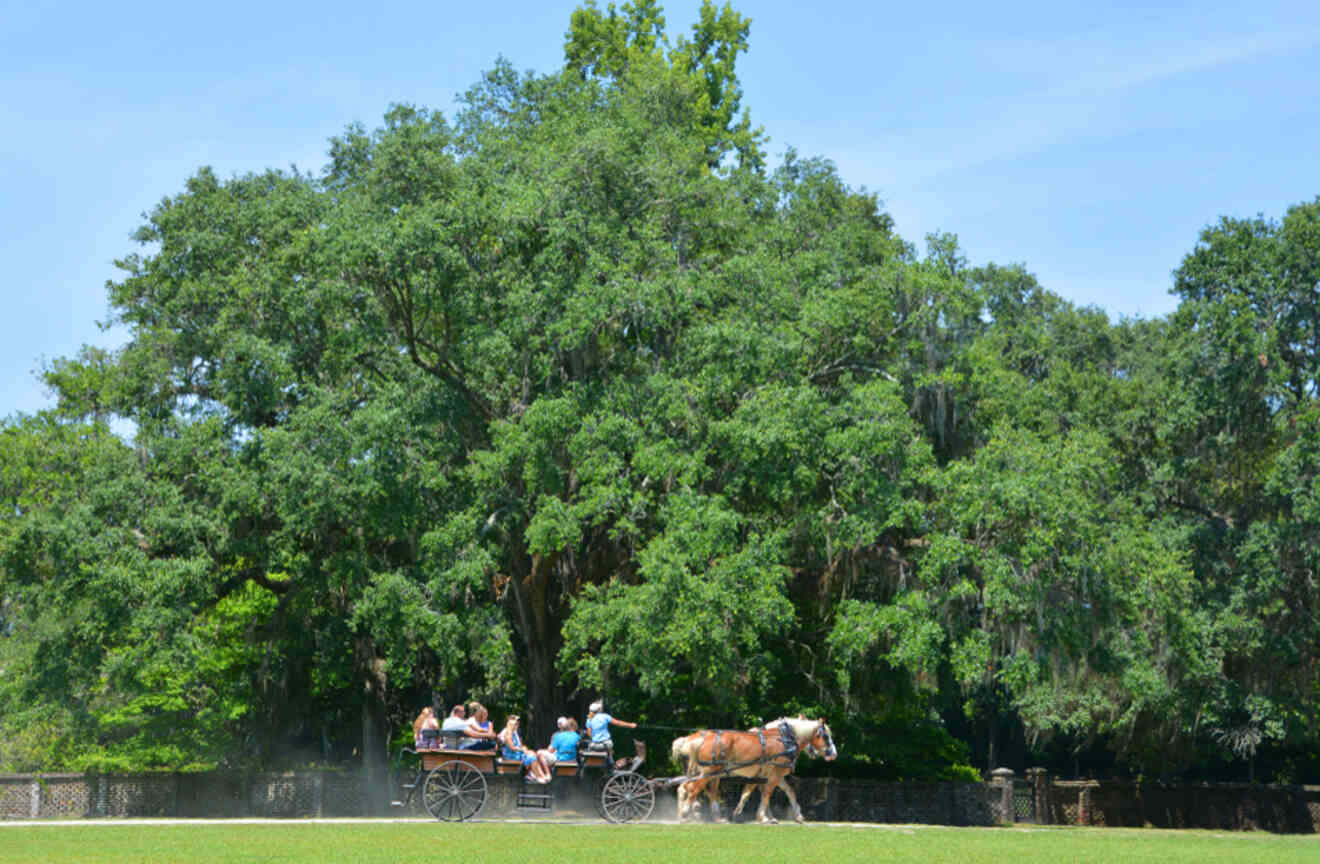 Duration: 30 min or 1 hour
Price: from US265
Why you should take it: for a personalized experience
Charleston is a beautiful place to be, and I want your experience to be unforgettable! And one of the ways this can happen is to take private tours just for you. Don't miss out on the chance to explore Charleston like no other.
With this exclusive carriage ride, you'll get a more personal feel of the "Holy City." You'll have a tour guide all to yourself who will show you around, keeping your interests in mind. Customize how long you'd like the tour (30 mins or 1 hour) and choose between day or evening options.
But wait, there's more! Feel like a VIP with an exquisite private tour offered by Carolina Polo, where you can cozy up in an enchanting carriage that has 2 benches facing each other, perfect for enjoying your privacy while discovering Charleston.
8. See Charleston's attractions by land and sea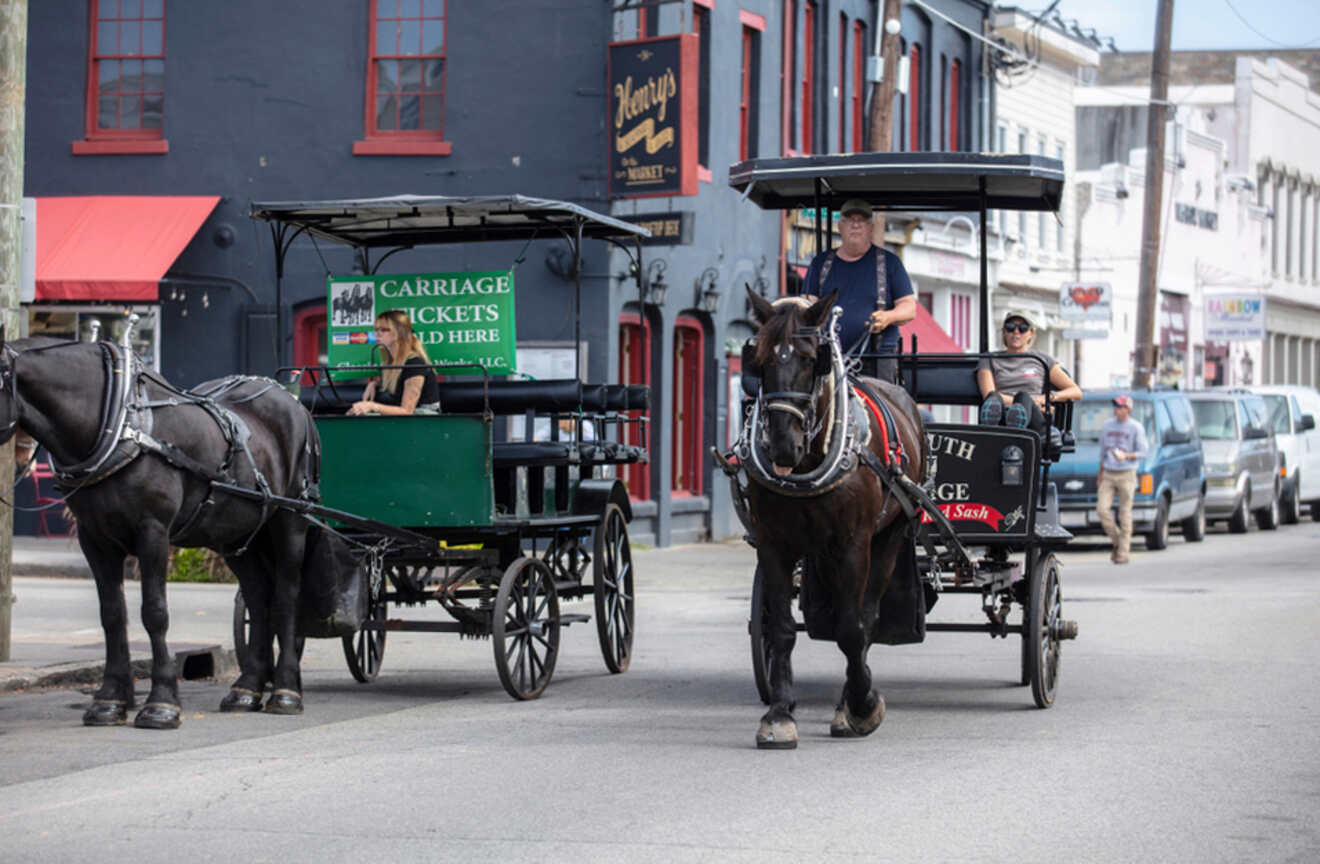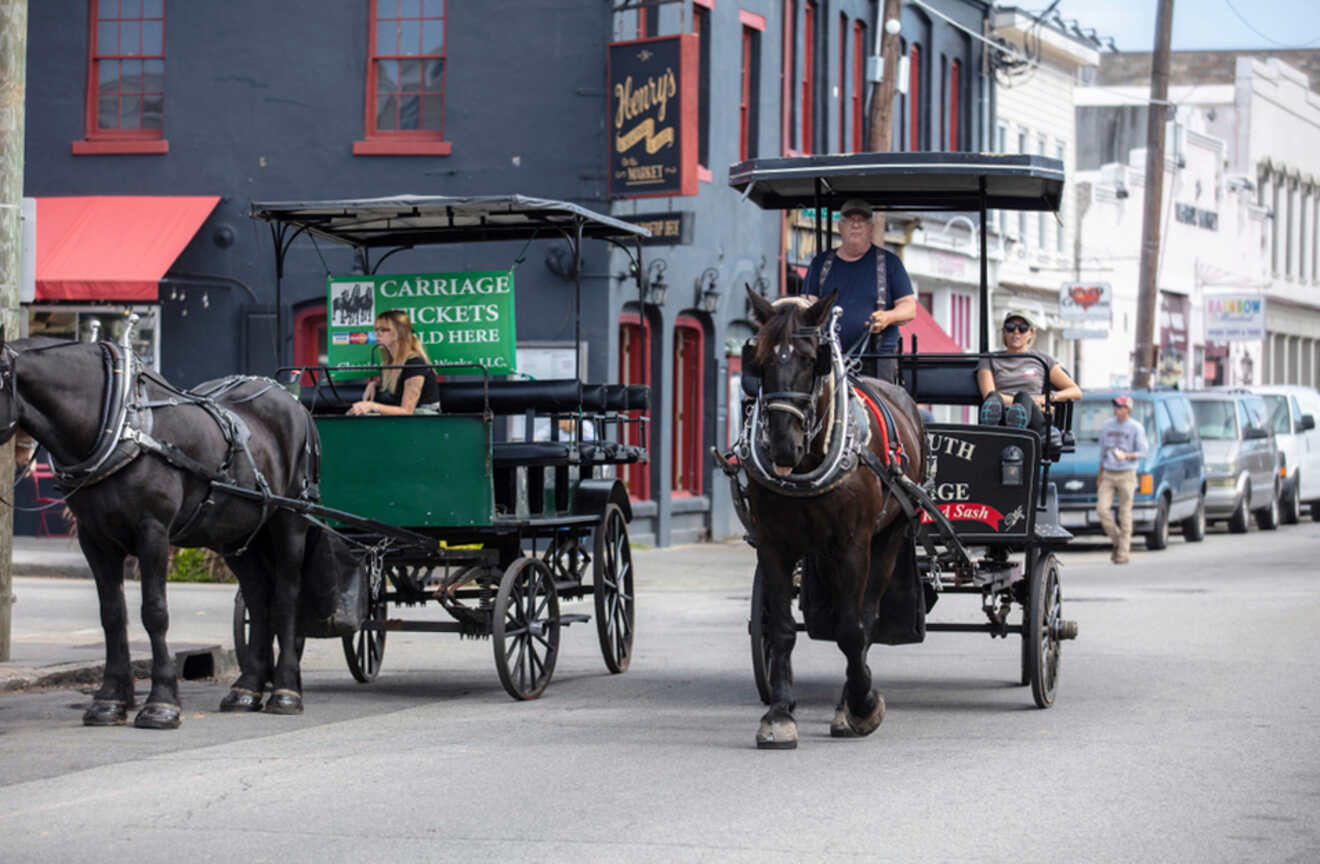 Duration: 1 hour
Price: from US$80
Why you should take it: it includes a boat ride
If you're looking to have a blast in Charleston, why not seize the day and explore all it has to offer by land and sea?
The adventure will begin with the carriage ride through Charleston's historic district in a fancy Vis-à-vis carriage. Of course, no ride would be complete without the tour guide who can share every little juicy detail about the city's famous landmarks and its people.
And that's just the beginning! This tour will continue on a Charleston Harbor Tour boat. You have 3 departure times available to choose from, so it's convenient, and you'll be able to customize it according to your schedule.
You'll go on an epic voyage through Charleston Harbor. Your knowledgeable guide will make sure this adventure is unforgettable, and you'll get to educate yourself about the stunning skyline views, impressive architecture, and tales of maritime history and ecology!
9. Visit Boone Hall Plantation and more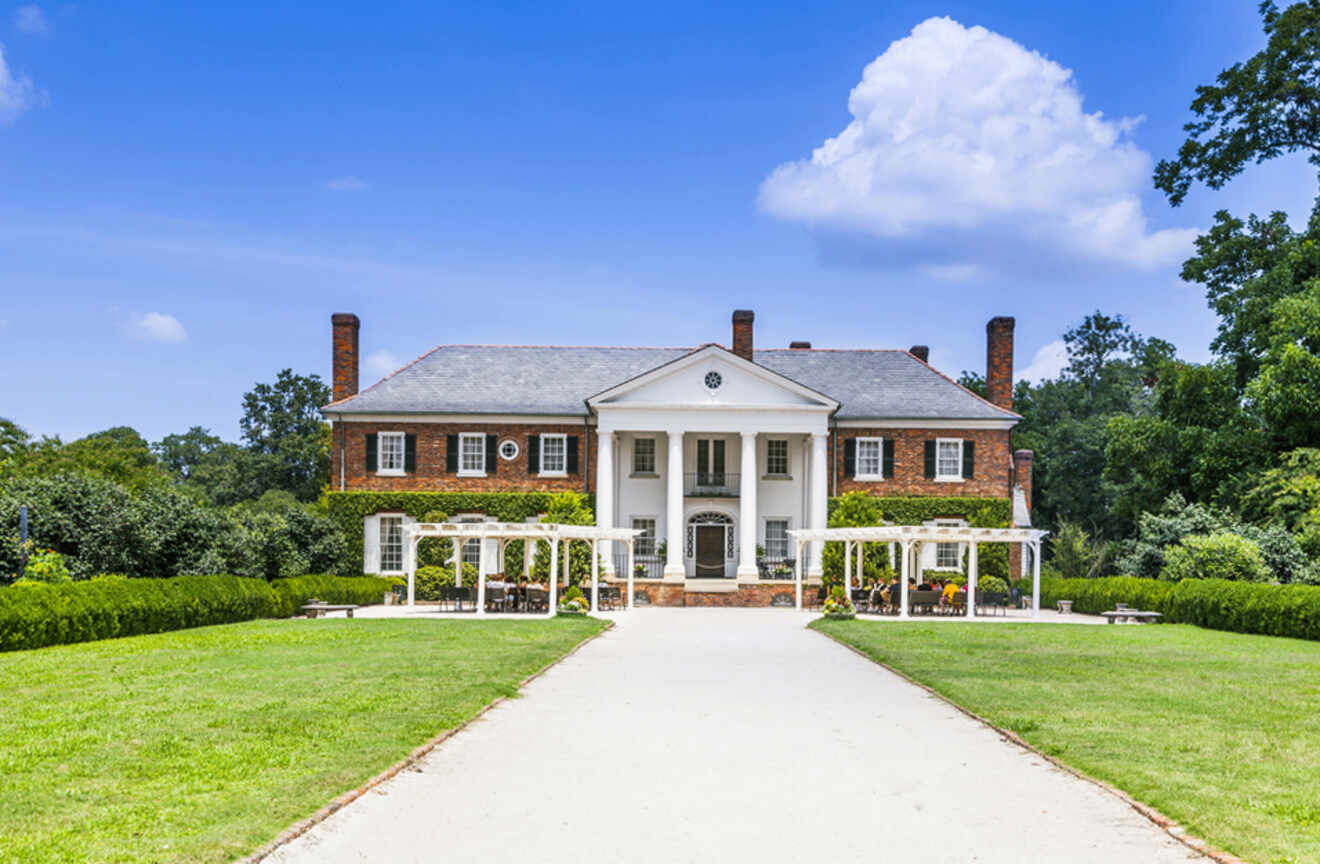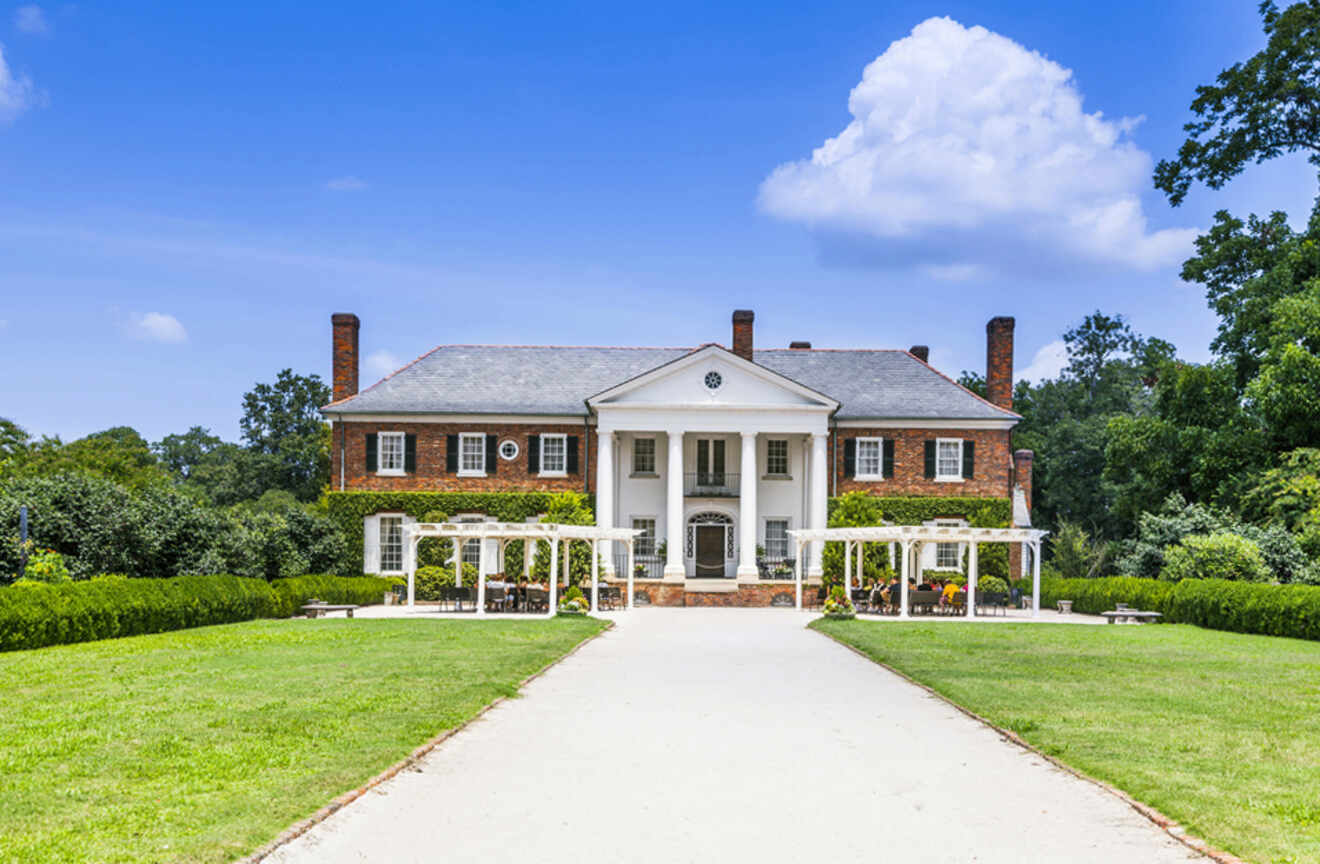 Duration: 1.5 hours
Price: from US$100
Why you should take it: 3-combo tour
Get ready for an unforgettable adventure with this combo tour, where you'll get to enjoy 3 amazing attractions in a single day. You'll start with the Charleston Harbor boat tour aboard the classic Carolina Belle and see over 75 landmarks, including Fort Sumter and USS Yorktown. You'll get to witness dolphins, and pelicans dance along the water's edge.
Next, a relaxing carriage ride, where you'll learn about Charleston's fascinating history mixed with some witty humor from the licensed tour guides.
And the star of the show is the visit to America's most photographed plantation, Boone Hall Plantation. You'll get to explore the historic mansion, smokehouse, and other areas where TV shows and movies like The Notebook have been filmed.
One important note though: food and drinks aren't included in this offer, so bring cash to buy snacks or meals from the snack bar on board the Carolina Belle or at Boone Hall Plantation when hunger strikes!
BONUS: Top Charleston tours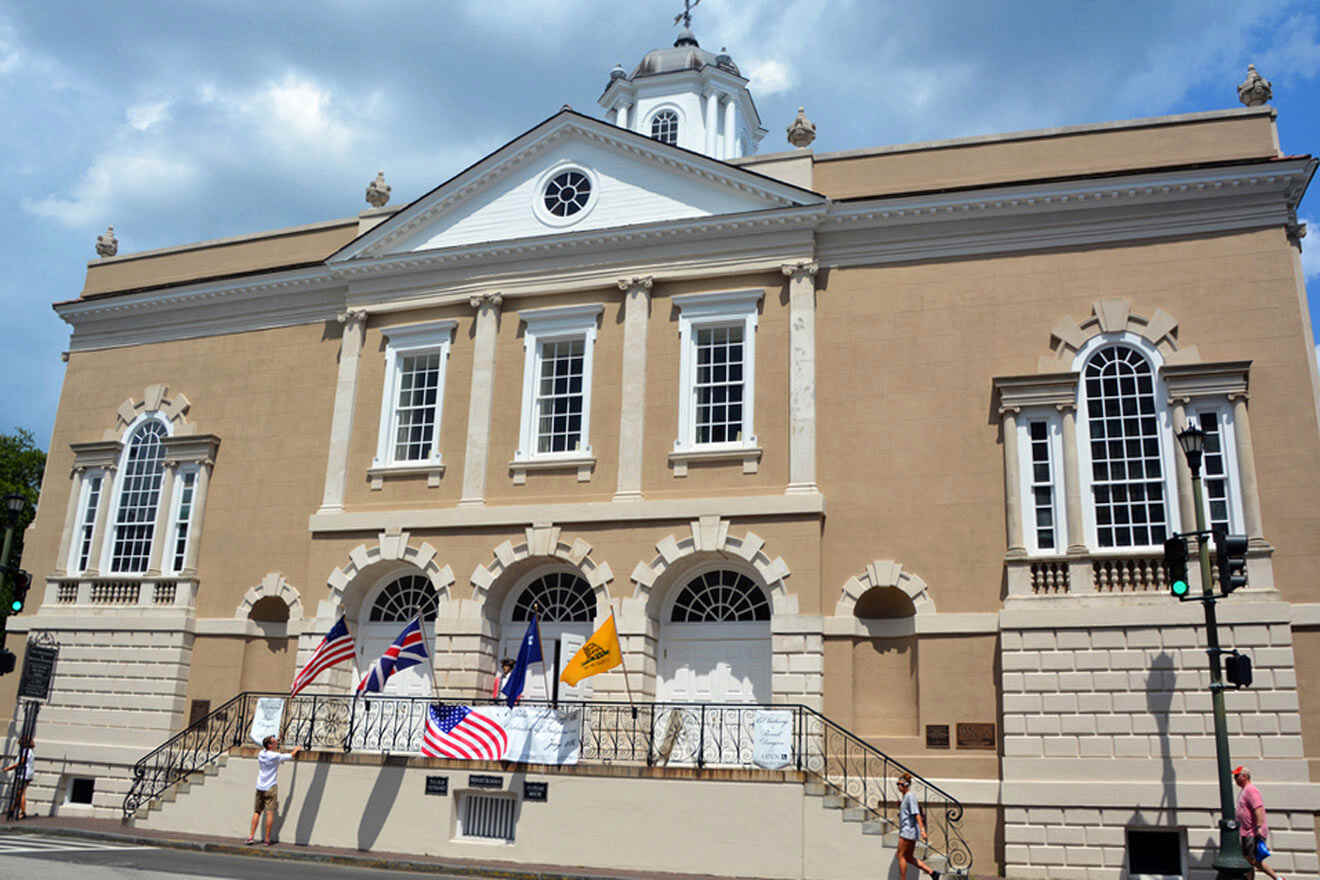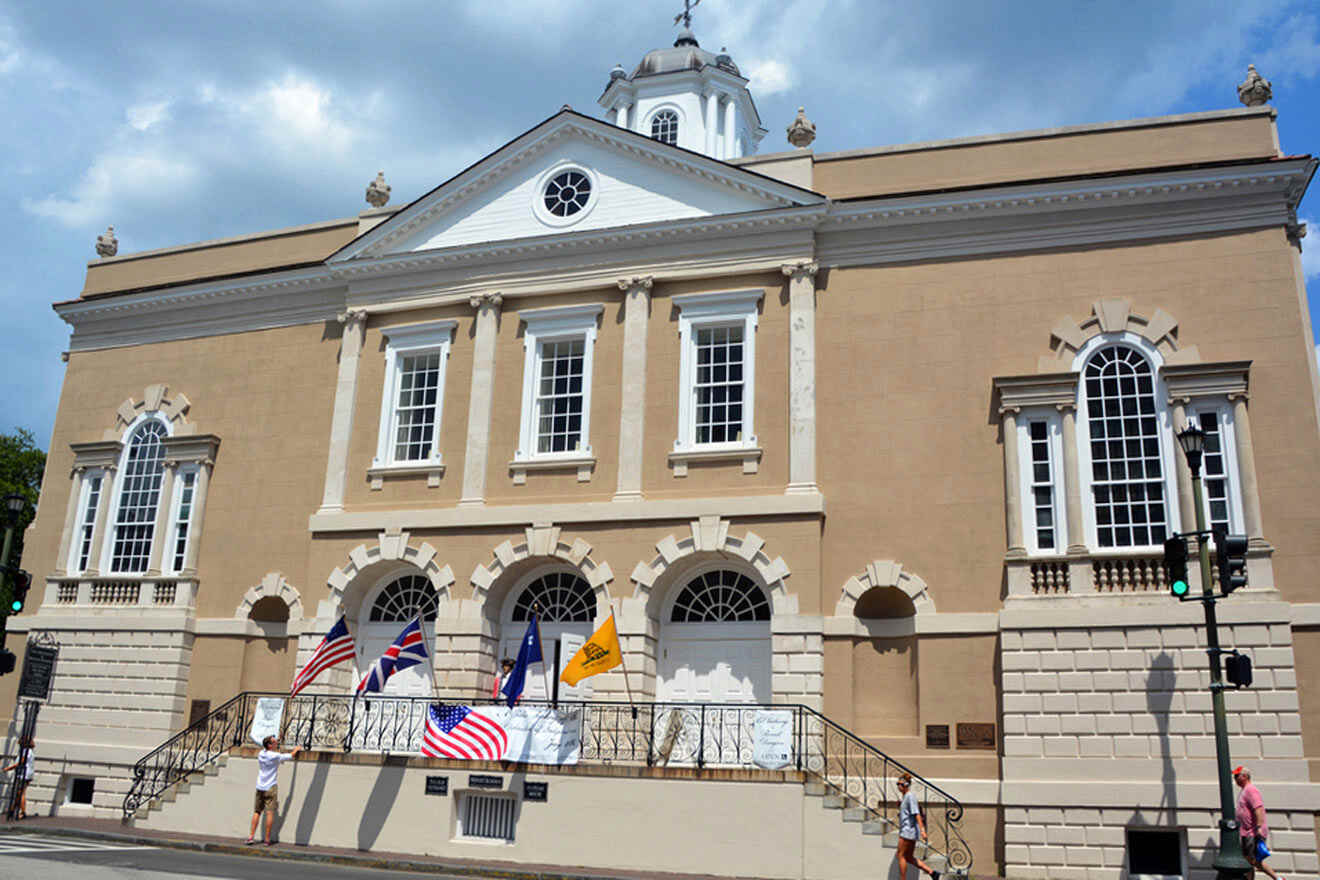 Take an awesome boozy tour – Come along for a lively guided tour that will give you all the feels of the Prohibition era. You'll take off on an adventure that mixes history with some boozy bar hopping. As you hop from one bar to another, you'll get to taste some absolutely delicious cocktails that would make even Al Capone drool. You'll be sipping on your drinks and having a blast like there's no tomorrow.
Go on a Wadmalaw Island trip – from breathtaking natural wonders to delicious treats for your taste buds, this tour has it all! You'll visit Angel Tree Park and get to see the magnificent 500-year-old Angel Oak Tree! Next, you'll head towards Charleston Tea Garden. Hop on the trolley for an interactive ride through state-of-the-art greenhouses, where you will discover how tea is made while sampling some delicious brews.
Explore the Provost Dungeon – Looking for a hair-raising adventure? With every step, you'll uncover bone-chilling stories of spirits and beliefs that will keep you on edge. And what eerie adventure would be complete without visiting Provost Dungeon, where prisoners of war were held captive? Brace yourself as you'll also check out The Old Exchange building, where American revolutionaries, enslaved people, and British soldiers were all locked up.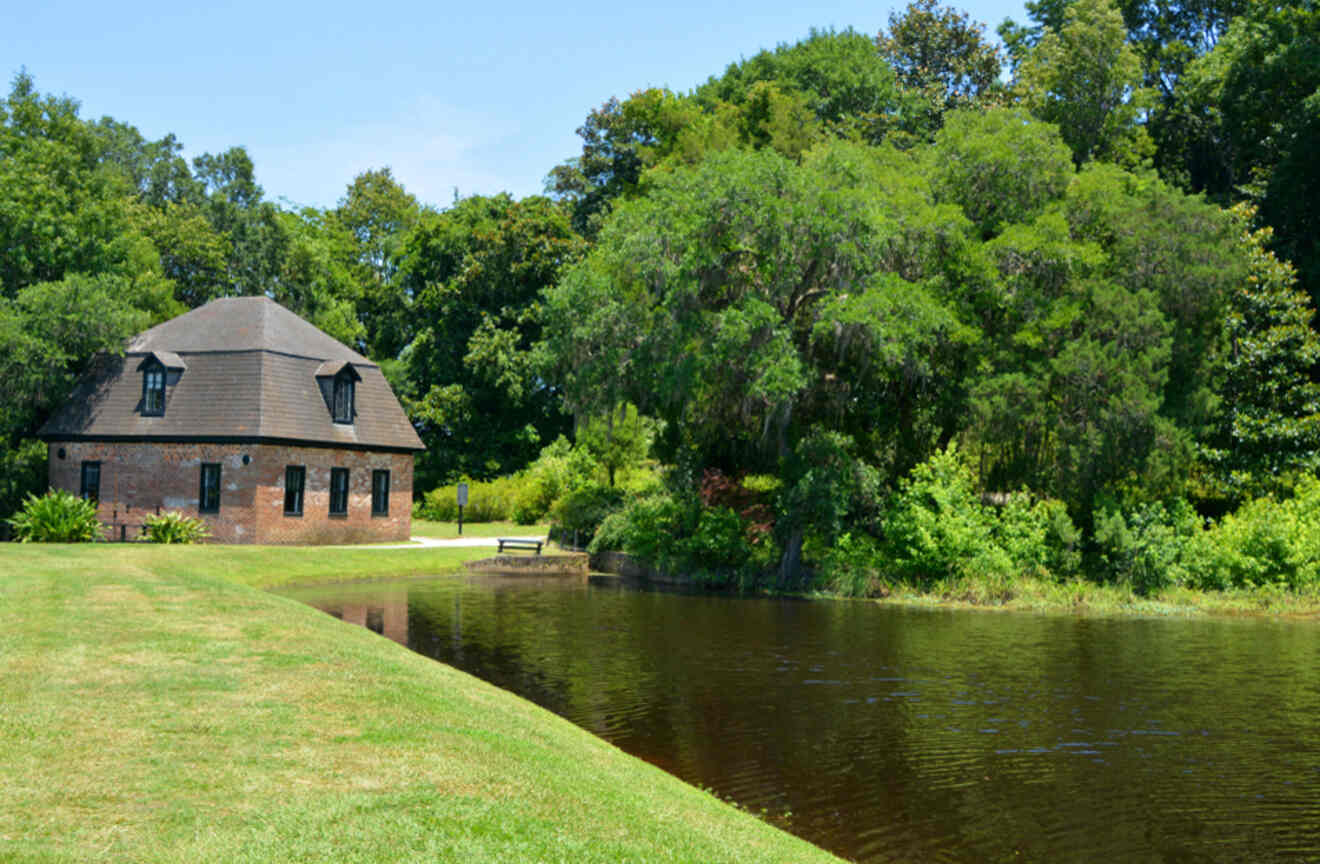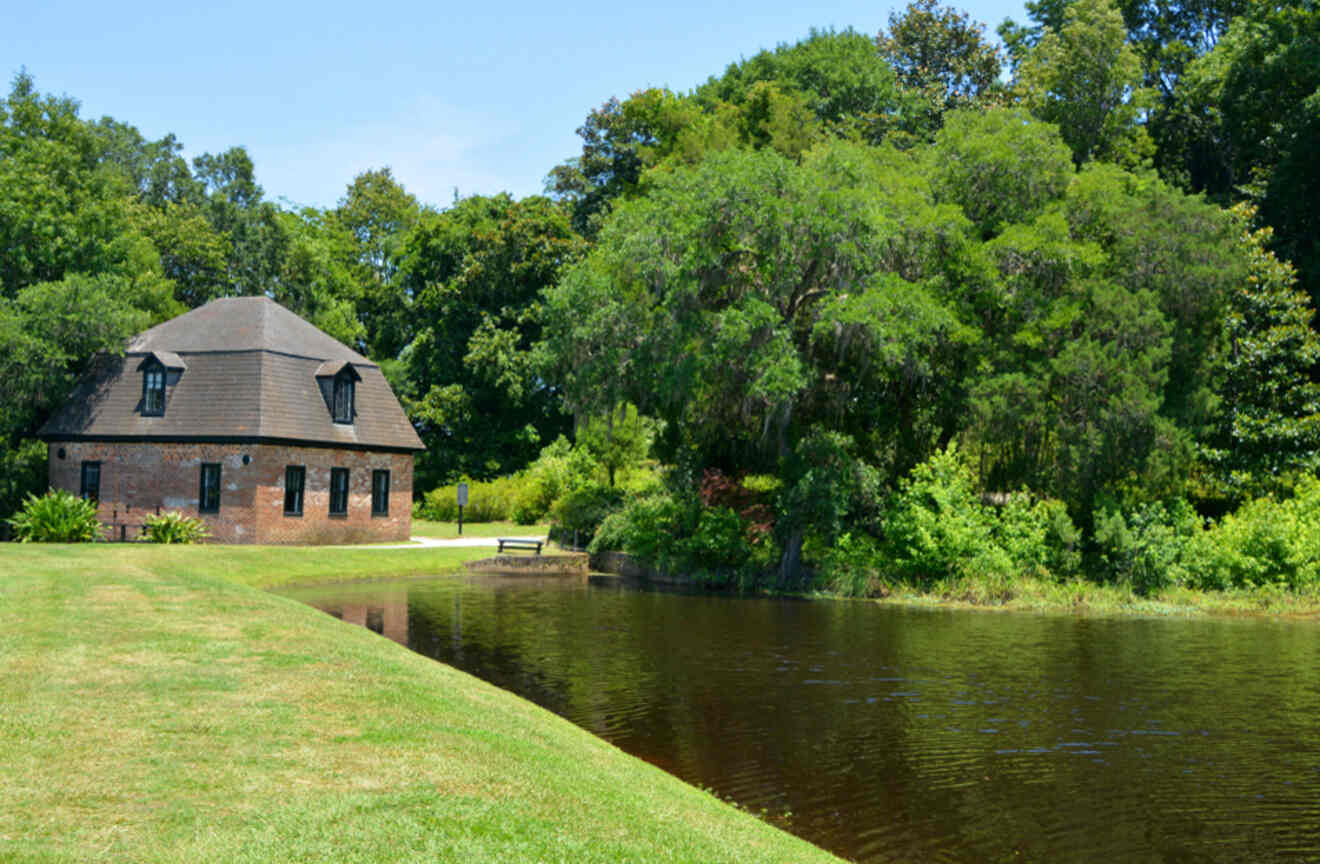 FAQs about the best Charleston carriage tours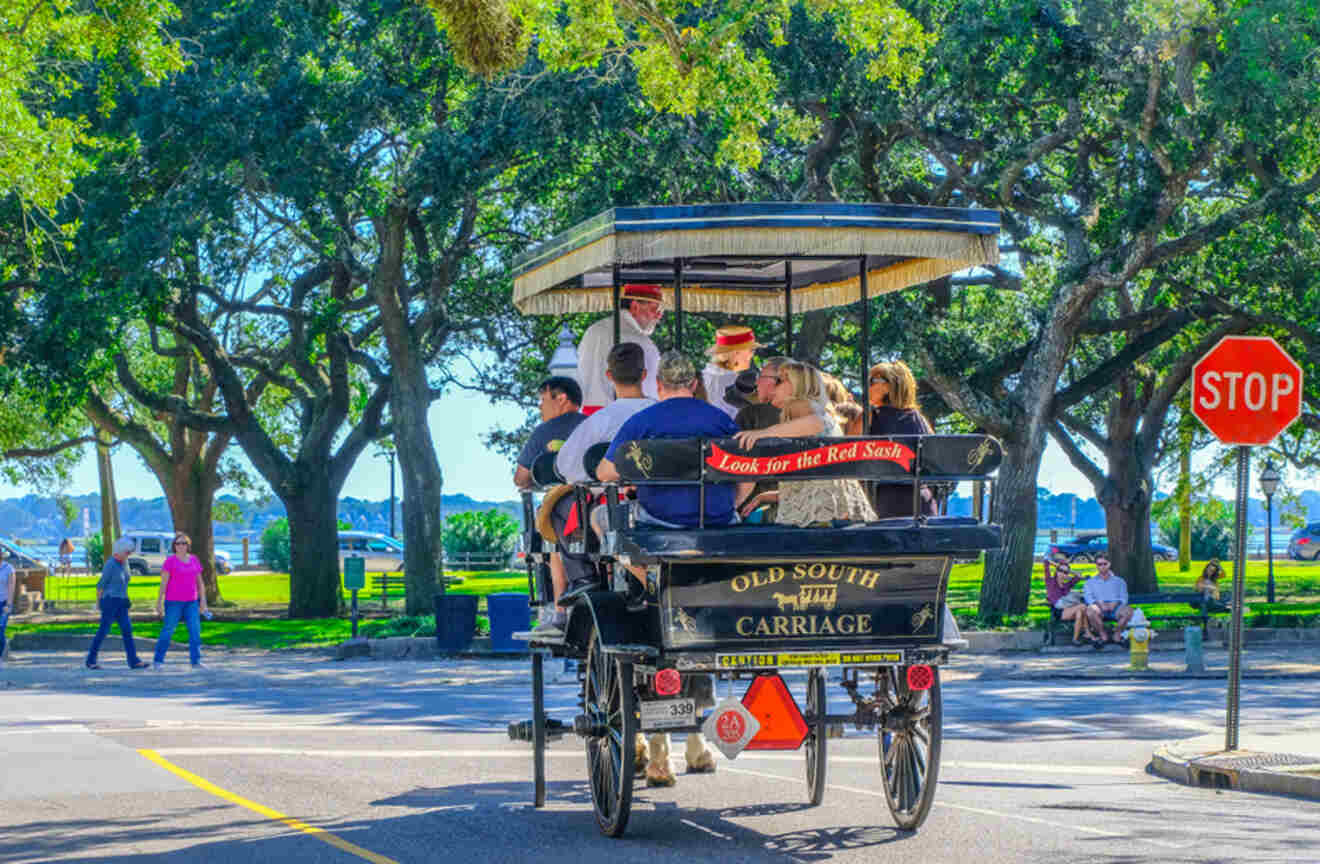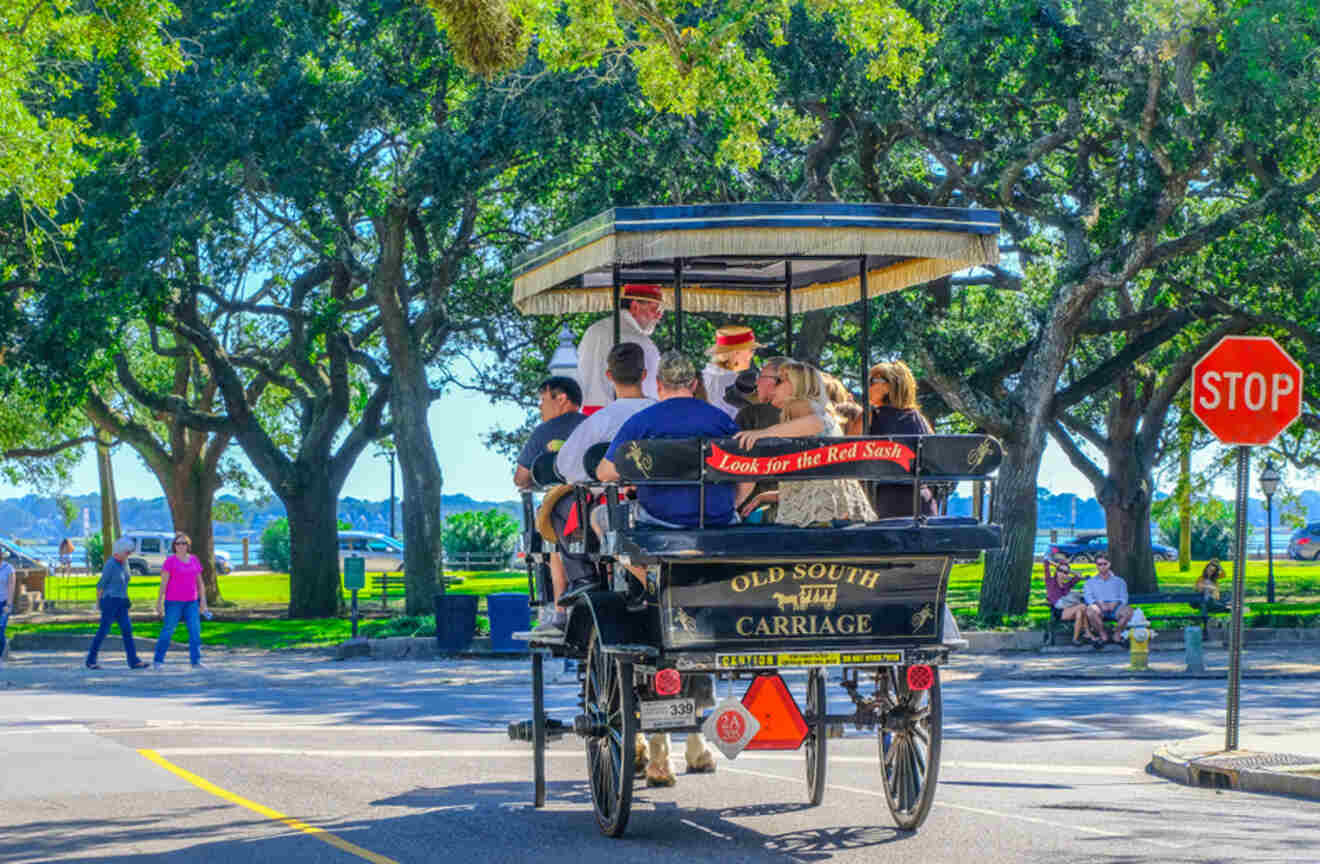 Conclusion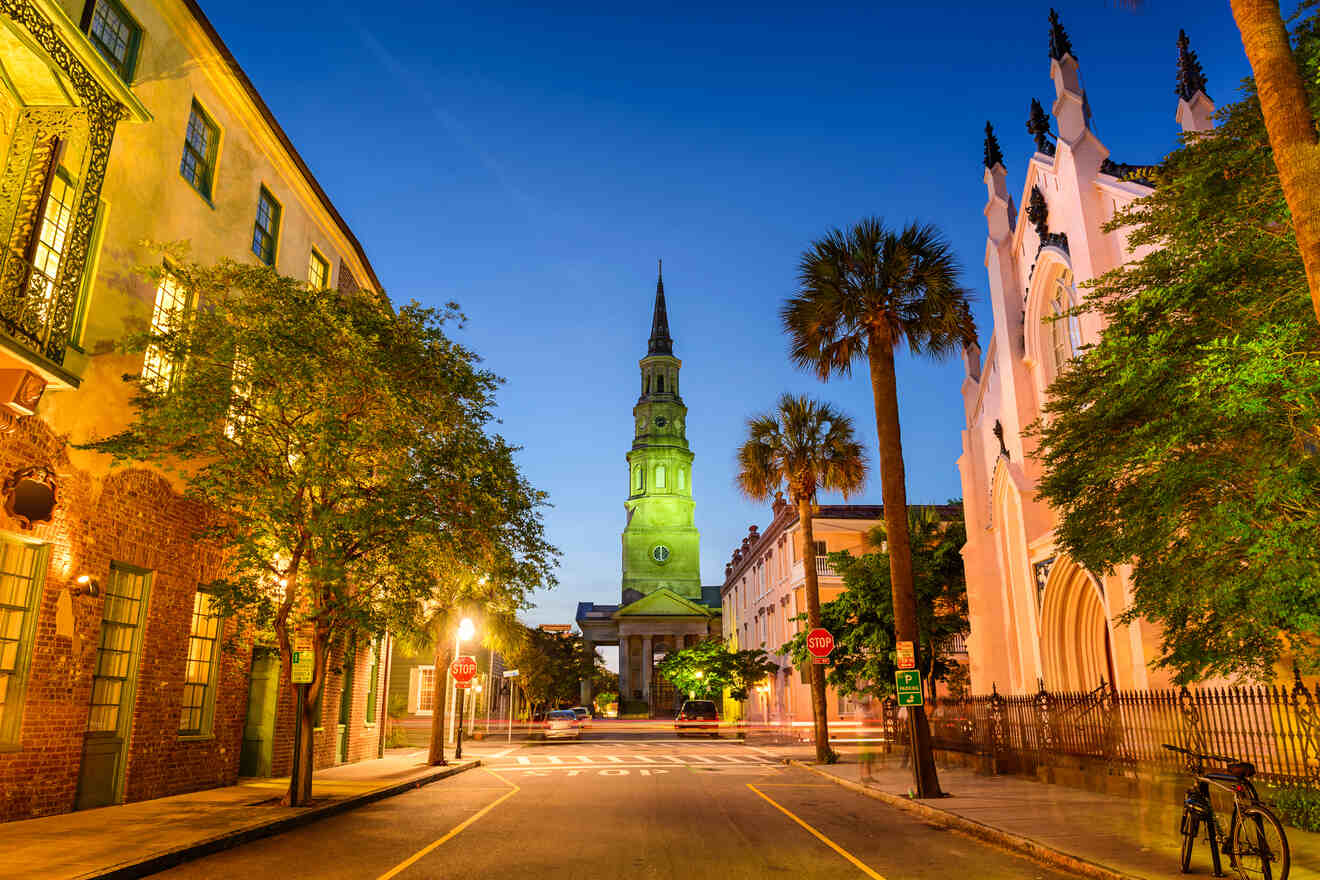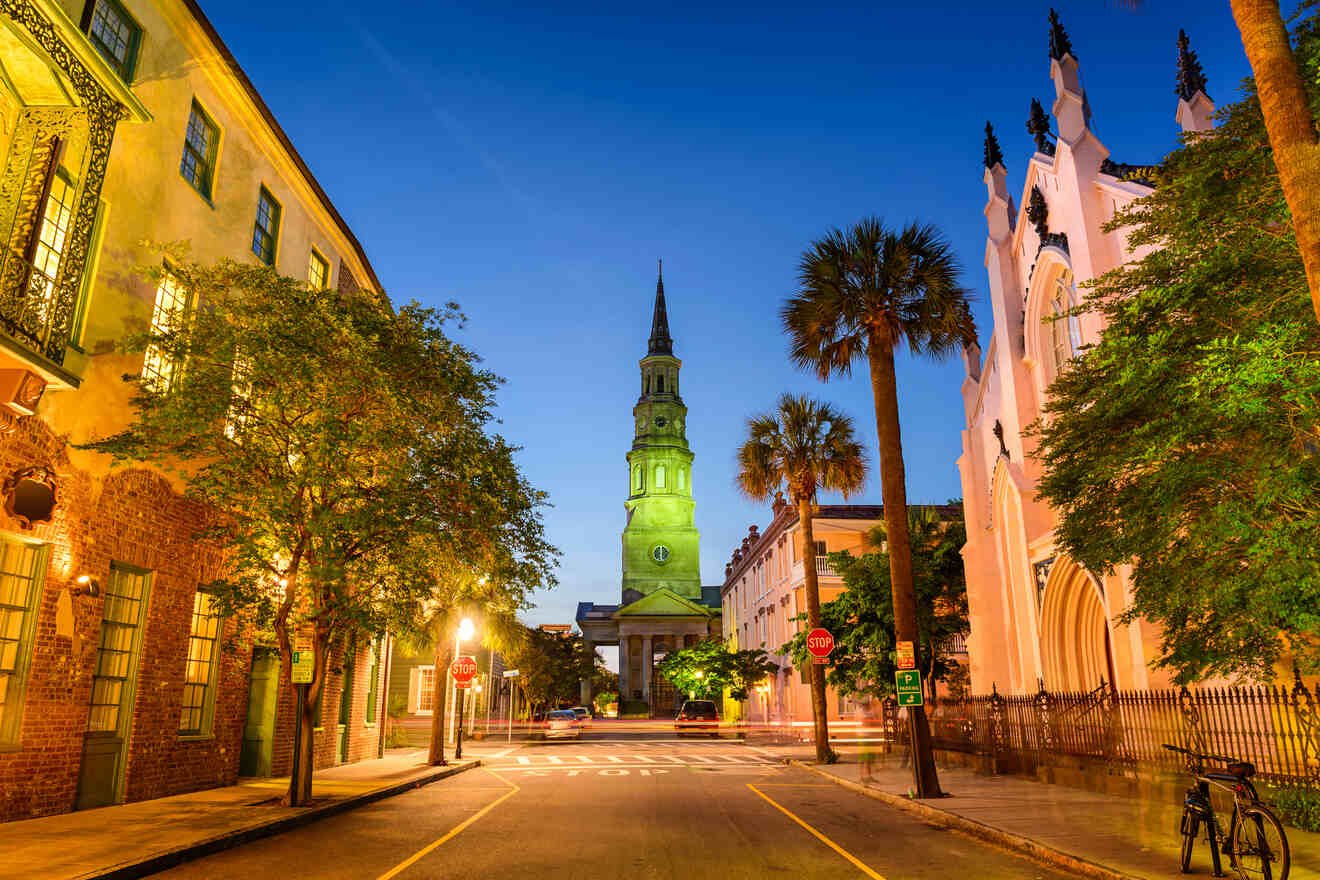 That's it, folks! You're equipped with all the necessary information and details you need to make an informed decision and choose the best carriage tours in Charleston.
Seeing beautiful and historic sights of Charleston's landmarks while taking a carriage ride is truly an unmissable experience when you're in this town. And their accessibility is excellent, too. There are family-friendly tours, combo tours, and private options, so there is no excuse not to take at least one.
I also recommend checking out the tours I offered you in the bonus section for a complete experience!
And one thing to always keep in mind is that Charleston overall is a very popular destination, and its carriage tours are among the top picks for all tourists. So don't risk it and book your tour in advance!
If you have something to add, ask or simply want to share your experience from these tours, I invite you to do so in the comments below!
Enjoy your ride,
Angelina
---
Pin it for later!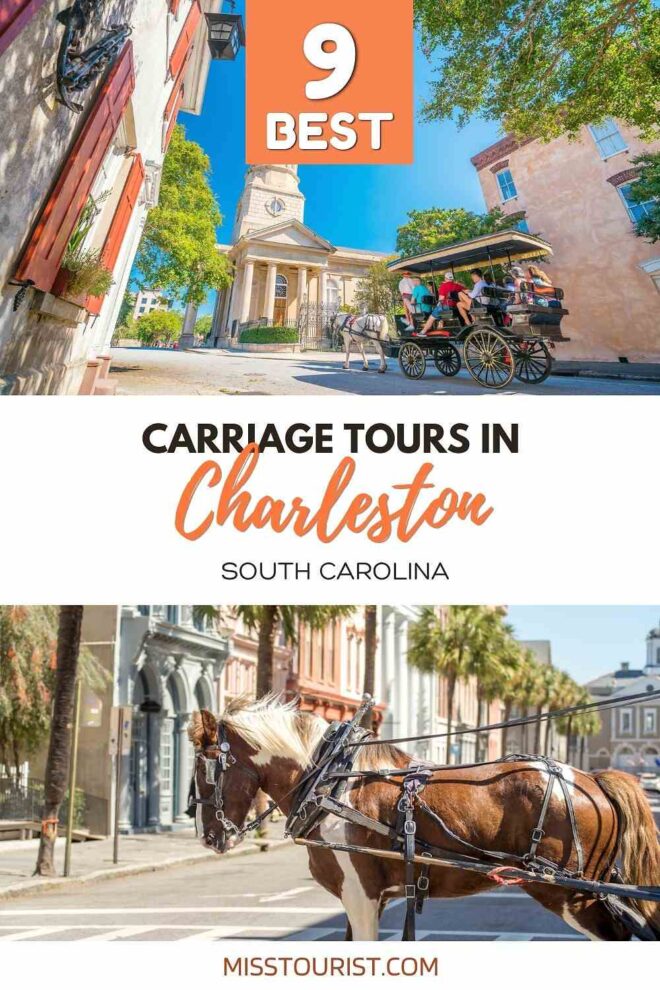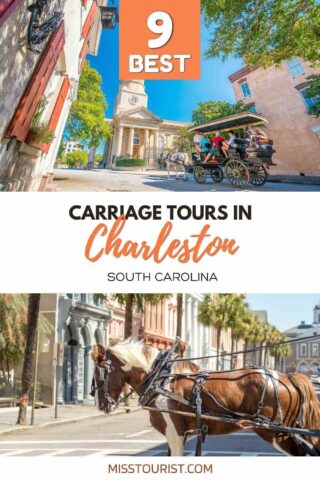 Pin it for later!