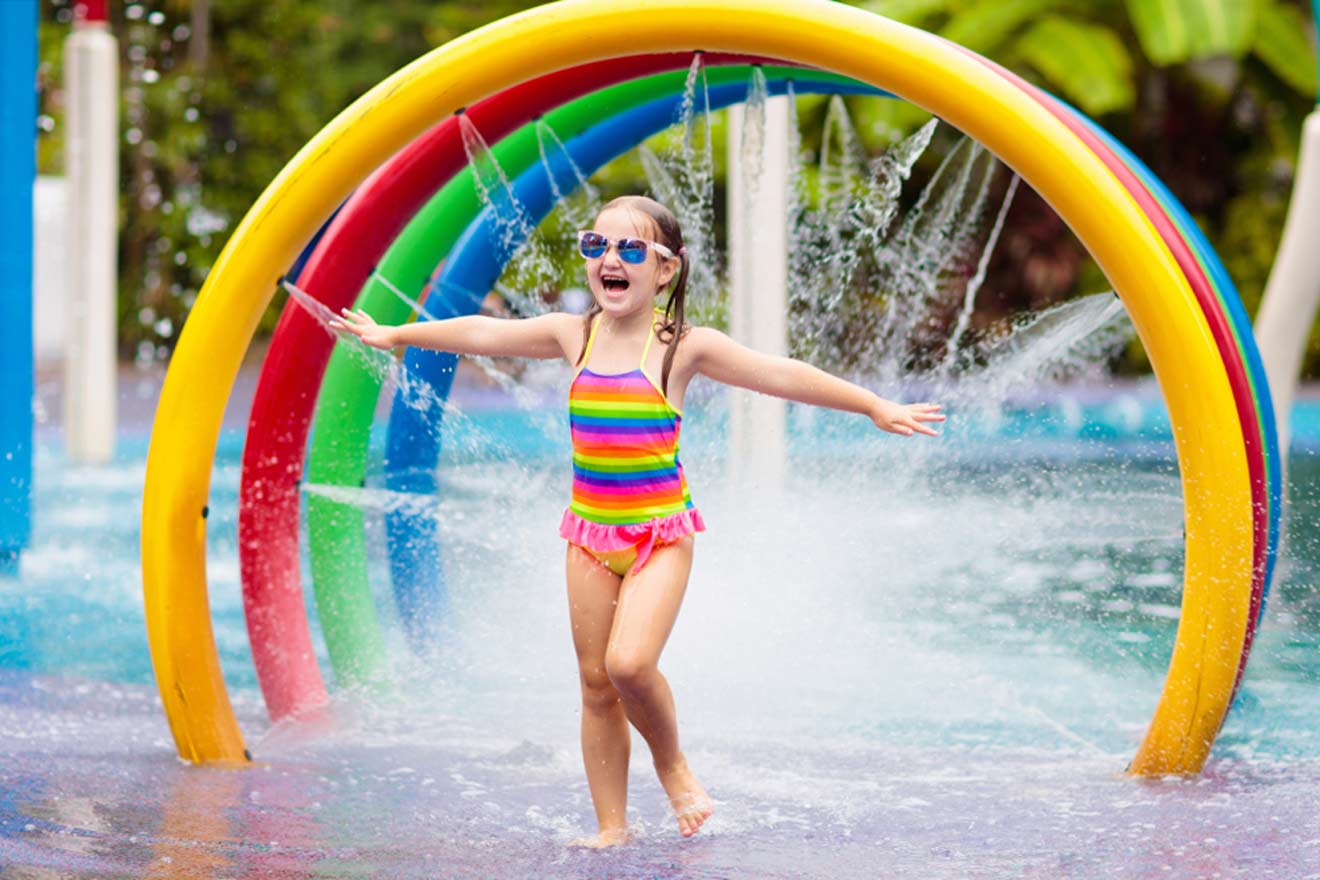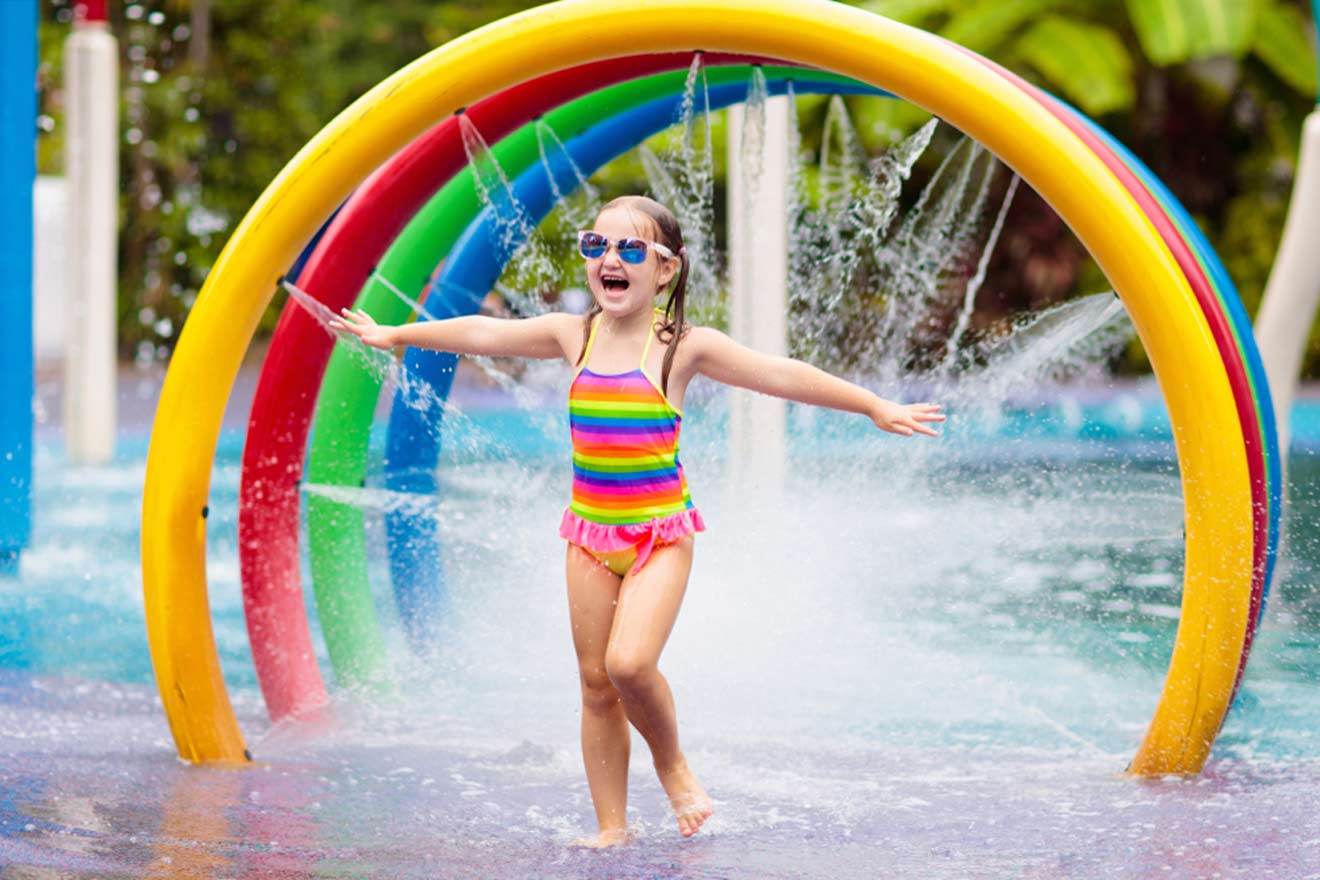 In need of a holiday where you can have fun all the time? Then head over to Myrtle Beach and spend your time going on water slides and swimming in the ocean! Oh yes, this place has some incredible water parks!
And in this post, you'll find the best Myrtle Beach hotels with a water park! I've done the research, I compared, and I delivered a golden list with the top hotels which I ordered from most to least expensive.
Since everyone can't resist the Myrtle Beach charm nor its fabulous hotels with water parks, and outdoor lazy rivers, I sincerely recommend booking your favorite one the moment you decide which one it is. Otherwise, you may miss it!
Let's slide away and start our quest!
If you are in a hurry
I've made sure that all my readers have the information they need, and if you're here just to see the best hotels with water parks quickly, check out the list below:
1. Homewood Suites by Hilton – for a fun Myrtle Beach vacation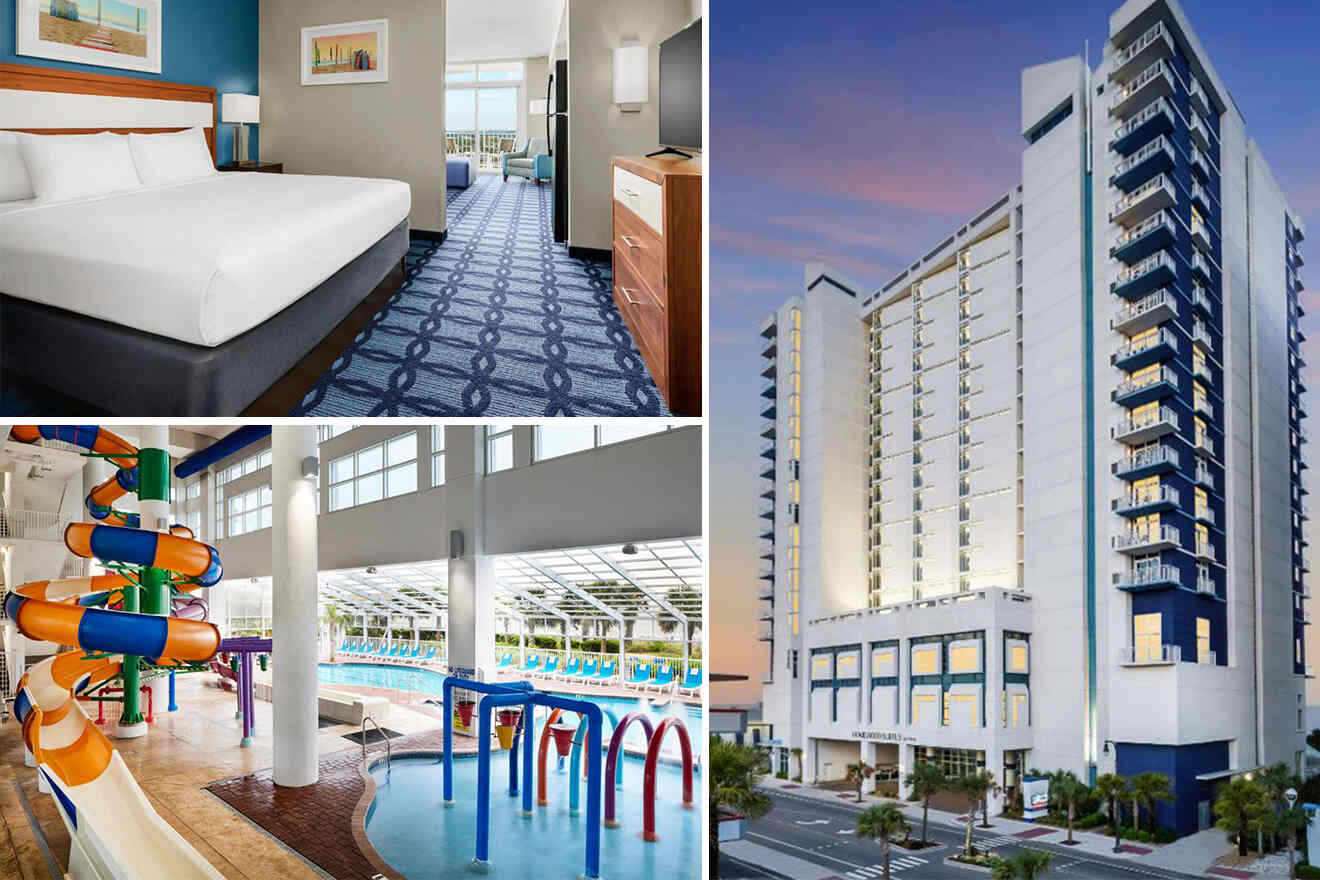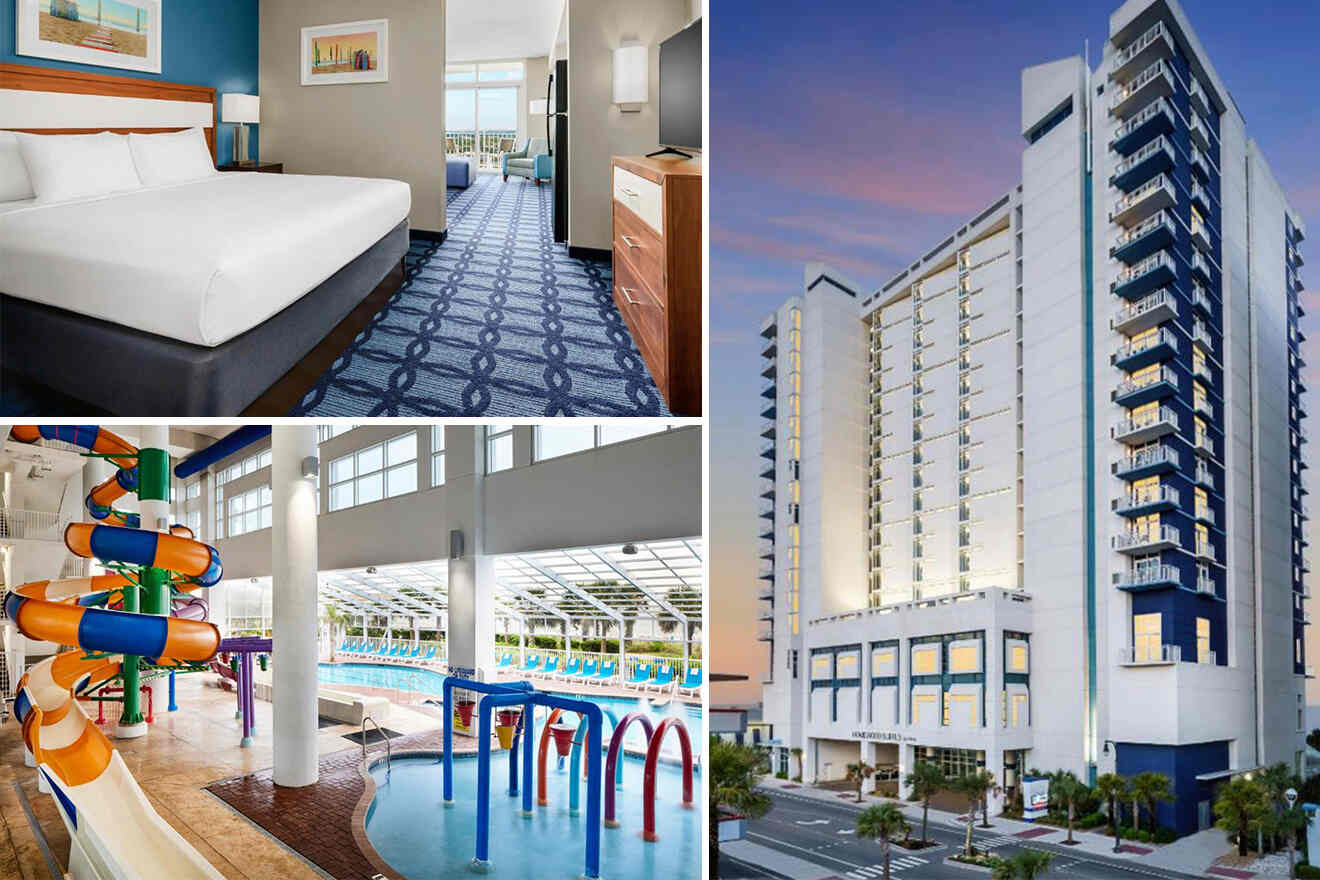 A fabulous beachfront property that is just perfect for your trip to Myrtle Beach, SC! Featuring laundry facilities, suites with private balconies, a well-equipped kitchen, and lots of space for the whole family, this resort has all you need for your stay!
And, of course, the main feature here is their water park! I hope you're ready to go on those water slides in the indoor pool and spend some unforgettable times with your little ones. But the fun doesn't end there, once you're all dried up, you can head to the game room for round 2 or play some table tennis.
2. Dunes Village Resort – great hotel with an indoor lazy river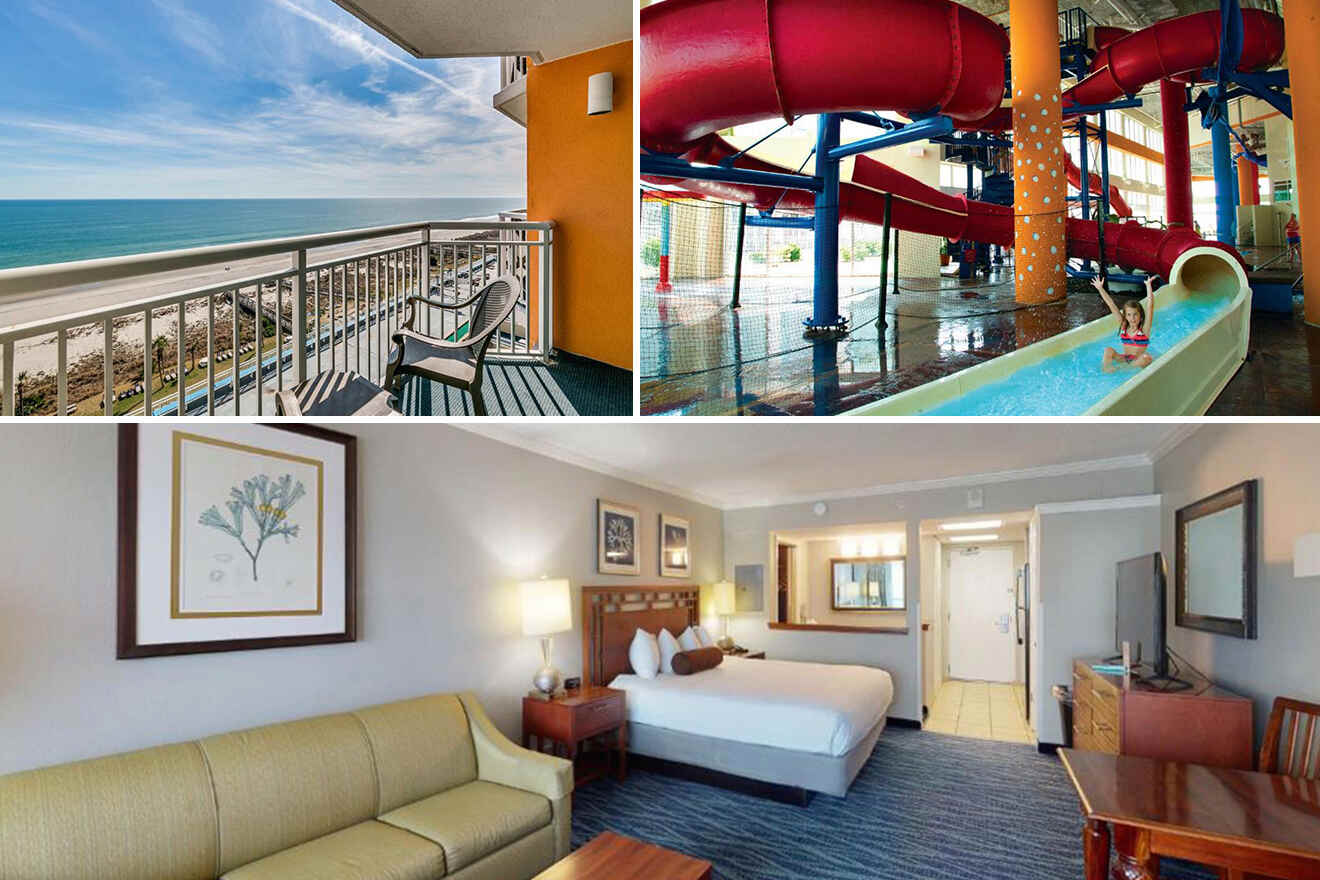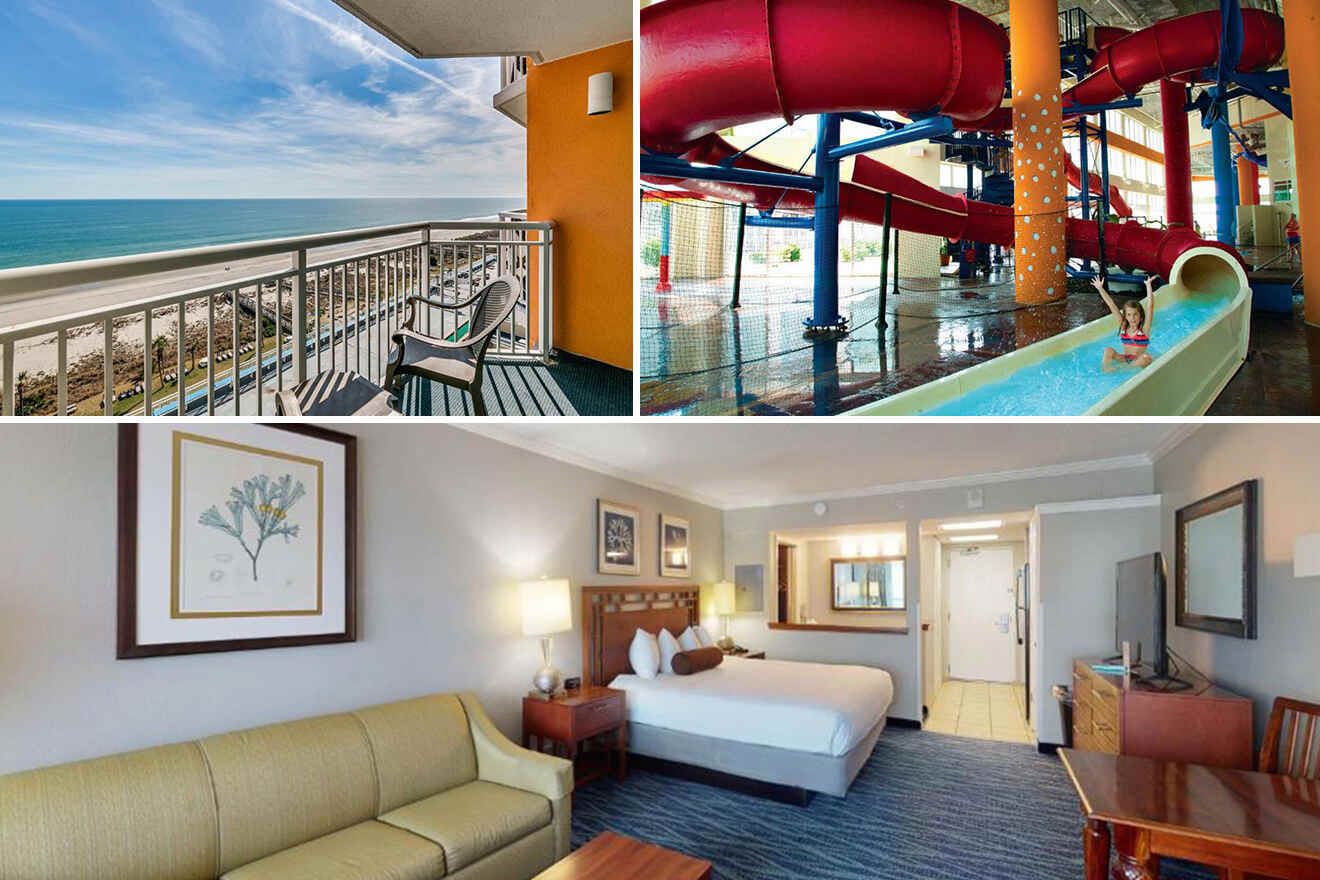 With indoor and outdoor pools, a kids club, and a game room, this Myrtle Beach resort is very serious about offering each guest a well-rounded experience! Their water park is such a thrill, and it has numerous waterfall pools, a lazy river, pool games, and water slides!
Don't worry, parents, there are many other facilities that you'll love as well, like the on-site spa and the fitness center! This beach vacation will be unforgettable and super comfortable! As are the rooms which come with private balconies and space for the whole family. End your days filled with activities with a yummy family dinner at the 3 on-site restaurants.
3. Hilton Myrtle Beach Resort – with cool activities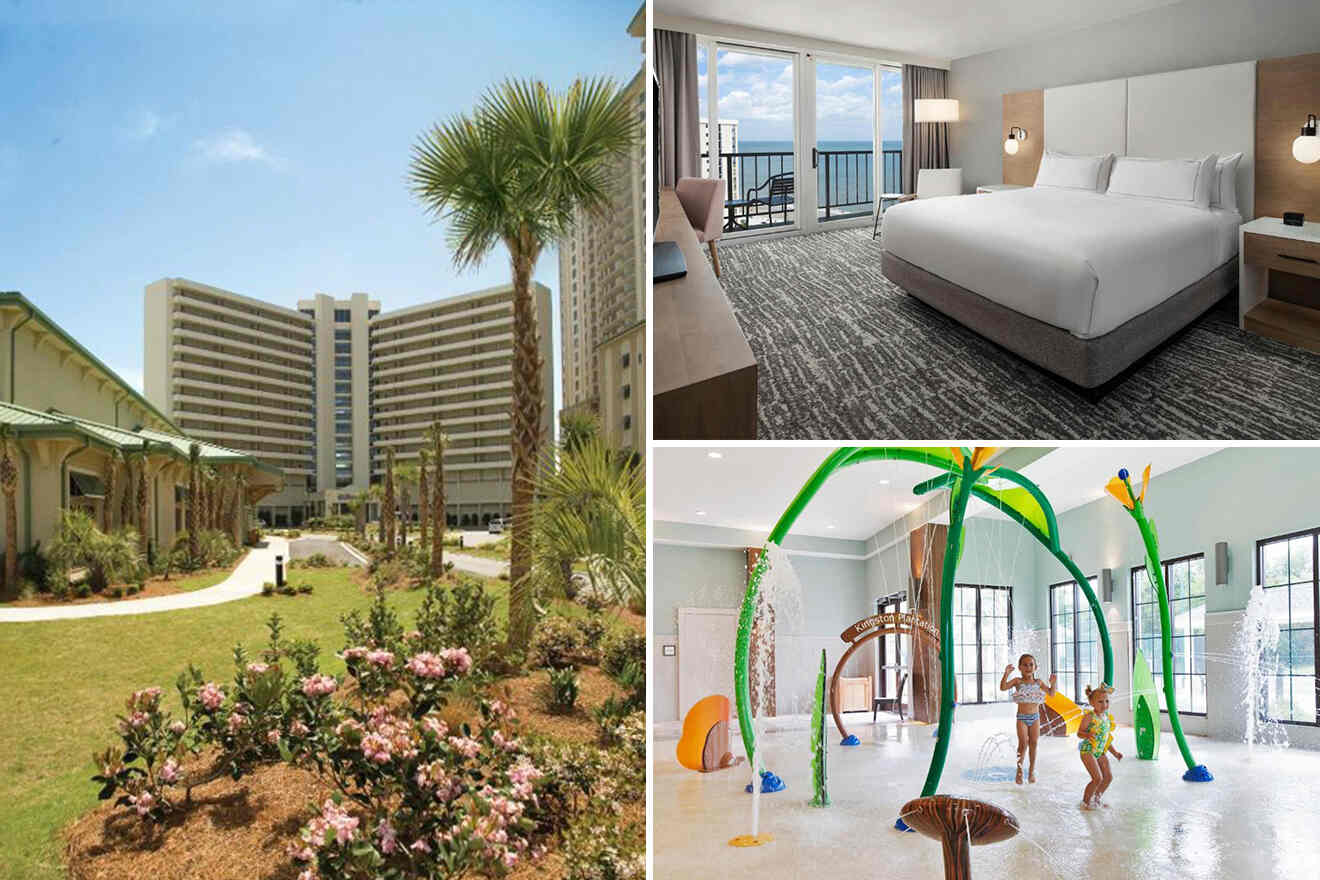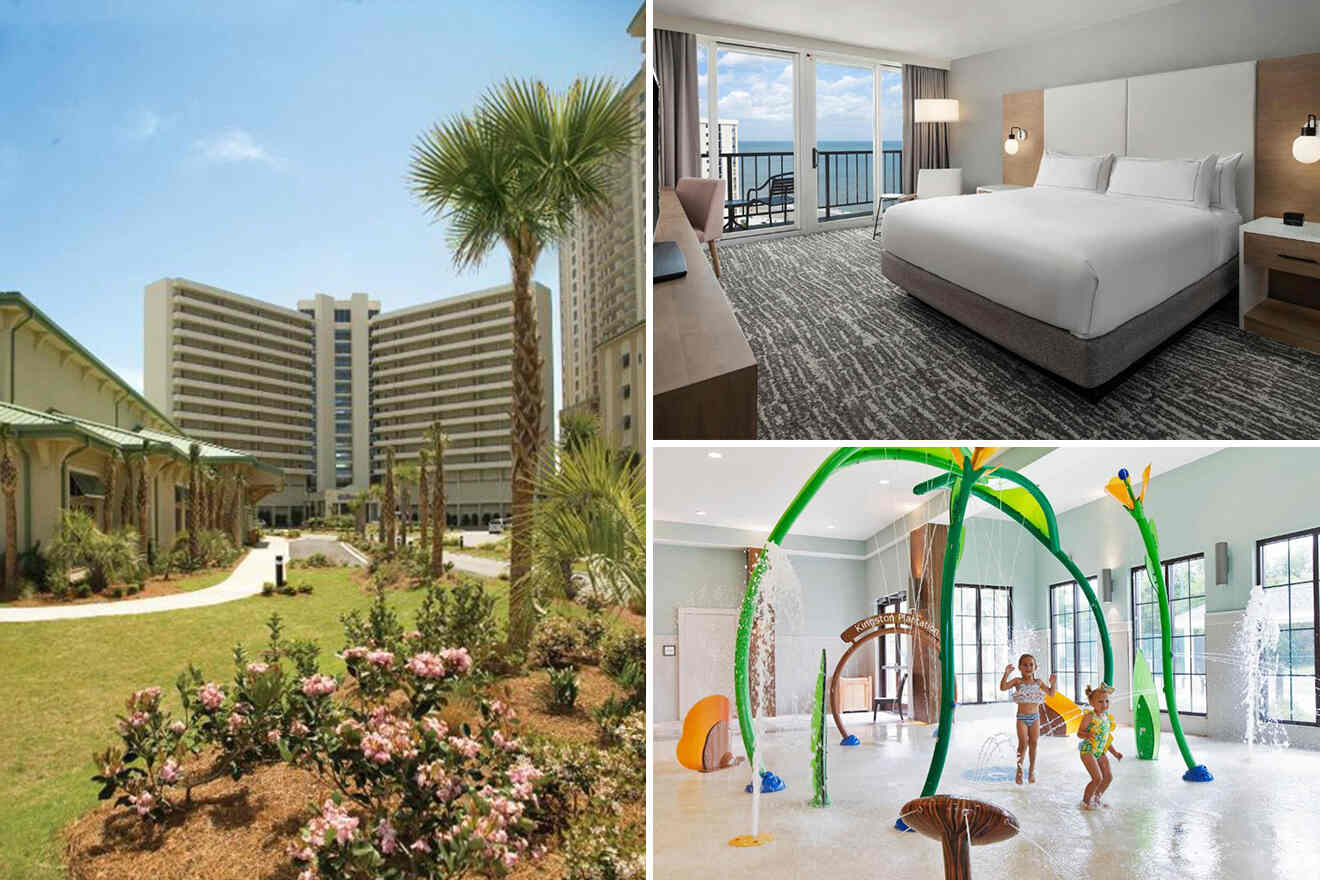 Set right on the sandy shores, this Myrtle Beach resort has a lower score than I'd normally recommend, but since the list of hotels with waterparks is short, I wanted you to have all the options! And this one has so many activities including archery, water sports and movie nights that I think you'll really like!
Their water park has indoor and outdoor pools, a pool bar, as well as kiddie pools, and water slides that will make every single kid happy! That's if they ever leave the games room or kids club! For the moments you need some time off, you can check in at the full-service spa and enjoy some massages or treat yourself to a delicious dinner at one of the 2 restaurants.
4. Ocean Reef Resort – with an incredible oceanfront location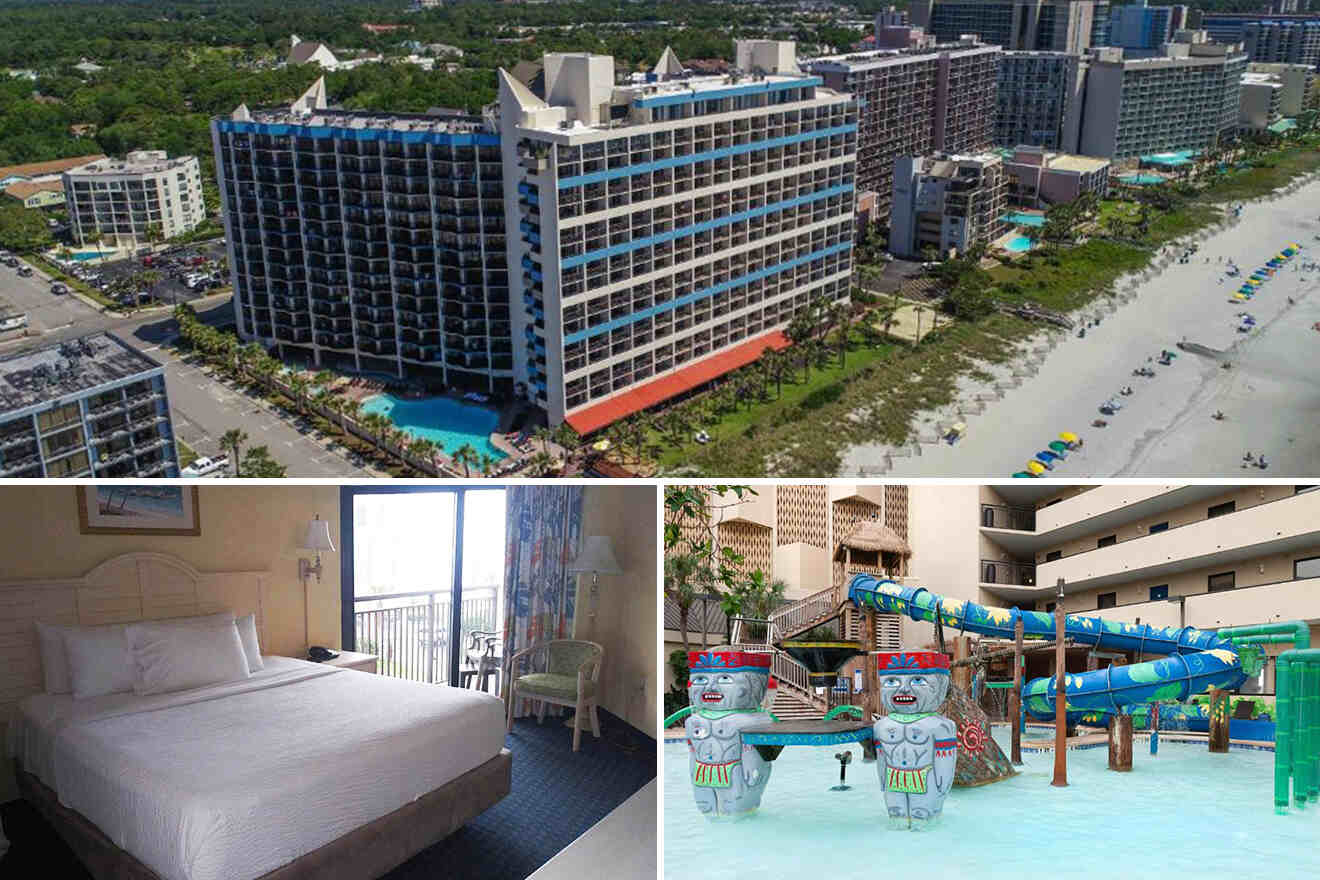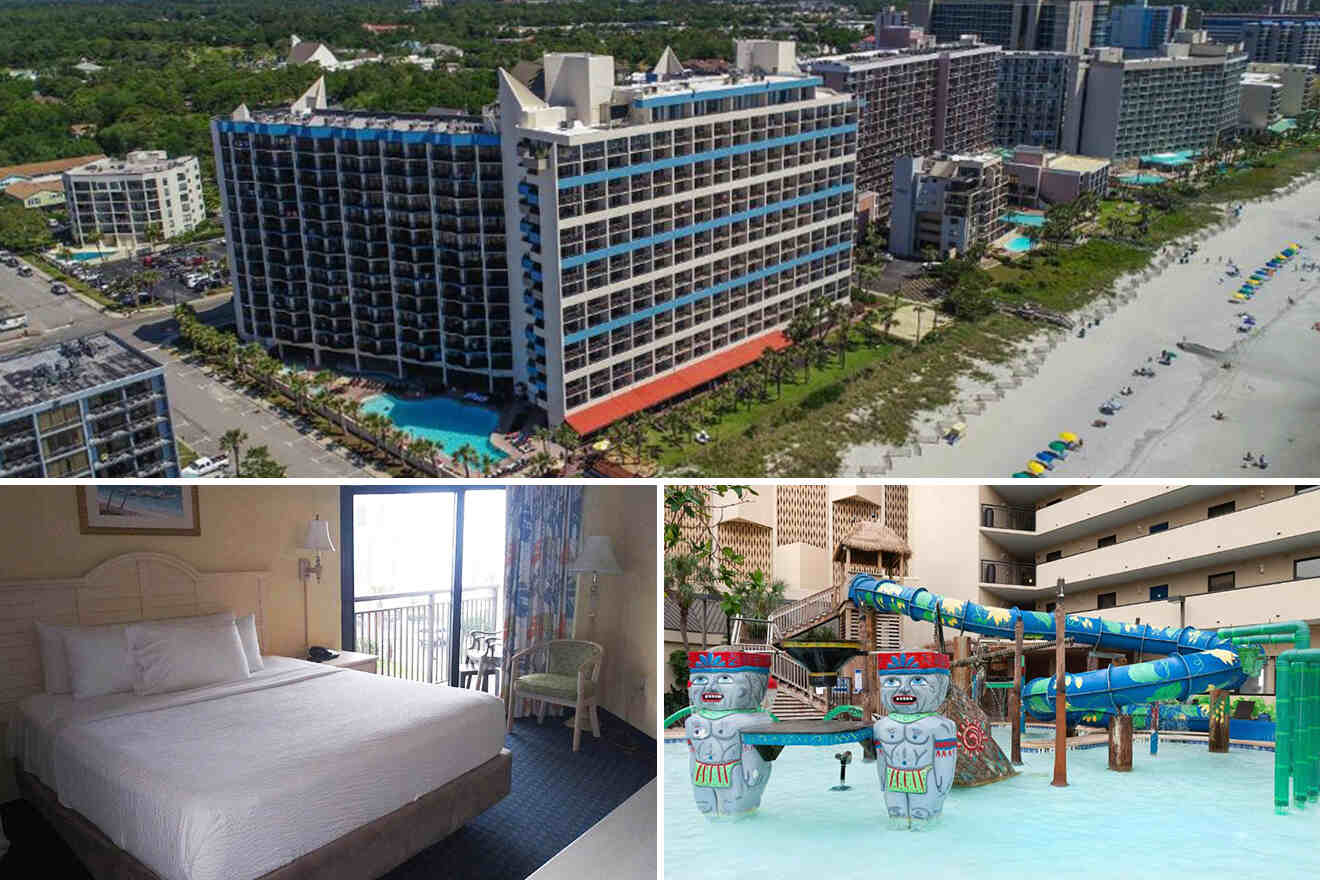 Pack your bags and prepare for an unforgettable family holiday in Myrtle Beach, South Carolina! The hotels with waterparks are so famous here that I'm sure you'll want to come back! Just like this one which has an on-site waterpark with indoor and outdoor pools (with an oceanfront pool deck), and water slides!
You'll also find that the rooms are super comfortable, pretty spacious, and overlook the ocean! So you'll get to wake up to a beautiful sight each morning! Although the Shipwreck water park will probably keep you busy all day, don't forget that there are many other attractions nearby, like Ripley's Aquarium.
5. Grand Palms Resort – cozy Myrtle Beach hotel with a spa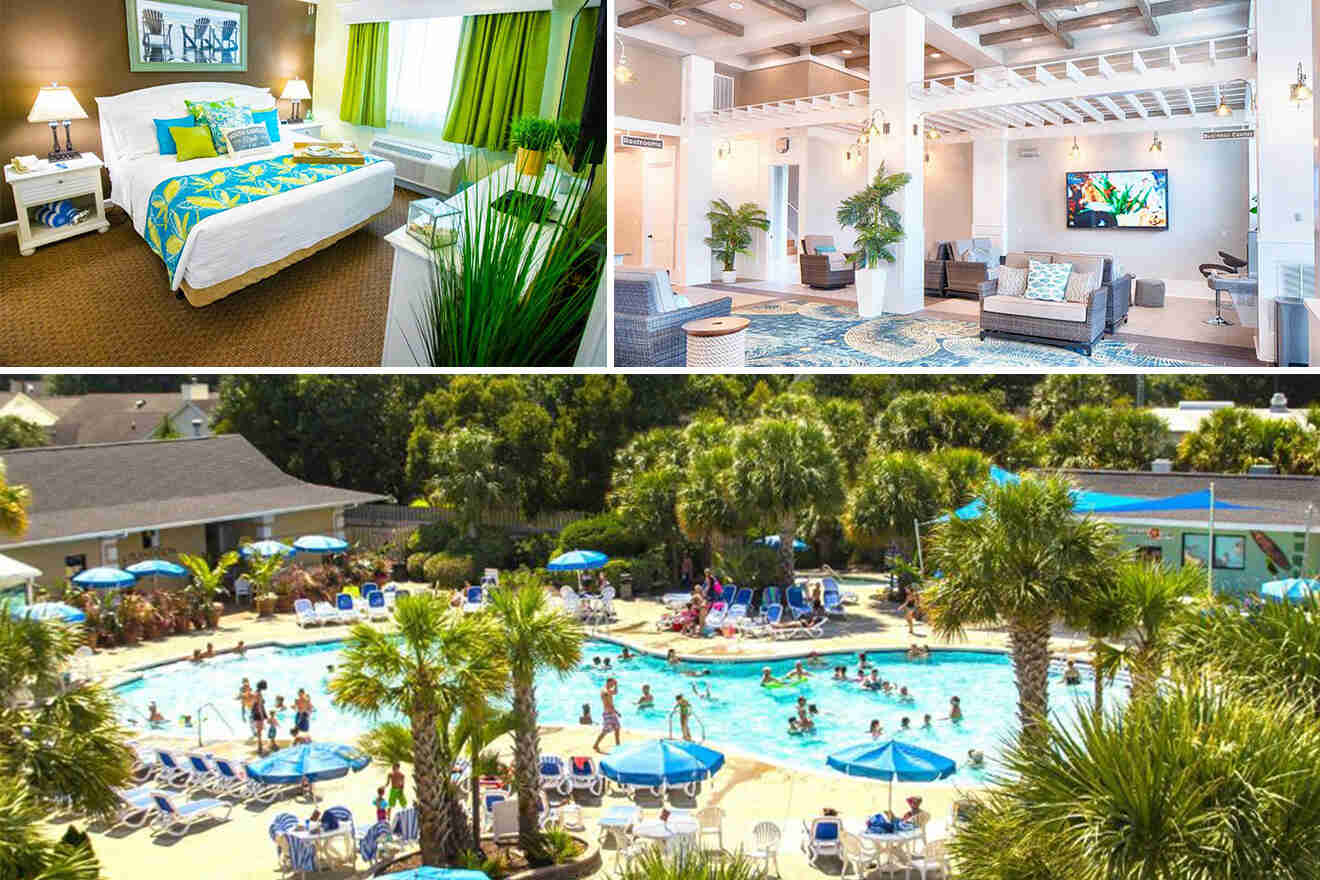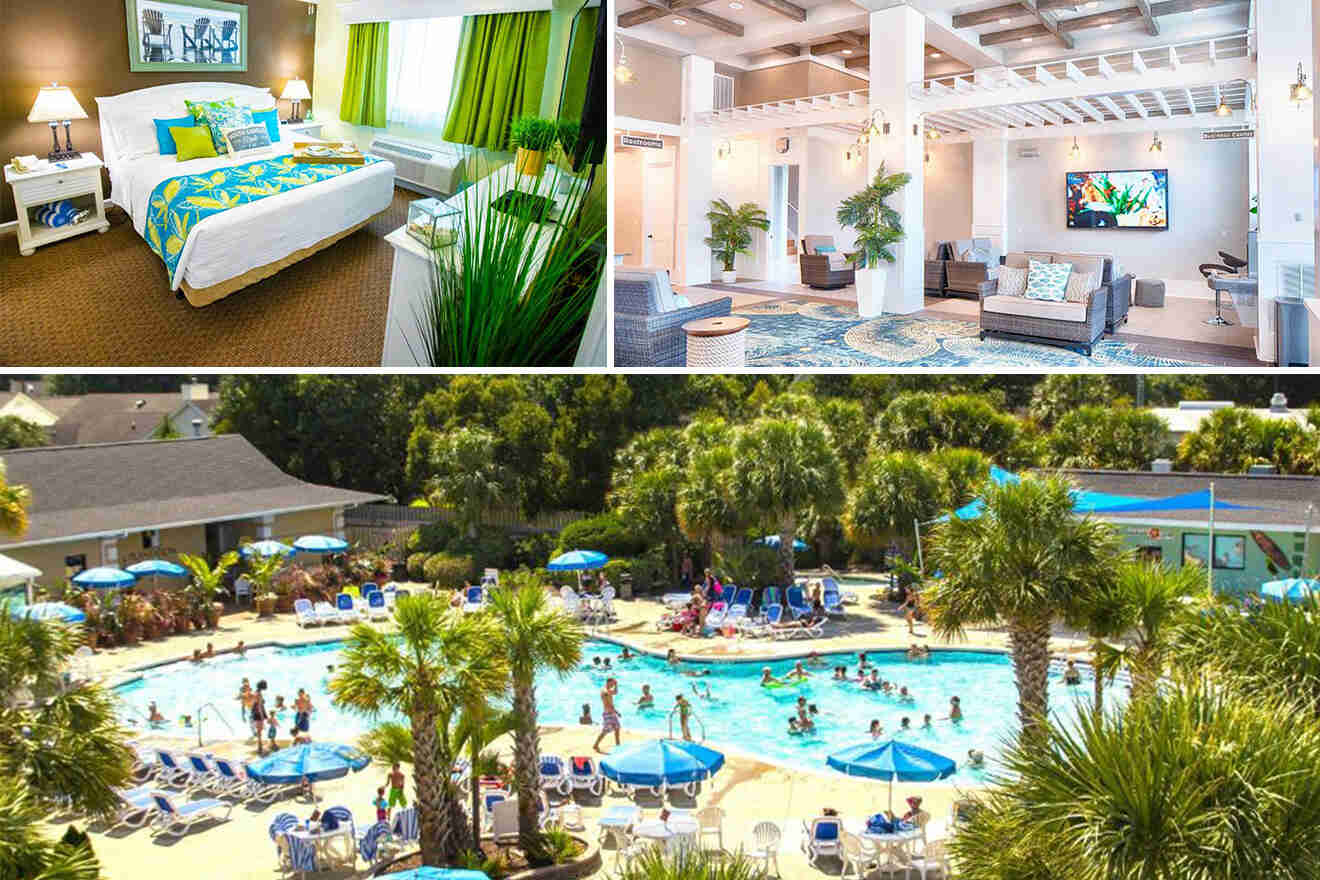 Located within walking distance of Surfside Beach in the Grand Strand, this really cool accommodation is waiting to offer you the most fun-filled holiday you've had in a while! Forget about everything, and for a few days, play with your kids while staying at these hotels with waterparks in Myrtle Beach!
This one is surrounded by lush vegetation, and it has 3 swimming pools where all the action takes place! Of course, that's if you don't count the games room and the outdoor play area, which will soon become the children's favorite spots. Other resort amenities include themed dinner nights, a spa center, and a picnic area!
6. Caribbean Resort Myrtle Beach – oceanfront hotel with a view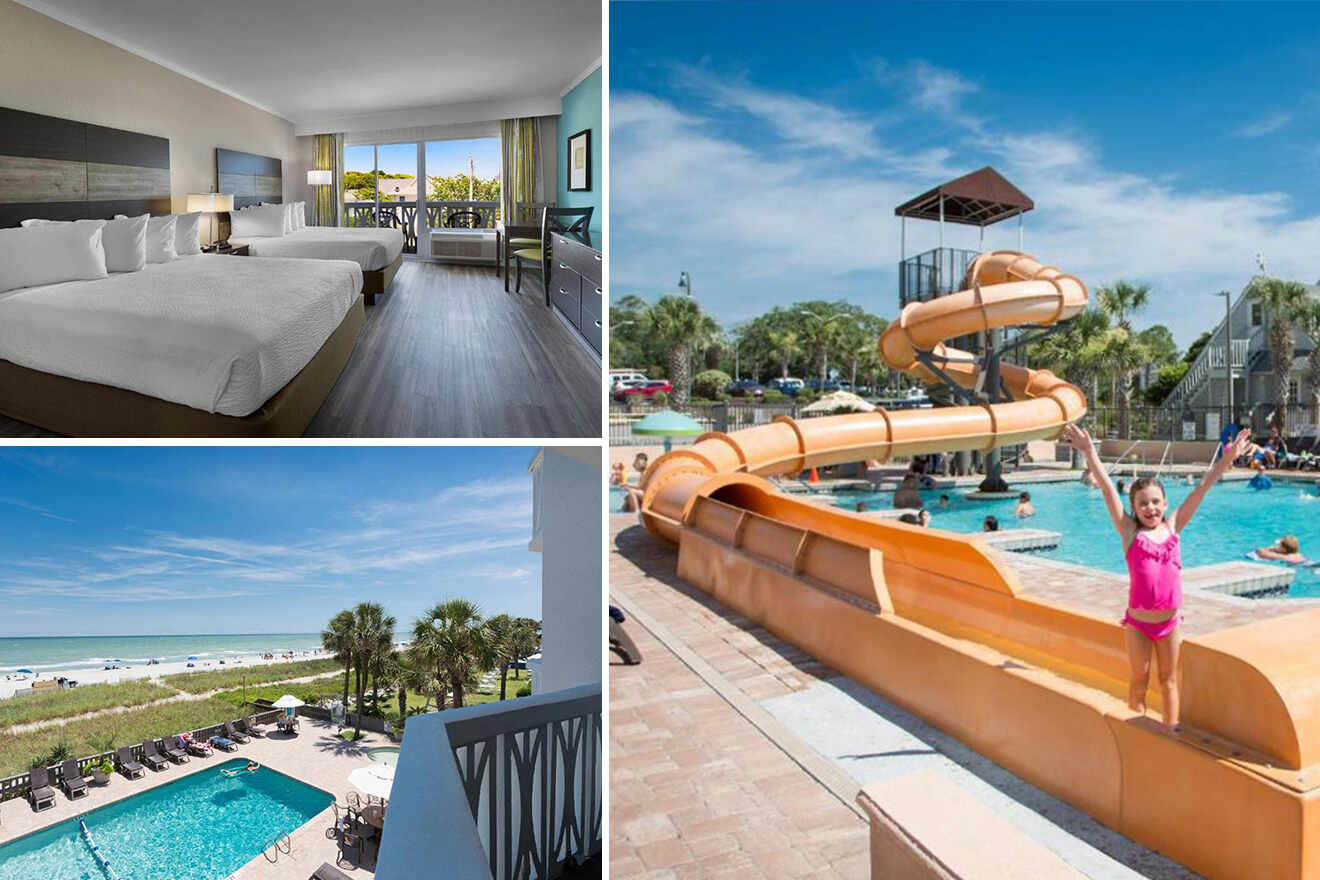 This resort in Myrtle Beach has a lower score than I'd normally recommend, but as you see, we don't have many options with waterparks, and I wanted you to have at least the main top ones. Still the accommodation has a great location right on the beach, and its water park is so dreamy!
It has kiddie pools, a lazy river, and indoor and outdoor pools! Basically, all the things that will make your children and even your inner children so happy! I know it seems very focused on kid-friendly facilities, but you'll see that there's also a spa center that offers many treatments, 2 restaurants, and a bar.
7. Dayton House Resort – with an outdoor lazy river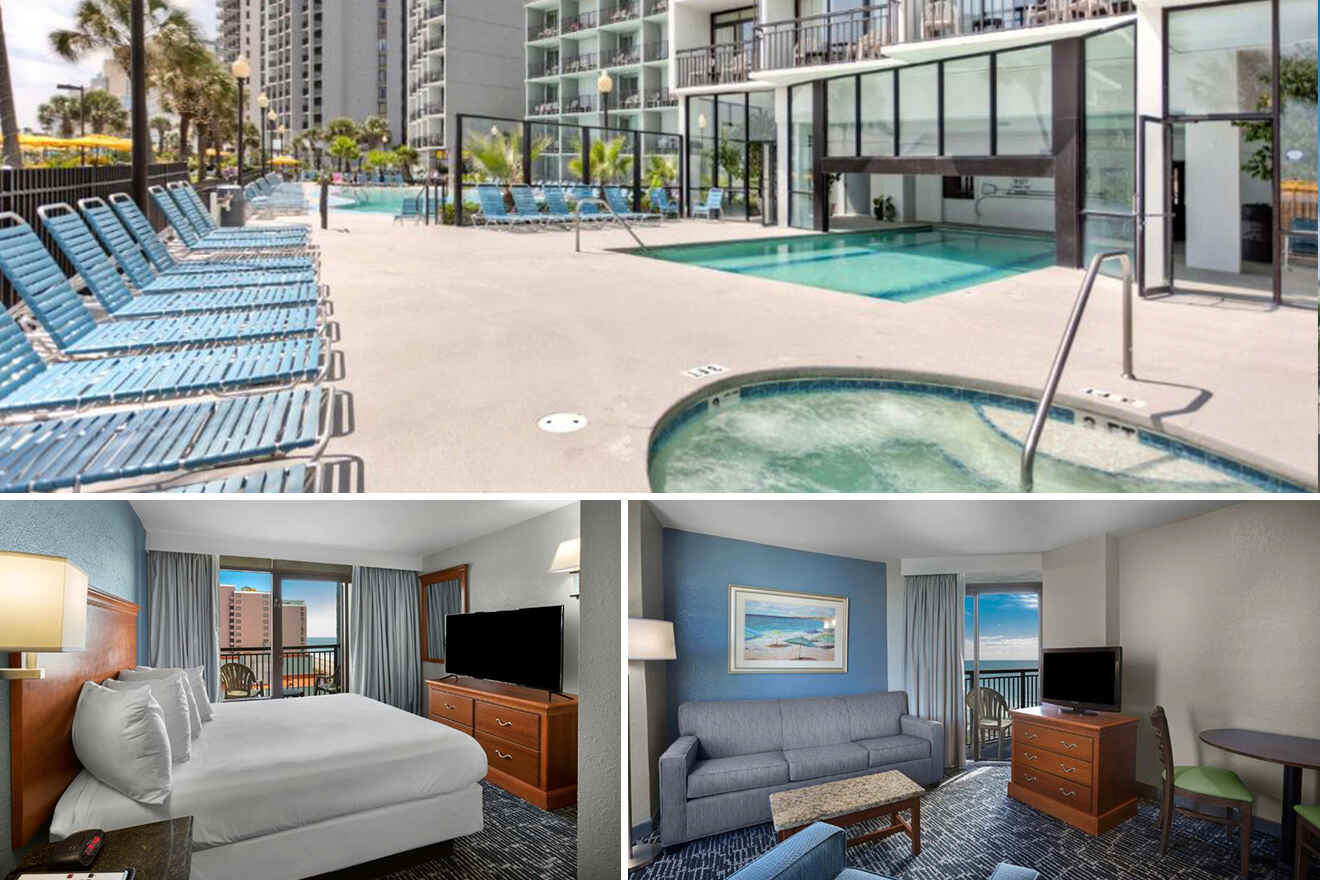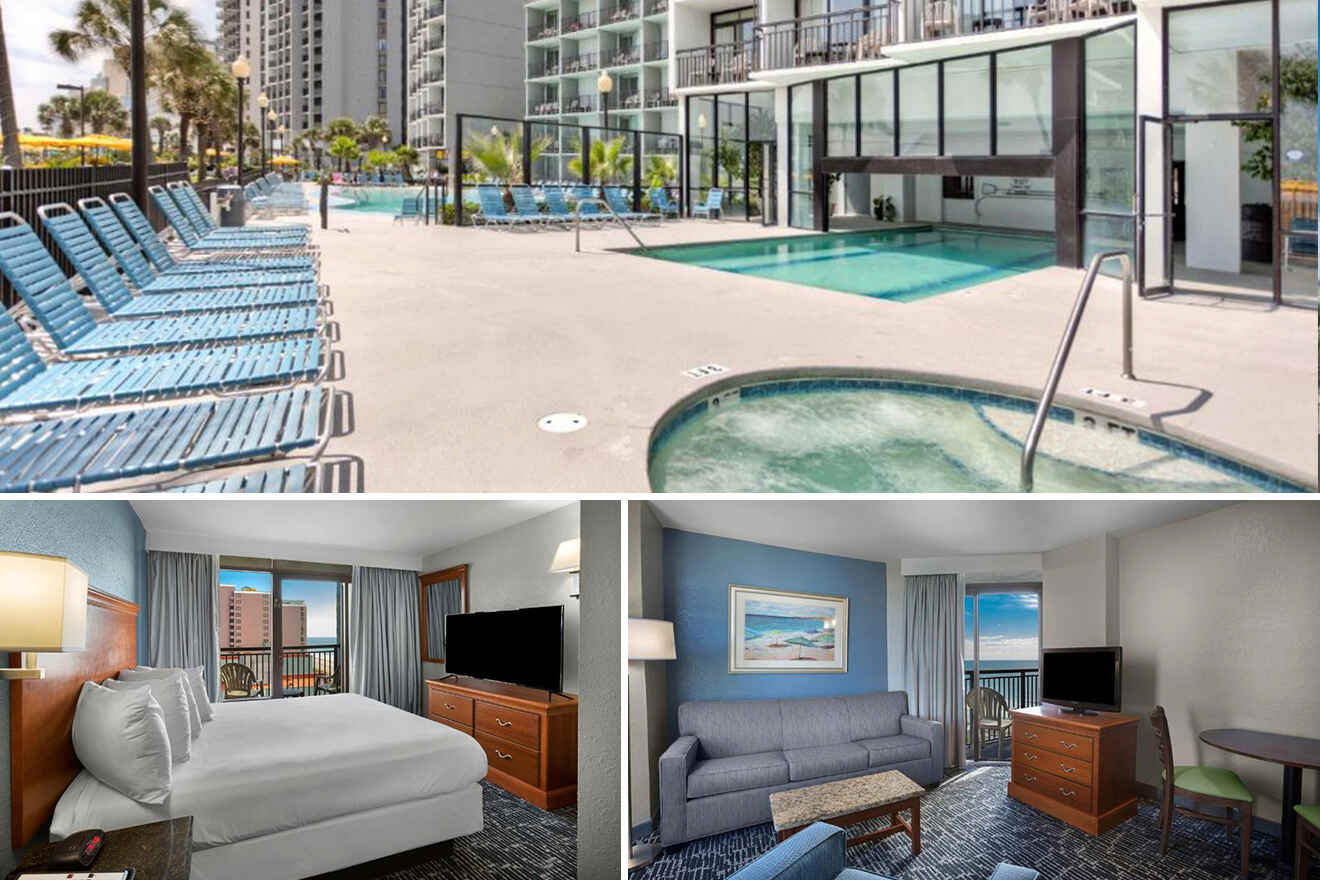 Want to have direct beach access from your resort? Then check out this cool accommodation that, although it has a lower score than I'd normally accept, also comes with lots of perks! Like its fabulous water park with indoor and outdoor pools, a lazy river, and table tennis.
The accommodation has rooms that overlook the ocean and are equipped with all the facilities you need, including a flat-screen TV, a balcony, and free Wi-Fi. Start your mornings with a yummy breakfast at the restaurant on-site, and then head out to enjoy the fabulous sun and the splashy waters!
8. Breakers Resort – a modern hotel with an outdoor pool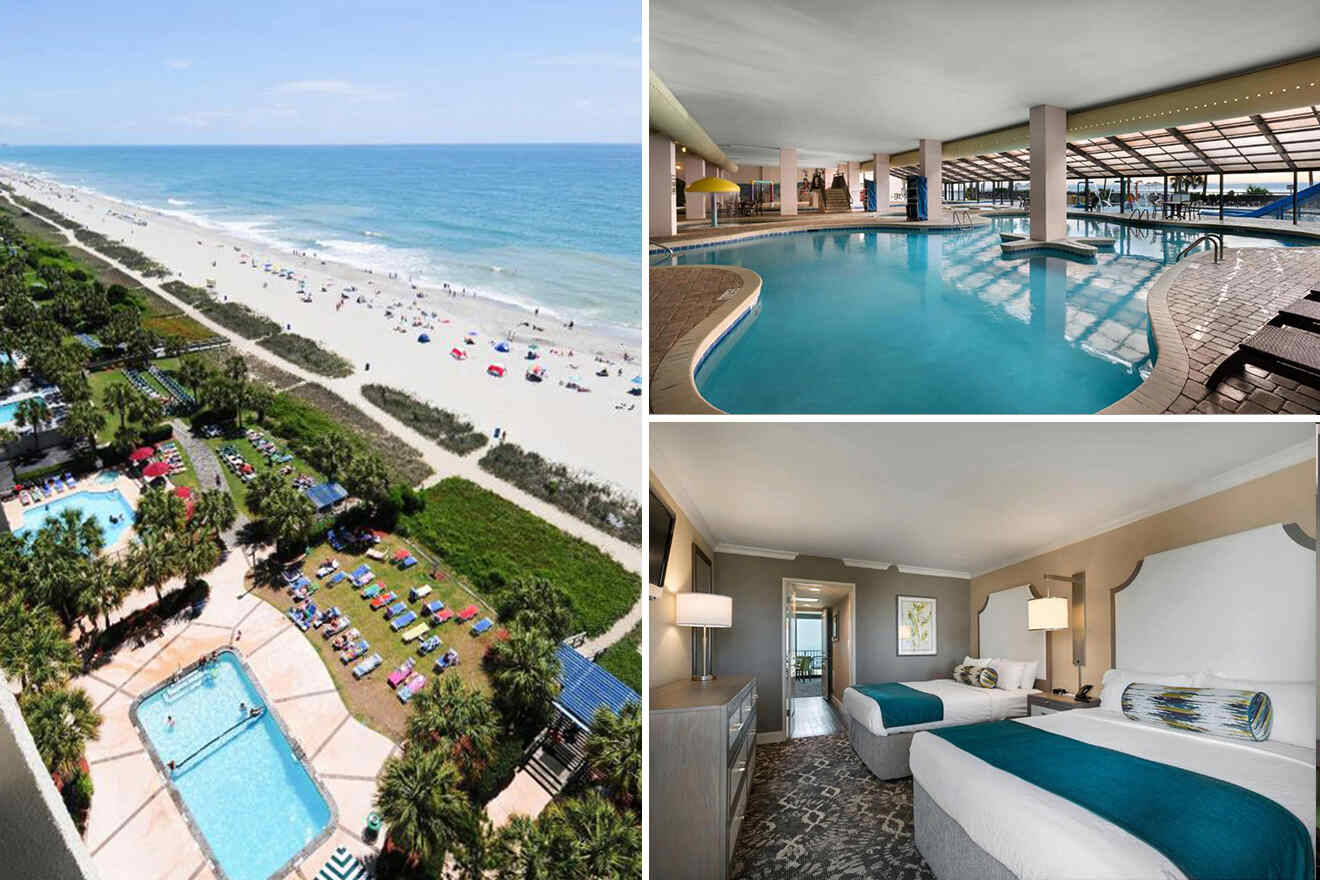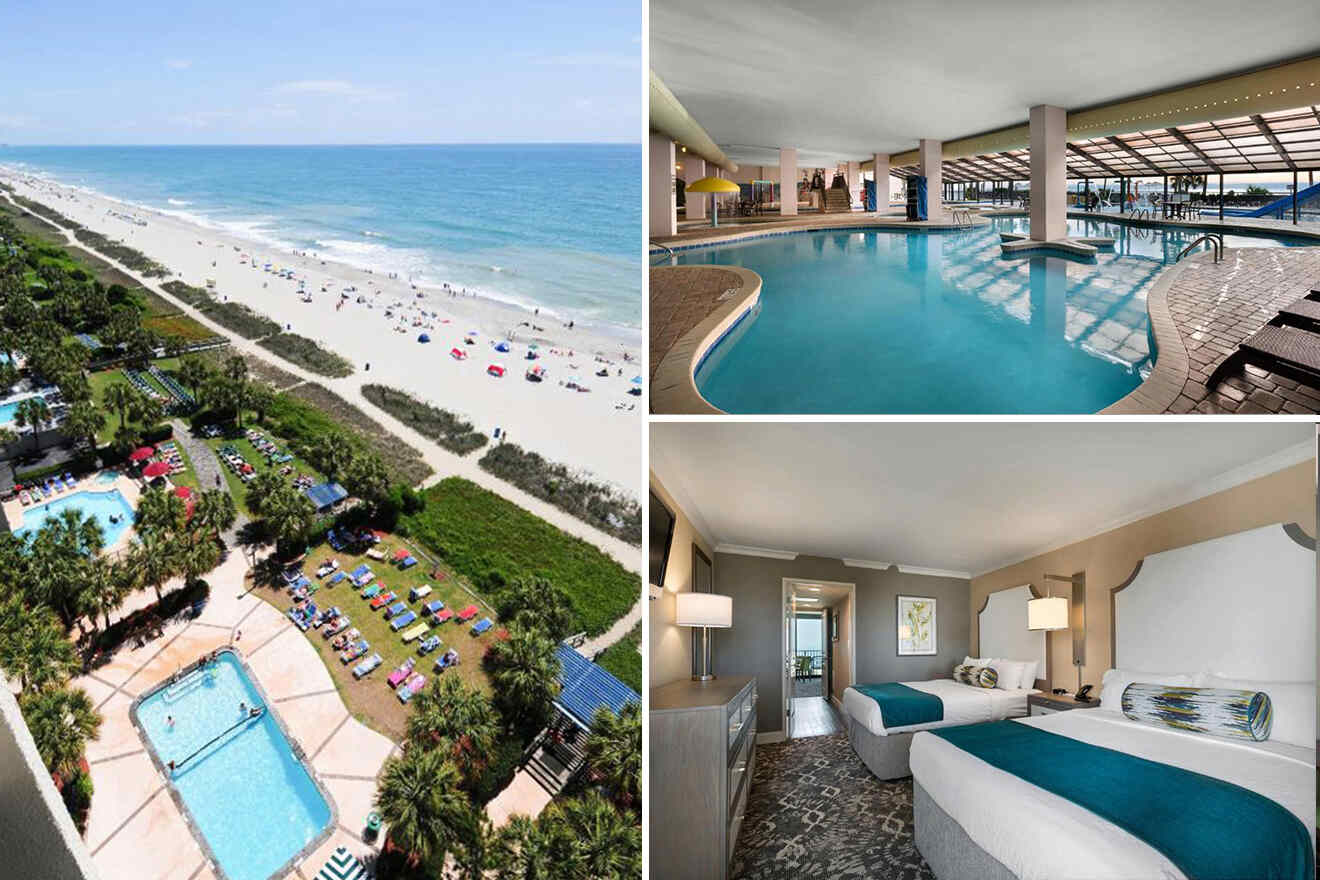 Beach holidays are such a great solution for when you feel like you need a break from your daily life! And if you're taking the kids with you, then this oceanfront resort with a water park, a restaurant, and a bar is definitely the right option for you!
The resort has a lower score than I'd normally recommend, but in cases like these, when the hotel list is limited, I prefer to offer you a full spectrum of choices. The water park has all the major facilities that you'd look for, like indoor and outdoor pools, a lazy river, and slides. As for the rooms they've got a nice view and a flat-screen TV, too!
9. Coral Beach Resort – great Myrtle Beach place with hot tubs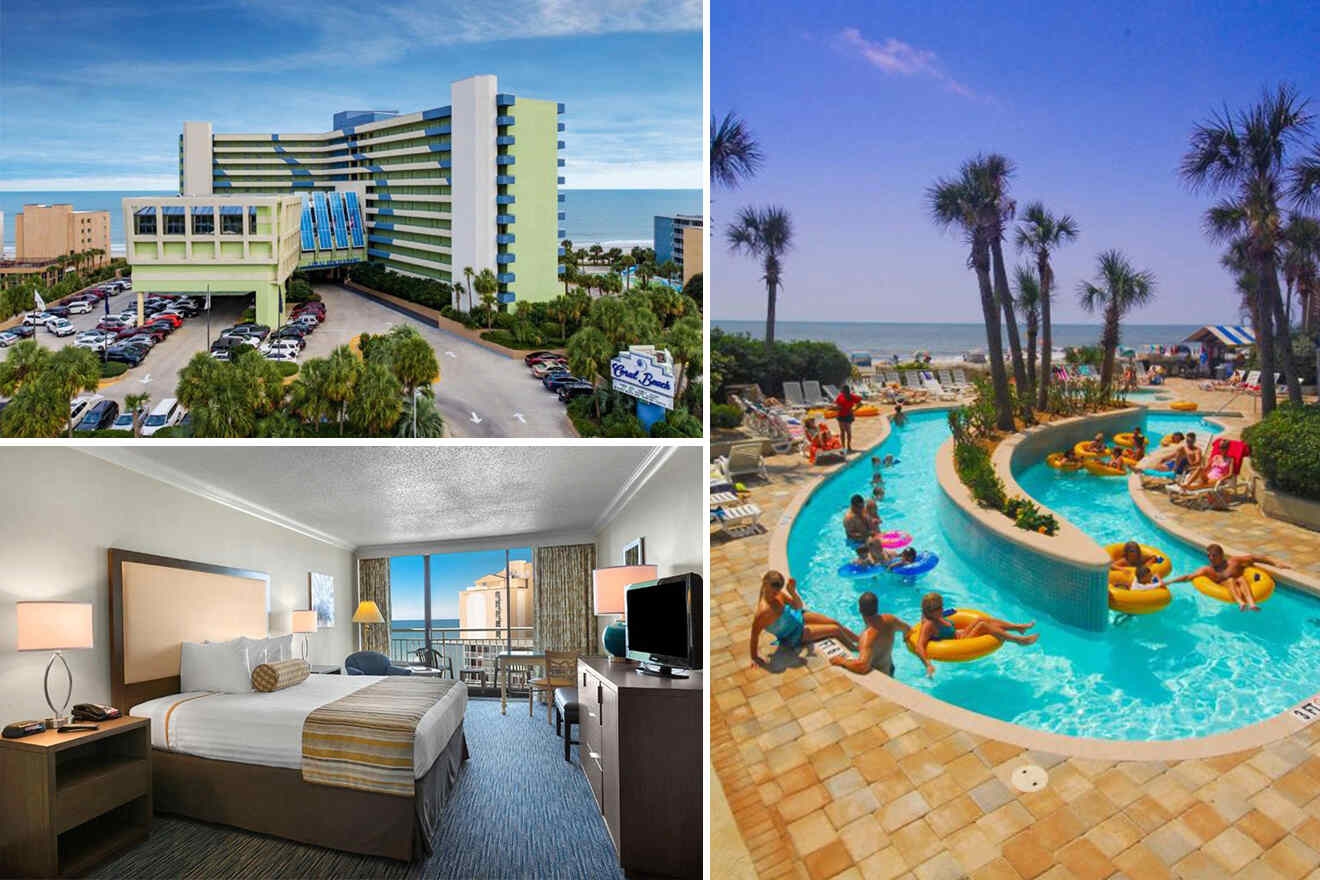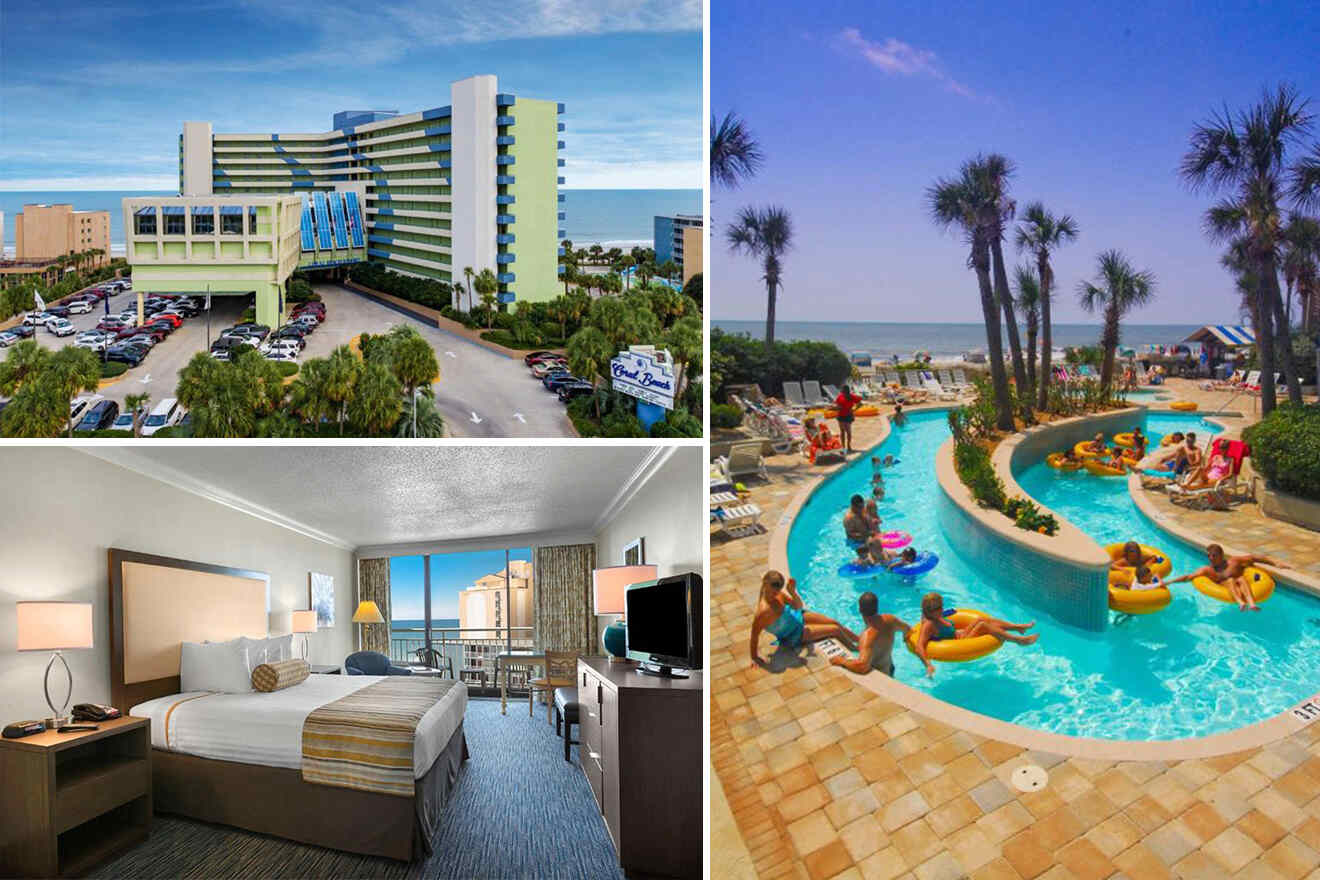 I don't know about you, but I'm ready for some fun in the sun! Bring lots of swimsuits and your sunglasses, and prepare to spend most of your days soaking wet, going on water slides, and swimming in the ocean!
This incredible beach resort and waterpark has a silly submarine water playground and 10 swimming pools (wow!) which include a lazy river and hot tubs! Plenty to go around not only in the waters but also inland. Where you can play billiards and bowling, and spend some time in the game room. What a treat! Once you get hungry, head to one of the 3 restaurants for a yummy dinner.
FAQs about Myrtle Beach hotels with a water park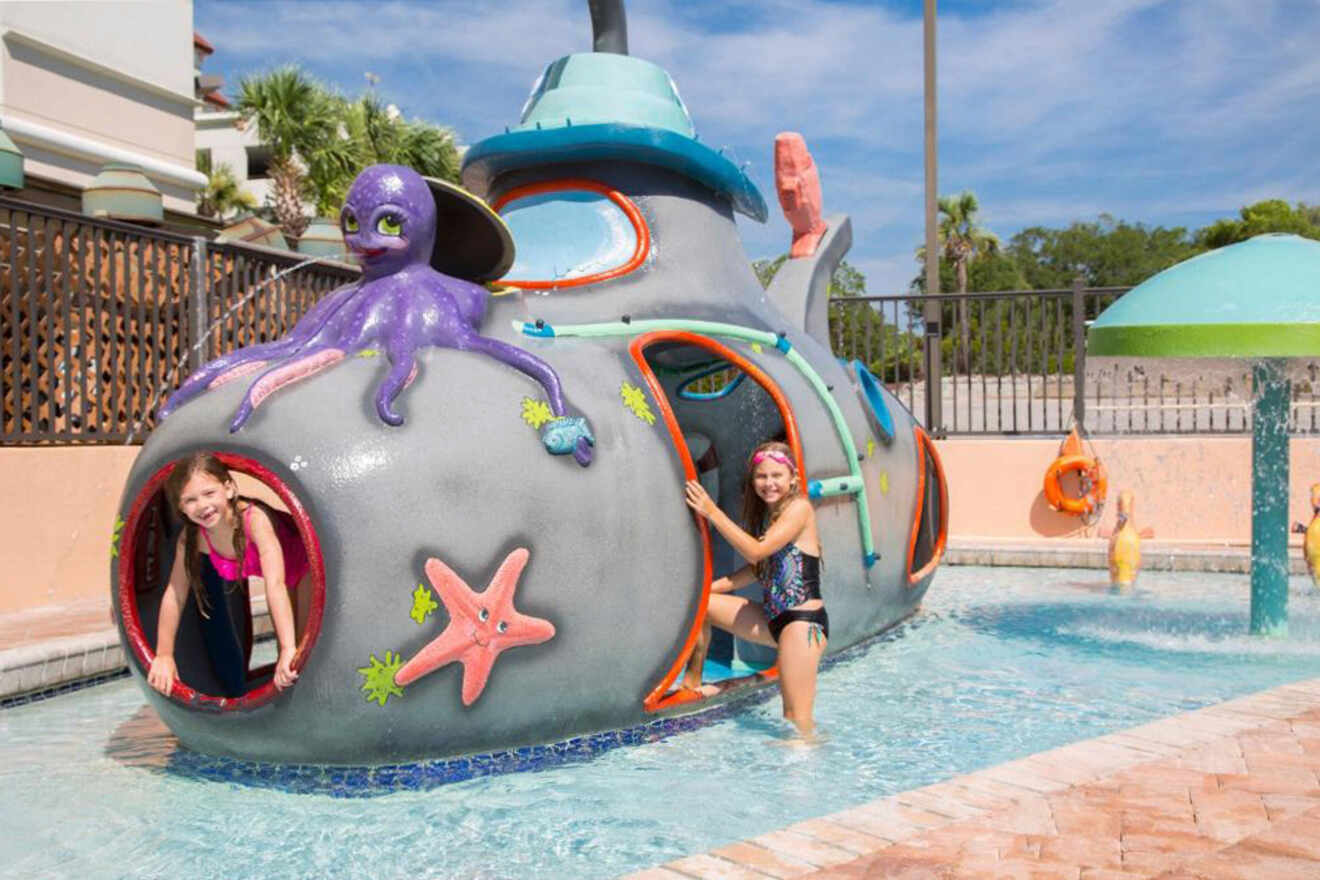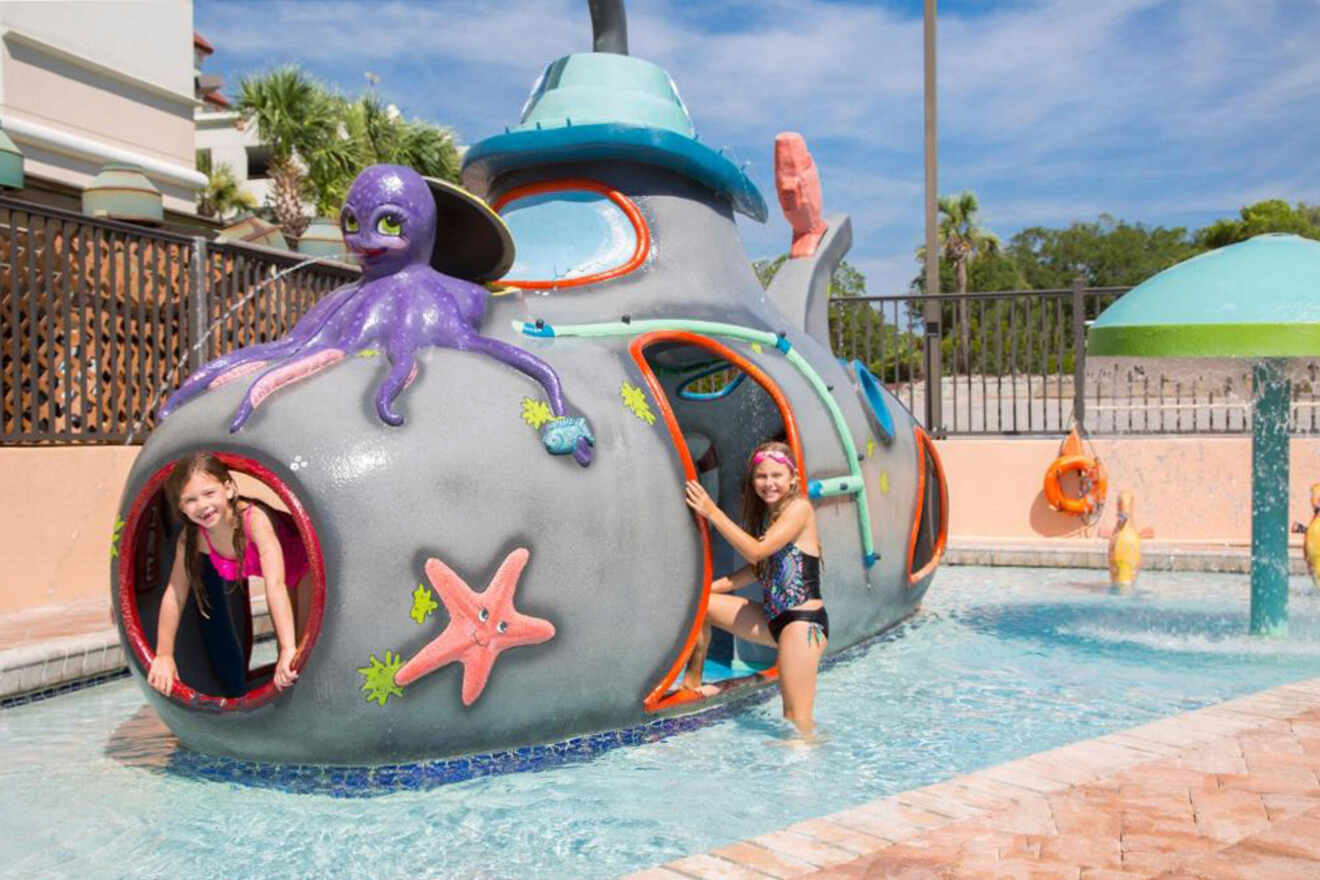 Conclusion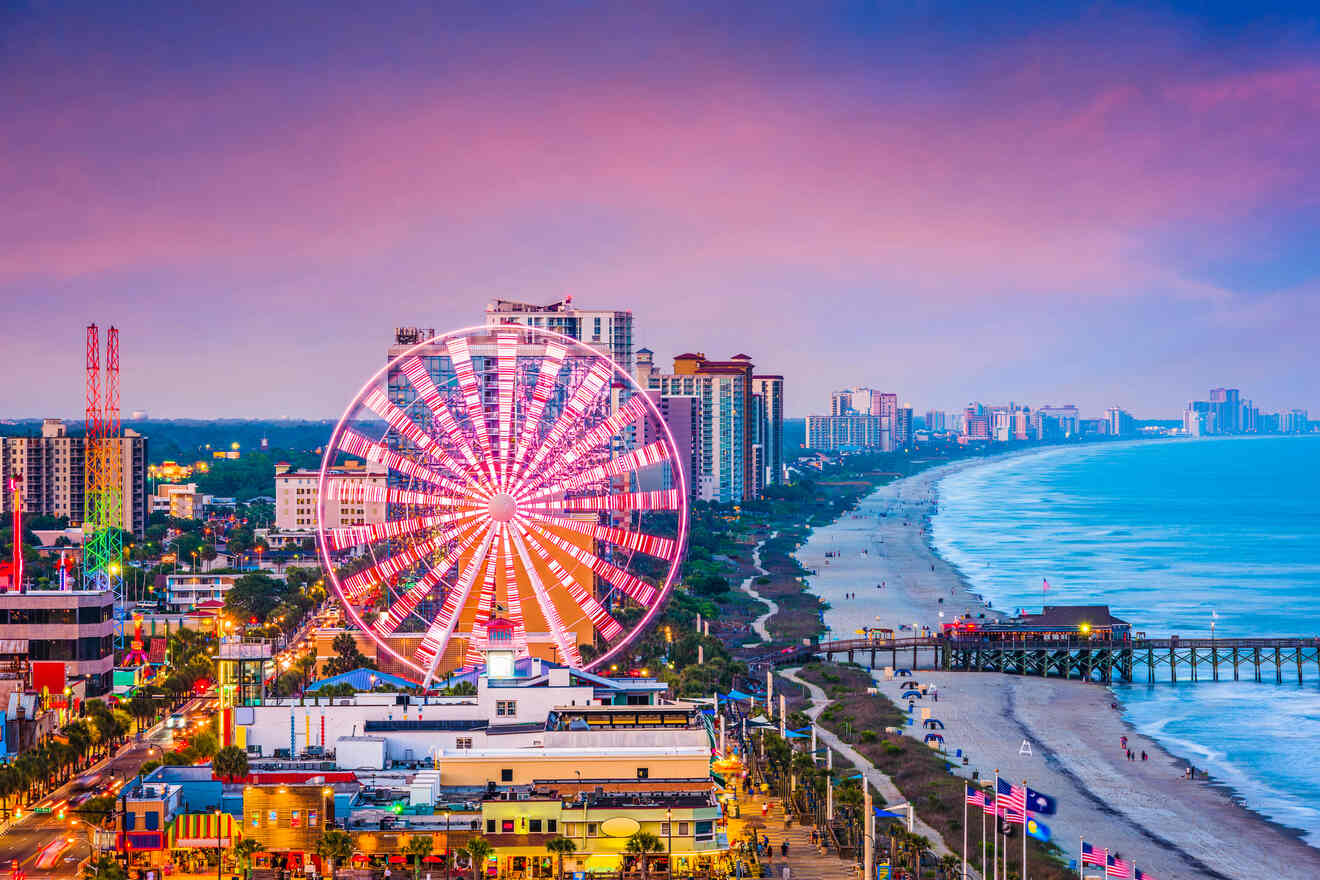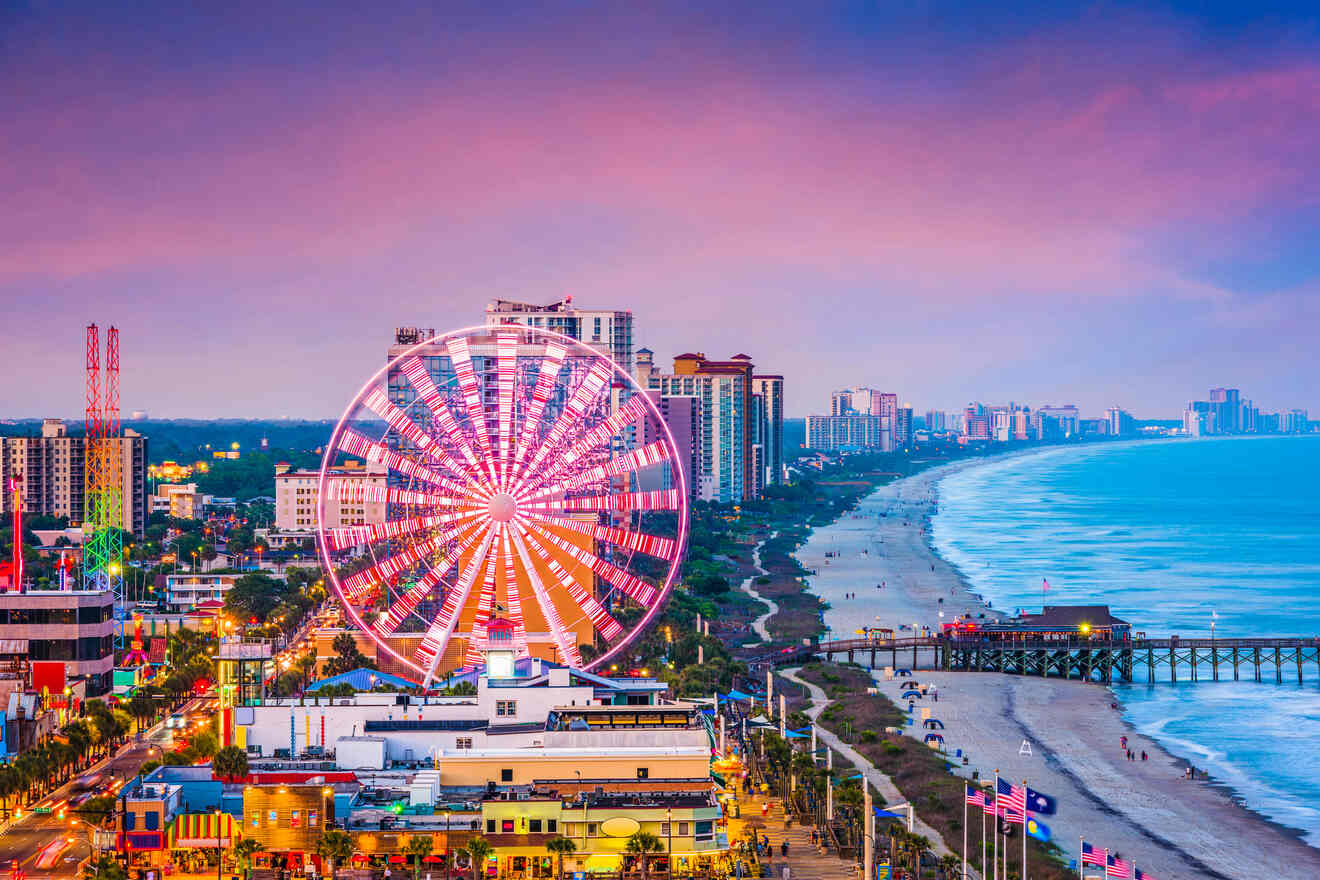 Vamos a la playa!
Now that we've gone through this list of the best Myrtle Beach hotels with a water park, you're probably ready to do that!
But don't forget that the first and most important thing is to book your hotel in advance. As I mentioned, these places are so popular that everyone will run to secure their spot.
Before we wrap up, I want to offer you my top 2 Myrtle Beach resorts, which may help you choose a place if you haven't already:
Homewood Suites by Hilton – Spend a wonderful time in the indoor pool of this oceanfront resort that has a game room and rooms with balconies
Grand Palms Resort – With an outdoor lazy river, and lots of water slides this hotel will become your favorite spot in Myrtle Beach
It's been such a thrill to tell you all about these wonderful hotels! If I left any questions unanswered, just drop me a comment below, and I'll answer ASAP!
Safe travels,
Victoria
---
Pin it for later!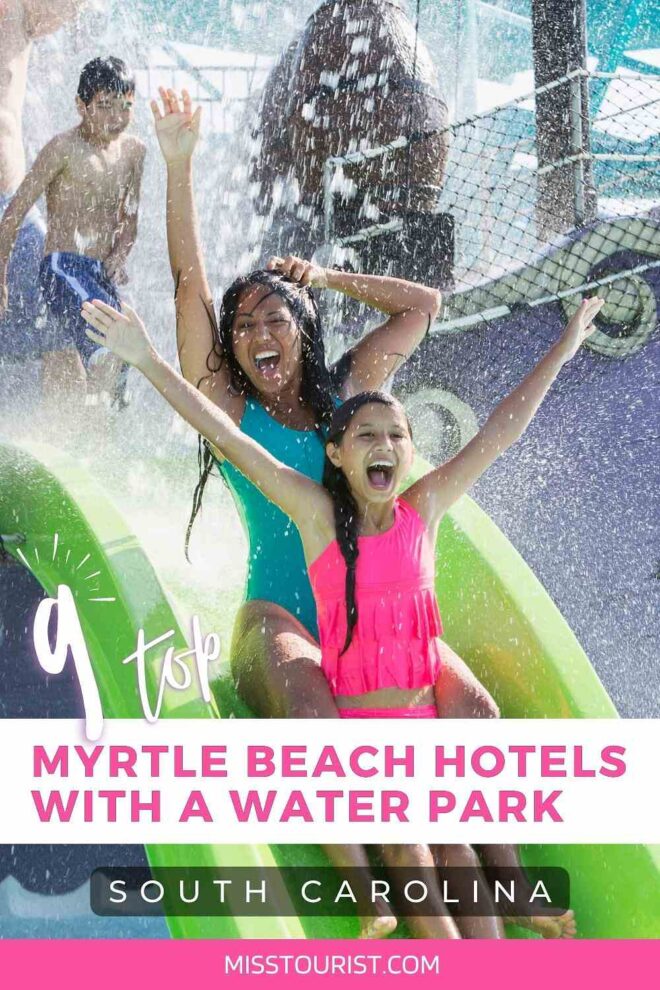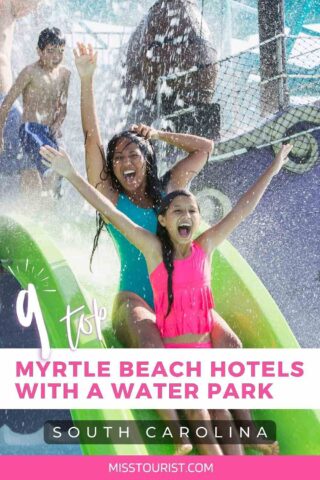 Pin it for later!