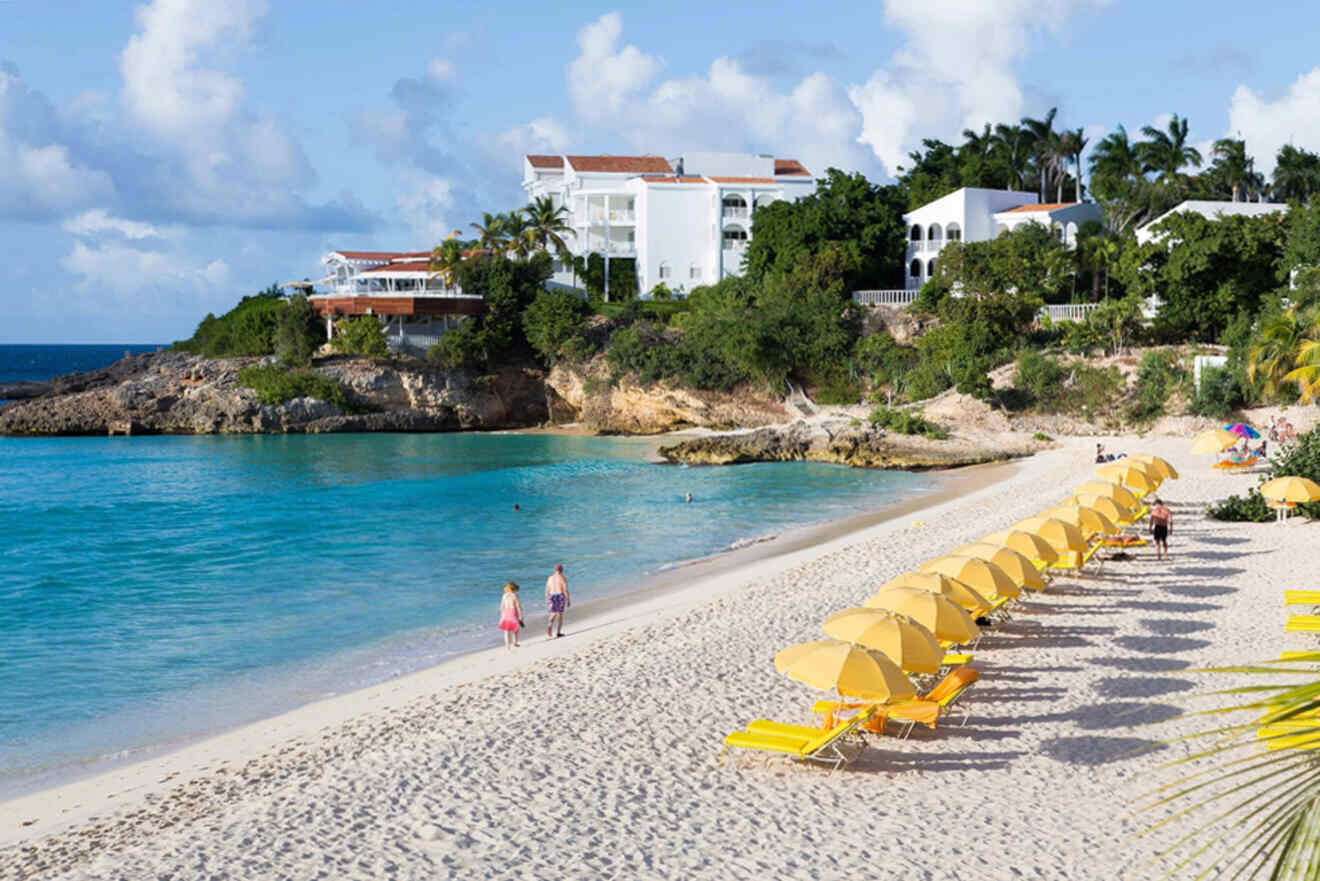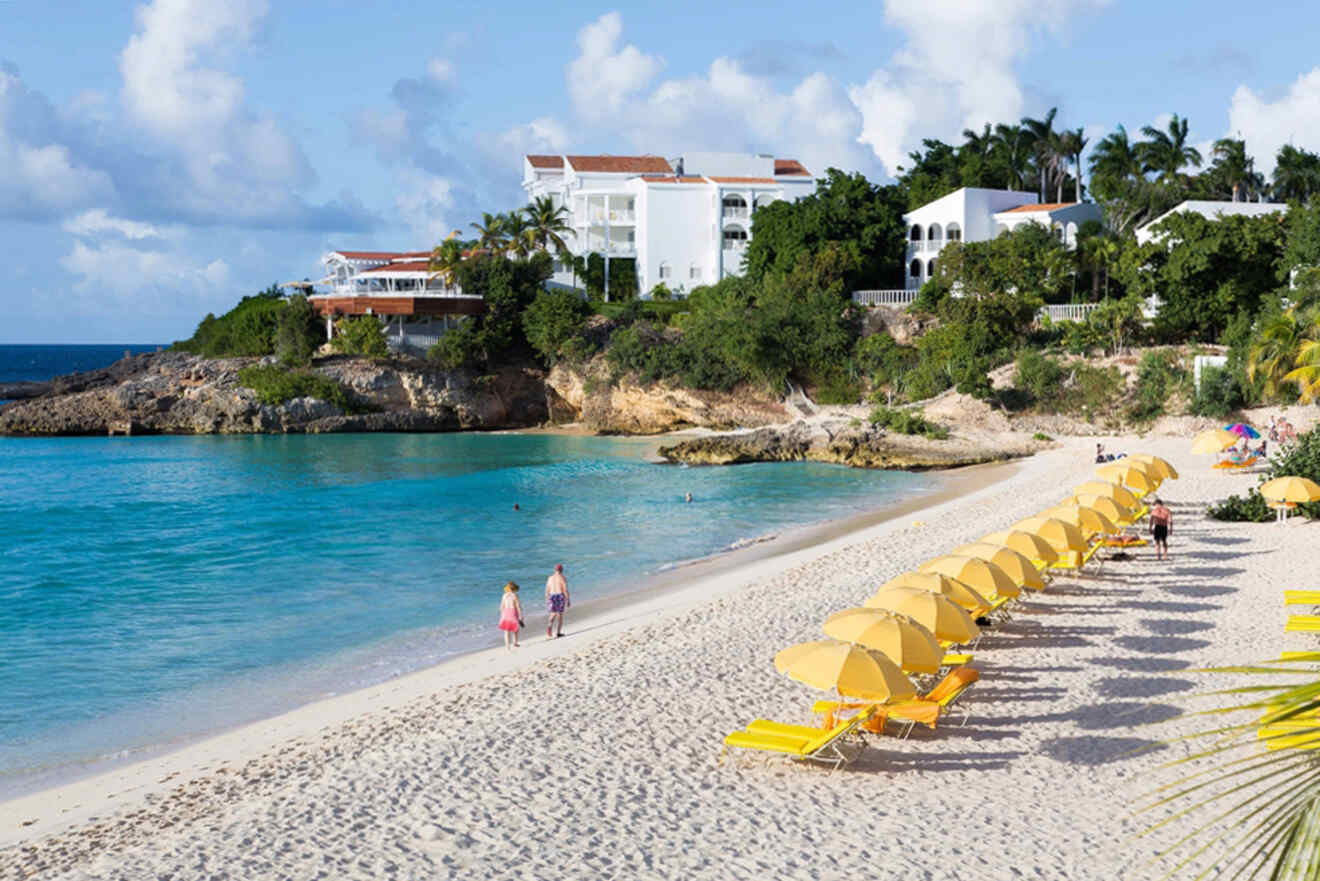 Are you getting ready to travel to Anguilla? This small Caribbean island is a terrific vacation destination known for breathtaking coastal views, amazing people, and clear-blue waters.
I've done extensive research on where to stay in Anguilla to help you out, and compared all the best areas and hotels to make planning your trip easy breezy!
The best area to stay is around Meads Bay. With some of the best beaches, pristine waters, and tons of family-friendly attractions, this area is the perfect combination of the best sights and activities Anguilla has to offer.
Whether you're coming with a family or on a romantic getaway, I'm determined to help you find accommodation that meets your travel preferences. You'll find an overview of the 4 best areas and the best hotels in each.
Do note that Anguilla is gradually growing into a touristy place, especially since the direct Miami-Anguilla flights kicked off. I highly recommend you book your stay in advance to secure the best deals.
If you are in a hurry
Here is my choice of the best Anguilla accommodation options in Meads Bay (the best area for first-timers):
---
Watch my video, it will give you a visual explanation of all the areas:
---
Check out the map below to help you visualize the areas where to stay in Anguilla: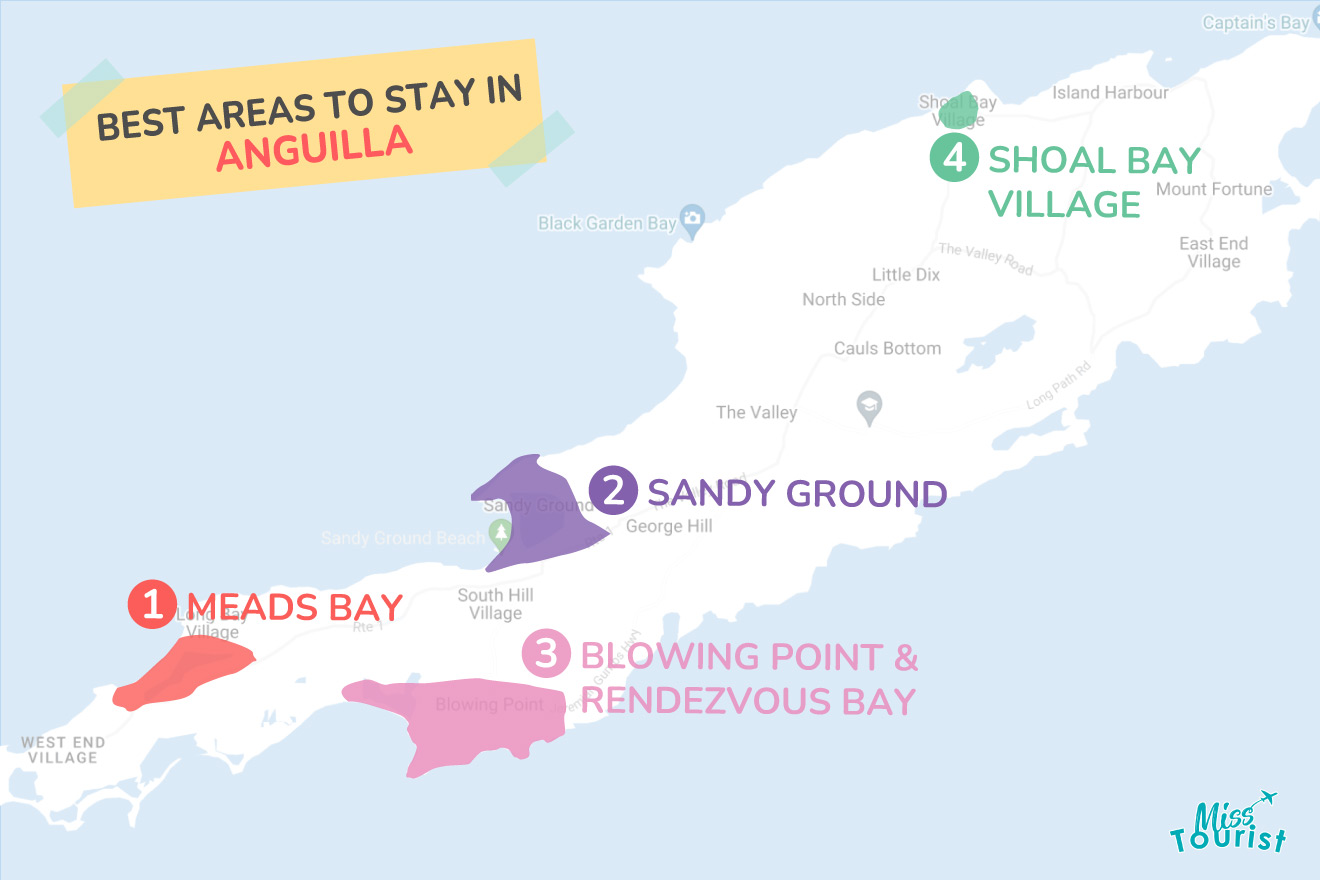 1. Meads Bay Beach – where to stay for first-timers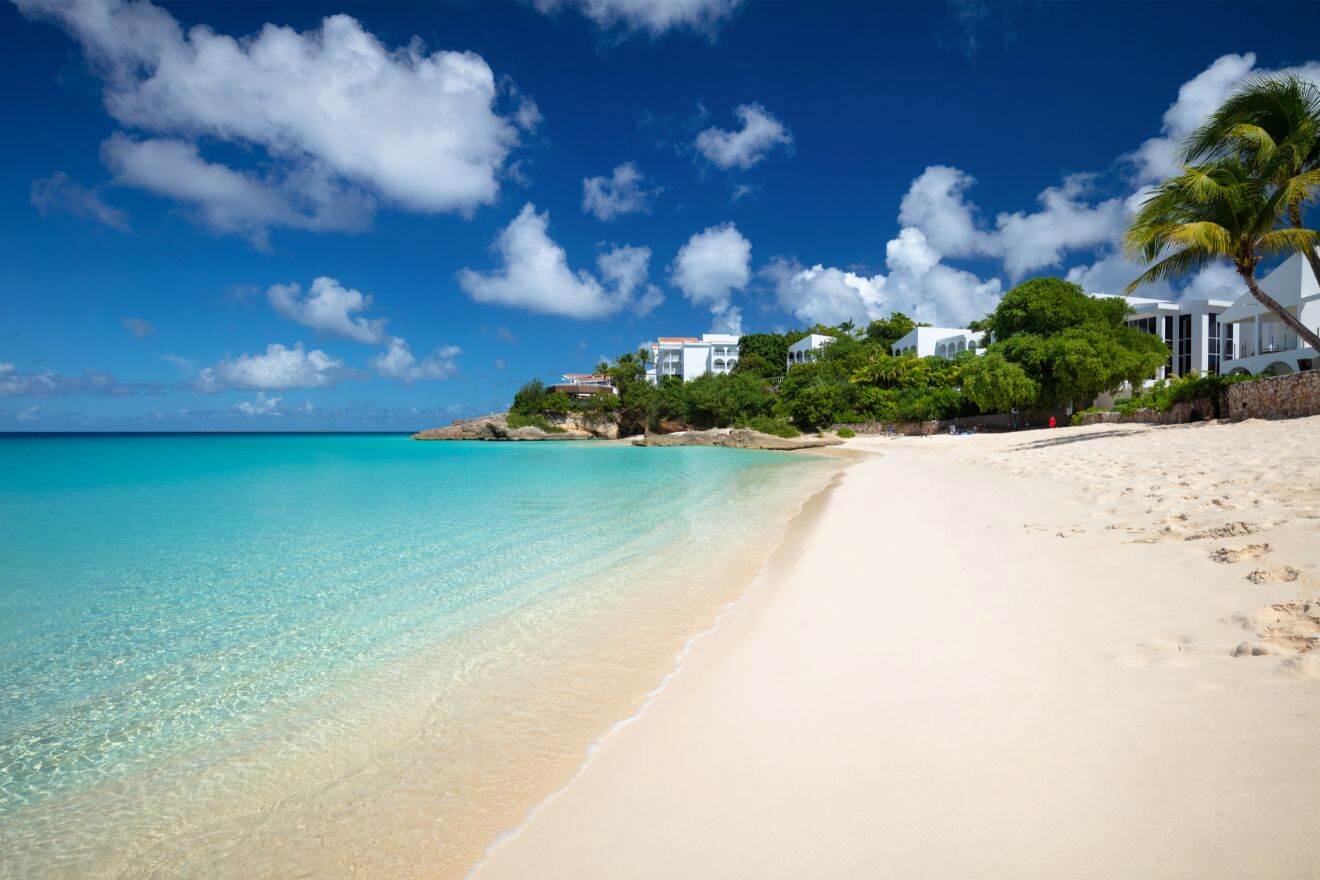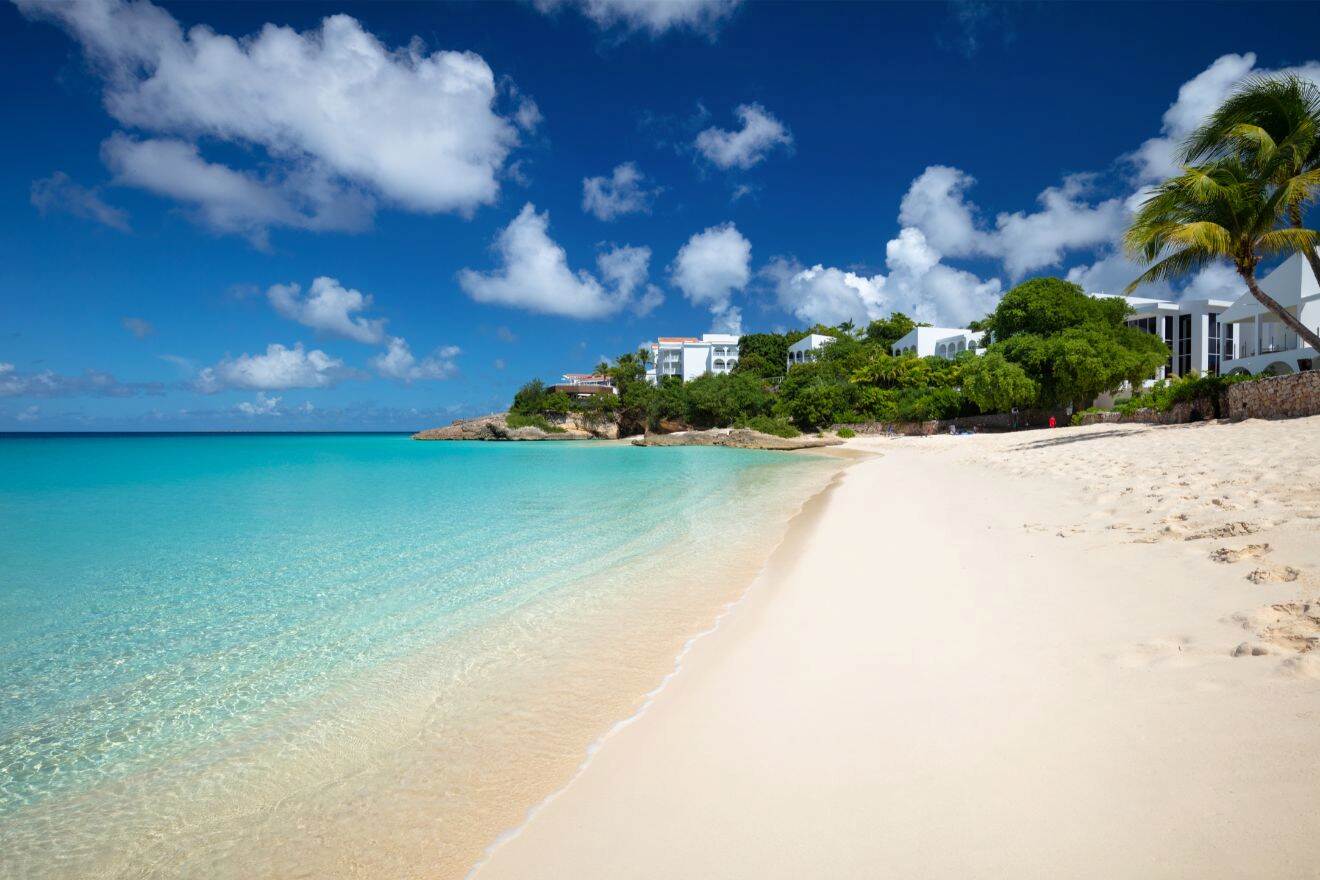 Meads Bay area is the ideal place to live an authentic Caribbean dream. Look no further if you want to be close to the island's top beach bars, local artisanal craft shops, and markets.
Meads Bay Beach is ideal for watersports enthusiasts and is favored for sea turtle spotting locations.
Birdwatching enthusiasts, head to the Meads Bay Pond, as this is an important bird area on the island!
All the fun activities, sights, and fine dining are located in the Meads Bay area! Some nearby restaurants worth trying include Straw Hat and the Blanchards, both beachside restaurants with gorgeous ocean views and great food!
Neighboring Meads Bay on the east is the Long Bay Village, prioritized for its tranquil ambiance and luxury villas. But if you want to stay closer to the West End Village, a tropical heaven on Earth, you can choose from numerous luxurious options in the area, too.
Luxury hotel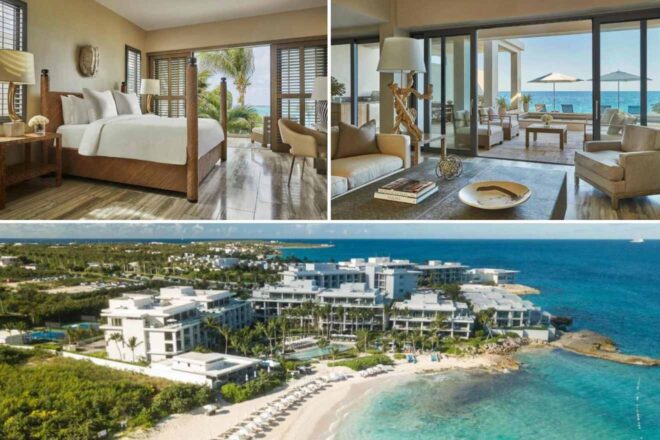 Overlooking Barnes Bay, Four Seasons Resort and Residences Anguilla offers poolside luxury and relaxation and is one of the best Anguilla hotels. This beachfront resort has an outdoor swimming pool, fitness center, a furnished terrace, 3 pools and tons of beach activities for the whole family. Includes pampery spa treatments.
Other accommodation options in Meads Bay
Mid-Range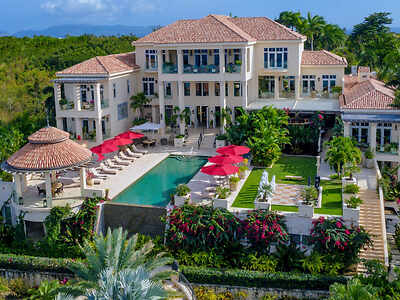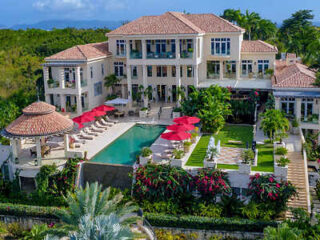 Adult-only hotel that overlooks Long Bay Village, popular for destination weddings and honeymooners
Budget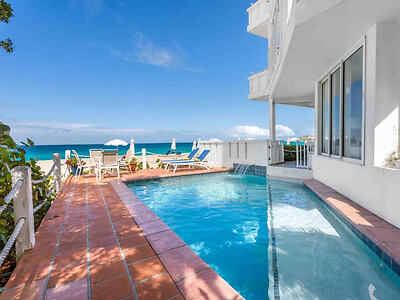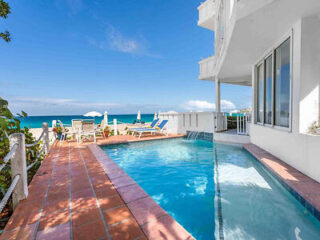 Centrally located at Meads Bay Beach, free private parking, barbecue area, pool, and spacious apartments
Airbnb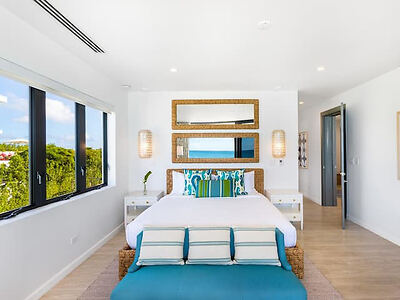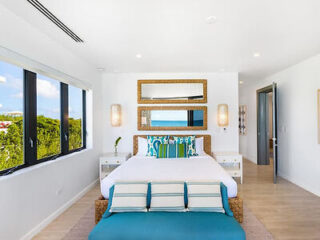 Another seafront resort and luxury condominium with a hot tub and outdoor terrace with spectacular views of Meads Bay
Things to do in Meads Bay
Eat out at the Blanchards Restaurant and Beach Shack
Tour the island on a moke
Visit the West End Village
Drive to the Anguilla Arch (map)
Spend a day at the Long Bay Village Beach
Head to the nearby Maundays Bay
2. Sandy Ground – where to stay in Anguilla for fun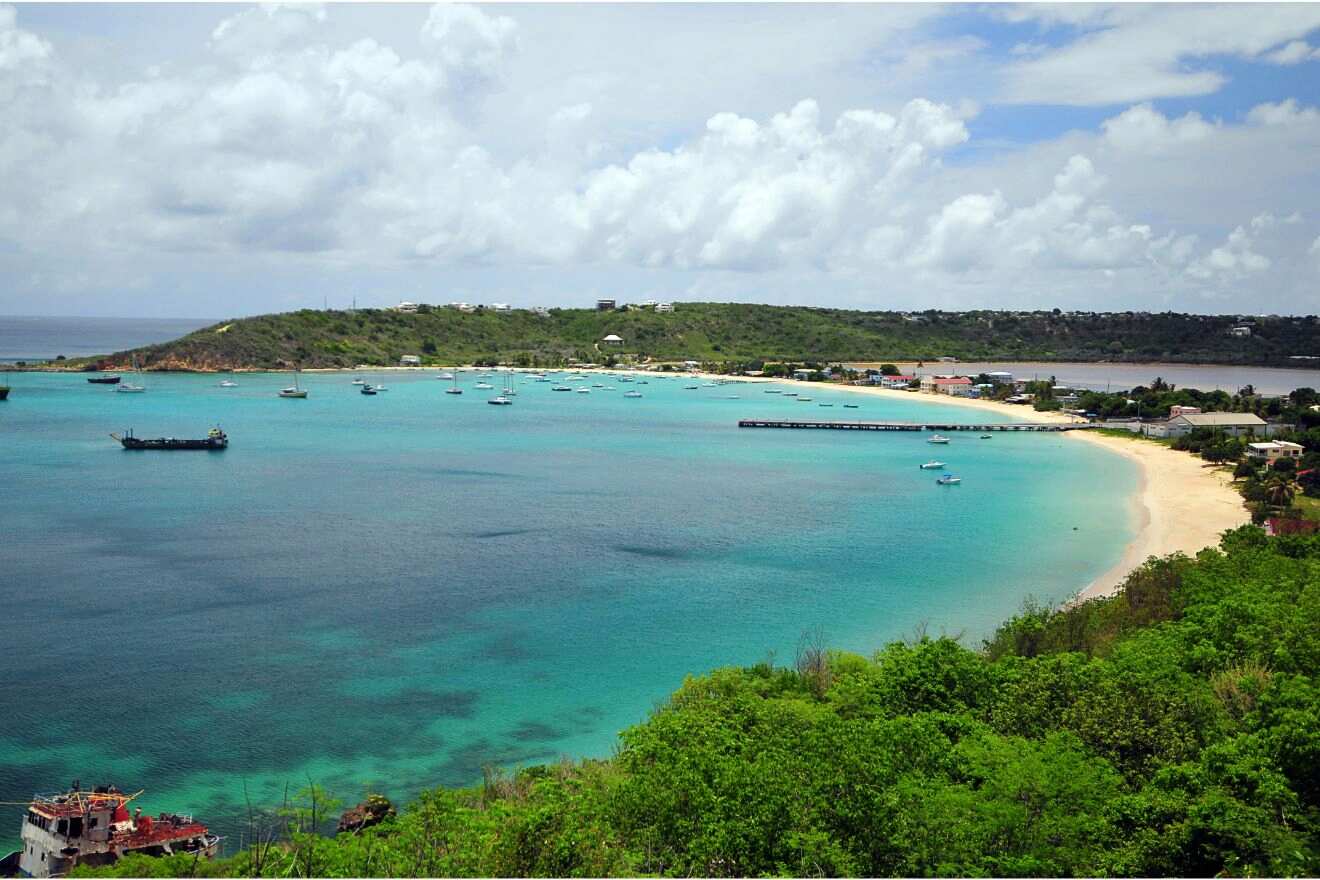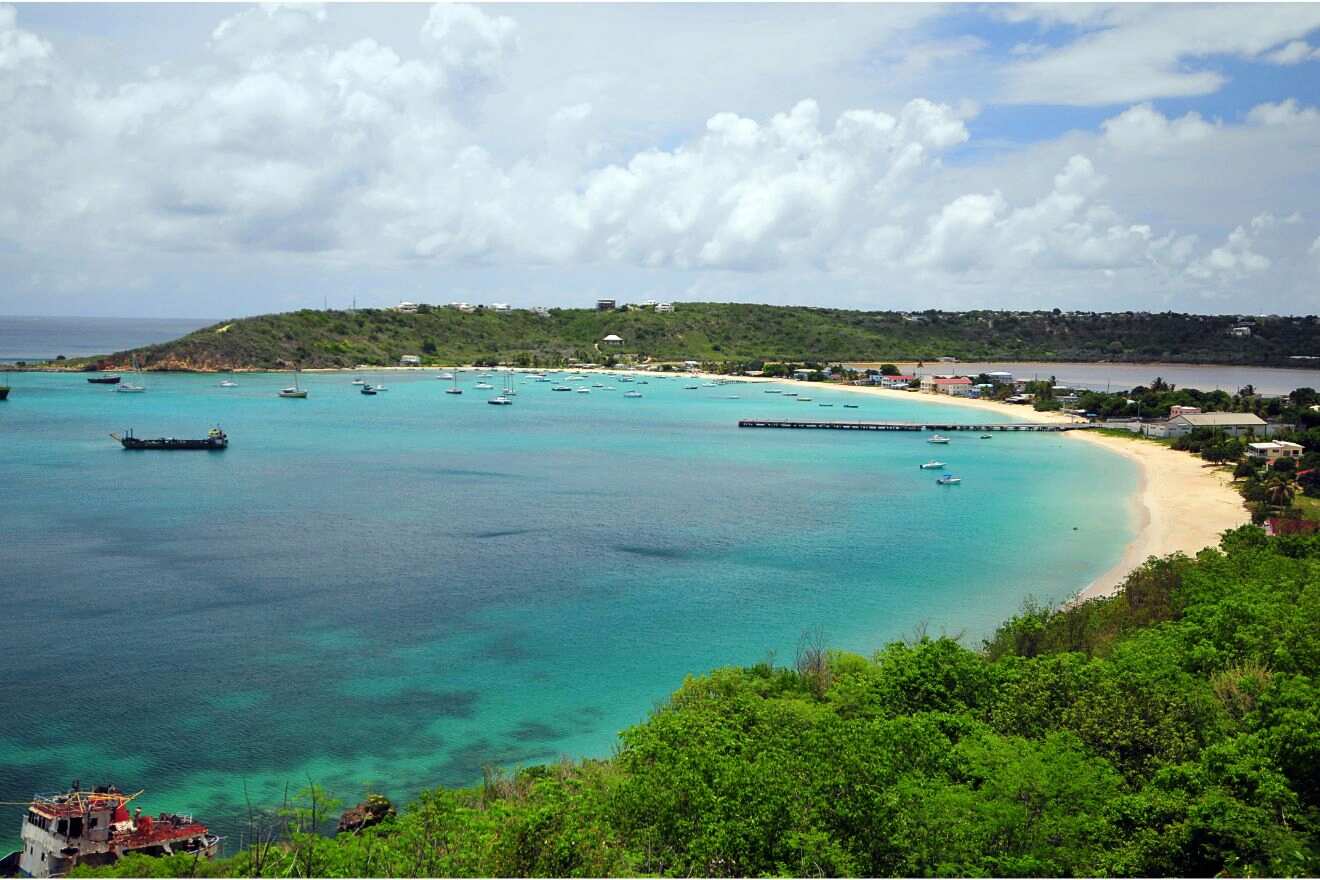 Welcome to the fun part of Anguilla Island! This area lies on the Road Bay waters and is easily accessible to local seafood eateries and fine dining options. It also provides access to boating excursions and is an ideal place to rent a villa.
The Road Salt Pond in the area provides unique bird watching opportunities, too.
Close to dockyards and marinas, Road Bay in Sandy Ground is the main anchorage for clearing into Anguilla.
Anguilla isn't an island known for its nightlife, but Sandy Grounds offers some of the best opportunities for the young at heart.
The locals gather here from Friday night to Sunday and perform traditional dances, allowing visitors to learn more about the island's unique culture.
Another perk of staying in the area is its calm water. If you're visiting with kids, this is a super easy beach, a sort of a baby pool without slopes!
Sandy Ground is the perfect base for visiting Sandy Island nearby! You can also drive to the nearby Little Bay if you want some seclusion and privacy on the island.
Luxury hotel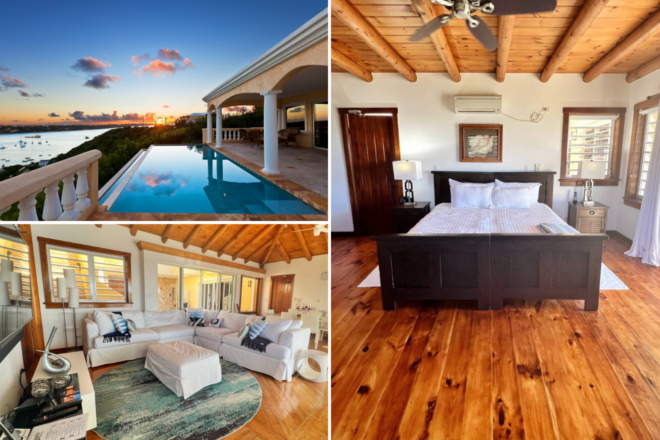 Perfect for romance and honeymooners, this villa will belong entirely to you. It can fit from 2 to 8 people and has a fitness center, BBQ area, Jacuzzi hot tub, 1 open, and 1 covered patio. At an additional charge, you can get spa services, a private chef, car rental, swimming instruction, and more.
Other accommodation options in Sandy Ground
Mid-Range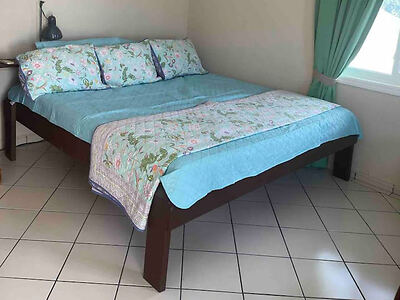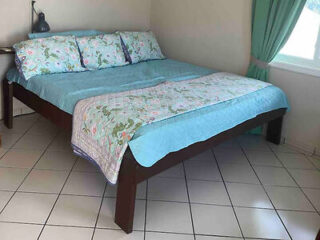 This Bayview house fits up to 9 people and is steps away from Sandy Ground Beach, ideal for large families
Budget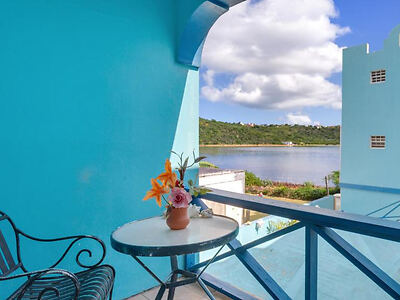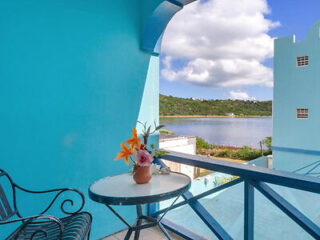 Free parking and Wi-Fi, picnic area, and compact rooms with a kitchen that have a local charm
Airbnb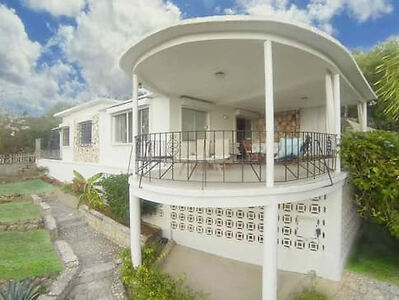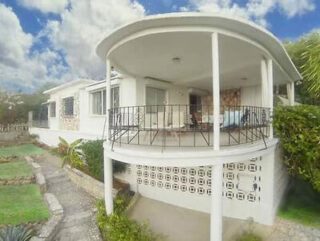 Cottage-type home with mesmerizing views of the Bay from the outdoor patio area and spacious interior
Things to do in Sandy Ground
Eat local seafood at the Veya restaurant
Party at the Elvis Beach Bar
Sail to the Prickly Pear Cays
Visit the neighboring Crocus Bay Beach for seashell hunting
3. Blowing Point & Rendezvous Bay – where to stay for families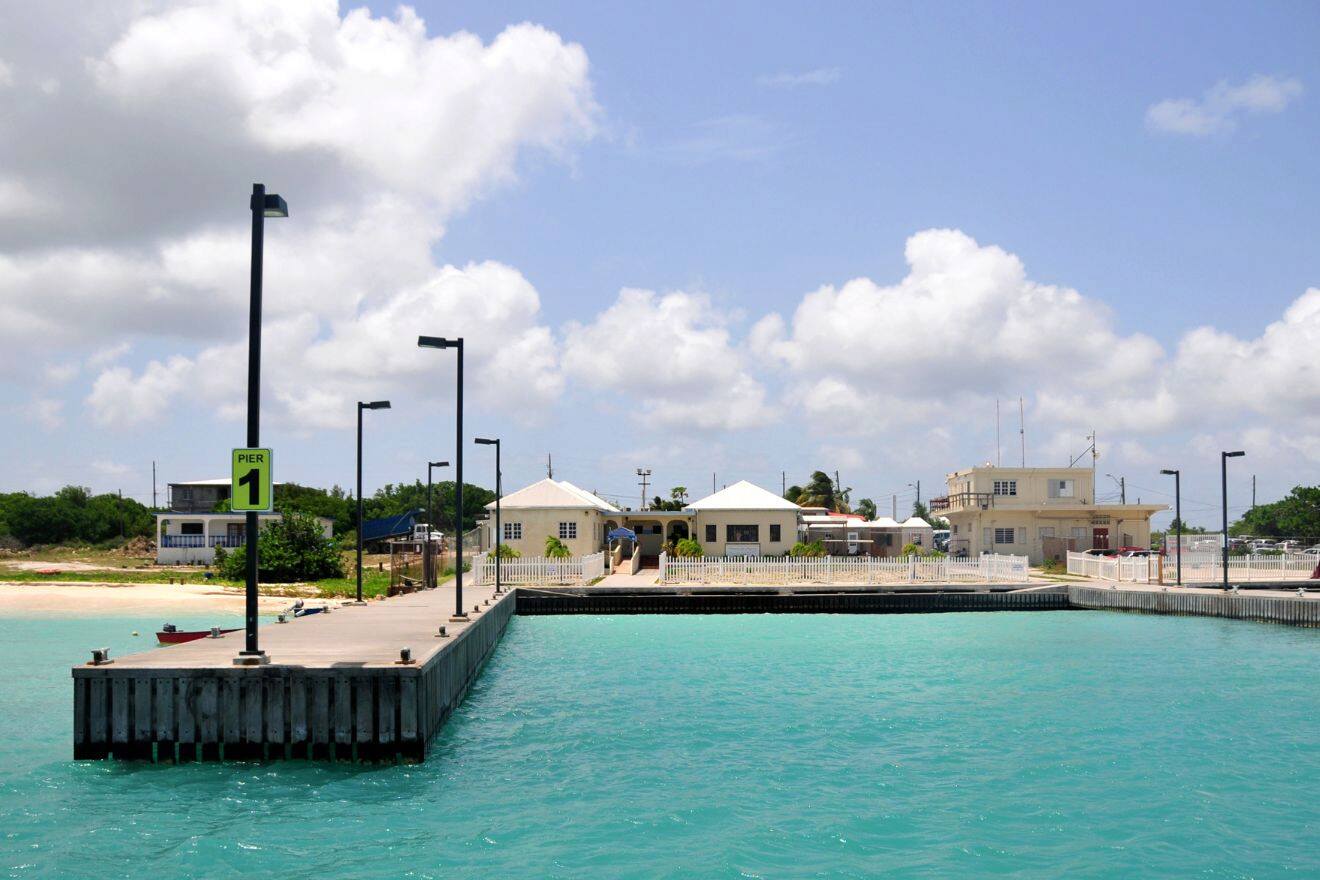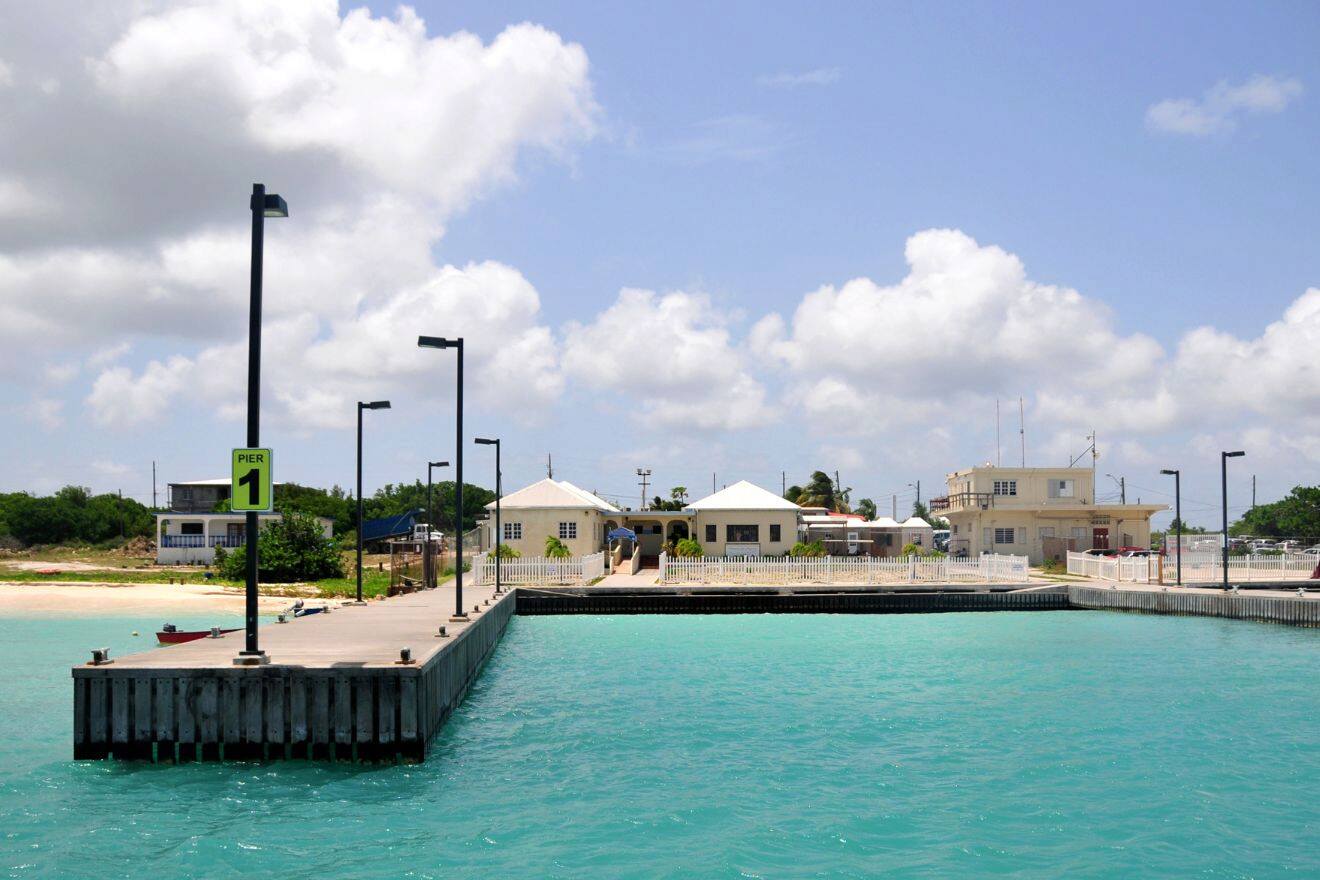 The beautiful Caribbean island of Anguilla is also home to Blowing Point and Rendezvous Bay, both featuring villas with private pools. The area is ideal if you're bringing the whole family.
You'll be located in the heart of island festivals (depending on the time of year you visit), live music, and cultural events.
The most famous festival in the Eastern Caribbean, Moonsplash Festival, takes place at the Rendezvous Bay in the area.
Also, the only aquapark on the island is located here. It's ideal for some fun in the sun for the little ones.
Head to the Rendezvous Bay Pond and its beautiful beach to soak in the stunning views and enjoy the scenery, or visit a local golf club (like the Aurora Anguilla Resort & Golf Club) for a more sophisticated experience on the island.
Nearby bays worth visiting include Pelican Bay and Rendezvous Bay. The second overlooks neighboring Saint Maarten Island, which is only a short ferry ride away (and a great option with amazing hotels to extend your stay).
You can also head north from Blowing Point to Elsie Bay, known for its private and serene settings and beaches in eco-friendly surroundings.
Luxury hotel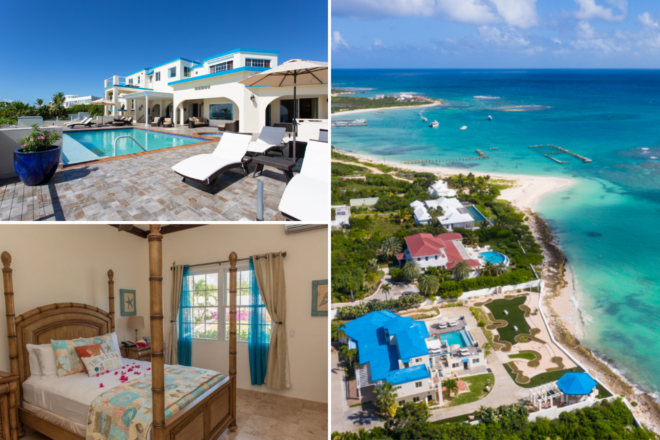 Anguillitta Resort offers a fusion of luxury and local charm with a range of suites available. Choose from 3 or 9-bedroom suites with all amenities, all within walking distance from the beach. You can get an entire estate if you're coming with a large group.
Other accommodation options in Blowing Point
Mid-Range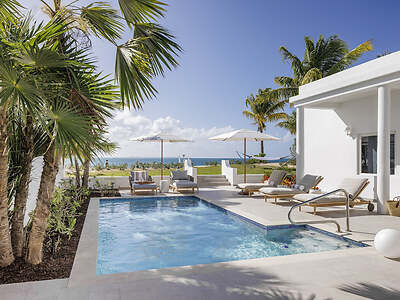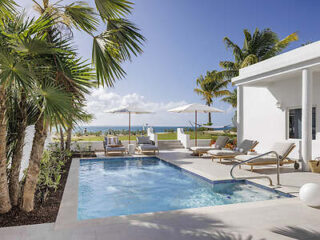 Fabulous resort with 2 outdoor swimming pools, a hot tub, spa, free Wi-Fi, and modern furnishings
Budget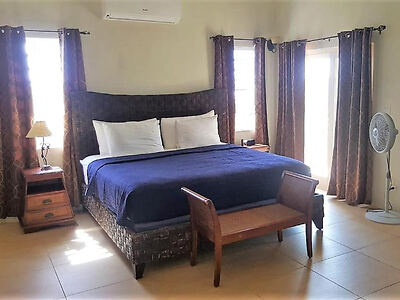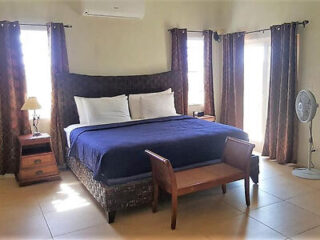 A short drive from Shoal Bay, this holiday home has 3 sea-view bedrooms, a hot tub, and free Wi-Fi
Airbnb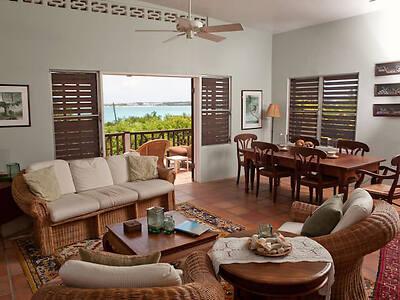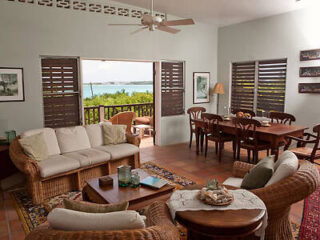 Your very own private villa close to the beaches, spacious, clean, and with great views in a quiet area
Things to do in Blowing Point
Spend a peaceful day at the Pelican Bay Beach
Visit the neighboring St. Maarten island
Eat out at Fish Shack & Grill
Play golf at the Aurora Anguilla Resort Cuisinart Golf Resort
Enjoy live music at Bankie Banx's Dune Preserve
4. Shoal Bay Village – where to stay for nature & local history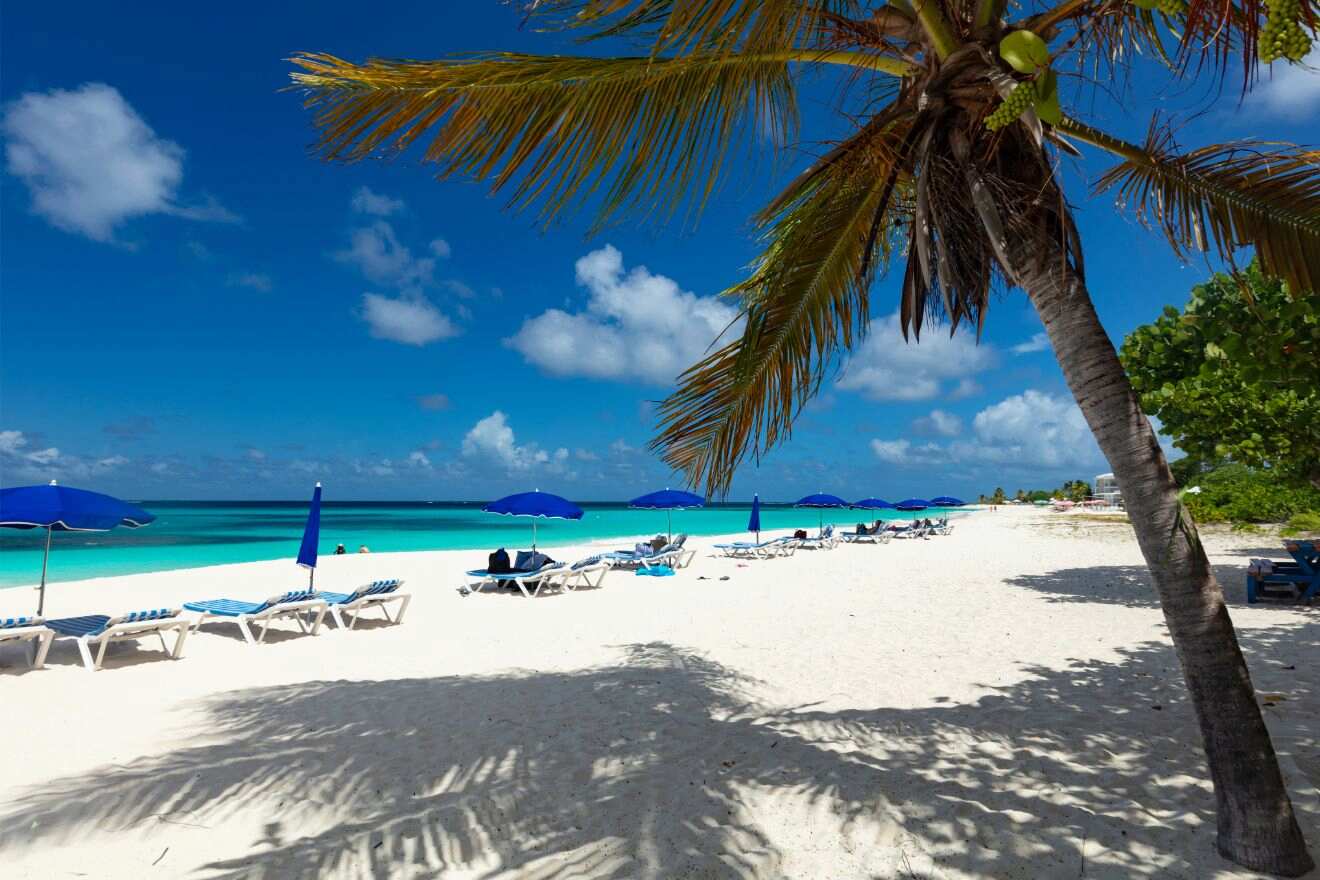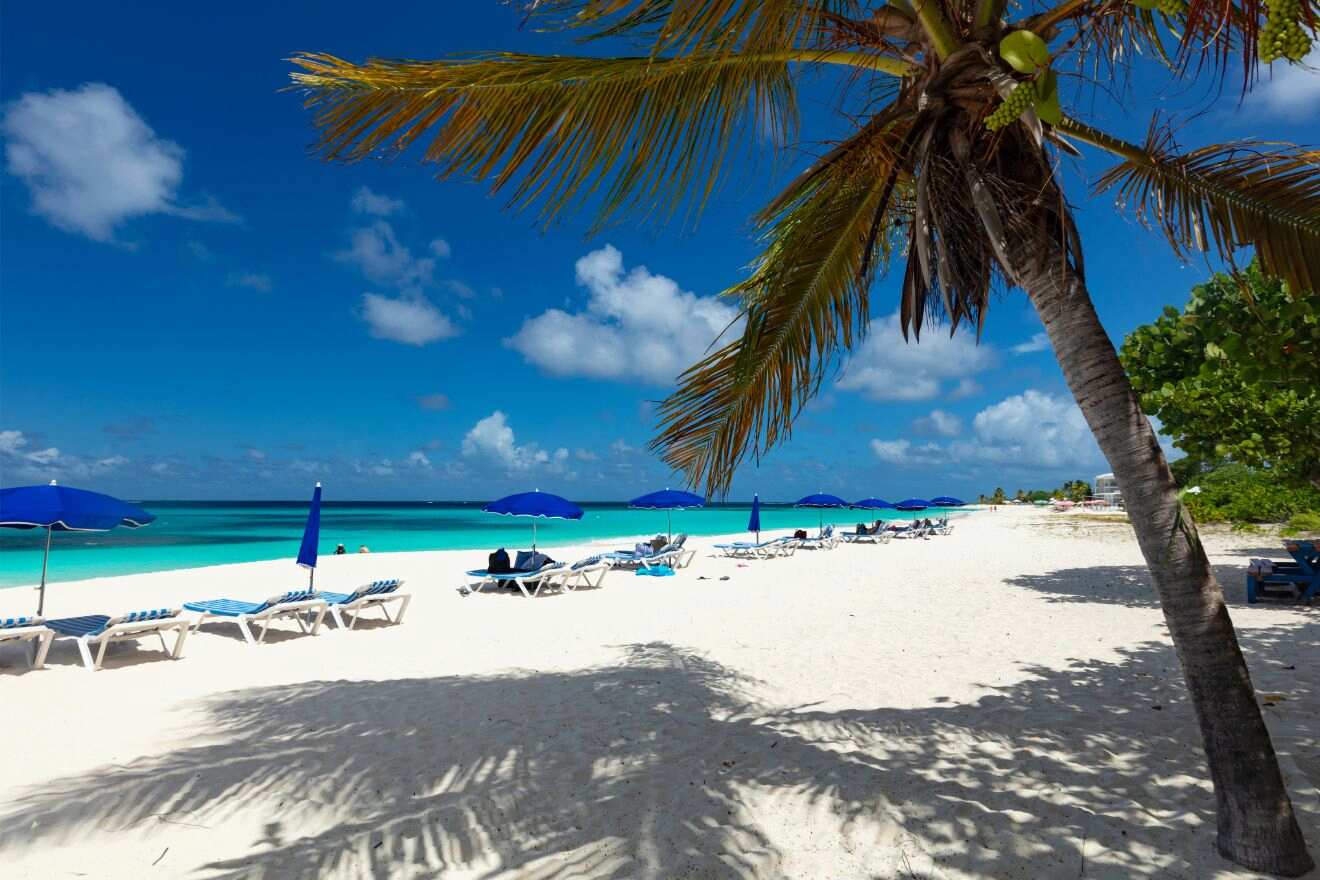 Shoal Bay Village is perfect for exploring nature and local history. Nearby, you'll find the Big Spring Cave (in the Island Harbour village). You can also sign up for unique Heritage Tours by The Anguilla National Trust and visit various historic sites.
On Shoal Bay, you can find plenty of places for food, relaxation, and local markets. The beach is easily accessible with bathrooms, restaurants, and the waters here are exceptionally clear!
This fishing village, notably Shoal Bay East, is the ideal base for fishing adventures and snorkeling! Book your stay here if you wish to be surrounded by the best coral reefs for the ultimate snorkeling adventures!
While you're here, head to Shoal Bay Beach to visit one of the most gorgeous beaches in the Caribbean. Whether you want to relax, swim, or walk, this area is perfect, as it offers beautiful sights you won't find elsewhere.
PRO TIP: Getting around with a taxi can get incredibly expensive on the island. You're better off renting a car, which can cost as little as US$40 daily.
Luxury hotel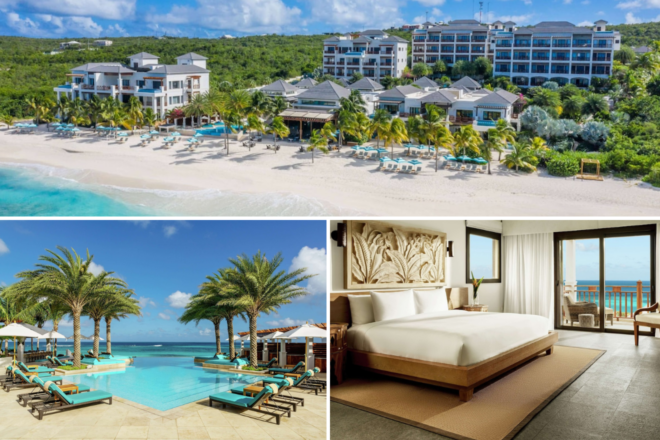 Nestled amidst vibrant island foliage, Zemi Beach House is one of the top luxury resorts that offers vistas of vibrant sunsets and is your go-to destination for a lavish stay on the island. You'll sleep in modernly furnished spacious suites just steps away from the powdery white beaches.
Other accommodation options in Shoal Bay Village
Mid-Range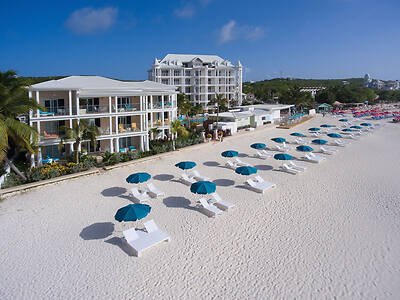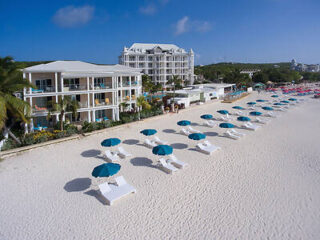 This hotel may be rated lower than I'd recommend, but it offers relaxing spa services, and most rooms have a sea view
Budget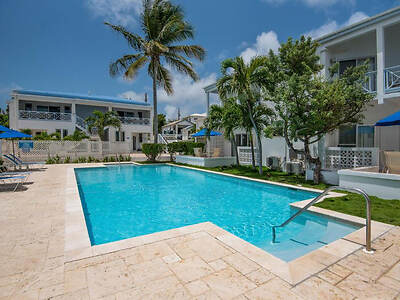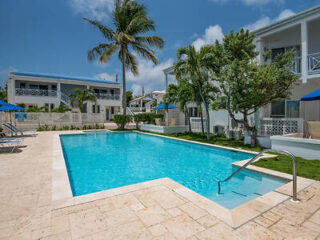 Overlooks pristine Caribbean Sea waters, Shoal Bay Villas is a great value for money, especially for large families
Airbnb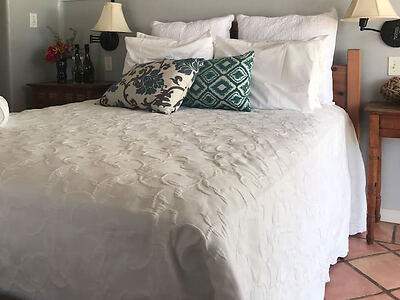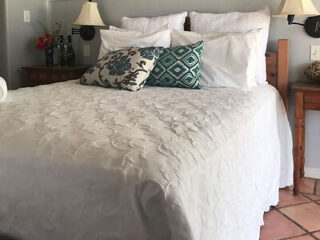 A bungalow with 1 bedroom, patio, kitchen, and living area surrounded by the island's nature trails and lush gardens
Things to do in Shoal Bay Village
Visit the local markets
Interact with the island's welcoming people
Explore local historic sites on a National Trust tour
Try the Madeariman Restaurant for lunch
BONUS: Best hotels in Anguilla
Anguilla has tons of accommodation options, from hotels with 3 stars to luxury resorts with private pools and tennis courts. I felt I wouldn't be doing justice to the diverse hotels offered on this West Indies island if I didn't mention all the best options. The price range for 2 people per night is from US$250 to US$2,200.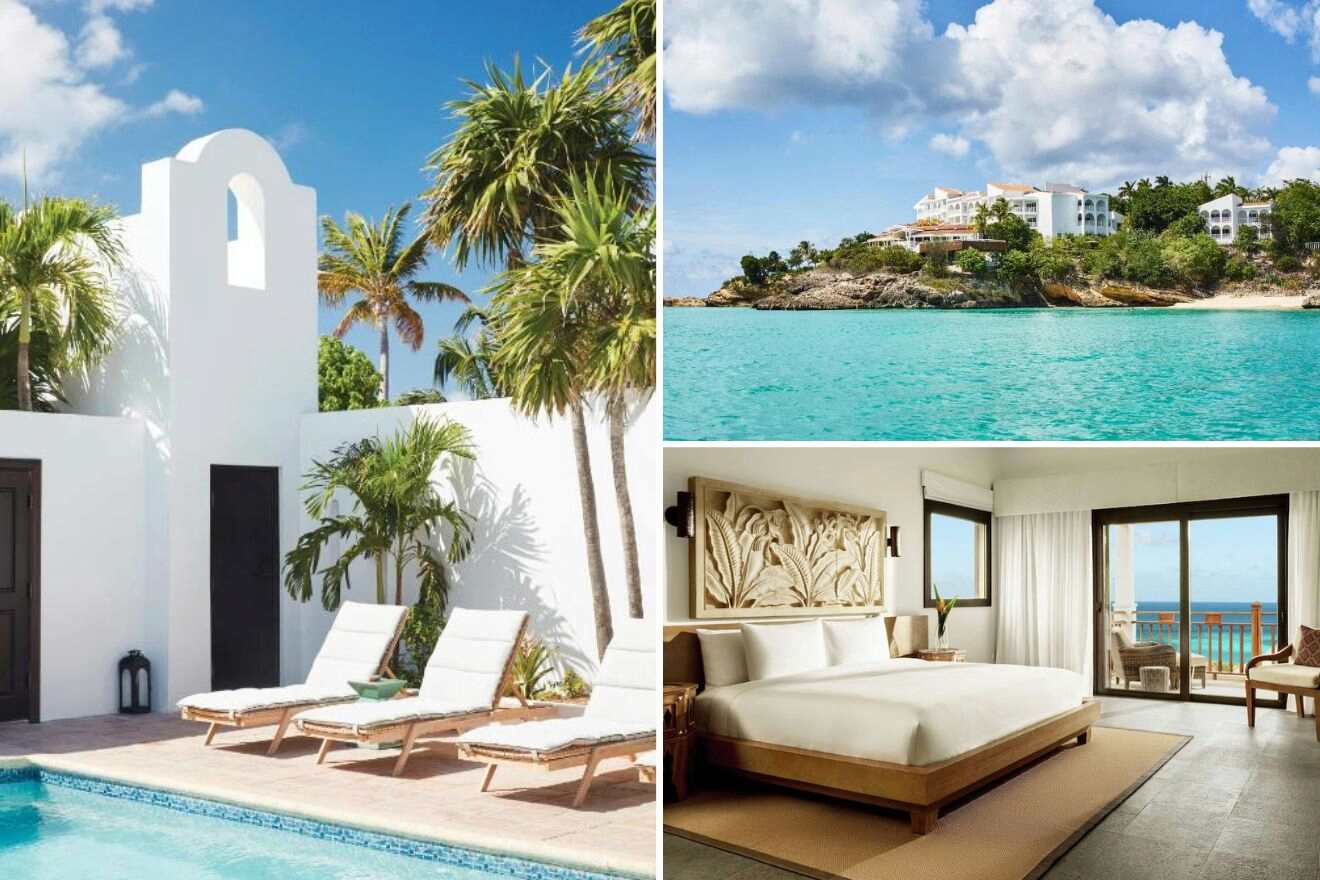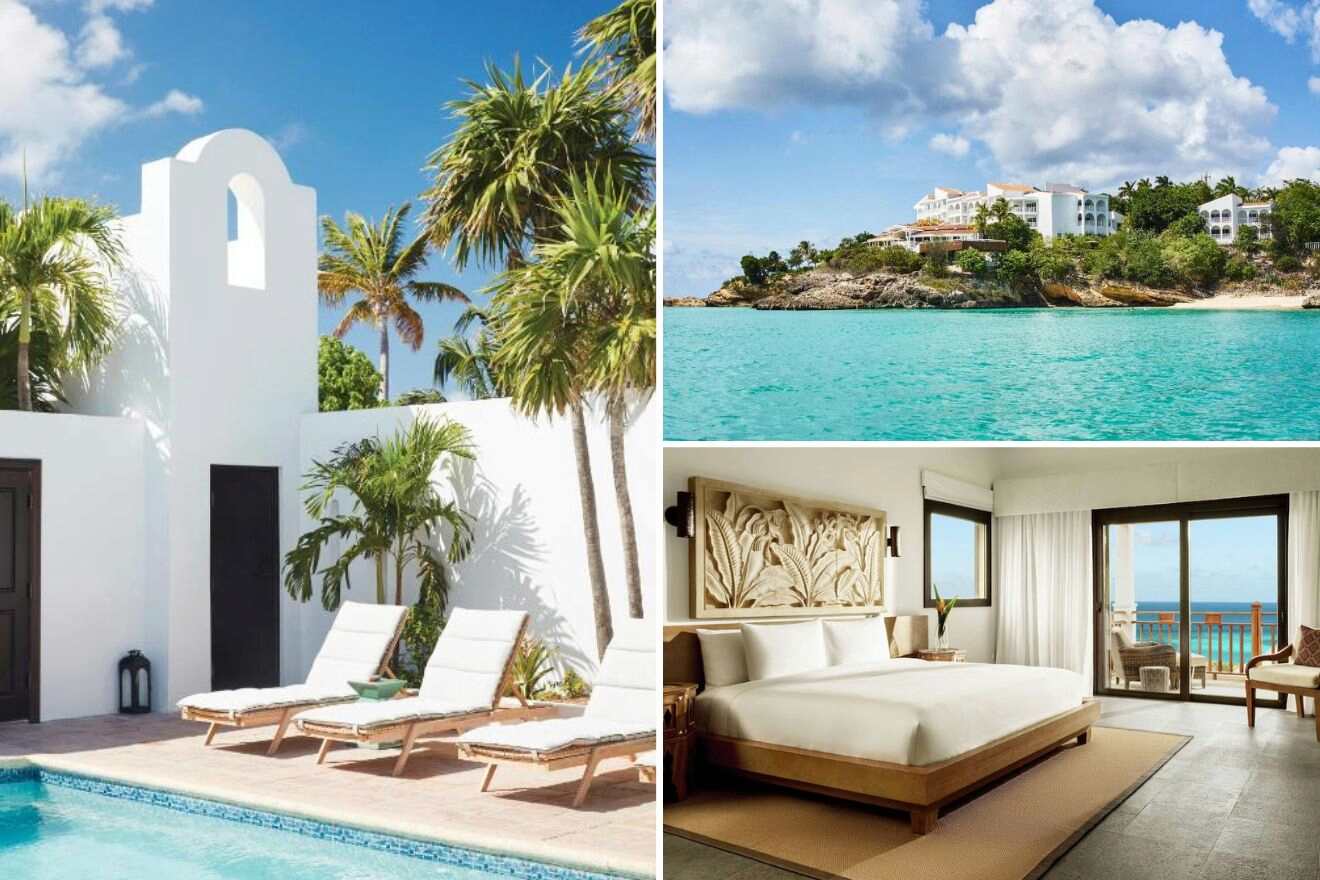 1. Cap Juluca, A Belmond Hotel
Featuring a spa center, outdoor pool, and complimentary continental breakfast, Cap Juluca is a fabulous luxury destination in Anguilla. It's prioritized for its Greco-Moorish architecture, tennis court, and private beach. You can also try motorized water sports like wakeboarding, waterskiing, and others.
2. Malliouhana Resort Anguilla
The central location of this Auberge Resorts Collection hotel means you're steps away from local shops and fine dining areas. It has access to Meads Bay Beach and Turtle Cove Beach. Stay here if you appreciate luxury but want to be located near secluded coves and bays.
3. Zemi Beach House
This LXR Hotels and Resorts property has a private pool, an outdoor swimming pool, a spa and wellness center, free Wi-Fi, and a beachfront location. The hotel is ideal for couples and families of up to 10 people! All rooms have air conditioning and a tea or coffee maker. The only downside (that explains the slightly lower rating) is the lack of entertainment options at night.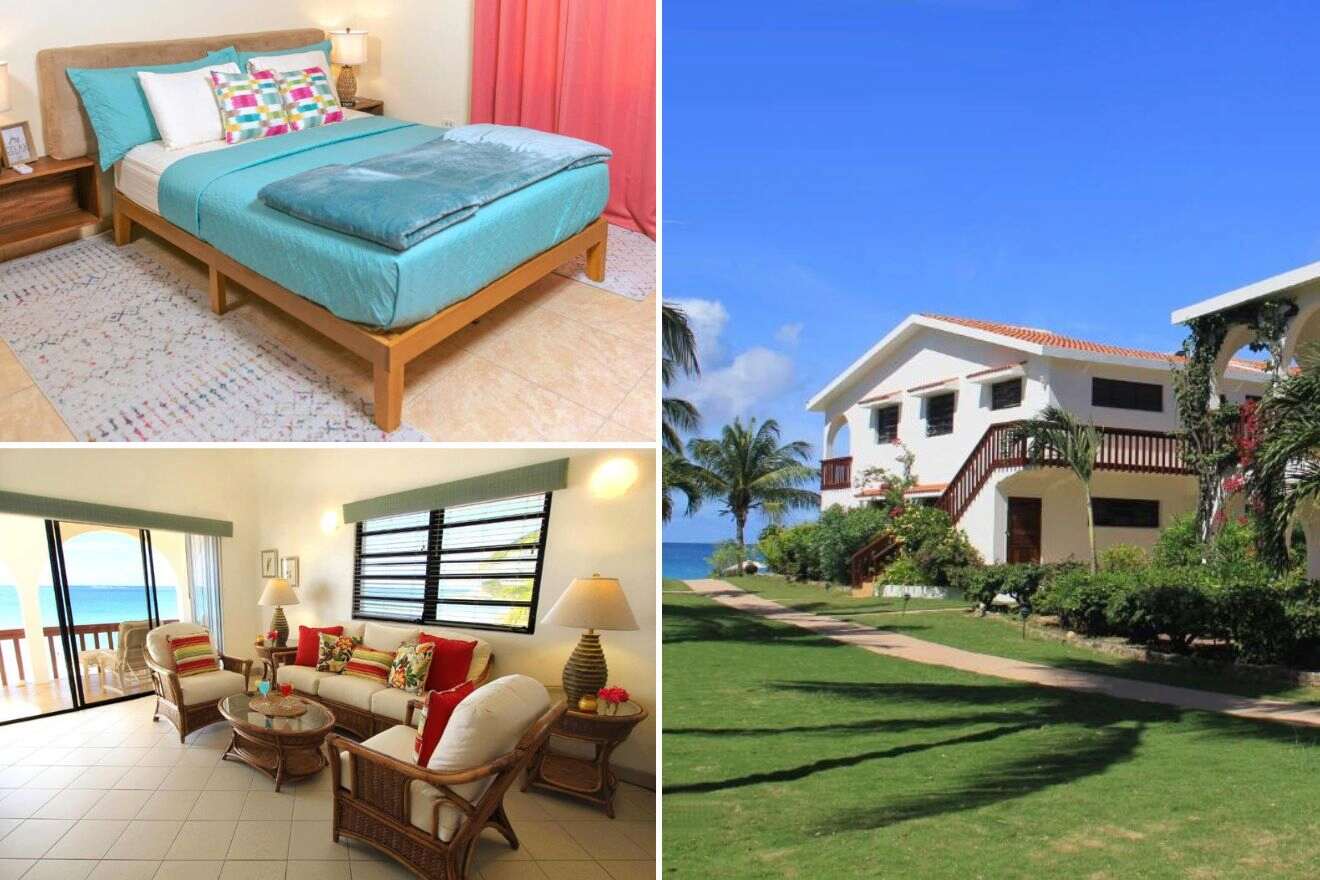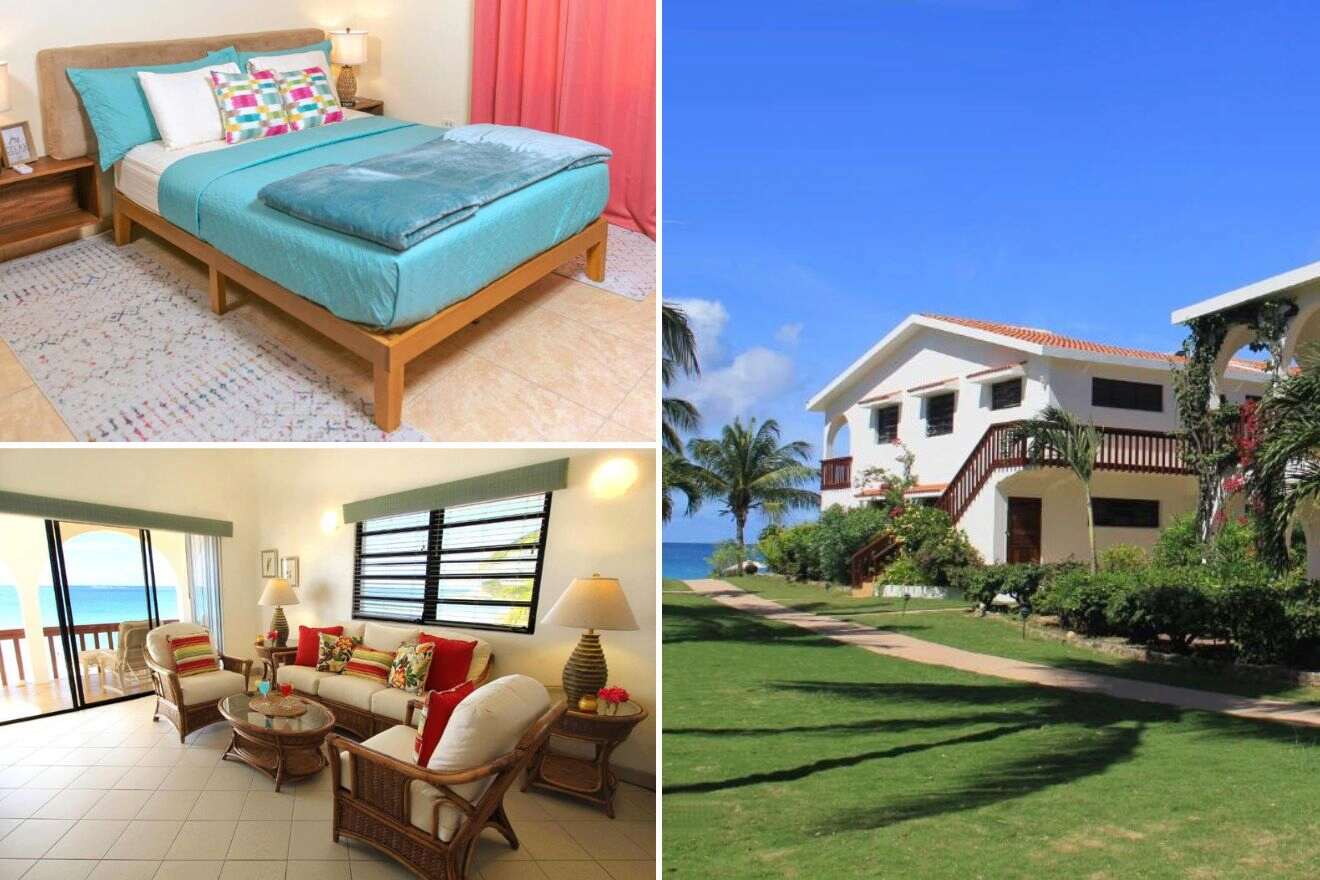 4. Frangipani Beach Resort
Your ticket to barefoot luxury at the heart of Meads Bay. Choose from a range of room categories, suites, villas, and exclusive amenities, including a spa, fitness center, tennis courts, basketball courts, twice-daily housekeeping, and many others! Ideal place to stay with families looking for an active vacation and island exploration.
5. Carimar Beach Club
Carimar Beach Club is one of the best Anguilla hotels with 3 stars. It has clean and comfortable rooms with a desk, coffee machine, an oven, a fridge, and most amenities you could need for an extended stay. Family rooms are available (for up to 3 children). If you're short on budget but still want to experience the best of Anguilla, this is the hotel for you.
6. LittleLux Living
This fully-equipped place is located at Little Harbour Village and has a terrace, air conditioning, and flat-screen TV. Best of all, it's just 1 km (less than 1 mile) from the international airport! You get free parking as well as exceptional value for money. Great hotel if you're flying in and only staying for a short time.
FAQs about hotels in Anguilla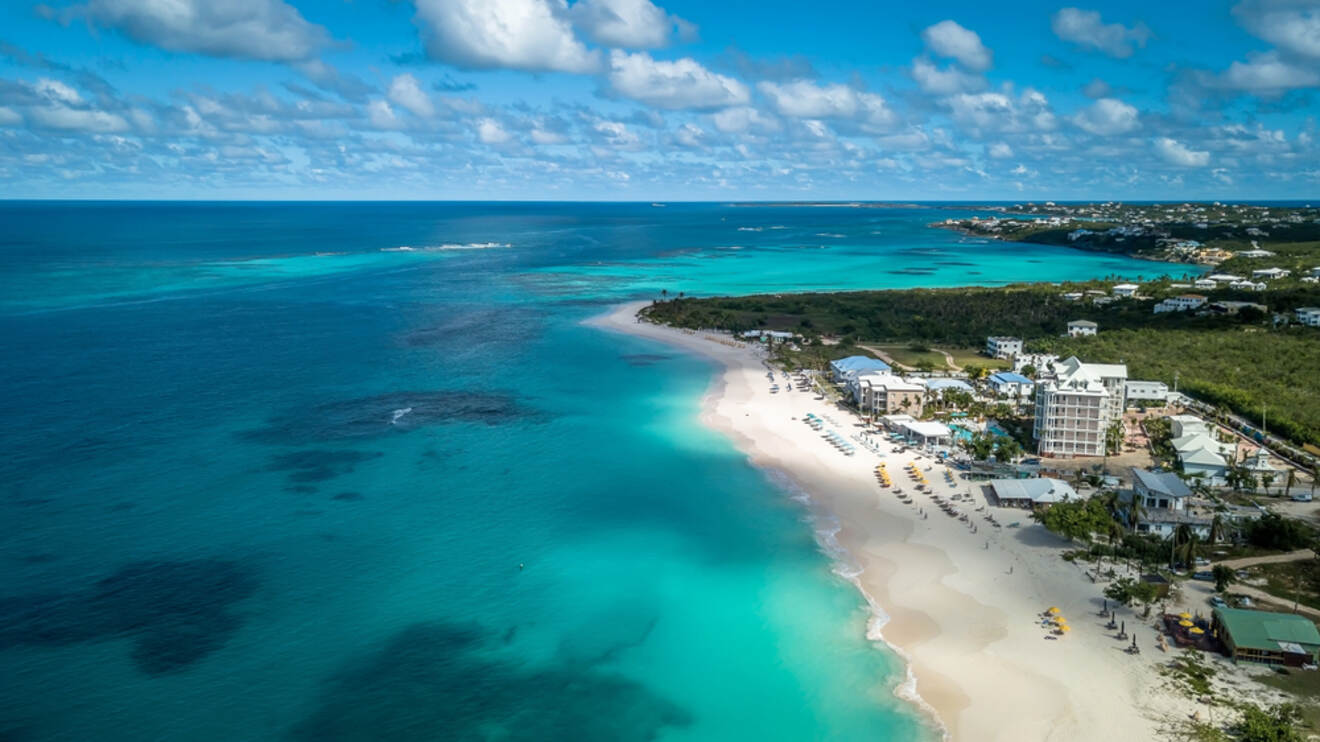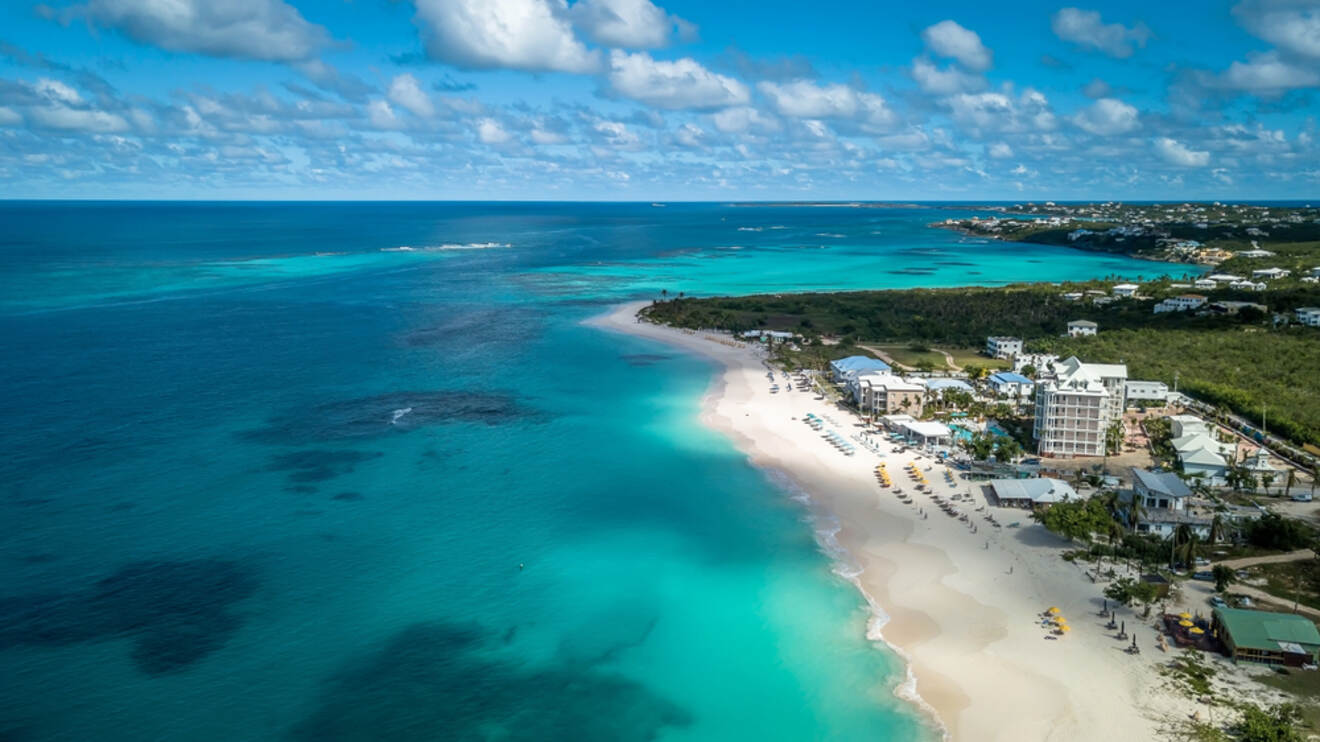 🏝️ What is the best side of Anguilla to stay in?
Meads Bay is a prime location in Anguilla. You'll be steps from the island's picturesque beaches, but also in the center of where all the action is. Other areas are easily accessible by car, too. The Quintessence Hotel Anguilla hotel offers excellent value for money here.
🏖️ Which side of Anguilla has the best beaches?
Shoal Bay has the best white sand beaches in Anguilla. The area is located to the northeast of the island and is considered by many to be among the most beautiful beaches in the Caribbean. Zemi Beach House is the accommodation I recommend here.
📅 How long should you spend in Anguilla? 
Up to 3 days should be enough to make the most of your visit to this Caribbean Sea island. However, you're also welcome to plan extended stays to relax or get to know the area more in-depth.
💲 Is Anguilla a luxury destination?
Absolutely. You can find many gorgeous suites and five-star resorts perfect for a relaxing getaway on the island's beautiful beaches. My top recommendation for a luxury hotel is Four Seasons Resort. Budget options on the island are around US$300 for 2 people per night.
👨‍👩‍👦‍👦 Where to stay in Anguilla with family?
Blowing Point is a great place to stay with families due to plenty of child-friendly attractions compared to other sites on the island. I highly recommend Anguillitta Suites for luxury stays and White Sands Anguilla for a budget option.
👩🏼‍❤️‍👨🏼 Where to stay in Anguilla for couples?
Quintessence Hotel Anguilla is the resort if you visit the island as a couple. Already known as a top romance getaway accommodation, this place has everything you need and more for a perfect holiday. Plus, it's located in Meads Bay, a top location in Anguilla.
Conclusion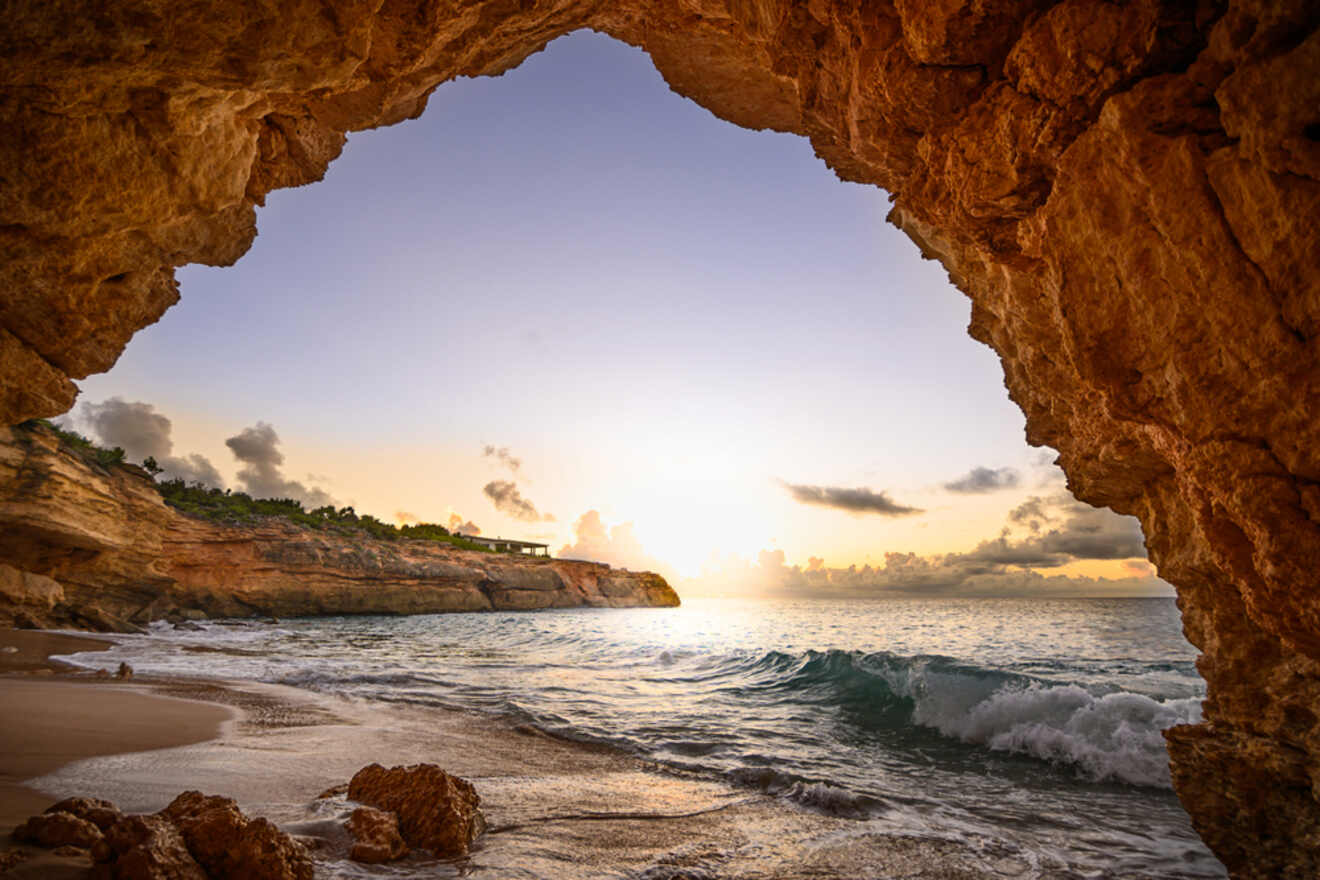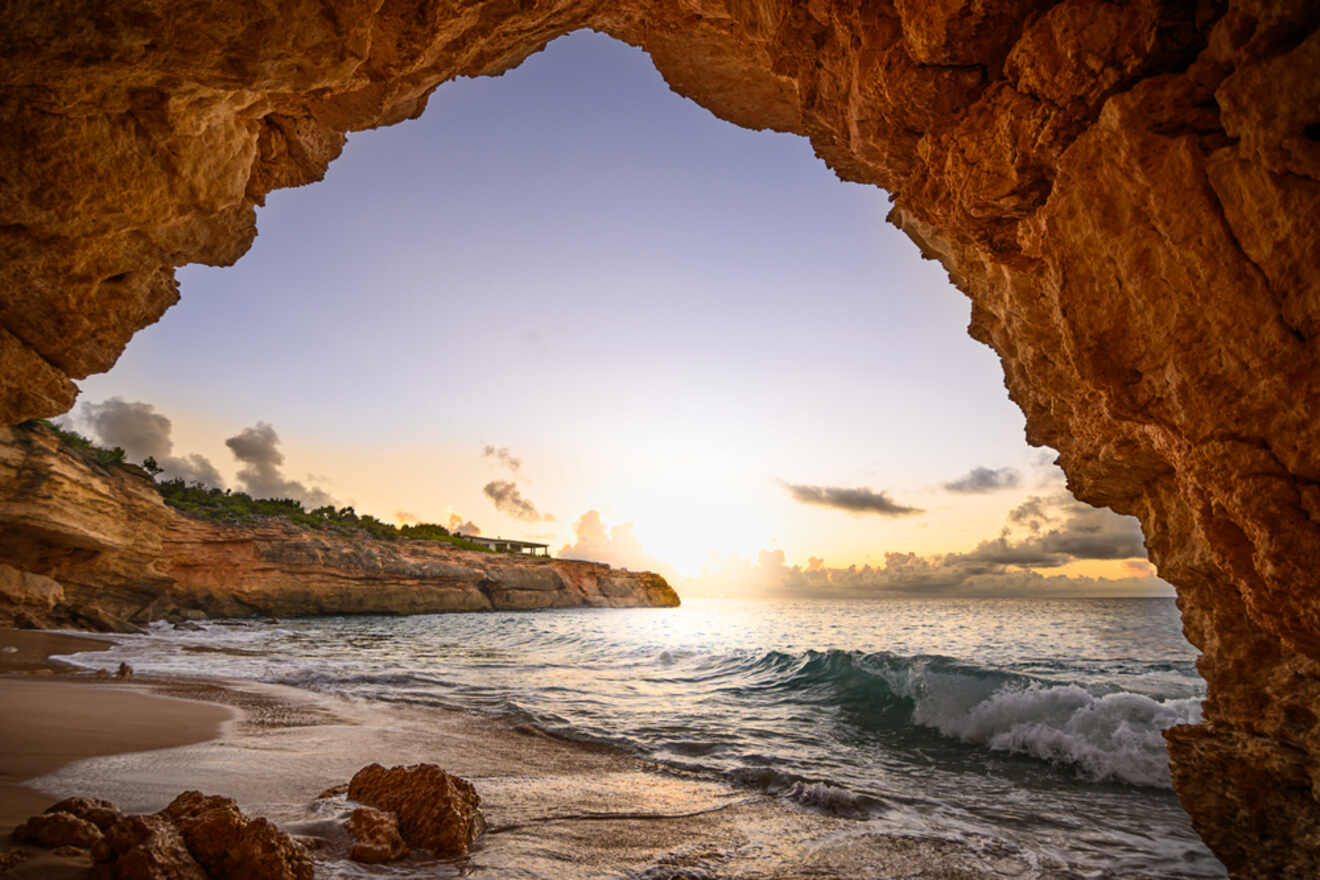 There you go, my dear traveler. You have made it to the end of the article. Hopefully, you now know where to stay in Anguilla for your next trip.
I highlighted the best areas with the best attractions, scenery, and eateries, along with hotels suitable for all budgets. Although let's be honest, staying in Anguilla for a holiday can get expensive!
In case you're still indecisive about hotels, here are my 2 favorite options:
Four Seasons Resort – my luxury resort recommendation with endless beach activities for the whole family; ideal if you want to explore the island's true charm and bring back authentic memories.
Aurora Anguilla Resort and Golf Club – this new property offers tons of amenities for visitors traveling on a budget. It has a great location and neat rooms with a view.
This lovely Caribbean island has so much to offer, and I'm sure you'll have the time of your life while you're there!
Would you like to add anything or ask me a question? Drop a comment below, and I'll be happy to answer!
Safe travels,
Darija
---
Pin it for later!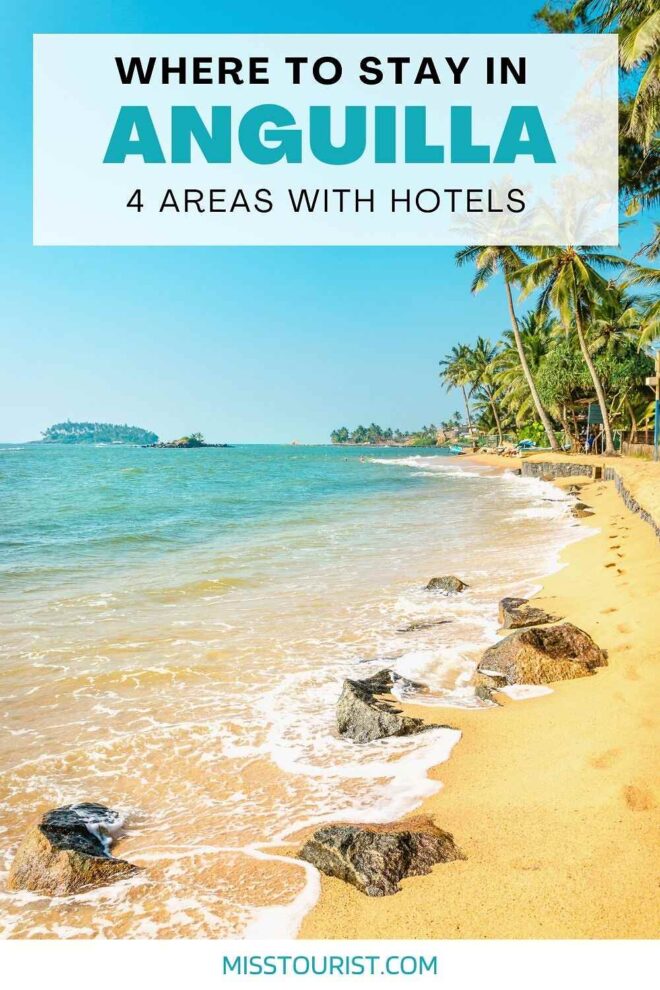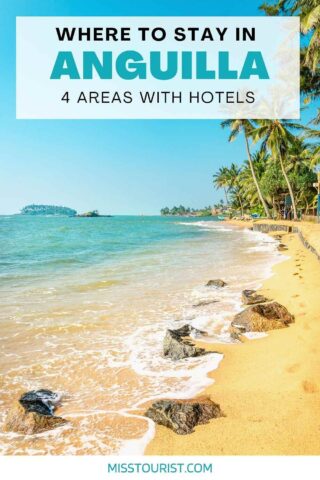 Pin it for later!