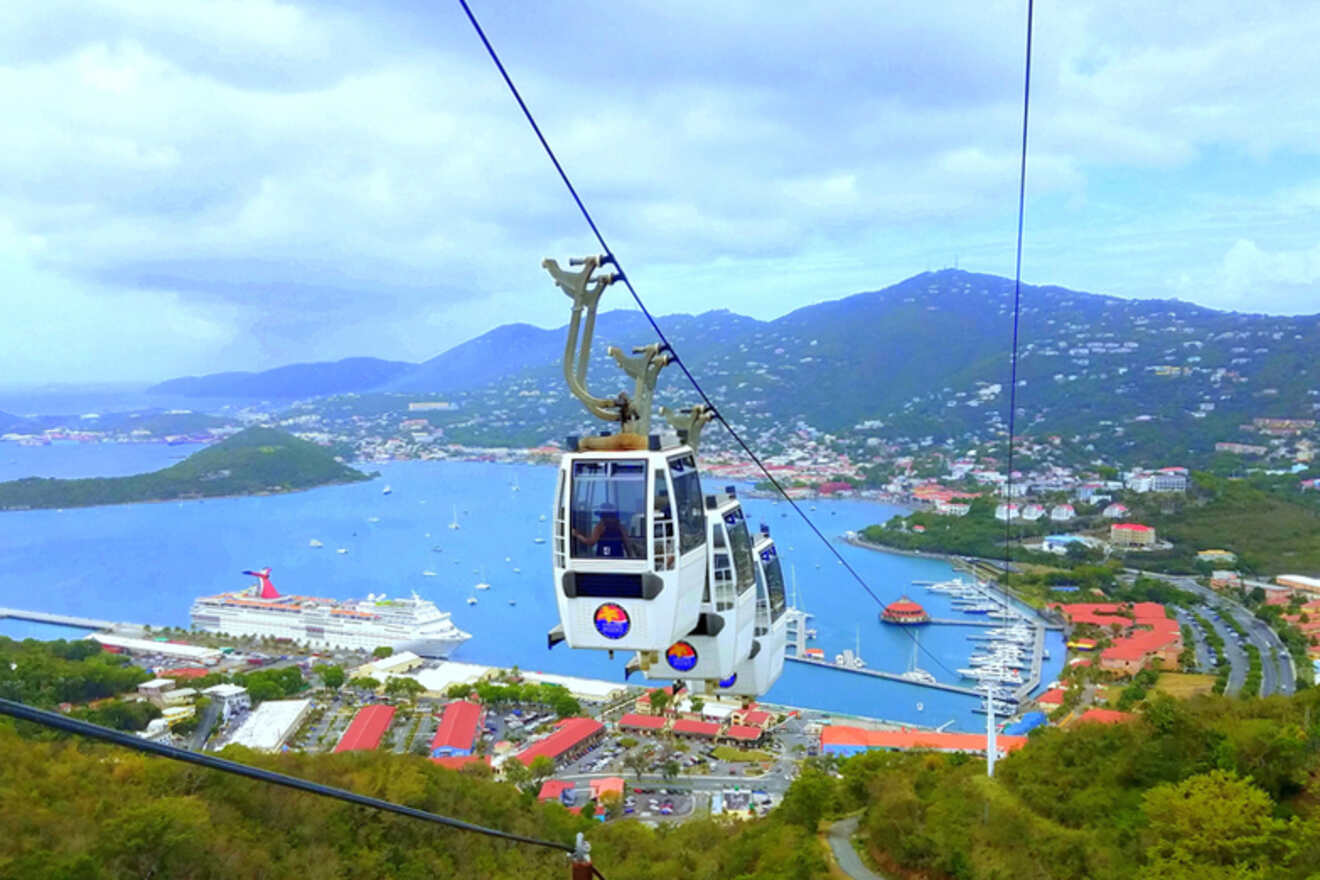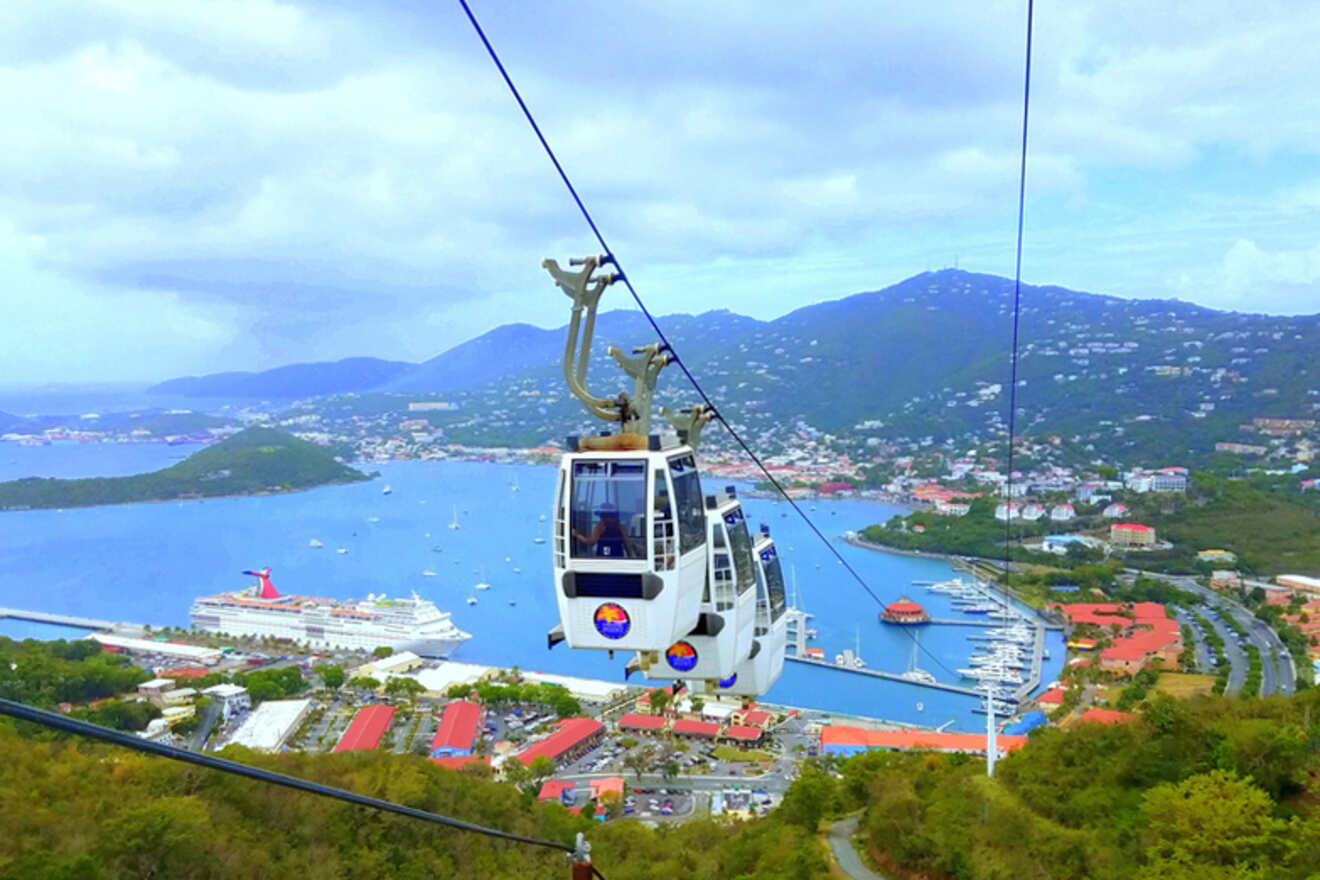 Wave goodbye to your everyday worries with the St. Thomas excursions – countless adventures, priceless discoveries, and sheer bliss!
If you're into wild rides and stunning sights, then look no further! Whether you're up for an exciting VI Jet boat tour or a lush Skyride to Paradise Point – there are tons of fascinating excursions to choose from.
Water lovers, you're gonna be in for a treat! I spent quite a bit of time researching the top tours you can find in St. Thomas, and trust me, there are endless options. From snorkeling to sunset cruises and even parasailing – it's all there!
When planning your next escape, don't forget that you're probably not the only one who has their eye on the spectacular waters of St. Thomas, so book your excursions in advance! I mean, who doesn't dream of exploring this paradise?
Let's jump right in!
If you are in a hurry
Here are the best St. Thomas tours that I highly recommend you book in advance:
1. Go on a catamaran cruise in St. Thomas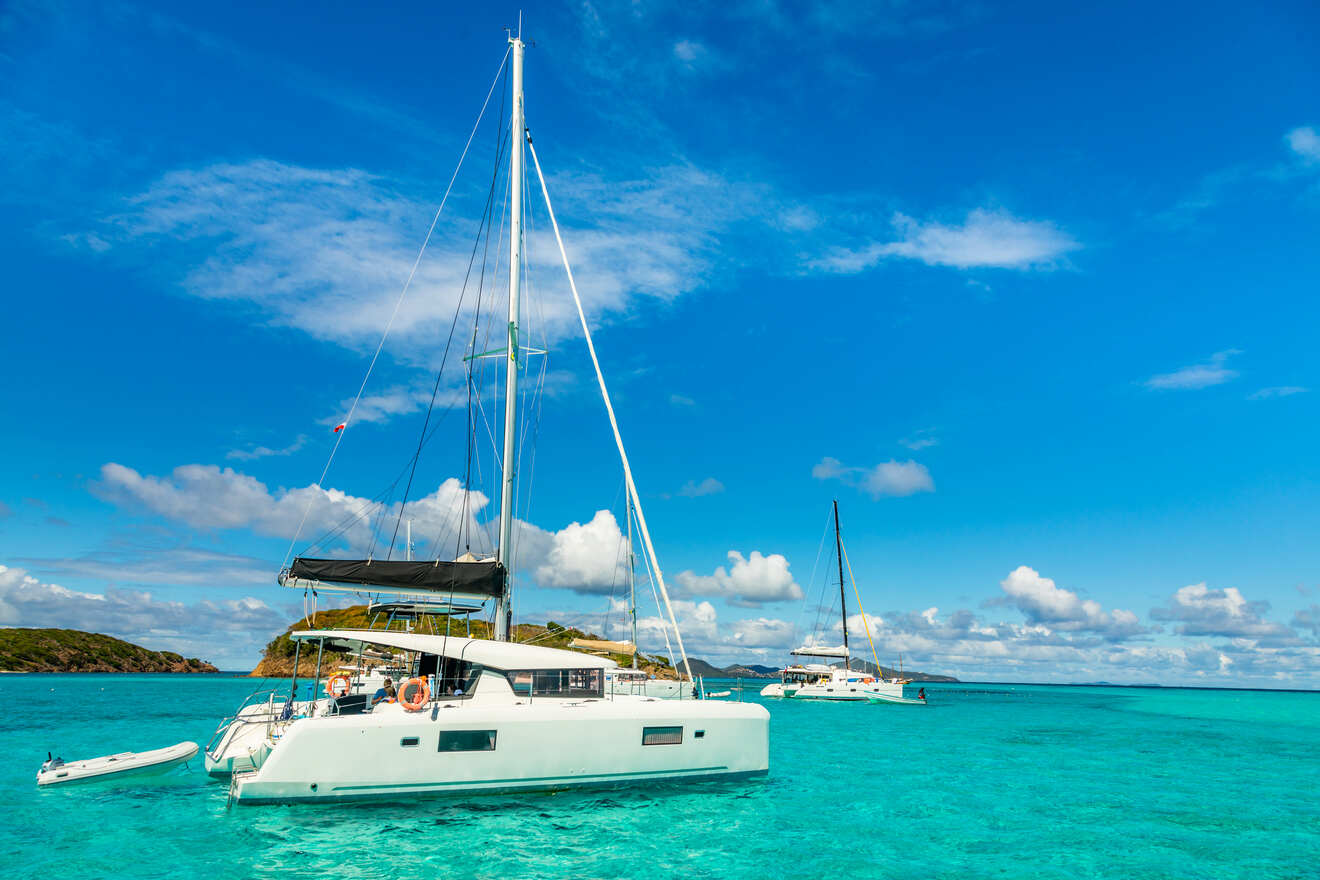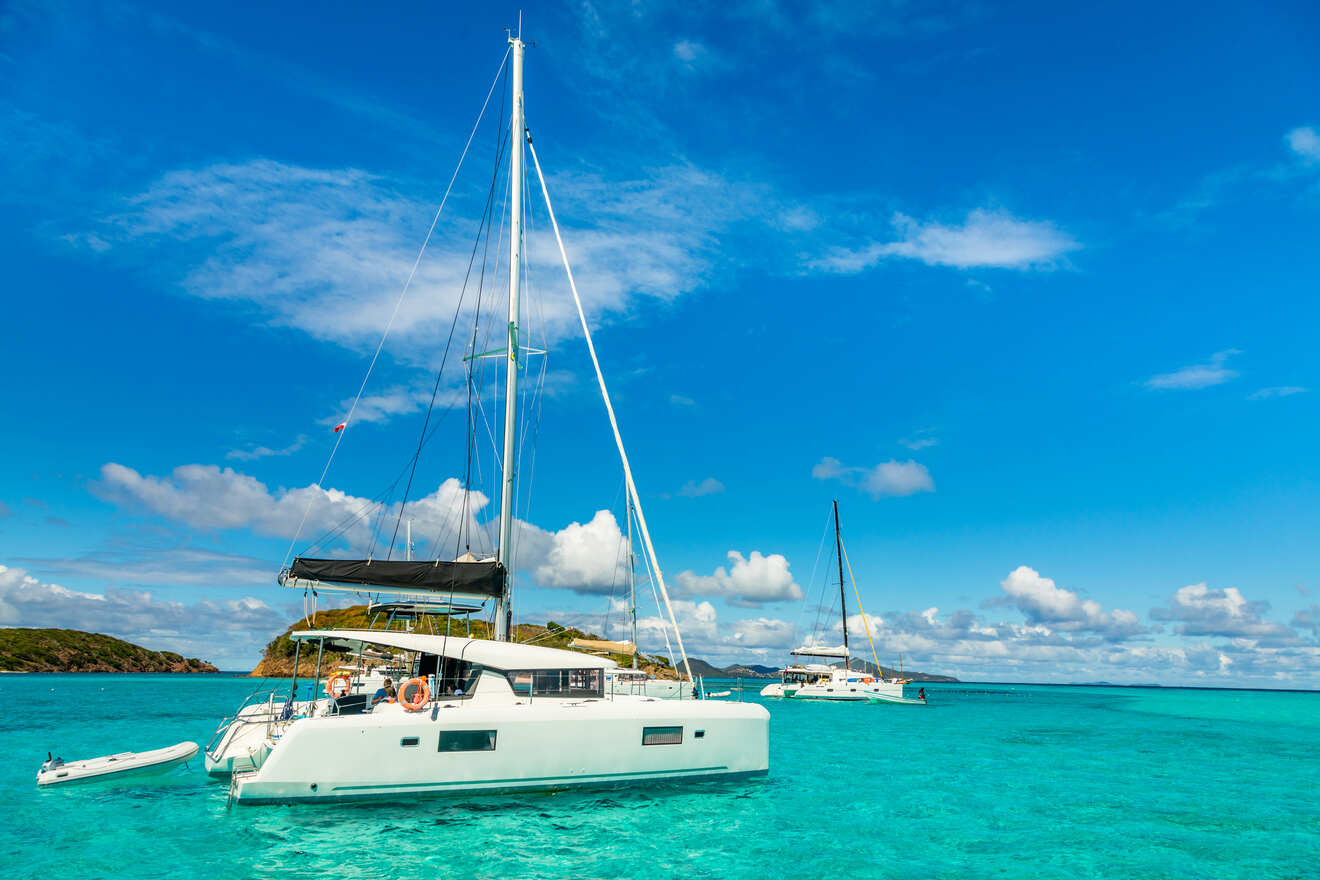 Duration: 3 hours
Price: from US$110
Why you should take it: the most popular St. Thomas tour
Set sail and explore St. Thomas' beautiful beaches and marine life during this incredible 3-hour sailing excursion from Frenchman's Cove. You'll climb aboard the 54-foot (16 m) catamaran and meet your friendly captain and crew, who will be there with you every step of the way.
Then, you'll go to the crystal clear waters of Little Buck Island National Wildlife Refuge! You won't have to worry about anything, there is snorkeling gear as well as a safety briefing provided before you jump in to discover tropical fish, coral reefs, and grazing sea turtles, all while surrounded by stunning views of the Virgin Islands and its hidden gems!
After you have your fill of sun-soaked fun in the pristine waters, quench your thirst with unlimited drinks from the open bar, plus plenty of snacks. This truly unique catamaran sail & snorkeling tour is the perfect way to experience everything the Caribbean Sea has to offer.
2. Embark on a parasailing adventure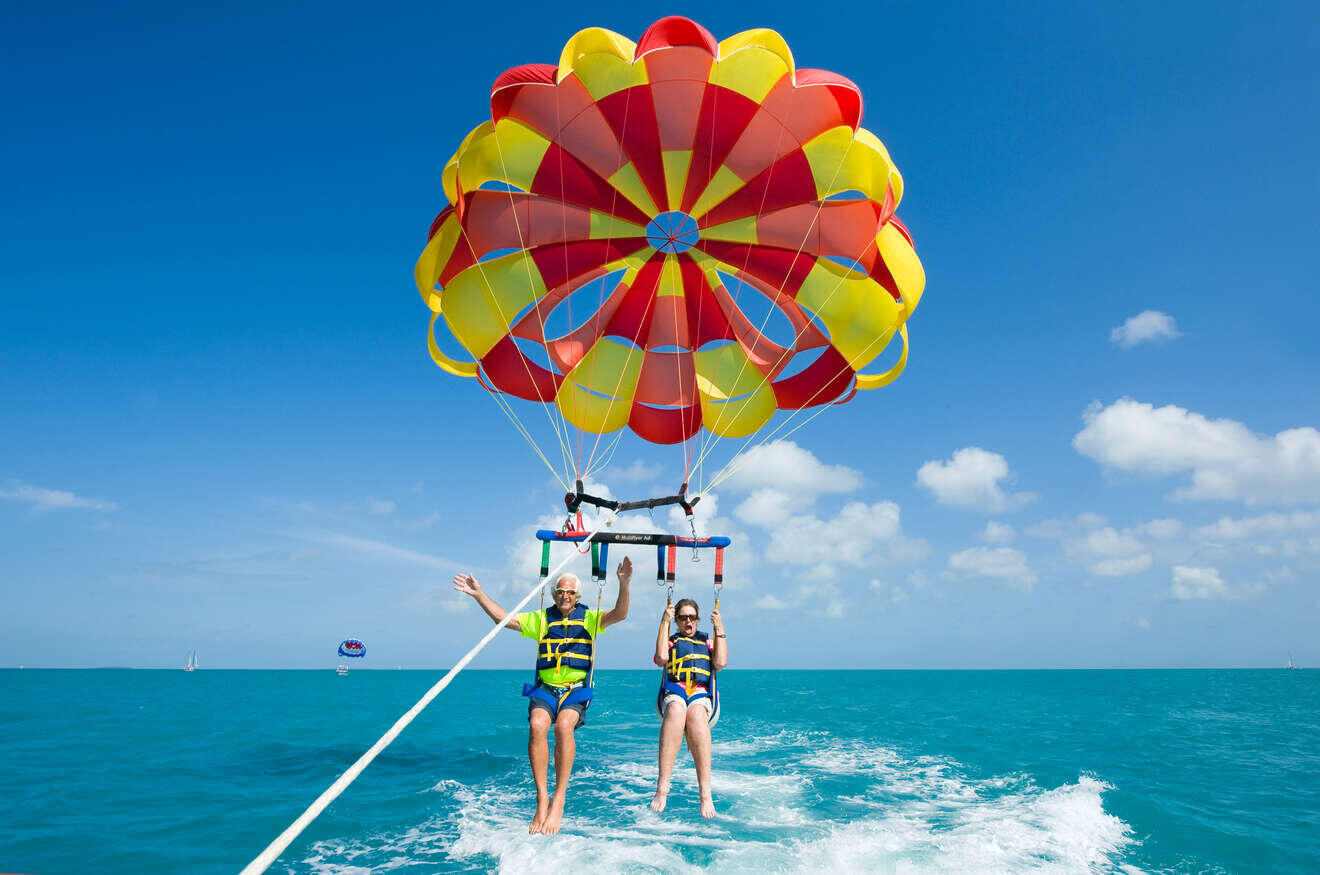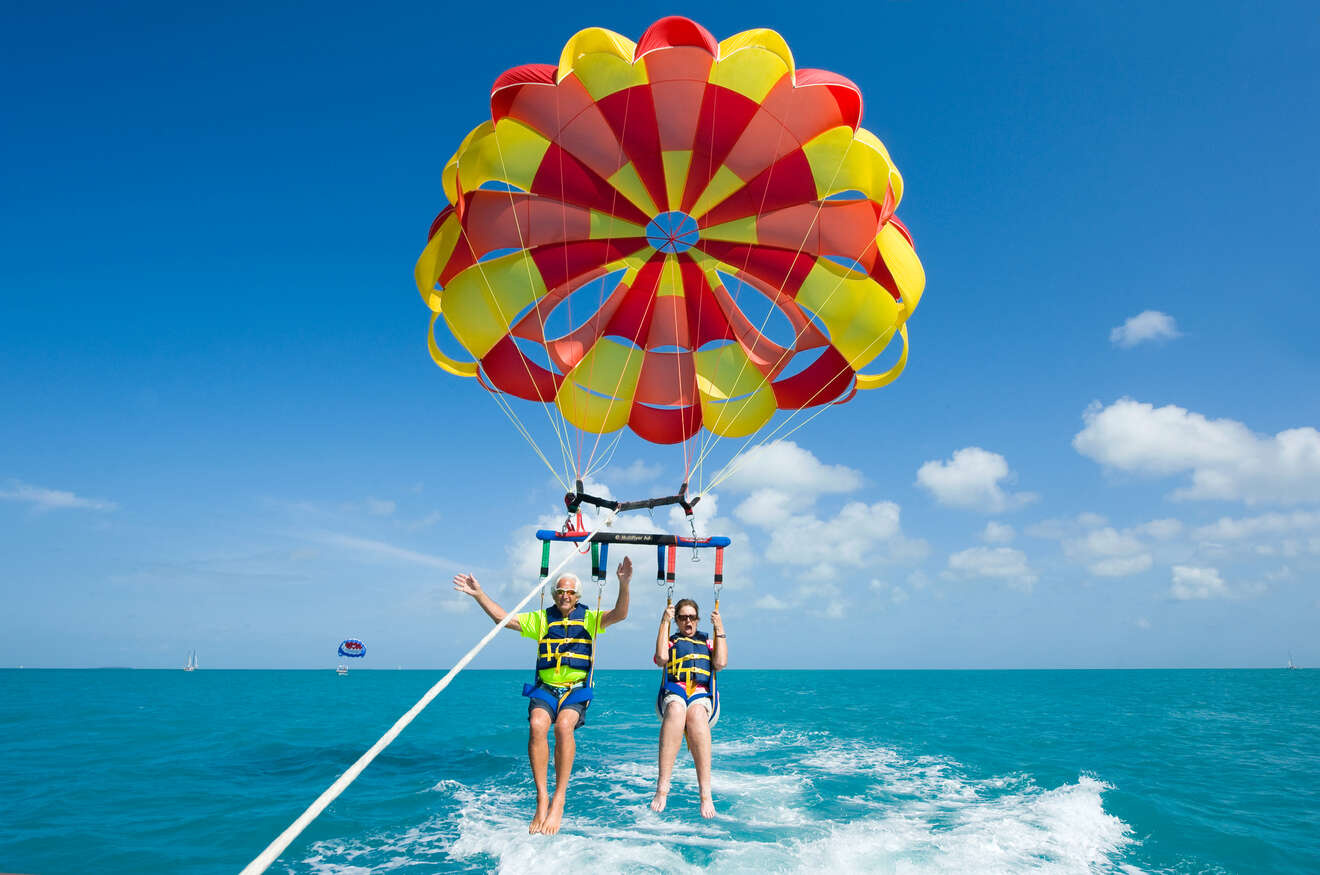 Duration: 1 hour
Price: from US$146
Why you should take it: soar over the iconic Sapphire Beach
With this tour, you can soar to new heights for 1 hour and witness the US Virgin Islands! It's one of the best tours St. Thomas can offer, and it's especially suited for adrenaline seekers who want to spend time exploring sandy beaches and sea life from the sky!
Buckle your seatbelt as you take off from the Sapphire Beach Marina. After they give the safety spiel, you'll sky and be blown away with views of luminous turquoise waters and coastal landscape right under you. Suitable for all ages and skill levels, you don't miss out on discovering this beautiful island from a bird's-eye view!
3. Zip your way through the Caribbean rainforest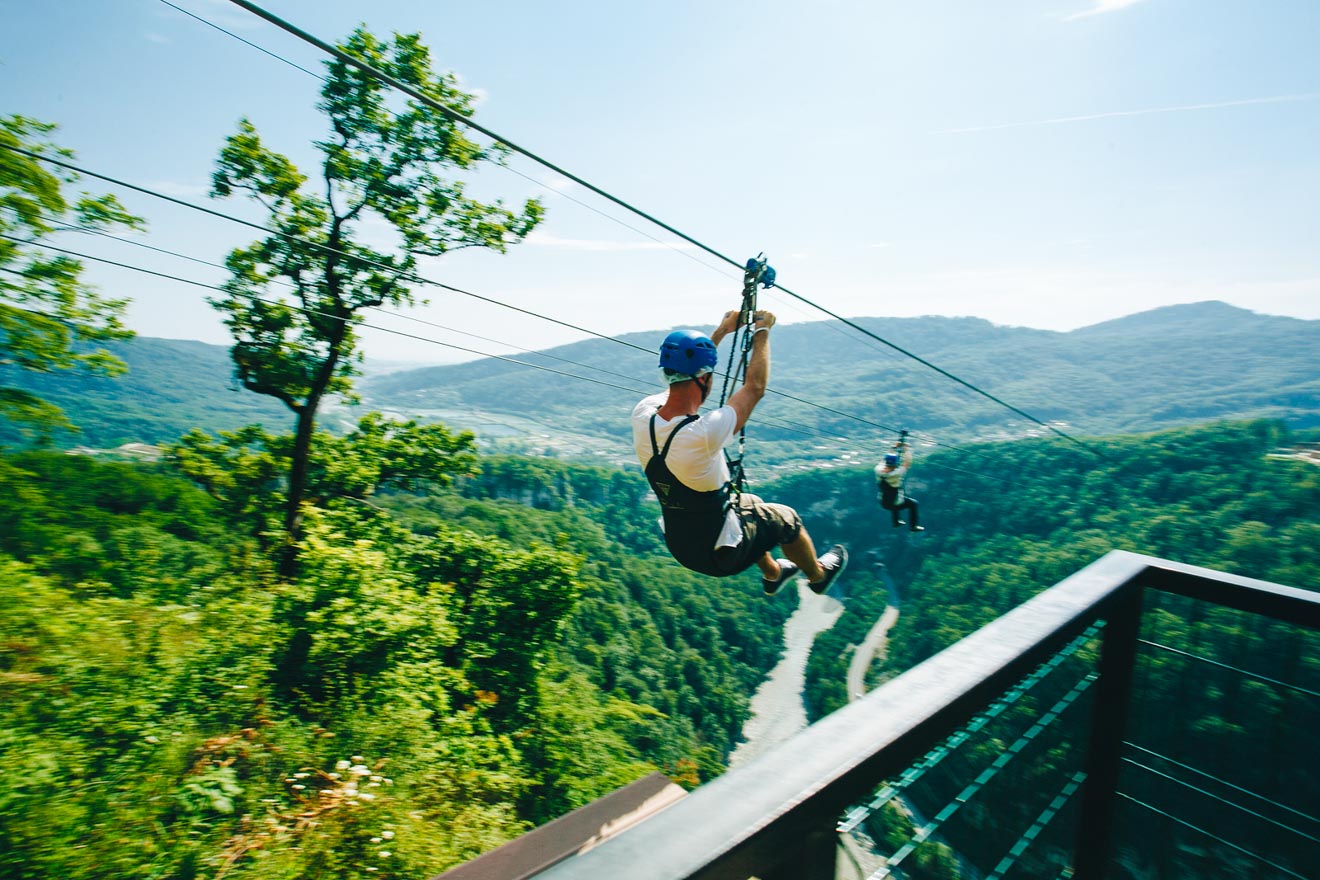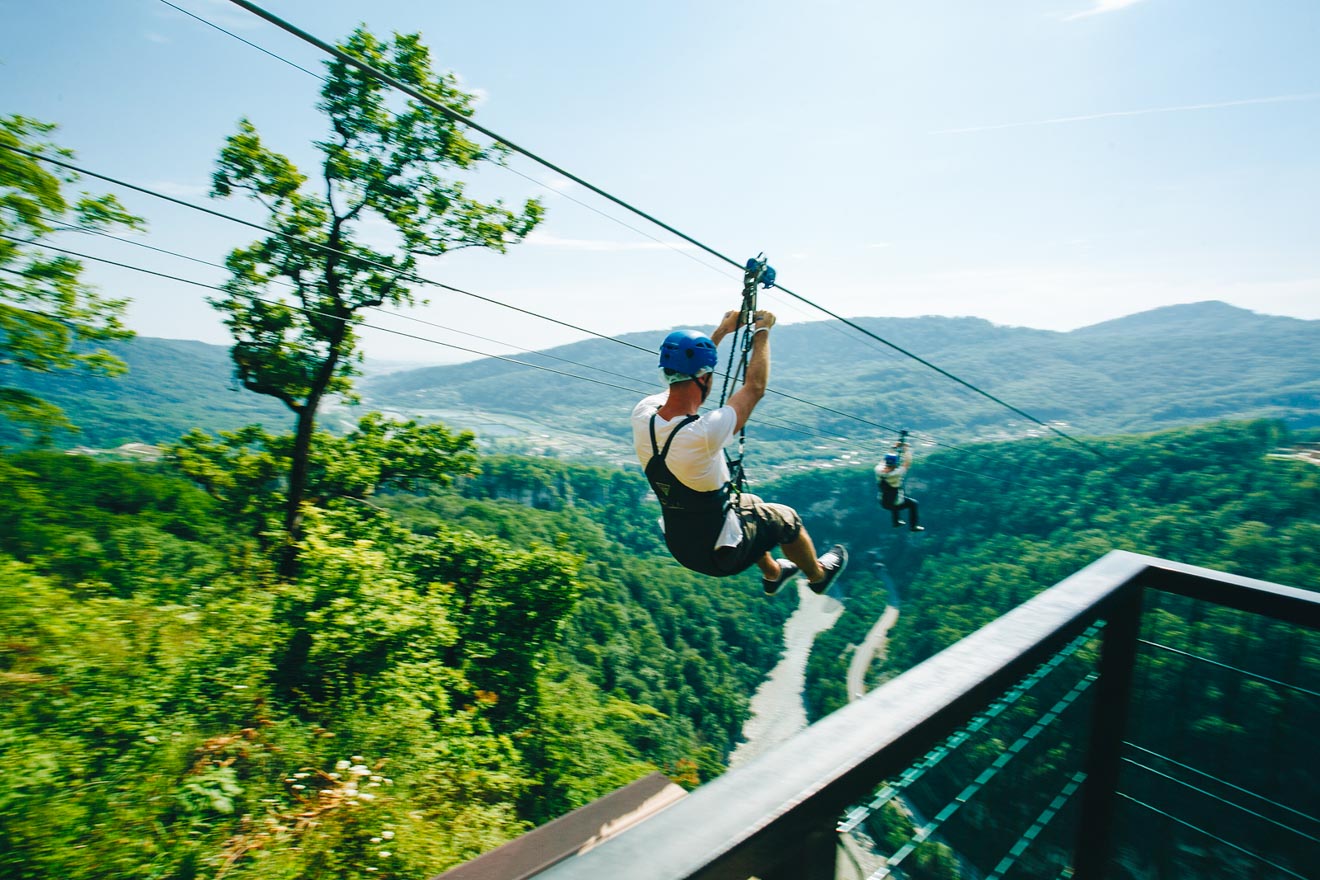 Duration: 2.5 hours
Price: from US$145
Why you should take it: for thrill seekers
If you thought that every single one of the excursions St. Thomas has to offer is water-related, think once again! This thrill-fueled adventure in St. Thomas offers 8 aerial platforms, 6 wild zip lines, plus 2 sky bridges, so you can soar high up while getting an eyeful of stunning ocean views! No matter how stunning the vistas of your St. Thomas hotel are, this exciting experience can top them.
When you arrive, your guides will get you outfitted with your safety gear, including a helmet and harness, before taking a truck ride right up to the top of Mt. Peter. Plus, they'll keep you entertained with facts and rich history about Virgin Islands' culture, flora & fauna throughout the whole tour.
4. Enjoy a sunset cruise and see Charlotte Amalie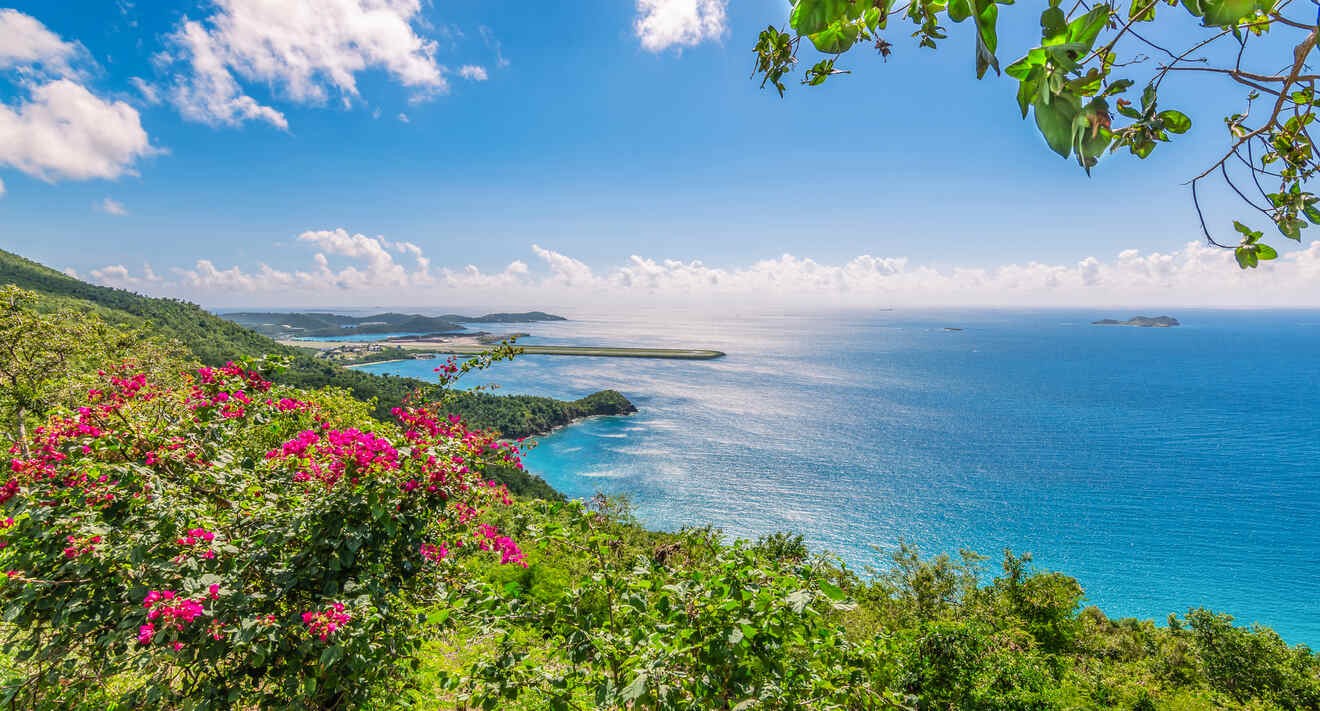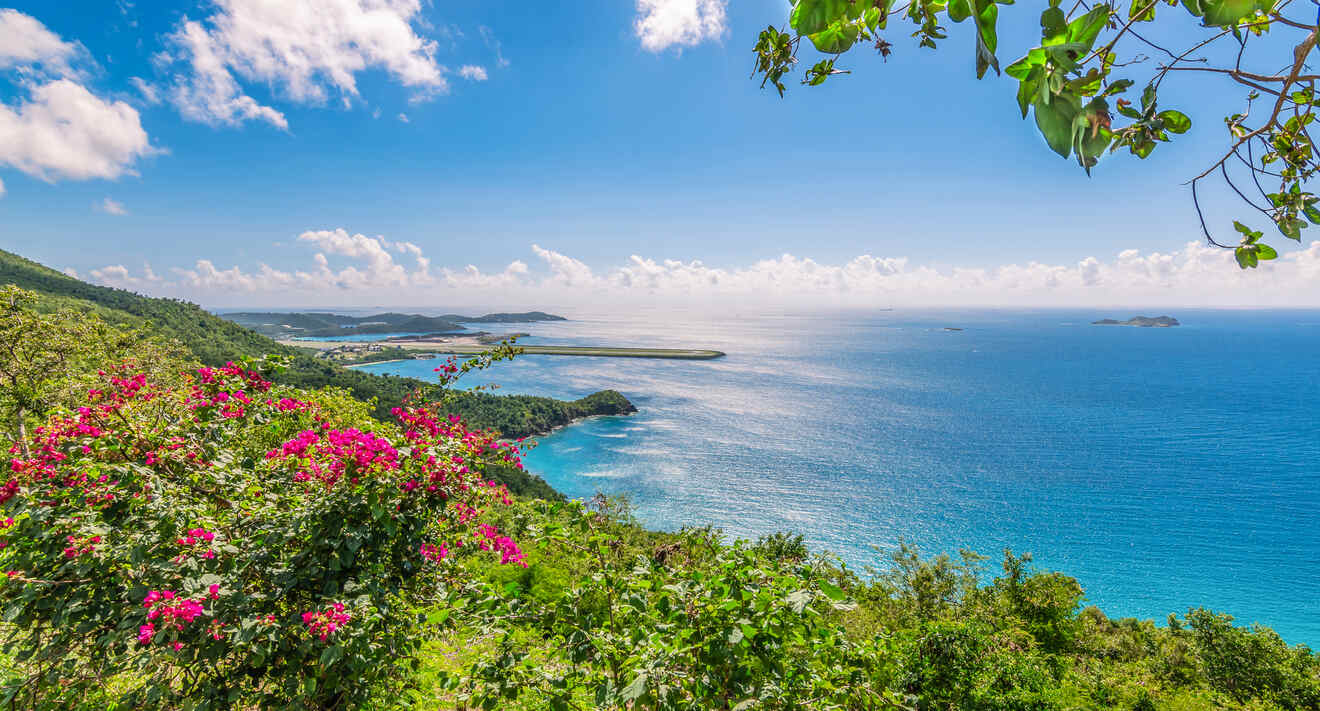 Duration: 2 hours
Price: from US$110
Why you should take it: evening tour on a cruise ship
If you are a hedonist and romantic at heart, I have quite a treat for you. Buckle up and prepare to be in awe of a breathtaking Charlotte Amalie at sunset, a delicious barbecue dinner with something for every palate, and unlimited drinks from the open bar too!
If you are a true booze lover, I have a cruise option that will fit your needs. This cocktail sunset cruise will provide you with a glass of champagne so you can toast to life and amazing travel adventures. Enjoy your drinks served and make use of great photo opportunities to enrich your Insta feed.
And if you are itching for VIP boat tours, I have a tour for you as well! This luxury cruise will make you and your chosen small group of people feel like royalty as you observe Caribbean sunset views in a private setting.
5. Explore Mangrove Lagoon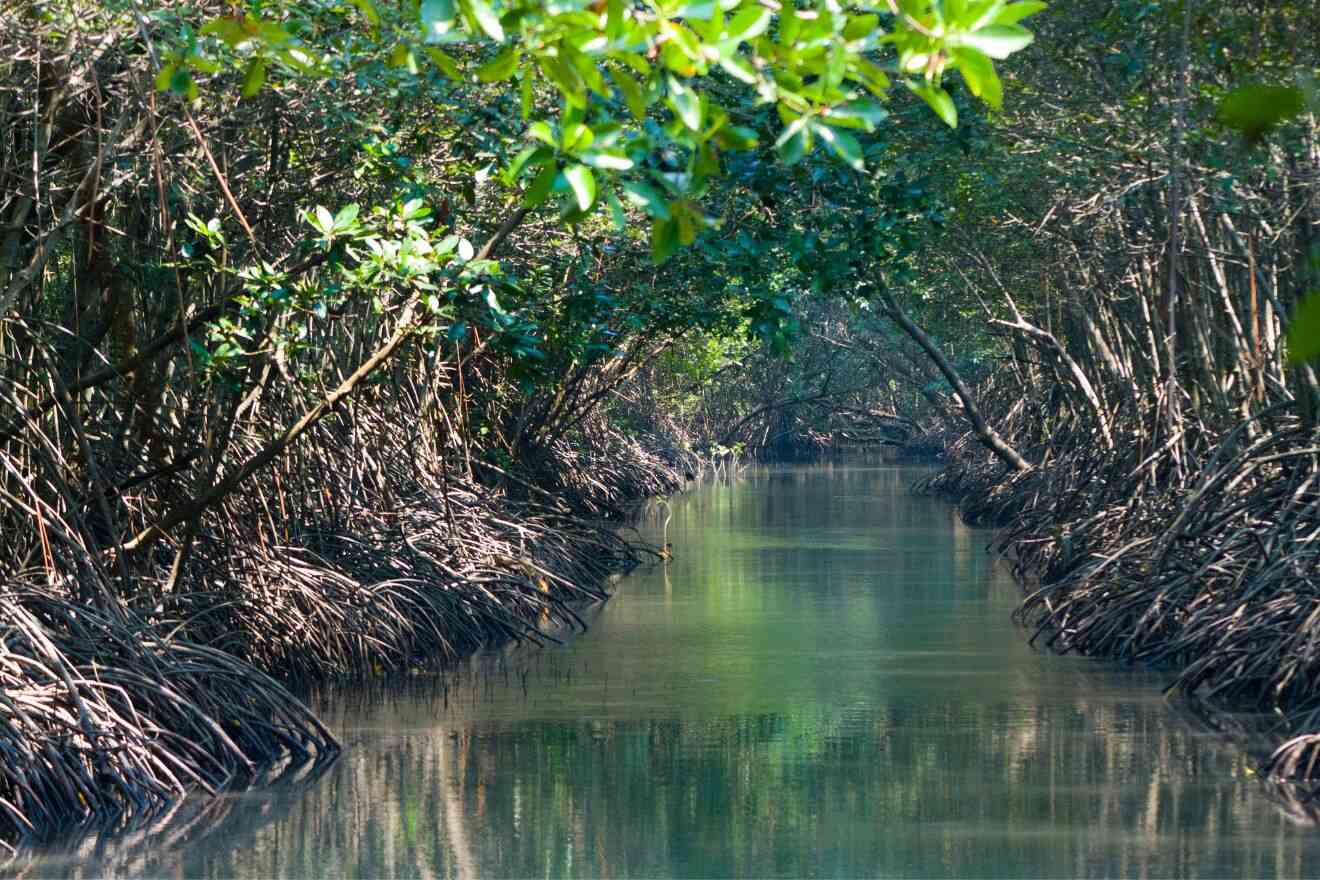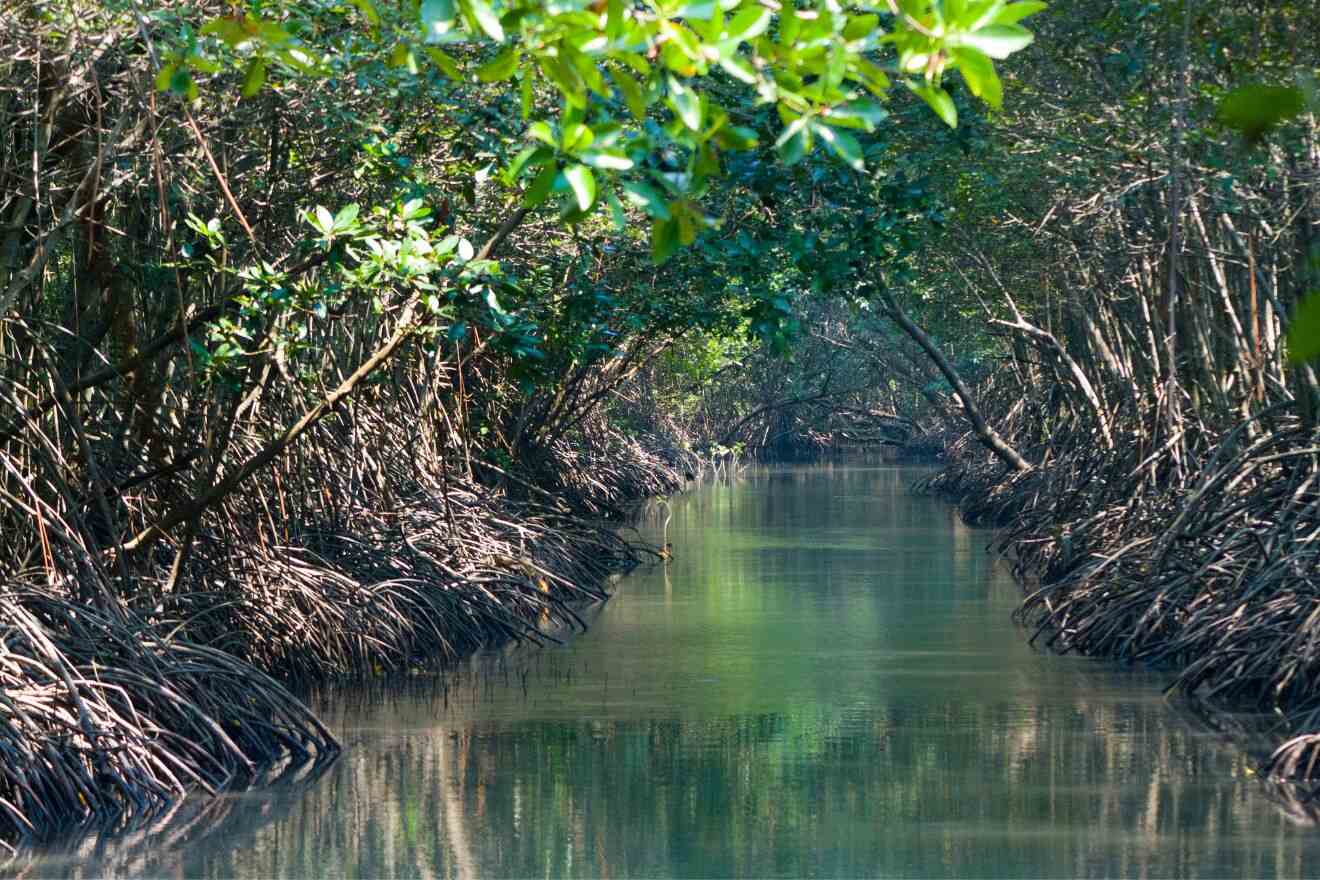 Duration: 3 hours
Price: from US$90
Why you should take it: scuba diving in Mangrove Lagoon Marine Preserve
This tour starts from Mangrove Lagoon Wildlife Sanctuary and will take you on a cruise through Cas Cay and the Mangrove Lagoon of St. Thomas with kayaking and snorkeling!
Take a stroll to ogle the hermit crabs, sandy bluffs, tidal pools, and crashing waves while your guide leads you every step of the way, offering running commentary along the way. You'll jump in your provided snorkel gear to explore an underwater realm full of colorful life-like stingrays.
You'll also have the opportunity to use lockers, dressing rooms, or restrooms at the tour operator's base. And don't forget snacks & drinks – all included!
6. Taste your buds with a food tour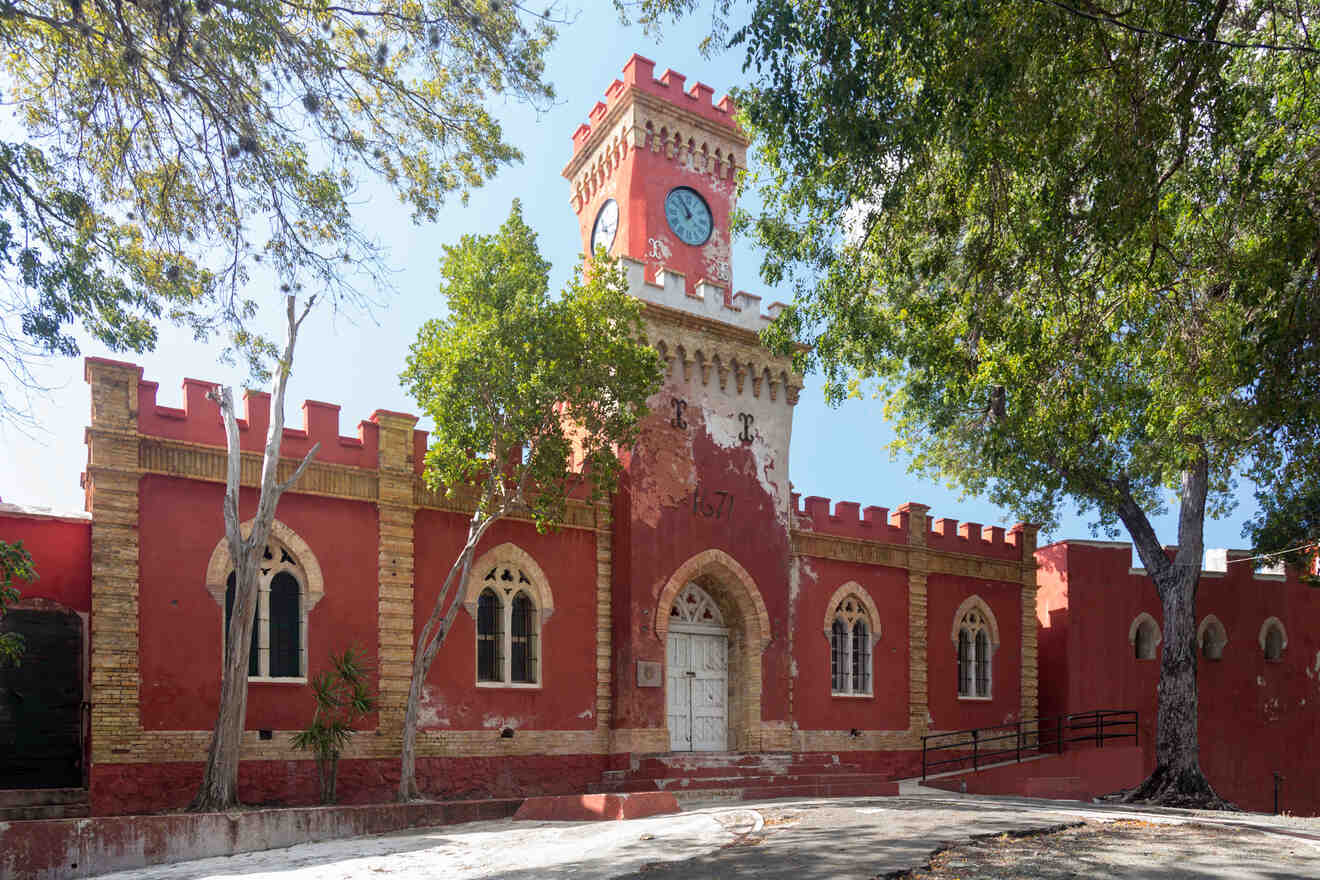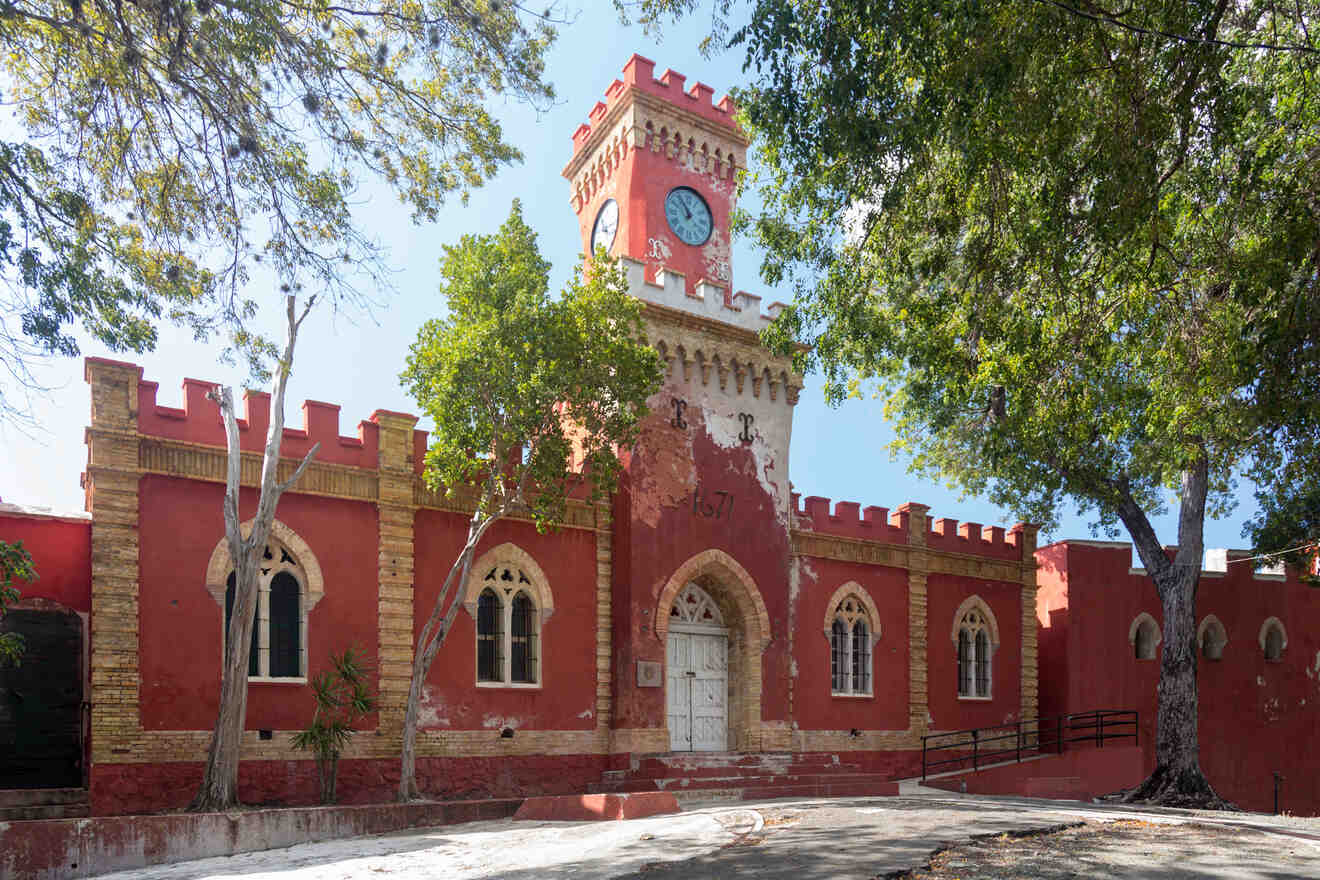 Duration: 3 hours
Price: from US$112
Why you should take it: taste local delicacies and learn to make cocktails
See the sights and get a taste of local culture on this guided tour of St. Thomas! Kick off the fun with 2 rum cocktails, and be sure to take notes as you learn how to make your own. Then, chow down on Caribbean classics like curried chicken, island slaw, and Creole "fungi."
This is a bit of a historical tour as well, so you'll learn about iconic colonial-era sites. Perfect for first-time visitors or those short on time. Dietary restrictions can be accommodated.
And for extra curious history buffs, this food tour will take you to see some great landmarks along the way, including the Hotel 1829 and super cool Fort Christian, dating way back from the 1600s.
7. Join a Turtle Cove catamaran snorkel tour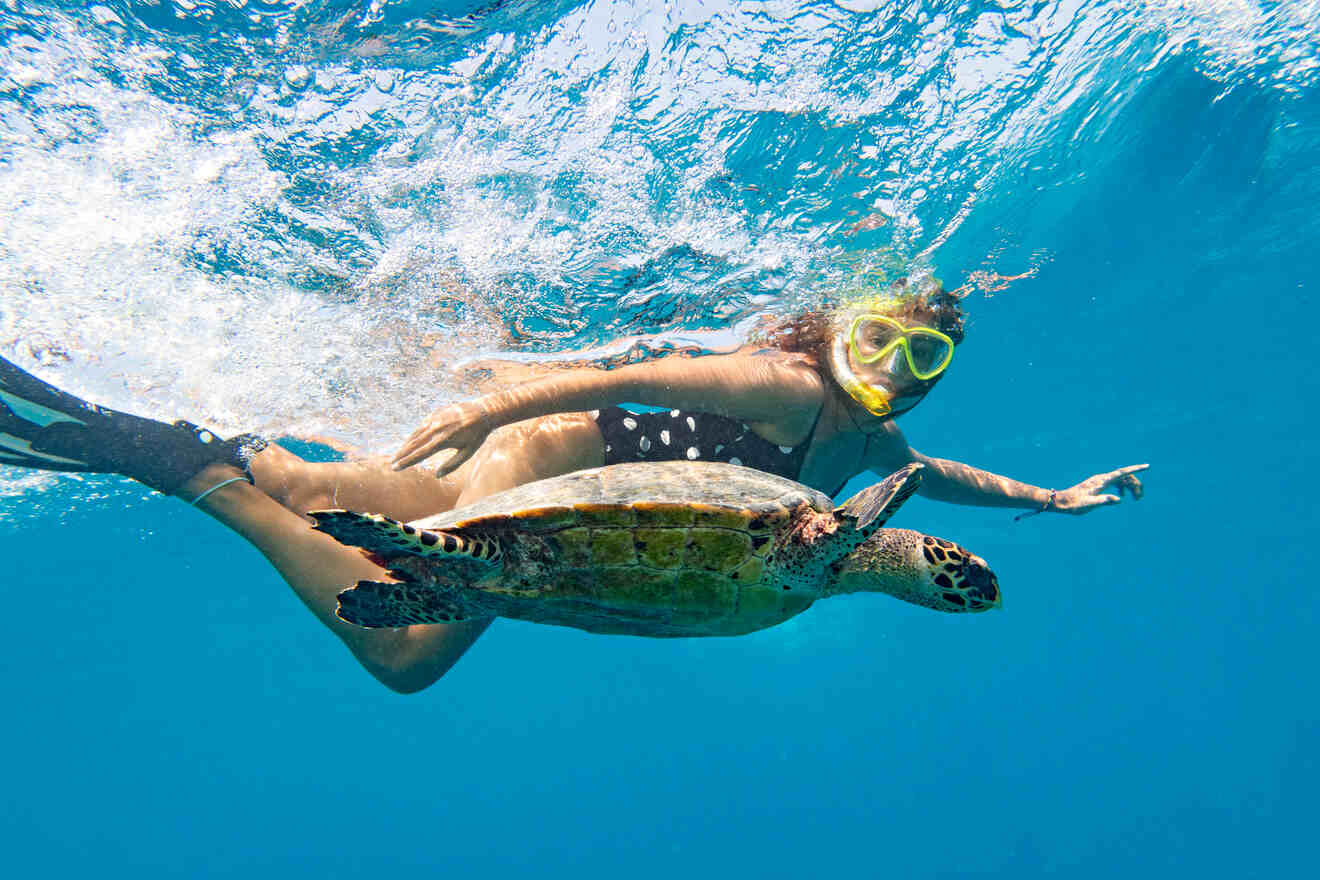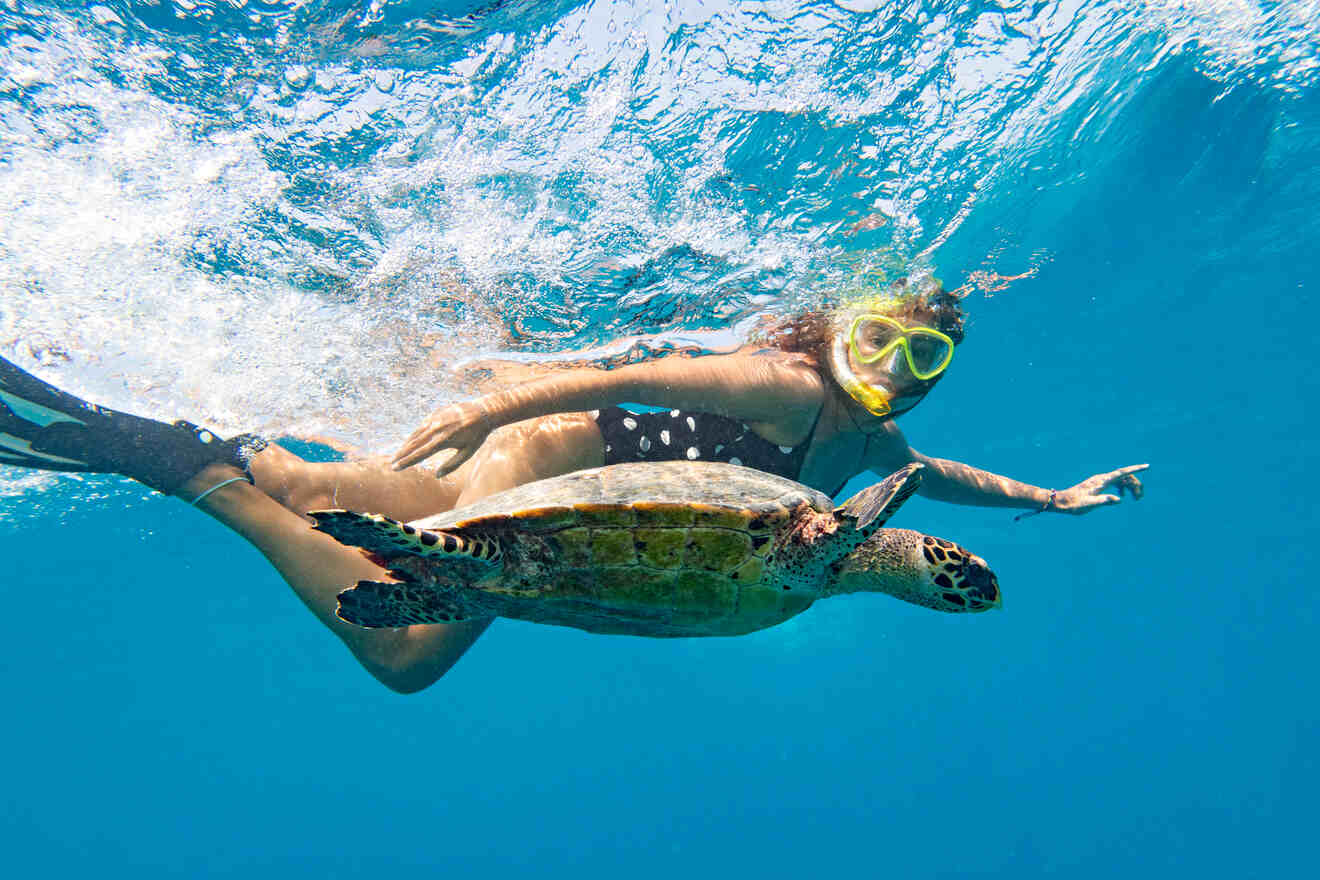 Duration: 4 hours
Price: from US$160
Why you should take it: see sea turtles in Turtle Cove & Honeymoon Beach
Gather your luckiest 12 mates and come along for an unforgettable small-group tour! This will only take up 4 hours of your time, but it is worth it to check out Turtle Cove, Buck Island, and the romantic paradise that is Honeymoon Beach.
You'll dive in and explore the reef's hamlets, parrot fish, and turtles! After your expedition, you can reward yourself with a cold beer. The boat is fully stocked with all the amenities: custom seating and bathrooms, so you'll have everything you need. Unlimited water, soft drinks, and snorkeling gear are at your disposal as well!
Don't forget to pack your towels and sunscreen – it's a must! Even when the sun isn't shining at its brightest, make sure you stay protected!
8. Combine shopping & sightseeing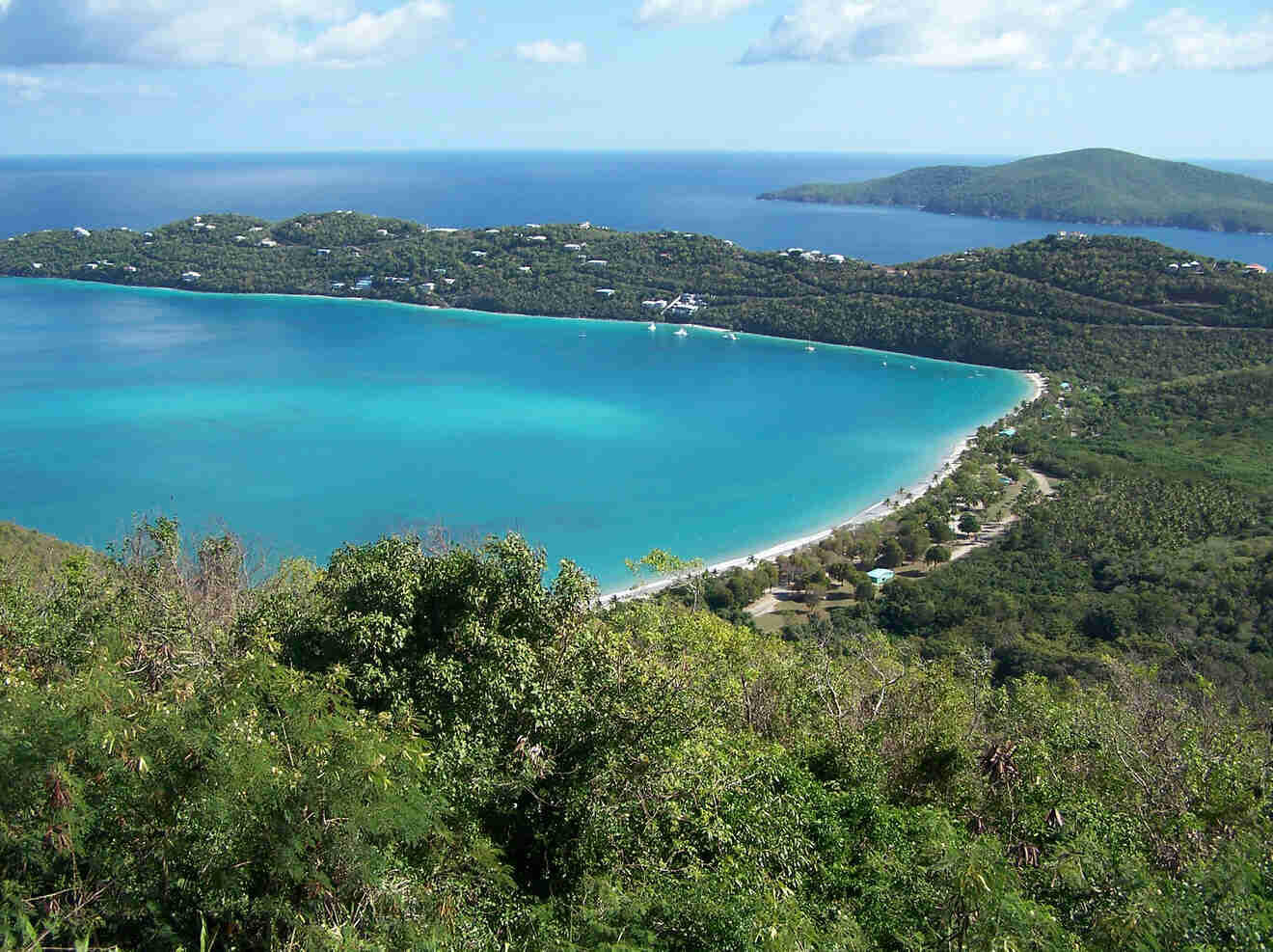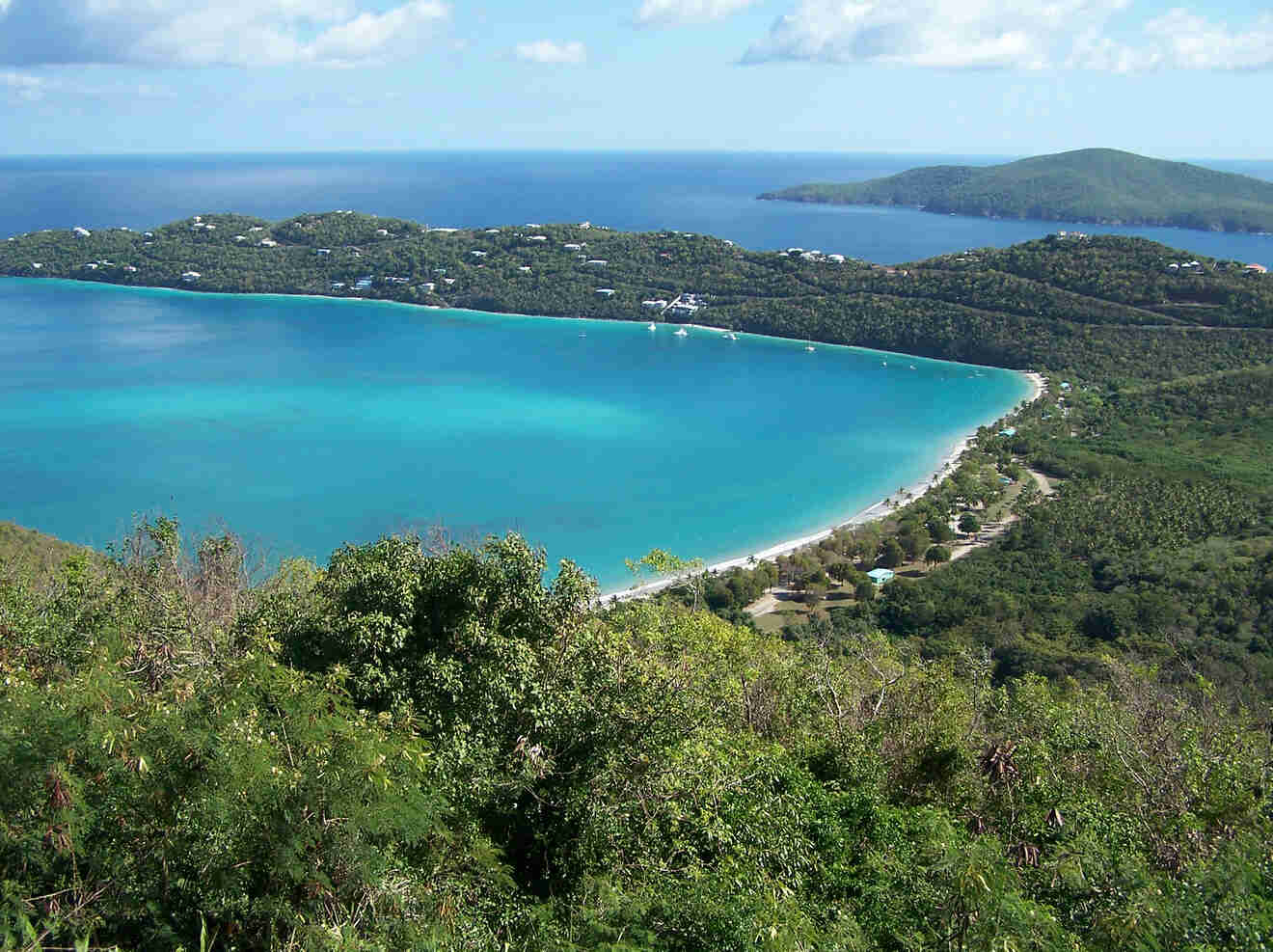 Duration: 6.5 hours
Price: from US$40
Why you should take it: see multiple sites of St. Thomas in 1 day
Make the most of St. Thomas and embark on a duty-free shopping spree on this all-inclusive tour! Follow a curated itinerary with a guide in the lead to explore shopping, sightseeing, and some beach time. Hit the shops in downtown Charlotte Amalie, sightsee for island highlights, and then head to Magen's Bay, Coki Beach, or Sapphire Beach Resort to relax.
Plus, with round-trip transportation included, it's simple to get from one spot to another – cheers! This tour is a great option because you'll get to see several facets of St. Thomas' island life in just 1 day. You'll have an insightful guide providing commentary, plus drinks and refreshments, too – it can't get any better!
9. Dive into Coral World Ocean Park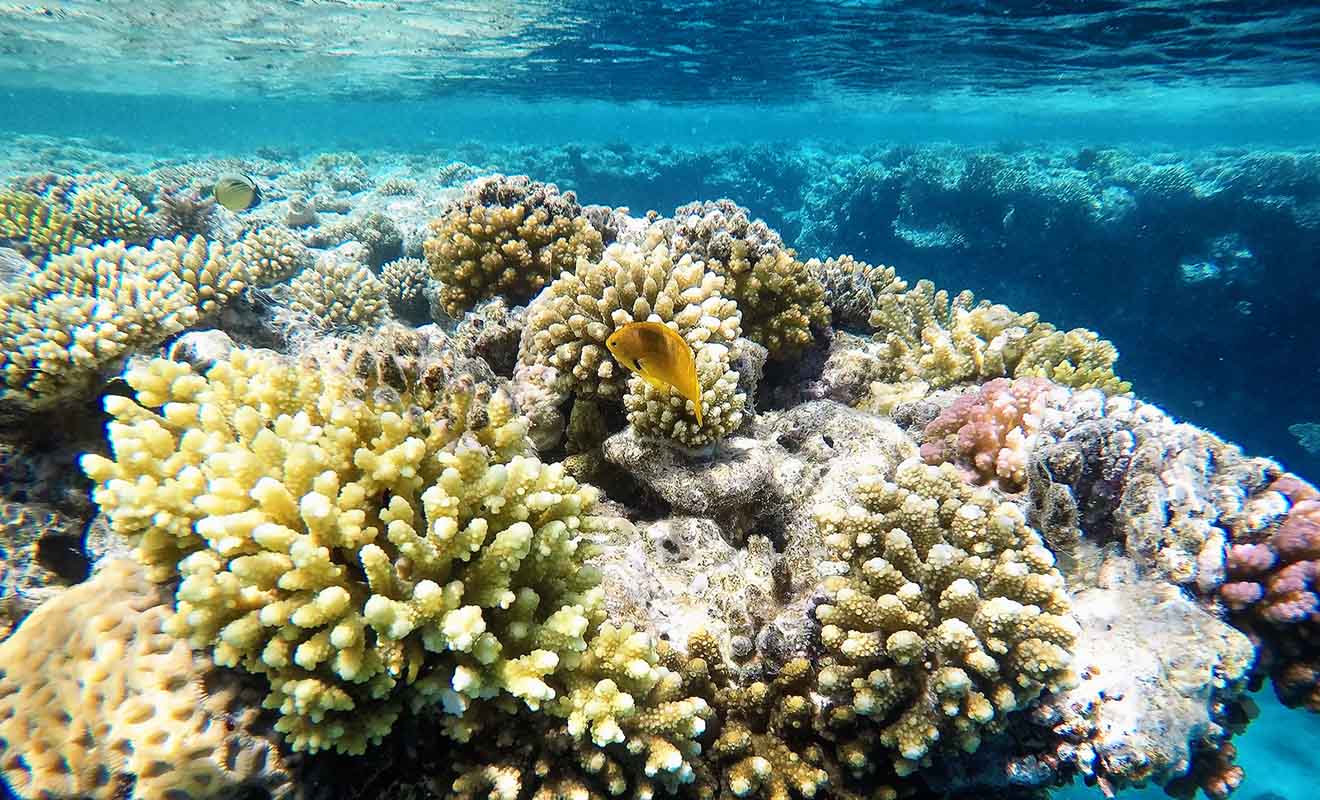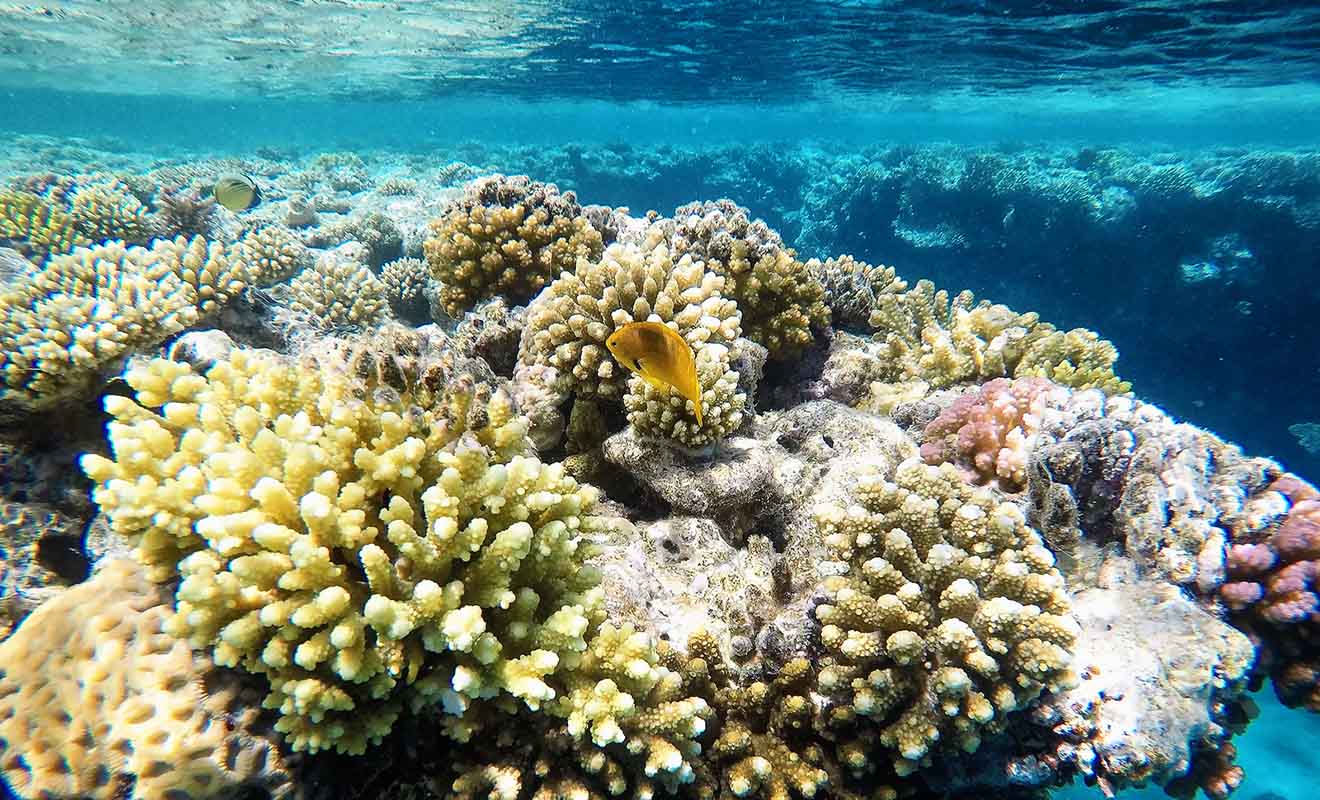 Duration: 45 min
Price: from US$120
Why you should take it: beginner-friendly
Dive headfirst into the underwater experience without having to go through the trouble of learning how to scuba dive! With a helmet dive at Coral World Ocean Park, you'll slip on a weighted helmet allowing you to breathe during your journey and get ready for an incredible 30-min adventure with stunning sea life.
Admission to Coral World Ocean Park is included in the deal! And don't worry, all safety equipment is taken care of, so you can relax knowing your every step is secure. Plus, a friendly local guide will be with you throughout your amazing voyage under the sea.
10. Take an illuminated kayak ride
Duration: 1.5 hours
Price: from US$75
Why you should take it: night kayak ride
Make memories to last a lifetime and set off on an unforgettable kayaking trip when you book this evening excursion! Head to the Marriott Frenchman's Cove Dock, grab a paddle, hop in an illuminated kayak, and off you go!
With special LED lights that light up the sky and sea after dark, you'll marvel at turtles, fish, stingrays, and other amazing marine life from a totally new perspective. Drift along the water in your own private paradise as you soak up Caribbean vibes, and take in majestic nighttime views of Charlotte Amalie Harbour while feeling the warmth of sea breezes on your face. Plus, there are beginner-friendly training sessions and safety gear provided before launch off time, so anyone can join in for this unique adventure.
11. Immerse yourself with a private tour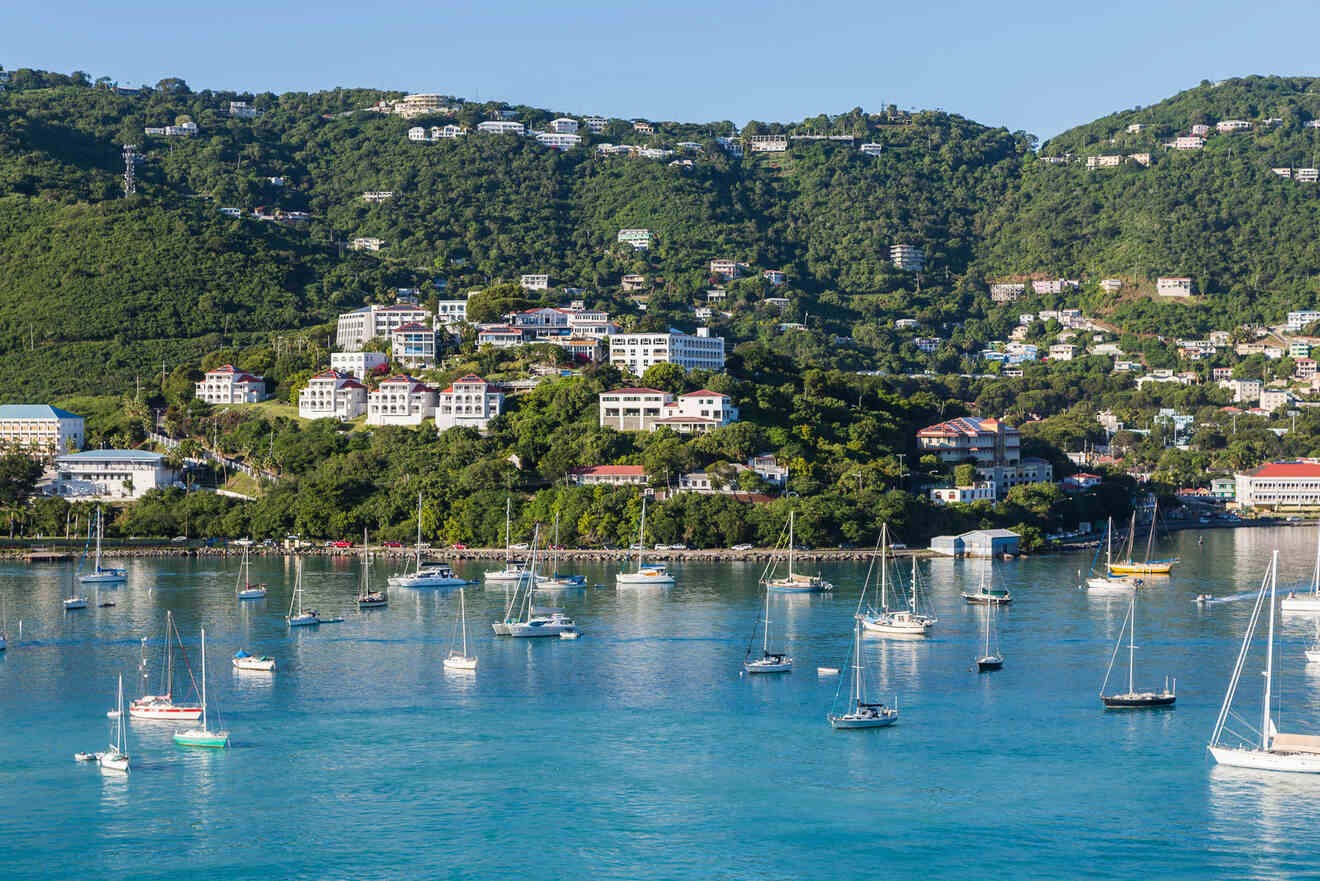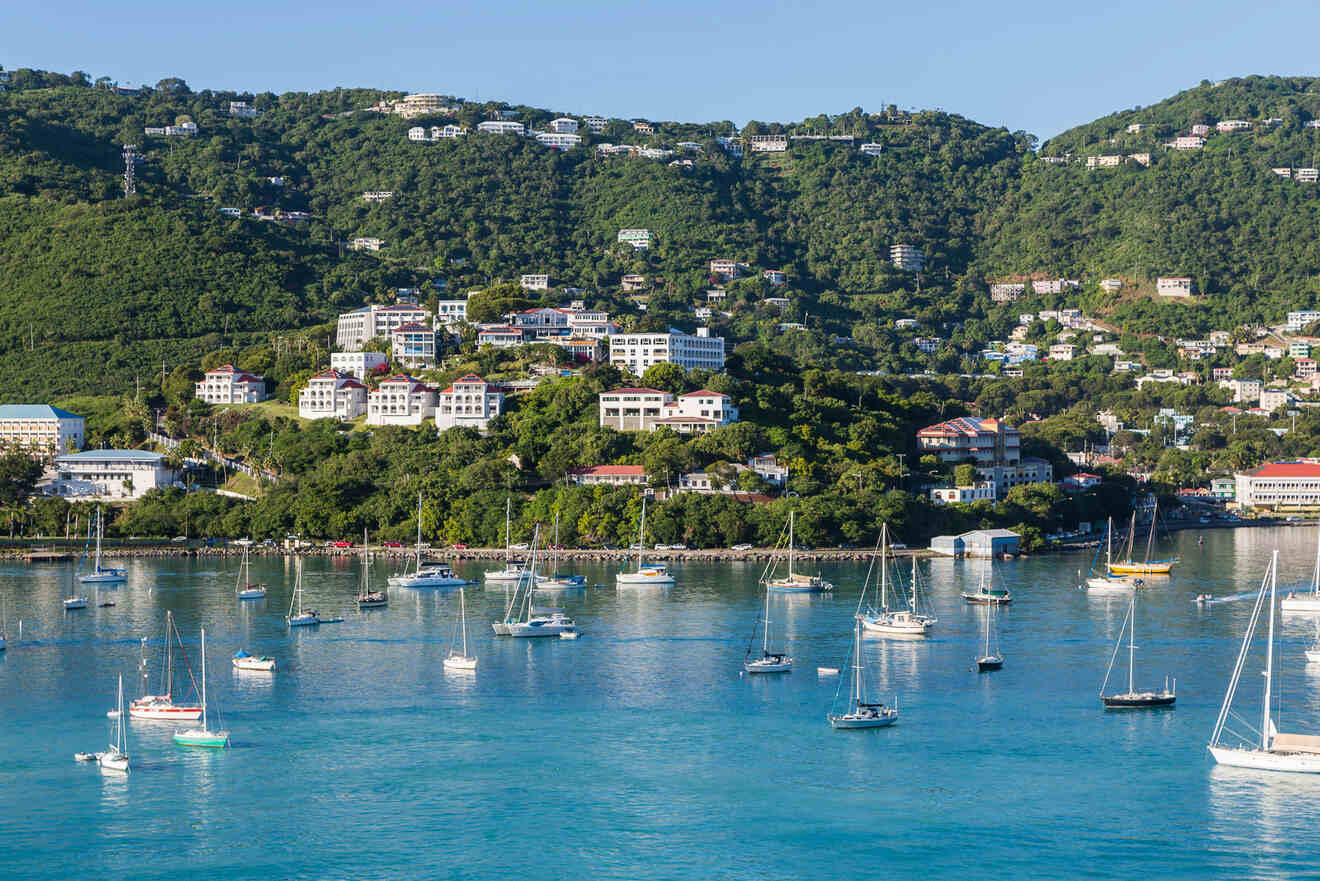 Duration: 6 hours
Price: from US$695
Why you should take it: for a personalized experience
Familiarize yourself with all the amazing attractions and beaches that St. Thomas has to offer on this private tour! From Drake's Seat to Skyline Drive, Mountain Top, and beyond, you'll be able to explore the sights in style. Plus, you'll get educated on some local history as you visit the historic St. Thomas Synagogue, Frederick Lutheran Church, and Blackbeard's Castle.
Then it's time for an amazing beach day at Magen's Bay Beach just be sure to bring your swimsuit! And don't forget, when your tour wraps up, take advantage of a stop in Charlotte Amalie for some incredible duty-free shopping. With round-trip transfers from your hotel included, bottled water provided, and a professional driver/guide, there's no other way to do St. Thomas justice quite like this private tour! Because flexibility is key!
12. See The Baths & White Bay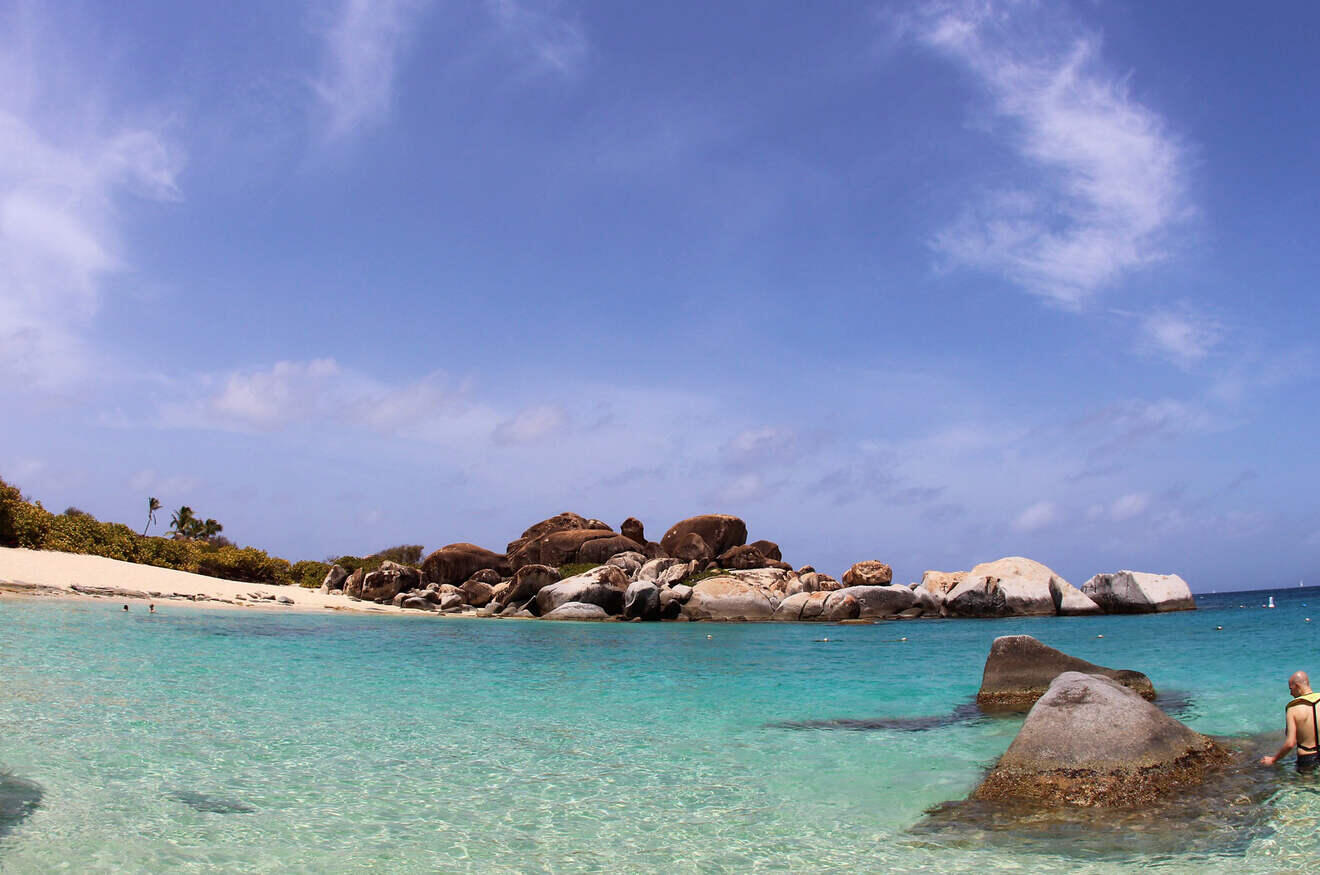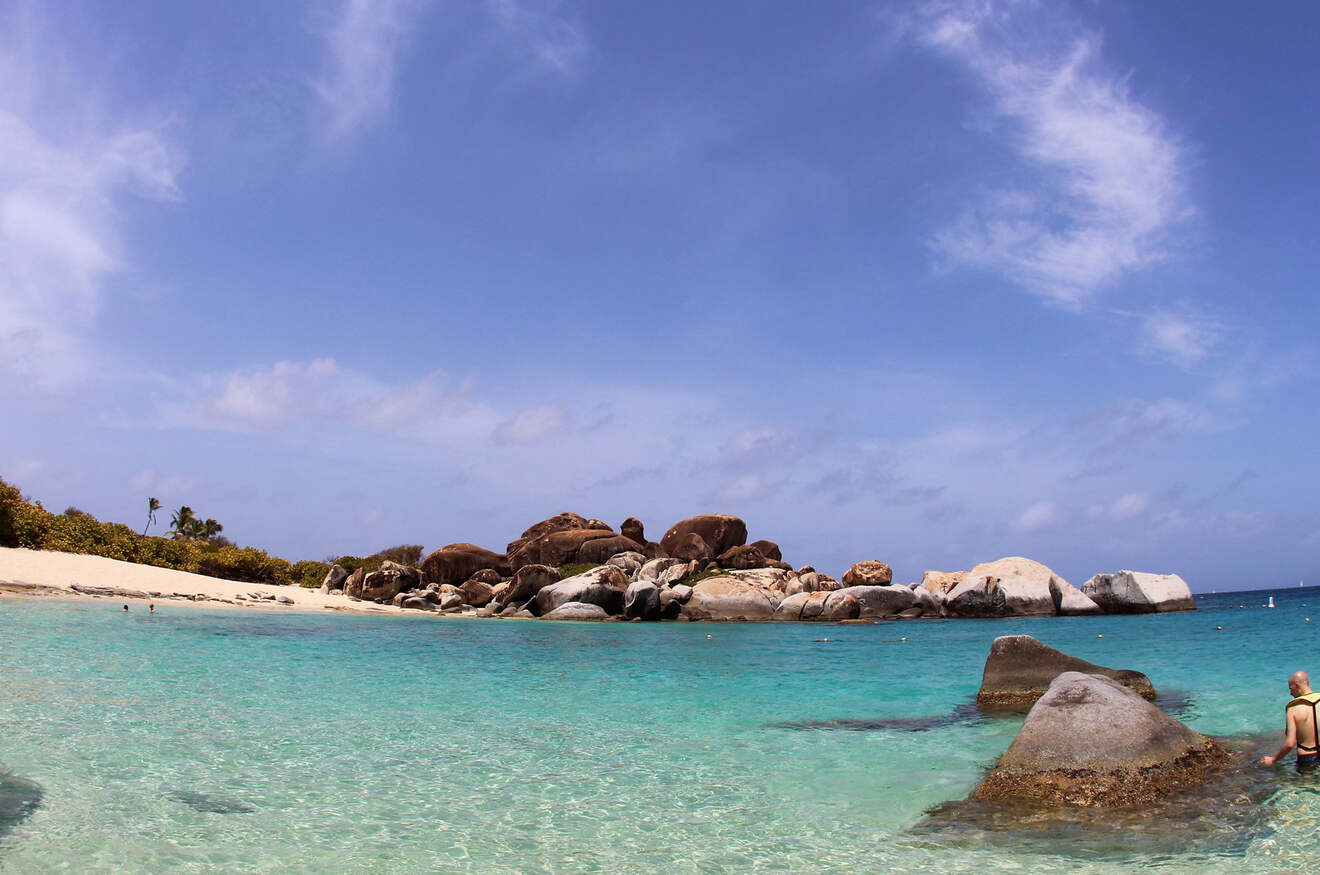 Duration: 9 hours
Price: from US$355
Why you should take it: get to know the stories of the most famous of New Orleans' historical figures buried there
Take your time strolling through 2 of the most beloved attractions with just a small group of 12 (or fewer), and you'll get all the personalized attention from your guide you need, not to mention plenty of time to ask questions.
From snorkeling at The Baths to sipping on complimentary delish snacks and beverages at White Bay which is known as one whopper of a beach, you won't forget this little getaway in a hurry! Enjoy navigation and commentary from the captain and crew whilst you take full advantage of provided snorkel gear to explore all there is below. Now that's something adventurous!
You'll also take a pit stop at Devil's Bay National Park for a dip in the stunning boulder-lined beach and finish it off with some refreshing Painkillers cocktails and kicking back on Soggy Dollar Beach all afternoon.
13. Witness St. John and its glory on a luxury cruise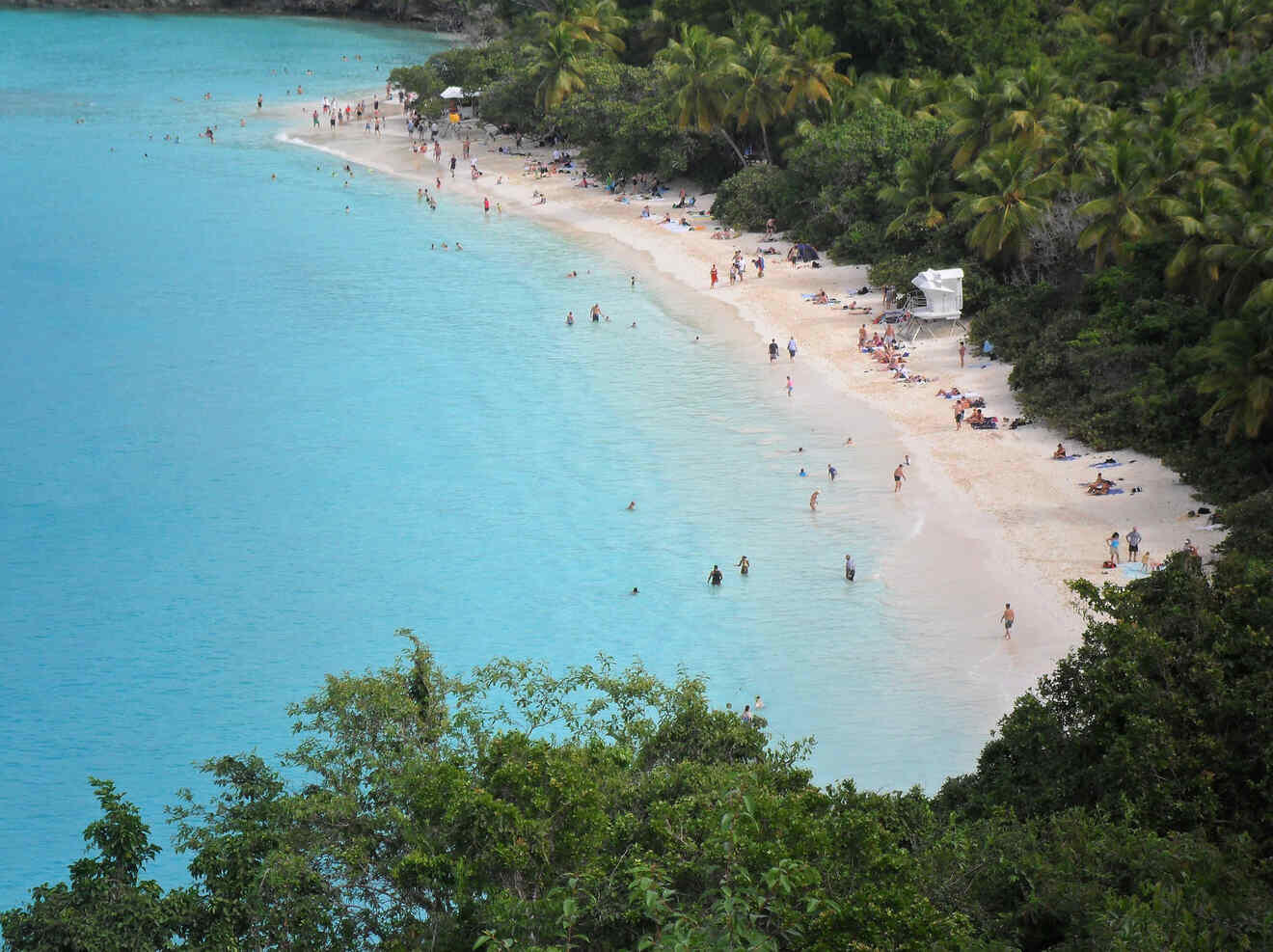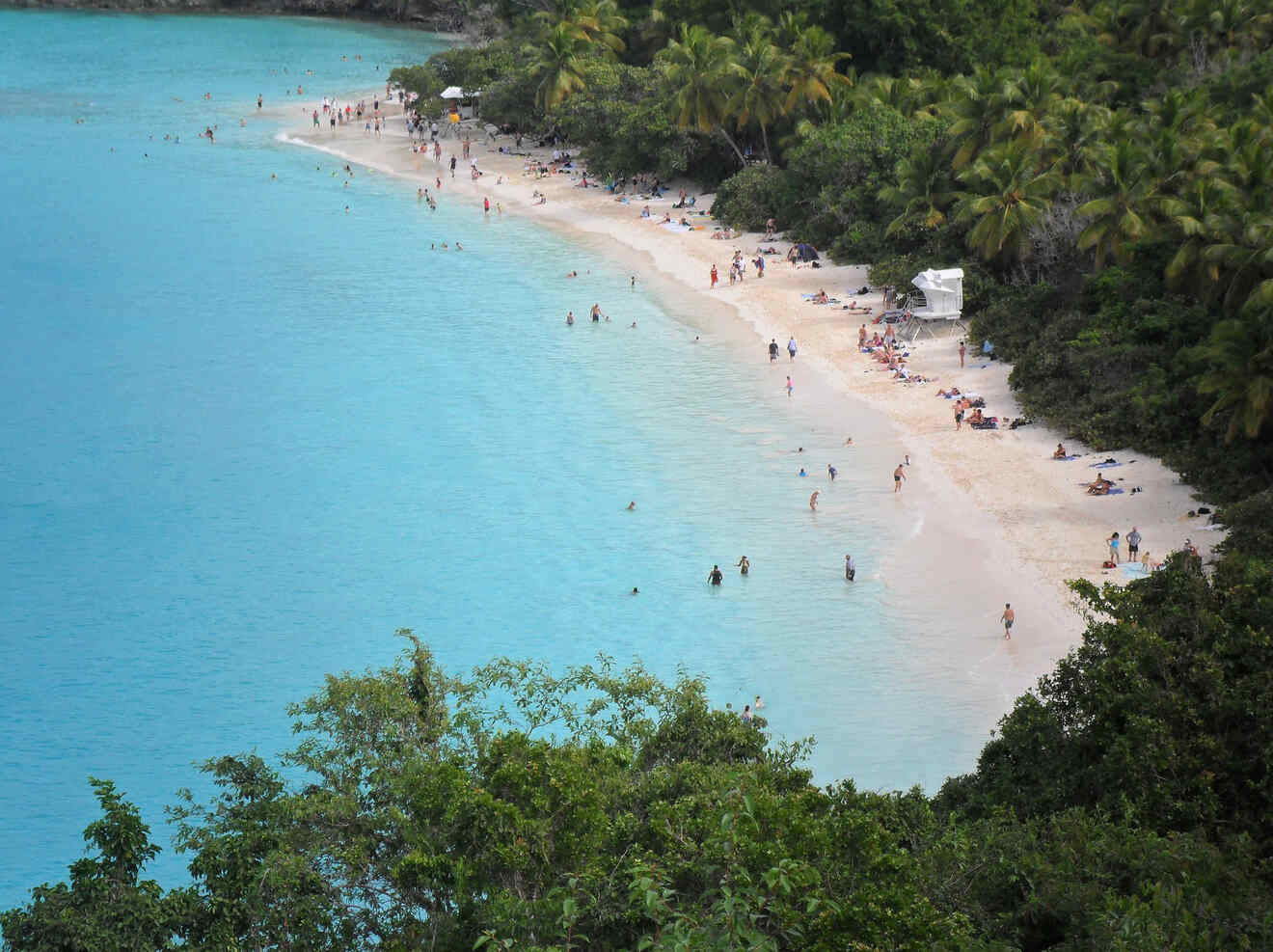 Duration: 7 hours
Price: from US$1,495
Why you should take it: multiple stops and a cruise on a luxurious catamaran
Why not make a splash and book your own private catamaran for the day of your dreams? From beaches to bars, snorkeling to sunbathing, no matter what you're dreaming up, your captain and crew are here to make it happen just as you like! You can relax with an ice-cold refreshment and crank up the tunes (the sound system's all yours) plus, all the necessary snorkeling gear is provided.
I definitely recommend embarking on a journey to St. John. Just a stone's throw away from the United States Virgin Islands, it is renowned for its pristine beaches and raw natural beauty, especially Trunk Bay and Cinnamon Bay. Your captain will work with you to plan a jam-packed itinerary so you won't miss a thing.
14. Swim with dolphins in Coral World Ocean Park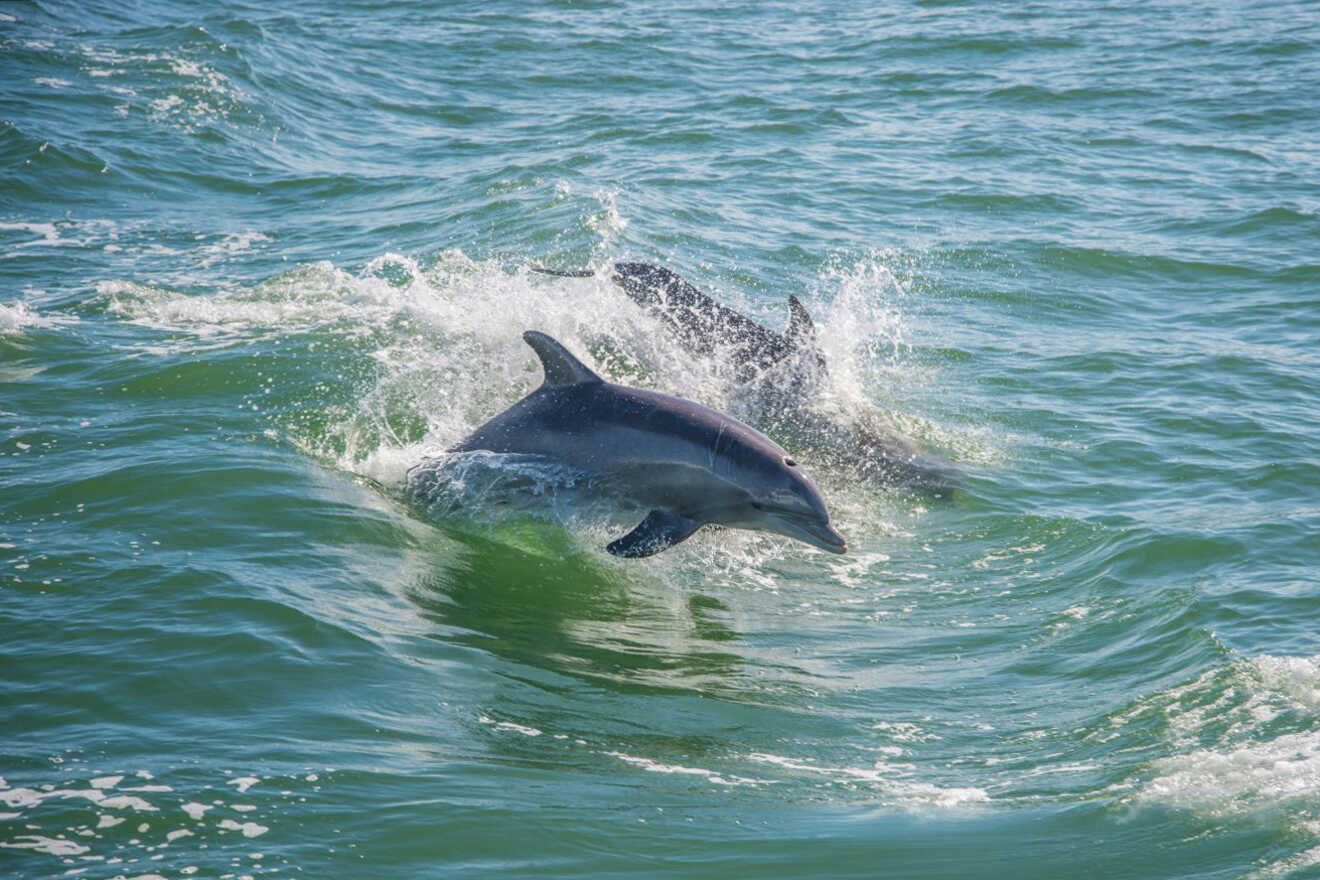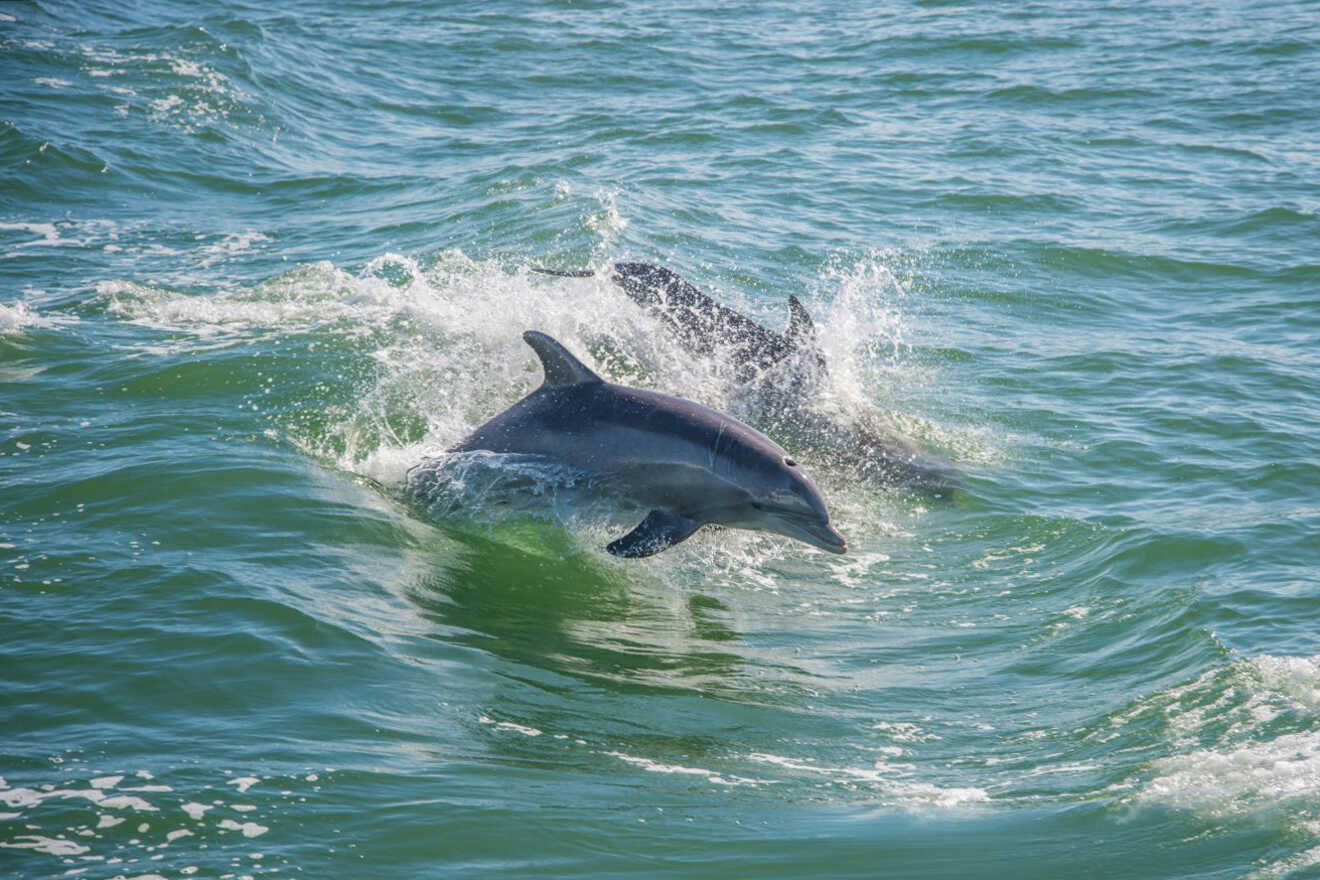 Duration: 1.5 hours
Price: from US$182
Why you should take it: interactive experience with dolphins
My dear animal lovers, this one's for you! Come explore the majestic depths of Coral World Ocean Park and get up close and personal with their friendly dolphins. You'll learn to interact with them from certified dolphin experts – touching, feeding, and even playing with them.
If you want a sweet and friendly experience, I recommend the sea lions tour! Their specially-designed program promises an unforgettable connection. After a brief orientation, excitement takes over, and you'll be ready to jump into the water with these lovable critters.
And if you want to challenge yourself, then swimming with sharks is for you! You'll have an amazing opportunity to actually get in the pool with a bunch of baby sharks swimming around you.
FAQs about St. Thomas excursions

📅 How many days is enough for St. Thomas?
🔝 What is the best St. Thomas excursion?
The traveler's favorite excursion with the most amazing reviews is the St. Thomas catamaran cruise that embarks from Frenchman's Reef. You'll also have an opportunity to snorkel during this tour.
☀️ What is the best time to visit St. Thomas?
The peak tourist season in St. Thomas is from December to April, when the weather is generally pleasant with lower chances of rain. This makes it a perfect time to explore water activities in St. Thomas.
🌊 Can you swim in the ocean in St. Thomas?
Yes, it's generally safe to swim in the ocean in St. Thomas. I recommend taking snorkeling tours in Turtle Cove and Mangrove Lagoon.
Conclusion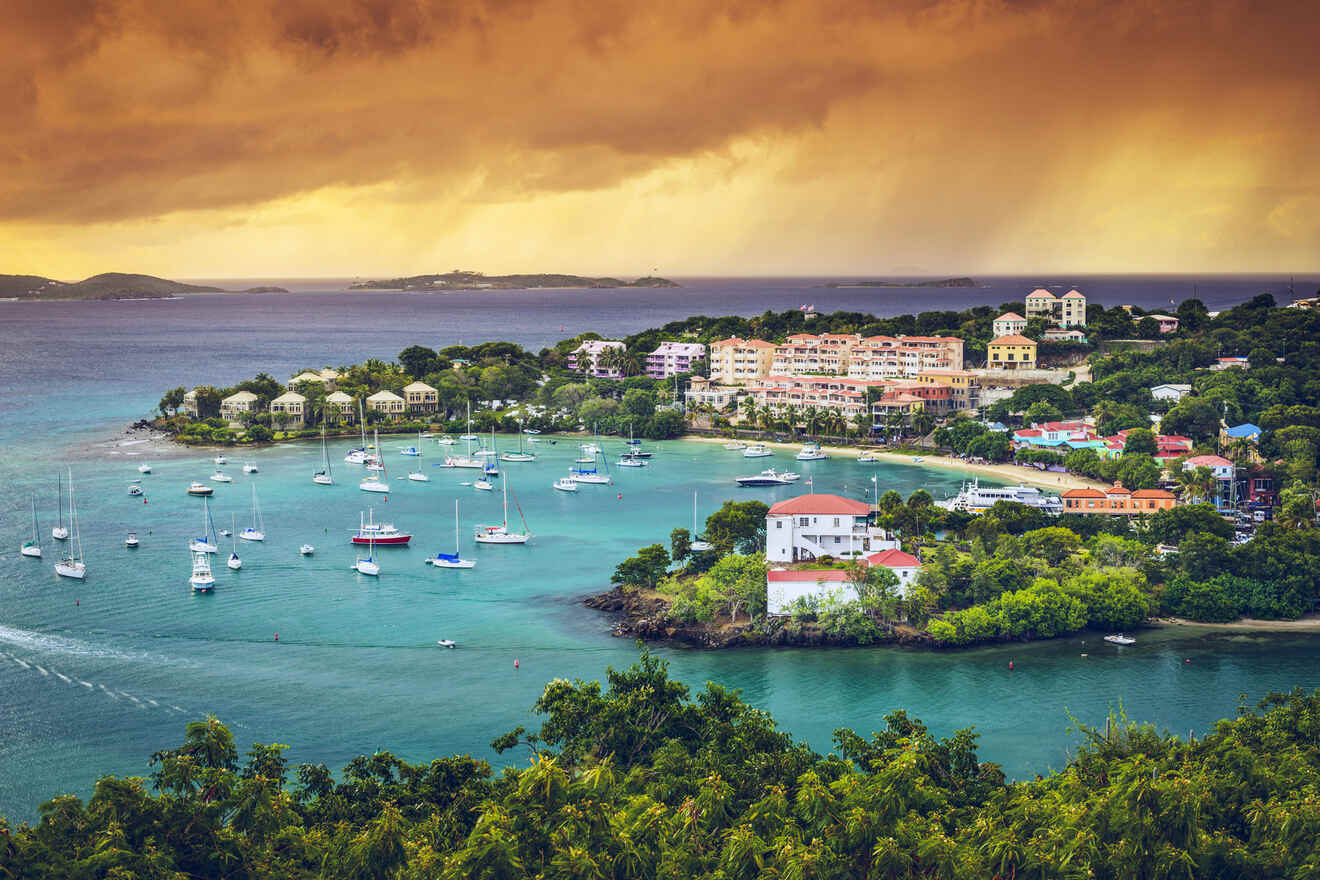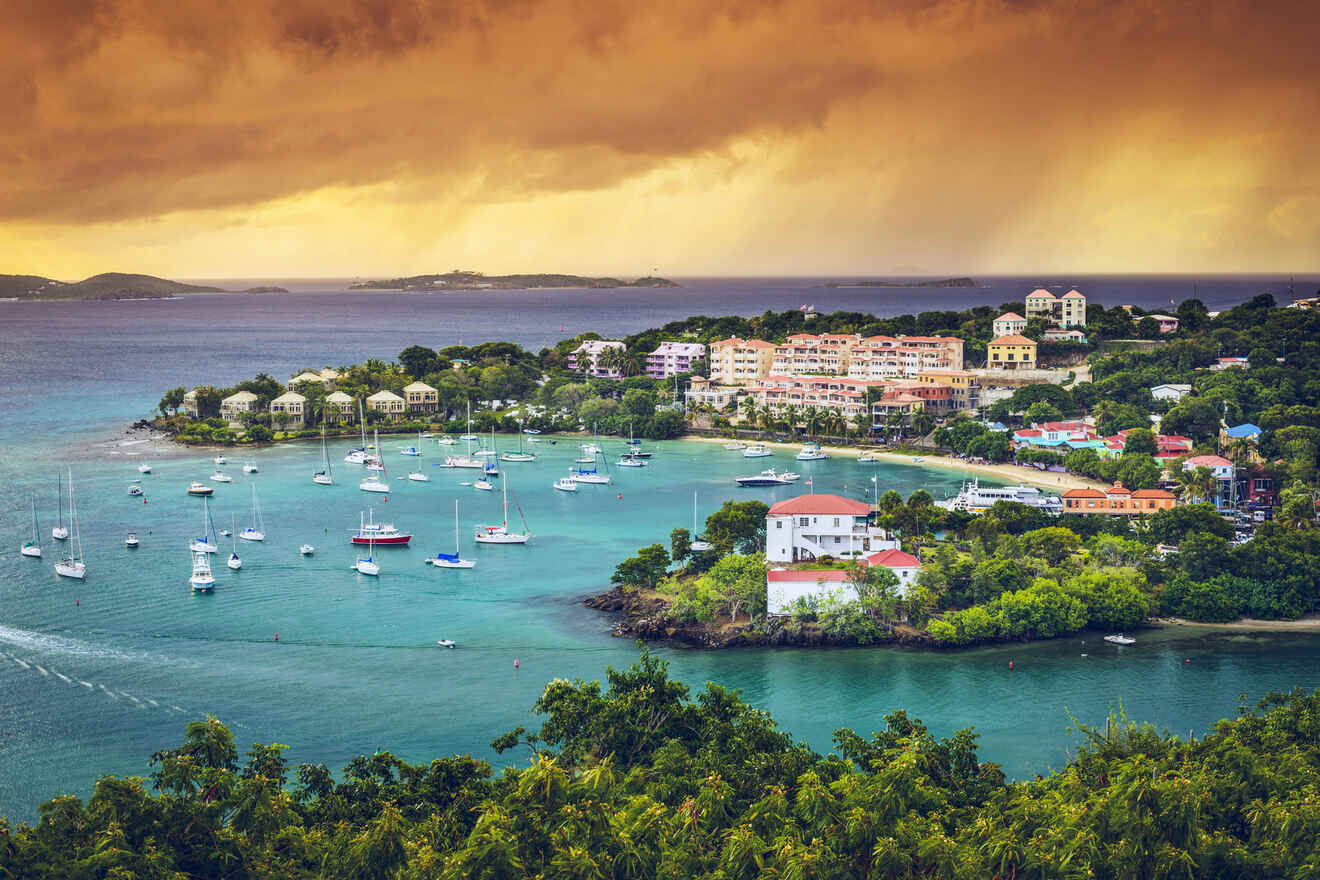 You've swam all the way to the end of the St. Thomas excursions list! I hope some of the adventures offered here inspired you to start your next tropical escapade!
As you can see, you can choose from many different tours and water activities: there are ziplines, food tours, cruises, and snorkel adventures. Pure bliss for any travel lover!
Now, it's important not to get carried away and forget the very important fact- these excursions are insanely sought after. So make sure to play it safe and book in advance!
And as always, if you have any suggestions or questions or simply wish to share your travel experiences and tips & tricks- don't hesitate to do so! Leave a comment below, I always look forward to reading about travel adventures!
Happy swimming and until next time,
Angelina
---
Pin it for later!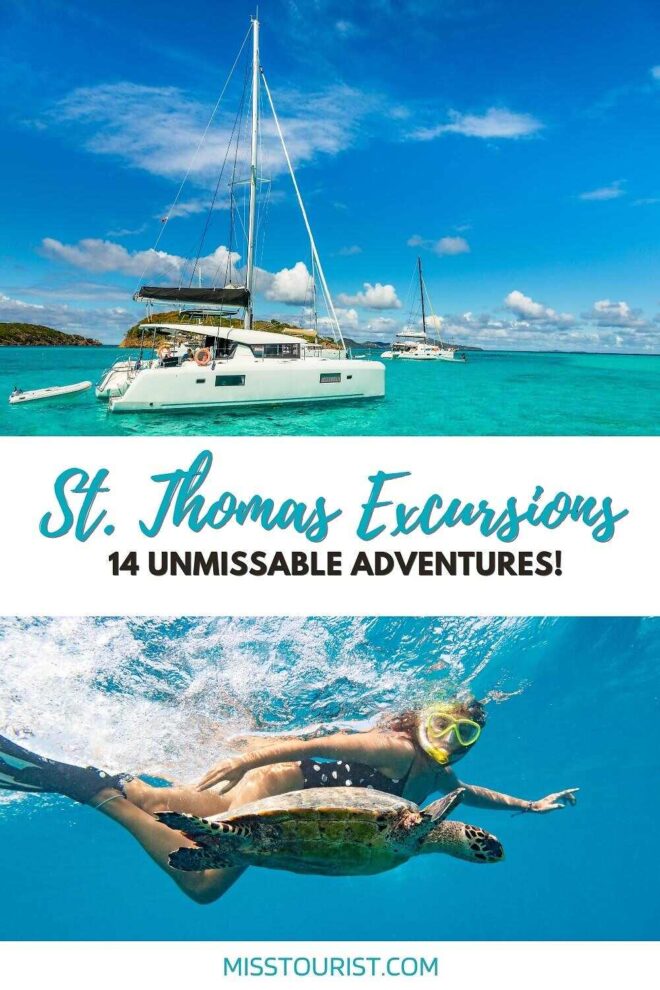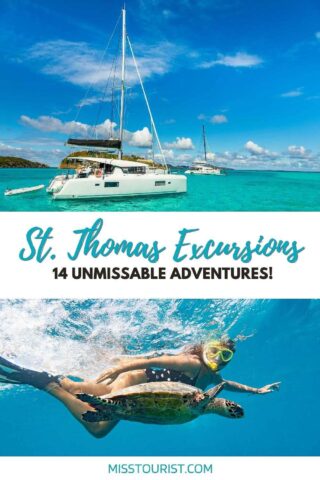 Pin it for later!