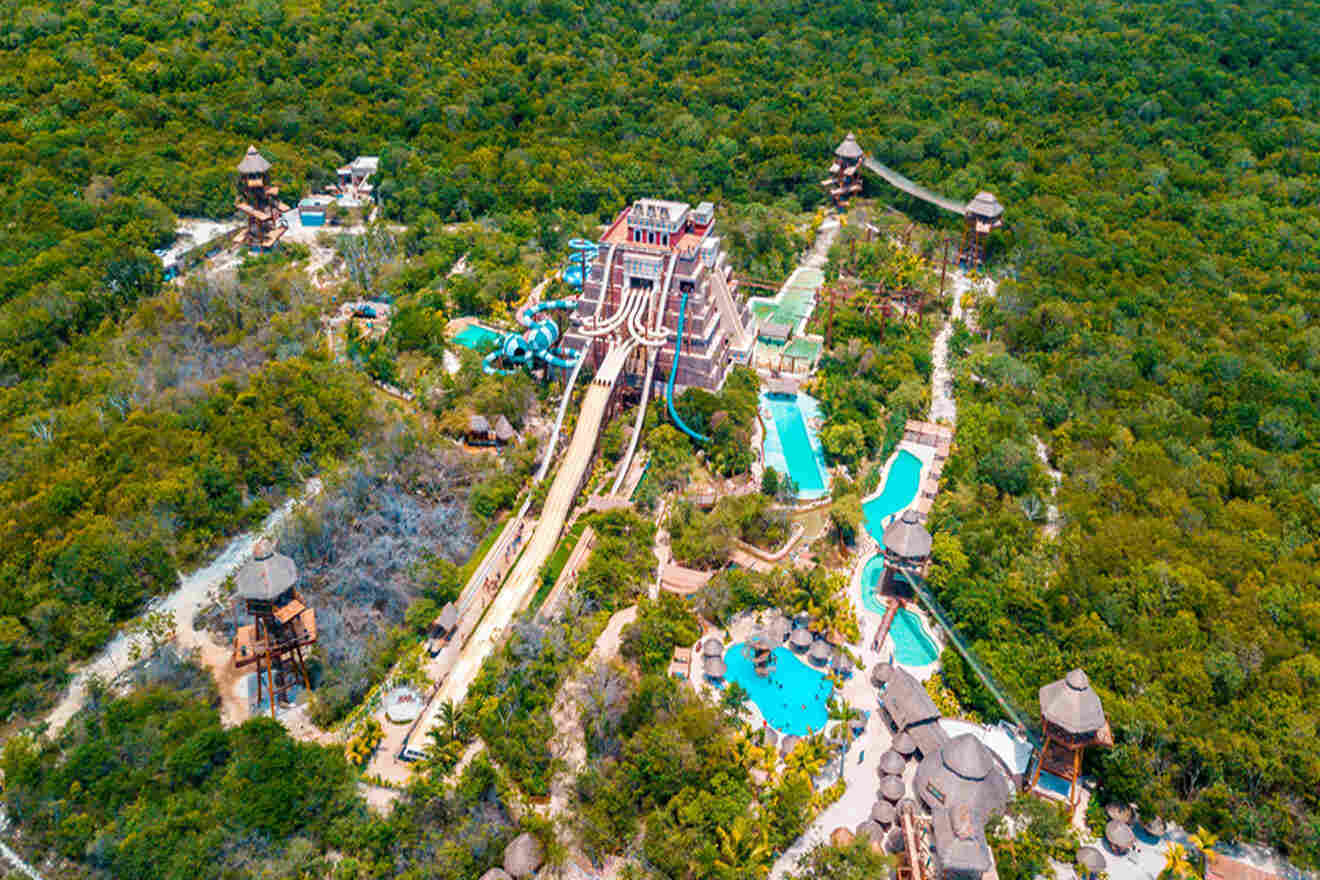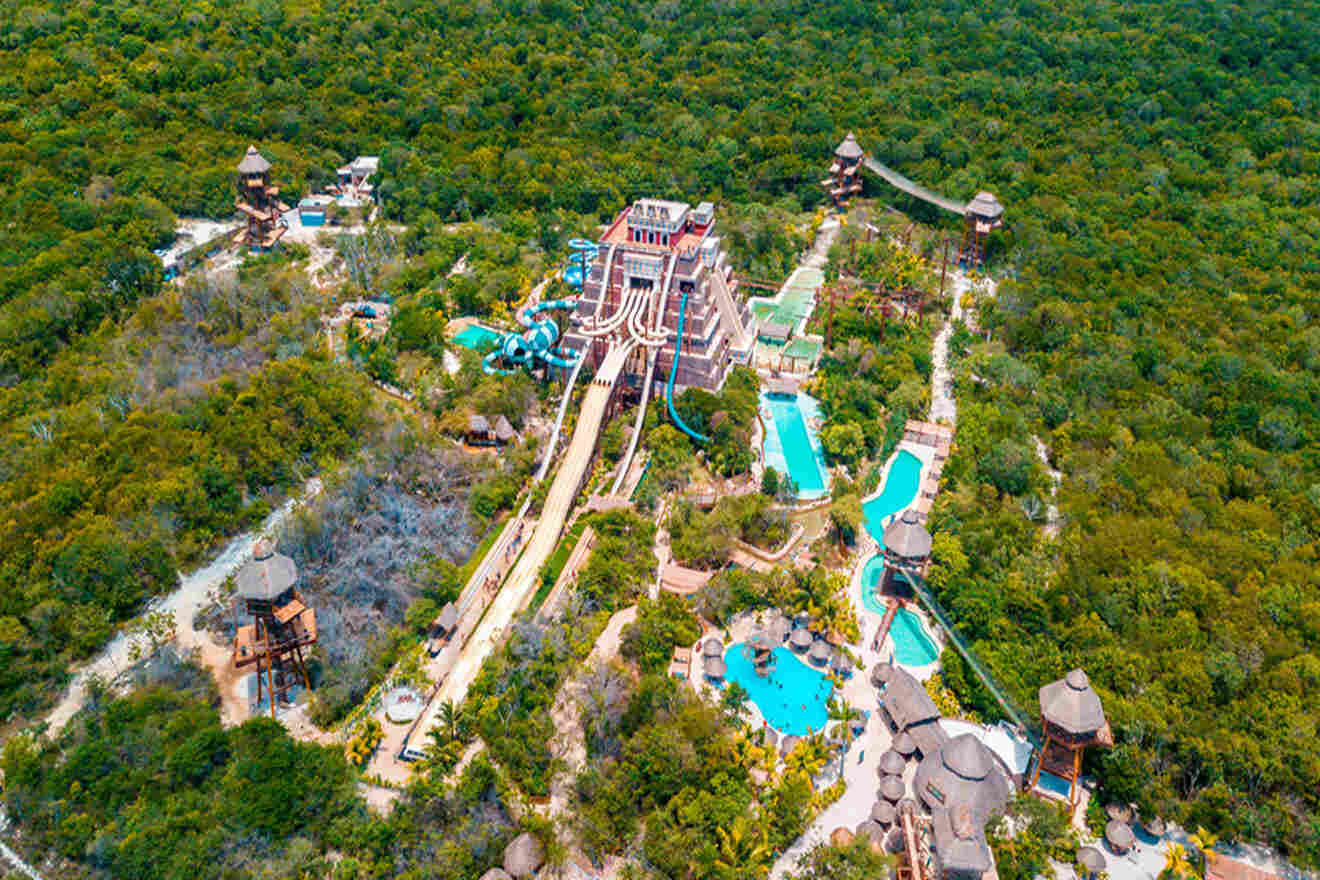 What better way to spend your holiday in Mexico than cooling off at your hotel's water park? If you're planning a trip there you definitely want to stick around!
In this post, we'll go through a list of the best water park resorts Mexico has to offer! I've looked around the web for hours, and came up with some incredible options which I ordered from most to least expensive, so that you can find your favorite in a second!
We've got some amazing all-inclusive family resorts, and normal hotels, too, so I highly recommend booking them in advance as all the locations you'll find in the post are so popular.
Well, I know you're excited to see the resorts, so, let's start!
¡Vámonos chicos y chicas!
If you are in a hurry
I made this short list of the best water park resorts in Mexico for anyone who doesn't have time to read the whole post:
Since we're talking about the whole country today I've made this map, so you can visualize all the hotels I'll talk about in this post.
1. Nickelodeon Hotels & Resorts – beach hotel with a kids club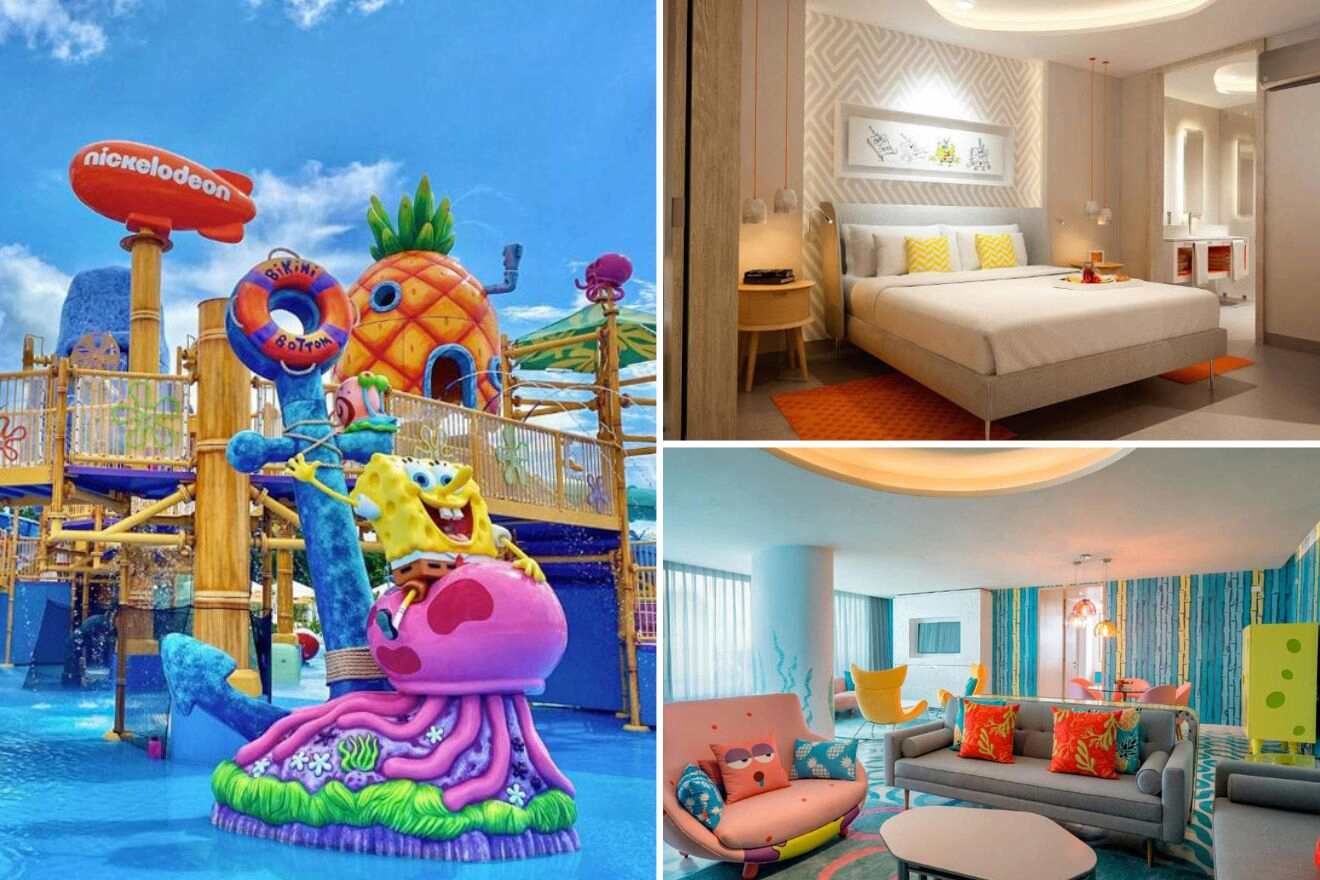 Your entire family is going to love this waterpark resort in Playa del Carmen! Designed to entertain guests of all ages, the resort offers multiple water slides, indoor and outdoor play areas, a kids club, a kiddie pool, and some fabulous things that the parents will love, too, like a full-service spa!
You'll also find 8 restaurants on-site that serve different cuisines at this all-inclusive Mexico resort! All the rooms are super spacious and they come with a balcony that overlooks the ocean, comfy beds, and free Wi-Fi. Make sure you don't miss their movie nights while you're here!
2. Hotel Xcaret Mexico All Parks – for a fun getaway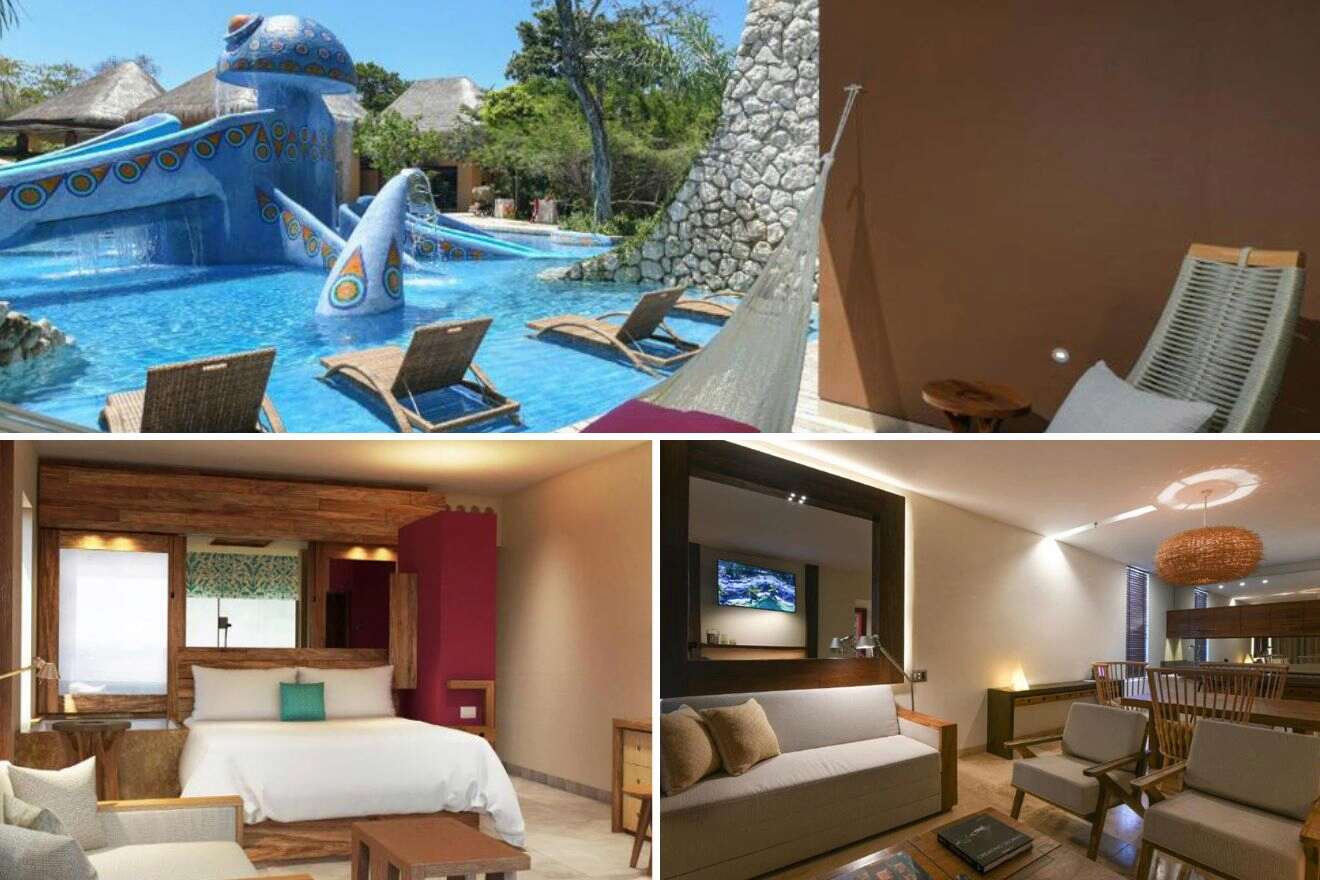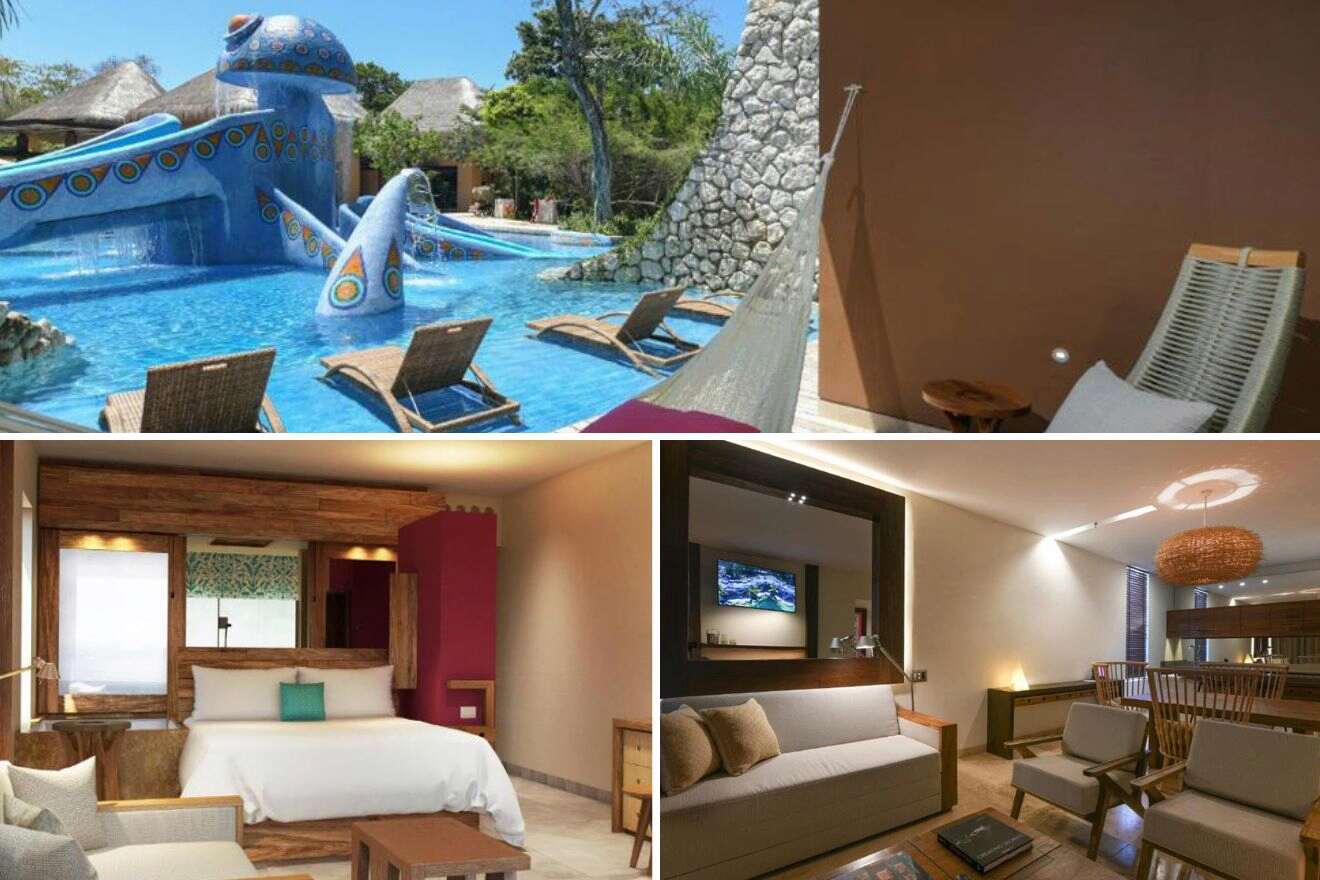 Here's another Playa del Carmen hotel that has some really fun things going on! You'll be happy to know that the hotel has a private beach area, and lots of fun facilities, like an outdoor swimming pool, hot tubs, and many others!
During your holiday you can relax at the spa center, play with the kids in the designated areas that have many toys, or even in the games room. You'll also find a kids club, lots of water sports, and nightly entertainment which I'm sure the parents will love! If I were you, I would book my water park resort in advance, as these places in Mexico are super popular!
3. Hotel Xcaret Arte – for outdoor activities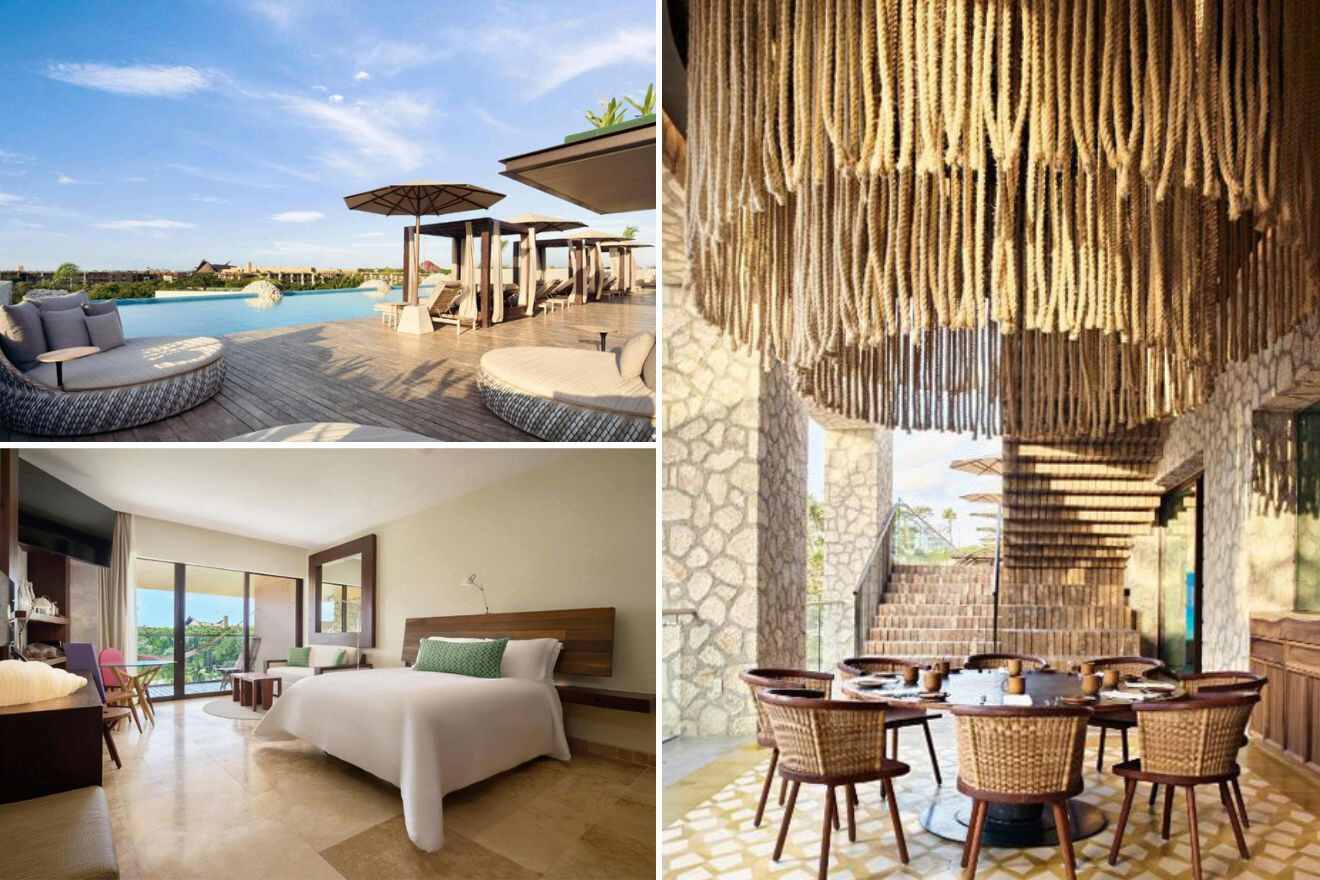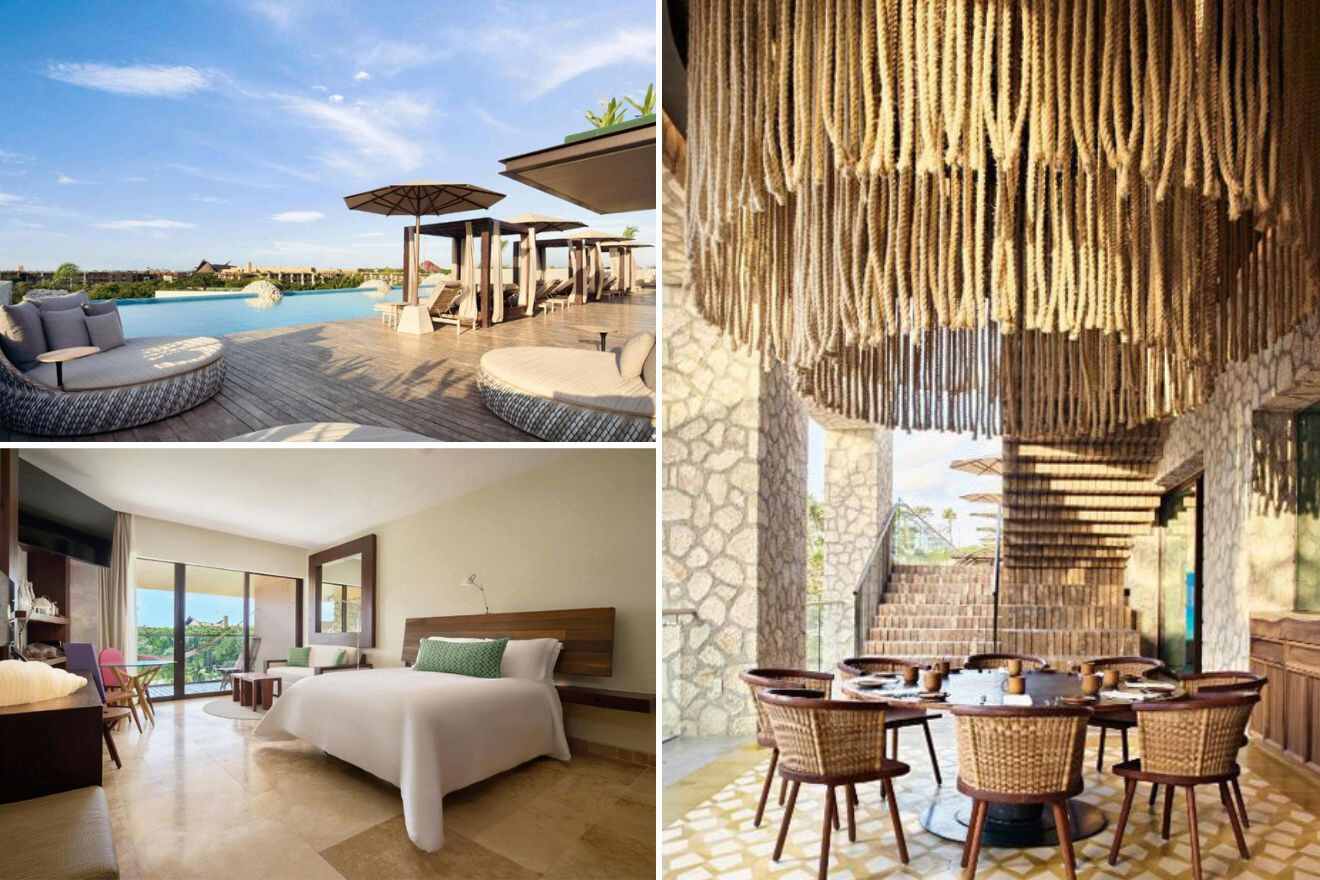 Gotta love a hotel with a cool design and this one is definitely a favorite! The accommodation is set in Playa del Carmen, and it offers some fabulous family suites with large windows that overlook the ocean.
I know you'll want to go on all the water slides, but make sure you try all the other activities as well! There are many things from hiking around the hotel to snorkeling, renting out bikes to exploring the area, and, of course, playing in the game room. There's also a spa center that offers a wide range of services!
4. Finest Playa Mujeres – with some unique views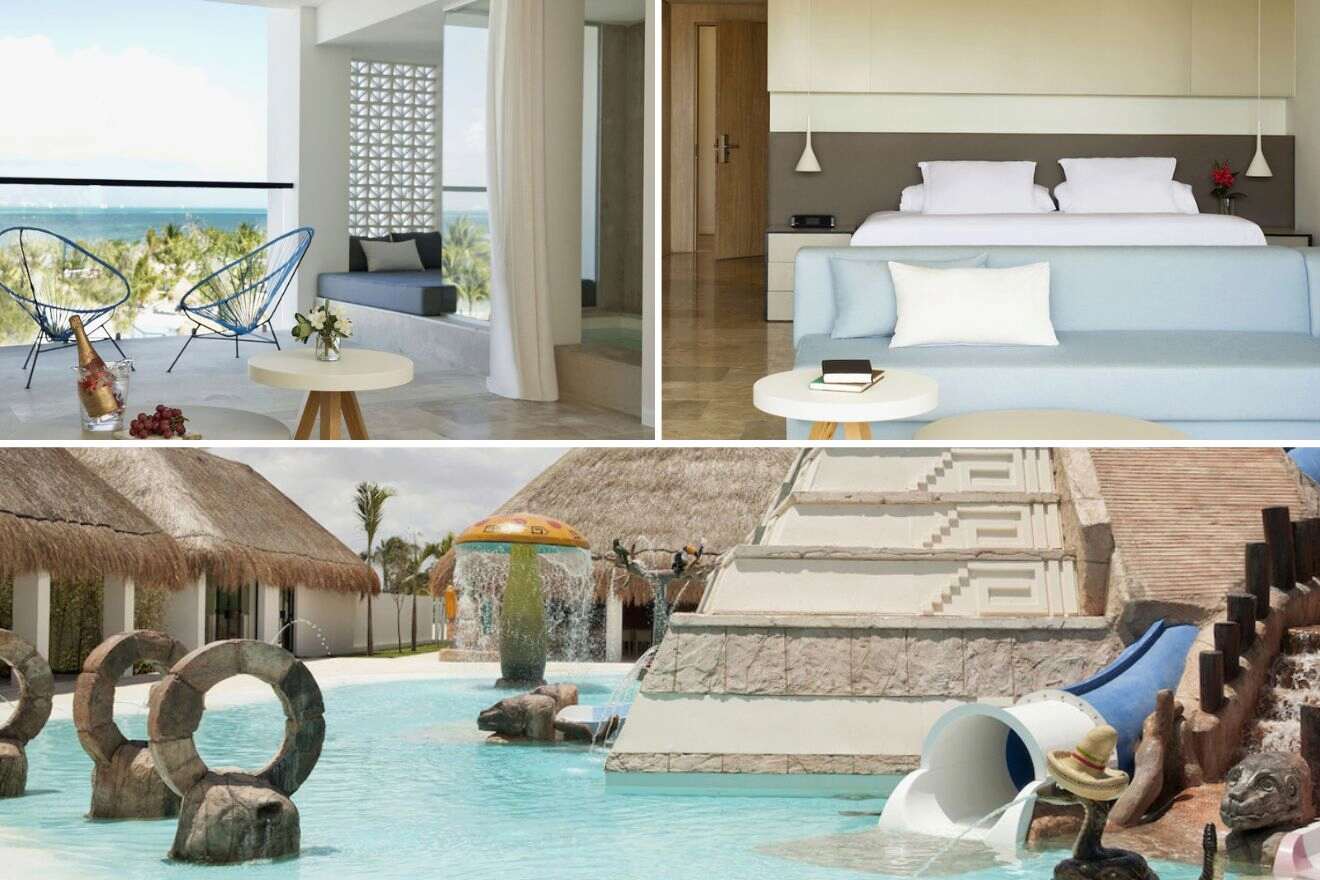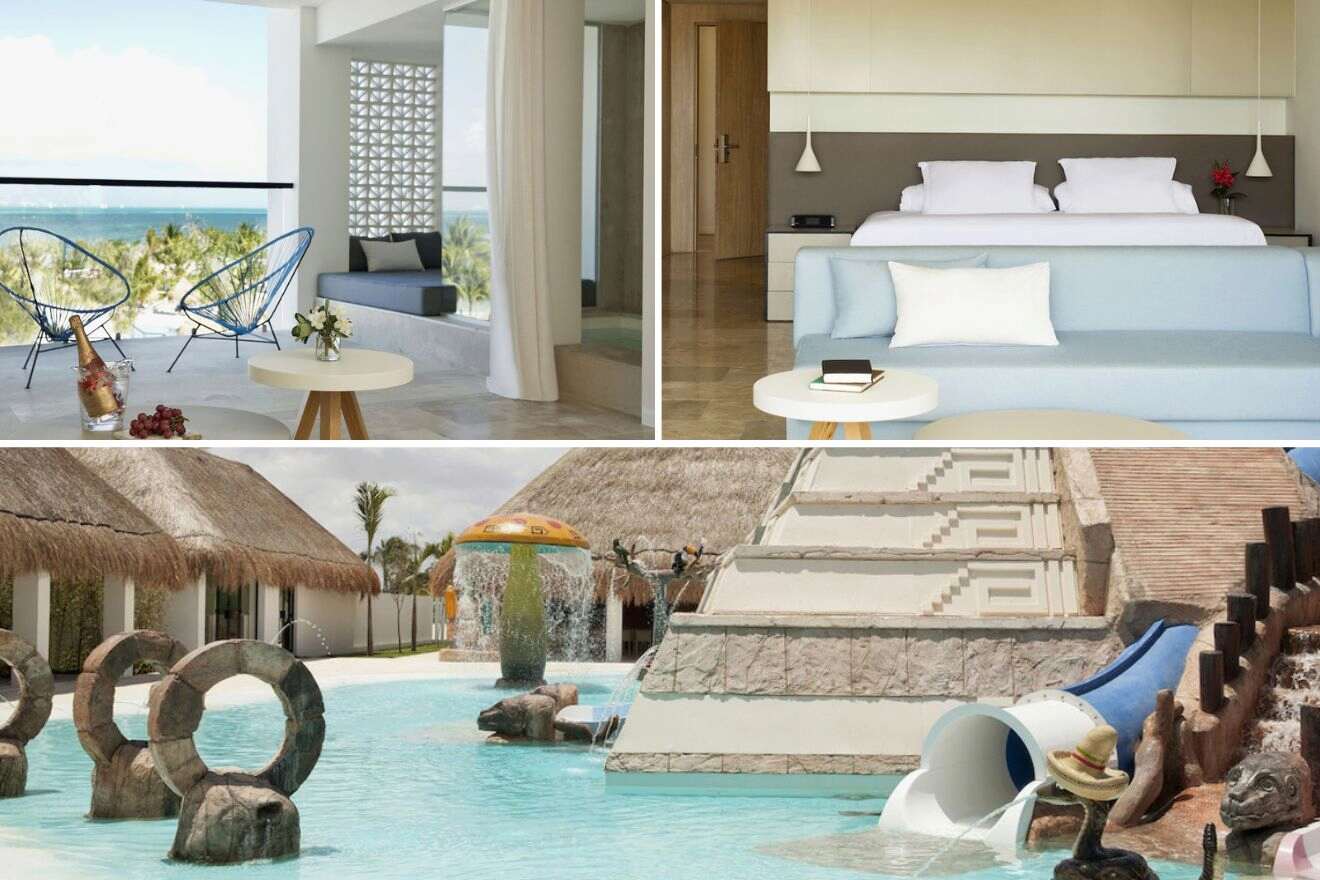 A gorgeous hotel on Playa Mujeres where you can relax, unwind, and play at the water park! Start your morning with a cup of your preferred drink by the outdoor pool of the accommodation! Then you can enjoy a yummy breakfast at one of their 12 restaurants!
The whole area surrounding the hotel is beautiful, and you can rent out some bikes and head out to explore, or if it's too hot grab your swimsuit and spend the whole day swimming and going on the water slides. You'll also find at the resort play areas for the little ones, a spa center, and a golf course.
5. Moon Palace Nizuc – for an unmissable holiday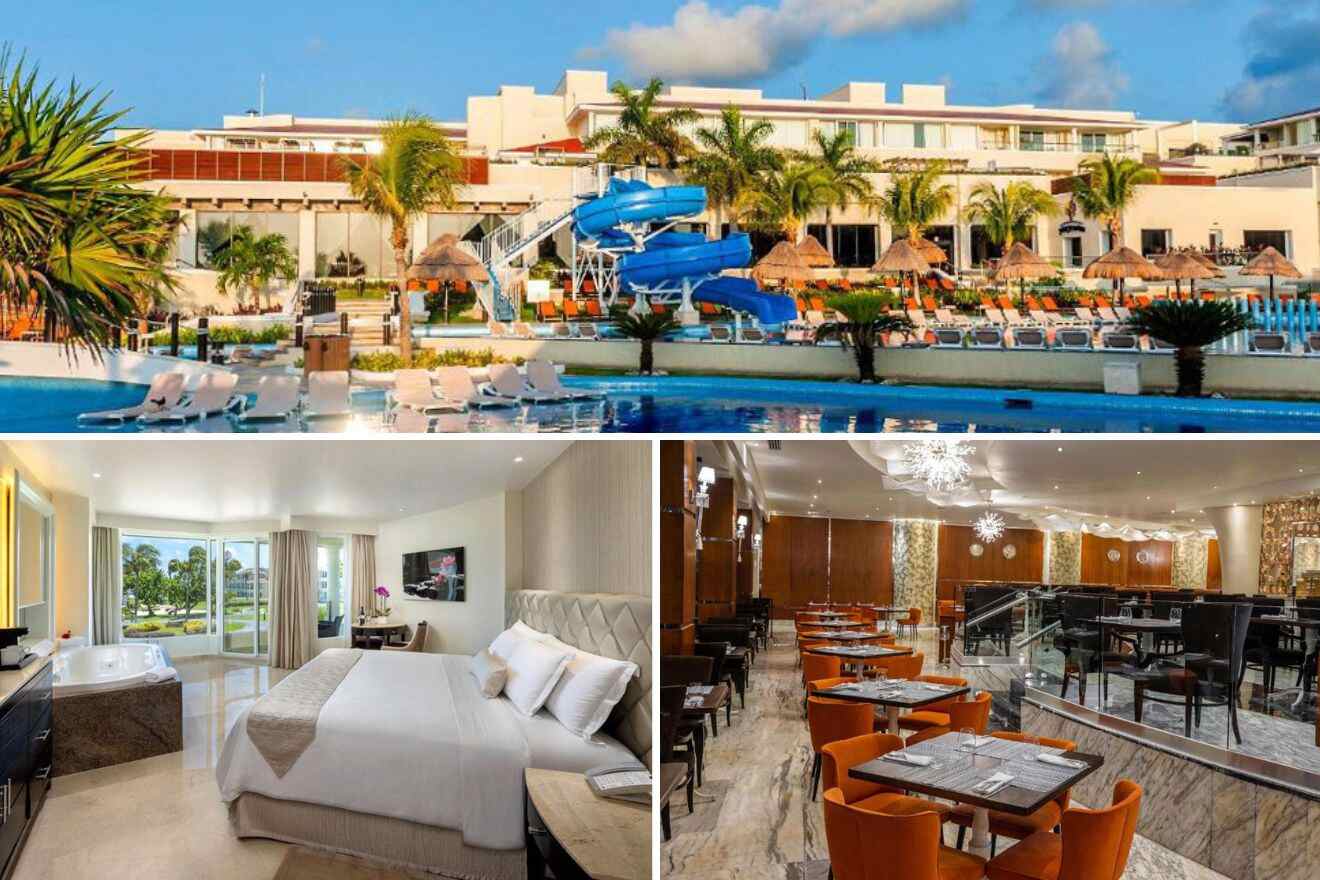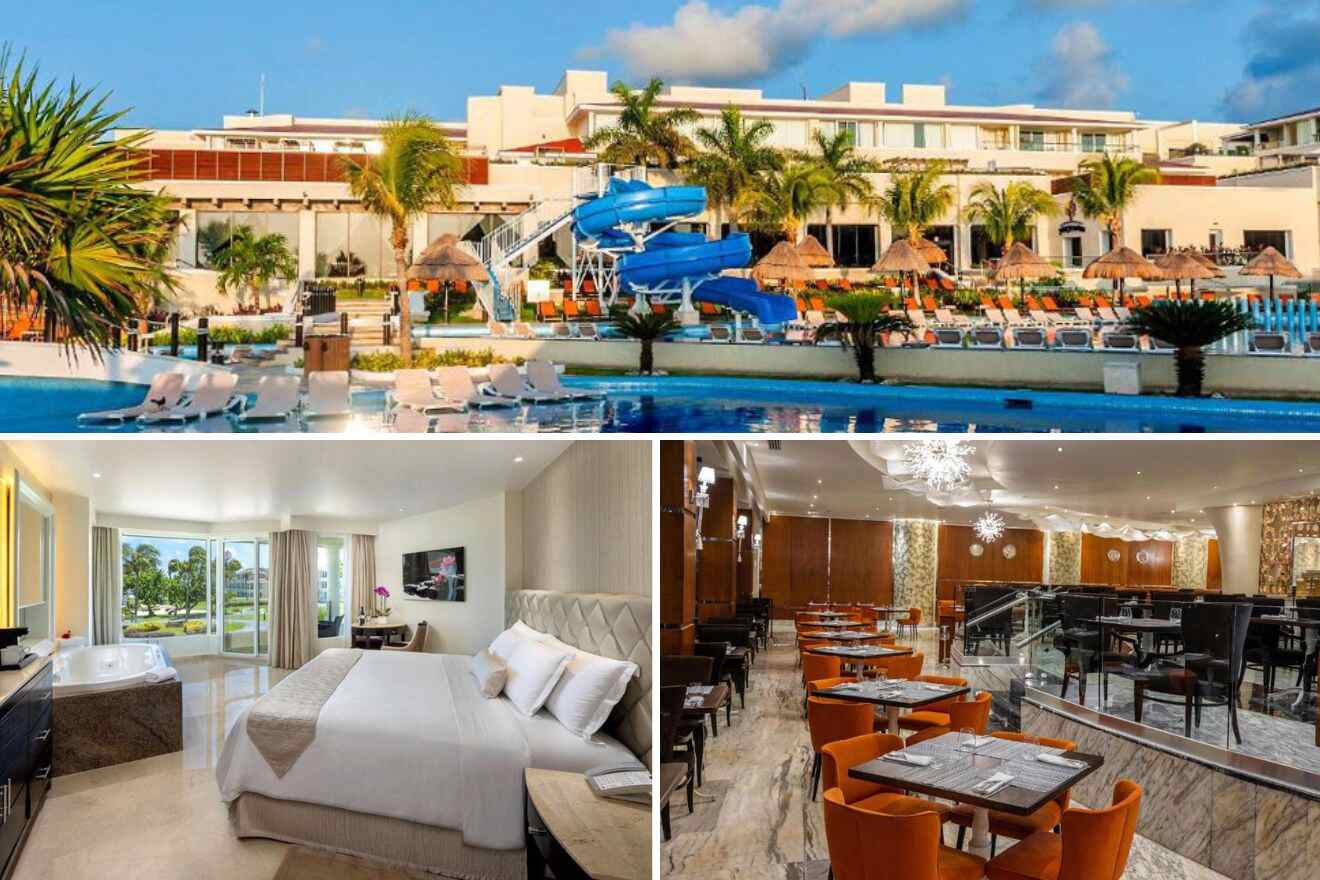 This all-inclusive resort in Cancun has it all! A fabulous location on the beach, amazing rooms with ocean or garden views, and a fun water park with multiple water slides, and a wave pool! I'm sure you'll have a blast here!
You can spend your days sunbathing by the multiple pools, trying some non-motorized water sports, eating delicious food at one of the 8 restaurants on-site, renting out bikes and exploring the area, or having the best time ever at the kids club! After a long day of activities, you can enjoy a yummy dinner, and catch the evening entertainment before going to bed!
6. Dreams Vista Cancun Golf & Spa Resort – chic hotel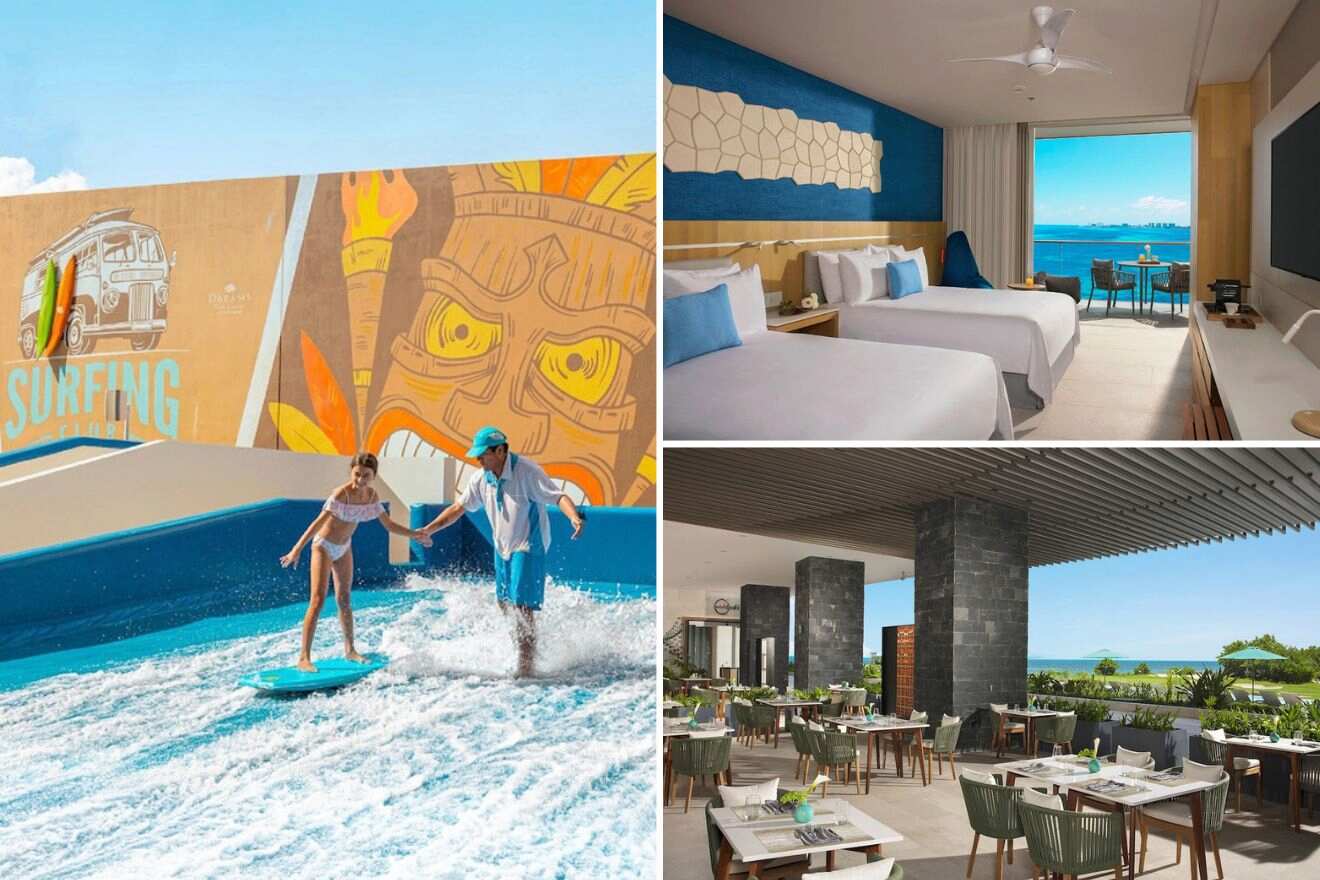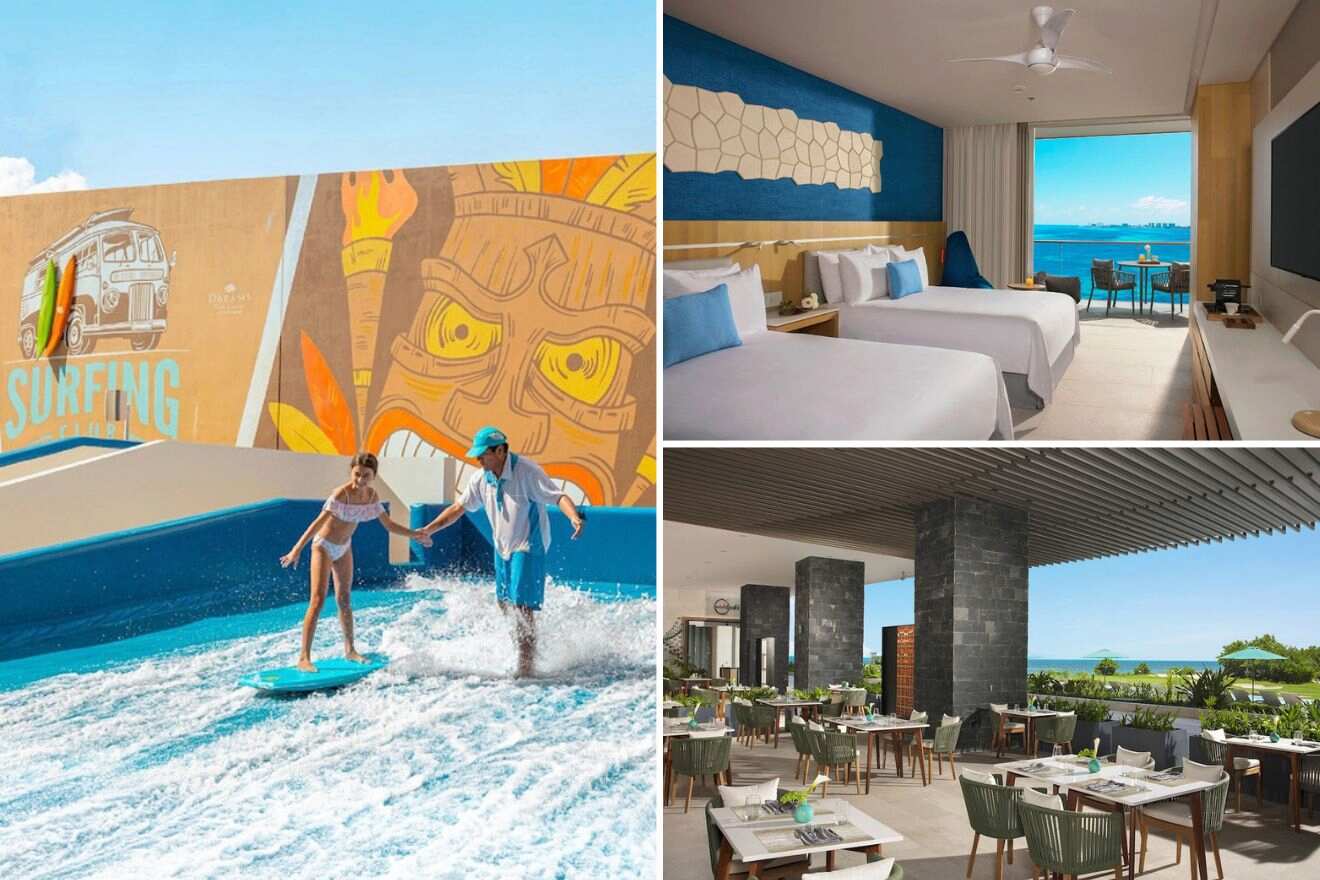 You're going to fall in love with the room views of this hotel in Cancun! They look fantastic! And you didn't even see how many cool things they have going on here! We have the usual on-site water park, but also a place where you can learn surfing, a children's play area, a golf course, and the list can go on.
I'm sure, though, you'll also need a few moments to relax, and this is where the fabulous spa center interferes! There you can enjoy multiple facilities and just turn off the world for a few moments!
7. Dreams Playa Mujeres Golf & Spa Resort – for a fun trip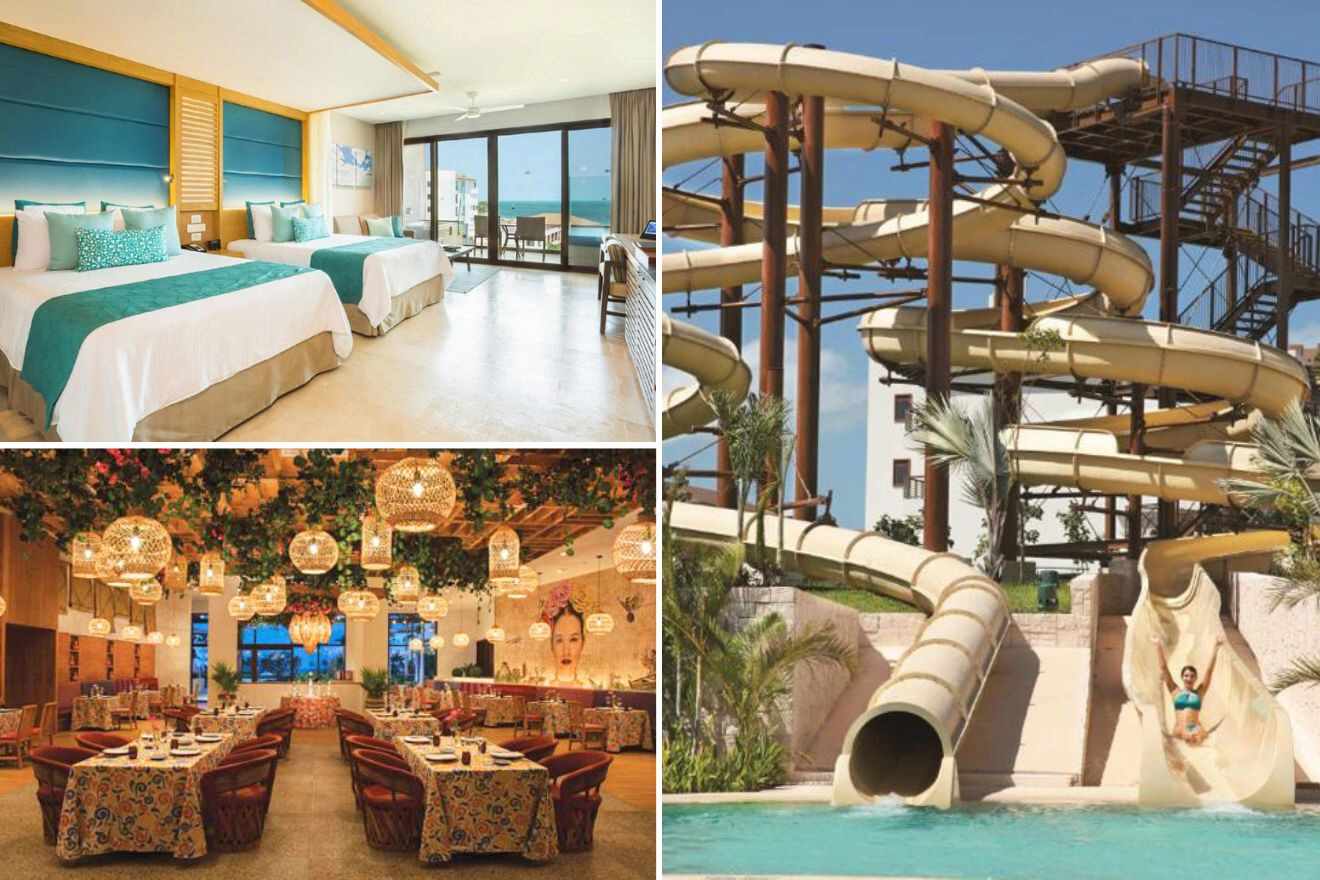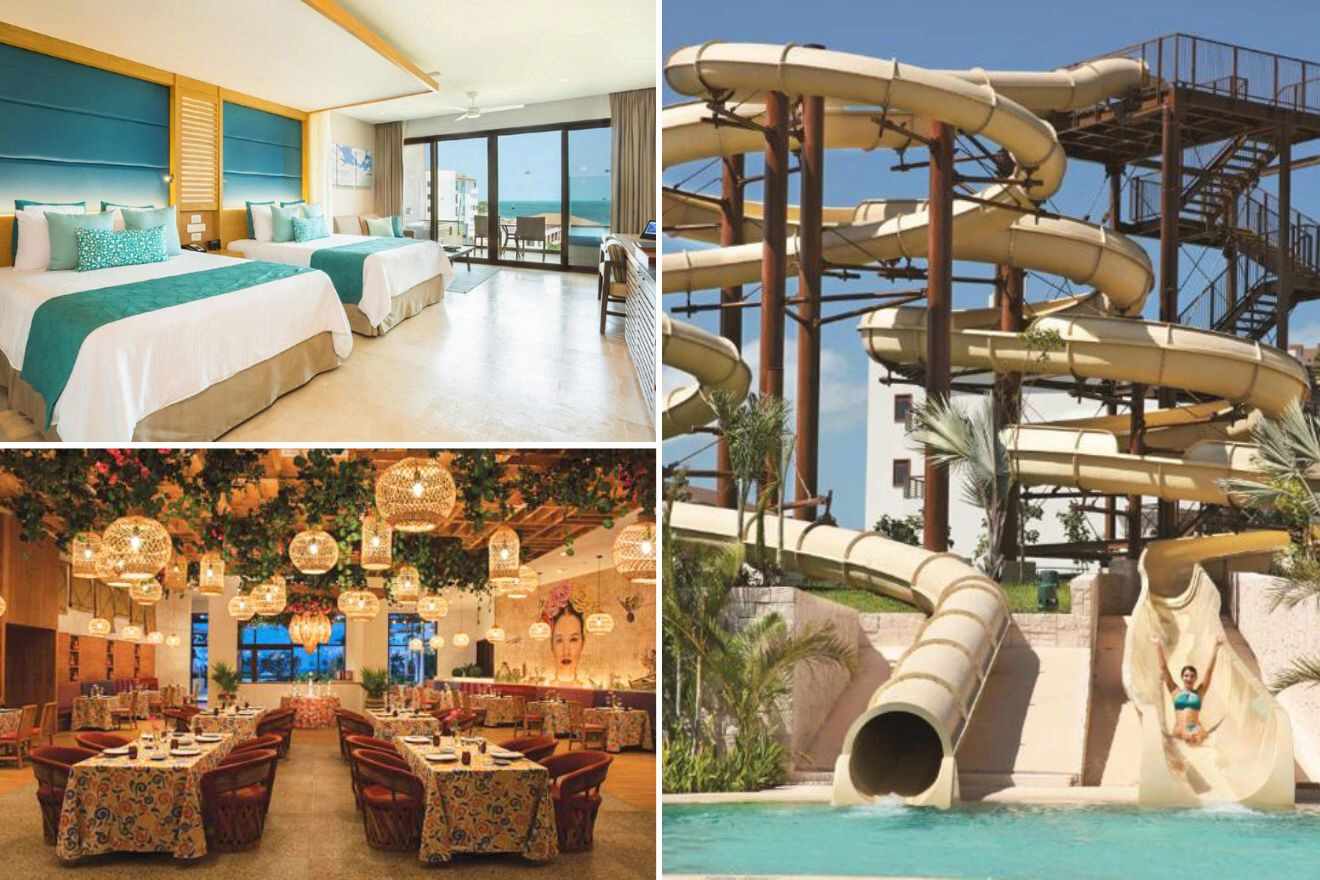 Lazy mornings by the swimming pool, long fun afternoons at the water park! Vacationing in Mexico sounds like a blast, and this amazing hotel in Cancun offers just what I mentioned, and more! You'll get to play on a world-famous golf course, chill in the hot tubs, and catch scenic sunsets by the infinity pool!
All the rooms are super spacious, and offer some great ocean views! You'll also find 13 restaurants on-site where you can indulge in all the yummy food, live music performances, movie nights, and many play areas, plus a kids club!
8. Hilton Cancun – a great place for beach lovers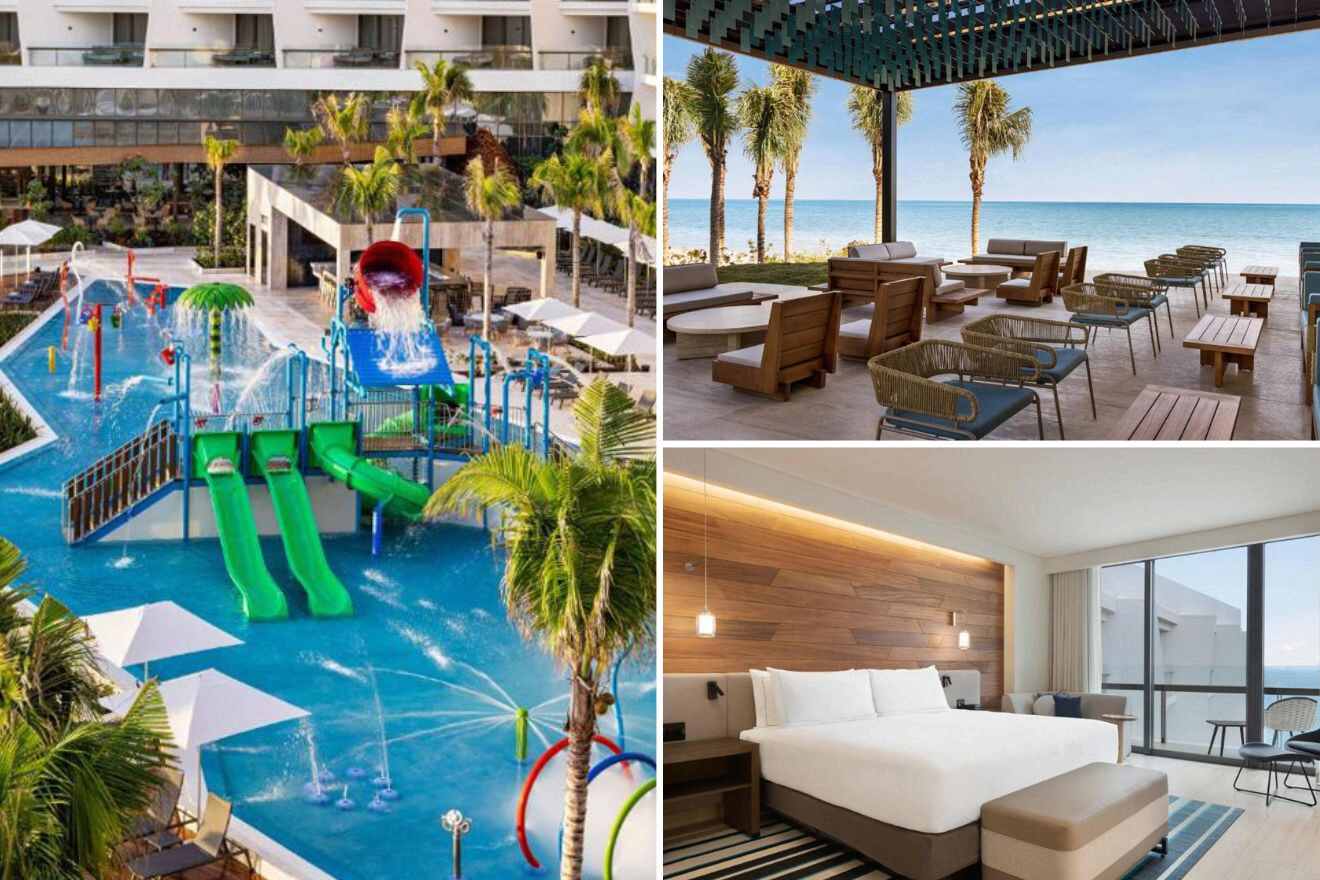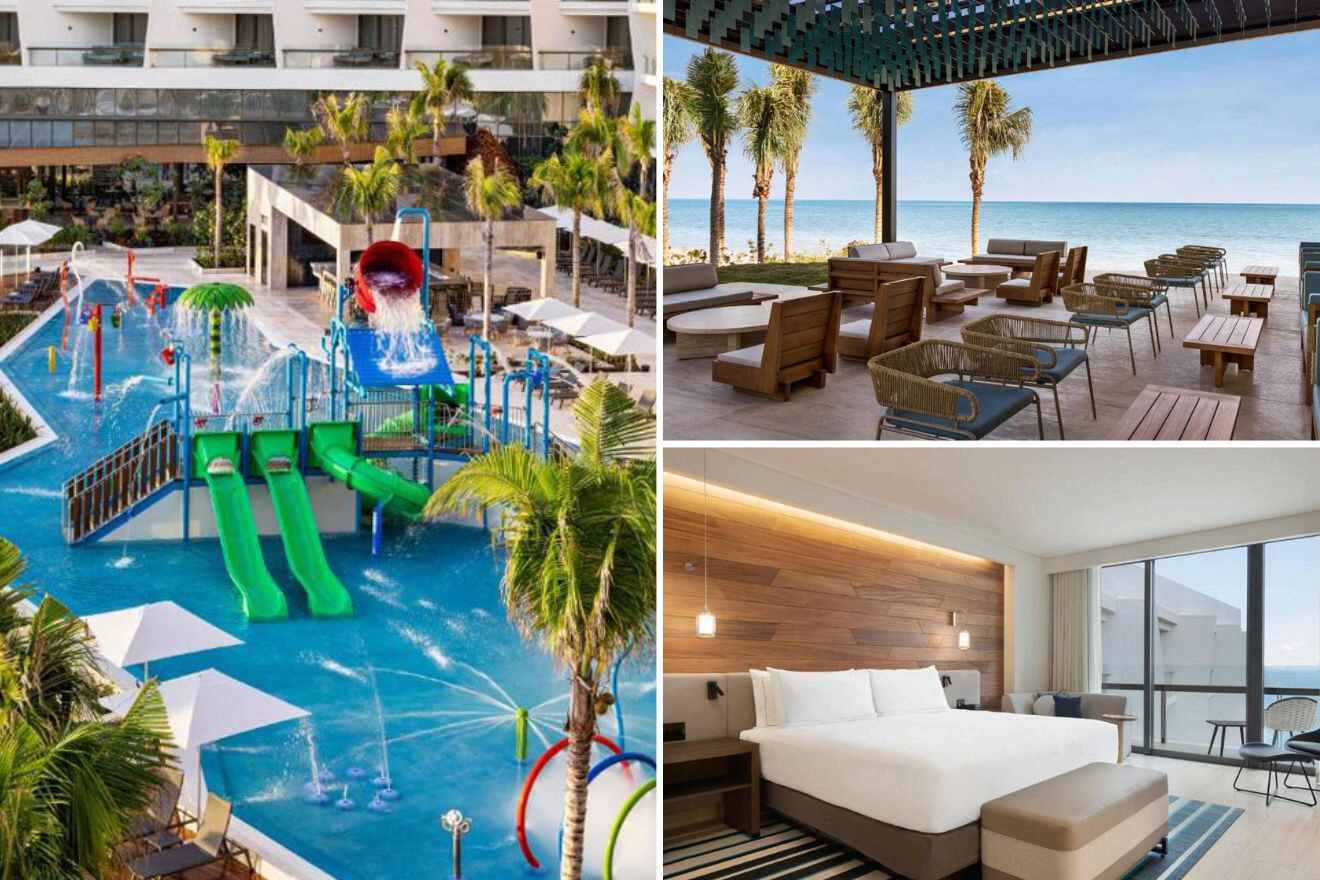 Want to wake up to the sound of the waves crashing on the shores? Then book yourself a room at this wonderful hotel in Cancun that has a water park! Sip your coffee on the balcony while admiring the views and then head down for a yummy breakfast at one of the 3 restaurants on-site that serve different cuisines.
This all-inclusive resort is all about offering its guests an unforgettable time, so while you're here you can enjoy a wide range of amenities like going on bike tours, chilling at the kids' clubs, playing in the games room, and many others which I'm sure you want to discover on your own!
9. Hyatt Ziva Los Cabos – offers a great location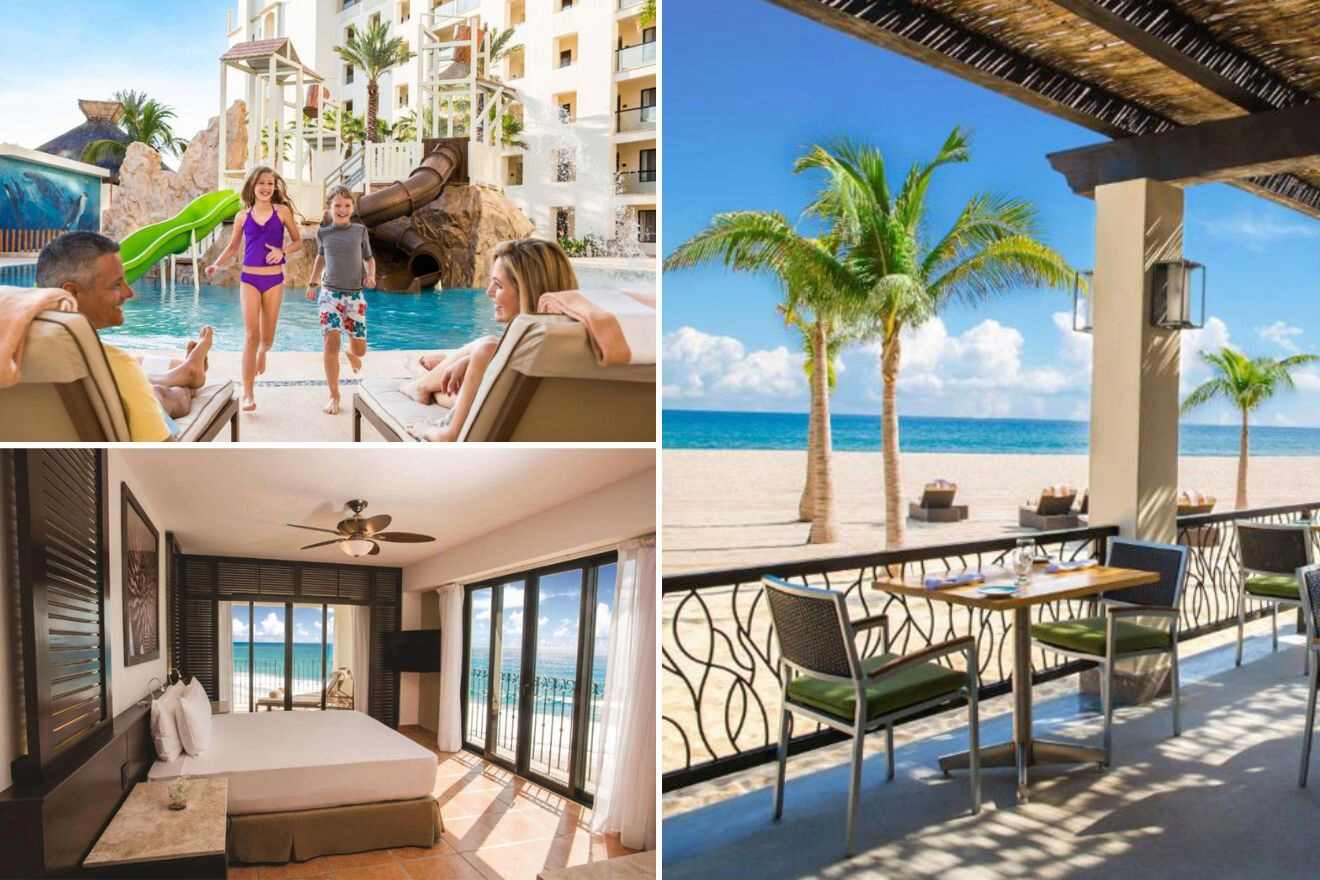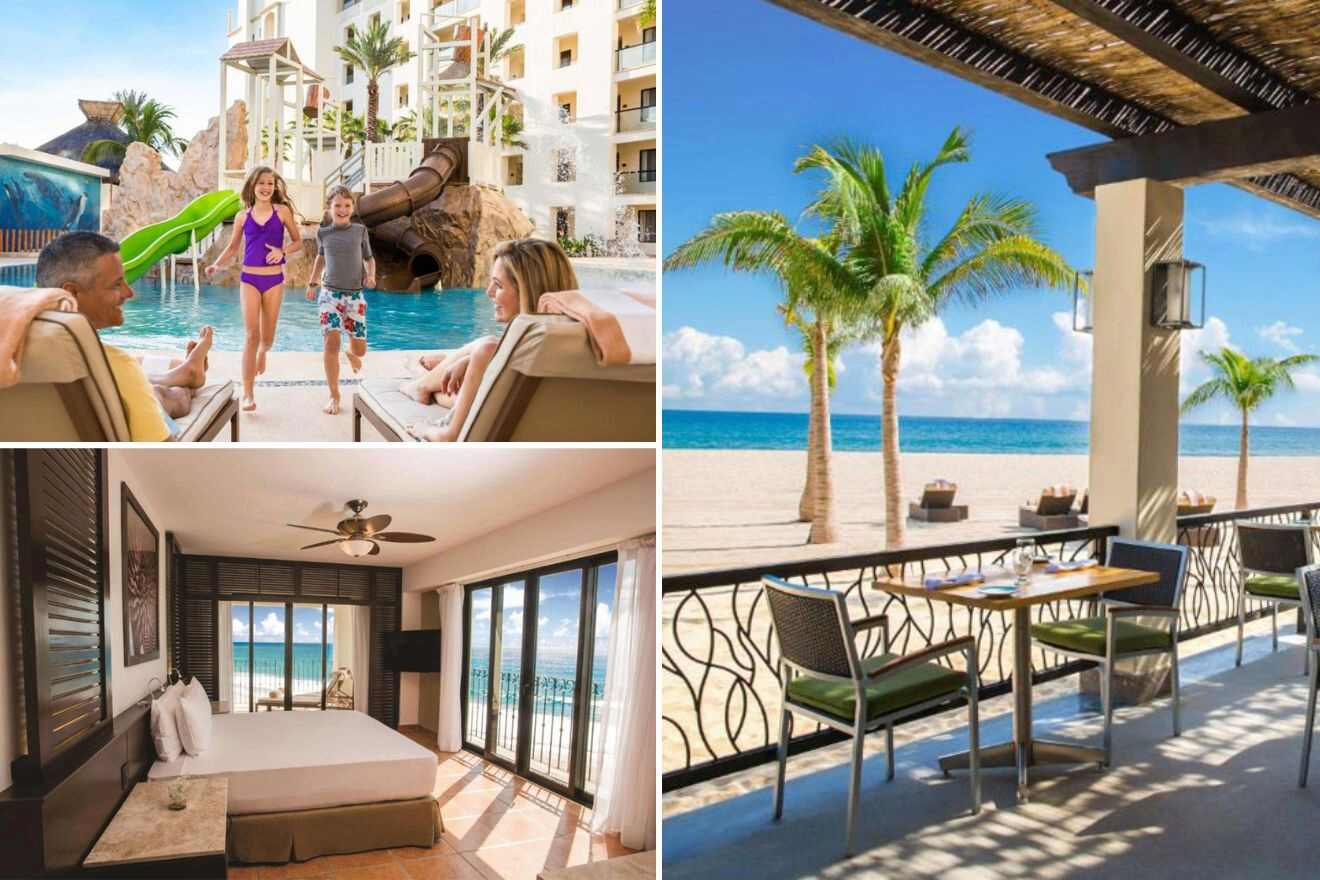 Still looking for the perfect all-inclusive resort in Mexico? Then check out this one, which is set on San José del Cabo Beach! This accommodation is so great, and that's because it has such a wide range of facilities for all ages, from multiple pools with water slides to a luxurious spa center.
You can't really go wrong here, and I'm sure all foodies will love the fact that there are around 9 restaurants where you can try some delicious dishes. When you're not out and about exploring the area you can practice some yoga, hit the tennis court, or play in the games room.
10. Grand Solmar at Rancho – for lots of activities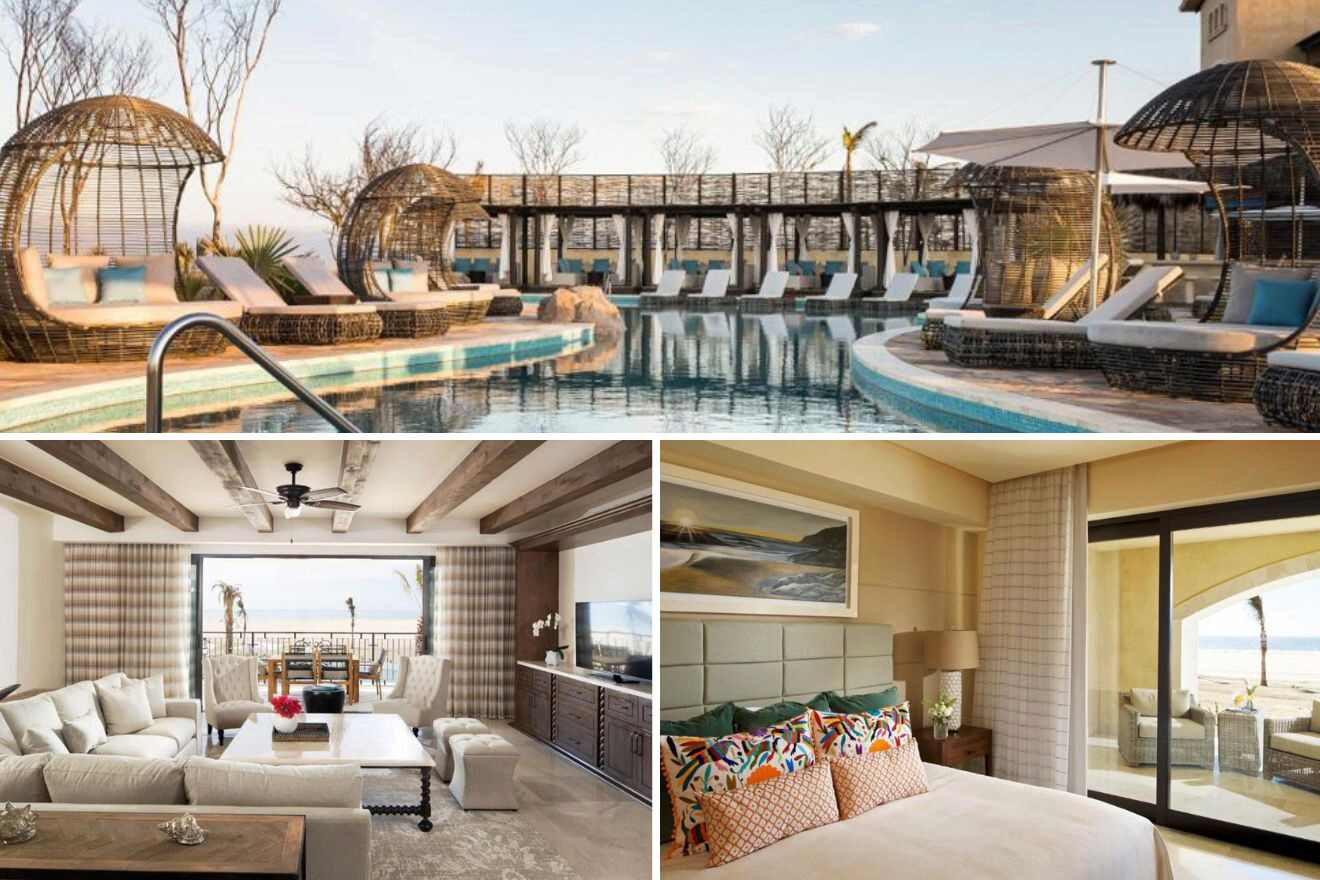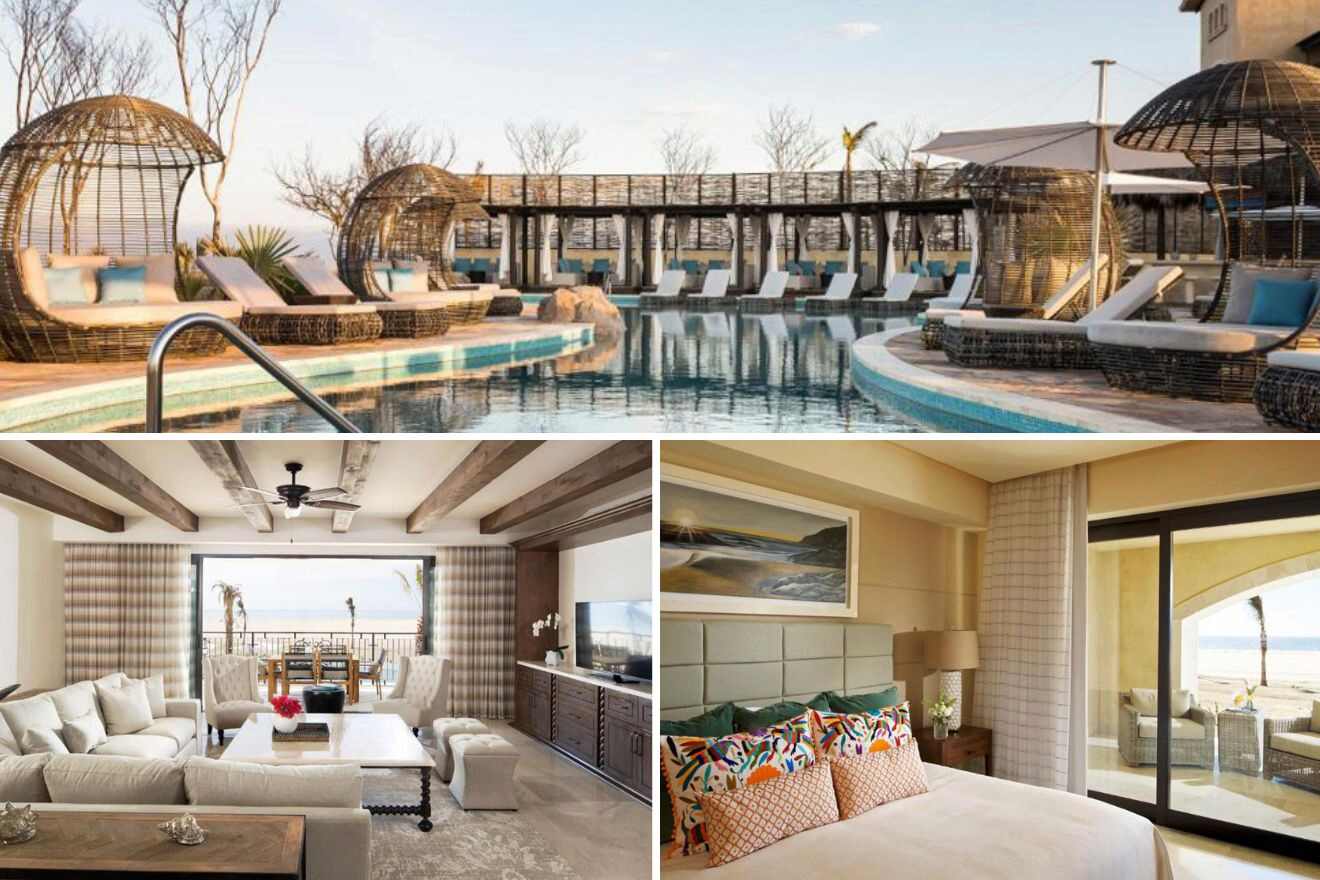 Gotta love a hotel with a unique design! This place in Cabo San Lucas looks like those dreamy accommodations you see in magazines! You can see the effort that went into building the hotel as it is with all its fabulous facilities like a golf course, water park, playground, and spa.
Nothing is better than starting your day with a long massage, followed by a delicious breakfast and time out in nature, or by the pool. During your stay, you can also go horse riding, snorkeling, and windsurfing. Then, finish your day with a fun movie night at the accommodation!
11. Sensira Resort & Spa Riviera Maya – has a cool infinity pool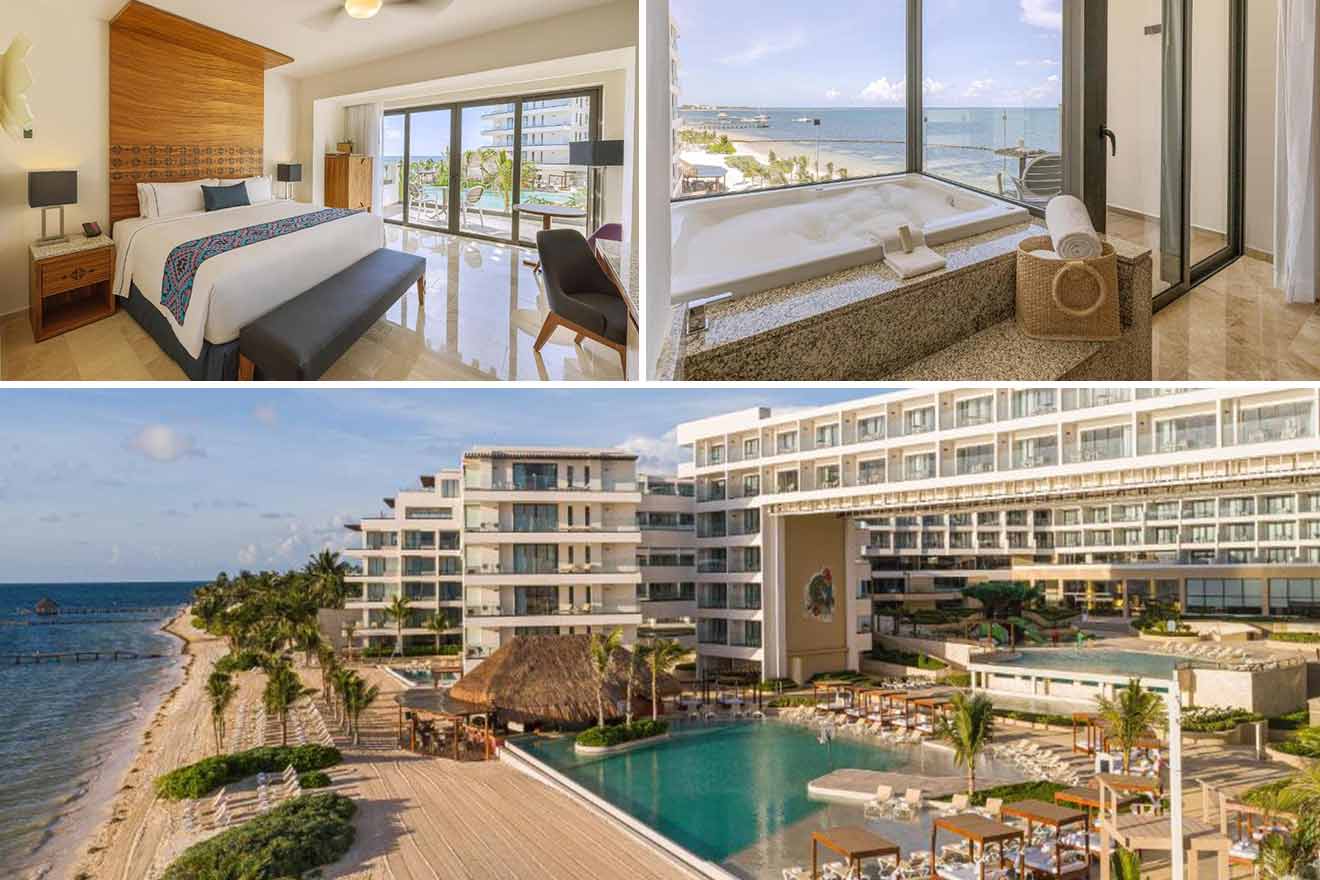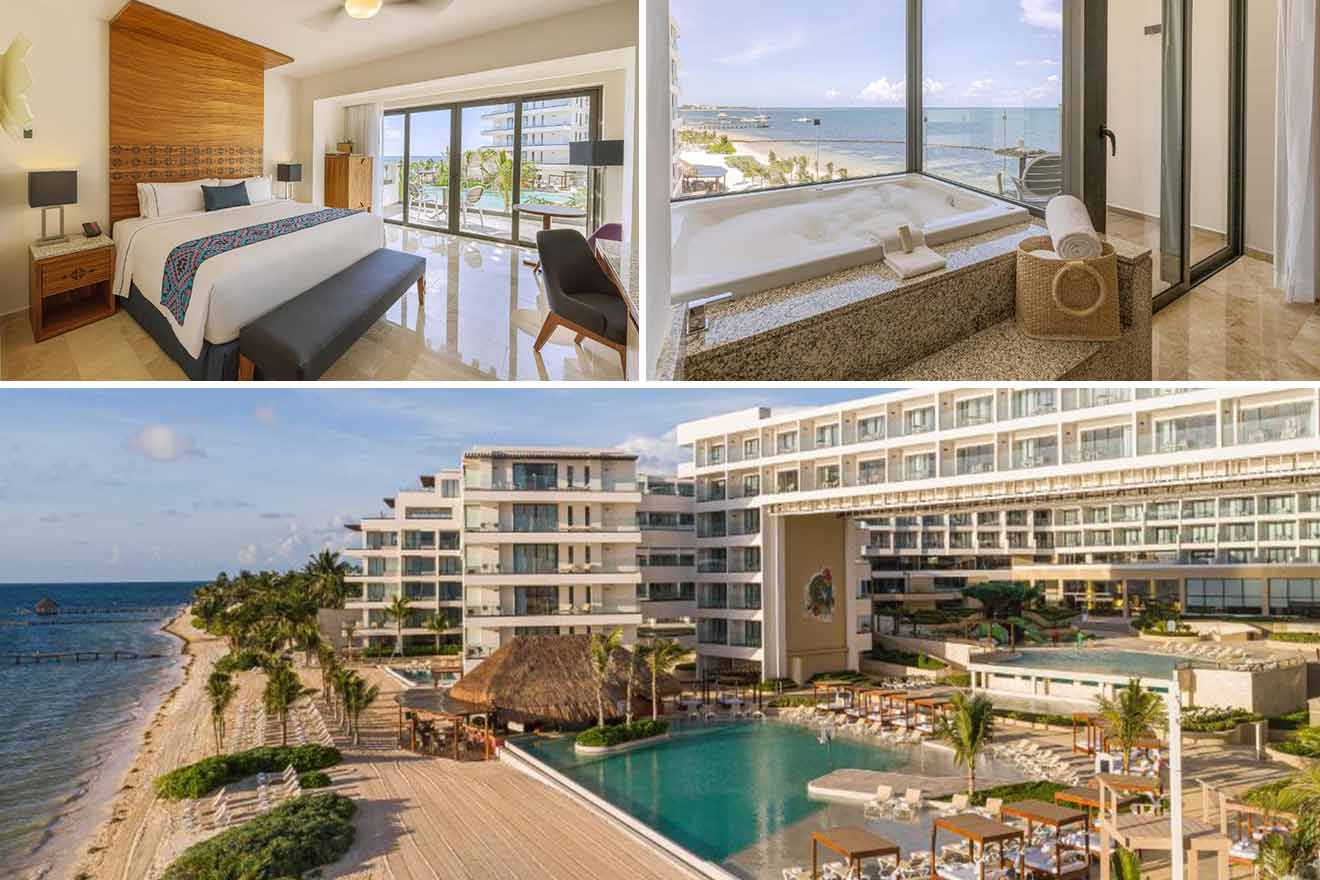 Located in Puerto Morelos, this accommodation offers a tranquil atmosphere, and some amazing rooms with ocean views, private bathrooms, and balconies. Whether you're coming with family, friends, or loved ones, I'm sure you'll love the mesmerizing infinity pool and all the other amenities!
The all-inclusive property also comes with a spa center, a kids club, and even a nightclub. That's right, you don't even have to leave the hotel grounds to enjoy a fun night out! The next day, you can chill by the pool, or book some time at the spa.
12. Riu Palace Costa Mujeres – with a private beach area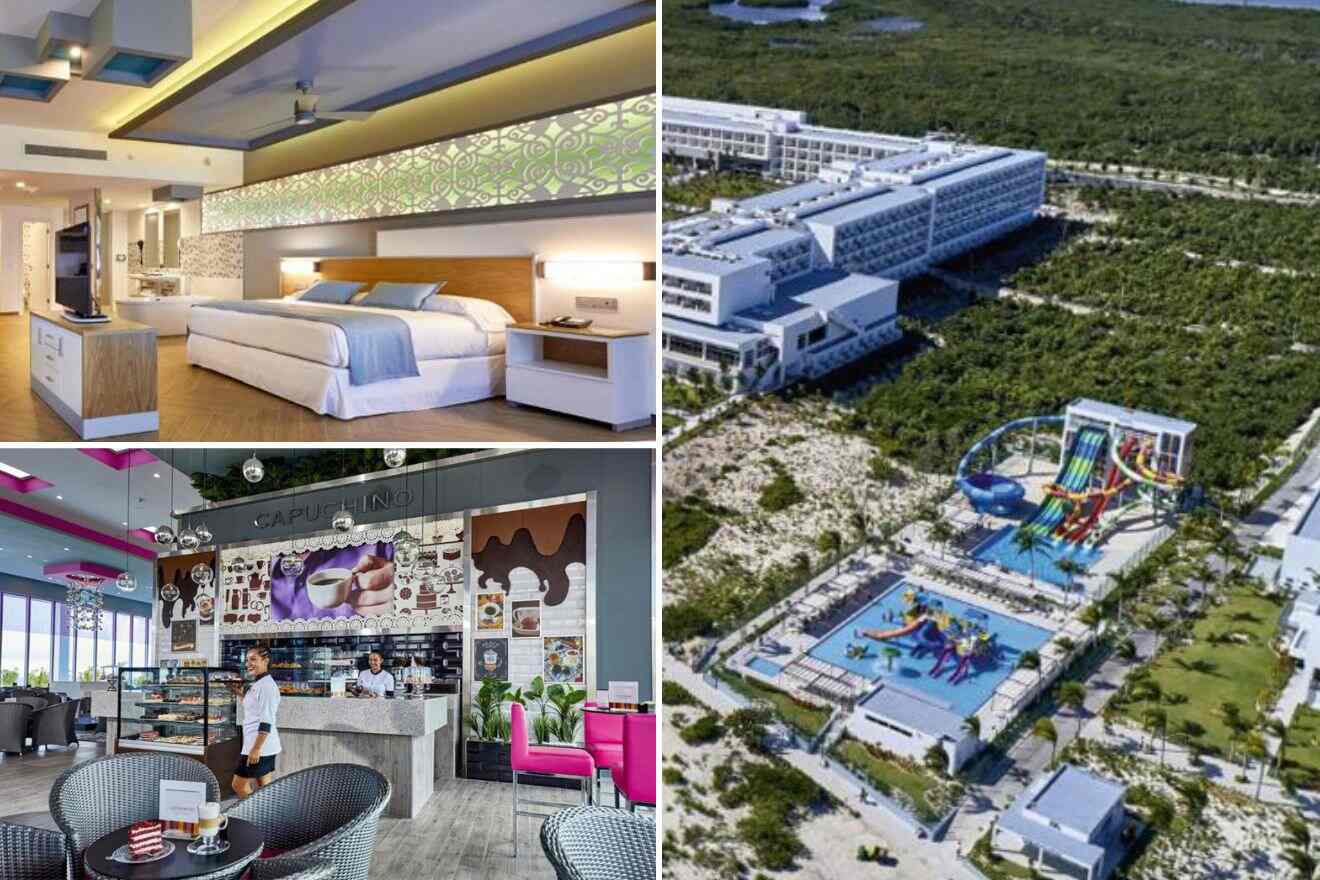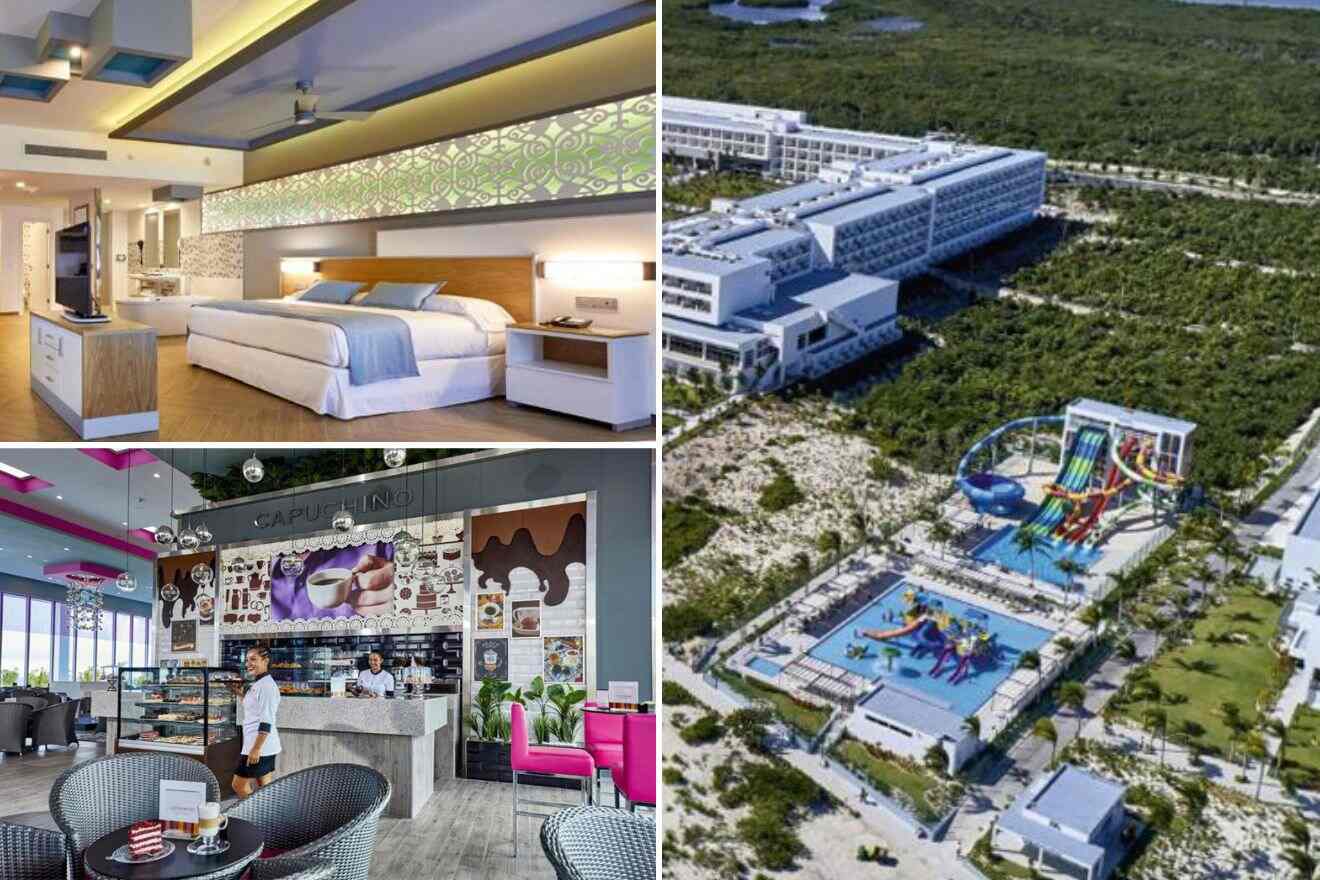 Still haven't found the perfect all-inclusive hotel in Cancun? Then maybe you'll like this one! It has a great location right on the beach, it's super modern and chic, and it has a water amusement park where you can cool off during those hot, hot days!
The rooms are super spacious, and they come with ocean views, double beds, and all the necessary facilities. While you're here, make sure to enjoy the sun by one of the 5 swimming pools, try some water sports, and spend some time with your little ones at the kids club, or on the playground!
13. Iberostar Paraiso Beach – for a tranquil holiday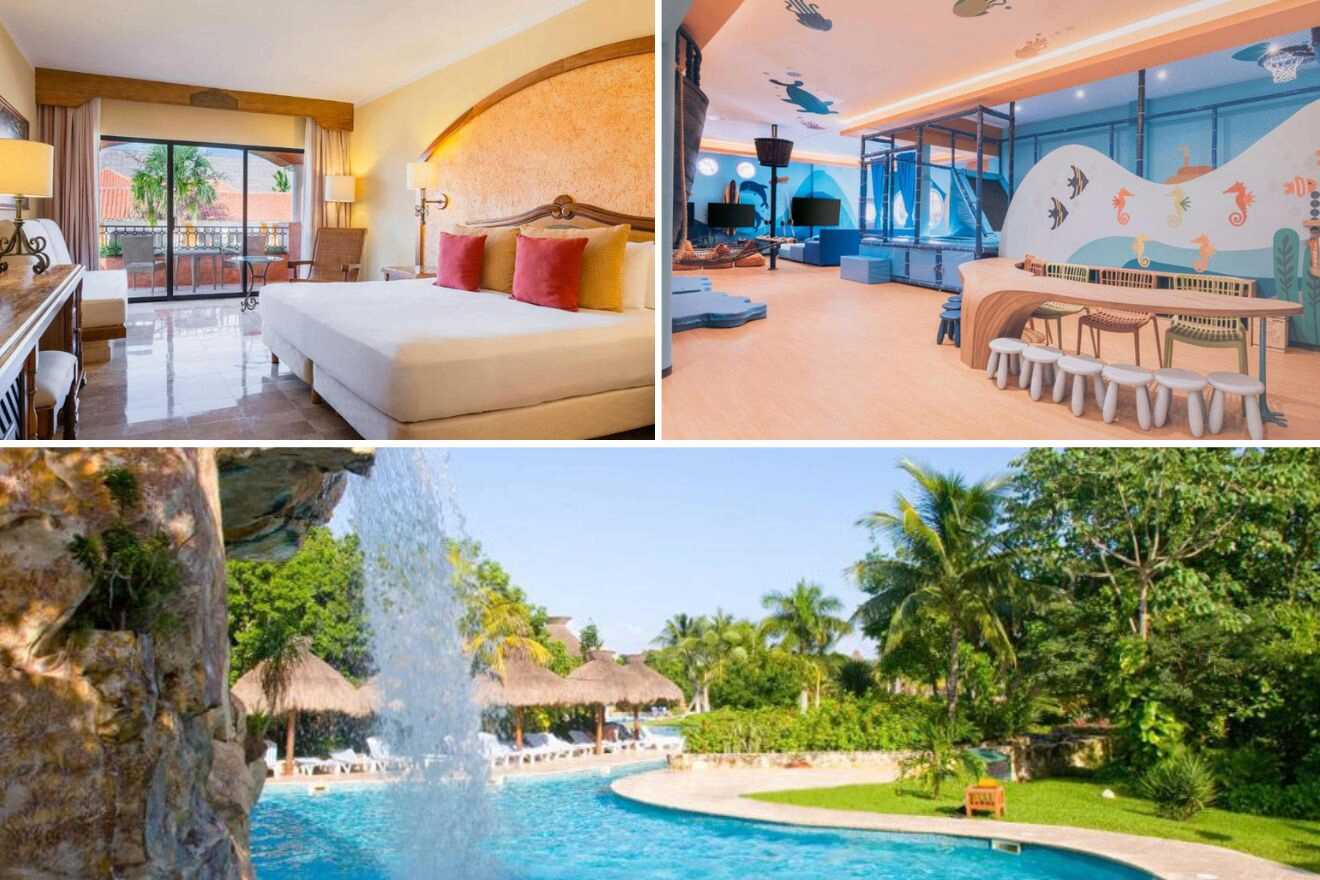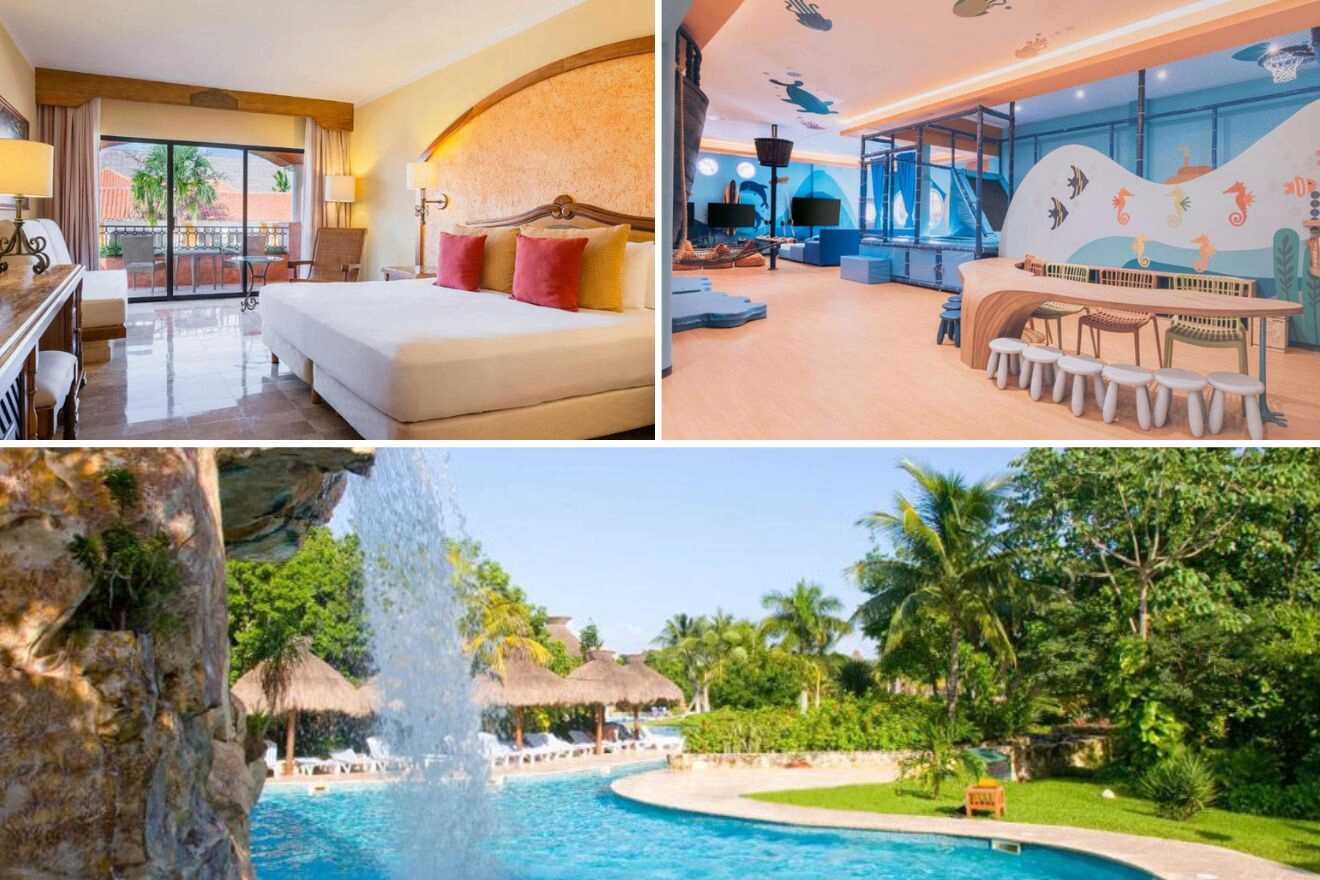 Who loves a good old lazy river? This amazing hotel in Playa del Carmen has a fabulous water park with a lazy river, water slides, and lots of other cool amenities! Yep, after a few days here, you'll feel like a brand new person!
Just leave it to the wonderful people at the spa center who will pamper you with some of their best treatments and massages and to the staff who will serve you yummy food at the 7 restaurants and help make your stay here unforgettable. The accommodation also comes with a private beach area, a tennis court, and a nightclub!
14. Wyndham Alltra Cancun – with a unique water park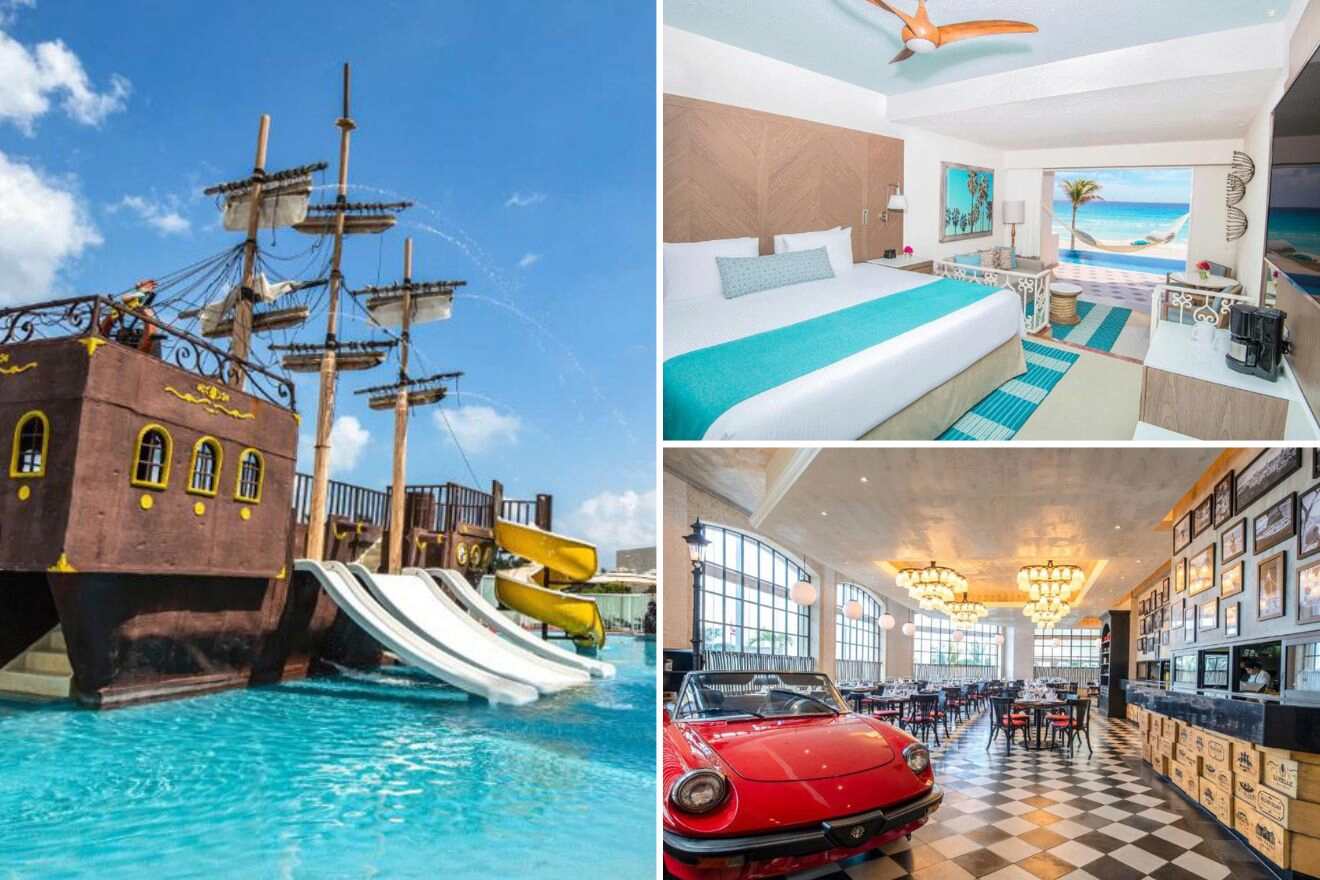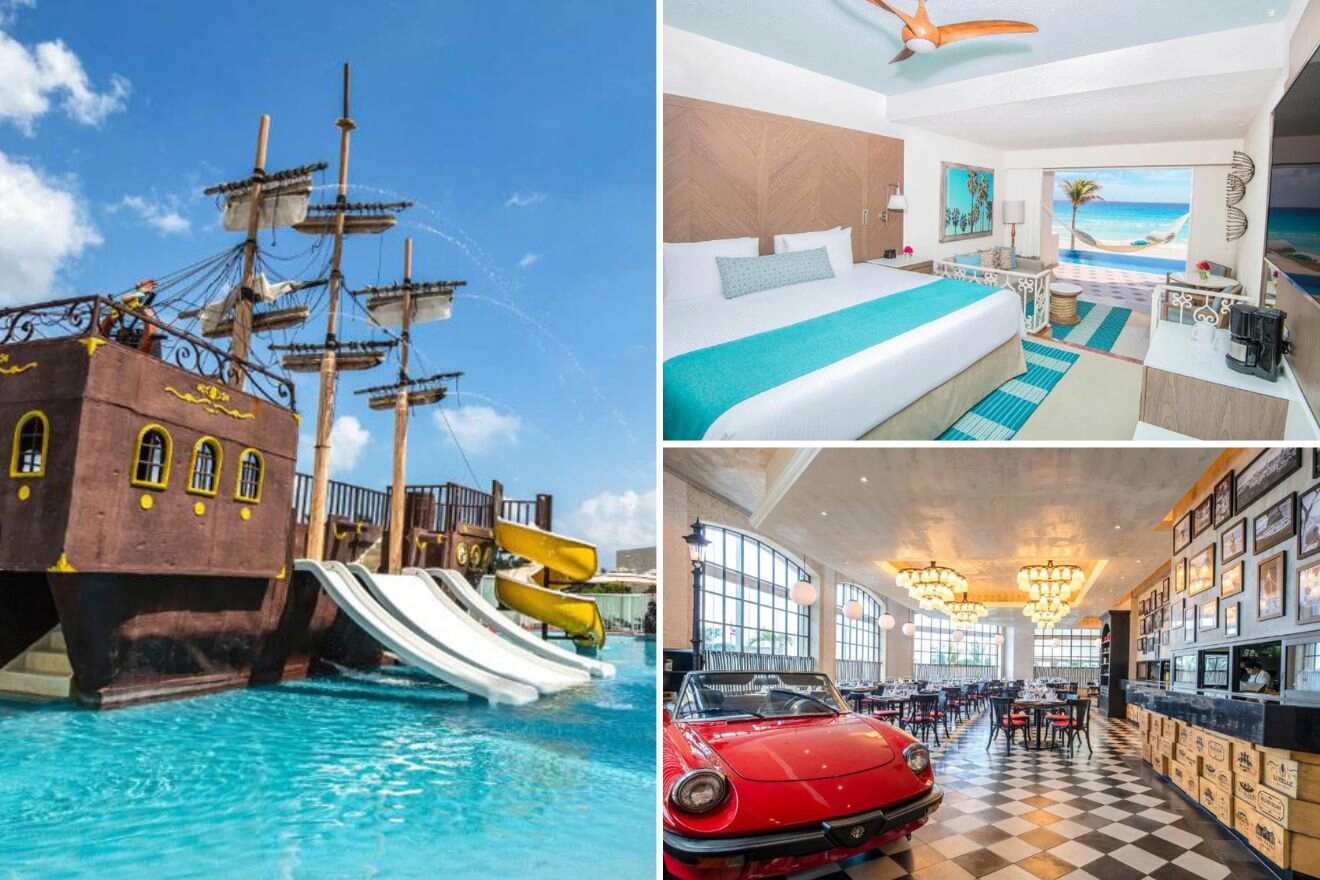 A pirate-themed water park? What a thrill! I feel like your kids and maybe even you won't ever want to leave this resort which offers such a cool themed park! This place in Cancun is set right on the sandy shores so you can start each morning with a nice long swim in the ocean!
Featuring rooms with balconies, 8 restaurants, mini golf, and many other incredible facilities, this place which is actually the former Panama Jack Resorts Cancun hotel is surely a keeper! Enjoy long days of chilling on the beach, playing with the little ones at the water park, or in the family pool, relaxing at the spa center, and drinking some yummy cocktails at the bar!
15. Barceló Huatulco – with breathtaking views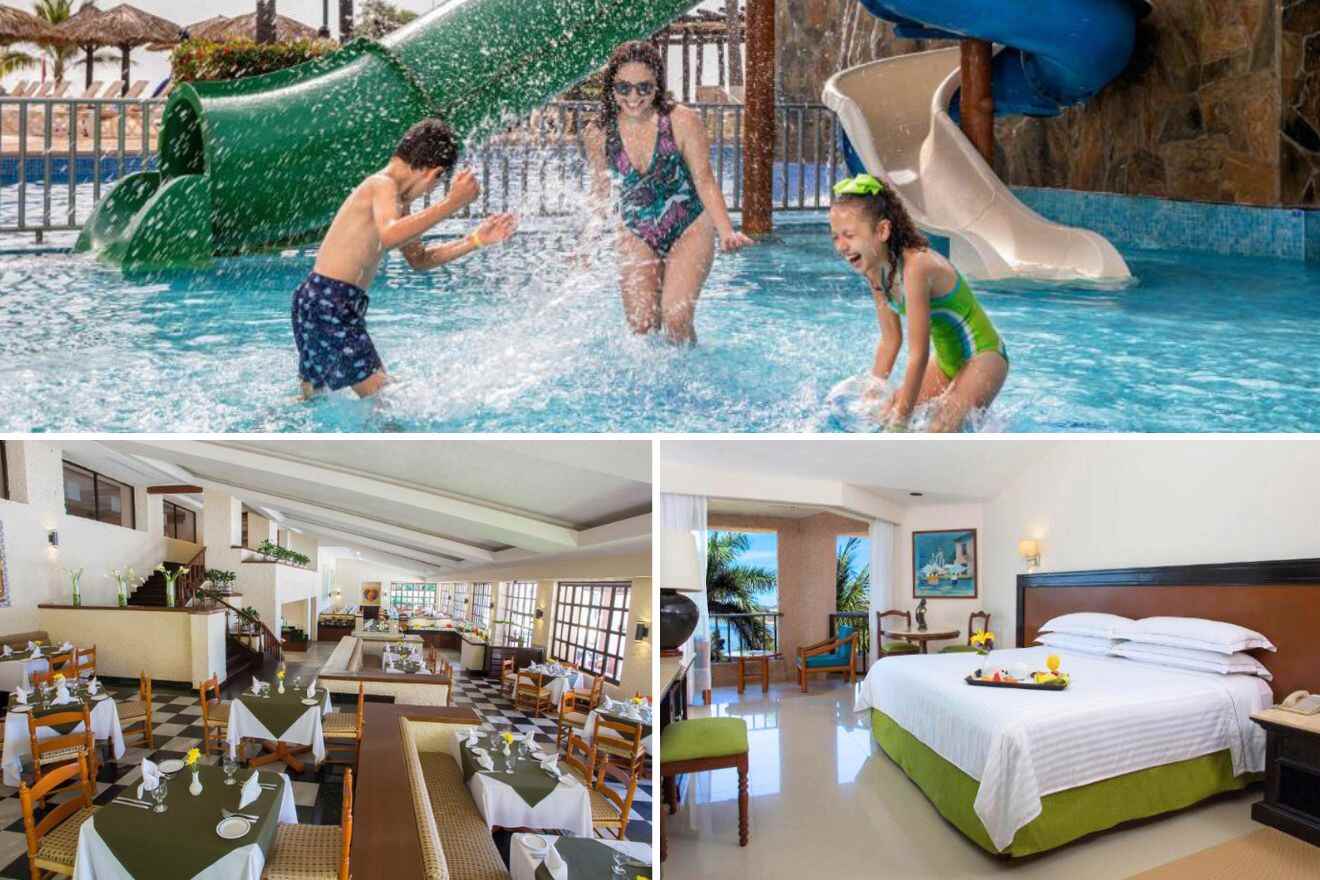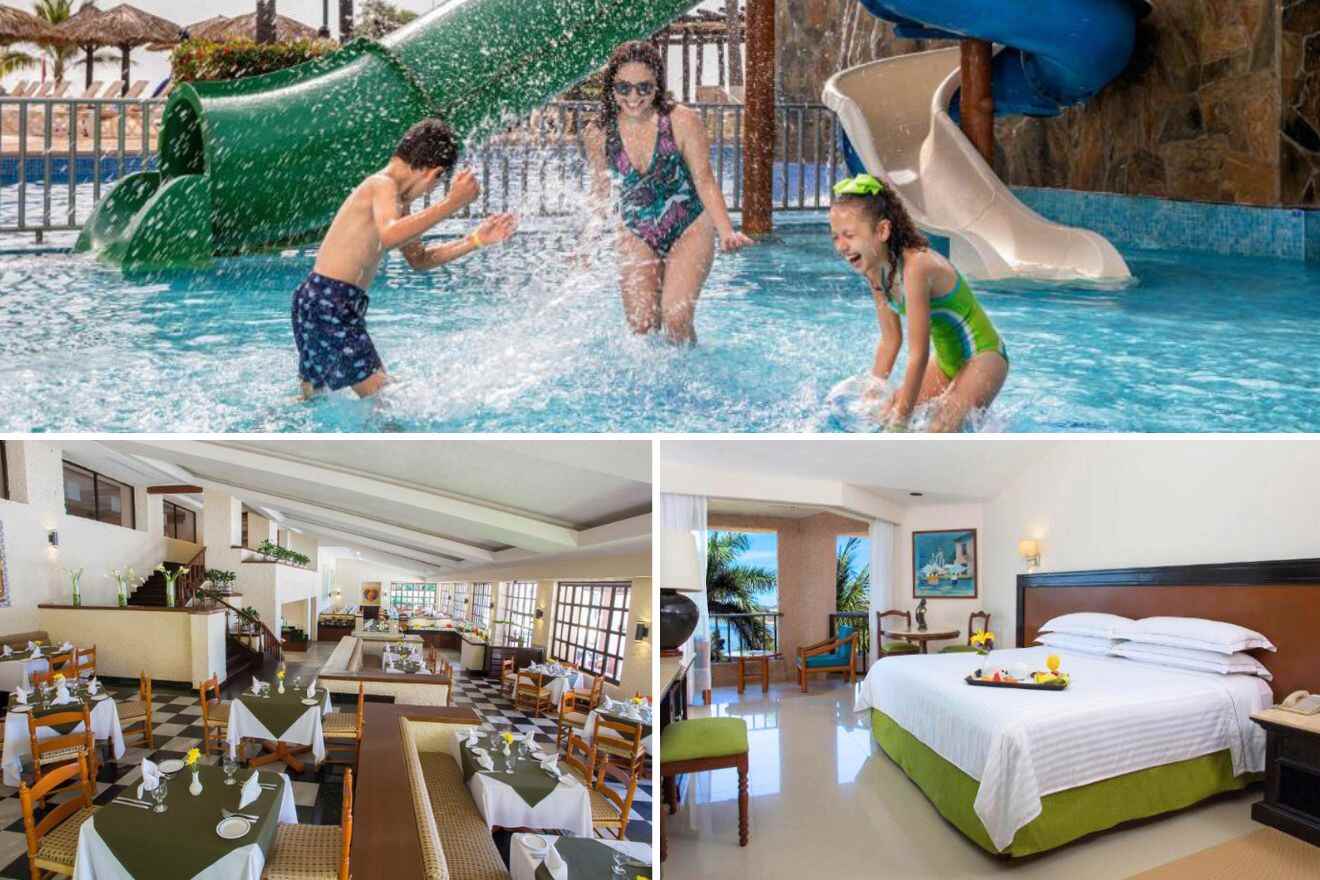 Forget coffee, start each day with a quick dip in the ocean and you won't even need it! And you can try that at this family-friendly resort in Huatulco that has a fun water park with 2 swimming pools, 5 restaurants, and a spa center.
It's true, the resort has unlimited things to do on-site, like mini-golf or in the game room, but definitely make sure you try some activities outside the hotel, such as going on walking tours! And definitely try some water sports as they offer a bunch of ones here!
16. Riu Dunamar – great for party people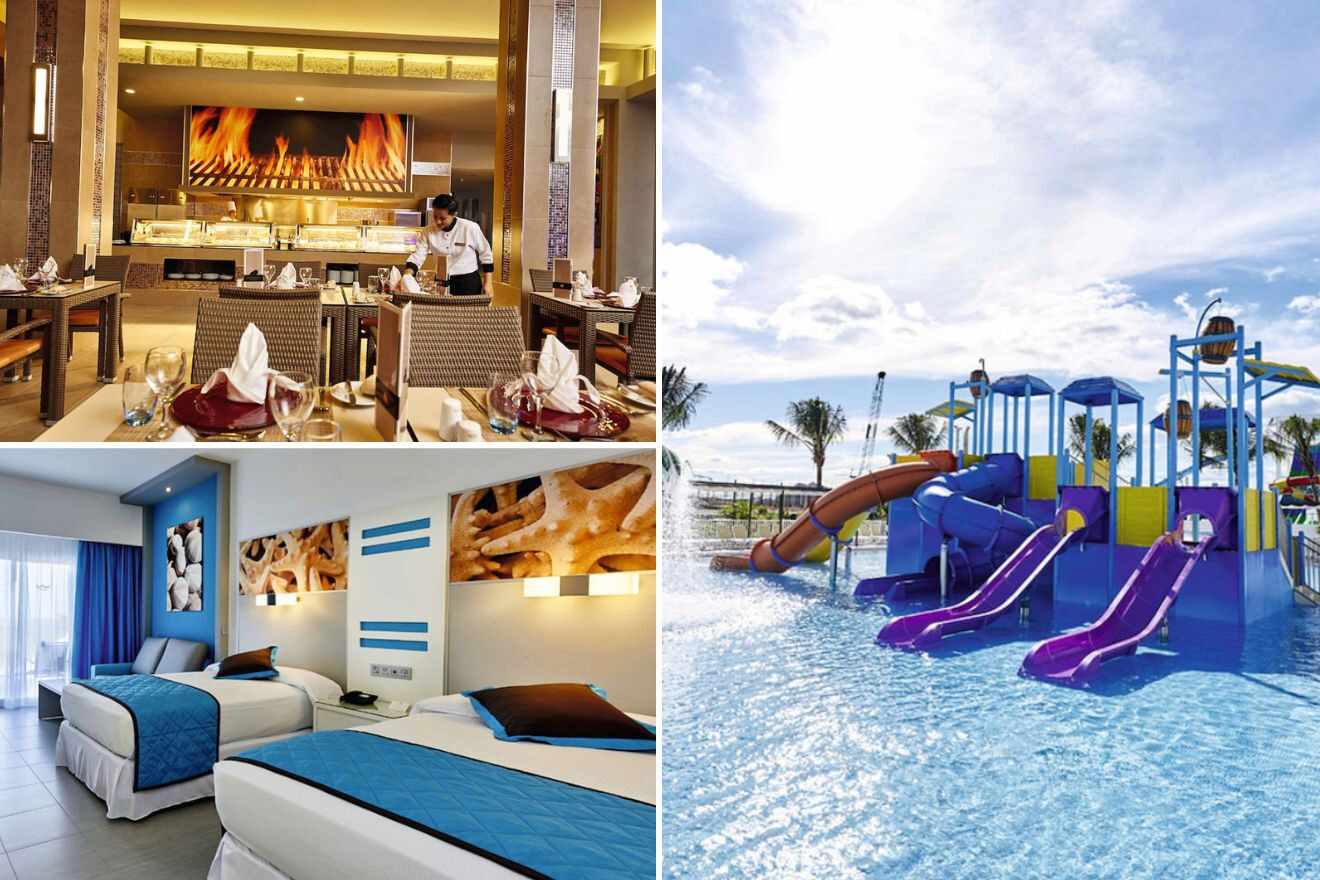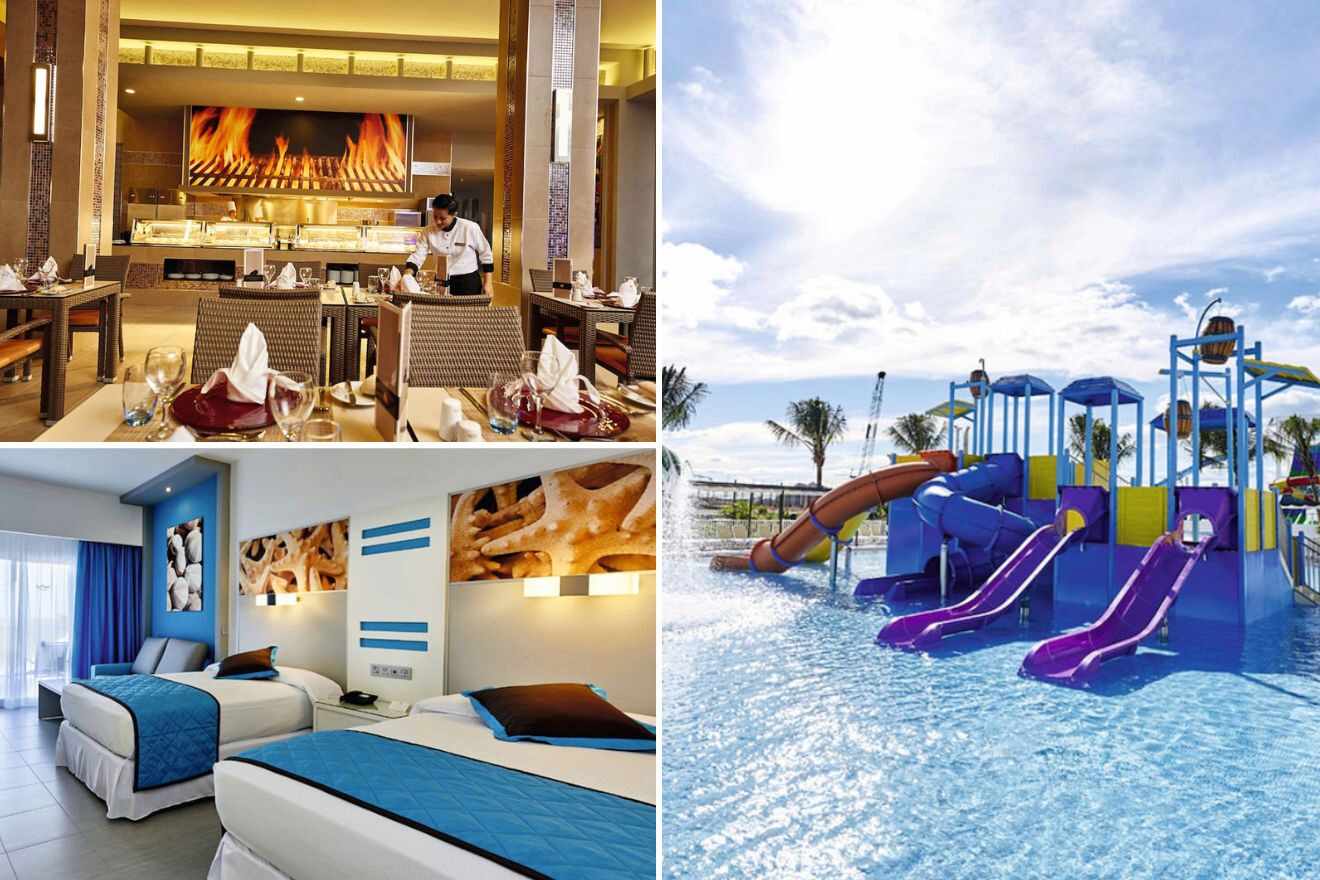 Simple but equipped with everything you need for a fun trip! This amazing hotel is set on Costa Mujeres and it offers fun activities for all ages, places to relax and unwind, and lots of dining options! They even host theater shows for their guests and a nightclub where you can enjoy some fun nights.
The accommodation has, obviously, a water park with multiple water slides, 5 outdoor pools where you can cool off and enjoy the Mexican sun, and a poolside bar, because let's face it, we all love a nice cocktail by the pool!
17. Royal Solaris Cancun – offers fun activities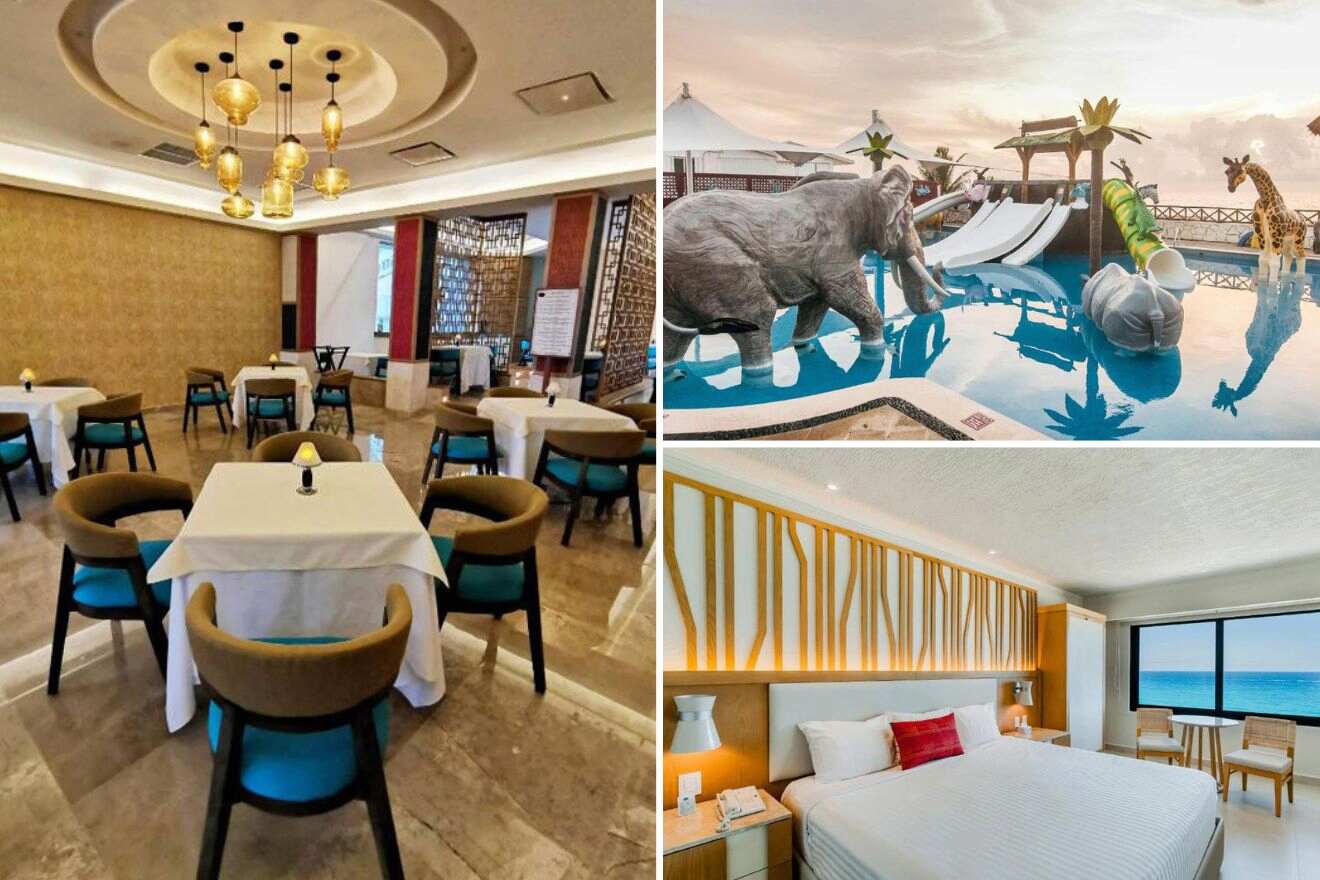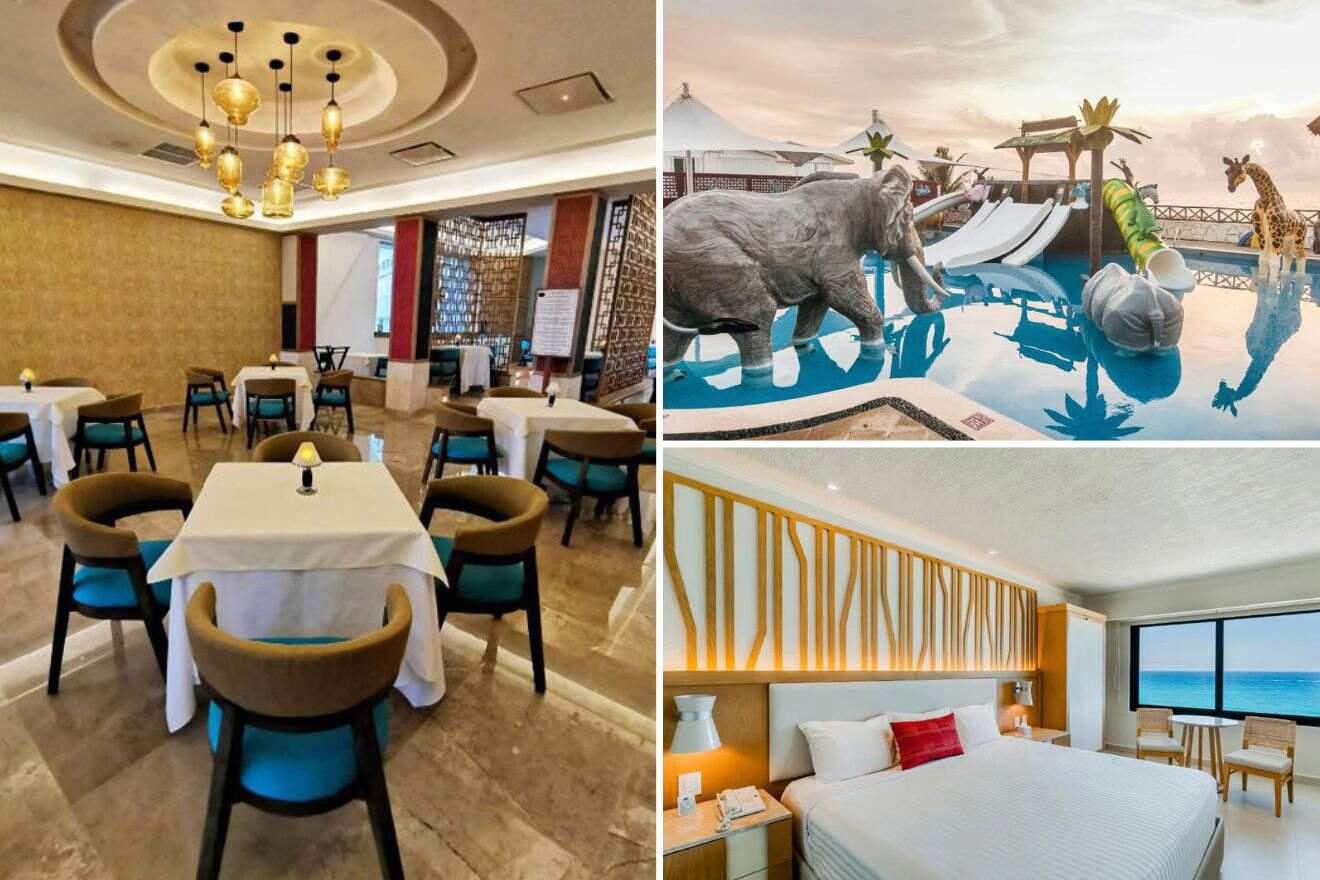 Unlimited beach time, fun in the sun, and fabulous things to do! I know Mexico is pretty amazing, so here's another great hotel set in Cancun where you can enjoy your holiday! The accommodation comes with an outdoor swimming pool, a water park, and a spa center.
Those are just the main things, though. You'll find many other cool facilities, from live music performances to children's play areas, and fun activities that you can sign up for, like cooking classes. What did I tell you, there's never a dull moment here!
18. Barceló Maya Colonial – for a relaxing trip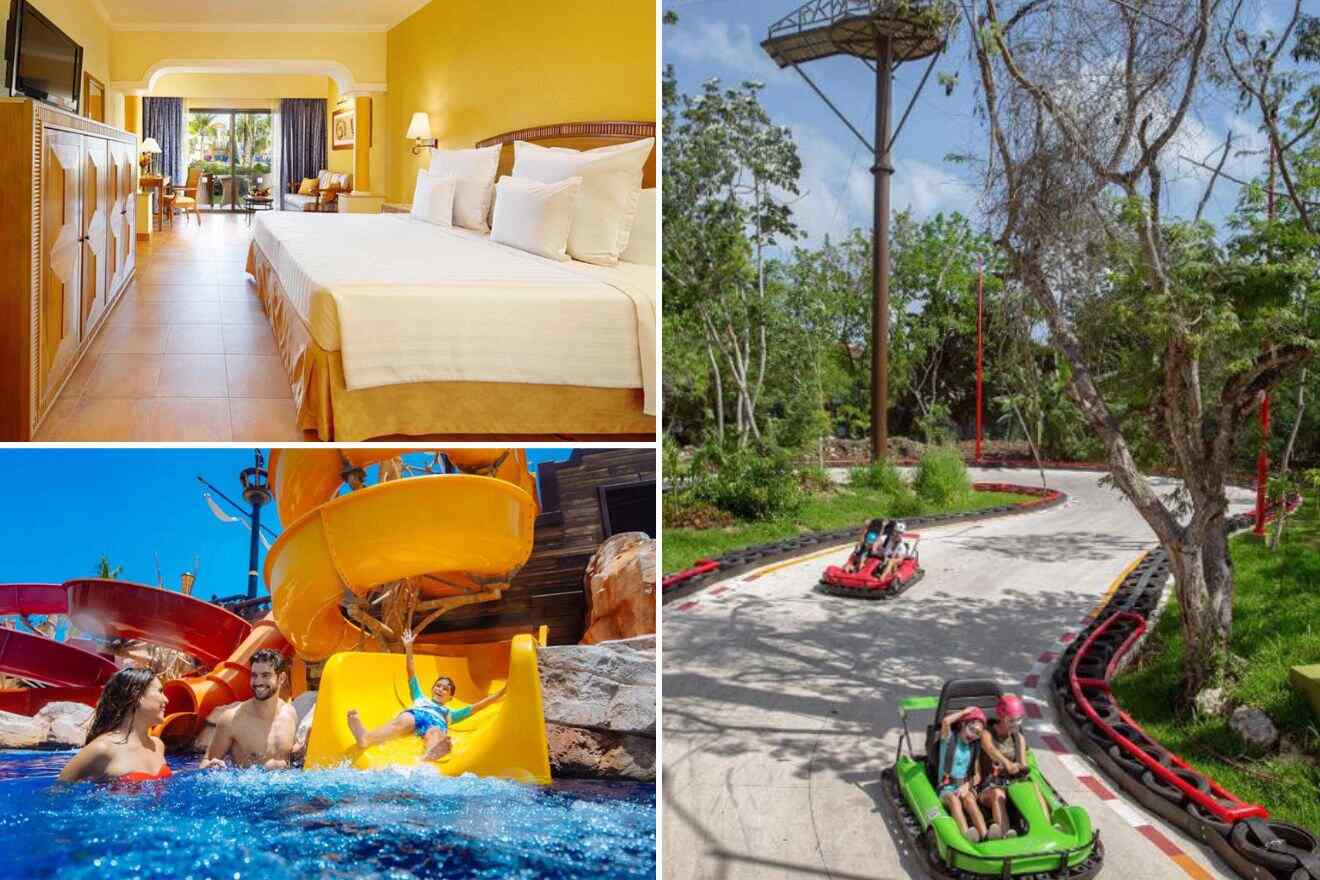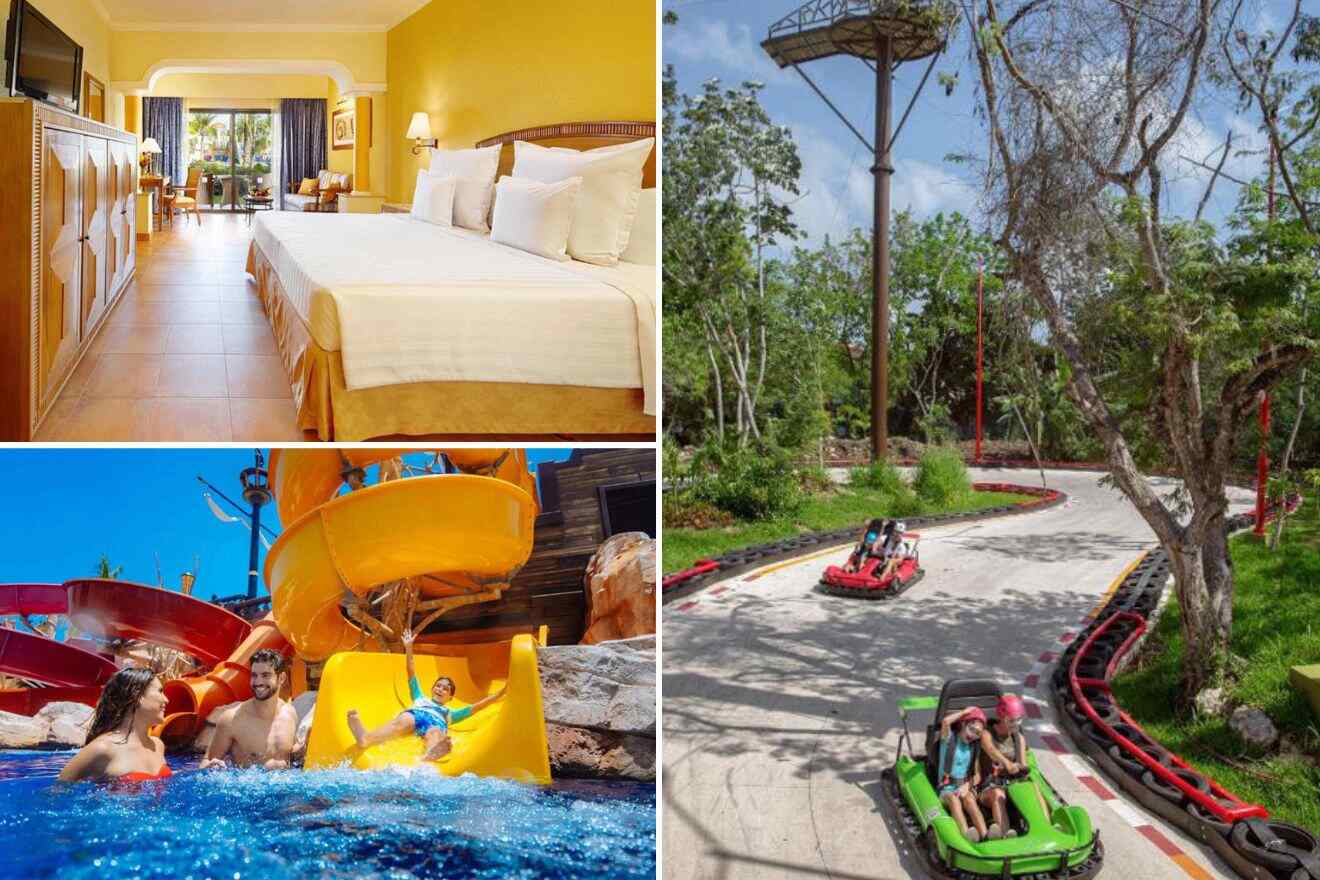 Finally, booking that long-awaited holiday in Mexico? Yay! Now you'll need a proper hotel for your trip, and I think you'll really like this place which is located on the beautiful Riviera Maya! The resort offers comfortable rooms, 4 restaurants, and the amazing Pirates Island Water Park, and Barcy Water Park!
Guests are invited to enjoy all the amazing and juicy amenities at the spa that will help with the jet lag and just get you in the holiday mood. Then you'll be grounded and ready to start trying all the fun activities like water sports, playing tennis, or on the children's playgrounds!
19. Dreams Sapphire Resort & Spa – with a fun splash park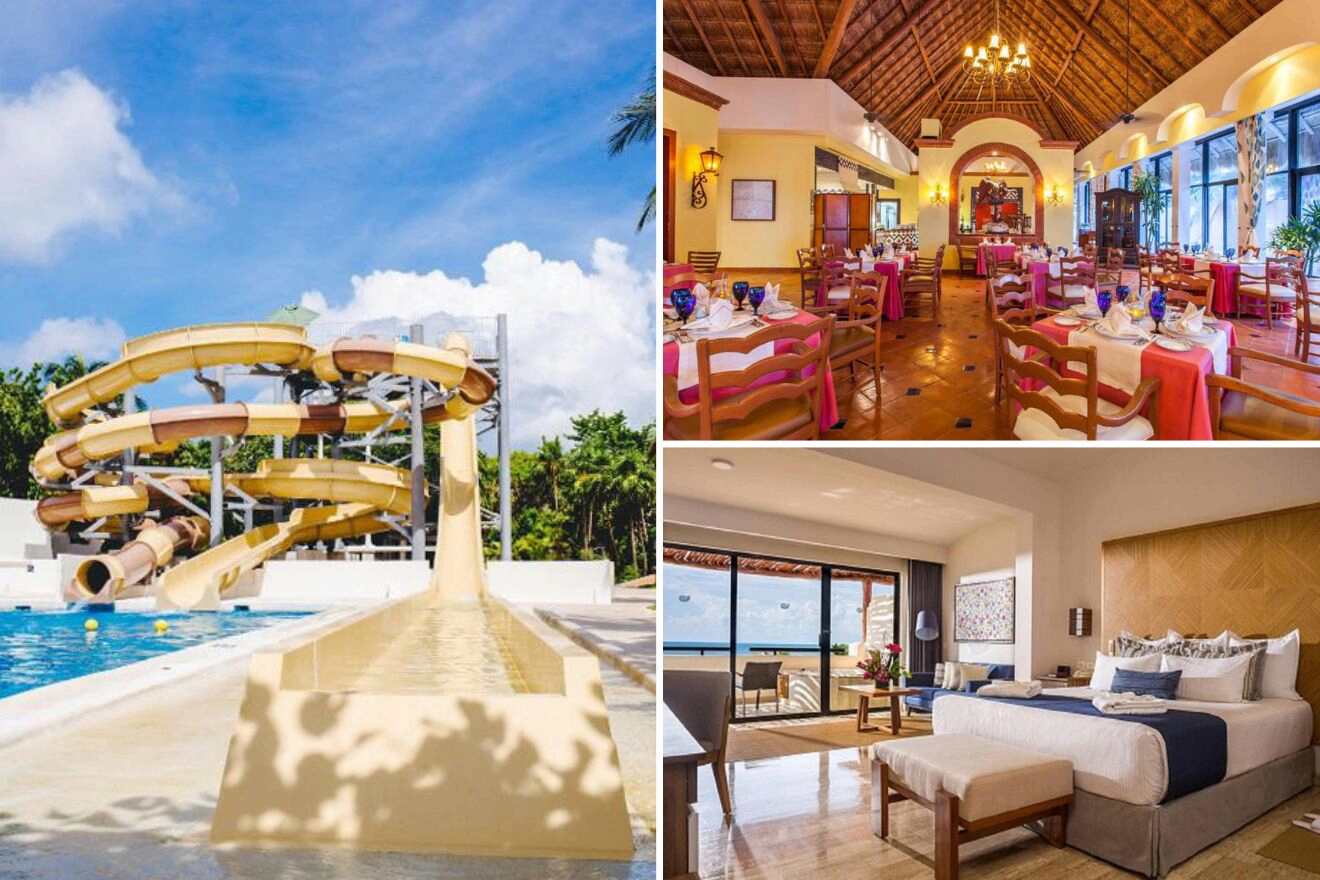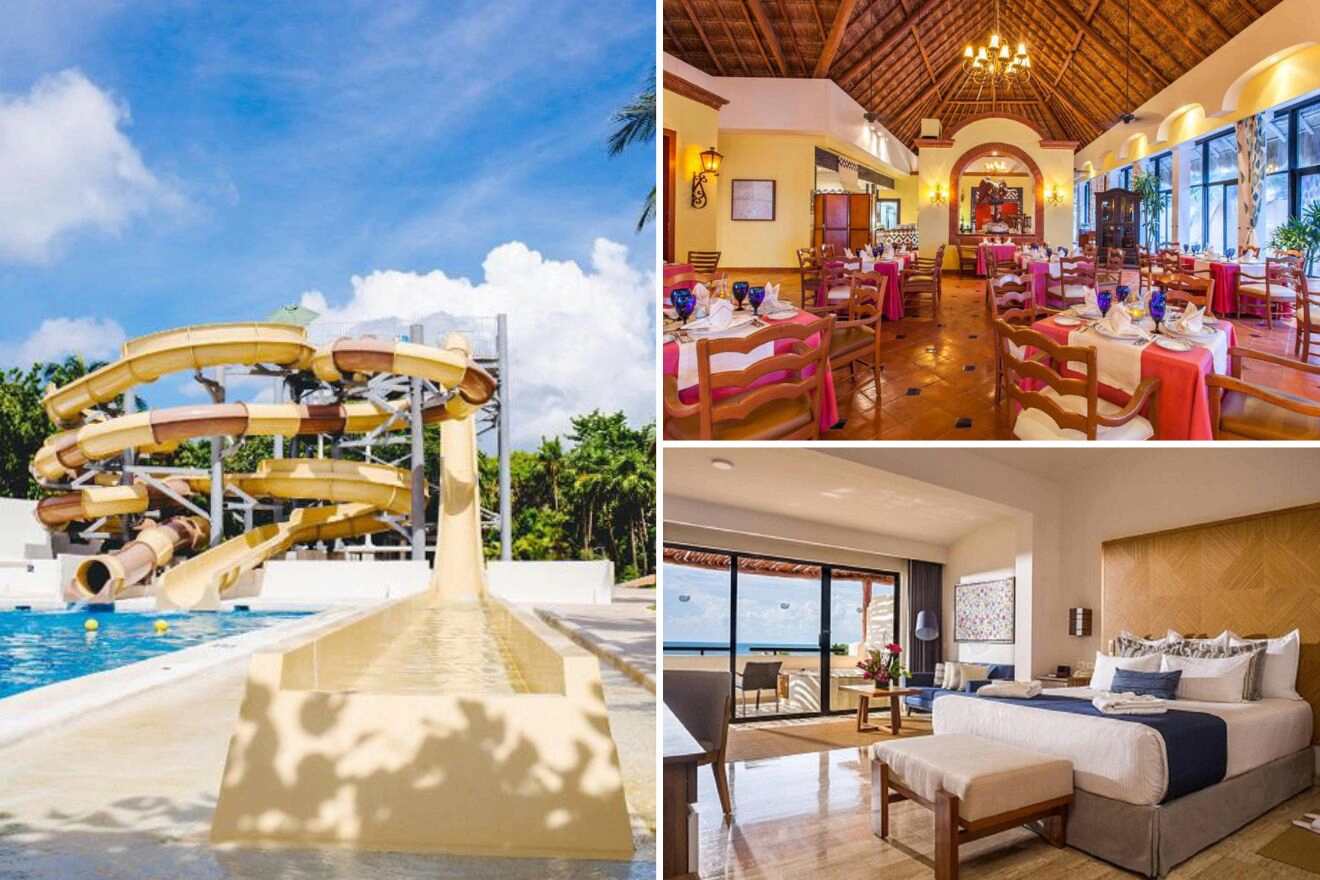 Ready to play with your little ones all day long and enjoy scenic sunsets by the Caribbean Sea? Then check out this amazing family resort in Manzana that has such an amazing water park with various slides, and some fabulous rooms with balconies!
The kids will also have at their disposal a splash park, indoor and outdoor play areas, and a kids club. But don't worry, they didn't forget about the adults, and their need to relax! You'll get to join some yoga classes, relax in the hot tub, and enjoy some spa facilities, too!
20. Paradise Village – perfect for families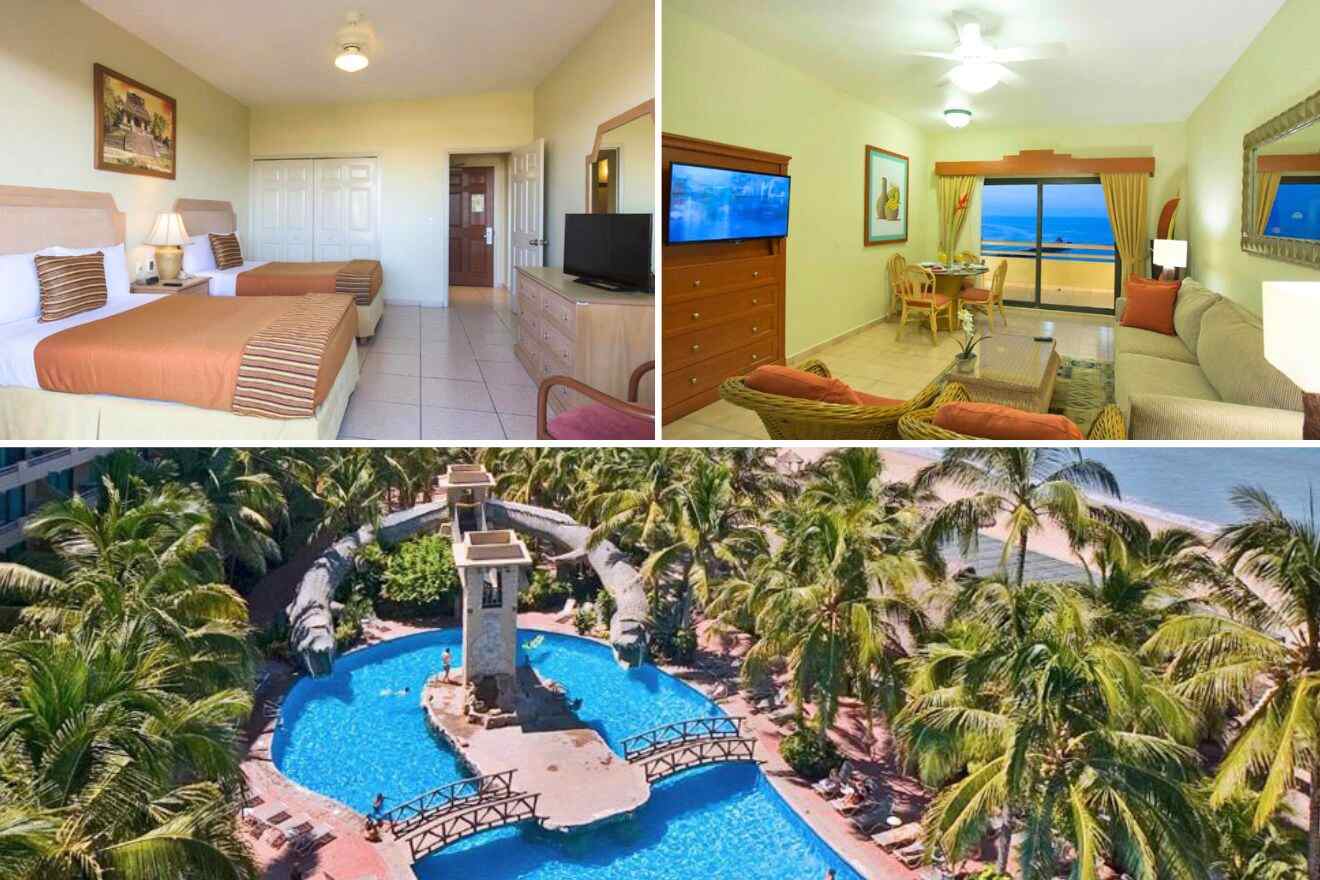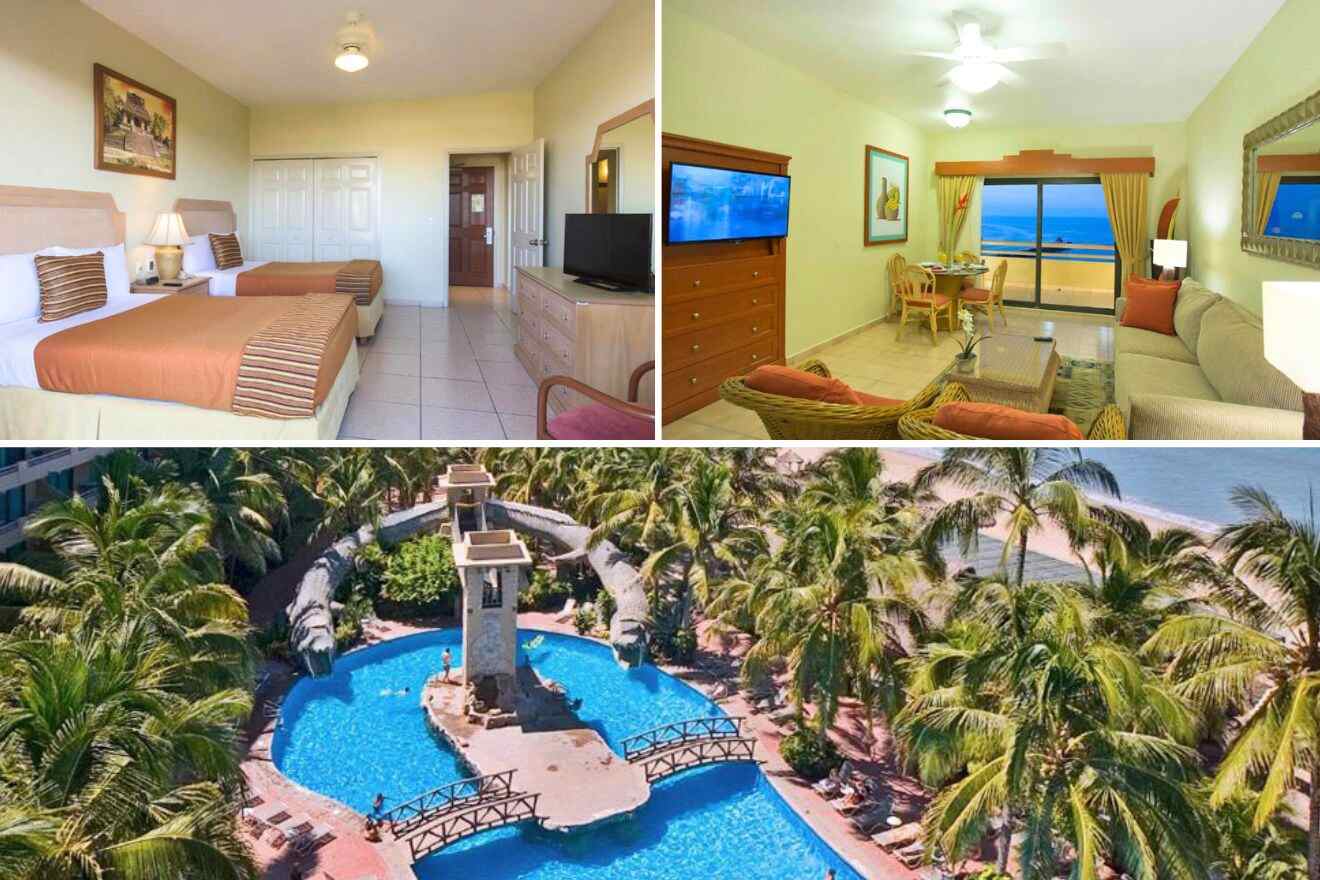 We're wrapping up this post with a fabulous hotel that's great for your family vacation! The accommodation comes with a private beach area, a water sports center, and 4 restaurants that serve Mexican and international food!
The Puerto Vallarta accommodation also has a golf course and plenty of fun activities for your little ones. The first thing to do when you arrive: book some time at the spa! There's nothing like a massage to make the jet lag go away! Then you'll be ready to go diving, snorkeling, or rent bikes to explore the area!
FAQs about water park resorts, Mexico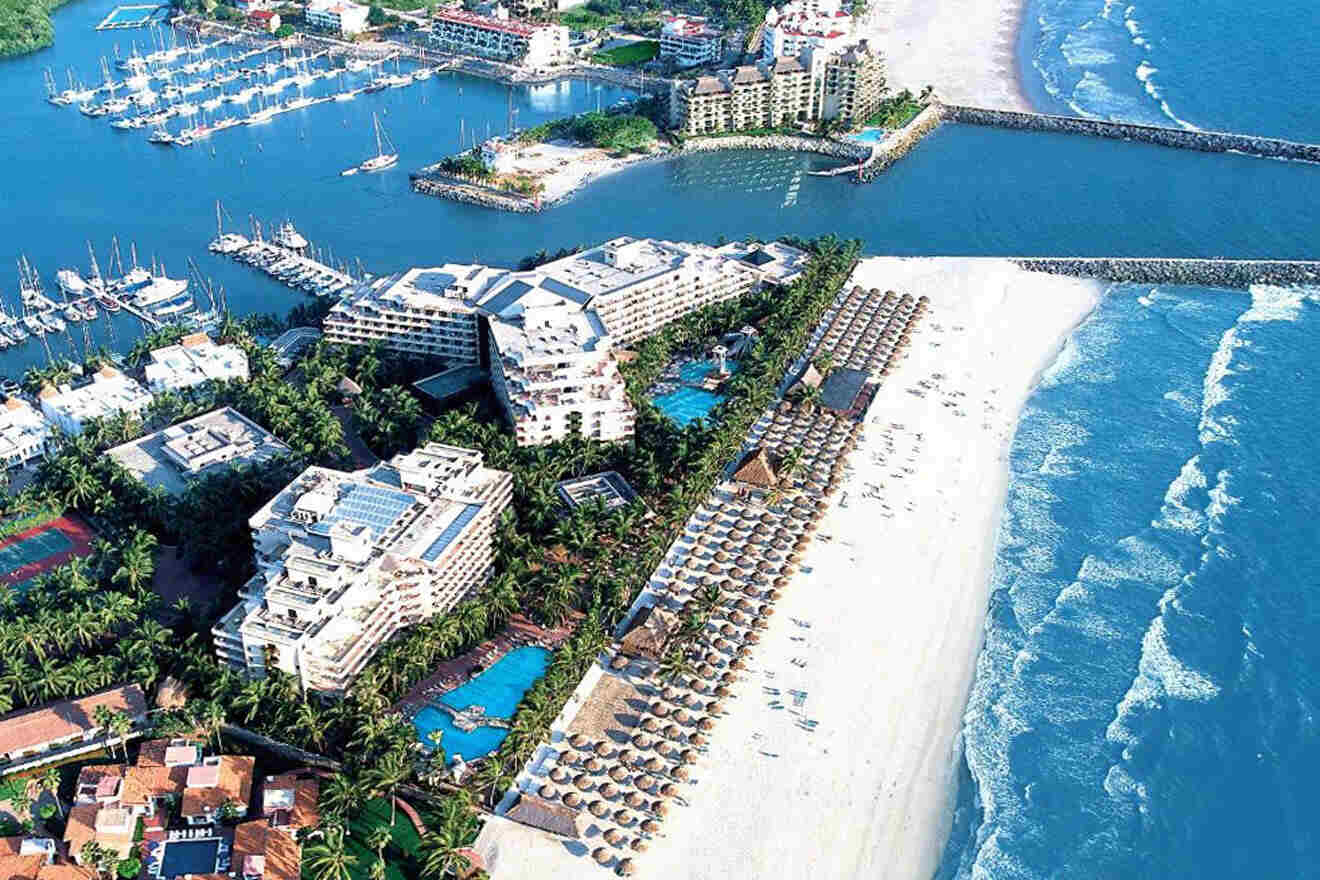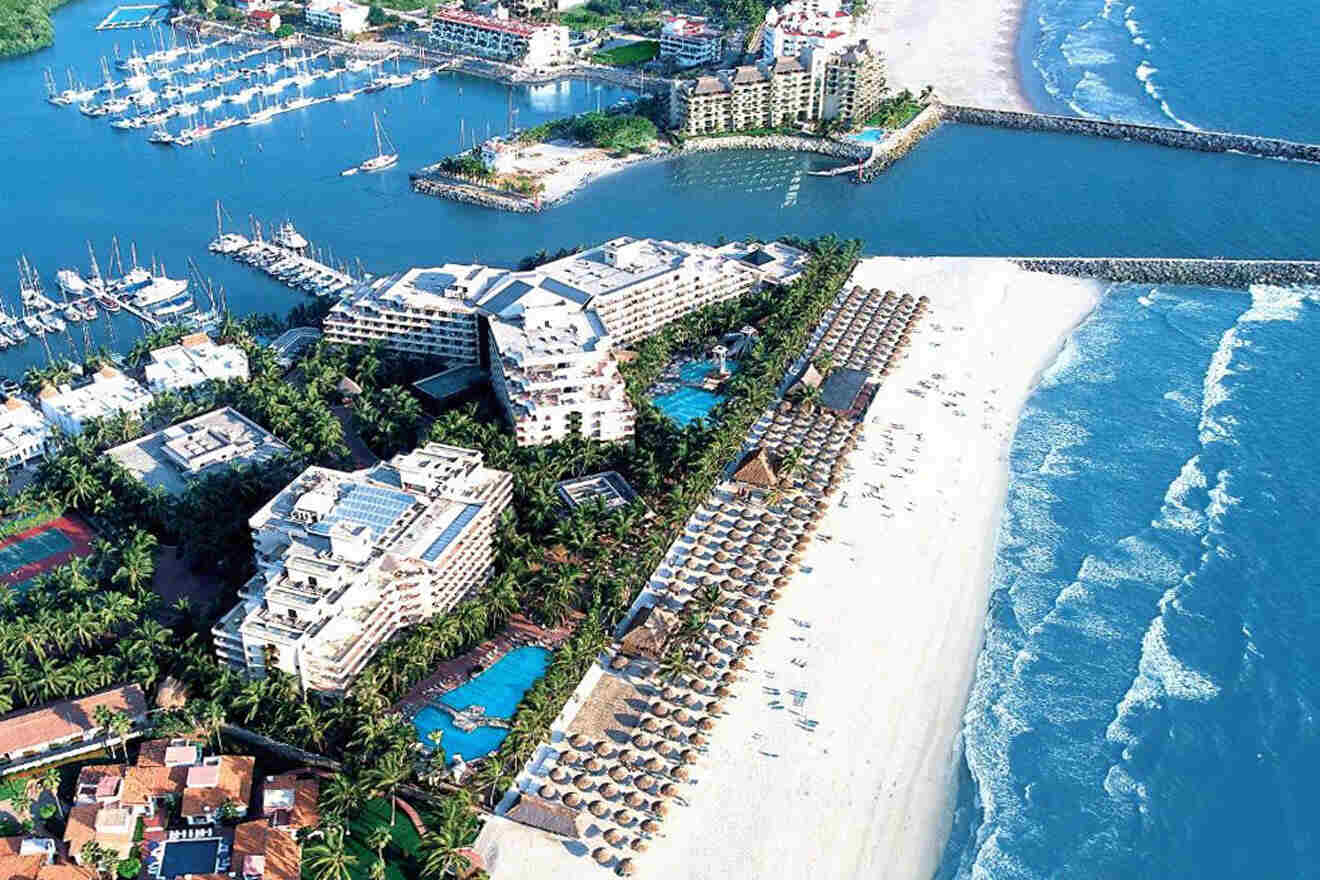 🏨 Does Cancun have water park hotels?
🌊 Which are the best all-inclusive resorts with water parks in Mexico?
👪 Which resorts with water parks in Mexico have family suites?
📅 When is the best time to travel to Mexico?
The best time to visit Mexico is during the dry season between December and April.
Conclusion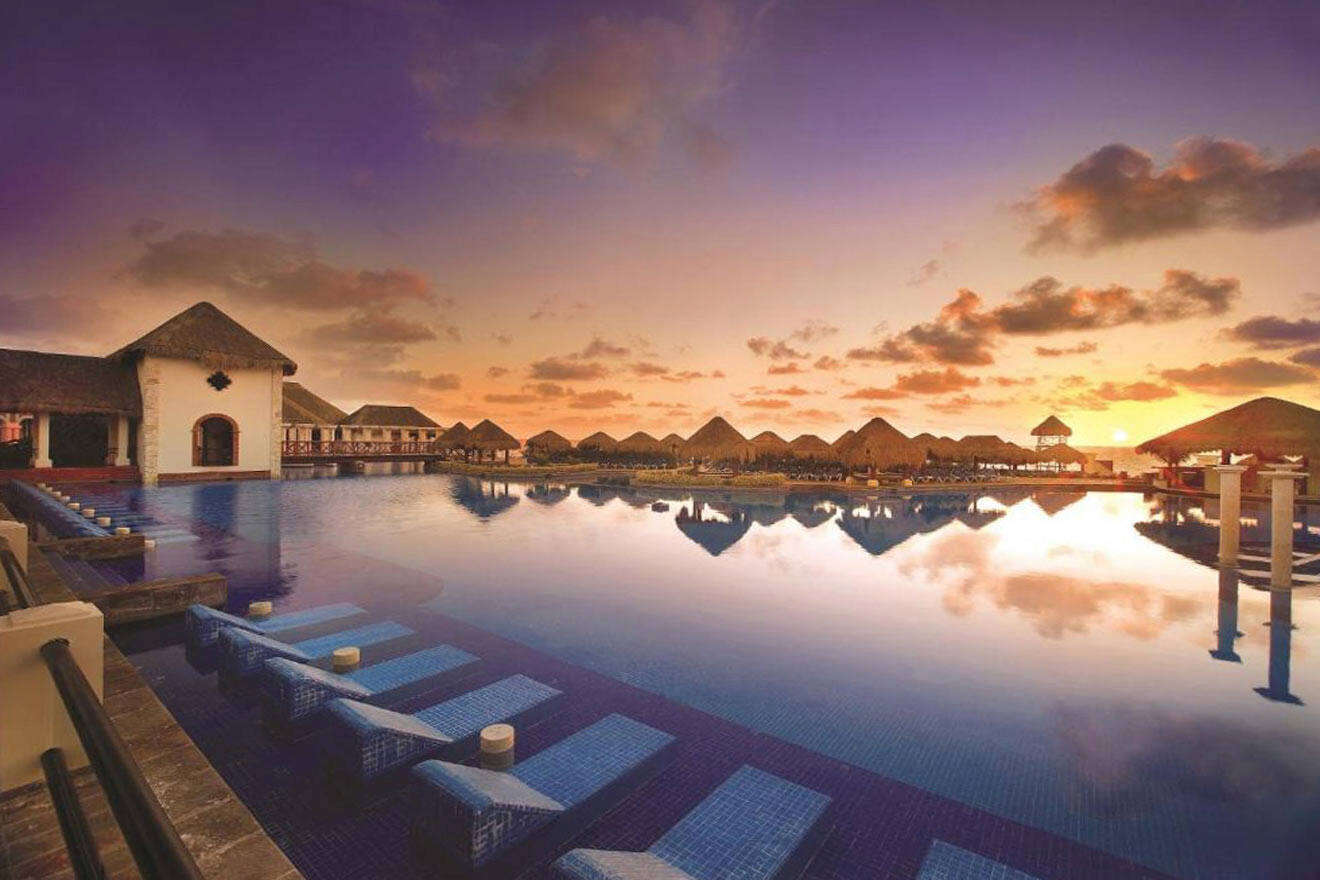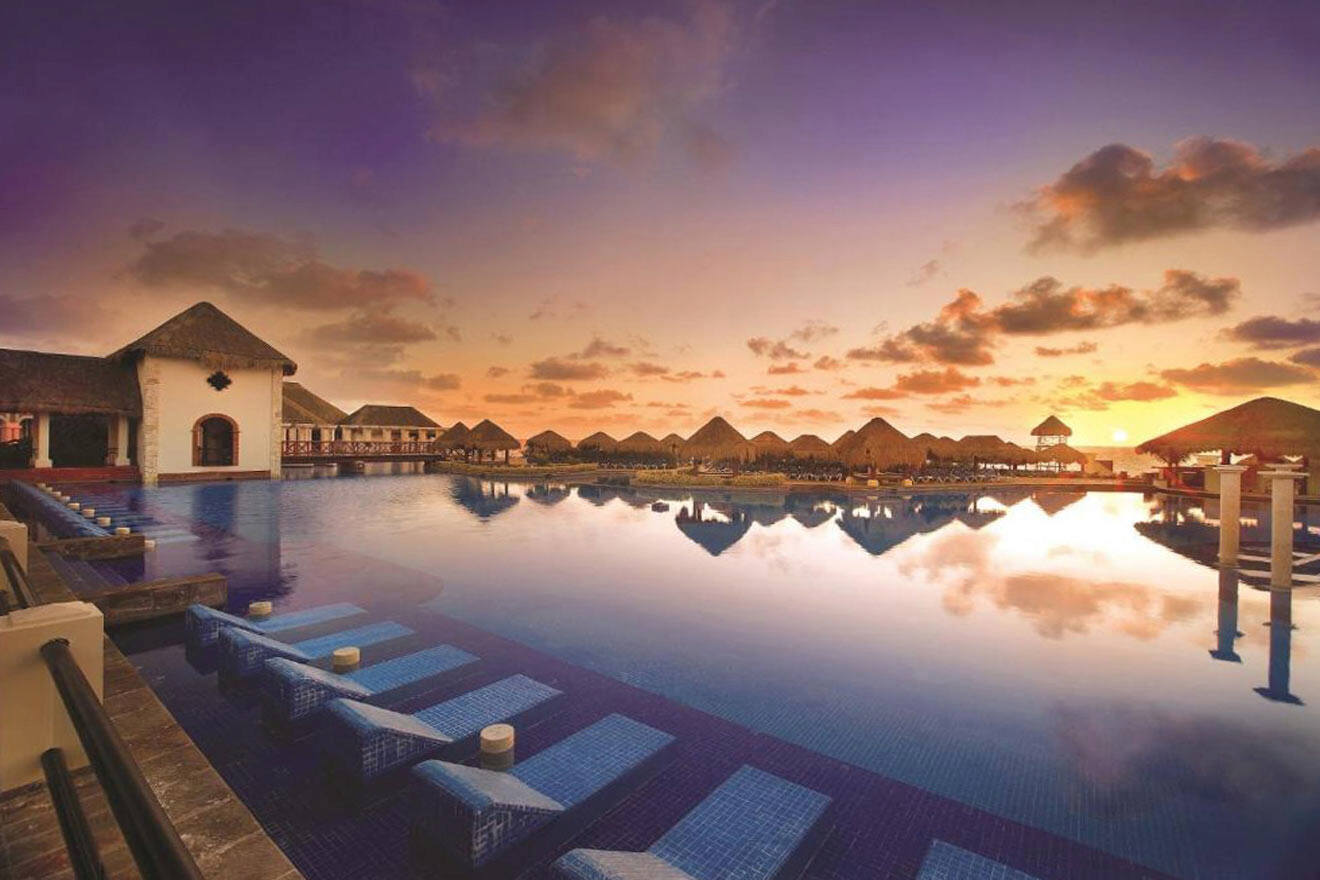 Phew, we went through quite a few Mexico hotels today!
But I hope that after reading this post with the best water park resorts in Mexico, you'll know for sure which location and accommodation to pick!
And if you don't, no worries, you can check out my 2 favorite resorts with water parks below, which I think look pretty incredible:
As I mentioned earlier, it's super important to book your resorts in Mexico in advance! These are some of the best accommodations and most likely, will sell out super fast!
Have an amazing trip, and don't shy away from asking any questions in the comment section below! I'd be happy to help you as soon as I can!
Safe travels,
Victoria
---
Pin it for later!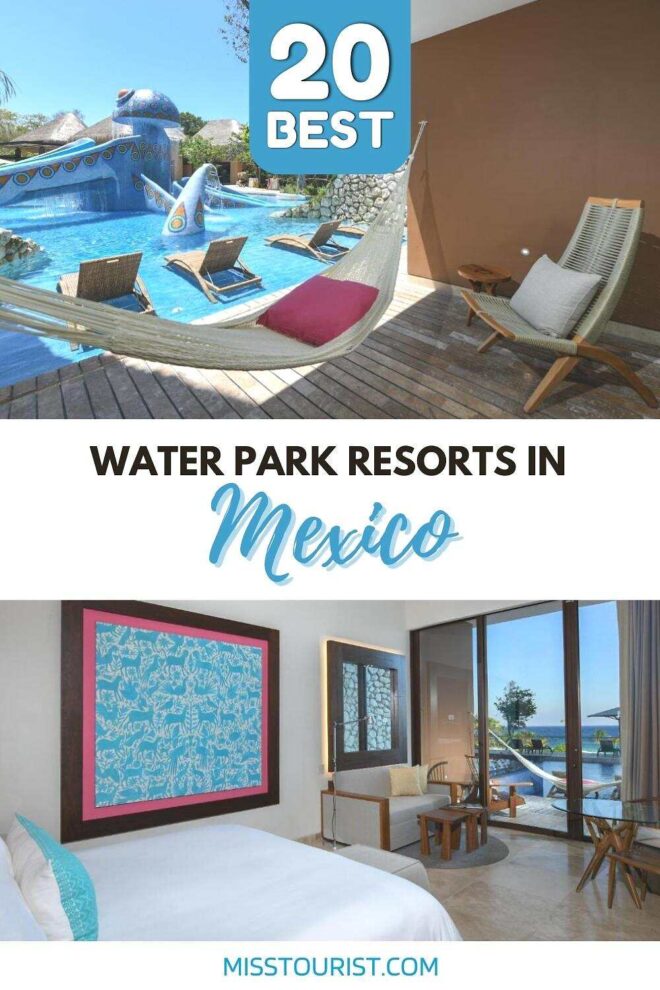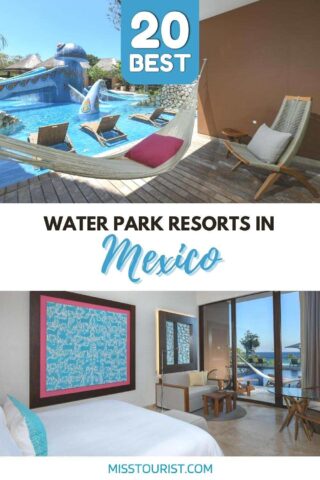 Pin it for later!