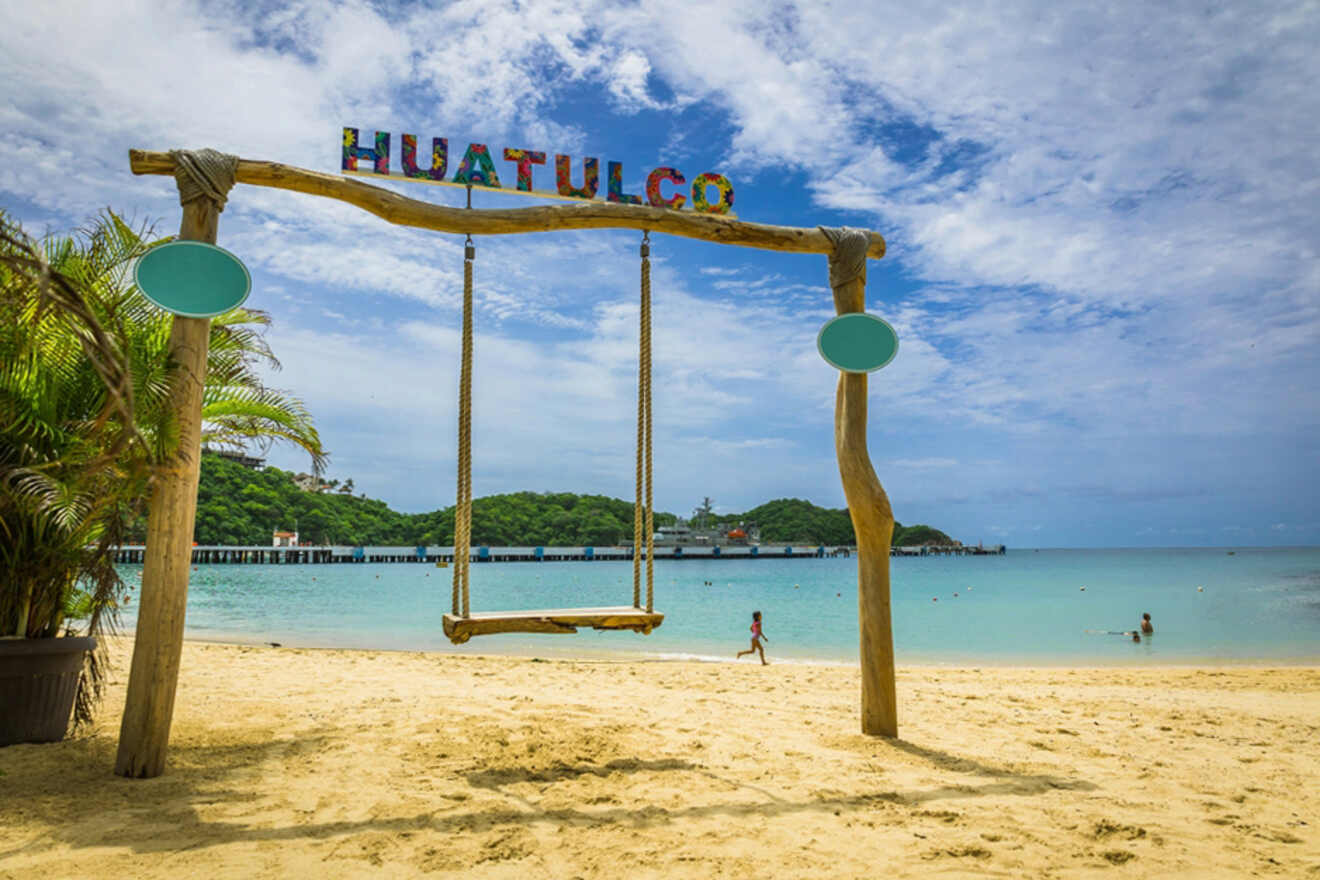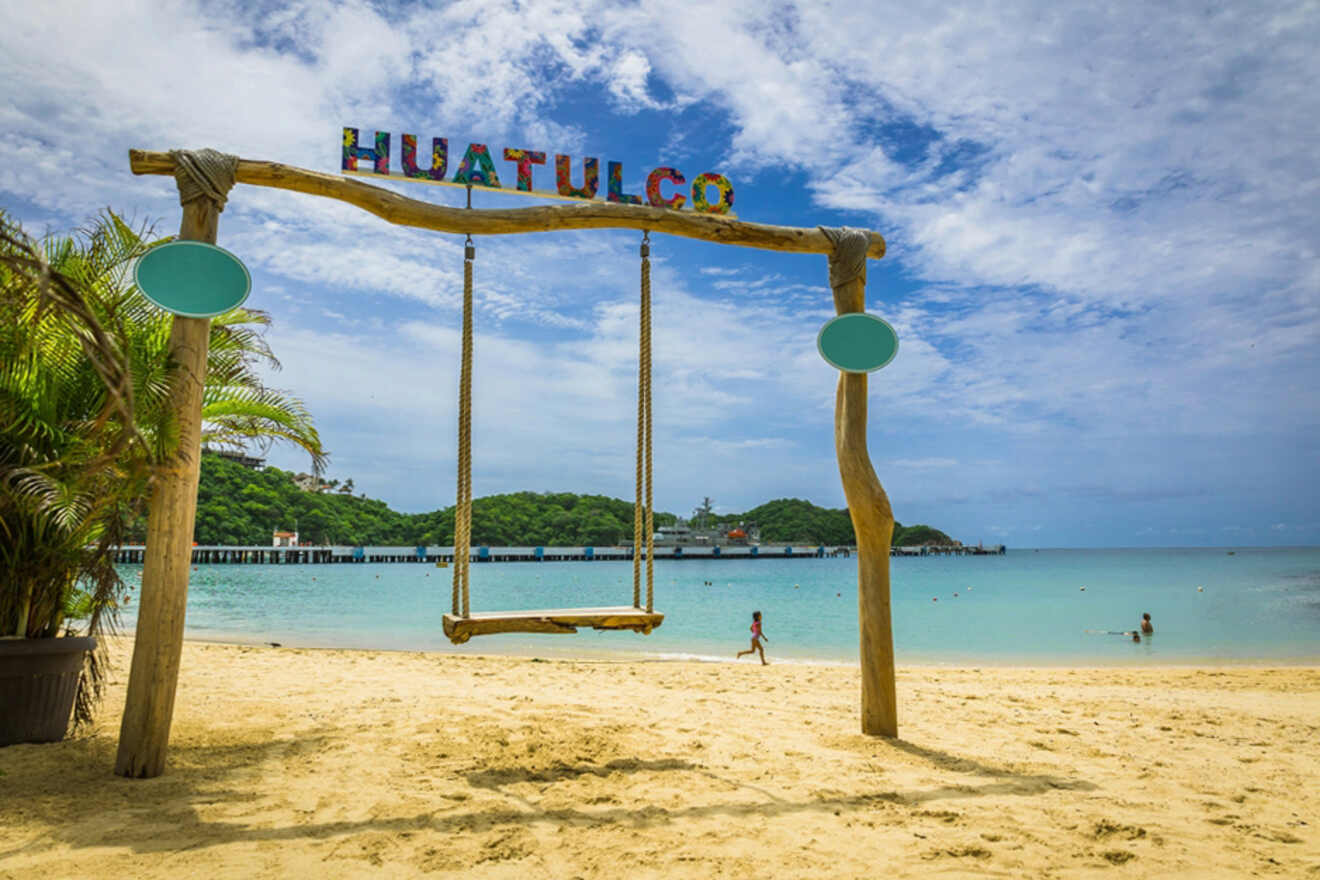 Are you daydreaming of white sand beaches? Yes? Me too! Well, on today's destination, we have plenty of them. Located in Oaxaca, Mexico, the city of Huatulco boasts 36 beaches in the area, making it a great place to travel and relax!
But apart from stunning beaches, there are amazing Huatulco Mexico Resorts to stay at, and in this list, you'll find only the best among them. From swimming pools, bars, restaurants, spa centers, and many other amenities, you'll find the best option for your well-deserved vacation!
I have divided the hotels by price range (luxury, mid-range, and budget) so you can easily find the category that best fits your pocket. And let's not forget the special bonus section for superb family hotels and breathtaking vacation rentals in Huatulco.
Without further ado, here are the best resorts in Huatulco!
Let's go!
If you are in a hurry
Here's a short list of the top resorts in Huatulco Mexico for anyone who can't go through the whole post:
Luxury (US$250 and up)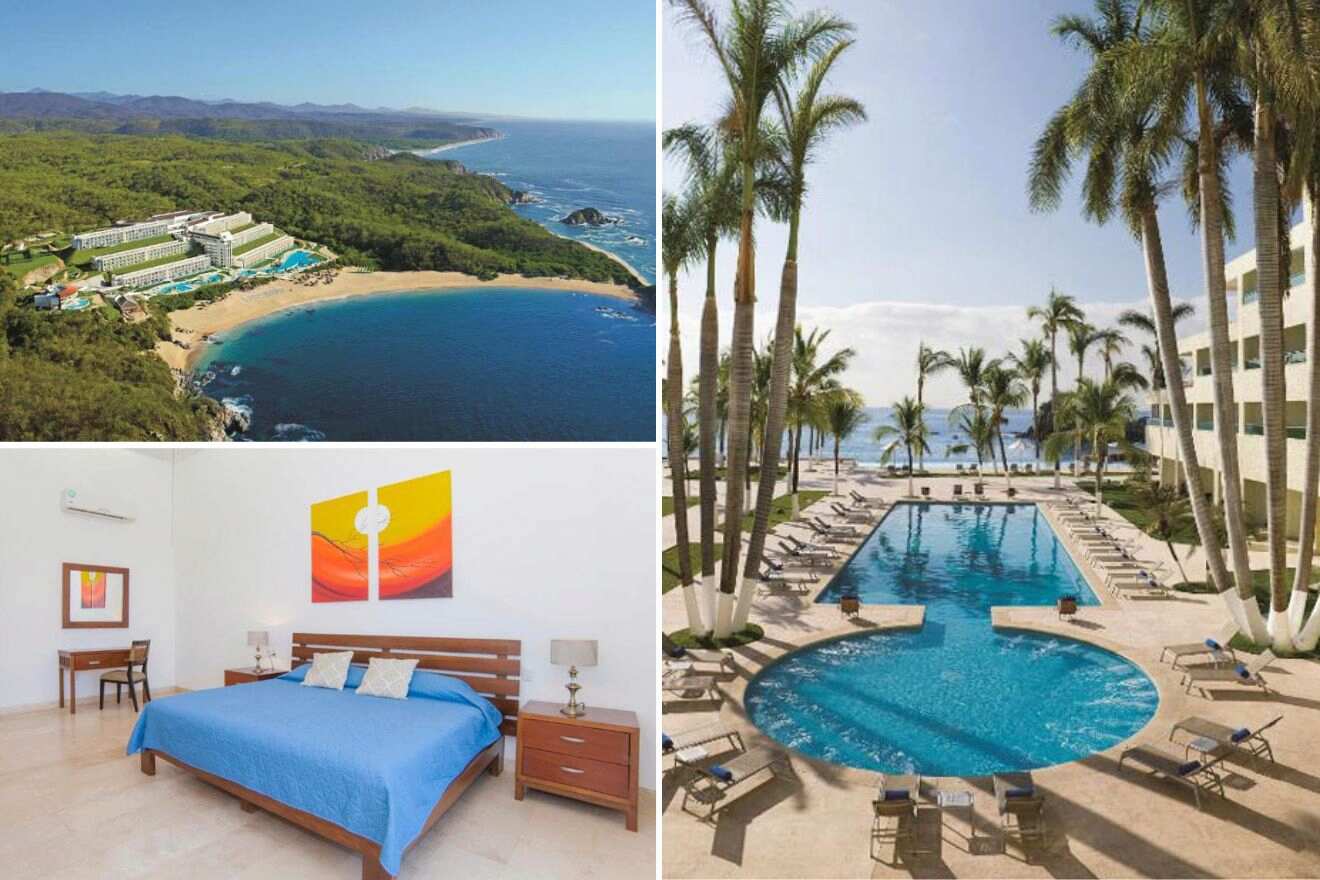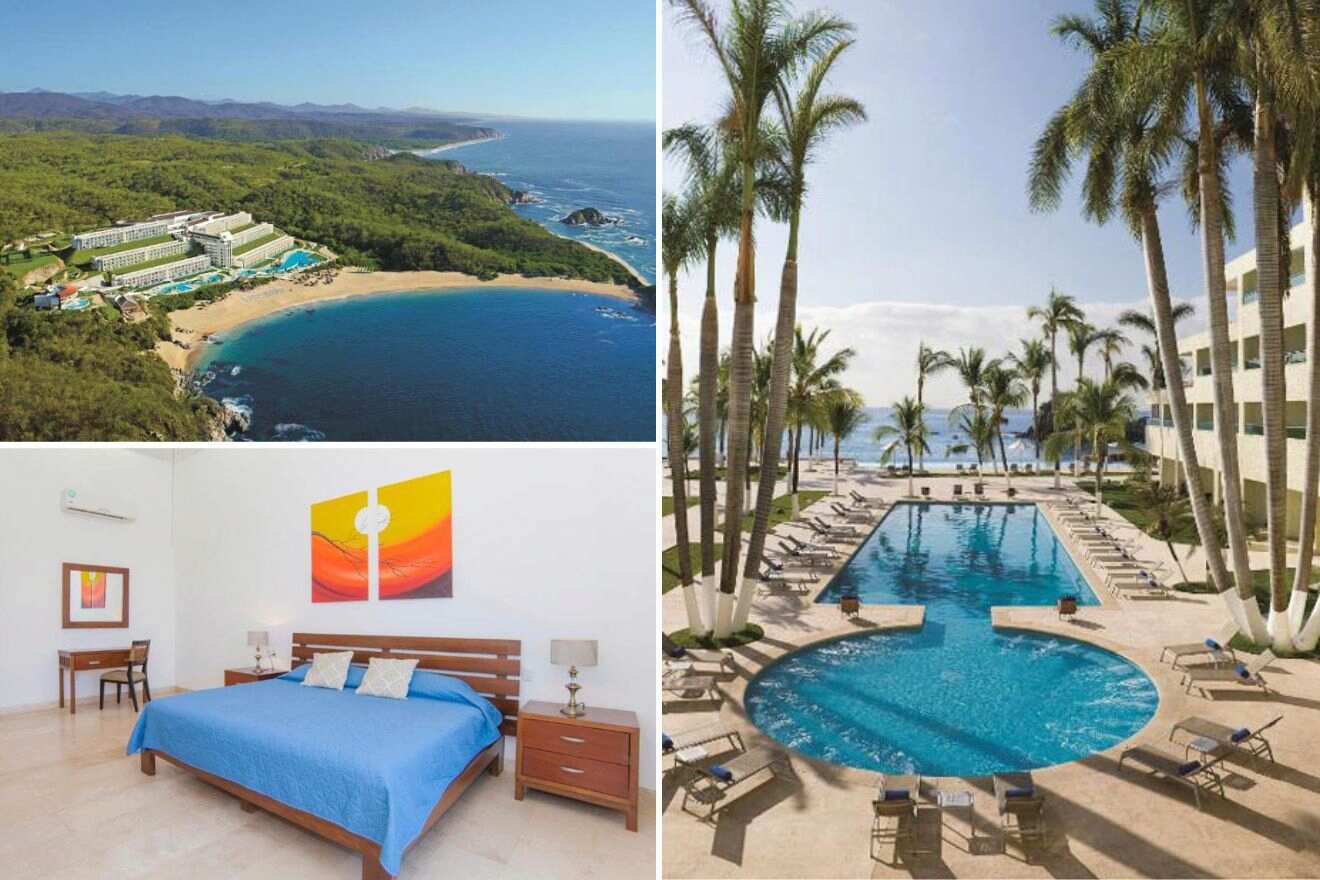 Secrets Huatulco Resort & Spa – This classic all-inclusive Huatulco resort offers everything you need for a luxurious and elegant stay in Mexico! As a guest, you will have access to a private beach in Conejos Bay, where the resort is located, and an adult pool. You will have a delicious breakfast buffet every morning, and you'll get to choose between 8 gourmet restaurants and bars. If you feel like partying, this adults-only hotel has its nightclub! All rooms have a minibar and a private balcony!
Dreams Huatulco Resort And Spa – Relax in Tangolunda Bay, staying in this simple yet elegant resort that offers spa services to all guests, two outdoor pools, and a restaurant covering many dining options, from Italian to Mexican cuisine. Savor a buffet breakfast in the morning, so you can relax and enjoy your beach day. End the day with a glass of wine on your private balcony with island or ocean views or soaking in the hot tub!
Mansiones Cruz del Mar – Simple, but with all the commodities you need is what this hotel is like! Dip into the hotel's outdoor pool and keep yourself hydrated throughout the day at the outdoor restaurant. There are 2 different types of apartments for a maximum of 6 or 7 guests, with queen, king, and double beds plus a kitchen which makes it perfect for big groups! The San Andrés beach is a 15-minute walk away, and there is an arts and crafts market where you can buy souvenirs for your friends and family!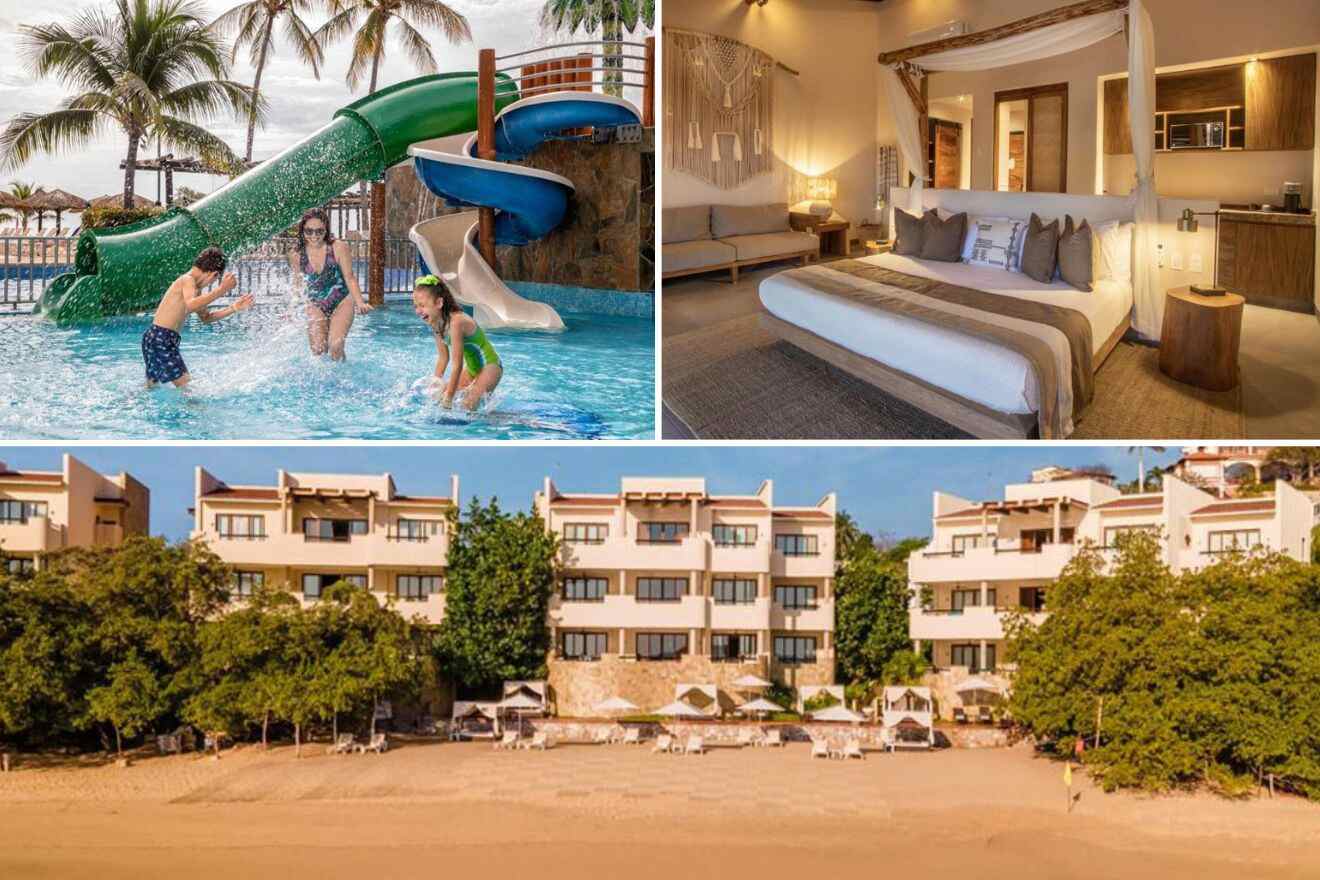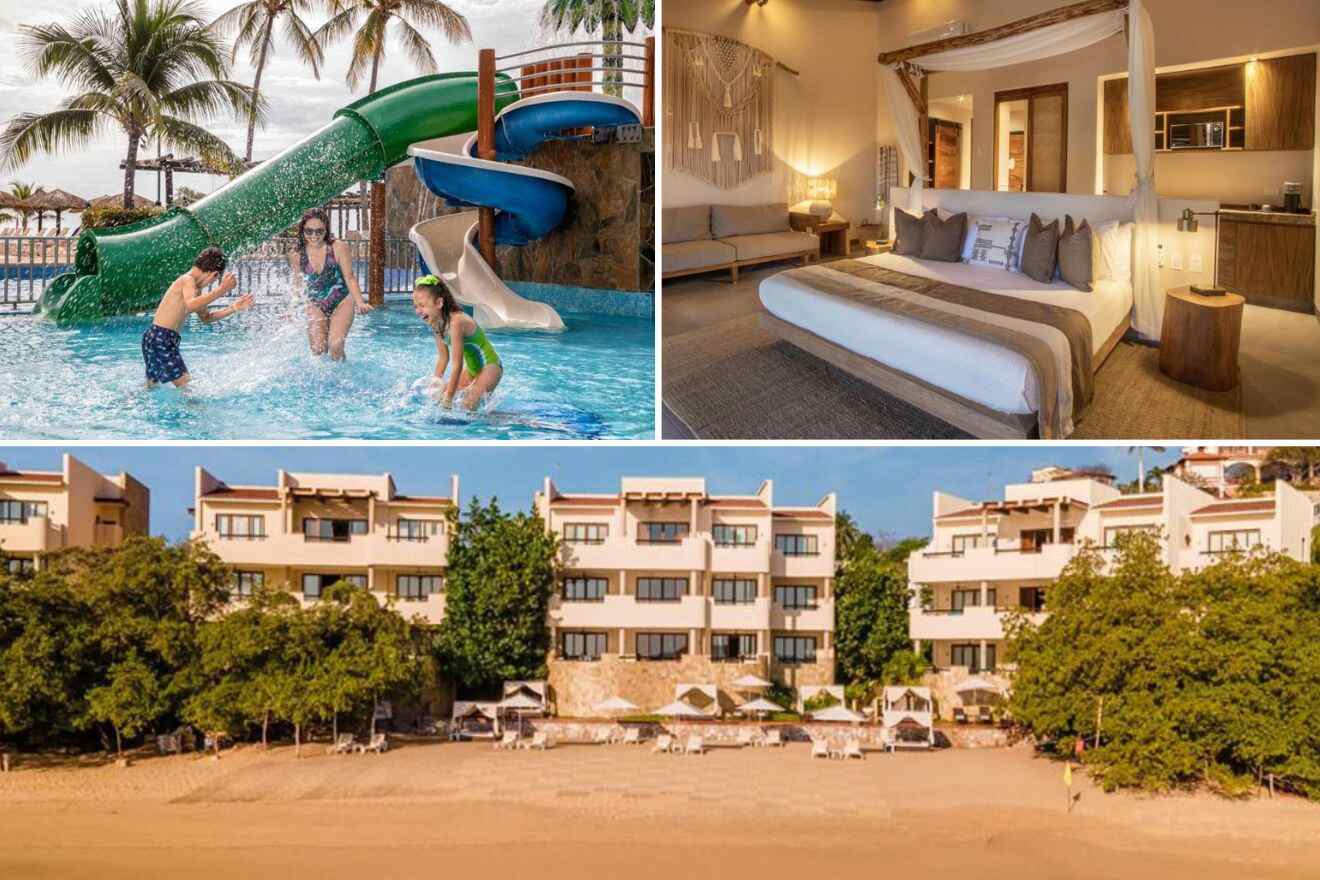 Celeste Beach Residences – Catch a ray of sunshine staying at this residence right on the beachfront at Tejoncito Bay! This California-style hotel has a private beach area for guests. All the rooms have a private terrace with an ocean view to relax and spend time admiring Mexico's beauty, a flat-screen TV, and air conditioning. The hotel features an outdoor pool and a restaurant that serves traditional Mexican-style and international food. 
Hotel Casa Bocana – Stay in a fashionable and modern hotel in La Bocana! Couples would love staying at this stylish hotel with a large pool with lounge chairs, a spa to relax with their partner, and a bar and restaurant to eat fantastic food after a long day at Huatulco's sandy beaches! Air conditioning, a balcony with an incredible view, and room service are available in all rooms!
Barceló Huatulco – Enjoy an all-inclusive resort vacation at this hotel in Bahias de Huatulco – a great place to escape city life and enjoy nature! Barceló Huatulco has excellent facilities: a main pool and a kids pool to relax under the sun, tennis courts, and space to play beach volleyball and stay fit! You can enjoy nightly entertainment at their theater and delight yourself in any of their à la carte restaurants! Rooms are cozy and come with air conditioning, a flat-screen TV, lovely views, a coffee maker, and free Wi-Fi!
Mid-Range (from US$130 to US$200)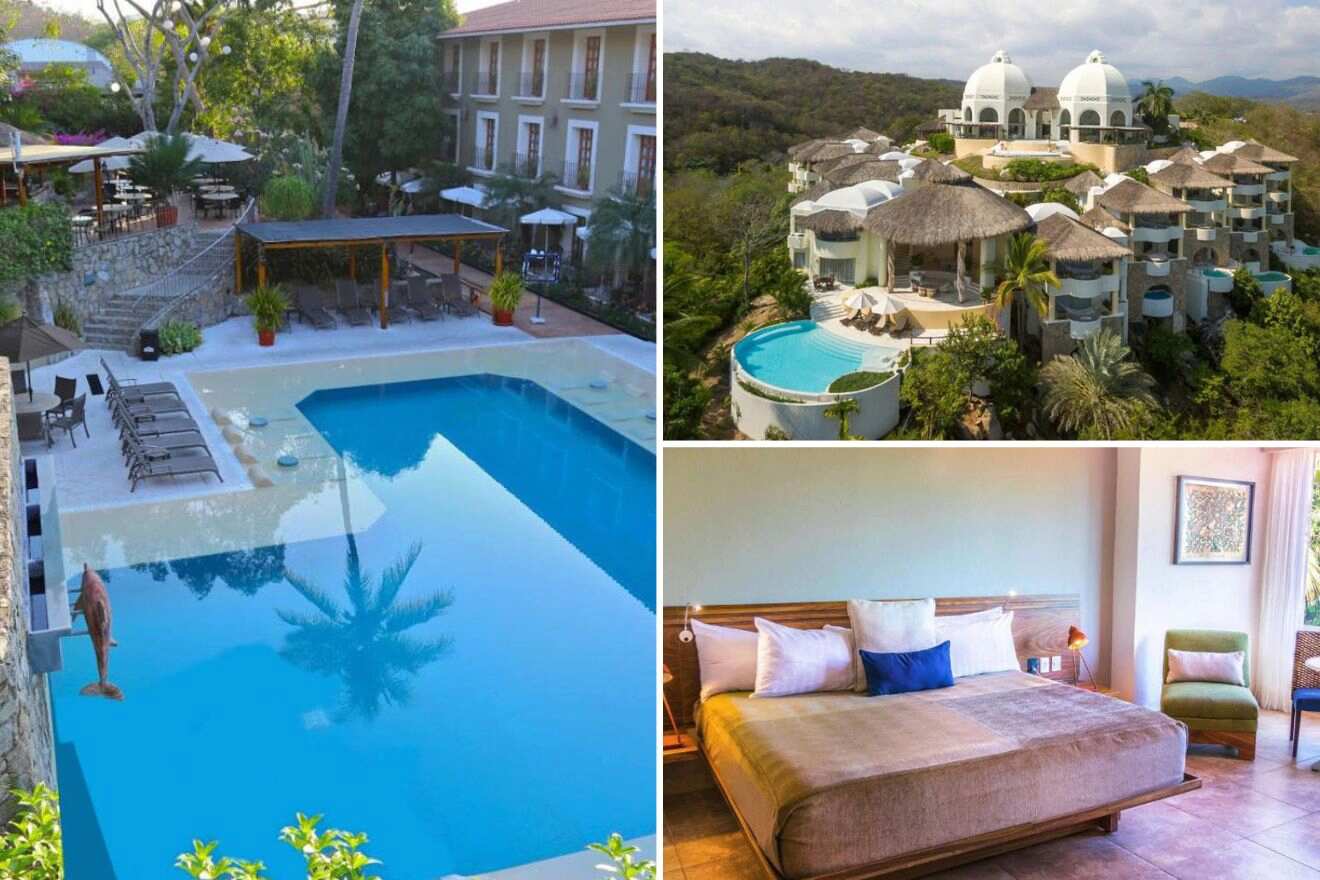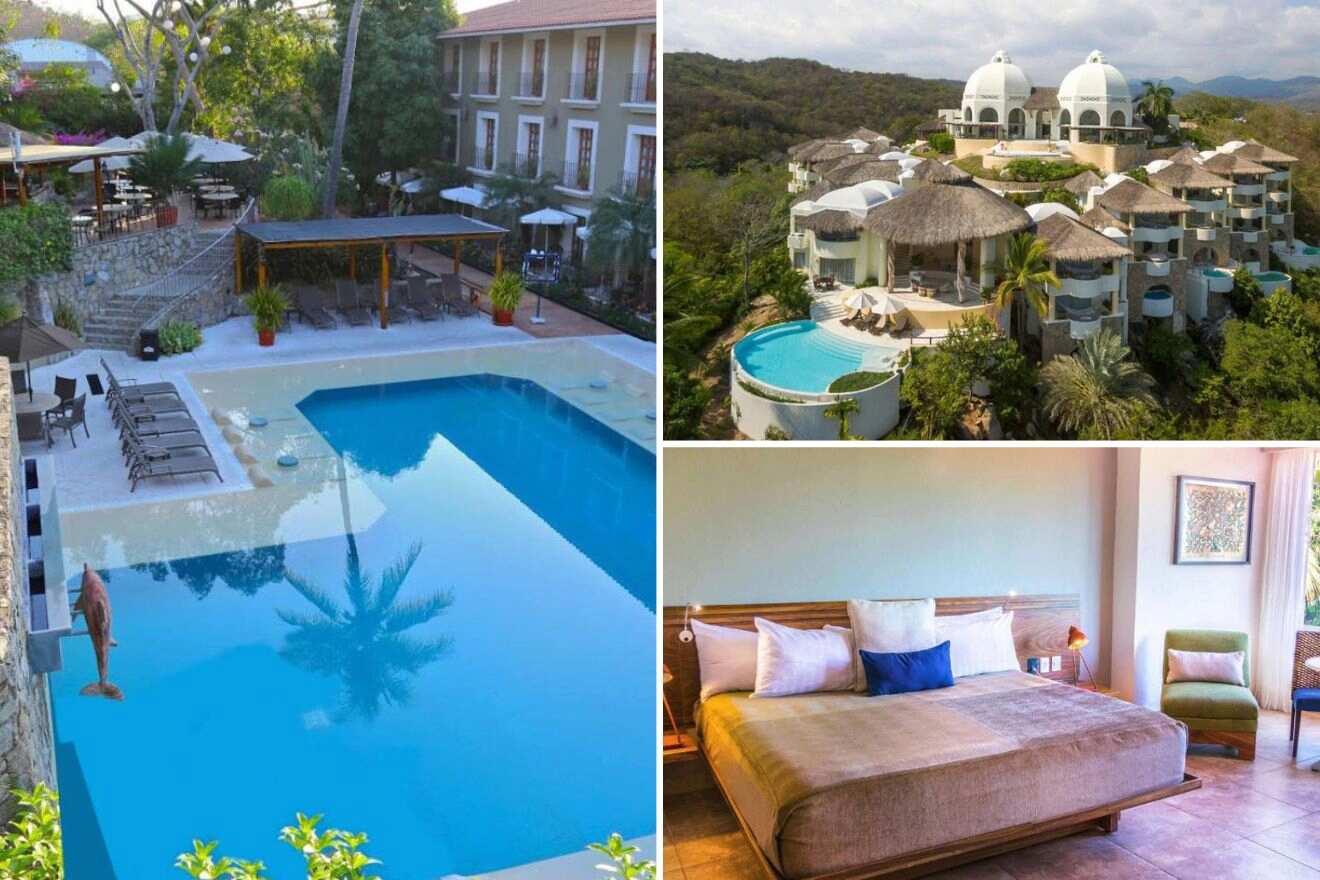 Las Brisas Huatulco – Book this Tangolunda hotel and choose the room of your dreams! I recommend the all-inclusive package to enjoy all the benefits without any hassle. For example, all meals are included in this package as well as assorted drinks! Additionally, you'll have access to tennis courts, a kids' club, 3 outdoor pools, and a fitness center, and Tangolunda Golf Course is nearby! The rooms have incredible views, a minibar, and a coffee maker!
Binniguenda Huatulco & Beach Club – This traditional-looking hotel is situated in Santa Cruz Huatulco, with Huatulco Airport about 8 miles (12 km) away. It is a fantastic option for those looking for an all-inclusive hotel that's steps away from the beach and has amenities like a game room with a ping-pong table to play some matches after a relaxing time at their swimming pool! All rooms have comfy beds, flat-screen TVs, private bathrooms, and free Wi-Fi, and some even have amazing views.
Quinta Real Huatulco – The hotel's architecture and the pastel colors of the wall and furniture set you up for a relaxing holiday! Spend the days by the pool, or sit on the private beach and sunbathe. If you want to have dinner and some cocktails, the Sky Lounge at the hotel is the place, and I highly recommend the Gran Clase Suites if you'd like to have an in-room private pool!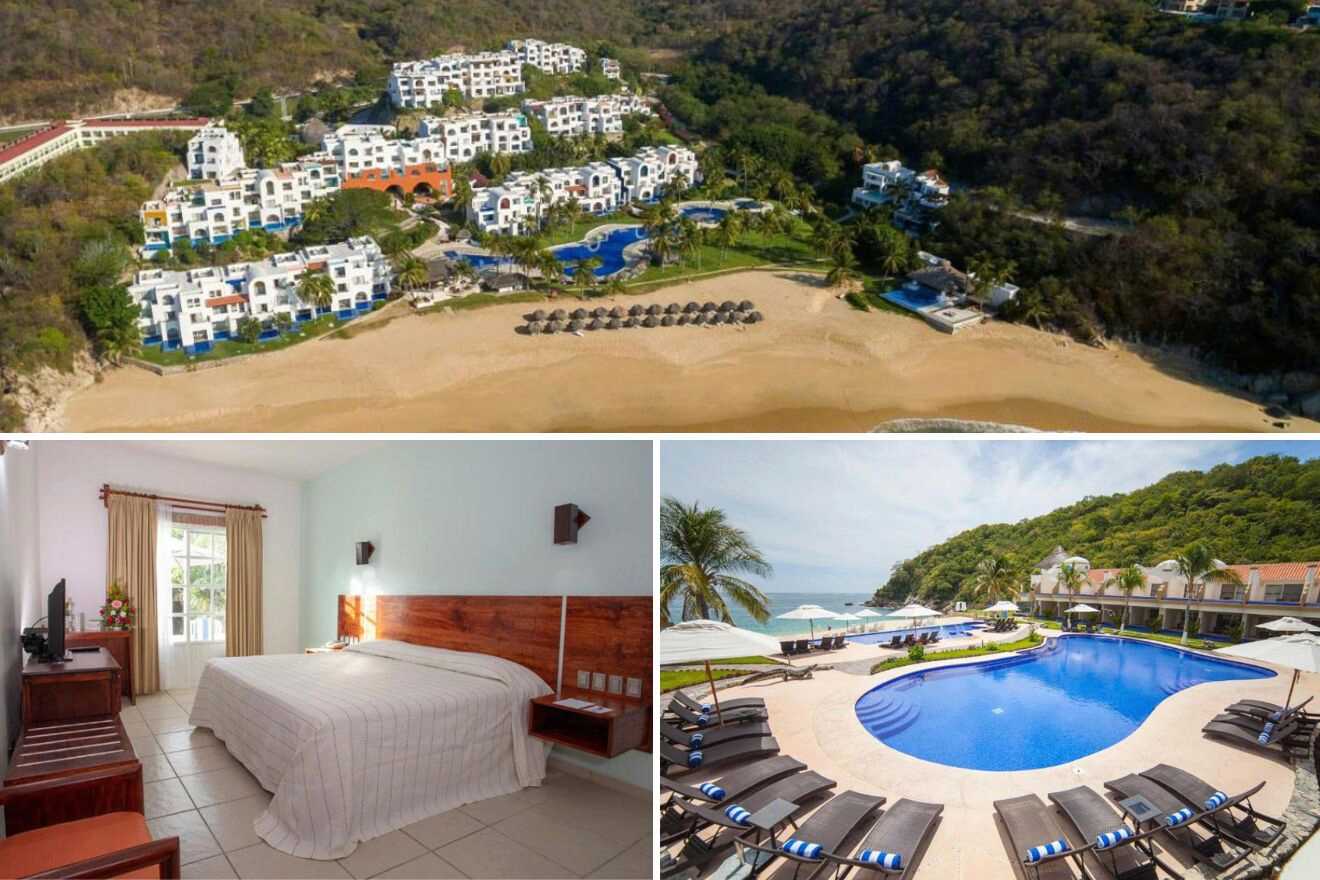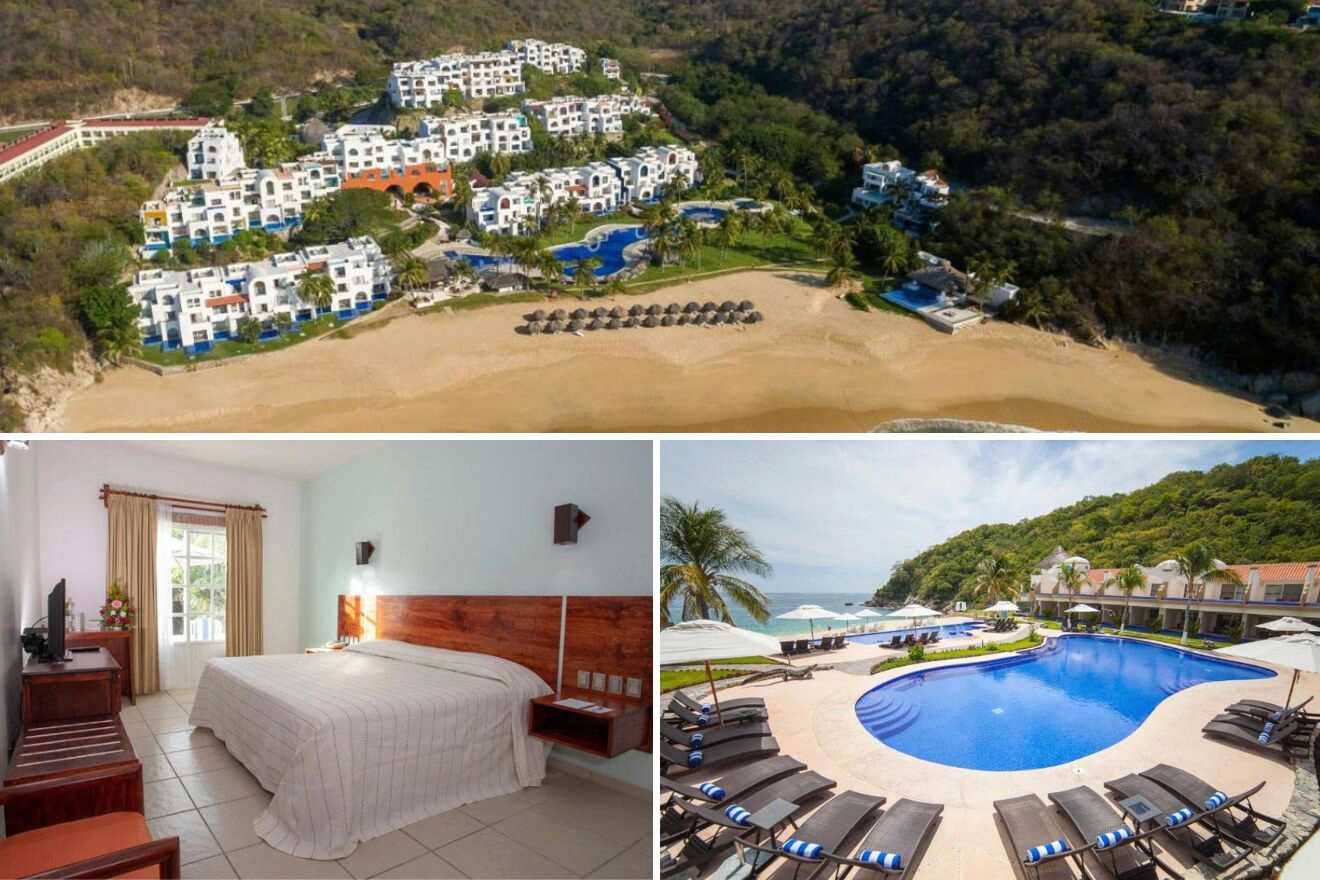 Hotel Castillo Huatulco & Beach Club – Cozy hotel with an effortless architectural style with big rooms with air conditioning and flat-screen TVs for a maximum of 6 guests – perfect for families! The hotel is located in Santa Cruz and has a swimming pool, an evening entertainment service, and a shuttle to its private beach! Fill yourself with energy and enjoy their complimentary buffet breakfast in the morning!
Quinta Bella Huatulco – You will find colorful rooms in Quinta Bella! Located in Santa Cruz, this hotel by the beachfront offers rooms with excellent views of the pool, ocean, or tropical gardens; some rooms even have a private pool! The facilities are fabulous, too. There is a fitness center, a spa you can make use of by paying a little extra, and top-quality restaurants steps away from the hotel! You can check in at any time since they have a 24-hour reception!
Camino Real Zaashila Huatulco – The white and blue colors of the hotel's facade resemble a small Greek villa with all of Bahia Tangolunda's charm! With private pools in some of their rooms overlooking the Pacific Ocean! Remember, this is an adult-only resort, so you'll encounter no kids in the shared hotel areas, including a tennis court, a fitness center, and a large swimming pool! P.S. You can make your stay all-inclusive!
Budget (up to US$120)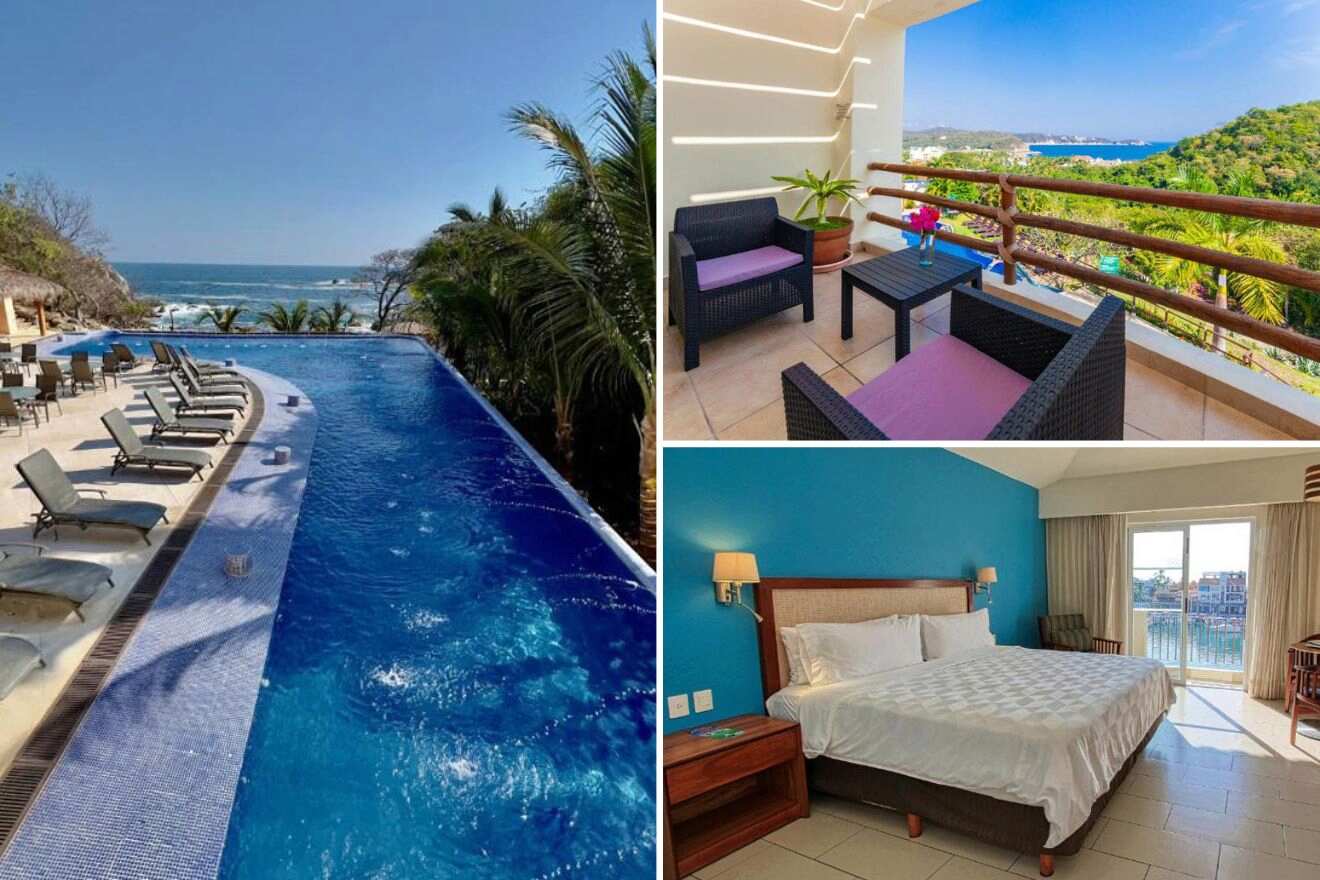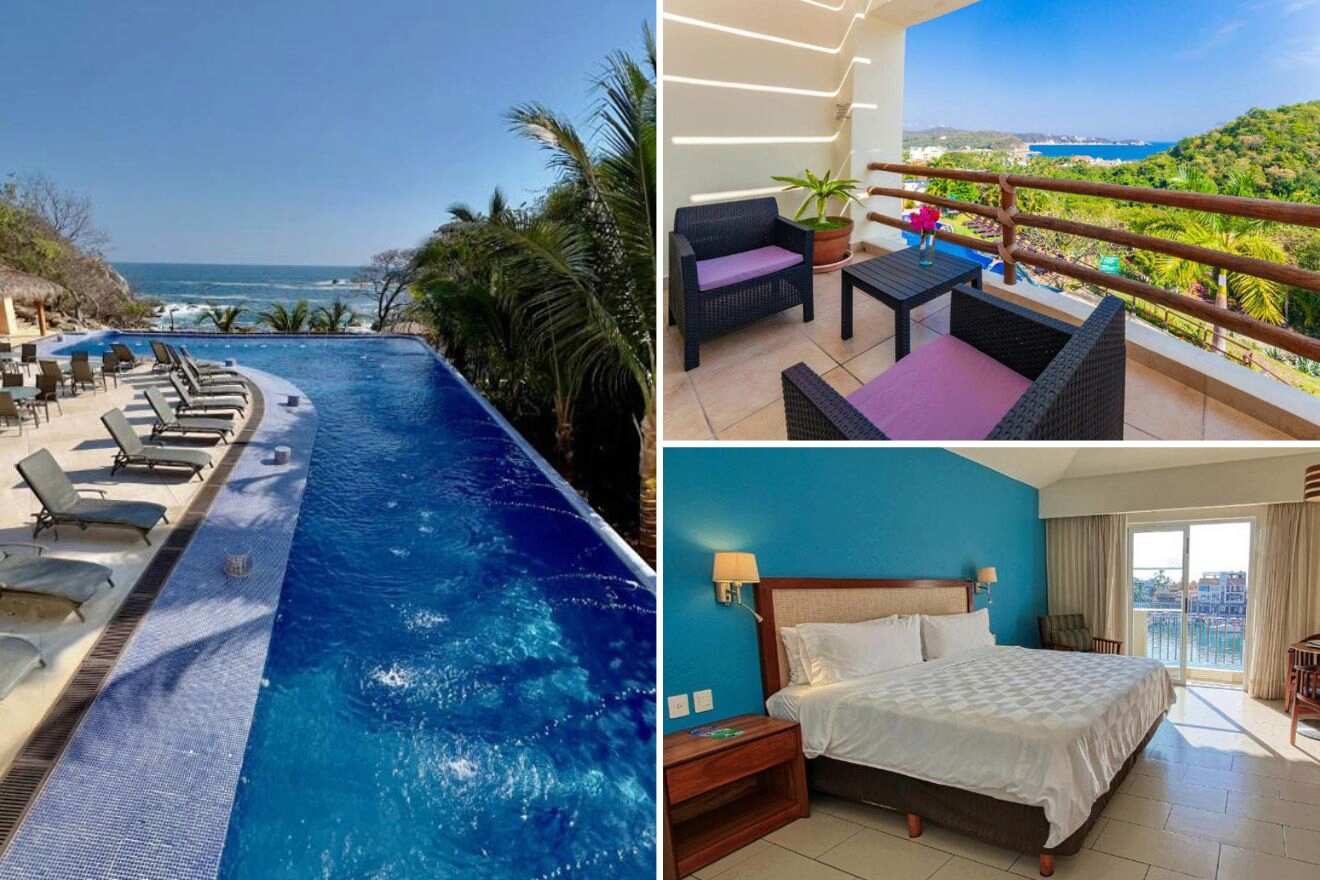 Coral Blue Hotels & Resorts – This Santa Cruz hotel is simple and elegant, located on a private beach where some of the rooms have an ocean view! You will feel right at home in your room with a coffee machine, a flat-screen TV, and fresh bedding! Their outdoor pool has a magnificent view of the ocean! You can get breakfast at the restaurant but check when booking if your reservation includes it or if you need to pay extra for it!
Princess Mayev Hotel – Imagine having breakfast overlooking Oaxaca's jungle! At Princess Mayev Hotel situated in Santa Cruz, it is possible! Besides fantastic views, there are 2 swimming pools, one of which is an infinity pool. Chahué Beach is 10 min away from the hotel, and Crucecita city center is only 15 minutes walk away! The best room in the hotel, the Deluxe King Studio, has a terrace with a table, chairs, a private pool, and a kitchenette!
Holiday Inn Huatulco – Were you looking for a pet-friendly hotel? Holiday Inn, located in the neighborhood of Santa Cruz, has a room where your furry friends can stay (the Two-Queen Standard Pet-Friendly). The room has a flat-screen TV, and the hotel has an outdoor swimming pool to freshen up as well as an on-site restaurant to have an á la carte meal with great food quality and gain energy after a relaxing spa session!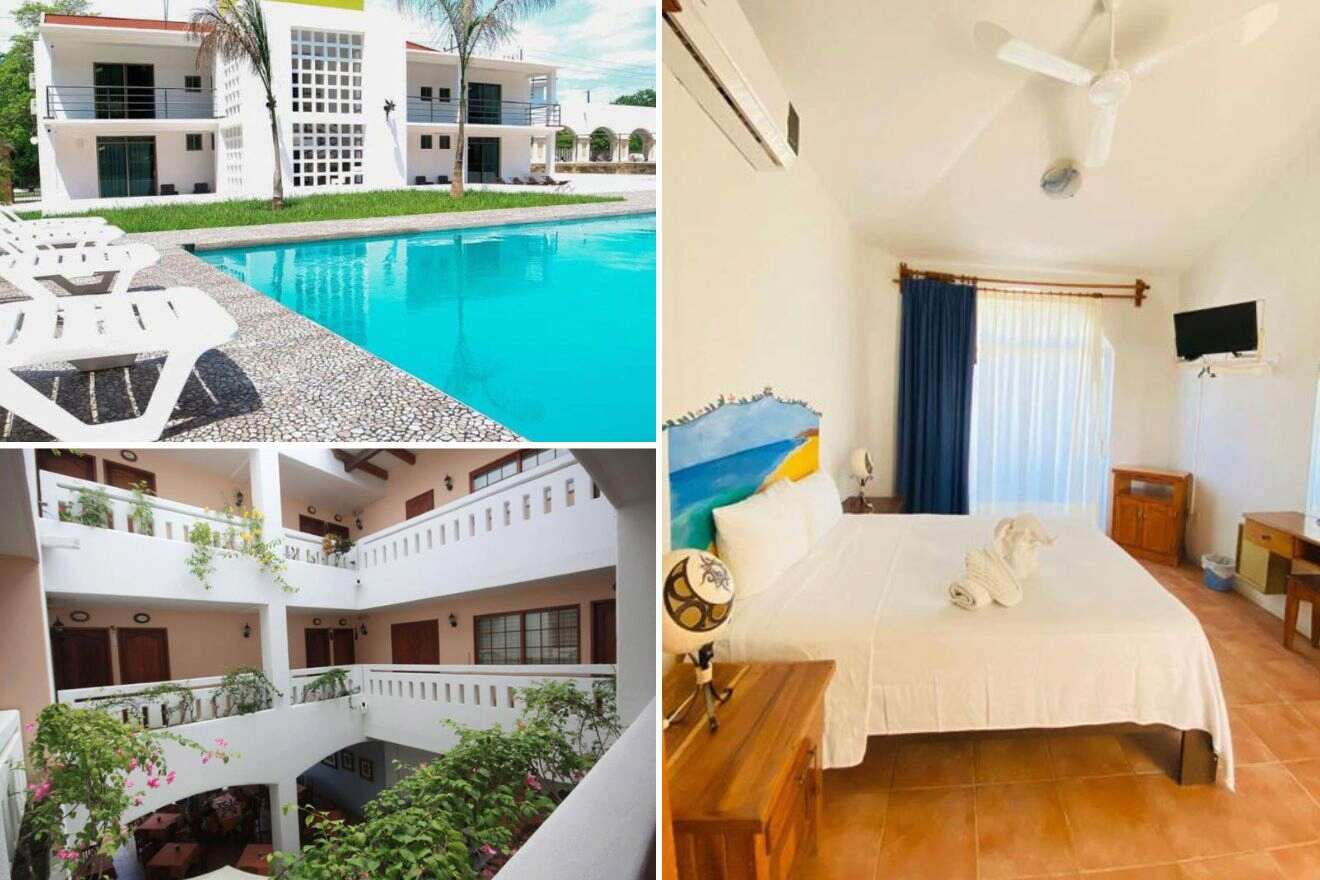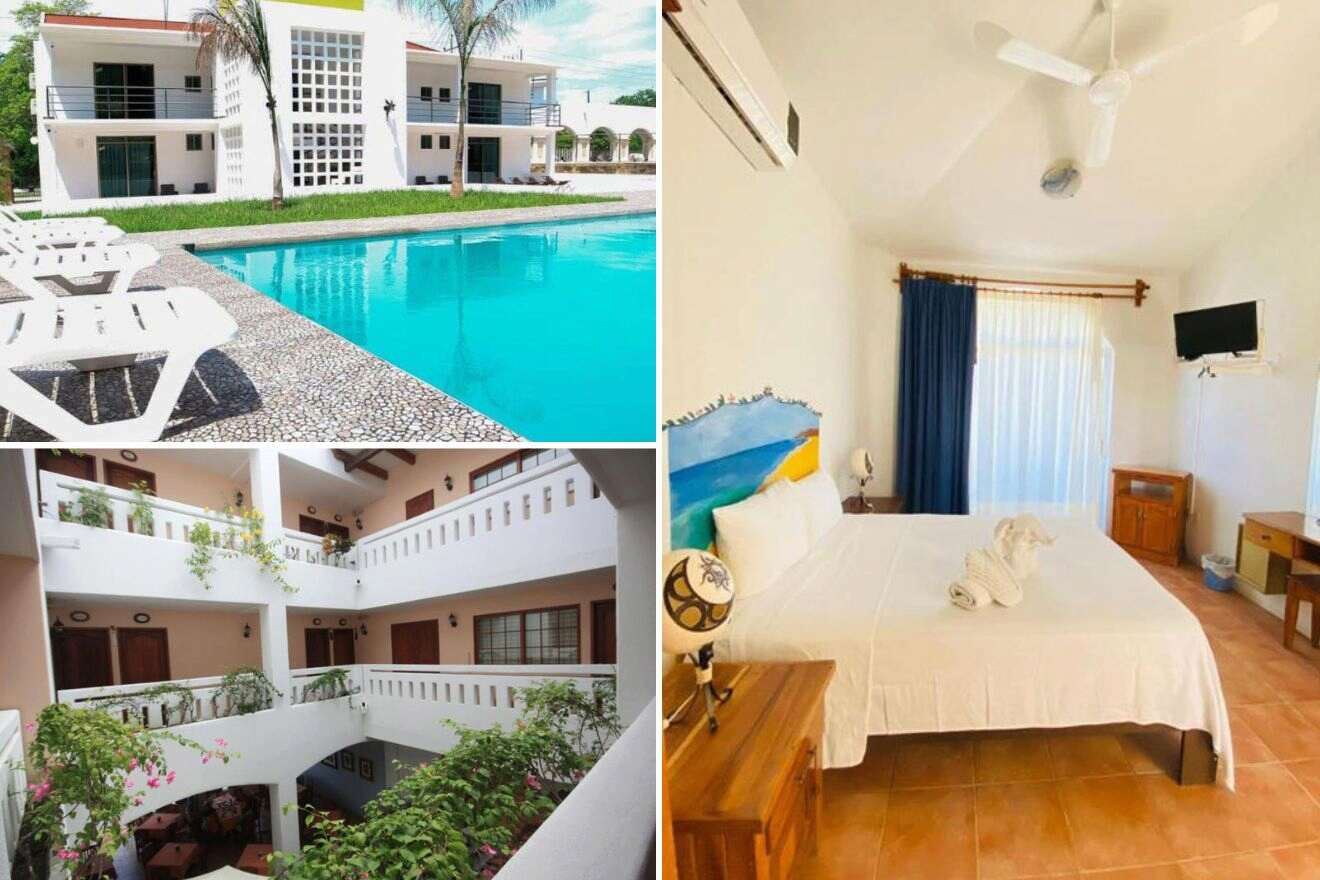 Hotel Suite Las Valkirias – You will feel at home in Santa Cruz, staying at Las Valkirias! All the suites have an apartment feel with their kitchenette, and some rooms can host up to 6 guests. This is a fabulous option if you are looking for hotels to stay in with your friends or family. Take advantage of their outdoor swimming pool or enjoy Huatulco Beach, that's only 5 minutes away!
Hotel Boutique Eden Costa – This hotel is a cute option for those who want to experience Chahué and connect with the local culture! This hotel has an outdoor swimming pool, free parking, and an onsite restaurant, and the rooms come with comfy beds, a flat-screen TV, and free Wi-Fi. In addition, there are excellent activities at the hotel, like temporary art galleries and happy hour at the hotel's bar!
Hotel Maria Mixteca – Are you a city lover? This hotel is right in the center of Santa Cruz and about 1 mile (1.6 km) from Santa Cruz Beach. All the rooms have rustic decor and a flat-screen TV, and free Wi-Fi! For an additional charge, you can join the hotel activities like enjoying a DJ set or going to a nightclub. If you are a foodie, you can join their themed dinners!
BONUS 1: Best hotels for families
Hey, I get it, Mexico's beaches are such a romantic place for couples and fun for friend groups. But I know families also want to enjoy everything Mexico has to offer, and finding the perfect hotel to enjoy with your kids can be tricky, which is why I have a list of the best hotels for families, so you can relax and have fun all together!
I've ordered them from most to least expensive, and the prices start from US$80 to US$330: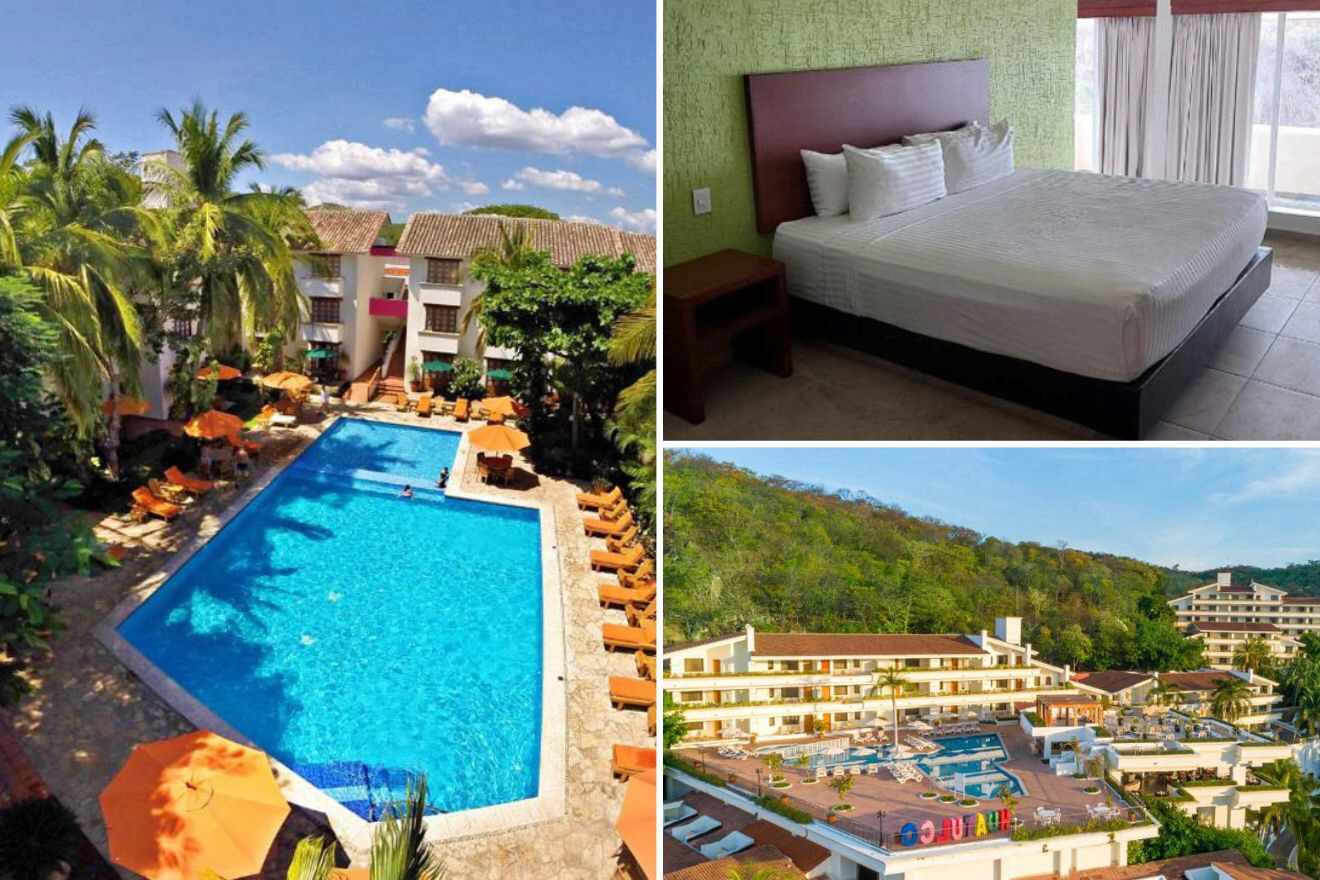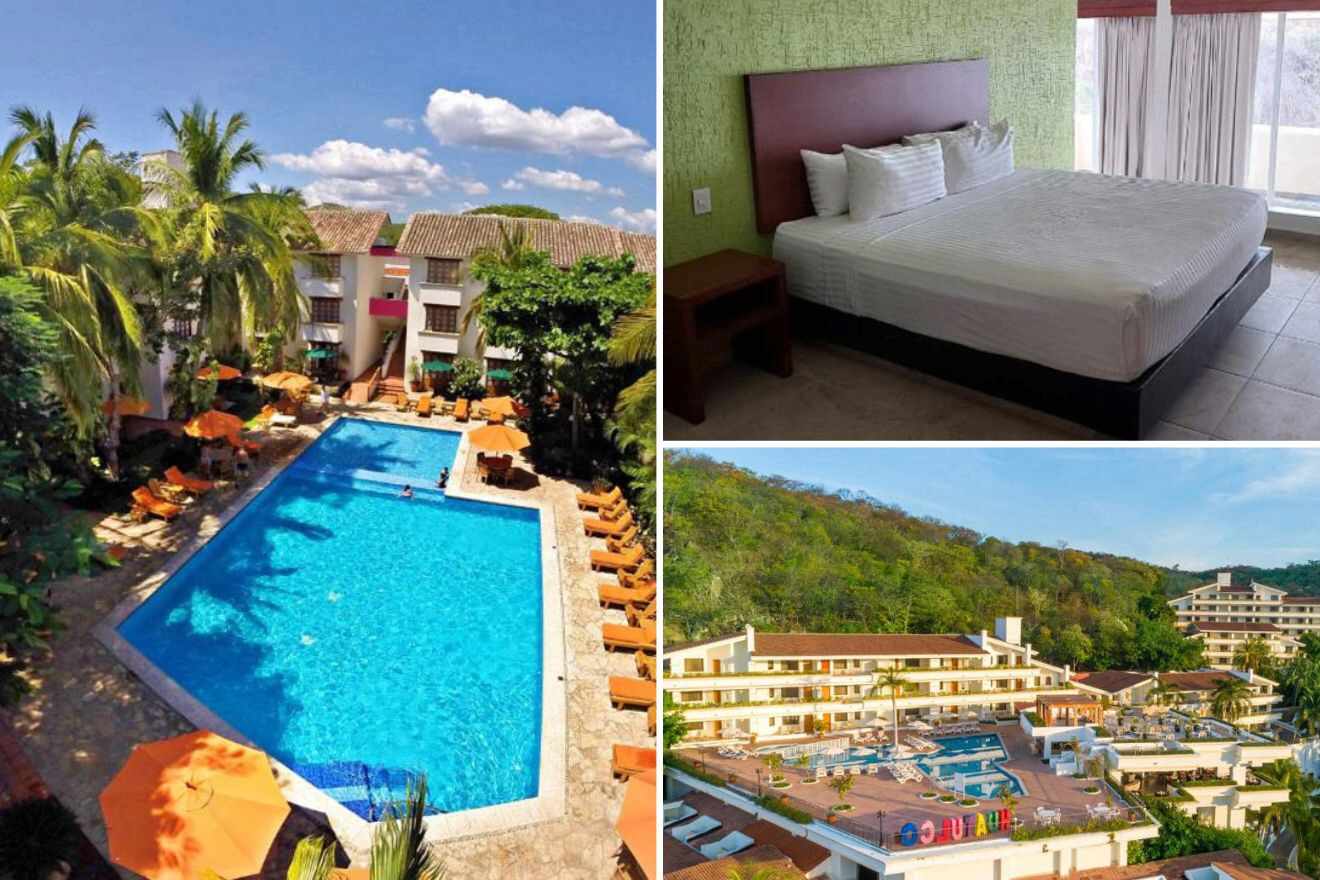 Park Royal Beach Huatulco – Enjoy Santa Cruz with your family staying at Park Royal Huatulco! This hotel has 2 outdoor pools, where people of all ages are welcome, but there are also 3 pools for children! Want to relax at the spa? Then do it while your kids play at the spa pool for kids. The hotel has a private beach where you can spend the day, and having a meal at the veranda restaurant will be the cherry on top.
Villa Blanca Huatulco – This cute villa in Santa Cruz has spacious family rooms with a flat-screen TV, air conditioning to beat Mexico's hot summers, and free Wi-Fi. The hotel's facilities are excellent for adults and children: there are 2 swimming pools (one for kids) and an on-site restaurant with a kid-friendly menu!
Villas Coral Huatulco – Located in Santa Cruz, this hotel's room can host families of 6 members or less! The rooms are cozy and come with all the amenities you'll need, from a flat-screen TV to air conditioning. Some rooms even have a balcony or terrace with an ocean view! You can grab a kid's meal for your kiddos at the hotel restaurant and spend your day at the beach, which is only a walk away!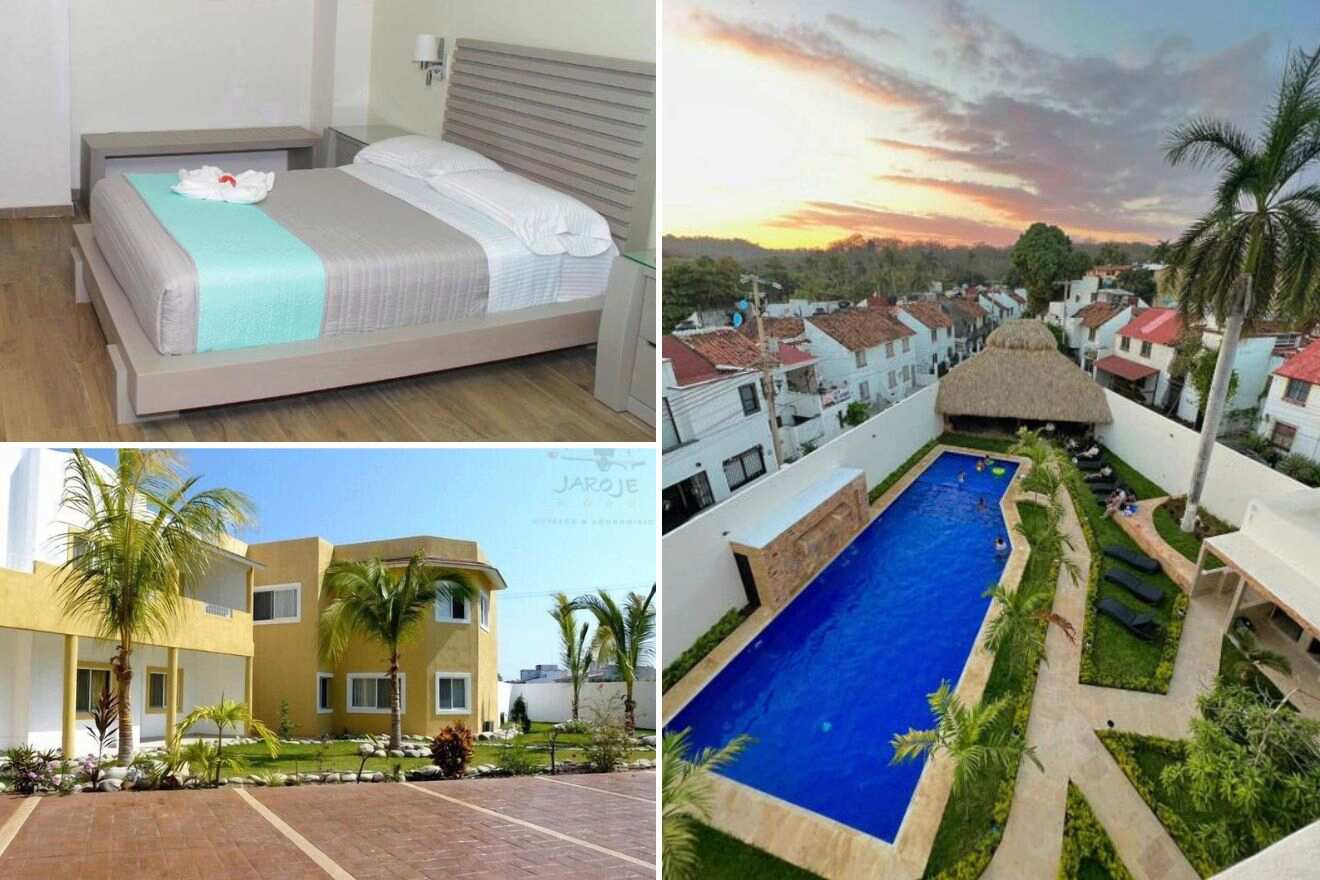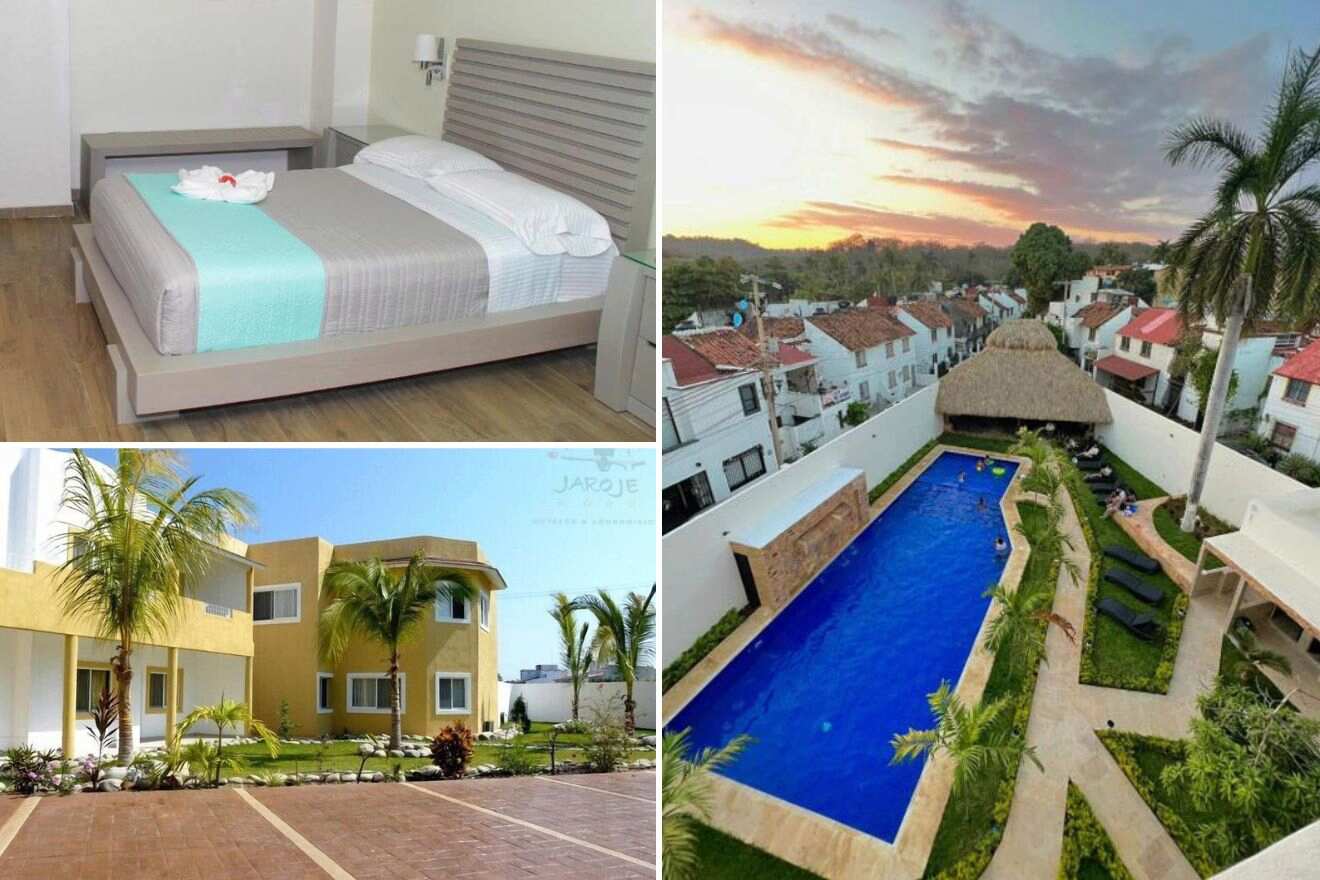 Villas Maria Isabel – I recommend this Tangolunda Hotel to families with older children. The villa is spacious and can host up to 6 people. It has a balcony overviewing the pool, a flat-screen TV, and air conditioning to relax inside the rooms! You can access the shared pool from the villa, and the beach is about 15 minutes away!
Mayev Express – This is a great hotel if you want to stay in the city center with your family! The rooms host up to 4 people and come with a minibar, free Wi-Fi, and a lovely city view. The hotel has a superb swimming pool and fun activities like walking tours and bike rentals to explore the city. You can start your day with a continental breakfast at the hotel and then walk to the closest beach, around 1 mile (1.5 km) from the hotel!
Condominios JAROJE – If you have a large family, Condominios JAROJE in Santa Cruz is the perfect option! Their 3-bedroom apartment hosts up to 10 people and has a private kitchen, air conditioning, and a spacious terrace with a great garden view! The hotel has a swimming pool shared with all guests, and the beach and city center are both near!
BONUS 2: Best vacation rentals in Huatulco
Do you want to feel like you're in a movie and rent an entire villa? I've got your back! Here are 6 of the most breathtaking villas that will make you feel like a movie star! It doesn't matter if you are looking to go on holiday with your family or friends, there is something on this list for you!
I've ordered them from most to least expensive, and the prices start from US$200 to US$950: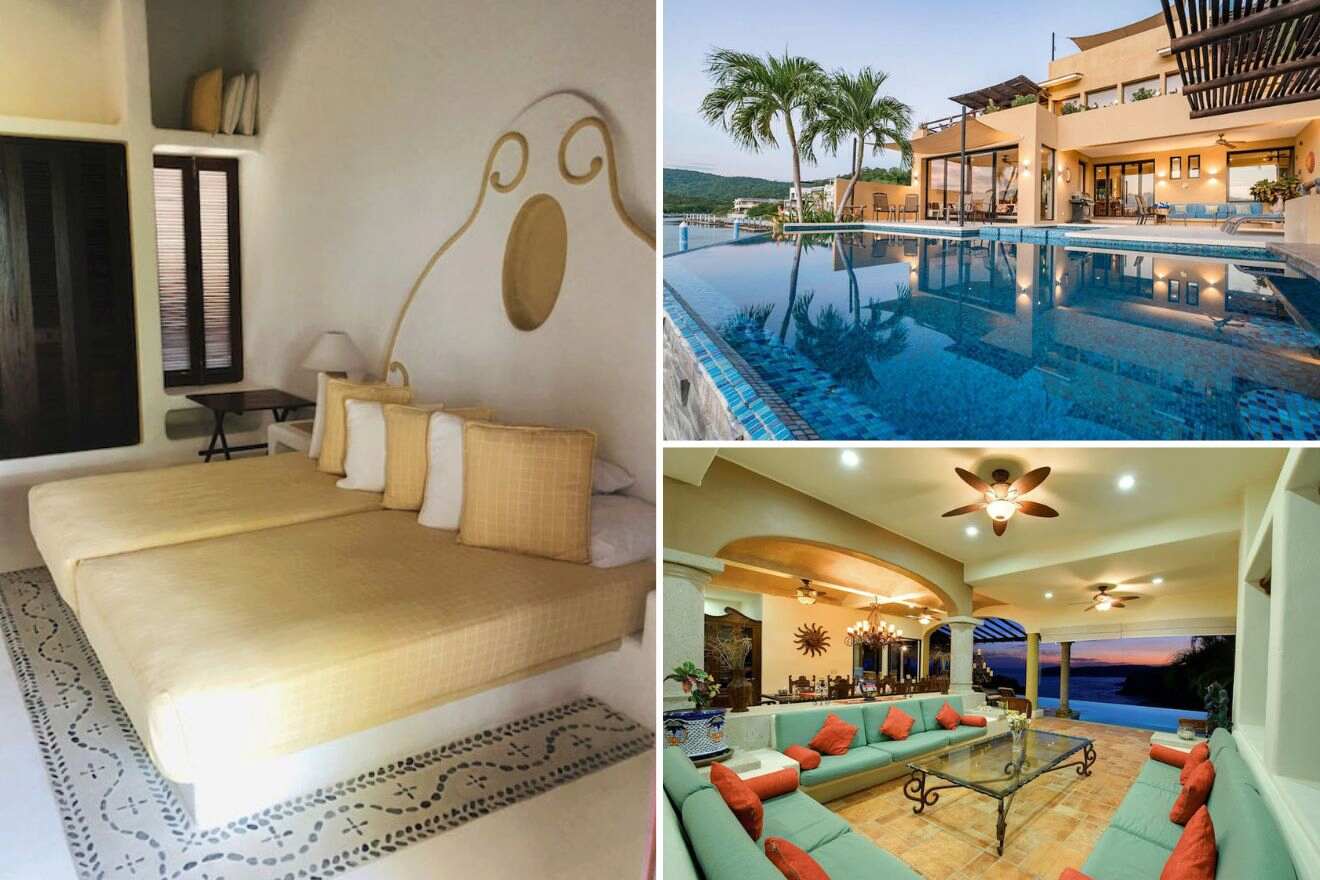 Exclusive Villa with Private Beach – This amazing villa located in Balcones de Tangolunda looks like a dream! Overviewing the breathtaking Pacific Ocean, it has a private beach with kayaks accessible only from the villa and a private pool! Up to 15 people can stay at this accommodation, and the price includes a top chef (you have to buy the supplies) and 2 housekeepers.
Oceanfront Beach View Villa – Located in Violin Beach and Bay, this stylish villa (for 11 people) has fantastic views and an infinity pool to take trendy Instagram pictures, a cook, and a maid not to worry about your next meal or cleaning! The beach is only a few steps away, and on your way there, you will see many restaurants where you can stop to enjoy a drink!
Oceanfront Villa – Vacay in style and stay in this villa located in Chahué Bay. It has an infinity pool and a swim-up bar – perfect for you and 9 friends of yours to have a dreamlike holiday! If you feel adventurous, you can take a cooking class at an additional cost, making the whole experience even more special.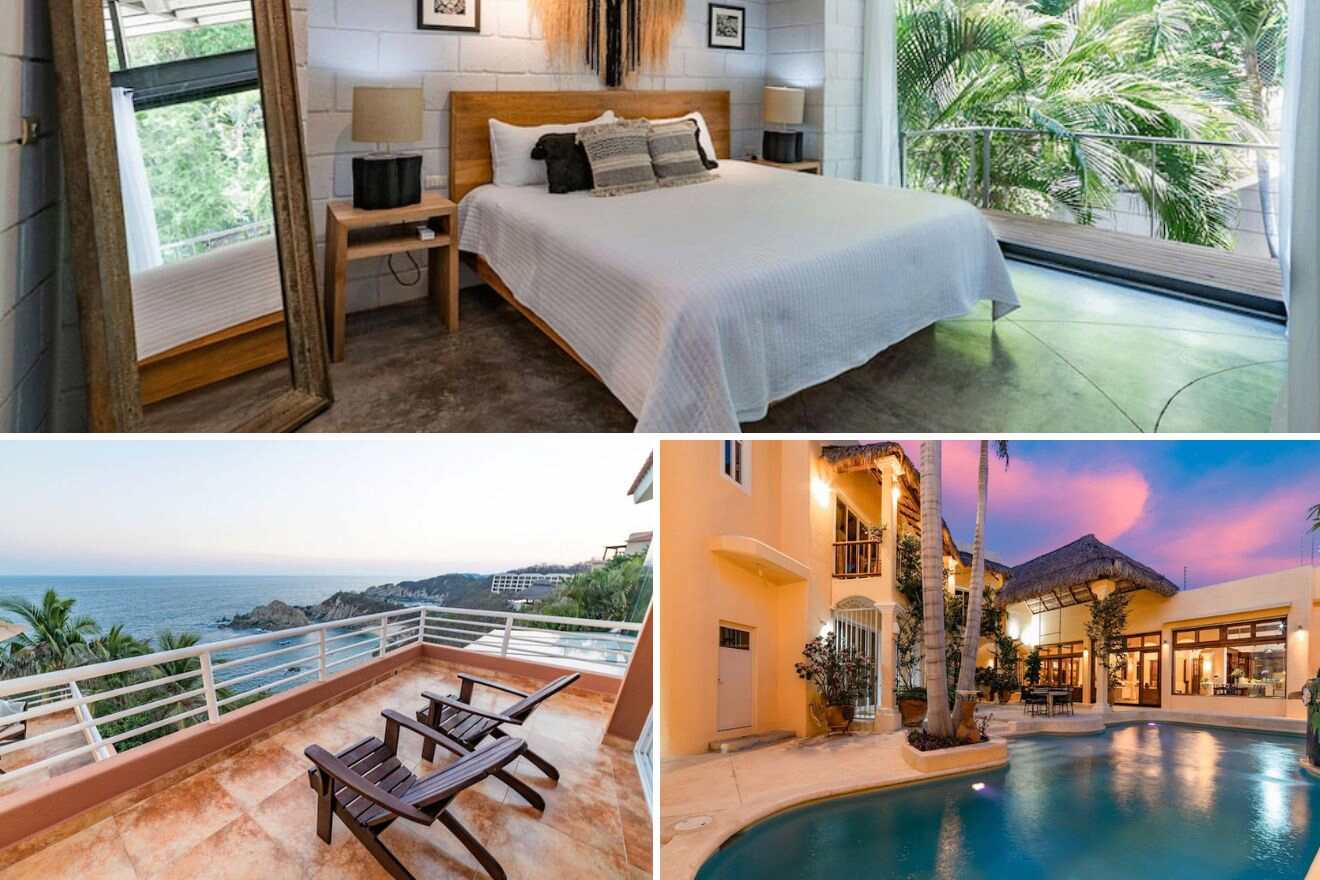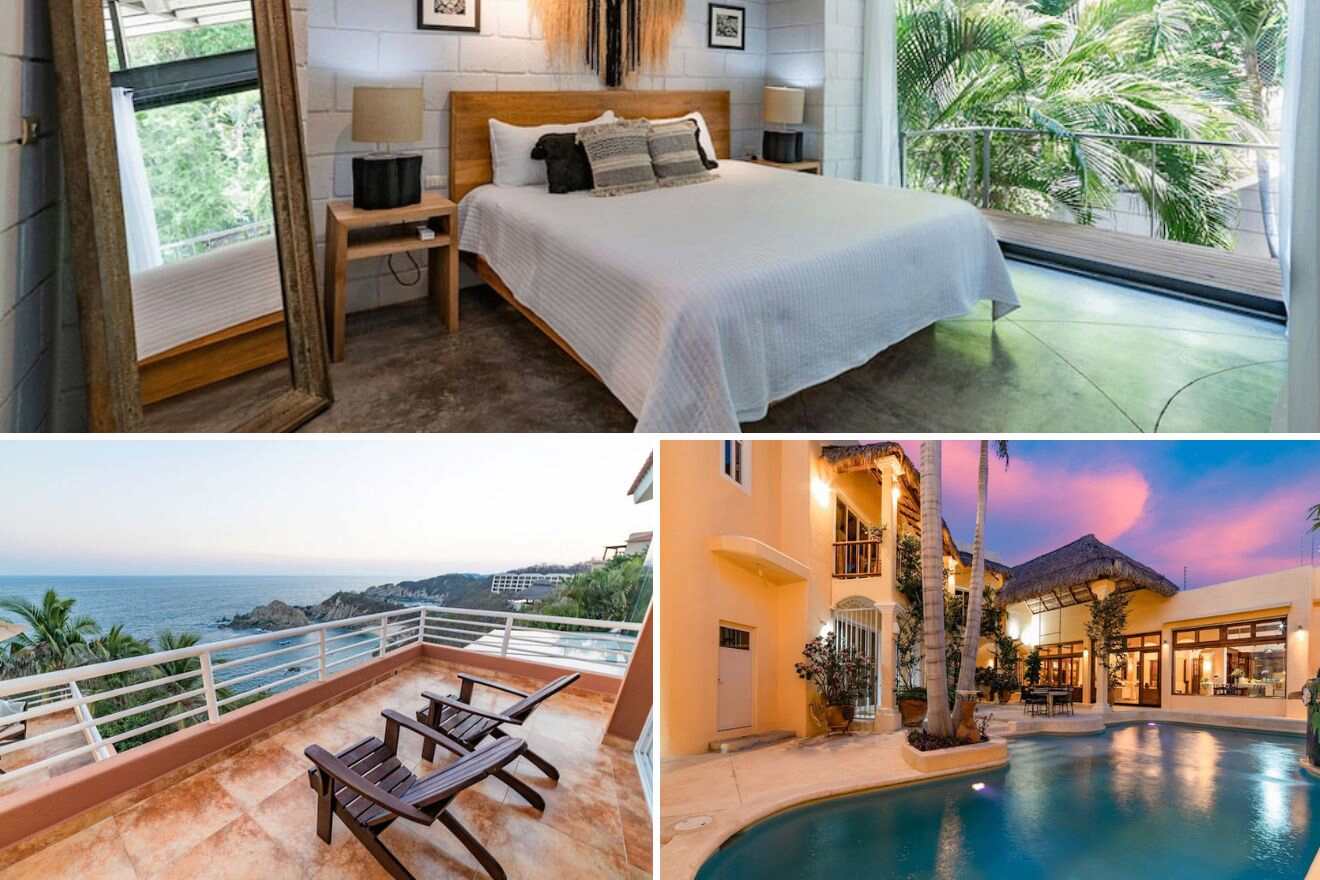 Luxury Oceanfront Estate – POV: You and 7 of your friends travel to Huatulco to spend the days of your lives relaxing in a swimming pool with ocean and mountain views, preparing meals that you can enjoy in nature! Mesmerizing, isn't it?! The villa has 4 suites, and 2 people can stay in each suite, all of which have astonishing views!
Private Escape Into an Artist's Paradise – This artsy and rustic accommodation located in Sector M can host up to 12 guests and comes with 5 rooms, a terrace with a pool, and summery palm trees to relax and listen to music while you sip homemade cocktails with your friends! Cook with your friends in the spacious kitchen and eat on the terrace. There is a caretaker available at all times in case of need!
Modern Home With Private Pool – Stylish, bright, and spacious, located in Santa Maria, this home is great for a small group of 4 looking for a private vacation! It is ideal for staying in, preparing homemade meals, and relaxing by the pool while absorbing Mexico's natural vitamin D! If you want special services, contact the landowner and arrange something, depending on your needs. The world is your oyster!
FAQs about the best Huatulco Mexico resorts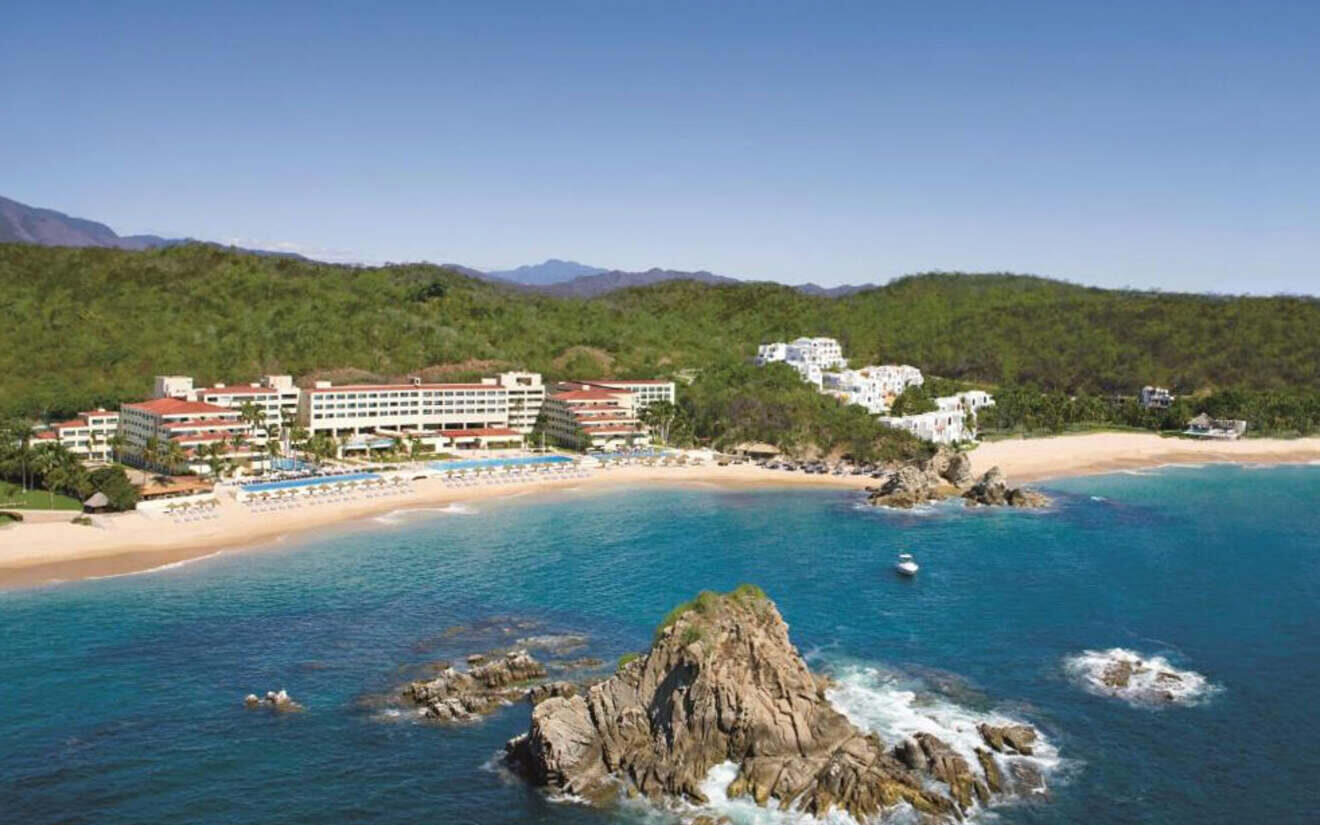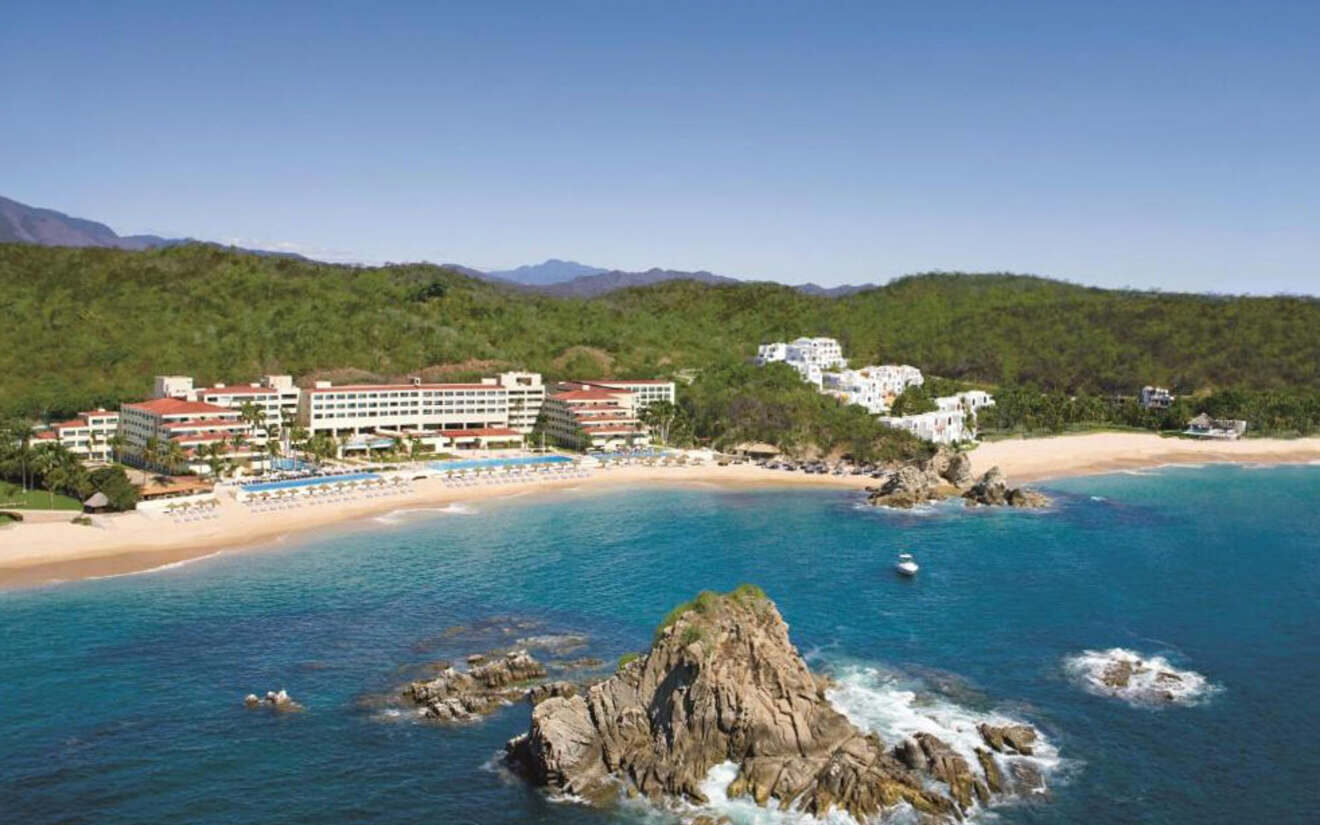 Conclusion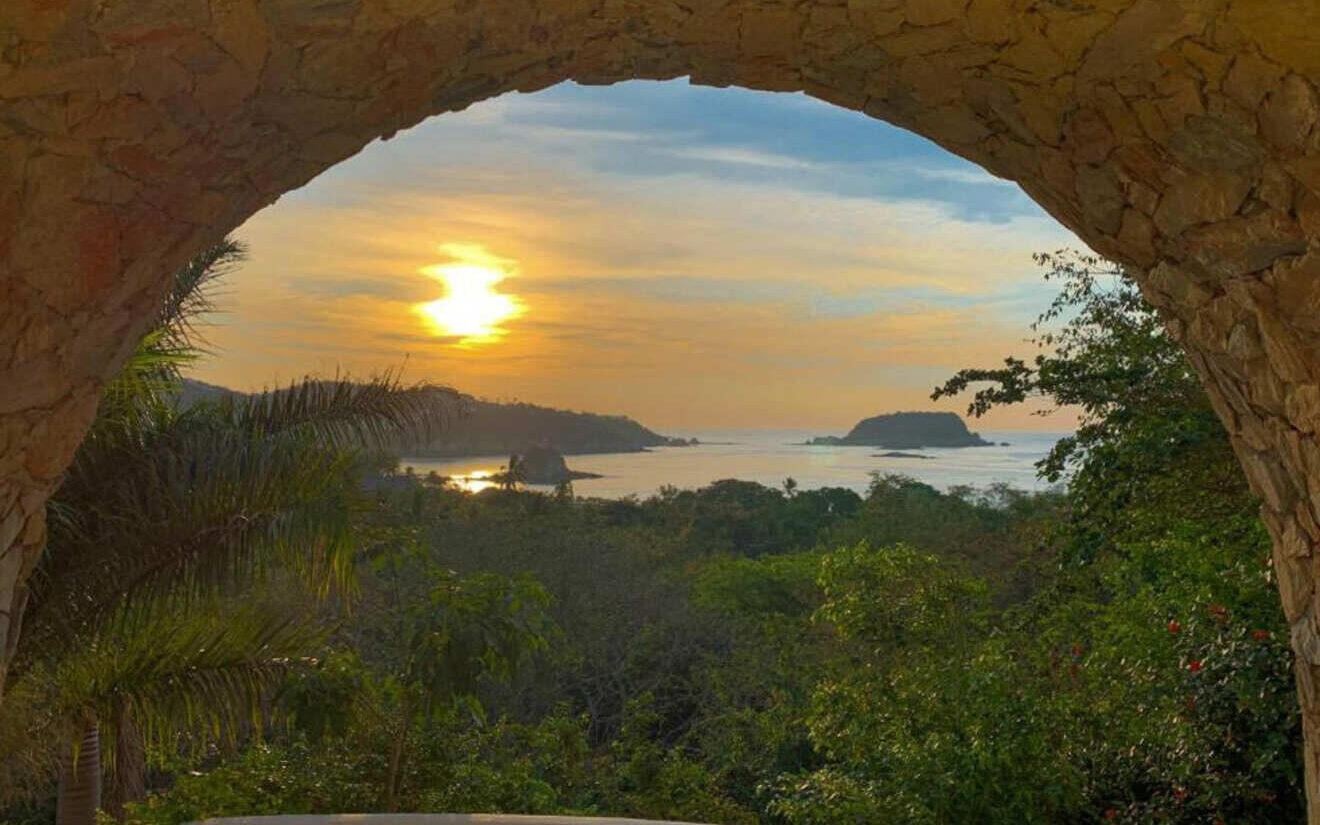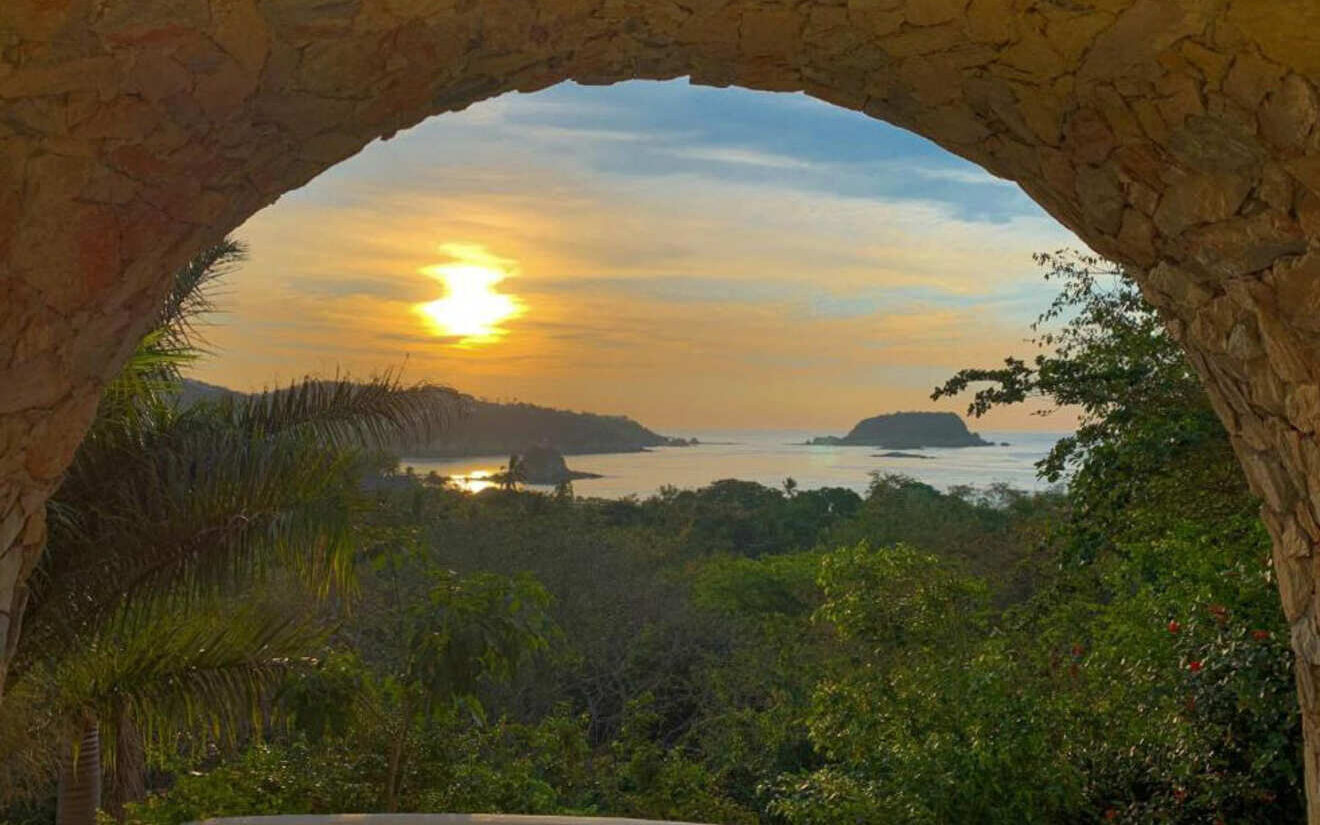 Oh, la la! So many different types of accommodation and all of them are considered the best Huatulco, Mexico resorts! We covered the best all-inclusive resorts, luxury, mid-range, budget accommodations, villas, and family resorts!
What's my favorite Huatulco resort, you wonder? Well, I will name 2:
Secrets Huatulco Resort & Spa – An all-inclusive resort in a great location! I like that it is an adults-only resort with a hotel nightclub. If you go dancing and get tired, your room is 5 minutes away!
Barceló Huatulco – This one feels super modern and would be great for anyone! Solo travelers, families, couples, or friends! An onsite theater is a big plus if you want to enjoy the local art!
As I always say, book in advance as you don't want to miss the chance to stay in your dream hotel!
Which one was your favorite? Let me know in the comments! And if you have any other questions, ask away. I will answer ASAP!
Safe travels,
Daniela
---
Pin it for later!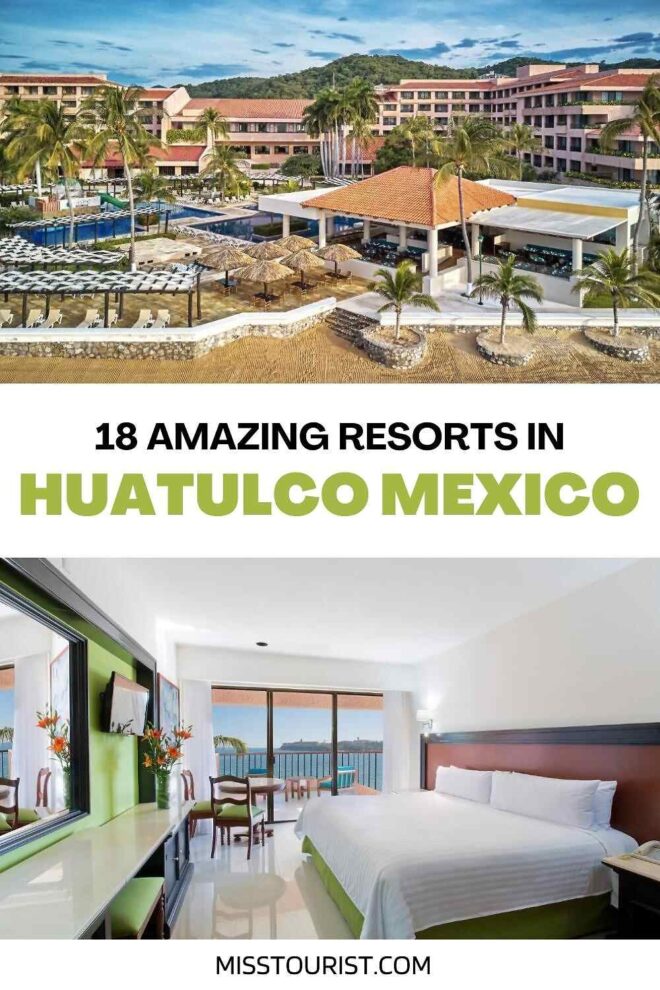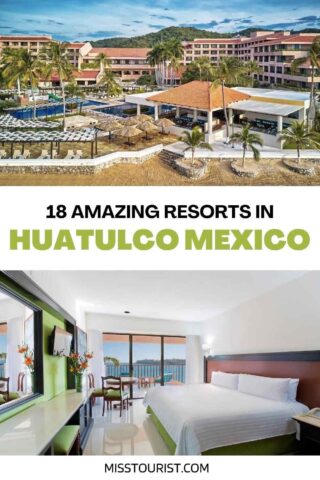 Pin it for later!