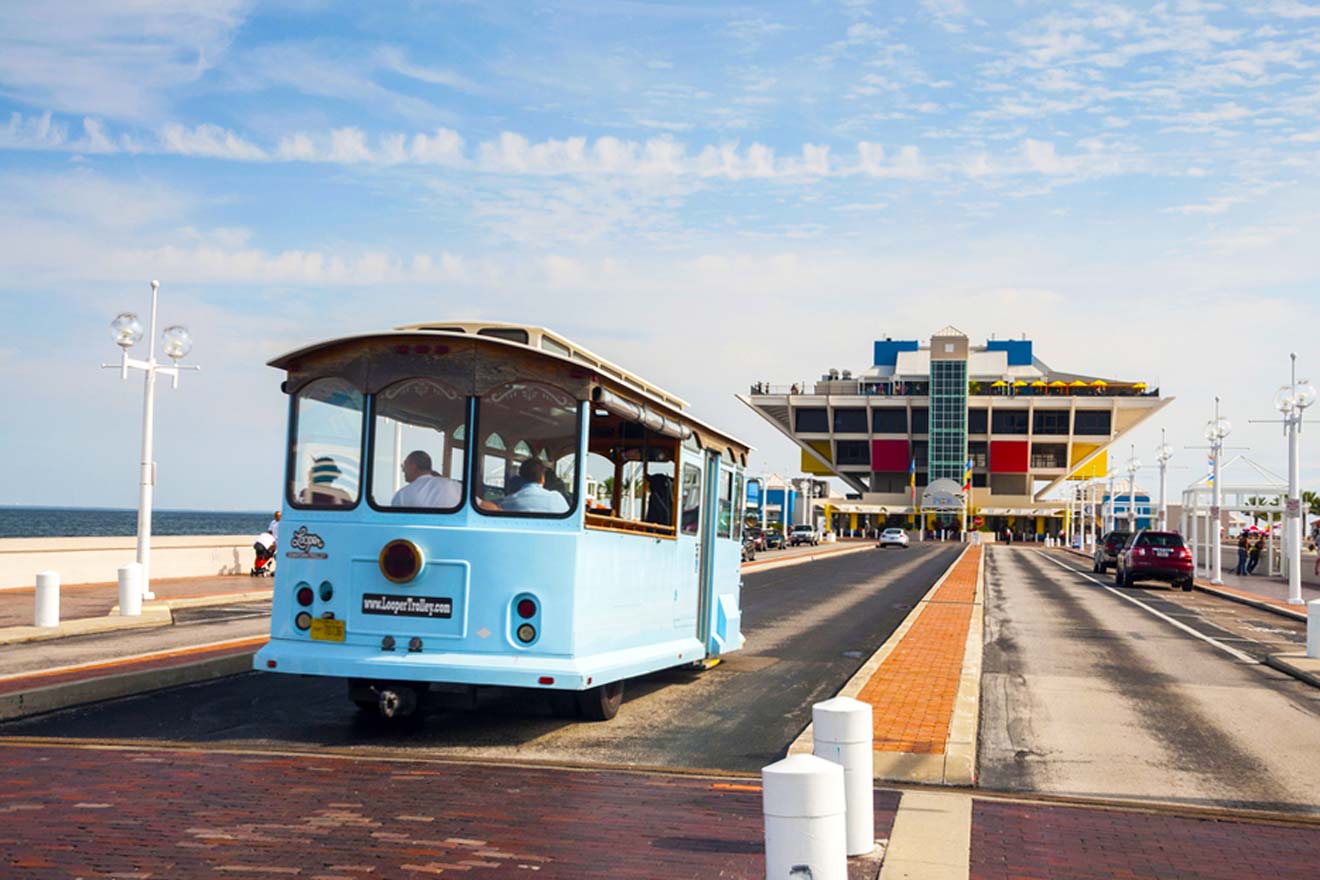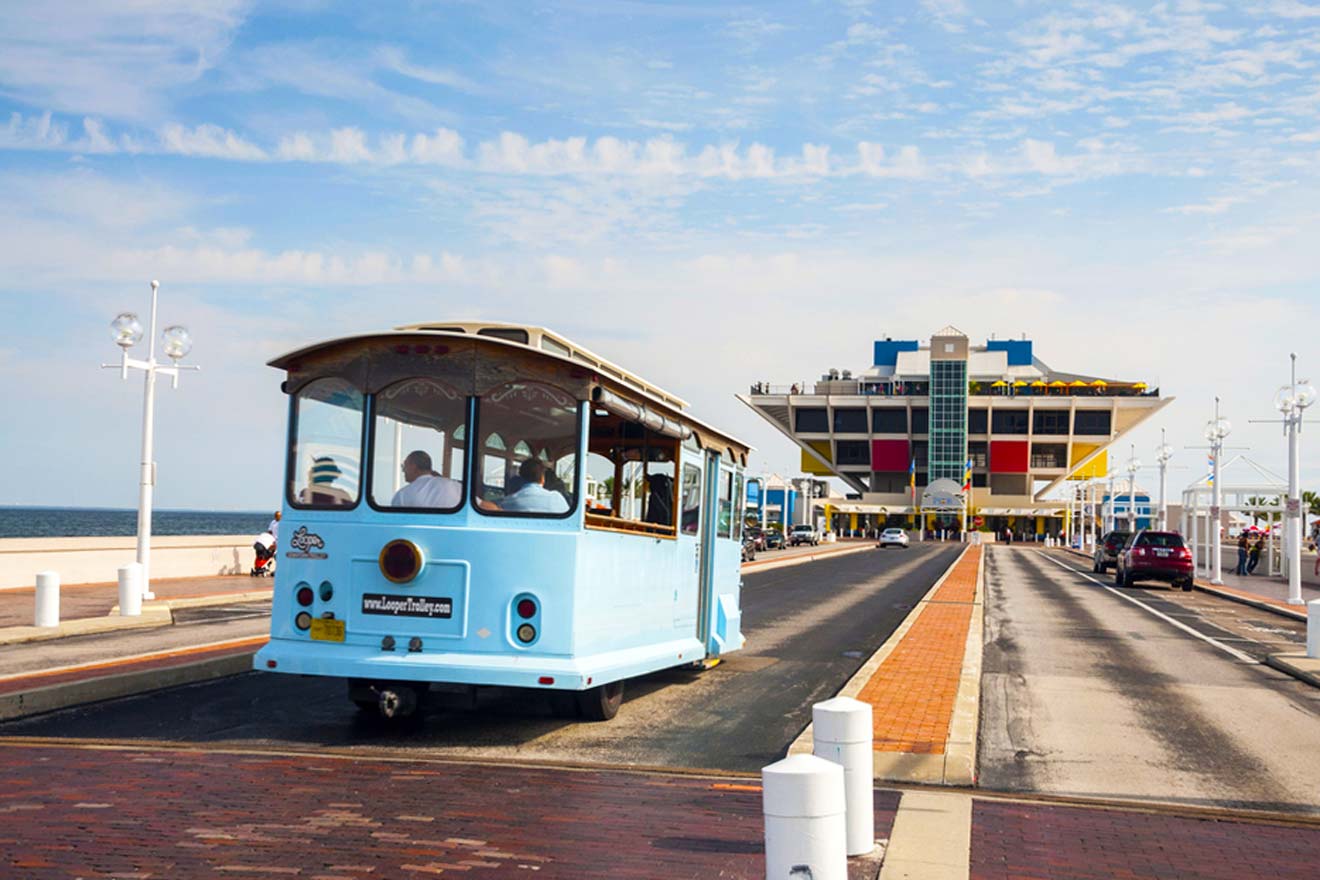 Looking for the best things to do in St. Pete FL? As a Florida local and self-acclaimed Florida adventurist, I am going to let you in on some hidden gems and local secrets in St. Pete!
The vibrant art scene in this funky city is what draws many visitors in – and with good reason. St. Pete is an excellent destination for those looking for a cute artsy beach town, fantastic museums, incredible nature, fun outdoorsy adventures, and so much more.
Holding the Guinness World Record for 768 consecutive sun-filled days from 1967 to 1969, it's not hard to see why this gorgeous coastal city is nicknamed the Sunshine City!
So if you're looking for a little sunshine, an eclectic and refined art scene, gorgeous beaches, incredible hikes, unique museums, and great places to eat, St. Pete should be high on your list for your next weekend getaway!
If you couldn't already tell, I really love this Gulf of Mexico city. I'm not alone in that, either. So many Florida locals from all over the state love to pay a visit to this sun-filled city every now and again!
Now, let's get into the most fun and exciting adventures awaiting you in St. Pete, FL!
If you are in a hurry
If you don't have time to read the whole post, here are a couple of my favorite activities in St. Pete! These amazing tours sell out quick, so I recommend booking in advance!
Here are the main things to book in advance:
1. See some incredible art at the Salvador Dali Museum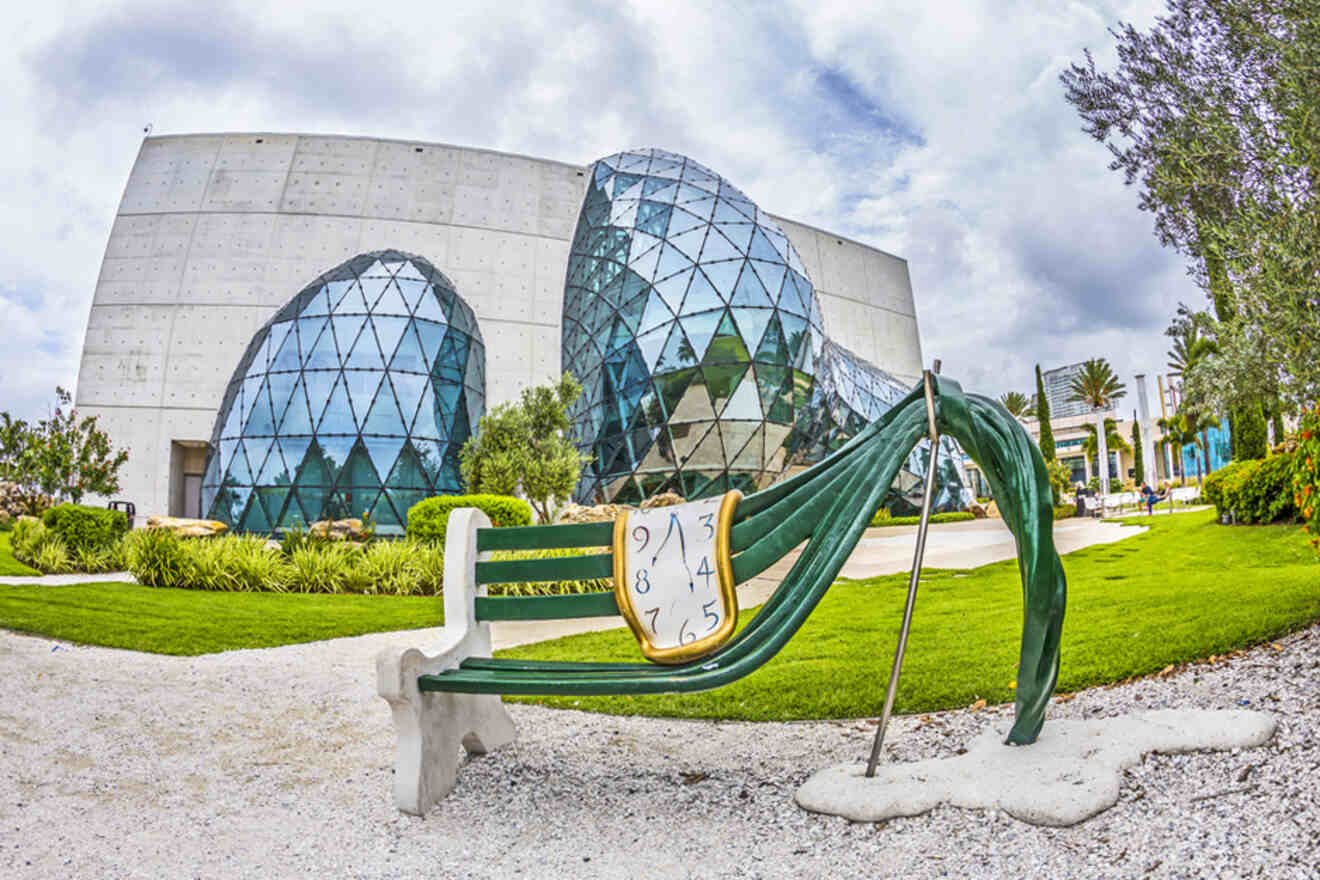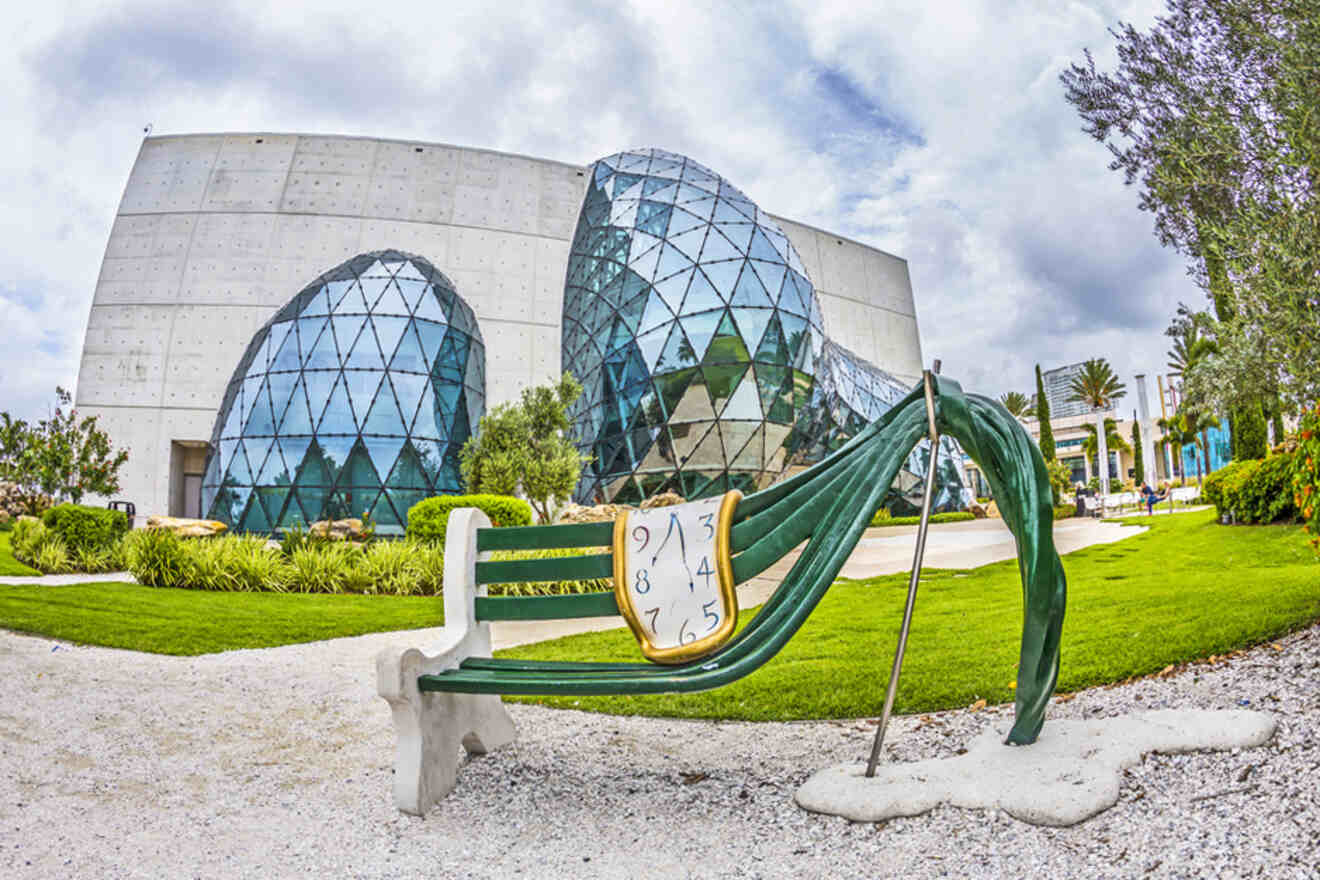 Art lovers unite! Home to the largest collection of Salvador Dali's artwork, the Salvador Dali Museum is definitely one of the coolest things to do in St. Pete.
The Dali Museum attracts fans from all over the globe, as Dali has had one of the biggest influences on the art world next to Monet, Van Gogh, and other art giants.
The building itself, situated just a stone's throw from the water, is fantastically modern and features some incredible space-esque architecture.
With huge skylights, a glass dome, swaying palm trees, and bubble-like construction, the Dali Museum building is a sight to behold both from the outside looking in and the interior.
To give you an idea, there are over 1,000 windows in this funky futuristic building letting in a plethora of light and creating the perfect environment to see Dali's work.
As I mentioned, the Dali Museum in St. Pete is home to the largest collection of his work. So you can peruse over 2,000 pieces of his work, with each room uniquely decorated to match the essence of each piece of work.
The people who designed this museum did an excellent job at creating the perfect funky home to his eclectic works. The architectural design of the museum totally encapsulates his essence as an artist.
See some of his greatest and most popular artworks like The Discovery of America, The Hallucinogenic Toreador, Eggs on a Plate Without the Plate, and more.
There are other iconic artists featured at this museum, such as Pablo Picasso, Andy Warhol, and M.C. Escher.
PRICE: US$25-US$29
2. Check out the oldest botanical garden in Florida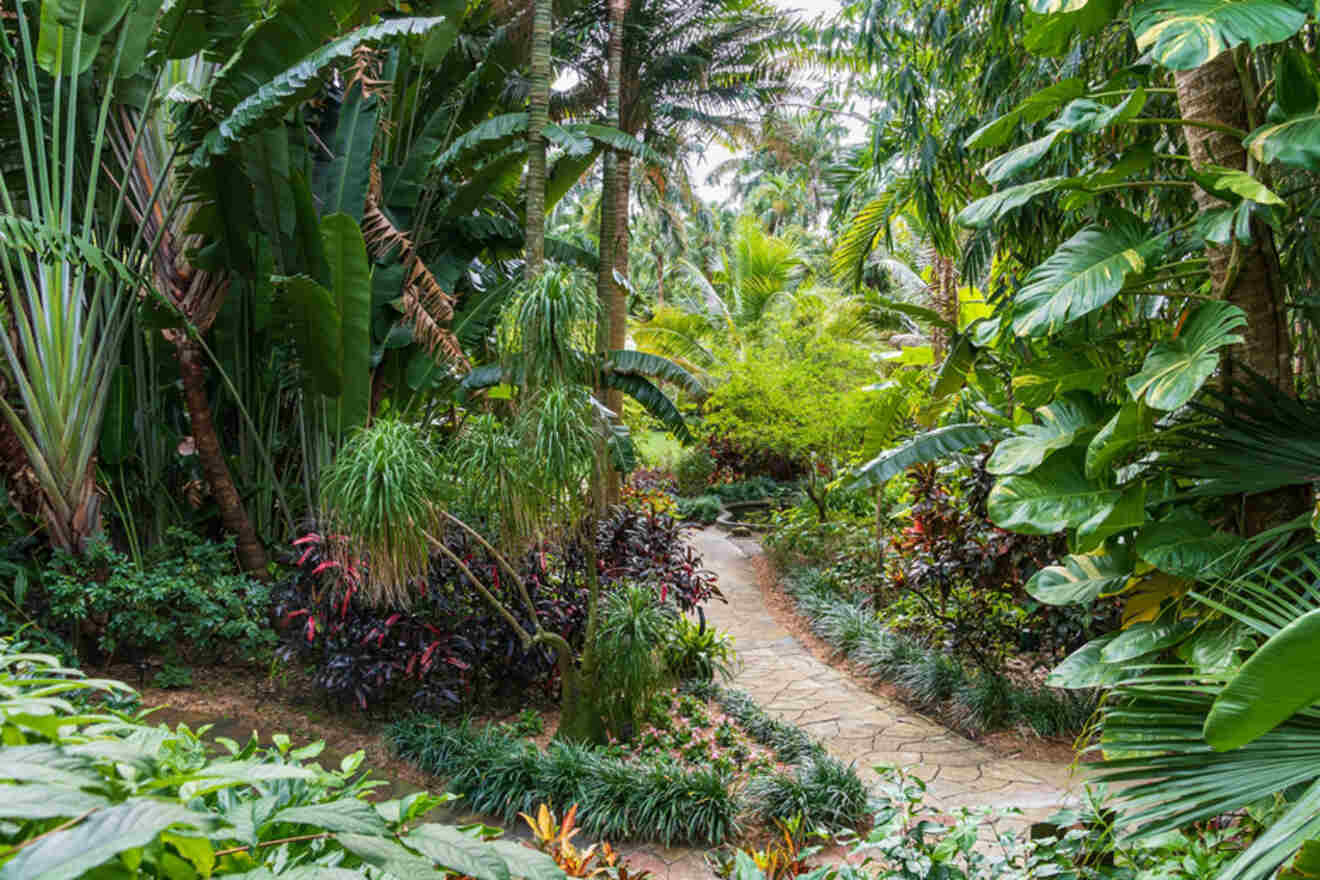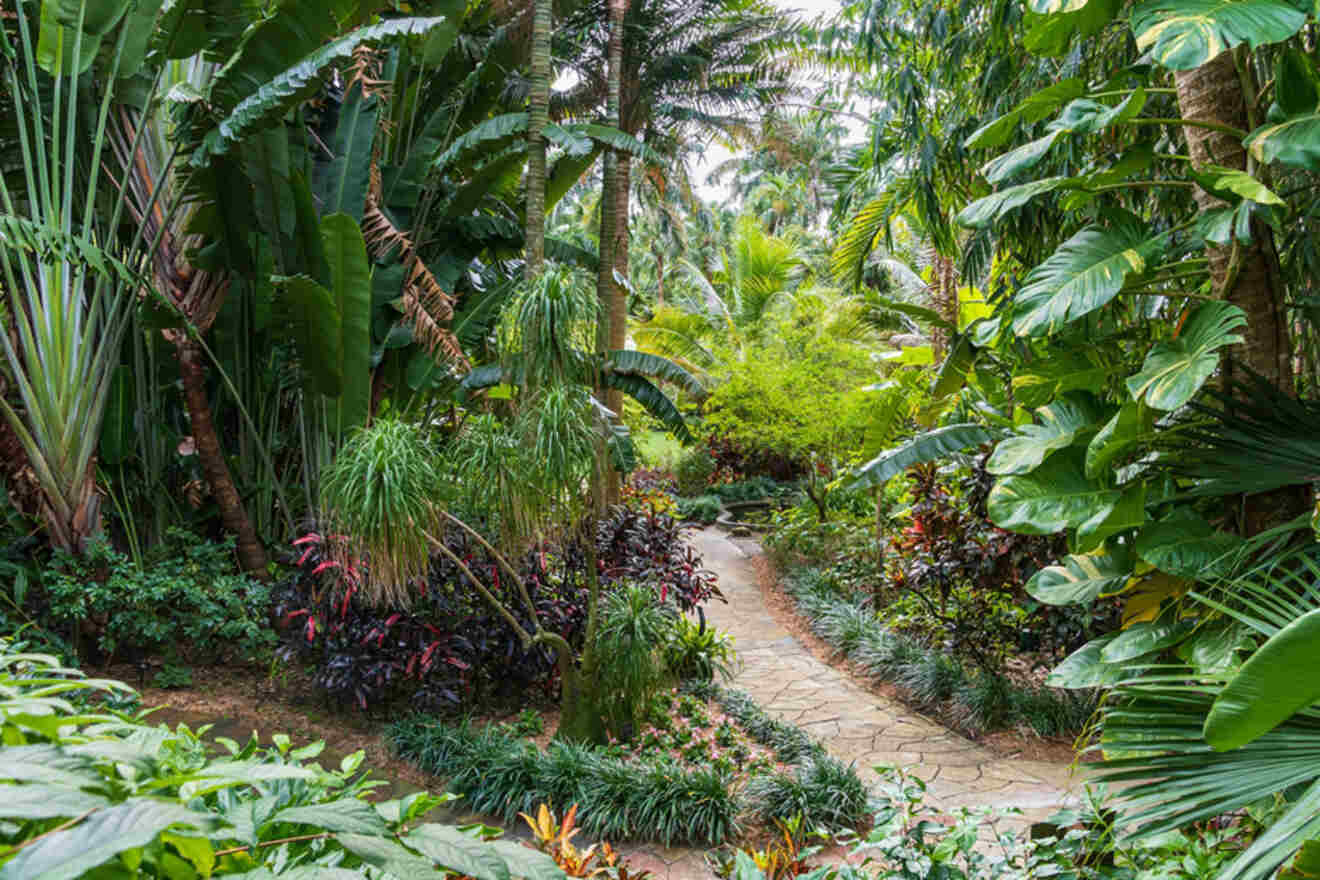 Over 100 years old, the Sunken Gardens is a truly incredible experience to be had in St. Pete.
There are plenty of botanical gardens in Florida. However, seeing one that has aged like fine wine with stunning tropical plants over 100 years old is a super rare and special experience.
Since the Sunken Gardens are a century old, they have literally sunken into the Earth, hence the name, Sunken Gardens!
Spanning 4 acres in St. Pete, while this botanical garden is somewhat small in size, it is one of the most iconic botanical gardens in the country. There is this timeless energy about it that is difficult to pinpoint while you're there. However, the energy just feels antique in the best way, so I have no doubt that you'll love it as much as I do!
With over 50,000 varieties of tropical plants, some of them the oldest in the country, the Sunken Gardens are truly magical and a beautiful sight to behold.
Nature lovers and plant lovers will especially appreciate these ancient tropical plants and the overall beauty of this botanical garden.
Not only is the flora absolutely incredible, but one of the reasons this St. Pete destination is so popular is the resident flamingo population that just adds to the overall magic of this gorgeous botanical garden!
PRICE: US$15
3. Visit the Museum of Fine Arts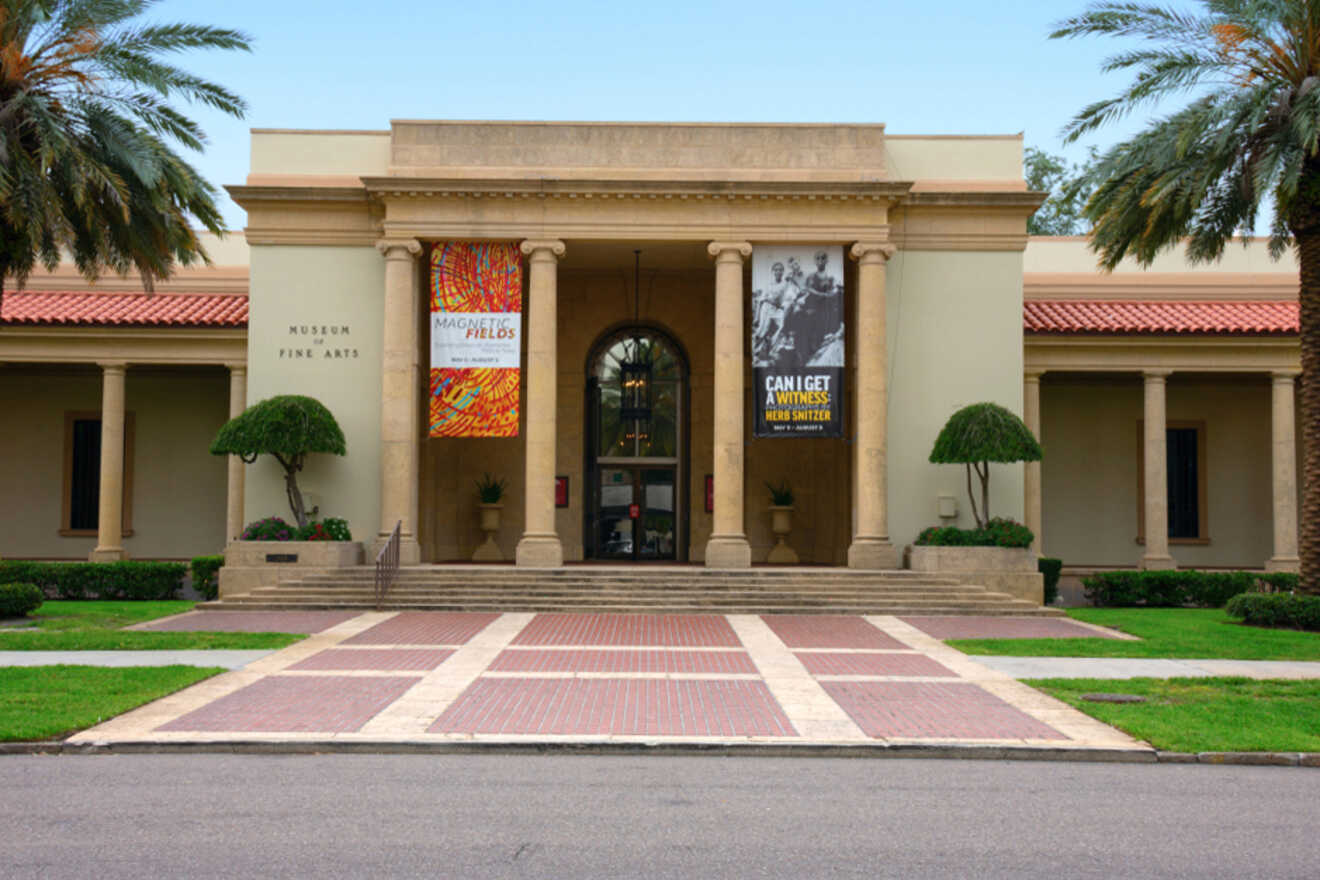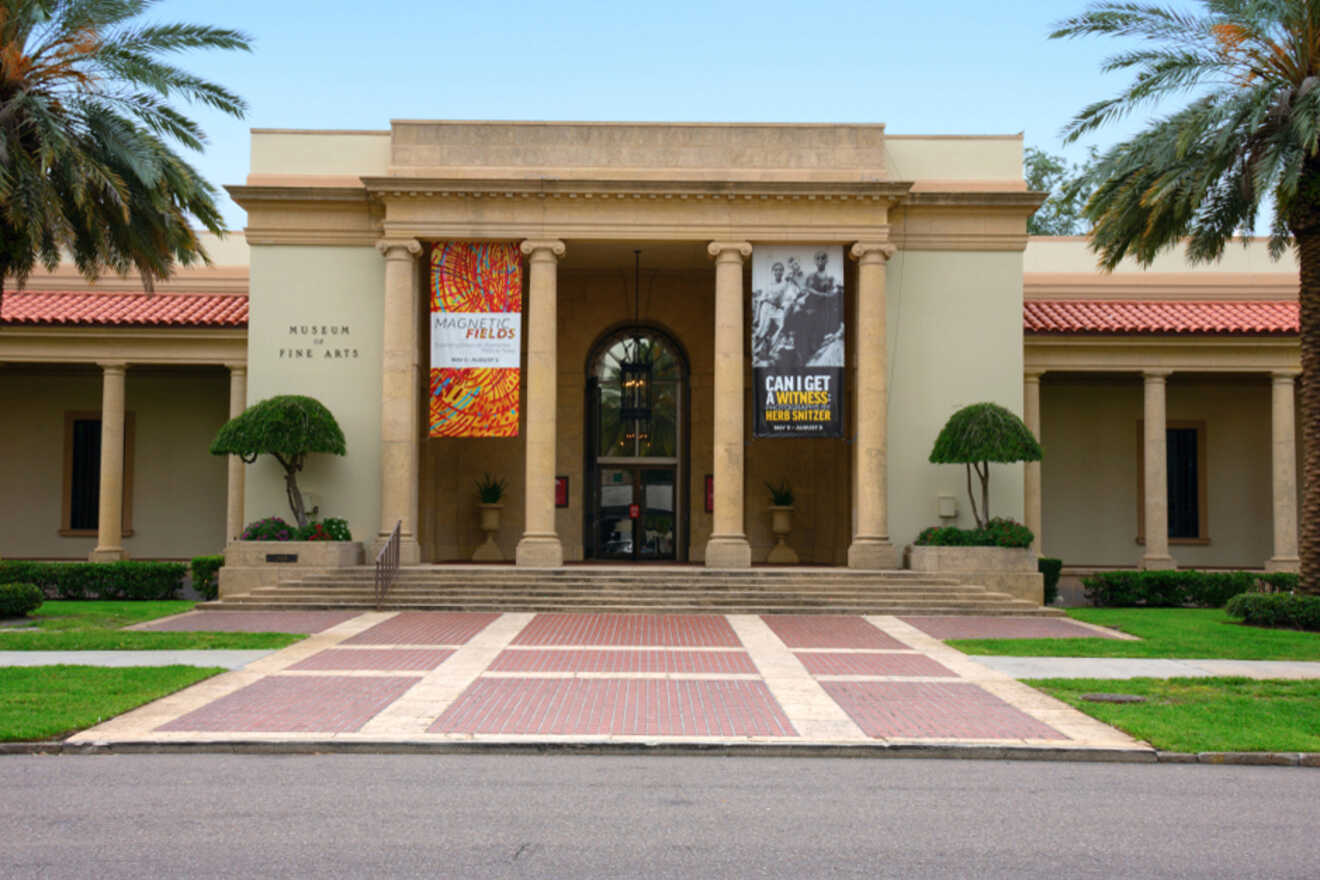 In the downtown St. Pete area, the Museum of Fine Arts is an awesome experience for art aficionados and people who appreciate the fine arts.
Showcasing art pieces dating back 4,500 years ago, the Museum of Fine Arts does an excellent job of documenting the history of human artistic creation. This is one of those places that really inspires the soul!
Another vintage gem of St. Pete, this museum was founded in 1896. Since opening its doors, it has focused on educating and inspiring artists as well as showcasing incredible pieces within the community.
Featuring all types of mixed media pieces and artistic works from giants such as Monet, Renoir, Steuben glass, pre-Columbian artifacts, French impressionist paintings, an interior sculpture garden, and an extensive photography collection.
PRICE: US$22
4. See Florida's wild side at the Boyd Hill Nature Preserve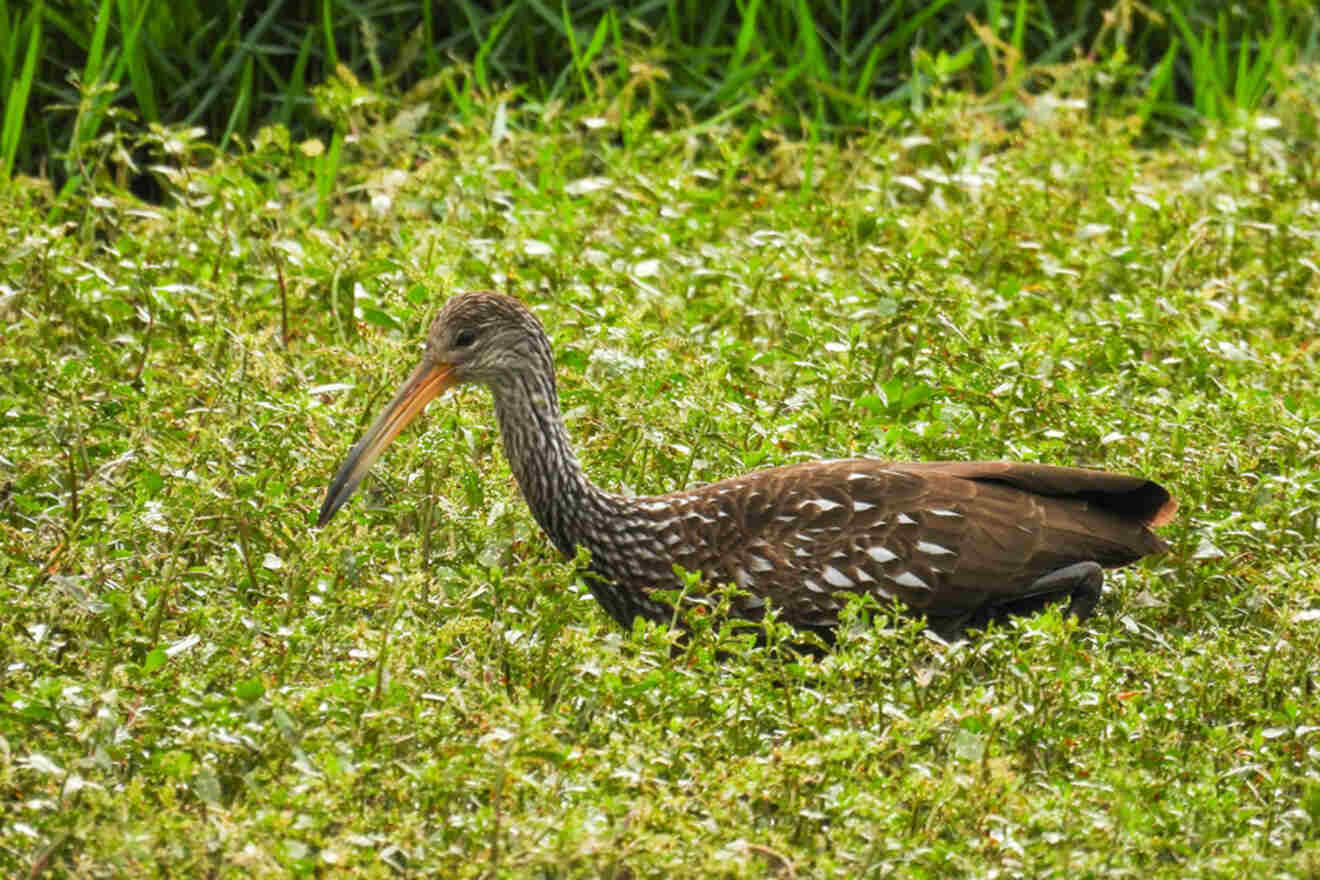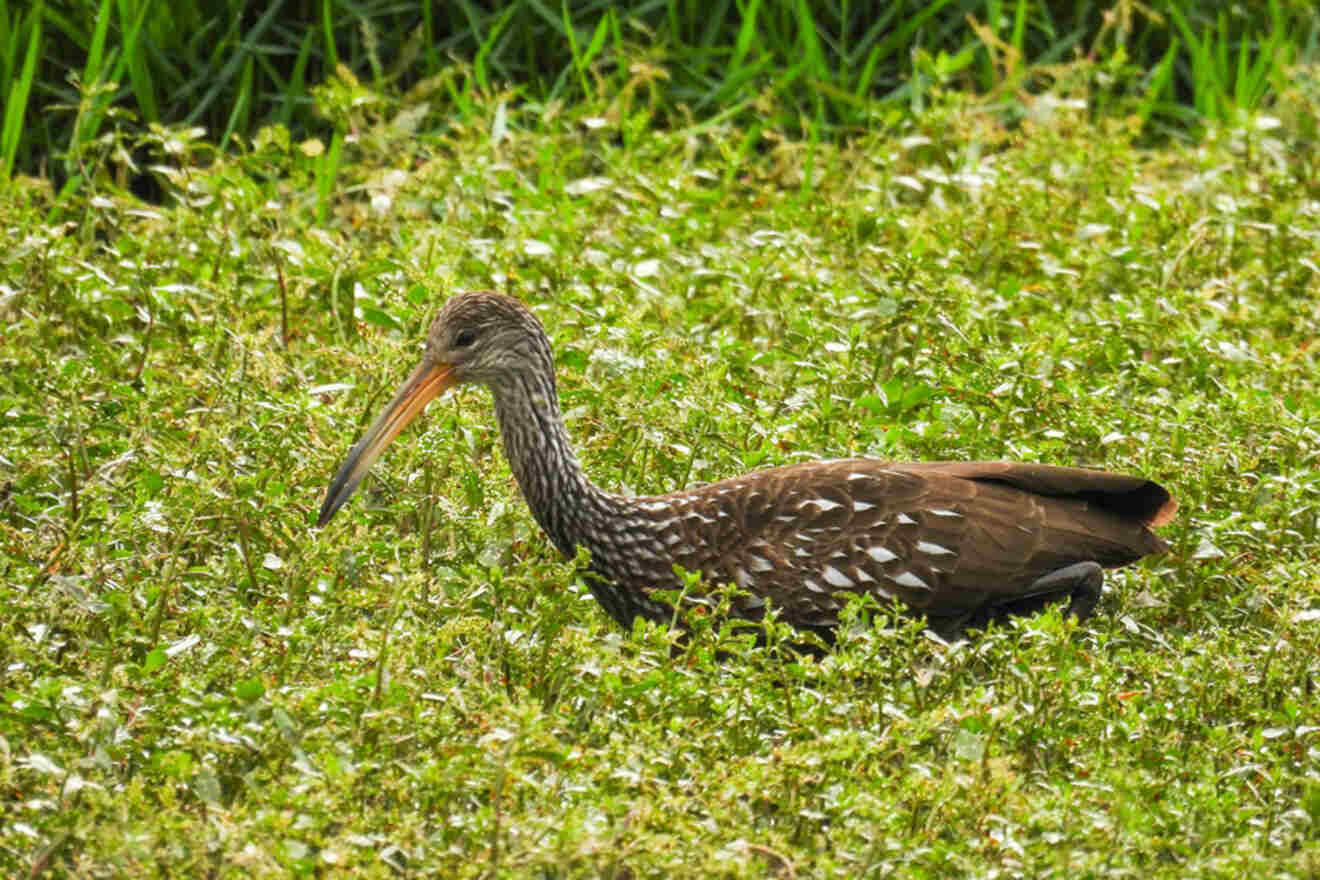 You absolutely cannot go wrong when visiting the Boyd Hill Nature Preserve. This stunning preserve spans almost 250 acres in St. Pete!
The Boyd Hill Nature Preserve has six miles of trails, boardwalks, and absolutely stunning natural landscapes that will just take your breath away.
On the shores of Lake Maggiore, this incredible nature preserve has all sorts of diverse flora and fauna, turkey oaks, sand pines, native wildflowers, and so much more.
This ancient landscape is home to a diverse array of interconnected ecosystems such as wetlands, swamp woodlands, pine flatwoods, and upland sand scrub habitats!
One of the most beautiful aspects of this landscape is the willow marshes, home to incredible viceroy butterflies! These butterflies are just STUNNING – bring your camera!
There are guided tours that teach you all about the ins and outs of this unique landscape.
The Boyd Hill Nature Preserve is also a part of the Great Florida Birding Trail, so this is an excellent place for bird watchers and seeing an incredible array of bird species.
There are picnic tables for planning a beautiful picnic in nature, overnight camping facilities, a playground for the little ones, and a fun gift shop!
While you're at Boyd Hill, I highly recommend taking this amazing bike tour! You'll see all the most beautiful parts of the preserve and come across wildlife like alligators and native birds! It's a 2-hour tour and mountain bikes are provided for you!
PRICE: US$55 for the bike tour
5. Take the family to the Great Explorations Children's Museum
If you're looking for things to do with family in St. Pete, FL, this is one of the best family-friendly activities!
The Great Explorations Children's Museum is one of the top learning centers in the state of Florida.
This hands-on and interactive experience welcomes young people of all ages to participate in enriching and educational experiences that will expand their mind and keep them learning at every turn!
The Great Explorations Children's Museum has created super imaginative and innovative learning experiences for kiddos, providing a super unique experience with all sorts of dynamic and interactive exhibits.
One of the exhibits that children who love animals will enjoy is the Pet Vet exhibit. This exhibit allows young ones to learn about caring for animals, as well as a mini supermarket where the kids can pretend to be their parents and go food shopping!
Another exhibit teaches them about how to cook and properly use a kitchen. The Critter Cave allows them to have hands-on experiences with small amphibians and reptiles!
There is also an ocean-themed structure called Longo's Cove, allowing for all sorts of play in the pretend world of a beach, and more!
There is also a firehouse that teaches little ones about fire safety, art studios, rock climbing, jungle gyms, and traveling exhibits.
The Great Explorations Children's Museum is a versatile, fun, and educational experience that kiddos of all ages will just love!
PRICE: US$12 for adults and US$15 for kids
6. Get outdoorsy at Weedon Island Preserve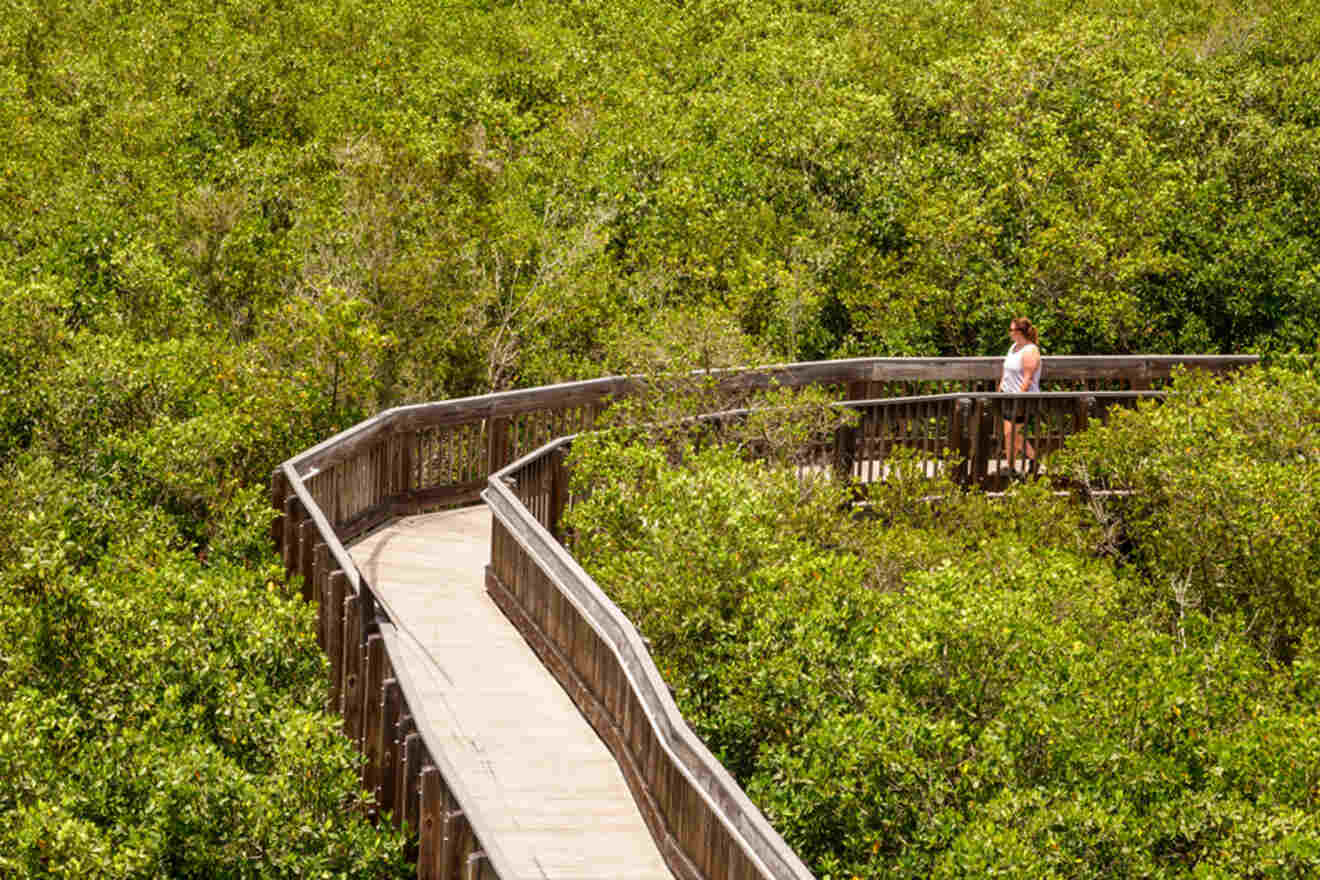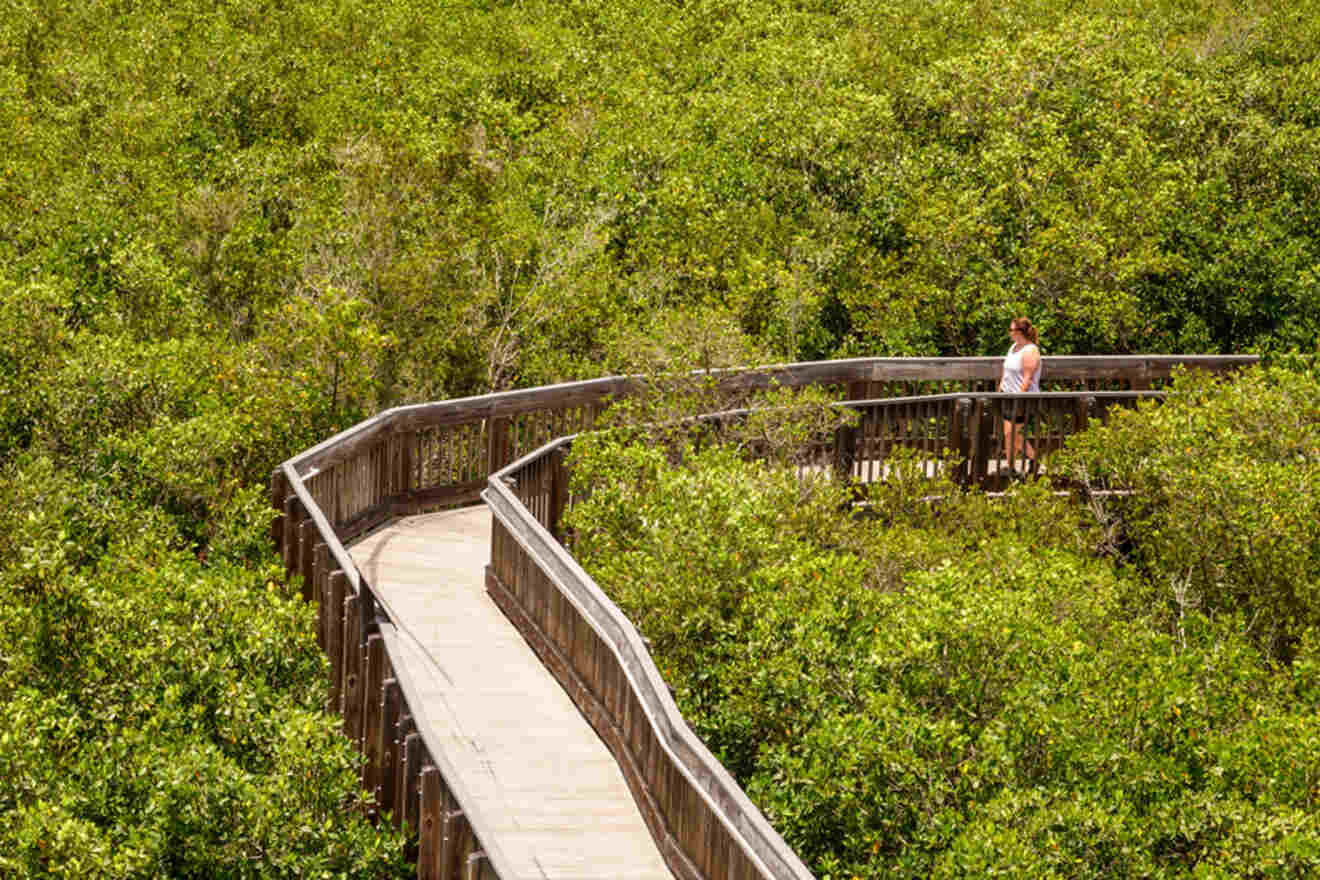 This is by far one of the best St. Petersburg destinations for nature lovers and outdoor adventurers.
Covering a whopping 3,000 acres, the Weedon Island Preserve has coastal habitats like mangrove forests, tidal flats, and incredible aquatic ecosystems.
There are plenty of boardwalks for nice elevated hikes, bird watching, and fishing for some local catch like Snook, Sea Trout, and Sheepshead.
This is a great place to enjoy a picnic, and spot wildlife like stingrays, dolphins, oysters, incredible birds of prey, and more.
You can also explore the Weedon Island Preserve by kayak or take a guided walk.
If you're feeling adventurous, take yourself on your own guided tour throughout the preserve, there is so much to see, and the diversity in ecosystems is truly astounding.
There is also the Weedon Island Preserve Cultural and Natural History Center with interactive exhibits where you can learn about the importance of this ecosystem to Tampa Bay and Florida at large.
PRICE: Free, but donations are welcome
7. Check out historic Kenwood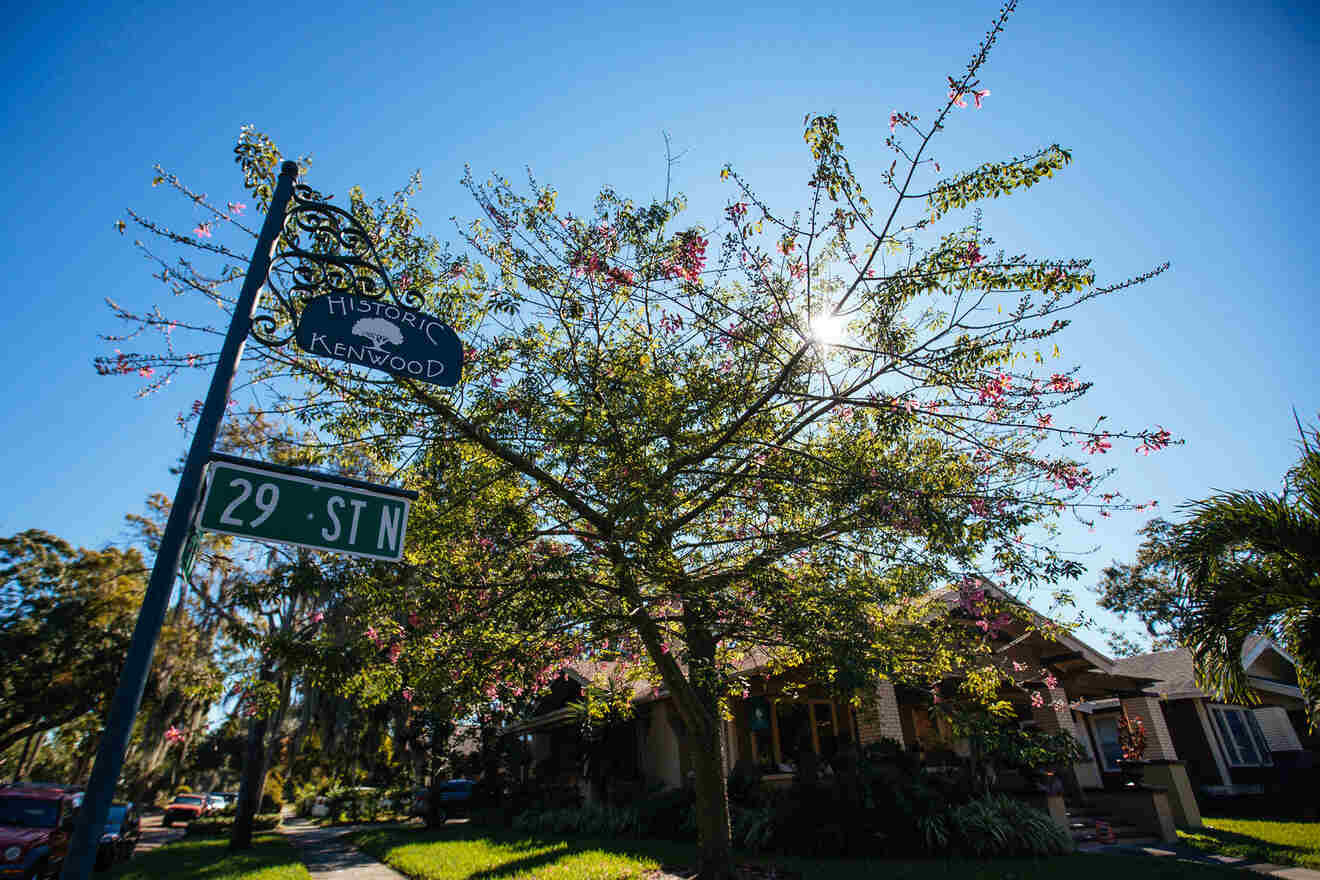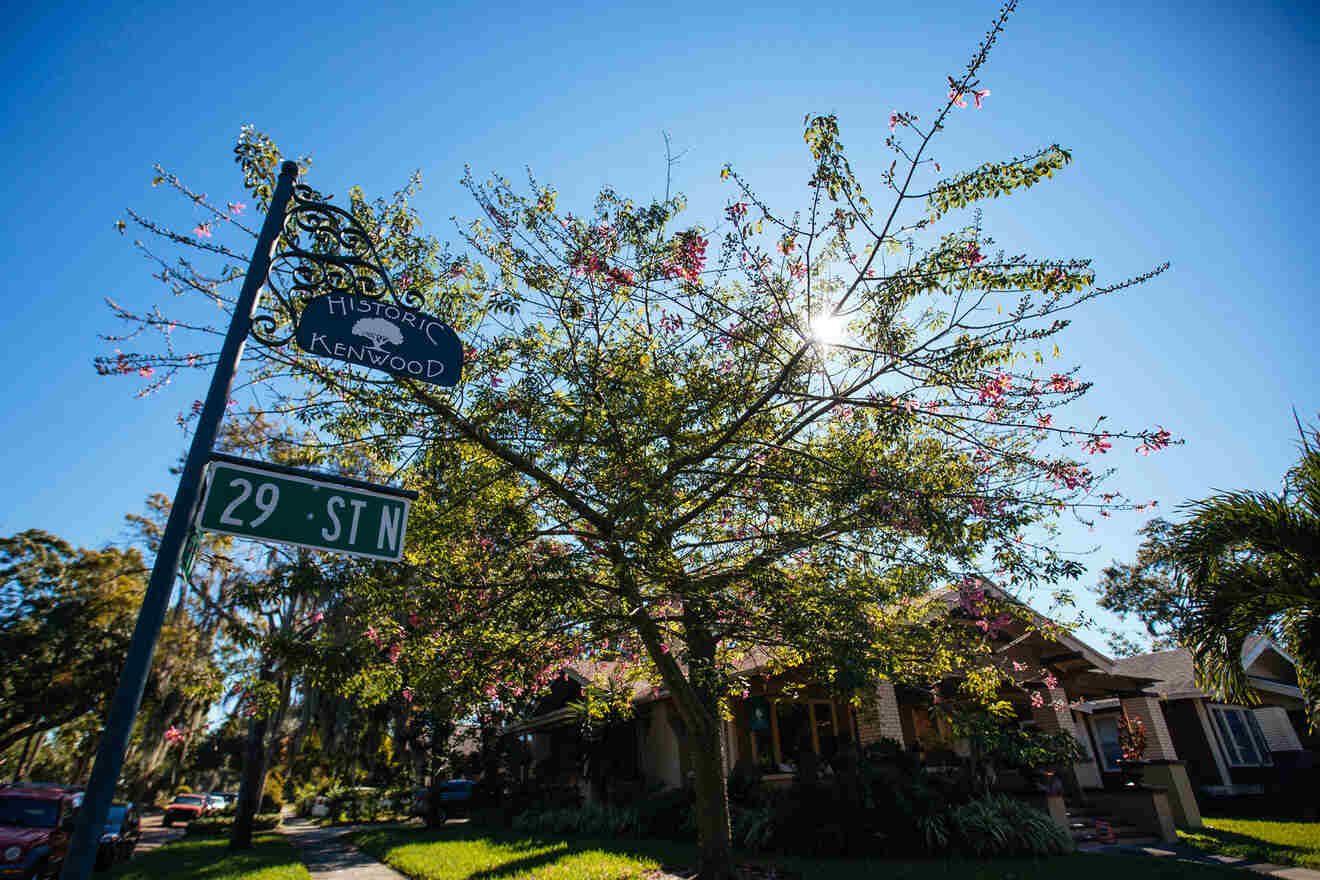 Are you a fan of historic architecture and small-town charm? Make sure you check out the Historic Kenwood neighborhood on your trip to St. Pete!
This charming and historic small town is elegant and welcoming, with charming brick roads lined with old towering trees.
Most of these homes were built between 1912 and 1945. The vintage architectural styles range from Tudor Revival, Dutch Colonial Revival, Minimal Traditional designs, Mediterranean Renaissance, America Foursquare, bungalow architecture, and more!
There are 2,238 historical homes to see. This makes for an excellent place to walk around and take in the vintage vibe!
PRICE: Free
8. See some contemporary art at the Imagine Museum
The Imagine Museum showcases contemporary glass art with works dating back to the 1960s, as well as modern pieces.
This St. Pete museum displays over 500 studio glass works with a total of 1500 pieces on display.
In Florida, this is the most extensive collection of studio glass art. The Trish Joy collection is on display at this incredible St. Pete Museum.
There are also glass artists such as the Buddha installation and Labino and Littleton.
If you're looking for a more immersive experience, there are 3 free tours at the Imagine Museum! Here are some details about these tours:
The first one is called the Journey of the Imagination, which is an augmented reality experience using multimedia artistic mediums to provide a unique and informational experience.
The second, Introduction to Studio Glass, takes a comprehensive dive into the history of the studio glass art movement.
The third is called the Introduction to International Studio Glass, showcasing European glass art's development.
PRICE: US$15
9. Take a dip at Fort De Soto Park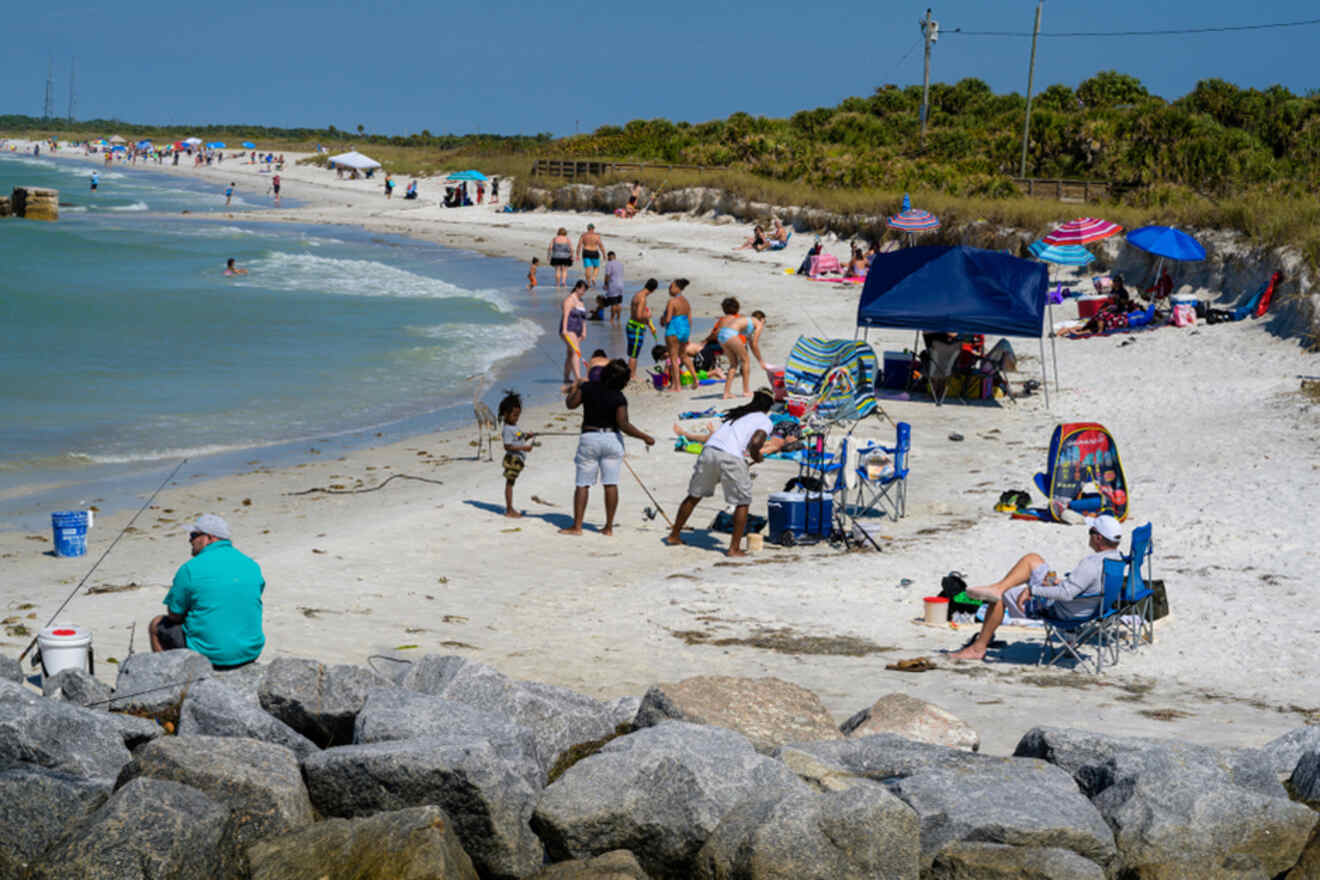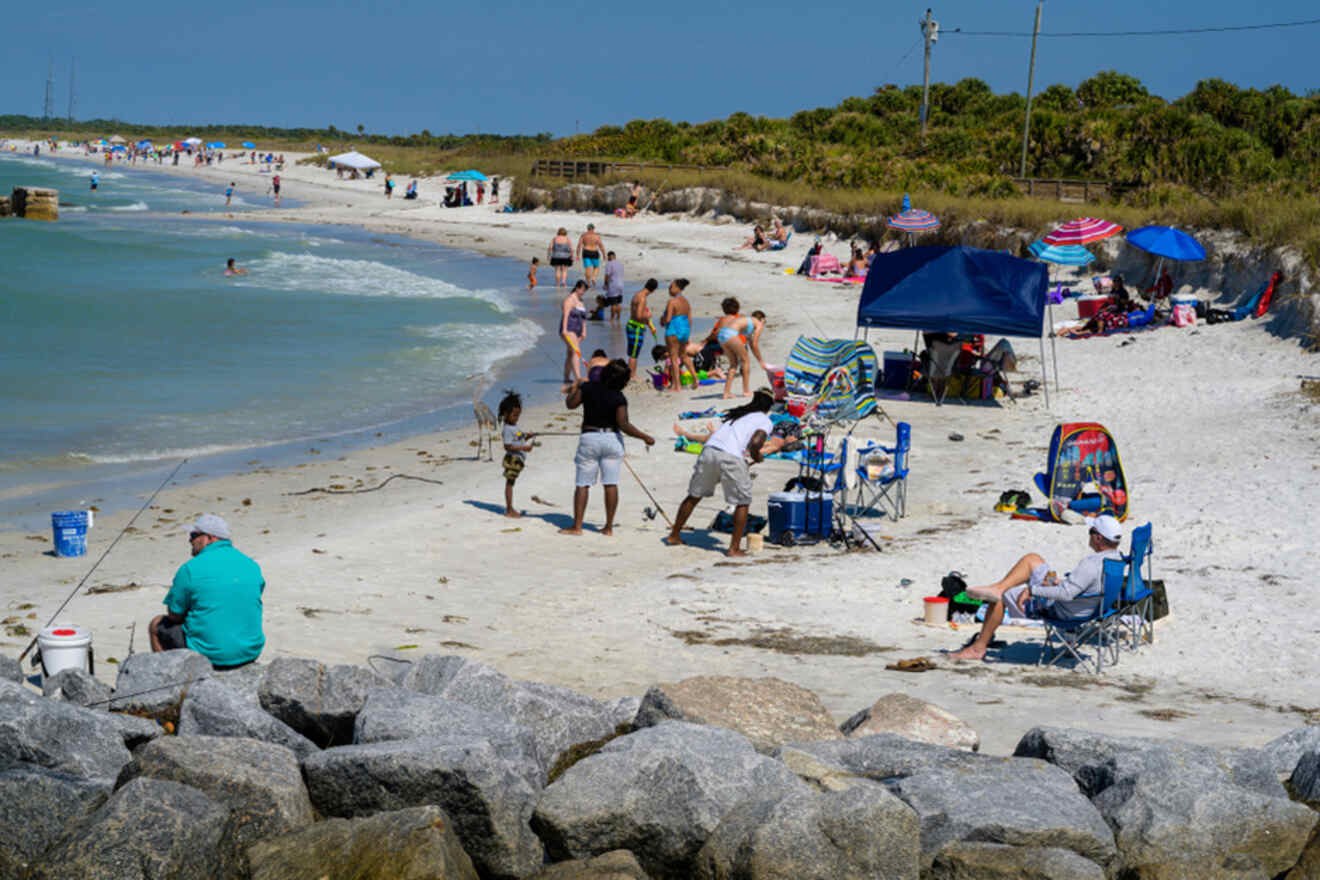 One of the best places to visit for beach lovers, this should be high on your bucket list of places to visit in Florida!
Fort De Soto Park features stunning beaches! With aquamarine and turquoise waters, this is truly one of the most beautiful places to visit in the US.
Fort De Soto is a really beautiful destination for nature lovers and people who love outdoor adventures.
In the Tampa Bay area, this diverse landscape is home to all sorts of ecosystems and habitats. There are two fishing piers, a historic and picturesque fort, a four-mile skating and hiking trail, as well as seven gorgeous miles of waterfront.
There is also camping available here for people who just can't get enough with a mere day trip.
There is also a designated paddling trail that goes on for 2 miles, which is excellent for kayaking and canoeing.
Fort De Soto Park is home to a number of unique and fascinating attractions, such as the Quartermaster Museum, which documents the Spanish-American war and explains the history of the historic fort at this historical and beautiful site.
There is also a popular dog beach onsite, making this an excellent place to visit with your furry friends.
While you're there, I'd go on this really fun speedboat adventure! Feel the wind in your hair as you speed over the seas – and don't forget to look out for those bottlenose dolphins!
PRICE: US$91
10. Go back in time at the Florida Holocaust Museum
One of the country's biggest Holocaust museums, this is a great place to go for an educational experience in St. Pete.
History buffs will be able to learn plenty of sobering and shocking information about one of the world's largest tragedies during World War II.
Housing one of the last nazi boxcars, this museum provides an in-depth educational experience for people to learn this important part of modern history that cannot and should not be forgotten.
The central exhibit at the Florida Holocaust Museum is the History, Heritage, and Hope exhibit. This exhibit breaks down the events that led up to the Holocaust and the important historical events that allowed for such an atrocity to occur.
It breaks it down in a simple and digestible way that provides a good learning experience for youth who have not previously learned about this horrendous event.
There are photos, artifacts, and discussions of life prior to WWII and the rise of Hitler.
The Florida Holocaust Museum does an excellent job of educating people on the importance of learning about historical events, as atrocious as they were because history informs the present. They do an excellent job at discussing the importance of human rights from WWII until present day.
This is a great way to honor survivors, unite against hate and injustice, and inspire hope.
PRICE: US$16
11. Check out the Mahaffey Theatre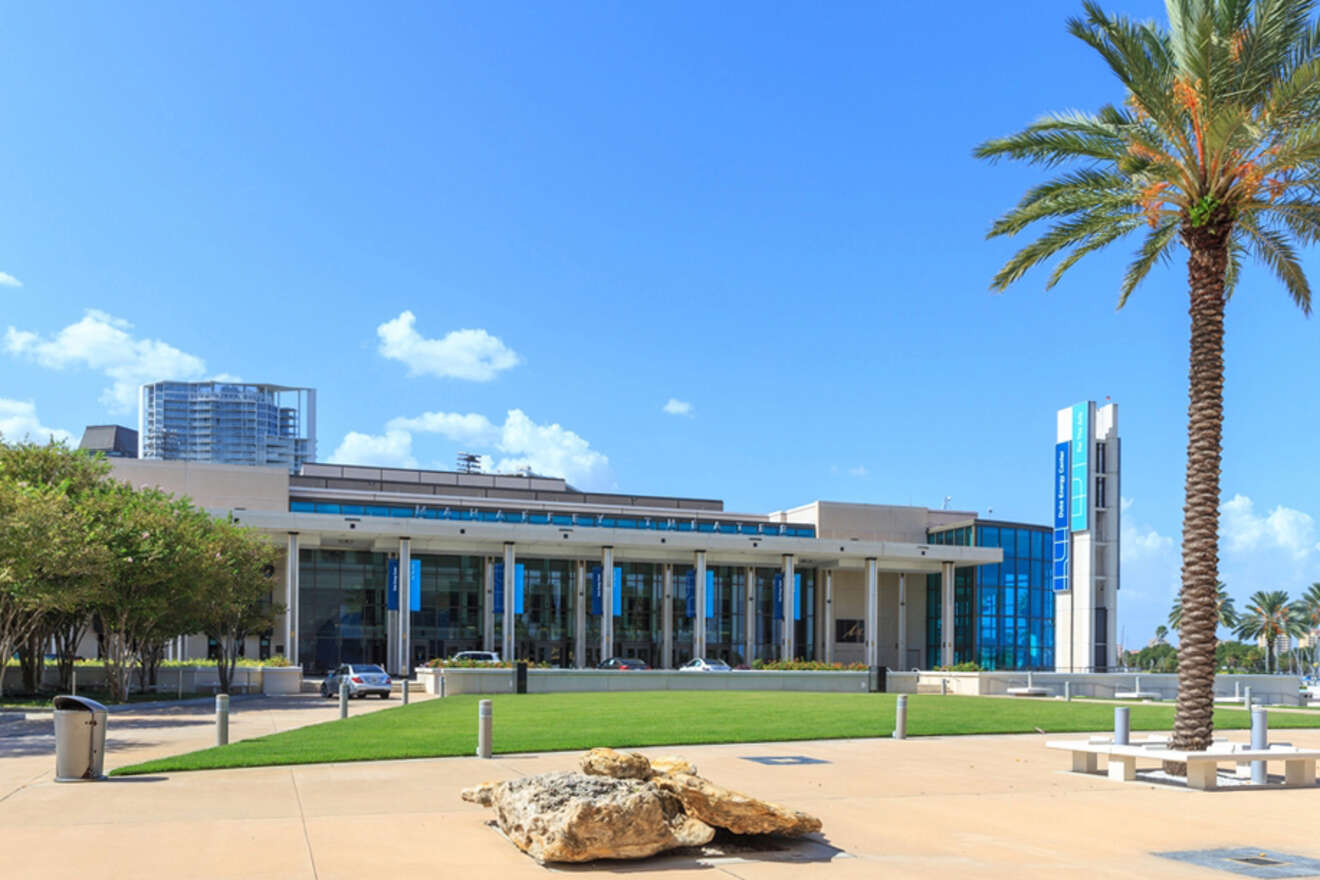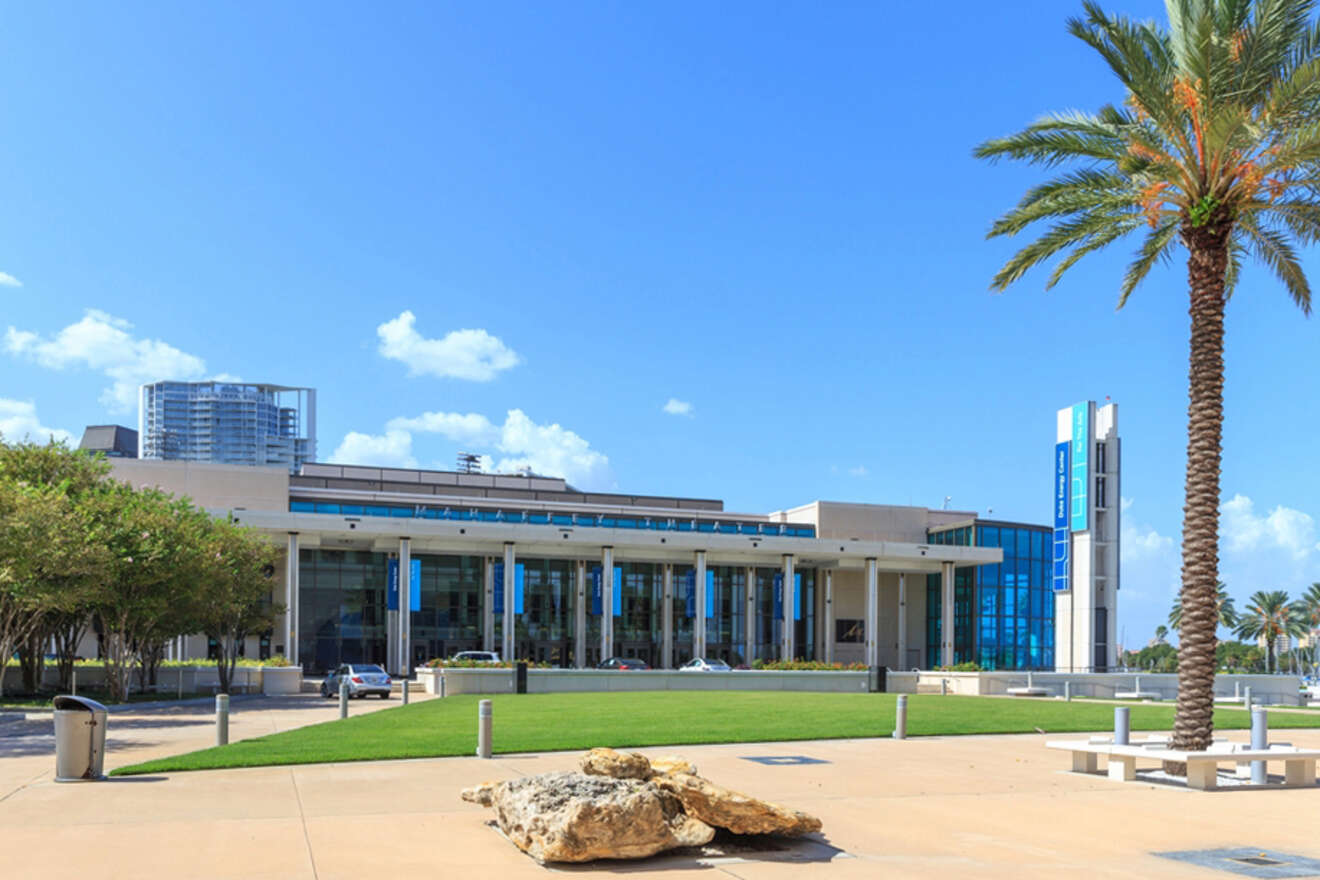 This cultural gem in downtown St. Pete is one of the best entertainment hubs in the Tampa Bay area.
Opening its doors in the 1960s, the Mahaffey Theater has hosted a wide range of international and national entertainers for decades.
Providing a large state for multiple different acts, such as the Florida Orchestra, Broadway plays, and more, the Mahaffey Theatre has played a central role in the performing arts of the Tampa Bay area for decades.
From comedy shows, live music shows, and classical music performances to pop concerts, dance shows, and more, the Mahaffey Theater does it all!
This is a great idea for a fun thing to do in the St. Pete area for enthusiasts of the performing arts.
With box seating for an enchanting and private viewing of various shows, there are also beautiful ballrooms and incredible waterfront views.
Check out their calendar on your visit to see if anything on the lineup looks like something of interest to you!
PRICE: Prices vary depending on shows
12. Stroll through Mazzaro's Italian Market
If you're looking for good eats in St. Pete, you are not going to want to miss out on Mazzaro's Italian Market.
With the intoxicating scent of fresh Italian foods wafting through the brick architecture reminiscent of an Italian Piazza, this is one of the best places for a unique experience with the added benefit of authentic Italian food!
Selling homemade pasta, homemade sauces, roasted coffee, freshly baked cannolis, and other pastries, bread, and delicious sandwiches made fresh before your eyes.
This authentic Italian market also imports a number of goods straight from Italy, such as oils, salami, different cuts of prosciutto, and condiments.
Grab yourself a delicious hot authentic Italian meal for lunch or dinner, or grab some artisanal cheeses and other Italian goods for a delicious picnic!
13. Watch the sunset from the St. Pete Pier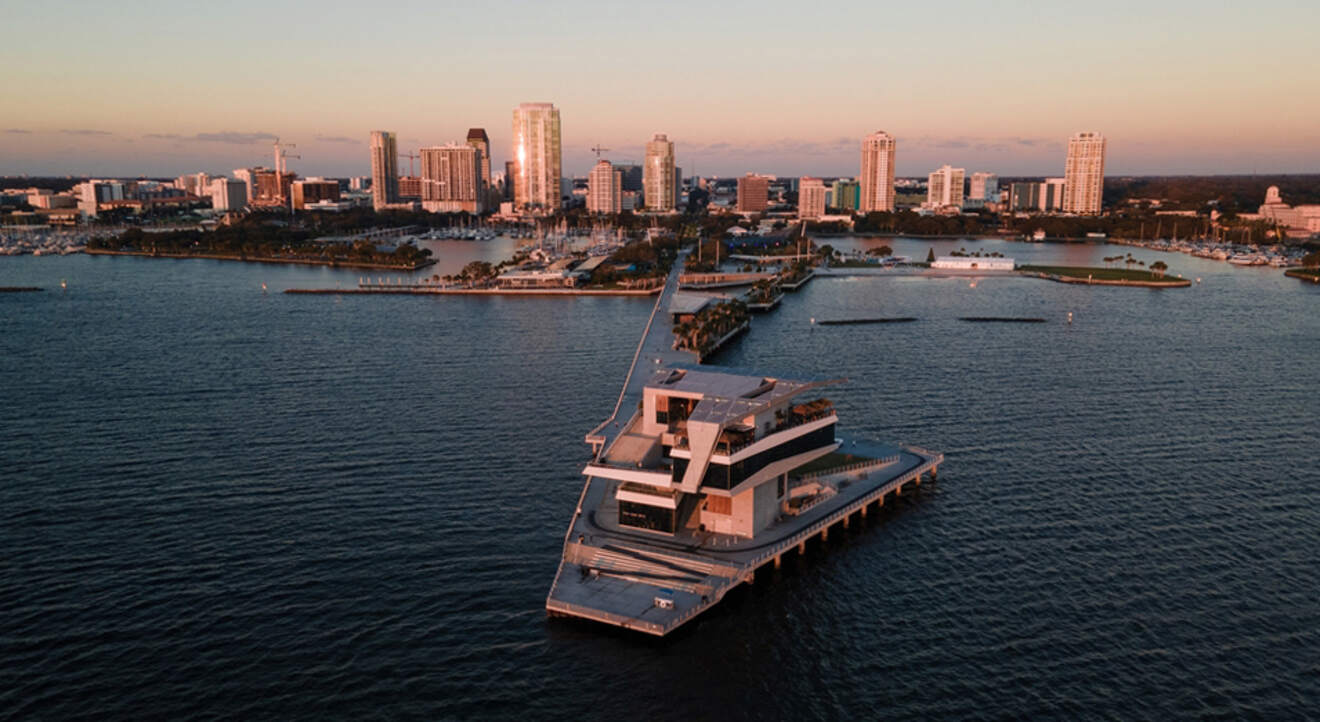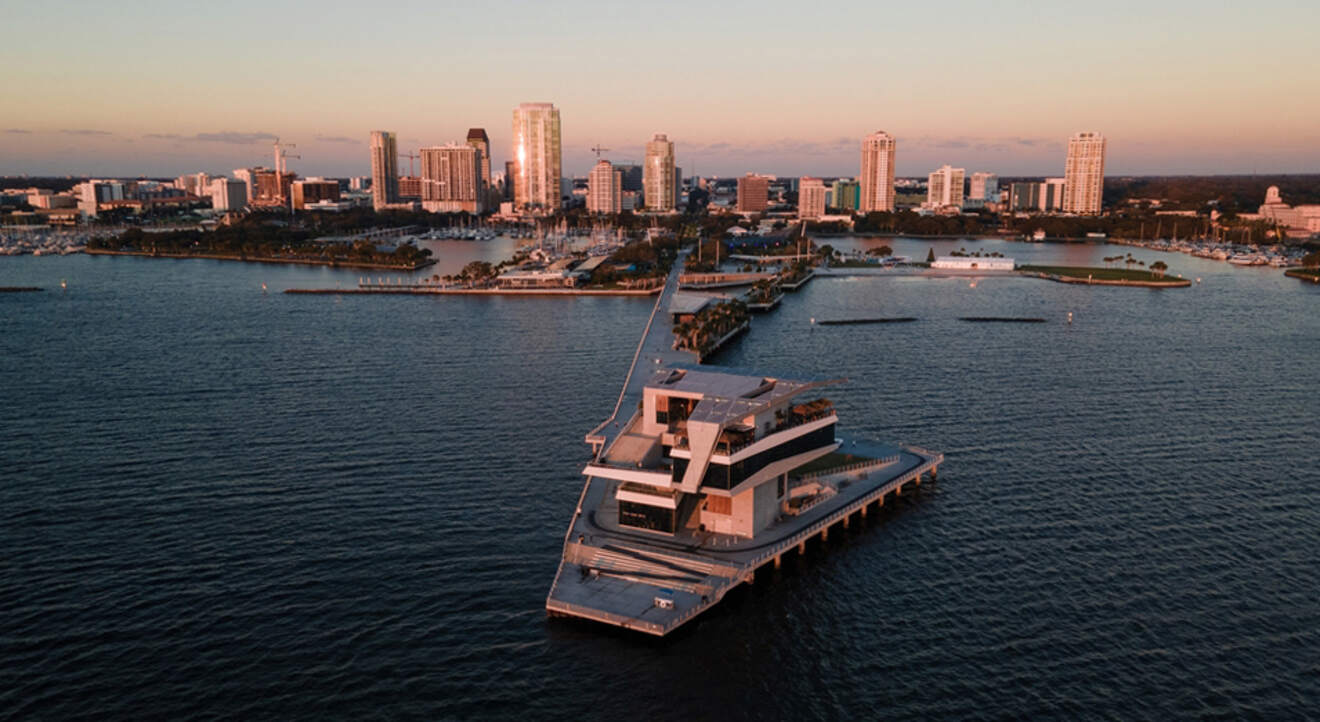 Easily one of the most iconic St. Pete attractions, the Saint Petersburg Pier is worth checking out. While it is one of the newer attractions in St. Pete, it is a great place to check out for the incredible views and an excellent place to watch the sunset just off Central Ave!
This is an excellent place to take a beachside stroll, grab some delicious food, and tons of different activities and sources of entertainment – an amazing spot to soak in the local culture of St. Pete.
There is also tons of local artwork on display, making for a vibrant and funky experience on your visit to the St. Pete Pier.
Some of the art pieces include the Bending Arc by Janet Echlement, the Benoist Airboat Sculpture, as well as the Olnetopia by Nick Ervinck.
It's definitely worth a trip to the St. Pete Pier just to see the artwork and also get an incredible view of the sunset.
Another perk about going to this pier is that the odds of seeing dolphins and other marine life are pretty high!
If you walk all the way out to the end of the pier, there's also some really awesome fishing! There are six different restaurants on the pier, so this is a great place to get some yummy food with a view in St. Pete. I recommend checking our Spa Beach Bistro!
While you're there, don't miss out on the Floating Tiki Bar! This is a super cute cruise that serves as a literal boat-bar – and it's so much fun! Just bear in mind that you'll have to provide your own drinks 🙂
PRICE: US$60
14. Check out the Morean Arts Center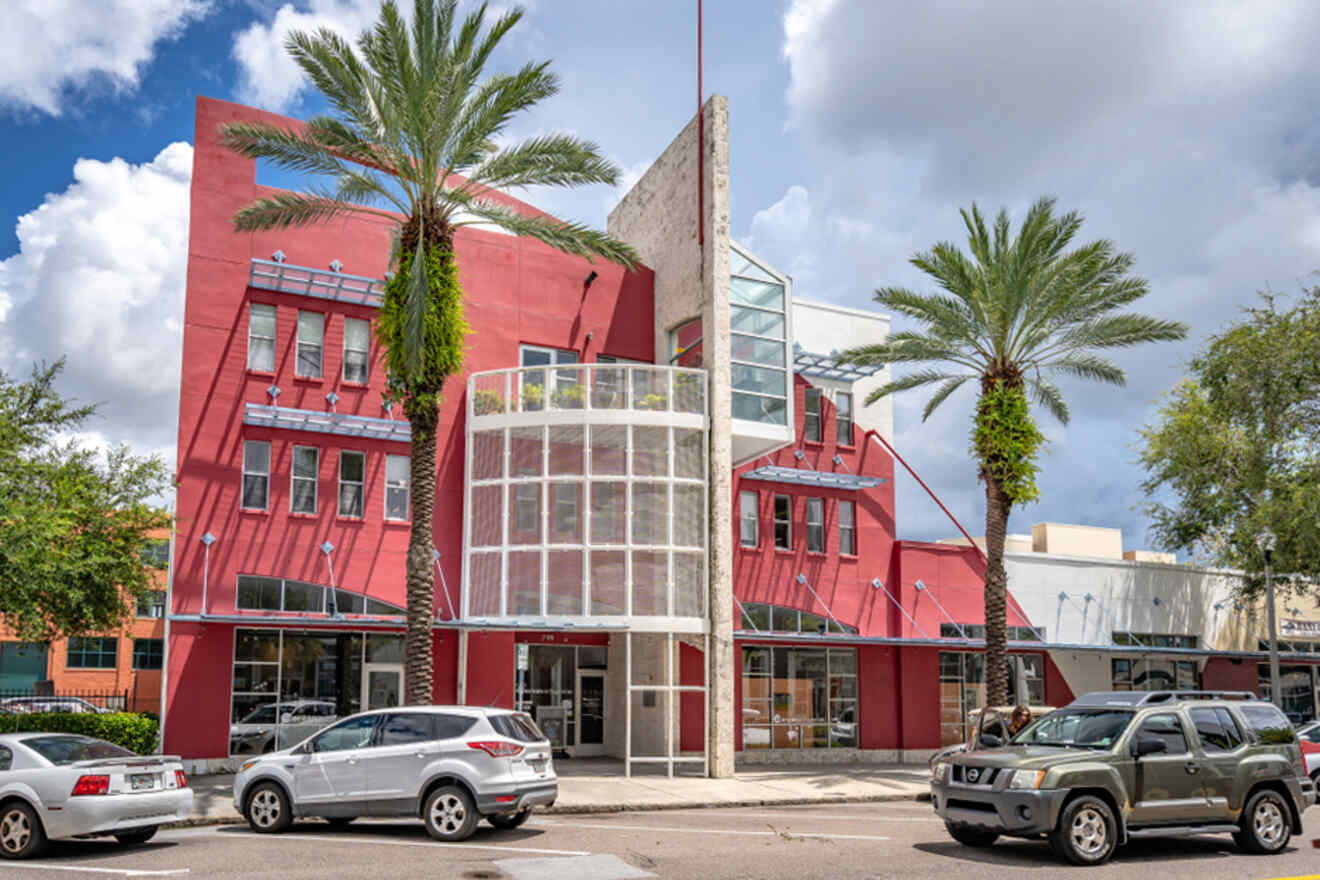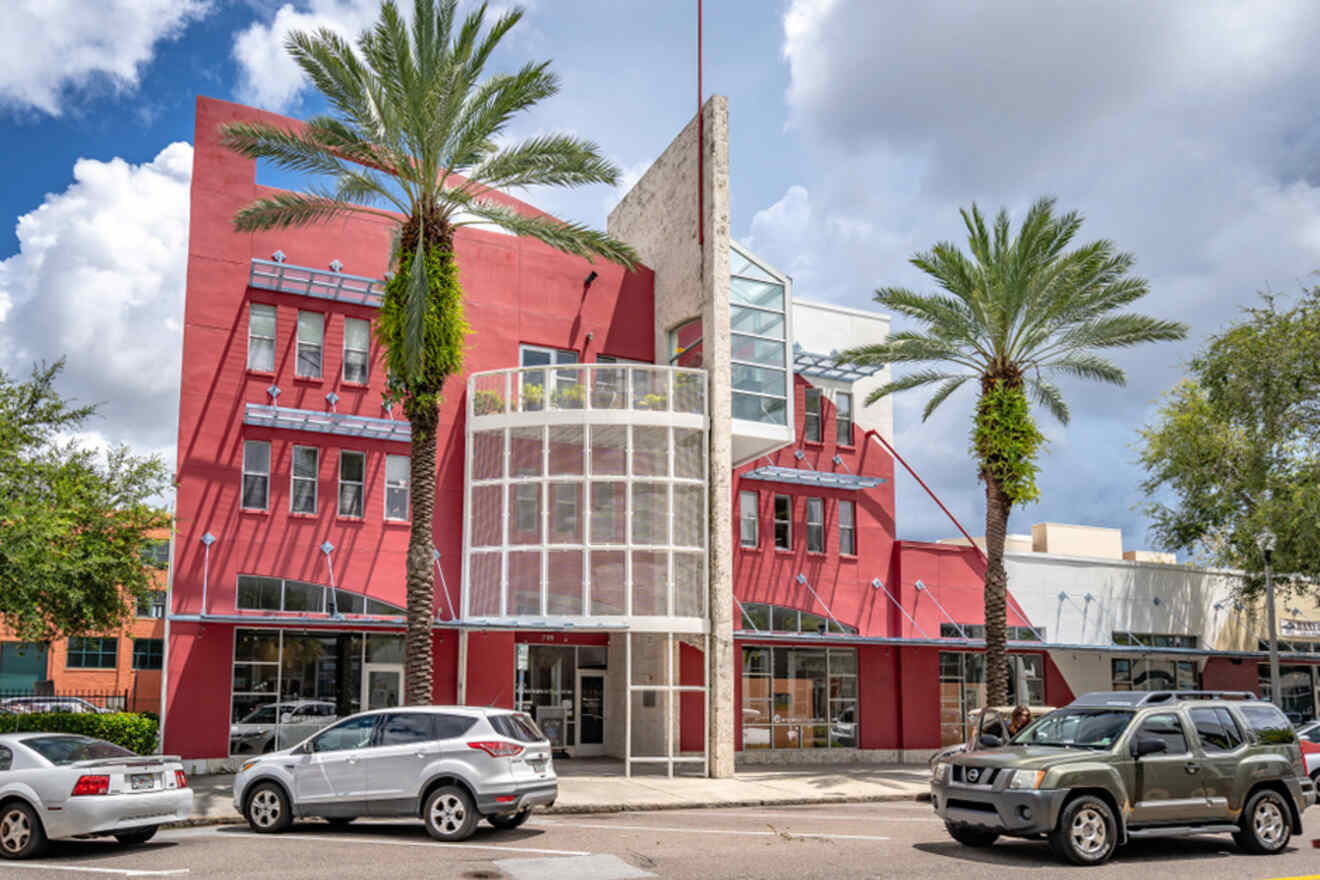 This unique community-centered institution is dedicated to appreciating the arts and education.
Offering plenty of fun and informative programs for visitors of all ages, the Morean Arts Center is an excellent cultural activity to do in St. Pete.
The Morean Arts Center is home to the Bank of America Children's Learning Center, the Glass Studio, and the Hot Shop. They display a variety of local Floridian artists, artists from across the country, as well as international artists.
One of the most popular exhibits at the Morean Arts Center is the Chihuly Collection. This permanent collection houses an exhibit of the influential works of Dale Chihuly.
In fact, the Morean Arts Center was actually designed around the Chihuly exhibit, which explains why a 20-foot cerise rock sculpture will greet you at the entrance!
This Tampa Bay museum has so much to offer visitors and I highly recommend checking it out on your trip to St. Petersburg.
15. Browse the Saturday Morning Market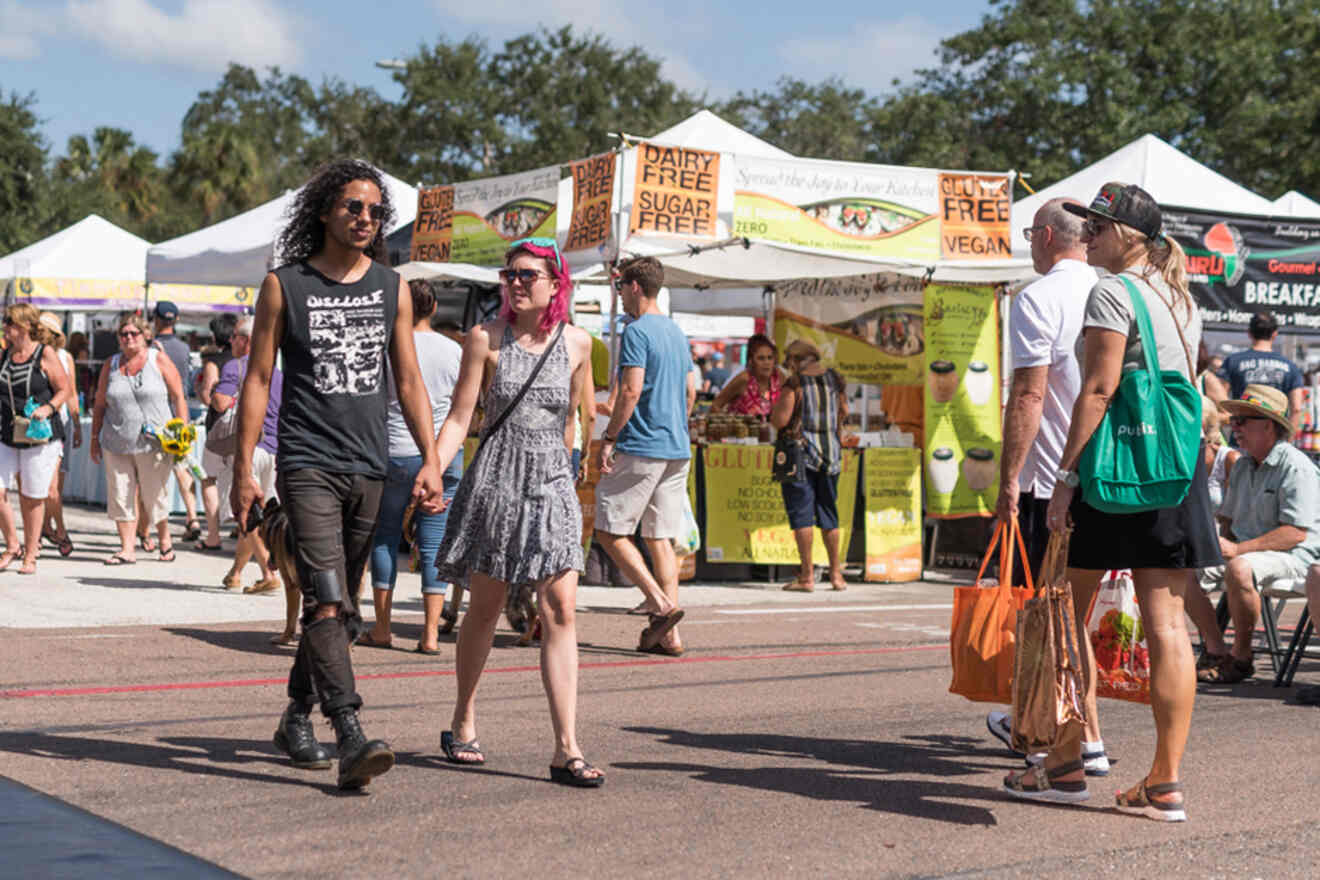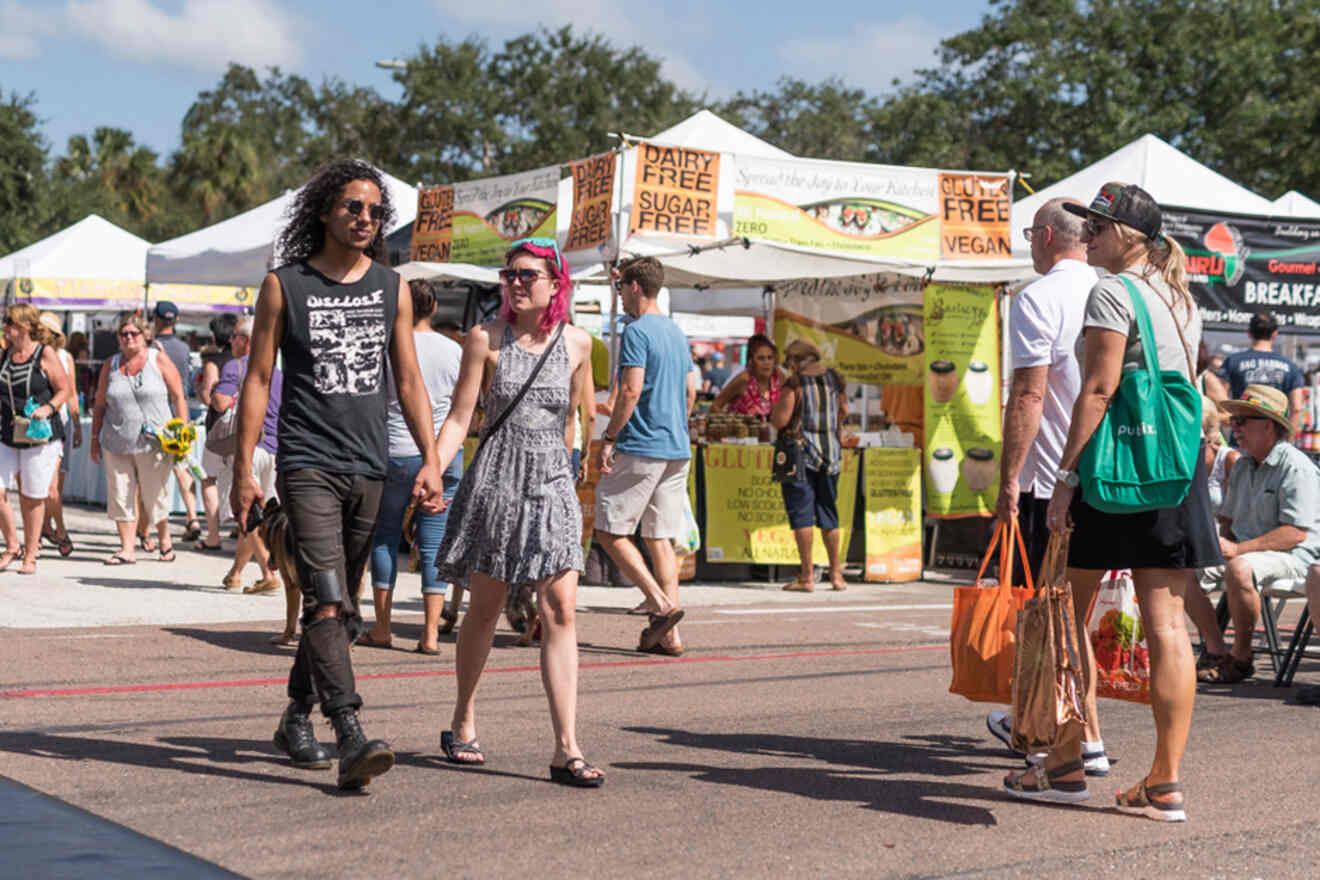 One of the most popular local activities is visiting the St. Petersburg Saturday Morning Market. Centrally located in Downtown St. Pete, this is an awesome artisan market for getting fresh produce, local handmade goods, and delicious food.
As you walk around the Saturday Morning Market, you will be serenaded by local musicians and entertained by magicians and balloon art performers!
Open every Saturday morning from October through May, there are over 200 registered vendors all with unique offerings.
You can find fresh produce, local meats, seafood, pastries, local handmade goods, soaps, spices, plants, cheeses, breads, ice cream, and so much more!
PRO TIP: There is often a great selection of funky and eclectic local art!
The St. Petersburg Saturday Morning Market is also a great place to grab some food from a variety of different international cuisines from several different local vendors.
PRICE: Free
16. Go fishing at the Skyway Fishing Pier State Park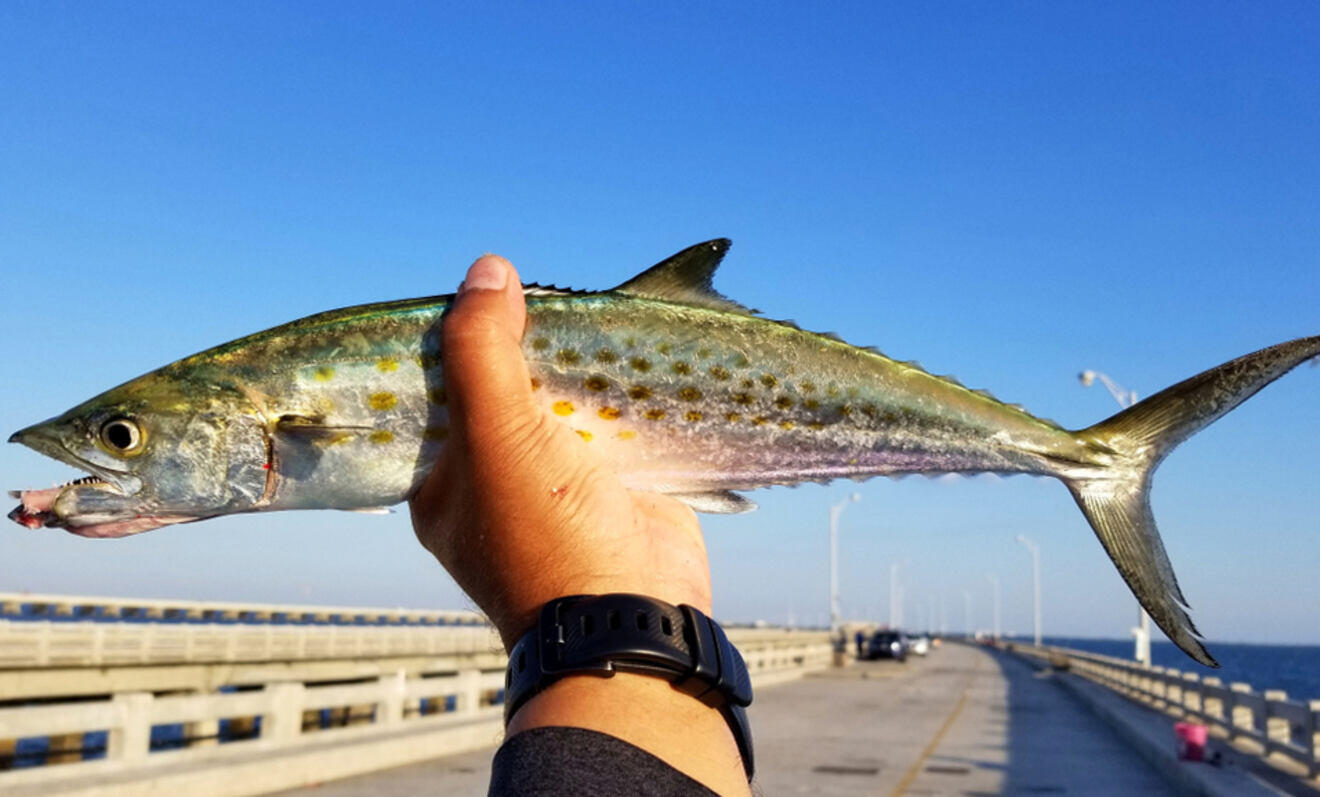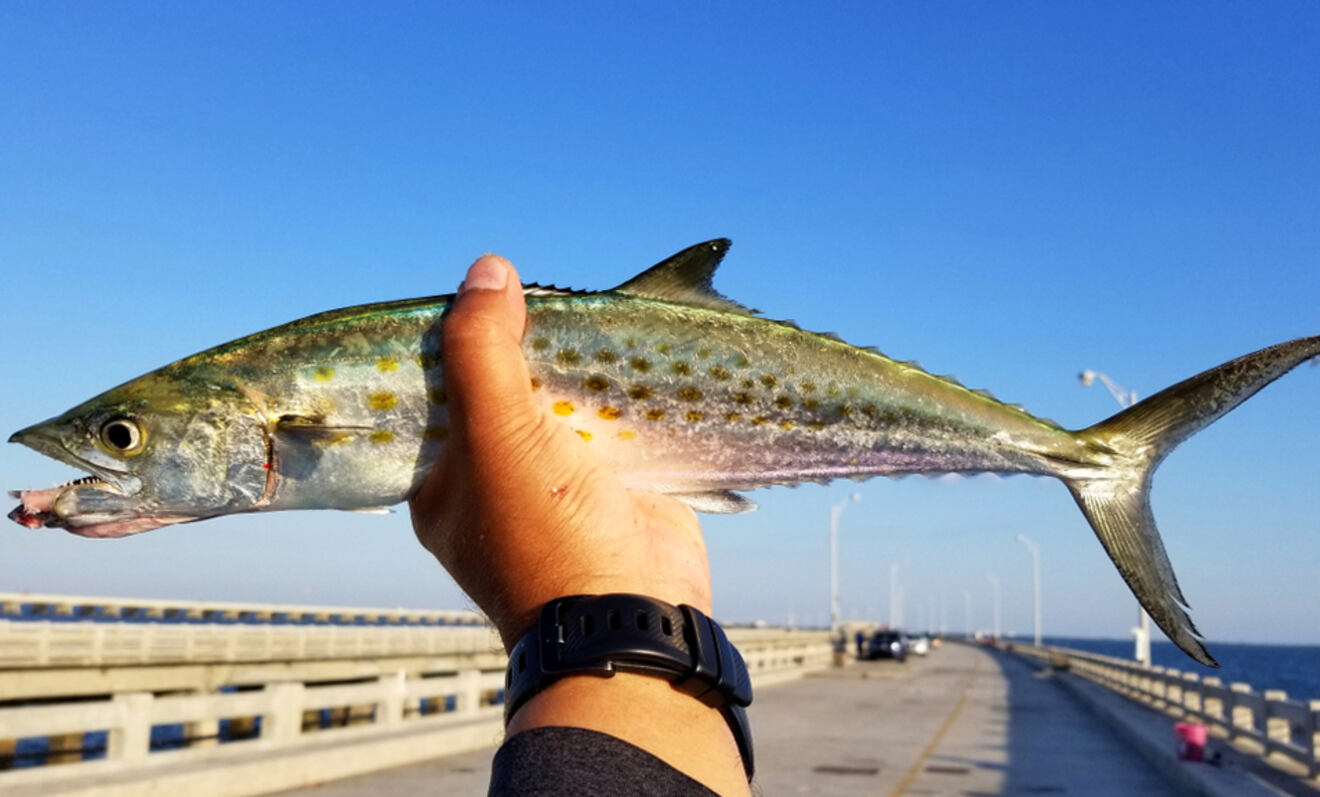 Named after the Sunshine Skyway Bridge, the Skyway Fishing Pier State Park is the longest fishing pier in the world!
Anglers from all over the world travel to this fishing pier for the incredible catches they can get and the iconic nature of this huge fishing pier!
The Skyway Fishing Pier also links St. Petersburg with the neighboring Sarasota.
Regardless of the time of day, you can check out this incredible fishing pier, buy some bait, or bring your own, and catch all sorts of marine fish like, Red Snapper, Grouper, Tarpon, Spotted Sea Trout, Red Fish, Mackerel, Snook, and Cobia!
The lights of the pier at night attract all sorts of fish, so fishing here at night is a super popular activity.
If you're looking for a fun experience beyond the beaches in St. Pete, check out this awesome boat tour that takes you to Egmont Key, a serene and secluded island in Tampa Bay. This is one of the best boat tours you can find in the area!
Book Your Egmont Key Boat Tour
17. Go on a sunset cruise at St. Pete Beach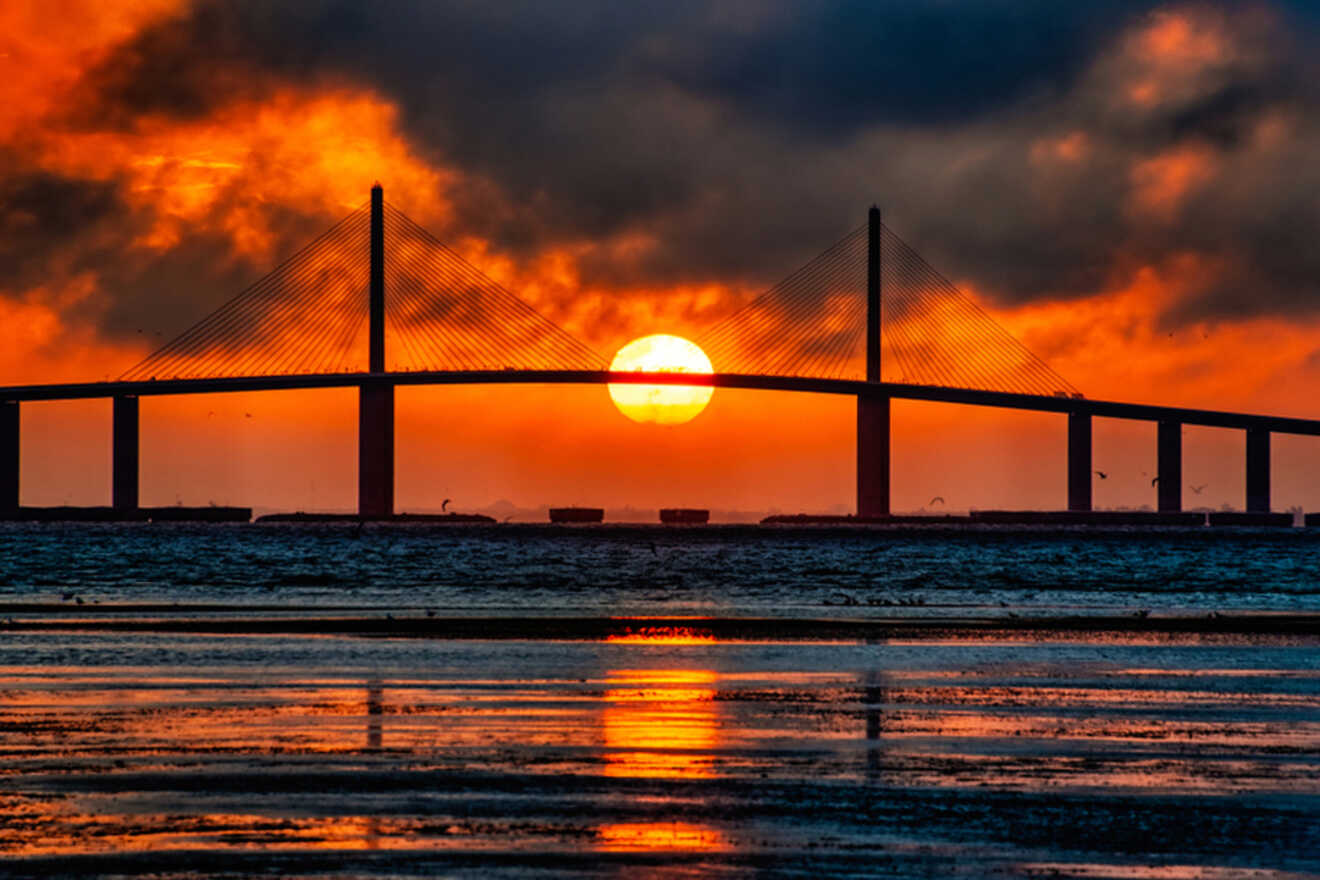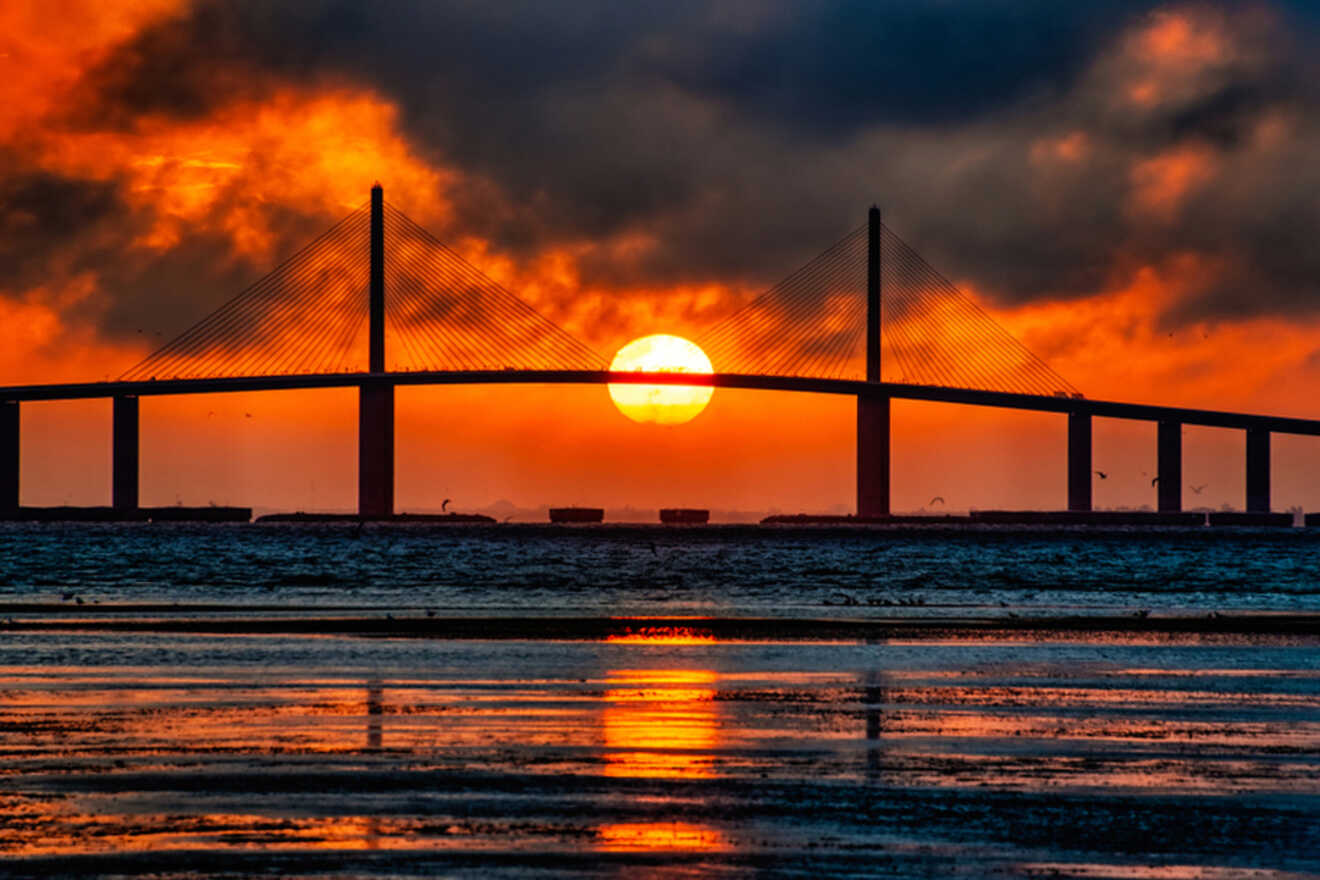 St. Petersburg, Florida, has so much to offer visitors, and perhaps one of the most fun, yet most simple things to do is go to the beach!
St. Pete Beach is situated on a barrier island off the coast of St. Pete. The barrier island that makes up St. Pete Beach is home to a variety of award-winning beaches worth checking out on your trip.
The lovely white sand, turquoise waters, incredible seafood, gorgeous views, fun water sports activities, and awesome swimming and snorkeling make this award-winning beach a happening destination in St. Pete!
Some of the fun water activities you can do at this beach are paddleboarding, kayaking, parasailing, windsurfing, kiteboarding, and snorkeling.
Pass-a-Grille Beach, a lovely undeveloped public beach on the barrier island of St. Pete Beach is a lovely beach with aquamarine waters and powdery white sand. Don't miss Treasure Island either, just round the corner from St. Pete Beach!
Looking for romantic things to do with your honey in St. Pete? Check out this amazing sunset cruise along the Gulf of Mexico!
PRICE: US$60
18. Learn some history at the St. Petersburg Museum of History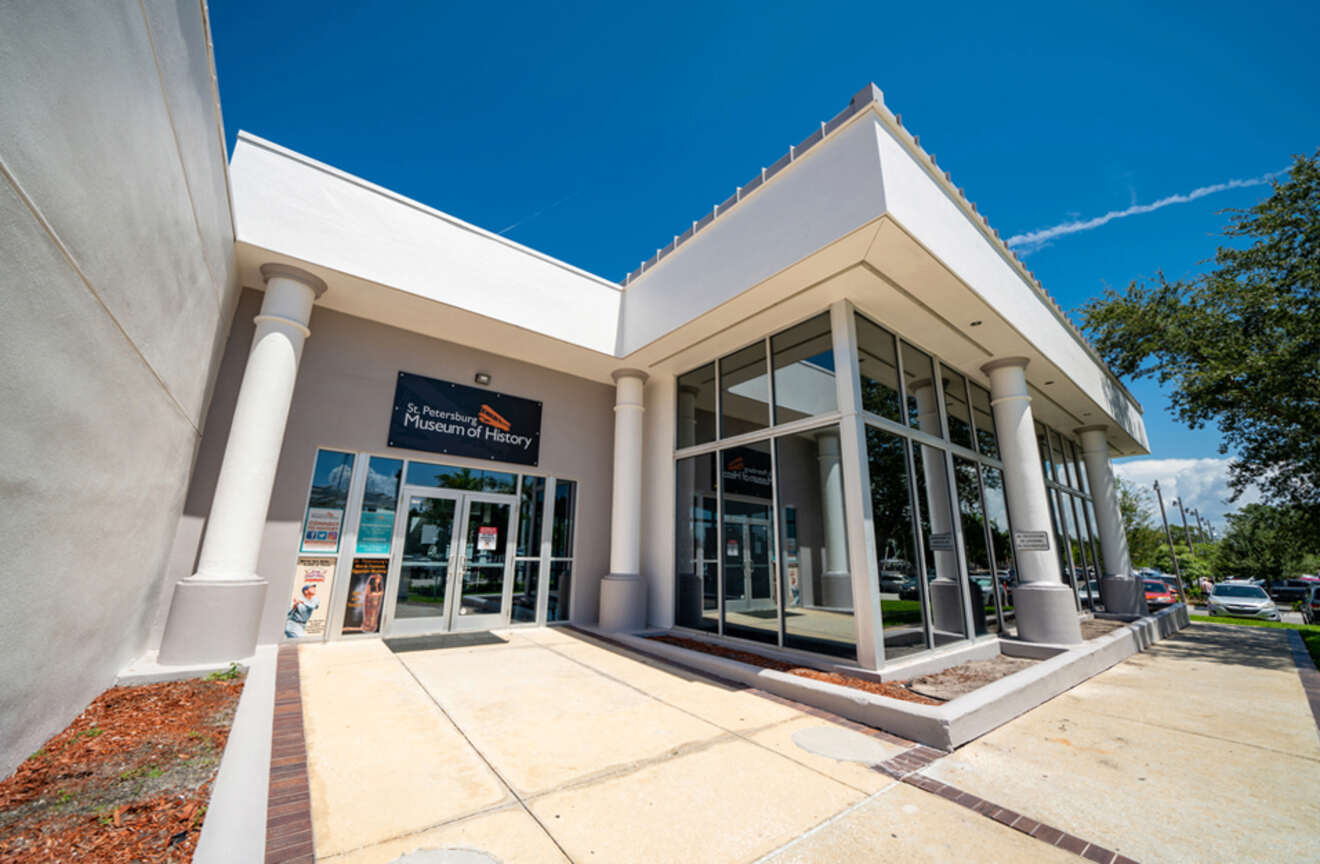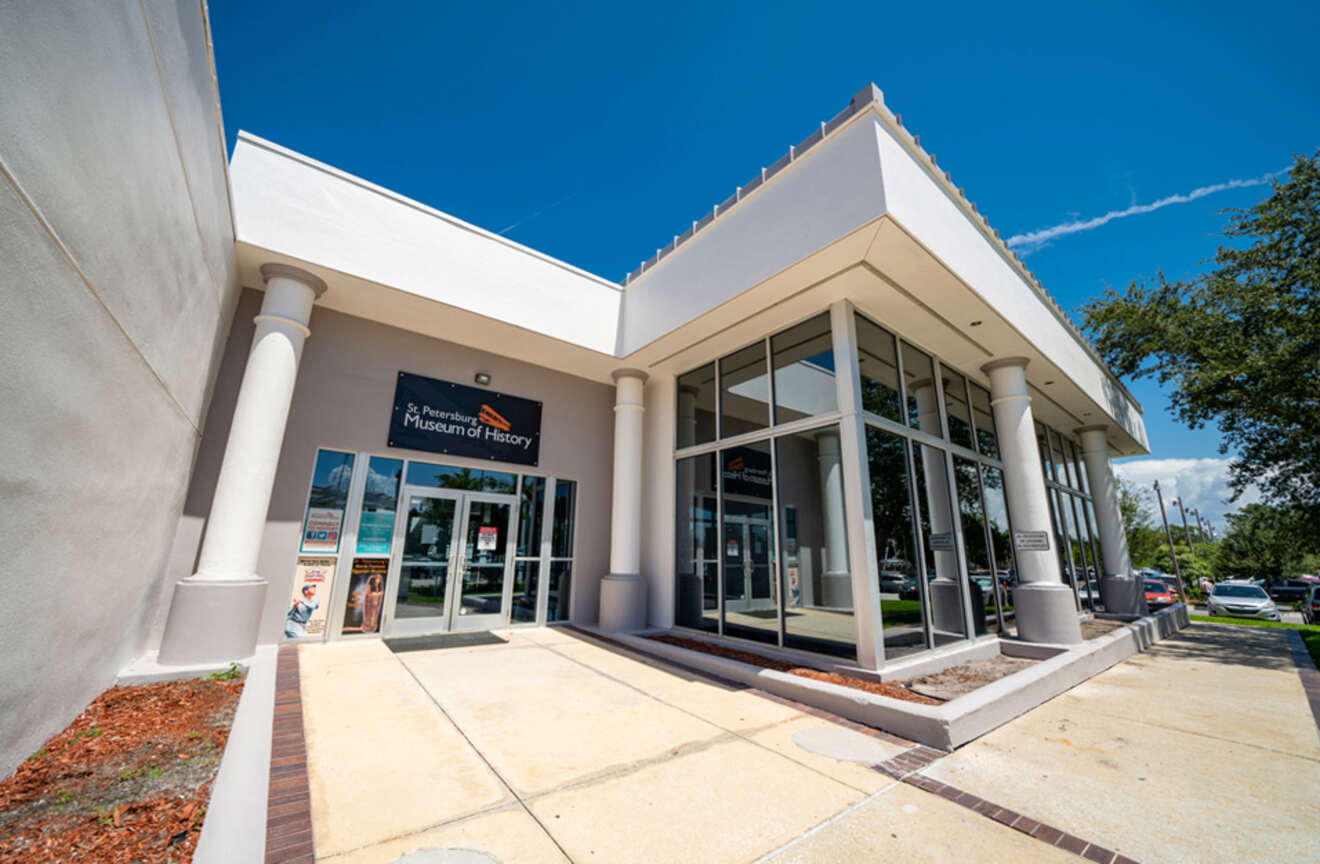 The St. Petersburg Museum of History is anything but boring. Offering a special experience to learn about the natural and cultural history of the area, this is a super fun activity to do with the family, with a friend, or anyone who identifies as a history buff.
With over 30,000 odd exhibits on display, this is one of the largest museums in St. Petersburg, Florida.
Here you can learn all about the local history of St. Petersburg and about the Indigenous peoples who stewarded the land before it was colonized by the Spanish and subsequently by America up to modern day.
Speaking of modern day, the St. Petersburg Museum of History also has a section honoring the Tampa Bay Rays, as well as a 3,000-year-old mummy, a two-headed calf, and a full-size Benoist plane replica!
The St. Petersburg Museum of History also has an incredible natural history section where you can learn all about the history, ecology, and evolution of the bay.
There are also ancient artifacts, photographs, historical documents, and more that will satisfy every need of the history buff!
PRICE: US$15
19. Visit a historical site at Jungle Prada de Narvaez Park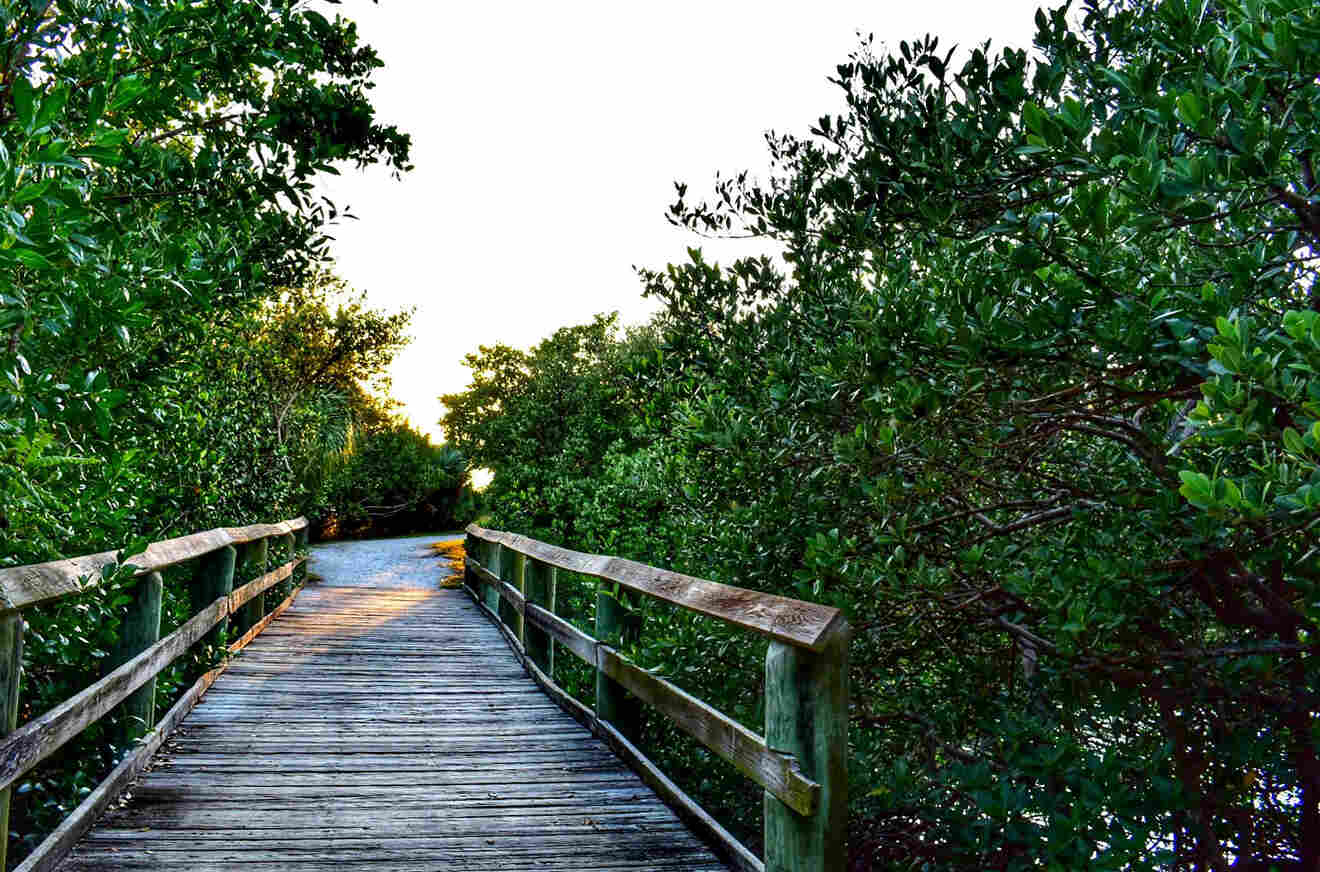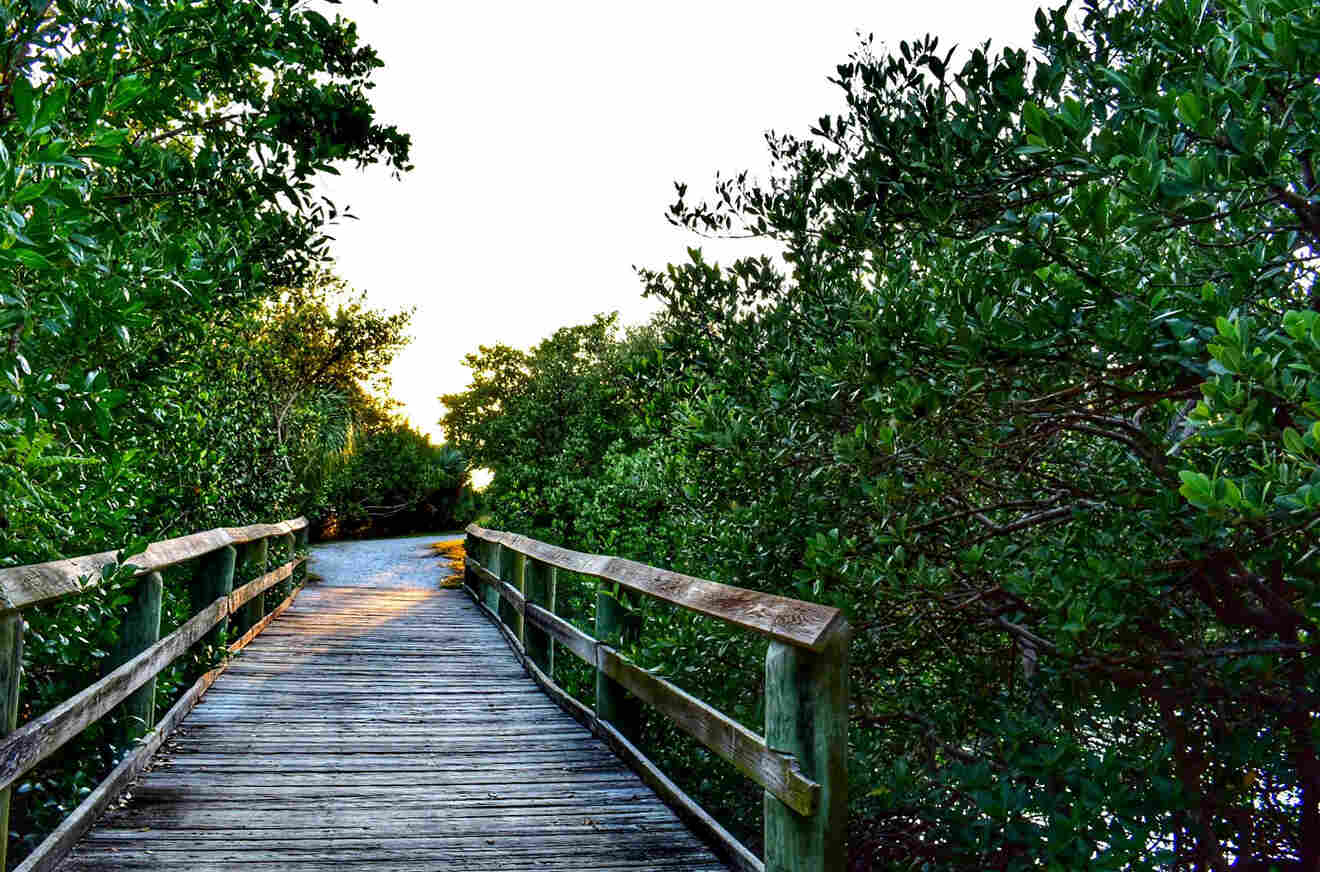 When it comes to hidden gems in St. Petersburg, the Jungle Prada de Narvaez Park reigns supreme!
While in current times, this is a gorgeous natural park, there is quite an interesting and bleak history behind it!
Named after Panfil De Narvaez, one of the conquistadors that settled Florida's Gulf Coast, this park holds a lot of significance with this colonizer's journey.
A brutal hurricane damaged his ship (one can only assume this was karma(?)) and he was forced to find shelter in what is now the St. Pete area. He and his crew took over abandoned homes of the Indigenous tribe Tocobaga.
So the story goes, he found gold, encouraging him to travel inland. On his journey, he encountered a few indigenous tribes. The encounter was not amicable, and to make a long story short, he and his legions committed genocide on various Indigenous tribes in the region.
However, he and his men were eventually driven out by various Indigenous groups and were forced to make makeshift rafts and take to the seas. Only 4 men survived to tell the tale.
The site where Narvaez first arrived is now commemorated with a sign and a small park. Fascinating how what now seems like a humble park has such a brutal and violent history.
It's important to learn your history when visiting new places in order to pay proper respects!
PRICE: Free
20. Check out the Sunshine Skyway Bridge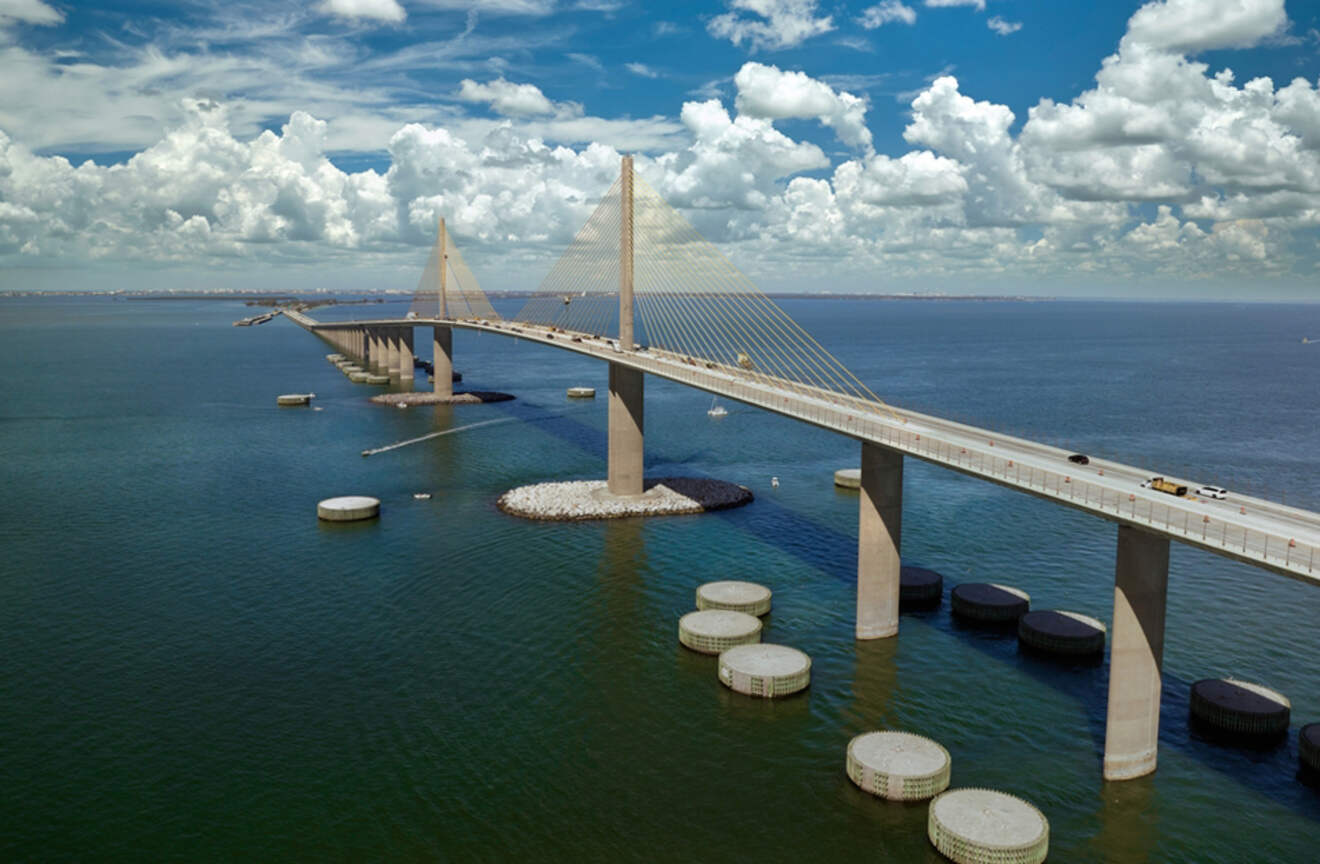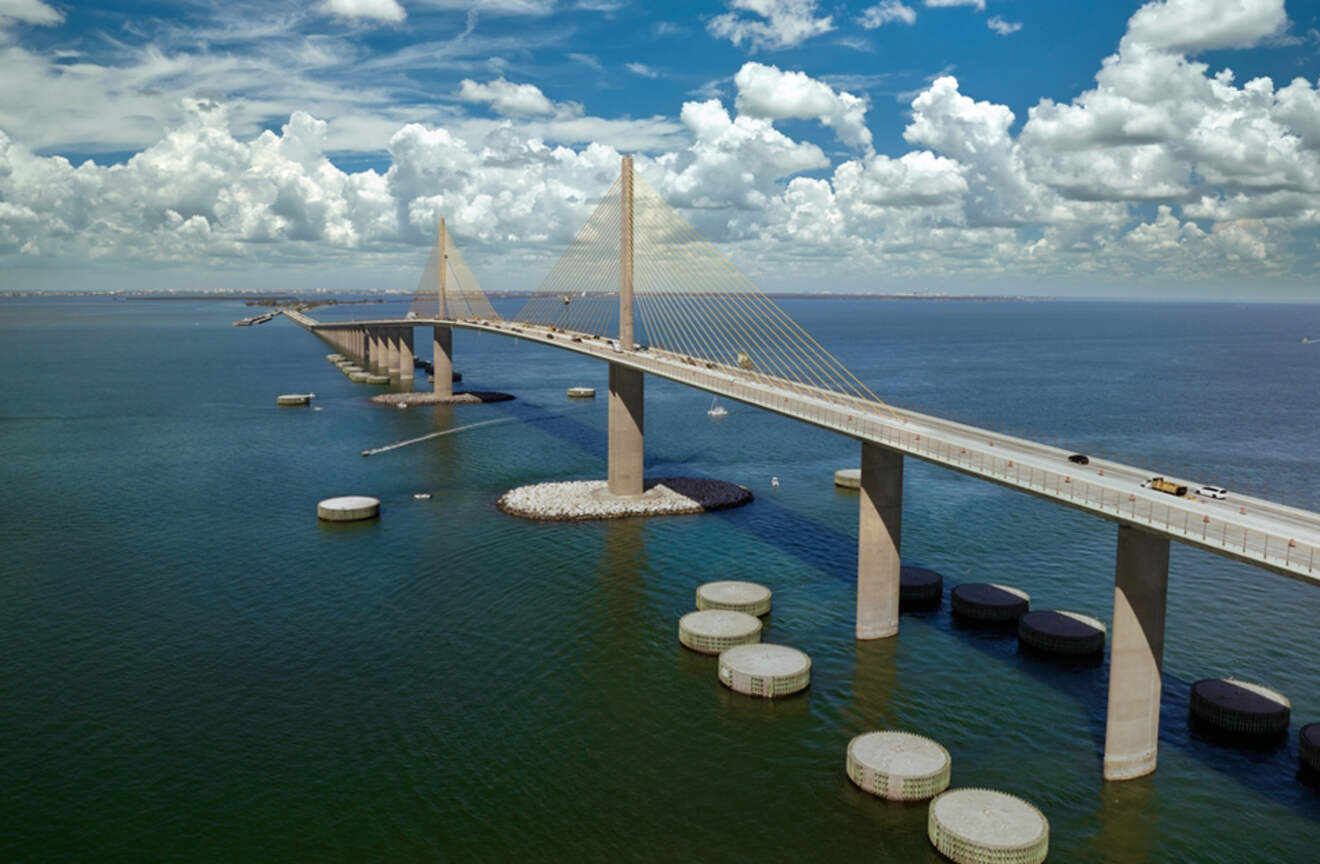 This incredible feat of engineering and architecture is definitely worth checking out. Connecting Sarasota and St. Petersburg, the Sunshine Skyway Bridge is not only a beautiful site to see but a really cool advancement in the world of engineering and architecture!
Stretching an impressive 12 miles, at certain heights, it is high enough for huge boats to pass through underneath.
Not only is it worth checking this bridge out at night to see it all lit up, but it's also a relaxing pastime to watch the boats pass through.
This unique and astonishing bridge is considered to be one of the most beautiful bridges in the world. And I would definitely agree!
PRICE: Free
21. Visit the Gizella Kopsick Arboretum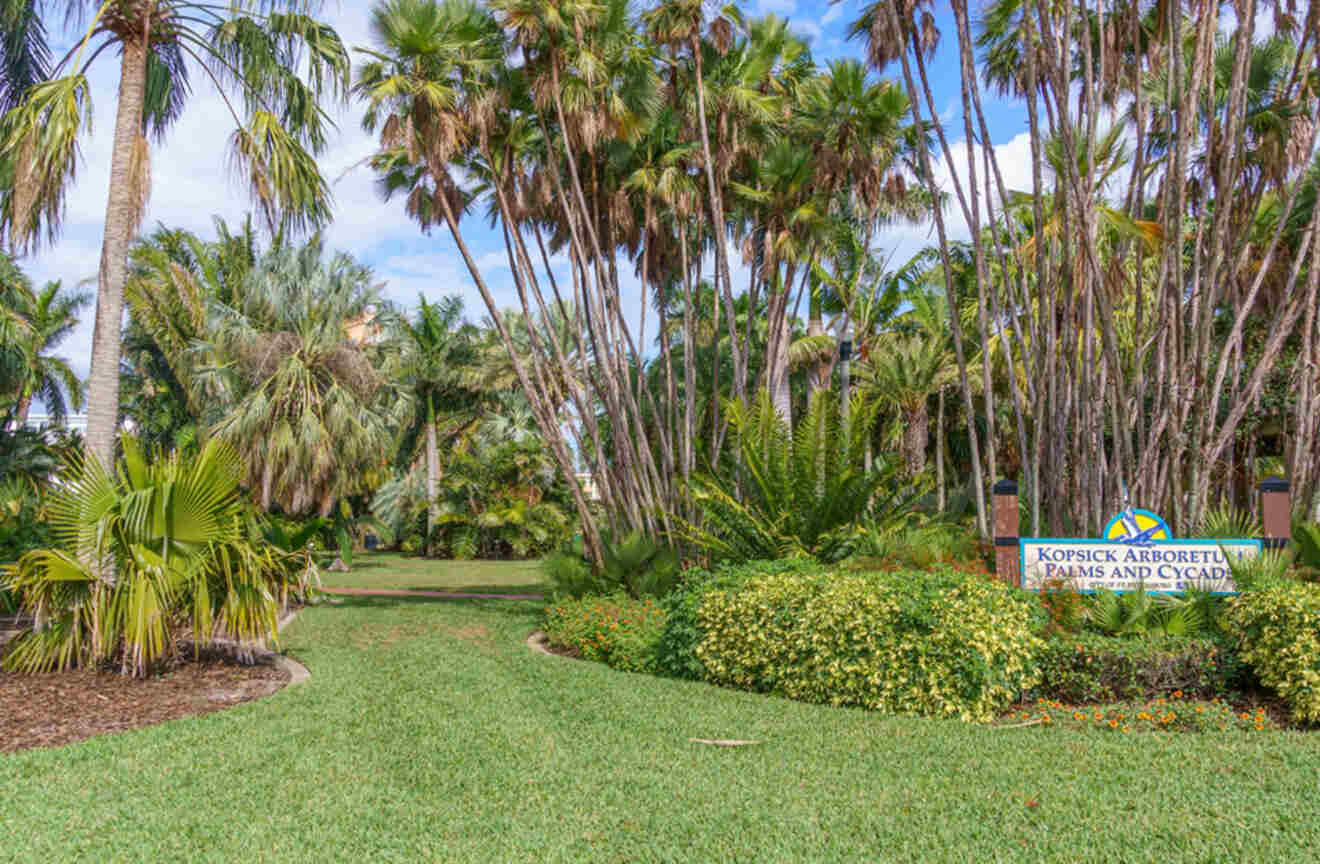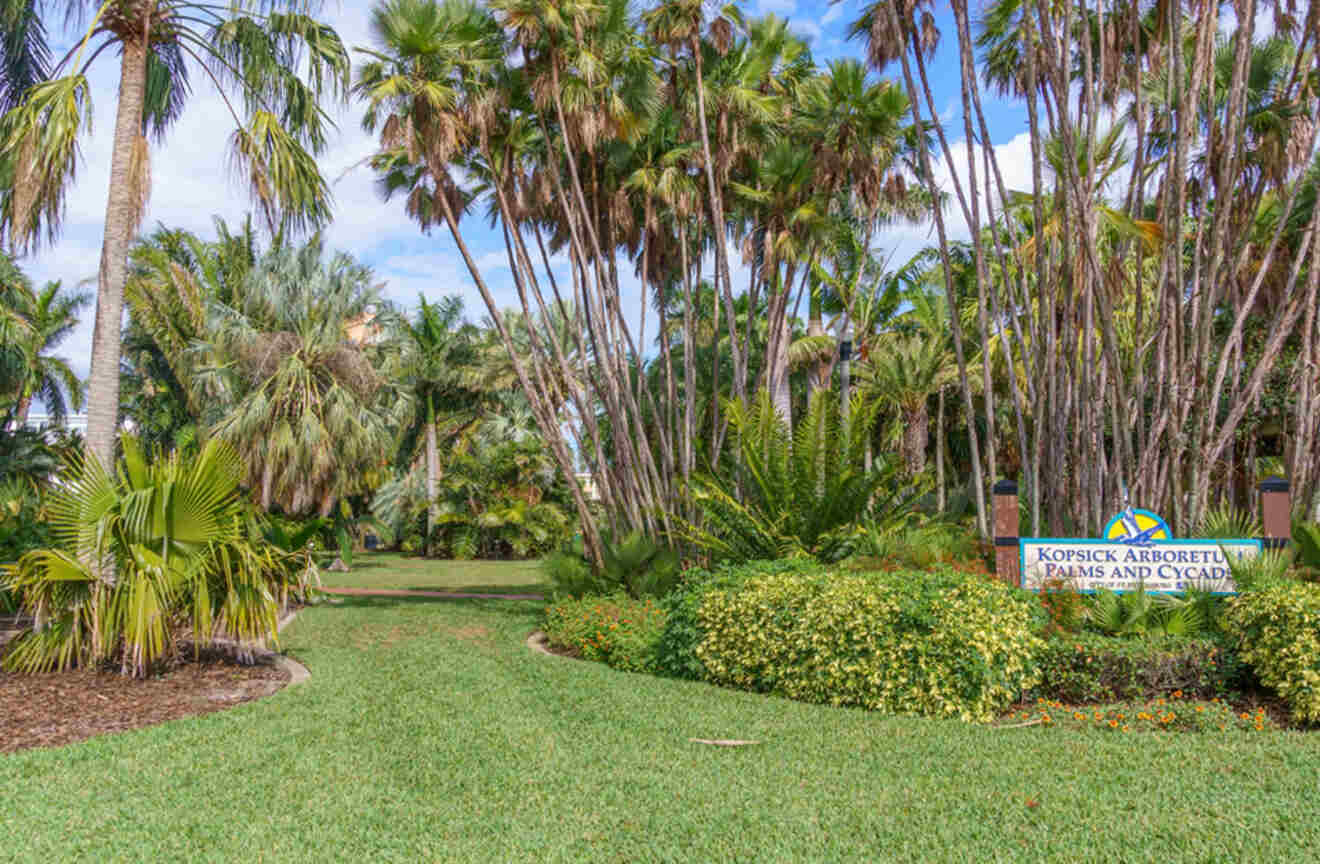 One of the best free things to do in St. Petersburg, FL, the Gizella Kopsick Arboretum has been an incredible arboretum since 1976.
Botanists all across the globe are familiar with this arboretum due to the extensive list of plant species that have been growing here since the 70s!
With over 500 palms and cycads, both native and non-native, this is the perfect place to escape the fast pace of the city and be one with nature.
With shaded gazebos, wonderful picnic tables, cozy areas just perfect for curling up with a nice book, and paved walkways, this is an incredible place to visit in St. Petersburg.
PRICE: Free
22. Check out the James Museum of Western & Wildlife Art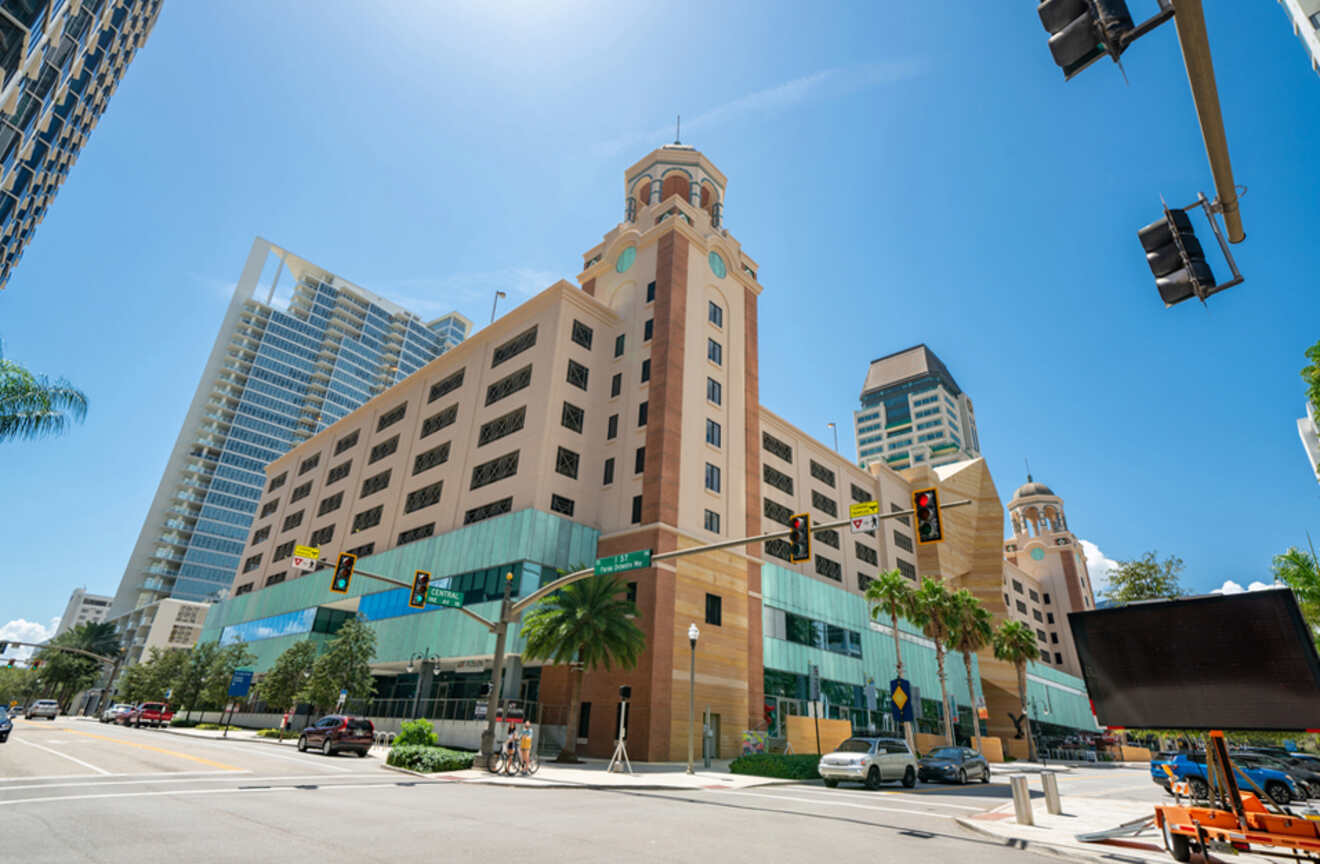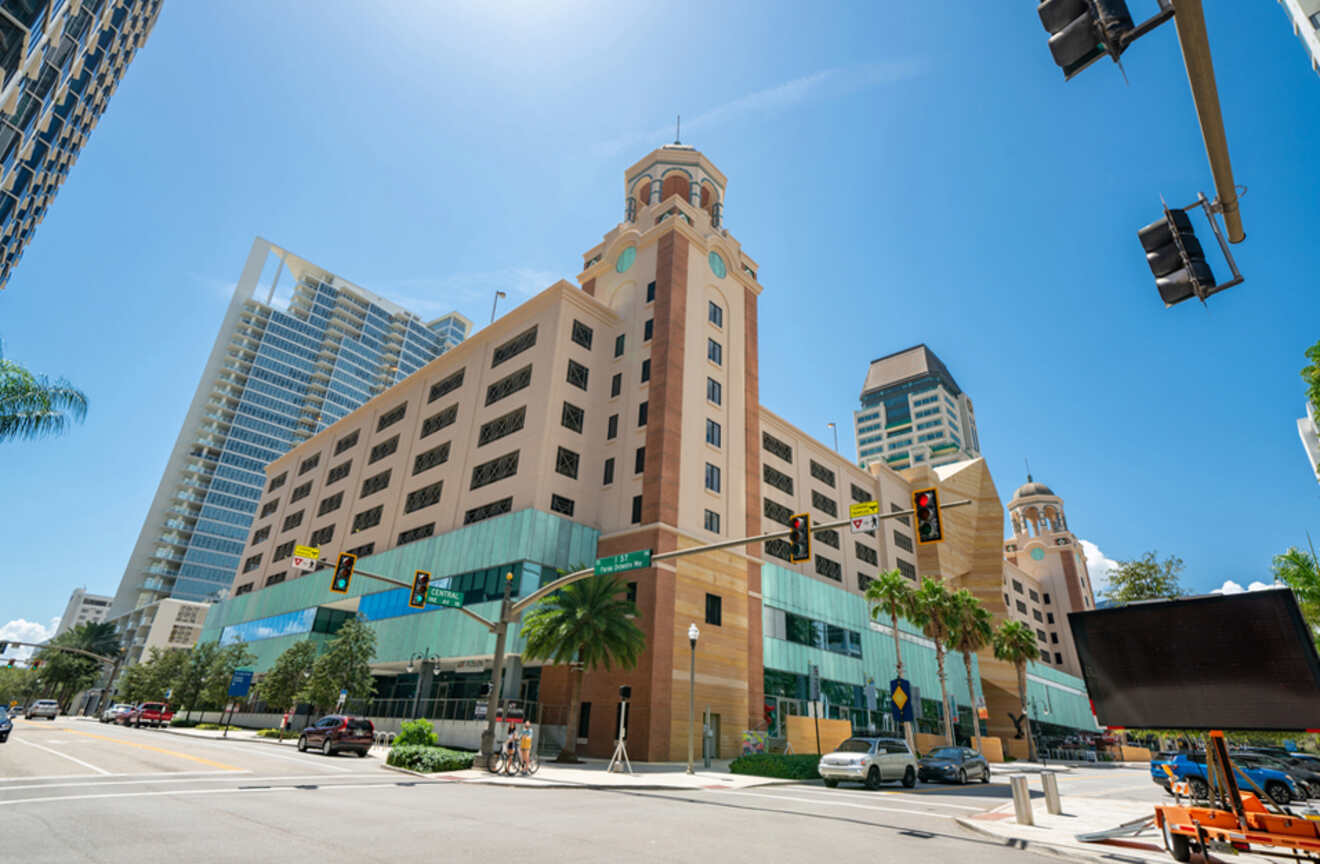 Opening its doors in 2018, this new museum is an excellent addition to the incredible culture and St. Petersburg art community.
The James Museum of Western & Wildlife art is not your average museum. Named after Tom and Mary James, this unique museum is excellent for art aficionados and people who appreciate unique showcases of art.
The entire experience of the James Museum is designed to be an interactive and stimulating experience evocative of the concepts behind the artwork on display.
For example, the first floor is designed to give the effect of a canyon, with sharp edges, an artificial waterfall, walls made of sandstone, etc.
With impressive architecture, the museum is modeled after Western landscapes and colors often used in Western art.
This one-of-a-kind museum experience has a sand-themed introductory gallery with sculptures, paintings, and landscapes as well as a theater!
One part of the museum showcases and pays tribute Native American life and traditions of the 1800s. Additionally, there is a deep-gold themed section that is another part of the Native American exhibit with various Indigenous art pieces.
Beyond that, there is a moss-green themed wildlife art gallery showcasing native ecology and flora and fauna of the United States.
There are also pieces made by Andy Warhol, as well as more modern creations like cubism, as well as important artwork that confronts the controversial relationship between the US government and Indigenous communities.
This museum is doing what many museums fail to do; talking directly about the relationship between the colonial empire, stolen artifacts, and the complex subject of colonization and the relationship between the US government and Indigenous communities.
PRICE: US$23
23. Enjoy the beauty of Sand Key Park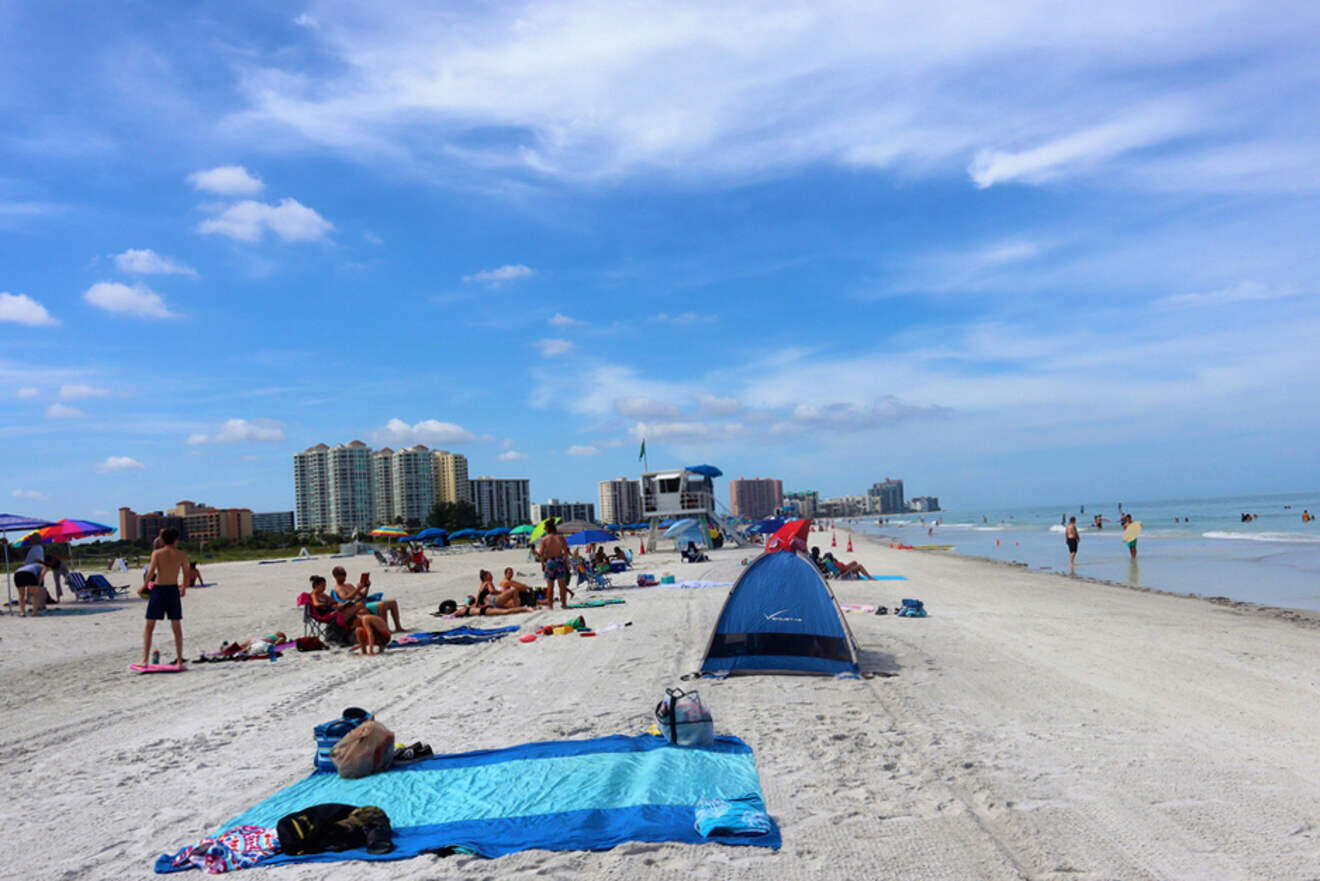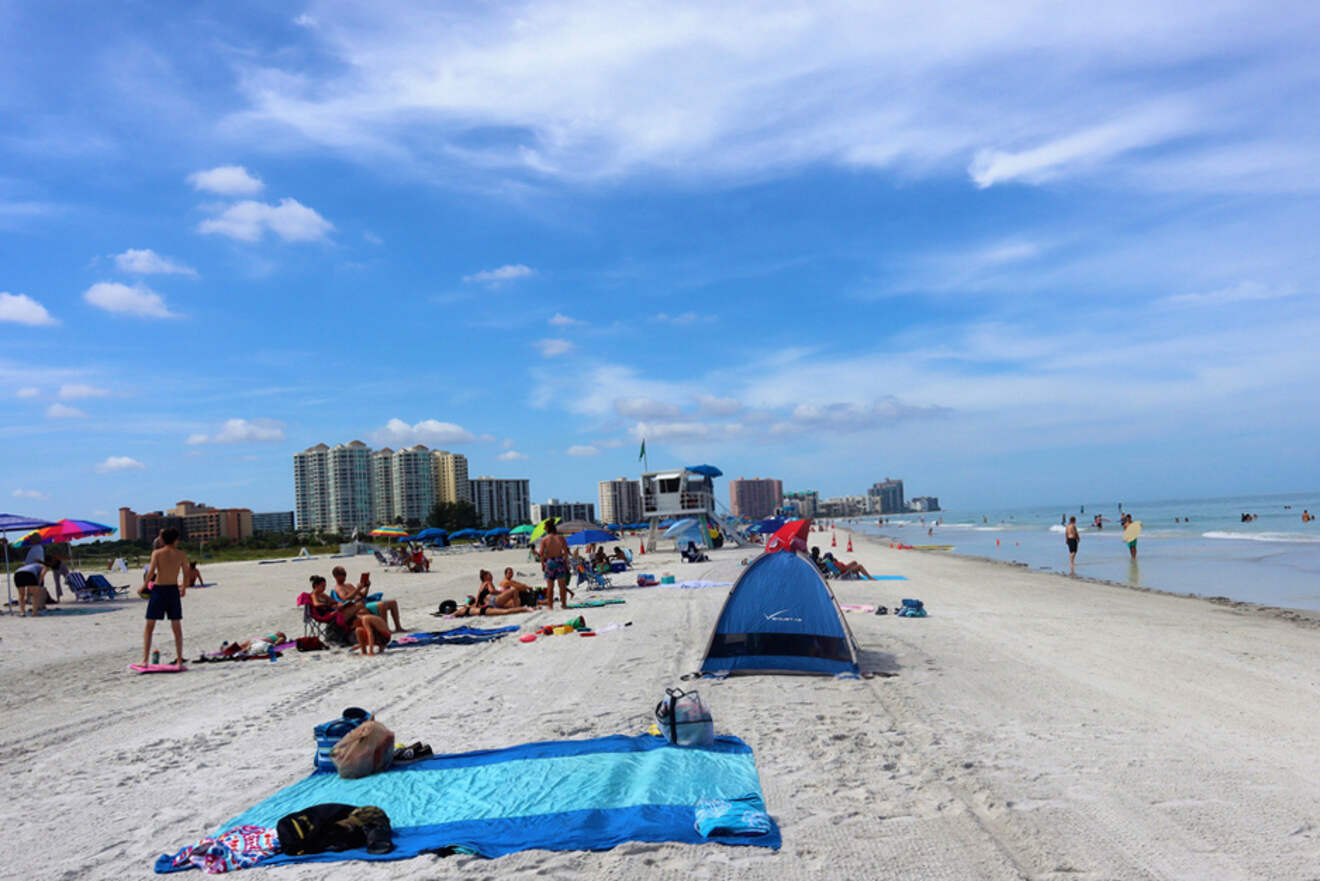 Sand Key Park is one of the most beautiful beach parks in St. Petersburg!
The perfect combo of a nature preserve and a beach, this is perfect for those who prefer pristine beaches without a ton of development or crowds.
The gorgeous landscape and the salt marsh at Sand Key make for the perfect birding spot. Keep an eye out for Owls, Bald Eagles, Ibis, Egrets, Herons, Roseate Spoonbills, and more!
There is an artificial reef at Sand Key Park that is a part of a growing effort to preserve and protect the marine ecology of the Gulf of Mexico and St. Petersburg, Florida.
Keep an eye out for sea turtles, dolphins, and other wildlife on your visit!
With a playground onsite and white sandy beaches, this is the perfect place to take the family or enjoy a peaceful day out in the incredible nature St. Petersburg has to offer.
This is personally one of my favorite St. Petersburg tourist attractions!
PRICE: Free
24. Go on a clear kayak around Shell Key
This incredible tour takes you in a clear kayak around the stunning pristine wilderness of Shell Key.
With this tour, you can see Tampa Bay from a whole new perspective!
Think: Incredible visibility, the salt breeze in your hair, fish swimming beneath you, and gorgeous mangrove forests – this is a super unique and fun experience in St. Petersburg.
See coastal birds, and incredible marine life like dolphins and manatees, and hang out on shallow sandbars.
I went on this tour when I visited St. Petersburg and it completely changed my perspective. This is a really incredible experience that everyone should encounter at least once in their life!
PRICE: US$79
Book Your Clear Kayak Mangrove Tour
FAQs about things to do in St. Pete FL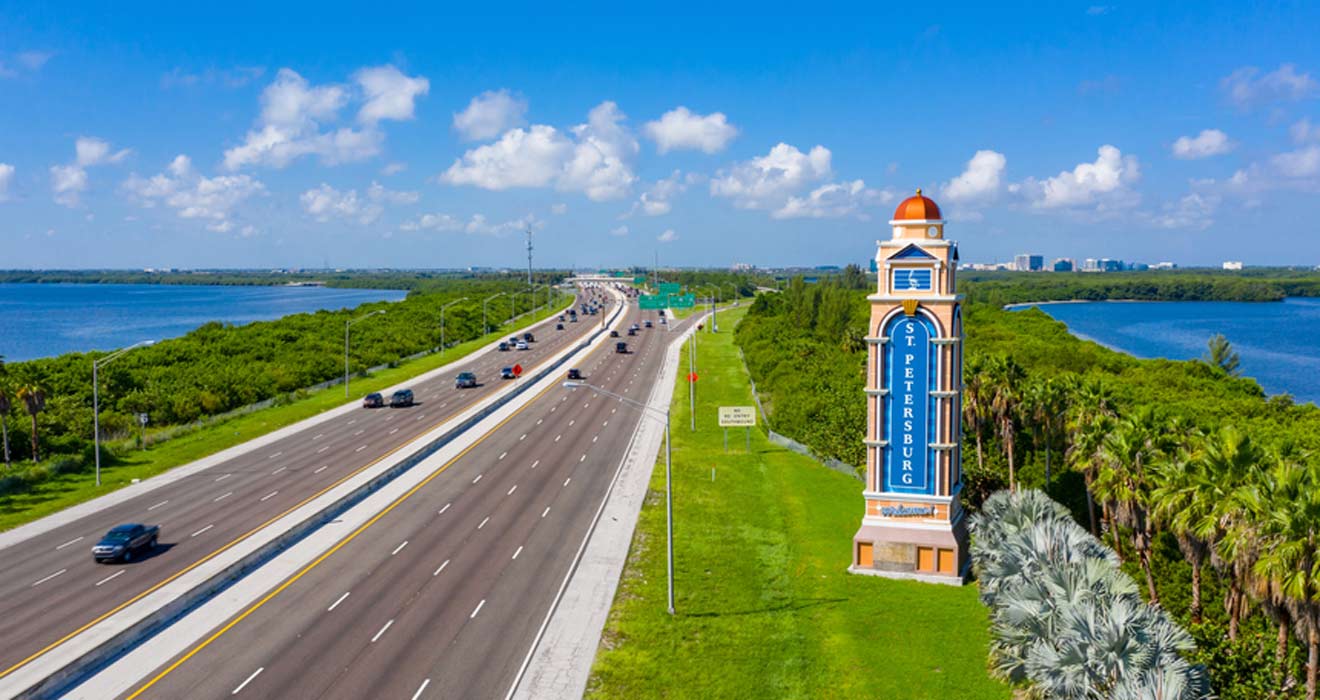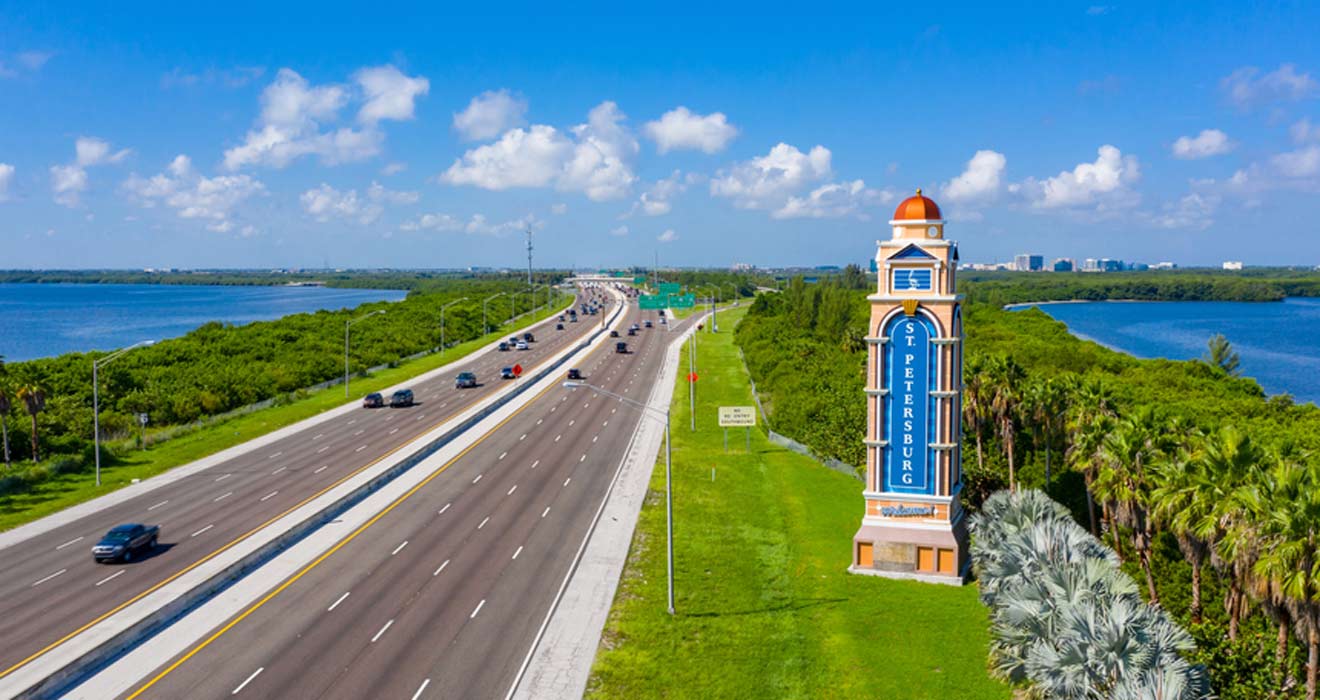 Conclusion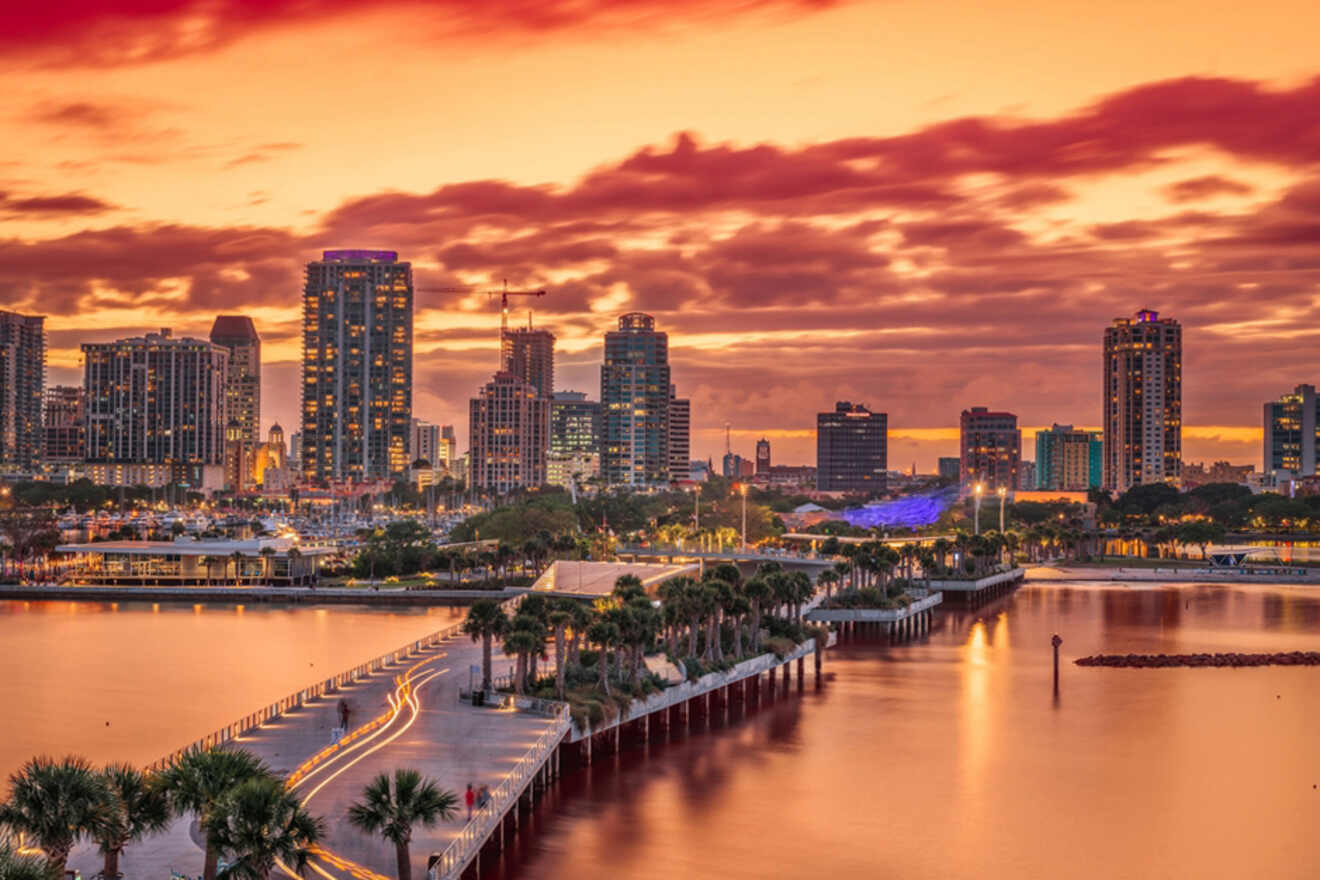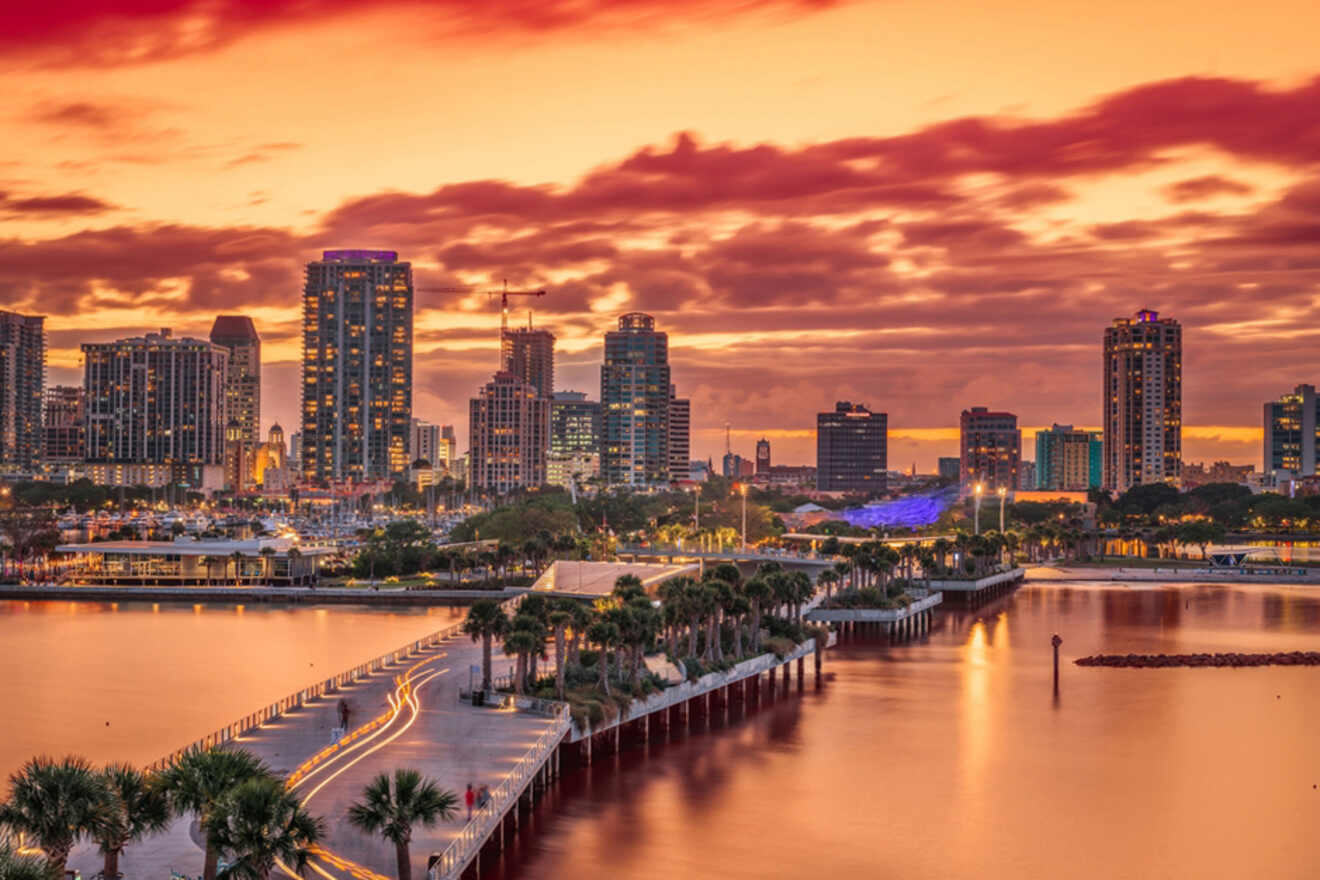 Ahh St. Pete. You hold a special place in mine, and so many art lover's hearts.
Between the gorgeous wild coastal landscapes, art education, amazing selection of museums, delicious seafood, and incredible views, St. Pete is a really spectacular place to visit in Florida.
Here are my 2 favorite things to do in St. Pete!
St. Petersburg is a great place to create some unforgettable memories and see Florida's wild side. History buffs, nature lovers, art aficionados, and anglers alike will absolutely love this West Coast Florida destination!
With Love and Gratitude,
Amira G.
---
Pin it for later!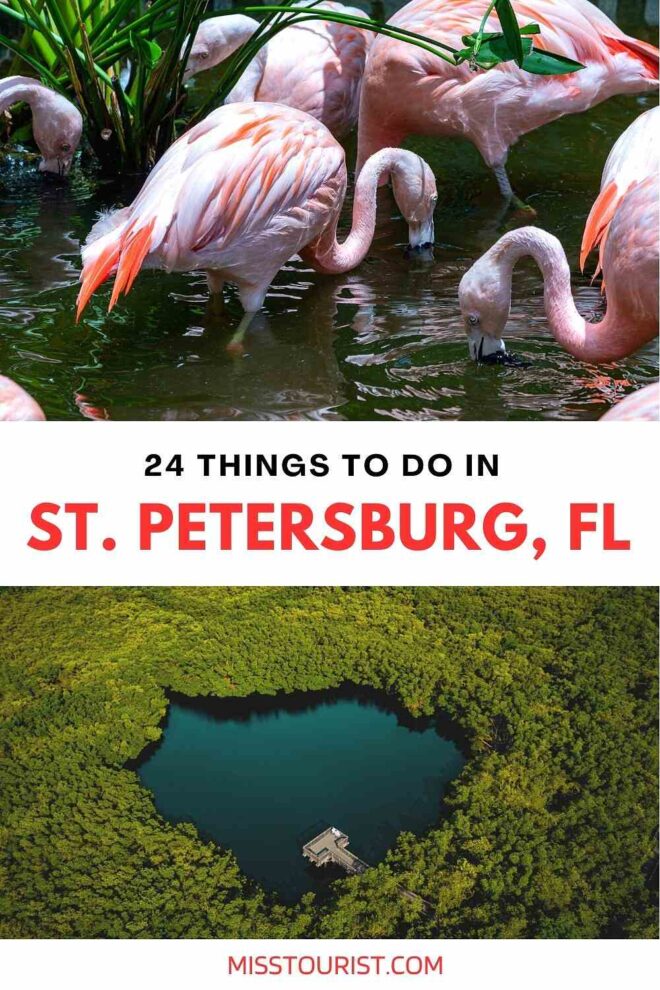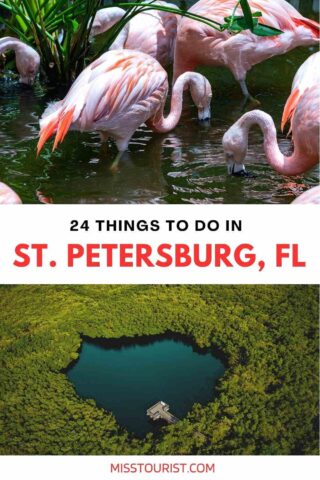 Pin it for later!