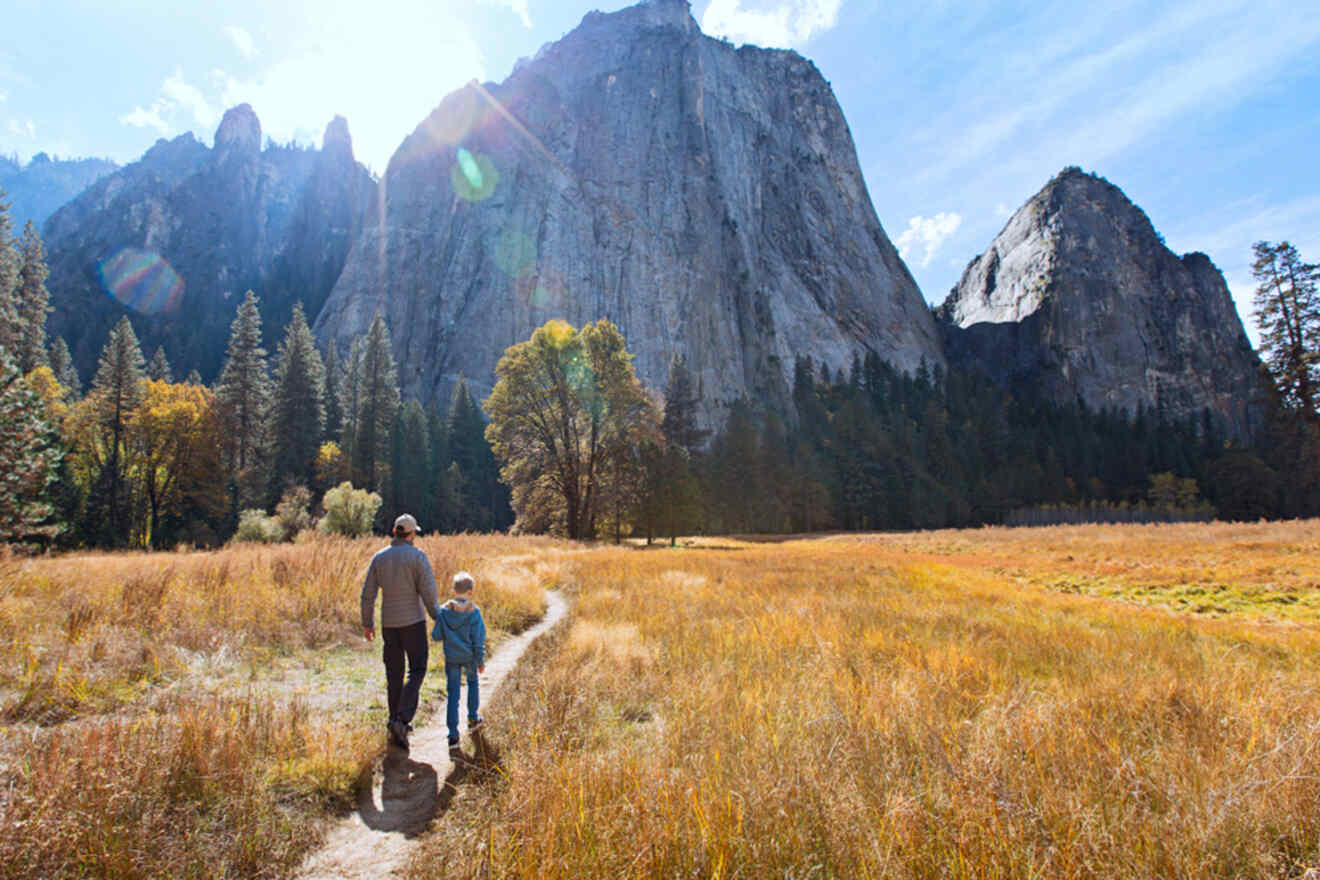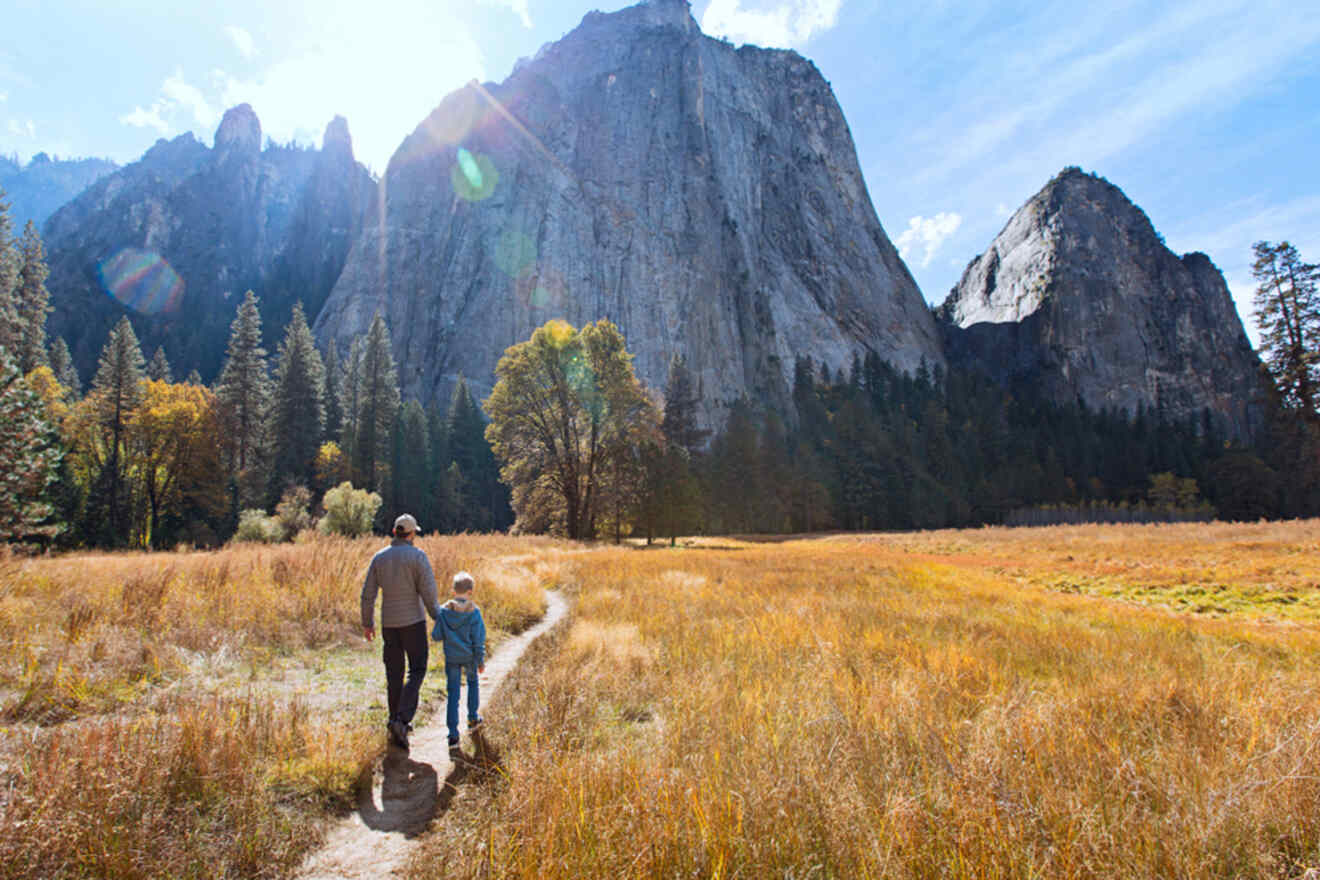 It's no secret that California is home to some of the most beautiful national parks in the country. From the tallest and most majestic trees in the world in Northern California to the world's hottest deserts in Southern California, there's something somewhere for everyone.
One national park that you'll absolutely want to cross off your bucket list is Yosemite National Park. Yosemite is one of the most popular national parks in the country, the most beautiful UNESCO World Heritage Site, with millions of visitors admiring the scenery and wildlife each year. And, lucky for you, I'm here to give you the total breakdown of what you should do the next time you spend 2 days in Yosemite National Park.
I've lived in California my entire life and have gotten pretty good at mapping out my trips to national parks and different cities in order to make the most out of my time and have the best trip possible.
In this post, I'll be sharing a complete Yosemite 2-day itinerary for the next time you plan your trip. Follow along and let me know if you have any questions in the comment section below!
Let's get started!
If you are in a hurry
2 days in Yosemite calls for a few tours of the highlights around the park. Here are a couple I suggest booking in advance to save your spot on your short stay:
And here are the best rentals: Family Farmhouse (luxury), Sierra Meadows (mid-range), Jackass Hostel (budget)
Explore all your options in our detailed guide on where to stay in Yosemite!
Everything you need to know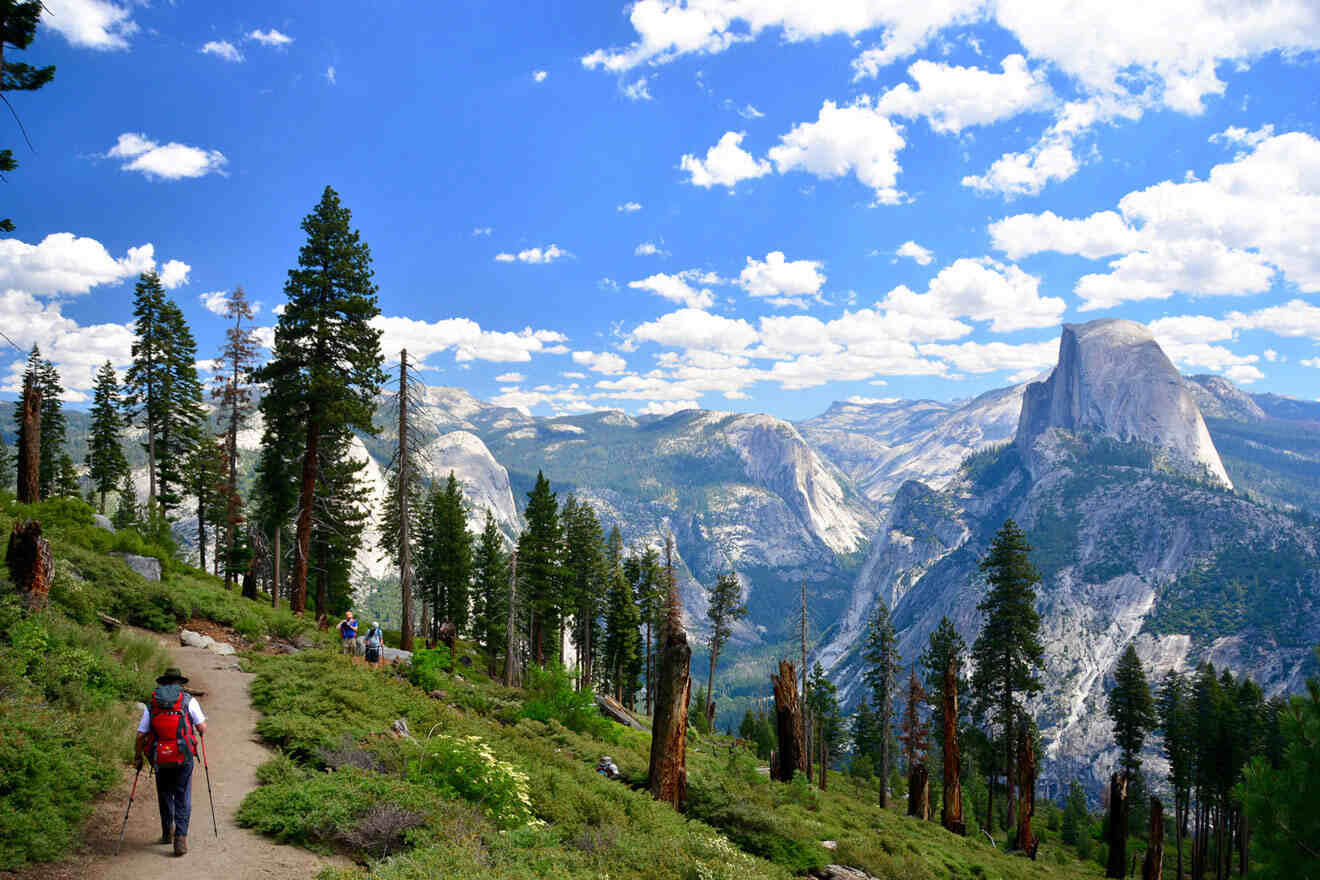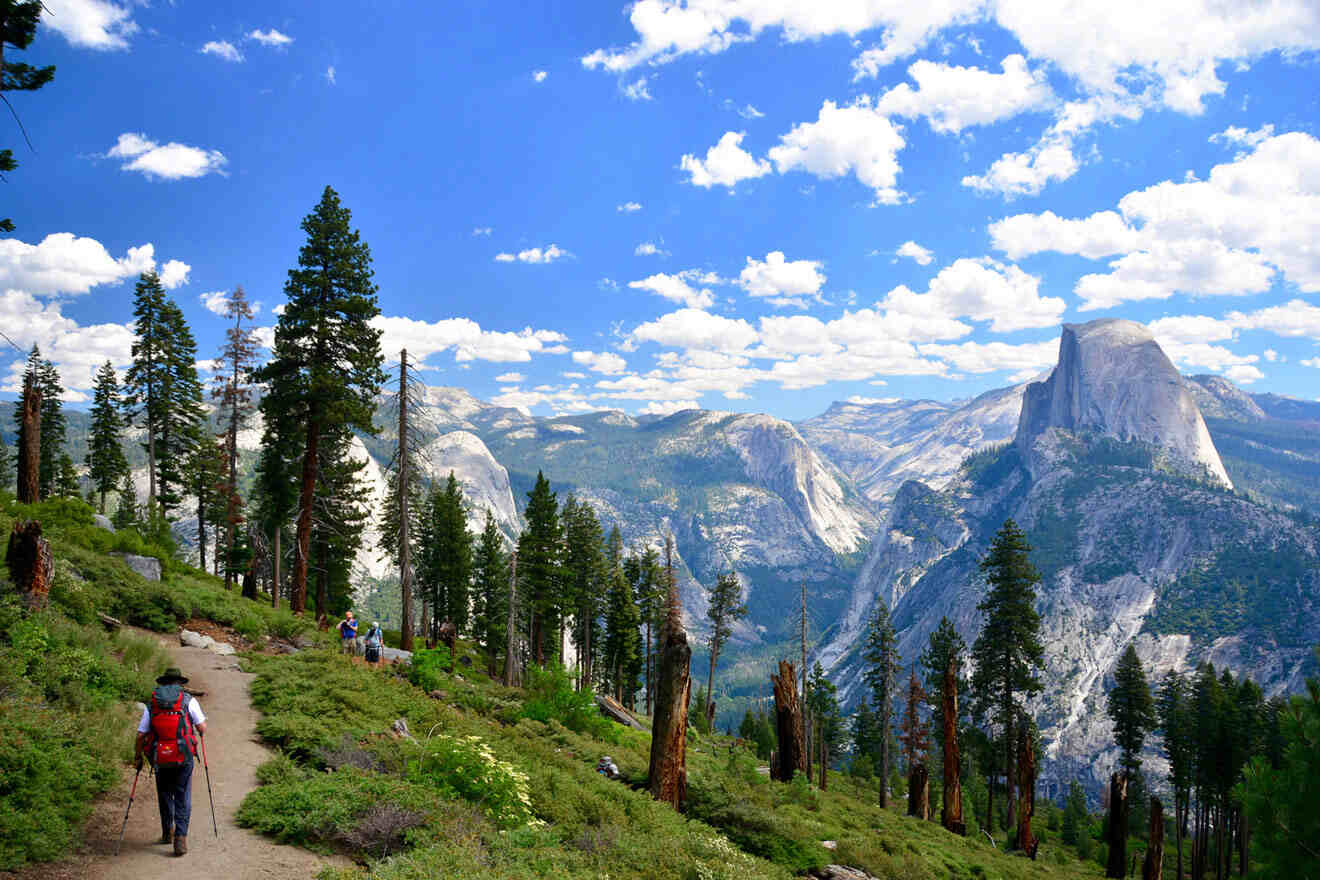 Before you start planning your trip to Yosemite National Park, it's important to keep a few things in mind.
Yosemite National Park isn't near a huge city where it's easy to land and drive over whenever you want. It's so important to plan where you're landing, how you're getting to the park, and all the logistics ahead of time to ensure your trip goes smoothly. Here's a list of the nearest airports:
Merced – 2 hours to Yosemite
Fresno – 2 hours and 15 minutes to Yosemite
Sacramento – 3.5 hours to Yosemite
Oakland – 3 hours and 45 minutes to Yosemite
San Francisco – 4 hours to Yosemite
Reno – 4.5 hours to Yosemite
How to get around the park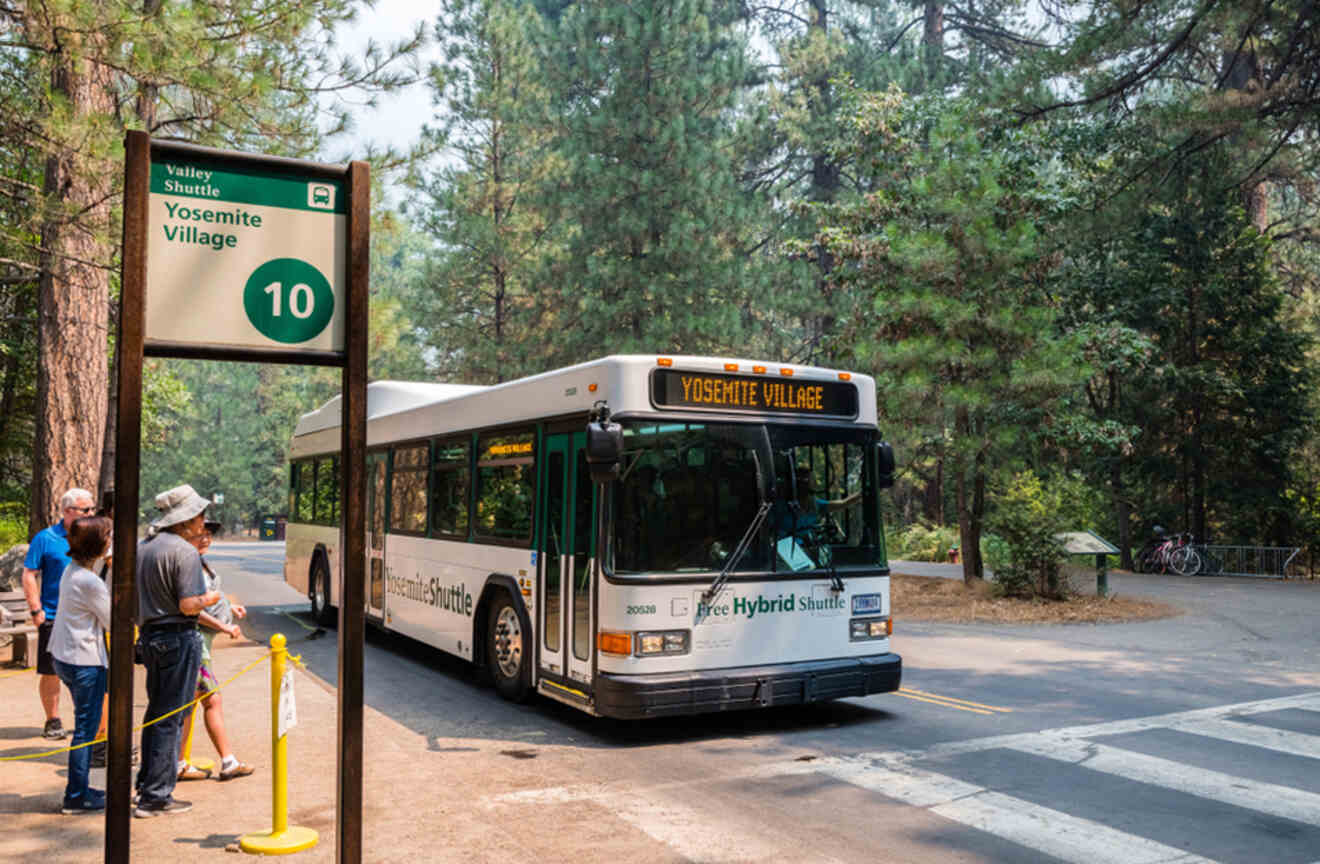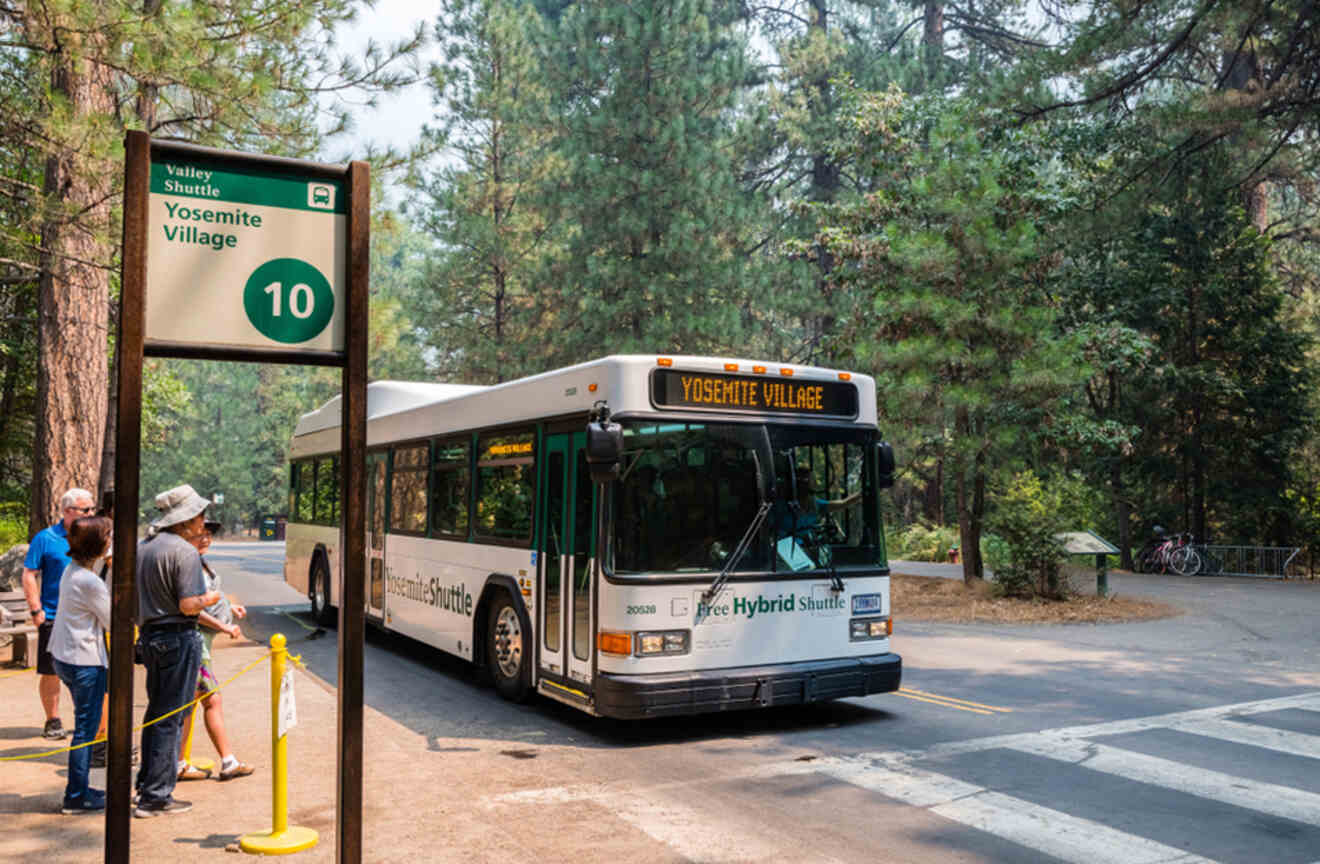 If you're flying, I suggest landing in Merced or Fresno and renting a car to get to the park and/or navigate the area. If you're using your car around the park, invest in a self-guided auto tour and avoid getting lost and/or wasting any time.
If you prefer to sit back and relax, take the public transportation going from Merced Highway 140 to Yosemite National Park. It takes about 2 hours and 40 minutes to get there, which is a bit longer than just driving there. Because you only have 2 days in Yosemite National Park and it's easier to get around, I suggest driving!
Once you finally arrive, you can park your car and use the free shuttle system in Yosemite National Park that allows you to get around conveniently! There are 2 shuttles:
The Valleywide Shuttle serves all stops throughout the entire Yosemite Valley, including lodges, food service, campgrounds, and trailheads. The buses will come and go every 12 to 22 minutes from 7 AM to 10 PM.
East Valley Shuttle is limited to Yosemite Village, Curry Village, Pines Campgrounds, and trailheads on the eastern side of Yosemite Valley. The buses come and go every 8 to 12 minutes from 7 AM to 10 PM. There are limited routes ONLY available later in the summer.
Where to stay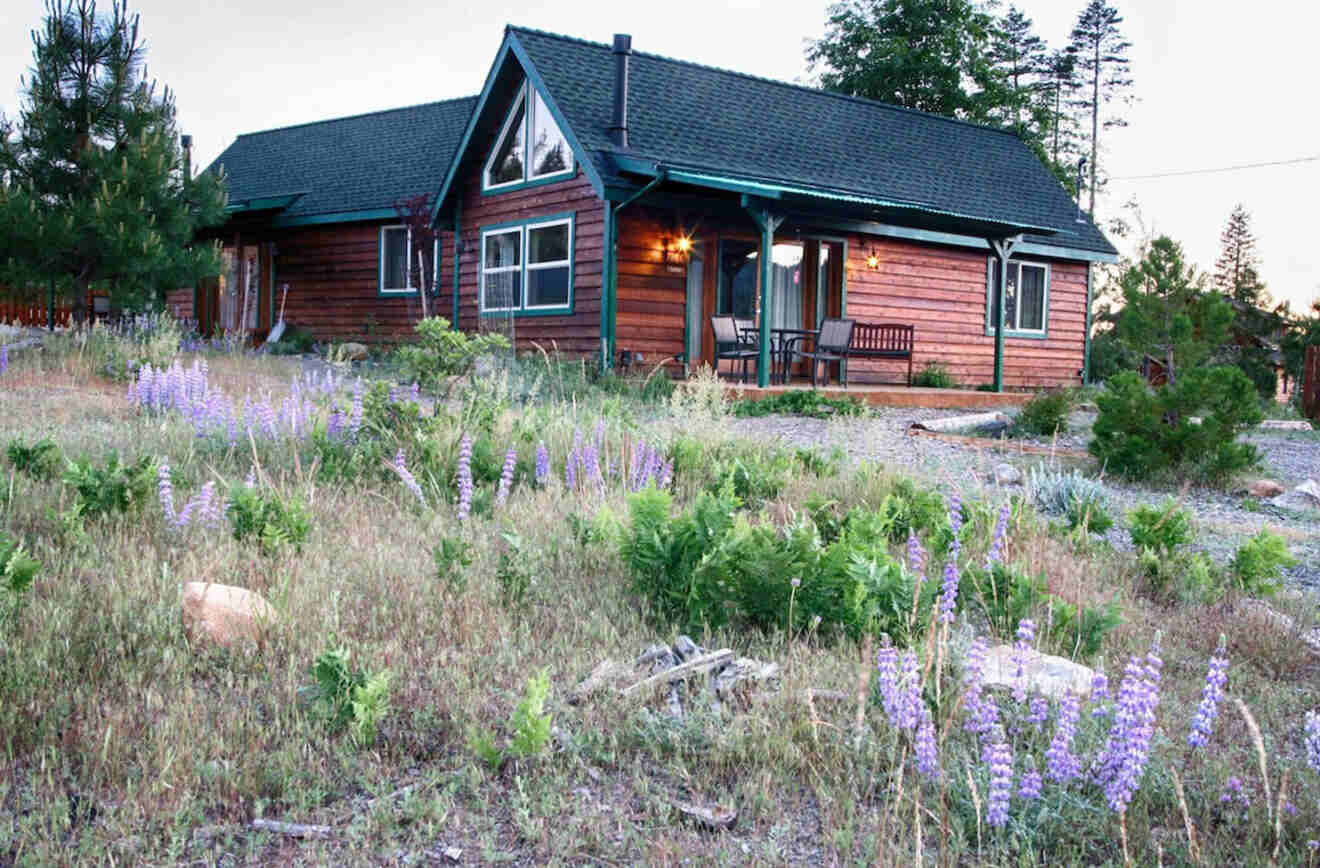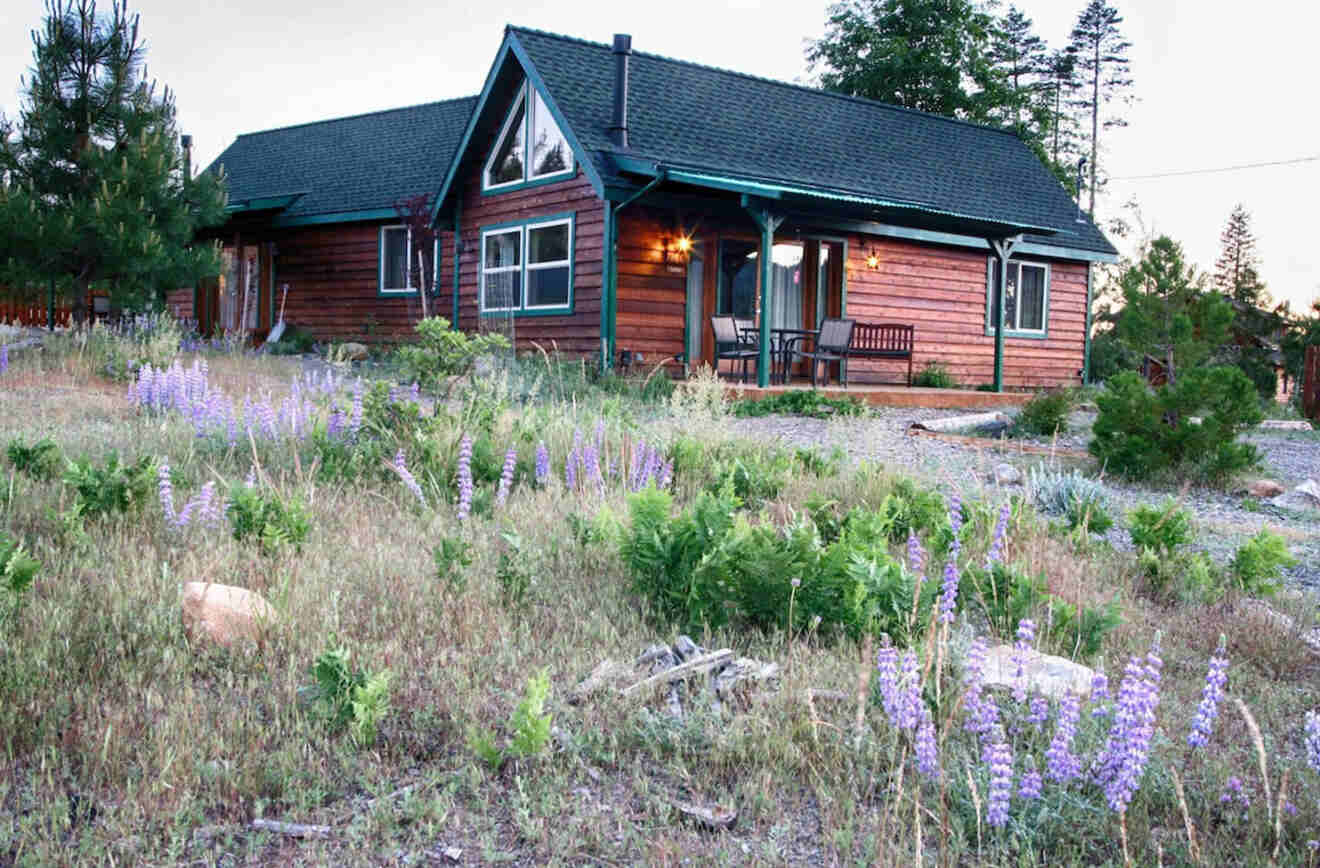 The most affordable accommodations are going to be in Merced or Fresno, as well! I suggest booking a vacation home like this one and using your car rental to get to the park, a couple of hours away. If you want to stay in the park itself, I suggest staying at Ahwahnee Hotel, located directly next to the visitor center, or the Yosemite View Lodge, located minutes away from the park entrance.
What to bring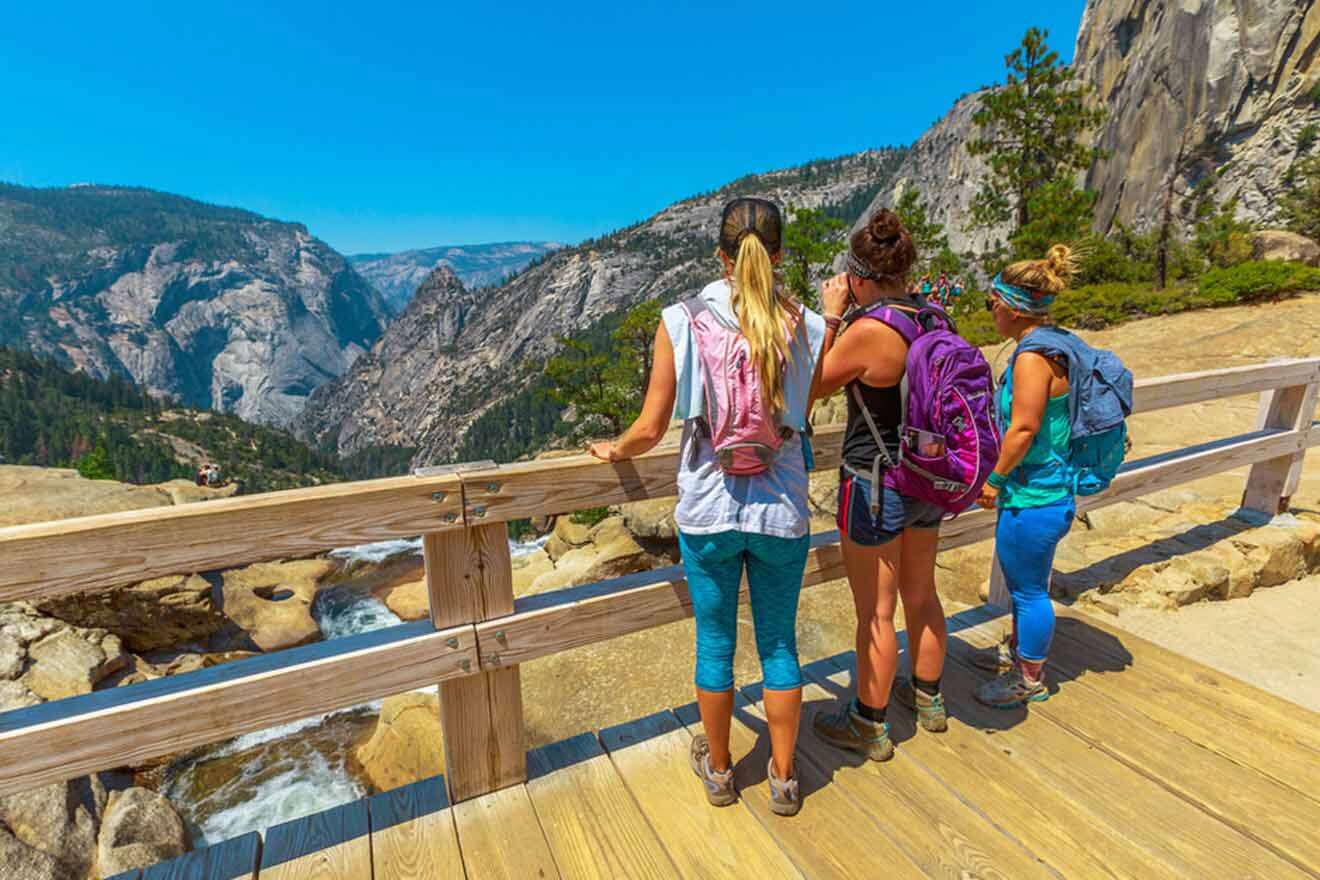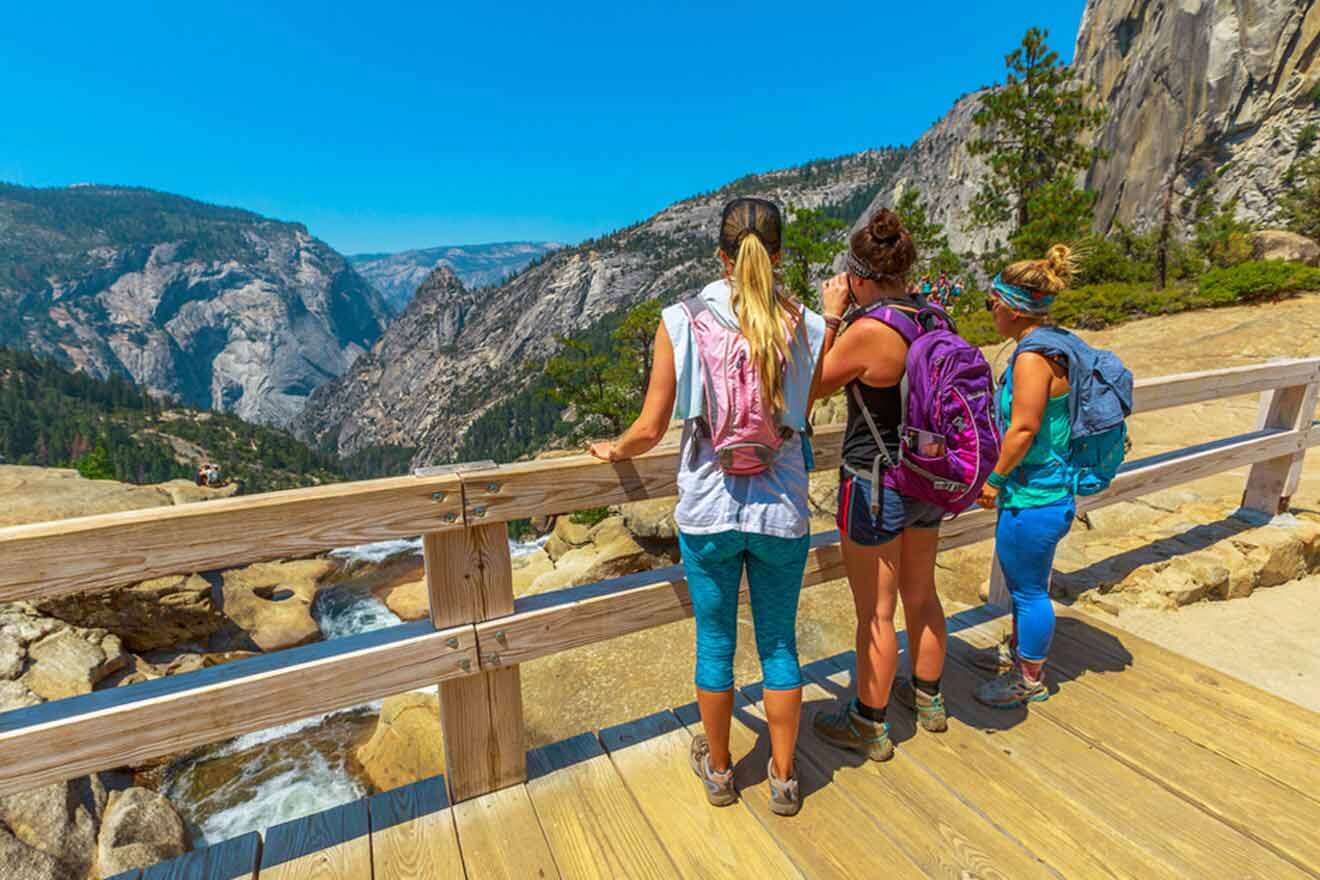 When you pack for your trip, there are a few things you absolutely need to bring.
Comfortable hiking shoes
Sunglasses
Sun hat
50+ SPF sunscreen
Reusable water bottle
Trail snacks and meals
First-aid kit
Compass
Your most comfortable hiking backpack to carry everything!
The items you pack will vary depending on the time of year you visit Yosemite and the type of activities you choose to explore from this Yosemite 2-day itinerary, so be sure to cater your packing list accordingly.
When to visit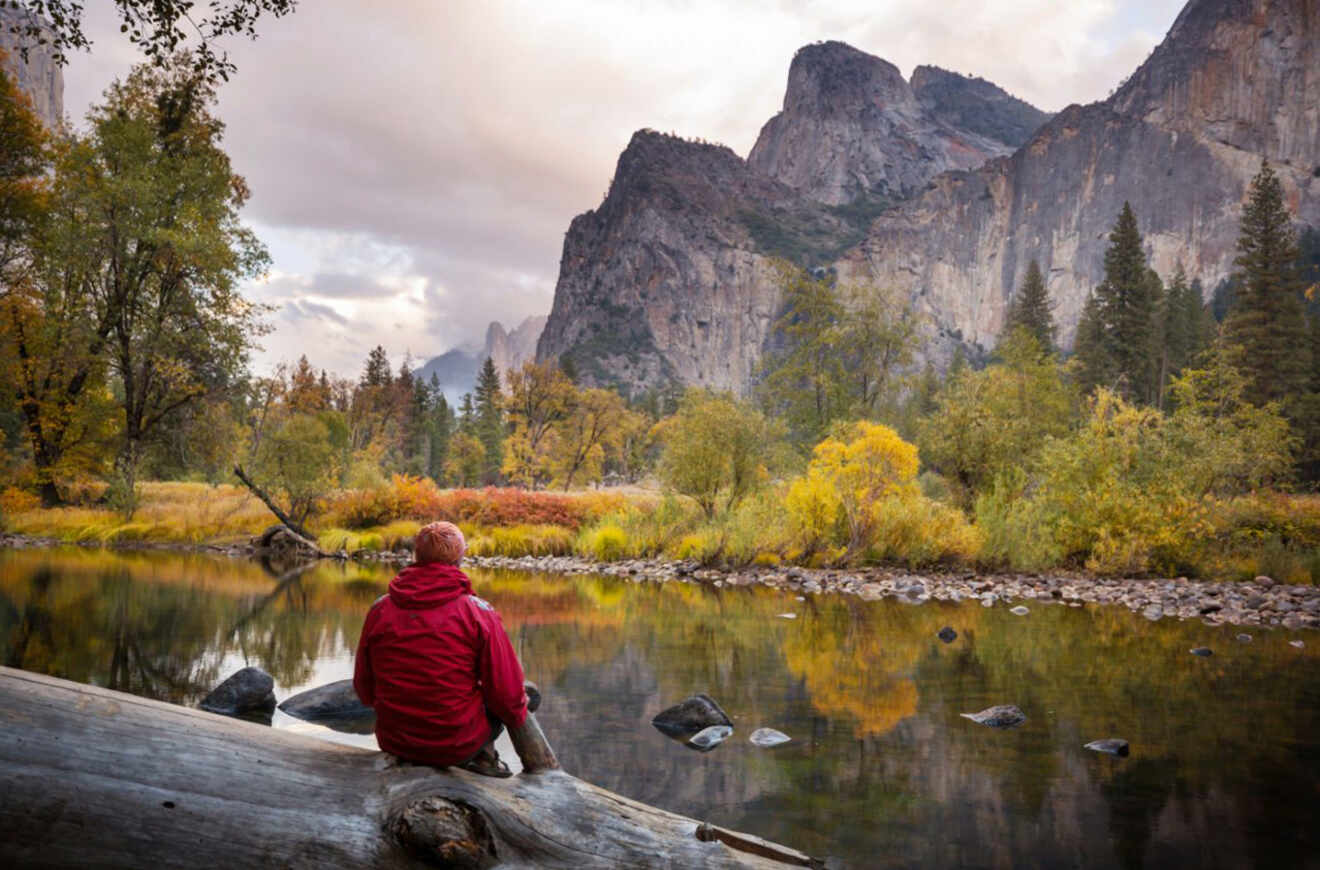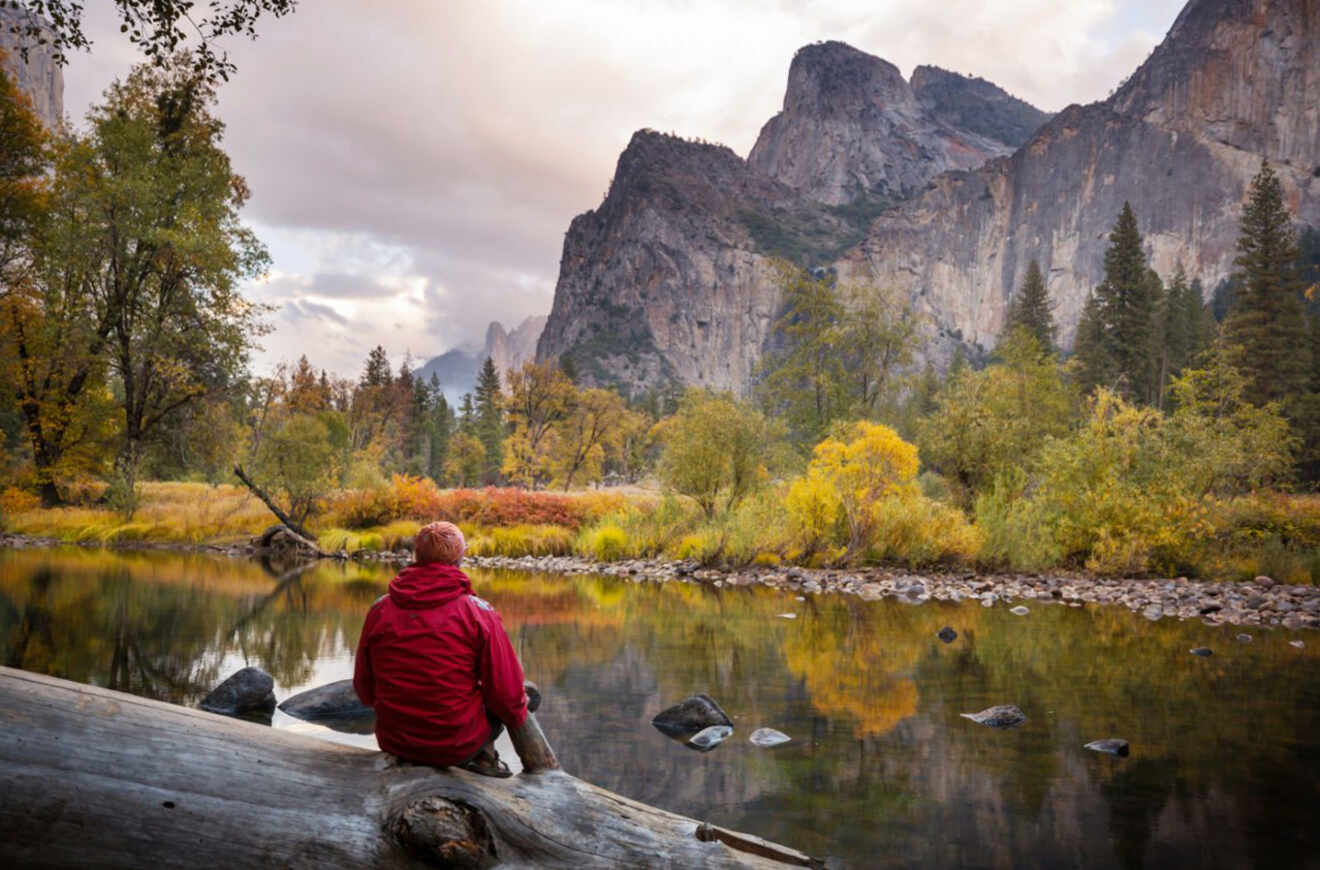 Speaking of the time of year…. My favorite time to visit Yosemite National Park is during the later fall and early winter. I suggest going during that time because it's not as hot outside, and you get a glimpse at the stunning fall foliage, crisp air, feel a little bit of snow coming in, and you'll see the magical flowing waterfalls.
Important things to remember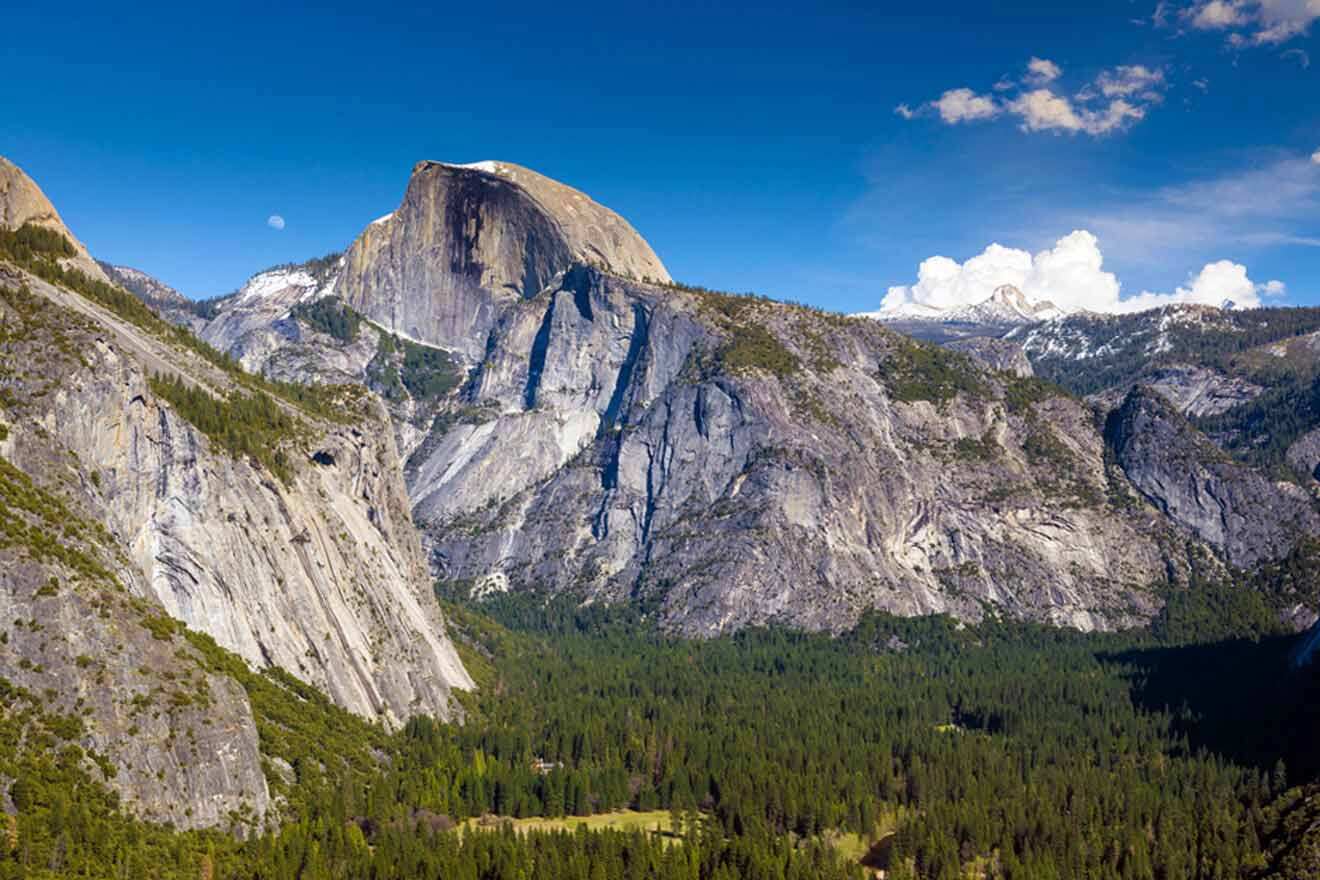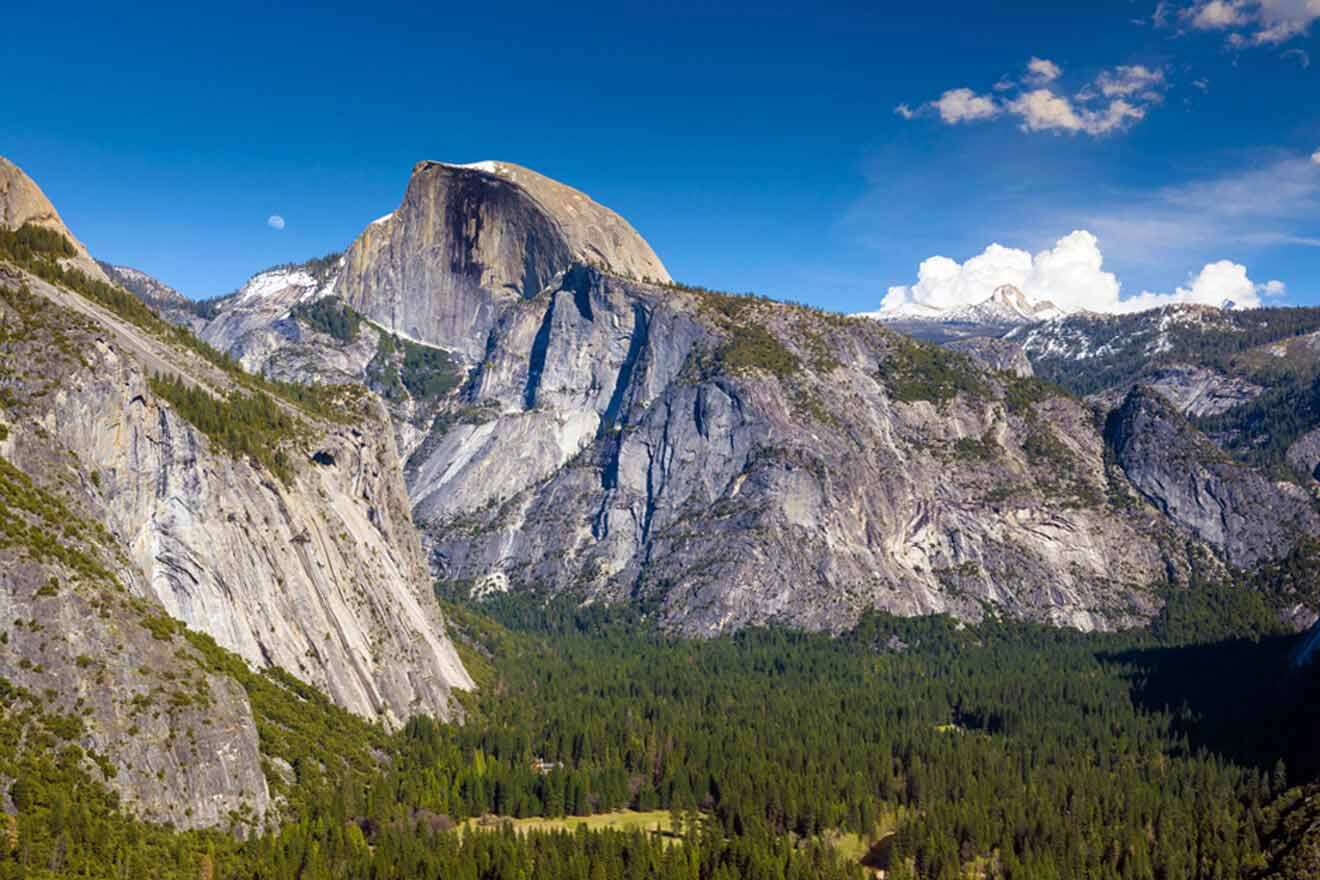 Lastly, remember to keep in mind that Yosemite National Park is protected by the National Park Service, so it's essential you respect the environment by not leaving behind any trash and/or anything that would harm the park and its animals. Don't feed the wildlife (not even the squirrels!), and check the website ahead of time for certain closures and up-to-date information!
Alright, now you're ready to go! 🥾
Day 1
On your 1st day in Yosemite, you'll be exploring the entire valley! Put on your hiking boots and get ready for an eventful day.
Here's a map of your 1st day of the Yosemite 2-day itinerary and all the places you should visit:
1. Start your day at the visitor center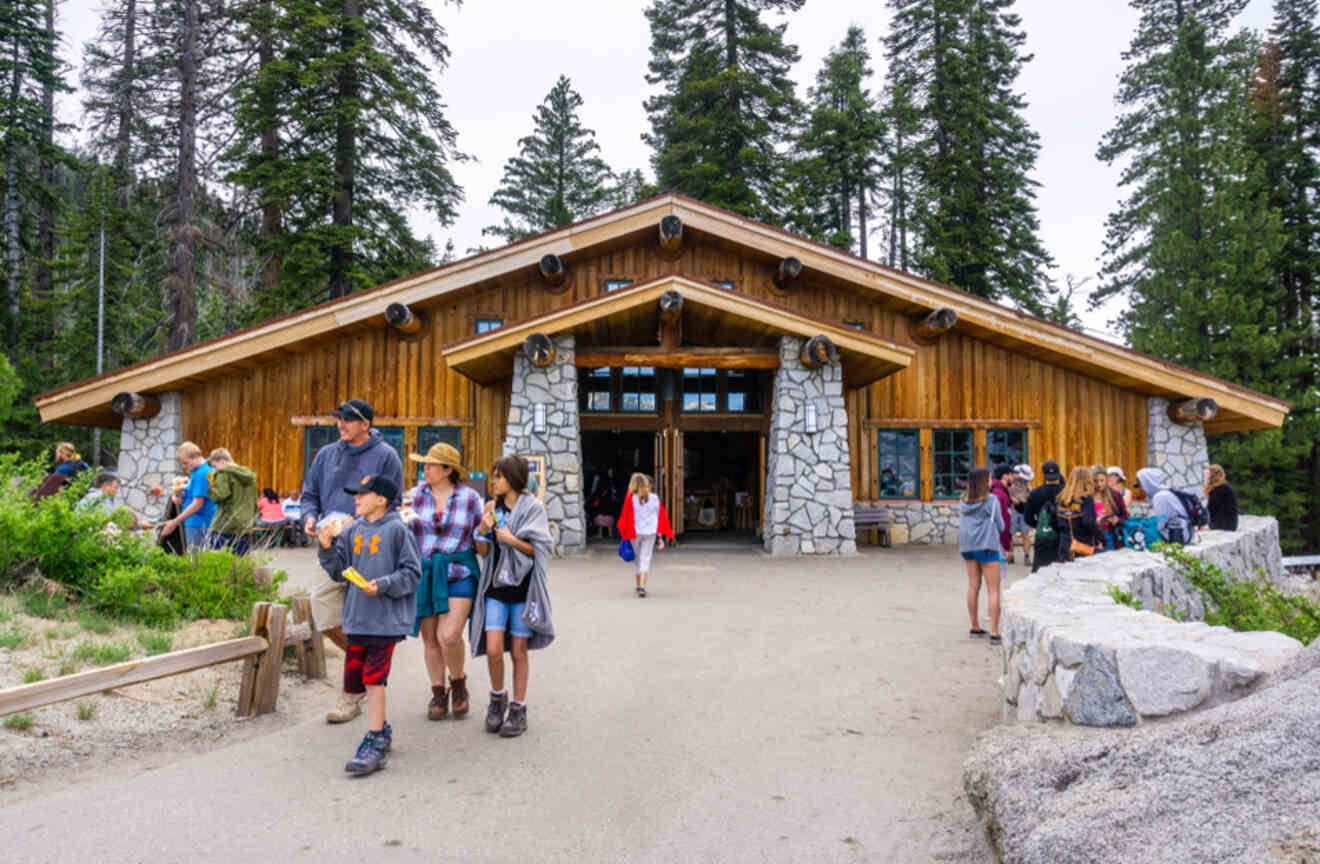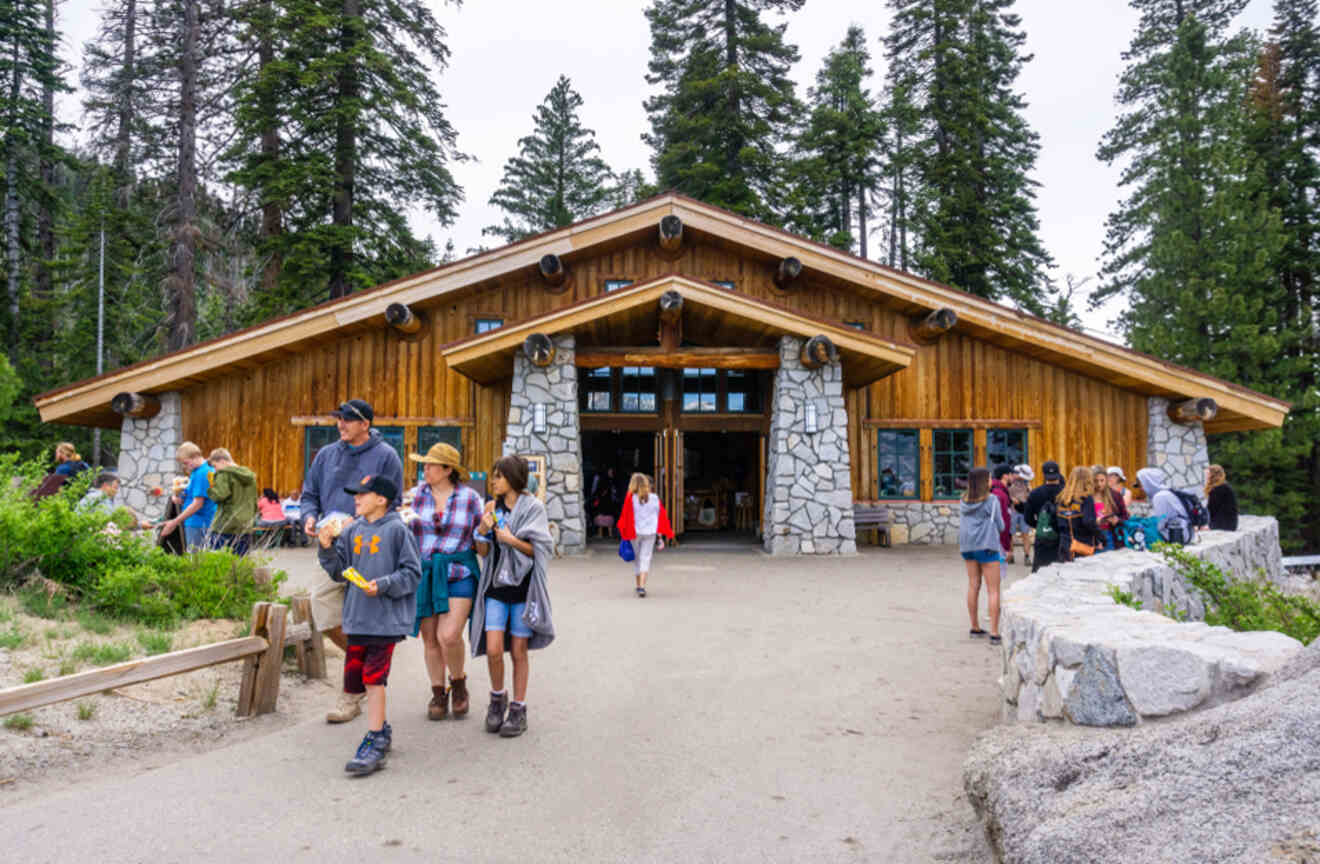 First things first… coffee! If you're staying in a nearby city, go to your local Starbucks before heading out to the park and grab a cup of joe to prepare for the rest of your day.
I also suggest heading to your local grocery store and stocking up on snacks and a quick meal you can pack in a lunchbox. The dining options at the park aren't the best and tend to be overpriced and crowded. Avoid that by packing a lunch in advance!
Once you embark on your journey via car or bus to the park, stop at the Yosemite Valley Visitor Center to gather all the information you'll need for the next 2 days in Yosemite. Grab a physical park map (and download the NPS app beforehand for an interactive map, and easy offline use), and get up to speed with the current trail conditions.
Yosemite Valley Visitor Center is also a great starting point because there are plenty of rangers there happy to answer any questions you might have beforehand, many exhibits and displays of Yosemite National Park's ecosystems and human history, and even a theater where you can watch an introductory film about the park's natural and cultural history.
You can also get all your permits (if you need them) here, and shop for Yosemite National Park memorabilia at the bookstore and gift shop. Hold off on buying anything yet since you just got here – but you can keep it in mind and come back!
2. Head over to Lower Yosemite Falls and Cook's Meadow Loop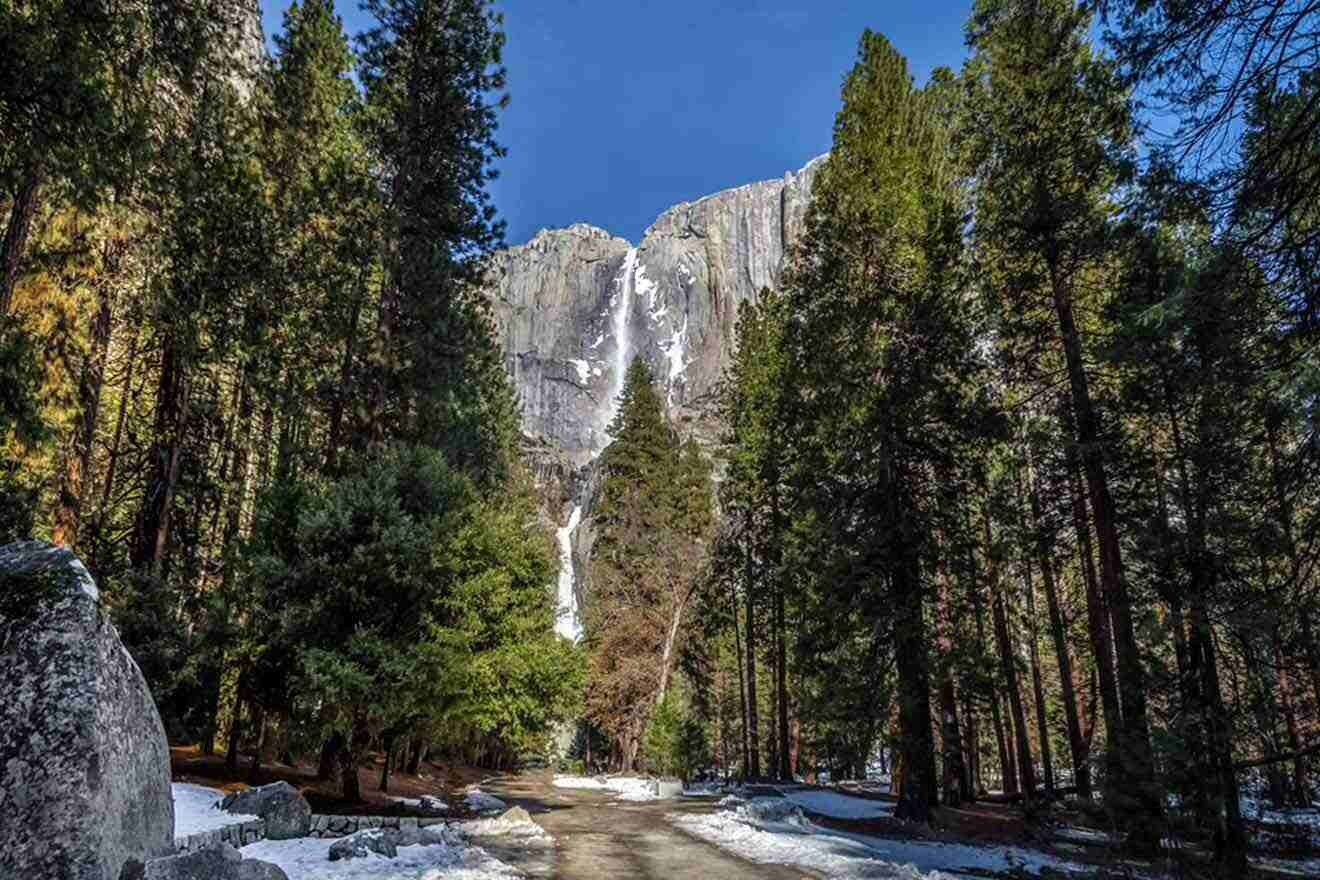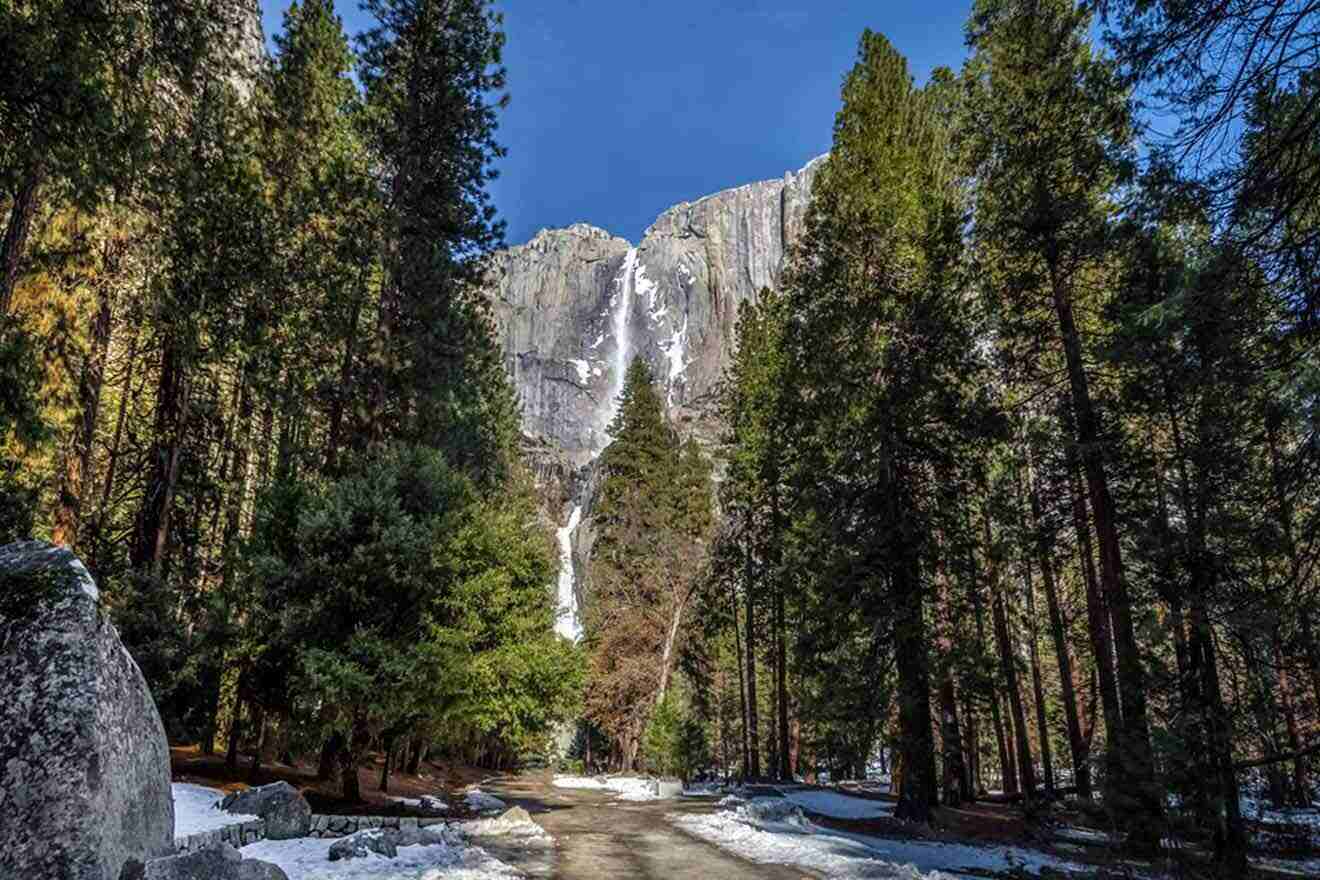 Once you're all equipped and ready to leave the visitor center, take a walk over to Lower Yosemite Falls and begin your 1.2-mile (1.6 km) hike to the iconic waterfall. The hike is really a short walk with a very slight incline in the beginning and then flattens out halfway through.
Once you get to your destination, you'll find a waterfall surrounded by lush vegetation (or snow depending on the time of year you visit!) falling from about 320 ft (98 km).
Note that Lower Yosemite Falls is one of the most popular and iconic natural attractions in the park! That means you'll find many visitors making their way to the waterfall and snapping their photos at the bottom of the cascade.
Snap a photo or two and head up to Upper Yosemite Falls, Middle Cascades and Lower Yosemite Falls to complete the entirety of Yosemite Falls if you have the time. However, since you're only staying for 2 days in Yosemite, you might want to skip it for now and come back another time to complete the journey!
If you do have time and/or decide to visit again, here are a couple of waterfalls you might want to stop at:
Vernal Fall is part of the Merced River Canyon, dropping 317 ft (97 m) to the ground. Mist Trail takes you to the fall so I suggest wearing the proper hiking gear when you visit, and prepare to be sprayed by mist along the way!
Nevada Fall is neighboring Vernal Fall! It is also located along the Merced River, dropping about 594 ft (181 m) to the ground.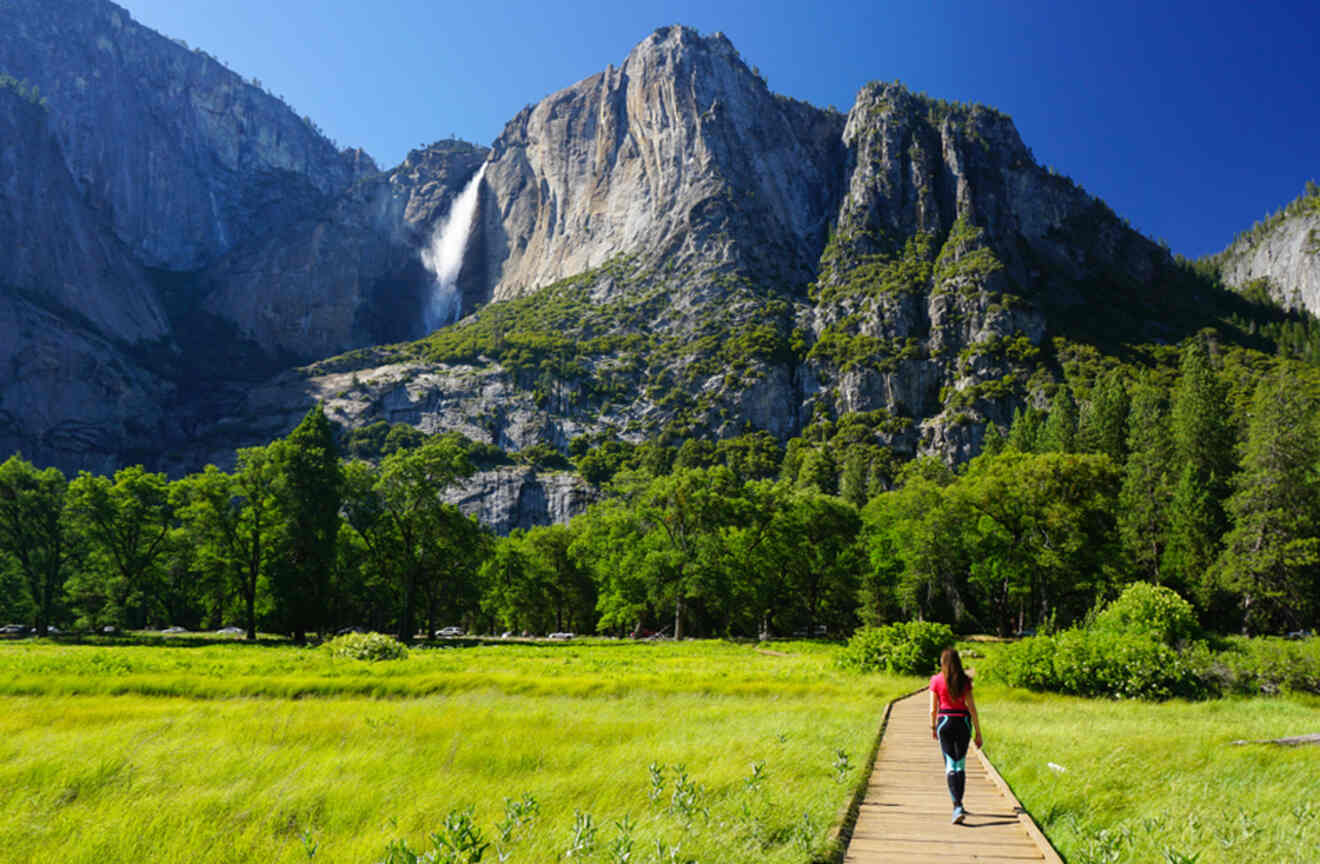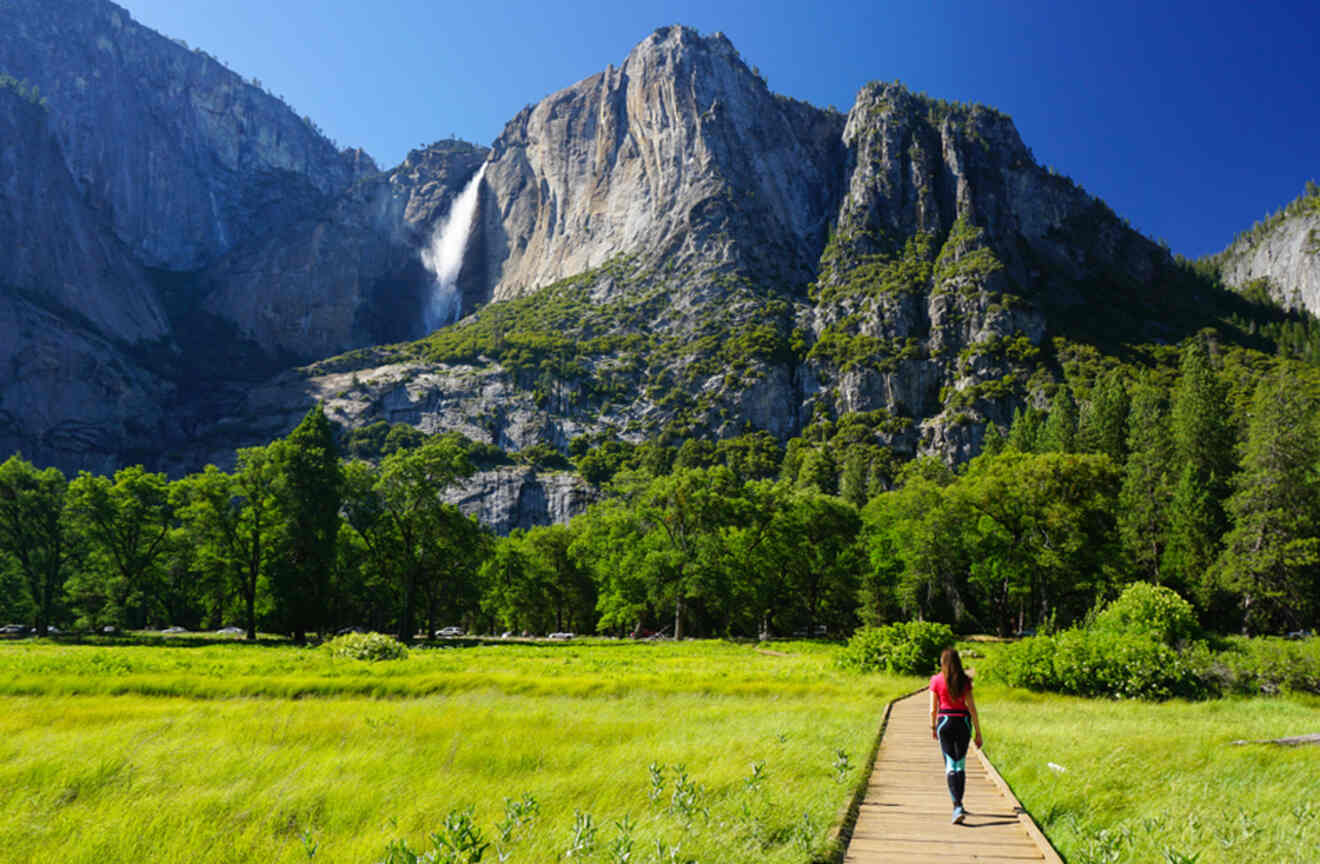 After you snap your photos by Lower Yosemite Falls, make your way back down and an easy 5 minute walking distance detour to Cook's Meadow Loop Trail for another beautiful viewpoint of some of the park's most iconic attractions: Yosemite Falls, Glacier Point, Half Dome and Sentinel Rock!
It's another short hike (about 2 mi or 3 km) around, taking about 40 minutes from start to finish. Stop and enjoy the view along the way and breathe in the crisp, fresh air once you get to the end. The scenic views are mind blowing and well worth the walk!
TIP: want to book a camping trip and really immerse yourself in the beauty of Yosemite's natural wonders? You can plan in advance here. Otherwise, I suggest booking an awesome group camping trip if you have an extra day to spare and want to have all 3 days planned out beforehand for you!
GROUP CAMPING PRICE: from US$630 per person
3. Have a picnic in Yosemite Valley & watch a waterfall cascade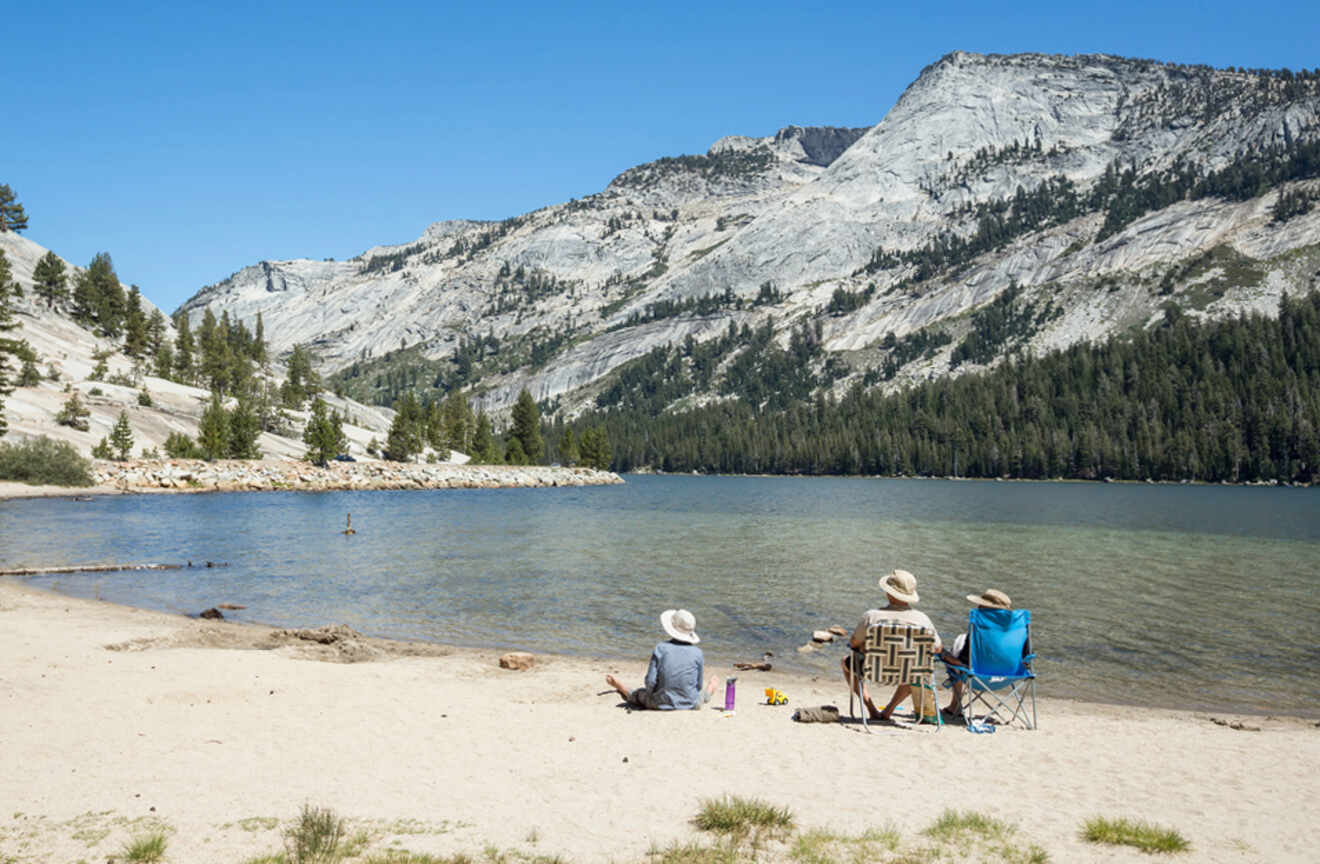 Remember that lunch you packed? It's going to come in handy now that you're probably hungry! There are a few great picnic lunch areas I suggest stopping at:
Sentinel Beach Picnic Area: this picnic area is located along the Merced River, the Sentinel Dome Trail and a 24-minute walk from Cook's Meadow Loop. There are also grills available for public use! It's a first-come, first-served area and it gets pretty busy so keep that in mind!
Yosemite Village Picnic Area: this is a 15-minute walk from Cook's Meadow Loop with the most beautiful scenery and plenty of picnic tables to choose from. I suggest walking over to this area since it's a shorter walk away and offers views just as beautiful as the first option.
I suggest bringing a cooler. I've been using it a ton lately and I absolutely love it. It has so much room and keeps everything nice and cool, which is amazing, especially during the summer.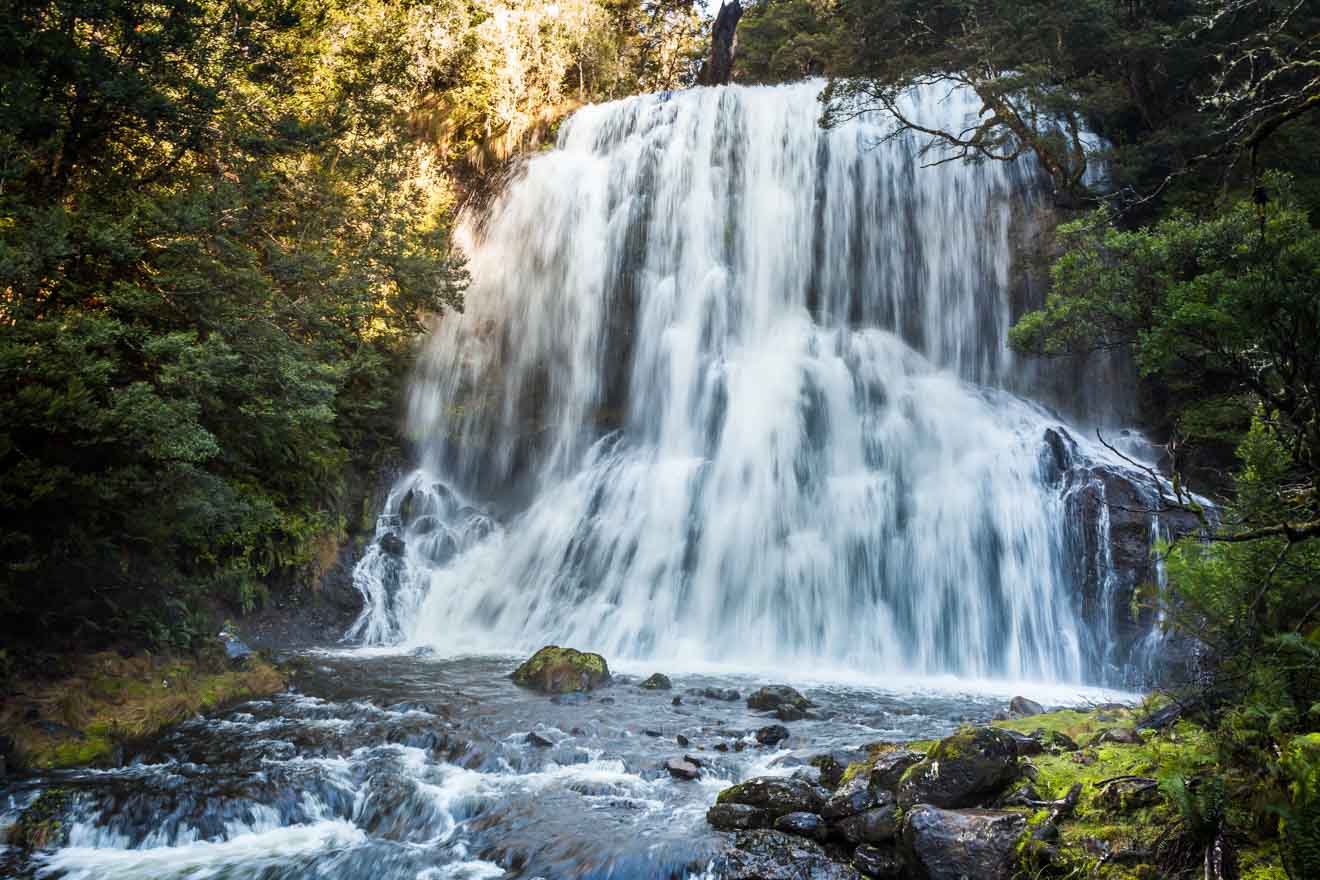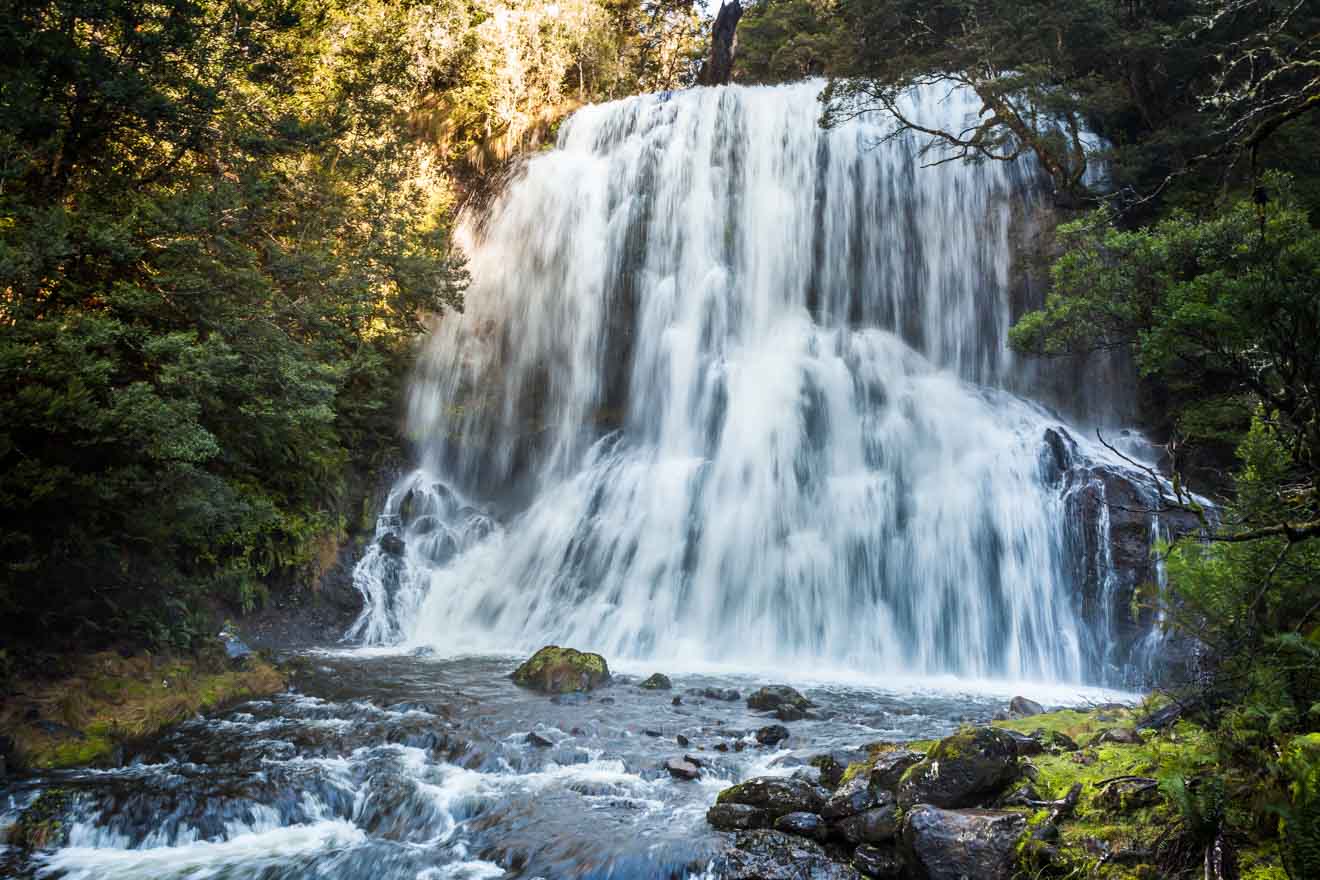 After you finish your lunch, take your free shuttle to the Bridal Veil Falls Trail for a short walk towards the stunning Bridal Veil Falls. You get an up-close and personal view of the waterfall at 620 ft (189 m tall) and take a peek at the humongous El Capitan and snap a photo by Yosemite Valley View nearby!
Again, it's important to check for closures ahead of time to ensure you're not wasting any time, as you're crunching a ton of activities for 2 days in Yosemite and you want to be practical.
NOTE: if any trailheads are closed, take a visit to Tunnel View for a popular roadside overlook of the valley and mountains! Tunnel View doesn't require any hiking so it's an easy spot that's great and easily accessible to everyone.
4. Watch the sunset at the famous Glacier Point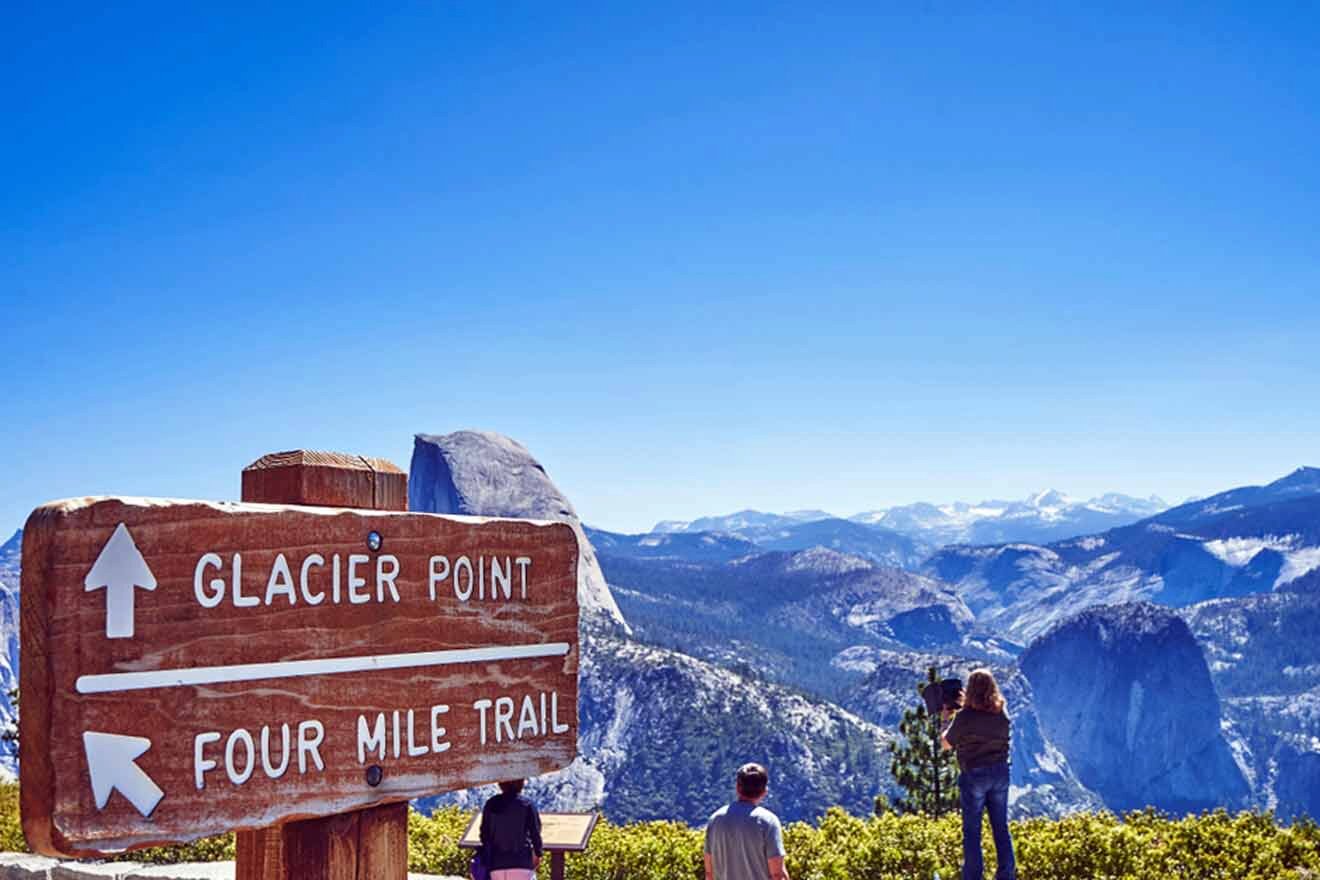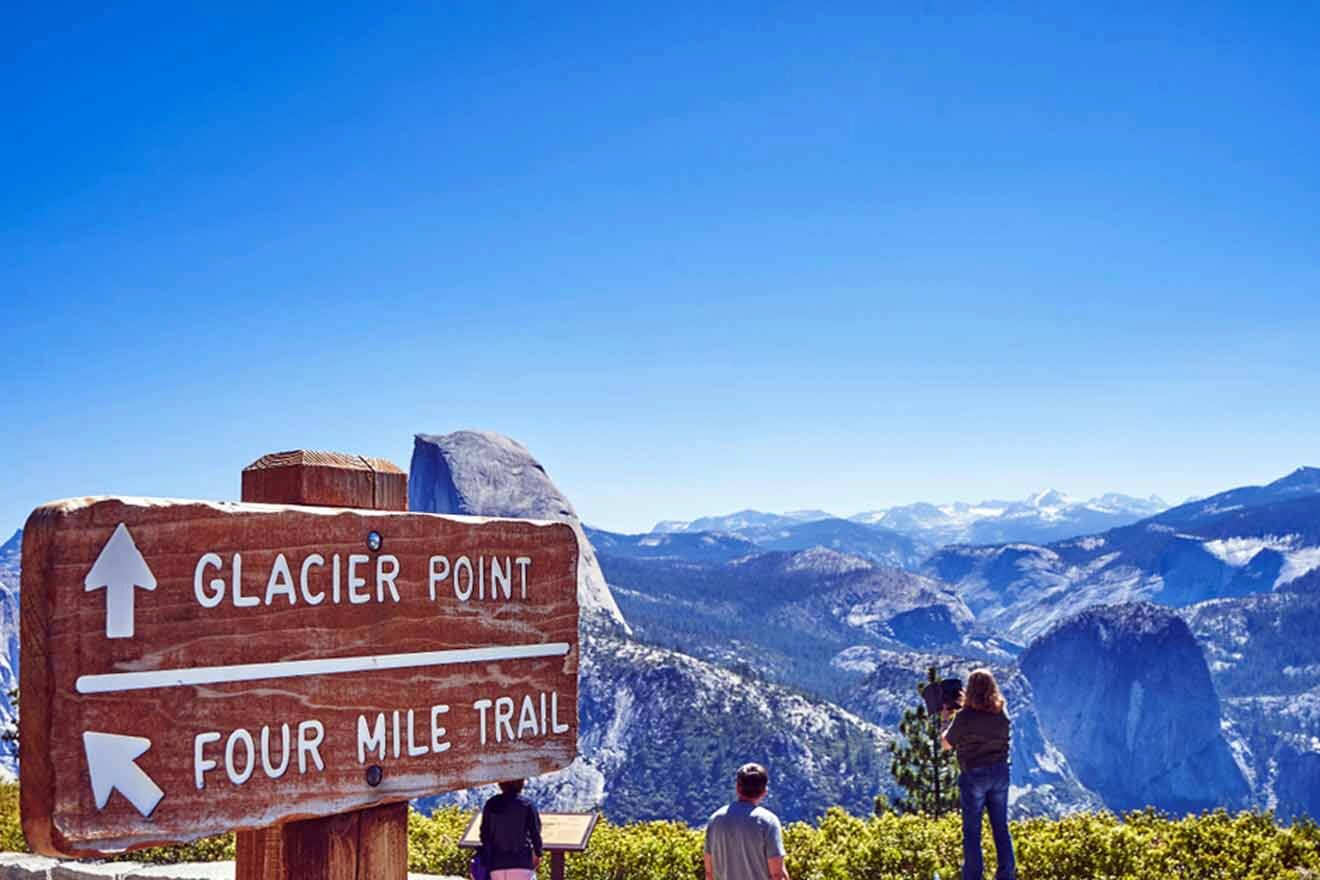 My personal favorite viewpoint in all of Yosemite National Park has to be Glacier Point. You get panoramic views of the mesmerizing Yosemite Valley, Half Dome, High Sierra Peaks, and the Yosemite Falls if you come during the wintertime! Visiting Glacier Point is the cherry on top to a perfect 1st day in Yosemite.
You'll want to drive or take the shuttle over here since it's a bit far away from the other spots you're visiting on your 1st day. If you do drive, keep in mind that traffic gets SUPER busy and congested in this area and it's difficult to find parking.
I do recommend taking the shuttle from where you are and only using the car to get out of the park at the end of the day. It'll make your parking situation way less stressful and you won't be wasting a second worrying about where to park.
I suggest pulling out your trail mix and enjoying the view with your loved ones, snapping some photos that will last you a lifetime, and taking in the moment. Yosemite is surreal and you really feel that when you're at Glacier Point!
If you have 1 hour to spare, take a hike to the famous Mirror Lake in Tenaya Creek via the Mirror Lake Trailhead. It's a beautiful 2-mile (3 km) walk starting from the valley floor and you'll get super close to the base of Half Dome.
You won't have time to hike Half Dome on this short Yosemite itinerary, but I do suggest it if you're an avid hiker and come back another time. It really is a must-do thing in Yosemite!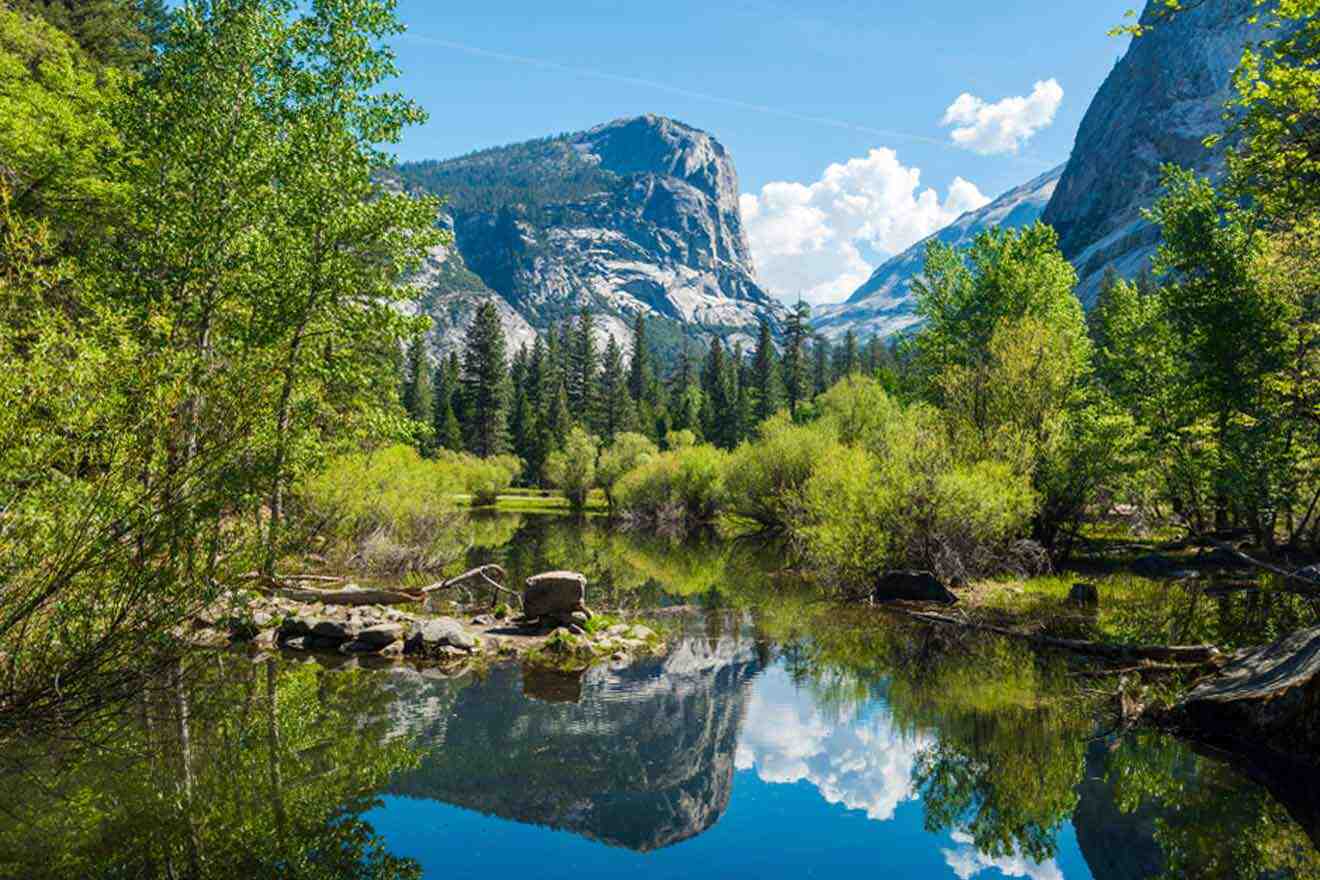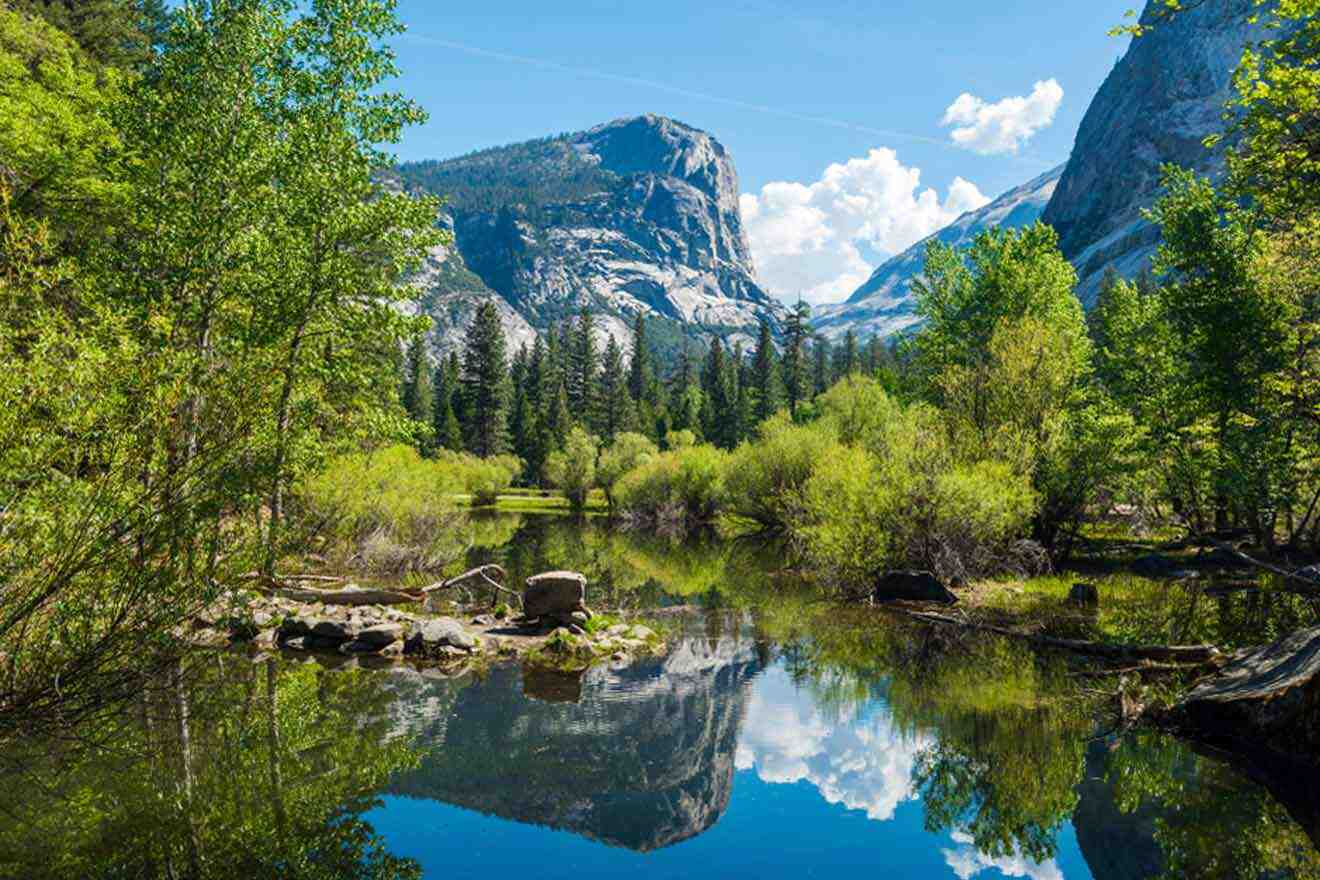 Here are a couple of other things to see nearby if you have more time to spare before the end of your day:
Taft Point offers panoramic views of El Capitan, Yosemite Valley, Glacier Point, and the peaks of the Sierra Nevada Mountains straight ahead.
The iconic granite Sentinel Dome overlooks the valley at about 8,120 ft (2,475 m)!
And just like that – your 1st day in Yosemite National Park is over! Head back to your car or bus stop, make your way back to your rental, and get some rest because we're heading to the countryside for day 2!
NOTE: if all of this sounds like an absolute blast but you can't plan it all by yourself, I suggest booking a full-day group tour! The tour guide will pick you up from your Oakhurst or Fresno accommodation and take you to all the best spots I mentioned (plus, others too).
I've personally done this tour and couldn't recommend it enough. It can get so overwhelming being in Yosemite Valley without a clue of where you are so booking a tour will help relieve that stress!
TOUR PRICE: starting at US$190 per person
Day 2
Ready for your 2nd and final day in Yosemite Valley? The 2nd day will be a little more relaxed with a more quiet countryside feel. Grab your camera and let's get started!
Here's a map of the places you'll visit on day 2.
1. Make your way to the south entrance and visit the sequoias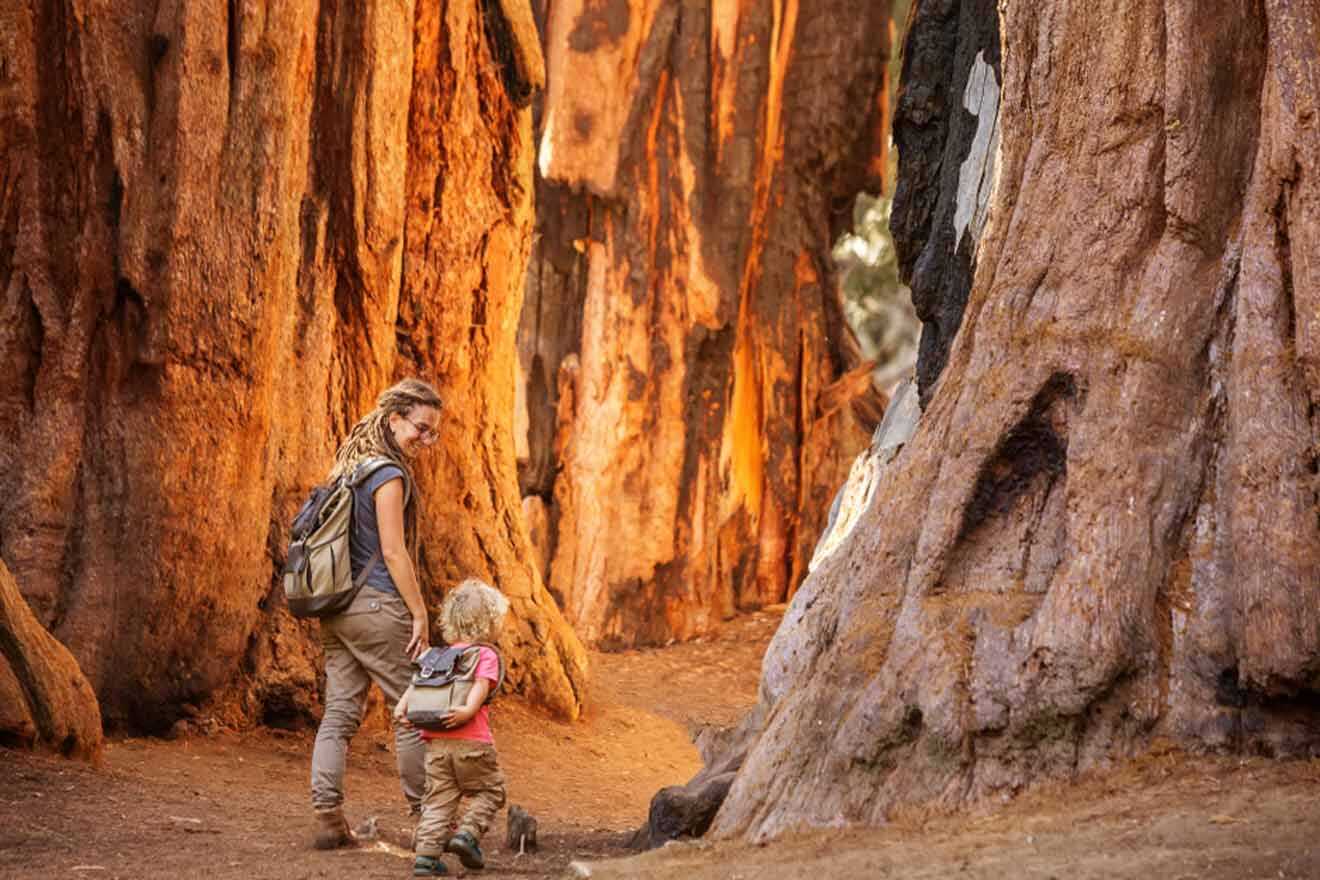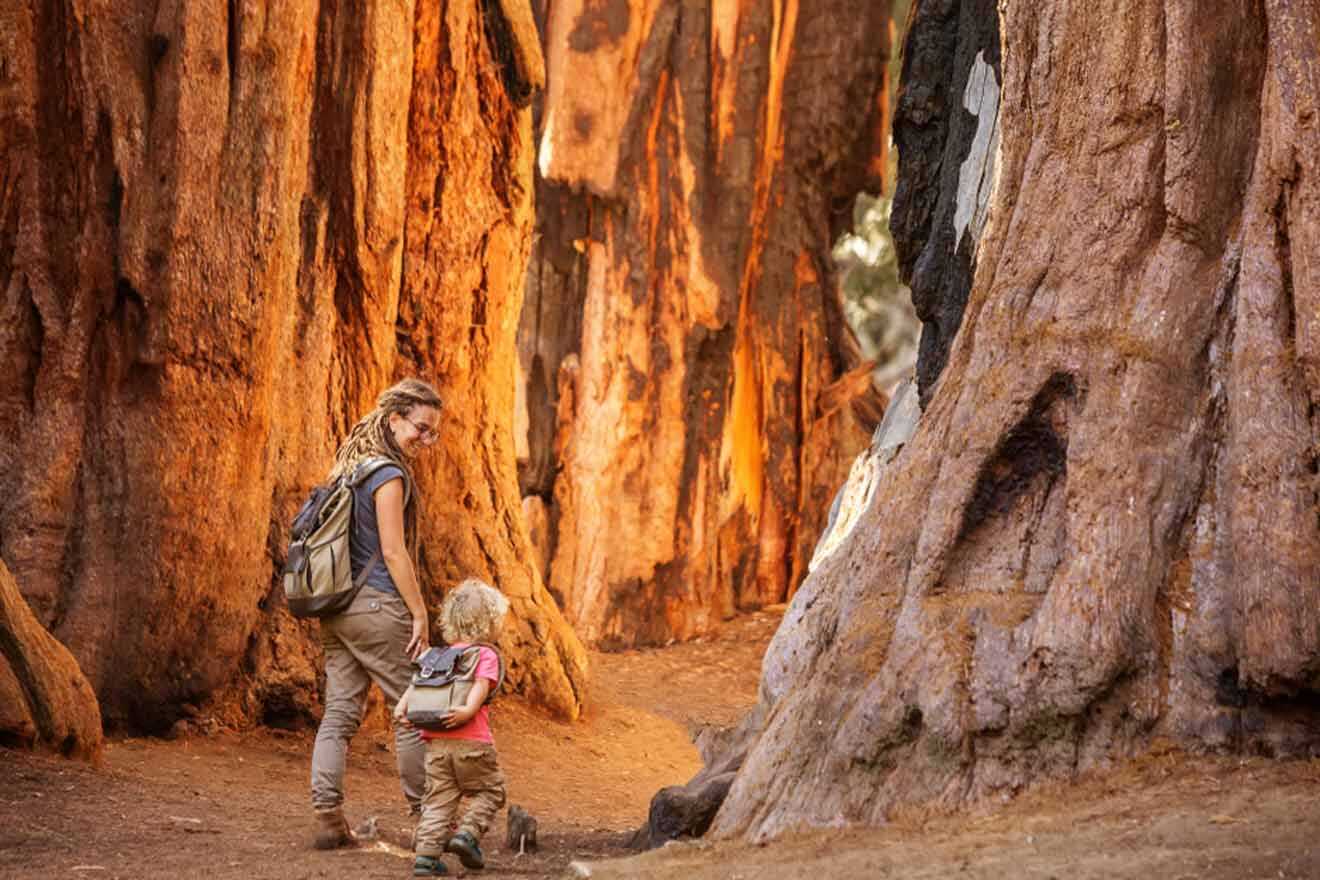 Grab some protein bars from your rental's nearest grocery store and make your way to the south park entrance and head to Mariposa Grove for the world-famous giant sequoia trees. The giant sequoias are the world's largest trees by volume so it's definitely something to tick off your bucket list!
Take the Grizzly Giant Loop Trail and you'll find the famous Grizzly Giant (believed to be anywhere between 1,800 and 2,700 years old) and the California Tunnel Tree about 328 yards or 300 m away. If you can't get enough of the sequoia trees, visit Tuolumne Grove and Merced Grove for more of these amazing trees.
The giant sequoias are quite far from the high country of Yosemite, so I only recommend doing this if you have a few hours to spare and/or want to skip anything else on this list. The last time I was in Yosemite, I didn't get a chance to visit the trees since it's quite a drive away.
2. Head to the northeastern high countryside of Yosemite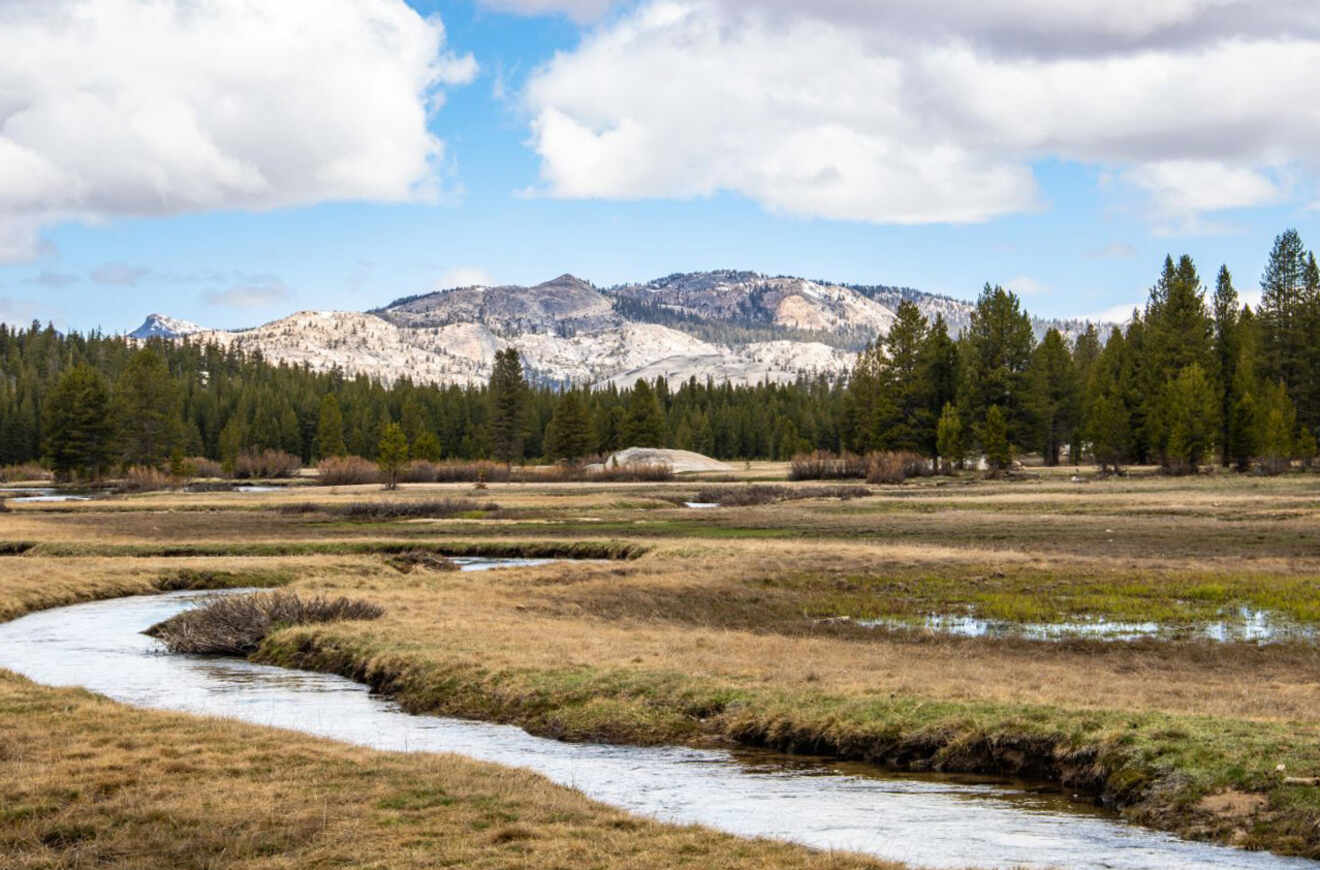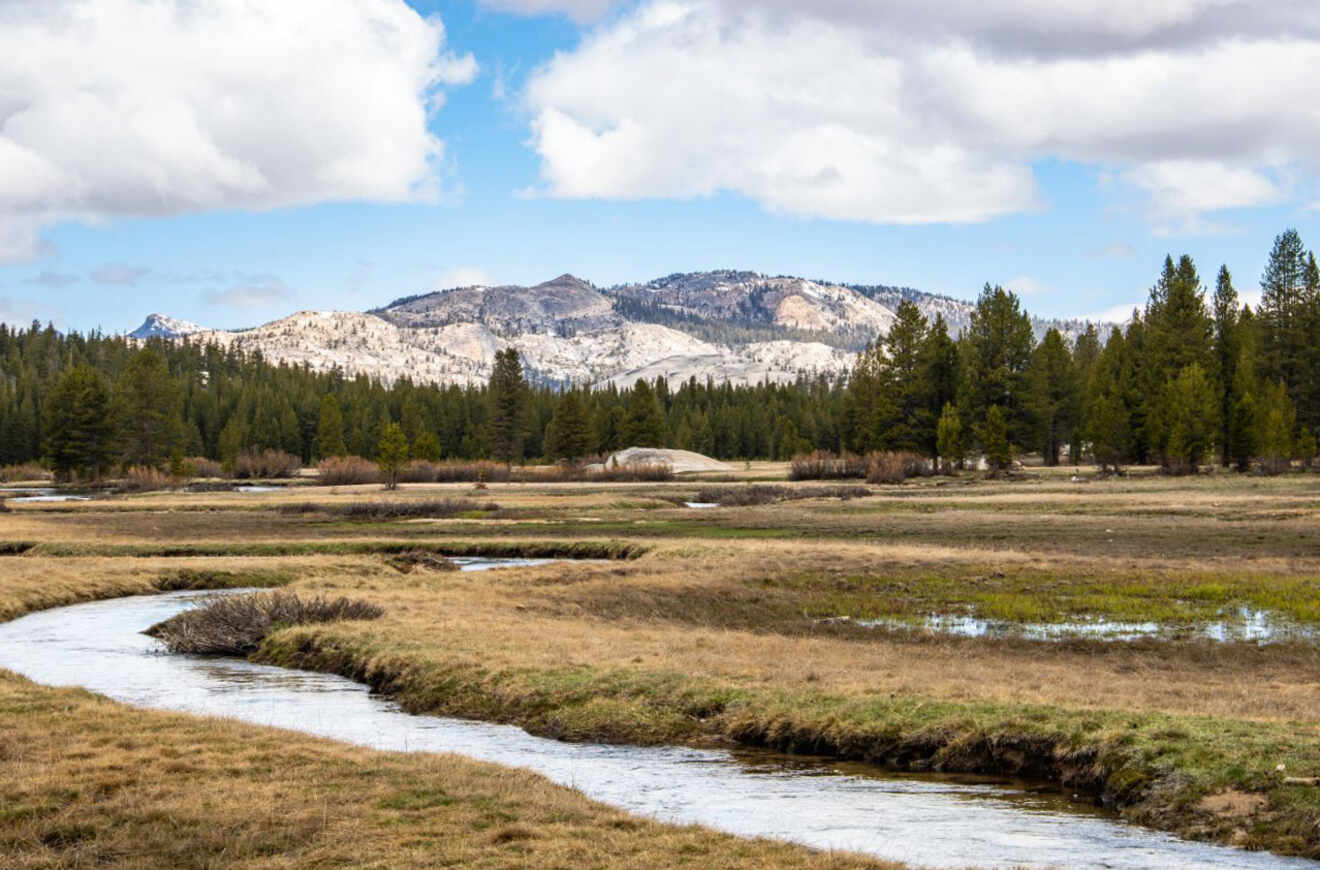 After you get a moment with the world's oldest trees go back up north towards Tuolumne Meadows for the high countryside of Yosemite. The 2-hour drive is an experience in itself – make sure to stop and snap photos along the way. I suggest starting your 2nd day early to make it in time for a picnic lunch at the Tuolumne Meadows.
Once you make your way through the Tioga Pass and arrive, head to the Tuolumne Meadows visitor center to get all the information you need for your 2nd day. Grab another map, read up on all the nearby trail conditions, and ask all the questions you have for the on-site rangers before embarking on your journey once again!
Then, you can finally enjoy your picnic at the beautiful Tuolumne Meadows. You'll have stunning views of the alpine greenery and rivers as you relax at their picnic area and get ready for a more chill day in Yosemite National Park.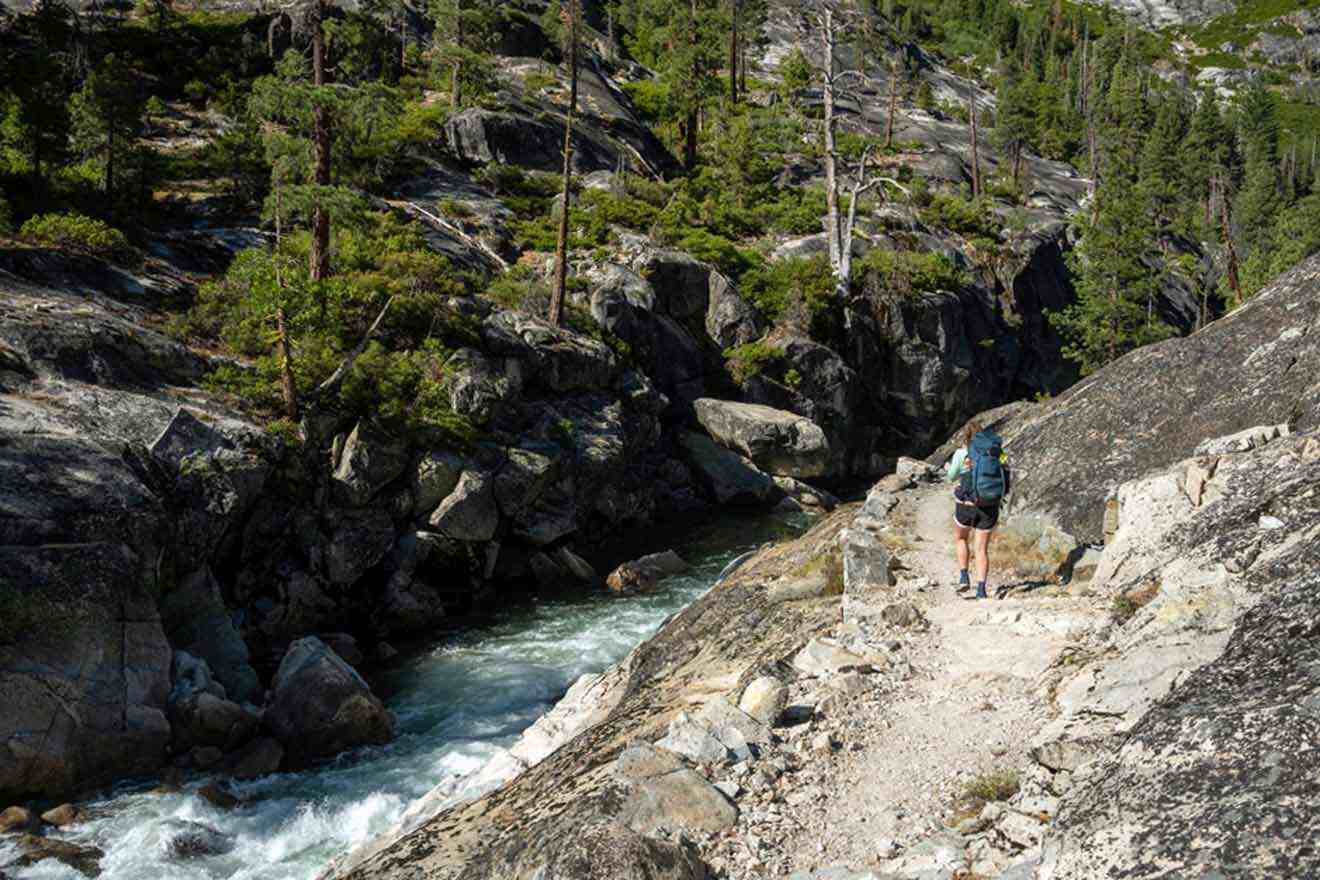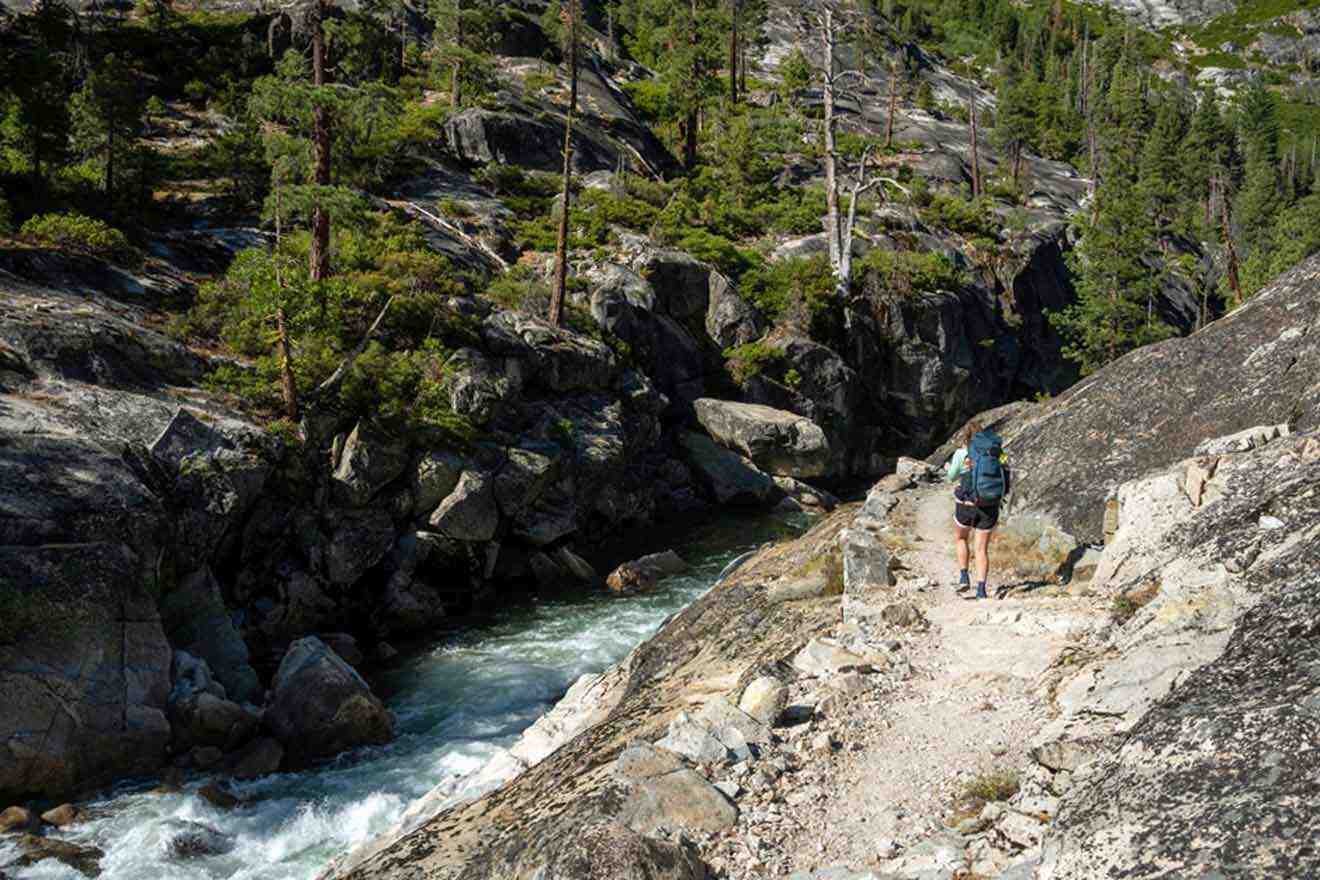 For the ultimate picnic experience, here are a few locations I suggest checking out:
Tuolumne Meadows Picnic Area is equipped with picnic tables and restrooms for you to eat and relax!
Tioga Pass Entrance Area you'll find when you enter the Tuolumne Meadows from the Tioga Pass entrance. There are great spots there where you can stop for a picnic. It's not quite as popular and you'll need a blanket but it's great for couples to have a quiet lunch out in the countryside.
Lyell Fork at the Tuolumne River with a number of peaceful resting points along the way where you can sit by the water and have a picnic without any interruptions!
3. Spend the afternoon at Lembert Dome and the surrounding area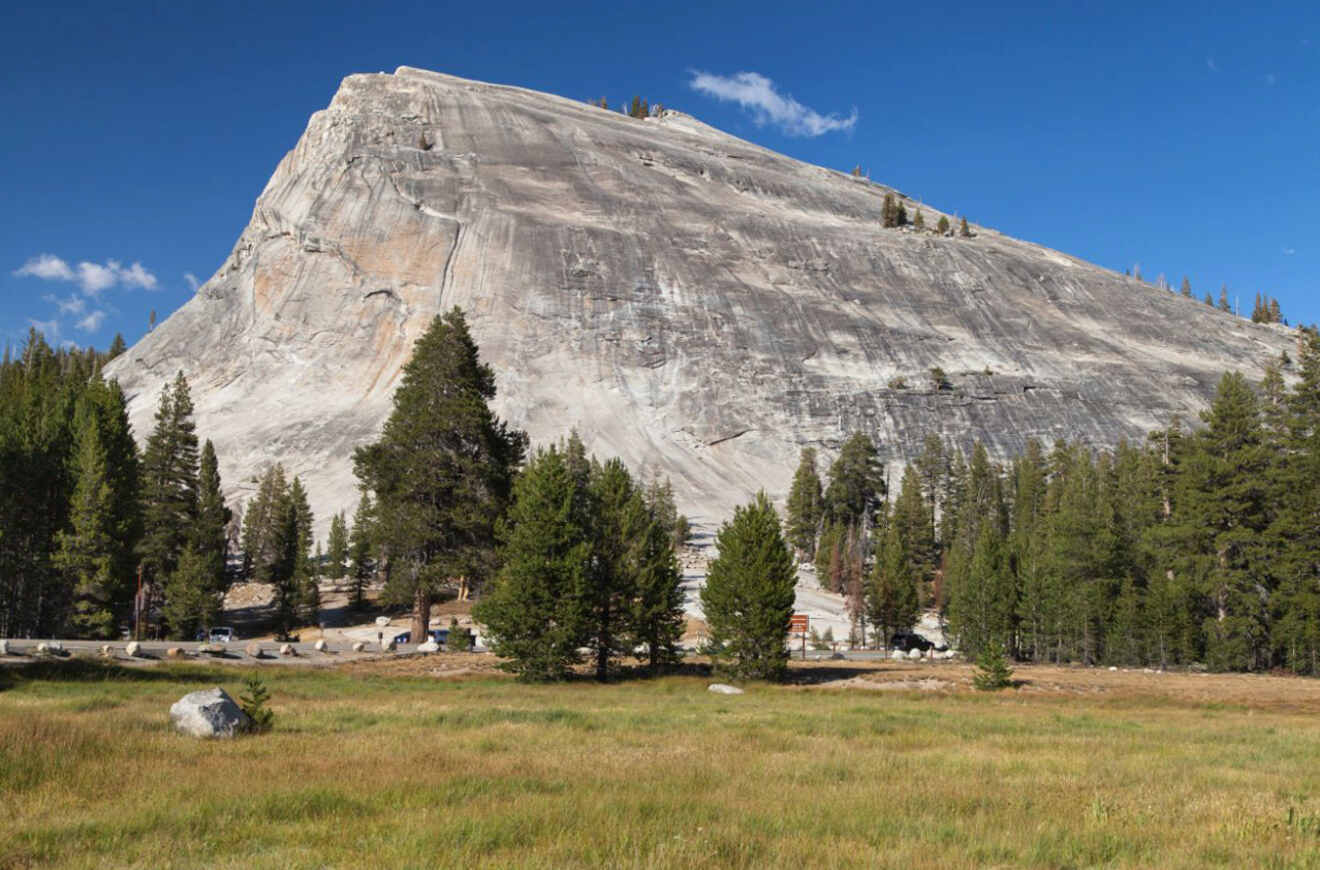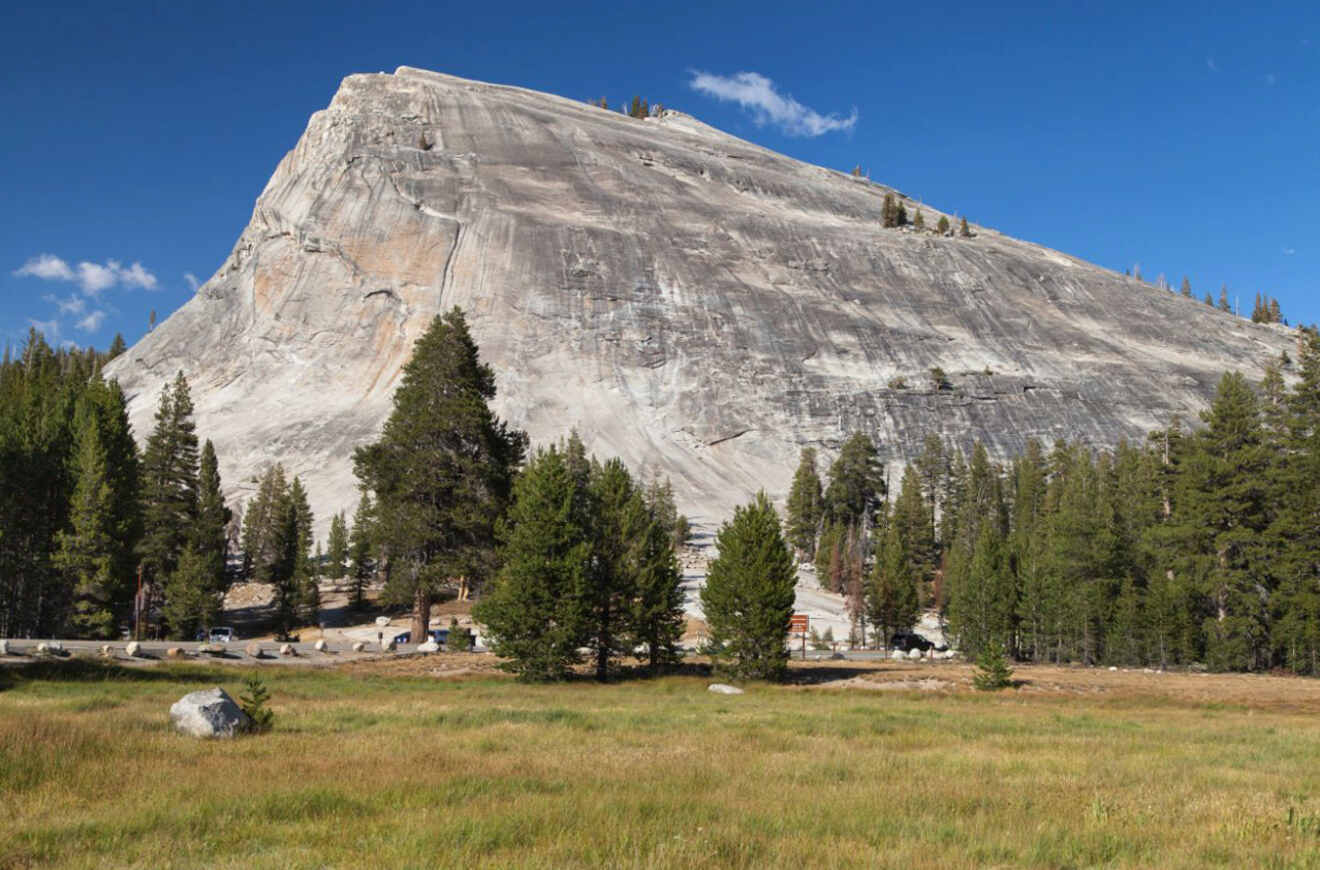 After lunch, I suggest relaxing for a bit at the meadows before heading on over to the Lembert Dome Trail for a 3.7-miles (6.1 km) climb up the mountain. The hike usually takes anywhere between 1.5 – 3 hours so prepare and don't go too hard on yourself after just having your lunch!
The trail begins near the Tuolumne Meadows visitor center and follows a path surrounded by wildflowers during the blooming season! Once you make it to the top, you'll find panoramic views of the surrounding high country and Tuolumne Meadows and Sierra Nevada Mountains, vistas that are wonderful for photography and just soaking in Yosemite's natural beauty.
The trail is made of a granite surface so be careful when you're hiking up the mountain as it can get slippery and dangerous. I suggest packing hiking boots with a strong traction sole. I've been using these Zamberlan hiking boots – they're SO stunning, made with genuine leather and last you a lifetime. It's a real investment in yourself if you're in the market for new hiking boots!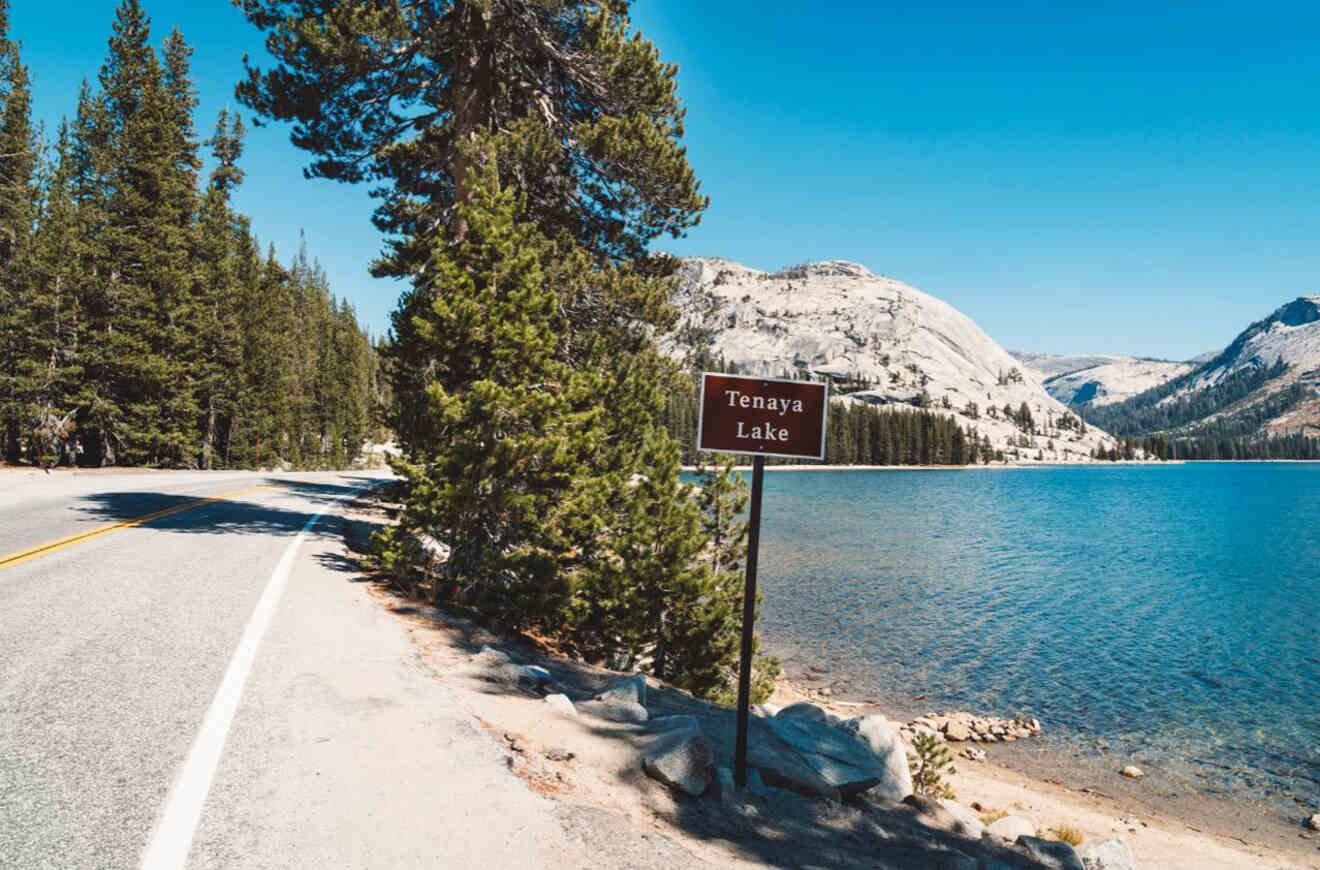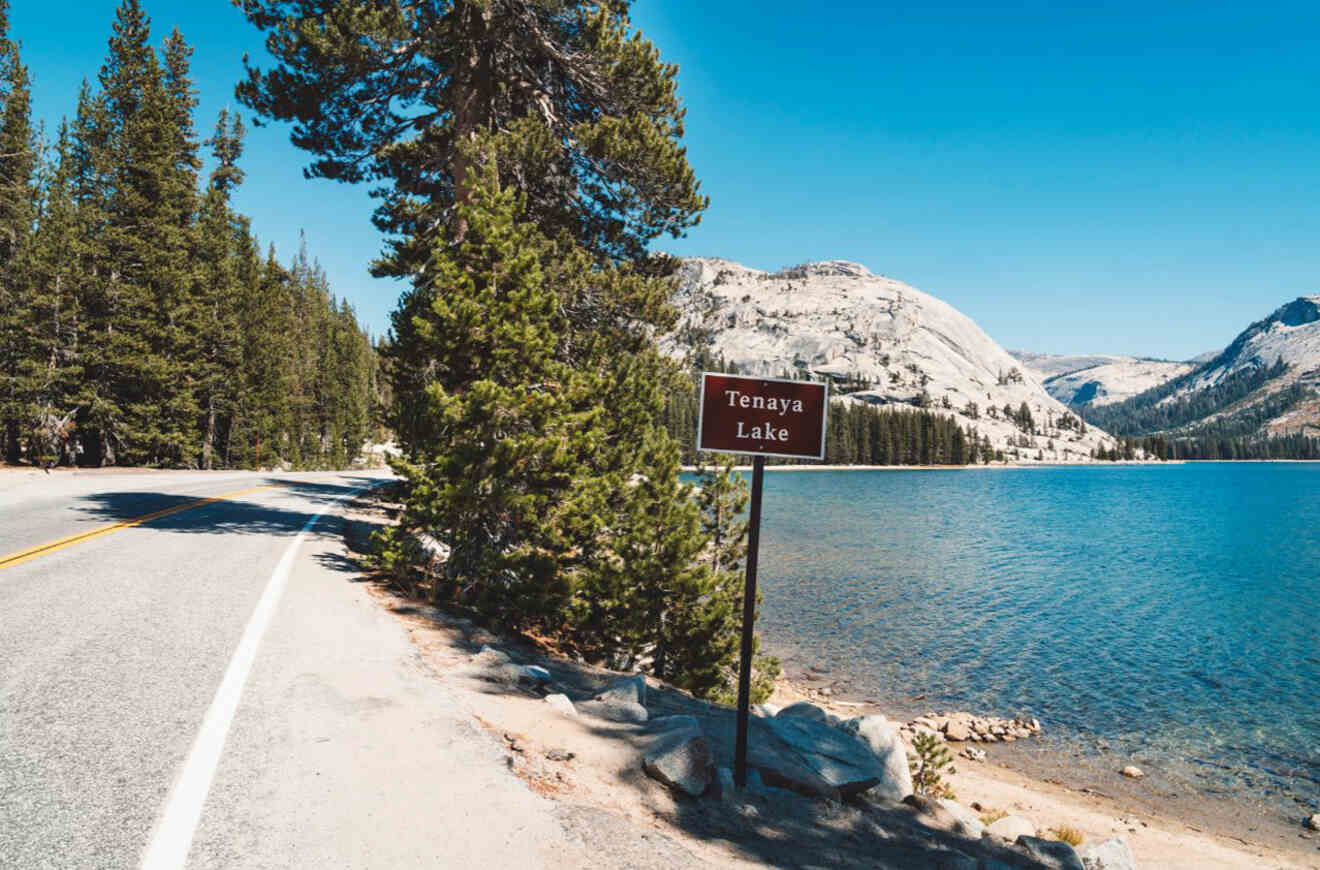 Once you make your way down, your 2nd day is coming to an end so it's time to unwind at the shores of Tenaya Lake. If you're not ready to chill out just yet, head over to the Sunrise Lakes Trailhead beforehand and take a walk up the trail to admire the lake's panoramic views and greenery everywhere you turn. End your hike with a leisurely stroll along the lake or even a swim!
The biggest difference between this lake and Mirror Lake is that Tenaya Lake is located in the countryside with a little bit less tourists and visitors surrounding the area. Oh and don't forget to bring your mosquito spray while you're here!
Watch the sun set behind the mountains near Tenaya Lake, make your way back to your vacation rental, and know that you just had the ultimate 2 day weekend in Yosemite! Well done!
| | |
| --- | --- |
| 🏨 Best Yosemite lodges: | Yosemite View Lodge and Ahwahnee Hotel |
| ⛰️ Best viewpoints: | Taft Point, Glacier Point, and Tunnel View |
| ​​ 🥾 Top paid group tour: | Full-Day Group Tour |
| 🚶‍♀️ Best hiking trails: | Mist Trail and Mirror Lake Trail |
| 🌲 Most underrated waterfalls: | Bridalveil Falls, Vernal Falls, and Nevada Falls |
FAQs about your Yosemite 2-day itinerary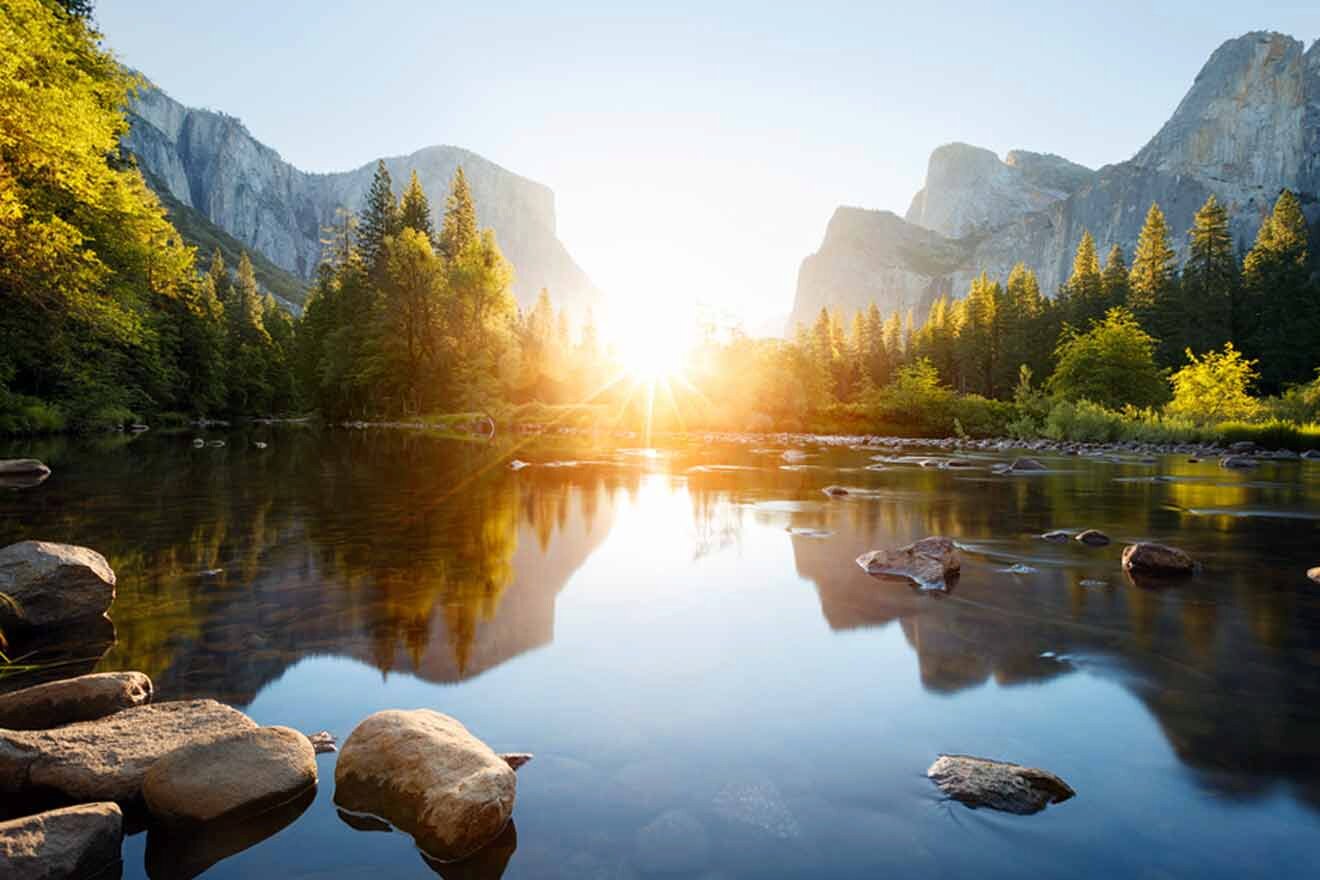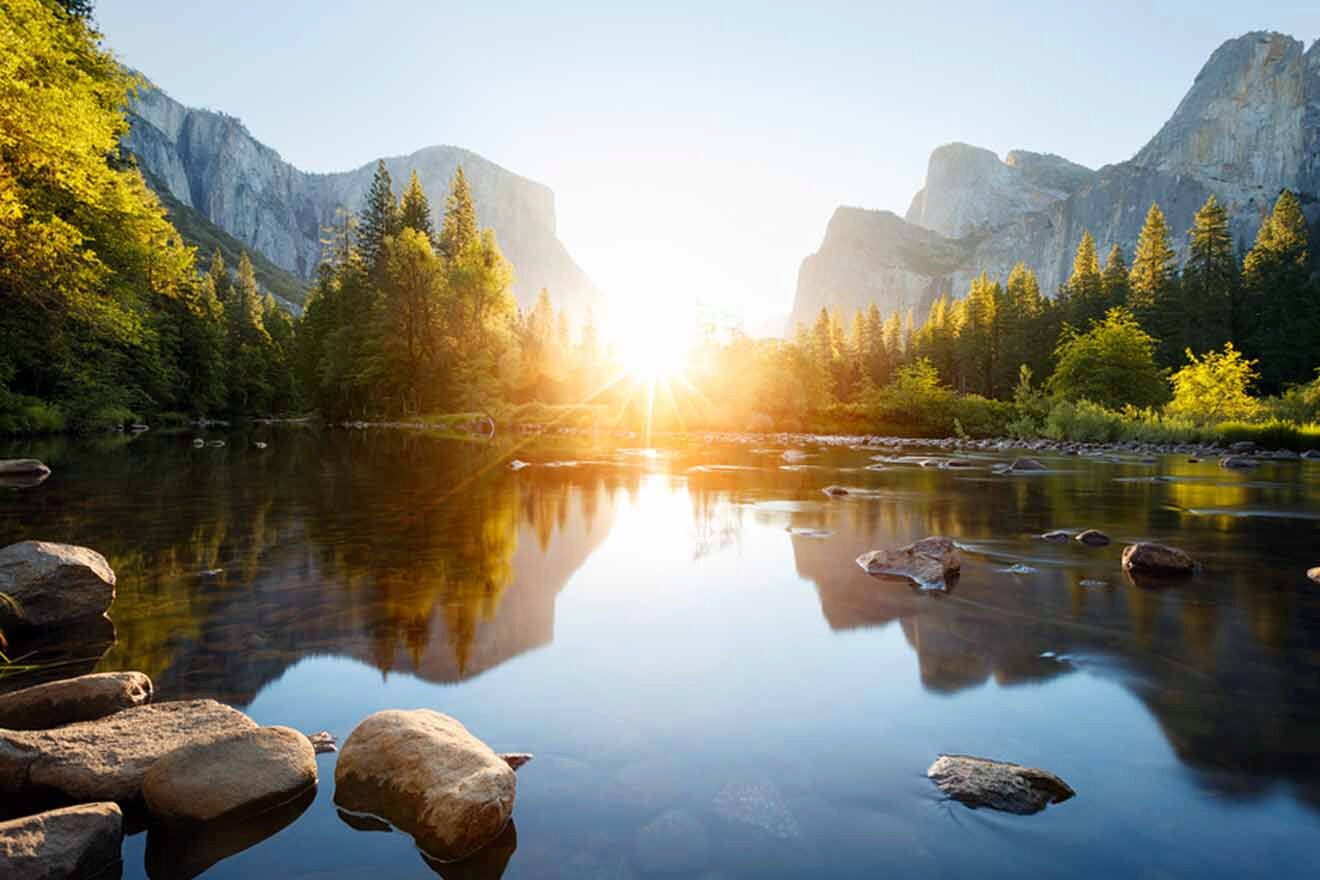 🕒 Are 2 days enough time in Yosemite National Park?
You can definitely make it happen! But if you really want to experience the entirety of the park, you'll need to book another few trips!
🗺️ How do you easily spend 2 days in Yosemite National Park?
You can spend 2 days in Yosemite National Park by planning your trip ahead of time and booking a group tour to avoid the headache.
👨‍👩‍👧 What are the most popular things to do in Yosemite National Park?
The most popular things to do in Yosemite National Park are to visit Glacier Point, El Capitan, Half Dome, and many hike trails located throughout the park.
🚗 How do you spend 2 days in Yosemite National Park and save the most money?
Save the most money on your weekend trip to Yosemite National Park by packing your own lunch and snacks (avoid buying from the Yosemite dining options), utilize the free shuttles, the NPS app, and book your accommodation at a rental located outside the park.
Conclusion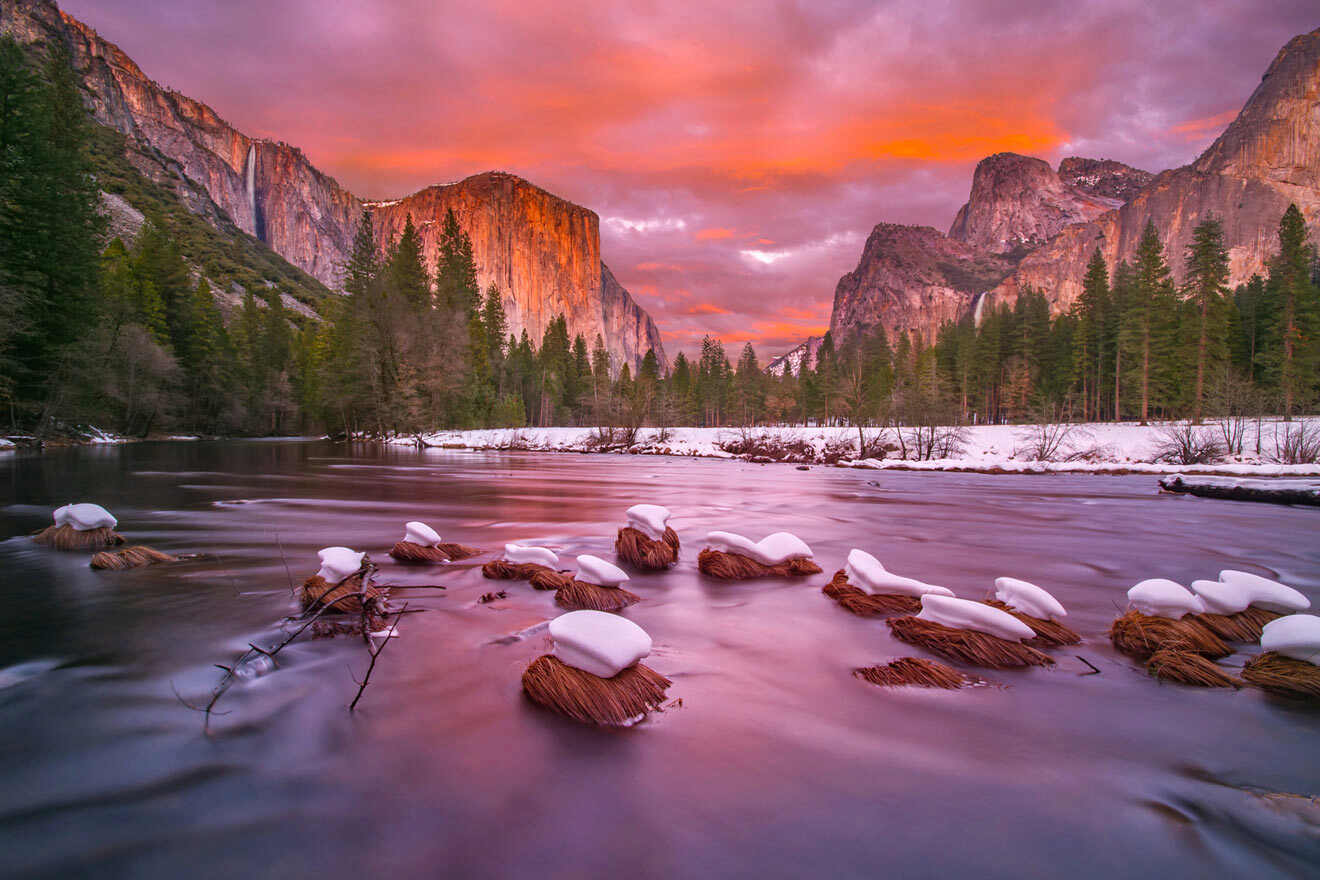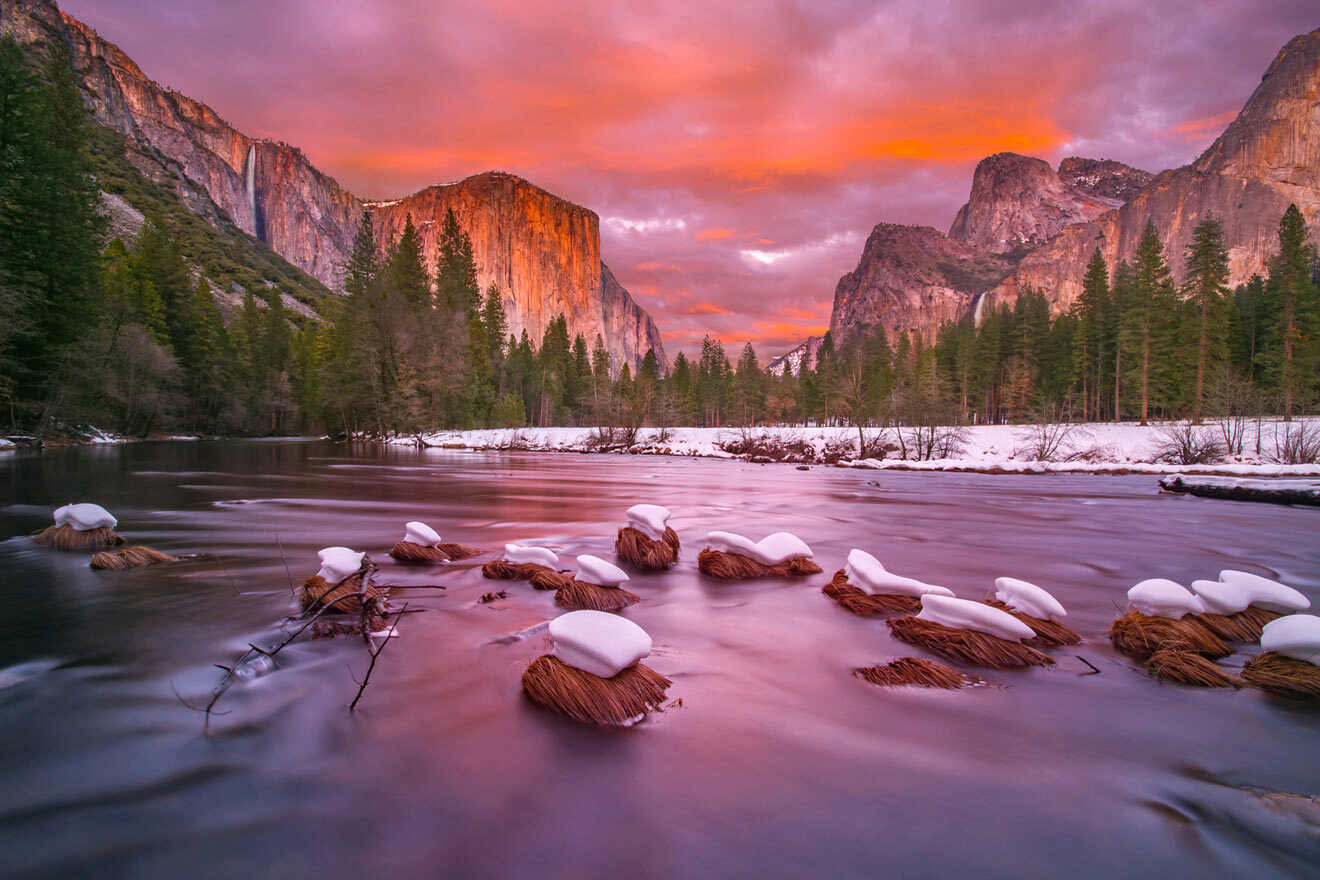 Phew! That was a lot! Now that you have your Yosemite 2-day itinerary ready, you're ready for your Yosemite weekend trip.
I hope you enjoyed reading this two-day-in-Yosemite itinerary as much as I enjoyed writing it! I'm here if you have any questions or comments the next time you visit Yosemite, so just leave me a comment or questions below.
And don't forget to book all your reservations and tours in advance to save you from the headache of planning or getting lost. (You'll thank me later!)
Safe travels!
Xoxo,
Esabel S.
---
Pin it for later!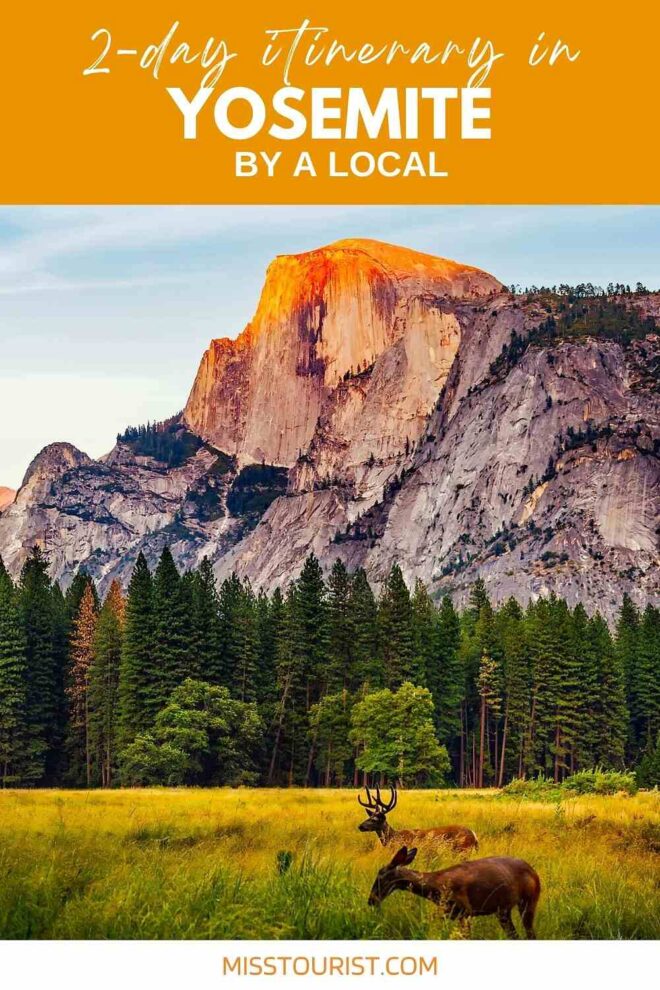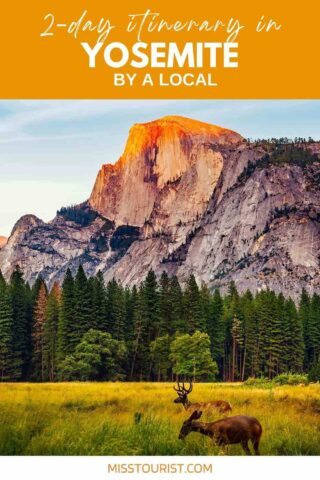 Pin it for later!