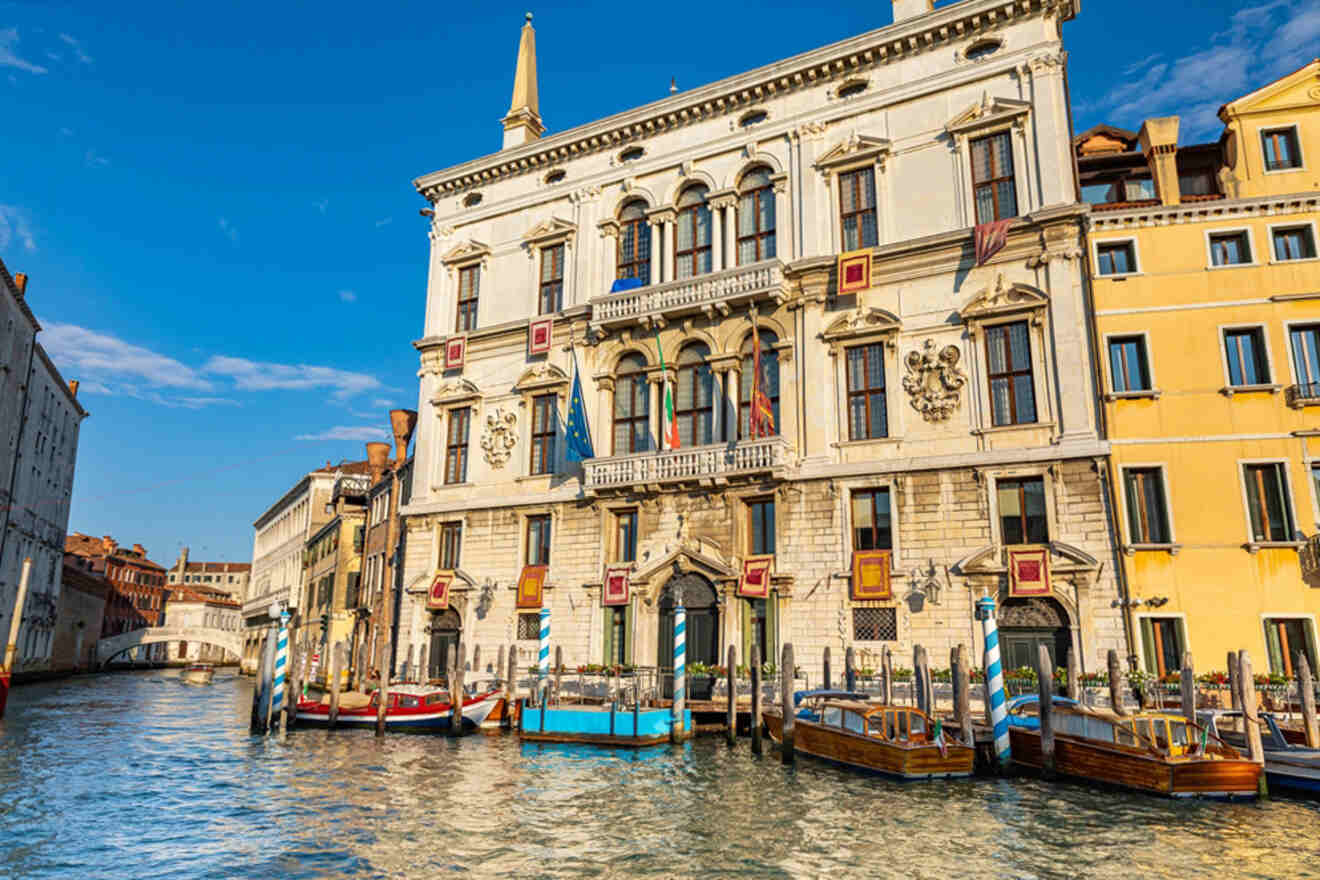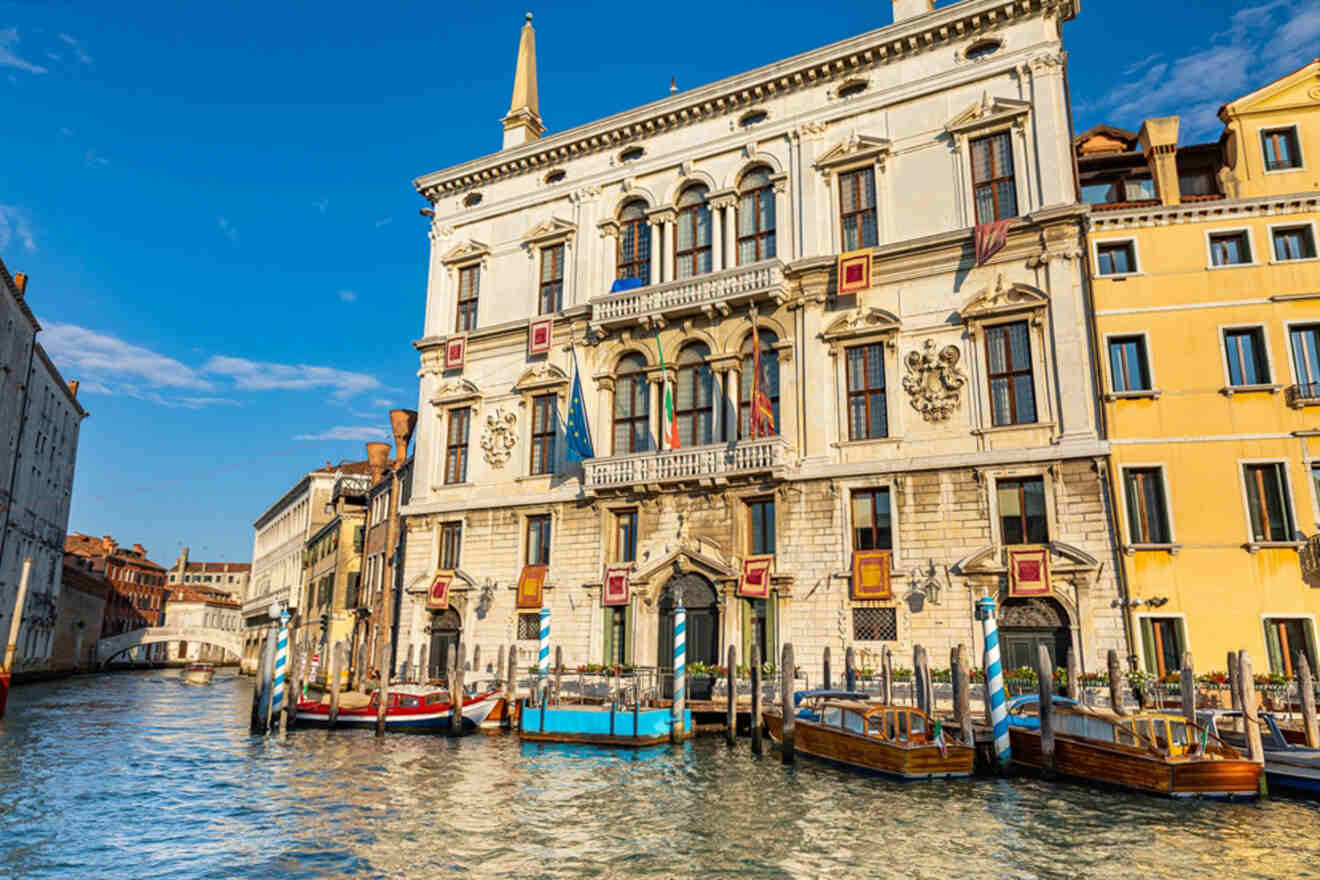 Mysterious individuals under masks, gorgeous historic buildings from centuries ago, and art! Oh, Venice, you really are one of Italy's most beautiful pearls!
If you're planning a trip there and you want to find a gorgeous boutique hotel in Venice that will make you feel as if you've traveled back in time, then follow me! I looked around for hours and found the best hotels, which I then ordered from most to least expensive.
Of course, I didn't stop there (we're in Venice, after all). So I made 2 bonus sections, one with the best unique hotels in town and the other with the top modern hotels in the city.
I know there's lots to discover today, and before we get all excited and start checking all the hotels. I wanted to advise everyone to book their hotel in advance! I don't have to tell you how popular Venice is and that the prices will only increase the closer you get to your traveling date!
Ragazzi e ragazze, let's see some art!
Andiamo!
If you are in a hurry
If you're in a rush and have no time to read the whole post, just check out the short list below. It has the best boutique hotels in Venice:
Luxury (€460 and up)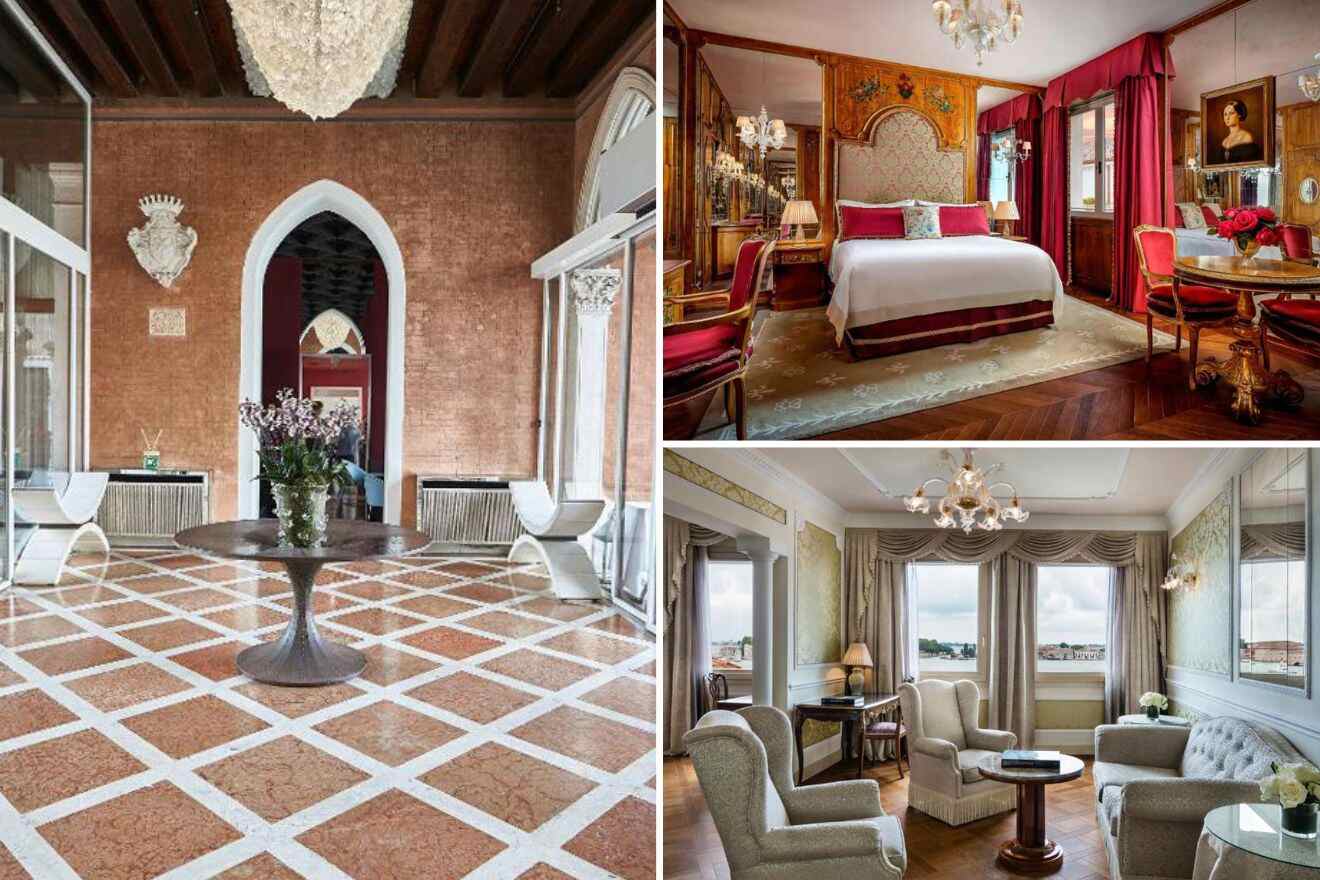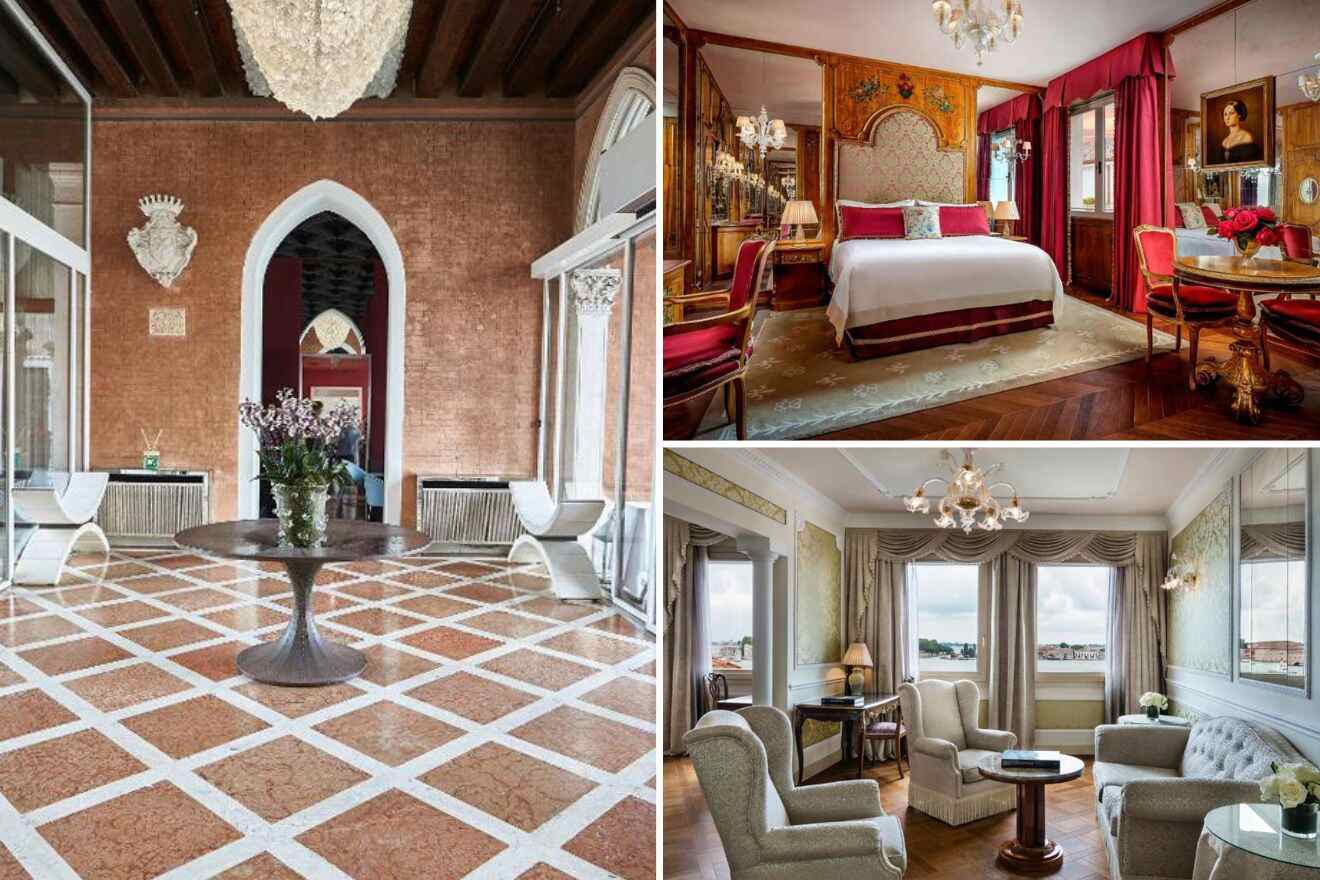 The Gritti Palace, a Luxury Collection Hotel – Set in a former noble residence on Venice's Grand Canal, this gorgeous hotel is elegantly furnished with antique furniture, and it features views of Santa Maria delle Salute Church. Set just a few steps away from St. Mark's Square and La Fenice Opera House, the hotel boasts spacious marble bathrooms, fabulous wallpapers, and an on-site restaurant.
Baglioni Hotel Luna – Feel like a count or countess while staying at this luxurious hotel that has original Venetian-style frescoes on the walls, comfortable rooms which are beautifully decorated, and offer views of the Grand Canal. Located just a short stroll away from St. Mark's Square and Basilica San Marco, the hotel has an outdoor terrace and a restaurant where you can enjoy a romantic dinner.
Sina Centurion Palace – Dating back to 1892, this lovely property overlooking the Grand Canal offers guests an unforgettable experience! The intimate boutique hotel offers gorgeous rooms (some with views of the Grand Canal), a great location near Piazza San Marco and the Doge's Palace, and a lovely inner courtyard where you can enjoy a nice glass of wine after a day of visiting the Historic Center.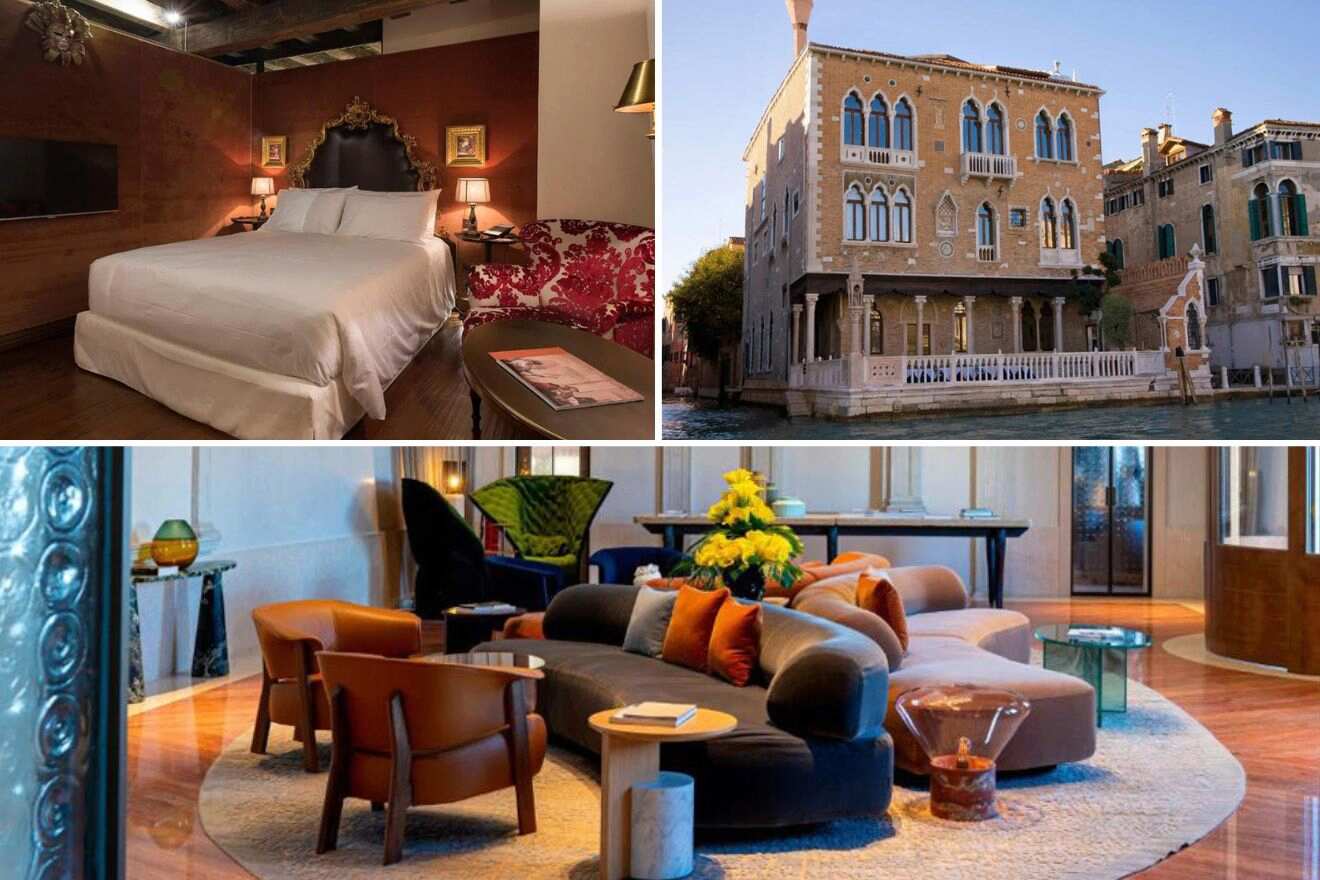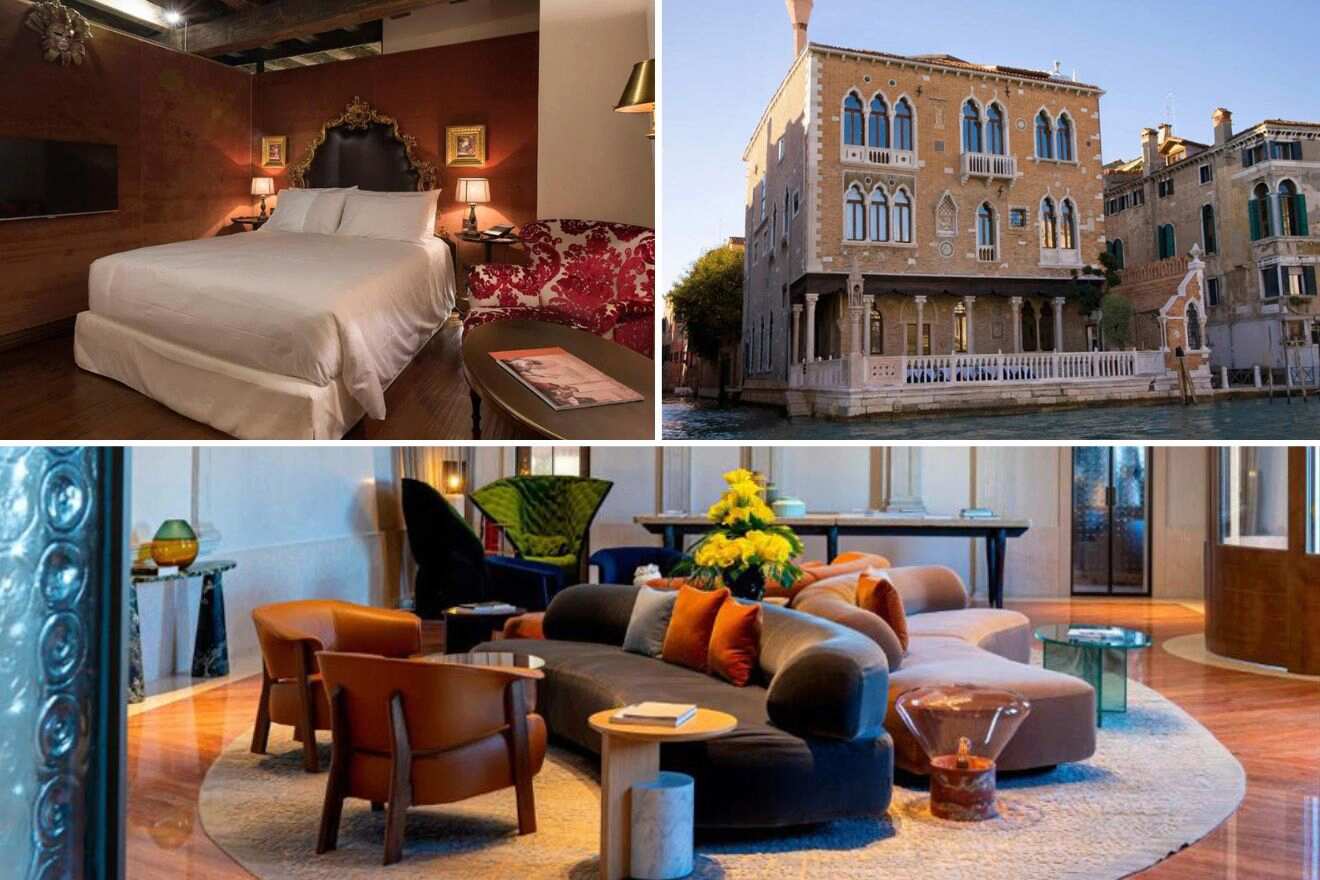 Palazzo Venart Luxury Hotel – You'll never want to leave this romantic boutique hotel that's housed in a 16th-century building overlooking the Grand Canal! Just picture it: refined rooms with the most comfortable beds (and fashionable), a marble bathroom, a private dock, and lush private gardens that look as if they were taken out of the Dangerous Beauty movie (which is set in Venice and surely a must-see)!
Ca'di Dio-Small Luxury Hotel – Want to stay as close as possible to the famous Doge's Palace, which houses the Peggy Guggenheim Collection? Then check out this luxury hotel that offers such an intimate atmosphere, a yummy buffet breakfast each morning, and a garden. The rooms feature a nice mix of modern and vintage aesthetics, great Grand Canal views, and a private bathroom. Book your Venice hotels early; as you know, this city is super popular!
Hotel Palazzo Stern – Relax on the roof terrace in a hot tub while admiring the Grand Canal Views at this fabulous boutique hotel that's set a short walk away from the Piazza San Marco. The hotel features a classic Venetian style, a yummy generous breakfast in the morning, and modern bathrooms.
Mid-Range (from €270 to €370)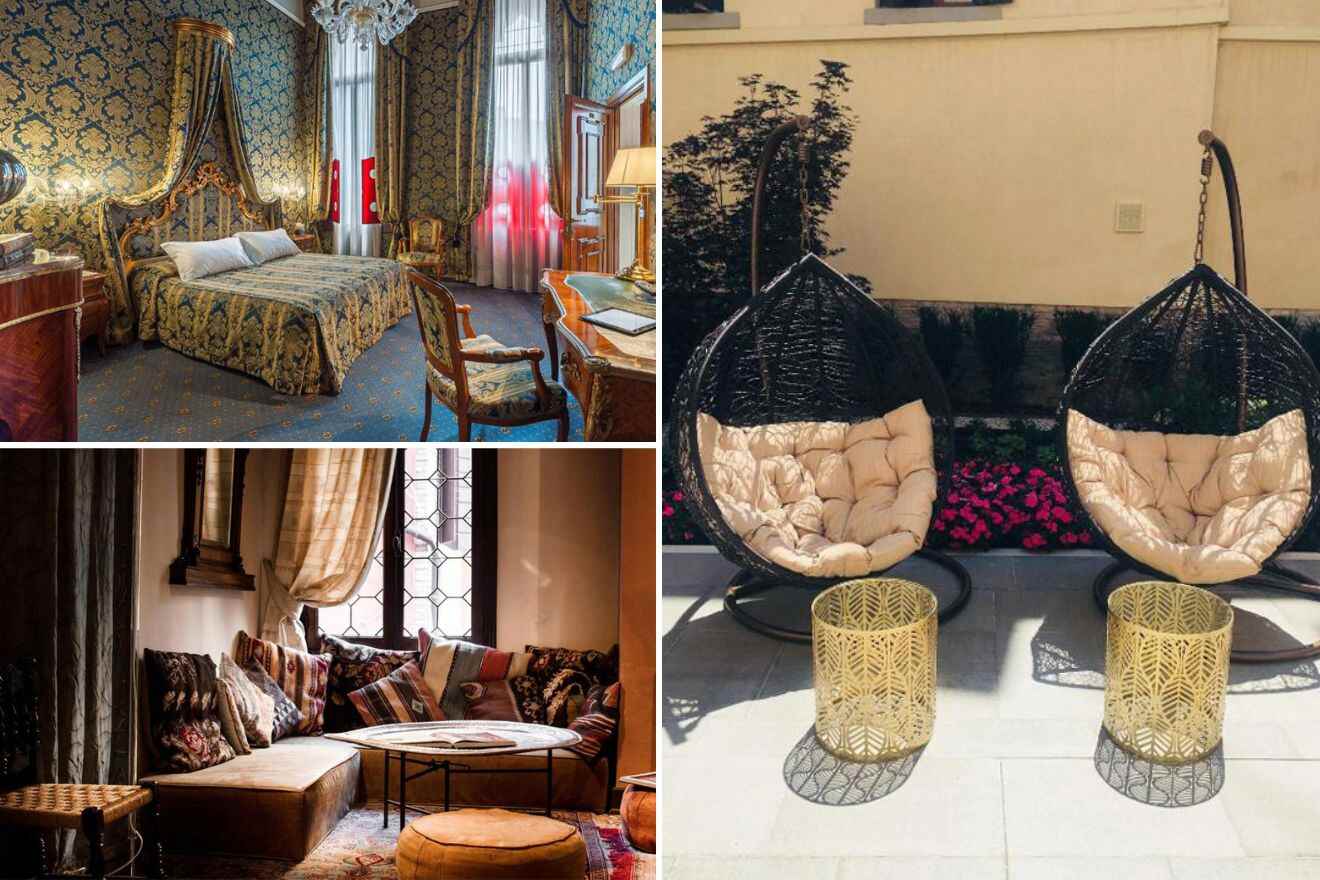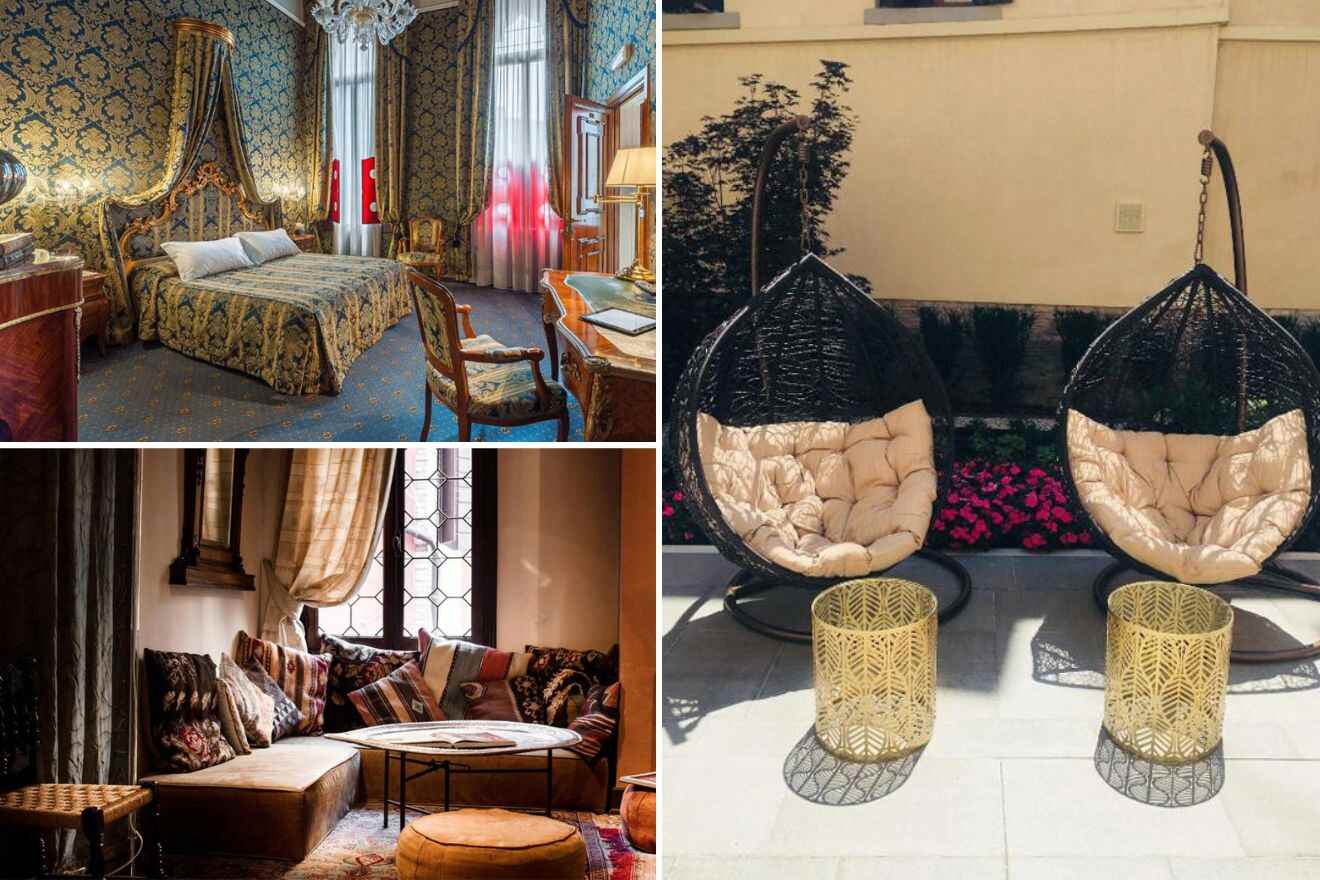 Al Ponte Antico – If you love extravagant wallpapers, then this boutique hotel is for you! Featuring some incredibly spacious and tall rooms with sophisticated furnishings and original wooden ceilings, the accommodation, which is set a 10 min walk from Piazza San Marco, offers a terrace, room service, and some fabulous views of the Grand Canal and Rialto Bridge.
Santa Croce Boutique Hotel – Set in the Santa Croce district of Venice, a 10-minute walk from both Venice Santa Lucia Train Station and Rialto Bridge, this great boutique hotel comes with modern rooms that have a flat-screen satellite TV and free Wi-Fi. Each morning you can start with a yummy buffet breakfast and then head out to explore St. Mark's Square.
Novecento Boutique Hotel – Oh my! You'll love the mix of Mediterranean and oriental furnishings of this place! The hotel offers uniquely decorated rooms with wrought iron beds or Thai platform beds and wooden or marble floors. During your stay, you can relax in the reading room and grab a drink at the bar after a day of visiting all Venice attractions.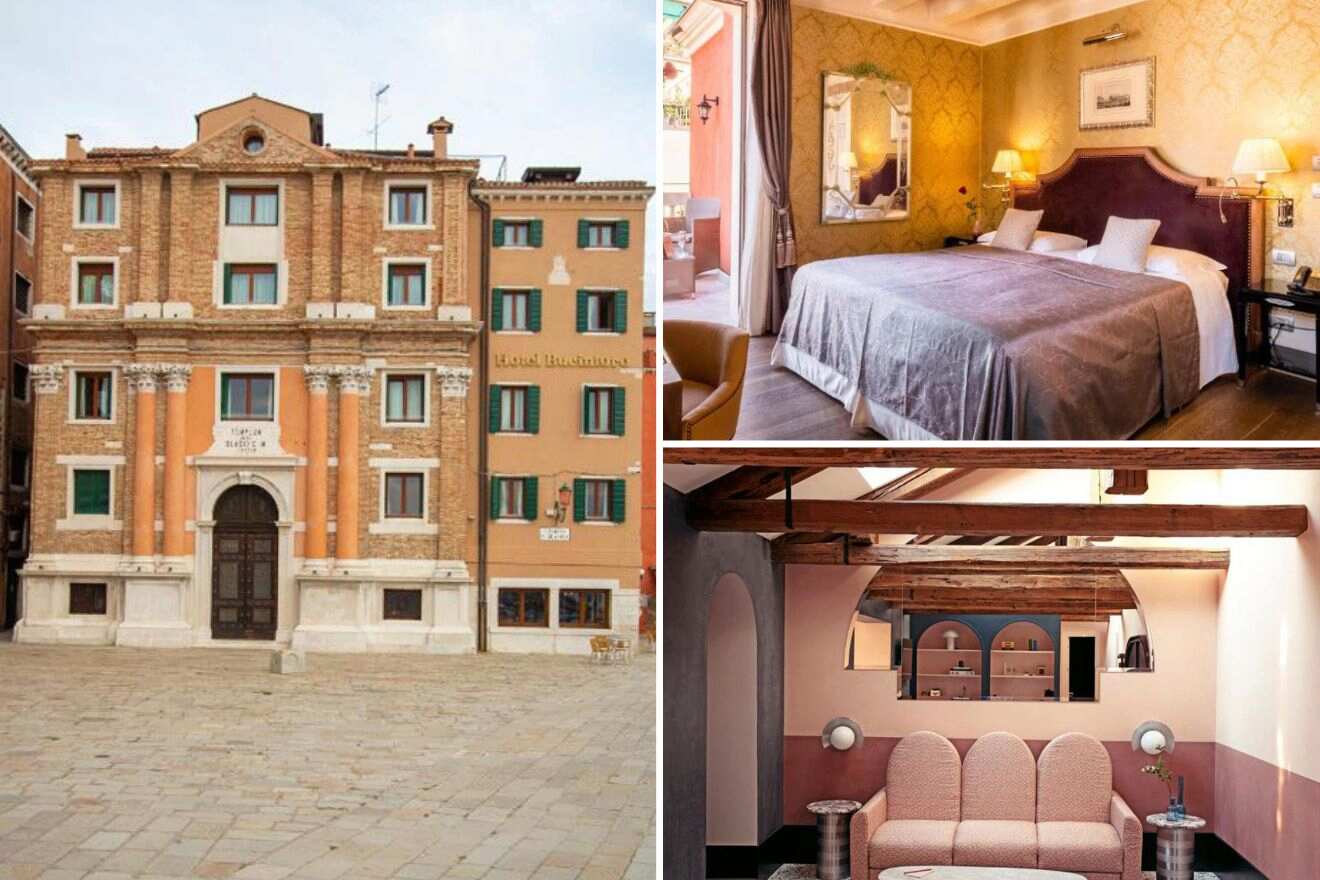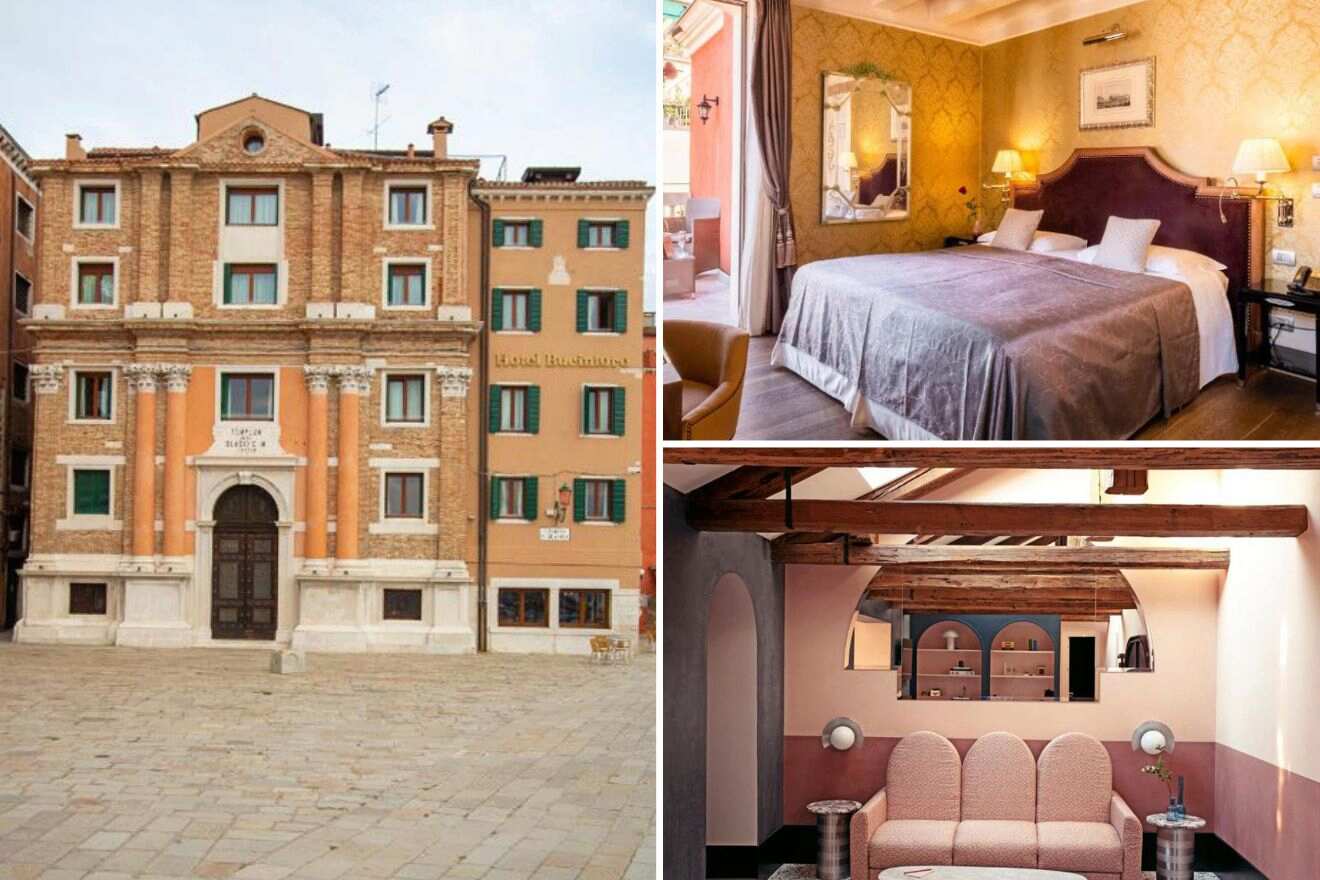 Il Palazzo Experimental – Housed in a classical Venetian Palace, this hotel features a stunning Art Deco style and a garden that overlooks the Canal Grande. All the rooms respect the hotel's main design, have modern bathrooms, and feature views of either the gardens or the Canal. Each morning you can enjoy a delicious buffet breakfast made with locally sourced ingredients.
Hotel Moresco – Once you'll discover the Venetian style of houses, you'll never get enough of it! This hotel fits in that category, and it offers a great location near the Santa Lucia Train Station, spacious rooms with mesmerizing wallpapers, a spa bath or a terrace, and a continental breakfast.
Hotel Bucintoro – Here's another charming house that's located near San Marco Square! The accommodation offers elegant rooms decorated with brown furnishings that have some amazing views of the Venice Lagoon. Start your days with some room service, and then get all dressed up to explore the city and enjoy the Italian and international cuisine at some of the best restaurants in Venice!
Budget (up to €270)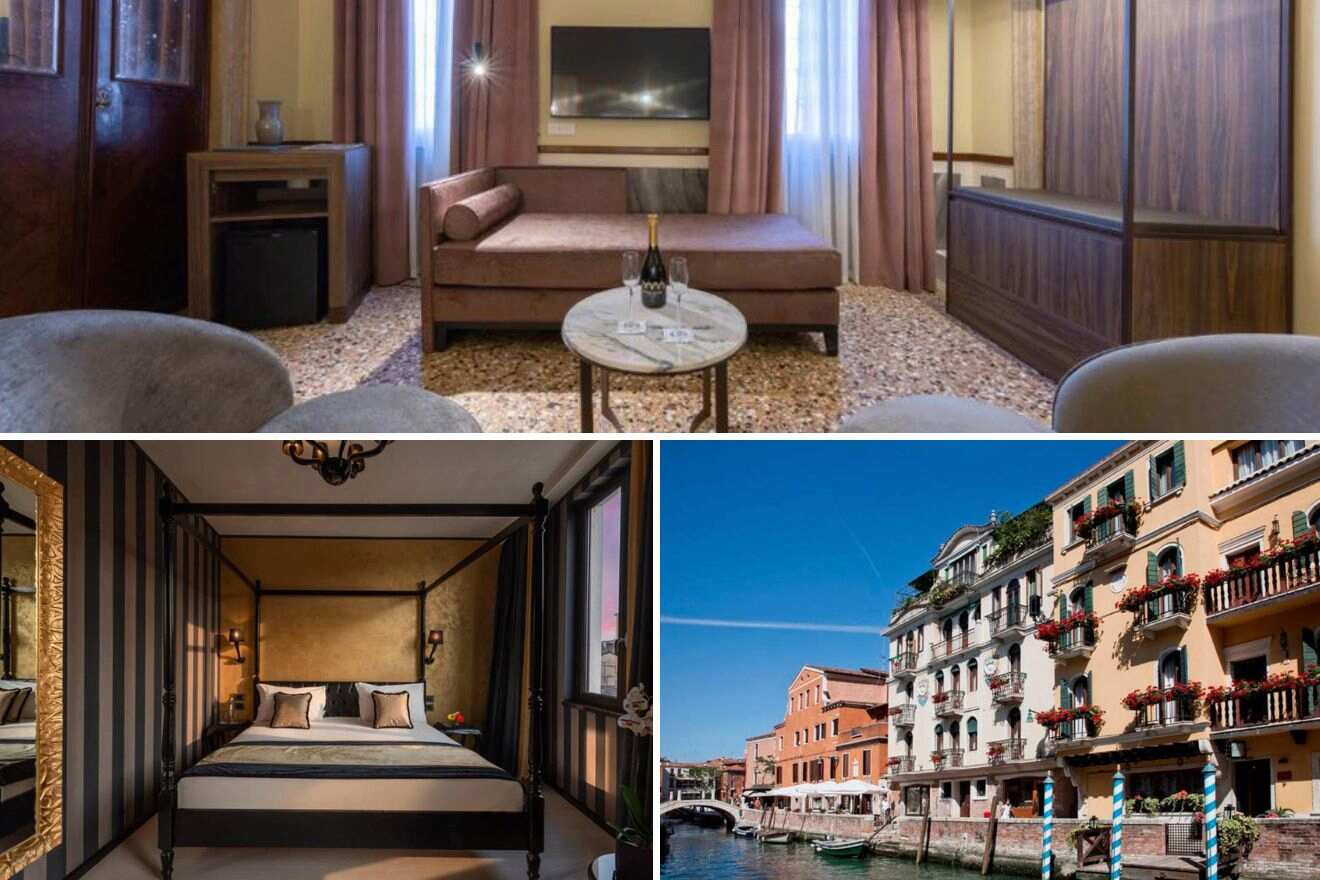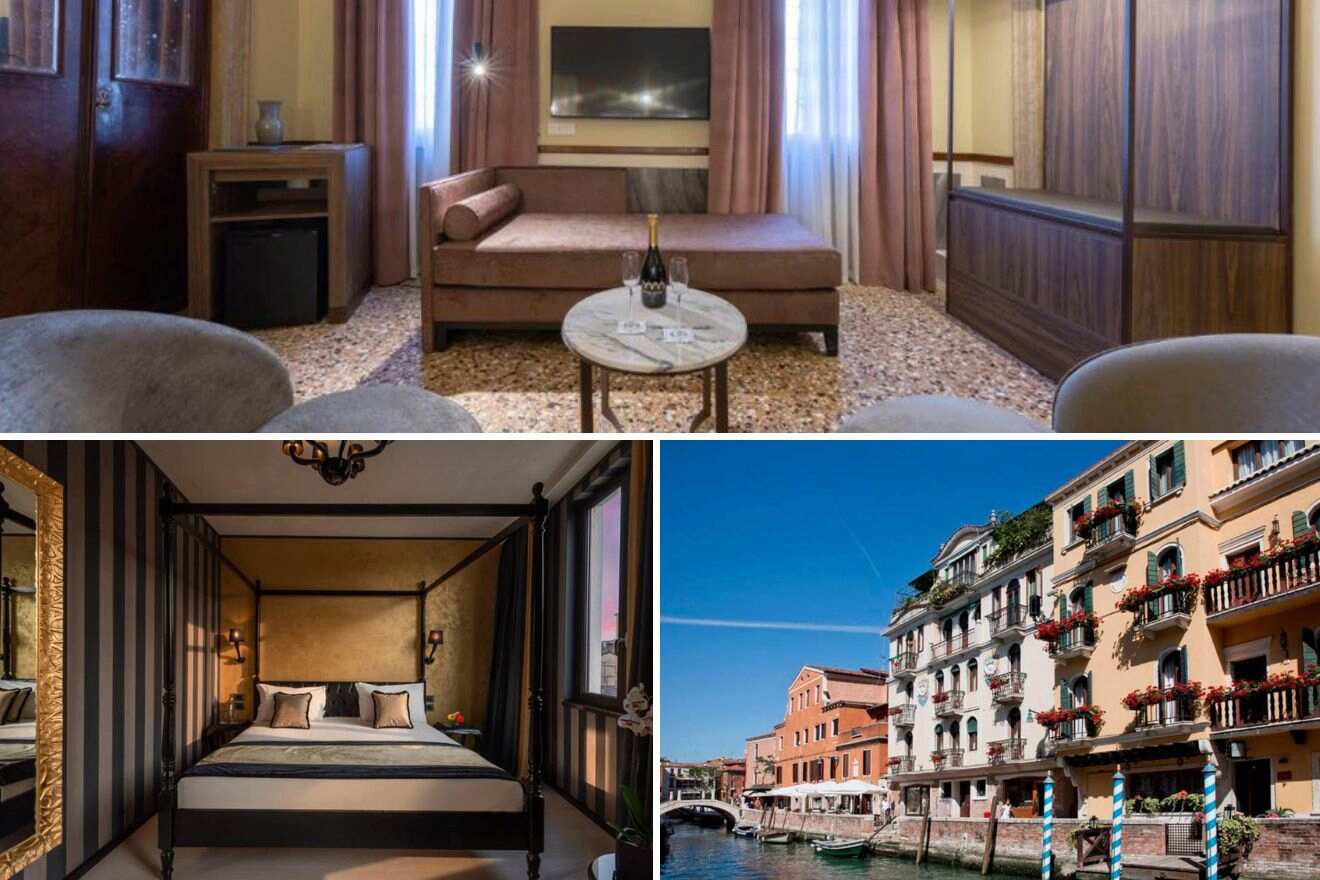 Palazzo Keller – Looking for something a bit more affordable to stay in Venice? Then have a look at this charming house that offers a lovely design for a fair price! The Venice hotel comes with air-conditioned rooms with a private bathroom, a continental breakfast, a garden, and a bar. Rialto Bridge, Santa Maria del Giglio, and Piazza San Marco are only a short walk away!
Hotel American-Dinesen – This stunning 17th-century Venetian townhouse lies in the Dorsoduro district, and I'm going to be straight here – you're going to fall in love with it! It's so elegant, so fabulous, and it has some of the most gorgeous wallpapers I've seen! The Venice Hotel also offers some rooms with a balcony and a Canal view.
Carnival Palace – If you prefer modern boutique hotels rather than centuries-old buildings, then you might enjoy staying here. This accommodation is pretty new, and it has rooms with wood floors, free Wi-Fi, and a flat-screen TV. During summer, you can enjoy your full American breakfast there!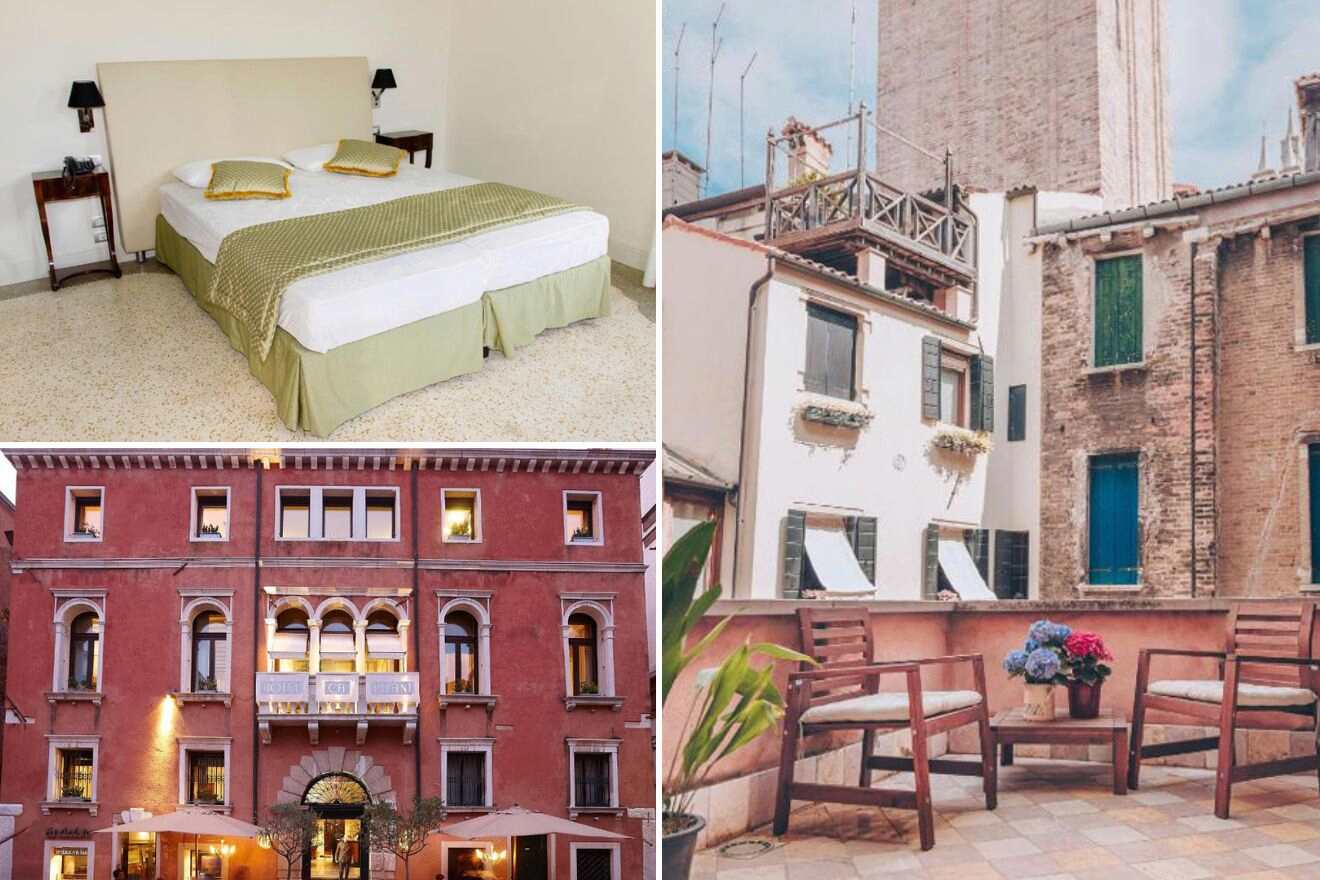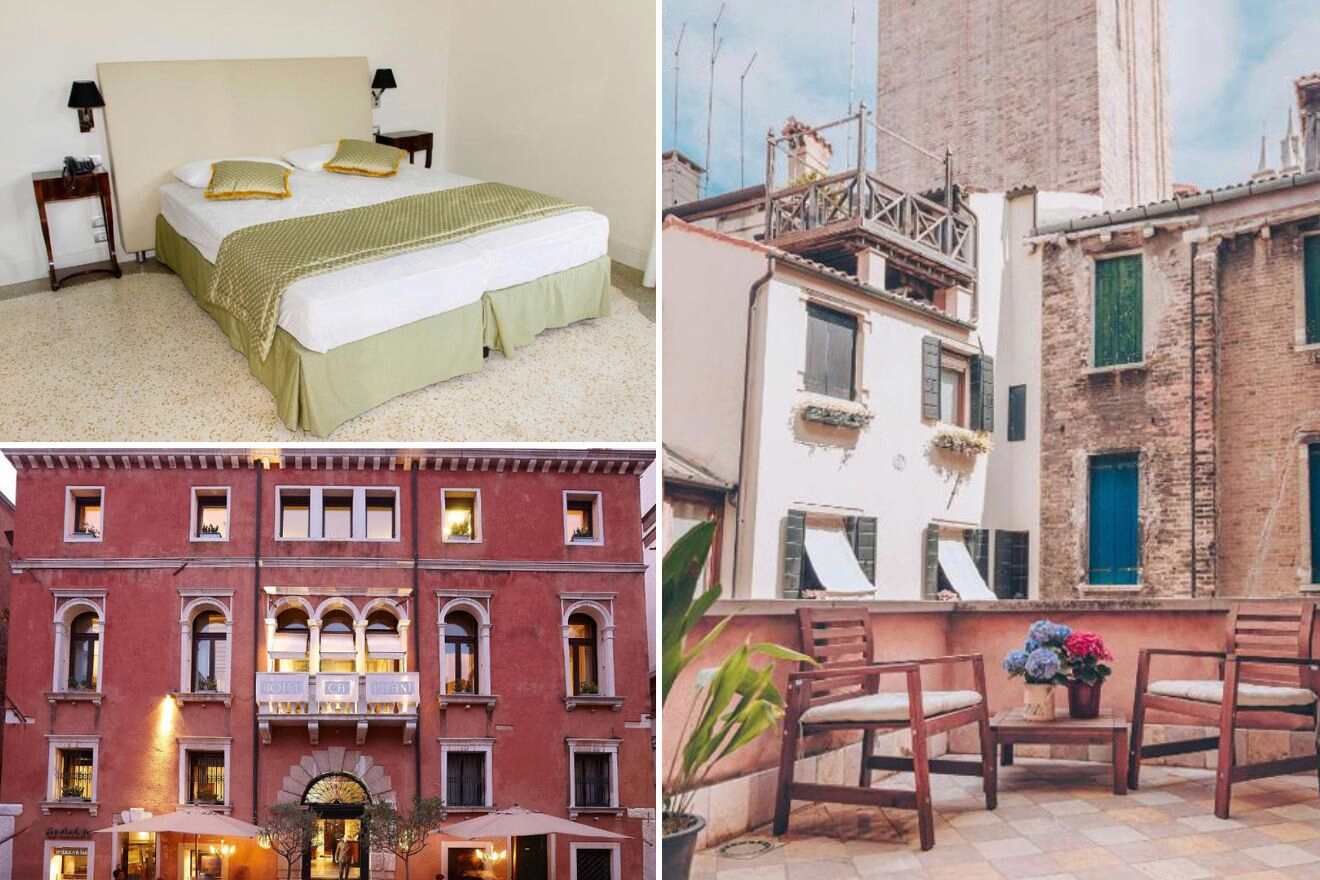 Ca' Pisani Hotel – From the outside, it may look like a 16th-century building (which it is), but inside, you're back in the present times! This hotel is located a 30 min boat drive away from the Venice Marco Polo Airport, and it has spacious rooms with a private bathroom (some also have wooden beams), a rooftop terrace, and a wine bar.
Hotel Sant'Antonin – Grab a book with you and chill in the lush garden of this hotel that looks so paradisiac! Set in a 16th-century building, the accommodation has rooms with antique furnishings, free Wi-Fi, and a private bathroom. Get up early and enjoy your Italian coffee and breakfast on the sun terrace.
Bianca Cappello House – Loving the simple yet super cute decors of this hotel that's housed in a historic building in Venice! The accommodation has rooms with wooden beam ceilings, balconies, and free Wi-Fi.
BONUS 1: Unique hotels in Venice
As you can see Venice is packed with gorgeous boutique hotels. And since we're done with the main part of today's post, I decided to make a bonus section with some unique hotels that I just couldn't keep all to myself!
These places are unbelievably cute! I've made sure to order them from most to least expensive, and the prices start from €230 to €460: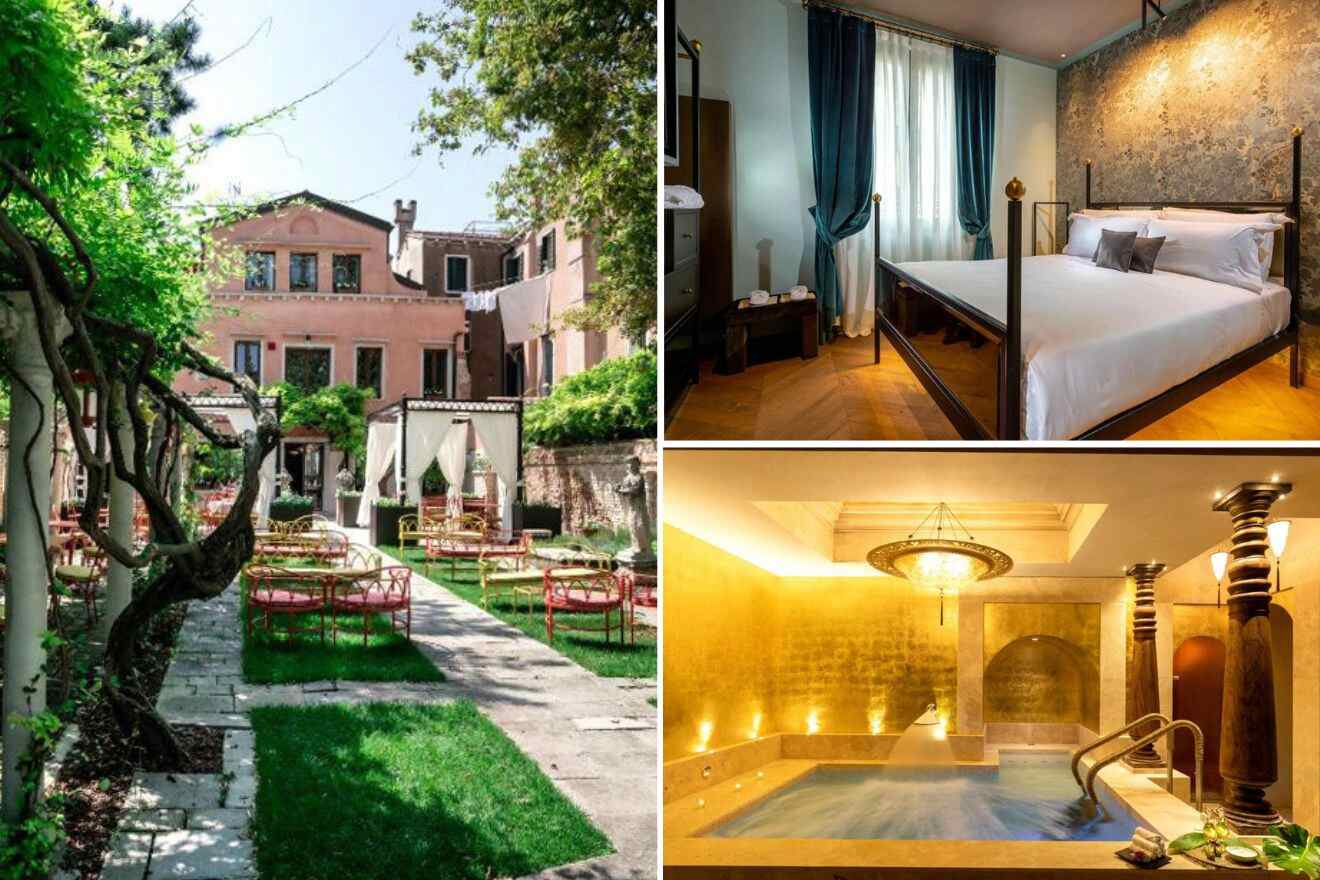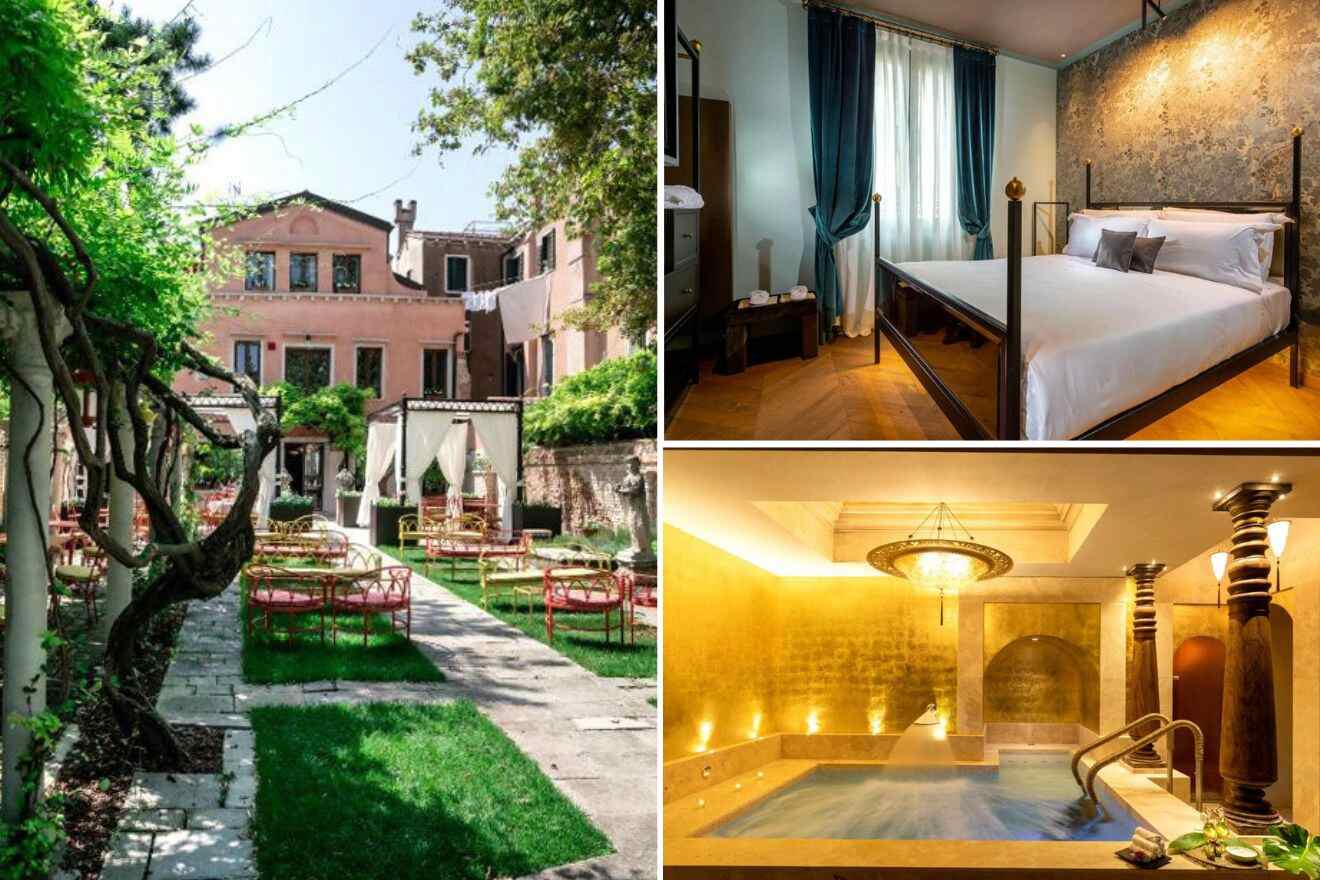 Madama Garden Retreat – Each individually decorated room at this hotel will make you feel like you've landed in another era! Although each has modern facilities, the suites have the most interesting wallpapers ever! Not to mention a stunning bathroom, gorgeous furniture, a garden, and of course, views of the Grand Canal.
Hotel Metropole Venezia – Antique furnishings, a spa center that will make you feel like a brand new person, and an abundant citrus garden! This gem among luxury hotels sure deserves the high room prices! Everything looks impeccable, and you haven't even seen the 14th century well and rooms (some of this intense red that looks incredible)!
Excess Venice – They sure picked the name right for this unique hotel! It does offer that "excess vibe," but not in a bad way! I particularly love the room with a blue couch and bed – it looks royal! As does the garden with its columns, quiet alley, and gorgeous white Wisteria plant, which I hope you can catch in full bloom as it's a sight you won't forget easily!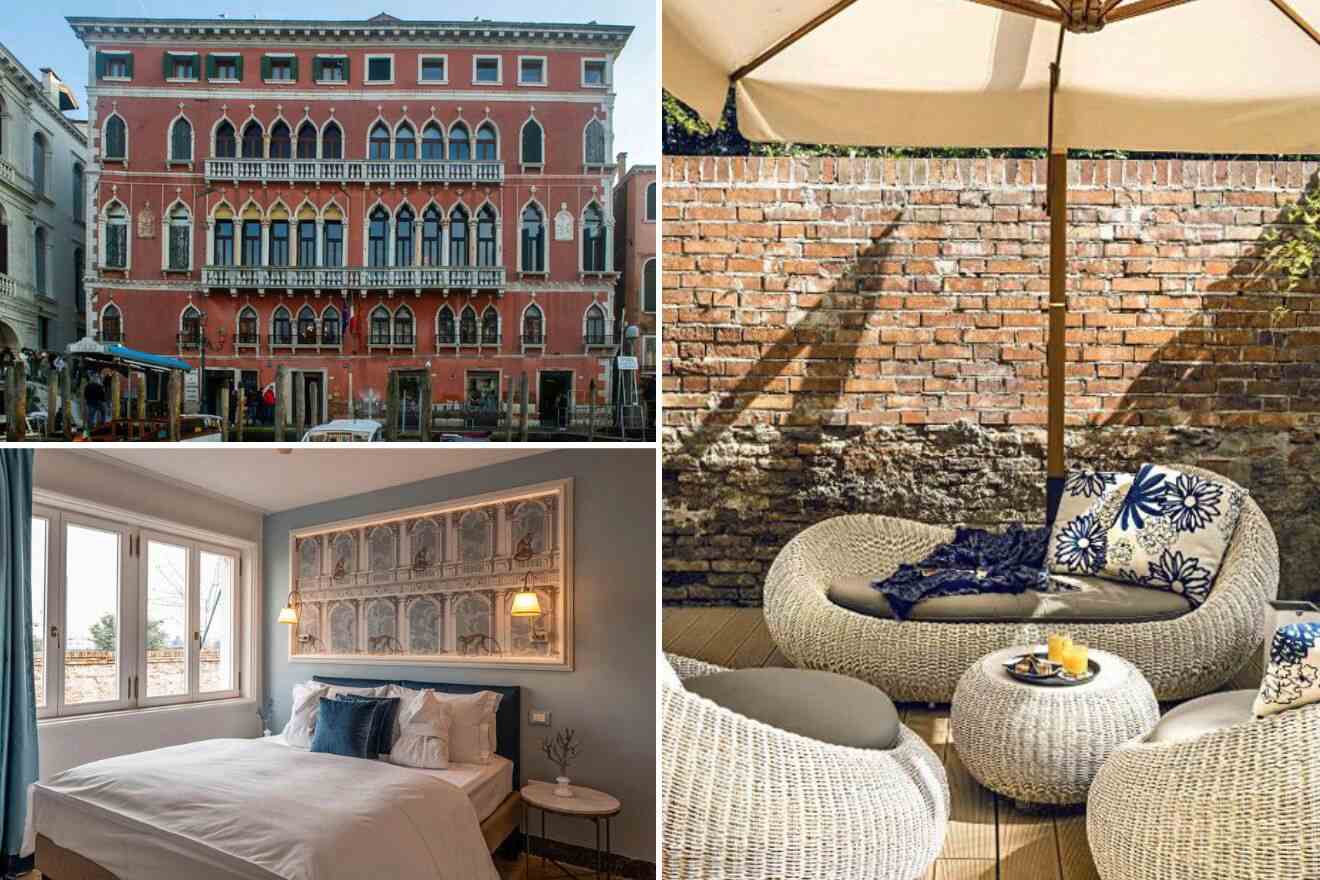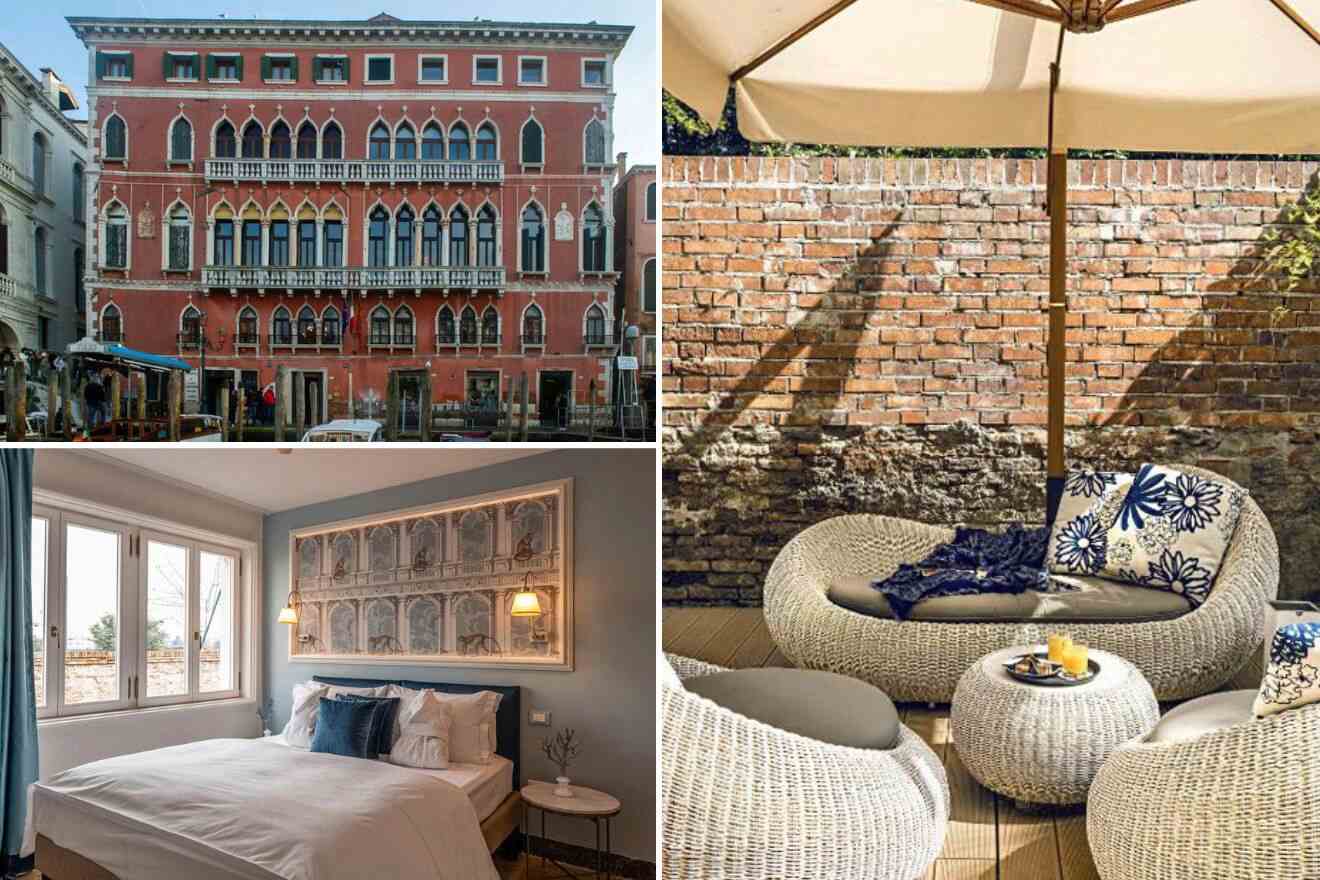 Ca Maria Adele – Set in a quiet neighborhood overlooking Santa Maria della Salute Basilica, this private residence has a rooftop terrace where you can enjoy your breakfast, rooms with Arab and African furnishings and a bit of Venetian decor (yep they look good together).
Egò Boutique Hotel The Silk Road – With a focus on brightness and goldish aesthetics, this Venetian hotel has it all! Stunning rooms with one-of-a-kind furniture, views of the Grand Canal, a yummy breakfast that you can enjoy in your comfy room, and a great location.
Venice Times Hotel – Although this place offers a more contemporary design, it still has that Venetian class and elegance that we all love! The accommodation comes with bright and spacious rooms that have wooden floors, a garden, and room service.
BONUS 2: Top modern hotels in Venice
We've seen so many centuries-old buildings in this post and the hotels housed in them that I thought it would be refreshing to check out some modern hotels too! I know many of you would prefer to stay in one of these, so let's see which one you'll pick!
I've ordered the hotels from most to least expensive, and the prices start from €185 to €1,480: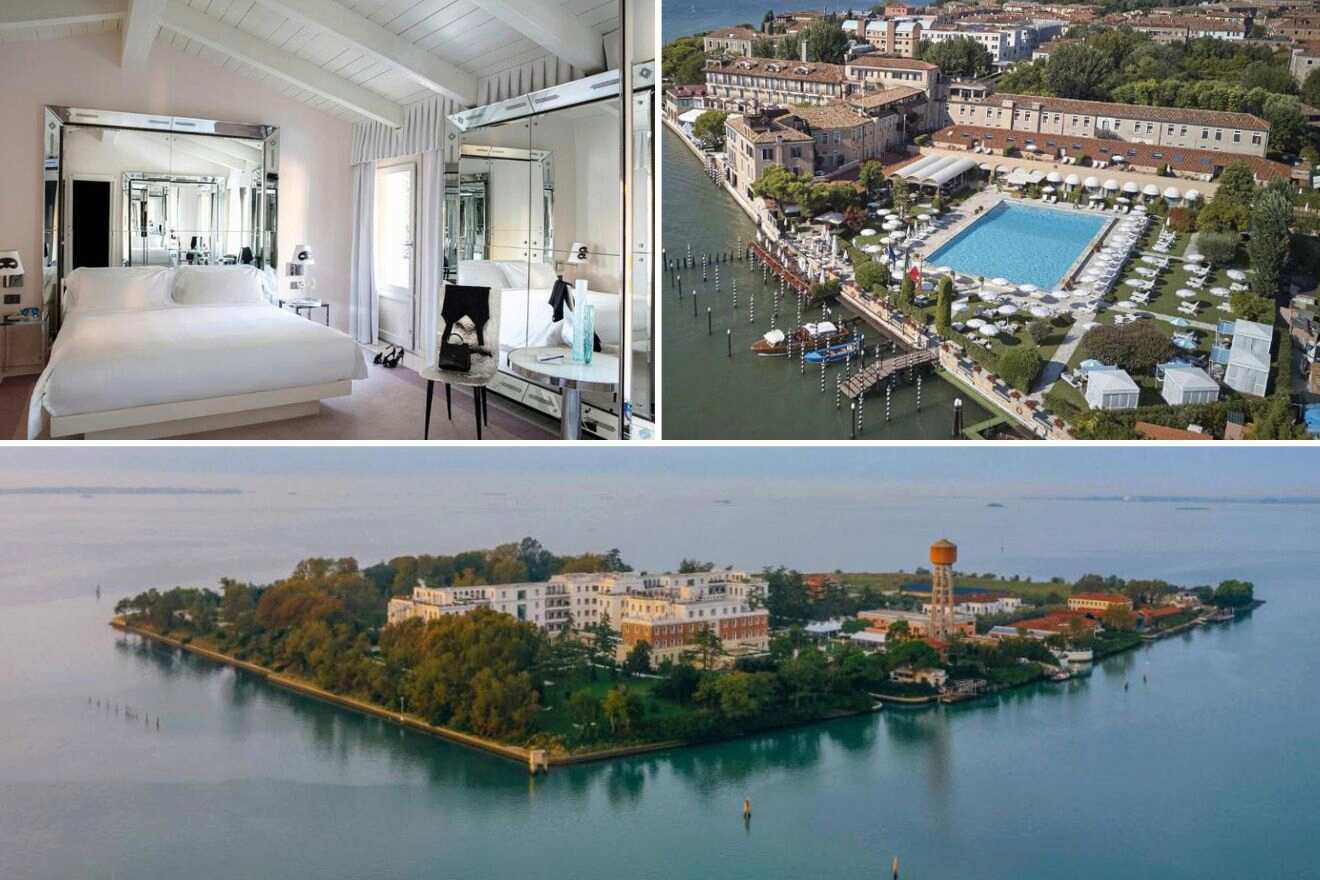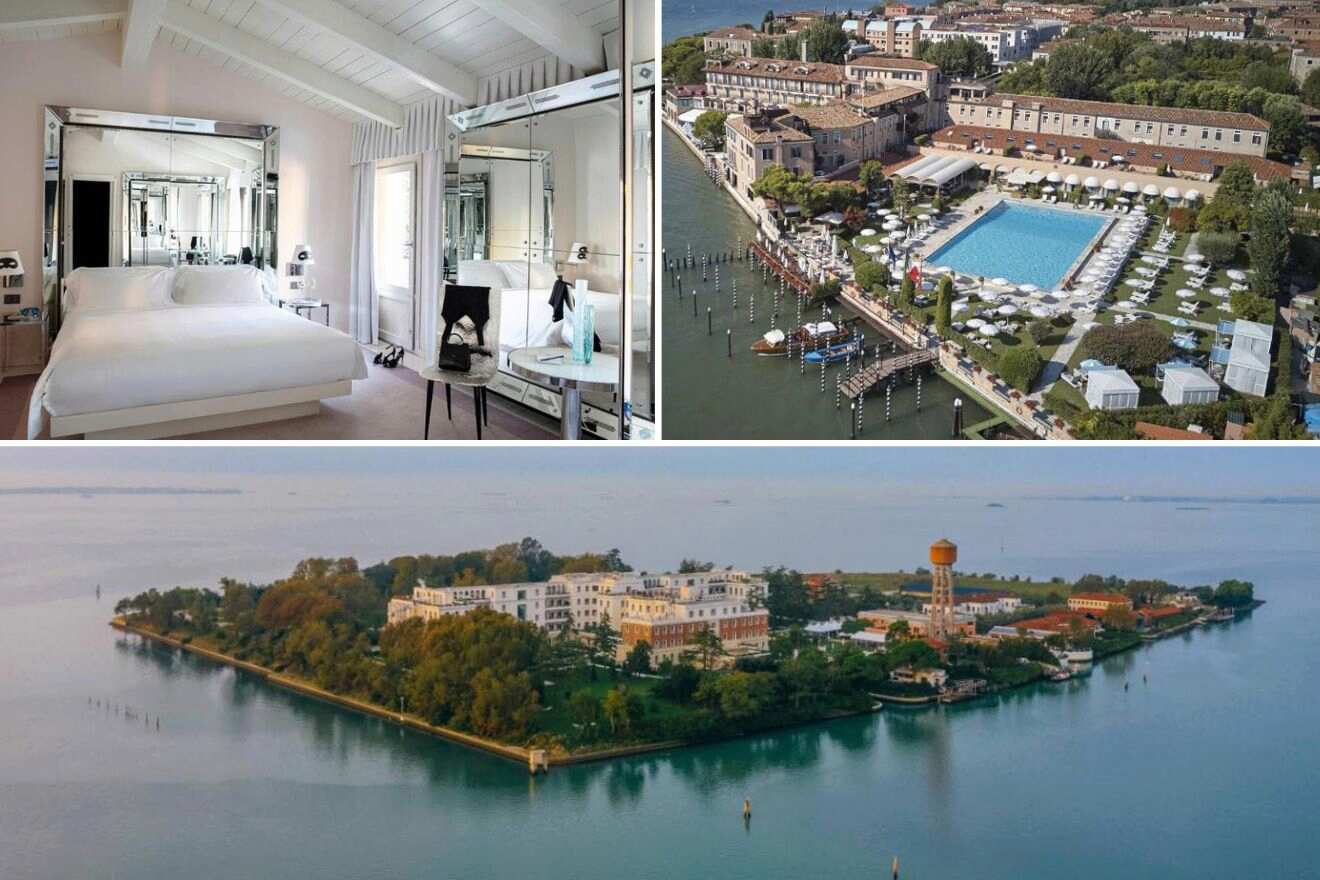 Hotel Cipriani, A Belmond Hotel, Venice – Offering stunning views of the Venice Lagoon and the Doge's Palace, this stunning hotel has an elegant interior design and plenty of outdoor areas where you can relax! You'll also find a large outdoor swimming pool, tennis court, and luxury wellness facilities.
Palazzina Grassi – Set in the historic center of Venice, this accommodation offers some fabulous rooms with a contemporary design, a restaurant where you can indulge in some delicious Italian dishes and a terrace.
JW Marriott Venice Resort & Spa – You'll fall in love with this hotel that's set on the Isola delle Rose island in the Venetian lagoon! The 5-star hotel has some of the most beautiful gardens I've seen, a church (wow), and lots of fun facilities like a rooftop pool, 4 restaurants, and cycling paths.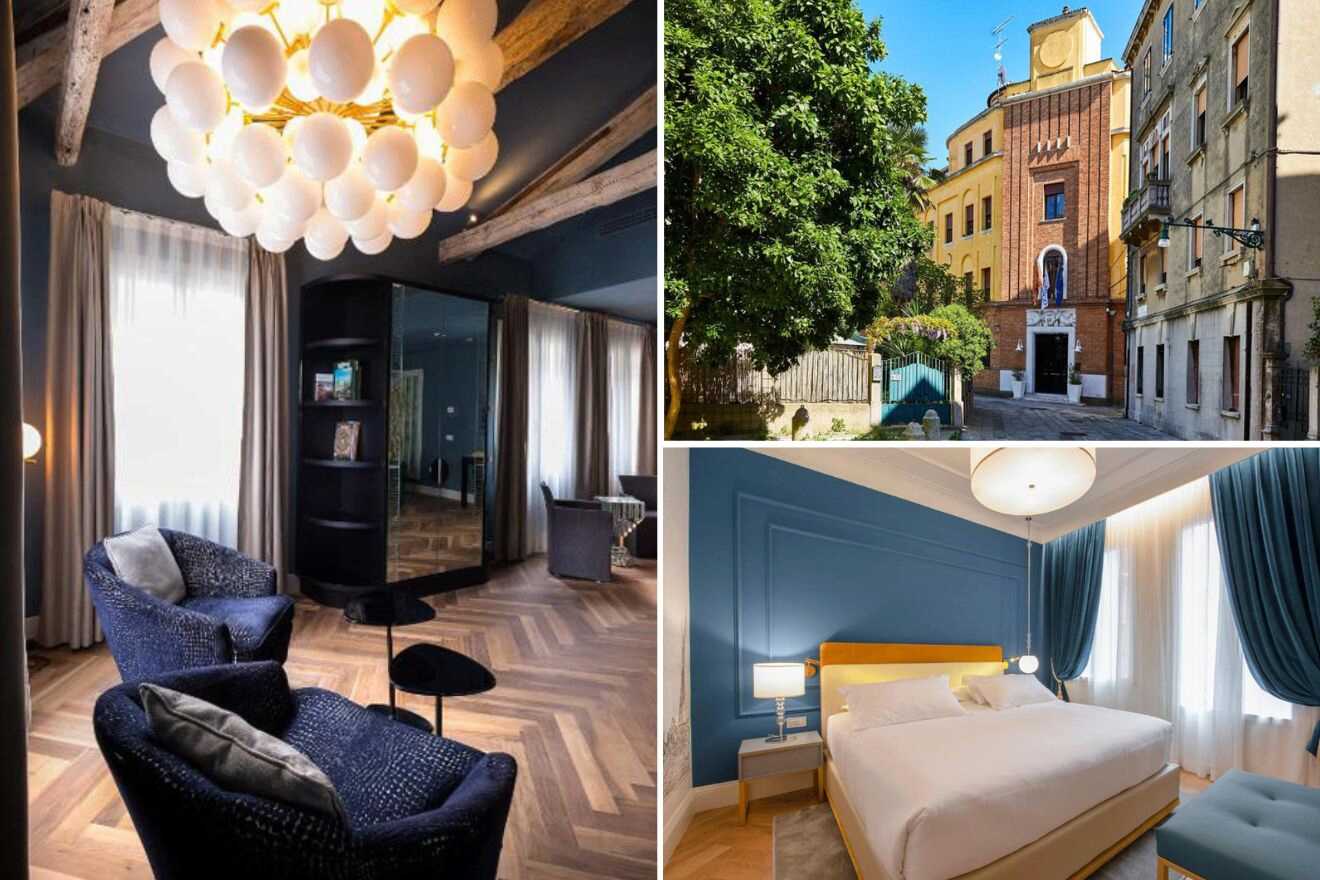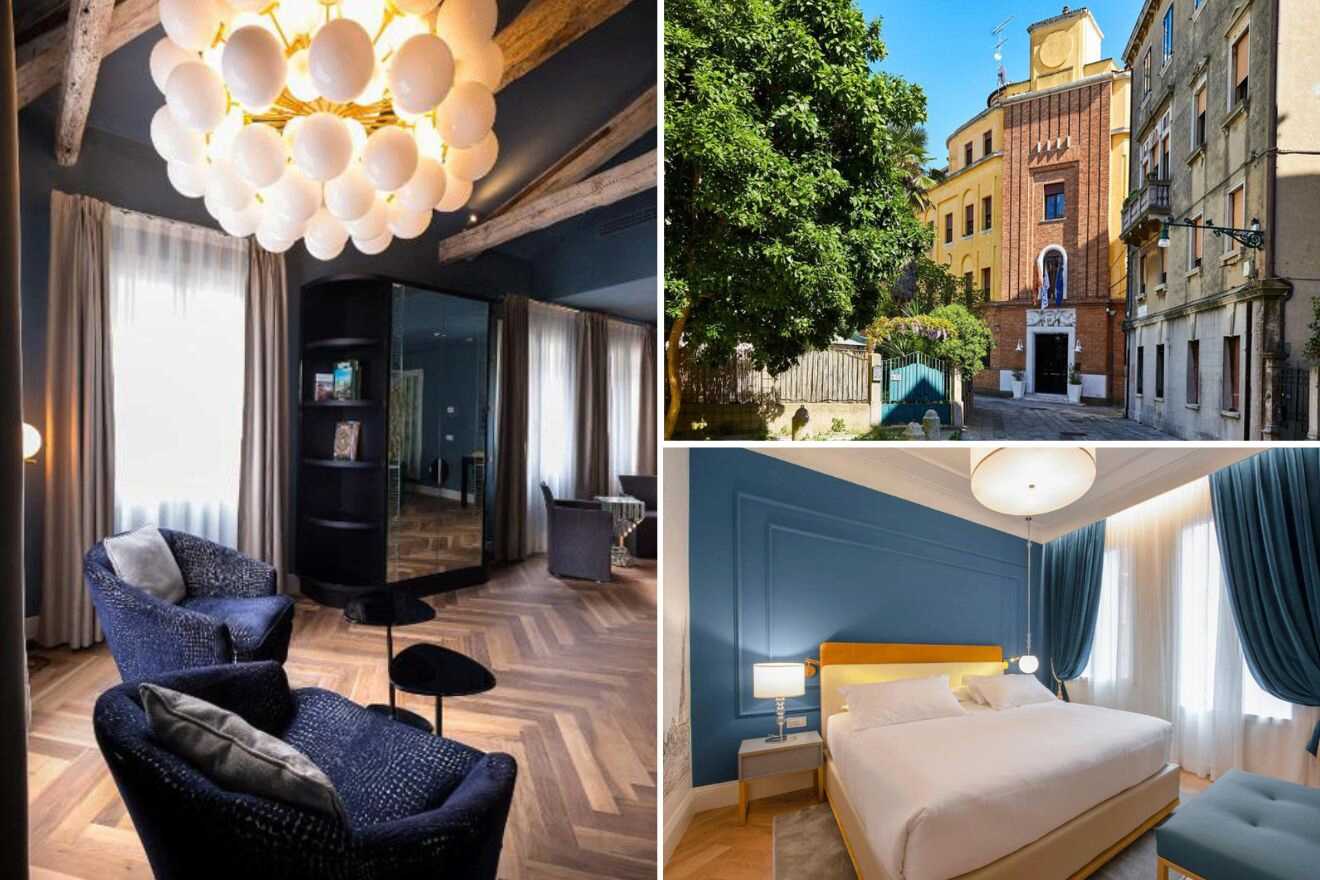 H10 Palazzo Canova – Grab some drinks on the terrace of this great hotel in Venice that comes with spacious rooms with a modern design, stunning city views, and a bar. The hotel is pretty close to places like Ca' d'Oro, Rialto Bridge, and San Michele Cemetery Island.
Liassidi Wellness Suites – Start your morning with a yummy breakfast in bed or in the lovely garden of this gorgeous hotel that has rooms with a Turkish bath in the private bathroom and a bar.
Hotel Indigo Venice – You'll never want to leave the peaceful, charming rooms of this accommodation that's set near Giardini della Biennale and the Parco delle Rimembranze gardens! The hotel also comes with some lovely gardens and a restaurant.
FAQs about boutique hotels in Venice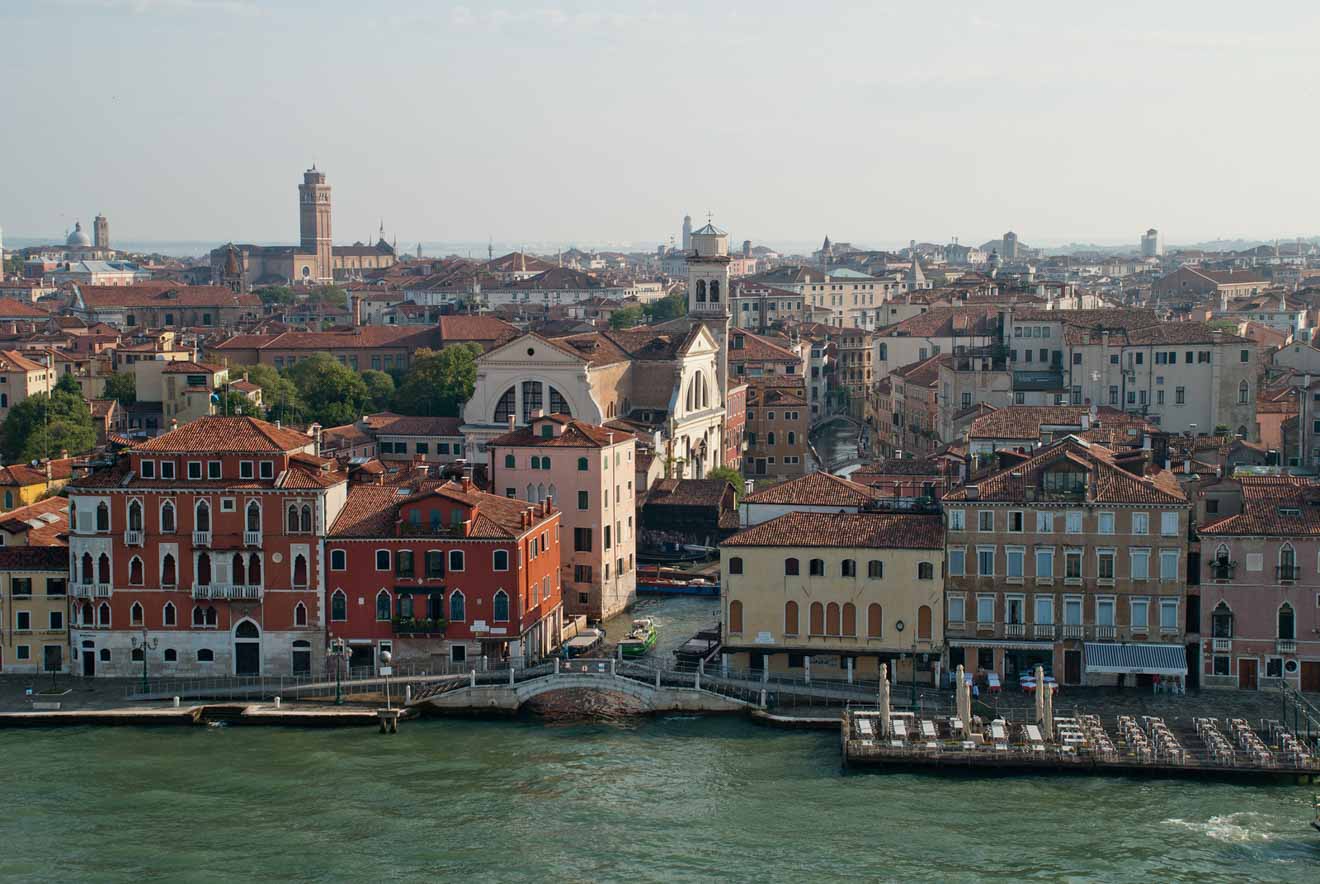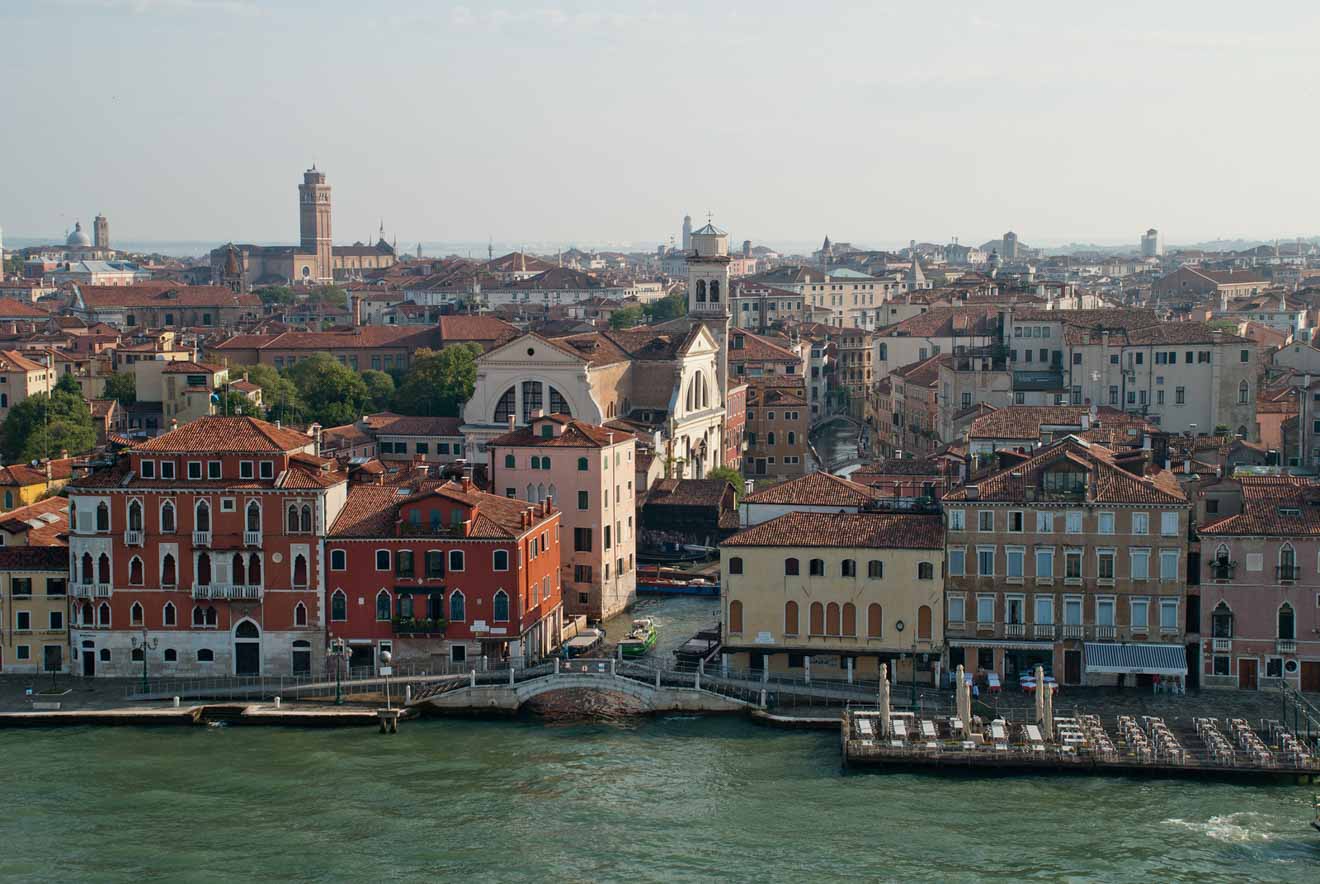 Conclusion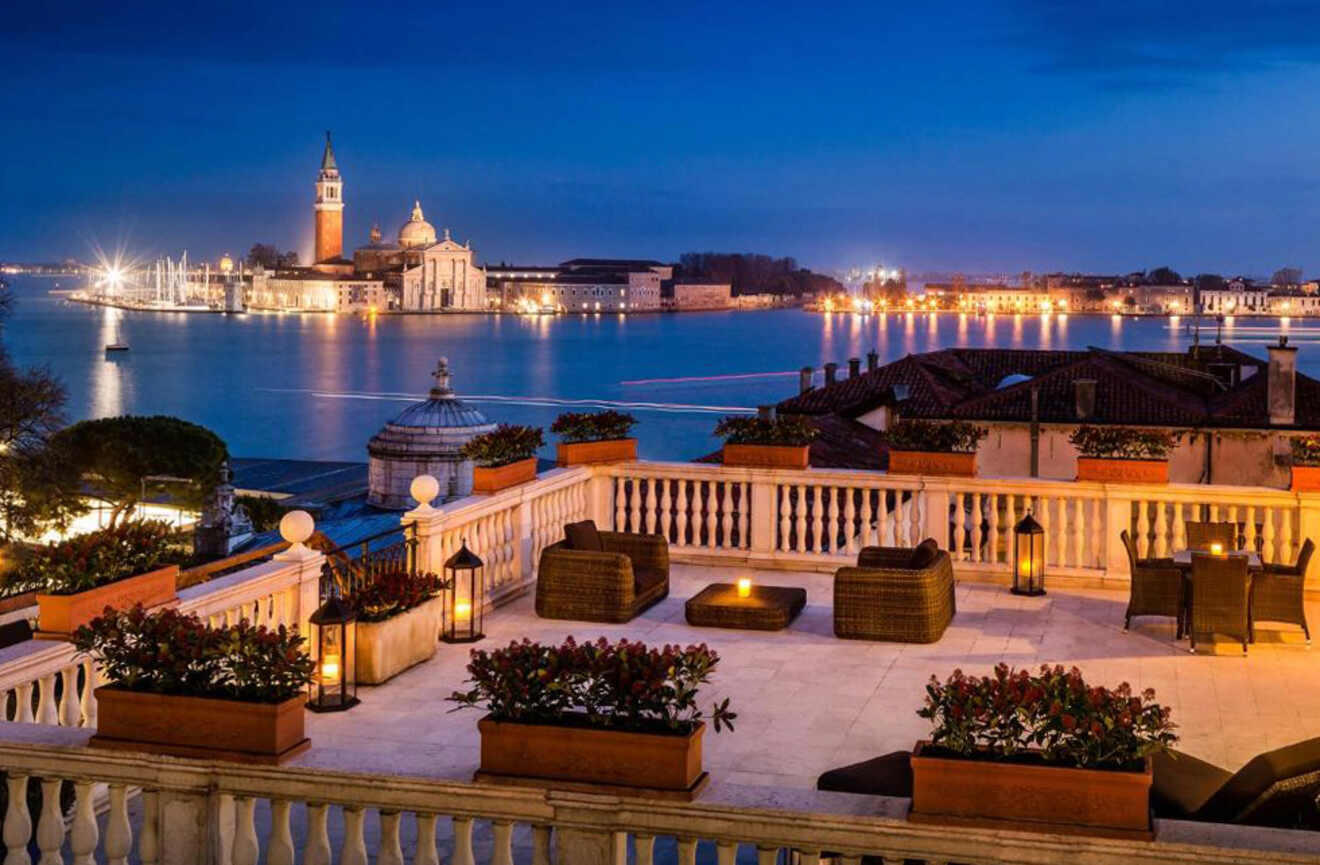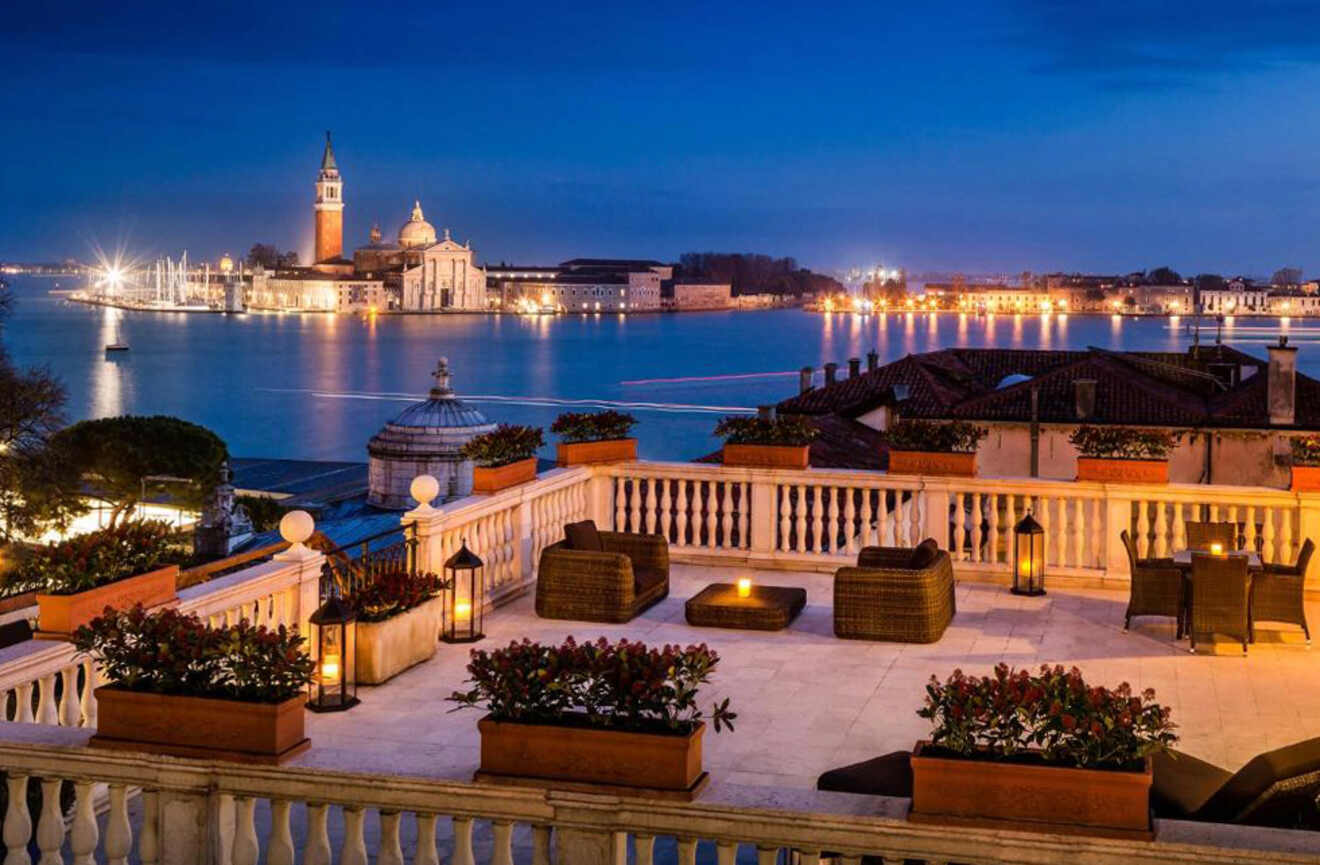 How can you not love Venice? All the art, the history, and the food! Yum!
I hope that by the end of the post, you decided which boutique hotel in Venice to book! And remember what I said about doing it in advance as the city is filled with tourists all year round!
Before we wrap up for today, I want to leave you with my absolute favorite places to stay in Venice. I love all the hotels in the post, but these 2 really caught my attention:
Well, everyone there, you have it!
Enjoy your trip in this unique city, and as always, I'm around for anyone who has questions! All you gotta do is leave me a comment below!
Safe travels,
Victoria
---
Pin it for later!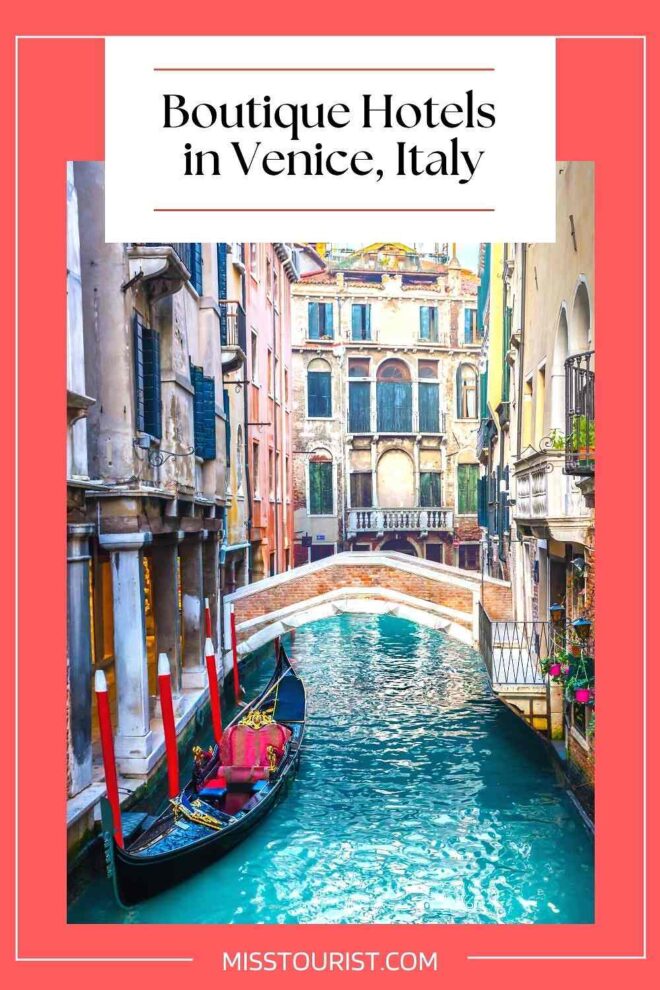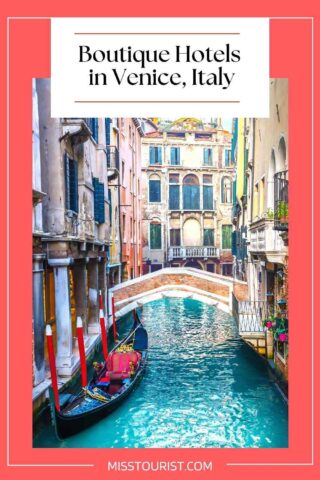 Pin it for later!