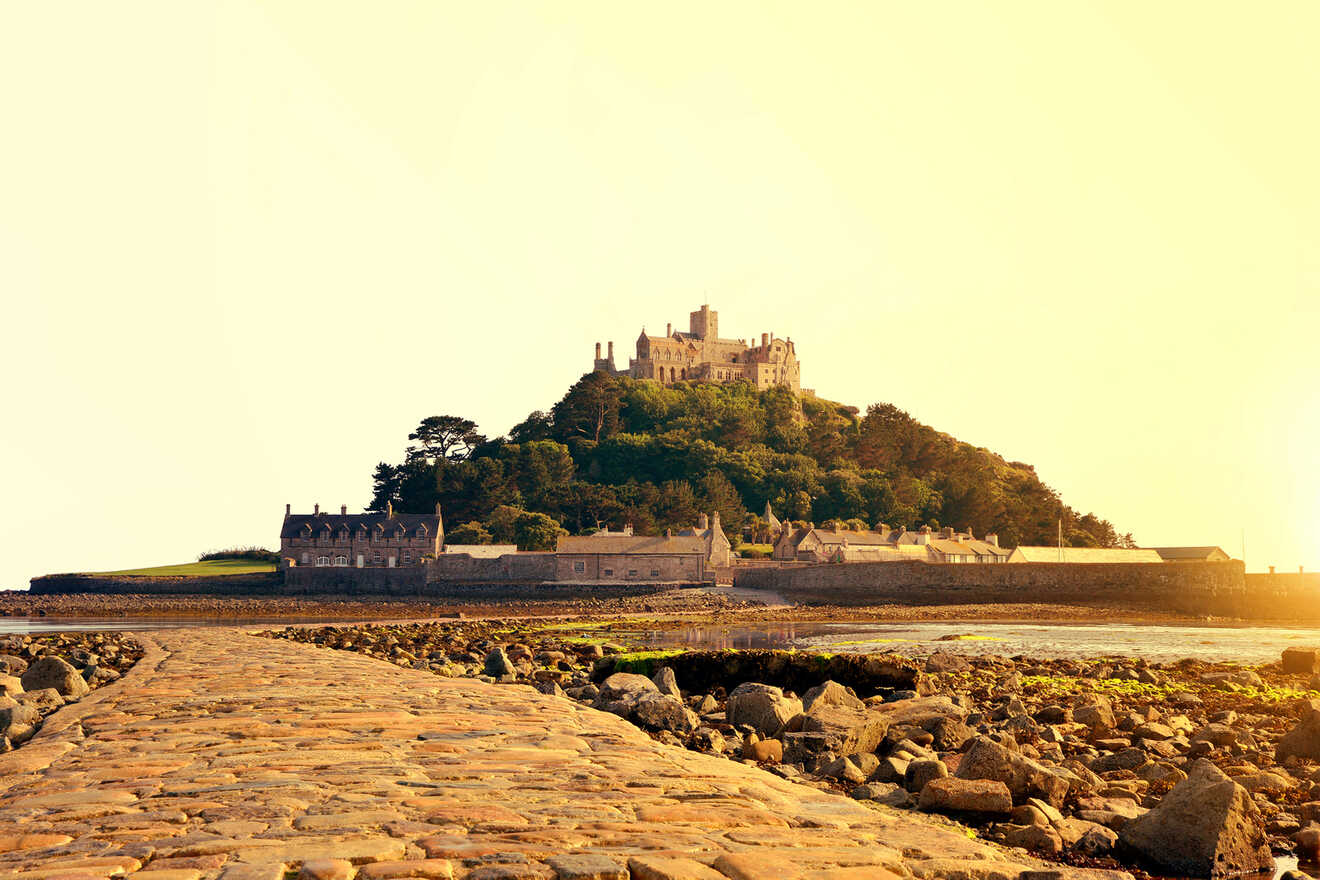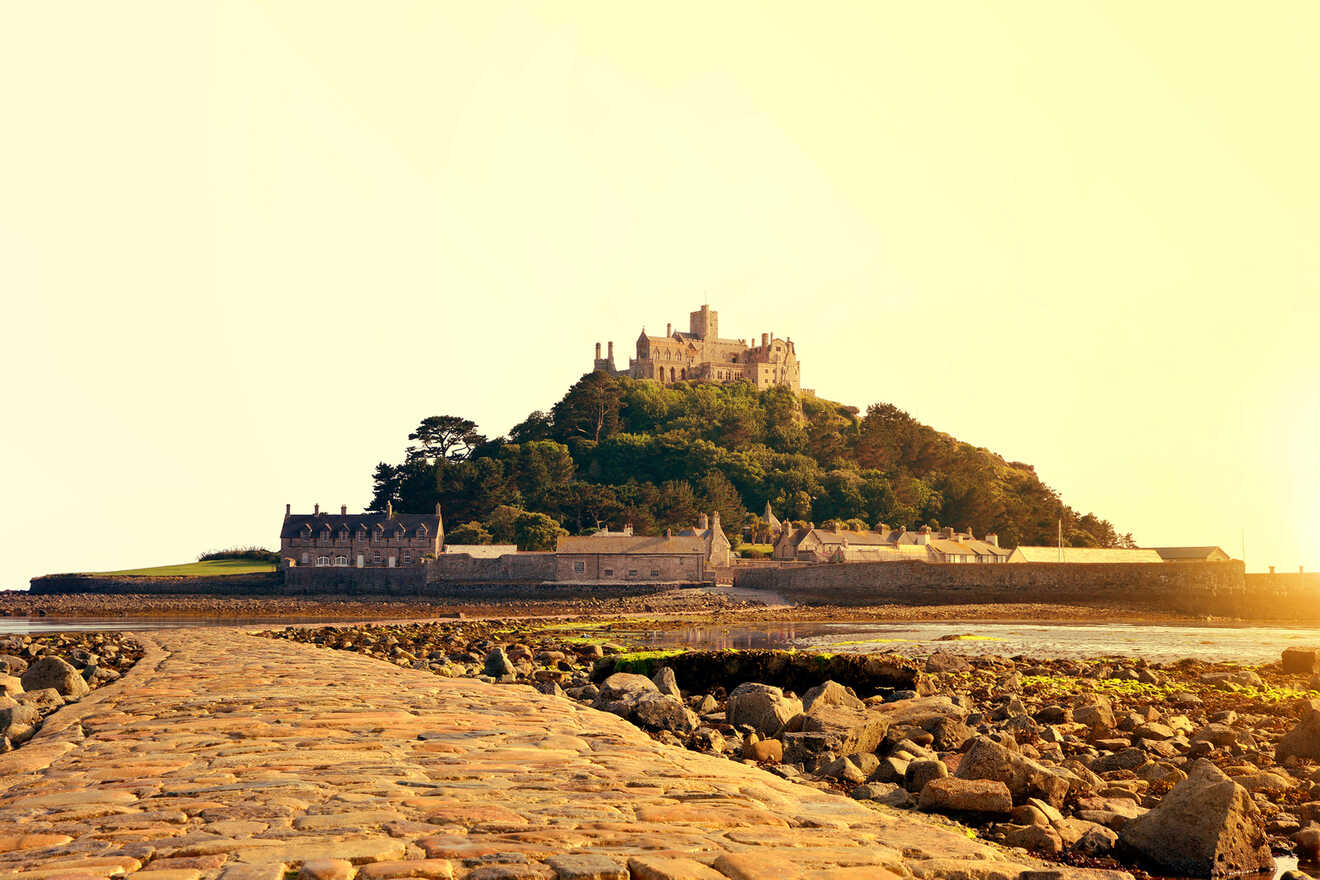 Can't beat the Cornwall magic! Once you're there, you'll feel in a whole different dimension! And yes, before you ask, there are many incredible places to stay here!
In this post, you'll find the best 4 & 5-star hotels in Cornwall, which I listed from most to least expensive, all hand-picked and with amazing reviews so you can easily choose your favorite!
Make sure that once you decide which one is your favorite that you book it super fast. I'm not kidding when I say these accommodations sell so quickly that you'll risk missing the hotel you wanted!
But enough with the chit chat and let's check out these places:
If you are in a hurry
Here's a short list of the best hotels 4 & 5-star hotels in Cornwall for anyone who doesn't want to go through the whole post:
I know there are many places to keep track of. That's why I've made the map below so you can visualize all the best hotels in Cornwall that I'll talk about in the post:
5-star hotels in Cornwall
Fancy a fabulous hotel in Cornwall with great sea views and a luxurious spa? Then have a look below, it has the best ones:
1. Padstow Townhouse – a unique hotel with a Michelin-starred restaurant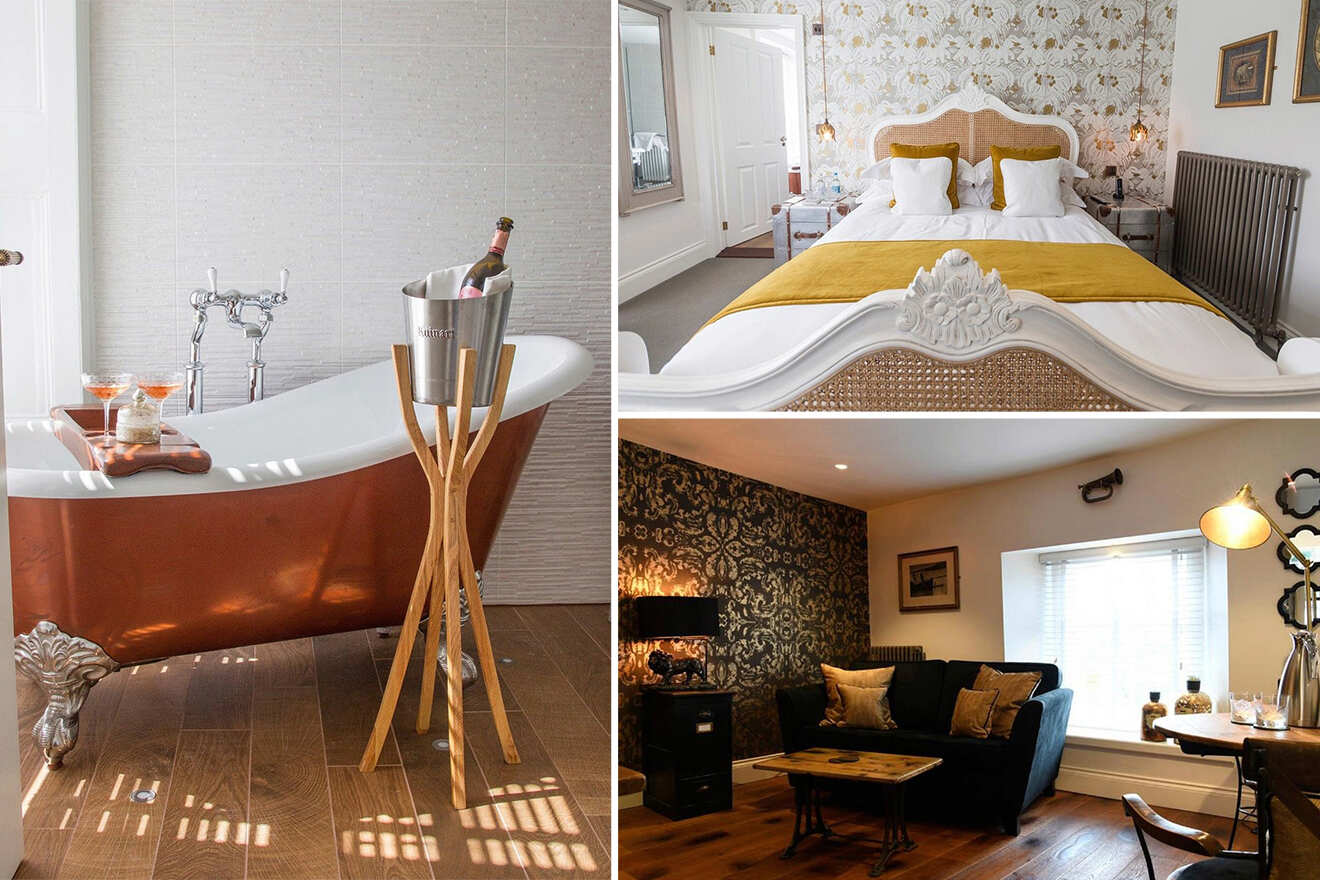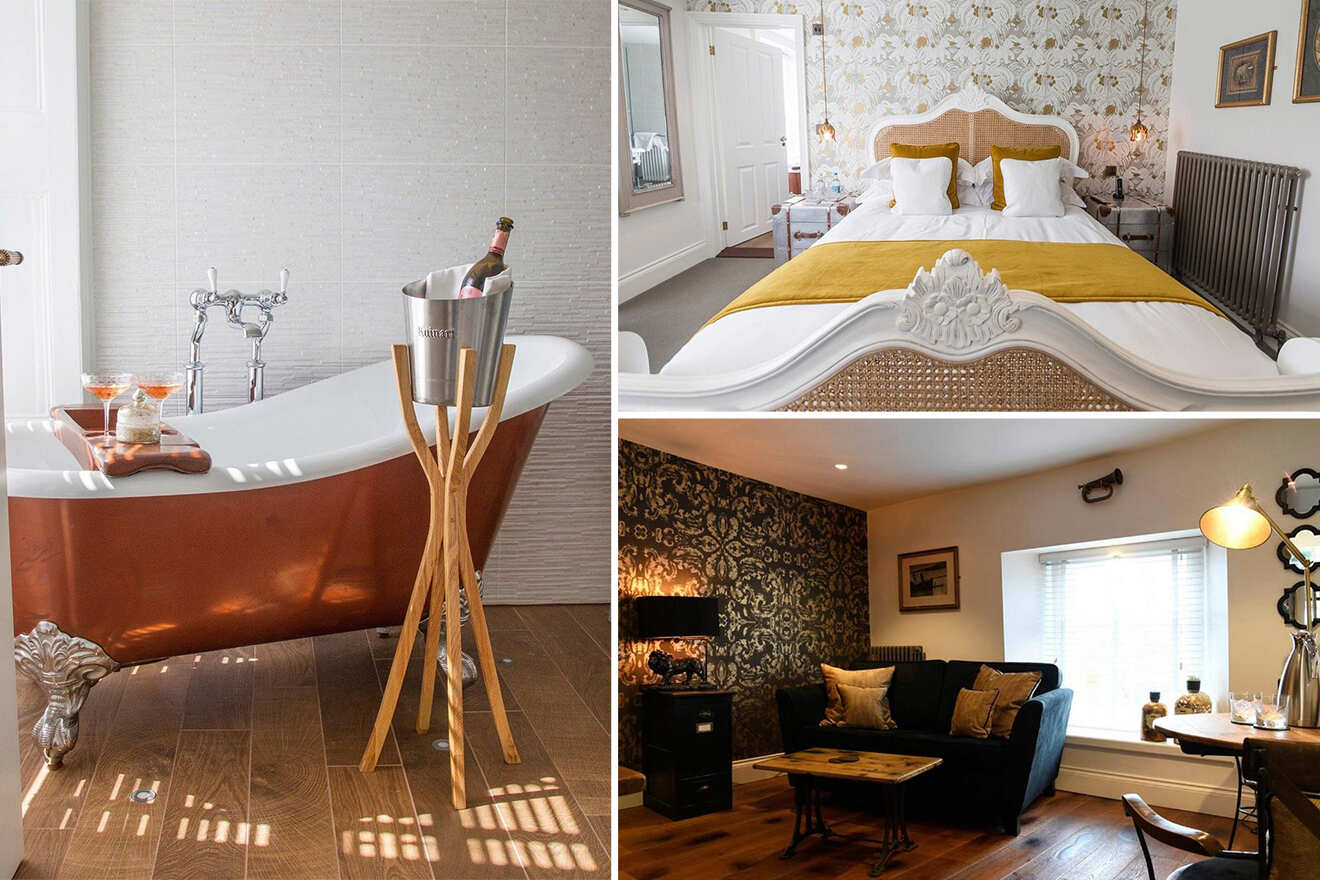 You'll love the stylish decor of this place! Elegance mixed with some fine vintage elements will make you feel like you're staying in your dream home! The Padstow Townhouse is a boutique bed and breakfast located in Padstow in an 18th-century building.
The interiors are super chic, and each suite has a private bathroom with complimentary toiletries and a flat-screen tv. But my favorite thing has to be their super cool kitchen pantry, where you get drinks, snacks, and other yummy things! And if you're in the mood for a real dinner, just head over to their Michelin-starred restaurant!
2. The Headland Hotel and Spa – a modern hotel with 3 restaurants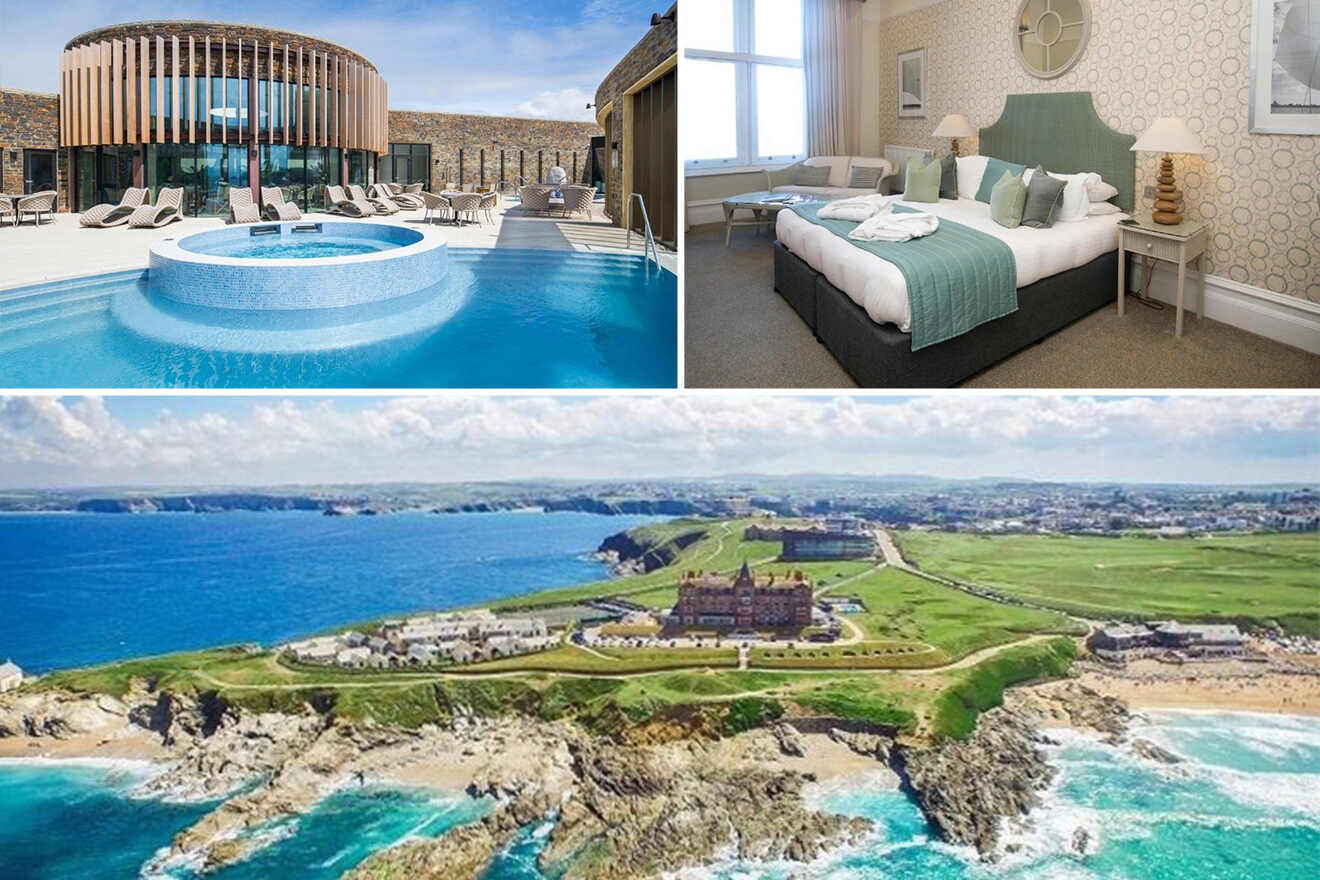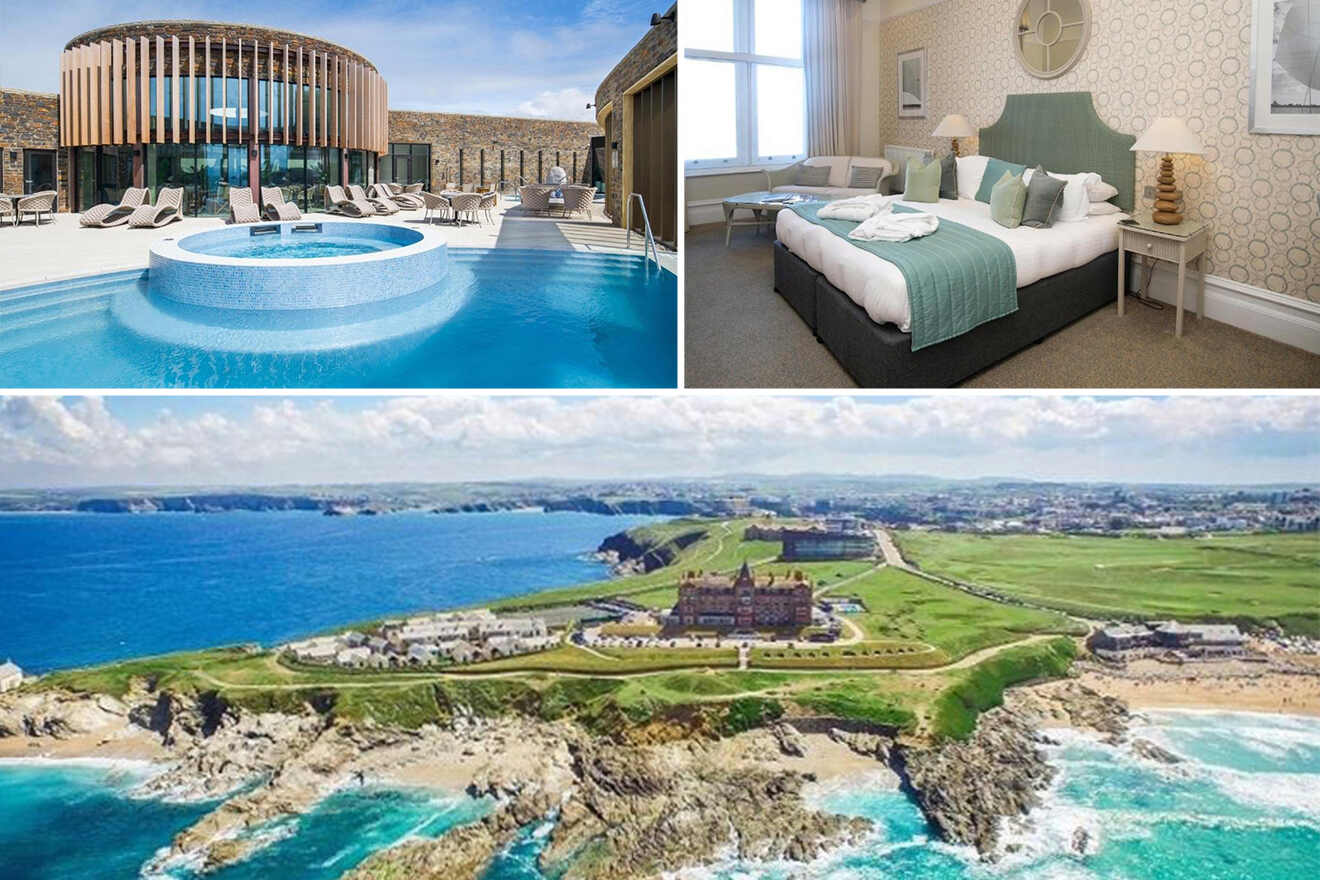 Who's ready for some good old beach fun while staying at this hotel that offers spectacular sea views? This modernized Victorian hotel offers so many cool things that you won't know where to start! I would go to the steam room in their luxury spa and maybe in the hot tub, just to relax after the journey.
But the next day, get ready to swim all day in the outdoor pool or indoor pool (they have 6, so there's plenty of space). Play some golf or maybe learn how to ride the waves at the surf school? There are countless options! And in terms of food, they've got you covered! You'll have 3 restaurants at your disposal, all serving fresh local food!
3. 27 The Terrace – sea-view hotel with a restaurant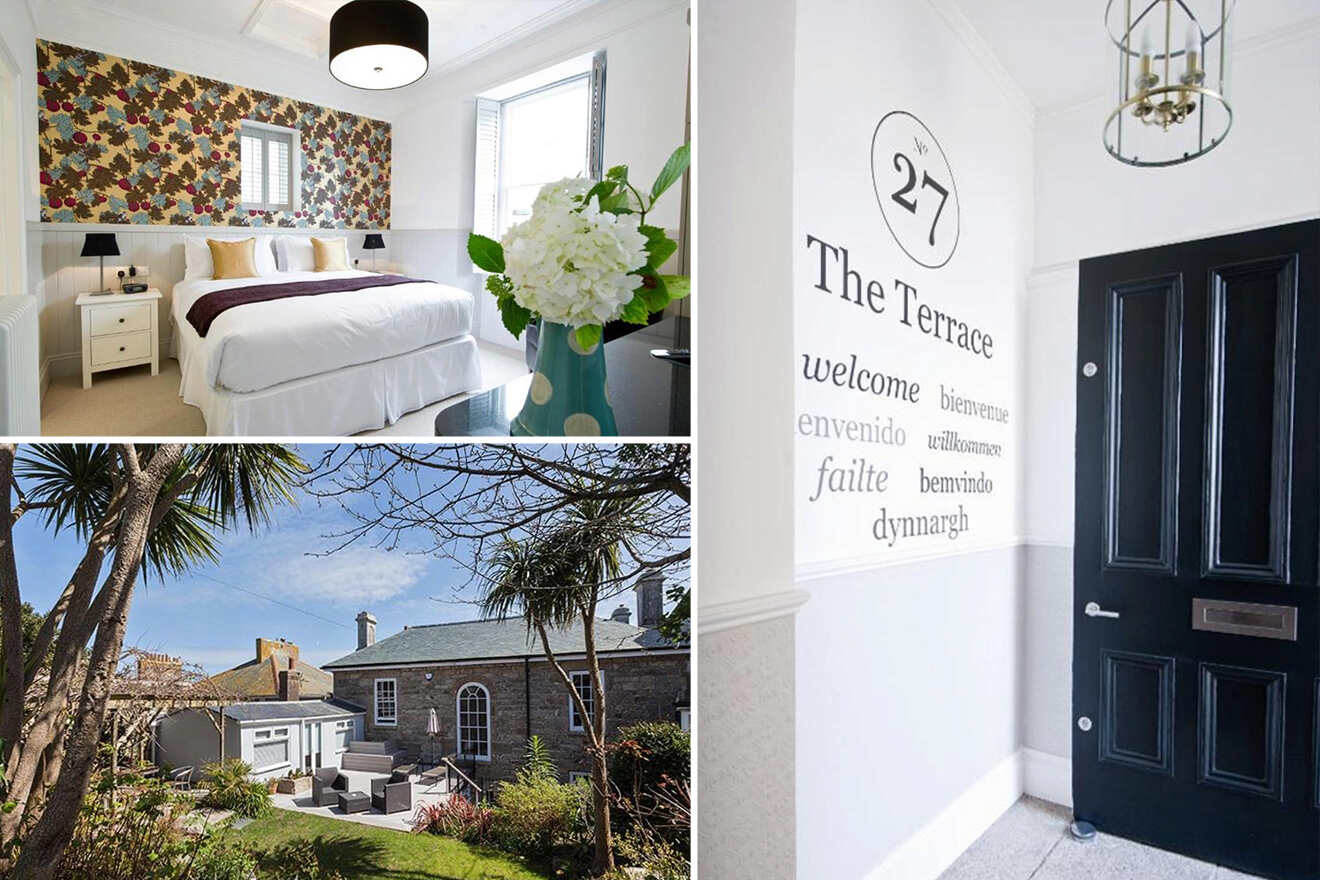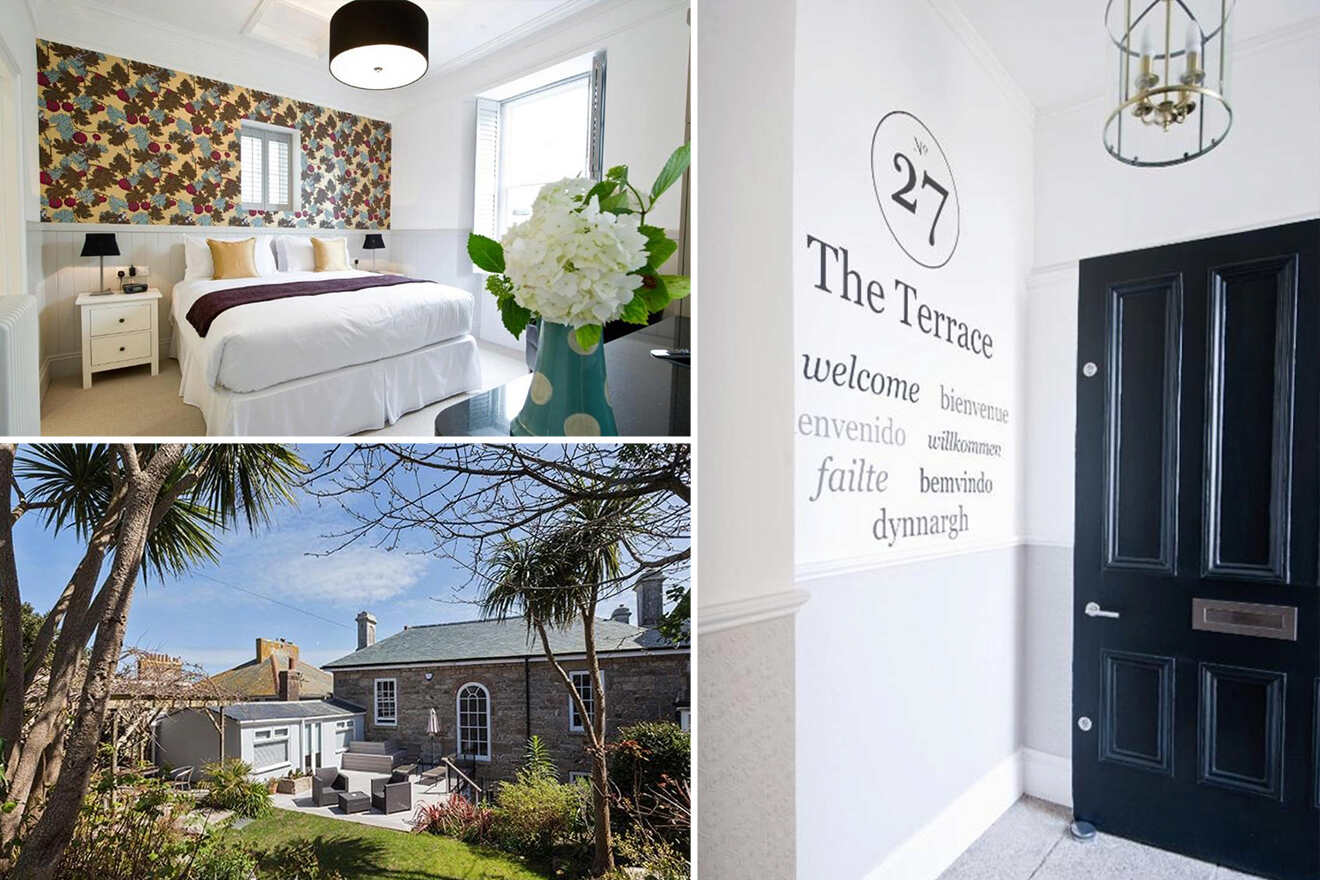 Stunning sea views, elegant surroundings, and direct access to the bay area, what more can you wish for? Here's another stunning hotel, which is located in St. Ives town that offers beautifully-decorated rooms with sea views and free wifi.
Start your morning with a delicious yummy buffet breakfast and a cup of coffee which you can finish on the outdoor terrace that overlooks the small garden. Then you'll be ready to head out and explore this unique village and its beaches, there's one just a short walk away from the hotel. When you return, get a table at the restaurant on-site and enjoy a sea-view dinner!
4. The Rosevine – a unique hotel with an indoor pool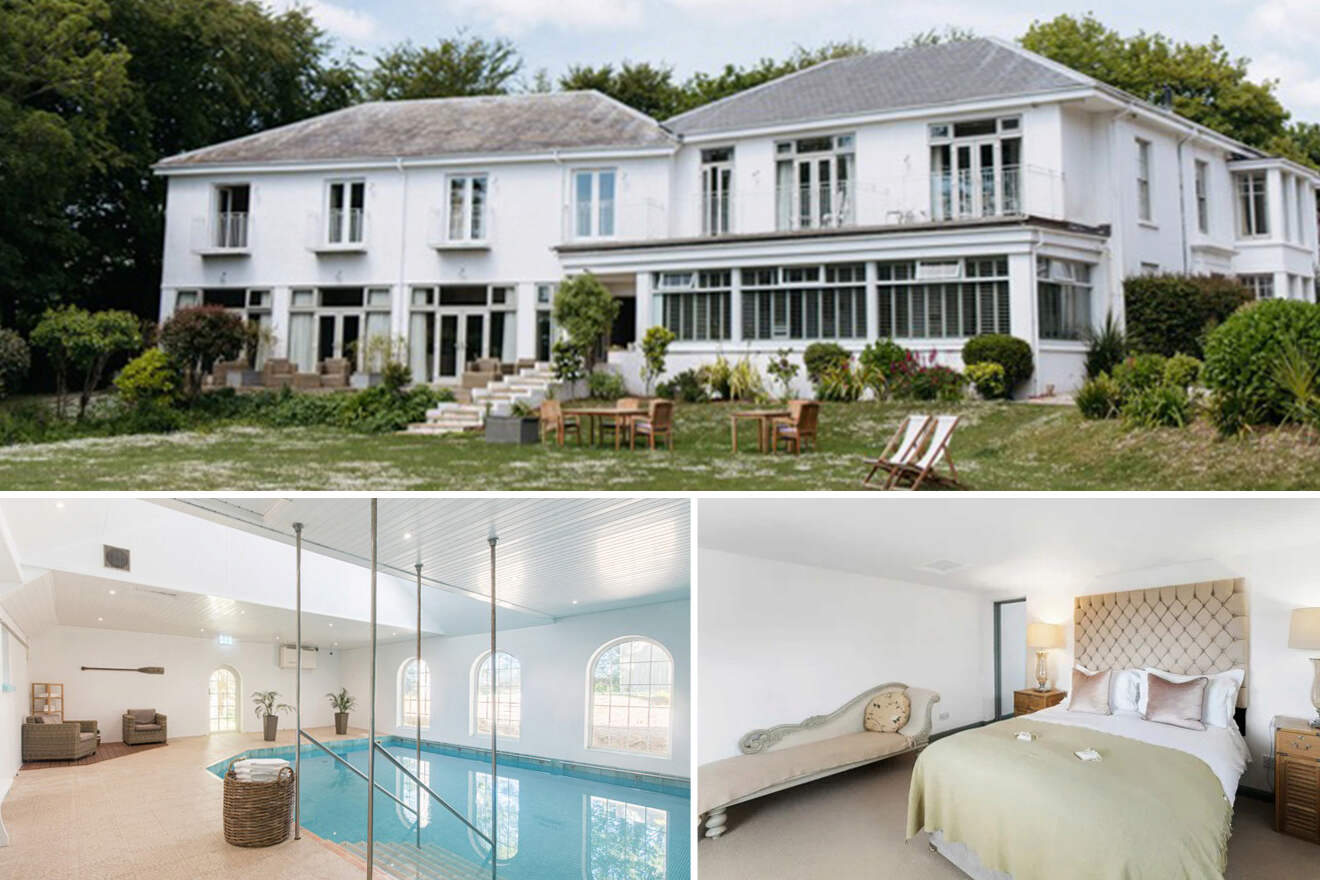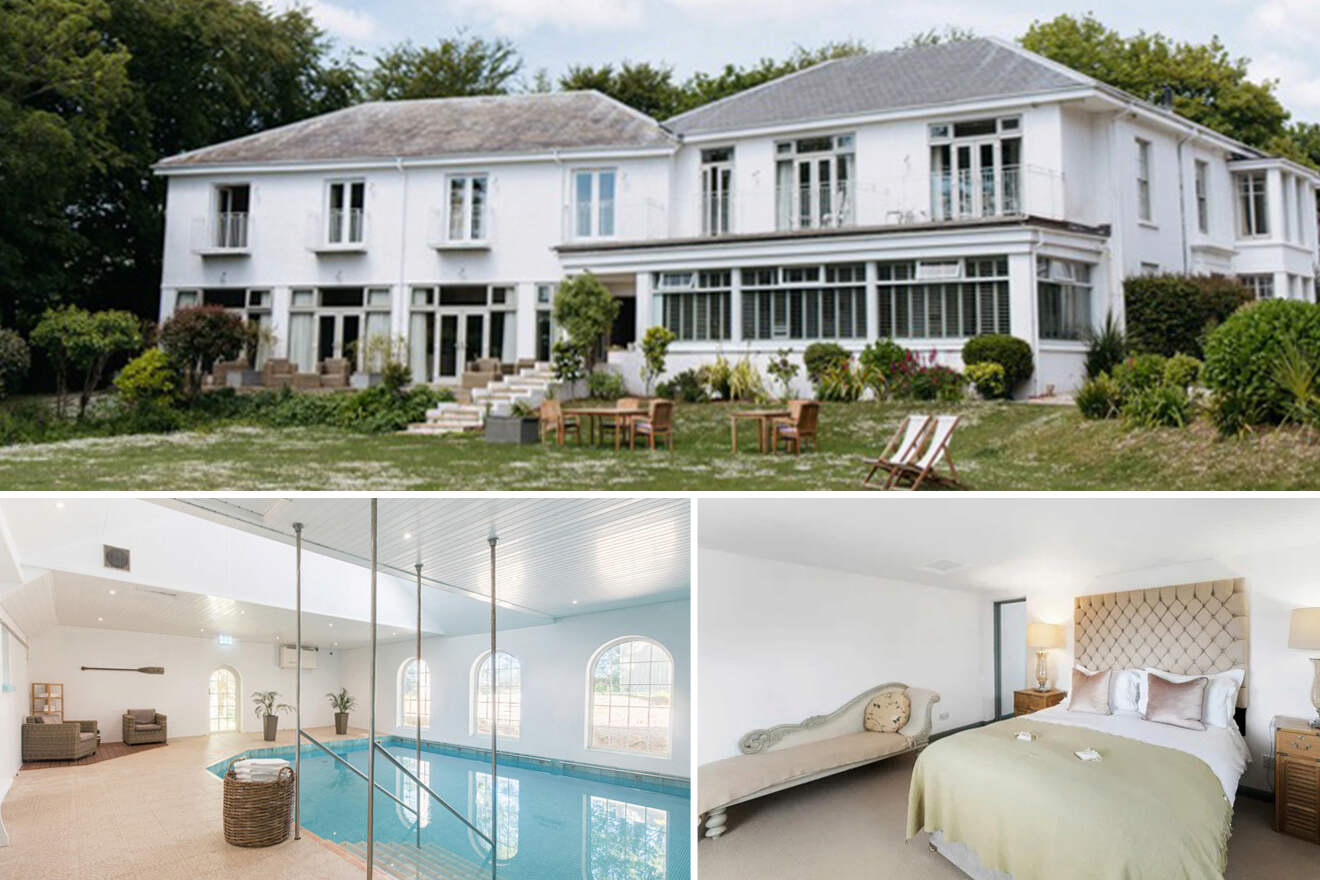 The Cornish Coast is absolutely magical! And what better way to enjoy the stunning views than staying at a seafront hotel? Set in a lush garden and surrounded by trees and flowers, this hotel offers spacious rooms with en suite bathrooms and a kitchen with coffee-making facilities.
During the day, you can hang by the beach and go hiking around, or you can chill at the hotel and go for a dip in the indoor swimming pool! They even offer some room massages and yoga classes if you need to stretch those sore muscles! And of course, their on-site restaurant offers locally sourced dishes in a stunning setting with sea views!
5. The Lugger – an old inn with an awarded restaurant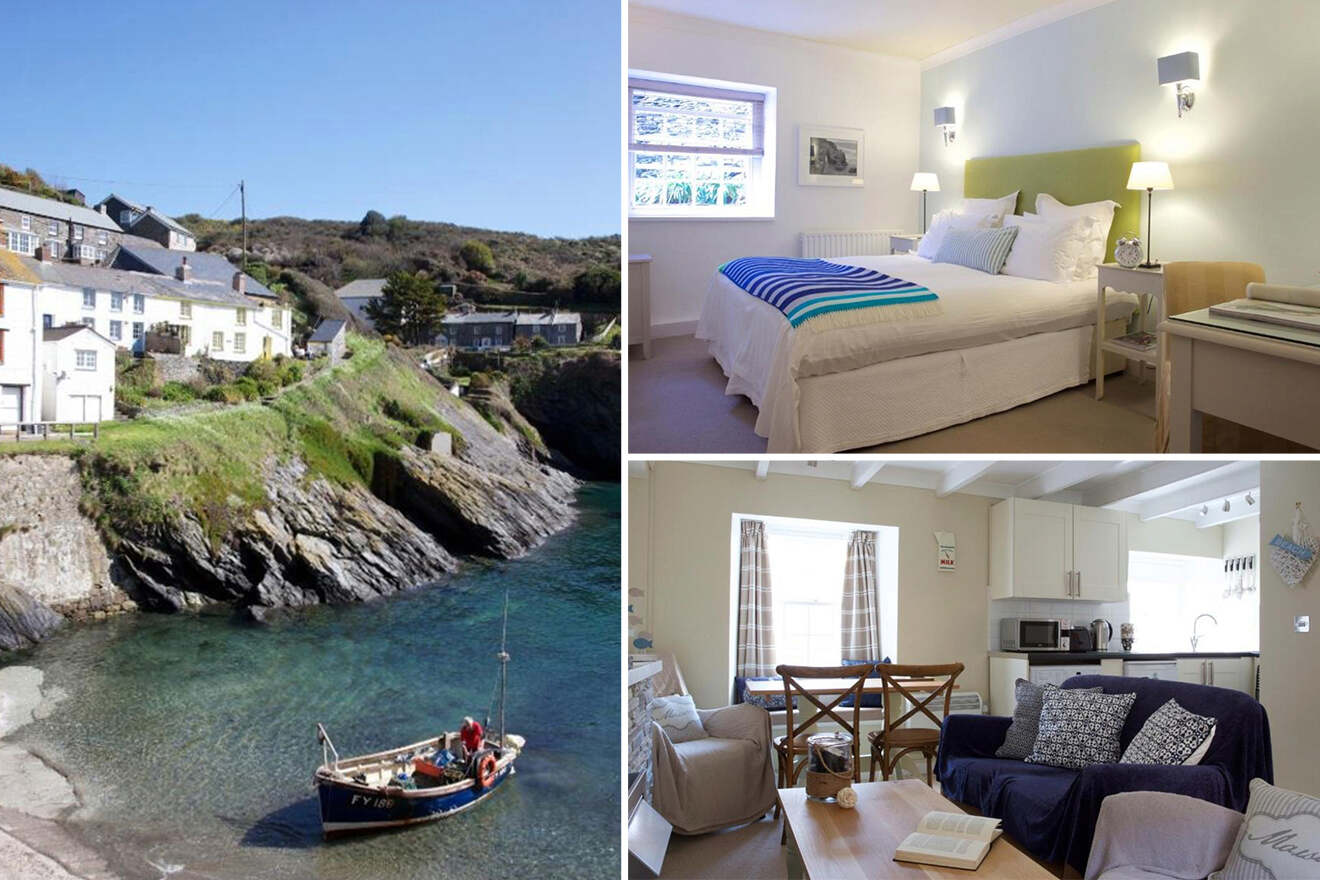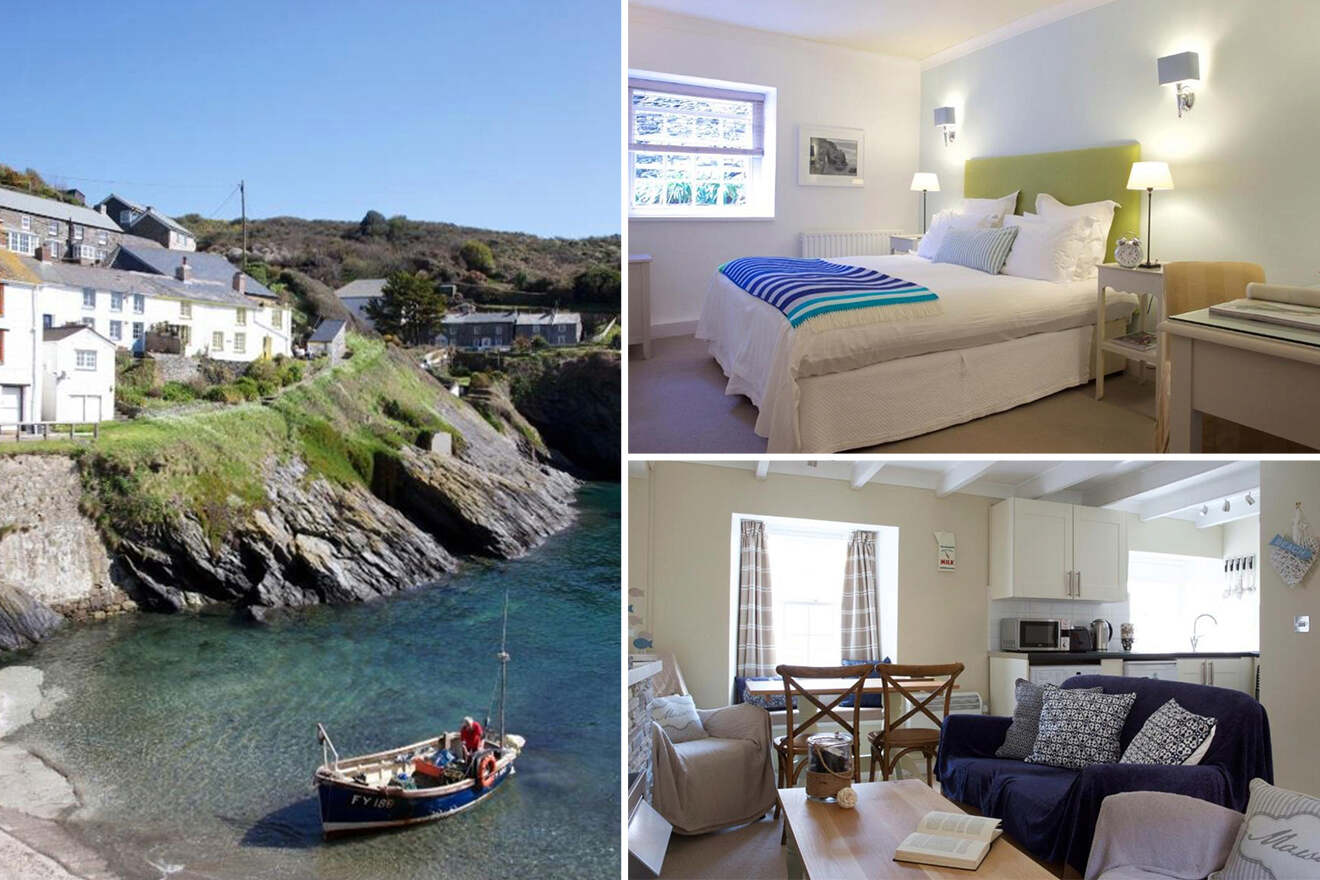 Such a scenic location! Set in the harbor of a fishing village, this 17th-century inn offers the most amazing sea views, and direct access to the South West Coast Path. The Lugger hotel, a "Bespoke Hotel," has simply-decorated rooms but with incredible views, and they offer free private parking.
Come back to the hotel after a long day of exploring the Cornwall beaches and enjoy a candlelight dinner on the terrace overlooking the sea at their 2 AA-Rosette awarded restaurant that serves fresh seafood and local produce. Afterward, you can end the night with some drinks at their cocktail bar!
6. Lower Barns Guest House – award-winning guesthouse with a hot tub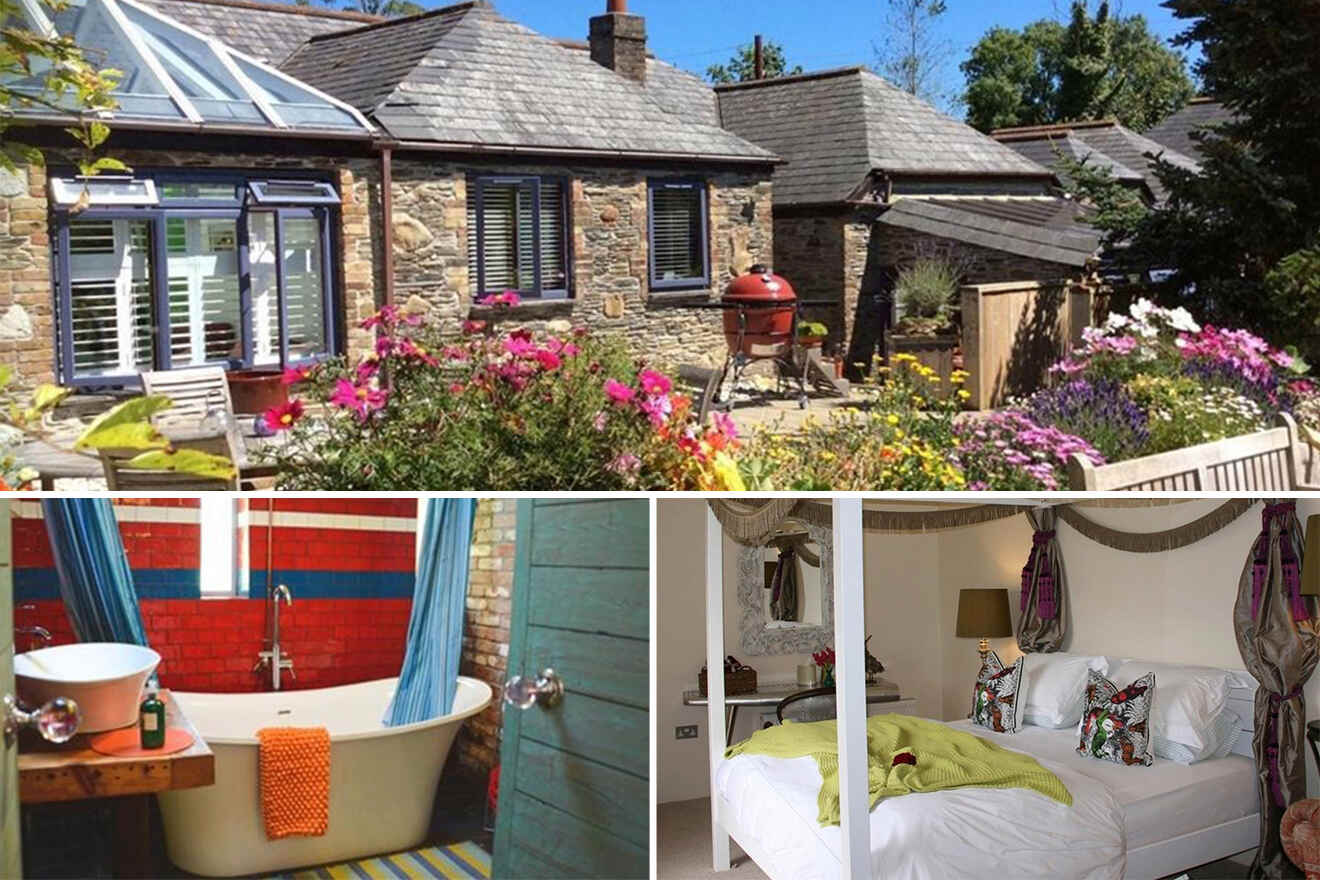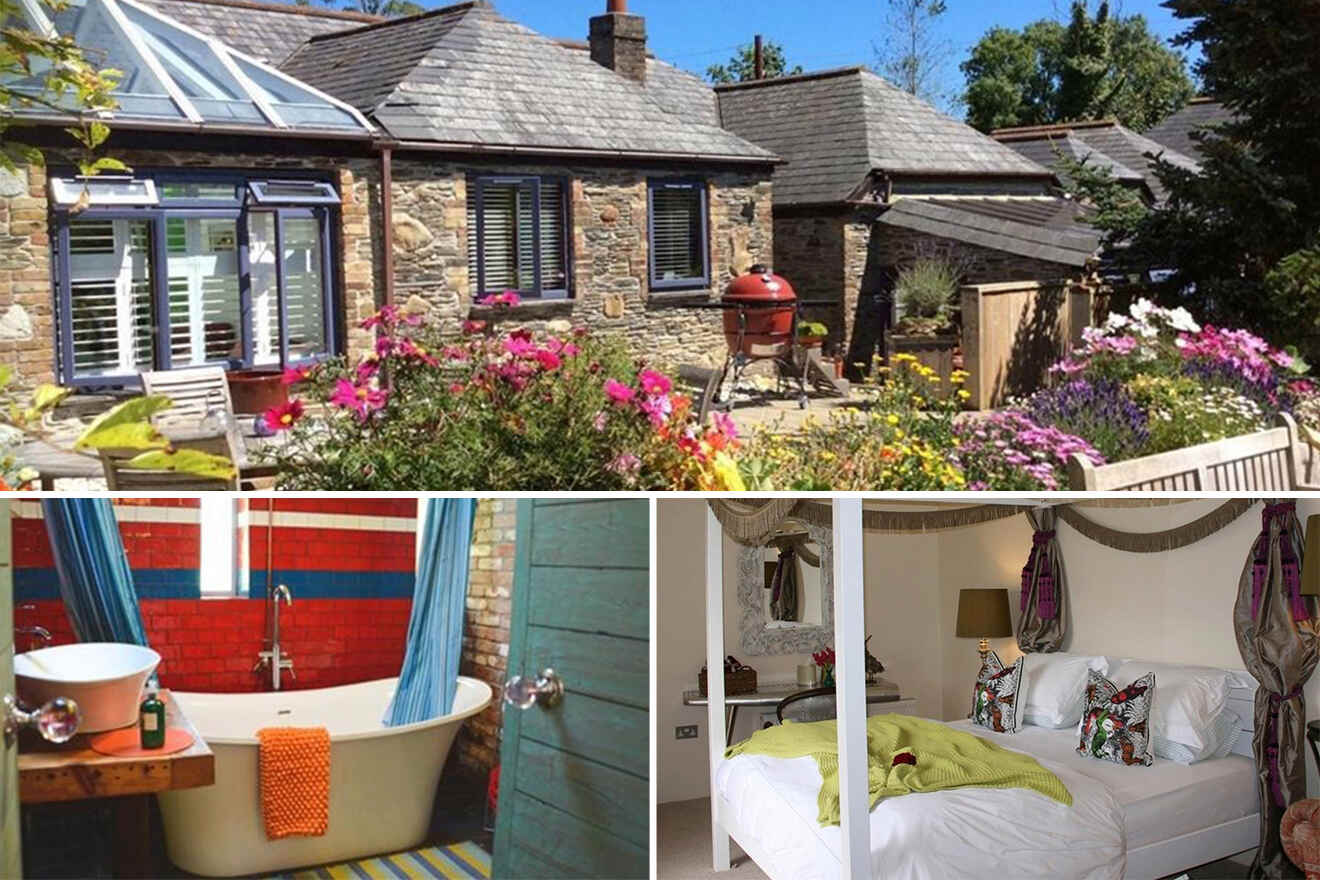 Set in the idyllic Cornish countryside, this award-winning boutique guesthouse is the perfect place to spend your holiday! They've got all the elements for your tranquil getaway! Like an outdoor hot tub in the garden and rooms with a sauna or a fireplace!
Now that sounds like my kind of place! They're also individually decorated with unique furniture and vibrant colors. Each morning, guests can start their day with a yummy breakfast made with local ingredients that you can enjoy in the conservatory overlooking the garden. Then you can head out to explore the beautiful countryside in Cornwall!
7. The Nare – a special country house with a luxury spa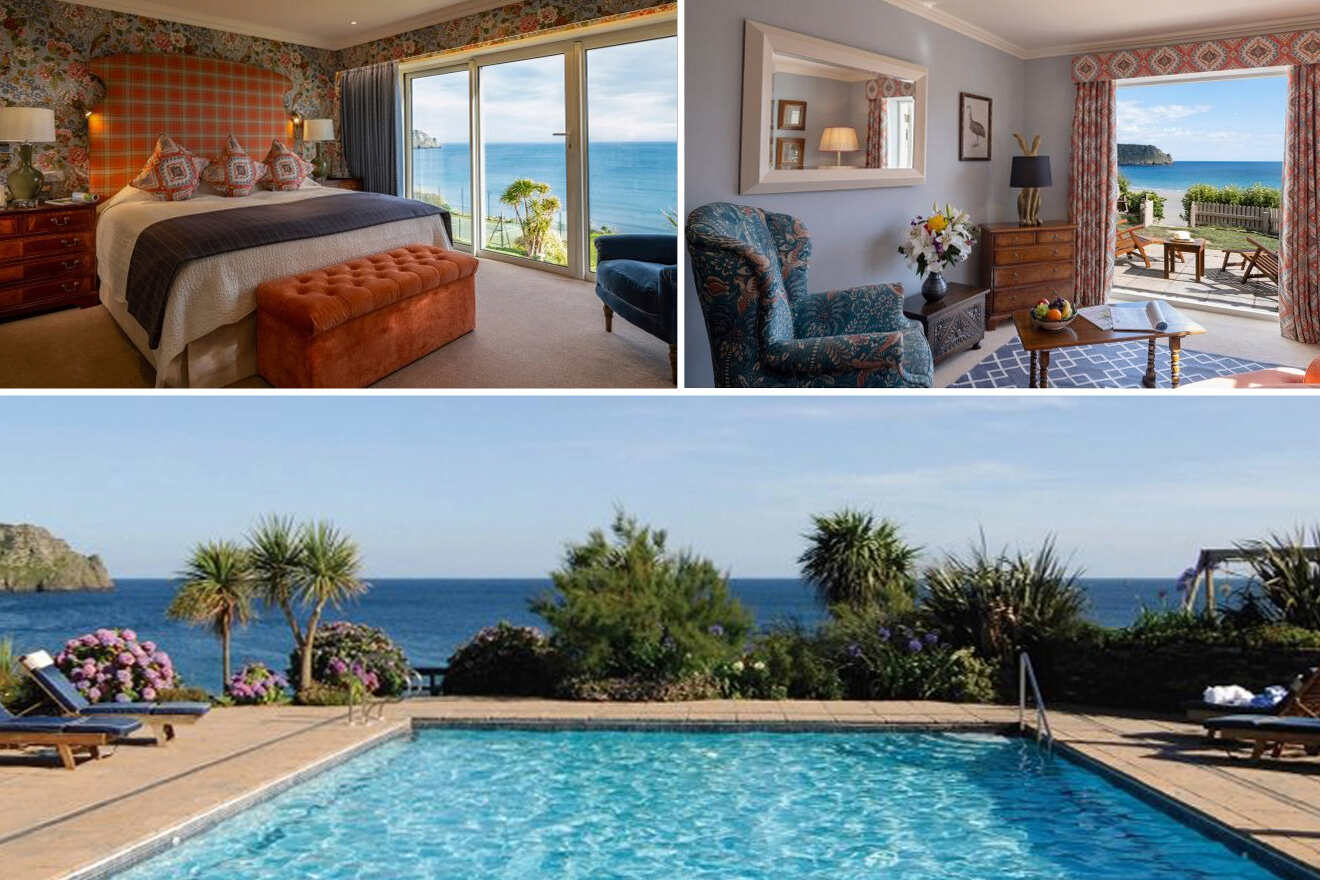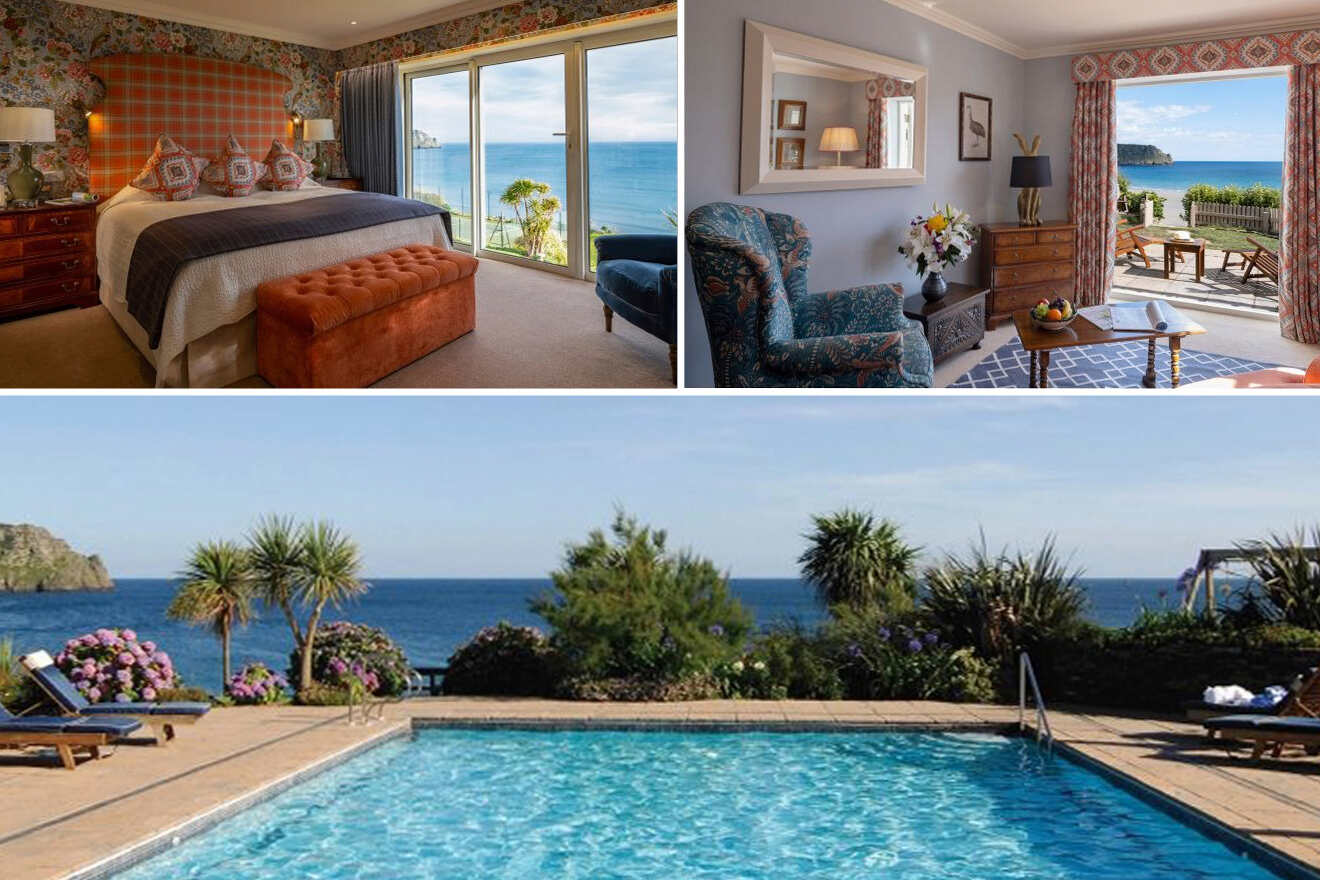 Oh, I would move to this unique country house by the sea! Offering the most charming location in the South West of England, this luxury hotel features panoramic views of the sea and so many amazing facilities! Take your pick from the rooms with balconies and cottages, both are amazing!
Once you do, get ready to be taken aback by all their amenities! The spa boasts so many treatments that you'll feel as if you're in a beauty salon! You'll also have access to an outdoor pool, a spa bath, a hot tub, and a steam room. I told you there were many! And if you want to move your body, then you'll have the fitness center and tennis courts at your disposal!
4-star hotels in Cornwall
As you've seen there are only a handful of great 5-star hotels in Cornwall, more reason to book super early. If that's not the case, then check out this list of 4-star hotels, which have just as many great facilities:
1. The Scarlet Hotel – an eco-friendly place with a unique spa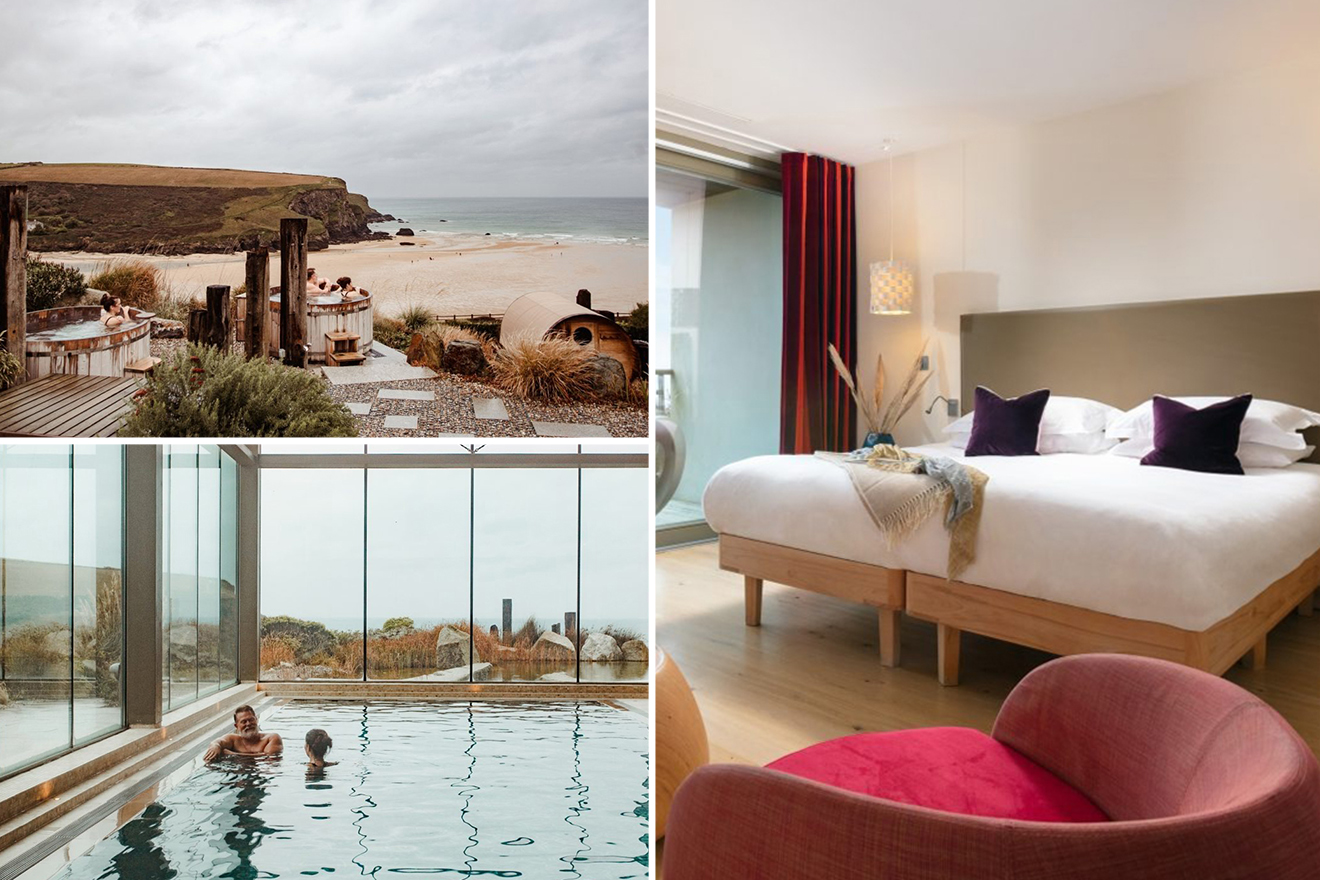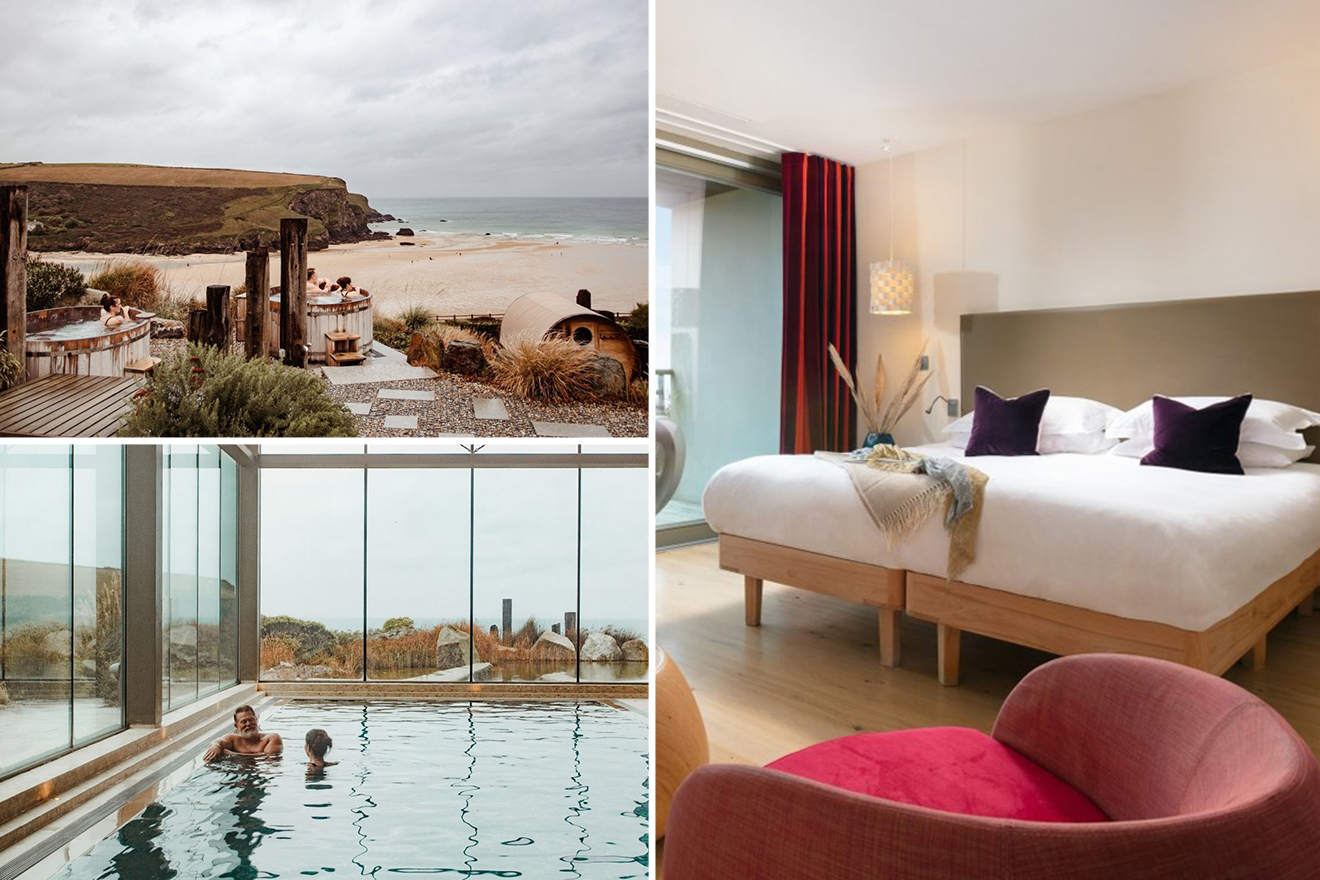 Looking for the perfect place for an eco-friendly retreat? Set atop the Cornish clifftops, this amazing hotel offers direct access to the beach and sea-view rooms! Get ready to relax as you've never relaxed before!
Enjoy Ayurveda (Indian holistic health system) treatments, take yoga classes or tai chi, and let your worries melt away in the steam room! Their outdoor natural swimming pool is open for all guests so bring your swimsuit and go for a long swim! There's nothing like a little spa escapade to make you feel brand new!
2. The Carlyon Bay Hotel – spa-hotel with an award-winning restaurant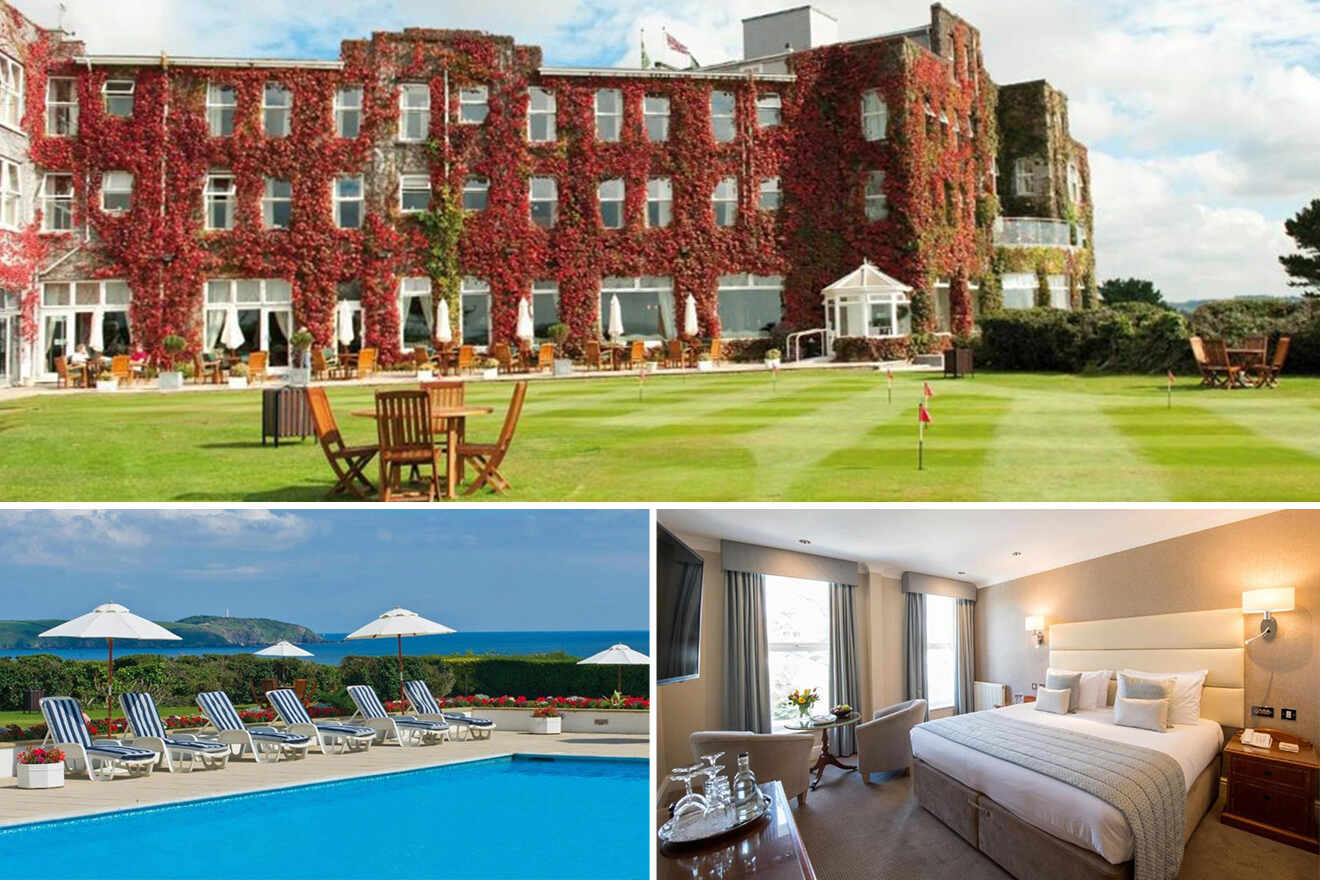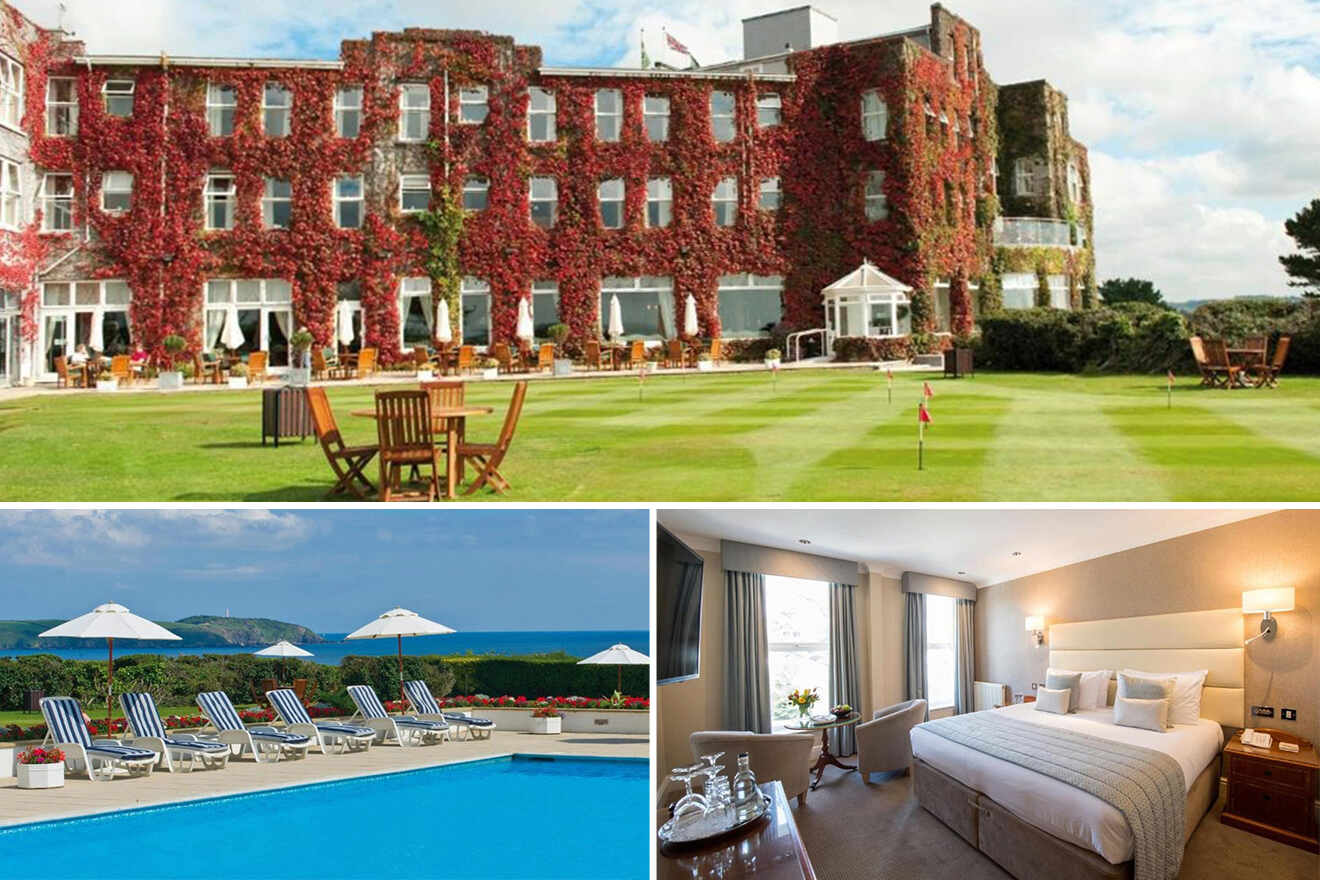 Located on the cliffs of St Austell Bay and overlooking the sea, this fabulous hotel is the perfect place for your Cornish getaway! Enjoy a few days of doing nothing than hanging by the outdoor pool, eating yummy food at their award-winning restaurant, and relaxing in their luxury spa.
All rooms at the hotel are super stylish, and they come with en suite facilities and wonderful views across the English Channel! Now that's a great view to wake up to! Start your morning with a coffee on the terrace and then head to the steam room or play some golf! Guests will also have access to free parking.
3. St Ives Harbour Hotel & Spa – bay-view hotel with a pool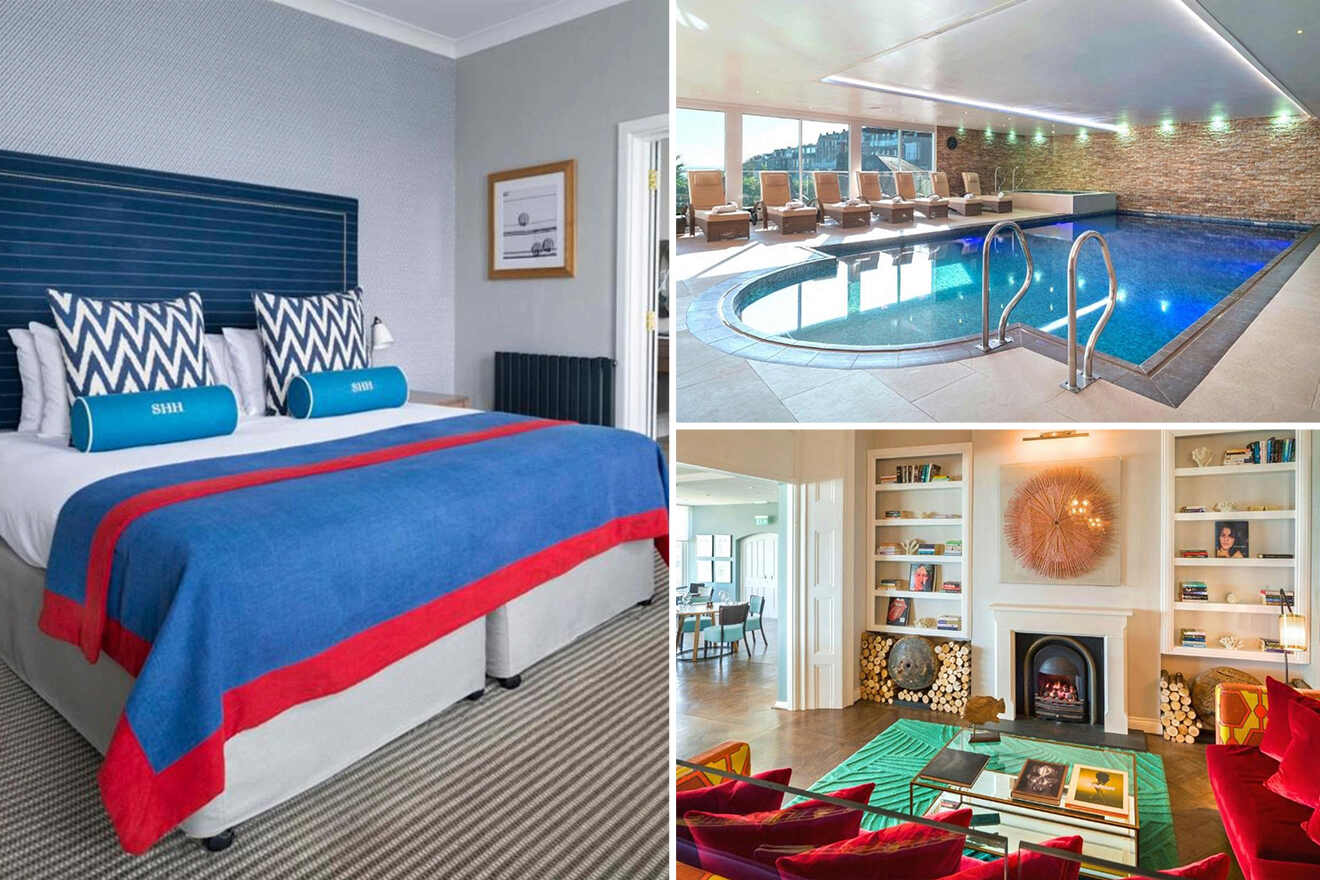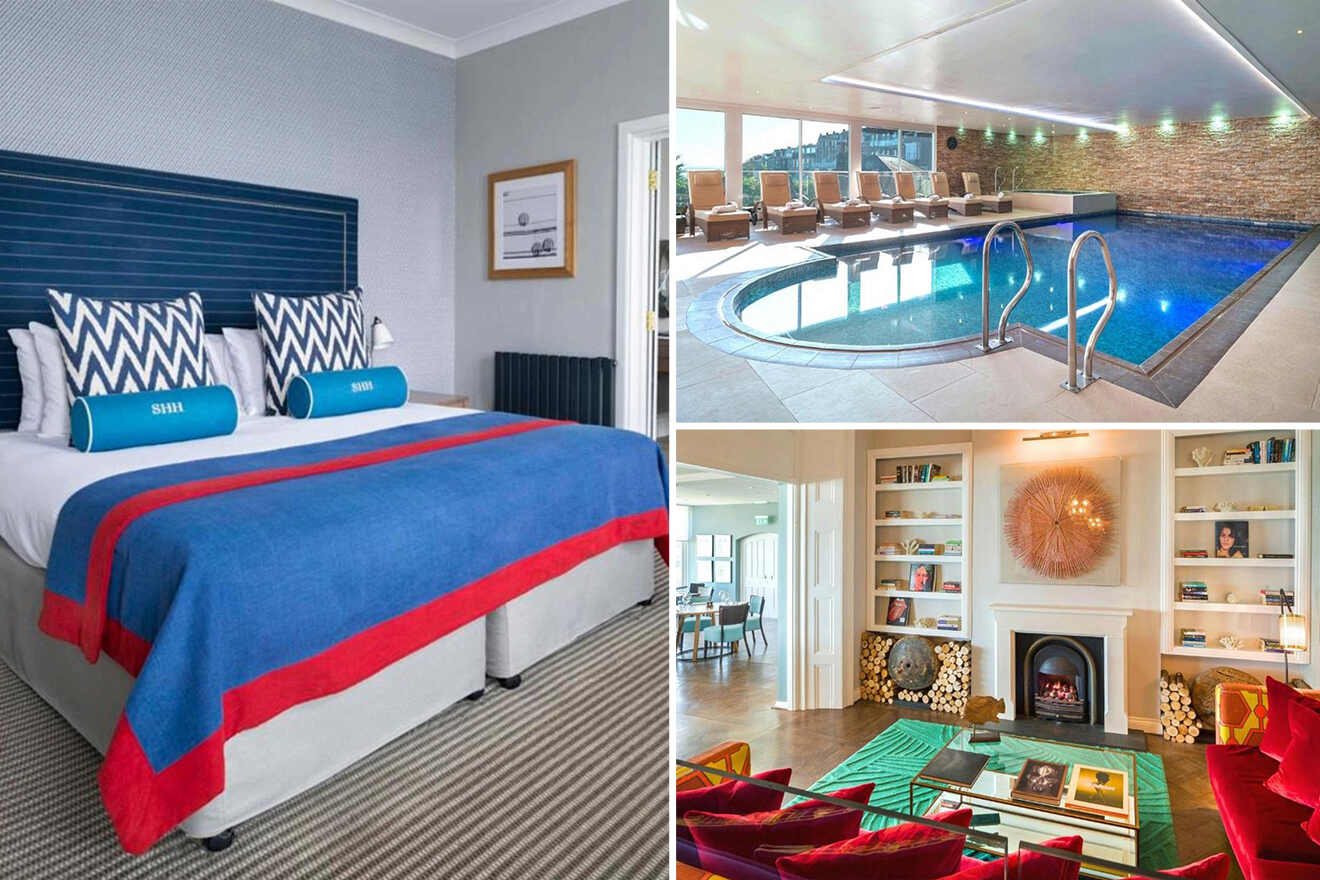 These hotels in Cornwall are so charming! Especially those located on the coast! Just like this hotel which overlooks St Ives Bay. The accommodation has a modern design and each room is unique in its own way, plus most of them have a small balcony, free wifi and coffee-making facilities.
St Ives Harbour Hotel has a restaurant on-site that serves the most delicious locally-sourced seafood so make sure to try it! But not before you hit their spa and enjoy a nice long massage and a quick jacuzzi sesh! Don't forget that the award-winning Porthminster Beach is just a short walk away!
4. Greenbank Hotel – historic hotel with a restaurant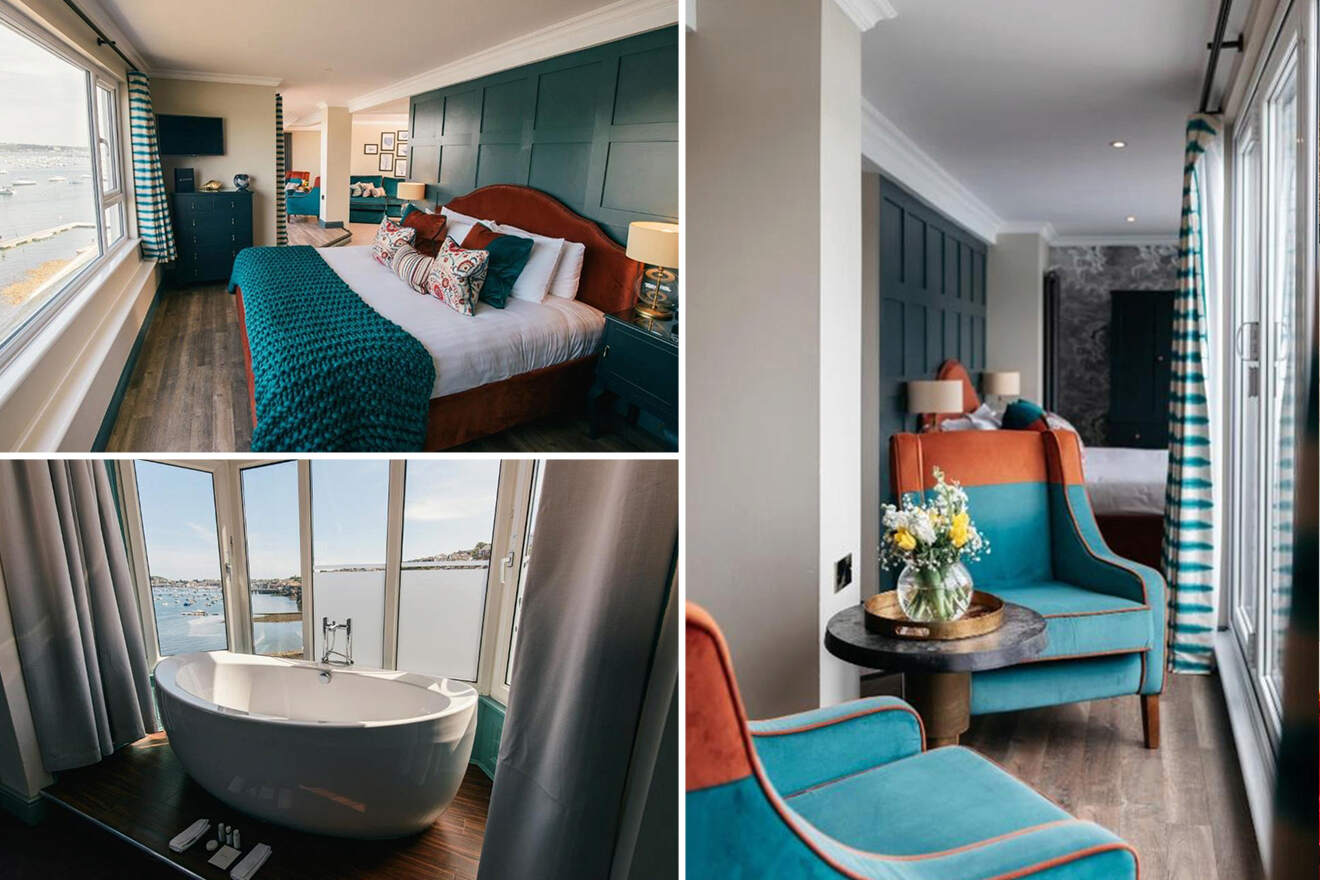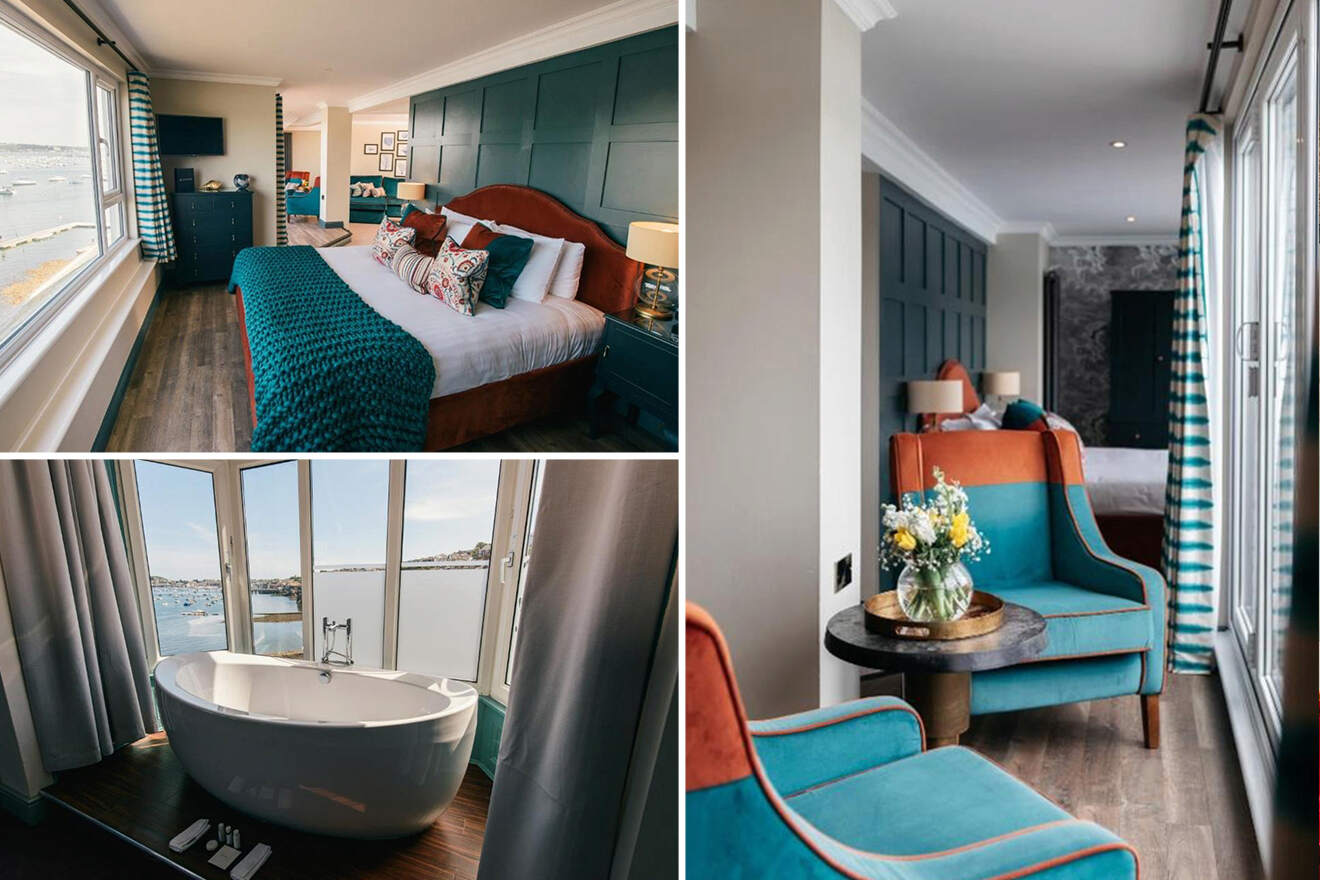 Elegance and simplicity! The 2 things I love the most about hotels! Book a room at this hotel that's perched on the sea wall and overlooks Falmouth Harbour. The spacious rooms are decorated with a fun nautical theme, and they feature an en suite bathroom and bed linen.
Greenbank Hotel is one of the oldest ones in Falmouth, dating back to 1600! Wow, history lovers, this place is surely for you. But it's not only its legacy that brings people here. They've also got a restaurant on-site that serves locally sourced seafood, plus a bar with an extensive list of cocktails!
5. Bedruthan Hotel & Spa – a modern hotel with a jacuzzi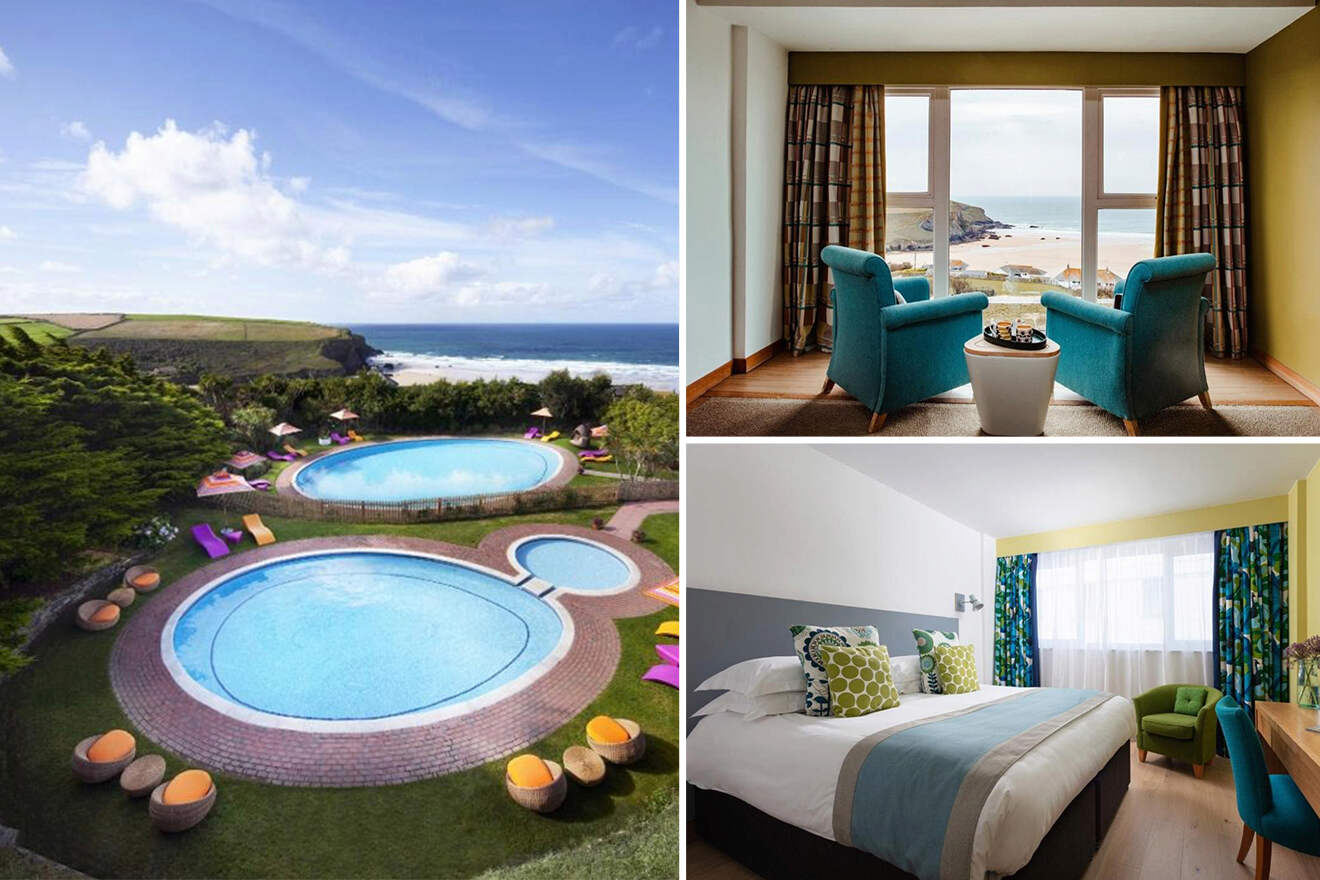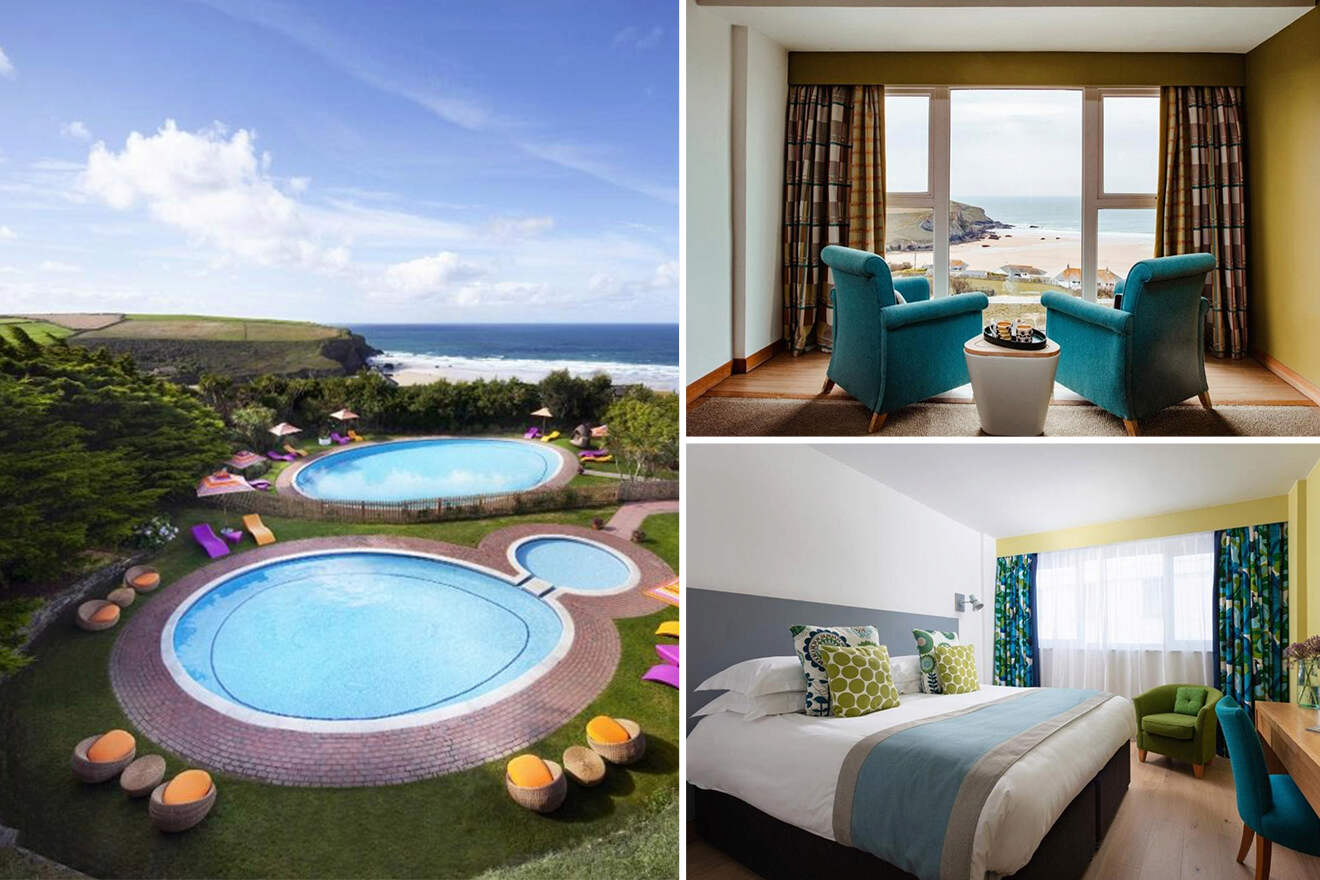 Pack your bags and leave all your worries at home! This Cornish village spa hotel is ready to pamper you up all day long and offer you a fabulous stay! Enjoy long swims in one of the 3 pools, play in the games room and catch a sunset in the outdoor hot tub.
Oh yes, the Bedruthan Hotel treats you like a king and queen while you're there! Their award-winning Herring Restaurant serves modern Cornish cuisine, which you won't get enough of, and they also have a cafe where you can start your mornings!
6. Fistral Beach Hotel and Spa – beachfront hotel with a jacuzzi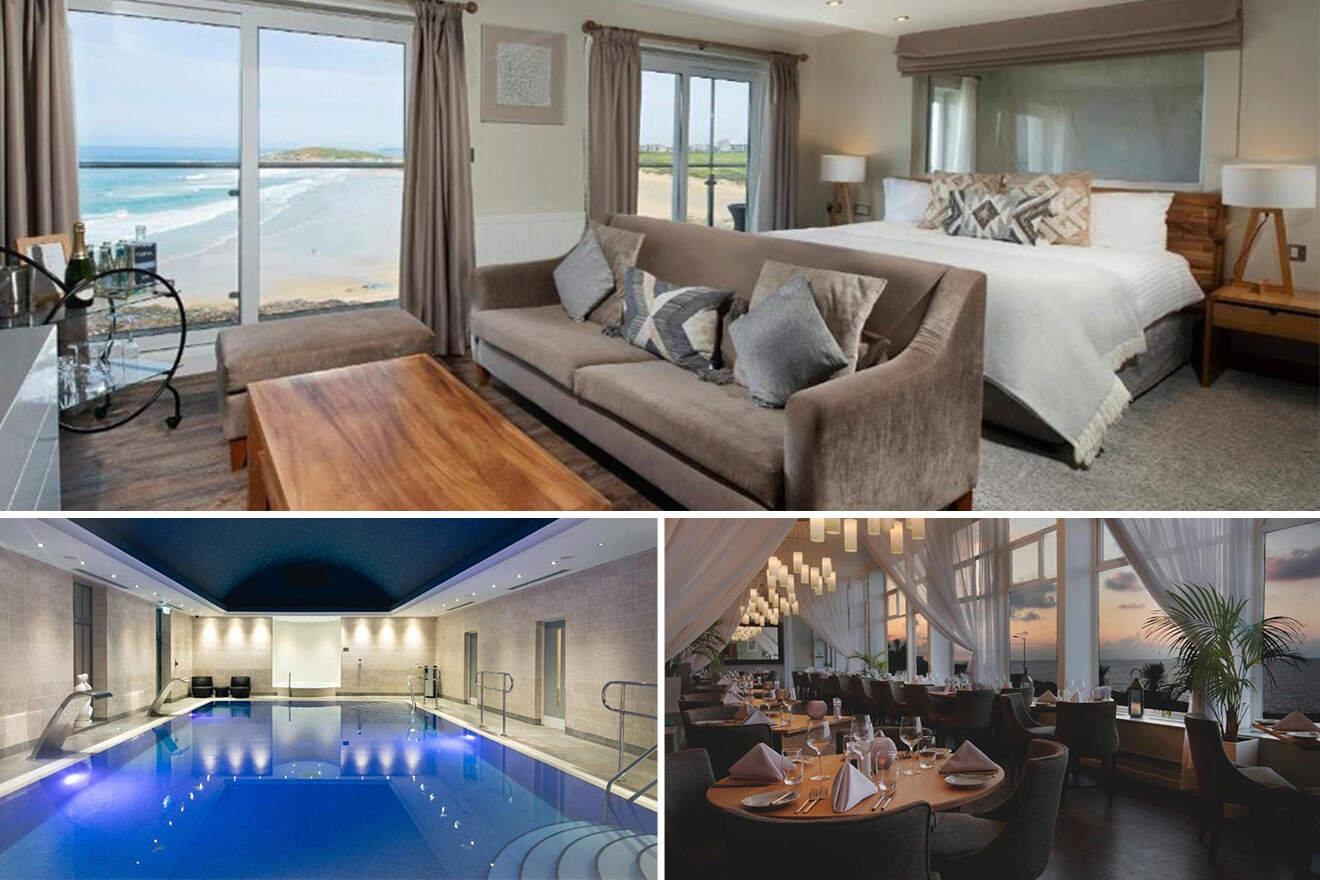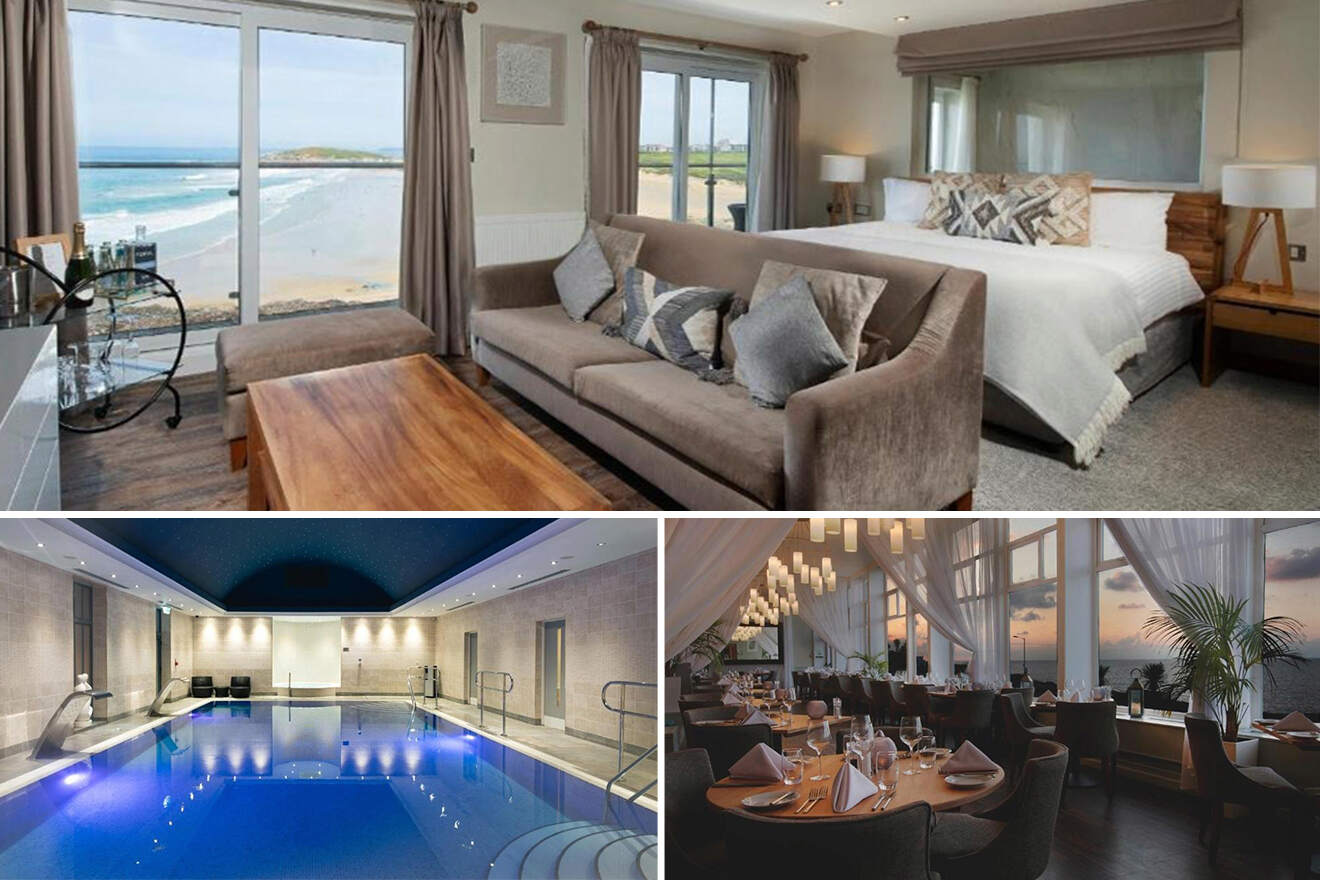 Start your first day at this fabulous hotel with a spa session where you can enjoy massages, facials, and body wraps. Now that's a good way to begin a holiday, spend some time in the hot tub and sauna, and you'll never want to leave this place!
Set near Fistral Beach, this accommodation has beautifully designed rooms (some even come with a balcony), where you can enjoy a nice long breakfast while admiring the sea views! Guests are welcome to use the indoor pool and dine at their restaurant, which serves amazing food!
FAQs about 4 & 5-star hotels in Cornwall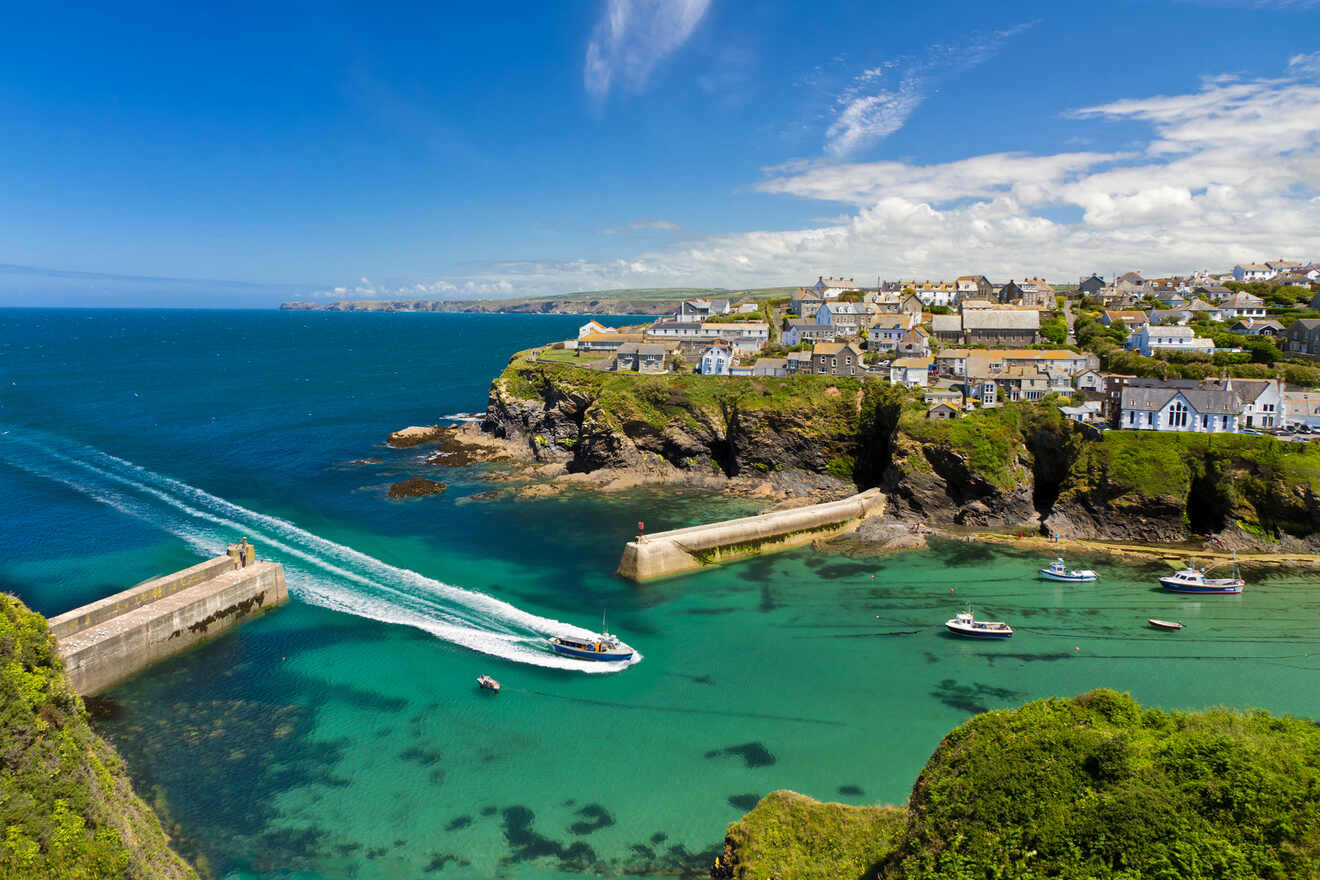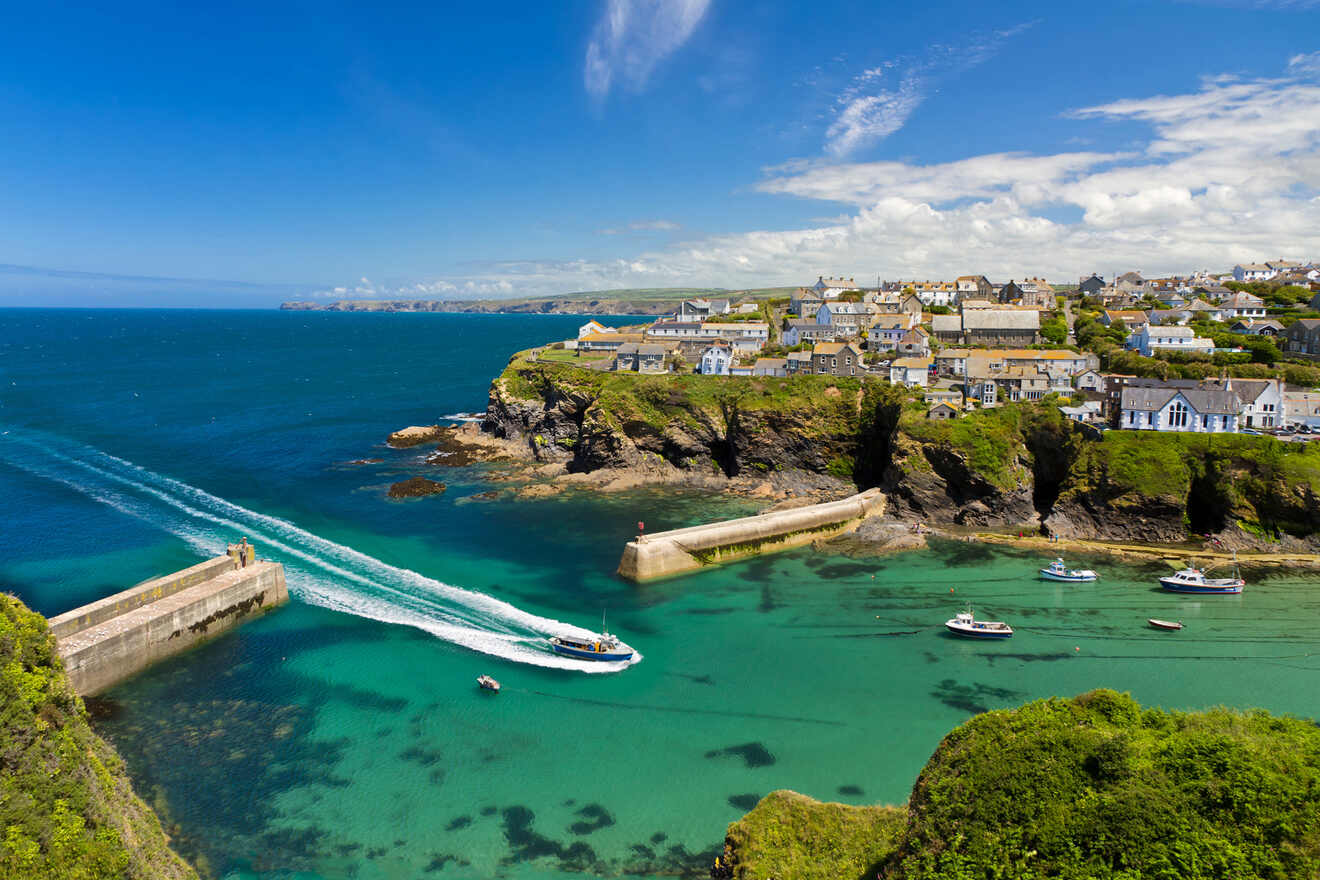 Conclusion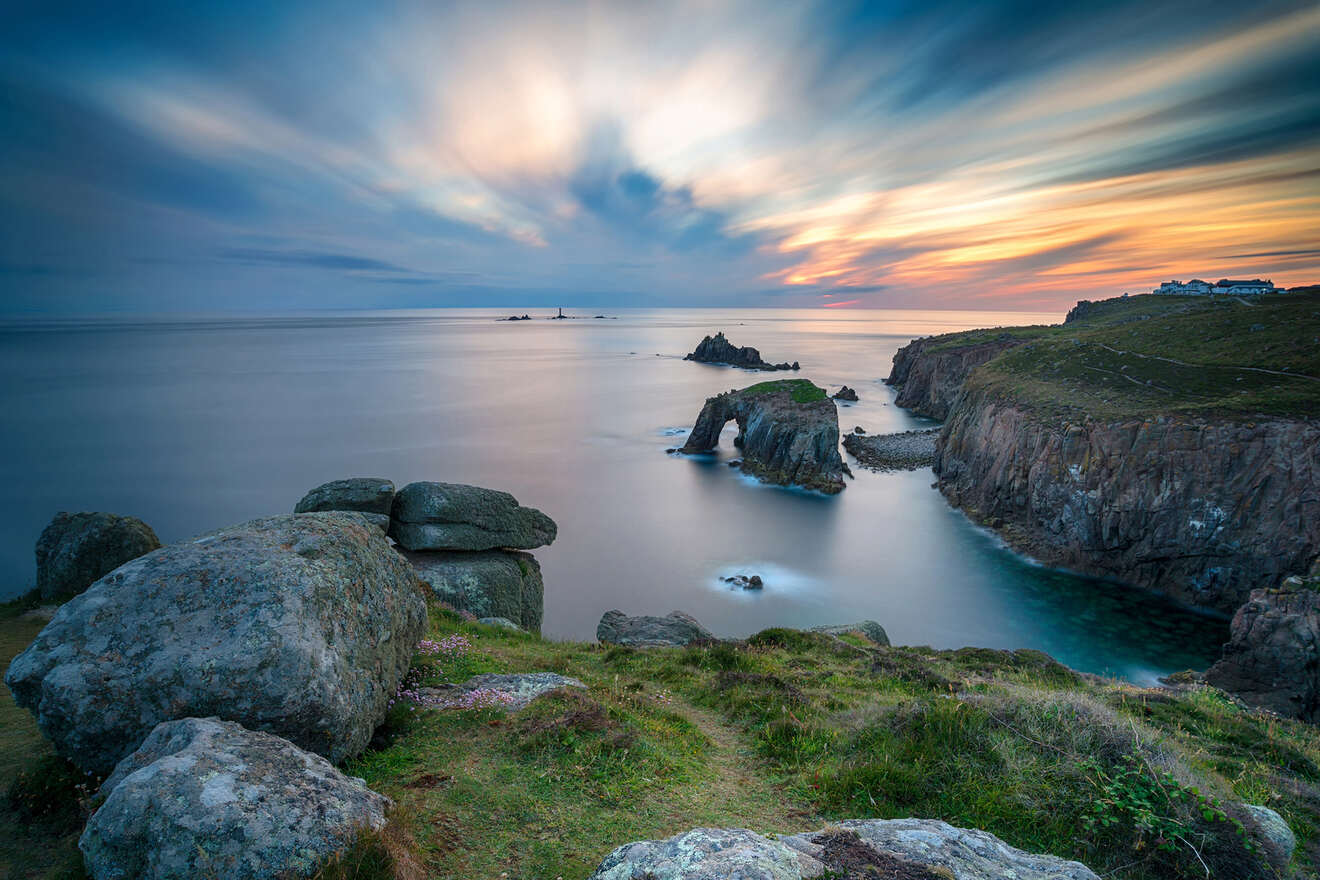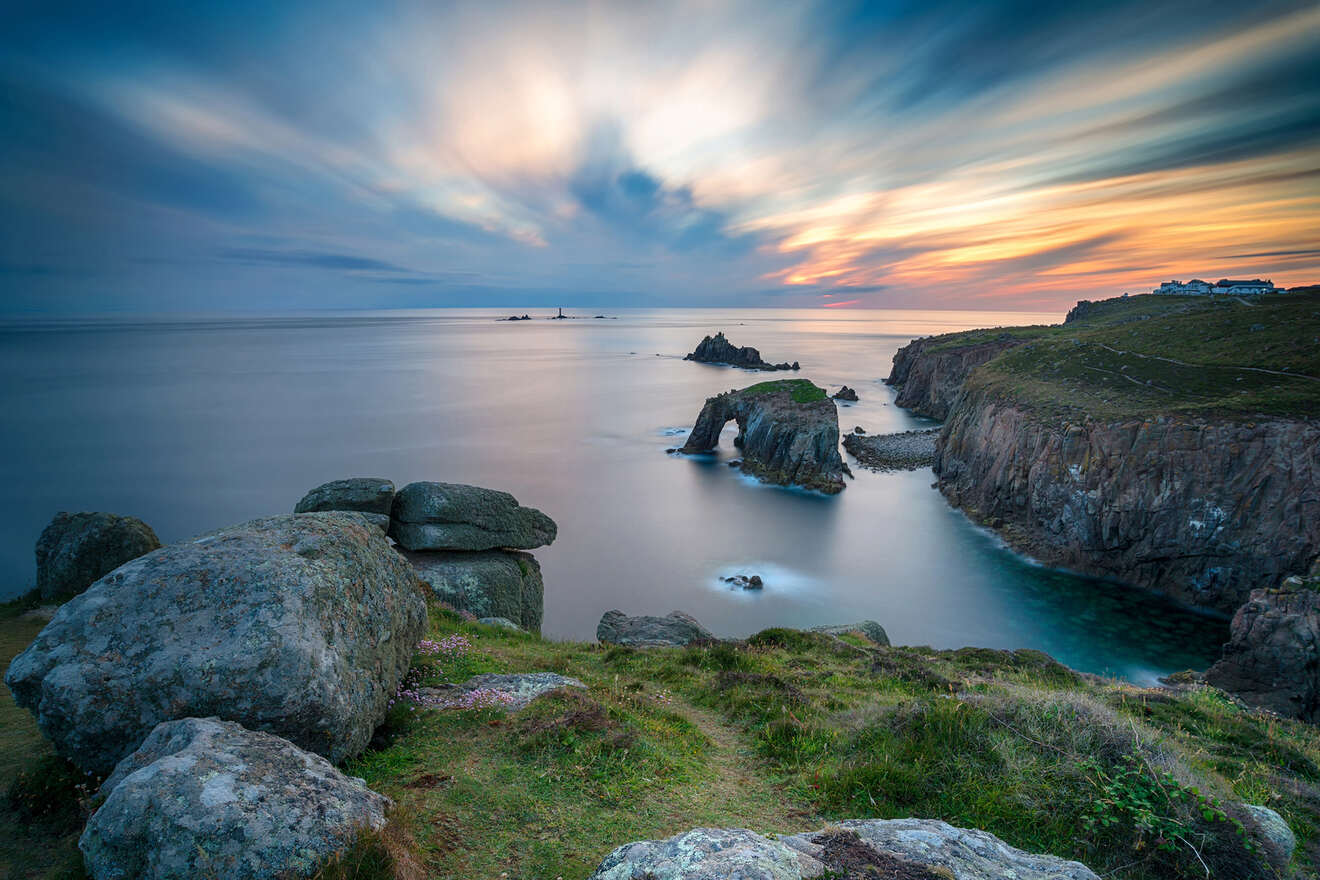 I love this place, it has such a lively atmosphere! And, of course, the best luxury hotels I've seen!
As I mentioned, the post has the best 4 & 5-star hotels in Cornwall, which I listed from most to least expensive.
I know it's hard to pick the only hotel you like out of this long list, so if you need a bit of inspiration, check out my 2 favorite ones below:
Padstow Townhouse – Set in an 18th-century building, this hotel comes with a Michelin-starred restaurant, a shared lounge, and rooms with a flat-screen TV
The Carlyon Bay Hotel – An awesome hotel that has 2 swimming pools, a tennis court, and a spa center
Don't forget that these luxury hotels sell out super fast, so make sure you book yours in advance!
We've come to the end of our virtual journey in Cornwall, but as I always say, if you have any questions just pop them below, and I'll answer ASAP!
Safe Travels,
Victoria
---
Pin it for later!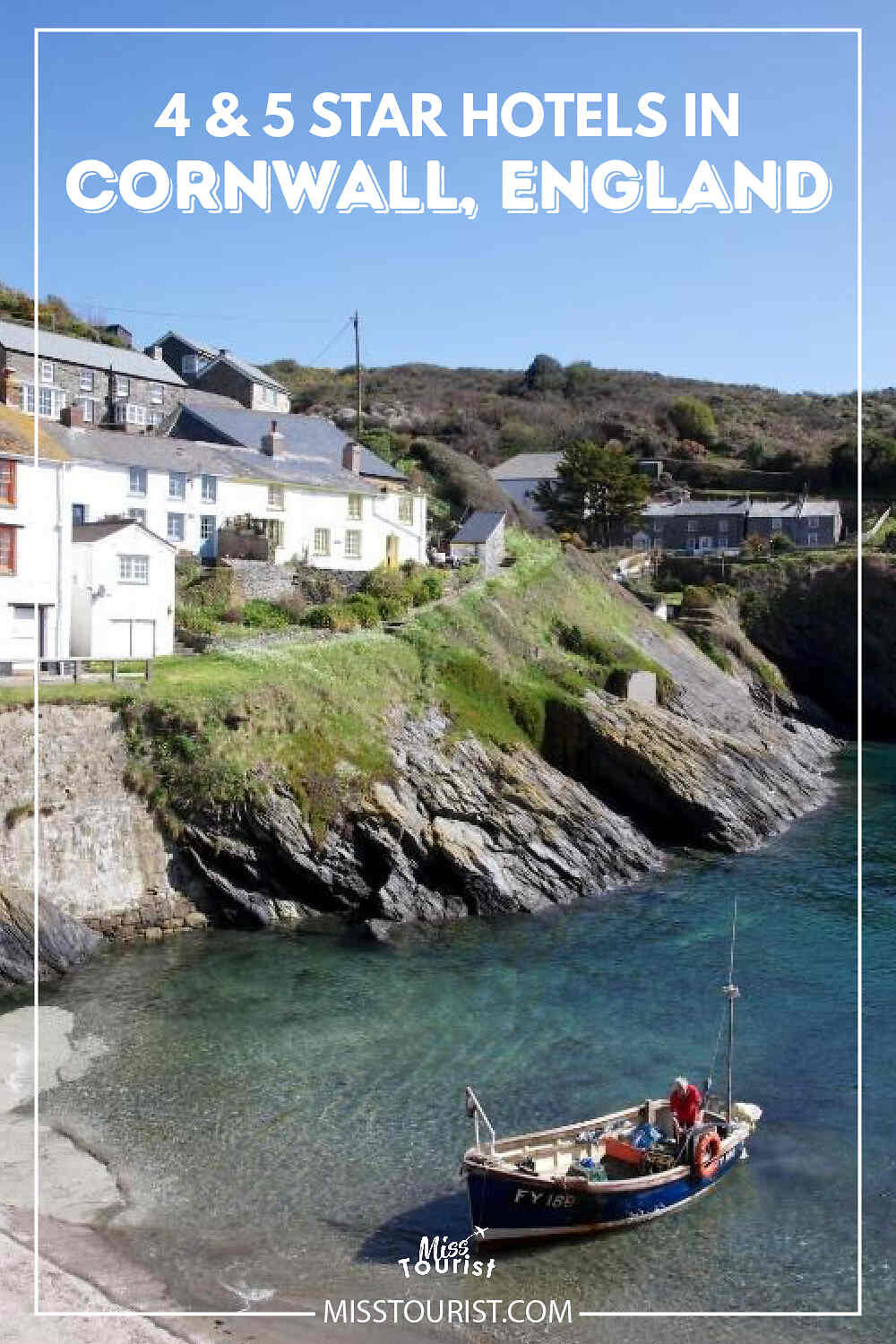 Pin it for later!