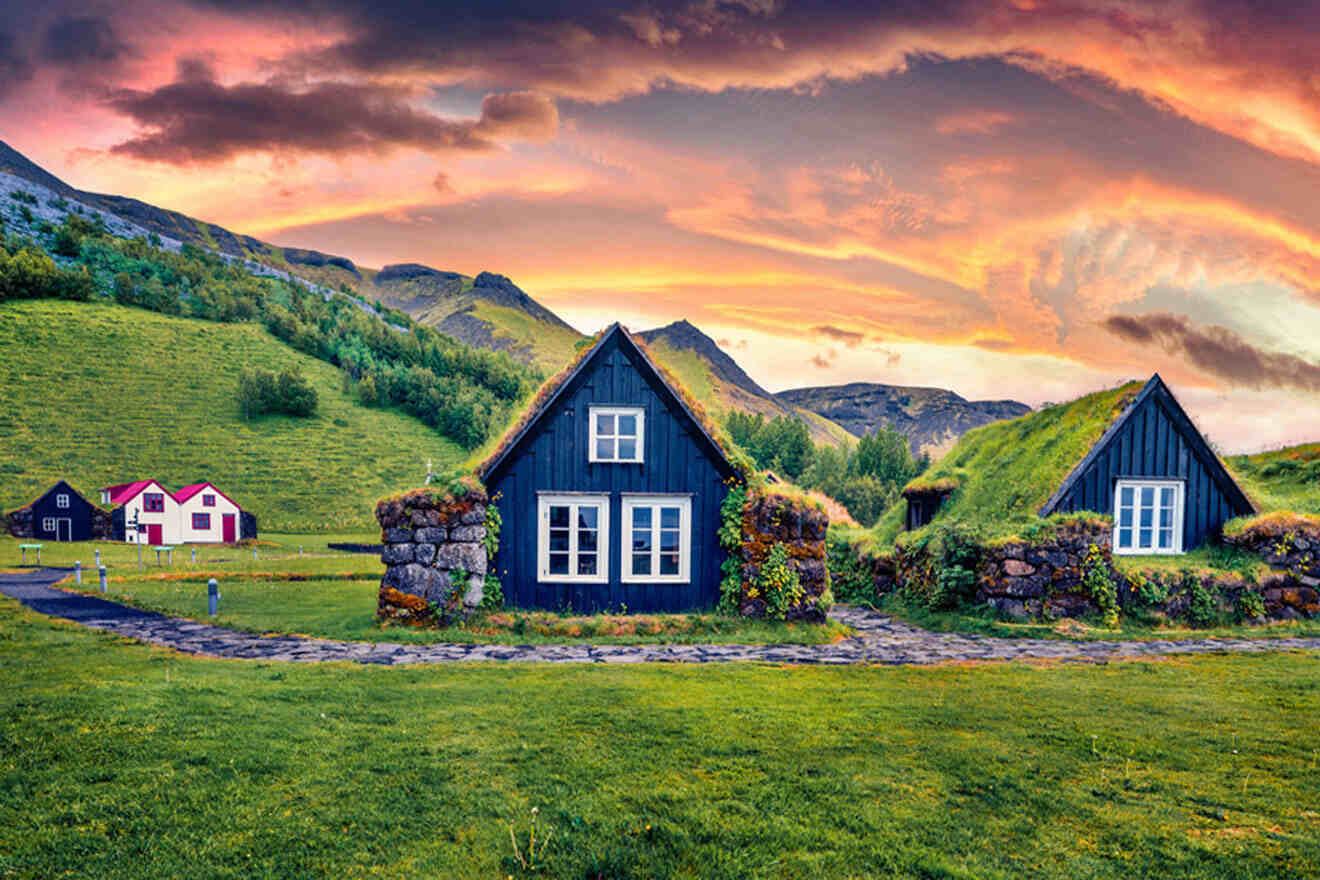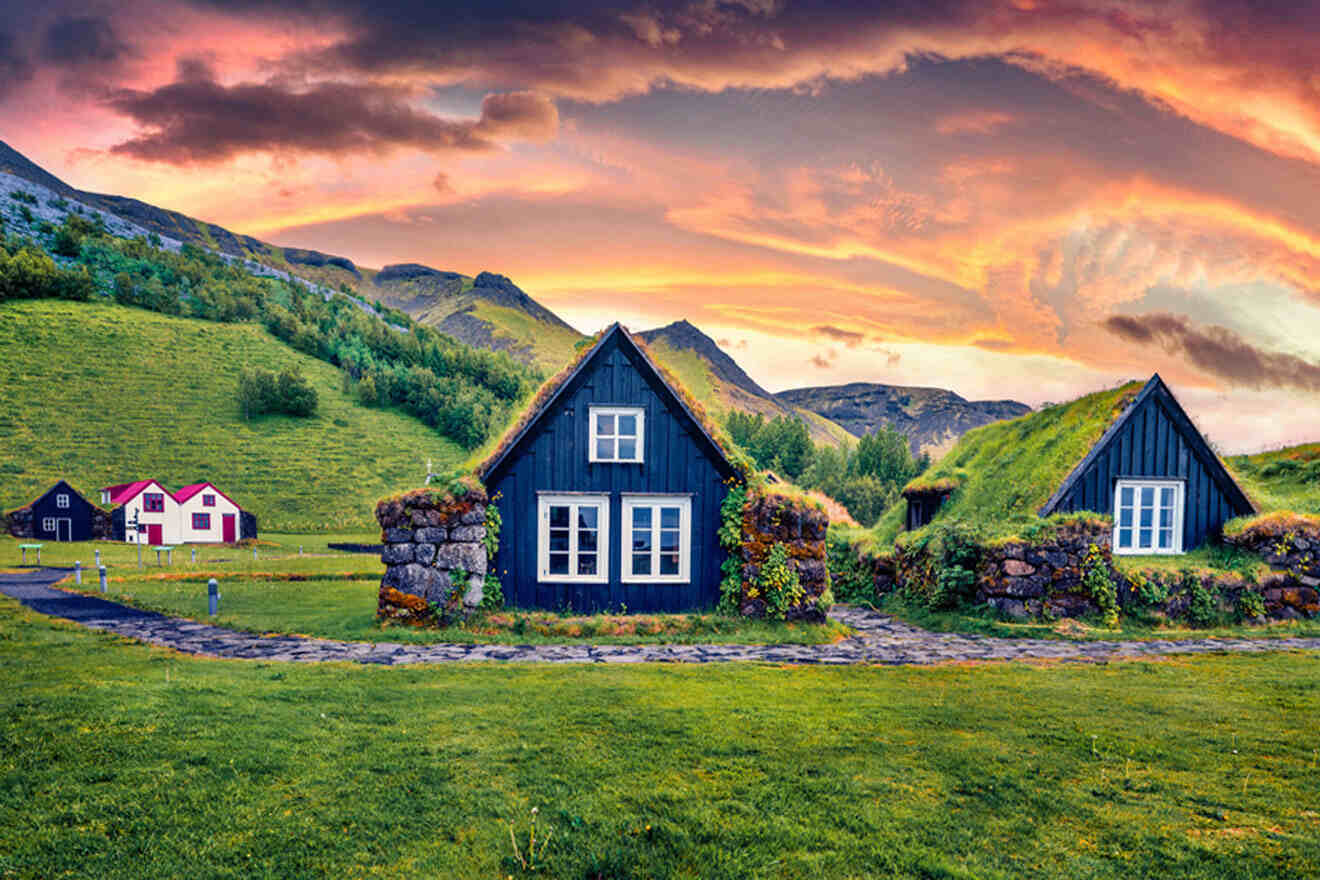 With the mysterious Northern Lights, otherworldly black beaches, and natural hot springs, Iceland surely feels like a country from another planet, but luckily for us, it's here on Earth where we can visit it! So if you're headed there soon, follow me!
In this post, I'll go through a list of some cool places to stay in Iceland, which I ordered from most to least expensive so that you can easily pick your favorite! I've searched the web up and down until I found some of the most unique Iceland hotels, and I'm sure you'll fall in love with them as I did!
Iceland is a super popular country, and its fame has grown exponentially in recent years, which means that it gets many, many tourists. That's why I would recommend booking your hotel in advance, especially if you're traveling during winter time (September to April) when you can see the Northern Lights.
Hope I didn't drag this for too long! Just wanted to make sure you've got all the details before we embark!
Now we're ready, so let's start!
If you are in a hurry
I know it's a long post, so if you're rushing to book your hotel right now, then check out this short list of the best unique Iceland hotels:
Since we're talking about the whole country today, I decided to make a map of all the locations and unique hotels in Iceland that I'll mention in this post:
1. The Retreat at Blue Lagoon Iceland – with unique views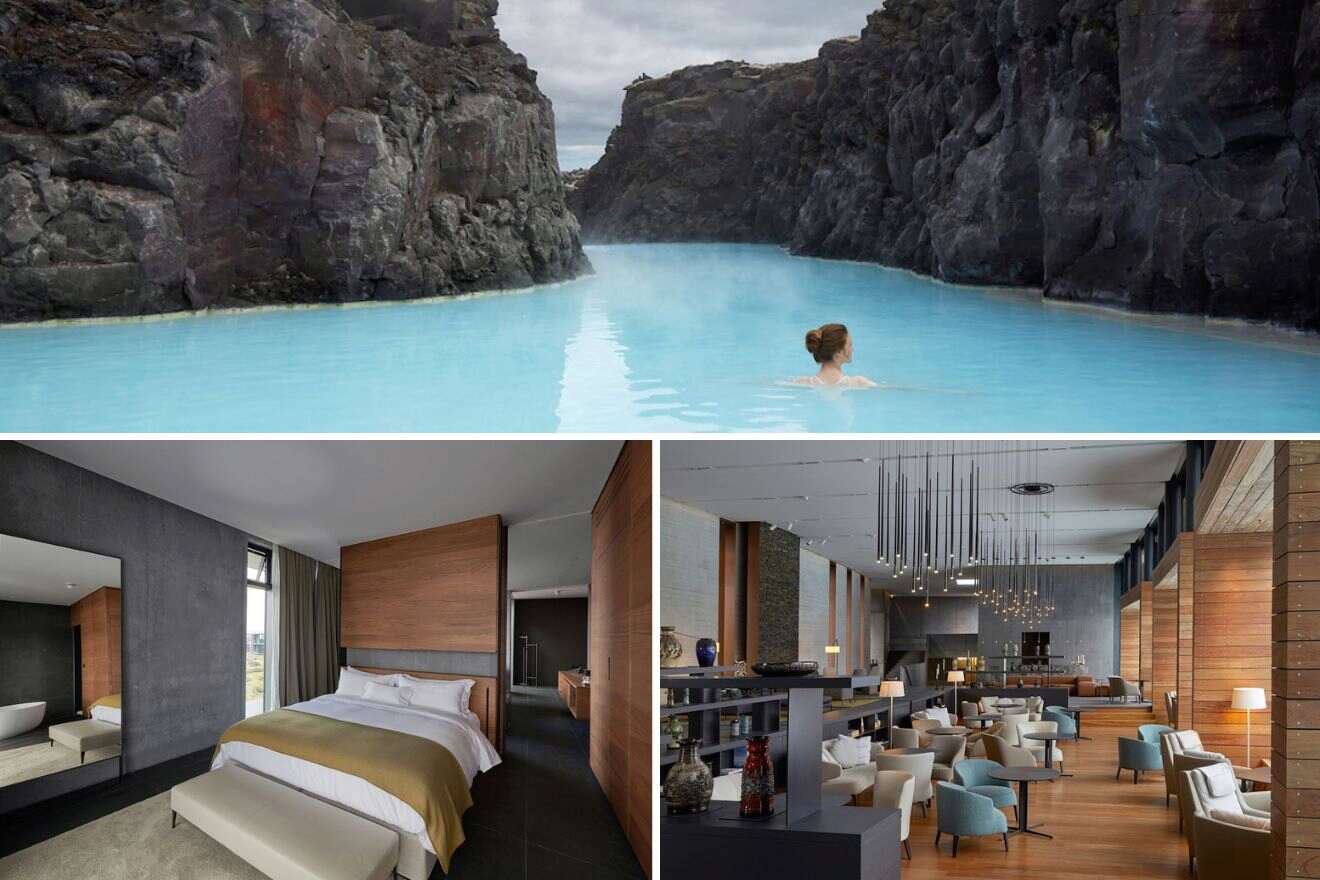 Set in Grindavik on the Southern Peninsula, just a 10 min away walk away from the Blue Lagoon, this stunning hotel has such a cool design! Very Nordic, very simple, and absolutely refreshing! The rooms at the Blue Lagoon Retreat have floor-to-ceiling windows that overlook the beautiful scenery!
When you're not out on a dream trip around the country, you can enjoy the ultimate relaxation at the hotel's natural pool (there are some rooms that even overlook it), practice yoga, or enjoy some spa facilities, which include a black-stone sauna! Each morning you can wake up to a freshly made breakfast and a yummy coffee!
2. Panorama Glass Lodge – for an unforgettable getaway
Have you ever wanted to see the otherworldly Aurora Borealis in a Nordic country from one of the most unique hotels ever? If so, then you'll absolutely love this glass lodge that has locations in South and West Iceland. Featuring incredible panoramic views, the lodge is basically set in the middle of nowhere, offering privacy and an intimate setting.
Perfect for a romantic getaway, or a relaxing trip, the accommodation has a modern interior with a seating area, a private bathroom, and a lovely kitchen. Just picture yourself every night sleeping under the stars and waking up to a one-of-a-kind view!
3. 360 Hotel & Thermal Baths – a great hotel with a hot spring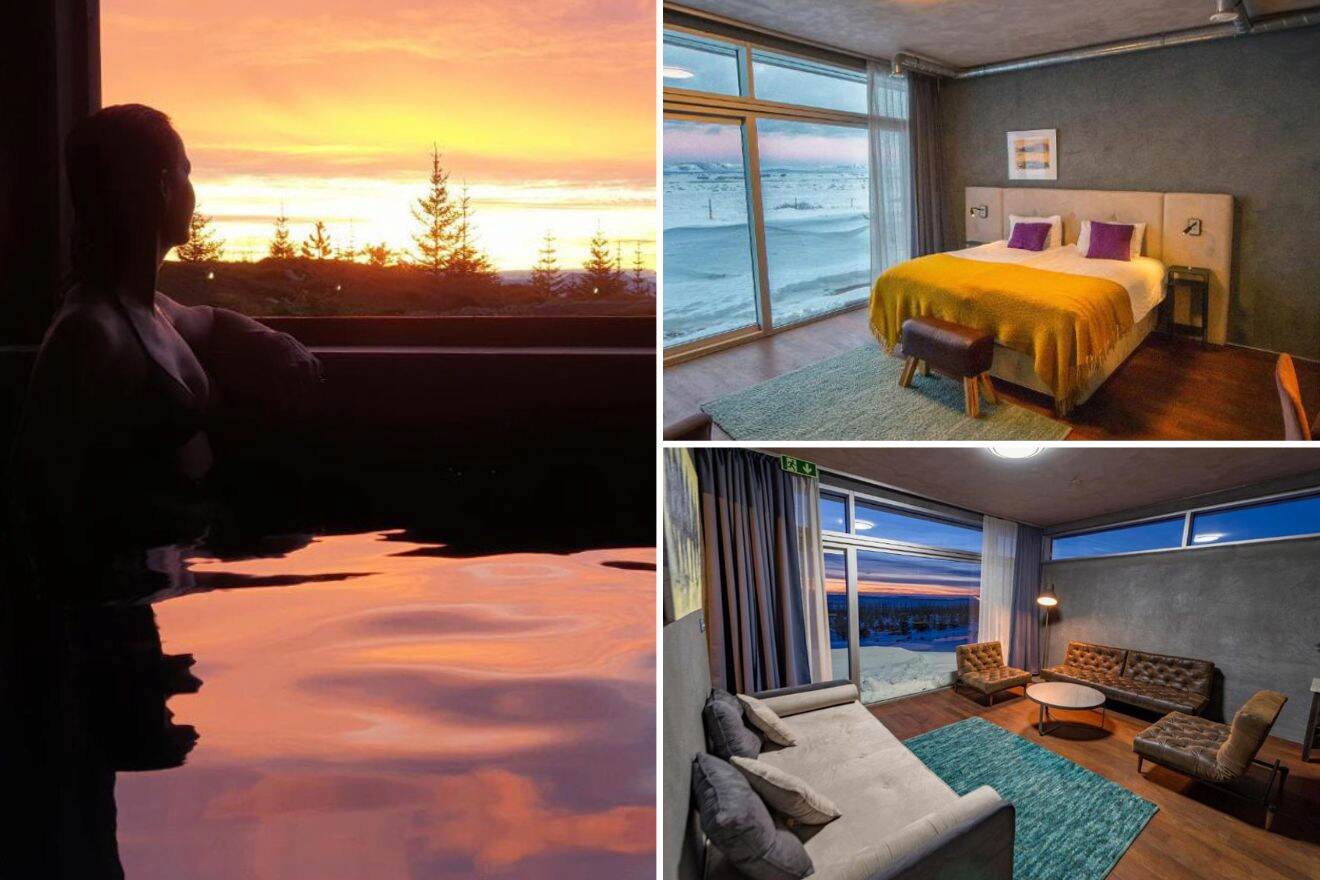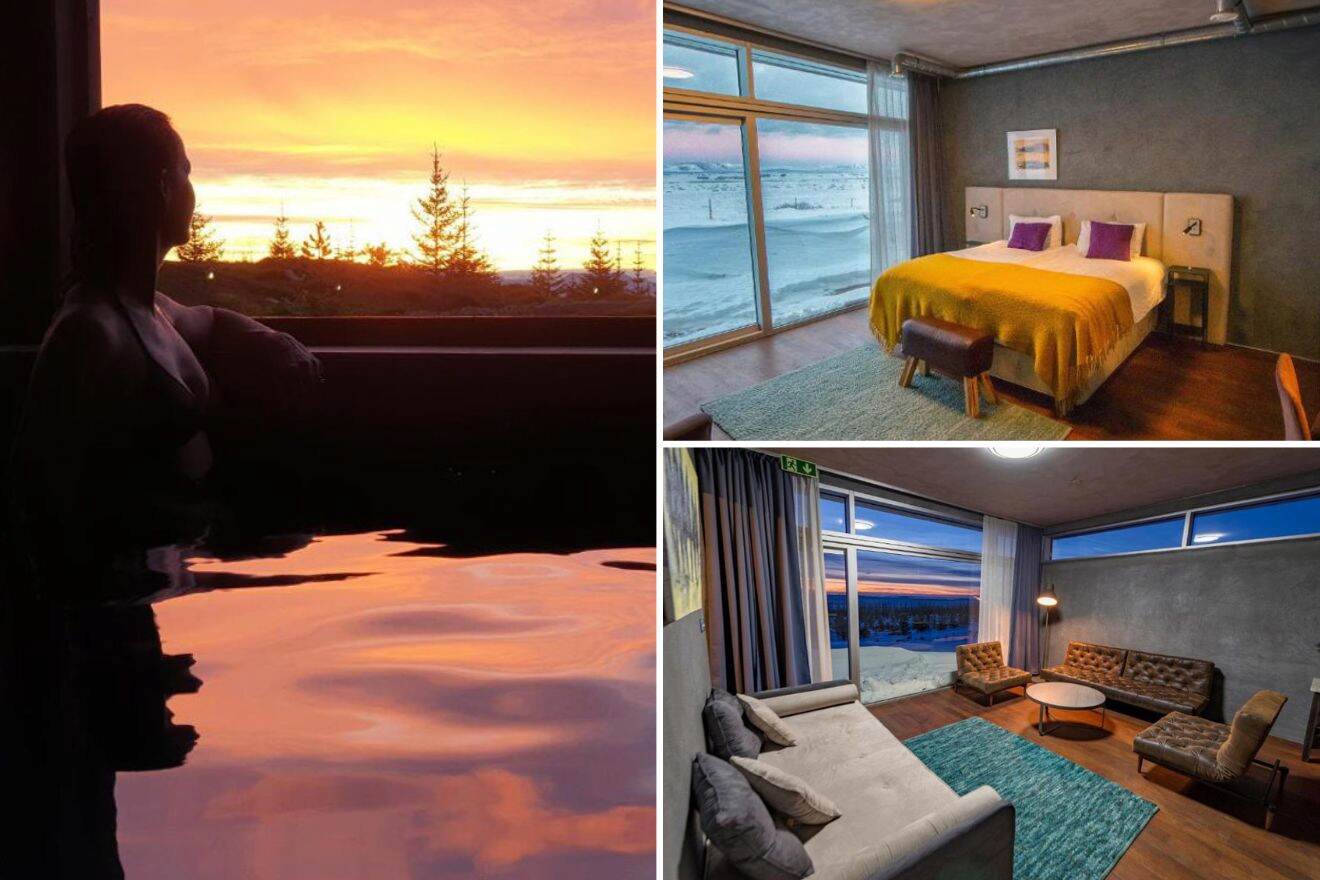 This accommodation set in Selfoss is perfect for those looking for a relaxing retreat while visiting Iceland! Surrounded by the usual Icelandic landscape, this hotel has rooms with private bathrooms and large windows which means you'll wake up to a stunning view every day!
You'll also find at the hotel a spa center that has a relaxing lounge with an open fire, a sauna, and a hot spring where you can let all your worries melt away in the healing waters! At the restaurant on-site, you'll get the chance to try some dishes from Nordic cuisine! Don't forget to book these unique hotels in Iceland in advance, the country is packed with tourists, and the best ones will surely sell out fast!
4. Hotel Ranga – rustic hotel with a hot tub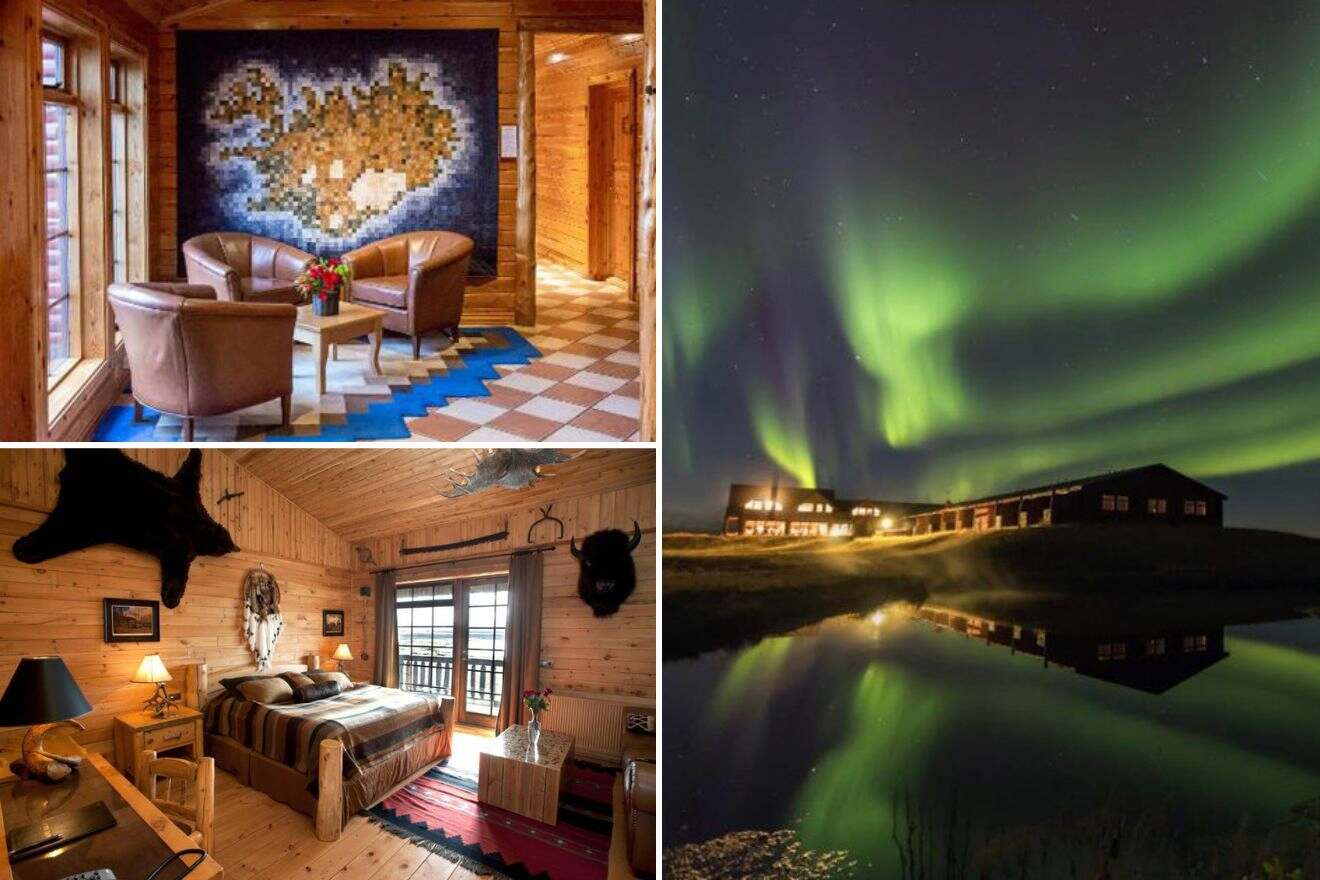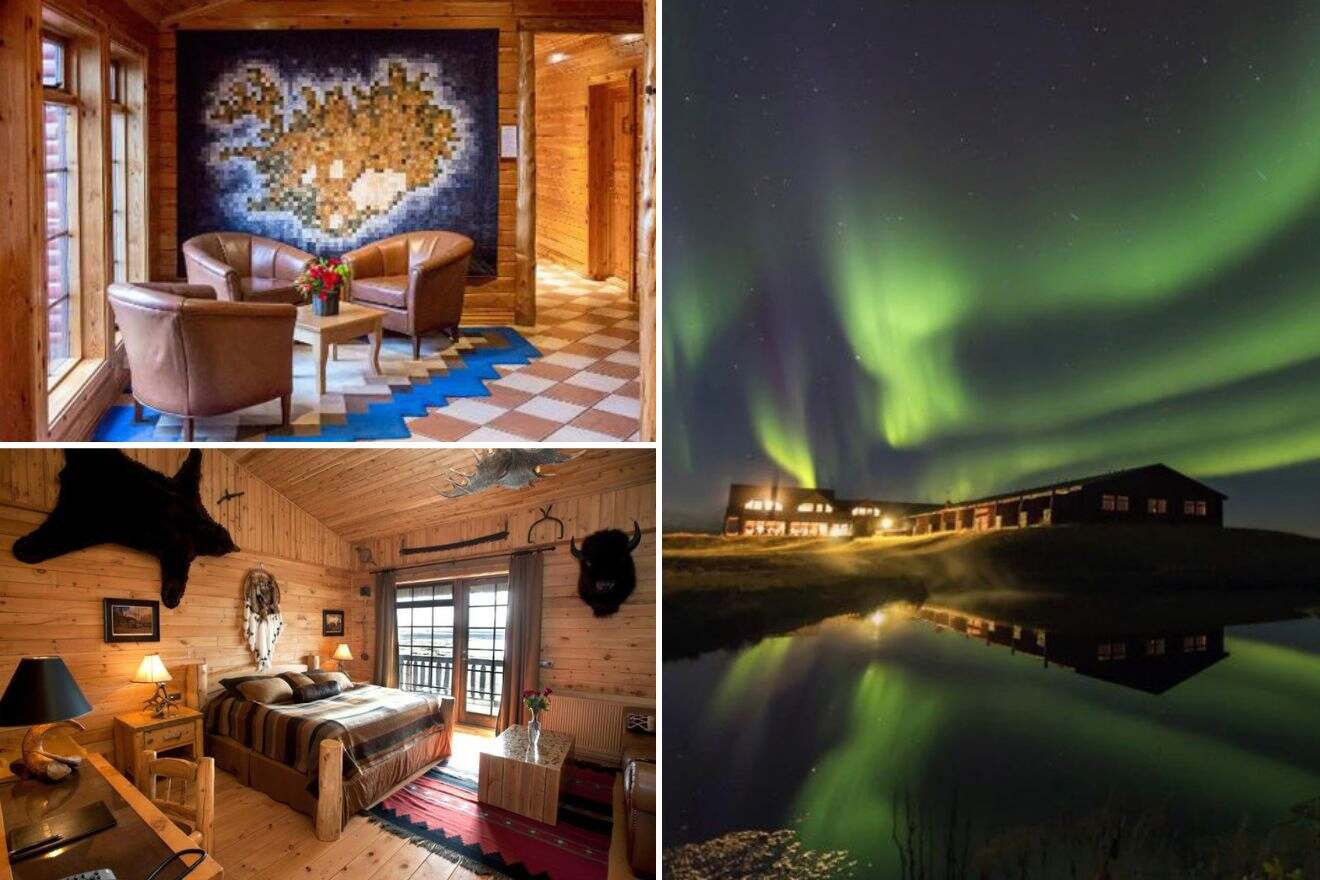 A hotel with a stargazing observatory on-site? Oh my! Hold my purse! This unique hotel is set in Hella, and it features a really cool mix of rustic and modern decor. During your stay in Iceland, I'm sure you'll go on lots of tours to see the Black Sand Beaches, the Blue Lagoon, or the Ring Road, but on the days when you feel like relaxing, you can hang out here and go hiking in the area or play in the games room.
Then treat yourself to a yummy dinner at the in-house restaurant and end your night with a sesh of looking at the stunning Northern Lights! Yep, you can see them from this location, and you'll even get a wake-up call from the staff when they appear.
5. Reykjavik Domes – a luxury tent with a great view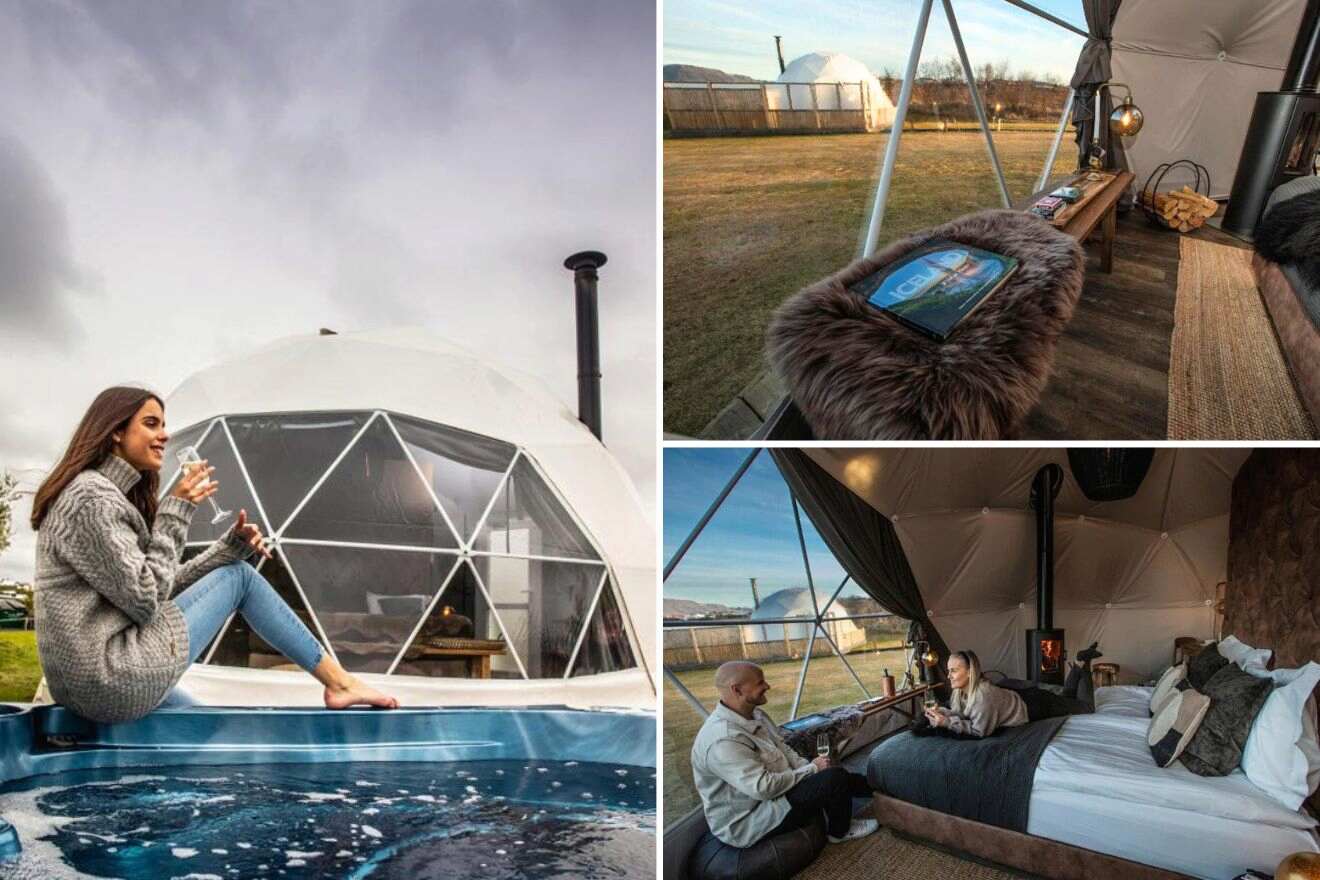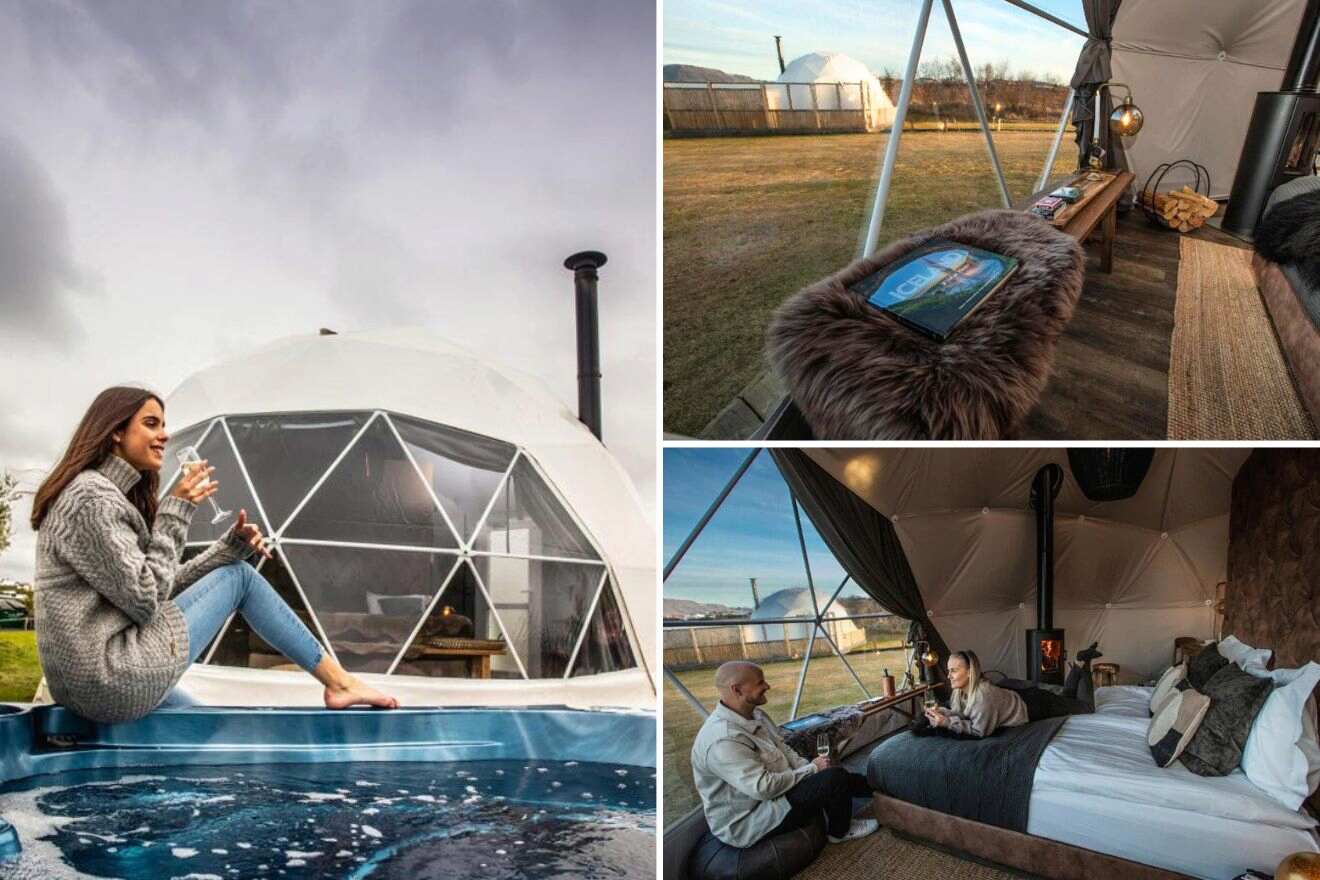 If you want to be close enough to the capital city and its City Centre to take tours from there to see the Golden Circle or hot springs, but not really in the center where it's super crowded at times then you might like this Iceland accommodation! It surely is one of the most unique hotels around!
The dome has everything you need for your stay in Iceland, including a shared kitchen, a patio with views of the garden, a fireplace, and even an outdoor hot tub where you can relax after a day of exploring these mystical lands!
6. Hotel Husafell – for a fun family getaway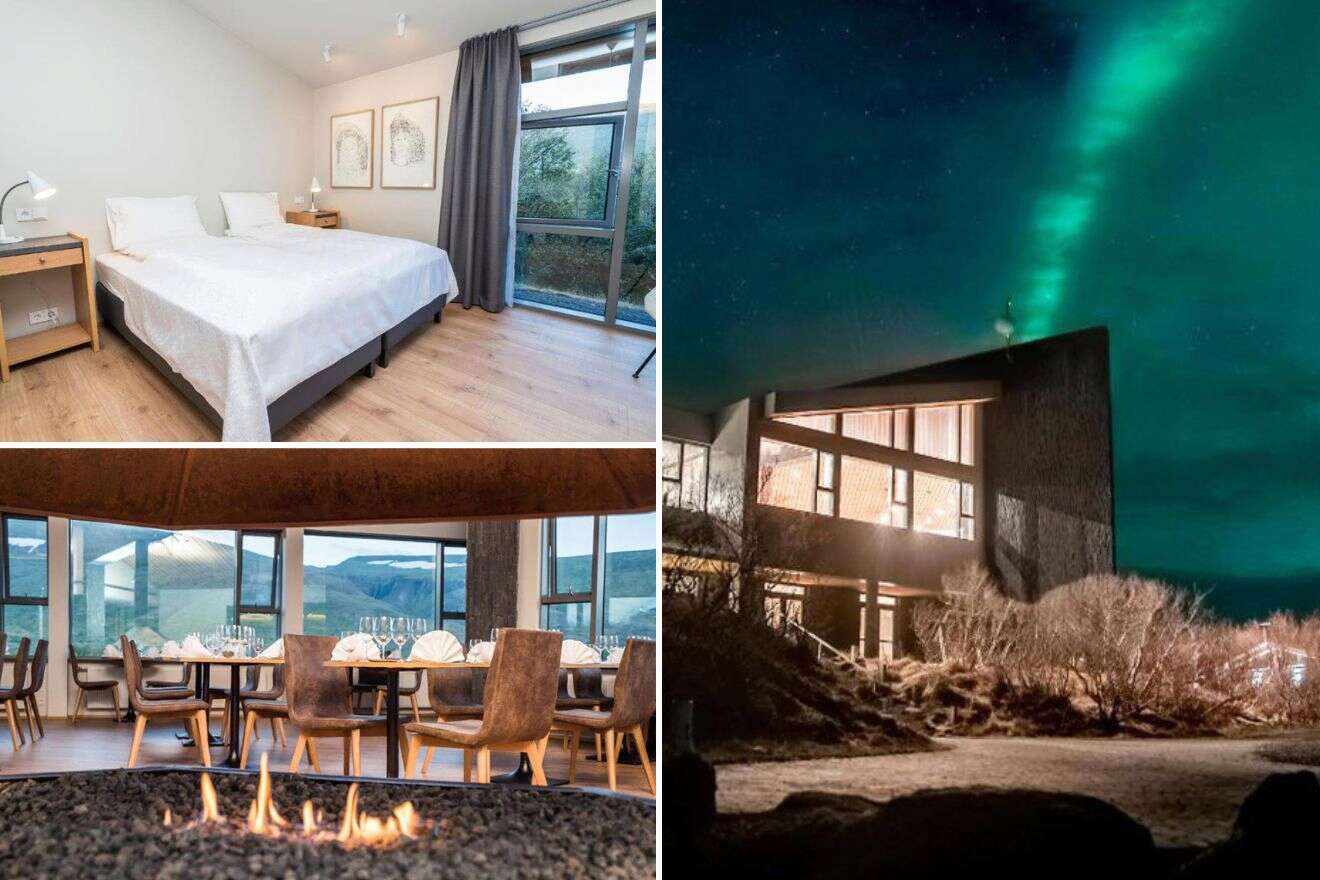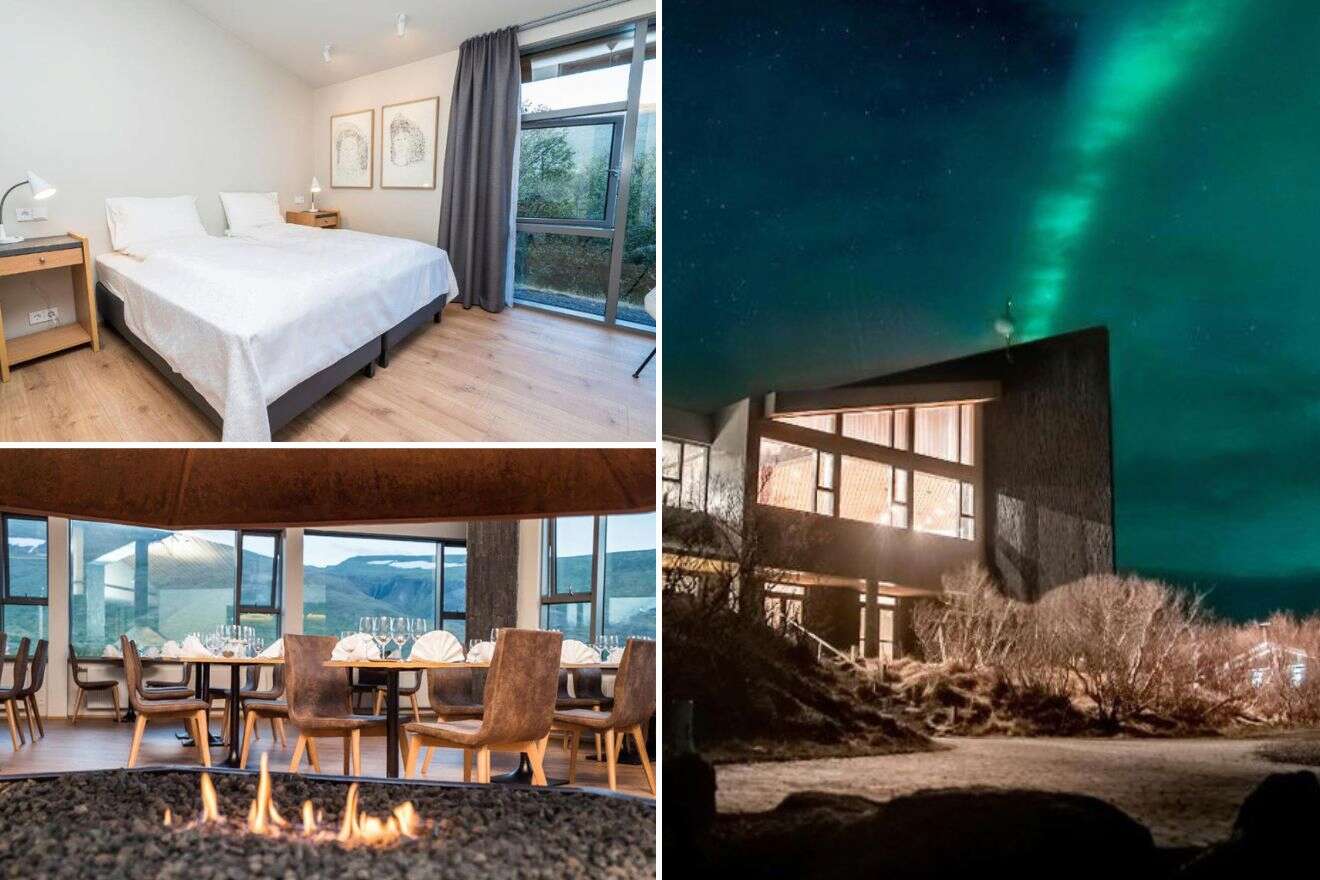 Are you an enthusiast of modern architecture? Then this hotel in Húsafell may be exactly what you're looking for! Overlooking the hills and dramatic landscapes of Iceland, this accommodation offers a golf course and a restaurant where you can indulge in dishes inspired by Nordic and international cuisine.
I'm sure you'll be out and about all day long but know that there are lots of fun activities that you can do nearby the hotel like hiking, horse riding and there's even a children's playground! After a day of being so active, head to the natural warm pool to relax your entire body!
7. Frost & Fire Boutique Hotel – artsy hotel for a tranquil trip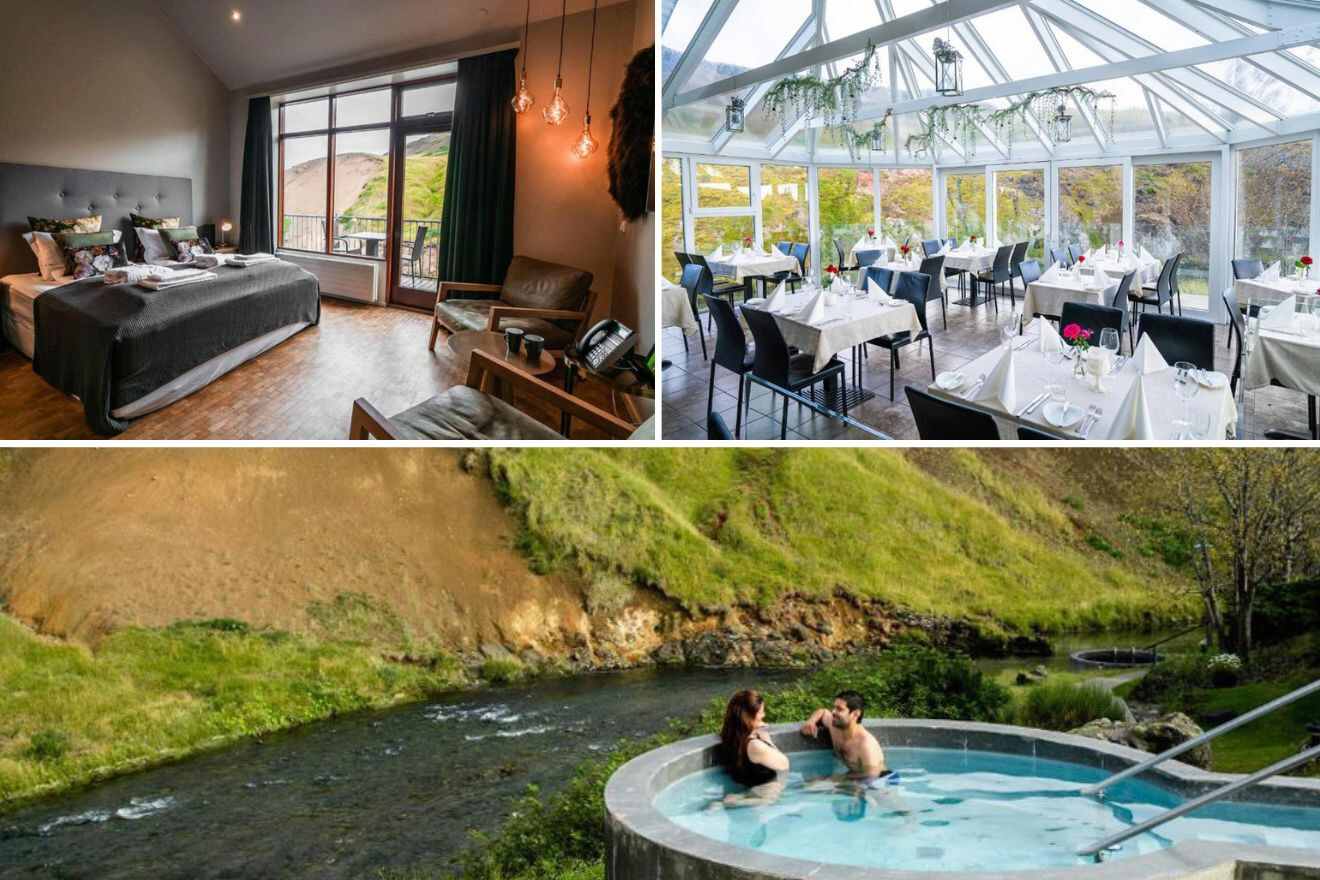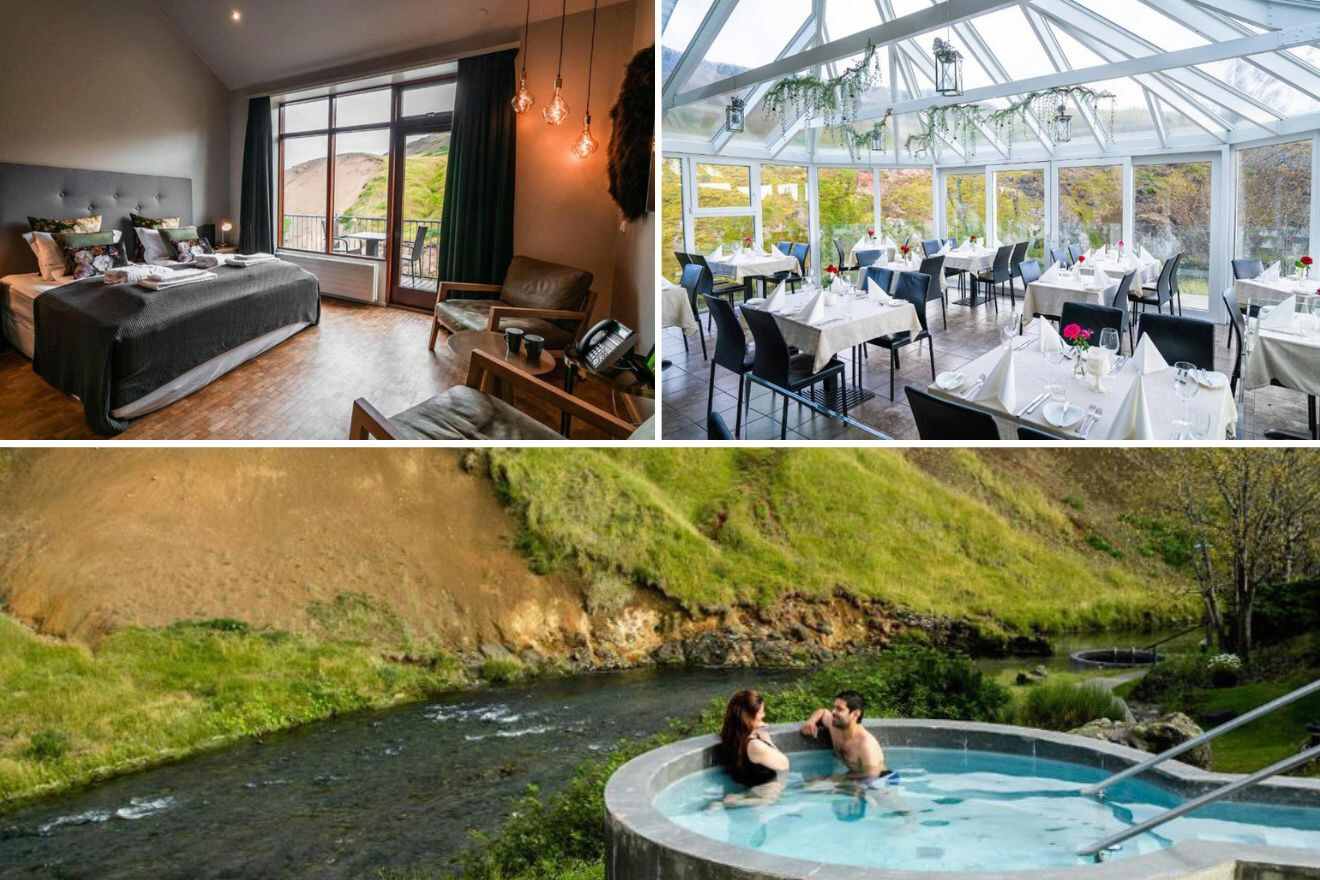 You are so going to fall in love with the location of this hotel, which is by far one of the most unique hotels in Iceland! Located in Hveragerði, the Frost & Fire Hotel is surrounded by a lovely warm river and green hills!
During your stay in Iceland, you'll get to chill in the hotel's riverside hot tubs, detoxify your body at the sauna and swim in the outdoor pool whenever you want! Sounds like a dream to me! The rooms are also pretty cool, and all feature wooden floors, large beds, and work by various Icelandic artists!
8. Magma Hotel – modern hotel in a peaceful location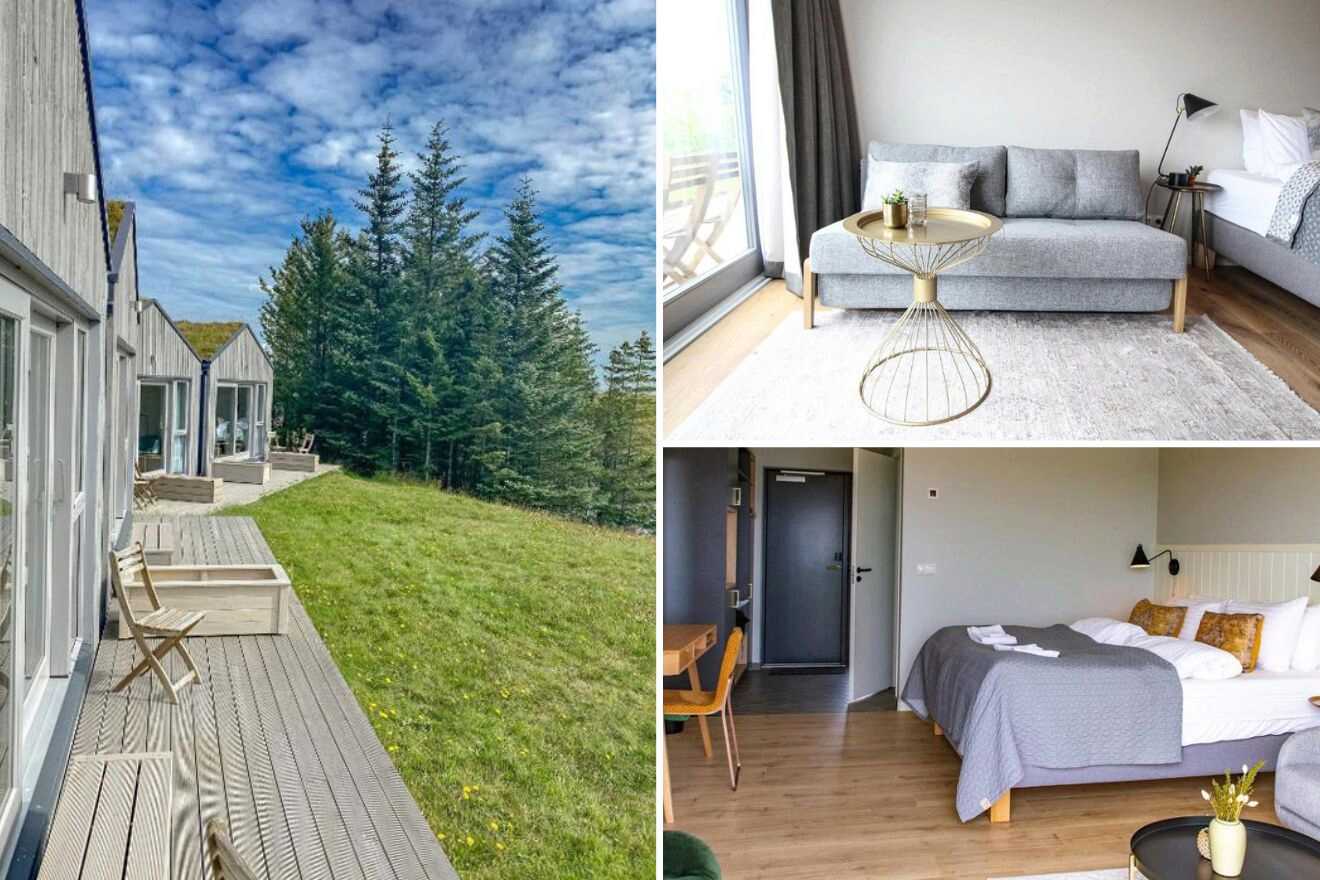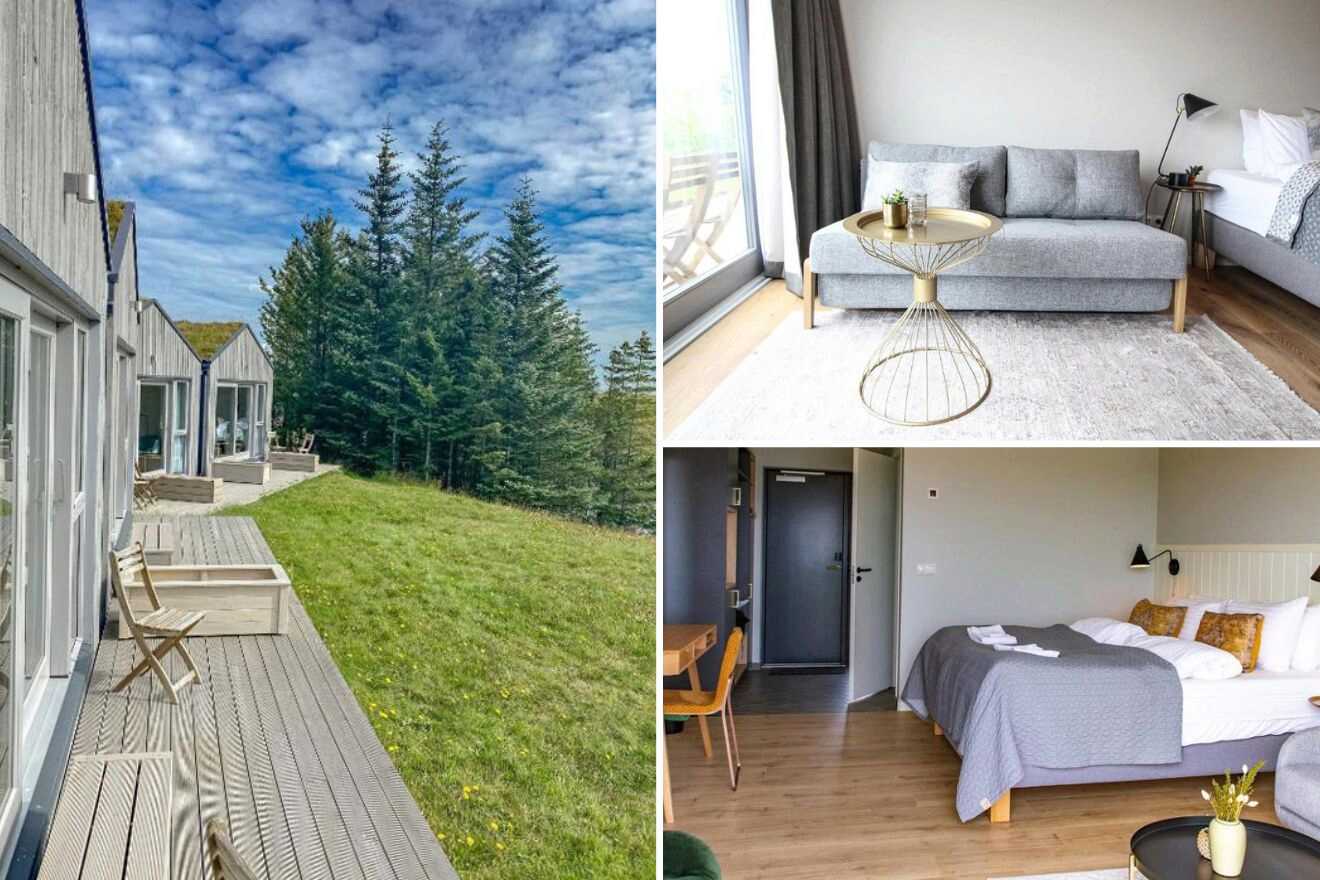 Located in Kirkjubæjarklaustur just 3 km (2 miles) from Kirkjugólf and Systrafoss twin waterfalls, this awesome hotel offers rooms with a really cool, modern design, a flat-screen TV, and coffee-making facilities.
The accommodation also offers guests free parking and board games, and it has a restaurant and a bar where you can enjoy a few drinks after a day out!
9. Bubble Hotel Five Million Star Hotel – for nature lovers
Have you ever been told that you live in a bubble? Well, now you can literally do that at one of the most unique hotels in Iceland! With 2 great locations in Ölvisholt and Hrosshagi, this cute little accommodation is great for those who want to spend a few days away from everything that has to do with civilization!
The bubble only has a bed, but you'll get a shared bathroom that you can use. There are no restaurants here or dining facilities, but you can always head to the nearby towns to eat. Turn off your phone and enjoy reconnecting with Mother Nature!
10. Arnarstapi Cottages – a quiet place for a holiday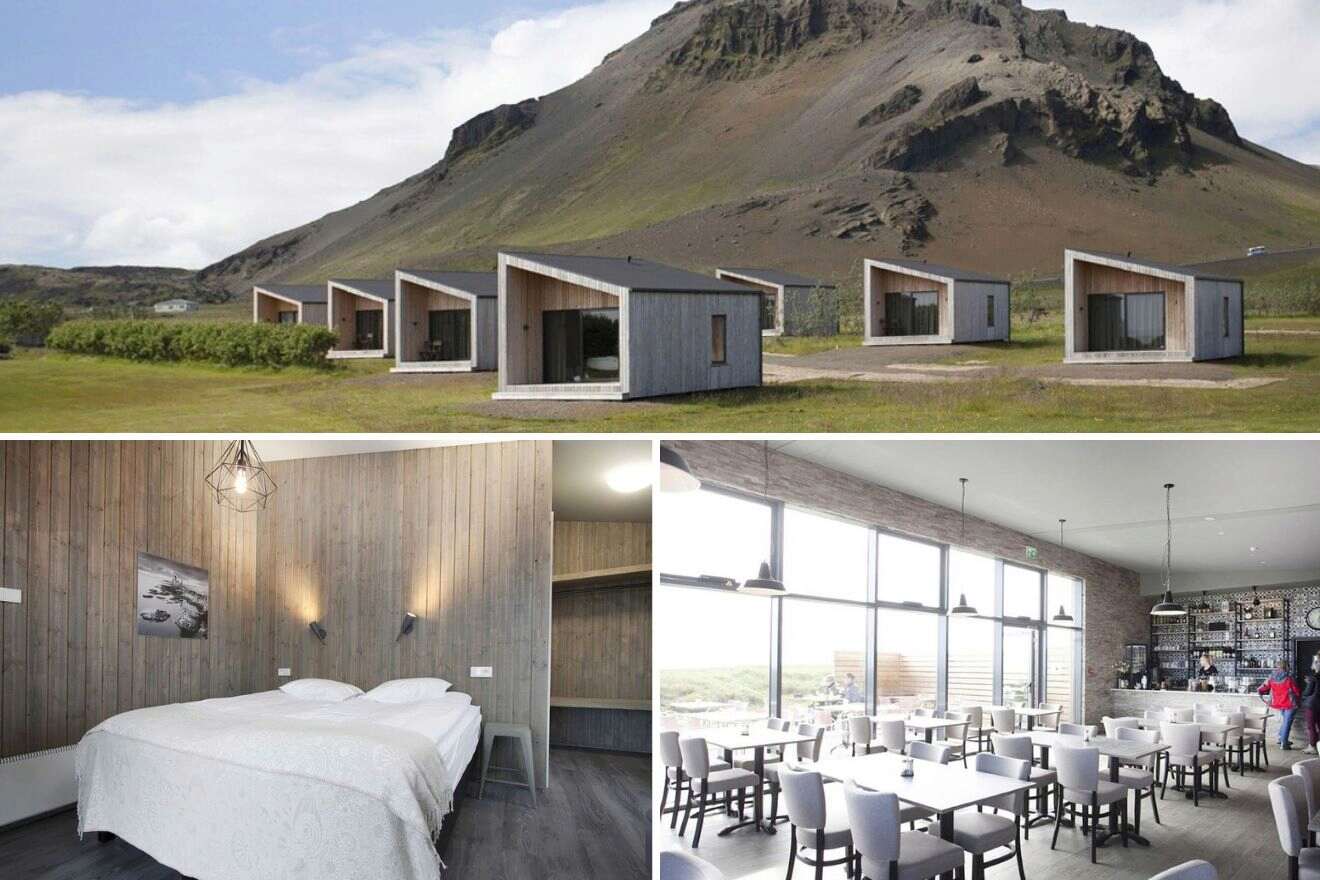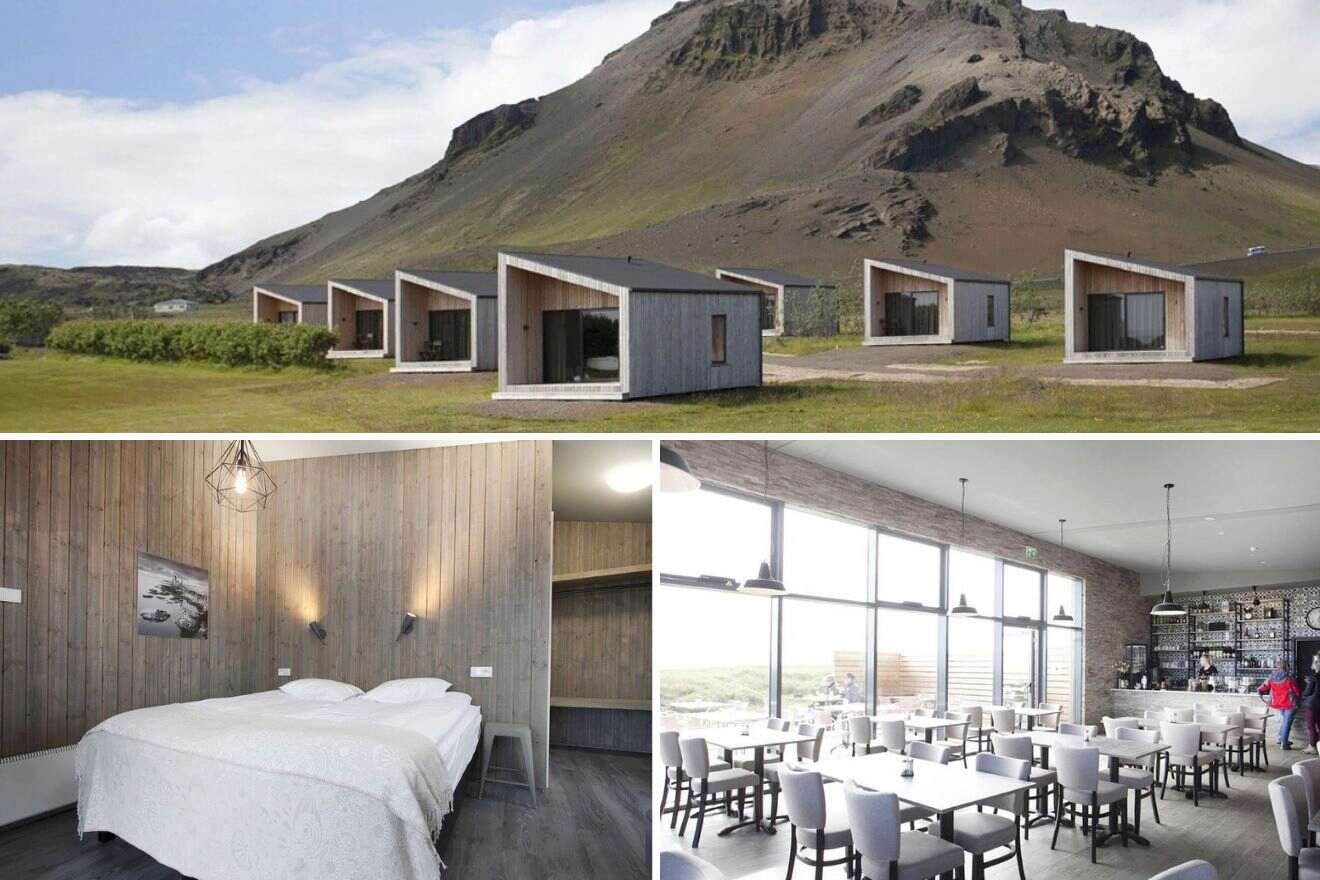 Still looking for some amazing hotels for your stay in Iceland? Then have a look at these cute cottages that are set in Arnarstapi, just a short drive from Snaefellsjoekull National Park and Vatnshellir Cave. Featuring a stunning view of the dramatic landscape, the accommodation offers dining facilities.
Start your day with a yummy coffee on the terrace and enjoy some fresh air before you embark on another adventure. The hotel offers well-equipped rooms that have a private bathroom and large windows!
11. Hotel Laxa – offers a unique location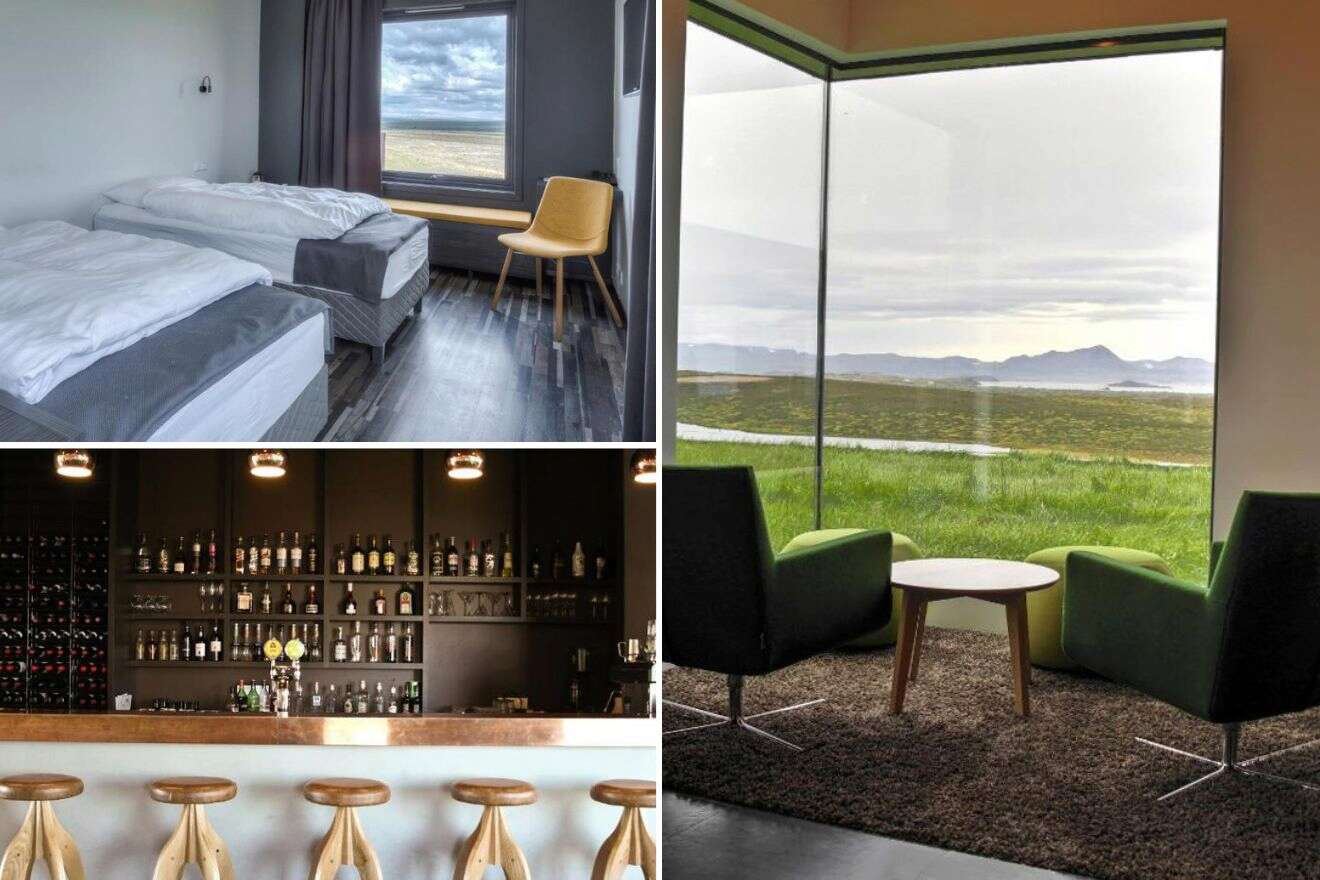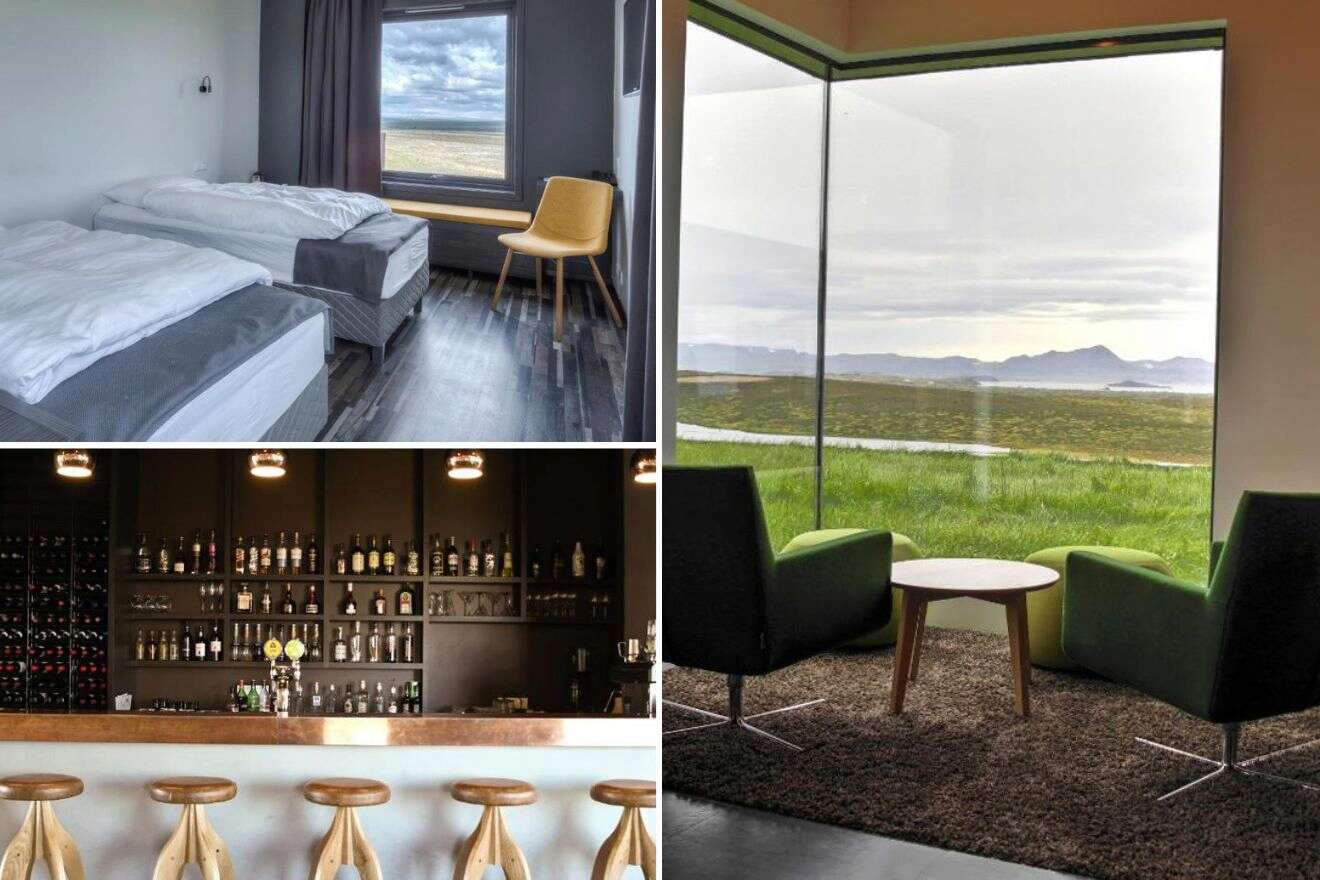 The Laxa hotel has a super minimalistic design, very specific to the northern countries, and it's located in Myvatn, Northern Iceland, just 2 km (1 mile) from Lake Mývatn and 30 minutes drive from the Godafoss Waterfall and Krafla Crater.
You'll be happy to know that at night you can see the Northern Lights from here, which I'm sure will be a great ending to your day of whale-watching tours and other fun things! The rooms have simple decor, comfy beds, and a private bathroom.
12. Fljótsbakki Hotel – to get a taste of the slow life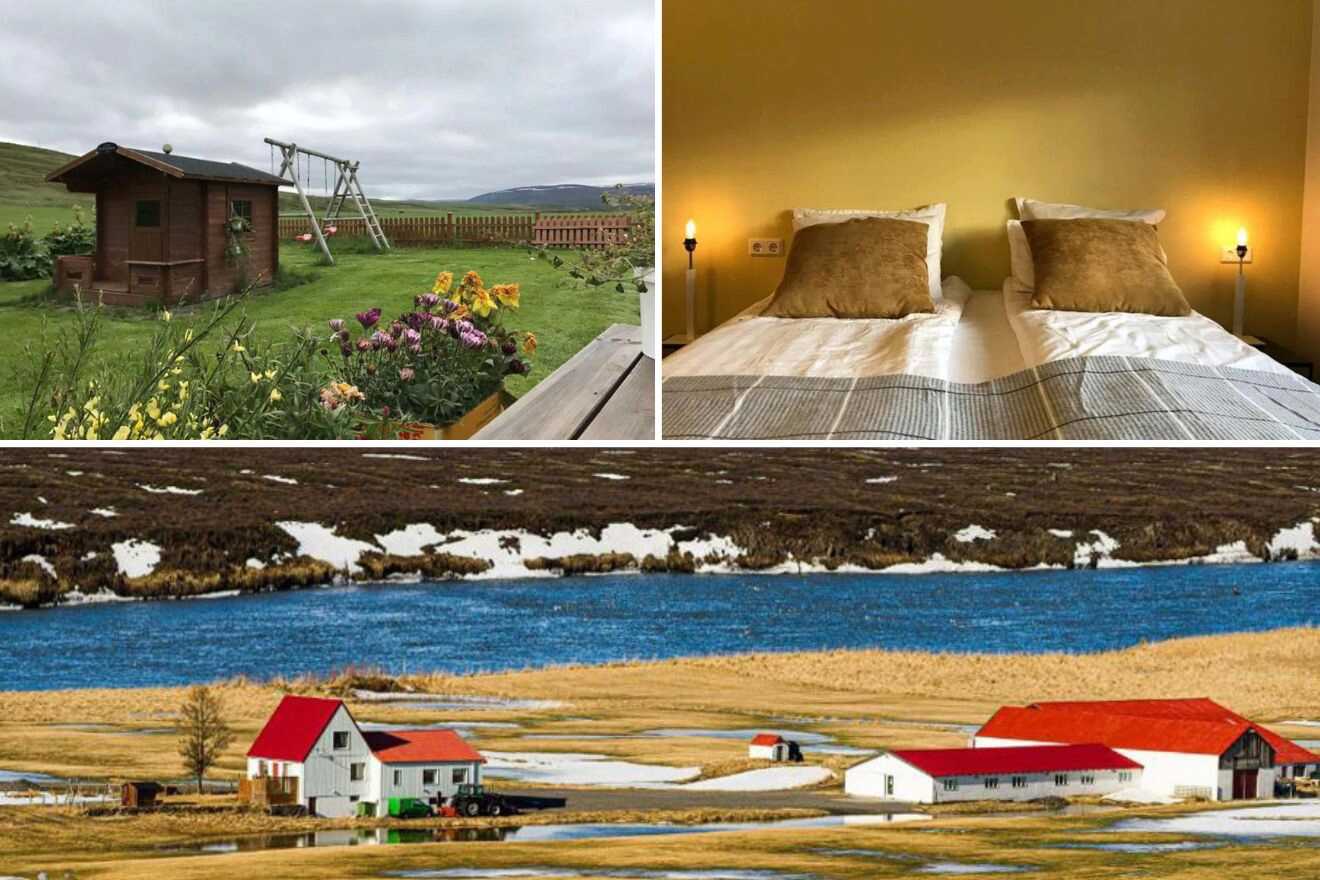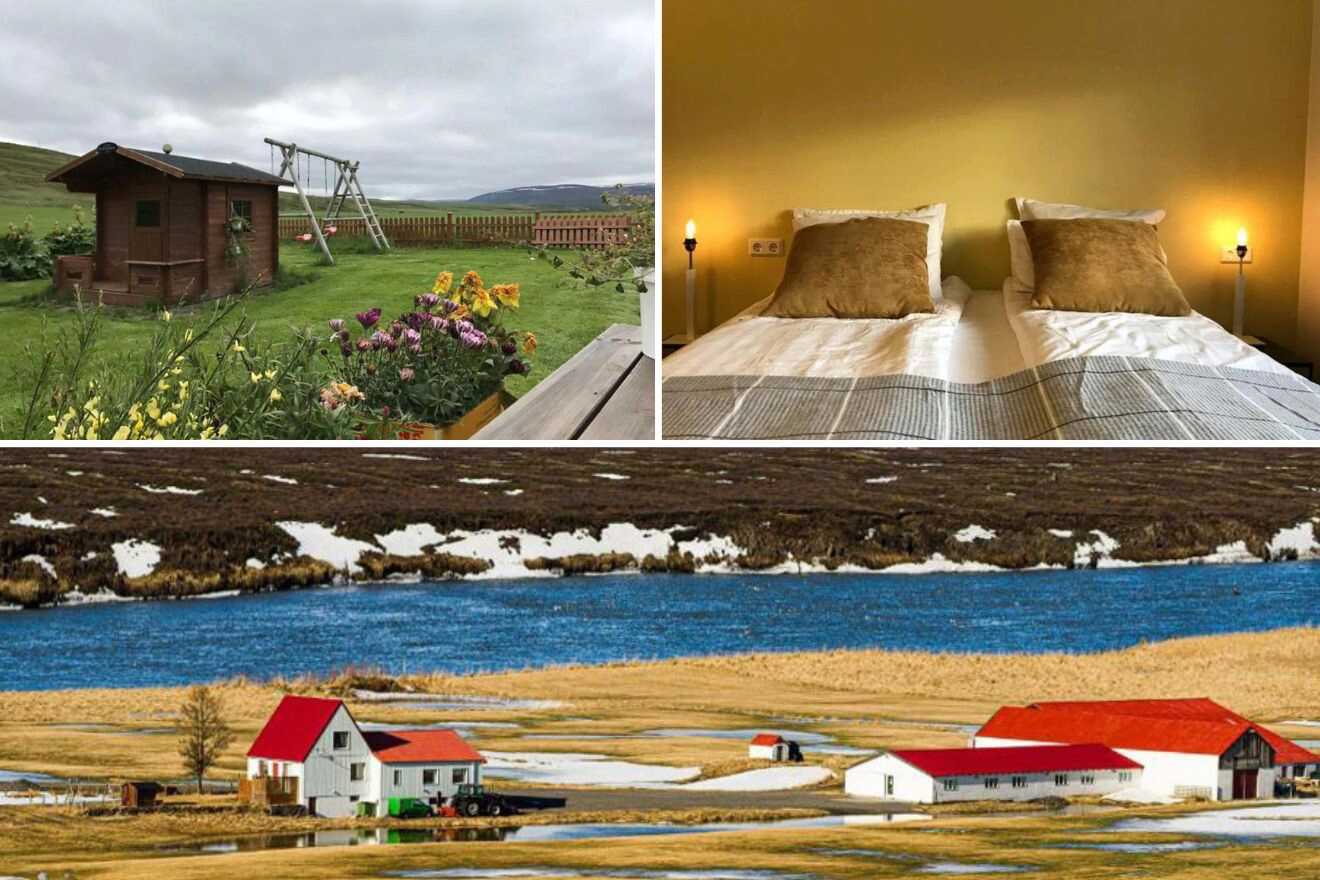 This family-owned hotel in Húsavík is super cozy and comfy! Enjoy the slow life here and spend a few days immersed in the arms of Mother Nature, exploring the hills nearby, eating home-cooked food, and going on tours, of course, to see attractions like the Golden Circle and the Northern Lights!
The accommodation is such a great place to stay in Iceland as it offers a real-life corner of heaven where you can forget all about your daily life and just be! Now that's a nice thought! You'll also find here rooms equipped with all the facilities you need, free parking, and an outdoor dining area.
13. Hotel Budir – for an adventurous trip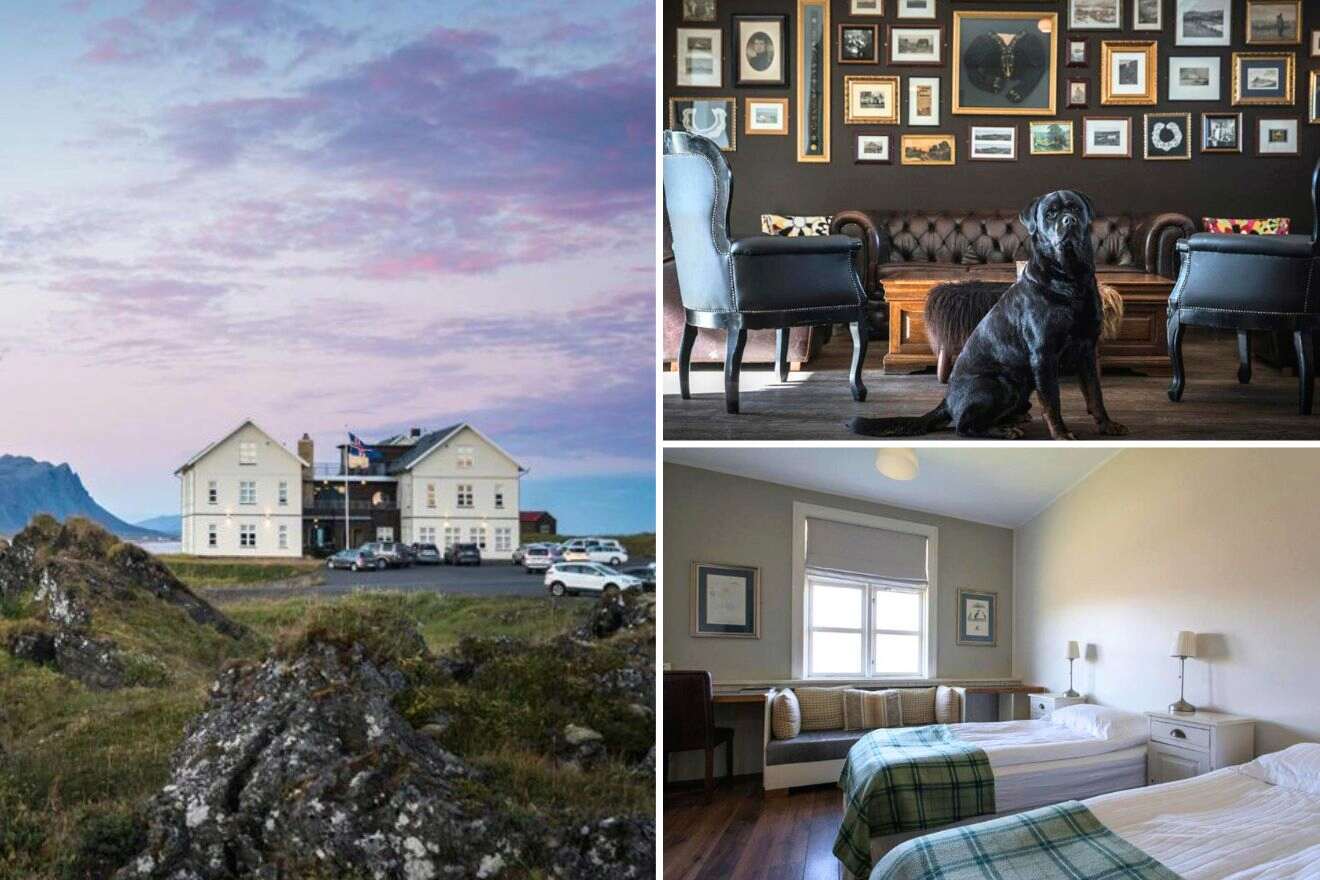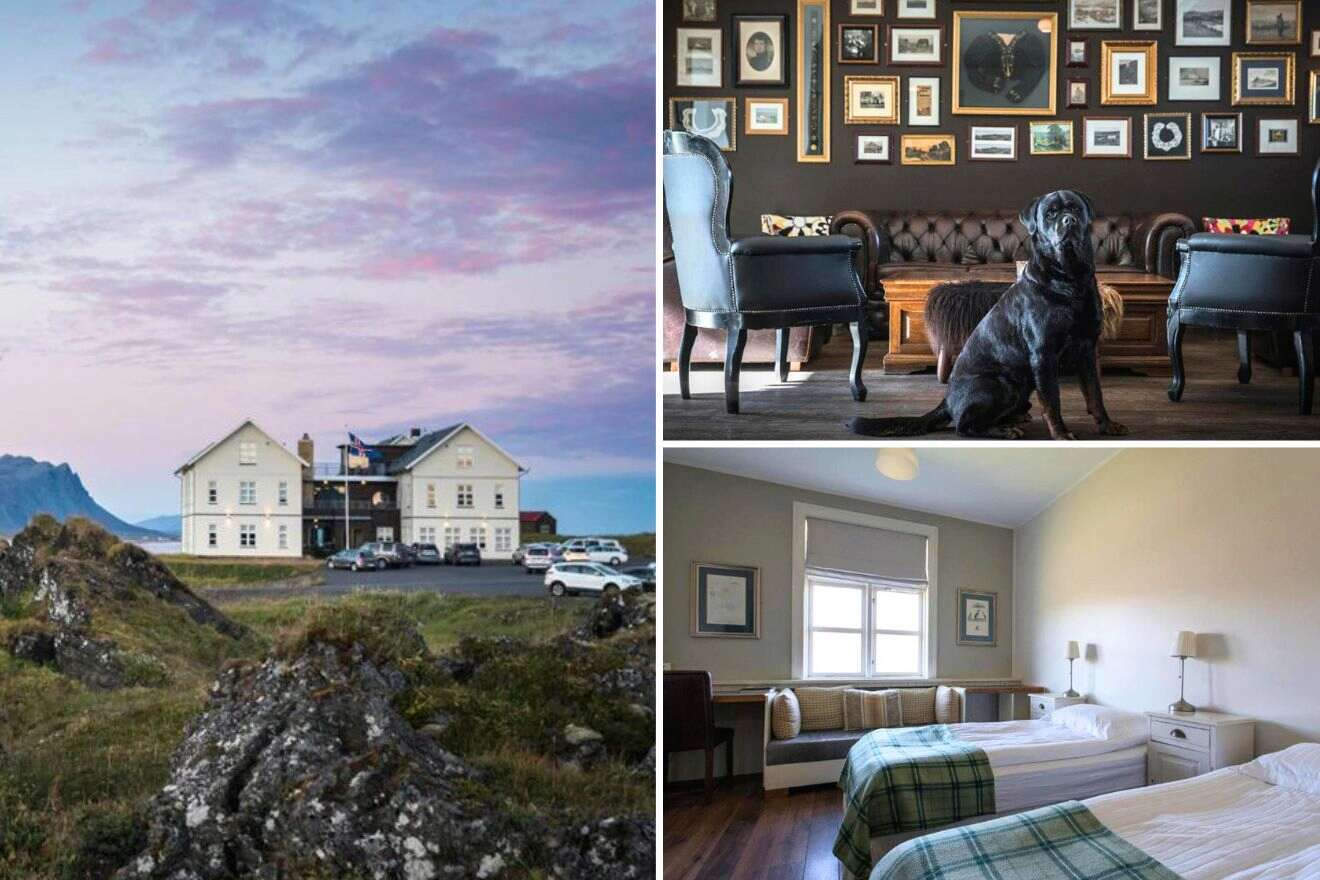 What I love about these unique hotels in Iceland is that they're scattered around in the most
unusual places where, by the looks of it, you'd think there's not a person there besides the people who run the accommodations! This place in Búdir gives me exactly that feeling!
The very simple but so charming hotel offers light and airy rooms with views of the glacier, lava fields, or the sea. During your stay, you can indulge in some yummy dishes in the dining room, like seafood, and they can arrange for lots of tours, like glacier hikes and whale watching.
14. Ormurinn Cottages – for outdoorsy people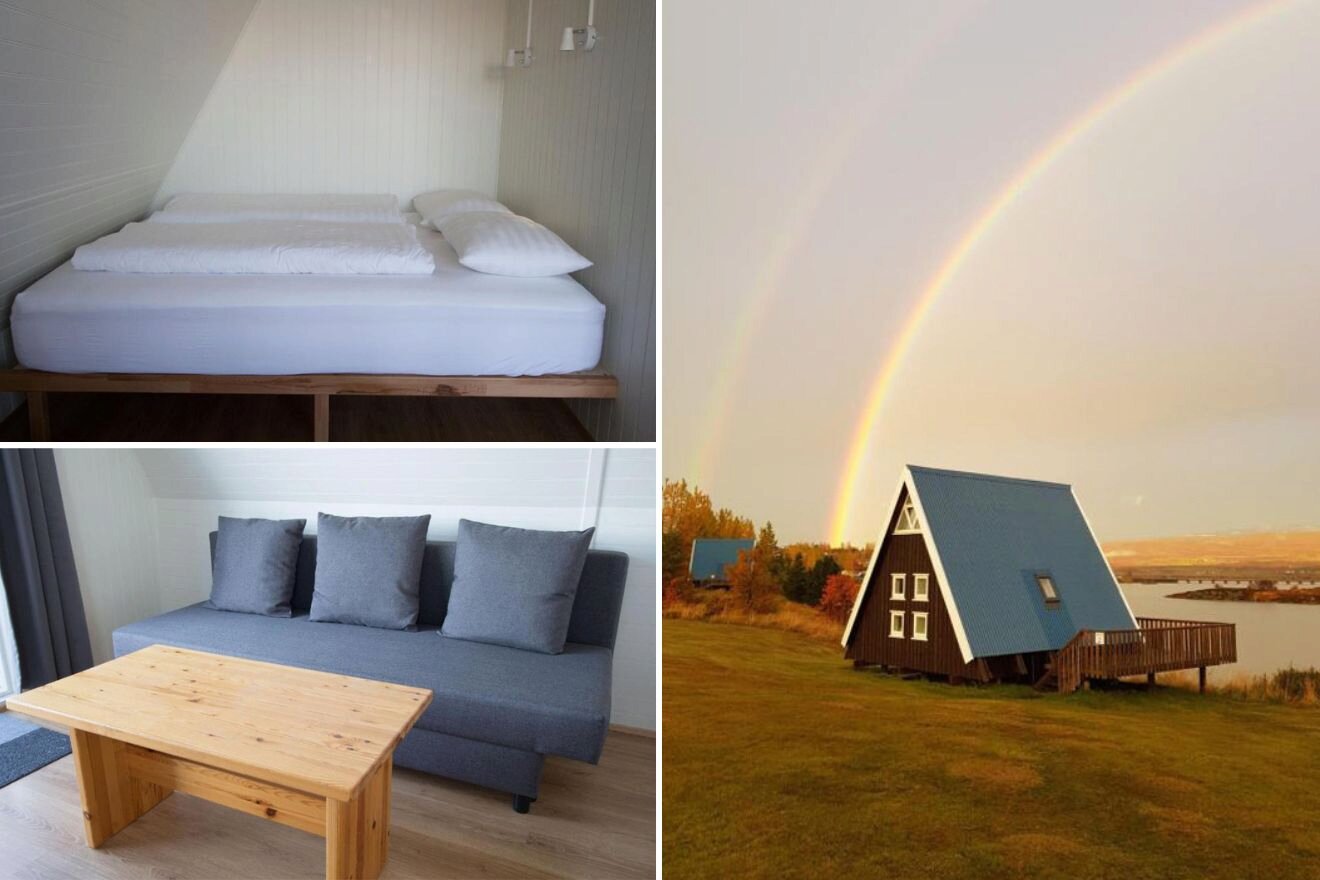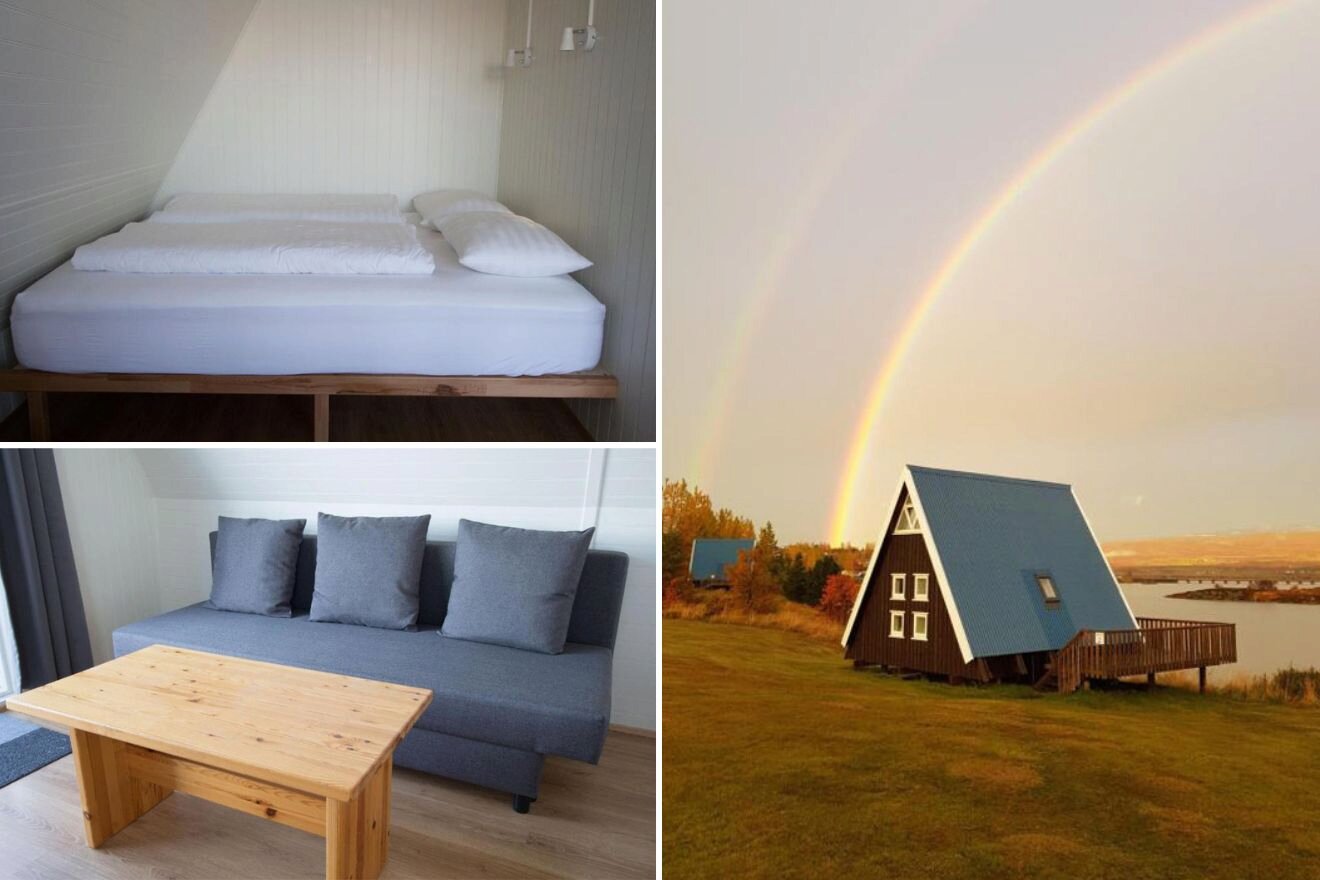 Cute, lovely cottages set in Egilsstadir where you'll get to put away the phone, grab a good book, make yourself a cup of tea and really enjoy the incredible surroundings! This is one of the best hotels for people who seek privacy and tranquility!
Each cottage has a kitchenette, flat-screen TV, and terrace with BBQ facilities (which can only be used in the summer). During your trip, you can hike around the hotel and spend your days chilling on the terrace!
15. Camp Boutique – for camping enthusiasts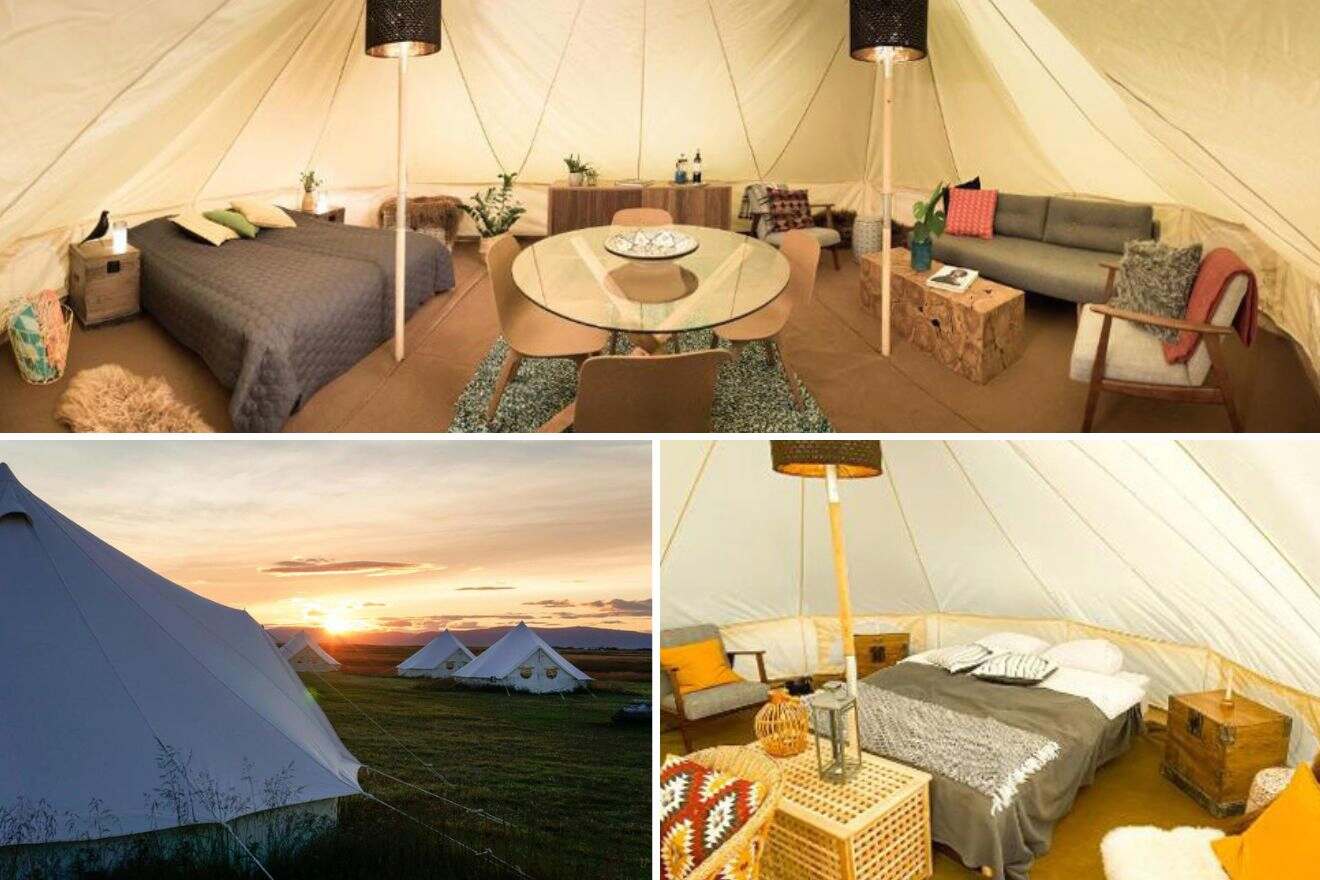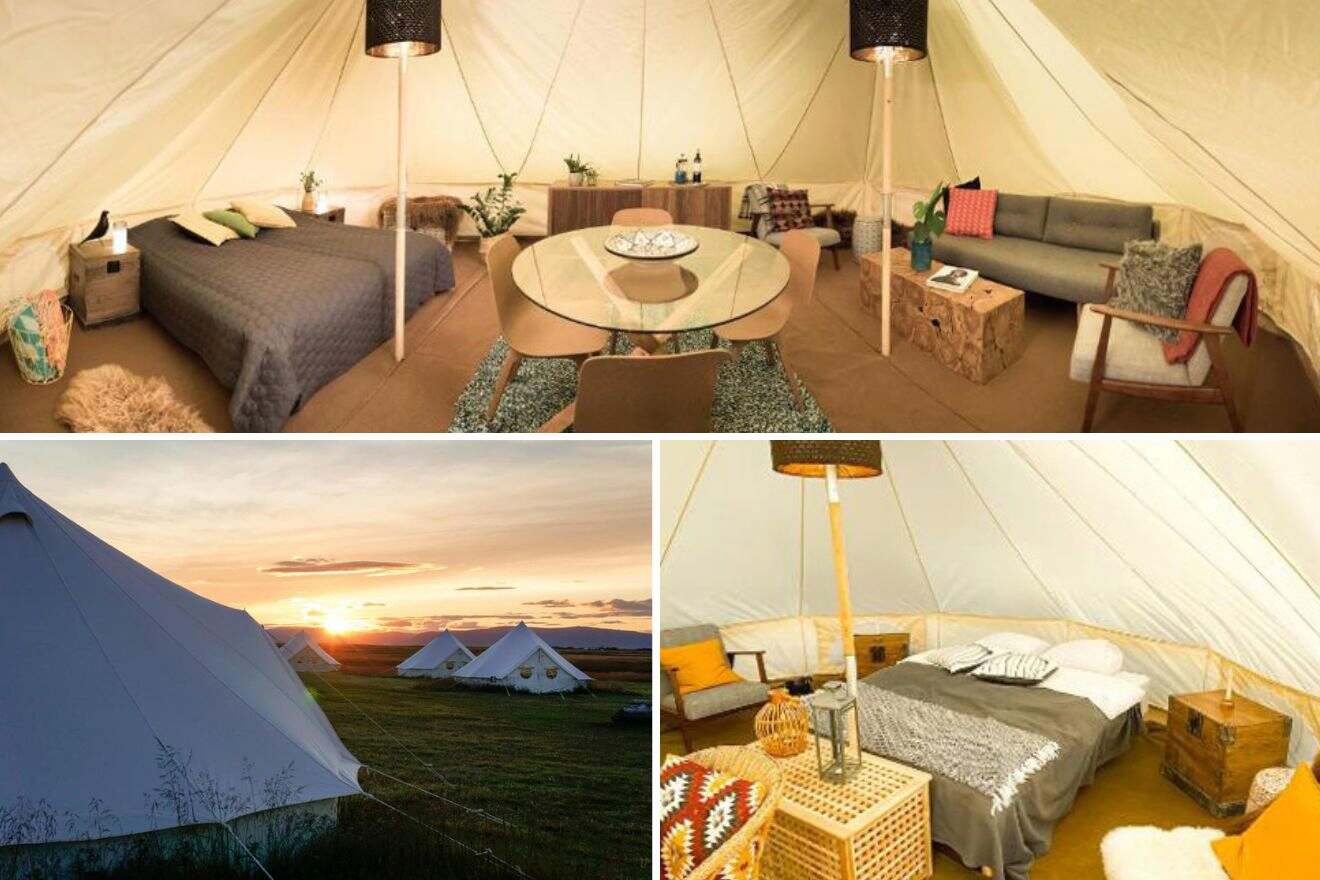 They sure know how to camp in Iceland! These luxurious and sustainable tents in Gaulverjabær are so amazingly arranged that you'll want to take some notes and build one of your own! Each tent has a comfy bed, a seating area, and a shared bathroom.
You'll also have access to an outdoor fireplace and a private beach area. During your stay in Iceland, you can arrange for different tours with the staff if you want to visit attractions like the Thingvellir National Park, the Golden Circle, or others.
16. Hotel Viking – for history lovers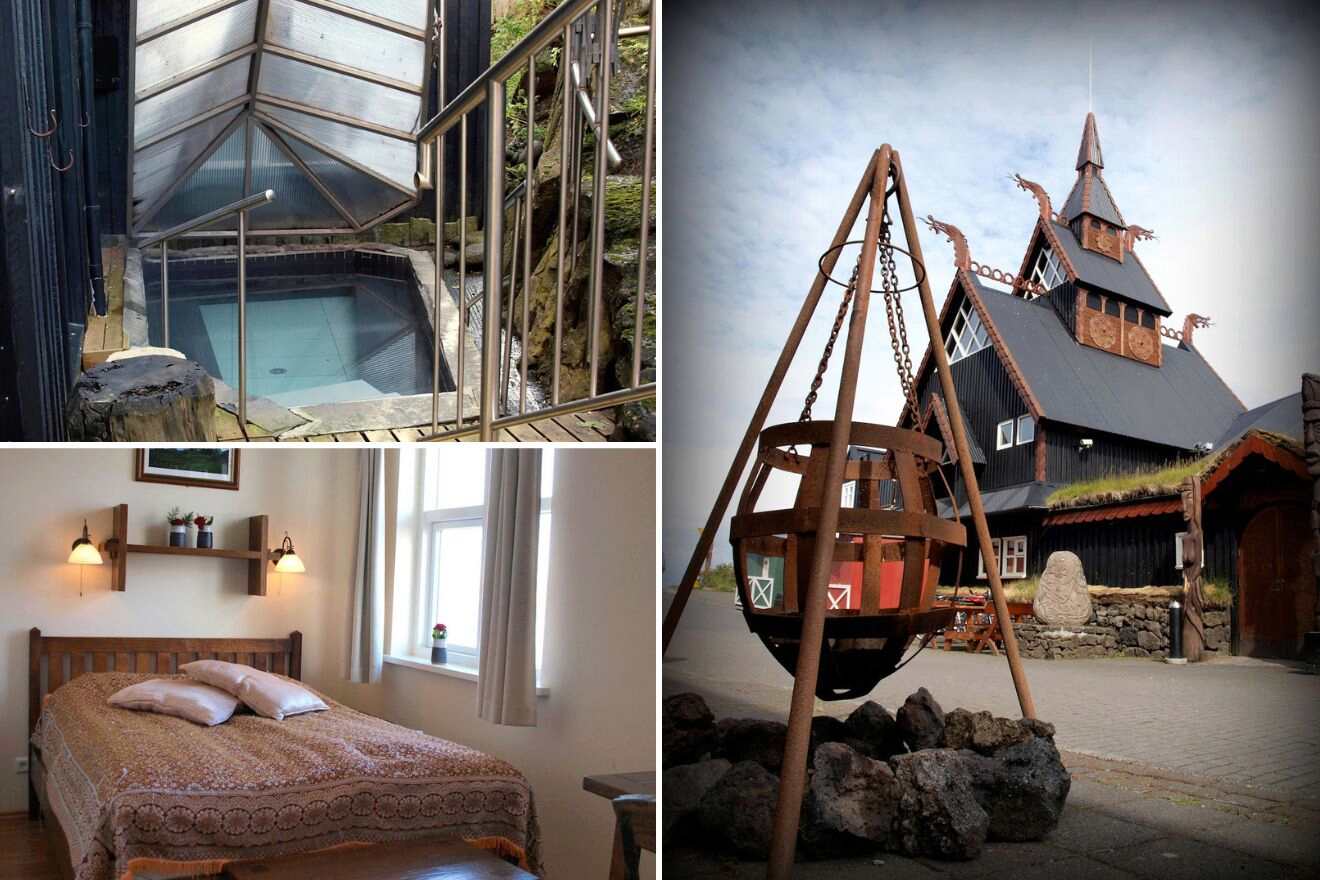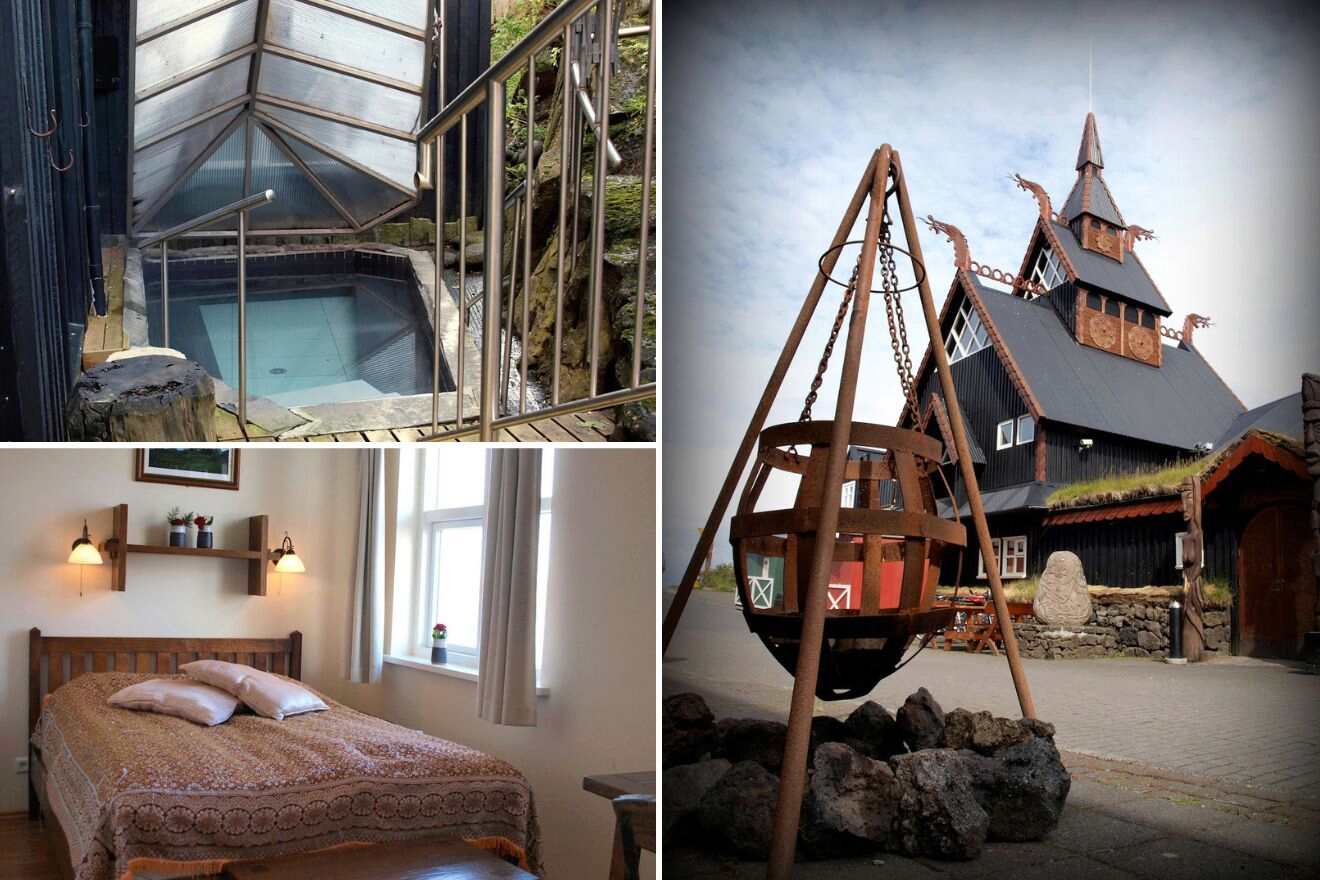 A Viking-themed hotel in Iceland! I'm so in! Set in Hafnarfjordur's historical district, this amazing hotel offers outdoor hot tubs, spacious rooms with sauna access, and 2 restaurants that serve dishes from their local cuisine.
You'll be happy to know that the hotel is set super close to attractions like the Viking Village (just a 2 min walk away) and also that they offer a free continental breakfast for their guests!
17. Esjan – cool rooms in refurbished buses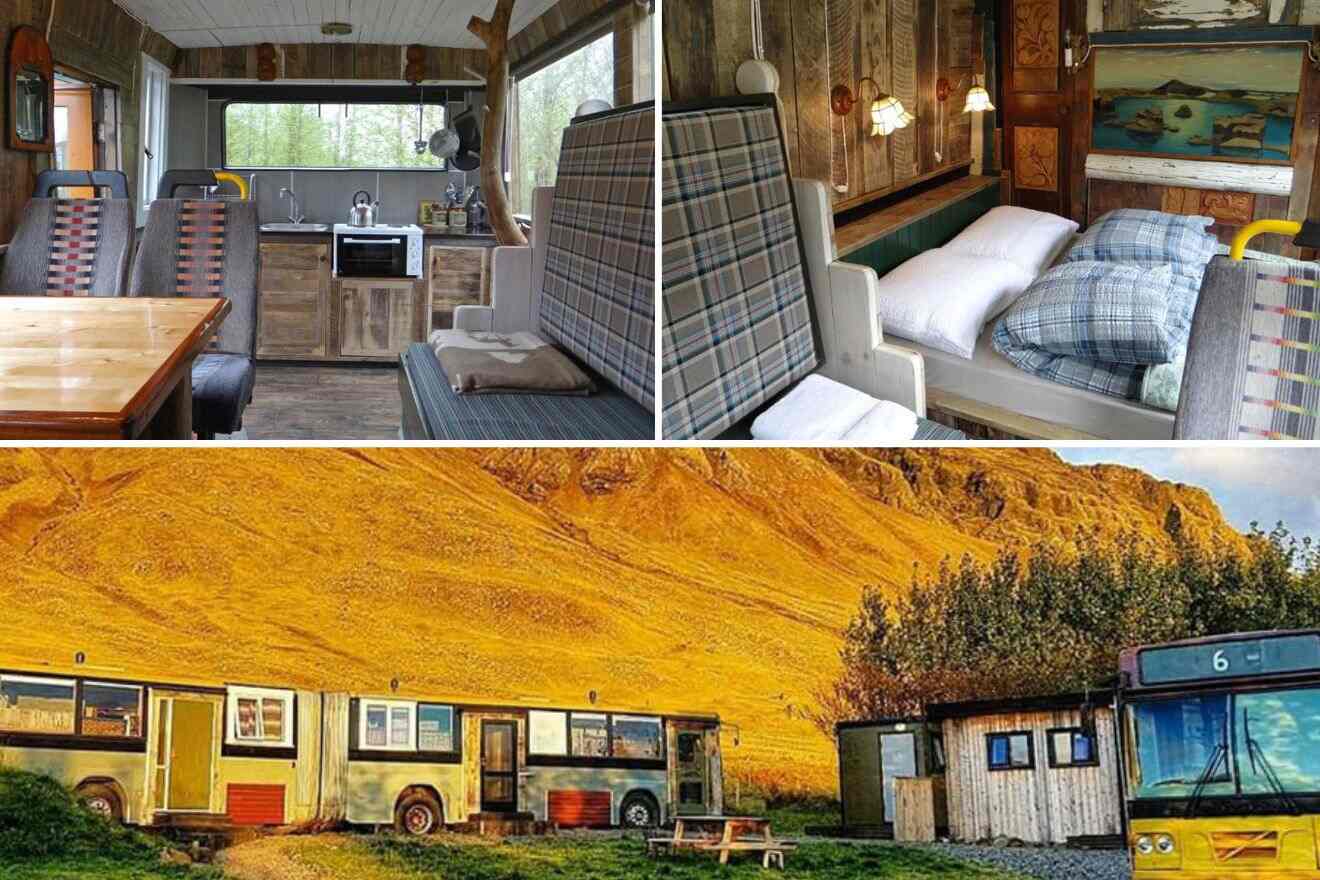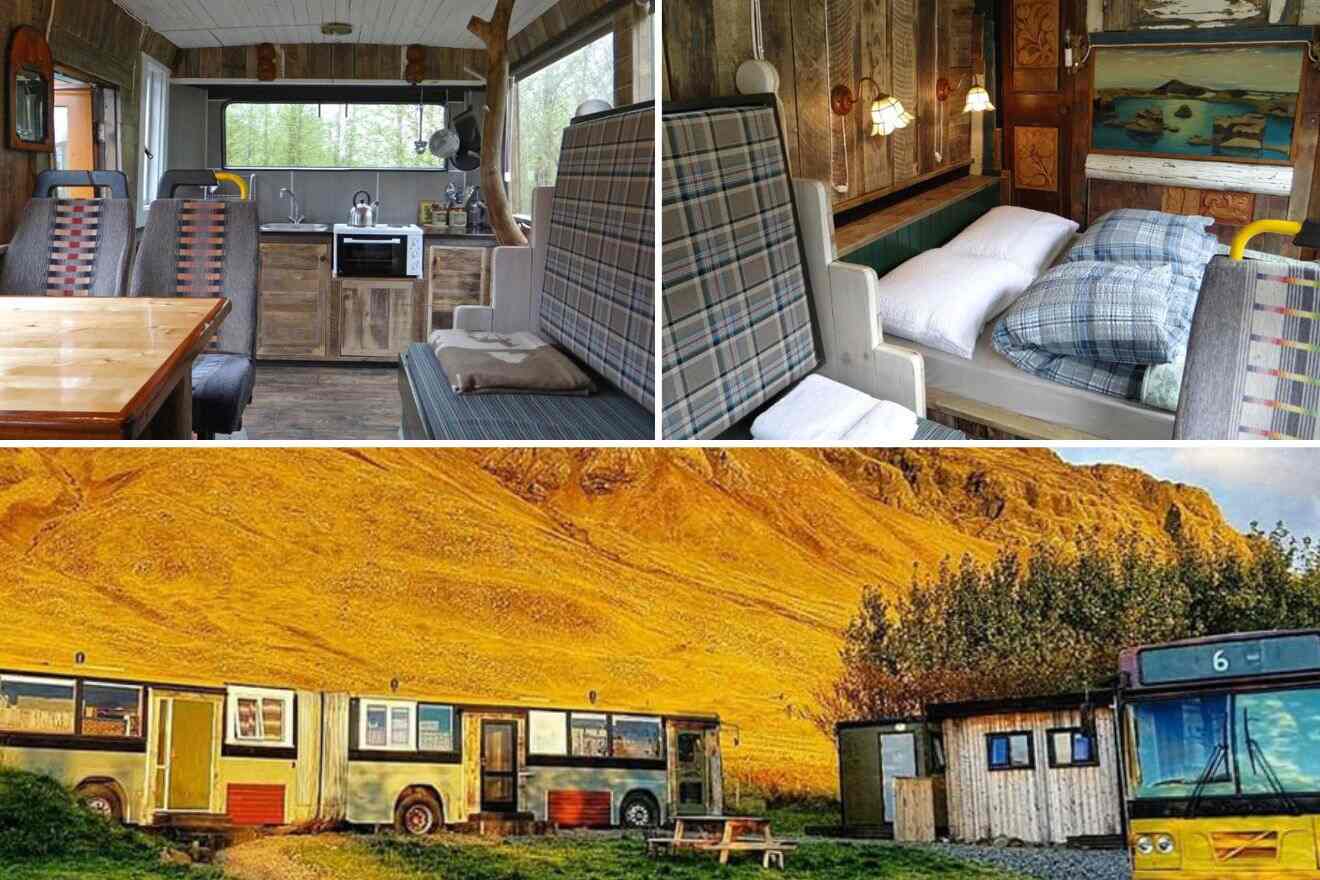 If you're looking for a more affordable place to stay in Iceland, then check out one of the coolest hotels ever that offers super cozy rooms in refurbished buses! Oh yeah, you'll sleep in a really amazing place, and you'll be surrounded by the usual breathtaking Icelandic landscape.
Set in Kjalarnes, the accommodation offers rooms with all the facilities you need for your stay, like a kitchenette, a shared bathroom, and free Wi-Fi. Enjoy your coffee inside while admiring the mountain views from the window, and then head out and try different activities like horse riding and hiking.
18. Hlid Fisherman's Village – a tranquil hotel with sea views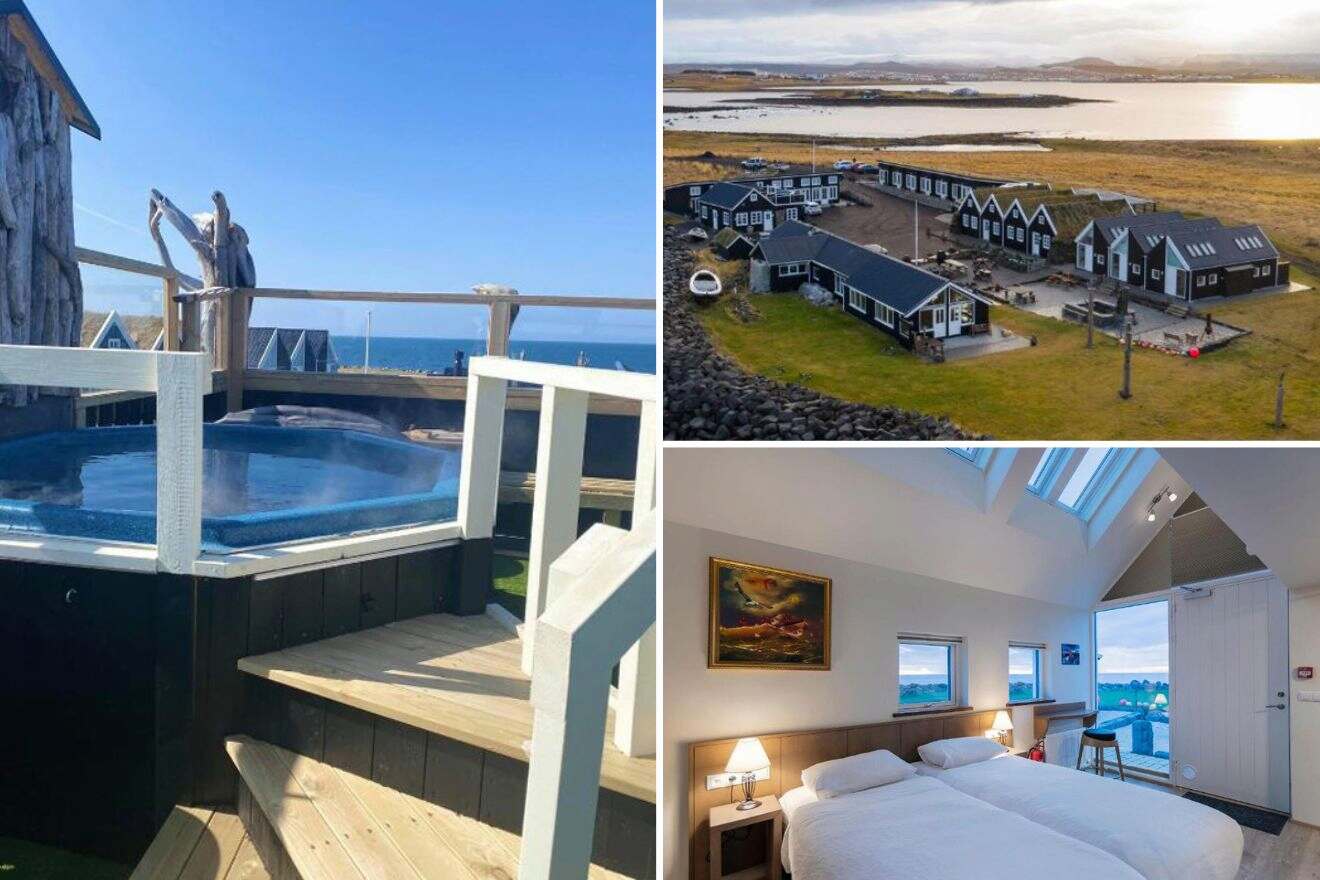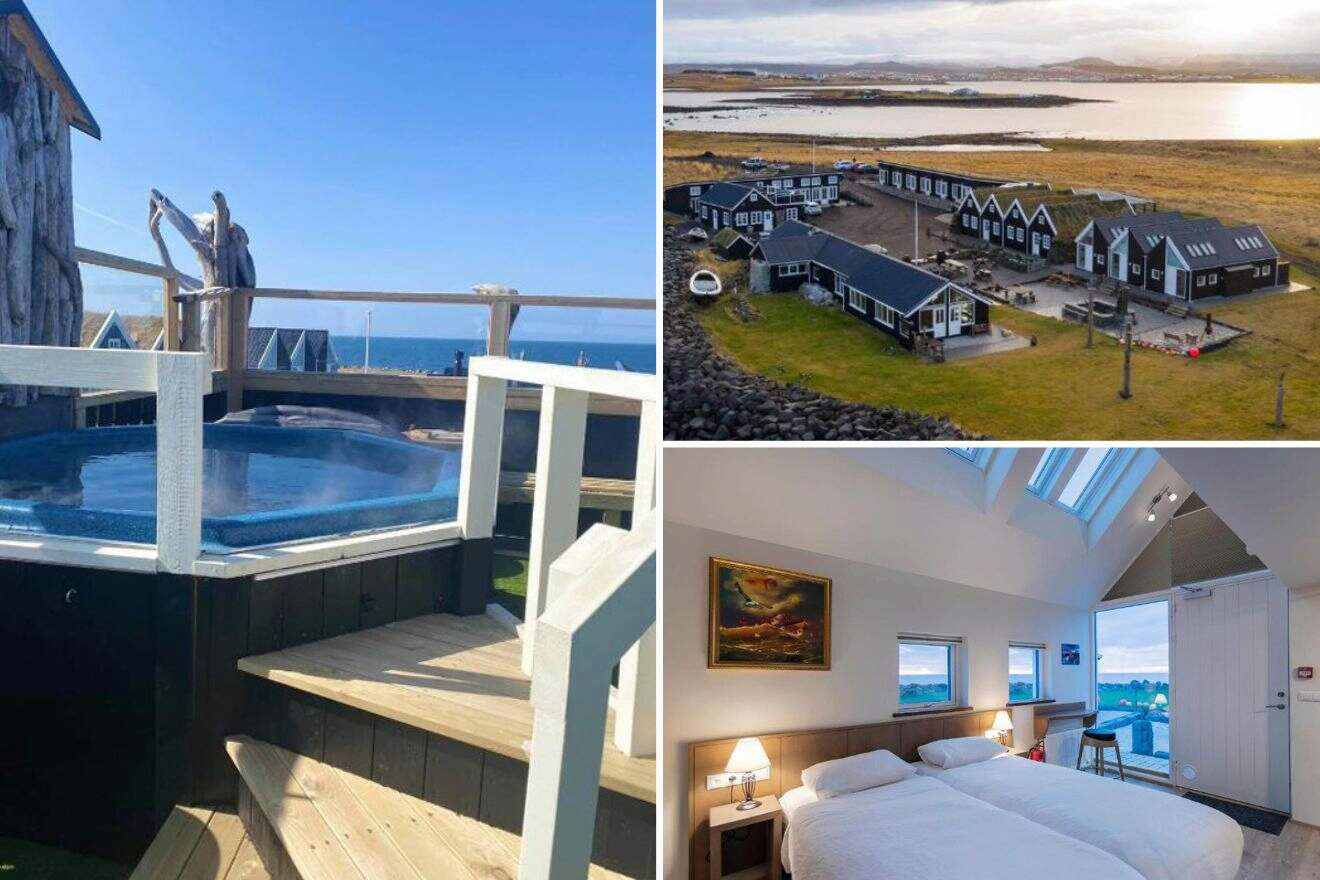 Located on the Álftanes Peninsula, surrounded by nothing but sea and green lands, this lovely accommodation offers cottage-style rooms with free Wi-Fi, driftwood furniture, and a flat-screen TV. Downtown Reykjavik is only 14 km (9 miles) away from the hotel.
All the rooms at the accommodation offer some lovely sea views, coffee-making facilities (so you can start the day right) and a private bathroom. During your trip, you can explore the walking trails and do some bird watching.
19. Fossatun Camping Pods & Cottages – an affordable hotel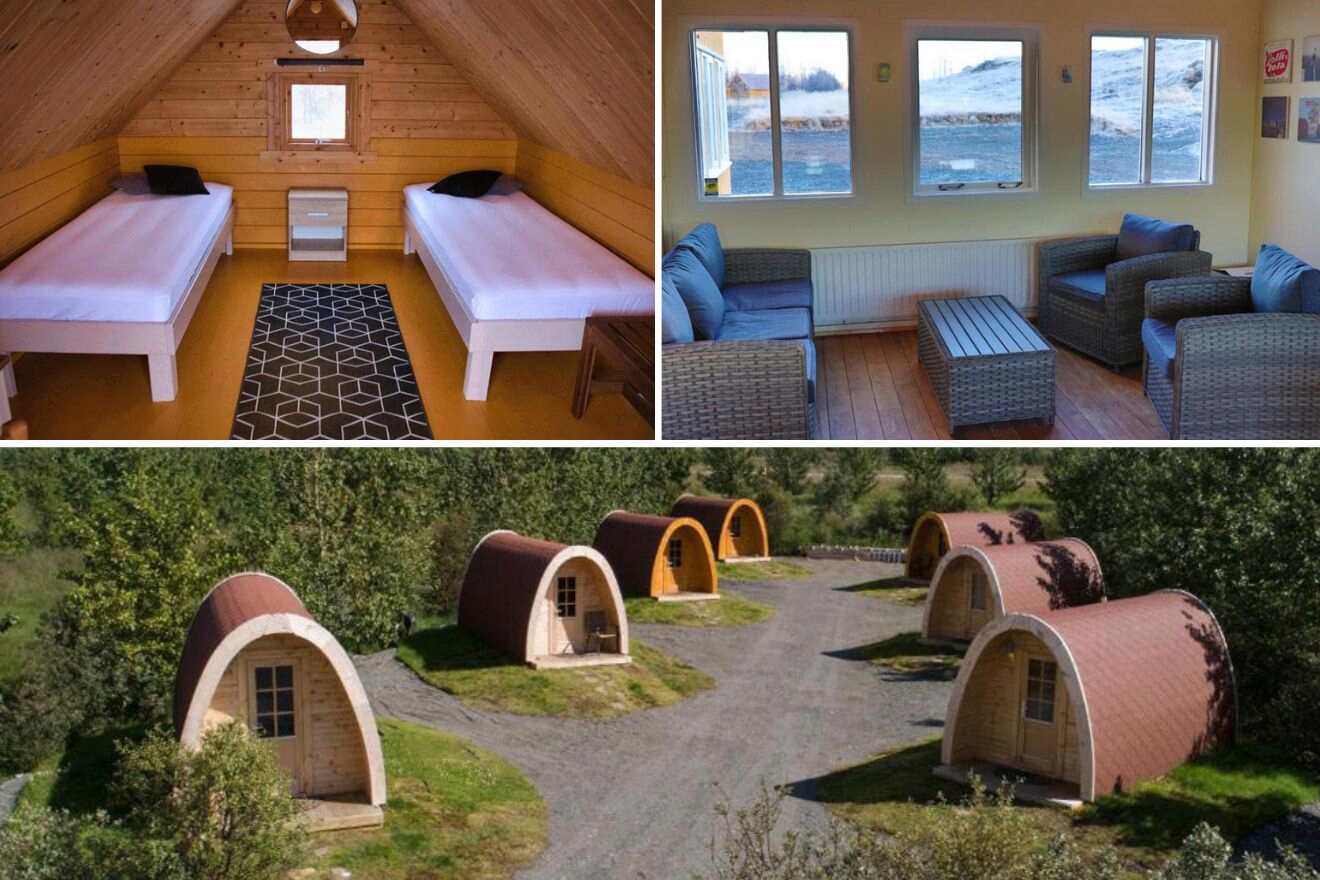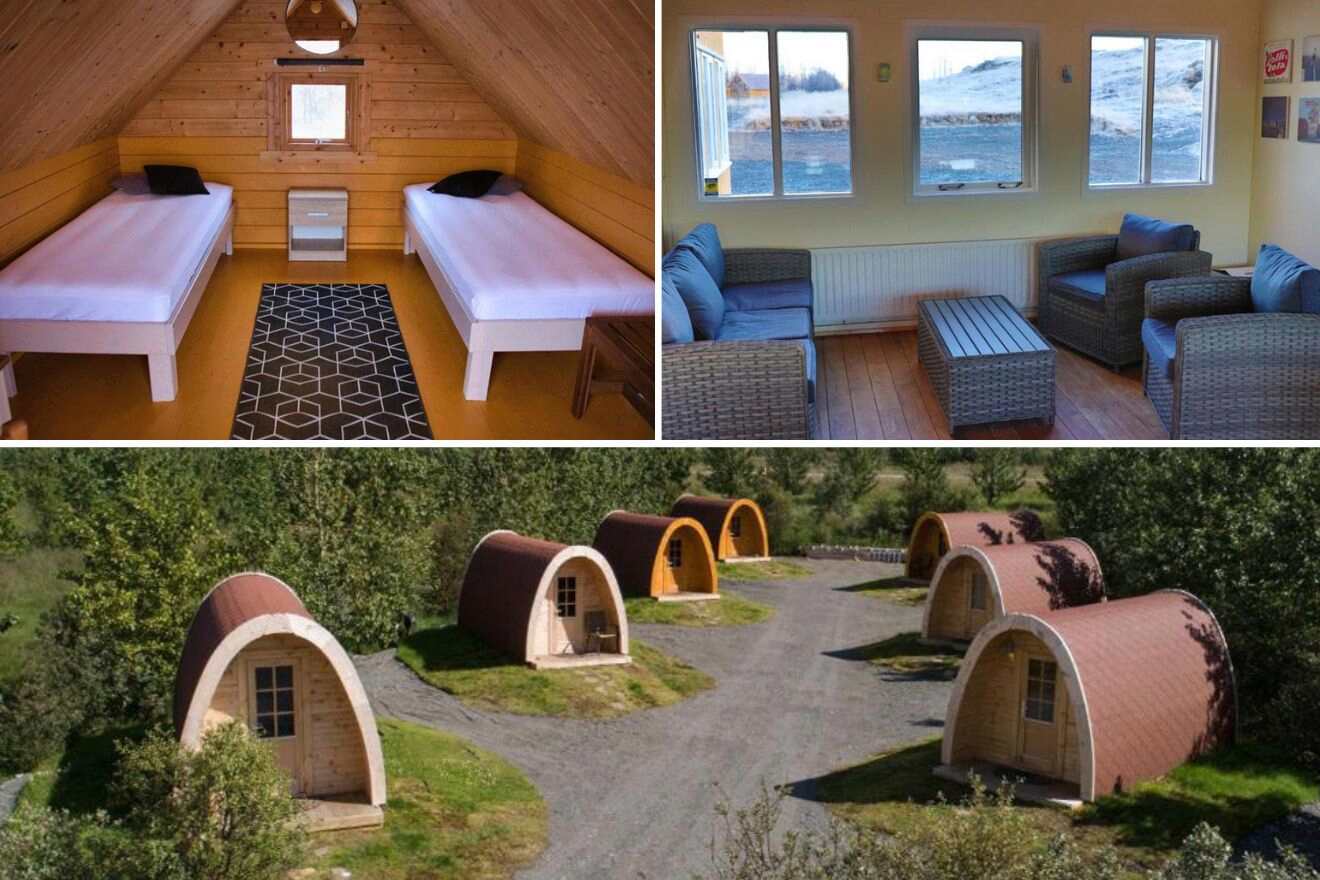 These camping pods in Fossatún, in the West Iceland Region, are perfect for those of you who want to enjoy the simple life! Each pod has a comfy bed and a shared bathroom, and all of them are heated.
You'll also find at the accommodation 2 shared equipped kitchen and dining houses, hot tubs where you can relax after a day out! I'm sure you'll go on many tours like the Icelandic Ring Road trip, but definitely check out the hiking trails near the accommodation.
20. Galaxy Pod Hostel – futuristic space pods in the capital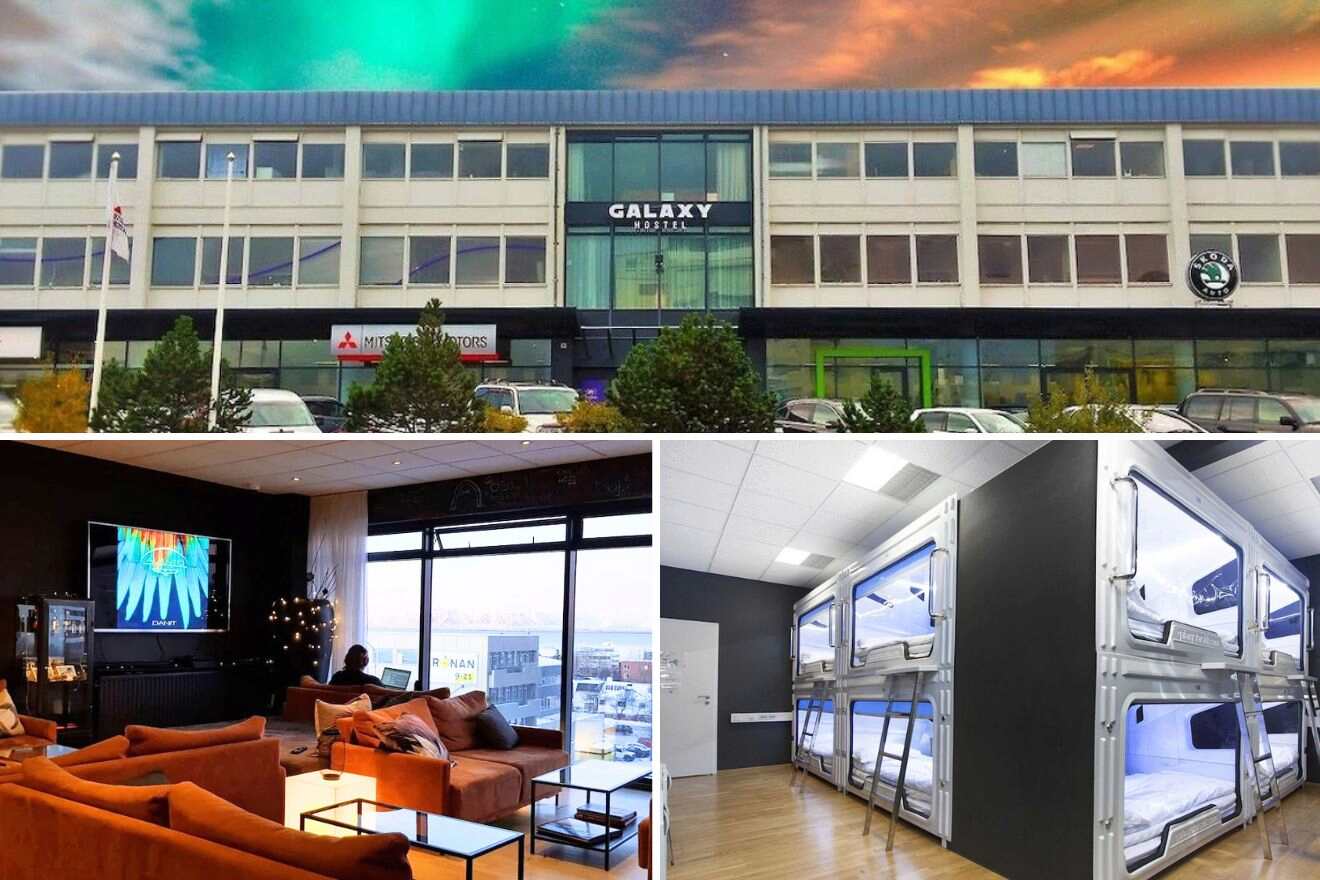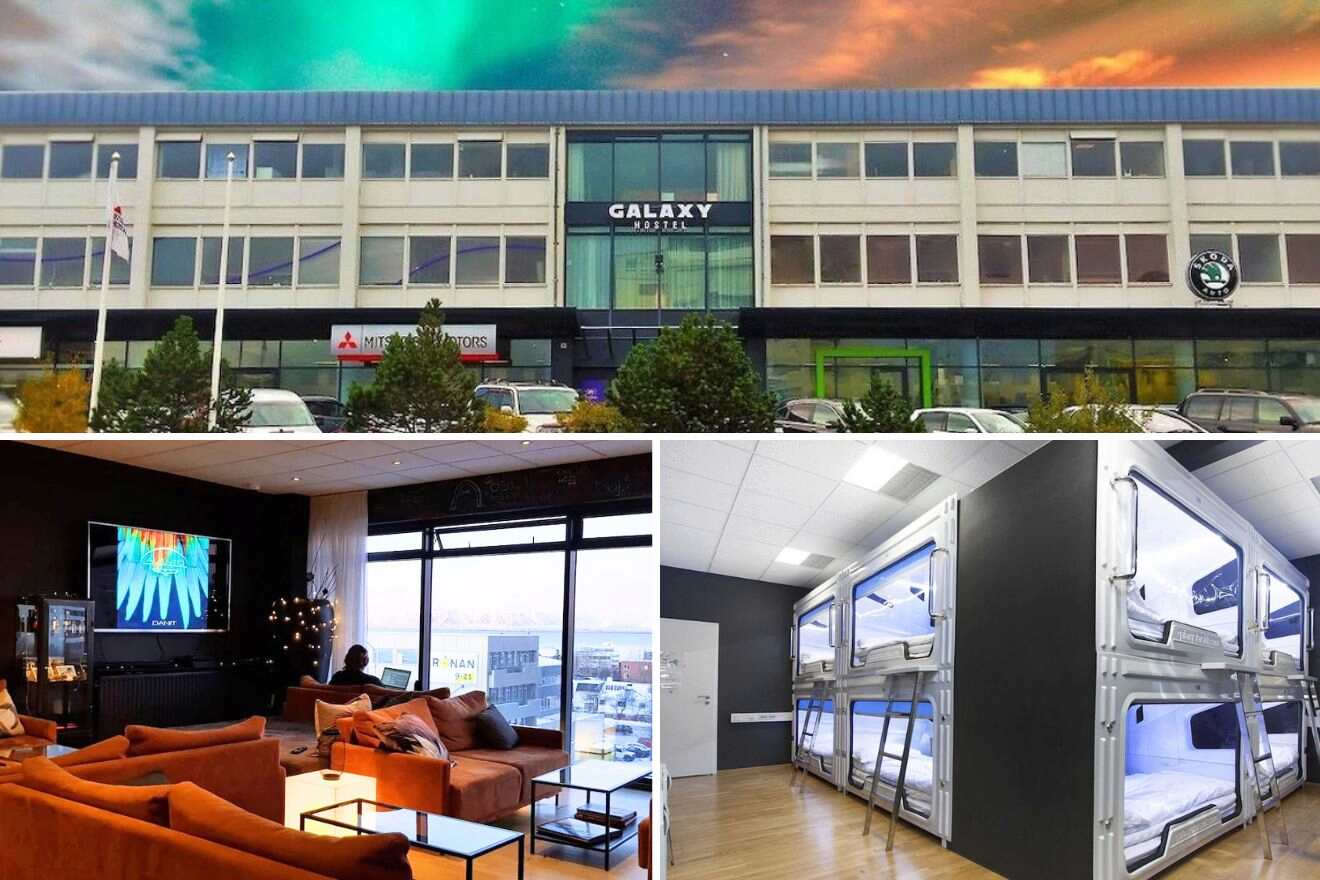 Ever wanted to sleep in a futuristic space pod that makes you feel as if you're traveling in space? Then check out this cool hostel located in Reykjavik which has lots of amazing facilities like a lobby lounge, a bar, and a shared kitchen.
The accommodation also offers free self-parking, a TV in the common areas, and a welcoming staff that can help you with arranging tours to go around Iceland to see the Golden Circle or take the iconic Ring Road trip.
21. Framtid Camping Lodging Barrels – for camping fans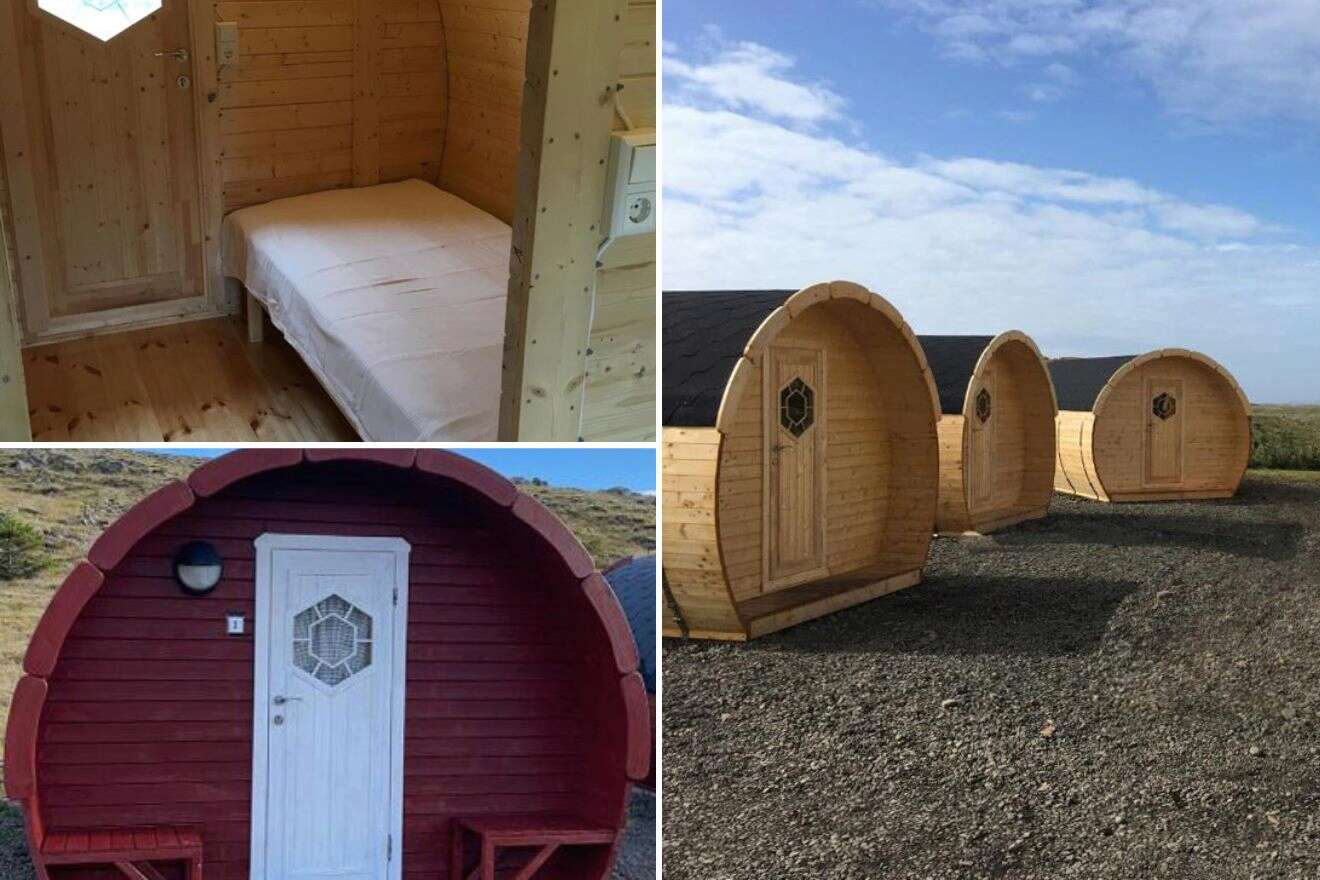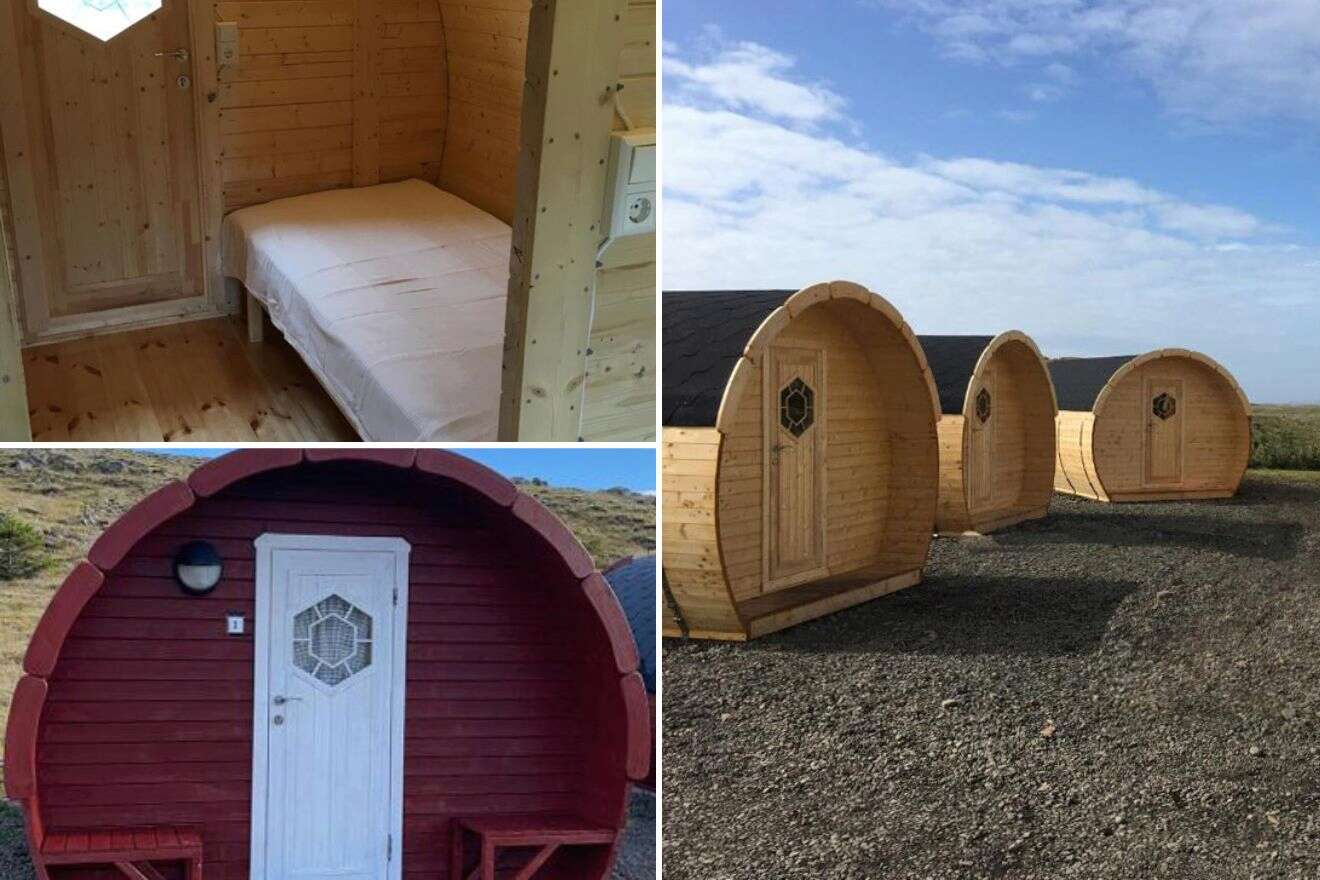 These really amazing wooden camping pods in Djúpivogur on the south coast offer a harbor-view restaurant, free private parking, and a shared kitchen.
Each pod has a single bed, a seating area, and an electrical socket. As you can tell, everything is pretty basic here in terms of design, but hey, at least you'll stay in a stunning location! Guests can always use the common laundry facilities (for a small charge).
FAQs about cool places to stay in Iceland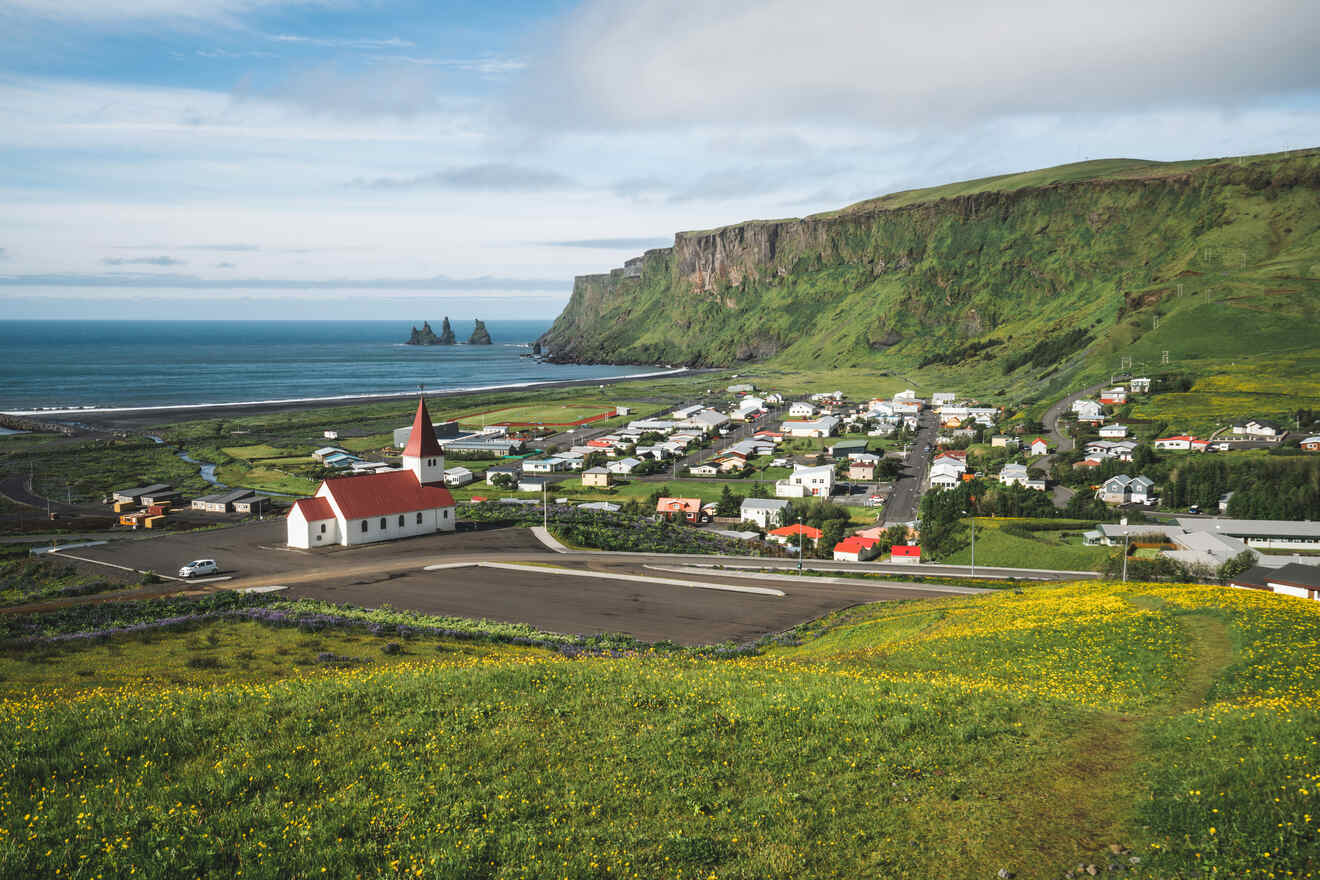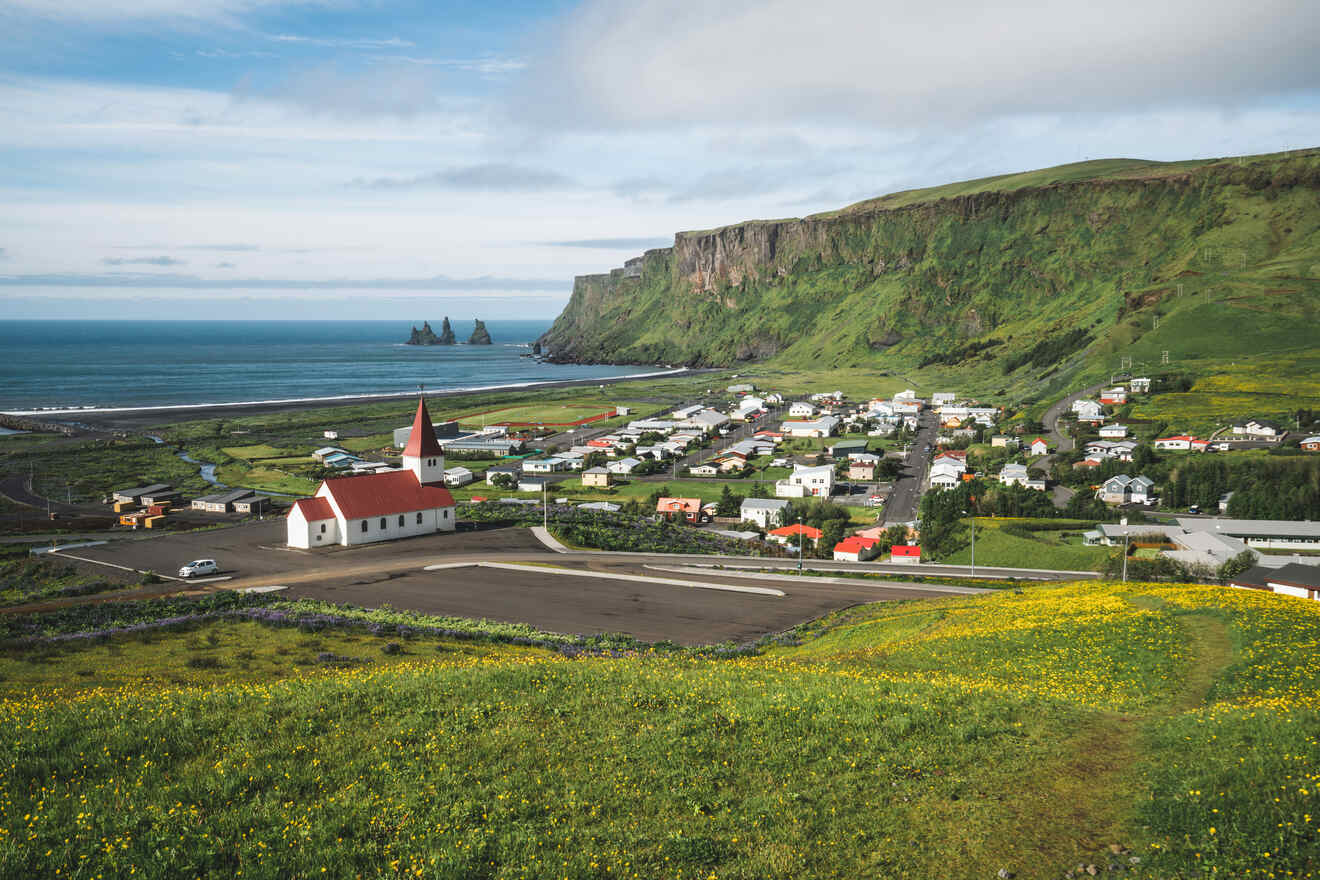 📸 Where do celebs stay in Iceland?
Hotel Rangá is a popular hotel in Iceland where celebrities like Kourtney Kardashian spent part of their trip in Iceland.
📅 What month is best to see Northern Lights in Iceland?
If you want to see the Northern Lights on your trip, then travel there between September to April, which is their winter season, when the nights are dark and long, making it perfect for spotting the Northern Lights away from the city lights.
🤔 Is it better to stay in Keflavik vs Reykjavik?
The cities are pretty different. I would recommend staying in Reykjavik if this is your first time in Iceland and taking tours from there. Keflavik is also great for people who want to avoid the crowds.
🔝 How many days in Iceland is enough?
I would recommend spending at least 7 days in Iceland, especially if you want to visit all the major attractions like the Golden Ring, Thingvellir National Park, and the Blue Lagoon.
🏨 Which are the most unique hotels to stay in Iceland?
Conclusion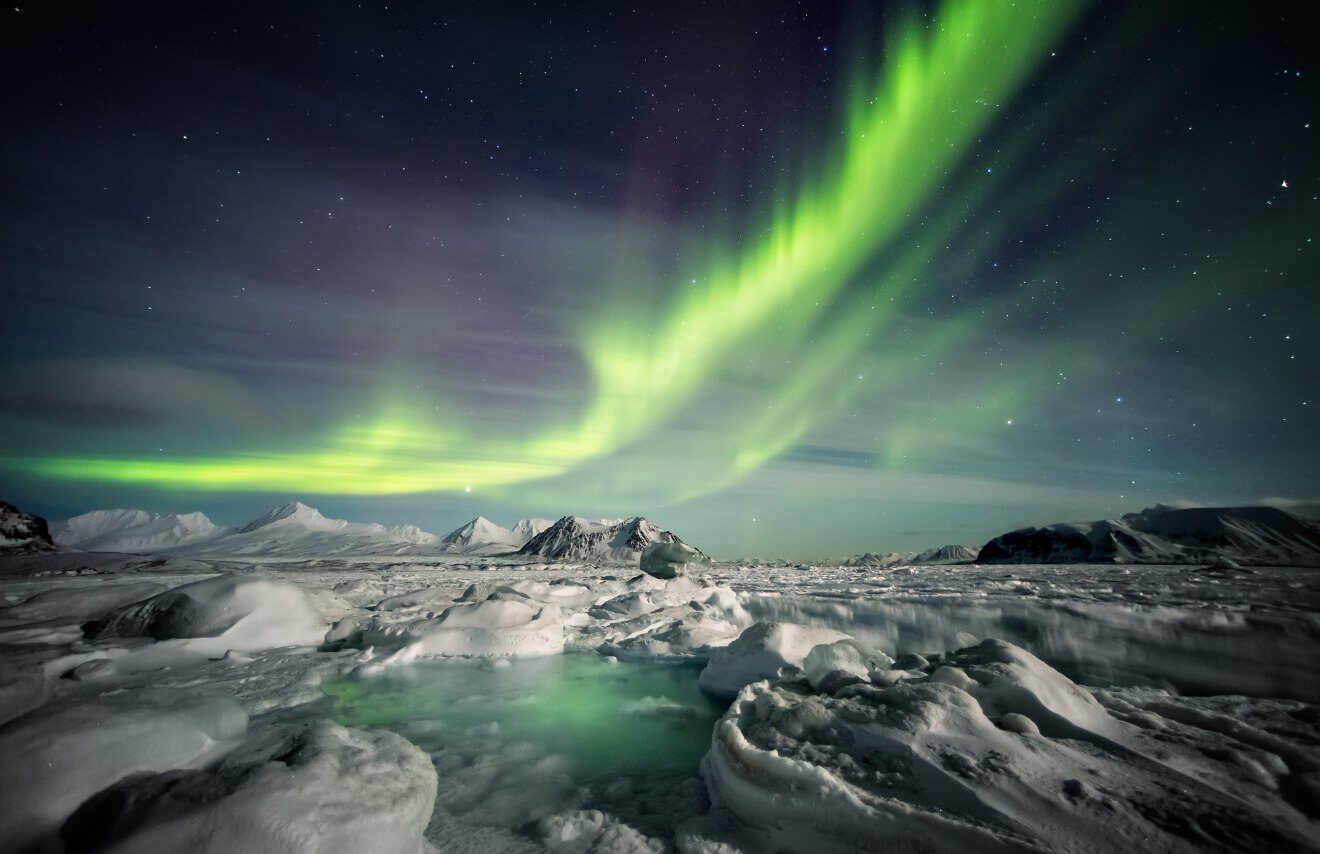 What a country! I feel like it's impossible to get bored of Iceland! Your trip there will be unforgettable, of that I'm sure.
I do hope that now that we've seen these cool places to stay in Iceland, you feel much more confident about planning your dream trip!
Don't forget what I said about booking your accommodation early! These unique Iceland hotels will surely sell out first, so it's better to be prepared and secure your hotel rooms.
And if you still need a bit of help with that, then check out my 2 favorite hotels below, which I think look so incredible:
360 Hotel & Thermal Baths – A stunning hotel that has a spa center with warm geothermal water and a relaxing lounge with an open fire.
Hotel Husafell – This great hotel has a great view of the Icelandic hills, modern rooms, and a restaurant.
It's been a thrill to tell you all about these fabulous Iceland hotels set in such mystical and unusual places!
I'm still around for some questions, so if you've got any, just drop them below, and I'll answer them ASAP!
Safe travels,
Victoria
---
Pin it for later!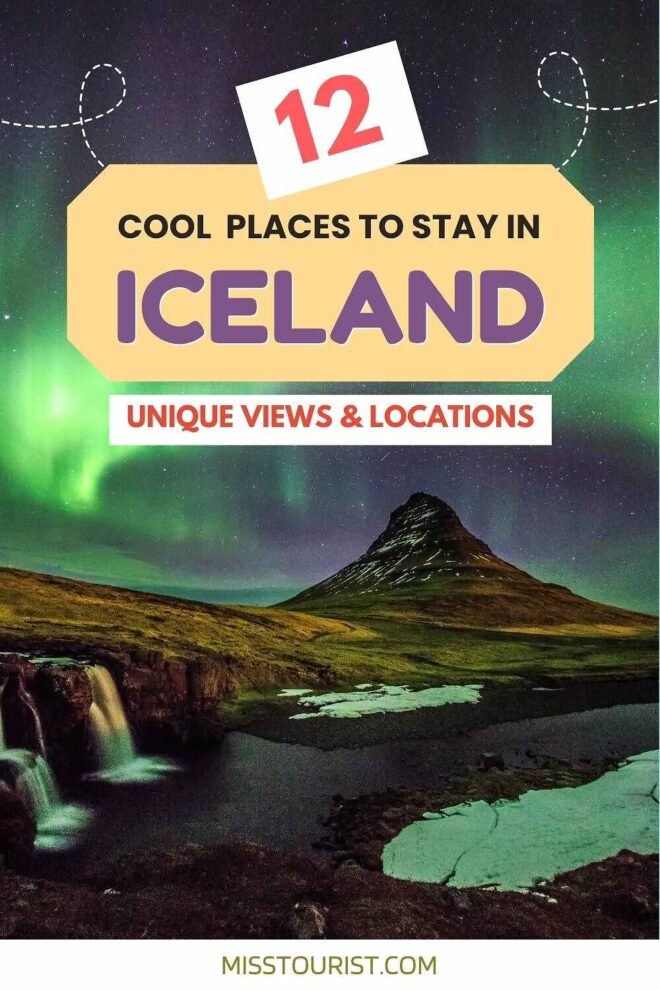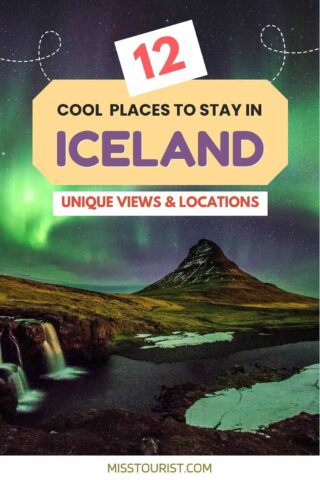 Pin it for later!