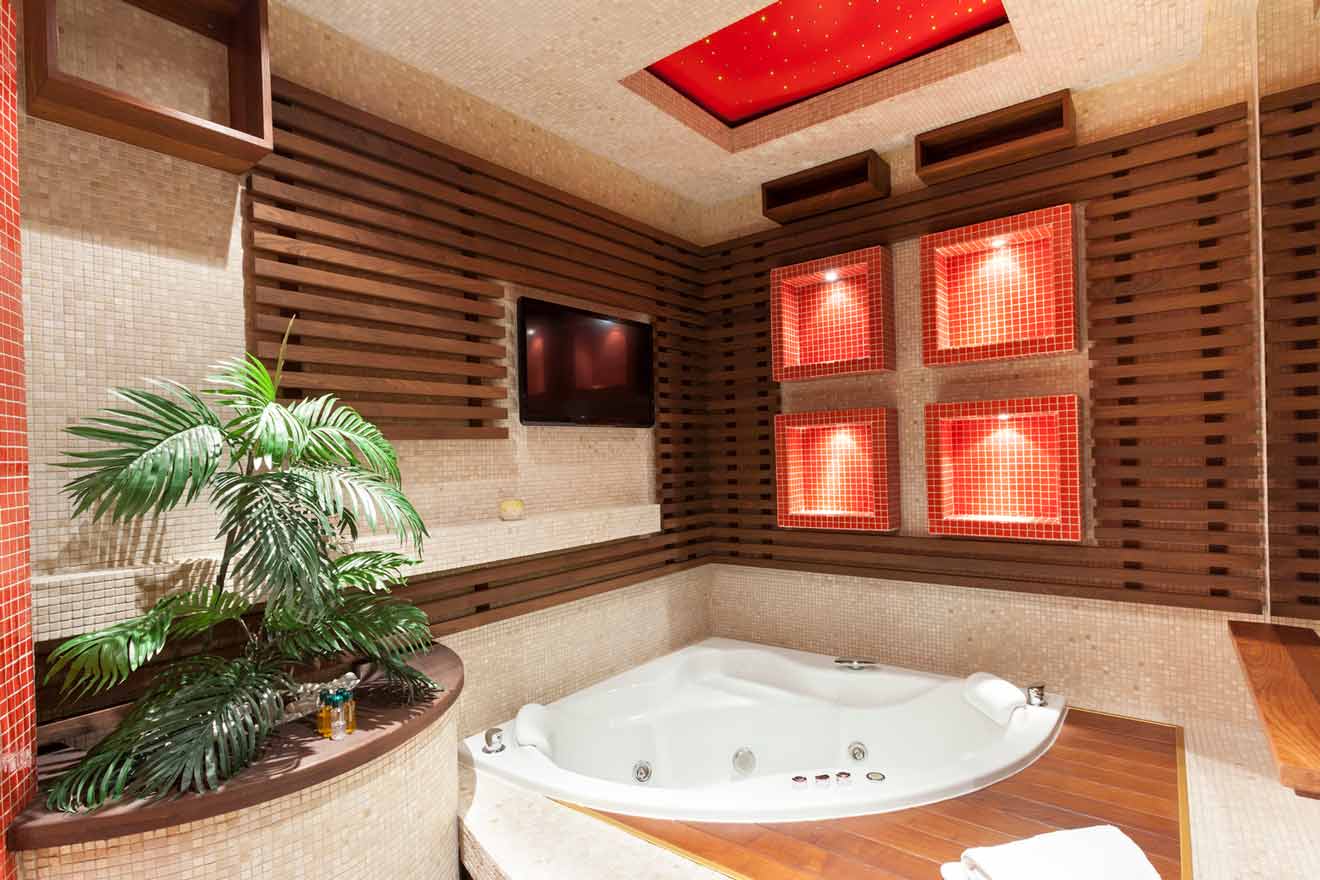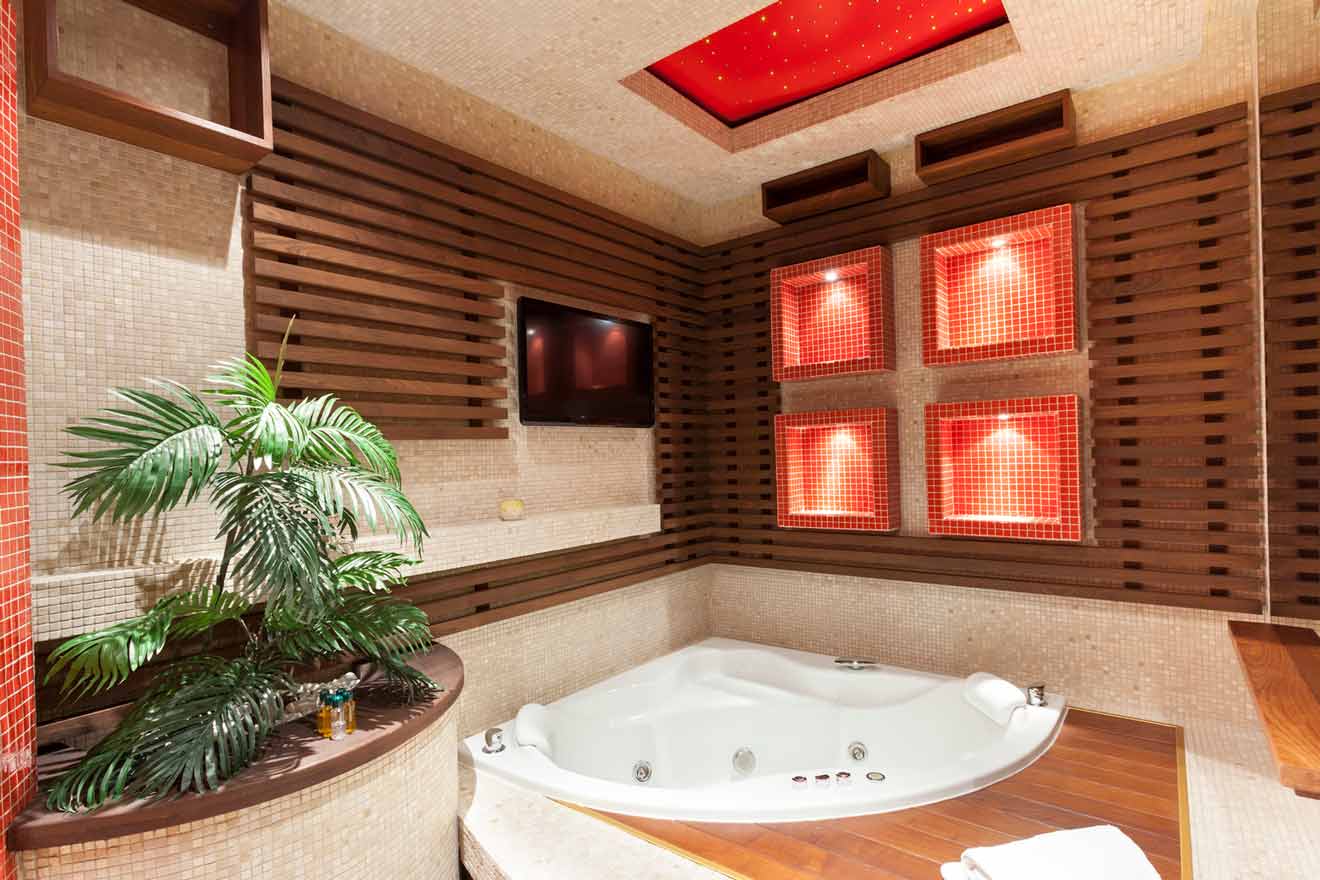 Heading over to old New Jersey? Let's just face the fact that this state is so abundant in fabulous attractions, beaches, and top-notch accommodations where you can relax and unwind!
And today, I'll help you find the best hotels in New Jersey with a jacuzzi in the room! I've done the homework for you and created an unbeatable list of the best hotels ordered from the most to least expensive! And because there were so many incredible options, I also added a bonus section with some great vacation rentals with a private hot tub.
Whether you're planning romantic getaways or family trips, I'm sure these New Jersey hotels will be just what you need. But remember, you've got to book these hotels with hot tubs early. Otherwise, you'll run out of options!
I don't want to bore you with any other unnecessary details!
So let's hit the road, Jack!
If you are in a hurry
If you're here just for a quick view, then check out the list below! It has the best hotels in New Jersey with a private hot tub:
Since these hotels are scattered all over New Jersey state, here's a map so that you can visualize where each one is located:
1. Woolverton Inn – for an idyllic getaway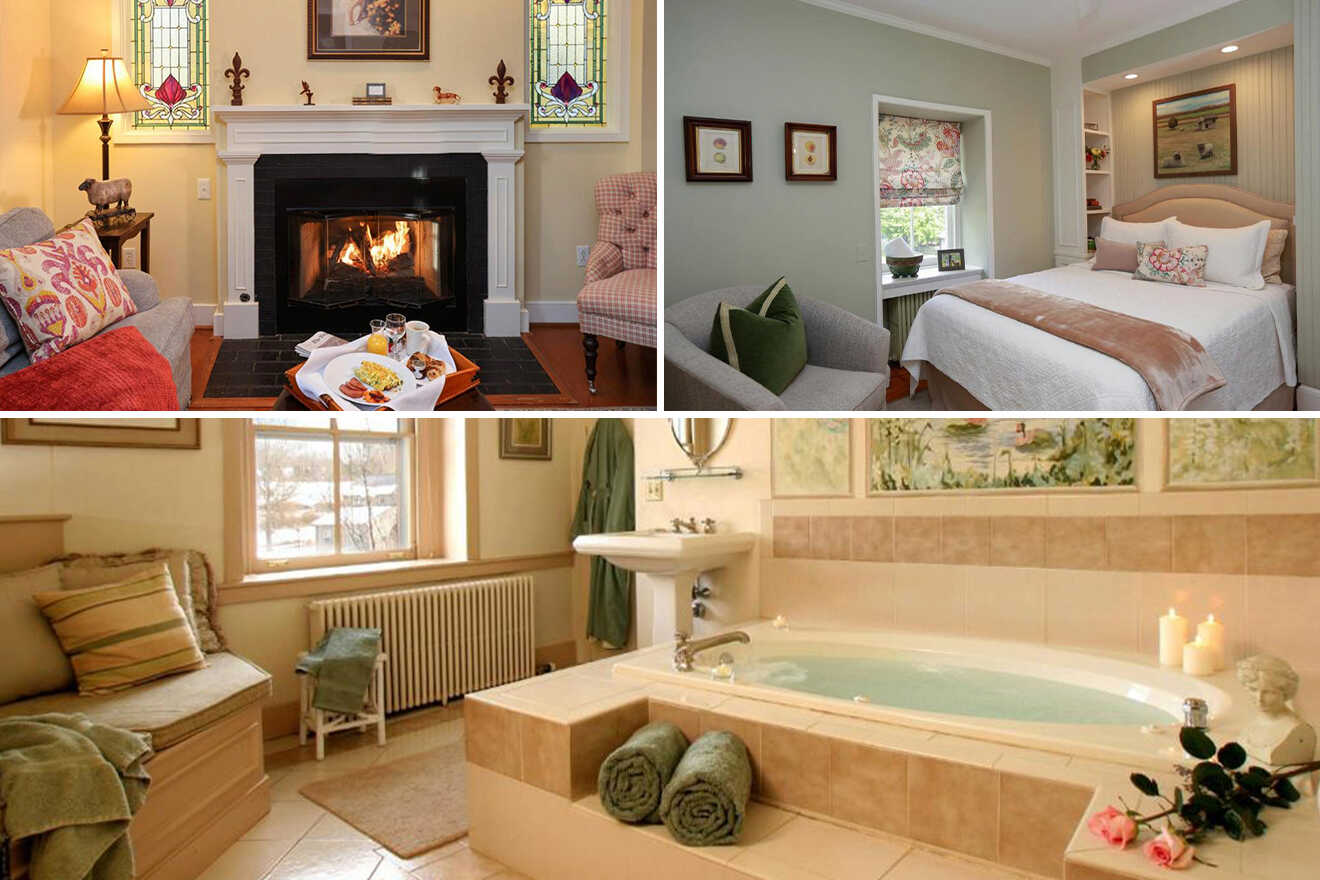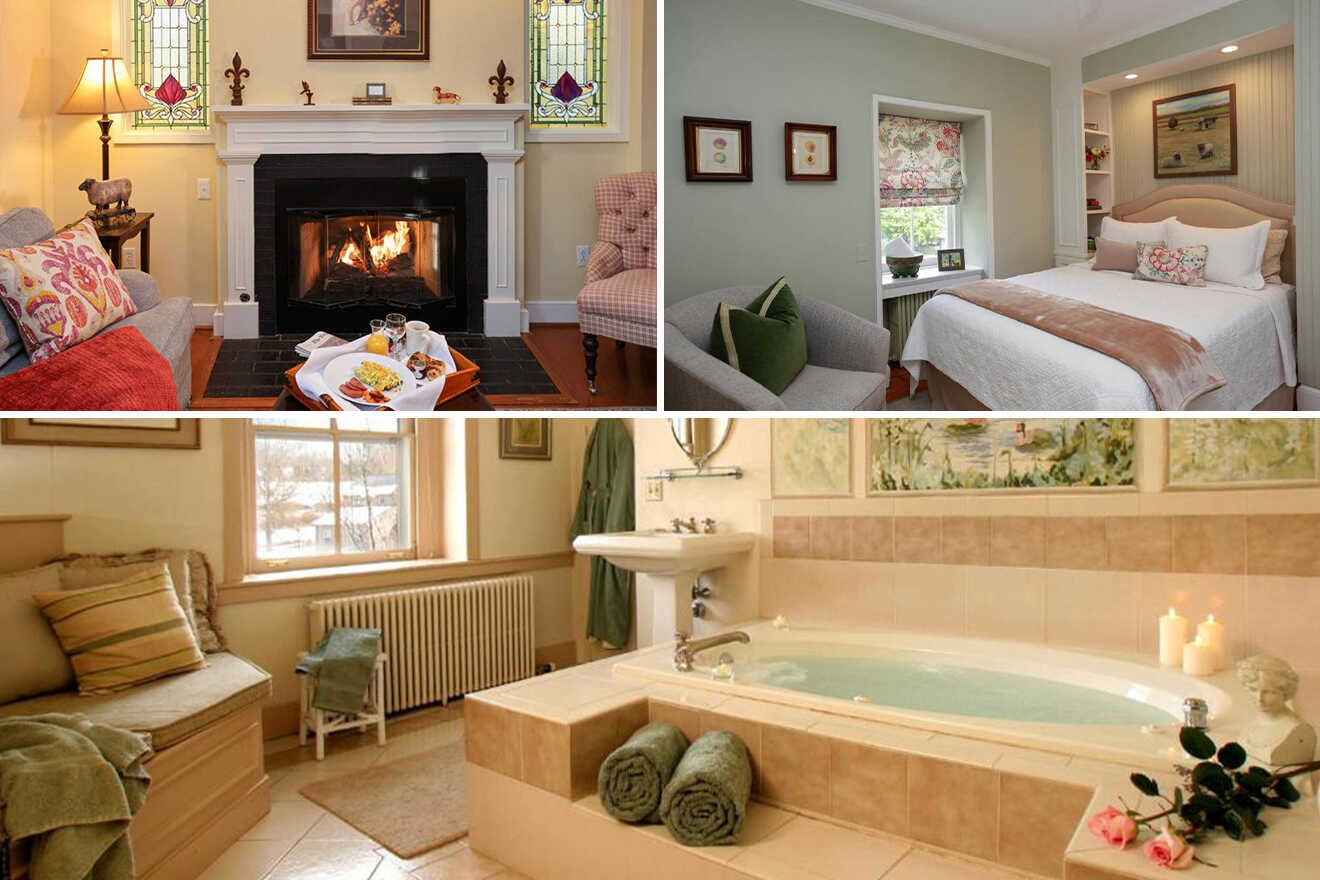 What a charming inn! The rooms feature such cool decor made of vintage pieces and modern amenities, including free Wi-Fi, a fireplace, and, of course, a private bathroom with a hot tub where you'll get to relax!
Start your morning with a complimentary breakfast on the patio to admire those stunning garden views, and then head out to explore the area! The inn is perfect for a tranquil, idyllic escape and a fun family outing! There are bikes to rent out, board games, and so much terrain to discover in Stockton! What a thrill!
2. Wilbraham Mansion – elegant hotel with an indoor pool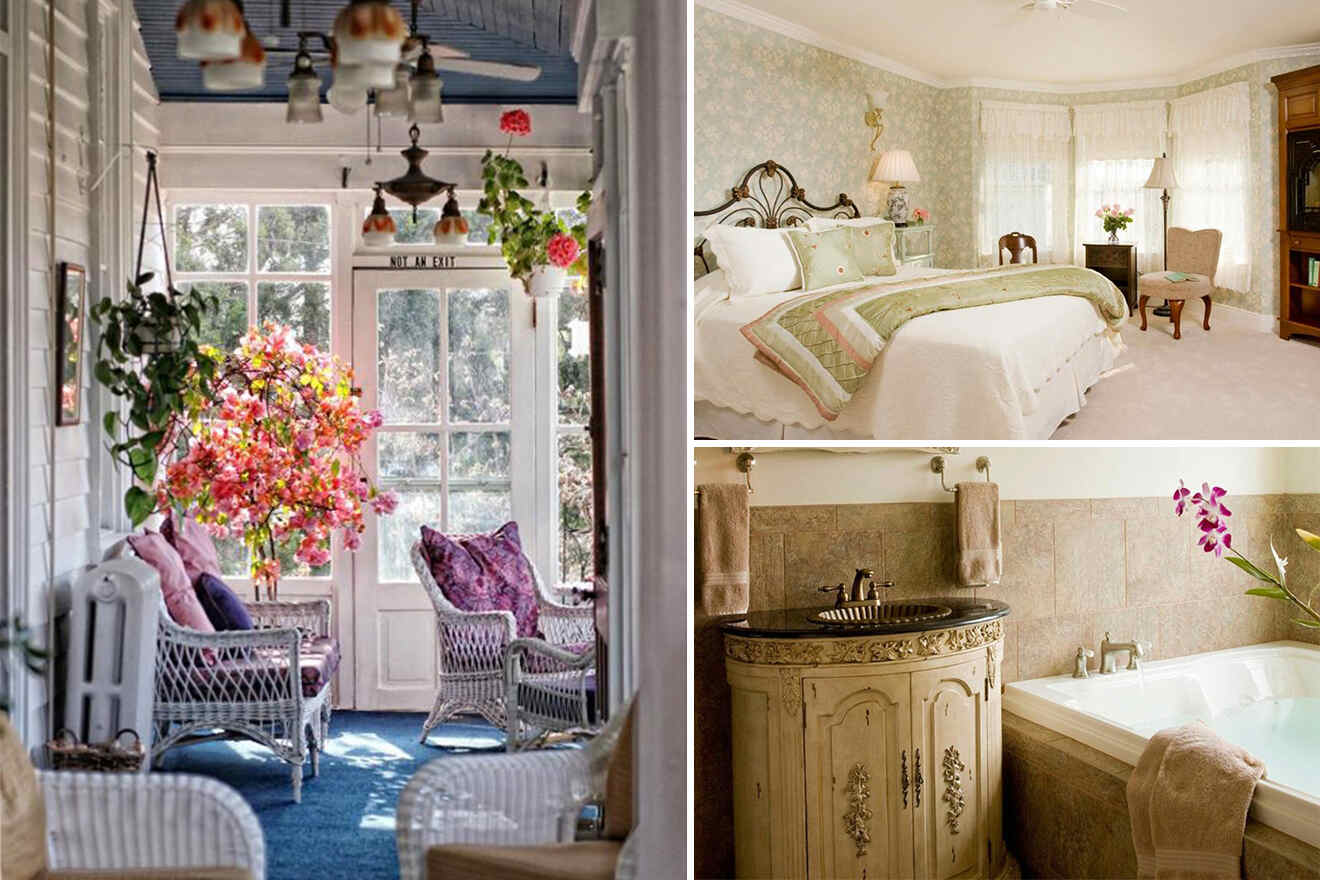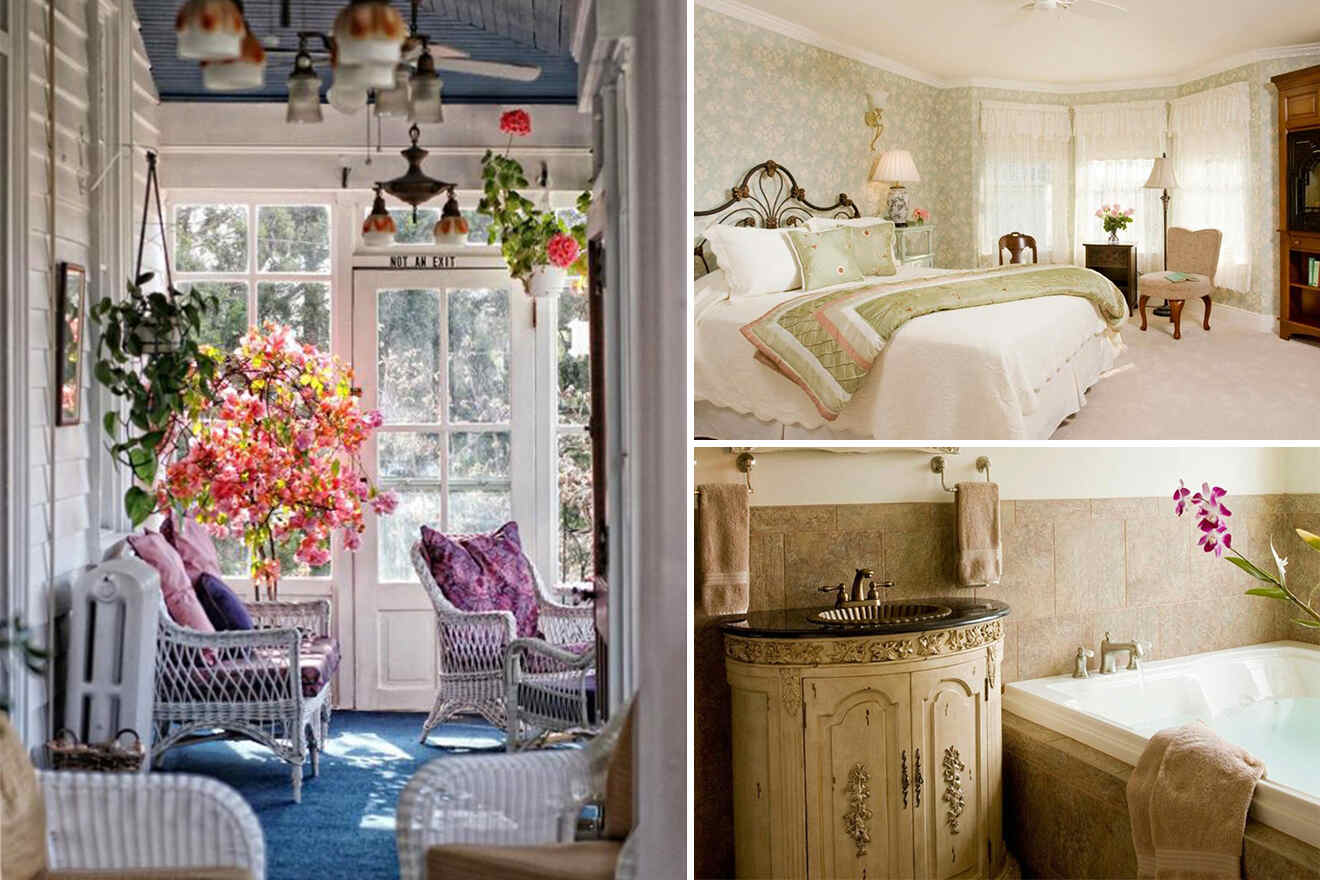 Looking for the perfect New Jersey hotel with an in-room hot tub? Then check out this beautifully-decorated accommodation that offers king and queen suites with a spa bath, flat-screen TV, as well as free parking, and an indoor heated pool on site.
Close to many local attractions in Cape May, like the Colonial House, the accommodation has a touch of elegance that you'll easily note in the furnishings and other decorations.
Nonetheless, the atmosphere is super cozy, and you'll feel right at home, especially while eating your free hot breakfast on the terrace. But you'll go back into tourist mode when renting some bikes to explore the city!
3. Atlantis Inn Hotel – for a fun beach holiday in Ocean City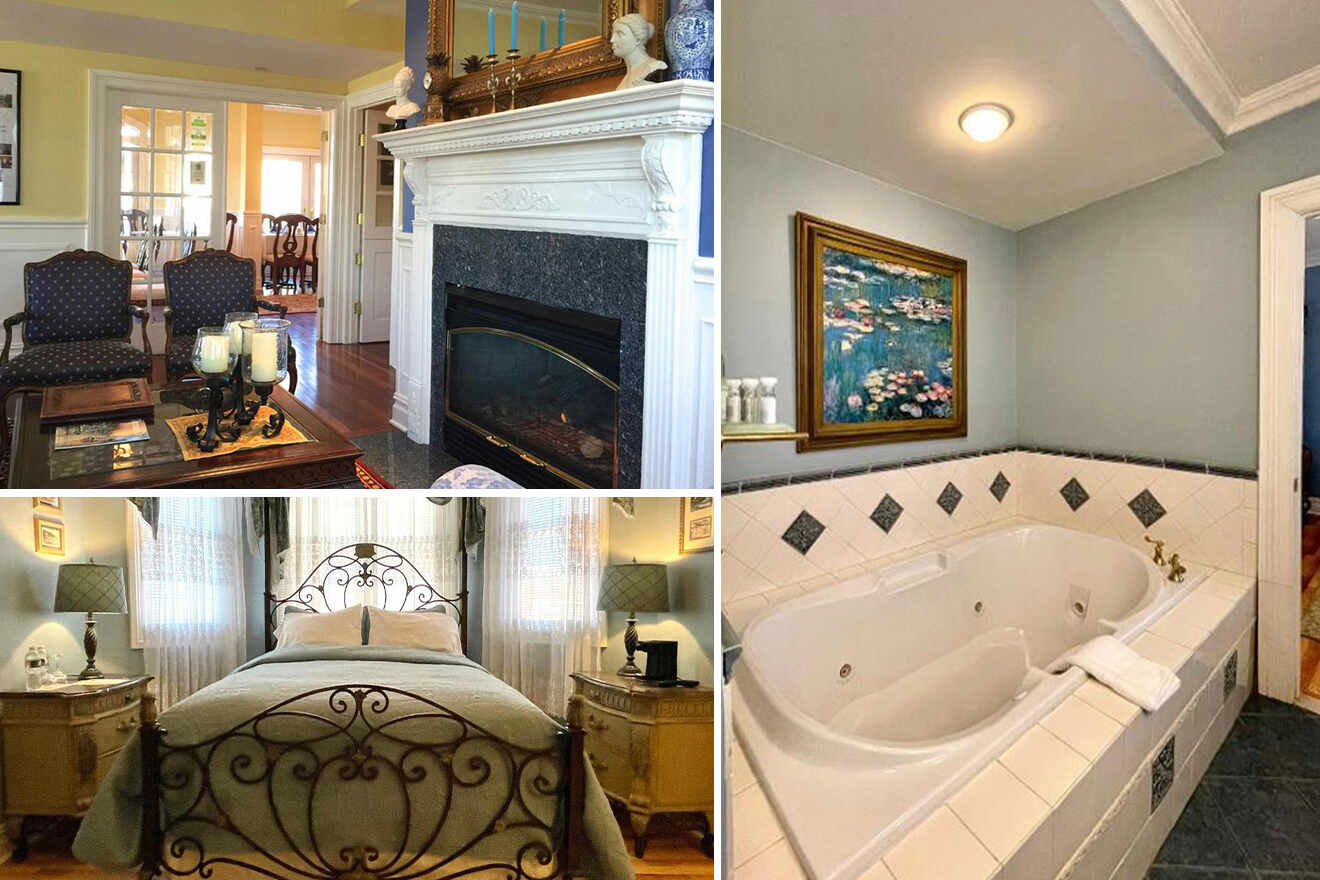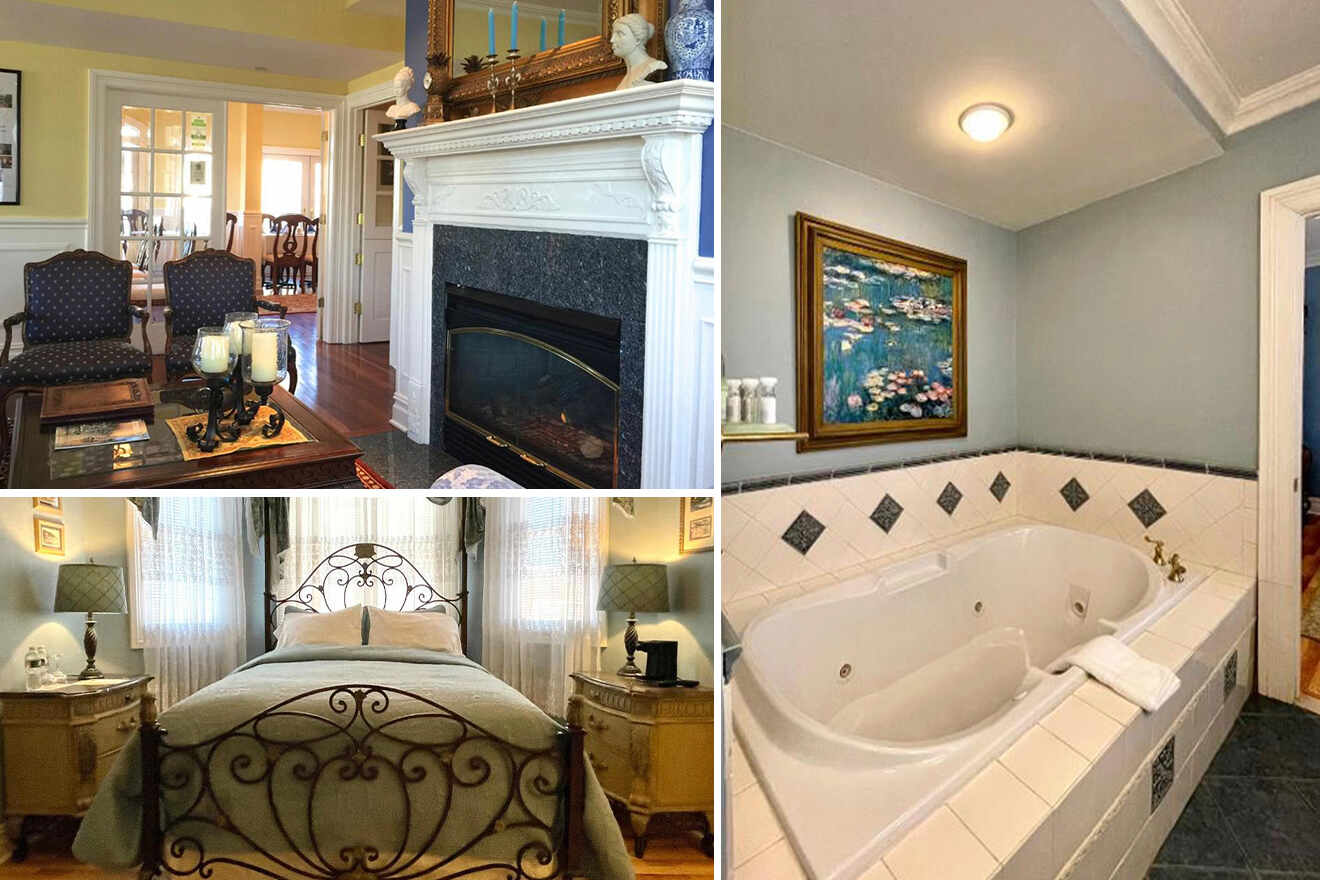 With 4 hot tub suites waiting for their future guests, this amazing hotel has everything you need for an unforgettable stay in Ocean City! Spacious guest rooms with a flat-screen TV, a free continental breakfast each morning, and an on-site restaurant.
I'm sure you'll love the fact that the beach is only a short walk away, as are all the local attractions and Ocean City Beach. But for the days when you just want to relax, you can chill in your private whirlpool tub or enjoy that book you've been planning to read on the hotel's terrace. Don't forget to book your hot tub suite early because they won't be available for too long!
4. The Tower Cottage B&B – the romantic NJ hotel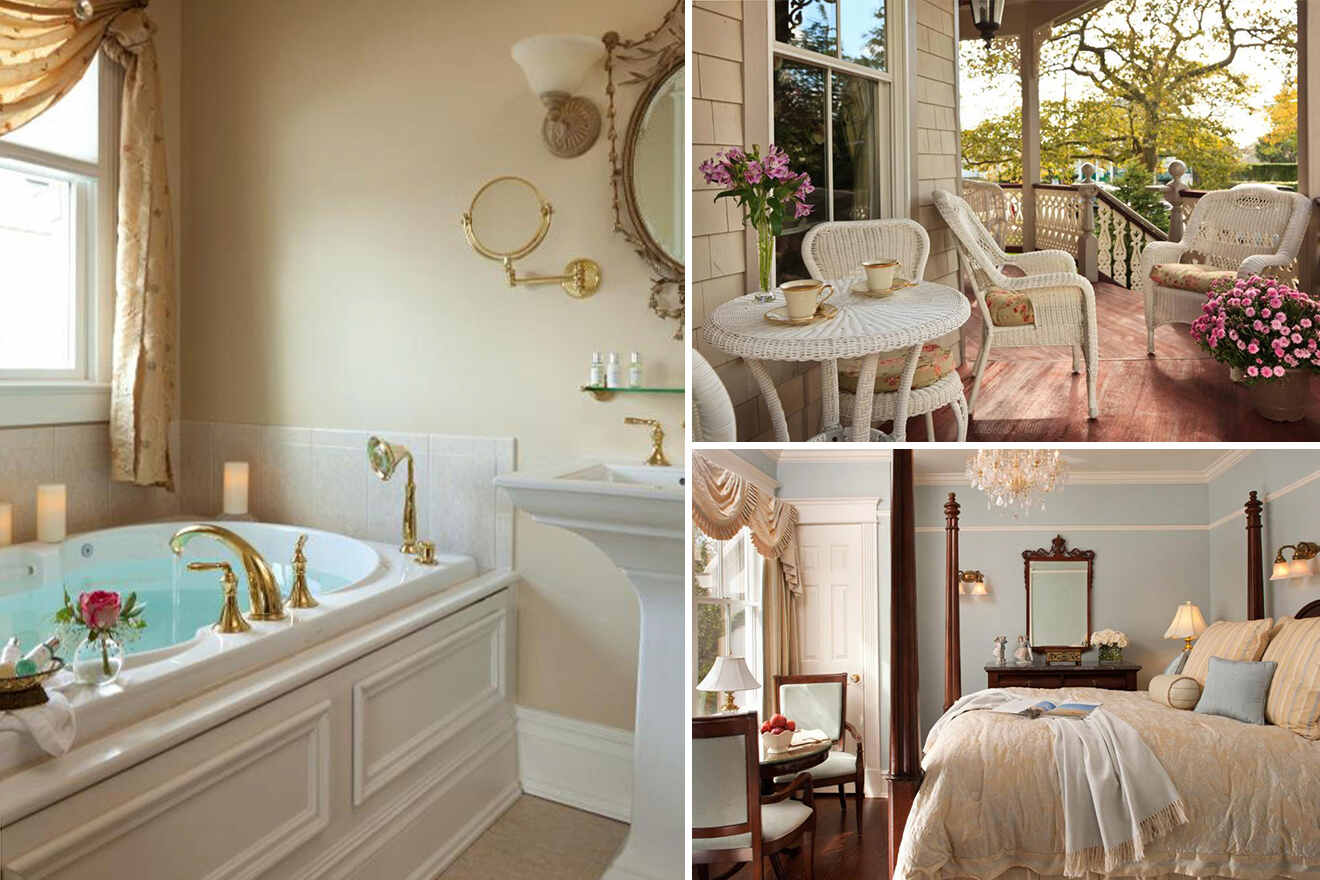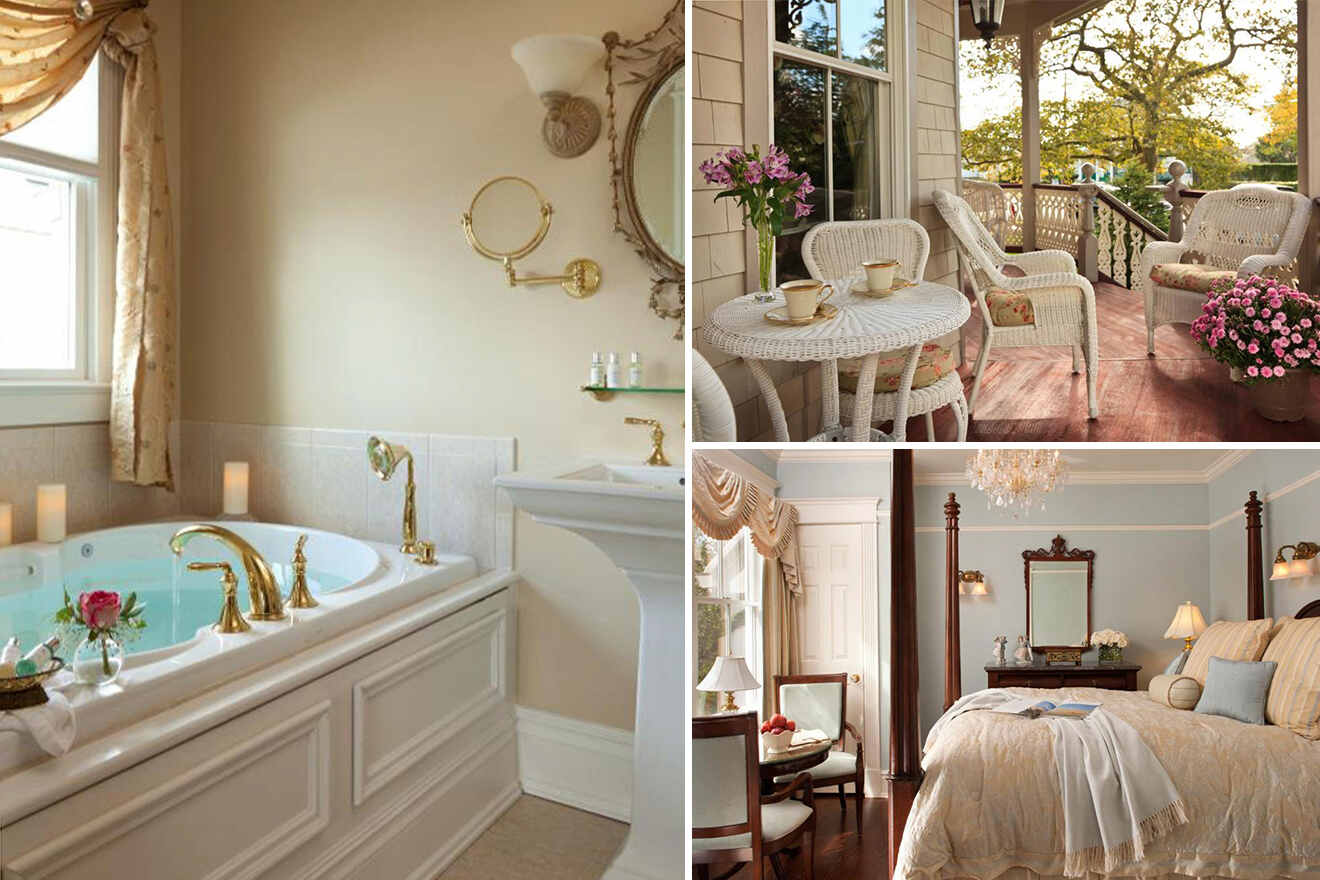 Located only a short walk away from Point Pleasant Beach, this stunning accommodation that seems taken out of a magazine has hot tub rooms and many hotel amenities that will make your romantic getaway so much better! That includes a free hot breakfast, tennis equipment, and evening entertainment!
Perfect for a romantic escape, the accommodation has whirlpool rooms that have such stunning designs! And just wait until you see the terrace, which in my opinion, is the perfect spot to have your breakfast or enjoy your afternoon tea on the days you're not out and about exploring the city.
5. Tandem Bike Inn – near the beach in Belmar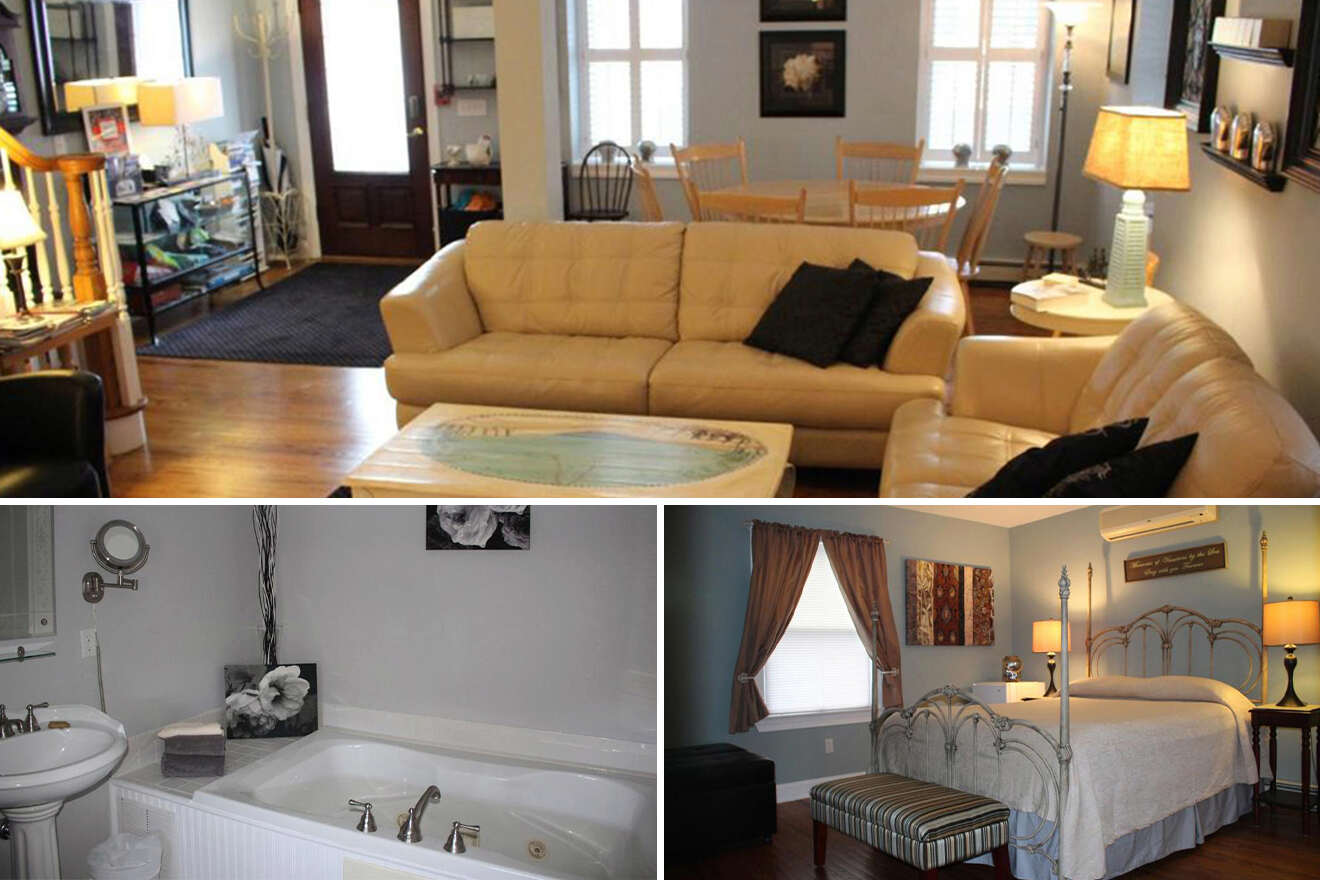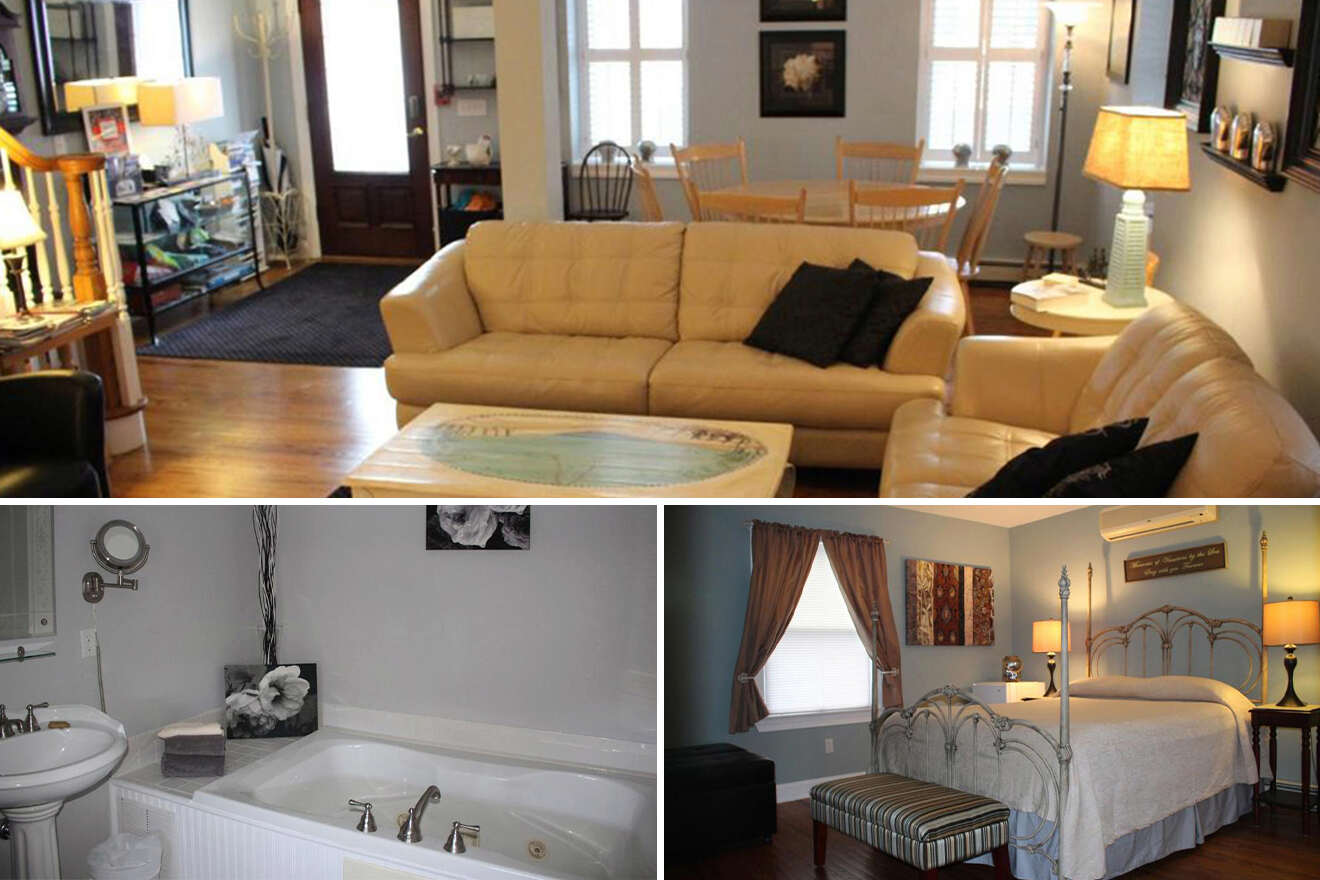 Book the king room at this accommodation and get ready to soak up in the whirlpool tub! Let your worries melt away, and enjoy some relaxing time in the hot tub suite of this hotel that has a flat-screen TV and free Wi-Fi.
With a simple yet modern decor, the inn has a great location, just a 30 min walk away from Belmar Beach. Each day after waking up, head down to enjoy a free hot breakfast, wear your swimsuit, and get ready for a day in the sun. The accommodation also offers some fun activities like bicycle rental, mini golf, and fishing off-site.
6. Sand Castle Bed & Breakfast – with an outdoor pool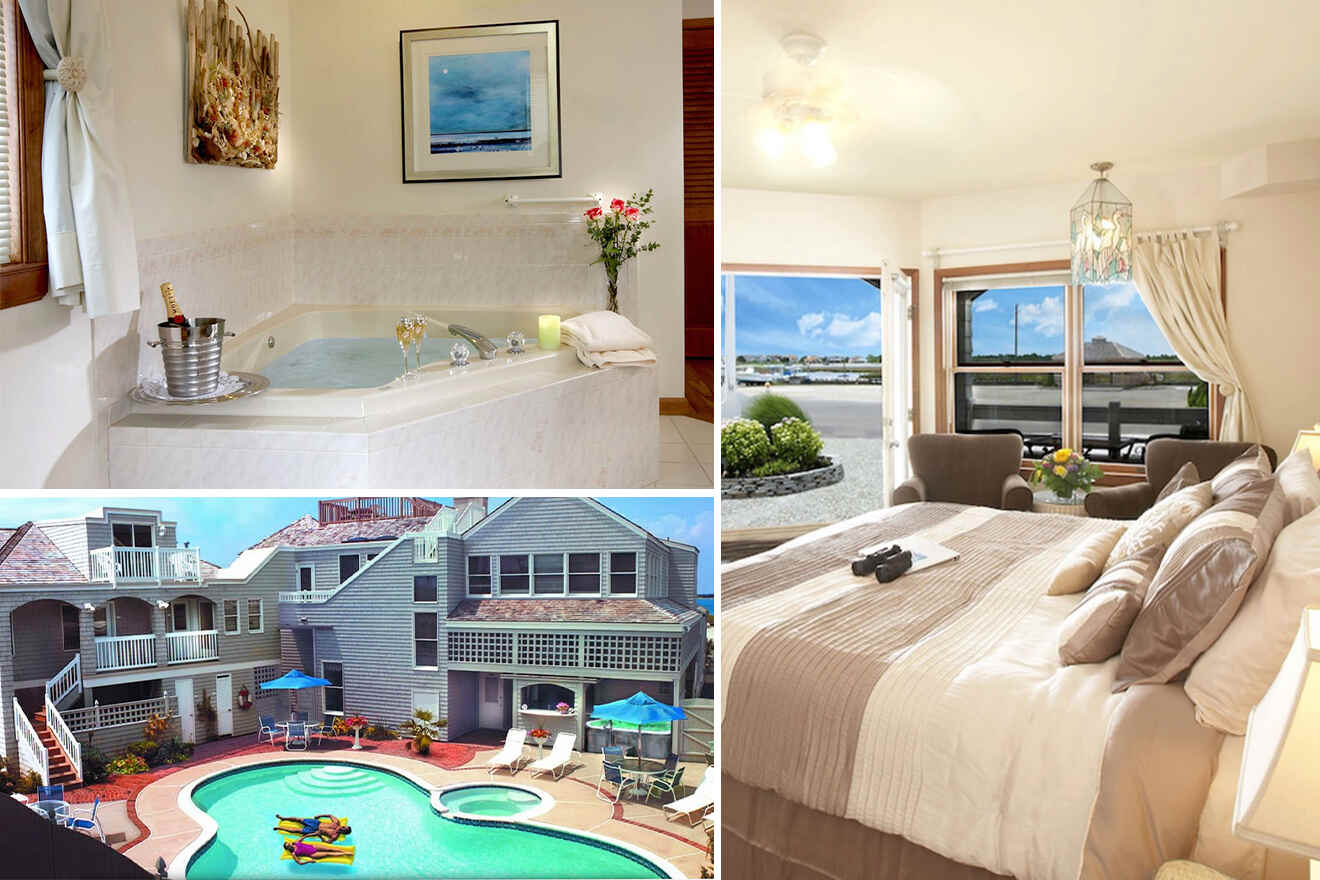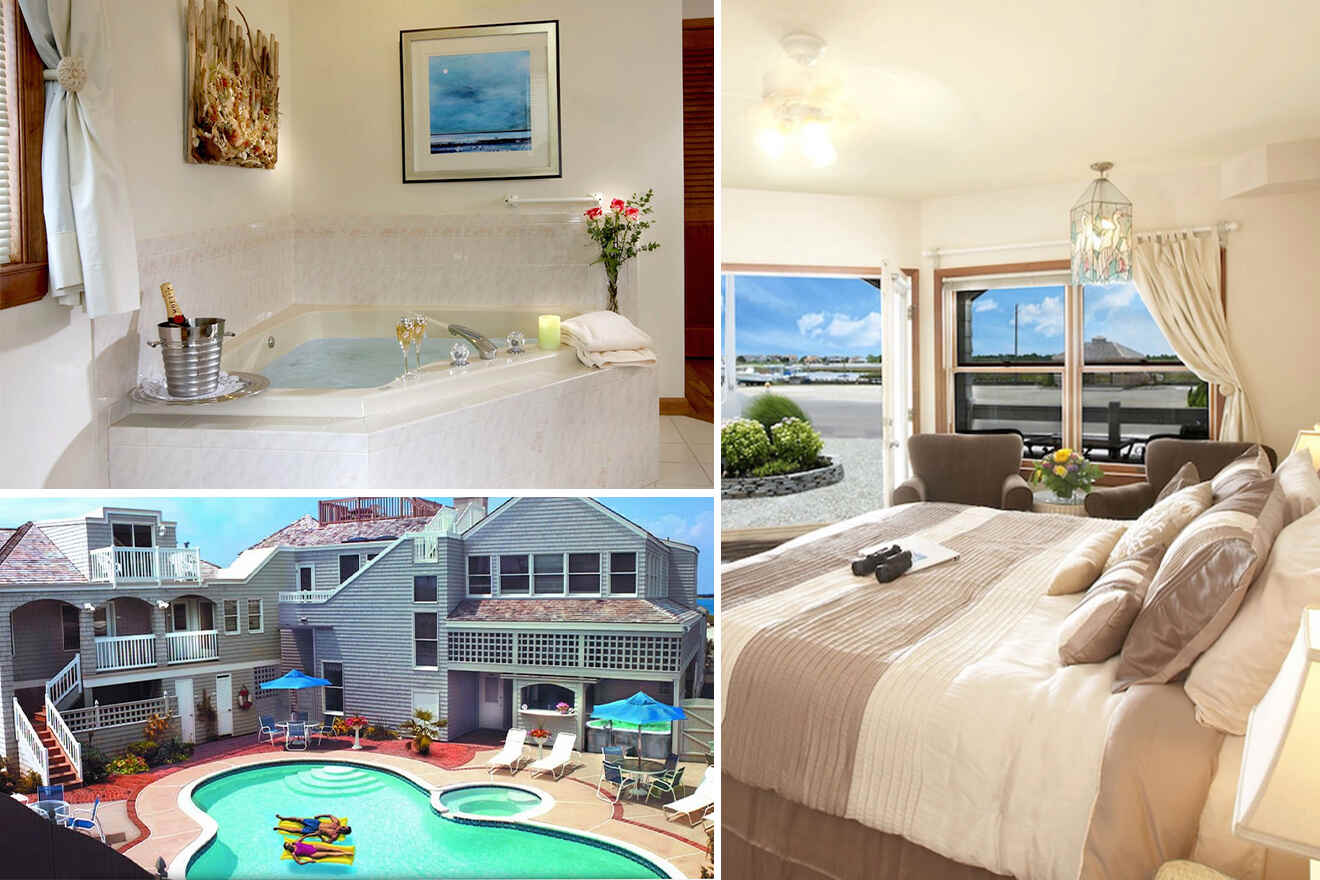 With 4 hot tub suites, and a great location in Barnegat Light, this hotel is everything you've dreamed of for your relaxing New Jersey holiday! Make sure you grab your swimsuit because you'll probably spend a lot of time in the seasonal outdoor pool or by the beach.
Guests will get a complimentary hot breakfast in the morning, access to a library, and a free beach shuttle service! What better time to start reading some good old or new books than on holiday? You're also welcome to rent out bikes from the hotel and enjoy some time outdoors!
7. Homewood Suites by Hilton – cozy hotel with an indoor pool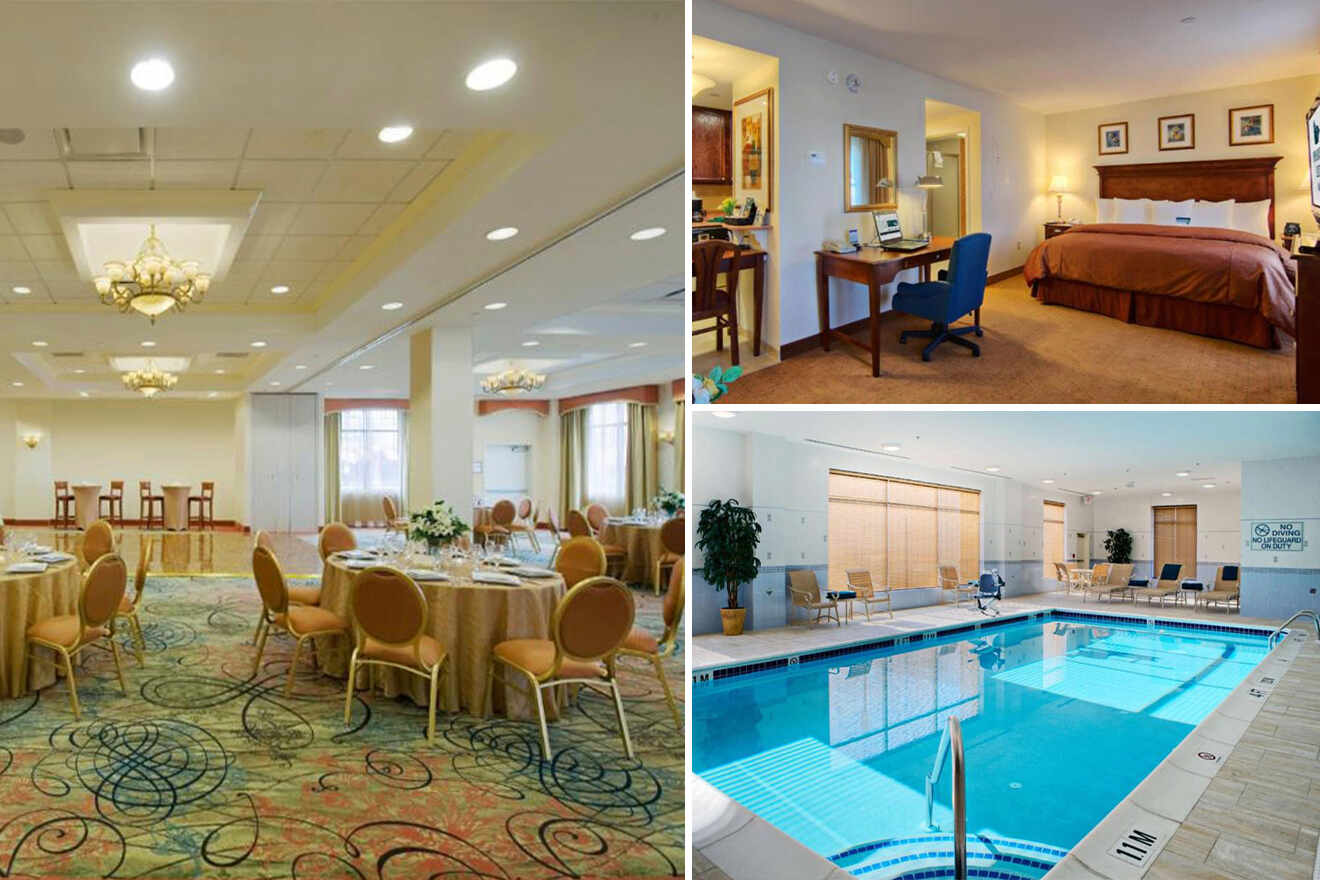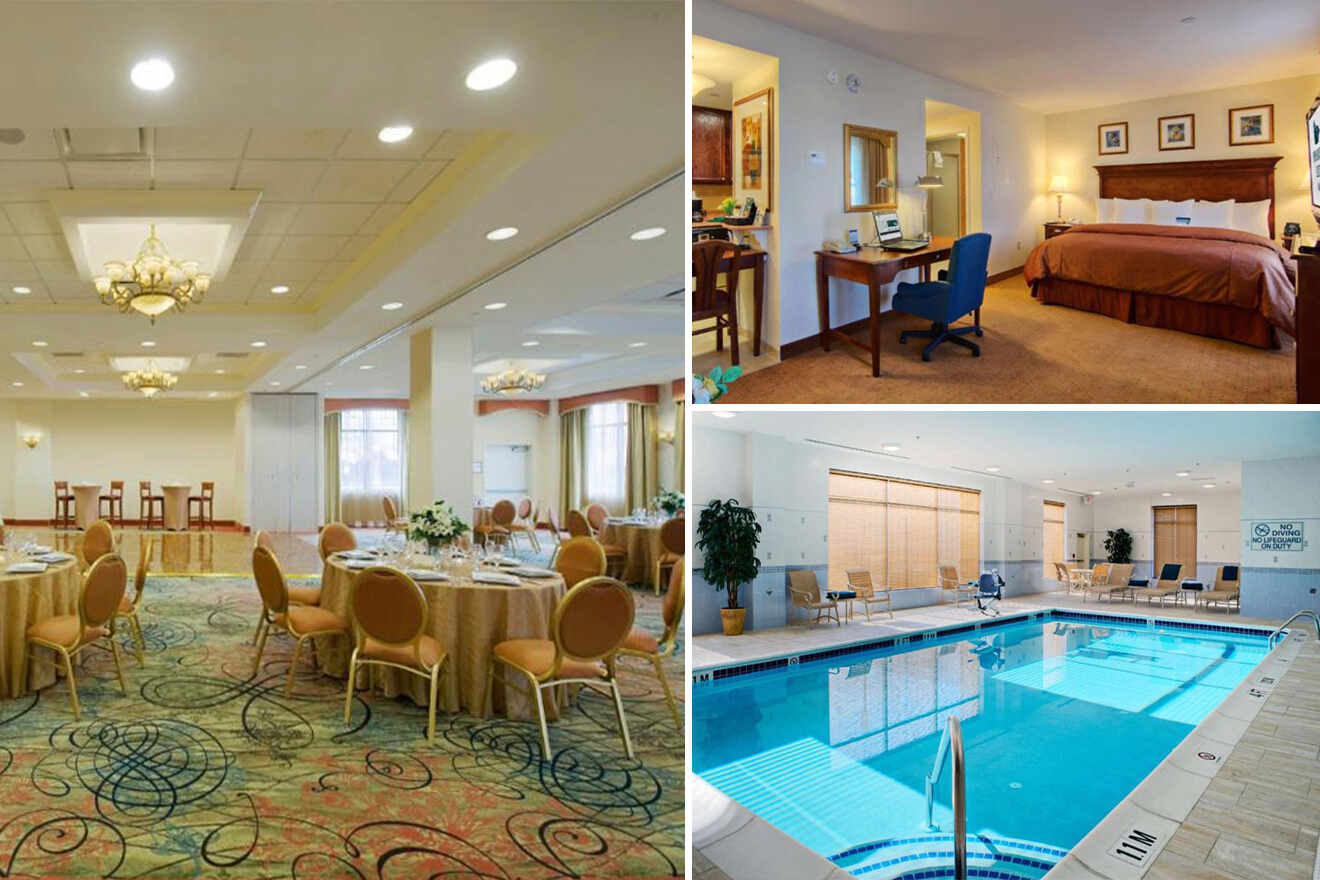 Finally taken those days off? Yay! New Jersey is a great place to spend time disconnecting and relaxing. And what better way to enjoy your free time than soaking up in a nice whirlpool tub in your hotel room? Sounds amazing to me!
Hotel amenities also include a heated indoor pool, free breakfast, a business center, and a fitness center as well. The one-bedroom suite with an in-room hot tub features a flat-screen TV and a private kitchen. Located only a short drive away from New York, in East Rutherford, this accommodation is surely a keeper!
8. 2310 Central Avenue – perfect for beach lovers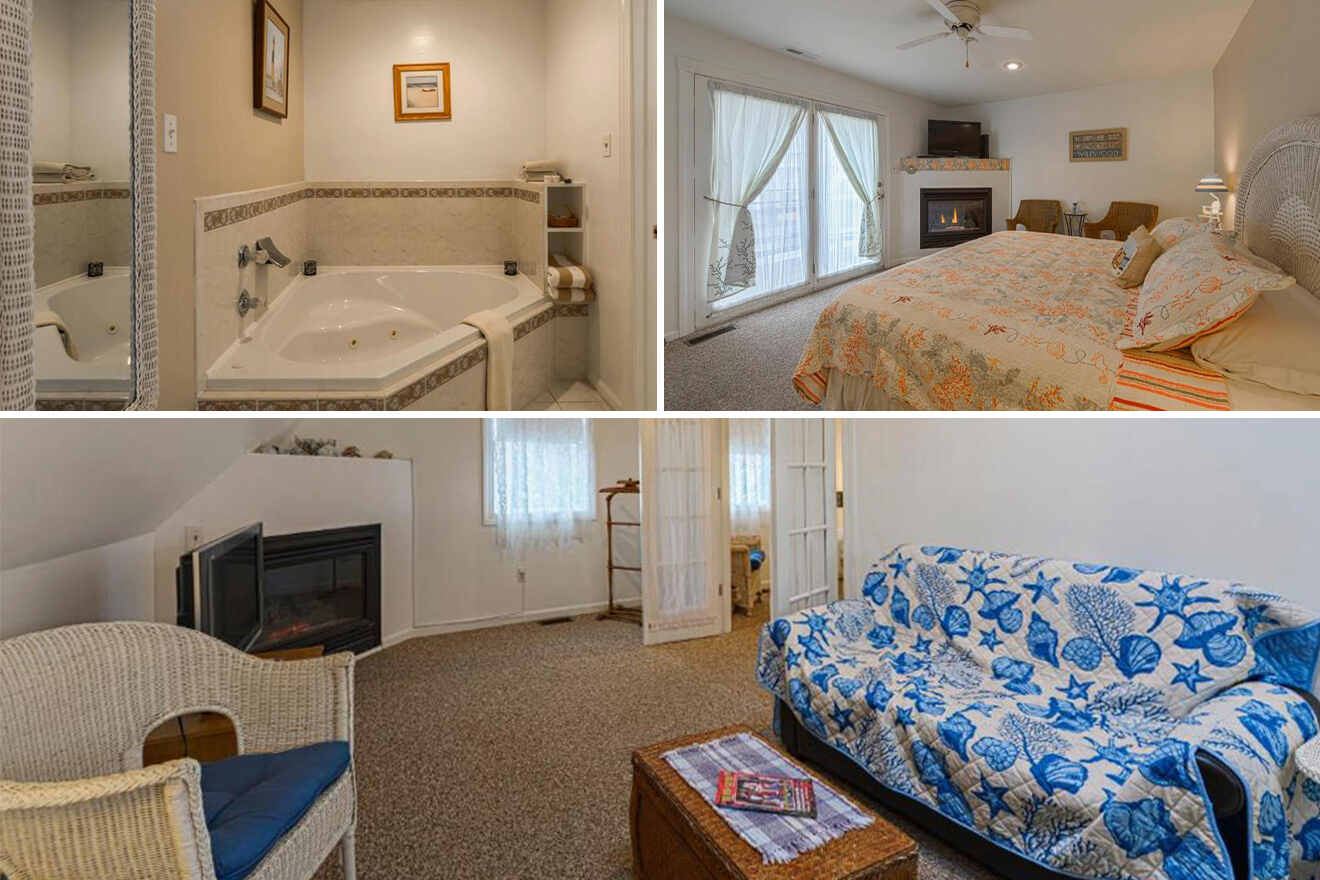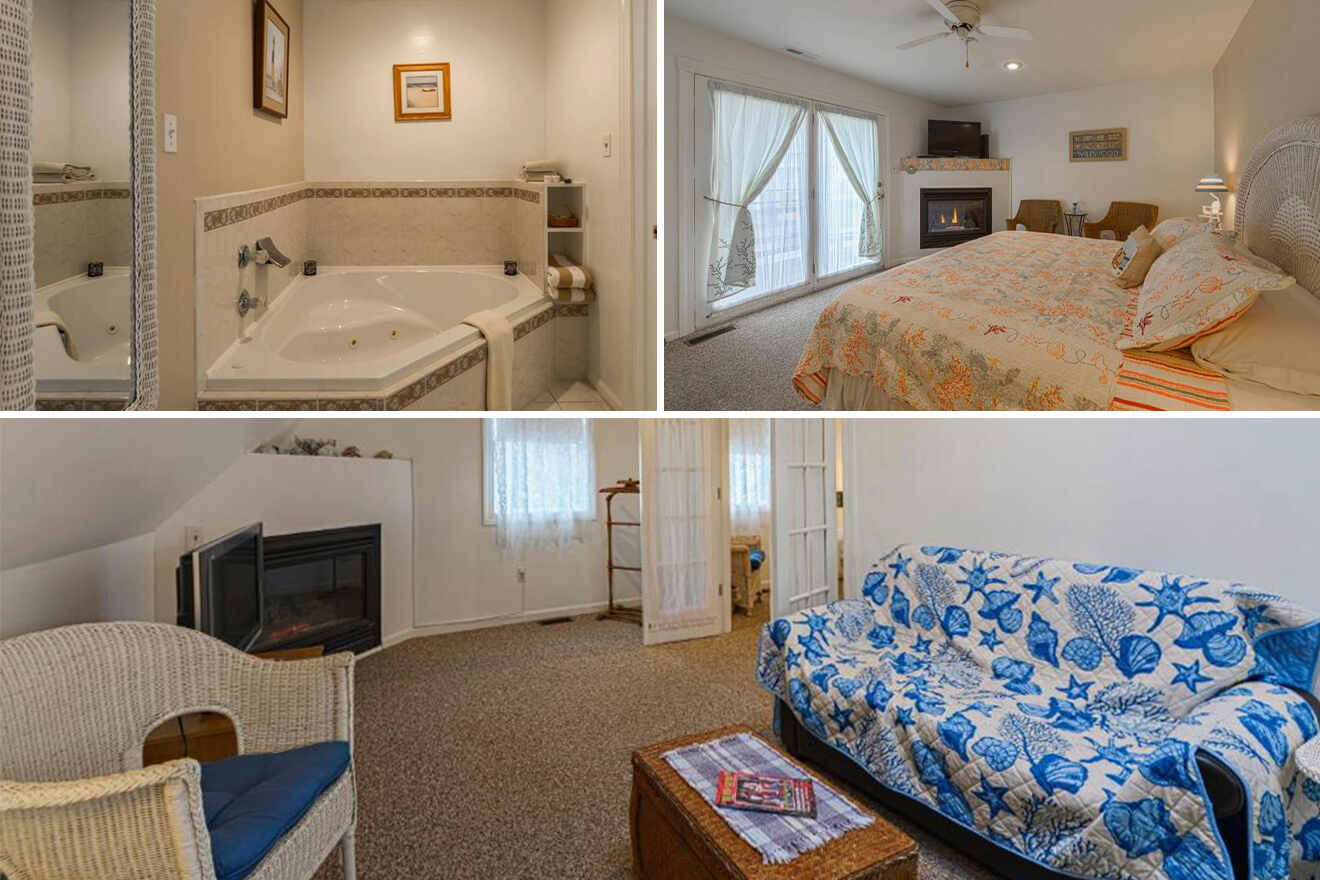 Want to spend your holiday near the beach in North Wildwood, NJ? Then book a room here! The hotel features a king room with a spa bath, air conditioning, and a coffee machine, perfect for those of you who want to start your day with this magic black liquid!
Enjoy some sun on the terrace and you can even make use of the BBQ facilities while you're here (there's also a kitchen that guests have access to). North Wildwood Beach is the closest one but you'll find a few more only miles away, so definitely go on a quest to find your favorite sandy spot.
9. Whistling Swan Inn – charming New Jersey hotel with a spa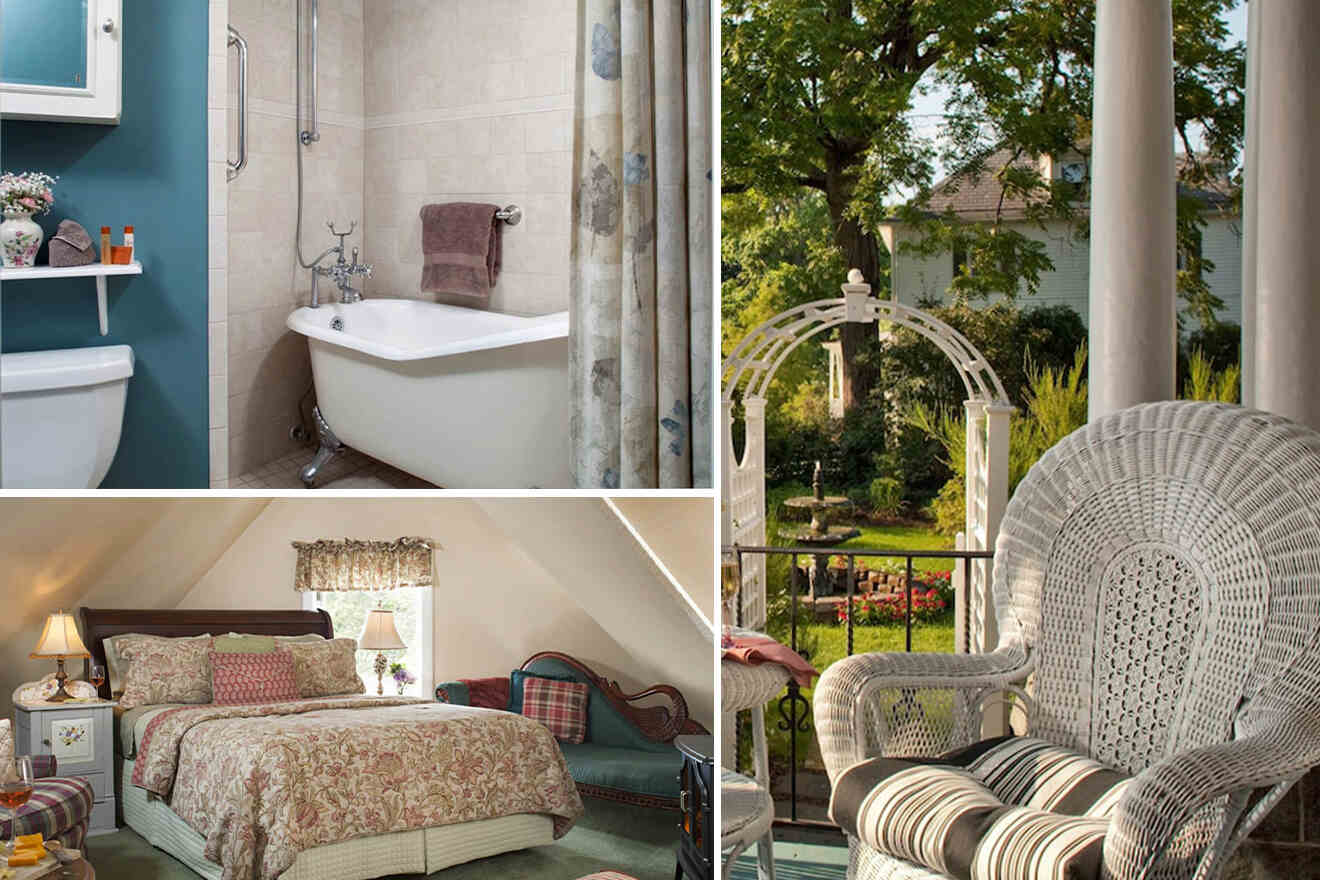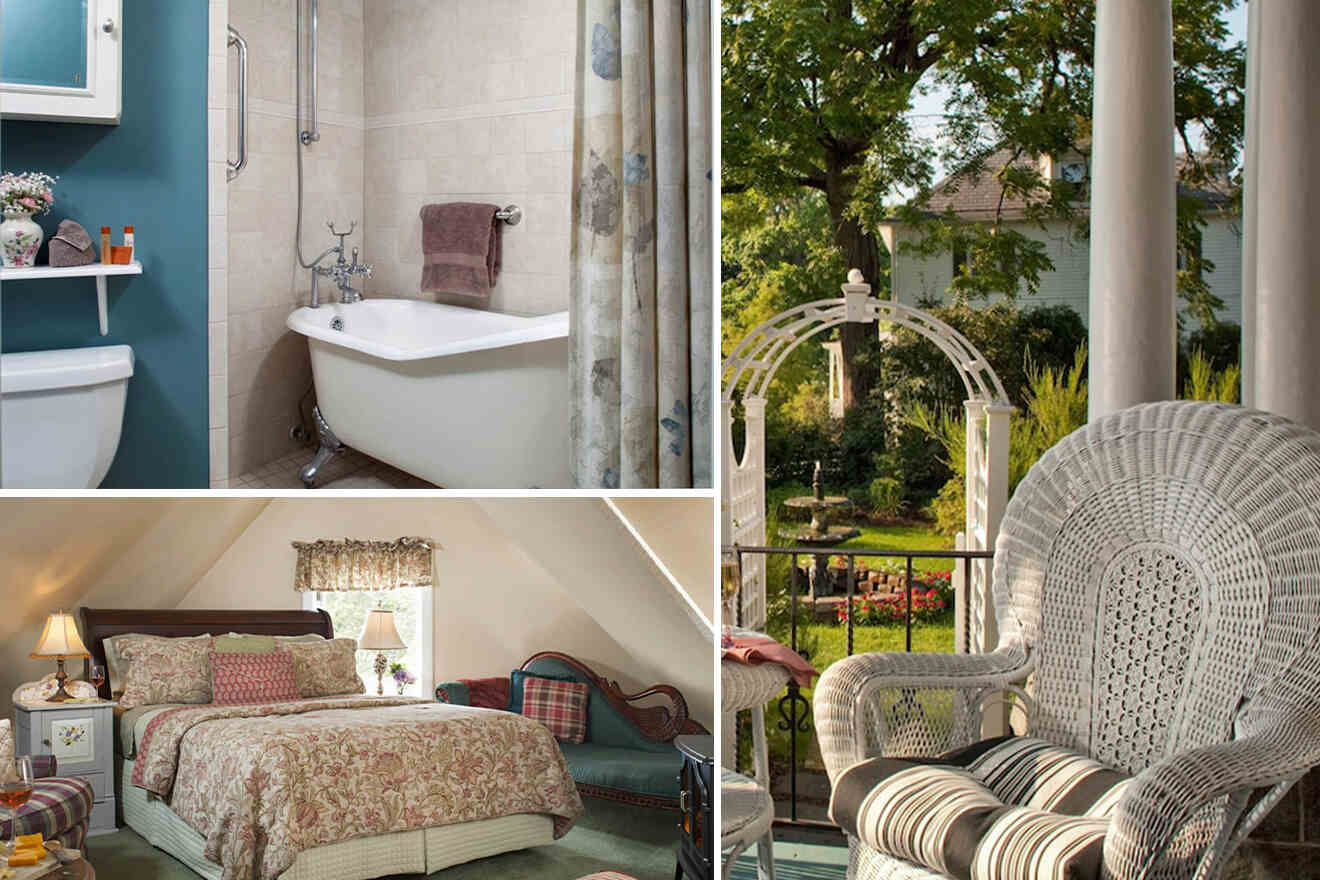 Set in the New Jersey suburbs, in Stanhope, this inn is so great for a romantic escape as it offers all the privacy you need and a tranquil environment to enjoy each other's company! And there's even a spa center where you both can take some time off and relax!
The rooms feature a spa bath, flat-screen TVs with streaming services, and super comfortable beds. Each morning you can enjoy a long (free) breakfast in the lounge area, and then I would definitely recommend renting some bikes out from the hotel and heading out to explore Stanhope. If you prefer to lay low, the hotel's library awaits you!
10. Comfort Inn Edgewater – with Hudson river views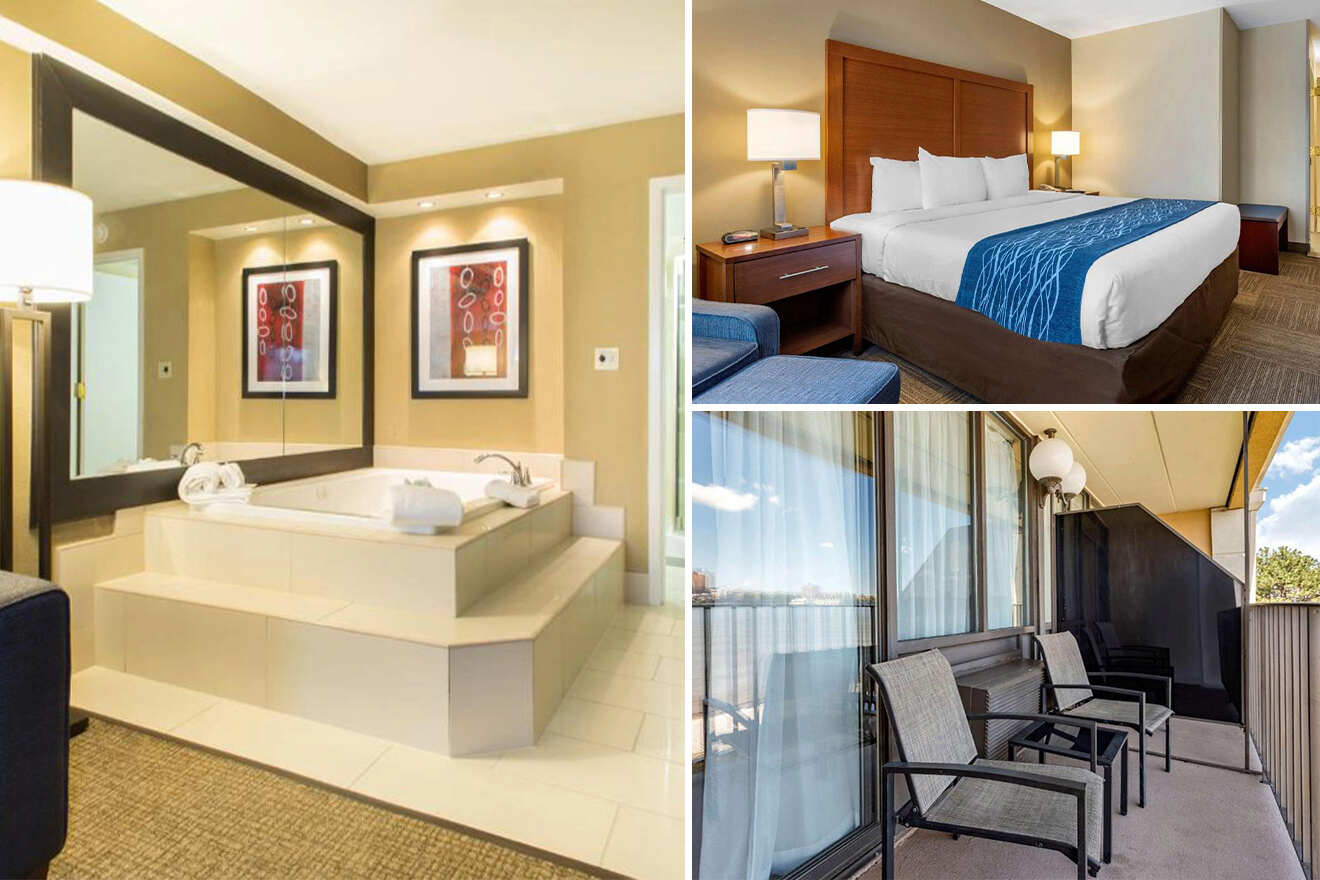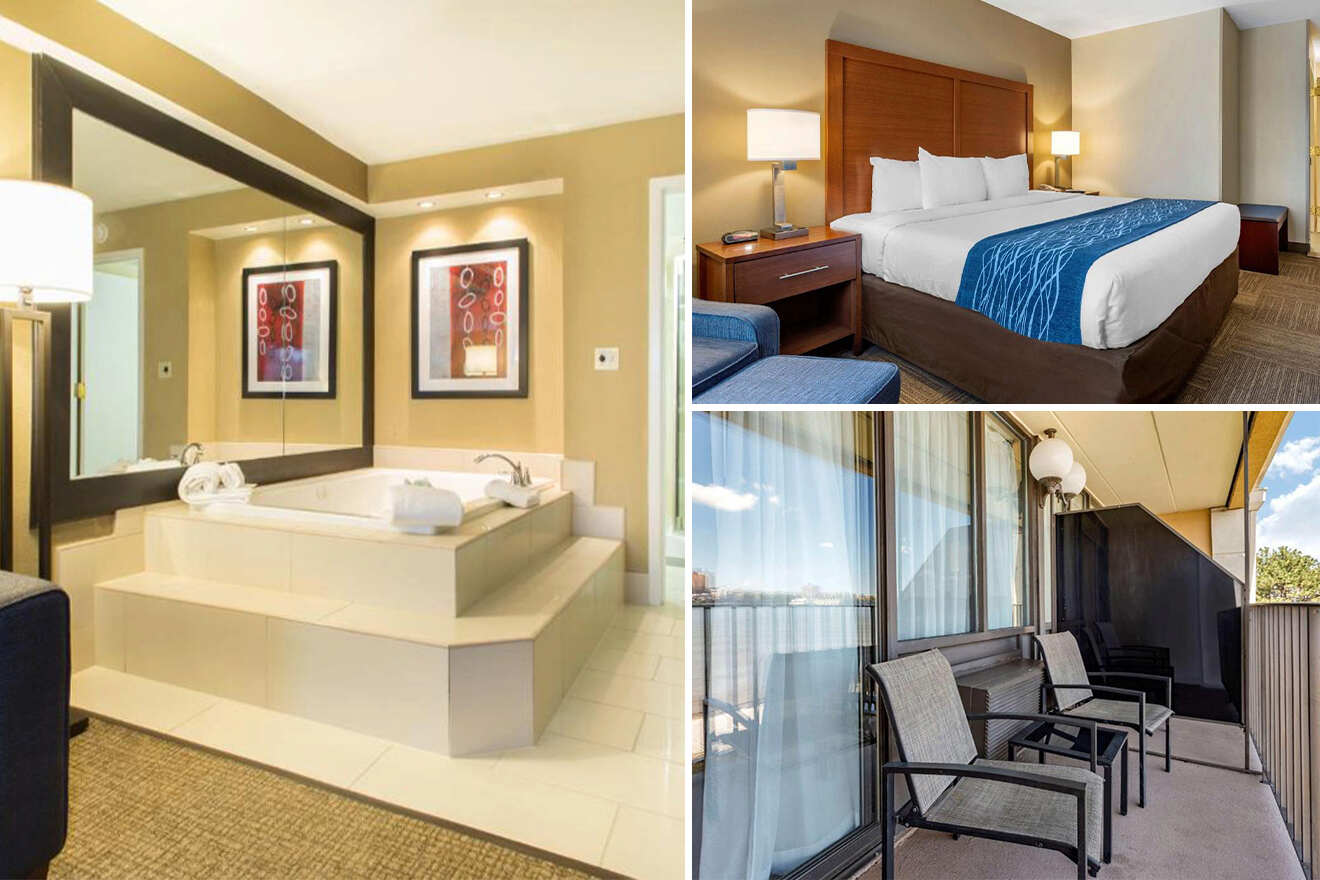 Guest rooms with a spa tub, a fitness center, plus many other facilities like a shuttle service, are waiting for you at this fabulous hotel that has a great location in Edgewater near the Hudson river and which offers a complimentary breakfast.
But the cherry on top (or cherries, to be more exact) must be the river-view rooms with a balcony and a jetted tub! Perfect for a chic getaway, this place is great for people who want to be close to central New York but also have a tranquil space where they can relax and be away from the hustle and bustle of the city.
11. Best Western Paramus – a trendy hotel with free parking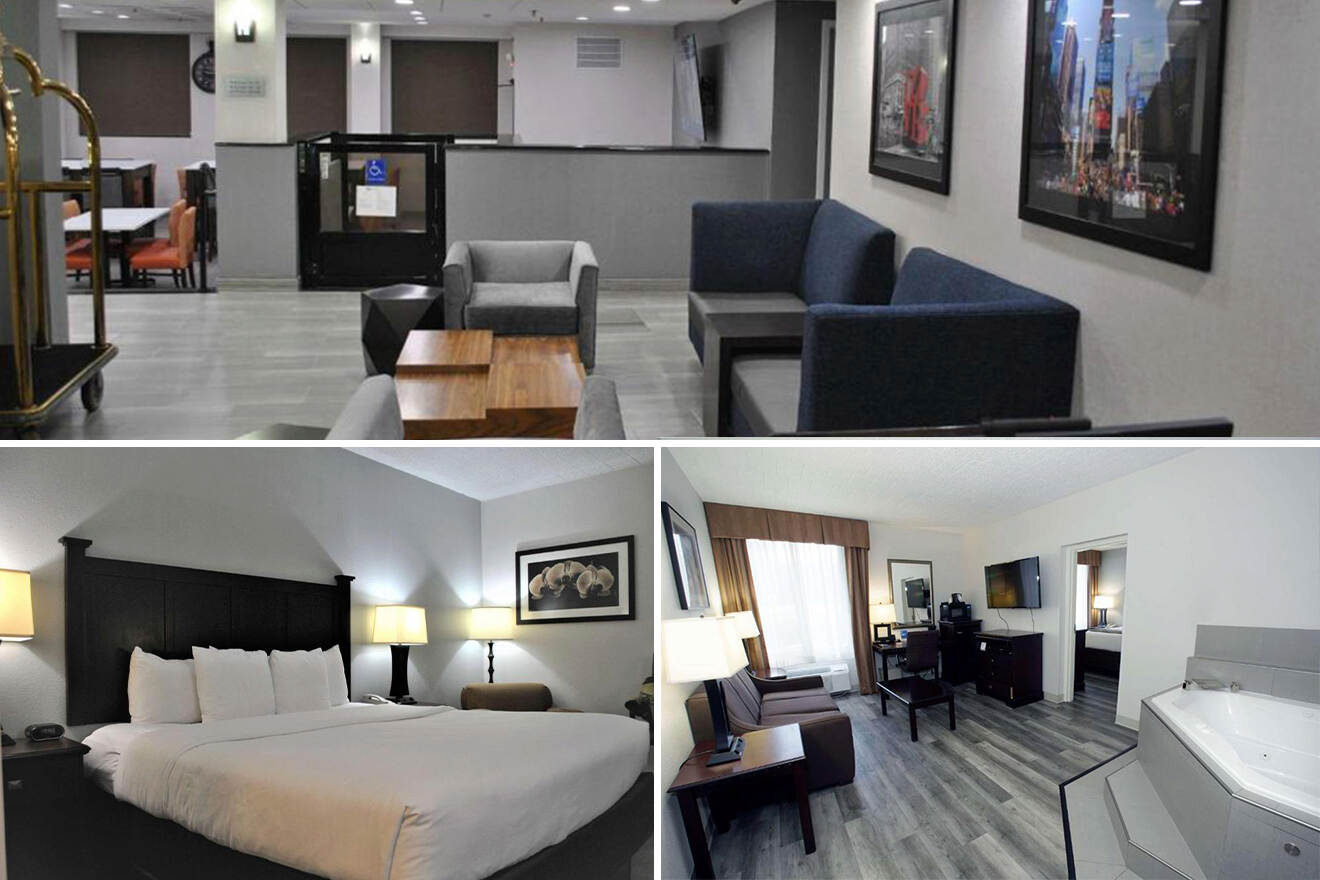 Book the king room with a whirlpool tub and prepare for a few days of complete relaxation at this hotel that's located in Paramus and offers a fitness center, free private parking, and a free breakfast each morning!
The hot tub suites are equipped with everything you need for your stay, including free Wi-Fi, a flat-screen TV, and a refrigerator. This place is perfect for tourists who are traveling with their car as there are lots of places waiting to be discovered nearby the accommodation, like a few parks and even a golf course.
12. Fairfield Inn & Suites – great hotel with a lovely ambiance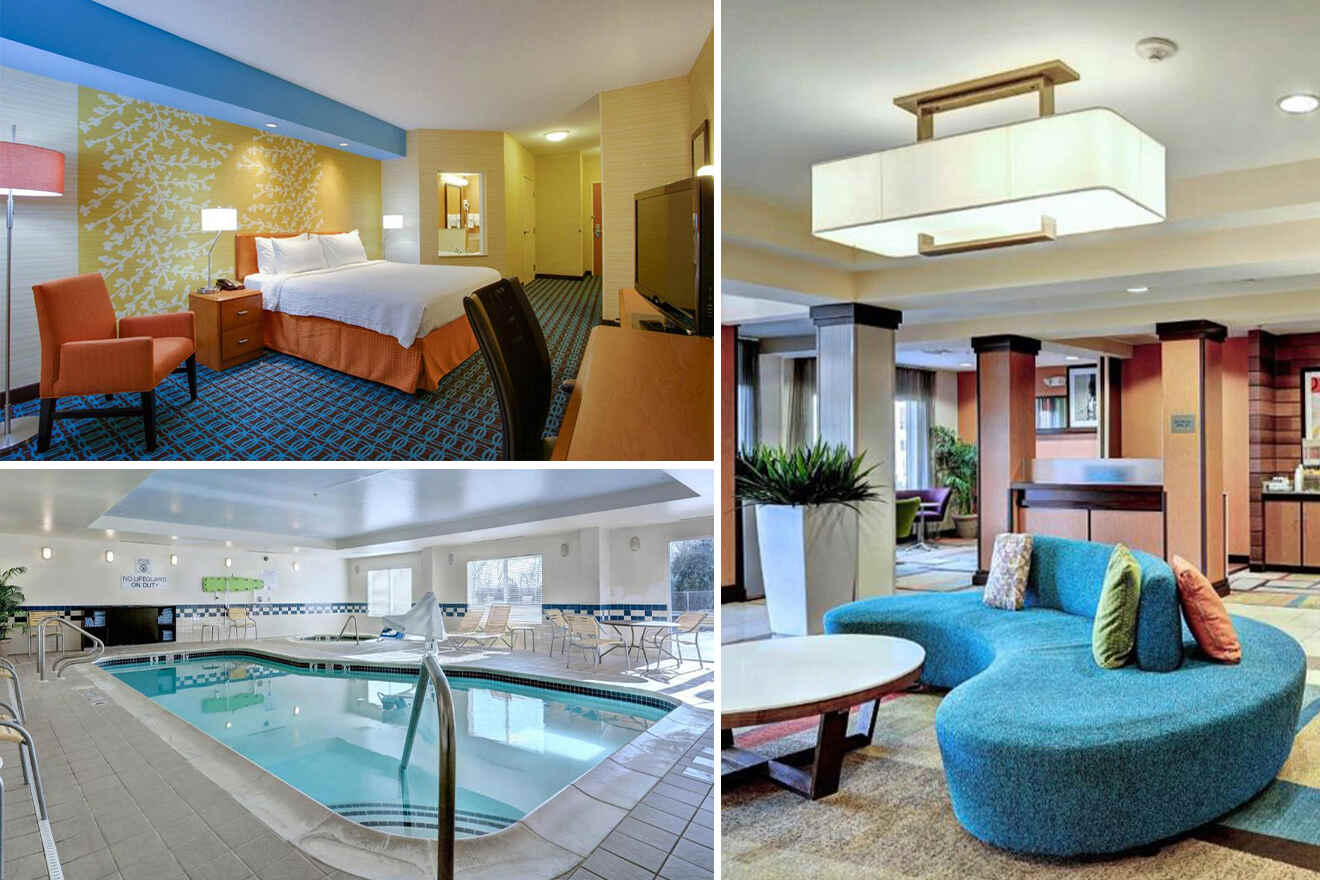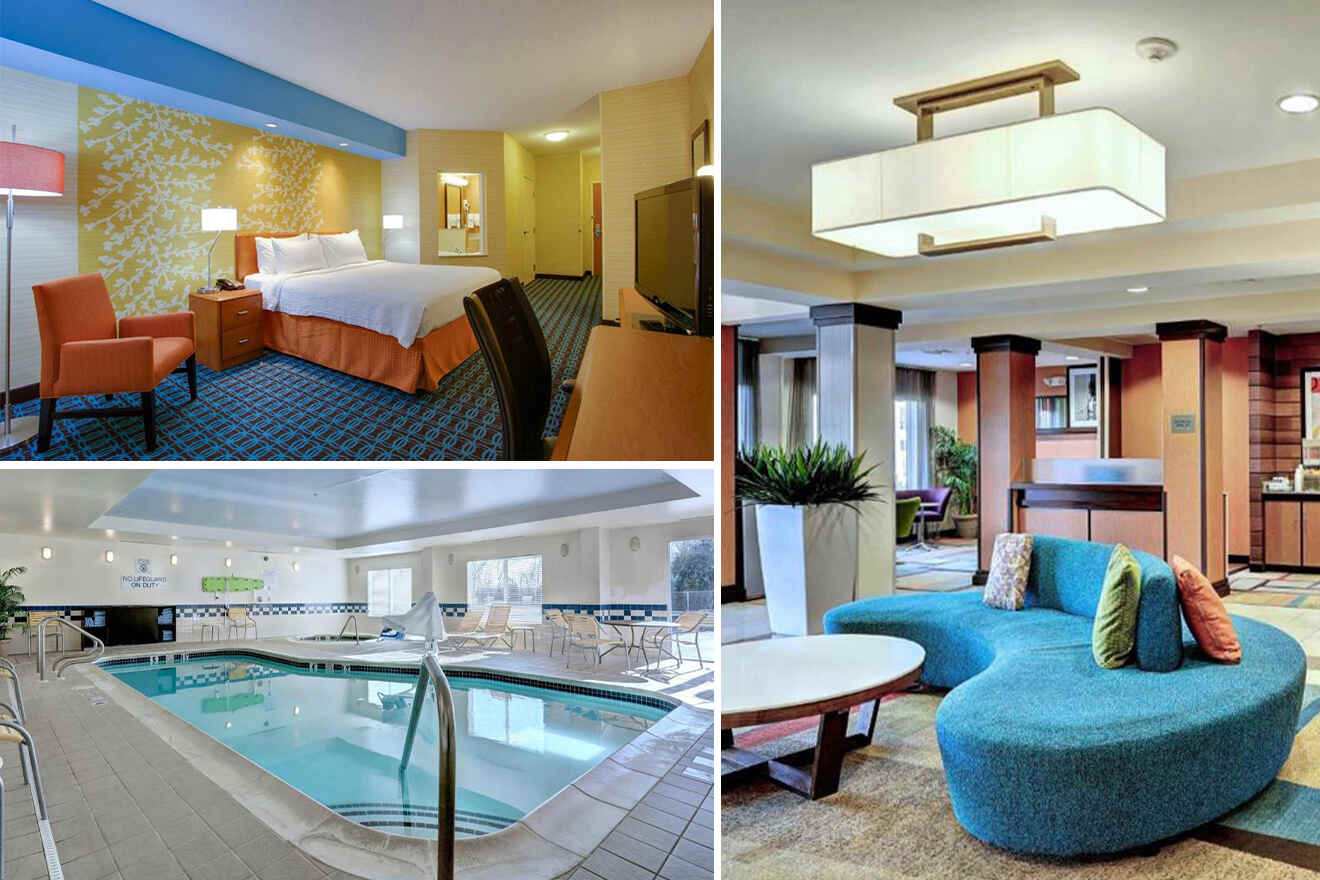 Pack your swimsuits because you're going to swim a lot while staying at this New Jersey hotel in Edison that has an indoor pool! The hotel's modern yet classic decor creates a lovely ambiance that I'm sure will stick with you and make you feel super comfortable throughout your stay.
And speaking of comfort, you'll love the king room with a spa tub where you can unwind in privacy and enjoy a few hours of uninterrupted relaxation! The accommodation also comes with many other facilities like a fitness center, and a business center, and it even offers bicycle rentals so you can explore as much of the area as you can!
13. Horizon Inn – great New Jersey hotel with whirlpool tubs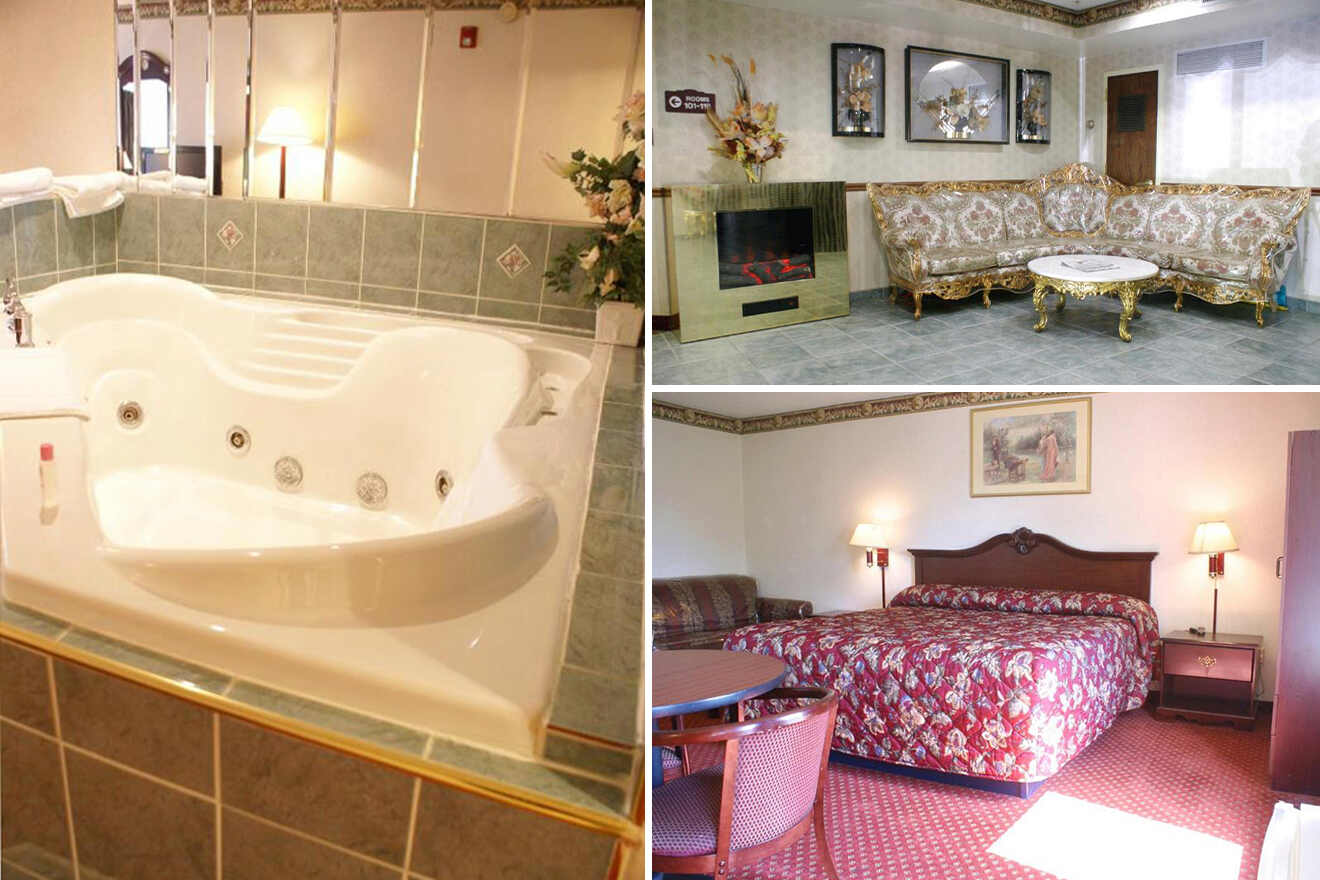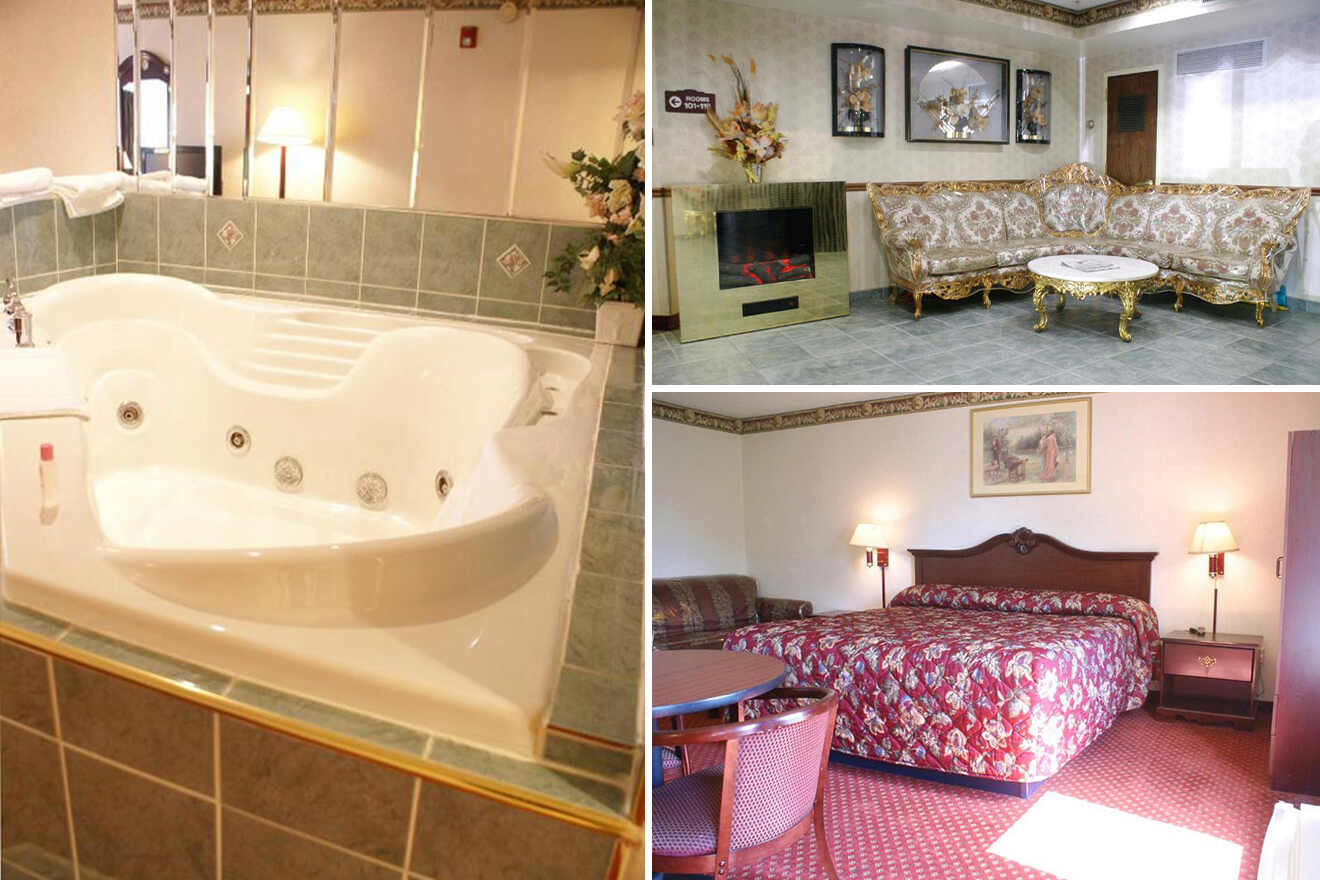 Looking for something a bit more affordable but that still has an in-room jacuzzi? Then check out the guest rooms at this accommodation that's located in Avenel and offers free public parking and on-site laundry facilities.
The queen room with a jetted tub is probably the most famous here as it offers you the chance to relax and enjoy as much time as you want to soak in and forget all about your troubles. The rooms are also equipped with other amenities like a flat-screen TV, free Wi-Fi, and air conditioning.
14. Club Wyndham Skyline Tower – modern Atlantic City hotel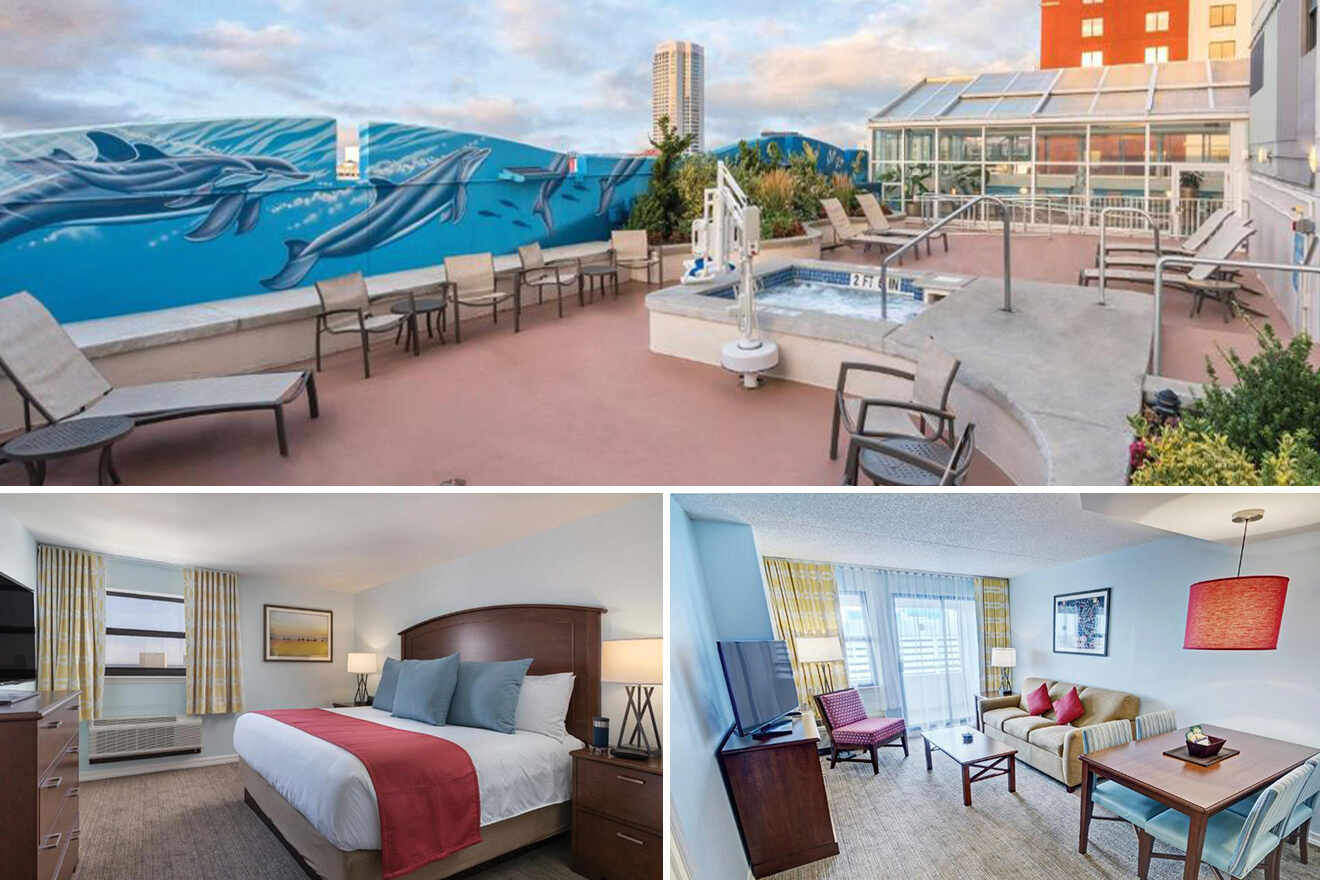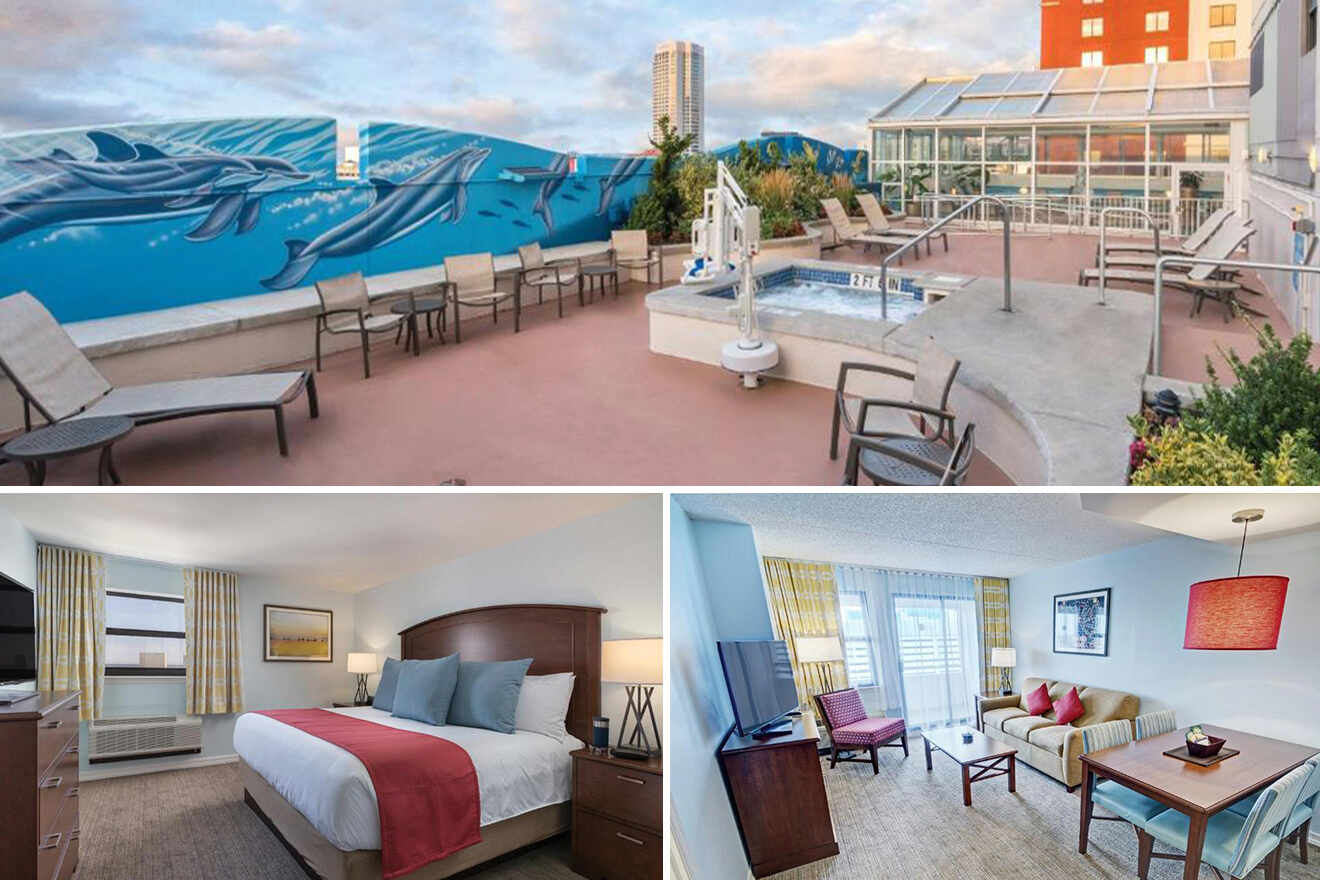 Located in Atlantic City only a 5 min walk away from the famous Atlantic City Boardwalk and 20 min away from the Atlantic City International Airport, this amazing hotel offers hot tub suites, a fitness center, business center, and even a games room!
All the guest rooms have a kitchen, air conditioning, and coffee-making facilities. When you're not out and about exploring the great Atlantic City Boardwalk or sunbathing on the beach, you can relax in your whirlpool tub, play some billiards or hang out in the games room! With so many fun things to do, you may even consider booking another night in!
15. Chateau Inn and Suites – for an intimate getaway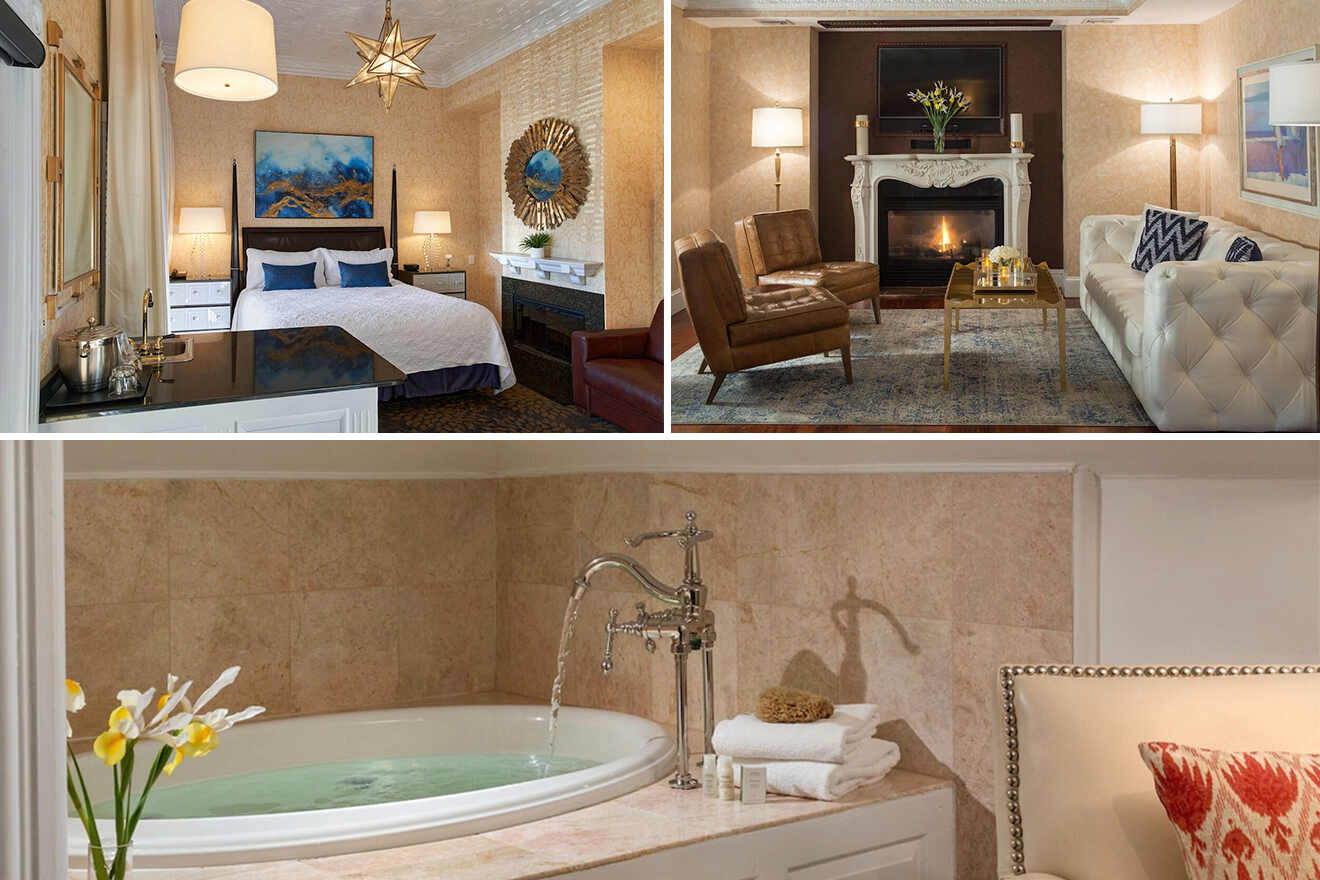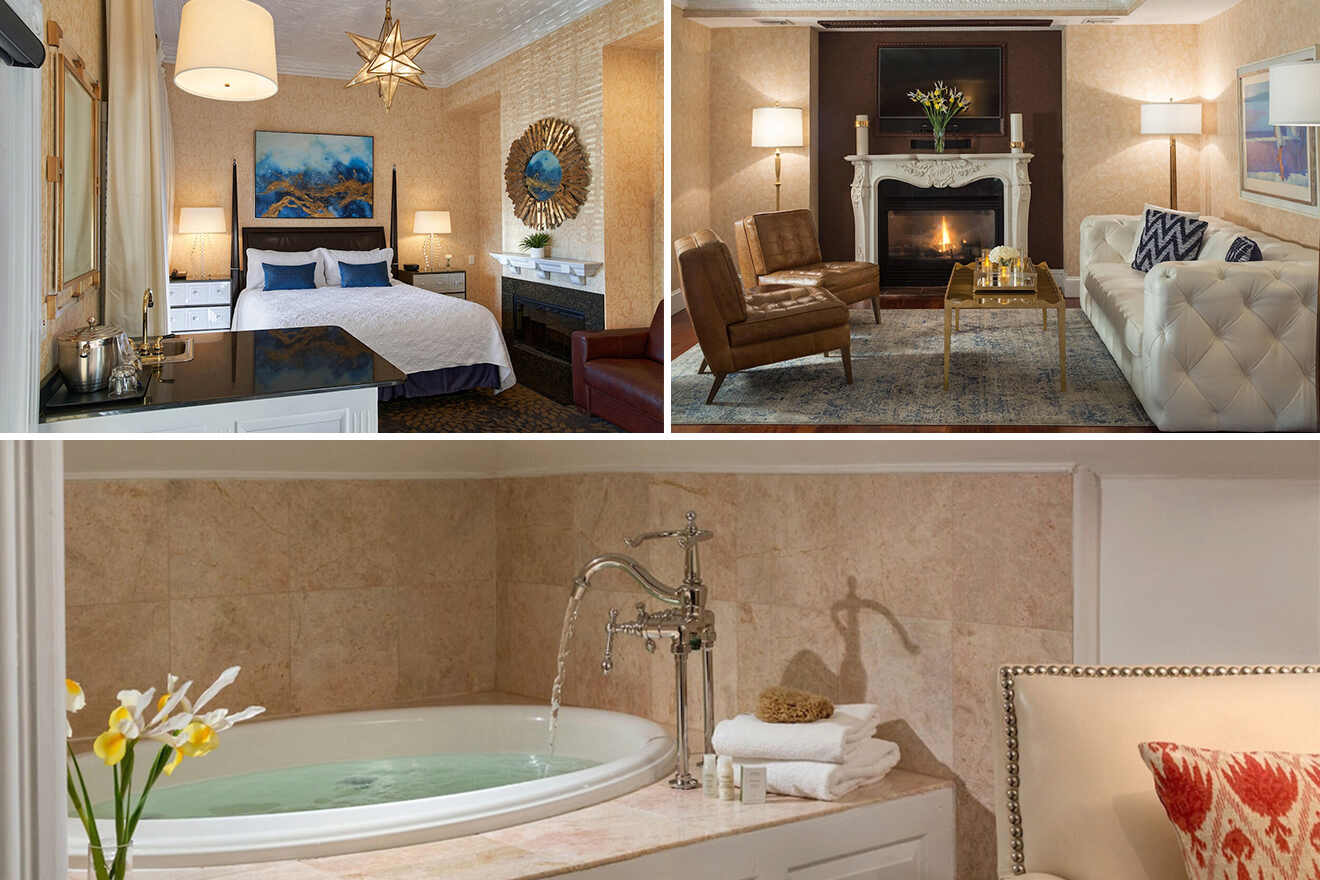 Planning a lovey-dovey getaway? Then you'll need to book a room at one of the most romantic hotels in New Jersey and I've got just the right option for you! This hotel is close to Spring Lake beach and features an in-room jacuzzi, super comfortable beds, and bicycle rentals for all guests!
The penthouse parlor is the room you'll want to get as it comes with your own private jetted tub. Although it doesn't have an on-site restaurant, the accommodation offers tea and coffee in the lounge area (that also has a fireplace), and, of course, there are many dining options only a short walk away from the hotel.
16. Courtyard Parsippany – perfect for outdoor lovers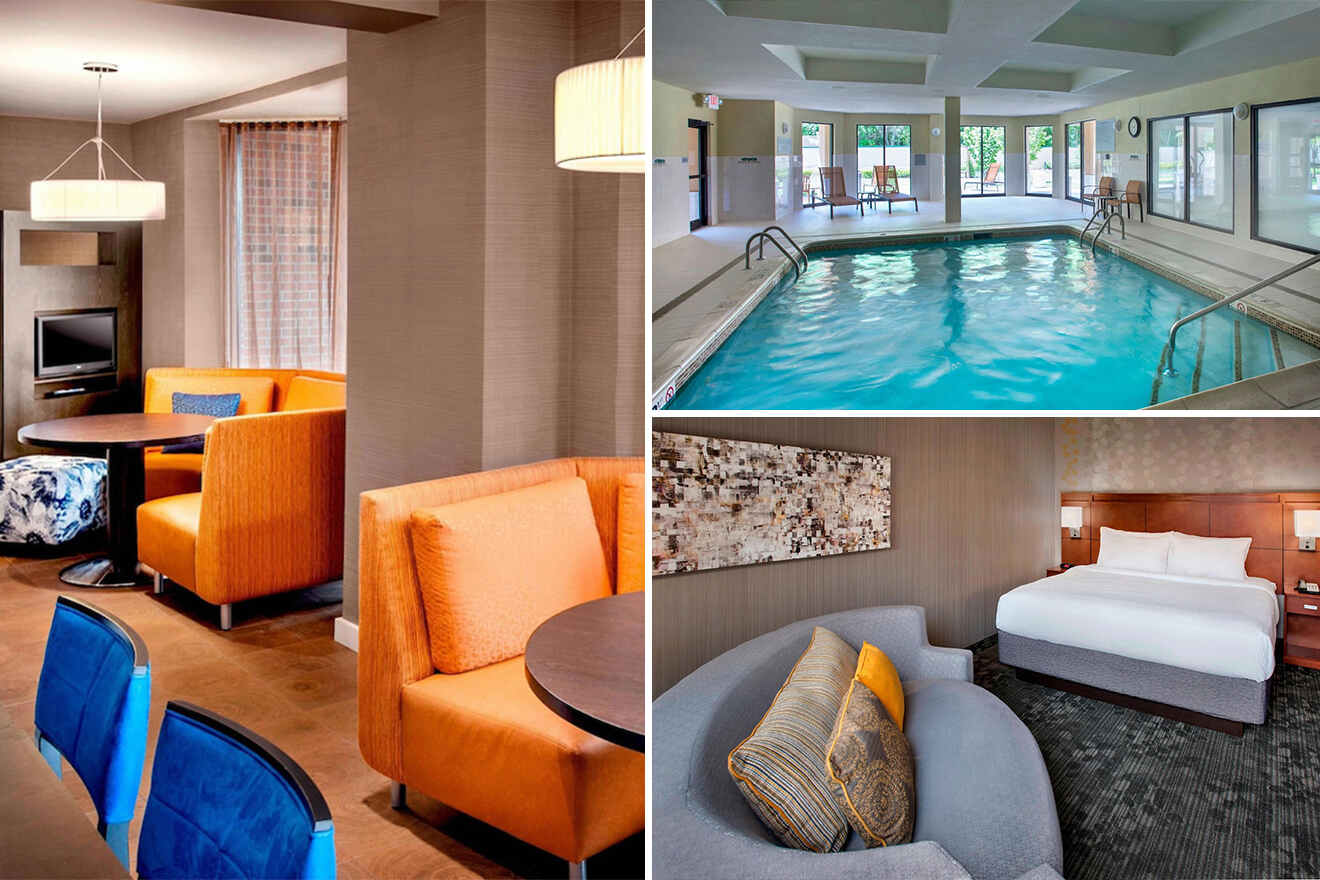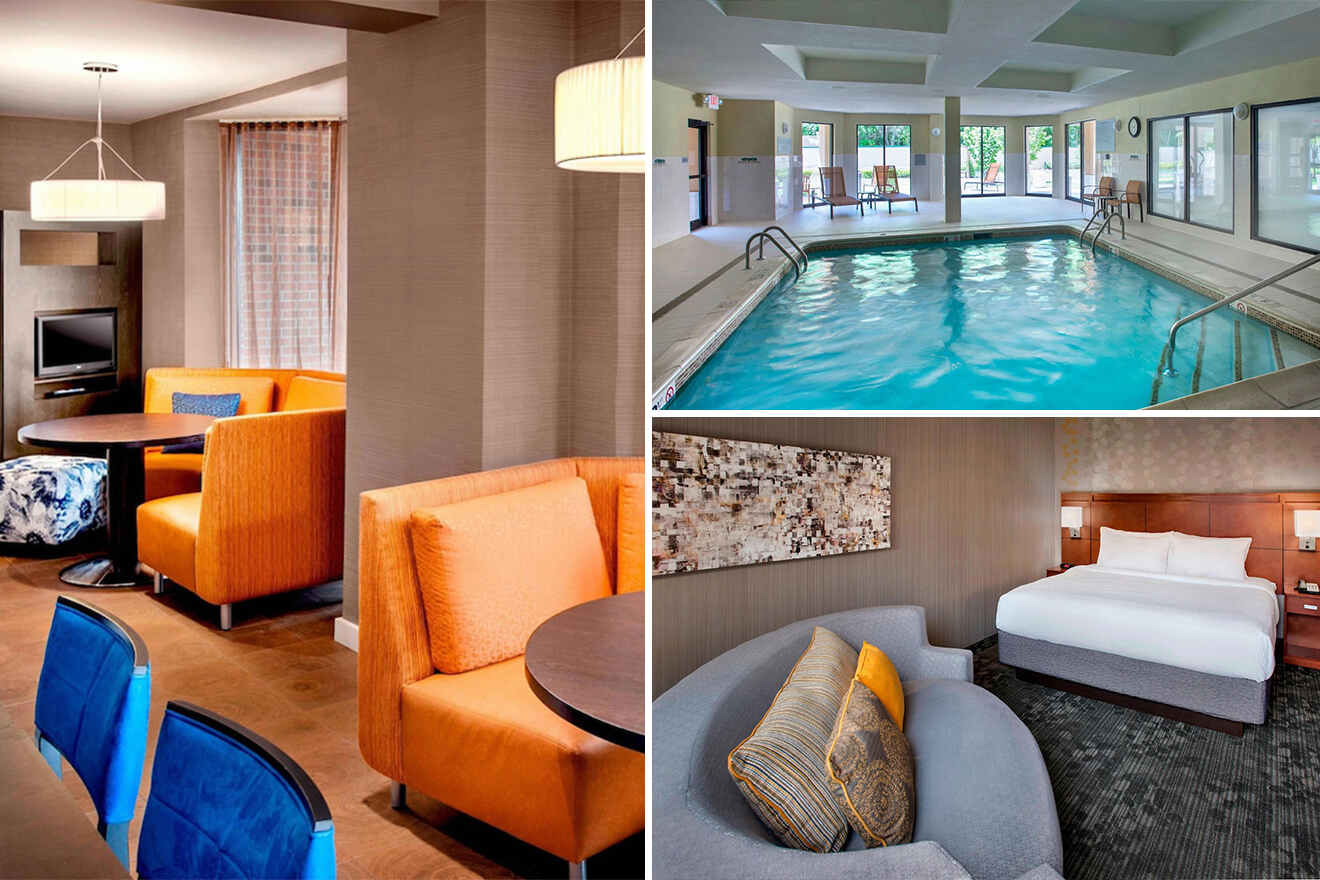 Set in a great location near golf courses and state parks, this New Jersey hotel in Parsippany has rooms with a private hot tub, a fitness center, and an indoor pool as well! Whether you're planning family or business trips, the accommodation offers lots of facilities that will make all parties happy!
For starters, there are amazing hot tub rooms where you can enjoy all the privacy you need and relax for hours and hours! Next, there is also a business center, a terrace, and a nice garden where guests can do some work and enjoy the fresh air.
17. The Queen Victoria – a unique historic inn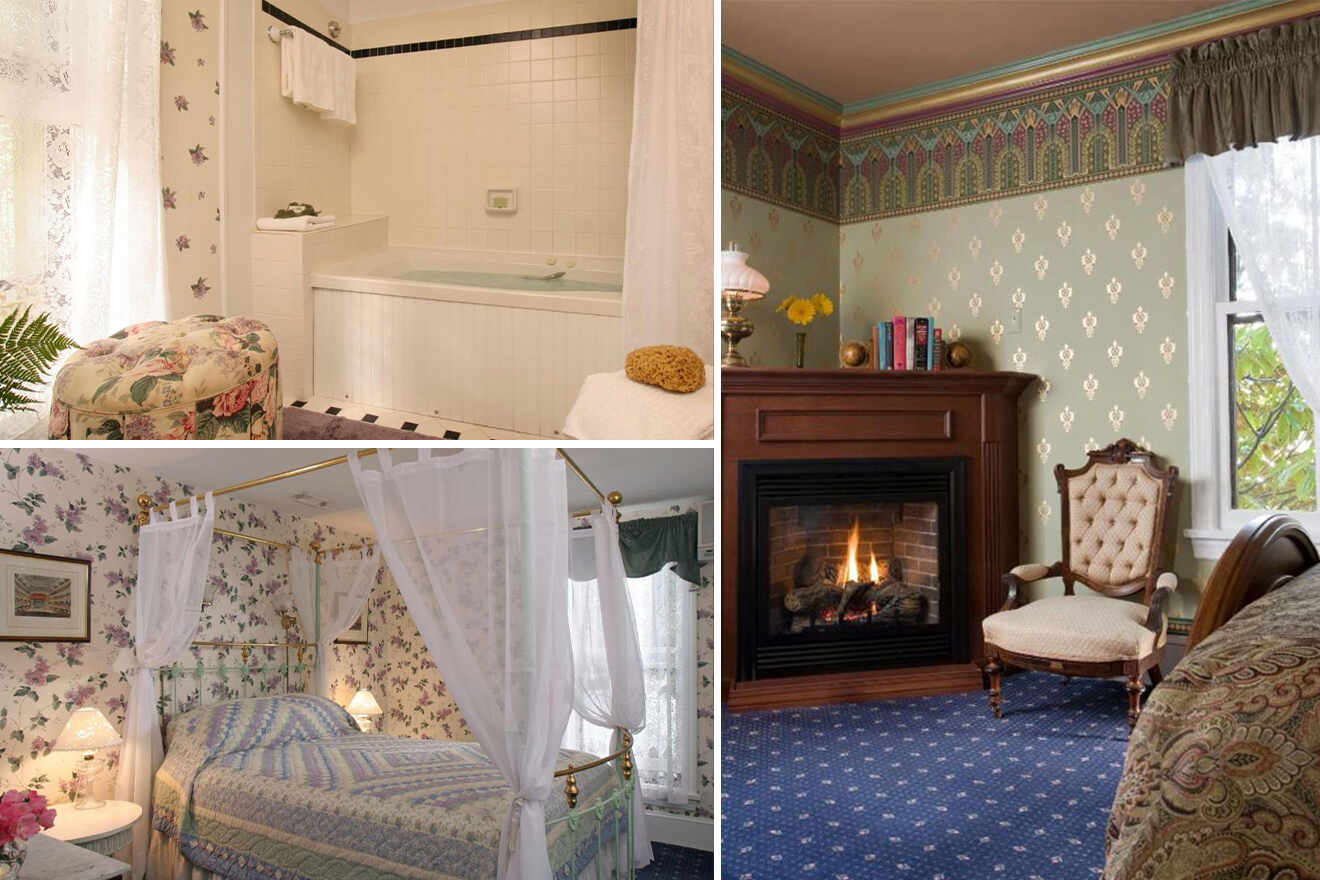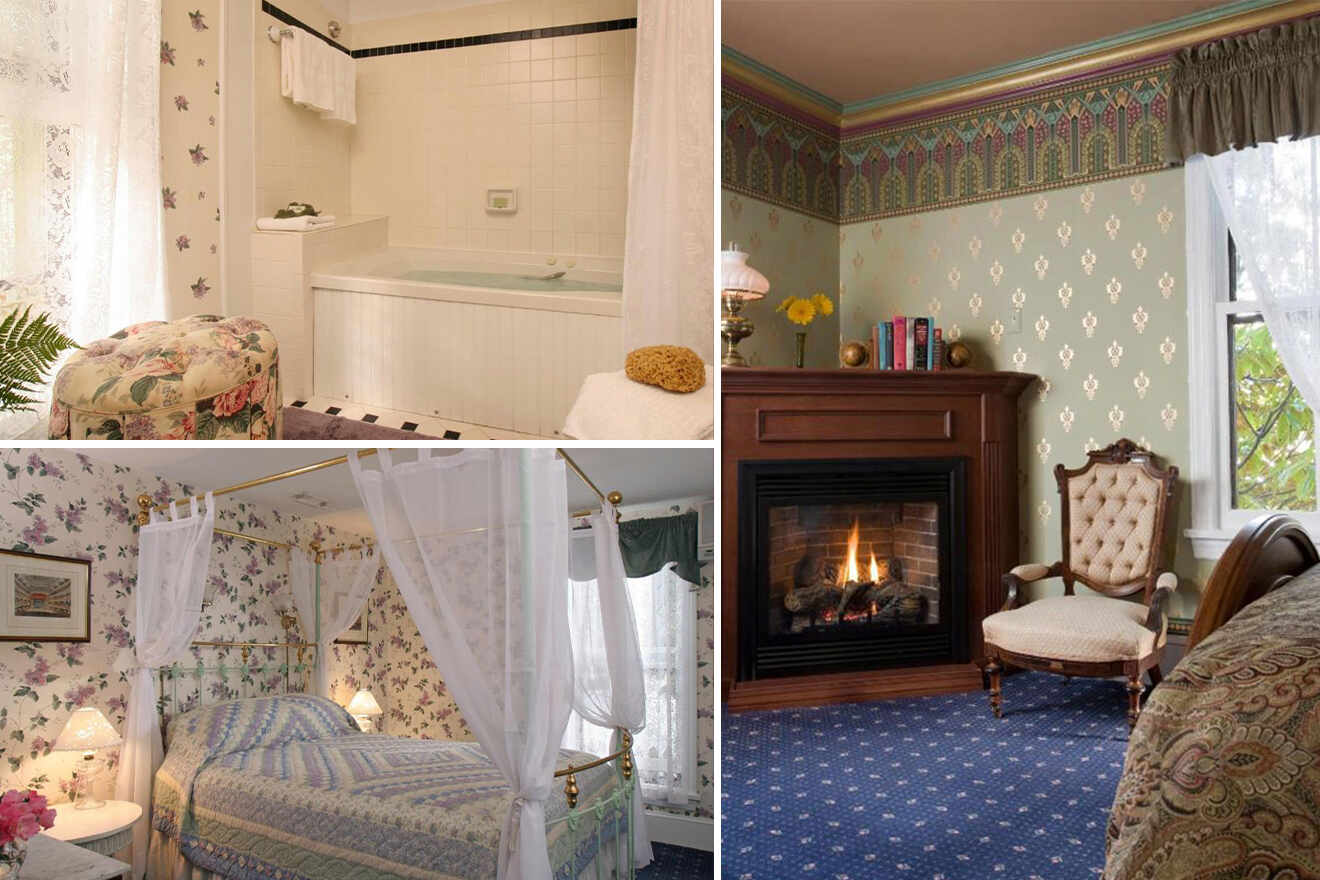 They sure picked the name right for this inn which definitely looks so Victorian! In fact, all the rooms were designed to fit that time period, so don't be surprised if you feel as if you've time traveled to another era! However, the in-room jacuzzi will bring you down to earth!
Apart from its very unique decor, the Cape May accommodation offers a lovely lounge area with a fireplace where you can enjoy your breakfast in the morning and tea with cookies in the afternoon! The beach is only a few minutes away, so make sure you head there before leaving!
BONUS: Best romantic VRBOs with a hot tub
Haven't found the one hotel you've been looking for for your New Jersey trip? Then fear not, as I've come bearing gifts! Below you'll find the best vacation rentals with a private hot tub!
I've also listed these vacation rentals with hot tubs, ordered from most to least expensive so you can easily pick your favorite: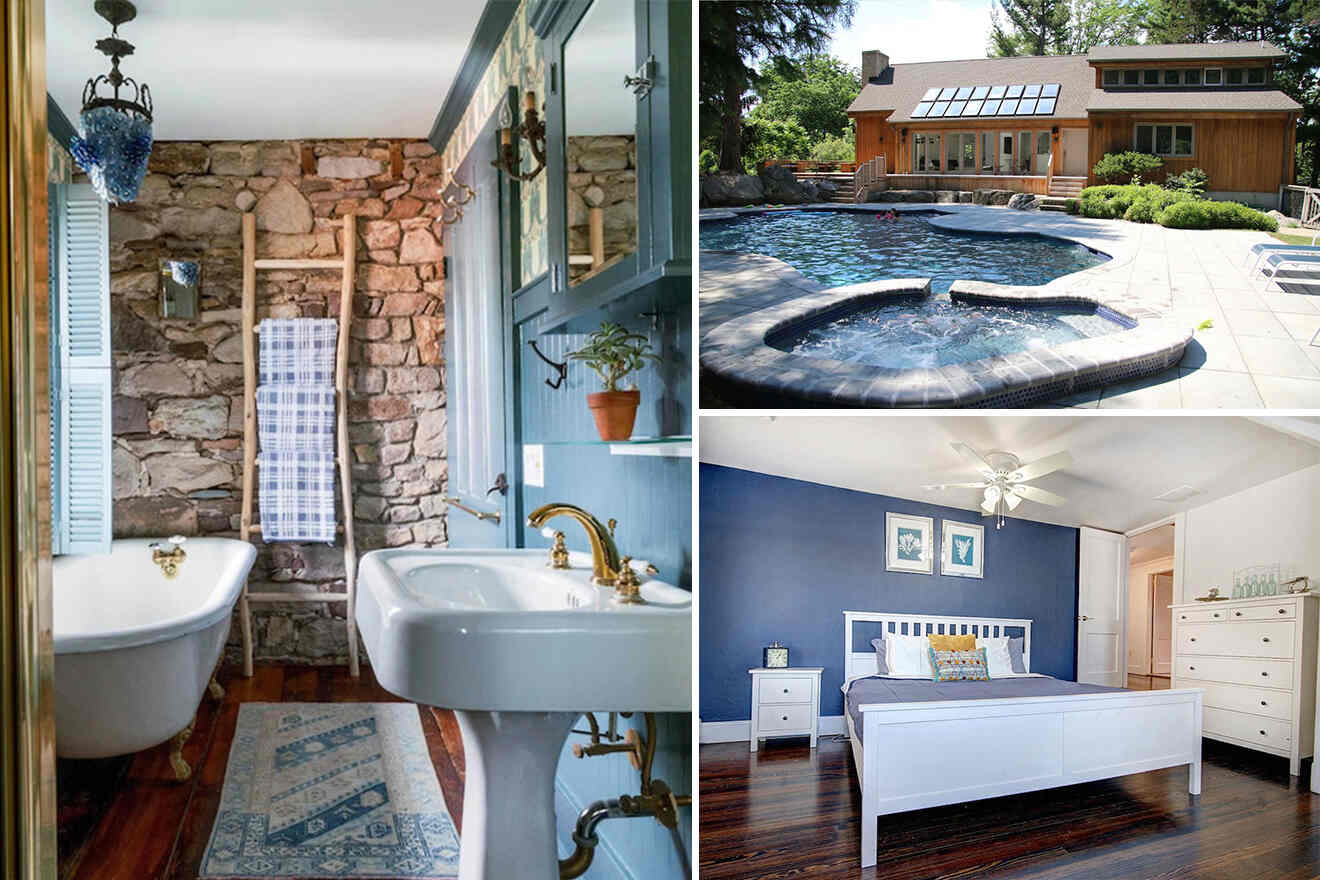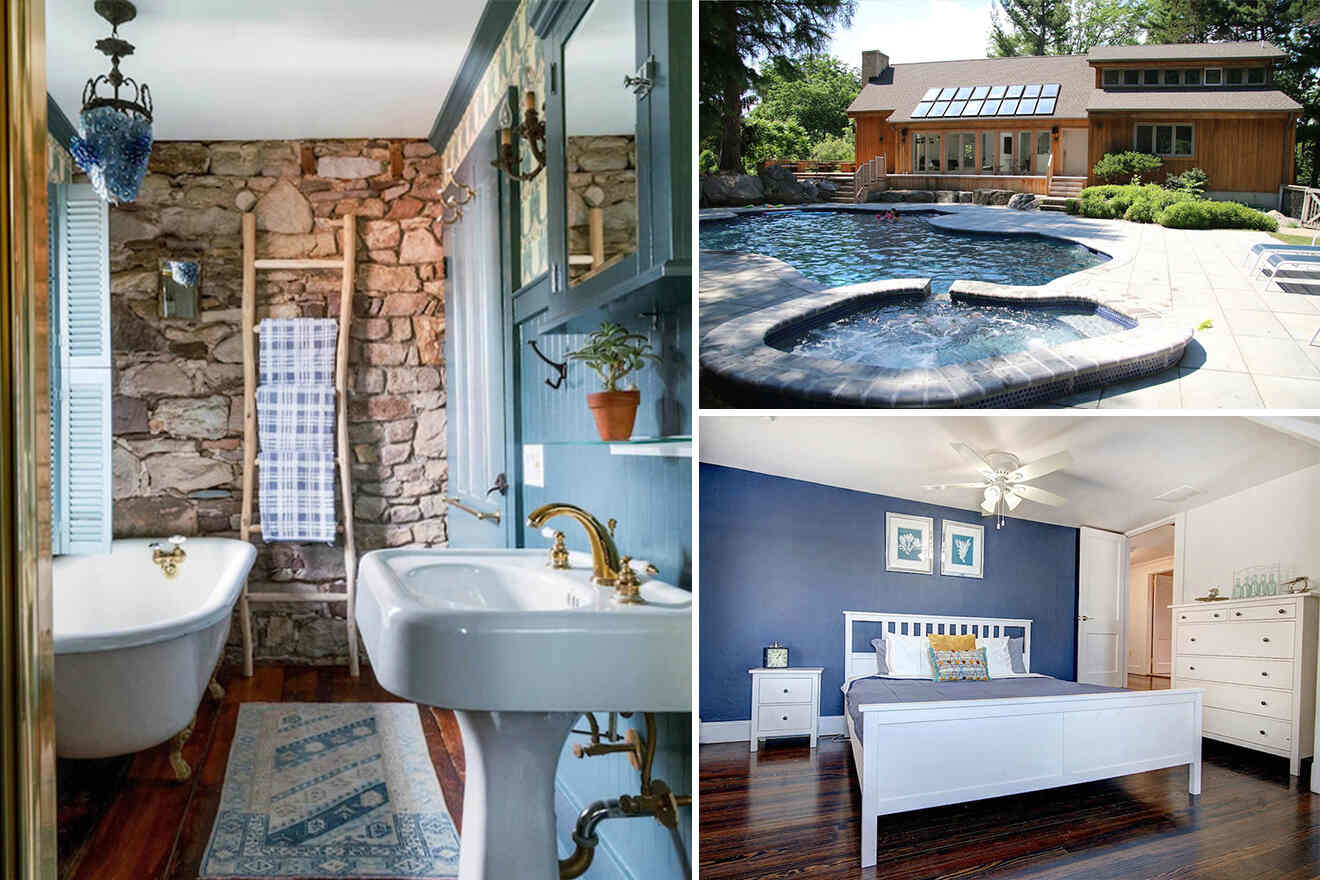 FAQs about hotels in New Jersey with jacuzzi in room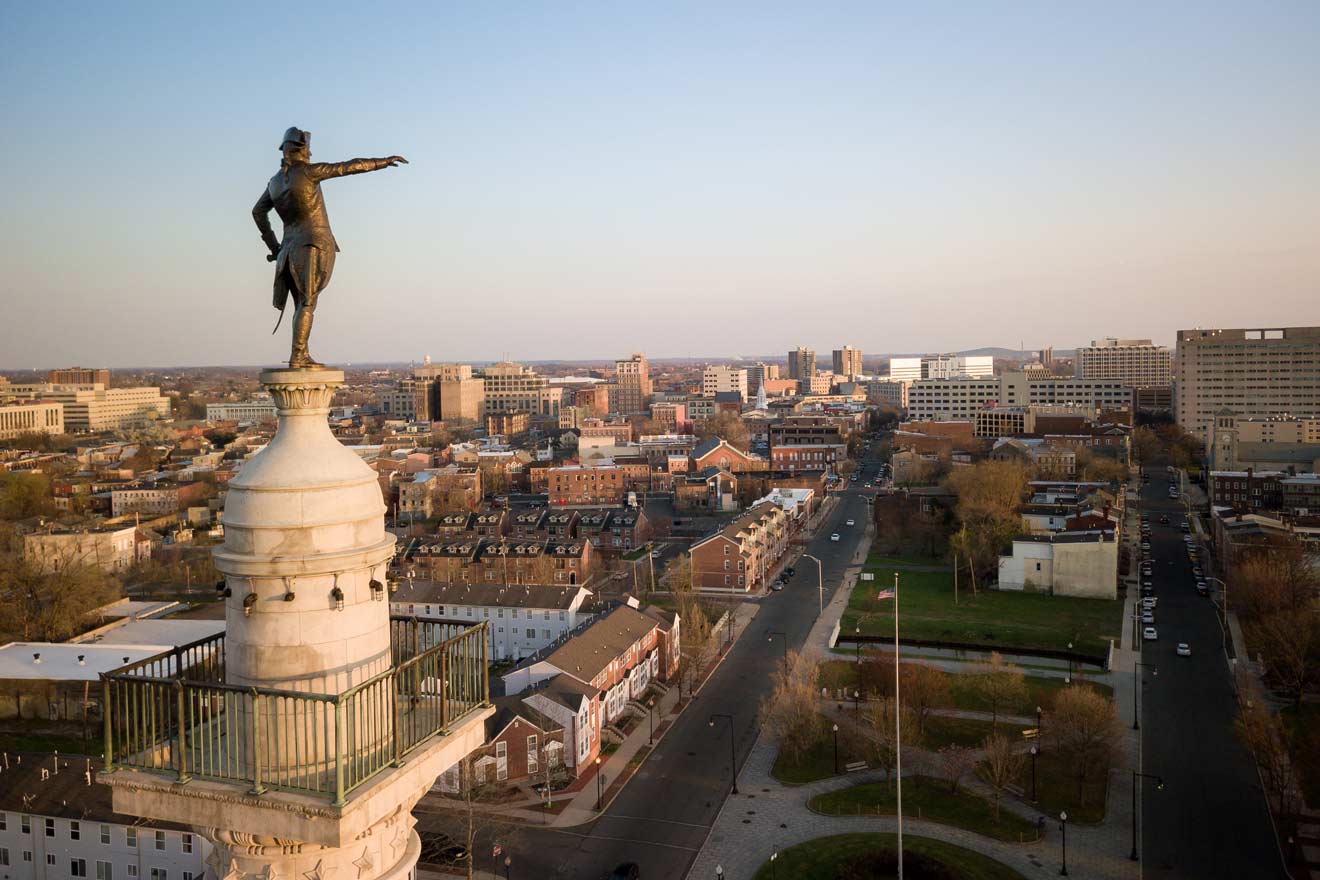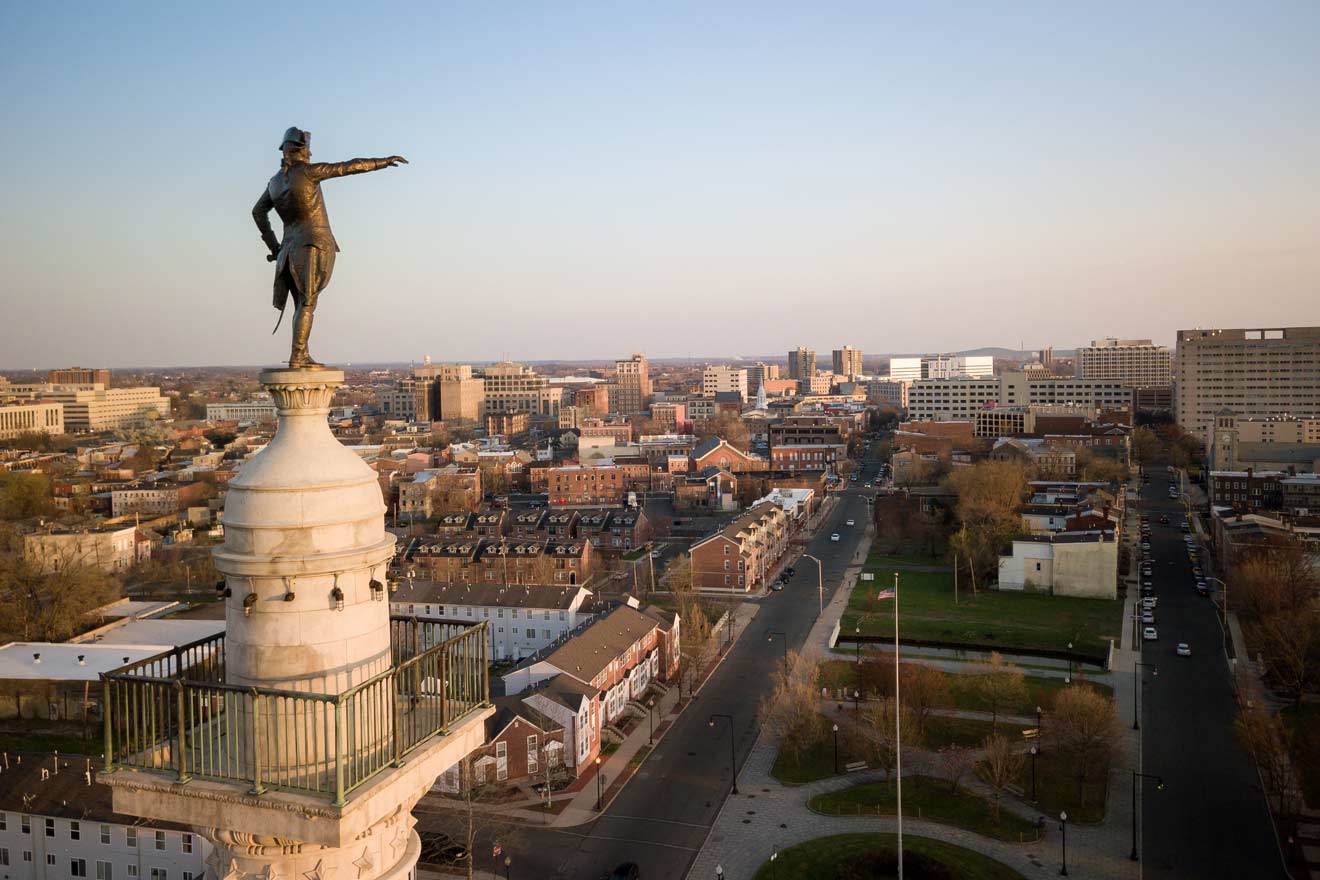 Conclusion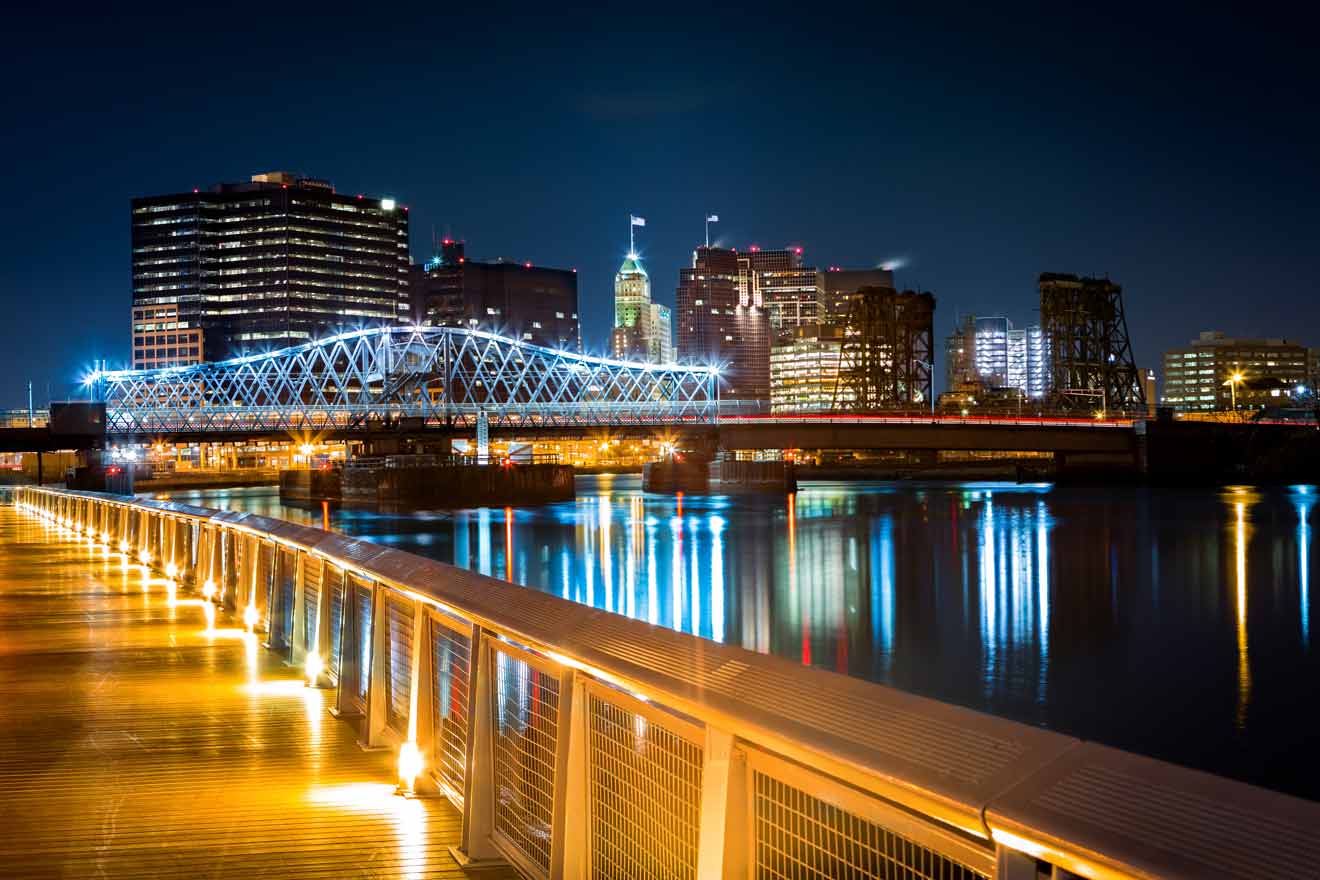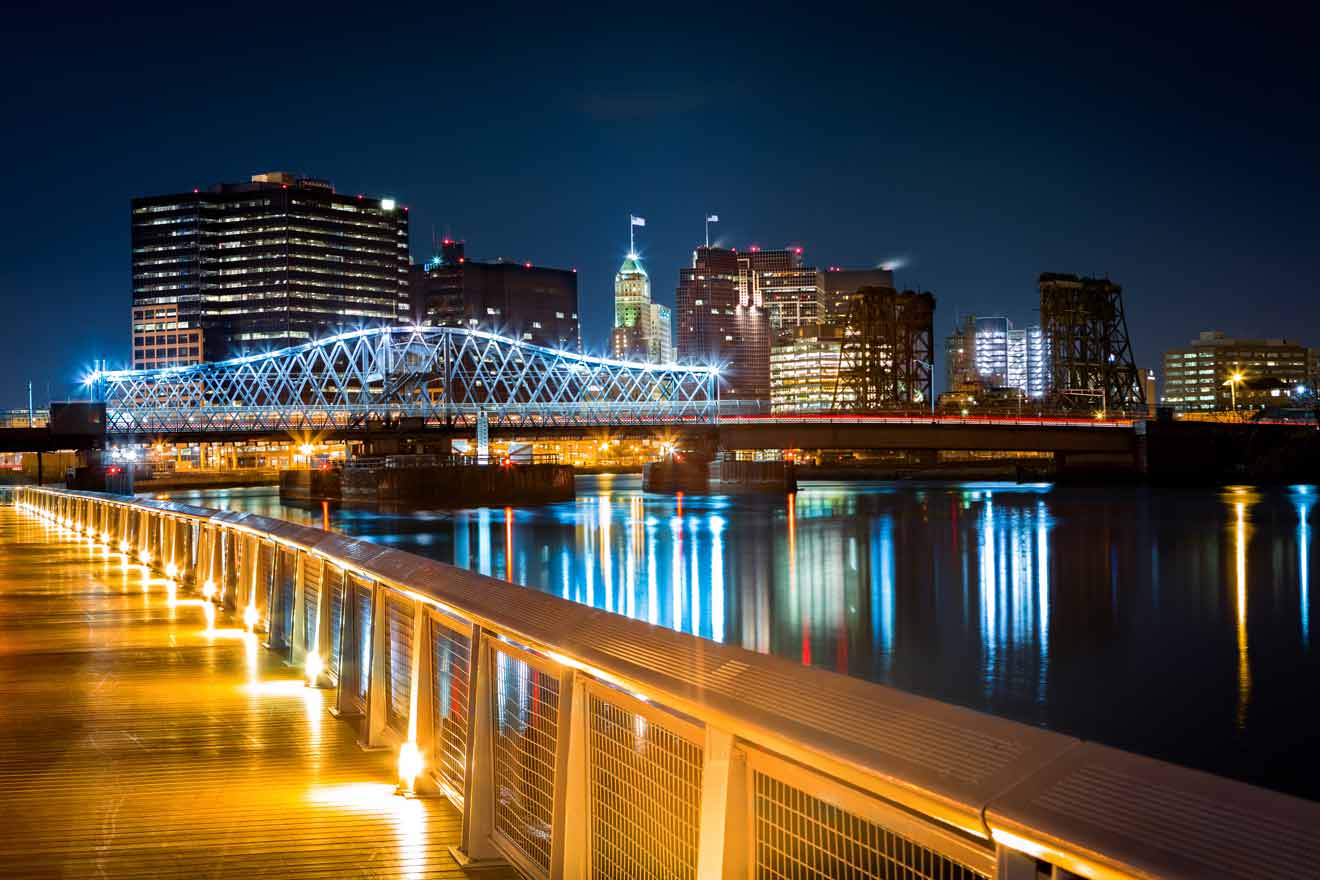 I'm sure you didn't know there are so many incredible hotels in New Jersey where you can relax and enjoy a few days off!
Now that you're caught up with all the best hotels in New Jersey with a jacuzzi in the room and even with the top vacation rentals with a private hot tub you're ready to hop in the car or plane and come here!
But I don't want you to go before you have a look at the 2 hotels below! They are my favorites and I think they may inspire some of you who still don't know which one to pick:
Woolverton Inn – Perfect for a tranquil getaway this beautiful inn in Stockton has a great design, a garden, and a terrace
The Tower Cottage Bed & Breakfast – A super unique accommodation near the Point Pleasant beach that has a fireplace, a terrace, and spacious rooms
As I mentioned, you better get 'em while they're hot! Meaning that these hotels with hot tubs in the room won't be on the market for too long as they are some of the best ones. That's why I recommend you book early!
Have fun exploring New Jersey's marvelous nature and chilling on the beach! If you've got any questions about the hotels or your trip, just drop a comment below and I'll happily help you!
Safe travels,
Victoria
---
Pin it for later!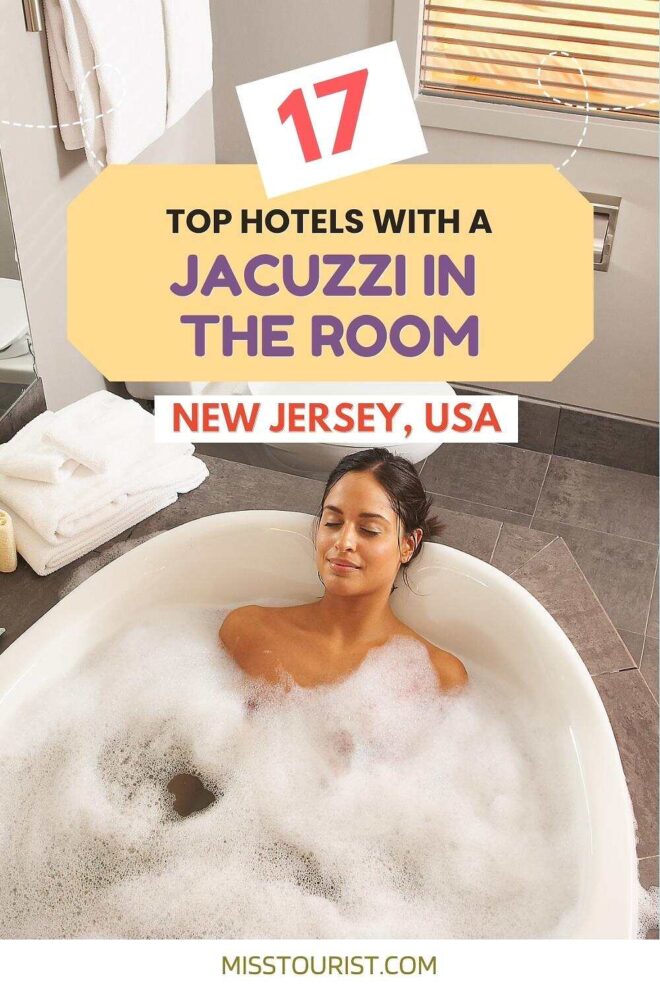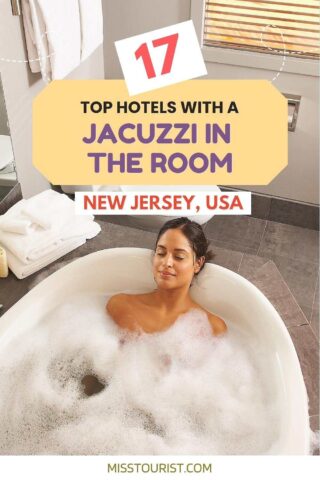 Pin it for later!