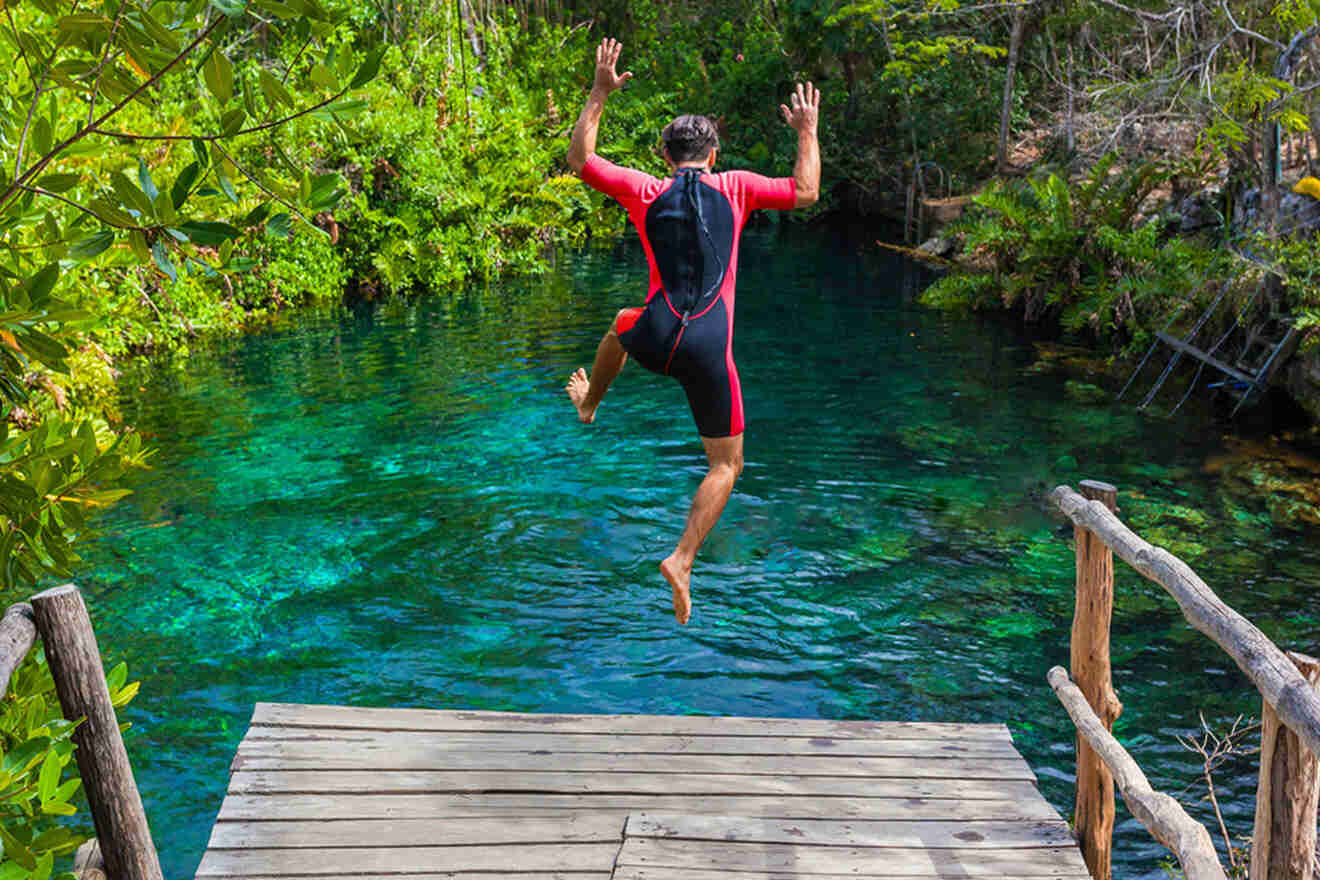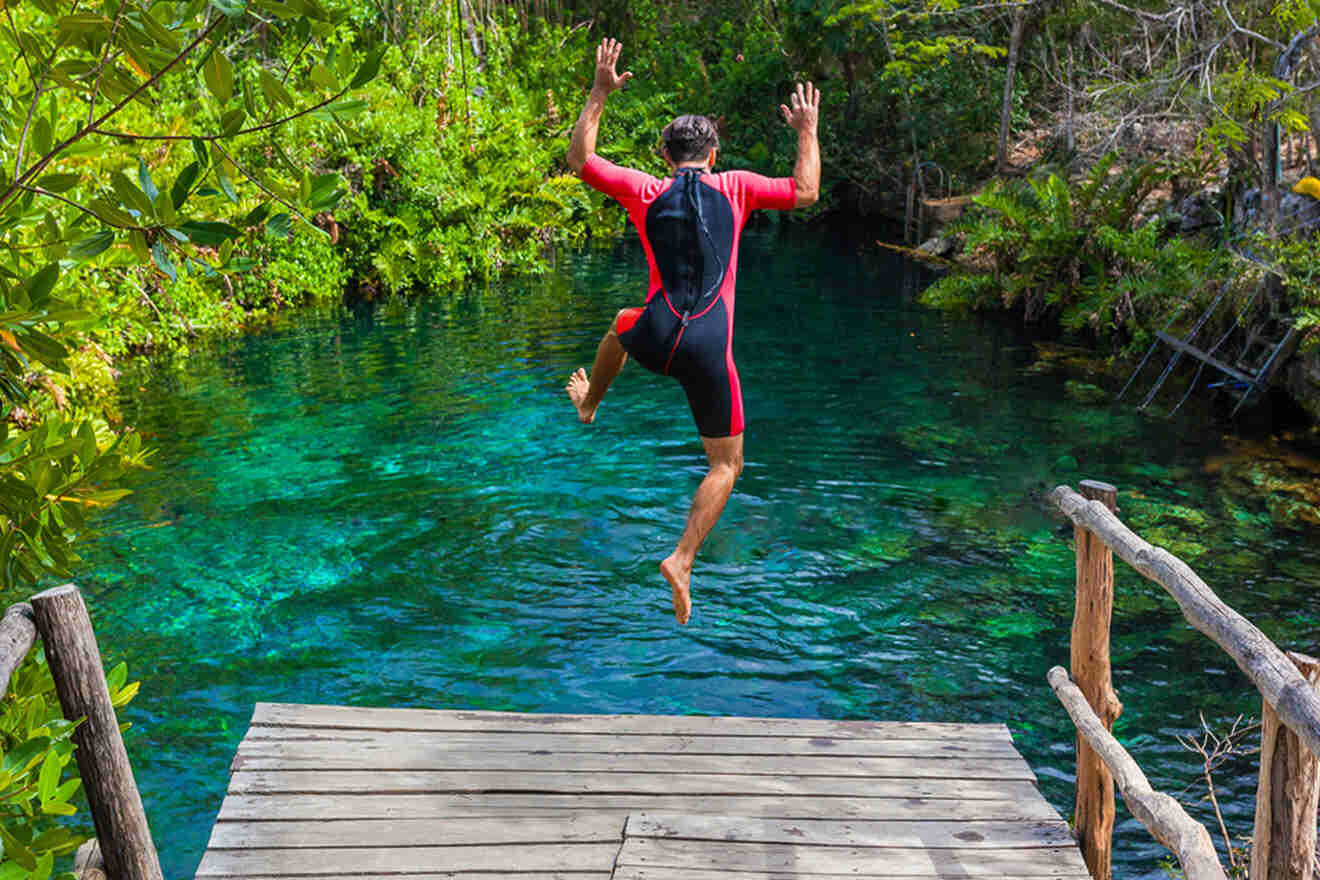 If you're planning a trip to Mexico, then cenote tours in Cancún must be one of the first experiences you stumbled upon during your research. It's an iconic natural wonder every adventurer is dying to see in person.
Given how famous they are, it's easy to get lost among the array of different options for experiencing authentic swim-in cenotes. So, I decided to help all my readers and research all the possibilities, read many different reviews, and make comparisons. The end result is the compiled list of the very best cenote tours in Cancún.
I also added a little bonus of additional tours you might be interested in while in Cancún.
Since this is one of the most sought-after and iconic nature sights, you better believe that many tourists worldwide are hurrying up to reserve their place on those excursions. So, be well prepared, and book your tours in advance!
Let's dive in!
If you are in a hurry
Here are the best Cenote tours:
1. Explore Chichen Itza on the Cancún Cenote tour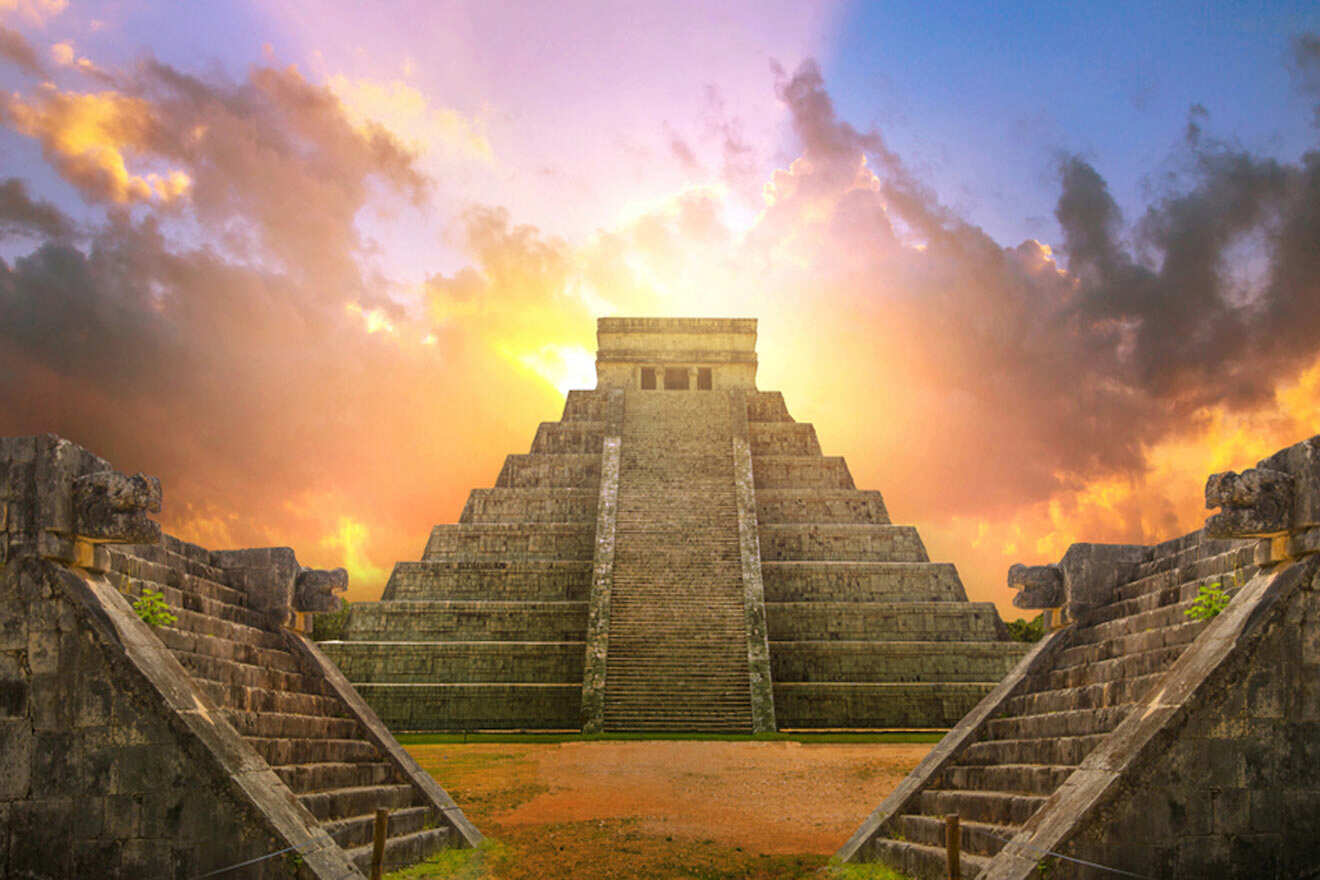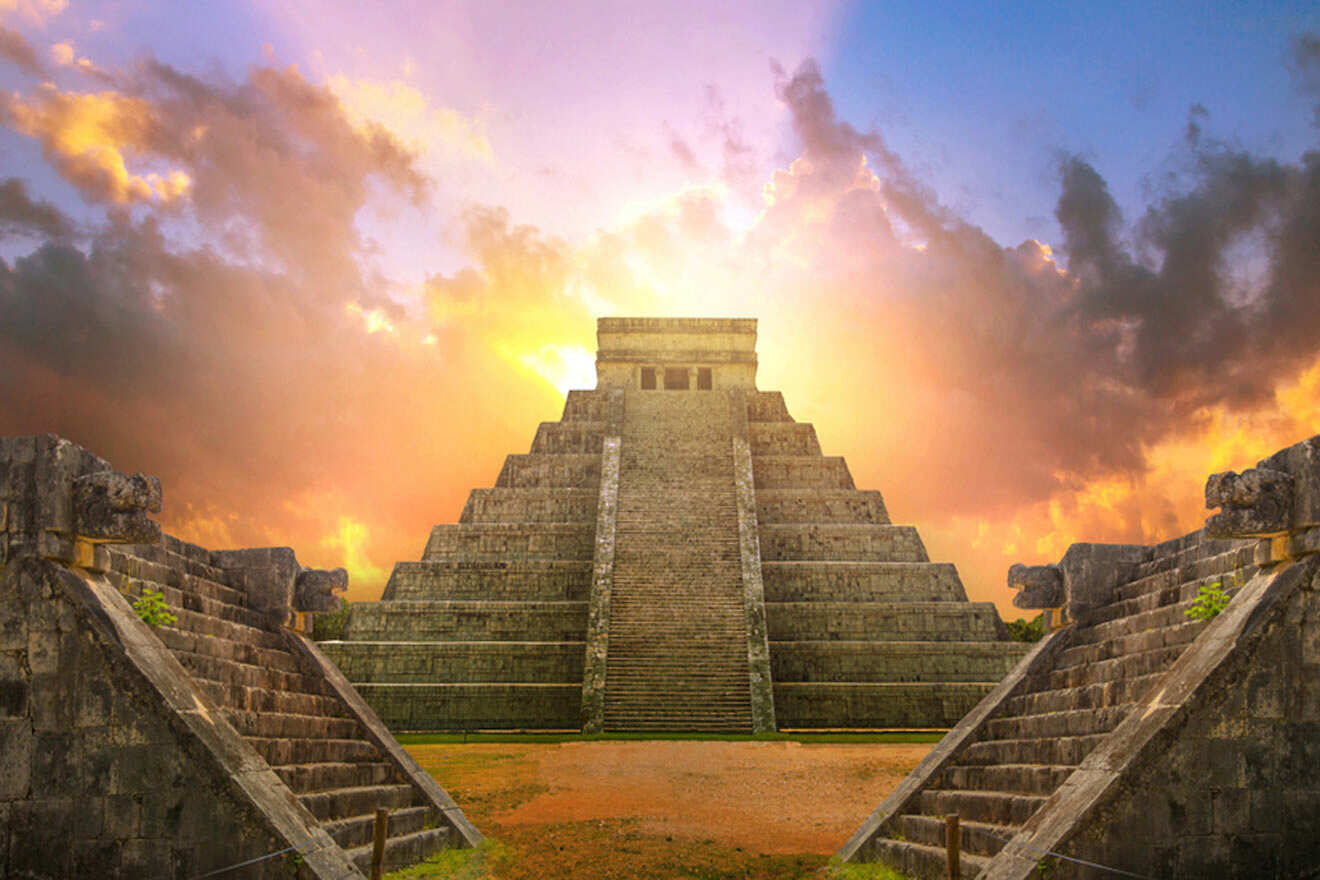 Duration: 2 hours
Price: from US$45
Why you should take it: a great combo tour
This is one of the cenote tours from Cancún every curious traveler should have on their to-do list. It offers pickup from Cancún and Riviera Maya and takes you to the iconic Chichen Itza, where you can witness the ancient beauty of the Kukulcan pyramids. After that, you can admire the beautiful cenotes and stroll through the colonial city of Valladolid. A truly enriching experience.
You'll also enjoy a tasty buffet lunch. This excursion will take 12 hours, and considering how many iconic spots you'll see, it's an incredible option for a quick rundown of Mexican culture. Of course, a certified guide will be part of the package, and you'll be able to ask them any questions.
If you want to add tequila on top of all this experience, I recommend this combo tour option. Tequila tastings are one of the most famous Mexican experiences you could embark on.
2. Take an ancient cenote tour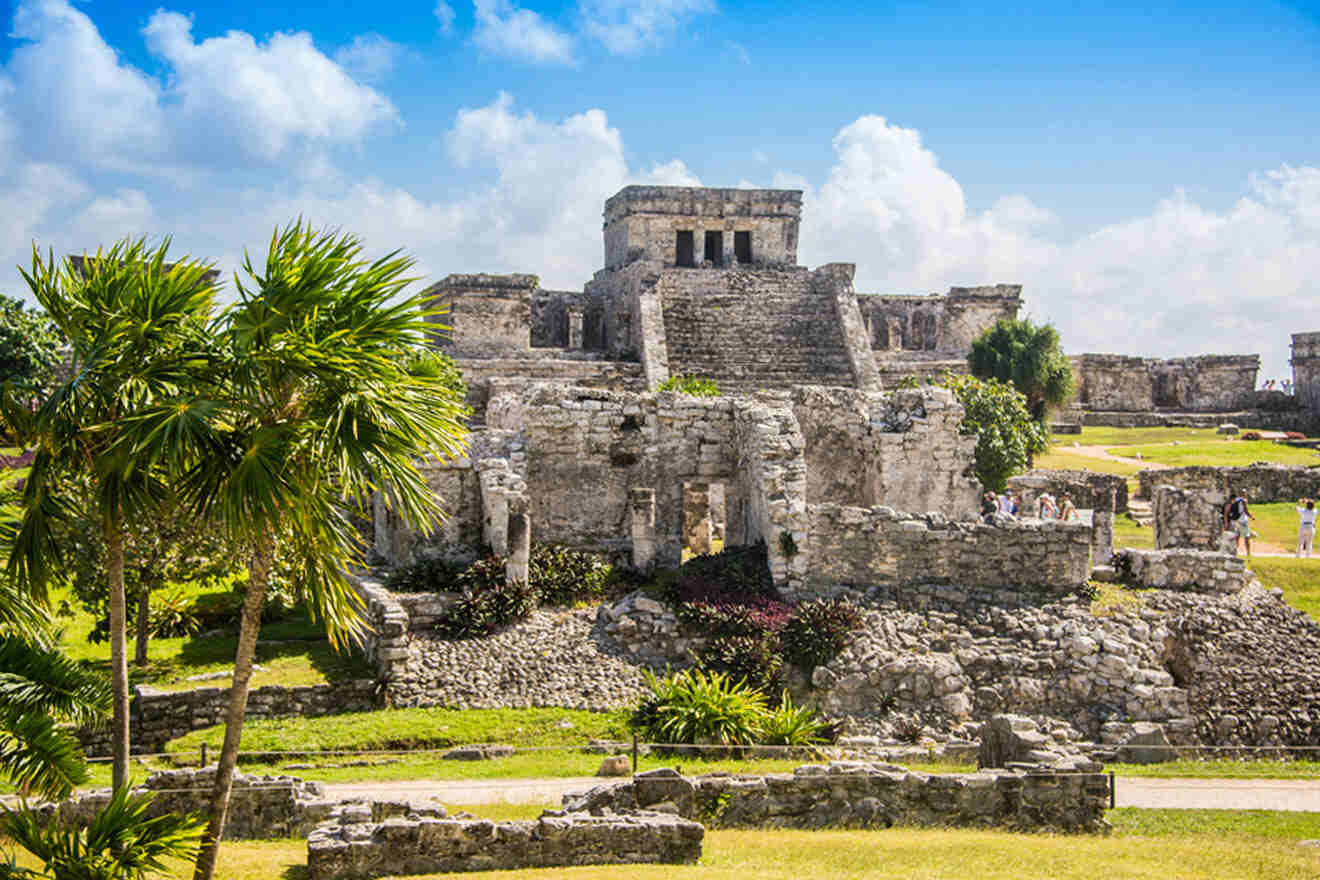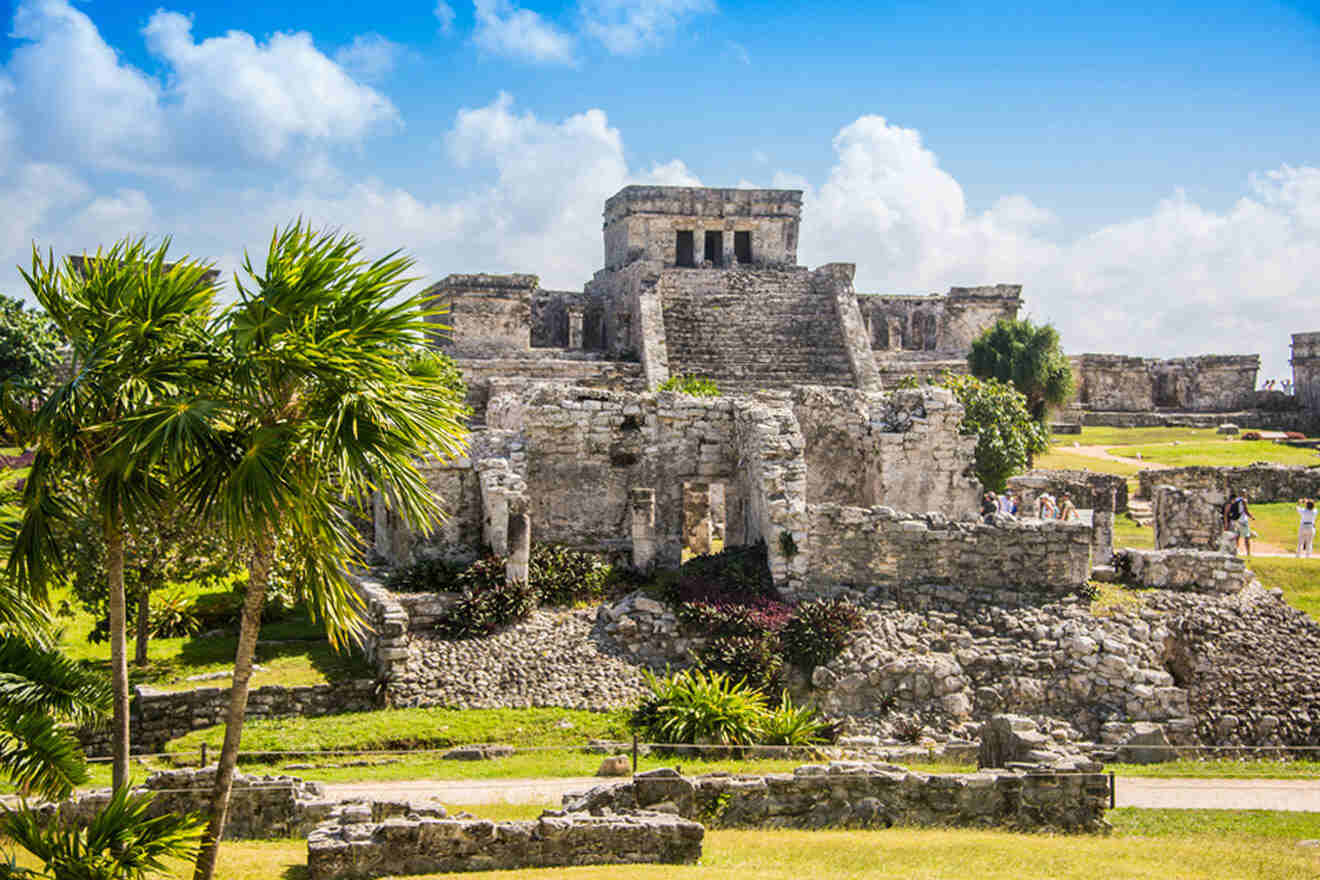 Duration: 8 hours
Price: from US$110
Why you should take it: the most popular Cenote tour
This famous combo tour will allow you to see spectacular cenotes and ancient Mayan ruins at Tulum archeological site. It's a great way to combine admiring natural wonders and learning about a significant history. You can also make use of your bilingual guide, who will be there with you every step of the day.
All this exploration will probably leave you hungry, but no worries, tour operators already thought about that and included lunch in this tour package. For the ultimate comfort, this excursion also offers round-trip transportation from your Cancún hotel.
Just when you thought this full-day tour couldn't get any better, one last adventure will be scuba diving in the Caribbean Sea, where you can feast your eyes on tropical fish and coral reefs. There will be souvenir photos available for purchase to keep your trip in memory.
3. Tour the Yucatan jungles' flooded sinkholes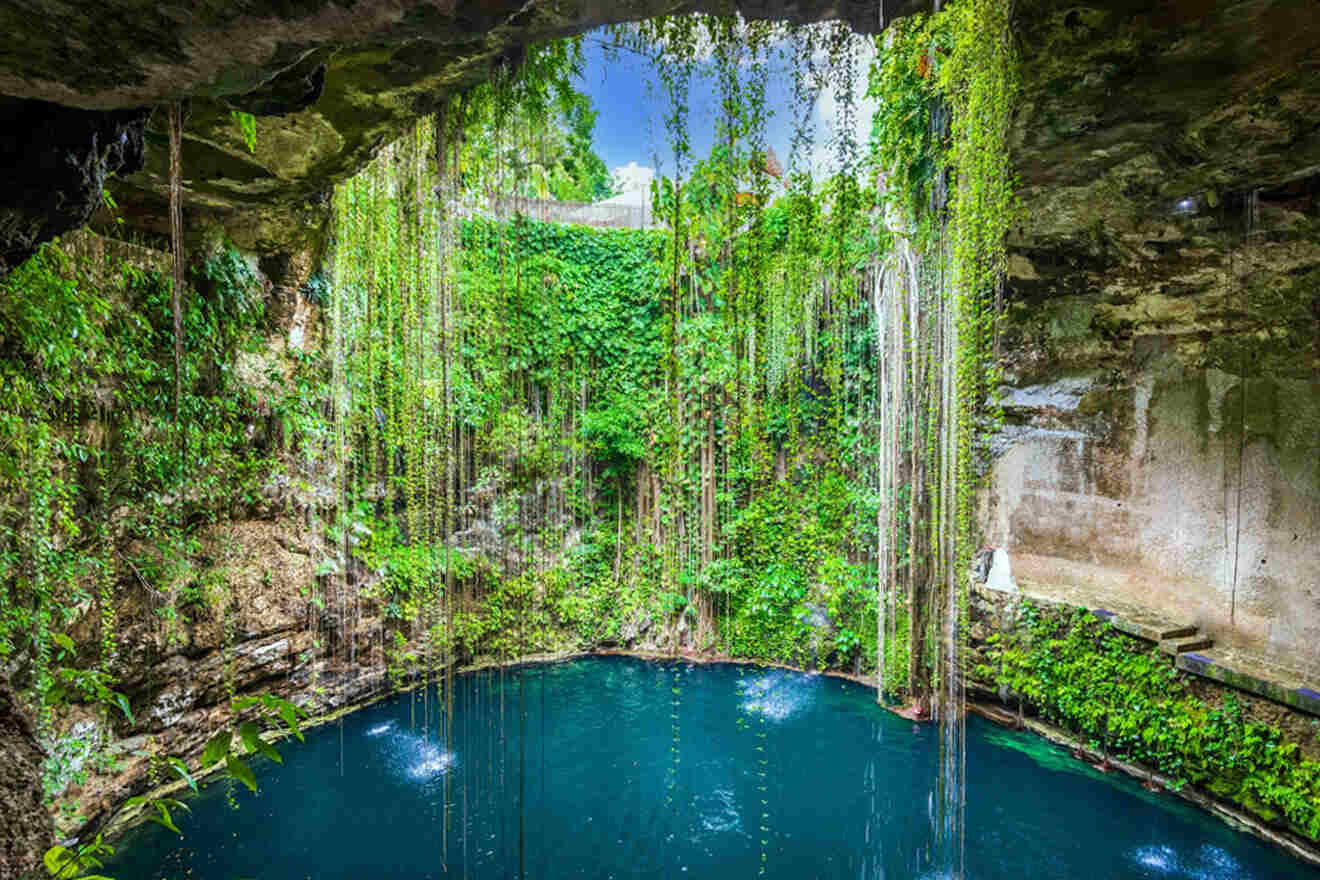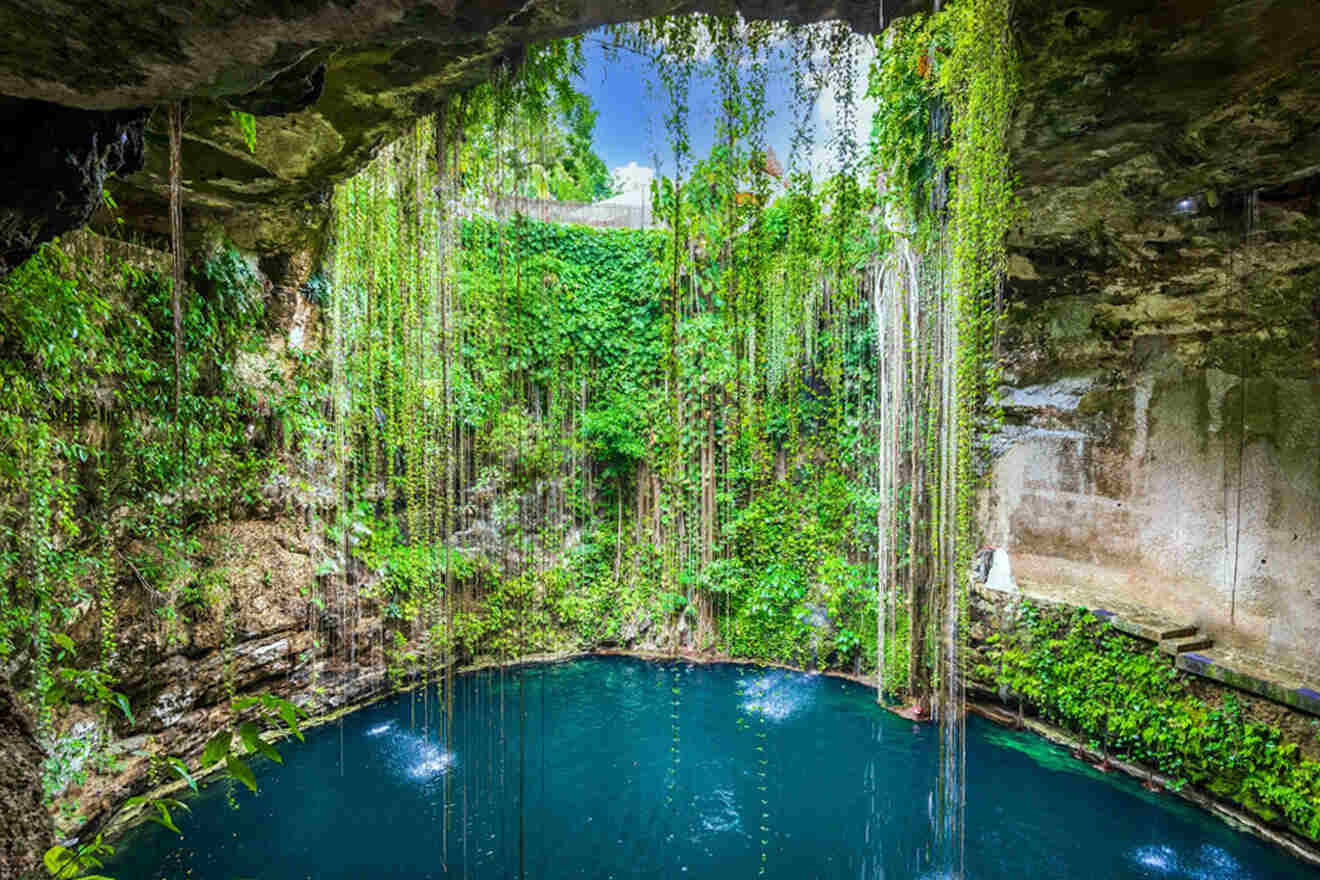 Duration: 2 hours
Price: from US$143
Why you should take it: see different famous cenotes
Mexico's Yucatan peninsula boasts lush vegetation and Mayan cenotes, and this guided tour is a perfect choice for adventurers who dare to explore them. You'll explore the ins and outs of the Mayan jungle and admire the incredible lagoon.
The tour begins with a ride to Puerto Morelos, where you'll feast on local coffee and chocolates before heading out into the Yucatan jungle. Your guide will focus on telling the stories about mythological creatures believed to be protectors of beautiful cenotes. The highlight of the most famous cenotes you'll see is a visit to underground caverns. It's a once-in-a-lifetime fairytale view of the underground river. Make sure to capture them on camera.
You'll also see an open cenote and the ancient cenote and cenote azul. This expedition will also give you a taste of delicious gourmet picnic lunch. The tour offers pickup from Cancún and Playa del Carmen.
4. Visit Tulum archaeological site and a cenote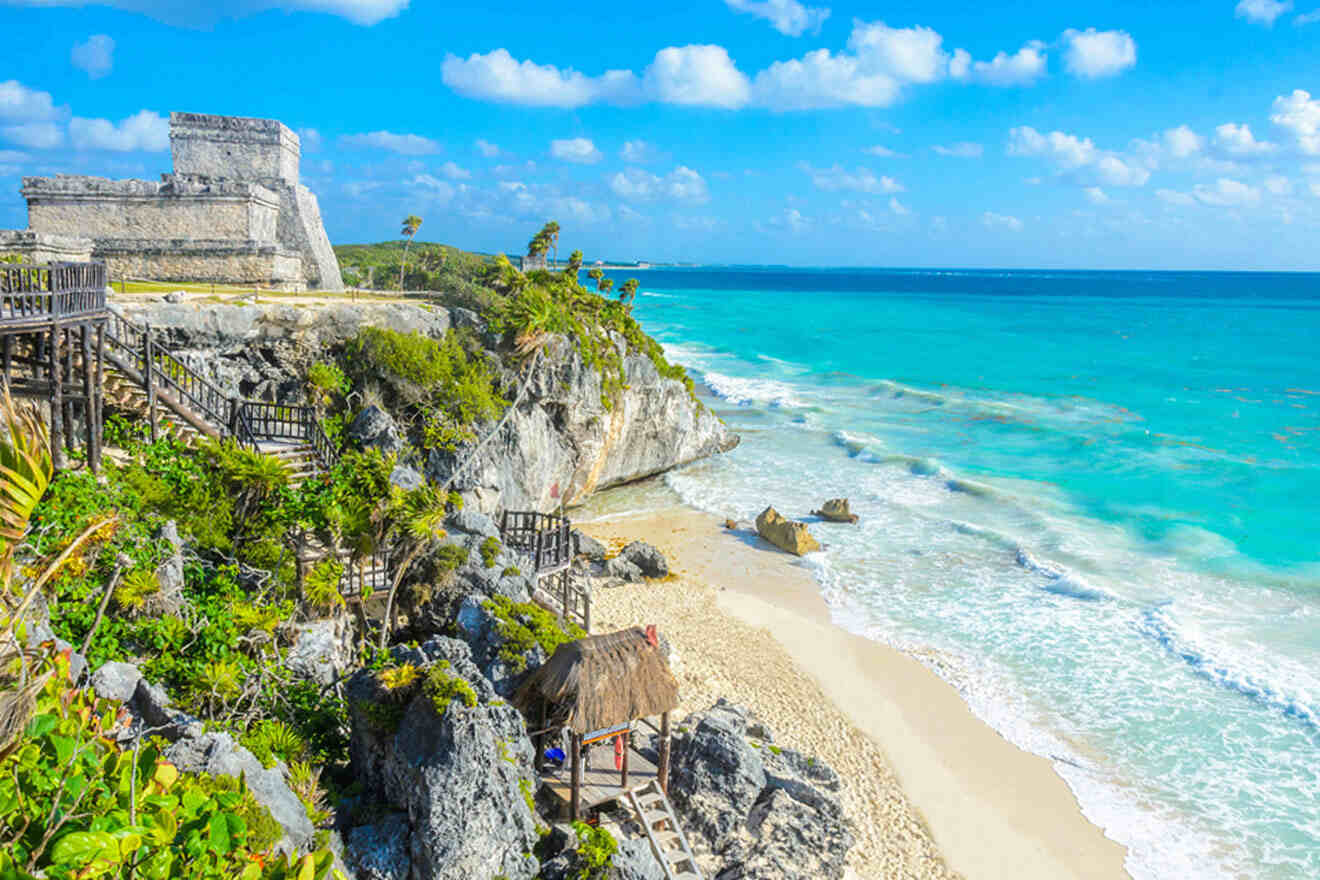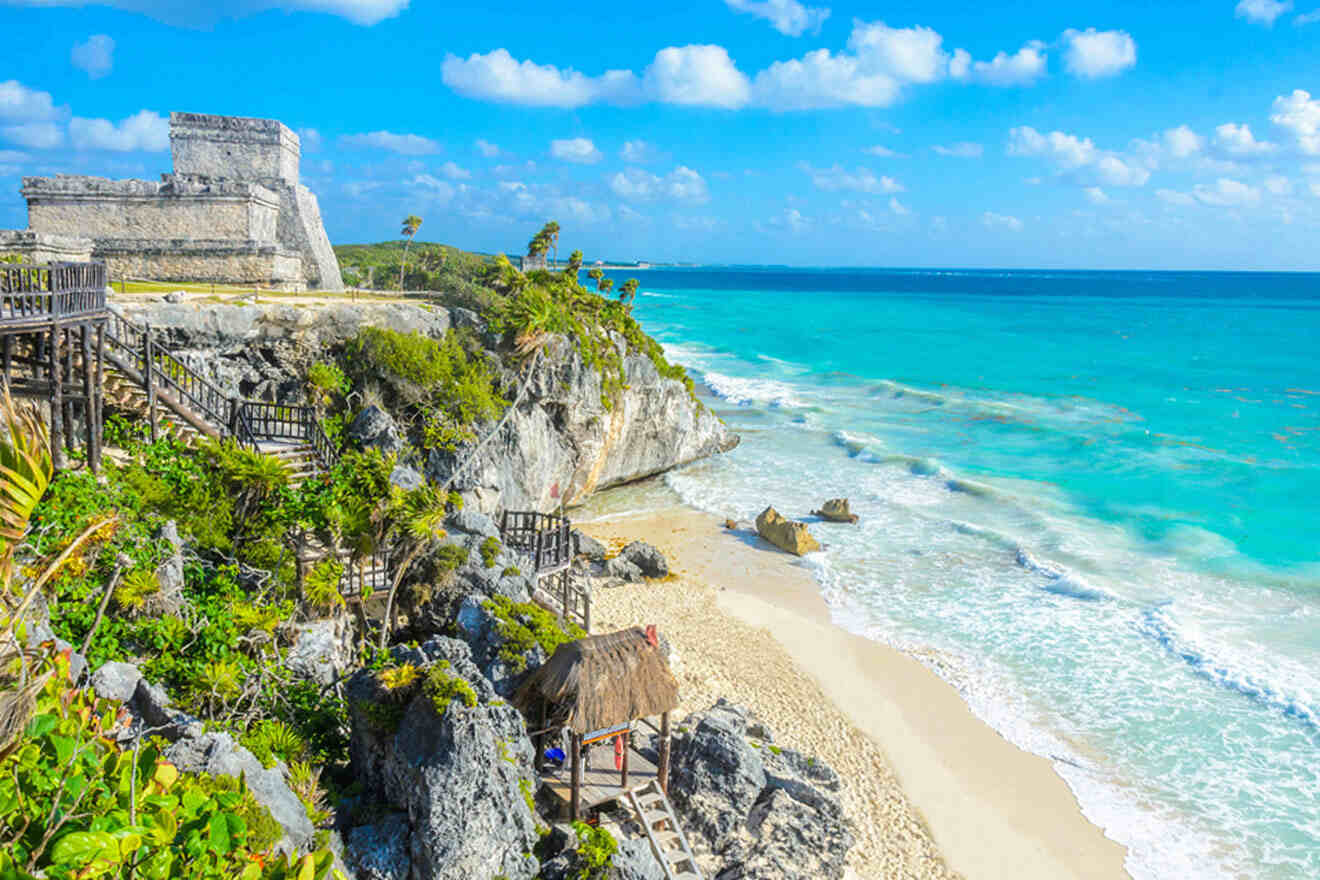 Duration: 5 hours
Price: from US$39
Why you should take it: shorter day trip for history buffs
This cenote tour from Cancún is a true gem for anyone interested in immersing themselves in Mexican culture in a relatively short time. You'll experience the mystery of an ancient civilization with an amazing tour from Cancún to Tulum and its incredible cenotes.
Dive into the past as you visit El Castillo's pyramid temple, a relic left behind by the Mayans. All this is done in a relatively short time.
Glimpse the breathtaking beauty of the Caribbean Sea and take a stroll along its vivid shores. Afterward, you can relax at Tulum's picturesque beach and prepare yourself for a thrilling adventure, where you'll take a pitstop at the gran cenote and chill out with an amazing swim in its natural pool.
You should keep in mind that roundtrip transportation is included in the price, but the cenote conservation fee of US$15 per person isn't.
5. Enjoy cenote swimming on an adventure tour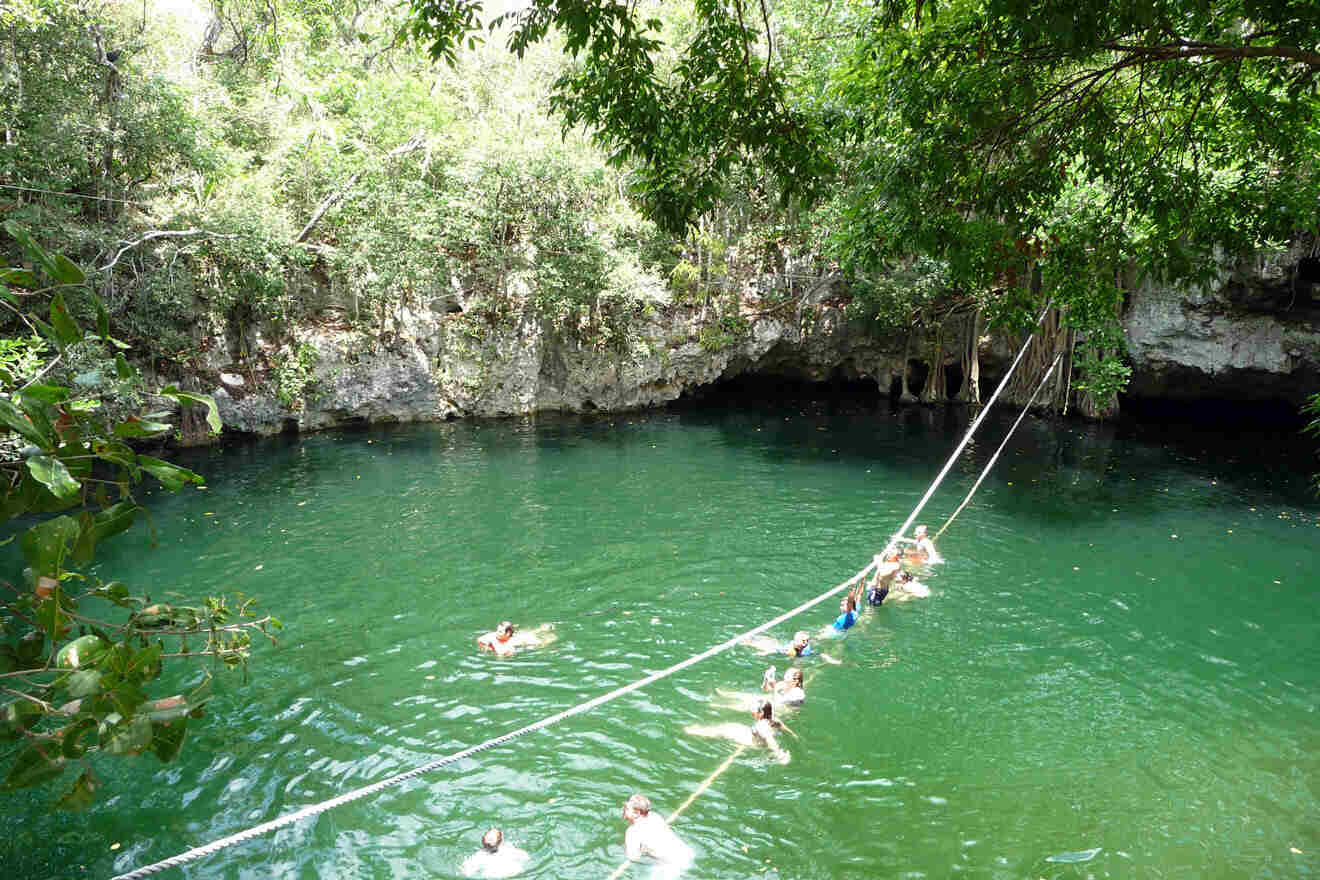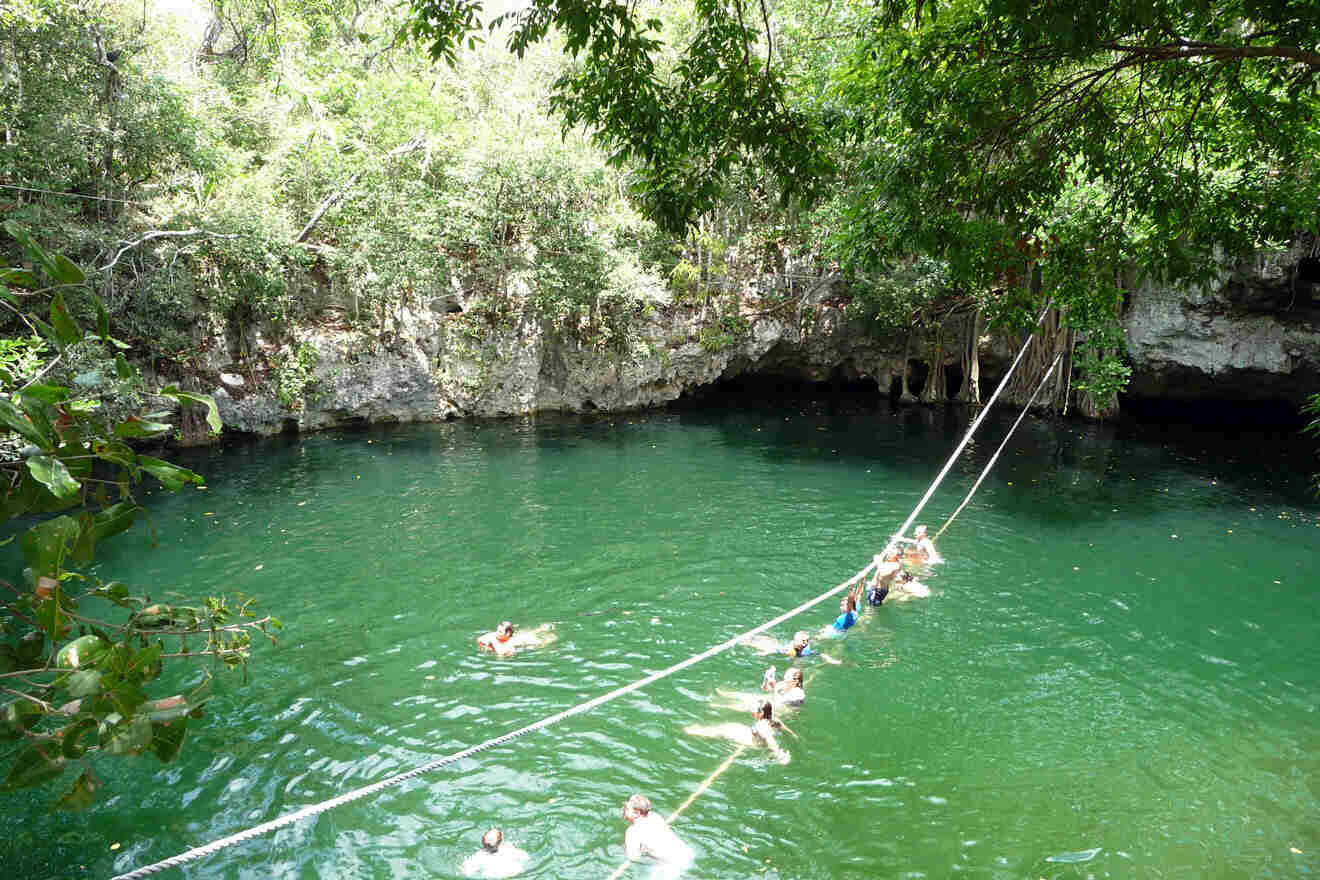 Duration: 6.5 hours
Price: from US$200
Why you should take it: for adrenaline junkies
Embark on an exciting getaway to the Yucatan's Selvatica adventure park! With so many adventurous things to do on this tour, only a true adrenaline junkie will dare to join it.
This tour package offers it ALL! Whether you're looking to go ziplining, scrambling around the ropes course, or bungee-swinging your way toward sheer excitement. Parachute jumping and even a rollercoaster?! That, too! Plus, unleash that explorer in you with some self-driven ATV action throughout the Yucatan jungle and take a dip in a cenote freshwater underground river.
Don't worry if indecisiveness takes over while you're inside. Just move from activity to activity until your heart is content. You'll have food and hydration covered with an included light lunch and water, as well as a convenient pickup at Cancún & Playa del Carmen hotels, so you're all set in and don't have to worry about anything!
6. See Río Secreto's cenotes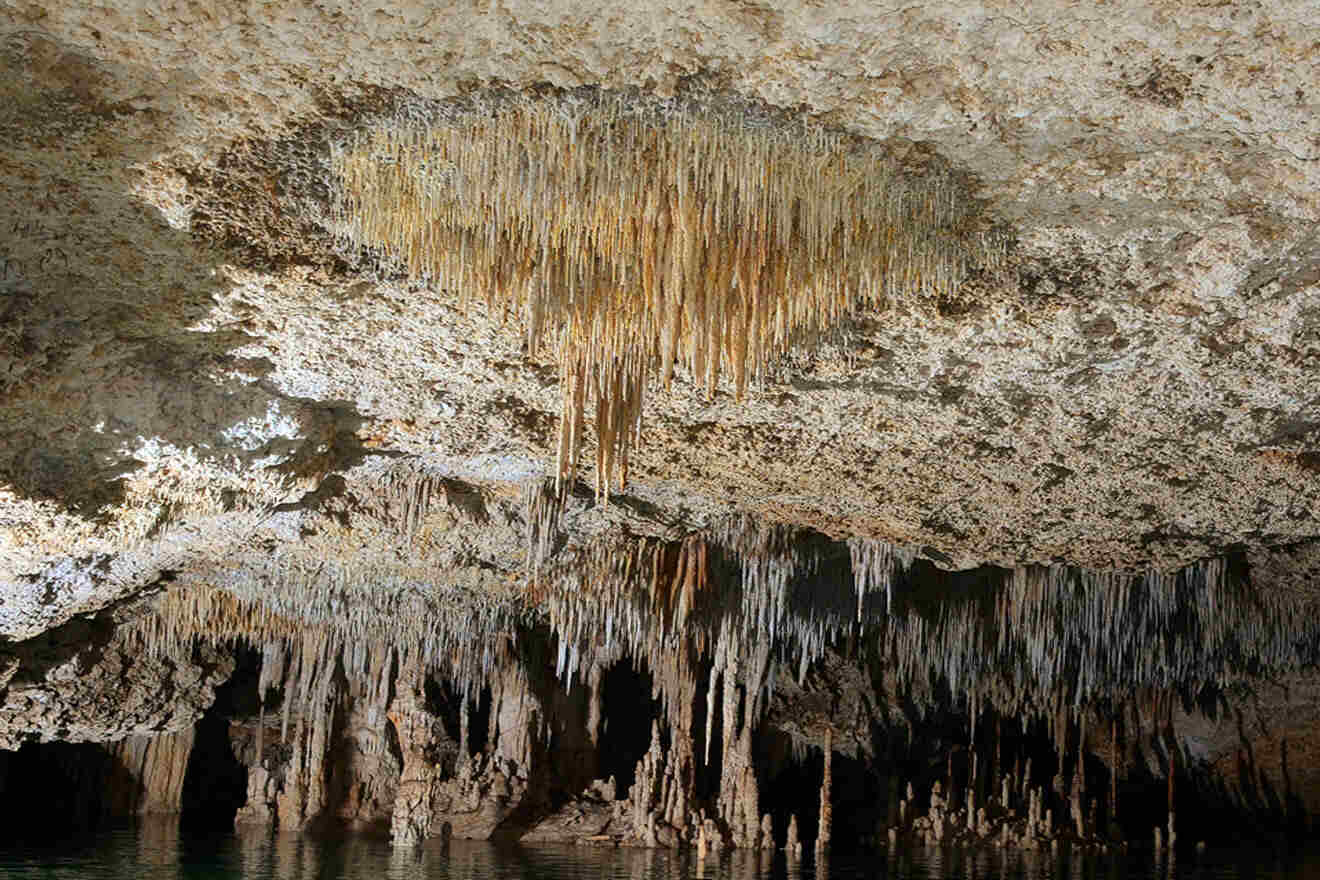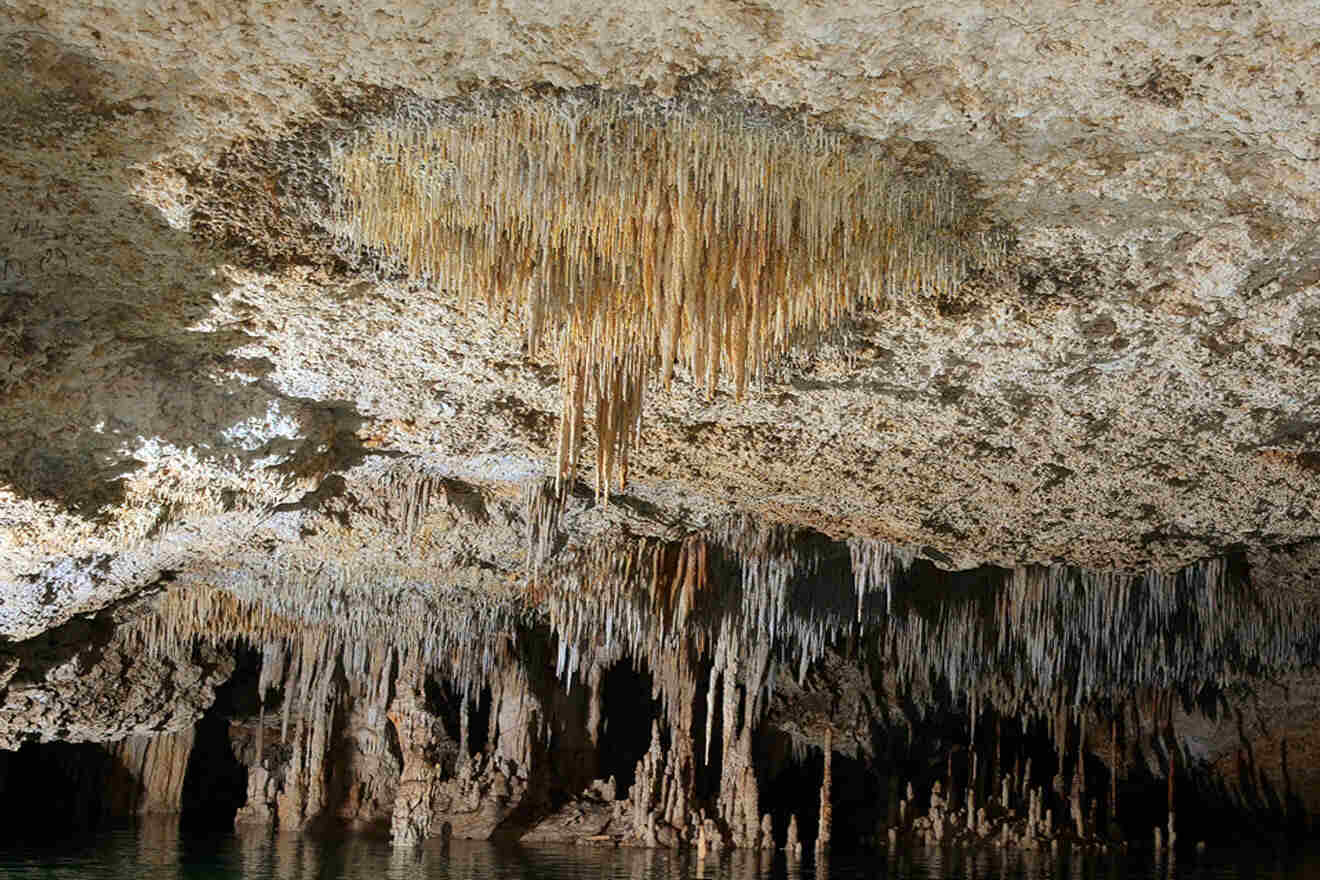 Duration: 8 hours
Price: from US$150
Why you should take it: swim in a semi-open cenote
If you're interested in a very specific cenote visit, this tour could be a good match for you.
Come and explore the underground river Río Secreto on this amazing guided cenote diving adventure! Tour operators will pick you up with ease, providing a hearty breakfast and giving you all the necessary snorkeling gear for an unforgettable day.
Peddle your way through lush jungle to discover captivating rock formations in suspenseful caverns, not to mention getting splashing around in semi-flooded caves before tucking into a delicious lunch (included, of course!) and then being dropped back off at Cancún.
With pickup from convenient central points, it's never been easier to experience the beauty of Río Secreto's "Mayan underworld." The tour lasts approximately 8 hours, and it has a small and intimate group size of up to 10 people. It's convenient and comfortable at the same time.
7. Ride a horse and witness wonderful cenotes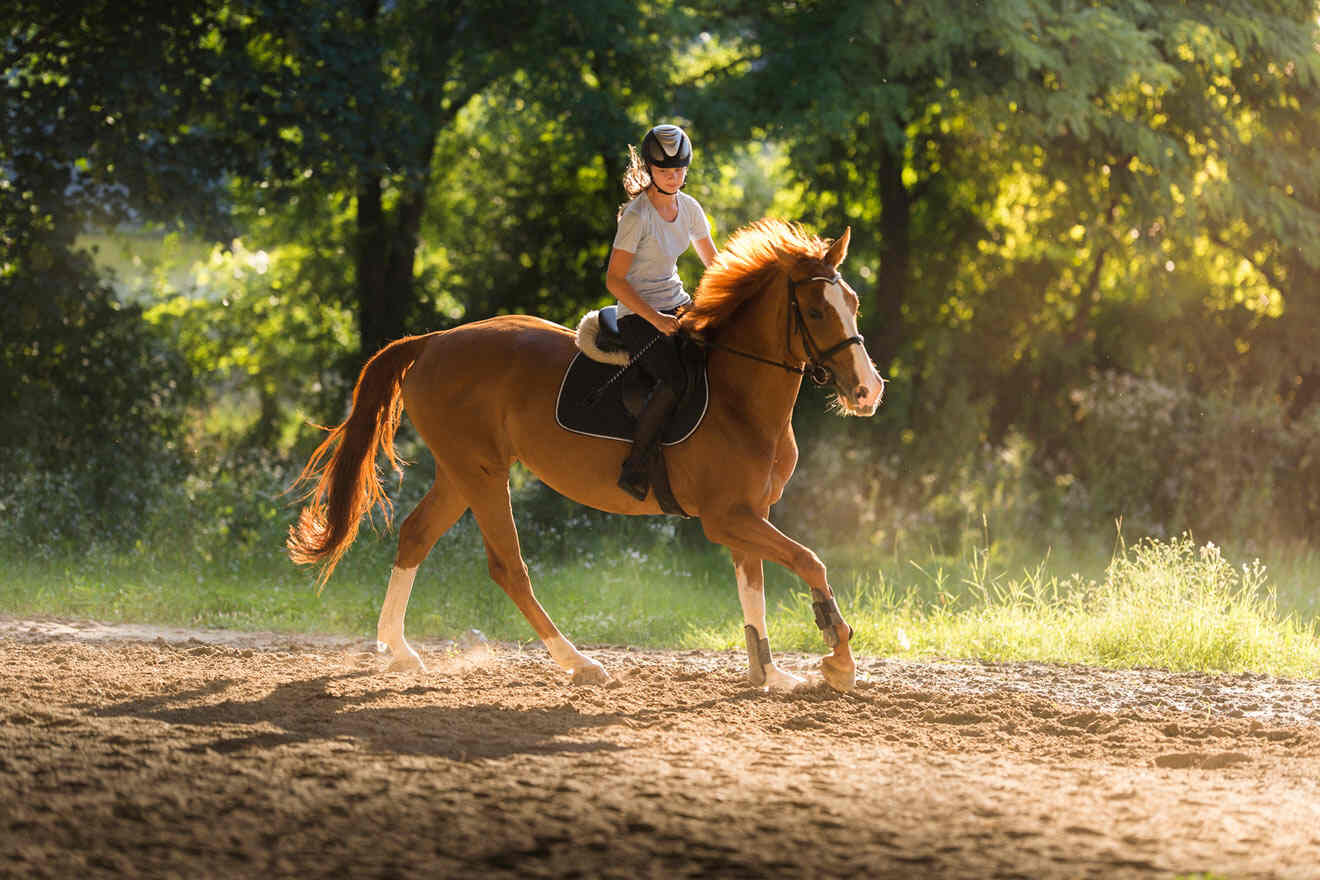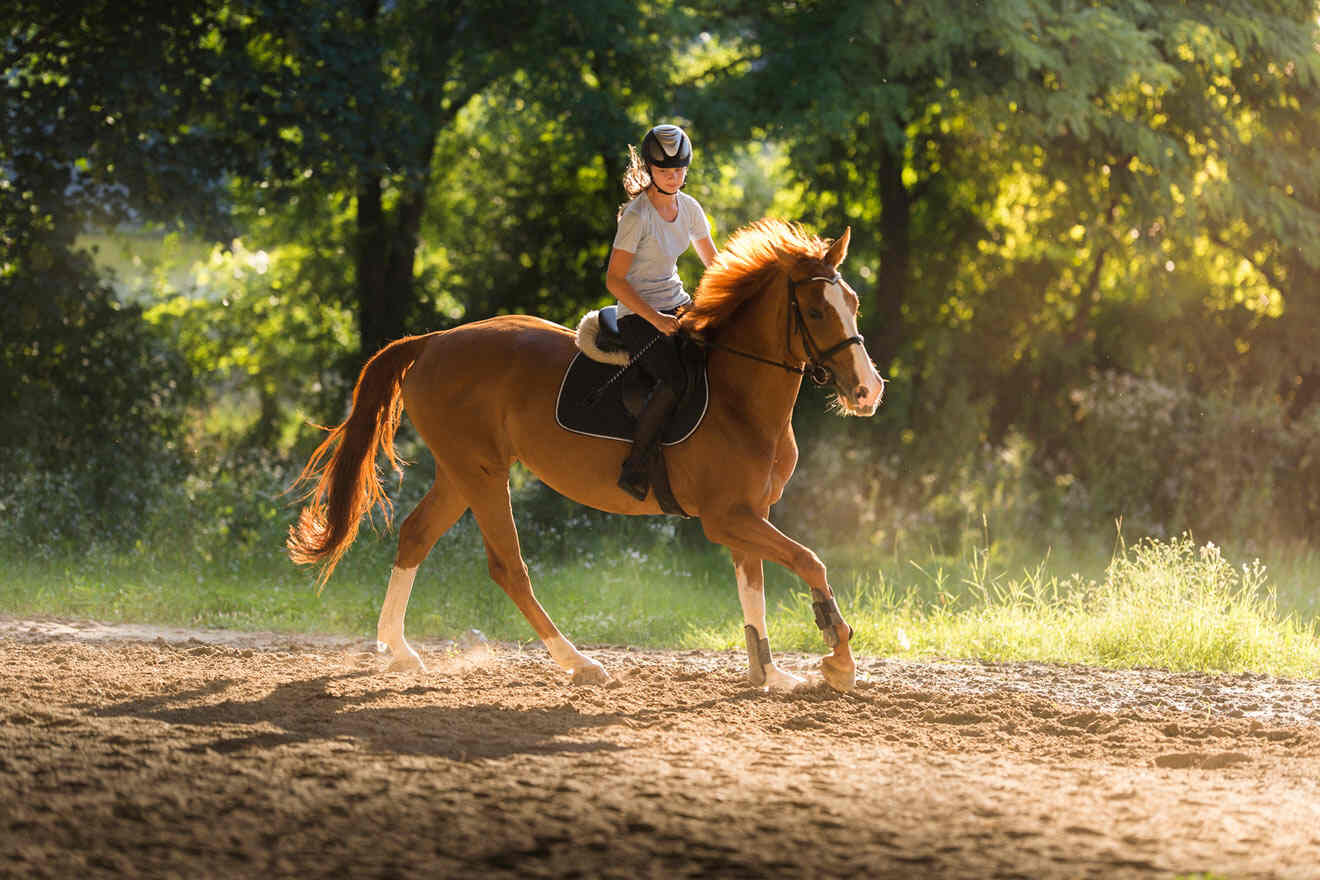 Duration: 4 hours
Price: from US$125
Why you should take it: a chance to ride a horse through the jungle
Saddle up and get ready for the ride of your life! This incredible package offers a zen-like experience as you take a horseback trek through the Mayan jungle. Ecosystems so lush you can almost feel mother nature's embrace, followed by 3 signature heart-pounding adventures that'll bring out the daredevil in all the travelers!
Start with an unforgettable ziplining journey before hitting some bumpy terrain on either a solo or shared ATV. After patting your trusty steed goodbye, cool off in one of their stunning cenotes and indulge yourself with an authentic Mexican meal to wrap it all up nicely. And that's not all – transfers are included too!
The experience is short but a very memorable one. As for the group size, you'll be accompanied by up to 20 more adventurers.
8. Feel like royalty on the private cenote tour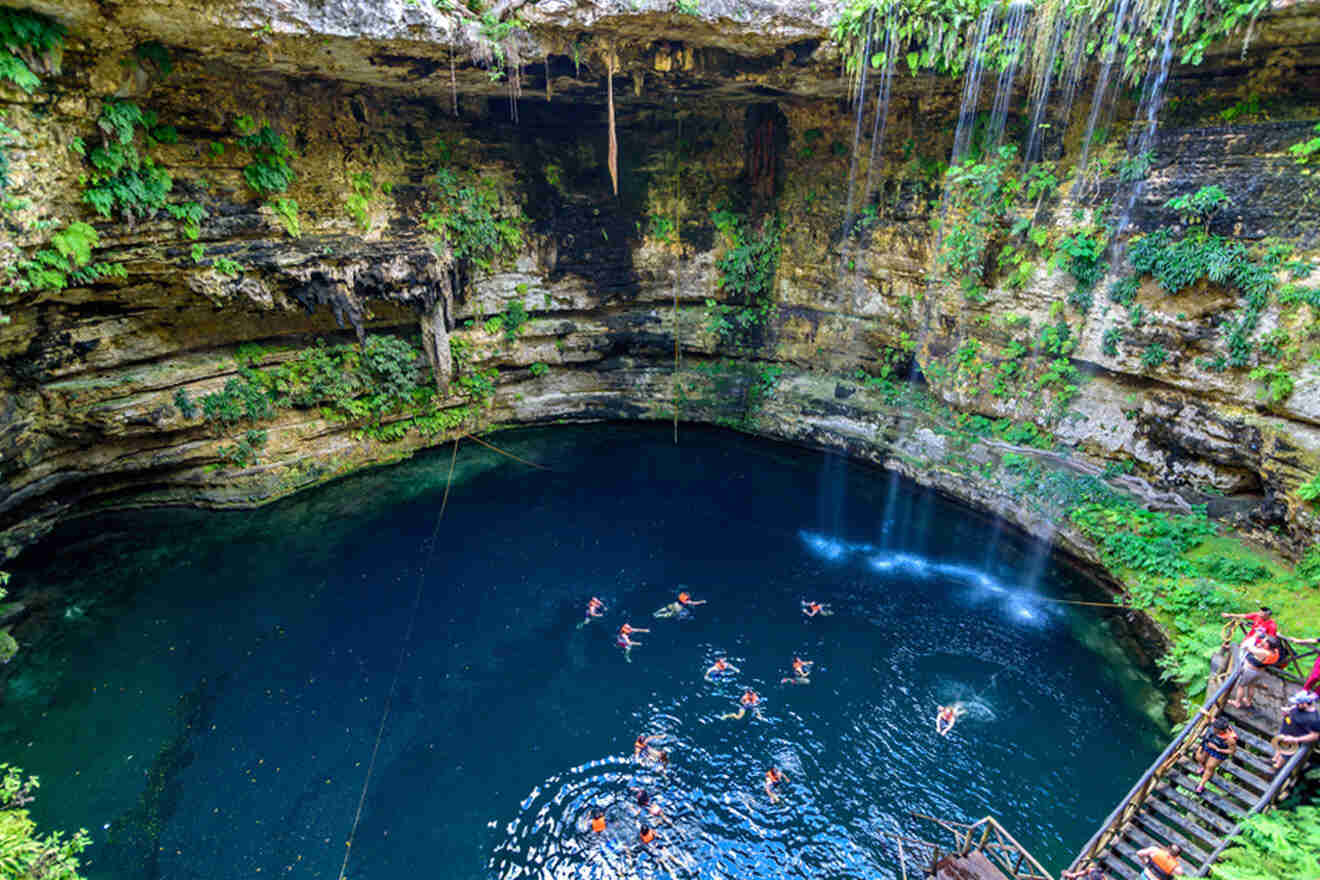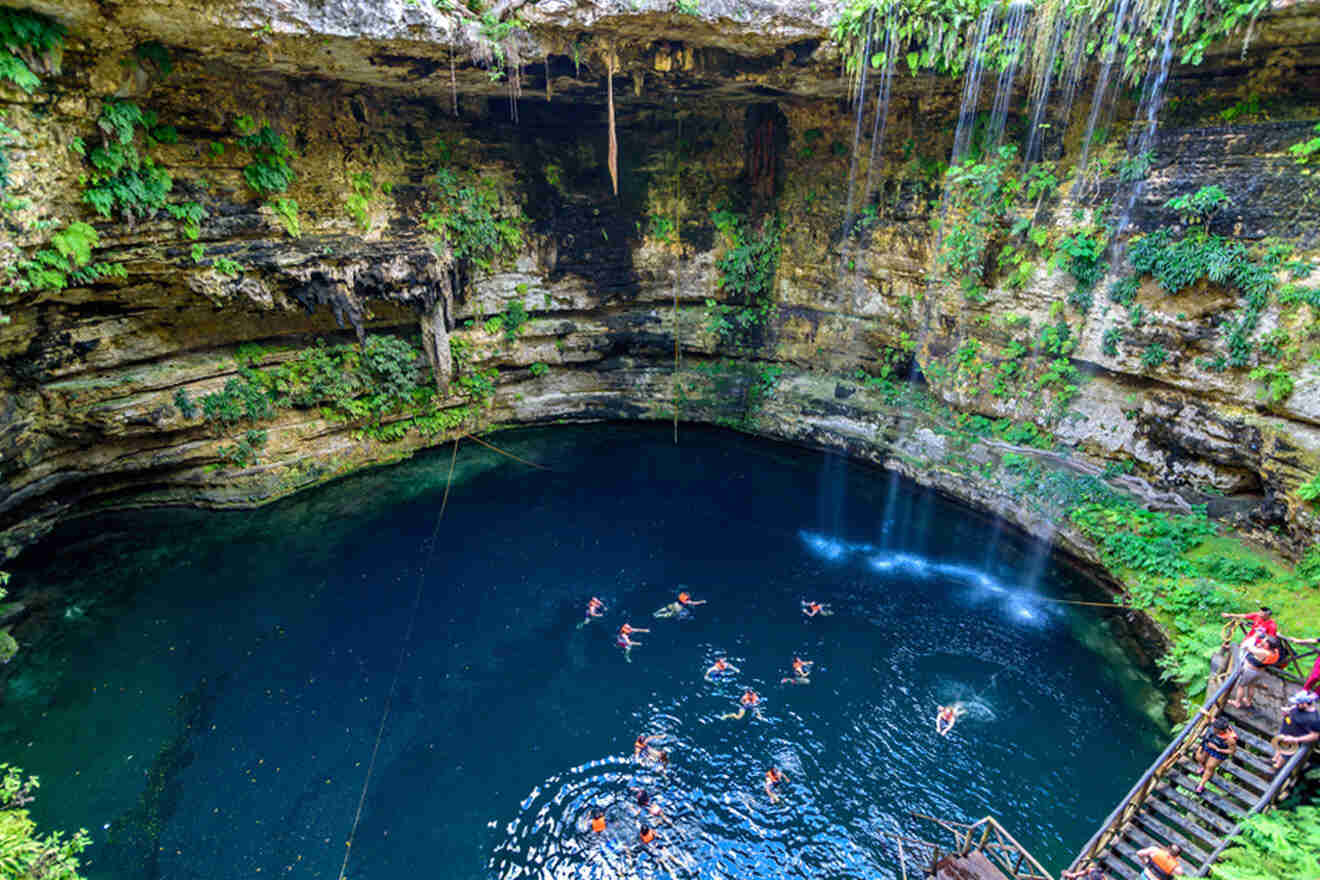 Duration: 6 hours
Price: from US$170
Why you should take it: VIP experience in the best cenotes
Cancún cenotes are great, but when they are coupled with the feeling of luxury, they are even better.
Get off the beach and into the depths of Yucatán with a VIP tour! Beyond your typical day in Playa del Carmen, you'll explore spectacular cenotes on an adventure led by a professional snorkel guide. And there's no need to worry about bringing equipment or paying any surprise fees – all of that is taken care of so you can chillax with chilled water while getting around in air-conditioned comfort.
You'll feast your eyes on the open and closed cenote and the open sky lagoon. And since it's a private tour, you'll have all the necessary attention of the tour guide. You can also bring along a group of friends for an interesting bonding experience inside the lagoons. I know I'd definitely love to have such an adventure with my friends.
9. Spend your morning in Chichen Itza & Cenote Ik Kil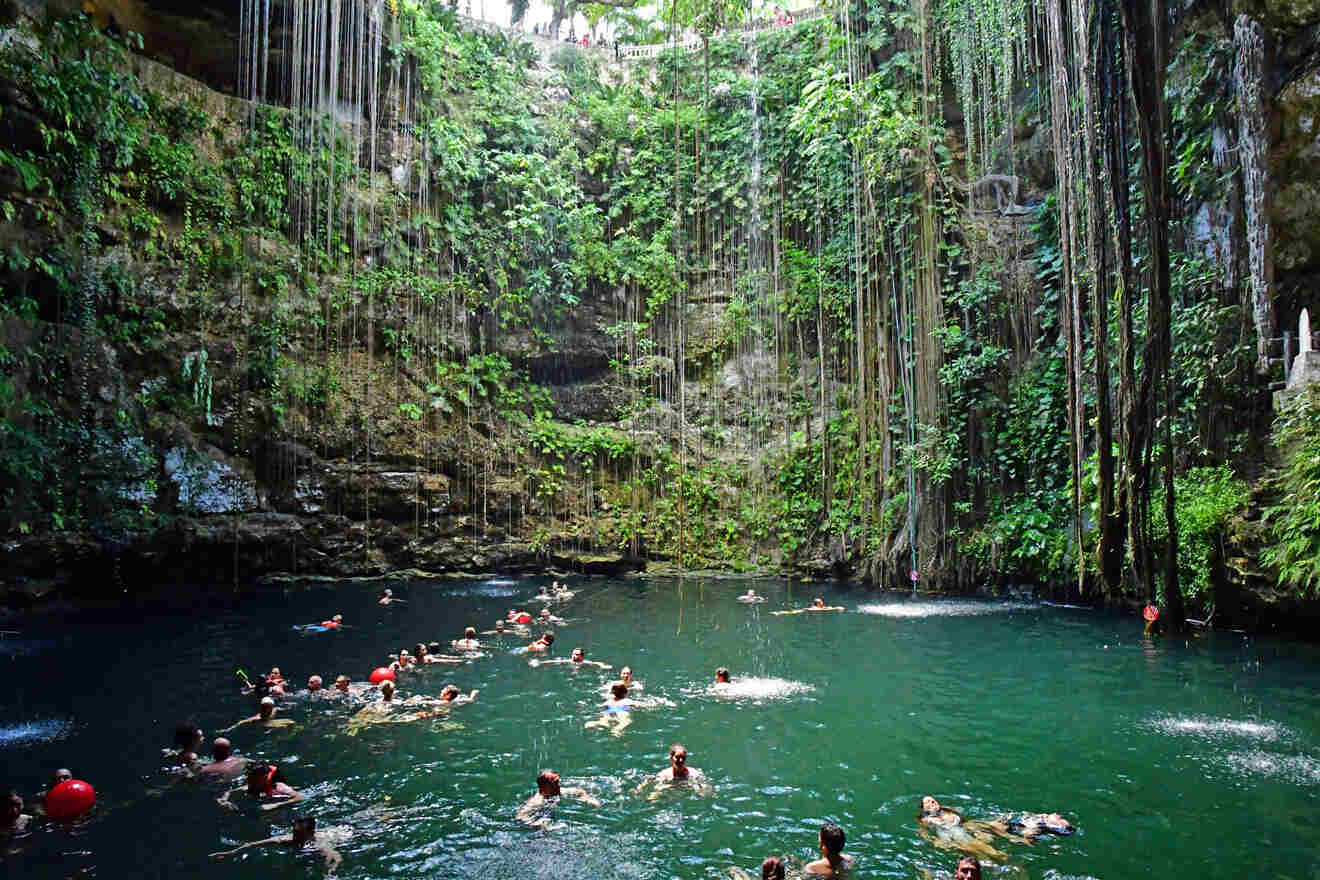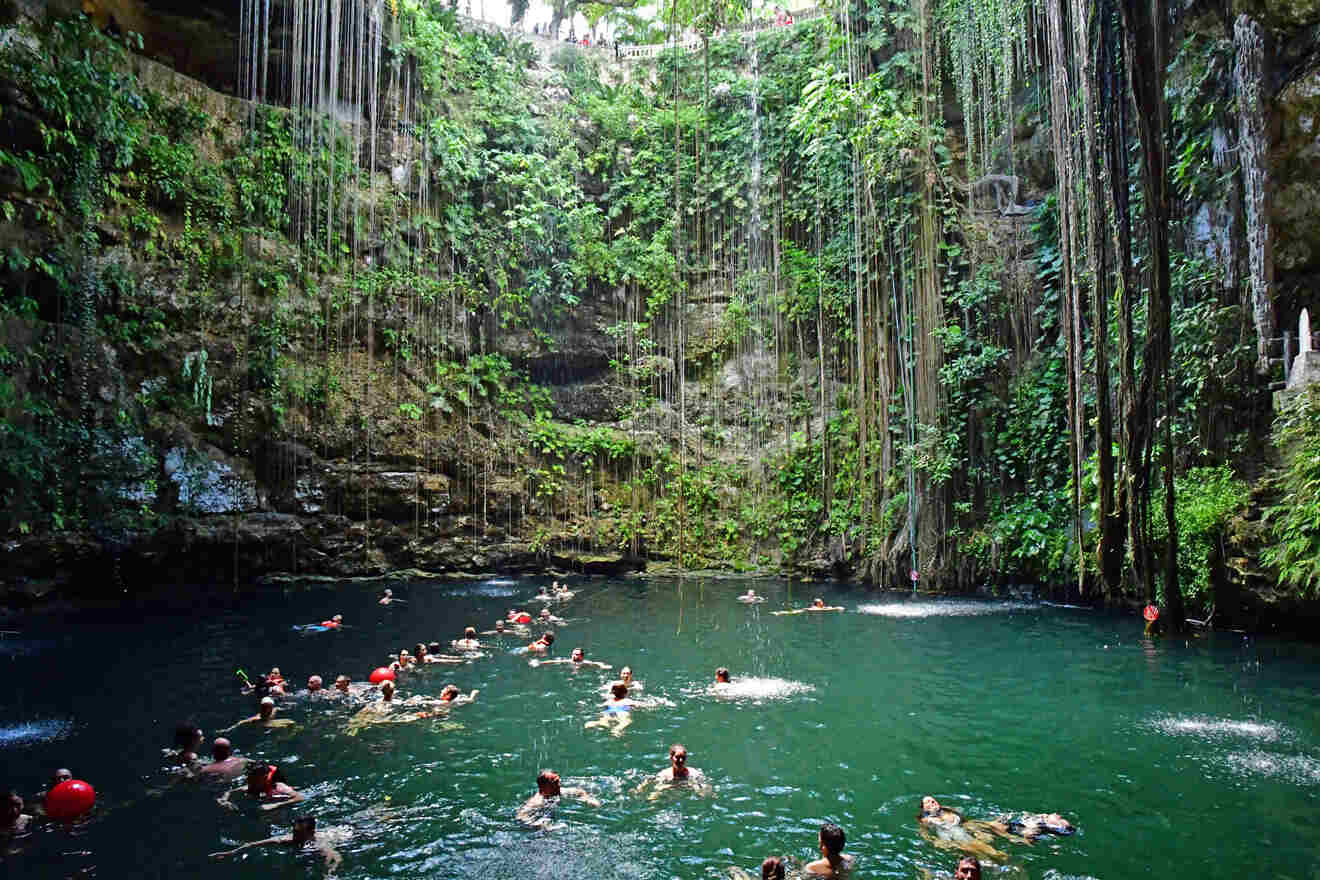 Duration: 6 to 8 hours
Price: from US$600
Why you should take it: combo tour for early birds
Get up early and see Chichen Itza and Ik Kil Cenote in a brand-new light!
Avoid the rush of tourists and the heat of the day as you experience this ancient Mayan city all to your lonesome during sunrise. And when that first glimmer of the sun begins to shine, revitalizing each of the towering Tulum ruins with its warm embrace, it's a sight like no other!
Your exclusive tour also includes a refreshing dip in the nearby Ik Kil cenote. It's one of the most photogenic cenotes in Mexico, along with the cenote Dos Ojos. So, you better believe your Insta feed will be on fire, especially if you add the sunrise glow to it.
You can personalize your itinerary to your wishes and add some additional stops at nearby cenotes, for example, Las Palmas cenote or Ruta de Los Cenotes.
10. Dare to join a cave adventure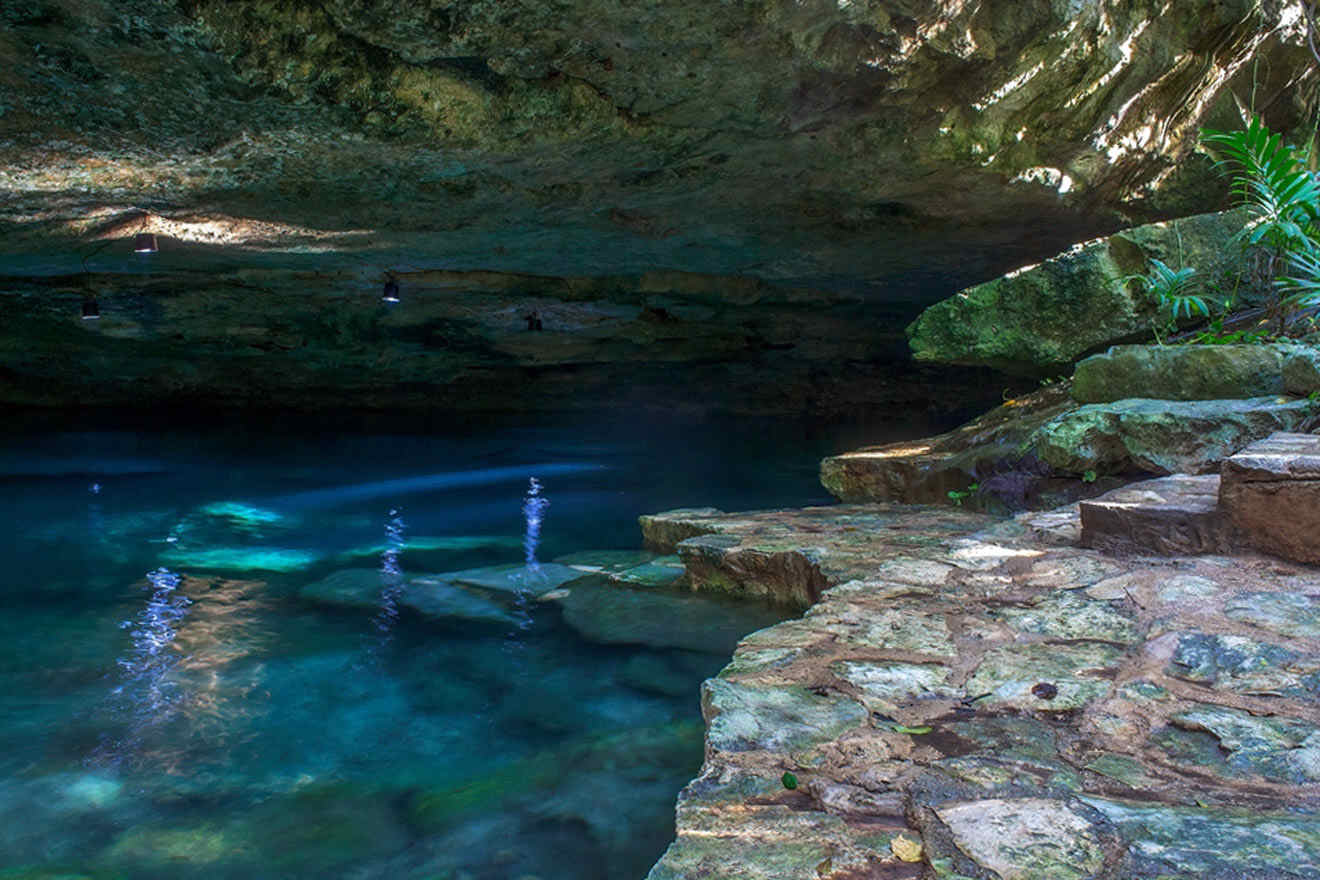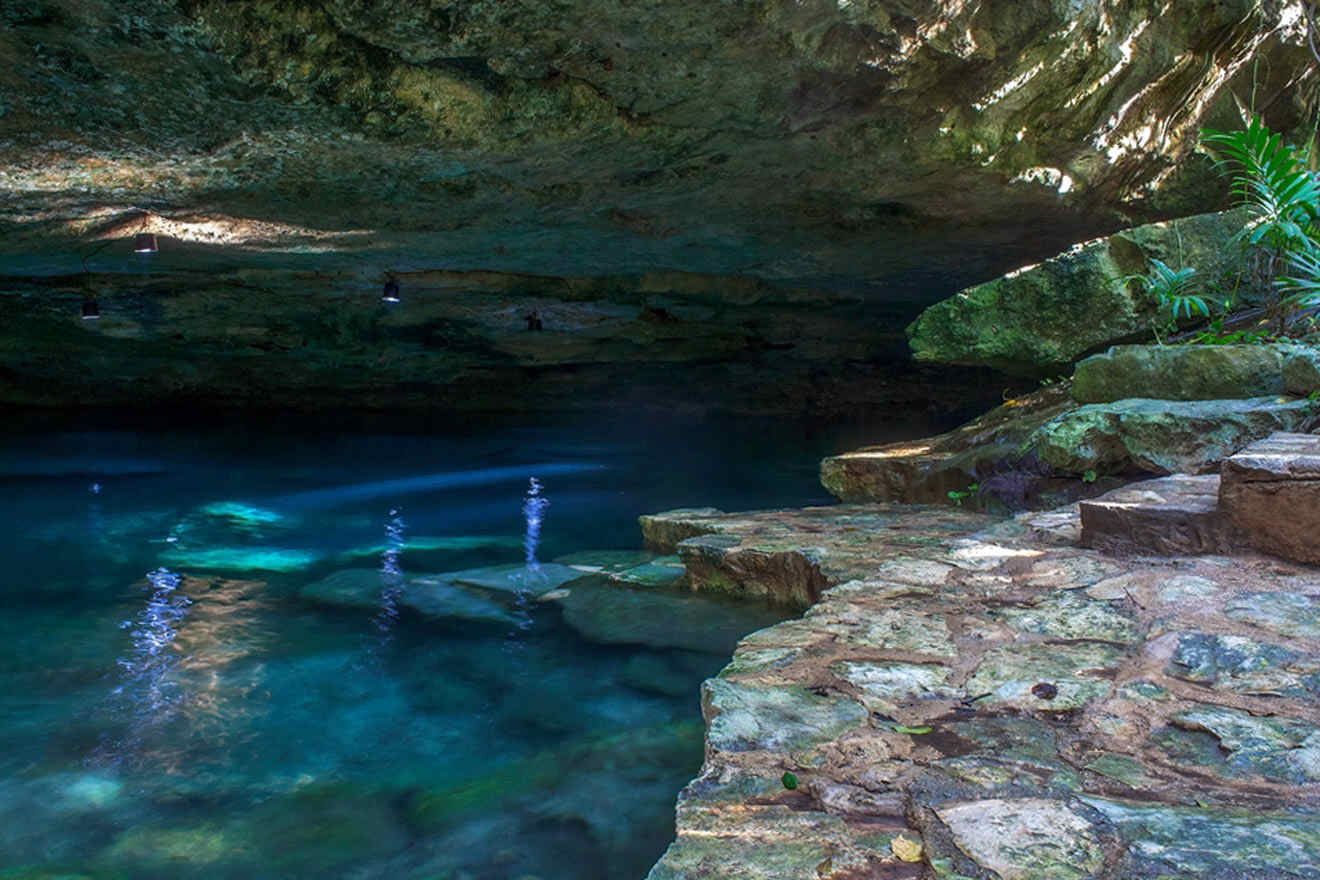 Duration: 7 to 9 hours
Price: from US$295
Why you should take it: includes Kantun-Chi visit
Cancún cenote tours with a special twist of adventure are the very best ones if you ask me. And this one fits that description quite well. You'll see cenotes in the Kantun-Chi cave. They might not be the best choice for swimming, but they are certainly one of the most visually striking ones.
Soak up the history of ancient Maya ruins and explore an underground wonderland with your own private guide as you travel from Cancún to Tulum and Kantun-Chi. Perched on a bluff overlooking the Caribbean Sea, you'll get to marvel at Tulum, once filled with merchants trading in Maya culture.
Travel on for a trip into the great unknown oceans beneath the ground, taking in stalactites and stalagmites forming astonishingly symmetrical shapes.
Lunch is provided, as well as return transport back to your hotel, so all you need to do is enjoy complete peace of mind.
11. Get to know 4 famous types of cenotes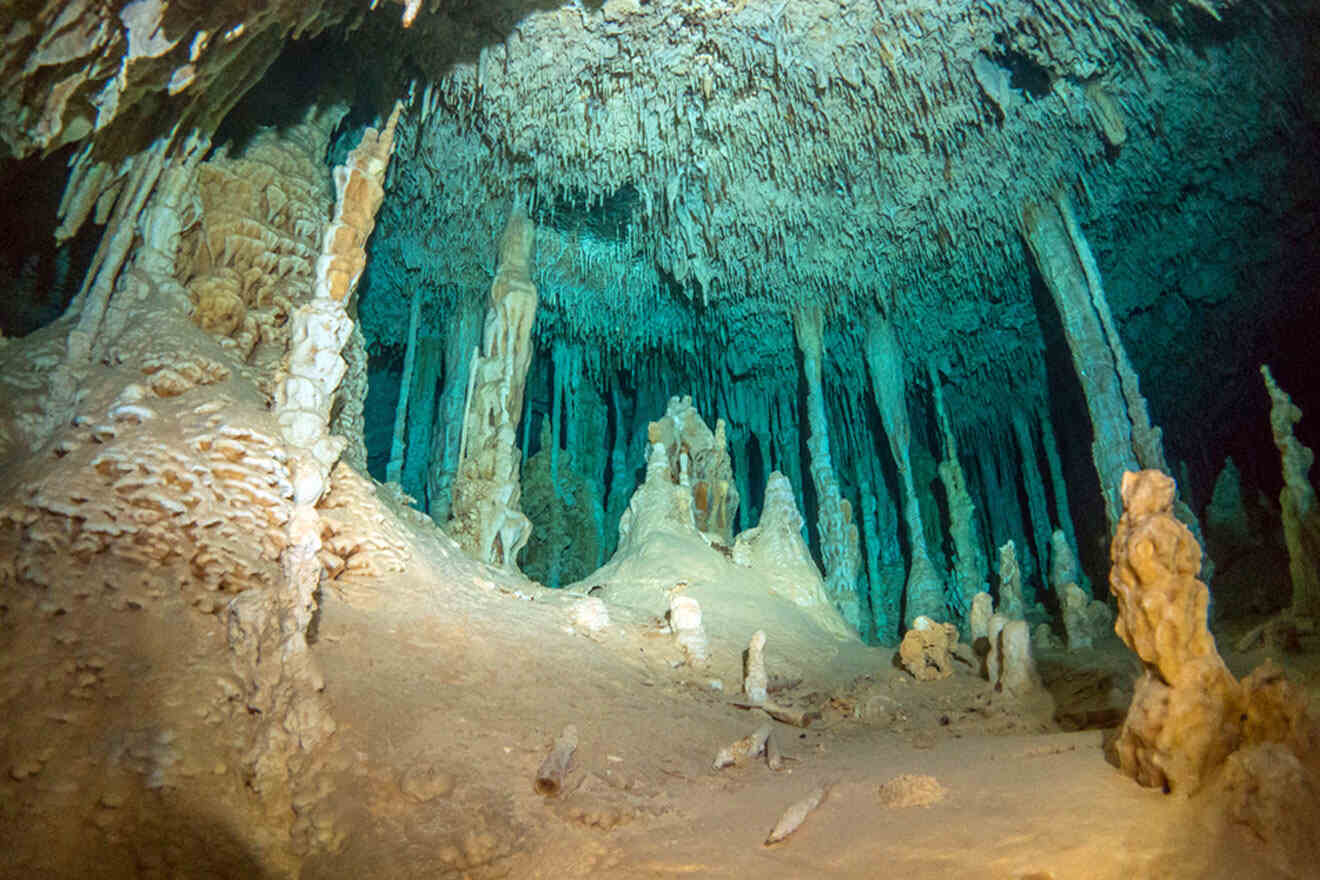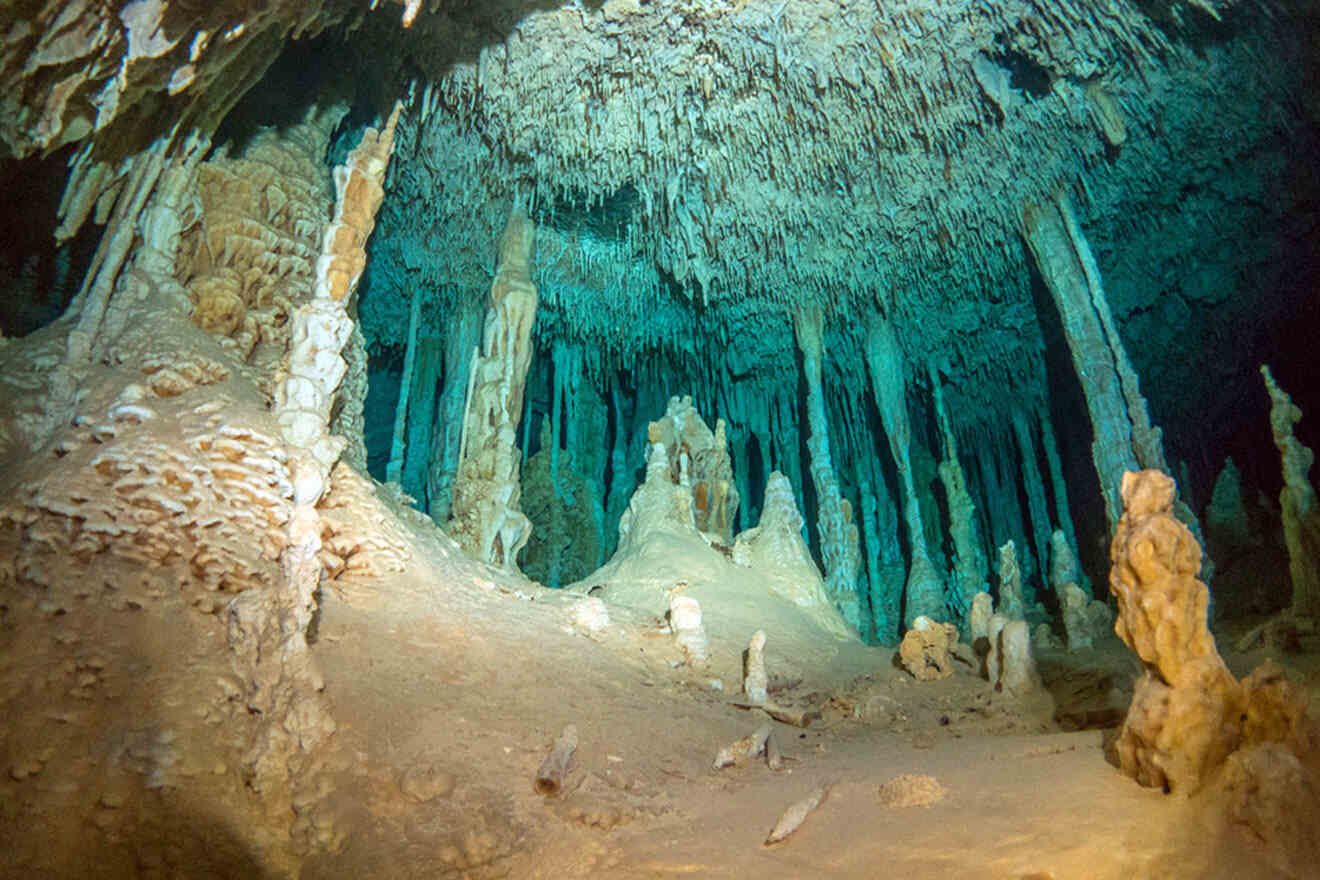 Duration: 10 hours
Price: from US$166
Why you should take it: many cenotes in 1 day
Dive deep into the Mayan jungle and explore all four enigmatic types of cenotes found in this unique region. This is your only chance to go off-roading along Ruta de los Cenotes, which leads you through lush jungles and sprawling canyons.
Spend a day filled with exciting activities like zip lining, rappelling, kayaking, and swimming. You can also nibble on snacks as you explore these captivating natural wonders before enjoying an exquisite picnic lunch amidst the beauty of the rainforest!
Unwind after a thrilling journey with hassle-free round-trip transfers from Cancún, Tulum, or Playa del Carmen, and having drinks included may just make it even better!
You'll visit cenote Zacil-ha, cenote Chac Mool, cenote Cristalino, and Nohoch Nah Chich cenotes. The journey will take about 10 hours of your time, and I'm sure you'll feel like 10 minutes with so many amazing activities you'll partake in.
12. Take a trip to Bacalar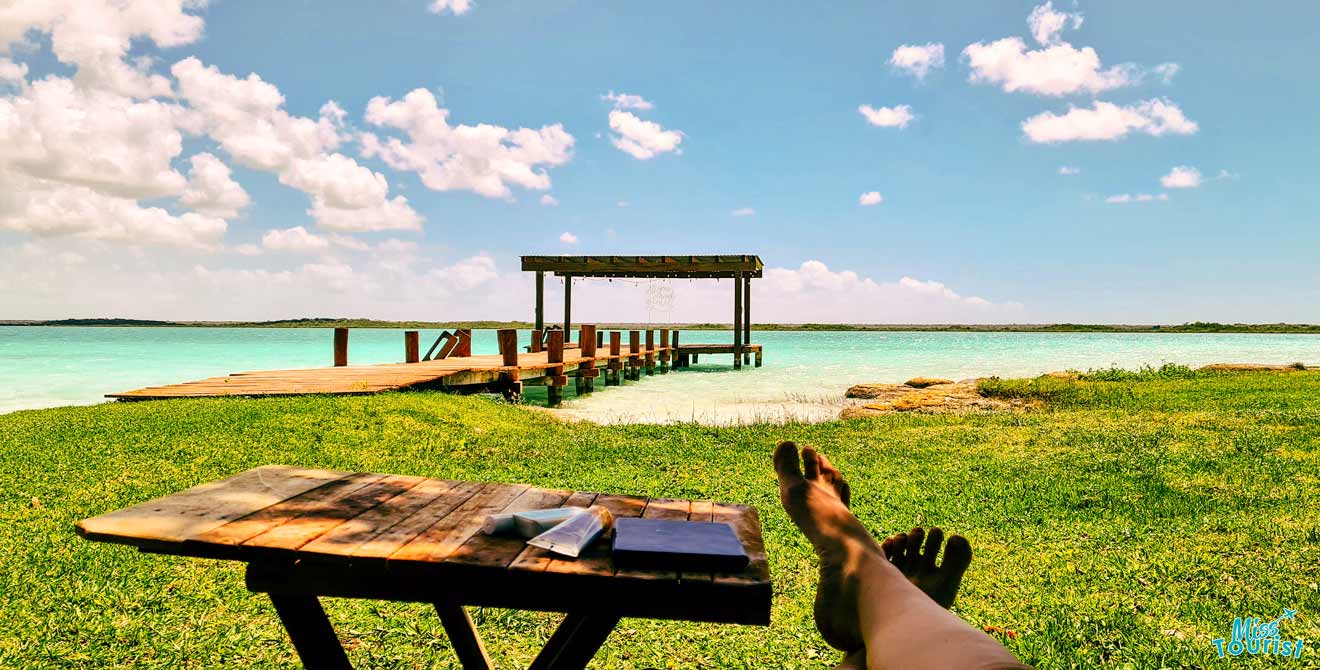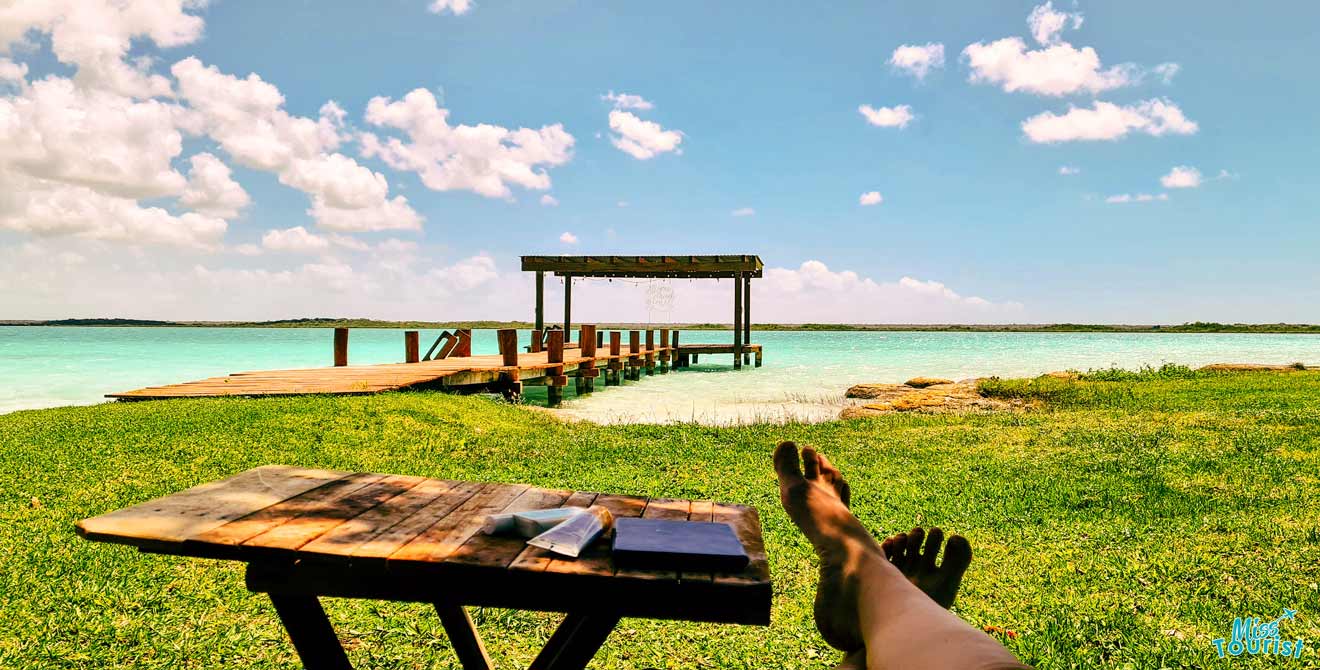 Duration: 13 hours
Price: from US$125
Why you should take it: fun and exciting day trip
Visiting cenotes is an adventure in itself, but why not spice it up with a colorful lagoon?! Bacalar truly dazzles, being a world away from the hustle and bustle of Cancún! And this tour makes getting there incredibly smooth.
You'll start with breakfast at the lush Cenote Azul sinkhole before taking an emotive pontoon ride around Lago Bacalar (otherwise known as "The Lake of Seven Colors"). And if you're a passionate photographer, I recommend exploring Isla Pájaros, aptly named for its bounty of exotic birds. Taking those pictures would be really fun.
You'll meander through The Pirates' Channel and relax in the healing waters of the natural spa Cenote Cocalitos. Plus, you'll also get to fuel up – lunch in Bacalar town is included, too! The group size is neither too big nor too small, with up to 20 travelers allowed.
13. Experience a cenote snorkeling tour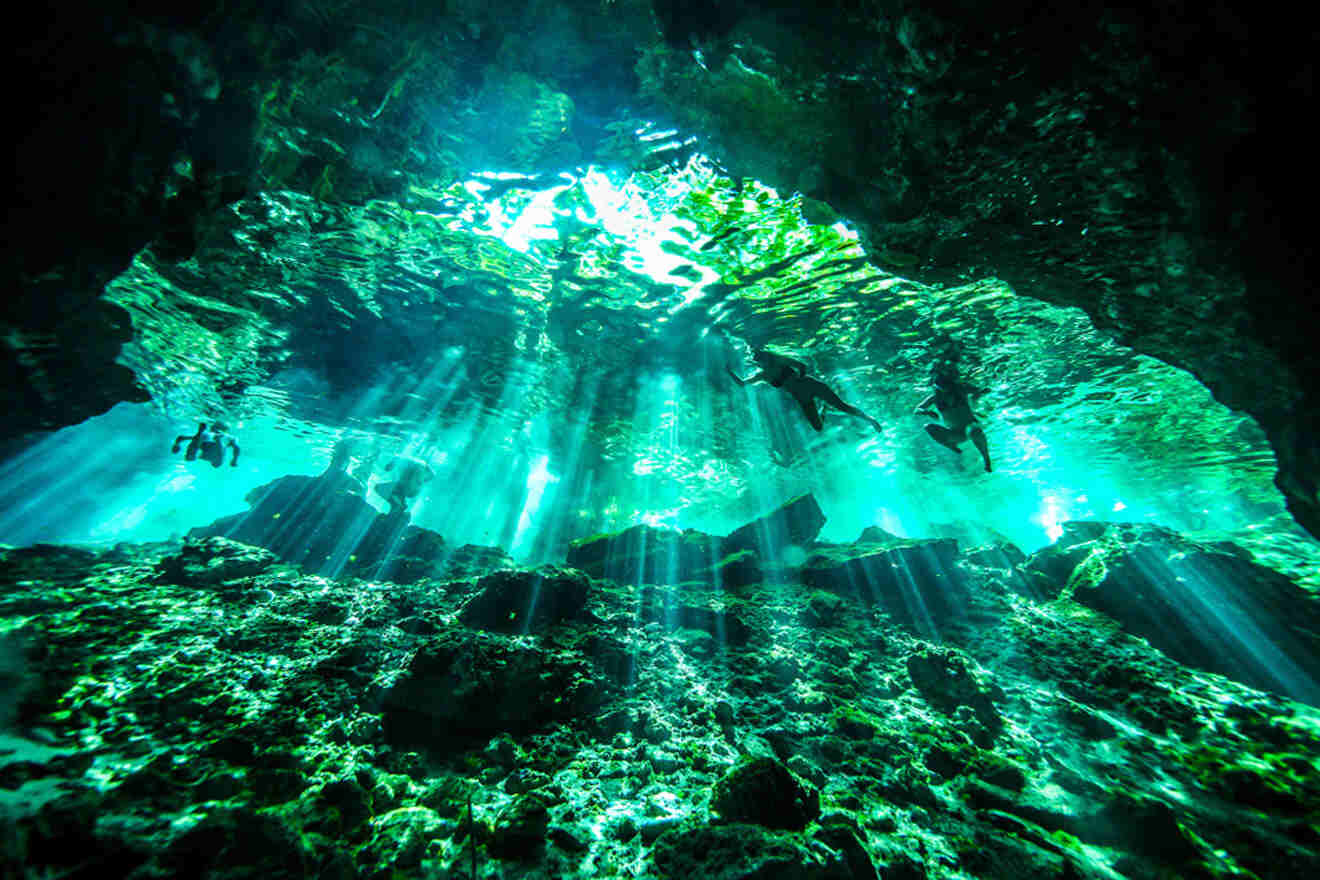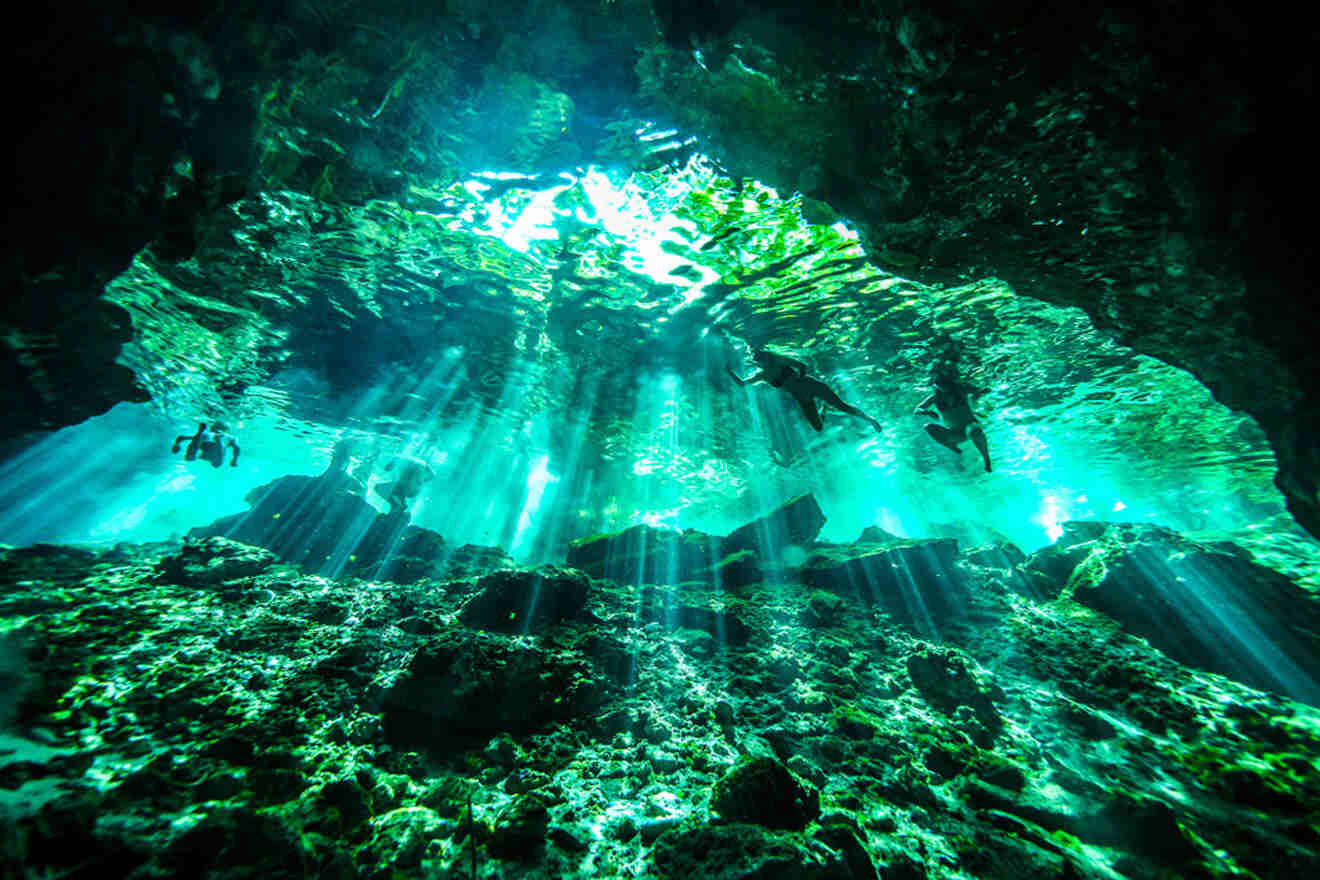 Duration: not specified
Price: from US$100
Why you should take it: scuba diving in inner tubes
If you're a first-time scuba diver, then this activity is definitely for you! You'll have the opportunity to explore one of the most awe-inspiring places on Earth: cenotes.
You'll have a belting time swimming through underground rivers as you make your way around the cave system, all with the boost from the guide. You'll get up to speed with an introduction class to make sure your safety is guaranteed. Tour operators provide life jackets and other snorkeling equipment.
There is a convenient pickup in an air-conditioned vehicle, and you'll also get water and some light snacks. It's an extremely immersive experience that you'll cherish forever.
Although this scuba diving is beginner-friendly, it's still recommended that all of its participants have a fairly good fitness level. It's also not recommended for pregnant travelers.
14. Explore 2 gorgeous cenotes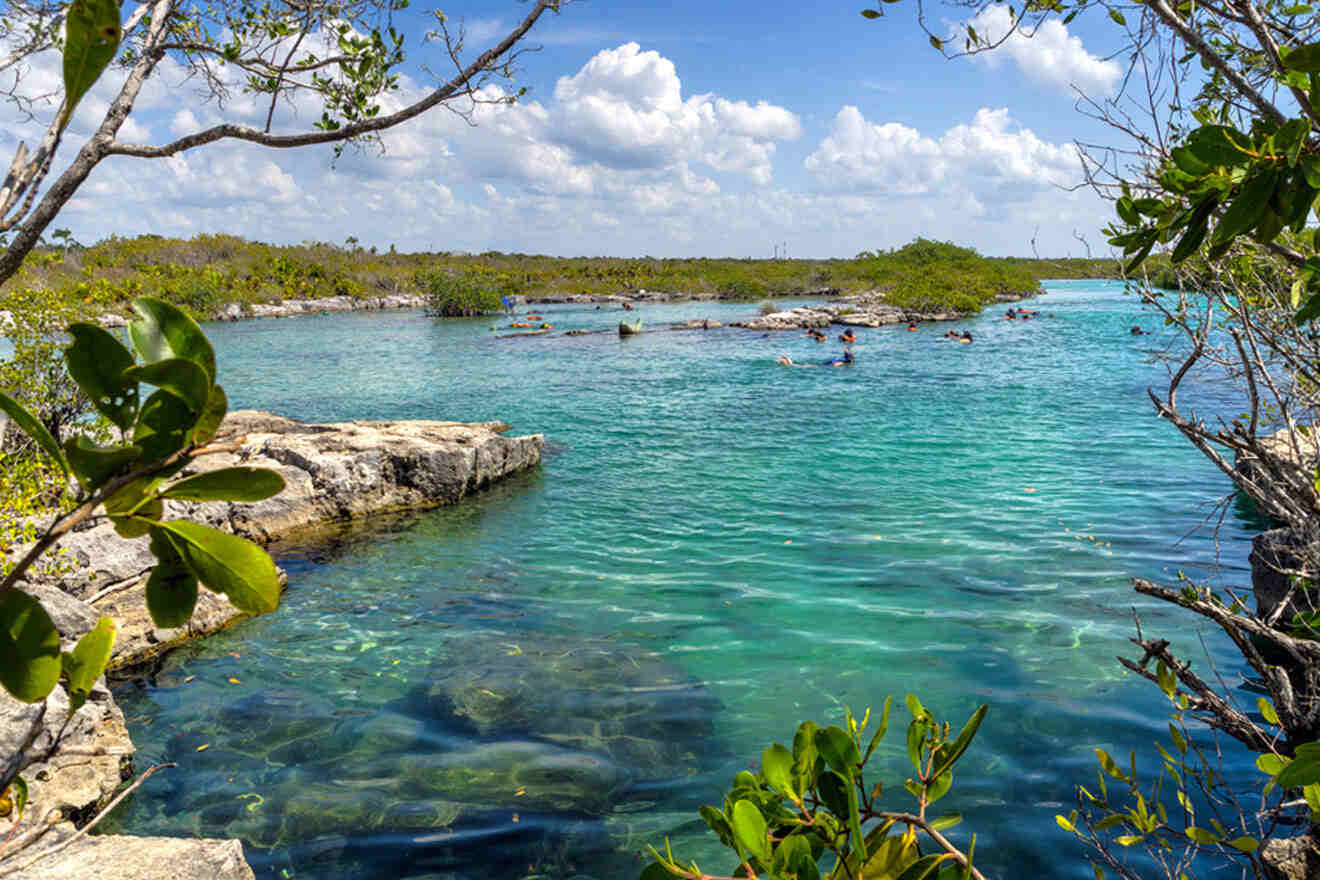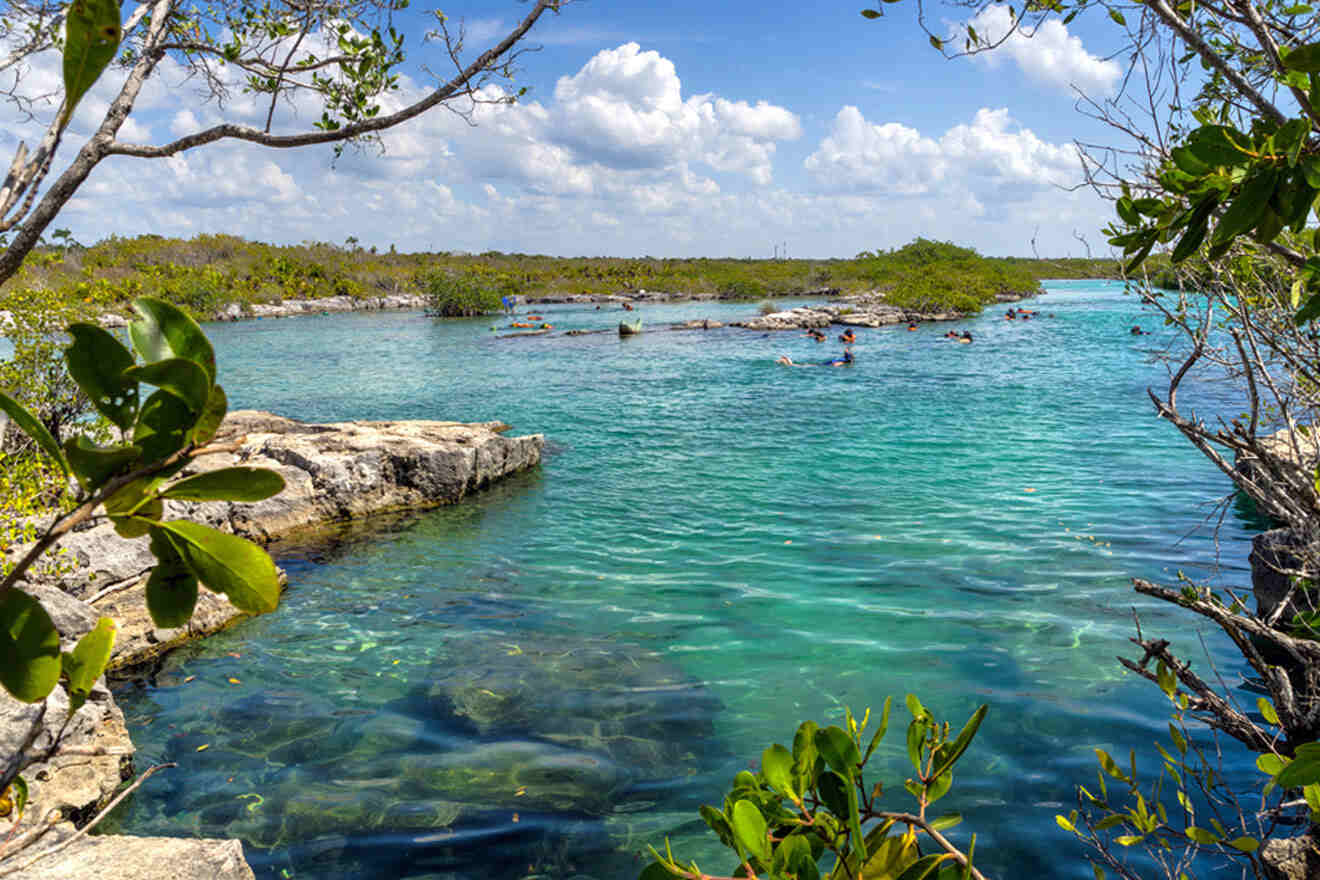 Duration: 7 hours
Price: from US$140
Why you should take it: Akumal visit
Get a chance to explore the breathtaking limestone landscapes of the Mayan Riviera with this full-day tour! Gather up your group, and journey to Akumal, where you can swim in 2 incredible cenotes near Xpu-Ha. Later on, take a dip into Yal-Ku Lagoon, an oasis that merges underground fresh water with the open sea.
There are lunch, drinks, and snacks all planned out for you! Not only are these included, but so are hotel transfers from most Cancún places and snorkeling accessories. No need to worry about any hidden fees or extra charges since everything is already sorted.
Lose yourself in an underground cavern and meander around an open cenote nestled within Jungles as well – there's definitely something for everyone here! Make unforgettable memories while exploring this paradise without having any self-driving stress either. Sounds like a pretty sweet deal if you ask me!
15. Discover cenotes of purification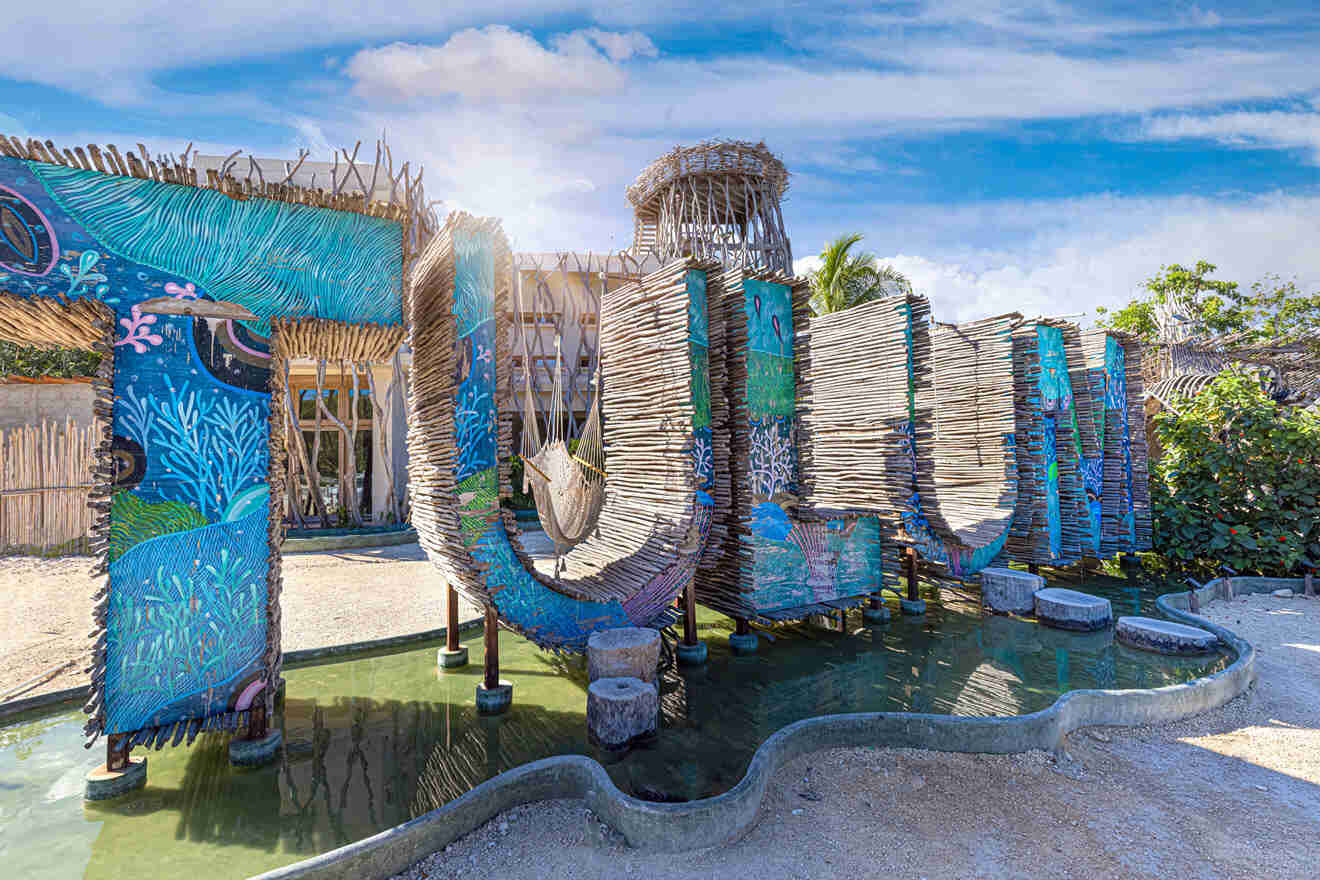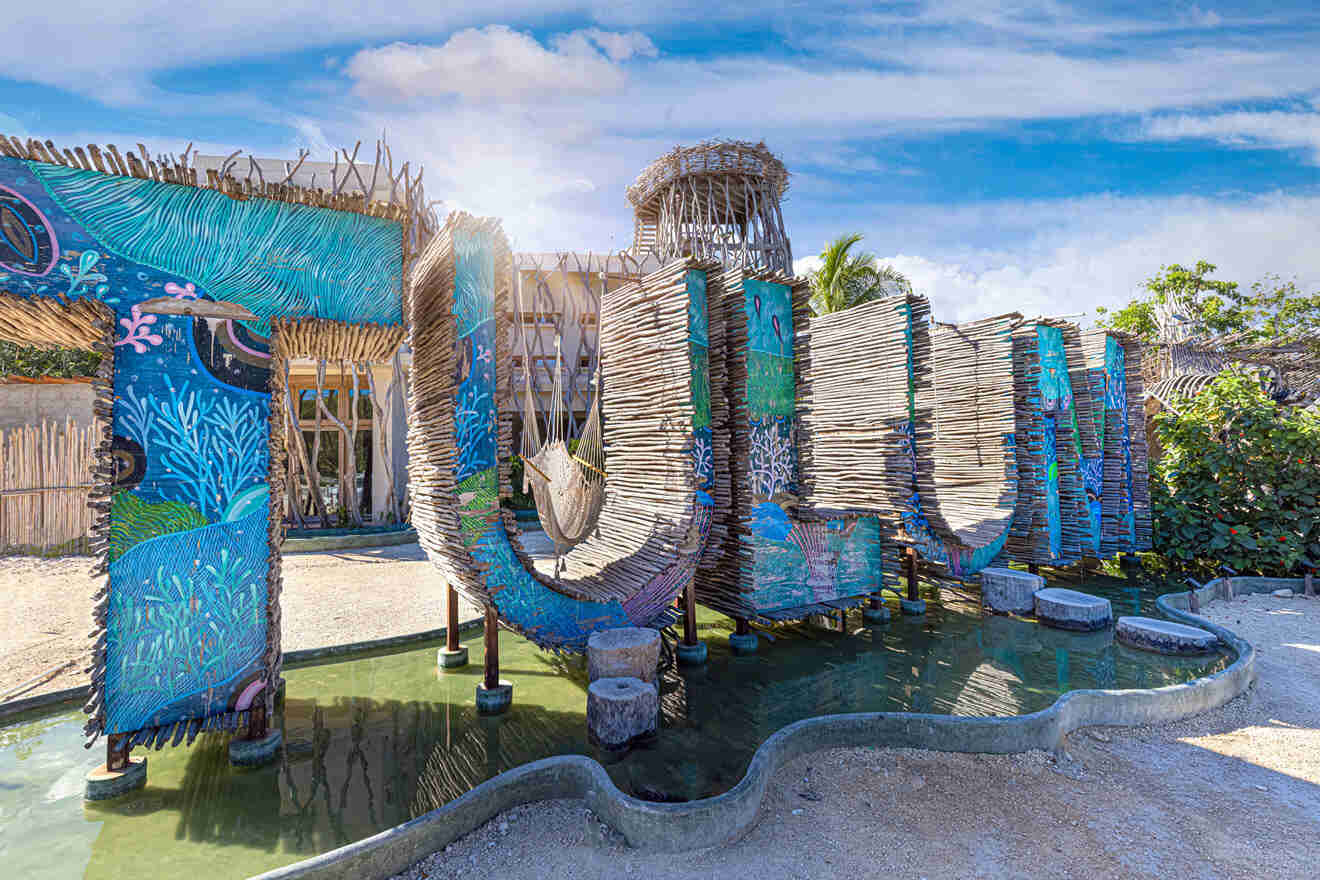 Duration: 12 hours
Price: from US$80
Why you should take it: see 5 different cenotes
If you're looking for a truly unique experience, the ancient cenotes of the Mayan world have so much to offer.
Your first stop will be at Tulum's famous blue letters; it's the perfect spot to capture your experience in a photo. After that, you'll move along to Casa Tortuga, where you get access to 4 different types of cenotes, including Wisho, Campana, Dorca, and Tres Sapote. You can observe nature closely here as its calming waters surround you.
Then you'll head off towards Zemway cenote, an open-type location where traditional Mayan rituals await … but that's not all! Here you can also partake in a buffet meal of local dishes, which comes free with each tour ticket!
There will also be shopping at Playa del Carmen's 5th Avenue before heading back home. Pick up some souvenirs or Mexican handicrafts as memories from this perfect day out!
BONUS: Cancún tours
If you already decided on your cenote tour, let me offer you some more awesome tour options you should check out while in Cancún: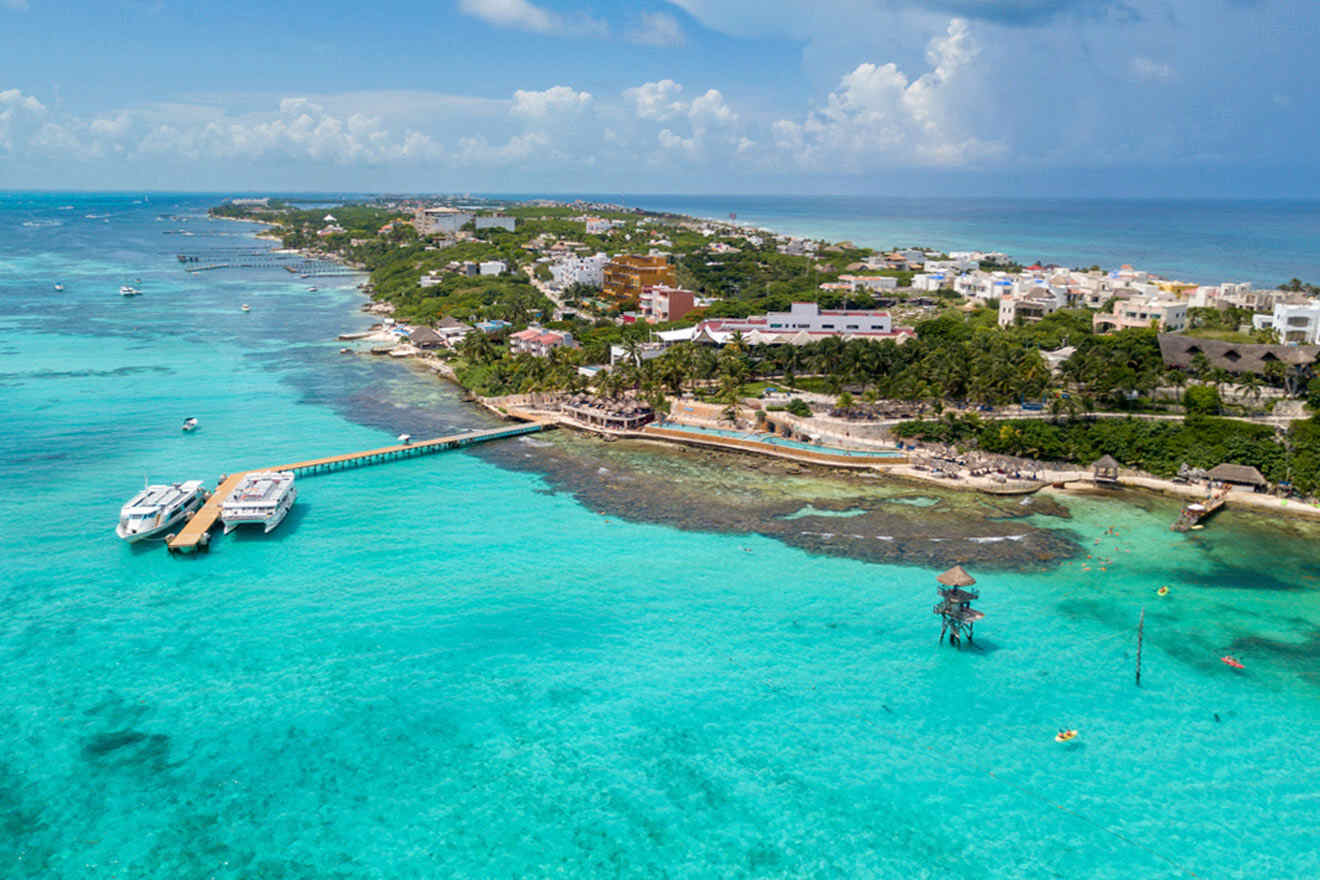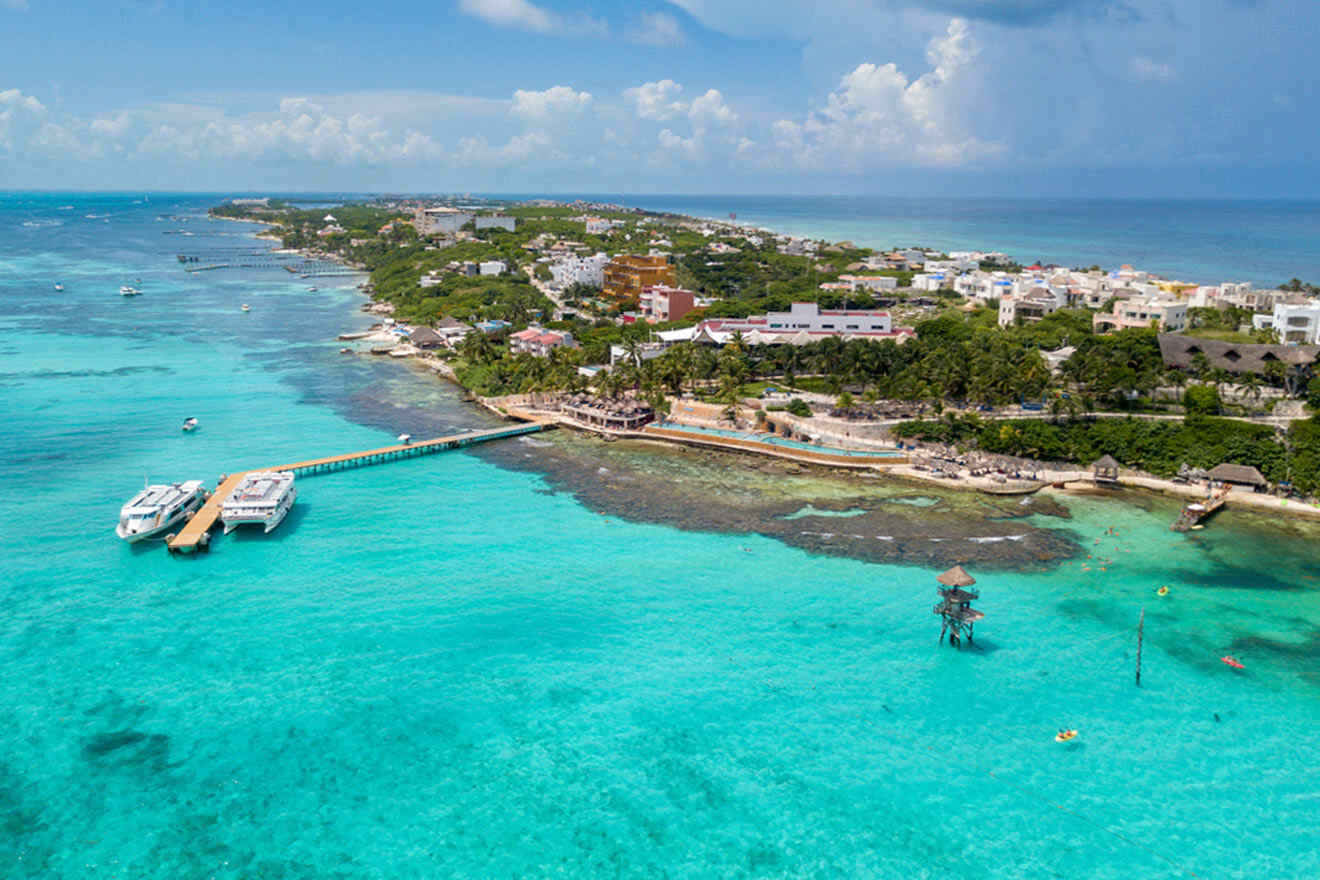 Take a sightseeing tour of Cancún – Explore Cancún's hottest sights and shops with this awesome package tour. Capture some breathtaking pics of the coastline at El Mirador beach in Playa Delfines. Of course, you'll also be tackling iconic landmarks, including the Tequila Museum, to taste some Mexican tipples. You won't have to worry about entrance fees either, this combo comes with them included!
Enjoy a tasty taco tour – Get your taste buds ready for an all-access taco tour of Cancún! With easy hotel pickup and skip-the-line access guided by a savvy local, you'll sample some of the best tacos around! To add to the epicurean experience, enjoy the sweet sounds of an authentic Mariachi band.
Join a cruise on a catamaran – Isla Mujeres is a tropical gem amidst the Caribbean Sea. It has amazing beaches that every adventurer should explore, and this full-day tour on board a luxurious catamaran can help you do just that. Glide through crystal clear waters and explore the exotic El Meco coral reef, beneath which lies an underwater playground.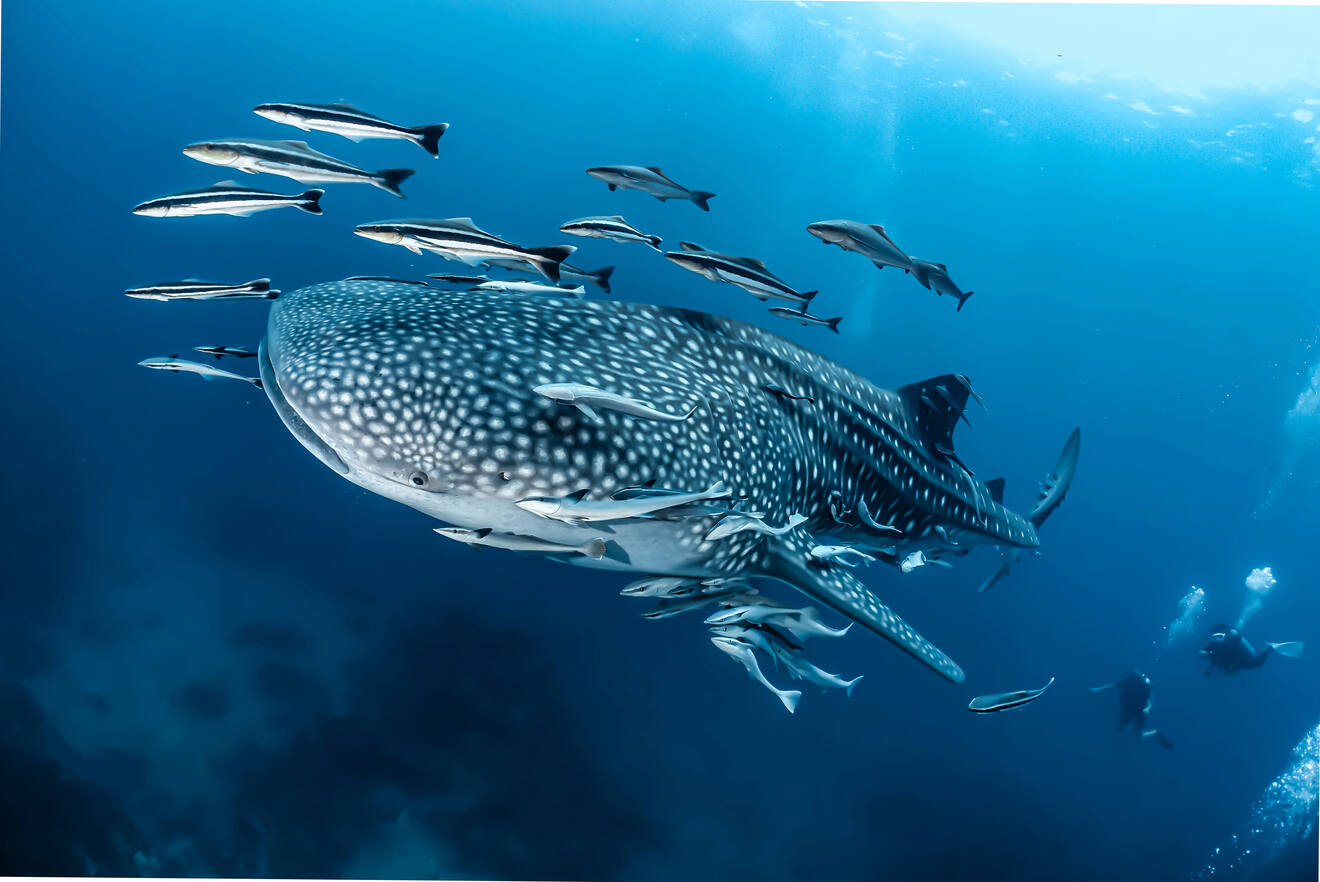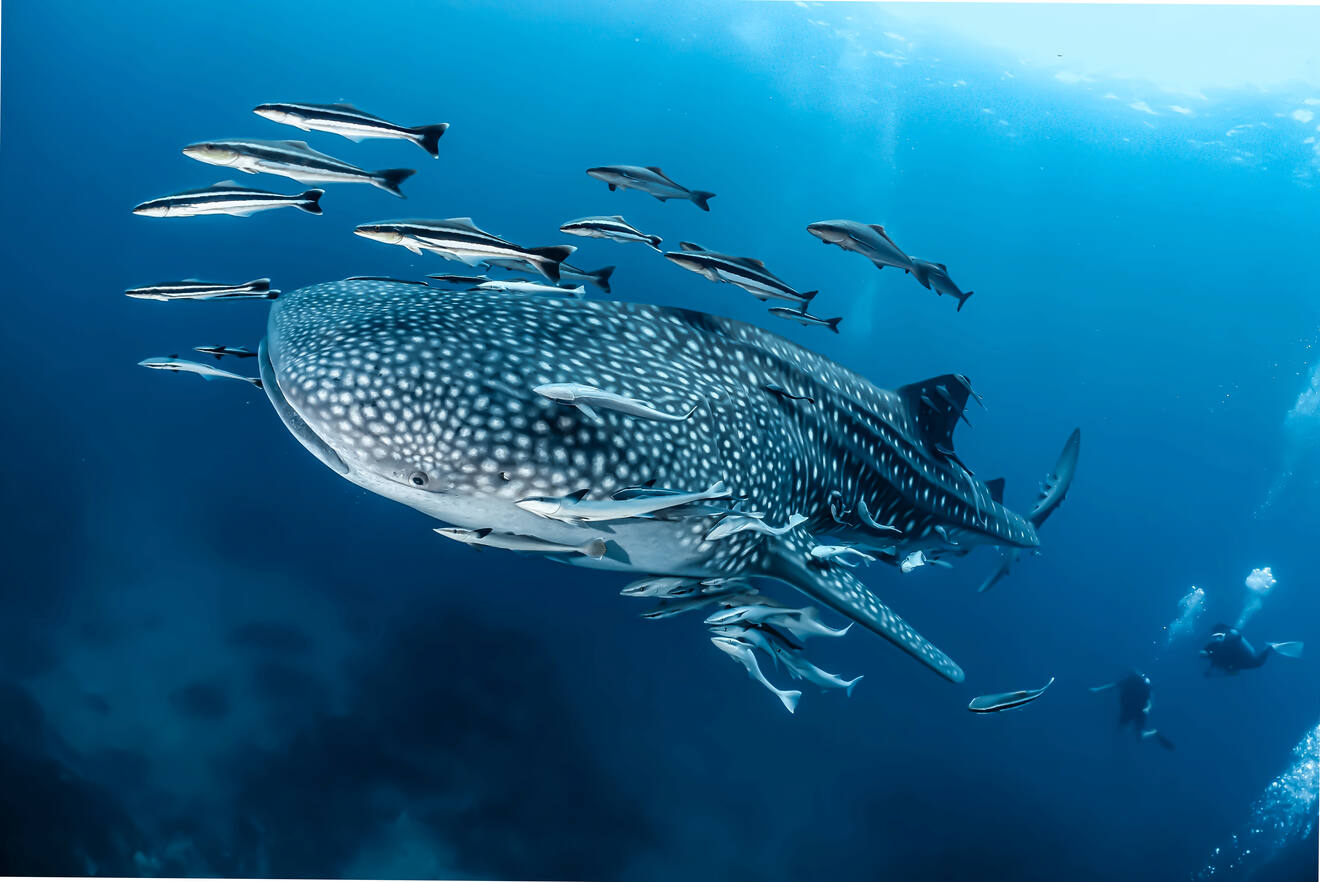 FAQs about Cenote tours in Cancún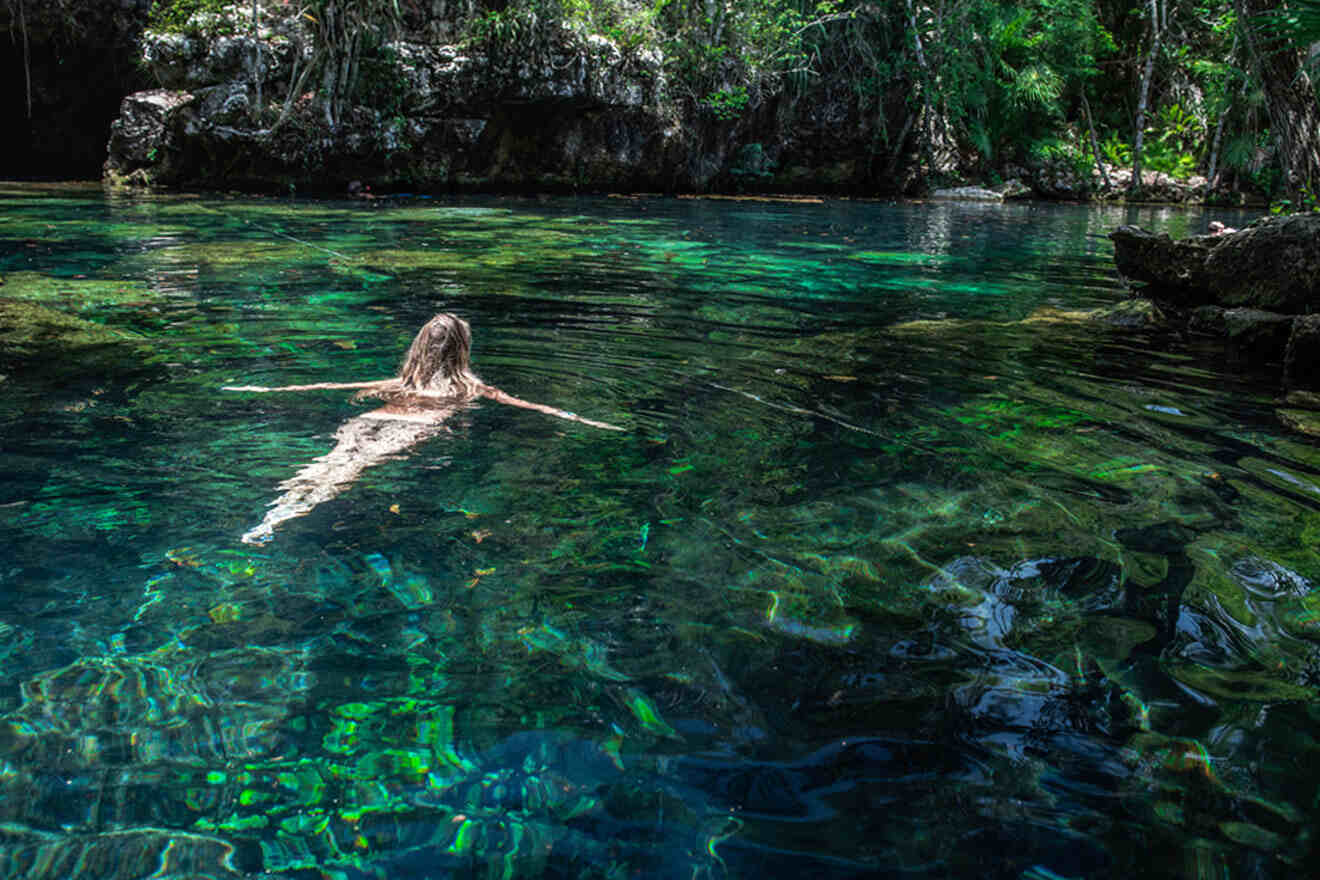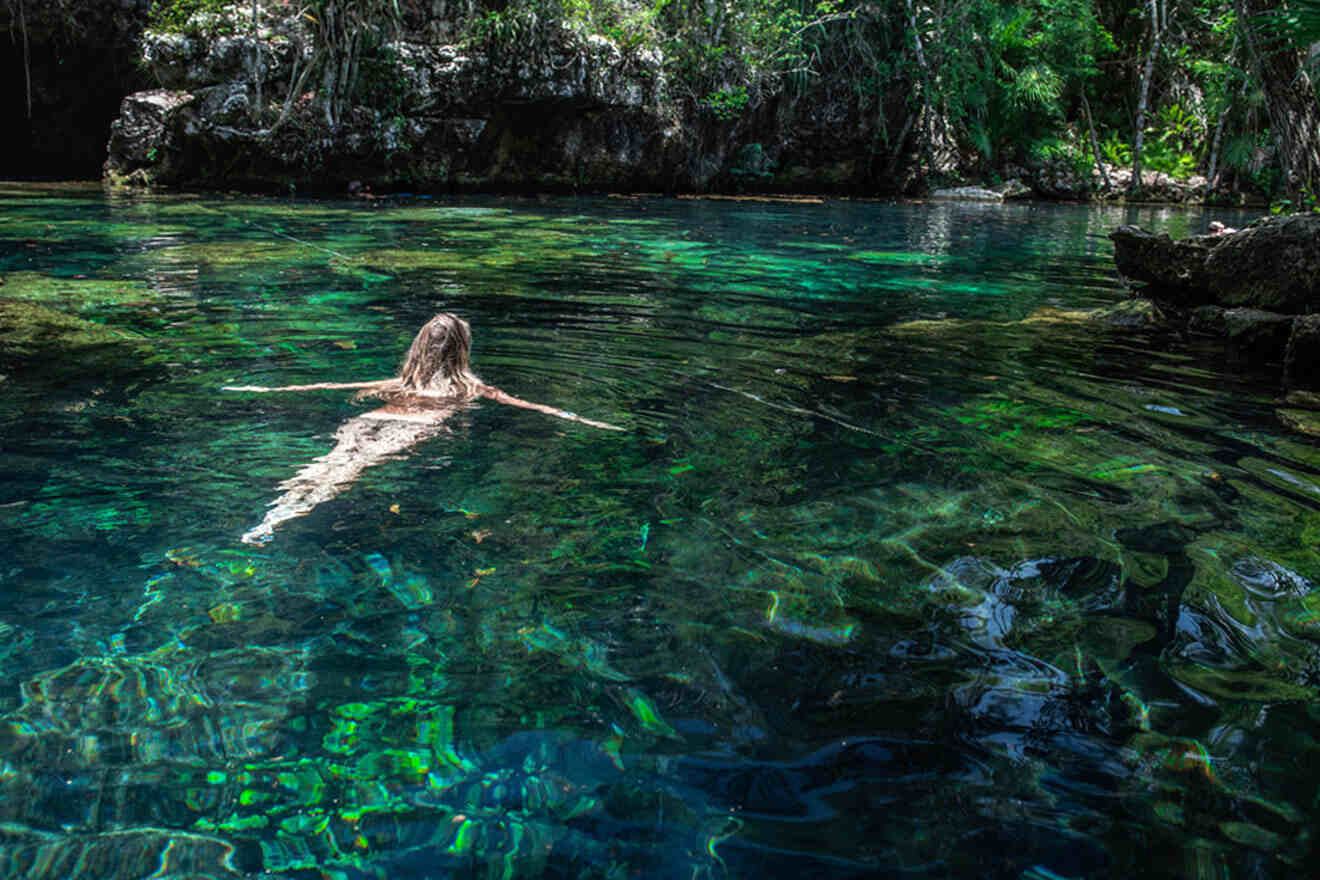 ❔ What is a cenote tour?
Cenote tours are guided excursions that let you explore natural sinkholes found in certain regions, notably Mexico's Yucatan Peninsula. The most popular and well-rated among travelers is the ancient cenote tour.
🔝 Are cenote tours worth it?
Absolutely. It's one of the most well-rated options. I also recommend trying out the combo tours that let you explore other iconic landmarks and cenotes. The best ones are the Chichen Itza tour and jungle excursion.
💰 How much is a cenotes tour?
🧭 Can you visit Cenotes without a tour in Cancún?
Yes. However, for a more well-rounded and stress-free experience, I still recommend going with the guided options. They are usually led by locals who know the ins and outs of the cenotes and can give you a truly authentic excursion.
Conclusion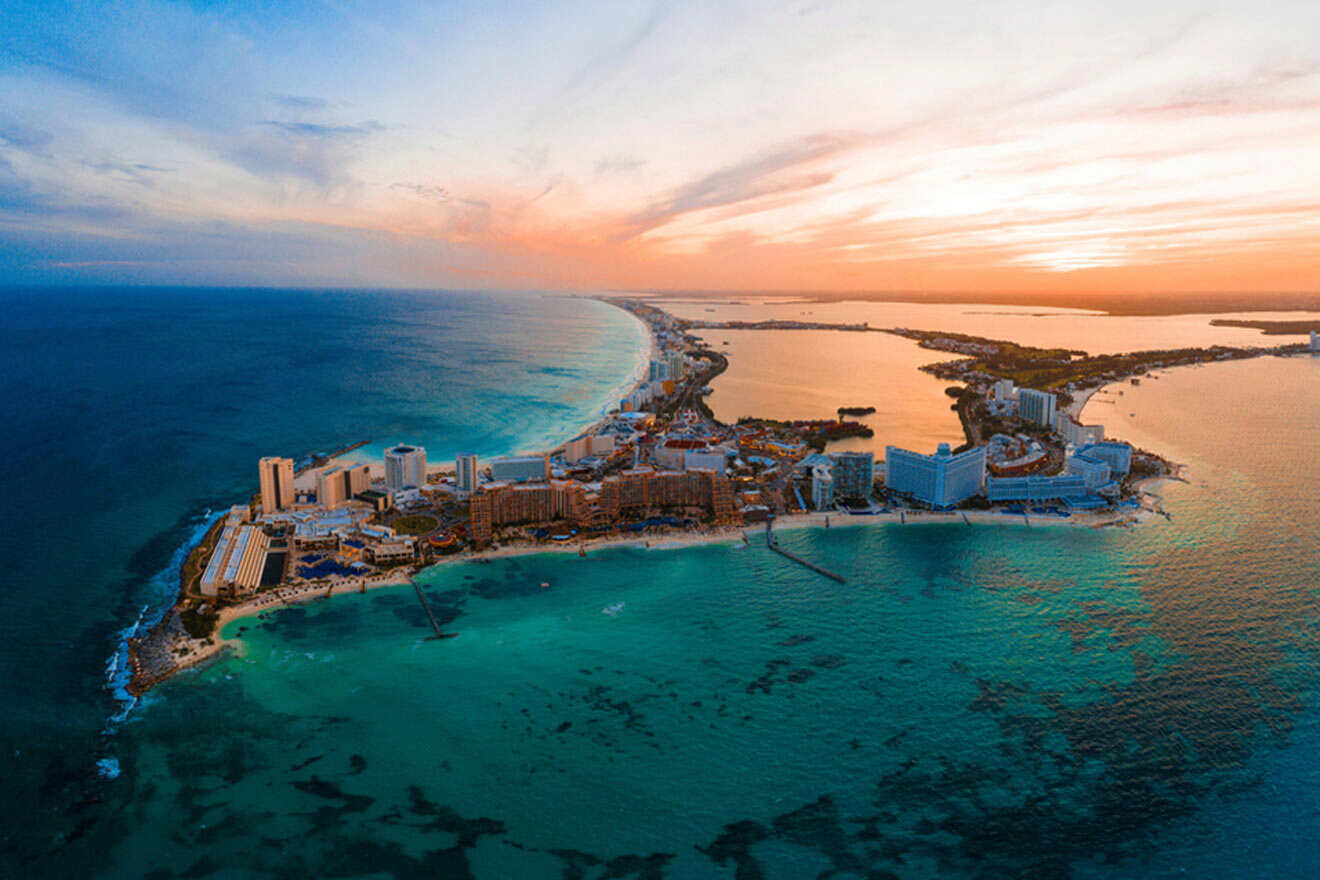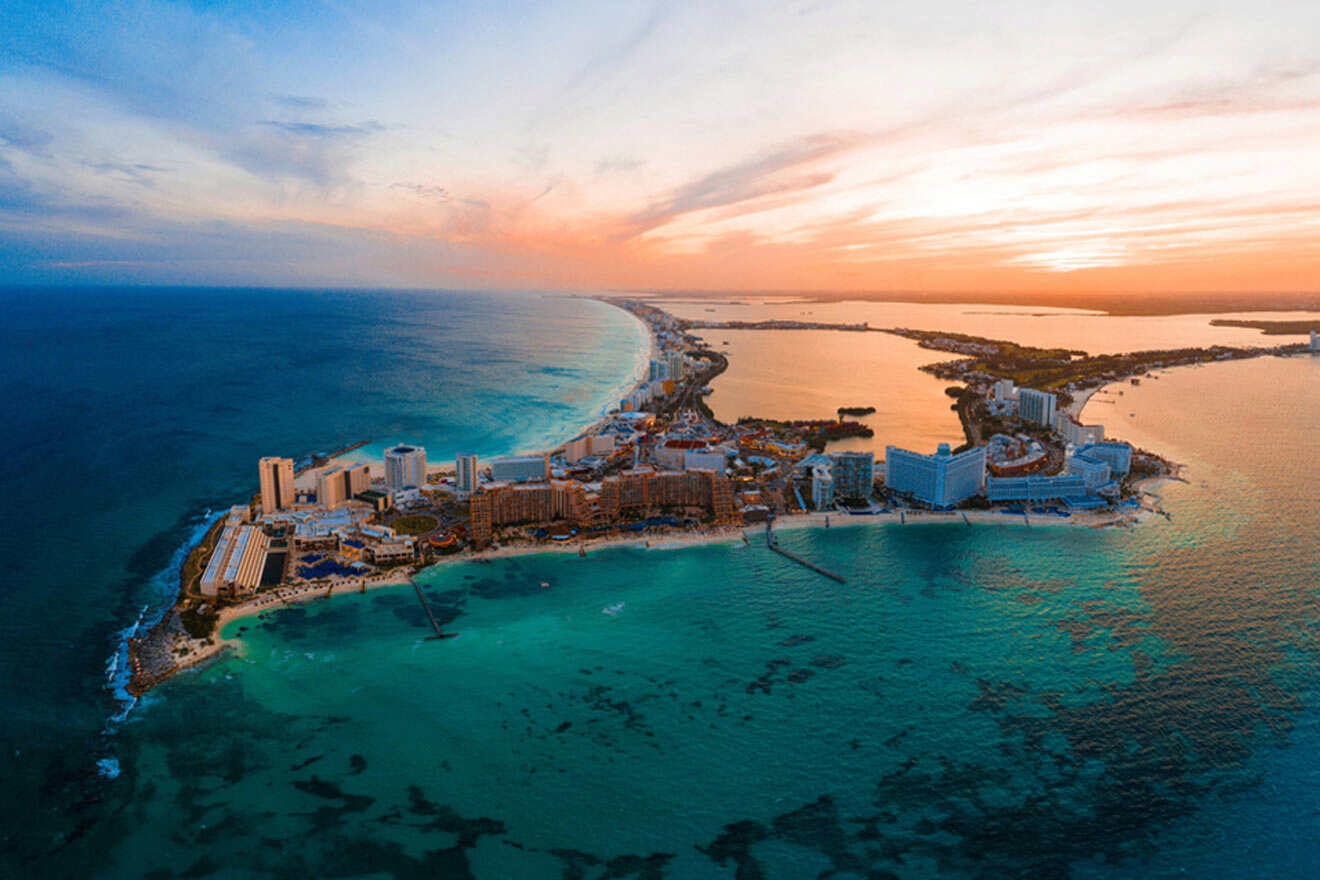 You swam all the way to the end of the list of cenote tours in Cancún! I hope this little read inspired you to visit this natural wonder as soon as possible.
You can choose between many different cenote tour options, there are adrenaline excursions for true adventurers, sunrise tours for early birds, and archeological trips for history buffs. A paradise for every single person.
Don't forget to give a glance at the tours from the bonus section as well. They are awesome, too.
Cenote tours might be the most popular tourist choice, so it's important to book your tours well in advance! You can't risk missing a spot for this epic experience!
As for my travelers who already visited this gorgeous attraction, I'd love to hear all the anecdotes as well as tips and tricks from you. And if you have any questions, don't hesitate to ask them in the comments below!
Happy swimming,
Angelina
---
Pin it for later!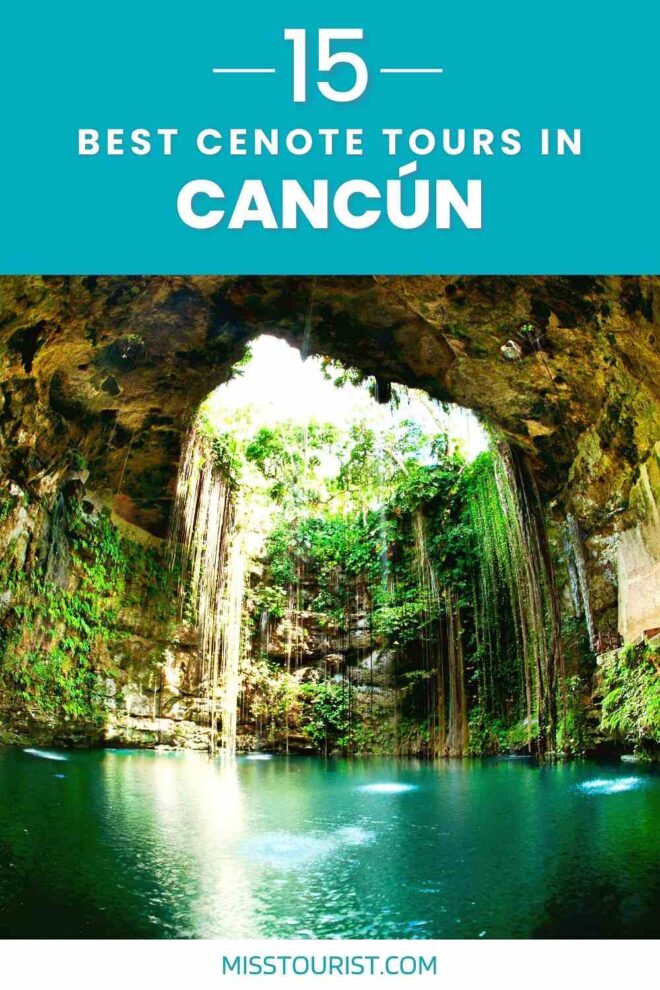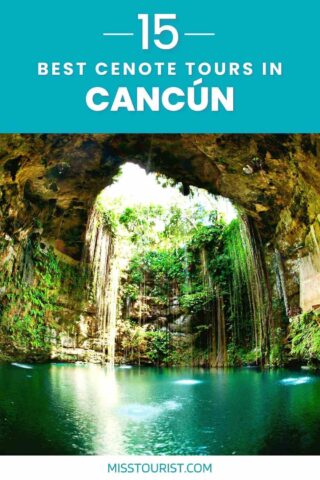 Pin it for later!