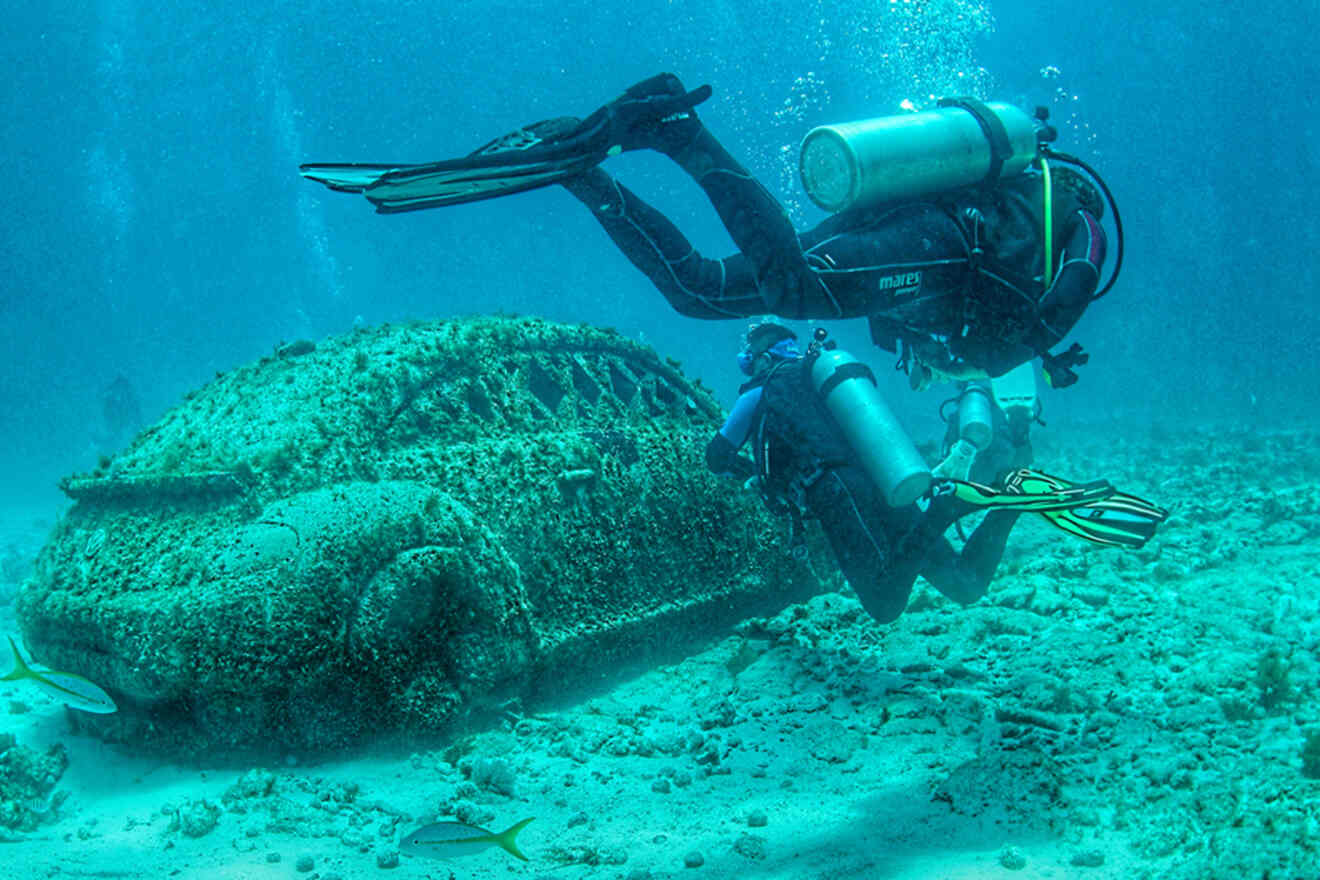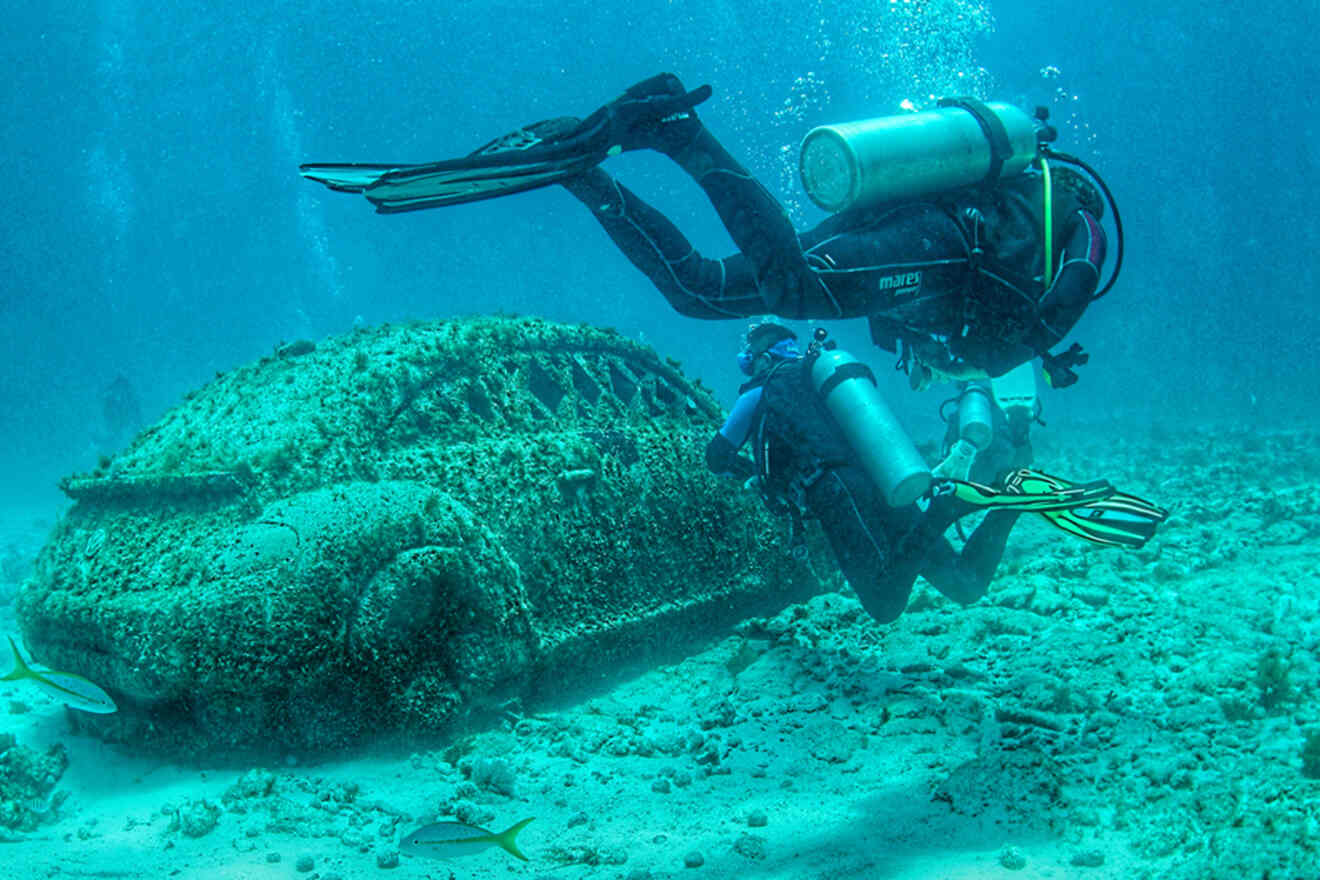 Are you ready for an adventure like no other while exploring Cancun's amazing underwater world? Then you simply must try a snorkeling tour in Cancun, where the crystal-clear waters promise an unforgettable experience!
Don't worry, I've got your back! There are oodles of snorkeling options in Cancun, so deciding on the best one can be an absolute nightmare. But don't sweat it, I've compiled a list of the hottest spots and activities, so you'll have an unforgettable vacation for sure! Think of me as your very own tour guide.
If you wanna have the full experience, don't wait around – book those tour spots fast. It's no wonder why so many people flock here to take the plunge: the top tour companies fill up in a flash! Get your reservation pronto and make sure you witness this incredible underwater spectacle before it's too late.
With that out of the way, let's start our investigation and choose the best snorkeling tour Cancun has on offer!
If you are in a hurry
Here for a quick look? These are the best Cancun snorkeling tours you need to book in advance:
1. Take a snorkeling tour of Isla Mujeres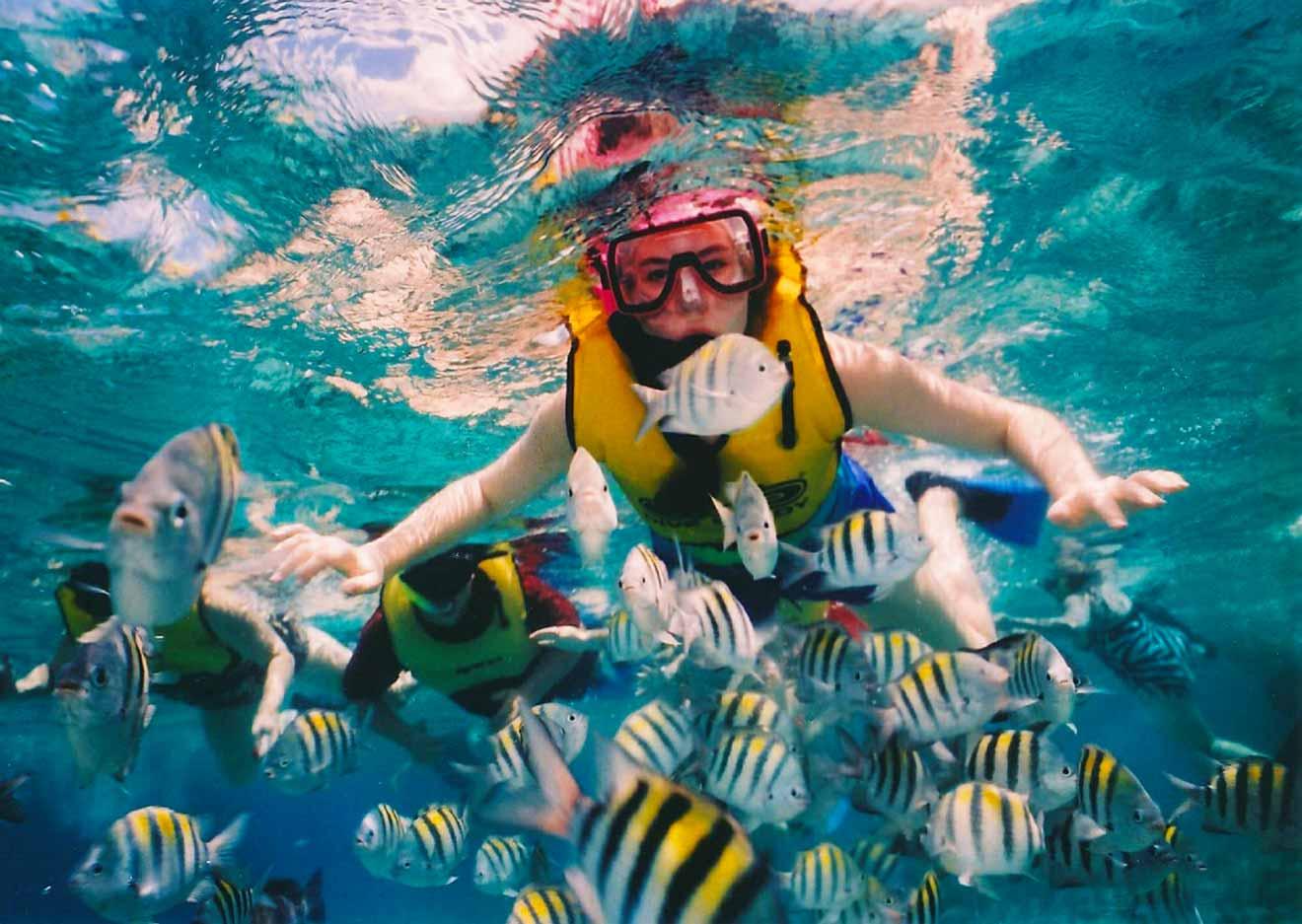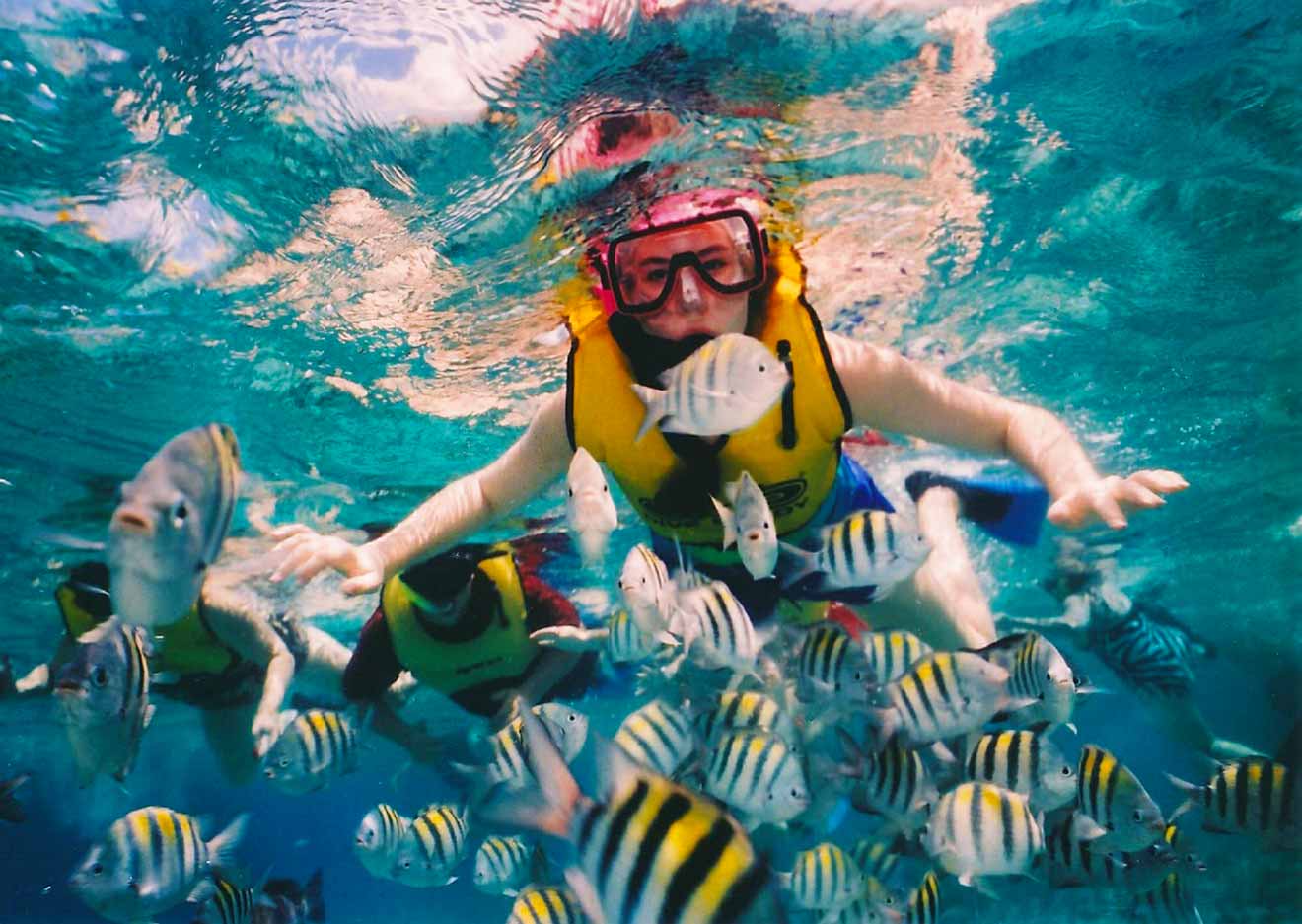 Duration: 5.5 hours
Price: from US$130
Why you should take it: the most popular snorkel tour
Itching for an epic underwater adventure? Strap yourself in and get ready to explore Islas Mujeres! Once your booking is sorted, the tour operator will be sure to let you know what time to expect your Cancun hotel pickup. No need to worry, just kick back and let them handle the rest!
Once you've touched down in Cancun and boarded the catamaran, it's time for some true bliss! And remember, once on board, there's an open bar, so don't be shy to toast as you sail along.
Grab your snorkeling gear and hop into the beautiful waters at the next stop to check out the marine life! You'll get to see the gorgeous, brightly colored tropical fish – they'll take your breath away!
After working up an appetite, it's time to indulge in a sumptuous buffet lunch on the catamaran.
2. Go on a family-friendly snorkeling tour in Cancun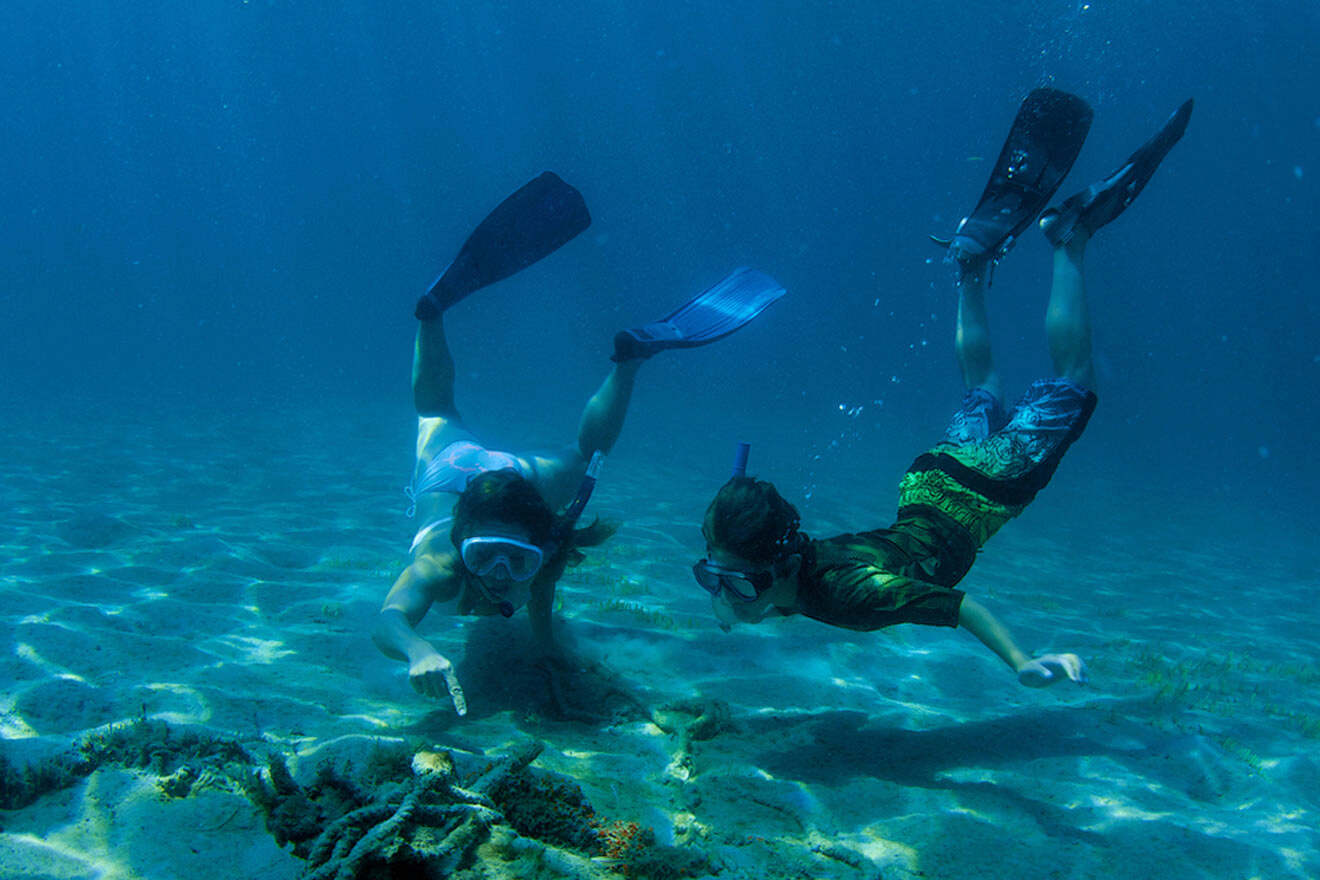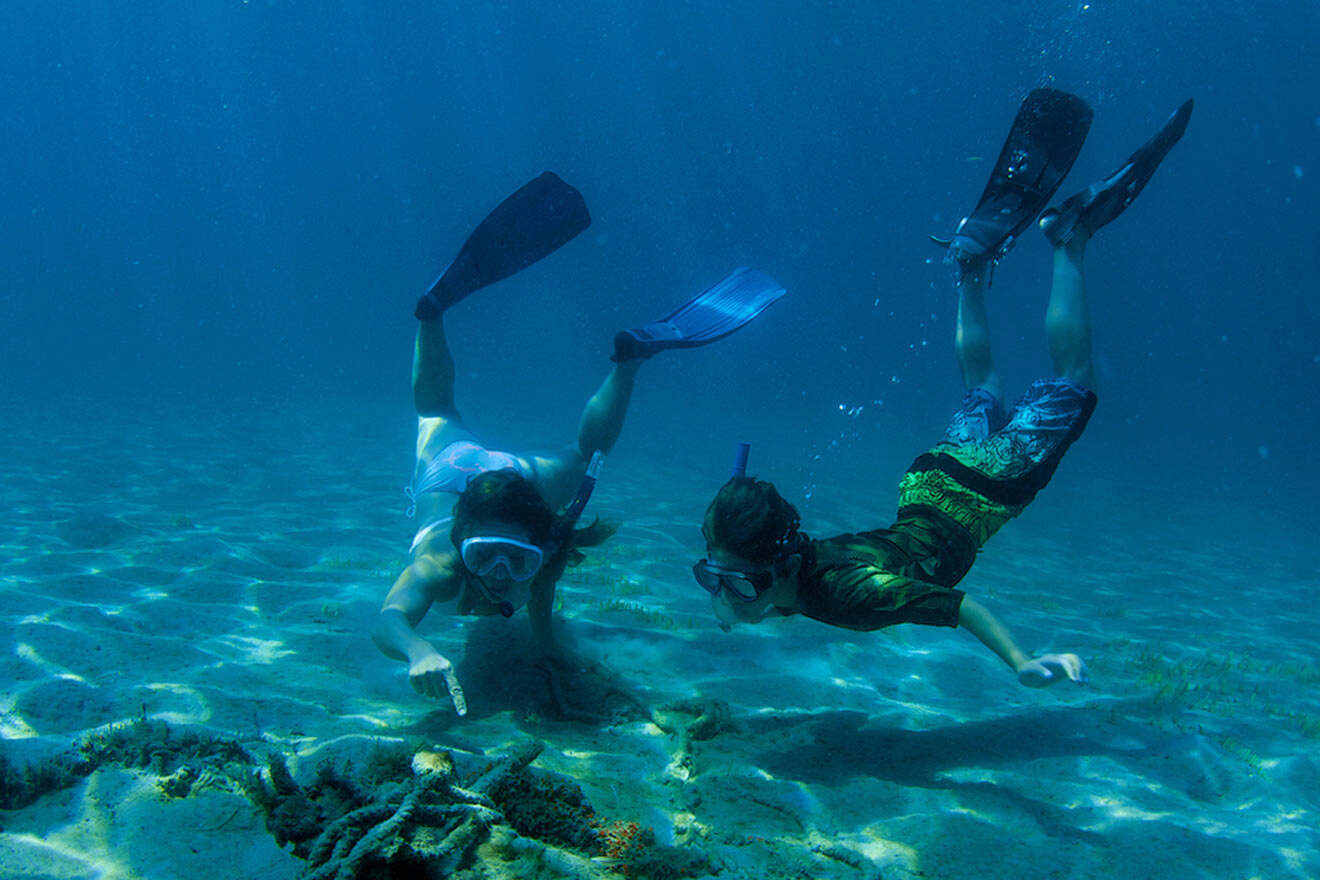 Duration: 3.5 hours
Price: from US$75
Why you should take it: great for kids, beginner-friendly
Did you bring your little ones along? If so, take them on an awesome kid-friendly snorkeling adventure – they're gonna love it! With plenty of colorful fish and assorted marine life to explore, this experience is a real blast.
Don't worry if you're a rookie snorkeler and feeling jittery, your tour guides got your back all the way, so you can have an epic, secure experience! You'll get to flip around with giant sea turtles, explore a shipwreck and underwater statues, and be awed by the breathtaking coral reef.
If you're looking for the best snorkeling tour that caters to experienced and novice snorkelers alike and families ready for a great time – look no further! This amazing tour takes care of all the details, so you don't have to lift a finger.
3. Swim alongside whale sharks in Riviera Maya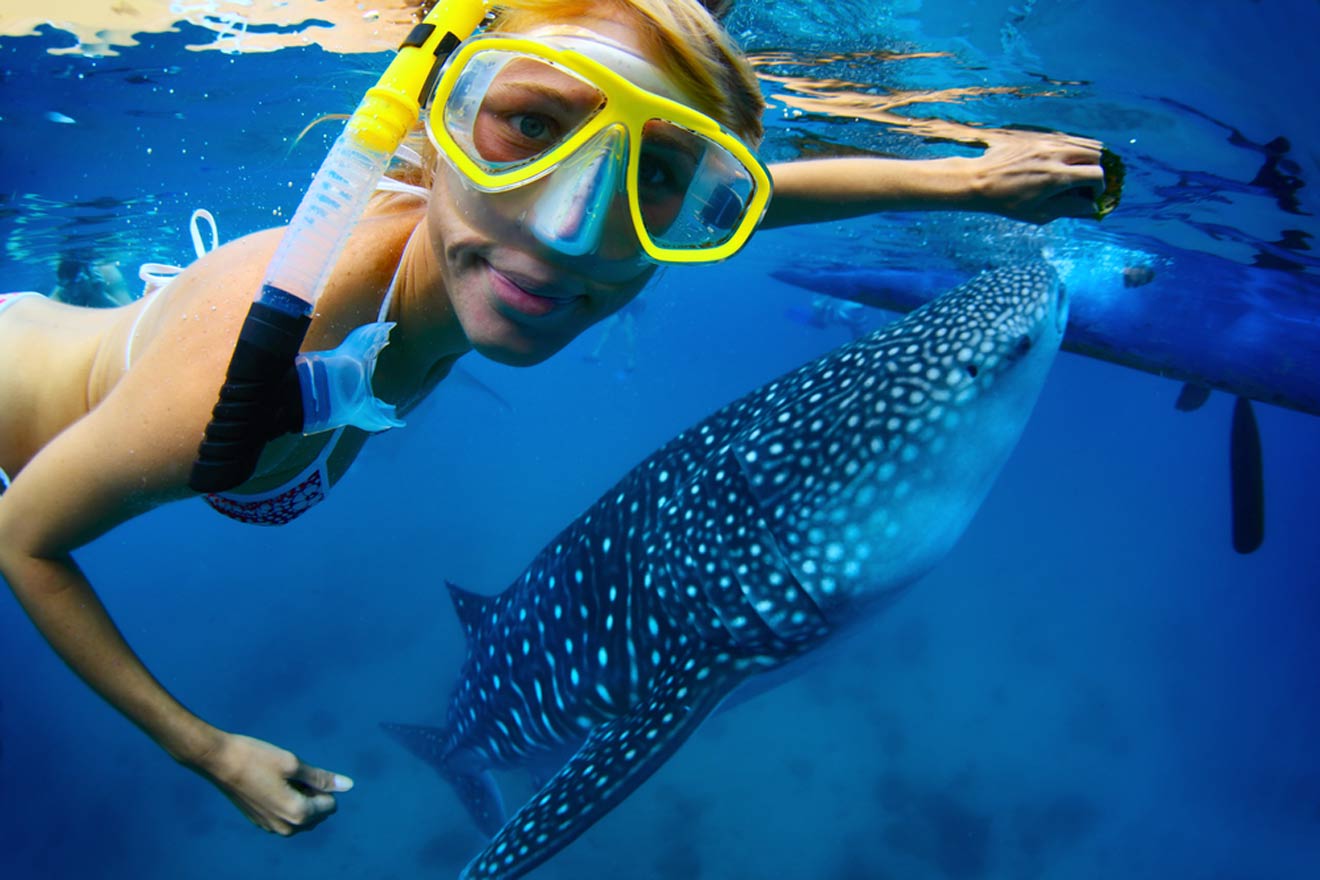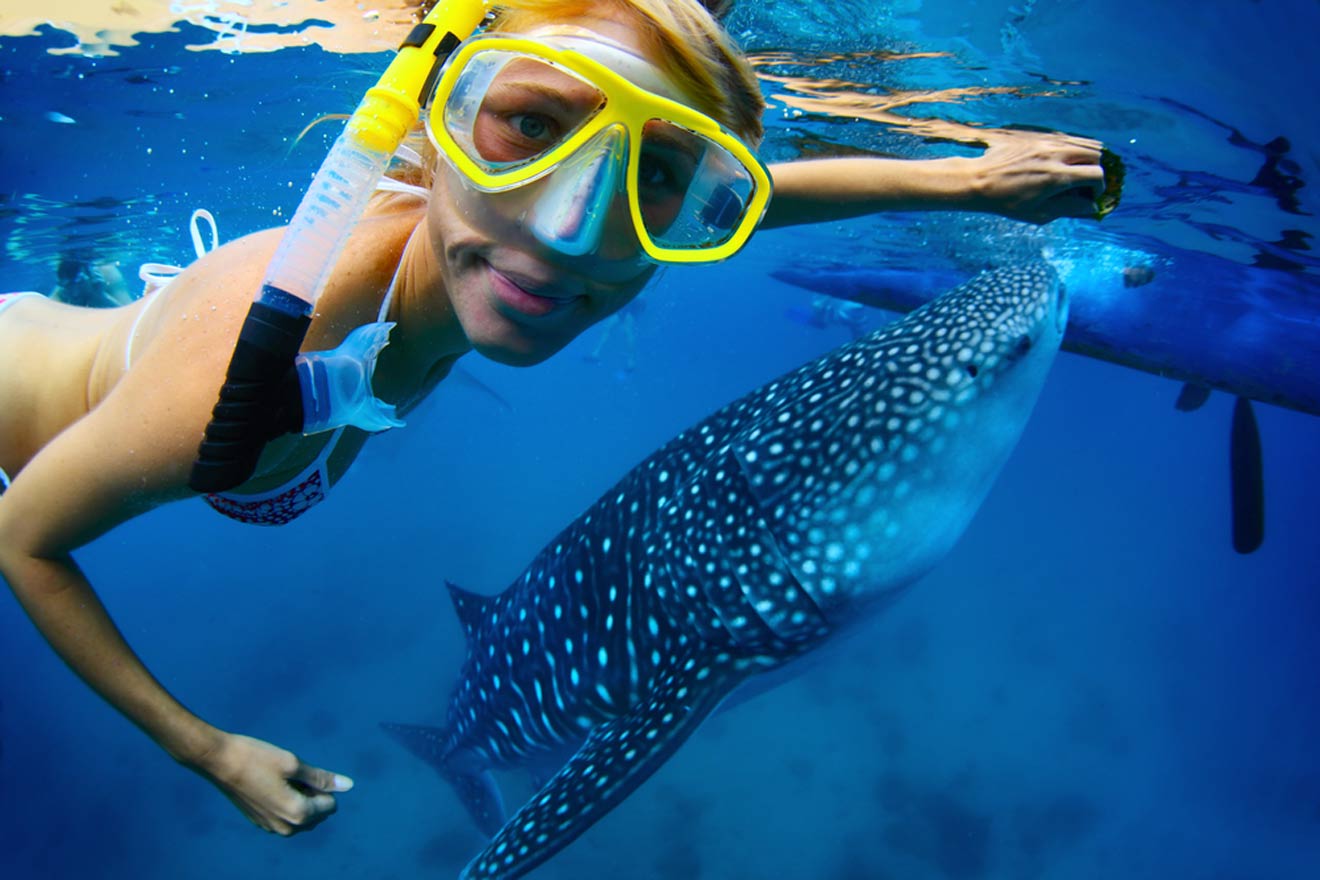 Duration: 8 hours
Price: from US$250
Why you should take it: a unique experience of swimming with whale sharks
Embark on one of the best Cancun snorkeling trips! With this tour, you'll climb aboard a lightning-fast boat and jet off to a perfect snorkeling spot, where you'll get the opportunity to swim and snorkel alongside magnificent whale sharks – an experience you won't forget easily!
Your experienced guides will be right by your side to guarantee a safe and unforgettable experience with these gentle giants. Plus, you'll get to fuel up with a scrumptious breakfast at the pier before boarding your voyage!
Enjoy delightful snacks and unlimited drinks as you sail away on an exhilarating journey. And don't forget to grab a video and some pics of your epic experience to wow your friends and family. It'll make every get-together twice as memorable.
4. Explore Cancun's underwater life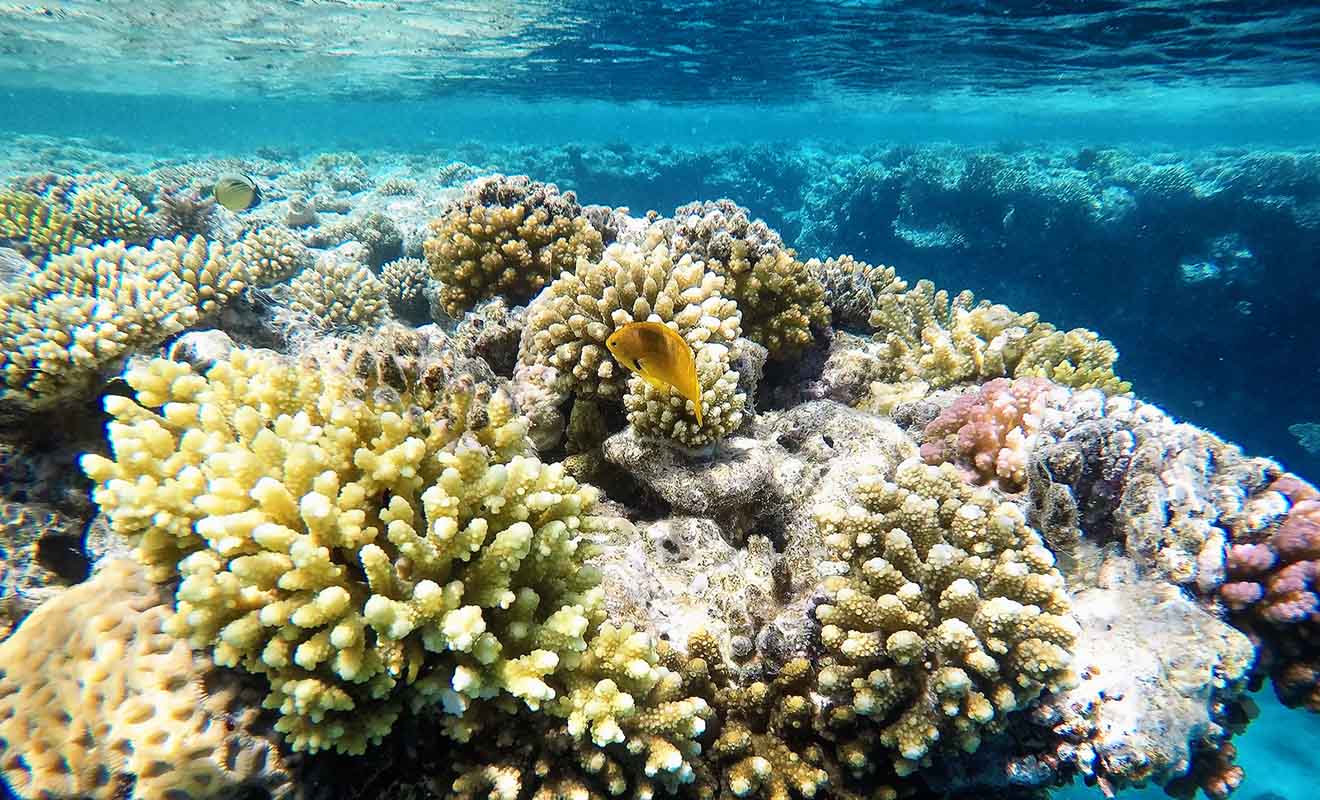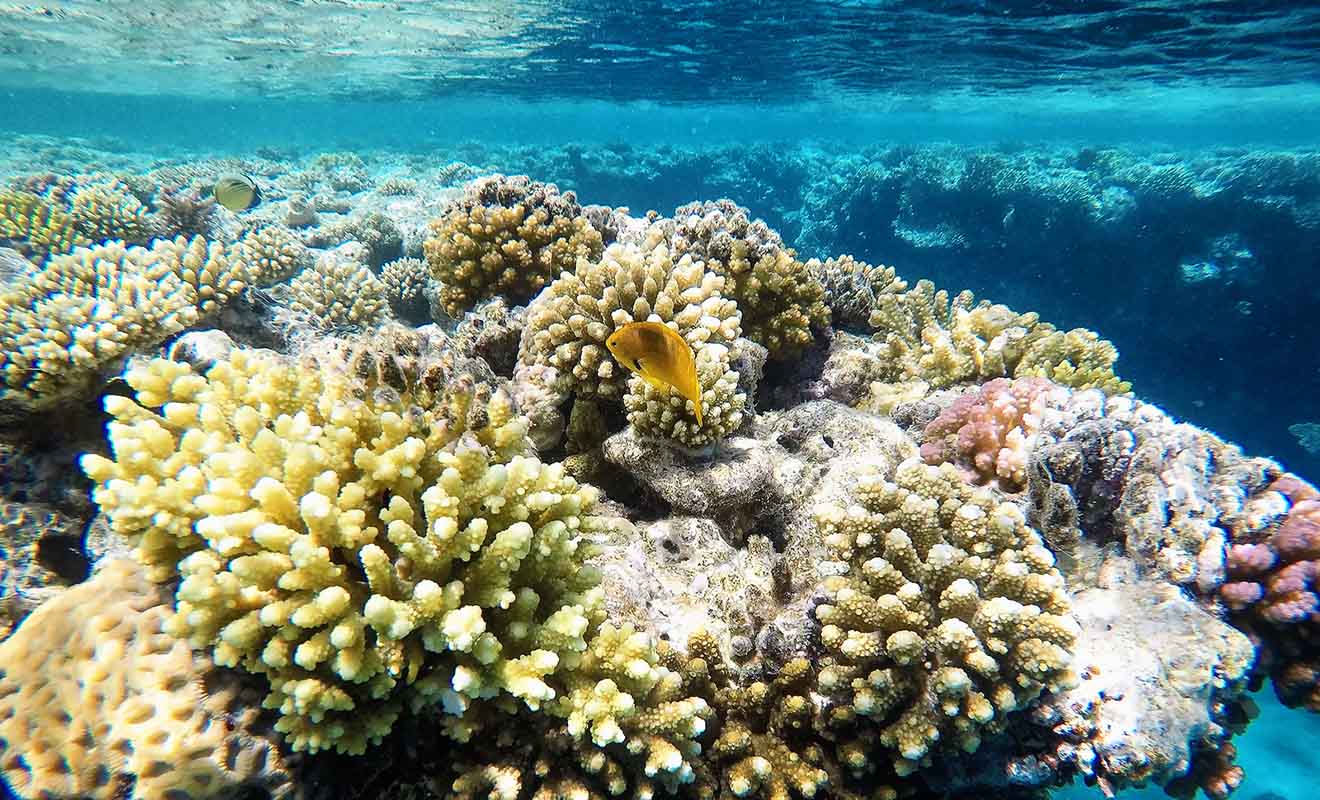 Duration: 7.5 hours
Price: from US$102
Why you should take it: great combo tour
Start your day off on the right foot with a scrumptious breakfast, all while taking in the mesmerizing views of the gorgeous turquoise Mexican Caribbean Sea. Then get ready for an underwater world! You'll make your first stop at El Meco Reef to dive in and swim alongside the resplendent coral and teeming marine life just off bustling Cancun. Don't worry, the guided tour has got you covered with all the snorkeling equipment you'll need!
You can either stay onboard and show off your salsa moves or just chill out on the deck and soak up that awesome atmosphere. If you happen to stay in the swim-up Cancun hotel zone, the experience of knocking back a cold cocktail while dipping your toes into the pool is great, but it can't hold a candle to what you'll find here!
5. Snorkel through Yal Ku Lagoon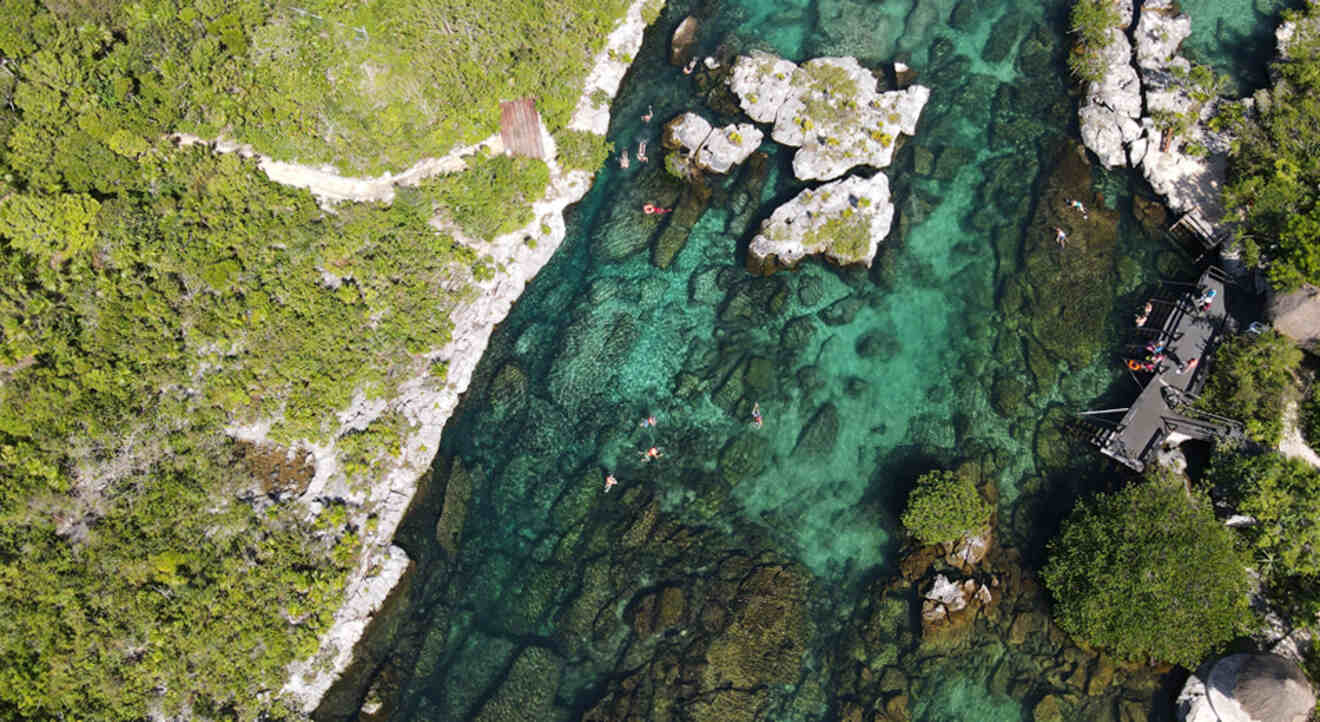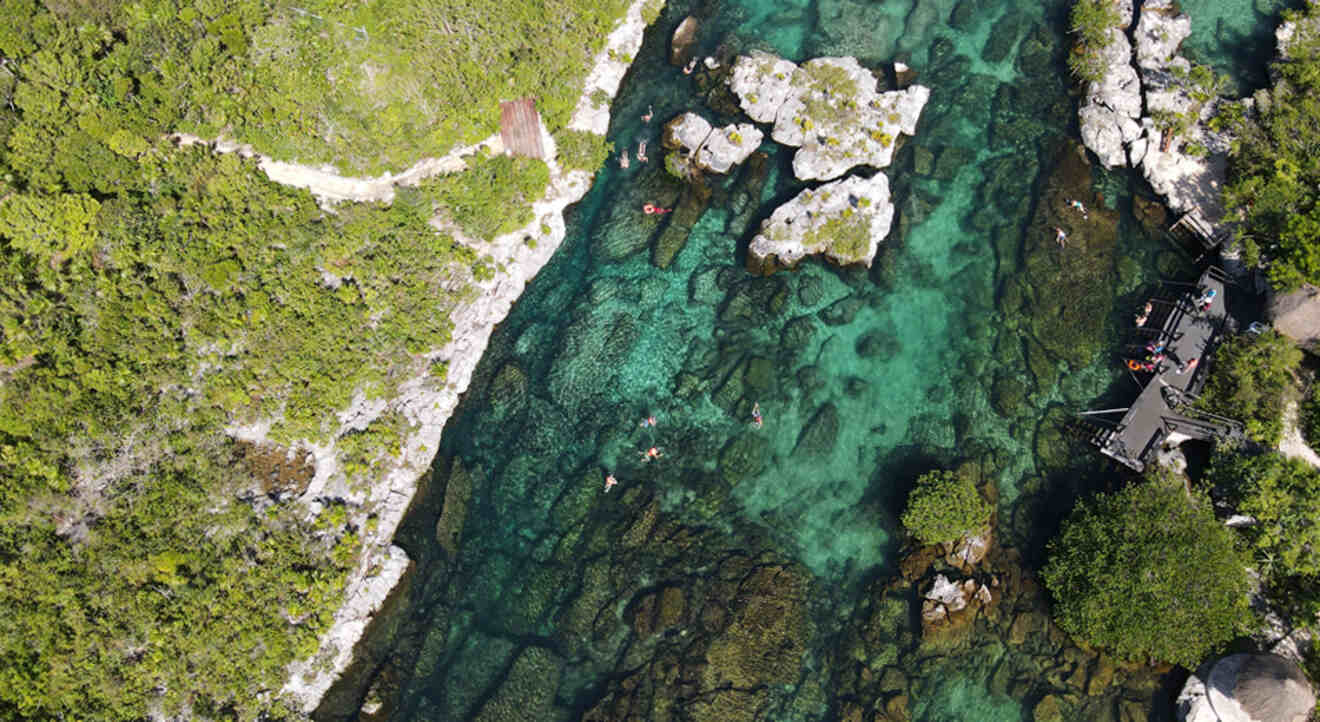 Duration: 3.5 hours
Price: from US$90
Why you should take it: uncover Playa del Carmen and its hidden gems
Are you ready to uncover the hidden gems of the underground? This half-day snorkeling experience from Playa del Carmen will take you on a refreshing swim and snorkel! You'll feel your heart race as you take a plunge into the spectacular crystal-clear waters, surrounded by rock and coral formations.
And that's not all, next up is Yal Ku, an enchanting lagoon. With a mix of warm sea water and fresh underground rivers, it's one of the best snorkeling spots, no matter if you're a beginner or seasoned! After checking out what lies beneath, enjoy some quality time strolling down the manicured pathways around the lagoon. There is round trip transportation included too.
6. Dive into a snorkel adventure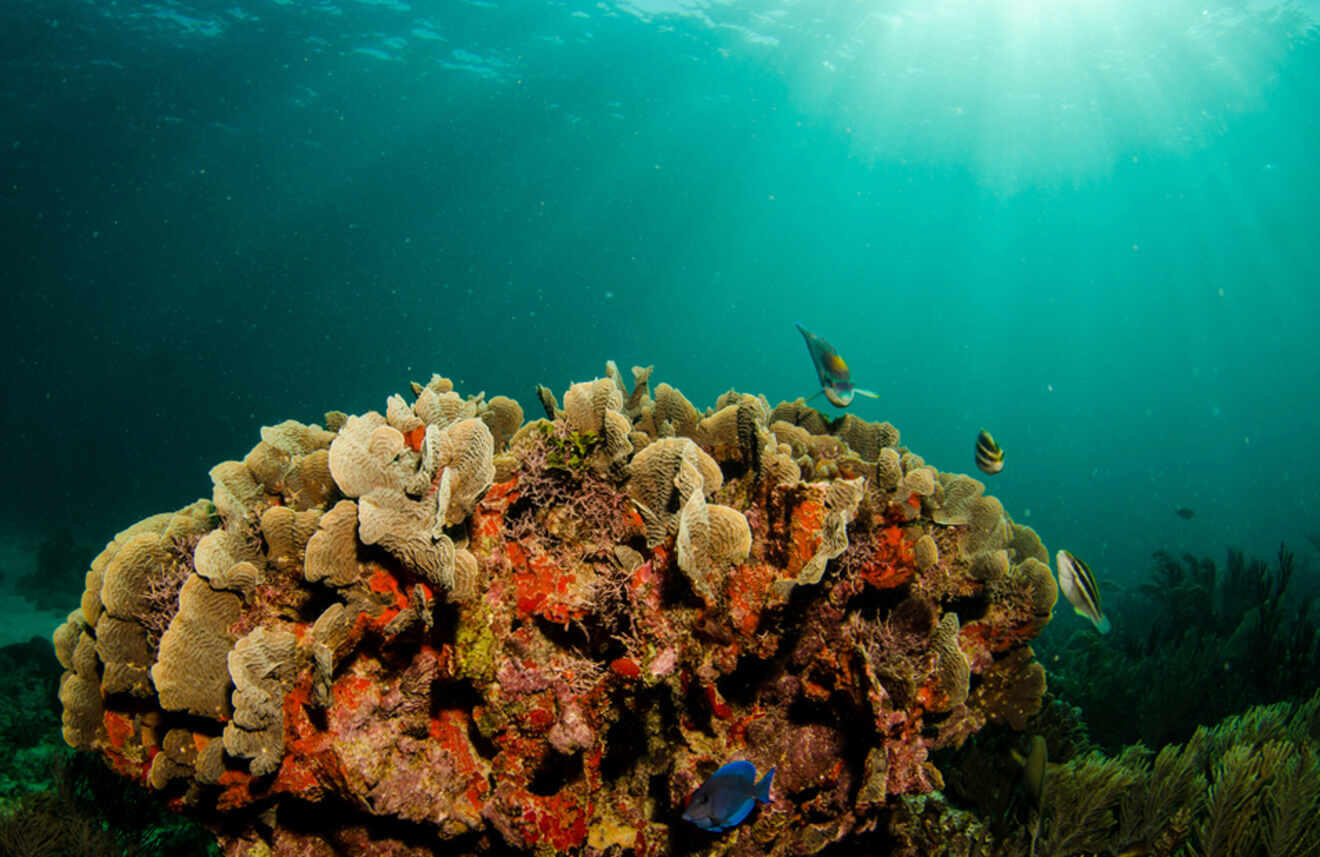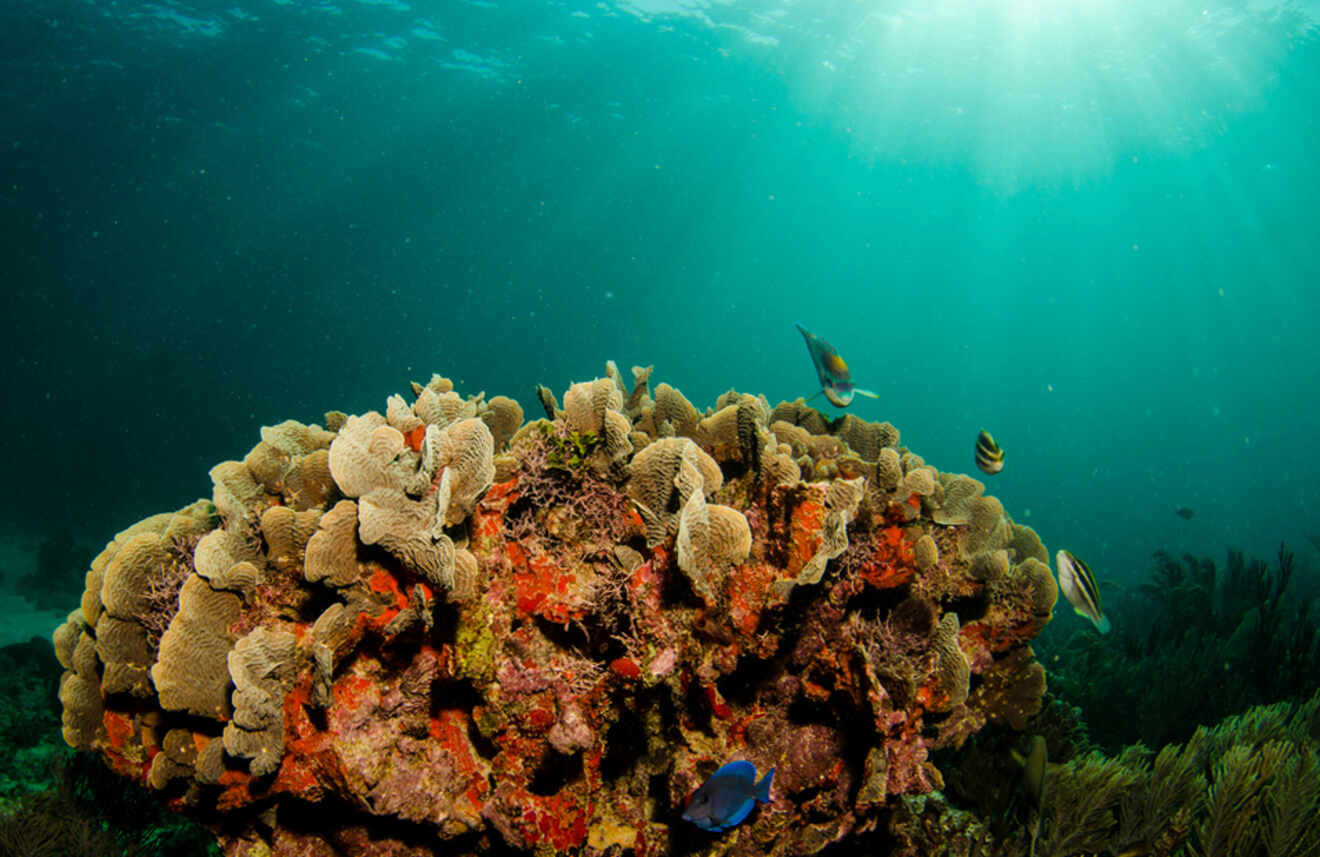 Duration: 2 hours
Price: from US$45
Why you should take it: explore Mesoamerican Reef
Tired of waiting in line for hours to explore the breathtaking Mesoamerican Barrier Reef? Then join a small group of just 10 that'll follow an expert guide around the stunning coral reefs off Puerto Morelos! It's an awesome opportunity that you don't wanna miss, from iridescent fish to all sorts of beautiful marine life, it's a colorful world full of surprises.
This is one of the Cancun snorkel tours where you have everything you need to ensure an incredible time – all entrance fees are covered, as well as snacks and snorkel gear. So no more standing in long lines or agonizing over the details.
7. Jet ski & scuba dive in Cancun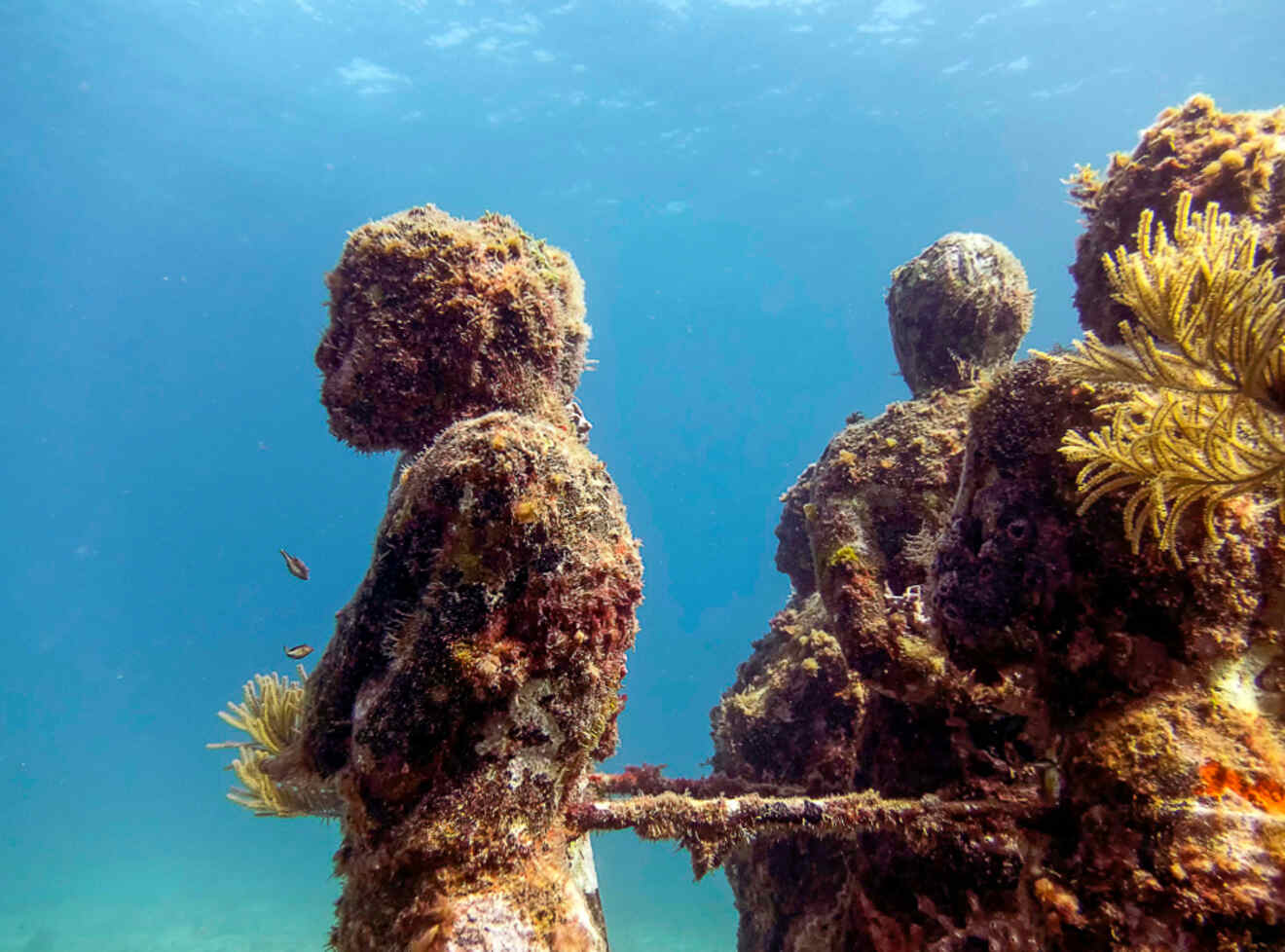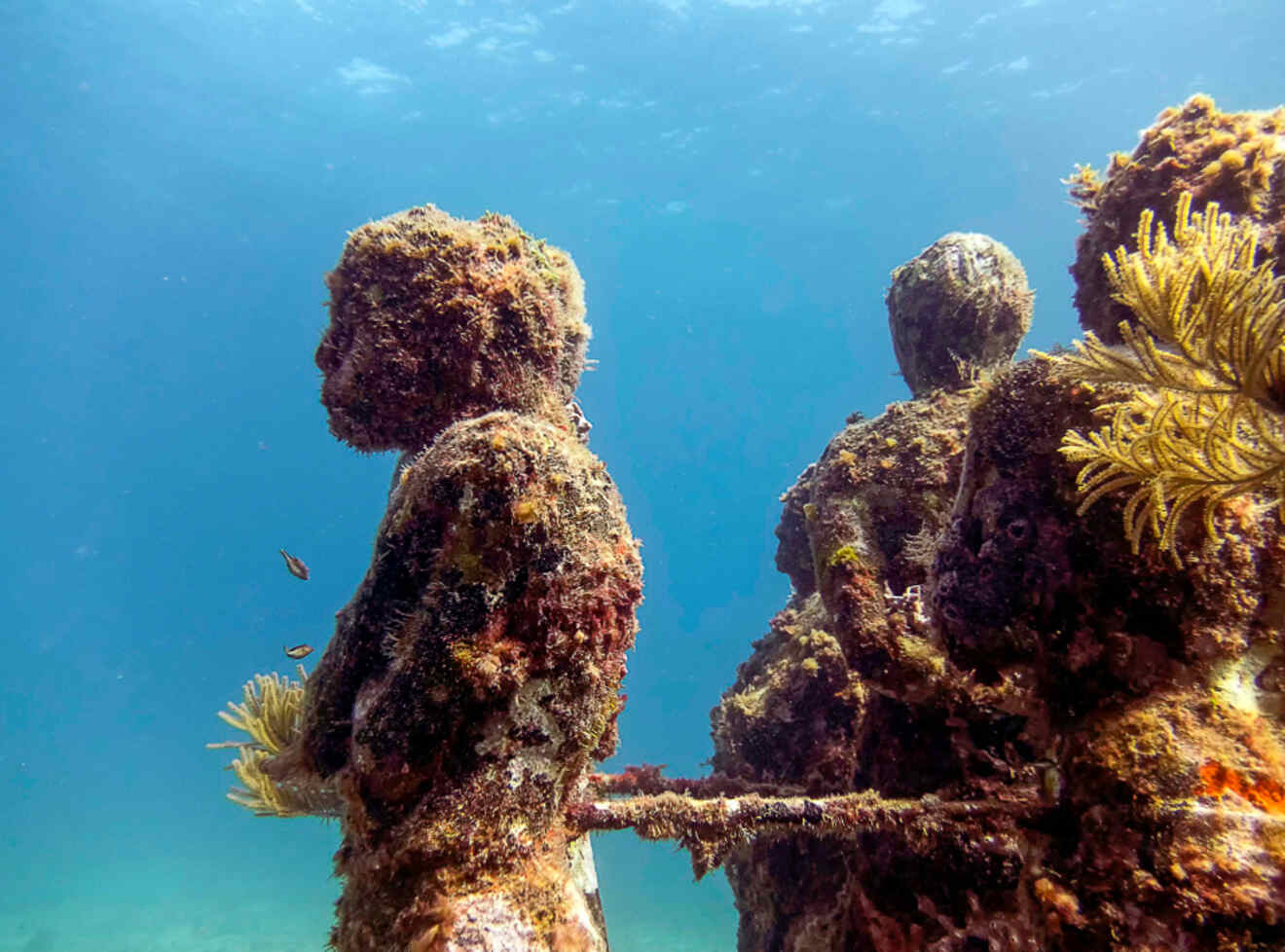 Duration: 2 hours
Price: from US$50
Why you should take it: includes Cancun underwater museum
Are you ready to dive into a kaleidoscope of ocean life? Get your pulse pounding on this thrilling jet ski exploration through Cancun's natural beauty and lush jungle! You'll be jet skiing around Nichupte Lagoon. Then, switch things up and kick back for some peacefully serene scuba diving over the Punta Nizuc coral reef, the southern tip of the island.
Get yourself kitted out with the necessary life jackets and snorkeling gear at the marina to ensure you're safe and ready to go! You'll also be briefed on how to handle a speedboat safely. Your guide leads the way through the mysterious mangrove jungle, pointing out fascinating fauna and flora along the way.
And the star of the tour, dive into a one-of-a-kind experience by immersing yourself in the underwater museum of Musa statues in Manchones Reef.
8. Experience both beach & jungle fun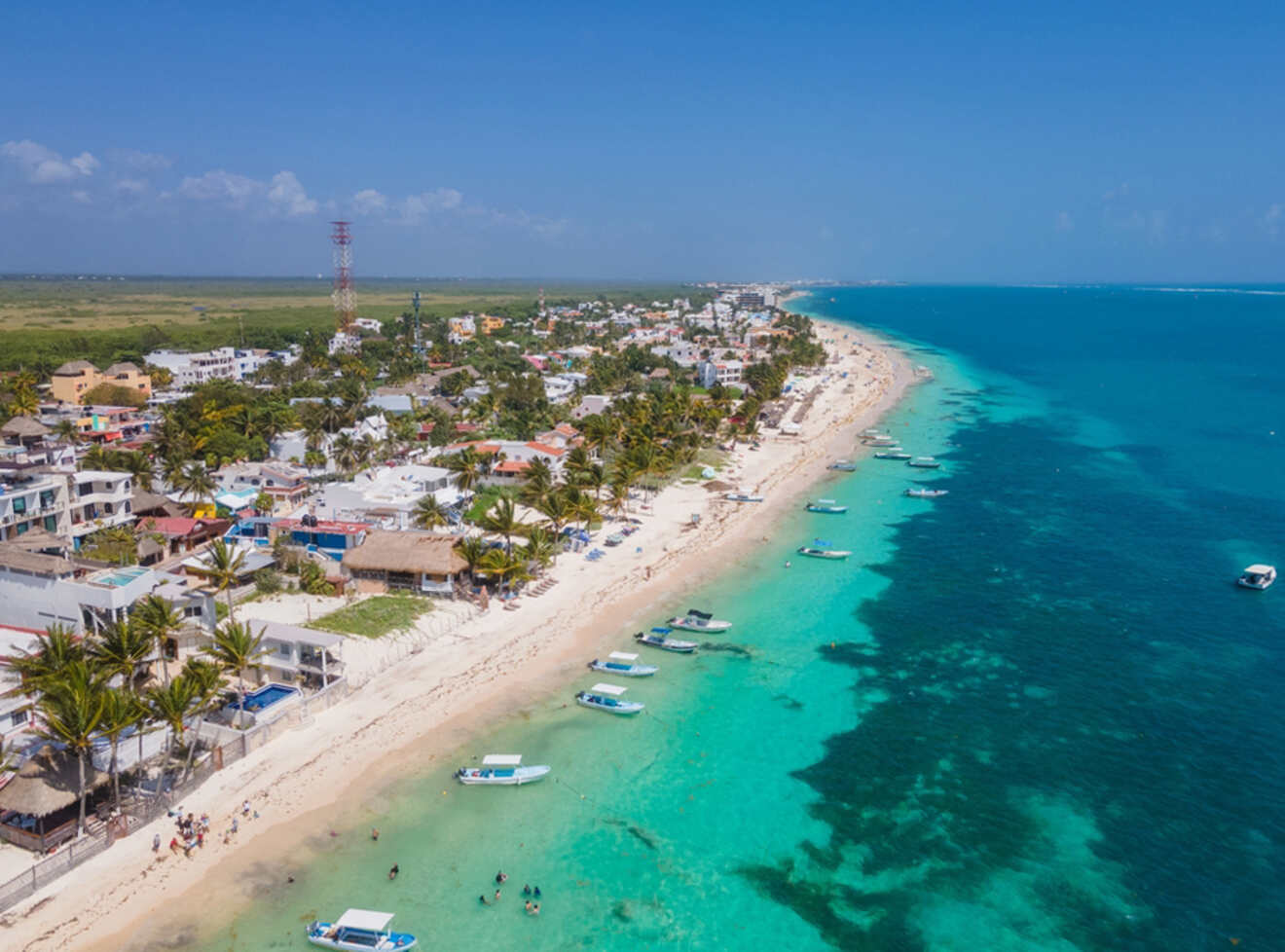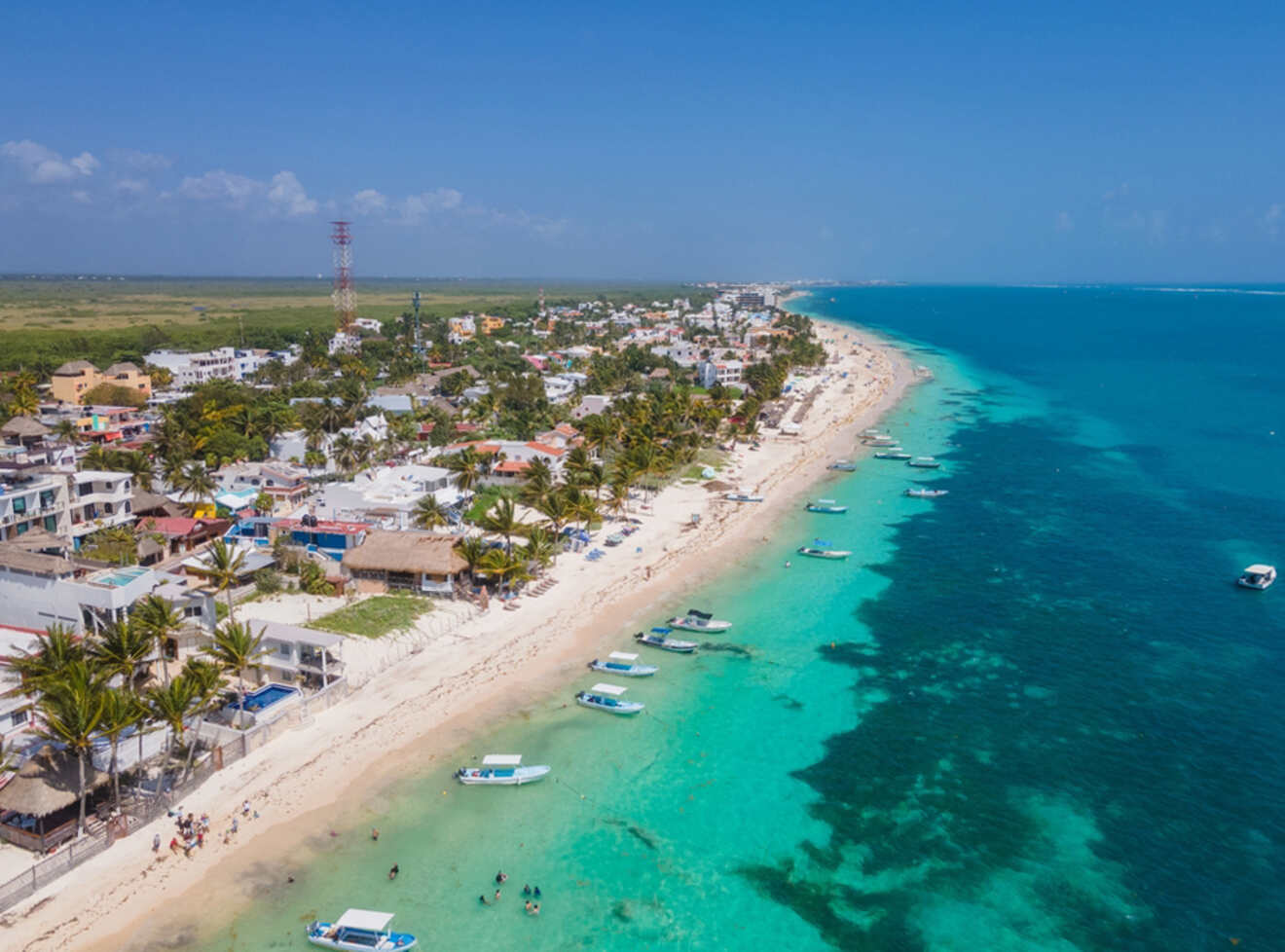 Duration: 7.5 hours
Price: from US$135
Why you should take it: snorkel & ATV ride
This tour combines the best of both worlds – fun at the beach and wild jungle thrills, on this amazing trip to the fishing village Puerto Morelos. It's gonna be a blast!
Kick off the tour by snorkeling among the rainbow of reef fish, and then rejuvenate with a delectable lunch at an exclusive beach club and sunbathe on the picture-perfect sand.
Don't miss out on the opportunity to race your ATV through the jungle pathways, fly high on thrilling ziplines between canopy-level treetops and take a plunge into a stunning cenote – it's an unbeatable mixture of heart-racing excitement and dreamy nature.
Jump on the chance to experience the best of reef, beach, and jungle all in one epic day. Whether you're looking to splurge for a single ATV or save by getting a shared one, you'll find a deal to fit your budget.
9. Dare to join a night snorkel adventure
Duration: 1.5 hours
Price: from US$75
Why you should take it: night snorkel in Great Maya Reef
You won't wanna miss out on the moonlight snorkeling tour for the world! There's nothing quite like diving through the toasty waters of the Mayan Riviera in the evening. You just might catch a glimpse of moray eels, squids, lobsters, or even an octopus. But hold your breath because the best is yet to come: look out for sea turtles gliding by at night. You might even get lucky and spot more than one.
Dive into absolute darkness and behold the bioluminescent particles illuminating your underwater world! It's like stepping into a scene from James Cameron's Avatar, no wonder beginners and experienced snorkelers alike give raving reviews.
FAQs about snorkeling in Cancun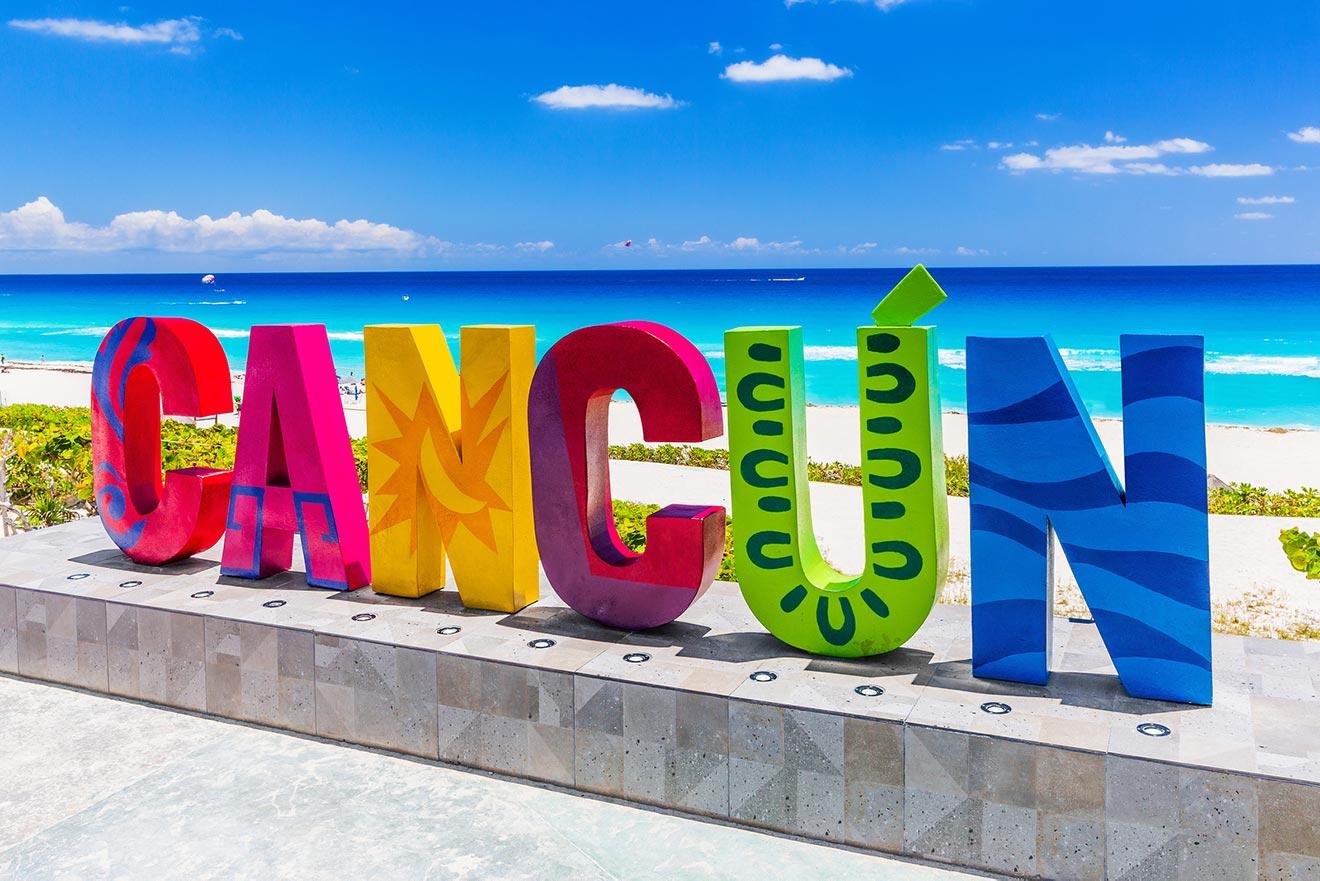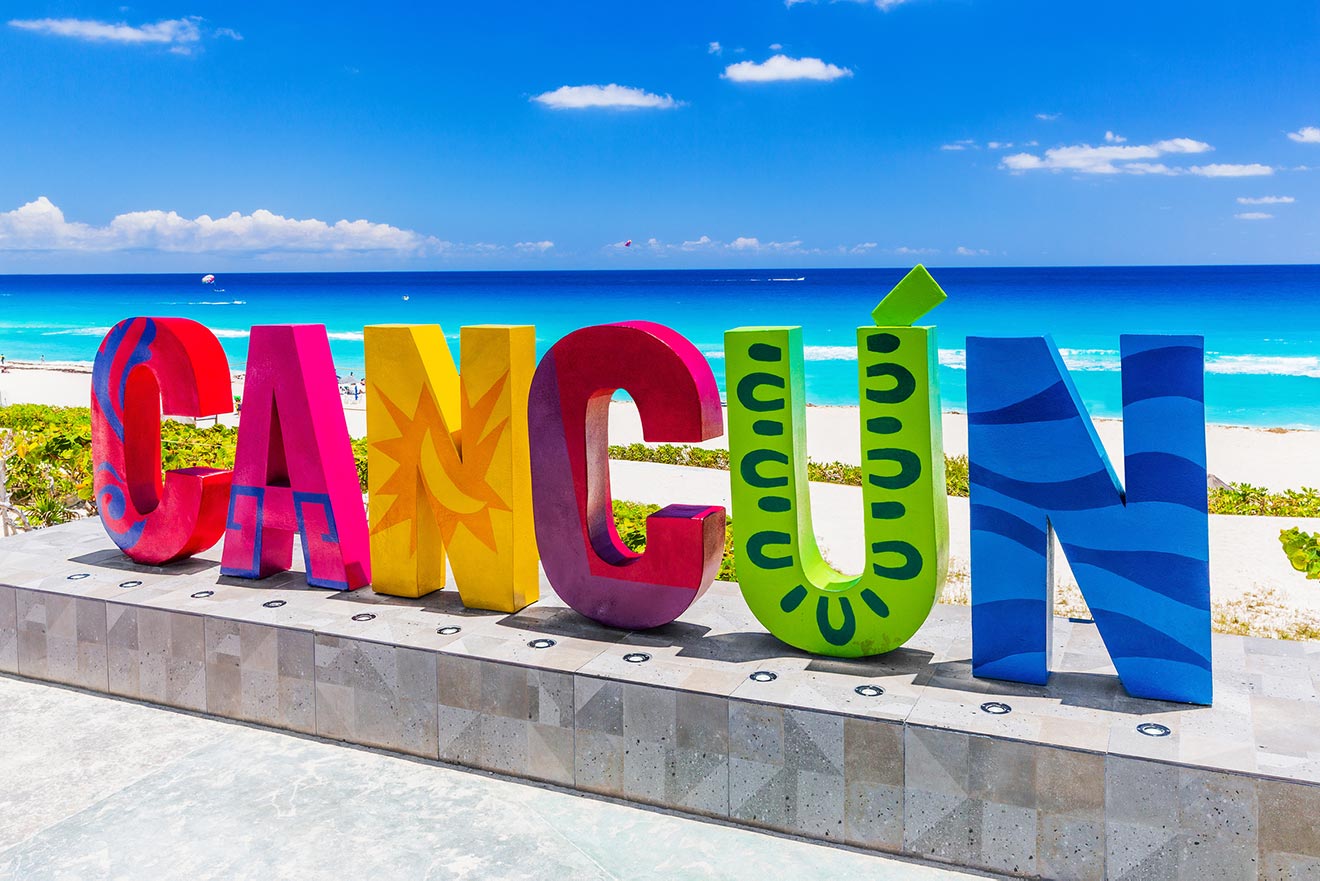 📍 Is there good snorkeling in Cancun?
Yes, Cancun is famous worldwide for having some of the best snorkeling spots. I recommend embarking on the Mesoamerican Reef snorkel tour, this place is the 2nd largest coral reef system in the world.
🌊 Are snorkeling tours worth it?
Absolutely. And I recommend taking the traveler's favorite Isla Mujeres snorkeling tour where you'll not only get the opportunity to see marine life but to also take a tour of the island and see the most important bird sanctuary.
📅 What month is best to snorkel in Cancun?
The best time to snorkel in Cancun is during the dry season from December to April, but it's still possible to enjoy snorkeling year-round.
💰 Can you snorkel for free in Cancun?
You can always go snorkel for free on your own, however, the most remarkable species are in the deep areas, and it would be wise to choose a tour for such an endeavor. If you're taking a vacation with your kids, I recommend a family-friendly Cancun tour.
Conclusion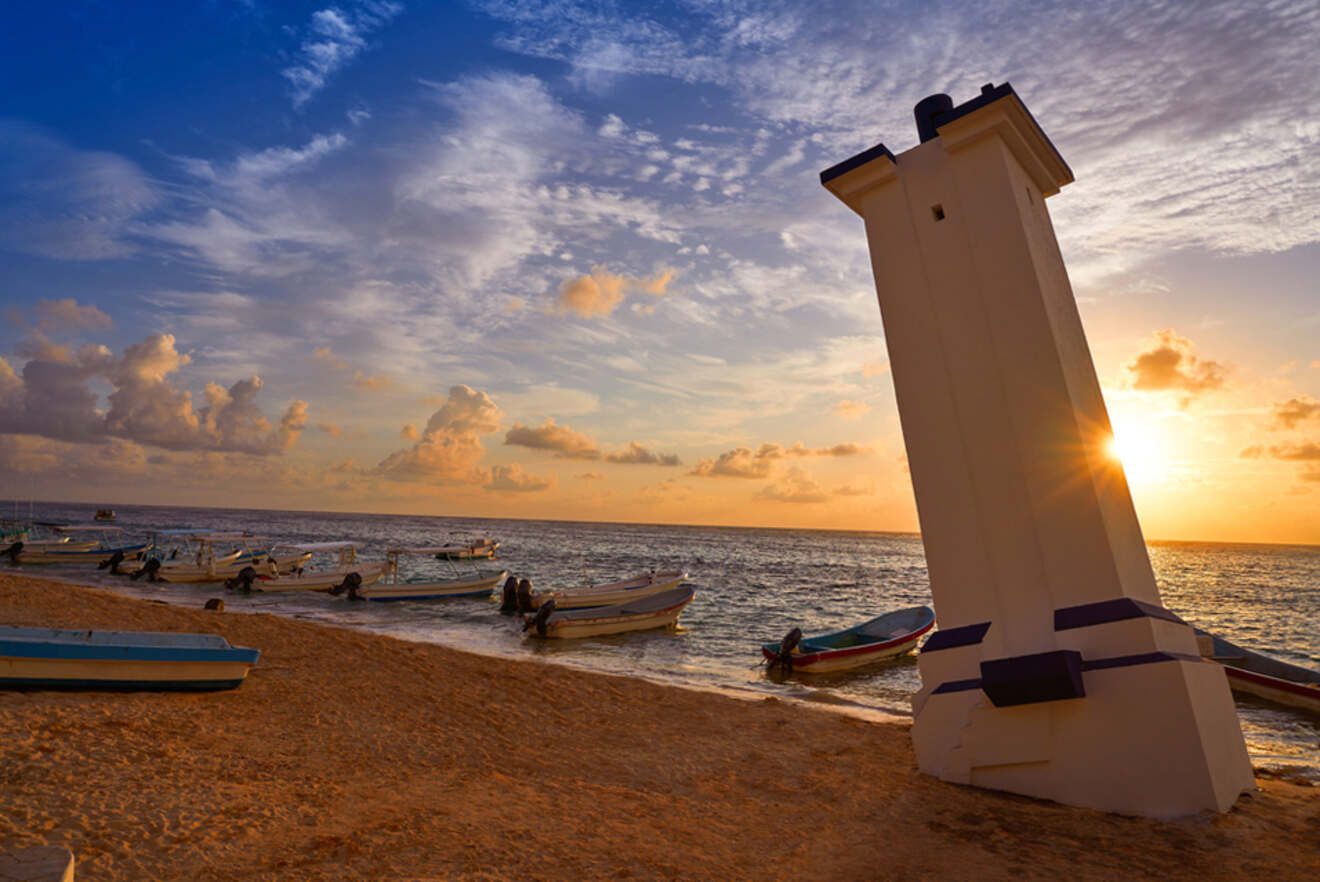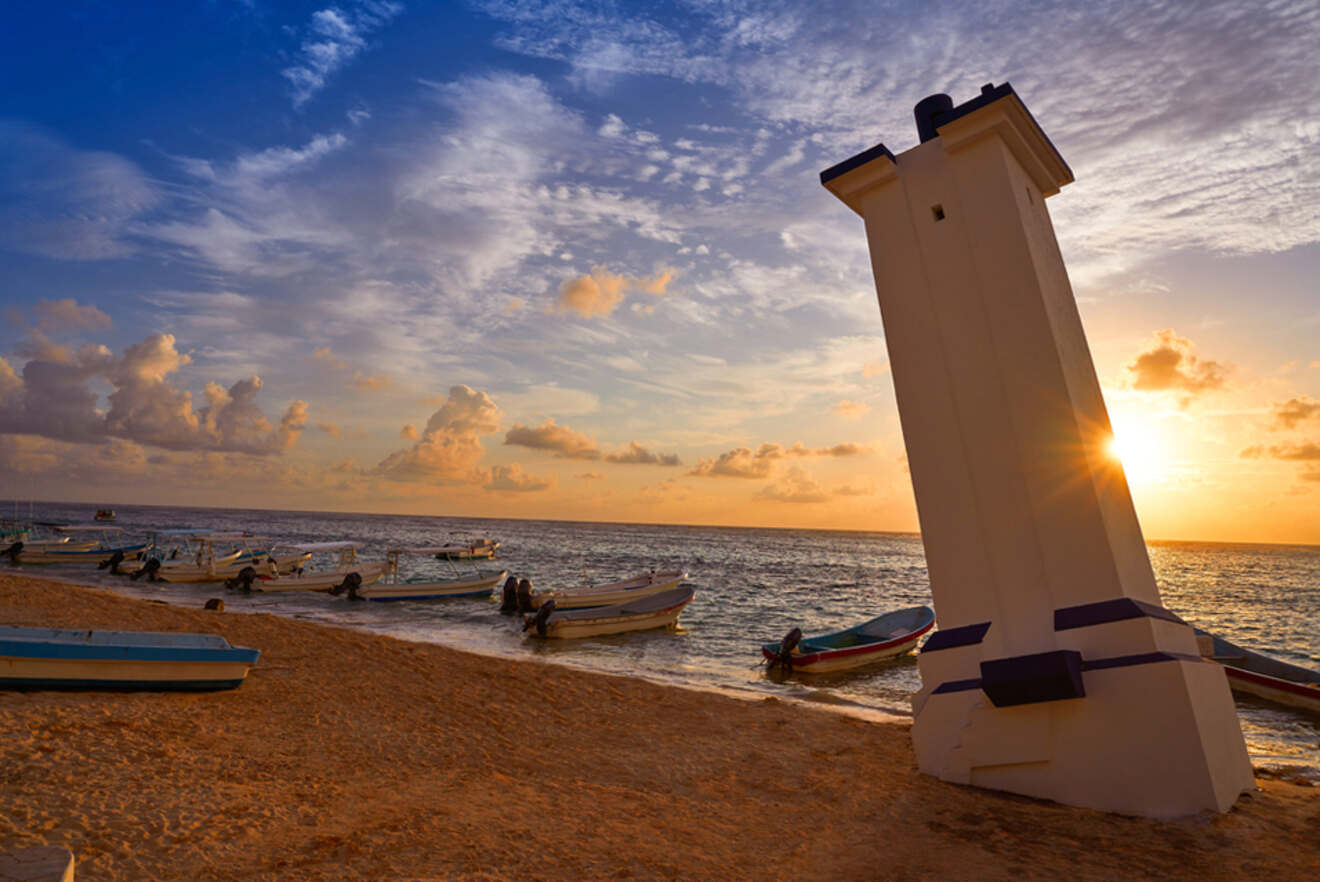 In conclusion, if you're looking for an adventure-filled day of exploring the beautiful underwater world of Cancun, a snorkeling tour Cancun is a must-do activity.
From swimming with vibrant coral to coming face to face with fascinating sea critters, you'll make memories guaranteed to last a lifetime.
Don't forget to book your tour ahead of time and plan carefully, you want to make sure you get the bang for your buck out of your trip! Plus, with a little forethought and pre-planning, you can do lots more than if you just wing it. It's all up to you – so don't let that chance slip away!
Have you been lucky enough to snorkel in Cancun yet? I'd love to hear all the details. Drop a comment below with your favorite tips, that way, other snorkelers can have an unforgettable experience.
Happy snorkeling and enjoy your Cancun adventure,
Angelina
---
Pin it for later!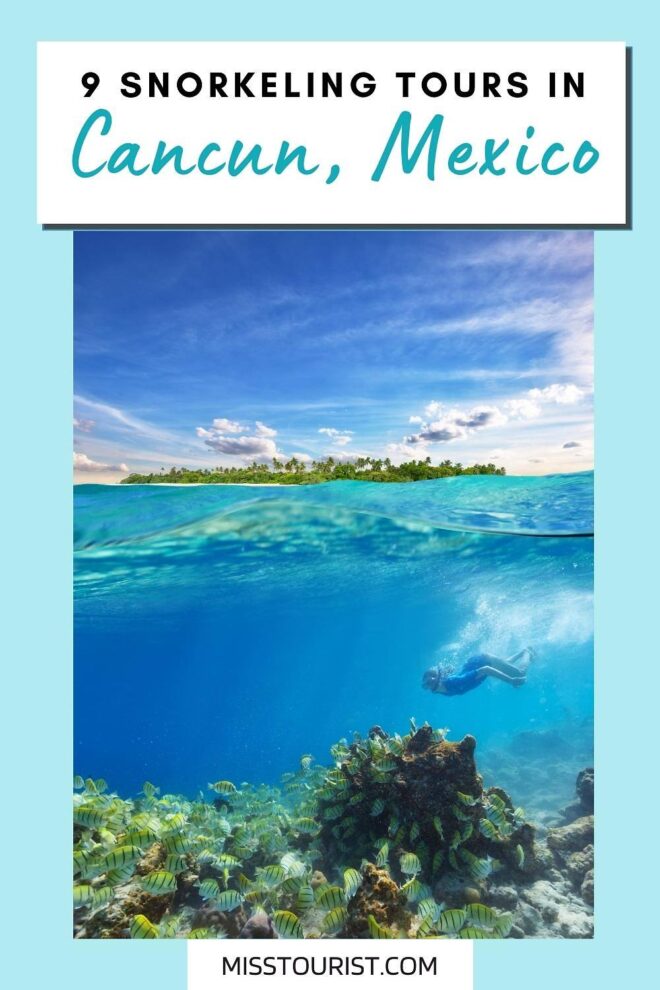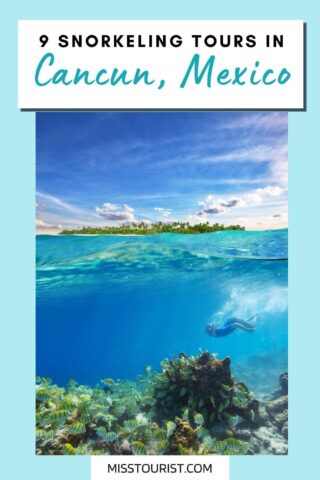 Pin it for later!