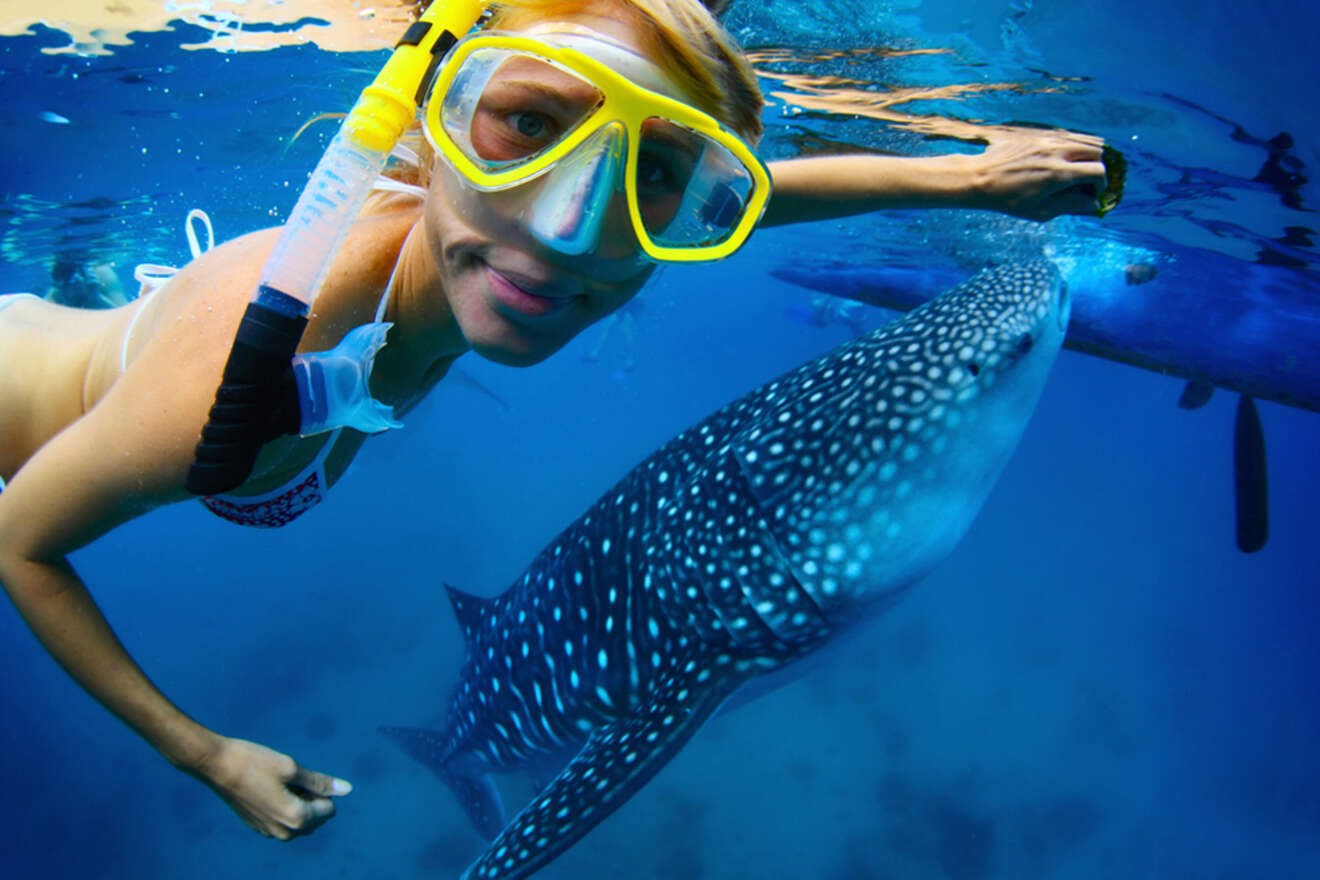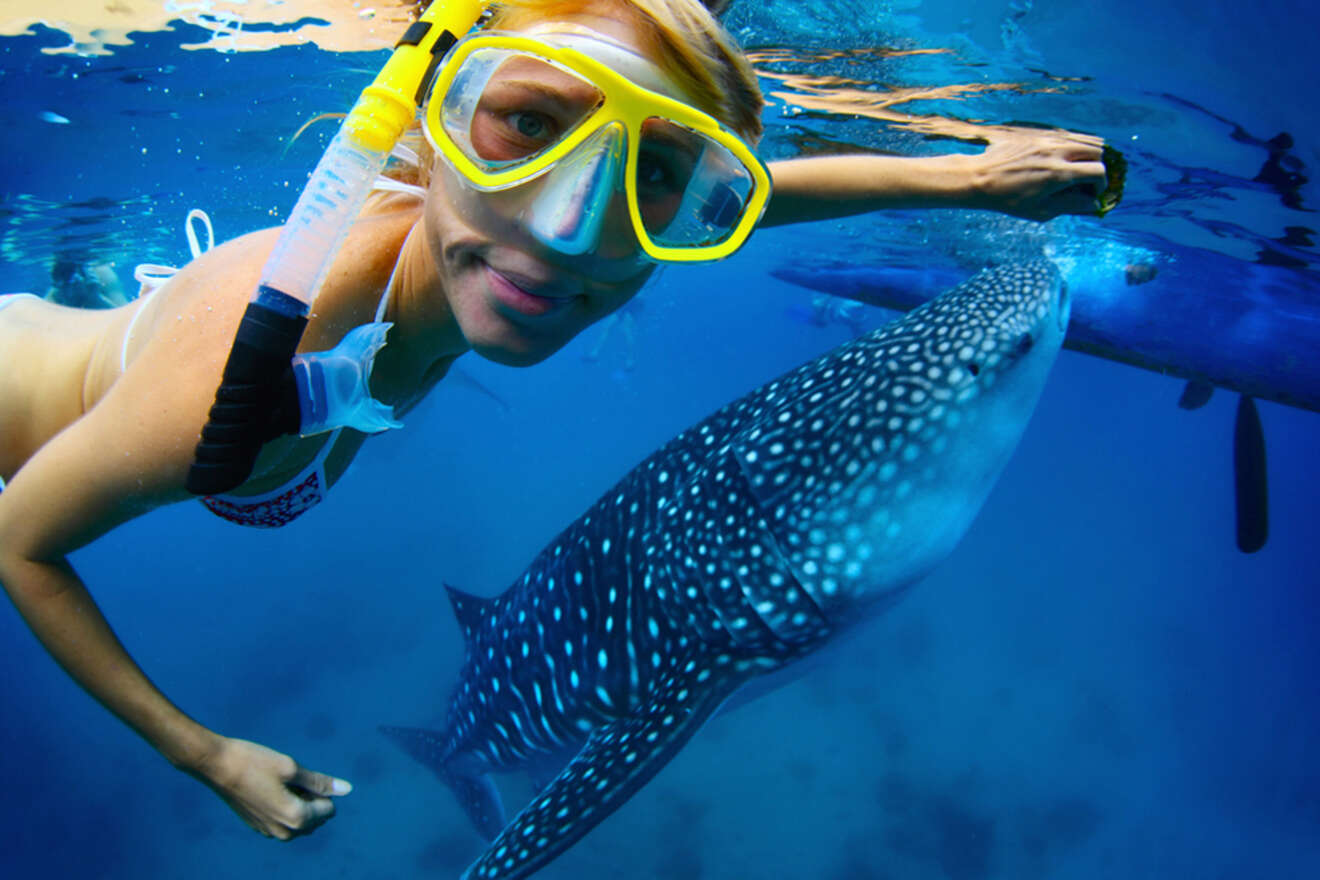 In case you're a fan of vibrant marine life, Mexico spirit, and adventure, this is the right place for you! You'll get to find out everything about the best whale shark tours Cancún has to offer!
I know how much a good water experience can make any trip feel unforgettable, so I decided to dive in and investigate a bit more about the offer of whale shark tours. I picked the very best and made a comprehensive list. You'll find every adventure thoroughly described. I also added a rich bonus of Cancún tours you could also check out while you're in the area.
Now, you might think that Mexico is only famous for its tequila but let me tell you – you're wrong. Its pristine waters and water activities are among travelers' favorites. That's why it's important to plan your travel responsibly and book your tours in advance!
Enough of the small talk and let's start!
If you are in a hurry
Here are the best Cancún whale shark tours:
1. Take a Cancún whale shark tour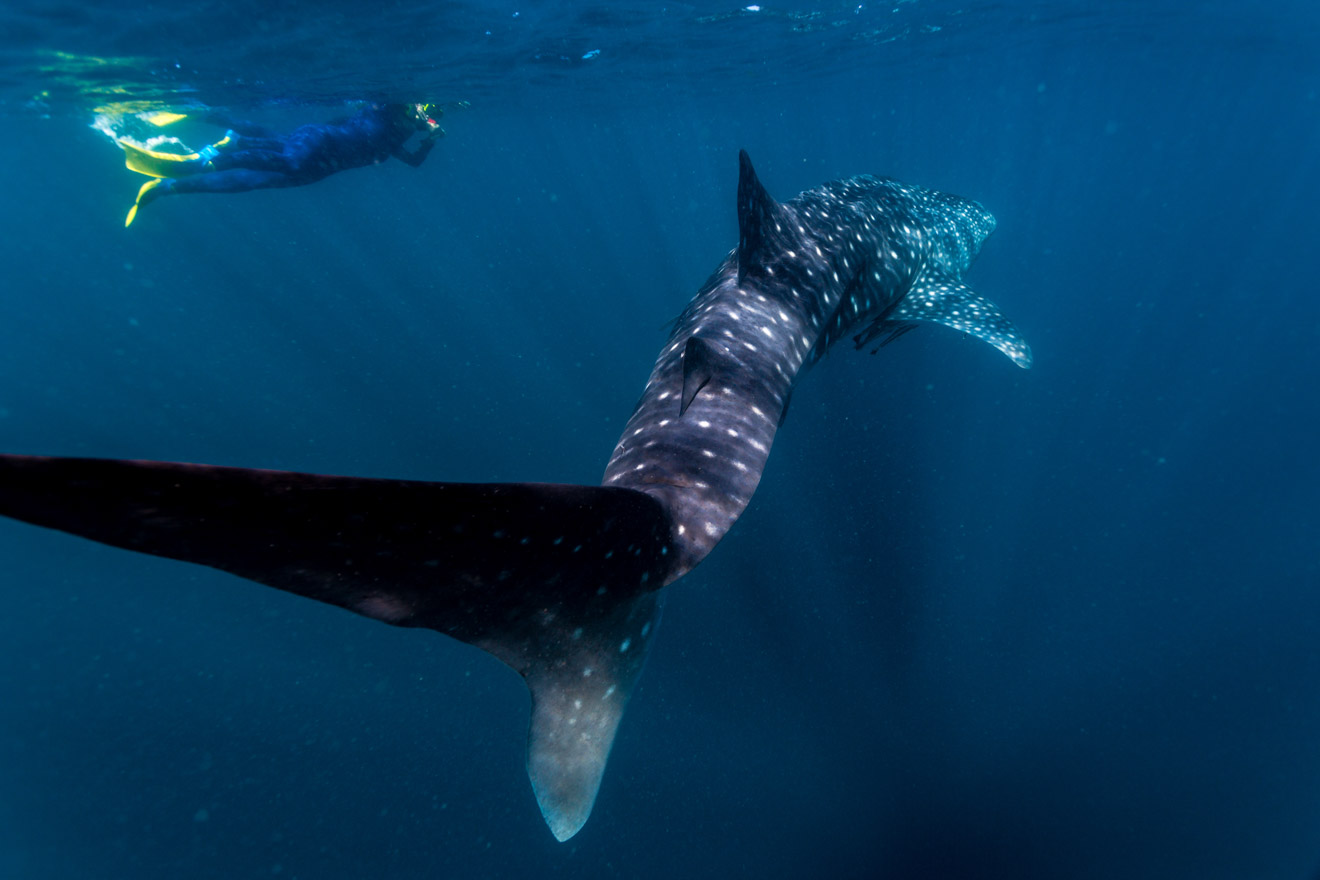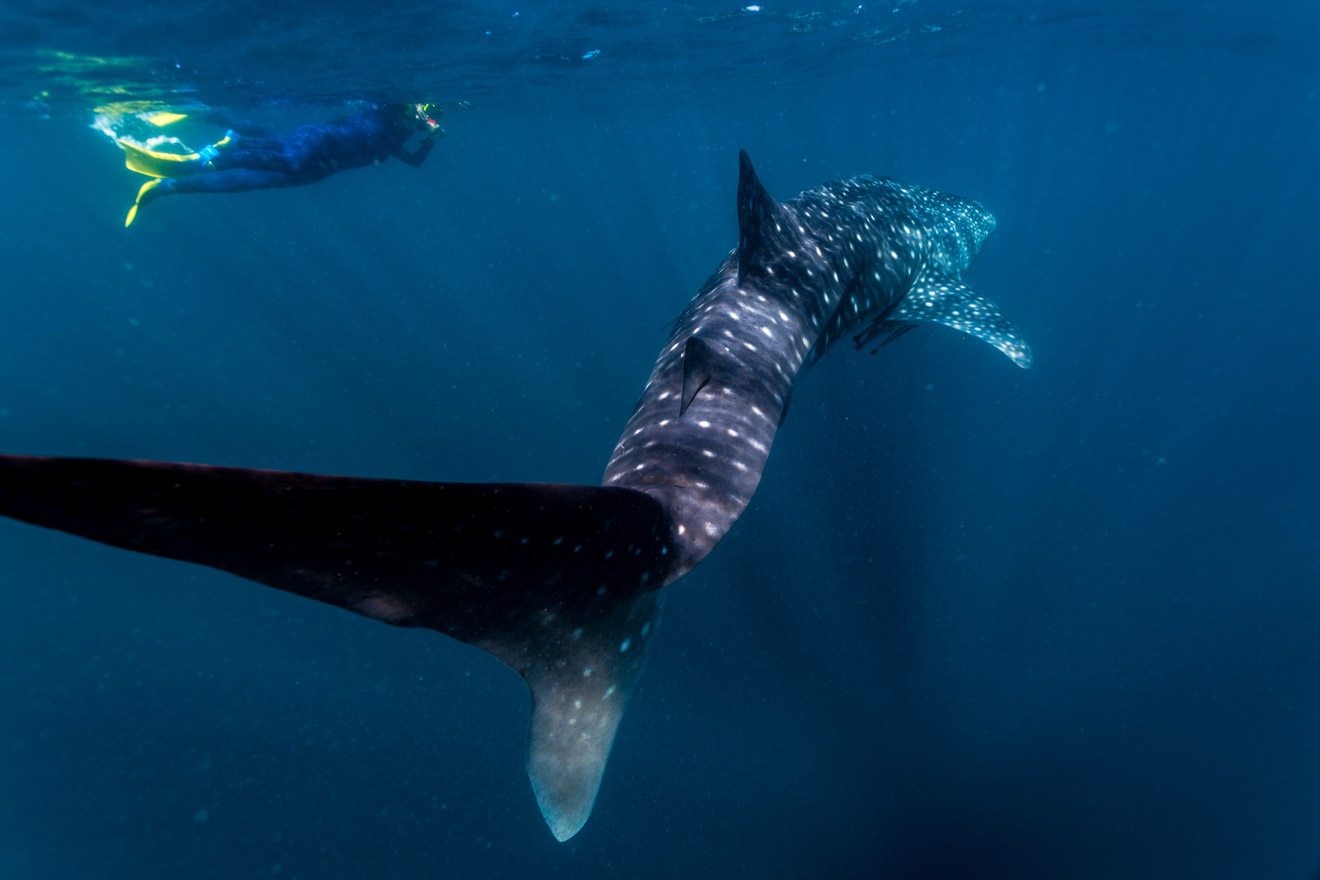 Duration: 7 hours
Price: from US$185
Why you should take it: the most popular whale shark tour
This whale shark snorkeling tour is insanely popular and it's not hard to guess why that is the case. It checks all the boxes: lunch, soft drinks, a naturalist guide, a cool swim with whale sharks during whale shark season, and a pickup from your Cancún hotel.
Witness these magnificent gentle giants hailing from the Yucatan Coast, while an expert guide takes you in search of dolphins, manta rays, and sea turtles.
The tour operator offers snorkeling equipment for when you go looking for these gentle giants in the water. It's an eco-tour with a small group of up to 10 travelers, so you'll get an intimate experience.
I'm sure you'll have an amazing time and that this whale shark watching won't let you down! You'll get transported to paradise as you enjoy lunch right off Isla Mujeres' legendary beach – it doesn't get better than that!
2. Explore the whale shark area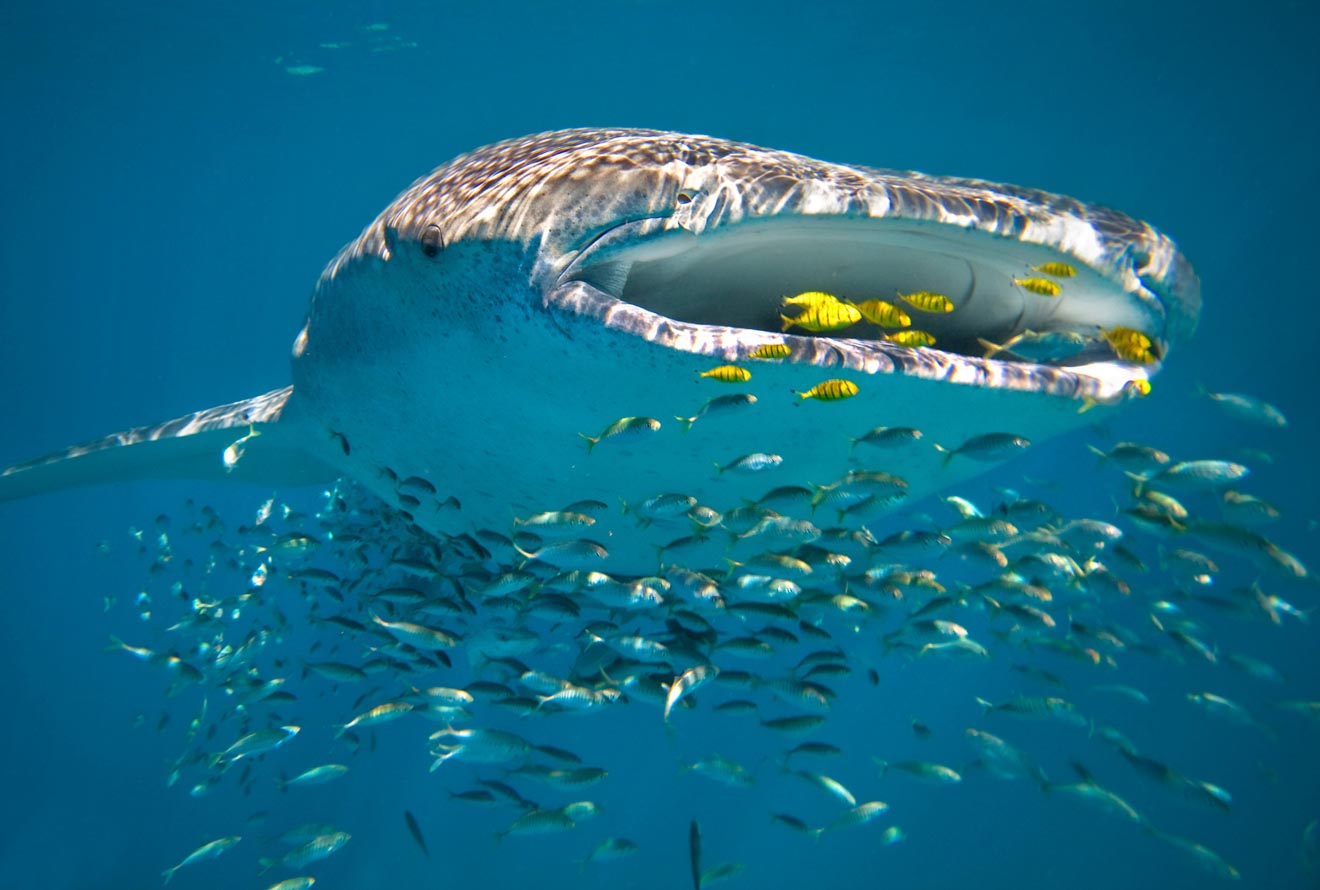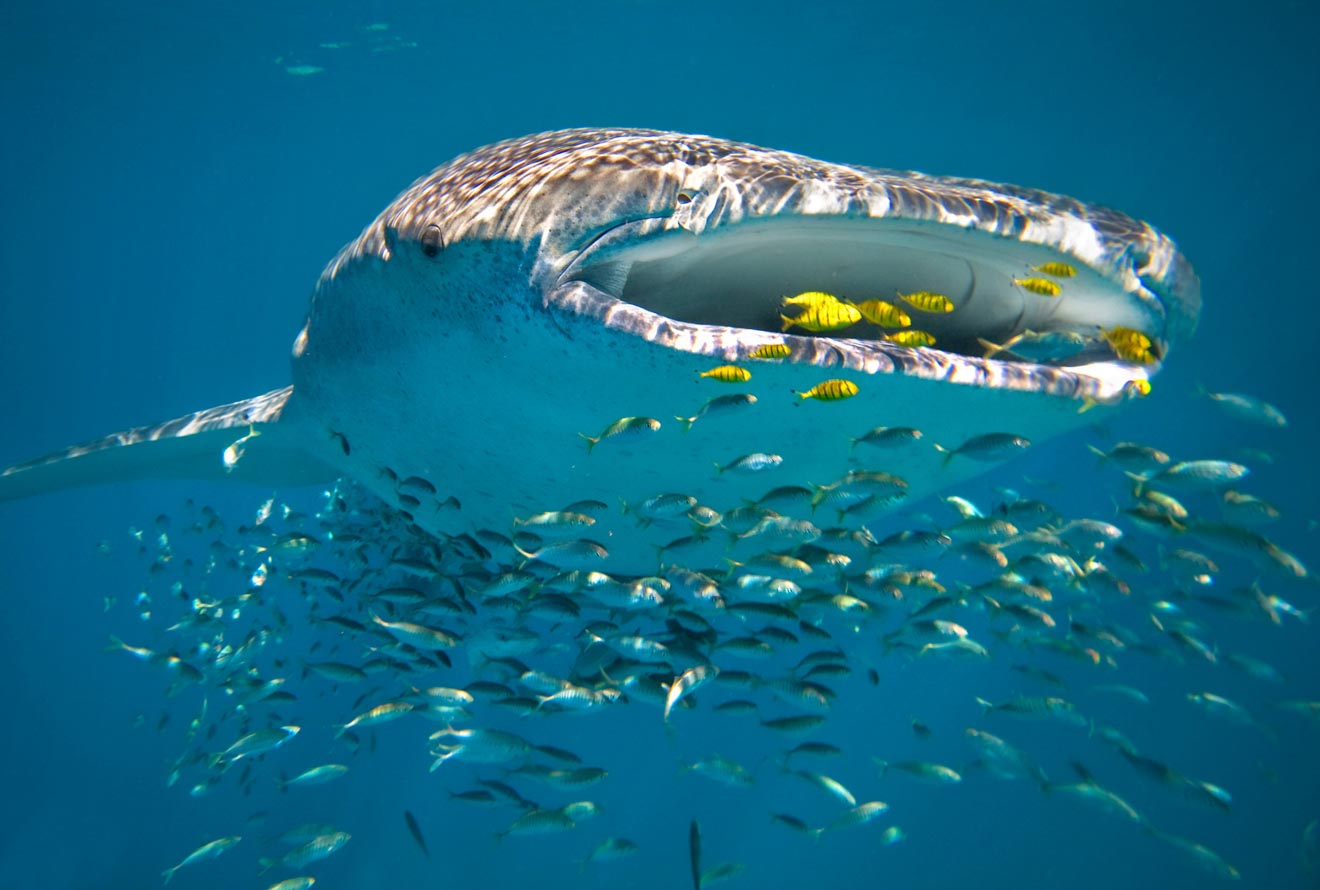 Duration: 8 hours
Price: from US$230
Why you should take it: great Isla Mujeres tour
Jump into an unforgettable experience on this guided tour of Cancún, where you can go swimming with whale sharks! You'll hop aboard the boat for the prime viewing and spot dolphins, turtles, and manta rays. Experienced guides will make sure your swim and snorkel will be safe and fun!
And don't forget light breakfast at the pier before departure plus endless snacks and beverages as you take in all that nature has to offer. Make sure to try the iconic fresh ceviche. Hotel pickup is also included. You'll have loads of time to immerse yourself underwater seeing these playful creatures going back and forth in their natural environment. A life jacket and snorkeling gear will be provided for you, too.
The tour isn't recommended for pregnant women and you'll get a full refund in case the tour gets canceled because of the poor weather.
3. Swim alongside marine giants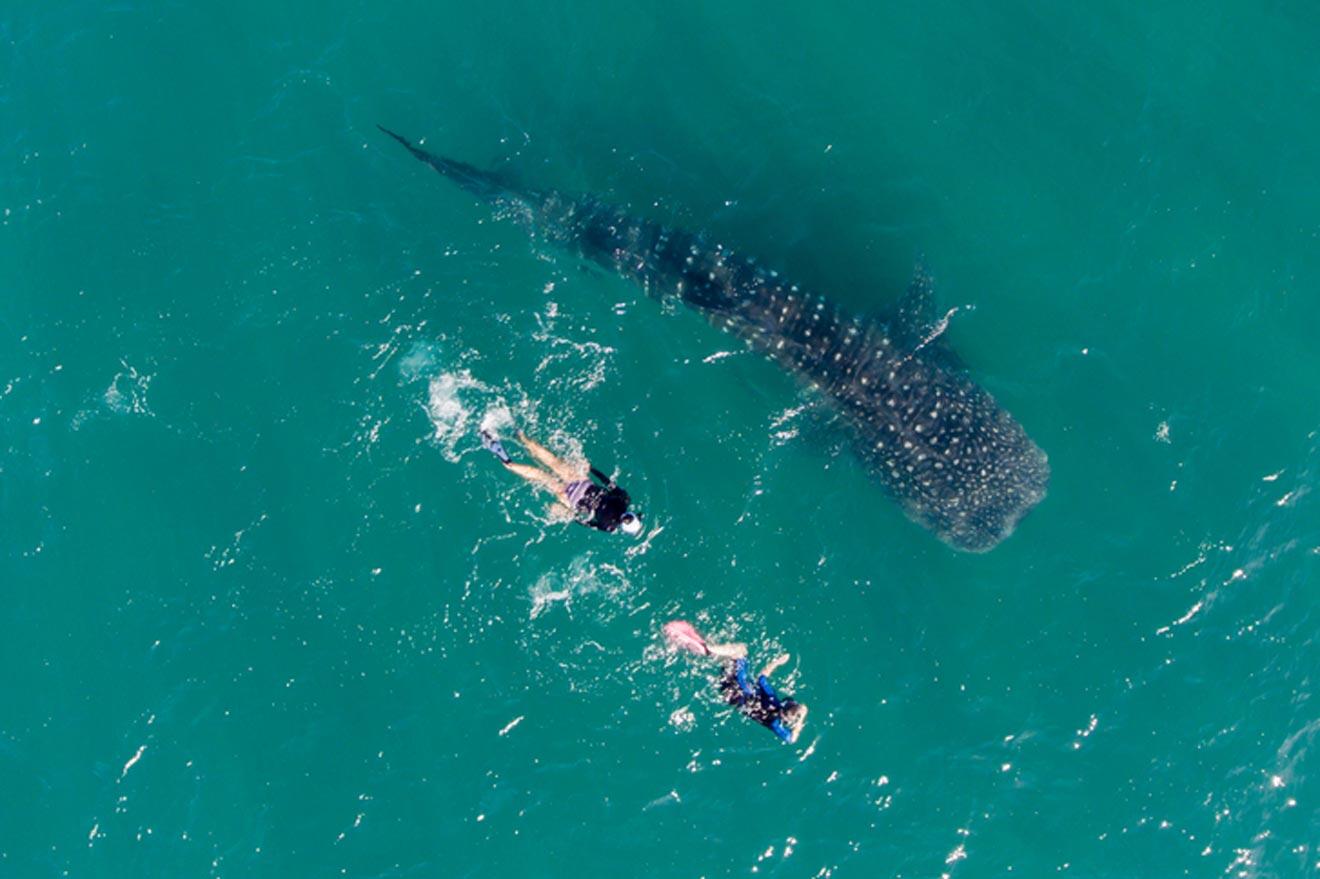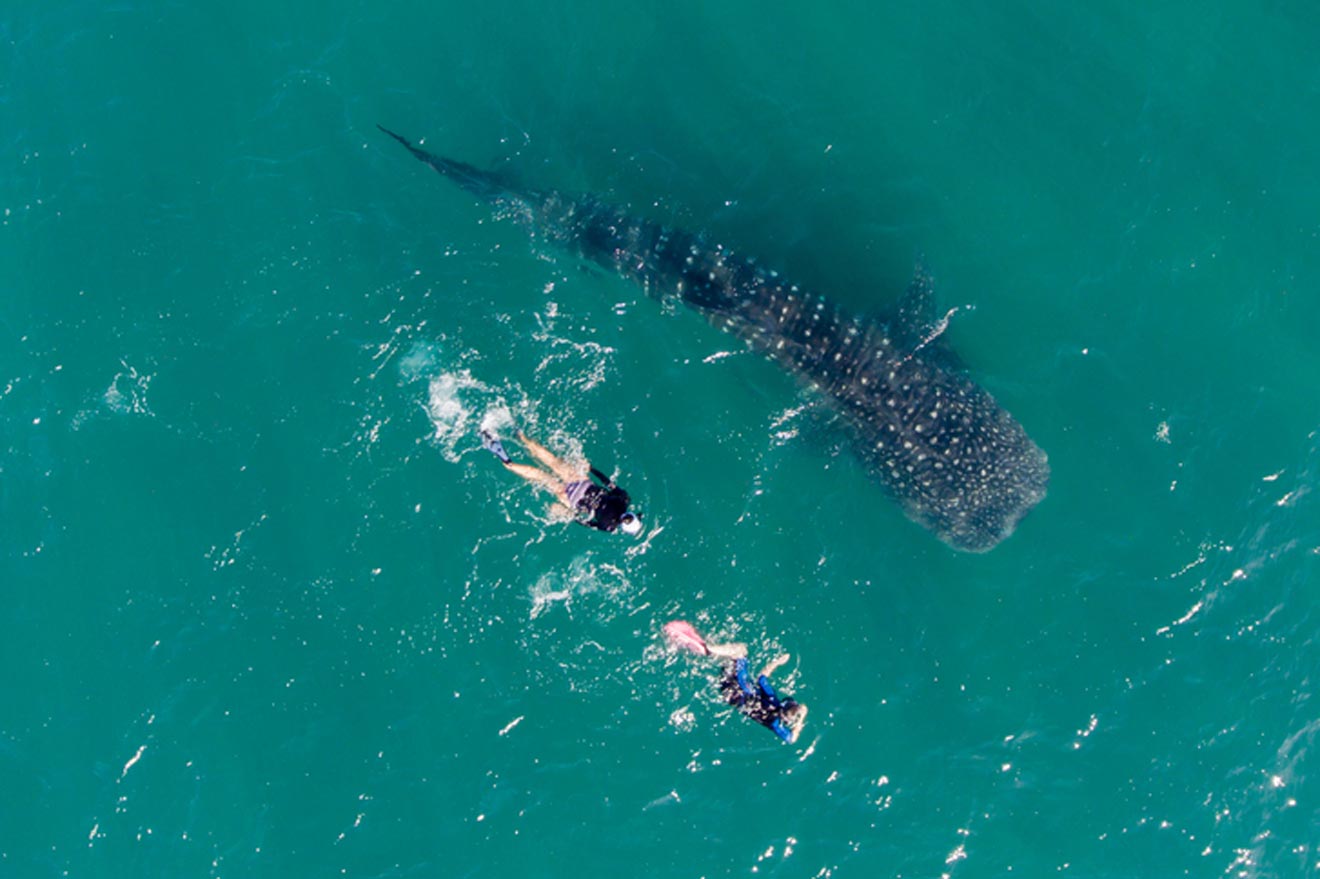 Duration: full day
Price: from US$155
Why you should take it: small group tour and exiting boat ride
Dive into the depths of adventure with an unforgettable full-day whale shark snorkeling experience taking a journey through the Caribbean Sea among its many wonders, from dozens of giant whale sharks to leaping dolphins and majestic manta rays.
The adrenaline surge that comes from getting so close to such an endangered species will truly take your breath away. You won't even have time to process what's happening. Your guide will pair you safely during your 2 turns snorkeling throughout this dive into another realm. With a bit of luck (and skill!), you may even get acquainted with a few oversized manta rays that come to visit this paradise island now and then.
This tour also offers pickup and drop off from the Cancún hotel zone, however, it doesn't cover alcoholic beverages so if you want to get a little boozy, keep that in mind.
4. Find whale sharks in their natural habitat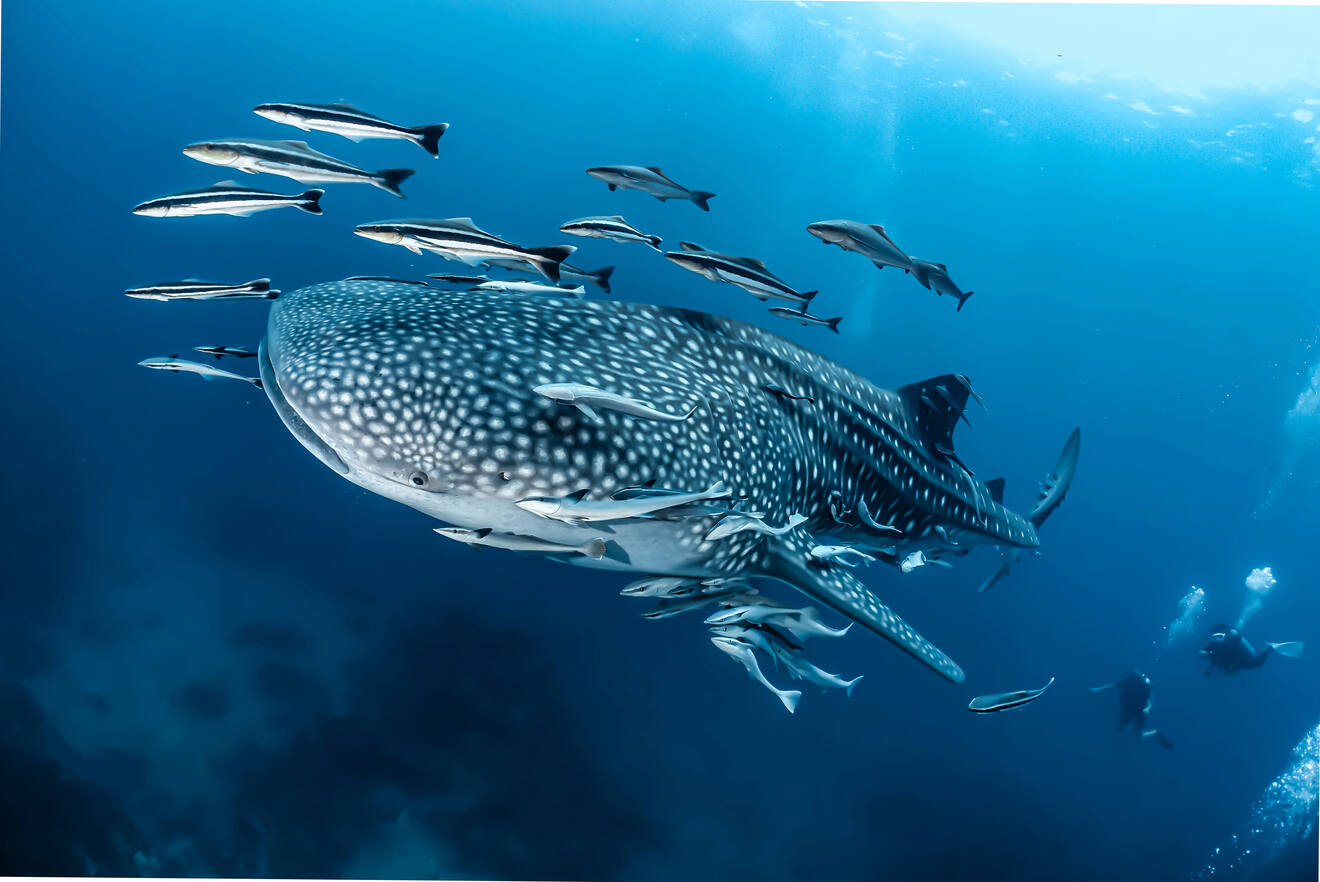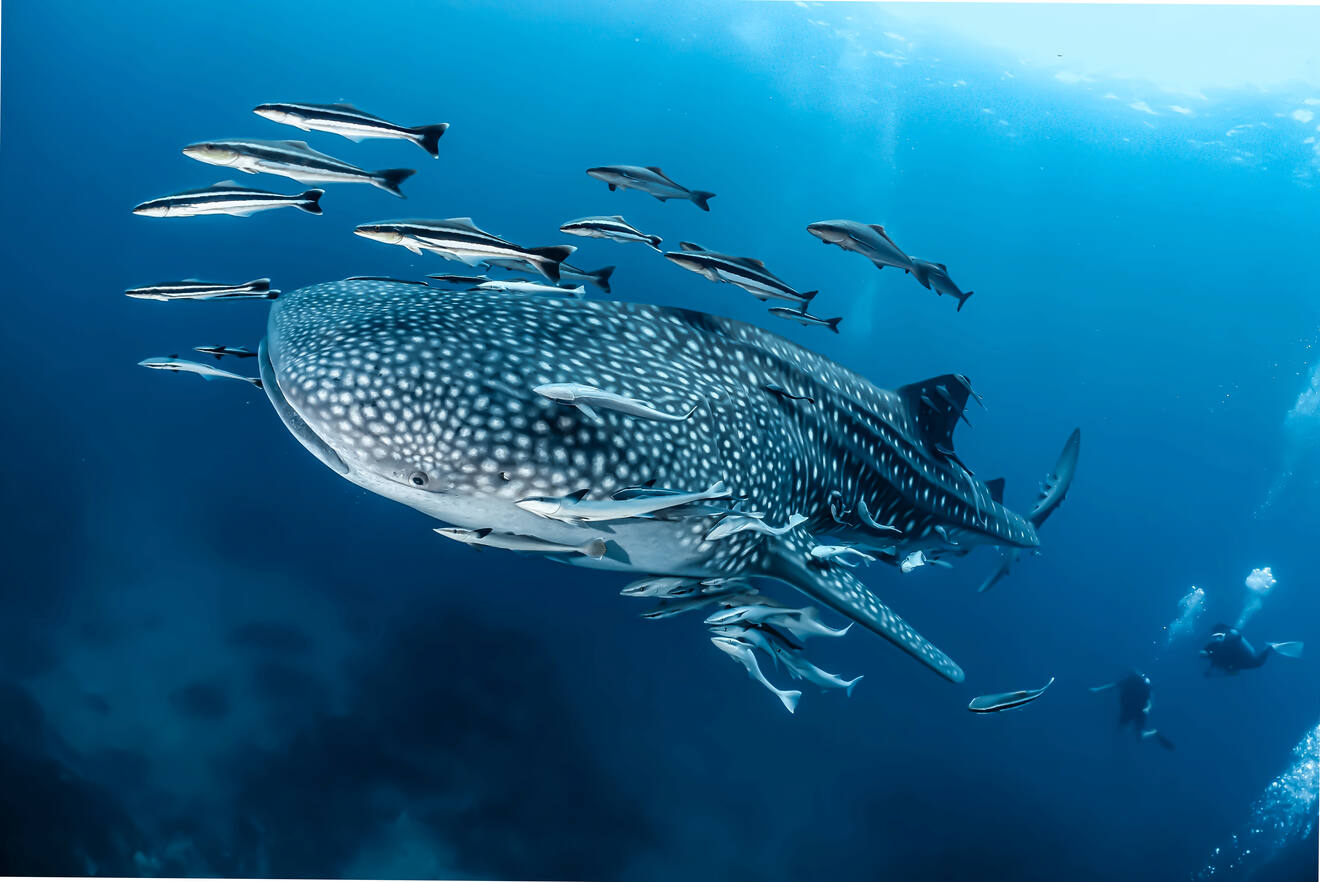 Duration: 6 hours
Price: from US$200
Why you should take it: a bit shorter tour
The tour offers a dreamy 6-hour ride from Cancún or Playa del Carmen, and the chance to swim with majestic whale sharks! Punta Sam's hour-long journey will have you gazing at panoramic scenes before arriving at the site where these enormous fish make their home.
Let your experienced guide lead you as you take a dip in the serene waters and see the largest fish and coral reef for 3 hours. Refuel yourself on board with light lunch along your way back while taking pit stops at Isla Mujeres along the way for even more snorkeling experiences and some scrumptious fresh shrimp ceviche! You'll also get to learn about the mighty whale sharks' biology & behavior, too!
I also recommend purchasing souvenir photos to make the trip more memorable. The whole experience will take about 6 hours and will be limited to only 10 passengers.
5. Go on a private tour from Cancún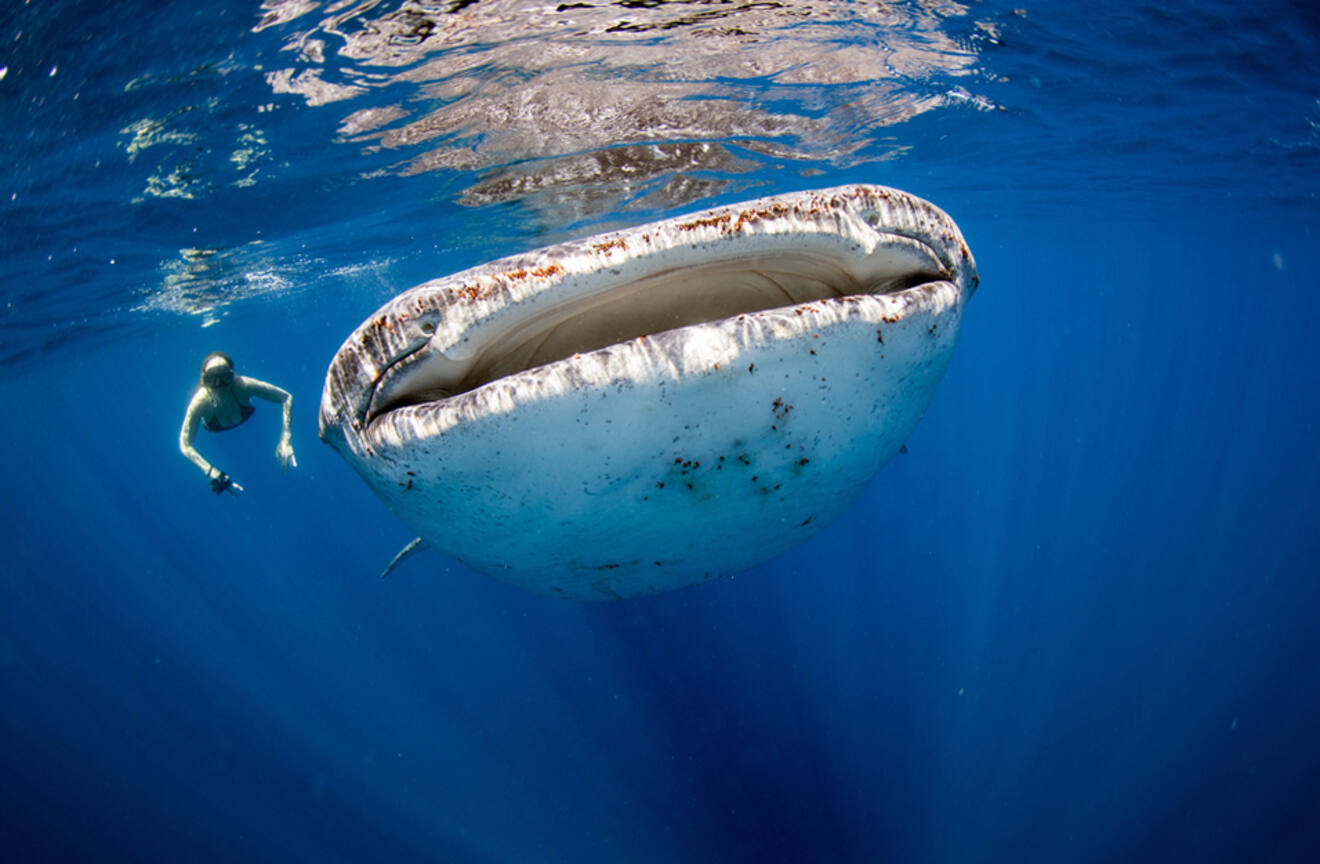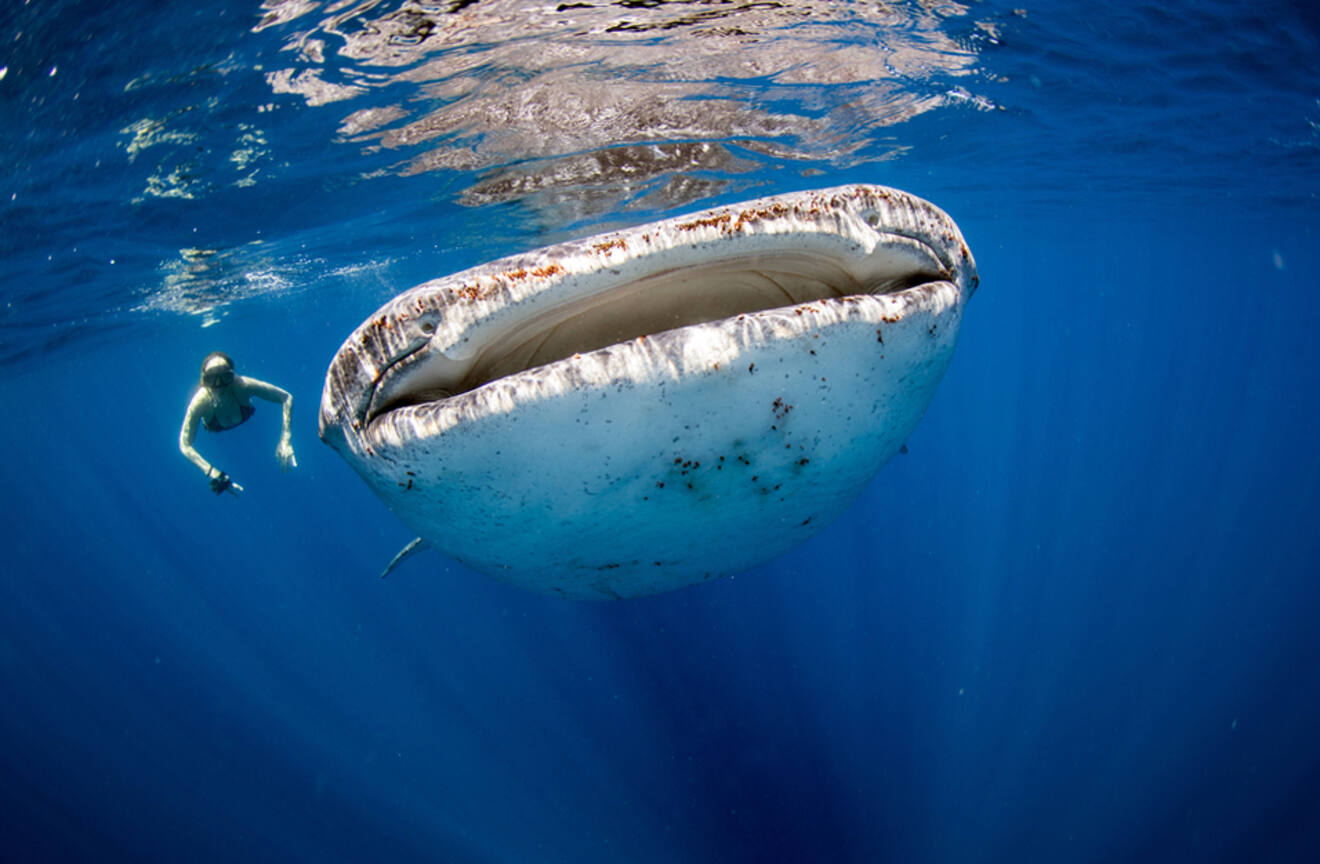 Duration: 8 hours
Price: from US$1,590
Why you should take it: immersive experience for introverts
This full-day private tour is perfect for adventure seekers looking to get up close with these docile creatures and other kinds of marine life. Travelers will be swept away by a boat en route. Here, professional biologist guides will provide an engaging briefing about this giant fish making this experience educational!
When this fun-filled day comes to an end, cuddle up safe and sound in hassle-free round-trip transportation that drops you right back off at Cancún's hotel zone. It's one of the best private tours you could opt for and it's a great way to have an interesting day with a group of your friends.
Keep in mind that a moderate fitness level is required for this tour so it's not totally beginner friendly.
6. Get a morning whale shark experience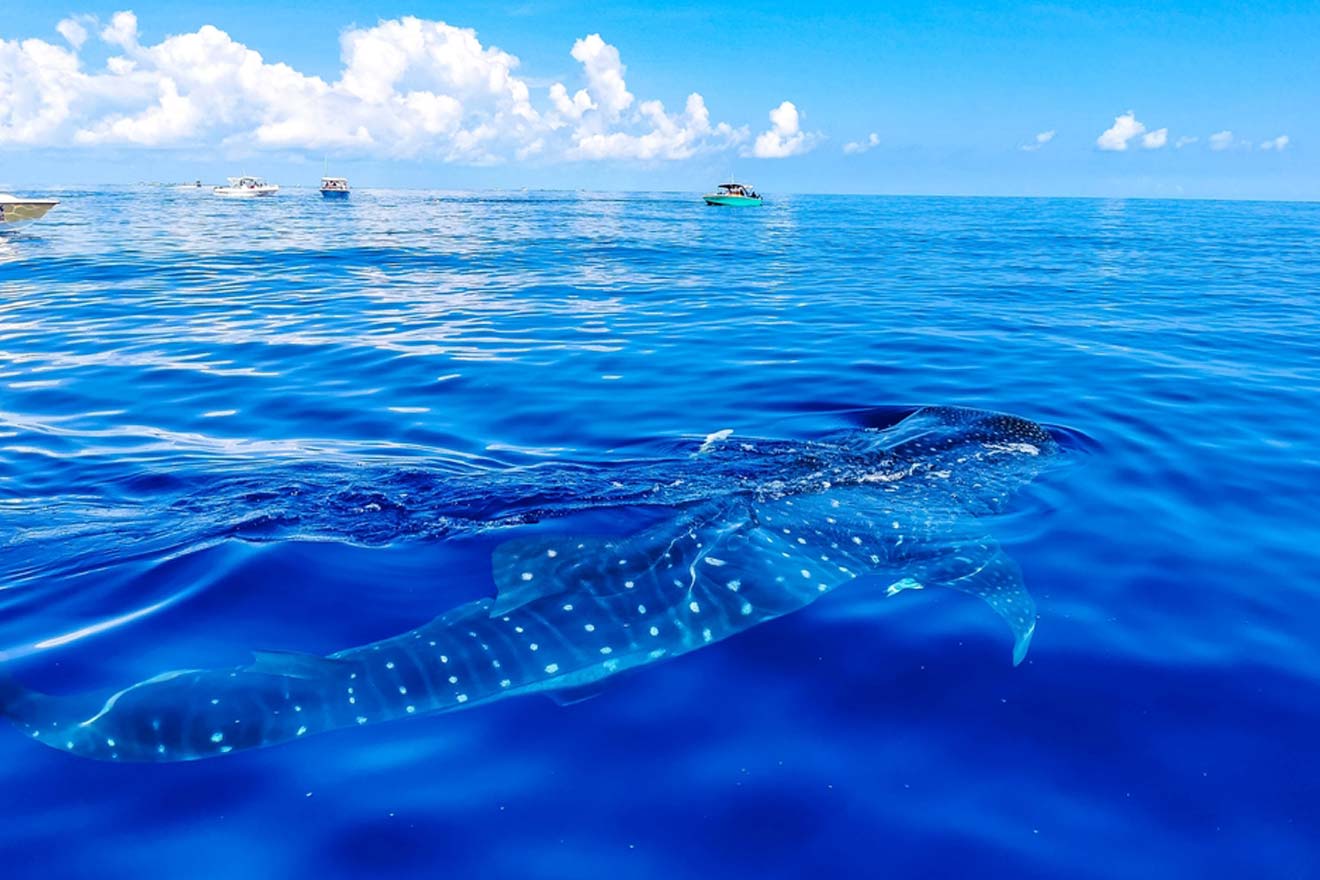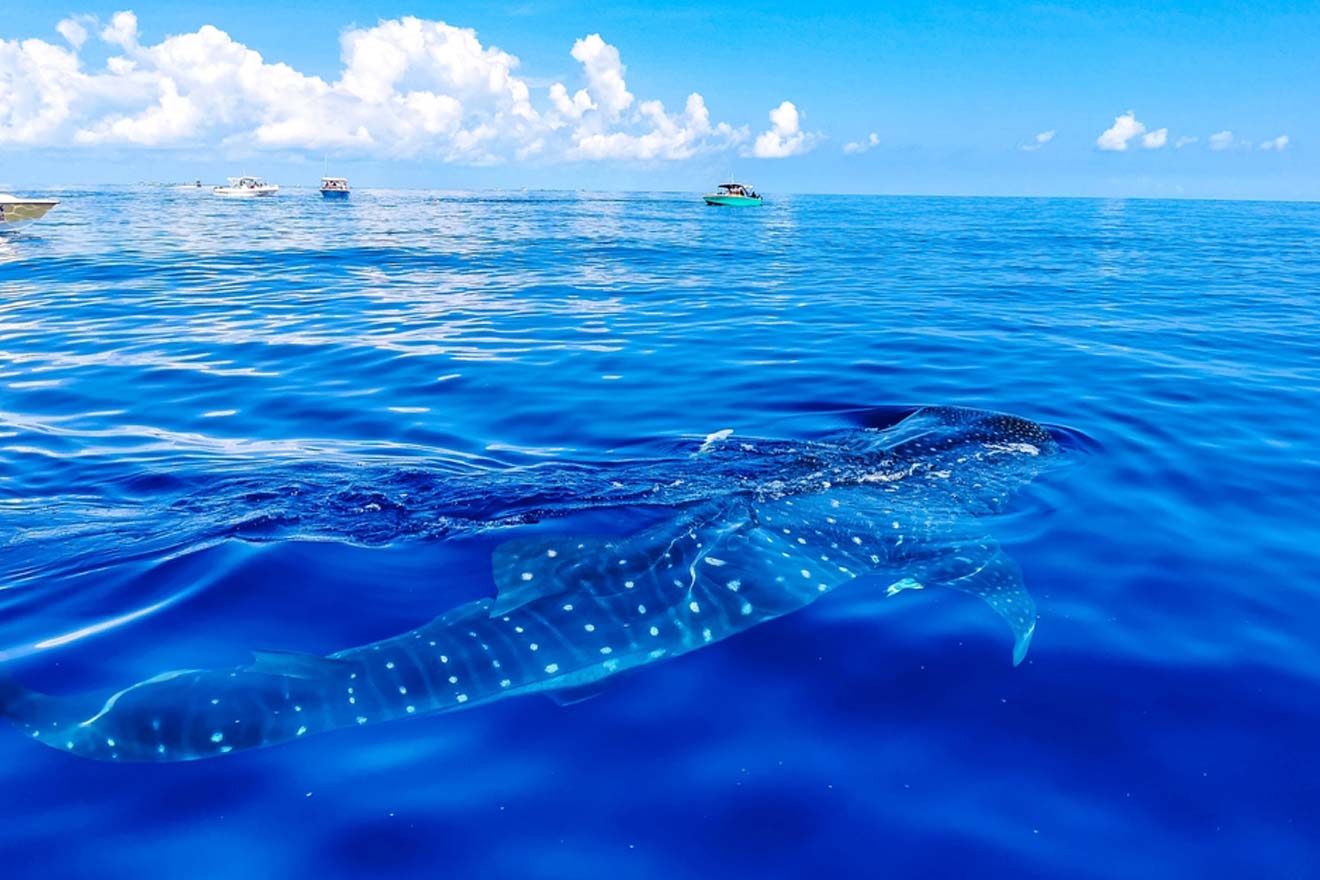 Duration: 8 hours
Price: from US$275
Why you should take it: for early birds
When looking for shark tours in Cancún, make sure to check this awesome early bird option as well. Tour operators will swing by your hotel, pick you up and whisk you away to Punta Sam in Cancún.
Then, you're in for a dramatic ride across the ocean waves in a high-speed boat, where you can witness the ocean's biggest fish from the boat's edge. You might even see them feeding on the microscopic organisms.
You can also choose a more challenging option to snorkel and swim with them (all the necessary equipment will be provided). And to help you charge your batteries from this sea excursion, you'll also find snacks and refreshments on the boat.
One more convenience is a multilingual tour guide so you can enjoy the experience in your own language or perhaps opt for some language you're currently learning so you can practice.
7. Hunt down whale shark sights in Cancún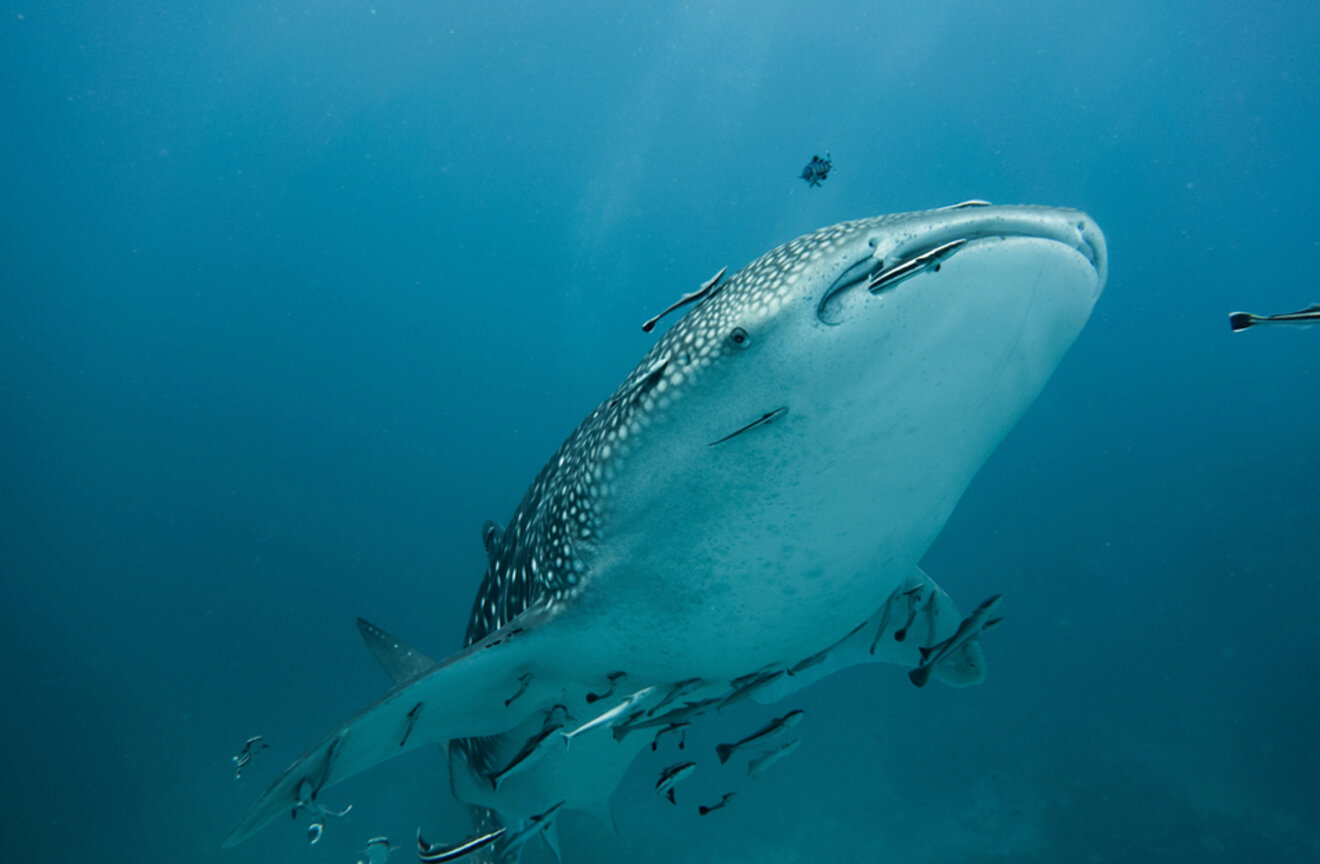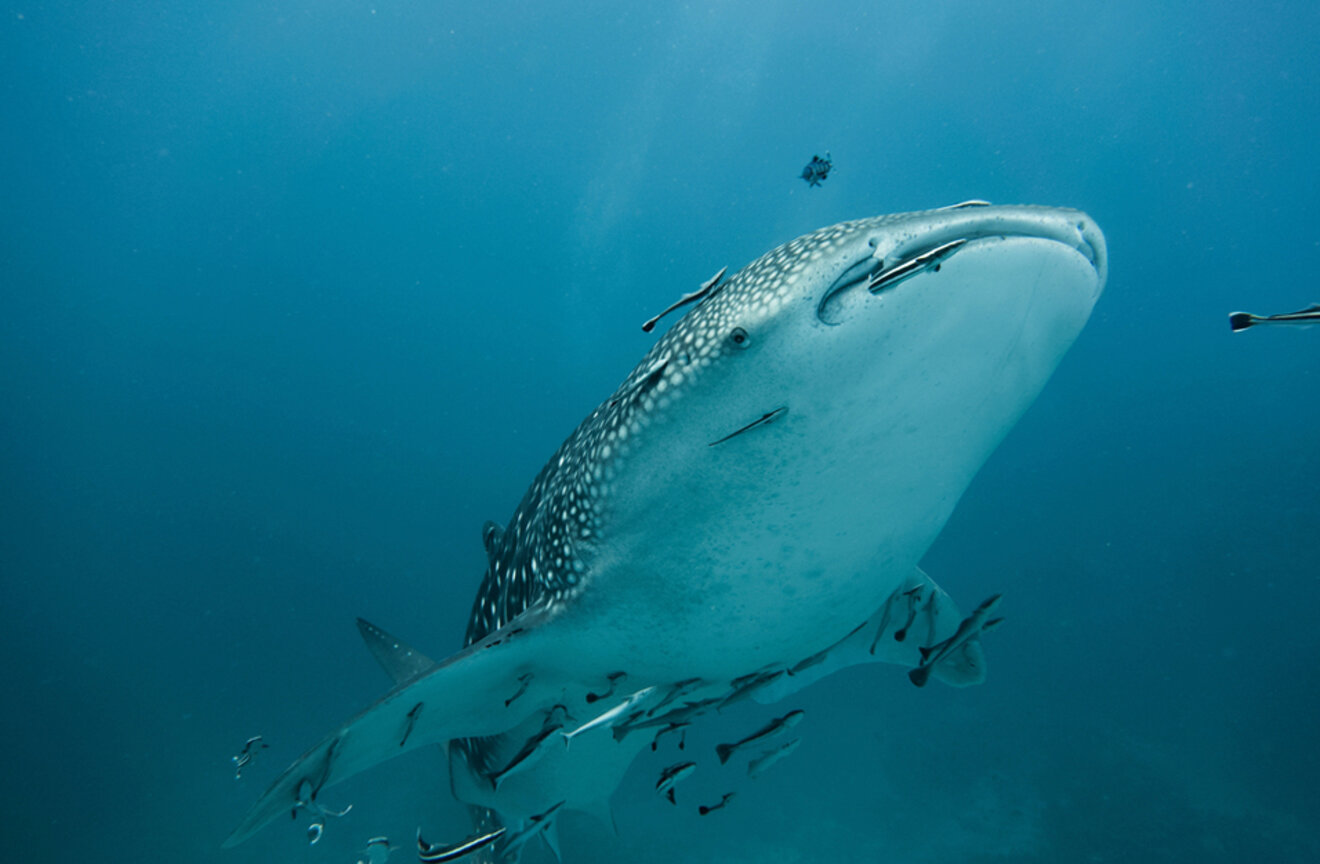 Duration: 8 hours
Price: from US$1,980
Why you should take it: exclusive tour with local lunch
Experience an exclusive boat tour just for you, with plenty of opportunity to jump in and swim alongside majestic whale sharks. Treat yourself to a delicious home-style lunch while you're there – nothing beats the flavors of locally sourced ingredients!
After being picked up from your hotel, you'll be transported to the port via an air-conditioned private van. Before venturing out onto the water for your adventure ahead, stop off at the marina for a quick bite of breakfast and take on board the activity briefing and safety rules shared by your knowledgeable guide.
Treat your taste buds to some delectable fresh fish ceviche and lounge in the sun at this top-notch beach. When it's time to sail back to Punta Sam Port, lay back and soak up every last bit of peacefulness before heading off with the van transfer that will bring you home safely.
8. Embark on a multi-day whale shark expedition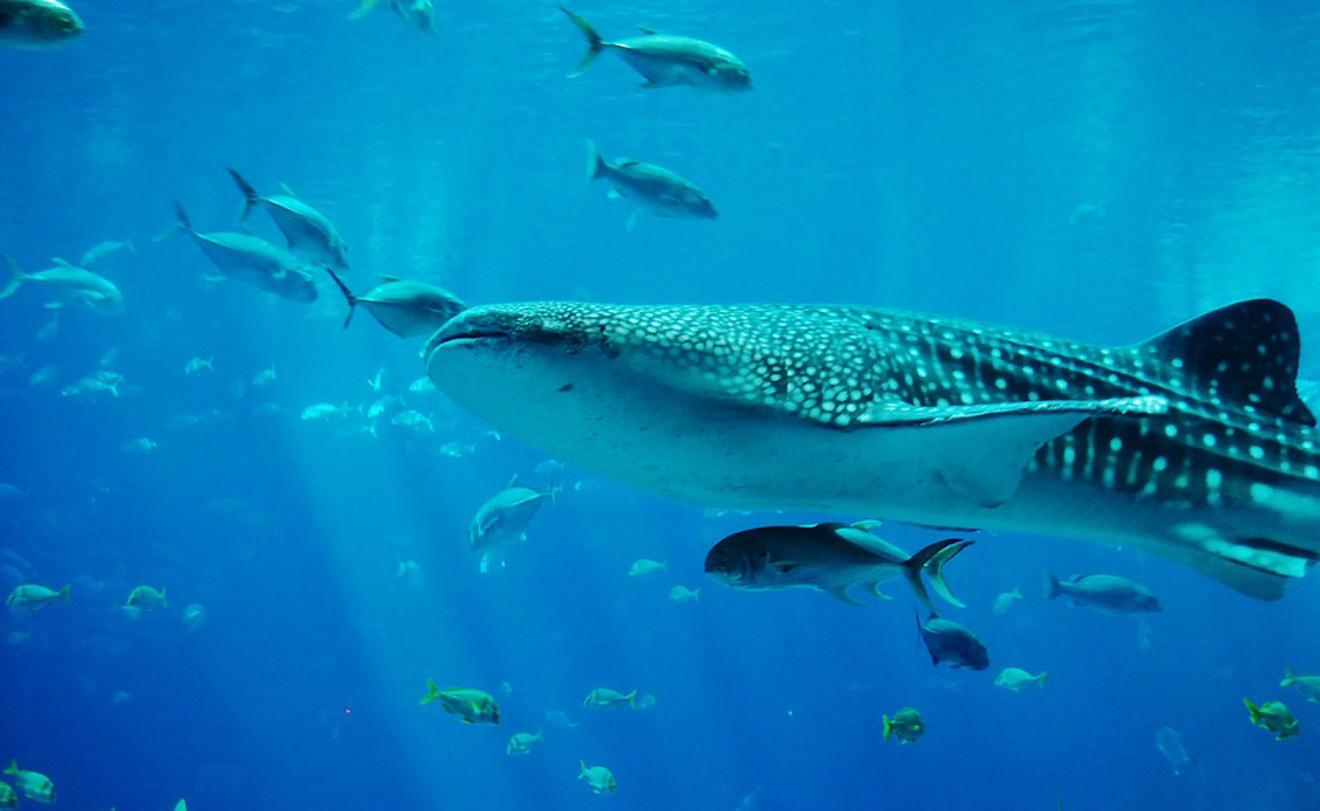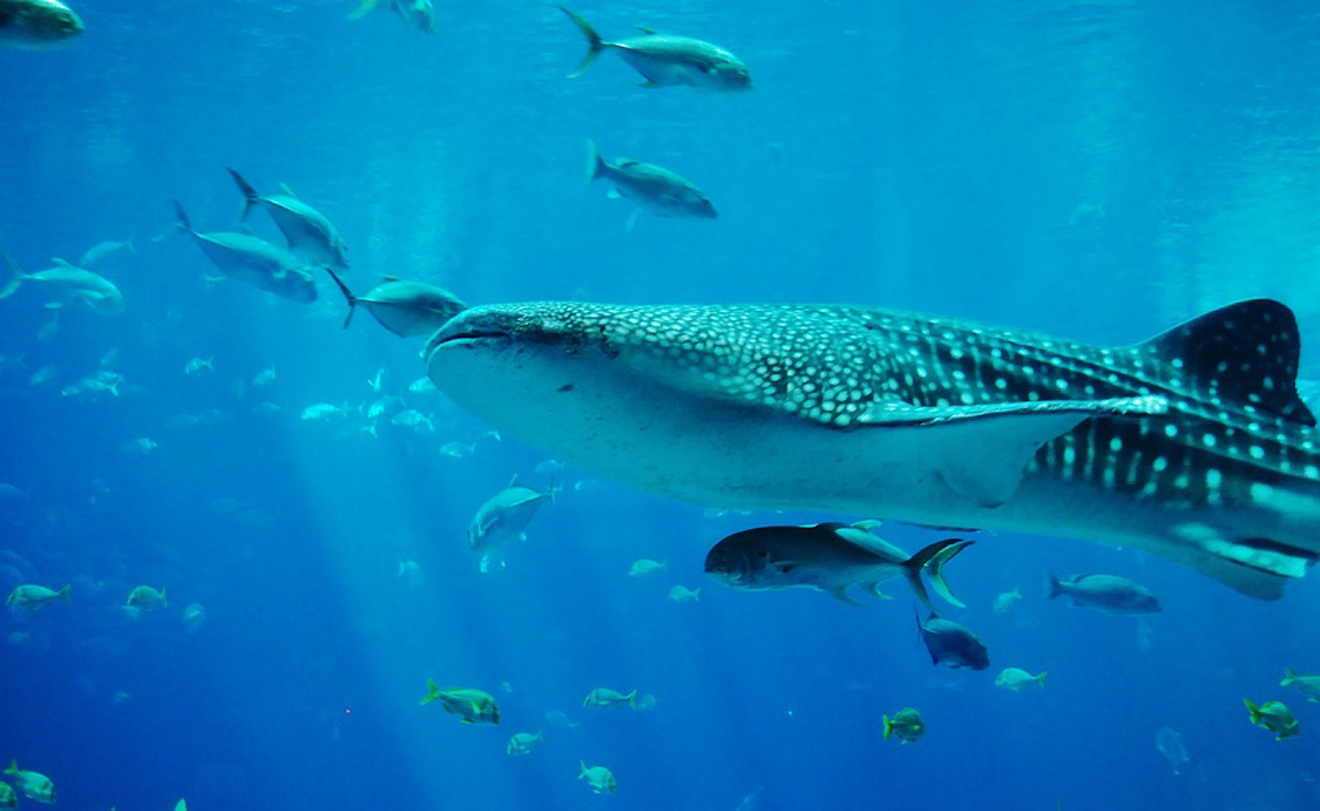 Duration: 7 days
Price: from US$1,900
Why you should take it: multi-day tour dedicated to whale sharks
This is the best whale shark tour for adventurers who like to go all in and don't want to miss a single detail. You'll have 7 days to uncover an underwater paradise and the natural beauty of Cancún's coast – a sure bet for immersing yourself in Mexican wildlife without missing a beat.
You'll plunge into biospheres, crystalline cenotes, lagoons, and dense jungle, observing hypnotic whale sharks plunge through all those azure waters – of course, those are the natural habitats for many other marine life species so you'll feast your eyes on them, too!
A maximum of 10 guests means that your florid glimpse of exotic marine life is made more intimate than ever before. Includes 6 nights' accommodation with breakfast to top it all off. But all the other meals aren't included in the price so make sure to keep that in mind when planning.
9. Spend 7 days in Yucatan Peninsula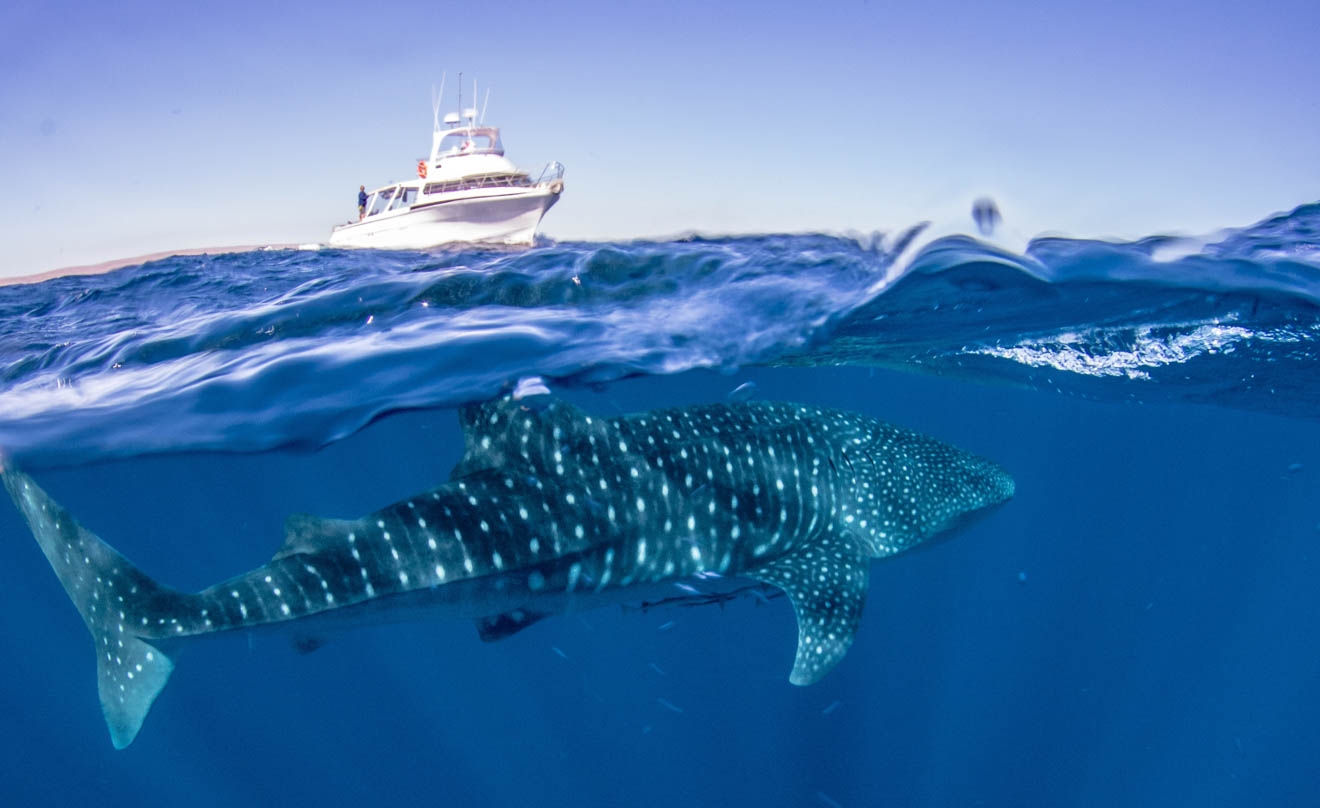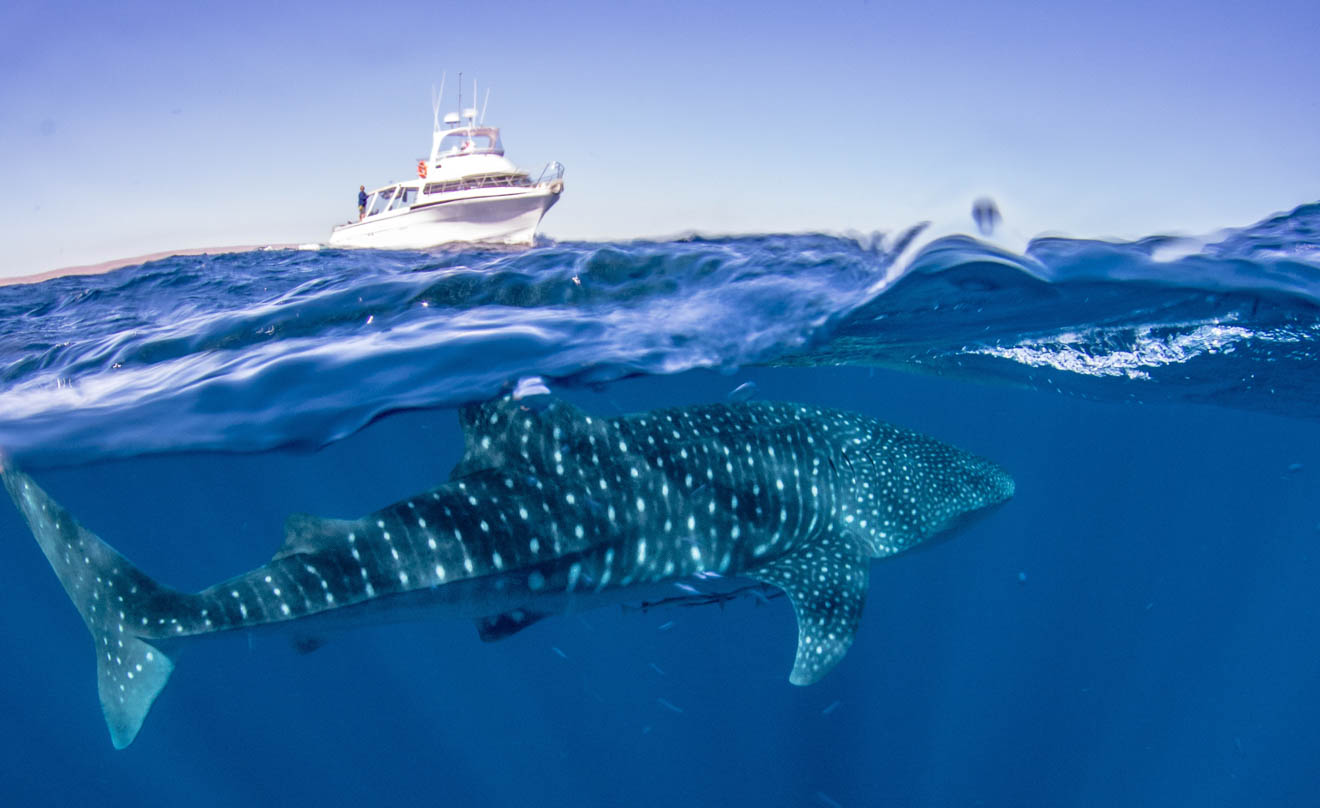 Duration: 7 days
Price: from US$2,200
Why you should take it: combo multi-day tour of iconic sights
Mexico whale shark tours might be an unmissable experience when in the country, but don't let that keep you away from discovering all of the iconic landmarks of this exotic country on a multi-day trip that includes whale sharks.
It's 7 days of action-packed adventures on the legendary Yucatan peninsula and itinerary like no other tour! You'll visit Chichen Itza, crowned as one of the Seven Wonders of the World, then hop down to Sian Ka'an Biosphere Reserve where you can go hiking in the lush jungle. And, of course, you'll explore a beach close by known for showing off seasonal sightings of whale sharks.
You even get 6 nights at a cozy 3-star hotel with feasts up each morning and roundtrip chauffeured transport from Cancún airport included. It's one more tour with a limit of 10 people so immersive experiences and educational tours are guaranteed.
BONUS: Cancún tours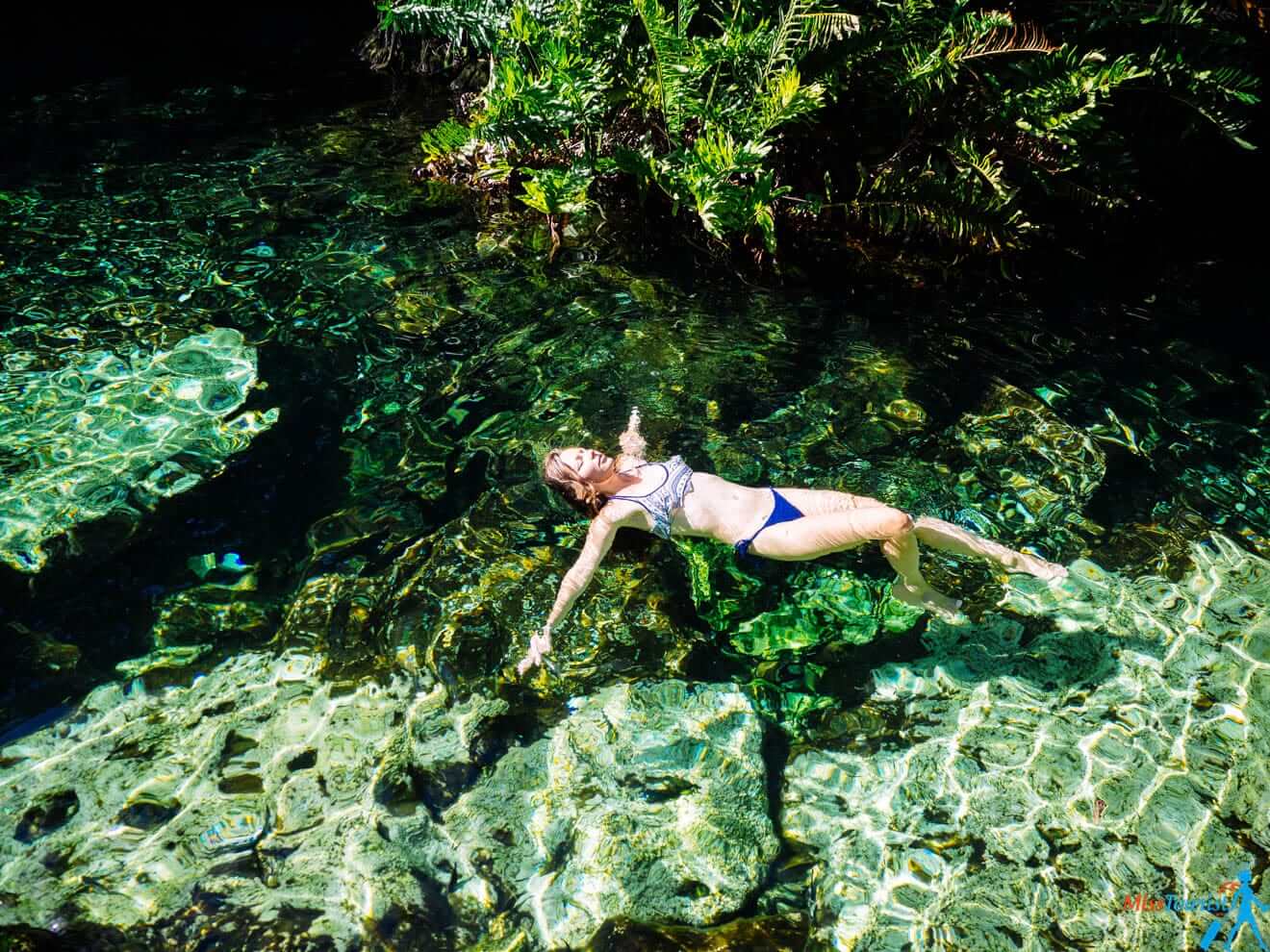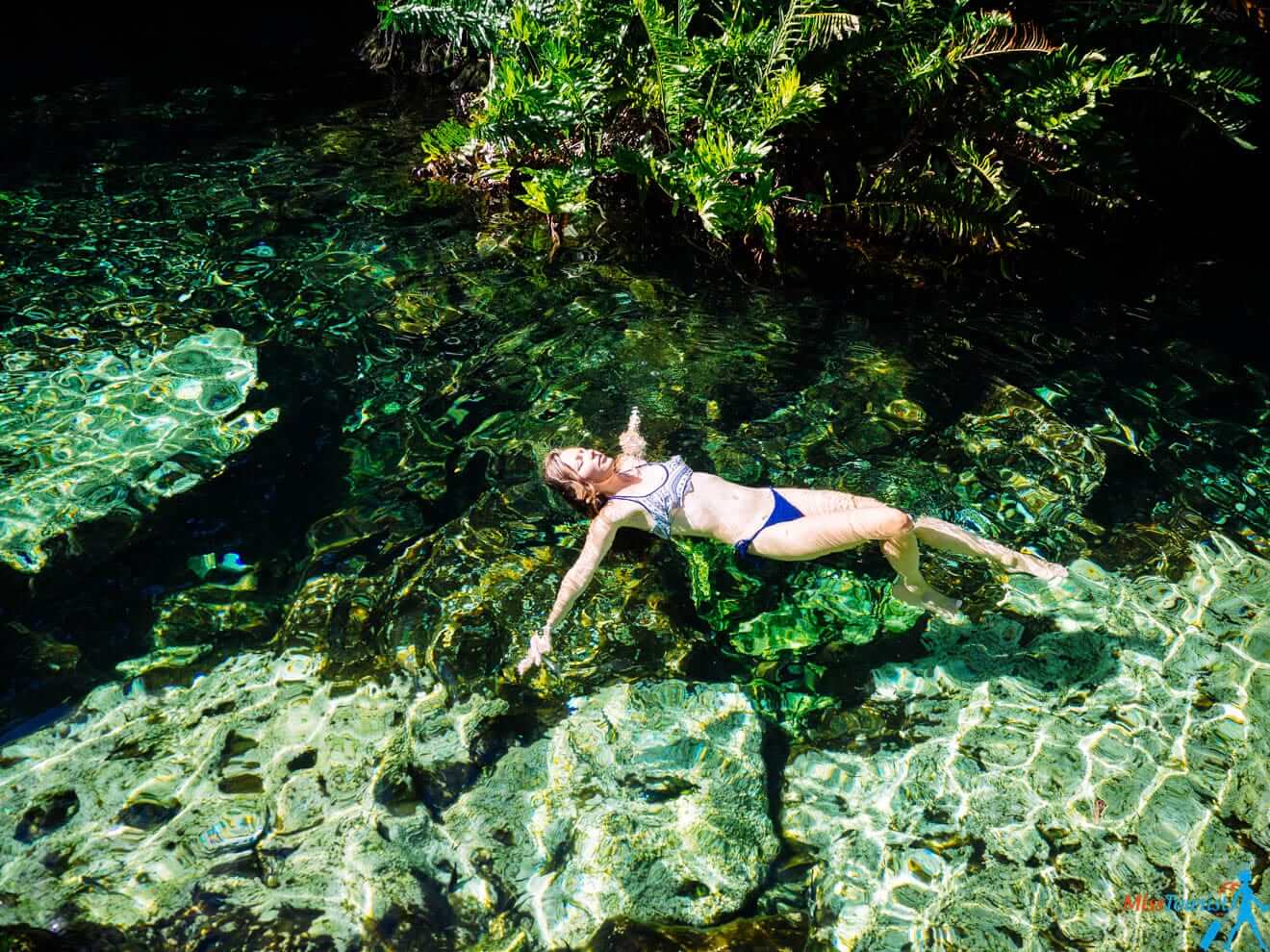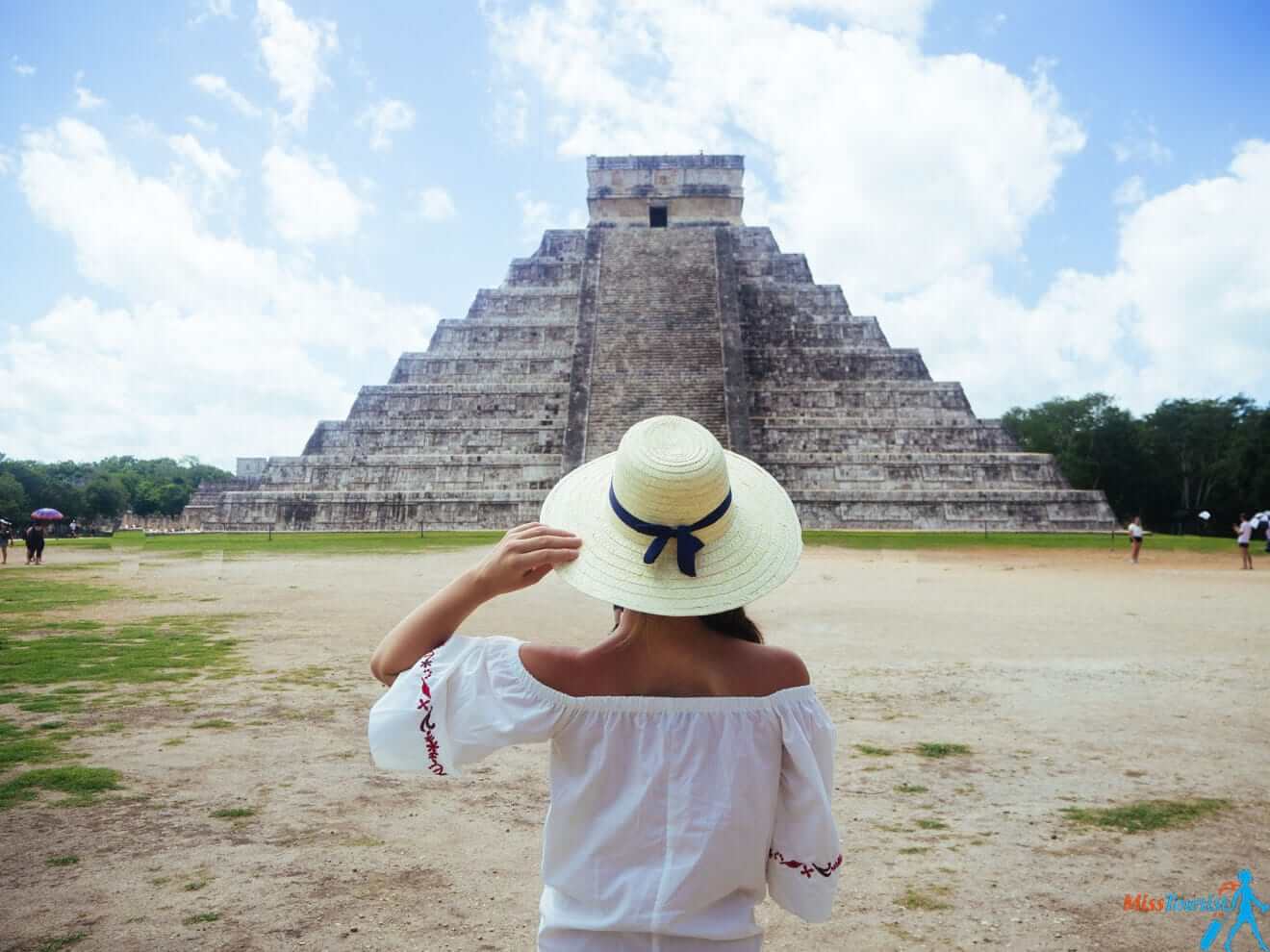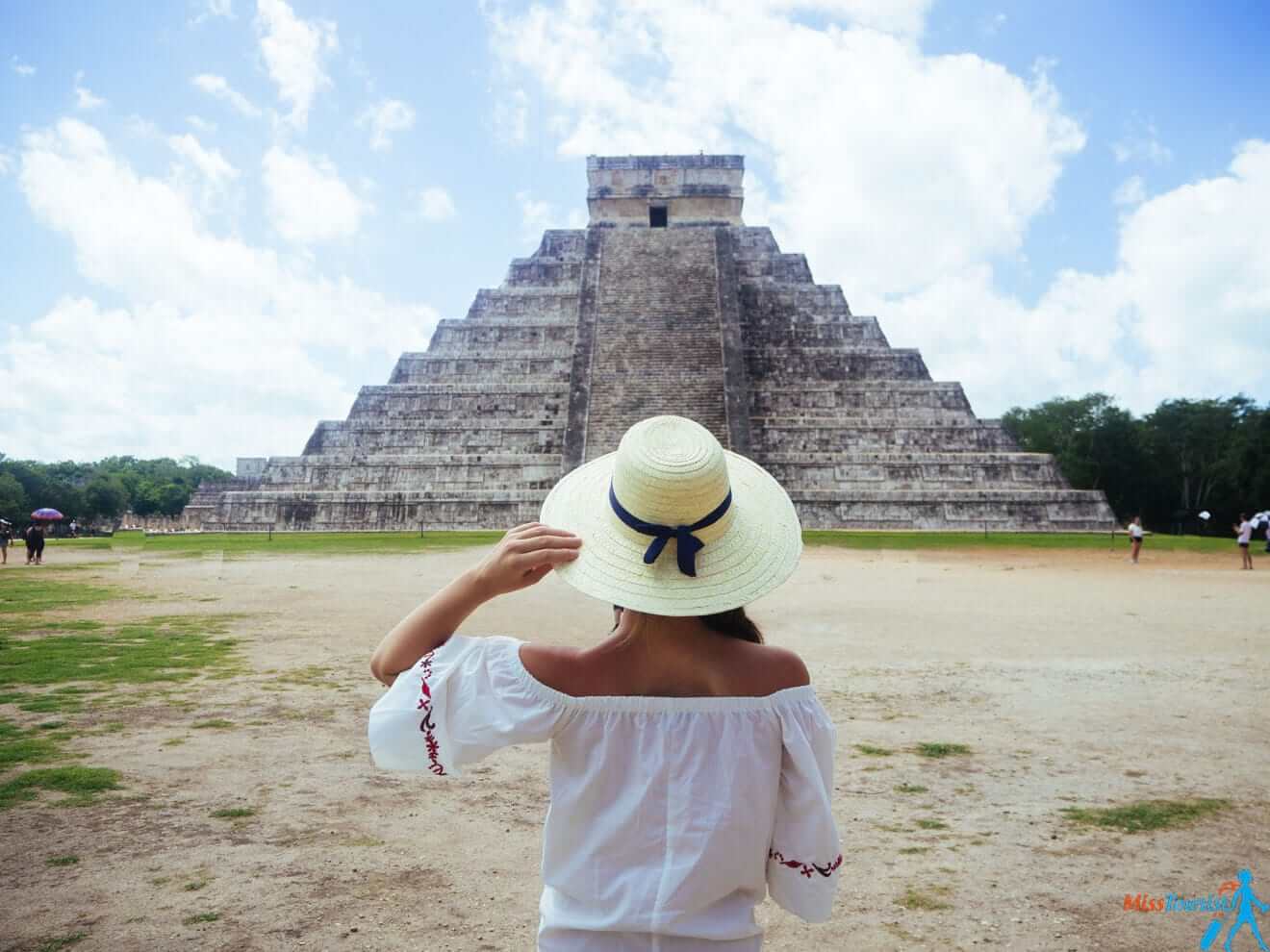 FAQs about best whale shark tours Cancún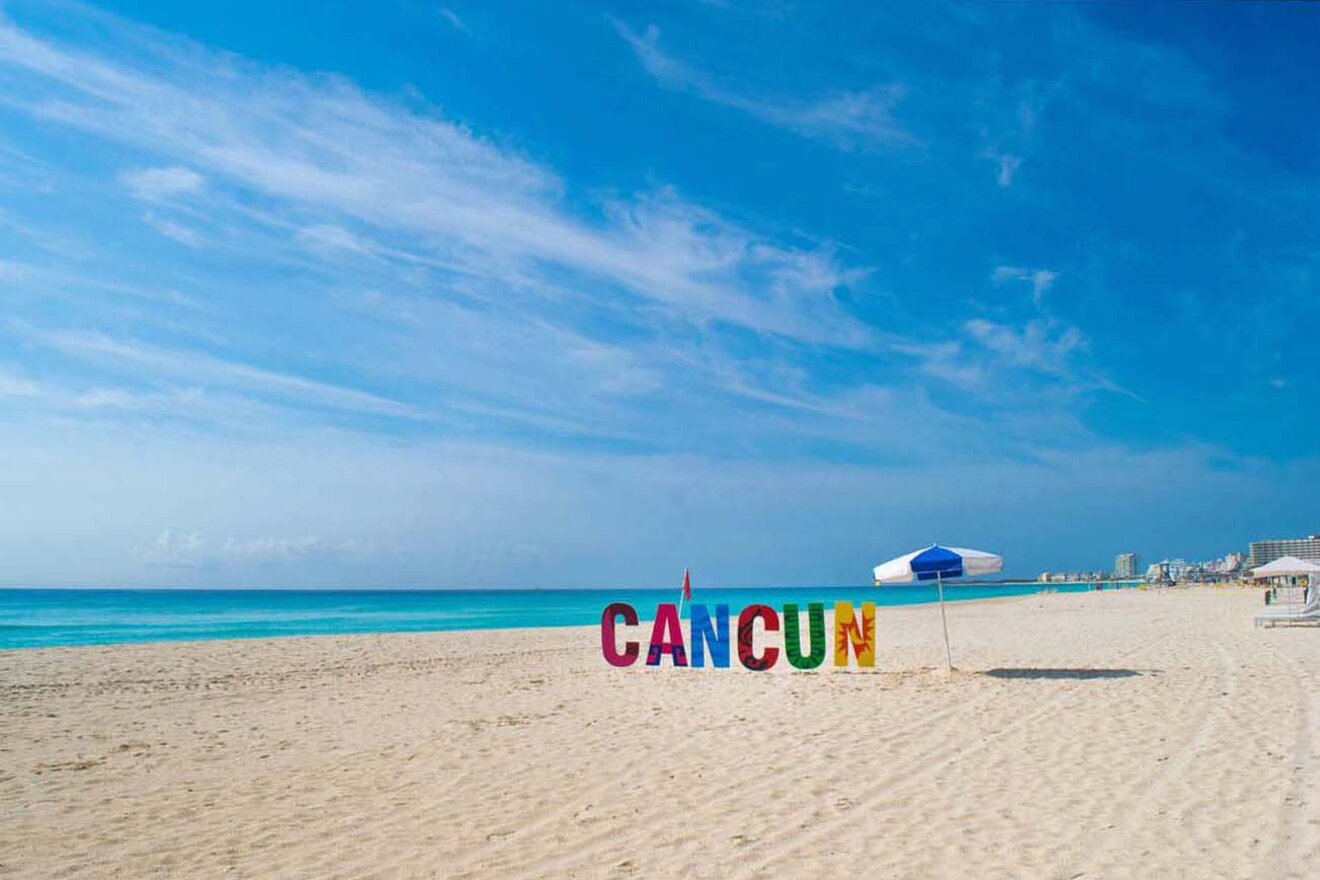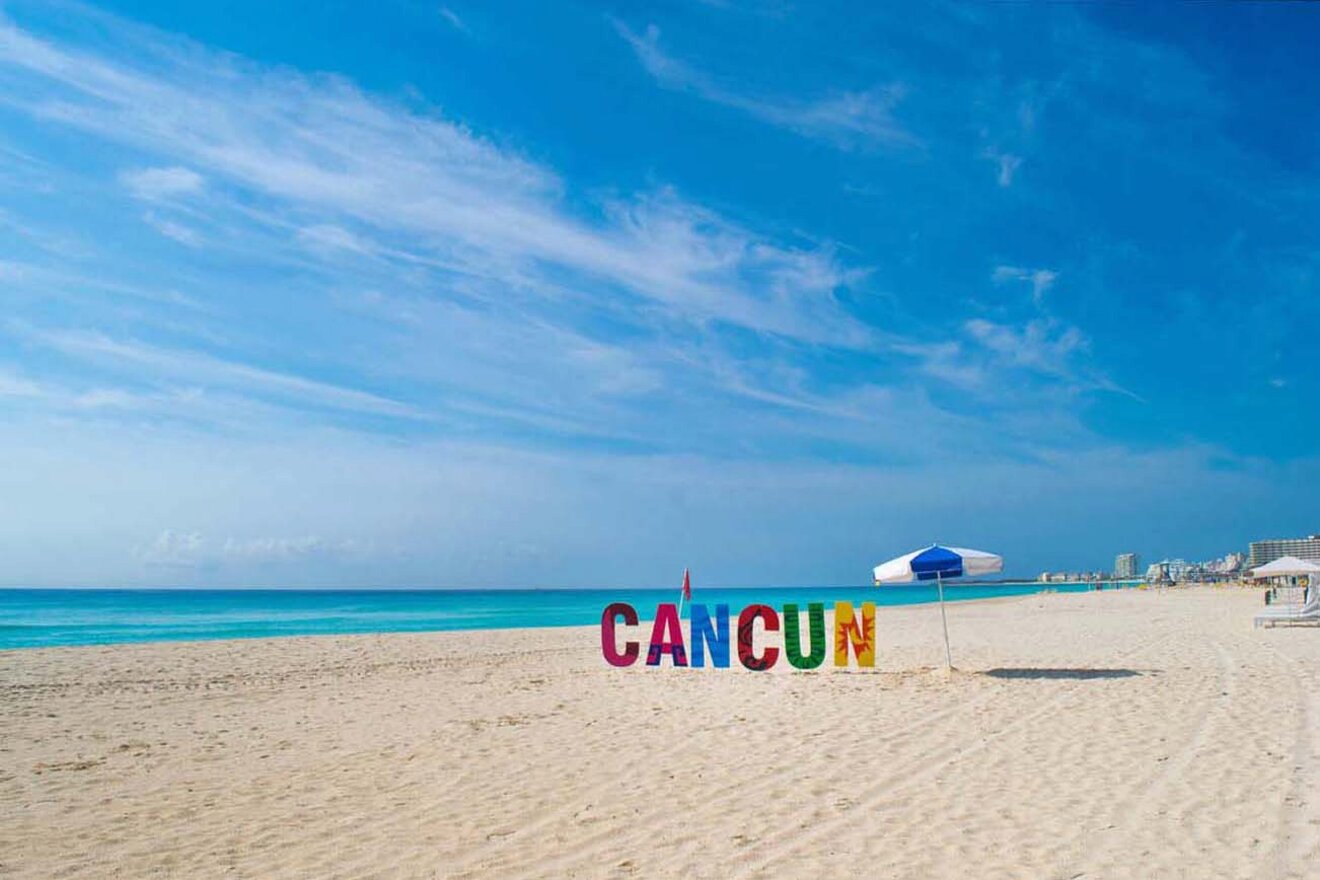 📍 Are whale shark tours in Cancún worth it?
Yes. A lot of travelers find it one of Cancún's highlights. You can embark on the traveler's favorite and the most popular Isla Mujeres tour.
📅 When can you see whale sharks in Cancún?
When it comes to Cancún, the best months are considered to be in June, July, and August. That's when the whale sharks gather to feed on plankton blooms.
🌊 Where is the best place to dive with whale sharks?
The most popular location is Isla Mujeres and there are a lot of tours offering that experience. I recommend taking this whale shark snorkeling tour.
🗣️ Can I take a private whale shark tour in Cancún?
Conclusion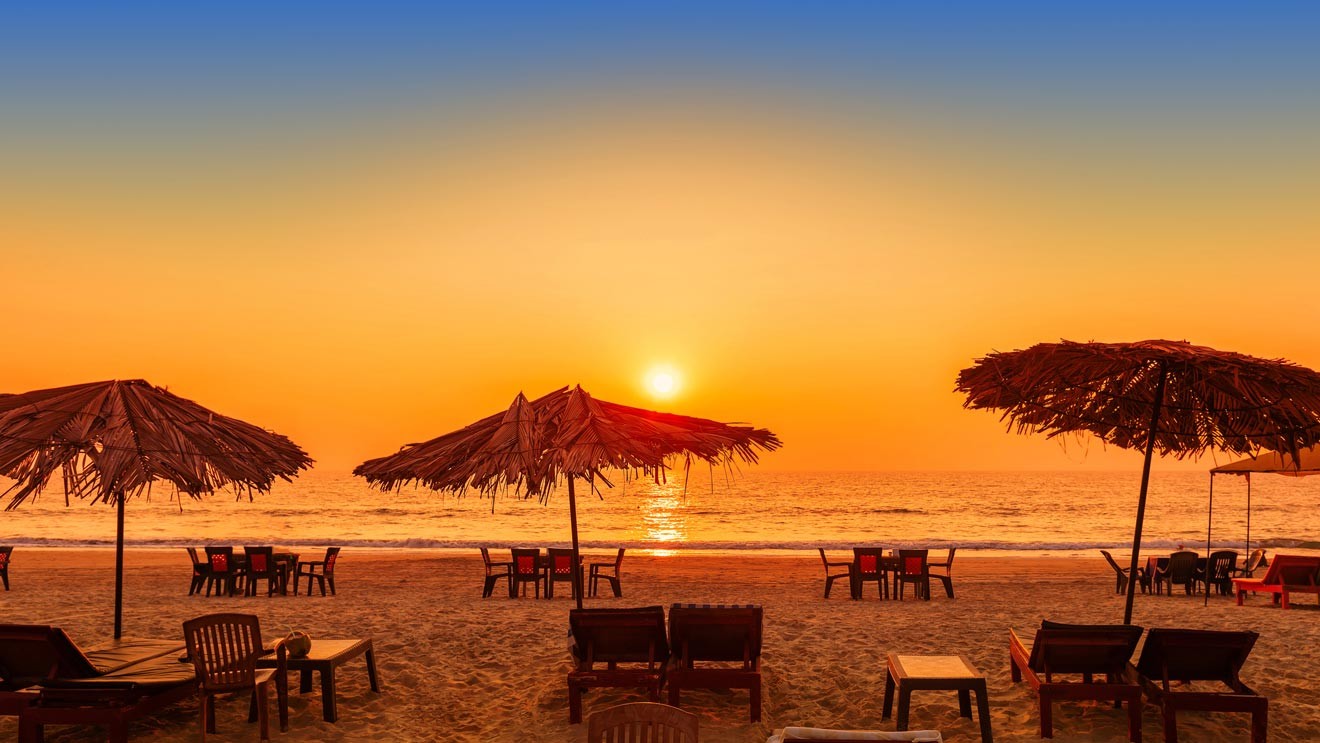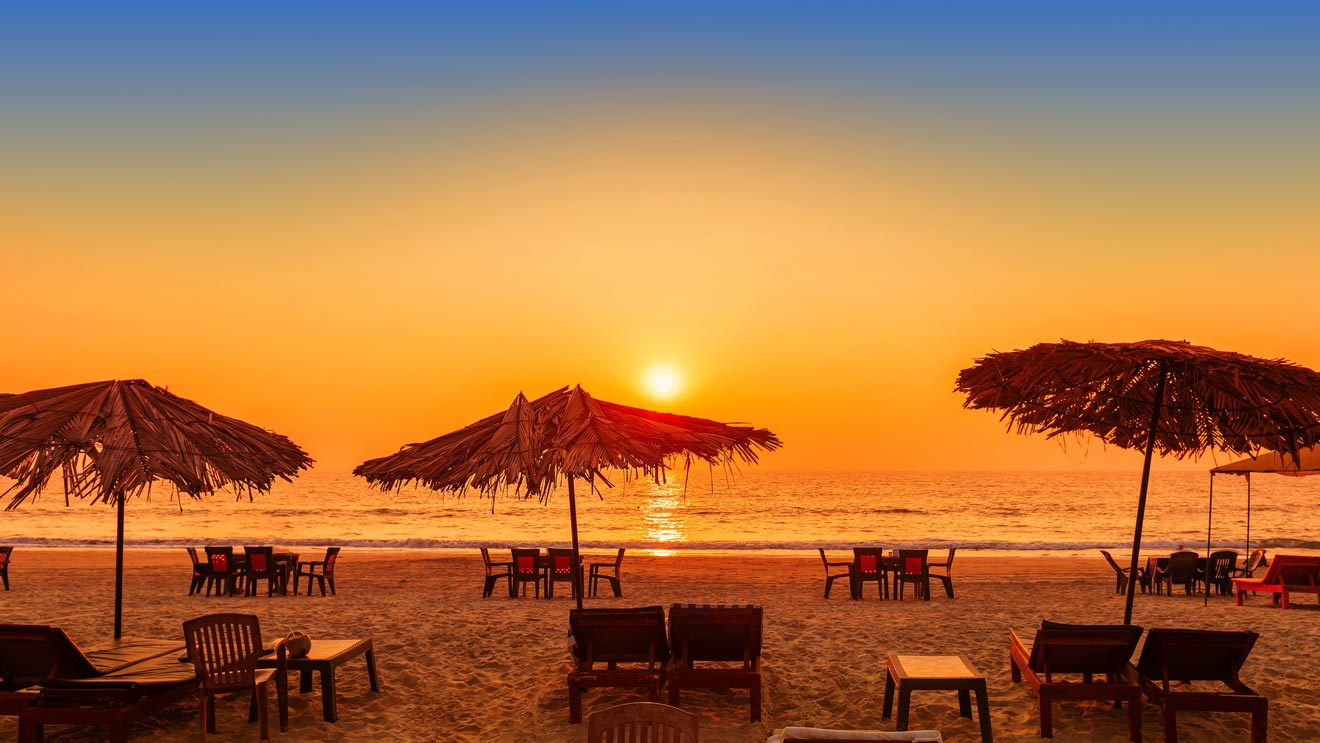 My dear amigo, you're now well-equipped with the list of the best whale shark tours Cancún has to offer! Hope this text made you want to jump in the water and embark on a new adventure!
You have a good number of options, different departing times, prices, and durations. I'm sure that your final choice will give you the perfect vacation you always dreamed of! Don't forget to also check out some of the bonus tours I found for you, it would be a great enriching experience!
A lot of travelers are excited about the prospect of witnessing these amazing creatures in person, so it's very easy for these tours to fill up. So, make sure to book in advance!
In case you already saw these gentle giants and had the opportunity to taste Mexican culture, I'd love to hear your travel stories. Also, in case you have any questions or suggestions, make sure to leave a comment below!
Happy sightseeing,
Angelina
---
Pin it for later!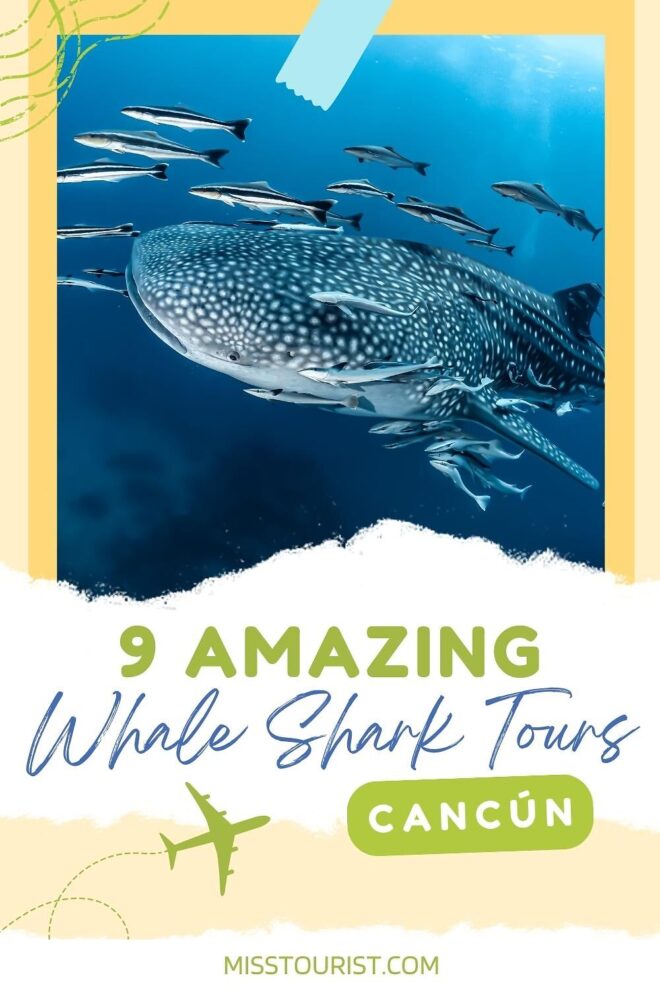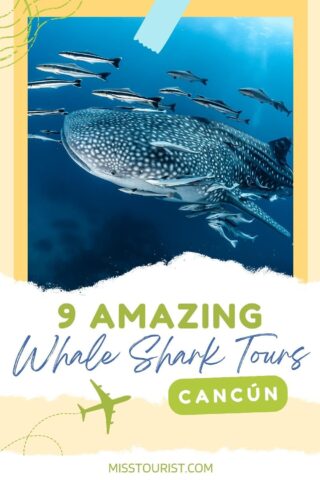 Pin it for later!