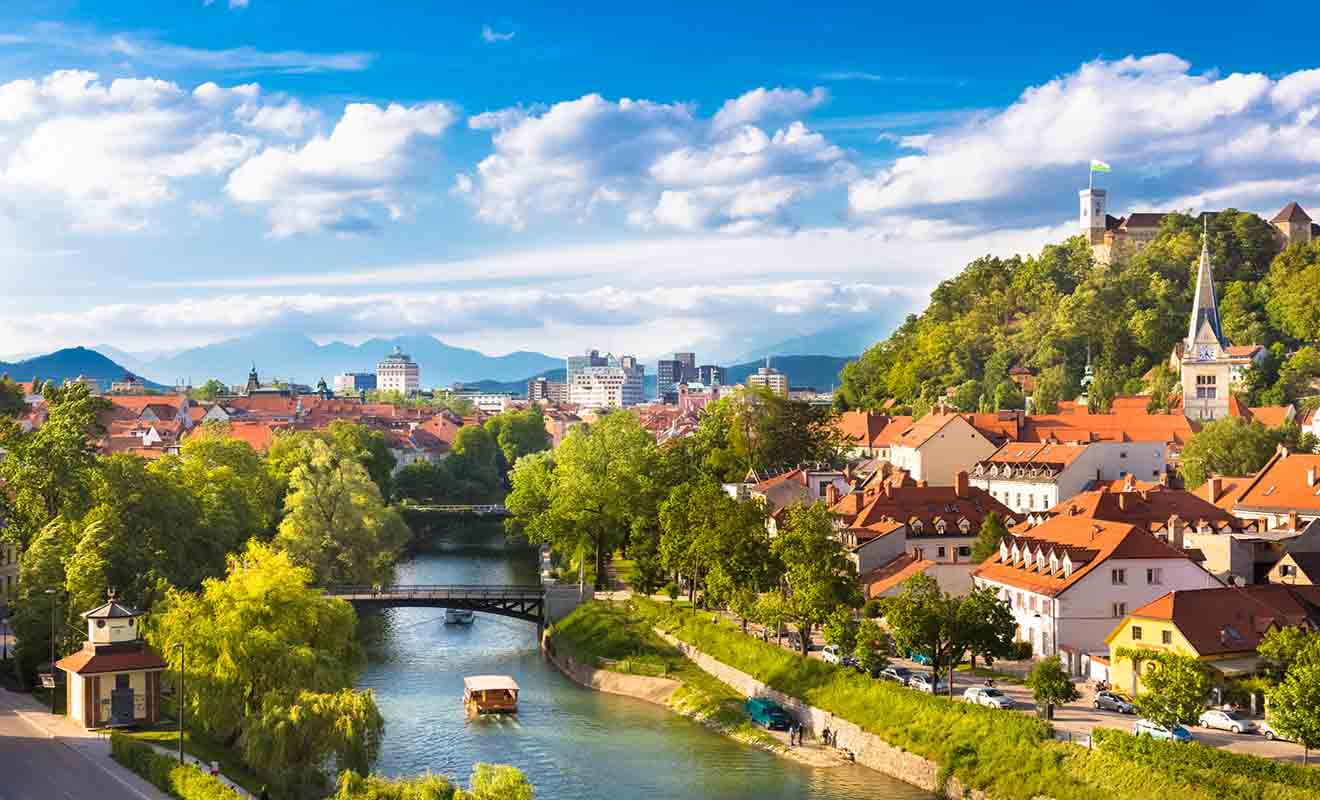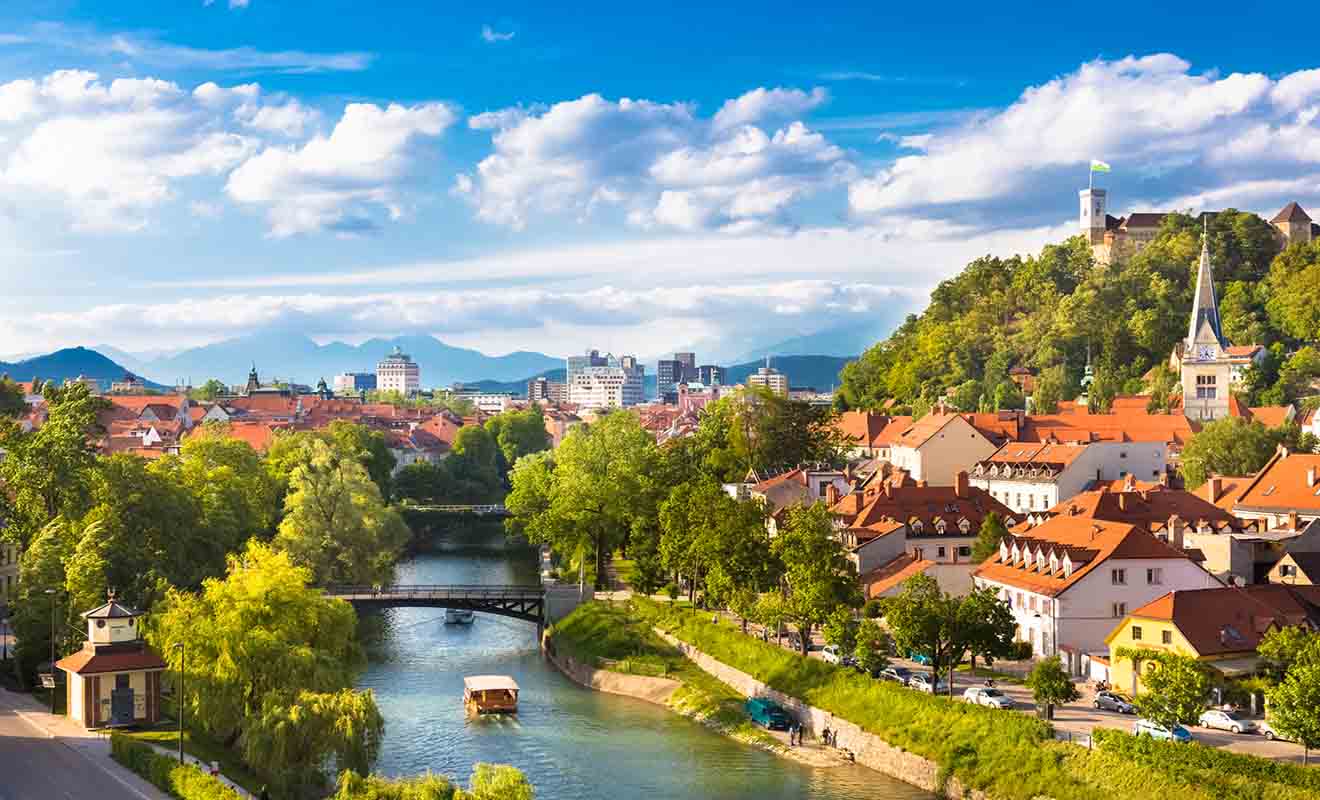 Slovenia is a tiny, beautiful country located on the south of central Europe, one you should definitely include in your European trip itinerary!
Even though Slovenia is not the most popular country to visit, I see no reason for that – it is absolutely safe, there are so many beautiful things to discover and it is very affordable!
First, you should see the charming capital of Slovenia, a city with a population of 300,000 people, called Ljubljana. (Pronounced as [lyu-blya-na]). Ljubljana means "Beloved" in a literal translation, and it didn't take me long to fall under its charm!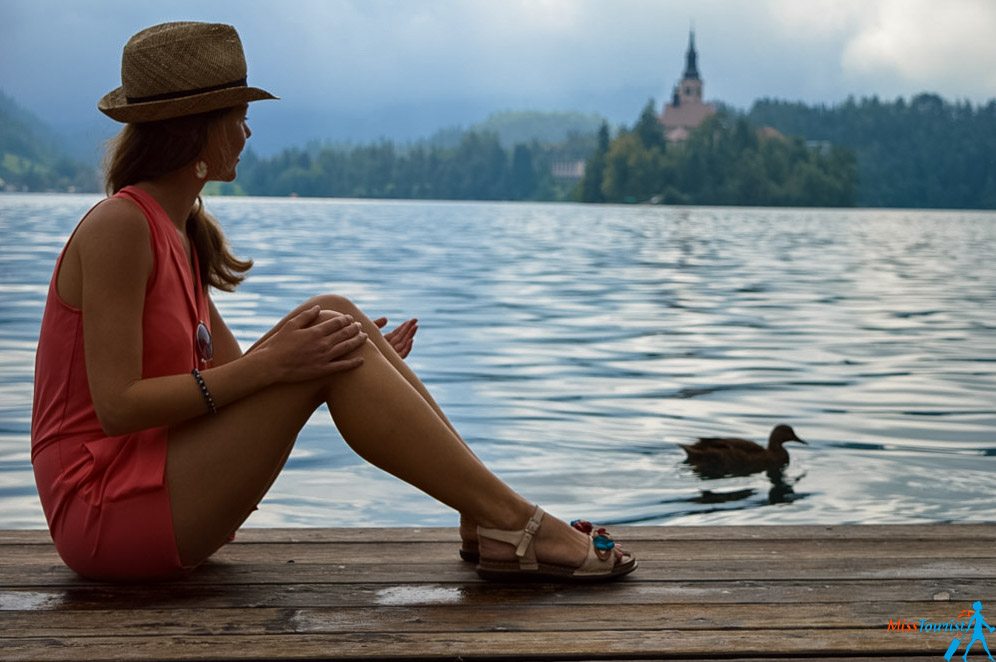 How many days is enough to spend in the city? For a quick visit, 1 day would be enough, but if you want to go to museums and take your time in the city, stay for 2-3 days. And, what should you do in Ljubljana? Don't worry! Below, you'll find a list of things to do when you visit Ljubljana.
1. Stroll around The Triple Bridge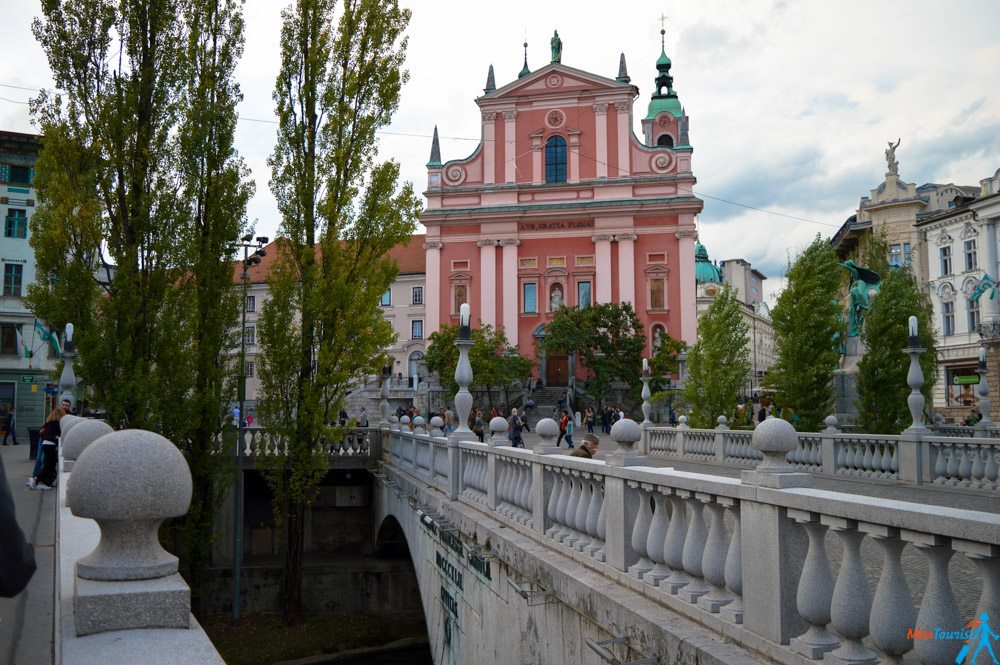 The Triple bridge, as the name suggests, is a group of three bridges across the Ljubljanica River. This pedestrian bridge was the idea of an architect who did not want to destroy the old bridge but wanted to enlarge it. The area around it is the heart of the city, so you can go for a walk along the river and visit a market in the morning. I guarantee you will enjoy it. If you want to visit the Triple Bridge, as well as other main attractions in the city with a knowledgeable Ljubljana guide, I recommend this Ljubljana Walking Tour and River Cruise!
Nowadays, you'll find that lovers and couples attach locks to the bridges in an attempt to keep their love going strong forever! That makes the atmosphere super romantic and special! It is definitely a must see in Ljubljana's old town. Depending on the time of the day, it can get a bit busy with tourists as it is a popular spot for Instagram snaps!
2. Marvel at The Dragon Bridge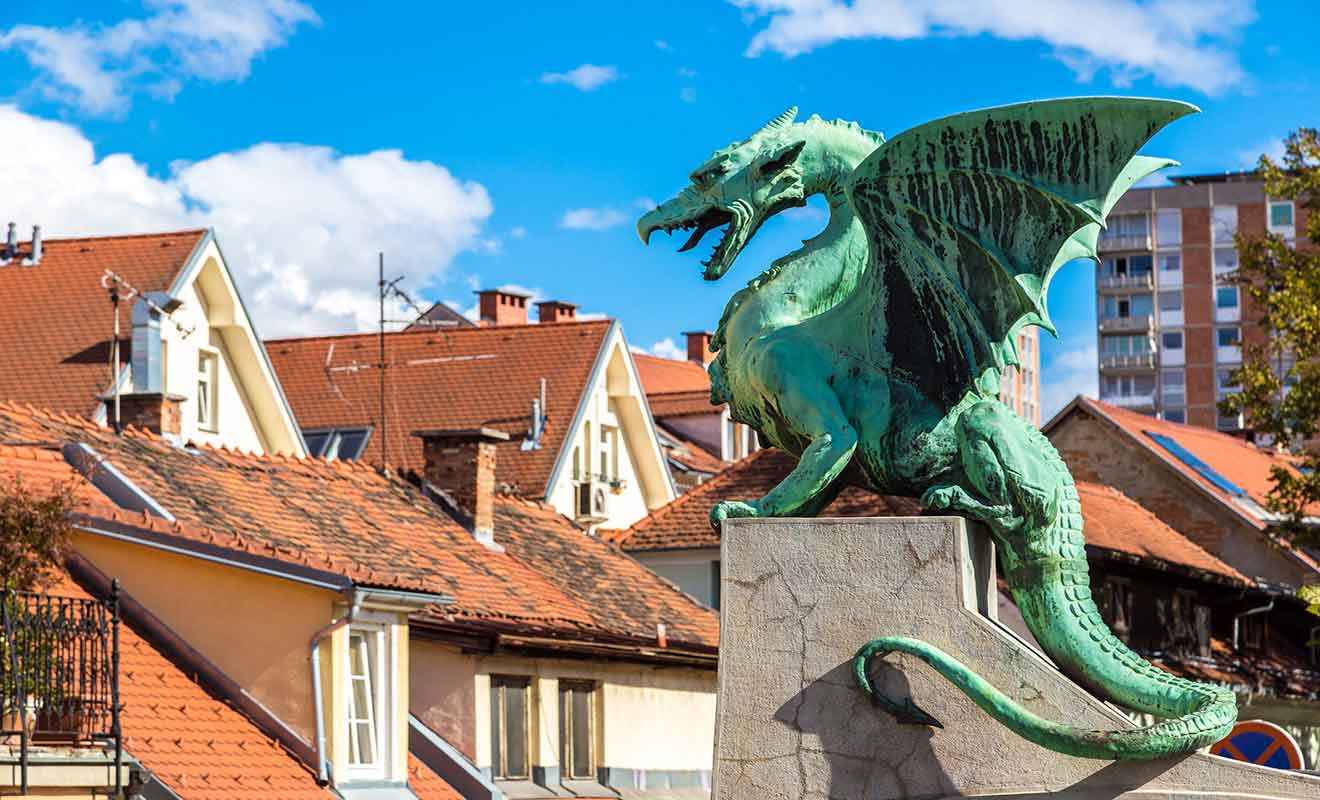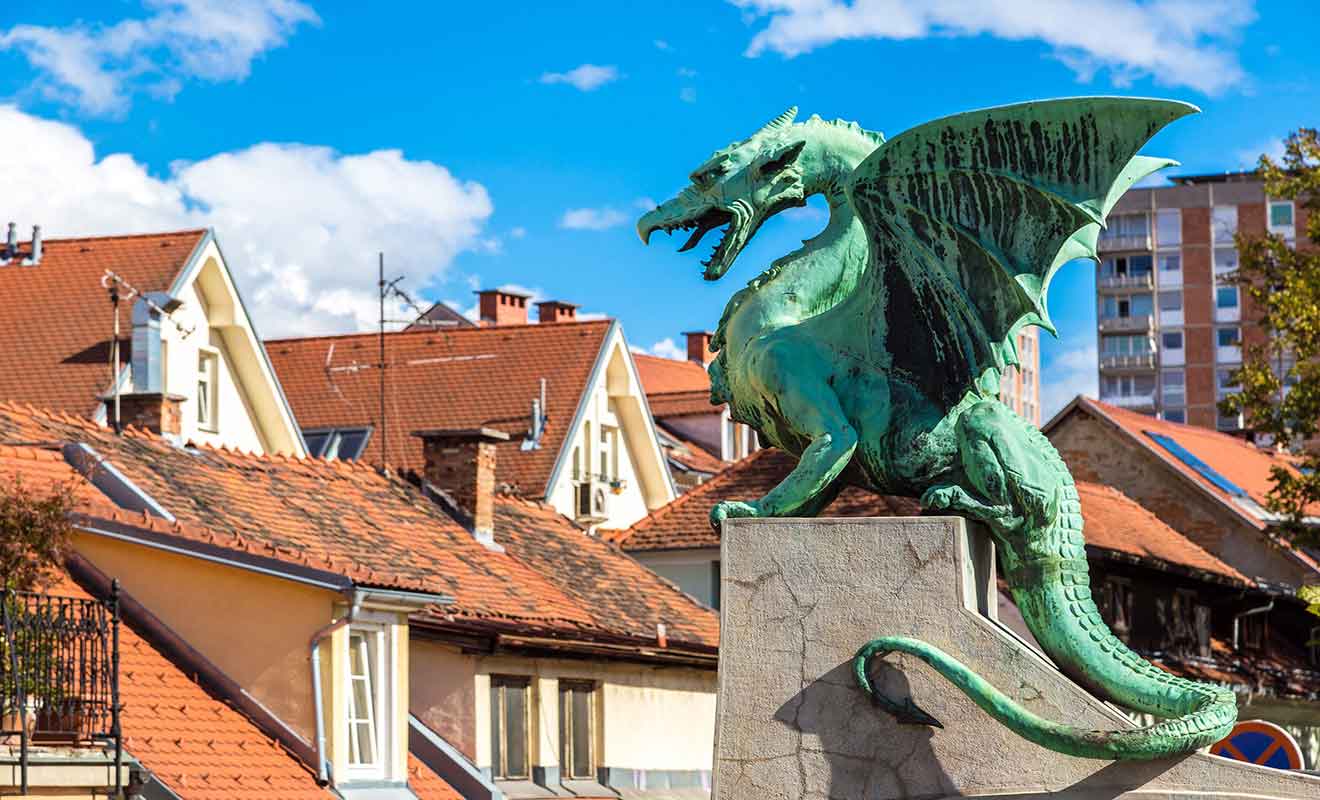 Dragons are awesome and Ljubljana has always had a lot of legends connected to them! Like in Wales, you can find dragons everywhere, just keep your eyes open! The main one is, without a doubt, on The Dragon Bridge in Ljubljana that is 7 minutes away from the Triple Bridge. It is one of my favorite sights in Ljubljana because it represents strength and courage.
It is also a starting point for all the Ljubljana shopping spots and restaurants so it makes for a nice afternoon out. Do keep in mind, though, that just like the Triple Bridge, it can get quite busy at certain times!
3. Check out the views from Ljubljana castle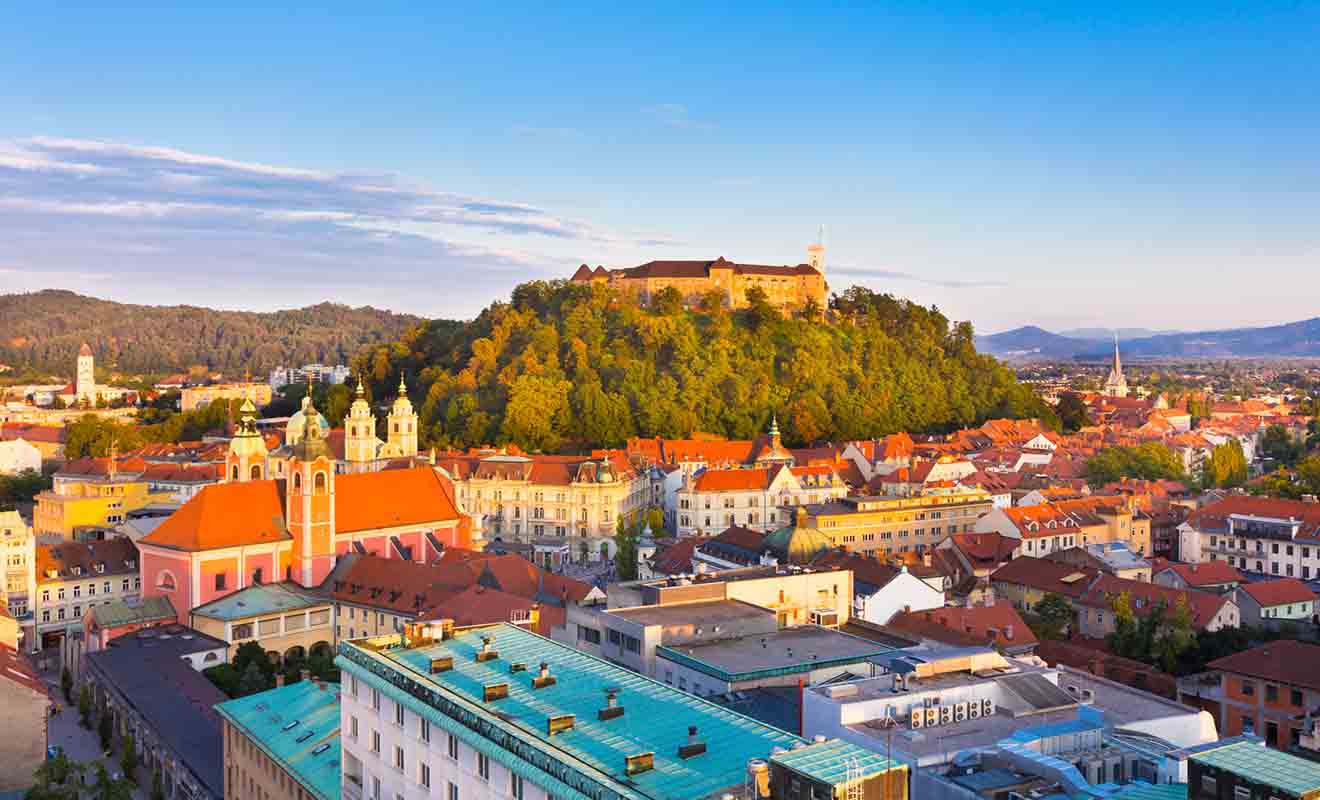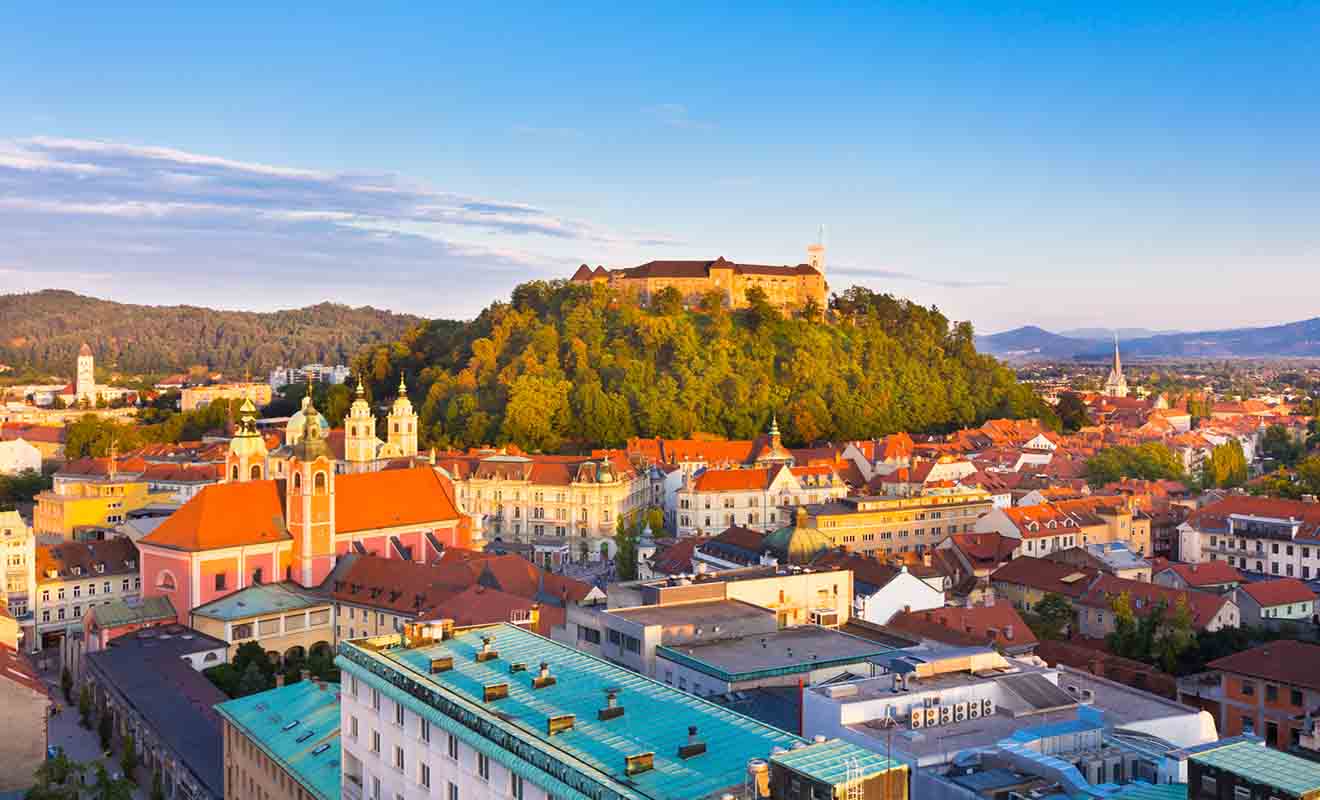 Ljubljana Castle is a beautiful medieval fort with a lovely view of the city. It is a must do when visiting Ljubljana so make sure you don't miss it!
If you are a history buff, you will love Ljubljana Castle. The good news is that walking around a good chunk of the castle is free, while the price to enter the museum is 10 Eur. You can save 10% if buy your ticket online. Alternatively, you can take a guided walk to Ljubljana Castle, which includes the funicular ride as well!
The castle is located on a hill and you can get there by walking or taking a funicular. If you are trying to save some money, you can walk up the hill in just 10 min and check out the parts of the castle that are free; you won't spend a cent 😉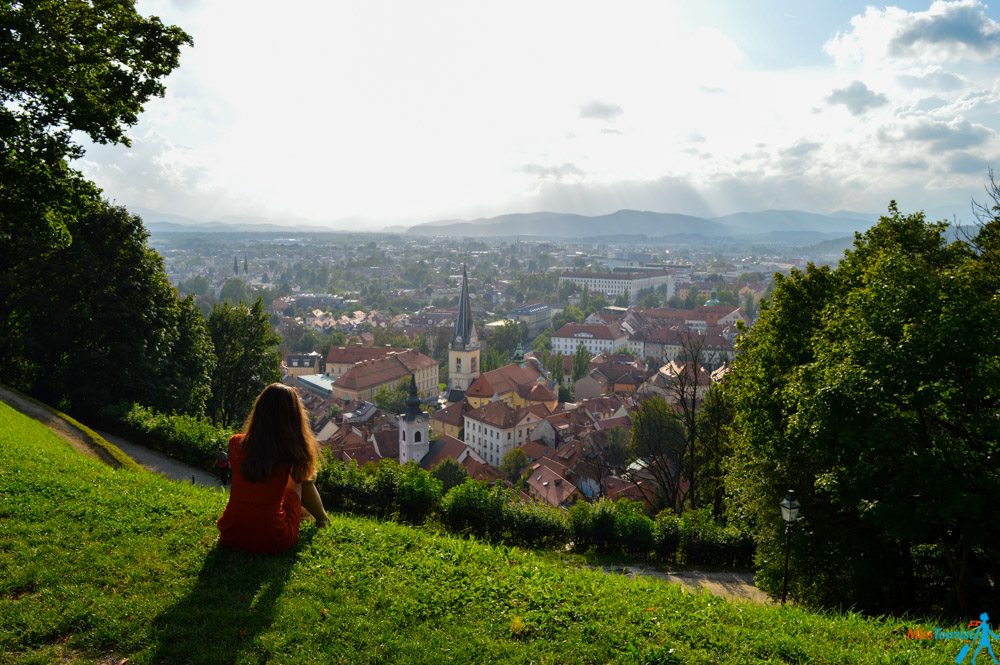 Last but not least, why not check out the view at sunset with a little snack? My favorite thing to do in Ljubljana!
OPENING HOURS: Everyday from 10 am to 9 pm, but it varies per season, check it here.
PRICE: €10 per adult for the castle, 13€ per adult for castle + funicular
HOW TO GET THERE: You can either take the funicular for €4 roundtrip or walk from the Central Market, through the Študentovska path that will take you up to the Castle Hill.
4. Relax at Tivoli Park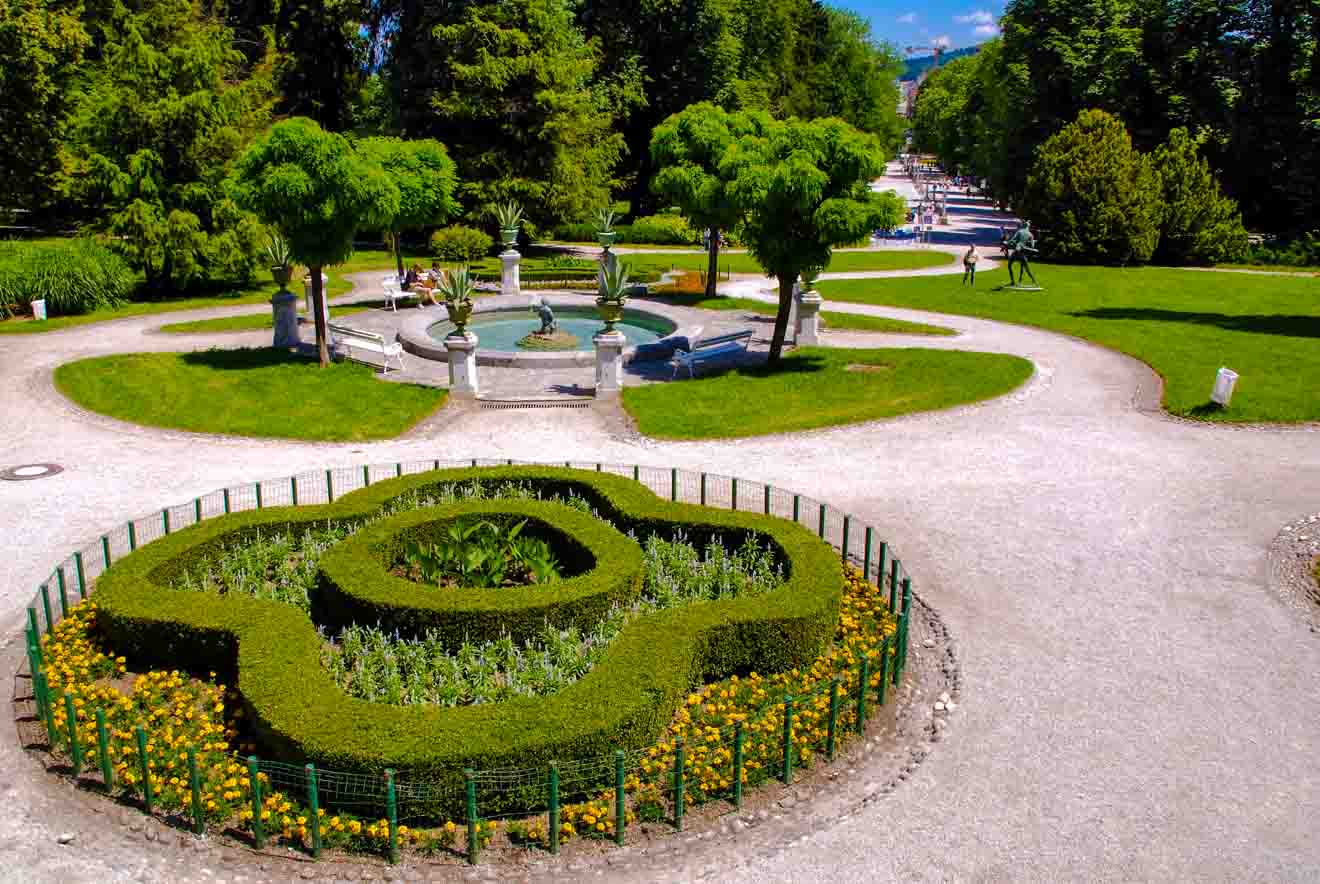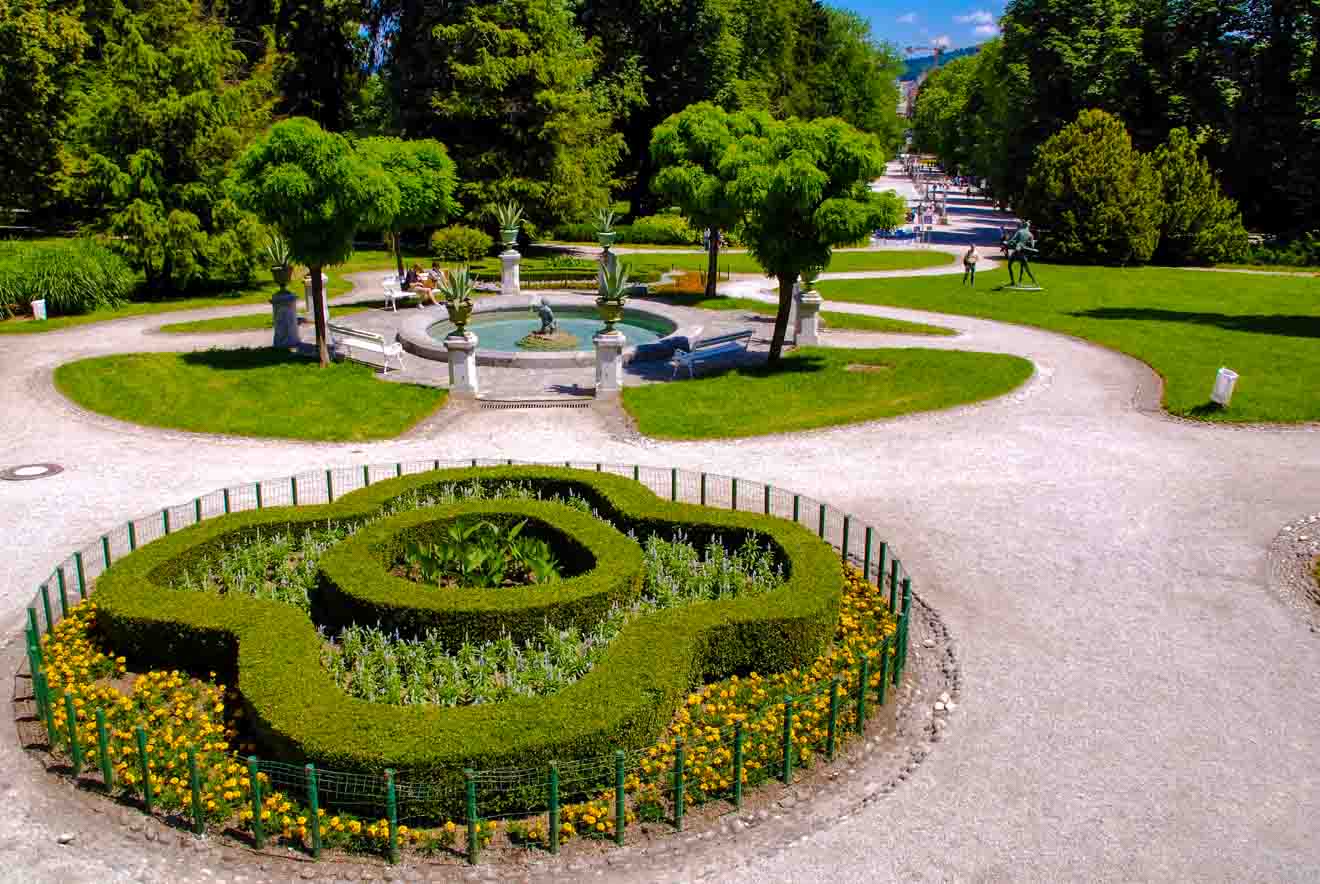 One of the best places to visit in Ljubljana, Tivoli Park is located on the northern outskirts of the Center District and this park is the lungs of the city! It is the biggest park in Ljubljana so don't forget to pay it a visit as it is a great place to relax and have a picnic on a warm summer day.
Tivoli Park is the perfect place to check out how locals relax, play sports or just spend their free time- pack a book, a snack and go! Also, keep an eye out for cultural events; it is the place in Ljubljana where most of them are held!
A great option for exploring the city and the park would be to take this bike tour, which includes a picnic in Tivoli Park as well!
NOTE: If you're heading there in the summer, and in the evening, make sure you pack mosquito repellent in your day backpack; you'll thank me later!
HOW TO GET THERE: 15 min walk from the Triple Bridge
5. Admire the frescoes at St. Nicholas church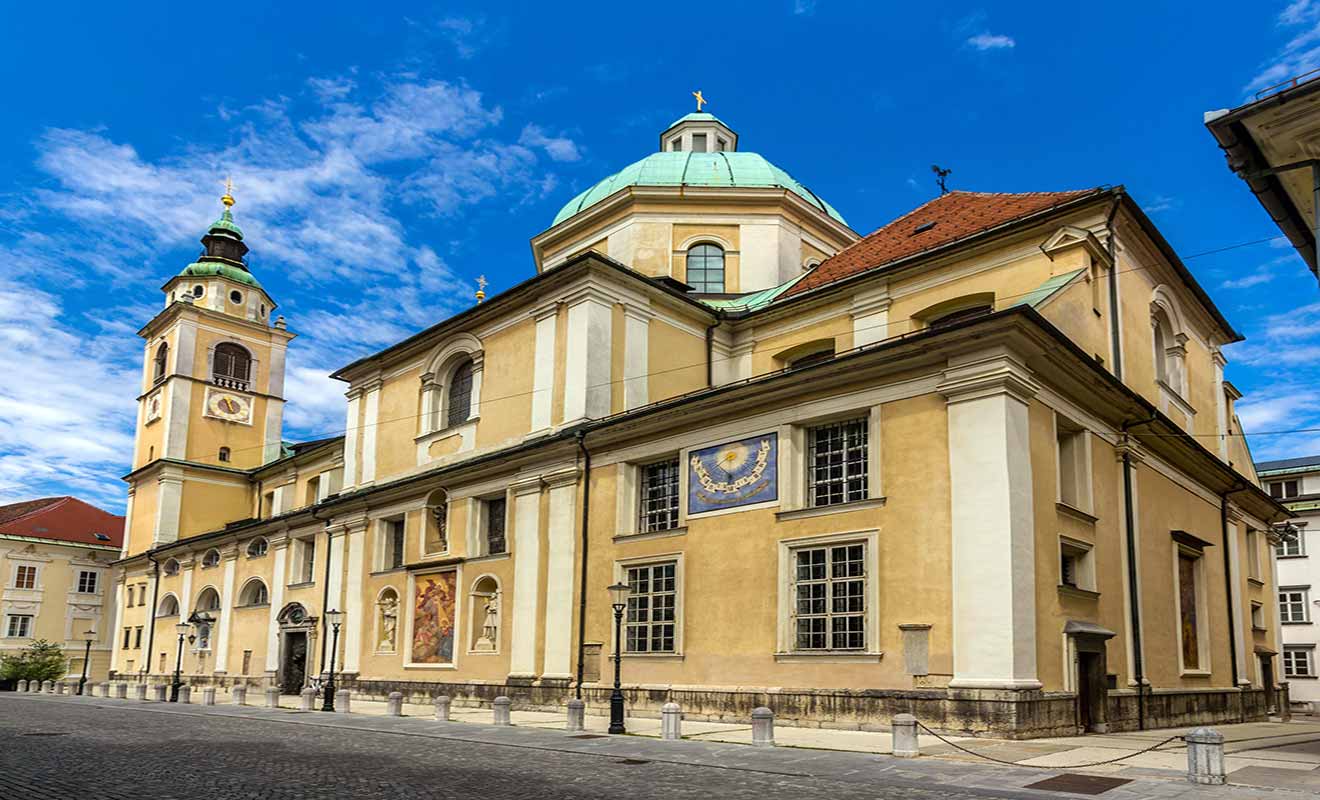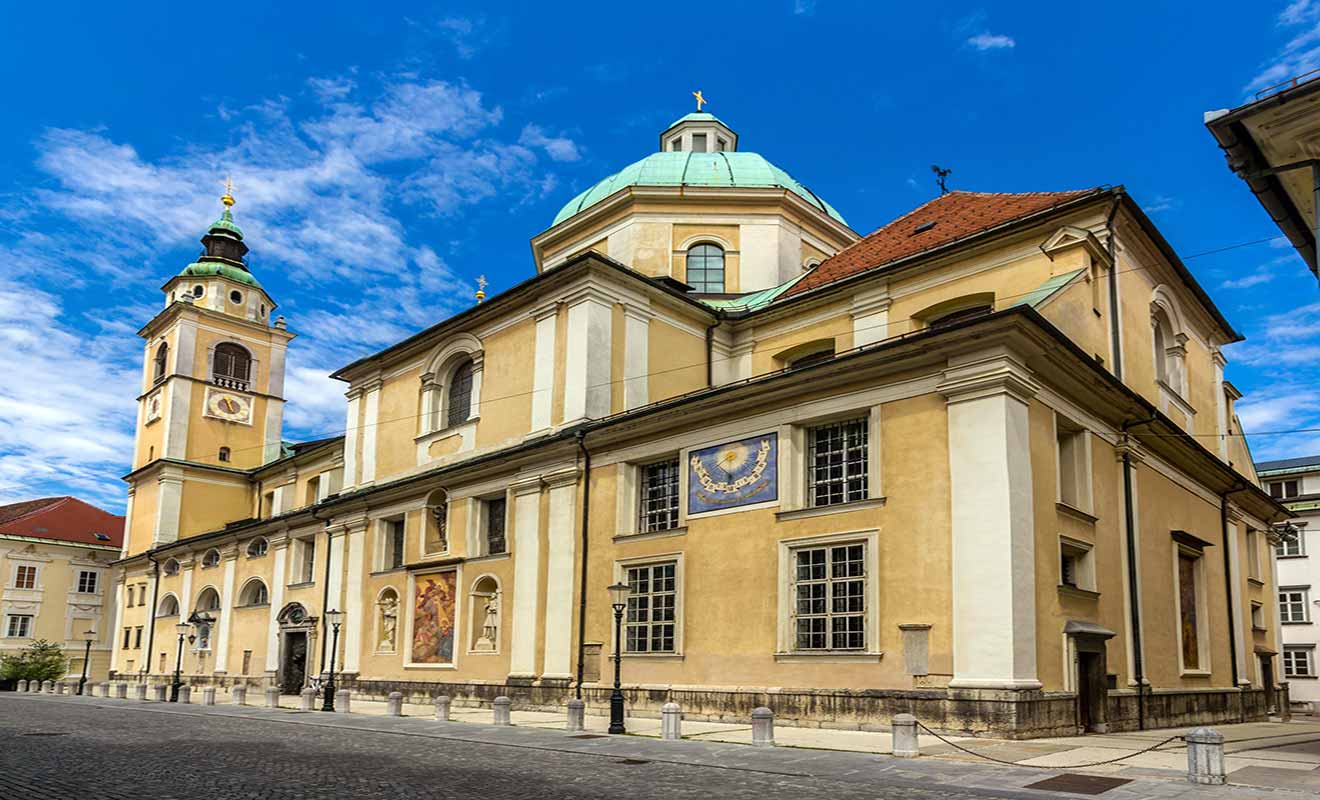 Even though on the outside it might seem like it's just another church, St. Nicholas Church (or the Ljubljana cathedral) is one of the biggest landmarks in the city. Just have a look at the side doors and main entrance depicting the history of Slovenia in such an unusual design!
It is one of the best Ljubljana sights, in my opinion, because the outside of the church is built with such austere architecture that it draws you inside where you will be left speechless by the interior design and jaw dropping frescoes. My favorites are on the ceiling; you will definitely leave with a sore neck!
OPENING HOURS: Services are held daily at 6,7,8,9,10:30, 11:30 and 12:30 in the morning; 4 and 6:30 pm in the evening.
PRICE: Attending service is free, otherwise it's €2 per adult outside of the service hours
HOW TO GET THERE: Right in the old town, 2 min walk from the Triple Bridge
6. Spot Ljubljana's weirdest statues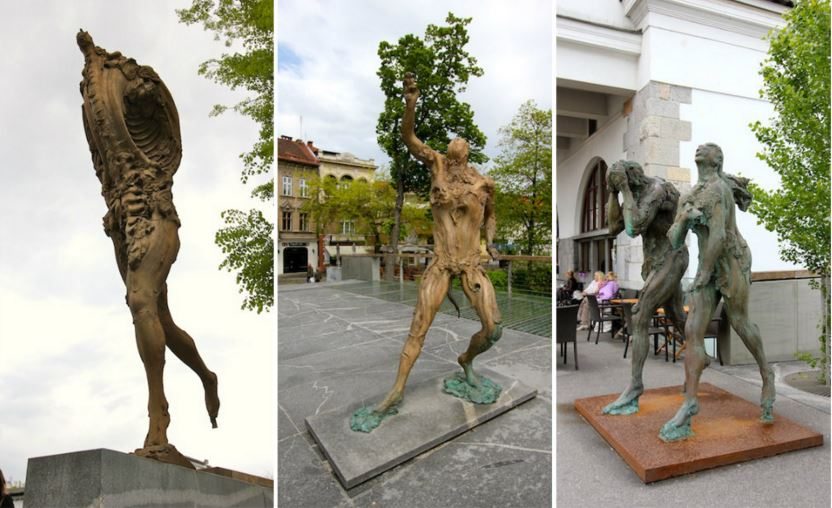 This will probably be one of the first things you will notice while walking around the city center when doing some Ljubljana sightseeing, at least that is how it was for me. Here are some pictures just to give you an idea. Do not ask me about its meaning, it is all about the artist's vision. 🙂
I took a Ljubljana walking tour to give me a great city introduction. I can definitely recommend it because it is a great value for your money!
Things that are included in this 2-hour tour – traditional food tasting, a train to go up to the castle, a funicular to go down and a licensed guide who will tell you everything about the history of the city and about its life today. The cost of the tour is 17 EUR at the moment. I do recommend taking it in the beginning of your trip. That way you will have a general overview of the city and then can decide what you want to do!
7. Visit the Museum of Modern Art Metelkova
I believe it is quite important to get to know the art of a place you are visiting. It's many times shocking, confronting and informative.
Such is the Museum of Modern Art Ljubljana, and if you visit it, you'll get to know Slovenian modern art at its best. Located in a strikingly current building, its art is not for everyone, but if you are curious, love modern art and have an open mind, make sure to visit it!
By the way, don't you hate it when museums are so big that you spend two hours inside and still haven't seen it all? I know I do. That is why the Museum of Modern Art in Ljubljana is perfect because it is small enough for you to see it all and also get an idea of contemporary Slovenian art!
OPENING HOURS: Everyday (except Monday) from 10am to 6pm
PRICE: €5 per adult, free every first Sunday of the month
HOW TO GET THERE: 10 min walk north of the Triple Bridge.
8. Defy your senses at the House of Illusions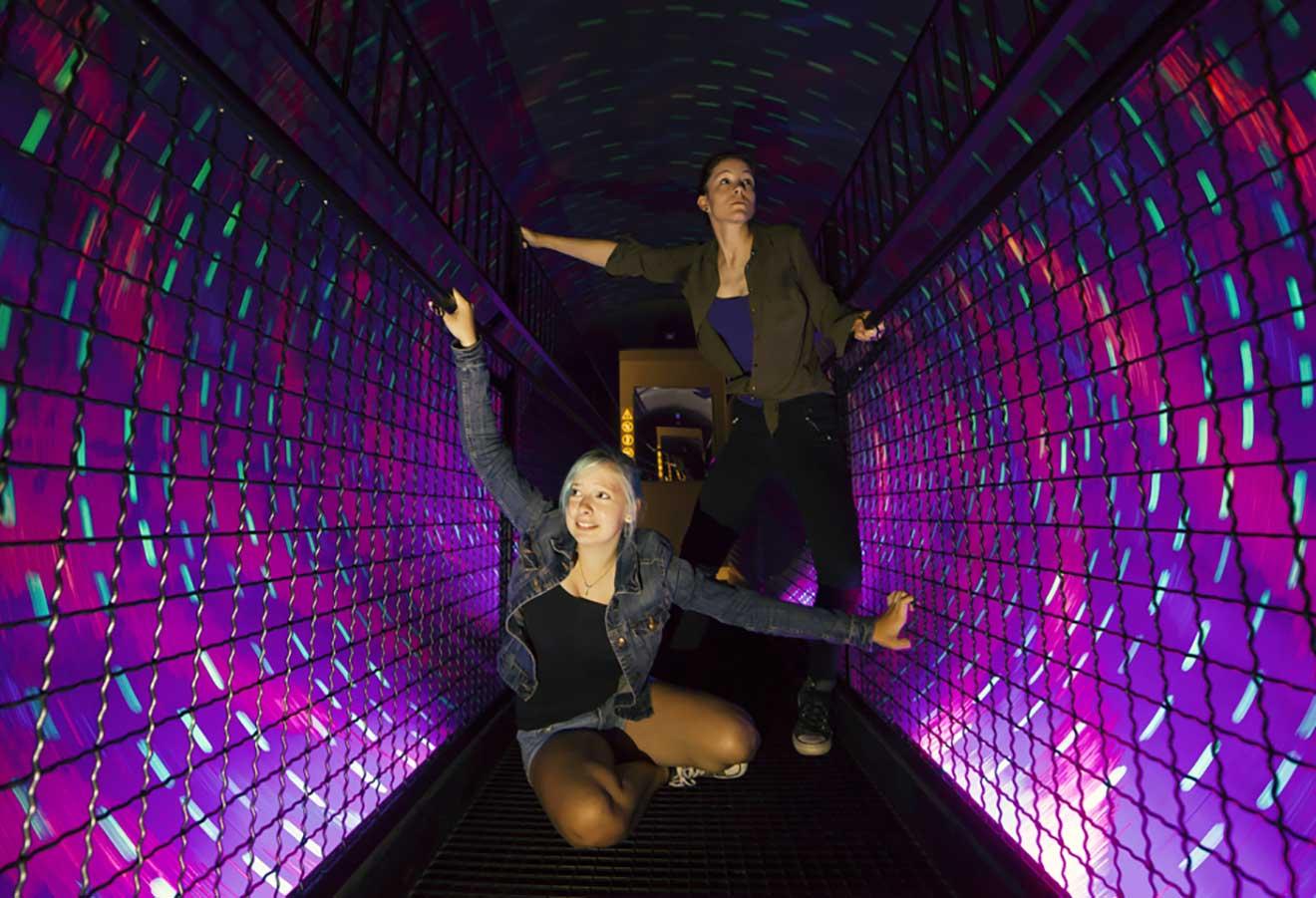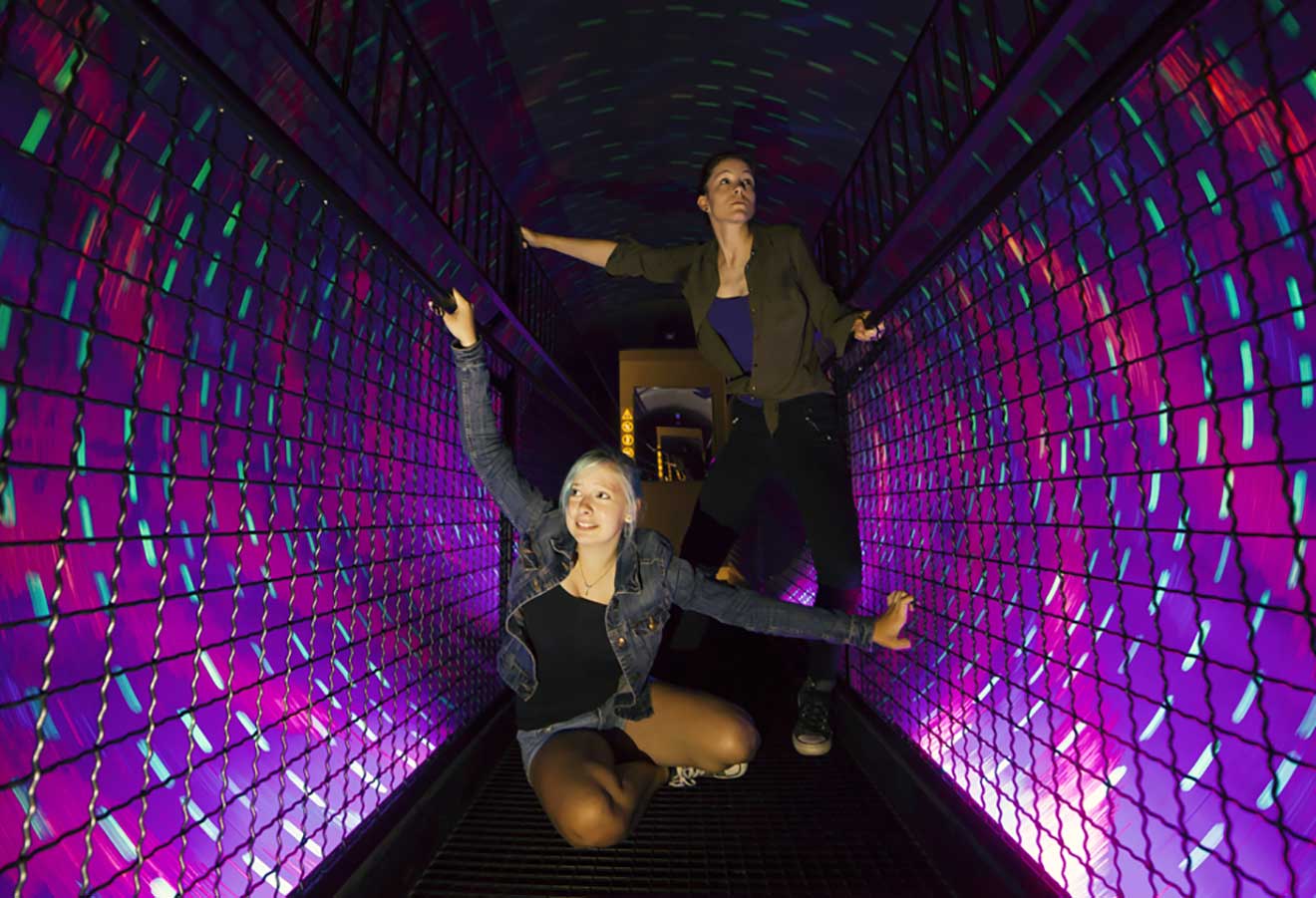 If you're one of those that loves trying new things and new experiences and you are a bit tired of traditional museums, why not check out the House of Illusions?
It is a museum of visual illusions that will satisfy even the most curious minds. Make sure you bring your camera, as this interactive museum will give you really good Instagram worthy snaps! Especially good for those travelling as a family, this museum is great for any age!
OPENING HOURS: Everyday from 9am to 10pm
PRICE: €6 per adult
HOW TO GET THERE: Just a five min walk west of the Triple Bridge.
| | |
| --- | --- |
| 🤩 Range of activities: | Large |
| 👪 Family-friendly score: | Medium |
| 🏛️ Best museum: | Museum of Modern Art |
| 🚶🏽‍♂️ Best free activity: | The Triple bridge |
| 🌱 Best green space: | Tivoli Park |
| 🌆 Best views of the town: | Ljubljana Castle |
| 🚗Top day trip: | Lake Bled |
| 🍮 Must try food: | Štruklji |
| 📅 How many days: | 2-3 |
| ☀️ Best time to go: | April – May / September – October |
| 🍽️ Dinner for 2: | $45 |
| 🚕 Average taxi PRICE: | €1 per KM |
| 💵 Avg hotel PRICE: | €100 |
| ✈️ Cost of traveling: | Medium |
BONUS 1 – Things to do in Ljubljana for Foodies
Ljubljana's tourism is not all about history, culture and sightseeing. Because of its strategic location in Europe, Slovenia is home to a very diverse and rich traditional cuisine that makes every foodie's dreams come true! That is why I have created a list of Ljubljana's attractions for foodies, such food tours and wine tasting!
1. Take a food tour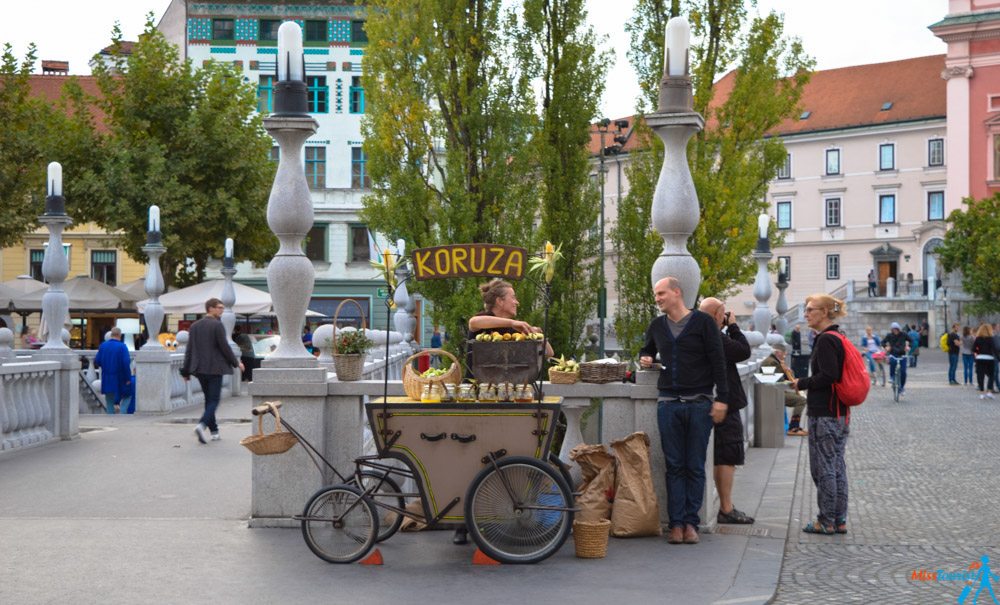 You might have guessed by the number of times that I mention the word "snack" in this Ljubljana travel guide that one of my favorite things to do when I get to a country or city I have never been to is taking a food tour!
Check out this food tour. For about €50 you will spend 3.5 hours eating the best Slovenian food and wine, all while exploring the best places to eat in the old town!
It's all pros: you have a walk around the city while you sample all the best traditional food at once and usually guides are able to tell you a bit about the city's history and the lives of the locals! Apart from this, you save money on lunch or dinner, it is usually so worth it, and just a tad more expensive than an actual lunch or dinner at a restaurant would cost. It's all advantages!
2. Check out the Central Market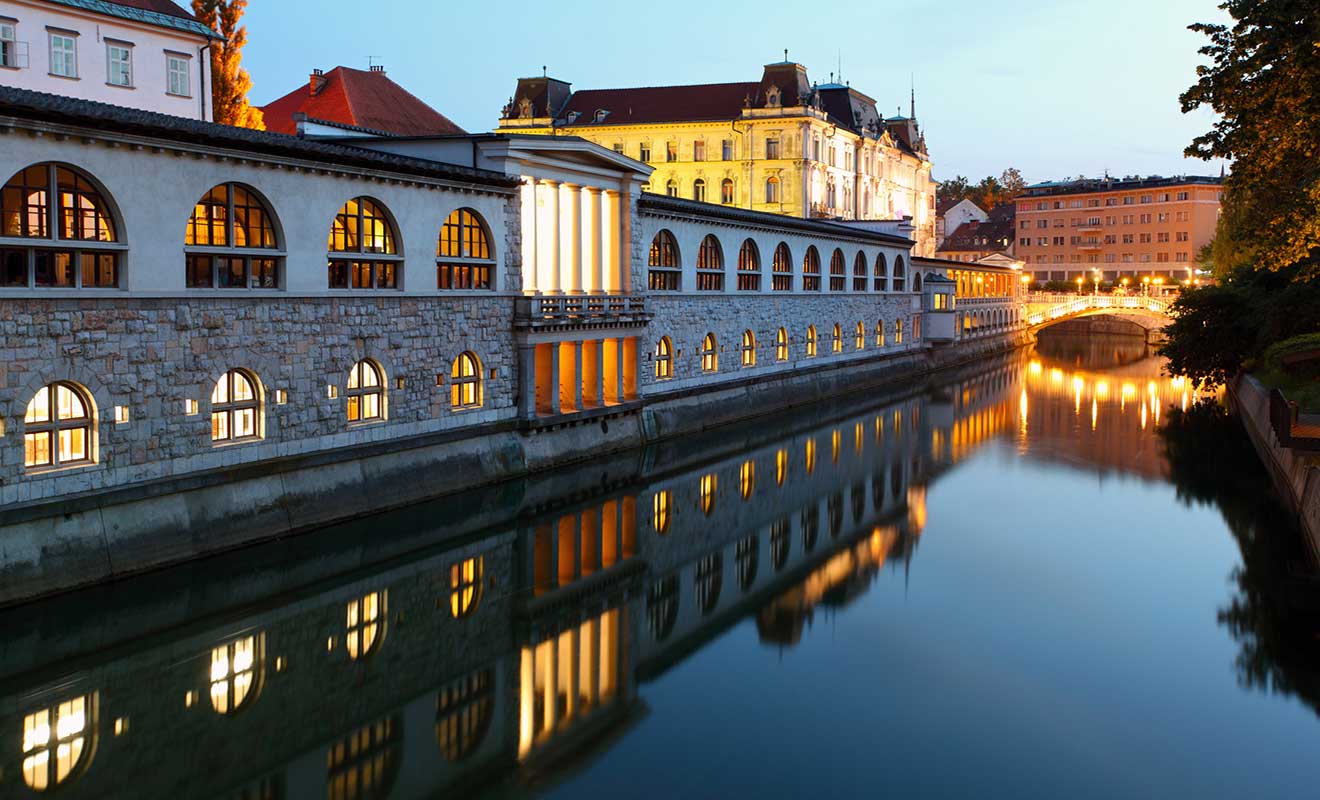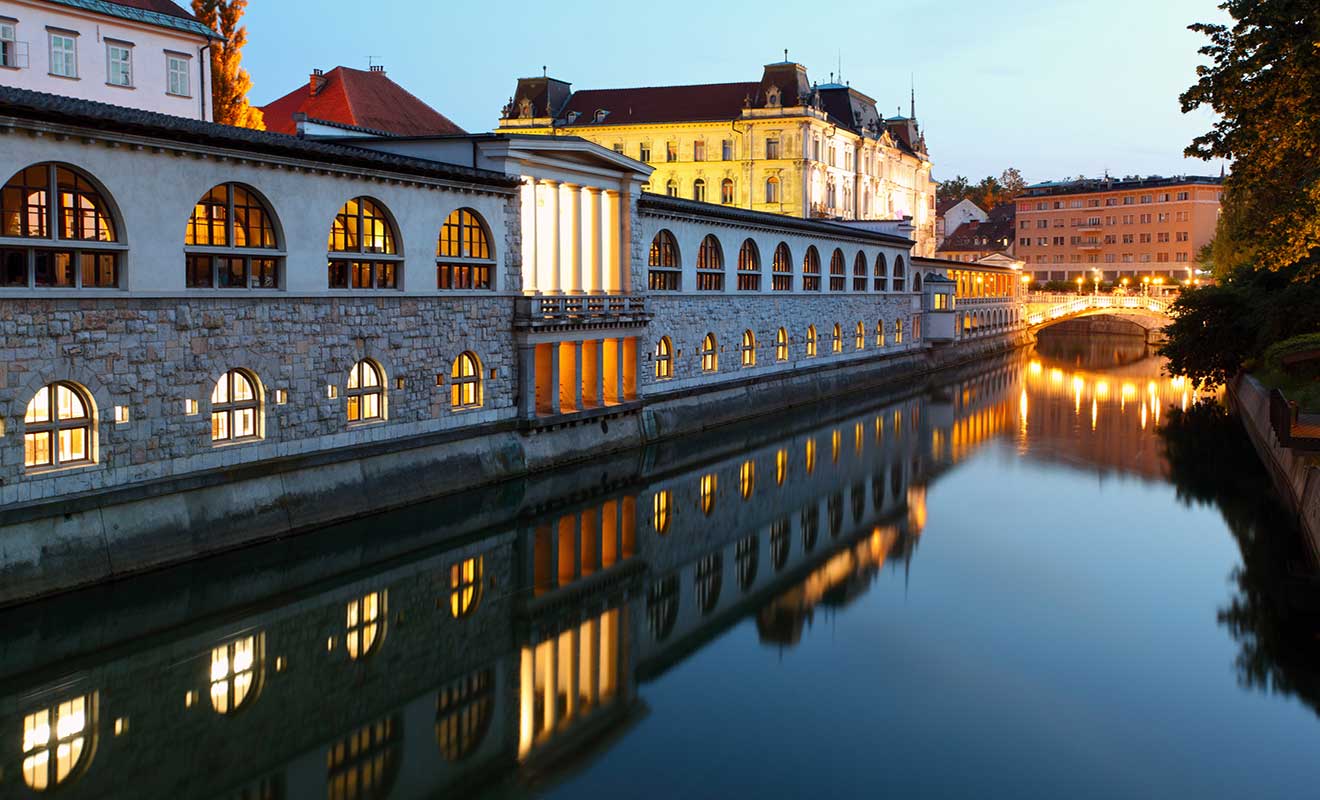 Another must visit for all foodies is the Ljubljana Central Market! You can find vegetables, fruits, crafts and souvenirs. It is the perfect mix between locals and tourists, and the market has been able to adapt to tourism like water!
NOTE: If you head there on Fridays you will find food stalls from all over the world, so it might give you a bit of a break from Slovenian food or you might be able to discover how your country's food is sold in the Slovenian capital!
3. Wine tasting in Ljubljana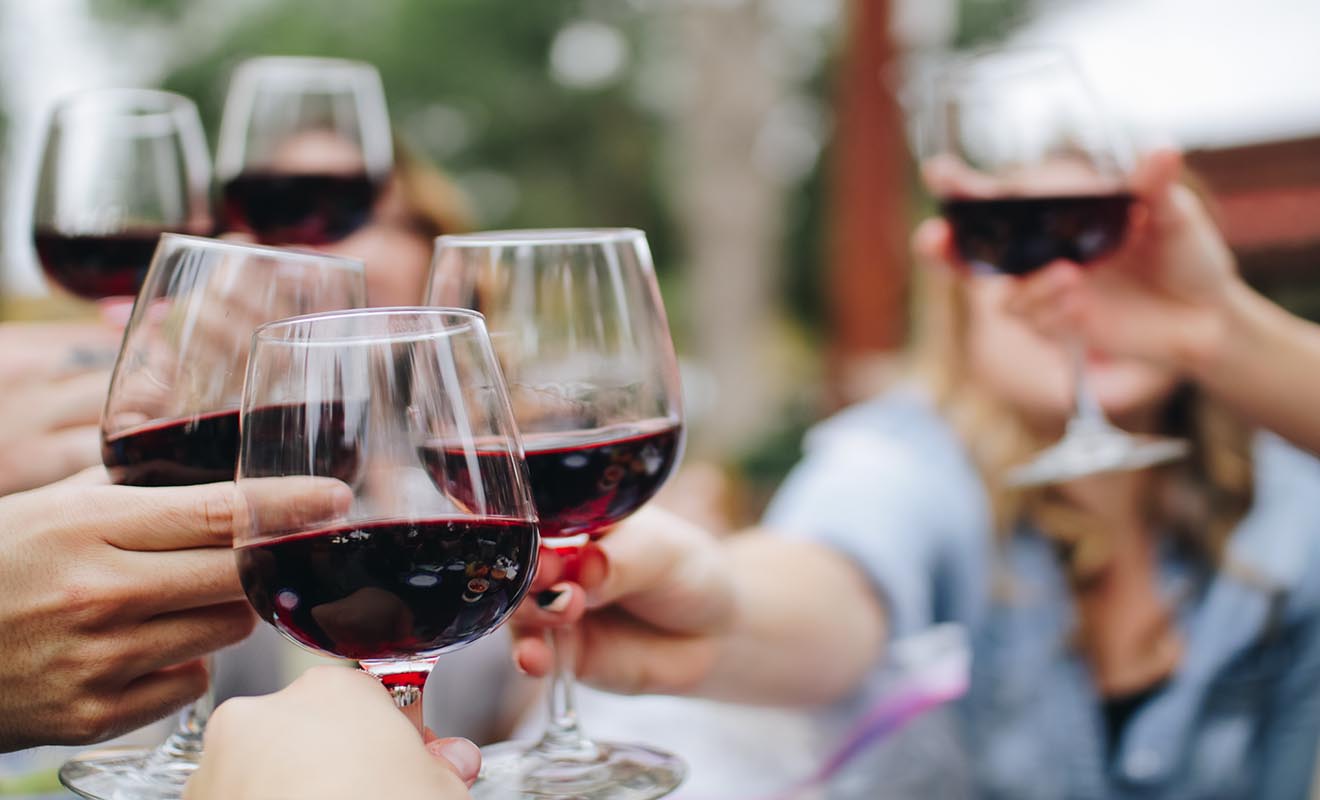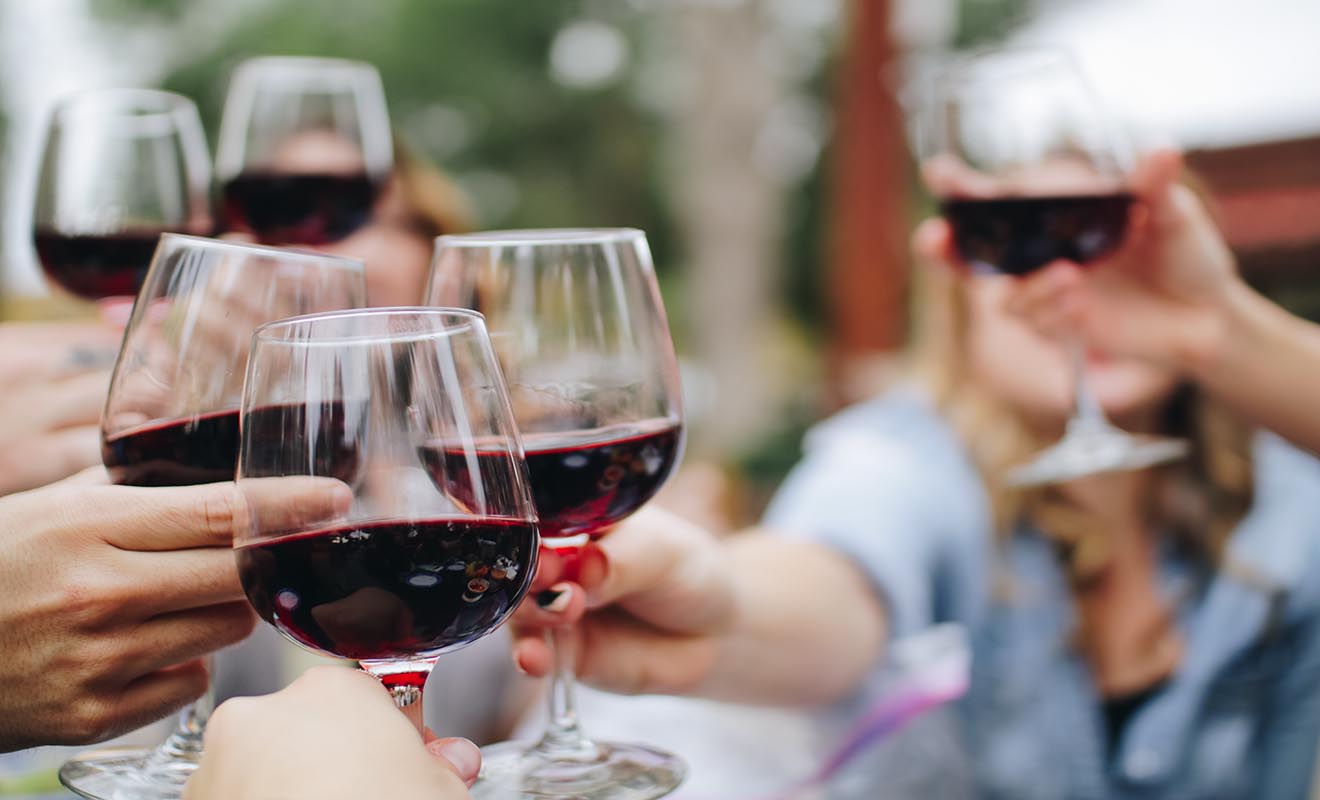 Whether you have or haven't heard of Slovenian wines, you will learn that Slovenia is a great wine making region and its wine industry is on the rise!
That's why one of my favorite things to do in Ljubljana is to attend a wine tour such as this 3-hour one. You'll be taken to The Ljubljana Castle where you'll taste 9 different Slovenian wines!
I used to find wine tasting daunting but once you get into it, and you start doing a couple of wine tasting tours from different regions or countries, you start learning and start differentiating between them. If I can tell the difference, you definitely can!
4. Attend a Traditional Slovenian Dinner and Show
If you're interested in the traditional Slovenian culture, why not attend a 2-hour Slovenian dinner and folk show? You'll get to eat the most traditional meal while being entertained with classic dances. Apart from this, you'll get to learn polka dancing- so fun!
Not many people know about Slovenian folklore or traditional dances but I believe it is such an overlooked and beautiful part of its culture. Get off the beaten path and become an expert on Slovenian folklore while participating in the dances, how fun!
5. Do a Ljubljana Pub Crawl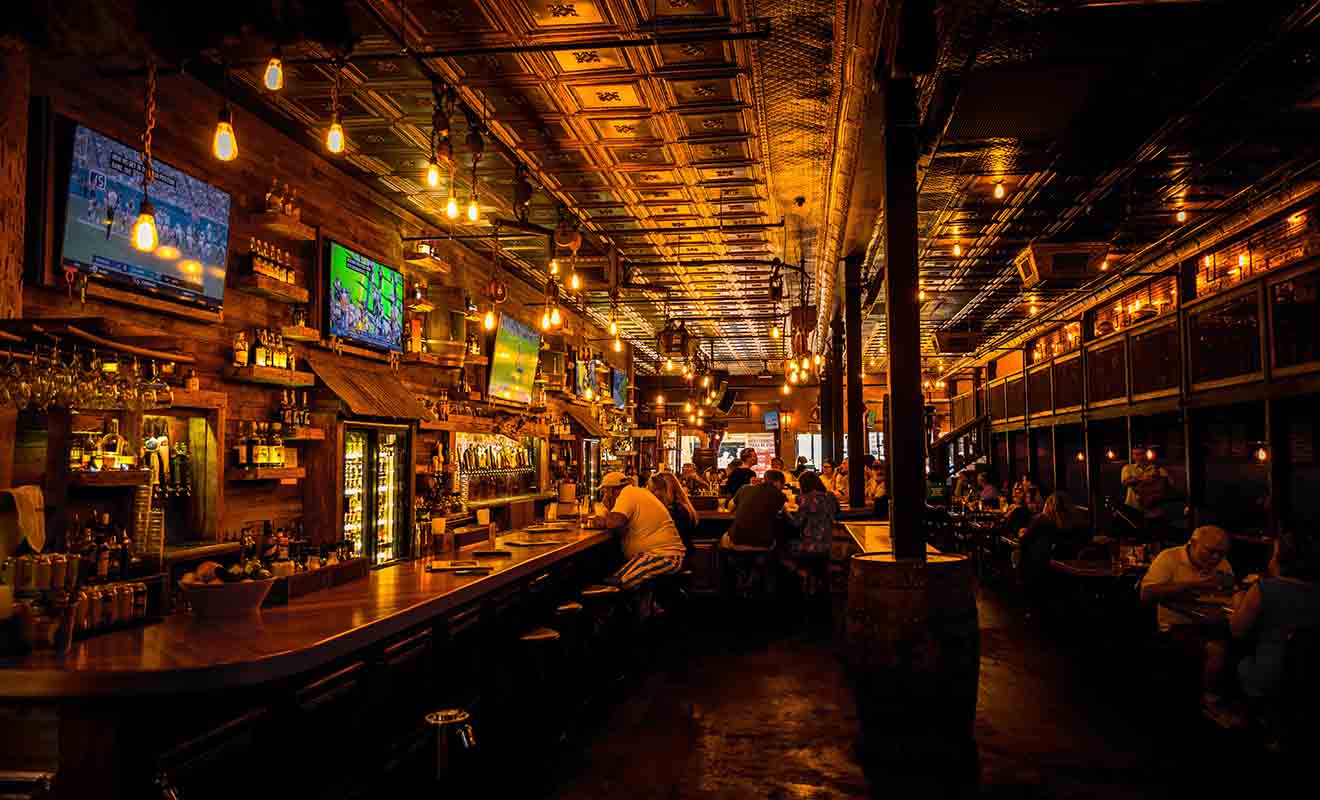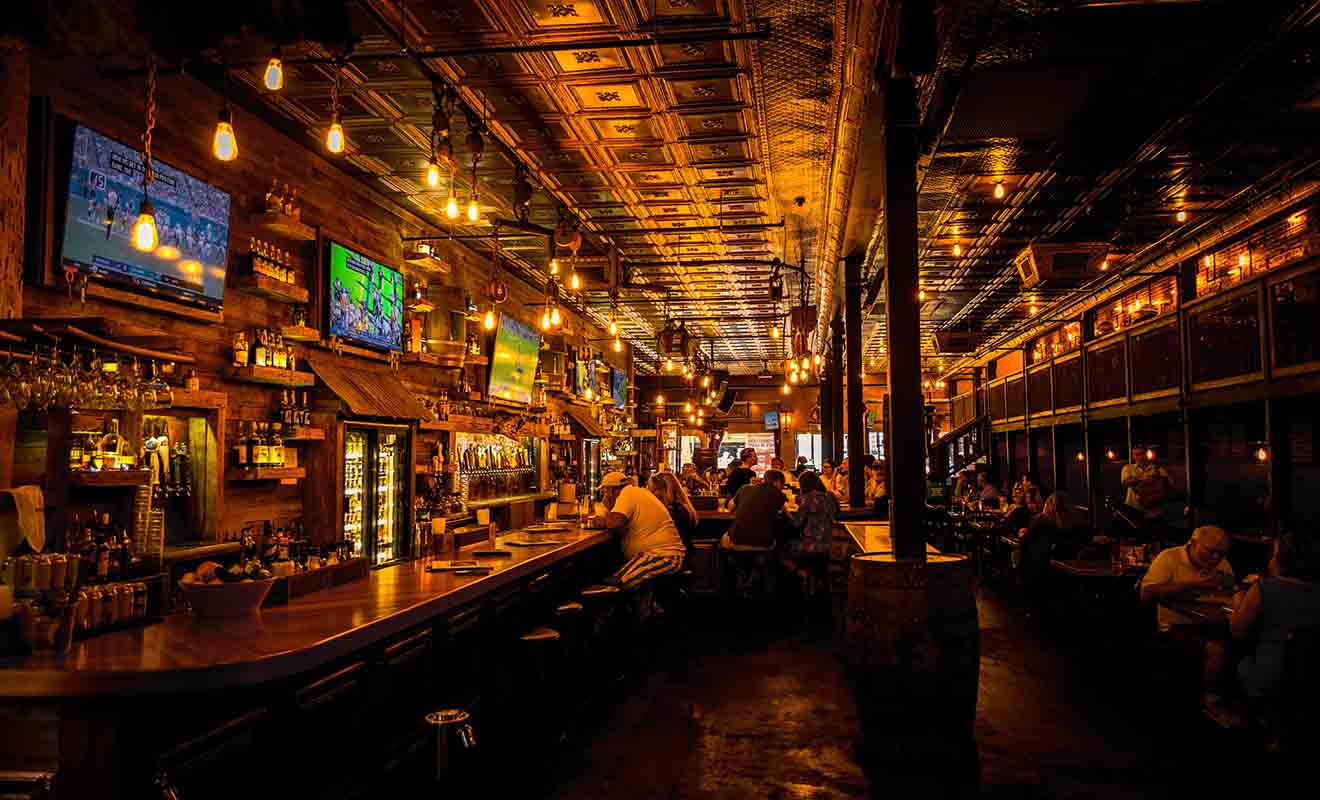 A great way to make friends and have a good time in Ljubljana is to do a 5-hour pub crawl for €15. I mean, you mix travelers with booze in one of the most beautiful European capitals, and it really can only end well.
You'll try many different types of alcoholic beverages and have the time of your life, enjoying the very best of Ljubljana's nightlife!
BONUS 2 – All you need to know about exploring Lake Bled, Slovenia
All my friends who had already been to Slovenia recommended Lake Bled to me. "Oh, you definitely have to go there!" they said, so I made sure to include it in my plan.
The area around the lake is a national park that you can reach from Ljubljana easily in less than an hour (the detailed explanation on how to do that is below).
Lake Bled is a turquoise lake with a beautiful island in the middle. There is a pilgrimage church on Bled Island. You have probably seen some pictures of this magical island already, haven't you?
Below are a couple of practical tips which will help you organize your Lake Bled trip in the smoothest way possible!
How long should you stay at Lake Bled?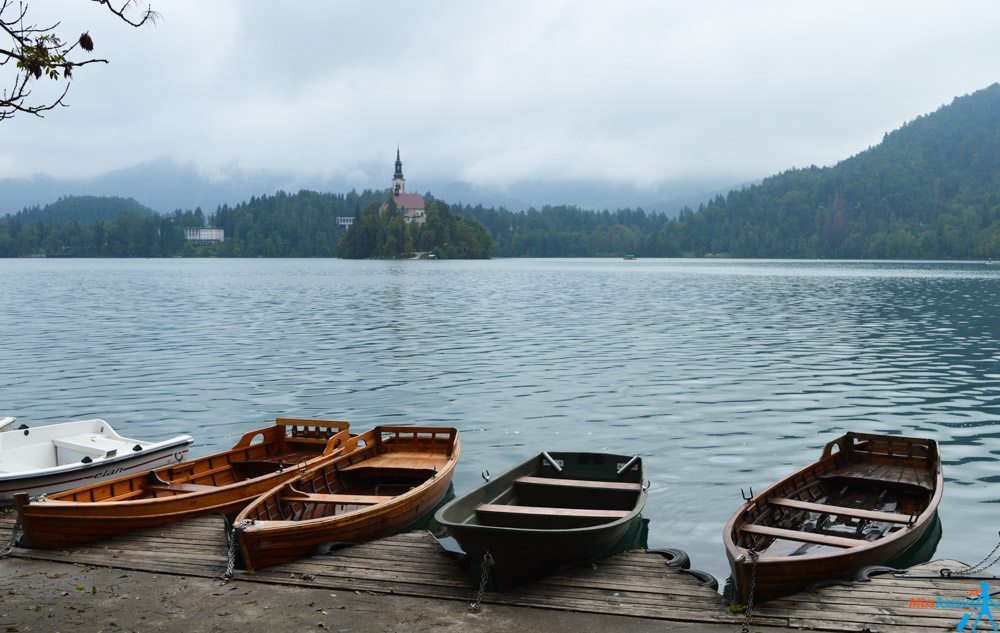 Some people say – "3 days weren't enough, you should stay longer", some say it is totally doable in half a day.
I agree with both. There are tons of things to do near Lake Bled if you are searching for activities. There will be no problem finding activities to fill 3 days – paragliding, kayaking, water rafting, canyoning, segwaying (is this even a word?!) etc. It is also absolutely great for people who want to relax and stay in a hotel nearby enjoying the fabulous view every day.
But if you are short on time and just want to see the beauty of the lake, a one-day trip would be enough.
Ah, yes, you can actually swim in the lake, so take your swimsuits and towels if the weather is good!
I bet it must be a great experience, the water is transparent and sparkling clean. It is similar to Plitvice Lakes in Croatia where you are not allowed to swim.
NOTE: The weather in Bled can be drastically different from what it is in Ljubljana (even if it is only a 45-minute drive). While it rained at Lake Bled on my visit, when I came back to the city, there was no sign of rain and the weather was beautiful. So, check the weather forecast for Bled, not for Ljubljana when you go!
How much does it cost to visit Lake Bled?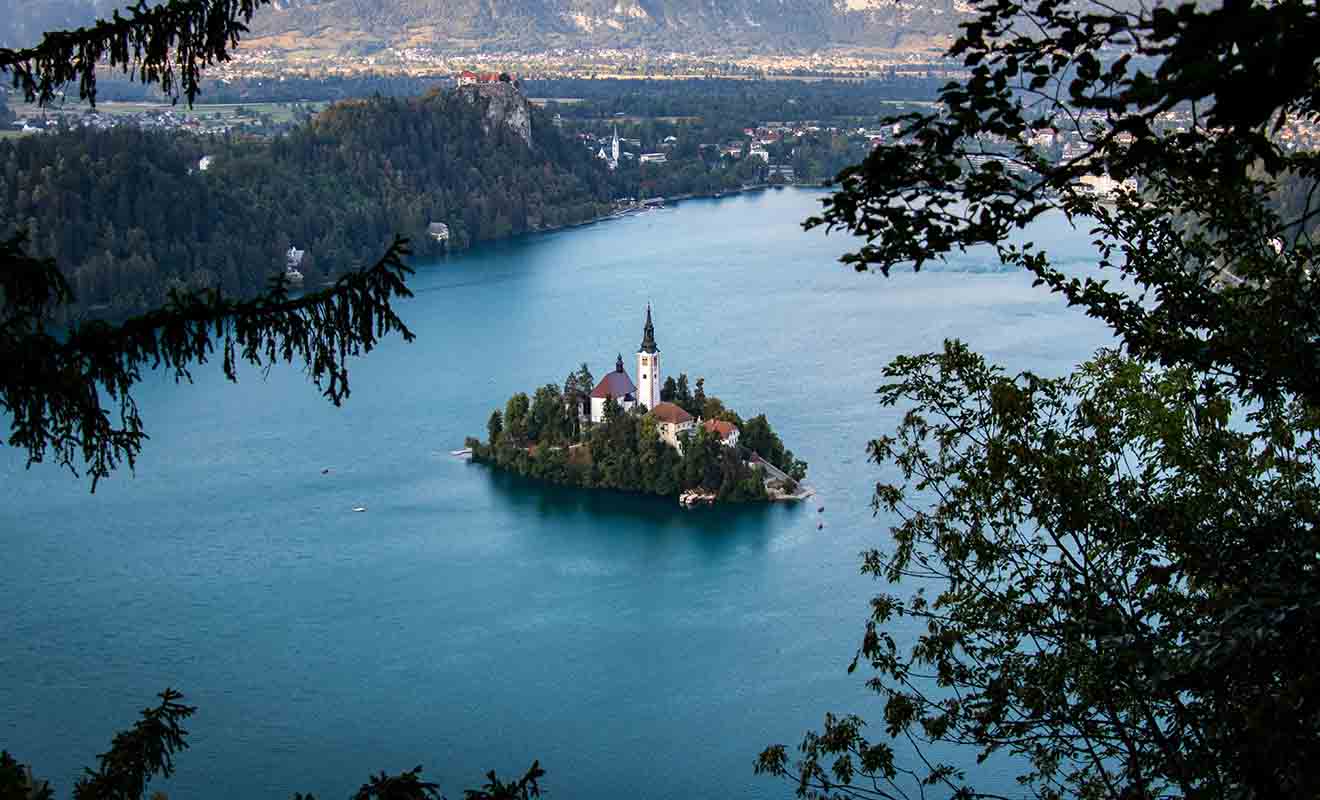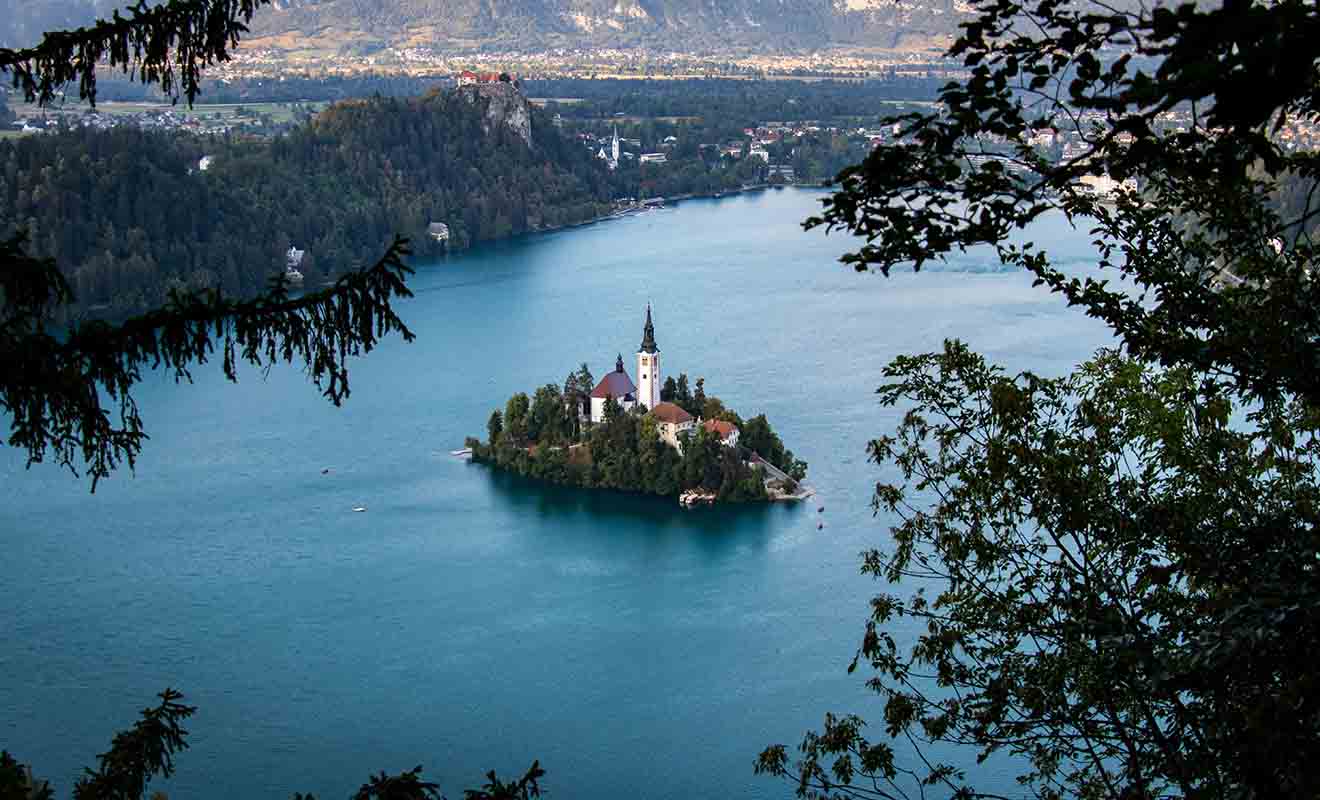 Good news – visiting Lake Bled is absolutely free, no tickets needed!
The entrance to the lake itself is free if you want to just walk around the lake (about one hour to make a full circle of the lake). But if you want to go to the island in the middle of the lake, there are boats that will take you there for a cost of 12 EUR. If the weather is good, you could also go to the top of the castle to see the marvelous view. The price to visit the castle is 8 EUR per person.
How to get to Lake Bled from Ljubljana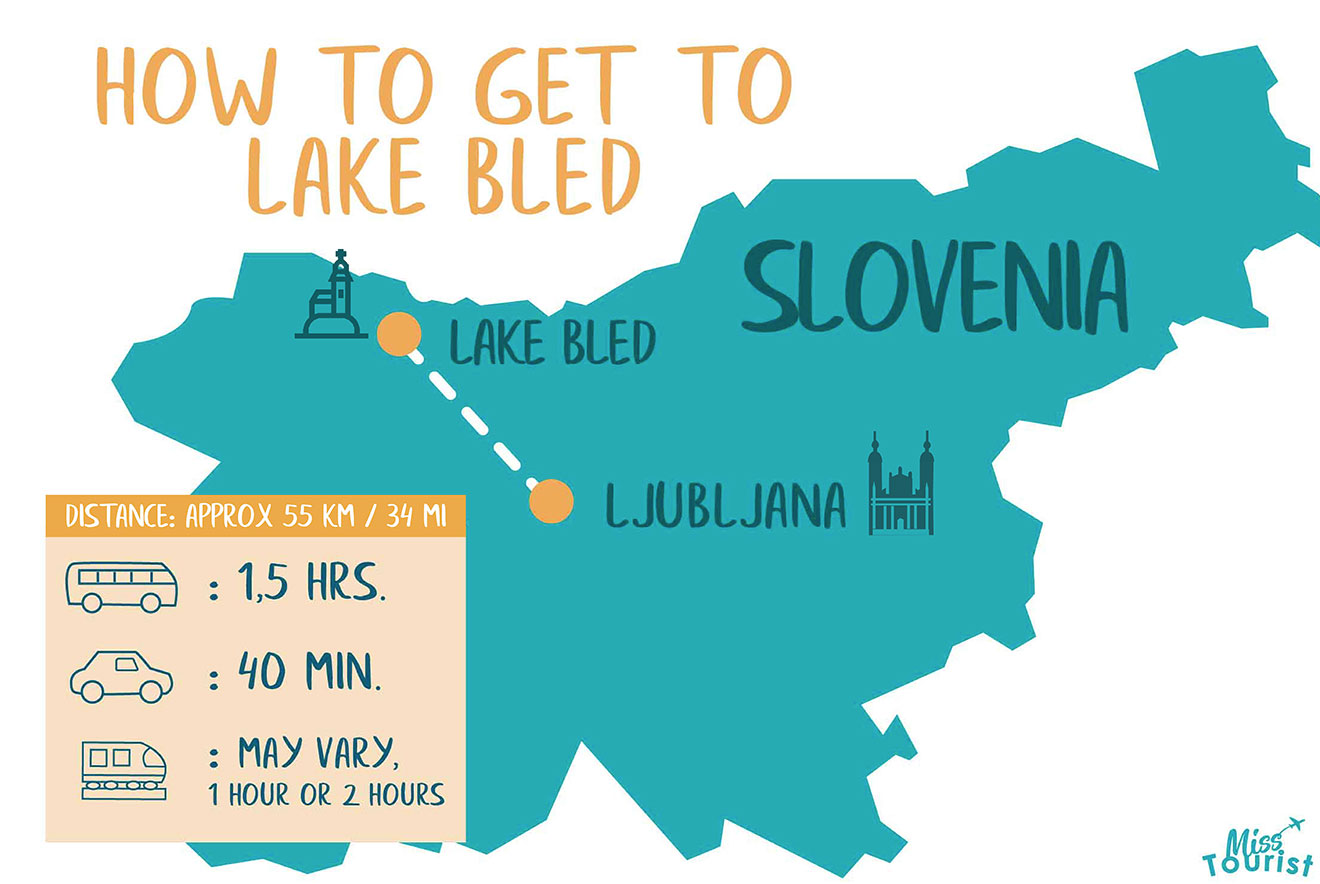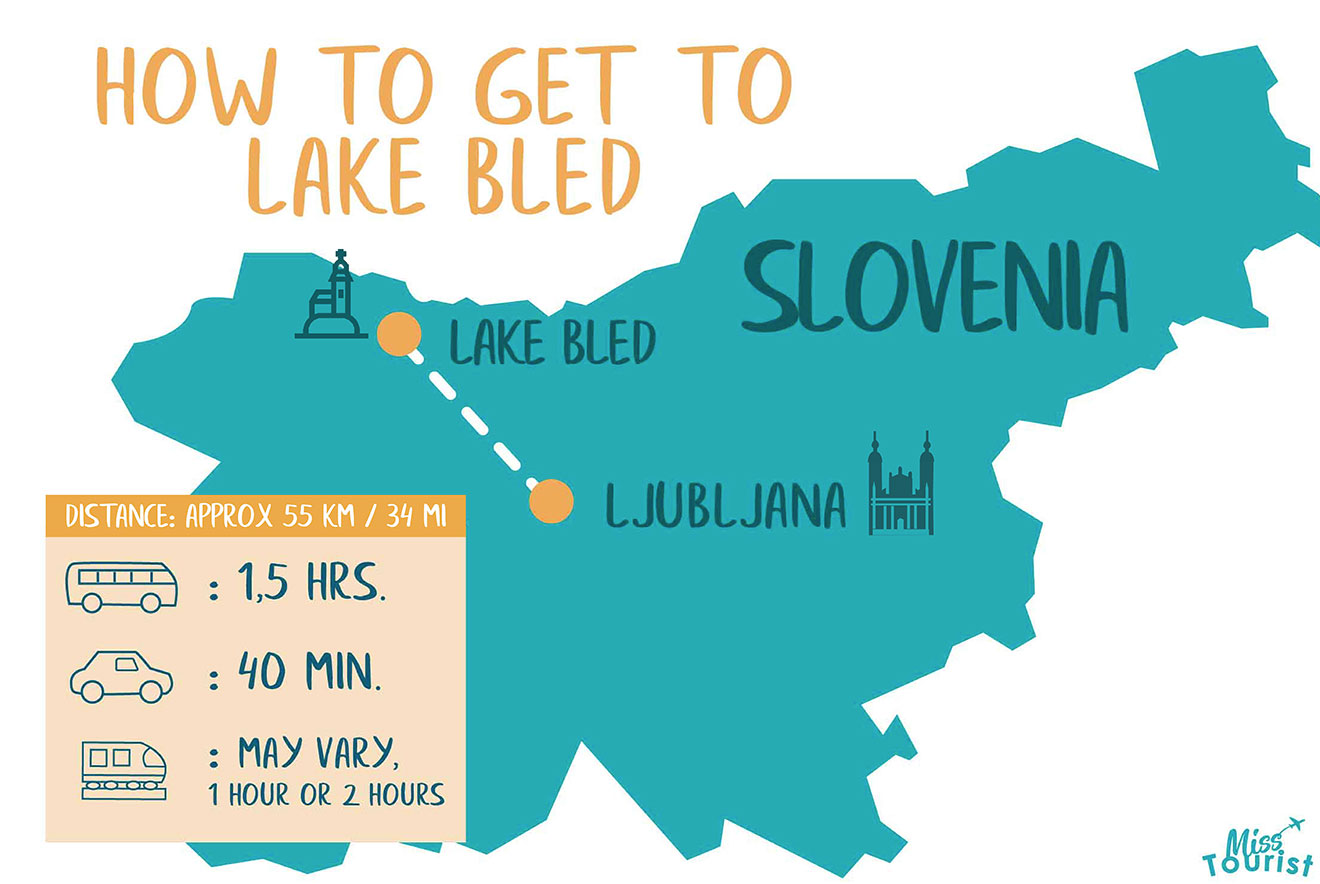 By bus
The direct bus is 6 EUR and it takes 1.5 hours to get from Ljubljana to Bled Jezero.
Renting a car in Slovenia is a great (and inexpensive) idea so please check the rates forcar hire in Slovenia here. If you go with a car, just follow the E61 road, and you will be there in less than 40 minutes. I have heard that parking spots are scarce near the lake, however, try to find a spot. There's parking at the Bled Castle on top of the hill that costs 3€, and usually there are spots available in the parking lot behind Hotel Krim, off Ljubljanska Cesta, at €7 per day.
By train
There are 2 options to get to the lake by train from Ljubljana's train station; you can purchase your ticket either at the station or through the official rail website.
You can take a train from Ljubljana and stop in Lesce-Bled, just 4km away from Lake Bled. The trains run every 1.5 hours and they take 1 hour to reach their destination. The train ticket costs around 5€. Once you get off of the train, you should take a bus (1.30€) or a private shuttle (3-4€) that will take you to the entrance in 5 minutes. The schedule for the bus is here.
You can take a train from Ljubljana and stop in Bled Jezero station, but the trains from Ljubljana are less frequent. They only run every 2.5 hours or so and they take 2 hours to reach their destination. The train ticket costs around 6.5€. Check the schedule here.
Day Trips from Ljubljana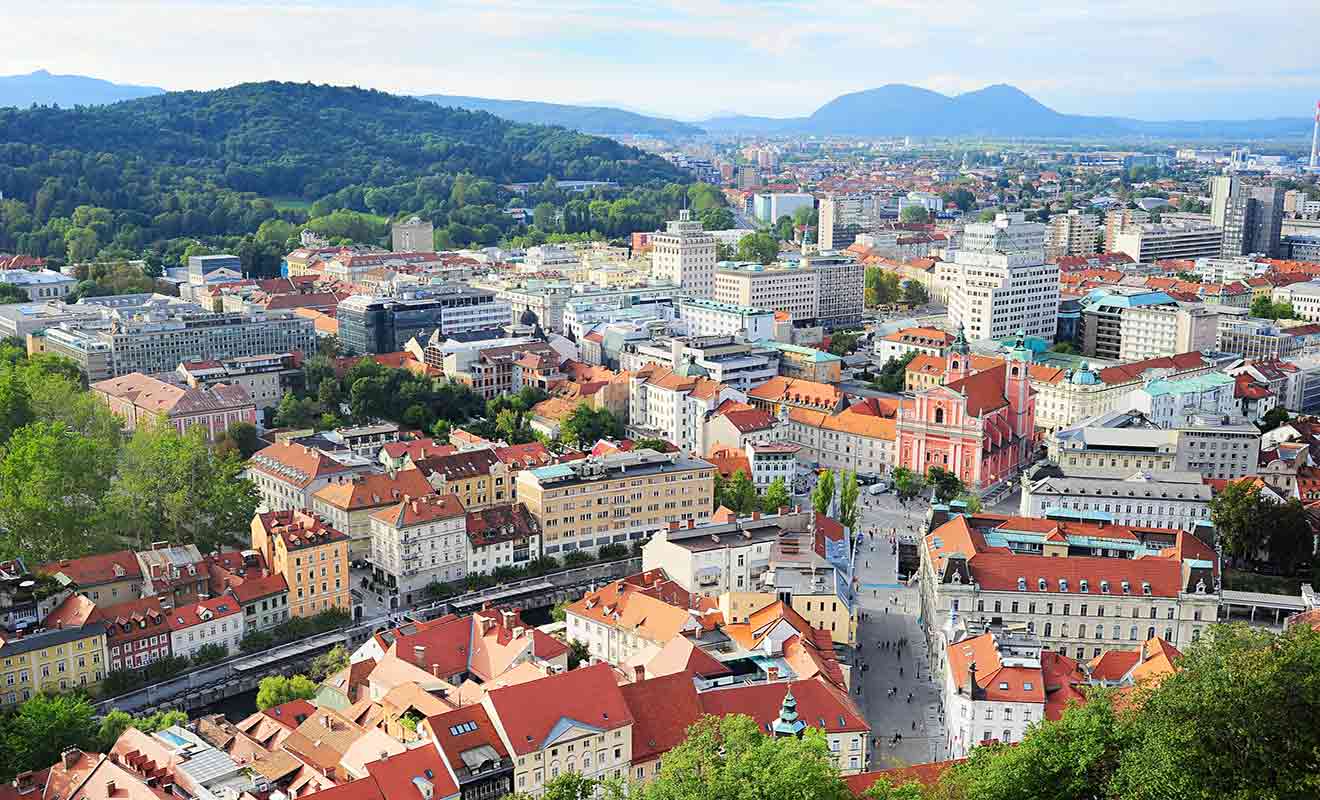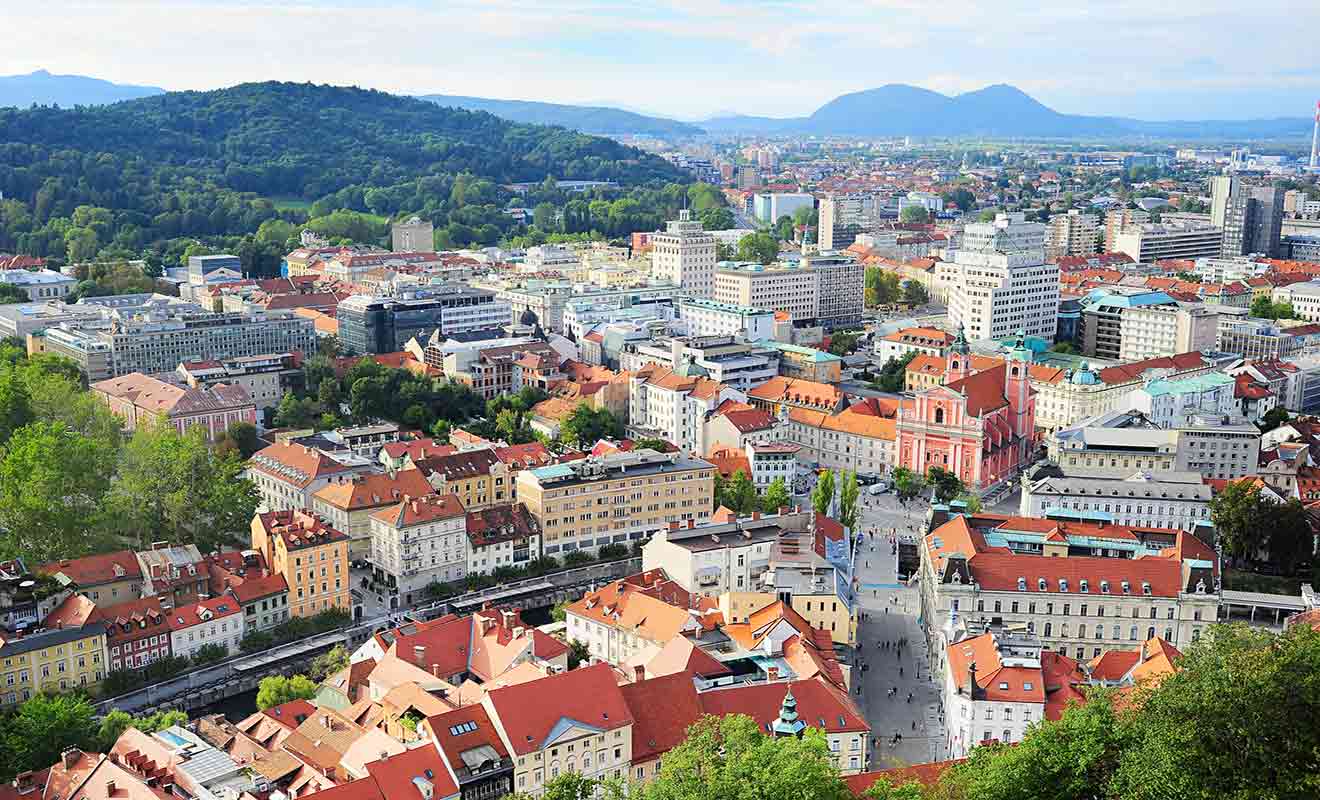 If Ljubljana and Lake Bled were not enough for you to explore Slovenia and you want to visit more sights in the country, my suggestions would be Postojna and Škocjan Caves, Lake Bohinj and Triglav National Park, among others!
Also, do not forget that Croatia is very close! The places that I recommend visiting there are the Istria region, Plitvice Lakes and Split!
1. Triglav National Park
The one and only national park in Slovenia is Triglav National Park. Why not experience it as a day trip, with a knowledgeable guide that will take you through the park's best spots? Check out this 12-hour trekking tour! In this one day trek you'll get to see more than you would if you do this park by yourself!
2. Lake Bohinj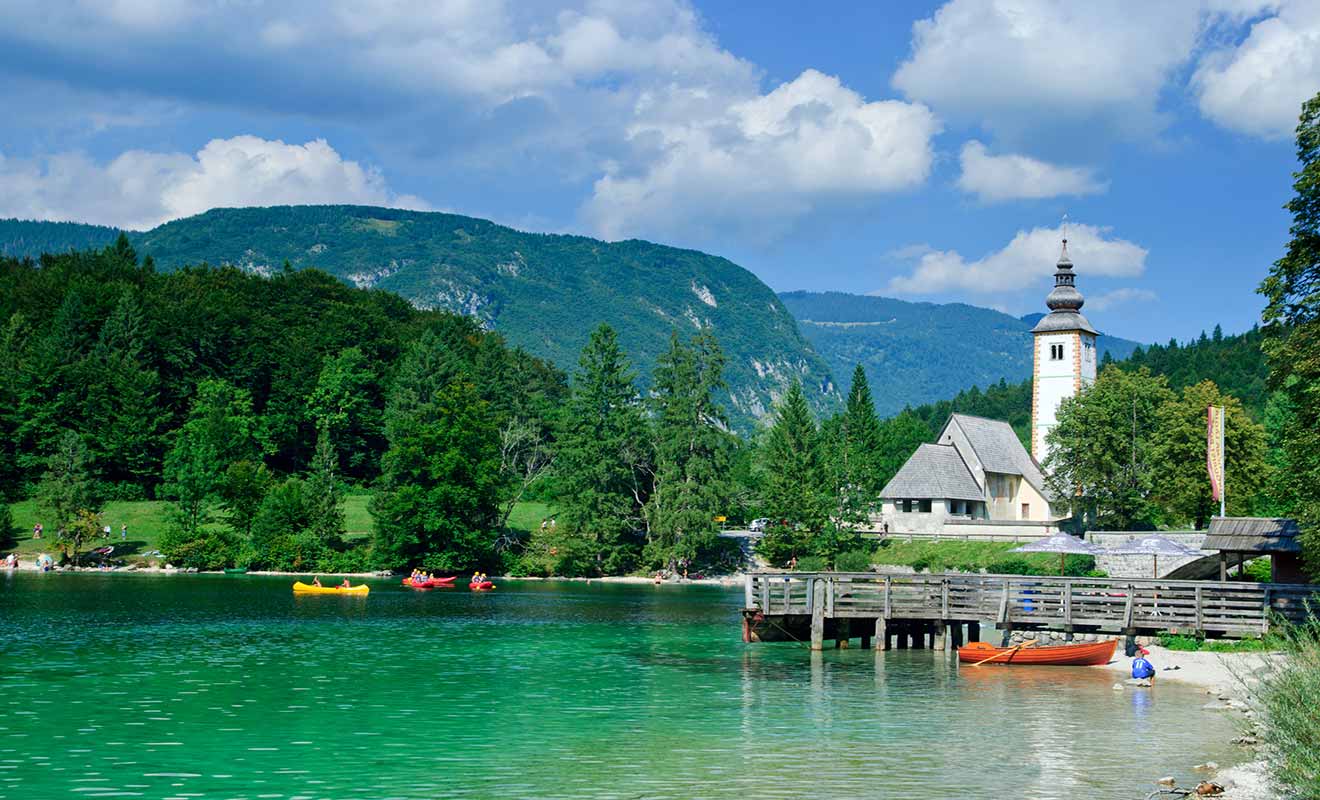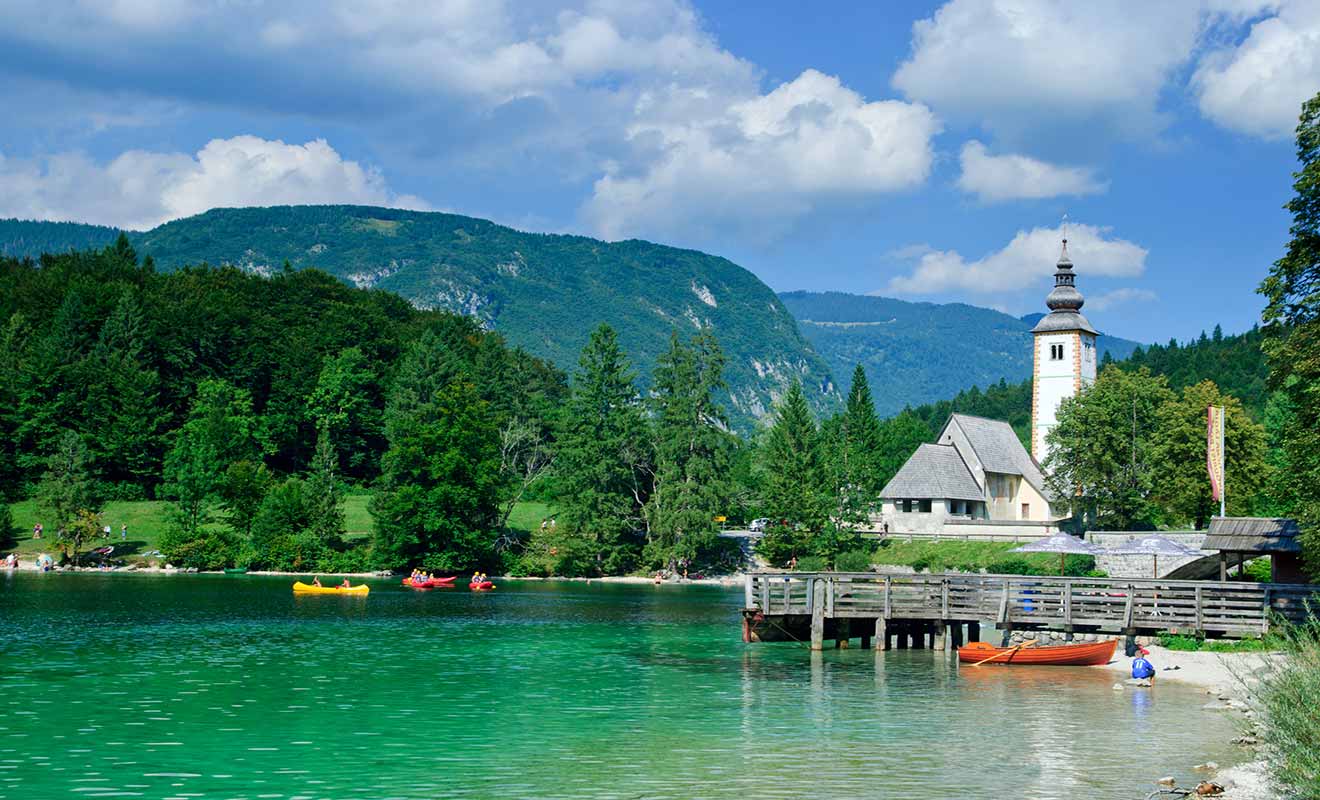 If you decide to explore Triglav National Park by yourself, make sure you head to Lake Bohinj. It is the second most famous lake after Bled and its gorgeous views and crystalline waters will leave you speechless!
3. Postojna Cave & Predjama Castle
Slovenia is famous for its fairytale castles, and one of them is Predjama Castle, set right next to a cliff! If you check out this 6.5-hour tour, you'll be able to explore the Predjama Castle and you might be lucky enough to spot some blind salamanders in the Postojna Caves!
4. Logar Valley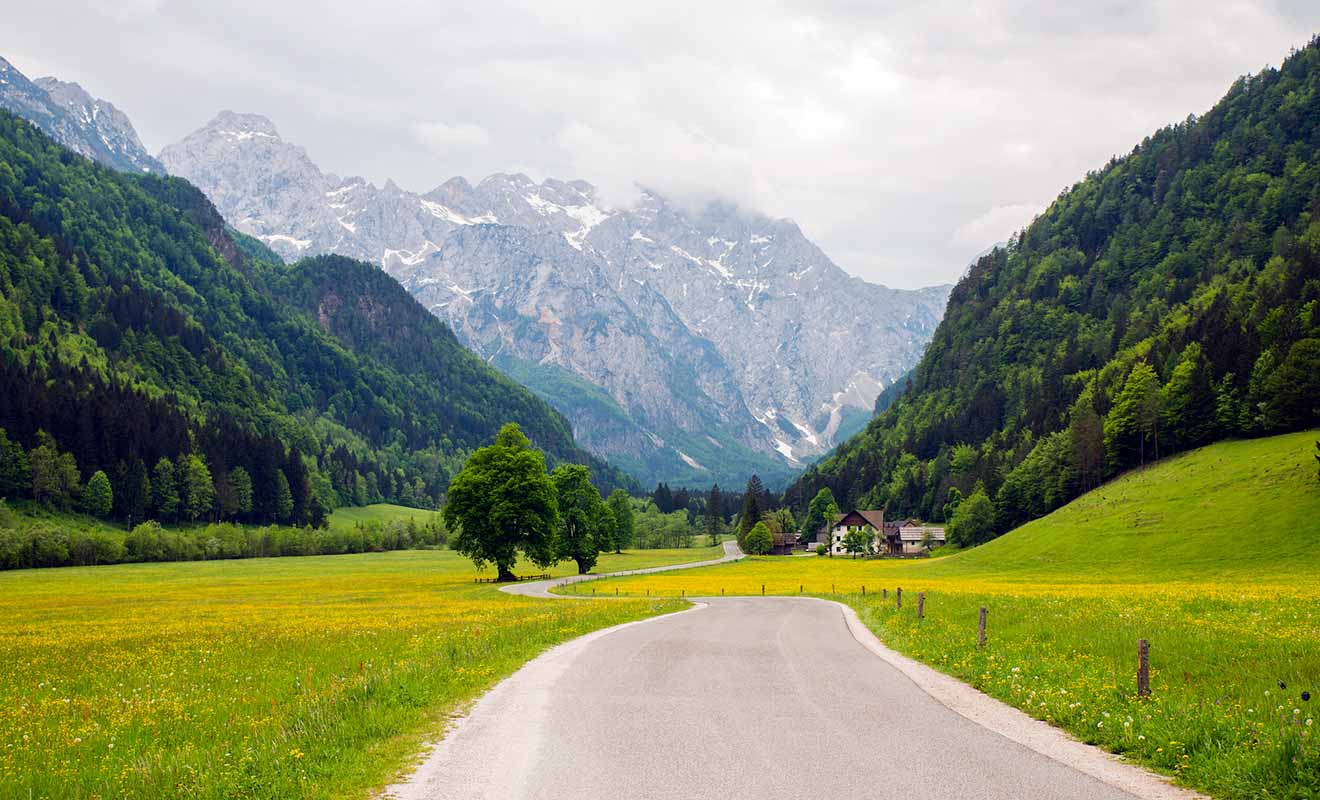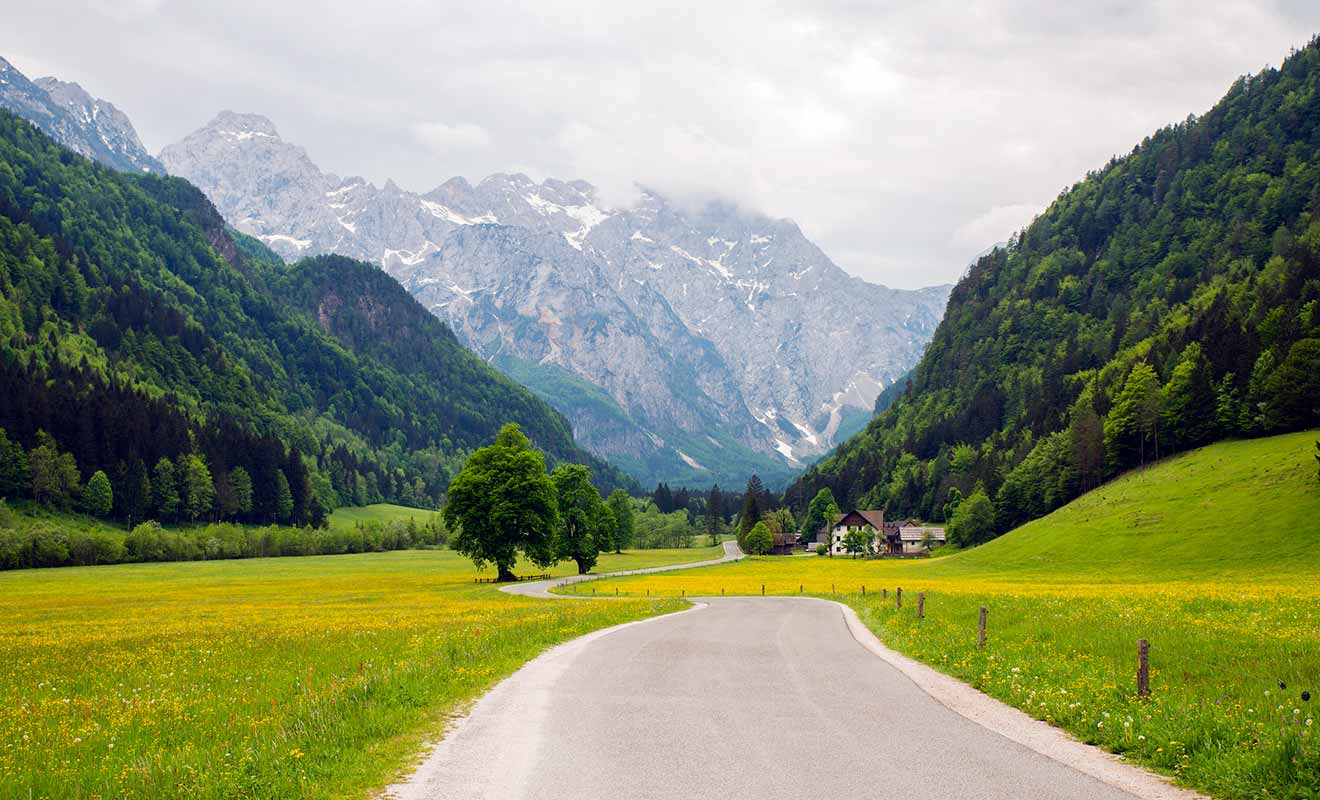 One of the best Ljubljana day trips, though a bit off the beaten path in Slovenia, the Logar Valley has everything you want when you go hiking: amazing trails, great waterfalls, and wonderful mountain views!
5. Lipica and the Coastal City of Piran
This stunning medieval city by the Adriatic Sea is a must see in Slovenia! With its romantic streets and beautiful fortress, you shouldn't miss it. Even if you have just a day, you can book this 9.5-hour tour that will take you to discover the towns of Piran, Izola, Portoroz and Lipica, the Medieval Coastal gems of Slovenia! You'll be taken to and from to Ljubljana on the same day!
6. Maribor
Being the second largest city and a big university town, maribor is one of my favorite recommendations in Slovenia. As pretty as Ljubljana and definitely with way fewer tourists, Maribor is the place to go if you'd like to go skiing or taste some good Slovenian Wine!
7. Zagreb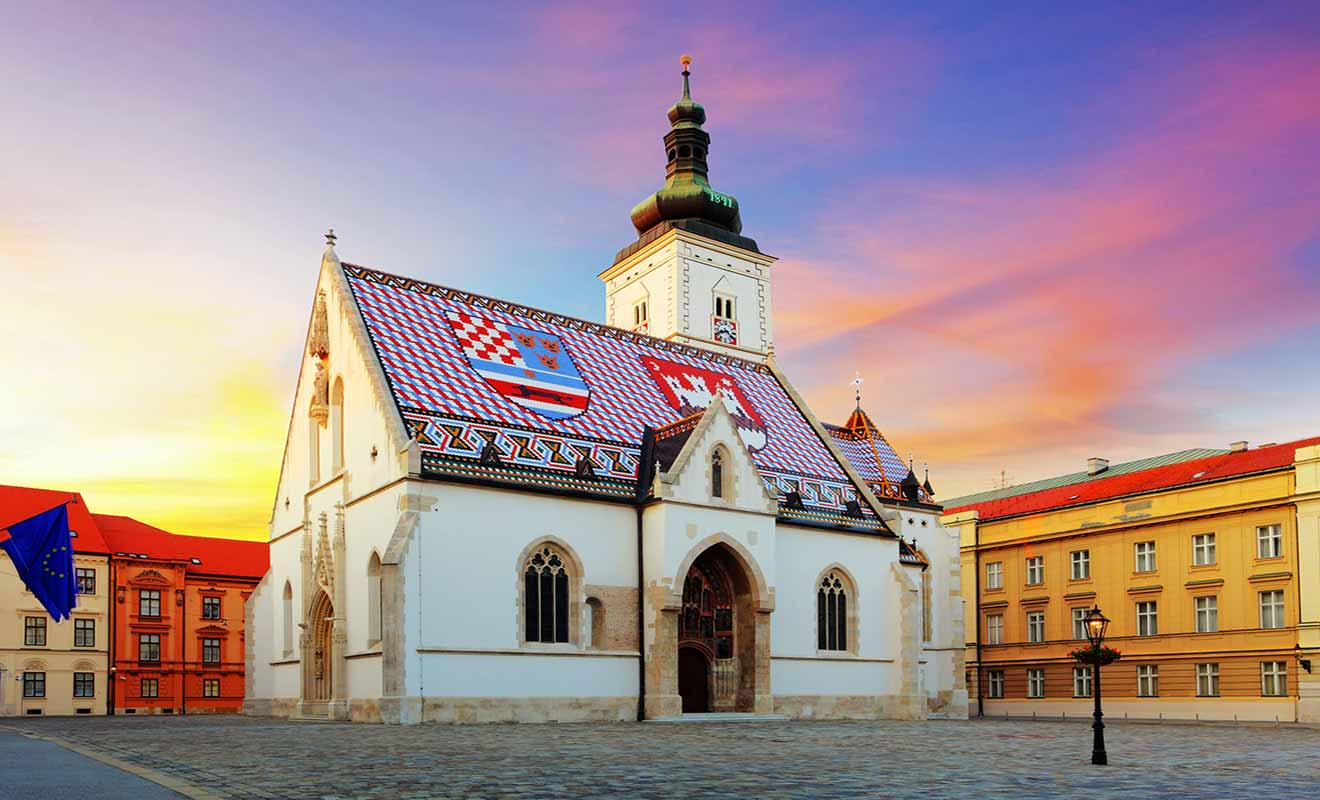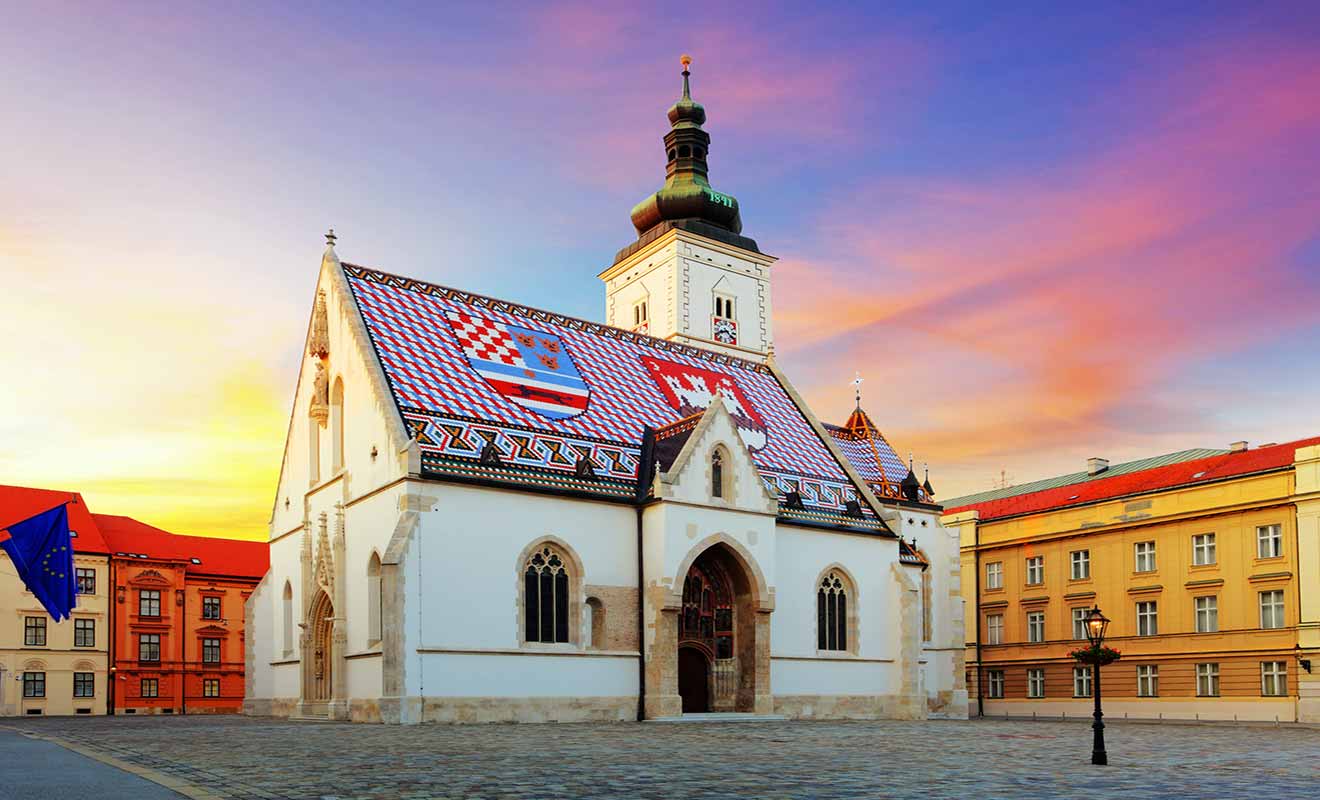 Visiting two different countries in the same trip? Yes please! That's the advantage of being based in Ljubljana, you can even visit another country's capital such as Zagreb, the capital of Croatia, and get home to Ljubljana for bedtime! It's literally less than a 2-hour drive to go from Ljubljana to Zagreb and you can tell your friends you've been to Croatia, how's that?!
Useful Information about traveling to Ljubljana
Hotel recommendations for Ljubljana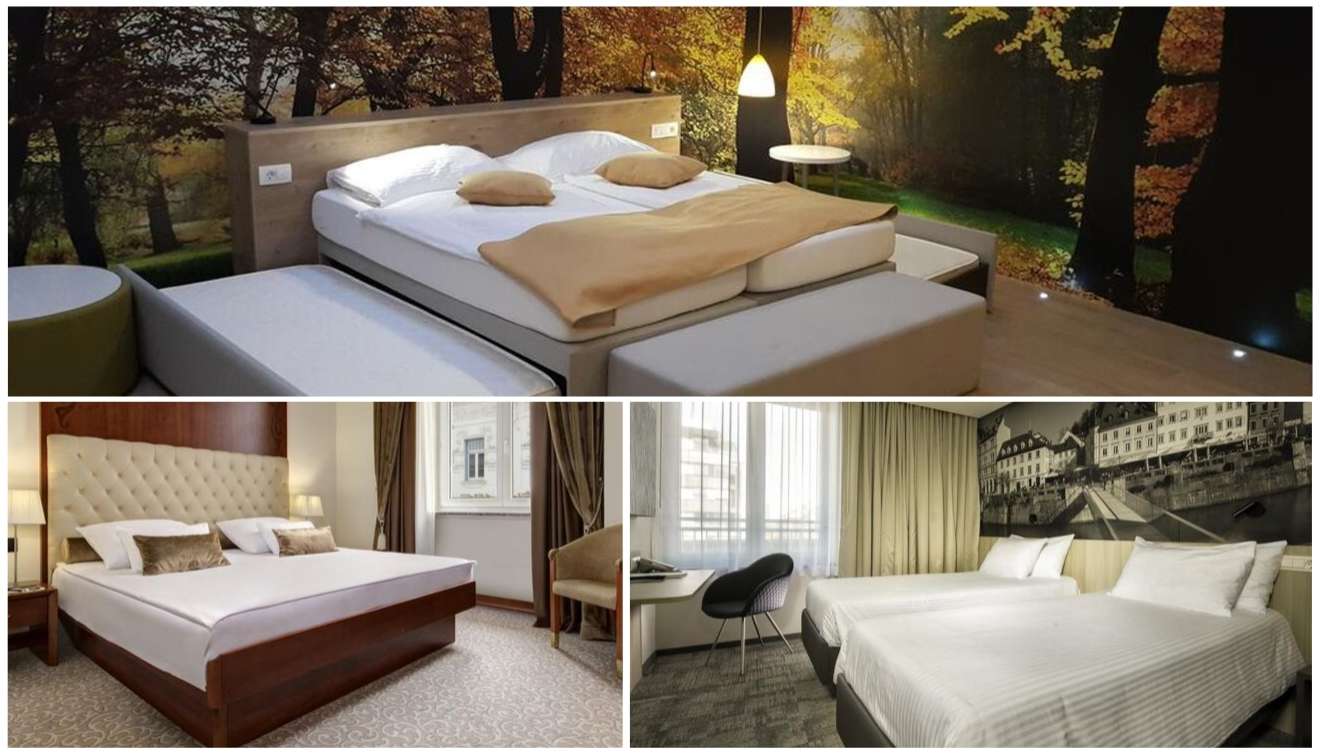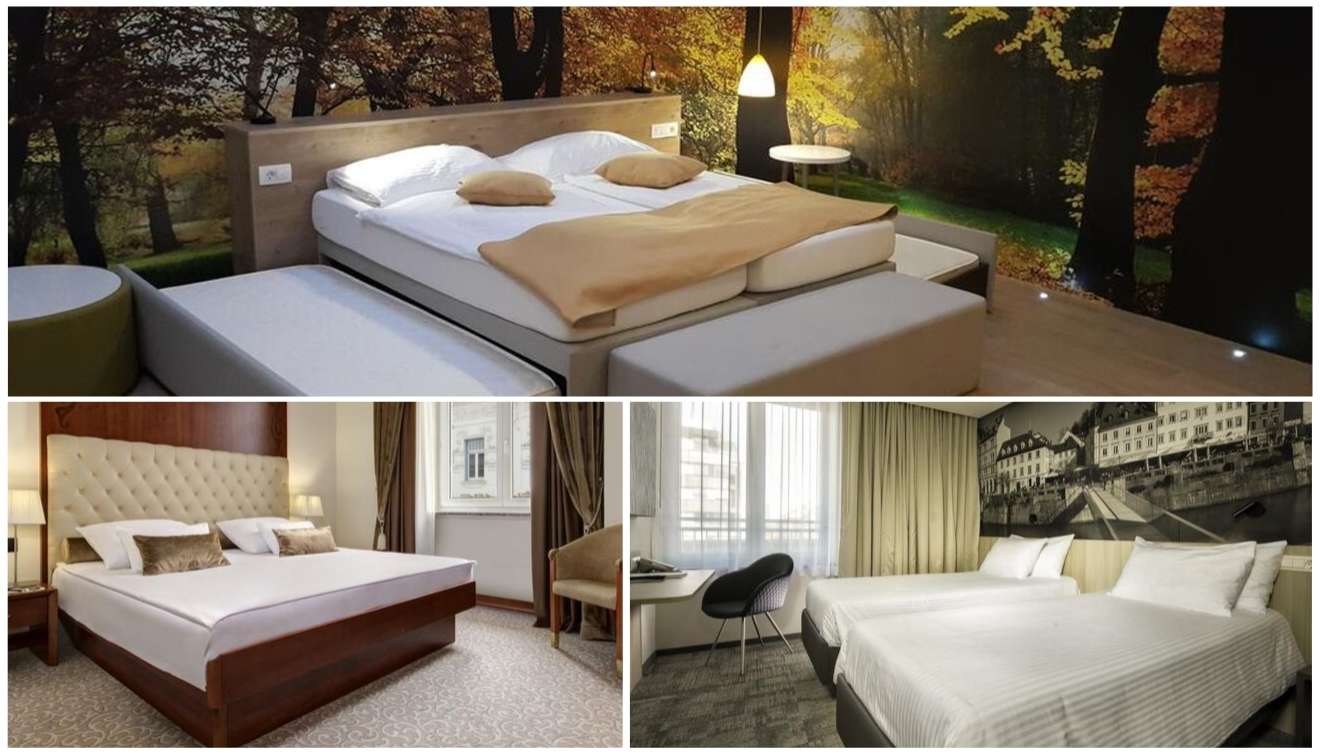 Another great question when heading to Slovenia (apart from what to see in Ljubljana) is where to stay in Ljubljana. That is why I have created the list below; it includes the best hotels in Ljubljana, with Ljubljana accommodations ranging from luxury to budget!
Luxury (230€ and up): Grand Hotel Union Ljubljana, one of the best hotels in Ljubljana's city center, is home to breathtaking views and its époque design will make you fall in love with it at first sight. Hotel Cubo is is the definition of luxury and good taste. Past guests have pointed out their fantastic cuisine and highlighted how well the staff is interested in making your stay there perfect.
Middle (between 90€ and 135€): City Hotel Ljubljana is the go to place for hospitality and excellent service. Guests have been impressed by the fact that they let you use their bikes to explore the city. Hotel Lev will offer you a breath of fresh air as it has views of Tivoli Park and also the city centre.
Budget (up to 90€): Hotel Emonec's room design is based on wood and it has been rated as an excellent spot for those who want to explore the city on foot. Hotel Florjančkov Hram is for those who want to experience cuisine made with fresh local products. Past guests have stated that hospitality was a rule of thumb there.
Transportation in Ljubljana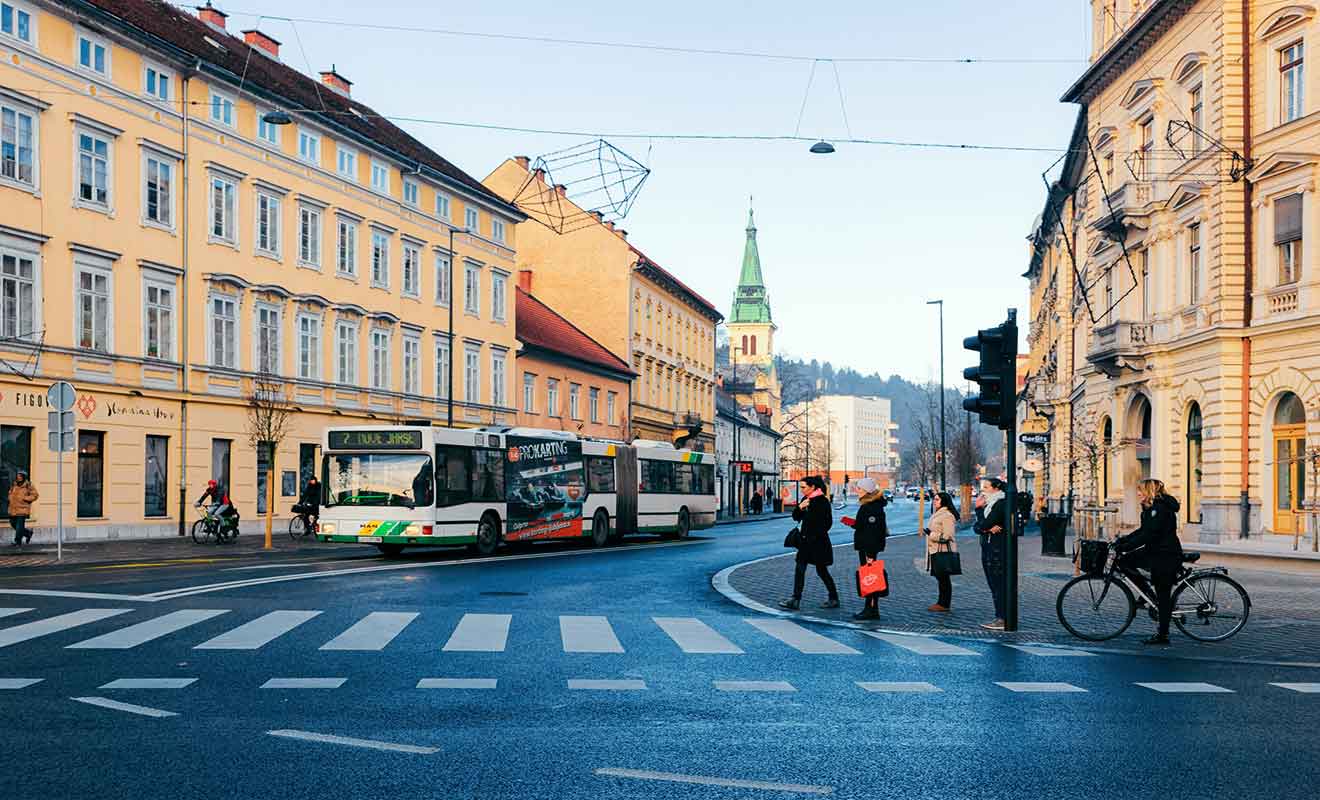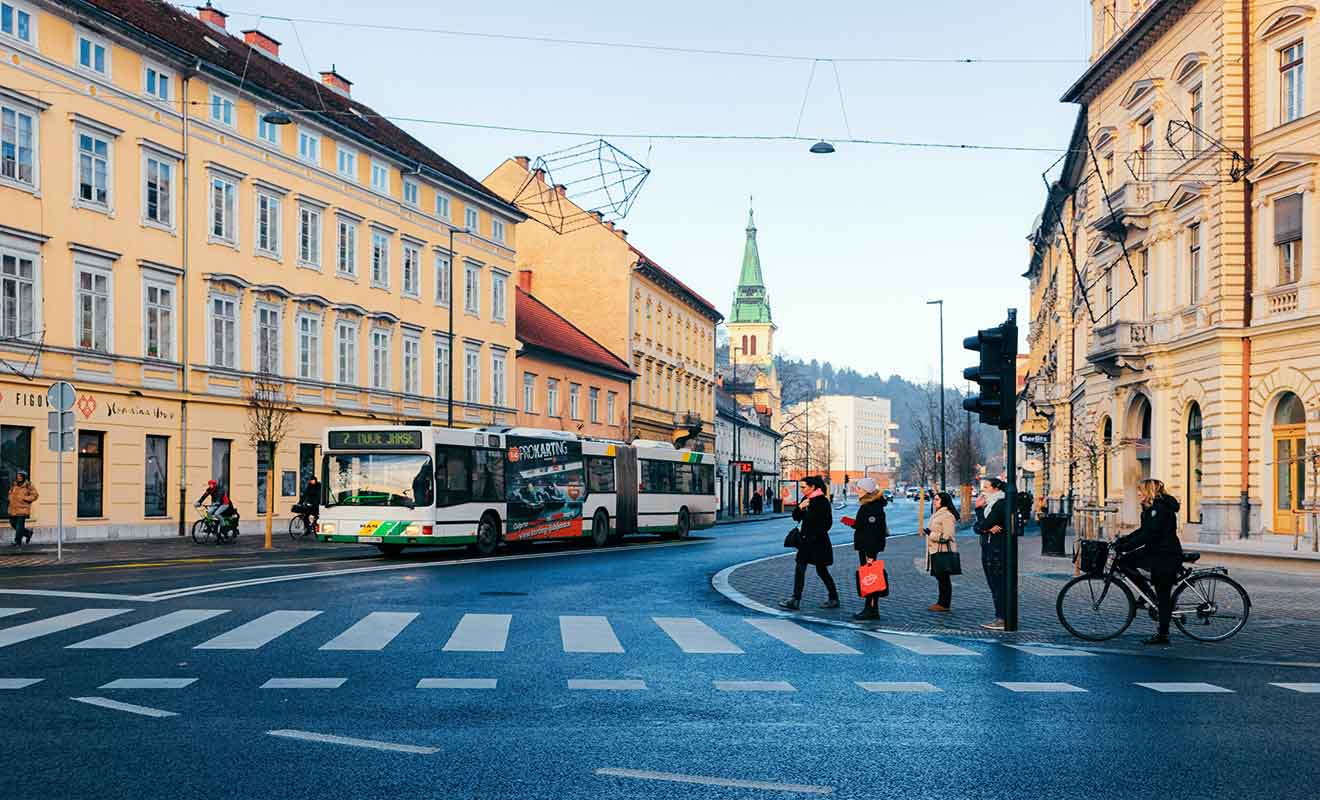 Slovenia being the 2 million person country that it is, you can easily guess that Ljubljana is really not that big of a capital (around 300,000 people live in it). This is great news because it means that it is easily walkable or rideable, which is, at the end of the day, the best way to see any city!
However, if you have eaten too much Slovenian food or would like to reach a place that is further away, you can always choose the following modes of transportation.
NOTE: There are no trains or subways within the city, as there's not really a need of it. In my opinion, it's a bit of a shame, I love a good Central Europe tram!
Bus
The Ljubljana city buses are a very new and efficient mode of transportation. To use them you just need to purchase an Urbana card, top it up and get on the bus!
You can purchase your Urbana card at any tourist office or even at tobacco shops for around 2€. Each ride is around 1.30€, but you can hop on and off of the bus for a total of 90 min without extra charge!
NOTE: If you need to check timetables, you can do so at each bus stop!
Bikes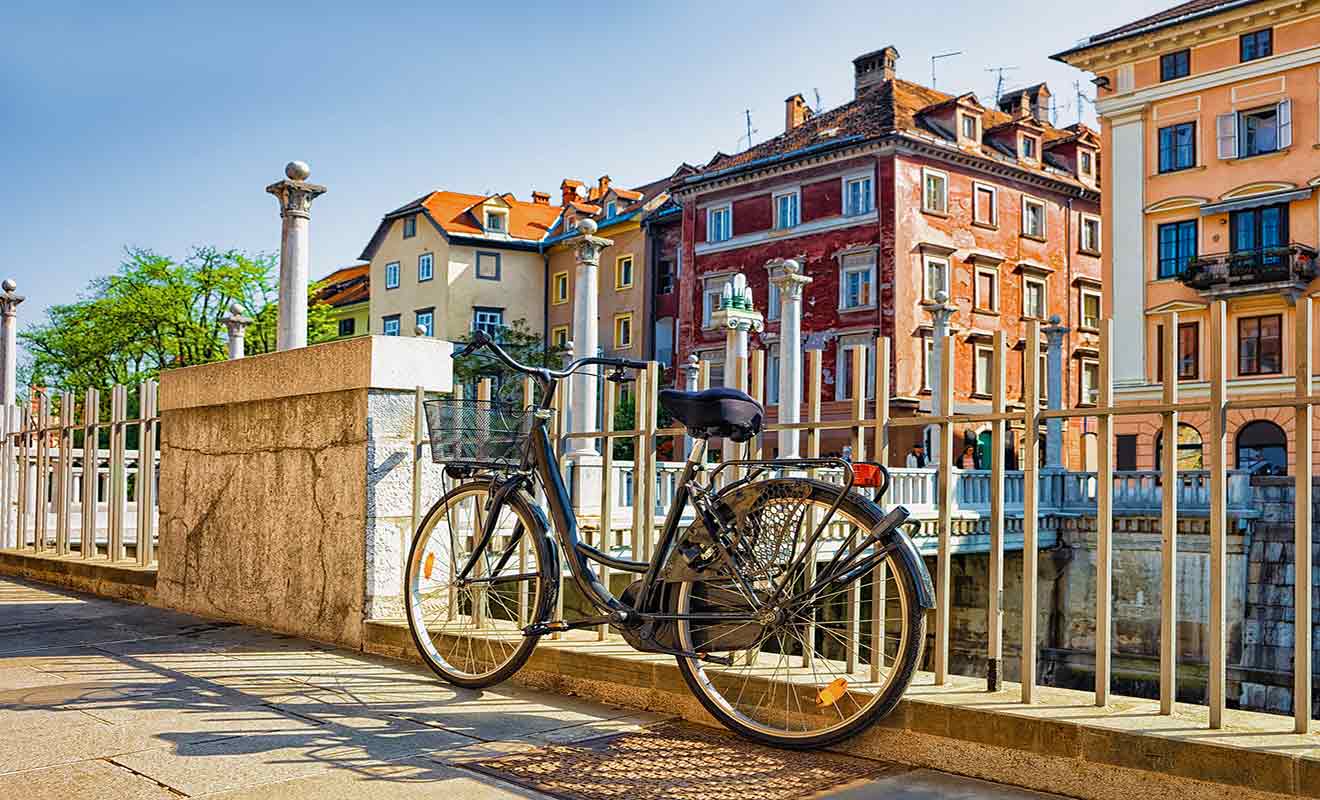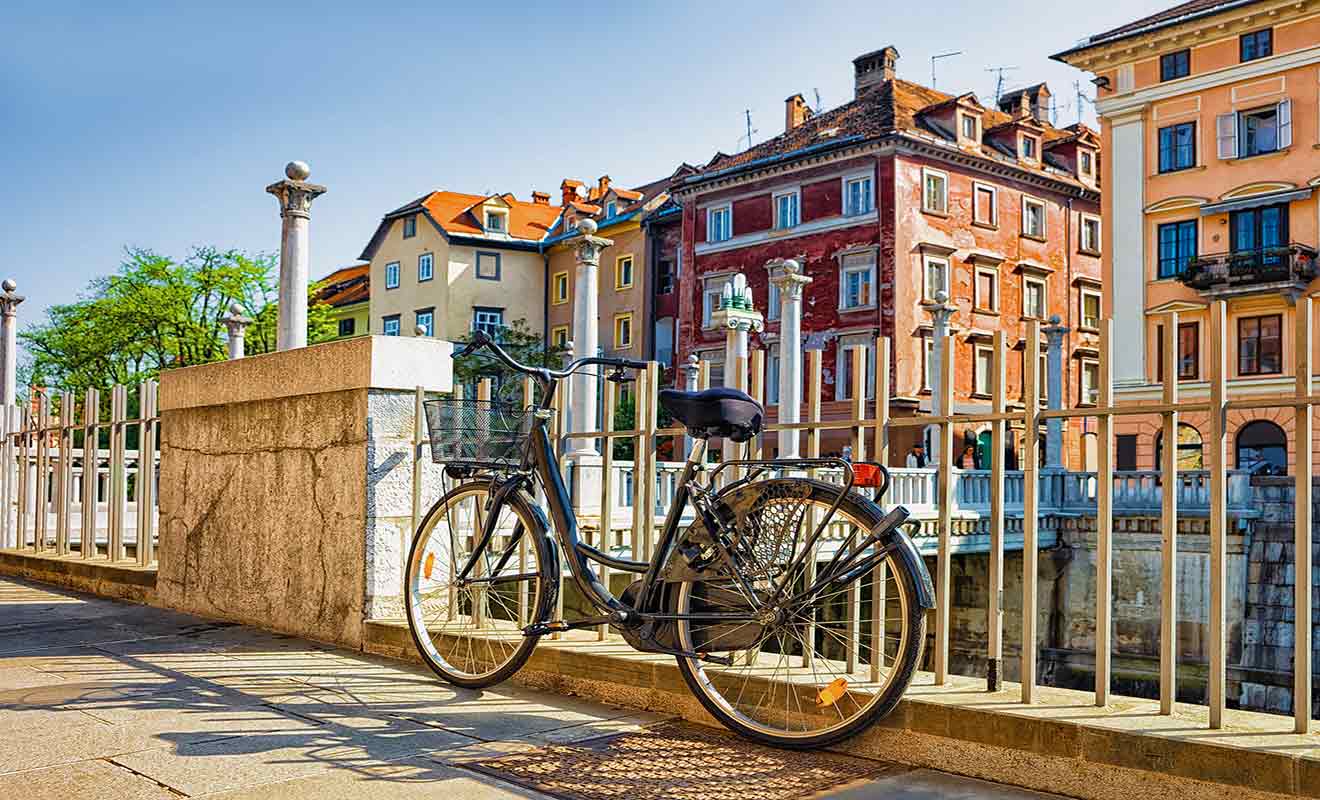 Riding your bike around Ljubljana is an amazing experience and a great way to explore the city. You can find bike lanes pretty much everywhere and you can even see special traffic lights for them! Why not try a bike riding sightseeing tour around the city like this one?
Taxis
Another reliable mode of transportation is the taxi. You can either flag them down on the street, have your hotel call you one or book them in advance.
The starting fare is usually around 1€, and then they can charge between 0.90€ to 1.50€ per KM, depending on whether you booked it in advance or not, being cheaper when you book them in advance.
Food to try in Ljubljana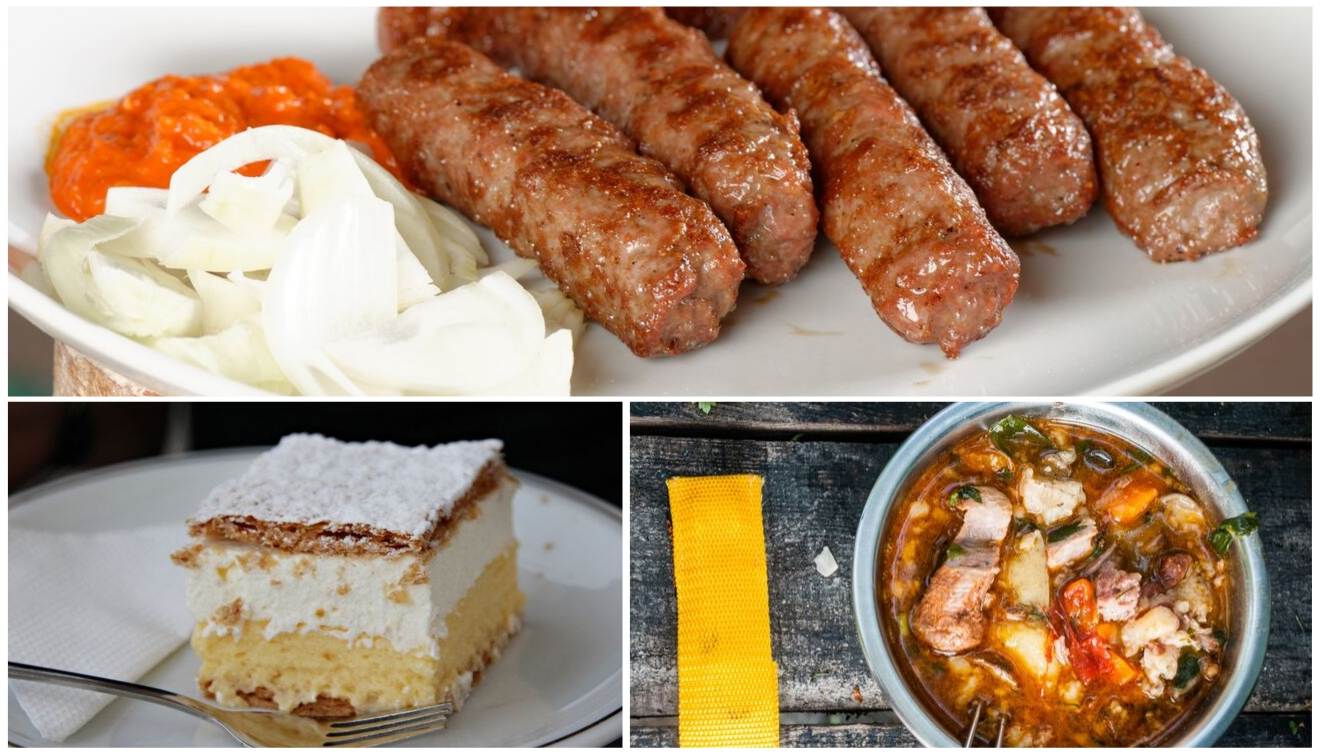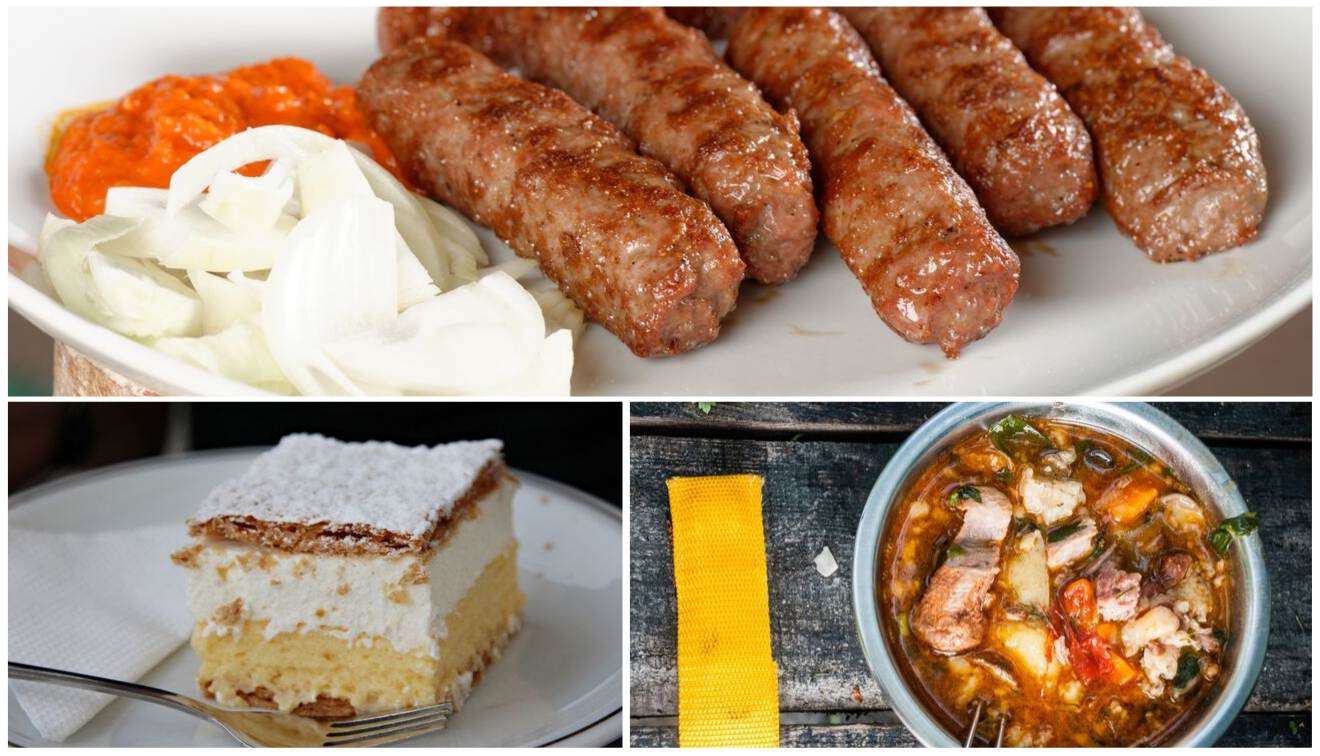 You probably haven't heard much about Slovenian food as it is such a tiny country that it ends up overshadowed by its neighboring countries' culinary delights. However, what can you expect (food wise) from a country that shares borders with places such as Italy and Hungary if not a culinary treat?
Keep reading, and keep this checklist in hand when exploring Ljubljana. I always make sure I have checked out all the traditional food before I leave a place!
Cevapcici sausage – served with sliced onions and fresh bread;
Štruklji – a bread dough rolled out, usually filled with cottage cheese (or herbs like tarragon, or walnuts if it's a sweeter version), then rolled into a roulade and wrapped in cloth to cook.
Prekmurska gibanica – a very popular Slovenian pastry filled with cottage cheese, walnuts, apples, you name it! After this one, you'll be rolling back home.
Bograč – traditional meat stew, very similar to Hungarian goulash, it will make you drool like a baby!
Bled Cream Cake – Save this one for when you visit Lake Bled on a day trip. It's made of cream, custard and dough and will be the smoothest cake you have ever tried!
If this is way too much for you to plan out, why not try them all at once? Yes, it is possible! Try this delicious food tour where you can taste all the best Slovenian dishes; I can recommend this 3.5-hour food and wine tour!
Where to eat in Ljubljana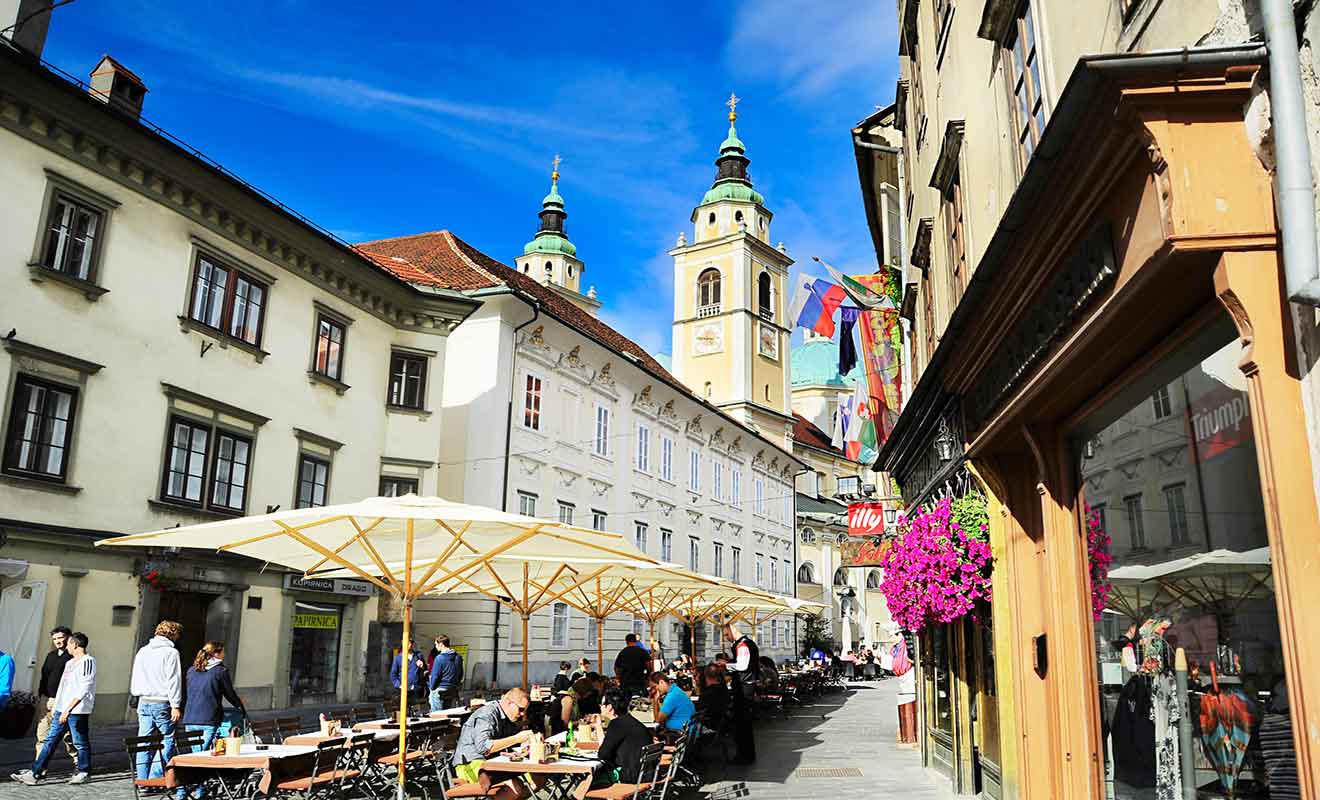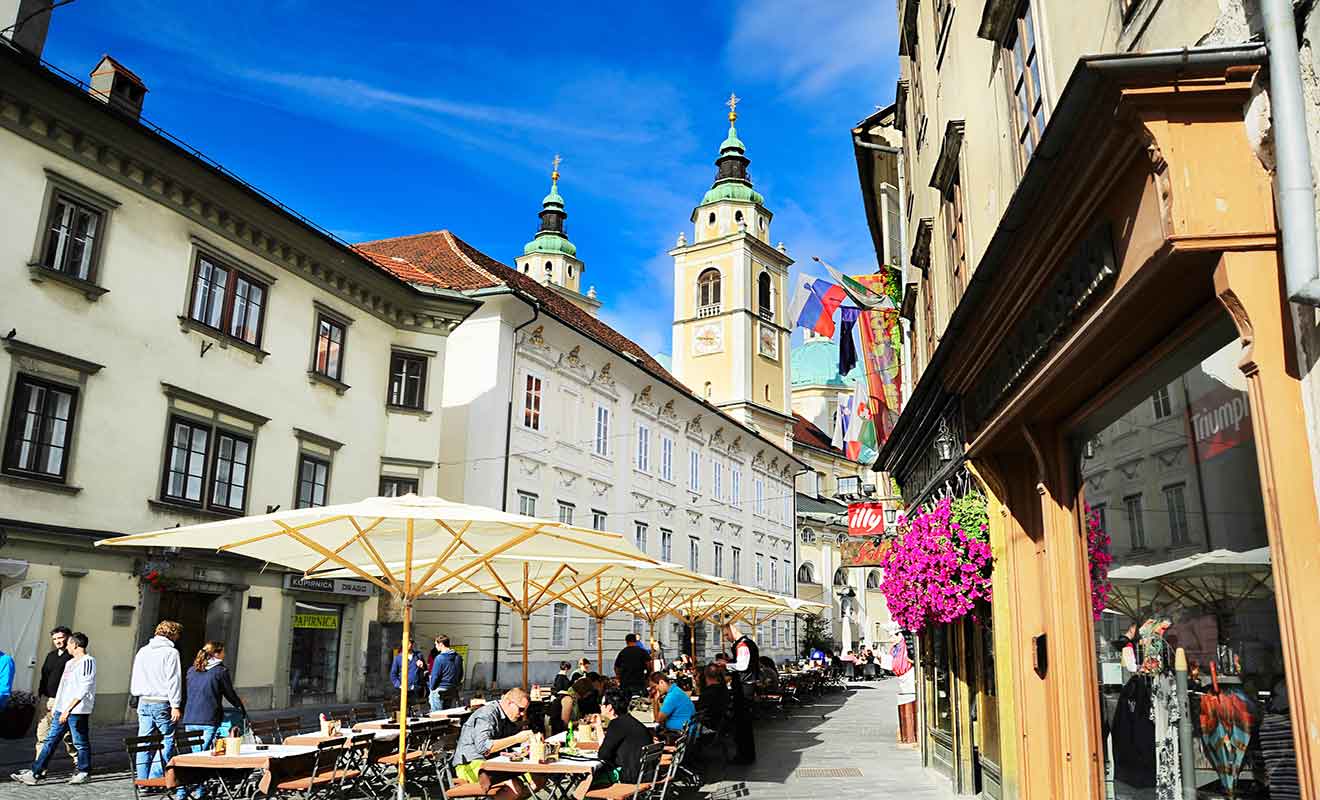 Ljubljana is home to some very high-end restaurants which means the restaurants are set at a very high standard and so is their food. When travelling, we want to minimize our decision-making time so I have chosen the best restaurants in Ljubljana for you to check out. See the list below for the yummiest of Ljubljana's restaurants!
How to get from the airport to the city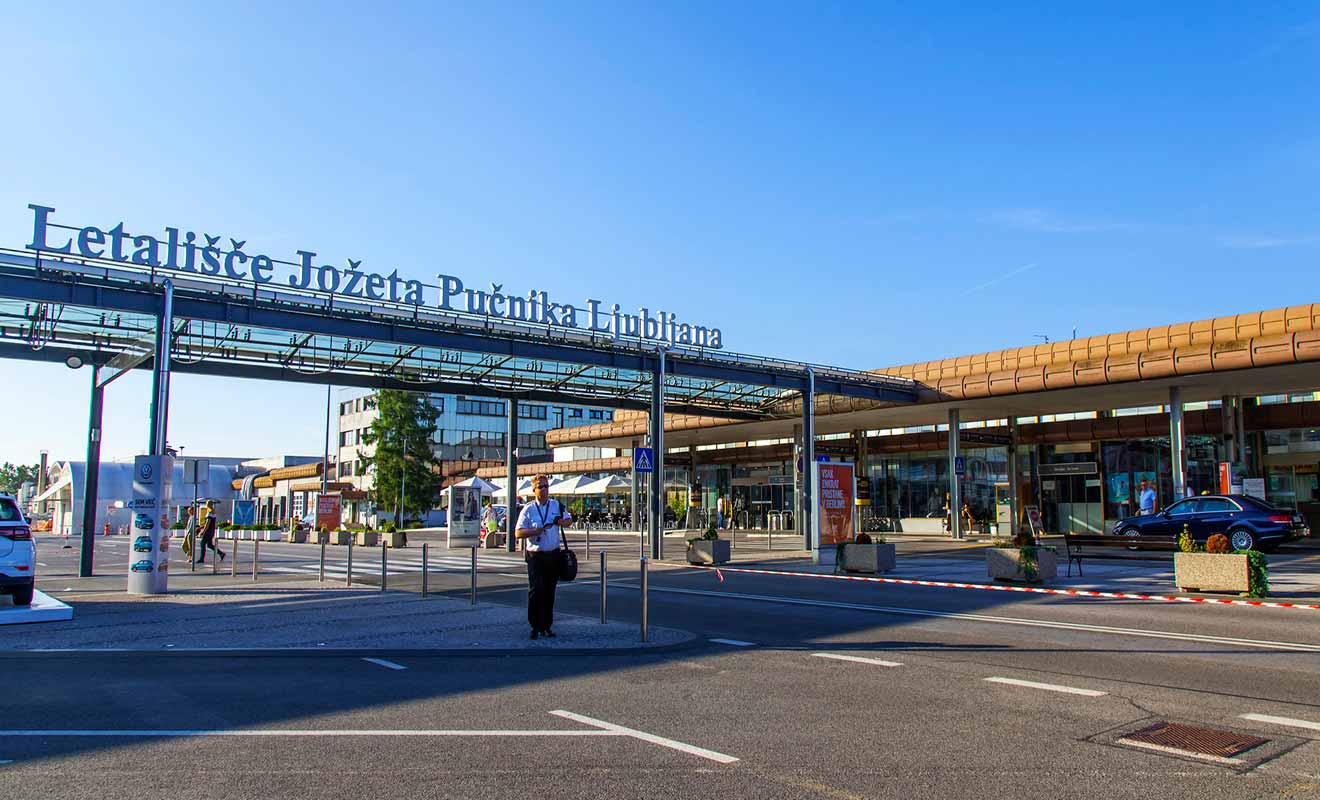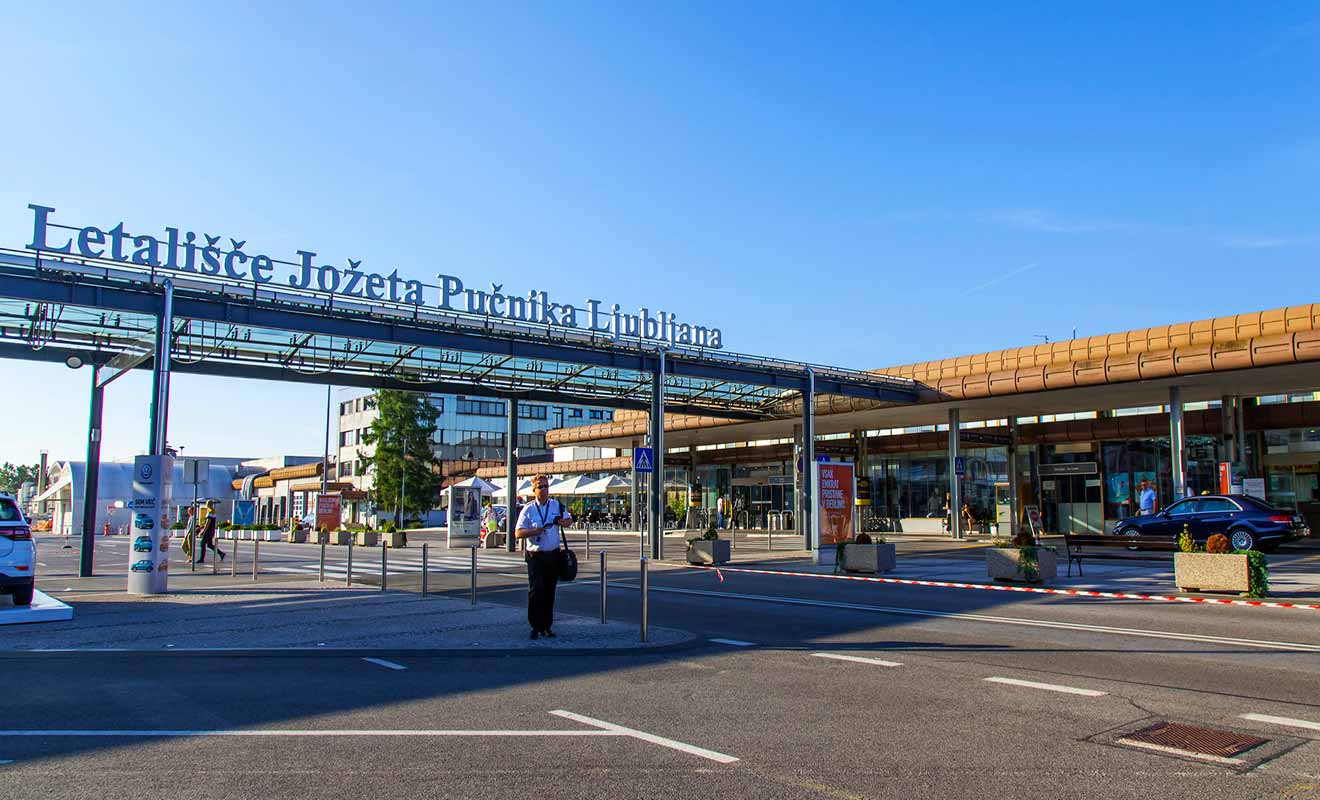 Ljubljana Airport – Jože Pučnik (LJU) is the one and only airport in Ljubljana and it is 26km away from the city center. Even though it is fairly far from the city (by Slovenian standards), thanks to a range of public and private transportation it is quite easy to get to Ljubljana from there!
Keep reading to find out the many ways to travel between your accommodation and the airport:
By bus
There is a public bus that travels to and from the airport and Ljubljana city center every hour for approximately 4€. It travels from 5am to 8pm, however there's bad news- because it is a public bus, it does take around 50 min to make the trip!
By taxi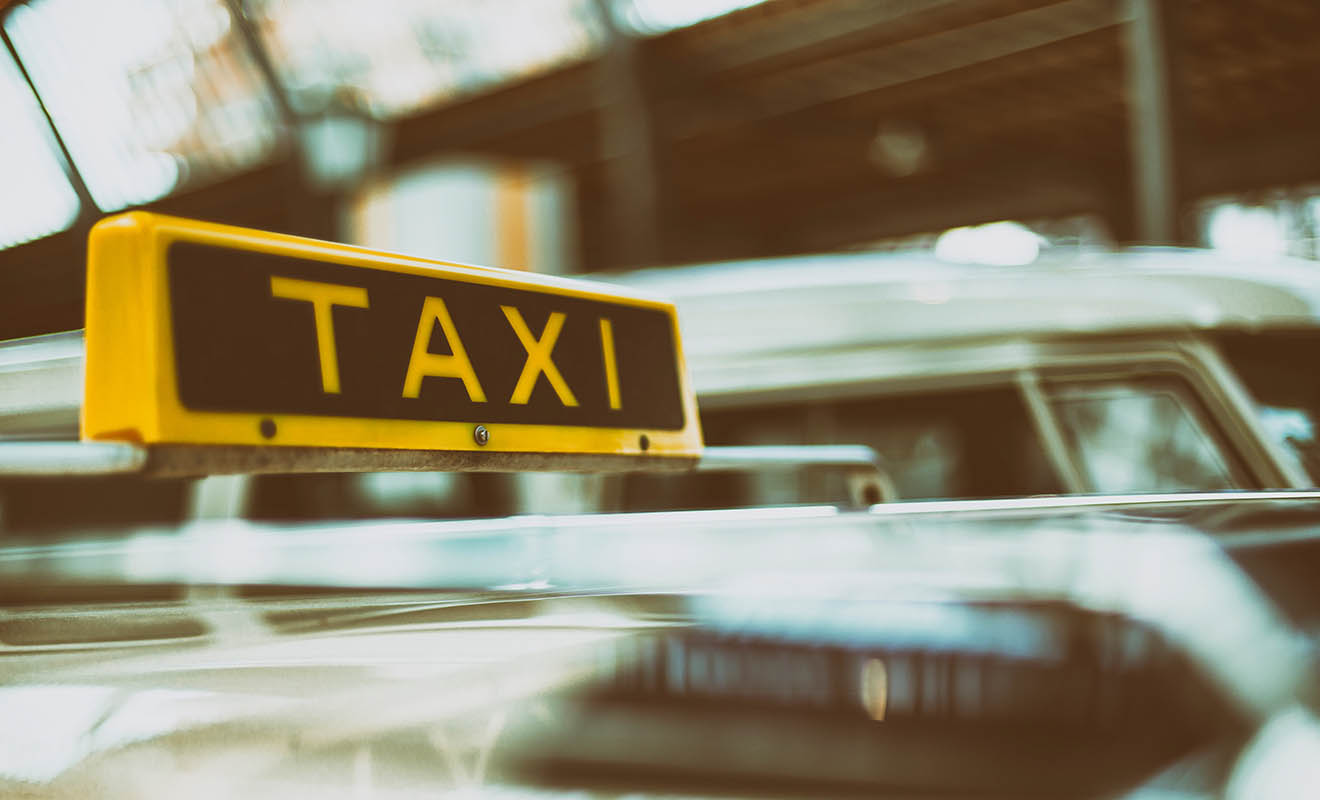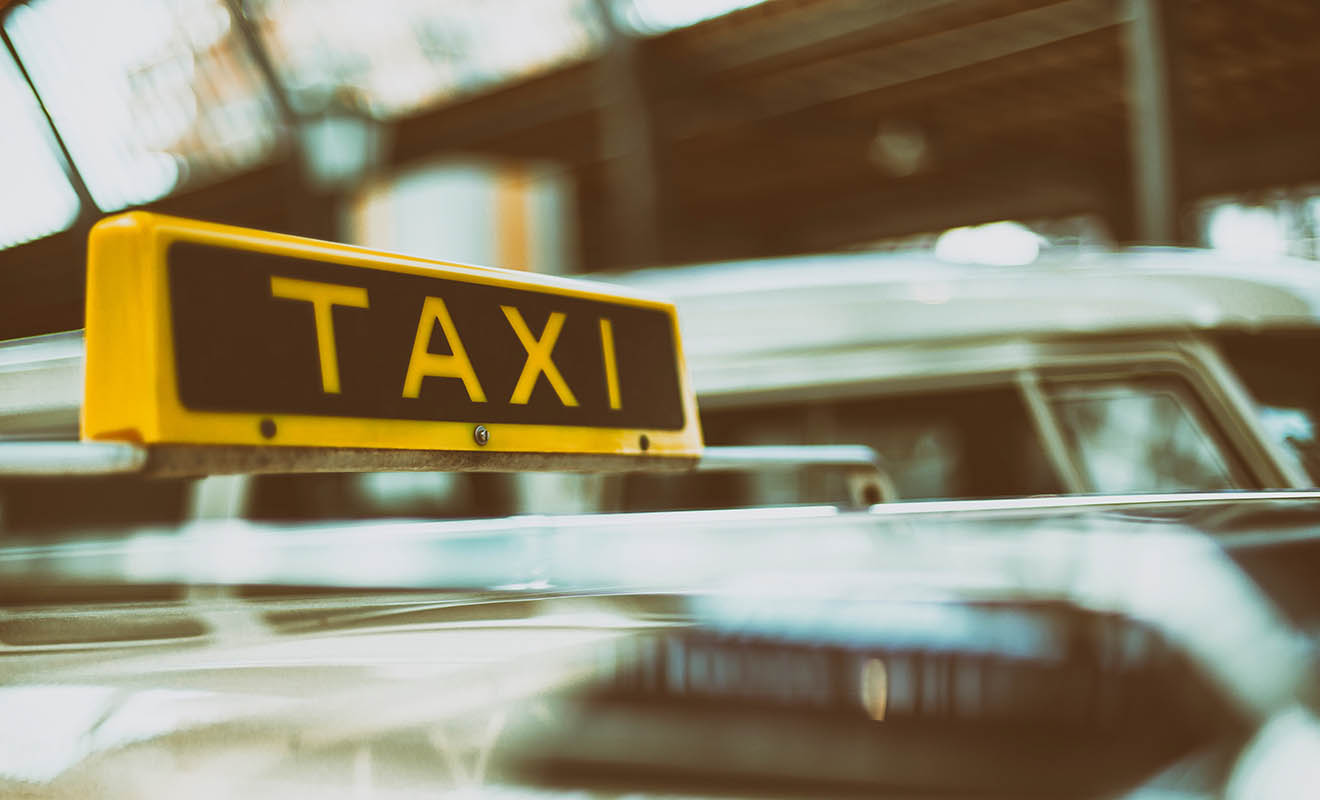 Taxis are located at the exit of the airport and they cost between 20€ to 35€ to get to the city center. This is a good choice if you're travelling with friends as you'll be able to share the cost. Even though they rarely scam you, make sure that you agree on a fare before you get in!
By airport transfer
Another good choice when travelling with family or friends is the transfer. You can book it here or get in touch with your hotel to help you with the process.
It's a great way to get to your accommodation, as they'll be waiting for you and you will be able to get to your hotel as soon as you land!
Slovenian SIM cards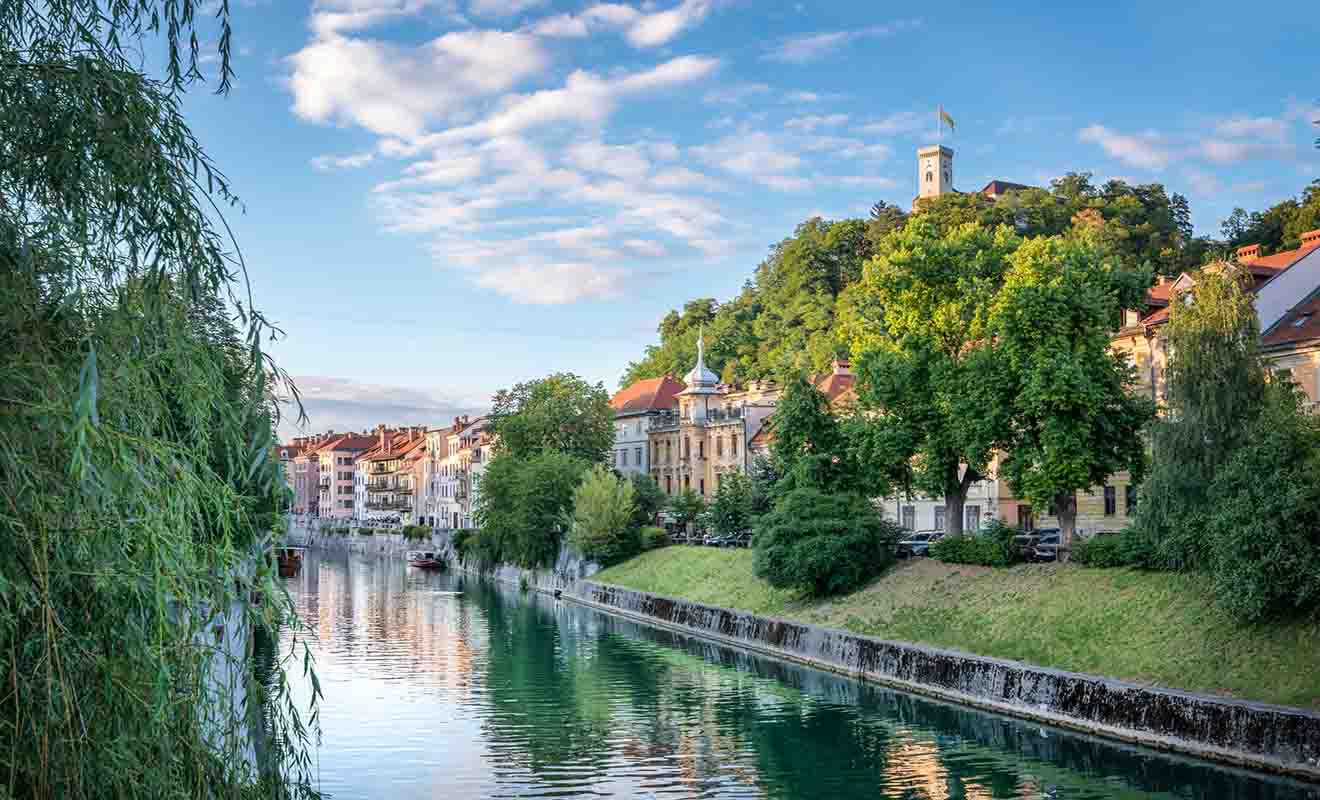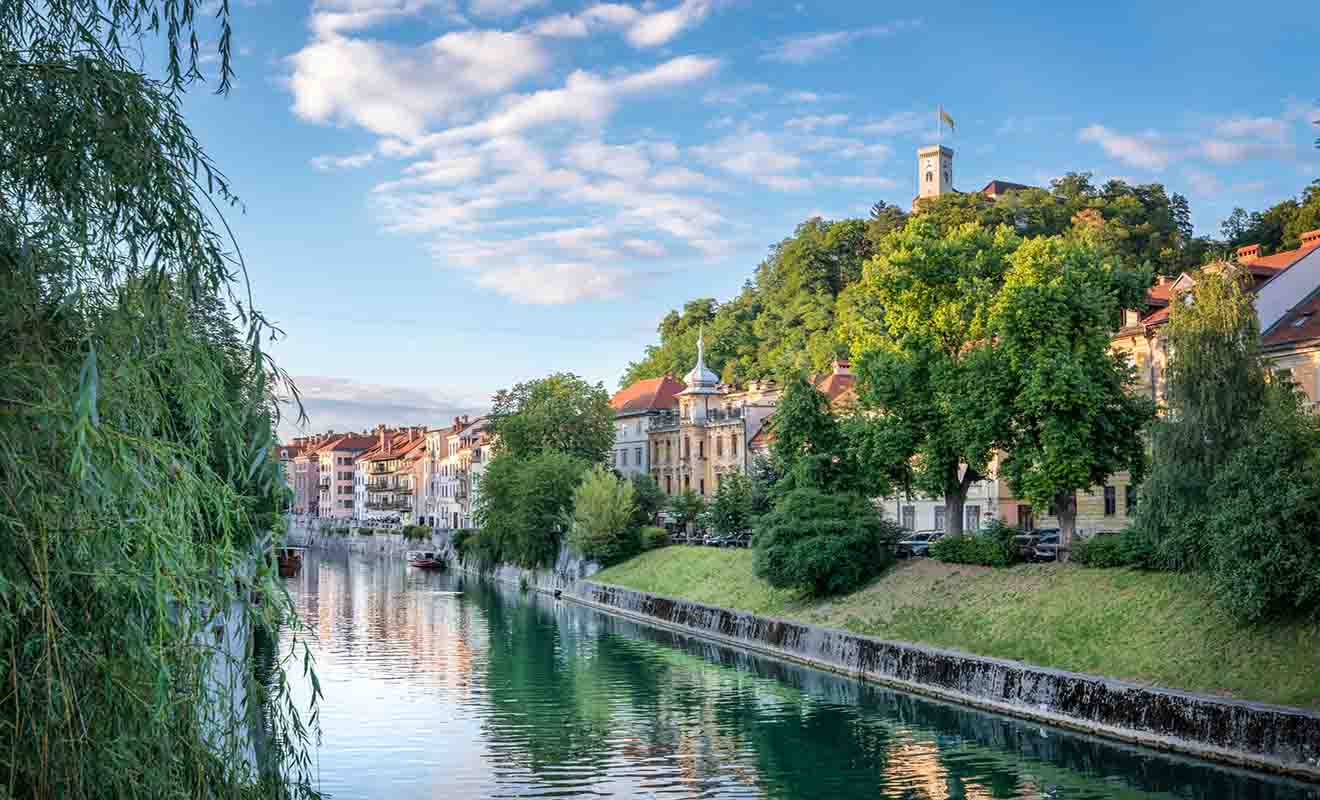 Even though Slovenia is a relatively small country, it is so very pretty that chances are you will want to stay as long as possible! And being the hiking mecca that it is, it is very handy to have a phone with a working SIM card. That's why I have done the research for you in this case and have chosen the best prepaid plan for your trip!
NOTE: Bear in mind that if you're from a European country, you're very likely to have the same roaming charges in Slovenia as in your home country so there won't be a need to buy a SIM card; do however check with your phone provider!
Because you will likely be travelling around Slovenia and not just Ljubljana, I have chosen a network that covers most of the country the A1 network, which has a good value prepaid plan and the widest working network. For around 10€, you can get a 14GB prepaid card that will last you a month!
You can buy the A1 prepaid card at their store in Ljubljana's city center because unfortunately, there are no stores at the airport!
When to visit Ljubljana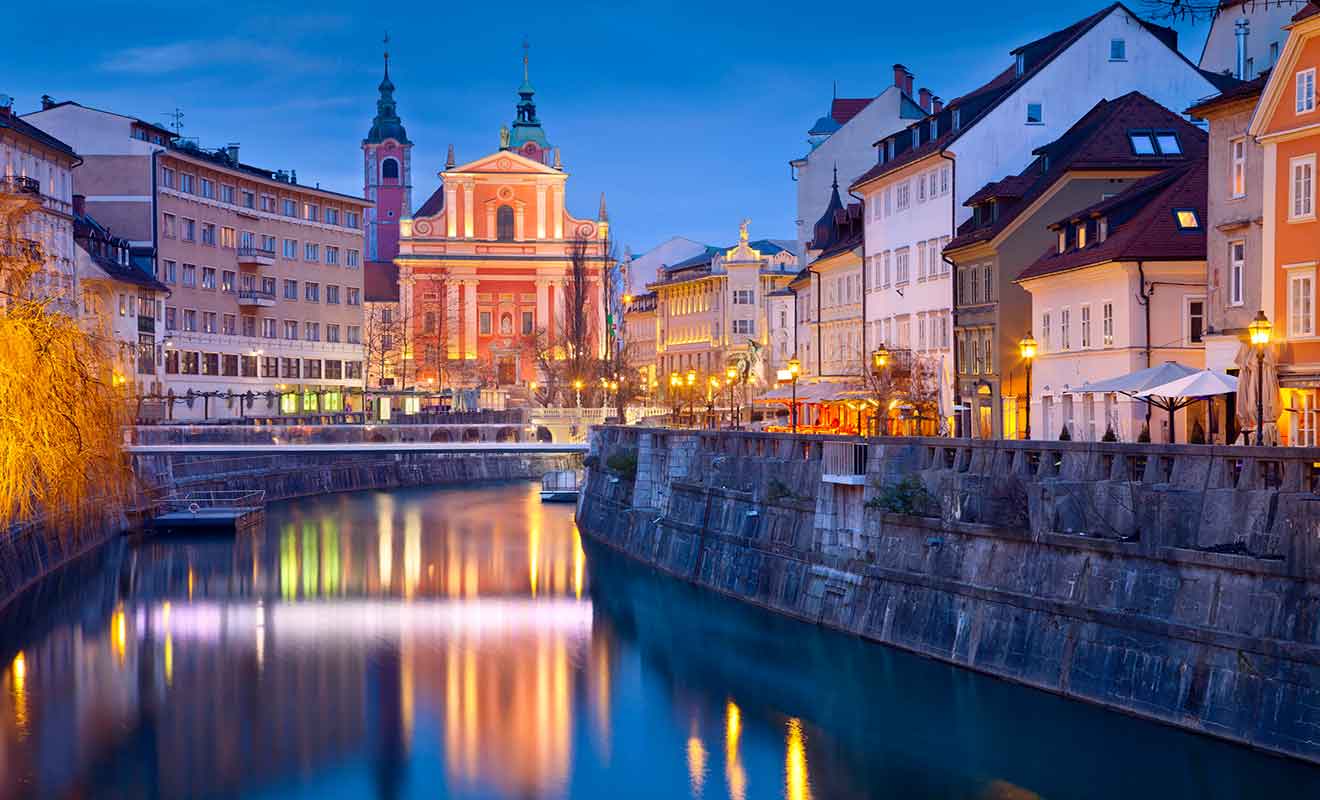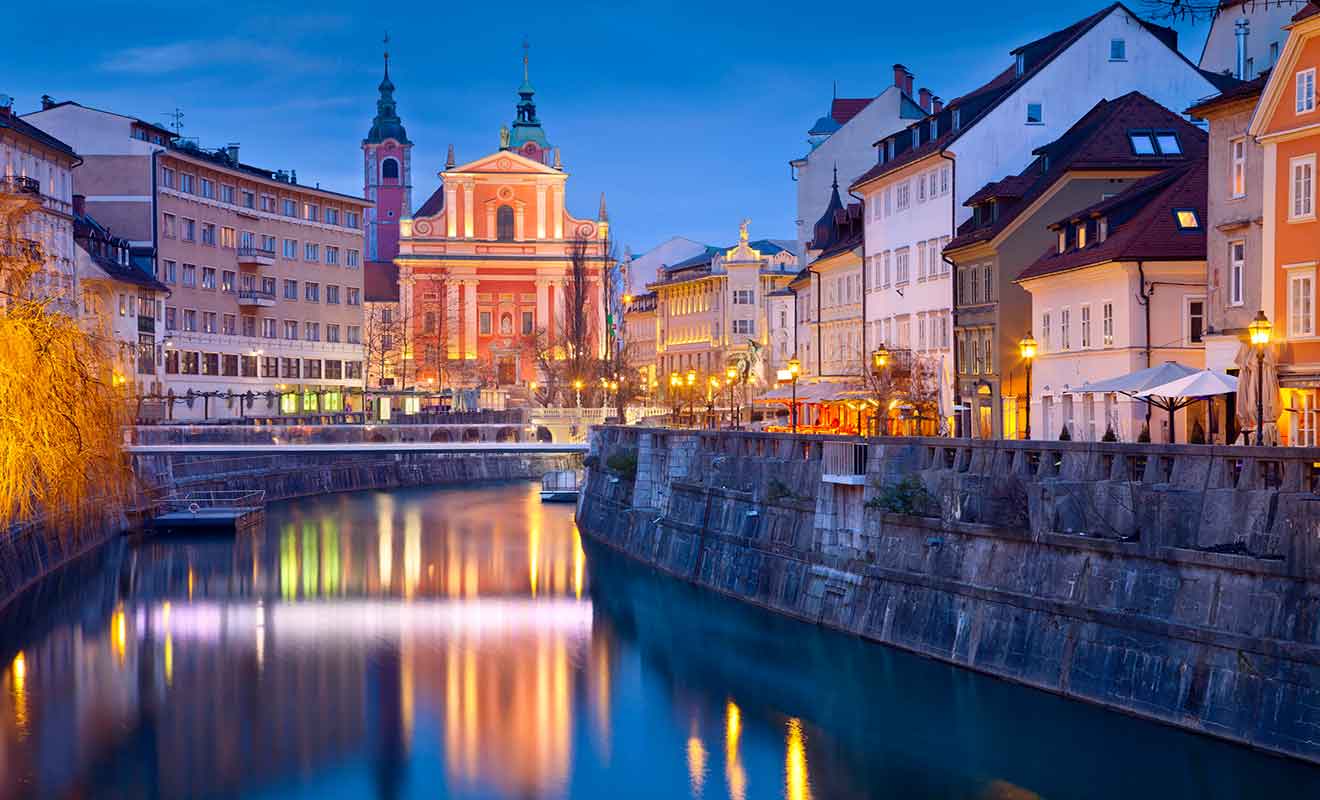 And here is where we reach our dilemma- should we choose the high season with good weather and a greater number of tourists, or the low season, with bad weather, cheaper prices and fewer travelers?
Well, my friends, this is really up to you. I am more of a low season and less people kind of girl. But in high season, which is from June to August, Ljubljana is not as crowded as other European destinations such as Paris or Barcelona. Visiting in winter is also pretty awesome, as it means that you'll be able to ski, which is actually really good fun! And Slovenia is a great skiing destination!
So, if you do love skiing and don't mind some coffee breaks to warm you up while in the city, make sure you head there during the winter months. On the other hand, if you are not interested in skiing and you'd like to hike and enjoy the city in warmer temperatures, head to Ljubljana during the summer months!
---
Conclusion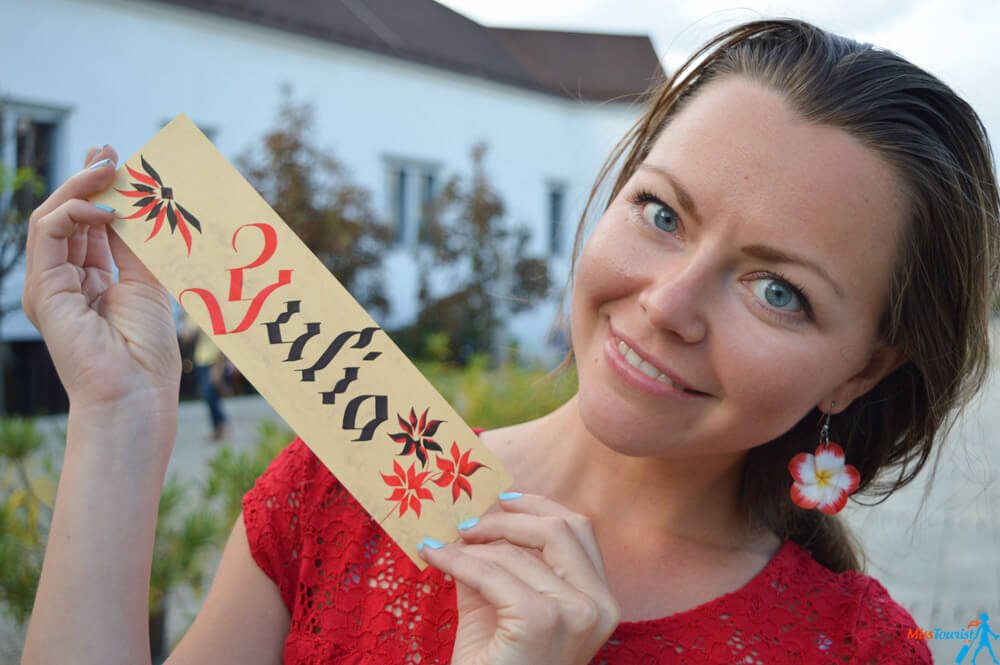 Slovenia, even though it is one of the most beautiful European countries, is really underappreciated! There are just a few countries in the world where you can enjoy such beautiful sights and culture clash in such a small area!
I totally recommend you visit Slovenia, and make sure you don't miss Ljubljana and Lake Bled, which are the main attractions in the country! But if you can head to one or two of the day trip destinations that I recommended above, then your Slovenia trip will be complete!
I hope you enjoyed reading this article as much as I enjoyed writing it! But I honestly hope that you enjoy your Slovenia and Ljubljana trip even more!
Thank you very much for reading this article and if you liked it, please share!
Have you been to Slovenia? Would you add it to your bucket list?
Yulia
---
Pin it for later!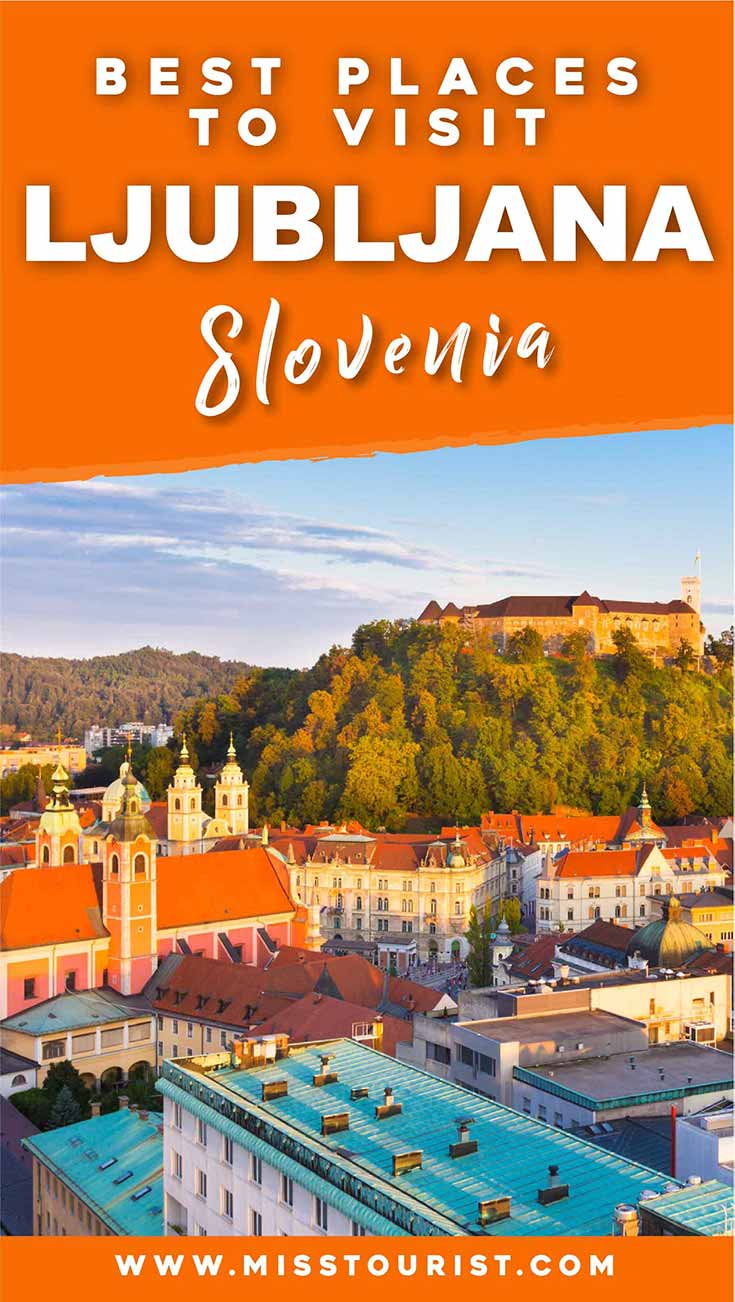 Pin it for later!