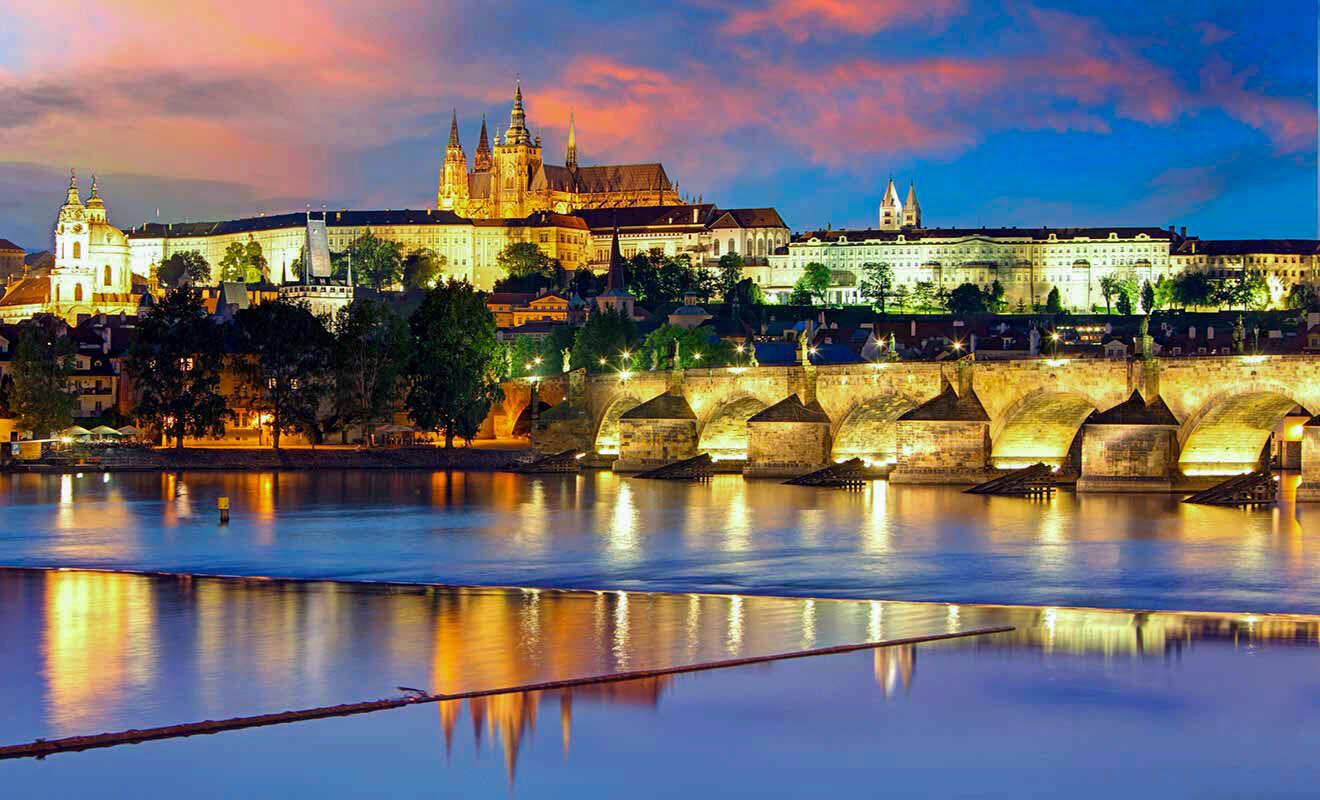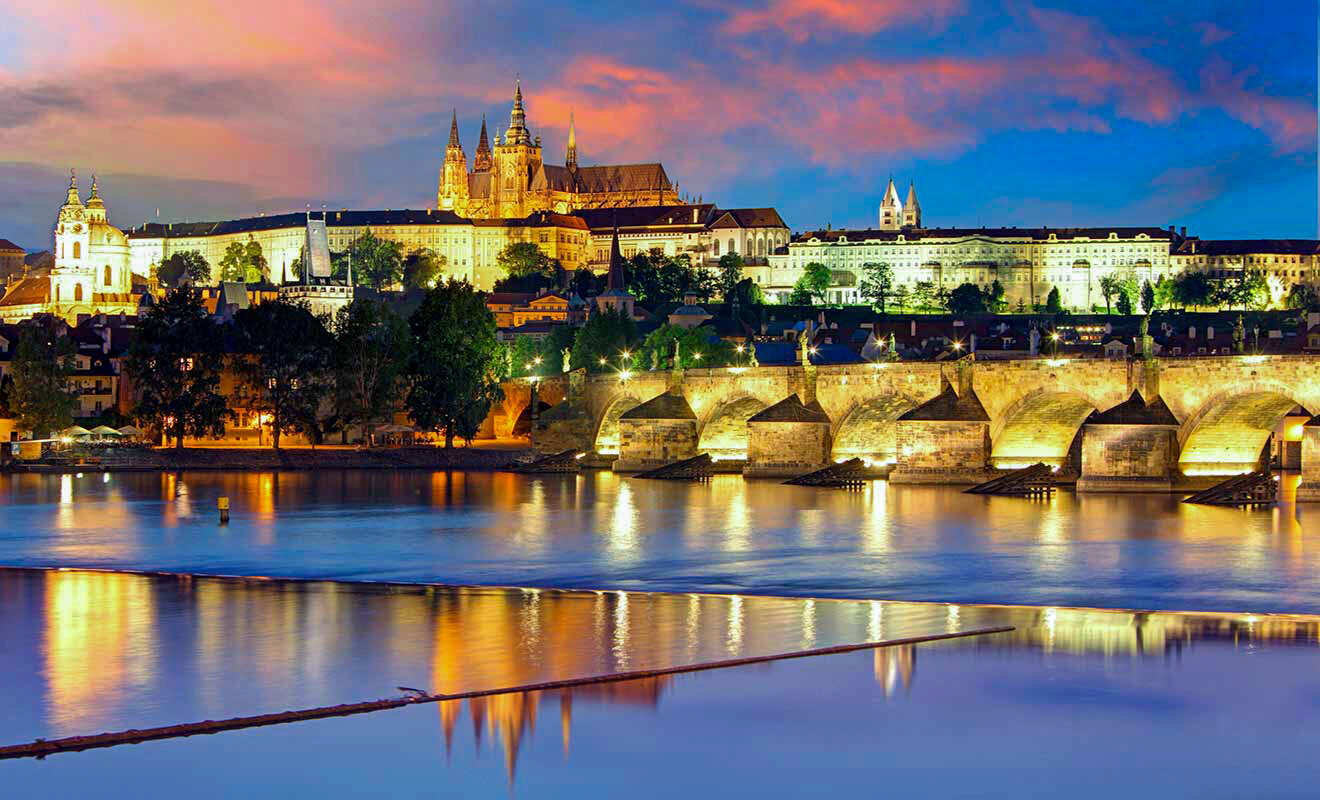 Hi traveler! Thinking about heading to Prague? What a fantastic idea, I must tell you! I've visited the city numerous times and fell in love with it more and more with each visit. Now I consider it my DUTY to share some useful information on things to visit and do in the city of a hundred spires!
If you have ever visited Prague, you know it is a beautiful city with a rich history. It is one of the most visited European cities, with approximately 8 million (!!) visitors each year. Considering that the population of the city is 1,3 mln people, tourism is definitely a big thing here!
Today, Prague is a city that still has its fair share of architecture from the Middle Ages and Renaissance, but it's also a thriving metropolis with plenty of popular attractions that draw people from all over the world.
Being a real city, Prague has a lot to offer travelers. Whether you're looking to party, discover its rich history, try its amazing beer, or simply explore, Prague will leave you with memorable experiences.
Now let's go make yours! 🙂
1. Admire the Old Town (and learn about it!)
NOTE: I am going to try to fit A LOT of info in this first section, so please read this part especially carefully, ok?
You will see everything described in 1.1, 1.2 etc if you go for a classic walking tour, but I will still outline the main Old Town parts below for those who will not do the tour (you should, I will even provide you with a free option!).
1.1 Take a walking tour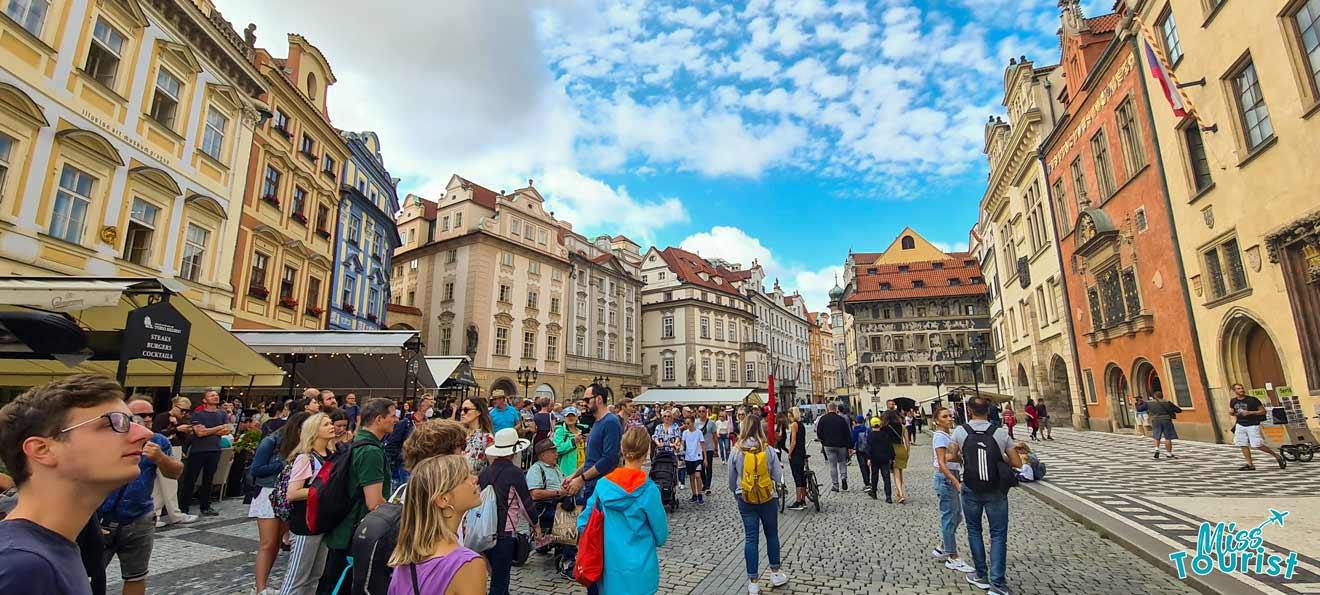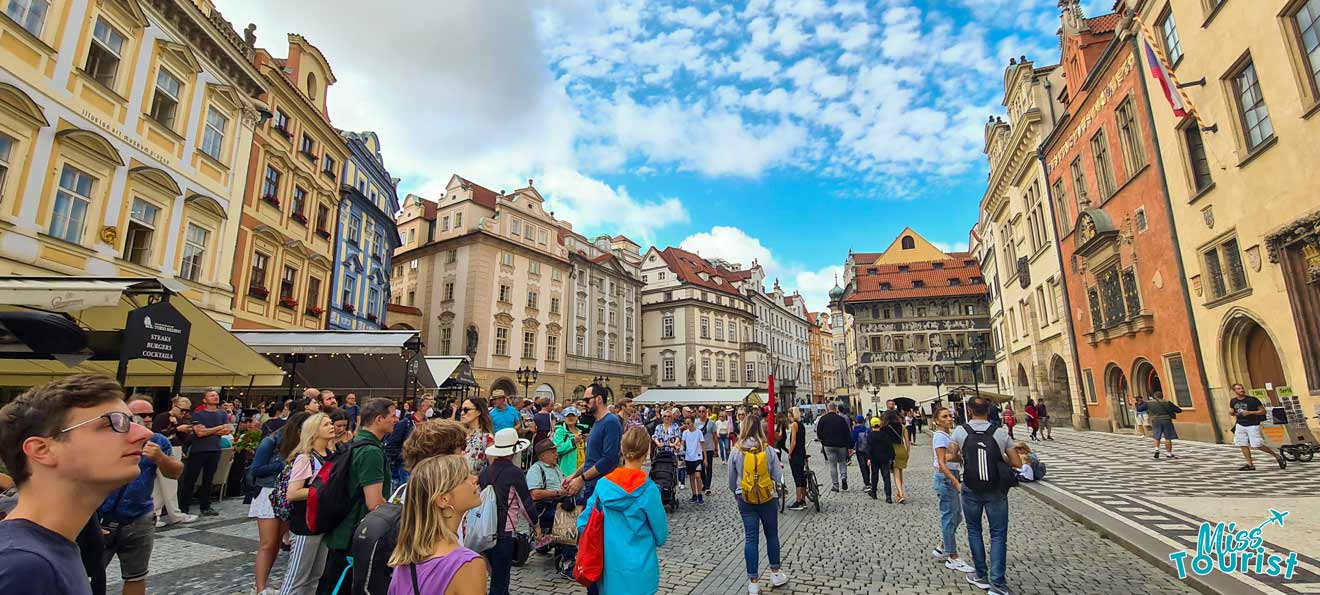 Prague Old Town is a small area in the city center that was not damaged in the World Wars. That is why it looks SO charming!
First things first – I HIGHLY recommend taking a walking tour of the Old Town so that you could learn all its tales from a guide, not just by gazing at the beautiful buildings.
Free walking tours are the ones I always take myself as it proved to be the most interesting way to learn about the history of the city. Why? The guides work on tips only (meaning, you decide at the end how much the tour was worth to you), so those tours are never boring – they are full of interesting info that will actually be fun to learn!
I personally took this free walking tour and absolutely LOVED it – so interesting! If you are looking for a free walking tour on a specific topic/in another language, please check out this link – it will give you all of them available on a given date, and with reviews! P.S. Always book online in advance, they have limited availability!
NOTE: Your classic tour should include the Old Town Square with the Astronomical Clock (more on the clock below), The Jewish Quarter, Charles Bridge, Powder Tower, John Lennon Wall, and more.
1.2 See the Old Town Square (and try not to get disappointed by the Astronomical clock show!)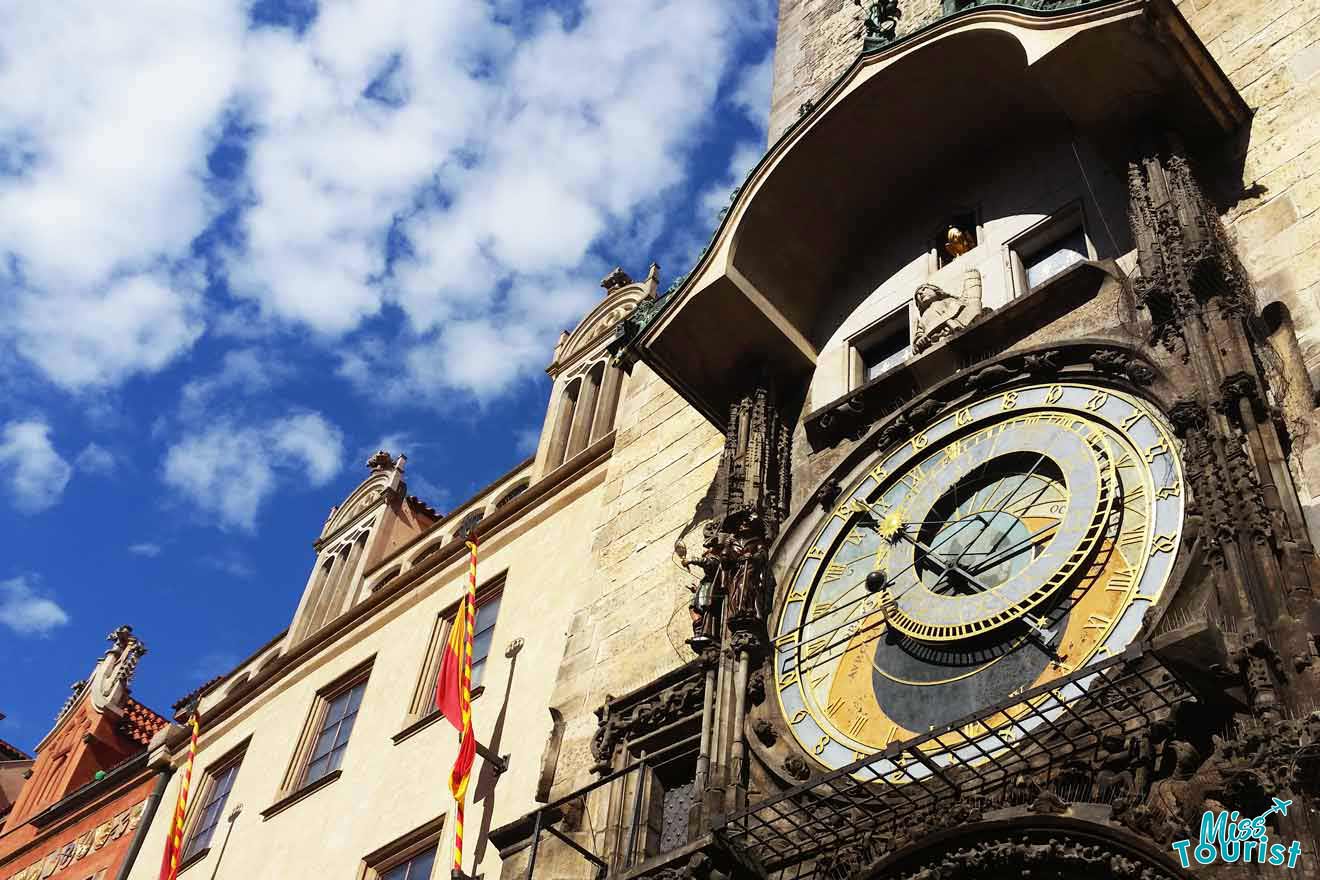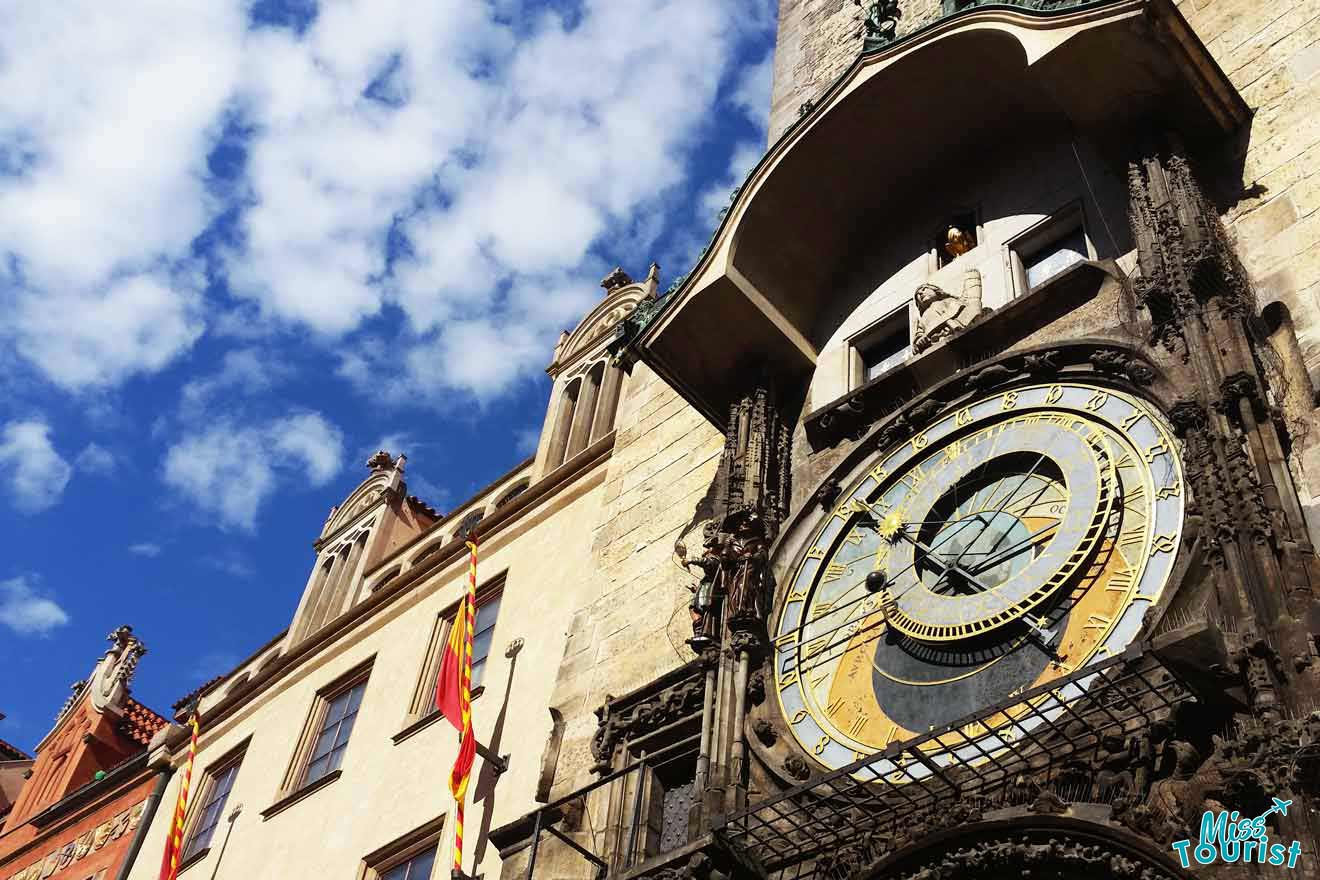 Old Town Square is one of its most treasured spots in Prague. It is the city's historical heart and that is where you should head right after arriving in the city to admire its colorful buildings and narrow cobblestone streets. I am not going to go into much detail here because hopefully, you will get all the historical info about the buildings and their historical significance during the tour.
When in the square, don't miss the Astronomical Clock. The clock was installed in the beginning of the 15th century and two-thirds of the mechanism is still from that time! Now, there is a thing called the Astronomical Clock show that you can see every day from 9 am to 11 pm when the clock strikes the hour. It is a 30 seconds "show" during which 12 figures (apostles) will parade
Did you know that apparently the Astronomical Clock show is the 2nd most disappointing tourist attraction after the Mona Lisa in the Louvre?
In order to actually enjoy the show I recommend trying to lower the expectations – this is not a Las Vegas show with fireworks we are used to. Instead, try to imagine how people felt in 1410 when they first saw it. I bet it was such a magical experience for them! By the way, you will see that the earth is placed in the center of the clock because back then that was what we thought about the position of our planet. 😉
PRO TIP: You can also go up the tower (70 m tall, it has a pretty nice view to the Old Town). The tickets are currently 225.00 kč (~9 EUR). With your ticket, you will also be able to see the underground of the Old Town Hall – an intricate web of medieval chambers, corridors, and tunnels.
2. Cross the Charles Bridge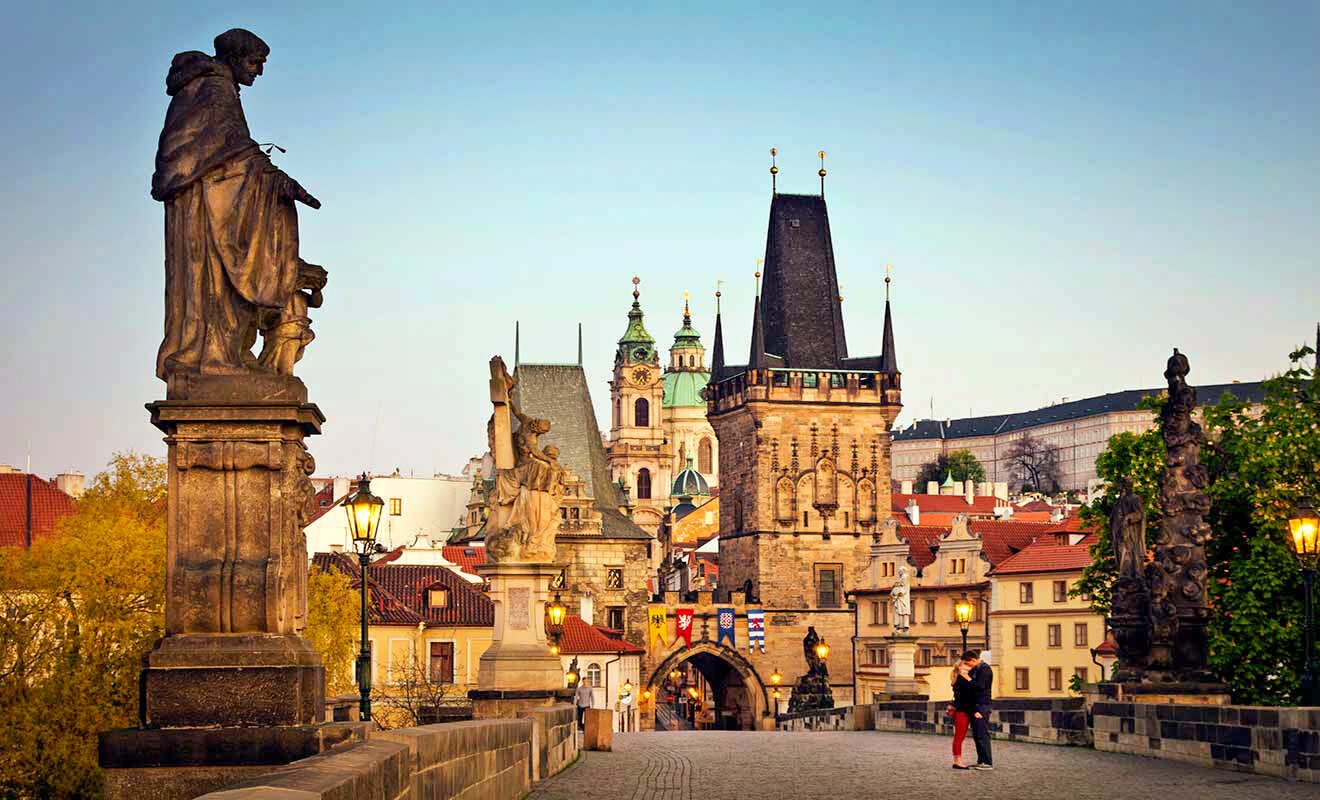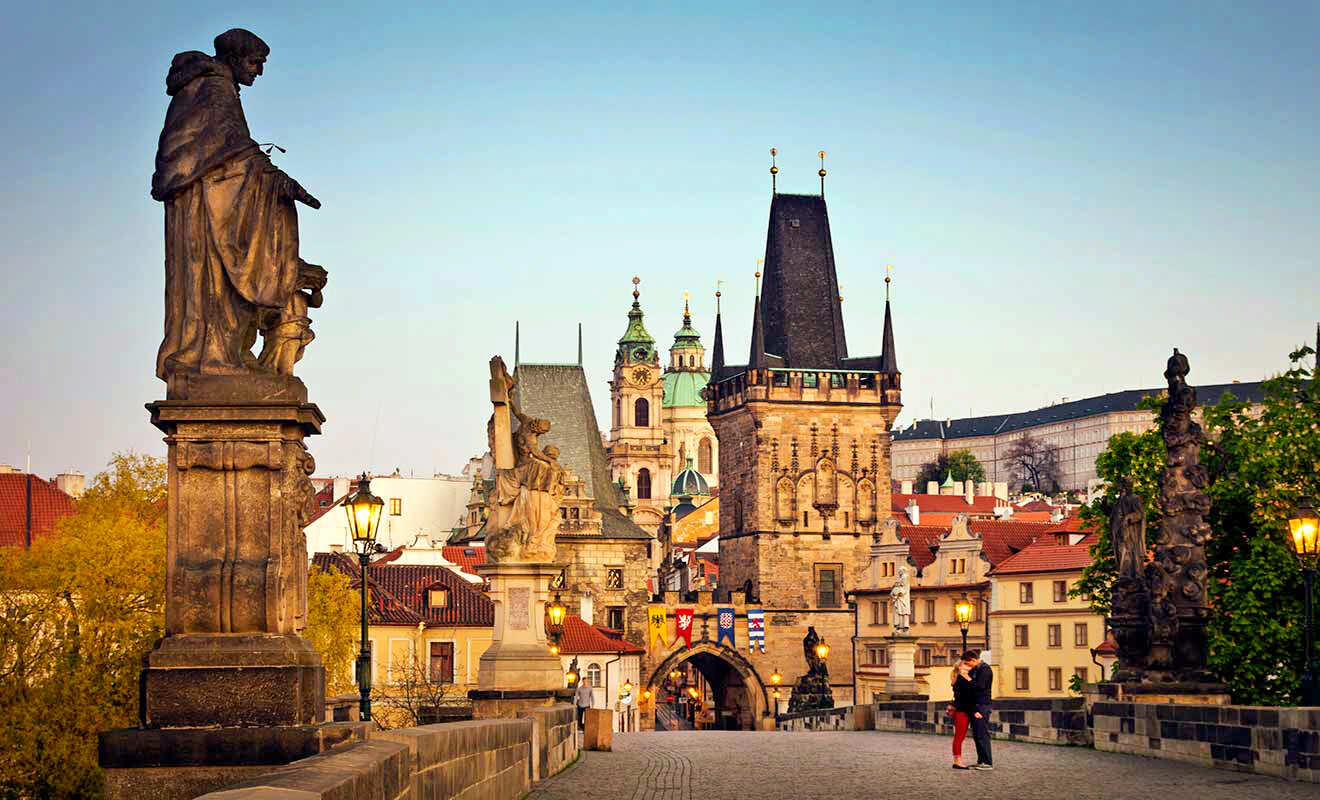 Czechs simply love Charles. You will see many buildings and monuments named in his honor in Prague, starting with the famous Charles Bridge!
Charles Bridge ("Karlův most" in Czech) was built in the 14th century by King Charles IV. It is a 500 m long bridge with important sculptures made from sandstone, marble, and bronze. Some of them are originals, some did not make it to our times because of floods etc.
Through time, they realized that all the different kinds of transportation, including horses and even buses, were destroying Charles Bridge, so the bridge has been used for pedestrians only since 1965.
The bridge is about 7-10 minutes walking from the Old Town Square and it is absolutely charming with its sculptures (many people make a wish, you will see some sculptures were very "touched"), musicians and the whole festive atmosphere around it.
PRO TIP: If you can, come early in the morning or late at night to enjoy the view of Prague Castle and the river with no crowds!
3. Explore the Prague Castle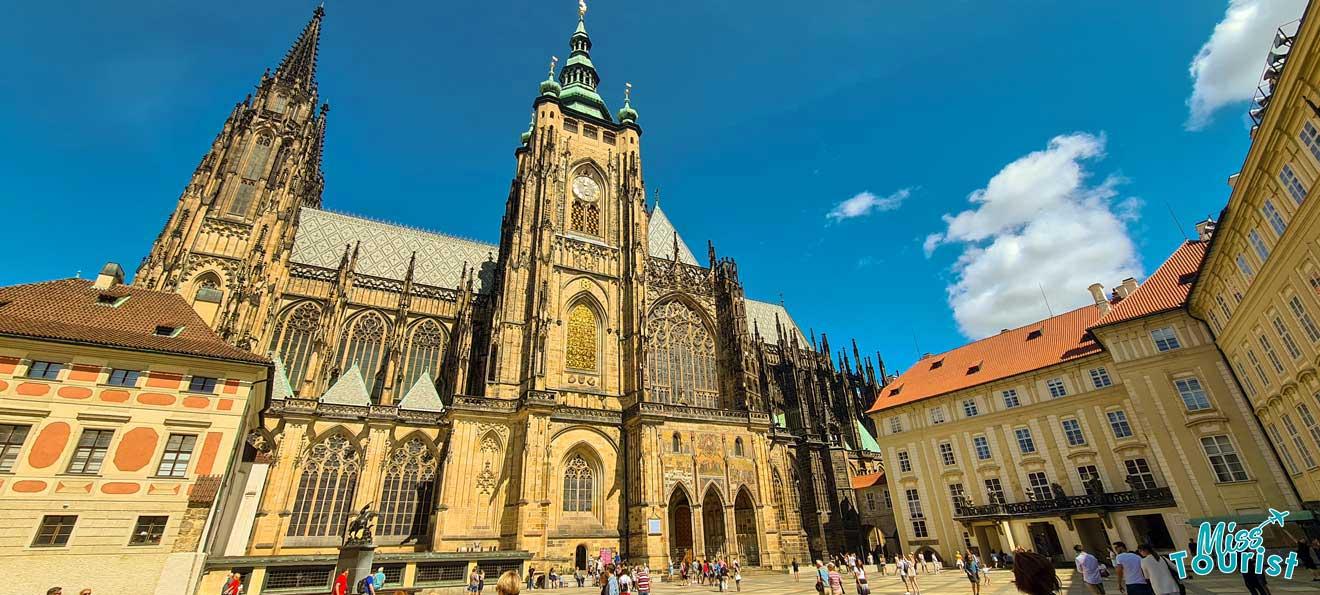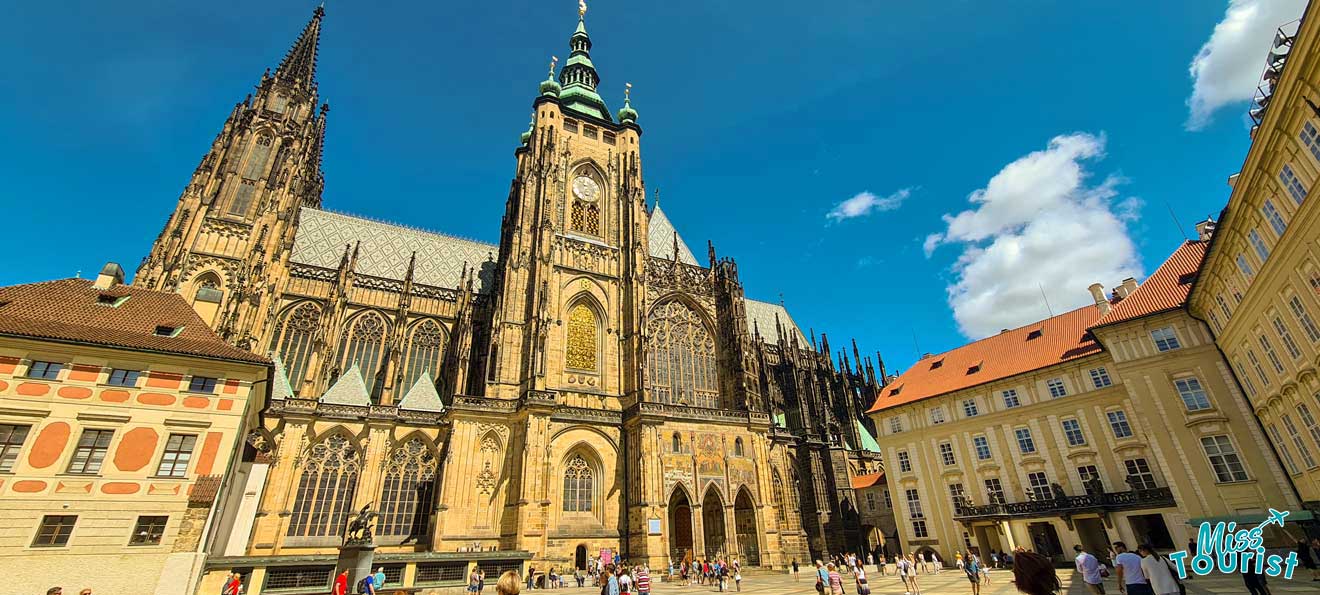 Did you know that Prague Castle is the largest castle in the world? The complex is over 570m in length!
Located up in Mala Strana (about 15 min walking from Charles Bridge), Prague Castle is one of the best Prague sightseeing points! This UNESCO World Heritage Site is one of the best things to do in Prague and it has a complex of palaces and great buildings of different architectural styles!
The complex was originally built in the 9th century – it later grew into many buildings and cathedrals. This is also the place where the President of the country works from.
UPDATE: We have just written an article on the best tickets and tours to Prague castle, be sure to check it out if you are planning on visiting!
Now, it might be a bit confusing about what is free to visit and what is not, so I am going to go into details and I even made a map for you below: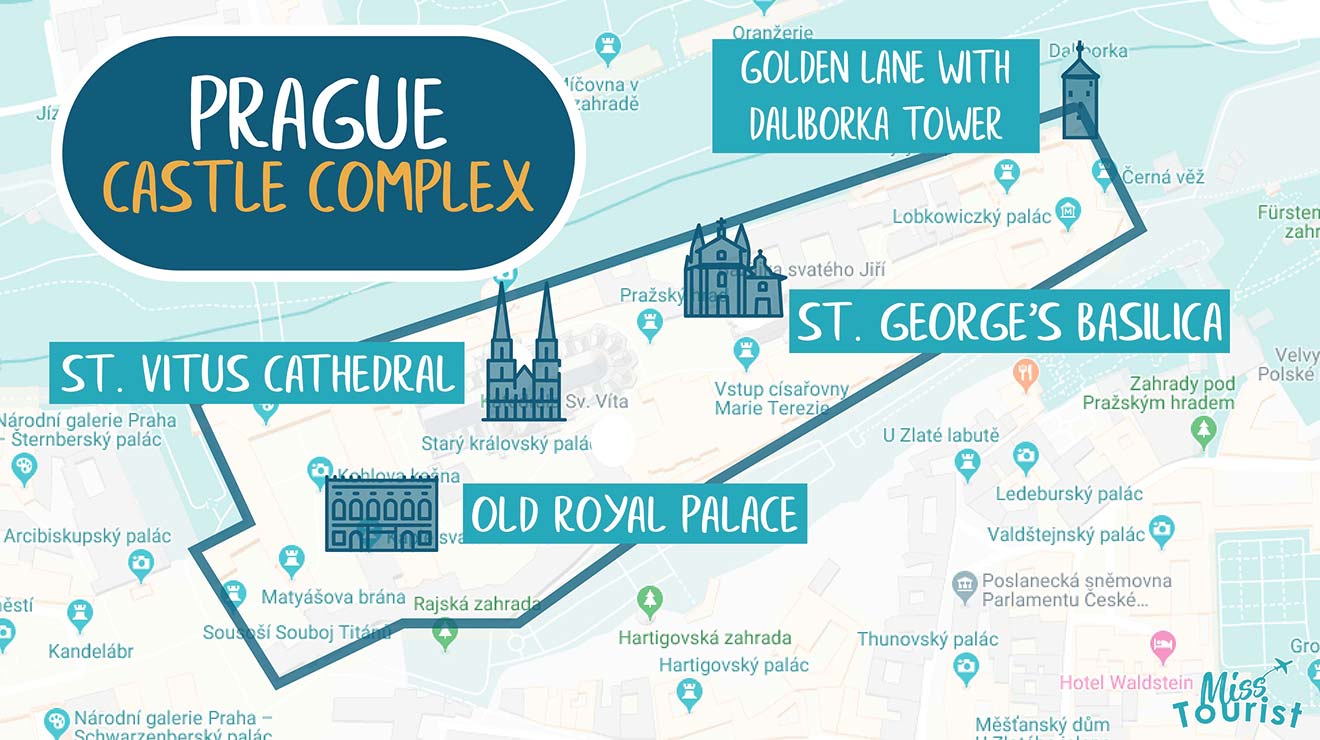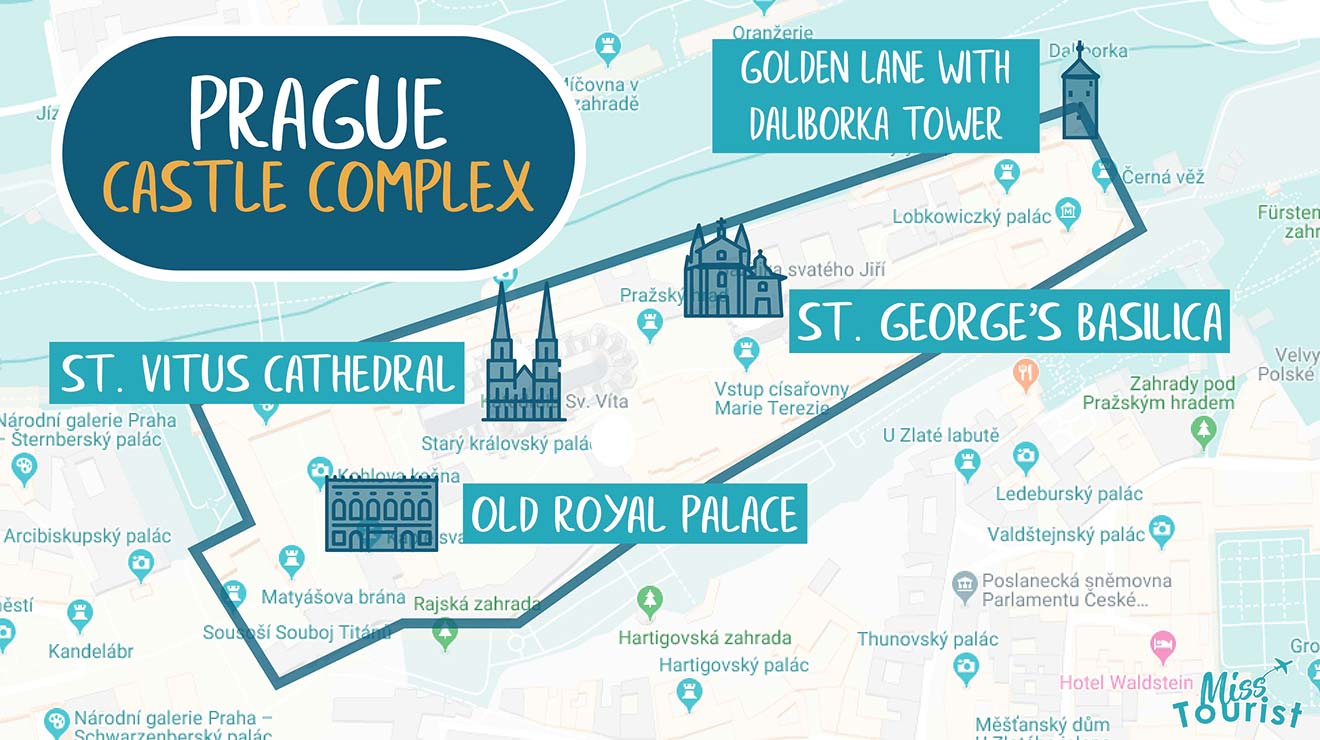 What you can visit for free:
Walk around inside the complex
See changing of the guards
Prague Castle Gardens
Enter the western part of the St. Vitus Cathedral (to see the main view, without entering inside)
FUN FACT: Did you know that Czech Republic is, in fact, one of the LEAST religious countries in the world?
What is not free:
Everything that requires entering inside (interiors of cathedrals and palaces)
Golden Lane (it can also be visited for free after 6 pm, but everything will be closed, so it is not fun)
Here is an amazing video that visually sums up everything I said above, check it out for a better understanding of what is included in the price and where to buy tickets if you did not pre-book online:
A guided tour or an audio guide?
If you read anything from my other blog posts, I am ALWAYS advocating for taking a guided tour, but in this case I actually am changing my mind. I took a guided tour myself (this one) and even though it helped us to get acquainted with the place and saw EVERYTHING, I personally think 3 hours is a bit too long for me. If you are very much into history, then I can by all means recommend the tour, the guide was actually interesting and we did not need to care about buying tickets etc. The price of the guided tour is about 35 EUR (tixs are included). Check the availability here.
If you would like to go at your own pace, getting an audio guide and listening to info that you are interested in will be the best solution. The price of an audio guide + tickets is 200 CZK + 250 CZK = ~18 EUR (check the up-to-date price here). If you are a senior or a student, bring your ID for a 50% discount.
PRO TIP: If you end up going by yourself, please buy your ticket NOT when you arrive (there will be a veeerrrry long line), but in advance. This ticket lets you skip the line and gives you an intro of 20 mins, which I think is a perfect alternative between the 2 above! 🙂 Price: 16 EUR. P.S. Please remember you will still need to be in the security line, no one can skip that one.
PRO TIP 2: If you don't mind walking for 10 extra minutes, I can share a secret tip with you on how to minimize the wait in the security lines! The thing is – everyone is going to the entrance that is in front of the tram stop called "Pražský hrad" and that's where the security lines are super long. Meanwhile, if you go down the hill for 10 minutes from the next tram stop called "Pohořelec", you will reach another security control entrance with way less people! 😉
PRO TIP 3: There are restaurants inside the complex but they are very overpriced (and the quality is so and so), there are tons of the same or better quality restaurants down the river right after you exit.
4. Try the local Czech beer!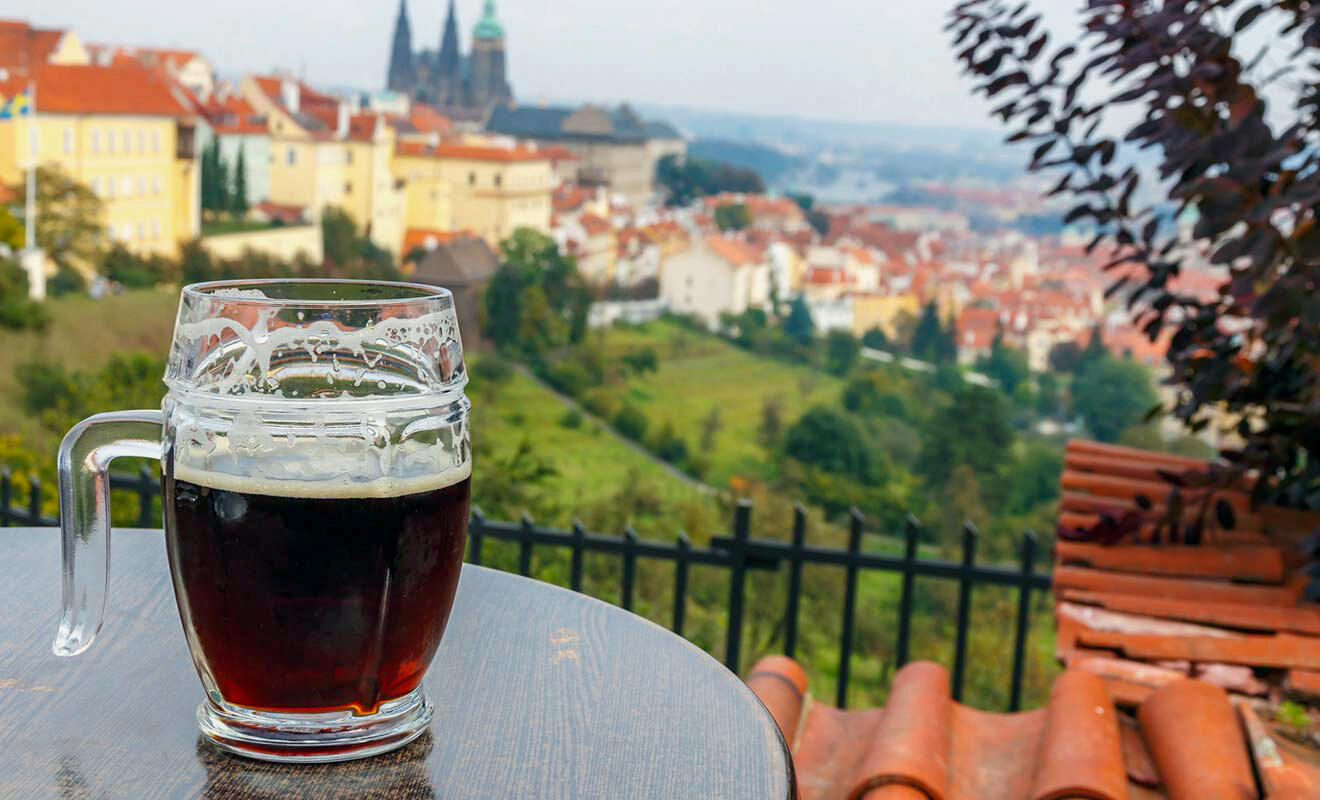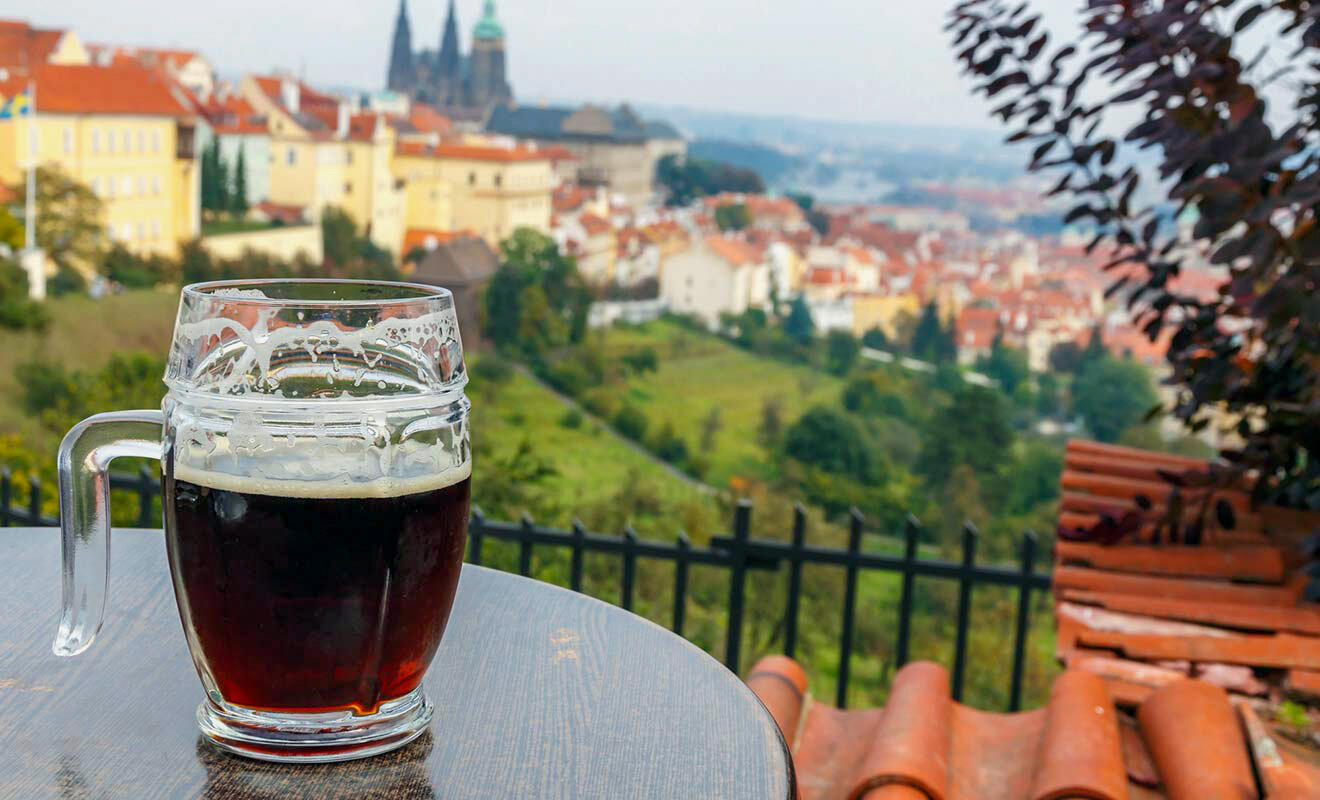 It might be because the Czechs have produced beer since the 6th century, or just because their beer has a rich flavor, but a definite result is that they drink more beer than any other country. According to this source, Czech people drink 188 liters of beer per person per year. Yes, that means roughly 0,5lt (19oz) per person per day!
Did you know beer in most Prague restaurants is actually cheaper than water? Yep, that's not even a joke! 
The Prague Beer Museum is a great option to try a variety of Czech beers while also having a selection of 30 beers brought from microbreweries from around Czechia. And going on a beer tasting tour is a great activity for young adults! Once in Czech Republic, right? 🙂 
Most popular Czech beer brands you should try are Pilsner Urquell, Staropramen, Krušovice, Velkopopovický Kozel and Budweiser Budvar.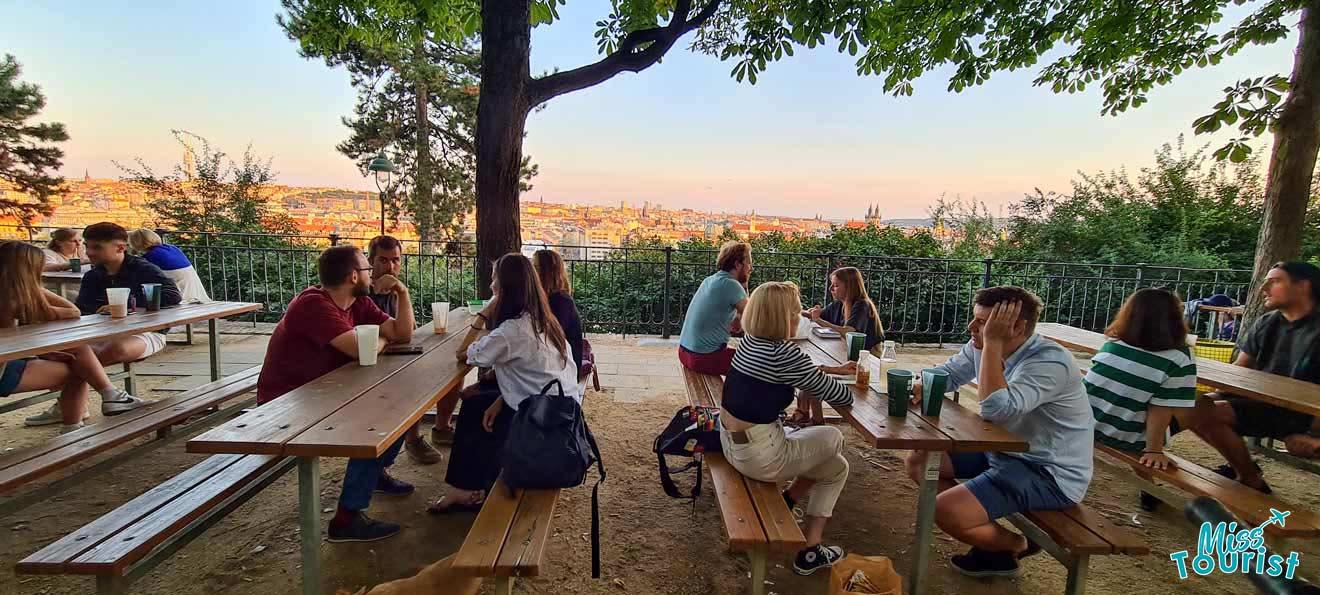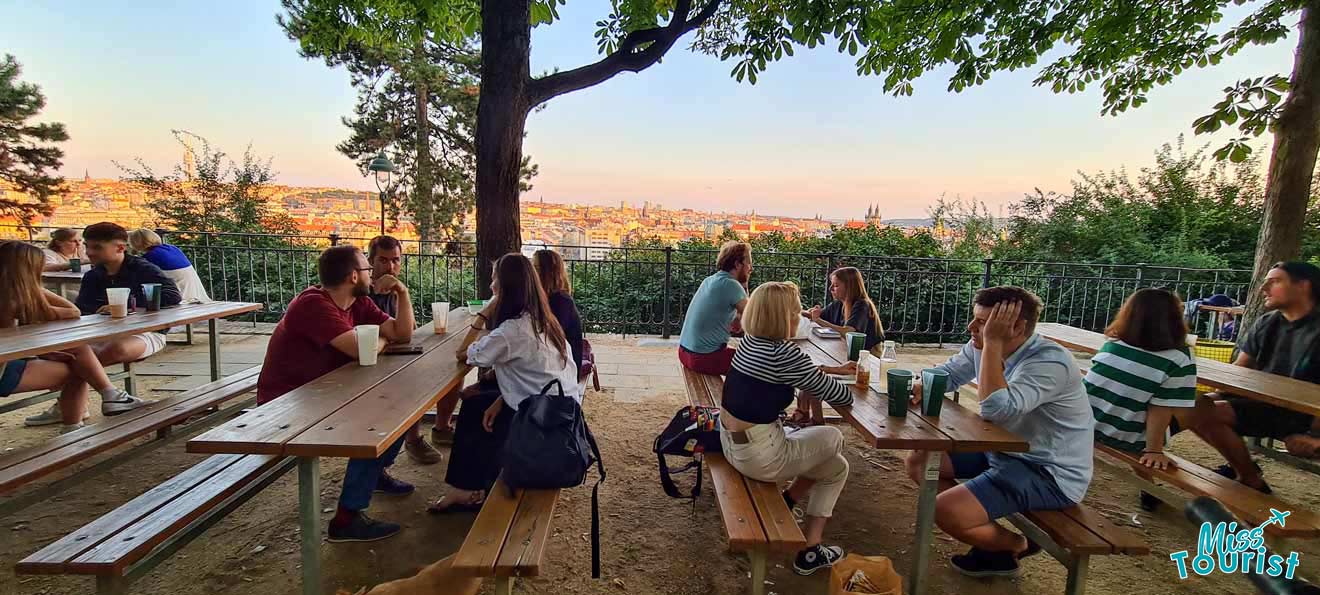 Here are some great bars and Czech beer gardens:
PRO TIP: Another local alcohol you should try is Becherovka – it is an herbal drink, usually drunk for digestive aid.
P.S. There is also a fun new thing called Beer Spas, check out more info about it my Unusual Things to do in Prague post 😉 
5. Admire the view of Prague from one of the viewpoints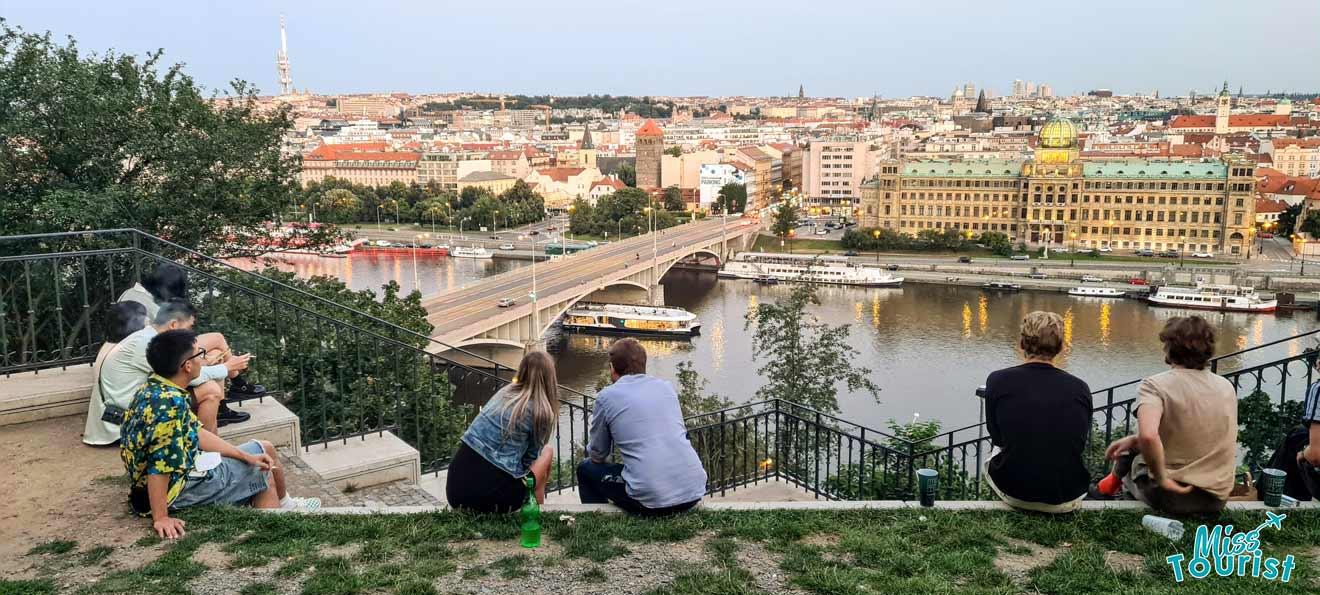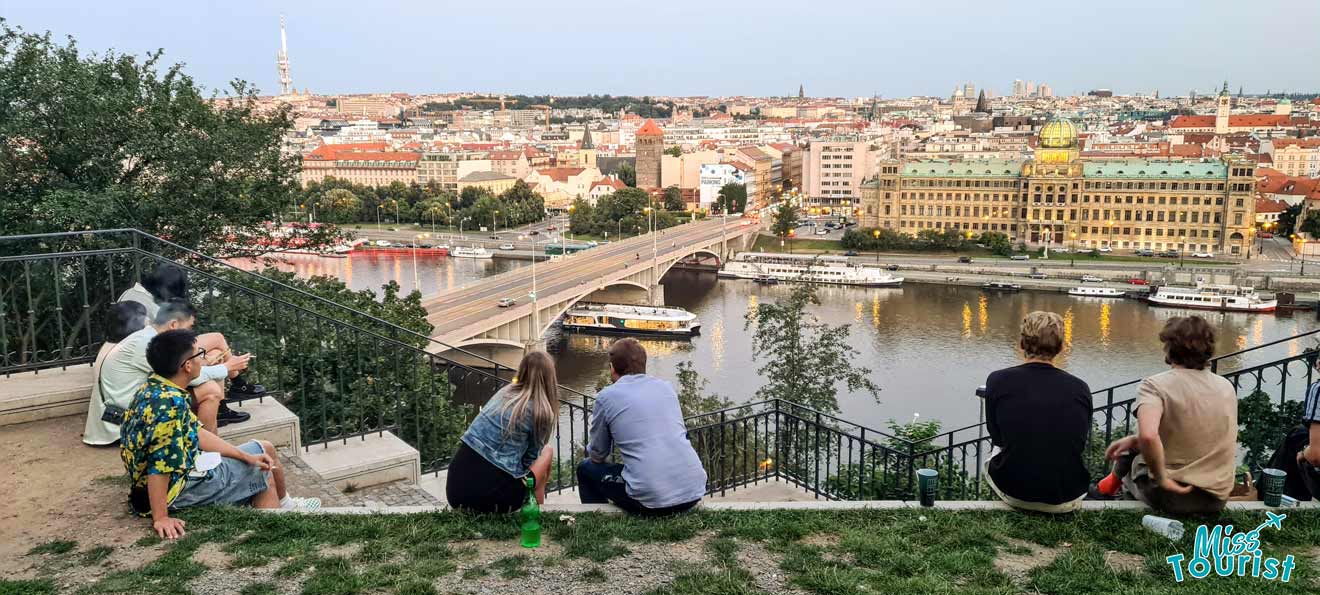 Prague is amazing in this way – it offers multiple viewpoints to the city and here are some most famous ones you can choose from (in no particular order):
5.1 Petrin Tower
Petrin Lookout Tower is a great Prague landmark built back in 1891 to try to replicate something similar to the Eiffel Tower! It is 64 m tall and it offers a nice 360 view of the city. The price is currently CZK 135 (€5). Tickets can be purchased on the official website.
5.2 Metronome (Letna Park)
Those epic pictures of Prague bridges lining up you see on postcards? You will find them in Letna Park! Price – free of charge, of course!
FUN FACT: In the communist times, the park used to have the biggest statue of Stalin in the world. The statue is no more, but the pedestal is still there, that is where the metronome is now.
5.3 The Old Town Bridge Tower
Remember we talked about the Astronomical Clock and how you can go up there? That's the one here again. The view is only to the Old Town, not the whole city, but still super cute! It is 225.00 kč (~9 EUR) and you can buy it here. Or you can go for a guided tour for only 1 EUR extra here.
5.4 Charles Bridge Tower
Not many people know about this one which is surprising since it is located in literally the most crowded place in the city! And yes, you will get to see the view right on the bridge and the castle.
The entrance is 150 CZK (~€6) and you can buy it online here. PRO TIP: Apparently, you can get it from 75 CZK (~€3) if you come in the first hour after opening (check the official website, the schedule is different depending on the season).
5.5. Žižkov TV Tower
For those of you with good eyesight – look around, do you see a TV tower with huge babies (literally) crawling up the tower? That's the one! 🙂
Kudos to the Czech sculptor David Černý and his art – thanks to him you will see a lot of interesting art objects around the city. Babies crawling the TV tower is one of them 🙂
The tower itself offers a 360 degrees view to the whole city 90 m above the ground. Price – 250 CZK (10 EUR), it can be purchased here. Also, check out their restaurant called Oblaca, that's where you can see an amazing view of the city without the crowds and enjoy your dinner at the same time!
6. Try the local food, yum!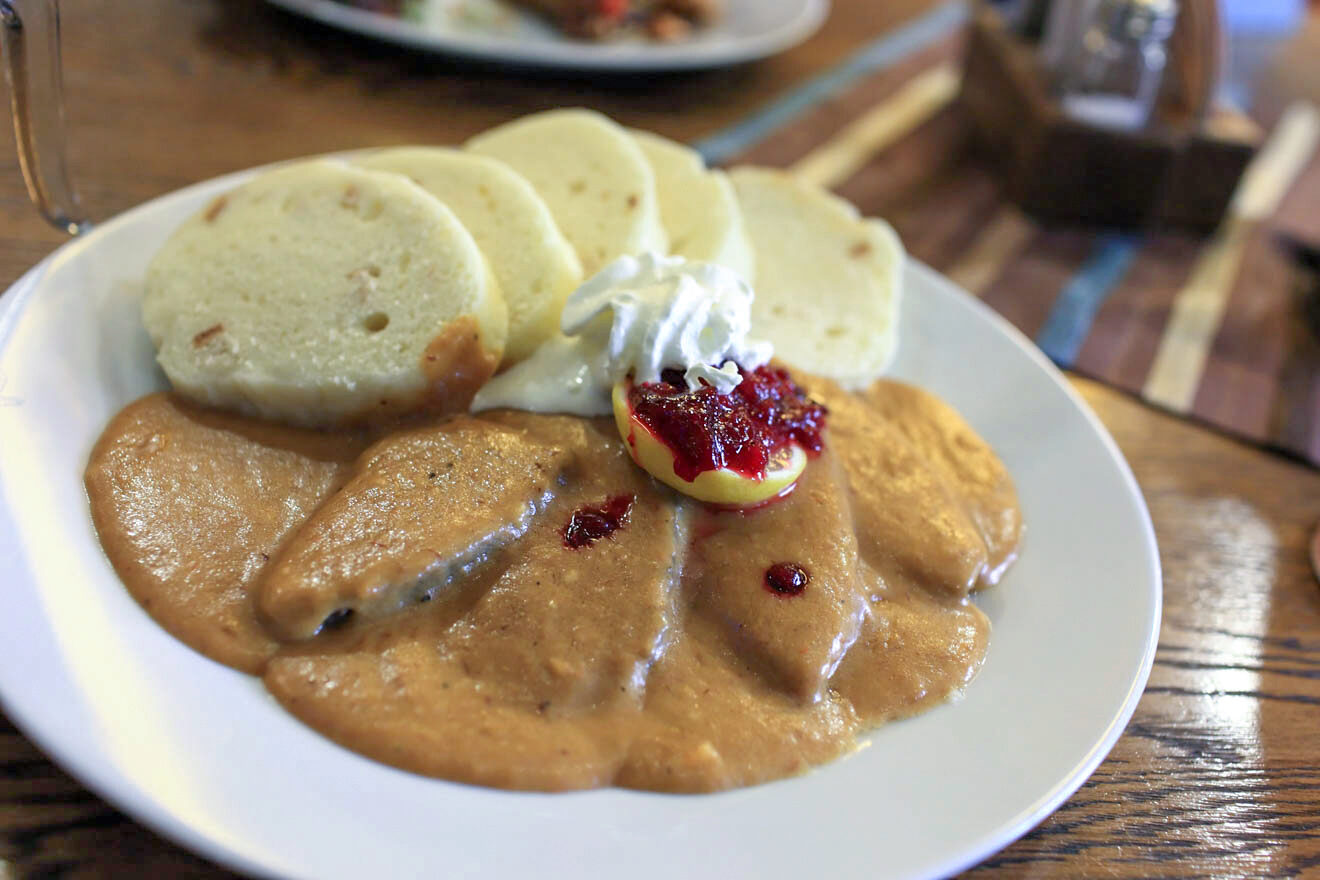 Ok, now as we discussed the beer, it is time to move on to Czech food, shall we?
In this section, I am going to tell you a bit about the main dishes you need to try, where to try them, and a bit about the general etiquette in restaurants (tips etc.)
SPOILER ALERT: For all my vegetarians out there – don't worry, I will give you some options of nice restaurants too, but sadly you won't be able to try most of the traditional food – it is all very meaty here.
I am going to mention the names in English and in Czech in case you will go to a restaurant where the menus are not in English: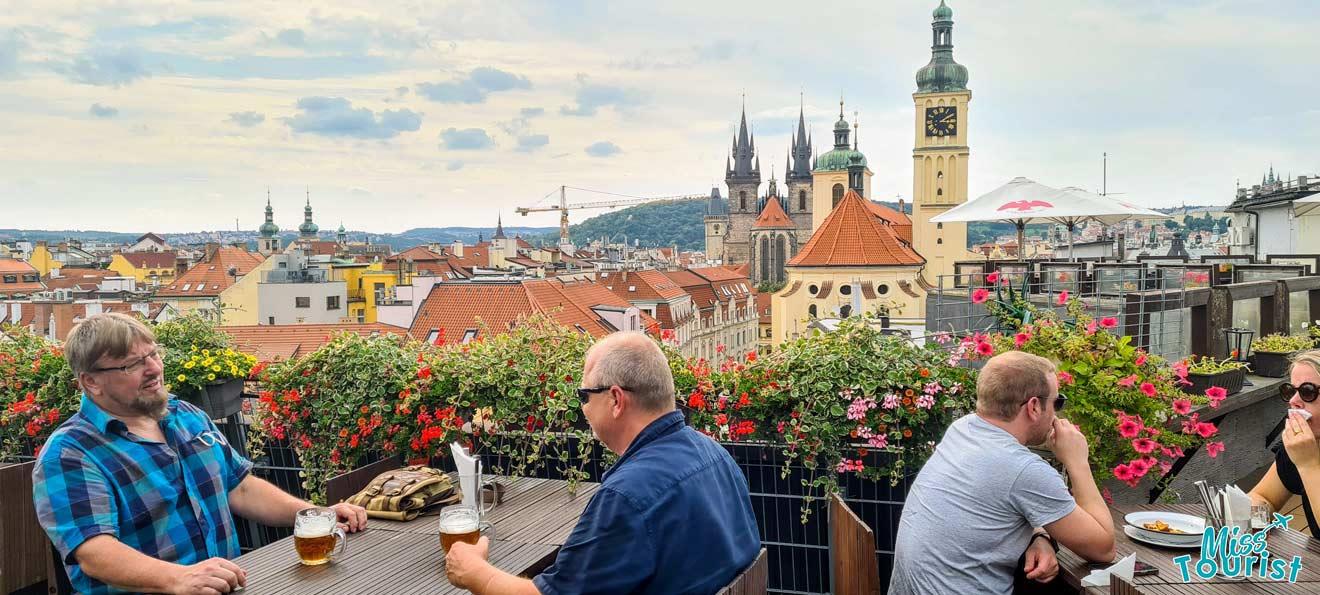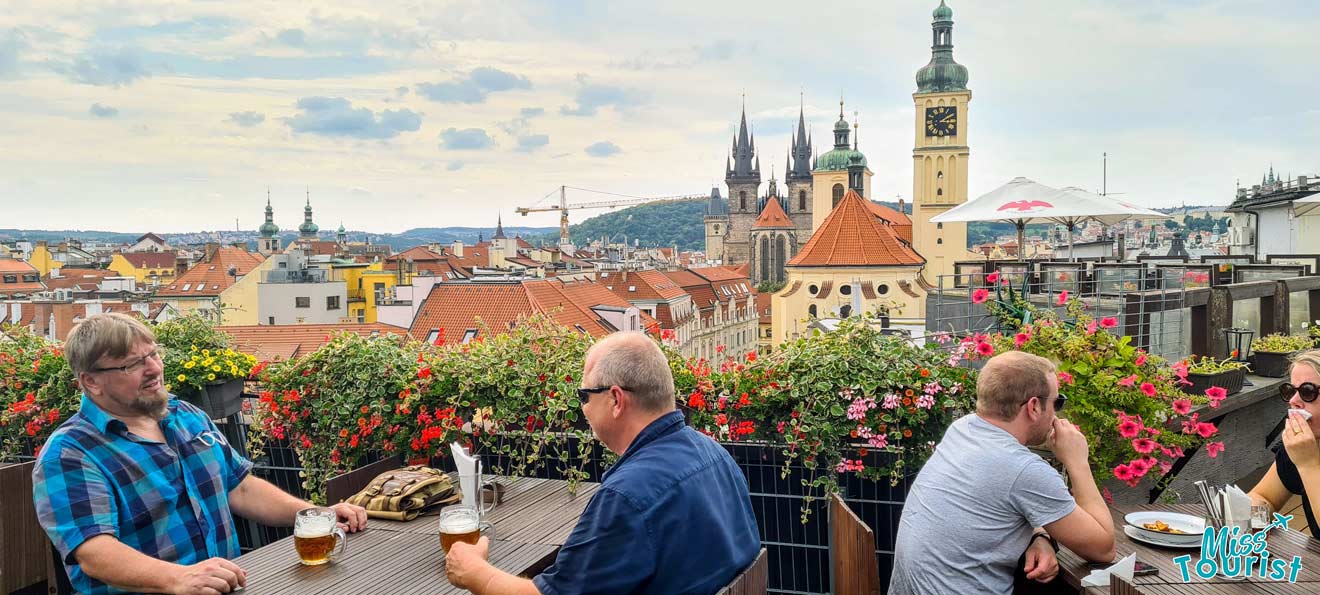 Pečené vepřové koleno (Pork knuckle) – shank is first boiled in broth/beer, onions, garlic and spices, and then grilled. Served with sauerkraut or stewed cabbage.
Knedliki – steamed pieces of boiled flour or potato dough. Can be made with meat or potatoes, cottage cheese etc.
Polévky (soups): Bramboračka soup, thick potato soup with smoked meats. Gulášová polévka – Popular thick soup based on pork, beef, poultry or rabbit meat.
Svíčková na smetaně – Stew of young beef or veal tenderloin with sauce and dumplings.
Nakládaný hermelín (pickled cheese) – Camembert-like cheese aged in olive oil and spices, very hmm.. special
Topenci – marinated sausages
Trdelník (rolled dough) – you will see it literally everywhere, usually topped up with ice cream. Trdelník is actually not from Czech Republic at all, it is actually originally from Hungary 🙂 But hey, it is great as street food!
If you are a true foodie and would like to try the most traditional dishes and have someone explained everything, I can highly recommend this food tour!
If you are looking for a special experience, try this 3-5 courses medieval dinner with unlimited drinks. Not only will you get a great ambiance and food, but you will also be entertained along the way by performers – there are swordsmen, jugglers, and more!
Now, I understand this post is getting increasingly long, so I am actually going to write a separate post about the best restaurants in Prague (where I will cover the best restaurants by location but also by food preferences – all my vegans and vegetarians – I got you, don't worry!)
Oh, and a couple of words about tips – Yes, you are expected to leave about 10% for service in Czech Republic.
PRO TIP: If you don't have cash, here is a trick I learned from a local – when paying for your meal, just tell them the total price (say, your bill was 500 CZK and you want to leave 50 as tips – just say "I want to pay 550") and voila – the server will get your 50 CZK!
7. Visit a museum (or two)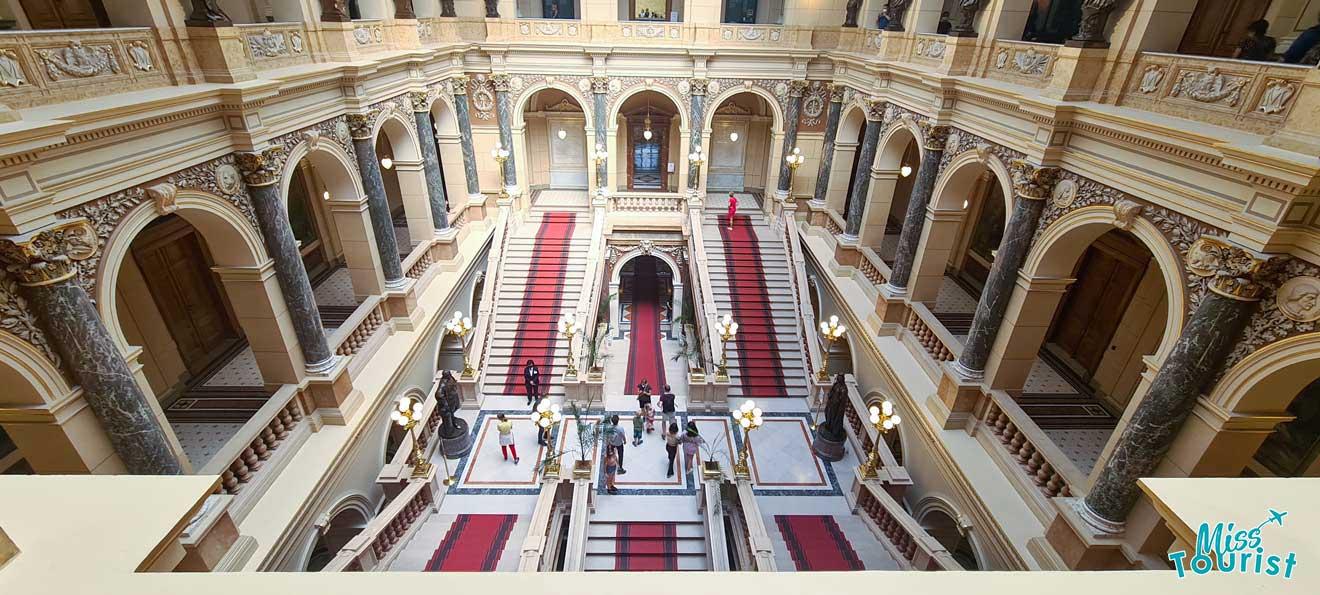 There are many museums in Prague to choose from if you are feeling cultural.
For local culture and history, among the top museums in Prague, I highly recommend is a stop at Národní Muzeum – the country's largest museum. If you're a museum lover, then this is one of those unmissable things to do in Prague, trust me!
The museum holds up to 14 million items of natural history, arts, music, and more. The main building has a cupola with a beautiful view of the city – take the elevator all the way up to see it. The main hall itself is a symmetrical heaven, I am sure all Instagrammers would like to snap a pic there!
PRO TIP: There is a second, more modern part of the museum that you can reach by a tunnel. It offers an exposition of the locals' lives in the 20th century, very interactive! Funnily enough, we almost missed it (there were hardly any signs for that), so I am very thankful for a nice employee who directed us to the tunnel when we were about to leave!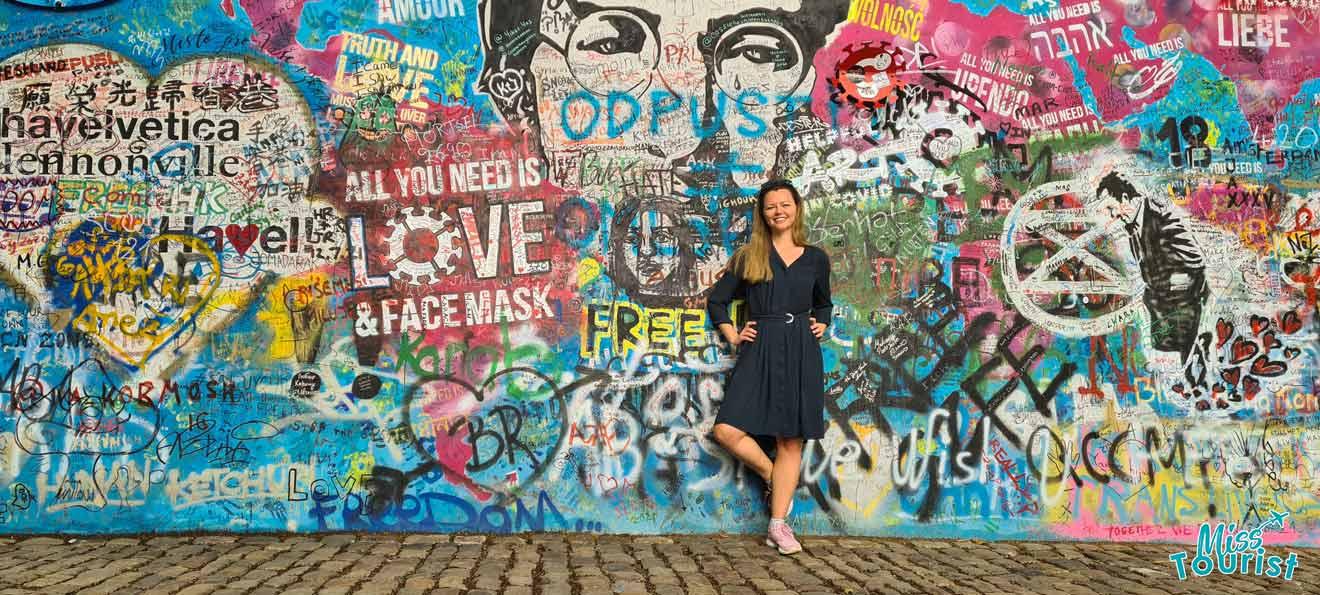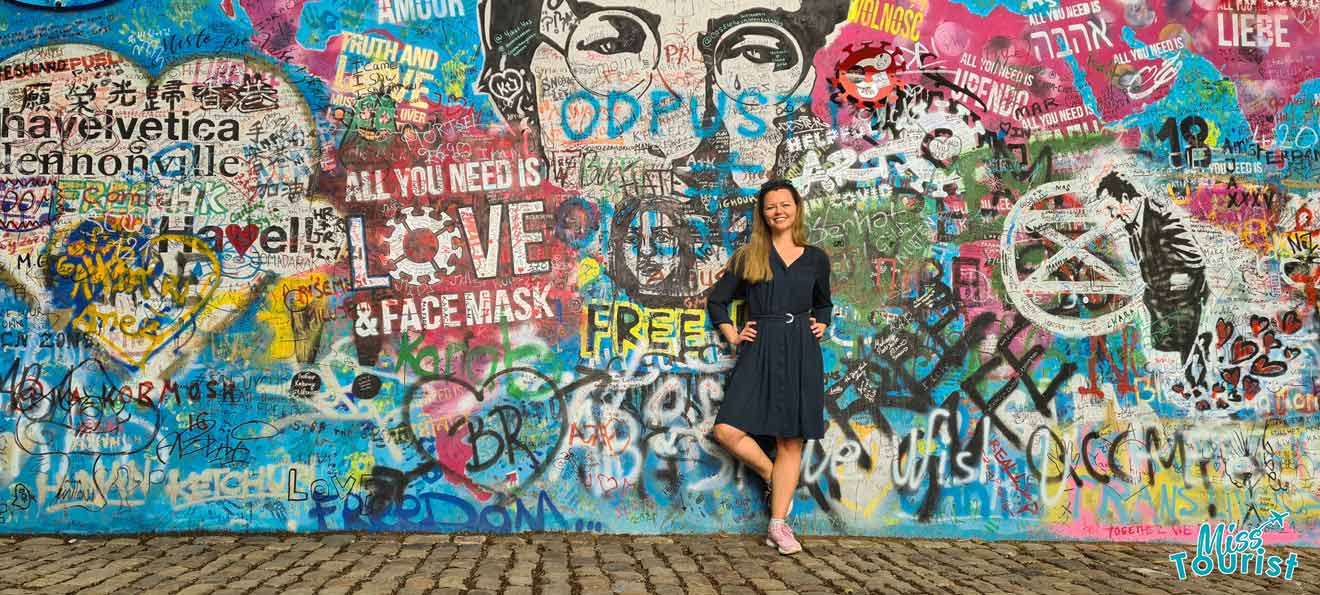 PRICE: CZK 200 (€8). You can check the updated price here. Admission is free every first Monday of the month.
Here are some other cool museums that you should visit sorted by interest:
8. Take a paddle boat along the Vltava River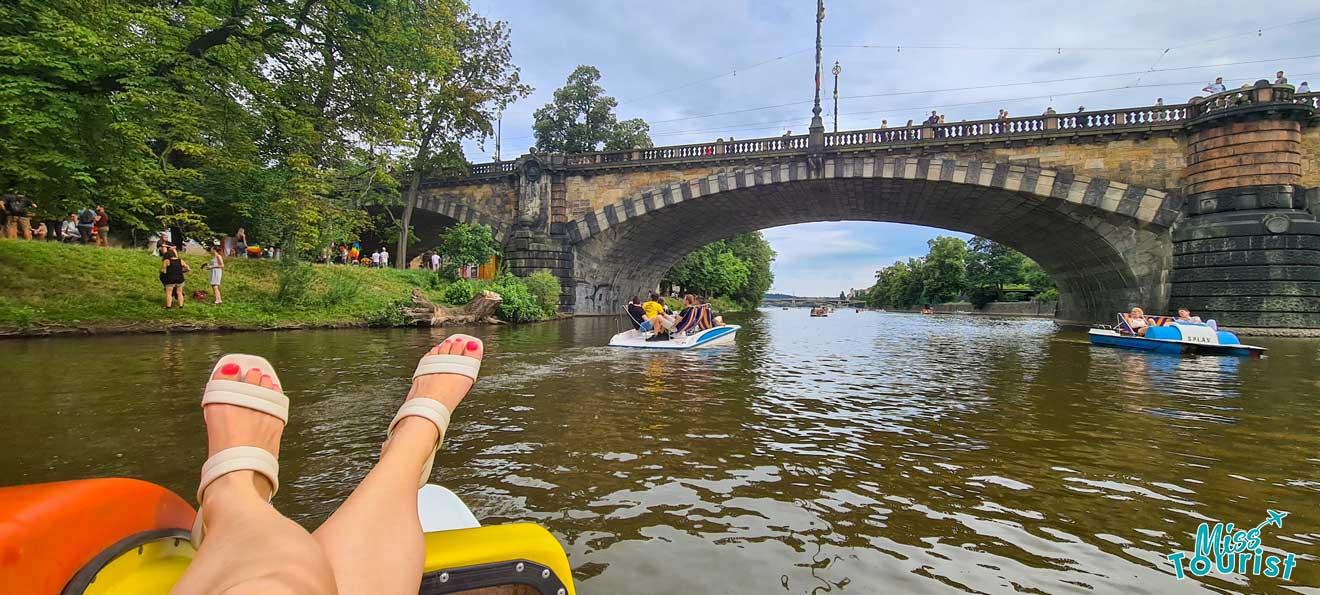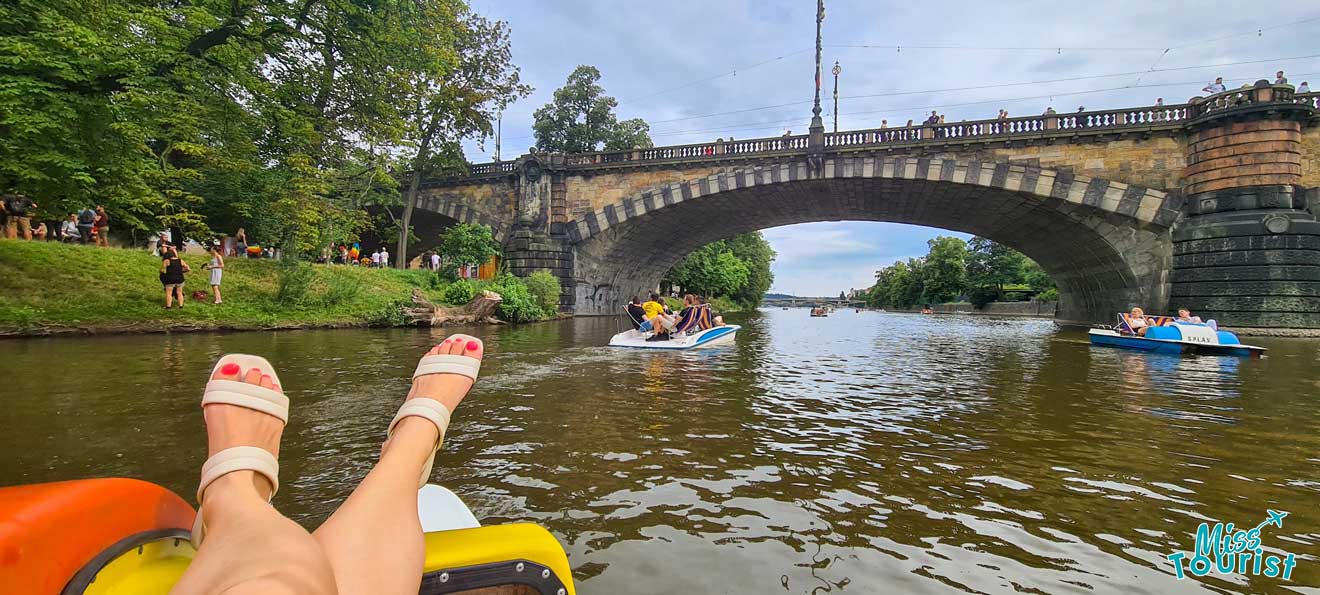 Riding a paddleboat on the Vltava is definitely one of the unmissable and most relaxing things to do in Prague in case you are out on a sunny day! I visited Prague a couple of times and always wanted to do it, but did not know where and how much. I then figured it out, let me tell you all I know: 
Here is a Google map pin where you can rent the boats (not necessarily this particular one, but all of the rentals are in the same place).
They have different types of pedal boats for all tastes – you have the famous swan, then you have normal boats with beach chairs (the one I took), you have the "party" boats for 5-6 people (really cool!), boats that look like vintage cars and more. At the end of the day they do the same thing, so it is only a choice of esthetics. 🙂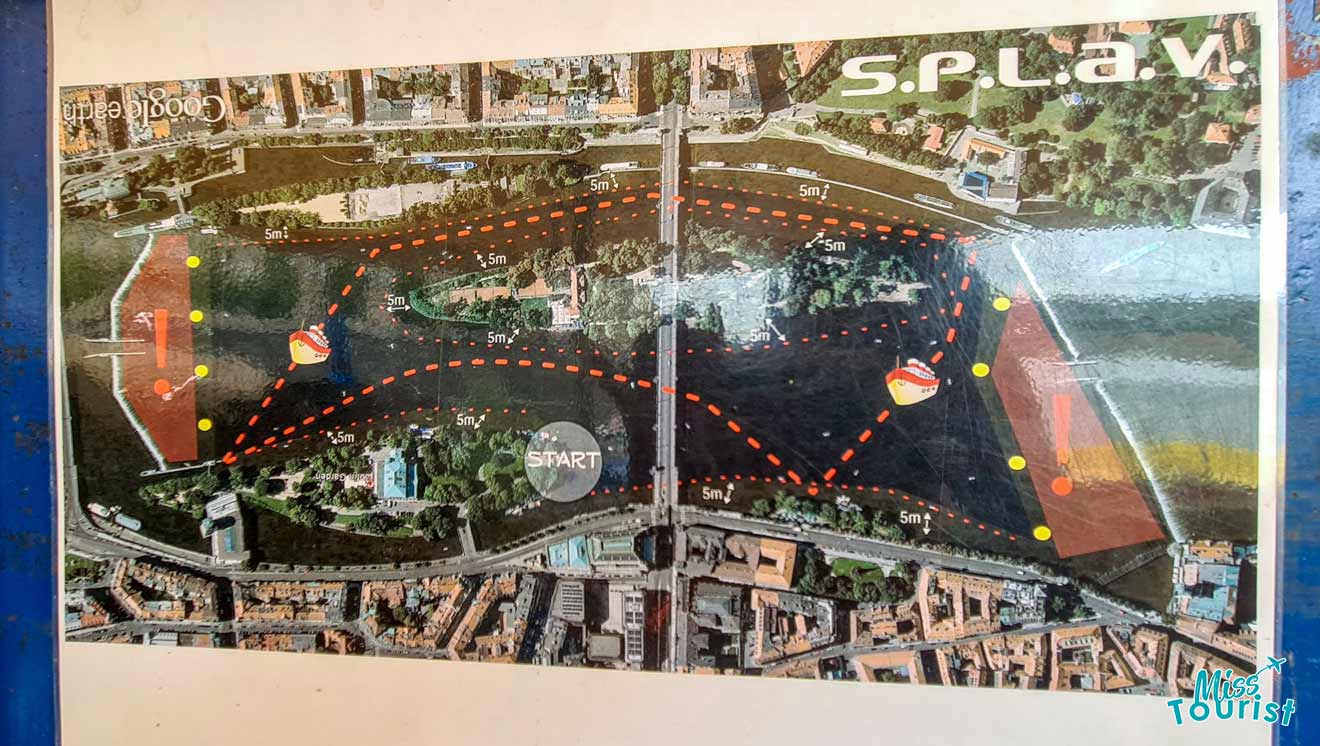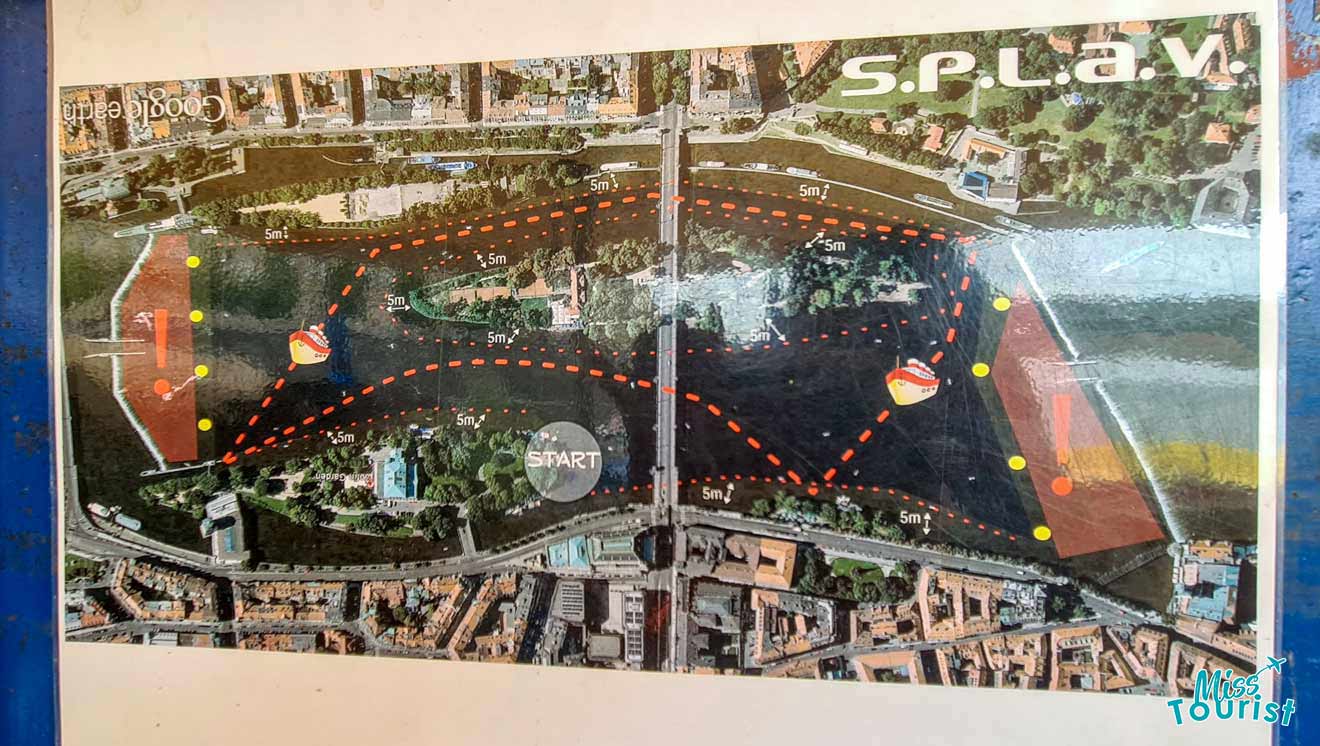 PRICE: The price should be around 300 CZK/hr (~12 EUR), but it will slightly depend on the boat and the company.
You can also take a cruise, this is something that a lot of tourists do as well!
I recommend you choose between going on a 2-hour lunch panoramic cruise along the river or enjoying a nighttime cruise with dinner included. They are both good options, but my preference is mostly for the night cruise because you'll get to see the Czech landmarks and castles with a magical touch from an Open-Top glass Boat!
9. Visit the historic Vysehrad fort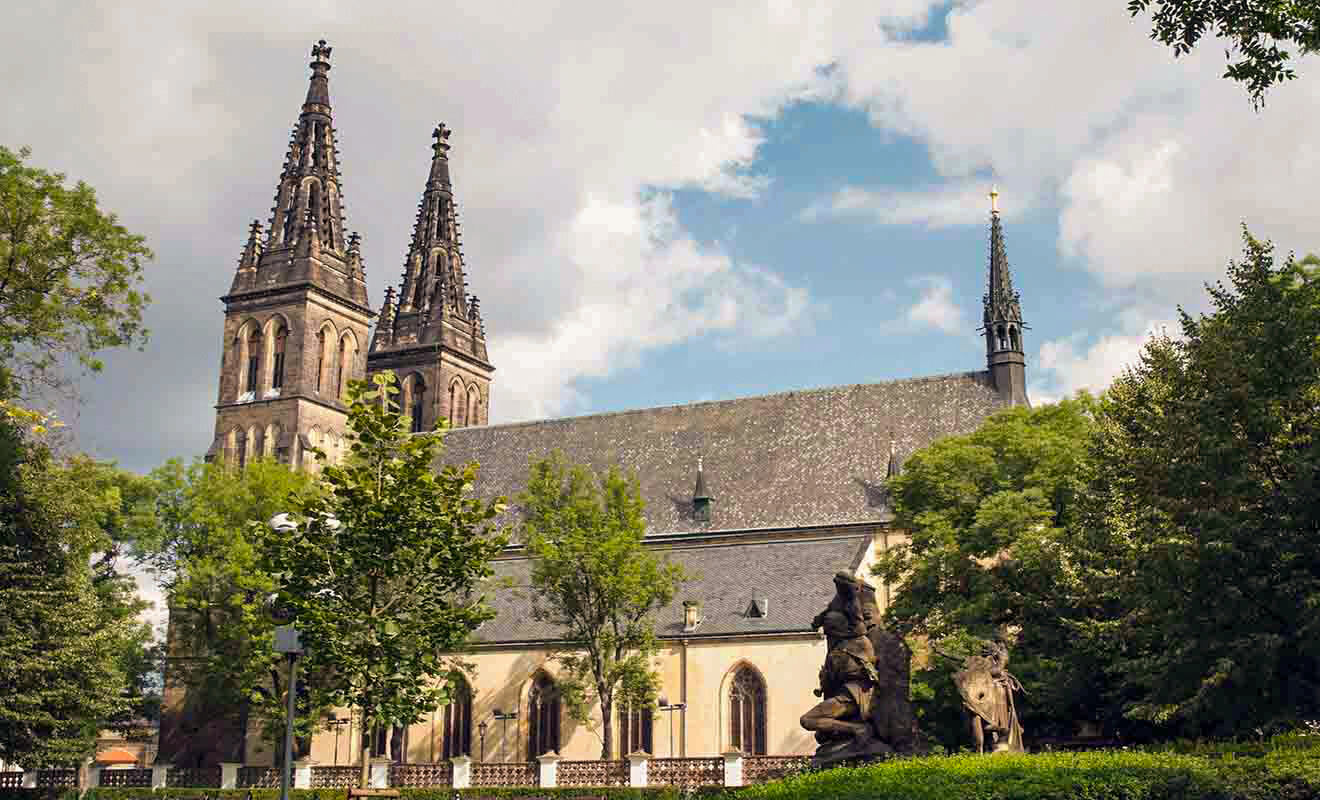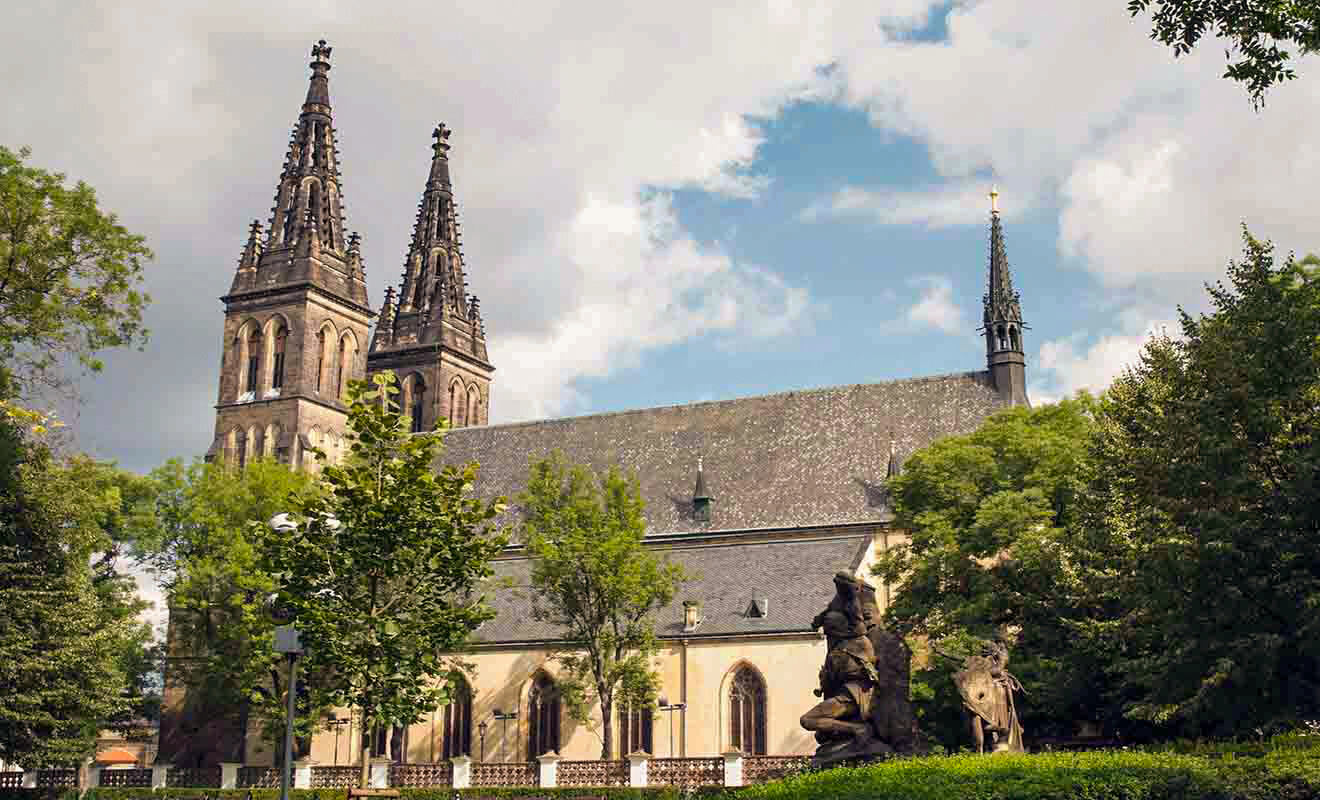 The fort, which was built in the 10th century, was the seat of the royal court and was the main defensive structure in the capital for centuries.
Vyšehrad is a beautiful historic fort right over the River Vltava bank. It is way less crowded than the attractions I mentioned before and I definitely recommend visiting if you have more time or/and if you will be staying in New Prague or further South (you will be very close in this case).
If you want to take an organized tour around the fort with a guide that knows the local history, I recommend this 2.5 hours Vyšehrad Castle tour. You will also enjoy some unforgettable views of Prague from up there!
PRICE: from CZK90 (€3.5) basic entrance fee. Check the updated prices here.
10. Party all night long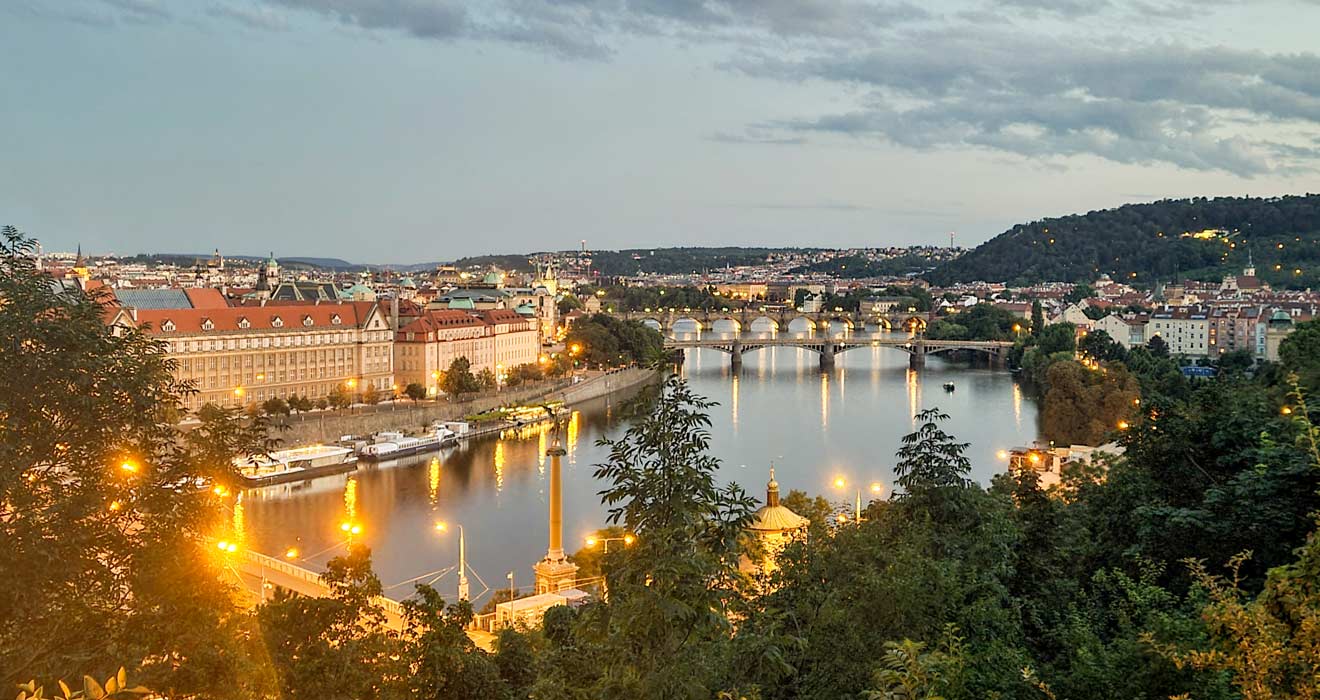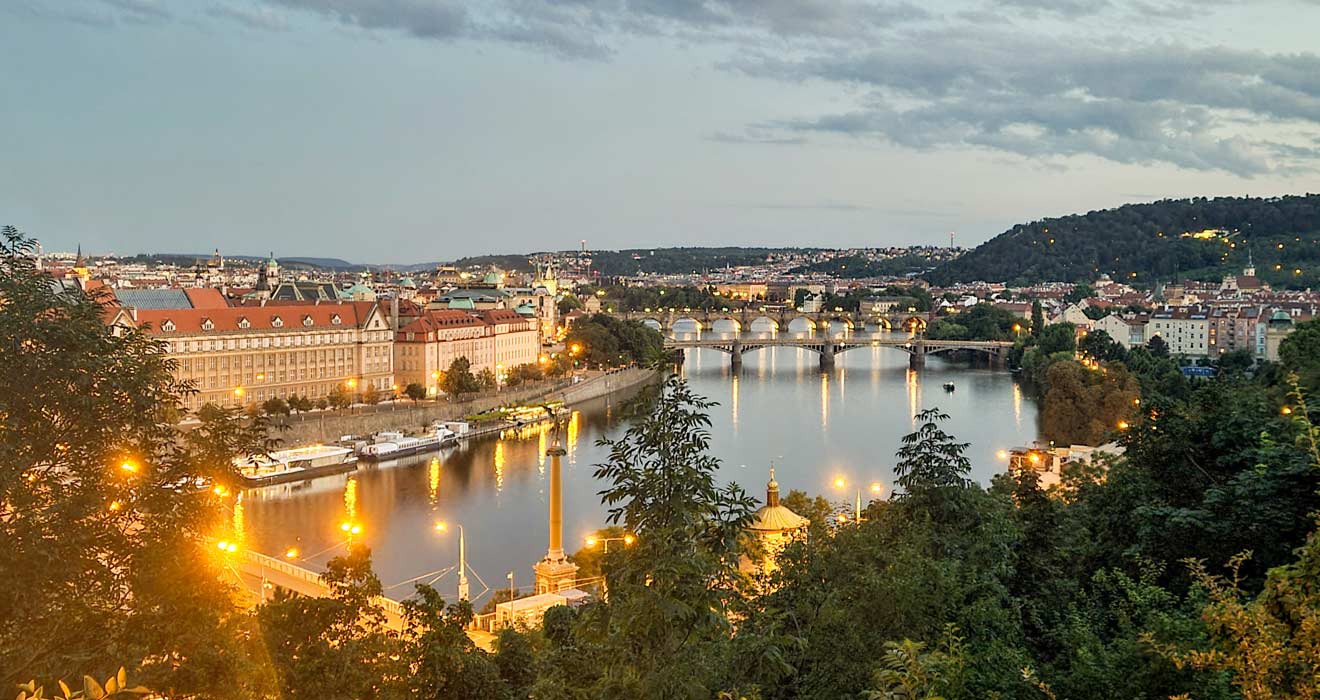 Nightlife in Prague is definitely something else and if you still have the energy to explore at night, you are in the right place! Or, if you are coming especially for parties (there are many bachelor/ette parties happening), Prague will also have a thing or two to offer!
Start from Dlouha Street. This is where you can find a certain kind of partying that could put the biggest party cities in Europe to shame! 🙂 It is very close to the Old Town and that is where Prague's main 3 clubs are located (perfect for pub crawls, huh!)
FUN FACT: Kafka lived on Dlouha Street at some point and he hated it because he couldn't concentrate (it was too loud) so he had to move out. 🙂
Here are some great nightclubs:
ROXY Prague – perfectly located next to the famous Lokal pub!)
Chapeau Rouge – I think it is one of the oldest clubs out there)
Karlovy Lázně – 5 story nightclub, must be one of the biggest in Central Europe!
Here are a couple of great bars (but I have a longer list in the dedicated article)
Hemingway Bar – Place to taste and drink absinth the proper way
Vzorkovna – dark, full of smoke and strange wall writings, they have great live music too
Hany Bany – The place where youngsters from universities gather
11. Escape the city for a day
If you are still craving for more, Prague surroundings have a lot of different places to visit too! I am going to recommend the main ones that are easily reachable by car/public transportation. If you can, it would be very convenient to rent a car, but I am also going to recommend some great organized tours for each option below:
11.1 Kutná Hora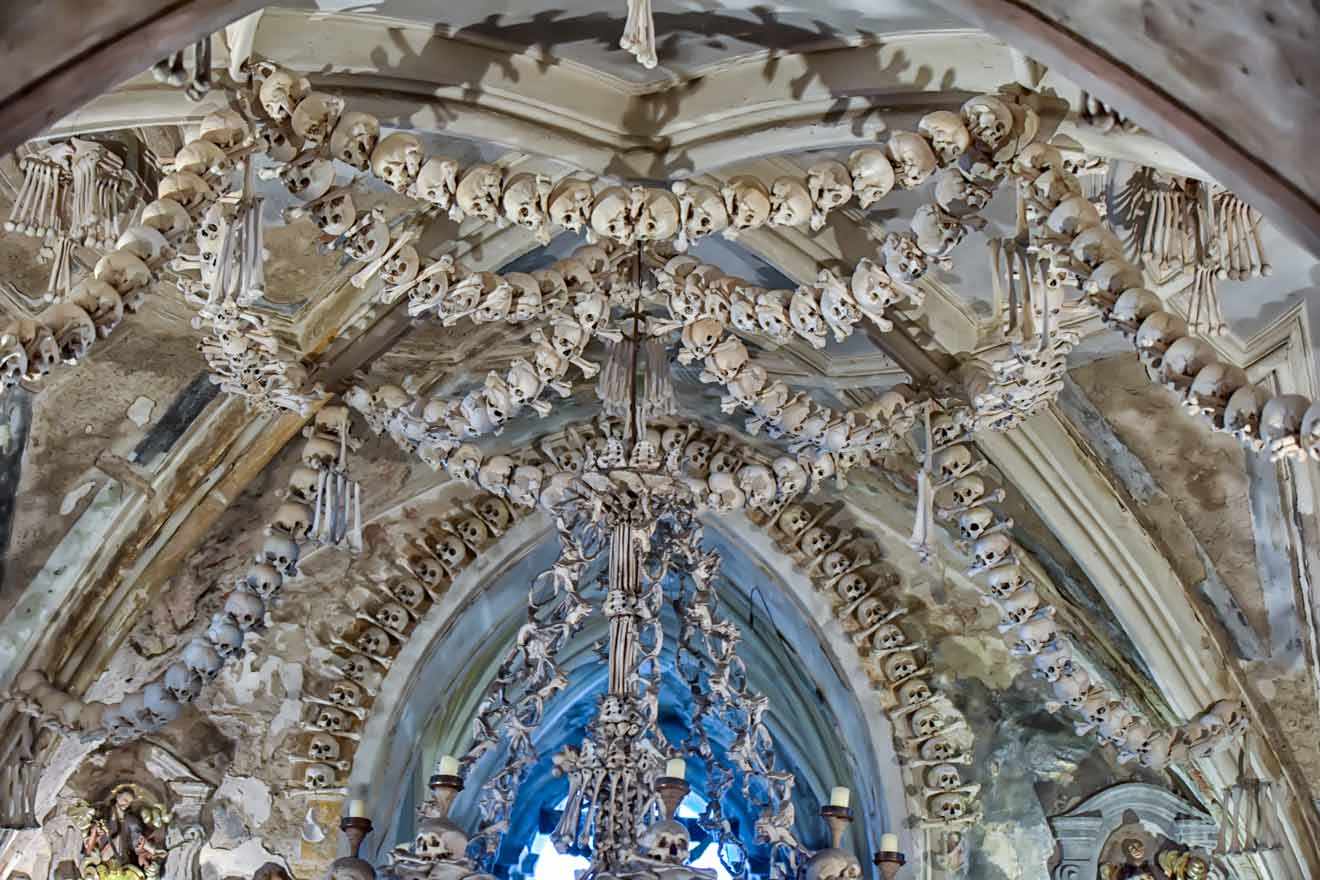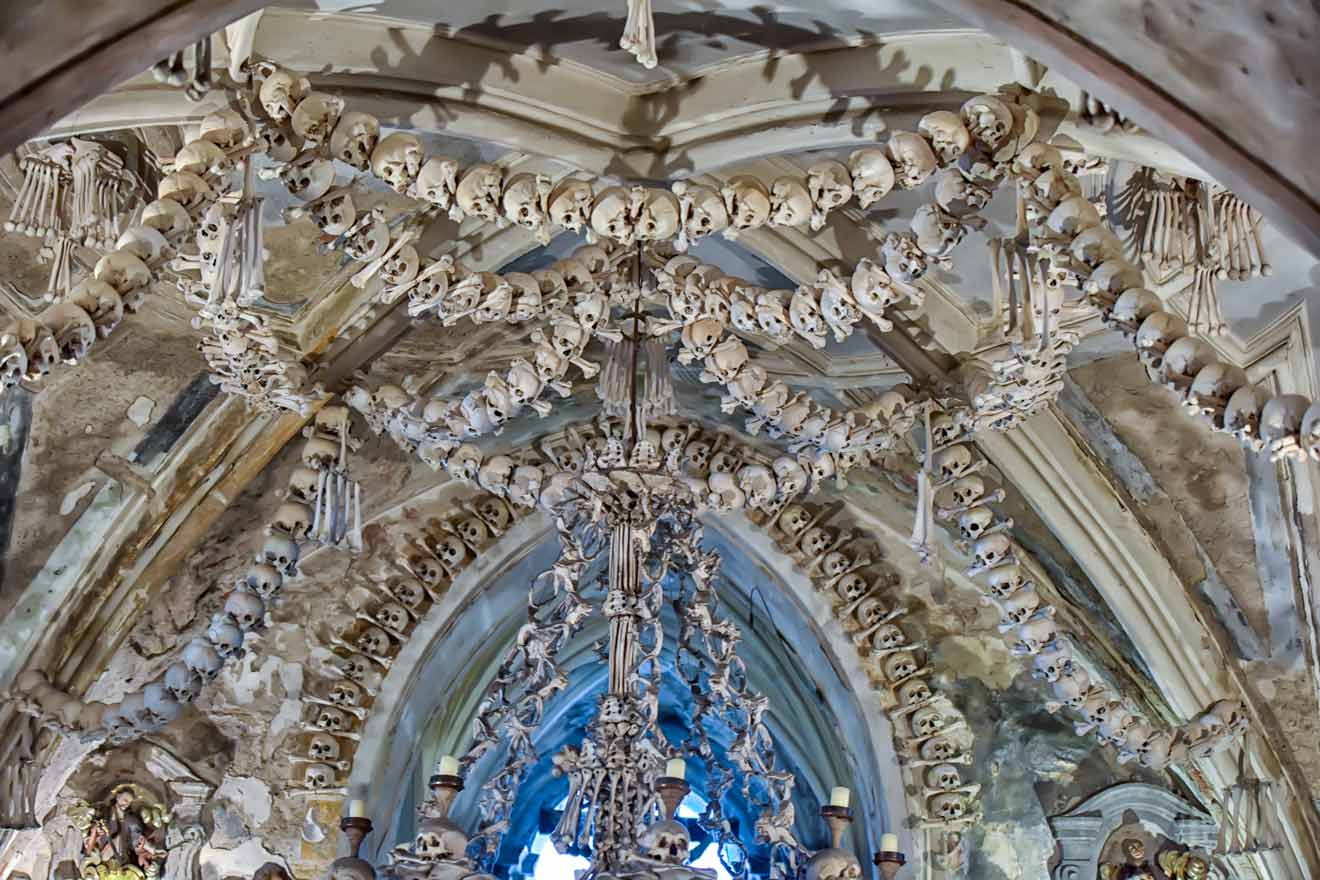 Are you up to witnessing skeletal remains of ~70,000 people very symmetrically (I should even say, nicely) arranged in a chapel? Kutna Hora is the place then!
It does sound creepy, I know, but if this is something you would be interested to see, it is a once in a lifetime opportunity imo (there are more ornate decorations made of bones in the world, but I haven't seen anything of this scale!).
Kutná Hora is located 84 km from Prague which is 1 hour away by car or 1h 20 min by train.
If you want to take an organized tour to Kutná Hora, I recommend this tour – it is about €45 and it includes transportation and all entrance fees.
11.2 Karlovy Vary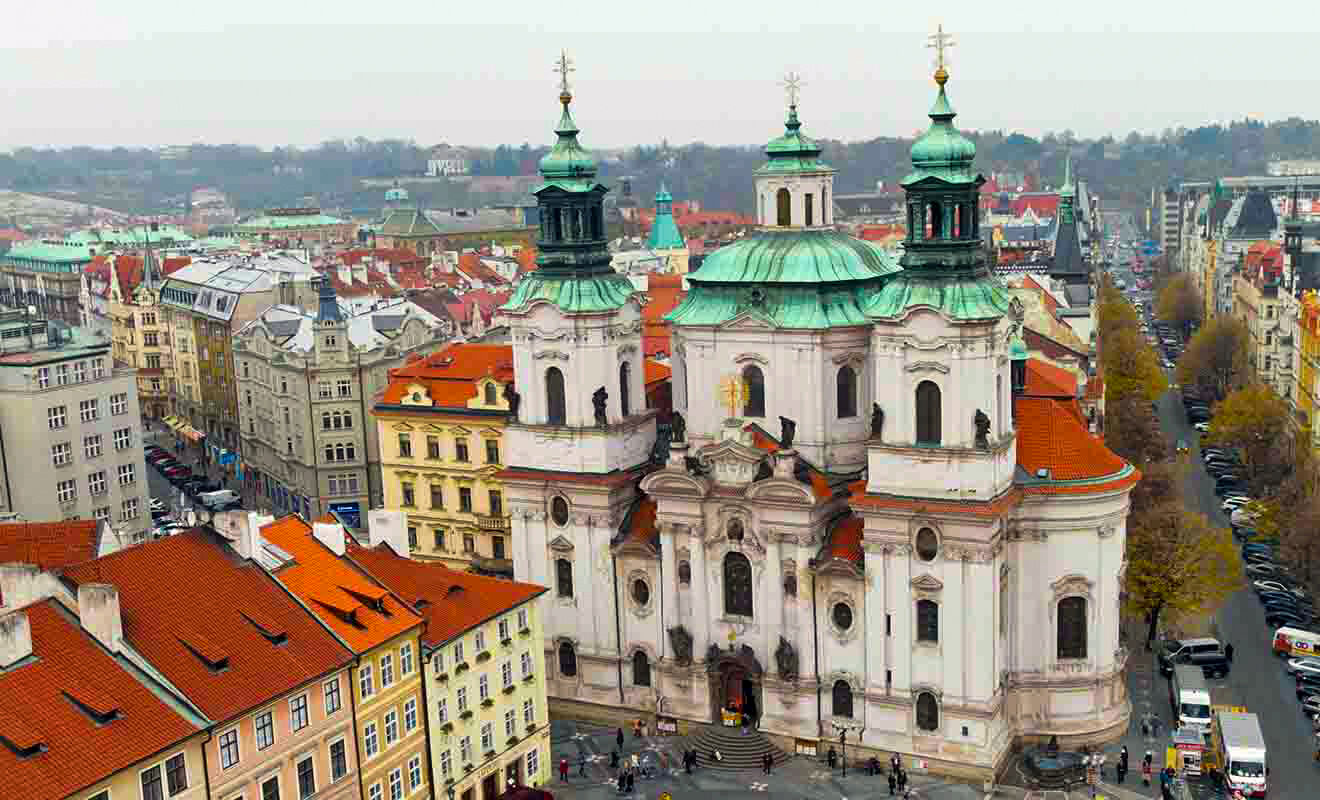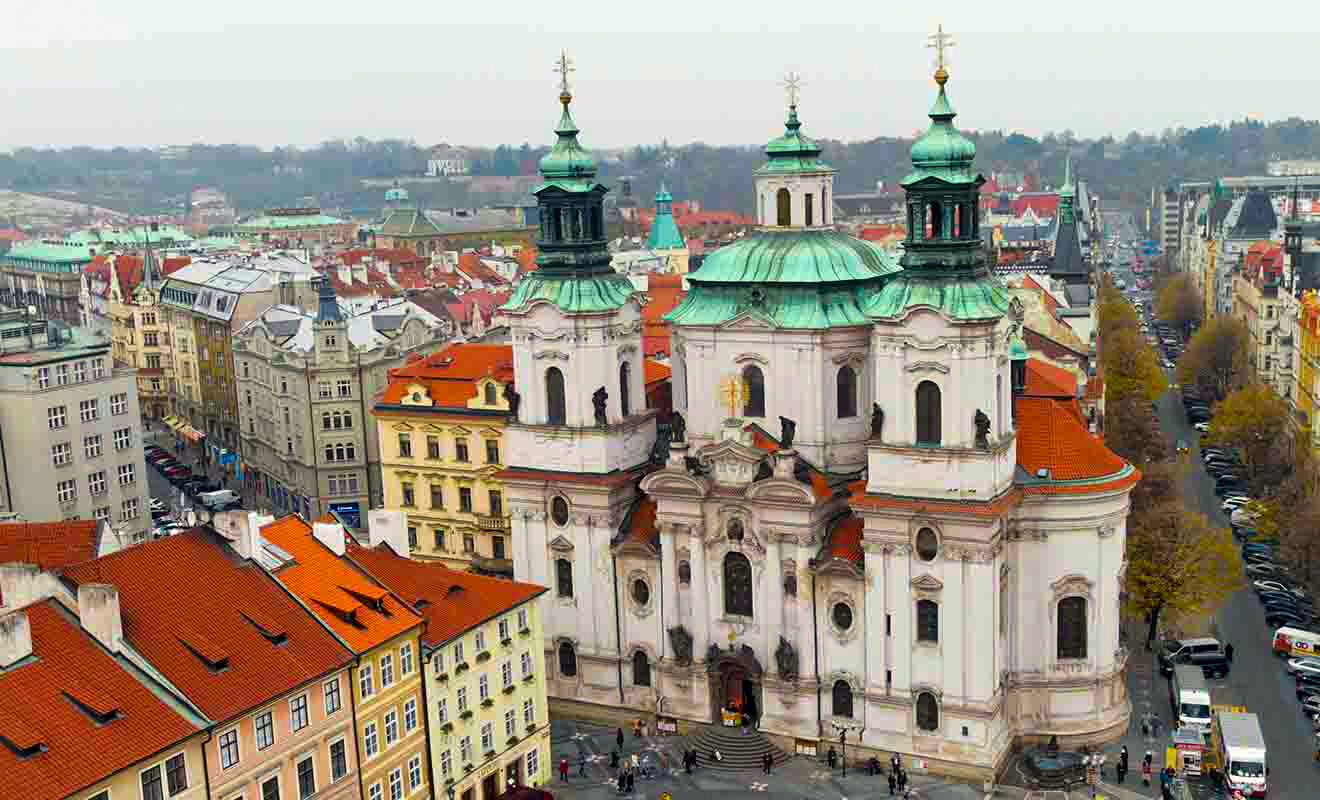 Karlovy Vary is a legendary spa town known for its hot and mineral springs all over the city. If you feel like it is time to take a break from the hustle and bustle of the big city, I highly recommend staying in Karlovy Vary overnight, they have tons of super nice spa hotels!
The town is 1,5-hour away by car (127 km) from Prague, otherwise, it is 2h 10 min by train.
If you do not want to think about the transportation and prepare your agenda, you can take this Prague to Karlovy Vary day tour. For the price of ~€70 you will get a 3-course lunch, a professional guide in the city and a hotel pick-up/drop-off.
11.3 Karlstejn Castle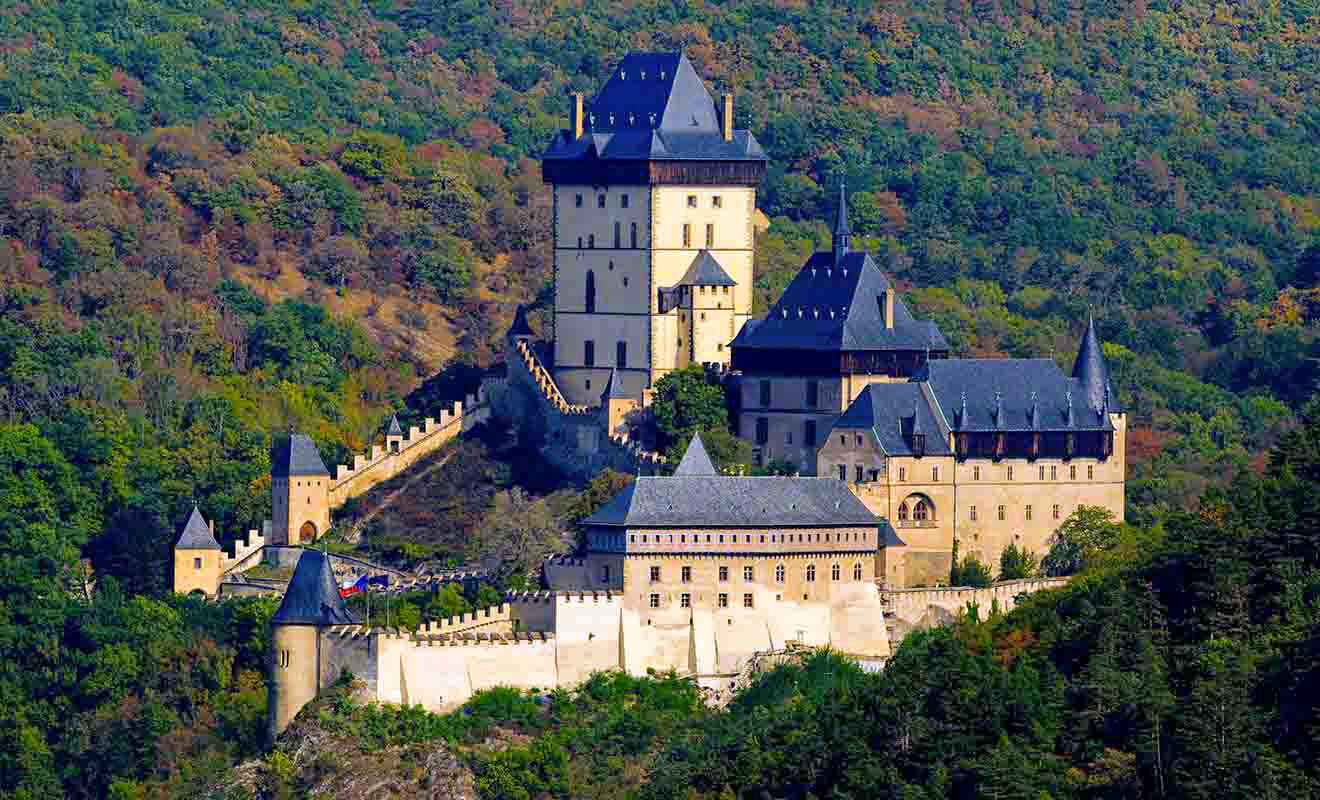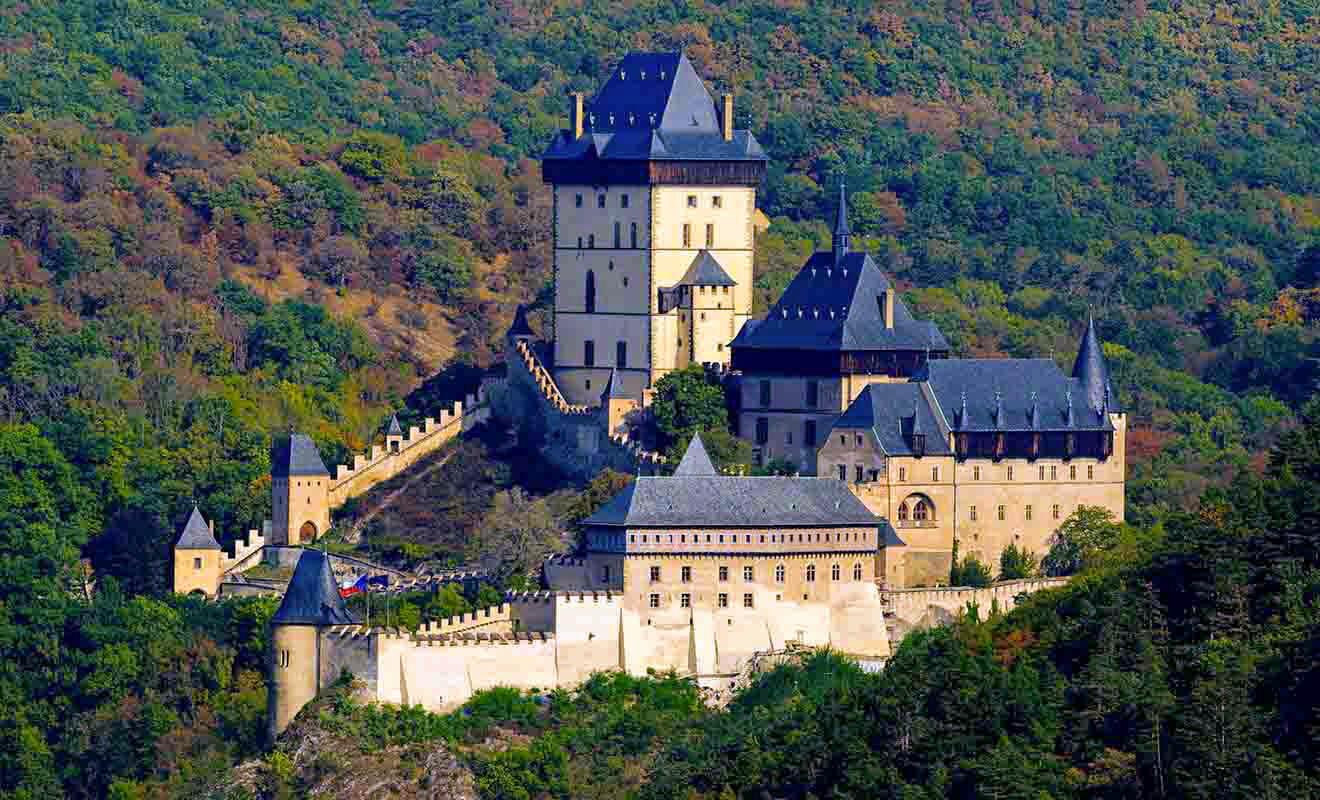 Karlstejn Castle is a large Gothic castle constructed by, you guessed it, Charles IV in the 14th century. They have many different tickets on the site which can get a bit confusing, but the basic one is currently 220Kč (~8.5 EUR).
The castle is located 30 km from Prague which is about a 45-minute train ride (+30 min walk from the train station).
P.S. If you have some time, there is a nice forest around and the Berounka river flows nearby if you are interested in swimming or rowing.
The most comfortable way of getting there and enjoying the castle though is taking an organized tour that takes care of the transport from your hotel (~50 EUR per person).
NOTE: There is also Český Krumlov, I see other sites include it in the list, but I do NOT recommend visiting it as a day trip, the road is 3 if not 4 hours one way and I think that charming town deserves at least 1 full day of visiting with no rush.
| | |
| --- | --- |
| 📅 How many days: | 2-4 |
| 📍 Best neighborhood: | Old Town |
| 🍽️ Dinner for 2: | €28 |
| 👶 Family friendly score: | Great |
| 🚕 Average taxi price: | €8 |
| 💵 Avg hotel price: | €70 |
| ✈️ Cost of traveling: | Medium |
Practical info about Prague
Last but not least, here is some super important info on best accommodation options, tips on transportation, prices in the city and currency exchange secrets:
Where to stay in Prague, Czech Republic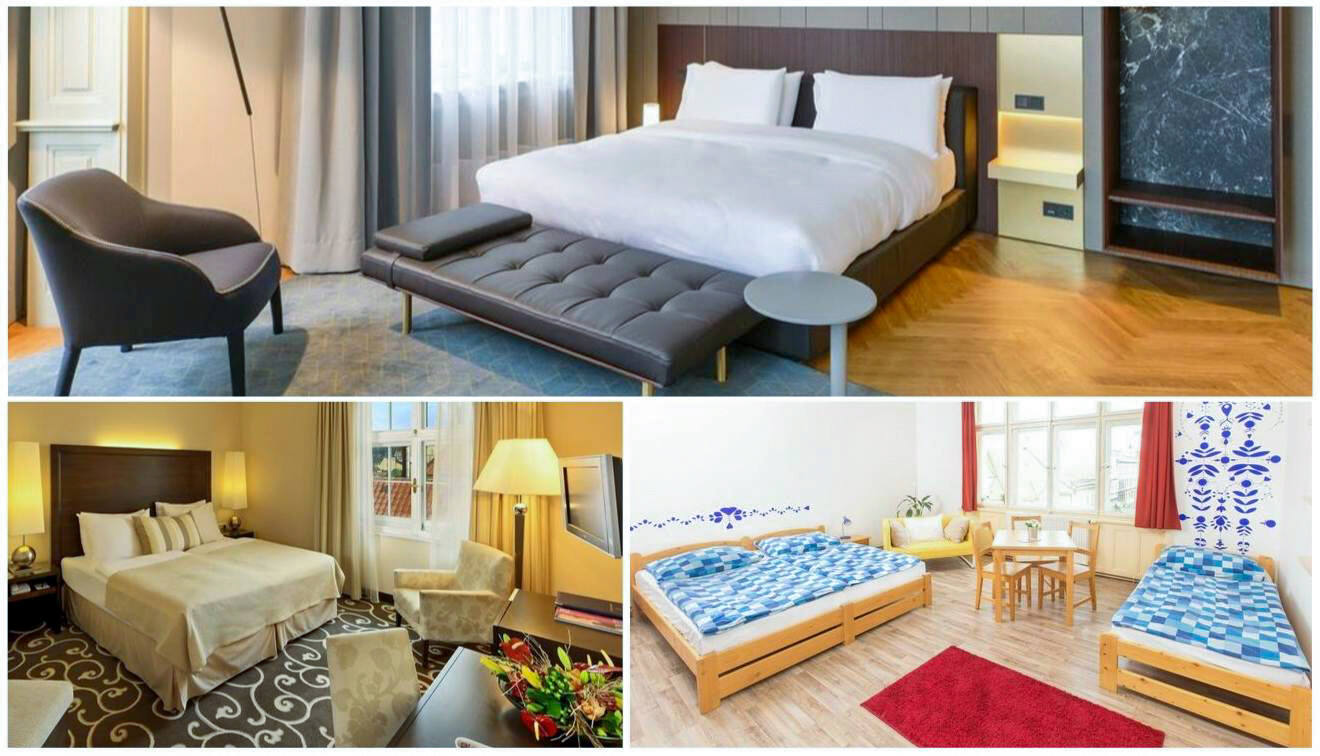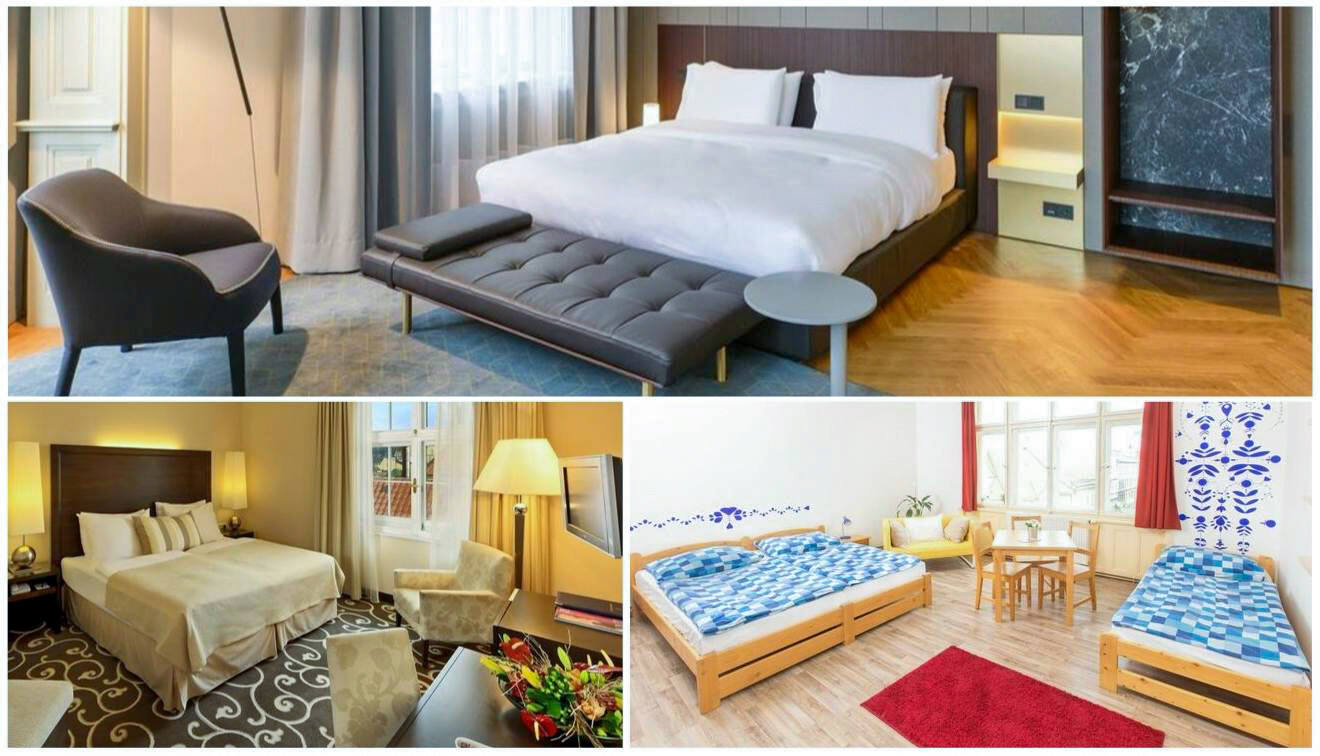 Here are some options with great reviews and good prices I have found that you will love:
(UPDATE: if you need more options/some of these ones are booked out already, we have a whole post on accommodation in the city, it is broken down by best areas and, of course, prices – check it out here)
Luxury (€150 and up):
Grand Hotel Bohemia – This is one of the top 5-star hotels in Prague, Czech Republic and it offers free Wi-Fi, satellite TV, modern furniture, and bathtubs in all bathrooms, all found in each of the spacious rooms. Plus, it's also very close to Wenceslas Square and the bridge, two of the main points of the city!
Hotel Waldstein – It is located very close to Prague Castle and is set in a 14th-century building. All the rooms have a flat-screen satellite TV, free tea/coffee making facilities, and more. Plus, it offers nice views of the city as well!
Middle-priced (from €50 to €150):
MOODs Charles Bridge – This is a 4-star boutique hotel in the Old Town, perfect for those wondering where to stay in Prague for a great value! Set a 6-minute walk from the Astronomical Clock, it offers the guests free Wi-F and a gym
Hotel Prague Golden Age – This hotel is in a UNESCO-protected 15th-century building and offers rooms all with original furniture and Renaissance frescoes, a very classic way to spend your stay. Nice views of Prague included!
Budget (up to €50):
Hostel Downtown – It is a colorful and lively decorated hostel in the center of Prague that includes free Wi-Fi, a shared lounge for all the guests, and 3 computers if needed.
Hostel Kaiser – It is a modern hotel in terms of appliances, décor, and furniture while being very comfortable and with a great price! Each room includes free Wi-Fi, air-conditioning, and more.
Where to change money in Prague, Czech Republic
Prague, although it is part of the European Union, does not use Euros because it has and uses its own currency which is the Czech Koruna also known as Czech Crown (CZK). Here is a general idea of what the conversion rates are (click on the link to see up-to-date rate):
ATTENTION: There are so many scams with exchanging money in the city, it is ridiculous! Just watch the video above – it explains very well about the so called "0% commission" places that in fact charge you anywhere from 20 to 40%!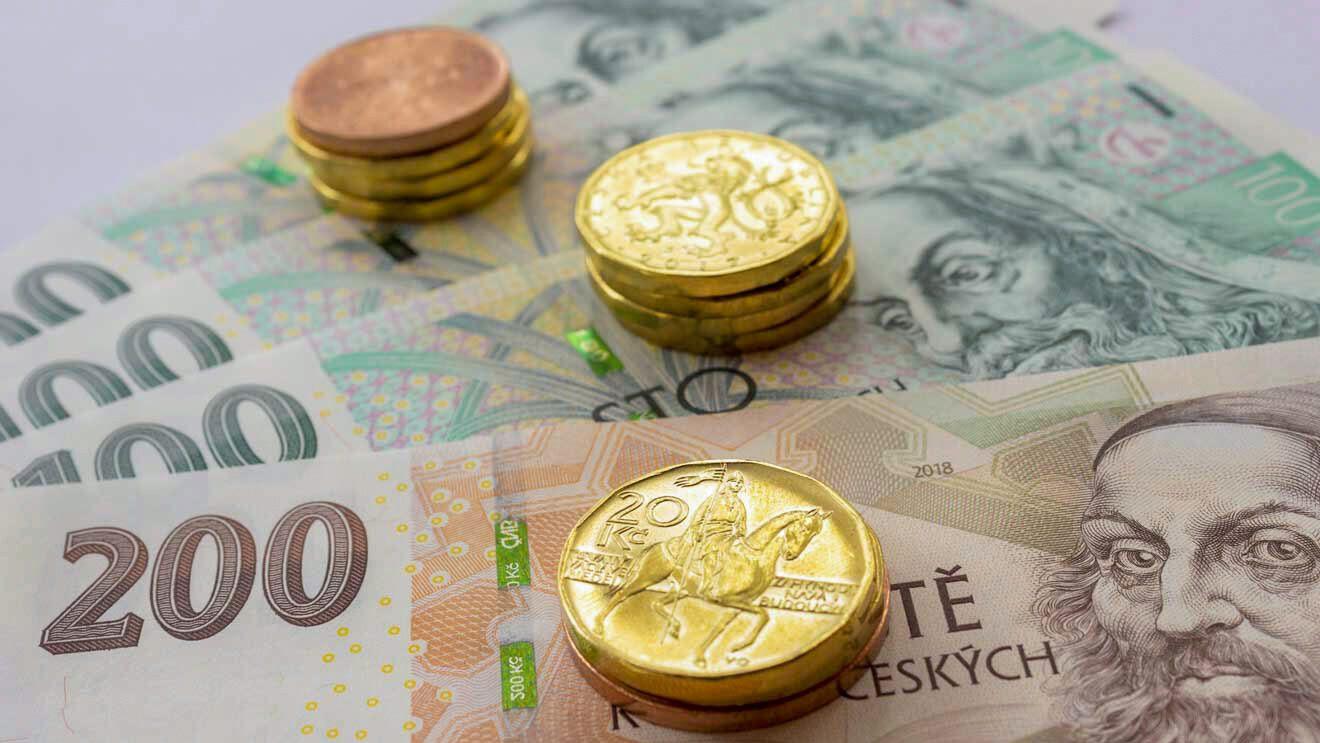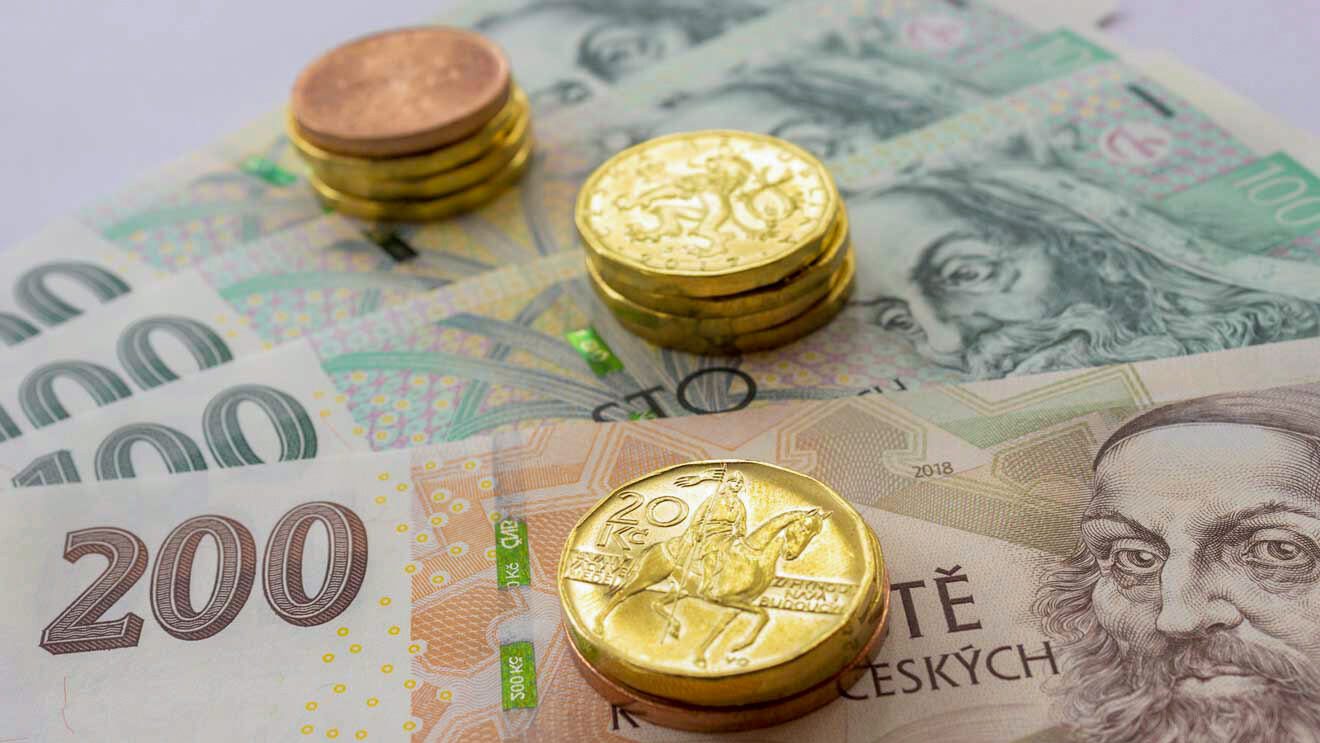 HOW TO AVOID THE EXCHANGE SCAM: Honestly, I would not even use the exchange places at all in the first place (just withdraw money from ATMs, I will explain which ones below). But if you have to, use the recommended exchanges below and ask them BEFORE handing money to them – "I want to exchange 100 EUR, how much money will I get?". This will help you understand how much money you are actually losing (they all charge commission, that's how they make money, but 5% is acceptable-ish, while 20% is not).
Remember – while you need cash in some places, most of them accept cards – so, even if you need to withdraw money, it should not be a lot.
Here are the exchange places in Old Town I recommend for you to exchange money: Nekazanka exchange, Franz Kafka square Exchange
Guess what, the ATMs are also tricky and can charge you extra money if you are not careful. Watch this video and do not withdraw money from Euronet ATMs. In fact, even big banks do the hidden fees trick explained in the video, but I found that Raiffeisen bank was actually ok, so I can recommend it.
So yeah, bottom line – just pay with the card where possible and if the terminal asks you in which currency you want to pay, always go for the local currency (CZK in this case), this is how you will avoid all the hidden conversions etc.
How to get from the airport to the Prague center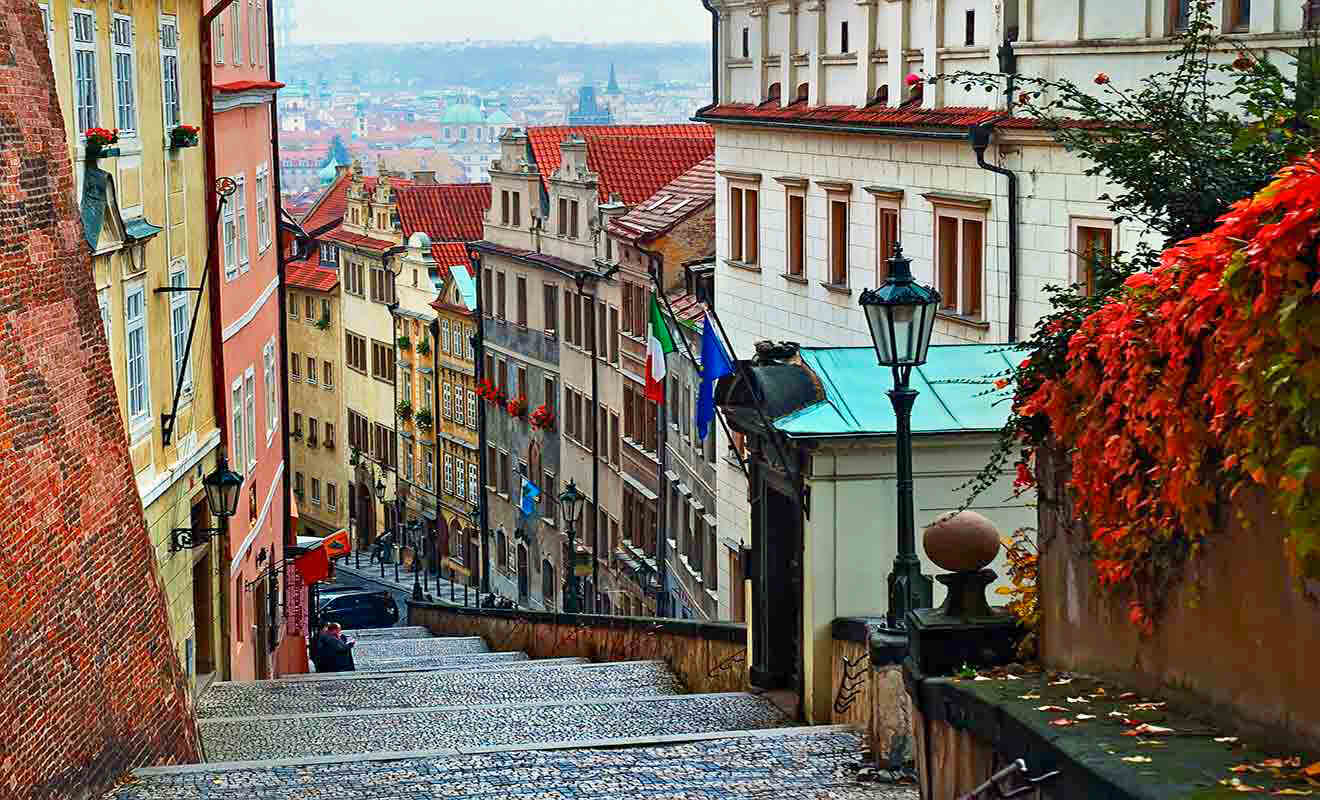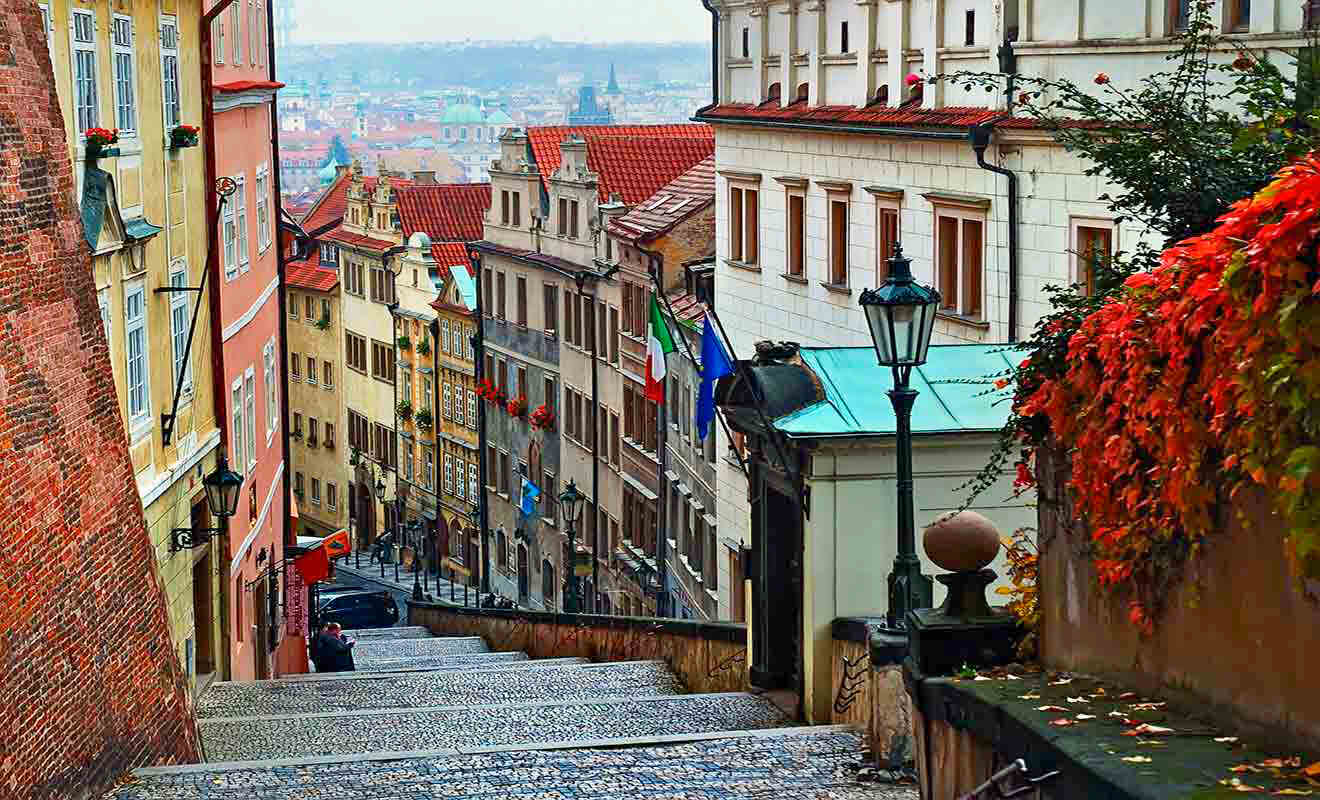 Vaclav Havel Airport Prague is about 18 km from Prague city center and it takes about 40 minutes to get there by car. Let's see which are the most convenient ways of getting from the airport to Prague:
By taxi
I am adding this option first as this is the most convenient in this case. I recommend using one of the taxi apps like Uber or Bolt (get 3 EUR off your first ride using this promo code – ​​RLN3YM). The price is going to be 15-20 EUR if you are going to the city center.
If you want someone to meet you with the sign and no waiting time, then Welcome Pickups I can highly recommend, you can also be sure that your driver will speak English. The ride has a €27 flat fee.
Last but not least, there is also a shuttle bus that runs every hour and it will deliver you to the hotel for the price of 11 EUR, but I would say it is only worth it if you are traveling alone.
By public transportation
There are a couple of buses departing from the airport (191,119 and 100). Use Google maps to see which one you will need (there will be a change to the metro at some point). A 90-minute ticket costs CZK 32 (€1.20) and the ride is about 50 min.
How to get around Prague, Czech Republic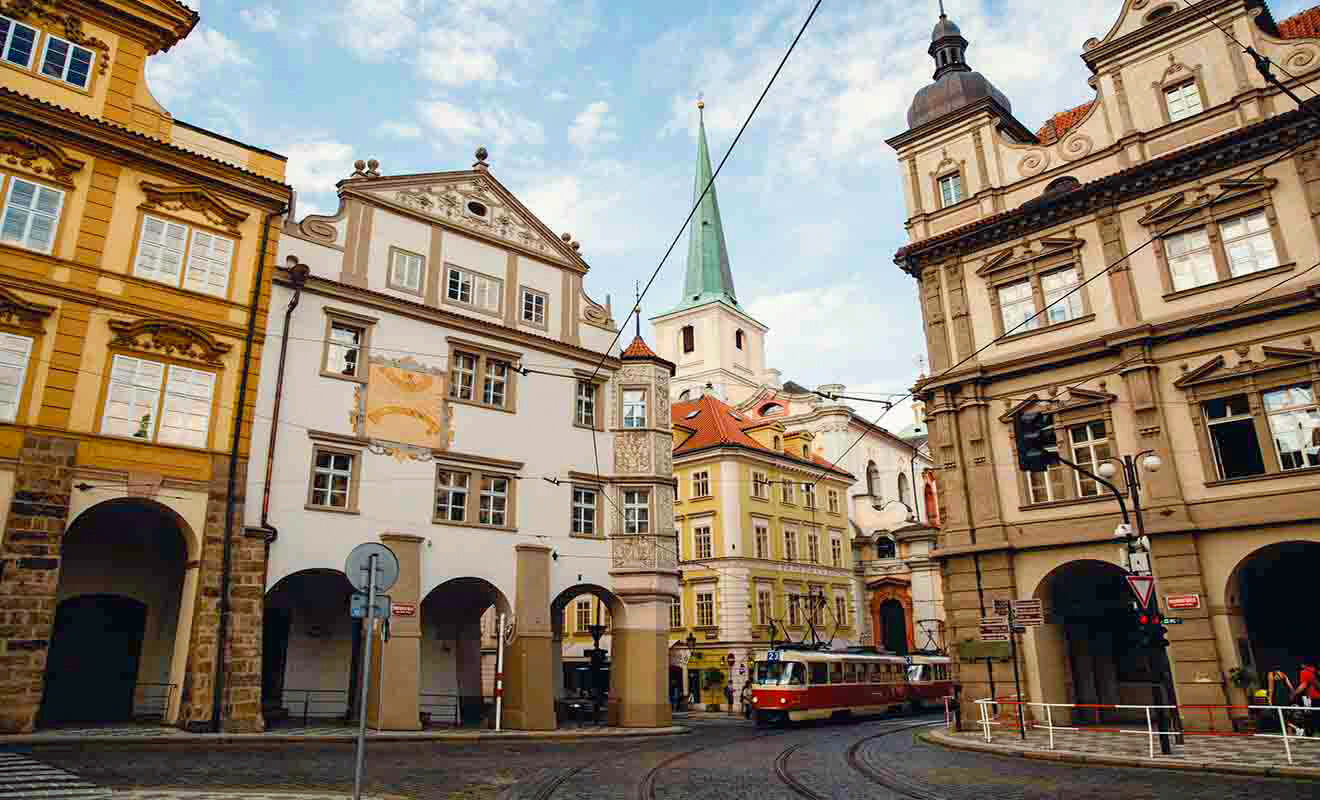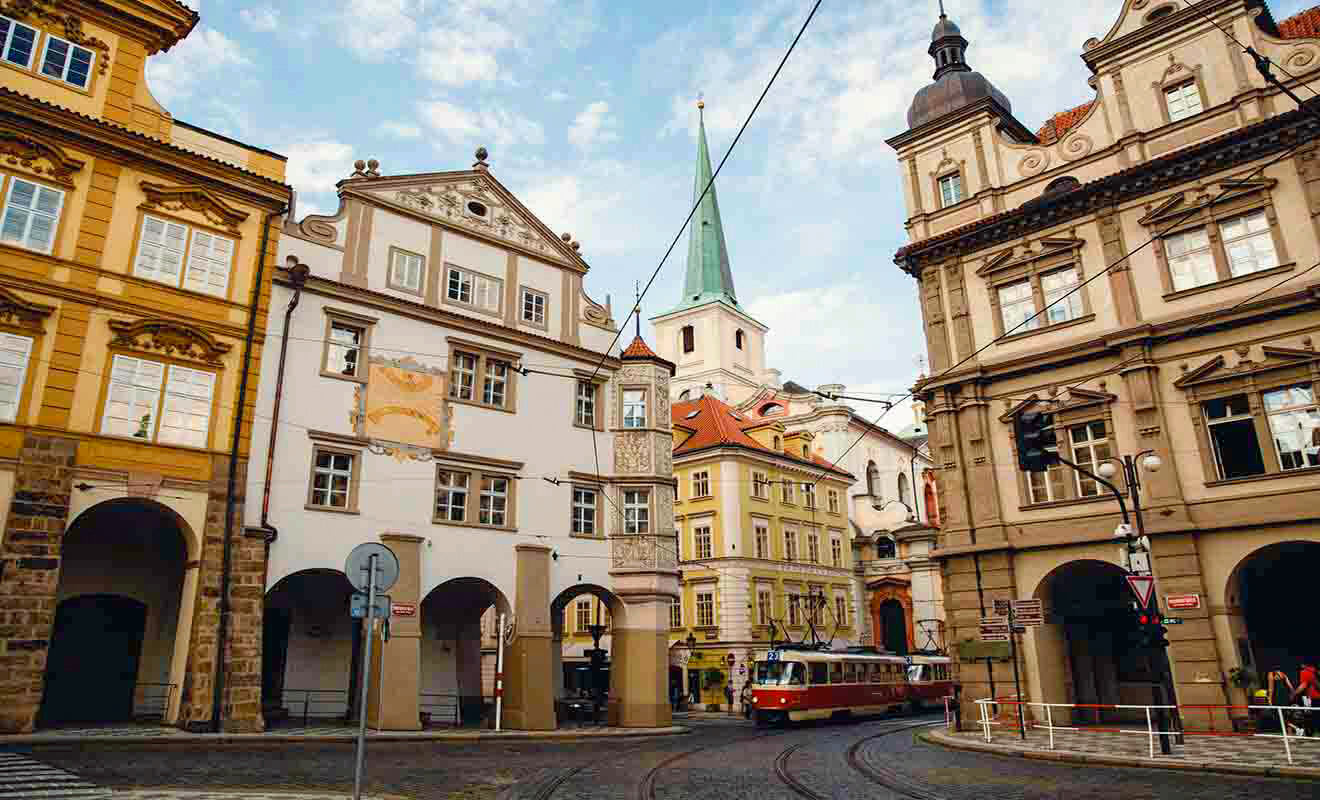 Prague is a very pedestrian-friendly city, this is why I recommend walking around the town if you can. But here are the best ways to move around Prague:
By public transportation
The public transportation system is very good and complete in Prague – they have many buses, trams (I especially like trams there!), and metro lines that go around the entire Prague, so you can efficiently save some time.
There is an option of purchasing a ticket for 24 hours or 72 hours starting at CZK 115 (€6) that can be used on all the public transportation systems – buses, trams, and subways.
You can get the tickets at any yellow ticket vending machine or go to a ticket office at the metro station. a 90-minute ticket costs CZK 32 (€1.20)
You can check more details on public transport tickets here.
By taxi
There are taxi apps like Uber or Bolt (get 3 EUR off your first ride using this promo code – ​​RLN3YM). A 10-minute ride will cost you about CZK 120 (€5).
By electric moped (scooter/motorbike)
If you are feeling comfortable driving a scooter in the city, I can recommend you a cool motor-sharing app called Be-Rider. When you install the app, the first 15 mins riding will be free of charge, then it is about 0,2 EUR per minute, see the full price list here.
We love taking scooters when we are in different cities – you do not depend on public transportation and it is also affordable (plus, you can leave your bike anywhere and take another one when you are ready to go again!). When we lived in Barcelona, we used them almost on a daily basis!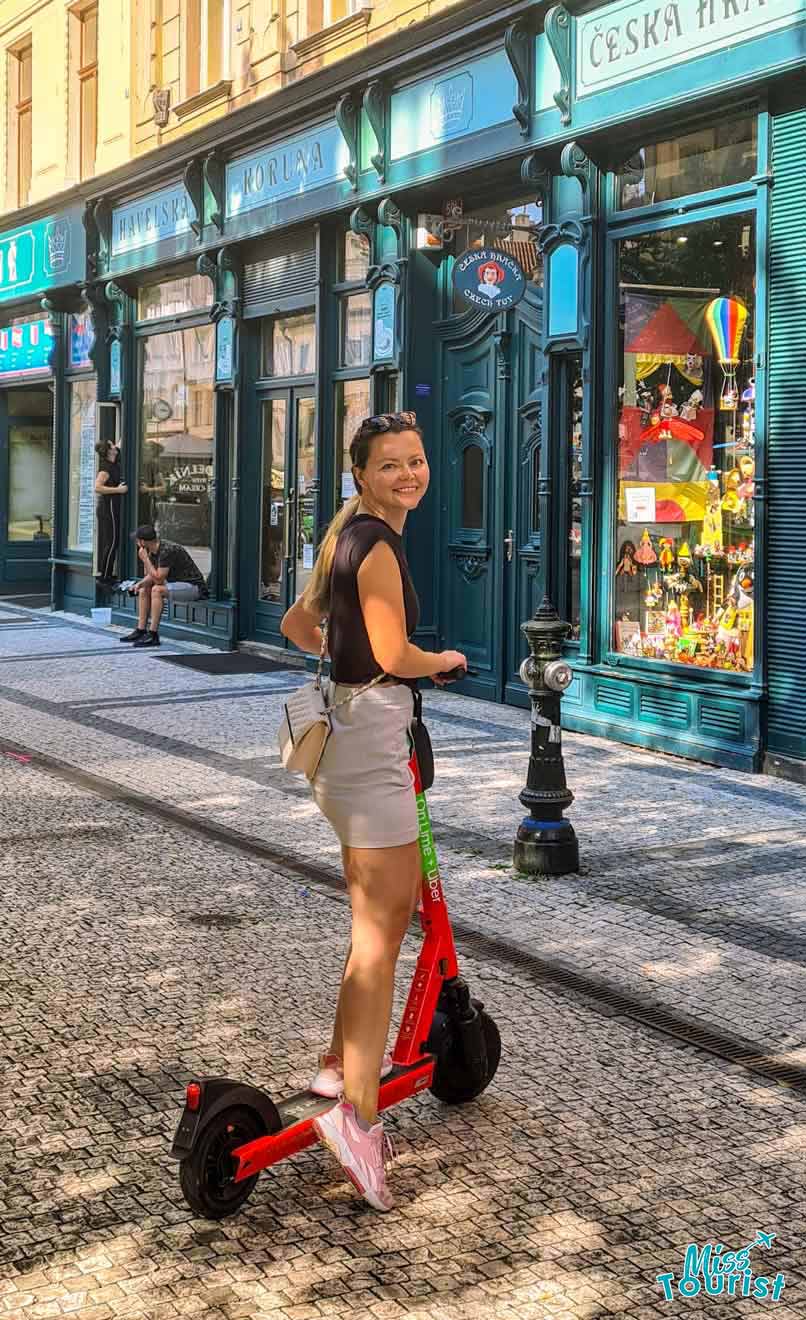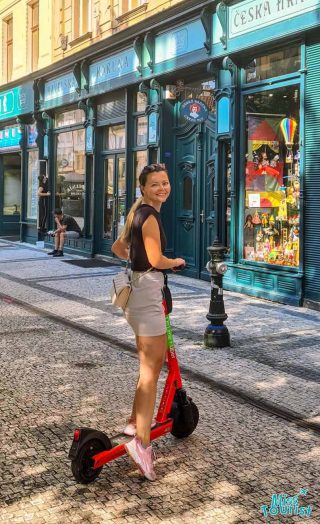 By electric scooter (kick scooter)
I tried it myself, it is not hard at all, the only downside to using it in Prague in particular is that they have too many cobblestone streets which makes the ride pretty bumpy. 🙂
If you already have the Uber app, you don't even need to register – there are a couple of brands out there, but the one by Uber seem to be more numerous. The price was 25 CZK to start and then 5 CZK per minute.
I don't think it ended up really saving us a lot of money (as a tourist you tend to get lost and just go slower), so I can recommend it as a fun way of getting to point B when you are tired/bored. 🙂
Is Prague expensive?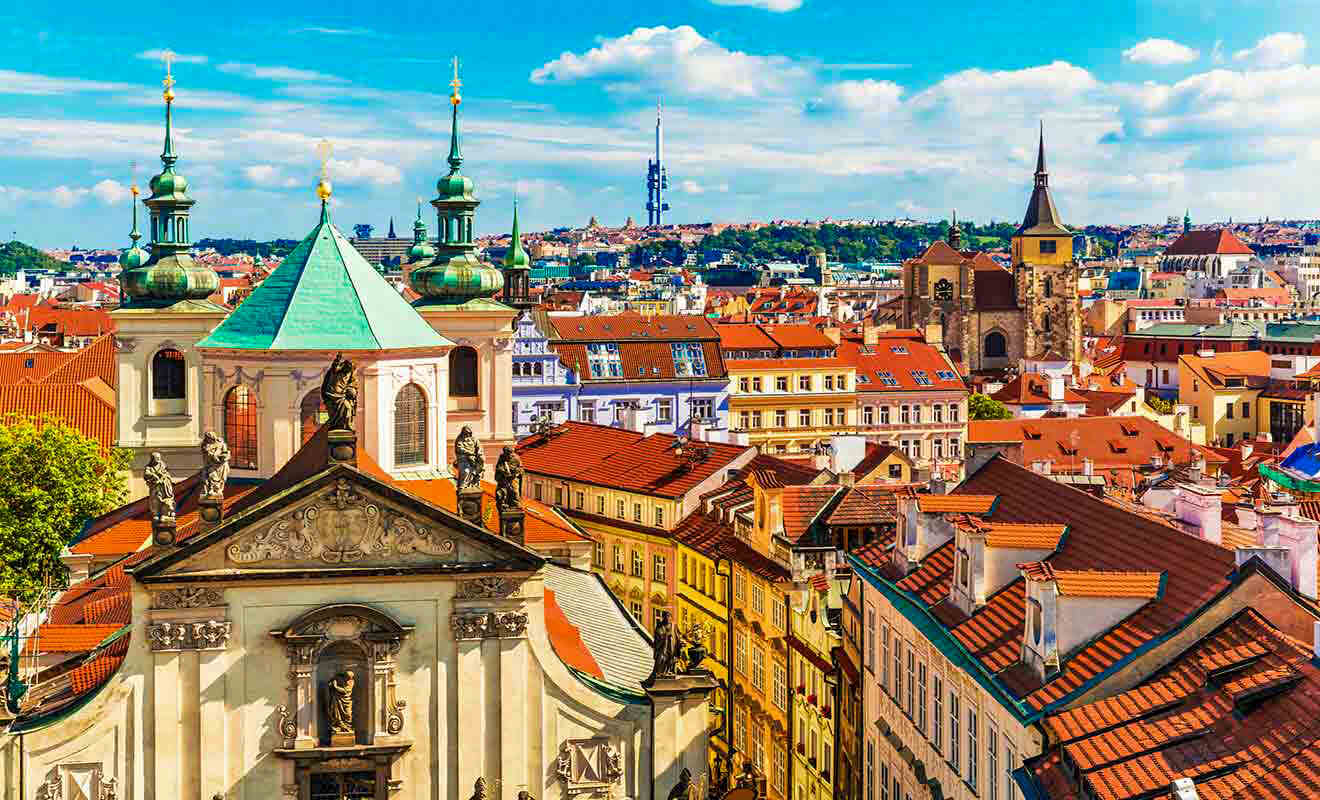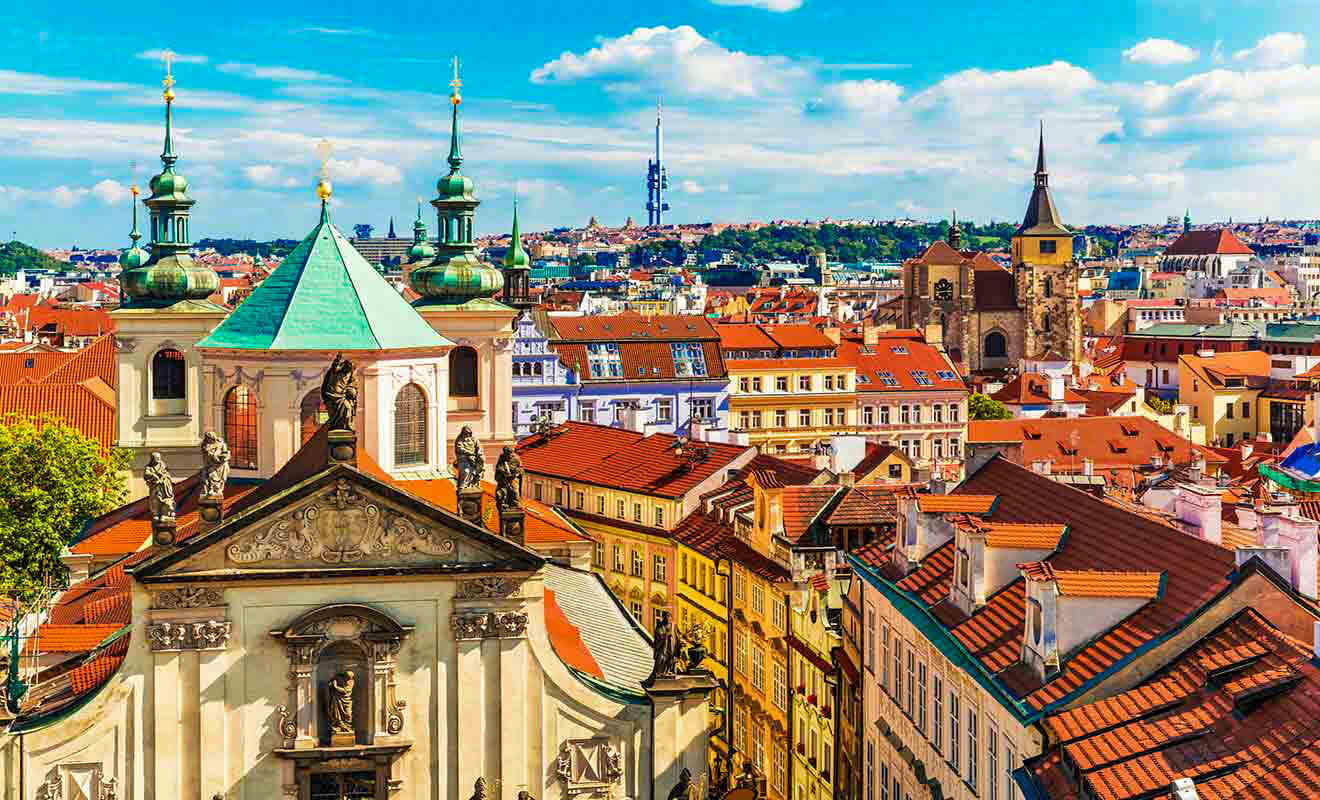 Now that you know more or less about the top things to do in Prague, have you been wondering how much you need to pay per day in Prague in order to visit all these attractions and taste some amazing Czech food and beer as well?
Let me share an idea of how much you would approximately pay for 2 people:
The 24-hour transportation ticket for all types of public transportation – €4.30 per person
A classic cup of coffee in a café – €2
Meal for 2 – ~€22
Accommodation for 2 – €120 per night (this one really depends)
An average museum entrance fee – €10 per person
How many days to spend in Prague, Czech Republic
I recommend you stay at least 2 days, which will be enough to visit all the best things to do in Prague, enjoy some great meals, and see the city at dark with all the castles and the main square beautifully lighted!
If you are just stopping by and have less than a day before leaving for your next travel destination, you might want to enjoy the top things to do in Prague if you jump on the hop-on hop-off bus around the city or join a 4-hour walking tour to the main sites to get a flavor of Prague.
Conclusion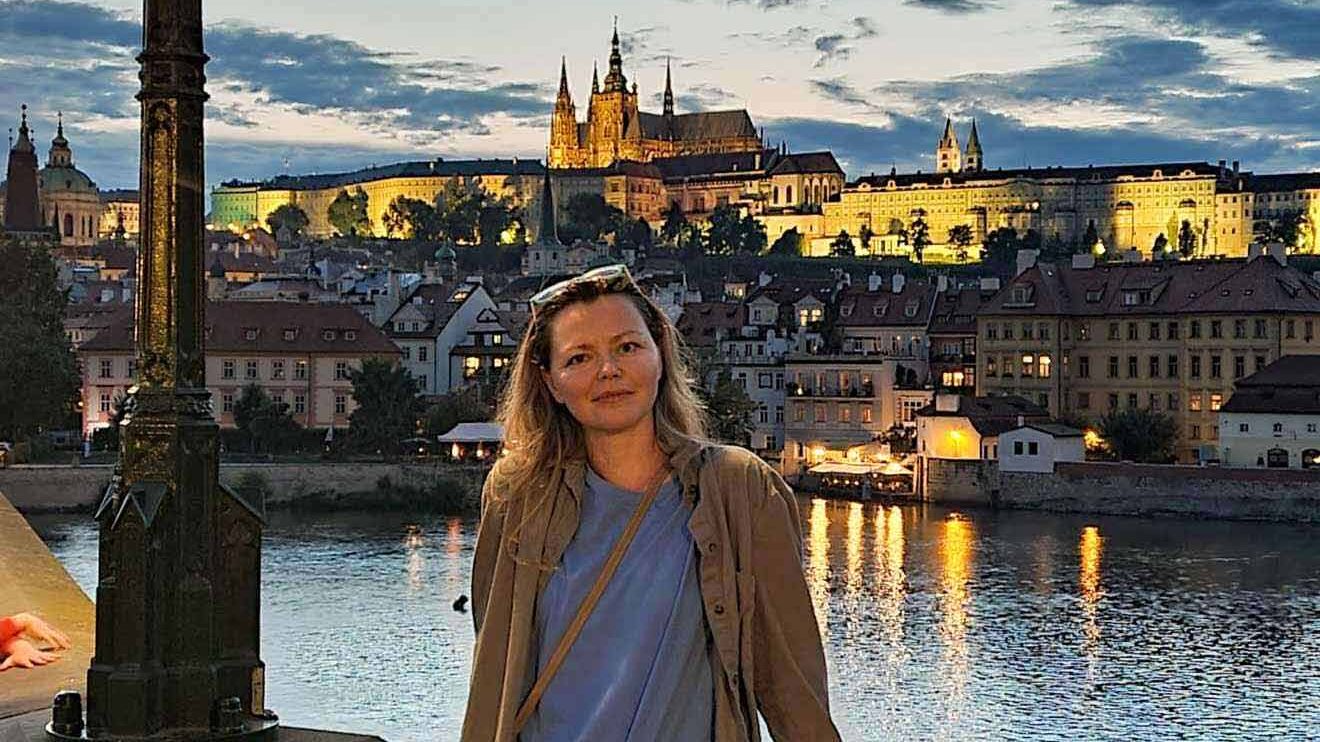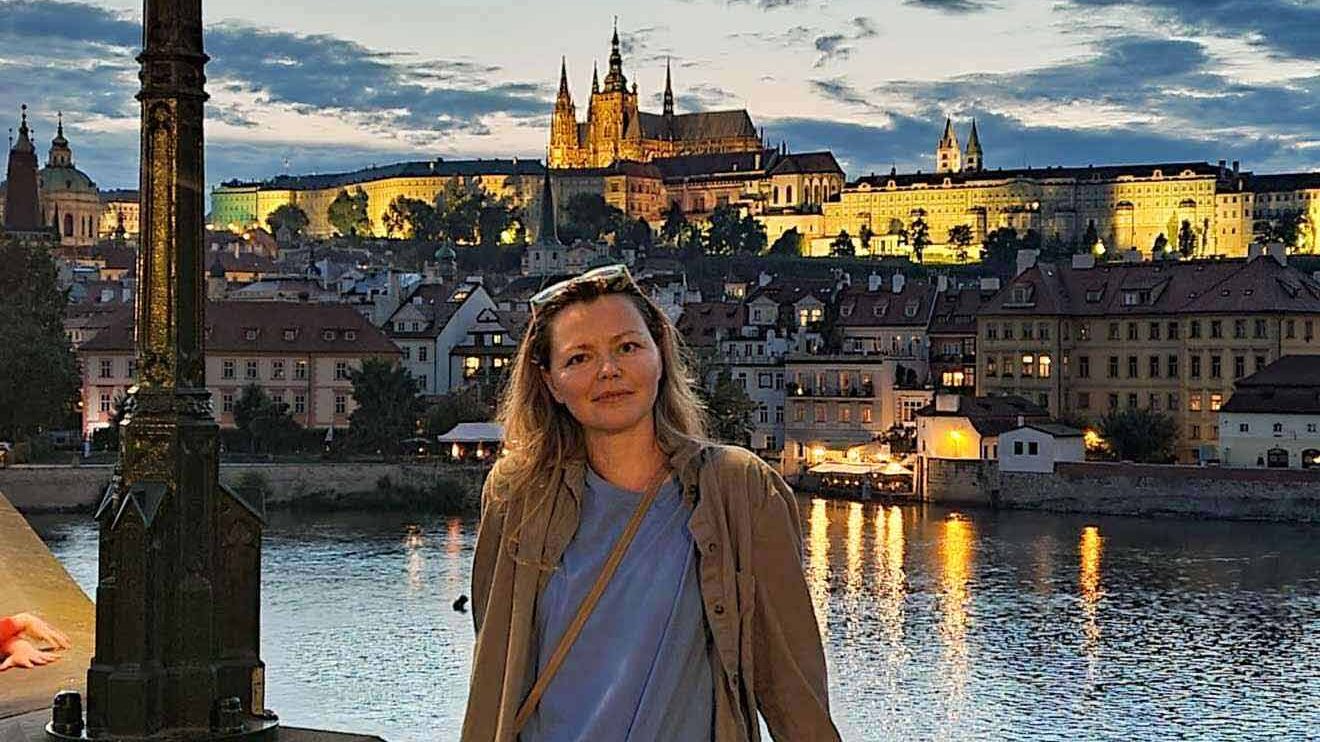 Phew, I know I tend to get into details, but I sincerely hope it was useful and my things to do in Prague guide will not only save you some time and money, but will also help to have an amazing time in the city!
Just to wrap up – you have my list of best things to do in the city above and the second part is a lot of practical info which includes hotel recommendations, fast transportation overview, and some other tips like where to eat and how to save money.
I hope this article about the top things to do in Prague is a great starting point for you to create your perfect itinerary and I wish you a great time in this amazing city!
If you have any questions or want to share some other things to do in Prague, Czech Republic please post them in the comments below, I am always happy to answer!
Yulia
Pin it for later: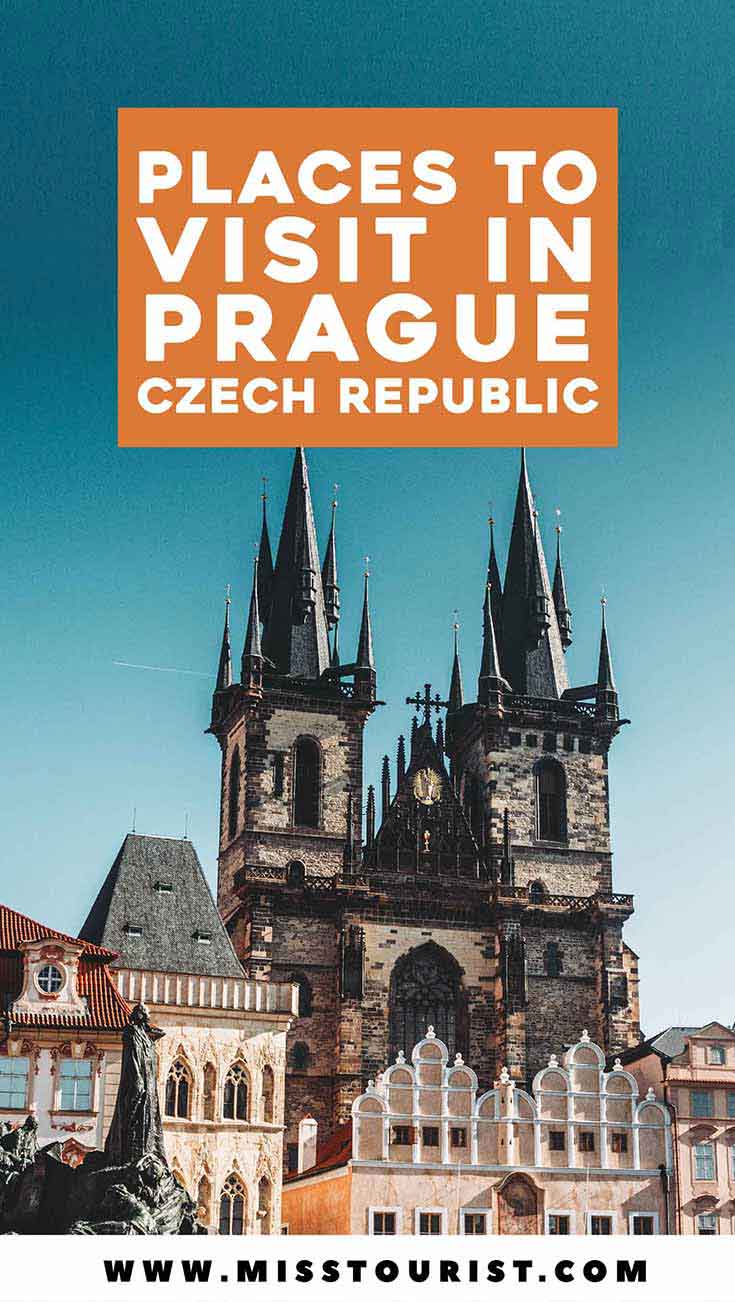 Pin it for later: