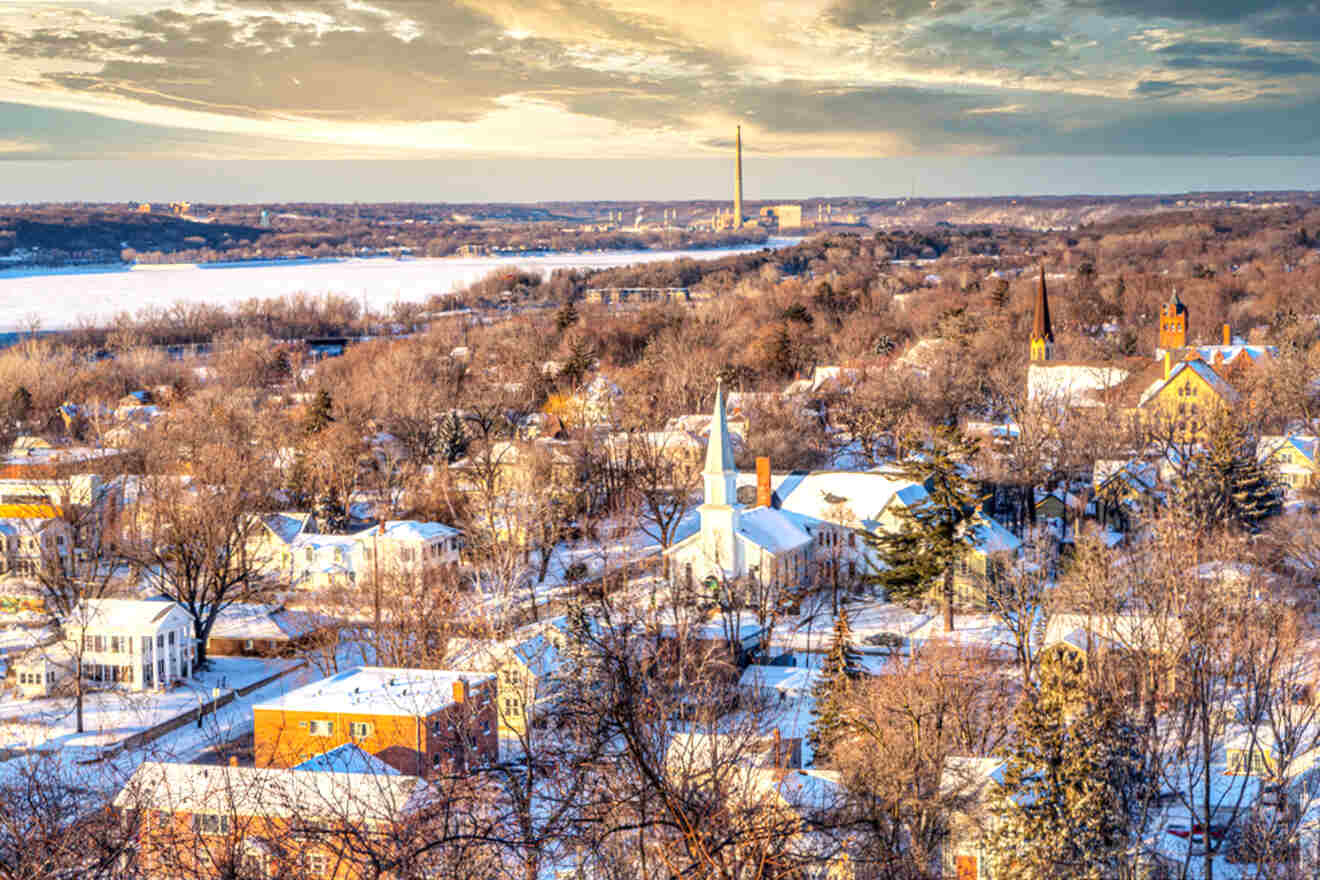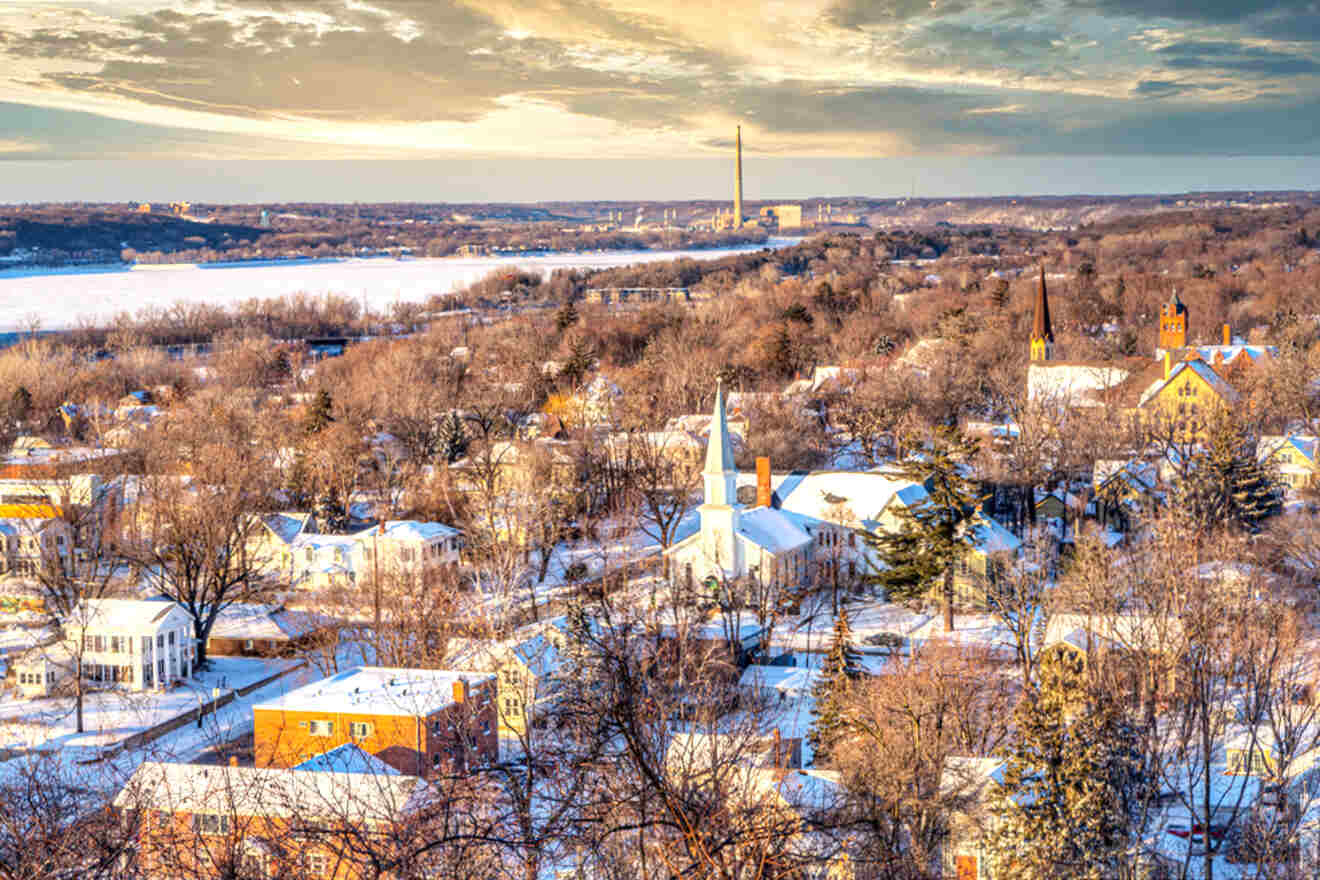 Are you looking for resorts for your next winter break? Great! Because I've been looking for the best winter resorts in Wisconsin for hours until I came up with the perfect list of accommodations with the best winter festivals and attractions so you and your fellow travelers have an amazing and relaxing time!
This article is arranged to start with the most luxurious hotels first, but truth be told, all the accommodations here are honestly the best Wisconsin resorts out there, so you will find something that fits your preferences and pocket!
Wisconsin is a large state, and people from around the world travel to this beautiful area all year round, especially in the winter when everything is covered in white snow. The Christmas lights light up the place, so if you want to get the best deals and the room you like, you need to book in advance!
Are you ready to check out the best winter resorts in Wisconsin?
Without further ado, let's see the accommodations!
If you are in a hurry
Do you need to book fast for your winter vacation and don't have a lot of time to read the whole article? Here you have the best winter resorts in Wisconsin:
Wisconsin is a big state, so here you have a map to help you navigate the resorts for your Wisconsin vacation:
1. Greenway House – cozy and homey winter getaway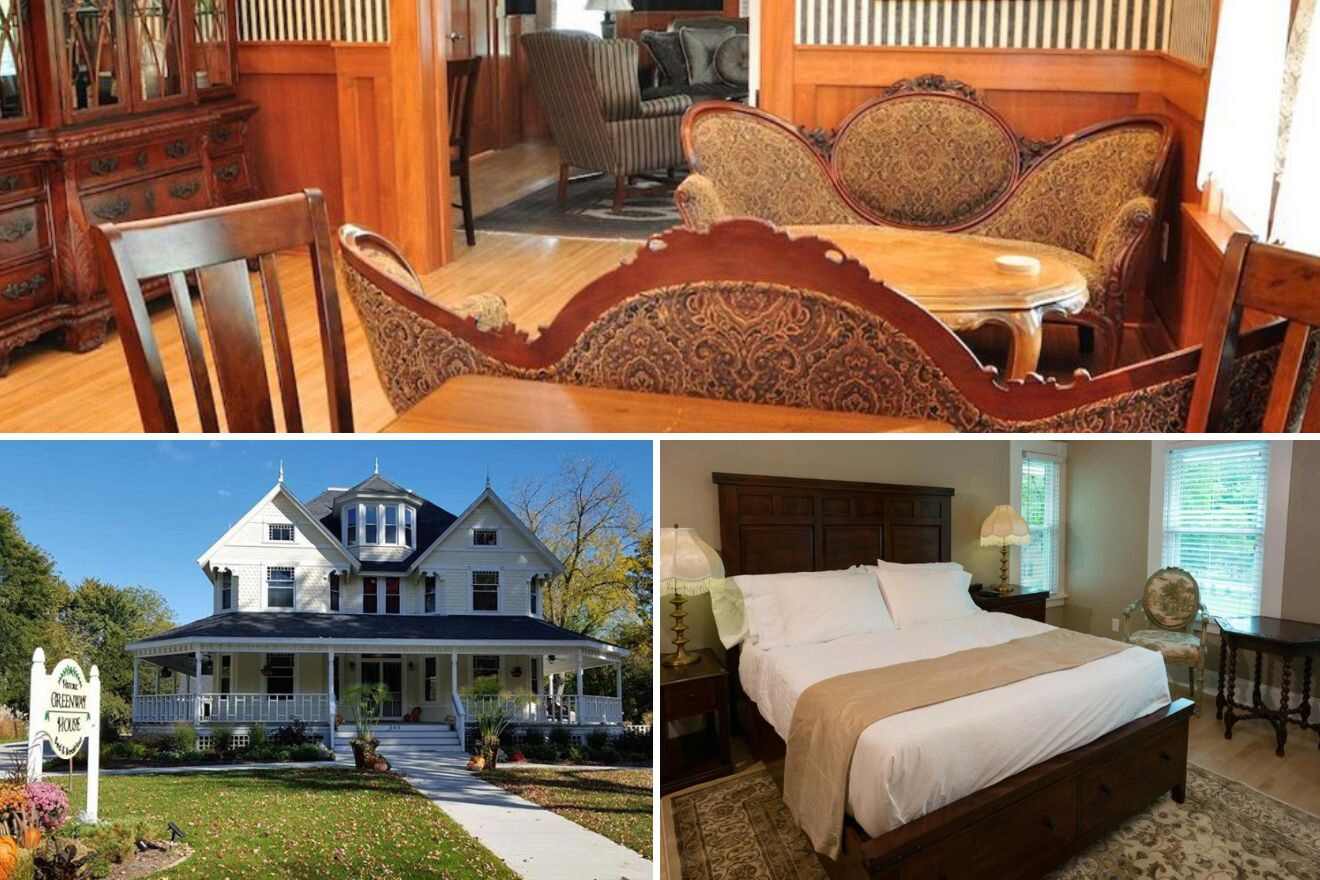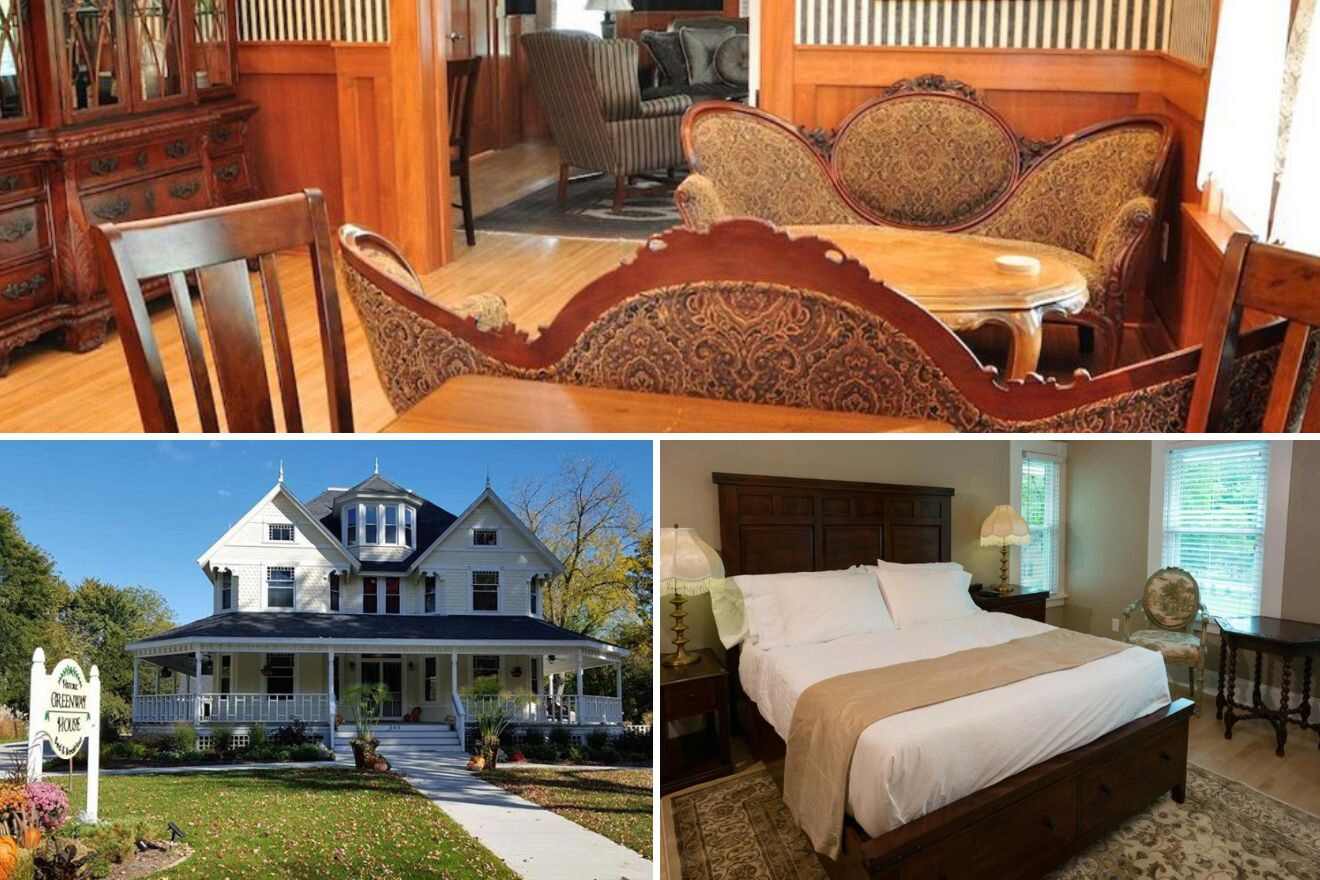 Located in Door County, Northern Wisconsin, this bed and breakfast is an amazing option for Wisconsin winter getaways! Green Lake is only a few steps away from the property, where you could go ice skating; you could also do other outdoor activities such as horseback riding and ice fishing to bird watching, and if you want, you can spend time in the garden and even relax by the fire pit! If you want to ski, there are downhill skiing options only a 45-minute drive away!
Every morning, you can enjoy a complimentary breakfast with vegan, vegetarian, and gluten-free options! The cozy cabin look of the property makes it the best place to spend time inside with hot cocoa once the temperatures drop! Some of the cozy rooms come with a spa bath!
2. Timber Ridge Lodge and Waterpark – family winter vacation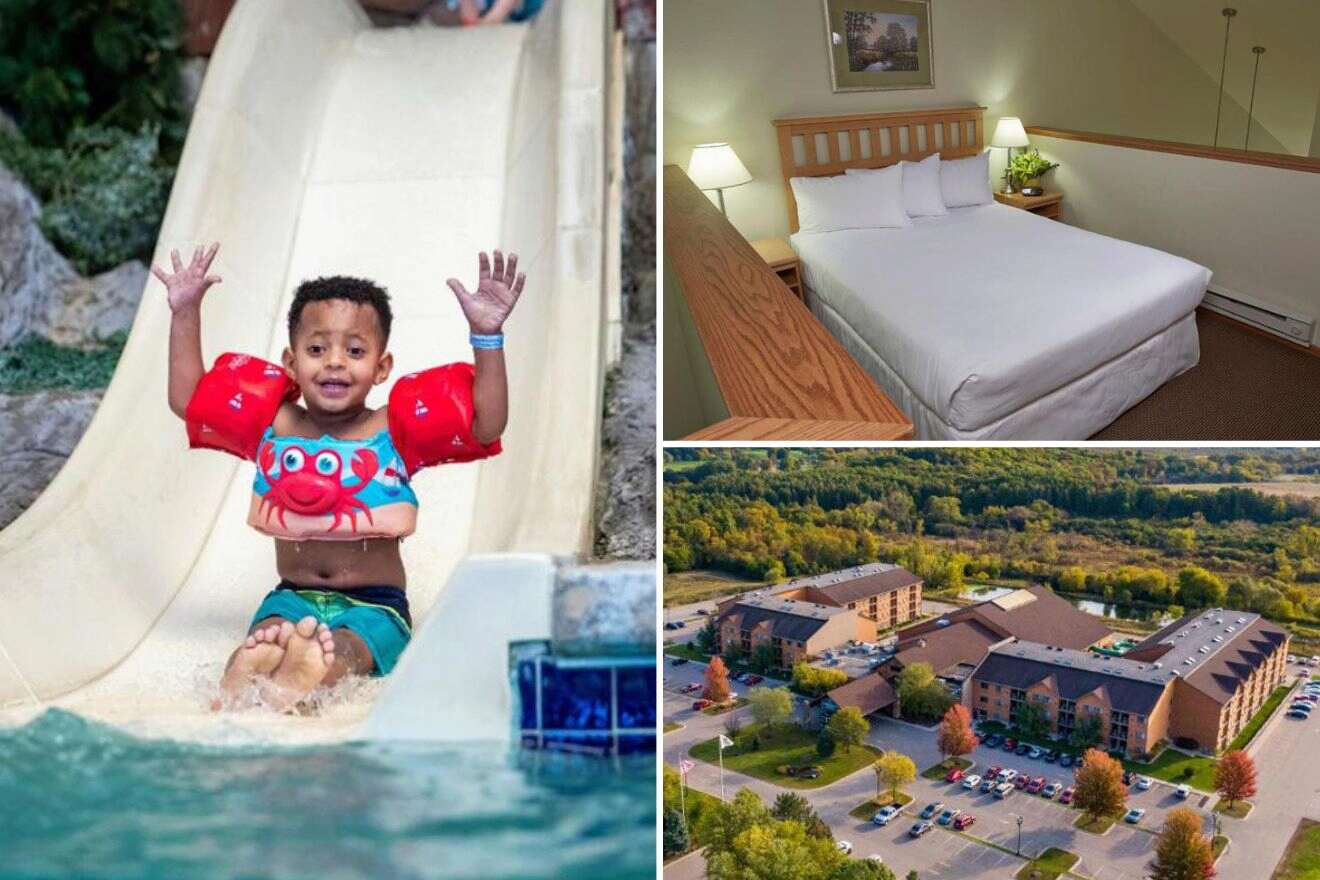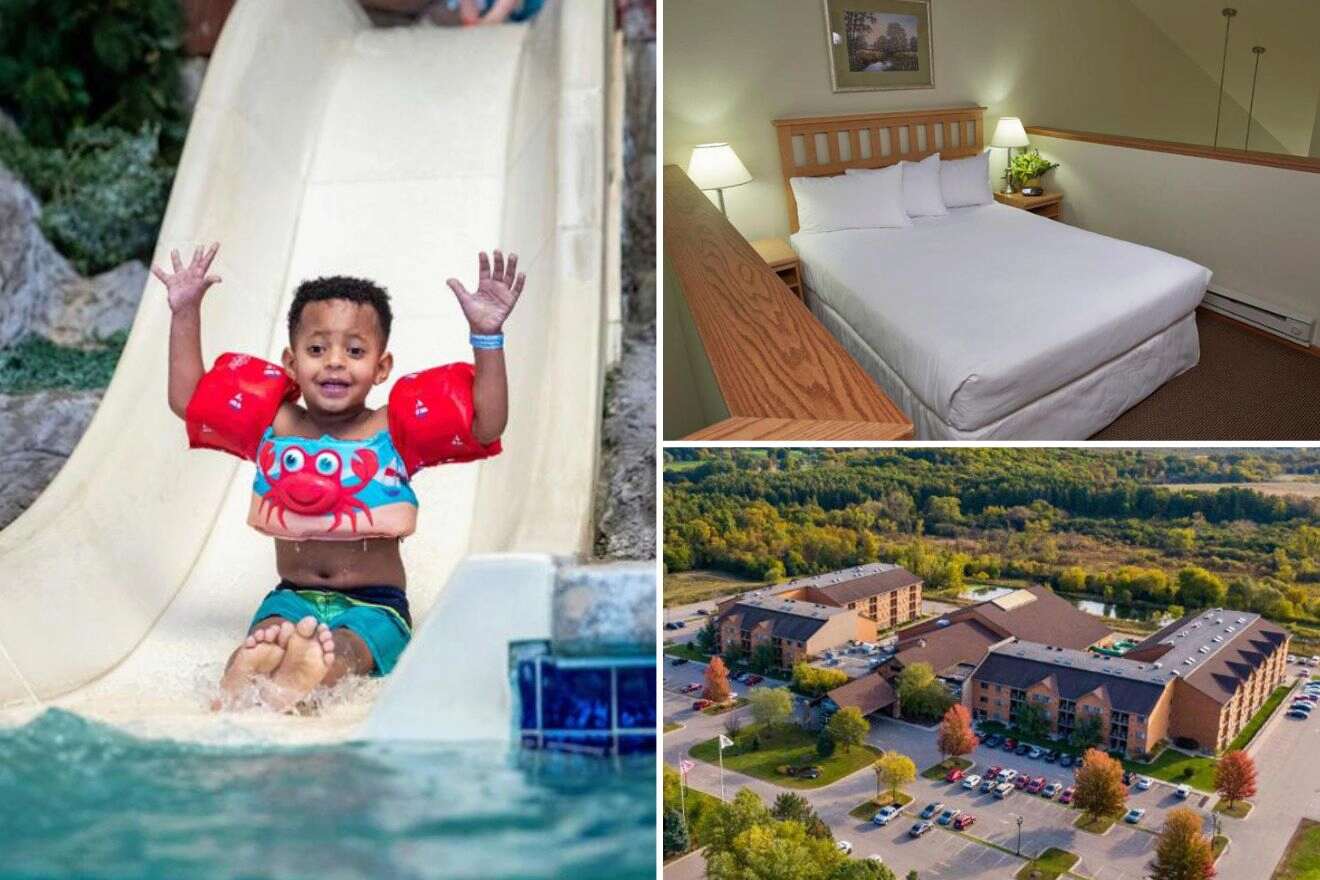 This cool hotel just outside Lake Geneva is the perfect place for winter adventures in snowy landscapes with the family! First of all, it comes with a big indoor pool, which is open during the winter, and it has the most amazing water park! This hotel offers a ski run to all guests during the winter, and during the summer, access to a golf course, and the fitness center is open all year round!
If you want to discover Unique places to stay in Wisconsin, you can check out our amazing article on the subject here!
The rooms come with modern amenities, private balconies, a private patio, a coffee maker, cozy gas fireplaces, and a kitchen! The biggest room can host up to 5 guests!
3. Justin Trails Resort – see Sparta, Wisconsin, in winter!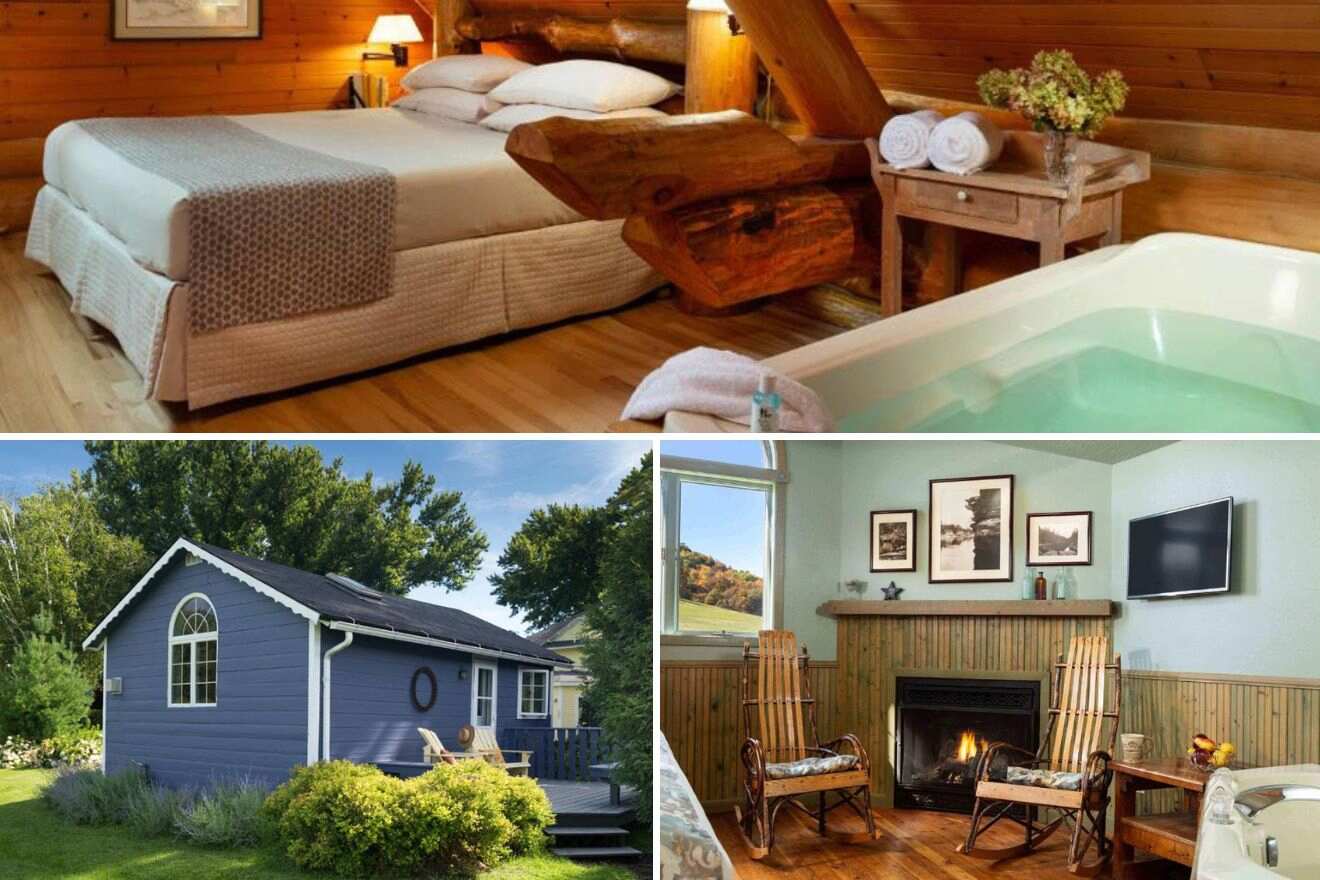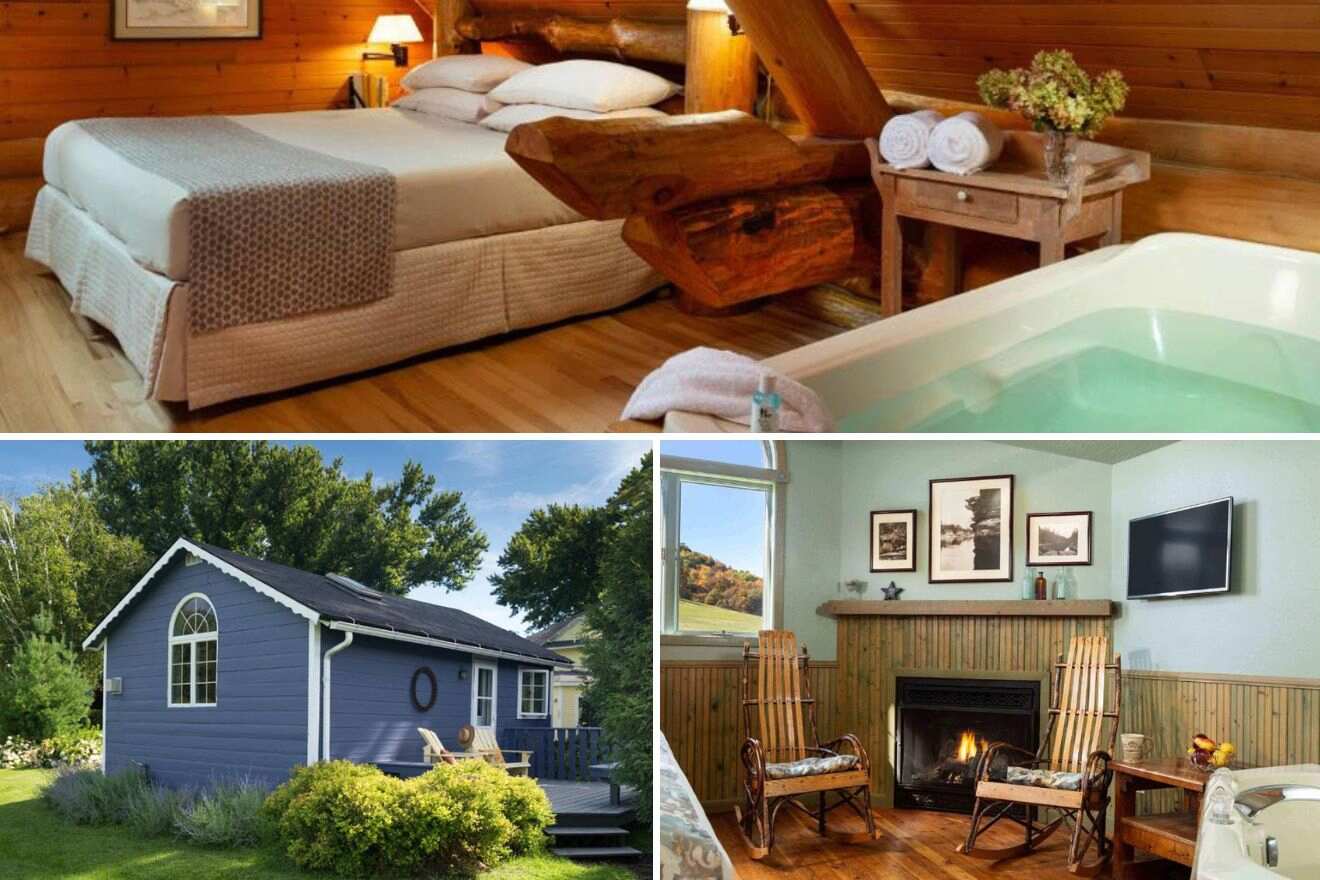 This property offers winter cabin rentals in Sparta and the chance to practice many winter activities for outdoor lovers! Mirror Lake State Park is an hour's drive away, where you can do cross-country skiing; you can also find cross-country ski trails in Whitetail Ridge T-Bar which is less than an hour's drive away! All these fun activities will require a good complete breakfast, which will be offered for free to you every morning!
The resort offers rustic and cozy rooms with a cabin style and some luxurious rooms, all equally cozy during the winter months! The presidential suite comes with a whirlpool tub and a fireplace and can host 2 guests, making it perfect for couples!
4. Edgewater Resort – with Lake Michigan views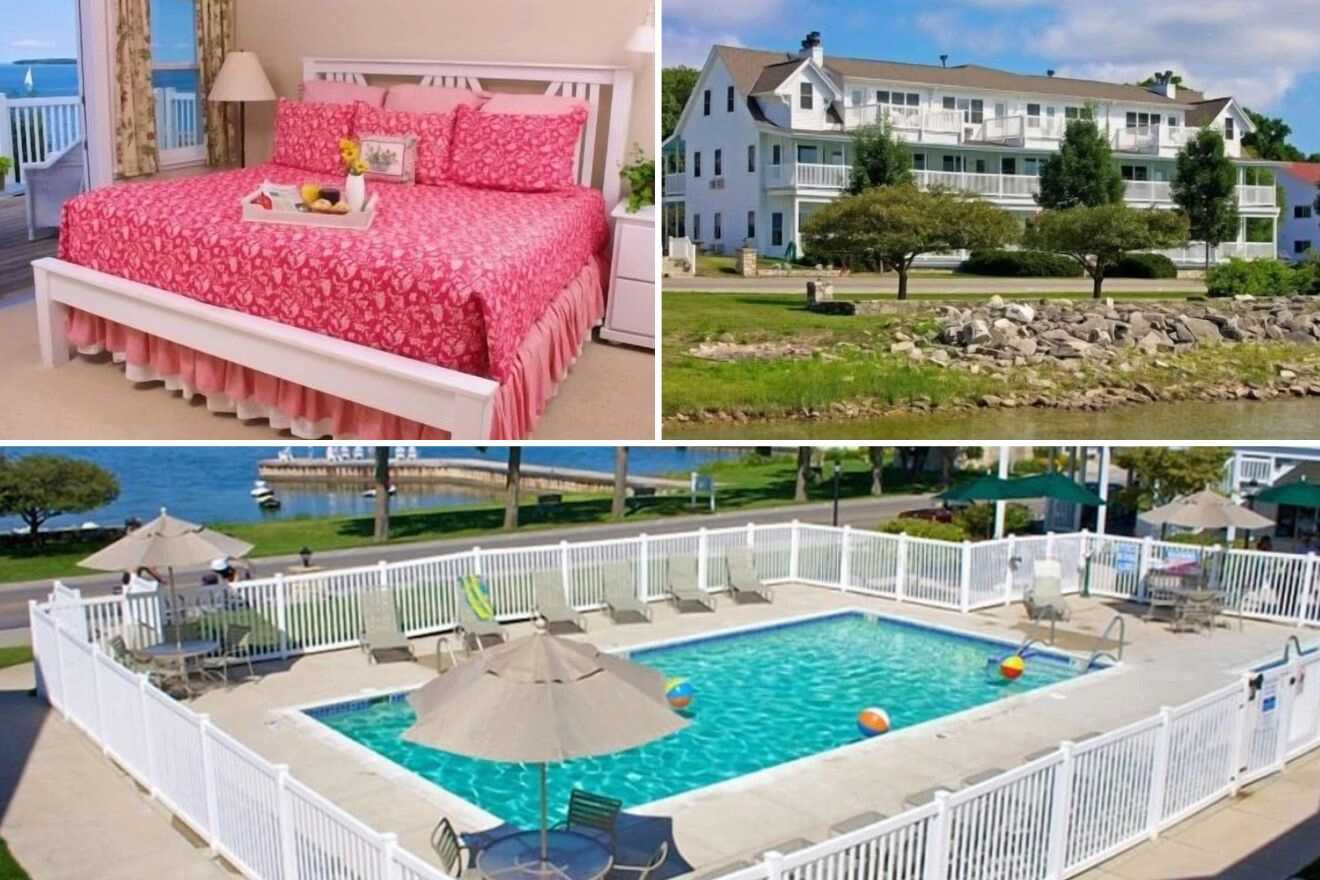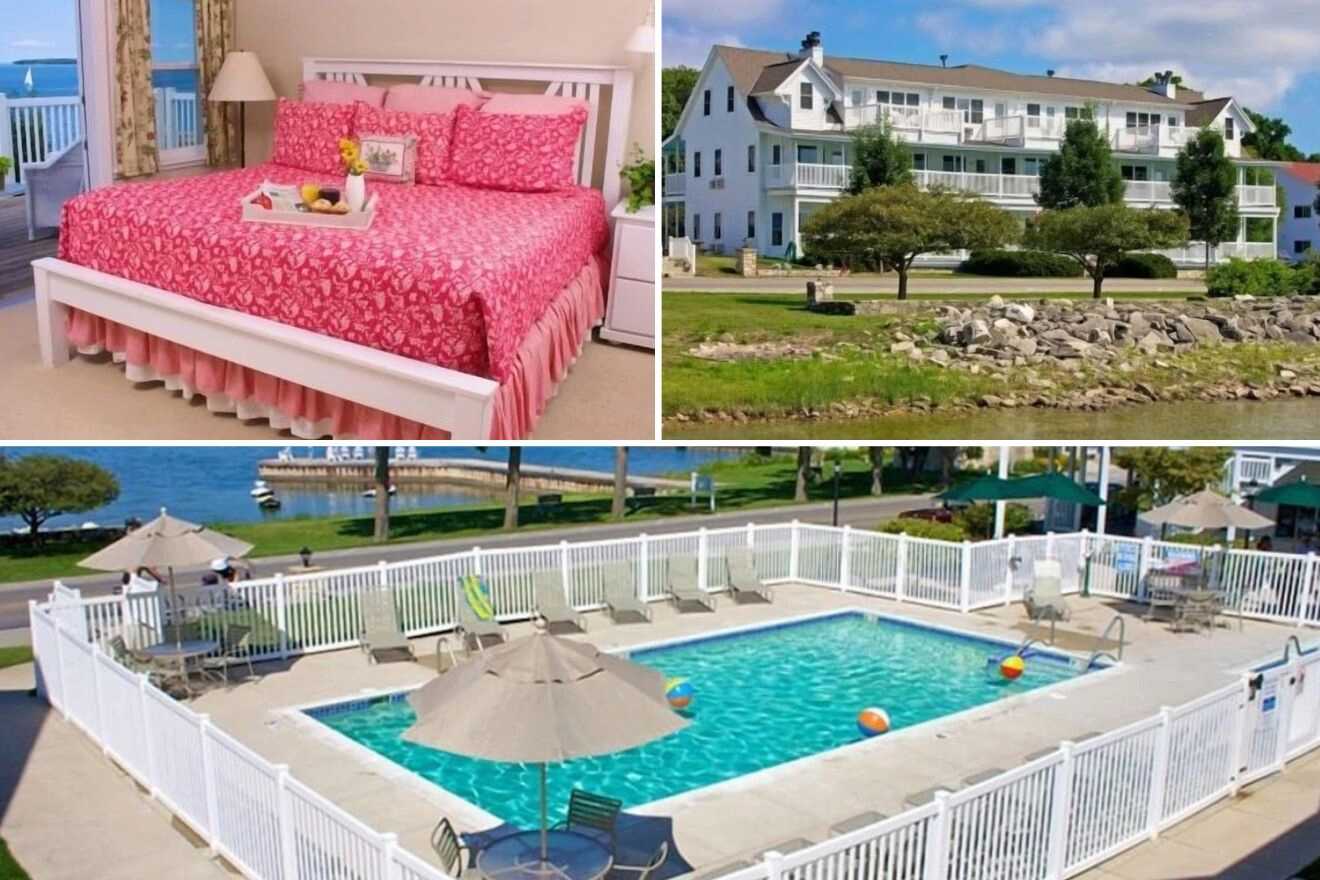 This lovely resort is in Ephraim, just a few steps away from Lake Michigan, and Sister Bay is just a few minutes drive away! This hotel has so many fun things and winter sports to do in its surroundings, like cross-country skiing, snow tubing, and snowshoeing, so you better go and rent snowshoes to join the fun! After spending all that time in a snowy paradise, relax and warm up in a sauna session!
All the rooms at this resort are beautifully decorated. Most of the rooms come with cozy fireplaces, and some of them have a private balcony! The biggest rooms can host up to 4 guests, which makes it perfect for families or friend groups!
5. Geneva National Resort – for a luxurious time!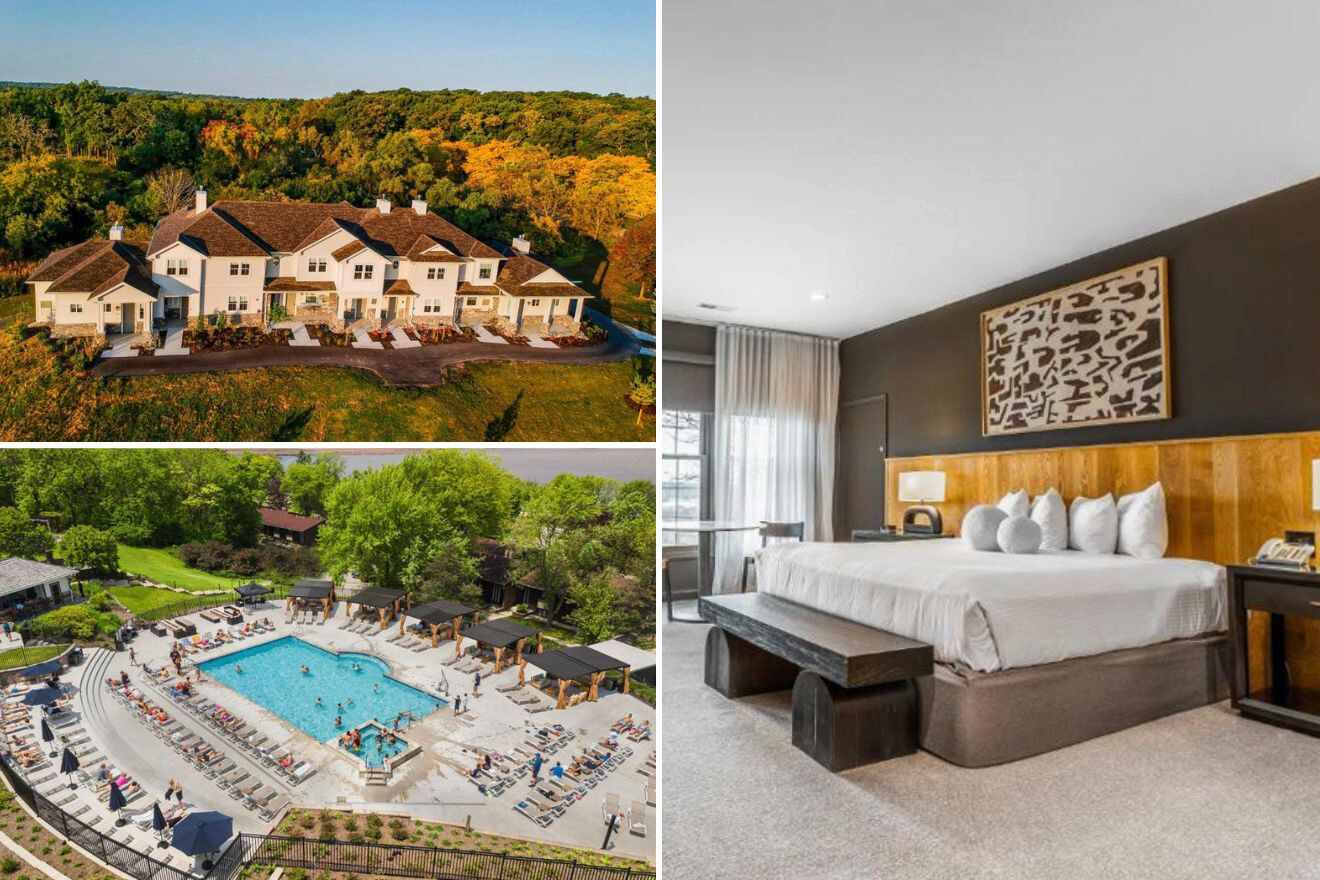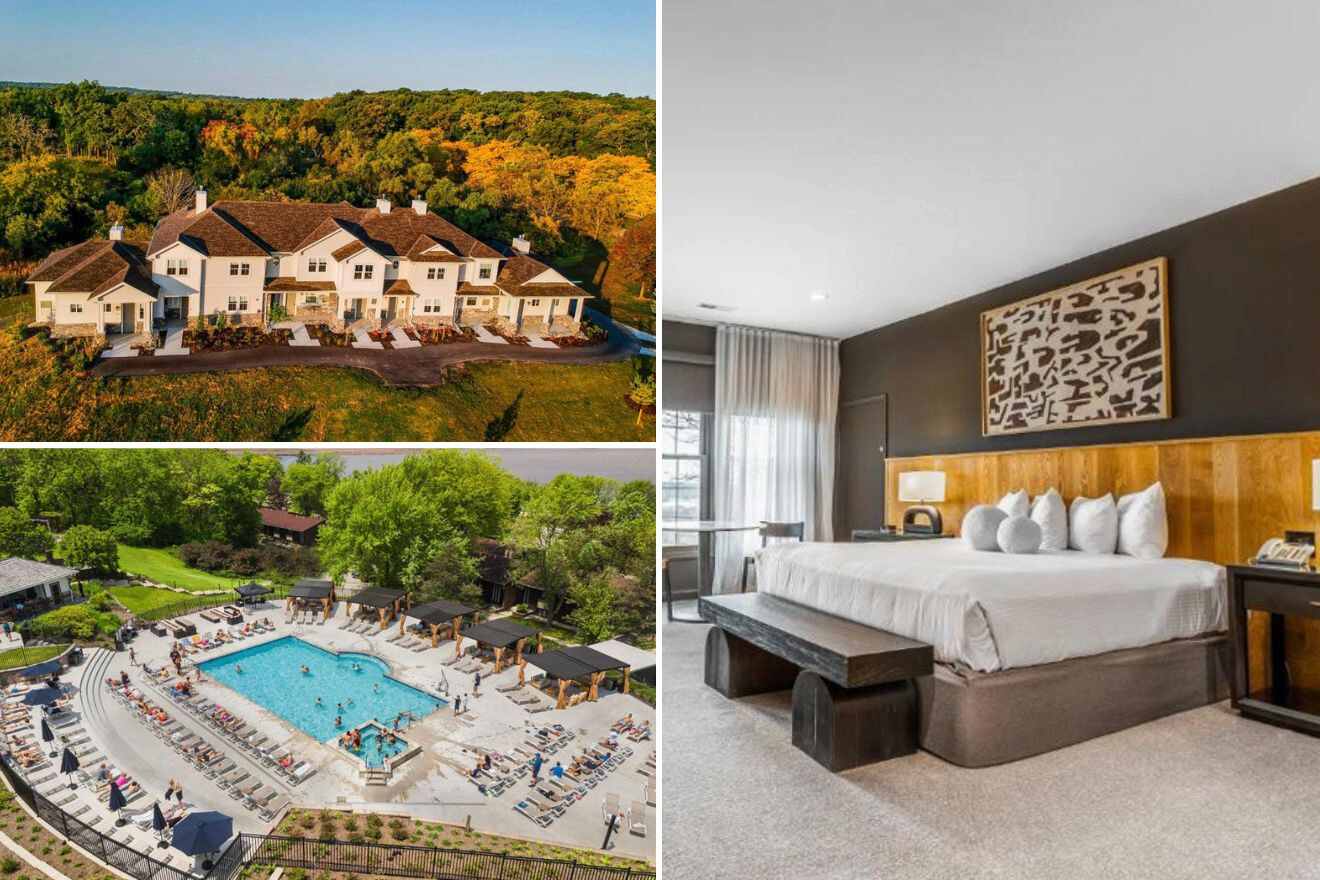 This deluxe accommodation is located in Lake Geneva and comes with everything you need for the best Wisconsin winter getaways! First, the hotel is conveniently located next to Ice Castles, one of the biggest attractions in the area, there are skiing slopes nearby, a fitness room onsite to keep fit, and an indoor heated swimming pool with salt water you can use during the winter days!
All the rooms have amazing stylish decor and come with the most luxurious furniture and decorations; all of them are super spacious. I highly recommend staying at any of the private suites to enhance your vacation; some can host 4 guests, and the others up to 2 guests!
6. Inn On Lake Wissota – with snowmobile trails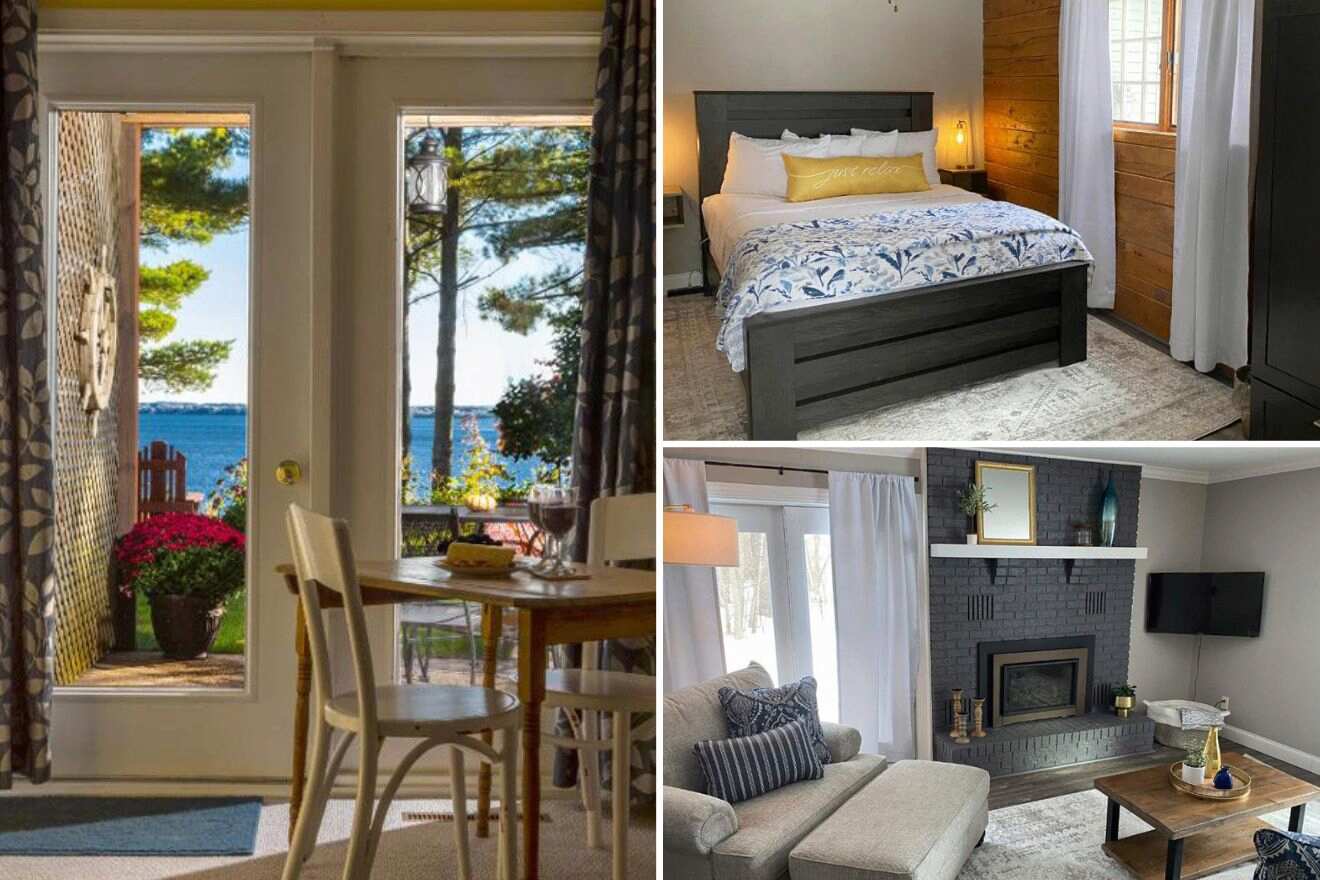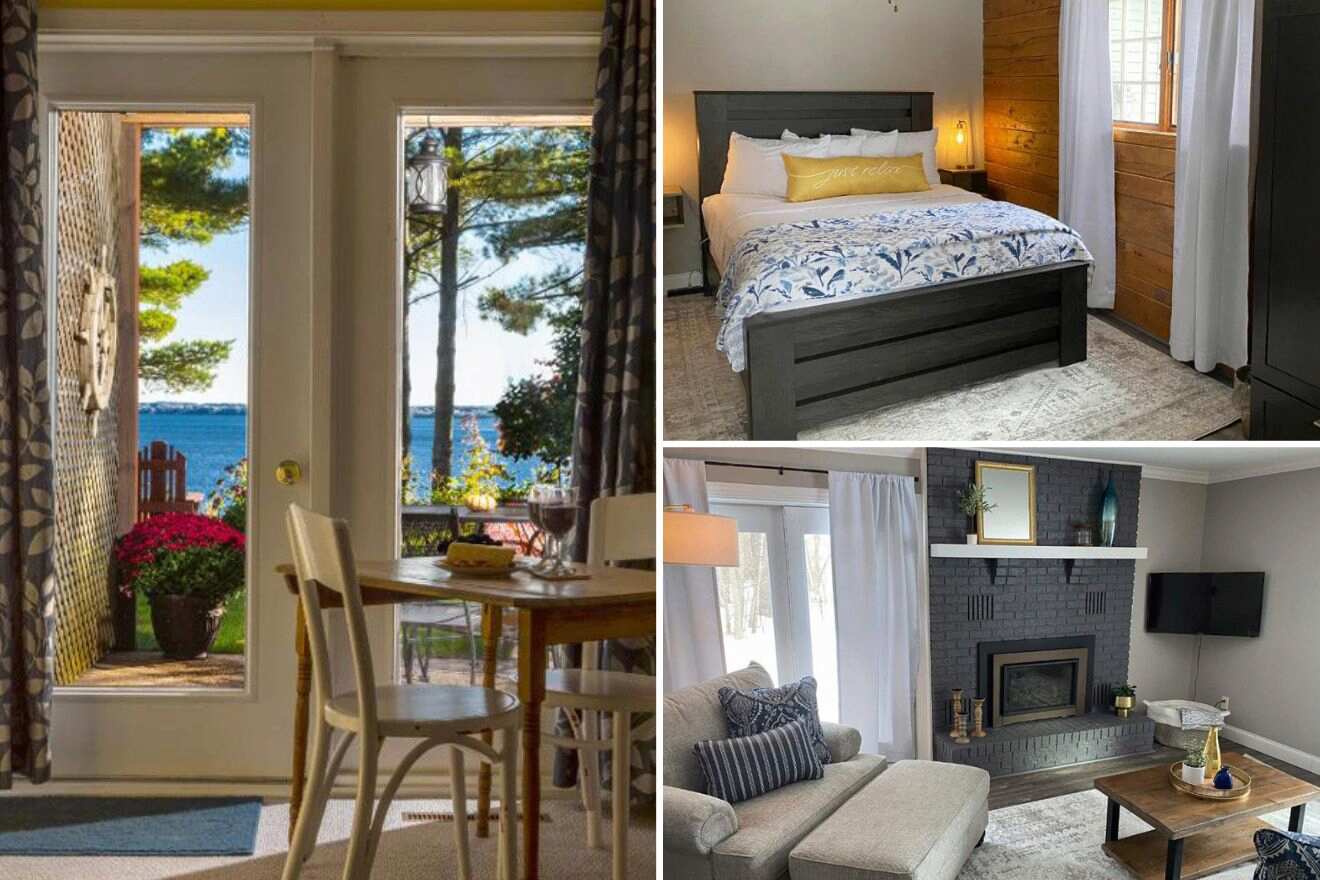 Located in Wissota, one hour from Wausau in central Wisconsin, and with Granite Peak Ski Area only 1.5 hours drive away, there are cross-country skiing areas and snowmobile trails nearby! The hotel offers a delicious complimentary breakfast to all guests, and on the common grounds, you can find a hot tub. Plus, there is a free parking area for guests!
The rooms are a complete dream, the decorations are cozy and luxurious; one of the best things about the rooms is that all of them come with a hot tub and a fireplace, and some of them come with amazing views of the garden or the lake!
7. Bluegreen Vacations – cozy family getaway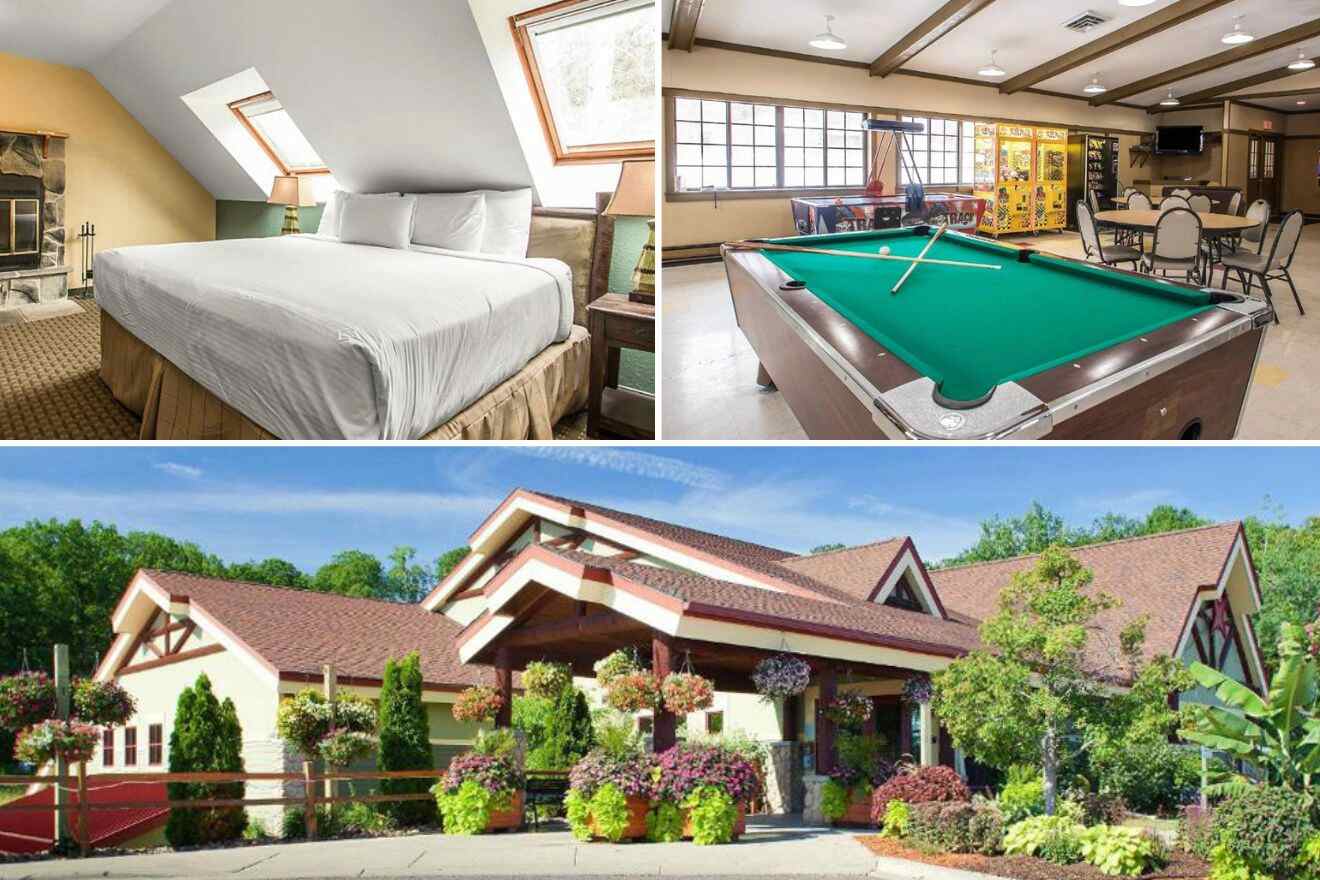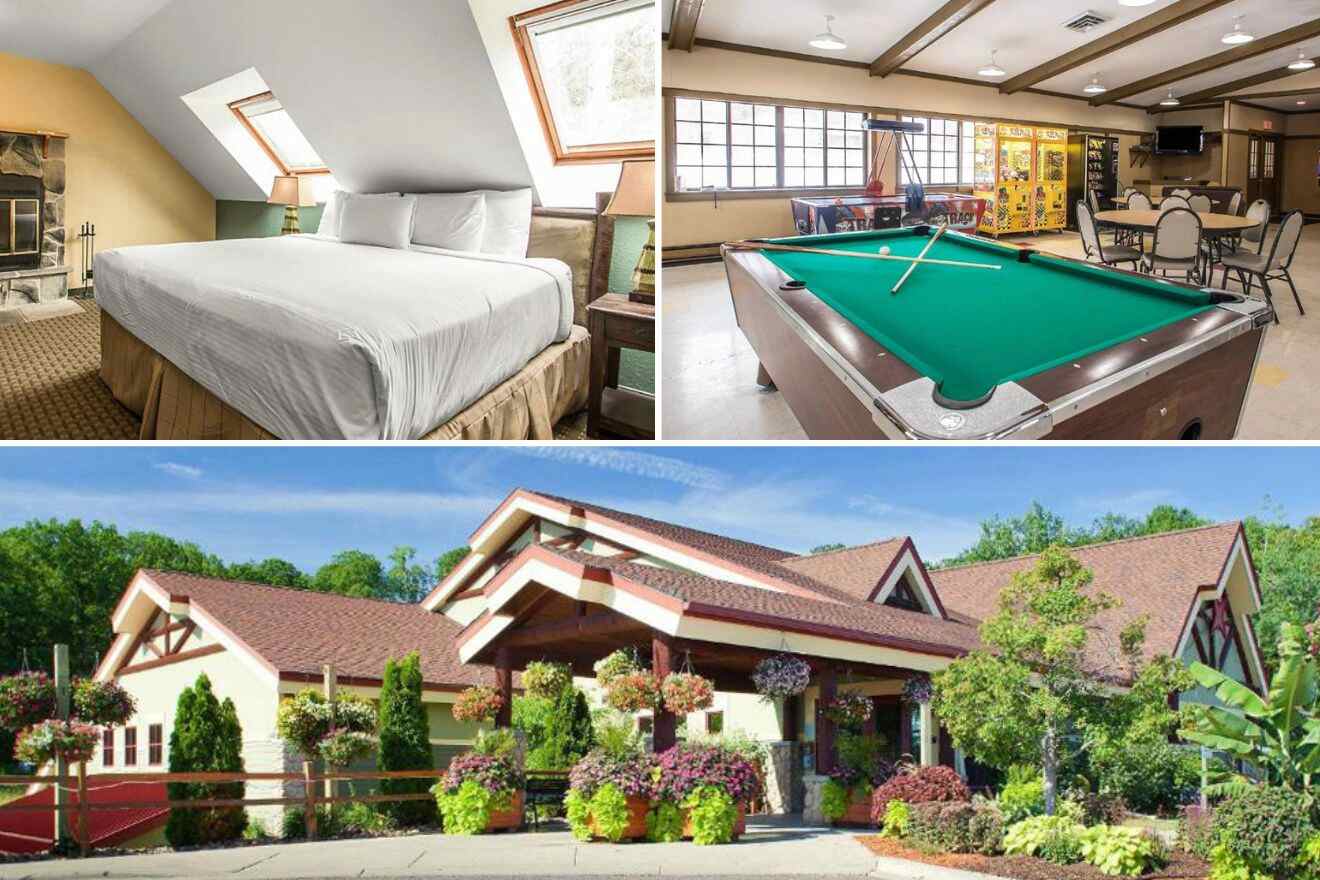 This cute little hotel, located in Wisconsin Dells, features cabins for families or large groups of friends; the biggest one can host 8 guests and comes with a fully equipped kitchen, a dining area, a living room with a lovely fireplace, and the bedrooms are simple but have all the commodities you need for a good slumber!
The accommodation's surrounding areas present the perfect landscape for a cute white winter vacation! The hotel comes with an indoor pool, a water playground, and a game room, and during the winter, it is possible to take skiing, snowboarding, and snow tubing lessons!
8. Grand Geneva Resort & Spa – for amazing views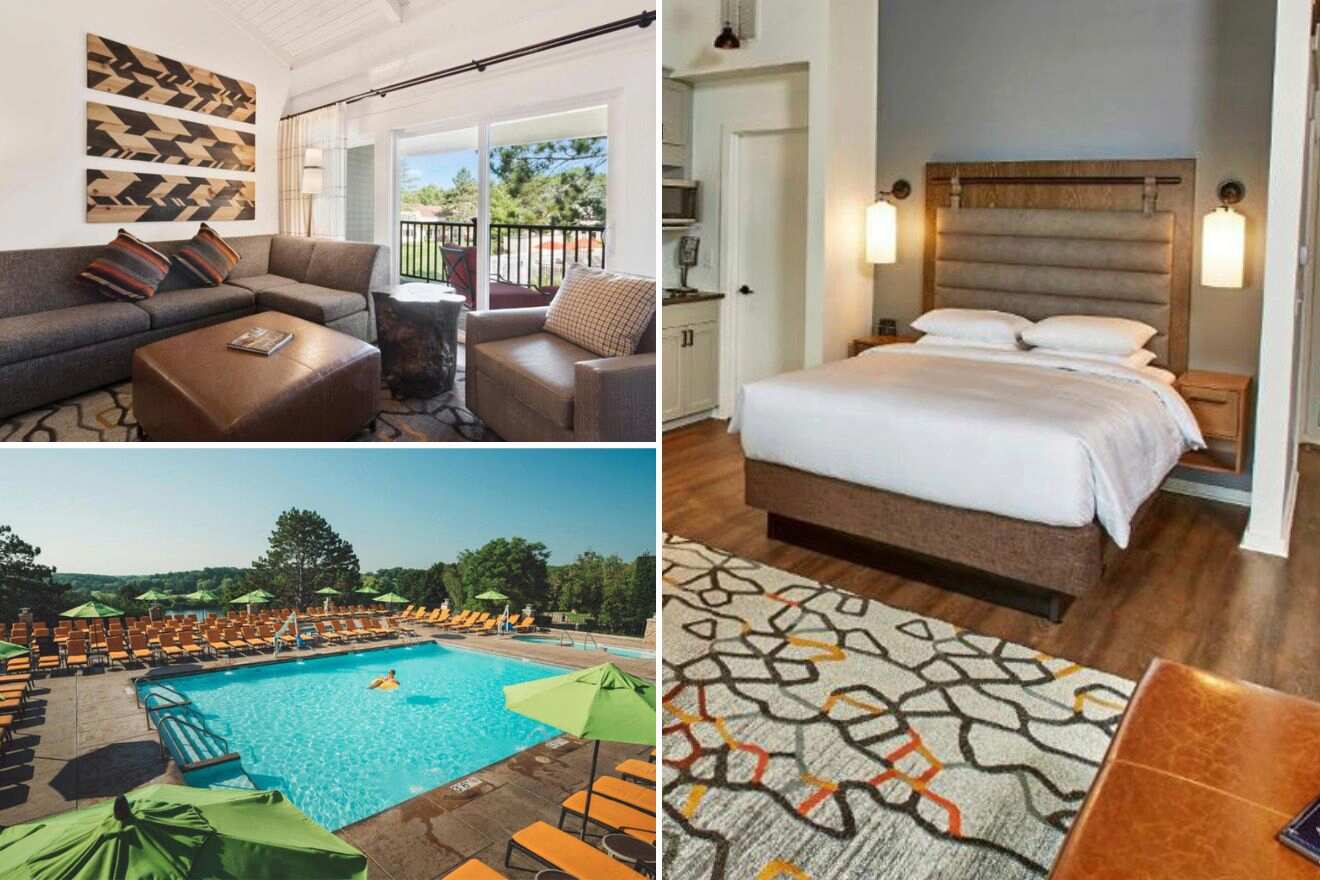 Wow! This hotel has it all! It is located in Lake Geneva, and the hotel style is modern and luxurious. It comes with a fitness center, an amazing and fun wall climbing structure, 2 swimming pools, and it is surrounded by the most amazing natural landscape, which features 20 downhill runs for skiing and snowboarding if you like ice skating, sledding, and cross country skiing! All the fun winter activities make it one of the best ski resorts out there!
The rooms and villas at this hotel come with the most modern amenities; some of the villas can host up to 8 guests and rooms like the suites and superior rooms come with amazing views of the golf course!
9. Hilton Garden Inn – for an easy breezy stay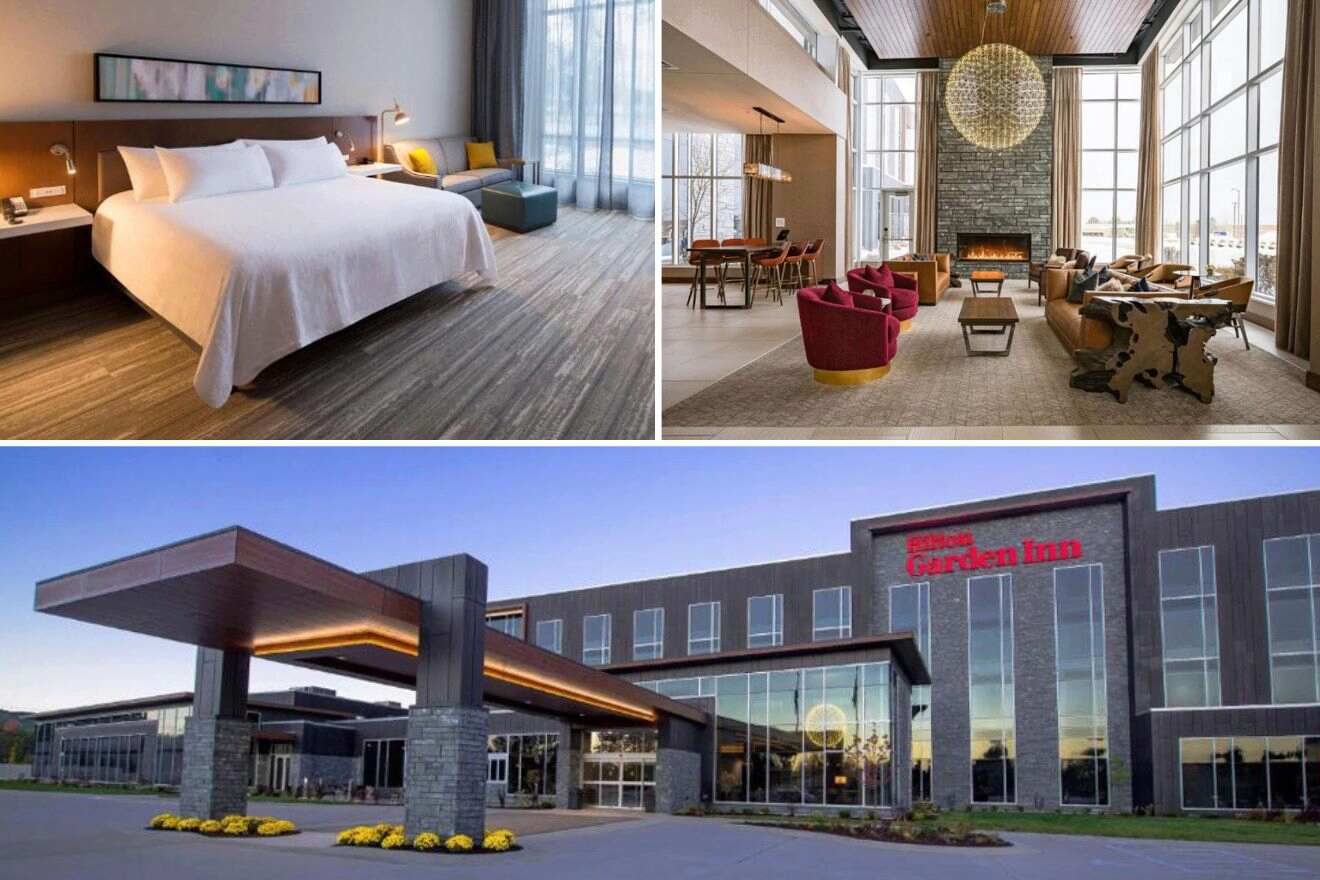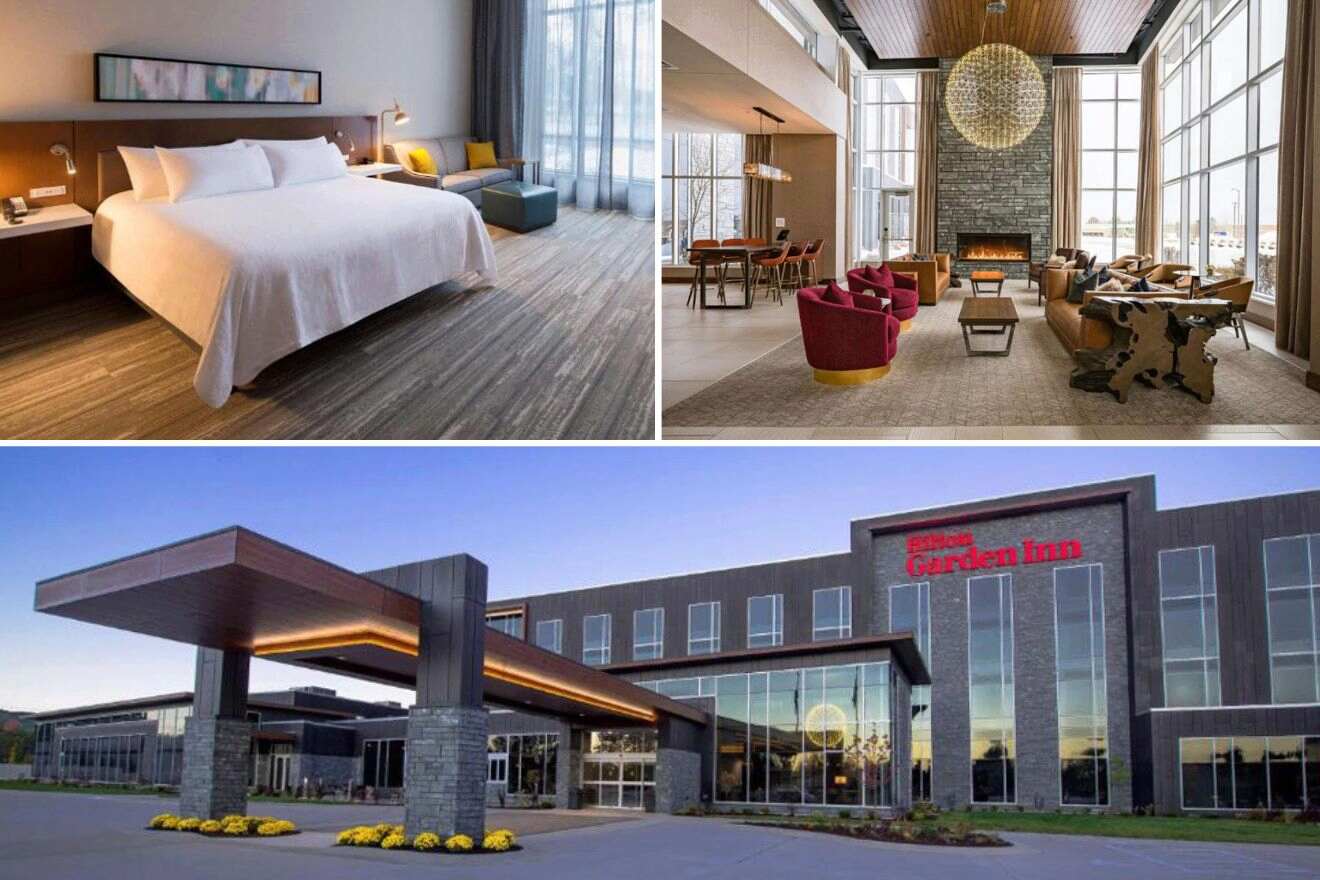 This hotel is located in Wausau, has a modern yet classic style, and will make you feel more than relaxed! Imagine: after a long day of cross-country skiing and downhill runs, you walk to the indoor pool and swim there; you end the day with a bath in the hot tub, a total dream! The hotel has a fitness center, and the breakfast offered every morning to guests is completely free and delicious!
All of the rooms can host up to 4 guests, and all of them come with a coffee station with a microwave and a coffee machine. Some of the rooms come with floor-to-ceiling windows that feature stunning views of the mountains
10. Rib Mountain Inn – great for big groups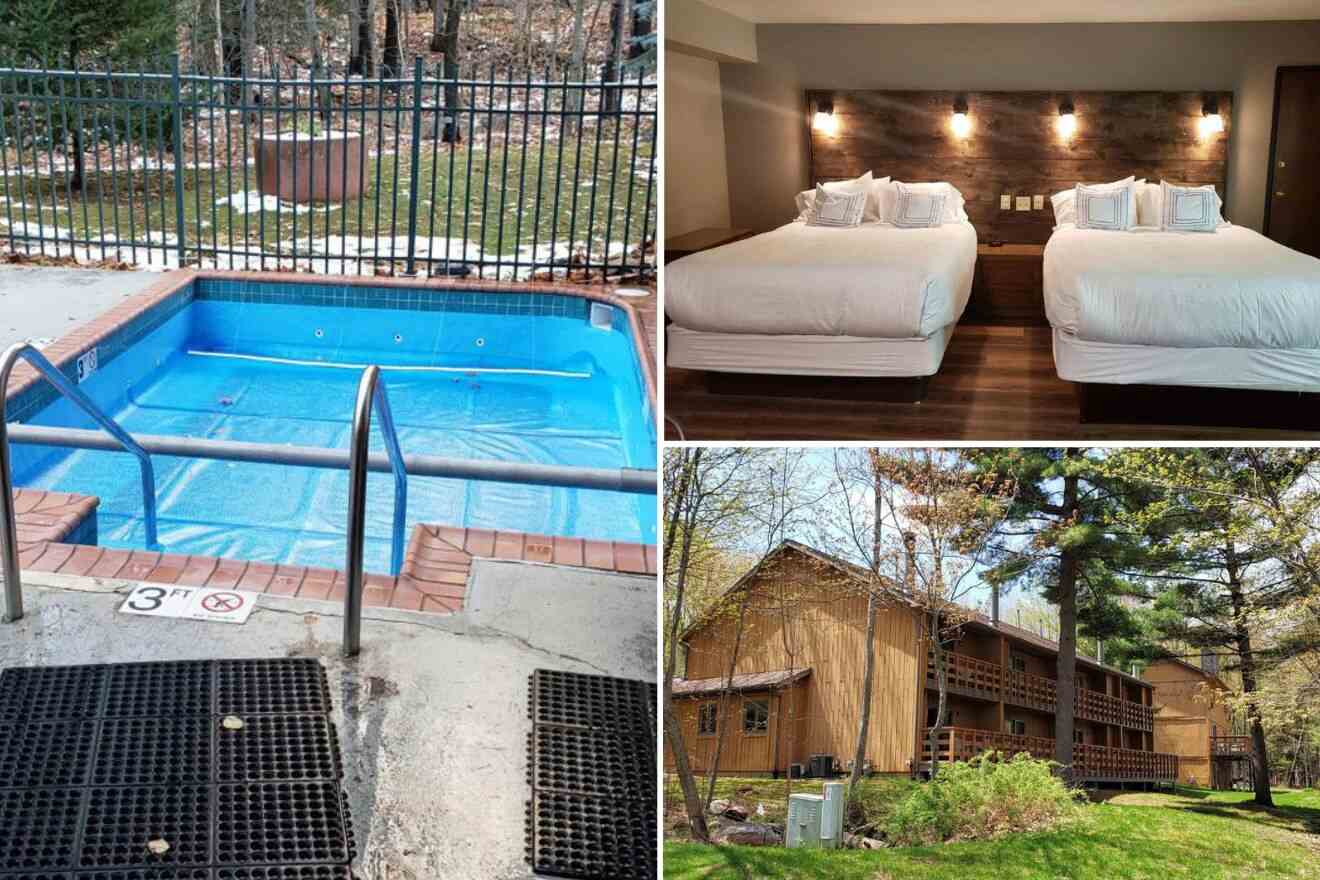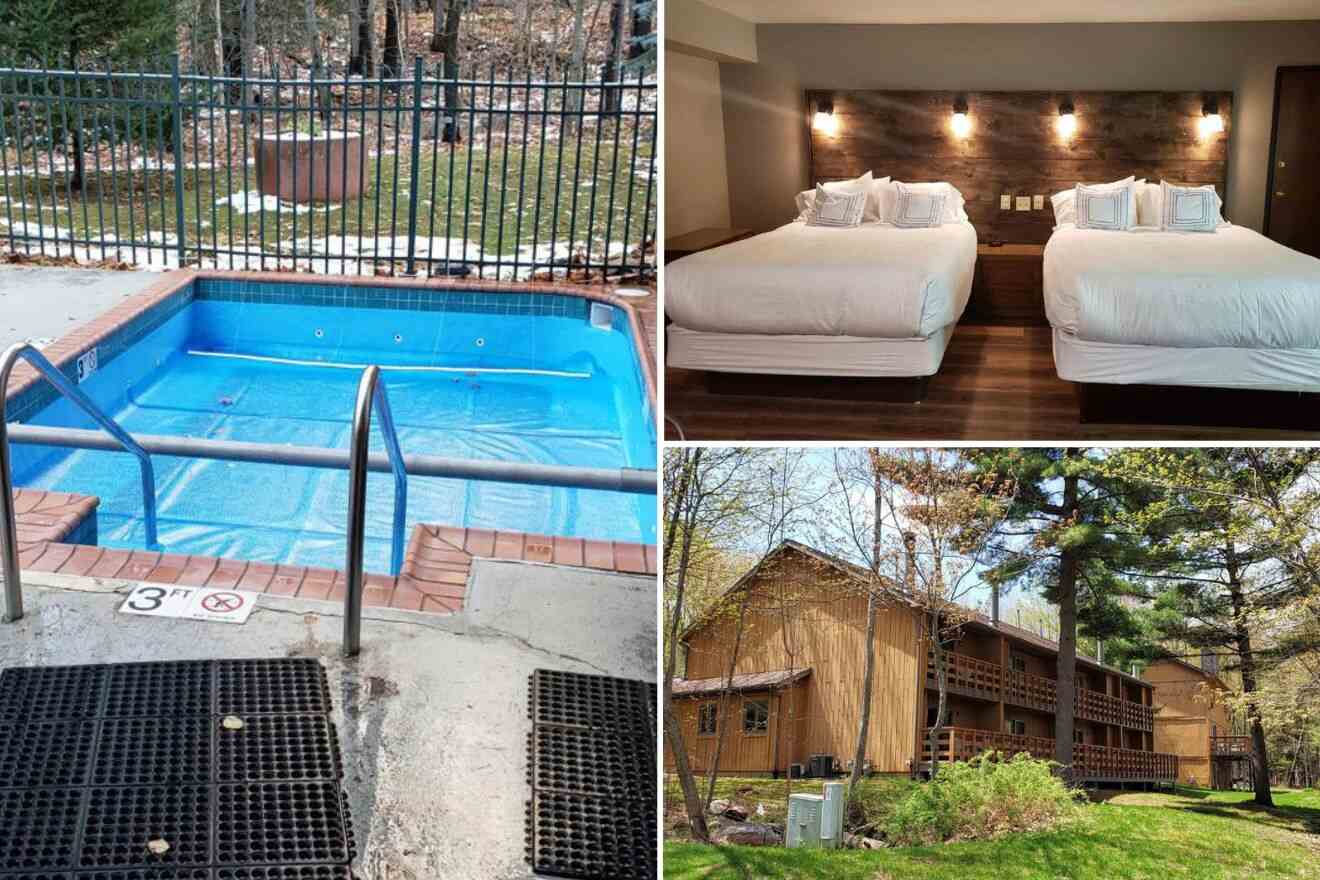 This Wausau hotel offers villas that can host up to 10 guests and have a private kitchen, making the hotel perfect for big groups of friends or 2 groups of families! All the rooms and villas come with a rustic charm, a flat-screen TV, and cable channels.
The hotel serves a continental breakfast each morning, perfect to start the day with energy to then spend the rest of the day skiing on the nearby slopes. When you get back to the hotel, indulge in a sauna session or dip in the lovely hot tub and relax like nobody's watching!
11. Country House Resort – discover Sister Bay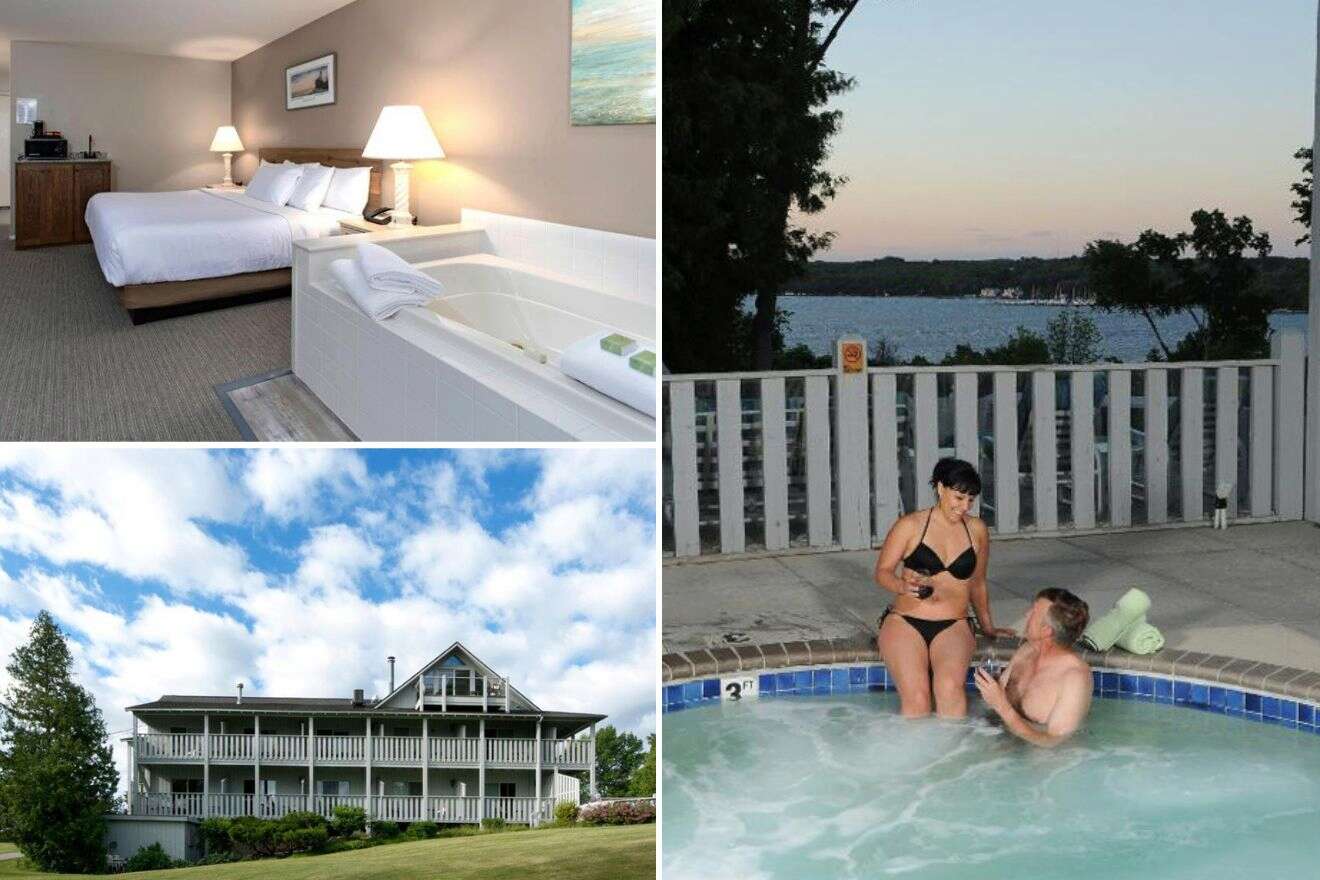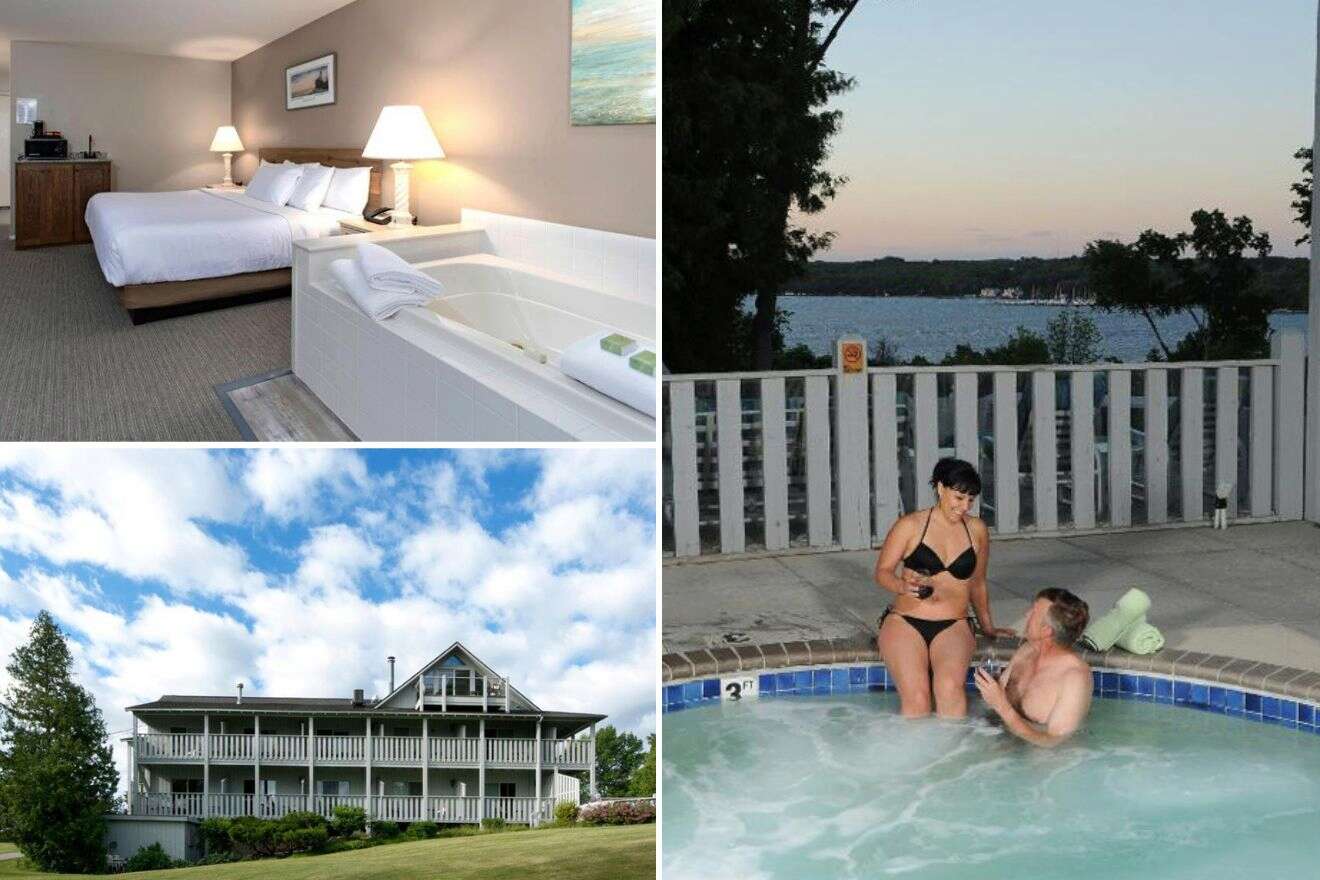 This lovely country house resort is located in Sister Bay, and other beautiful towns like Sturgeon Bay are only a 40-minute drive away from the property! This hotel offers a nice breakfast every morning, and the wellness center comes with a jacuzzi. The property is by the waterfront and is surrounded by a scenic landscape. Imagine how beautiful it is during the winter months with the frozen lake and everything covered in soft white snow!
The rooms are spacious and can host up to 6 guests for couples and groups or families of 4. I recommend the King Suite, which comes with a private hot tub and a balcony with views where you can drink your hot cocoa while the snow falls down!
12. Courtyard La Crosse Downtown – incredible river view!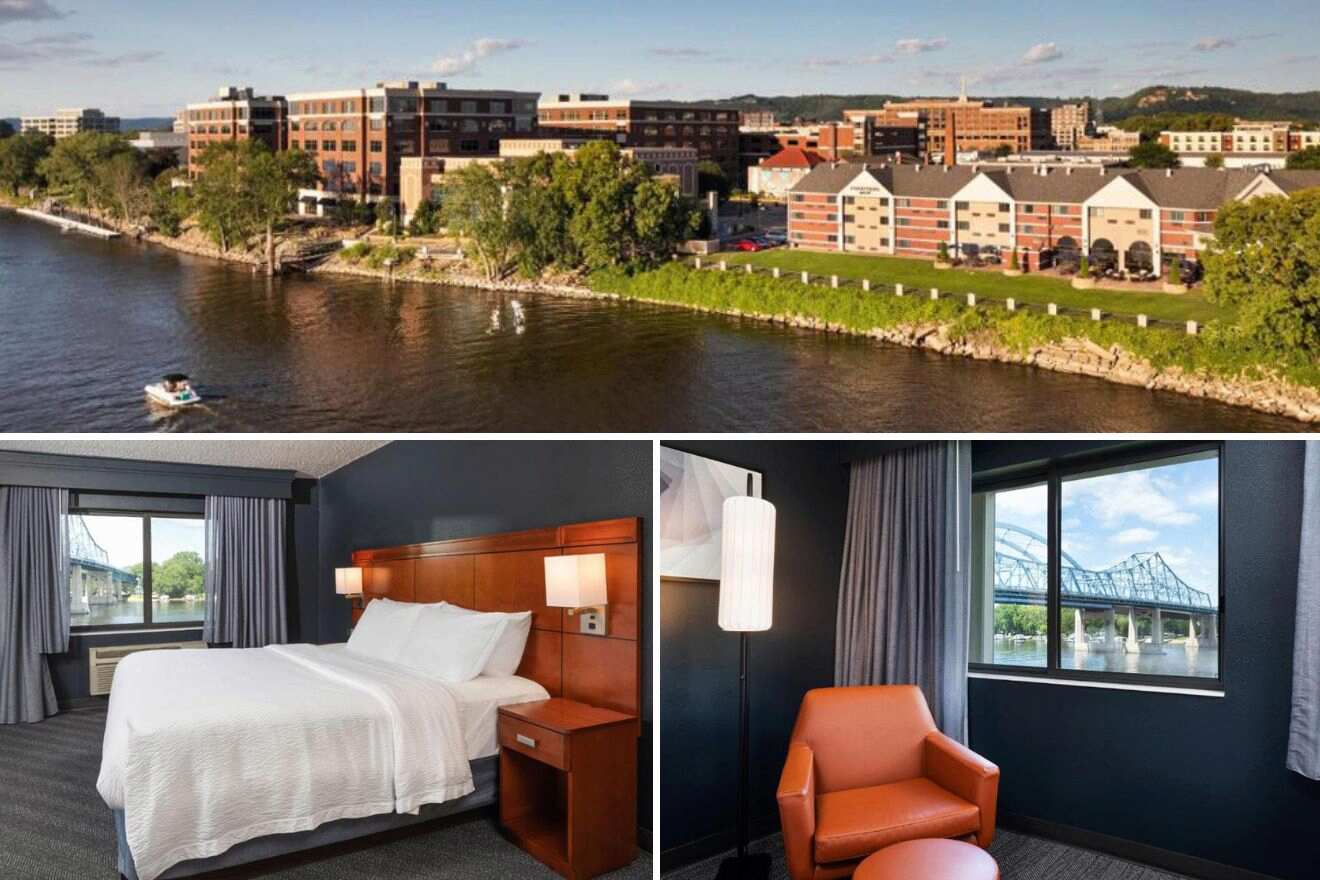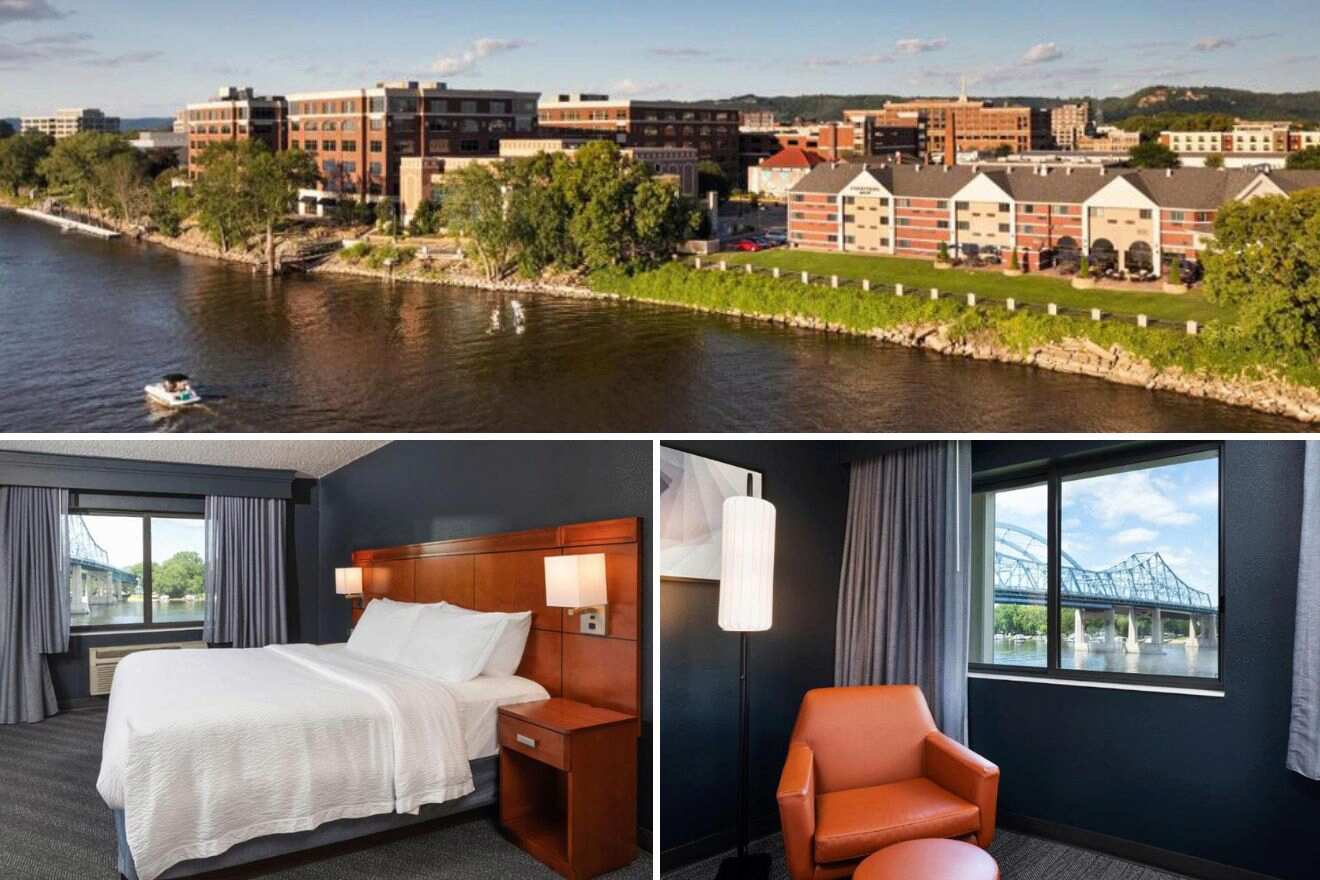 How cool is it that this hotel is located in the La Crosse downtown area? You can explore the city and visit all the main attractions and cute restaurants and cafes! If you would rather stay in the hotel, there is an onsite restaurant and bar where you can have nice drinks and dine like a royal! The spa and wellness center comes with a fitness room and a hot tub, perfect to relax and let go of all your worries!
The rooms and suites are super spacious, and the larger rooms come with a seating area where you can sit to read and relax. Some of the rooms come with views of the river, and other rooms with views of the city!
13. Tamarack Wisconsin Dells – for an arcade room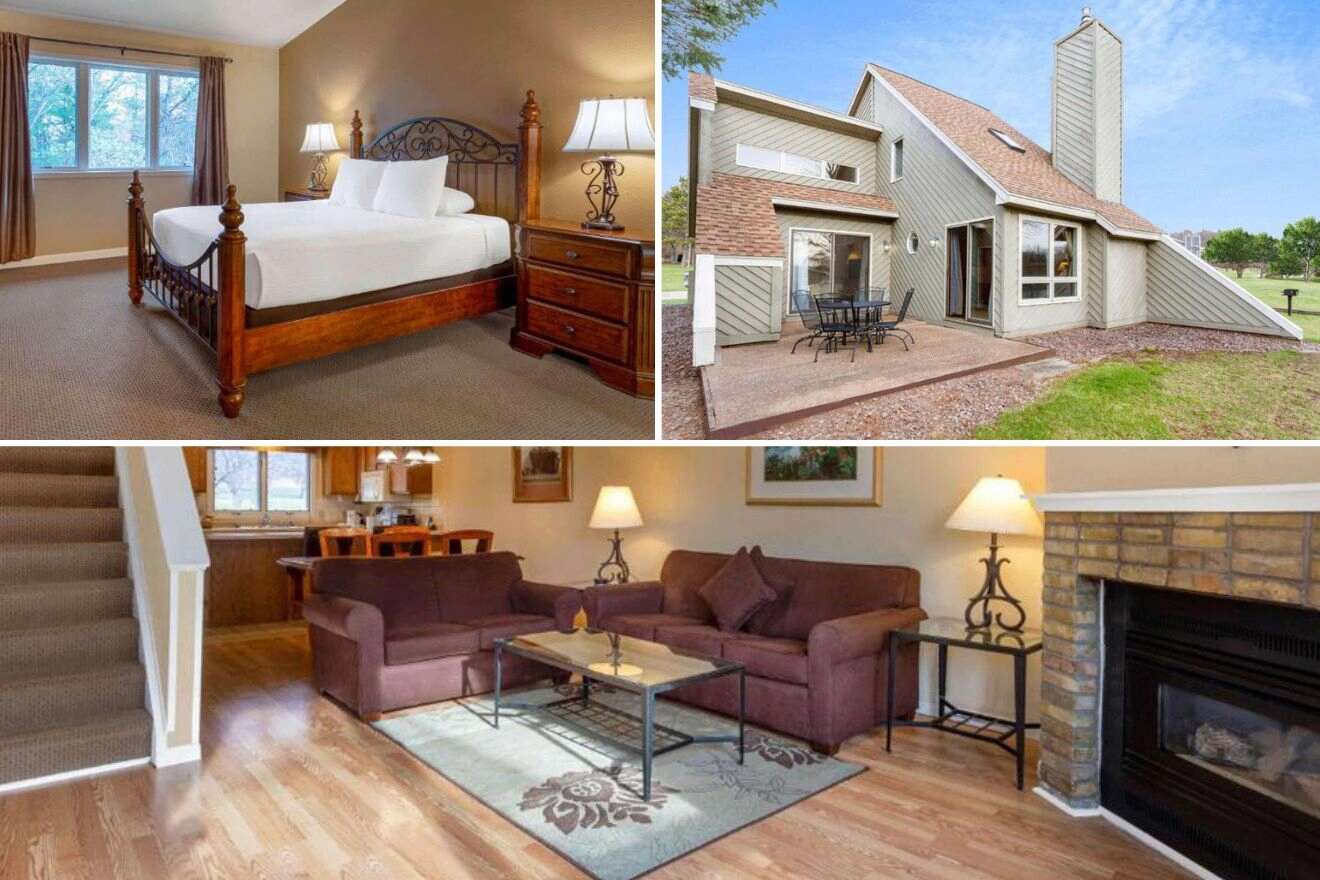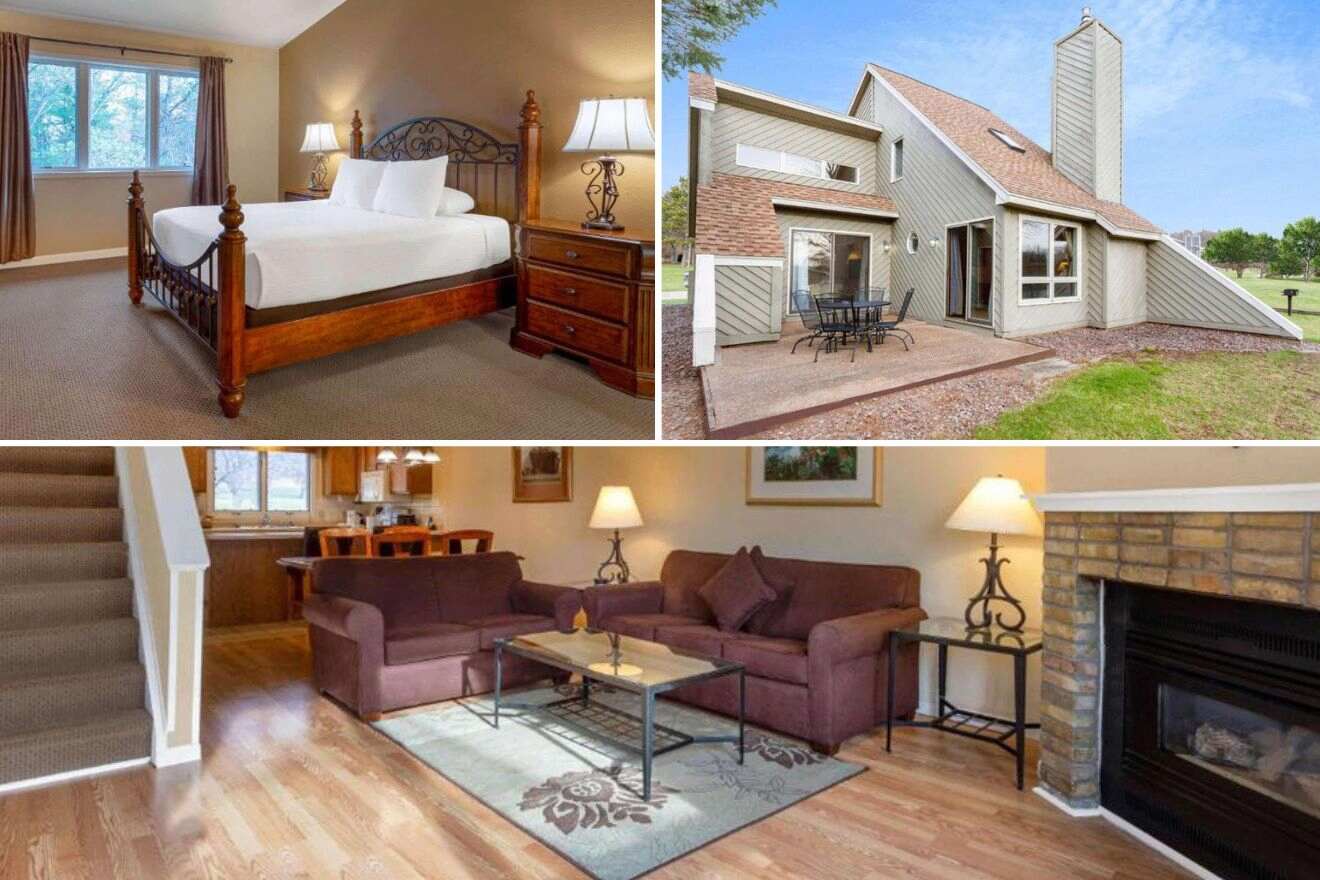 This hotel has a lot of cool activities for the entire family! There are ski lifts nearby in case the perfect winter vacation needs to have some downhill skiing! The hotel has indoor tennis courts which will allow you to play all year round, if you don't want to travel with your tennis equipment you can rent it at the hotel. There is an indoor heated pool at the hotel so that you can swim even during the colder months, and an amazing arcade room!
This property offers rooms with room for up to 6 guests, and all of them come with a fully equipped kitchen! The hotel is located near the central area full of restaurants and cafes, and the state park woods are only steps away!
14. Eagle Harbor Inn – for a unique stay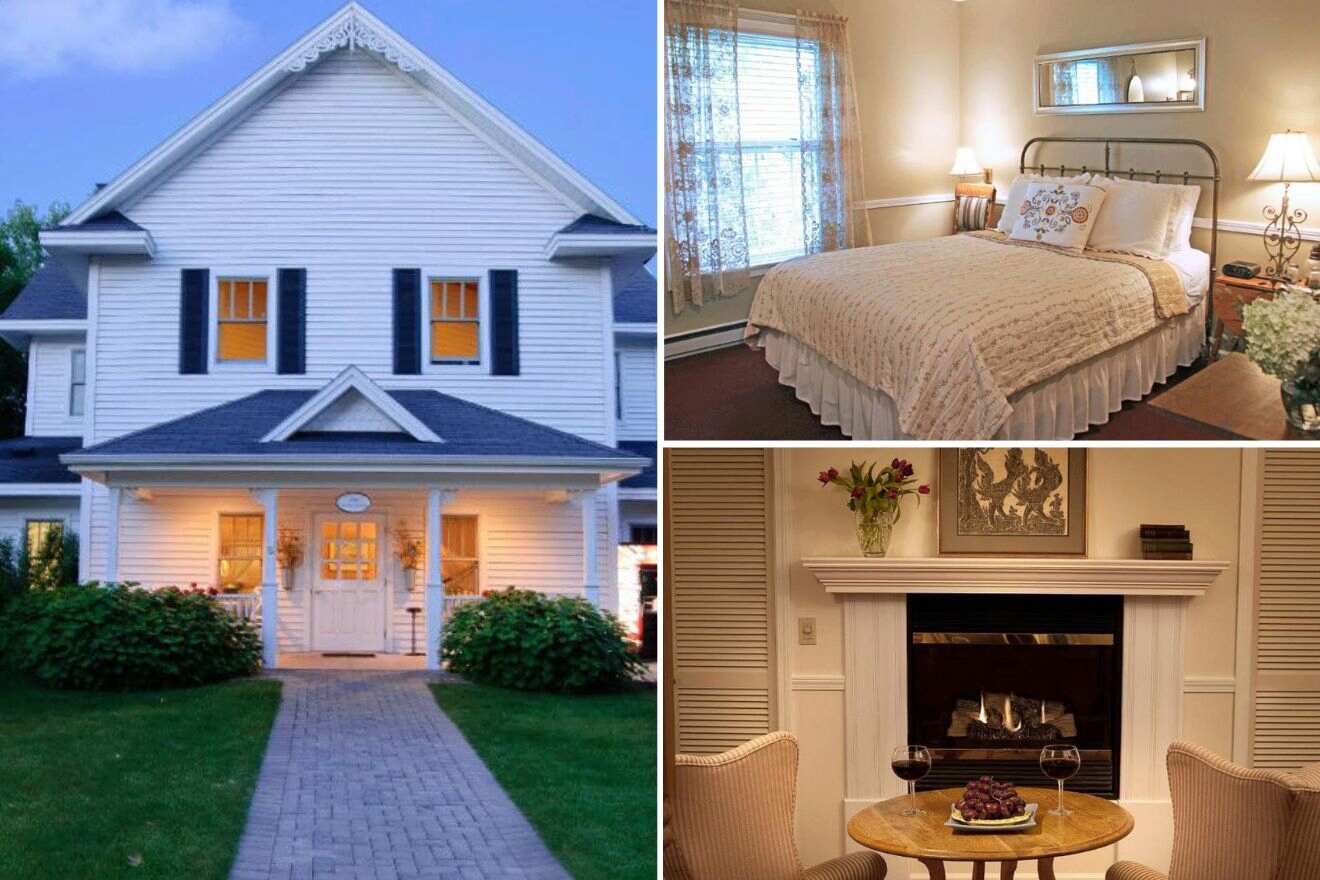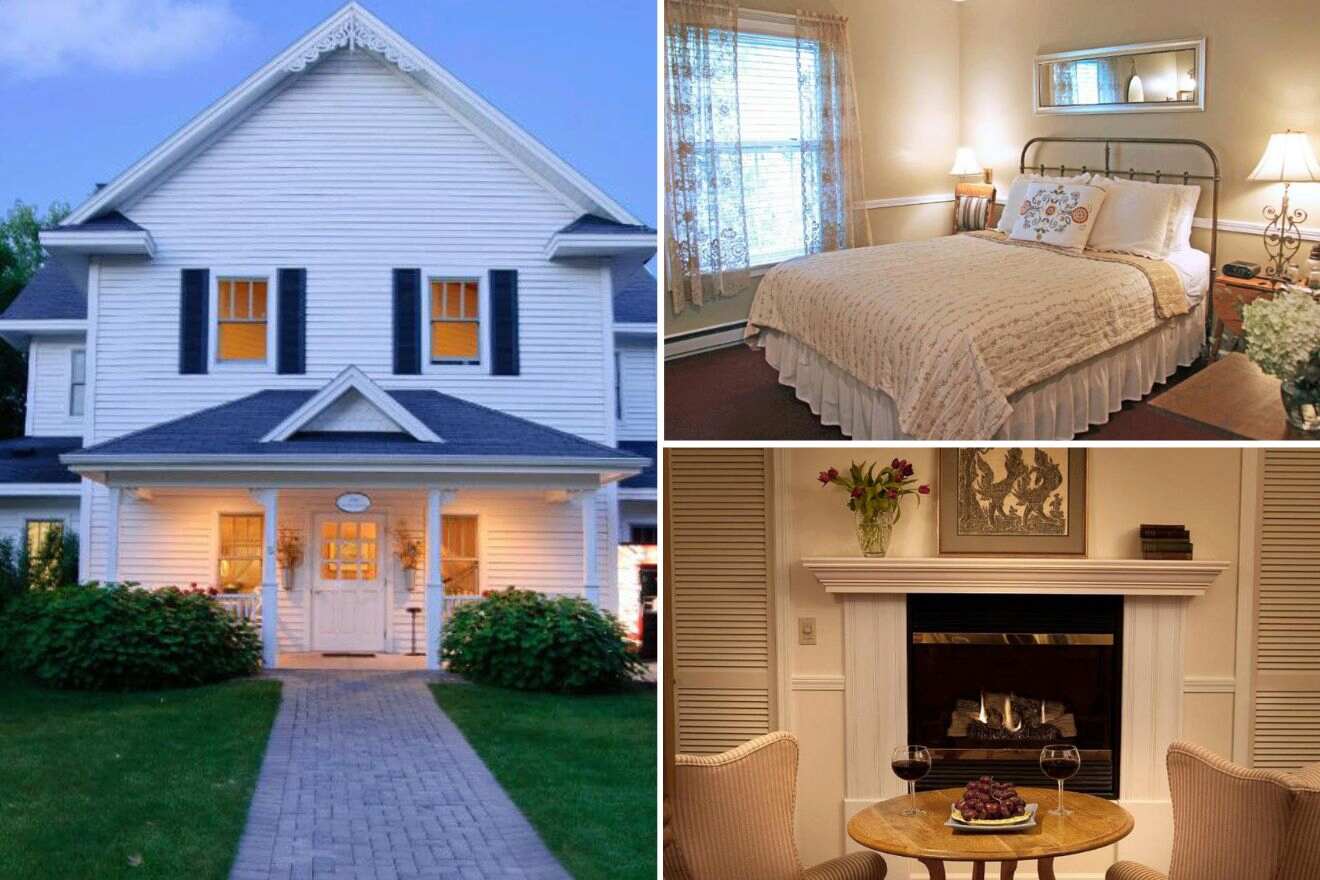 Oh my god! What a stunning boutique hotel, the decoration, architecture, and general style are just beautiful, the colorful wallpapers, the pink flower pattern in the shower curtains, and the big carved wooden beds with comfortable mattresses and cozy beddings. Everything in the room will feel like a warm hug while you watch the snow fall while sipping tea by the window!
I recommend the studio to couples, it comes with a spa bath, a fireplace, and a balcony, everything you need to spend some romantic days in Ephraim. The hotel also has a heated indoor swimming pool in case you feel like swimming!
15. Heartwood Resort – for a rustic stay!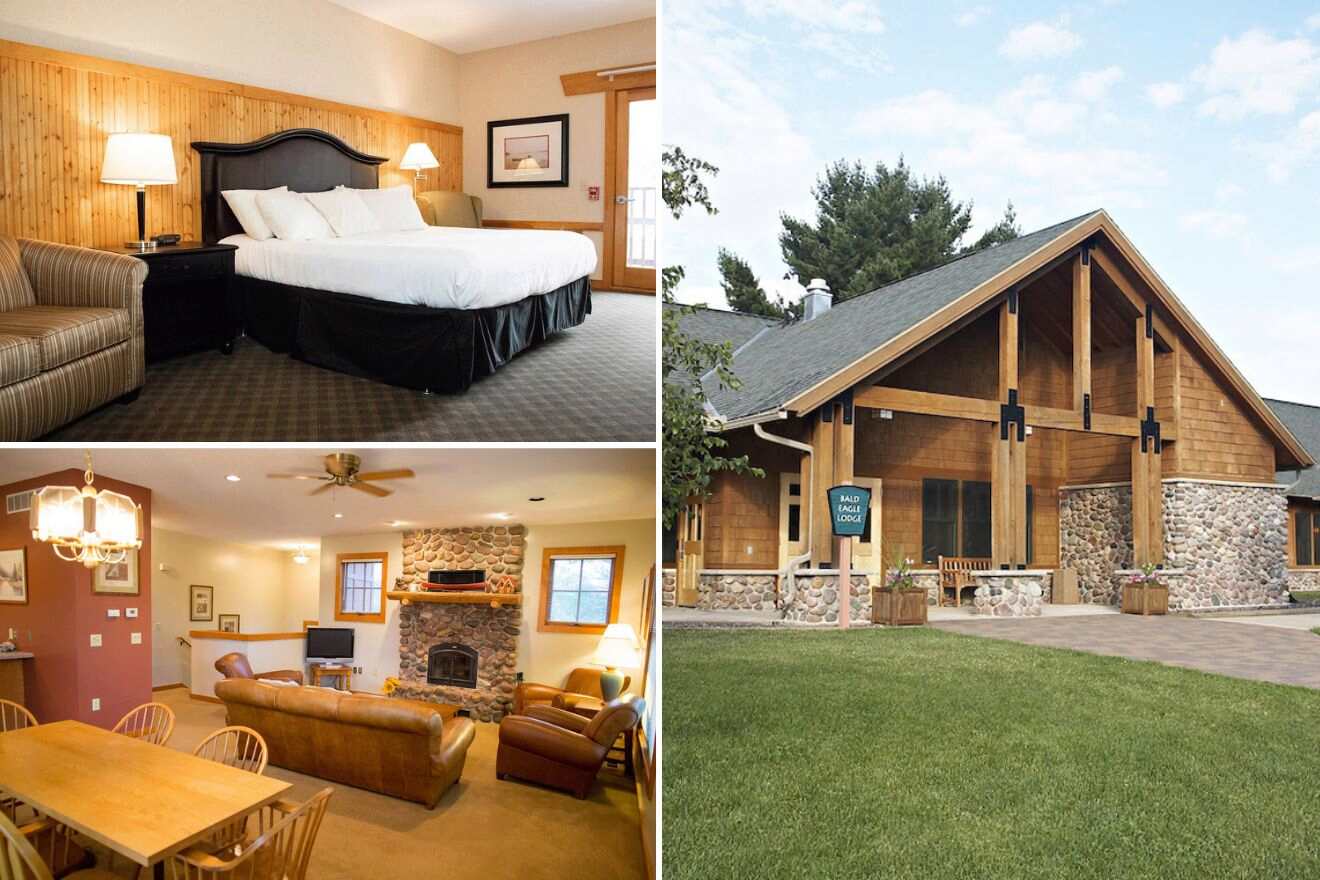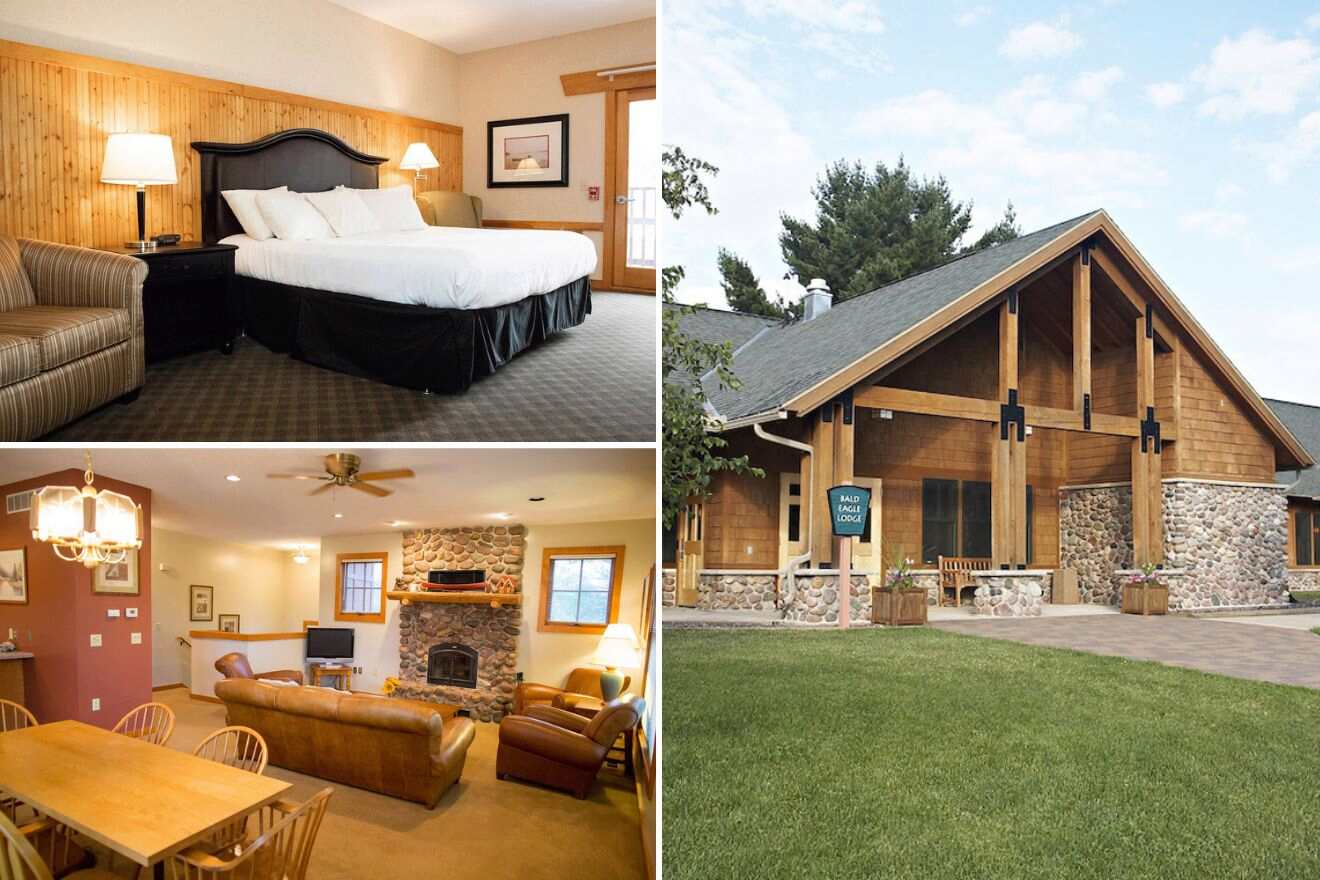 This property is perfect for a wholesome winter break near a frozen lake, it offers amazing amenities in the summer and the winter time! During the winter, this accommodation is perfect for cross-country skiing, snow tubing, or a nice stroll in the snow; you know what they say, there is no bad weather, only bad clothing! There is a game room and a fitness center in the facilities!
Some of the rooms are pet friendly, so if you want to take a furry family member on holiday, you can! I highly recommend the honeymoon suite to couples, it comes with a lovely spa bath, perfect for relaxing while sipping wine with your partner!
16. Holiday Acres Resort – with free airport shuttle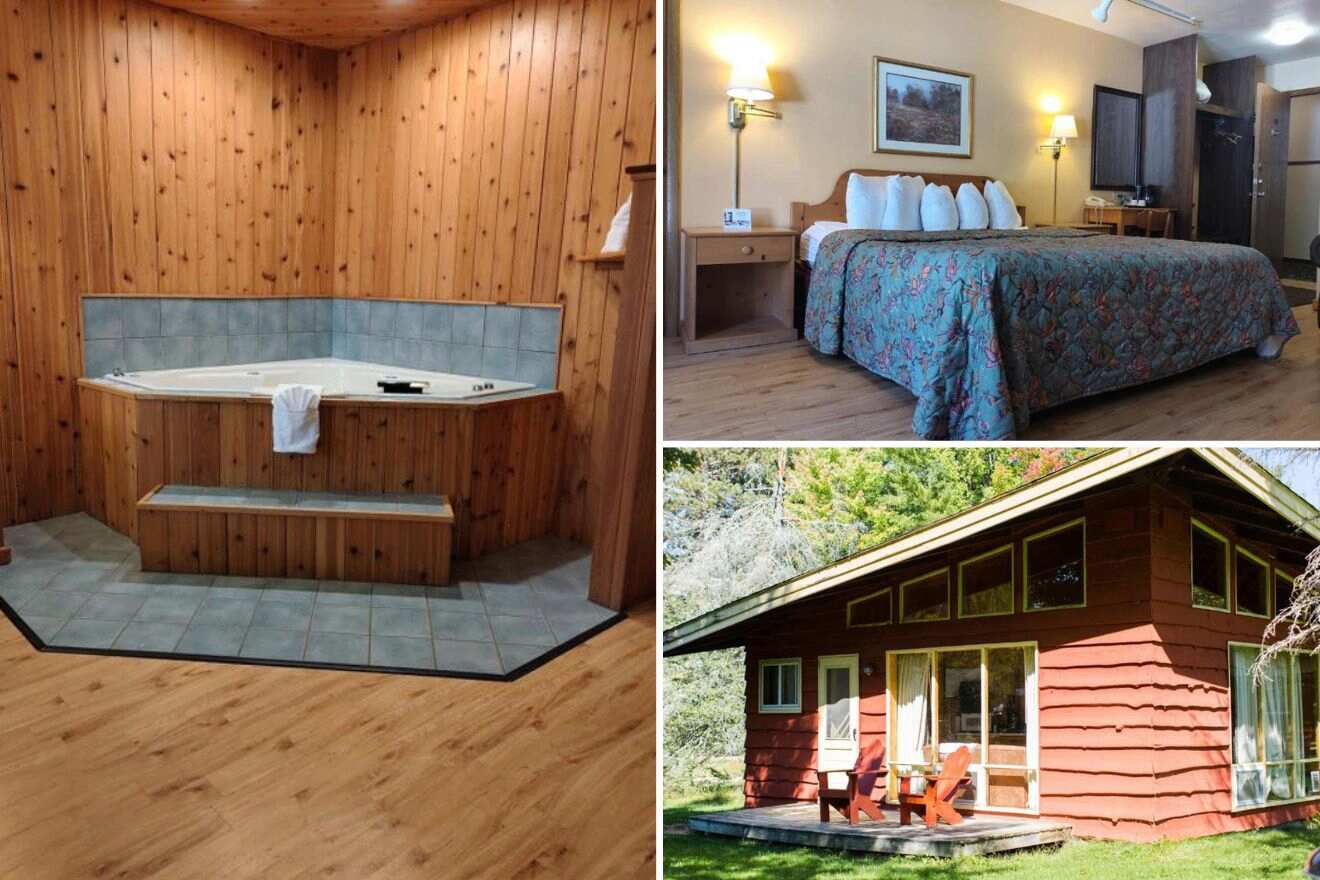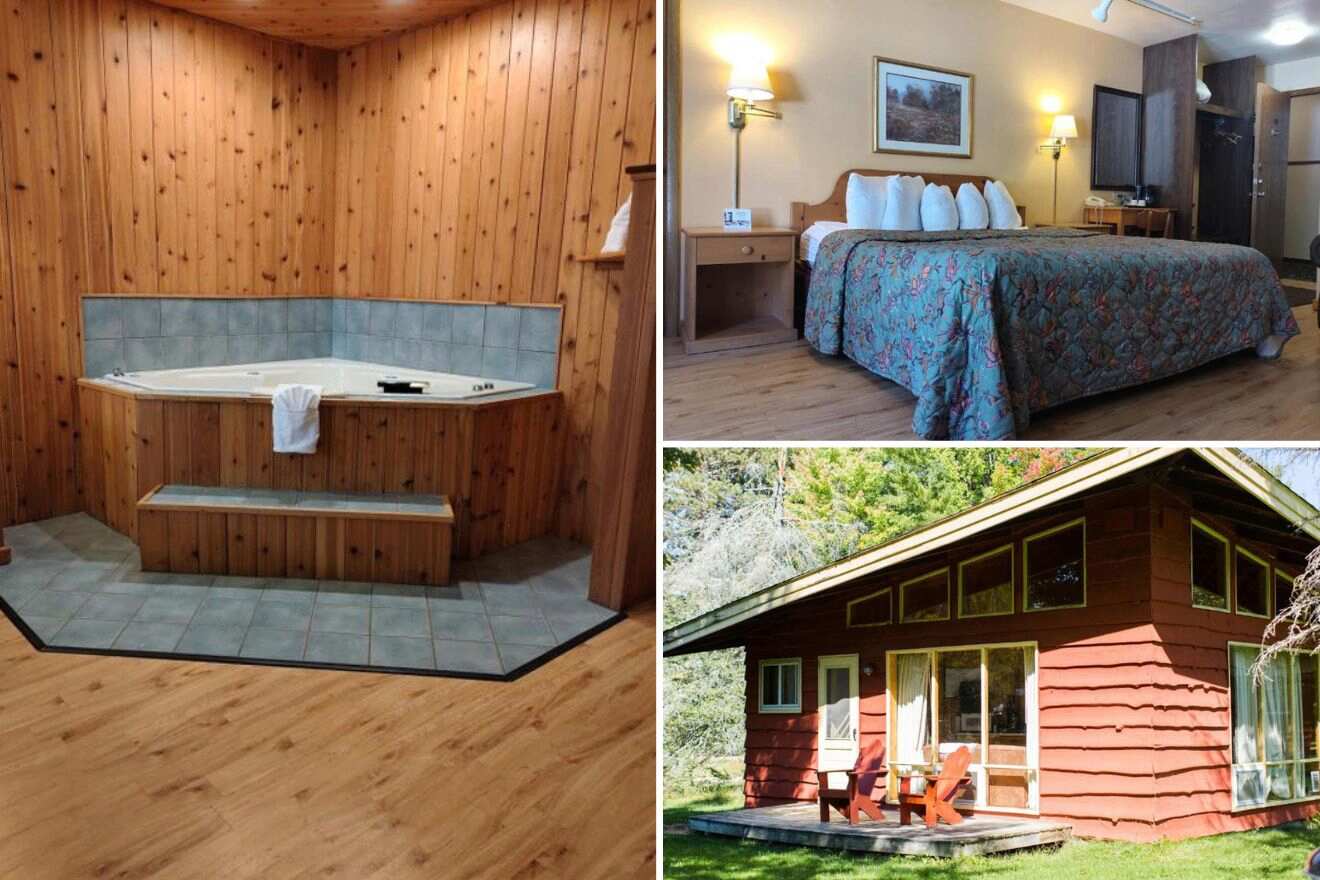 This amazing resort is ideal for families looking for a relaxing family getaway where they can spend some time in nature and engage in fun outdoor activities! If you love skiing, you can practice the sport nearby if you don't have the equipment, there is rental ski equipment service available at the hotel for a fee!
There is an onsite restaurant in the hotel, and it offers kid-friendly meals; the indoor pool is open all-year round, so you can go for a nice swim even in the winter months! The biggest accommodation is the 6-bedroom cottage which can host 12 guests and comes with 4 bathrooms with shower and bathtub, a living room, and a fully equipped kitchen!
17. Open Hearth Lodge – for a comfy stay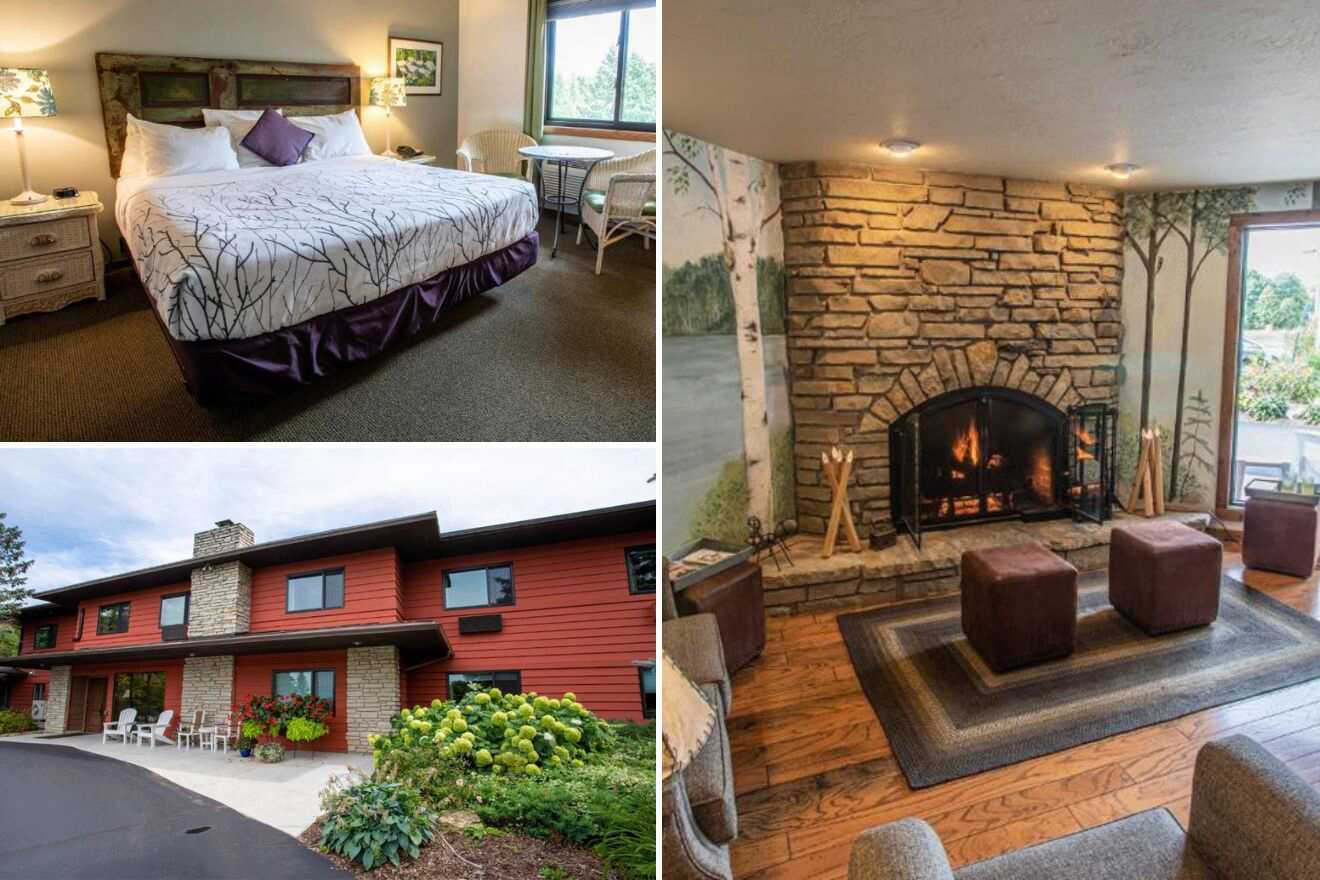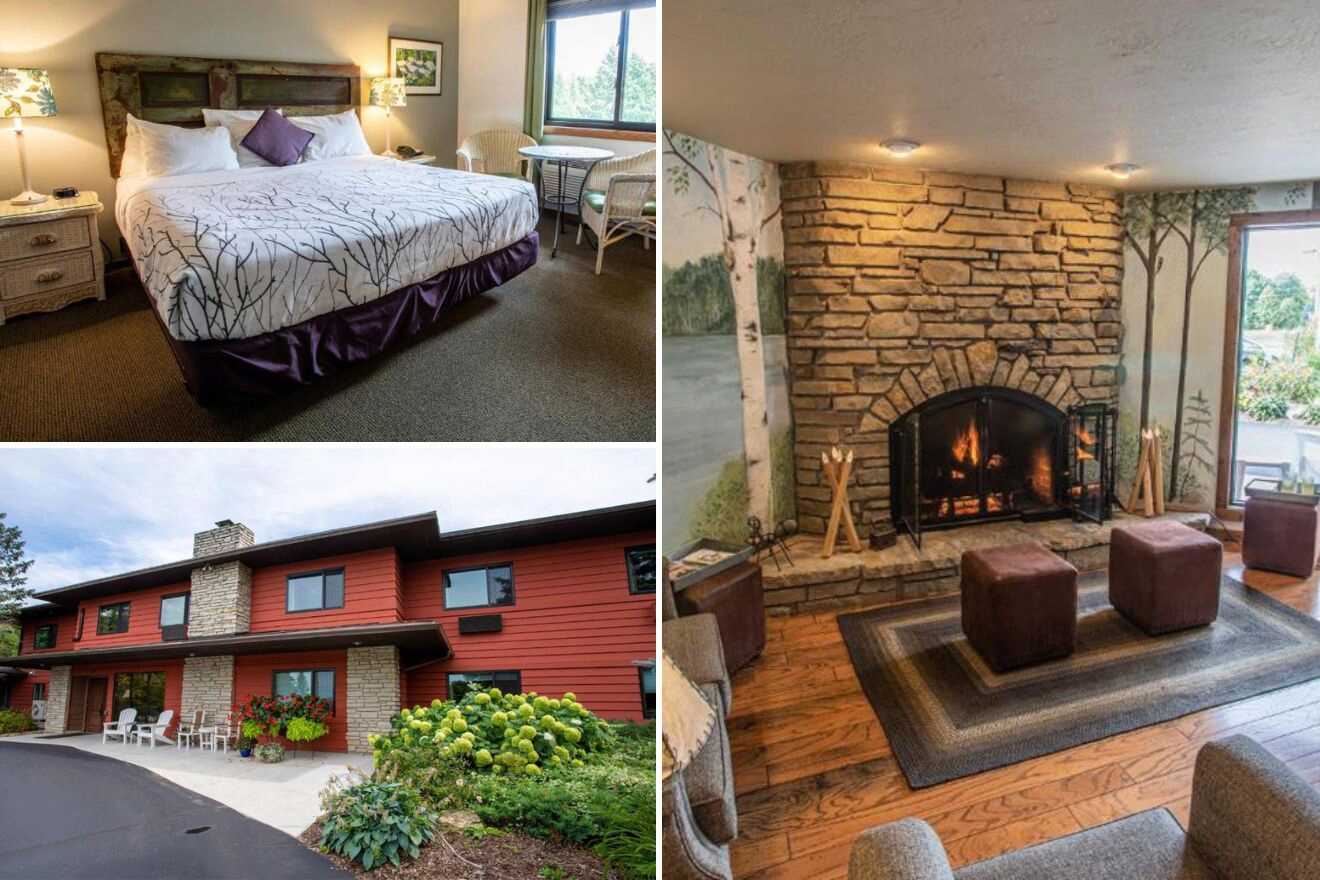 This cute little lodge is located in Sister Bay, surrounded by beautiful woods, and there is a lake nearby, and Elkhart Lake, home of the old world Christmas market, is only a 2-hour drive away. The lodge has a lovely comfy vibe, it looks exactly like you would want a winter cabin to look like, with wooden floors, fireplaces, and nice frescoes on some of the walls. The lodge has an indoor heated pool, and it is open all year round.
The complimentary continental breakfast has plenty of options for all tastes and is available to all guests staying in any of the hotel rooms! I highly recommend the king room with spa bath to couples and the suite with balcony and private kitchen to groups of 5 members!
18. Westwood Shores Waterfront – indoor jacuzzi with views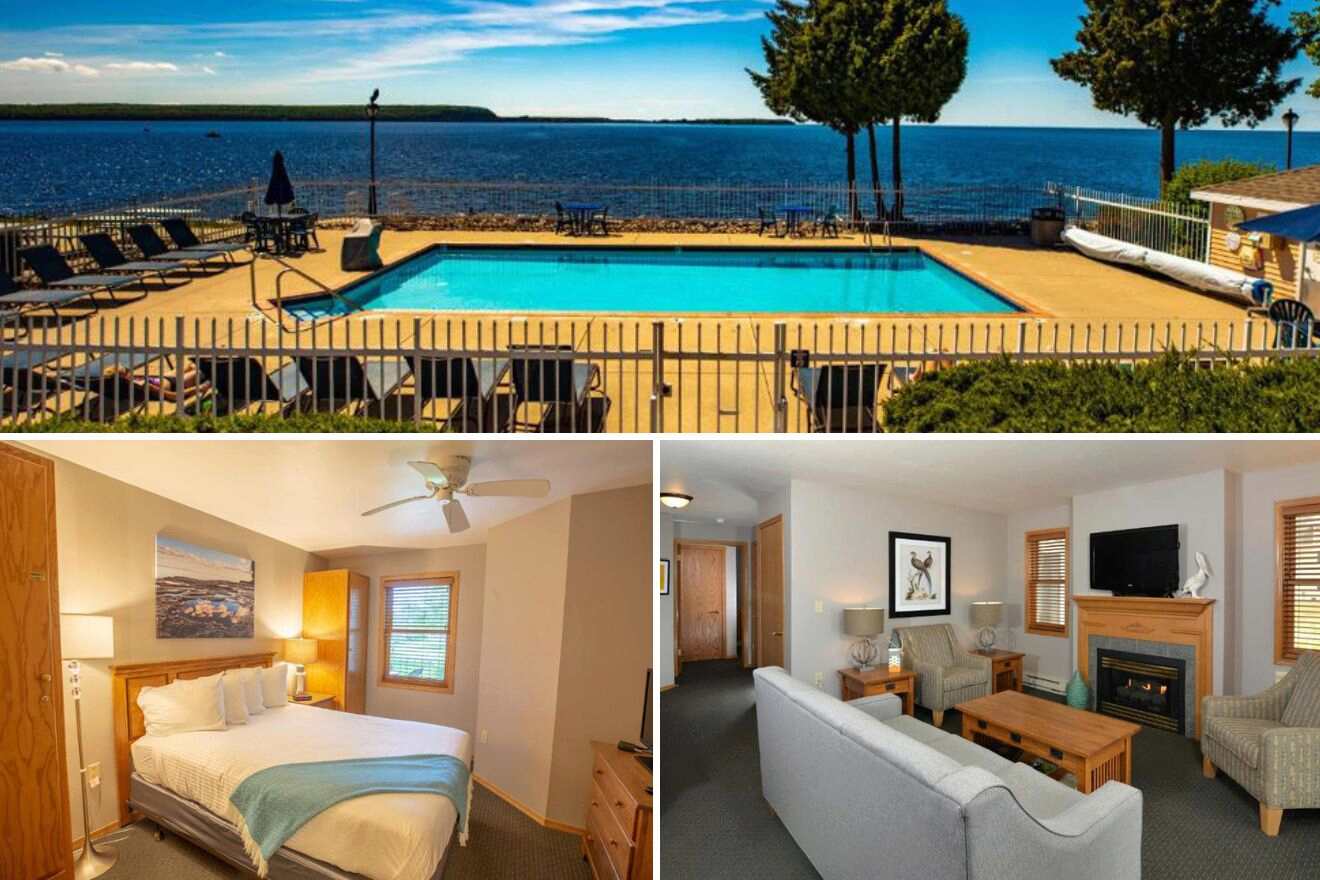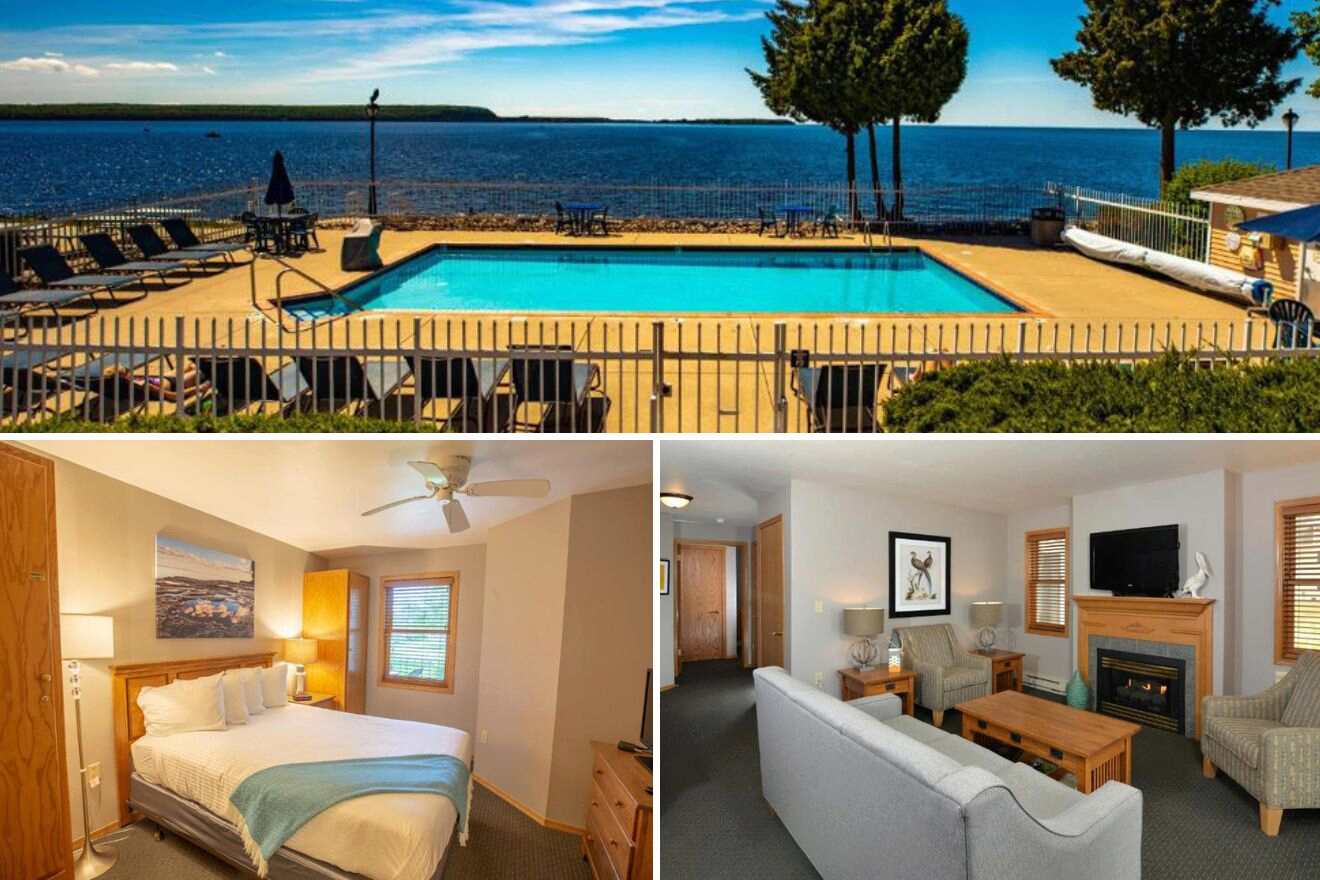 Located by the beachfront, a stay at this amazing Sturgeon Bay resort guaranteed the most unique sunsets with the almost frozen lake and snowy landscape! The hotel comes with an indoor pool and jacuzzi, which overlooks the beach, so you can appreciate the scenic landscape while you relax; such a treat!
All the rooms in this resort come with a private kitchen and a private balcony, so you can indulge in a homemade meal and admire the views from the privacy of your own room. The 2 bedroom suites are the biggest and can host up to 6 guests.
19. Stoney Creek Hotel Wausau – for a cabin-style stay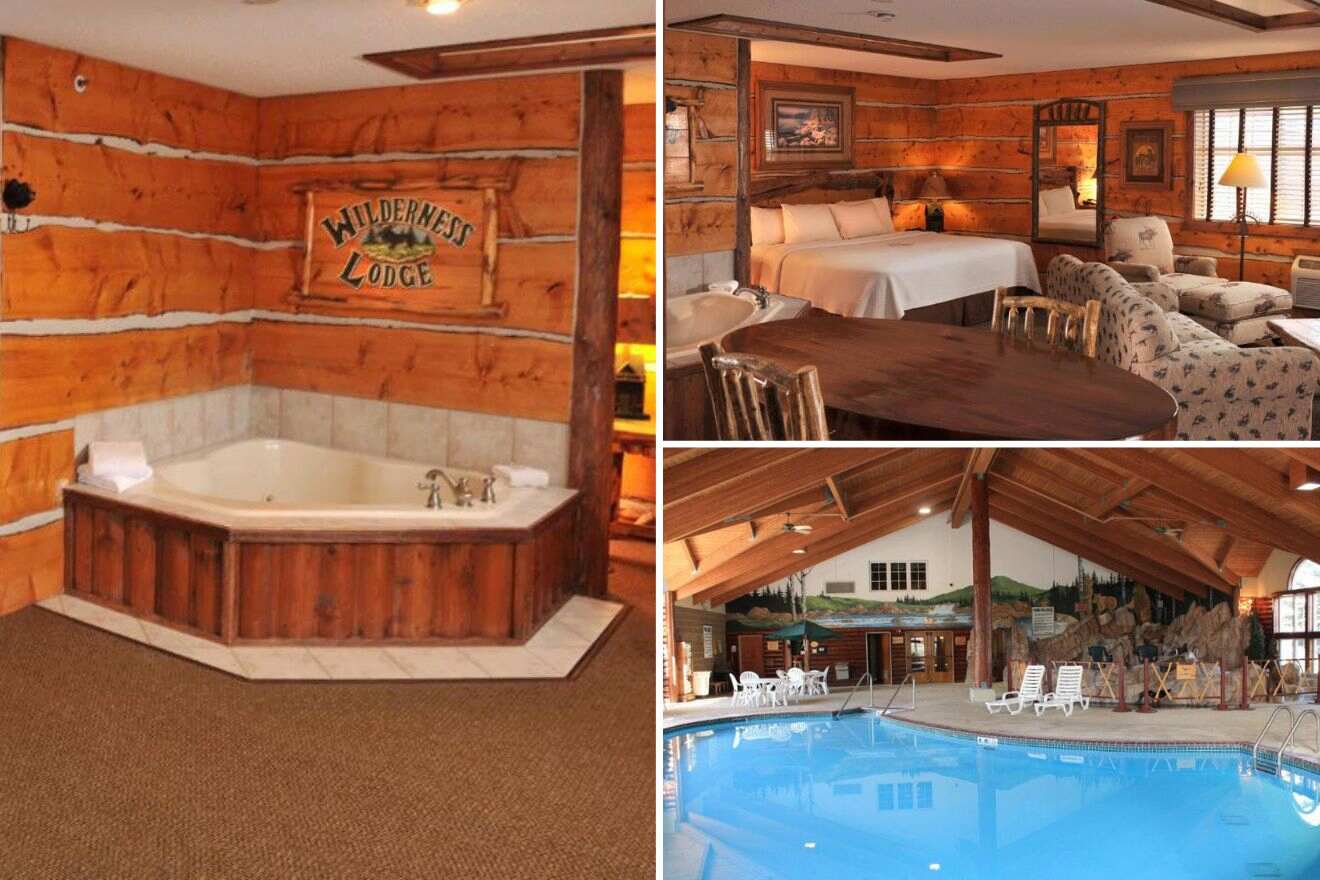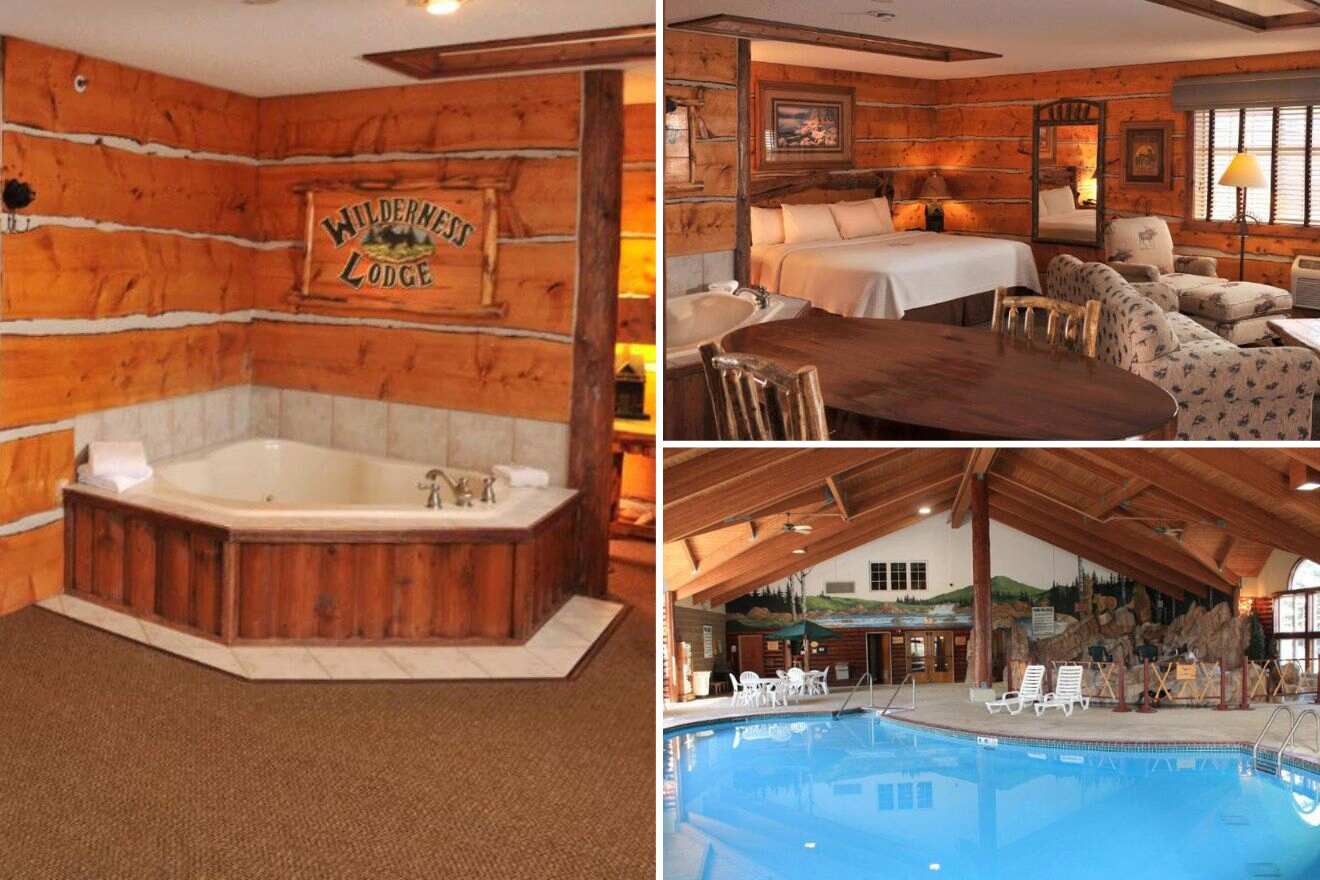 Wow! I love the classic cabin style! This is the perfect place to spend a traditional winter holiday with the family! The lodge is in Wausau, and Granite Peak for skiing is only a 10-minute drive away. The property features crafty wooden furniture that gives the entire place a warm and rustic vibe, completely stunning!
Another great aspect of the lodge is the indoor pool which is open all year round. All the rooms come with a mini fridge, a microwave, a coffee maker, a flat-screen TV, and a private bathroom with a bathtub, which is super if you fancy a bubble bath!
FAQs about winter resorts in Wisconsin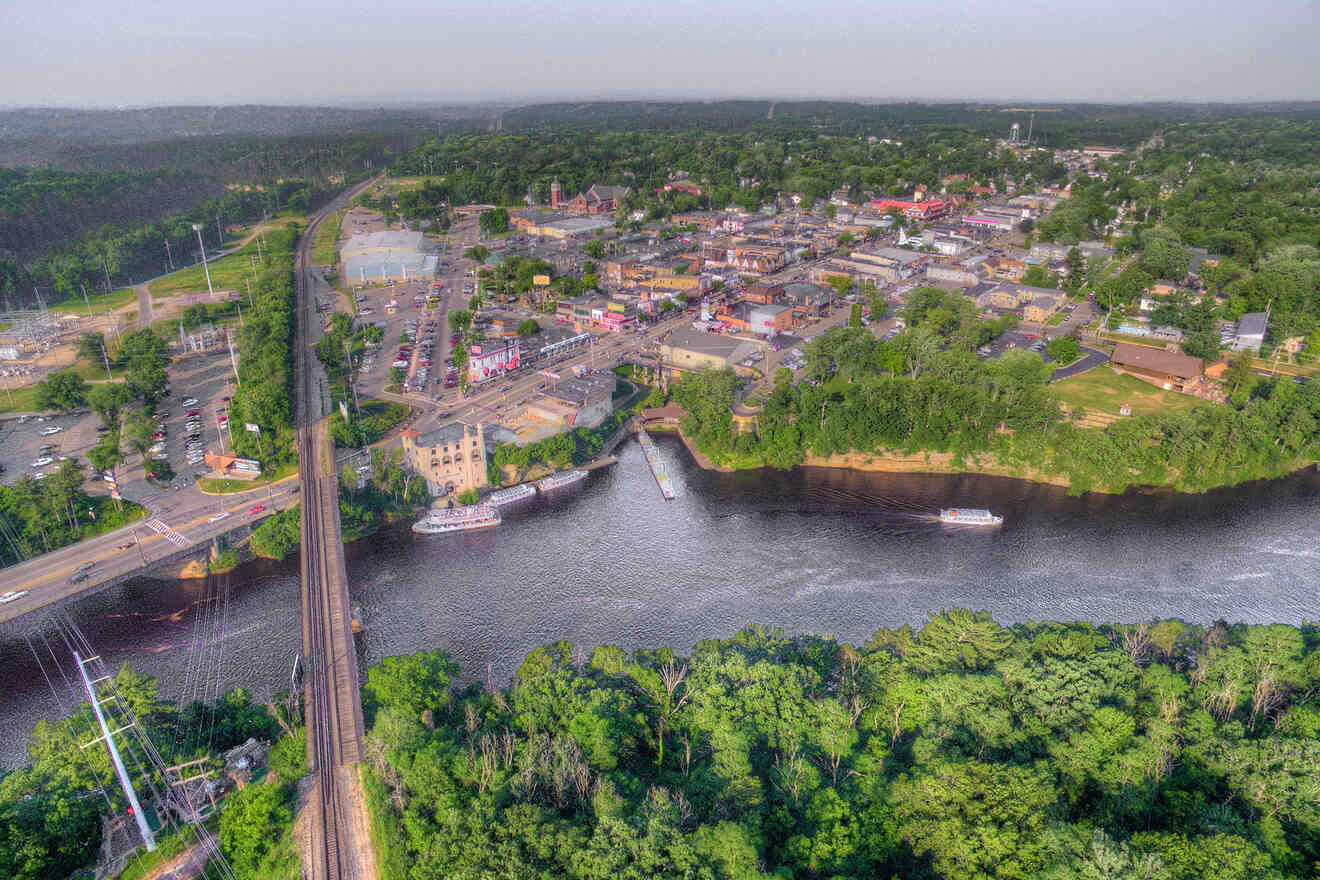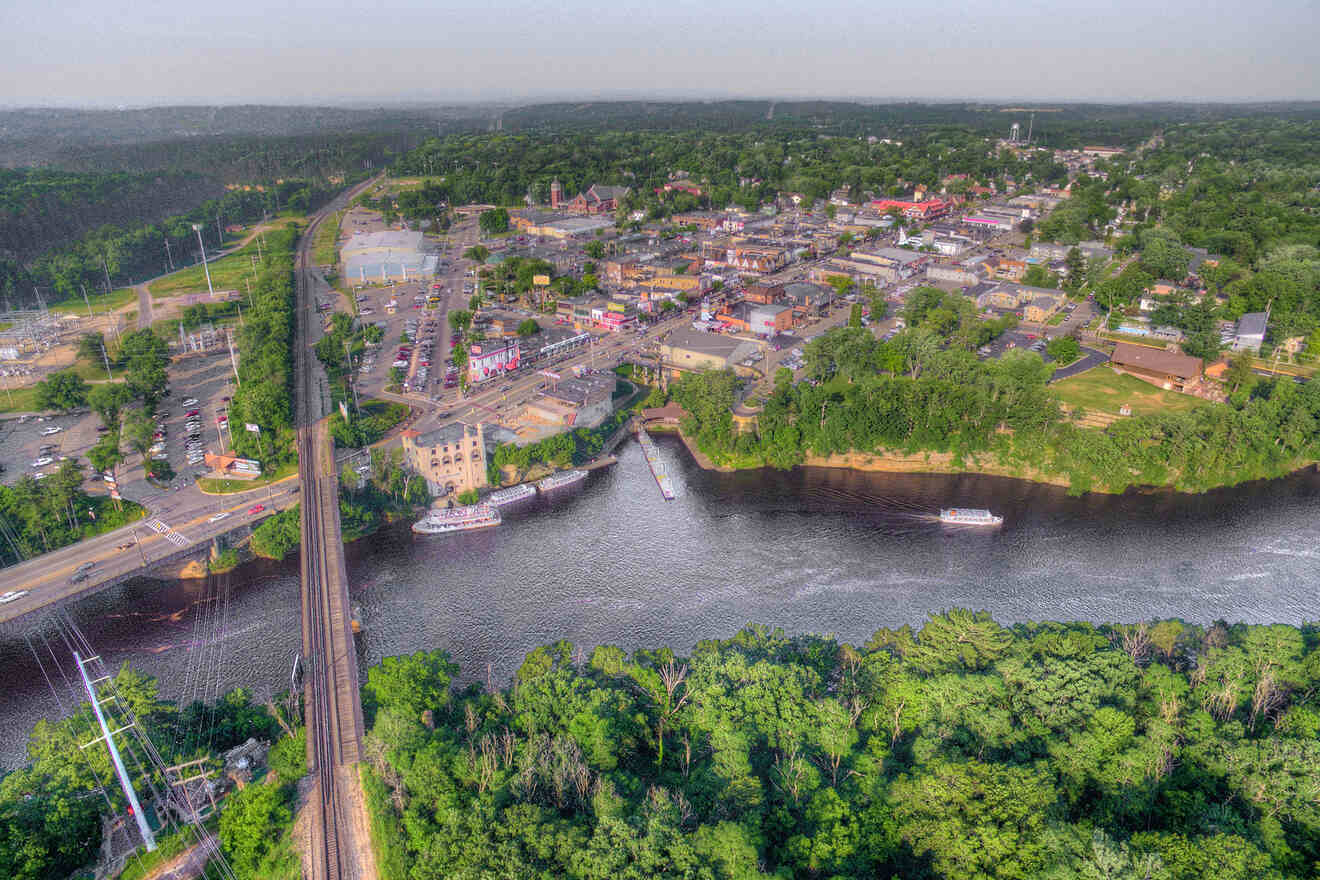 Conclusion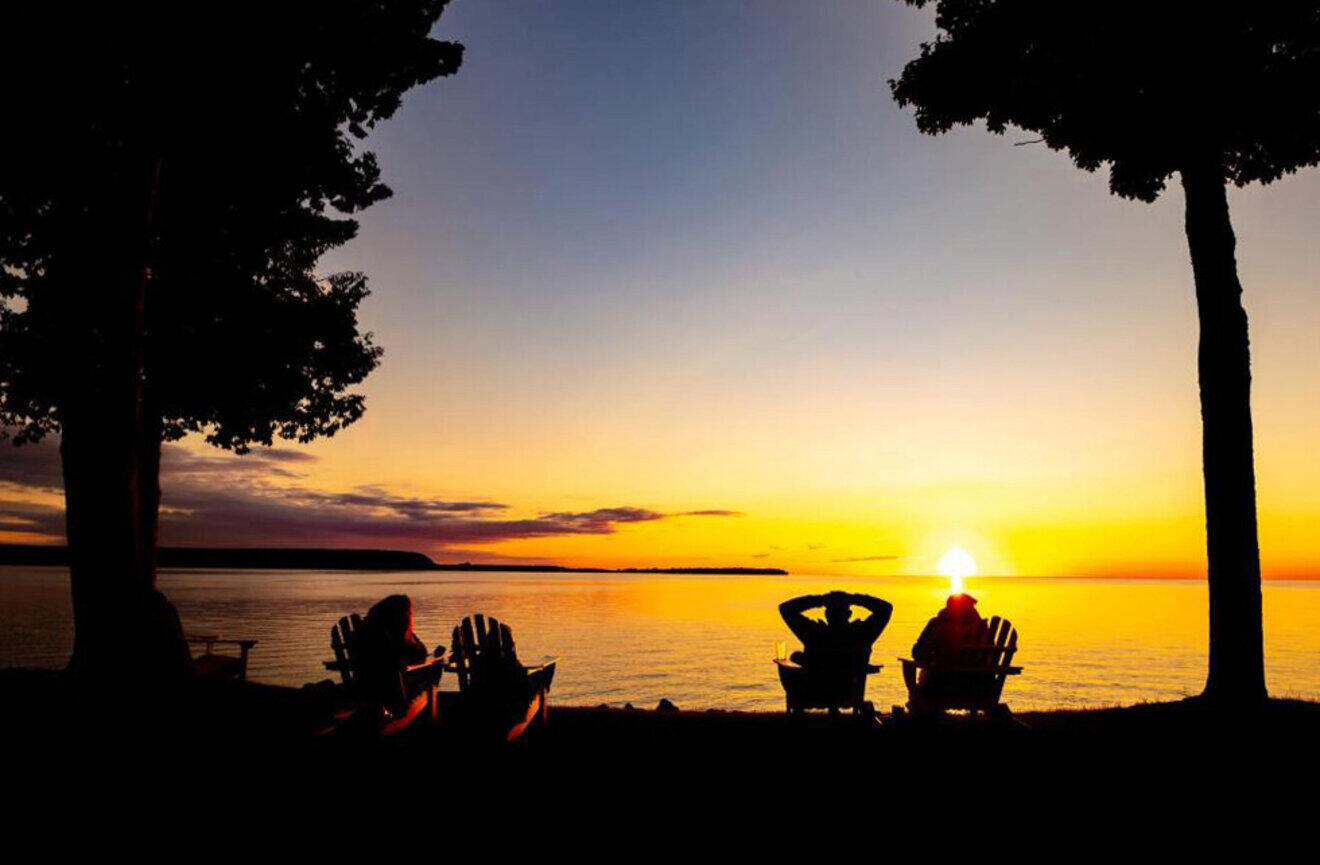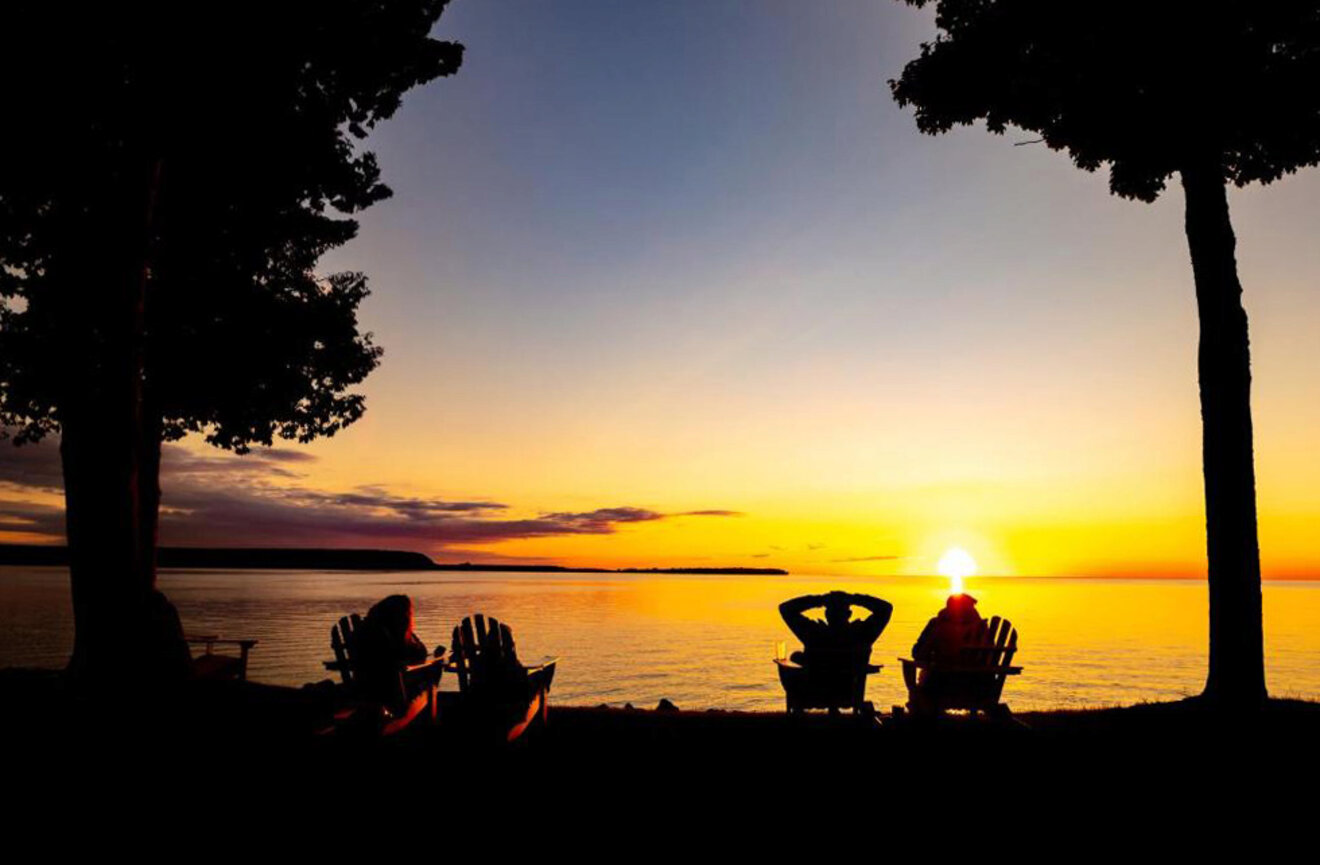 That was all for today, my lovely humans! Those were the best winter resorts in Wisconsin, you have amazing properties to choose from, all offering different amenities but equally amazing, so I am sure you found the hotel of your dreams in this article!
Honestly, all the resorts and accommodations featured in this article are fantastic, so I'd be more than happy to spend my winter break in any of them, but if I had to choose my top favorite, I'd go with:
Eagle Harbor Inn – This hotel looks like a big hug, I cannot think of a cozier place to spend the snowy days!
Edgewater Resort – I love the wide range of winter sports you can practice if you stay at the resort, plus it comes with a sauna!
Which of the Wisconsin resorts mentioned in this article was your favorite? Have you ever stayed in any of them? Let me know in the comments, and right after you go and book the room of your dreams, booking in advance is vital if you want to find availability in the hotels you like and get the best deals!
Until the next snowy adventure,
Daniela
---
Pin it for later!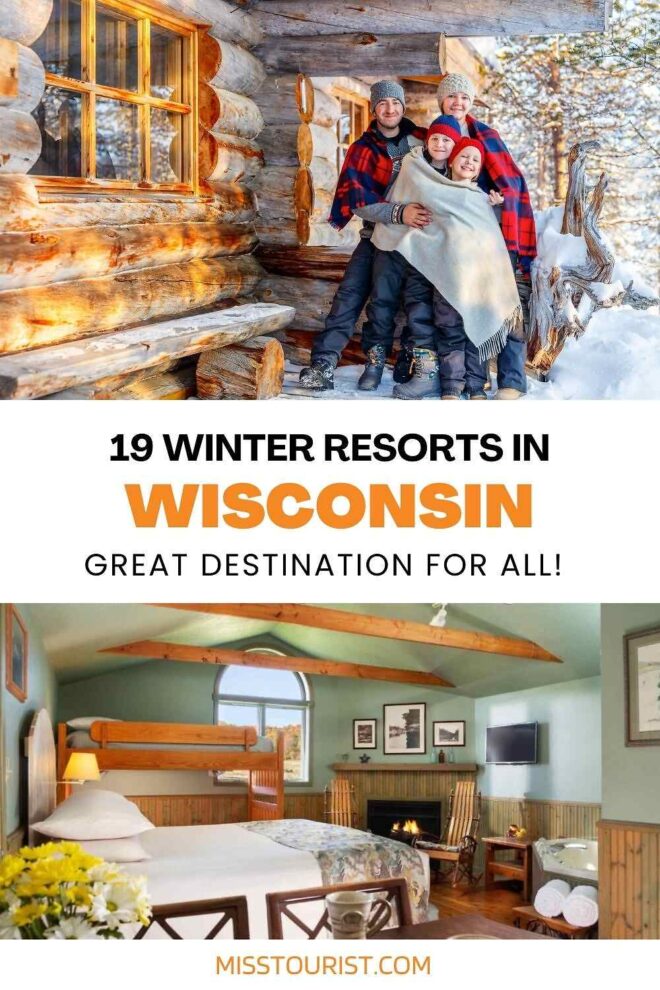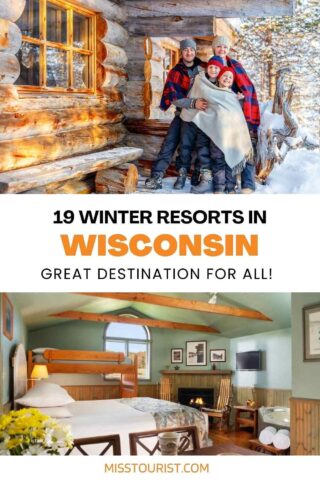 Pin it for later!