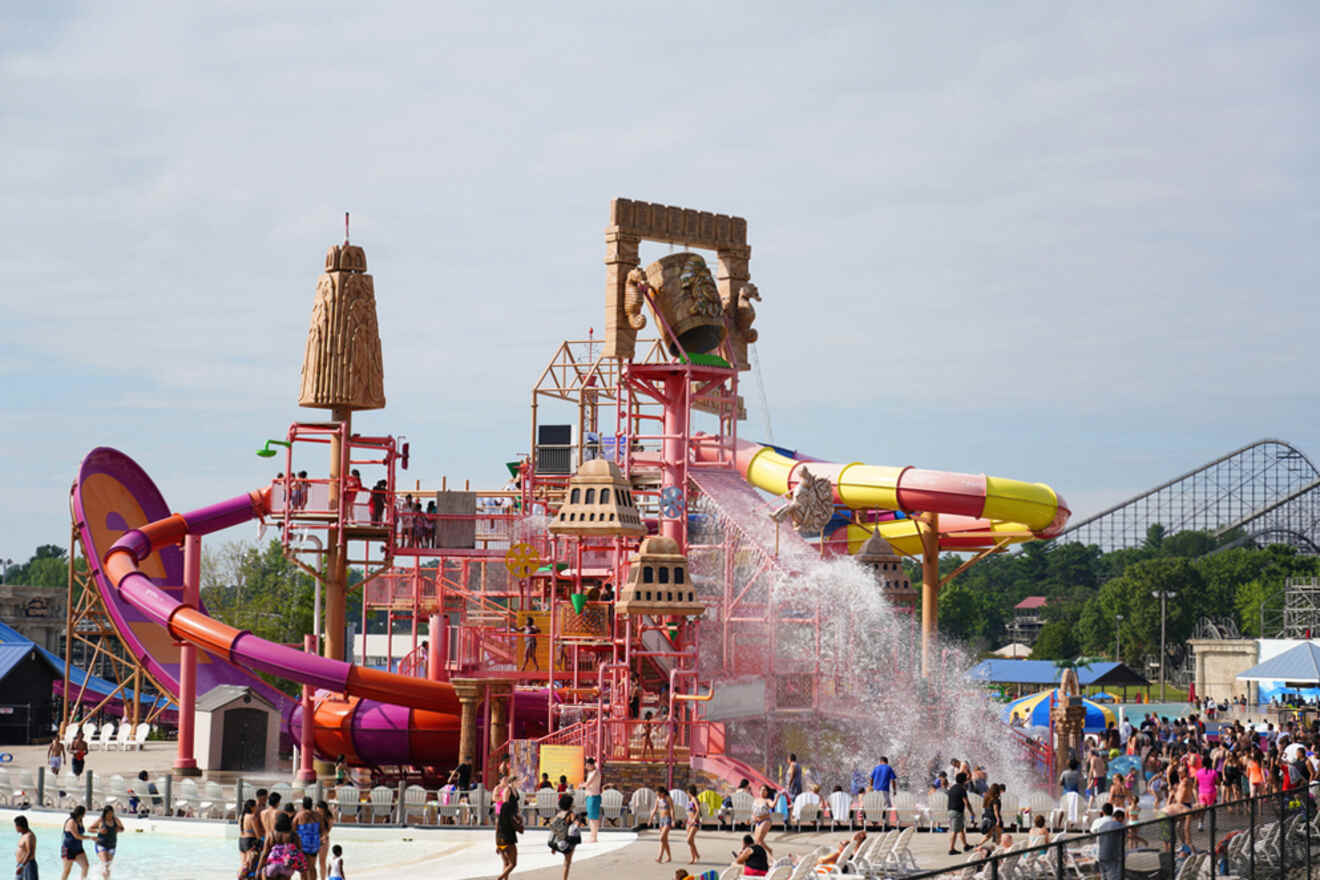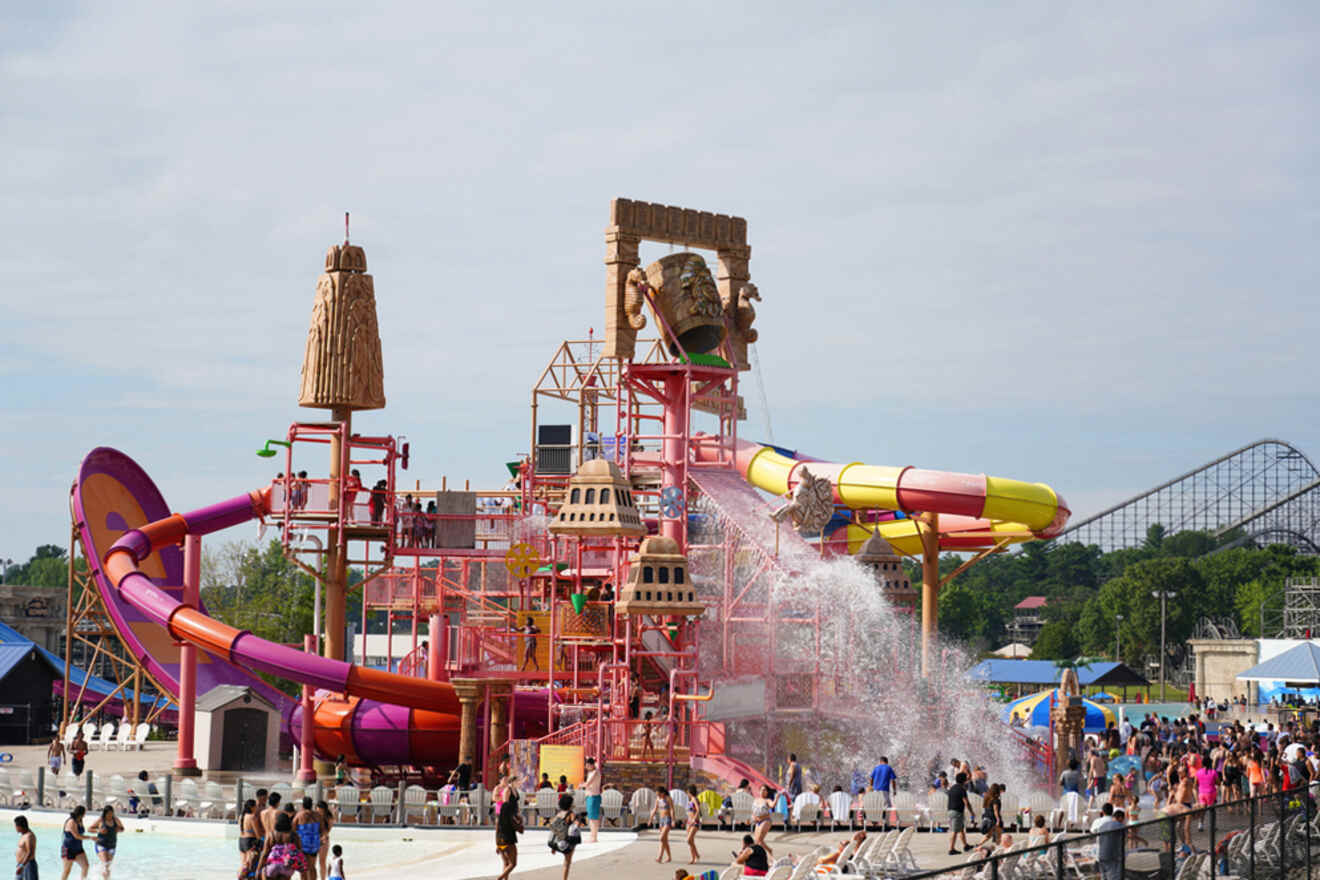 Are you looking for the best resort in Wisconsin Dells? Great, because I've been looking and searching for the best Wisconsin Dells resorts out there, too! I have to say I am impressed with the amazing options, and without a doubt, this city is the waterpark capital, which means you will most definitely find the resort of your dreams in this article!
This article is arranged by price, starting with the most luxurious resorts in Wisconsin Dells, but trust my word, all the Wisconsin Dells hotels featured in this article are top-tier!
Wisconsin Dells is a super popular destination in the winter and summer, so if you want to secure the hotel of your dreams for your vacation, you need to book in advance!
Are you ready to choose the top Wisconsin Dells resorts?
Without further ado, let's check them out!
If you are in a hurry
If you need to book fast and don't have a lot of time to read the whole article, here you have the best 3 options for the best resort in Wisconsin Dells!
1. Sundara Inn & Spa – with a world-class spa
If you are looking for the perfect place to spend a relaxing getaway, this accommodation will make you feel like a new person offering luxurious spa services for relaxation and rejuvenation! I highly suggest trying their purifying bath ritual or salt treatment room therapy!
This Wisconsin Dells resort is located a 10-minute drive away from the downtown area, and offers heated pools, hot tubs, and an on-site restaurant with healthy and wholesome meals. If you like golf, you can visit the golf course of a neighboring hotel for a fee, and if you are looking for winter fun, here you have the best cabins for a magical stay in Wisconsin Dells.
2. Bluegreen Vacations – with indoor and outdoor waterparks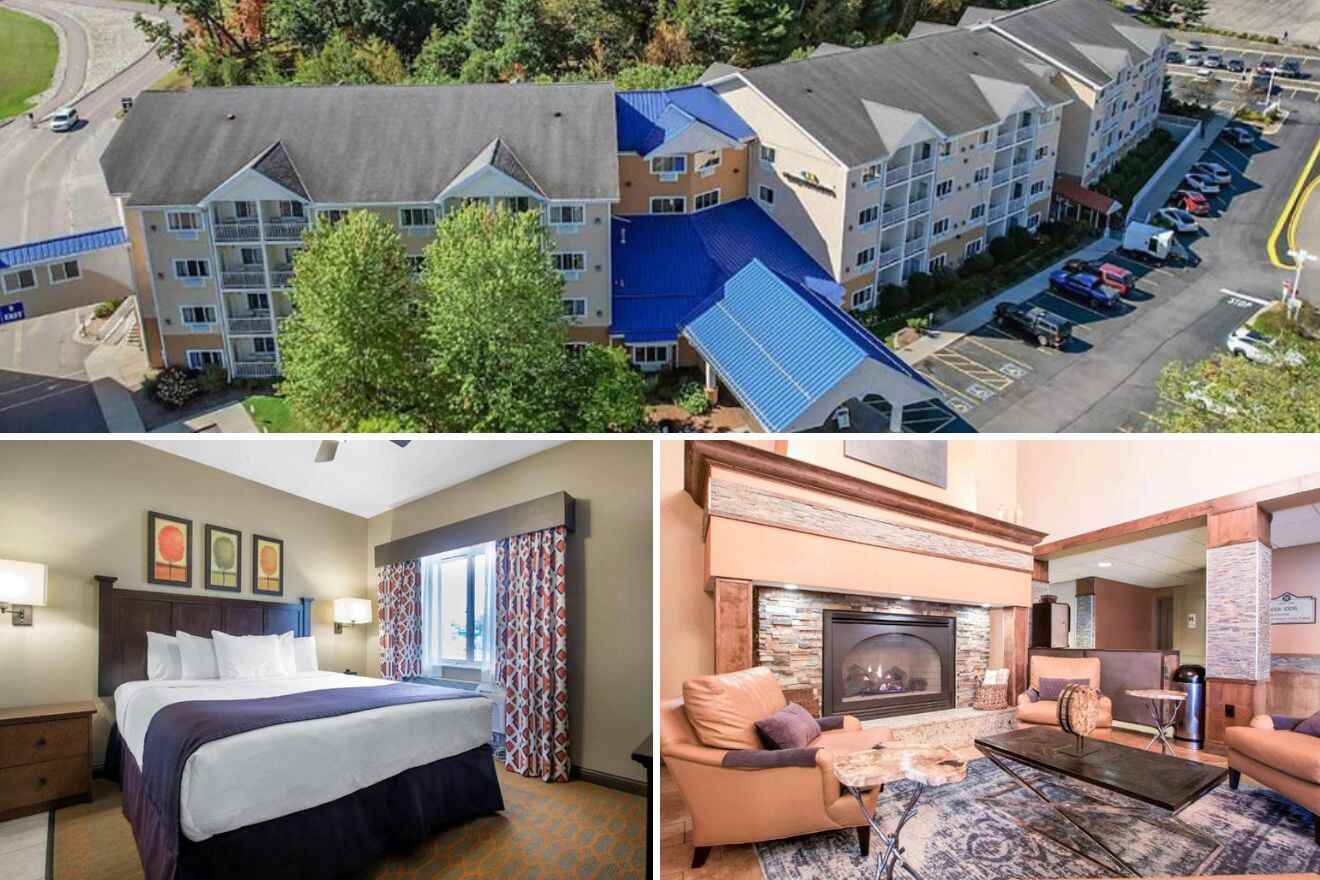 Are you looking for the perfect resort for a fun family vacation? Then this is the hotel you're looking for! Located only a 10-minute drive from downtown Wisconsin Dells and the Wisconsin River, this hotel comes with free parking, so you needn't worry about your car.
There is also a fitness center, an indoor water park, and an outdoor one, so you and your family can have a blast on this Wisconsin Dells vacation! If you have a big family, the 2-bedroom suites will accommodate you perfectly. The suite can host up to 6 guests and comes with a private kitchen and a private balcony. The guest rooms come with double beds and a flat-screen TV!
While this resort is fab for summertime, those of you looking for winter fun can take a look at the best ski resorts in Wisconsin Dells.
3. Caribbean Club Resort – by the lakefront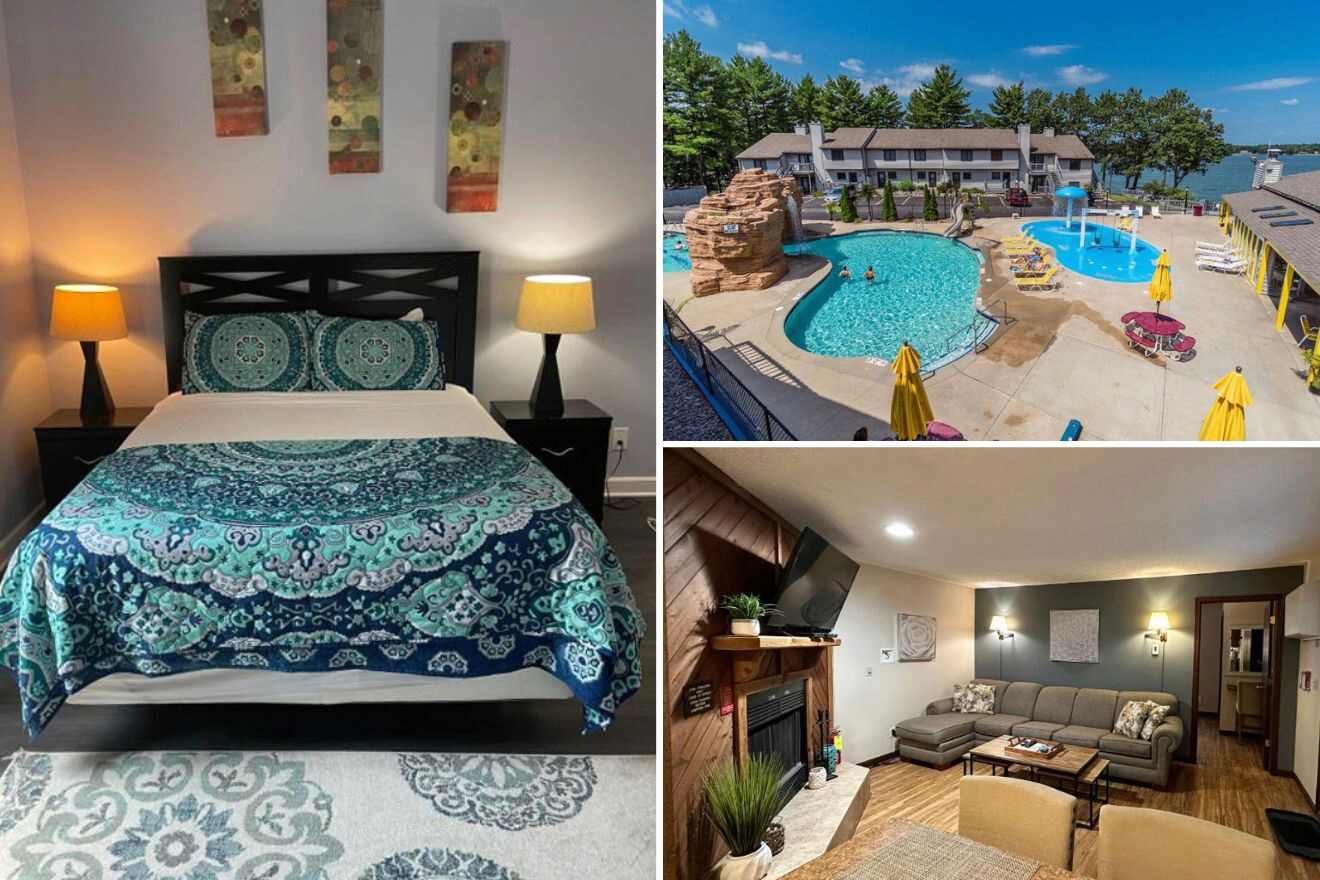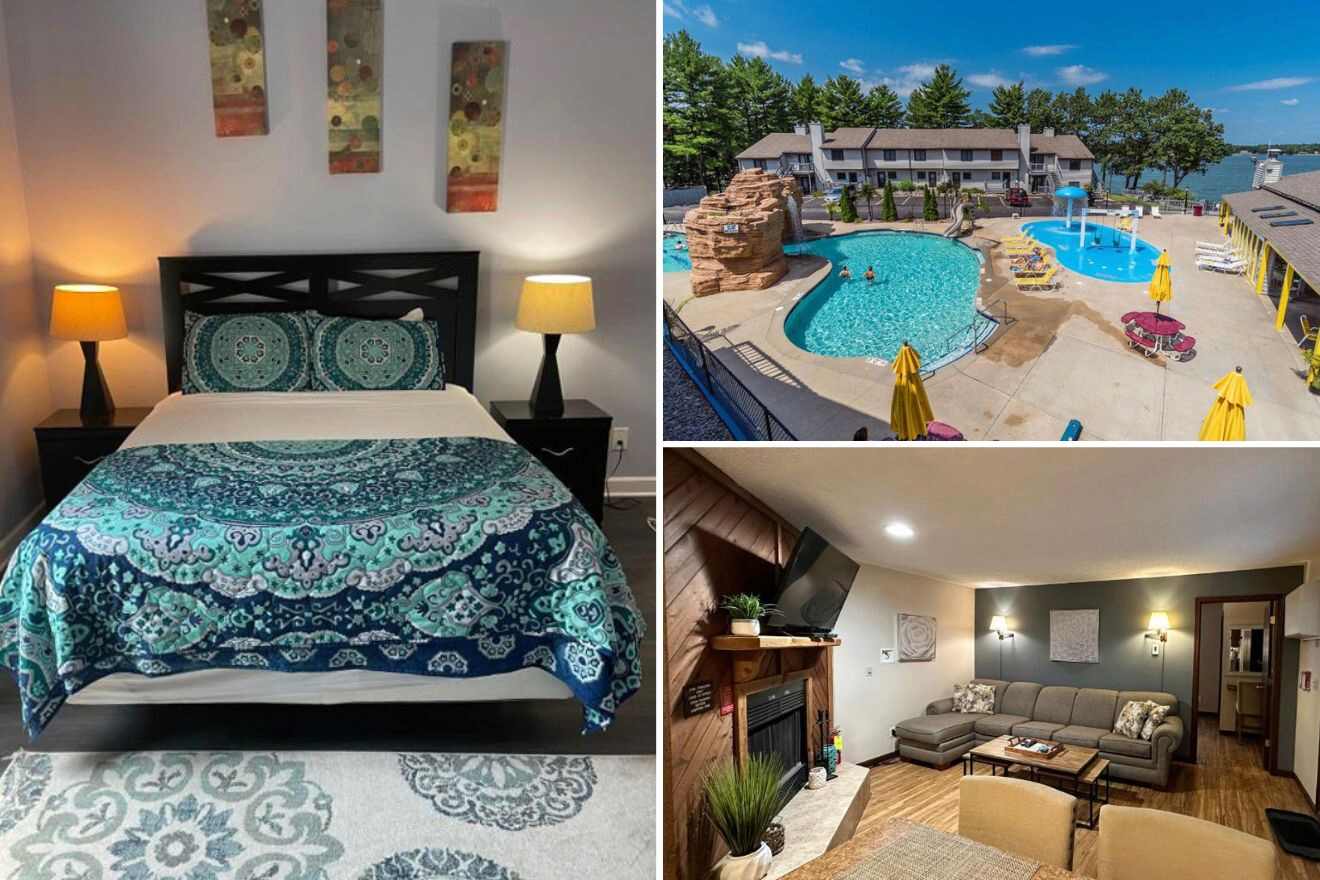 This amazing hotel is by the lakefront and comes with a private beach area. It is less than a 10-minute drive away from Wisconsin Dells city center and Noah's Ark Waterpark, the largest water park resort with a lazy river and loads of water slides, which you can try when you feel like exploring. The hotel itself is so much fun, too! It comes with indoor and outdoor pools where you can practice water sports and a recreation room!
All the resort rooms look super cozy and modern, with free Wi-Fi, a balcony, and a patio, and most of the condos come with a hot tub. With all the spacious rooms, this hotel is perfect for big groups or families since they can host from 4 to 10 guests.
4. Tamarack Wisconsin Dells – with amazing views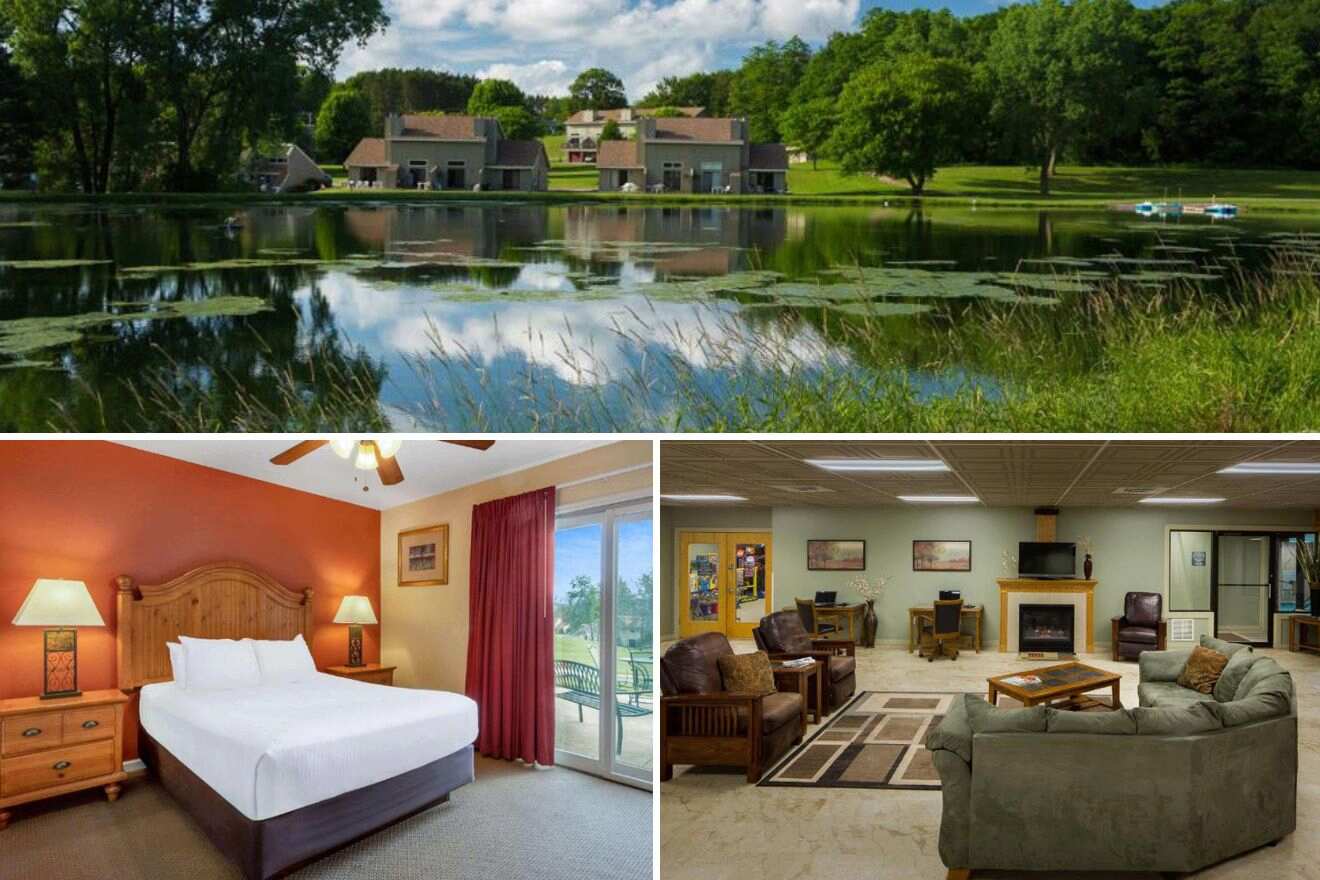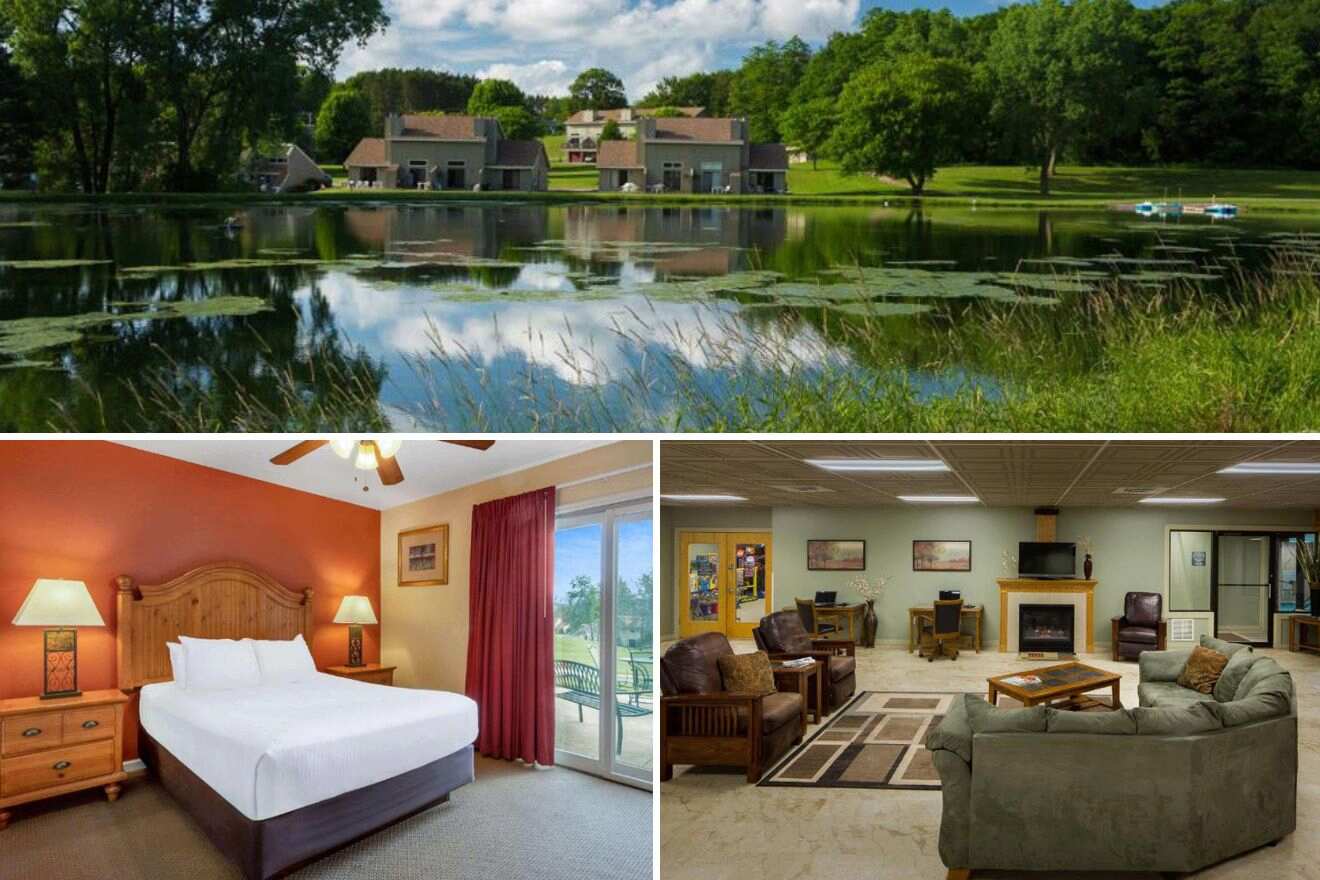 Wow! Can you believe how beautiful this hotel is located in a wonderful green area of Wisconsin Dells, only a few minutes away from Wisconsin Dells downtown area? The resort features a heated outdoor pool and indoor swimming pools, and there is a game room and tennis courts available to all guests. You can even find a natural lagoon nearby!
The hotel has a lovely cozy vibe, perfect to relax and let go of all your worries! The suites and apartments are spacious and come with a kitchen or kitchenette and can host from 4 to 6 guests, making it perfect for large groups or a comfortable couple's getaway. It's no wonder it's one of the most romantic hotels in Wisconsin.
5. Club Wyndham Glacier Canyon – with an on-site theme park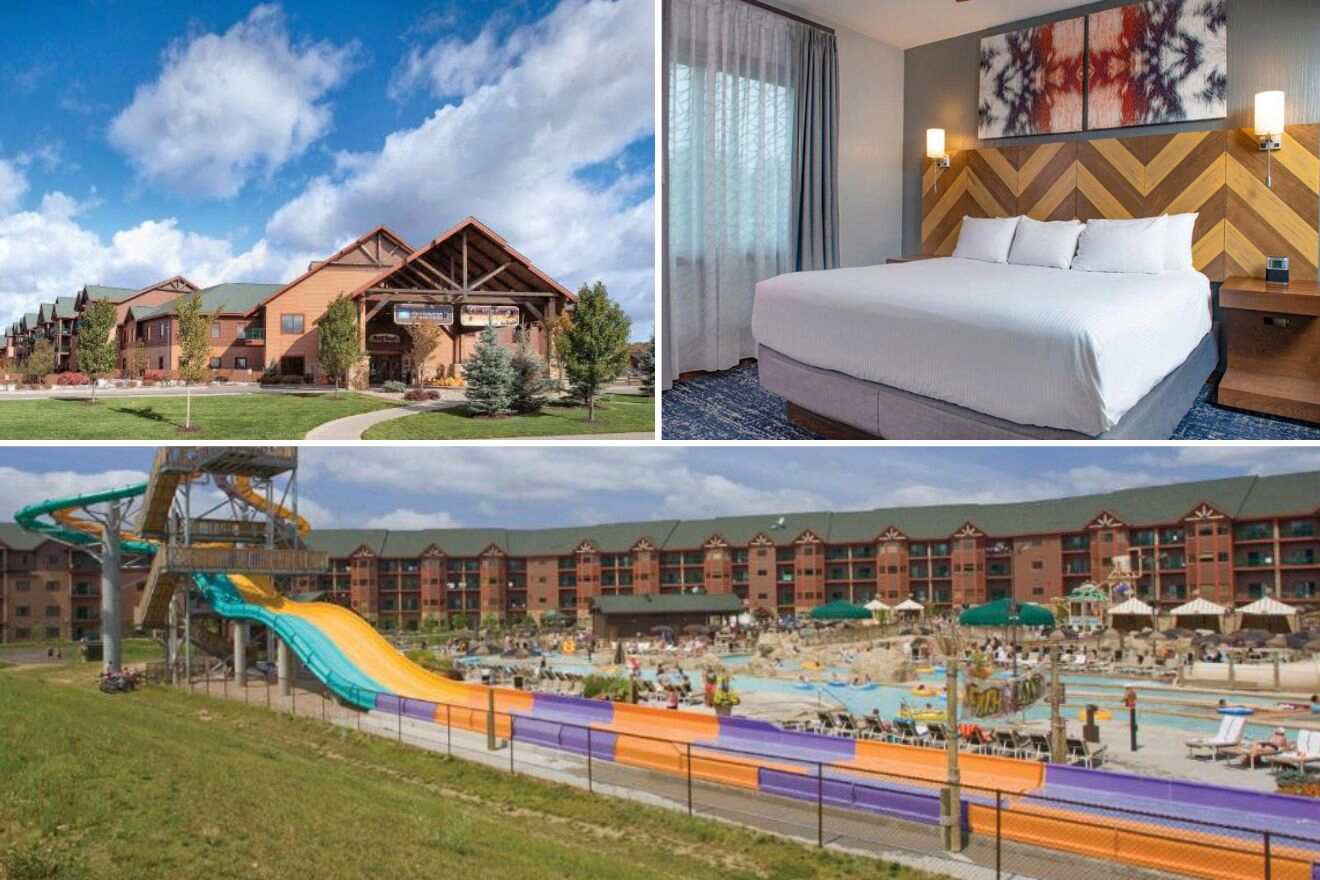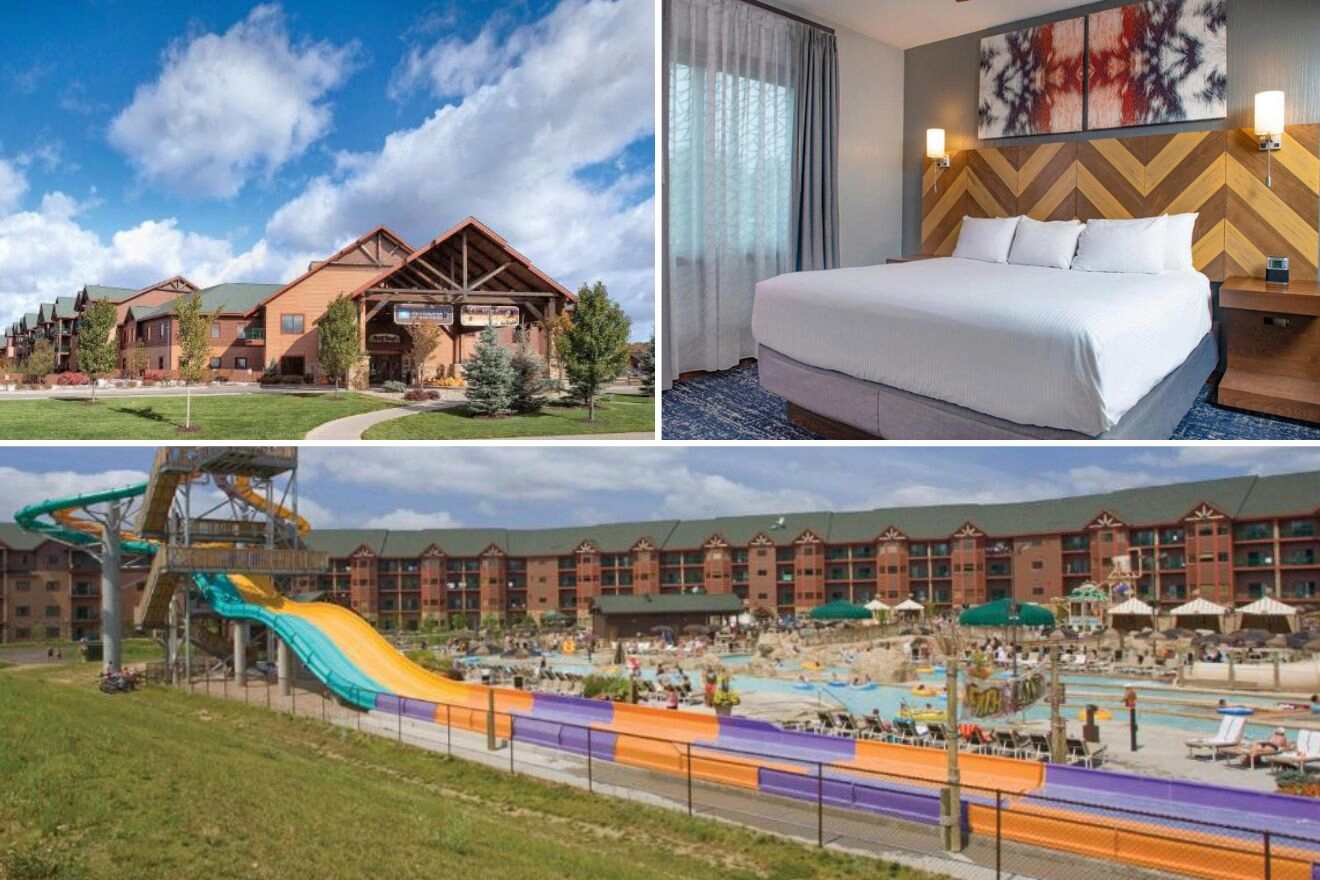 I am obsessed with this amazing waterpark resort! The decor looks great – it is cozy, modern, and classic! One of the best things about this hotel is all of the different activities it has for kids. For example, you'll find the most amazing game room with arcade games and an outdoor waterpark so you can have fun with the whole family!
This resort offers 3 types of rooms: the 1-bedroom apartment can host 4 guests, the 2-bedroom apartment can host 8 guests, and the 3-bedroom apartment group 10. All the rooms come with a kitchen, a private balcony, and a bathtub.
6. Wilderness Resort – Wisconsin's largest indoor waterpark
This incredible Wilderness hotel and resort comes with the largest indoor waterpark in all of Wisconsin, besides an amazing outdoor waterpark, which is pretty incredible! It is located an 11-minute drive away from the city center and offers birthday and pool party packages.
If you want to celebrate your kid's birthday, you will love all the indoor attractions they offer, from escape rooms to mini golf! There are also cabanas, villas, and treehouse cabins, which can host up to 20 guests. So if you are planning a great birthday party for your kids, this one might be ideal!
7. Great Wolf Lodge Wisconsin Dells – fun for all ages!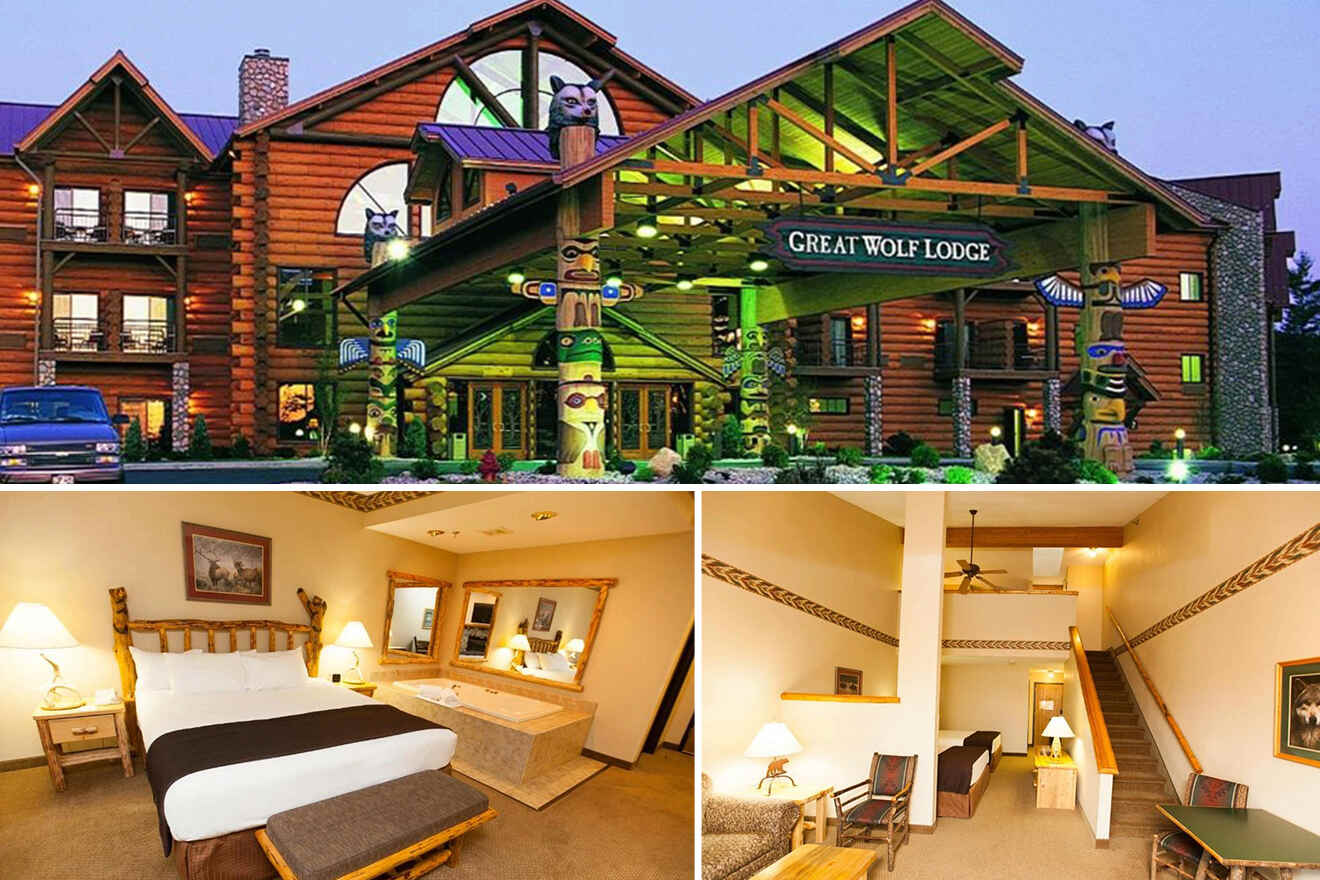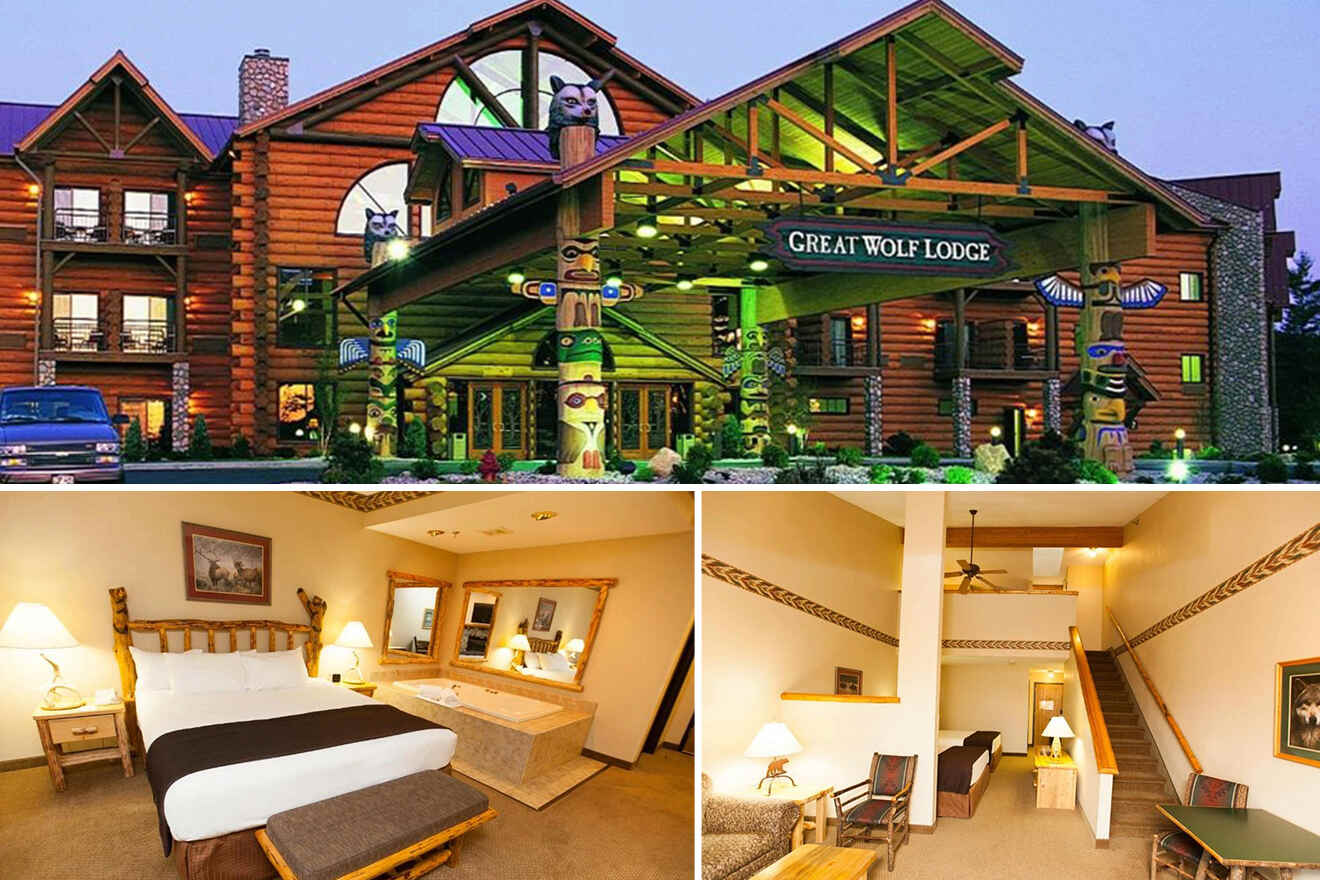 This hotel looks so much fun! The style is super cozy and comes with a lot of amenities that will make you feel right at home, providing spacious family suites and fine dining options, warm decorations, fun indoor pools, water parks, and an outdoor swimming pool. It doesn't matter if you travel in the winter, since the indoor water park and pool have heated water!
The rooms are nicely decorated and have a summer camp vibe going on, super comfy! If you travel with kids, some rooms come with bunk beds, and this sleeping area is decorated specially for the kids! It is possible to have an in-room breakfast each morning, too!
8. Kalahari Resorts & Conventions – it has it all!
Oh my God! If you stay in Kalahari Resort, you better stay for a couple of days to have enough time to do and try out all the different activities this resort offers, including golf courses, entertainment venues, and seasonal activities. From water parks to a games room with incredible arcade games, a bowling alley with neon lights, and even the chance to ride race cars – you'll literally have it all!
There are also many amazing activities for grown-ups: you can play golf, or you can book an amazing spa session. Last but not least, the entire family can enjoy the best meals at the on-site restaurants, and you can stay in the suites and villas for groups of all sizes!
9. Birchcliff Resort – with a petting zoo
How cute is this hotel?! It is located only a 5-minute drive or a 30-minute walk away from Wisconsin Dell city center. This hotel features beautiful cabins with a fireplace, a kitchenette, and a very homey style that will make you feel right at home in the winter and summertime.
The resort comes with a big outdoor pool with heated water located in the garden and a lounge area. There is also a petting zoo full of cute little goats you can feed and pet, and there is a beautiful hiking trail you can explore. It will take you to a beach area where you can relax under the sun or go for a swim!
10. Staybridge Suites – discover Lake Delton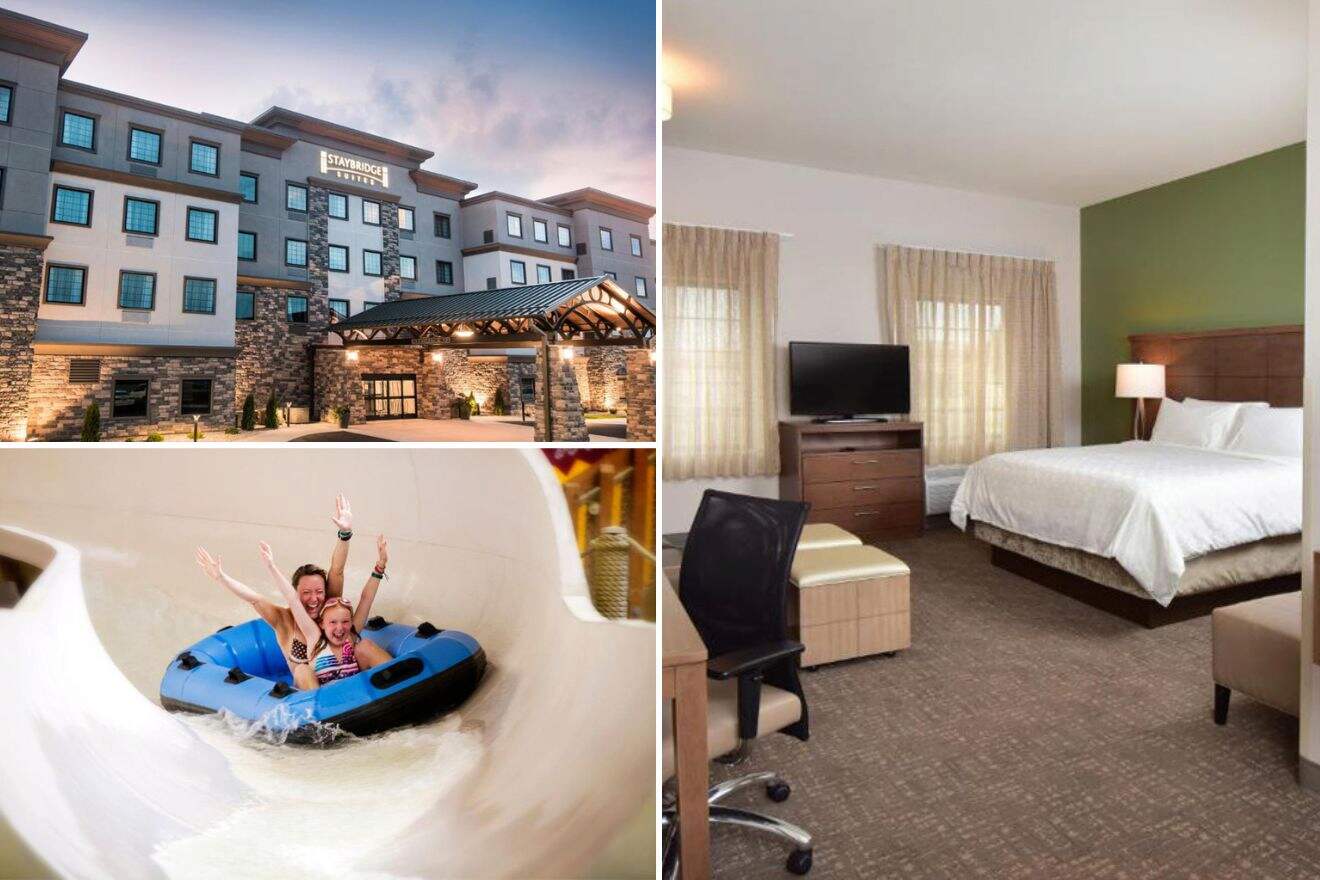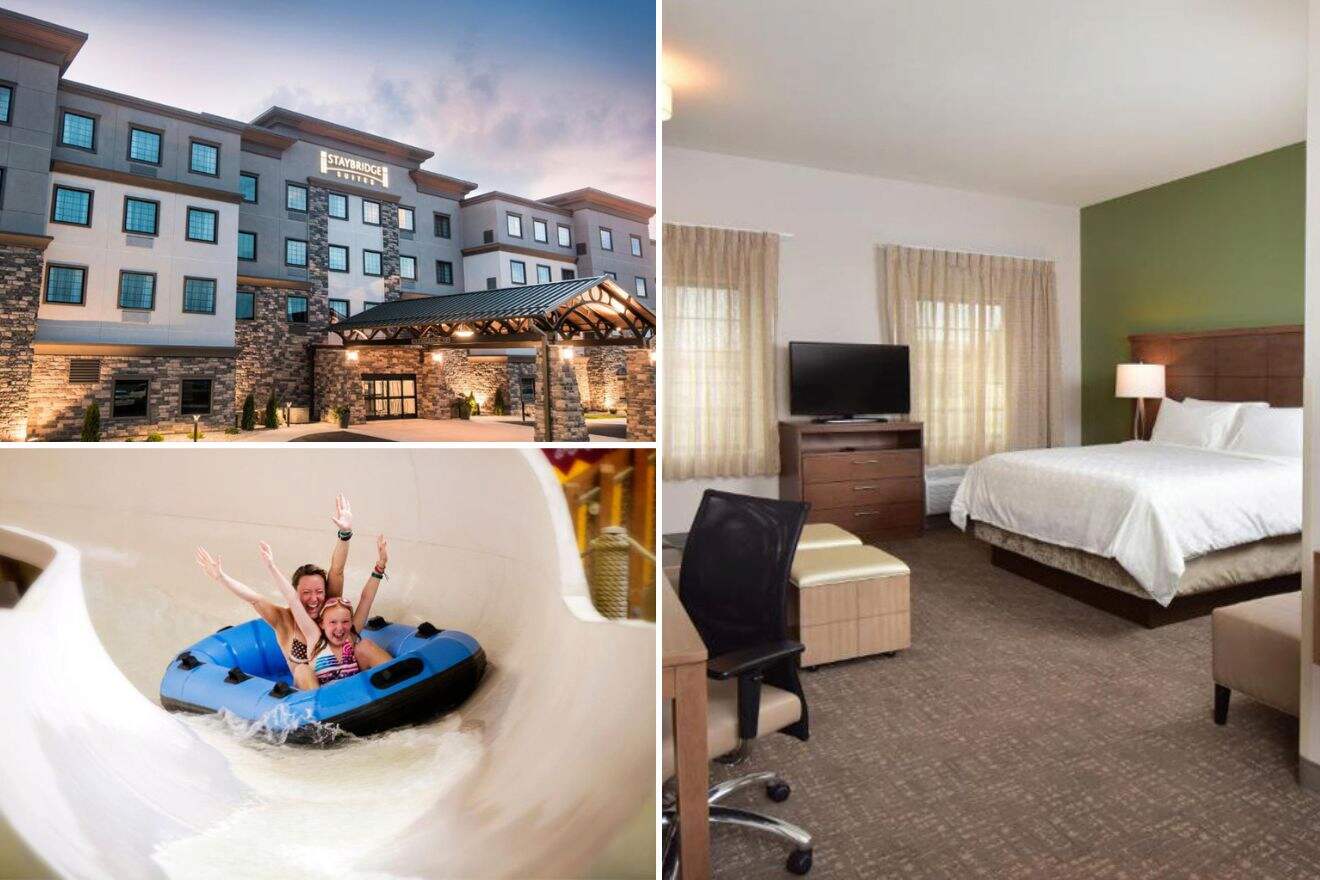 Oh, la la! This hotel is truly stunning! It literally has everything you could wish for and things you couldn't even imagine! It comes with a beautiful water park that is super big and has many different sections, a basketball court, an escape room open to guests of all ages, a bowling alley, and race cars! There is an indoor pool with a jacuzzi, which you can use for a relaxing swimming session.
All the rooms come with a private kitchen and dishwater, which comes in handy if you want to cook for yourself, a flat-screen TV with cable channels, and free Wi-Fi so that you can stay connected with the world during your vacations!
11. Bakers Sunset Bay Resort – for a wholesome stay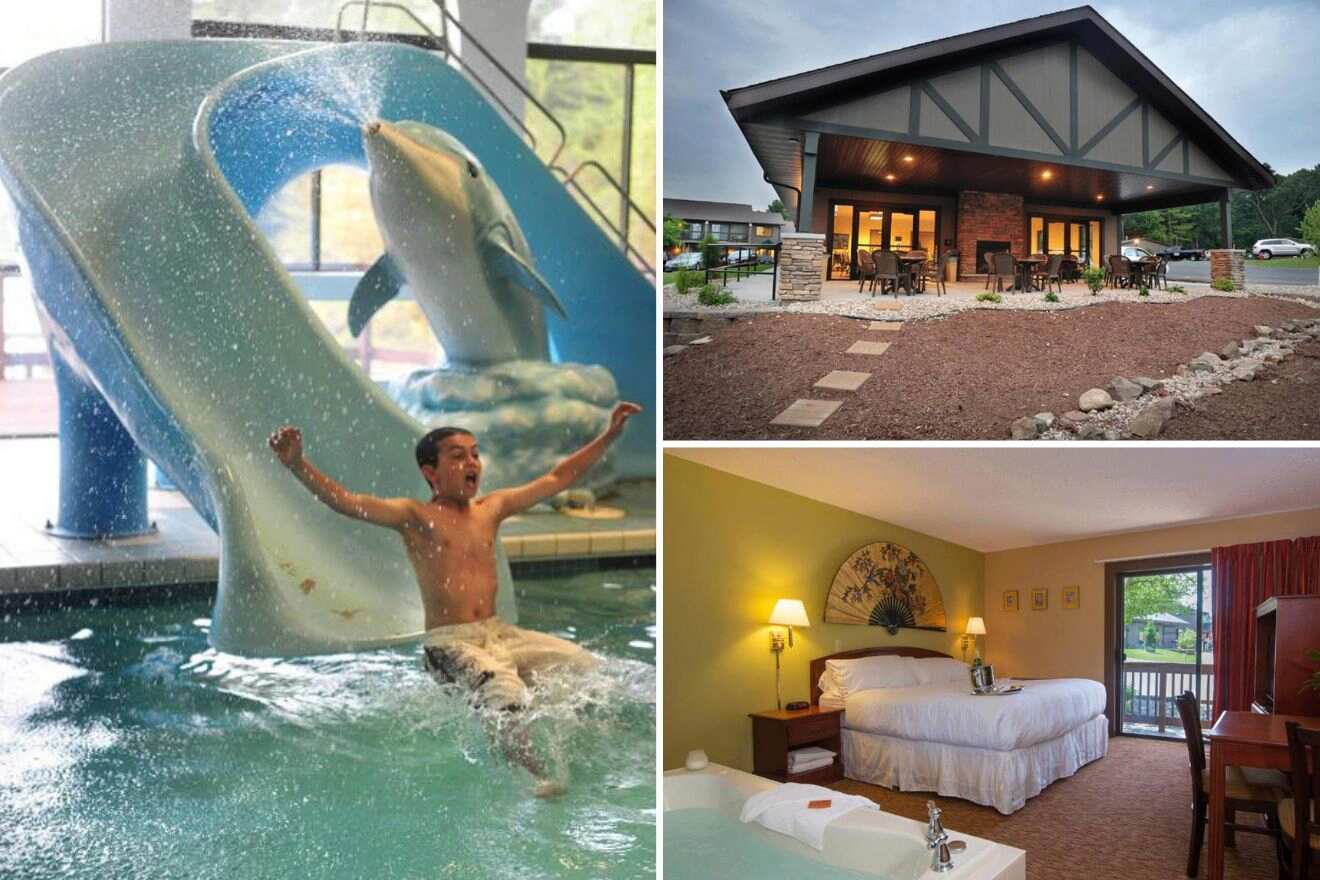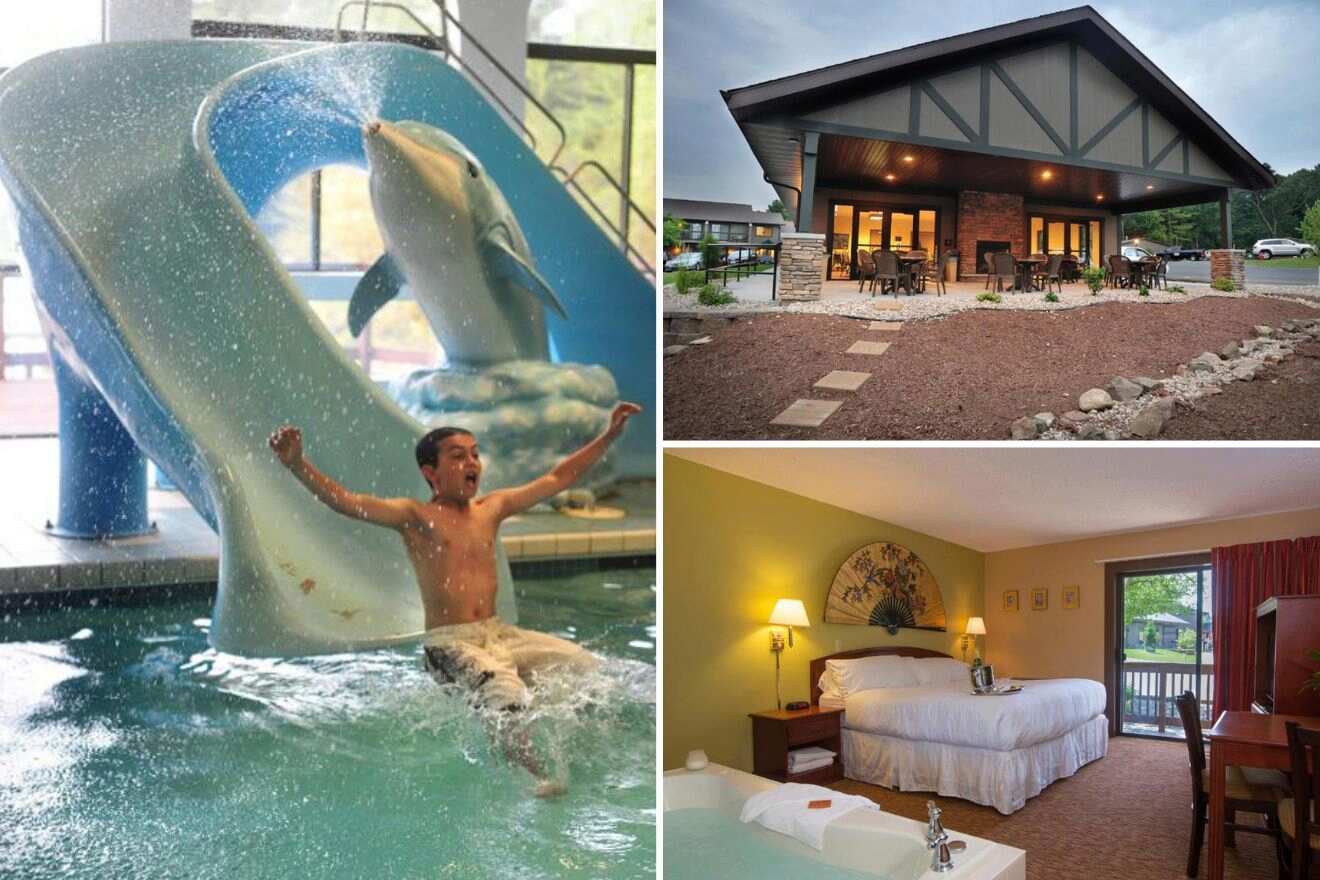 If you are visiting Wisconsin Dells and looking to spend a beautiful vacation connecting with nature, this resort is perfect. It is located near the woods, so you could go for hikes as you please. There is easy access to Lake Delton since the resort is located in front of it and has a private beach area where you can go canoeing or enjoy a swim.
There is a sauna and a hot tub, which is great if you are looking for relaxing times, and I highly recommend the Deluxe Double Room for couples – it comes with a balcony and lake views! During nighttime, there are live events and music performances open to all guests.
12. Cliffside Resort & Suites – with a lake pool
Imagine staying at a resort with direct access to a lake pool. You can wake up and have a refreshing morning swim before heading to have a delicious breakfast! If you like picnics, you will love the garden with a grill and a barbecue area, where you can have an amazing meal under the sun after a long swimming session!
If you wish, you could explore the area on foot or with a bike, and if you'd like to stay inside, there is a games room that is so much fun! If you are traveling with your partner, I recommend the King Whirlpool Suite with a relaxing hot tub in the room so you can relax in style!
13. Piers & Pines, Island Pointe Resort – stunning surroundings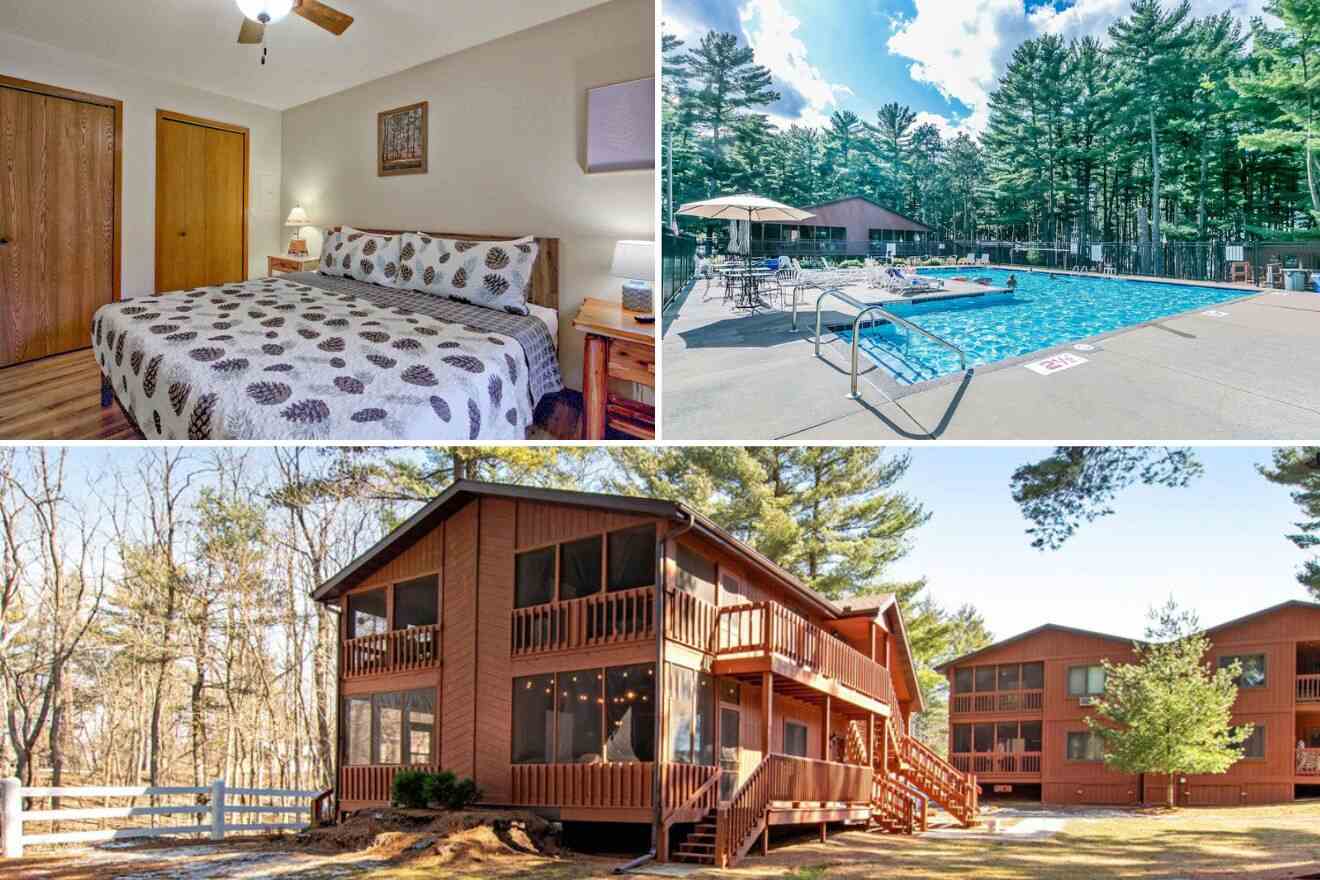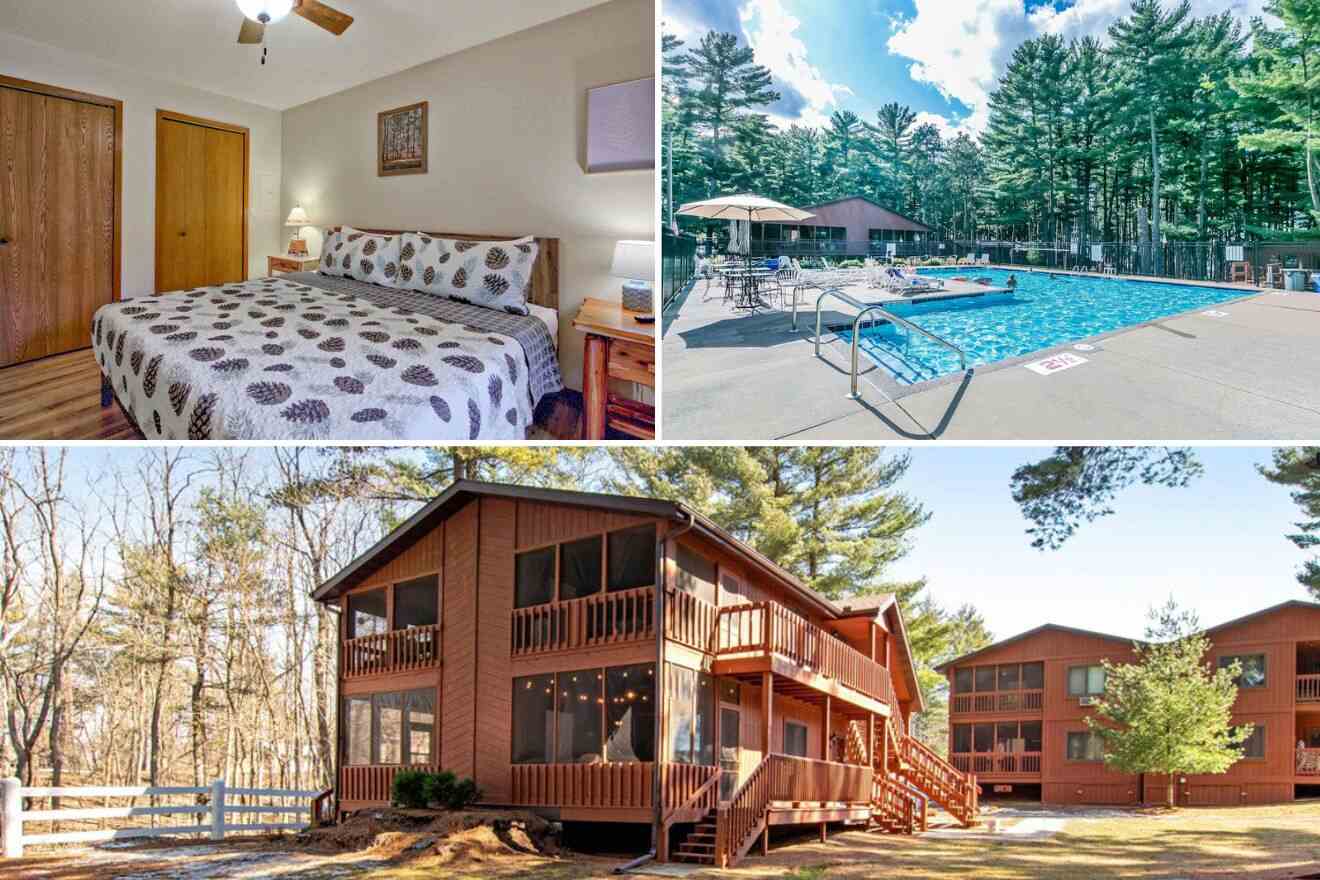 The surrounding area of this hotel is breathtaking, with woods and a lake. It looks so private and secluded, and the city center is only a 10-minute drive away. The hotel comes with an outdoor pool and a private beach area so you can alternate your swims!
The resort offers 1-bedroom apartments with a separate living room and a patio or furnished balcony with stunning lake views, a private kitchen, and enough room for 4 guests! I highly recommend this property to all guests trying to spend a tranquil vacation surrounded by beautiful nature!
14. Delton Grand Resort and Spa – a classic by the lake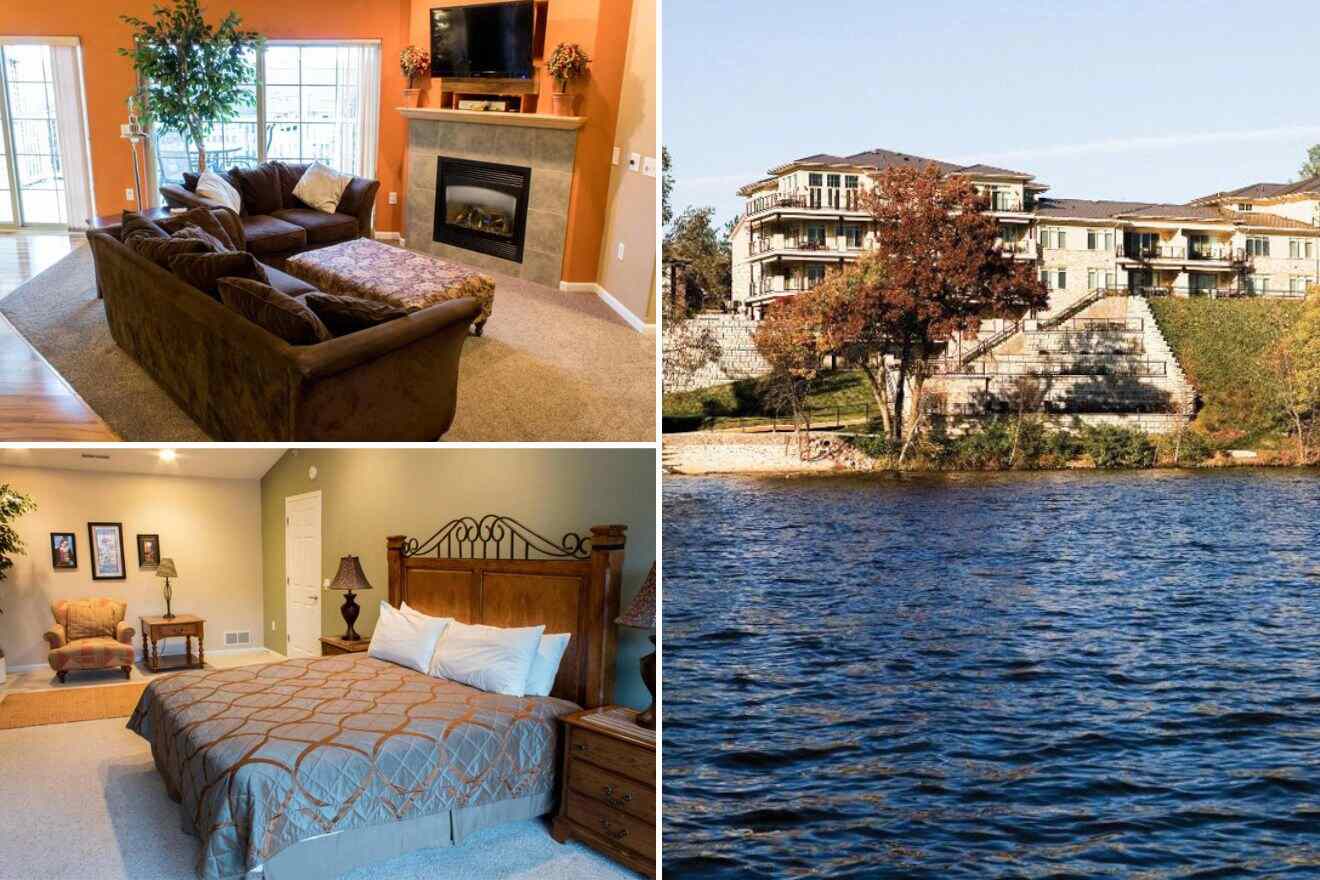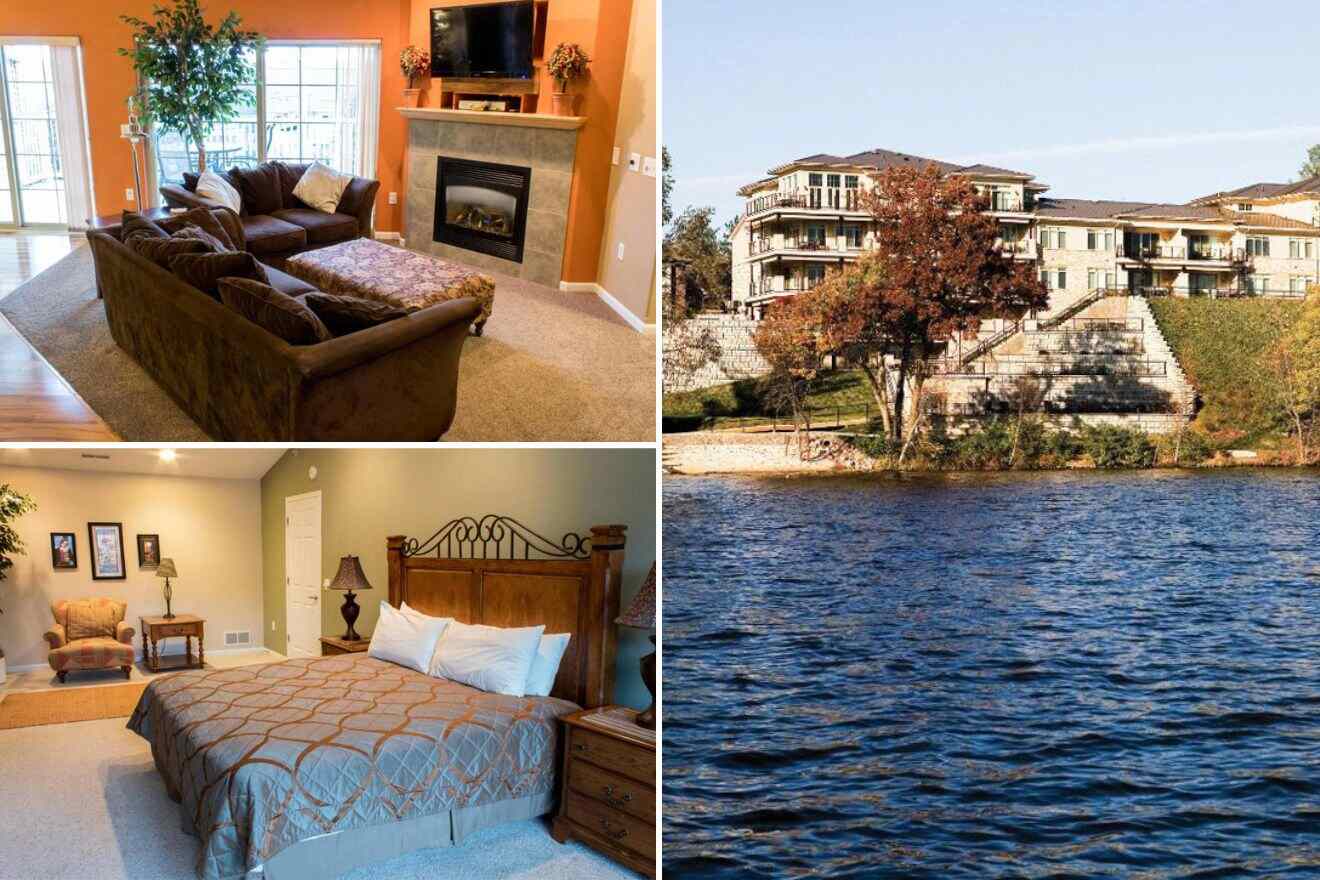 If you are looking for a classic hotel with incredible views, this hotel will blow your mind! The facade looks very simple, but when you go to the other side and see the views from the hotel, it is more than stunning! The hotel comes with an indoor pool which is open all year round and an outdoor swimming pool which is open only during the summer.
If you are traveling with big groups, any condos will suit you, with the biggest hosting 12 guests. If you are traveling with your partner, a suite is perfect for you as it comes with a spa bath and has amazing lake views!
15. Cedar Lodge and Settlement – old-school cabin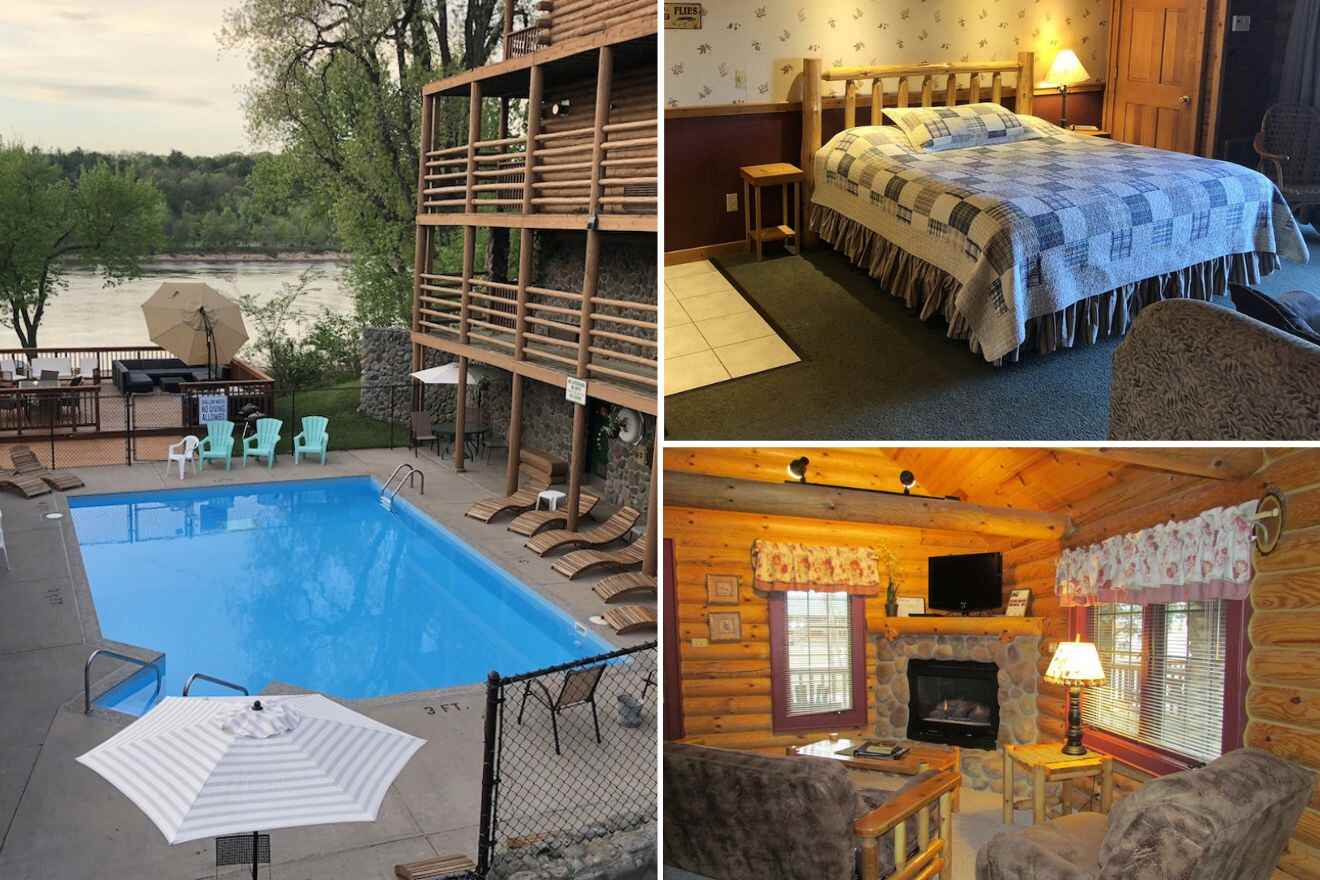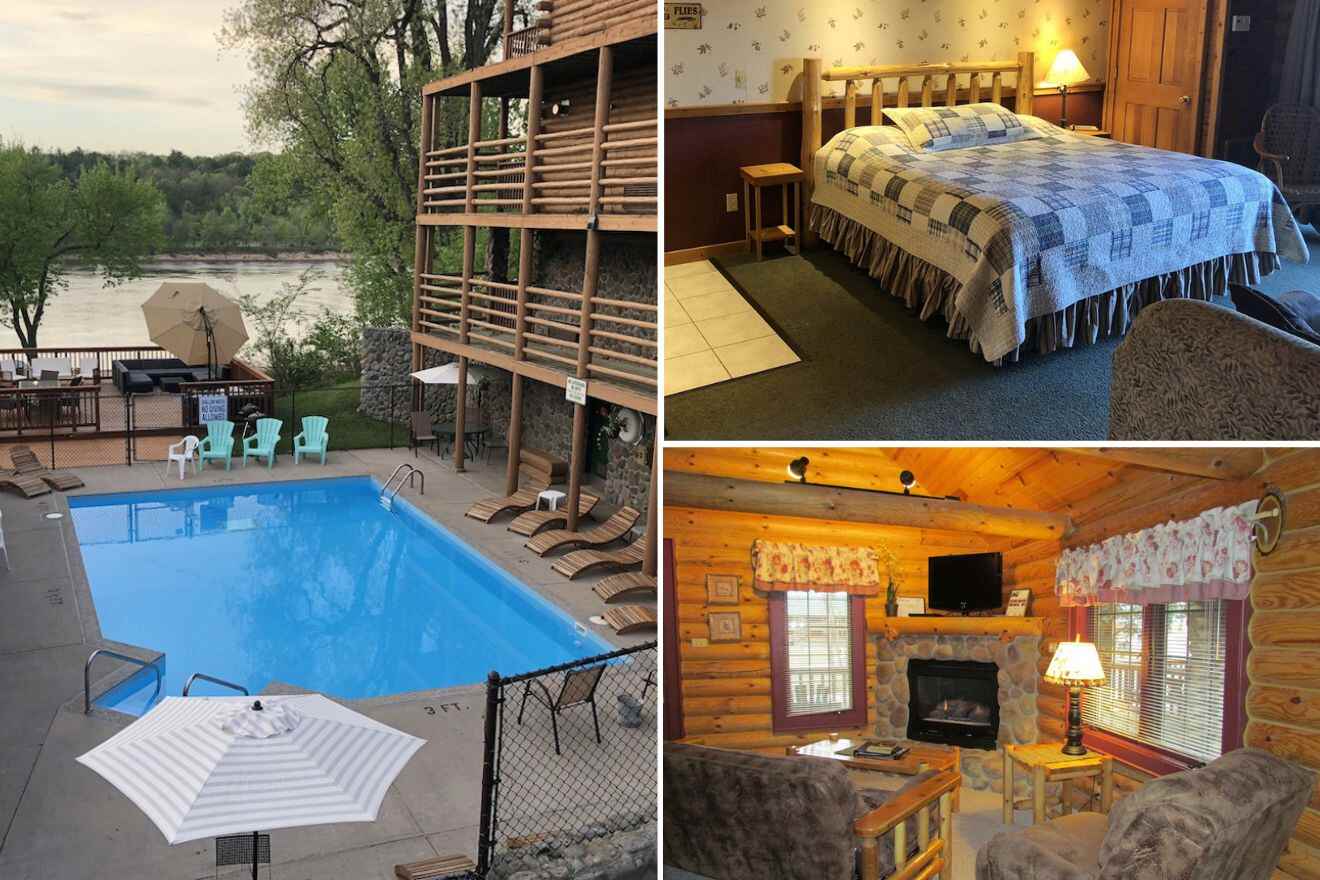 I love the beautiful rustic style this hotel has. It is perfect for those looking for a real cabin look and a cozy stay! The hotel is located on a beach, which means that you can play water sports, or beach sports, such as volleyball! There is an outdoor pool with a seating area, a terrace, and a garden with a barbecue, basically, everything you need to spend a great day under the sun!
The resort comes with 12 different types of rooms, some of which can host small parties, and rooms like the 2-bedroom log cabin with loft can host 8 guests and come with a beautiful small living room and a cozy fireplace!
16. Aloha Beach Resort – with a lake water park!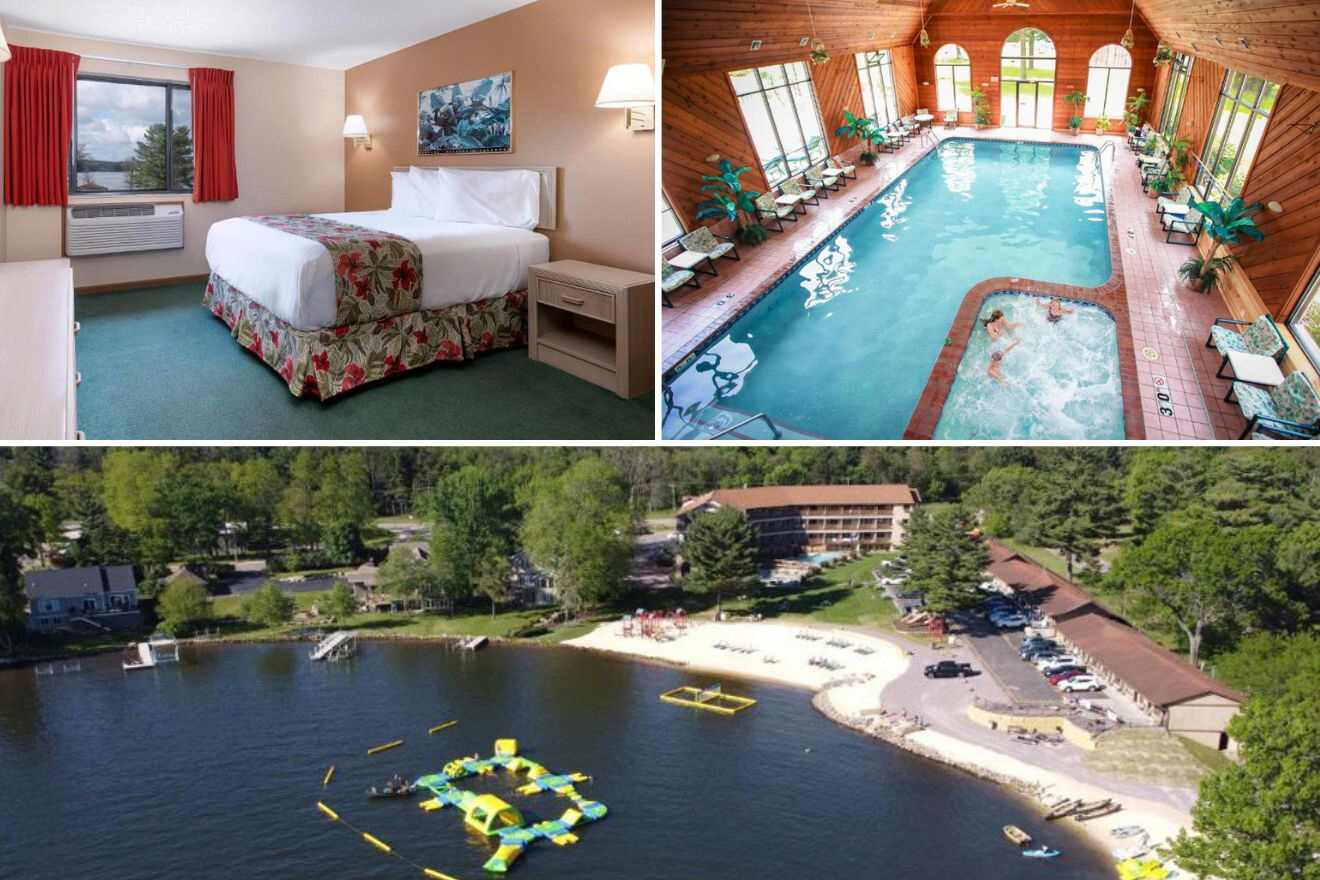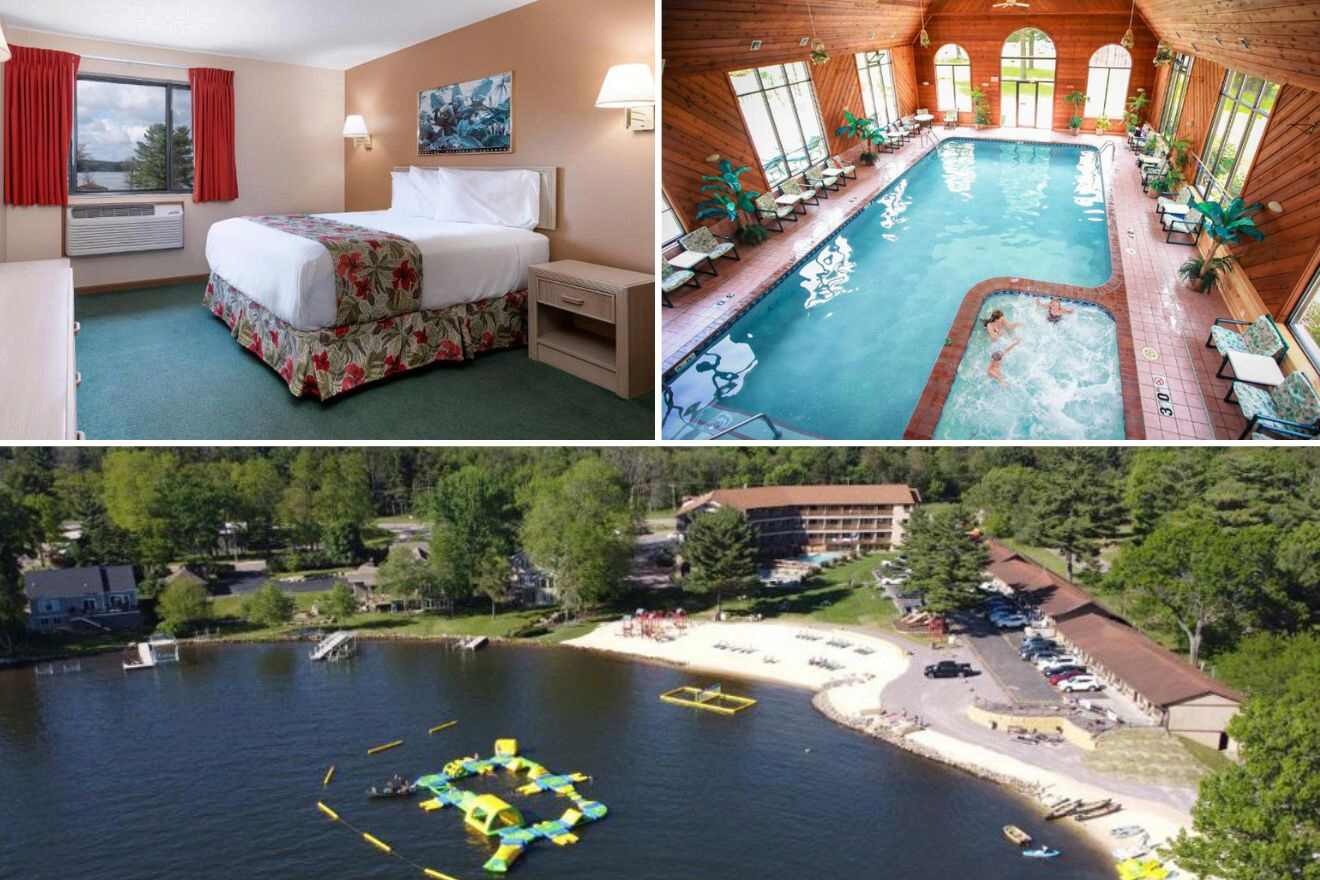 Located right in front of Lake Delton, this hotel has a lovely beach area with a playground. On the lake, they have an inflatable water park, which makes the whole experience even more memorable! There is also an indoor swimming pool and jacuzzi, and sauna that people of all ages can enjoy, including kids!
The rooms have a vintage style that looks charming with a nice pink tone, which adds to the charm! The rooms can host up to six guests, making it great for couples or families!
17. Grand Marquis Waterpark Hotel Suites – with mini golf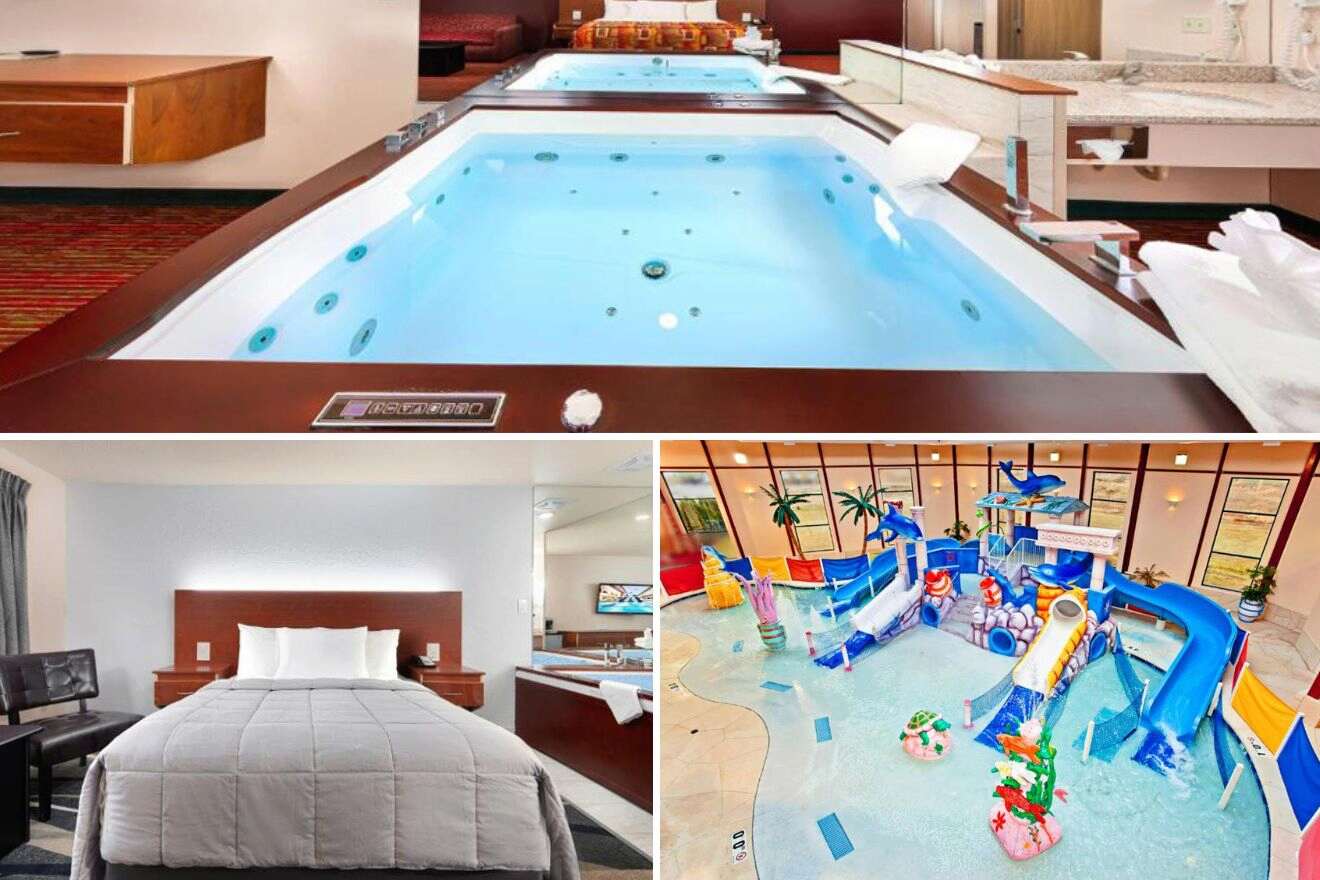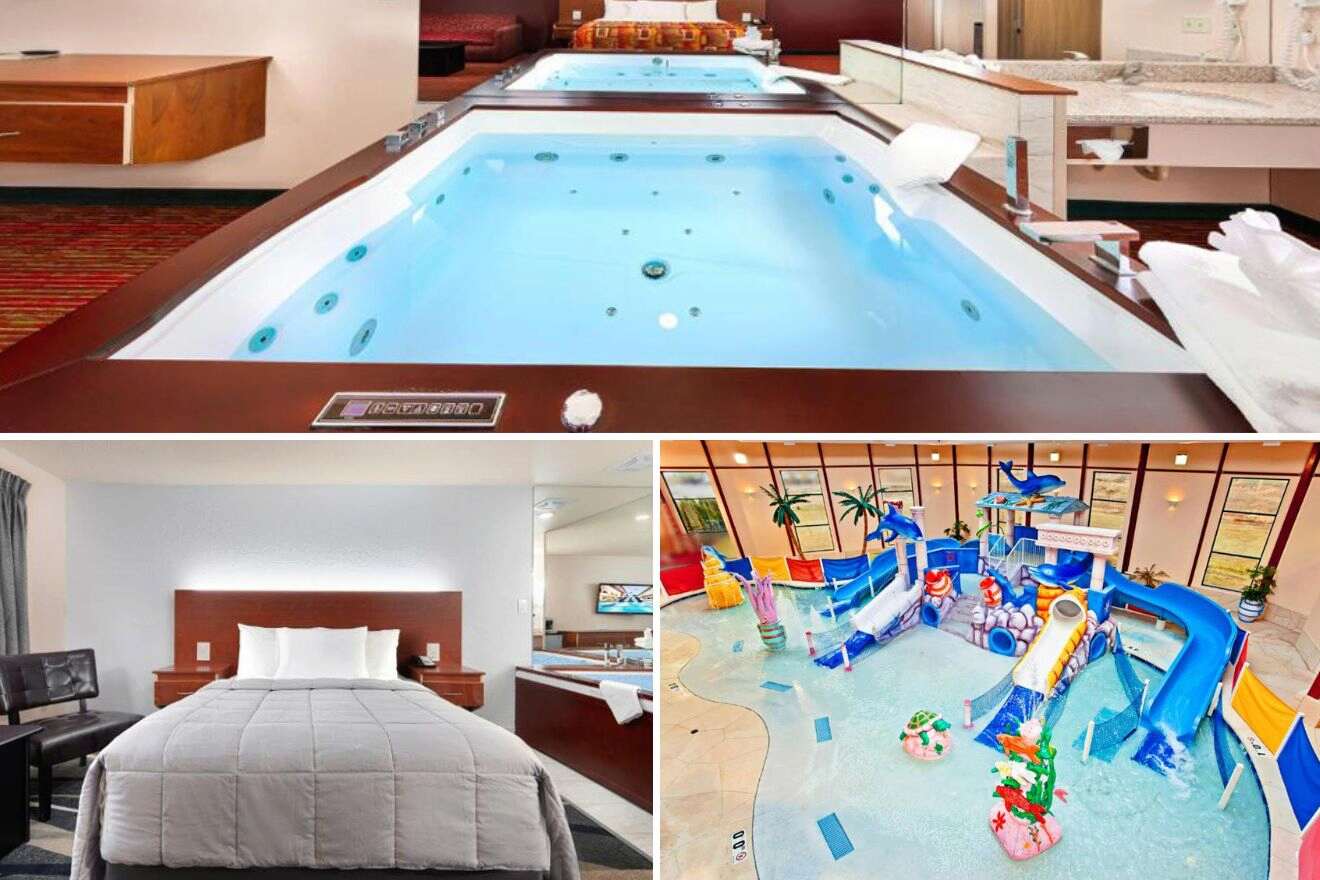 If you are looking to spend some time in amazing water parks, this hotel is for you. It comes with access to Noah's Ark Water Park and Mt. Olympus if you stay at least 2 nights. The resort itself has an outdoor and indoor swimming pool with a marine theme and many fun slides! There is also a Pirate's Cove Adventure Golf on site, so the fun will never end!
If you are traveling with a partner, any room with a spa bath will be amazing. If you travel with a family, the Grand Family Suite with 2 bedrooms and 3 beds is ideal for up to 6 members!
18. Sandrift Resort – for the ultimate summer fun
This resort is ideal for all of those looking to spend a lovely time in the great outdoors since the accommodation comes with great amenities, for example, pontoon boat rentals near the property, the chance to go paddle boating, canoeing, or row boating with any of the complimentary equipment in the lake that is in front of the hotel.
There is a lovely garden where kids can use the playground, and adults can play badminton, and then the entire family can enjoy a nice grilled meal! The rooms are super cozy, and the biggest can host 6 guests!
19. Natura Treescape Resort – a modern hotel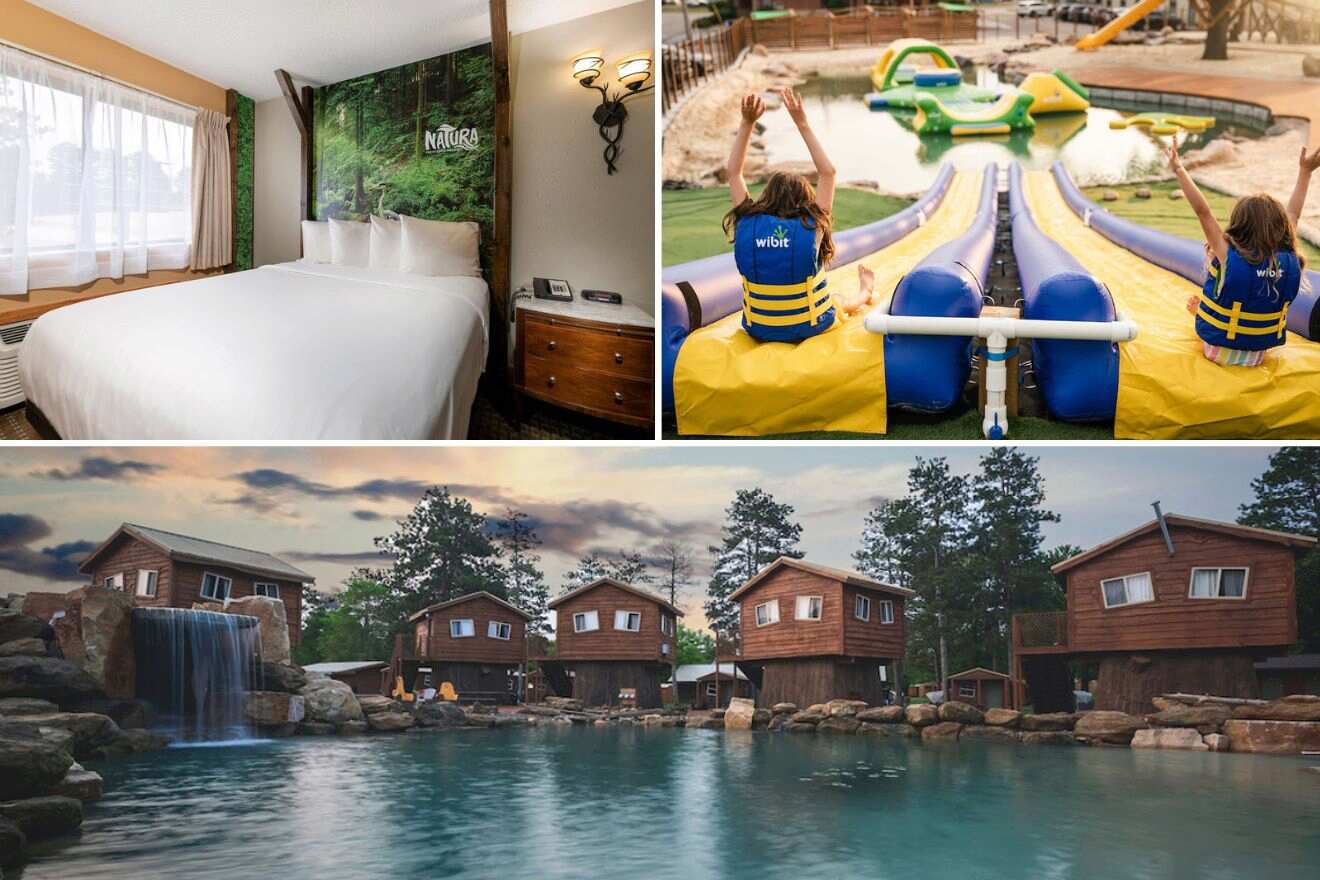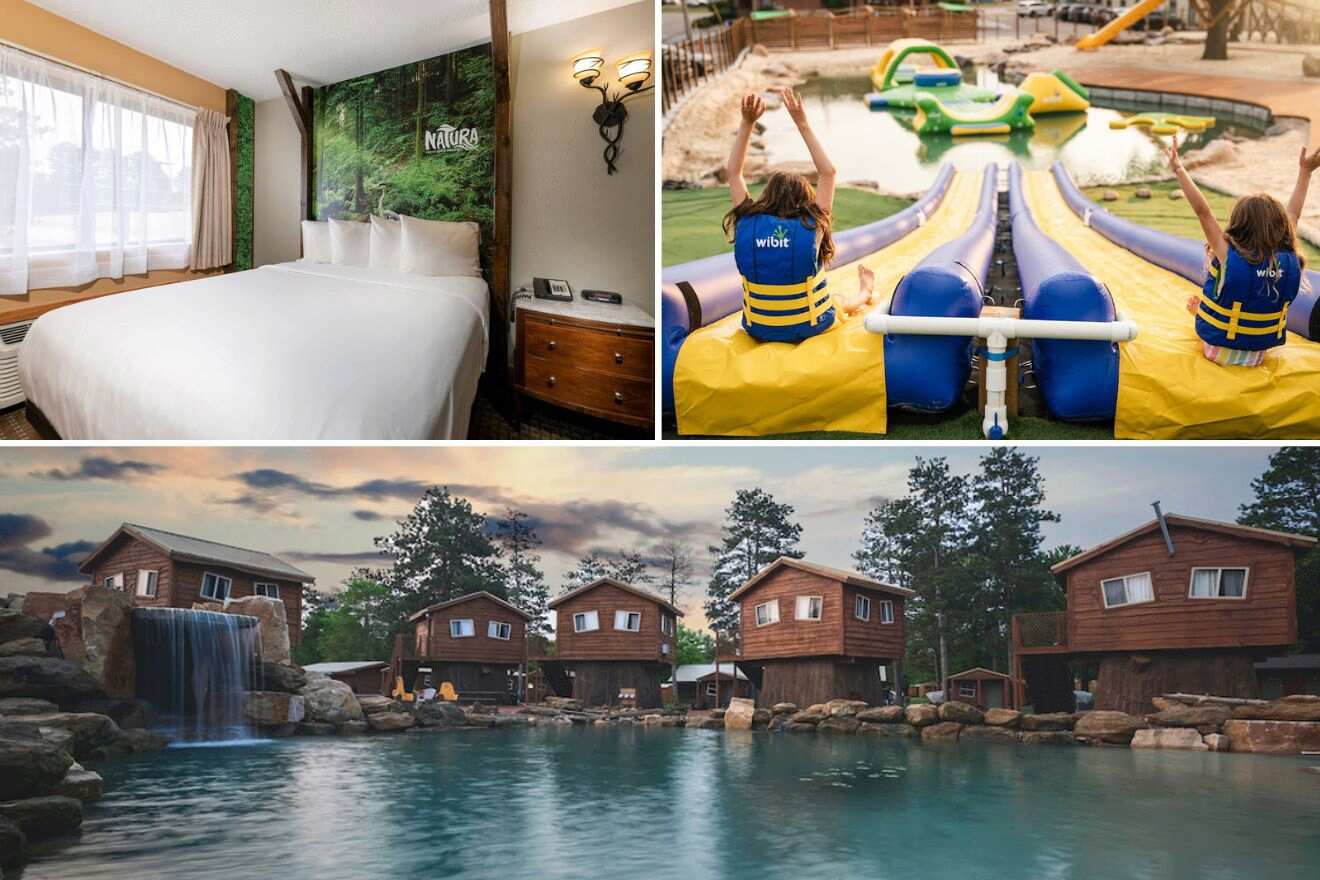 I love this hotel! It looks super modern and trendy! Young couples with kids will especially love staying in this property! There are eco tours available for guests, a seasonal outdoor pool, and all-year-round indoor pools, and since the resort is located by the beach, there is a kid's outdoor play area on the sand!
During your stay, you can have a lovely meal with your family at Hot Rocks Restaurant or join a relaxing sauna or hot tub session at the hotel! They offer regular cabin-style rooms with private bathrooms and cute cabins like treehouses with shared bathrooms.
FAQs about the best resort in Wisconsin Dells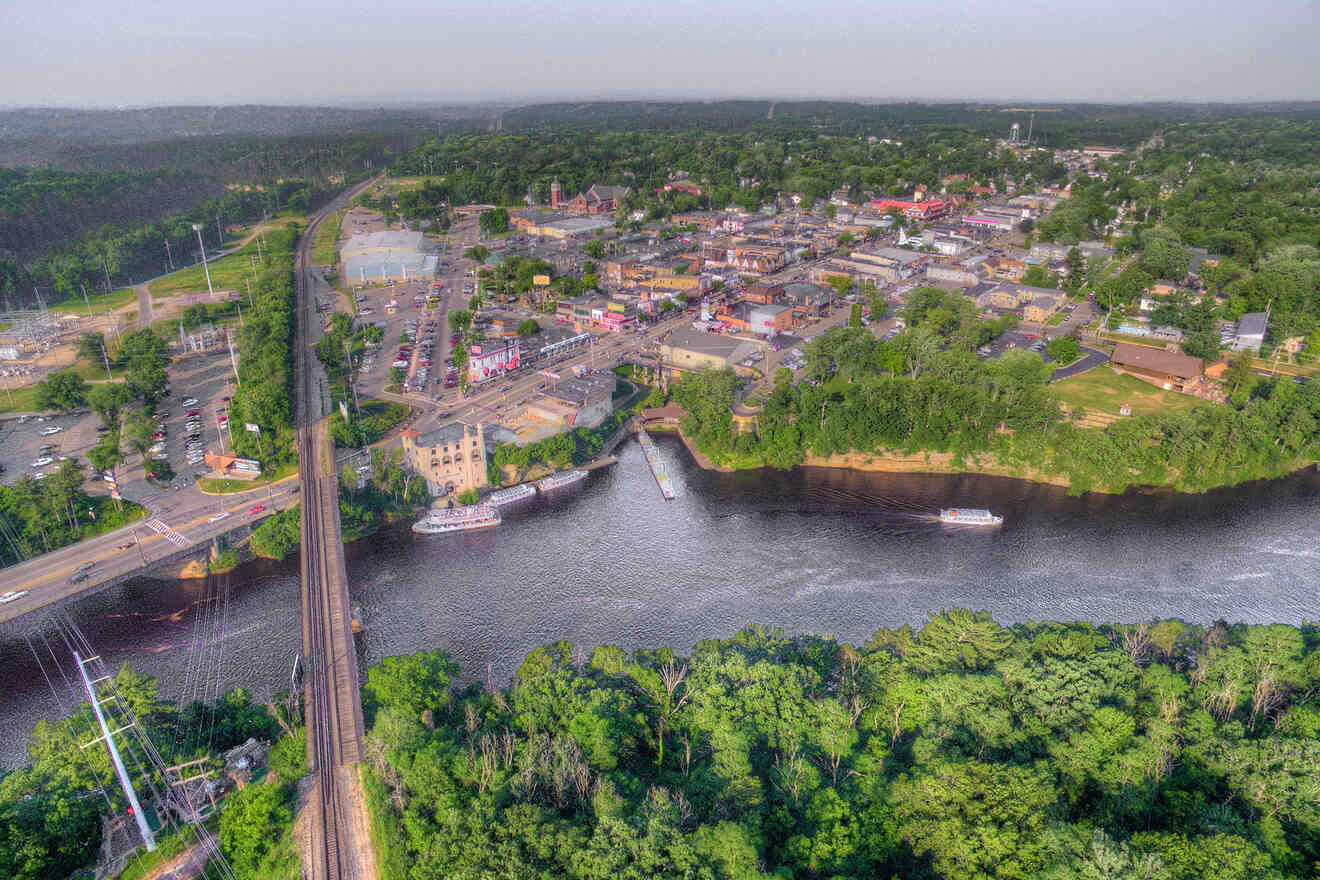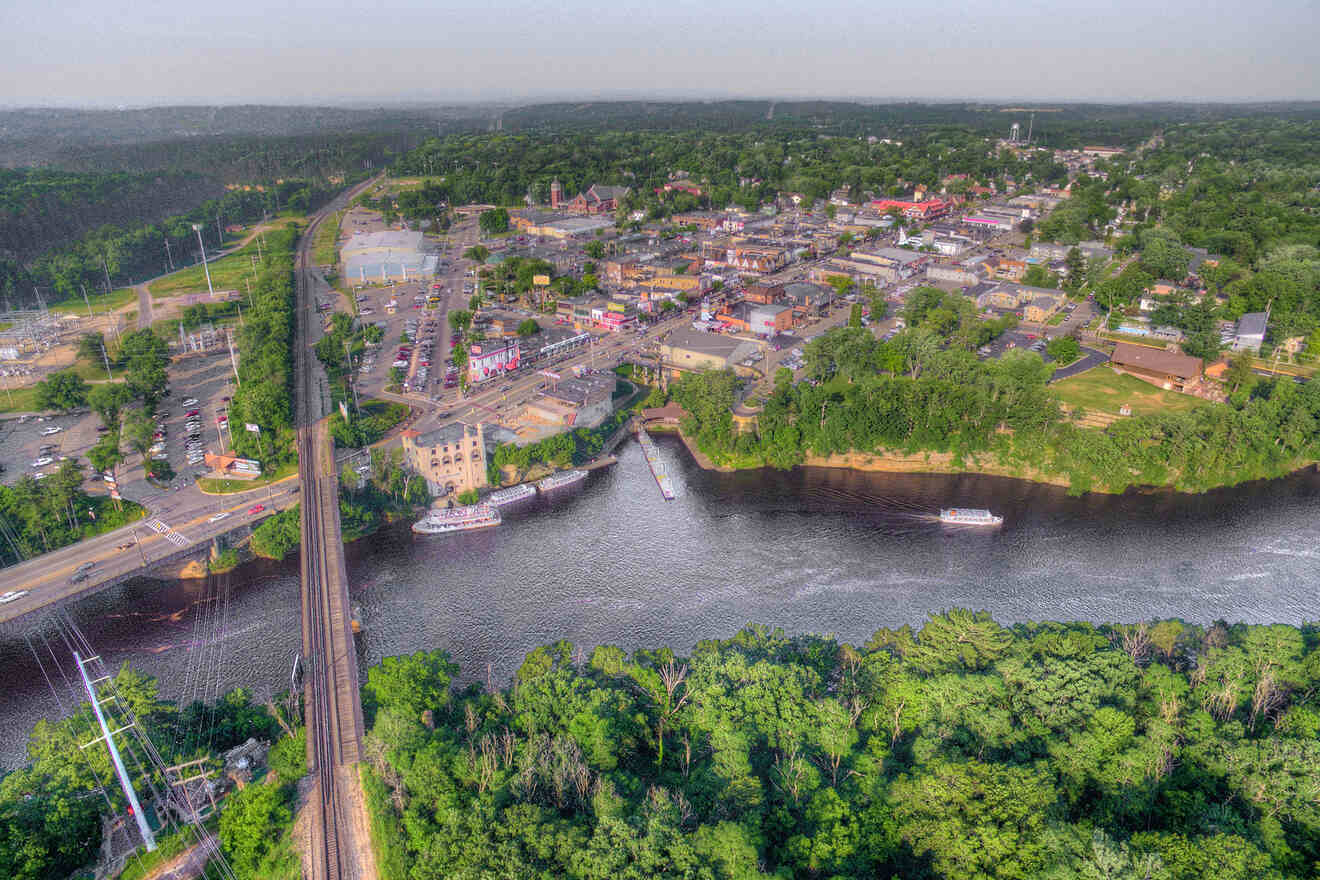 Conclusion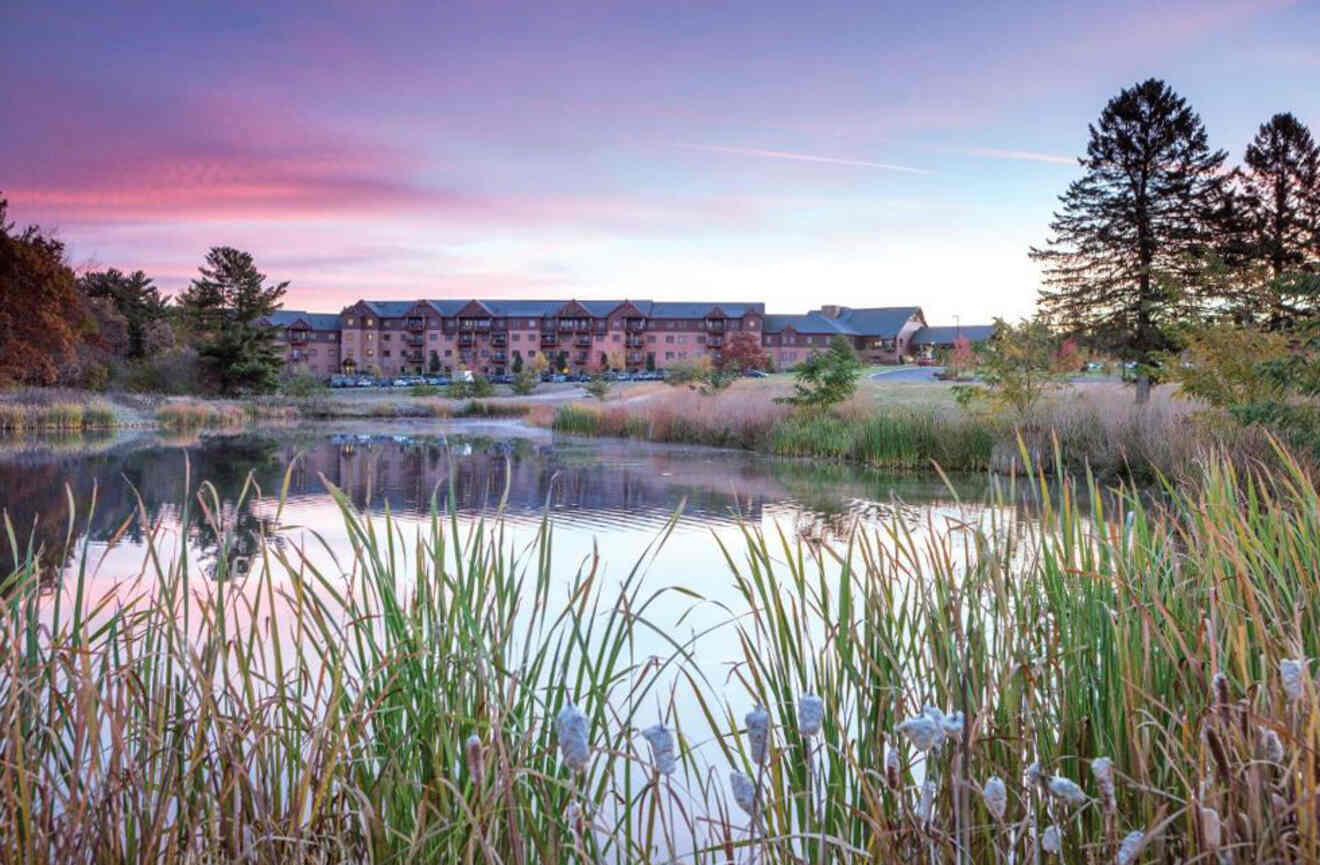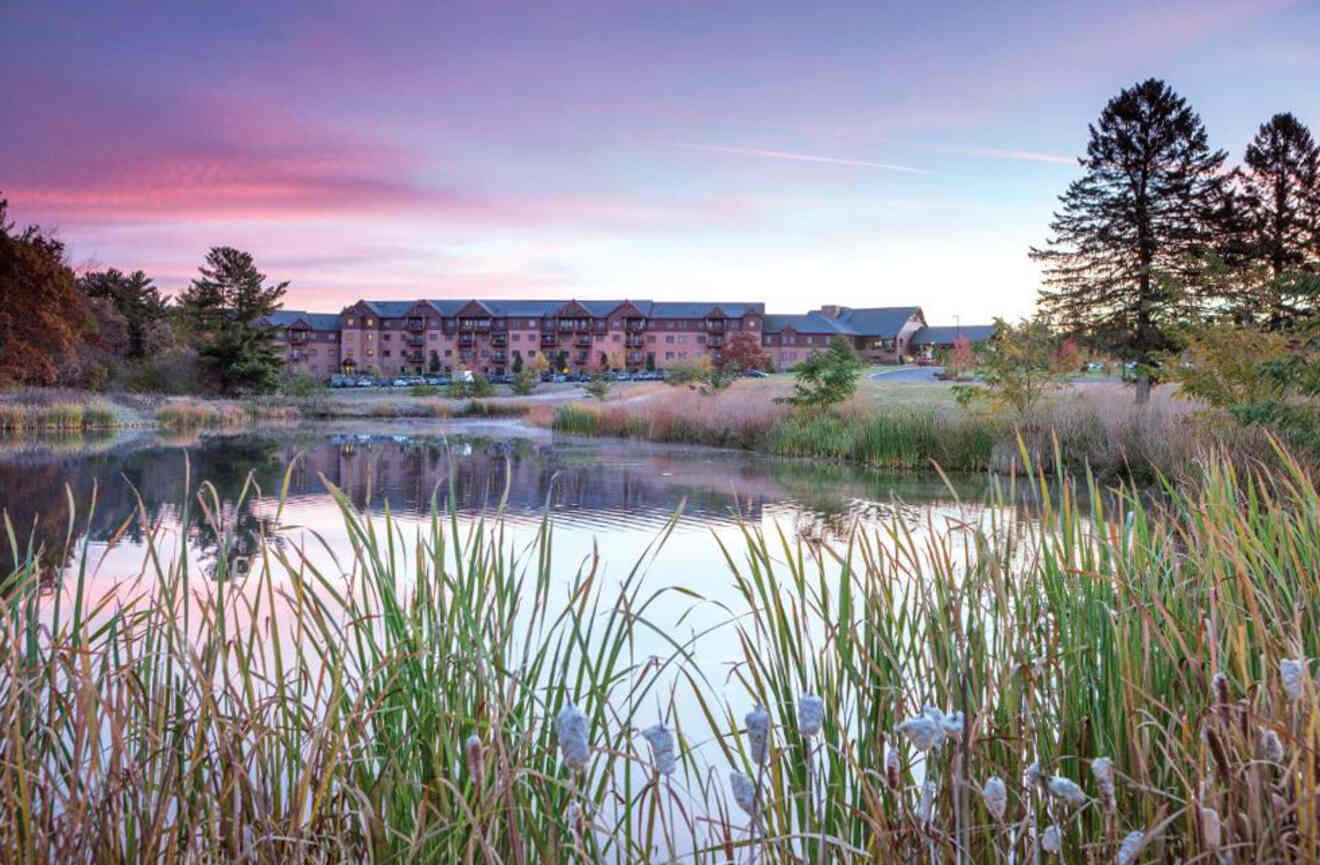 That is all for today, my lovely readers! You have 19 amazing options of the best resorts to choose from, whether you are traveling with friends, your partner, or your family. Which one was the best resort in Wisconsin Dells for you?
To be completely honest, all the hotels and rooms here look super dreamy, but if I had to choose my top 2 I would go with:
Piers & Pines – the surroundings and views are all I need, perfect for relaxing in the winter or the summertime!
Sundara Inn and Spa – who wouldn't want to relax in a wholesome retreat? I would love to try all the spa treatments!
Have you ever stayed in any of these hotels? Let me know in the comments, and if you have any questions, ask away, I love to help you!
These hotels and rooms get booked super fast, so I highly recommend you book your rooms in advance to get good deals and secure the hotel room for your perfect vacation!
Until the next time,
Daniela
---
Pin it for later!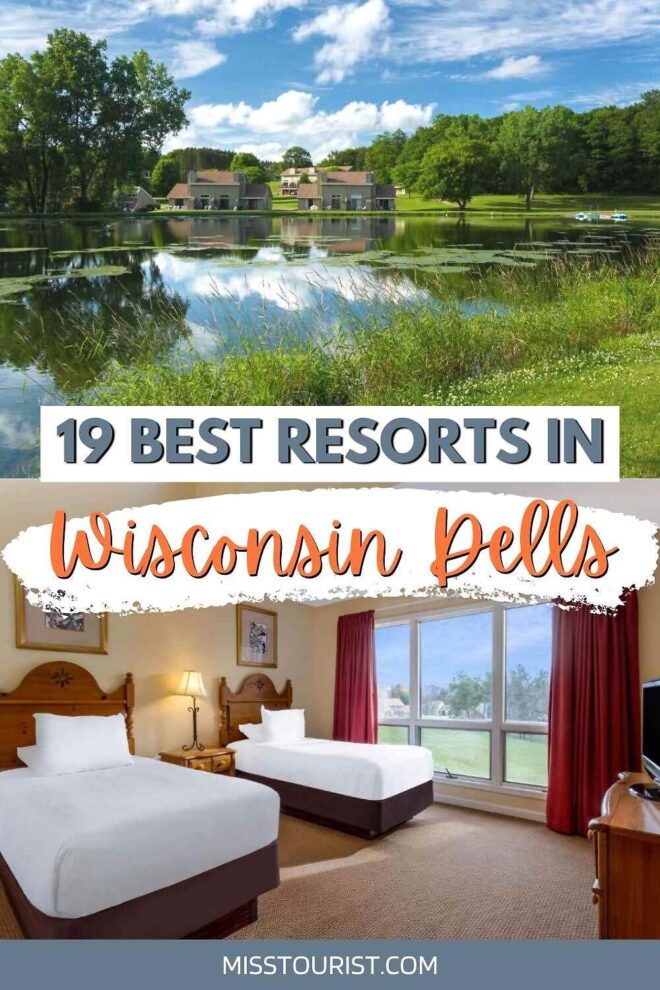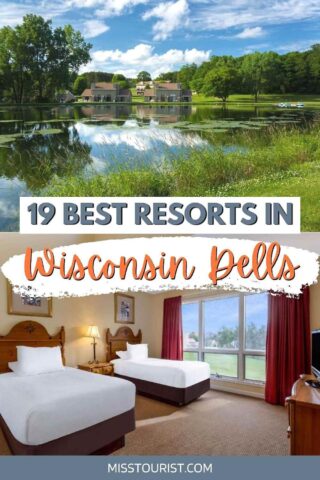 Pin it for later!