Zurich, Switzerland's biggest city, is home to the country's biggest airport, some of the world's biggest companies and some leading universities! If you come to Switzerland for skiing, for a business trip or simply for a relaxing alpine holiday, it is likely that you will find yourself in Zurich for a few days at least!
So now that you decided to go to the city, you might be wondering where to stay in Zurich, which is full of hotels and apartments! The city has everything from the best of the best 5-star hotels, to cheaper and simpler options, apartments and everything in between.
In this article I will recommend the best place to stay in Zurich for all budgets and travellers, whether that be a hotel or apartment. I do recommend staying at least a few days in Zurich as there is plenty of things to do and see – which you can find in my what to do in Zurich article!
PRO TIP: Due to the nature of the city and its status as a global business hub, accommodation can be booked out in advance and very quickly. I would recommend booking Zurich accommodation as soon as possible so as not to miss out, especially if there's a conference or special event on (which there almost always is)!
So let's get into it, here are my recommendations of where to stay in Zurich:
FIRST OF ALL, WHICH AREA TO CHOOSE?
There are a few different Zurich neighbourhoods called "districts".
However, District 1 is the best area to stay in Zurich! It encompasses the city center, historic old town, many of the main tourist attractions, restaurants, bars and, of course, the famous shopping street Bahnhofstraße. Last but not least, it is also home to some of the best hotels in Zurich!
Next would be Langstraße which is located right next to District 1 and is where most of the budget accommodation is found. There are also some great options on either side of Lake Zurich, so a little further south from District 1.
Best Hotels in Zurich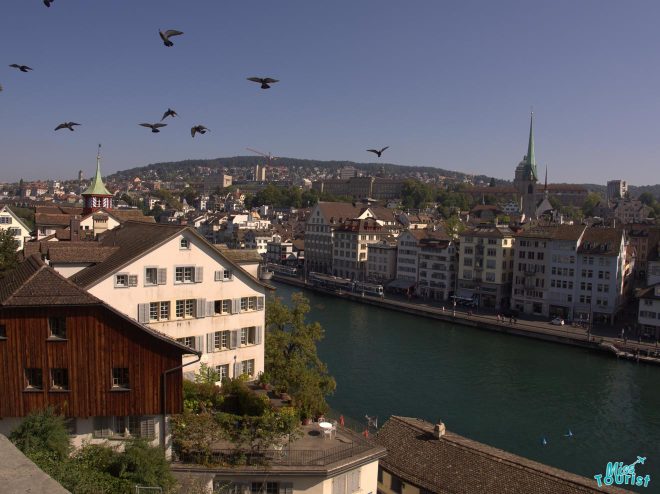 The Swiss are known worldwide for many things, such as skiing, chocolate, watches and FIFA. One thing I believe that often gets overlooked when it comes to Switzerland is the incredible hospitality you will find all over the country.
This is why staying in a hotel in this country is a must, you don't want to miss out on the amazing staff service and high-quality facilities! In this section you will find the very best Zurich hotels broken down into three different budget categories, all handpicked by me for your convenience!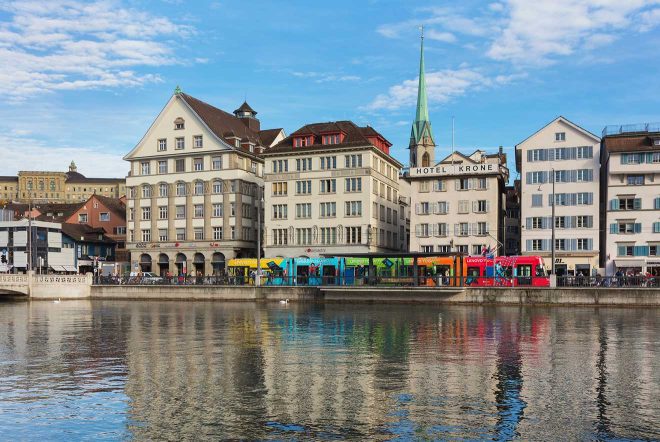 Luxury (US$300 and up)
Switzerland is home to tons of luxury brands as Rolex, Patek Phillipe and Bally; naturally, this cosmopolitan city is also home to some splendid luxury hotels as well! In fact, Swiss hotels tend to be awarded as some of the best worldwide each year, so what better way to stay in the city than in style?
Here are three of the best Zurich luxury hotels:
Park Hyatt Zurich – Stunning design and perfect location are two of this hotel's best features. Located in a modern avant-garde building, the in-house restaurant features floor-to-ceiling walls on three sides. Some of the rooms have floor-to-ceiling windows which make for some amazing views! The hotel is located within a few minutes walk from Lake Zurich and Bahnhofstraße.
Hotel Schweizerhof Zurich – Located on the other end of Bahnhofstraße, the Schweizerhof is one of the top hotels in Zurich! Offering sound-proofed rooms, adjustable beds, two award-winning in-house restaurants and a classy whiskey bar, this hotel is hard to beat. The rooms are decorated in a classic European style and all of them have modern amenities. Hotel guests get free entry to a nearby spa too!
Opera Hotel Zurich – Situated next to the stunning Zurich Opera House and Zurich Lake is the super modern Opera Hotel. This modern theme is carried throughout with touches of a classic alpine Swiss lodge, which creates a unique atmosphere! Relax and take in the stunning lakeside views whilst you partake in the daily buffet breakfast!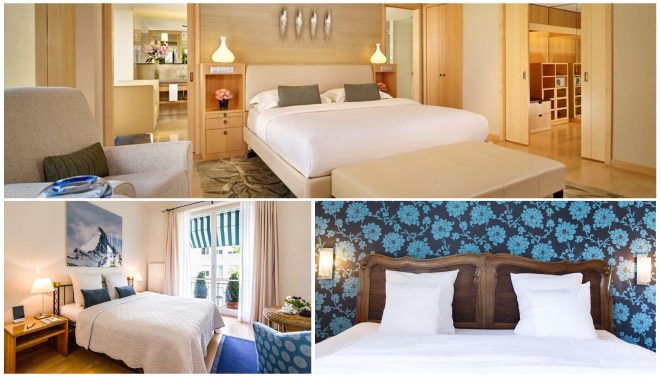 Middle-price (from US$130 to US$300)
If you are coming to Zurich to do some shopping or simply stopping over on your way to the Alps for some skiing (by the way, you can check out my complete guide about skiing in the Swiss Alps here), perhaps you want to save a few francs on accommodation. But you wouldn't want to miss out on the Swiss hospitality, right? Well then, this section is for you!
Here you will find hotels that strike a balance between service and price:
Seegarten Swiss Quality Hotel – This wonderfully warm hotel is located right on the edge of District 1. Boasting a mediterrenean theme and some beautiful al fresco street-side dining, the hotel will leave you wanting to return for sure. To top it all off, some rooms have stunning lake views!
Motel One Zurich – My favorite part of Motel One is the building itself! The remarkable art-nouveau building will keep you satisfied inside and out of the hotel! Located right in the center of Zurich, Motel One is walking distance from Bahhofstraße, Lake Zurich and all the main attractions. The rooms themselves match the exterior and the design is truly unique!
Hotel Bristol Zurich – Bristol is one of the best hotels in Zurich Old Town. Still close to Bahnhofstraße and the lake, the hotel allows guests to truly feel the beating heart of Zurich. The rooms are cozy and spacious and the daily contintental breakfast is great. It's located a 5 minute walk from the train station too!
Budget (Up to US$130)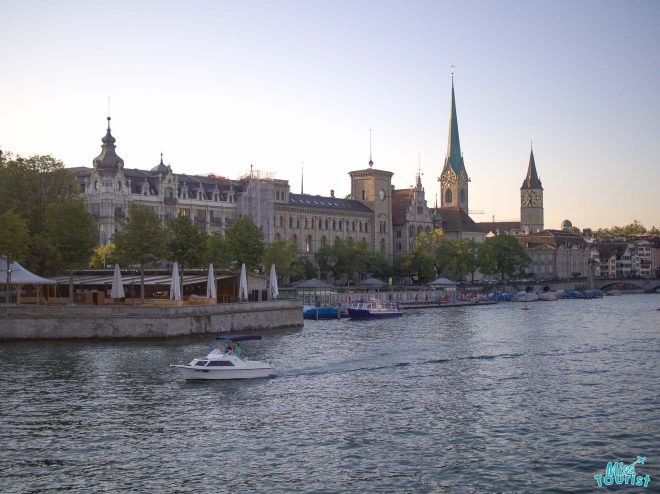 So you may have thought that coming to Zurich on a budget was impossible, right? Well, it's not!
Although you will need to amend your budget slightly as this is Switzerland after all, so the prices are a little higher than the rest of the world. However, all types of travellers pass through each year meaning that there most certainly is a market for budget hotels in Zurich.
Here I have chosen three of my favorites:
Pension fürDich – Amazing value is what this hotel has! The rooms are classy, modern, tasteful and spacious. The hotel is located in the heart of Langstraße and within walking distance (max 15 minutes) to all the main attractions. There is a lovely in-house restaurant and bar which makes for some lovely summertime alfresco dining!
Kalkbreite Pension & Guesthouse – A great choice for families, as the hotel has a cool playground! In addition, it also has its own in-house cinema to unwind after a long day of shopping on the nearby Bahnhofstraße! I absolutely love the rooms as they're decorated in a modern, minimalist style and there's also an in-house restaurant making this one of the BEST cheap hotels in Zurich!
Gasthaus zum Guten Glück – I just love, love, love the bar of this hotel, you will feel like you are in a hidden speakeasy in New York! The hotel is located just outside Langstraße so you will need to catch public transport to get into the city center, but the tram and metro stations are less than a 5 minute walk!
Best apartments in Zurich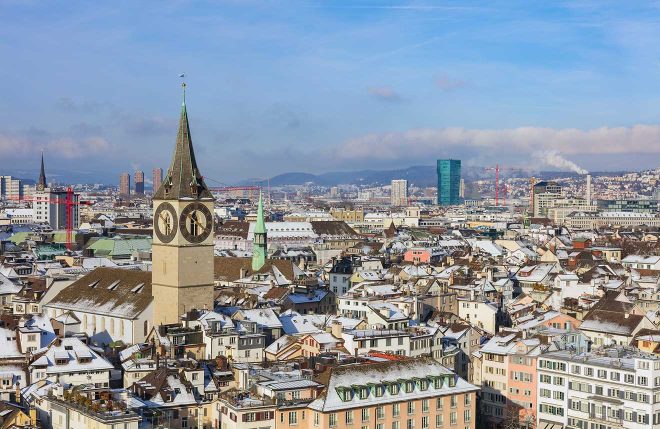 There are alternative accommodation options in Zurich if you don't like staying in hotels, don't worry! If you are coming with a family, coming for business and need your own space or plan on staying for a week or longer, then perhaps staying in a Zurich apartment would be a great option for you!
Here are my best handpicked options for you:
Luxury (US$300 and up)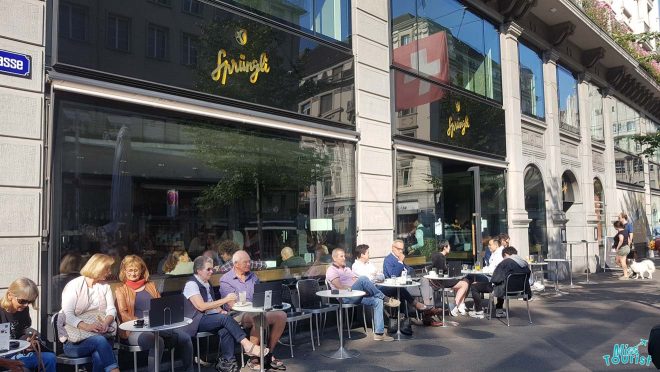 In the luxury apartment sections you will find three diverse options chosen by me. There is, of course, one smack bang in the city center if you don't want to give up proximity to tourist attractions. But there are also some other options that will allow you to experience the real Zurich as a local would, and none are anything less than luxurious and spectacular!
Le Bijou MH6 Jacuzzi Penthouse – The absolute ultimate in luxury, Le Bijou is located right downtown. Located within a few minutes walk of Bahnhofstraße and the other sights of Zurich, this apartment is just a great choice. The apartment itself is nothing short of stunning with everything from a fireplace to outdoor terrace and amazing views!
ACASA Suites – ACASA suites are located in Oerlikon, just North of the city center. Within 2 minutes you will be on the tram into the city, so no worries there! The property has a 24-hour fitness center, library, sauna, spa and a great buffet breakfast everyday. A true hotel-apartment hybrid!
VIADUKT Apartments – VIADUKT apartments combined the best of the above two options. They're close to the city center and also to public transport, they have modern and stylish rooms and many excellent amenities. My favorite part is the different types of apartments they have – there are options for solo travellers, families and everything in between!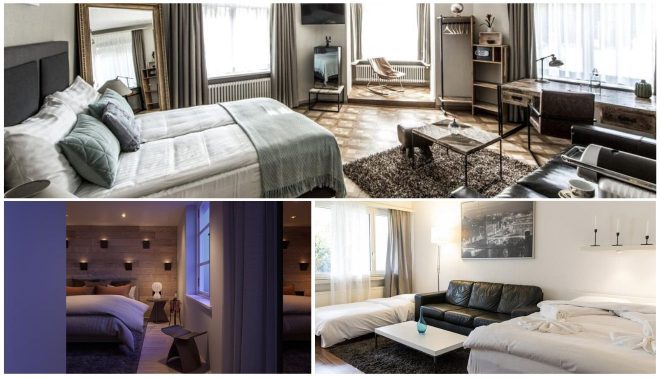 Middle-priced (from US$140 to US$300)
If you're looking for a serviced apartment in Zurich but don't want to break the bank, then one of these middle-priced apartments might just be for you. Providing guests with independance to move around the city, cook their own meals and have their own space, here are my top 3 that won't cost you a fortune:
The Yard Zurich – Located in the trendy Langstraße district, this apartment is located within walking distance from Bahnhofstraße and the lake. The apartments feature a full kitchen and are decorated in contemporary vintage style, which I love! This is a great choice if you are a party fan, as the area is full of bars.
City Stay Furnished Apartments – Kieselgasse – What I love about these apartments is their quiet, lakeside location. Located only 2 kilometers away from the center, you can either walk or jump on a bus 100m from the entrance. The apartments are wonderfully appointed with a kitchen, multiple rooms and massive beds – it will really feel like home!
iQ130 Apartment Hotel – My favorite choice if you want to be close to the city and to the train station as well. Wedged between the two is this gorgeous aparthotel, a hybrid between a hotel and an apartment. The property offers guests rooms themed on color, comfortable beds and a terrace!
Budget (up to US$140)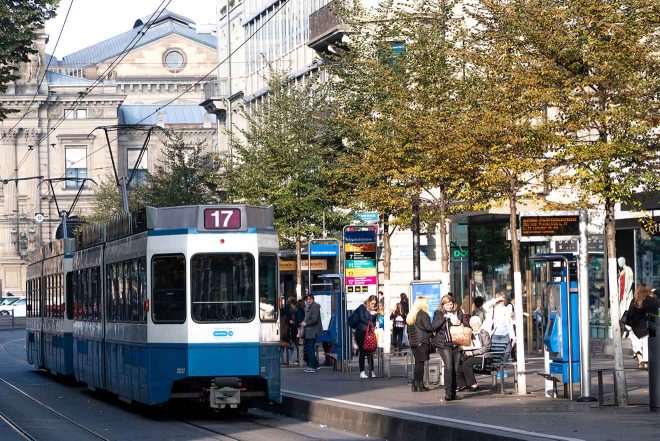 You may not think you can find cheap apartments in Zurich, but that is not the case at all! You may not even have to forget about luxuries such as central location or certain amenities, as there are so many good and affordable options!
In this section I have chosen three of my top picks in Zurich that will allow you a bit more space and freedom to explore:
New Renovated Modern Furnished Apartment Downtown – Don't be scared off by the name, this is an amazing property! Located just North of the train station, you will need to get public transport to the center (closest stop is 2 minutes away), but the apartment itself is stunning. With an amazing decor, huge comfortable beds and leather couches, you will feel like a king/queen!
INSIDE FIVE City Apartments – Located next to Limmat river and just North of town, this is a great budget choice! It has stylish and modern rooms with a kitchenette, laundry facility and an outdoor seating area to relax with a cup of tea. The property is also a 10 minute walk from the train station and 15 min walk from Bahnhofstraße!
Residence Mutschellen – At this property you will find modern, spacious rooms that provide everything you will need to make your stay in Zurich a memorable one. The fact that it's located on the other side of the lake means you will need to take public transport to get into the center but it also means you will be in a quiet, residential area – awesome!
Best Accommodation Near Zurich Airport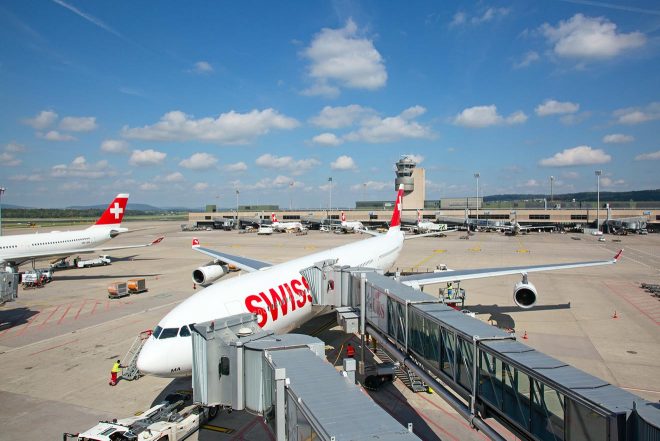 If you are coming to Zurich for a short period of time, arriving late at night/early in the morning or simply need to be close to the airport for an easy departure, then you are in luck! There are a few hotels near Zurich Airport (ZRH) that will not only allow for this ease of arrival/departure but are also great hotels themselves!
I have again broken down this section into different budgets to help! So let's get into my recommendations for Zurich hotels near the airport:
Radisson Blu Hotel Zurich Airport – Located right next to the airport and with a walkway that connects the two directly, you cannot get closer than my luxury option, the Radisson! The rooms themselves are also amazing and extremely modern. There are two in-house restaurants, a gym and a bar, so basically everything you need! By the way, the city center is only a 20 minute train ride away as well!
Jet Hotel Zurich Airport – Located a 10-minute free shuttle ride from the airport is this excellent middle-priced hotel. The rooms are modern, minimalist and the beds are very comfortable! Some rooms have a kitchenette; if not, you'll also have 24-hour free tea/coffee facilities. The metro station is 300 meters away if you want to go into Zurich itself!
DORMERO Zurich Airport – This is my best budget recommendation and it awaits you with facilities such as a 24-hour bar, fitness center, sauna and an in-house restaurant! It is located within 2 meters of the airport so transferring is very easy and getting to the city centre from the closest metro station 200m away couldn't be easier! A really great Zurich airport hotel!
---
Conclusion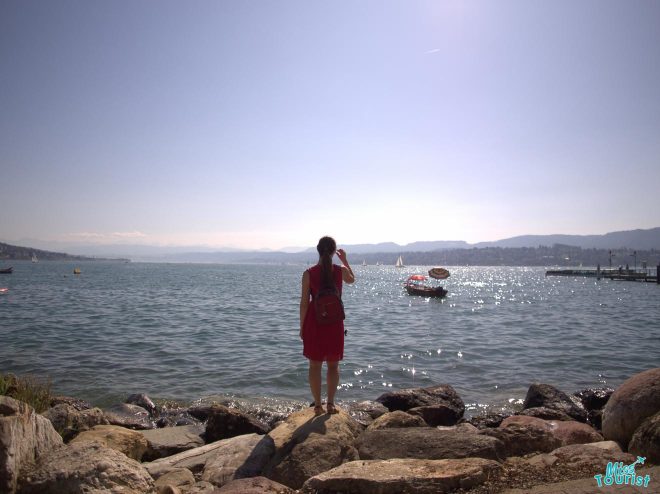 There you have it, my ultimate about where to stay in Zurich! It really is a beautiful and friendly city and I promise that you won't regret visiting.
Whether you come through on business, transferring to a ski destination or simply just to visit the main sights, Zurich rarely disappoints. Neither does the famous Swiss hospitality and some of the great hotels in Zurich city center. So whether you're looking for cheap accommodation in Zurich, a 5-star hotel in the heart of the city or simply a nice apartment to relax with your family and friends, you will find plenty of choices in this article!
I also recommend checking out my article about the Best things to do in Zurich. You will see that there are plenty of things to see and explore there, so I would absolutely recommend staying 3 or 4 days to make the most of it!
As usual (and for Zurich especially), remember to book well in advance to ensure you don't miss out on your preferred accommodation choice. Feel free to leave me a comment below with any questions you may have or let me know if you enjoyed one of my recommendations!
Happy travels!
Arantxa 
Pin it for later!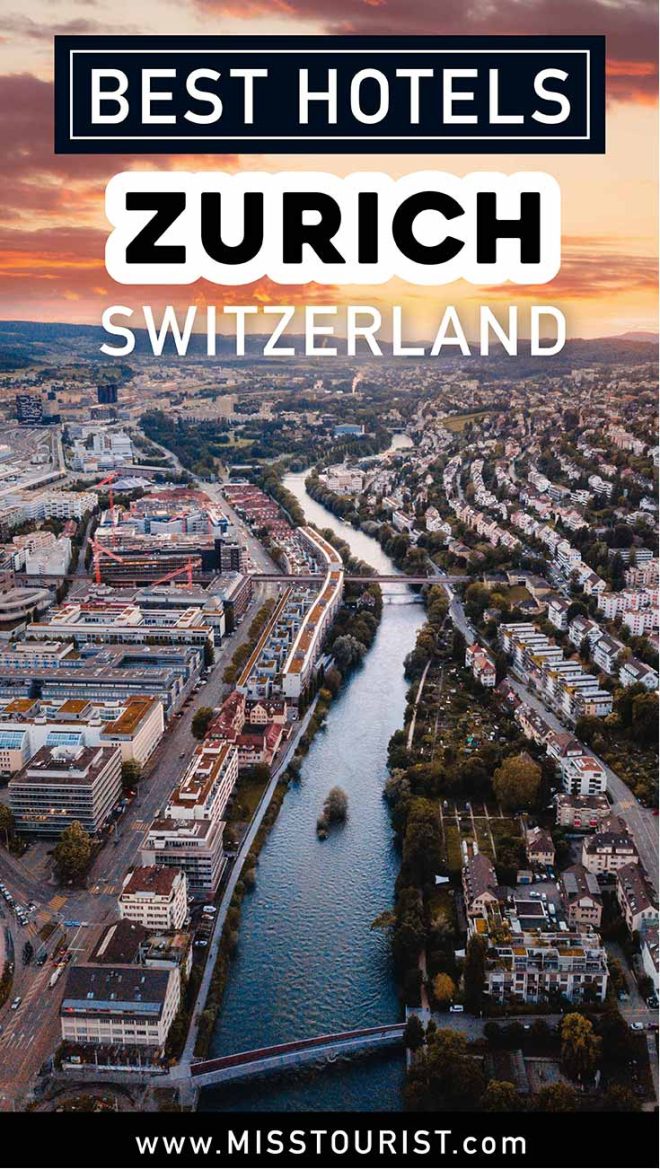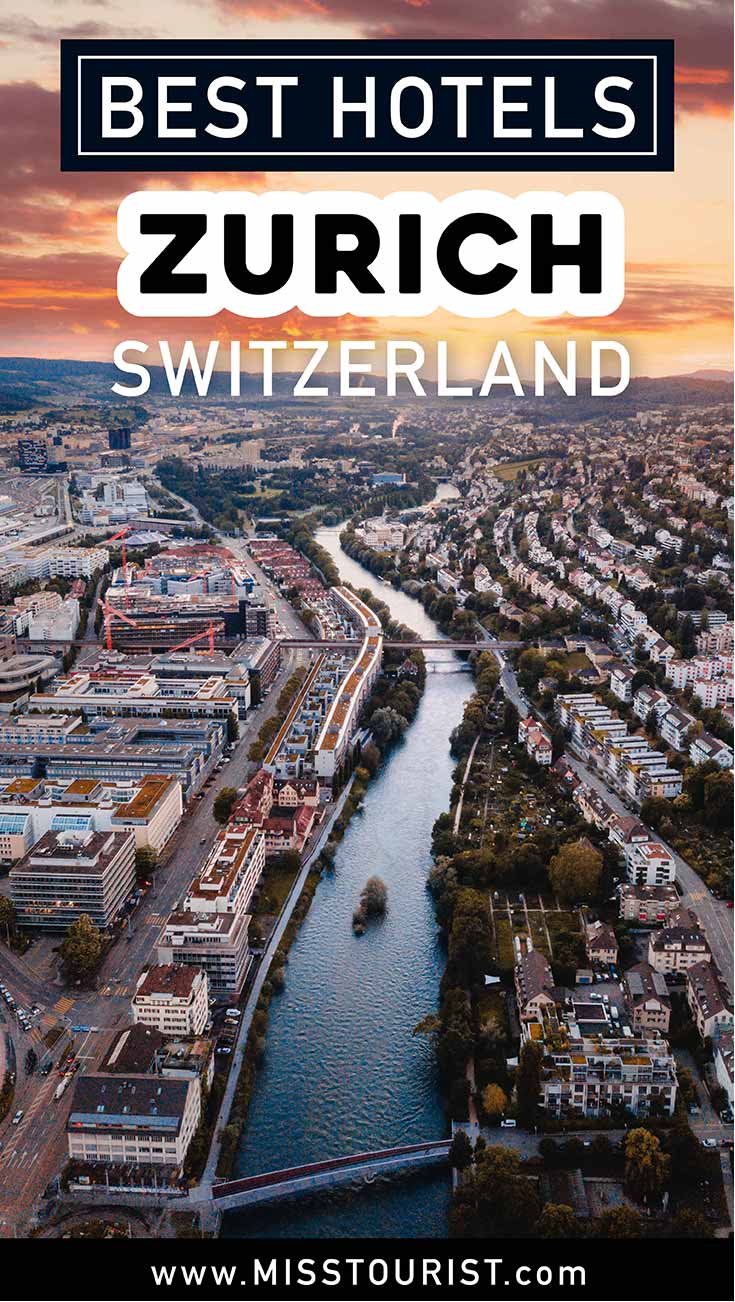 Pin it for later!