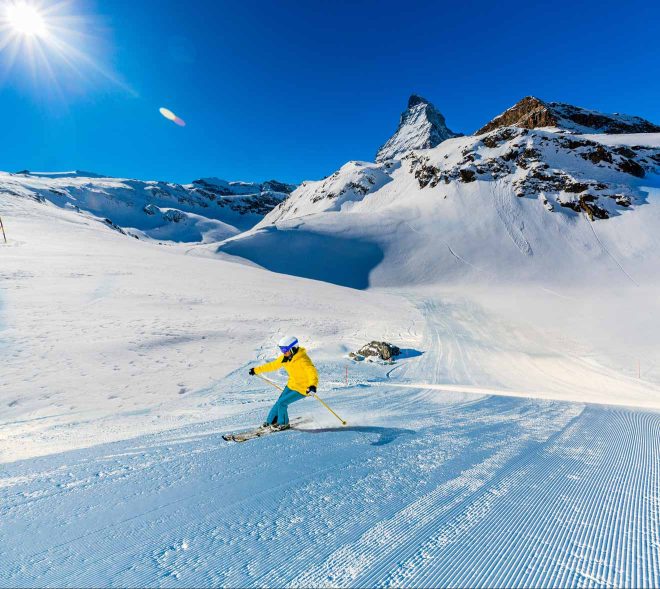 Switzerland is simply one of the most picturesque places in the world! It's a country filled with beautiful lakeside towns, snow-capped mountains, stunning train routes and, of course, some of the world's best skiing.
The thought of going skiing in Switzerland can, of course, be daunting because Switzerland can be an expensive place to travel. But that's not always the case! Rest assured that you can definitely find some great deals on accommodation in Switzerland and its skiing destinations if you do your research beforehand!
The most important things to consider (after your budget, of course) is your level of ski experience and which area to stay in. Luckily for you guys I have broken it all down for you, so your Swiss alps skiing trip just got easier!
If you want to know more about St. Moritz and Zermatt, two of the most famous ski resorts in Switzerland, be sure to check out my Skiing the Swiss Alps article where I go in-depth about the actual towns and skiing. In that article you will learn about pricing for ski lifts, equipment rentals and which ski resort to go to!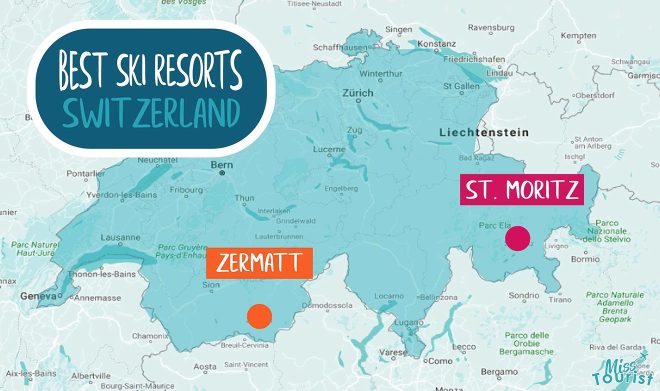 In this article you will find great accommodation options in two of the best places to ski in Switzerland: the ski resort towns of St. Moritz and Zermatt which are located in some of the best ski areas in Switzerland. For the most part, I have recommended accommodation in the towns themselves; however, there are a couple of options on the slopes as well, if that's what you're looking for!
As always, for your convenience I have broken down my recommendations into budget, middle-priced and luxury accomodations.
NOTE: The budget section for Switzerland will be a little higher than my usual hotel articles in order to reflect Swiss prices. But all the hotels or lodge recommendations are close to the ski lifts, so I think they're worth the money, as you'll be close to the action at all times!
As skiing is not available all year round, the winter season is extremely busy and it is highly recommended to book your accommodation as far in advance as possible to make your ski trip to Switzerland unforgettable (and more affordable, of course).
So, without further ado, let's find out about the best ski resorts in Switzerland:
1. Best Accommodation in Zermatt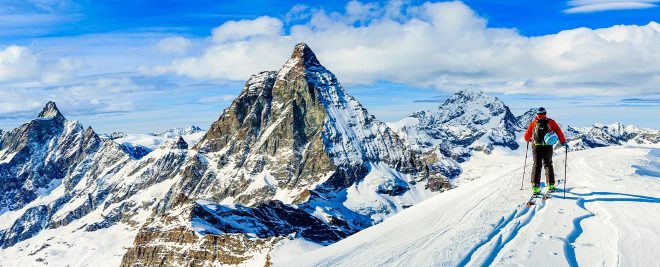 One of the most well-known ski destinations in Switzerland (and even Europe) is Zermatt. It's located in the shadow of the famous Matterhorn, on the Southern Swiss border with Italy. The town itself is quite small and most of the hotels are located there, although some are located on the slopes as well.
I recommend staying in Zermatt village as you won't be limiting yourself to just skiing in a certain area or eating all your meals at the hotel restaurant.
If you stay in the village of Zermatt as I'm recommending, you will never be more than a 10 minute walk away from a ski lift and you will be able to pick from all the slopes in the four main skiing areas:
Rothorn
Gornergrat
Matterhorn Glacier Paradise
Schwarzsee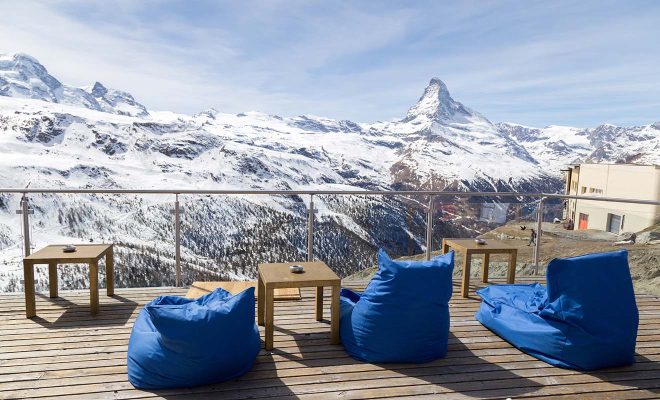 All of these 4 areas are interlinked by lifts and cable cars, so a morning spent skiing on the glacier can easily turn into an afternoon at Rothorn.
PRO TIP: There are 63 ski lifts in the entire Zermatt ski zone and 4 out of Zermatt village, so make sure to check here whether each lift is in operation, as not all of them operate year-round.
There are many things to do in Zermatt but skiing is unmissable, which means that, often times, prices for hotels can be a little high. No worries, I have selected some great accommodation to suit all budgets!
In this section you will find everything from Zermatt luxury hotels to chalets and everything in between:
1.1 Best Hotels in Zermatt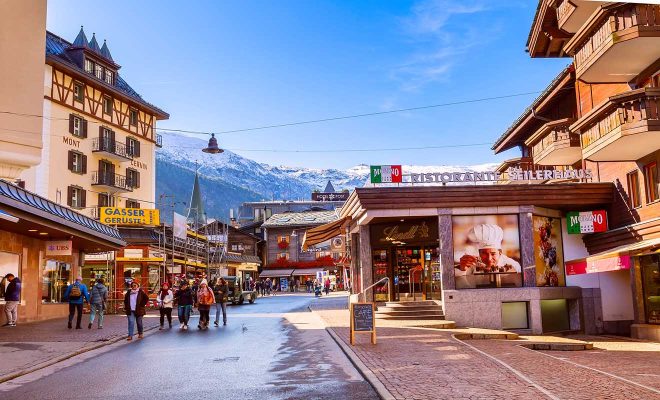 Let's face it, if you are going skiing in Switzerland, the last thing you want to do when you come back from a day on the slopes is to worry about cooking dinner or turning the heating on – you will want the comforts of a hotel instead! For example, many hotels in Zermatt offer ski hire; in fact Zermatt is home to some of the best family ski resorts in Switzerland!
All these (plus its proximity to one of the most famous alpine mountains) make Zermatt one of the best places to go skiing!
Here are some of the best hotels you can stay in:
Luxury (US$ $300 and up):
Switzerland ski season attracts celebrities, royalty and business owners from all over the world each year, so it is not difficult to find luxury accommodation there. In fact, Zermatt is home to some of the best resorts in Switzerland! Here I have chosen three of my favourite luxury hotels and resorts in Zermatt:
Grand Hotel Zermatterhof – One of the oldest hotels in Zermatt, the Grand Hotel is a luxury institution. Possessing some of the best views in Zermatt, 3 restaurants, a wellness spa and more, this hotel awaits you in one of the top ski resorts in Switzerland. Guests will even be picked up from the train station and greeted with fresh fruit and wine!
Europe Hotel & Spa – As the name suggests, this hotel is home to an excellent spa to help you relax after a day of Swiss skiing. The rooms also have a sky light, meaning you can fall asleep watching the stars or even the snow falling gently. It is definitely a favorite Zermatt ski resort of mine!
Resort Hotel Alex Zermatt – Located in the center of the city and a few hundred metres away from a ski lift, the hotel oozes class. The best part of the Alex is the decor – it is decorated exactly as you would imagine a swiss ski chalet to be, with wooden furniture, rugs and fire places everywhere!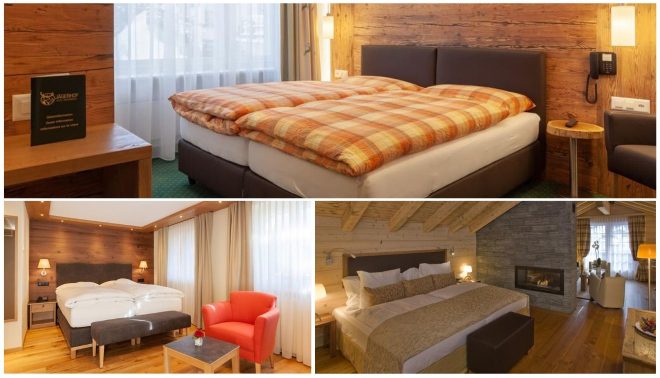 Middle-Priced (from US-$170 to US-$300):
If you, like me, don't want to blow your whole budget on the accommodation when you go skiing so you can have a few more glasses of bubbly at the apres-ski, then this section is for you!
The best part of staying in either one of these 3 hotels is that you don't have to travel miles away from the Zermatt Matterhorn either:
Hotel Couronne Superior – This 3-star hotel is not only beautiful, but if you're looking for cheap ski hire, kids ski packages or even a ski trainer, then Couronne's in-house ski shop is the place to be! You can literally arrive to Zermatt with no gear, check in to your room then heads downstairs and be on the slopes in a couple of moments! What more can you wish for?
Base Camp Hotel – Offering great views of the Matterhorn, this hotel will definitely help you have the perfect Switzerland ski vacation. There is a buffet breakfast everyday included in the price, the lounge has a lovely fireplace to warm up by and, best of all, the hotel is located right in the center, very close to a ski lift!
Hotel Hemizeus & Iremia Spa – The best part about this hotel is that you can ski directly to and from the hotel! No need for a ski lift, although there is one very close. The Hemizeus is a 3-star hotel that has a spa as well, which means you can spend all day skiing and then come home and relax in the sauna. Perfect!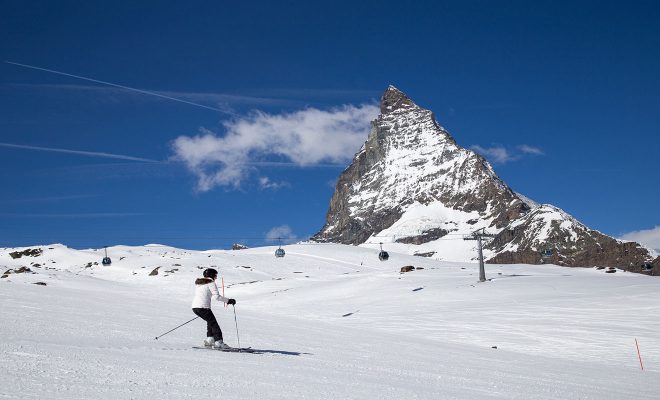 Budget (up to US $170):
What I love about Switzerland ski hotels is their variety and price range. There actually are budget options which means that your skiing and snowboarding holidays can be accessible and budget travellers don't need to miss out on the best skiing in Switzerland!
So here are three cheaper options in Zermatt:
Hotel Jägerhof – The Jägerhof is simply stunning! Once you step inside you will be transported back in time to how ski lodges used to look, and let me say, you won't regret it. With wooden paneled walls, hunting paraphernalia on the walls and a cozy fireplace, you won't want to leave!
Best Western Hotel Butterfly – They say location is everything; well, that means that this hotel truly has everything! Located right in the heart of Zermatt and still close to a ski lift, you can zip around the mountains or the town with ease! Of course, the rooms are lovely and comfortable as well, providing an unforgettable Swiss ski holiday.
Hotel Walliserhof Zermatt 1896 – Decorated in the typical Zermatt chalet style, this hotel is a perfect mix of antique and modern. There is also in-house dining there and a buffet breakfast every morning. Best of all? The hotel is right in the center of the city and close to a ski lift! This is a great example of a Swiss Alps resort!
1.2 Best Hotels on the slopes in Zermatt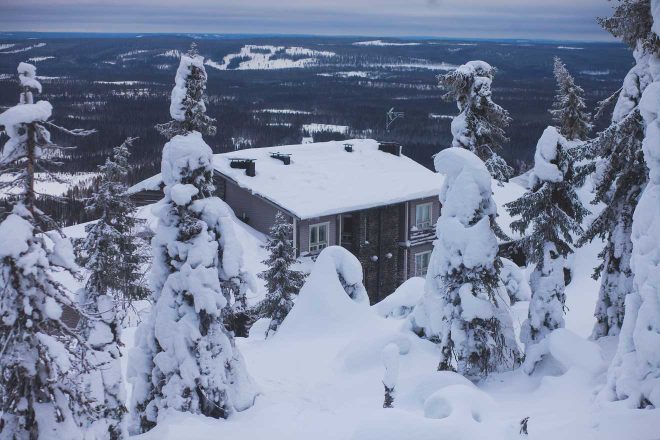 If you are heading to Zermatt with one thing on your mind: ski, ski, ski!, then you might want to check out one of these hotels that are located outside of town, but they allow you to ski right up to the door!
No need to trudge around Zermatt with your gear and wait for a ski lift, you just put your boots on and off you go!
CERVO Mountain Boutique Resort – This hotel has the best of both worlds; ski-to-door capabilities and yet, it is only just outside of town. Modern chalet style rooms at the foot of the mountain mean you can spend the night in style and still enjoy a dinner or drink in Zermatt village!
Hotel Matthiol – This wonderful hotel is located just South of Zermatt. Providing all the best facilities such as cable TV, in-house dining and modern rooms, this hotel is tucked away from the chaos of the town. Undoubtedly the best feature is the fact that it's a ski-in/ski-out hotel, meaning you can be on the slopes moments after waking up!
1.3 Best apartments in Zermatt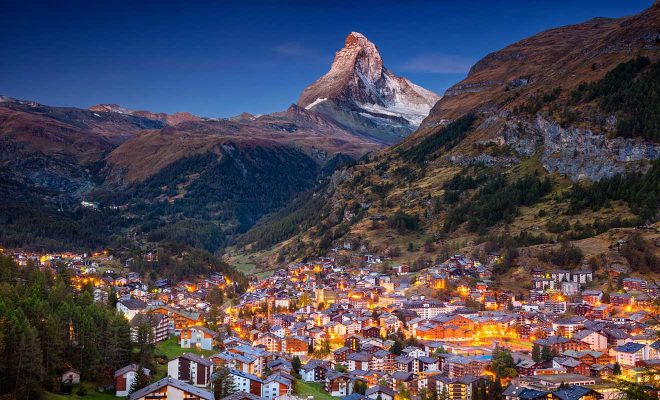 As always, I have added this section for those of you who want a little bit more freedom and autonomy. Perhaps you are travelling with children and are looking for family-friendly ski resorts or you want to be able to let your hair down and party with your friends until the break of dawn? I got you!
There are definitely certain benefits of renting an apartment as opposed to a hotel room and, luckily, Zermatt offers an option for each budget section:
Le Bijou – Dedicated to luxury travelers, Le Bijou is a completely self-contained apartment! It offers high quality living in the heart of the skiing action! Located very close to multiple lifts, this modern and sleek apartment offers countless amenities to make your stay comfortable. There is even a terrace outside to enjoy a few warm drinks as the snow falls!
Apartment Zayetta – If you are looking for a middle-priced apartment, Zayetta is a great choice for a family as there are multiple rooms with beds for kids! The view across Zermatt is lovely and some apartments even come with a balcony – win! Of course, they have a full kitchen and dining area, and the property is close to multiple ski lifts so you´ll be on the slopes in no time!
Residence Patricia – This budget accommodation option comes with modern, spacious apartments and comfortable beds. Each one of them has a fully equipped kitchen and some of the apartments even offer views of the Matterhorn! This property offers great value and will save you a few francs!
2. Best accommodation in St. Moritz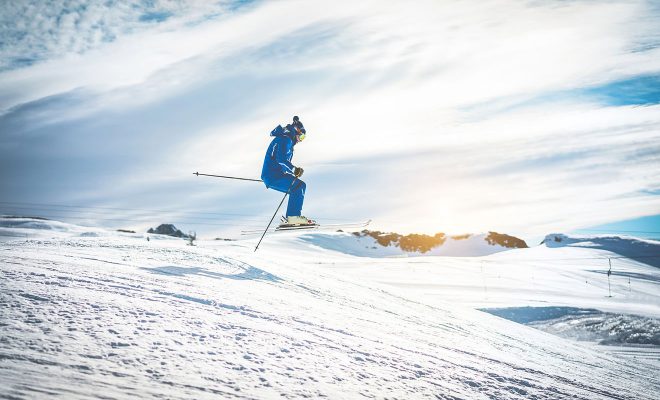 Another of Switzerland's famous skiing destinations is St. Moritz. Having played host to the winter olympics twice, St. Moritz is extremely popular with winter sport tourists and can get very busy during the winter season!
However, once you arrive you will see why the town is absolutely stunning. Perched on the side of the Piz Nar which peaks at over 3.000 m, St. Moritz also has a lake that helps to make the scenery unforgettable. You will absolutely want to take advantage of the slopes when you're here and head out for some of that famous St. Moritz ski fun, which will make your trip unforgettable!
NOTE: Even more so than in Zermatt, properties in St. Moritz fully book out a long time in advance, in some cases over 6 months, so please make sure you plan and book your holiday months in advance!
I've compiled a list of the best St. Moritz hotels, resorts and apartments. Take a look!
2.1 Best Hotels in St. Moritz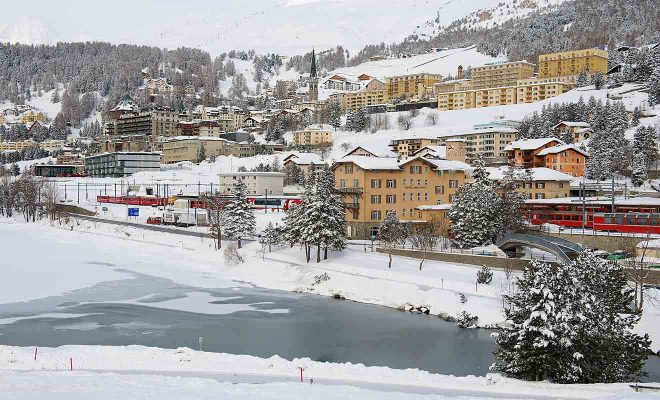 There are many advantages of staying in a hotel in St Moritz – everything will be clean and ready to go and you won't need to worry about cooking or cleaning, as it's all done for you! Moreover, having the guidance of the staff is key when navigating St Moritz town and its surroundings.
St. Moritz is broken up into three different ski areas:
Corviglia
Corvatch
Diavolleza
Unlike Zermatt, the areas are not interconnected so you will have to come down to the bottom and catch a ski bus or drive between the sites.
I recommend choosing a hotel in the town of St. Moritz because it will be much easier to ski a variety of areas during your stay, as all of them are no more than a 10 minutes walk from the 7 ski lifts in the village of St. Moritz (connected to the 24 lifts throughout the 3 ski zones).
If you do prefer to stay outside of town, first be aware that you will be limiting yourself in terms of apres-ski dining and activities. However, Corviglia is the recommended area as it is the largest of the three and has skiing slopes for all levels.
To help you make the ultimate decision, I have compiled a list of the best St. Moritz hotels to help you decide where to stay: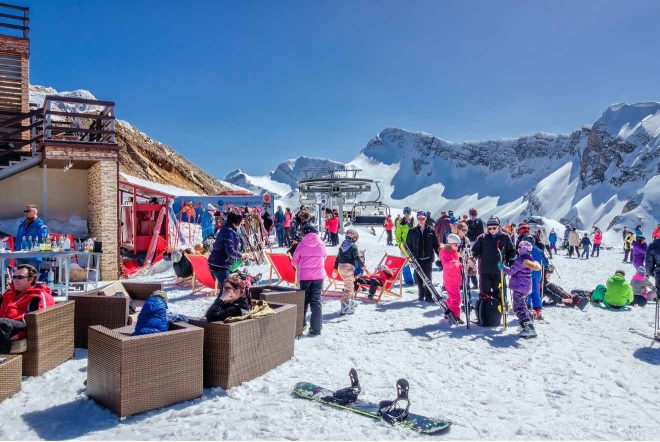 Luxury (US-$300 and up):
St. Moritz is known as a luxury destination, so let me assure you that you will be spoiled for choice when it comes to St. Moritz luxury hotels!
The Swiss really know how to take care of guests and these 3 hotels below will make feel like royalty.
However, as I mentioned St. Moritz books out well in advance and this is especially true for the 5-star properties, so you really need to book these well and truly in advance.
So if you can get a reservation at one of these 3 luxury hotels, then jump at the chance!
Badrutt's Palace Hotel – Consistently ranked as one of the top places to stay in Switzerland, this hotel is absolutely breathtaking. The building is an actual palace that dates back to the 19th century and the views are beyond beautiful. There are 6 in-house restaurants and countless other luxury services there, I absolutely recommend staying here if it isn't booked out on your dates!
Kulm Hotel St. Moritz – This is another one of the town's iconic properties that dates back to the 19th century. Offering stunning views of the Alps and St. Moritz Lake, a 9-hole golf course, driving range, a spa center, pool (with great views. of course) and purely stunning decor, the Kulm is more of a destination than just a hotel!
Grande Hotel des Bains Kempisnki – Yet another stunning building that offers absolute luxury in the heart of the city, the Grande Hotel des Bains has a Michelin-starred restaurant, 24-hour gym, a heated indoor pool and an award-winning alpine spa center with 5 saunas! You could easily spend all your time inside the hotel and you'll still have an amazing experience!
Middle-priced (from-US $200 to $300):
The decadent luxury that seems to be almost everywhere in St. Moritz may scare some travellers away, but there are definitely affordable hotel options in the city as well!
In fact, in my opinion some of the best Swiss ski resorts aren't necessarily the most expensive ones. Often times, the hotels in the mid-priced category have an excellent focus on the skiing part, which can be helpful once you actually hit the slopes.
So check out these options in St. Moritz:
Hotel Bären – Decorated in a traditional alpine chalet style, The Bären is a cozy hotel in the heart of St. Moritz. Located within walking distance of the train station, town center and slope transport, the Bären executes hospitality to perfection. The in-house restaurant is particularly excellent, too!
Hotel Languard – Hotel Languard is small and cozy. However, the rooms and facilities are excellent! Located centrally with access to cafes, shops, the train station and most importantly, the slopes, the hotel also has some great views of St. Moritz mountains and the lake. This boutique hotel provides an amazing service too!
Crystal Hotel Superior – Located pretty much right in the middle of St. Moritz and only 100 m away from the nearest ski lift, the Crystal Hotel is an amazing property. With great views of the town and 5-star services for a reasonable price, how can you go wrong?! You can also get great deals depending on the month of your visit!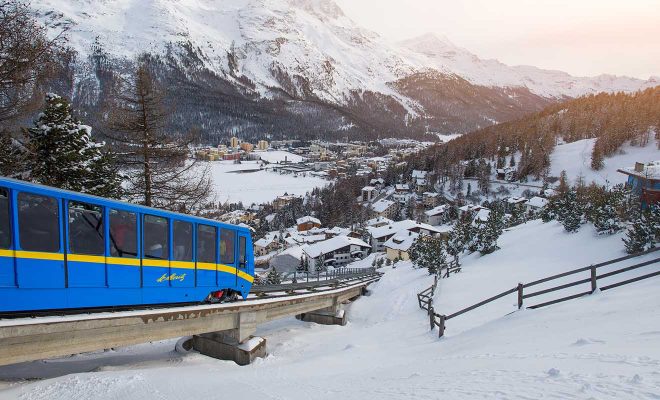 Budget (up to US-$200):
St. Mortiz, although home to many luxury hotels, also has some not-that-expensive options. I've had some great times staying at budget hotels in ski resort towns because the standard is always really high and the staff are great!
Here are some more affordable options for St Moritz:
Hotel Steffani – This family-run hotel literally has it all! Featuring a spa, an indoor pool, 3 restaurants and even a nightclub, it's the perfect apres-ski destination. What's more, it is a great ski destination as well, located only a few hundred meters from the closest ski lift! The hotel also offers discounts on ski passes!
Hotel Arte – Situated a little higher than most hotels in St. Moritz, this one has some of the best views available in the city. This boutique hotel boasts in-house restaurants and bars and it's extremely close to some of the better slopes in St. Moritz. The decor has a traditional Swiss chalet style and it's really beautiful!
Hotel Nolda – Located just out of town but still within 100  from a ski lift, this stunning hotel is located on the Inn River and the views are spectacular. The hotel also has a great buffet breakfast every morning and an in-house restaurant. All bookings come with a complimentary ski pass as well!
2.2 Best hotels on the slopes in St. Moritz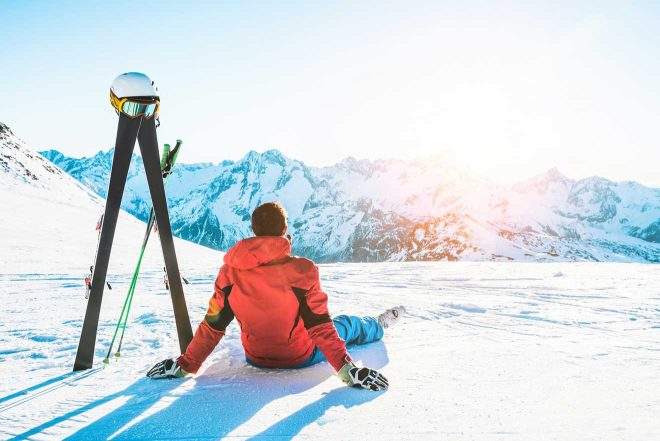 If apres-ski, partying and fancy restaurants aren't your thing and you come to St. Moritz purely to ski, then staying on one of the slopes may be the best choice for you.
Check out a couple of the hotels I am recommending that will allow you to ski right to and from the front door:
Hotel Bellavista – Bellavista is located in the Corvatsch ski area, a 10-minute drive from St. Moritz. Set up in a Swiss ski chalet style, the hotel is peaceful and secluded with in-house dining and drinking, lovely lakeside views and, of course, ski to door options!
Hotel Salastrains – This hotel is located in the Corviglia ski area of St. Moritz allowing guests to jump directly onto the slopes of the biggest and most diverse ski area in town. Also there are 3 (!) in-house restaurants, meaning you won't be missing out on trying new places by staying away from town!
| | |
| --- | --- |
| 🇨🇭 Best ski resort in Switzerland: | Zermatt |
| 🎿 High season: | |
| 👑 Luxury price: | $500 |
| 💵 Mid Range: | $250 |
| 🛏️ Budget: | $180 |
| 🏠 Appartments: | $150 |
| 💰 Accommodation prices: | High |
| 🛎️ Best Luxury hotel in Zermatt: | |
| 👛 Best budget stay in Zermatt: | Hotel Jägerhof |
| 👑 Best Luxury hotel in St. Moritz: | |
| 💵 Best budget stay in St. Moritz: | Hotel Steffani |
---
Conclusion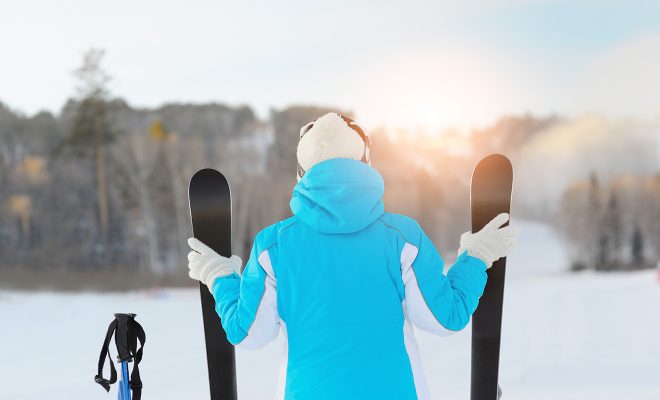 There are plenty of ski resorts in Switzerland so you will really be spoilt for choice, but travellers keep going back to St. Moritz and Zermatt time and time again, as these are as two of their favorites – and with good reason! These areas do not only offer excellent skiing and snowboarding options, but the towns themselves are full of charm and beauty. Above all, the hotels in these resort towns are simply amazing!
From the world-famous 5-star hotels in St. Moritz to the small, family-run boutique hotels, I have included something for everyone in my list of recommendations above! I hope you already found what you are looking for!
Don't forget: please, please, please book as early as you can, especially in St. Moritz because otherwise you might find that you will have to choose your 4th or 5th choice of accommodation!
I would also strongly recommend checking out my Skiing the Swiss Alps guide, as there is lots more information there about the slopes, ski lifts and ski areas themselves!
Enjoy your trip and please feel free to drop a comment below with any questions or comments, I'm happy to help! Let me know how your stay was if you choose one of these hotels!
Happy Travels!
Arantxa
Pin it for later!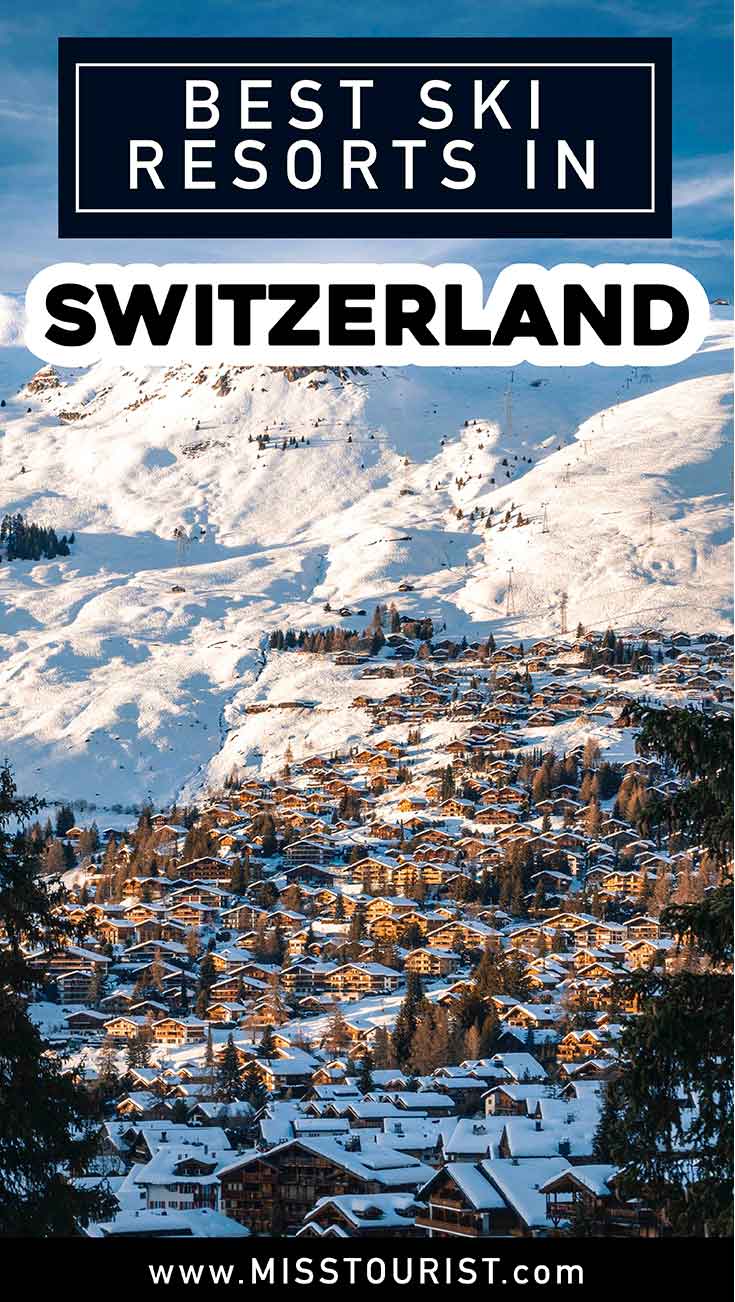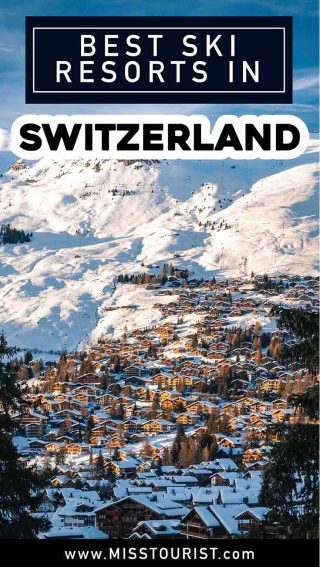 Pin it for later!