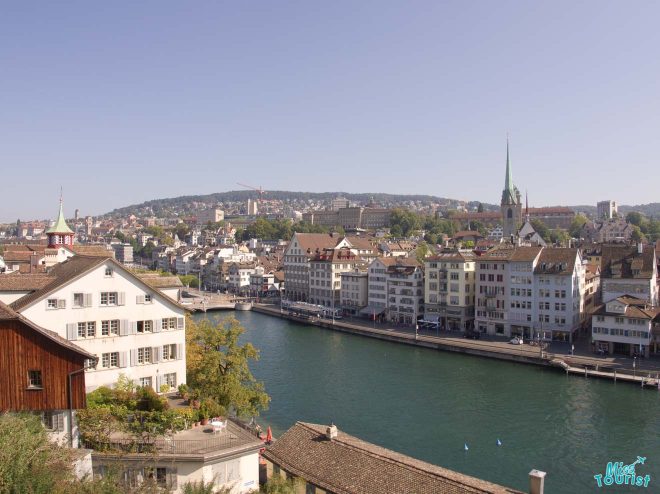 Built along the Limmat River, Zürich is the biggest city in Switzerland, even bigger than Geneva and Bern, the capital! If you are looking for the best things to do in Zurich, keep reading and I'll tell you everything you need to know!
In this Zürich travel guide, I am going to explain all the best spots to check out inside and outside of the city! Zurich is such an amazing place where you can find great things to do and amazing places to visit such as churches, gorgeous medieval streets and the cutest cafés.
Without further ado, let's learn about all the Zürich top attractions! And by the way, there's a whole section dedicated to museums!
NOTE: At the moment this post is being written, the exchange rate between CHF and USD is CHF 1 for USD 1.01, and between CHF and EUR is CHF 1 for EUR 0.9, which is why I haven't changed the prices and quantities shown in this post as they are pretty much the same as American dollars and very similar to the Euro! 😉
Let's get right into this Zürich guide! On-y va!
1. Discover the Old Town (Altstadt)
Zürich Old Town (Altstadt) is located on both banks of the Limmat River and it's what is now considered District 1. The Old Town is home to the majority of the most beautiful sights in the city such as the town hall, different universities, beautiful little alleyways and cozy restaurants and cafés!
Even though it's quite a small area, the best way to explore it and to never miss a detail would be by booking a tour. Just like in every city that is worth traveling to, Zürich has a fair share of tours that run through its loveliest streets.
Here are my recommendations:
There is a free 1.5-hour walking tour of the old town. It leaves every day at 11 a.m. to the greatest spots in Altstadt. You can take a free tour in English, Spanish or German, and don't forget to leave a tip at the end if you liked the guide and the quality of the tour! I took this particular tour and, even though I would not say I learned a lot about the history of the city, I was definitely entertained by the guide who told us some stories about the lives of the locals!
If 2 hours seem like too little time, you can opt for this 4-hour extended city tour that will even take you on an aerial cable car ride up to Felsenegg to check out the city and the Alps views.
Alternatively, if you want a private tour, I can recommend this Zurich 101 tour – you'll have the guide all to yourself and you'll have the chance to ask all the questions you want!
PRICE: US $60 for an extended city tour
2. Climb the towers of Grossmünster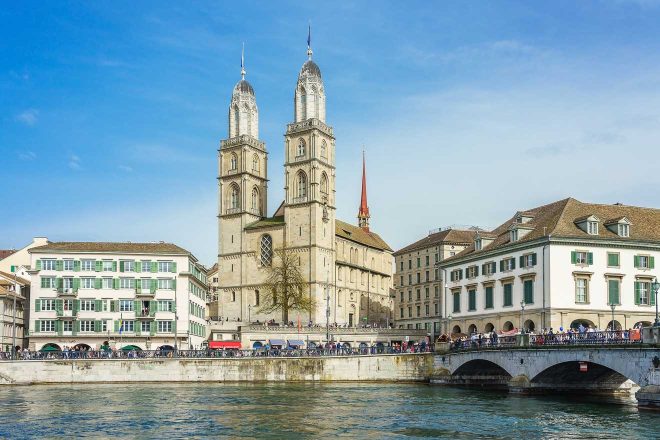 This Romanesque Protestant church is part of the Evangelical Reformed Church and it was built at the beginning of the 12th century.
Did you know there are lots of legends that surround this church? For instance,
One legend says that when Felix and Ragula (the two patron saints of Zürich) were beheaded here, they picked up their heads and started walking 40 steps uphill until they fell to their deaths.
They were buried in that exact spot. Some centuries later, the Roman Emperor Charlemagne's horse fell to its knees at the same spot where they were buried and he decided to build Grossmunster there.
The twin towers are one of the most recognizable Zürich attractions and I definitely recommend going up them; you'll get an amazing view of Zürich from up there!
FUN FACT: The towers are the reason this church is known as "Salt & Pepper", because their shape looks like two salt and pepper shakers!
PRICE: CHF 5 to go up the towers
3. Walk along Bahnhofstrasse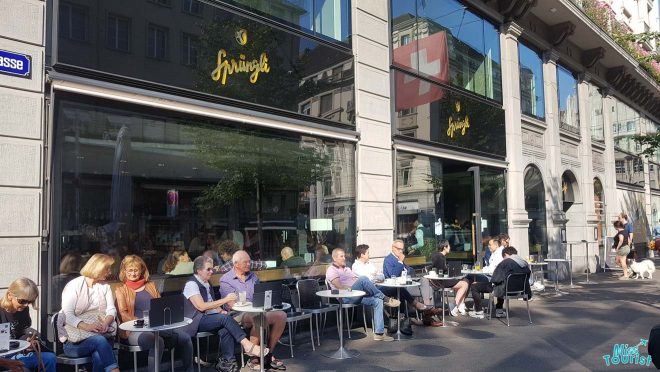 You can't leave Switzerland without doing some window shopping along Bahnhofstrasse, one of the most expensive streets in the world!
It's funny how, just 150 years ago, this street used to be the city moat and now you can find most designer brand shops, watch stores and even the Swiss Banking Center there!
If you are interested in learning more about watchmaking, I recommend you check out Beyer Clock and Watch Museum (entrance is CHF 10). Right after that, you can enjoy a hot chocolate at Café Sprüngli, an iconic coffee house and confiserie in the city!
PRICE: Free
4. Try some delicious cheese fondue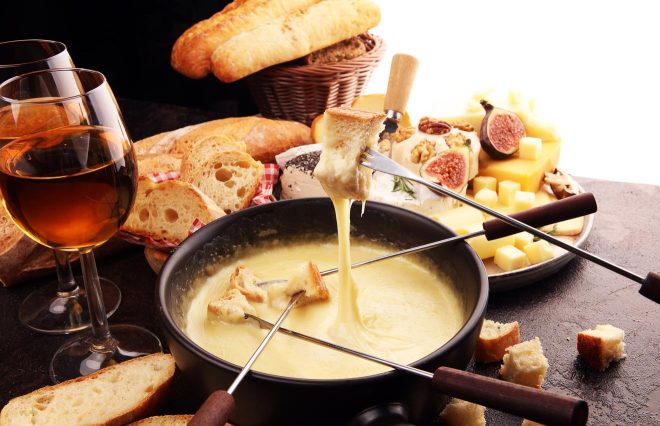 If you have never eaten fondue before, you NEED to try it while you're in Zürich!
I'm somehow jealous of you because you will get to try fondue for the first time, and in the country where it was created! (though, most French people will argue with that!)
Fondue consists of a pot full of melted cheese that you can dip bread, any type of veggies and even apples into! I know how hard it is sometimes to find traditional vegetarian meals in central Europe, but this is one of them!
However fondues in Zürich are not only about the dish itself but also about the experience! You get to share it with your friends, which makes it extra romantic and fun! But remember, double dipping is not allowed! 😉
There are plenty of places in Zürich where you can try fondue for an average of CHF 30, but if you want to make the most of your experience, I recommend you book this Fondue and wine Tuk Tuk tour where you'll get to explore the most beautiful Zürich landmarks in a tuk tuk with a stop for fondue and wine. So fun!
PRICE: US $132 (2 person minimum to book it)
5. Stroll around Viadukt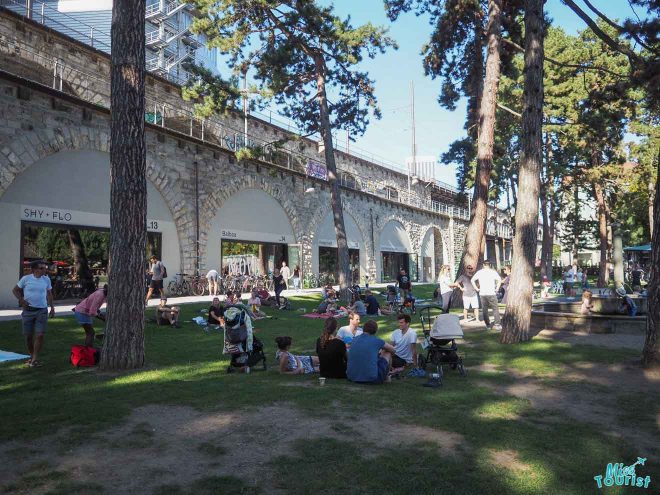 If you'd like to visit the new Zürich you have to head to West Zürich, and specifically to Viadukt. This is a hipster area of the city where you'll find alternative designer shops and a market hall. It's one of the favorite places among locals and tourists alike, such a unique and creative space!
Located under the old railway viaduct (hence the name), Viadukt is perfect for those looking for unique fashion pieces or even to buy groceries!
I want there by bicycle and it was a lovely 15-minute ride along the river (hint – continue reading for a lifehack on how to rent a bicycle for free in Zurich!).
PRICE: Free
6. Take a cruise on a Limmatschifffahrt boat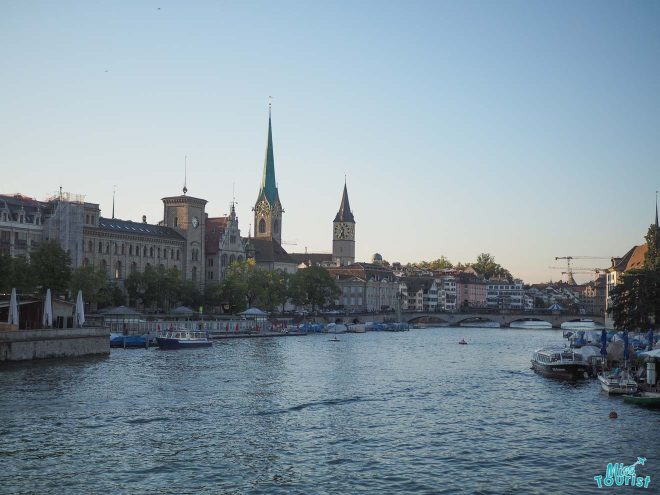 To see Zürich from another perspective, you can hop on a Limmat River cruise, which is commonly known as (unfortunately for us non-German speakers) Limmatschifffahrt! This boat ride is really quite affordable and a great way to explore the city from the water!
Don't let the name deter you from having some fun while trying to make yourself understood by the locals! I recommend you head on this tour that takes you near the best and most beautiful landmarks in Zürich such as Grossmunster or Fraumunster, with a final stop on Lake Zürich.
NOTE: Only available from April to October and you can check out the boat timetable here
PRICE: CHF 4.40
PRO TIP: It can get crowded at the Landesmuseum station, the spot where the boat begins its one-hour round trip. I recommend you check this website in advance for departure times. Make sure to arrive a bit early as well!
7. Check out Fraumünster Church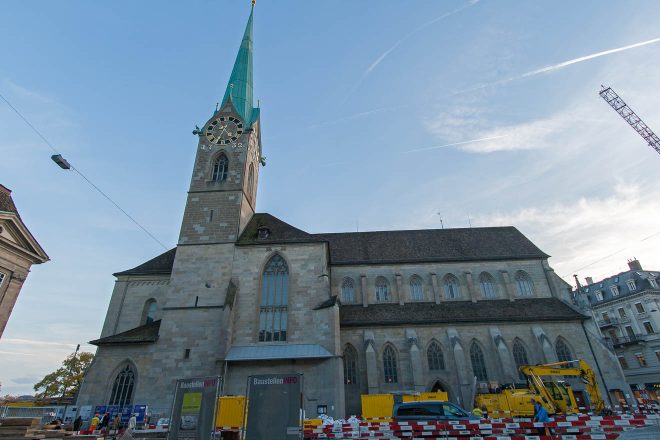 Together with Grossmunster, Fraumunster Church is one of the most important churches in the city of Zürich!
Just on the other side of the river from Grossmunster, this church was built on the remains of a former women's abbey, hence the name, which translates to "Women's Minister". It is definitely a must-see during your Zürich trip!
Make sure you admire the inside frescoes, the organ or even the stained glass windows (created by Marc Chagall!); they all give the church a very special and unique atmosphere.
PRICE: Entry to the church is CHF 5 (free audio guide included)
PRO TIP: Your Fraumünster ticket gives you a discount of CHF 5 on your ticket to Kunsthaus (full of works by Marc Chagall). More info about this museum in the special section below.
8. Chill at Flussbad Oberer Letten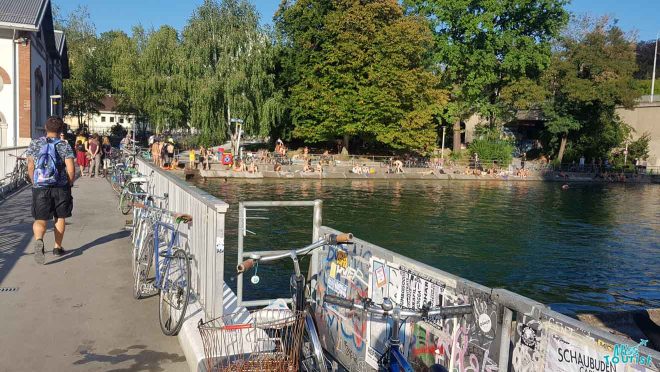 If you haven't packed yet and you are going to Zürich during the summer months, make sure to bring a swimsuit with you as well!
No, I haven't gone mad! Flussbad Oberer Letten is an awesome place located by the Limmat River where you can chill, sunbathe and even swim! The facility is so well prepared for this that they even have changing rooms!
It is not the only place in Zurich to swim (I talk about the others in "Bonus 4: Things to do in Zurich with kids", down below!).
I visited in late September and the weather was absolutely lovely; the whole city seemed to have been out there swimming, getting a tan, playing beach volleyball, sipping on a drink and just chilling!
The atmosphere was FANTASTIC, I instantly wanted to move there!
But I guess I first should come again to visit in, say, November, to see if the vibe is the same. 🙂
At any rate, I don't know many big cities that have a river that's clean enough for you to swim in, but Zurich does! And the best part? The swimming area is right by the main train station, so central that you can chill in the morning and do some touring around the city in the afternoon. How cool is that?
PRICE: Free
9. Explore Niederdorf neighborhood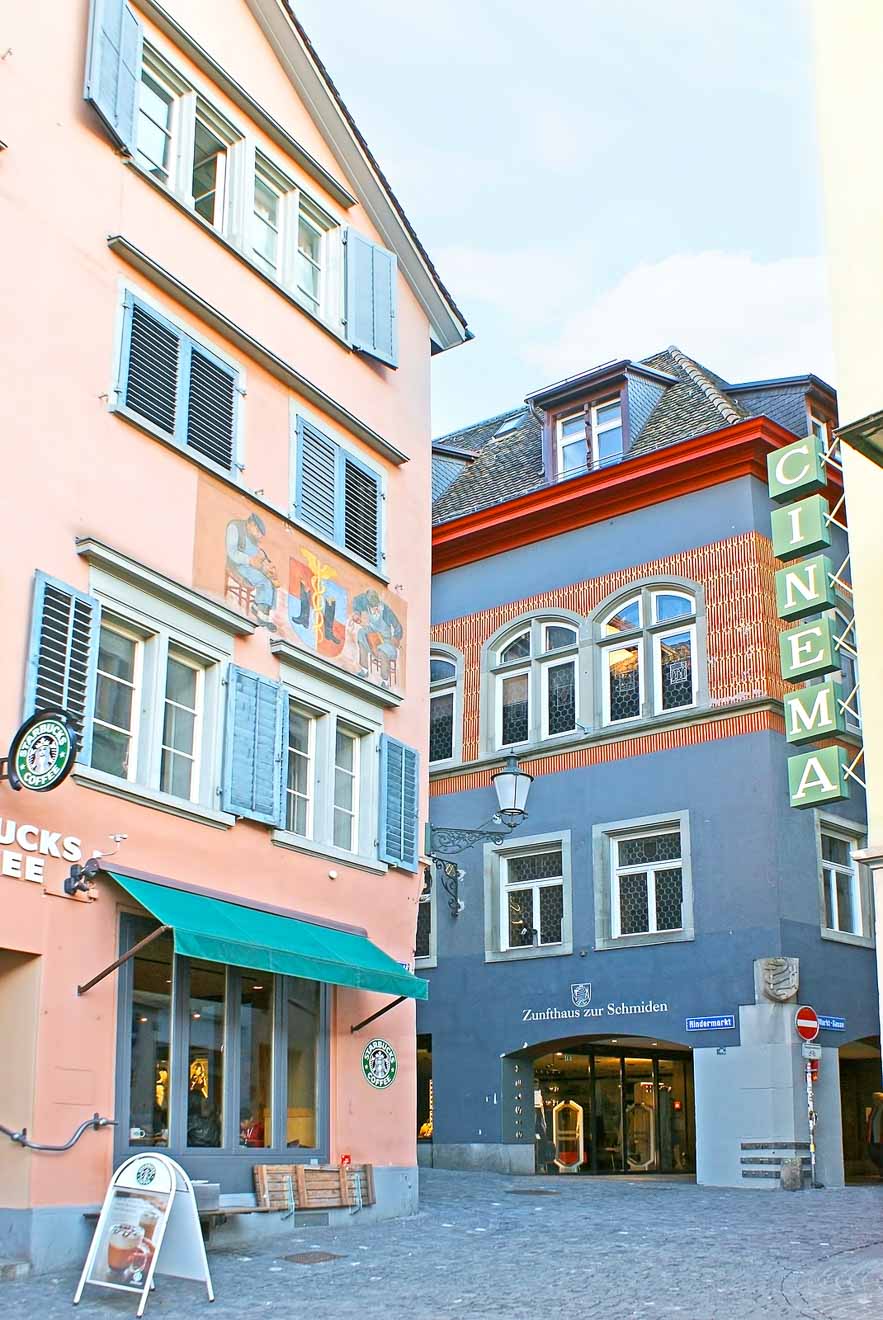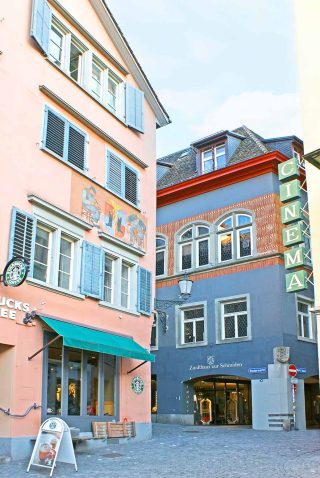 One of the coolest Zürich neighborhoods (along with Zürich West) is Niederdorf! Located in District 1 (Old Town) and known as Dörfli by the locals, this is an almost entirely car-free neighborhood! Oh, and by the way, this artsy and trendy neighborhood is also one of the most affordable ones!
During the day, Niederdorf is a great place to relax and enjoy a book in a coffee shop while enjoying the slow pace of the city. But at night it becomes a lively area to hang out with your friends, and best of all, it's suitable for all budgets and types of travelers!
PRO TIP: Dorflifascht is a festival held in Niederdorf at the end of August where you can enjoy street food, shopping stalls, live music and shows! You can check out the future dates here.
10. Take a cable car to Felsenegg Lookout to see the view of the city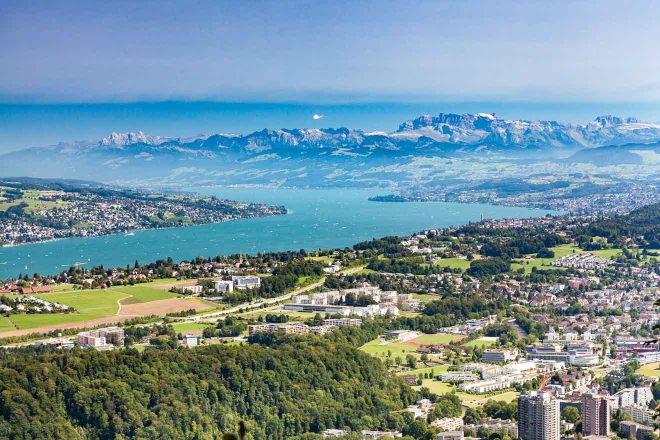 If you want to see Zurich from above like never before, Felsenegg is the place to be! It's located at an altitude of over 800 meters over the city, so it makes for the best lookout to admire the view of Zürich, the landscape surrounding it and the faraway mountains.
HOW TO GET THERE: To get to Felsenegg, you need to take the train from the Zürich main station to Adliswil (15 minutes). Once there, you get off and walk for 10 minutes following the signs towards the cable car. The cable car runs every 15 minutes and the ride takes just 5 minutes.
PRICE: Cable car ticket is CHF 4.40
NOTE: Once at the top, there's a hiking trail to Uetliberg that takes less than 2 hours. I will be talking about it in detail right below!
11. Admire St. Peter's Church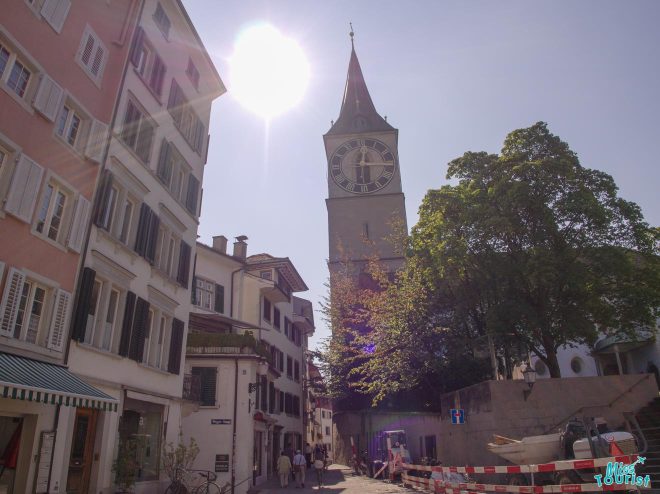 Last but not least of my church recommendations in the city: St Peter's Church, the oldest parish church in Zürich, built around the 10th century!
The church was used as a fire watch post up until the early 1900's and it has Europe's biggest clock with a diameter of 8.7 meters! It also has five bells dating from 1880 in the tower. Can you guess how much the largest of them weighs? Over six tons without its clapper!
Apart from being a beautiful landmark, it is quite useful as you won't even need to take out your own watch/phone to check the time because it is visible from many spots in the city!
PRICE: Free
12. Explore Lindenhof District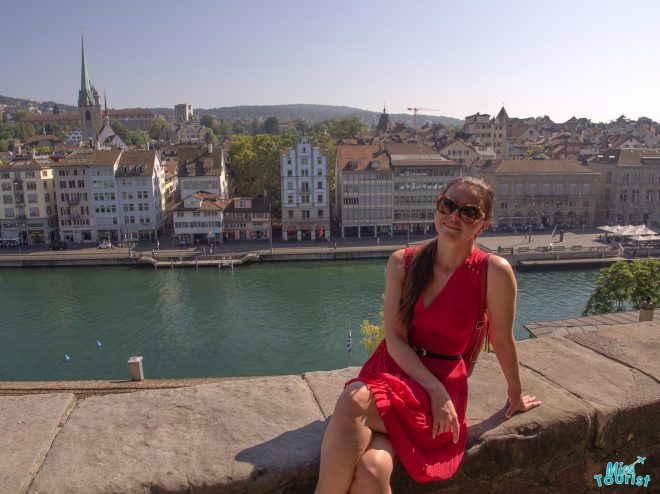 Lindenhof District is an area located within Altstadt (the Old Town) where you will find a hill and a public square. It used to be a Roman settlement; now, it's a place where people gather to play a gigantic chess game, do some people watching or just relax. It is really a place not to miss in Zürich, so central that you really have no excuse not to go!
Get your camera, don't let the 187 steps bring you down and get up to the top of the hill so you can enjoy the wonderful view!
PRICE: Free
13. Promenade along Lake Zürich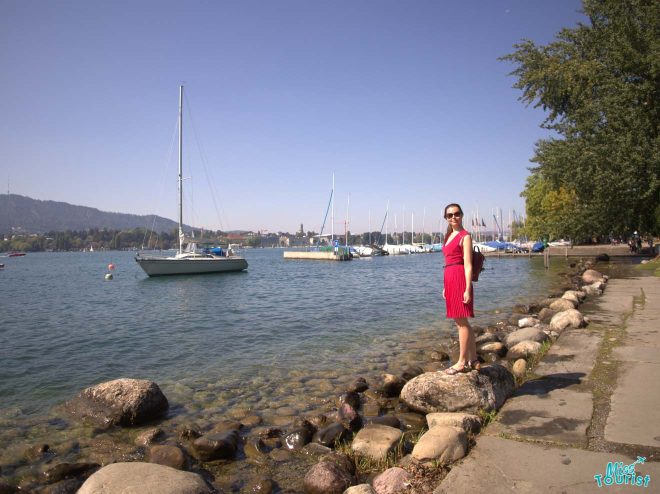 There is no way someone goes to Zürich without visiting the gorgeous Lake Zürich!
One of my favorite spots in the city, this place is perfect for a morning run or a romantic evening stroll.
You can, of course, go there by yourself and enjoy some relaxation, but if you only have a short time in the city and you'd like to roam around the lake, I have a solution!
I found this 4-hour Zurich city tour that includes a cruise on Lake Zürich and even the cable car up to Felsenegg. Great combo!
14. Hike Uetliberg for a pretty view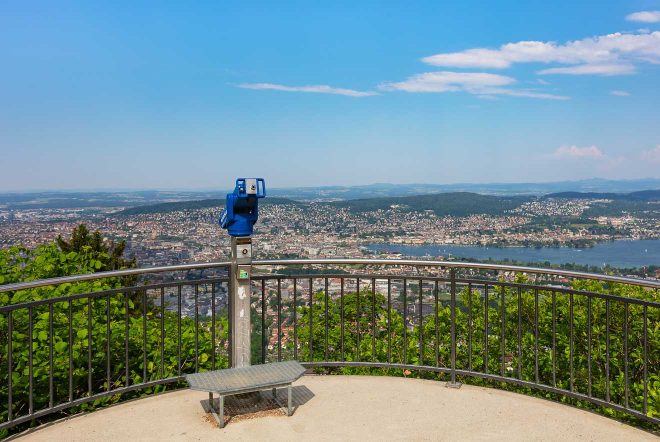 If you are into hiking, you also need to explore Uetliberg!
Zürich's main mountain is only a train ride away and during your hike you will be able to admire the views of Zürich, the lake and, on a clear day, the Alps as well!
This is quite an easy hike, so beginners can easily do it. I think it's a great idea after a day filled with cheese fondues and Swiss sausages!
HOW TO DO IT BY YOURSELF: You can get there by train from the main station in Zürich; the train ride will only take 20 minutes.
My advice is to do the 2-hour panoramic hike from Uetliberg to Felsenegg and admire the gorgeous views. On your way back from Felsenegg to the city, you can take the cable car down to Adliswil and the train back to the city.
Alternatively, if you want to go there with an organized tour, have a look at this 6-hour hiking and sightseeing tour that will show you the main landmarks of Zurich after which you'll hike up to Uetliberg for the city views.
Feeling even more adventurous? Then check out this 2-hour paragliding adventure that takes you flying above the area and has stops at Mount Titlis, Lake Lucerne, Lake Zürich and finally, Uetliberg mountain!
PRICE: Free. CHF 84 for the hiking and sightseeing tour
| | |
| --- | --- |
| 🤩 Range of activities: | large |
| 🎟️ Best city card: | Zürich Card |
| 🏛️ Best museum: | Kunsthaus Zurich |
| 🚶🏽‍♂️ Best free activity: | Renting bikes |
| ⛵Top outdoor activity: | Limmat River Cruise |
| 👧 Best attraction for kids: | Zurich Zoo |
| 🥟 Must try food: | Fondue |
BONUS 1 – How to rent a bike for free in Zürich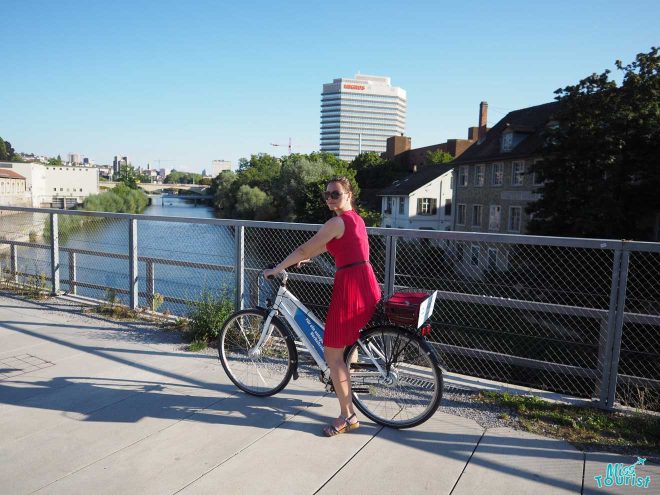 I get you, walking around the city doing some sightseeing is sometimes exhausting! I have usually found myself walking to a place just to realize halfway there that I am really too tired to keep walking. However, this won't happen to you in Zürich as they have FREE rental bikes for you to use from a service called Züri rollt.
The best part (except the fact they are free): they also work on Sunday! Until 9.30 pm! (which is unbelievable for Switzerland)
This place was not so easy to find and to be honest, we went in circles around the train station for 10-15 minutes looking for it. But do not worry, here are exact GPS coordinates on Google maps and a picture of what the entrance looks like (you need to go downstairs in a big parking lot-it is pretty hard to spot from the ground):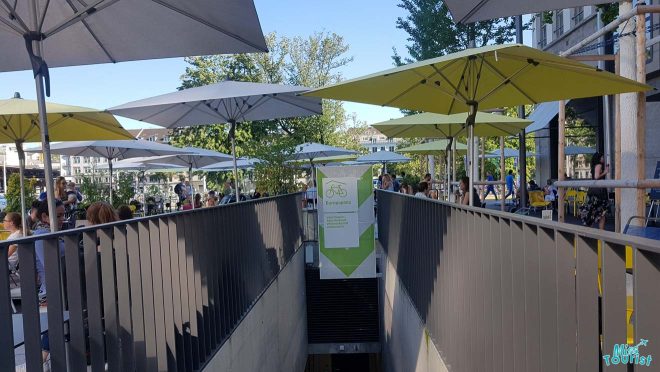 The only thing that you need to do is present your ID and a CHF 20 deposit at the bike station at the main train station (from 8 a.m. to 9 p.m.) and there you go, a free bike for you to roam around this lovely European city!
PRO TIP: Between May and October, you can also pick them up and drop them off at Pestalozziwiese (Bahnhofstrasse / Globus City) and Bellevue (Utoquai).
NOTE: You have to return the bike to the same station where you picked it up at the end of the day and then you will get your deposit back. Reservations are needed if you're going to take more than 5 bikes. If so, contact [email protected].
BONUS 2 – Museums worth checking out in Zurich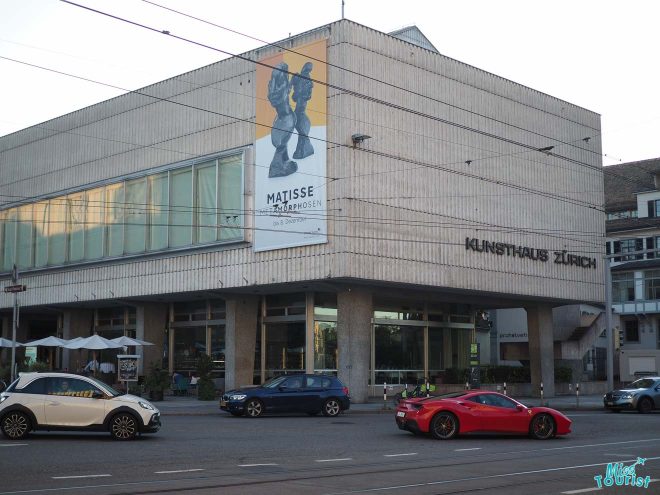 When thinking about and researching the museums I wanted to recommend to you, I found myself with a HUGE number of museums for all different tastes. So, I have decided to create a list with a quick overview of each museum for you!
PRO TIP: Most museums are free once a month or sometimes on a particular day of the week, so make sure to check out their websites to find out about each of them!
Here's my list of museums that are worth checking out in Zurich:
10 Unusual things to do in Zürich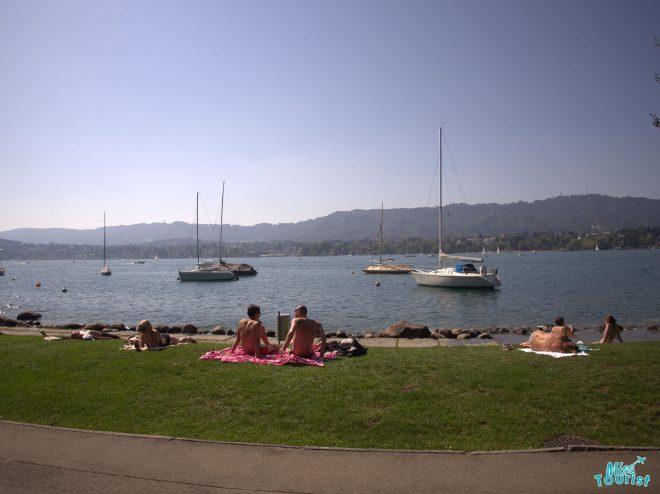 There are so many stuff to do in Zürich that I felt like I was cheating you by not talking about all of them! That's why I have created this section of some amazing, fun things to see in Zürich if you have more time in the city.
Here we go:
1. Enjoy a performance at Zürich Opera House
I somehow always find myself recommending the opera houses of the cities I visit, did you notice that? The buildings are always so magnificent and the shows so unique, that it ends up being one of the best evening plans in European cities!
This is the case with the Zürich Opera House as well, built in 1891. It's the place to go if you want to enjoy some opera, ballet or even a concert.
PRICE: Ticket prices vary from CHF 30 to CHF 230, depending on where you're sitting and what show you want to see.
2. Visit Pavillon Le Corbusier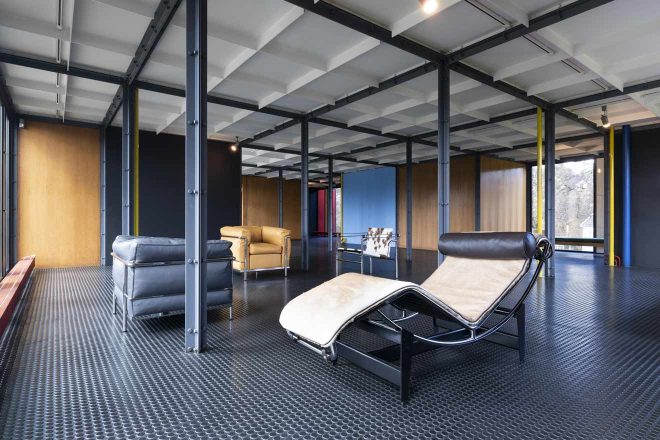 Switzerland's very own Salvador Dali was Charles-Edouard Jeanneret, better known as Le Corbusier, an architect and designer known as the pioneer of modern architecture.
You can find his museum in the city – Pavillon Le Corbusier, which was the last building he designed himself and it's an architectural masterpiece!
PRICE: Entrance is CHF 12, free with Zürich Card and Swiss Travel Pass (more about them in the section about practical info)
3. Check out a Thermal Spa
There is literally nothing better that going for a thermal bath on a chilly day in Zürich. Actually, even if it's not chilly, too!
I recommend you check out ThermalBad, a thermal bath that used to be an old brewery where you can choose between a basic thermal bath or a Roman-Irish spa ritual, for example. And while you're at it, check out the rooftop pool that gives the best views of this charming city!
PRICE: CHF 36 for the thermal bath and CHF 60 for the Roman-Irish spa ritual. You can also rent a towel (CHF 4), or a swimsuit (CHF 6) if needed.
4. Enjoy a picnic at Rieterpark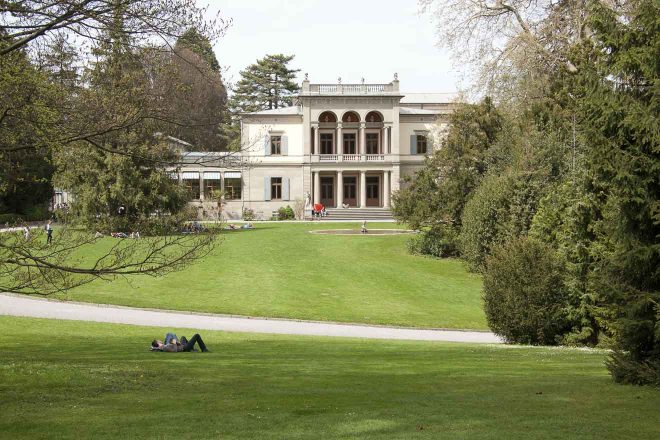 If you love nature and enjoy picnics outside, then do not miss the Rieterpark! Created in 1855 and covering more than 70,000 sqm, this is Zürich's biggest garden and a perfect spot for you to hang out on a sunny day!
PRICE: Free
5. Go on a gourmet tour of the city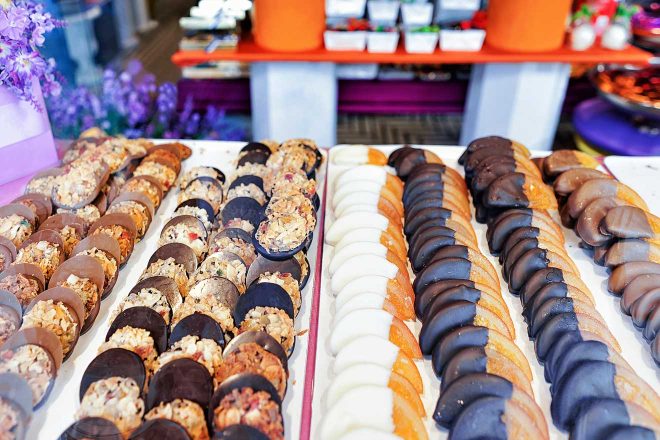 One of the best things to do in Zürich (or any new city, if you ask me) is to take a food tour. And if I can do it as early on during my trip, I will! This way you get to taste the local cuisine and check out the best places to try the dishes.
I recommend this Saturday sightseeing tour during which you'll get to explore the city and then you'll visit the Lindt Chocolate Shop and eat a 4-course cheese fondue meal in the forest!
Alternatively, for a breath of fresh air, head to the countryside on this full day gourmet tour to try the best Swiss cheese and chocolates while you admire the Alpine view. Yum!
PRICE: US $134 for the city gourmet tour
6. Take a chocolate tour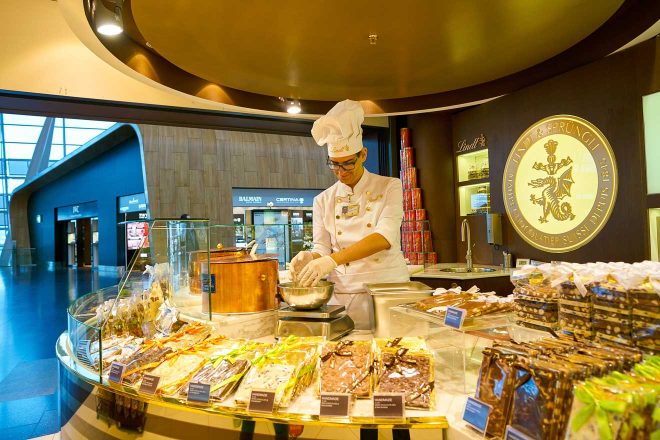 If you go to Zürich and you don't taste some amazing Swiss chocolate, have you truly been there?
There are plenty of famous Swiss chocolate brands that you can try such as Lindt, Toblerone and even Milka! What is for sure is that chocolate culture is big in this part of the world!
During your Zürich visit, make sure you don't miss the world-famous Lindt Chocolate store, it's an important site that will make you feel like a kid in a candy store, quite literally!
If you'd like to become an expert at chocolate tasting, I've got the right activity for you – this Swiss chocolate walking tour that is held on Saturdays and where you get to try chocolates from many different artisans in the city and pick your favorites! As an alternative, this 2.5-hour chocolate tour seems amazing and is greatly reviewed!
PRICE: US $31
7. Get lost in the Chinese Garden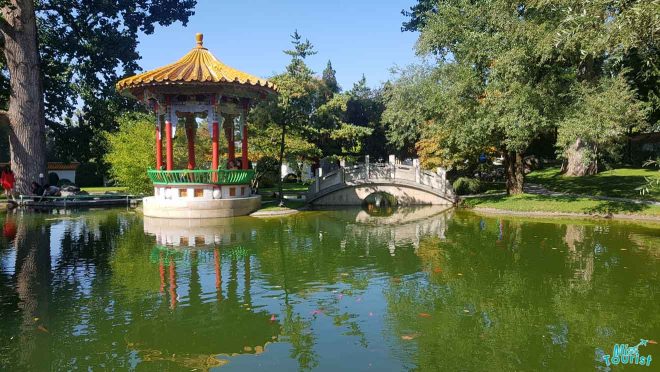 One of Zürich's best kept secrets is the Chinese Garden, did you know that?
This is also one of the best Chinese temple gardens outside of China, with ponds, a palace and even a small island. I really think it's the perfect place to chill and have a walk!
Also, the whole area where the Garden is located – Zürichhorn – is absolutely lovely! We spent a charming afternoon having lunch in one of those riverside restaurants!
PRICE: Entrance is CHF 4
8. Take a Polybahn train from the city center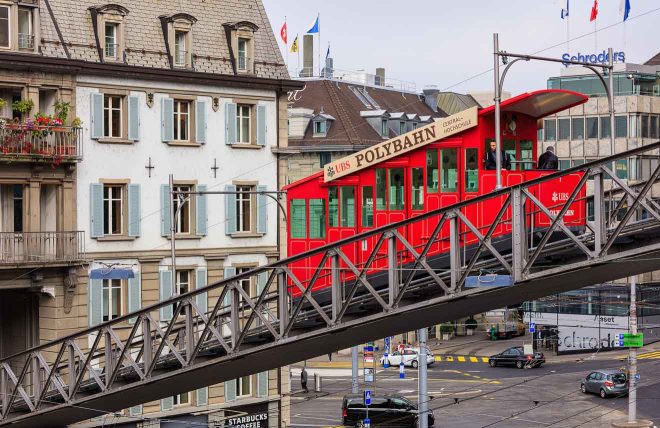 The Polybanh is a cute historical funicular railway that will take you from Zürich's main train station to the panorama terrace of ETH University.
It's been in operation since 1889 and it helps students and teachers get from the city to their campus on top of the hill. It's connected to the public network system so it's just like riding the bus, but WAY cooler!
PRICE: CHF 1.20, which you can buy at the ticket counter
9. Watch the sunset from ETH University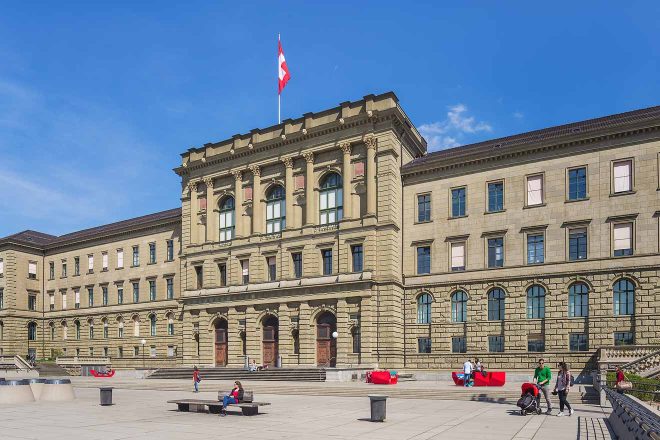 Once you arrive at ETH University on the Polybahn, you should waste no time and start exploring this historical university and its surroundings right away!
Established in 1855, it has since been a benchmark for Universities all over the world. Nowadays, it's the 6th best university in the world, and the 2nd best in Europe right after Oxford. While you're there, you can roam around, get a cheap beer from the university bar and admire the sunset views from the Polyterasse, a viewing terrace that is just in front of the main building of the ETH.
FUN FACT: Did you know Einstein used to live in Zürich? A great way to discover the city through the eyes of this world-famous scientist is to book this Einstein Exploration Game in which you solve clues and questions while you explore the city. Fun!
PRICE: Free
10. Have some fun at the Street Parade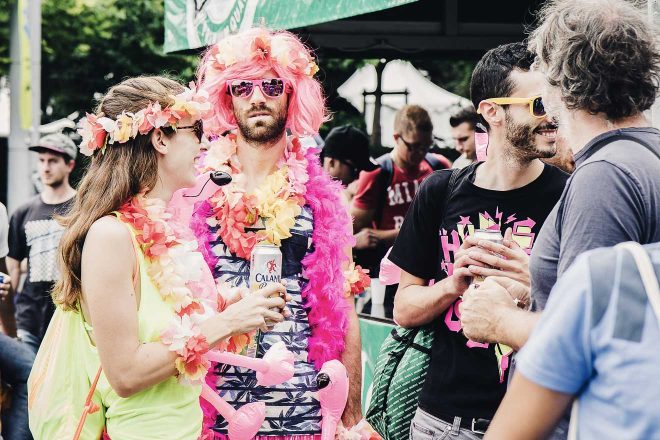 Of all the festival buzz, I think this is THE BEST event for you in Zürich! It's a must thing to do in Zürich for young adults.
The Street Parade is an electronic music fear in Zürich in August (by the way, the next one is on 08.08.2020). However, during the Street Parade there are different events and parades happening the whole weekend throughout Zürich!
This festival has been held for almost 30 years and it has become a very important event in the electronic music world. Make sure to check it out!
PRICE: Free
BONUS 3: 4 Day trips from Zürich
Whether you have done all of the Zürich activities I recommended above or you just want to get away from the city life for a little bit, I've got you covered!
You can check out my favorite day trips from Zürich below and enjoy the stunning Swiss nature surrounding the city:
1. Mount Titlis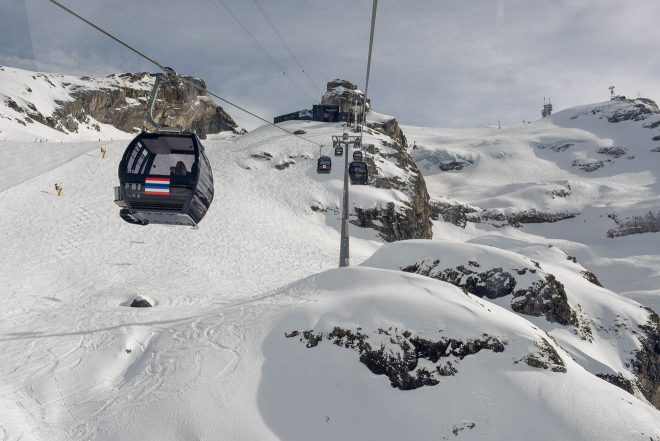 For those not afraid of heights, Mount Titlis is your go-to day trip from Zürich! At 3,238m, it is the highest peak of the northern part of the Alps. A great ski destination, Mount Titlis is also an amazing place to admire the Alpine view!
HOW TO GET THERE ON YOUR OWN: It's definitely doable to get there on your own as well! You just need to take the train from Zürich Main Station to Engelberg. Once there, you can walk to the cable car station that will take you to the top to the Mount Titlis summit. All this should cost CHF 52 one-way. Easy peasy!
Alternatively, if you'd like for it all to be arranged for you, I recommend you check out this full day tour of Mount Titlis from Zürich. You'll get to explore the summit in a cable car, check out the panoramic view and walk along Europe's highest suspension bridge. At the end of the tour, you'll visit the charming Swiss town of Lucerne as well.
PRICE: US $160 for the tour
2. Rigi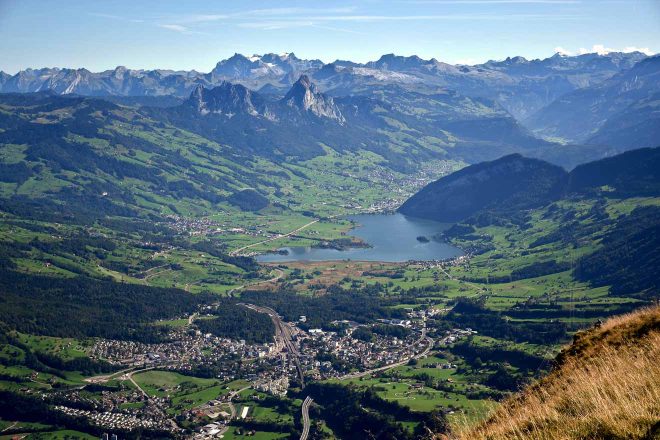 As an alternative to Mount Titlis you can go discover Rigi. This mountain massif is located in the central part of the Swiss Alps and is surrounded by Lake Lucerne, Lake Zug and Lake Lauerz, so you're bound for an amazing treat!
Whether you are a hiking fanatic, an extreme sports fan or even if you'd just like to enjoy some spa treatments, you can find all of these at Rigi!
HOW TO GET THERE ON YOUR OWN: To get there from Zürich on your own is a bit tricky but doable nonetheless. You can take a train to Lucerne; once there, get a boat to Vitznau and when you get off this boat, a train from Vitznau to Rigi Kulm. Alternatively, for quicker but less scenic ride, you can get a train from Zürich to Arth-Goldau, and then a train up to Rigi Kulm, for around CHF 45. Check out the train schedule here; there is no need for you to book it in advance.
If it sounds like too much of a hassle, there are plenty of tours that take you exploring the area and travelers love them. For instance, you can check out this full day winter tour where you will be taken to this amazing natural winter wonderland and you'll also visit the town of Lucerne on your way back to Zürich.
PRICE: US $123 for the tour
3. Rhine Falls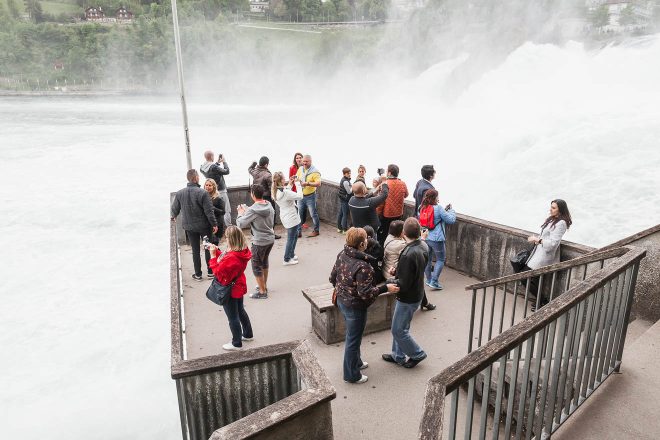 If you have always dreamed of going to Niagara Falls or Iguazu Falls, you should visit Rhine Falls, the most powerful falls on the European continent!
It is definitely a place that is worth visiting because of its incredible natural beauty.
HOW TO GET THERE ON YOUR OWN: You can easily do it in a half day trip from Zürich by taking a train from the main station to Scafhausen (1 hour) and then a bus to Rhine Falls for around CHF 15. OR you can take a train to Schloss for about CHF 12 and check out the view of the falls from a stunning castle.
Otherwise, I recommend you book this 3.5-hour tour that's definitely more time-efficient than doing it on your own. You'll get to explore Laufen Castle, go on a panoramic trail and feel the vibration of the viewing platform from above the waterfalls!
PRICE: US $51 for the tour
4. Lucerne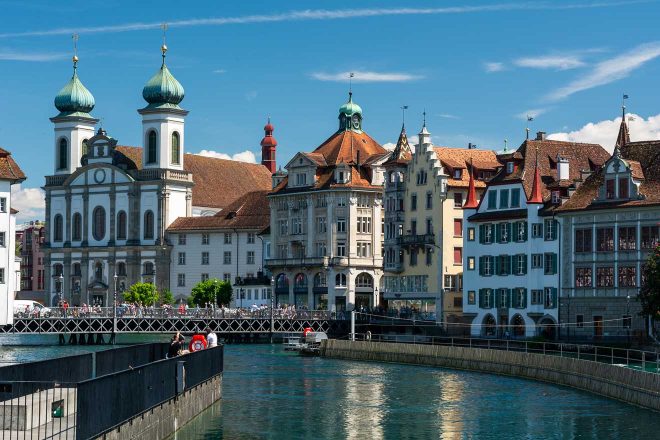 Lucerne is a Swiss city located in the central (and German-speaking) part of the country. It's quite famous among travelers as it is a popular spot for day trips from any of the other main cities!
This lovely medieval town is one of the most picturesque places in Switzerland!
HOW TO GET THERE ON YOUR OWN: There are 40 trains travelling between Zürich and Lucerne per day, for just CHF 12.50. It makes for an easy journey of 45 minutes with no transfers so it's quite reachable and definitely recommended!
Alternatively, and to save yourself some energy, you can hop on a day tour of Lucerne from Zürich. You'll get to see the main landmarks of this cozy little town such as the Lion Monument, a monastery and the mountain village of Engelberg!
PRICE: US $75 for the tour
BONUS 4: 6 Awesome Things to do in Zurich with kids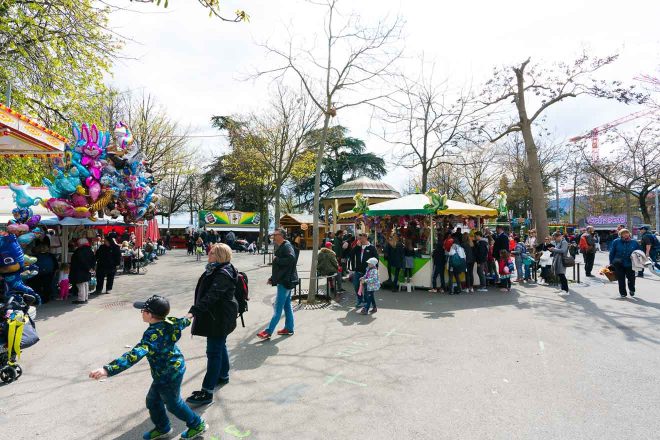 Traveling to Zürich with your kids or with the whole family? Do not stress about it, Zürich is one of the most kid-friendly cities in Europe! Plenty of the activities already described above are super doable with kids, but I know of a few more that you and your whole family will love!
Keep reading to learn about traveling to Zurich as a family:
1. Learn at Zoo in Zürich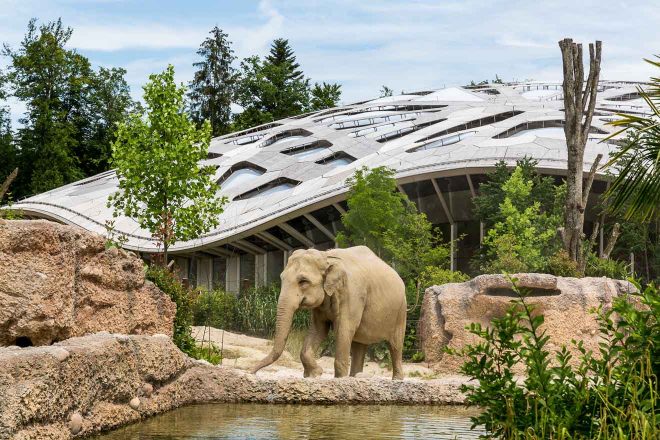 Zurich Zoo is considered to be one of the best Zoos in Europe and I am sure the little ones will love it there!
One of the oldest Zoos out there, it has over 300 species housed in near-natural habitats.
It is located a little outside of the tourist center but it is super easy to get there by public transportation, bike or taxi!
2. Get lost at the Botanical Garden Zürich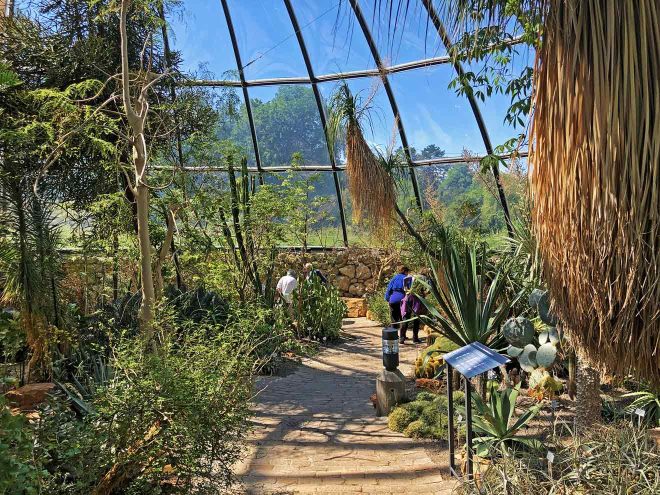 I love visiting botanical gardens in every place that I go – and the Botanical Gardens of Zürich are no exception! They have 7,000 different plants covering an area of 53,000 square metres!
These botanical gardens are actually super family-friendly where your kids can run around with total freedom, learn about local and foreign flora and admire the wildlife and diversity of species.
PRO TIP: Make sure you check out the pond; it's full of singing frogs!
PRICE: Free
3. Discover the city's river pools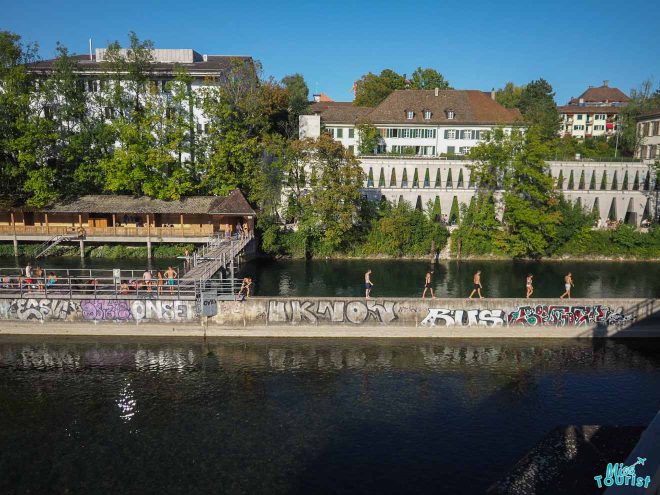 Another excuse to bring your swimsuit is the city's river pools! These are designated swimming areas built in the river, which are called badi. Some great examples of such places are Frauenbad am Stadthausquai (female-only), Schanzengraben (male-only) and the Lower and Upper Letten Pool, an amazing place for your family to spend the day and for your kids to expend that crazy energy they have!
PRICE: Free
4. Rent a bike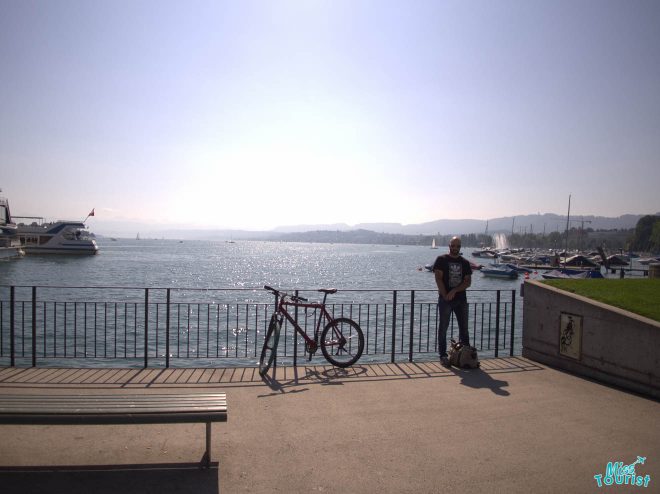 As explained above in my bonus section, you can also rent bikes for free in Zürich! Just by presenting your ID and a CHF 20 deposit, you can rent a bike for the whole day. It is perfect for families so you get to exercise, do some sightseeing and you won't need to carry your kids around as they also provide child seats, child-size bikes and even helmets, how cool is that?
PRICE: Free with a CHF 20 deposit that you'll get back when you return the bike
5. Visit the Toy Museum
Whether you are a collectionist, a nostalgic or just want your kids to explore what the toy world was like before the iPad came along, you should check out the Toy Museum!
In this museum you can daydream and become a child again while discovering what toys looked like 300 years ago with fabulous vintage pieces!
PRICE: CHF 5 for adults and children alike, free for children under 16 years old
6. Explore KinderCity
If you are the type of parent that wants your kids to have fun while they learn, pop in at the Kindercity in Zürich.
It is the largest educational centre in Switzerland for kids under 12 years old, with lots of interactive activities, a planetarium, a science center and even a cinema!
PRICE: CHF 22.50 for adults and children, CHF 16.50 for kids under 12
Zürich tourism – Practical Information about traveling to the city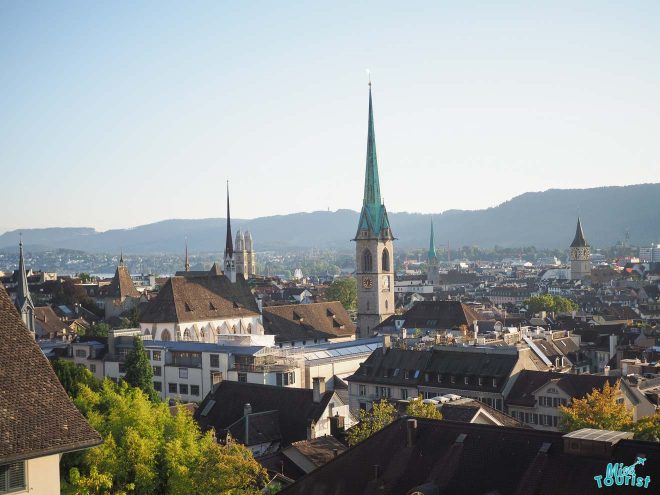 All the activities above sound awesome, but it would be a bit hard to enjoy them if you have no clue as to the practicalities of your trip to Zürich! Staying in a comfortable and clean accommodation and having a delicious, local dish for dinner are a must for any of my trips, so I can feel like I've had a great experience.
By the way, during my Zürich visit I discovered some fun facts about Switzerland that you probably didn't know:
When the Romans first conquered the area in 222 BC, they called the city Turikum.
They're a pretty peaceful country. Before Napoleón arrived in 1778, they hadn't had a war for over 200 years and since he left in 1814 they have remained neutral in every war.
Bern is actually the capital of Switzerland, because the national parliament is there but they don't have a prime minister. Their official language? German, French and Italian and they speak all 3 of them in the parliament-it's a funny conversation!
It has the largest number of Nobel prize winners in the world!
With a similar system to Israel, all Swiss citizens have to participate in military service for 21 weeks (women don't have to, but they're allowed!).
It's ranked the third country worldwide, in terms of gun ownership per capita, right after the USA and Yemen.
It's the country with the biggest chocolate consumption in the world! (AND the Swiss invented milk chocolate!)
So, now that you know all these fun facts, keep reading below if you'd like to learn all the practical tips regarding your Zürich adventure:
How to get from the airport to the city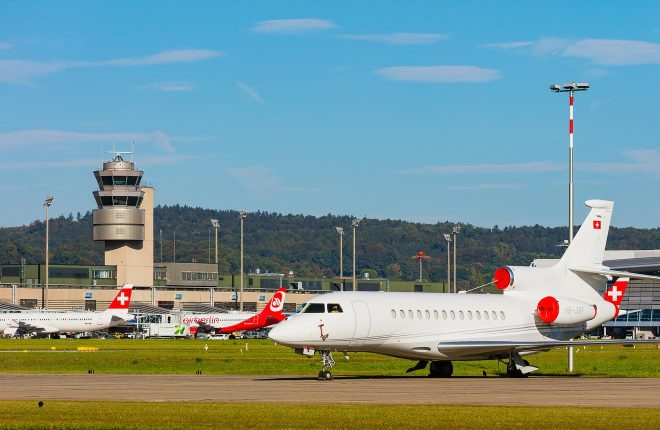 One of the first things that comes to mind when travelling by plane to any country is how to get from the airport to the city. This is quite an important thing to plan beforehand, as you might be tired after the flight and maybe won't want to think too much nor spend too much money on transportation to the city.
Luckily for you, Zürich Airport (ZRH) is connected to the city through one of the best transportation networks in Europe! Here are your options:
By Taxi/Uber
Taxis are always a reliable method of transportation between the city and the airport.
In Zürich, there are many different private taxi companies you can choose from. The ride takes around 15 minutes, unless it's the weekend or rush hour, in which case you should expect some brief traffic delays. The price for the ride from the airport to the city center can range from CHF 45 to 65.
Alternatively, you can always get an Uber, they're just as trustworthy and the price is very competitive compared to that of the taxi! Bear in mind that they will only be able to pick you up from the arrivals gate, so once you arrive make sure you take the elevator and follow the signs to "Arrivals". An Uber ride would cost from CHF 25 to 35.
By train
The most popular (and my favorite) method of transportation between the city and the airport is the train. The rides take around 10 minutes and it is quite affordable for such an expensive city! That is how I arrived to the city, too (from France).
Trains run often, usually every 5 minutes between 5 a.m. and 00.45 a.m. The ride costs CHF 6.8 for adults.
PRO TIP: You might want to consider getting a day pass if you are arriving very early in the day and you are planning on doing more things! Day passes are valid for 24 hours and they cost CHF 13.6 for adults.
By tram
Finally, you can also get to the Zürich city center by tram (I think the locals also call it a "cobra"?). This is quite a unique thing that I haven't seen in many places and it's supposed to be quite the experience. The trams run from 9 a.m. to 9 p.m. and the ride lasts for 35 minutes. The price is CHF 6.8 for adults.
Transportation inside Zürich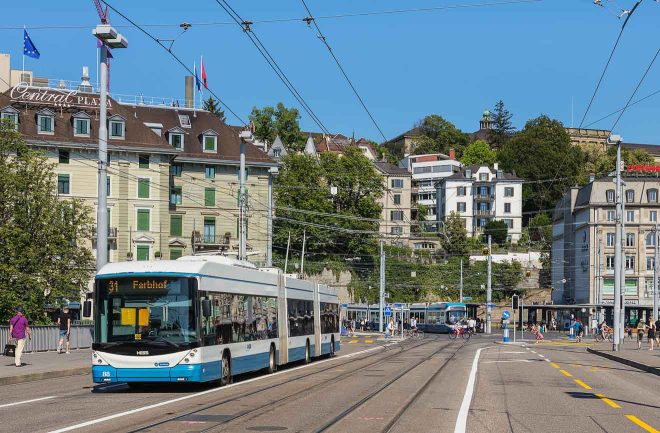 Even though Zürich is a small city, knowing your way around public transportation can be super useful when navigating it. Moreover, many of the Zürich day tours are reachable by public transport, so make sure you have a thorough read of this section of the post!
First of all, all the public transportation tickets work for every means of transportation, so you can use the same one for the train, tram and bus. You buy a ticket for a certain zone that you are traveling within and it will be valid for a certain amount of time.
PRICE: CHF 8.6 for a day pass. CHF 4.3 for a single ticket (1 hour)
By Taxi/Uber
Taxis are great in Zürich. There are several private companies running them (such as Zuerich Taxi 24 or Taxi 444) all of them super trustworthy (although a bit pricey compared to the cost of public transportation).
As I mentioned above, Uber is a great and affordable alternative to taxis. They're reliable and have a very competitive price! For example, taxis charge CHF 7 as a starting fare and then CHF 4 per km. Uber ends up being around half the price for the same route.
By train
Trains in Switzerland are awesome. They're not only super comfortable and safe, but also the most punctual! Whether you are travelling within the city or actually going to other places in Switzerland, trains are your best bet.
Trains usually run between 5 a.m. and 00:45 a.m., you can check out the train schedule here.
By tram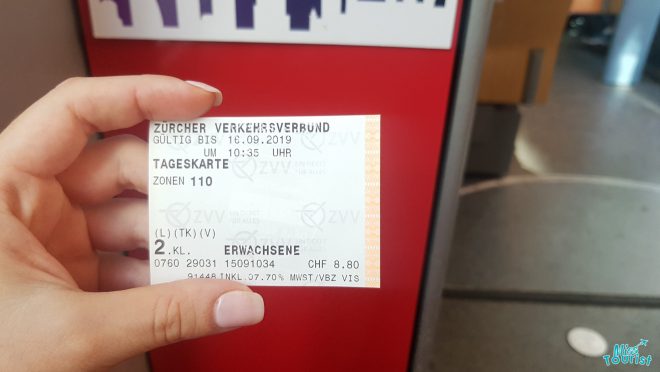 The tram in Zurich is a symbol of the city and it is always one of my favorite ways to travel in this beautiful city-it's so romantic! It works just like the other public methods of transportation, same price and you can also check the schedule here.
PRO TIP: Trams always have the right of way, so watch out for them!
By bus
Public buses are also a great option when travelling within or outside of the city. Buses are the only public method of transport available at night on Friday and Saturday, as they have many night buses for the weekend. You can check out the bus timetable here.
By rack railway/cable car
Cable cars in Zurich are awesome because they are part of the public transport system so you are able to get a ride on one of them and get amazing views for the price of a public transport ticket, what a win!
Where to stay in Zürich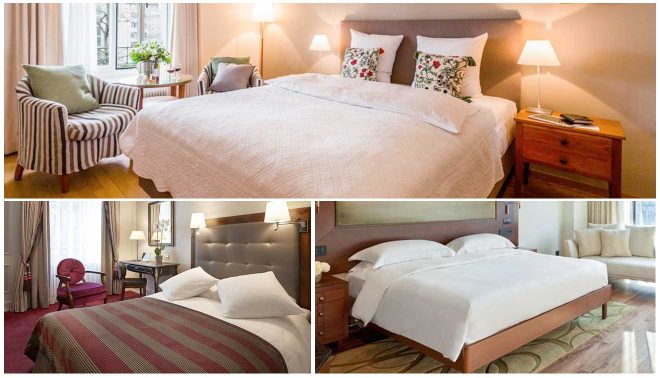 One thing I believe that often gets overlooked when it comes to Switzerland is the incredible hospitality you will find all over the country! If you want to experience the best of it, it's important that you choose the right place to stay during your visit.
I have written a whole article with the best options on Zurich accommodations here, but below you will find some of my favorites, arranged from luxury to budget!
Luxury (US $300 and up):
Park Hyatt Zurich offers a stunning design and perfect location. In a modern avant-garde building, the in-house restaurant features floor-to-ceiling windows on three sides! Otherwise, Hotel Schweizerhof Zurich offers sound-proofed rooms, adjustable beds, two award-winning, in-house restaurants and a classy whiskey bar so this hotel is hard to beat!
Middle-priced (between US $130 and US $300):
Seegarten Swiss Quality Hotel boasts a mediterranean theme and some beautiful al fresco street-side dining. To top it all off some rooms have stunning lake views! Alternatively, Motel One Zurich is a remarkable art-nouveau building that will keep you satisfied inside and out of the hotel! The rooms themselves match the exterior and the design is truly unique!
Budget (up to US $130):
Pension fürDich has classy yet modern, tasteful and spacious rooms. There is a lovely in-house restaurant and bar which makes for some lovely summertime alfresco dining! On the other hand, Kalkbreite Pension & Guesthouse is a great choice for families, as the hotel has a cool playground! In addition, it also has its own in-house cinema to unwind after a long day of shopping on the nearby Bahnhofstraße!
City cards in Zürich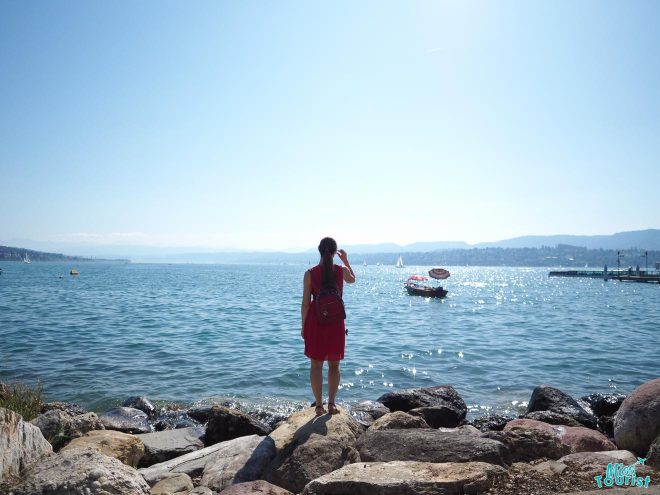 The great thing about Switzerland is how well prepared and organized it is. For instance, you have a wide array of city or travel cards that you can purchase before your trip that will make it way more cost-effective.
Many of the museums, activities and even means of transportation that I mentioned above are included in these cards. Depending on the type of traveller you are or the kind of trip that you'll be taking, you might want to choose one or the other.
Check out the main city cards below:
ZURICH CITY CARD – Ideal for those that will stick to Zürich and its surroundings. Gives you free transport (ferry, tram, bus, train and cable car) in Zürich and the surrounding areas and gives you free or discounted access to 40 different Zürich museums. You can get a card valid for one or three full days, depending on the length of your trip.
My calculations showed it will be worth your money if you travel around Zürich and visit at least 2 museums a day. For instance, if you go to Rietberg Museum and Pavillon Le Corbusier, you would be spending just CHF 26 on entrance tickets, plus whatever you spend on public transport, which will be already worth it!
PRICE: CHF 27 for 24h, CHF 55 for 72h
SWISS TRAVEL PASS – Perfect if you're planning on traveling throughout Switzerland a bit and your trip is a little longer, it is available for 3 to 15 days and gives you free access to the whole Swiss transport network and to more than 500 museums in Switzerland with several excursions included, too.
It will be worth your money if you are planning on traveling throughout Switzerland a lot, visiting museums and at least 3 towns. For instance, train tickets between 4 Swiss towns can add up to CHF 300, then if we add up public transportation and the freedom of going to any museum, this can easily be worth it!
NOTE: If you are going to travel around Europe by train, I recommend you to take a look at my post about the Interrail/Eurail pass and my calculations on if it is worth it.
PRICE: CHF 418 for an 8 day pass in second class, (CHF 663 for first class). By the way, the difference between the first class and second class in Swiss trains is not that big, just a bit more leg space and fewer seats in each carriage.
Must-try food in Zürich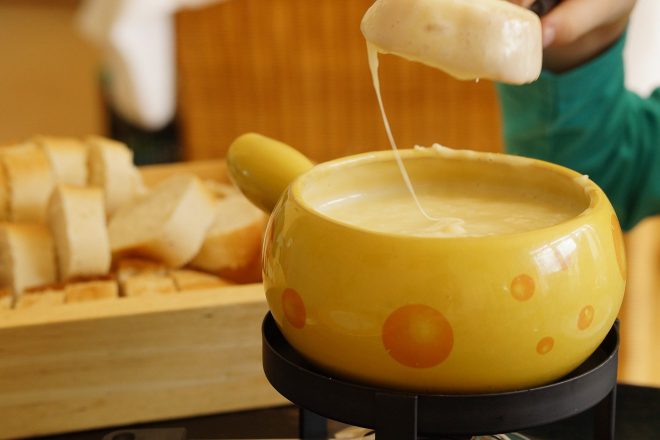 I have a love/hate relationship with this section! On the one hand, I love reminiscing about the best traditional meals to try in different places; on the other, I realize some of the dishes I missed out on while on my trip! 🙂
Anyhow, I quite enjoy talking about the flavors that I loved the most and while I know that it's hard to try them all, my goal is to make you try as many as you can. Sorry… not sorry!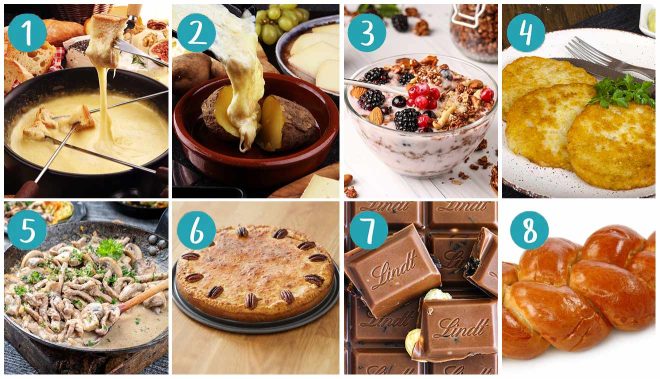 Swiss Cheese Fondue – Melted cheese in a pot that you use as a dip for bread, veggies and even apples.
Raclette – Half a wheel of Swiss Cheese that has been melted on top of (usually) some potatoes.
Muesli – Did you know that Muesli was invented in Zürich by a doctor? Make sure you try this mix of rolled oats, grains and nuts during your visit!
Rosti – Grated potatoes cooked and shaped as a patty, very similar to hashbrowns!
Zurcher Geschnetzeltes – The heartiest Swiss meal, sliced veal with a creamy sauce and rosti.
Nusstorte – Sweet cake made out of nuts.
Swiss Chocolate – Does it need further explanation?
Zopf – Plated soft bread made with milk, eggs and flour.
PRO TIP: The tap water in Switzerland is among the best in the world so don't even bother to buy wasteful plastic bottles!
Great restaurants and cafés in Zürich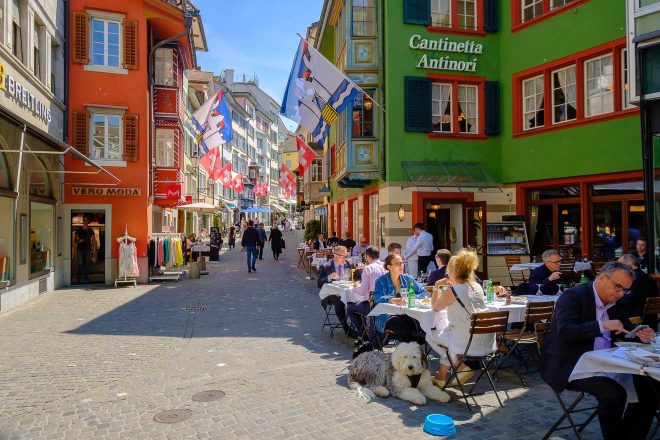 Zürich is filled with great restaurants and even better cafés. From traditional bars or typical restaurants to hipster venues, Zürich has it all!
Check out below my favorite places in Zürich to eat and drink like a king (recommended by a local):
Money and Prices in Zürich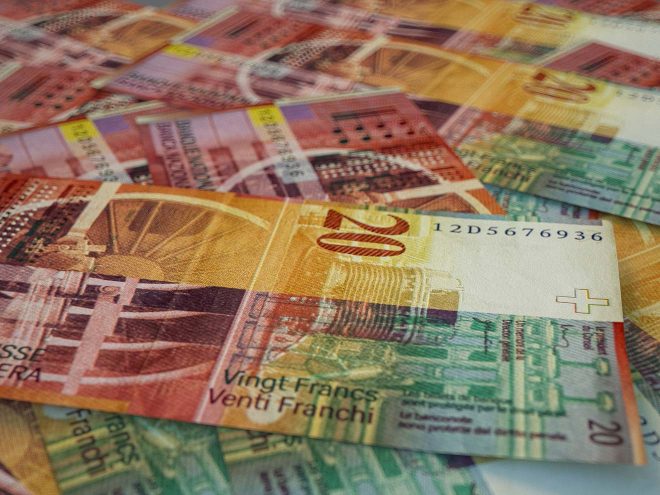 Yes, you have that right, Switzerland is one of the most expensive countries in the world, and this is no exception in the case of Zürich either!
Did you know that Zürich is the third most expensive city in the world?
Unfortunately, what makes Zürich such a high-priced place are basics such as accommodation and food, so it's a little hard to work around that. Personally, we found it quite pricey but still doable as we already had the mindset that it would be a little expensive!
However, I hope that the free activities that I explained above will help you save money on something else, so you can get a great place to sleep! 😉
I have created a list of costs in Zürich that I hope will help you have an idea of how much you will be spending while in this beautiful city:
A meal in an inexpensive restaurant for 1 person – CHF 25
Dinner for 2 in a restaurant – CHF 120
A night in a hotel (very approximate) – CHF 150
Taxi – CHF 4 per km + CHF 7 initial charge
A bottle of water – CHF 1.5
Domestic beer 0,5L – CHF 2
Metro ticket – CHF 4
Average price for a museum – CHF 10
1 l of gas (1/4 gallon) – CHF 1.7
TIPPING CULTURE: As waiters and waitresses get full wages, tipping is really not expected from you. However, if you wish, you can always give around 10% or round up the bill as it is always appreciated!
Sim cards in Switzerland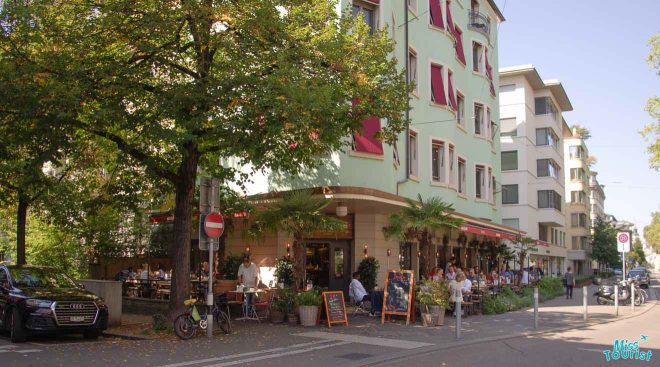 If you are someone that loves to be connected (like me!) and to be able to grab your phone and google some historical fact or address while you travel, you might want to consider getting a sim card for you Zürich trip.
NOTE: Even though there are no roaming charges in the European Union, unfortunately, this does not apply in Switzerland – your French/Spanish etc. Sim card will have roaming charges there, so you might as well just get a new one while you are in Switzerland – that's what I did at least.
Even though there's plenty of free Wi-Fi around, there is nothing that beats the convenience of having your own sim card and data to be used anytime and anywhere. This is exactly why I have researched the best sim card for you to get in Switzerland.
The sim card that I recommend during your trip would be Lycamobile – it is affordable and it is connected to the Swisscom network, which is the best one in the country.
You can purchase Sim cards in the airport and lots of convenience stores in the city. You will have to show your passport and sign a couple of general forms, and then you will be all set!
At the moment this post is being written, you can get 5GB for just CHF 14. You can check out the different options available here.
Best time to visit Zürich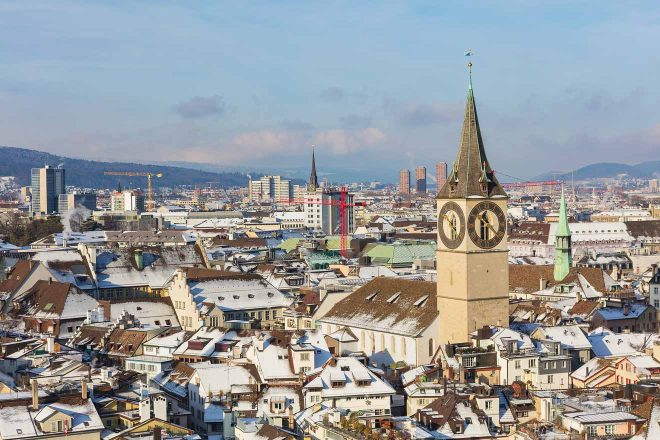 Unless you are a skier or snowboarder, the best time for you to visit Zürich would be in spring or summer, meaning from March to September when the weather is nicer. You can push it a little to October but watch out, as it gets cold quite early in autumn.
If you are concerned about crowds and want to be savvy with your money, early spring such as March and April are your best choice, as the full vacation season hasn't quite started and you will find more affordable flights and accommodations….and fewer tourists!
Finally, if you're wondering how long to stay in the city I would advise you to stay at least 3 days to take advantage of all that it has to offer, and if it's summer, even longer, so you can enjoy the warmer days by the lake!
FAQs about things to do in Zürich
✨ What are some non-touristy things to do in Zürich?
Wander through the quaint lanes of Niederdorf, discovering charming local shops and enjoying the authentic atmosphere of this historic district.
📅 What to do in Zürich in June?
There are many things to do in Zürich, Switzerland in June such as exploring the charming Old Town, taking a boat cruise on Lake Zurich, and visiting the vibrant Street Food Festival for a delightful Zurich experience.
☀️ What are some things to do in Zürich in July?
In July, you can explore the vibrant Street Parade, enjoy outdoor concerts at Live at Sunset, and relax by swimming in Lake Zurich.
---
Conclusion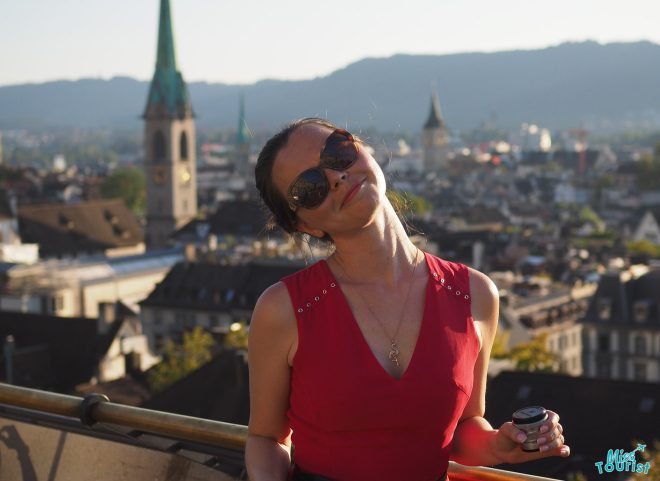 Thank you for reading this thorough guide on what to do in Zürich. I hope it'll be of great help when it comes to planning your trip!
I have touched on many topics related to Zürich travel such as what my favorite activities, landmarks and even day trips are! I have mentioned the best of the best of Zürich sightseeing and museums and also what the best things to do with your kids are in and around the region. Plus TONS of practical information about traveling to this city!
Before I forget, if you want to be savvy about your accommodation and get the best value for your money, make sure you have a read of my best hotels in Zurich post where I recommend my hand-picked accommodation options!
Let me know if you have any questions and don't forget to tell me everything about your trip in the comments below!
Yulia
---
Pin it for later!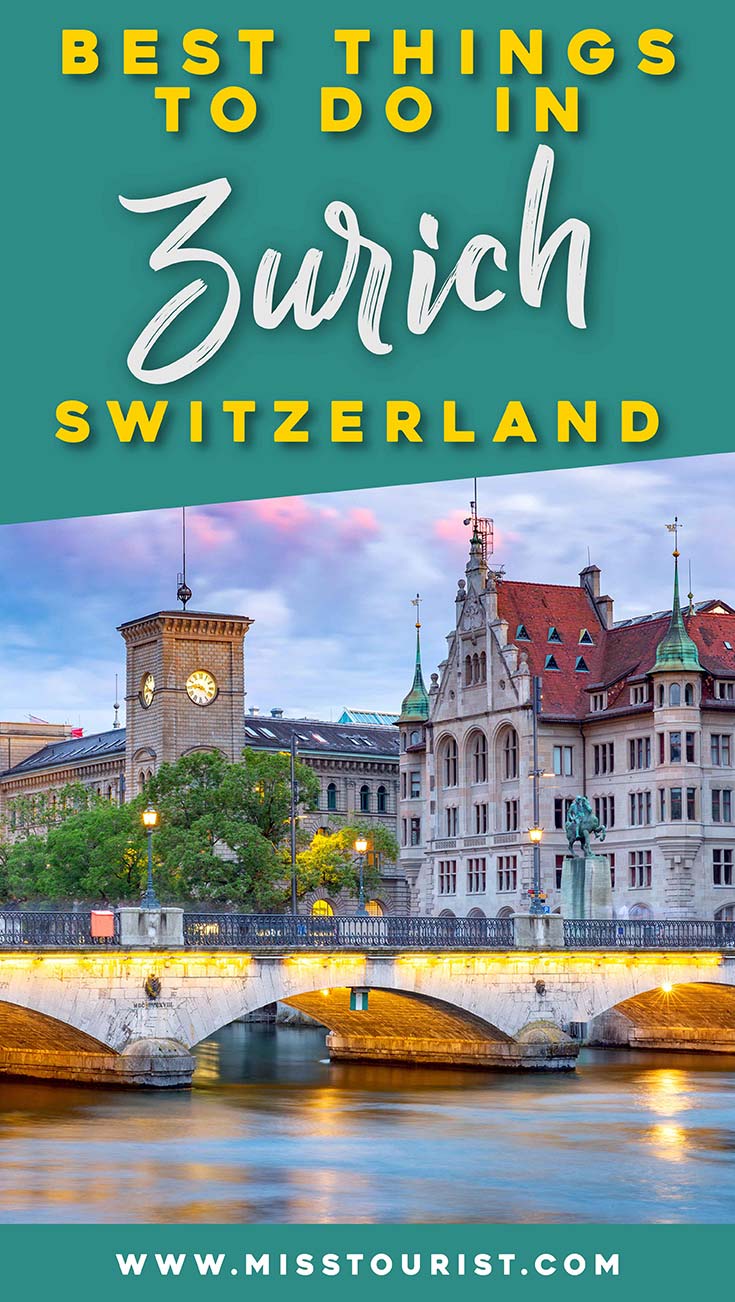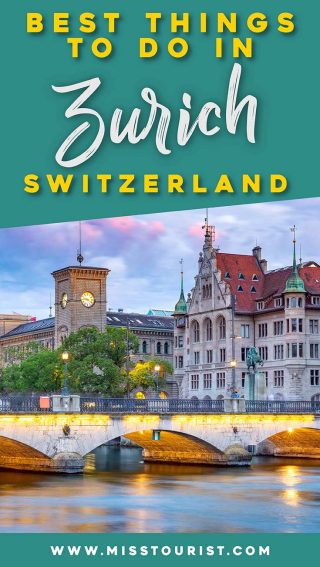 Pin it for later!