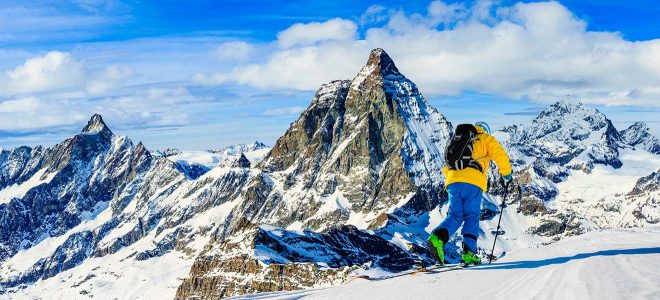 Skiing in Switzerland is a dream holiday for those interested in winter sports! Switzerland is such a picturesque country, full of snow-capped mountains and lakeside towns, and it's also probably one of the best skiing places in the world!
During my time in Switzerland I just couldn't believe the landscapes; there is no doubt why the Alps have become THE place to be if you are an avid skier or snowboarder!
If you are planning some Swiss ski holidays, congrats, that's a great decision! But what makes Switzerland such a great skiing destination? The resorts in the Swiss Alps are ready to make your experience as idyllic as possible with their are amazing slopes, steep mountains, stylish après-ski venues and wonderful hotels – so, basically, a dream combination!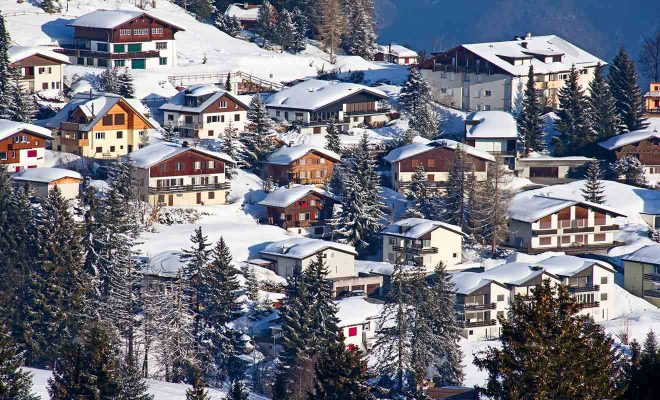 But because the Alps are such a big area, what would be the best Swiss ski resorts to visit during your trip?
This post will help you make your decision! Switzerland has 335 ski resorts for you to choose from. YES, 335!
There are 7,097 km of slopes in the country, so you could literally ski in Switzerland for the rest of your life and never repeat a slope!
In this guide, I have chosen two top ski resorts in the Swiss Alps: St. Moritz and Zermatt.
Let's go, here's everything you need to know about how to organize the perfect Switzerland ski holidays:
First of all, which resort should you choose?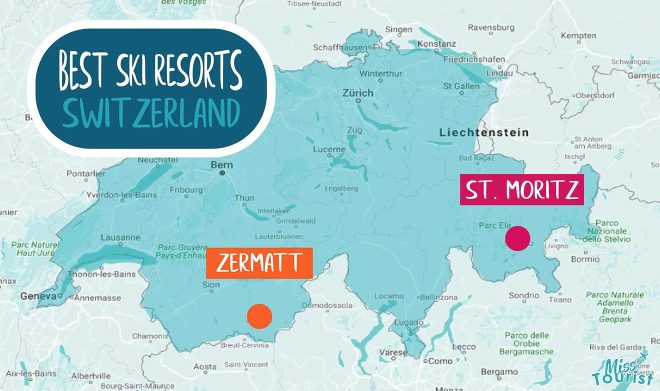 When it comes to choosing between Saint Moritz vs Zermatt, it really depends on your travelling style, your travel companions and the type of ski trip you are expecting.
I have chosen these two top ski resorts (St. Moritz and Zermatt) because, as I said, they're the top resorts in Switzerland! Thanks to their historical importance, altitude and endless slopes, these are usually the two resorts that people feel torn between when choosing a Swiss ski holiday.
Location-wise, they are located on the opposite sides of the Swiss Alps as you can see from the map above.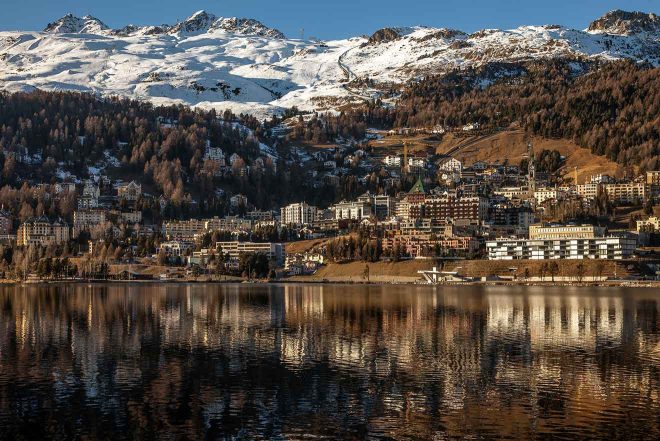 1) St. Moritz is one of the world's oldest ski resorts. It is considered a pioneer in the ski scene in Switzerland and one of the most glamorous winter destinations in the world! St. Moritz has 3 ski areas: Corviglia, Diavolezza and Corvatsch. Corviglia is the biggest, most popular one.
St. Moritz has hosted the Winter Olympics twice and, even though it's great for expert skiers, it is most well-known for having the best skiing for intermediate level skiers. It's a place that has been a ski mecca for more than a century so rest assured it is ready for your arrival! It's the perfect destination for those travelling with their families, those that enjoy some glamour in their lives and for those that just want to experience what a world-renowned resort is like.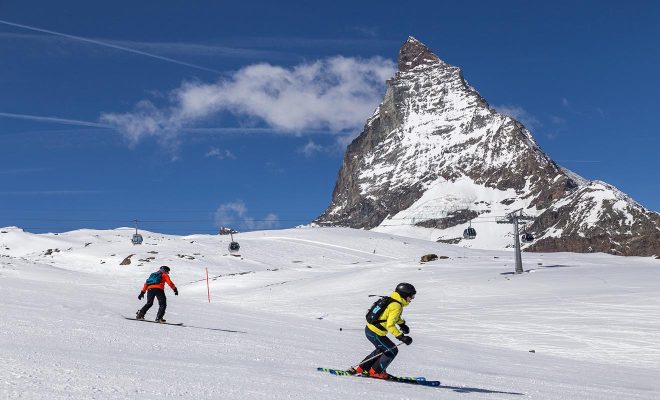 2) Zermatt is more for the thrill seekers, as it is the highest resort in the Swiss Alps and is home to the Matterhorn, one of the highest Swiss mountains! With more than 2,100m of vertical drop, Zermatt ski is a dream for expert skiers and those that like to challenge themselves!
It is perfect for those that are travelling with friends in order to enjoy the awesome apres-ski scene and have an intermediate (or higher) level of skiing so they can take full advantage of the vertical drops and quality of snow!
The choice is yours, although I would choose Zermatt, as my level of skiing is good enough for me to want to try those amazing slopes!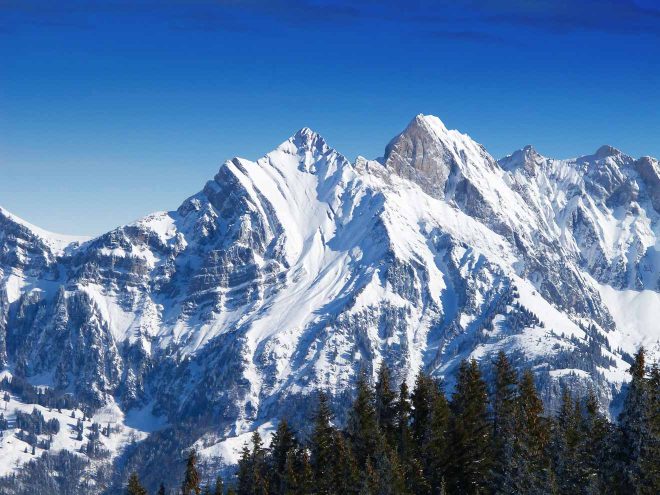 However, I have created this list in which you can check which resort is better to visit depending on your preferences:
Best for snowboarding: Zermatt
Best resort for families: St. Moritz, as it's more relaxed
Best apres-ski: St. Moritz (it has many historical apres-ski venues)
Best for beginners: St. Moritz because it's a bit easier to navigate
Best for nightlife: Zermatt because it has a younger crowd than St. Moritz
Best for other winter activities: Zermatt, you can do winter hiking and ice skating there
Cheapest option: Zermatt (St. Moritz has always been targeted at wealthy people)
Best for luxury: St. Moritz
Cheapest lift prices: Very similar lift prices for both, but St.Moritz is a little bit more affordable
Highest resort: Zermatt is as high as it gets in Switzerland!
NOTE: At the moment this post is being written, the exchange rate between CHF and USD is pretty similar (1 CHF = 1.01 USD), that's why I haven't changed the prices and quantities shown in this post, as they are pretty much the same! 😉 You can check the updated rate here in case something changes meanwhile.
1. St. Moritz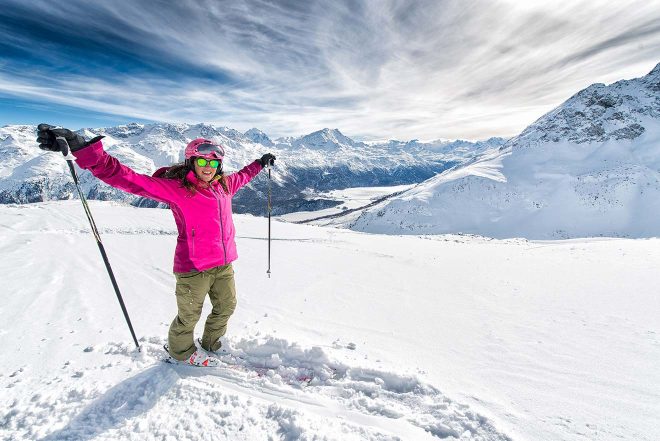 St. Moritz was the first resort I thought about when I decided to write this guide! Whether you have been there or just heard of it, you probably already know that this is one of the fanciest resort towns in the world.
Saint Moritz, a village of 5,000 people, is essentially the place where ski tourism started (yes, worldwide!) one century ago and it has become one of the richest places on earth!
Perched on the side of Piz Nair which peaks at over 3,000 m, the quality of slopes and good skiing made St. Moritz the host of the winter Olympics TWICE!
NOTE: If you are a bit wary because you think it might be beyond your budget, don't worry, keep reading and you'll see that the prices are quite reasonable!
If you want to know more about skiing in St. Moritz and want an overview on what you should expect, keep reading below and get ready for some epic Swiss Alps skiing:
1.1. Slopes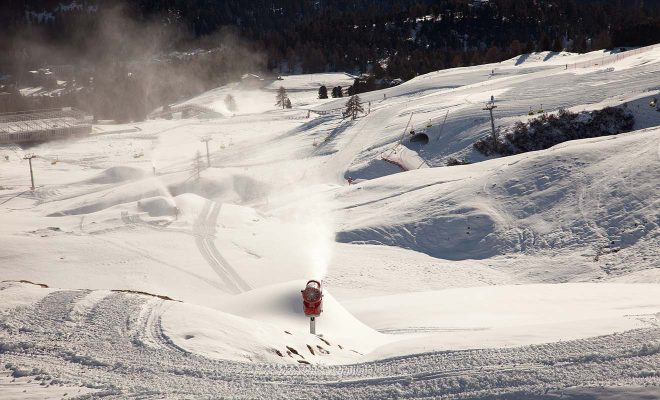 St. Moritz has three main ski areas:
There are 7 ski lifts in the town of St. Moritz, and a total of 24 ski lifts in the 3 ski zones mentioned above.
Corviglia is the most popular area and the biggest one. It has 36 slopes with a total of 155km and an altitude of 1,800m that rises up to Piz Nair at 3,057m. As you can see below, Corviglia is great for intermediate skiers because you will be able to enjoy around 75% of the slopes, more than 120km of skiing fun!
Blue and Green for Beginners: 42km (27%)
Red for Intermediates: 79km (51%)
Black for Experts: 34km (22%)
Corvatsch has 21 slopes with a total length of 120km and most of them are fit for intermediate skiers:
Blue and Green for Beginners: 13km (11%)
Red for Intermediate: 89.3km (74%)
Black for experts: 17.7km (15%)
Diavolezza, the smallest one of them all, has only 32km on 9 slopes, which are mainly intermediate and advanced slopes. So, you should only head here if you are an intermediate skier or better; otherwise you won't have many slopes to explore!
Blue and Green for Beginners: 0.3km (1%)
Red for Intermediate: 21km (66%)
Black for experts: 10.7km (33%)
1.2. Ski pass prices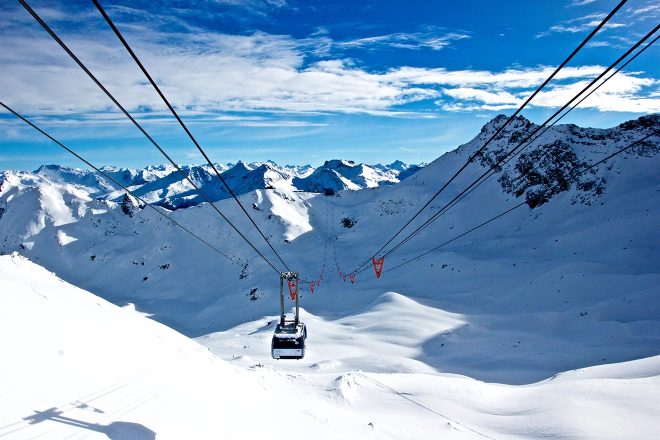 You can purchase your St. Moritz ski passes based on the length of time you will be staying there.
PRO TIP: It may be obvious, but I'll say it nonetheless: the longer you stay and the earlier you book it, the cheaper your ski pass will be per day. It's better to book it online, as you will find the best prices.
The prices vary depending on when you will be visiting the area (for example if it's early in the season) and if it's going to be on a weekend or not.
The following prices are for a weekday in February and these tickets allow you entrance to all three areas. They are divided by adult, teenager (13 to 17 years old) and child (6 to 12 years old) tickets. Some example prices are below:
Day ticket – From 69 CHF for adults, 46 CHF for teenagers, 23 CHF for children
3-day ticket – From 200 CHF for adults, 132 CHF for teenagers, 46 CHF for children
6-day ticket – From 343 CHF for adults, 226 CHF for teenagers, 79 CHF for children
To check exactly how much your ski pass will be, check out the official website.
1.3. Equipment rental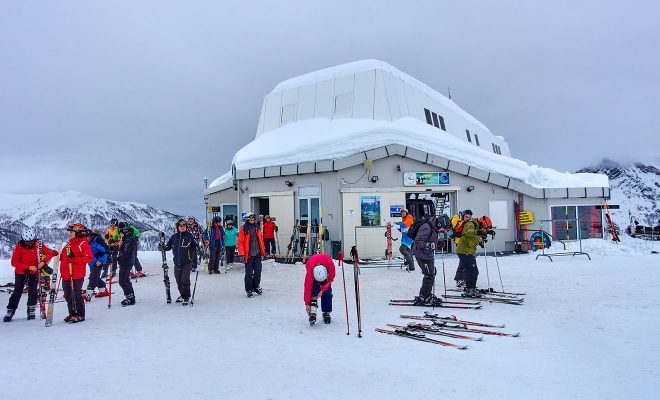 If you are looking to rent some equipment, rest assured there will be plenty of options for ski rental in St. Moritz for you to choose from!
If you are going to be skiing for more than 3 days, or you think you will be skiing in other places throughout the winter, I recommend you buy your own suit (or trousers and coat) and boots. However, if you are just skiing for a few days you can rent all the necessary equipment so it doesn't end up taking space in your home.
I also recommend you rent your gear online before you get there, so it is ready to go as soon as you arrive. Sometimes things get hectic in the ski shops, even more so when there are more than 30 kids from a school trip trying to find out their boot size!
You can book your ski hire in St. Moritz in advance through this website and choose the store closest to you where you want to pick up your gear! You can pick it up any time on the day your rental starts or you can ask to collect it a day earlier upon request.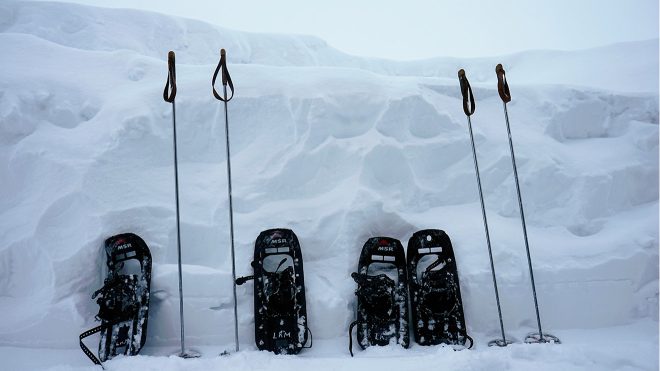 In order to return it, you have to go to the same shop where you picked it up before it closes on the last day of your rental period.
Regarding insurance, usually an insurance against breakage and theft is already included in the price of your rental. It usually costs from 5% to 10% of your rental price.
PRICE: It depends on the quality of your gear. You can rent skis, poles and boots from US $100 to US $200 for 3 days.
However, if you'd like to rent it once you arrive there, you can rent it at this store in Saint Moritz. If you are arriving well into the season, I would advise you to rent it online beforehand to avoid nasty surprises!
PRO TIP: I remember when I was little and started skiing, I outgrew my gear very fast and we had to buy new equipment every couple of years, so this is something to take into consideration when travelling with kids – it might be better to rent the equipment for them instead of buying them their own!
1.4. Ski lessons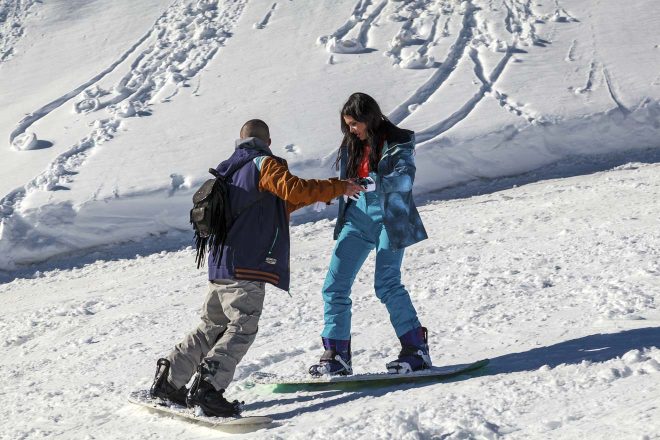 Depending on your level of experience, you might want to take some ski lessons while you're in St. Moritz! Unless you are an expert, I always advise you to take at least one new lesson at each resort you visit. Skiing in the Alps is no joke, so I find it quite useful to have the guidance of a ski trainer when navigating a new ski resort; you don't want to find yourself on a black slope when you're just a beginner!
1) Group Lessons
If you are an intermediate skier or snowboarder you can purchase some group lessons at a St. Moritz Ski school to get you back in shape. Moreover, if you are travelling alone you might be able to make some friends in a group lesson to enjoy the après-ski venues with! I'm a huge fan of Passionski; they have amazing reviews and quite reasonable prices!
PRICE: You can book a ski or snowboard lesson here for CHF 80 (US $81) for 2 hours for adults.
If you would rather book a lesson in person you can head to their office in Saint Moritz and talk to one of the employees or instructors about the best choice for you.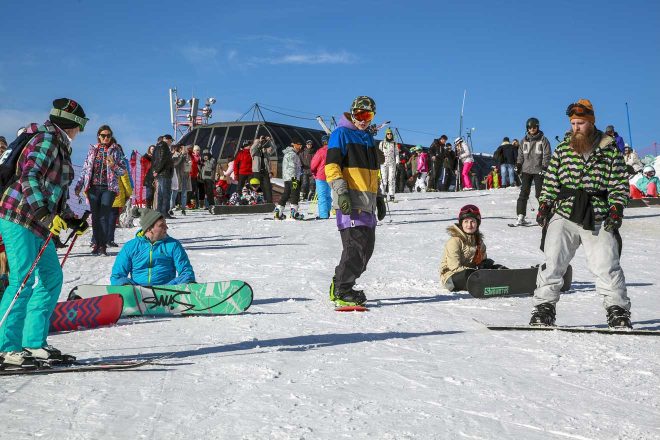 2) Private lessons
If you are a complete beginner and your budget allows it, having a private teacher is the ideal situation, as you get to learn at a faster speed than in a group class so in my opinion, in many cases, it's worth it. Again, at Passionski, you will get the best value for the price!
PRICE: You can book a ski or snowboard lesson here for CHF 390 for adults for a full day (5 hours) and here for CHF 450 for children for a full day (5 hours)
If you would rather book a lesson in person you can head to their office in St. Moritz and talk to one of their employees about the lessons that are offered.
1.5. Après-ski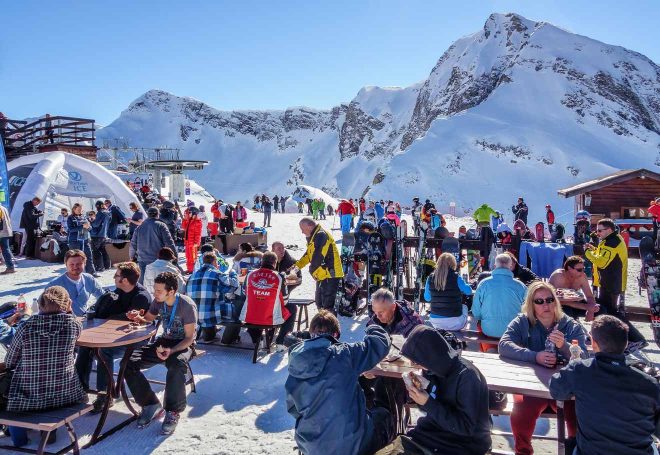 If you have been skiing, you know that après-ski is pretty much as important as the actual skiing (some would say even more)!
That's because there is no better thing to do than spending the day out skiing and then meeting your friends and fellow snow lovers for a drink right after!
St. Moritz has plenty of après-ski venues for you to enjoy, depending on your vibe, crowd and budget. Check out the best ones below:
1.6. How to get to St. Moritz from Zurich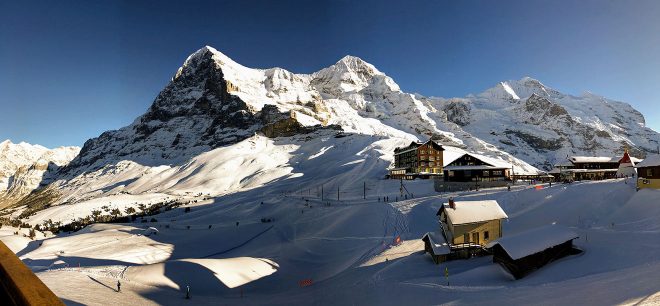 Zurich is the closest big city to St. Moritz (200 km away) and therefore many ski goers land in this city to make their way to St. Moritz. There are several ways you can travel between these two, it all depends on your budget or desire for independence!
By car
Renting a car is a great way to travel between St. Moritz and Zurich, as you get all the freedom to explore the area! This is usually the fastest way to get there and it takes around 2.5 hours for the 200km drive.
The prices differ quite a lot and I definitely recommend renting a car as far in advance as possible! You can check the best rates for your desired dates and types of cars here.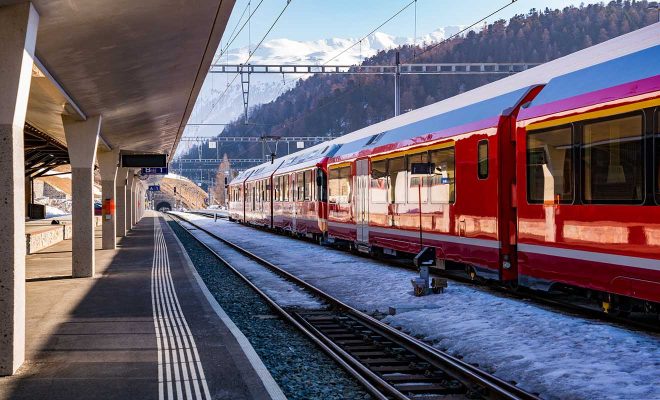 By train
The train is another good option, but please note that from Zurich Main Station you will need to change trains at Landquart (there are no direct trains, unfortunately) and it takes around 3.5 hours in total to reach St. Moritz. The first train is at 06:37am. There are around 11 trains a day leaving every 40 minutes.
Alternately, you can also get there directly from the Zurich Airport but it takes 20 minutes more than the ride from the city.
A train ride is the preferred method for most travelers as the ride is super scenic and also the most ecological choice!
You can purchase your train ride tickets here.
PRICE: The fare from Zurich (with transfer included) is CHF 82 for second class and CHF 139 for first class.
1.7. Extra activities to do in St. Moritz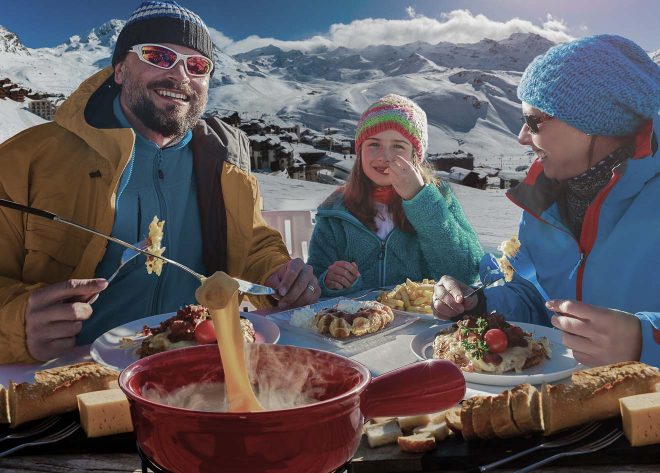 If you have a couple of spare days or your body needs a break from skiing (and the après-ski drinking!) there are plenty of activities and trips available if you want to switch off for a day!
Below are my favorite activities in St. Moritz, apart from skiing down the slopes:
Ride the Bernina Express to Tirano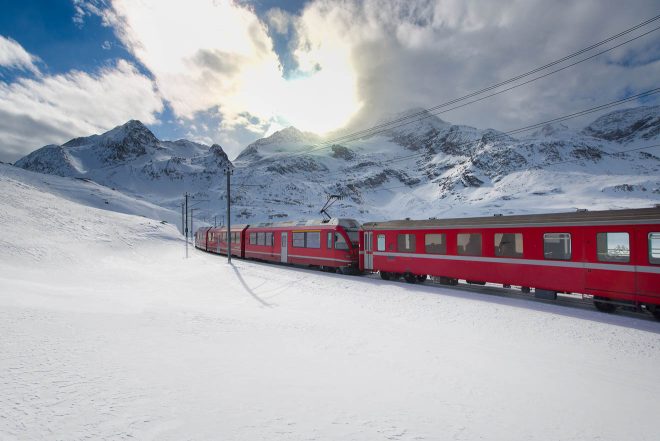 The most famous train in the Alps and a must activity during your ski trip in Switzerland is the Bernina Express. This 4-hour scenic train ride takes you from the heart of St. Moritz all through the Alps while you admire glaciers, lakes and mountain gorges all the way to Tirano and back to St. Moritz.
NOTE: The train tracks of this train are actually considered a Unesco World Heritage site!
PRICE: US $94 for the 4-hour scenic ride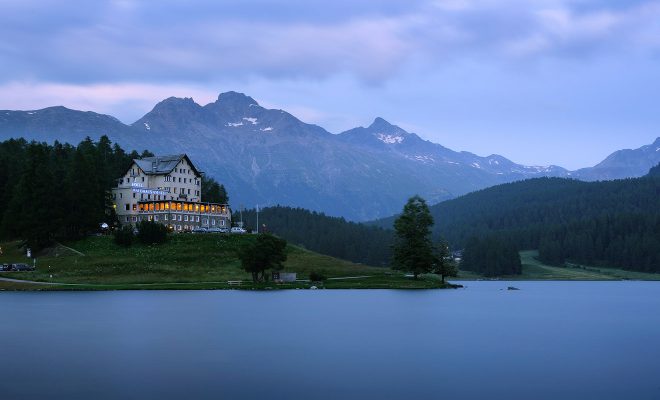 Located in the very own village of St. Moritz, Lake St. Moritz is quite a famous landmark and a must visit if you are staying around. In summer, you can take a walk around the lake on a 5-km trail or even paddleboard your way across. But in winter, as the lake freezes, get your camera out as it offers such a stunning view! Moreover, there are even polo games organized on the frozen lake!
PRO TIP: Ask the staff at the St. Moritz tourist center if the ice is thick enough for you to skate on- you might be in for a treat!
Get on a suit, jump on a board and ride the Cresta Run! This natural ice toboggan track has been around since the XIX century and it's more than one km long with a drop of 157m, so I only recommend it to the fearless!
It's one of the most fun things to do in St. Moritz and quite a thrill in my opinion! Just register at the Cresta Run Office or book your online slot here. Be quick as they usually run out fast!
NOTE: If you are a beginner you will have to complete a 5-session training course.
PRICE: Beginners pay CHF 600 (US $605) for their first 5 rides and CHF 52 (US $53) for each ride thereafter (including equipment), and a CHF 200 (US $202) deposit that will be reimbursed.
Watch the sunrise at Piz Nair
If you enjoy a good sunrise, what's better than to admire it from 3,000m of height right above the clouds?
You can do that by visiting Piz Nair, one of the highest peaks in the Swiss Alps. You can only do it on a tour as the sunrise is outside of the opening hours of the area. However, transportation and a buffet breakfast is included in this tour.
There have only been 3 scheduled dates for 2020 so far so be fast and grab your spot! You can check the dates here.
PRICE: CHF 40
IMPORTANT: The Segantini Museum will be closed until Mid-December 2019 for renovations.
In case you are not aware of who Segantini is, he is only considered the greatest painter of Alpine landscapes in the world! In this museum you can see most of his paintings and you'll be able to admire the landscape around you from Segantini's eyes. If you'd like to see the Alps from another point of view or you are missing a bit of culture in between ski sessions the Segantini Museum is a great choice for you.
PRICE: Entry fee is CHF 10 (US $10) for adults and CHF 3 (US $3) for children between 6-16
1.8. Where to stay is St. Moritz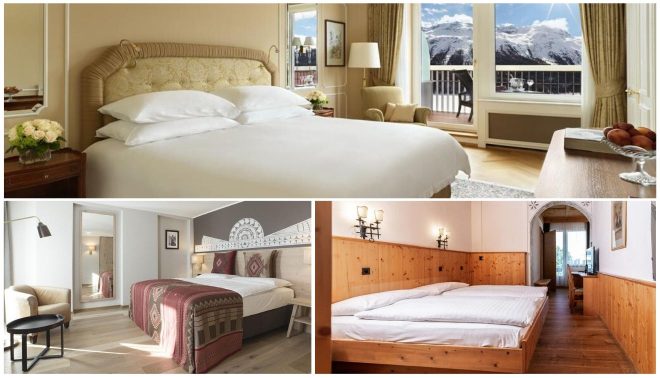 Just because St. Moritz is a famous tourist destination doesn't mean it lacks great accommodation options. But you will be greatly surprised to see that, even though it's a town that caters mostly to luxury travelers, you can also find affordable options for pretty high standards!
Luxury (US $300 and up):
Badrutt's Palace Hotel – The building dates back to the 19th century and the views are beyond beautiful. There are 6 in-house restaurants and countless other services. I absolutely recommend staying here if it isn't fully booked on your dates!
Kulm Hotel St. Moritz – Offering stunning views of the Alps and St. Moritz Lake, a 9-hole golf course, a driving range, a spa center, a pool (with great views, of course!) and purely stunning decor.
Middle-priced (from US $200 to $300):
Hotel Bären – A cosy mid-range hotel in the heart of St. Moritz. Located within walking distance of the train station, town centre and slope transport, The Hotel Bären executes hospitality to perfection.
Hotel Languard – Hotel Languard is small and cozy. However, the rooms and facilities are excellent! The hotel also has some great views of St. Moritz mountains and the lake. This boutique hotel provides amazing service, too!
Budget (up to US $200):
Hotel Steffani St. Moritz – Featuring a spa, indoor pool, 3 restaurants and even a nightclub! Located only a few hundred metres from the closest ski lift! The hotel also offers discounts on ski passes!
Hotel Arte – This boutique hotel boasts in-house restaurants and bars and is extremely close to some of the better slopes in St. Moritz. The decor has a traditional Swiss chalet style and it's really beautiful!
2. Zermatt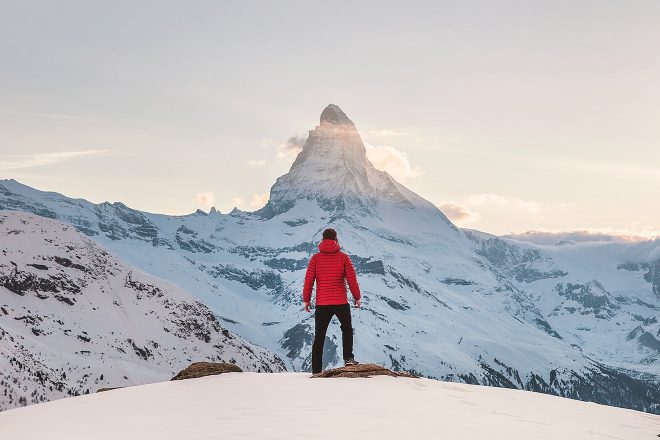 Zermatt is the highest ski resort in the Swiss Alps, which means you will be able to ski 365 days a year there!
Located on the border with Italy, it offers astonishing views and world-class skiing on really good quality slopes. I would recommend Zermatt to those skiers that already have some knowledge of skiing and are looking to improve their skills, for experts and for those that like to admire the mighty Matterhorn while they ski.
You will enjoy some of the best skiing in Switzerland here!
2.1. Types of slopes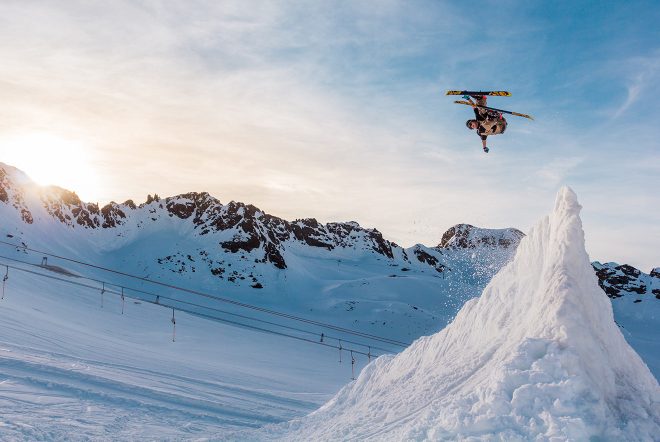 Skiing in Zermatt is split up into four areas:
Even though Zermatt is an amazing place for expert skiers because of its vertical drops and quality of high-level slopes, you can see below that most of its slopes are intermediate level, which means that if you are travelling with people of different skill levels, this is a great place to go!
With 132 slopes of 322 km in total in Zermatt, rest assured that you will be trying new slopes (if you want to) every single day and enjoying one of the best places to ski in Switzerland!
Blue and Green for Beginners: 75km (23%)
Red for Intermediate: 220km (69%)
Black for experts: 27km (8%)
2.2. Ski passes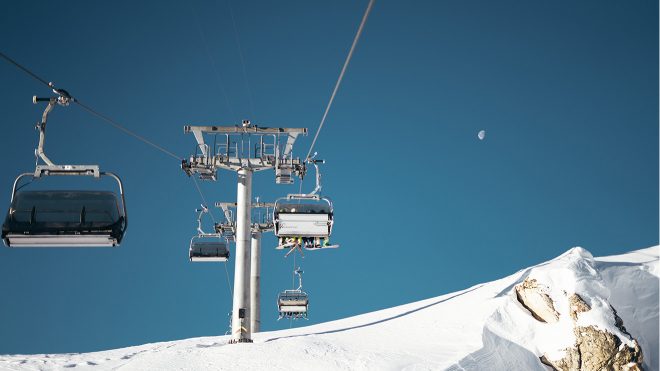 You might be surprised to read that the price of Zermatt ski passes is a bit higher than in St. Moritz. Even though the latter has quite a reputation of being the ski glamour mecca, Zermatt has a more relaxing vibe and due to the large amount of snow that it receives and the quality of its slopes, it provides a ski experience that is almost insurmountable!
The ski pass prices are usually the same whether you buy one online or in person, but they vary depending on when you will be visiting the area (for example if it's early in the season) and if it's going to be on a weekend or not.
Day ticket – Adults CHF 79 , Teenagers CHF 67, Children CHF 40
3-day ticket – Adults CHF 185, Teenagers CHF 155, Children CHF 90
6-day ticket – Adults CHF 335, Teenagers CHF 285, Children CHF 160
The prices above provide access to all ski areas in Zermatt and are estimative. They can change depending on when in the season will you be visiting. You can buy your tickets for your dates here.
2.3. Equipment rental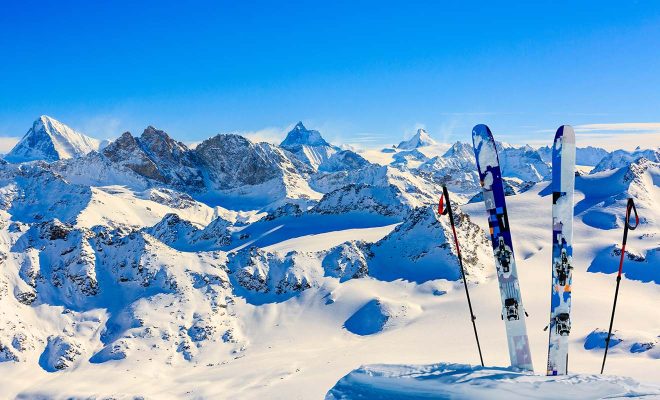 Knowing where to rent your equipment is a must when heading on your Swiss Alps holiday. It can be a deal breaker not to know where to get all your gear from and you don't want to go to the highest resort in the Alps and not be ready or even too cold!
When renting ski equipment, I always go for quality over price. So if you are just trying skiing for the first time and you don't know if you'll like it or not, do not buy cheap gear when you can just rent it!
If you are going skiing during the high season, I have found the best equipment rental store for you. Julen Sport is part of the Intersport chain and one of the few ski rentals in Zermatt that lets you book your equipment beforehand with a 10% early bird discount and then when you arrive, pay for it and try it at their Zermatt Store. Otherwise, you can always pop in their store and rent your gear on the spot.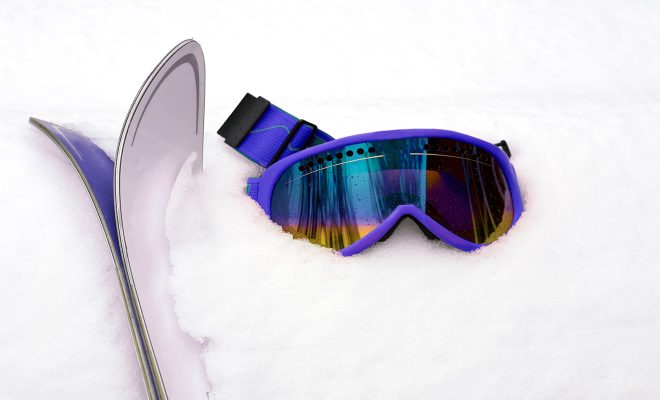 Once you book your gear, you can pick it up from the store on the day that your rental period begins and drop it off at the same place on the last day of your rental period.
PRICE: Depending on the quality of your gear, you can rent skis and poles for a price between US $39 and US $65 per day. Adult boots are US $20 per day. You can check their full price list here.
PRO TIP: As explained before, when buying ski gear for children, you can buy a size or two bigger since they will outgrow it pretty fast! Otherwise, you can always rent ski clothing or even sell it; buying second hand ski equipment is quite common in many countries.
2.4. Ski lessons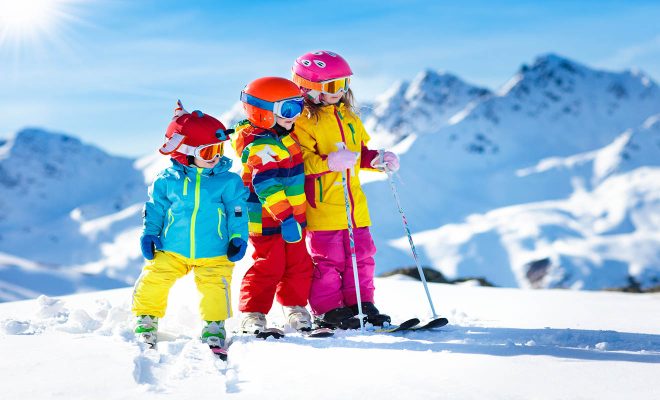 My recommendations on ski lessons depend on your level of expertise and also on your level of confidence! Like everything in life, skiing is very much about confidence and throwing yourself at it with no fear. However, you do need to know the basics and it is great to hire a teacher to give you an overview of the ski resort on your first day of your Zermatt snowboarding holidays!
There's no school in Zermatt that knows the area better than Zermatters! This Zermatt ski school has they've been teaching people to ski and snowboard the area for almost a century!
1) Group Lessons
Group lessons are a great way to have fun and meet people while learning how to ski! I know that some might feel pressured to perform better in a private lesson and feel like group lessons are more relaxed, giving you the right amount of independence to improve on your own while still having a great personal and tailored experience! Plus, it is always more affordable!
PRICE: At Zermatters you would have to choose a minimum of a 3-day course (ski or snowboard), which costs CHF 355. However, I have found that at Summit Ski School you can book ski lessons per day for prices between CHF 110 and CHF 150 per day, depending on the season.
If you would rather book it in person you can head to Summit Ski School Office in Zermatt and talk to one of their employees or instructors about the best choice for you.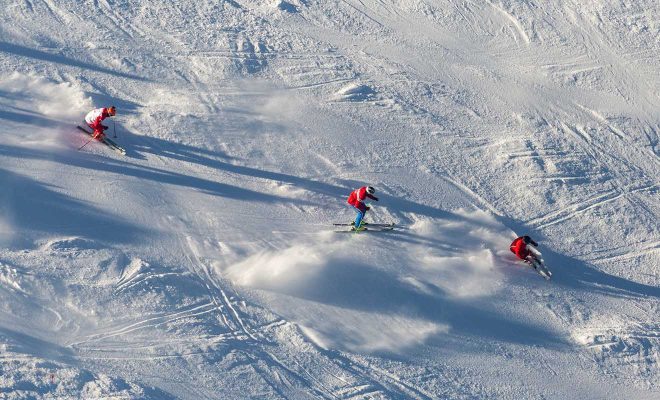 2) Private Lessons (or tiny groups)
If you'd like to progress faster and have a tailored experience, you should get a private class! These can last from 1.5 hours to the whole day! And even though they're private classes, you can add up to 2 more people for a small fee.
PRICE: At Zermatters it's CHF 145 for a 1.5-hour ski or snowboard lesson (+ CHF 40 per person for up to 2 more people), CHF 490 for an unlimited whole day lesson (+ CHF 40 per person for up to 2 more people).
For a more personal touch, you can also book the lessons in person here with Summit Ski School.
2.5. Après-Ski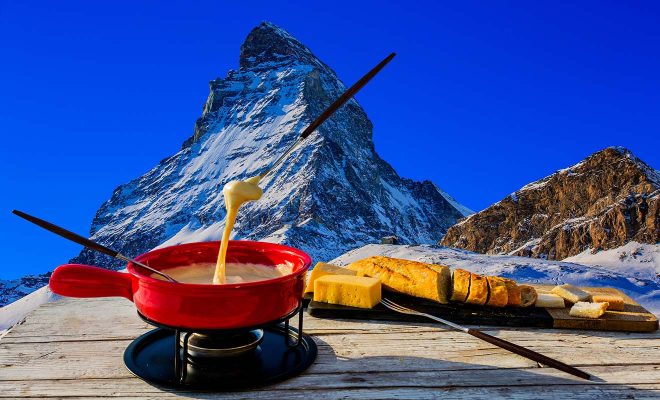 As mentioned previously, après-ski is quite literally as important as actual skiing when travelling to the Alps. It is quite easy to make friends when you have things in common like skiing and the après-ski scene in Zermatt is so chilled and welcoming that you'll be coming back for years!
Find below my recommended Après-ski spots in Zermatt:
2.6. How to get to Zermatt from Geneva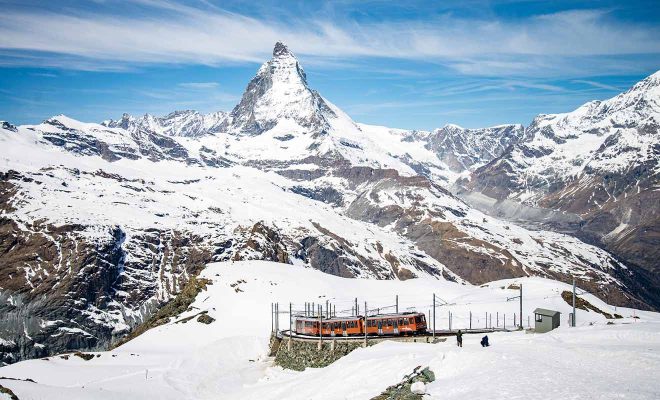 First of all, I would like to mention that whether you are flying to Geneva or Zurich, you should be fine renting a car or getting a train to Zermatt. Even though Geneva is technically closer, the distance from Zermatt to Zurich is quite similar!
Find my favorite ways to get around below:
By car
If you are landing in Geneva, renting a car is a great option. The price is quite reasonable even by Swiss standards and it provides you with more independence to move around town, check out different slopes and even do some day trips to the neighboring towns!
It only takes around 3 hours and 237 km to get to Zermatt from Geneva.
By train
I love taking trains everywhere – they're super comfy, very ecological and you never get bored looking out the window, especially if your destination is the Swiss Alps!
Just like in the St. Moritz section, the train from Geneva to Zermatt takes around 3.5 hours; the first train departs at 4:51 a.m. and then they depart every 20 to 40 minutes. You do need to transfer in Visp, but you can buy your combo ticket all the way to Zermatt online.
You can also get the train straight from the airport; it takes less than 4hours to get there!
Purchase your train ride here.
PRICE: The fare from Geneva is CHF 98 (US $100) for second class and CHF 172 (US $175) for first class.
2.7. Extra activities to do in Zermatt
If you or a friend or family member needs to take a break, there are plenty of things to do in Zermatt apart from skiing or snowboarding! Whether you want a relaxing day or an active one, I've got you covered!
Check out my recommendations below and pick your favorite: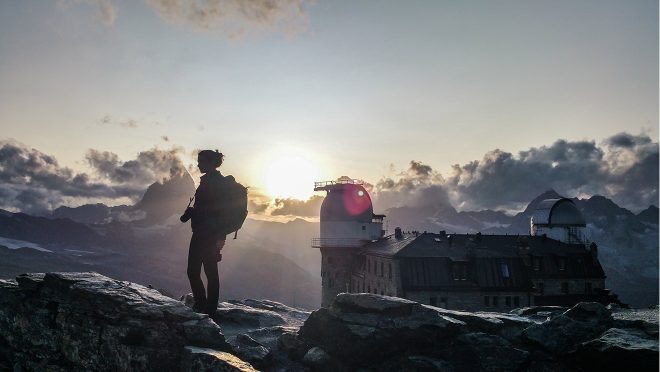 When staying and skiing in Zermatt, you are definitely going to see a view of the Matterhorn, but what if I told you that you can also see it from up close? This is actually one of the best places to visit in Zermatt!
Here's a great option: you can take a luxurious cable car ride up to the glacier, then enjoy a 4-hour visit where you'll get to admire the view from the viewing platform, do some snow tubing and check out a glacier palace.
Alternatively and for those looking to get an adrenaline rush, you can go paragliding and enjoy the views of the mighty Matterhorn while you fly over the Alps!
PRICE: US $90 for the luxurious Matterhorn experience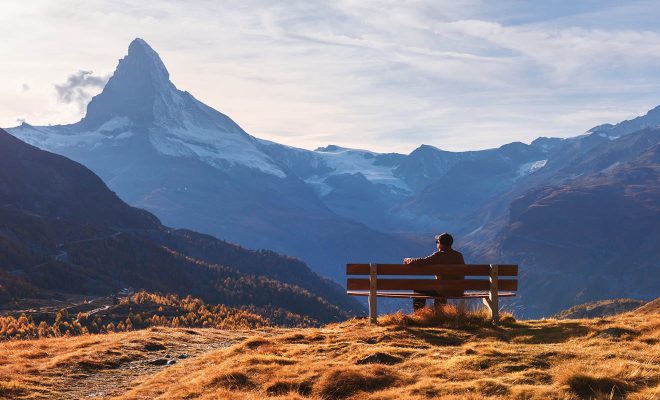 If you thought that hiking is only for the summer, then keep reading because some of the best Zermatt trails are open in winter for you to enjoy!
There are trails for all types of hikers, from beginners to experts. I have found a site that divides all the trails by length and levels of difficulty; you can check it out here. Grab your coat and boots and get ready to spot some of the best landscapes and, if you're lucky, some wildlife as well!
PRICE: Free
Ride the cogwheel train up to Gornergrat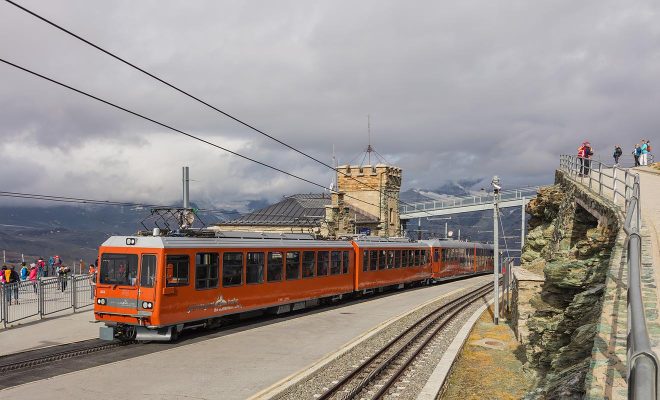 The Gornergrat is a ridge overlooking the Gorner and the Matterhorn glacier that is just a train ride away from Zermatt!
This Zermatt train ride is quite popular among visitors as it takes you on a journey to see the best views of 29 Alpine peaks from a viewing platform at a whooping 3,131 meters above sea level! Plus, you can visit Europe's highest shopping mall here!
You can buy tickets on this website in case they run out on the official website. The ticket on GetYourGuide also gives you priority entrance, by the way!
PRICE: CHF 80 return for the winter season
Ice-skating has never been as easy as it is in Zermatt! The ice rink in the middle of the town has free access and it's a great spot to spend an afternoon having fun with your kids during your family ski holidays. It's mostly geared for young children but adults are more than welcome too!
PRICE: Free. Open from December to February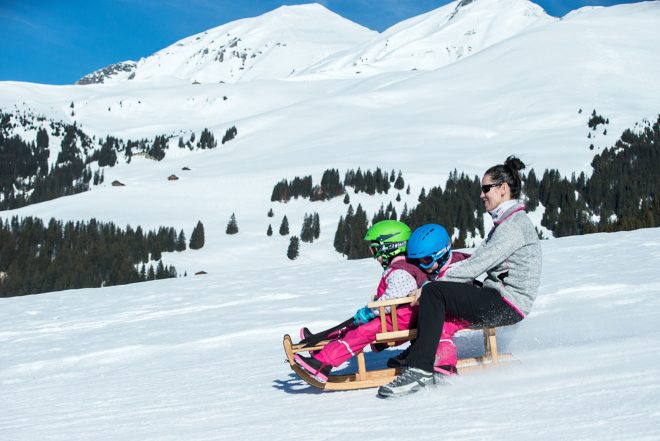 The best place to practice sledging and tobogganing (location-wise) is in the very heart of Zermatt! There is a place called Randa Toboggan Run that you will be able to visit with your whole family and enjoy sliding down the hill!
PRICE: Free. Open from December to April
2.8. Where to stay in Zermatt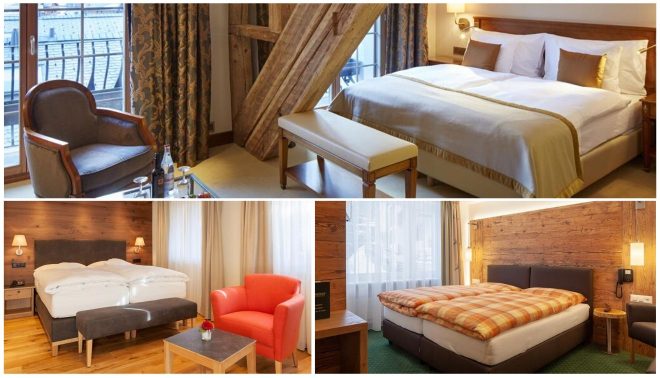 Zermatt has always been an exemplary ski destination and because of this, you will notice quickly that the variety of accommodations offered is quite large!
On my Best Hotels in the Swiss Alps post, you will be able to choose from only the best accommodations in town, but I have summed up some great options here as well:
Luxury (US $300 and up):
Grand Hotel Zermatterhof – One of the oldest hotels in Zermatt, the Grand Hotel is a luxury institution. Possessing some of the best views in Zermatt, 3 restaurants, and a wellness spa, The Grand Hotel Zermatterhof is one of the best resorts in Switzerland.
Europe Hotel & Spa – This hotel is home to an excellent spa to help you relax after a day of skiing. The rooms also have a sky light, meaning you can fall asleep watching the stars or even the snow gently falling.
Middle-Priced (from US $170 to US $300):
Hotel Couronne Superior – Not only is this mid-range hotel perfectly beautiful and cozy, but if you're looking for ski rental, then The Couronne's in-house ski shop is the place for you!
Base Camp Hotel – Offering great views of the Matterhorn, the lounge has a lovely fireplace to warm up by and, best of all, the hotel is located right in the center, very close to a ski lift!
Budget (up to US $170):
Hotel Jägerhof – The Jägerhof is simply stunning. With wooden paneled walls, hunting paraphernalia on the walls and a cosy fireplace, you won't want to leave!
Best Western Hotel Butterfly – Located right in the heart of Zermatt and still close to a ski lift, you can zip around the mountains or the town with ease! Of course, the rooms are lovely and comfortable as well!
| | |
| --- | --- |
| 🎿 Biggest ski area: | Corviglia |
| 🗻 Highest resort: | Matterhorn |
| 🏂 Best for snowboarding: | Zermatt |
| 👨‍👩‍👦 Family-friendly resort: | St. Moritz |
| ☀️ Best time to go: | November – March |
BONUS – Practical Information about skiing in the Swiss Alps
When to go skiing in the Swiss Alps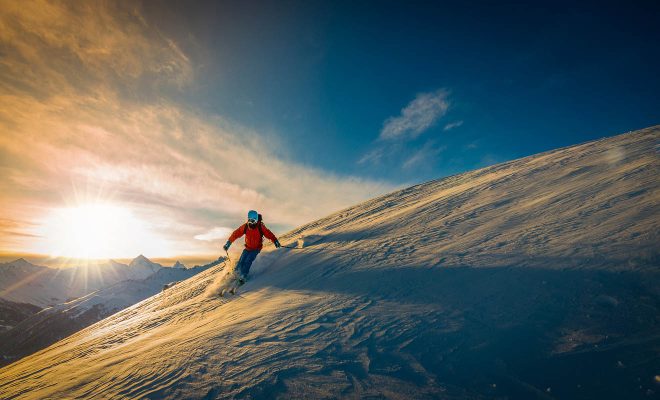 In Switzerland, the ski season usually lasts from mid-November to mid-March. Depending on your budget, timing and resistance to cold, you would want to choose one month over another! When deciding when to go skiing in the Swiss Alps, there are several things that you have to take into account, such as the weather, crowds and prices.
For instance, if you are not very resistant to cold or if you are travelling with children, you would have to consider that January is the coldest month and if possible, you would want to try to avoid it! As St. Moritz and Zermatt are ski resorts at a high altitude, you don't have to worry about the lack of snow if, for example, you decide to go skiing in Switzerland in March.
On the other hand, both of these resorts (and St. Moritz especially) are quite busy during Christmas and Easter holidays, which means that prices will go up noticeably and there will be bigger crowds! But it also means that all the après-ski spots and the village itself will be booming with life, if that is your thing!
Ski packages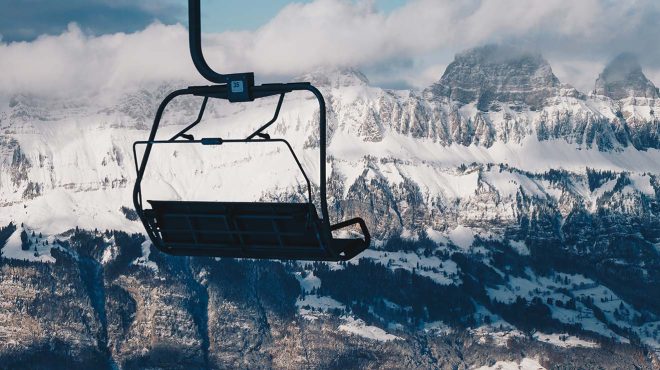 If you are not new to skiing holidays you might already know that when going on a ski trip in Switzerland, it's important to check the packages available out there as they might offer you better rates and activities than booking everything separately.
The most basic Switzerland ski packages usually include a hotel plus the ski passes during your stay. However, this is quite a competitive sector so you'll find that offers often include more activities and they change throughout the year.
For instance, in this package, if you book your St. Moritz stay from the participating hotels, you will be given a special ski pass in St. Moritz from just CHF 45 (US $46) per day.
Alternatively, for those staying in Zermatt, you can check the Zermatt official website, where they post different types of packages depending on the time of the year and the needs of the traveler. For example, if you are going in the middle of the season you can get 10% off your hotel stay and off your ski pass here!
PRO TIP: Have a look at the very beginning and the very end of the season, that's the time when they're less busy and more likely to give out the best package deals.
---
Conclusion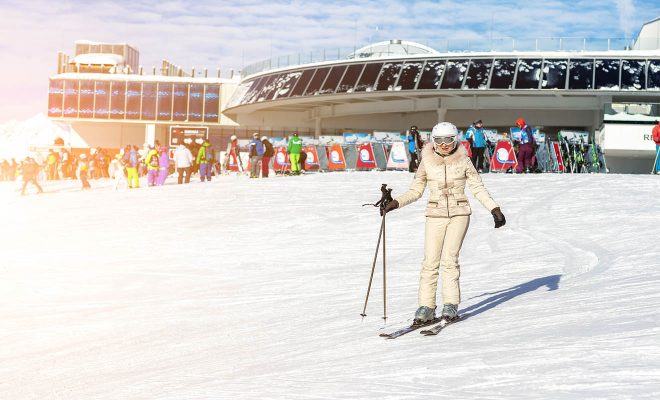 Thank you for reading this ultimate guide to skiing in St. Moritz and Zermatt. I definitely enjoyed writing it and now I can't wait for my turn to go skiing again!
I have gone through all the practicalities regarding your trip to either Zermatt or St. Moritz and if you were struggling to choose between them, I hope I helped you make up your mind to choose the right one!
Make sure you have a read of my article about the best hotels to stay at in the Swiss Alps – that's where I carefully explain the best spots to choose depending on the type of traveler you are and your travel style (P.S.: There are some budget hotels as well!)
Let me know in the comments below if there are any questions or concerns you may have. I can't wait to hear about your experience!
Happy travels!
Arantxa
---
Pin it for later!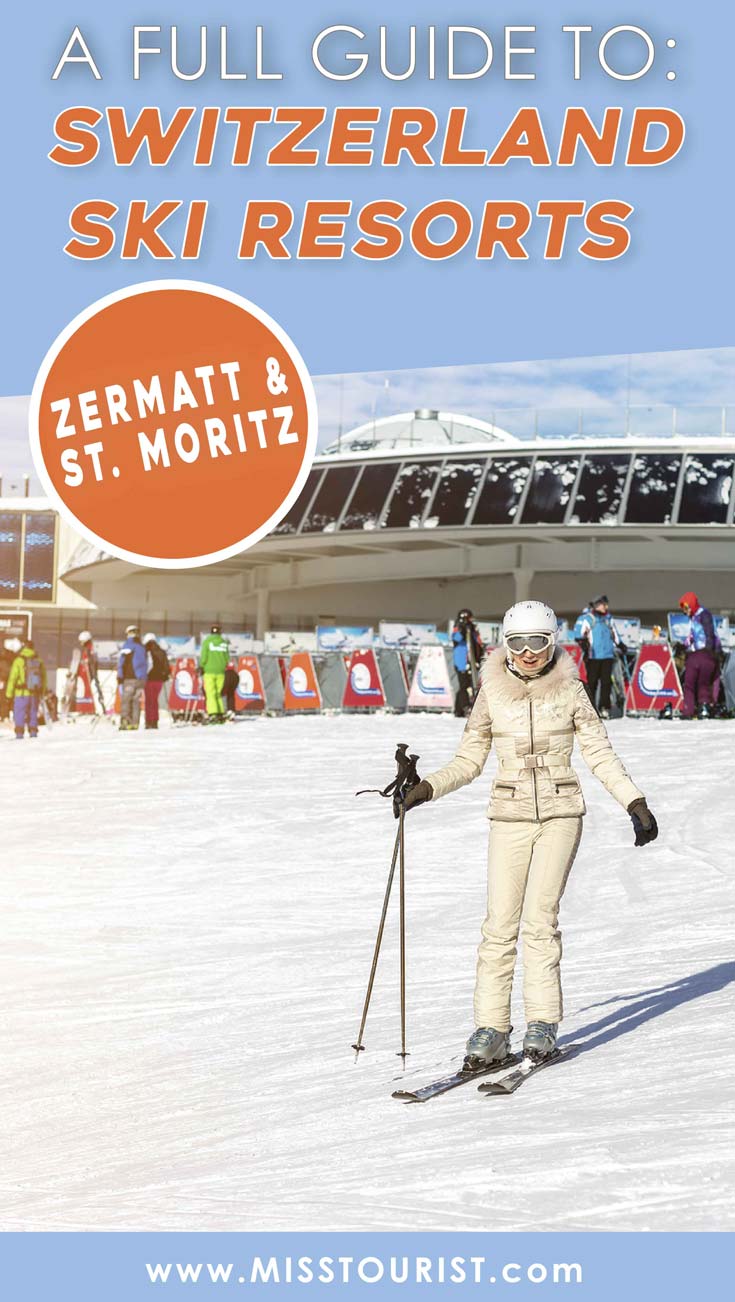 Pin it for later!