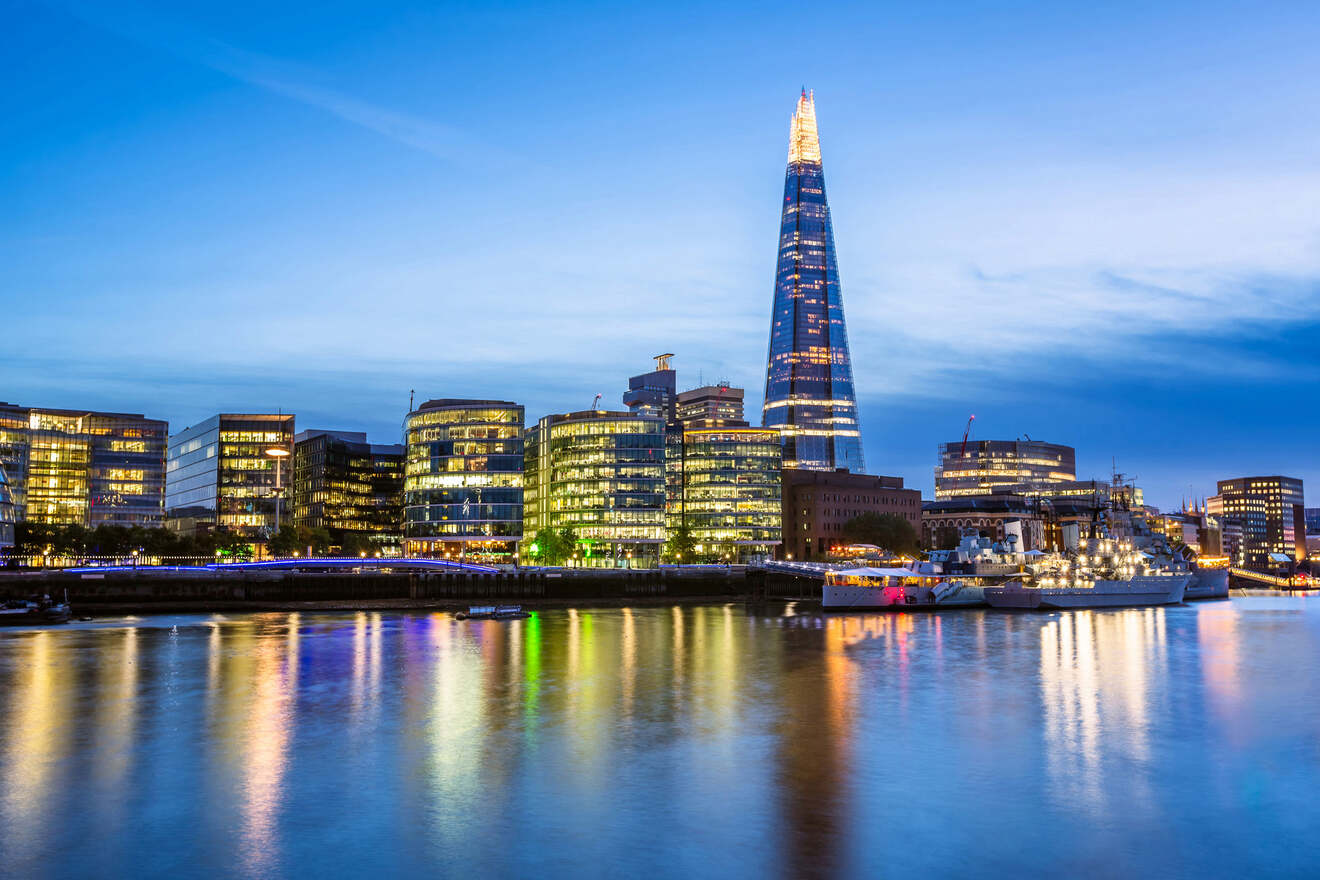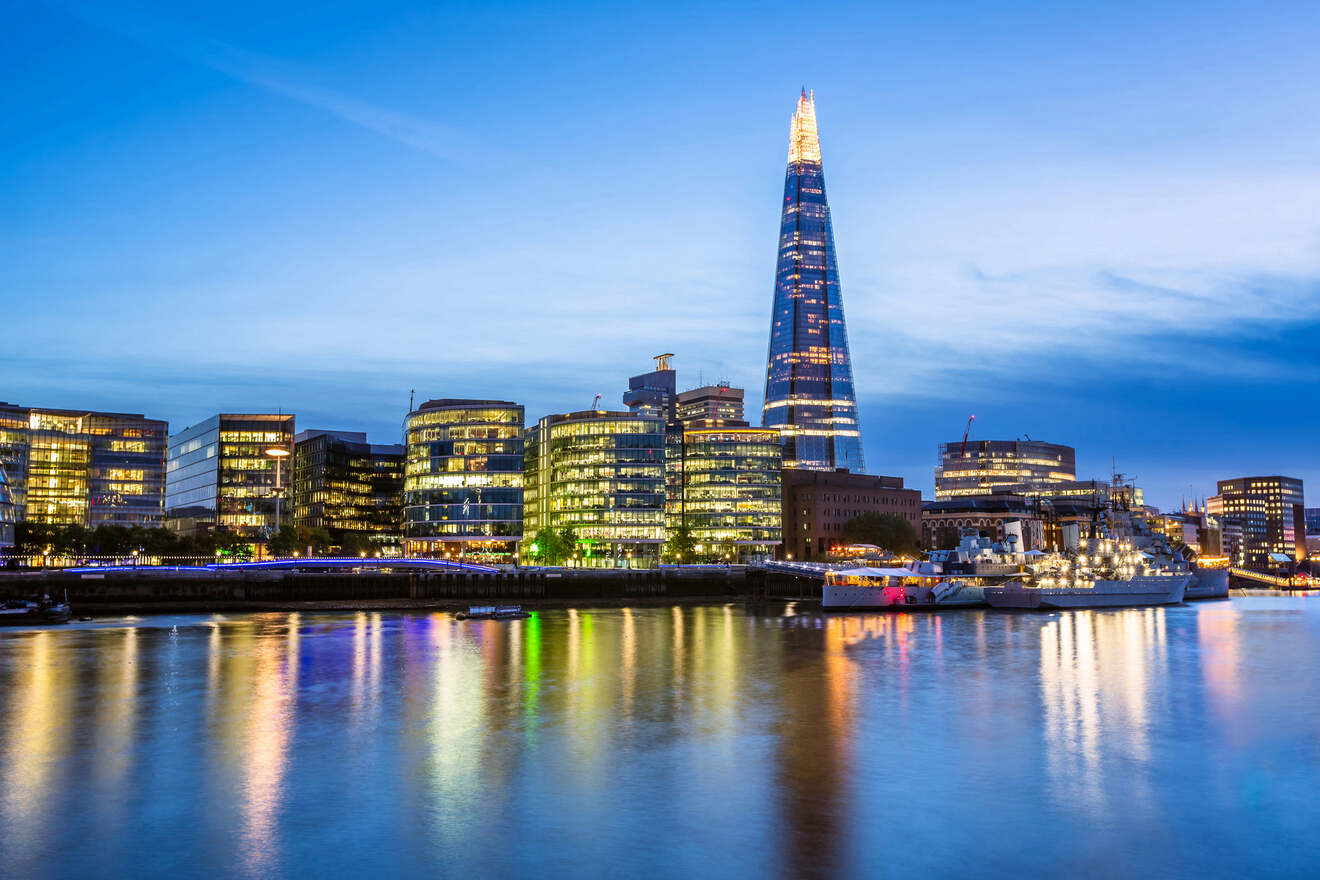 Looking for the best guide to help you find tickets for one of the tallest buildings in Europe? Then you've come to the right place!
The Shard hosts different facilities, from restaurants to office floors and even a hotel (I will talk about how you can stay in the Shard later). But in this post, I'll give you all the details about getting tickets for the viewing gallery which is called "The View from the Shard" and is the main attraction and the spot where you can admire the best views!
I lived in London for a while, and I know you've got no time to waste figuring out which tickets to get, how to visit, or when to visit (especially when you're on holiday)! That's why I've done lots of research for you, to help you buy the best tickets to The Shard!
With this post, you'll know which types of tickets to get, which is the best place to get your tickets, and how you can save some money!
I would definitely stick around after that because I've gathered together some crucial information you should know before buying your entrance ticket, like opening hours when you should book, facilities inside, and the top famous sites you should try to spot while up there!
As you can see, we've got a lot of work, so let's go!
If you are in a hurry


If you are here just to get your tickets, here are the best links to do so:
As you will see in the table below, out of all the places to buy tickets, GetYourGuide offers the cheapest tickets to the Shard! Although they have the same price as the early bird tickets on the official website, they've got a much better cancellation policy (you can cancel up to 24h before your visit and get the whole sum back).
Plus, if you buy your ticket less than 3 days in advance, you can still get the lower price for The Shard on GetYourGuide. Whereas if you buy them from the official website, you'll pay £4 more!
| | | | | |
| --- | --- | --- | --- | --- |
| | Adult Entrance: | Kids Entrance: | Cancelation Policy: | |
| Official Website | £28 / £32 | Free for -3yrs old | No refund | Book tickets |
| Get Your Guide | £28 | Free for -3yrs old | >24-hour free cancellation | Book tickets |
| Klook | £28 | Free for -3yrs old | >24-hour free cancellation | Book tickets |
Why buy in advance?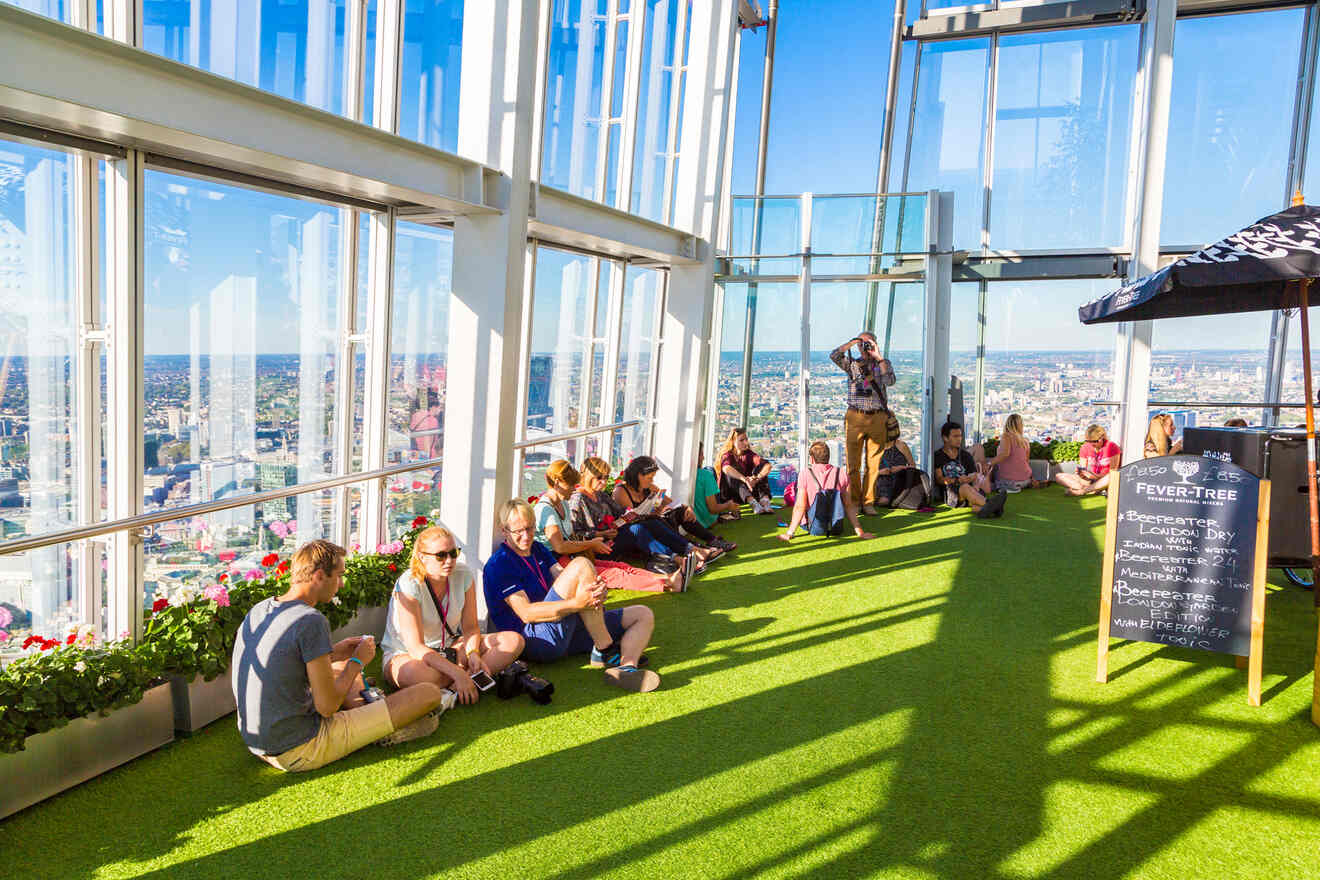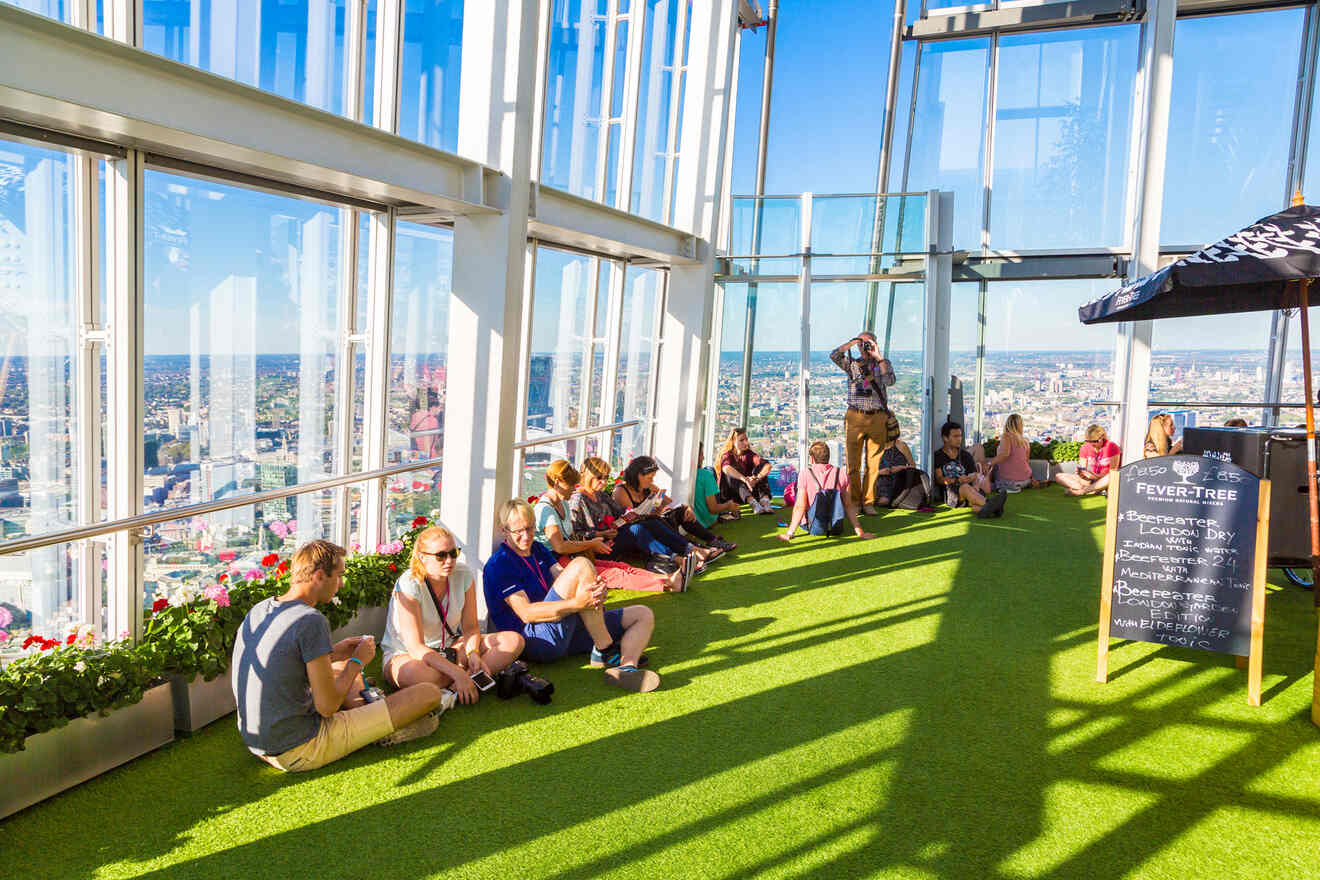 As with most tickets, if you get yours in advance, you'll pay less money! It also means you'll know for sure that you'll get to visit the attraction for sure without waiting for hours!
The lines for the View at the Shard can get pretty long, and although you can just turn up there without buying your ticket in advance, you may end up waiting for nothing as people who've made their reservations in advance have priority.
So I highly recommend getting your tickets early as it will save you money, energy, and time that you could spend exploring other areas in London!
1. Entry to The Shard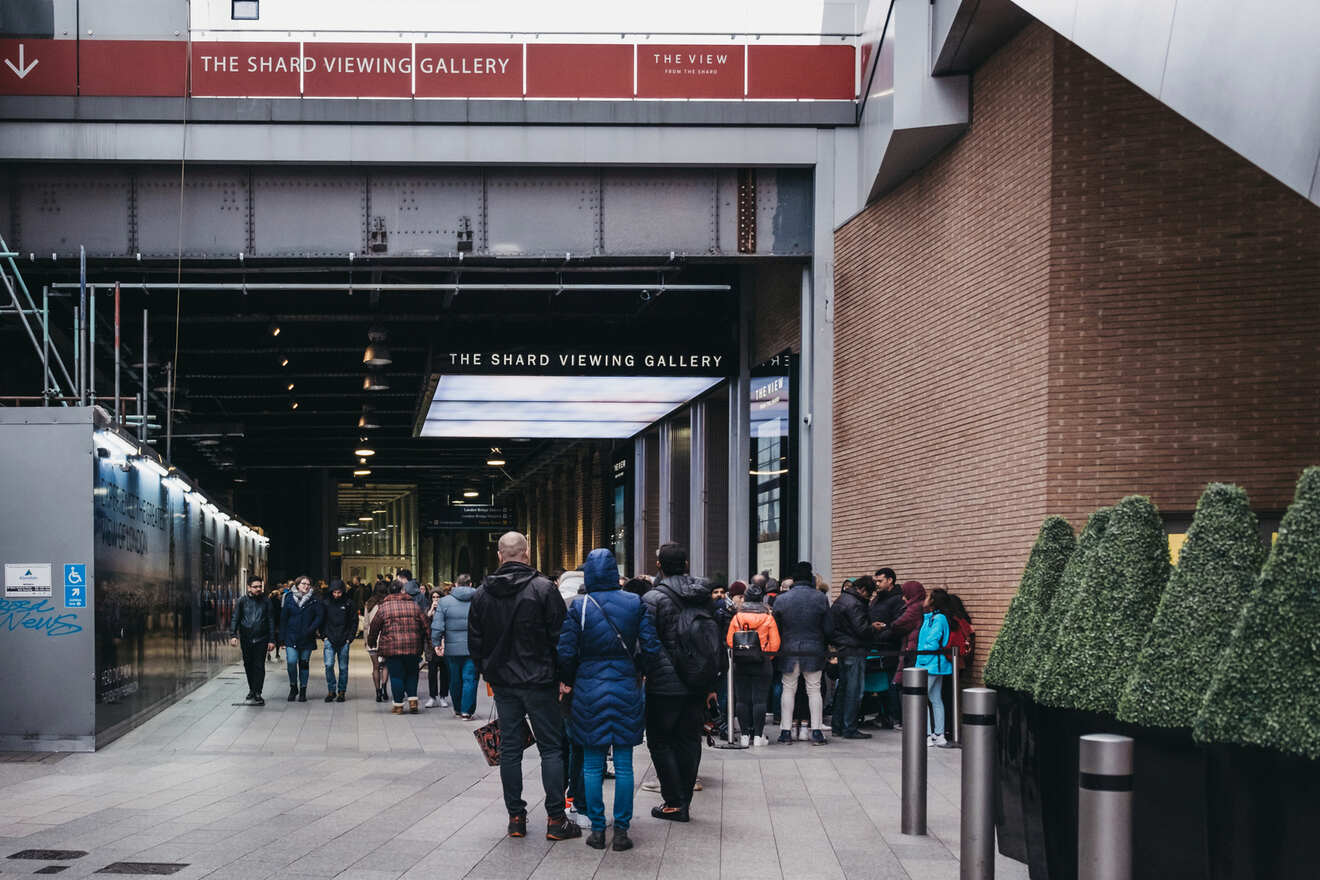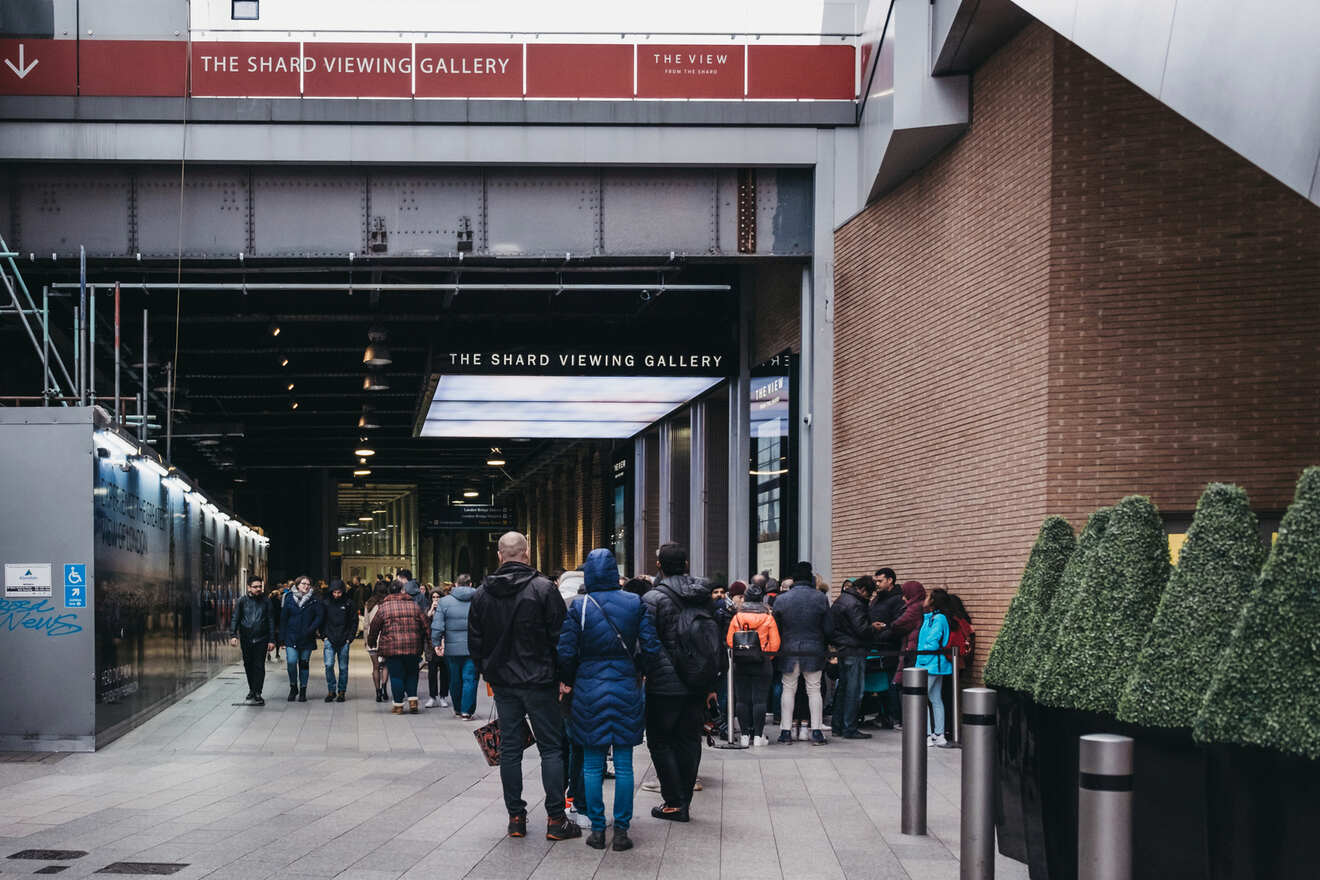 The first thing to clarify here in case you didn't already know, is that The Shard building is much more than just a viewing platform.
The Shard hosts many things inside its gigantic grounds, from hotels, restaurants, offices, and apartments. You can go inside the building for free and have a drink at the restaurants or book a room at the hotel (all of which I will talk about later on in the post), but to reach the "The View from The Shard" (the official viewing gallery and main viewpoint), you'll have to buy a ticket.
The View from The Shard tickets gives you access to the indoor viewing platforms on levels 68 and 69 and the open-air Skydeck on level 72, as well as a panoramic guide and 4 digital photos!
Fun Fact: The Shard is the tallest building in the United Kingdom, the fourth-tallest building in Europe, and the 105th-tallest building in the world!
As with most attractions, you'll need to pick a date and timeslot for your visit. The timeslots are every 15 minutes, and you must ensure you get there on time. They allow visitors to be no more than 15 minutes late. If by any chance you arrive later than that, then you might have to pay a rebooking fee.
General entry tickets cost £28 per person if you buy in advance, but I will let you in on a secret, there is a better place to buy your tickets than the official website! I'll give you all the details in section #2.
Add-ons
When buying your tickets online, you will be given the option to add different services to your tickets, like cruises, champagne, and souvenirs to make your visit more special. But since you can also purchase most of these onsite, I wanted to see if they're actually worth buying in advance.

NOTE: If you want to take advantage of any of these add-ons, you will need to book your tickets through the official website.
Let's go through them one by one:
River Cruise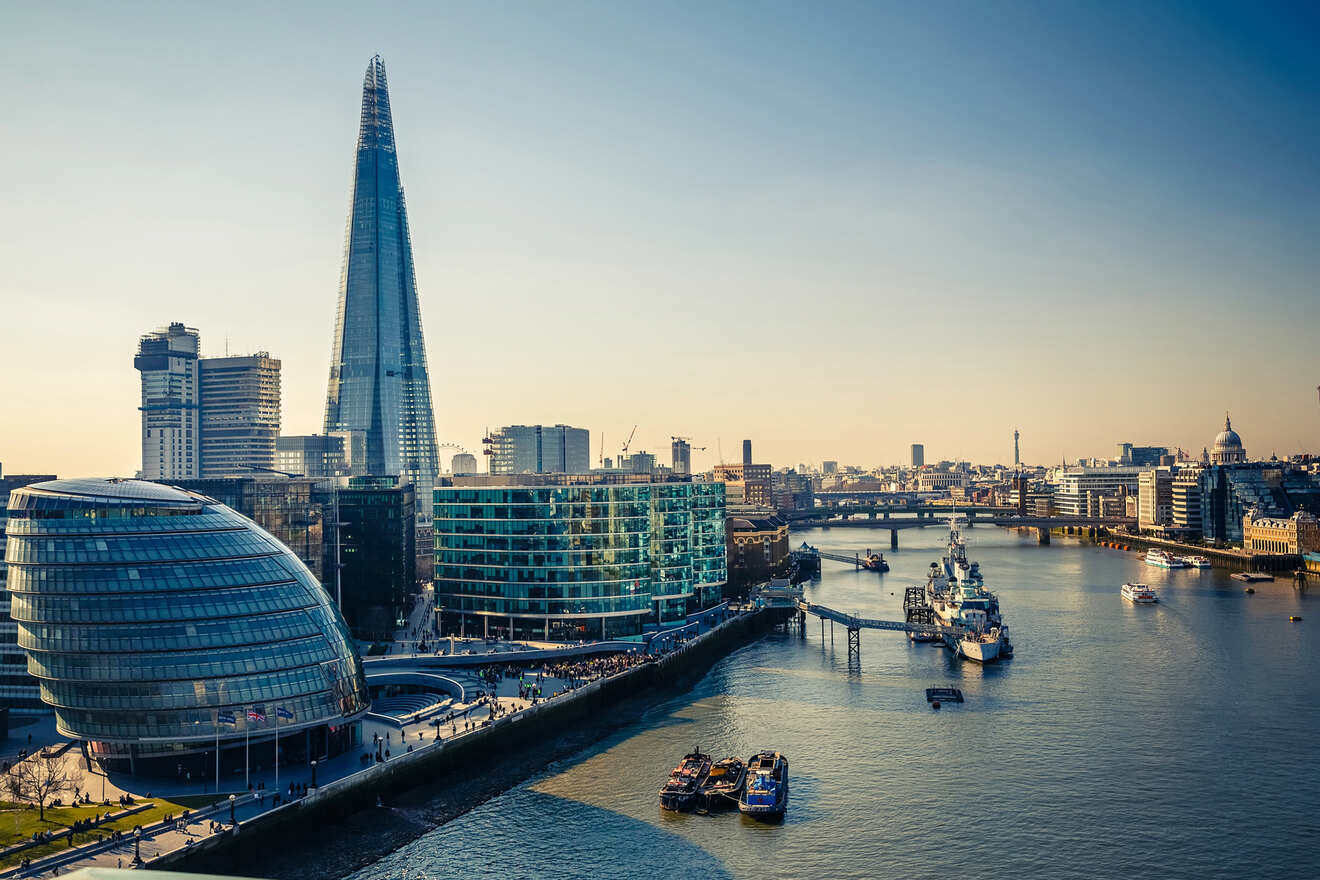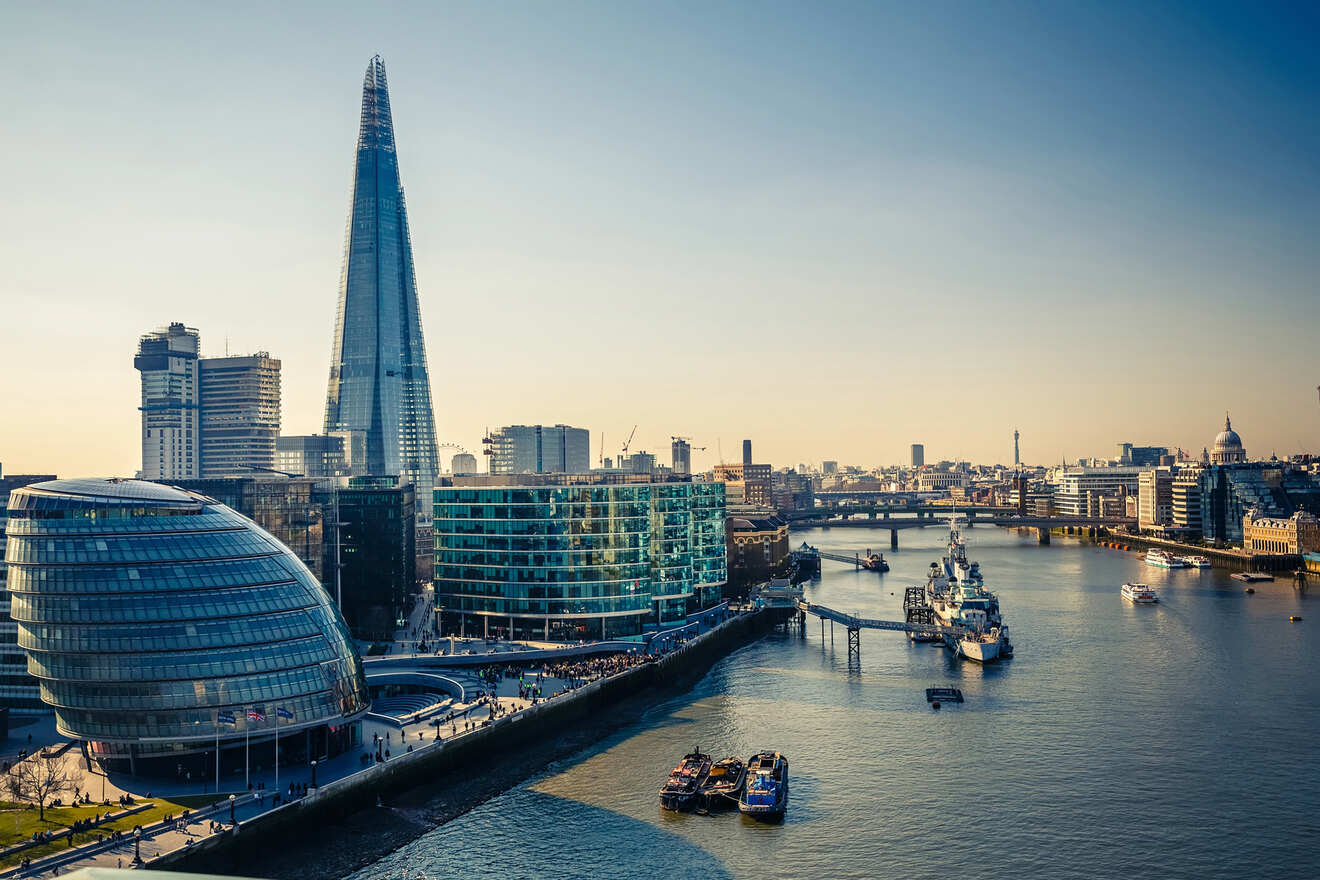 Fancy a river cruise on the Thames along with your visit to The Shard? For £38 you can enjoy a 50-minute river cruise with live commentary, unique views from The Shard, plus the panoramic guide and 4 digital photos.
This is one of the most popular combo tours and when you arrive there, make sure you first drop by the Shard to get your tickets. The river cruise usually takes place at the same time each day around 2 pm and 3 pm.
NOTE: Just like the general entry tickets, this combo tour is the cheapest when you buy it at least 4 days in advance of your visit. The cruise by itself costs £17, so if you buy the early bird price tickets, you will save £11. But even if you buy it less than 4 days in advance, you'll still save £7 more than if you bought both tours separately.
You can also add a glass of Moët or Chandon champagne to your booking for an extra £17 but you don't really have to book this add-on in advance because it's the same cost on the day.
Fast Track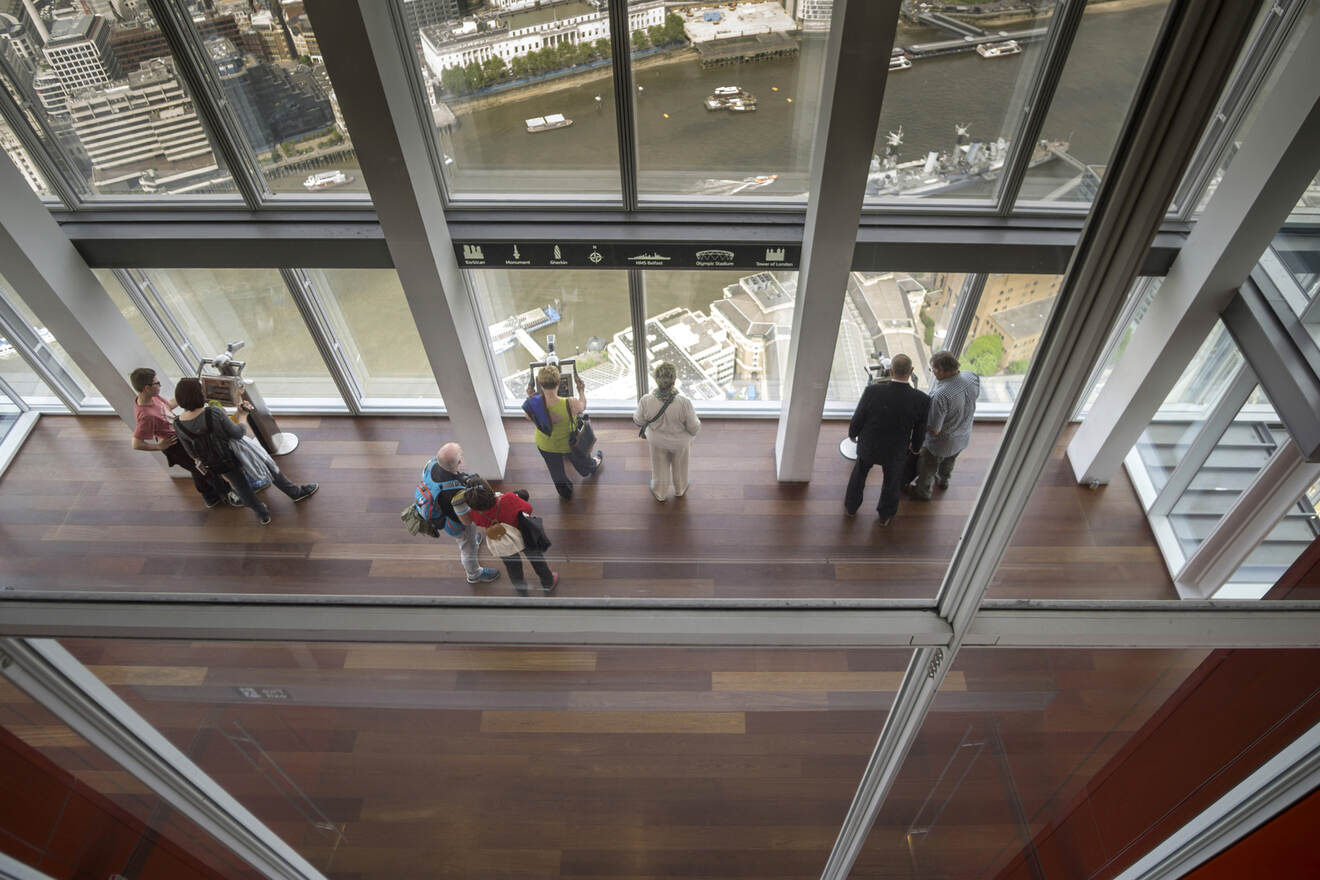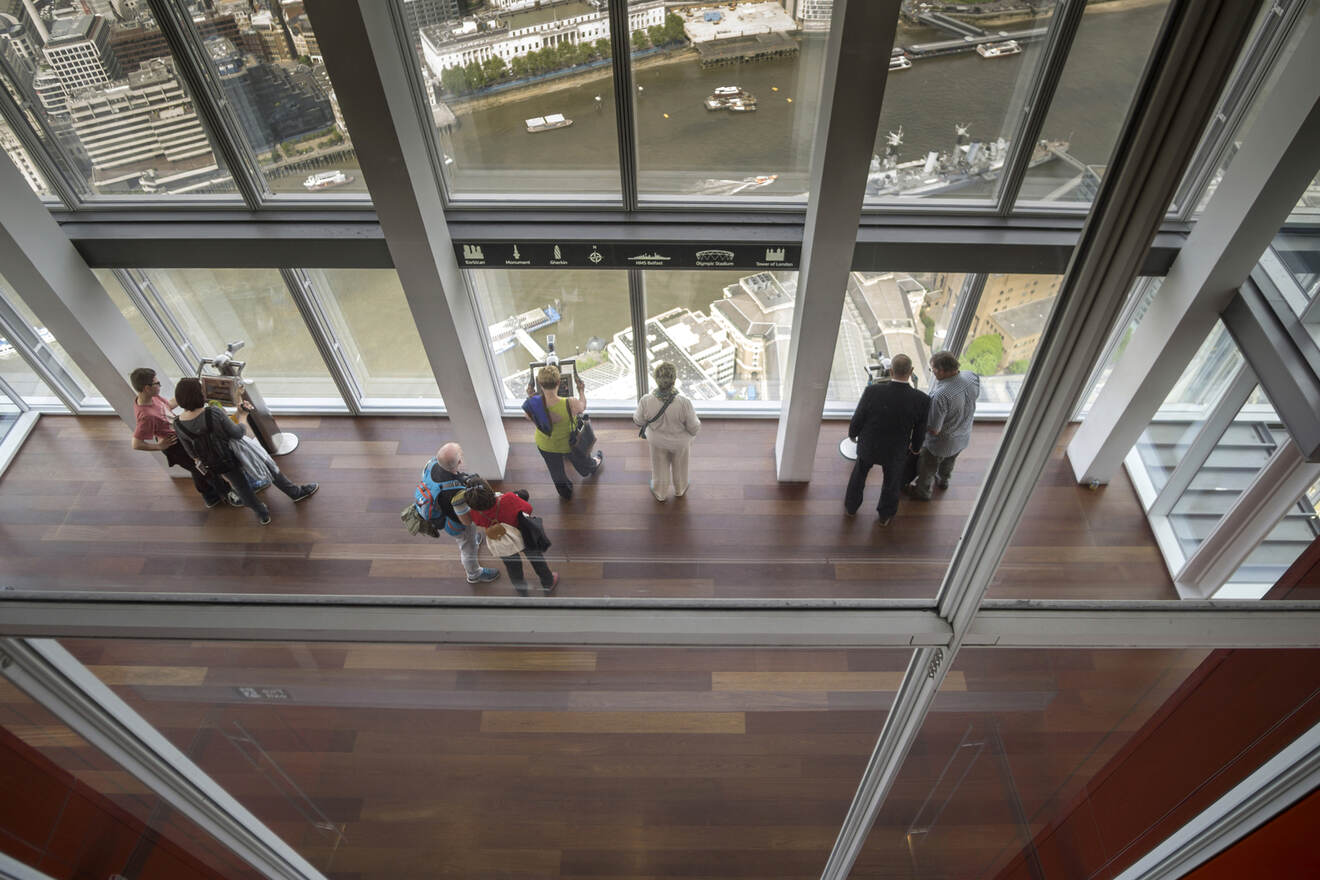 Once you enter The Shard, you'll have to go through security, and although they have a system based on time slots, sometimes you'll still have to wait in the security line to get in. However, there is an option to skip the line if you buy the Fast Track option for an additional £10.
As this costs almost half the ticket price, I wouldn't recommend paying for the fast track unless you have a specific reason you don't want to queue. Otherwise, I would go with the general admission ticket as the lines tend to move pretty quickly here, and usually, you'll wait around 10 min to get in.
However, there are times when the waiting time can take up to 30 – 40 min. That's because once you get up to the top, you can stay there for as long as you want. They can't overcrowd the place by sending too many people there, so you may run the risk of waiting longer if that happens.
So I recommend going early and not paying for the fast track as this is less likely to happen, but if you really want to avoid that at all costs, then you'll always have the Fast Track option.
Souvenirs & drinks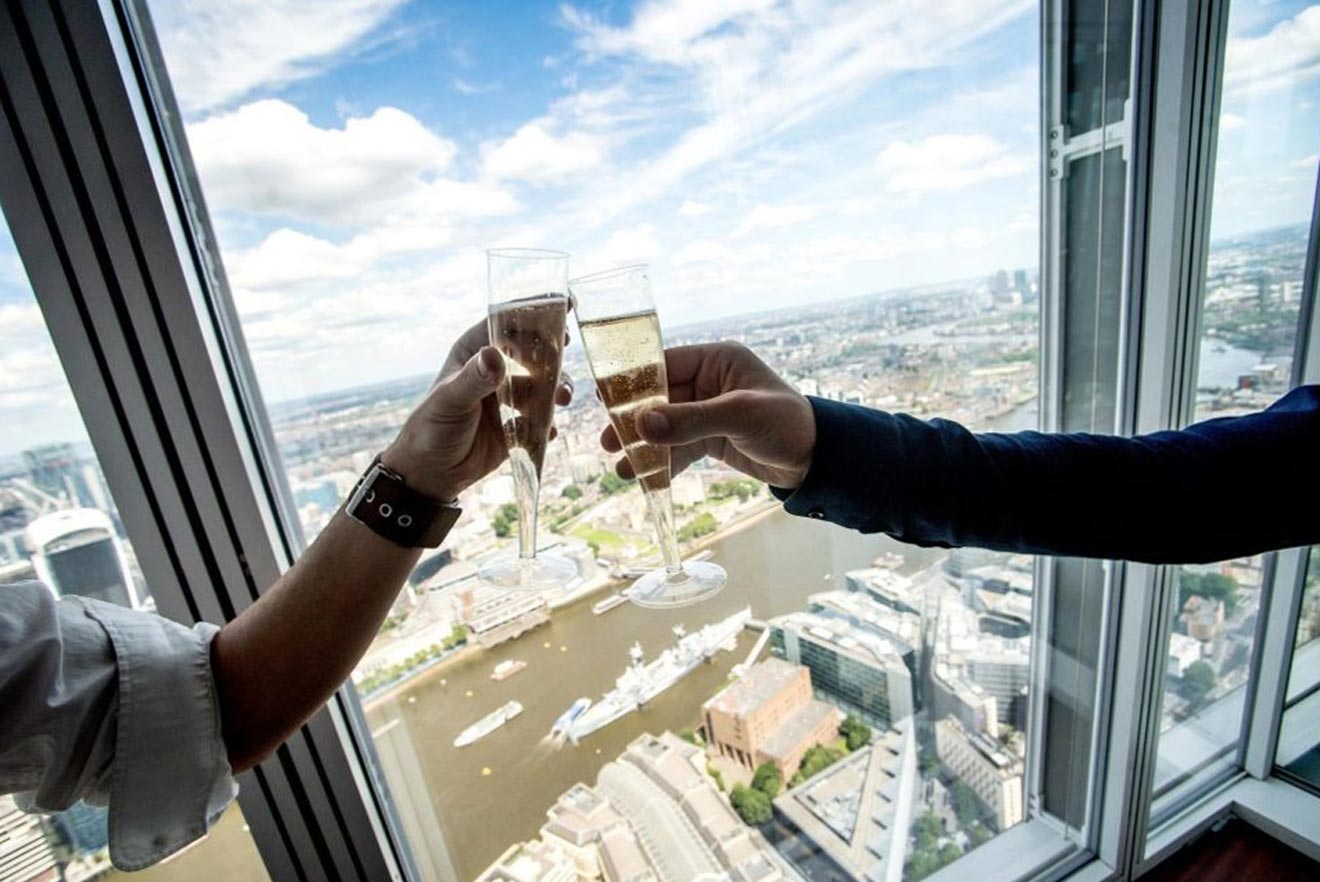 If you're not sure you want to buy these add-ons in advance, then there's no need to hurry. You can get them for the same price if you buy them on the day of your visit!
Photobook – If you want to keep some pretty unique memories from your visit, then you can buy the £25 photobook, which includes a keyring and a few pictures from your time spent in The Shard.
Souvenir Guide Book – Forget Wikipedia! If you love knowing quirky and interesting things about The Shard, you can buy the £3 Souvenir Guide Book with stories and cool facts about the attraction.
Champagne – What better way to celebrate being so up high in the London skies than with a glass of champagne? For £17 you can enjoy a glass of Moët & Chandon champagne while admiring those stunning views!
2. Buying your tickets online in advance
As one of the biggest attractions in London, the View at the Shard has attracted many tourists ever since it was first opened! Everyone lines up to see the amazing sights of the city and if you haven't bought your ticket in advance, trust me, you'll waste your time!
But before you go off and do just that, you should know that there are a few different places where you can buy your tickets, and some are better than others! Have a look below to find out all the details.
2.1 Official website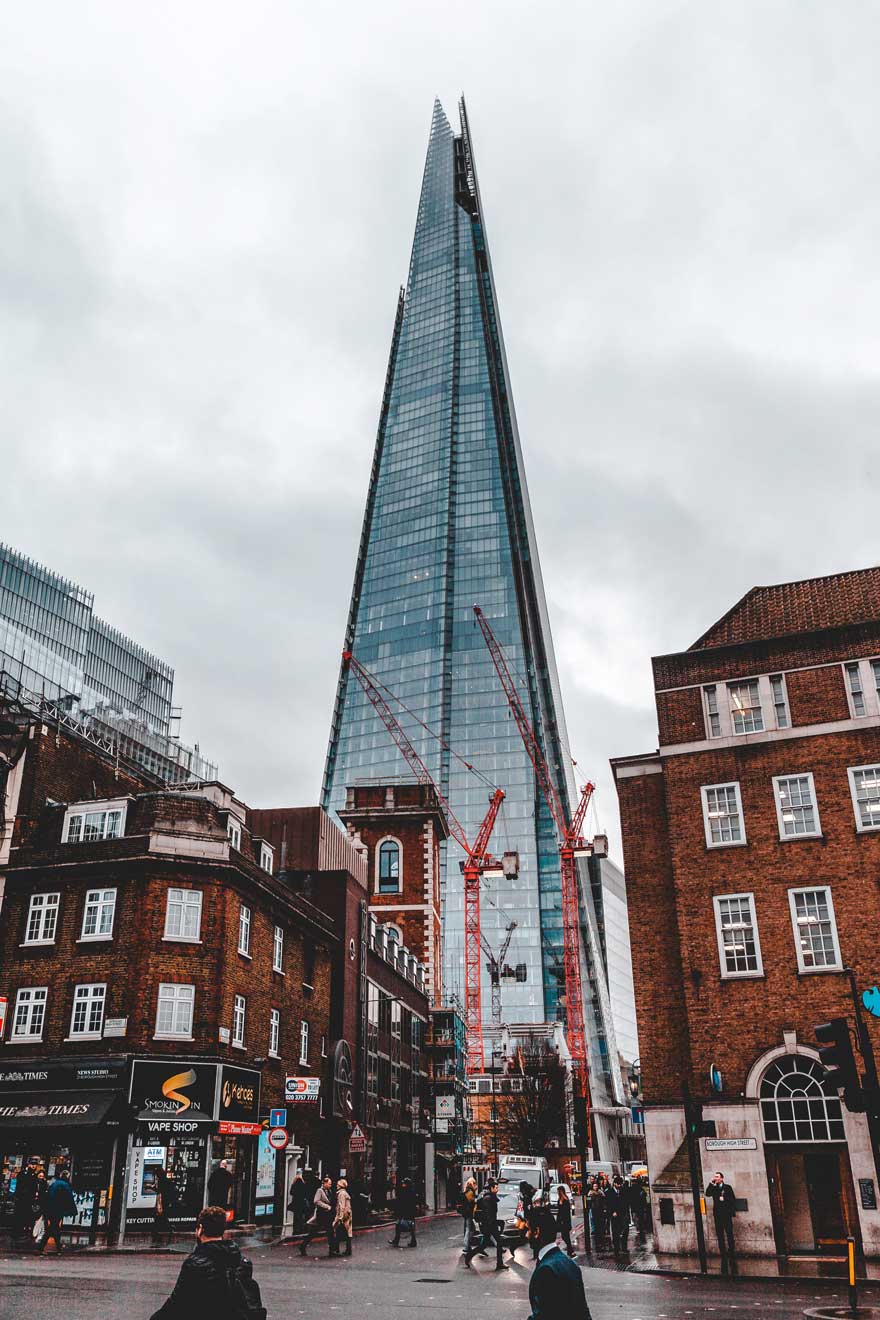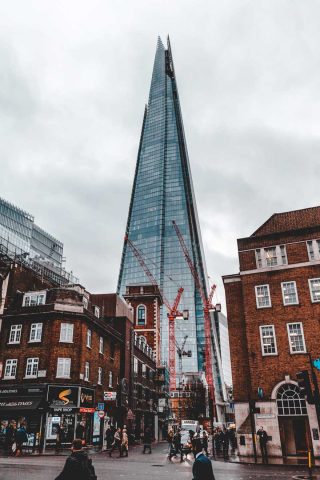 When buying your entry tickets for the View from The Shard from the official website, you will see two different prices displayed, with not much explanation of what the difference is.

Well, they offer a reduced rate of £28 if you buy your tickets 4 or more days in advance. Whereas if you purchase your tickets less than 4 days before your visit, it will cost you £32 (unless you follow my trick in the next section, which will get you last-minute tickets for a lower price)!

Honestly, I do not recommend booking your tickets here unless you plan on purchasing any of the add-ons that I talked about in the previous section, then you will need to purchase your tickets through the official website. But, if you just want a normal entrance ticket, there is actually a better place to buy them that I will talk about next!
Here's why… Besides the higher price, the official website also has a strict no cancelation policy unless you pre-purchase the "TicketPlan refund protection" for an additional £2.
But even if you purchase this additional protection, you still must prove that you couldn't come because of one of the following specific reasons: public transport disruption, illness (of you or a close family member), traffic accident, home burglary, being summoned to appear in court, or severe weather conditions.
When searching the web to find you the best deals, I found that GetYourGuide is a much better option when buying tickets to The Shard, as they offer a free cancelation policy with no questions asked, AND sell tickets at the cheaper rate of £28, even if you book on the same day (if tickets are still available of course).
I will give you all the details in the next section!
Official Price: £28 early bird / £32 regular rate
2.2 Alternative ticket websites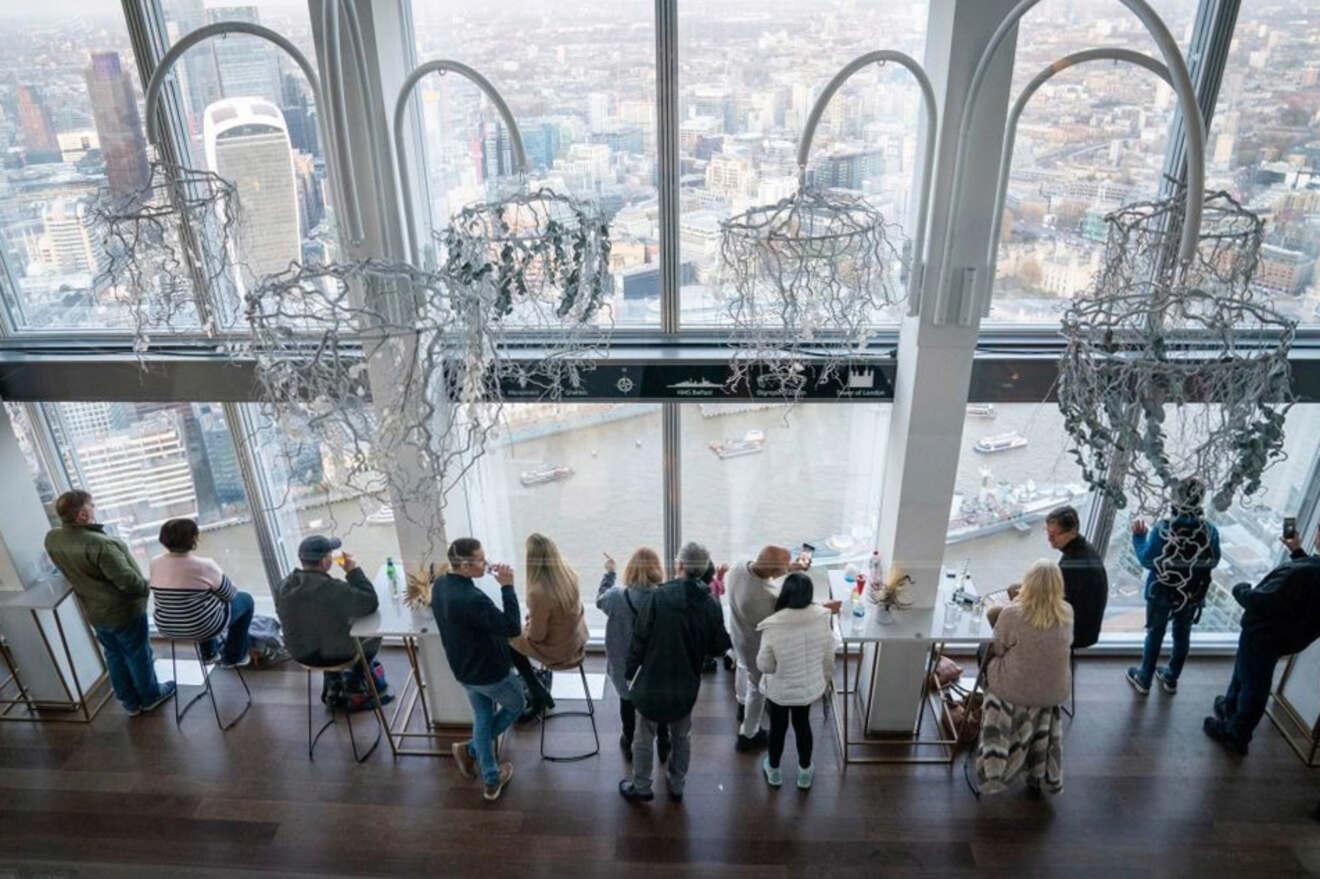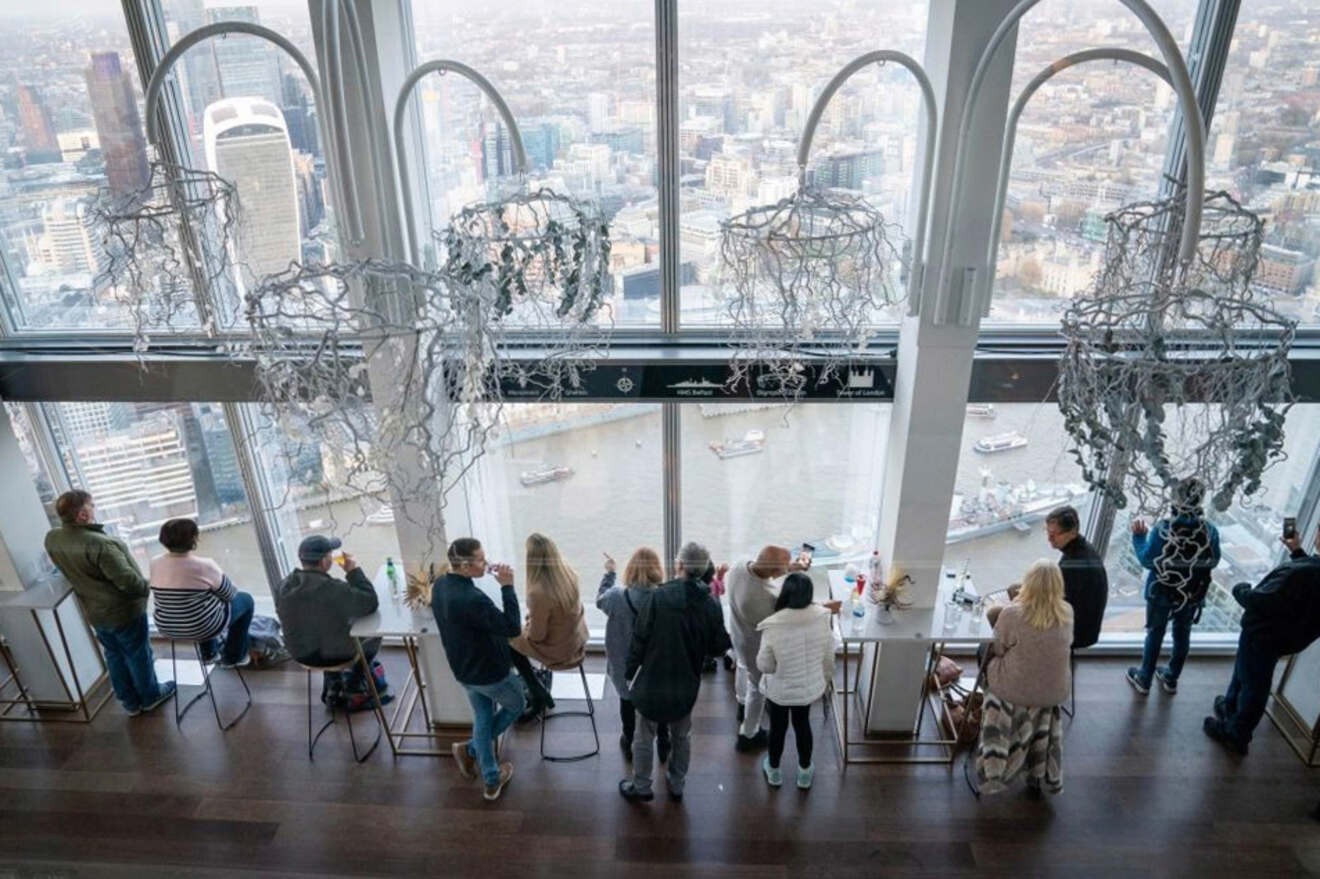 As I mentioned before, I found you a better place to buy your Shard tickets than the official website. And that is GetYourGuide!
PRO TIP: This is also great if you want to pick a specific time or date that isn't available on their official website anymore.
Here you can find entrance tickets for The Shard with the same price as on the official website (£28) but many more perks!
Fun Fact: Its name "The Shard" comes from the architect's description of the development as a "shard of glass" during the planning stages.
You can buy the ticket on the same day of your visit and not pay £4. And another fabulous thing is that you can cancel up to 24 hours before your visit for a full refund, and you won't have to give any explanations or reasons why you didn't come!
P.S.: Klook offers the same deal as GetYourGuide and is another option if you are looking for a ticket. However, if your chosen dates are sold out elsewhere, you can also check Viator and Tiqets for more.
Price: £28
Difference from the official website: save £4 (<4 days in advance), same price >4 days in advance
3. Combo tickets for The Shard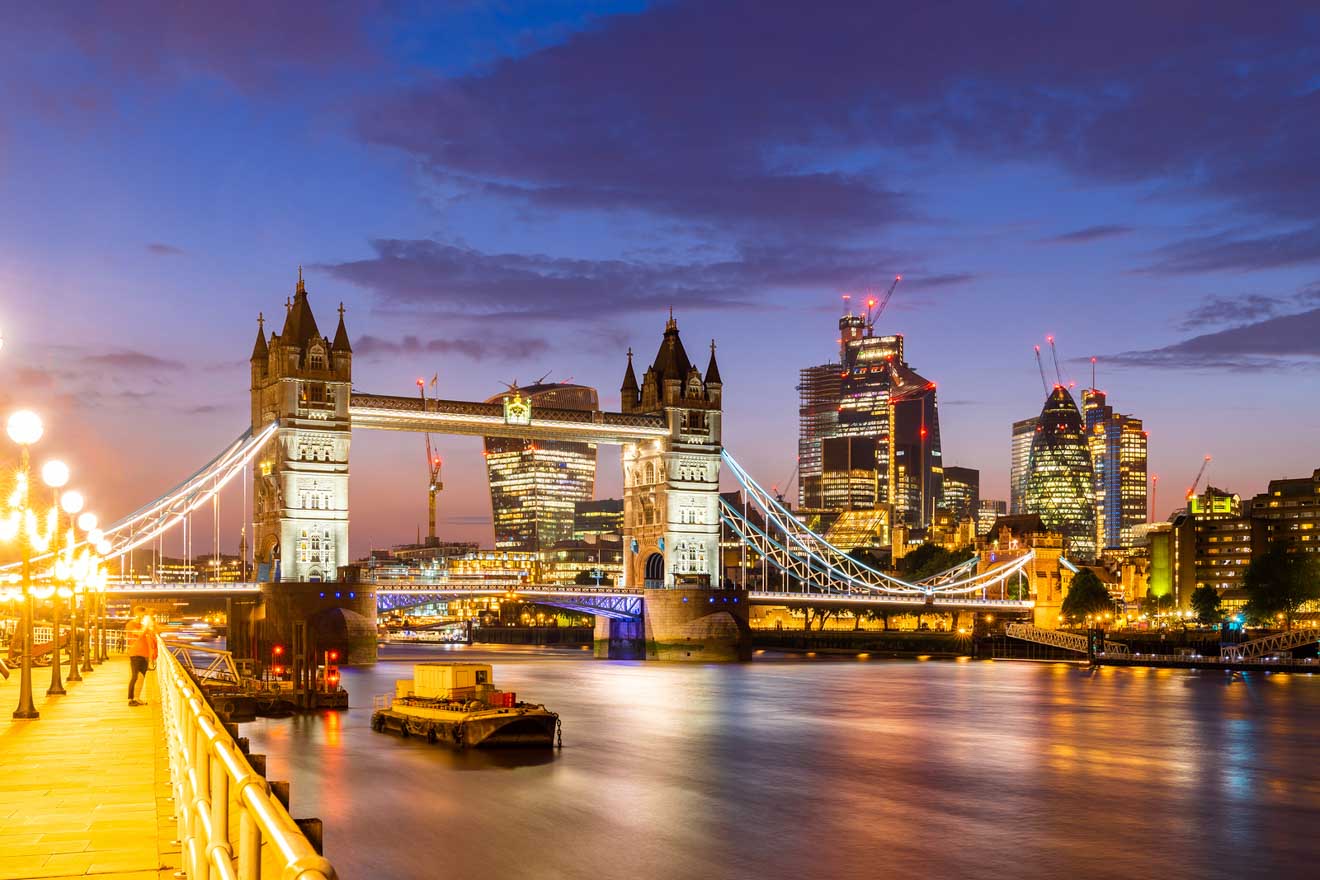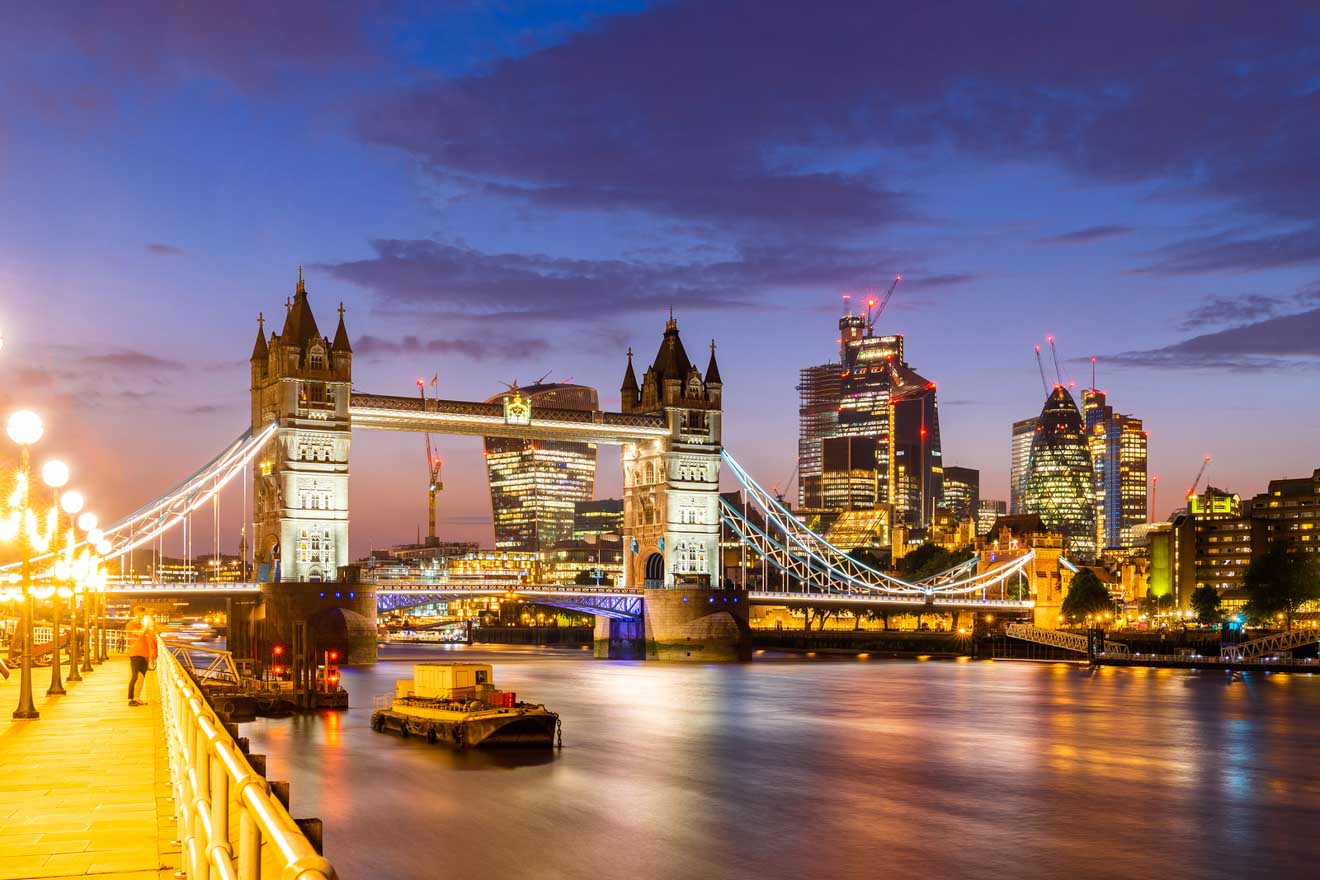 If you're planning to stay in London for a few more days and you're looking to visit a few more attractions besides the Shard, then check out the combo tickets below. These tickets offer access to 2-3 attractions together for a seamless itinerary!
Although they cost a few extra pounds than you'd pay if you buy them separately, I'm sure that's worth the security of getting the tickets you want for that specific date along with some other attractions (and going through the process only once).
4. London City Pass – Is it worth it?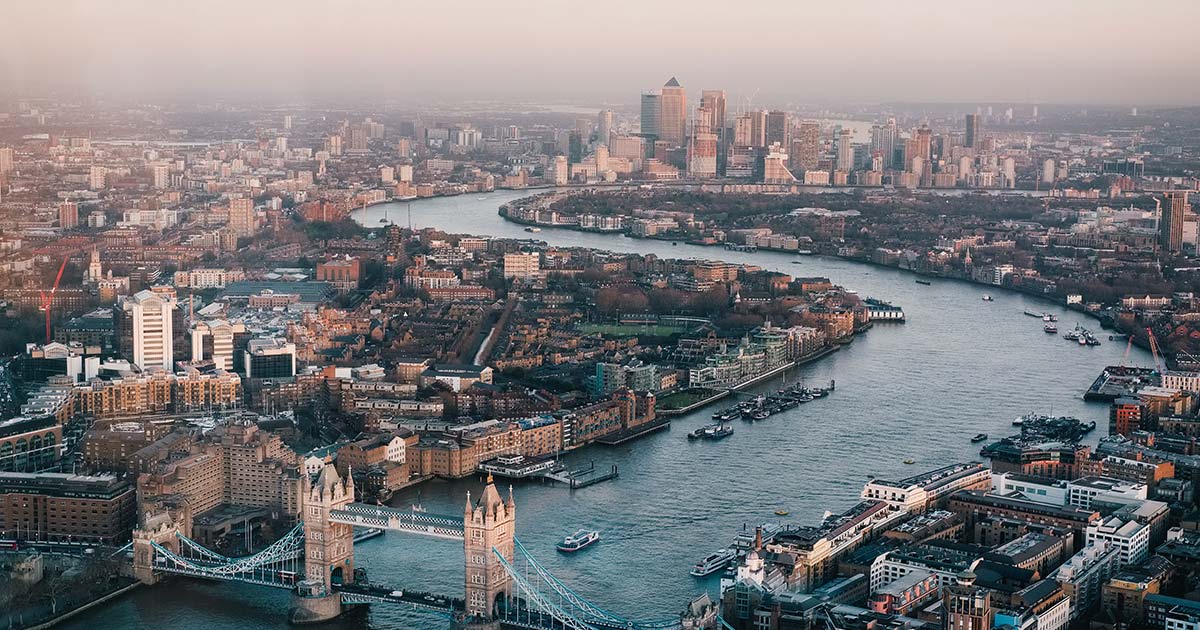 When I lived in London, I tried to check out as many attractions as possible from my list. But let's face it, it's super expensive to visit all of them no matter how tempting everything looks and sounds!
Fun Fact: The Shangri-La hotel's swimming pool is located on the 52nd floor, and it's Europe's highest swimming pool!
But luckily, I've found a great solution for those of you who are eager to explore as much as you can: the London City Pass!
I can already hear some of you asking, "what is she talking about? Is this a thing?". Oh yes, it is! For anyone who doesn't know, a city pass is a ticket that gives you access to many different tourist attractions for a singular reduced rate.
In most cases, these passes will save you money as they're made to help tourists visit many different attractions. However, it's important to remain grounded and remember that sometimes these passes just have a really good marketing strategy and are not really worth the money.
So today, I'm here to show you if the London Pass is worth it or not, so let's begin:
You can buy passes for 1 – 7 or 10 days of validity for different prices depending on how much time you have. Here are the adult prices:
1 Day Pass: £84
2 Days Pass: £110
3 Days Pass: £130
4 Days Pass: £149
5 Days Pass: £161
6 Days Pass: £168
7 Days Pass: £173
10 Days Pass: £190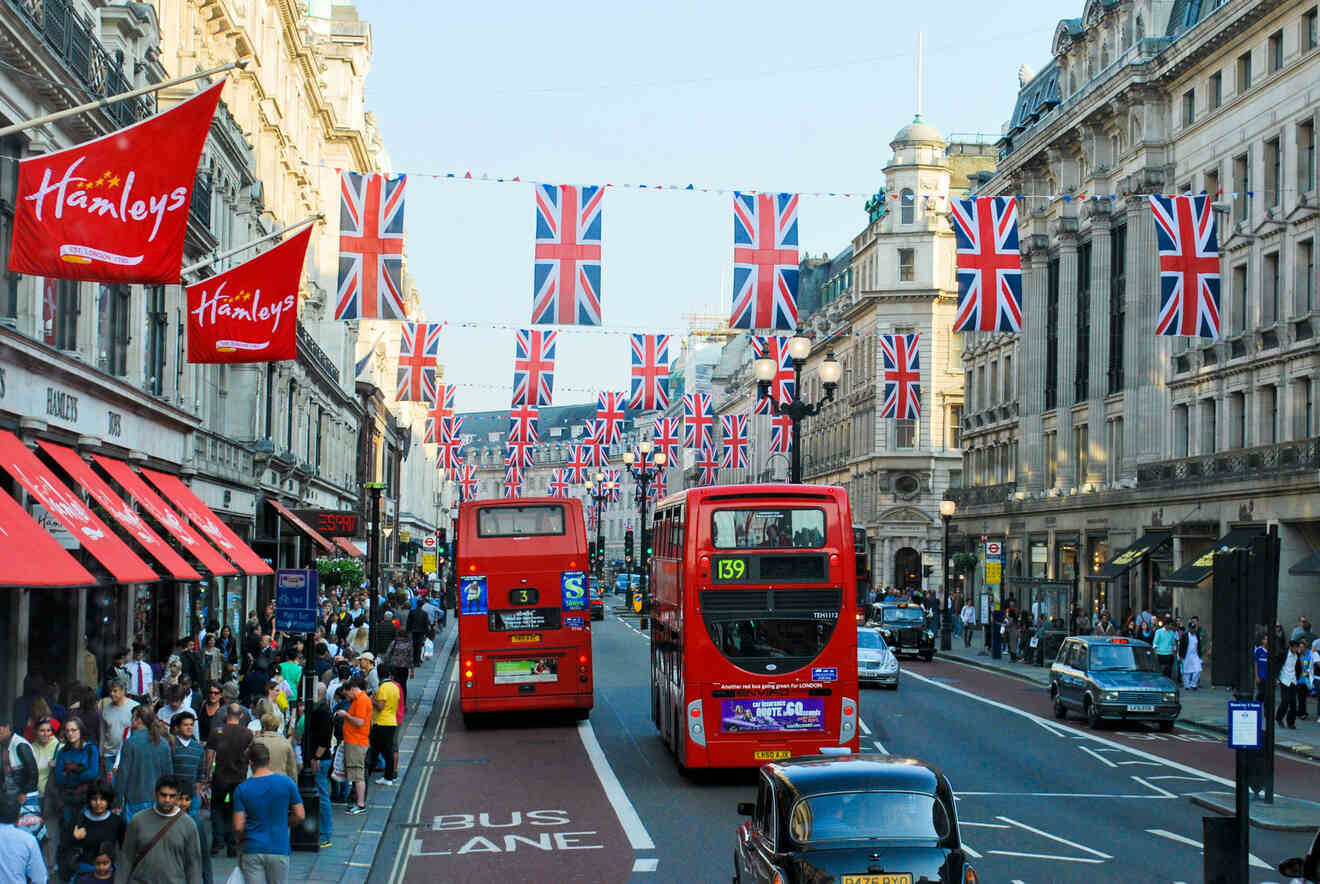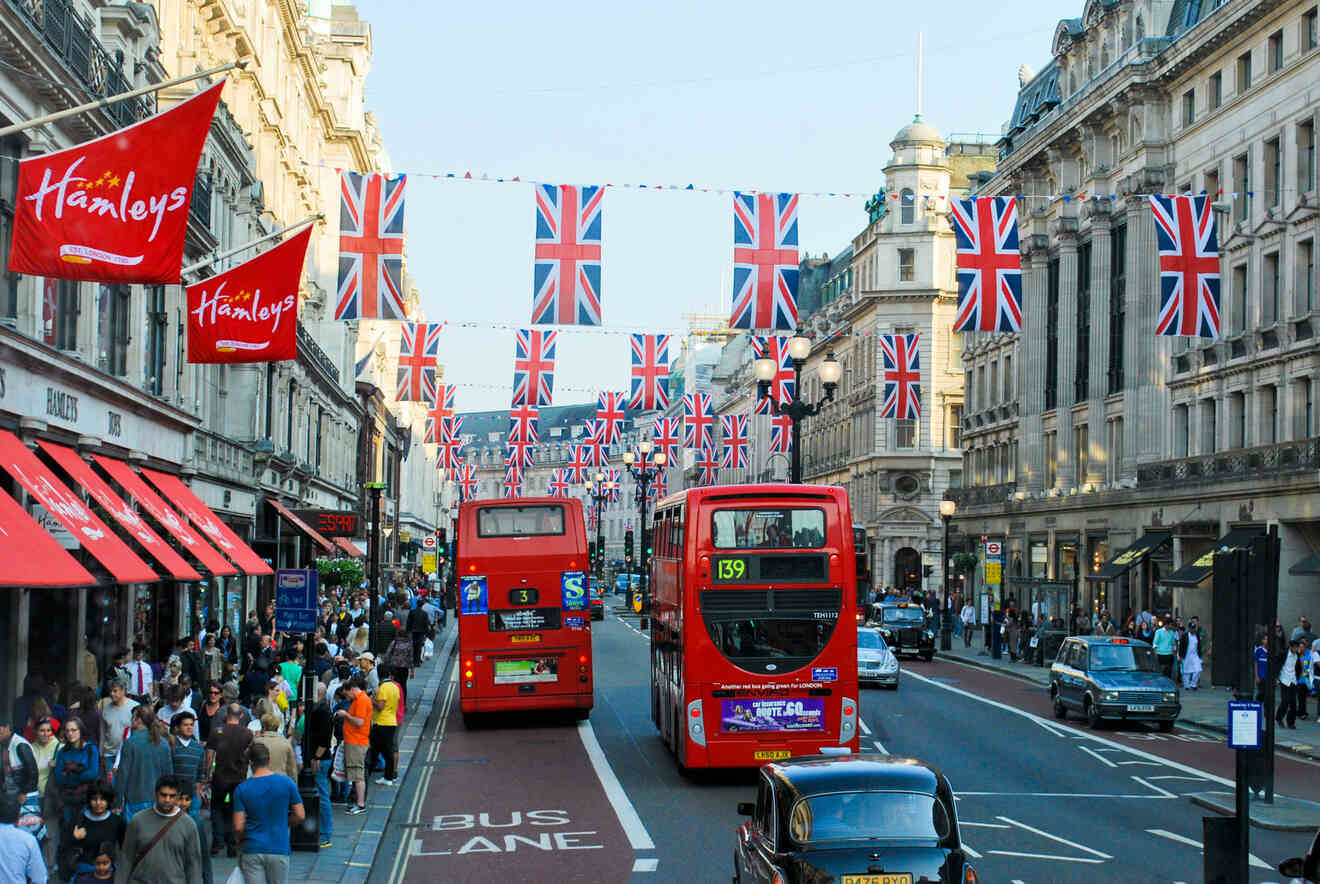 There are 86 attractions including museums, tours and castle included in the London Pass and as much I wanted to find ways to visit all of them is pretty impossible. So here's a list of the individual prices for the most popular ones so that you can decide if the pass is worth it for you or not:
The Shard – £28
Tower of London – £29
Hop-on-hop-off tour – £37
St Paul's Cathedral – £18
Westminster Abbey – £25
Tower Bridge – £12
Kensington Palace – £20
Windsor Castle – £27
Hampton Court Palace – £26
London Zoo – £36
Royal Botanic Gardens – £20
Brit Movie Tours – £15
By my calculations for the pass to be worth it, 5 days is the minimum length that you can get value out of the card without being too rushed. However, if you need more time, you can also buy the 7 days or 8 days one as the savings generally goes up the more days you use the pass.
Here are my calculations to show you how much money you will save if you visit the main attractions included in the pass in 5 days:
The Shard (£28) + Tower of London (£30) + Hop-on-hop-off tour (£37) + St Paul's Cathedral (£18) + Westminster Abbey (£25) + Tower Bridge (£12) + Kensington Palace (£20) + Windsor Castle (£27) + Hampton Court Palace (£26) + London Zoo (£36) + Royal Botanic Gardens (£20) + Brit Movie Tours (£15)
28 + 30 + 37 + 18 + 25 + 12 + 20 + 27 + 26 + 36 + 20 + 15 = 294
You save £133 (294 – 161 = 133)
Since the 5 days pass is £161 you would need 12+ activities to make it worth it. You can also pick the 6 or 7 days passes and have more time plus more activities, but it will also cost you more. But overall, the London Pass is one of the best value city passes I have seen!
5. Stay at The Shard in the Shangri-La Hotel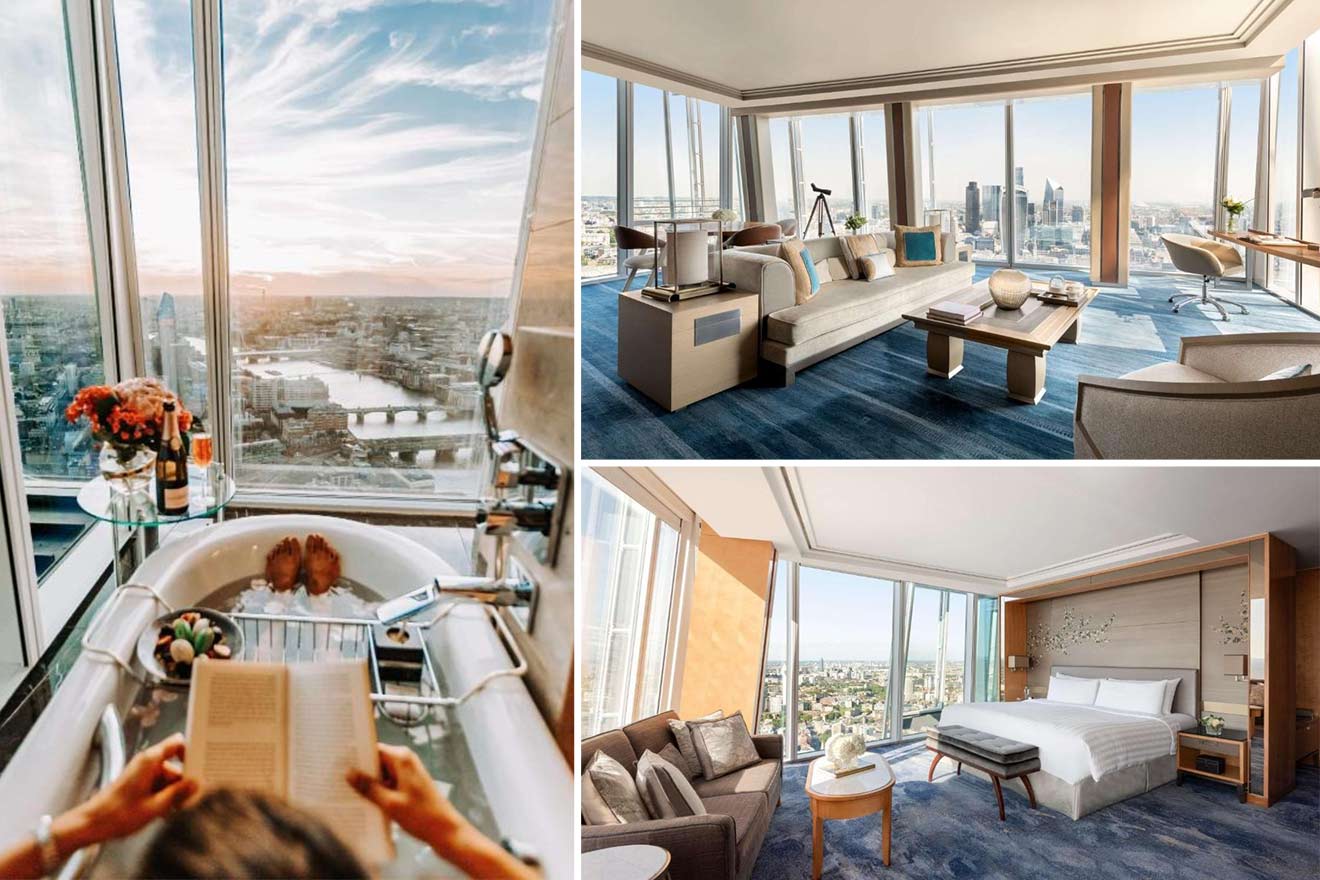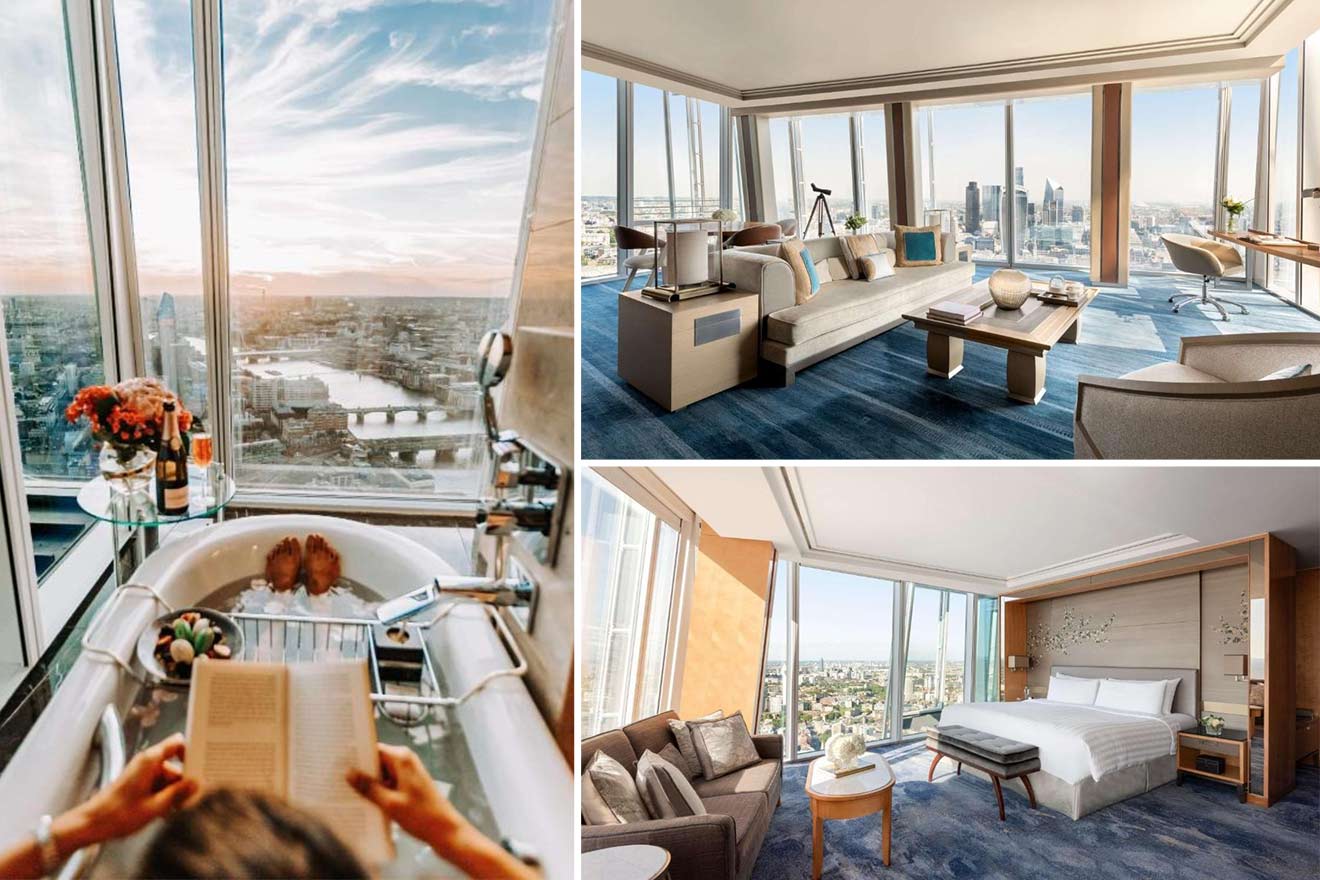 And ladies and gentlemen, the cherry on top: the fabulous Shangri hotel!
How amazing is it that you can actually sleep inside the attraction that you want to visit? I feel like this should become a trend (imagine sleeping inside a museum like the Louvre or some other cool place)!
NOTE: Staying at the Shangri-La Hotel doesn't give you access to the official viewing platform of the Shard (you'll have to buy your tickets separately for that). However, all guests say that the views you get from the rooms, the pool and restaurants are just as good!
This luxurious hotel offers visitors a once-in-a-lifetime kind of opportunity! Shangri hotel sits on levels 34-52 of The Shard and boasts the most incredible views of all the best places in London!
Fun Fact: The most exclusive room at Shangri-La hotel costs £14,000 a night!
The rooms come with floor-to-ceiling windows and marble-clad bathrooms. You can enjoy dinner at one of the 3 restaurants and of course, have drinks at London's highest bar and chill in the spectacular indoor pool!
Important things you should know about The Shard
I hope you're sitting somewhere comfortable because we've still got some crucial things to go over before you buy your tickets for The Shard!
Those were just the main points, but now we're switching to some more in-depth tips and tricks to help you get the most out of your visit!
1. How far in advance do you need to buy your tickets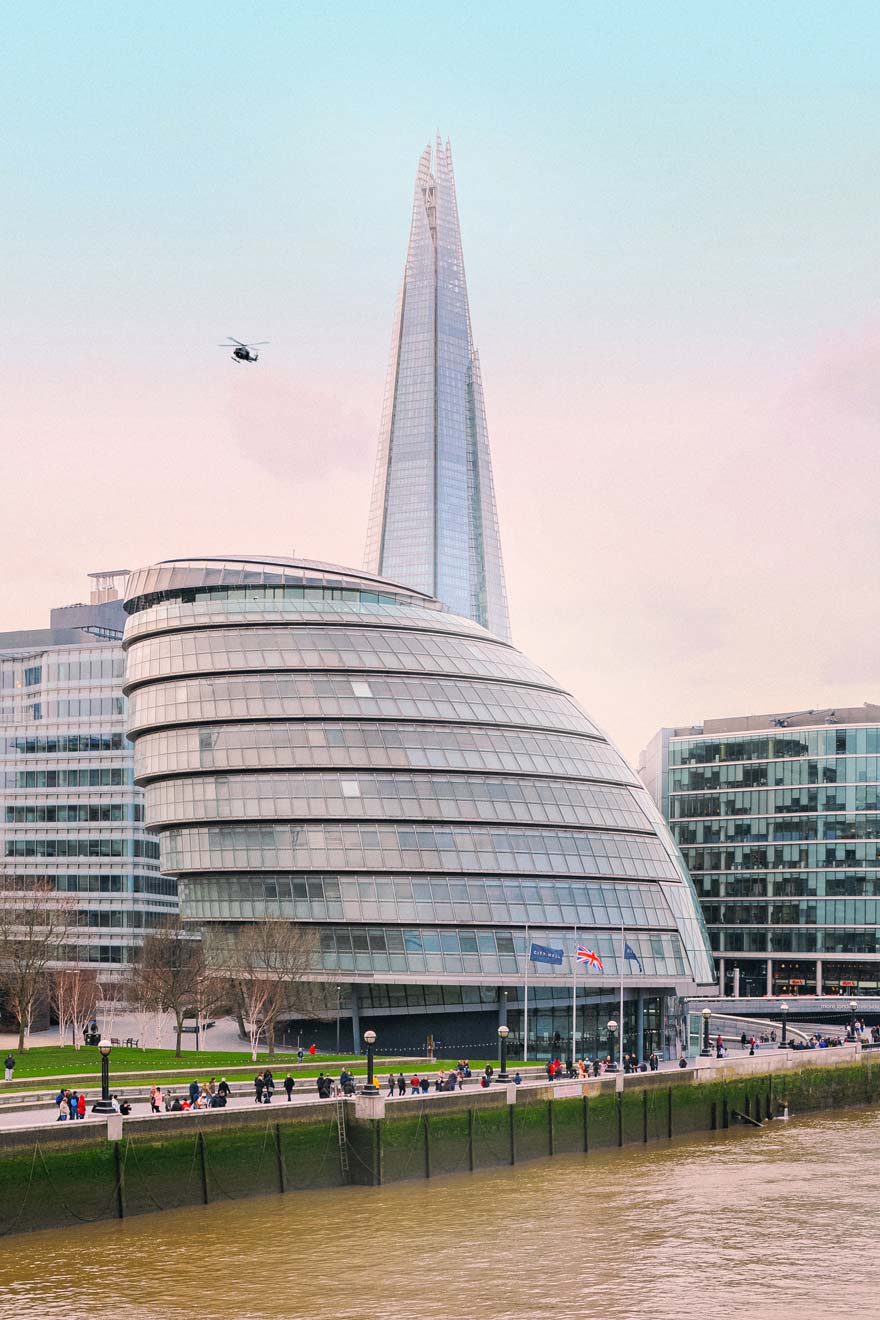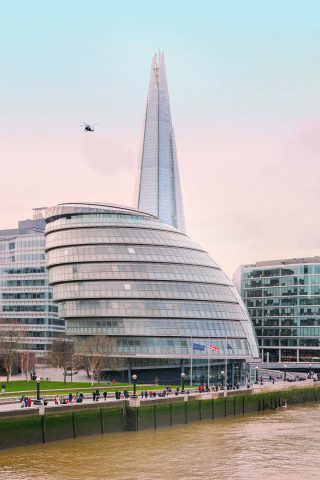 I would recommend buying your tickets 1 week in advance. That way, you can rest assured that you'll find the date and time that you want!

As I mentioned, you can buy the early bird tickets from the official website at least 4 days in advance, but if you decide at the last minute, there's no need to worry because you can buy the tickets at the same price from GetYourGuide!

I know that some of you will want to go during certain times of the day, either in the morning to see that beautiful light over the city or right before sunset. So definitely book early if you want super specific hours.

2. Opening hours & the best time to visit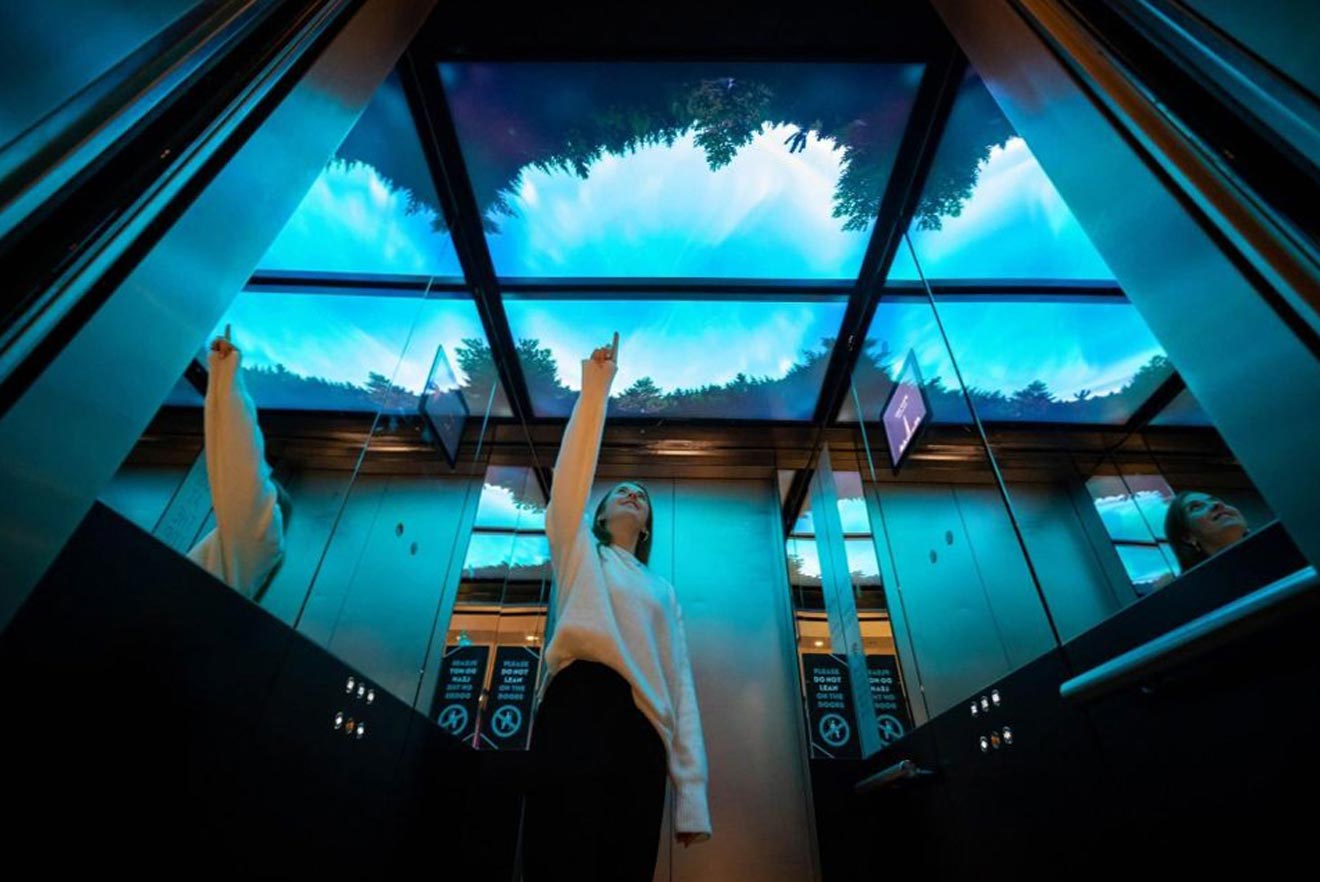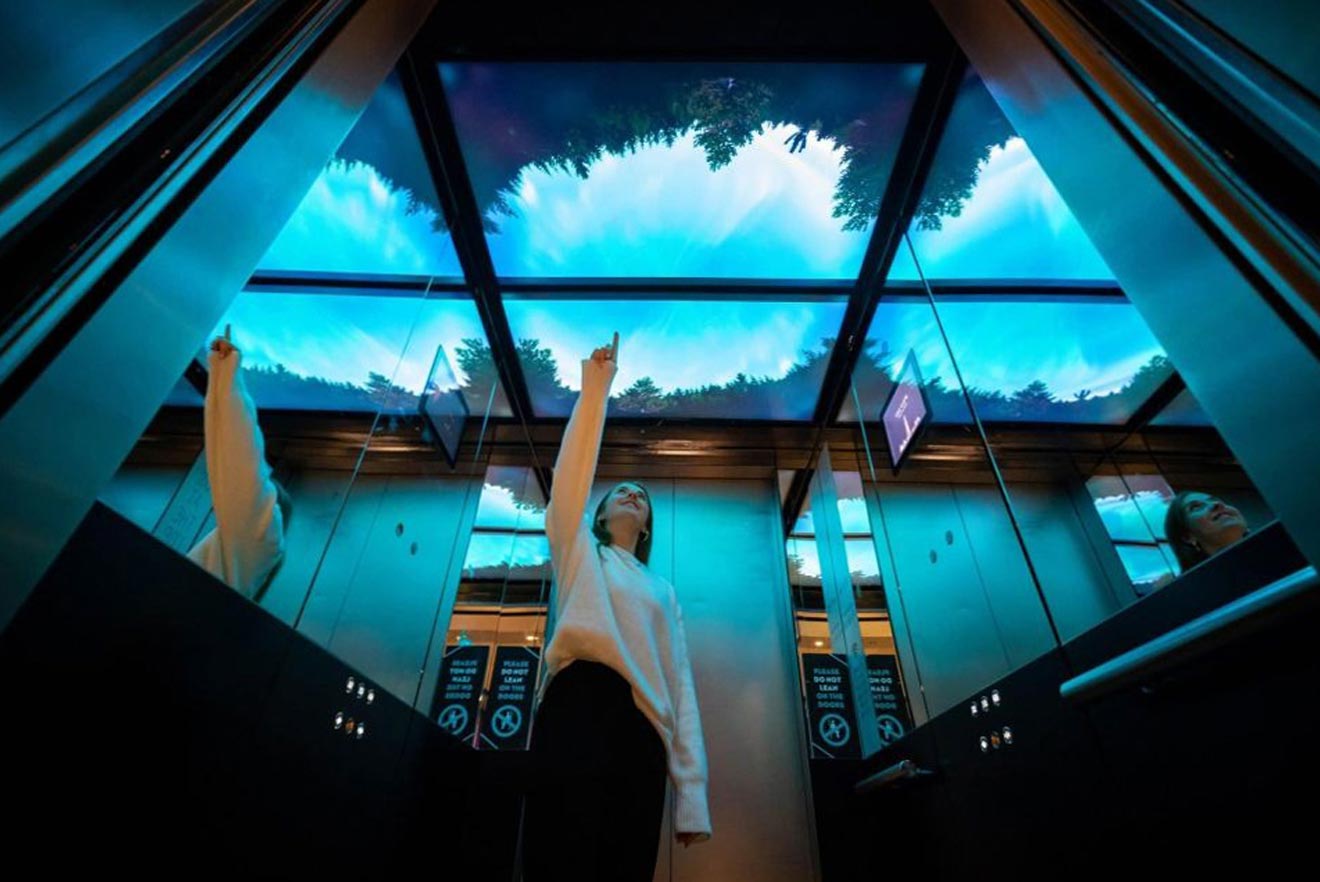 The Shard has different opening times, and I'll mention all of them below. However, they differ from month to month, so you'll have to check their official website before booking your ticket to double-check the schedule for that particular time of the year.
Usually, The Shard is open daily during the summer (June, July, August), but in winter (December, January, February), they have a special schedule and are open every day except Mondays and Tuesdays.

The normal opening hours are 2pm – 10pm however some specific days have longer or shorter hours. Below, I've attached a picture so you can see how their schedule works. As you can see they have a color system to indicate the specific hours however there doesn't seem to be any sort of pattern, so you really need to check your dates properly before you get the tickets:
After picking the day you'll also have to pick a 15-minute timeslot, and you should be at The Shard right when your timeslot starts. Be super careful because if you're 15 minutes late, you may have to pay a fee. Once you're inside, there's no time limit, and you can stay until the close-down.
Fun Fact: Once, a fox made its way to the 72 floor! Luckily it was saved, but no one knew how she got there!
Usually, the peak time is between 4 PM to 6 PM, around sunset. Most tourists come at that time because the light is at its best (which I can confirm). So if you don't mind the crowds, I'd recommend coming as the views are spectacular.
Or you could come later but keep in mind that the last entry is 1h before the advertised time. So if you're coming on a day when The Shard closes at 9 PM, the last entry would be at 8 PM.
3. View Guarantee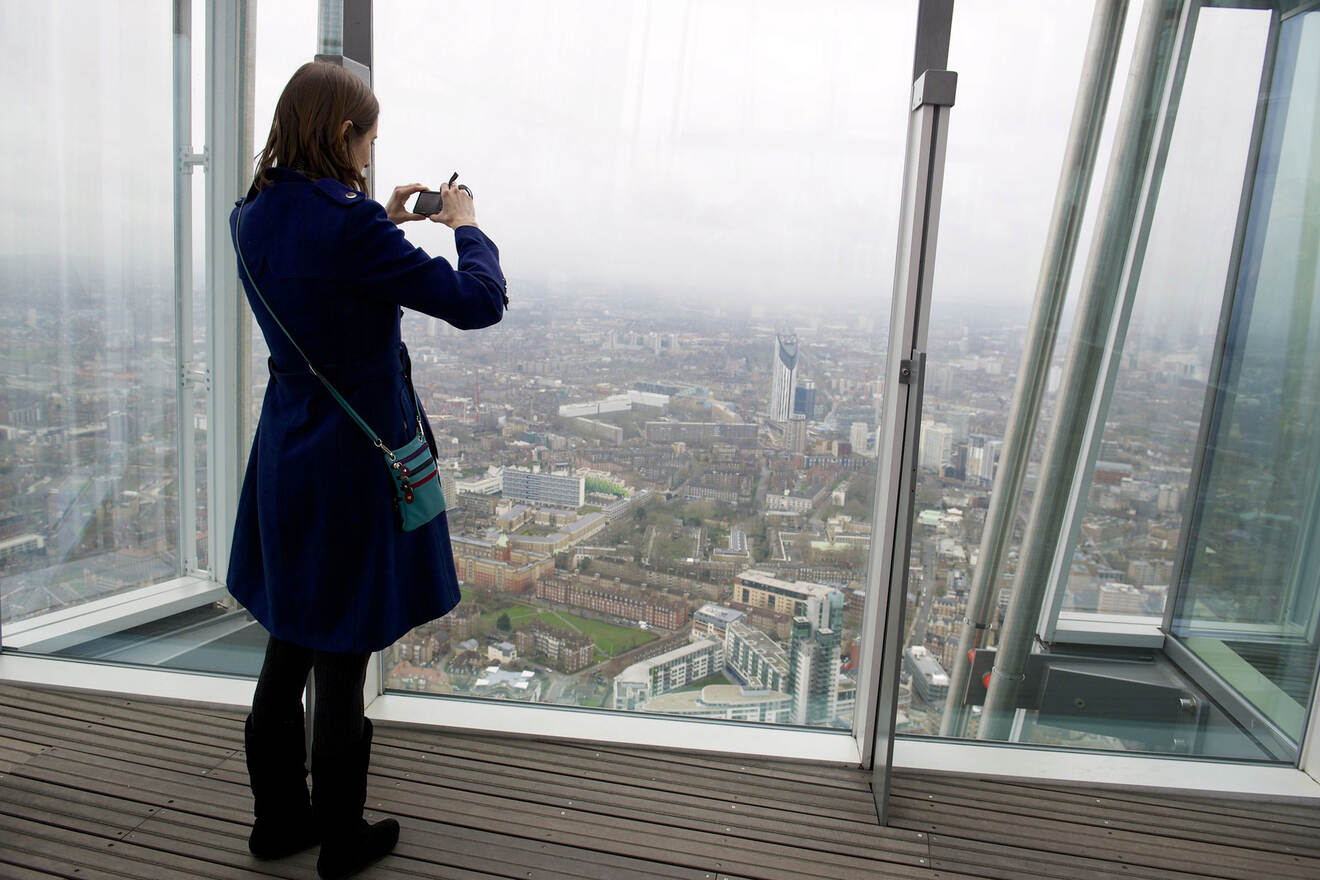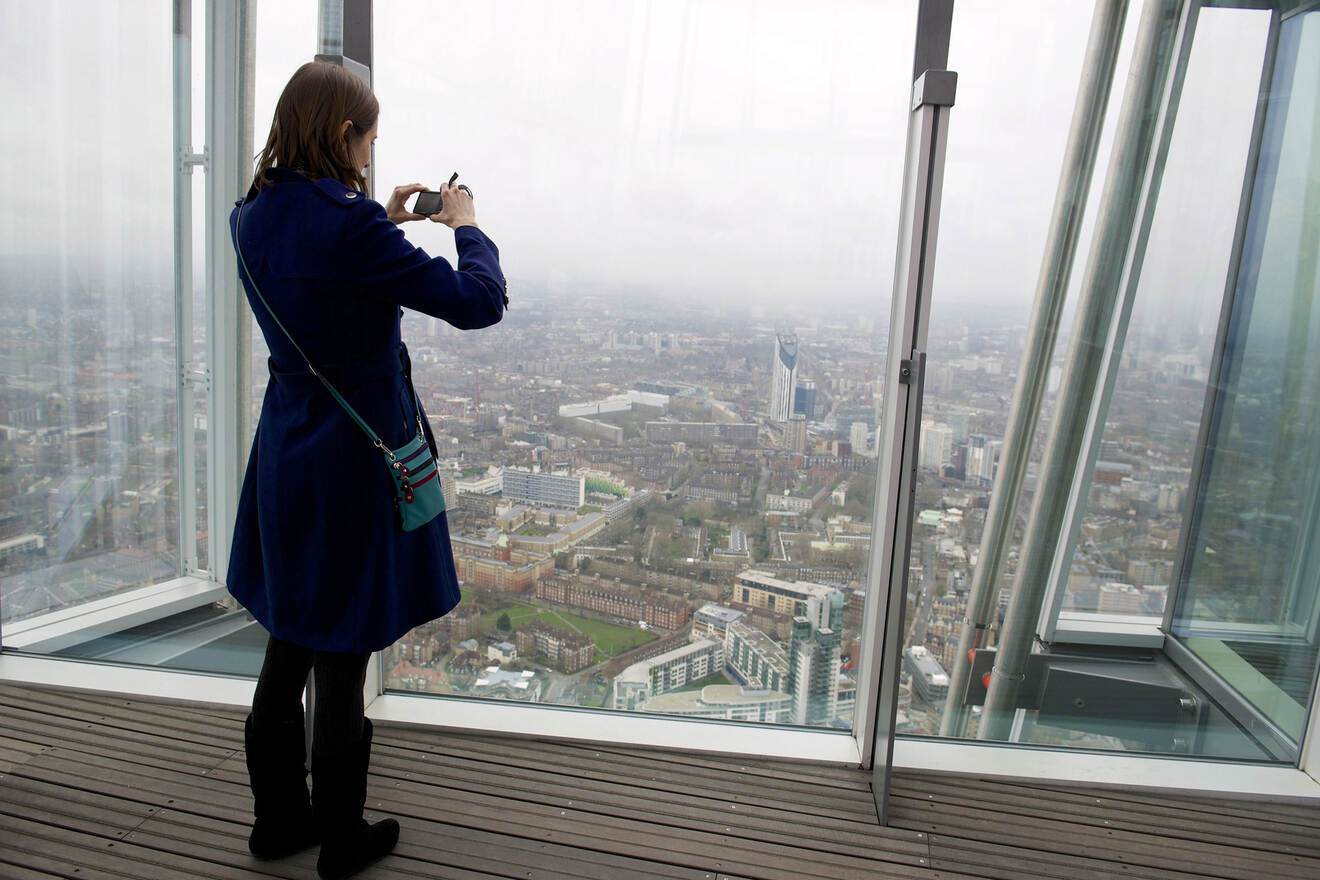 Worried that the ever-changing London weather might spoil your trip to the Shard?
Well, you don't have to worry because the Shard has a policy called "view guarantee," which basically says that if you can't see at least 3 of the 5 important landmarks due to low visibility caused by weather, then they will give you a complimentary return voucher valid for 3 months which will allow you to book your standard ticket from their official website for free!
The important landmarks for the view guarantee are as follows:
London Eye
The Walkie Talkie
Tower Bridge
One Canada Square
St Paul's Cathedral
It's super important to know that you have to claim your free ticket on the day of your visit before you leave the Shard. Otherwise, you won't get the voucher!
Just head to the ticketing office and ask for the manager who will authorize your view guarantee and offer you the vouchers to secure your next free visit!
NOTE: The view guarantee isn't included in all ticket types (such as discounted tickets), so check the terms and conditions of your ticket if you are planning on relying on the view guarantee.
4. How to get to The Shard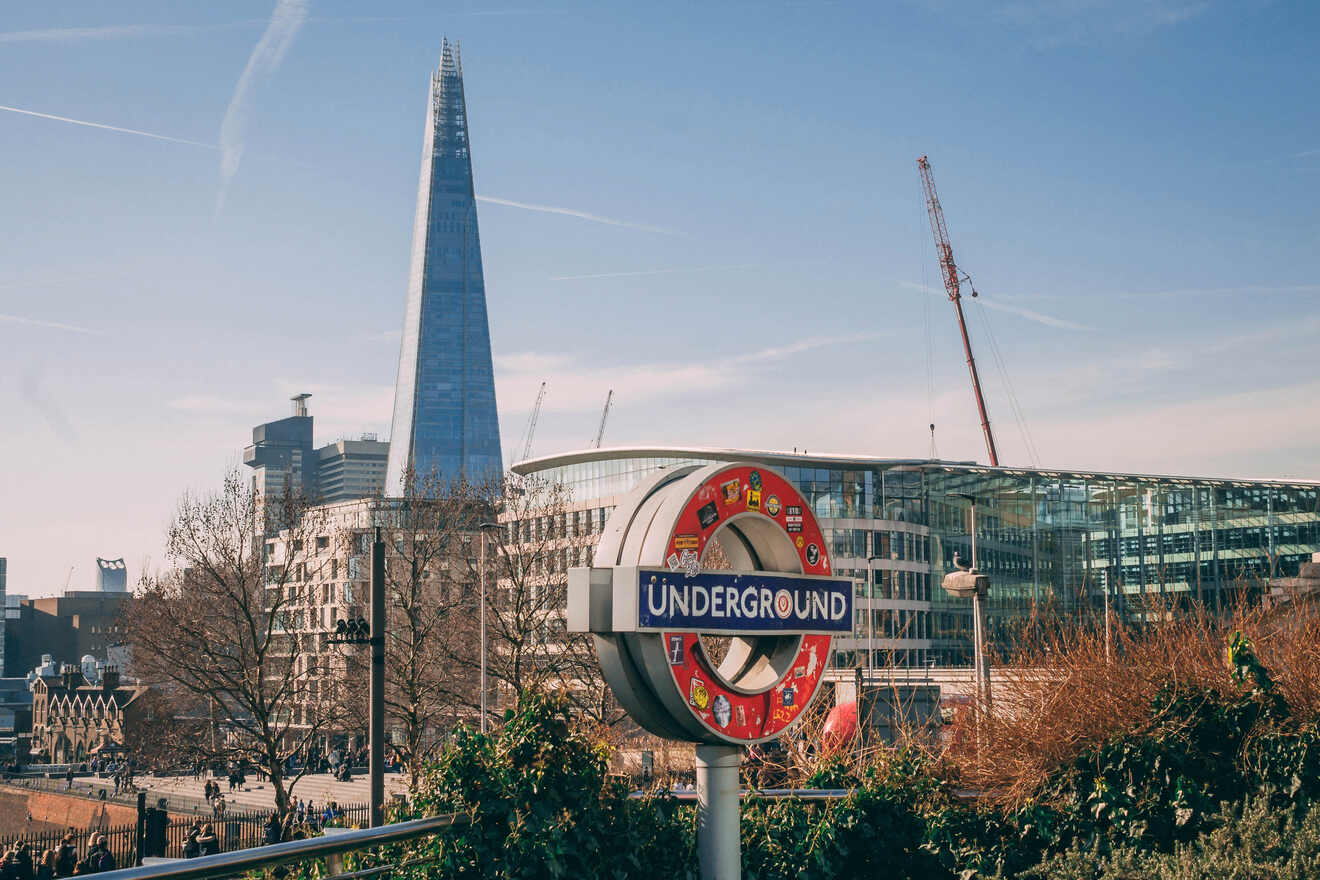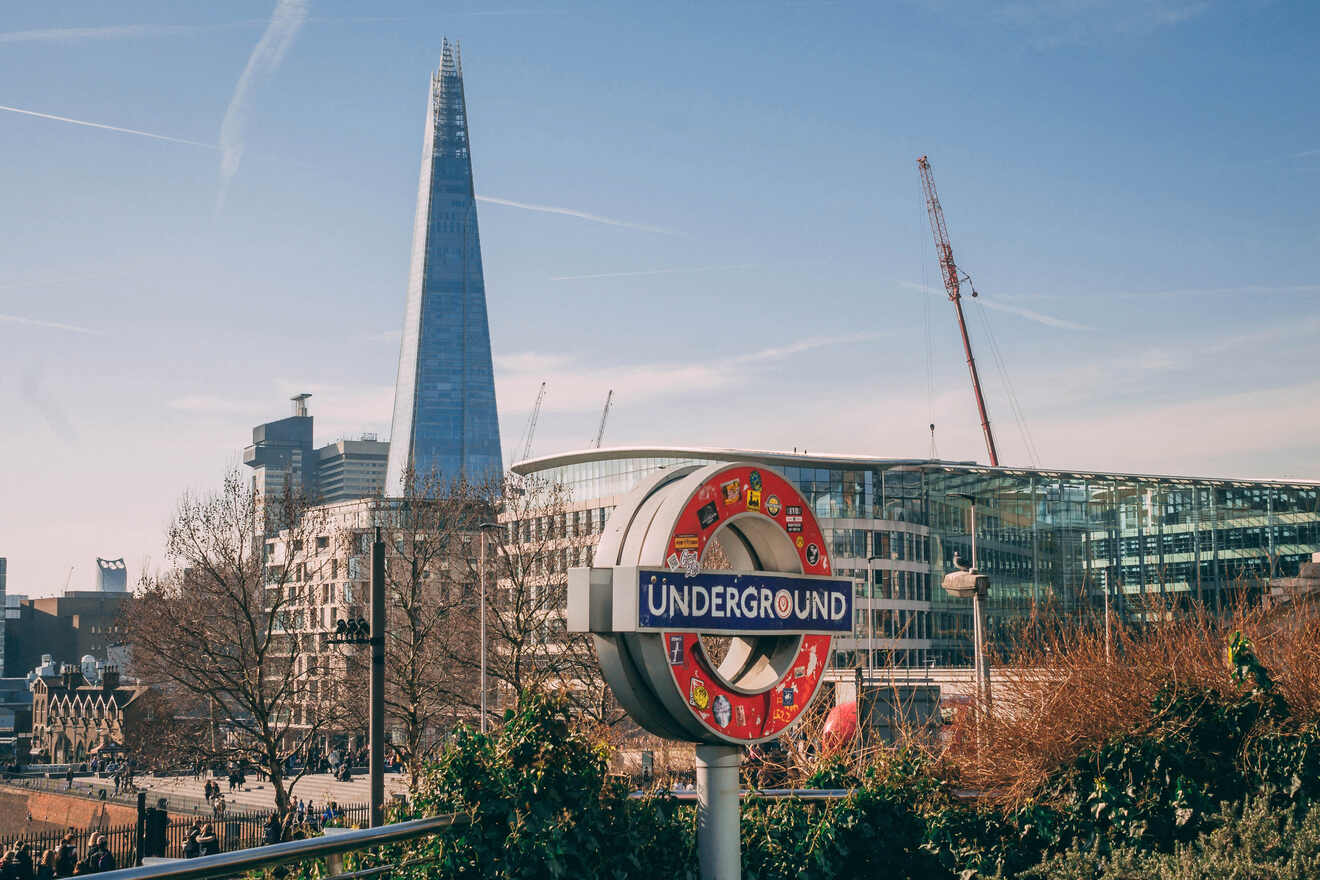 There are different ways to get to The Shard, depending on which means of transport you'll want to use, and I've made a list of the main ones:
By Tube: The closest tube station is London Bridge (3 min walk), and you can use the Jubilee and Northern Lines to get there
By Bus: There is a bus station right near London Bridge subway station, called London Bridge Station (Stop R), the buses that stop here are 43, 48, 141, 149 and 521
By Car: If you're coming by car you should know that there there is no parking or drop off point for visitors at the View from The Shard. However, there are privately owned car parks around the area and the prices start from £6 per 2 hours. You can look on Parkopedia for more details.
5. Entrances to The Shard
There are 5 entrances to The Shard, but there's only 1 available for tourists who come to visit the View at the Shard, and that's Entrance 2.
NOTE: Each entrance is designated for a specific thing. For the View at the Shard, you'll have to go to Entrance 2, and from there, get the elevator to go up to the other levels. If you want to visit the restaurant or go to the hotel, you'll have to go inside the building from the other entrance that I mentioned above for each place.
Once you enter, you'll have to climb 15 steps (there is also a small lift) to reach the booking hall, which is located on Level 1 of The Shard. This is where you go to have your ticket checked and go through the security check. From there, you'll take the elevator up to levels 68, 69, and 72.
6. What to bring (and not bring) to The Shard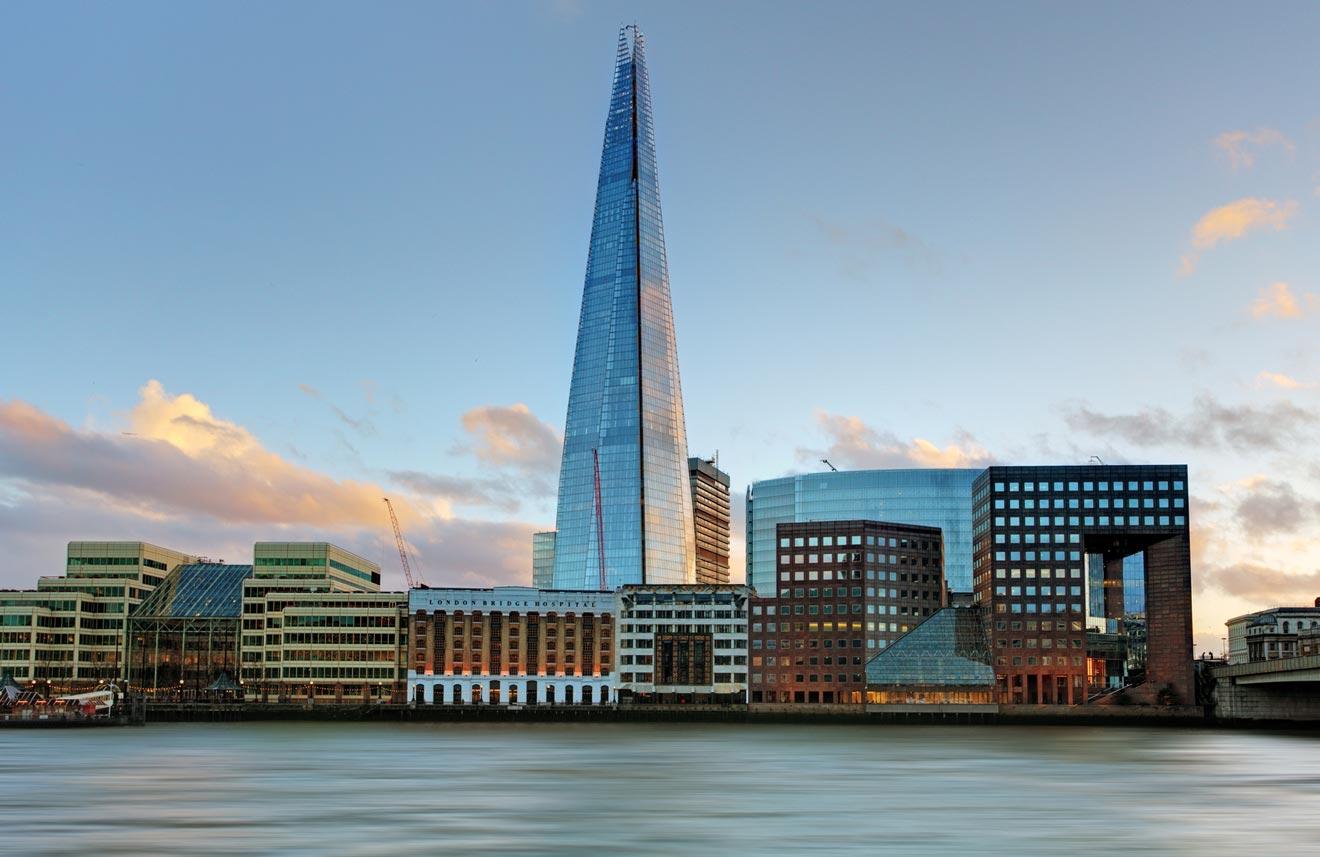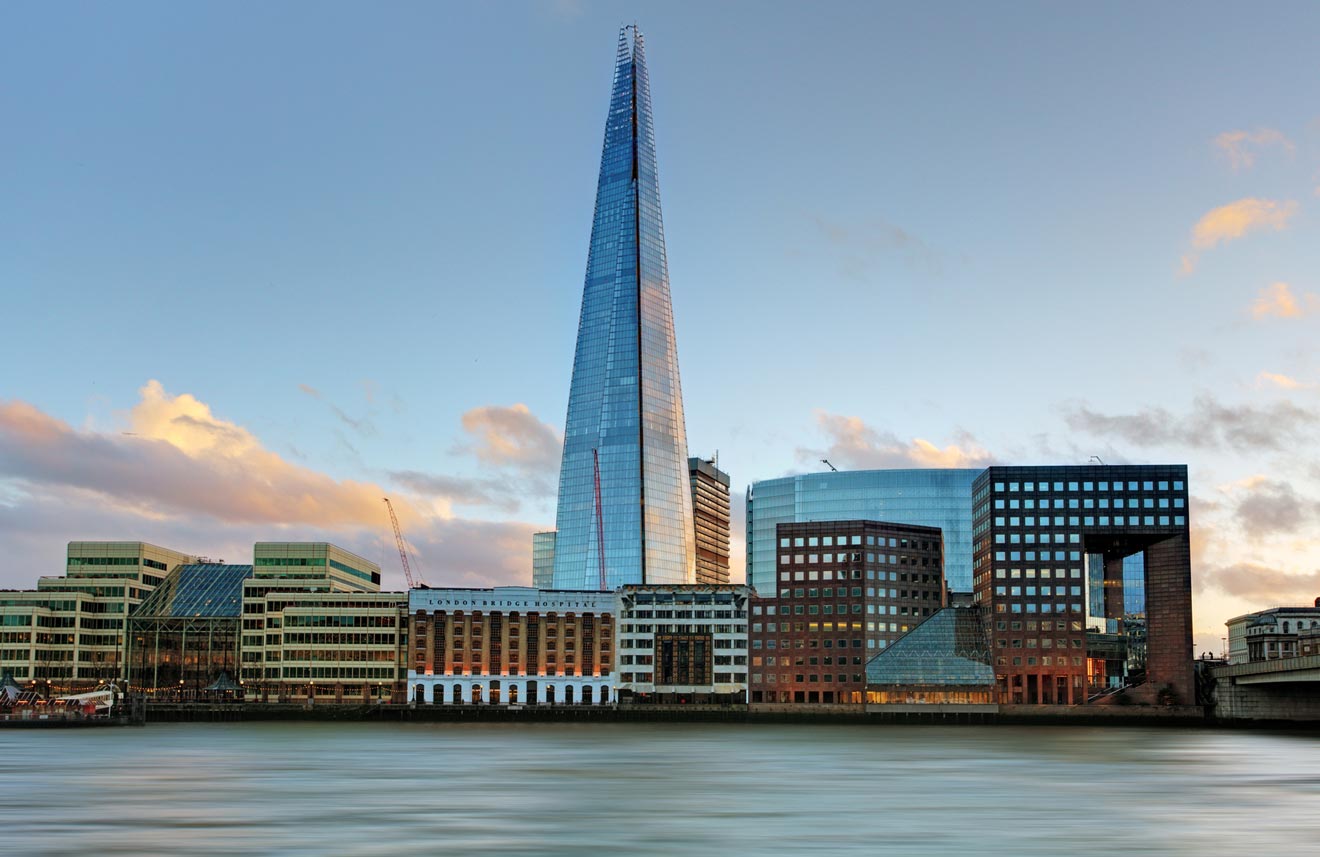 With your mind on all the other things you have to visit, it's hard to remember all the little details! So here are a few things you should know about what to bring or not bring inside The Shard.
Tickets – You don't have to print out your tickets for The Shard, but you can if you want to. Otherwise, just show the tickets that you've received on your email
ID – Although it's not necessary, sometimes they require your ID, so make sure you have it with you just in case
Photo policy – You can take as many videos and photos as you want during your visit. Although tripods and monopods are not allowed.
No food & drinks – You're not allowed to bring any snacks or drinks, as the only food allowed in The Shard is what you can buy there from the bars & restaurants
No large items – Suitcases and big bags are not allowed inside The Shard and there are no lockers or cloakroom so you'll have to keep your jackets with you during your visit
7. Landmarks to spot from the View from the Shard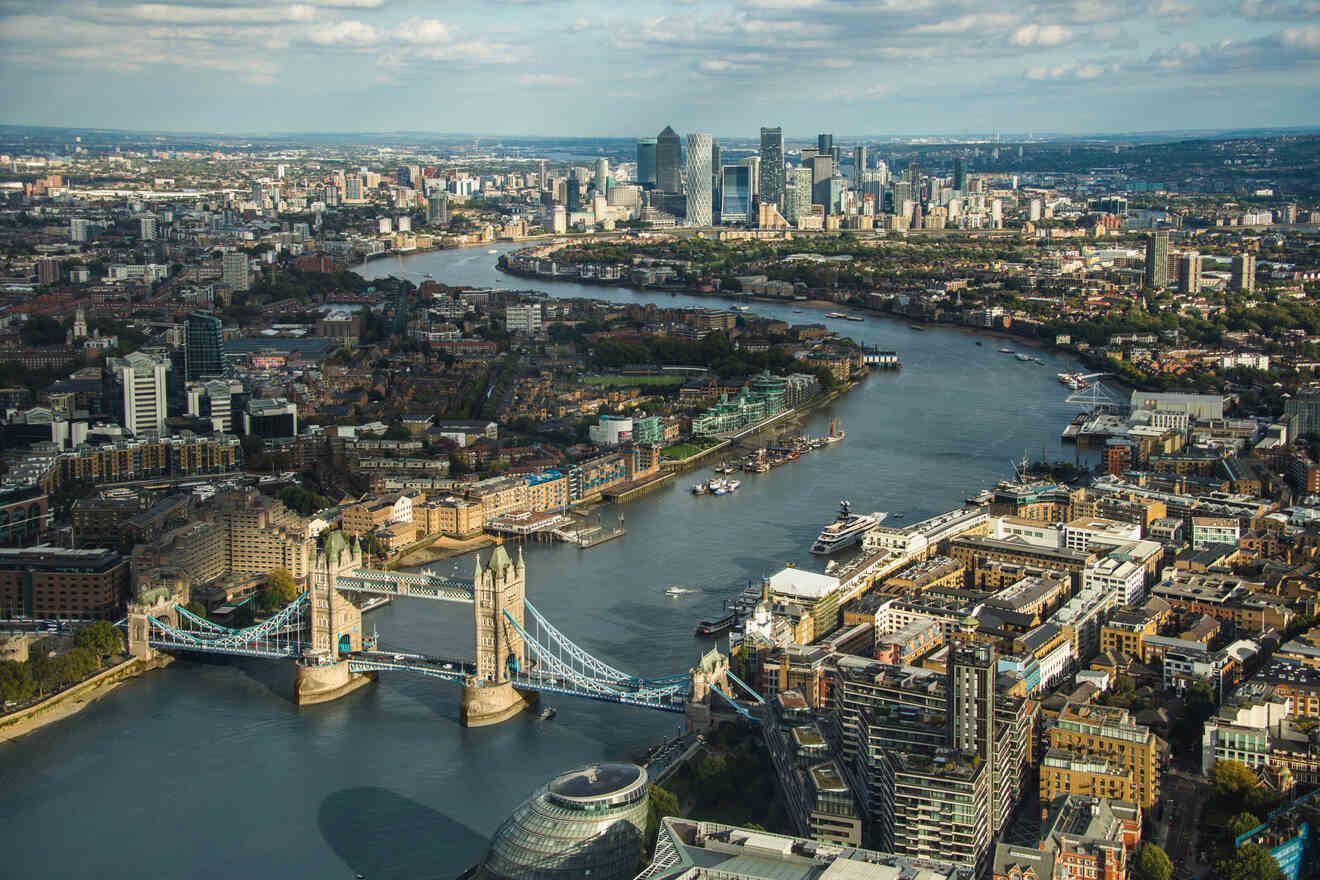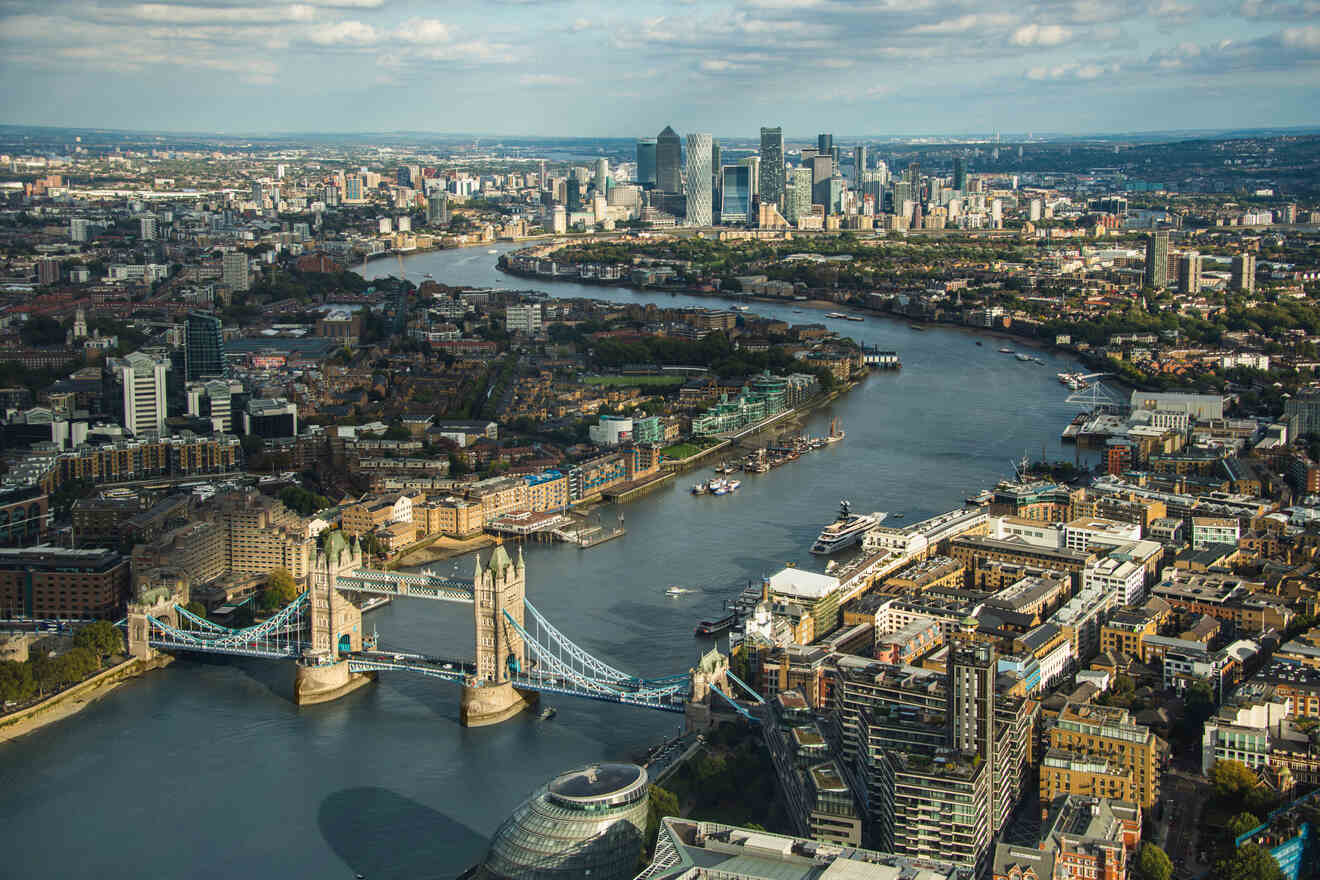 Once you get to the viewing gallery and see the whole city, you'll probably feel a bit overwhelmed, firstly because you're so up high and secondly because it's an unbelievable sight!
There are a few important sites that you should look for while you're up there, and I'm going to list them below so you can easily spot them while you're there:
Big Ben
Tower of London
Shakespeare's Globe Theater
London Eye
Tower Bridge
St Paul's Cathedral
Wembley Stadium
Buckingham Palace
One Canada Square
The Walkie Talkie
8. Facilities inside the attraction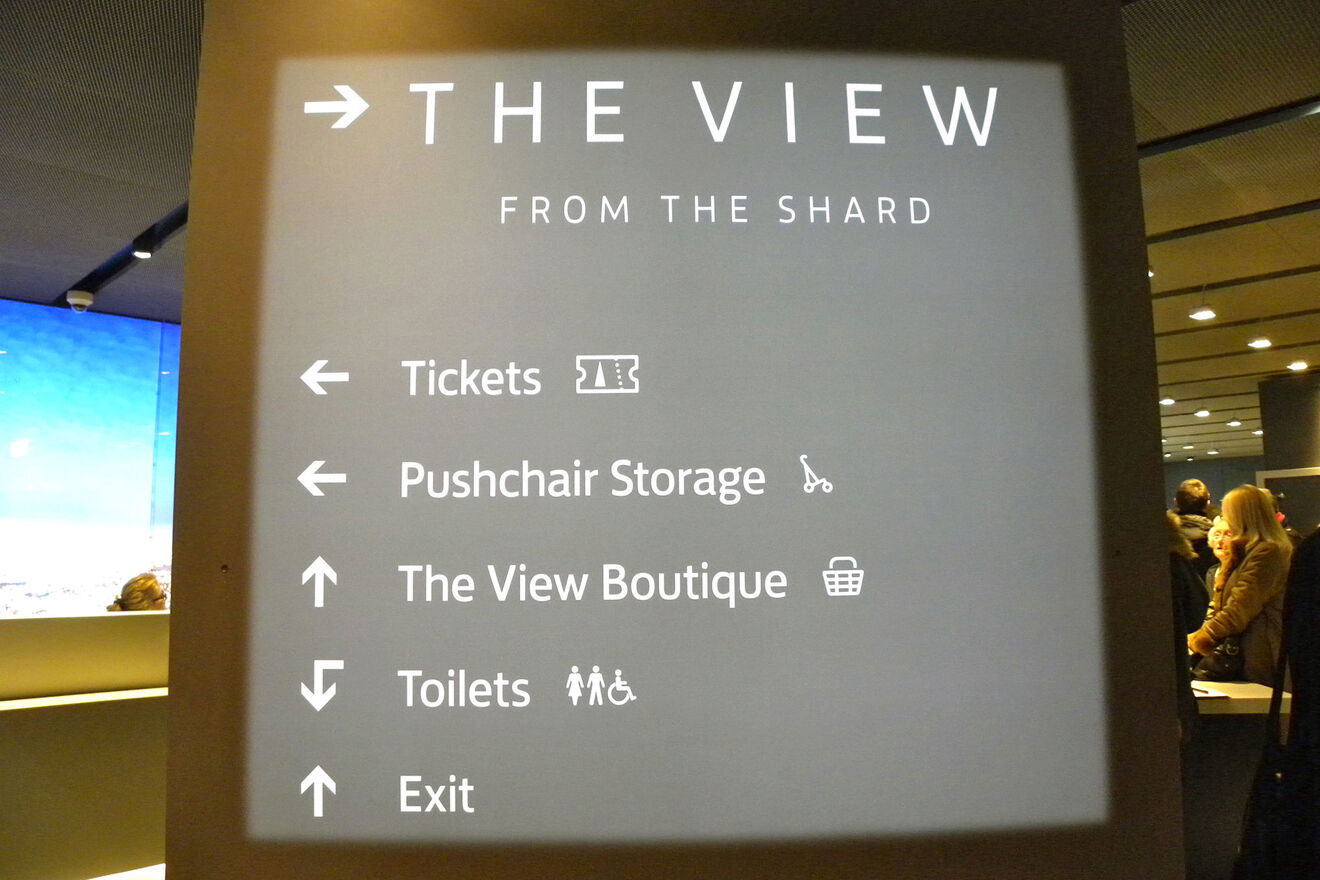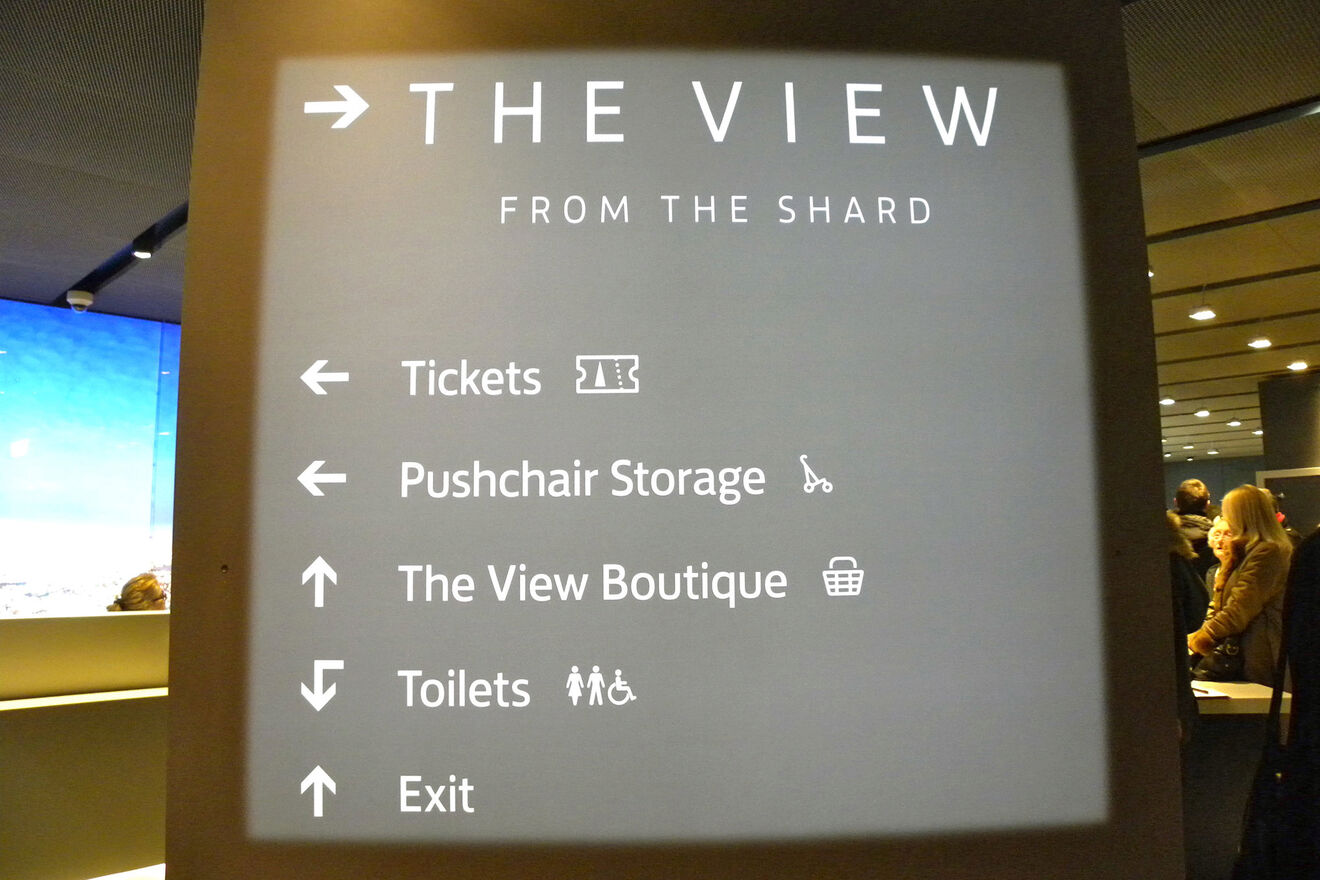 Toilets – You'll find the toilets on Level 1 and Level 68, both with baby changing and disabled access
Free Wi-Fi – There is free wifi inside The Shard, which is called "The View"
Gift Shop – The gift shop is located at the entrance of The Shard
Wheelchairs – If you need a wheelchair the staff can loan you one to use during the visit. All floors and areas for the View at the Shard are wheelchair accessible
9. The Shard Restaurants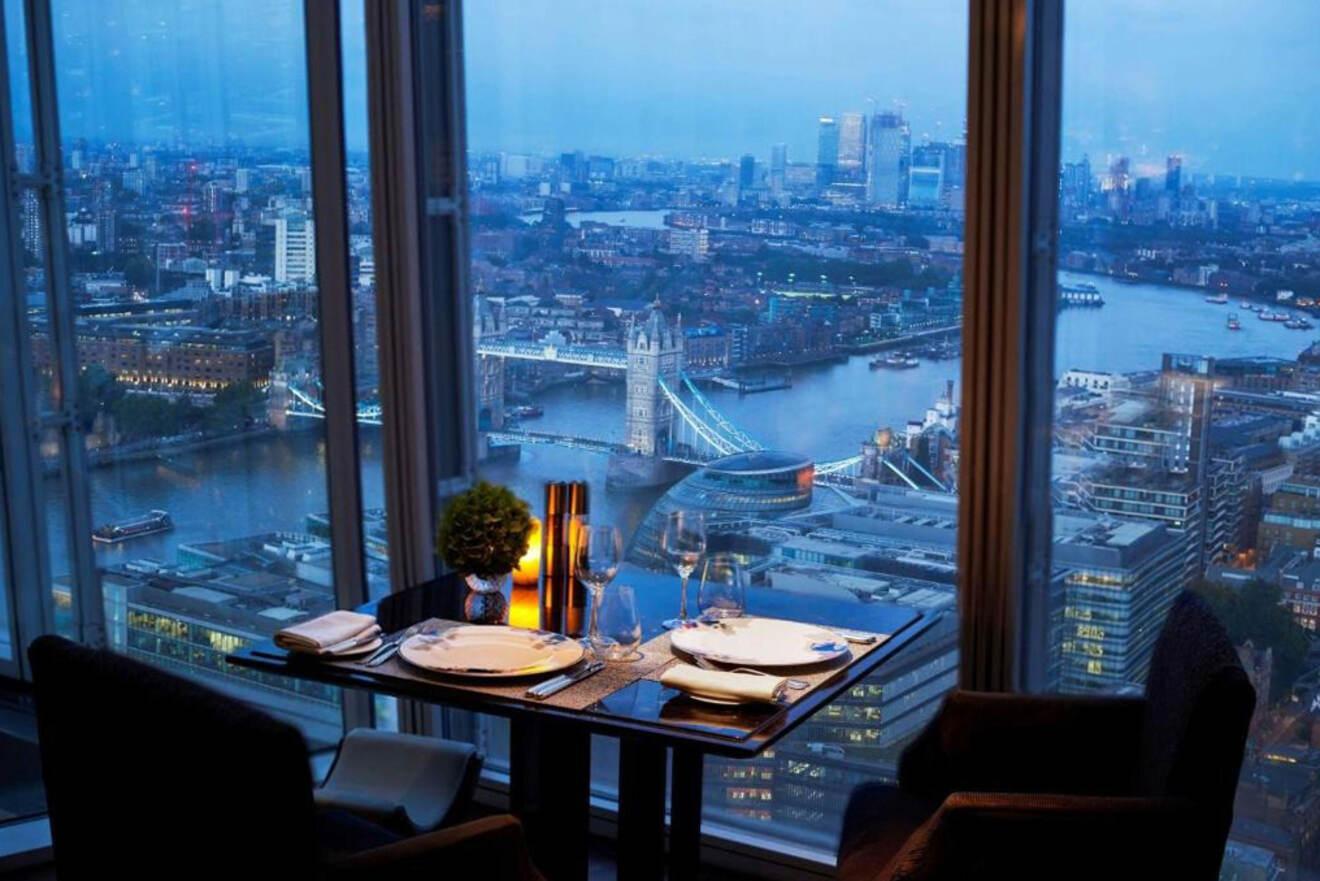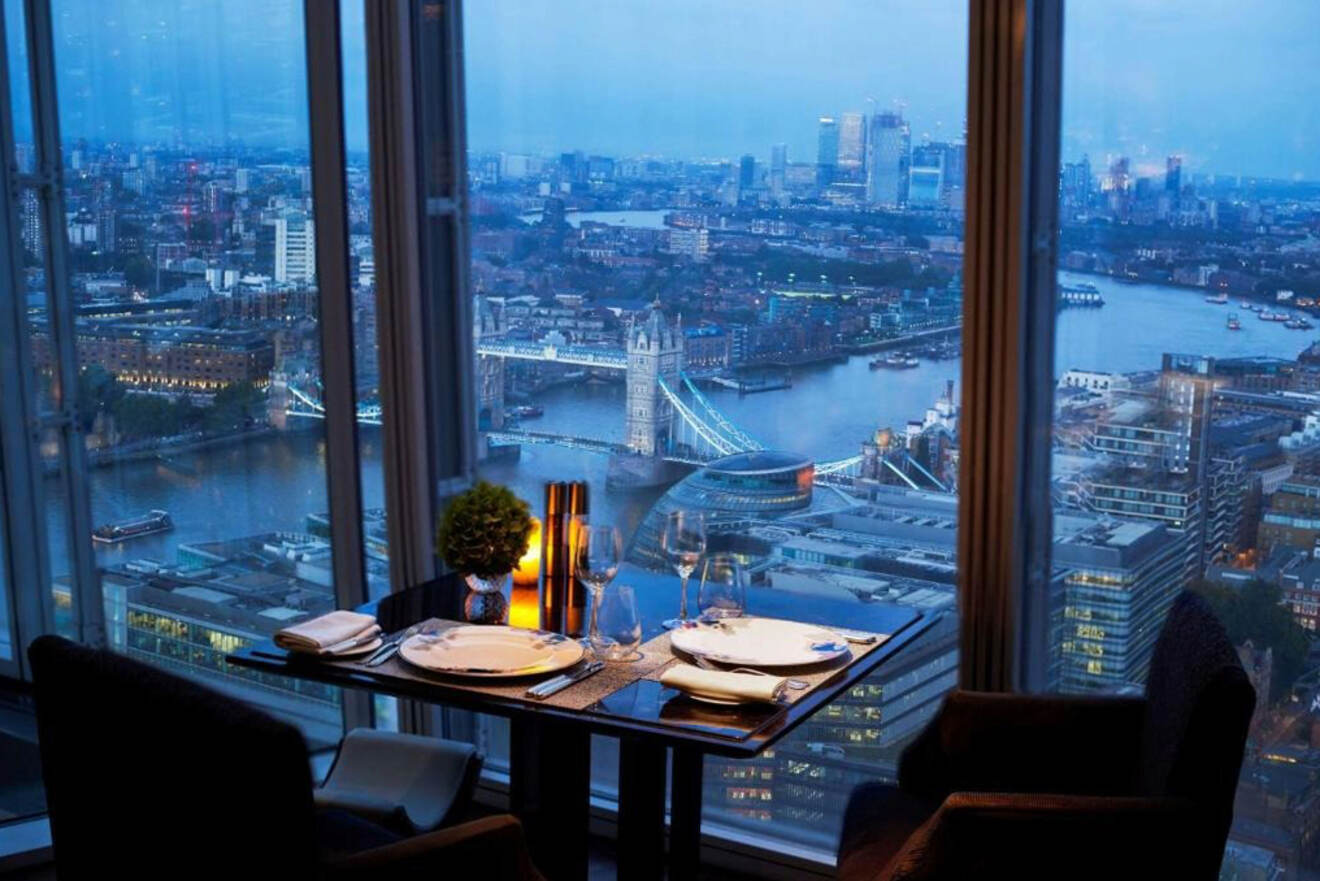 The main reason you want to come here is to see the amazing views. However, you should know that there are a few amazing restaurants and bars inside this unique building which are the best place to end your visit to The Shard!
So let's check them out:
NOTE: Make sure you wear appropriate clothes if dining at the restaurants in The Shard. Although they won't ask you to wear a bow and tie or something super elegant, do avoid any sportswear or beachwear as they can refuse you entry.
Aqua Shard – Located on the 31st floor of The Shard, this restaurant serves delicious dishes inspired by contemporary British cuisine with incredible 360 views of London from the ceiling-to-floor windows. Their dress code is smart/casual, with no flip-flops, trainers or shorts
Bar 31 – This is the perfect place where you can go and have a few drinks after your visit! Located on the ground floor, Bar 31 also offers snacks and dishes made with locally sourced ingredients and a fabulous terrace with seasonal decor!
FAQs about The View at The Shard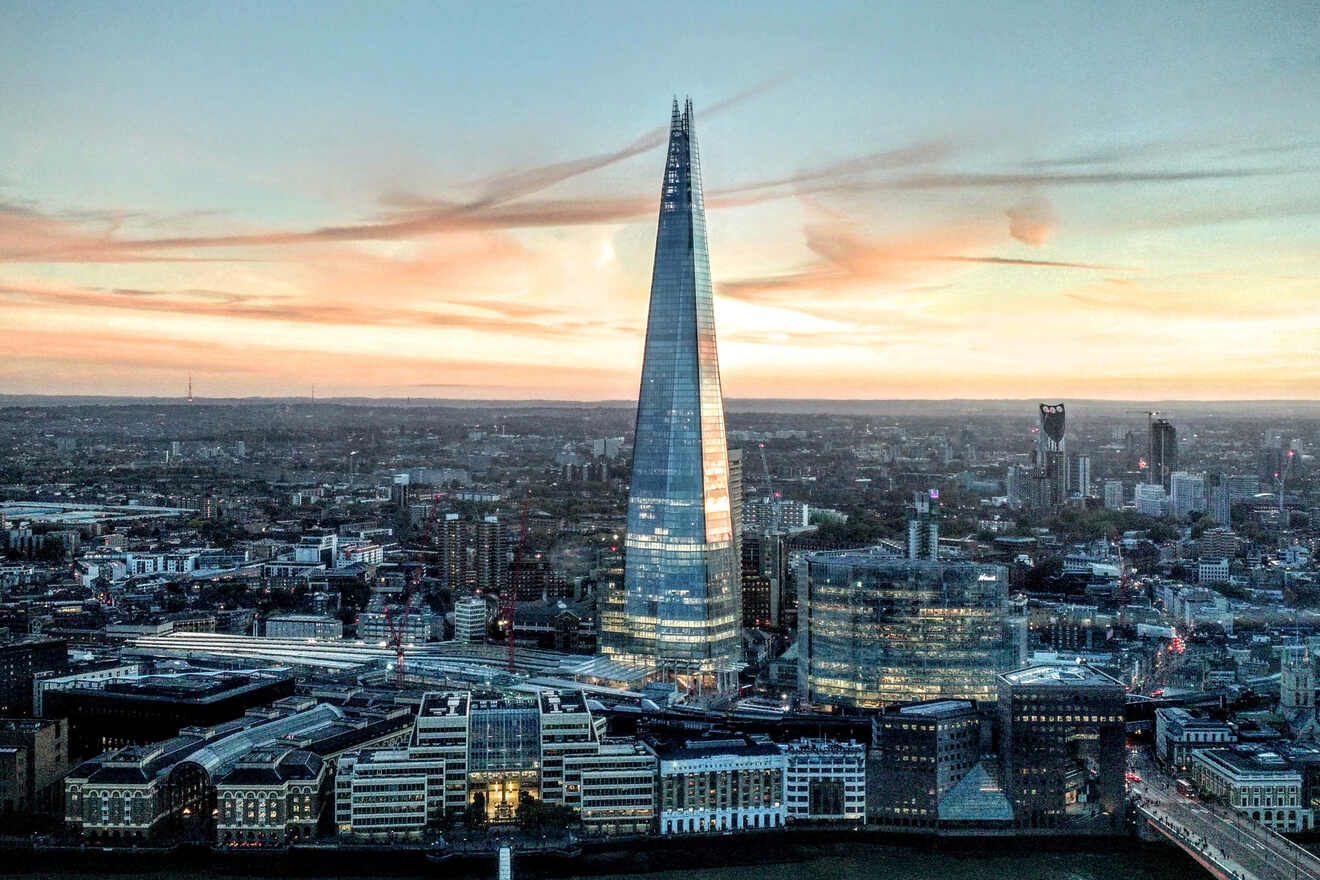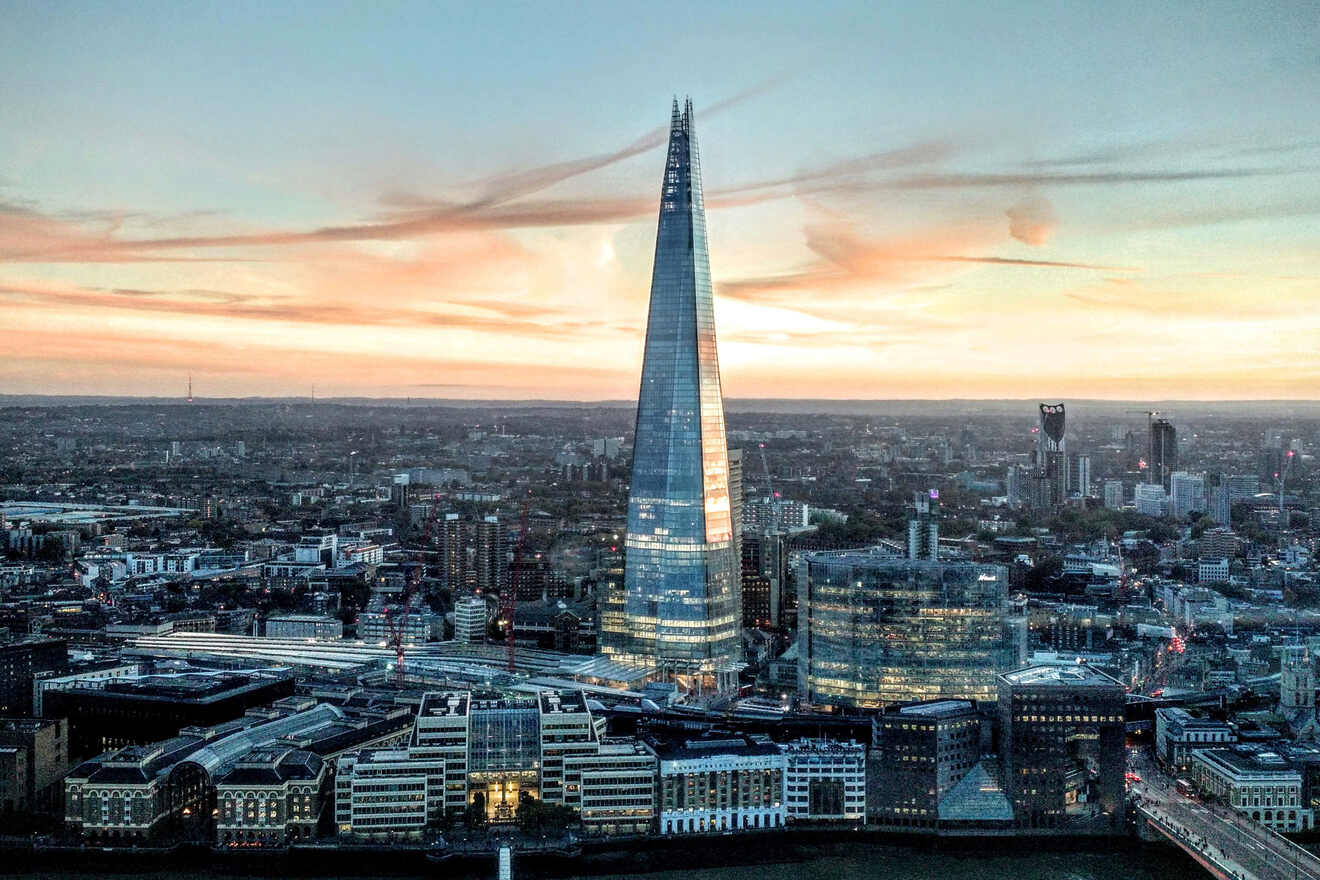 🎟️ What is the best way to buy The Shard Tickets? 
The best way to get your tickets for the Shard is through GetYourGuide. They offer the best cancellation policy, and you can get early-bird ticket prices even on the day of your visit. 
🌧️ What happens if the weather is bad during my visit at The Shard?
Some tickets have a view guarantee, which offers visitors a return voucher to The Shard (valid for 3 months) if you can't see one of these buildings during your visit: London Eye, The Walkie Talkie, Tower Bridge, One Canada Square, St Paul's Cathedral.
💰 Do you have to pay for entry at The Shard?
No, you don't have to pay to enter the general building, but you have to pay for entry to the viewing gallery. If you go to the restaurants, you don't have to pay for entry, but you will have to buy something from there. 
⏱️ How long does a visit to The Shard take?
Usually, a visit to The Shard takes between 1h or 2 h, depending on how much time you want to spend up there.  
🌃 Is The Shard better at day or night?
The best views are during the day as you can see all the important buildings in the city (check section 5 to see which ones), but the nighttime views are pretty spectacular as well! 
Conclusion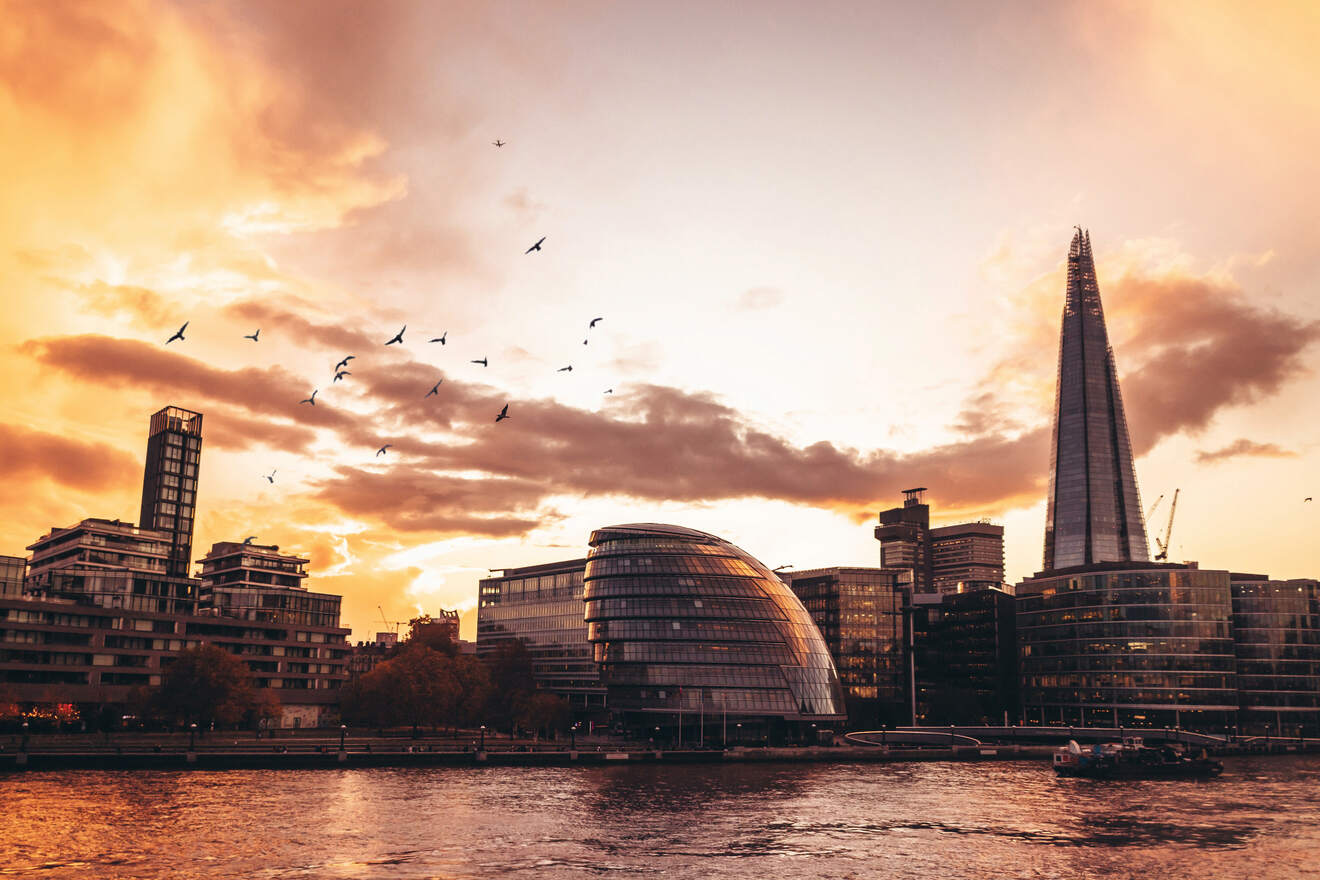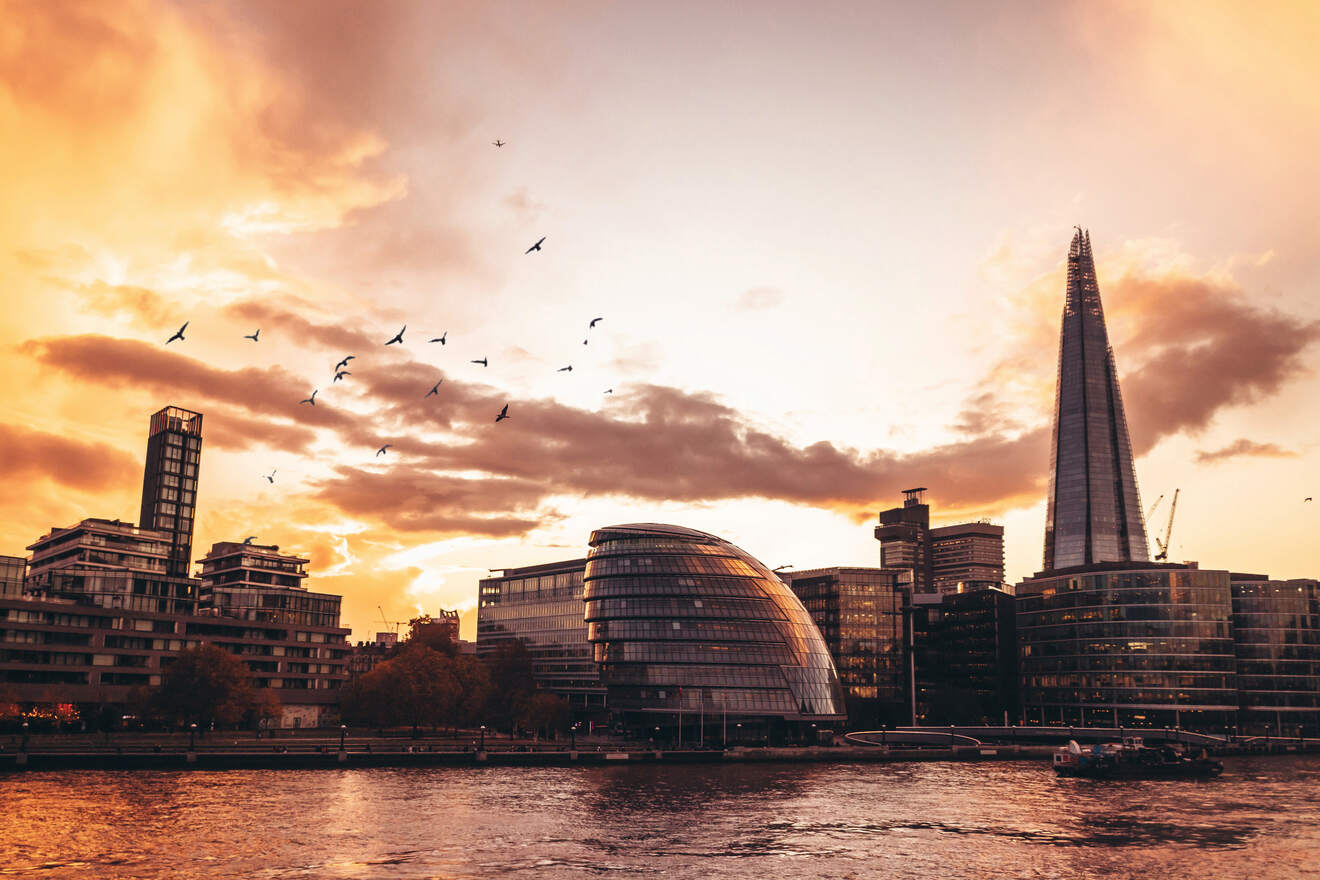 Well, I think it's safe to say now that you could give a lecture on how to buy tickets for The Shard! But repetition is the mother of learning, so let's quickly recap!
The best tickets for The Shard are sold on GetYourGuide, as these tickets are always sold at the cheaper early bird price (even when buying on the same day of the visit), AND they have a free cancellation policy up to 24 hours in advance.
Alternatively, if the tickets are sold out elsewhere, you can check Klook, Viator, and Tiqets for more.
Enjoy admiring those breathtaking views of London! I've covered many topics in this post and all of the important ones, but if I've left any of your questions unanswered, just leave me a comment below and I'll answer super fast!
Happy exploring,
Victoria
---
Pin it for later!
Pin it for later!