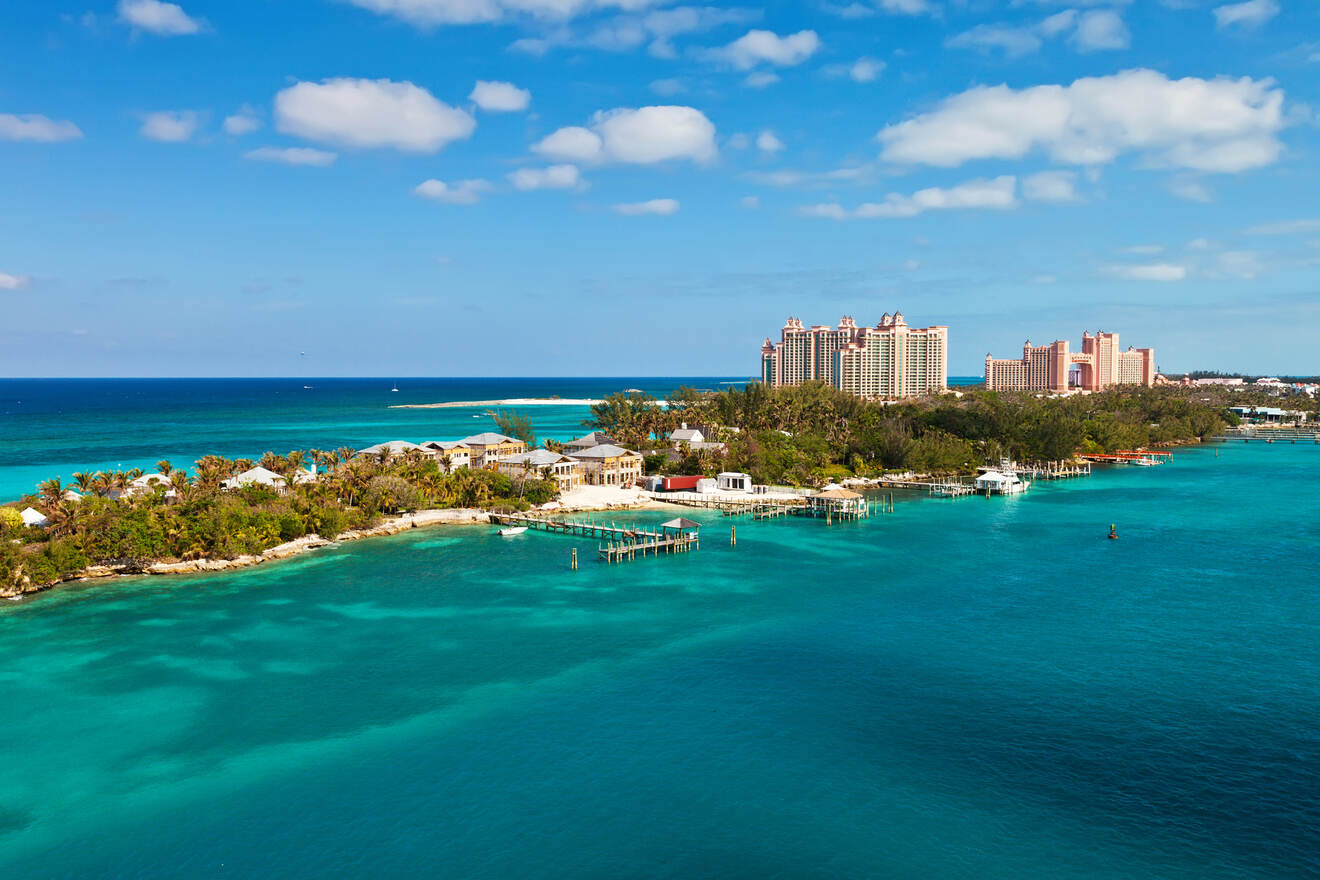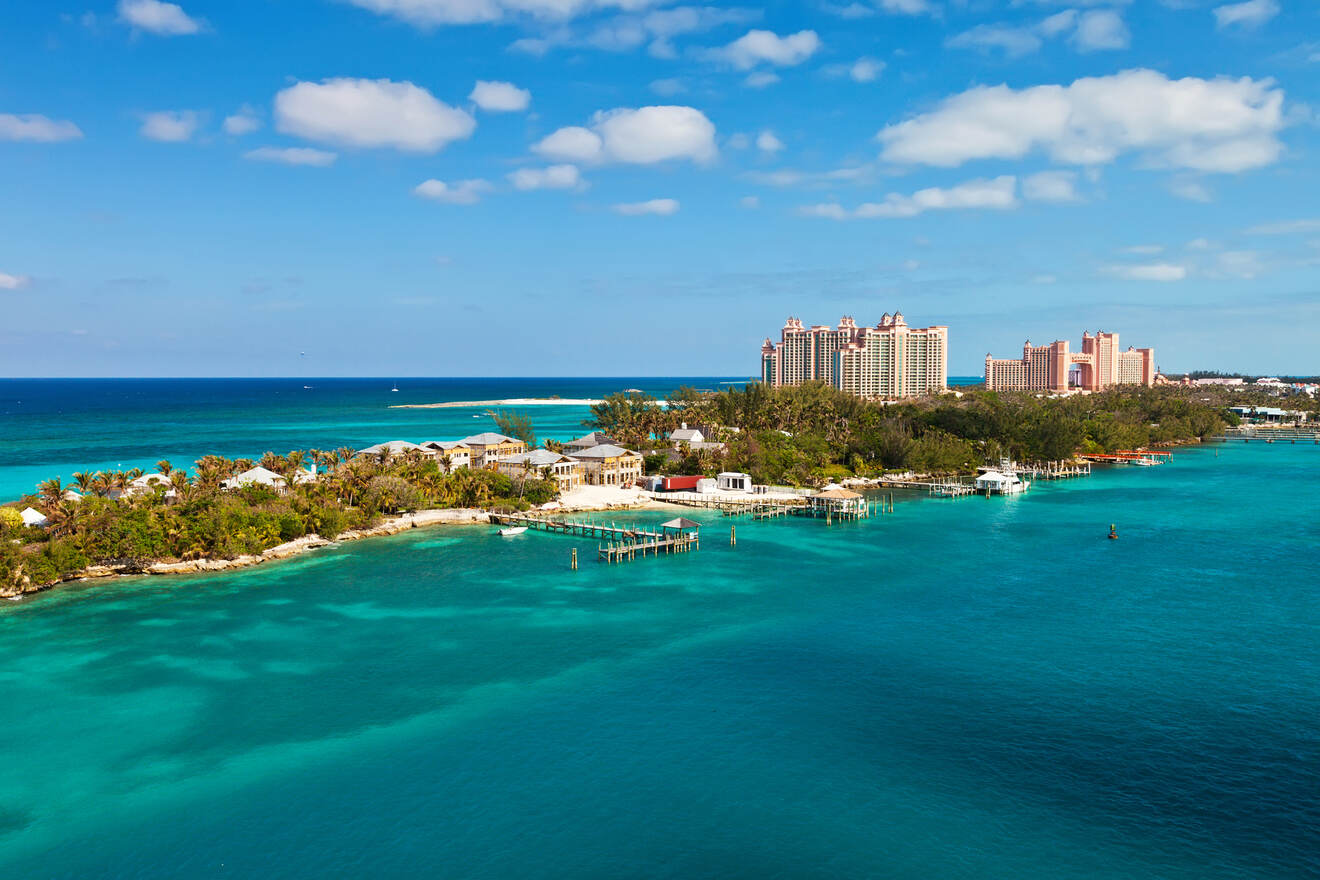 Aye Captain! If you're wondering where to stay in the Bahamas, hop on board and let's sail to the lands of pristine white sand beaches and clear waters. Scuba and dive enthusiasts, you're going to love the blue holes found here, and let's not mention the pink sand beaches and delicious seafood! I hope I made you curious already because I sure am! The Bahamas are some of the best places to stay when you're traveling to the Caribbean.
I hope you're ready to learn some pirate history while spending some fantastic time in the Nassau hotels and at the beach club. Definitely book these in advance as they sell out quickly!
There are over 700 islands in the Bahamas, and it also has the third-largest barrier reef in the world with more than 190 miles in length; the Andros barrier reef is also the third-largest living organism on the planet! Here you can find some exotic and colorful underwater friends! But be careful because they also have a mythical sea monster called "lusca" who was apparently spotted near the Blue Hole off Andros and was described as "half-shark and half-octopus." I'm intrigued!
Let's go! New Providence is waiting for you!
If you are in a hurry
Here you can find some luxury hotels and excellent accommodation options for your next trip, all located in the Bahamas, Nassau.
The map will help you see where are all the Bahamas islands that I'm going to talk about located.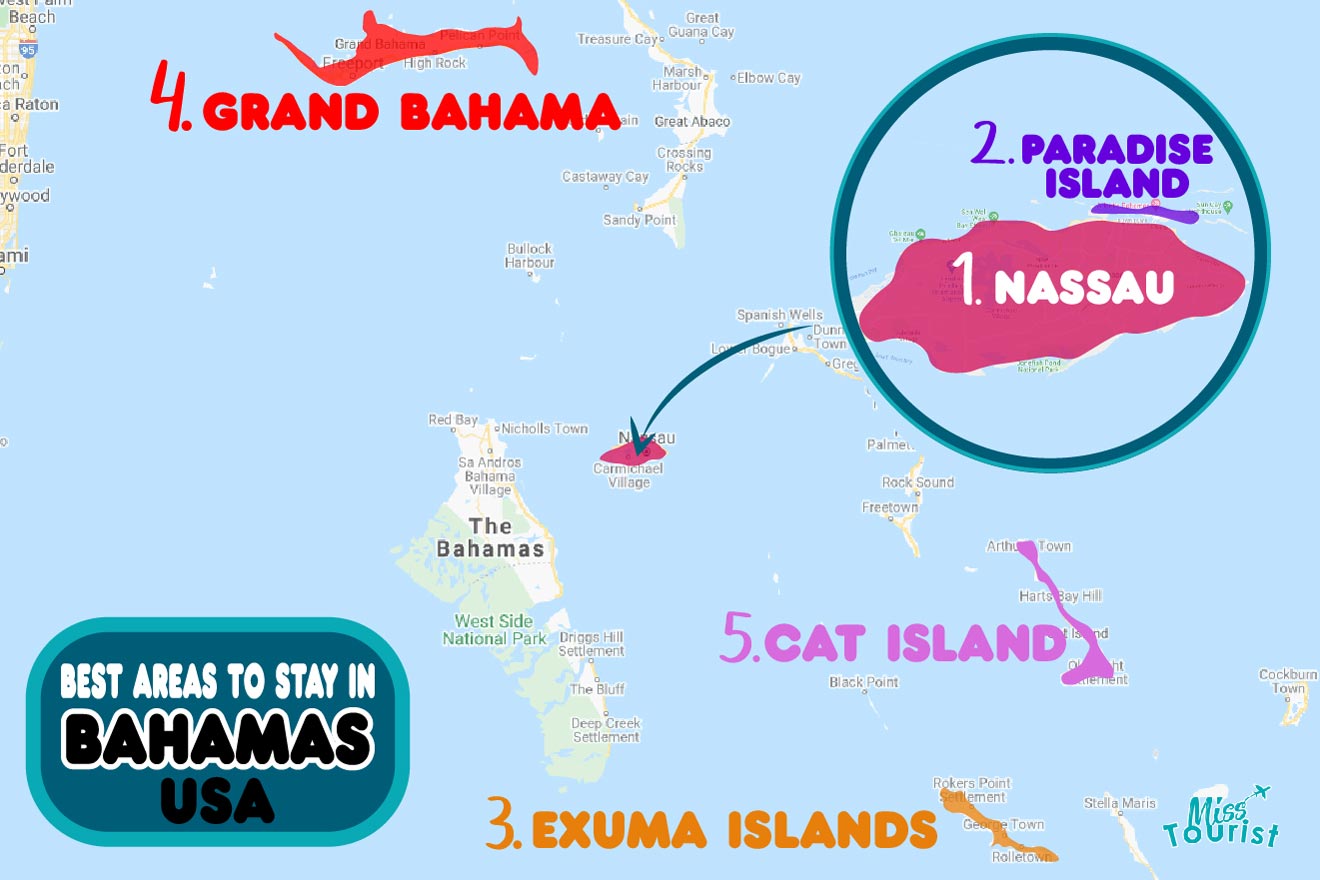 1. Nassau – where to stay in the Bahamas for the first time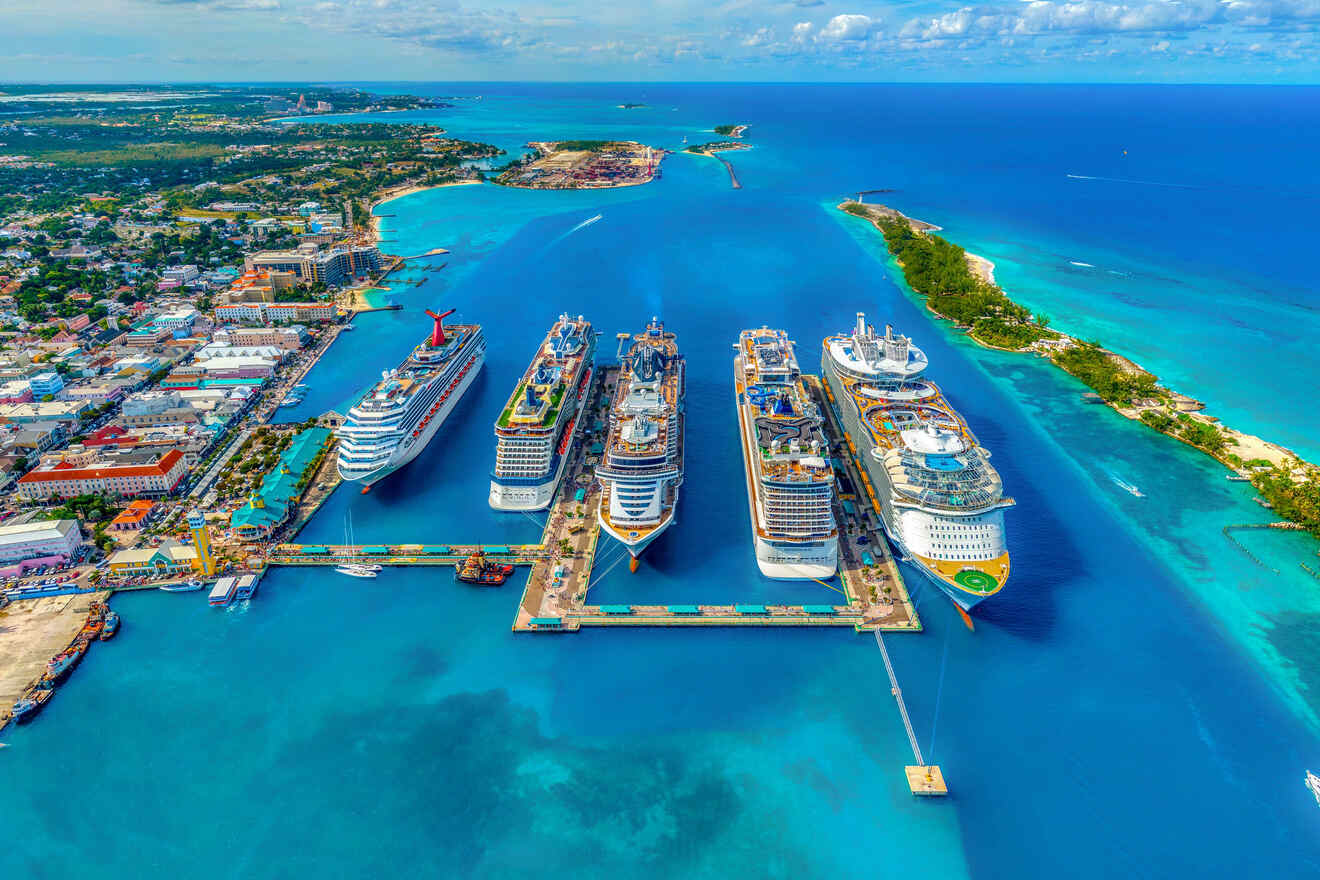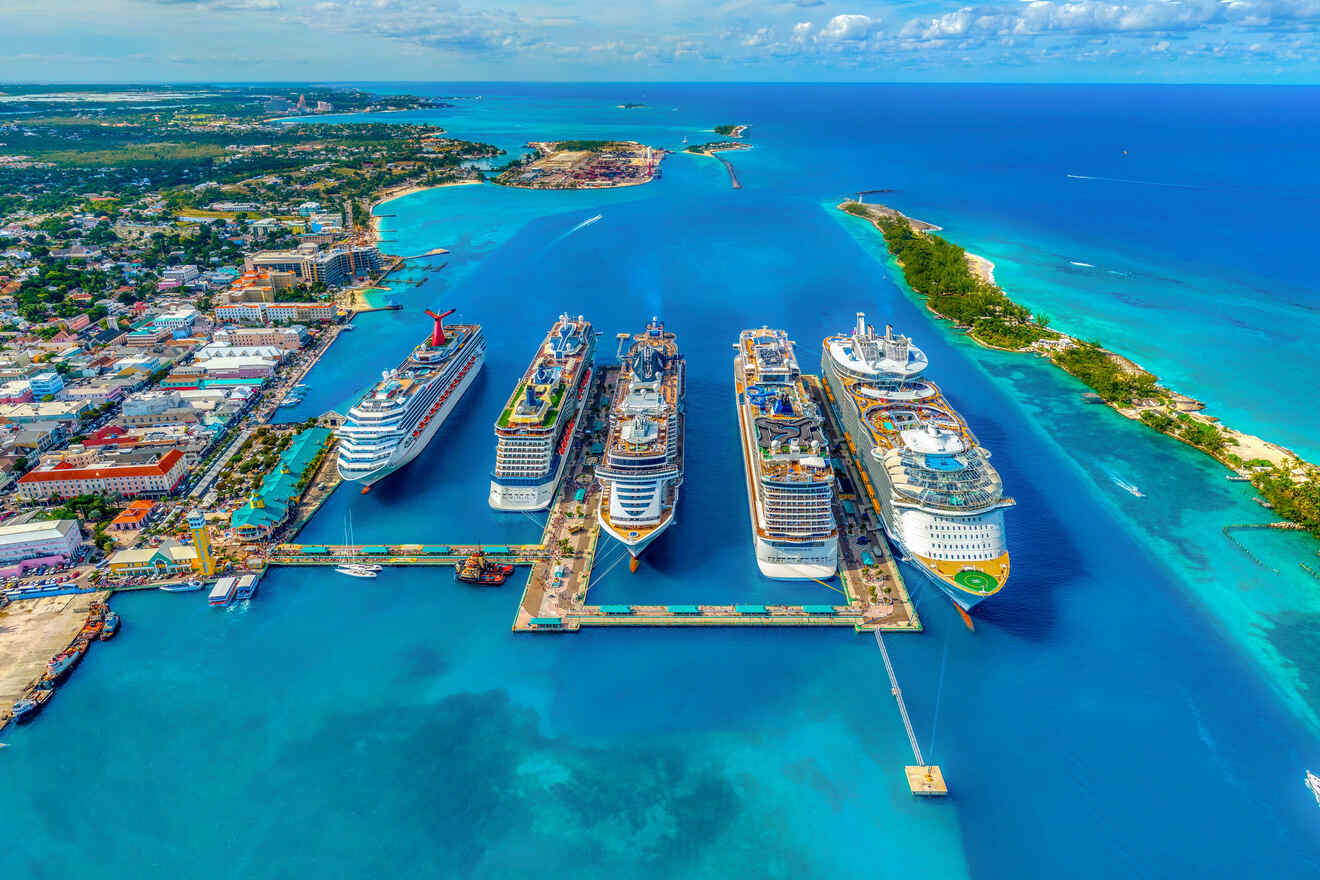 The capital city of the Bahamas is situated on New Providence island and is very rich in history, has many souvenir markets and tons of family friendly activities. There are some cute colorful houses and the amazing crystal clear water will take your breath away! Think of it as the best island in the Bahamas for those visiting this picture-perfect place for the first time. Here is where you'll start your Bahamian adventure, as the international airport is located on Nassau Island.
One of the best places to stay in the Bahamas, the city is filled with historic buildings and unique museums but don't worry, you're still on an island in the Bahamas so you can go diving, learn a new water sport on Cable Beach or eat delicious food. There are two bridges that connect Nassau to Paradise Island, so even if you decide to stay in Nassau, you can take a day trip there for a change of scenery.
Home to the best hotels in Bahamas and pristine beaches, Nassau, New Providence island, has to be your next vacation spot. If you want to find more accommodation options, here is an article with some cool airbnbs in Nassau.
Luxury hotel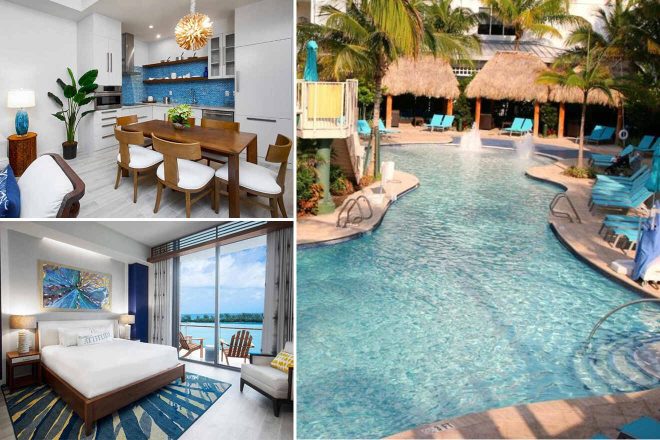 Stay in the Bahamas in this dream-like resort that you've only seen in the movies. The interior design is very chic! Wake up in the morning, have your coffee and enjoy the tropical views, you can hit the fitness center, have breakfast and go have fun at the waterpark, or sit by the outdoor swimming pool. This luxurious family friendly resort offers a children's playground, so adults can enjoy some relaxing time at the spa
Other accommodation options in Nassau
mir-range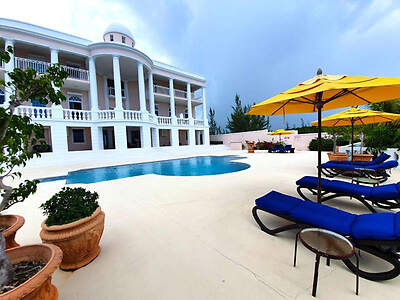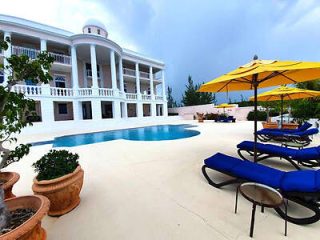 Boutique hotel with vintage decor that has a beautiful terrace and swimming pools
budget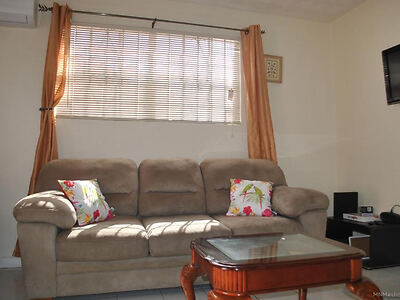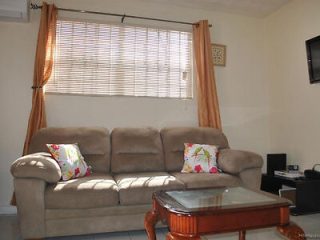 A secluded place with an outdoor pool, free wifi and it's easily accessible
airbnb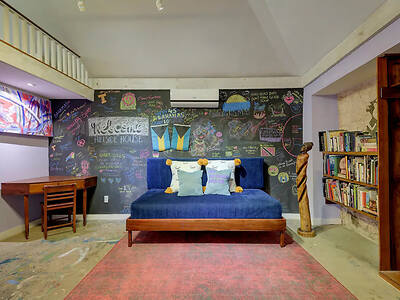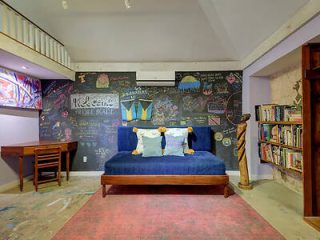 Unique and secluded on budget rooms in Nassau, with free parking
Things to do in Nassau
2. Paradise Island – best family-friendly hotels are located here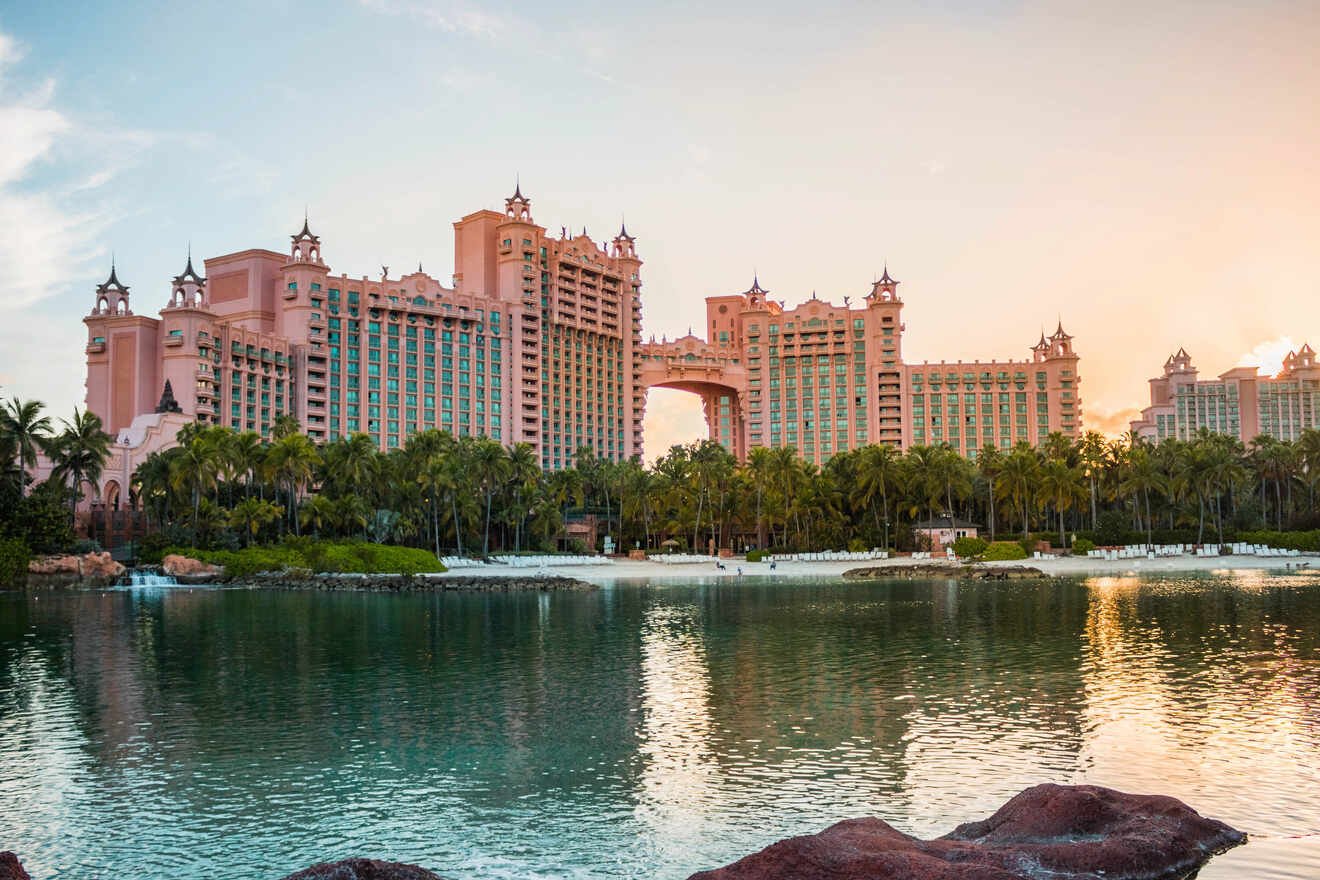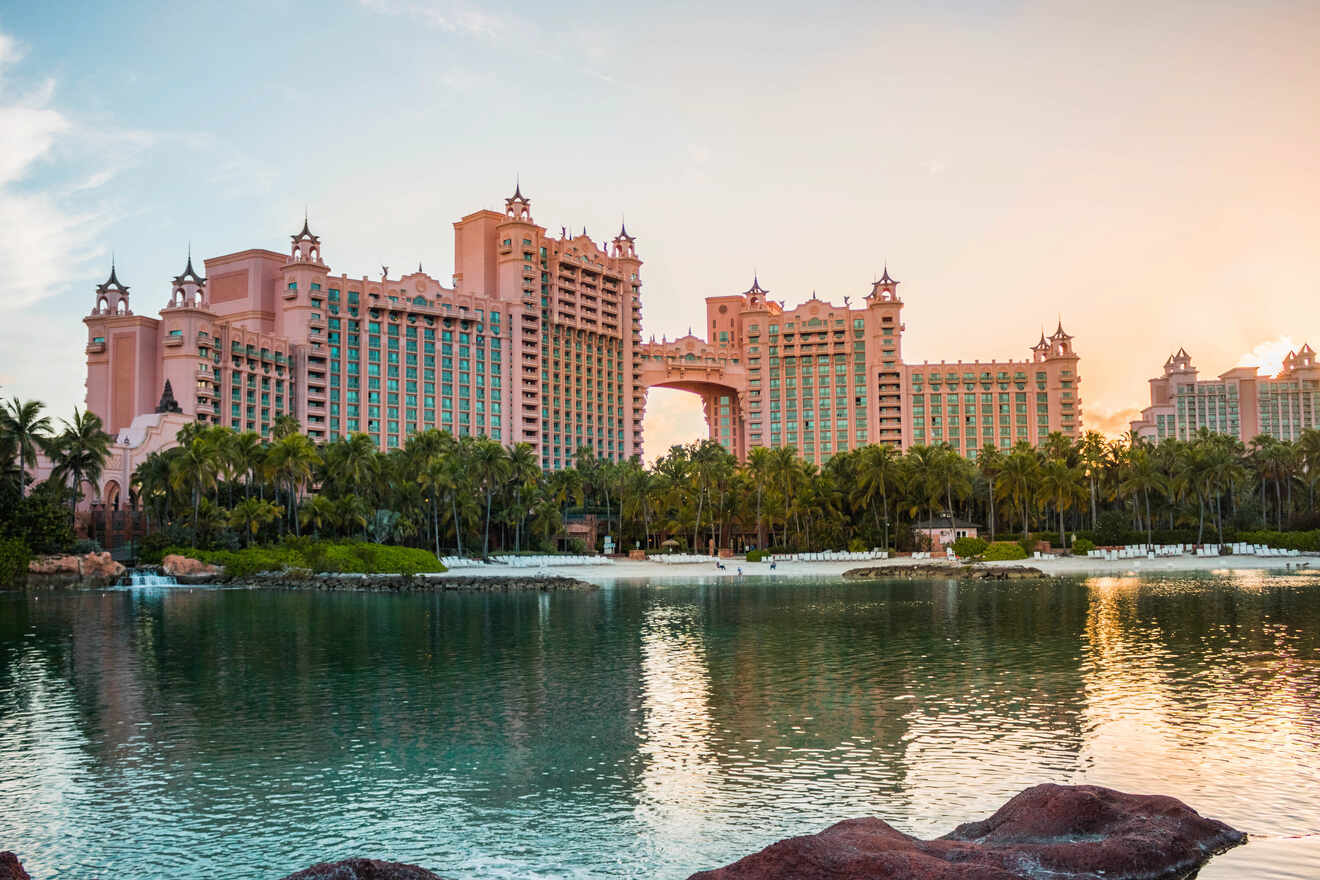 This area is home to the famous Atlantis Bahamas Resort, which takes up half of the island. That's a huge water park! I'm sure all families will love that, as they have many fun kid-friendly activities here. Paradise Island also has some of the best hotels and the most attractive beaches in the Bahamas and is connected to Nassau by a small bridge.
NOTE: Atlantis Bahamas has a twin brother in Dubai – Atlantis The Palm look almost identical! 🙂
This is where you will arrive at the international airport and is an interesting island in it's own right and the town resembles the colorful buildings of Havana. So it's good to know you can take a day trip at any time!
Remember the scenes in Pirates of the Caribbean that had nice crystal clear water and beautiful white sand? Well, some of them were shot on this very island. That's right! Friends, book this one in advance as everyone is hoping to walk around where Captain Jack Sparrow was. I know I am!
I'm sure I got your attention now! If you're looking for a family friendly place where to stay in the Bahamas, I've got you covered! Paradise Island has a resort at every corner and all of them have fun activities and facilities for every age like waterparks or nightclubs for the adults. Be careful, though, because it's one of the most famous islands in the Bahamas so it can get crowded at times.
Luxury hotel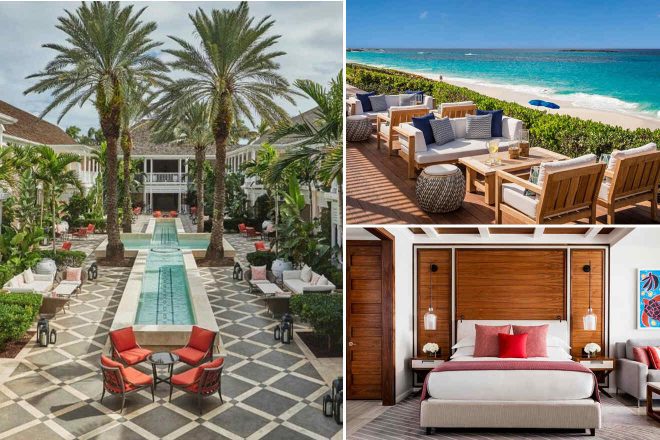 Did someone mention celebrity treatment? That's what you'll receive at this spacious & chic island resort in the Bahamas. Just picture yourself having a glass of champagne by the pool and enjoying the unique tropical views. This boutique resort looks so alive! Beach sunsets will look beautiful from the lounge area. Families are welcomed too!
Other accommodation options in Paradise Island
mid-range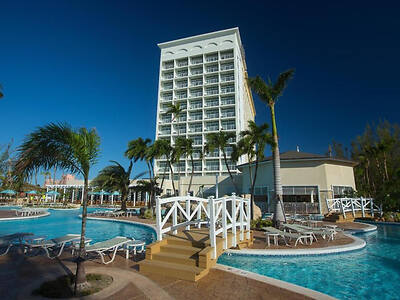 All inclusive resort that has free wifi, a restaurant and a swimming pool, it's great for couples and near the airport
budget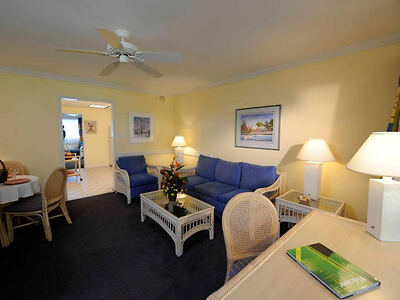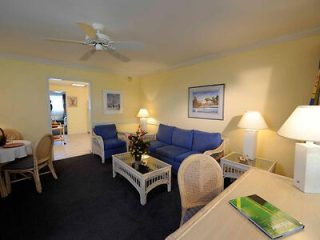 A New Providence Island hotel that has 3 pools, a low key atmosphere and a restaurant
airbnb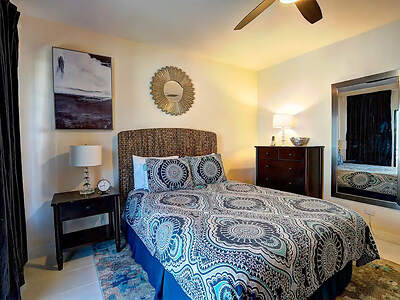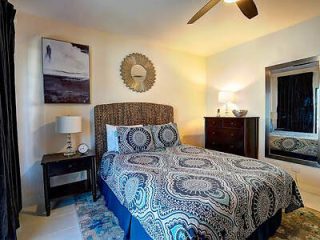 A great on budget place in the Bahamas for couples that has a patio, a shared pool and a tropical view
Things to do in Paradise Island
3. Exuma Island – where to stay in the Bahamas for wildlife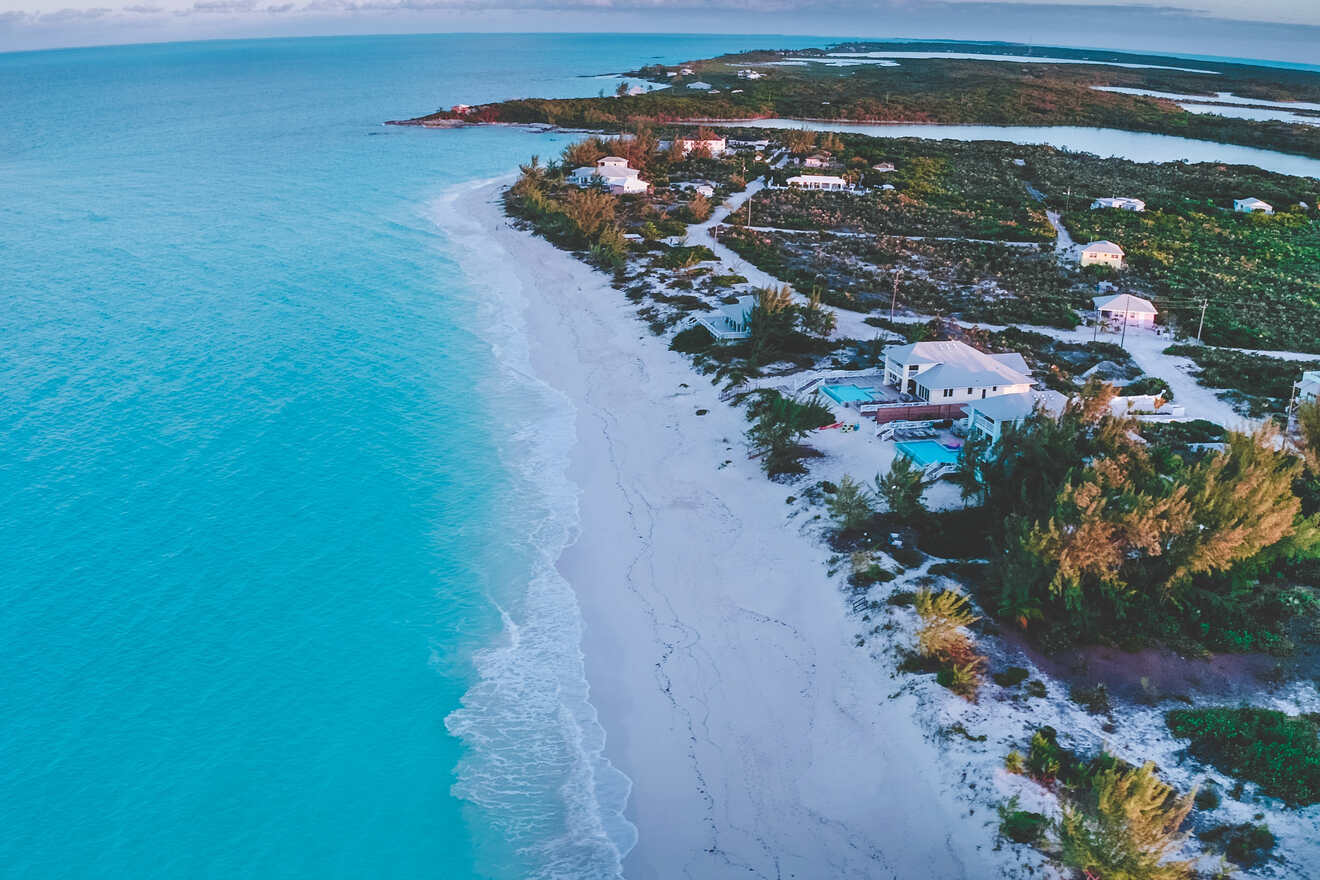 A special place to explore. The Exumas are a group of 365 stunning islands, one for each day of the year! The two main ones which are joined by land are Great Exuma and Little Exuma and you can fly into Exuma International Airport in order to get here. This is where most of the hotels and resorts are located however there are also smaller ones like Shroud Cay and Compass Cay but you'll have to take a boat to reach them.
Another famous Bahamian spot that you might've heard of in Exuma is Pig Beach. Yep, if you come here you can have a cocktail with the pigs on the Beach! Definitely a great spot for taking some fun pictures with your loved one.
The beaches here are beautiful, from afar it looks like they sparkle when the sun hits them and they look so clear almost like you can see through them! That's why Great Exuma is a top place for snorkeling. The pigs are not the only friendly animals you can swim with on this beach. The Exuma Islands have rich wildlife, consisting of iguanas, stingray turtles, and small sharks.
Another perk for movie enthusiasts! If you stay in the Bahamas on this part of the islands, you can visit Staniel Cay, also known as Thunderball Grotto, another famous filming location for two James Bond films.
Get into the Bahamian atmosphere and plan your trip! If you're wondering where to stay in the Bahamas to take the best pictures ever, then the Exuma Islands is the place for you.
Here you can find the mile-long sandbar, and you've probably seen this one in all the ads about the Bahamas. The great advantage about Musha Cay Sandbar, that's how some people call it, is that the water is not deep at all, making it accessible to walk for miles into the ocean! David Copperfield called this place a "piece of heaven," and I sure agree with him.
Luxury hotel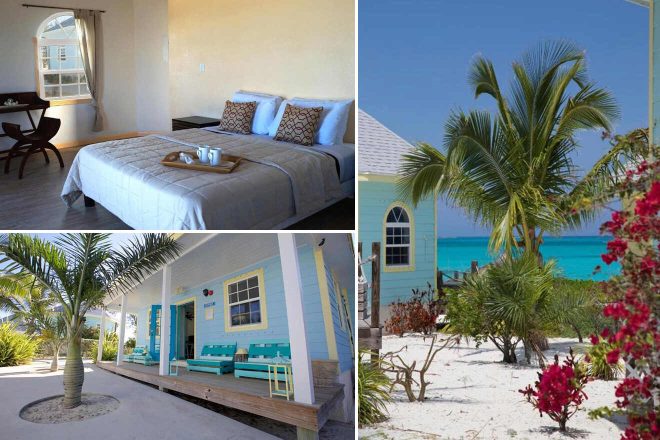 This is one of the best places to stay in the Bahamas for couples looking for a romantic getaway. The hotel is located on the beach, you open the door and there's the soft sand. Wake up to the smell of the ocean and the sound of the waves. The tropical villas have a pool where you can spend a relaxing afternoon
Other accommodation options in Exuma Islands
mid-range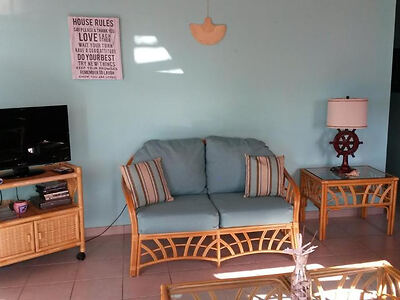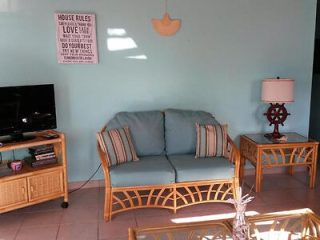 A cozy on budget villa near the airport with a pretty view of the Caribbean sea that is family friendly 
budget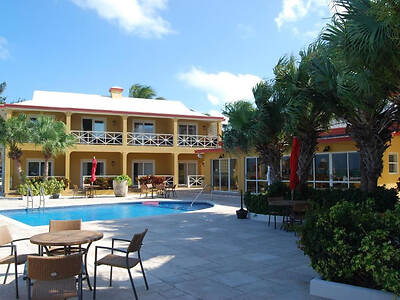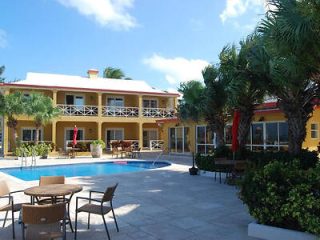 A secluded place with lovely rooms that organizes boat parties or fishing activities 
airbnb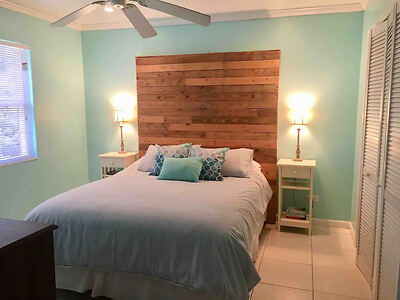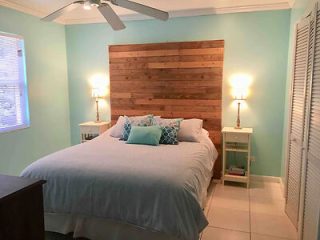 A family friendly contemporary place in the Bahamas with free wifi and beaches nearby
Things to do in Exuma Islands
4. Grand Bahama – best nightlife in the Bahamas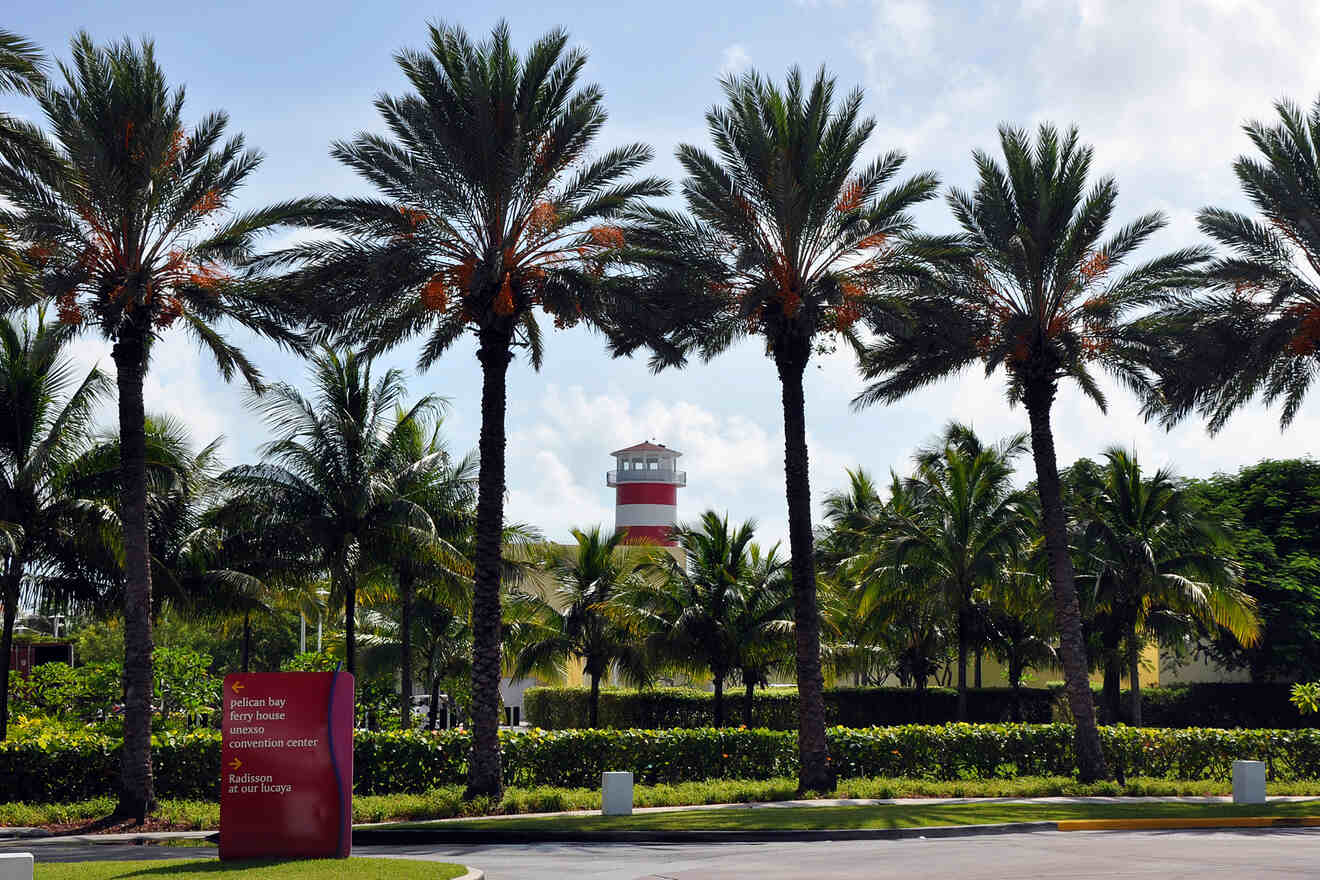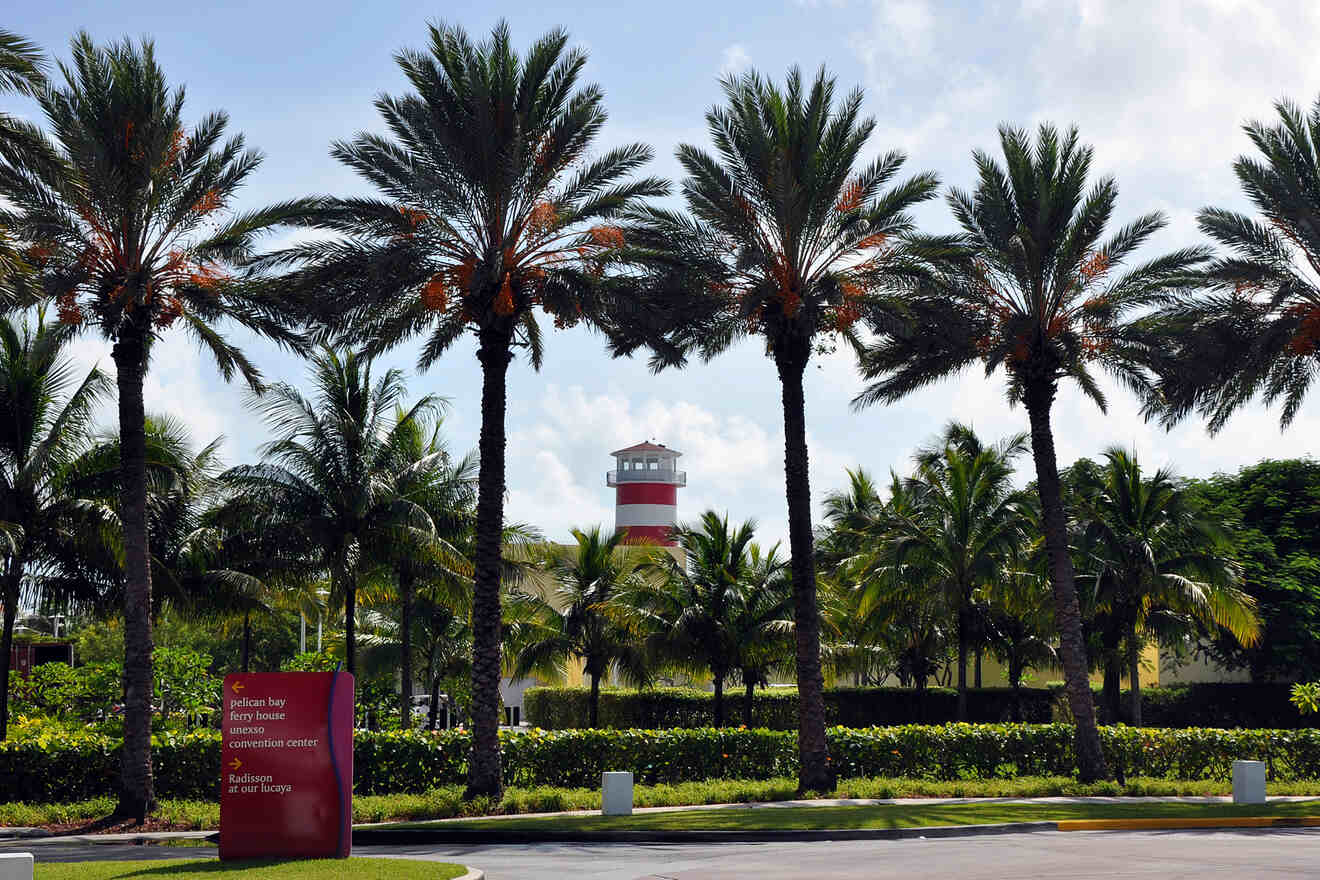 Located in the northern part of the Bahamas you can fly into Grand Bahama International Airport to get here. This is a popular place where you can take day trips to Miami and Fort Lauderdale since it's really close to Florida. Freeport, the second biggest city after Nassau, is located here so you'll have many restaurants, bar options, and shopping places.
Grand Bahama has three national parks. Hikers will be pleased to know that one of them, the Lucayan park, has trailers through mangrove swamps and the largest cave systems in the world!
We all love visiting and hiking during the day, but how great is it to go out at night in a new place and mingle with all the locals, fellow tourists, and make new friends, especially an island, and not an ordinary one but the famous Grand Bahama! This piece of heaven is perfect for that, as it has bonfires on the beaches, great restaurants, and a friendly bar at every corner. For more island fun, check out this article on where to stay in Puerto Rico!
Luxury hotel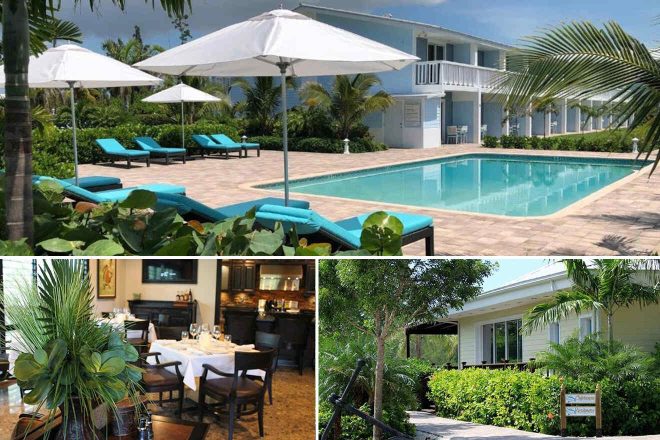 One of the best places to stay in Grand Bahama, Dolphin Cove has a unique vintage design. This hotel has a private marina and outdoor pools. I highly recommend this place if you're planning on relaxing this whole vacation in the Bahamas. Just picture yourself on a rocking chair on the terrace, enjoying the beautiful garden view
Other accommodation options in Grand Bahama
mid-range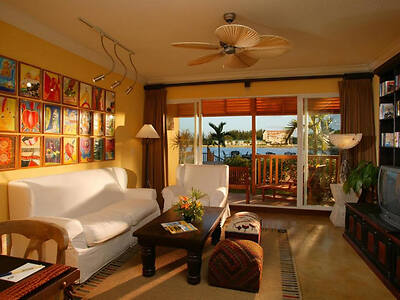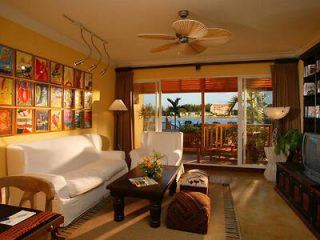 A colonial style hotel that has spacious rooms, 3 pools and a delicious bar-restaurant
budget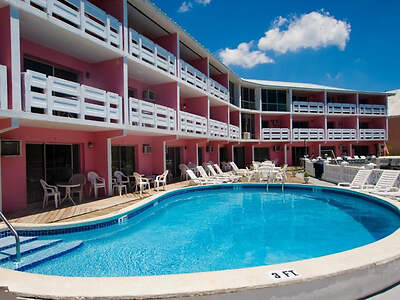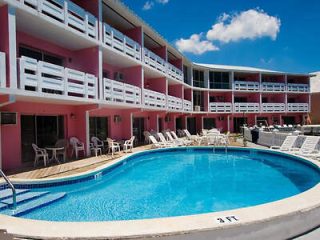 A great on budget place on Grand Bahama Island that has some rooms with a balcony
airbnb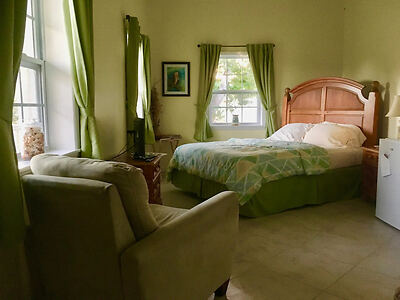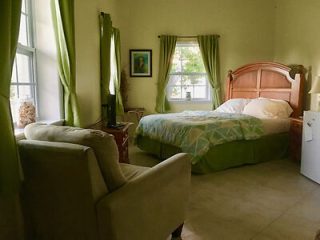 A private B&B cottage with a beautiful lake view, outside porch, and a nearby pond with cute birds
Things to do in Grand Bahama
5. Cat Island – most tranquil place to stay in the Bahamas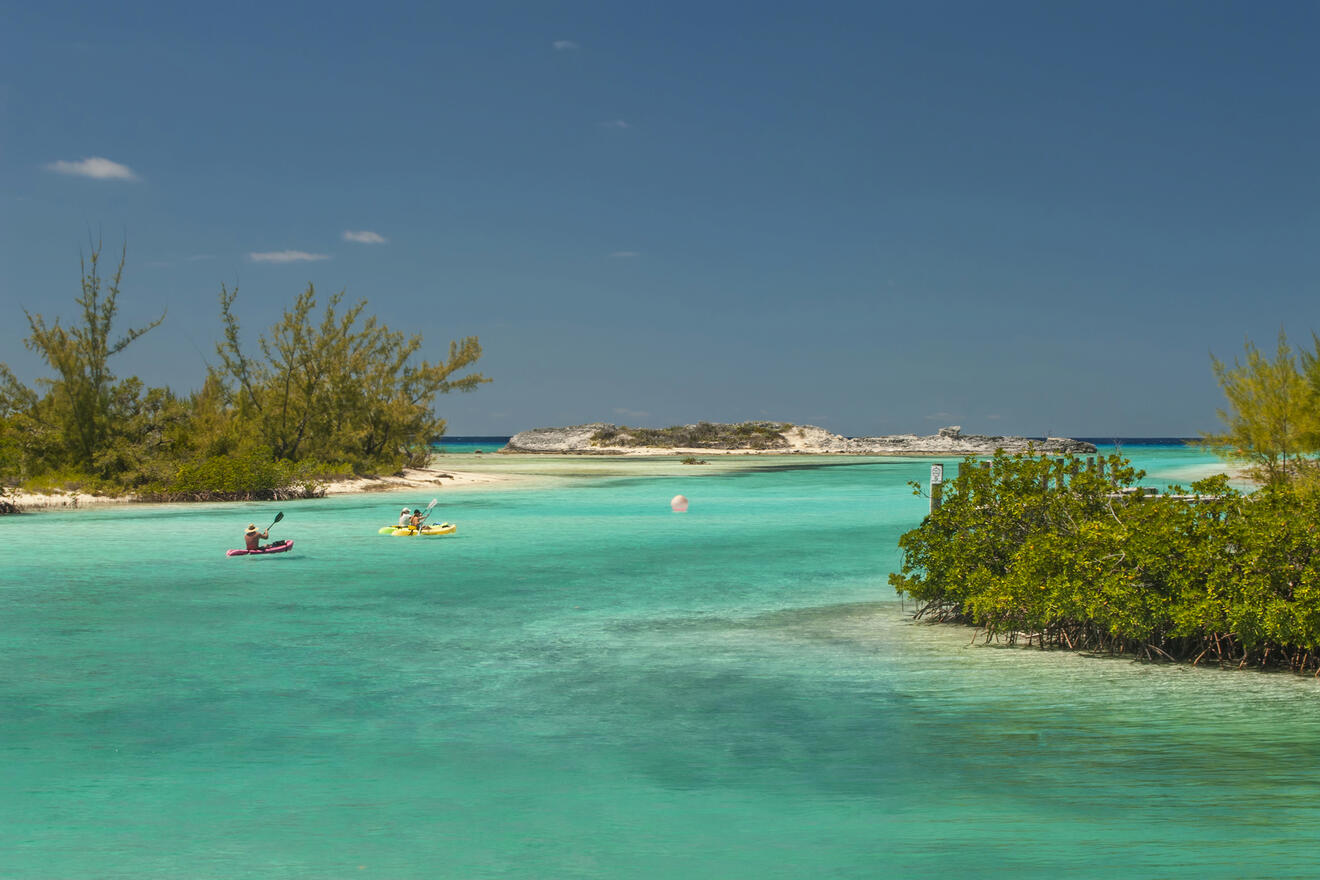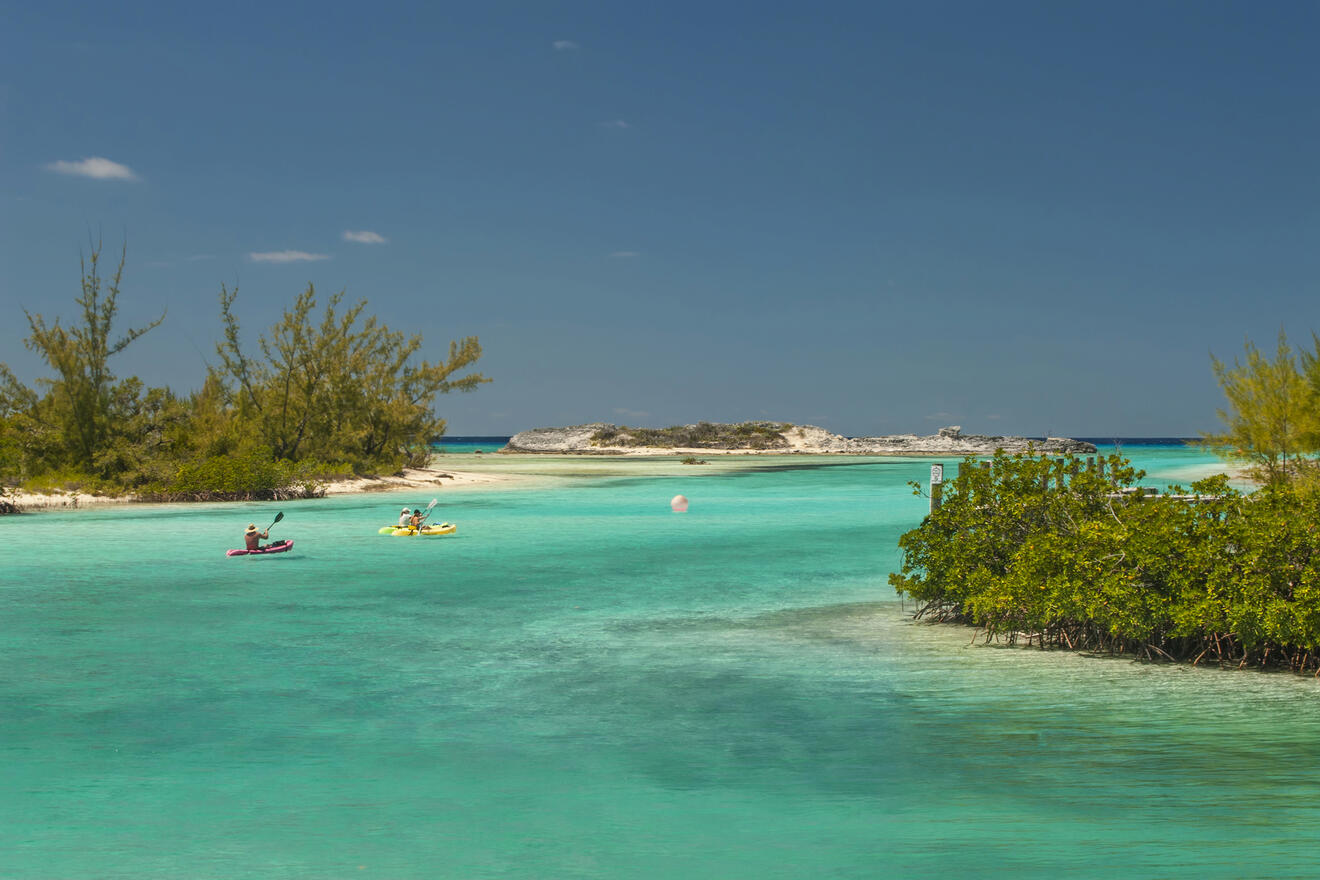 I'm sorry dear cat lovers, but no, you won't find any fluffy kittens here, but how cool would it be to find a place like that?
If you do, message me because I'll go there! 🙂
Cat Island is located in the central Bahamas, and there are two airports you can use to fly into this island, New Bight Airport and Arthur's Town. It was named after William Catt, an actual pirate who lived in the Caribbean islands. Apparently he came here often to hide his treasures! I would book this one in advance just to go on a treasure hunt!
Cat Island is the least commercialized island from the Bahamas, a plus if you ask me.
If you're looking for where to stay in the Bahamas to have some peace and quiet and fancy a break from all the touristy activities this is a great area for you. Very laid back and relaxed, this island has only 1500 residents and spreads over 150 square miles.
I highly recommend taking some good books with you if you visit this part of the Bahamas and enjoy doing nothing while listening to the sound of the waves. However, diving, snorkeling, or other activities can be arranged if you're in the mood for it.
Luxury hotel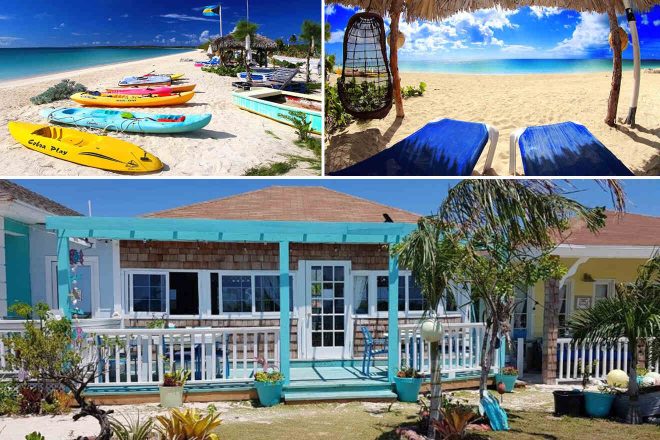 A great beach resort where you can experience the local atmosphere of Cat Island, the villas have a private beach area and a restaurant. I love the privacy here and at night you can have some fun while you put on a bonfire! A great location where you can enjoy some fishing or canoeing
Other accommodation options in Cat Island
mid-range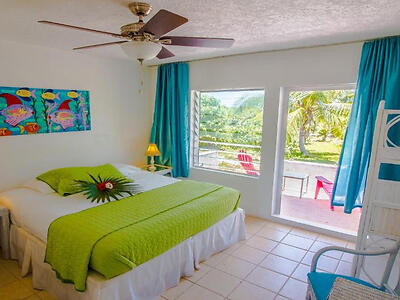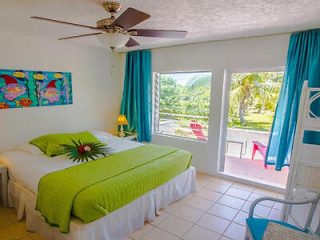 Colorful cottages near the beaches with cozy rooms and tropical garden
budget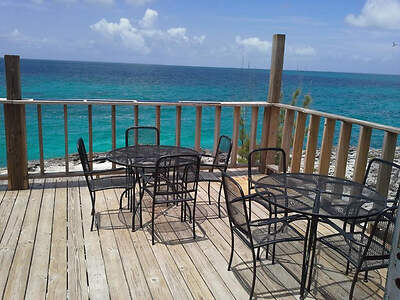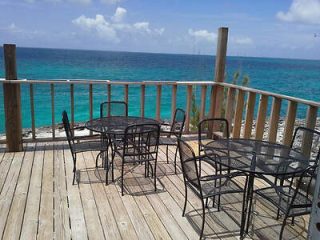 A budget Cat island aparthotel that has spacious rooms and nearby beaches
airbnb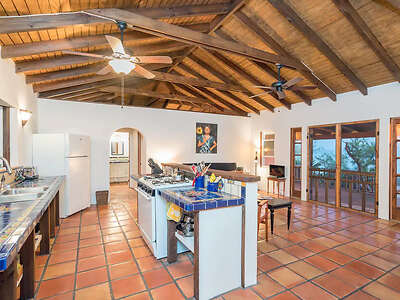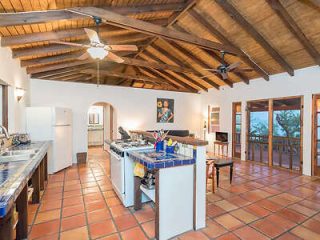 Beautiful spacious house with a local design that has a great patio with amazing ocean views
Things to do in Cat Island
BONUS: when to visit the Bahamas?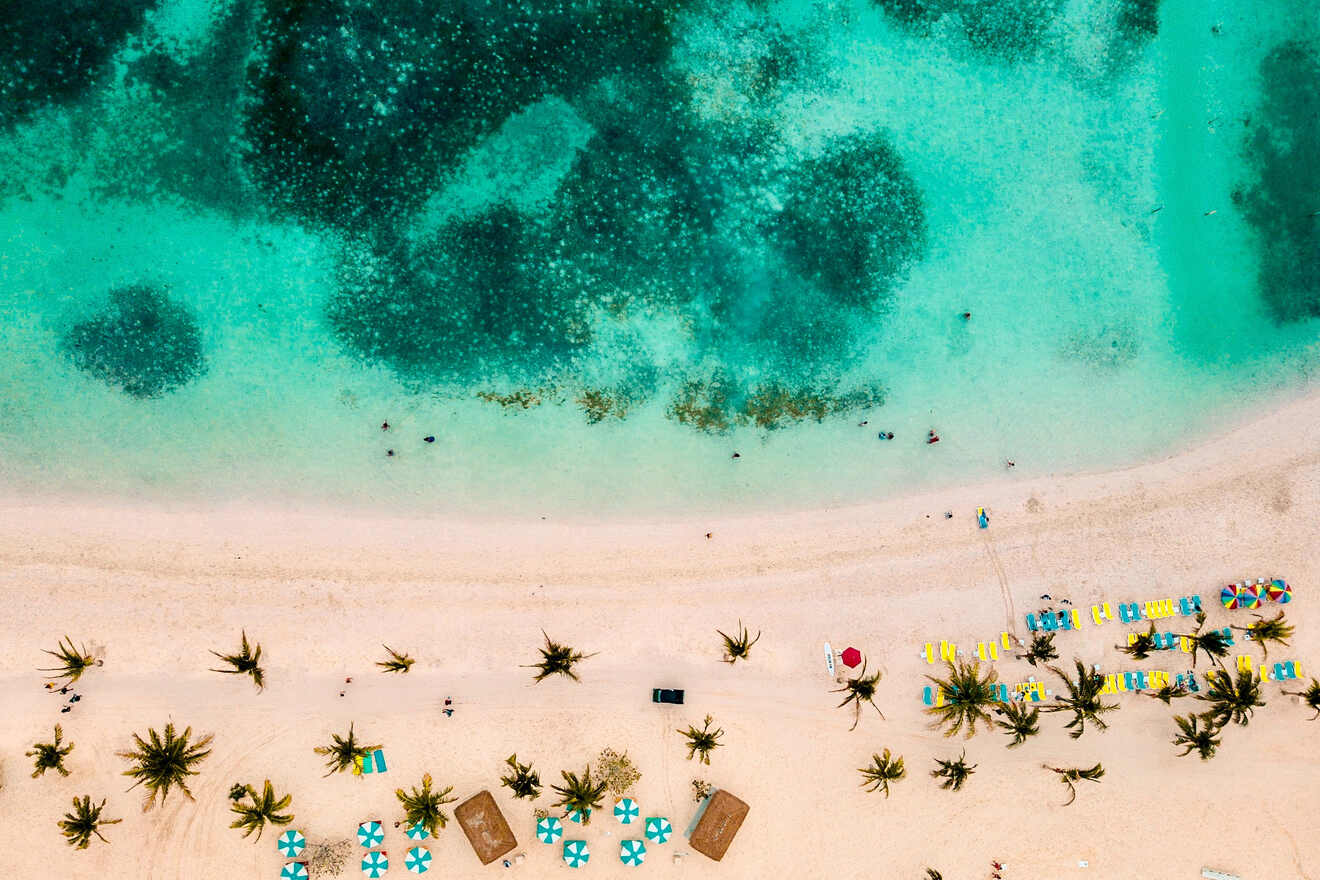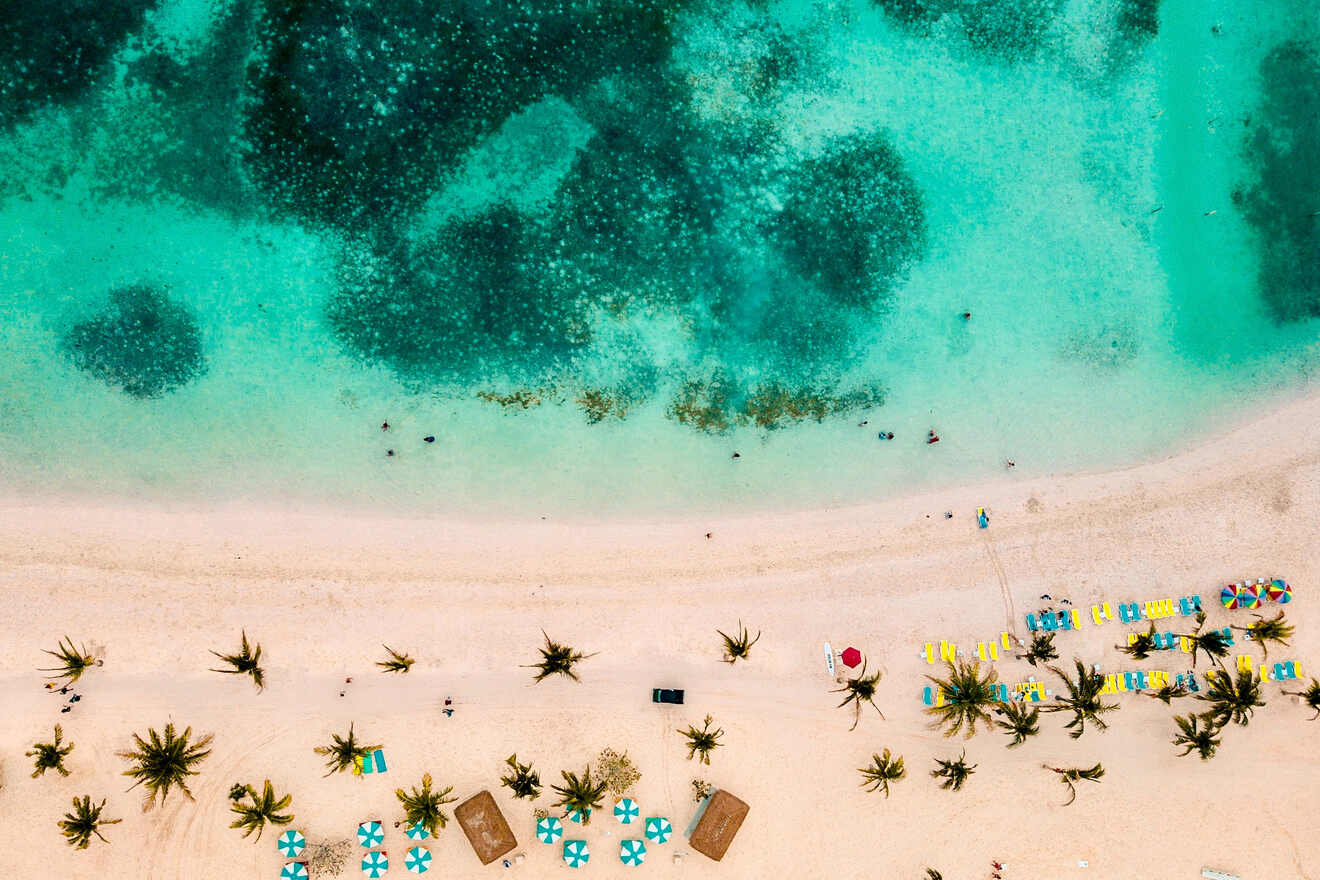 With 700 islands in its catalog, the Bahamas islands are very popular among all types of travelers. Not to mention Hollywood superstars with more than 30 movies that were made here, this piece of heaven is not only known for its clear water and pristine white beaches but for being an all time top destination.
The question is, when should you visit and explore this luxurious land that has the best hotels and wild nightlife? You would think that this tropical place that was gifted with a lot of natural beauty can be visited all year round. However, there are some periods when you can get the most of your vacation, and I'm here to tell you all about it! Vamonos!
Peak Season (mid-December to mid-April)
This is the best time to visit the Bahamas. During peak season, there are many popular festivals and activities like diving that you can do with the whole family, so you might consider this timeframe if you're traveling with your kids. I think this season is the best one to plan your trip to the Bahamas, there are lots of things to do, and the weather is fantastic!
The wet season is not during these months, so the weather will be very nice, not too hot or too much humidity. However, if you want to enjoy the nightlife or prefer late dinners, definitely pack some jeans or a light jumper just in case because it can get a bit chilly!
Shoulder Season (mid-April to late May)
The flight tickets are not too expensive and the hotels have good deals as well. You can do lots of exploring while enjoying the peace and quiet as the number of visitors goes down from late April. That doesn't mean there won't be any fun things to do, the spring breaks usually take place during this period so you'll find some cool Bahamian entertainment options.
Another perk about this period is the great underwater activity. If you do any snorkeling or scuba diving you'll see tons of sea animals that you won't see regularly just because the water is warmer than usual.
Low Season (July to October)
People who are traveling to the Bahamas on a budget this is your timeframe! It's a good time to visit if you want to find really good deals on flight tickets. Not to mention all the luxury resorts and hotels that might offer you a suite you've only dreamt of and really want but could not afford it before!
However, you need to be careful because there is also the hurricane season during these months, so it might be dangerous plus the weather might not be so great. If you do your research I'm sure you will be able to have a great holiday at a fraction of the normal price!
Frequently asked questions about the Bahamas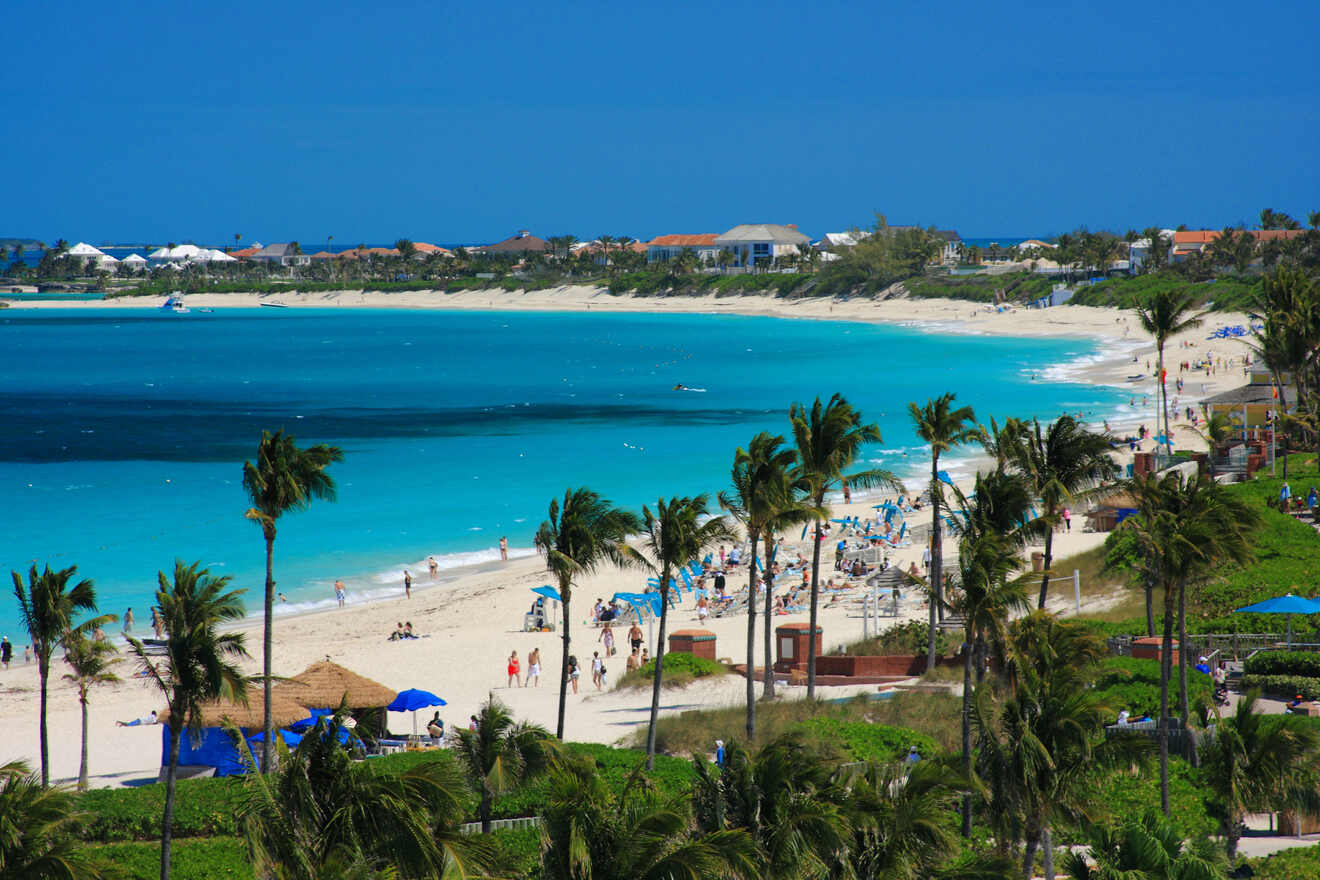 🏝️ What is the best area to stay in the Bahamas?
Nassau is the best area for where to stay in the Bahamas because you can combine urban life like the museum visits with island life, and dive in the clear waters for a change of scenery.
✔️ Where is the safest place to stay in the Bahamas?
Paradise Island is the safest place to stay in the Bahamas, that's because it was purposefully built for tourists and it's not a residential area. It's also home to the Atlantis Bahama Resort, an area popular among families who visit.
🙅 What should I avoid in the Bahamas?
Avoid traveling in the Bahamas between June and November, that's when the hurricane and storm season takes place, so you won't be able to enjoy any outdoor activities and it can be dangerous.
🐬 Where should you go in the Bahamas?
In short – Paradise Island or Nassau. The first is much more developed but the second one is calmer and the infrastructure is getting better as we speak. They are connected by a bridge so you can visit both anytime!
Conclusion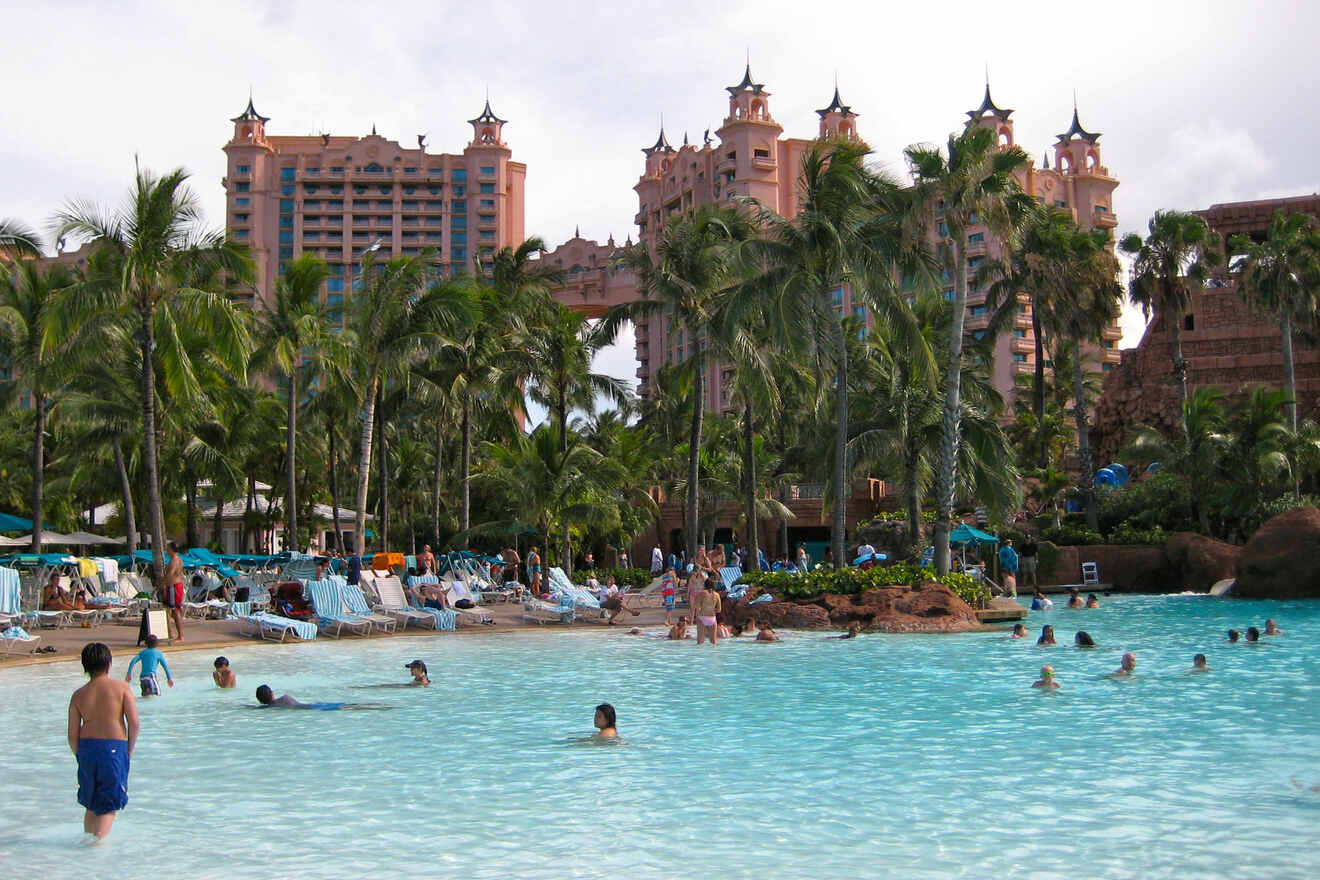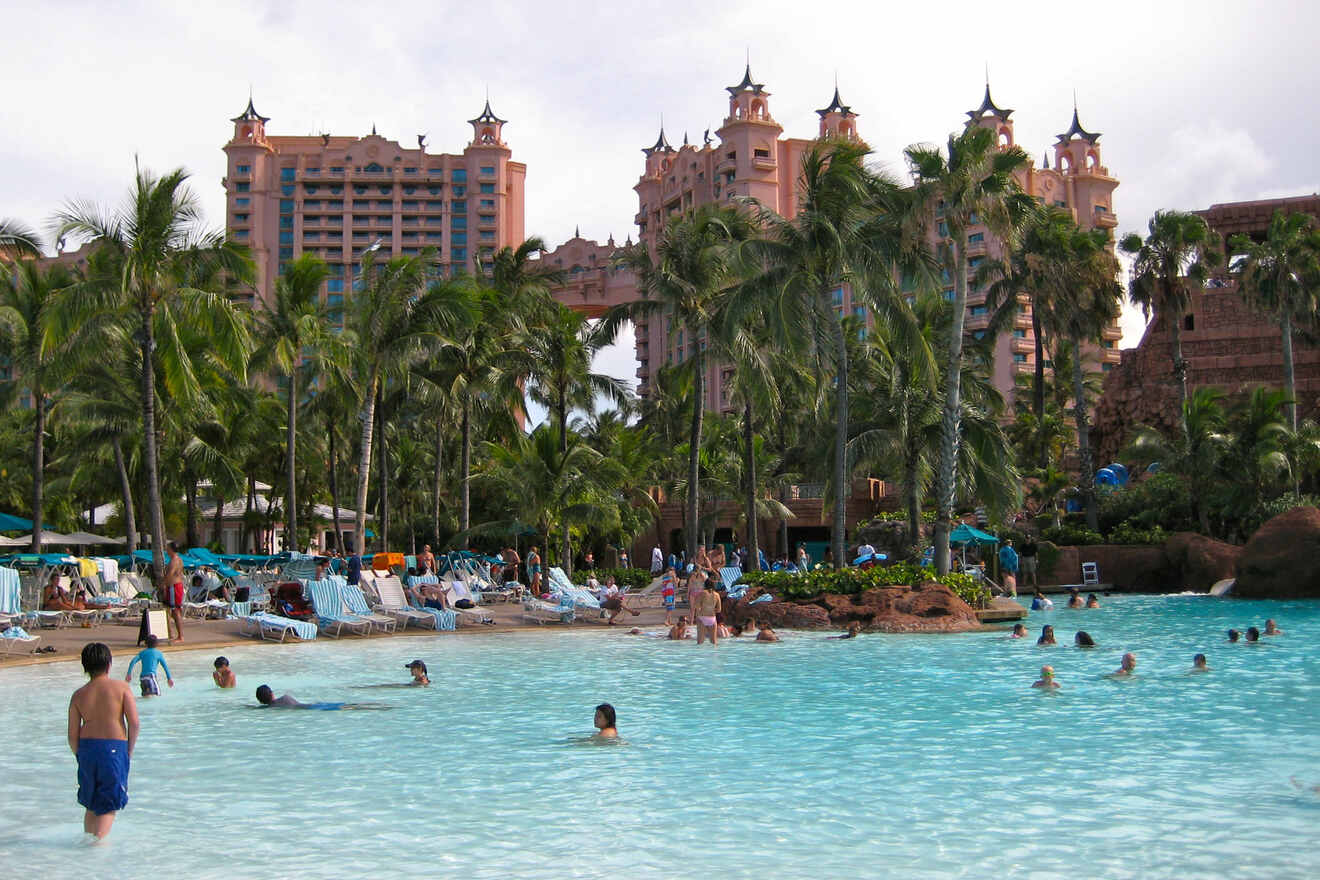 I hope I helped you decide where to stay in the Bahamas and which hotel and island is better suited for your needs!
I've given you tons of information and accommodation options but here are my two favorite choices located in the Bahamas:
Enjoy every moment spent on the Bahamas islands, experience what it has to offer from all inclusive luxury resorts to boat adventures, and stop for a moment and admire the blue holes!
Also, make sure you book these incredible hotels in advance as they sell out quickly! Plus, most of them have free cancelation so there's no risk if you change your mind later.

I hope you have the time of your life here! Leave a comment below if you have any suggestions for our traveling community or if you have any questions.
Aye my friends,
Victoria
---
Pin it for later!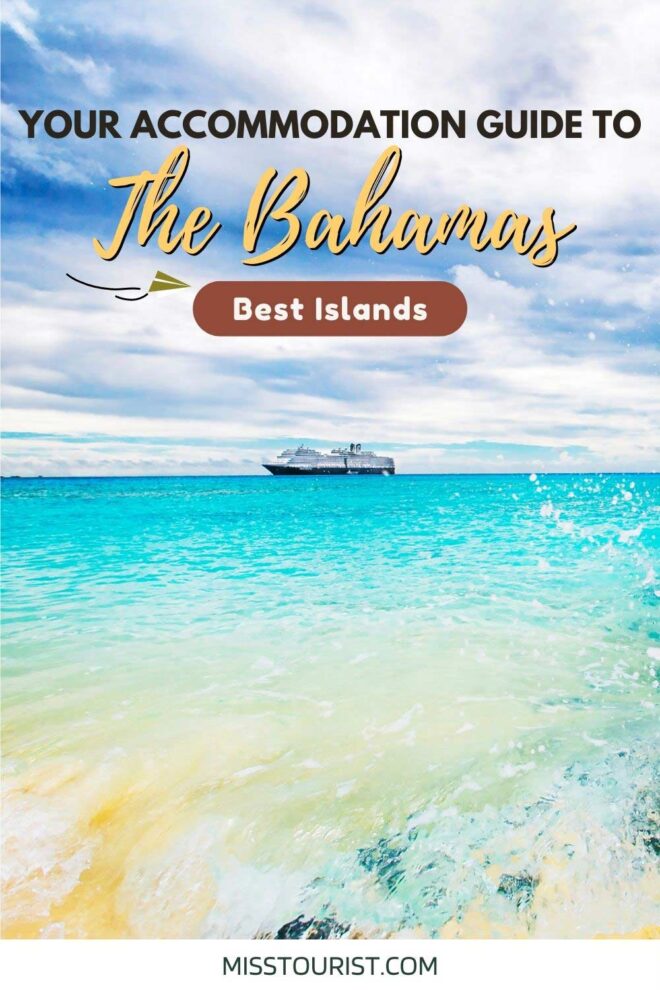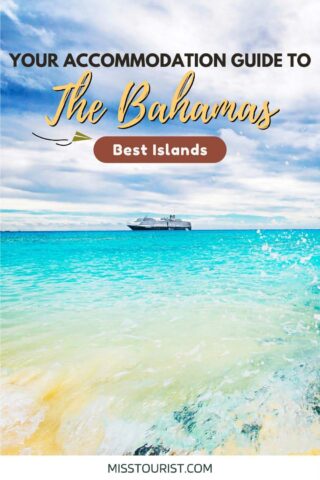 Pin it for later!