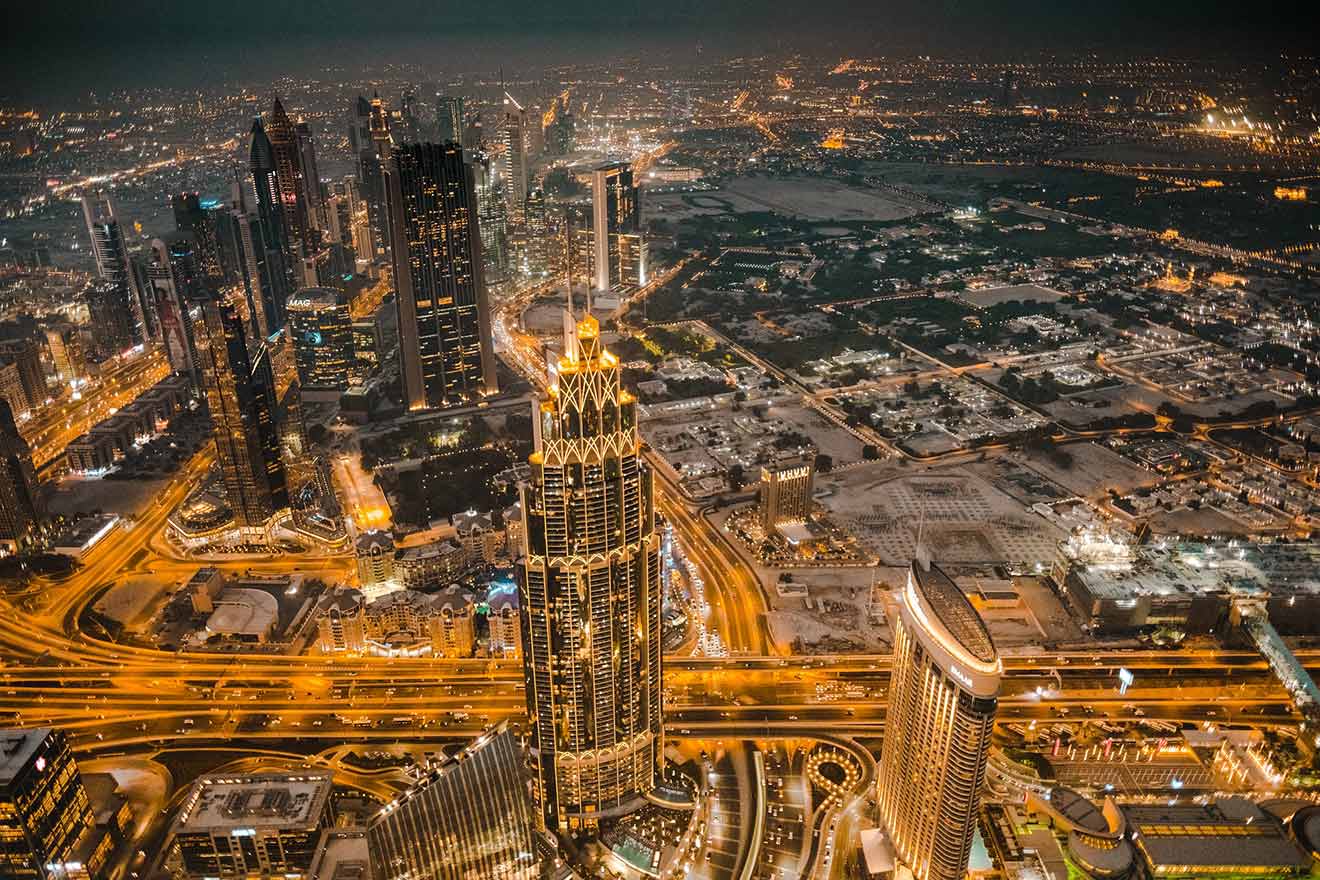 Dubai is home to some pretty exceptional hotels, apartments, and buildings, but since it has grown so much over these past years, it can be an absolute nightmare trying to find what is the best area where to stay in Dubai.
Fear not, as I have done the hard work and handpicked the 7 TOP areas to stay in Dubai, with excellent hotel recommendations in each neighborhood, so the only thing you worry about will be picking the best option for you!
The best area to stay in Dubai for the first time is the Dubai Downtown neighborhood as it is full of great activities for all interests and has a central location. But if you are looking for something different, I will also talk about Dubai Marina, Jumeirah Beach, The Palm, Al Barsha, Deira, and Bur Dubai. So I'm sure you will find the perfect option for your needs here!
And just for a little bonus, I also included the best hotels near the airport in Dubai in case you are just stopping by for a layover.
Talking about hotels, I recommend booking as soon as you find the perfect option for you, remember this is a highly visited city, and many people are looking for the top hotels, just like you!
Let's go!
If you are in a hurry…
Want to get right to the booking part? Check out the best of the best hotels for all budgets:
Here is a simple breakdown of the best Dubai neighborhoods for tourists.
P.S.: I recommend you make sure you choose a hotel that is close to the metro so you'll easily get around the city!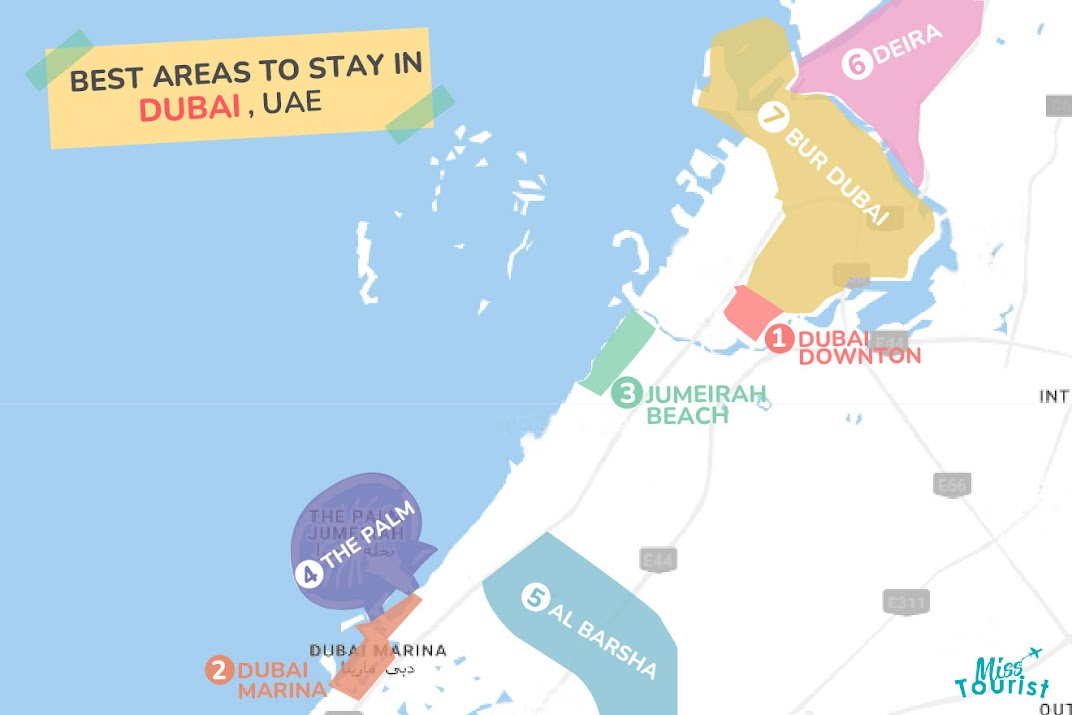 1. Downtown Dubai – best neighborhood for first timers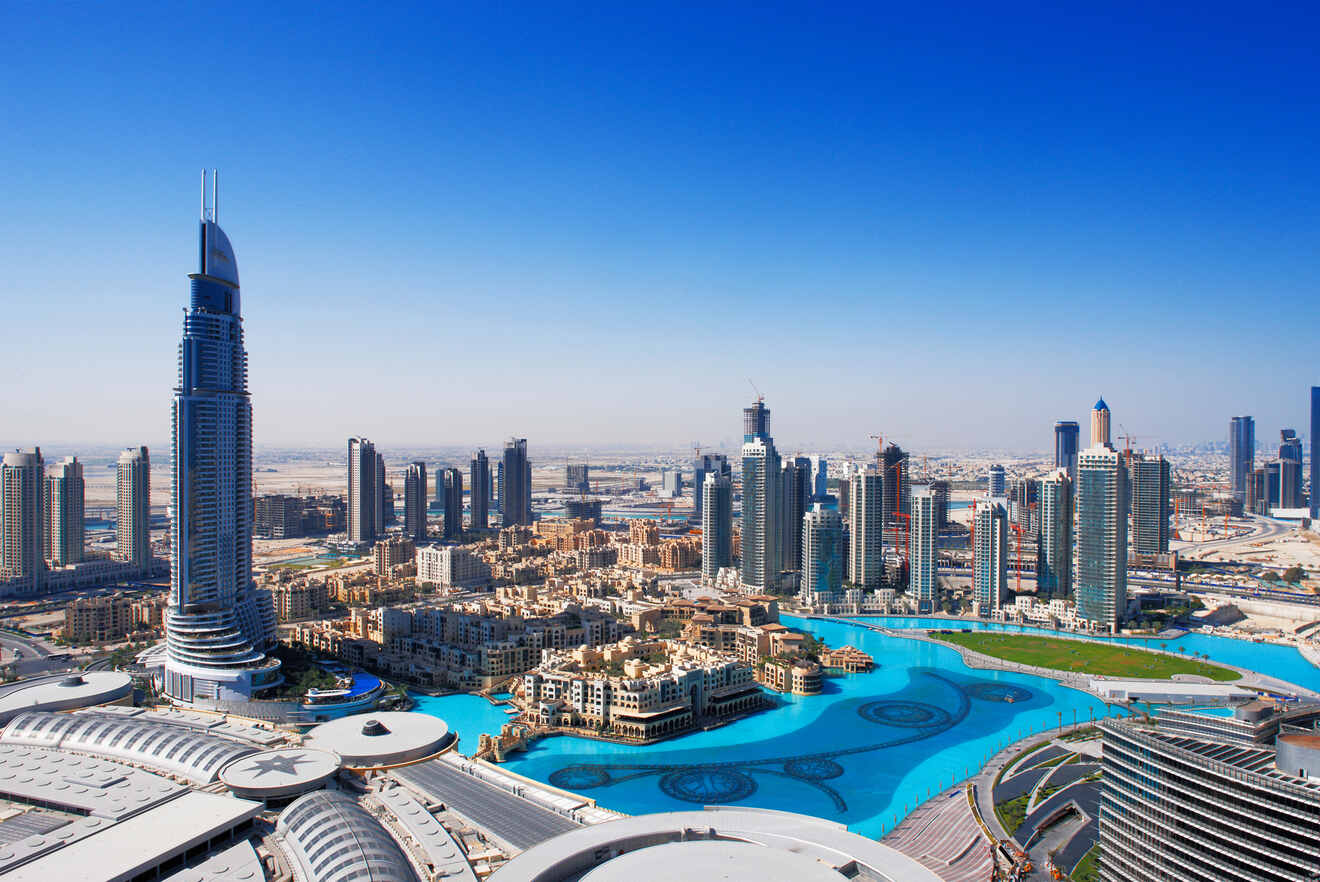 Downtown Dubai is the middle of the action, full of points of interest and also the place where most of the hotels are! This is a beautiful area where futuristic buildings meet traditional Arab architecture – a truly incredible combination of old Dubai and new Dubai.
This is a lively neighborhood where you will find many activities and tourist attractions. If you believe you won't have energy to explore the whole place, do not worry since the weather and the whole vibe of Downtown Dubai will definitely keep you full of energy and excitement. You might even wanna go for a run by the end of the day 😉
Some of the attractions you can find in this area include Burj Khalifa, the world's tallest building as well as the Observation Deck, the Dubai Fountain, the Dubai Opera, and the world's largest mall, Dubai Mall Complex.
If you prefer skipping the run and visiting some trendy restaurants, several upscale nightclubs, and smaller night venues as well – I'm sure you will find a spot perfect for your interest in Downtown Dubai! You will find many entertainment experiences in my things to do in Dubai article!
If you want to be near the Dubai Mall and the Burj Khalifa, check out these Downtown Dubai accommodation options: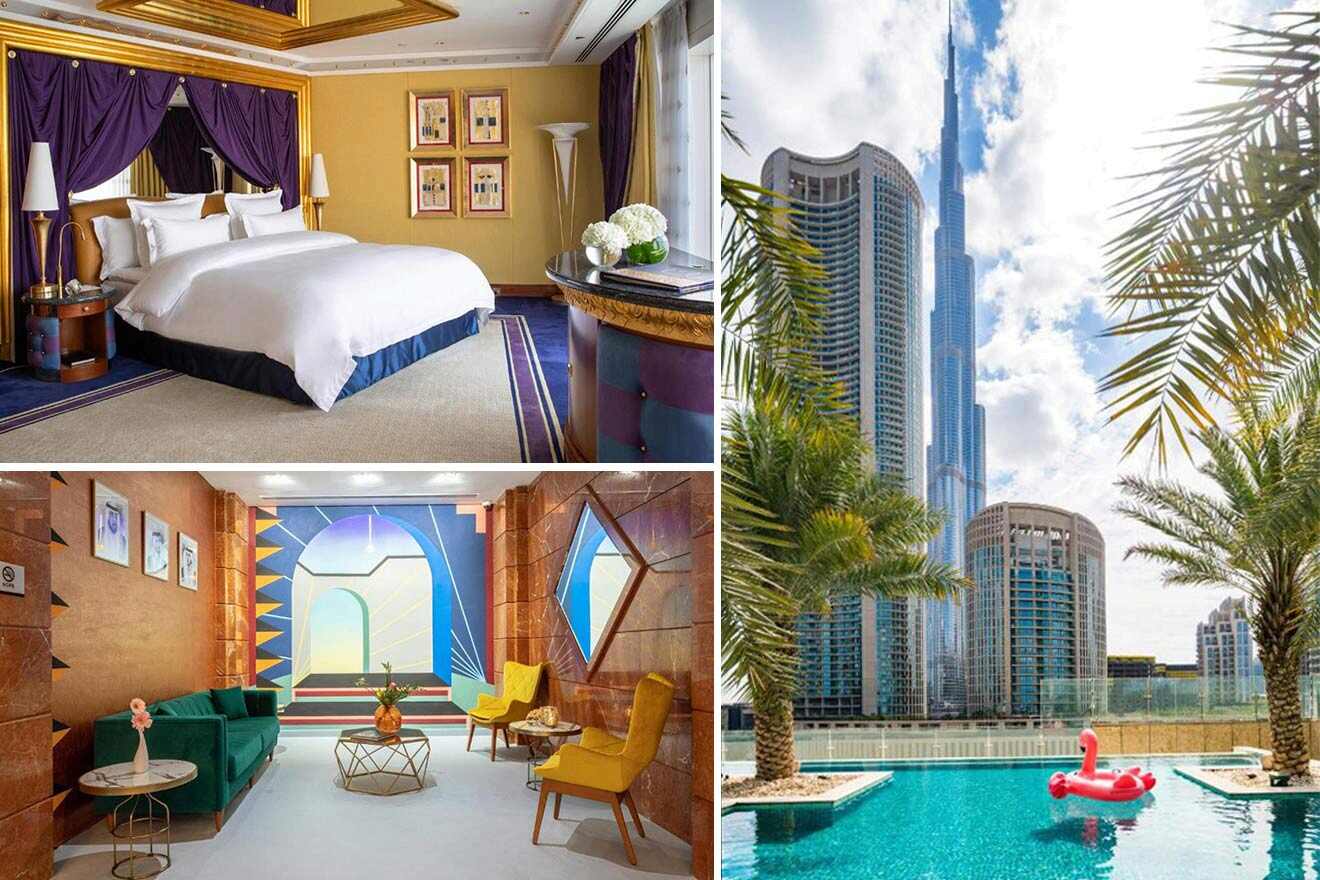 Luxury (US$500 and up)
Did you know that Burj Al Arab is the only 7-star Hotel in the world? It's true!
Burj Al Arab Jumeirah – Quite possibly the most famous hotel in Dubai and the most expensive hotel in Dubai! Located on its own island, Burj Al Arab is what dreams are made of. The list could go on forever, featuring 9 restaurants, a water park, two pools, bars, a fitness center, and an iPad in each room.
Palazzo Versace Dubai – The Palazzo Versace Dubai is one of the best luxury hotels in Dubai! With exclusive furniture designed by Versace, this hotel is one of the most luxurious hotels in Dubai. But it does not stop there, the location of this hotel is full of lavish attractions, such as the Burj Khalifa!
Middle-priced (from US$160 to US$500)
Sofitel Dubai Downtown – Located in Downtown Dubai and connected to Dubai Mall, Dubai Downtown is the best option if you are looking for urban and elegant luxury in your stay. You will find 3 on-site restaurants to enjoy an incredible dining experience. To end the day, visit the pool terrace to enjoy the breathtaking skyscrapers views!
Radisson Blu – I'm sure you will enjoy your stay here! It has an outdoor swimming pool with incredible skyline views, an on-site restaurant, and many more amenities! Plus, it is super close to the Dubai Mall, Dubai Fountain, and the Burj Khalifa!
Budget (up to US$160)
Leva Hotel and Suites – This is a wonderful aparthotel and the perfect accommodation option on a budget! The location near Dubai Mall and Burj Khalifa is great and the architecture of this hotel is super fun and colorful, but that is not the only fun thing this hotel has! You have to visit its all-day dining restaurant that serves delicious Halal dishes and the pool!
Rove City Walk – Beautifully decorated with inspiring quotes and close to the Dubai Mall, Sheikh Zayed Road, and the Burj Khalifa, Rove City Walk offers air conditioned rooms as well as family friendly amenities like arcade machine, video game console, a tennis table and many more! Maybe you won't even need a room since the whole family will stay all night playing!
2. Dubai Marina – best area to stay for nightlife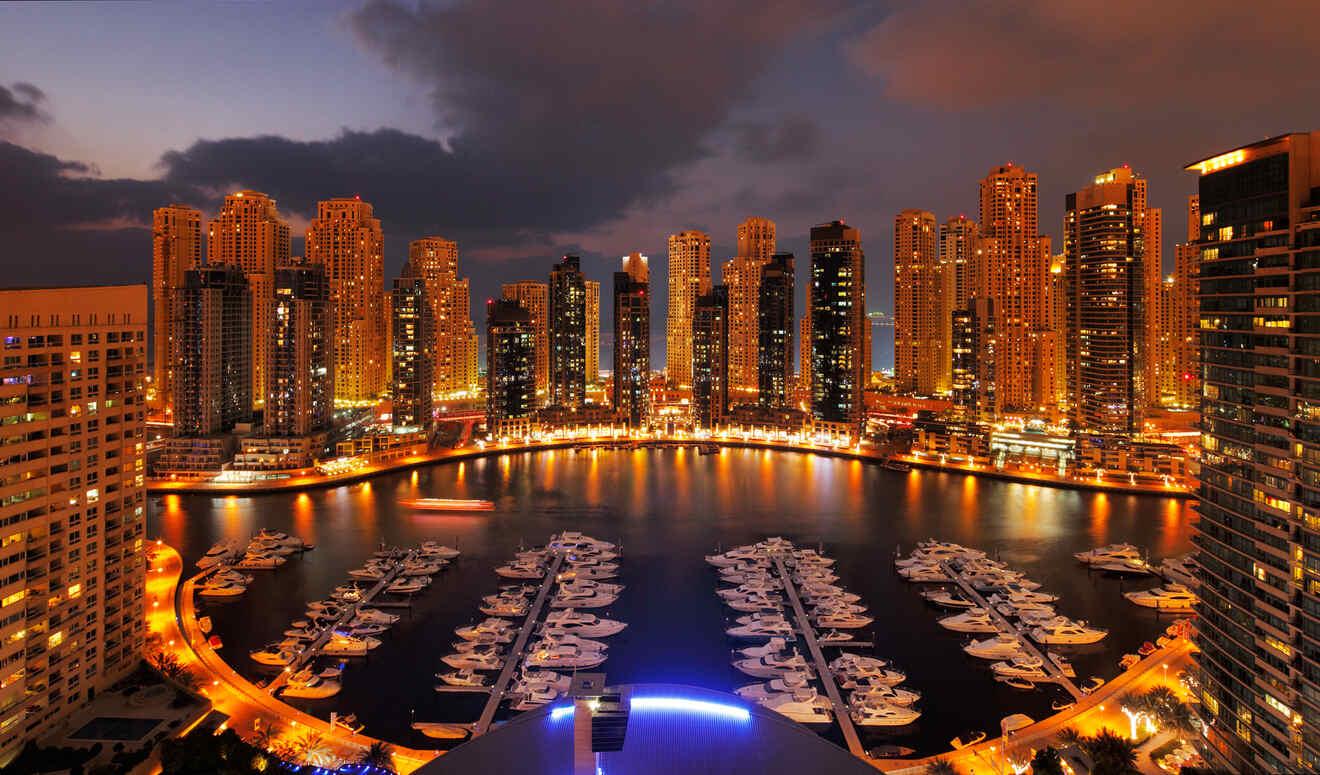 Known as the "tallest block in the world," Dubai Marina area is an artificial city canal running to the Persian Gulf shoreline.
As you can imagine, this Dubai Marina is full of luxury shiny yachts, towering skyscrapers with views of Dubai skyline, and luxury accommodations since this area is home to Dubai's most affluent residents!
Being conveniently located near the shoreline and next to Jumeirah Beach Residence area, you can easily book jet skis and charter boats for an exciting excursion or even check out a party yacht at the Dubai Marina Yacht Club. But however you spend your day, make sure to end it at Pier 7 for a fine dining experience – you can choose between 7 different restaurants with incredible waterfront views.
What's more, Dubai Marina is also known for its incredible list of lavish nightclubs where you can party all night long – and I will dare say all day long!
So, are you ready for a luxurious stay? Check these amazing hotels in Dubai Marina: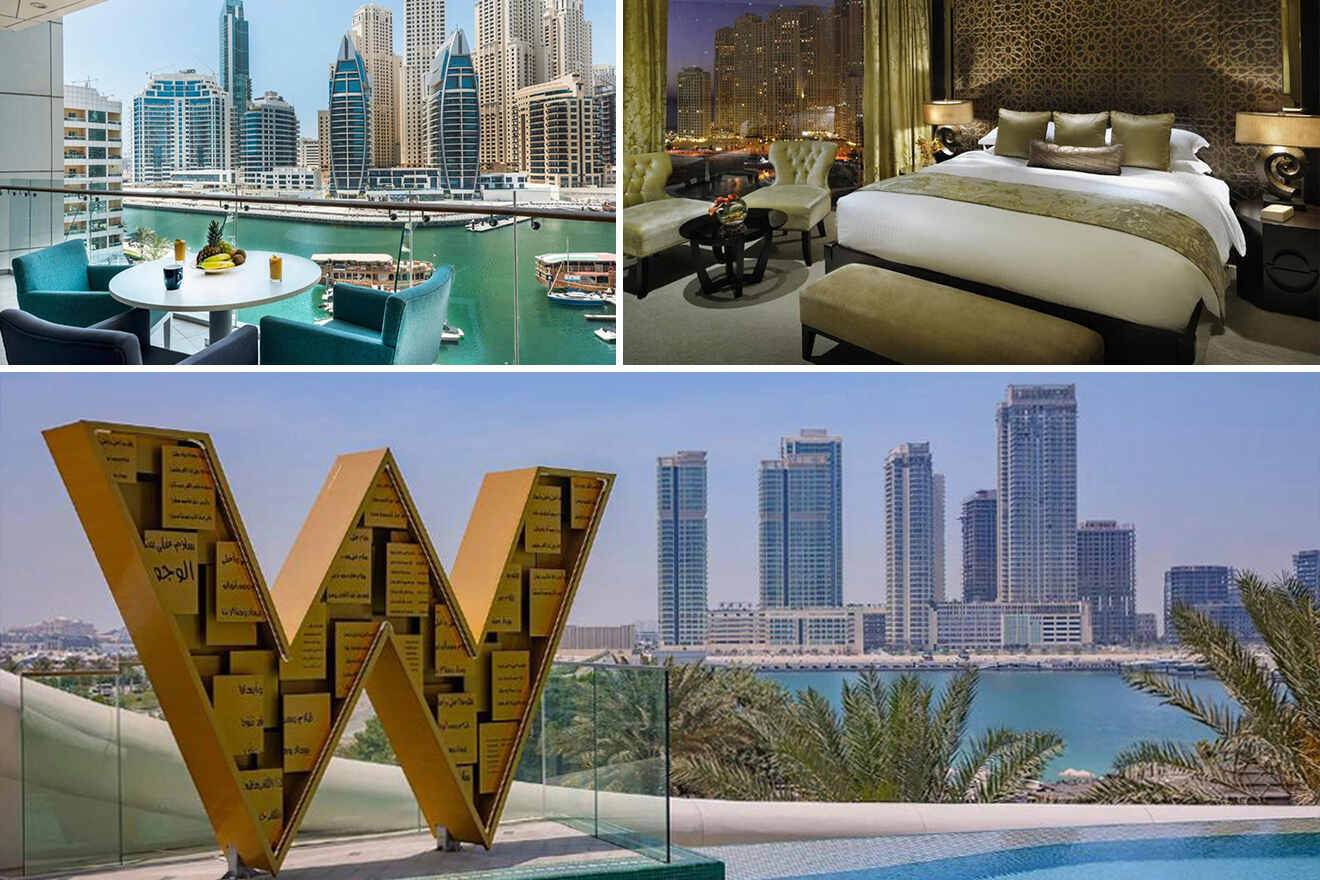 Luxury (US $500 and up)
W Dubai – This adult-only hotel has a beach area where you can enjoy an urban luxury stay. It also features unique restaurants, bars, lounges, and a spa to relax at one of the most luxurious hotels in Dubai Marina. But what I recommend is indulging yourself in the outdoor infinity pool that overlooks Palm Jumeirah.
Address Dubai Marina – Directly linked to the Dubai Marina Mall on Sheikh Zayed Road, this hotel is beautifully decorated with natural, warm colors and wooden furniture. It also features an on-site restaurant offering Arabic and European dishes, a sports restaurant, and a chill-out lounge where you can enjoy some drinks at night.
Middle-priced (from US$200 to US$500)
Crowne Plaza Dubai Marina – With no less than 5 dining outlets, an outdoor swimming pool, a fitness center, a bar, and incredible views of Dubai Marina, Crowne Plaza is less than a kilometer away from Marina Beach and The Walk and super close to Dubai Mall, making it an excellent choice for anyone wanting an affordable stay.
Wyndham Dubai Marina – This is another amazing hotel that offers a vast range of restaurants serving smoked meats, Italian dishes, an All-Day Al Fresco eatery, a coffee house, and even an in-pool bar that serves snacks. But don't worry, it also has a fitness center where you can sweat out all the extra calories!
Budget (up to US $200)
Jannah Marina Hotel Apartments – I know many of these options are expensive, so I think this is a great option if you want to save some dollars on the accommodation. Located in the Dubai Marina Promenade, Jannah Marina Hotel Apartments offers an outdoor pool with sea views, an on-site restaurant, and free parking!
1 World Backpackers – I think there will not be a cheaper accommodation than this one! This cozy hostel has shared and private rooms to choose from, an outdoor swimming pool, a shared lounge, and a terrace. Since the area is popular for cycling, bike hire is also available at the accommodation (I would make use of that for sure!)
3. Jumeirah Beach – where to stay in Dubai for families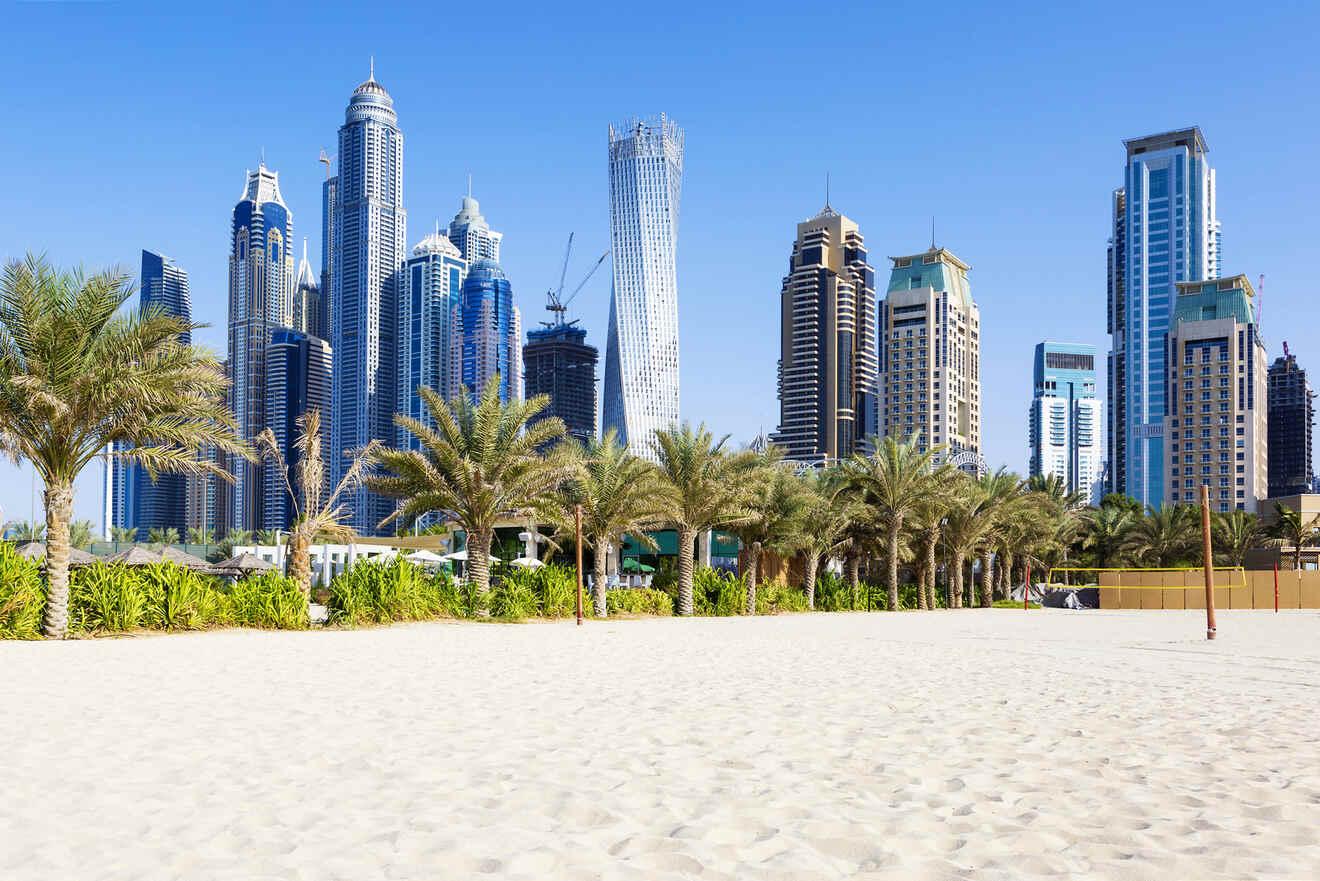 Located just outside of central Dubai, Jumeirah Beach is the main beach in Dubai making it the #1 beach destination in the city. What's more, it is home to some amazing hotels that overlook the ocean!
Because of its location near the beach, there are a lot of fun activities like jet skiing, parasailing, or boating, making it the perfect neighborhood to stay in with your family!
But if you prefer something less hectic, I recommend renting an umbrella or sun loungers, having a relaxed beach day with your little ones.
Ready to check the best hotels in Jumeirah Beach? Check these out: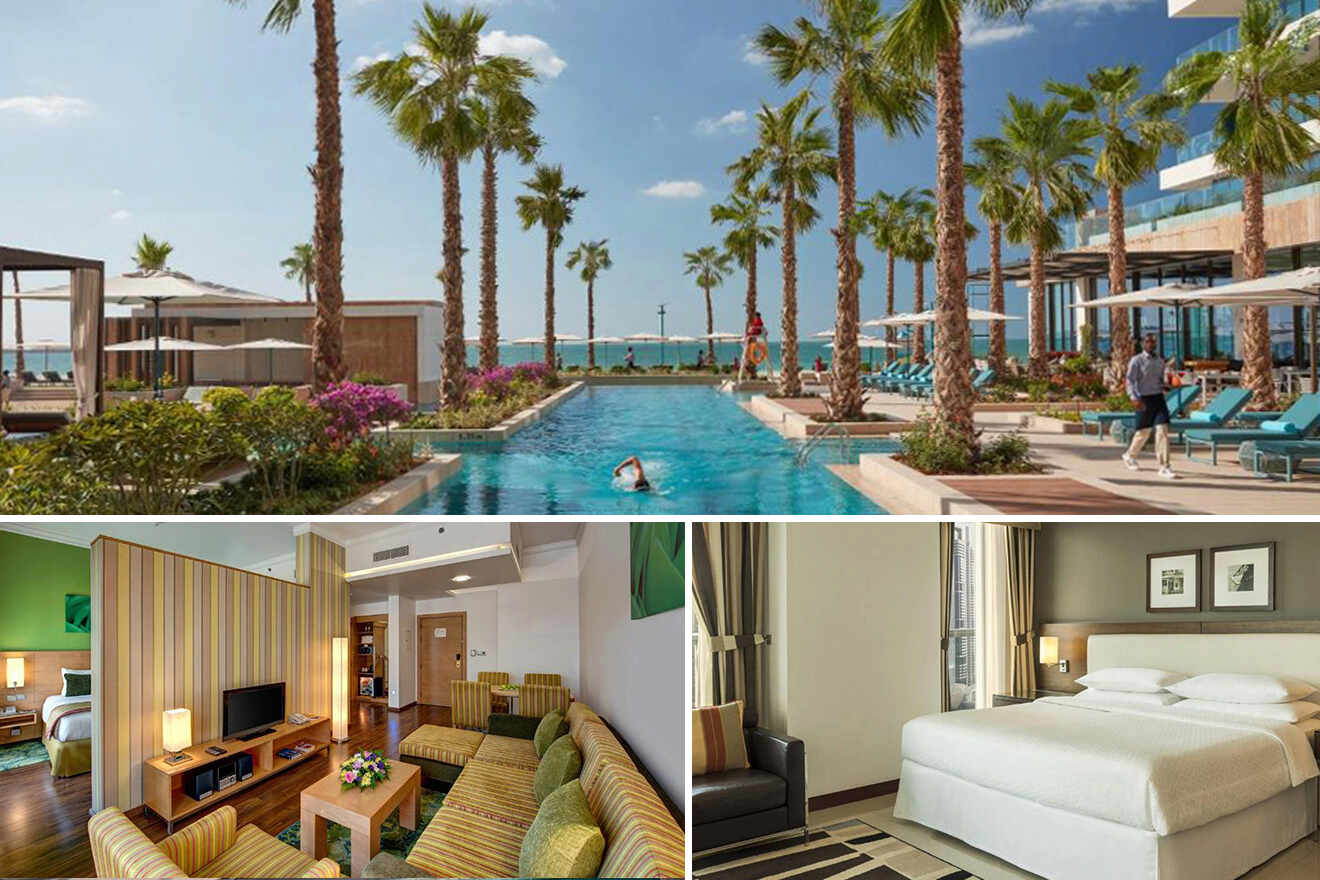 Luxury (US $400 and up)
La Ville Hotel & Suites – Looking for one of the best luxury hotels in Dubai? Then, La Ville Hotel is the perfect option for you! Boasting sophisticated and contemporary architecture, you won't even have enough time to explore all the facilities this hotel has to offer; from the outdoor pool to an eclectic dining experience at its on-site restaurant, this property will leave you breathless.
Mandarin Oriental Jumeirah – Boasting 5 outdoor swimming pools, a fitness center, and a shared lounge, Mandarin Oriental even has direct access to the beach. It offers innovative cuisine and world-class mixology in its on-site restaurant and bar! It also has the best location near Dubai Mall!
Middle-priced (from US $190 to US $400)
Roda Beach Resort – One of the best luxury resorts offers the best location with direct access to The Kite Beach yet super close to many dining, shopping, and entertainment options. It is also a stone's throw away from vibrant beach clubs and pristine public beaches!
Four Points by Sheraton – This hotel offers simple yet comfortable rooms perfect if you don't want to spend a fortune on your Dubai stay. Its location is another reason to choose this option, super close to many tourist attractions like the Burj Khalifa!
Budget (up to US $190)
Al Khoory Executive – Located on Jumeirah Beach near Burj Khalifa, the Dubai Fountain, and the Dubai Mall, this budget hotel has incredible amenities that will make you feel like you are staying in a luxury hotel! After a workout at its fitness centre, you can relax in the sauna or steam room or grab a quick bite at the restaurant!
Crowne Plaza – This is a great budget option to stay in Jumeirah Beach! It has top amenities for an incredible price! Don't forget to check out the restaurant, rooftop swimming pool, fitness center, and its on-site bar to finish your day off with a drink!
4. The Palm – best area to stay in Dubai for luxury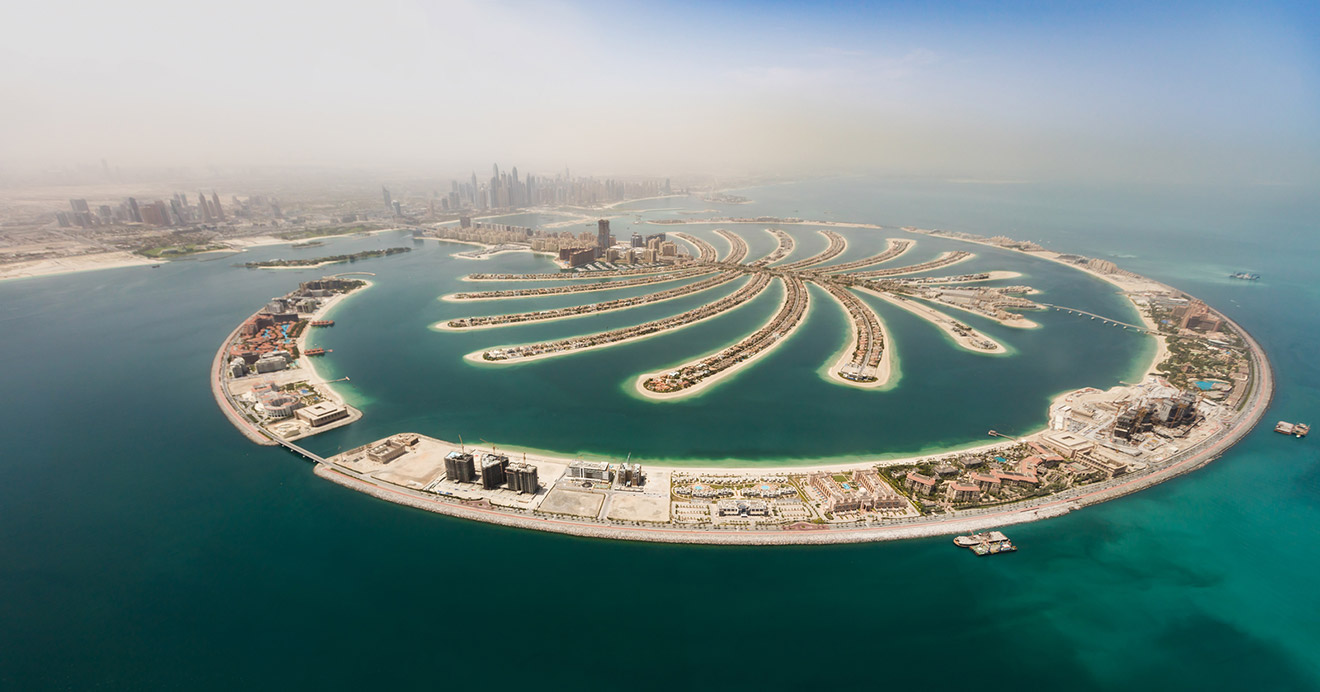 Palm Jumeirah is the first of three planned artificial islands off the coast to be completed. It is also the site of many hotels and other well-known points of interest, and the image everybody has when thinking about Dubai!
This 5-km long palm tree shaped island houses many upscale hotels and modern attractions in Dubai making for one of the best places to stay in Dubai to experience a luxurious vacation!
Get ready to spend your days doing fun on-water activities like kayak tours, paddle-boarding, windsurfing, yoga, and pilates throughout this incredible man made oasis!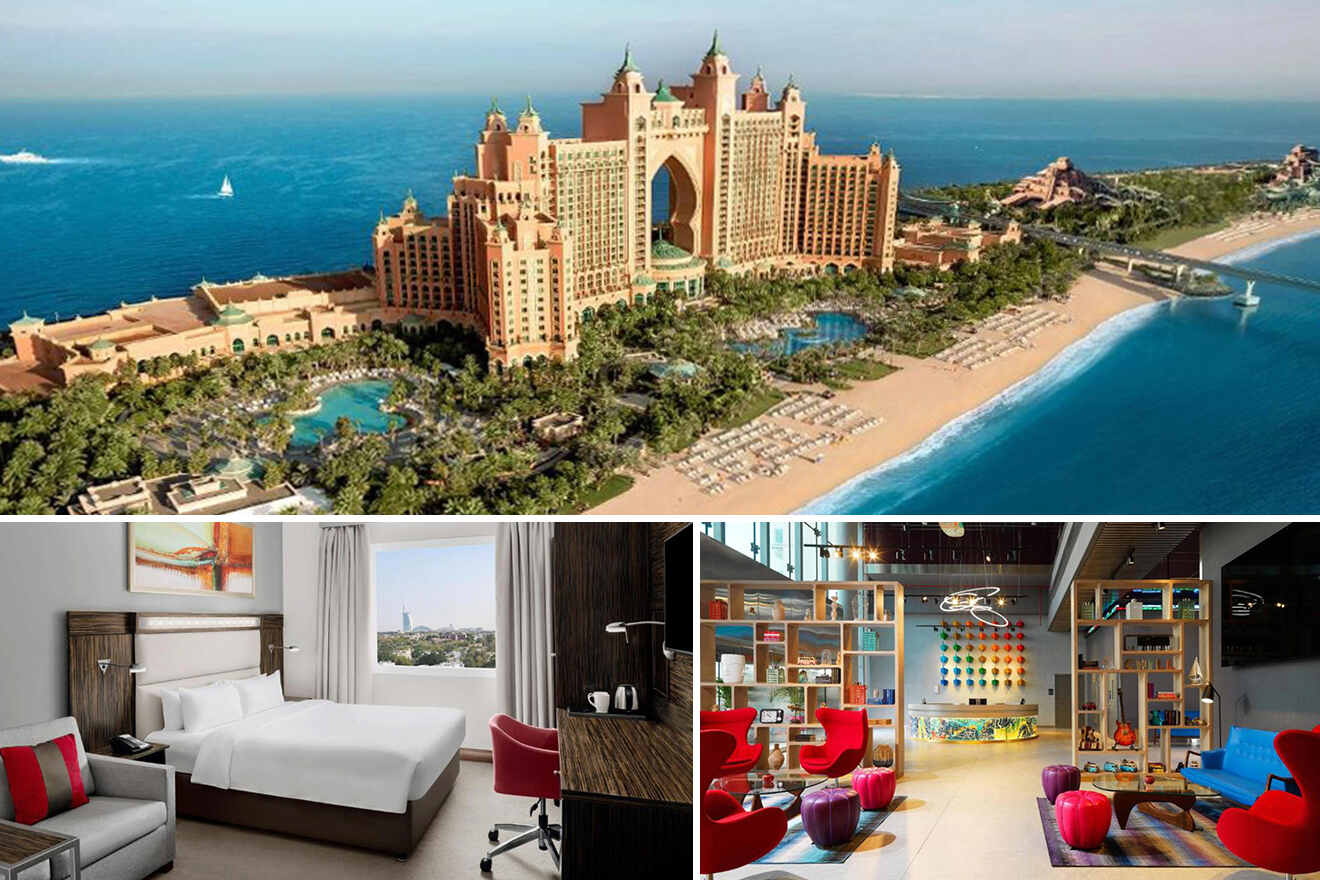 Luxury (US $450 and up)
Atlantis The Palm – Featuring stunning architectural design, private beach access, uninterrupted views of the Arabian Gulf, and some of the best restaurants in the city, this hotel is also child-friendly as it has an in-house underwater aquarium. What's more, guests even have free entry to the Middle East's biggest waterpark (you can check out my complete guide of things to do in Dubai with kids here).
PRO TIP: Select the underwater suite if you'd like to sleep surrounded by fish and feel what it would be like to sleep in the actual underwater city of Atlantis
Five Palm Jumeirah Dubai – Five Palm Jumeirah is located close to Dubai Media City. This positions it well in terms of access to Dubai itself! The hotel features its own beach, five swimming pools, and numerous dining options. A great choice if you want to stay in the palm but still feel close to the city!
Middle-priced (from US $190 to US $450)
Aloft Palm Jumeirah – Designed for the most exigent travelers, Aloft Palm Jumeirah is the perfect place for an urban beach escape! It not only boasts 7 restaurants and bars but also an outdoor pool, private beach front, and an incredible Mexican cantina and rooftop bar that overlooks the iconic Burj Al Arab and the Arabian Sea. You might end the night speaking spanish!
Royal Central Hotel – Featuring a stunning beach area, this hotel offers a delicious in-house restaurant that serves Mediterranean cuisine. Plus, if you stay here the staff is super helpful and will assist you with anything you might need during your stay!
Budget (up to US $190)
Holiday Inn Express – This is a 3-star accommodation that offers incredible facilities at accessible prices! The renowned Holiday Inn also has the best location – you will be within walking distance from Palm West Beach and Mina Seyahi Beach!
Green Sky Hostel – This is another fabulous budget option to save some dollars on your Dubai stay. Green Sky Hostel has simple but comfortable facilities and boasts hotel apartments with spectacular views of the Arabian Gulf.
5. Al Barsha – where to stay in Dubai with friends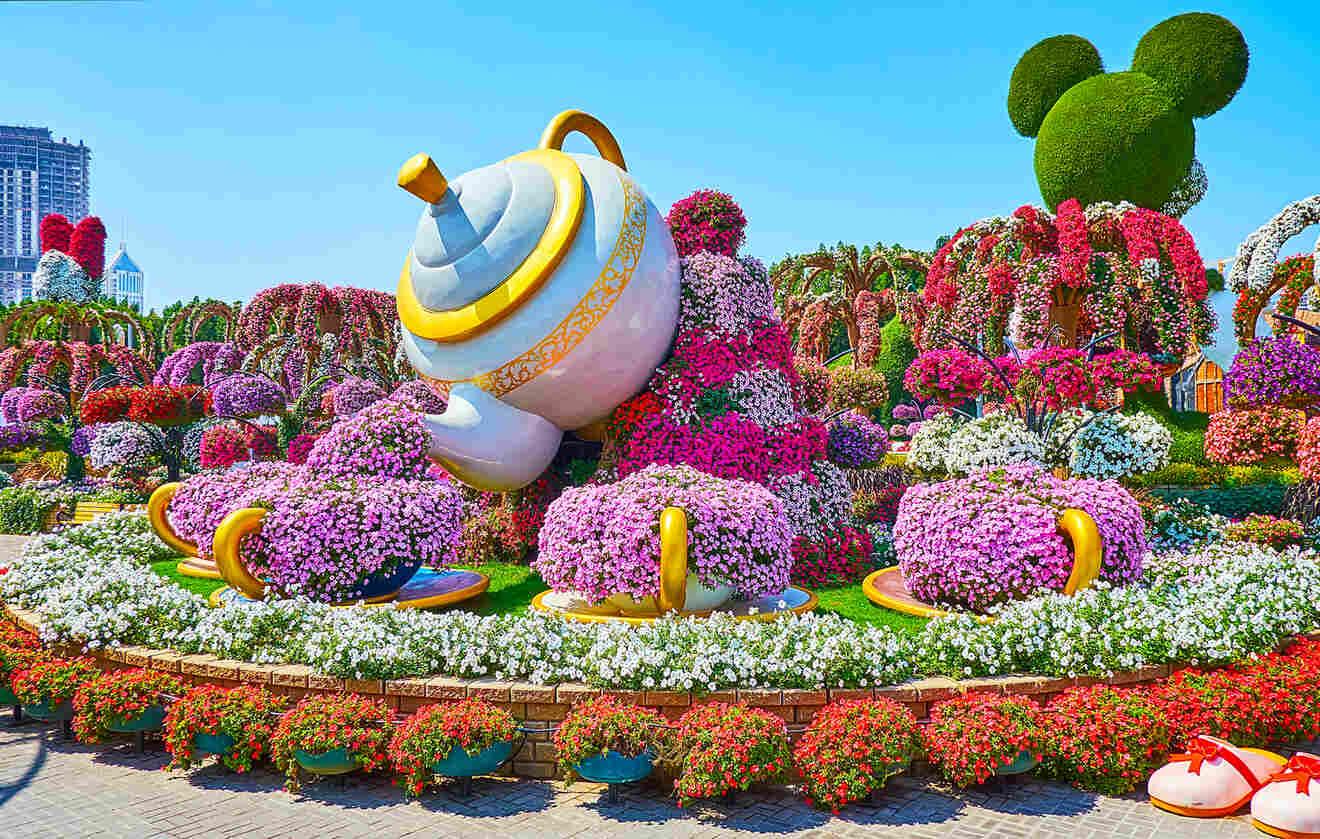 Conveniently located close to Palm Jumeirah is Al Barsha, where another group of gorgeous hotels can be found. This neighborhood is known for its quiet and residential vibe, but don't be fooled, it is also dynamic and exciting.
Al Barsha is best known because of The Mall of the Emirates, this large multi-level shopping complex has amazing Arabian and Mediterranean designs and over 630 shops! I'm sure you will need more than 1 day to explore the whole shopping mall!
But if shopping is not really your cup of tea, you can visit the Dubai Miracle Garden, a beautiful landscaping exhibition full of breathtaking flower arrangements perfect for all the family! Just keep in mind Dubai Miracle Garden is closed during the summer season from April to October (summer heat is HAAARD.)
Another great place to visit during your stay in Al Barsha is the iconic Ski Dubai, an indoor ski center with 5 slopes and the first indoor black diamond run in the world! If you prefer less adventurous activities, the resort has a sled, toboggan runs, ice caves to explore, and chilly slides!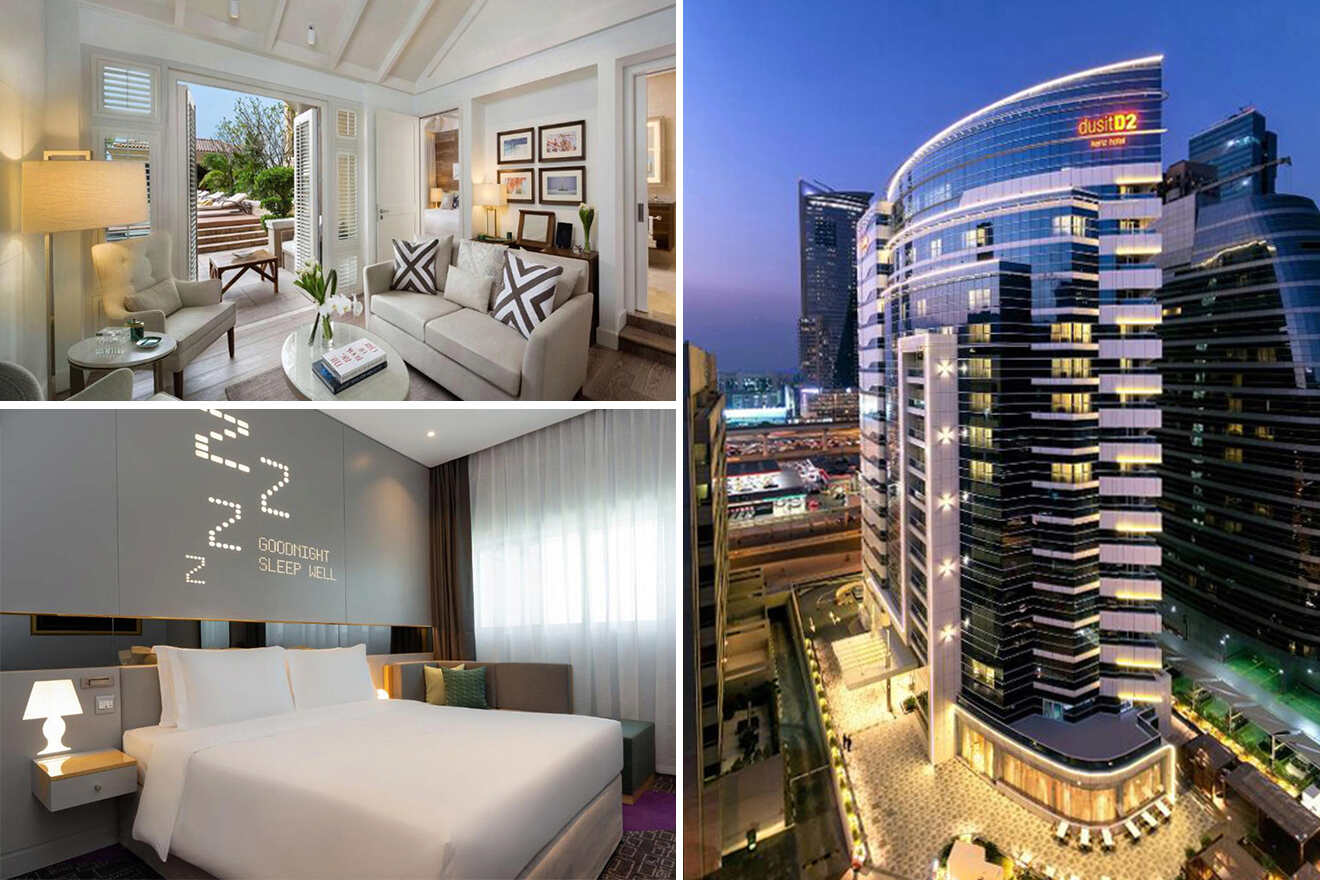 Luxury (US $300 and up)
Kempinski Hotel Mall of the Emirates – The perfect hotel to choose if you want to get some skiing in. Connected to the Mall of the Emirates and with ski chalets overlooking the slopes of Ski Dubai, you will feel like you're in the Swiss Alps! The hotel also has dining and drinking options, a gym, free WiFi, and a pool!
Dusit D2 Kenz – Close to the Dubai Internet City Metro Station, this property has a rooftop pool, spa, fitness center, free WiFi, and an executive floor, so be sure you will have VIP treatment throughout your whole stay!
Middle-priced (from US $130 to $300)
Grand Cosmopolitan Hotel – This one has to be one of the best middle-priced hotels in Dubai! It features an outdoor swimming pool, fitness center, free WiFi, and three different dining options on-site. One of the advantages of staying in the Grand Cosmopolitan Hotel is that it features family rooms and a children's playground!
Studio M Al Barsha – Filled with what feels like 5-star hotel amenities, Studio M has everything you will need during your Dubai stay! It not only has free private parking and a fitness center, it also offers guests an outdoor swimming pool and an on-site restaurant!
Budget (up to US $130)
Mena Plaza Hotel – This hotel is one of the best options if you are traveling on a budget! Located less than a mile from the Mall of the Emirates, Mena Plaza Hotel offers its guests an outdoor swimming pool, an on-site restaurant, and many more amenities!
Rose Plaza Hotel – This is another great budget option in Dubai! This cozy hotel has not only all the services and amenities you might need, but the staff service also is just incredible, and the location is super convenient; it is close to many top attractions!
6. Deira – where to stay in Dubai on a budget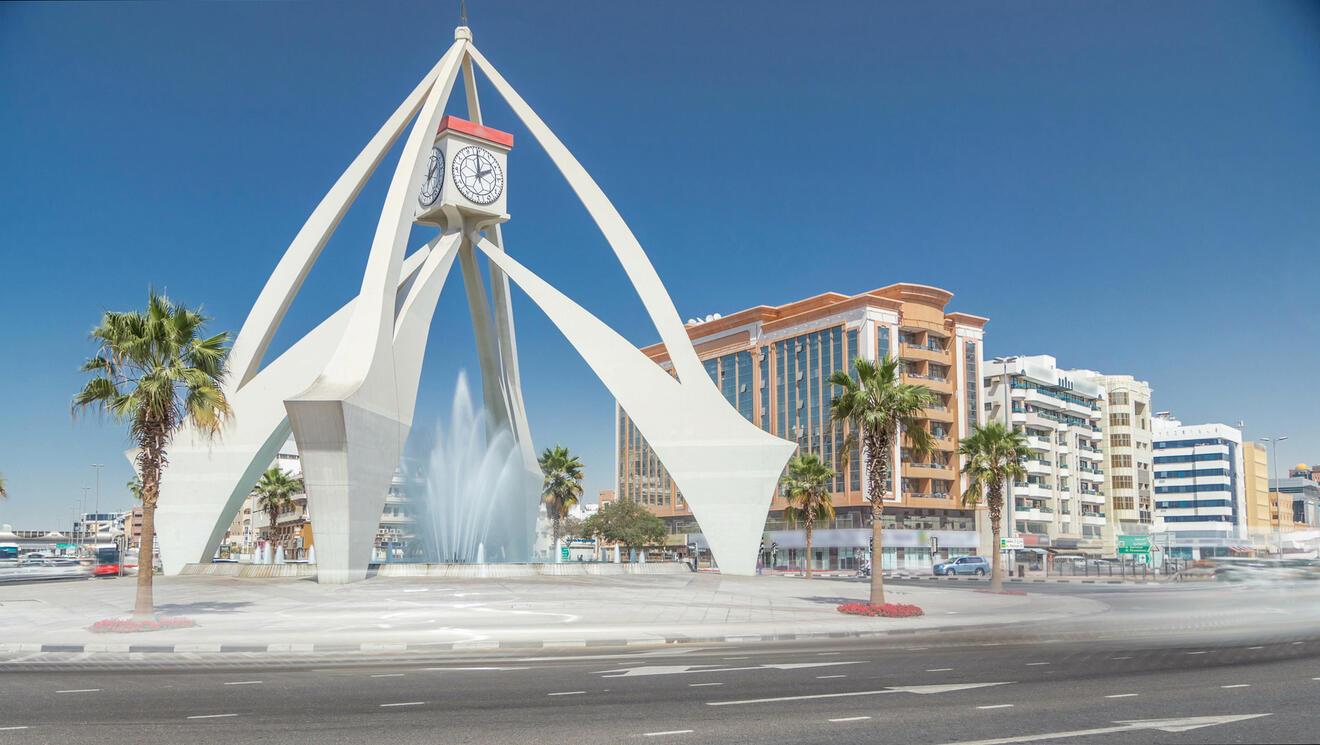 Occupying the space between Dubai International Airport and the ocean is Deira, where you will find cheaper options for accommodation.
Even though many people think that Dubai is just a destination only for luxury travelers, Deira is a neighborhood that proves this incredible destination is a city for everyone!
Hugging the Persian Gulf, this area has a lot of history and tradition while also being a tourist and economic hotspot. It is full of Souks (markets) and shops with gold, spices, and some of the best herbs in the world!
It also has a wide range of local produce, henna kits, and interesting options – even designer goodies (of doubtful origins). Thanks to all these hectic markets, Deira is a place full of life and, as I said before, tradition!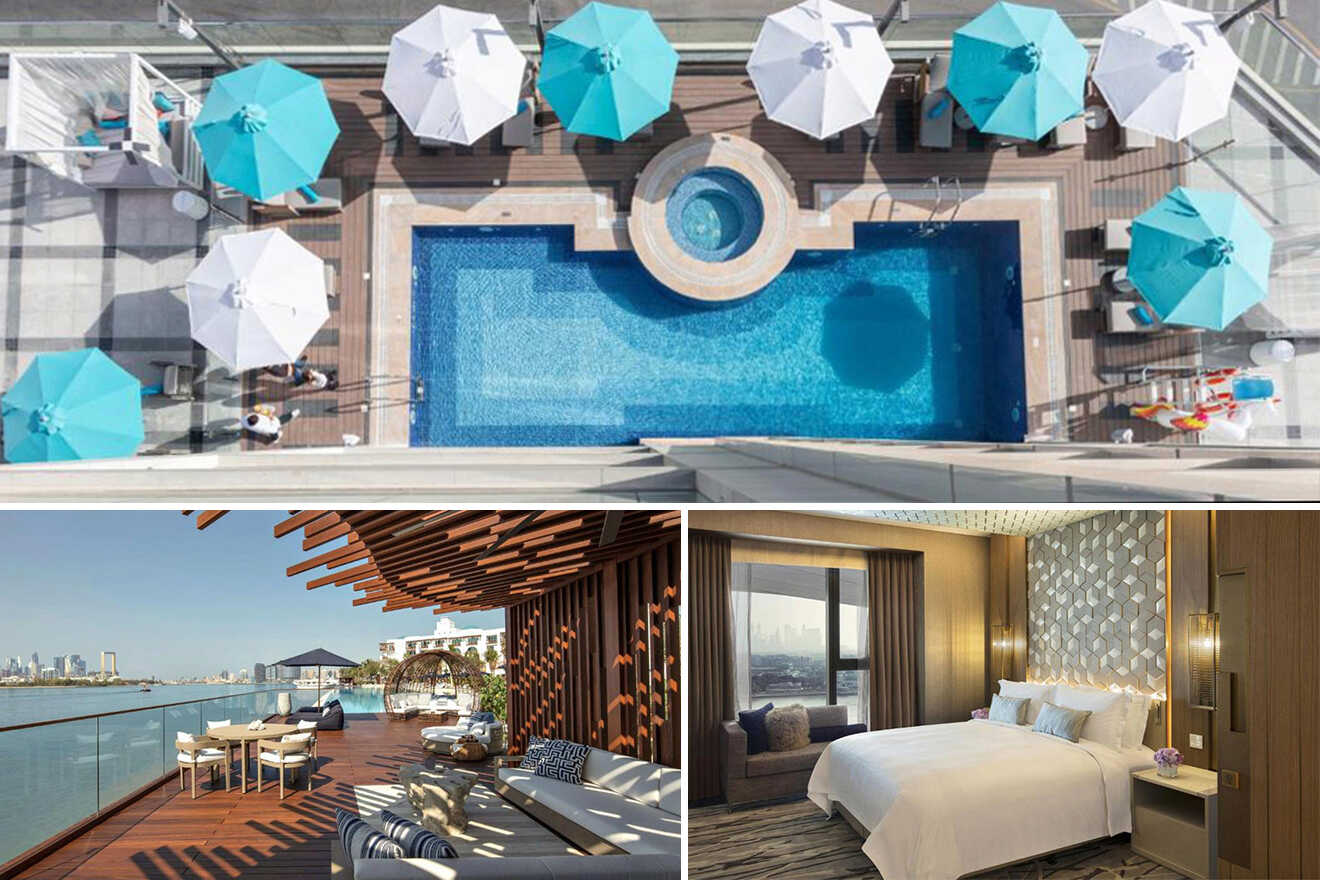 Luxury (US $350 and up)
Park Hyatt Dubai – With its own beach, private lagoon on Dubai Creek, a swimming pool, numerous dining and drinking options and even its own golf course, this is one of the best luxury hotels. The rooms are geared towards luxury, too, with floor-to-ceiling windows, deluxe bed linen, and marbled bathrooms! Plus, you will be super close to Deira City Center!
Golden Sands Hotel – This luxury resort has rooms with lake, city, and river views! Golden Sands Hotel Creek features a rooftop pool and a bar where you can enjoy a drink after a day exploring the city with Dubai Creek as the background. Plus, you will be well connected through Dubai metro, doesn't that sound amazing?
Middle-priced (from US $150 to US $350)
Edge Creekside Hotel – Located in Dubai Creek, this 4-star mid-priced hotel offers a restaurant, free private parking, a swimming pool and features a complete fitness center… what more do you need?
Al Bandar Rotana – This is a unique, ultra-modern Dubai accommodation with an incredible waterslide perfect for everyone; whether you are traveling on a business or pleasure! This elegant 5-star hotel, is located on the edge of Dubai Creek only a short walk away from several attractions making it a great spot for tourists.
Budget (up to US $150)
Aloft Dubai – If you stay in this budget option, you will feel you are in a top 5-star hotel thanks to all the amenities the property offers. Featuring a restaurant, free WiFi, fitness center, bar, and shared lounge, this is a great option if you want to save some dollars on the stay to spend on other activities!
Ramada by Wyndham – Located within walking distance from Salahuddin Metro Station, this hotel features incredible amenities like an outdoor swimming pool, a gym, and a restaurant. The services the hotel offers and its location make the perfect combo with an incredible price range!
7. Bur Dubai – best place to stay for a traditional atmosphere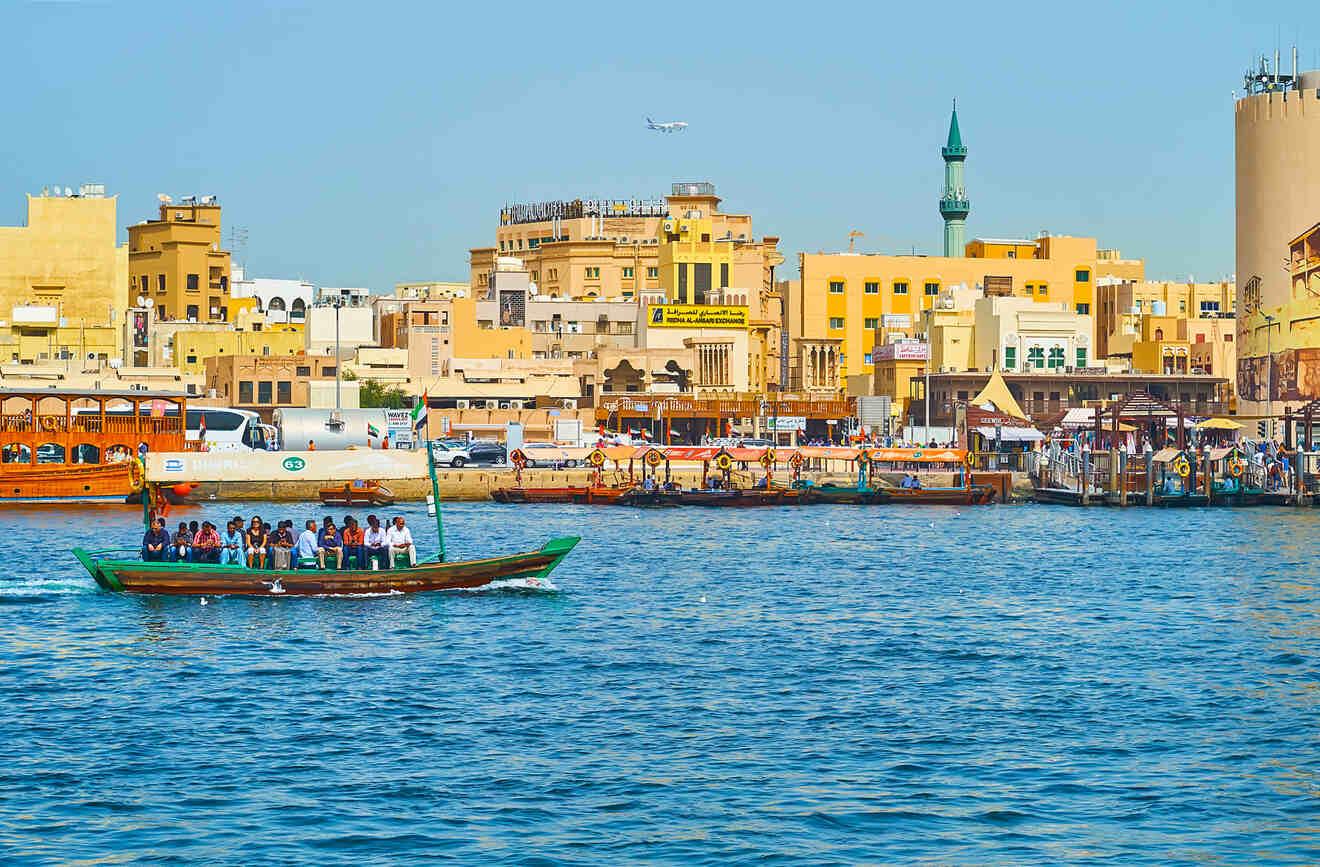 Known as the heart of Old Dubai and the real soul of the city, Bur Dubai is composed of alleys, bazaars, and traditional architecture.
Just like Deira, the Bur Dubai district has incredible souks (markets) and is close to Dubai Creek, where you will find traditional boats and floating restaurants where you can grab a bite of traditional Dubai cuisine.
Another great advantage of staying in Bur Dubai is its transportation system. Several train stations will keep you connected to the rest of the city, and a taxi service is also available – plus it is metered and cheap!
While staying in Bur Dubai, you can visit the Al Fahidi Historical Neighborhood to fully indulge in the Old Dubai experience, check out The Dubai Museum, extract pearls at the Heritage Village or explore the Majlis Gallery.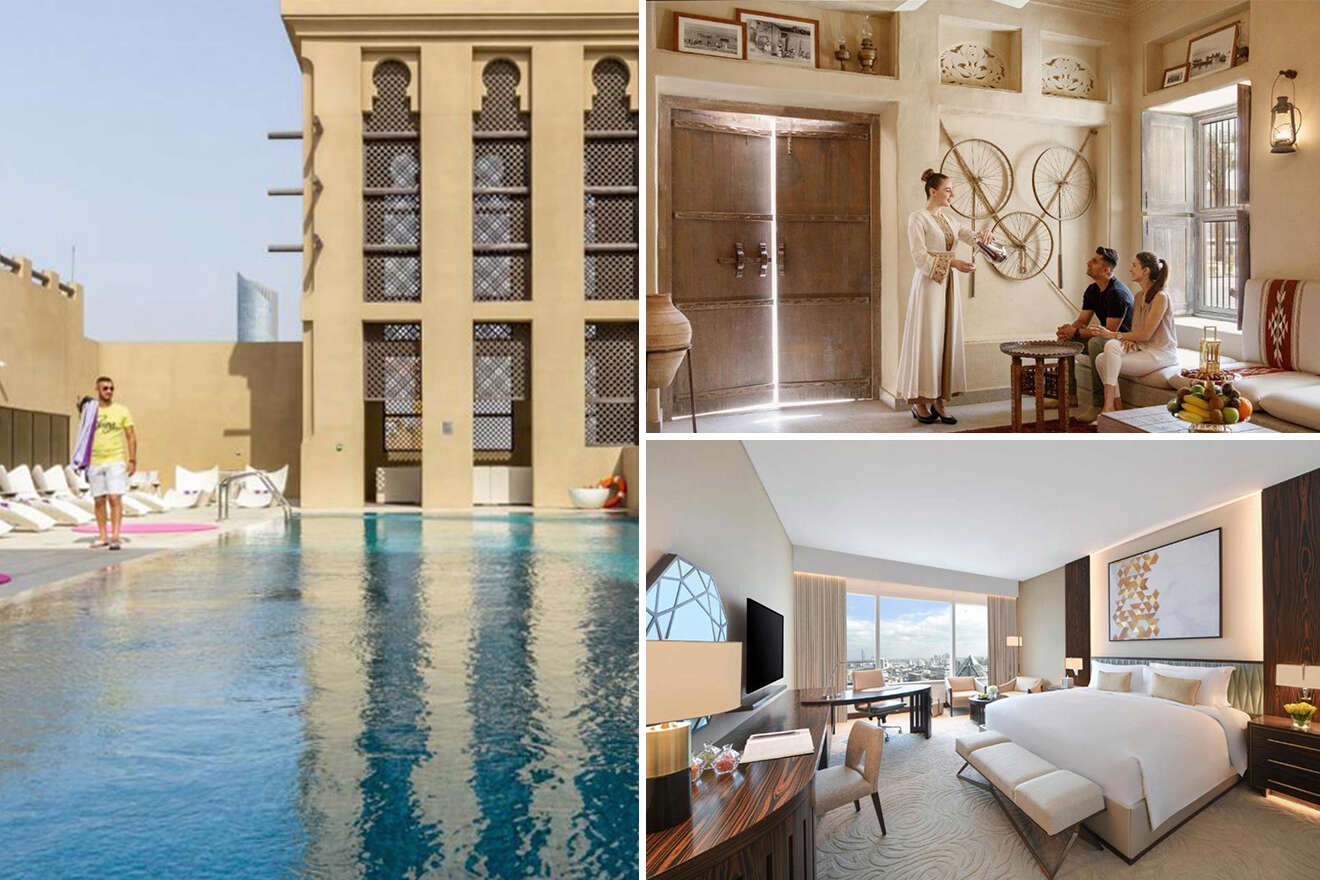 Luxury (US $300 and up)
Sofitel Dubai The Obelisk – Sofitel Dubai The Obelisk offers everything you need for your stay from an on-site restaurant to a fitness center and an outdoor pool to refresh yourself. Plus, the air-conditioned rooms have incredible city views and the hotel has a bar with a shared lounge where you can relax after a busy day exploring the city!
Grand Hyatt Dubai – Situated near bustling Sheikh Zayed Road in Bur Dubai, Grand Hyatt Dubai has not 1 nor 3 pools but 4 different options to take a dive in! It also boasts 13 dining and entertainment venues! If this doesn't convince you, the hotel also offers spa treatments – what a way to enjoy Old Dubai, right?
Middle-priced (from US$120 to US$300)
Aloft Al Mina – This incredible mid-range option in Bur Dubai has an on-site restaurant, free private parking, free WiFi, an outdoor swimming pool, and even free bike rental to have a stroll around the city. The property also boast a bar to hydrate yourself after a long day exploring Dubai, or just to relax a little.
Al Seef Heritage Hotel – Looking for a true Emirati experience? Al Seef Heritage Hotel will leave you breathless with its authentic architecture with modern touches. Located in Bur Dubai, this property provides an enriching immersion in the city's cultural wonders with all its amenities!
Budget (up to US $120)
Occidental Al Jaddaf – Located in Bur Dubai, this hotel will make you want to extend your stay! The rooms are super spacious and it is located in a quiet location so will be relaxed! On top of everything, a buffet breakfast is available each morning! Plus, it is close to many attractions like the Dubai Museum.
Premier Inn Dubai – This budget hotel will make you feel you are staying at a palace and the staff will make sure you feel like a princess/prince. In case you want to relax, there is even a sun terrace where you can enjoy some drinks! Since the location of this hotel is close to the airport, Premier Inn offers free shuttle service to and from terminals 1 and 3 – super convenient, right?
BONUS: Best hotels near Dubai International Airport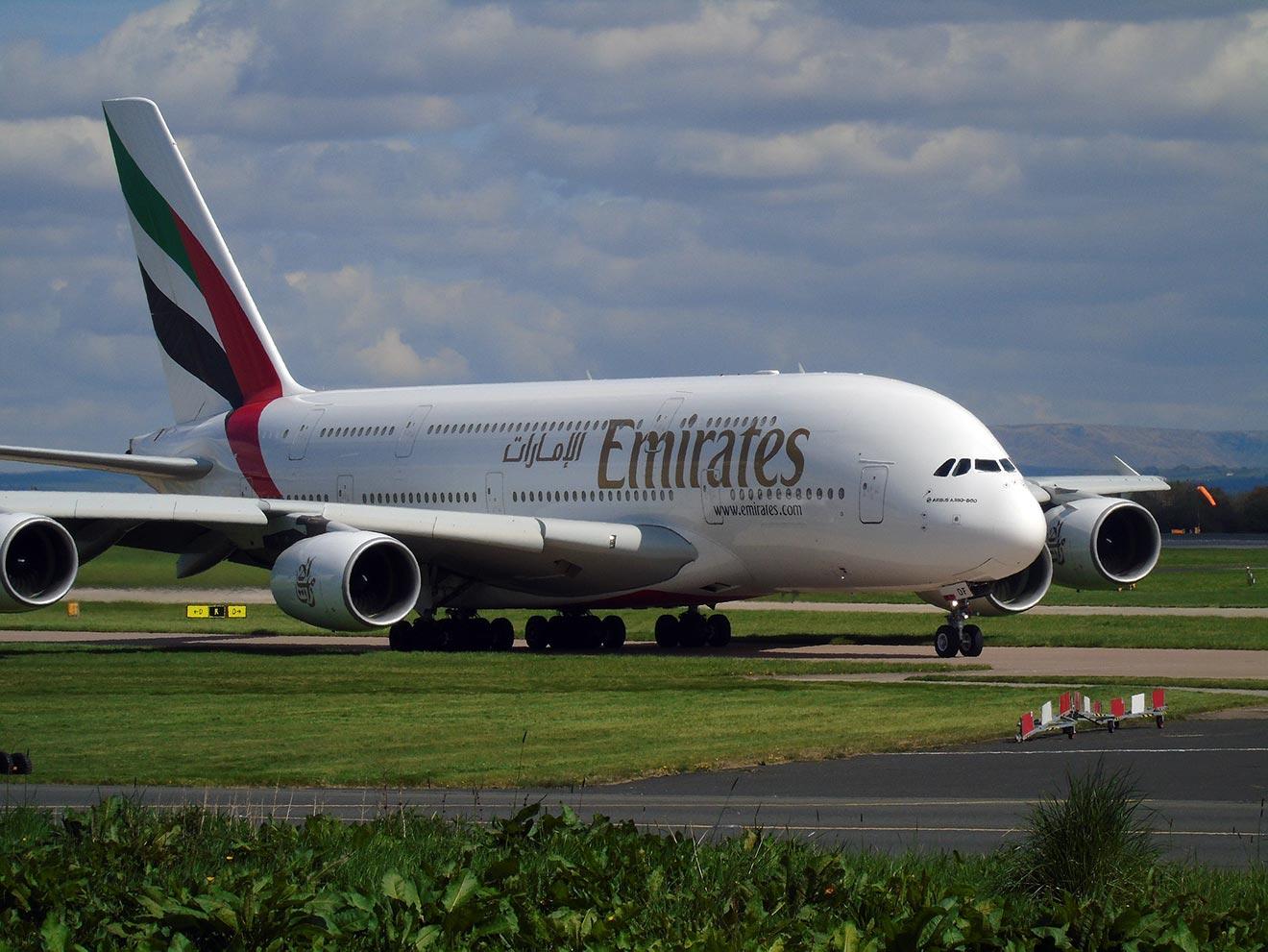 It's always handy to have an easy and quick journey to or from the airport when traveling to a new city.
Luckily enough, Dubai International Airport (DXB) is located fairly close to downtown Dubai (approximately 5km). However, it's not that easy to find Dubai International Airport hotels!
Fear not, as I have done the research for you and now you only have to choose from the best options out there! So let's get into it, here's my guide to Dubai International Airport hotels:
Luxury (US$280 and up)
Dubai International Terminal Hotel – What better way to start off this section than with a hotel located inside the actual airport? You can literally walk off the plane into your room, amazing! There is also a pool, sauna, hot tub, and fitness center. If you're coming in for business, there's also a business center. This hotel has it all!
Millennium Dubai Airport Hotel – This hotel includes everything you can think of: four restaurants, three bars, a pool, a gym, free WiFi, and even a swim-up bar! The guests are so relaxed that the only downside is that you won't want to leave! Located a two-minute drive from the airport, the Millennium ticks all the boxes.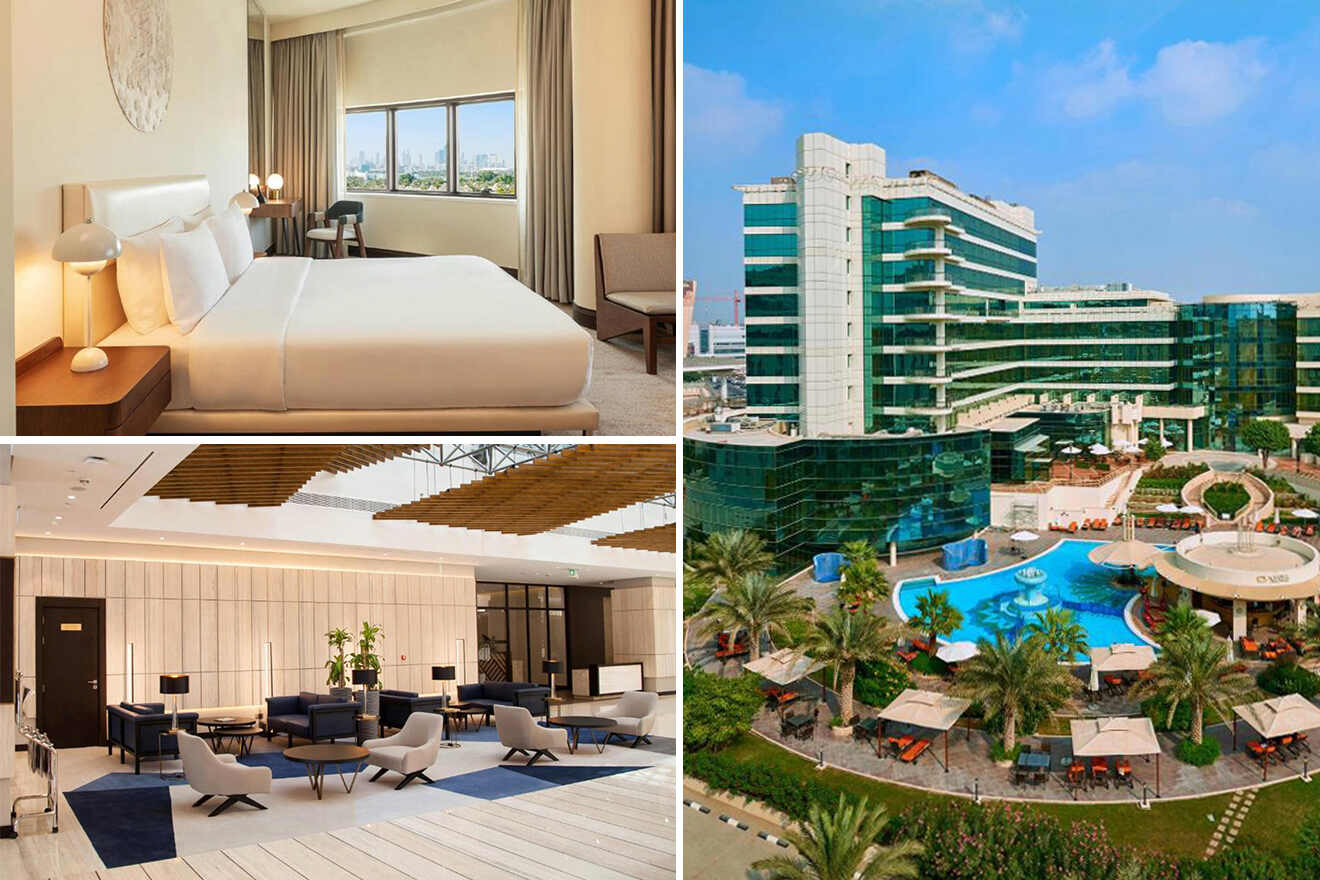 Middle-priced (from US$120 to US$280)
Flora Inn Hotel Dubai Airport – The Flora is a 10-minute drive away from the airport and 5 minutes on the metro. The hotel has an outdoor pool with great views, an in-house restaurant, and spacious rooms fitted with a flat-screen TV and cable channels. There is a lot to like about this hotel, especially for this price!
Le Meridien – This is another great choice by the airport at a reasonable price. Le Meridien has an on-site restaurant, an outdoor pool, and a health and fitness center as well. The rooms are lovely, and they have tea and coffee facilities and cable TV – everything you need!
Budget (up to US$120)
Premier Inn Dubai International Airport – This is one of the best budget hotels in Dubai; however, you will feel like you're in a five-star establishment. My favorite part about this hotel is the 24-hour Costa Coffee in the lobby! There's also a free shuttle to/from the airport and a few other key destinations in the city – a great deal!
Studio M Arabian Plaza – Located just 10 km away from the International Airports, Studio M offers an outdoor swimming pool and rooms with free wi-fi! The rooms themselves are minimalist and very clean, and the beds are very comfortable. They also have a fitness center and restaurant so you'll feel right at home!
FAQs about Dubai hotels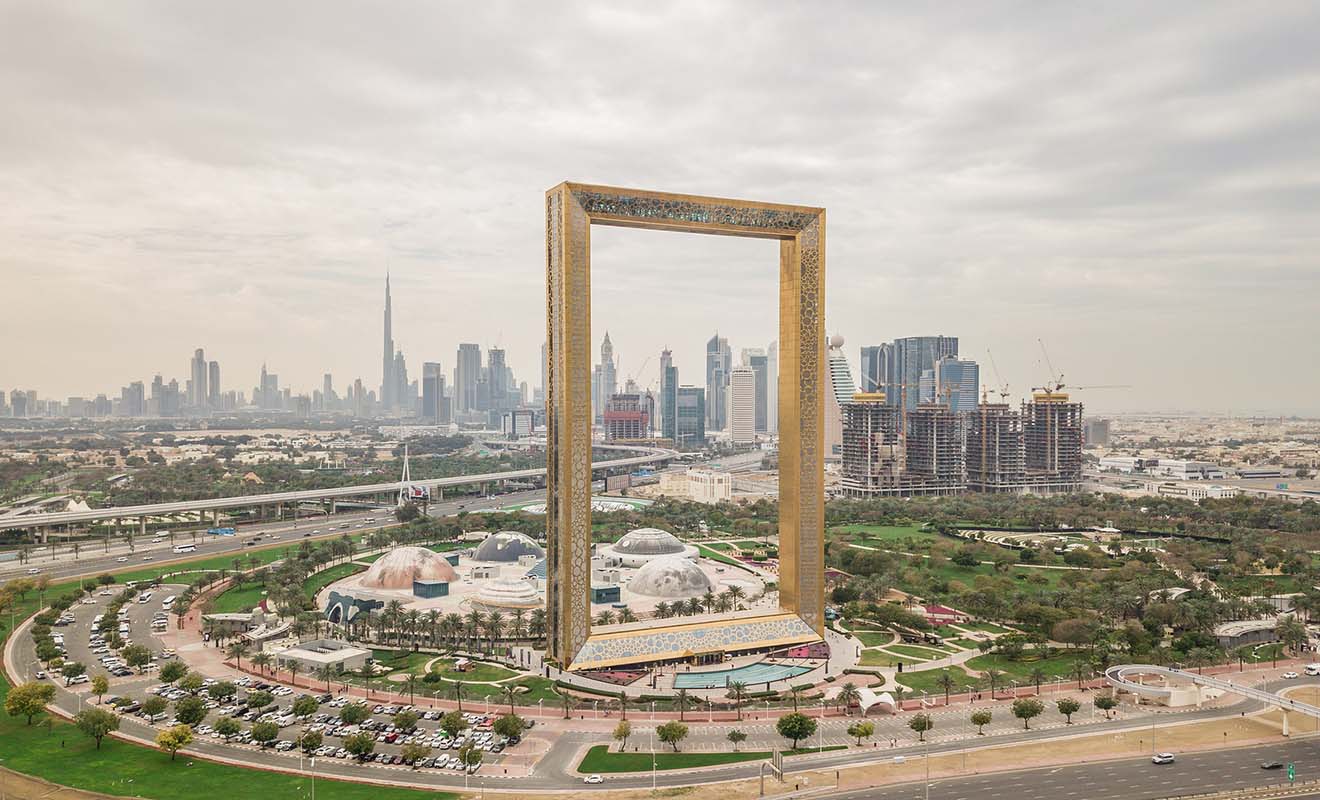 Conclusion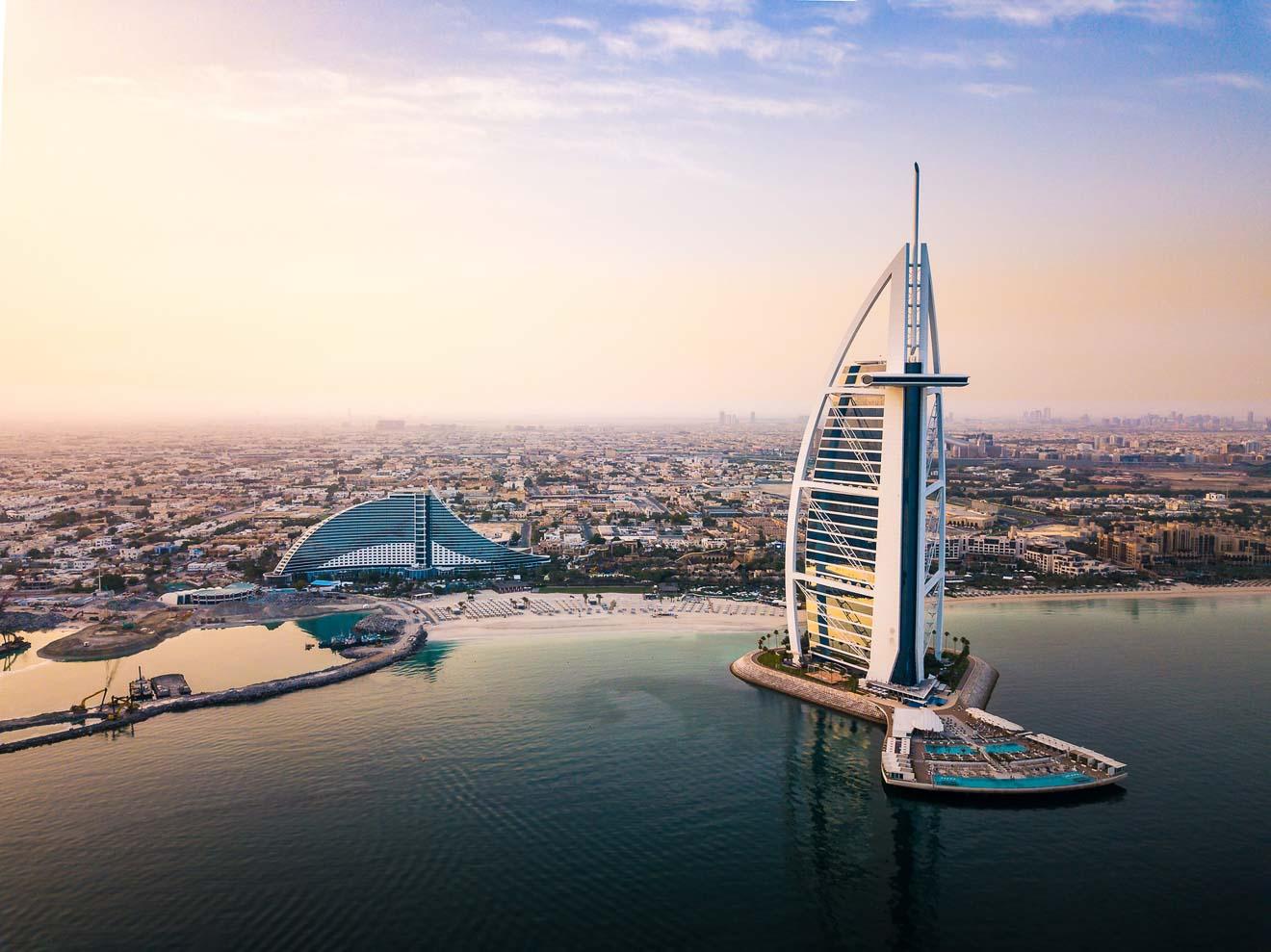 There you have it – this was my ultimate guide for the best areas to stay in Dubai! This middle east destination truly is a one-of-a-kind, so I encourage everyone to make a Dubai trip at least once in their lifetime.
The good news is that I've found accommodation for all budgets and travelers in this article! Whether you want to be treated like a queen (or king), or you are coming to Dubai on business or a budget and want to do Dubai on a shoestring, it is all there for you! So don't forget to book as soon as you find the best hotel option! Remember, hotels in Dubai tend to be fully booked!
Feel free to hit me with any questions you might have about hotels in Dubai or accommodation, as I'm more than happy to help. And to make things even easier for you, here are my top 2 options for hotels in Dubai:
Address Dubai Marina – after all the research, I believe this is a great option to stay if you want to have a luxurious treatment!
Grand Cosmopolitan Hotel – a little cheaper than Address Dubai, Grand Cosmopolitan is the perfect option to stay in Dubai.
You can also check out my article about the best things to do in Dubai; you'll be surprised to learn about the unique activities you can do there!
Happy travels!
Yulia
---
Pin it for later!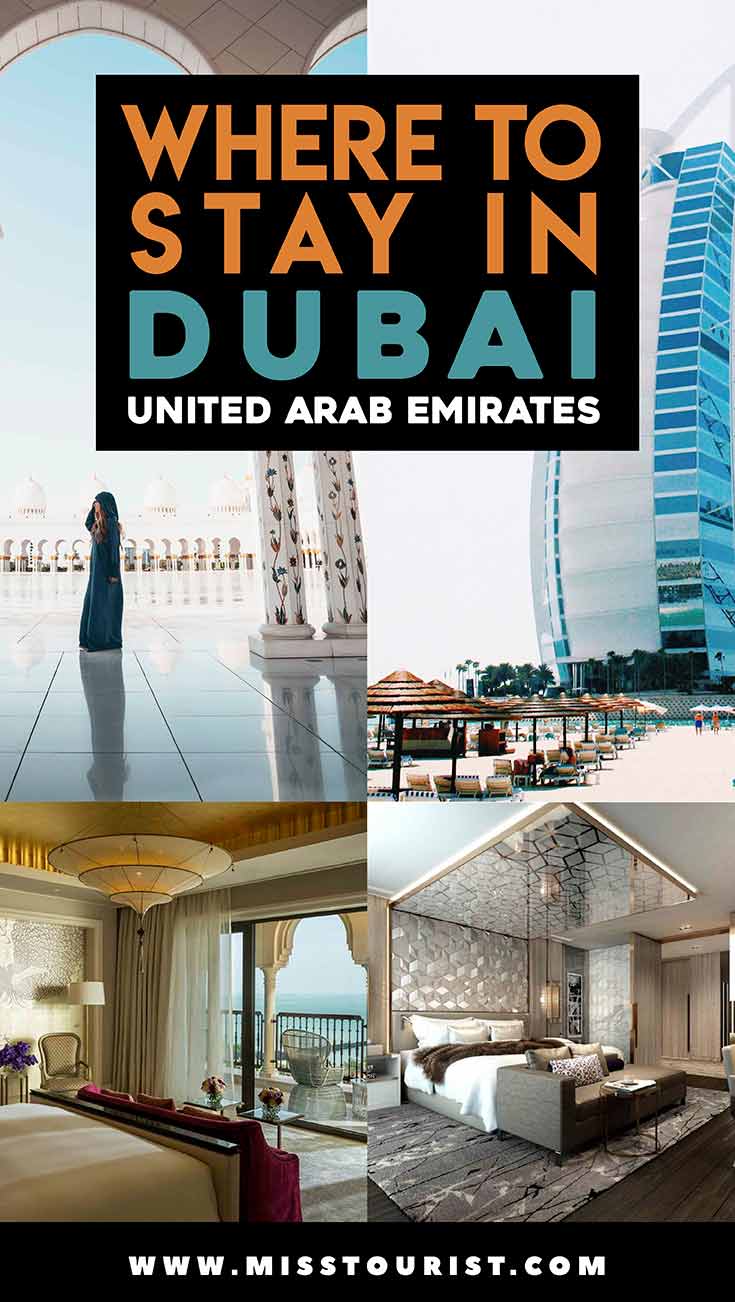 Pin it for later!