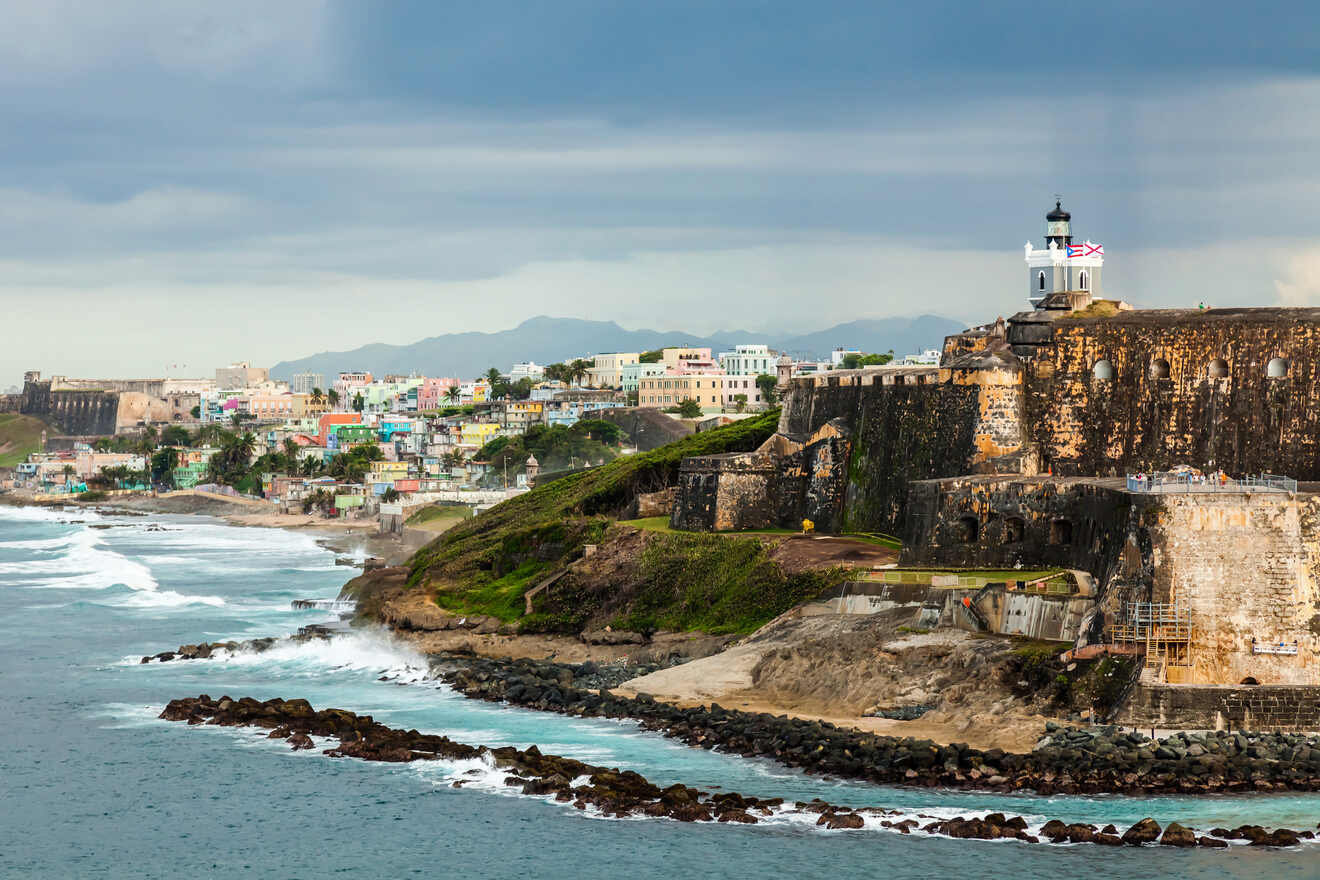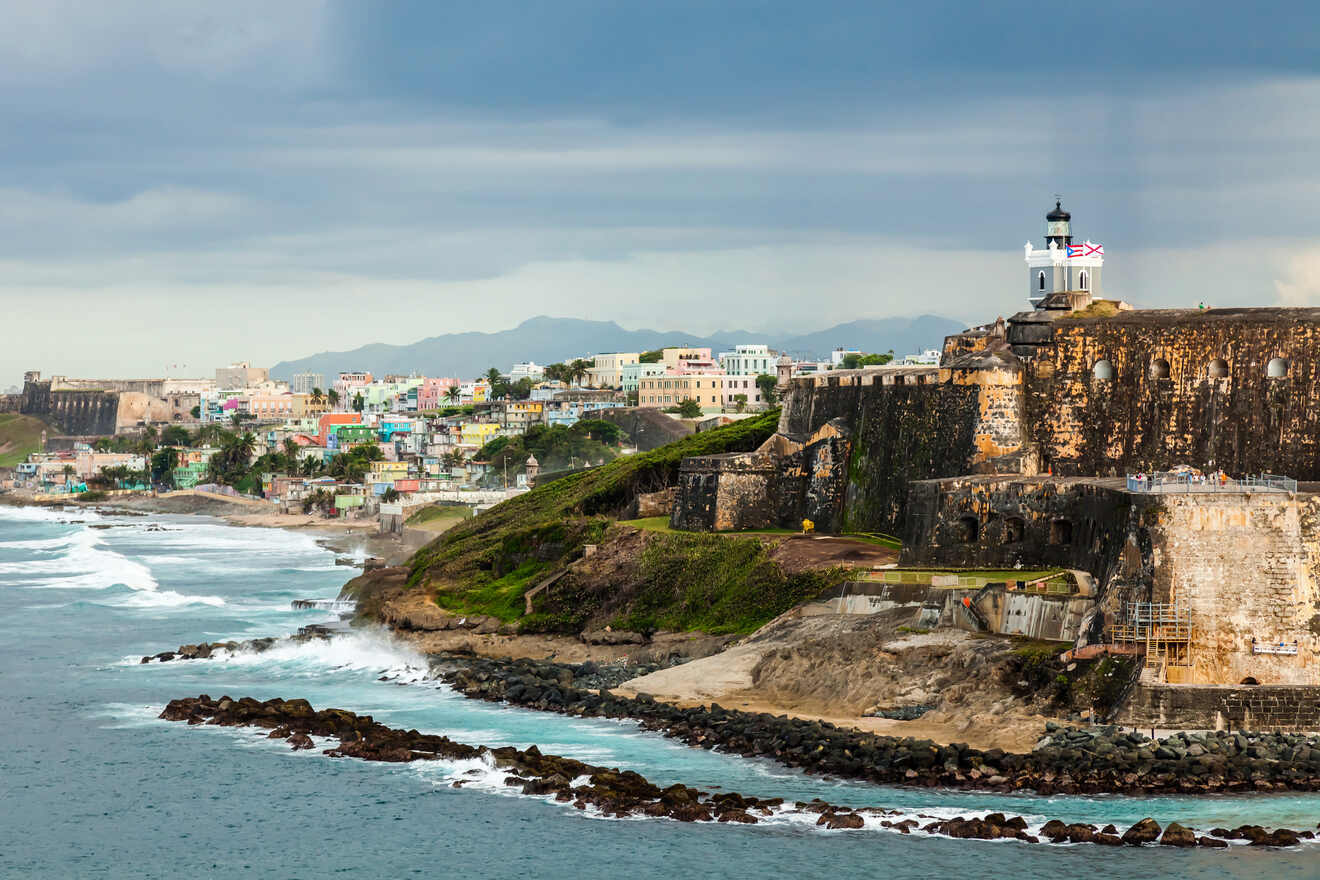 The best area to stay in Puerto Rico is San Juan because of its perfect location and number of wonderful accommodation options, lots of restaurants and bars. However, if you are looking to stay on the beach nothing beats Culebra, for budget travelers Rincon is a perfect choice and Ponce is perfect for culture buffs!
In this post I will be guiding you through where to stay in Puerto Rico, sharing 5 great areas, neighborhoods, and the best hotels you should check out before planning your escape to the beautiful island of Puerto Rico.
Puerto Rico is a bustling island archipelago consisting of one main island (of the same name) plus 4 other smaller islands off its coast. Although it is technically part of the USA, it is situated northeast of the Caribbean Sea. With the Dominican Republic and the Virgin Islands on its outskirts, its climate typically ranges from warm to hot – making it a popular summertime tourist destination all year long.
What makes Puerto Rico a tempting Caribbean getaway is its unparalleled landscape of mountains, clear waterfalls, and bewildering rainforests. Additionally, it's also home to some of the most beautiful beaches that you will ever step foot on. You won't run out of sandy beaches to relax on in Puerto Rico, and that already says a lot!
If you are in a hurry
Since Puerto Rico is a sought-out destination by lots of people, it's helpful to have a list like this where you can conveniently see the top 4 best hotels you should be looking into:
To help you visualize the best places to stay in Puerto Rico, here is a handy map of the great areas I will be talking about.
1. Old San Juan – where to stay in Puerto Rico for the first time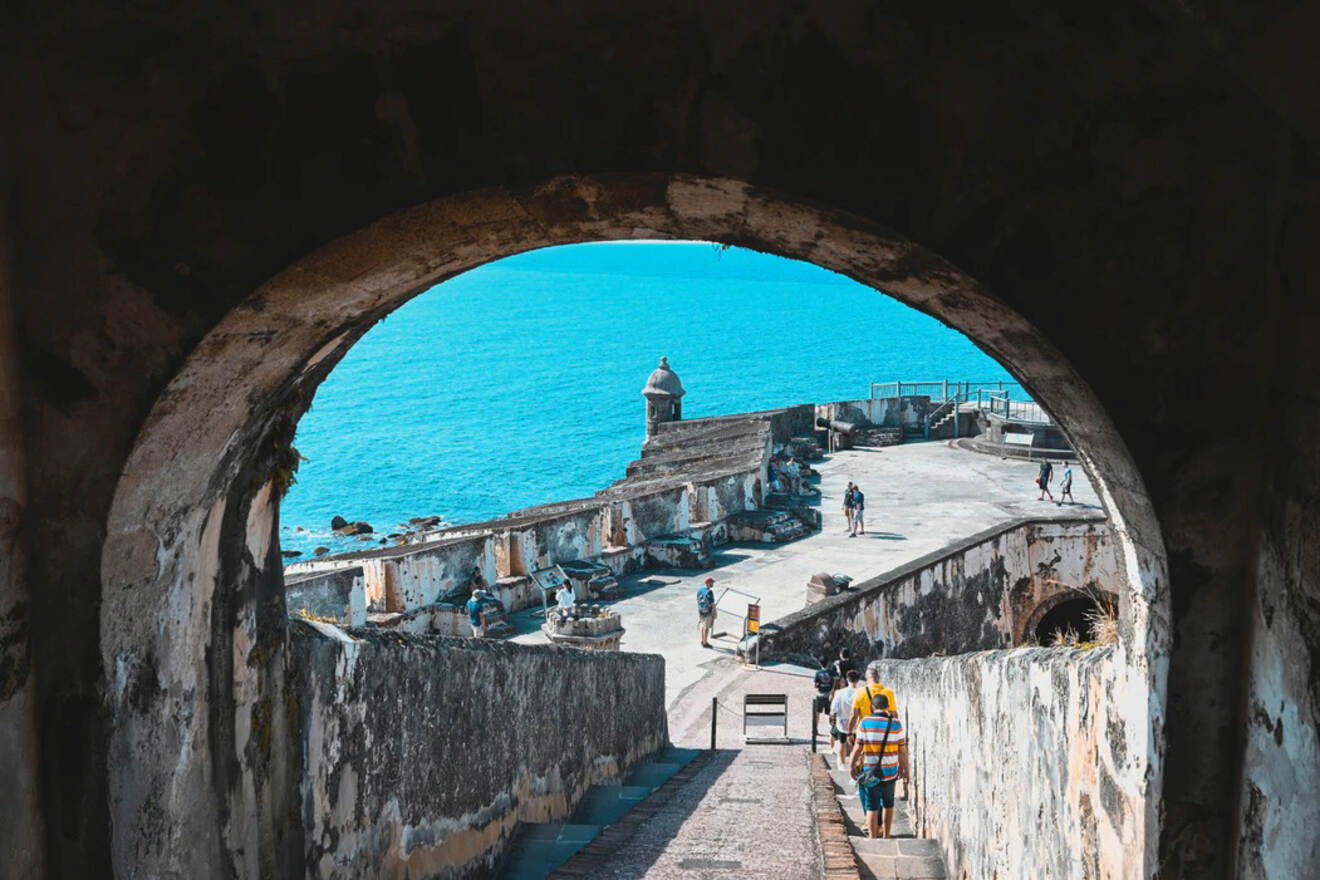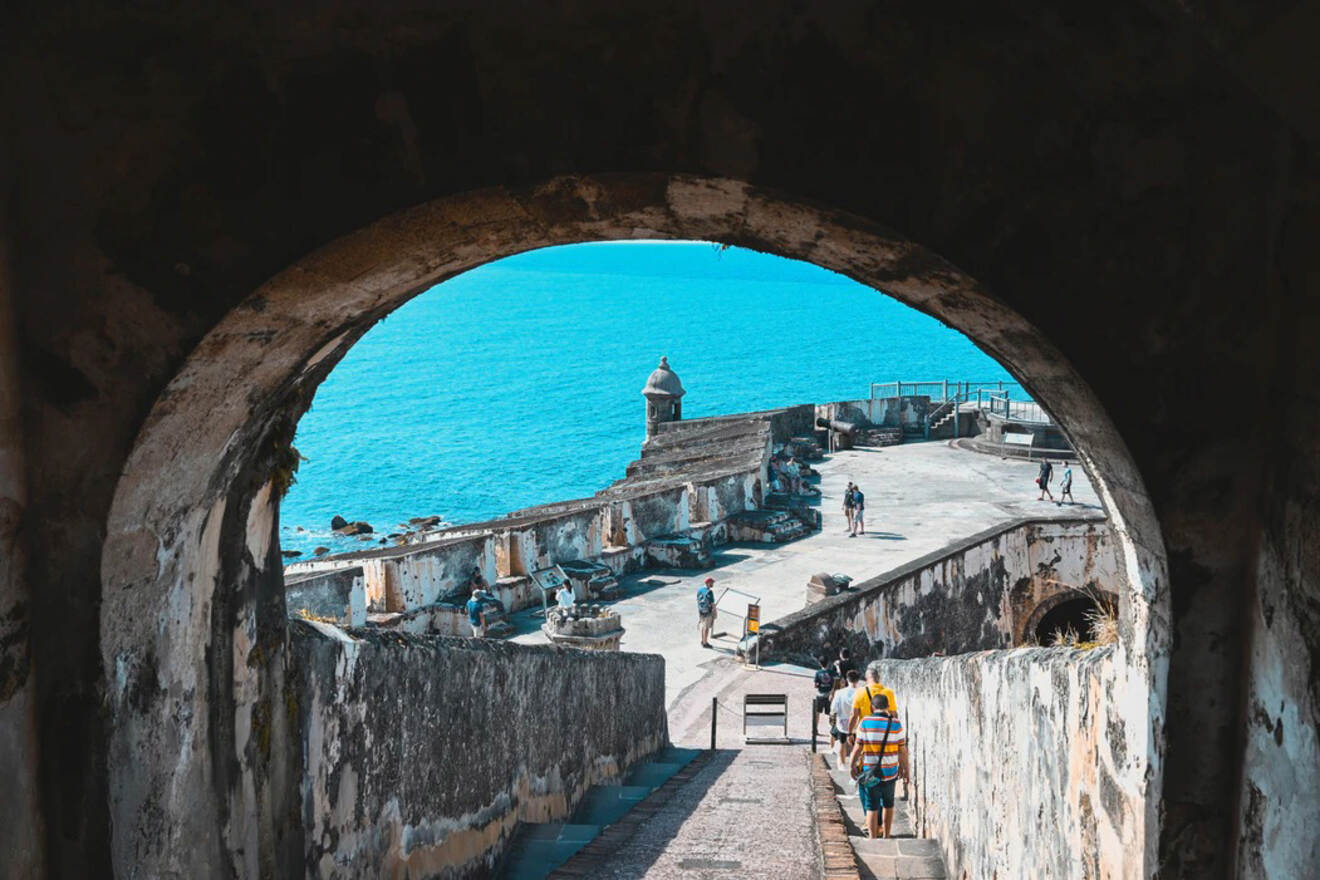 Old San Juan, is a neighborhood inside the island's largest city, San Juan, Puerto Rico. It's the city's center of rich culture, historical landmarks, and thriving nightlife. After just a 10 min drive from the airport, the Old San Juan neighborhood of Puerto Rico is a great place to discover the island's past.
It's a great place for first-timers since you'll find a little bit of everything here, walk the cobblestone streets of Old San Juan and appreciate the colonial Spanish architecture, narrow sidewalks, and some of the finest restaurants in Puerto Rico.
Even if you're not a history buff, you'll find that Old San Juan, Puerto Rico is one of the most walkable places in the Caribbean and the people here are some of the friendliest you'll find anywhere on the planet. The center has a lot more to offer than just its culture as you are reminded of its modern touch with its crowded nightclubs and upmarket accommodations.
To put it simply, Old San Juan is a town shaded with centuries-old culture – further enhanced by modern-day practices and architecture but if you're looking to spend a day on the sand, head next door to Isla Verde beach.
Luxury hotel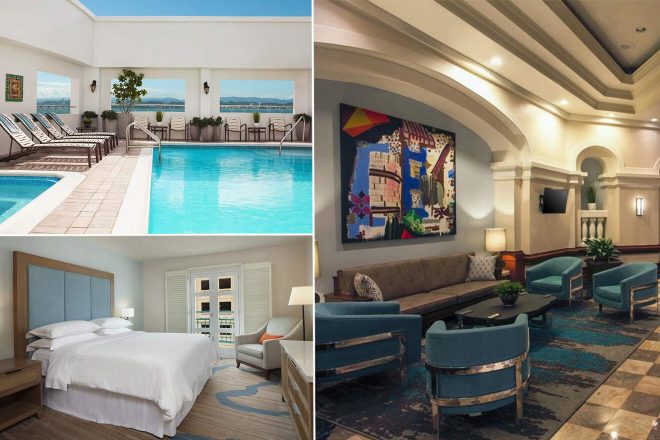 4-star luxury, San Juan hotel located in one of the best areas. This upscale accommodation is one of the best hotels in Puerto Rico with its spacious rooms, clean beds, outdoor restaurants overlooking the port, dedicated courtyard, and understated aesthetic. Enjoy the beautiful sunset in the afternoon while feasting on their Puerto Rican cuisine.
Other accommodation options in Old San Juan
mid-range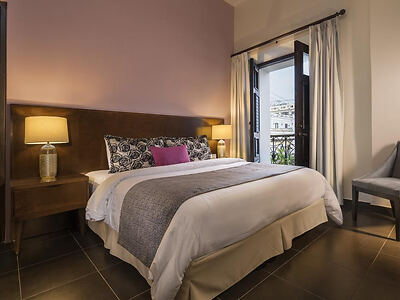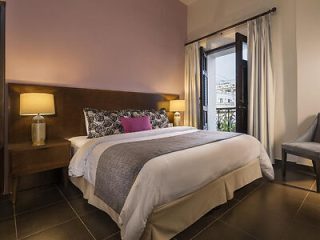 Luxurious value hotel featuring rooms with relaxing decor, private terrace, and swimming pool
budget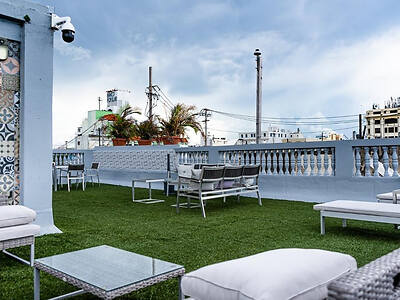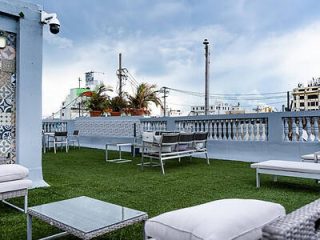 Friendly, private inn with outdoor terrace and rooms filled with leafy decor in San Juan
airbnb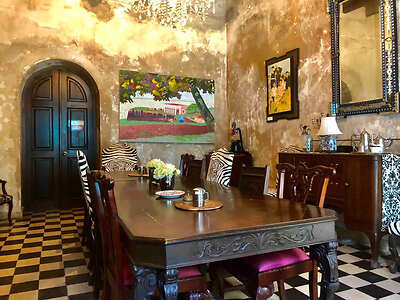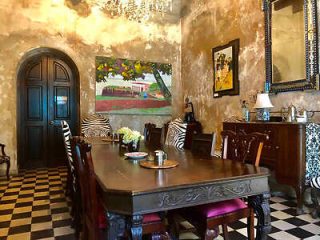 Located in the San Juan city center, this private Airbnb has a historic vibe with interesting rooms and a big hot tub
Things to do in Old San Juan
2. Culebra Island – where to stay on the beach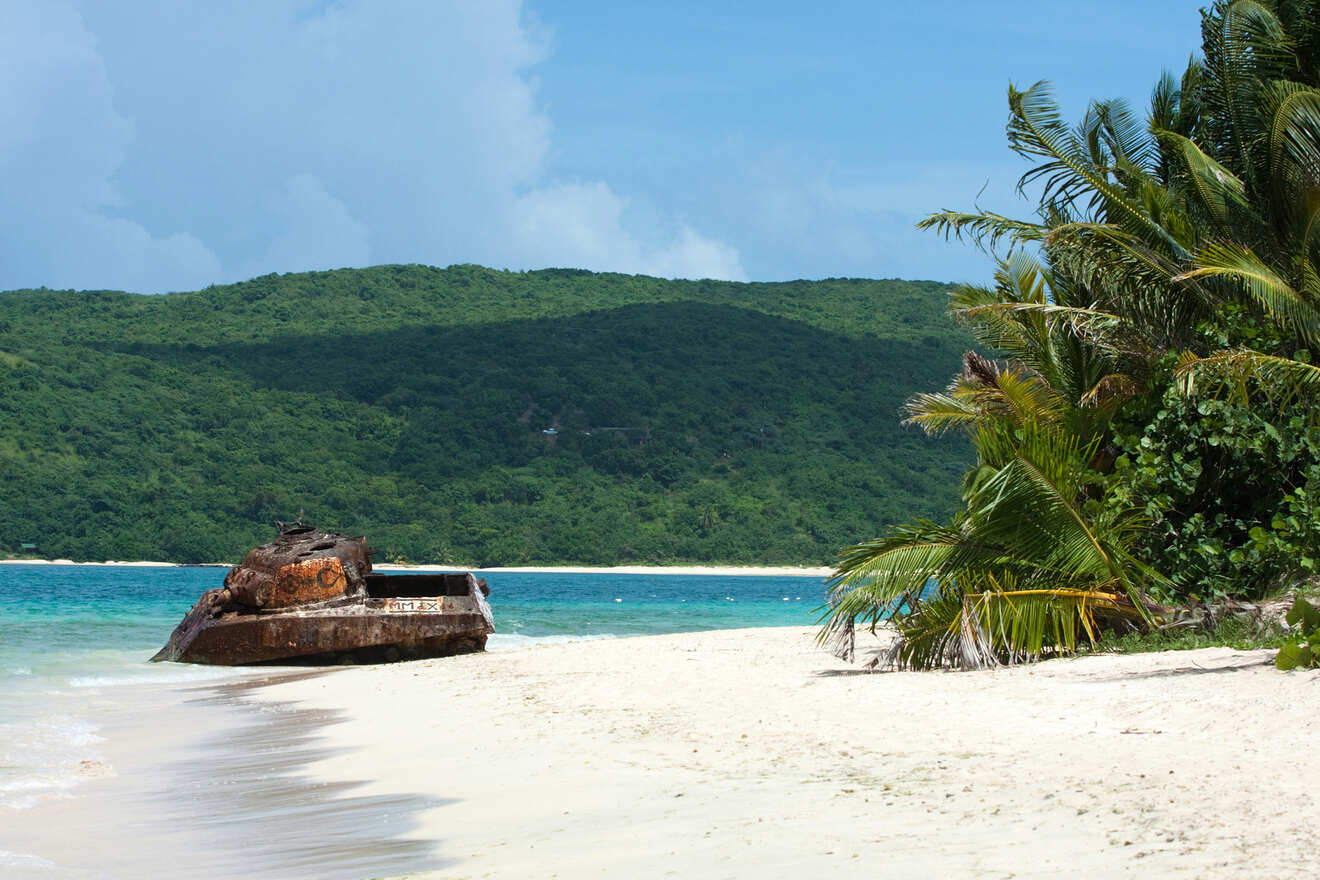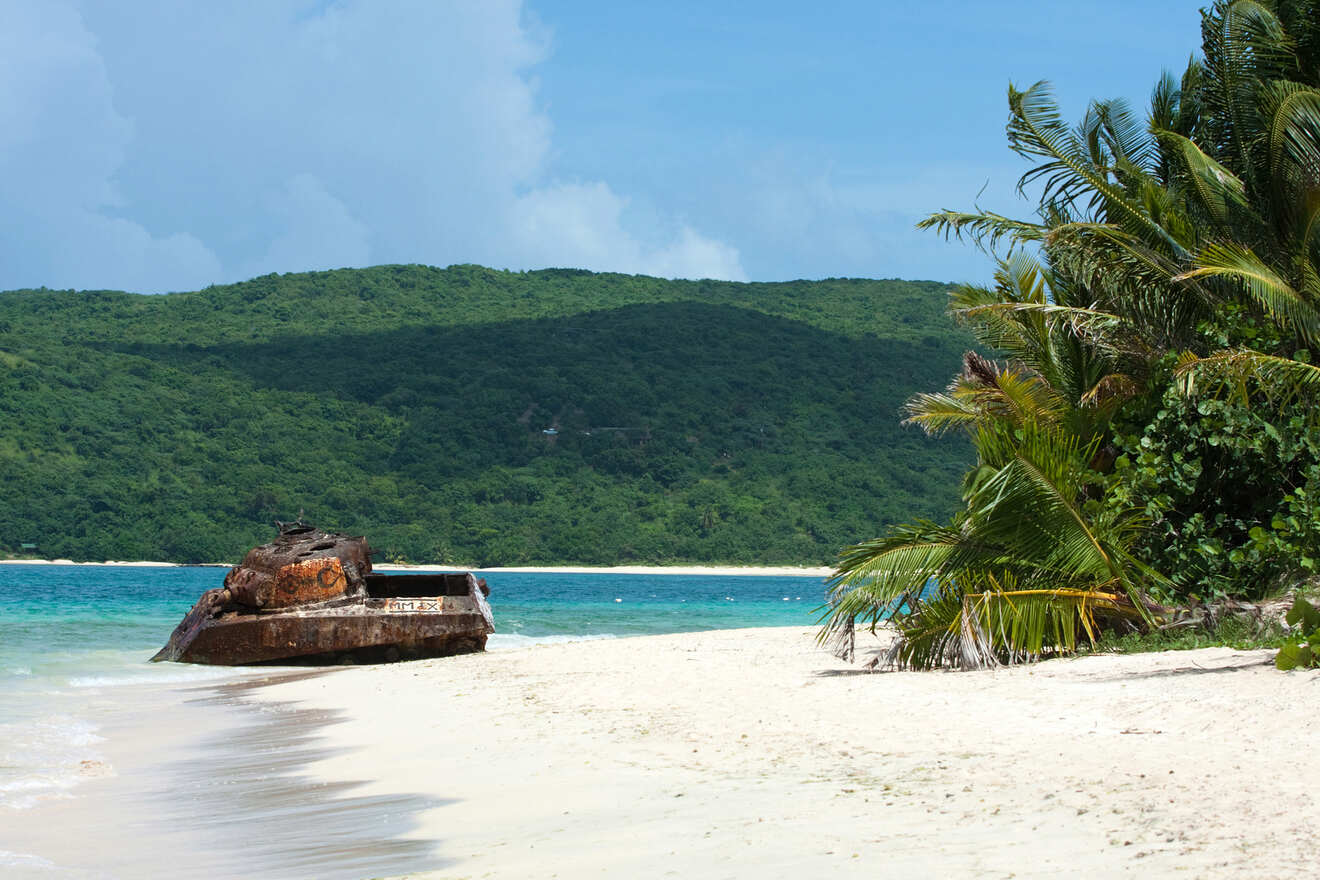 If appreciation for warm, sandy, beaches and a true tropical Caribbean island vacation is more of your thing, then Culebra is the best place to be. In stark contrast to the happening atmosphere of San Juan, Culebra is its own sleepy island situated just a 45min boat ride from the "mainland" (~3h 10 min if you are going by car from San Juan).
Even if you don't plan on spending your whole vacation here, it definitely deserves a day or two because of its unbeatable beaches with long stretches of sand and crystal clear waters.
It's a popular spot for water sports and activities like diving, snorkeling, surfing, cruising, sailing, and many more. It's also perfect for those traveling with their family due to its shallow waters which will let your little ones splash around safely.
Culebra is a tropical paradise that embodies Puerto Rico's summertime beauty. Don't be put off by its isolated facade, there are still plenty of bars, boutiques, restaurants, and nature reservation centers which means playing with sand isn't the only thing to do here.
Luxury hotel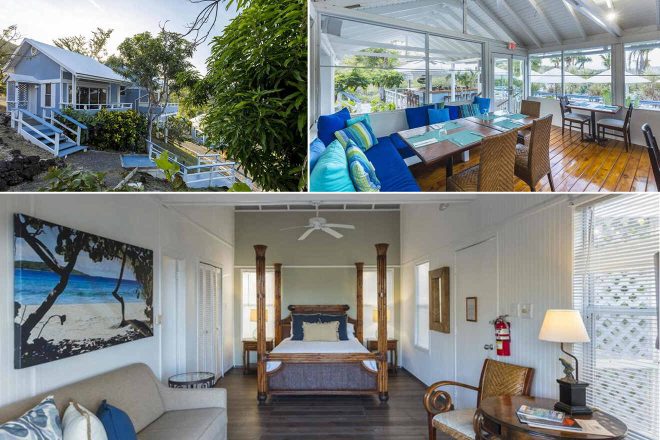 Secluded vacation home close to the beach with modern interior design and clean ensuites. Its beds are comfy and cozy along with its spacious living rooms that accommodate a flat-screen TV and huge sofas. It also houses a courtyard for staying active and a private rooftop terrace where you can relax and appreciate the perfect sunsets of Puerto Rico.
Other accommodation options in Culebra
mid-range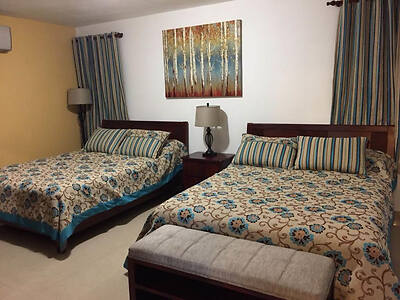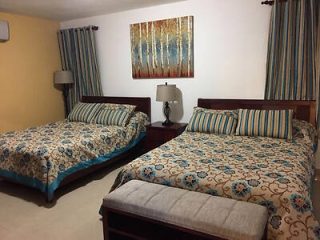 Cozy apartment with interesting furniture, air conditioning, fantastic location
budget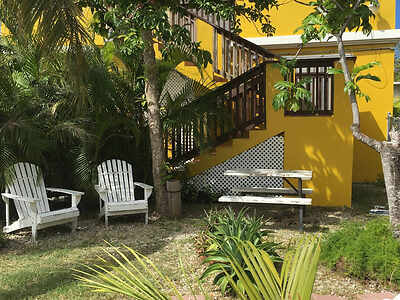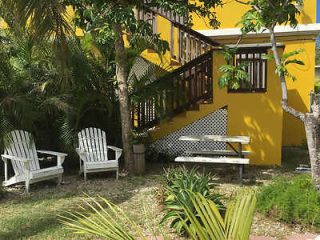 Chic Airbnb with a sizeable sofa and living room and a private backyard near a beach
airbnb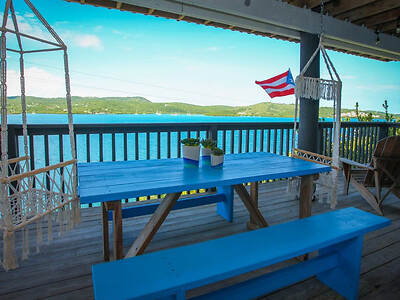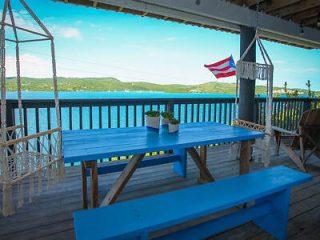 Private bungalow suites for a tropical stay in Culebra with a kitchen, cozy and colorful rooms
Things to do in Culebra
3. Rincon – where to stay for budget travelers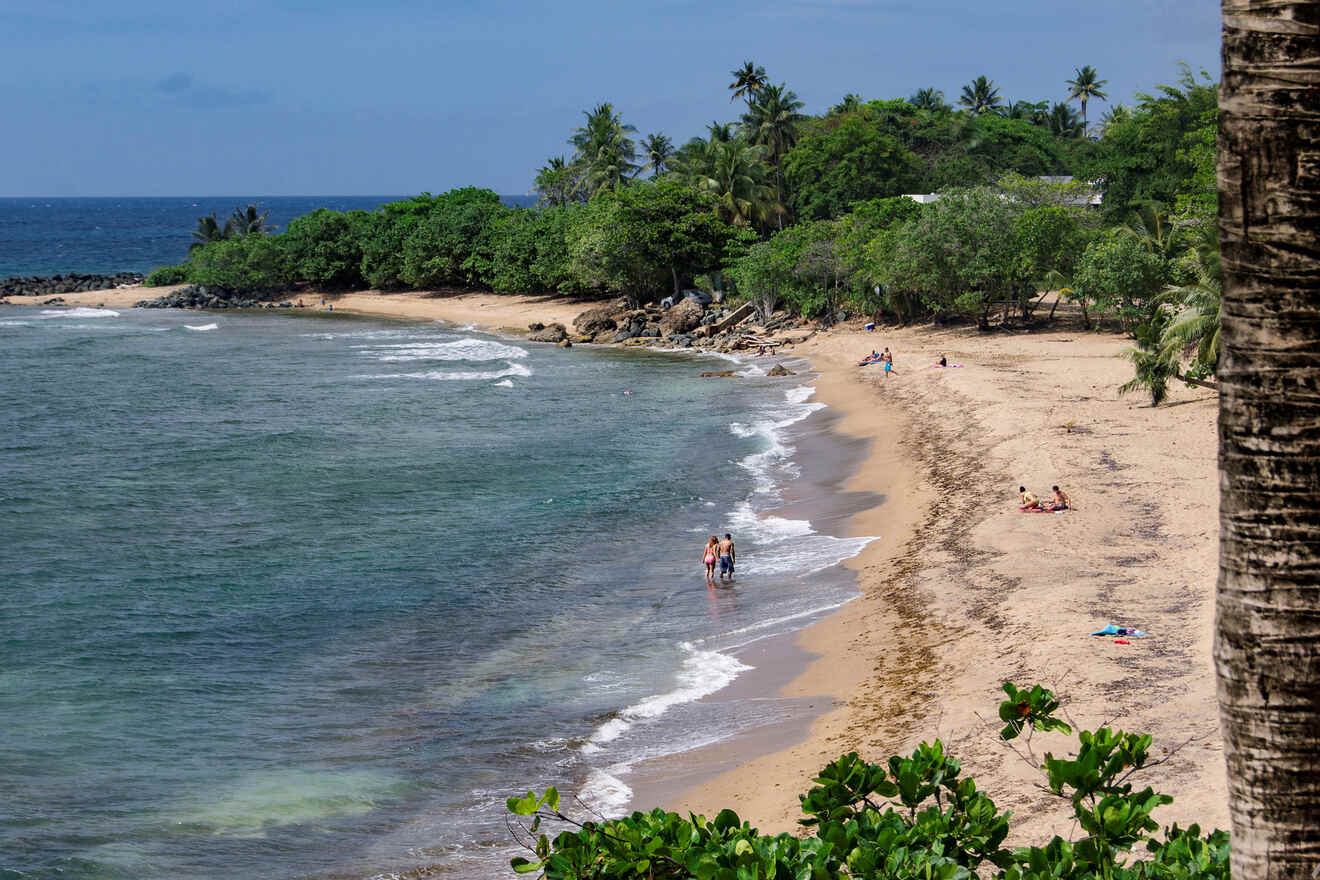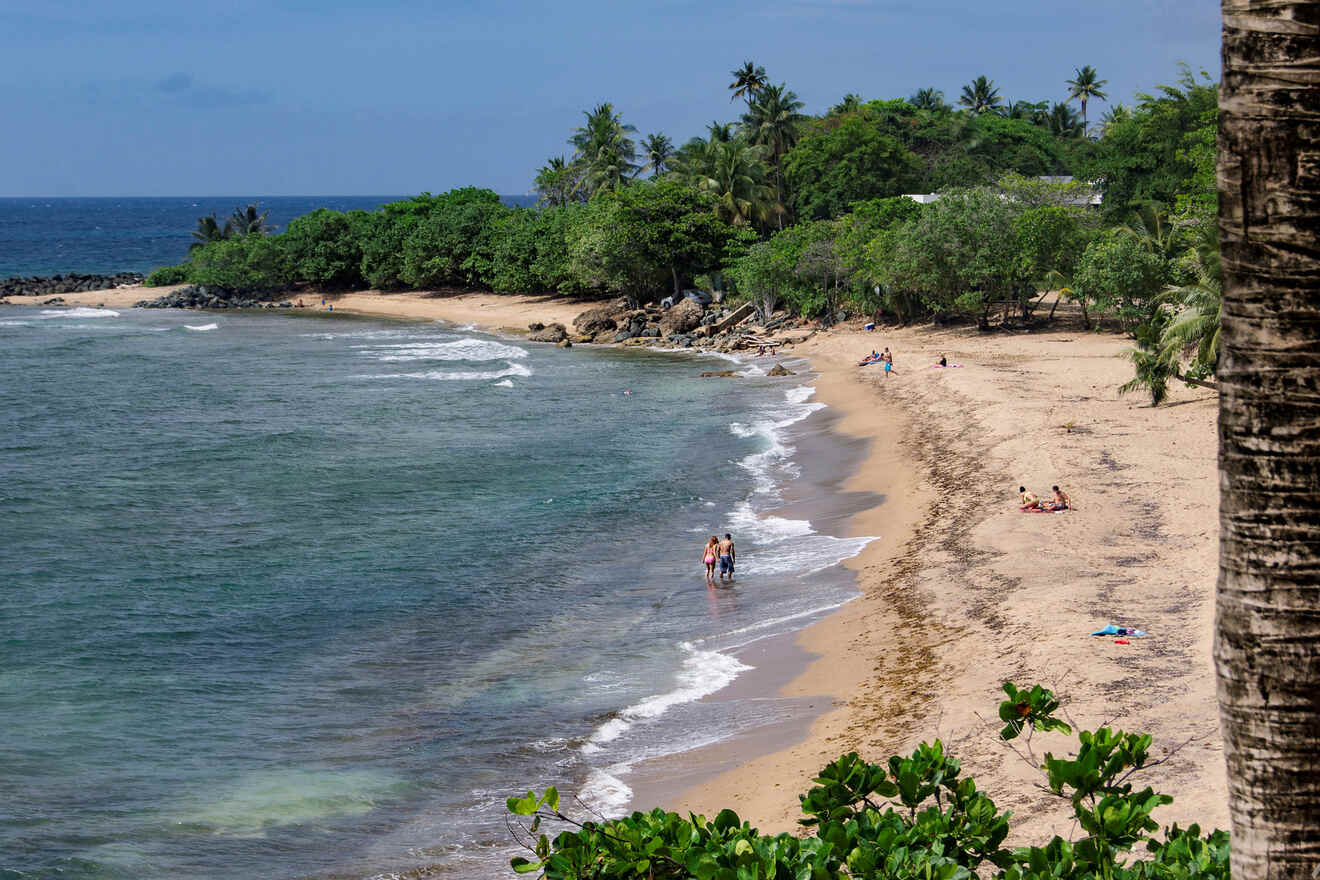 Rincon is a small town in the far west of Puerto Rico Island (2,5 hours by car from San Juan). It's known for its colorful architecture, smiling locals, and beautiful beaches. Think of it as a mix between San Juan and Culebra! It has the perfect balance of culture and breathtaking views which makes it a compelling place to stay in Puerto Rico with friends.
Moreover, it's filled with Puerto Rican restaurants and bars that embrace the culture religiously. The accommodations here are fairly cheap compared to the previous neighborhood since it's relatively far from the center. But luckily for you, the things to do here are nothing short of amazing!
You can check out its famous Playa Doña Lala where tourists and locals alike enjoy its relaxing vibe. After your day at the beach, you can head back to the town where you'll have your choice of colorful restaurants to eat Puerto Rican delicacies. Some even offer free tastes to get you hooked!
Luxury hotel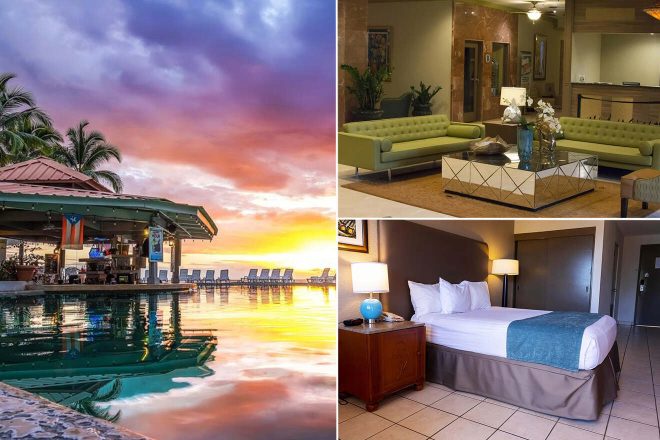 Stunning private beach resort with a garden and boutique aesthetic. Rooms are big and clean while its facilities consist of a private lounge and huge swimming pools where bright sunsets can be seen. There's also an exclusive, classy restaurant with options for a vegetarian diet.
Other accommodation options in Rincon
mid-range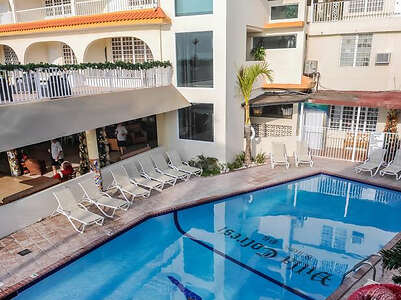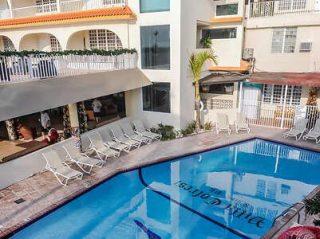 Private villa with resort like facilities, huge swimming pools, 24/7 facilities, and clean beds
budget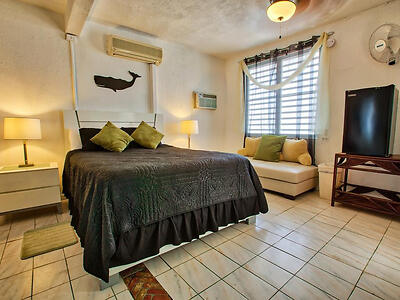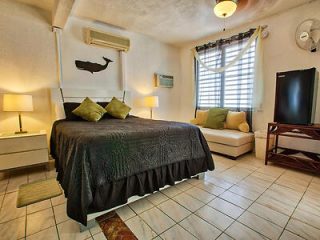 Cute inn with fantastic location, traditionally decorated rooms, and sizeable sofa
airbnb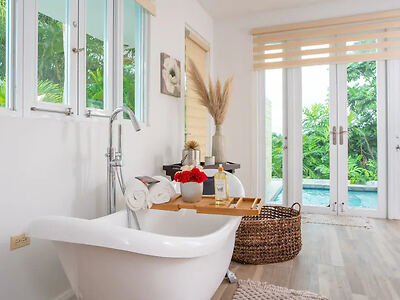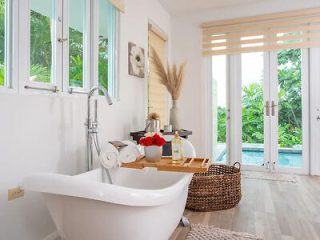 This spacious Airbnb has charming furniture, an outdoor swimming pool, and comfy beds
Things to do in Rincon
4. Ponce – where to stay for culture enthusiasts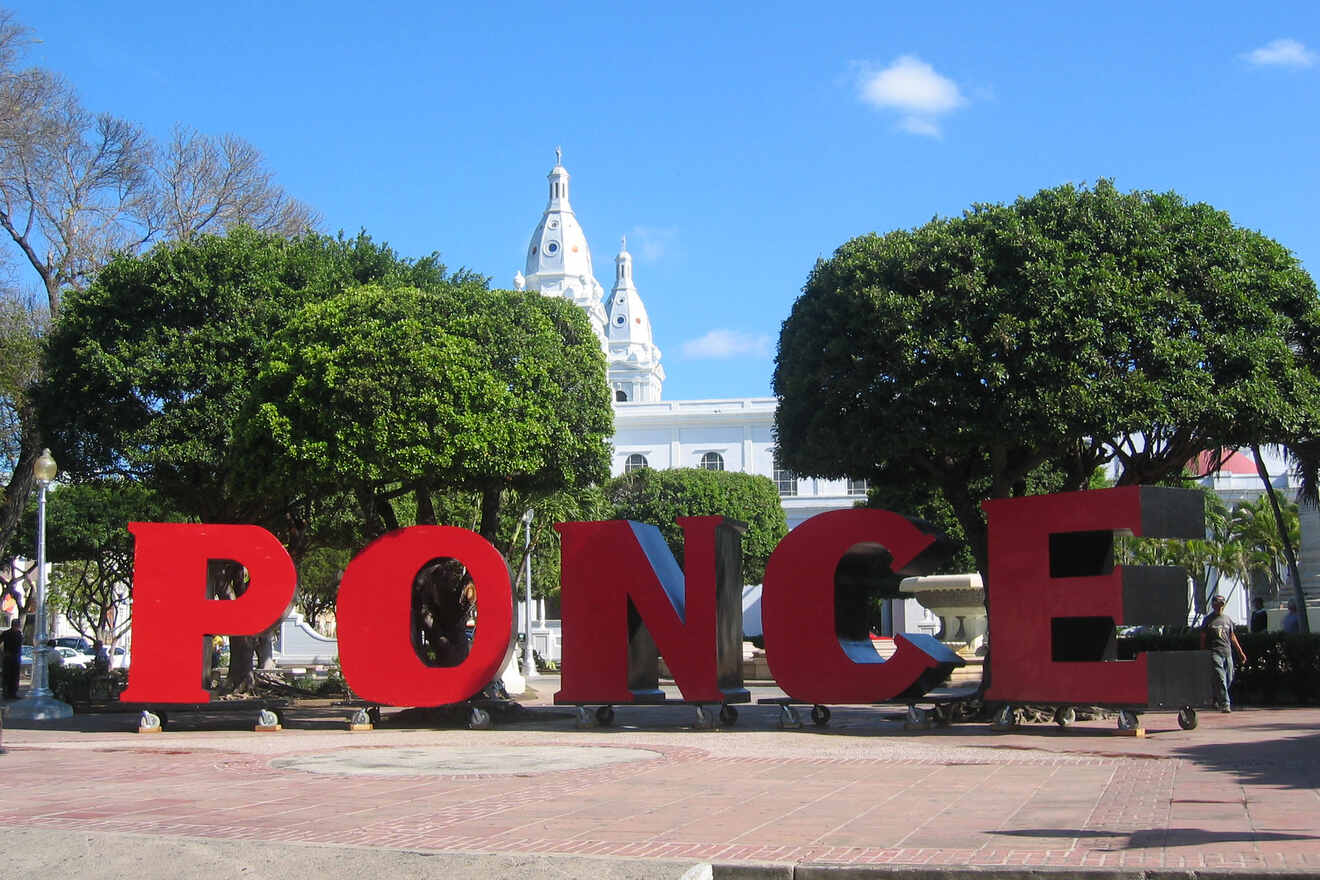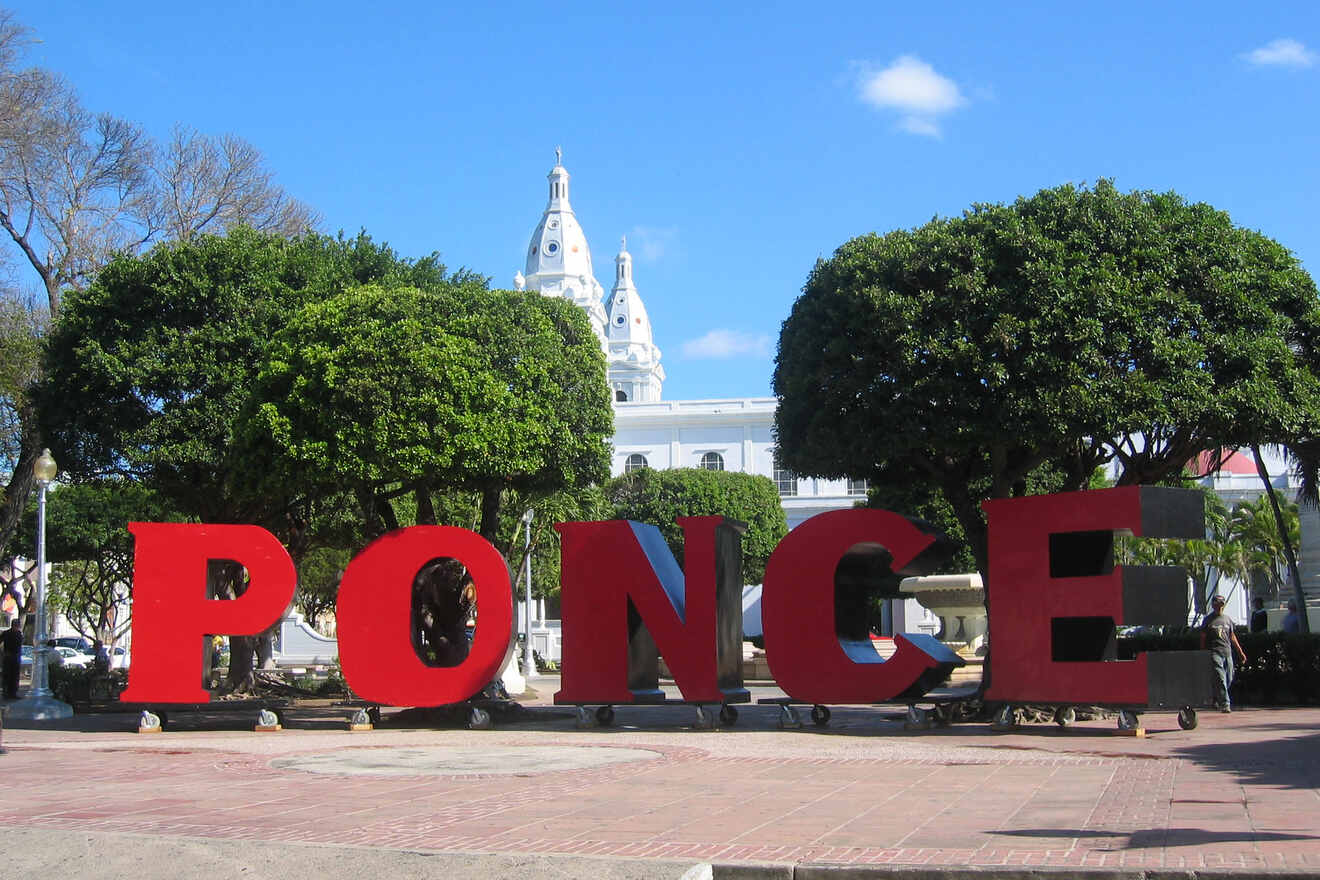 San Juan was already a beautiful spot that offers a healthy cultural experience and historic takeaways. But, if you want to take it even further, then let me introduce you to Ponce: the cultural center of Puerto Rico, just a 1.5 hour drive from the capital. Just like Old San Juan, Ponce offers a diversified cultural experience with a hint of history and modern touch.
Ponce is perfect for those who are looking to experience the Spanish roots of Puerto Rico as it has lots of examples of old mansions in the unique Ponce Creole architectural style. It's also got a plethora of museums and art galleries to explore.
Ponce is not just a plain historic town – it's a colourful bustling metropolis that is filled with commercialized centers, restaurants, bars, and clubs. It's so diverse that you can really mistake it as the capital city of Puerto Rico.
Luxury hotel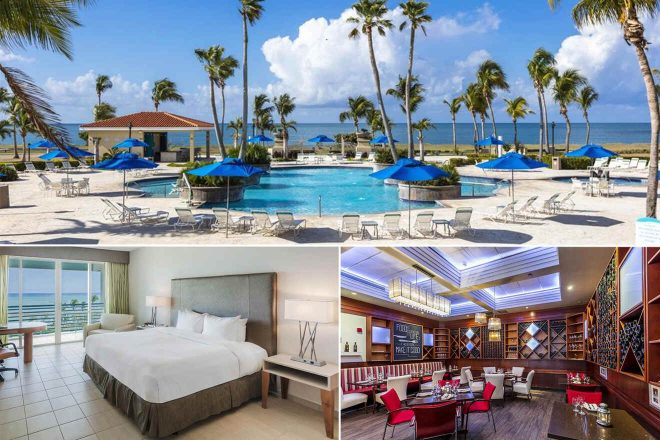 Popular 4-star resort hotel with perfect views along the coast of the city. It offers rooms with white linens, minimal decor, and a soothing aroma. It also has a beautiful pool, in-house casino, and rooftop hammocks to enjoy a fantastic view of the city.
Other accommodation options in Ponce
mid-range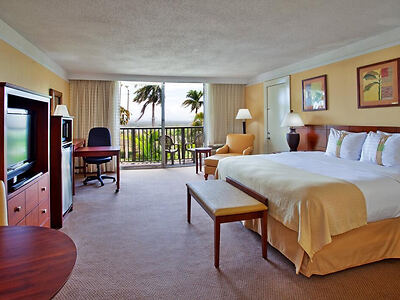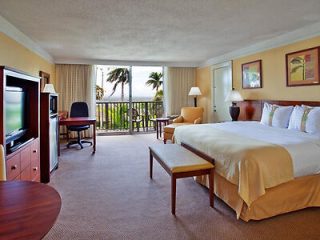 A perfect home away from home with its spacious rooms and casino
budget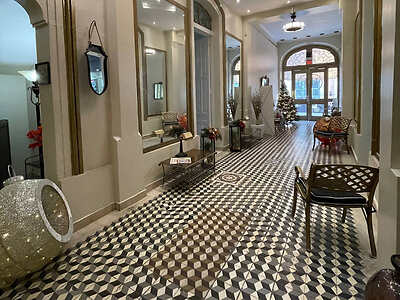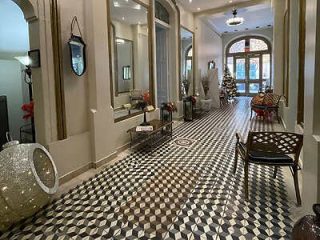 A chic Airbnb which offers historical decor and remarkable walkway
airbnb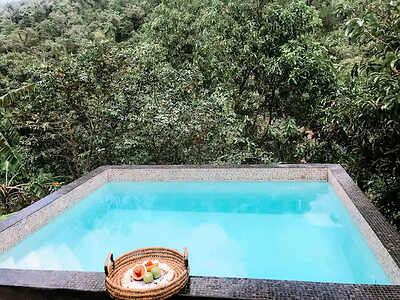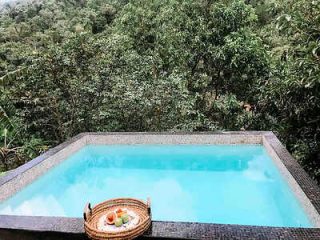 Cozy Villa with good location, cute rooms, and outdoor pool
Things to do in Ponce
5. Vieques Island – where to stay for couples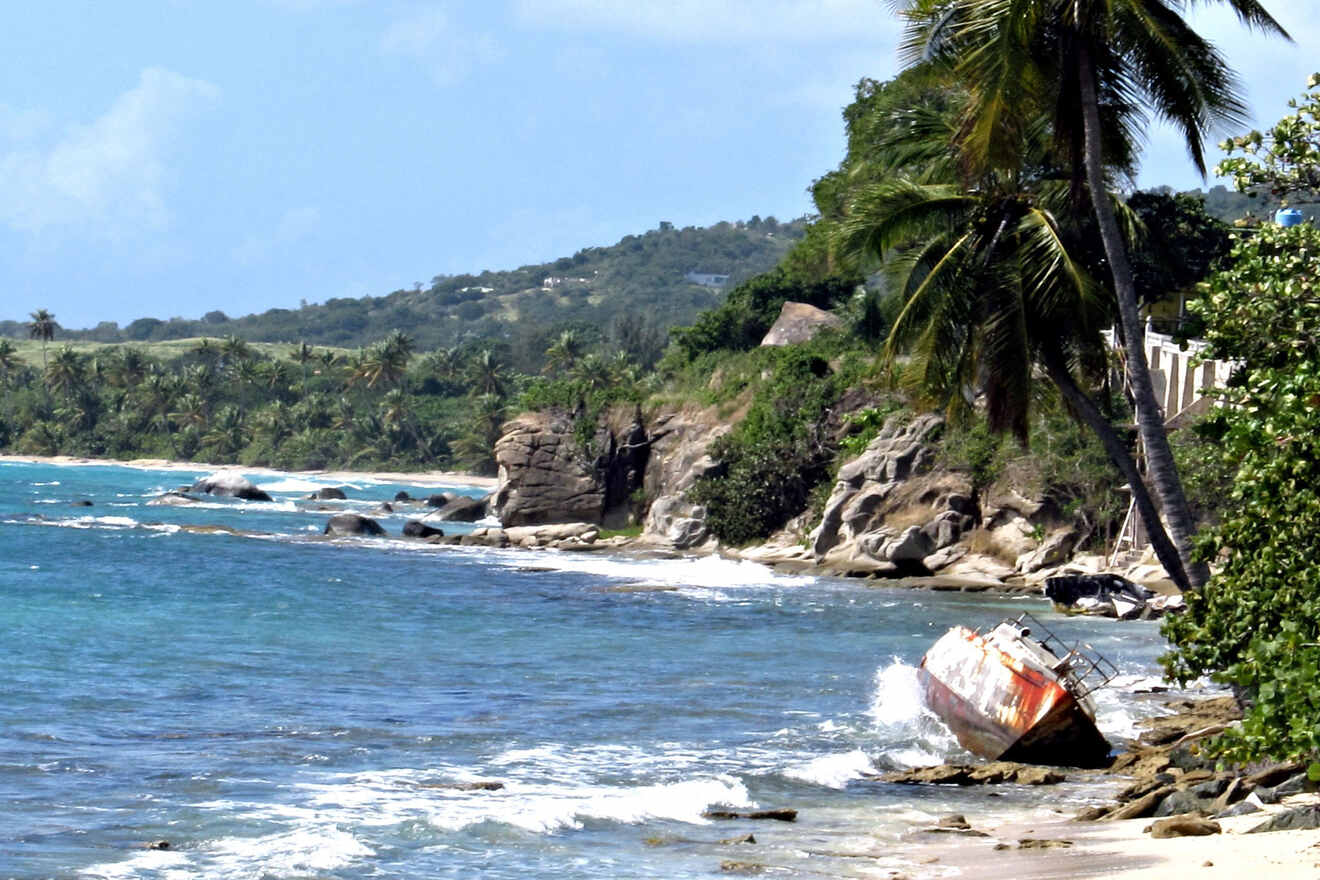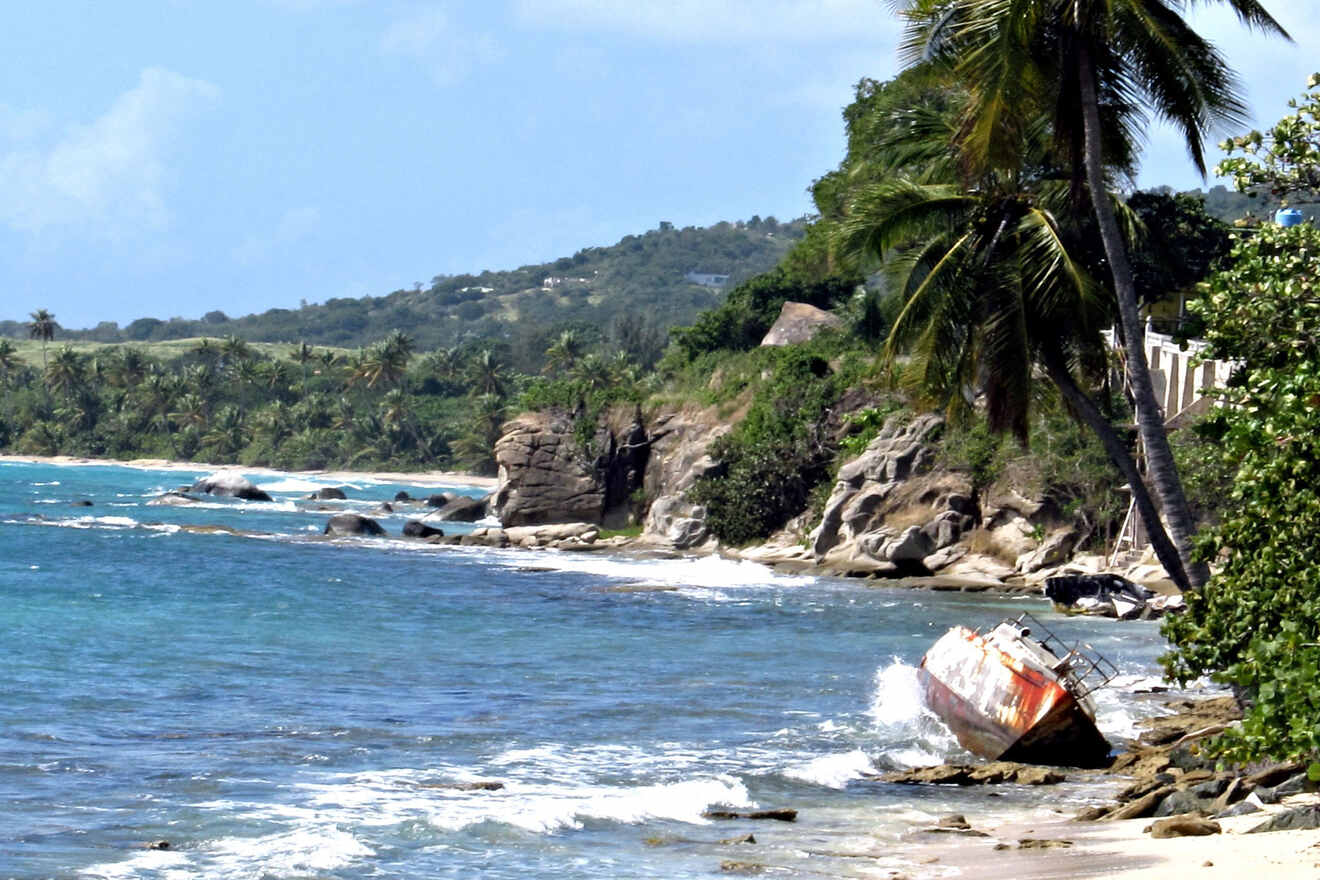 Island hopping, long roadtrips, and city center walking can be tiring. If you're simply looking for a tranquil beach holiday with a great sunset and an epic view, then Vieques Island is the perfect place for you.
Vieques is a dreamy island situated a 30min ferry ride, southeast of Puerto Rico's main island (~3 hours altogether if you are traveling from San Juan) and couples will love the romantic atmosphere.
Sure, San Juan and any of the other neighborhoods I have already talked about are also great places to destress, but Vieques truly runs on island time and is the best place to take your mind off the stresses of everyday life.
Be on the lookout for wild horses roaming about the island!
And don't miss the bioluminescence at mosquito bay as Vieques Island has some of the most vibrant marine nightlife in the world. With over eight miles of beaches, Vieques Island offers some of the most beautiful white sand in the Caribbean for you to enjoy! The island also has a rich history dating back to the Taino Indians, who occupied the land before the European arrival.
Luxury hotel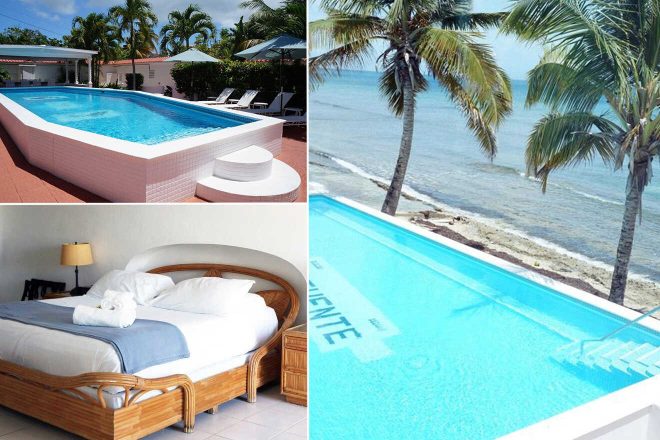 Private beach resort with a large outdoor pool, tidy rooms overlooking the coast of Puerto Rico, and a private balcony. It also has its dedicated kitchen and dining area, and even a garden. Living rooms are big enough to accommodate a family and with beds that are clean, this is one of the perfect places to stay for those who just want to relax.
Other accommodation options in Vieques Island
mid-range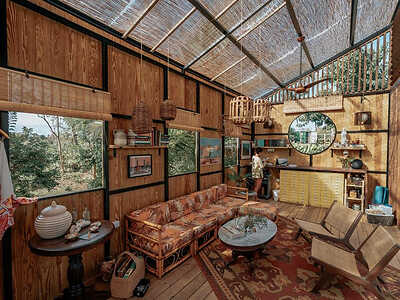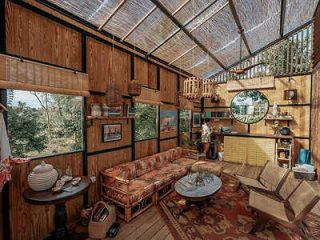 Friendly, boutique, resort hotel with bohemian decor and rooms full of Caribbean art
budget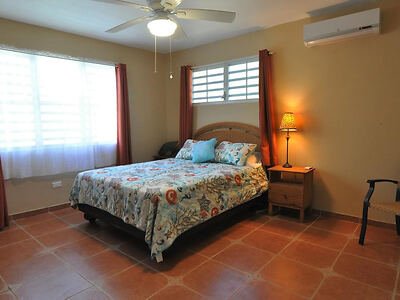 Private apartment with a fantastic location which offers spacious rooms, and even furry friends to accompany you!
airbnb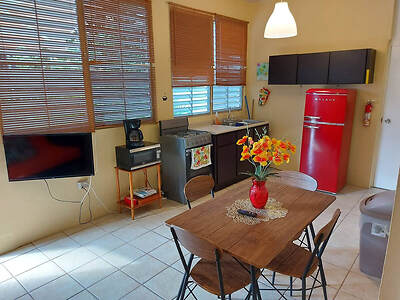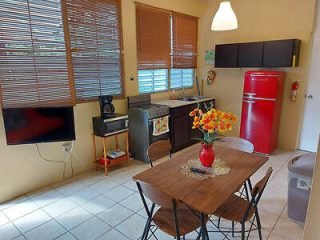 Lovely Airbnb with colorful decor, air conditioned rooms, and even a vehicle you can borrow for road trips
Things to do in Vieques Island
| | |
| --- | --- |
| 👑 Luxury price: | $300 |
| Mid-range hotel: | $160 |
| 🛏️ Budget: | $100 |
| 🏠 Airbnb: | $140 |
| 💰 Accommodation prices: | High |
| 📍 Best Area: | Old San Juan |
| 🛎️ Best luxury hotel: | Sheraton Old San Juan |
| 👛 Best budget hotel: | Navona Studios |
Which is the best city to stay in Puerto Rico?
San Juan is the best city to stay in Puerto Rico as it offers the largest range of different types of restaurants, amazing attractions for all interests, and the best nightlife. There are plenty of accommodation options to suit every taste and budget, plus San Juan's location amongst the beaches couldn't be more perfect!
Frequently asked questions about Puerto Rico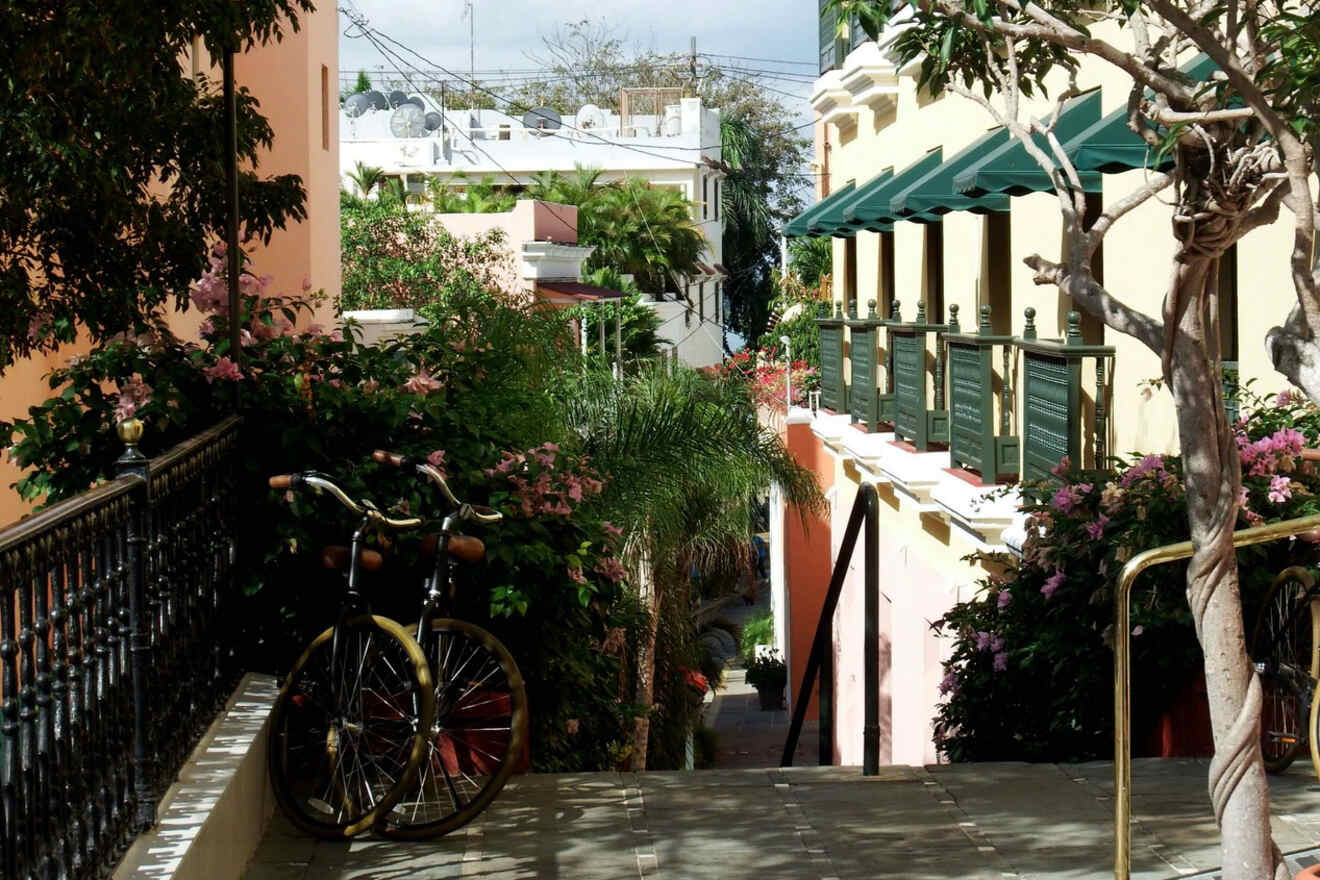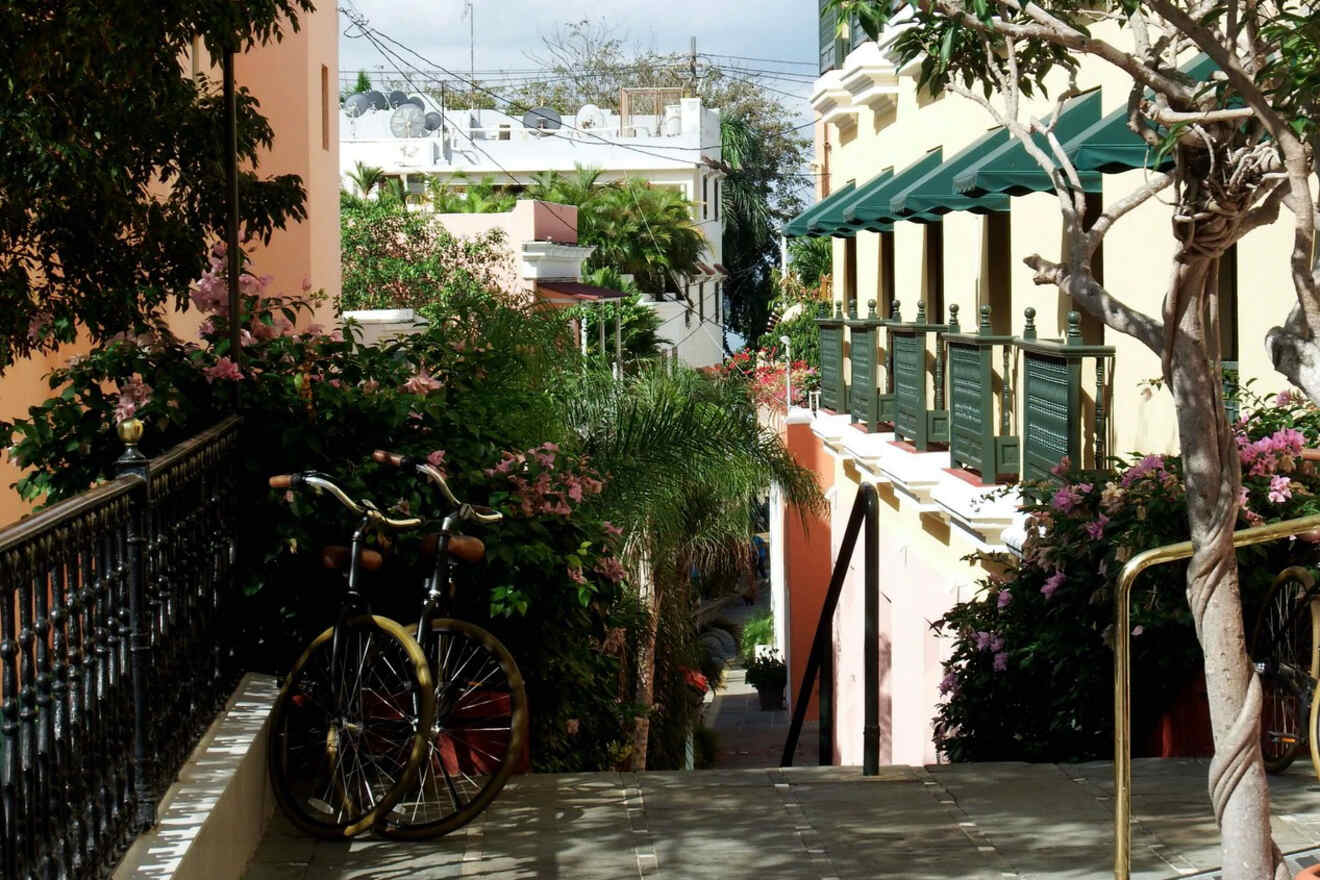 🏡 What is the best area of Puerto Rico to stay in?
Old San Juan is the best area of Puerto Rico to stay in because of its rich cultural roots and love for history. It also has a mix of modern touch with its diverse choice of restaurants, bars, and shopping centers.
🏘️ Where should you not stay in Puerto Rico?
Avoid areas like La Perla and some parts of Puerta de Tierra since these neighborhoods aren't supervised by policemen and aren't advisable for safety.
✨ Which side of Puerto Rico has the best beaches?
Culebra Island is the best place to stay if you are all about the breathtaking beaches and sea views of Puerto Rico. If you're wanting to stick to the mainland close to the capital, Isla Verde has a great beach! 
🏖️ What is the safest place to stay in Puerto Rico?
Old San Juan is the safest place to stay in Puerto Rico due to being the capital city and heavily guarded by policemen. Isla Verde is also a good option if you are looking for somewhere safe with a good beach. 
✈️ Where is the best place to stay near the airport?
The best town to stay in close to the international airport of Puerto Rico is Isla Verde. You will find affordable suites, hotels and resorts within 5 mins drive to the airport. 
Conclusion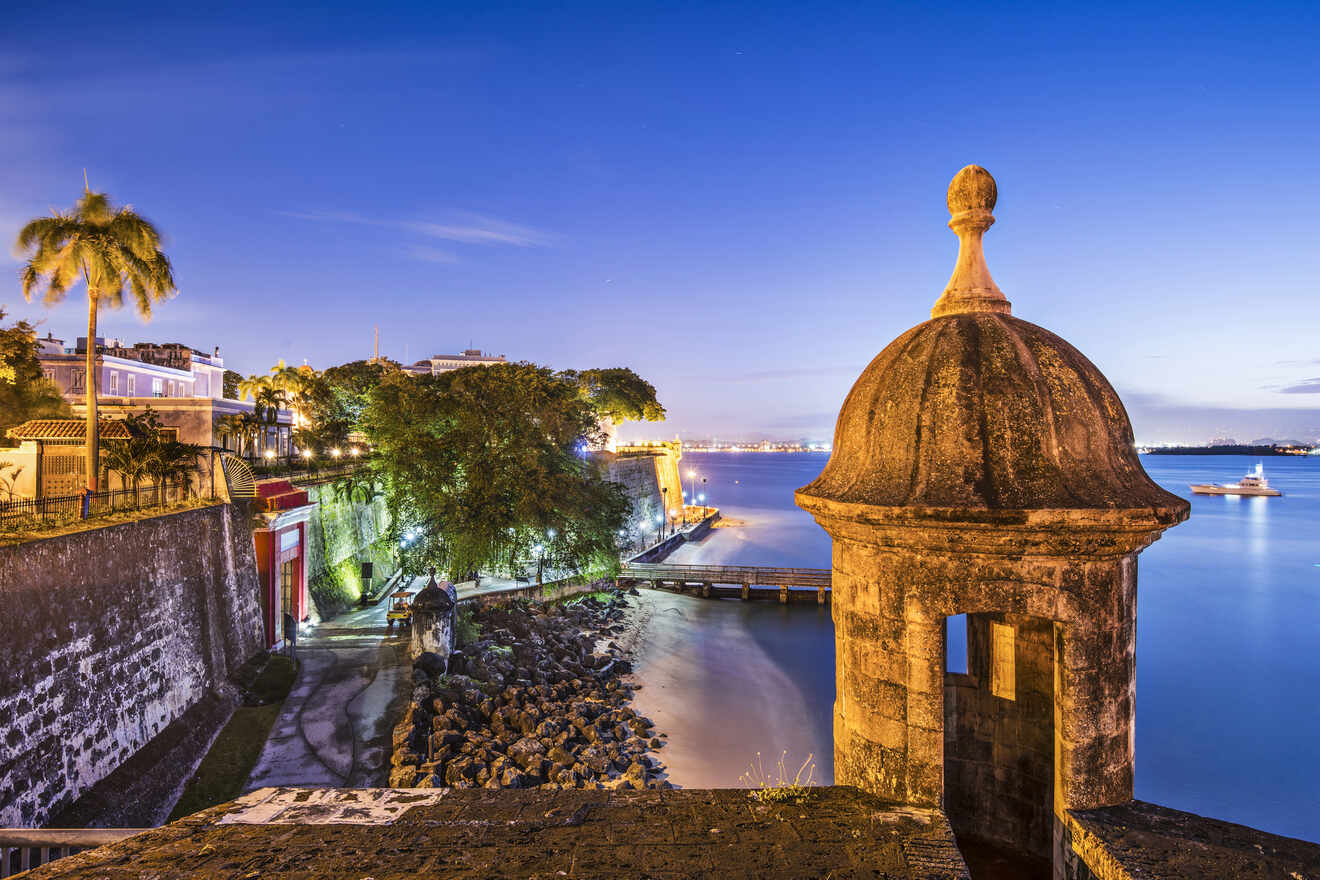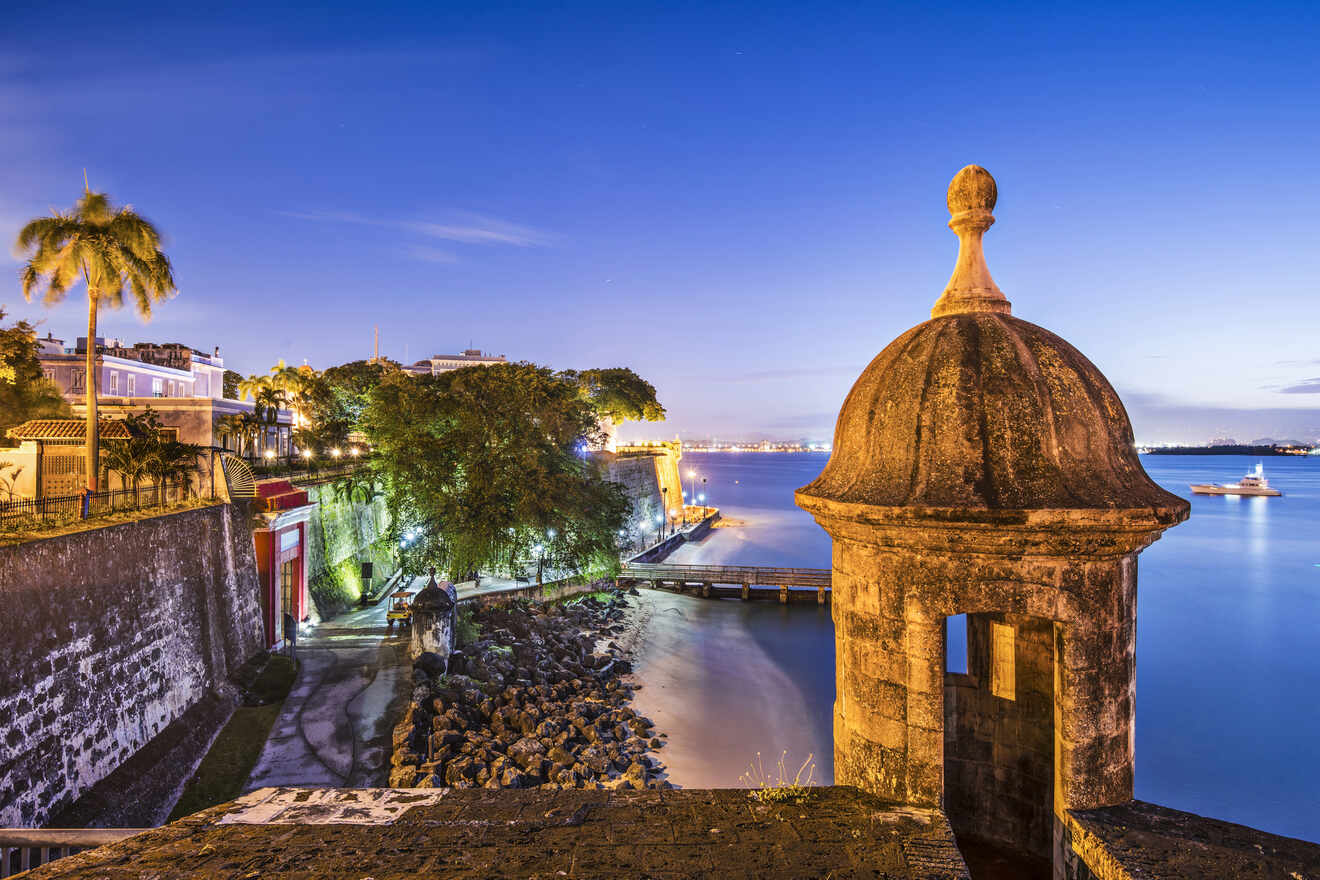 Yahoo! You have finished my guide to where to stay in Puerto Rico. We've gone through the best areas and accommodation for your stay so I hope that I helped you find the perfect hotel and you're ready to relax on the beach.
I've given you so many options already but if you haven't chosen any yet, these are my top 2 choices:
If you're still looking for more, check out my post on the best airbnbs in Puerto Rico. Remember it's important to book ahead since Puerto Rico hotels are in high demand – it's a popular tourist spot after all!
The Caribbean is full of beautiful beach islands and resort destinations like Puerto Rico with wonderful landscapes, mountains, rainforests, and of course, beaches! If you're thinking about island hopping, Punta Cana is another great island that you should definitely check out!
If you have any comments, suggestions, thoughts, or experiences you would like to share, please do so below! I love reading your comments. 🙂
Have fun and safe travels,
Kate
---
Pin it for later!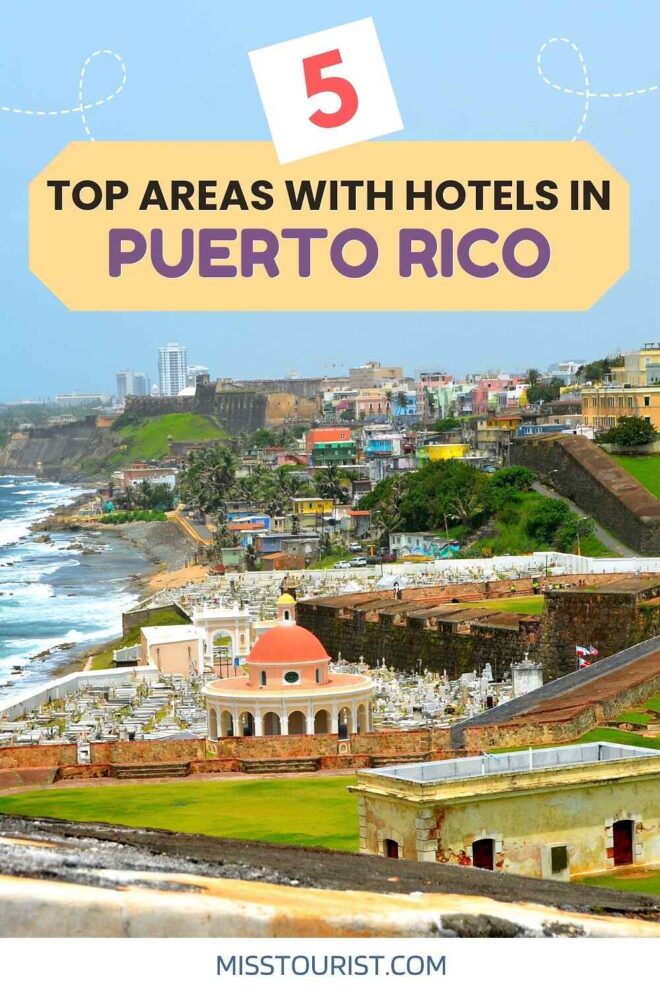 Pin it for later!