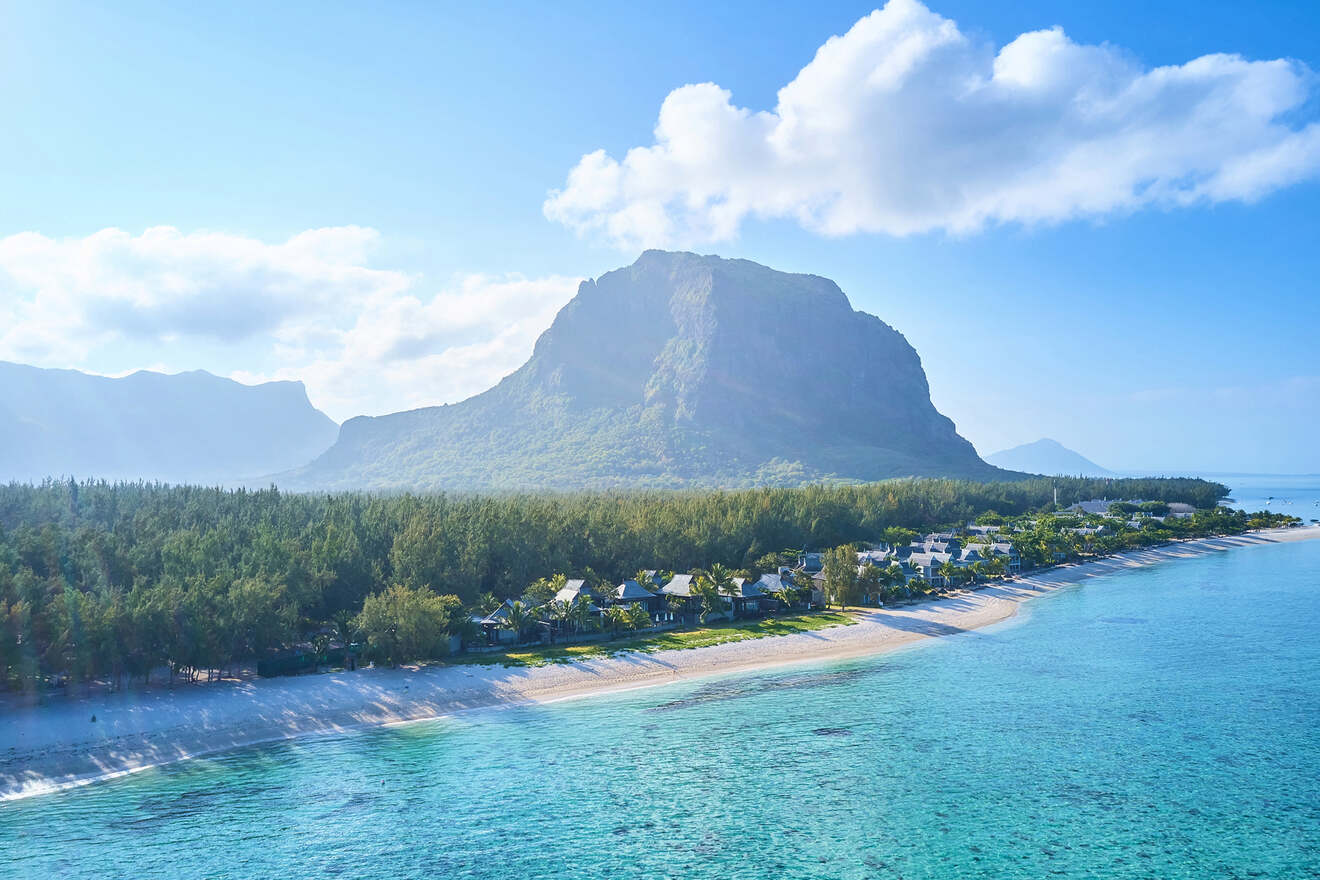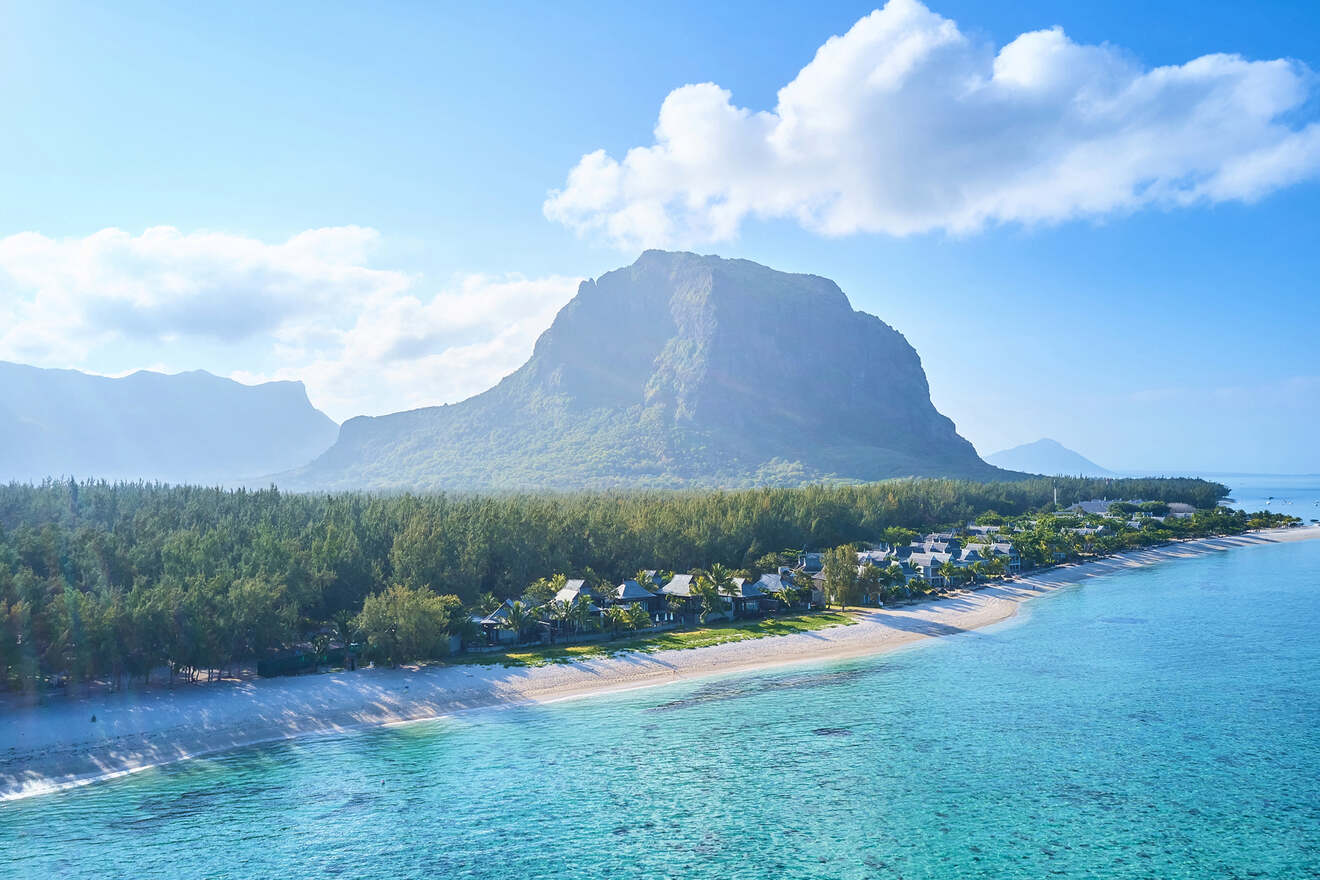 Welcome to paradise on earth: the stunning island of Mauritius, located in the Indian Ocean, east of Madagascar. I bet it has always been your dream to spend your holiday here, who wouldn't? And if you plan it ahead, you can definitely make your dream come true!
The island has many different areas to choose from when deciding where to stay. And surprisingly, each one offers different weather during the year (yes, that's right!) as well as hotels for different price ranges.
Grand Bay is the best place to stay in Mauritius for first-timers but can be a bit busy for some. Alternatively, Flic en Flac is a good choice for families, Trou aux Biches caters to honeymooners, Belle Mare has the best beaches, Le Morne is top of the list for luxury, and Blue Bay if you want to stay close to the airport.
So as you can see it is very important to know where to stay in Mauritius… that's why I decided to help you with this guide with the best areas (and hotels) based on your budget, interests, and month of your visit.
Make yourself comfortable with a tropical cocktail to get in the mood and let's go through all the best towns. But once you find the perfect hotel for your holiday, make sure you book it right away: everyone wants a spot in paradise… and you don't wanna lose it!
Let's go!
If you are in a hurry
You don't have time to read the whole post and you need to book immediately? Check this quick list with the best hotels in Mauritius, located in the area of Grand Baie:
Here's a map to give you have a mental image of all the best areas in Mauritius that you will discover through the post:
1. Grand Bay / Grand Baie – best for first-time visitors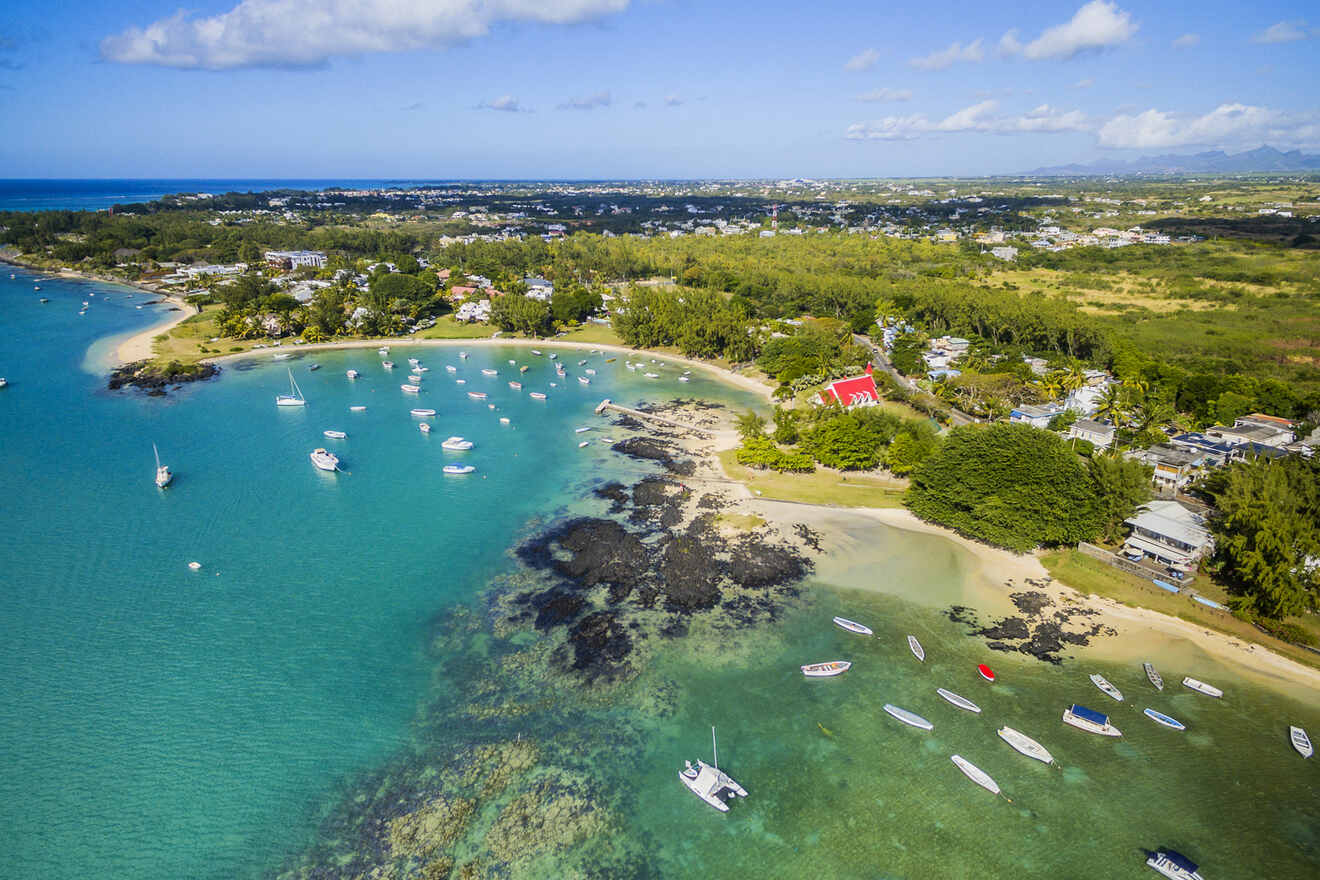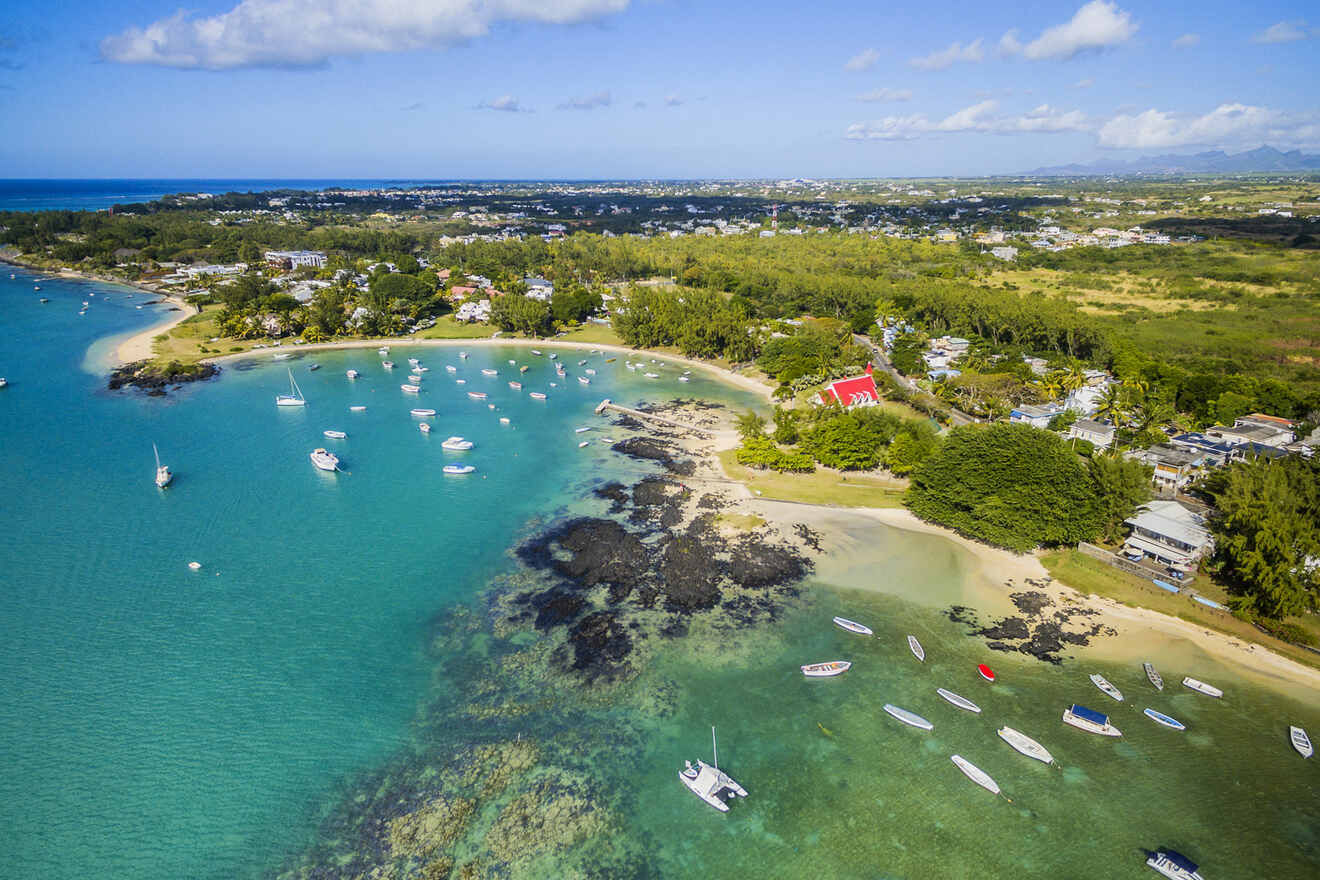 Located on the north coast of the island, Grand Baie is Mauritius' tourist hub. In this village, you'll find all the best hotels, shopping centers and restaurants, a beautiful coastal beach and especially the best nightlife!
In fact, with all its fun bars and pubs, Grand Baie will keep you entertained at any hour of the day… but if you're not looking for parties and young crowds you may want to avoid this part of the island!
However, if you want to enjoy some tranquility and relaxation, you can still find some quiet resorts right on the beautiful beaches. Otherwise, Grand Baie hosts the most various accommodations, from holiday apartments and villas to budget or luxurious hotels!
Grand Baie is also only a 40 minutes drive from Port Louis, the capital, which has no beach but a beautiful local market which is definitely worth a visit! This area is blessed with warm weather all year round, so you don't have to worry about that: any month is perfect to enjoy white sandy beaches and calm waters.
Other accommodation options in Grand Baie
Things to do in Grand Baie
2. Flic en Flac – where to stay in Mauritius for families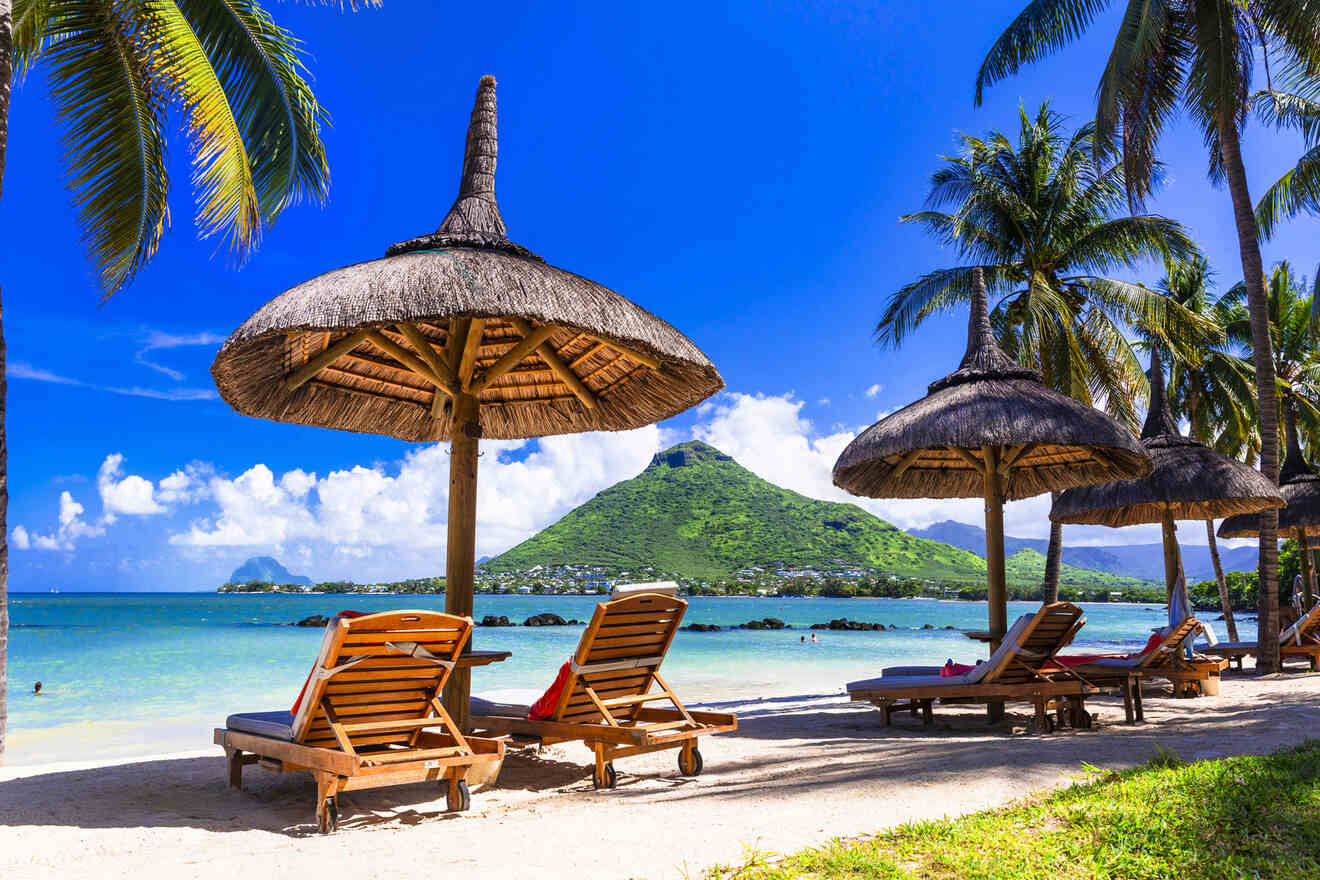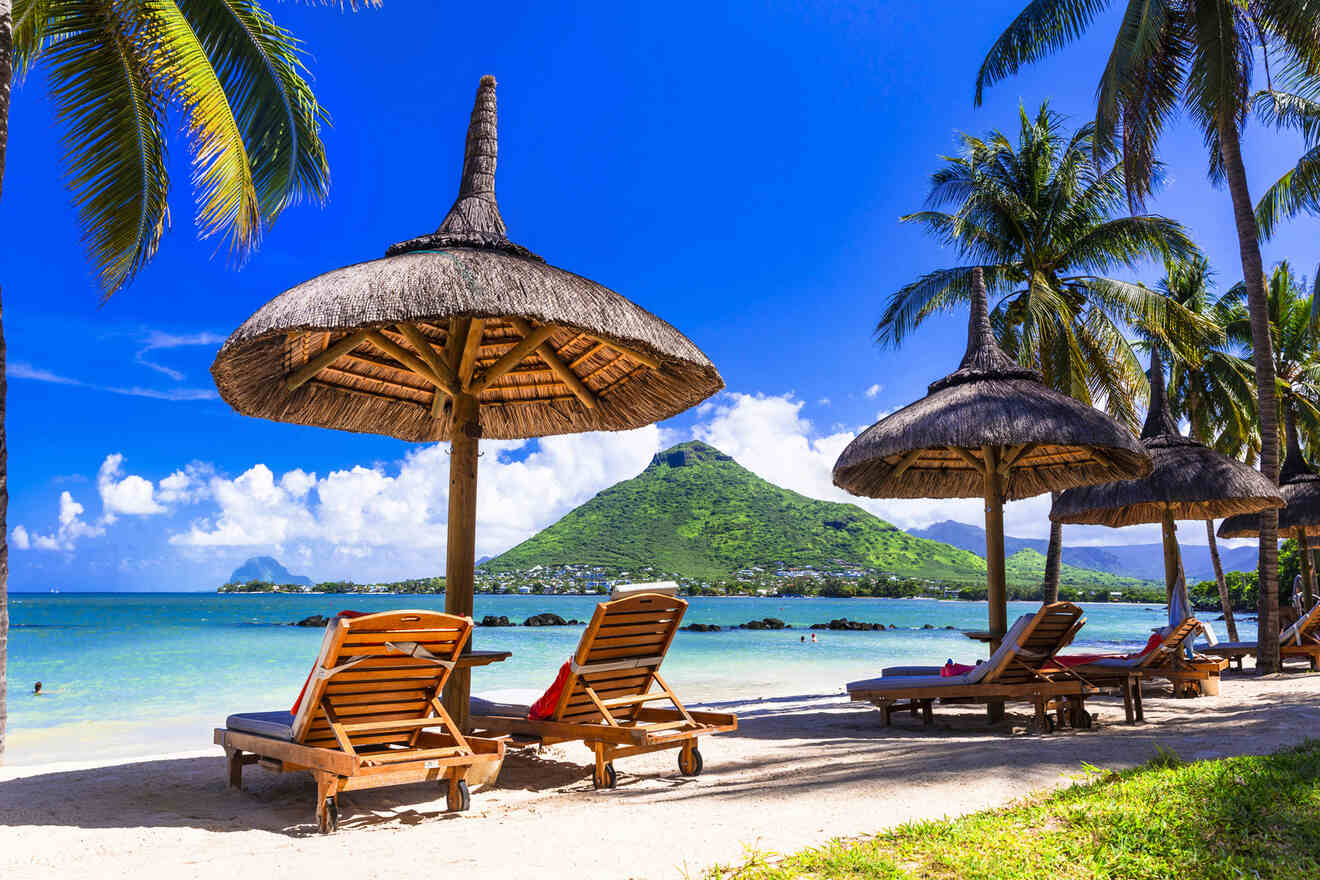 Flic en Flac, located on the west coast (south of Port Louis) is the best town if you're coming to Mauritius with the whole family, offering a wide range of activities for all ages and one of the best beaches in the whole island!
Stretching for 3 km of white sandy beaches and reef-protected water, Flic en Flac beach even has a playground, and sometimes it hosts a local circus and some cool shows… your kids will go crazy!
The fishing village itself also hosts some shopping centers, cool casinos, and local restaurants (some of them featuring shows of the traditional Sega dancing!) if you want to enjoy a lazy evening after a day spent chilling on the beach.
But if you're here, make sure you also engage in some outdoor activities: in fact, Flic en Flac is surrounded by natural attractions like the Corps de Garde peak, perfect for hiking.
Regarding the weather, it is sunny for the most part of the year, but between June and August you may experience some wind and cloudy days… so just take it into consideration if you want to book your holiday here.
Enough talking… check out the following family-friendly hotels, and make sure you book them at least some months in advance if you don't want to lose the best spot:
Other accommodation options in Flic en Flac
Things to do in Flic en Flac
3. Trou aux Biches – where to stay in Mauritius on your honeymoon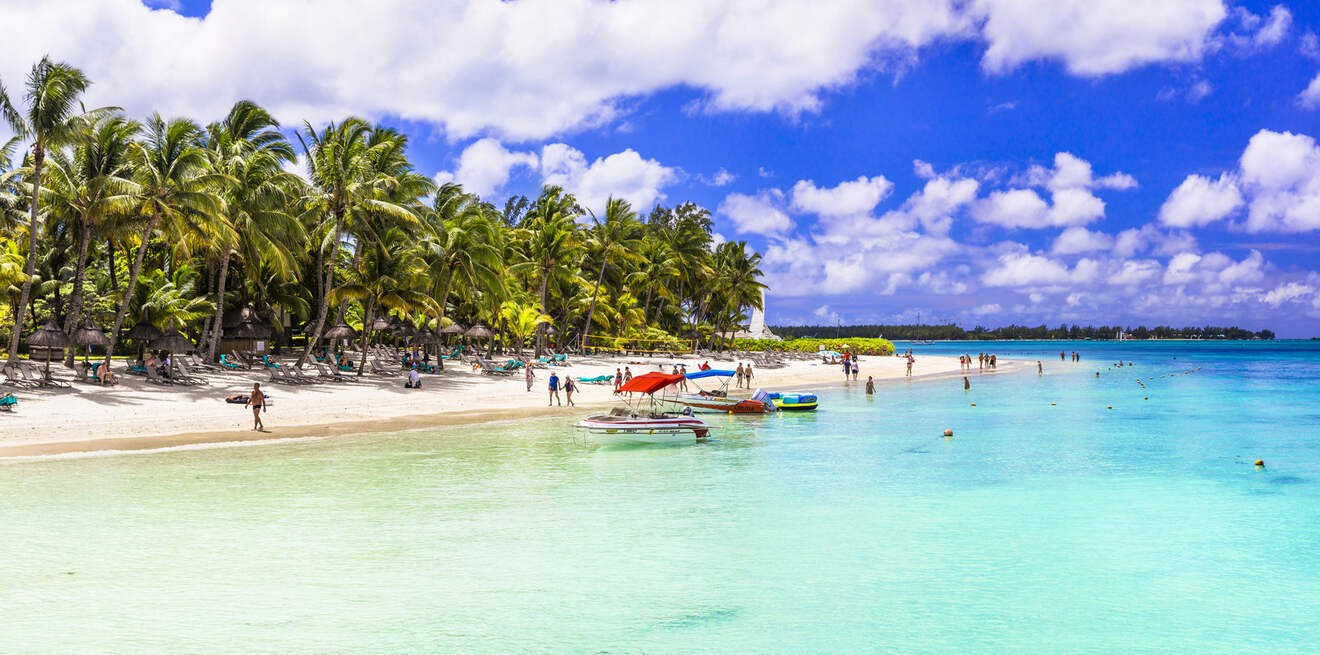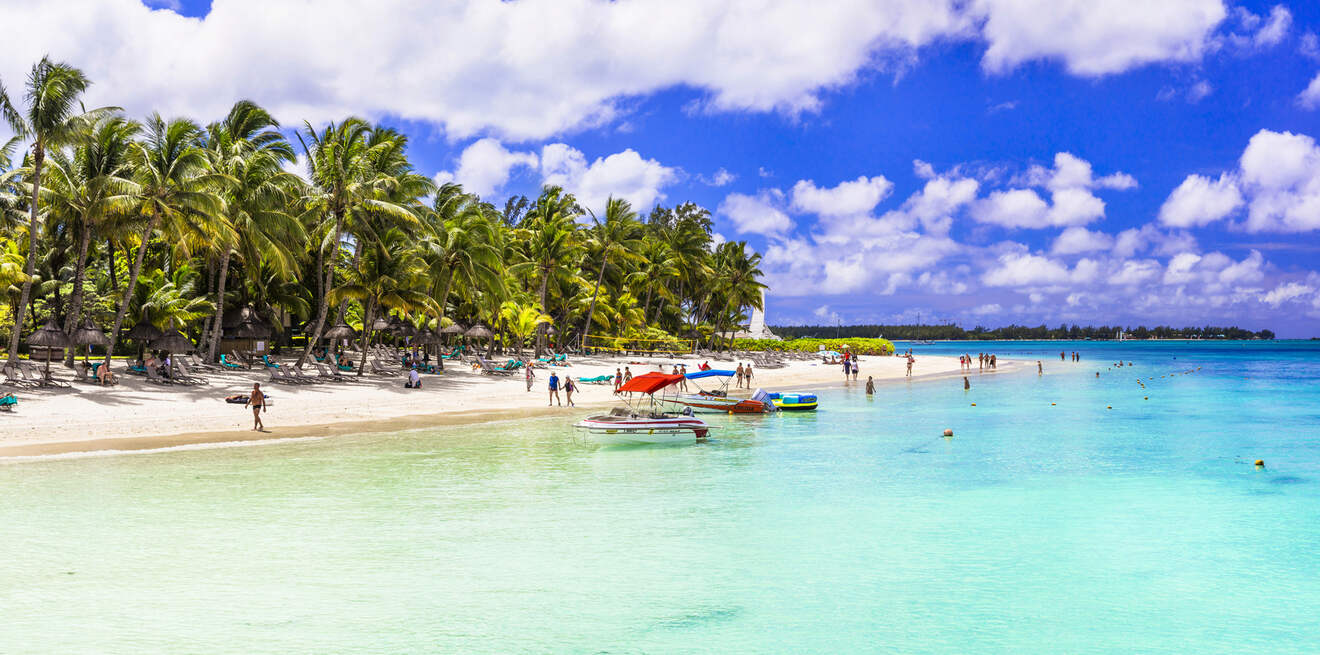 Located on the northwest coast of Mauritius, just a 40-minute drive from Port Louis, Trou aux Biches, with its turquoise blue waters, beautiful beach, and green tropical gardens, is THE spot for a romantic getaway with your special one.
In fact, this quiet village is blessed with a very laid-back vibe and a local feeling, perfect for couples who want to enjoy some quietness and privacy.
And with the coral reef only 250m from the beach, this is also one of the best spots for snorkeling in Mauritius… get ready to see the most diverse and colorful marine wildlife!
And to end your day in the best way, this little town hosts some great restaurants offering different cuisines, influenced by Asian and Mauritian flavors… all delicious!
The accommodation here ranges from apartments and villas rentals to luxurious hotels with golf courses… check them out for the months from May to October, when you'll have the best weather:
Other accommodation options in Trou aux Biches
Things to do in Trou aux Biches
4. Belle Mare – for the best beaches in Mauritius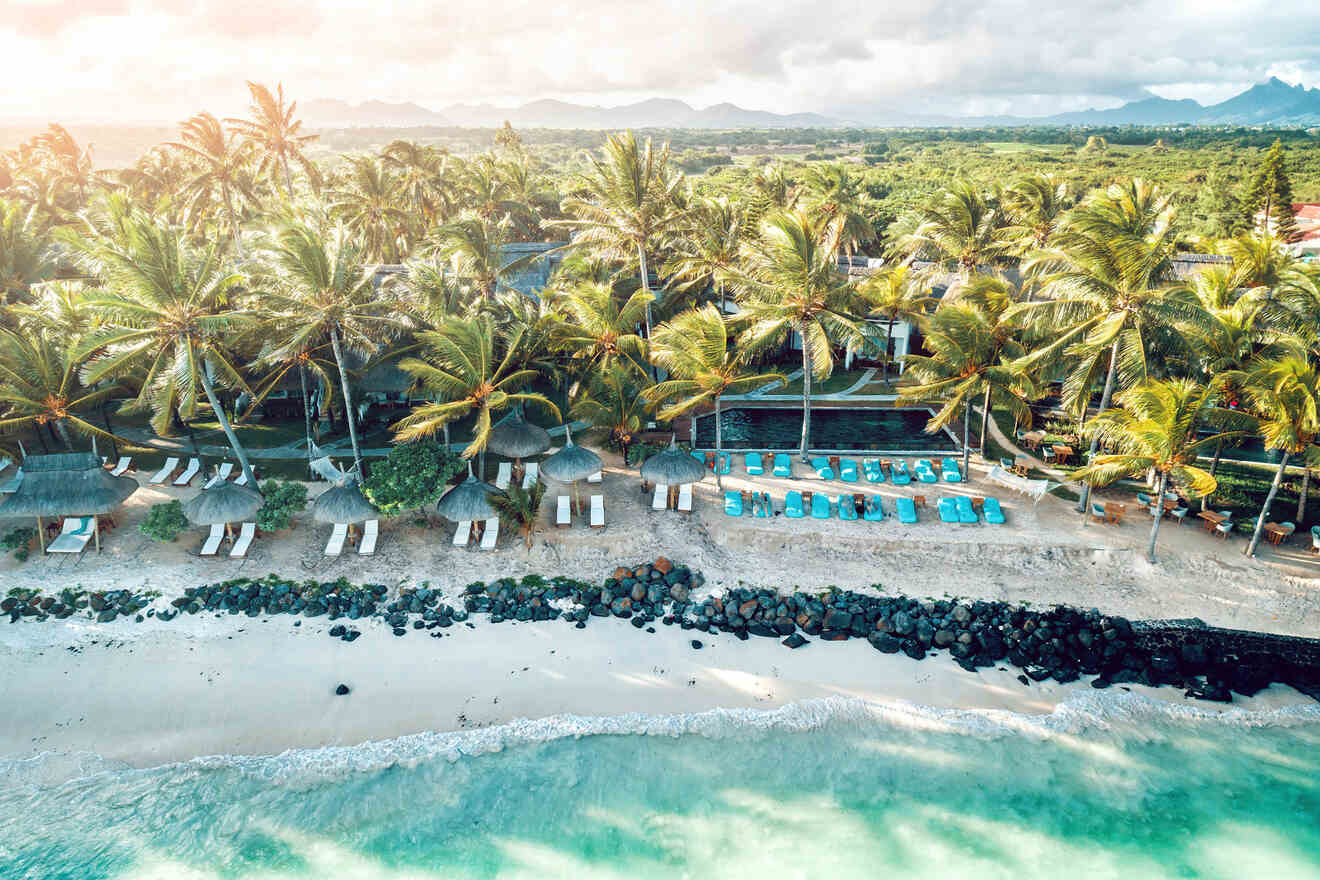 Located on the east coast, Belle Mare is the ultimate spot to enjoy a relaxing beach break, hosting some of the top resorts and one of the best beaches on the island!
In fact, at Belle Mare beach you will enjoy 2 kilometers of fine sand and crystal clear, shallow waters… all protected by the beautiful coral reef.
So get ready to spend your days just splashing, chilling, and sunbathing in this paradise, but don't forget to go snorkeling. It would be a sin to not do that here!
And if one day you feel like doing some cool activities, you can either enjoy some deep-sea fishing for tuna, marlin, and mako shark (very popular in this part of Mauritius) or challenge yourself to trek Lion Mountain peak!
The best time of the year in this part of the island is between December and March.
Other accommodation options in Belle Mare
Things to do in Belle Mare
5. Le Morne – where to stay in Mauritius for luxury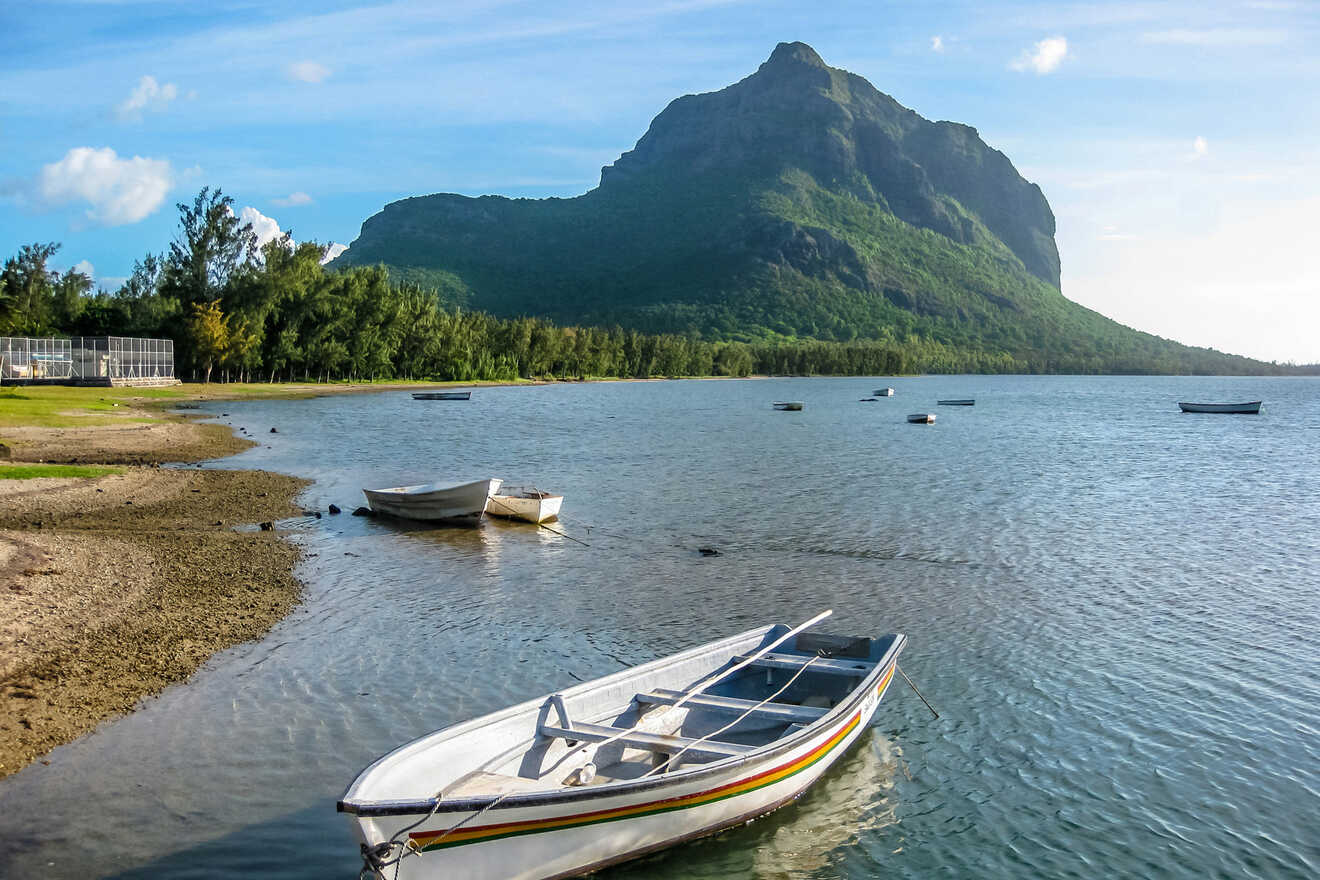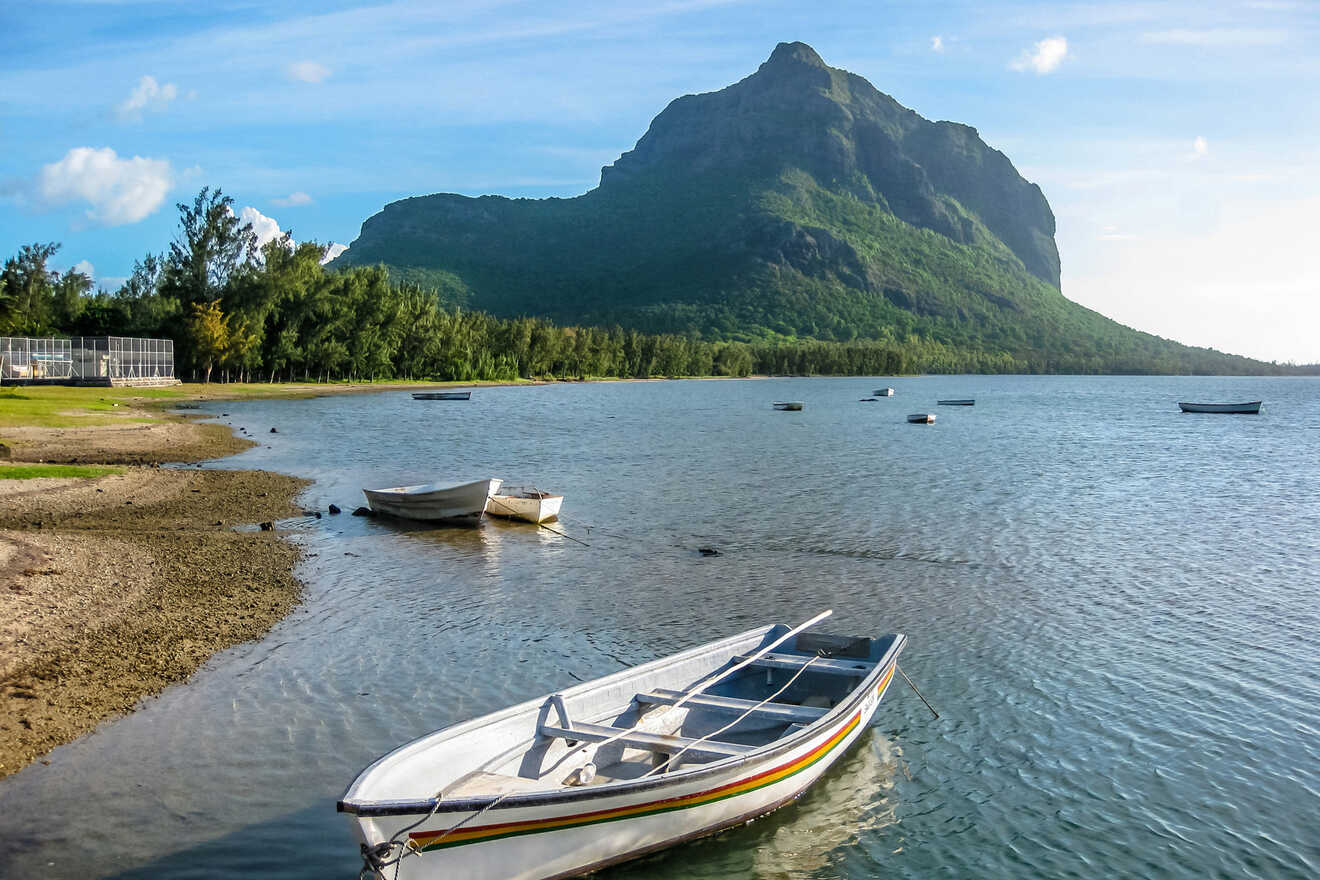 Le Morne is a dreamy small peninsula located on the southeast coast of Mauritius, offering pristine beaches, shallow waters, and some of the best luxury resorts in Mauritius.
Right in the center of the peninsula, you will find a unique monolith, declared a UNESCO World Heritage Site, which you can climb to have spectacular views of the lagoons… but I suggest you do that in the morning when there's no wind.
In Le Morne there is SO much you can do, from snorkeling close to the reef to kite surfing and exploring incredible natural attractions like the Seven Coloured Earth in Chamarel, a geological formation made of 7 different colors, or the Chamarel waterfall.
The best time to go here is definitely from spring to autumn (from October to June), when the weather is sunny, while between June and September you can have more rain.
As I said already, the area brims with luxurious accommodation options (that's why below there are 2 midrange options): resorts, apartments, villas, and hotels, most of them nestled on the beautiful beaches of the area!
Other accommodation options in Le Morne
Things to do in Le Morne
6. Blue Bay – where to stay in Mauritius close to the airport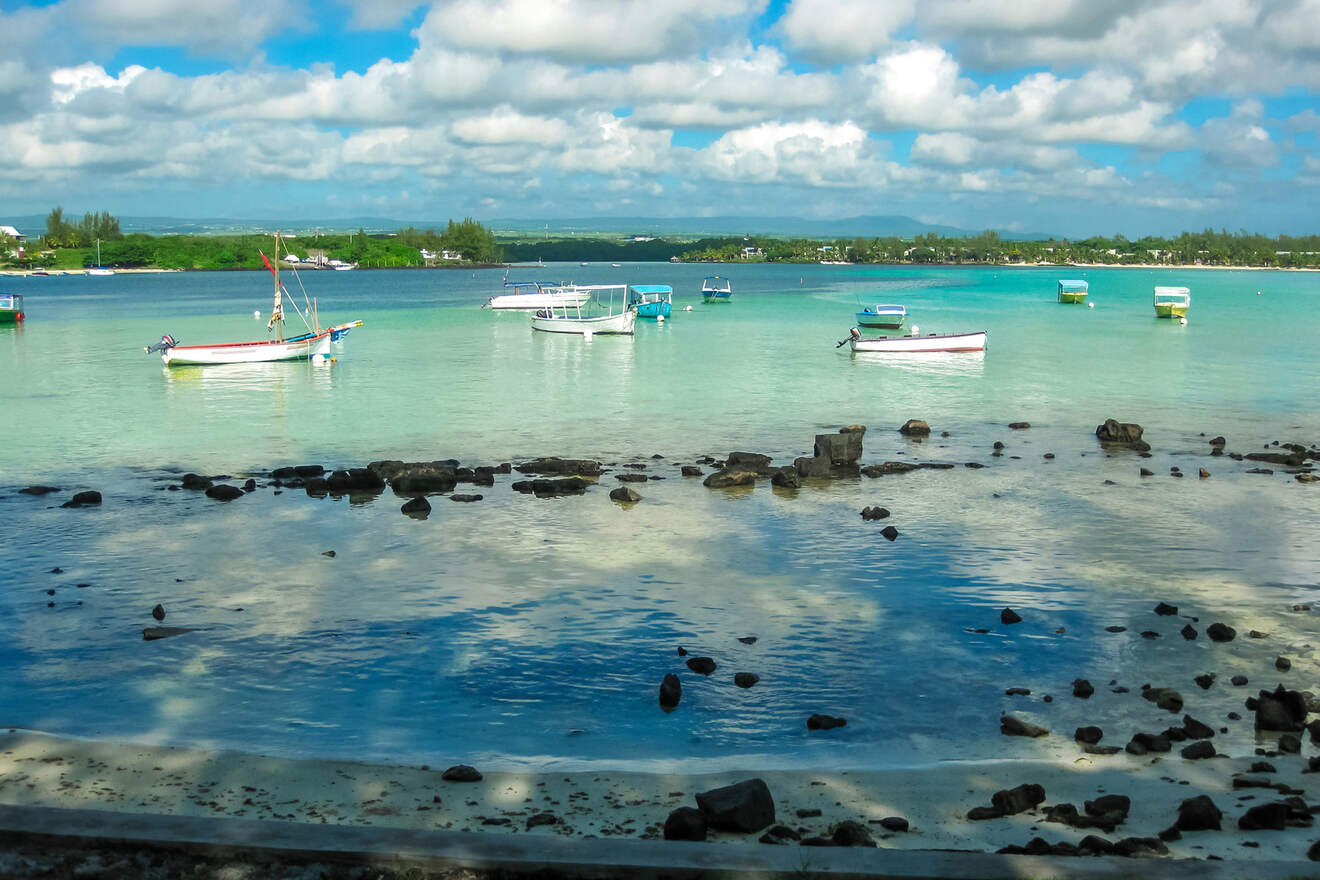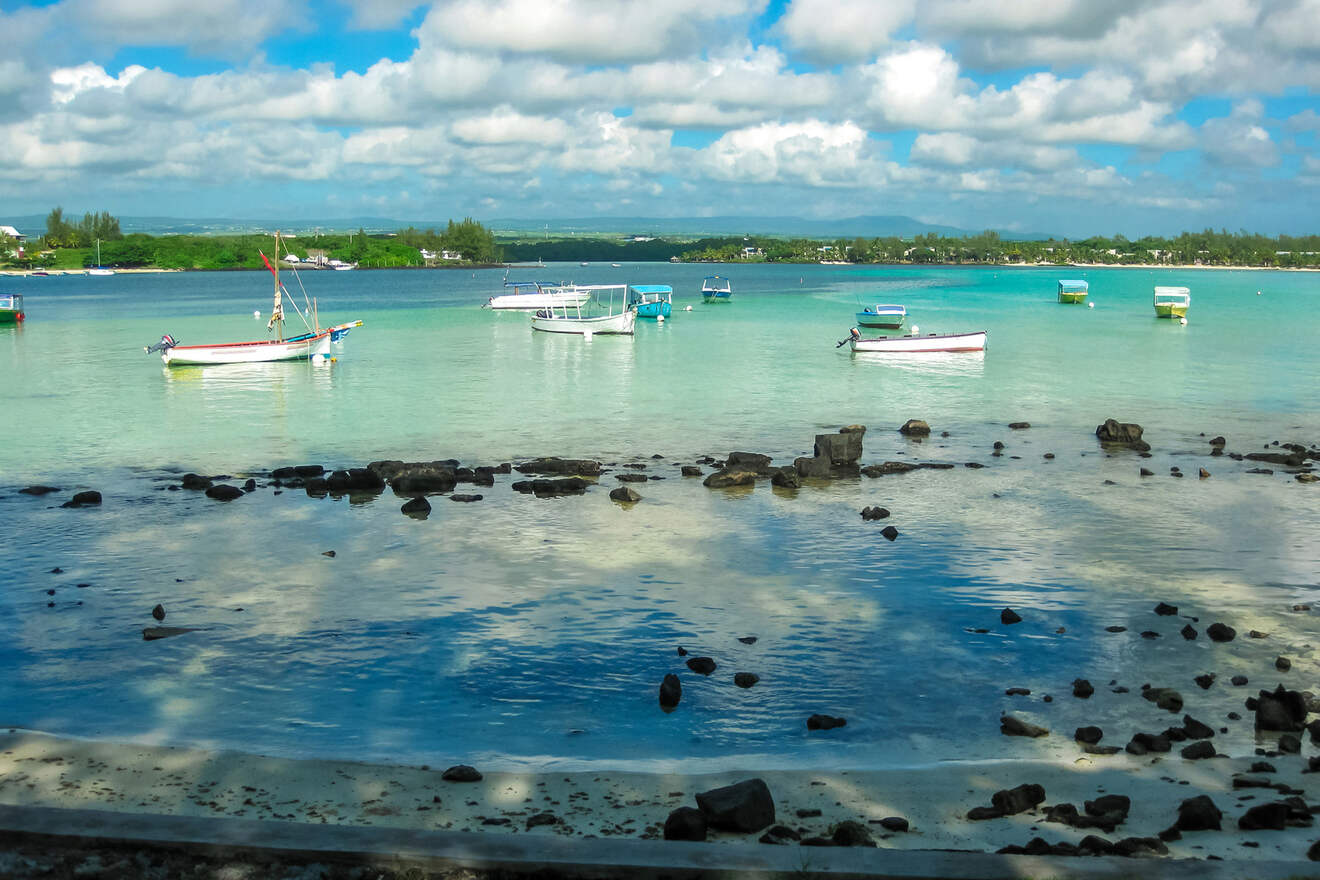 Blue Bay is another stunning area on the southeast coast of Mauritius, only 15 minutes drive from the international airport, perfect if you want to stay close to it and enjoy sandy beaches at the same time.
In fact, here you'll have access to the shimmering Blue Bay beach, and its Blue Bay Marine Park, a preserved marine area: the perfect spot to snorkel, dive or enjoy glass bottom boat tours!
Close to the beach you also find many street foods stands offering tasty local snacks, or delicious restaurants serving different kinds of cuisines, from the traditional ones to international ones.
This very laid-back area is also located close to the beautiful village of Mahebourg, and it offers the best views on the Ile aux Deux Cocos island: two perfect spots perfect for a day trip!
This part of Mauritius may be cloudy or rainy from June to August (sometimes even in September) but Blue Bay is perfect to visit during the summer months, between December and March!
Other accommodation options in Blue Bay
Things to do in Blue Bay
Frequently asked questions about hotels in Mauritius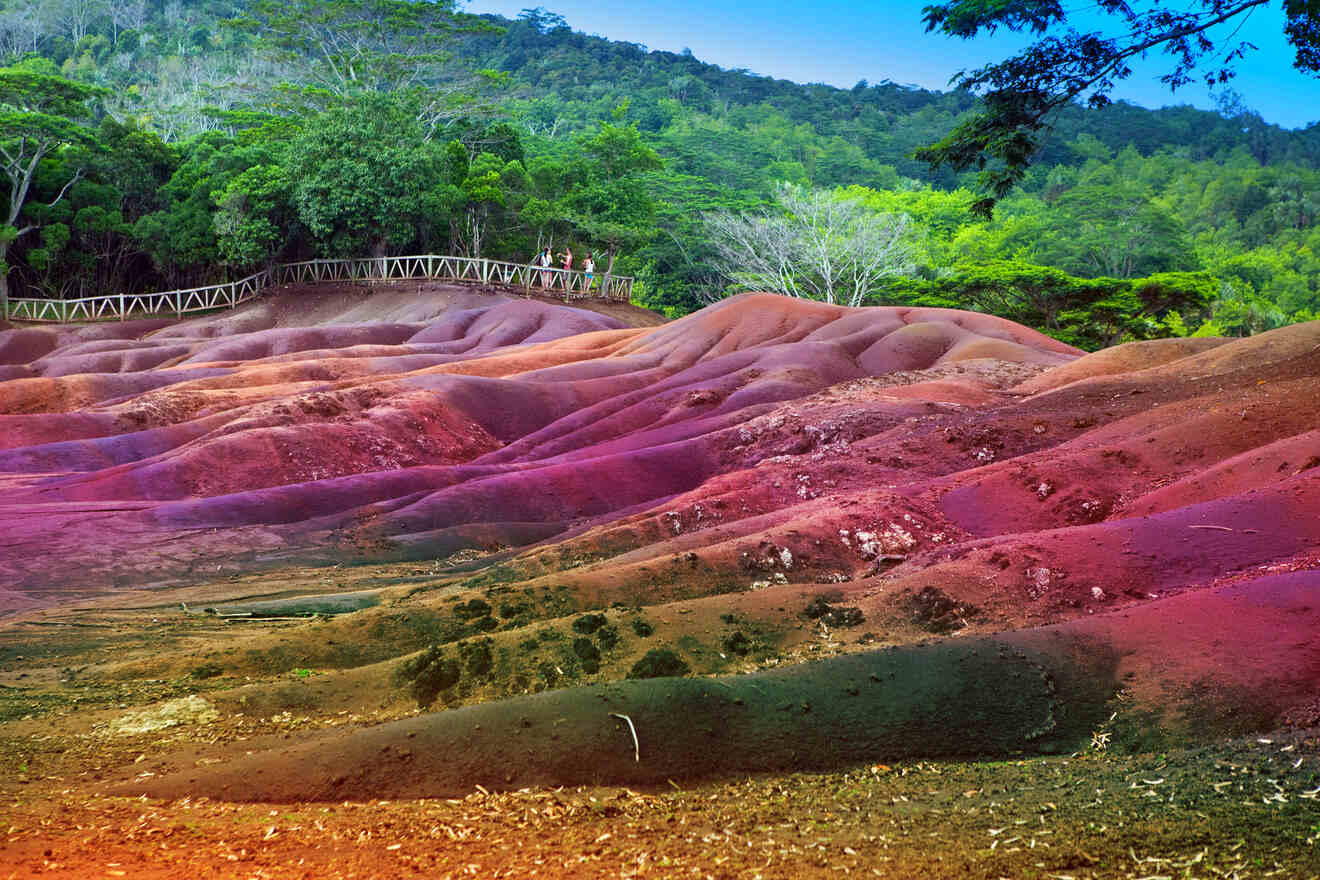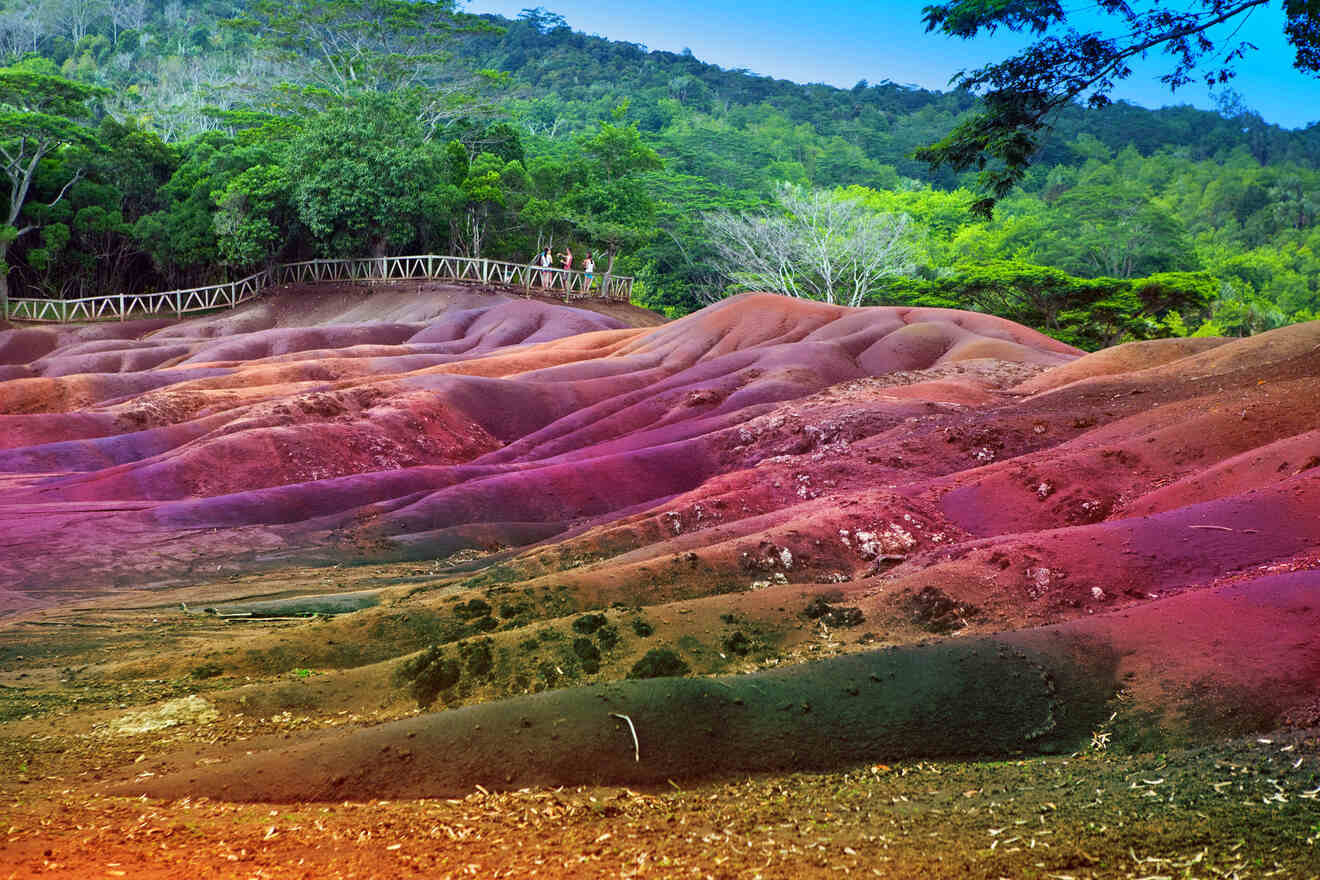 Conclusion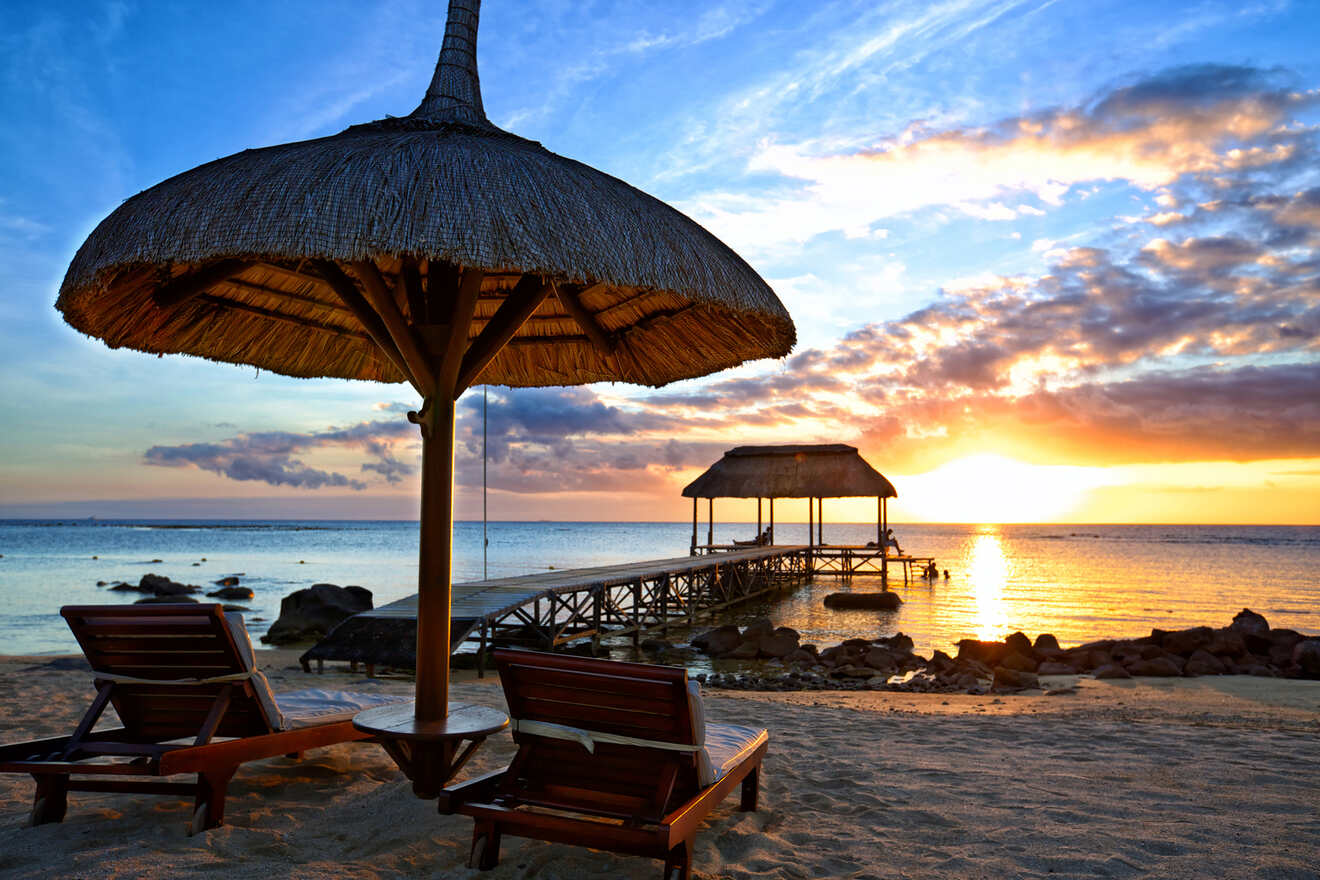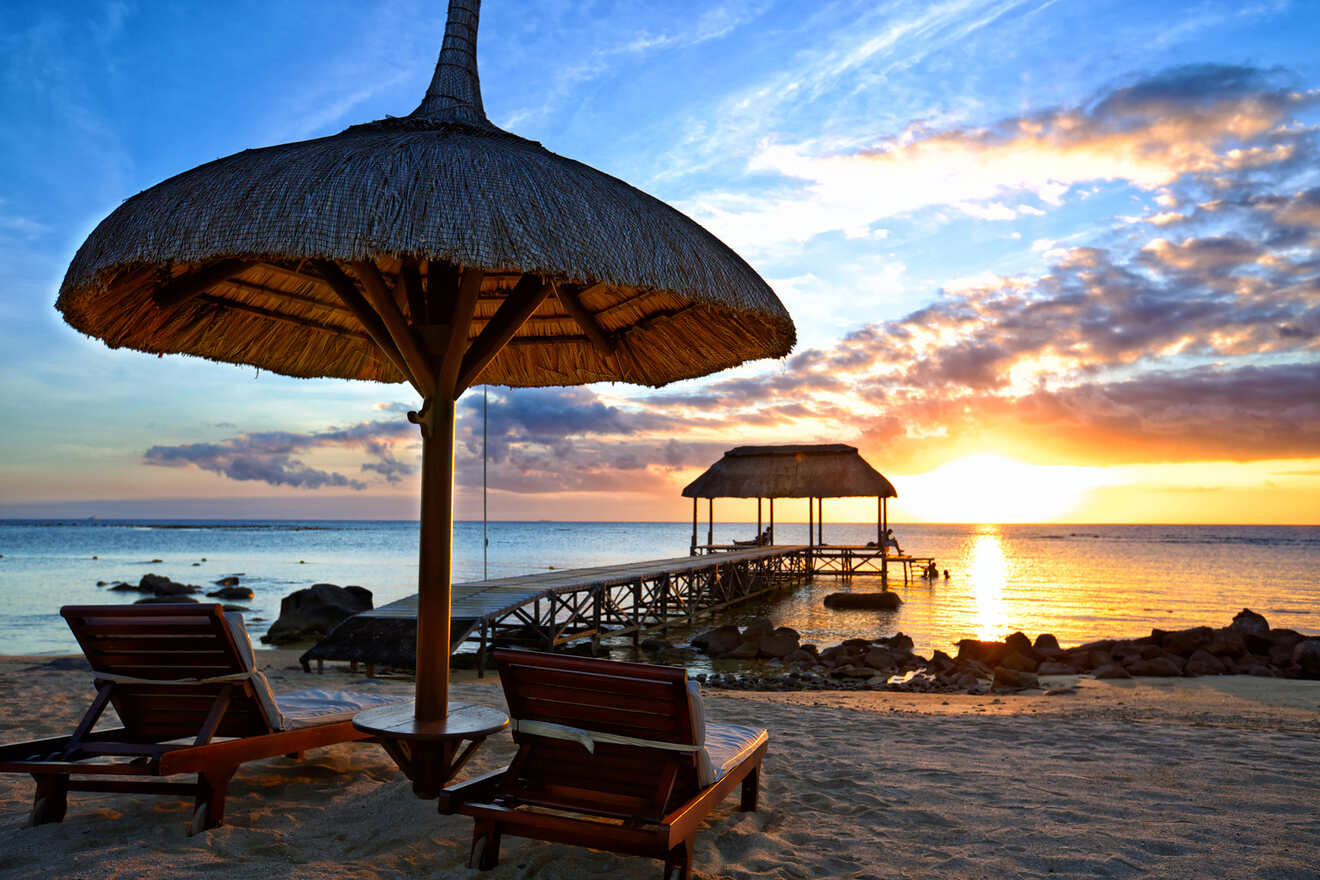 Here we are at the end of this incredible journey through the best areas and accommodation ranges in Mauritius, a paradisiac island on the Indian ocean.
We've been through so many options for different interests and budgets that by now you should know where to stay in Mauritius for your perfect holiday!
But if you're still undecided, no worries: here below you find my absolute favorite hotels with great location and value for the price:
If you like them (or any of the hotels in the post) make sure you book them as soon as you can: places sell out extremely fast in paradise!
I hope you enjoyed reading my guide as much as I did writing it and doing the research for you. And please, if you have any questions or doubts, just leave them in the comments below: I am looking forward to answering you!
Have the best holiday!
Elena
---