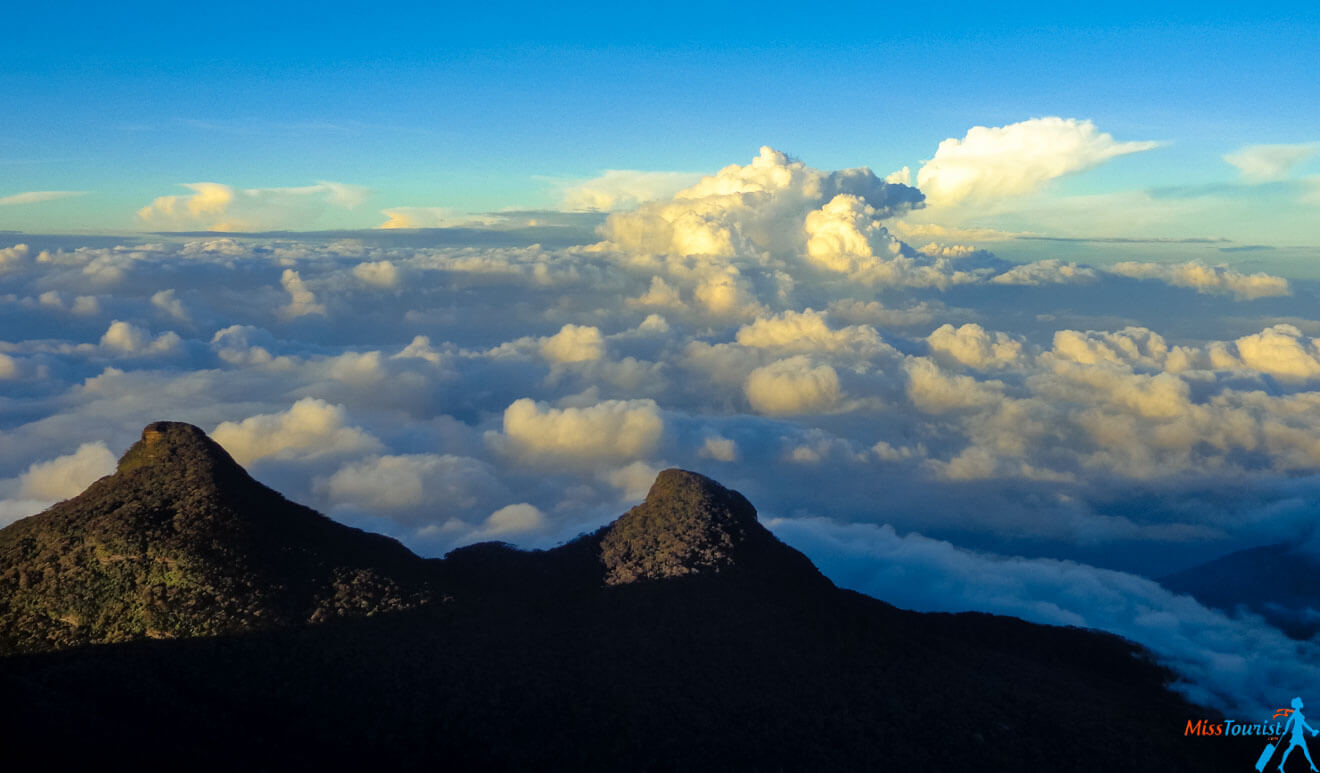 Traveling has been an eye opener when it comes to knowing my strengths and abilities. This was obvious to me once again when I decided to climb Adam's Peak in Sri Lanka. The idea came to me as I met more mountain climbing enthusiasts. They spoke of its beauty and the joy it brings to reach the top. This was more than tempting for me. This was not my first mountain climb but certainly one of the most challenging ones I have ever done in my life.
Adam's peak is 2243 m high, and it's a tall conical mountain located in central Sri Lanka, 7 kilometers away from the Dalhousie village. The climb consists of rising stairs, and you have to climb 5,000 (wow!) of them in order to reach the peak.
The top of the mountain has a huge a "footprint"-like hollow. The Buddhist residents say it's the footprint of Buddha's left foot. The Hindus claimed that the footprint belonged to The Lord Shiva. The Muslims and the Christians believed that it was Adam's first step after being kicked out of the Garden of Eden by God. This made it all the more exciting for me!
There are several routes that can be used by pilgrims when climbing the peak, including the Ratnapura route, the Hatton route and the Kuruwita route.
Along the challenging route I encountered vendors and tea shops, which was a welcome relief because it was quite chilly that day. The vendors operate round the clock, and they sell hats and mittens. Of course, I did not think in advance that it will be so cold up there before the sunrise, so I had to buy a hoody from those vendors. Helped me so much and it still does when I travel! 🙂
I stayed in a town called Dalhouse, which is situated literally just before the climb starts.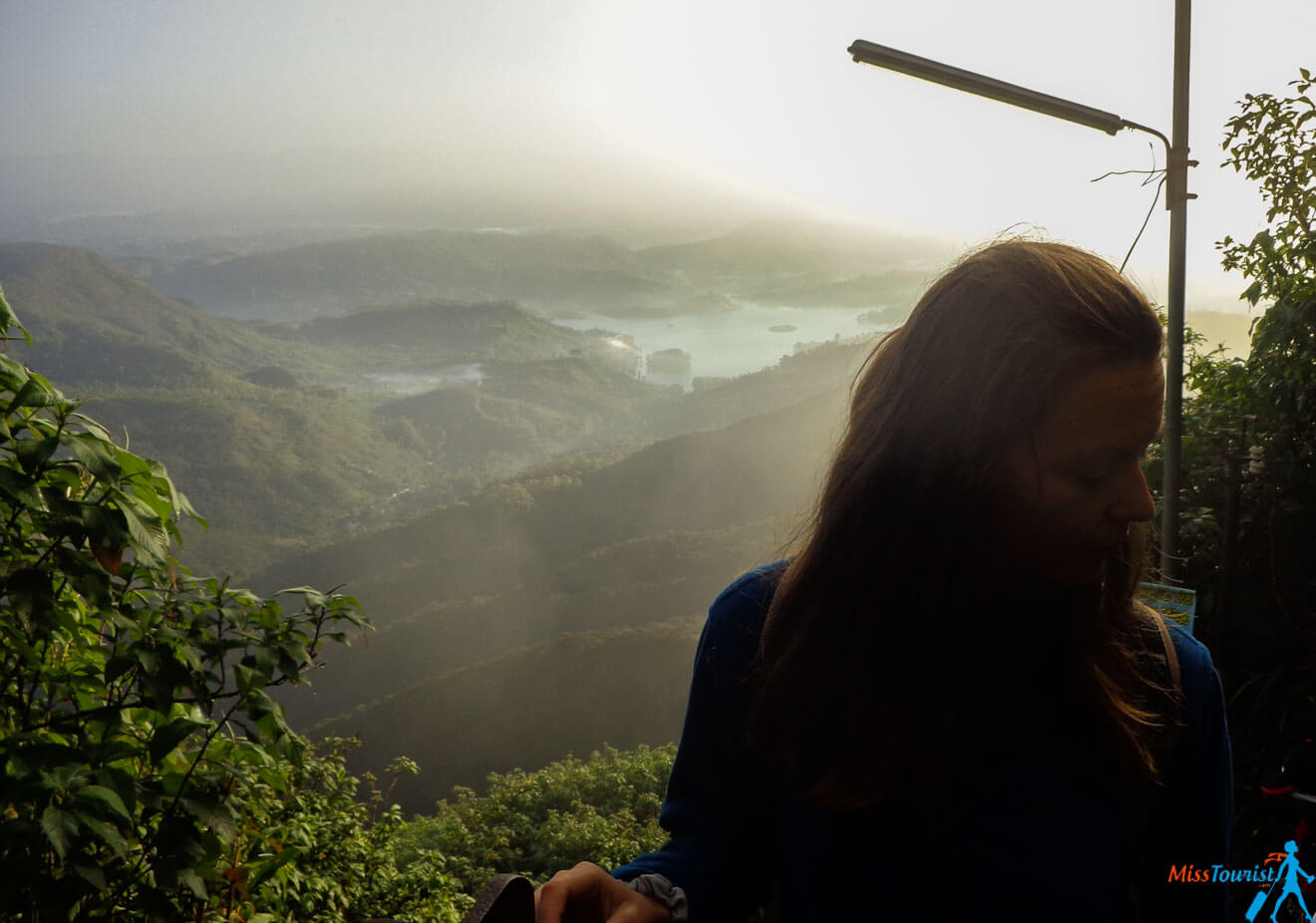 Me and me Italian friend (I met her in Sri Lanka during the trip) went to sleep at around 9 p.m. so that we could be able to wake up at 2 a.m. It was hard, and I was shivering (it is freezing at night!), but we did it. The road is well lit creating quite a spectacle. You do not need a special light to climb Adam's Peak, except for the times when it is off-season which is….
As we began our climb, we found temples along our route, which provided us with a chance to pause for a moment. At the beginning it was quite okay, and I was thinking –
"Ah, so they think this is hard? Huh!".
But then the stairs got so steep that I had to hold onto the rails tight to help my tired legs climb up. It is not easy, but I saw some old Thai women and kids climbing in flip-flops, so I just had to do it!
I will be honest – it is not a very easy hike.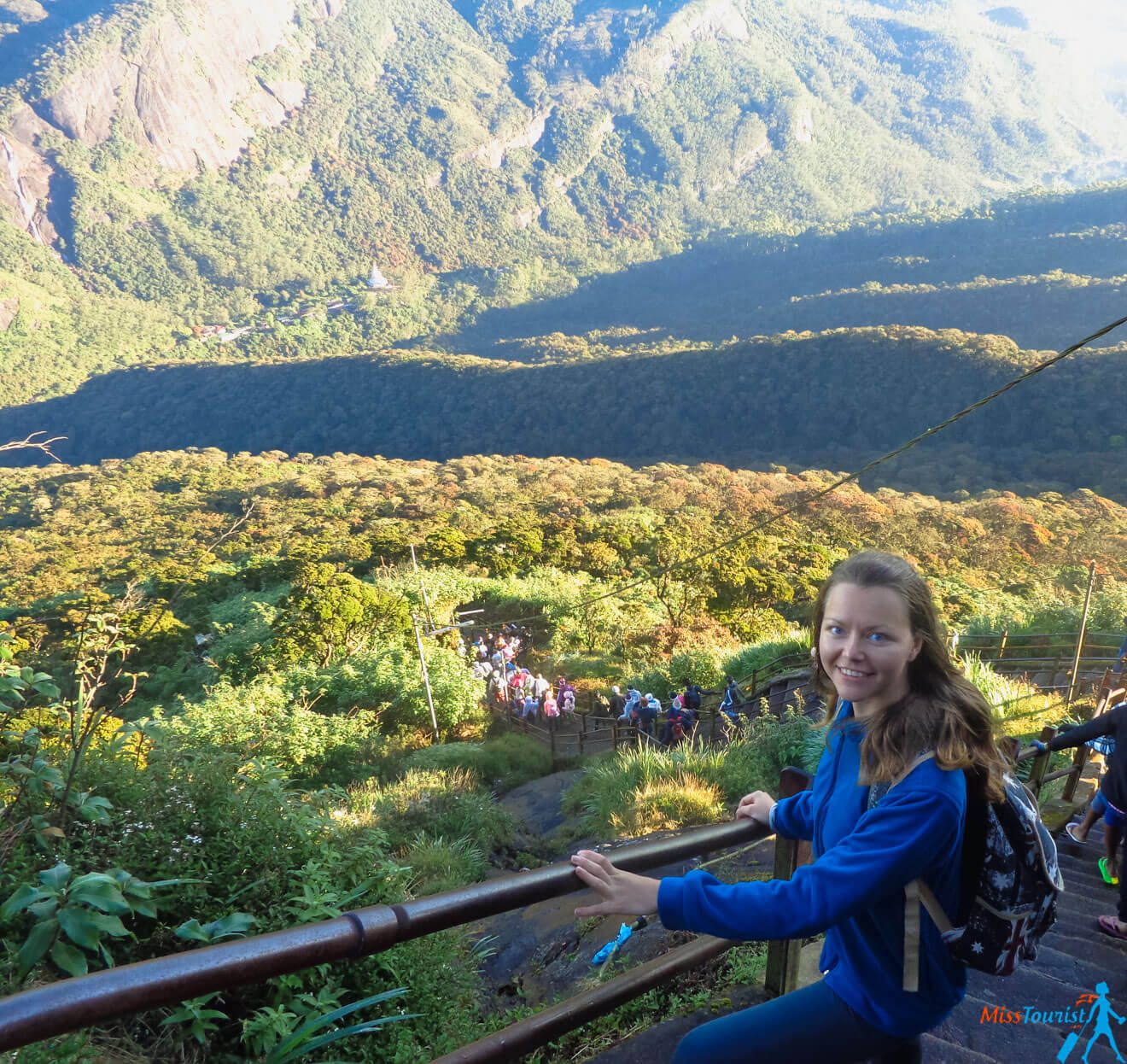 I know that there are people starting the hike at 11 p.m. so that they can finish it before 5 30 a.m. when there is a sunrise. I know that some people turn back when it gets way too steep and they understand they cannot do it anymore. Thus, think very well in advance if you are up for the challenge.
Nevertheless, we did it, we reached the top! After that I had this strong feeling of accomplishment. We were waiting together with all the pilgrims. As sunrise approached, we discovered that we were on top of the clouds, and the view from there is spectacular!
We also found a huge bell that every pilgrim rings depending on the amount of times he/she climbed the Adam's peak.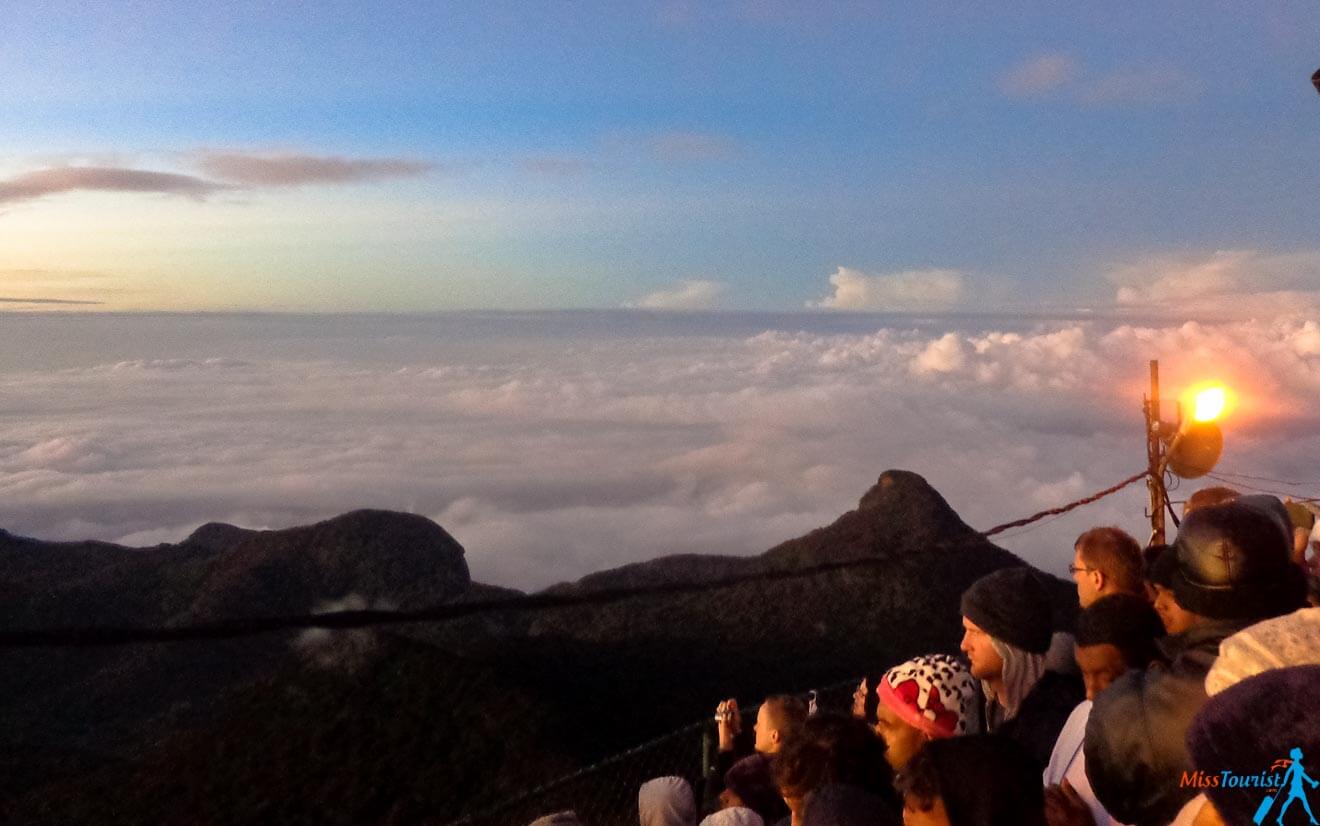 There were many people that day (Sat. to Sun. night), and most of them were going into the temple at the peak to receive blessings. Once we were out of the temple, the sun lit the sky with a golden glow, and we sat down to celebrate with everyone around us.
I went to Adam' peak to challenge myself and have an exciting adventure and i can say that the climb was everything I expected and hoped for!
Though tired and out of breath, my pilgrimage had been accomplished.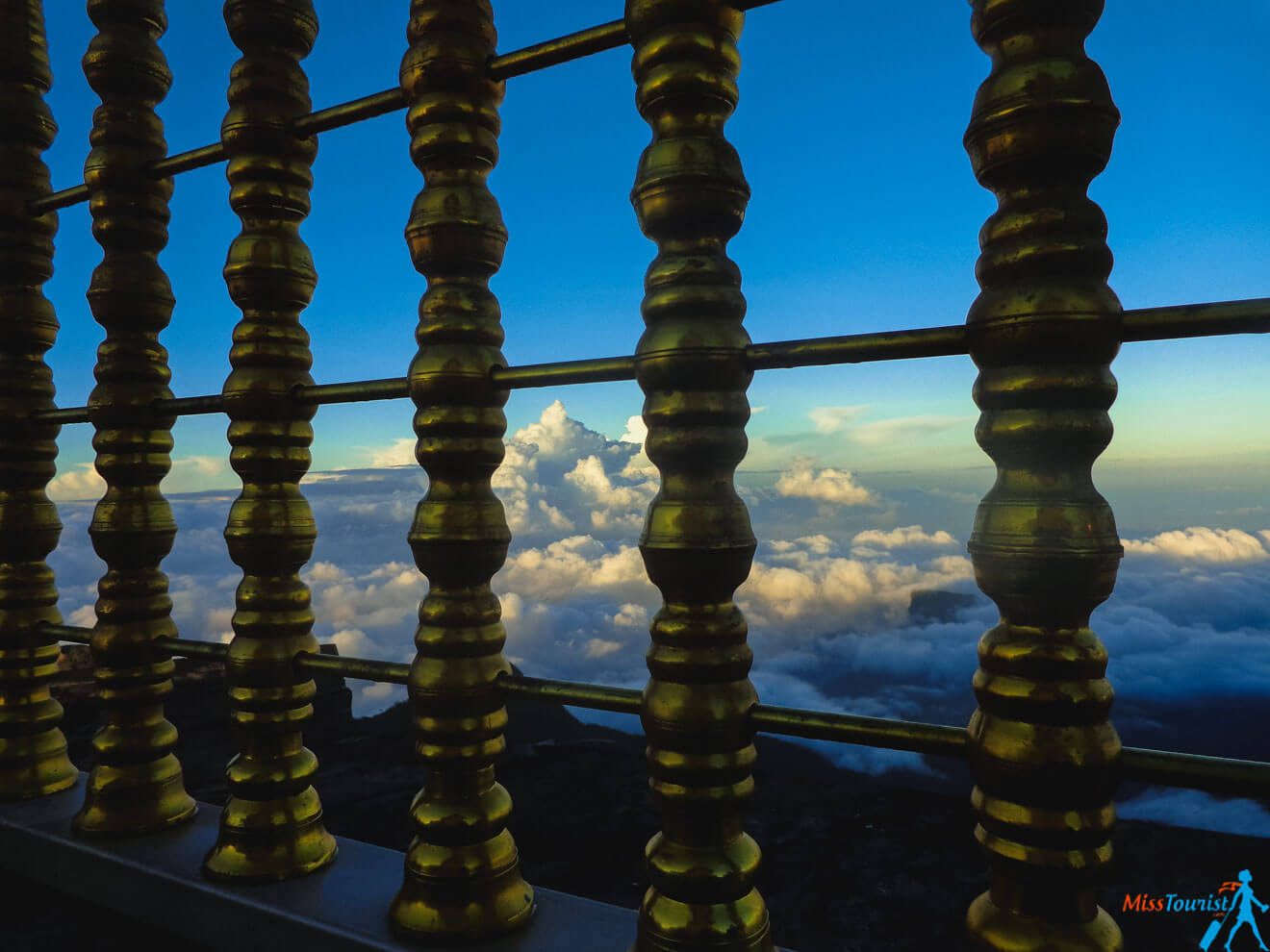 Attention:
Beware – there are leeches (there were none when I was there, but locals say it is a big problem during off-season), so take care to by some cream beforehand!
Also, if you do not want to meet many piligrims, avoid climbing the peak Saturdays and Sundays. That is when the majority of locals go.
Is it hard?
Depends on you physical level, but i would say "Yes".
The best thing about the ordeal is that the path has steps. Though they seemed endless to me, it was quite an experience.
If you are looking for an easier hike where the view is also gorgeous, you can try Sigiriya or the World's End
Where to stay near Adams Peak
There are many hotels in Dalhouse. Prices varies from 800 rupees (guesthouses) to 1500 per 2 people. No need to book anything in advance, the village lives from tourists, there is always going to be somebody ready to give you a room.
If you still want to make sure you have a place and book it from before, here are my suggestions. Click the links to see the rates for your dates:
Deer Park Ratnapura – very simple hotel will have everything needed for you to rest before (after) the long climb.
If you are searching for a luxury experience, here is a great recommendation – a 4* Mandira Strathdon Bungalow colonial-style décor and views of surrounding greenery
Price
Absolutely free
How to get
First you might want to go to Hatton (there is a train station there). From there you can either take a local bus (60 rupees) or go by minivan/tuk-tuk.
Either way the road is amazing, it goes along a lake and endless tea plantations. In fact, it is some of the most spectacular roads I have ever taken!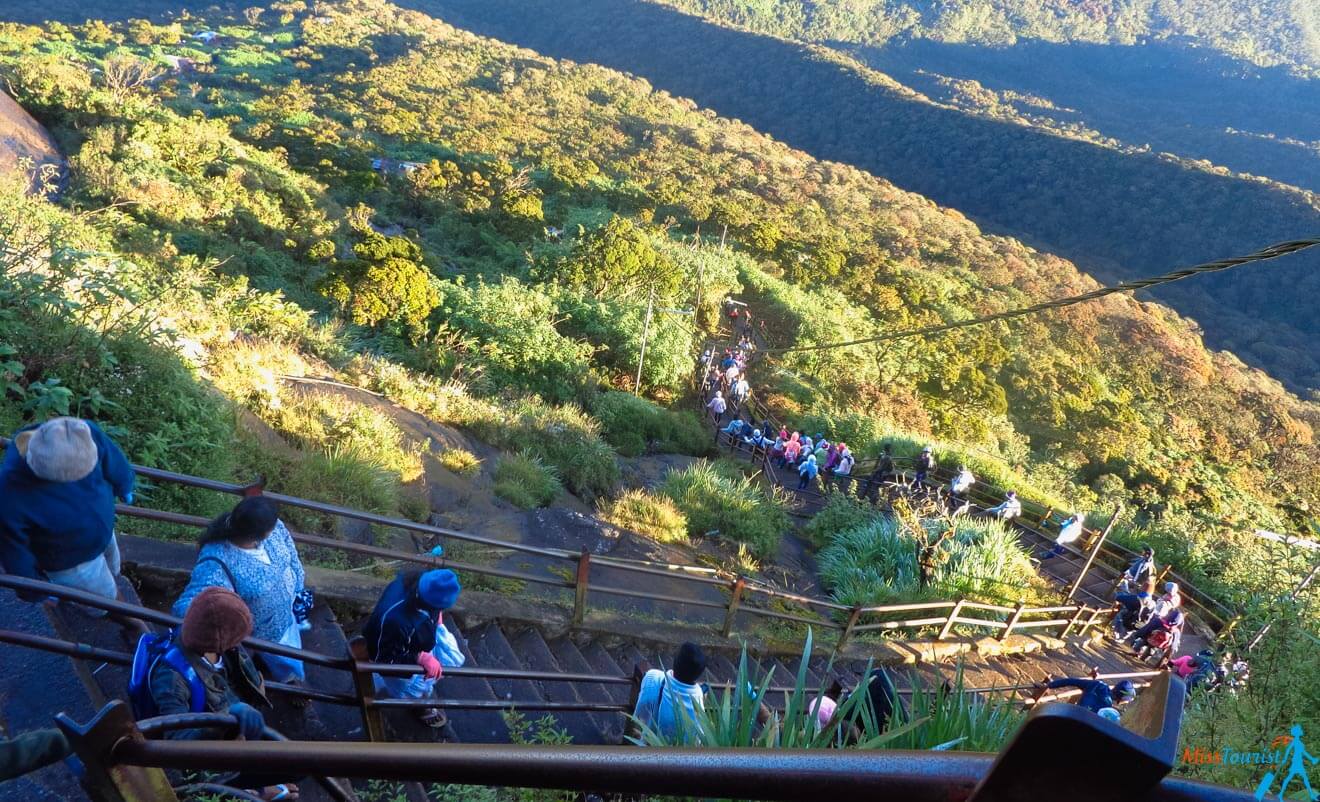 I don't want to organize anything, can I take an organized tour?
If you do not want to worry about the transportation to the place, the accommodation and to have a certified guide with you – I highly recommend taking this tour. Note – you will be picked up and dropped off after the tour on anywhere in Sri Lanka (about 5 hours scenic ride if you go from Colombo). See the full description and rates here.
Summary:
Hiking to Adam's peak is quite challenging, so consider your physical shape before. It is a 2-3 hours climb minimum and the stairs are very steep sometimes. Make sure to bring warm clothes as it is very cold on the top. If you can try to go on weekdays.
Adam's peak is great, I really recommend doing it!! The peak was a breathtaking view and experience wrapped in one.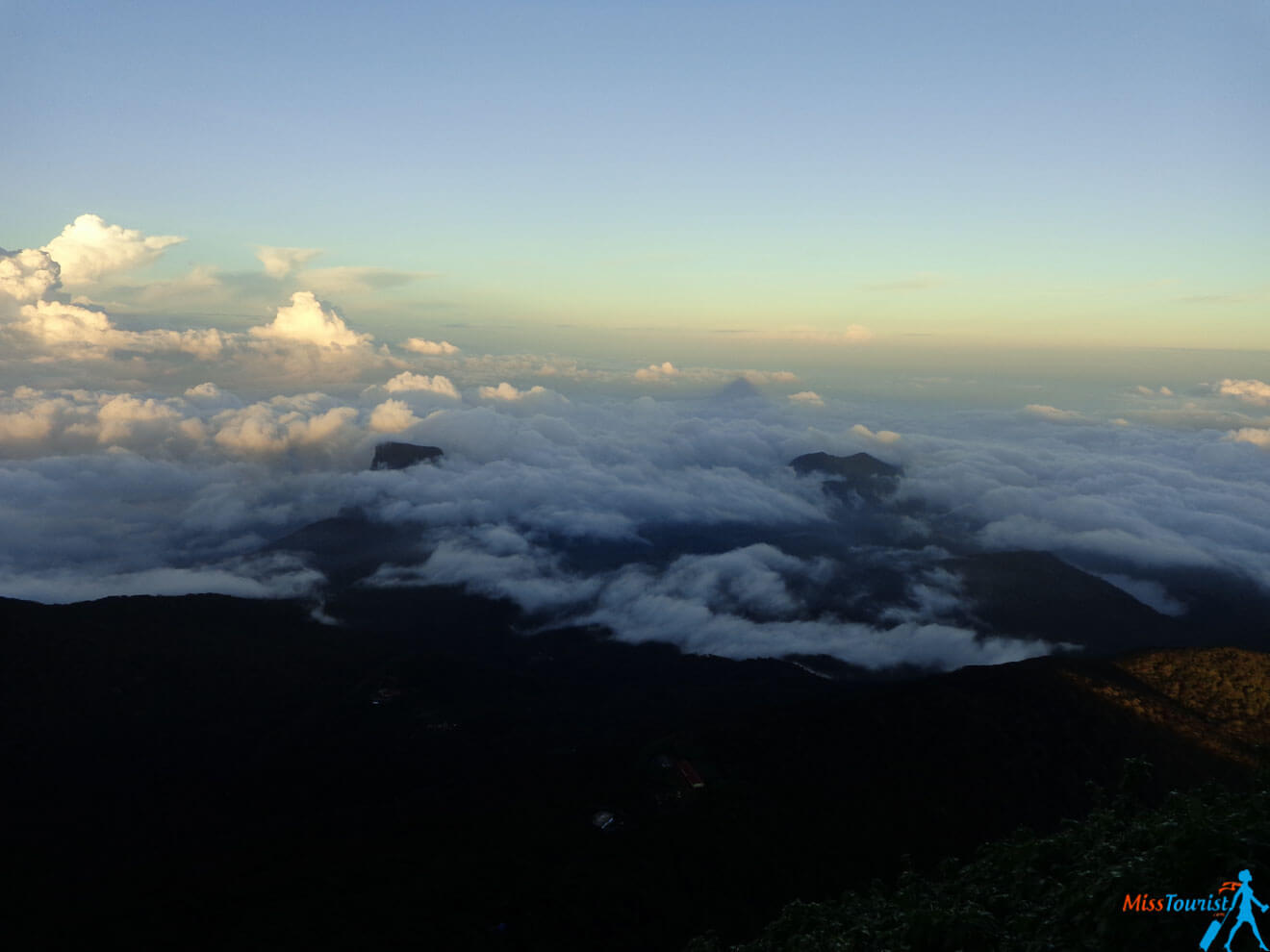 Yulia
---
---
Pin it for later!