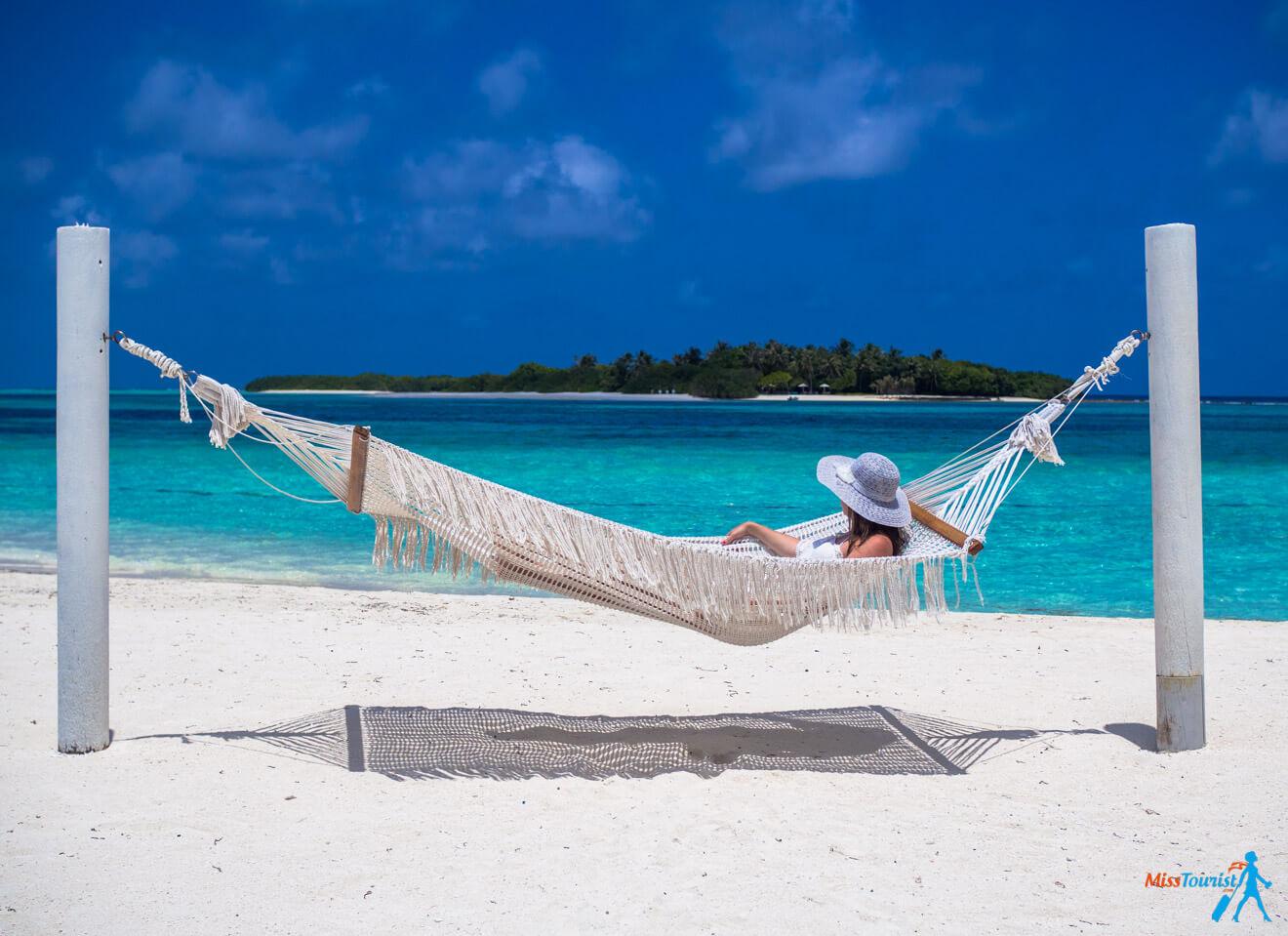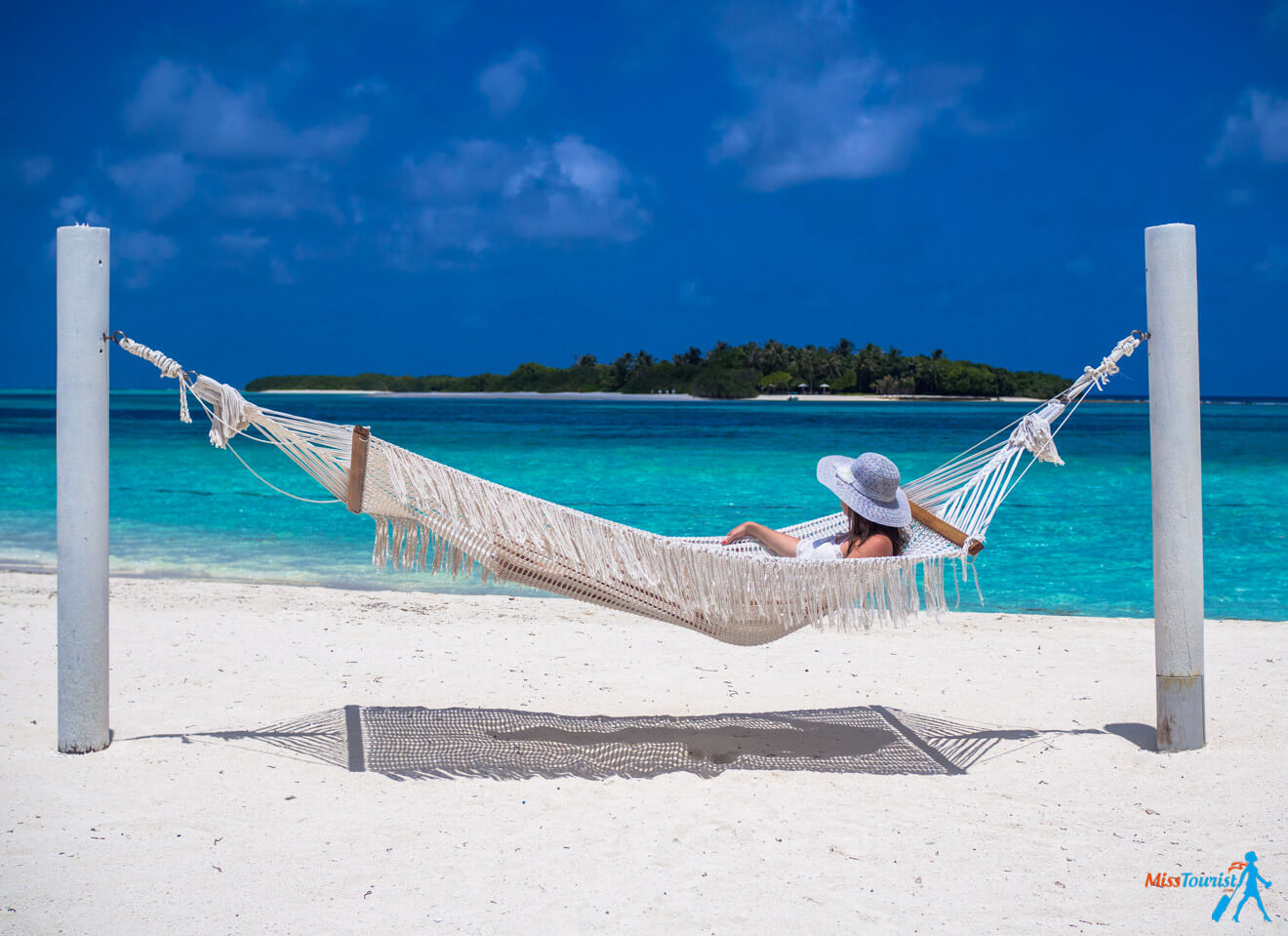 For a couple of years now (read: since the Internet appeared and I first saw some pictures of Maldives), I've been dreaming of staying on a luxury island in the Maldives as I drooled over photos of luxury villas with infinity pools facing an impossibly blue sea and white sand beaches!
I could only imagine how great it would be to gaze at the sea from my terrace sipping a coconut…
Dreams do come true and some years later me and my friend Allison, a travel blogger from Eternal Arrival, we had the chance to visit a wonderful resort that I want to tell you all about today.
Here we go, here is what you can expect by staying in one of the most luxurious resorts in the Maldives:
Getting there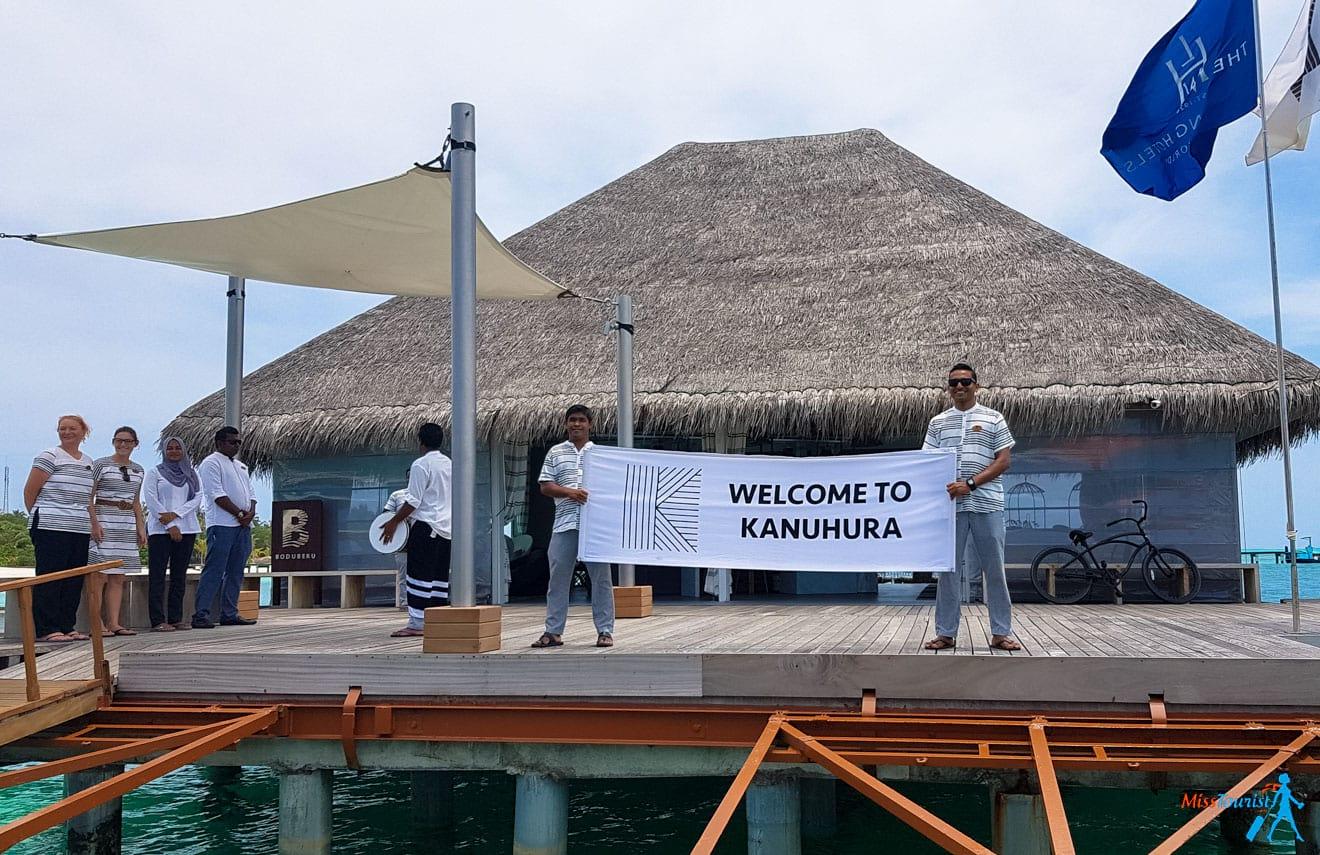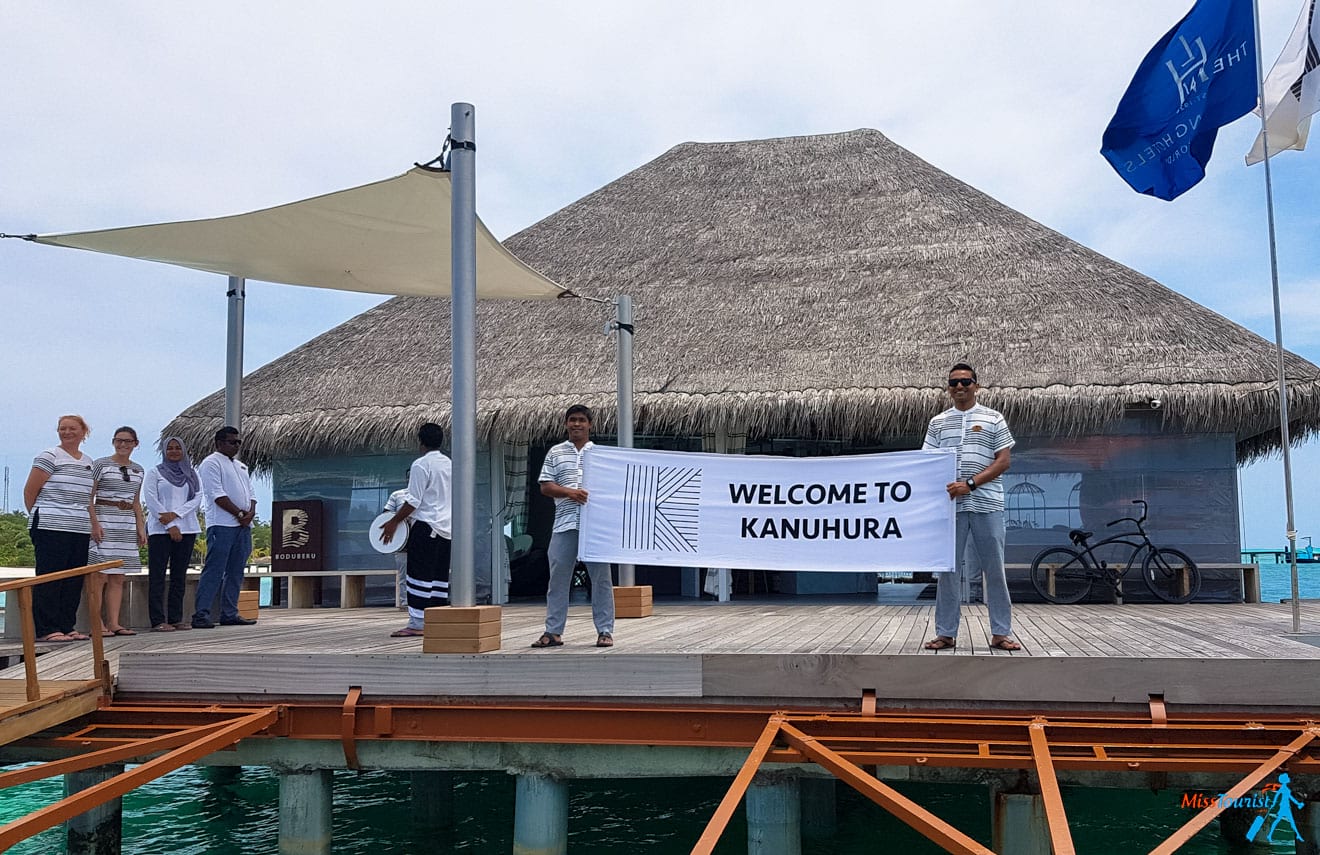 Kanuhura is located on Lhaviyani atoll which is a beautiful 35 minutes flight North of Male Airport.
The journey to Kanuhura is an experience by itself! You will fly in a tiny sea plane that fits maximum 15 people.
Do not forget to take a window seat to watch "50 shades of blue" – a much cooler movie! 😉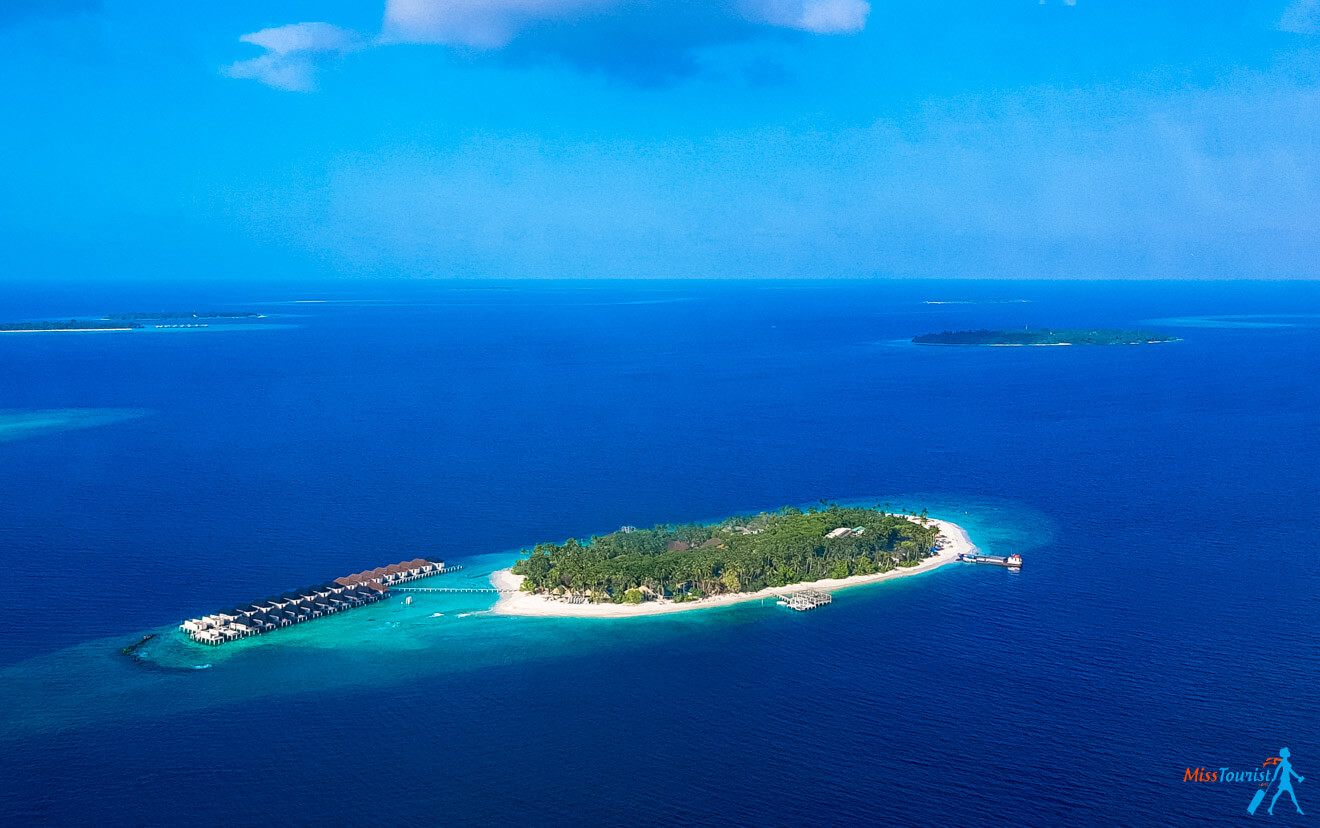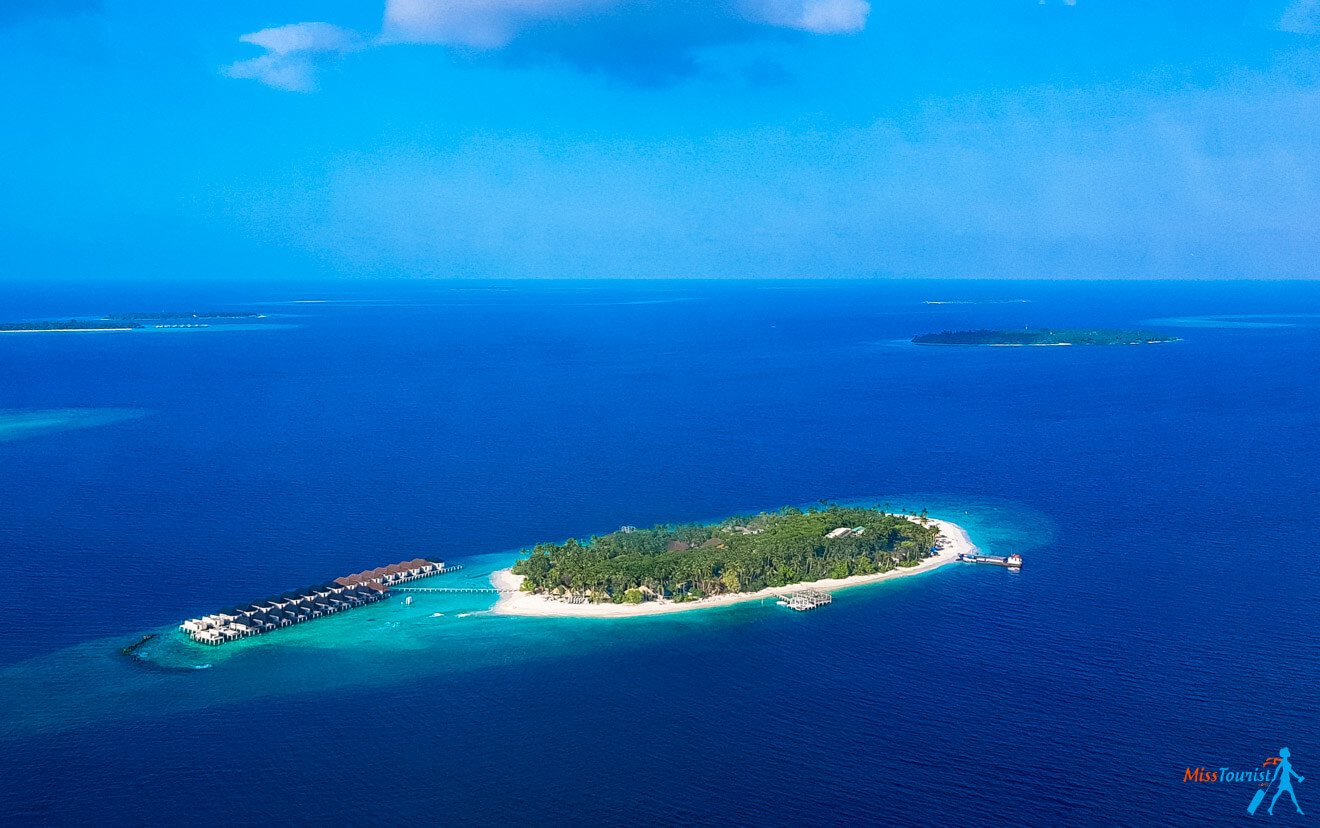 Upon arrival, we were greeted by a team of smiley people holding a sign that said "Welcome to Kanuhura" and there was live music just for us!
A refreshing coconut later, our private butler took us to a check-in desk on his electric buggy car.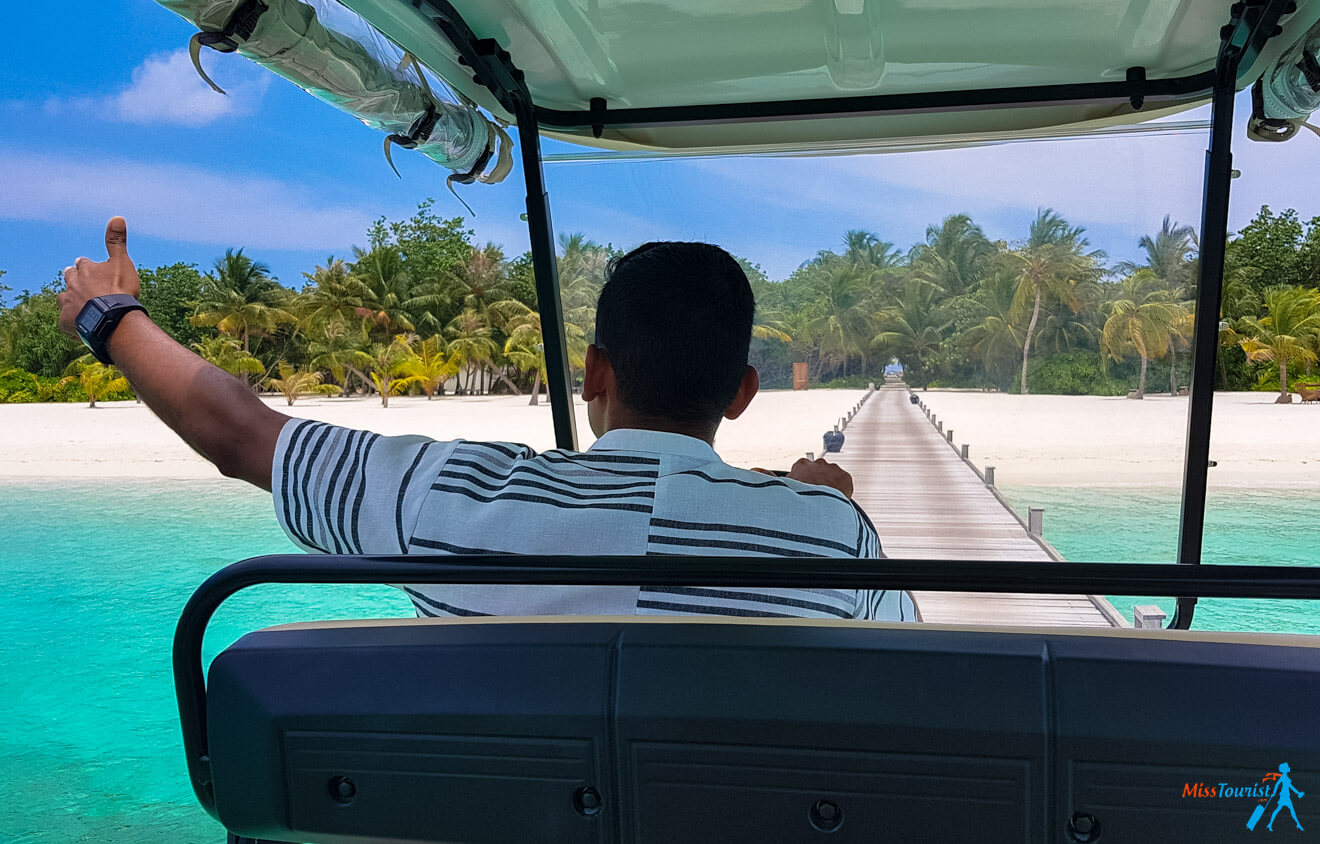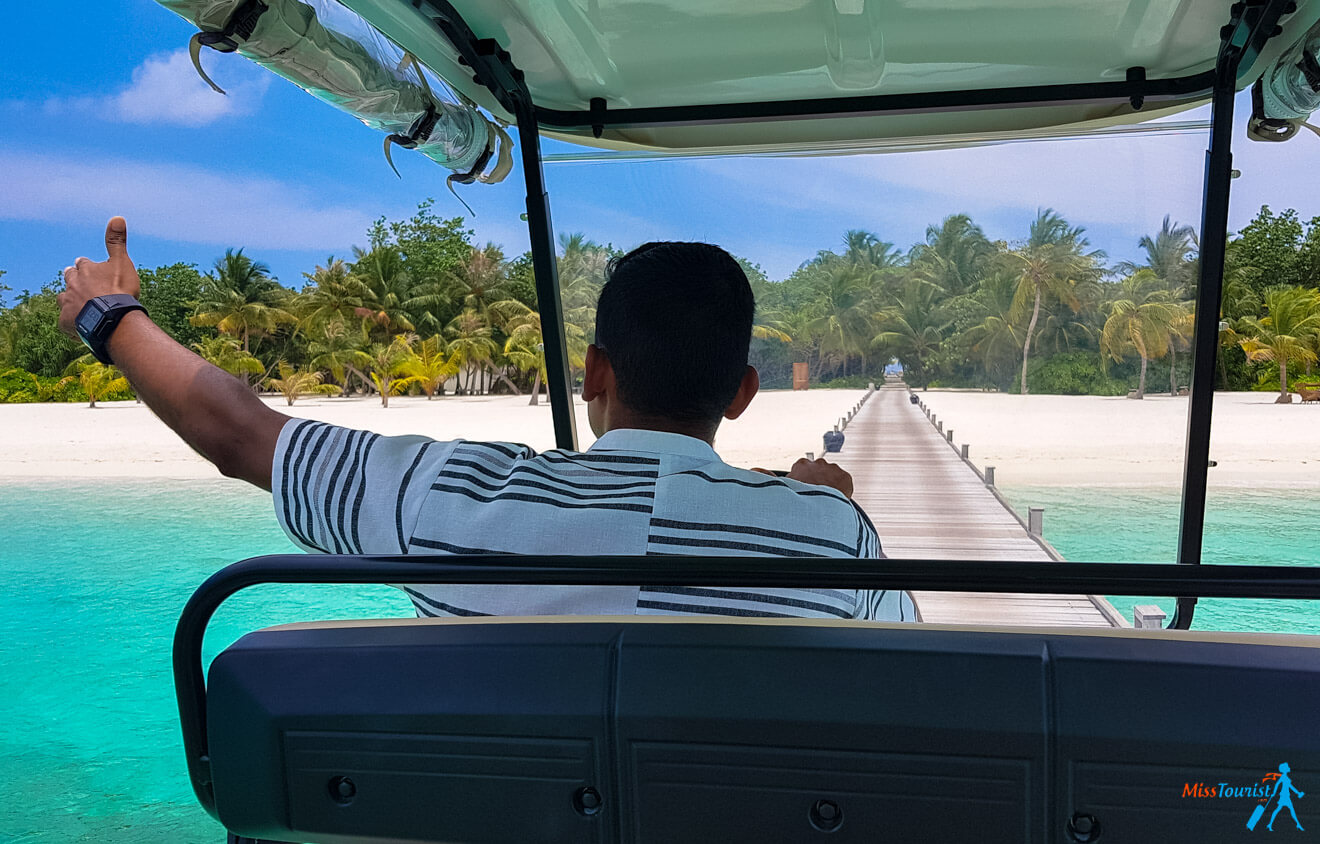 By the way, the buggy is only used for luggage, otherwise there are no mechanical sounds on the island – only the sound of the waves breaking against the corals!
Our butler then gave us a short tour of the island – pools, spa, water club, deli, hairdressing saloon (you can even organize a wedding there) and then got us to our place.
Rooms in Kanuhura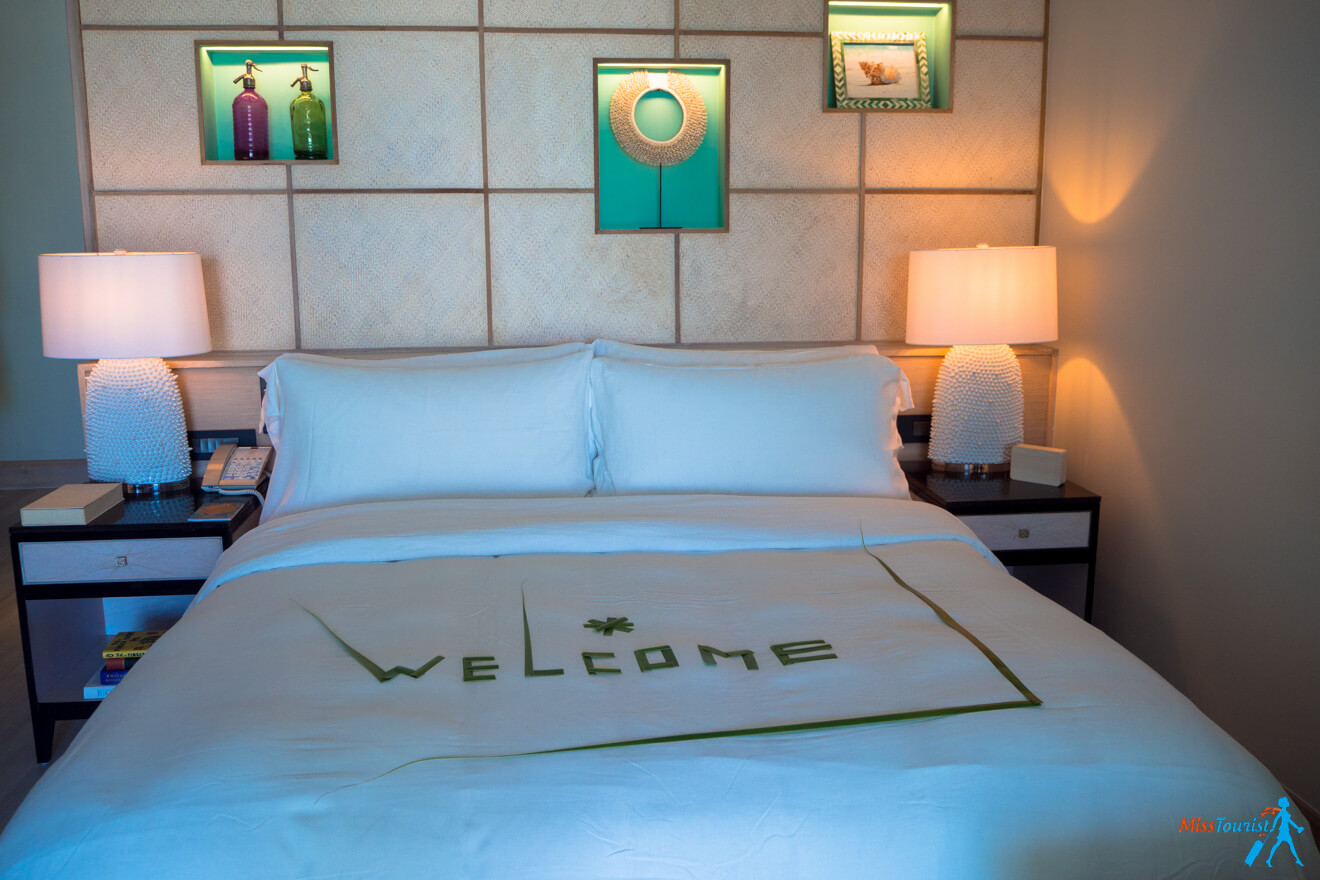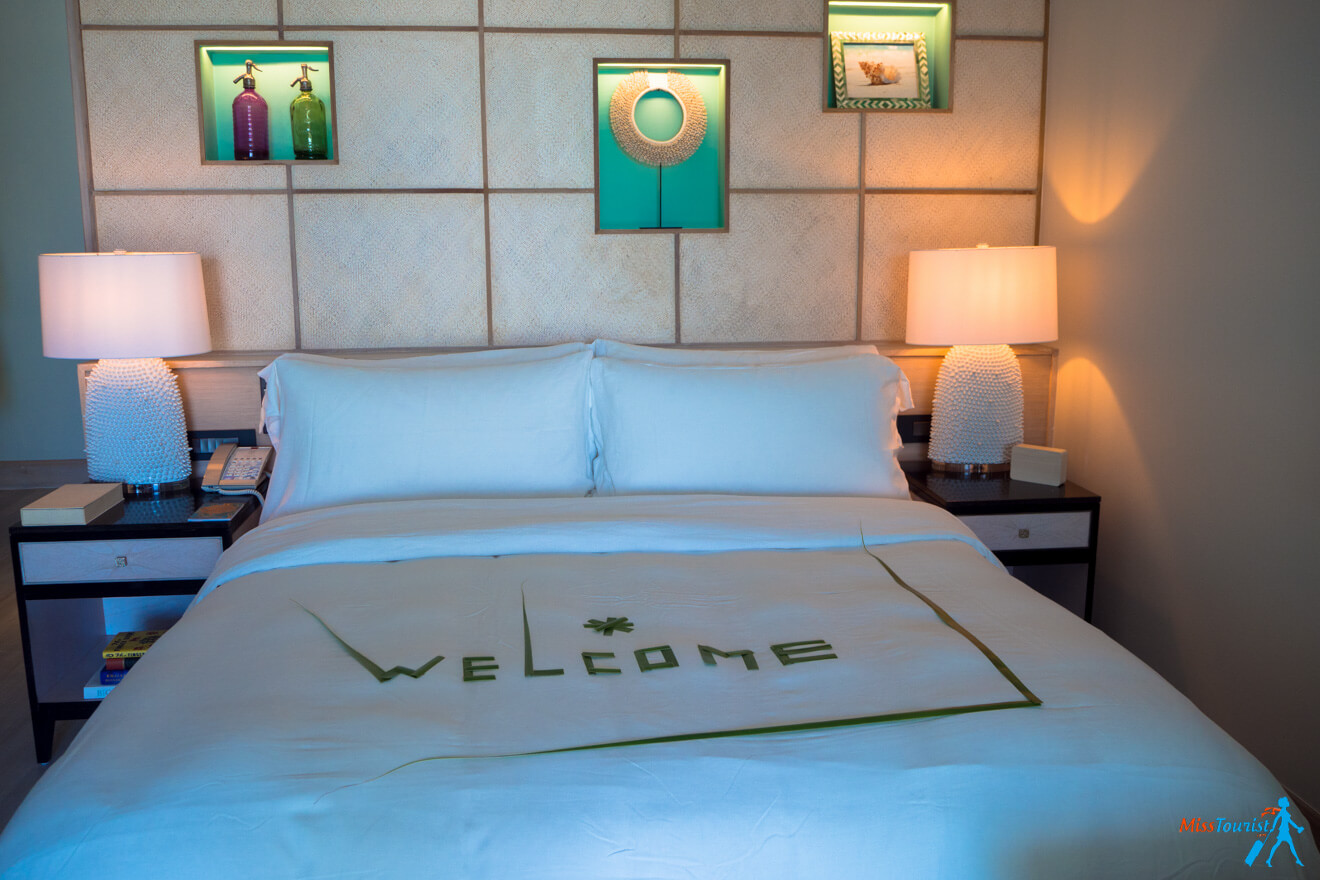 Well, I would not really call it a room, it is actually your private villa!
I stayed in a Grand Beach Villa, which is a small house with a private terrace, swimming pool and beach access. Kanuhura offers you a great range of options: you can choose from Beach Villas with or without the pool, Water Villas with or without the pool and a couple of more splurge-y options. Here are all the options.
All Kanuhura resort villas are located either on the sunrise or on the sunset side of the island. Even if all the villas are occupied, guests will never feel any busy or chaotic atmosphere, because each villa has its own private space and there is a fair distance between them.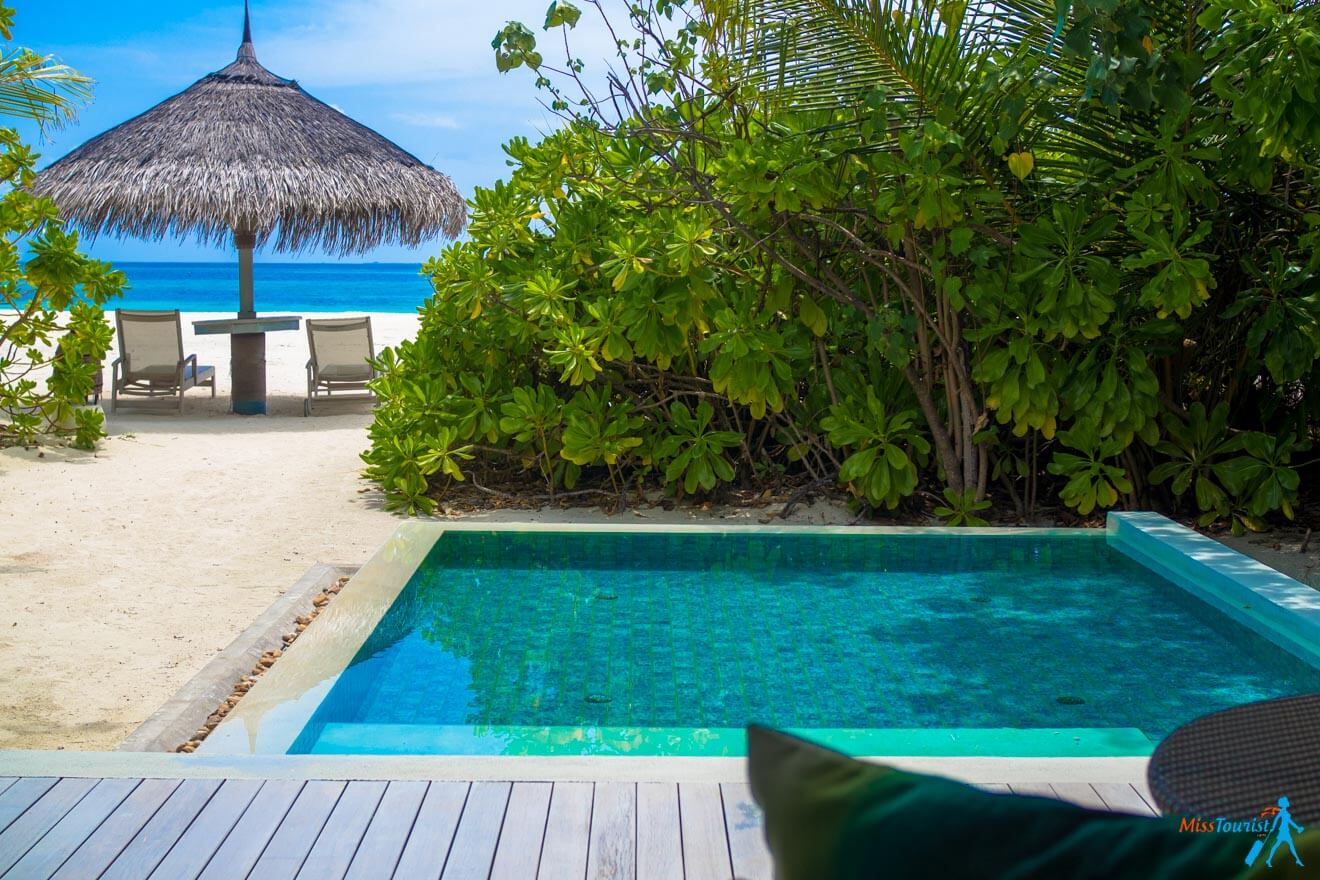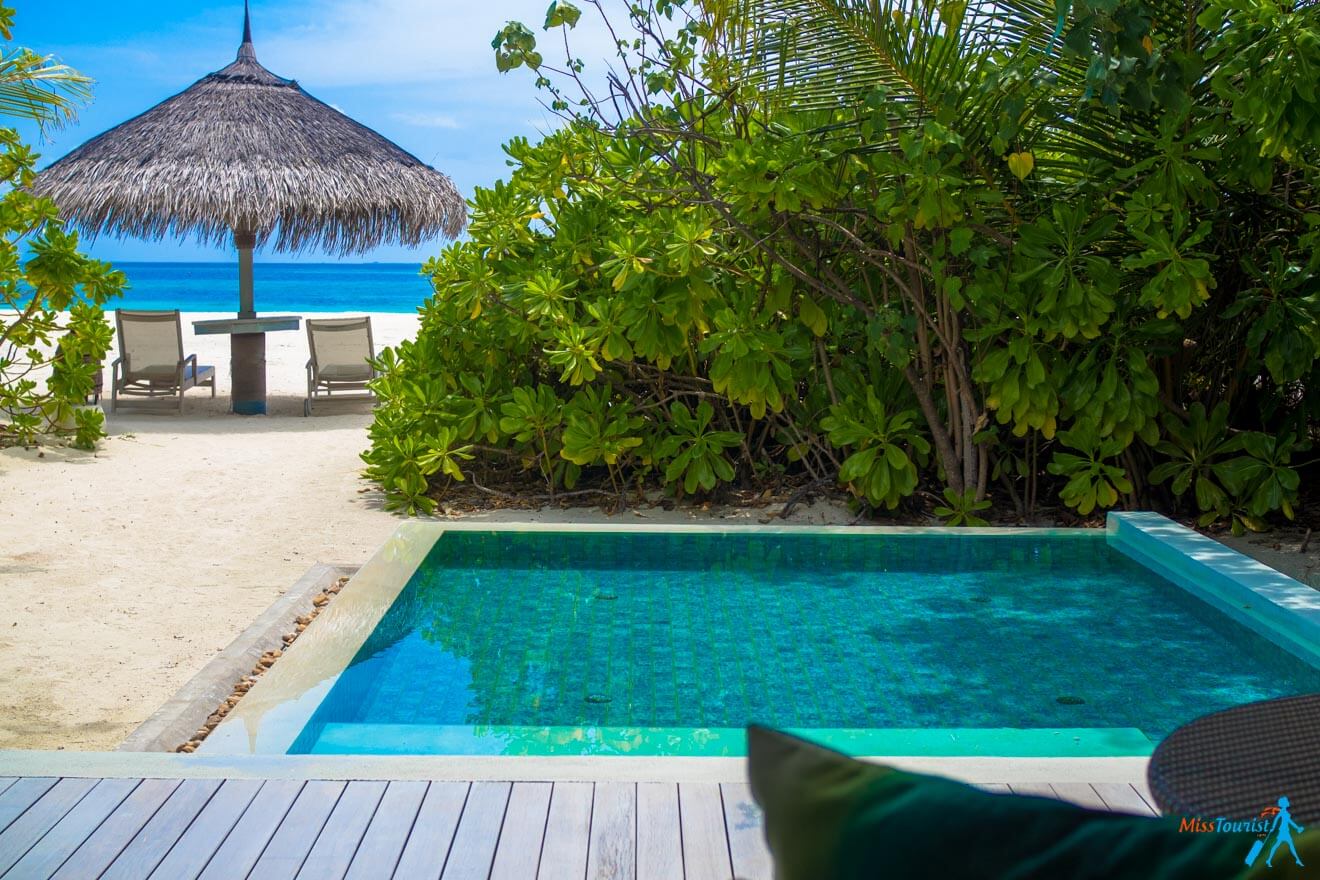 My villa had a private swimming pool with shaded area for relaxation, and chaise longs facing directly to the beach. To top it all off, I had an amazing partially open-air bathroom with a rain shower and little awesome features like my own espresso machine. It's the little details that matter!
The villa is decorated in soft colors using natural materials. It has a nice modern feel that inspires vacation vibes everywhere!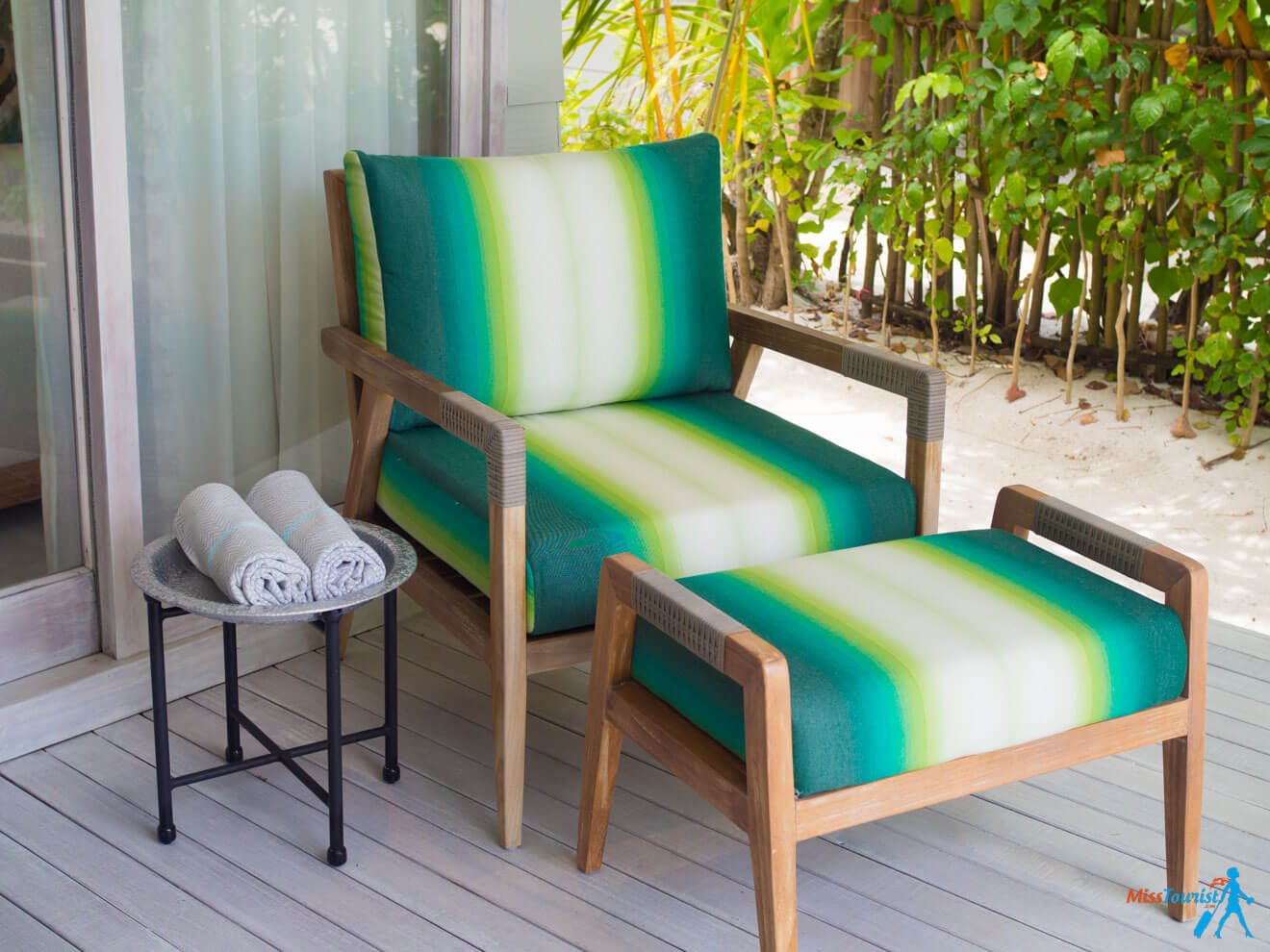 I especially loved the attention to details – they even had a beach bag waiting for us in the dressing room in case we forgot ours!
Kanuhura also has a personal butler that can organize any particular service for you. We, by no means did not use him as our Instagram husband to take pictures of ourselves in pristine surroundings, we had each other for that. But hey, he could have done that! He can also organize any particular service that you would like to. He even offered to unpack our clothes and fold them nicely in the wardrobe, which we politely declined.
You do not want to know what happens in a travel blogger's luggage, ok? It is a complete mess!
Here is my Facebook Live video that I recorded from the hotel.
Facilities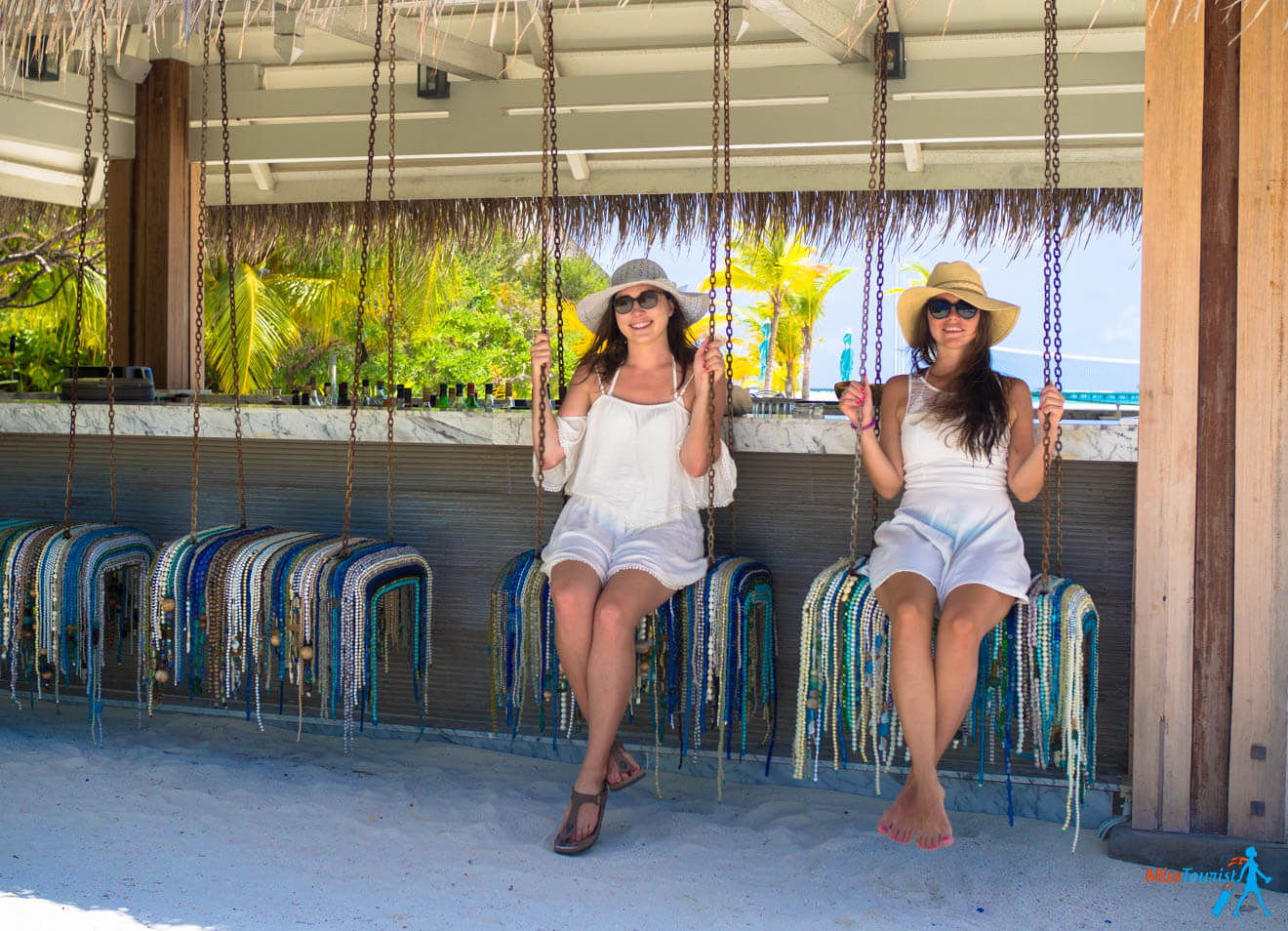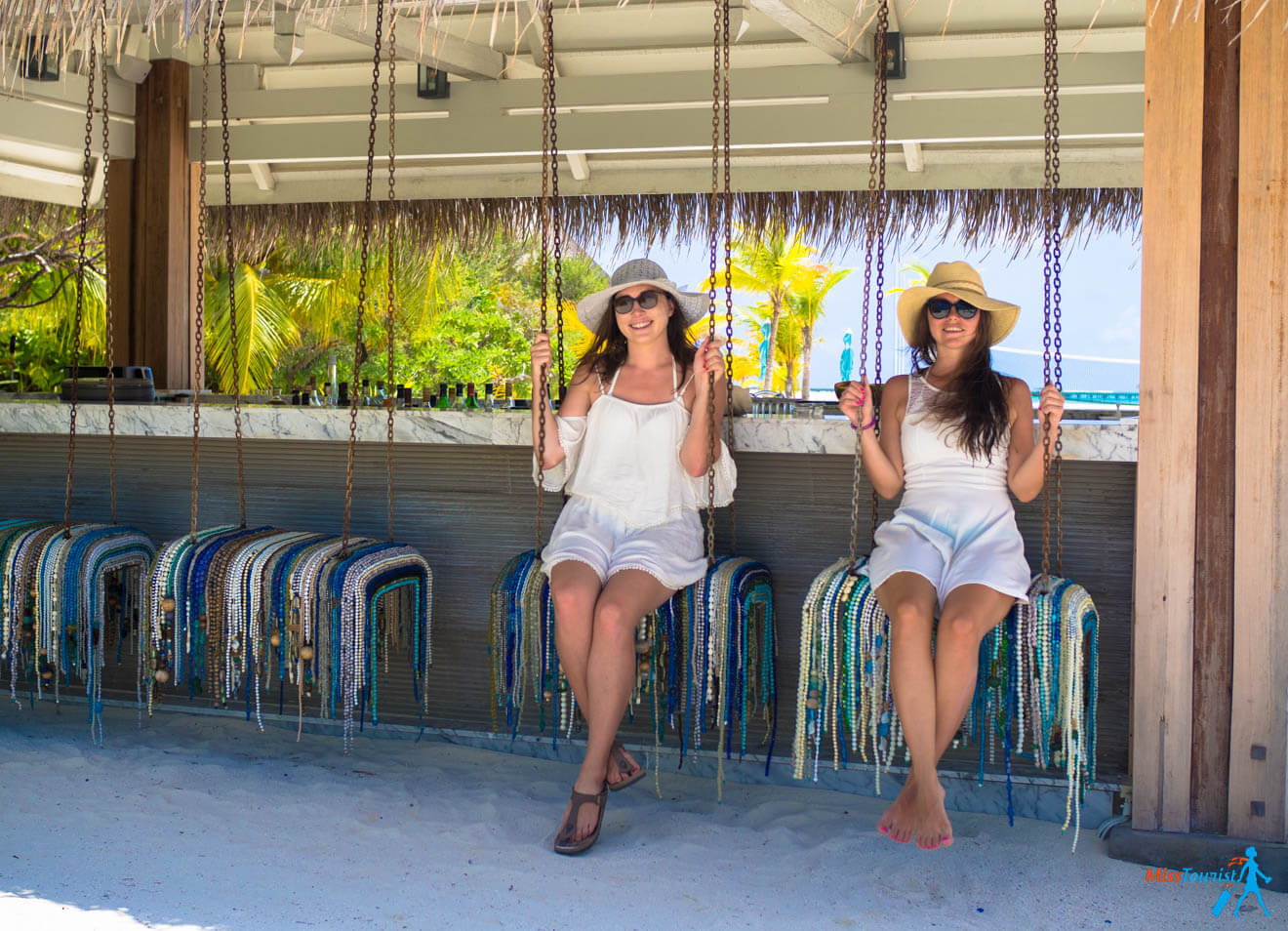 The island is just 1 km long and 200 meters wide, which means that you can simply walk everywhere.
Kanuhura resort, in fact, encourages its guests to walk barefoot:
"No news, no shoes" – that is the sign you will see upon arriving to the resort.
I was walking barefoot everywhere (the sand is so soft and it is clean everywhere) and it definitely added a lot to the authentic feel of the island!
You will also be provided with a bicycle, which you are welcome to use if you wish to!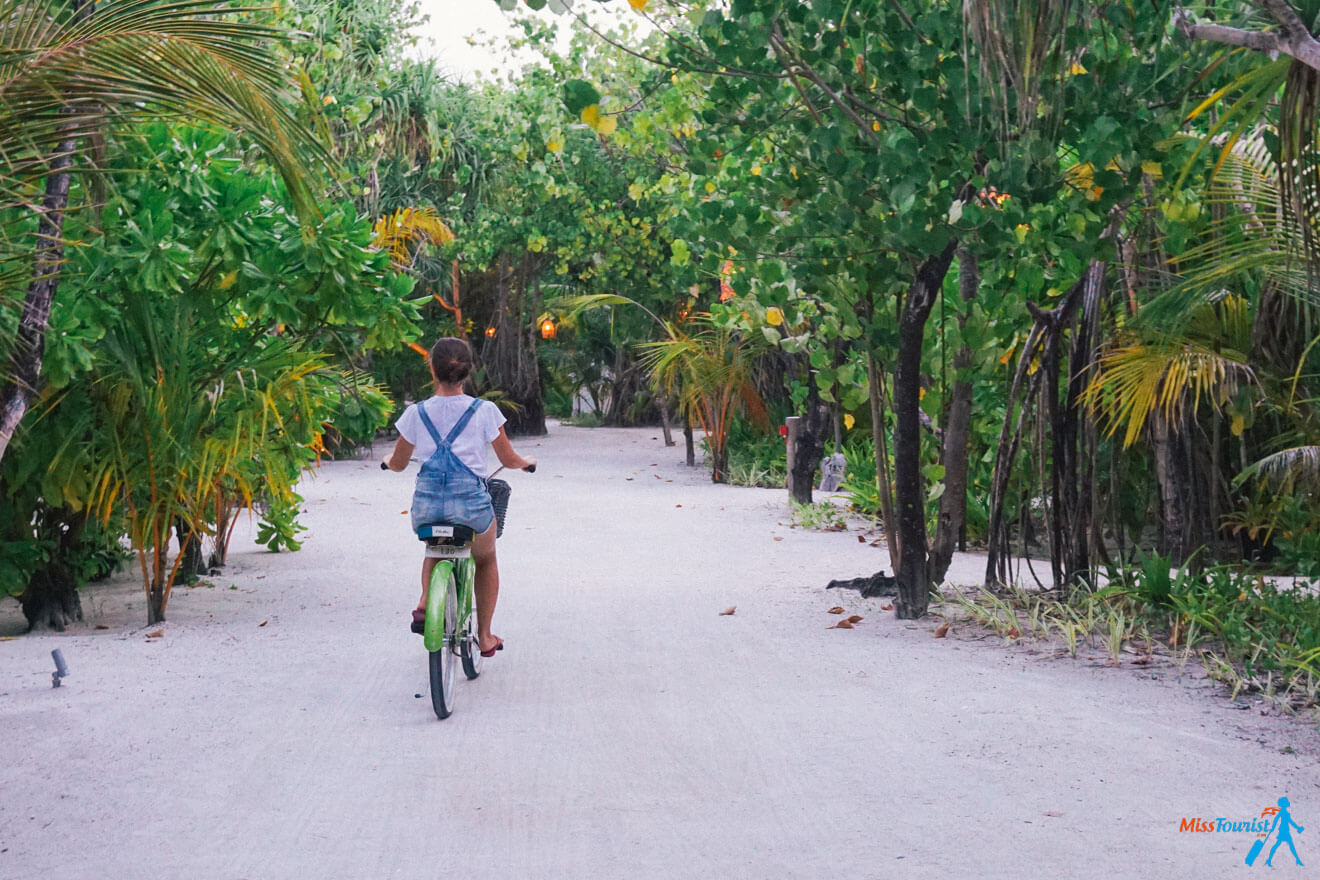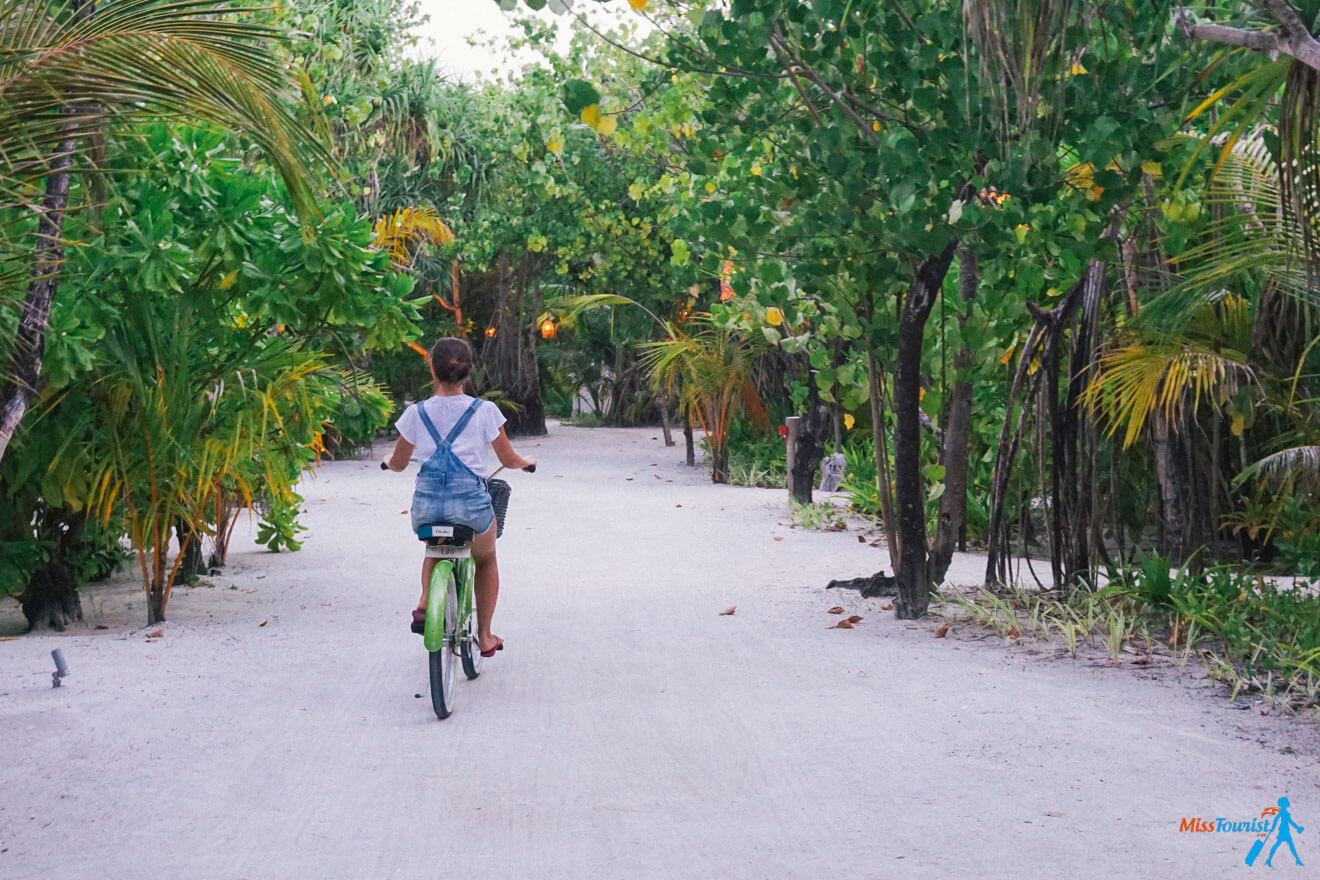 Kanuhura's philosophy is to keep the island as eco-friendly as possible, which is something that I appreciated a lot! Kat, a manager of the resort I had a chance to meet, is very strong on green and she takes care that only natural, recyclable materials reach the island and, of course, no straws are allowed!
If you are craving for some activities, then you should know that it doesn't get easier than Kanuhura! You can choose from an outdoor swimming pool, 2 tennis courts, an air-conditioned squash court, a mini soccer field, a spa (see details below), fully equipped fitness center, PADI center and daily yoga lessons.
I loved waking up early and doing yoga on the beach!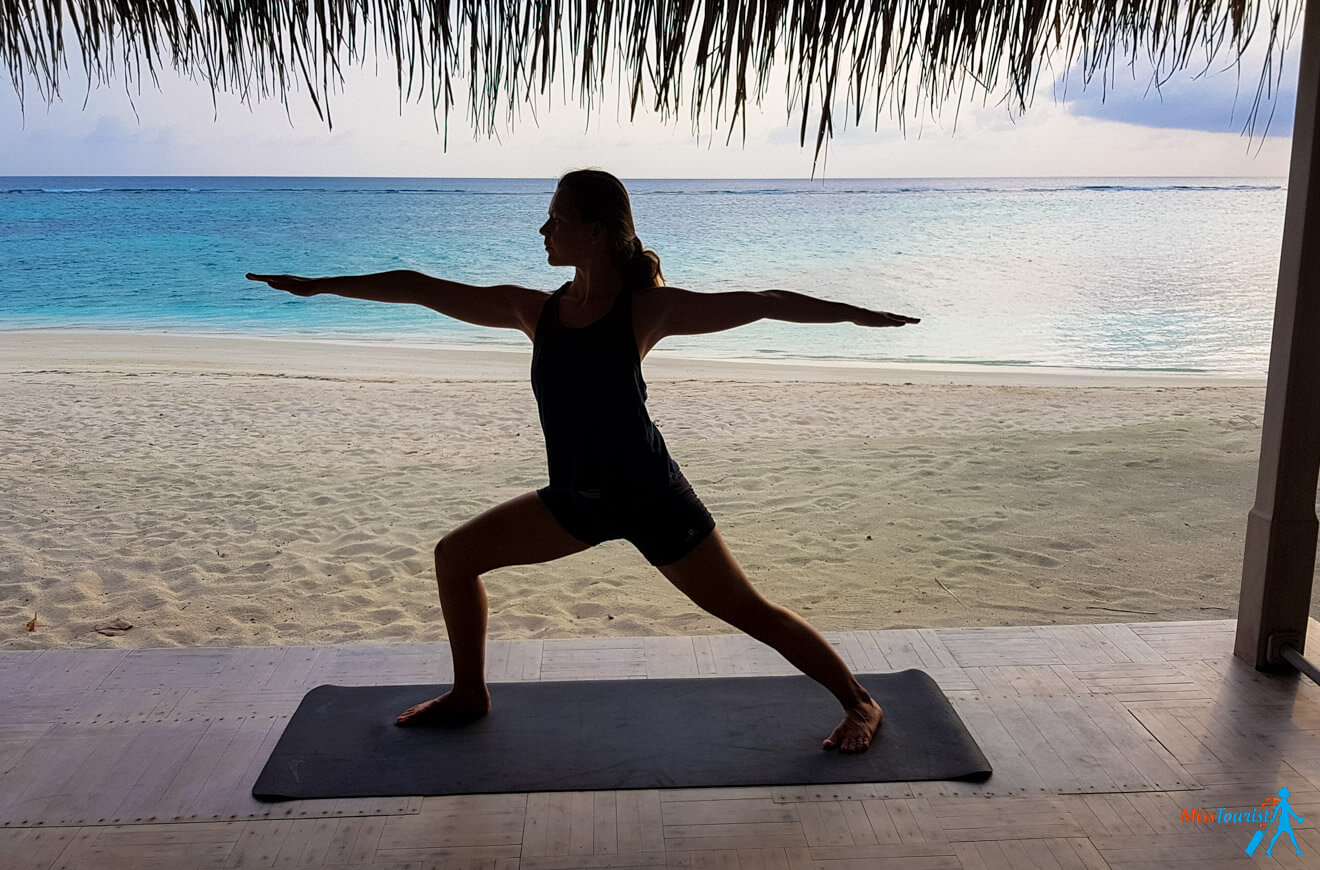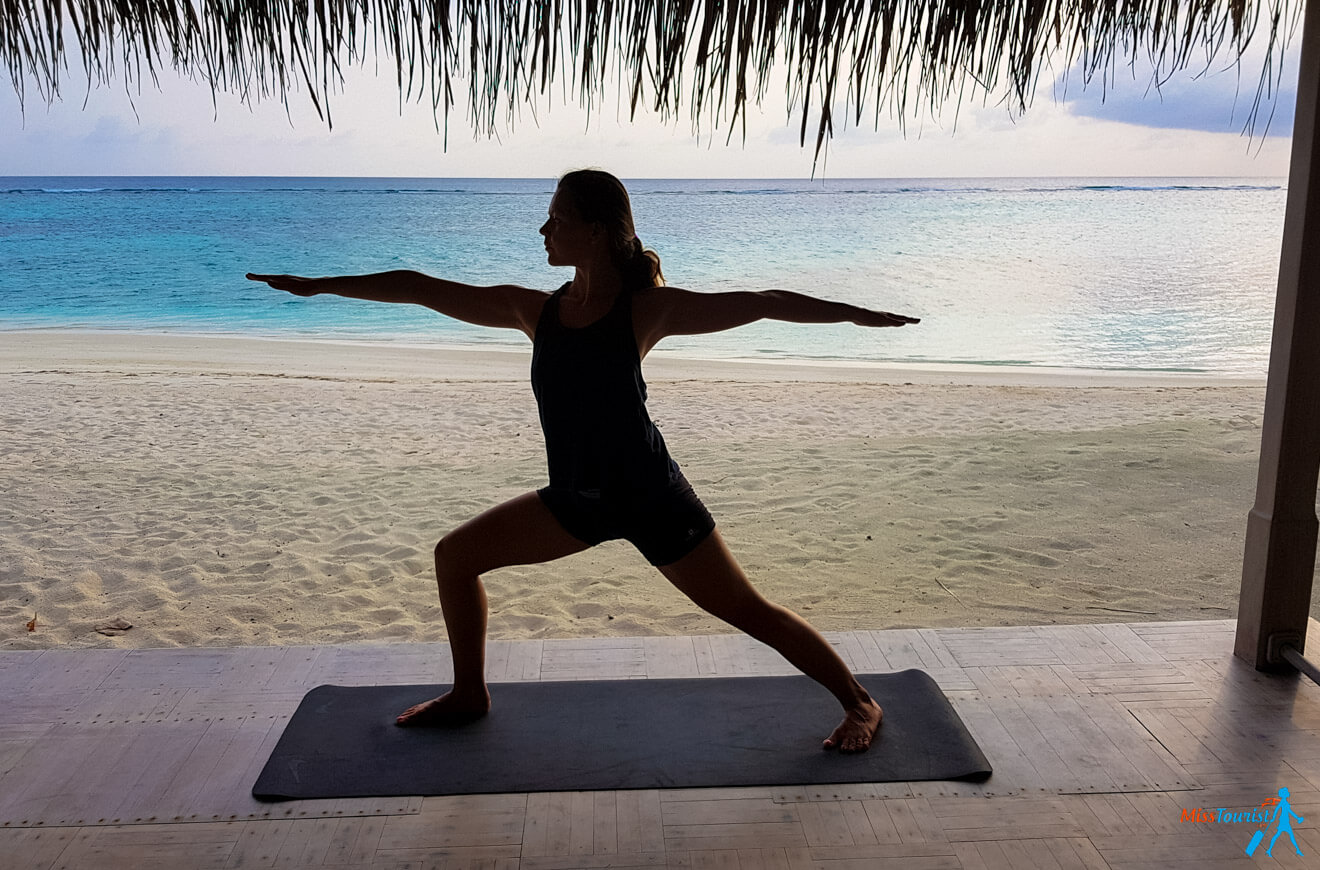 You will see the natural touch everywhere! For example, you will see that there are more than 15 000 orchids on the island! We accidentally bumped into an orchid green house, and it was beautiful!
Service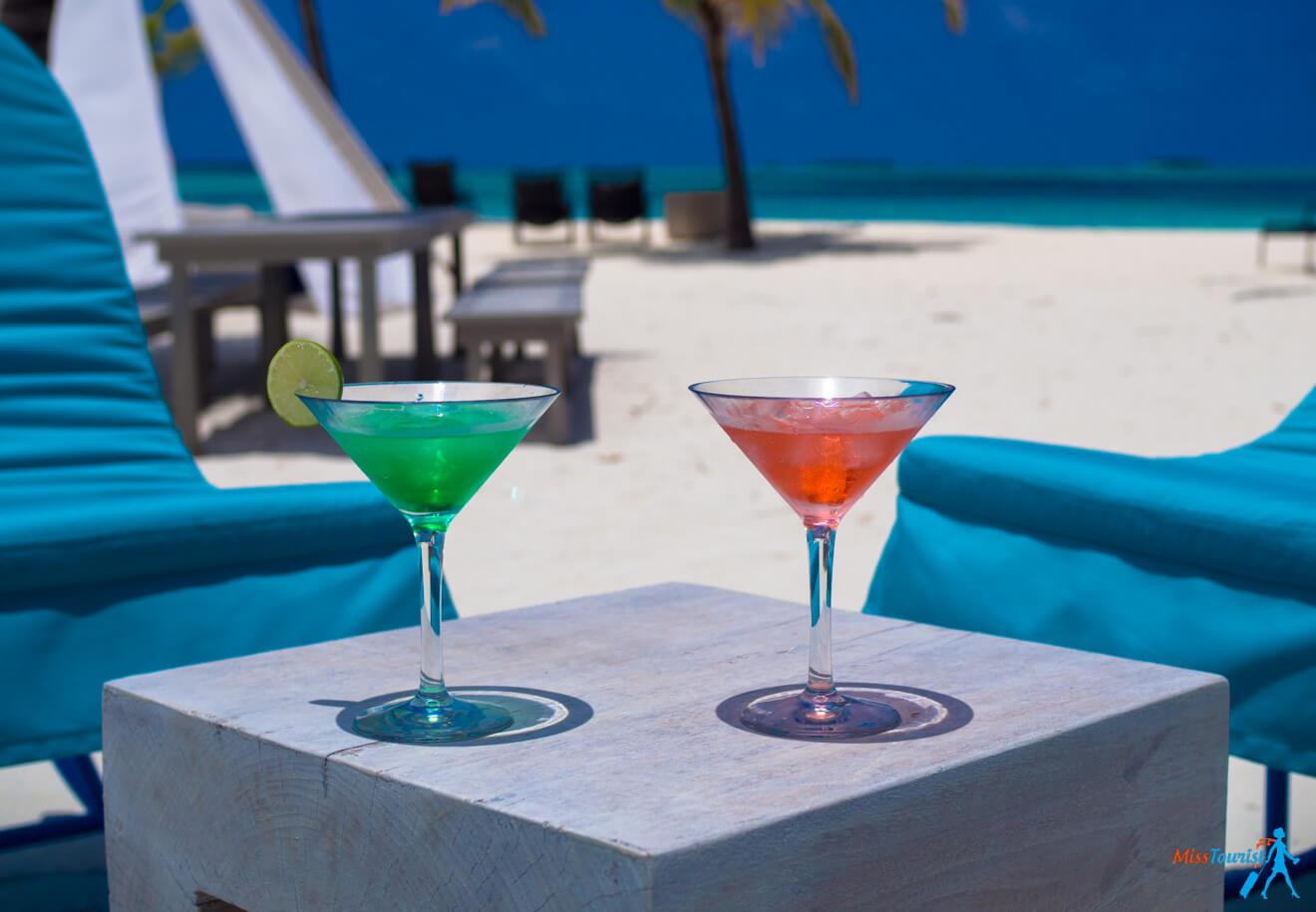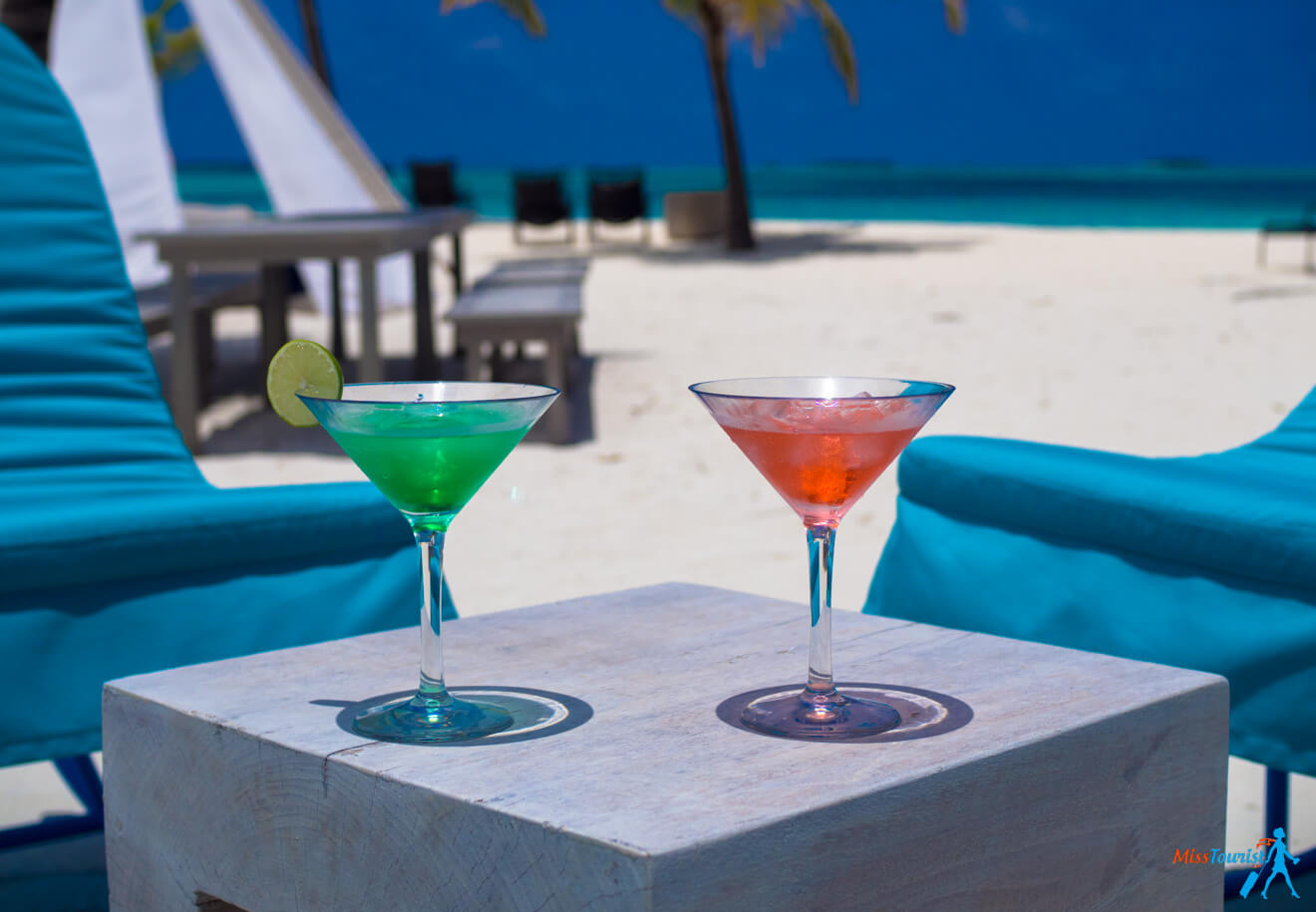 The care for guests truly starts from the beginning of your stay. Once you arrive to Male, you will be greeted by someone from Kanuhura staff at the airport. He will then escort you to Kanuhura lounge where you can wait for the seaplane that will take you to the island. There you can enjoy some snacks, drink some fresh juice/coffee or take a refreshing shower!
There are more than 400 employees for only 80 villas and the resort has some of the highest standards of personalized service.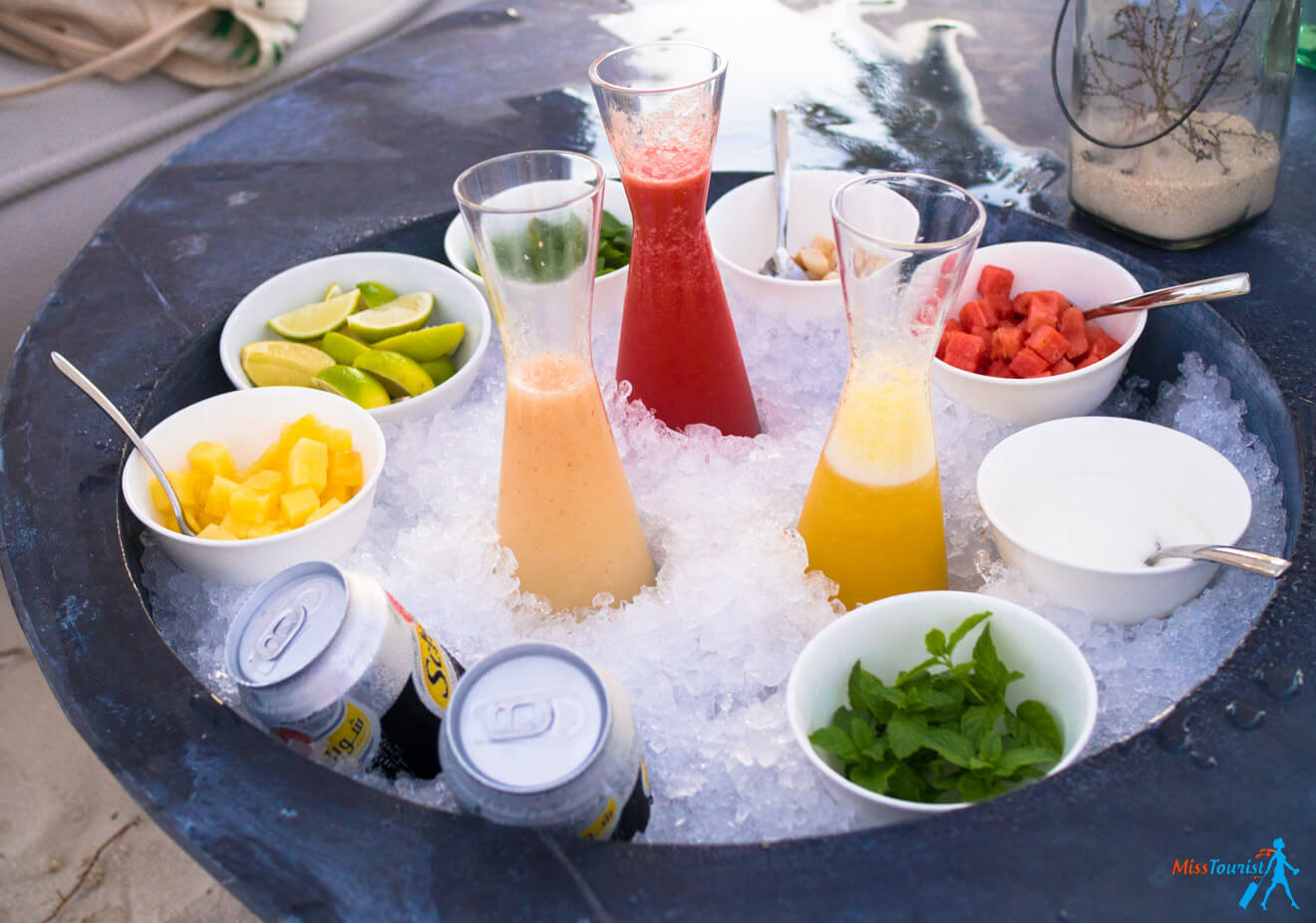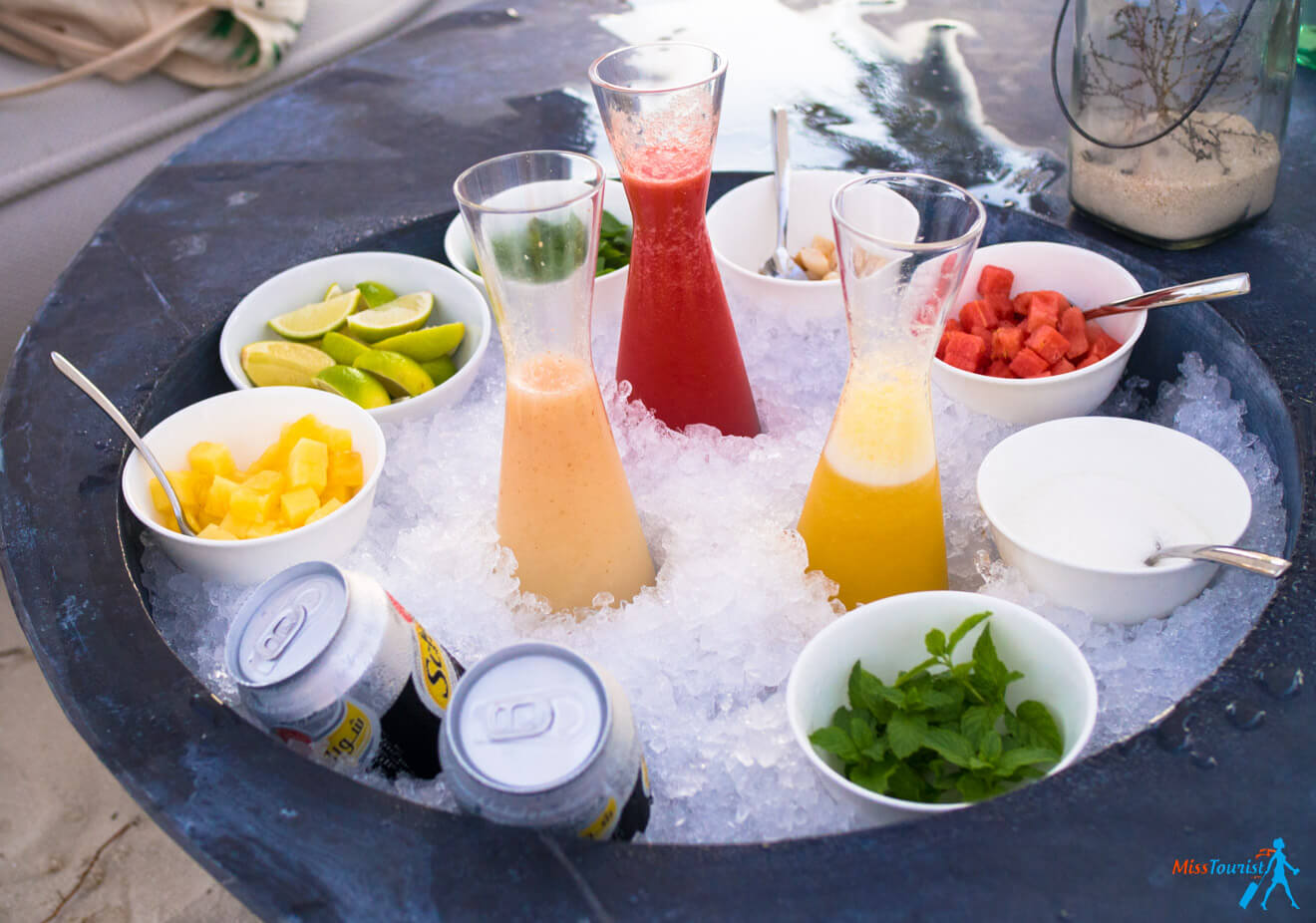 Once you arrive on the island, your private butler will be available by phone at all times (you will have a direct line with him) and he will be happy to help you with anything you might need.
When the Kanuhura employees greet their guests, they put their hands to their heart. A small gesture, but it makes such a difference!
Kanuhura cares not only about its guests, but also about the people who work there. All employees are provided with English lessons that they can take if they wish to grow and advance on their career ladder.
Spa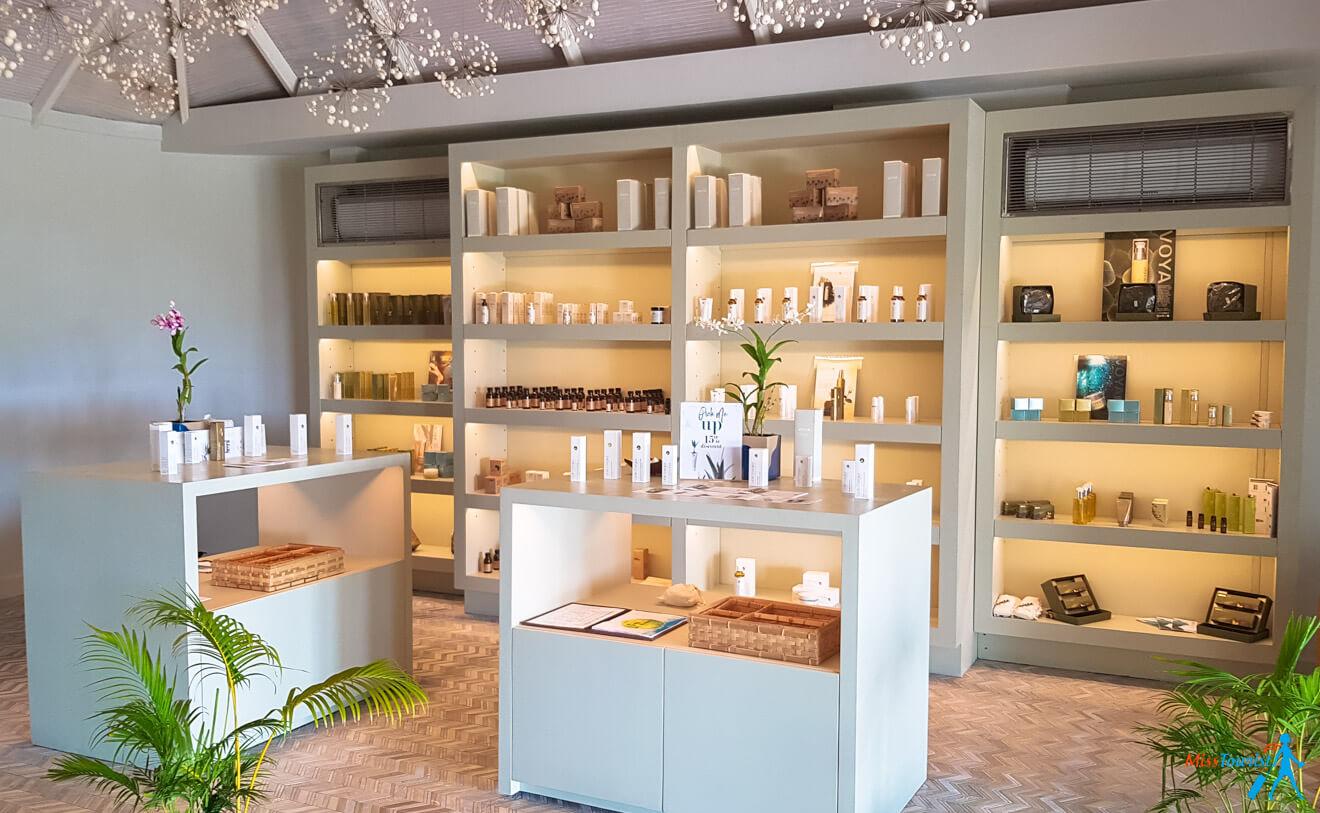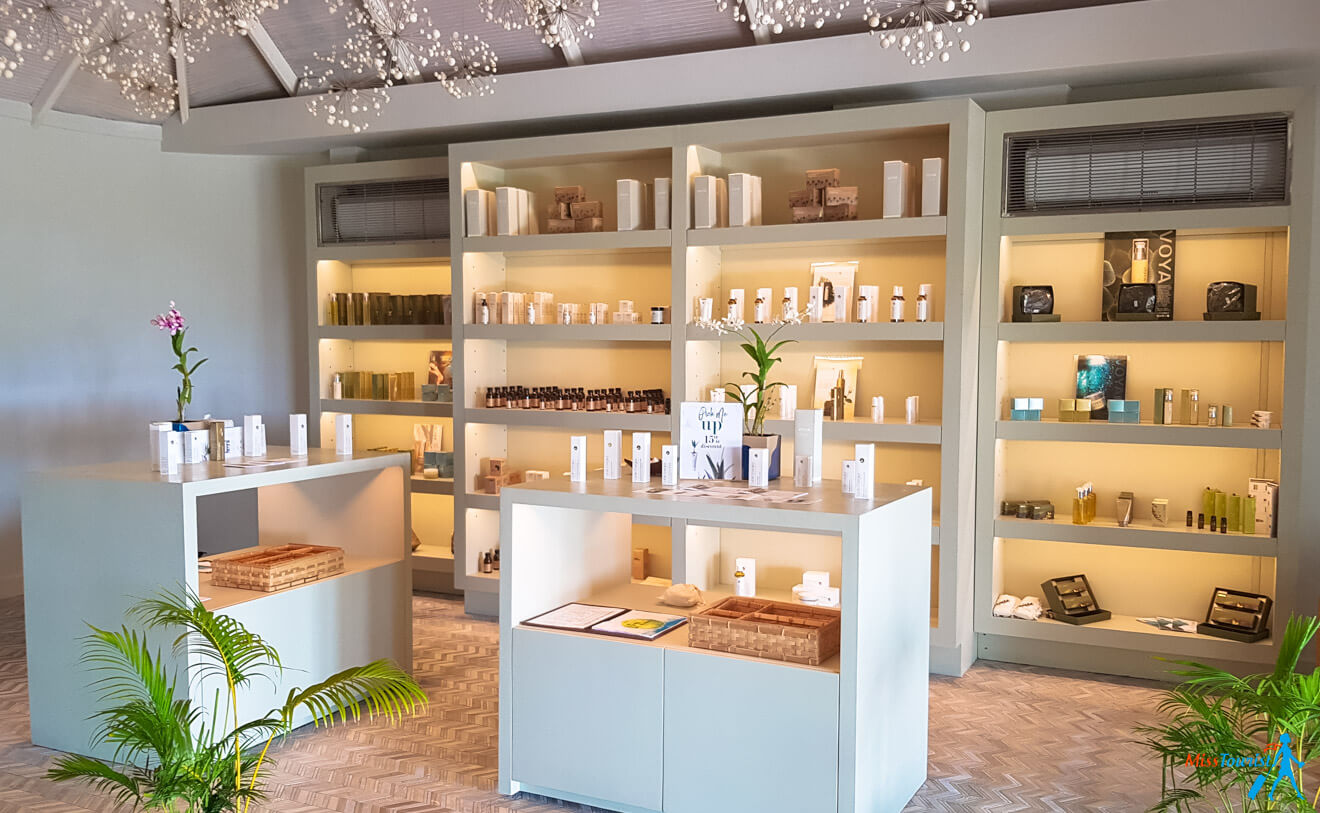 There are over 60 exotic treatments to choose from in Kanuhura's Spa Menu. You can choose anything from heated stones from Bali to ancient massages with compressed spices!
The therapists at this award-winning spa are truly professionals!
I had a one-hour long Holistic massage and the therapist managed to relief me from a back pain that bothered me for months, if not years!
I also loved soaking in the hot tub after a relaxing massage, drink my tea and absorb the atmosphere of tranquility and floral aromas.
Tours and diving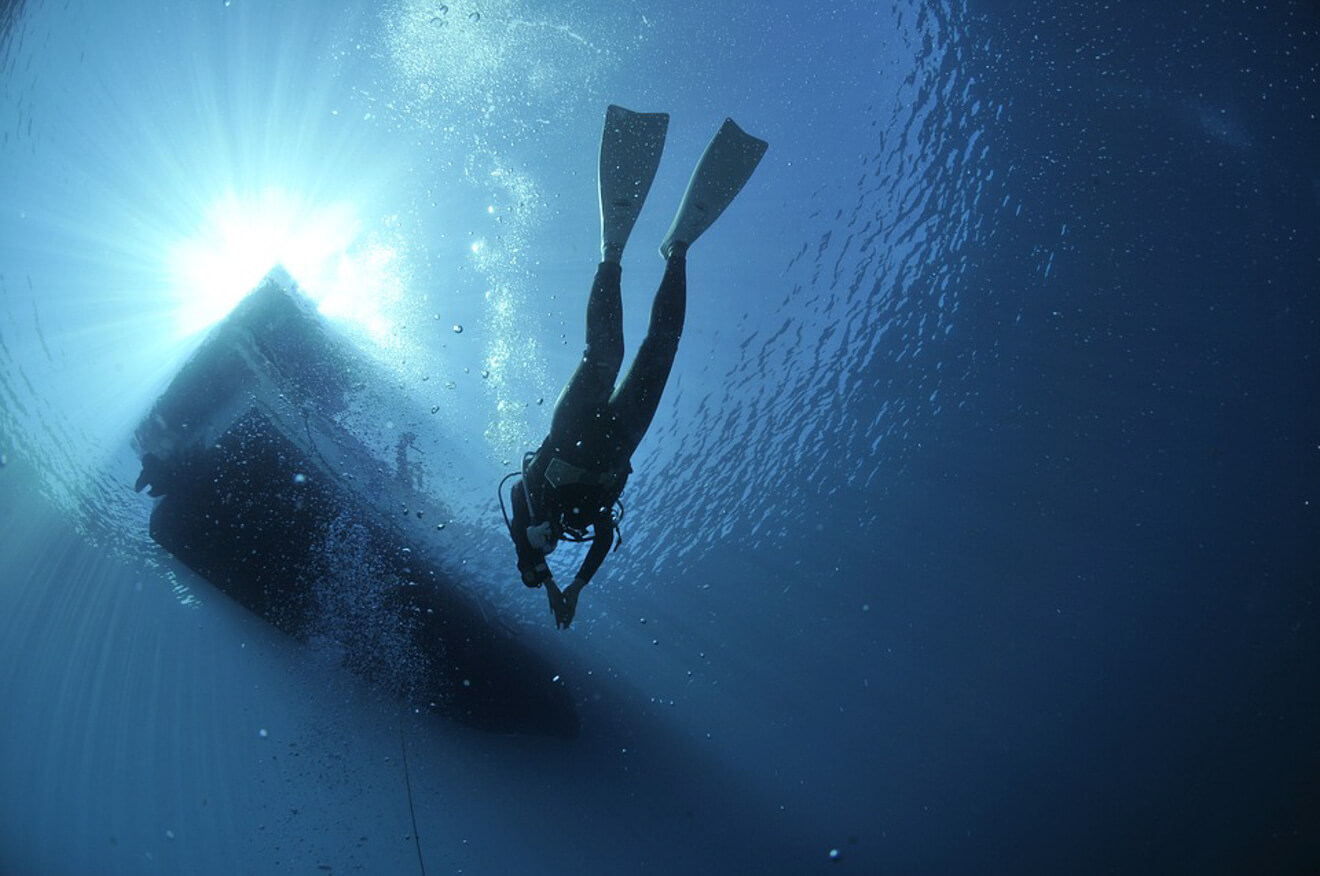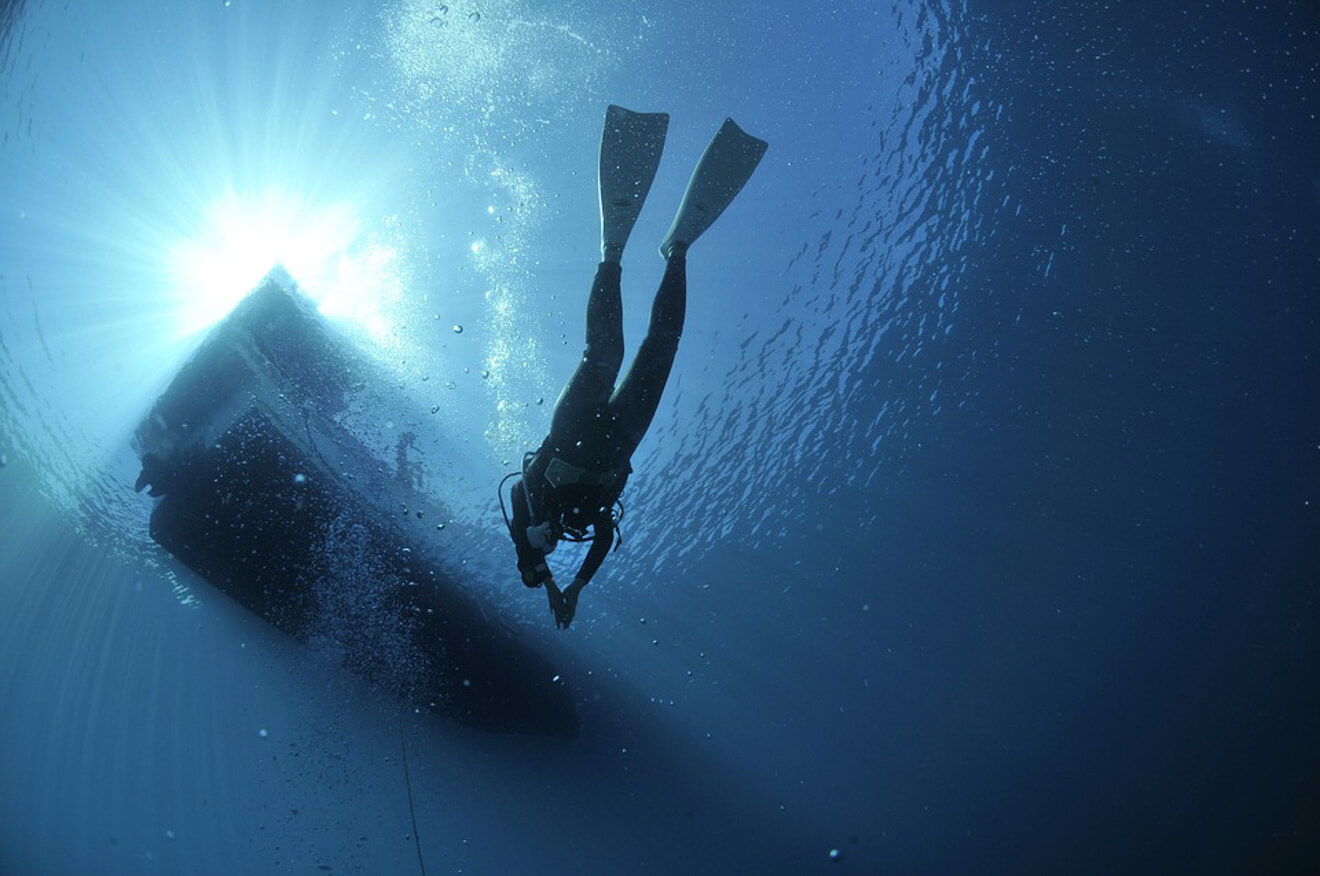 As Kanuhura is located in an untouched part of the Maldives archipelago, there are many uninhabited islands surrounding it and the diving opportunities are simply fantastic!
There are many unexplored diving sites and great snorkeling opportunities right in front of your door (advice: don't forget to put some sunscreen on your back, I got a bit burned after only 30 minutes!).
Except diving, there are also numerous tours you can take – fishing excursion, island hopping tours, sunset cruises and, of course, dolphin and manta rays safaris.
Food at Kanuhura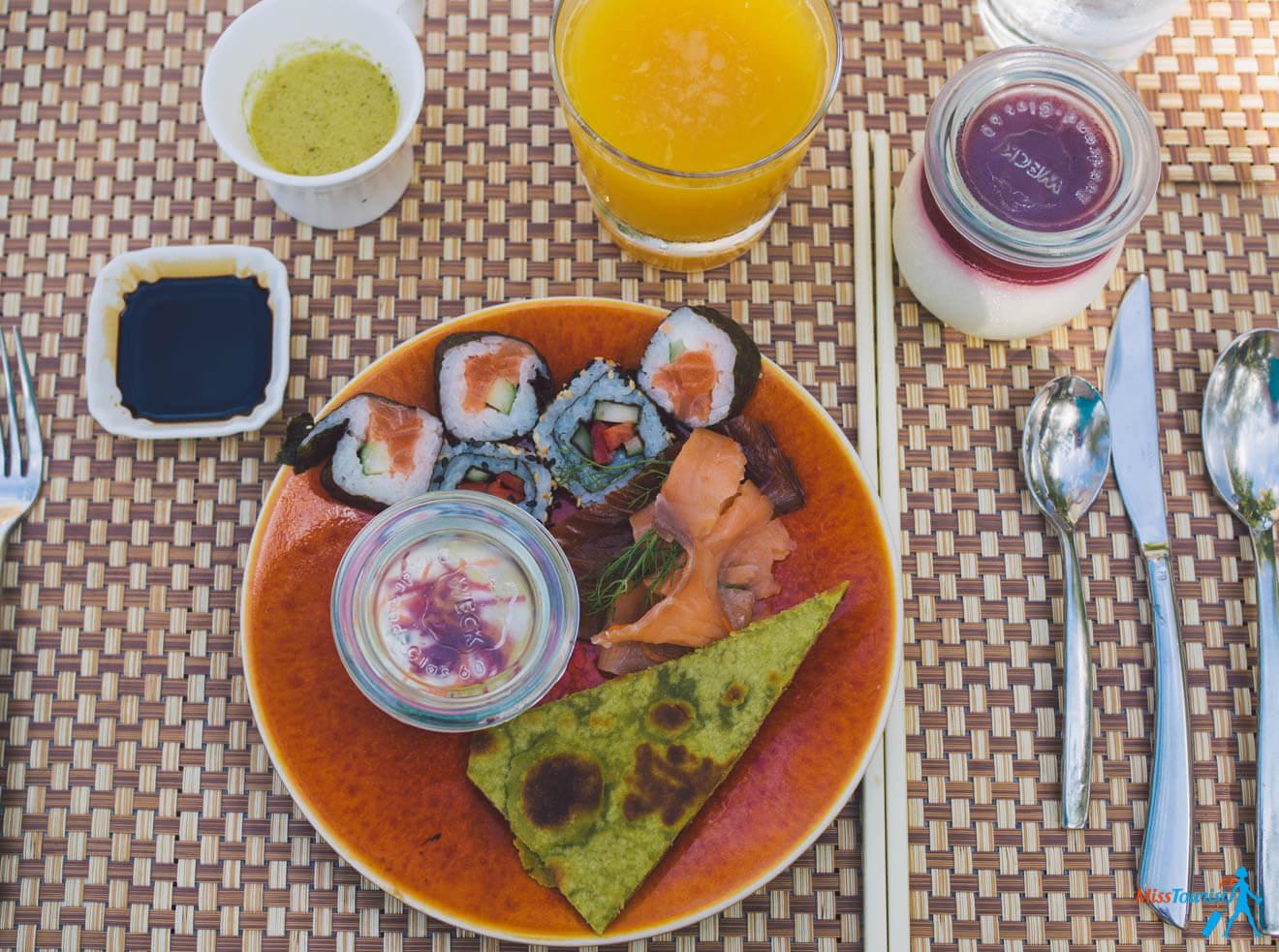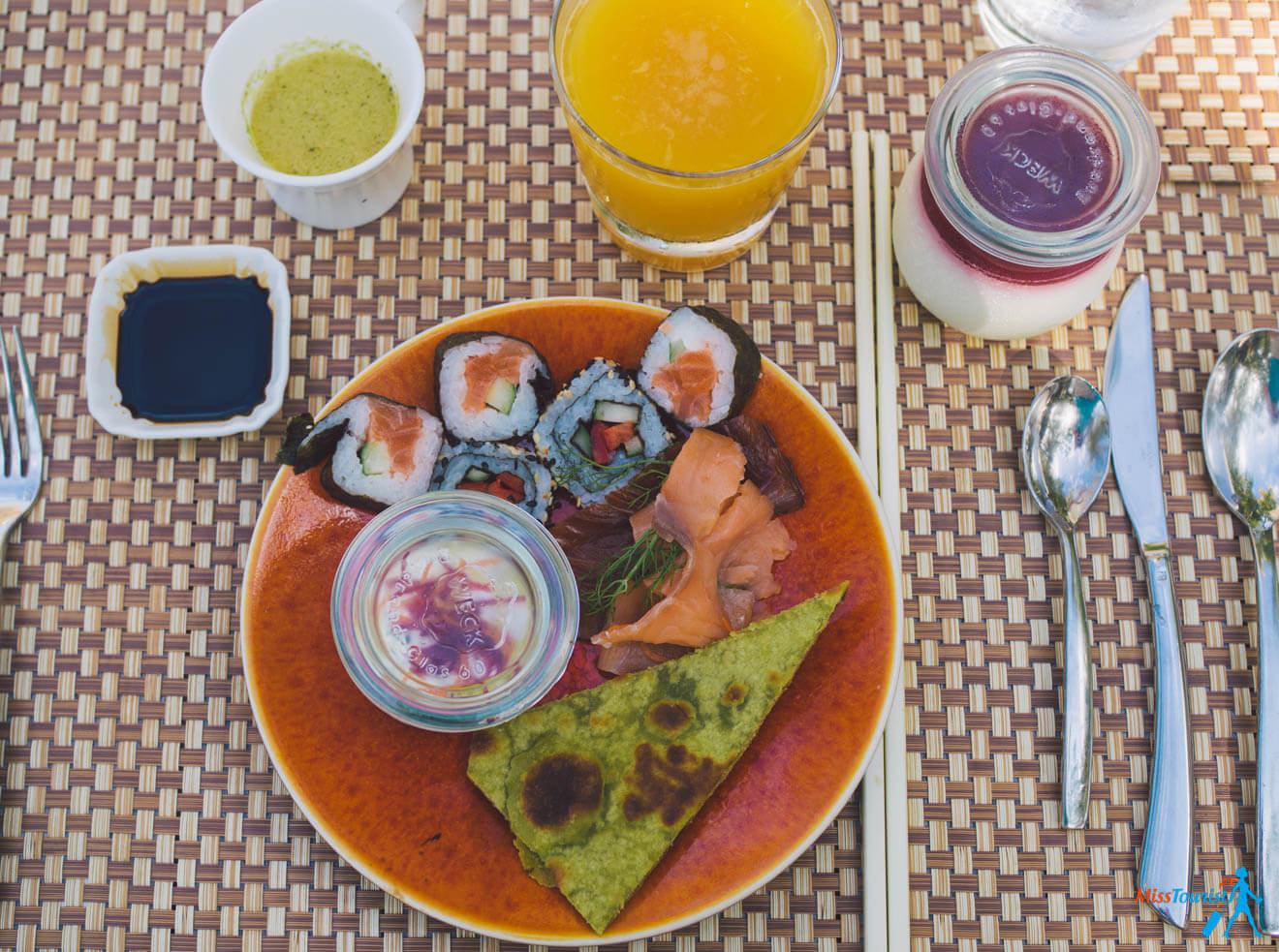 Kanuhura has an all-you-can-eat buffet with one of the largest food selections I have ever seen!
They will for sure have your classic eggs breakfast, but maybe you feel like trying Asian cuisine or local Maldivian, or maybe sushi? Don't worry, you will have a huge variety of options to try!
Except the buffet, Kanuhura has 7 more restaurants and bars to choose from. Italian Bottega, delicious Korean BBQ, fresh sea food – you will never get bored with food even on a small island!
There are also 3-4 bars that are spread all over the island for your convenience. You can try all types of colorful cocktails or even make your own.
How about a Robinson Crusoe experience eating out on a private restaurant island where you will be taken by boat?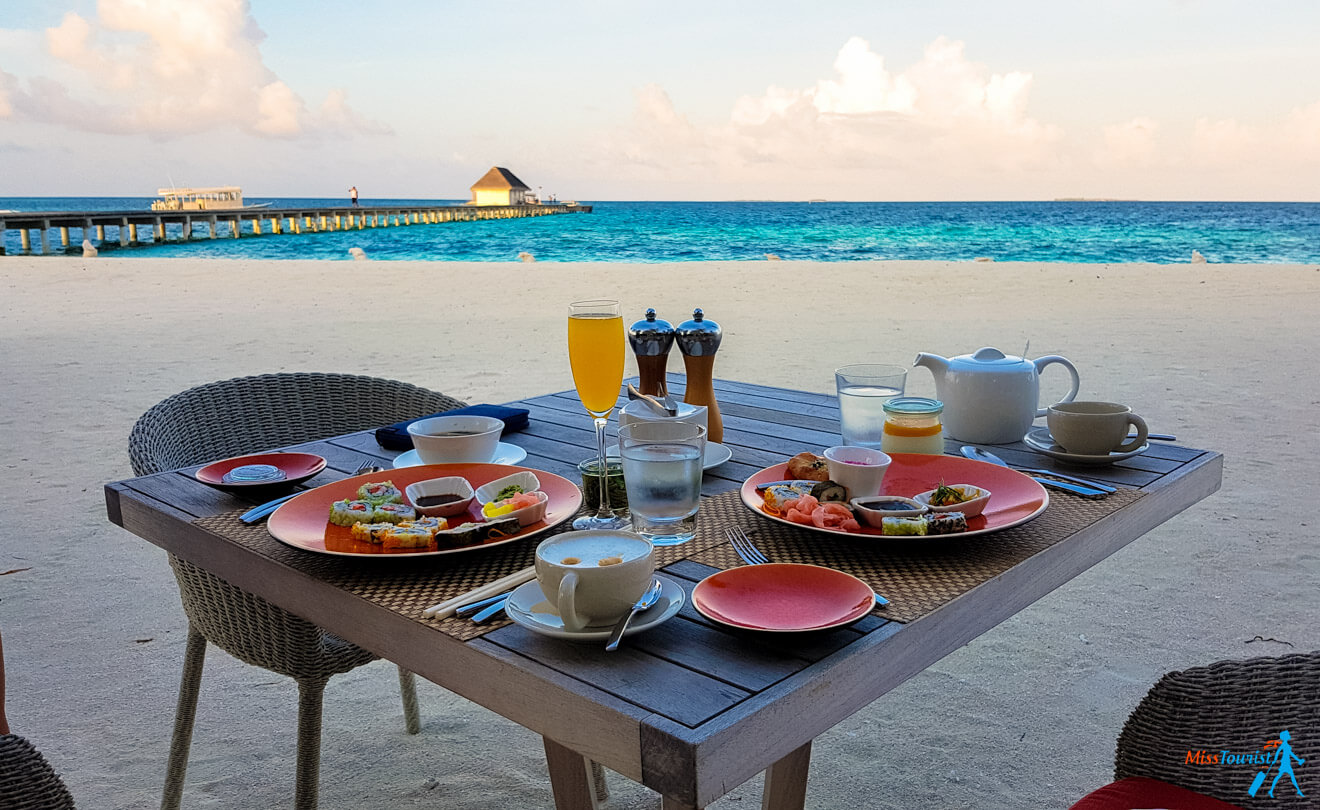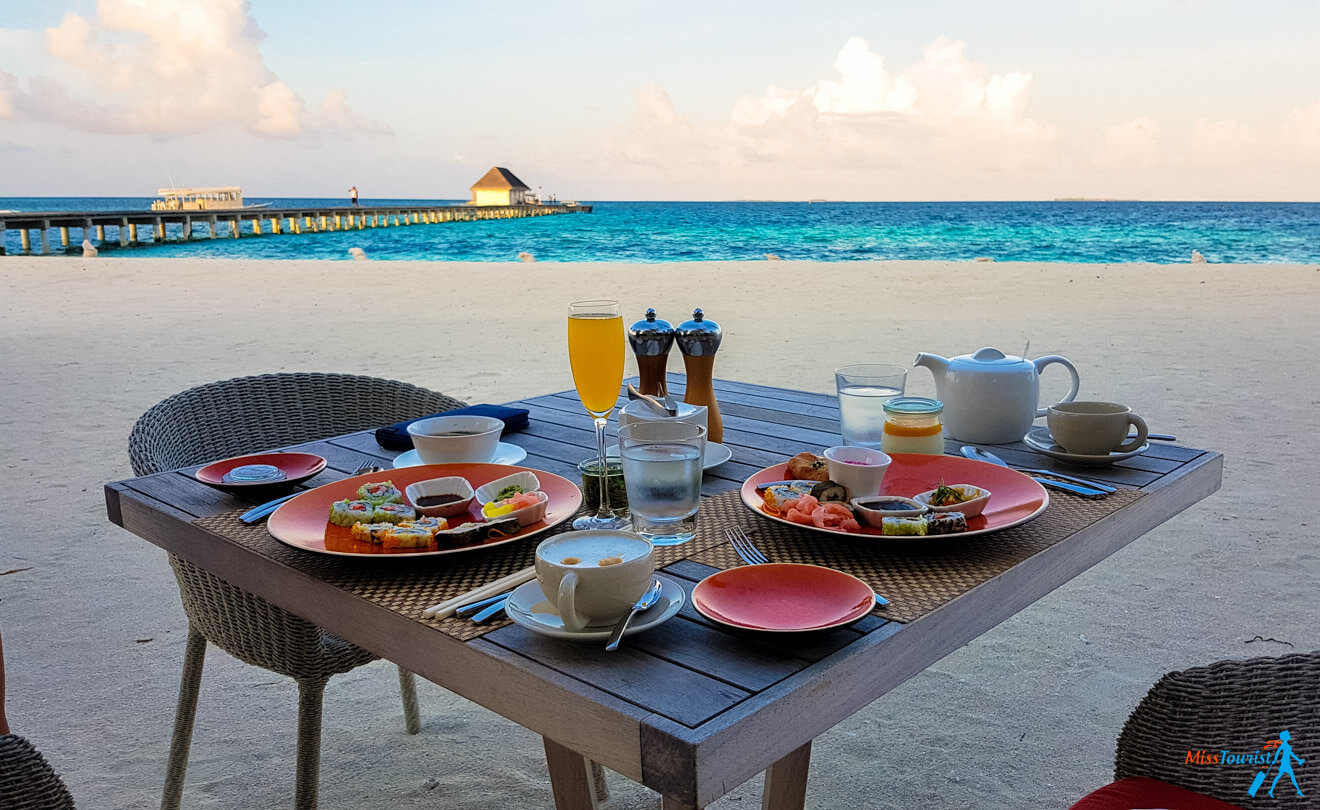 Right in front of Kanuhura you will find a tiny uninhabited island where you will be taken by boat (it will only take you 2 minutes) and you will be able to have your private breakfast/lunch/dinner with an amazing view. They have a restaurant with a professional chef and servers waiting for you there!
Also, they said there are rabbits on the island, but I was so carried away with this fantastic experience and delicious food, that I forgot to walk around. You should though!
Is Kanuhura kid-friendly?
Even if I do not have kids yet, I know that Kanuhura resorts take great care of families.
Interesting enough, you will never hear the kids because each property has such a vast space available for itself and each one is very well separated from the others.
There is also a Kids Club with a very dedicated and well-trained staff and it includes every possible activity your child might like, from marine biology lessons to turtle petting. In fact, Kanuhura's Kids Club is considered to be one of the best in the country!
Prices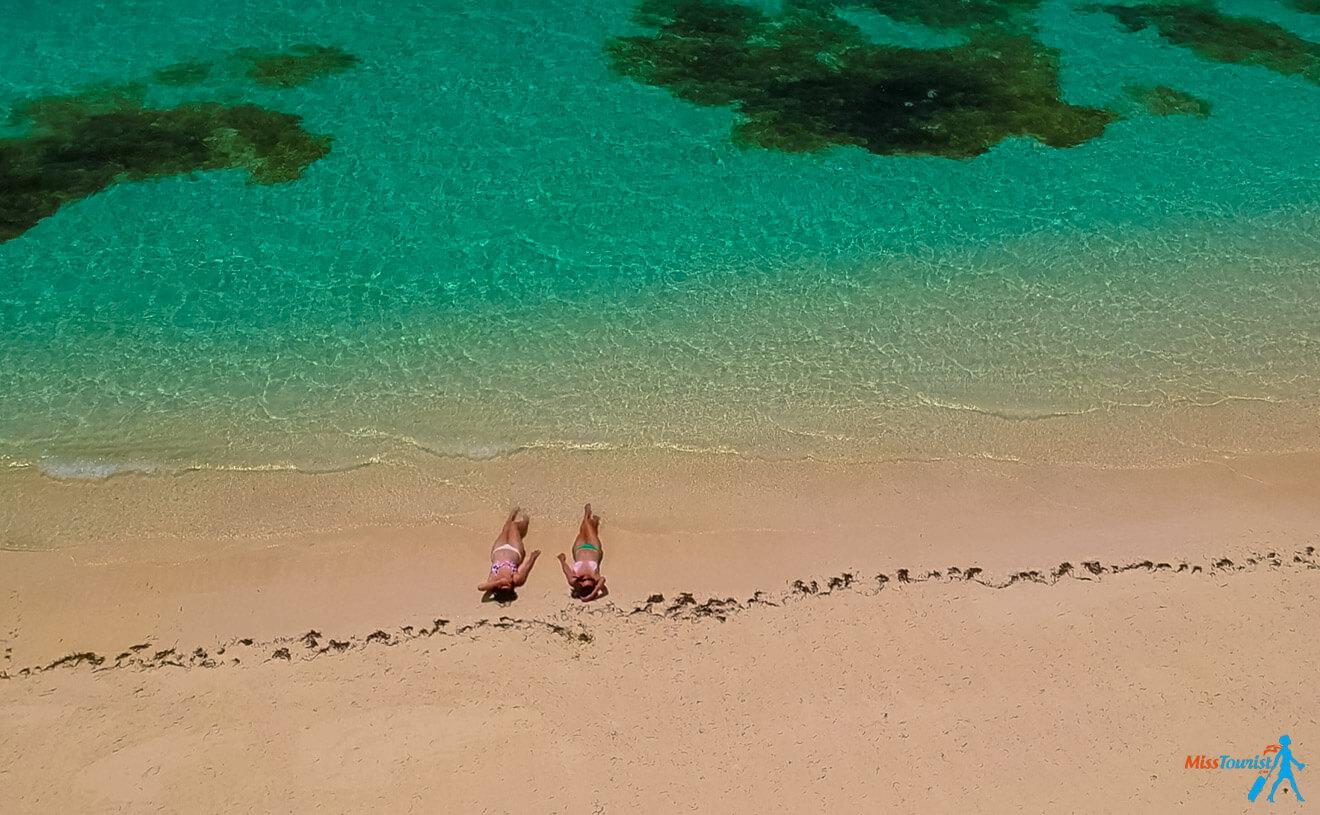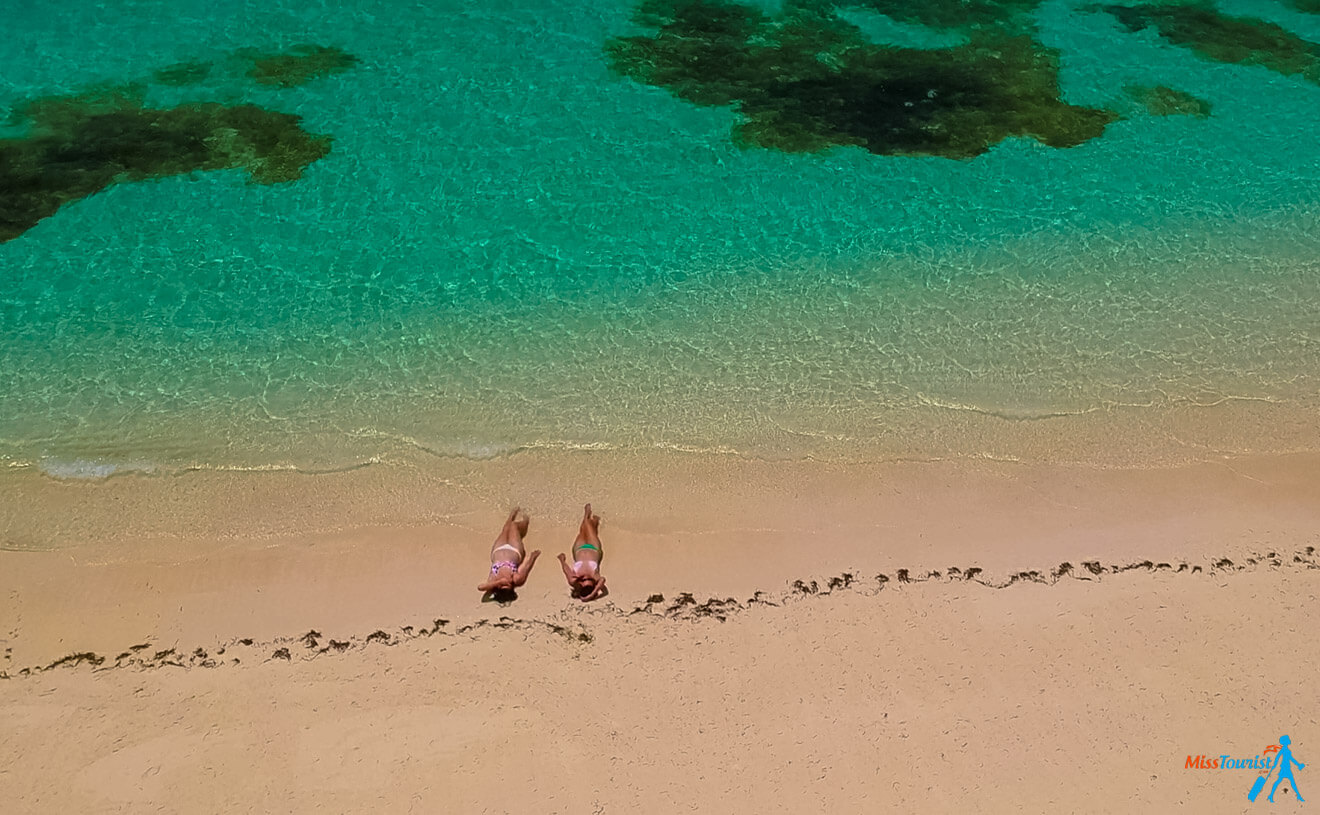 We all associate Maldives with unaffordable luxury that has over-the-top prices. You will be surprised, but the prices here can be quite reasonable, especially if you go in low or mid-season.
The prices for Beach Bungalows start from $760 US per night for 2 people with breakfast included and the price for my villa (Beach Pool Villa) starts at $ 1 200 US.
This was our good-bye from Kanuhura: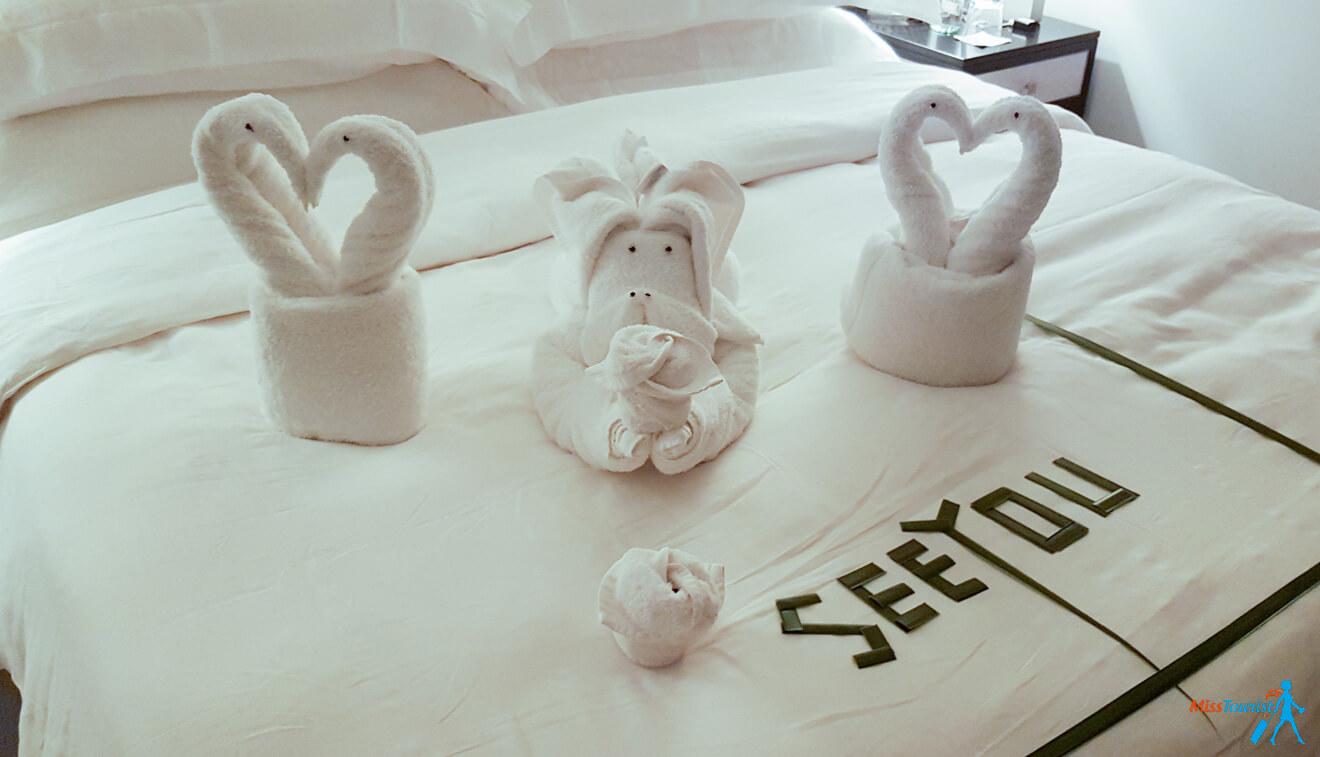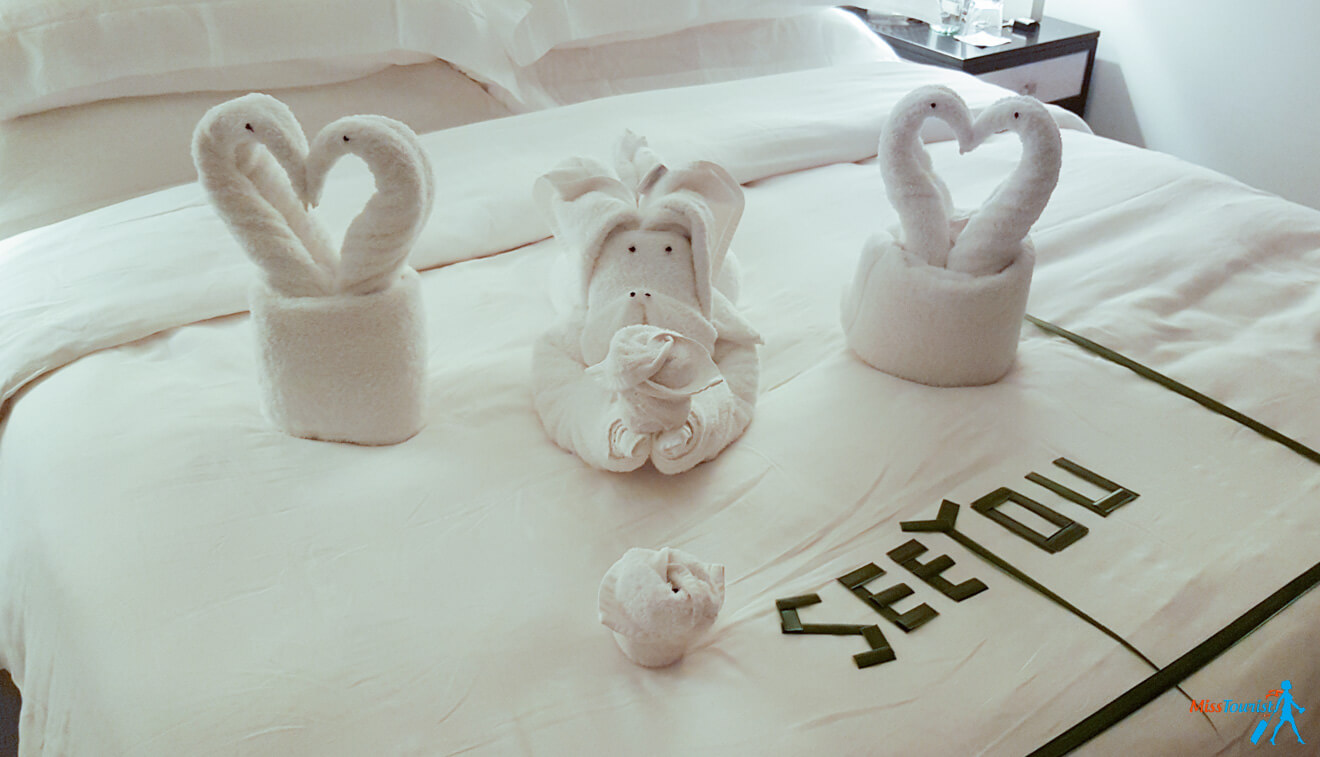 Before Kanuhura, I also stayed in a couple of other resorts in the Maldives – Bandos that is considered to be a budget luxury resort and Kandima which is more expensive, but not over the top. I think it would be interesting to compare the others with this one, just to top off the Maldives experience!
And you know what? You do not need to be married to splurge on a Maldives paradise vacation!
You can just enjoy the top notch snorkeling in the surrounding reef right after you go inside the water!
---
| | |
| --- | --- |
| 📍Location: | Lhaviyani atoll |
| 🥽 Best activity: | Diving and snorkeling |
| ☀️ Best time of year: | March and April |
| 🥵 Avrg temperature: | 28°C (82°F) |
| 🌊 Avrg water temperature: | 27°-30°C (80°-86°F) |
---
Conclusion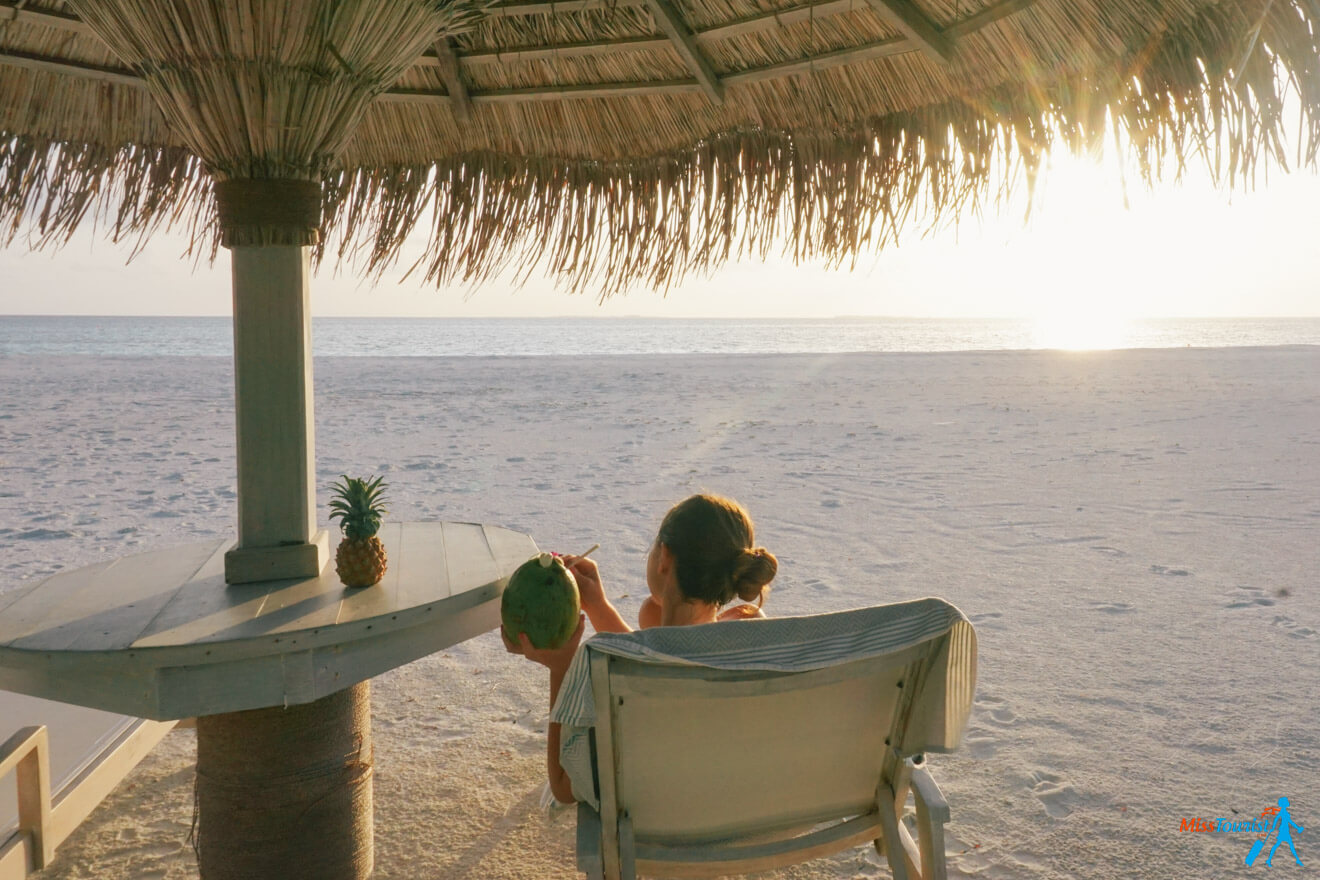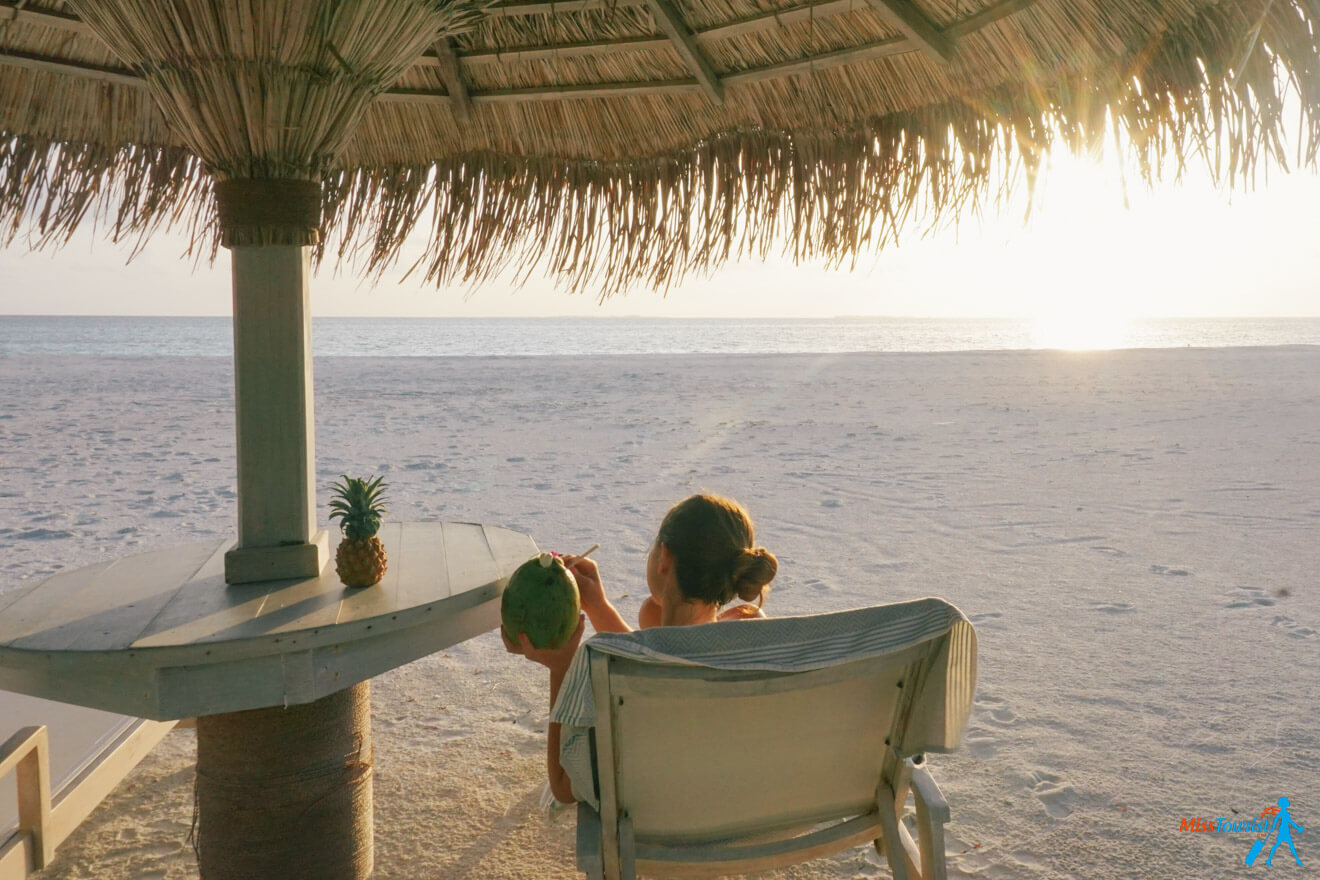 Surrounded by turquoise water and colorful marine life, Kanuhura is any beach lover's dream come true!
Set in pristine, natural surroundings, Kanuhura combines an array of fine dining and a very luxurious setting, spa and fitness activities, Kids' Club and some great cocktails. Even the most demanding guests will find what they want here.
The hardest part of my stay there was having to leave, I actually cried a little when I left Kanuhura and Maldives.
In short, if you want to splurge for the vacation of your life, where you will have your own butler and you will be pampered exactly like a king, then pack your bags and go to Kanuhura Private island and resort in the Maldives!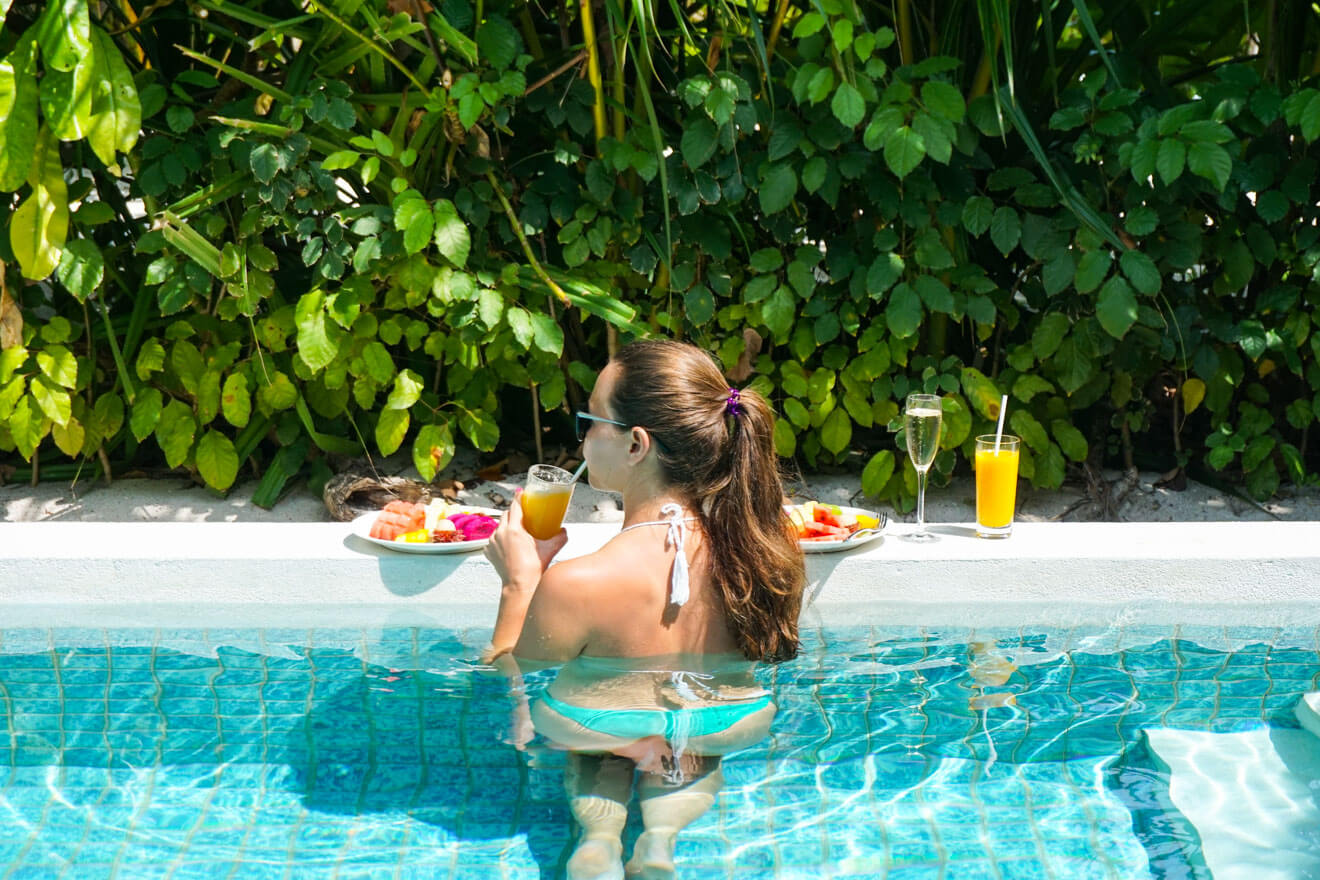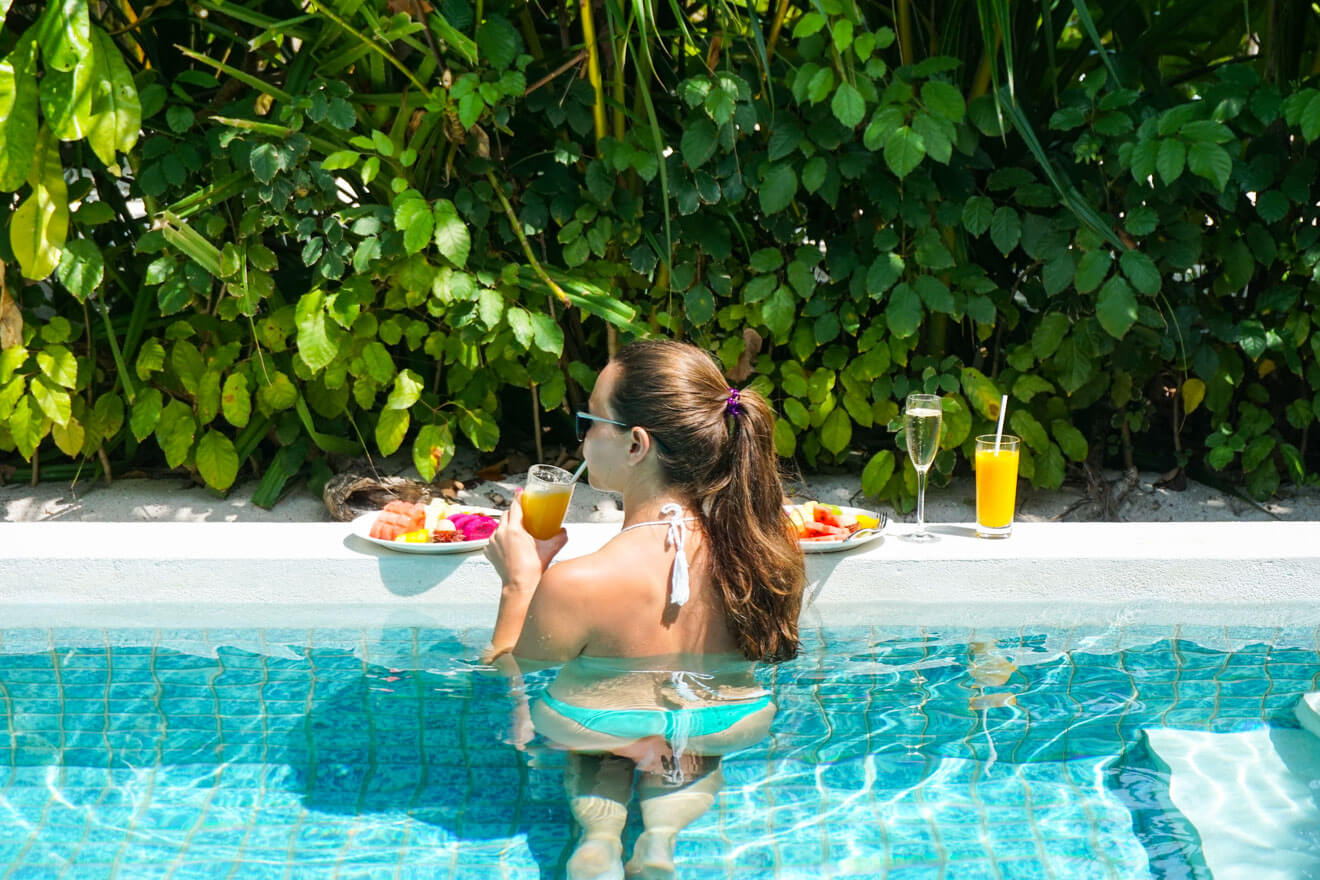 What was the best place you ever stayed in? Would you like to stay in Kanuhura?
Let me know!
P.S. Read all practical info about when and how to get to the Maldives, about prices and Internet and many other things here – 6 Things You Did Not Know About The Maldives (And You Should)
Thank you very much for reading this post,
I am always happy to answer your questions if you have any, just shoot them in the comment section below,
Yulia
---
Pin it for later!


Pin it for later!