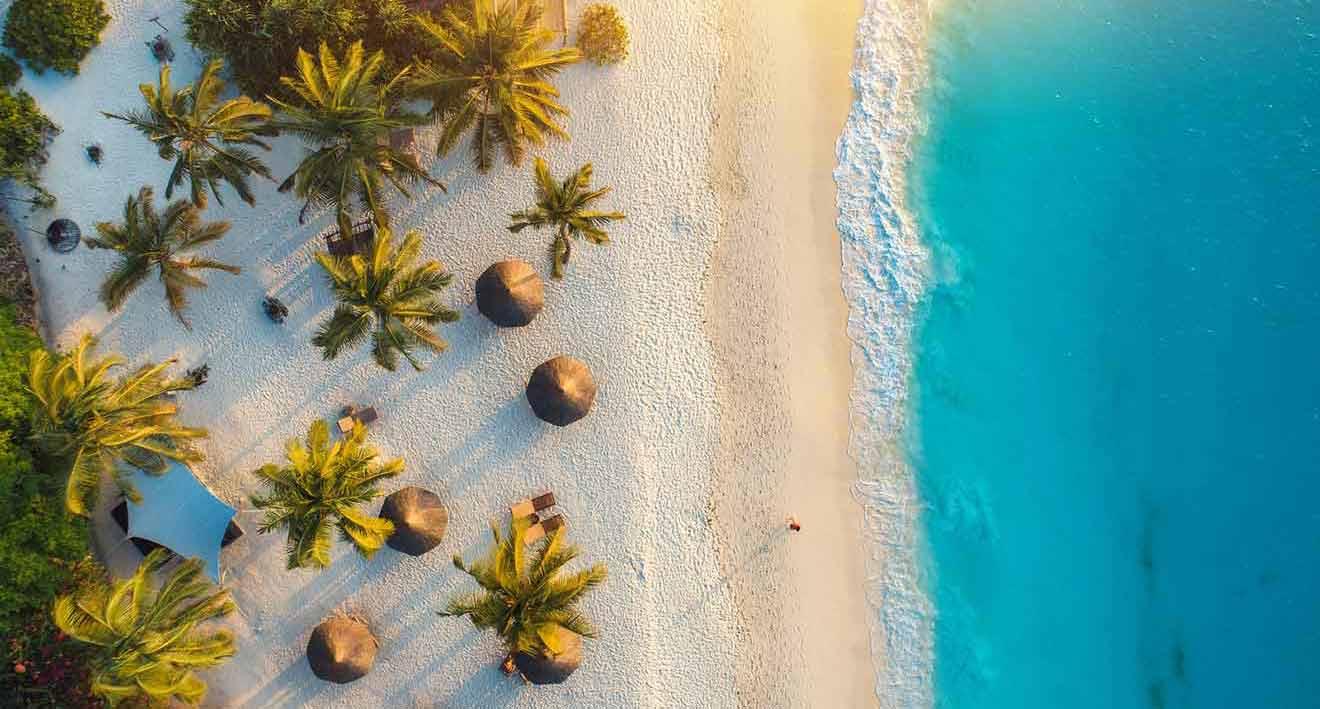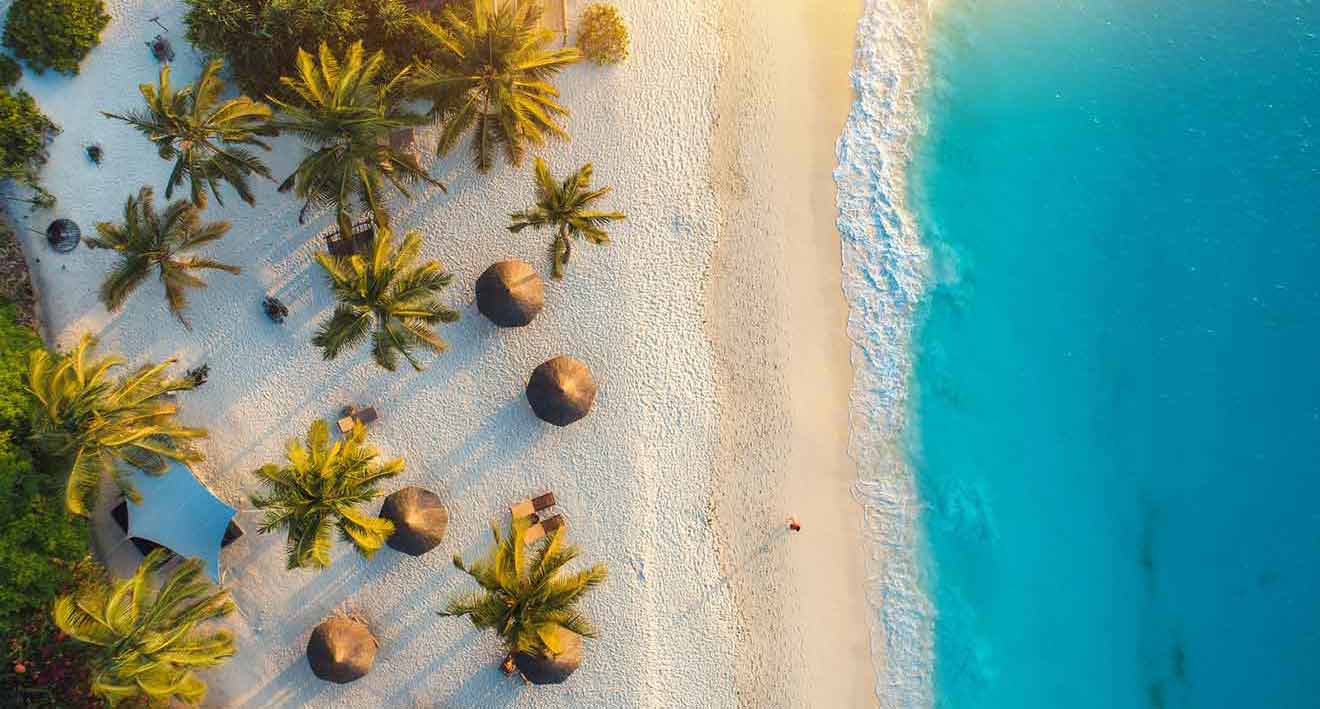 Going to Zanzibar? Congrats, Zanzibar is the perfect mix of beach and culture! If you love the beach but get bored easily, this could be the perfect destination! Now that you have decided to go to this beautiful island, y­ou must need recommendations for great Zanzibar hotels – and you are in the right place!
With lots of activities like snorkeling, surfing, and kite surfing, as well as the opportunity to learn about the culture and history, this isn't just a beach vacation. I'll tell you all about the best Zanzibar hotels in different locations on the island!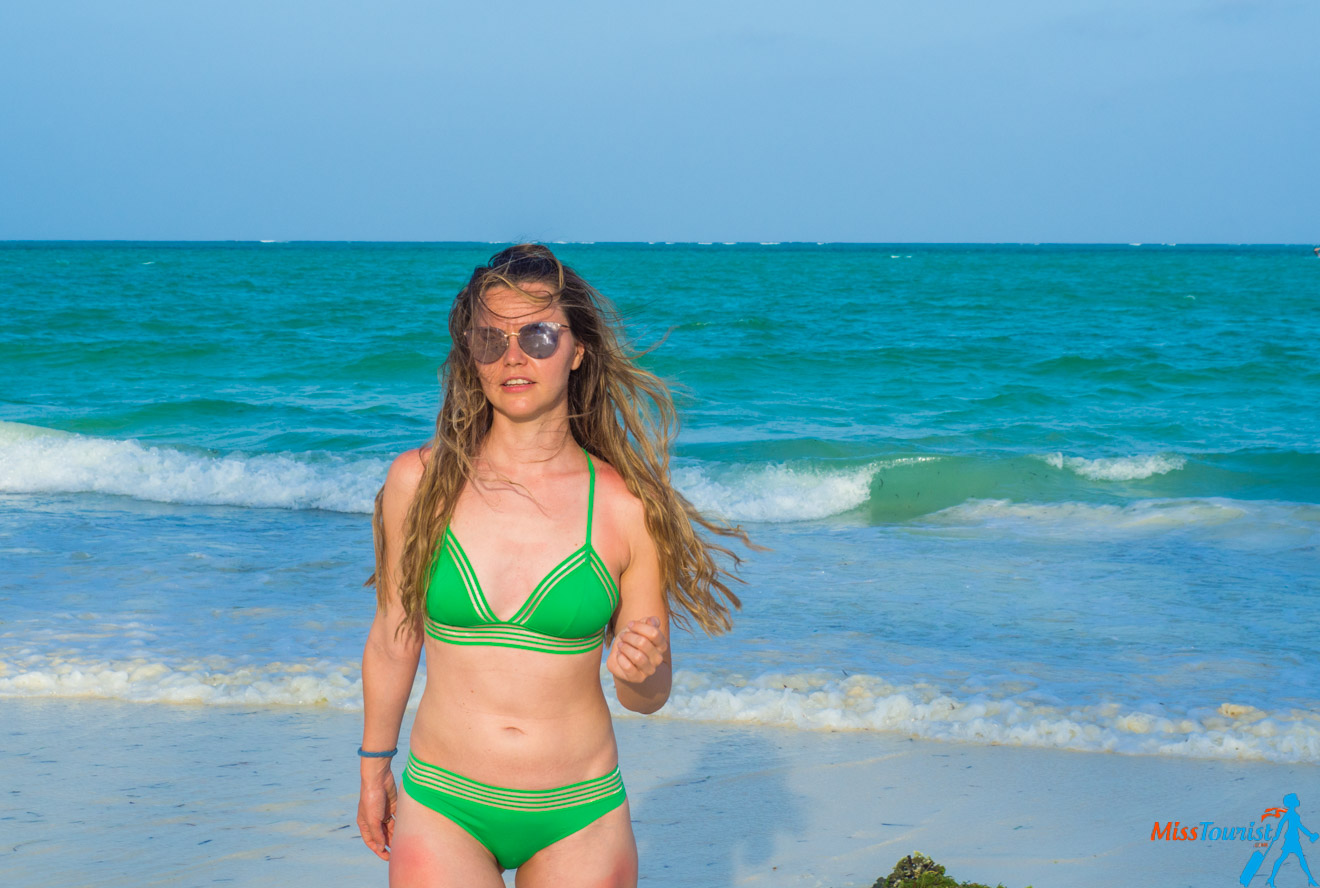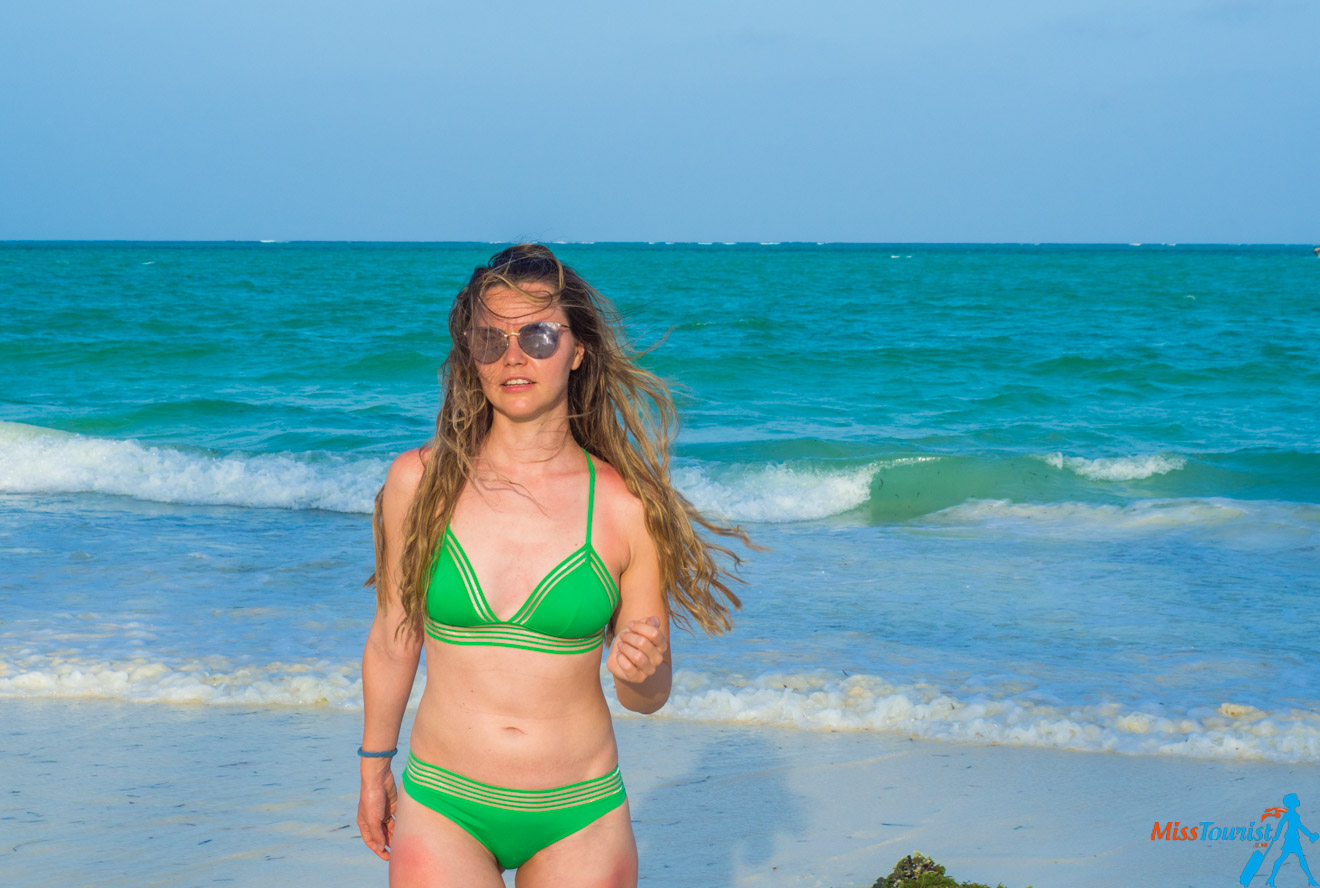 There are different areas of Zanzibar, each with its own feel and vibe, but I have selected the best places to stay in Zanzibar with hotel recommendations for each of them (I also broke them down into different price categories for your convenience)!
Talking about hotels, let me just warn you that this destination is visited by many tourists, and the best way to enjoy your vacation to the fullest is by booking in advance!
Having said that, I'm ready to begin with all the juicy information. Let's go!
If you are in a hurry:
Here are the best hotels on Nungwi beach (the best beach on the island, in my humble opinion) that I have hand-picked for you – all of them have excellent reviews:
What you need to know before booking a hotel in Zanzibar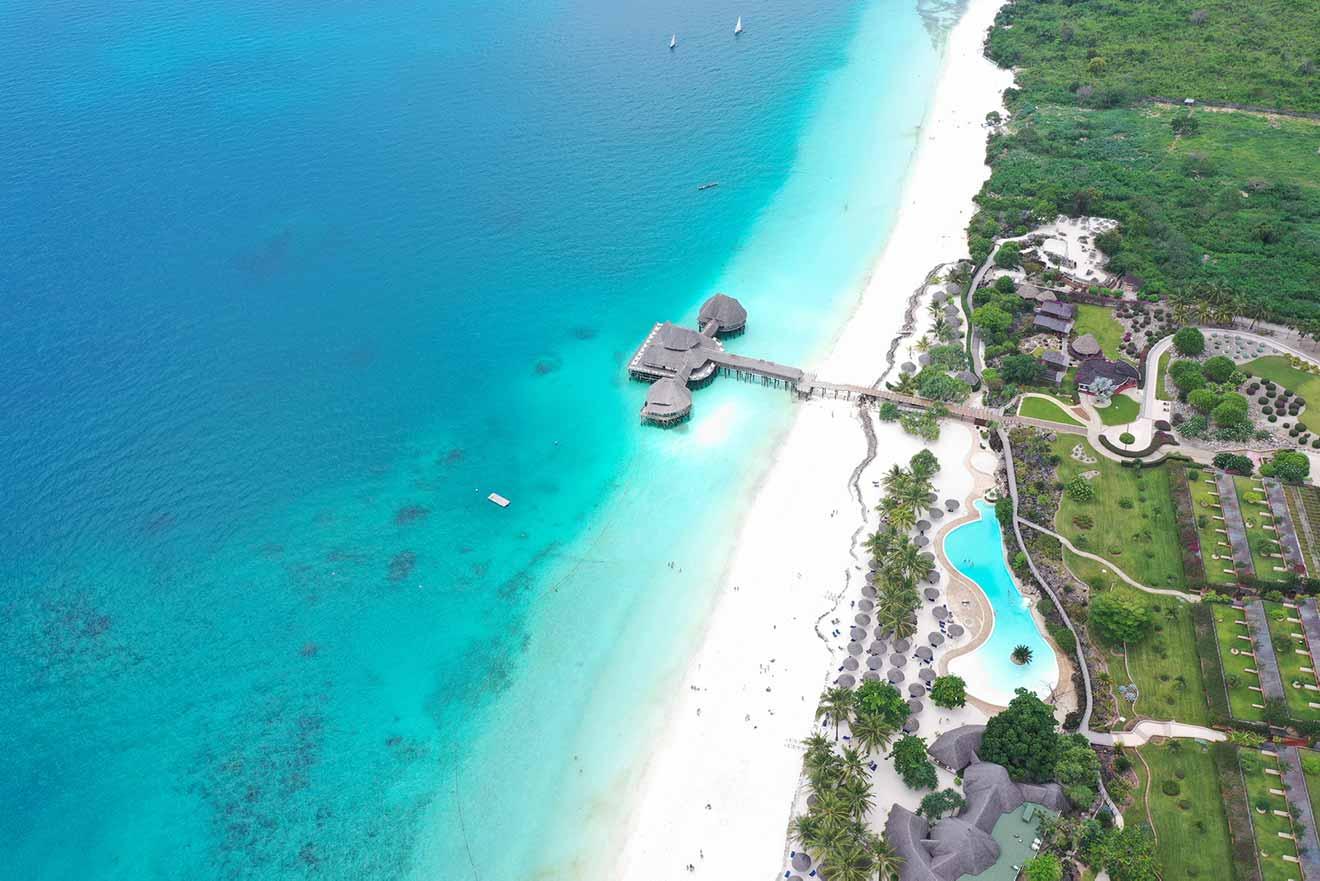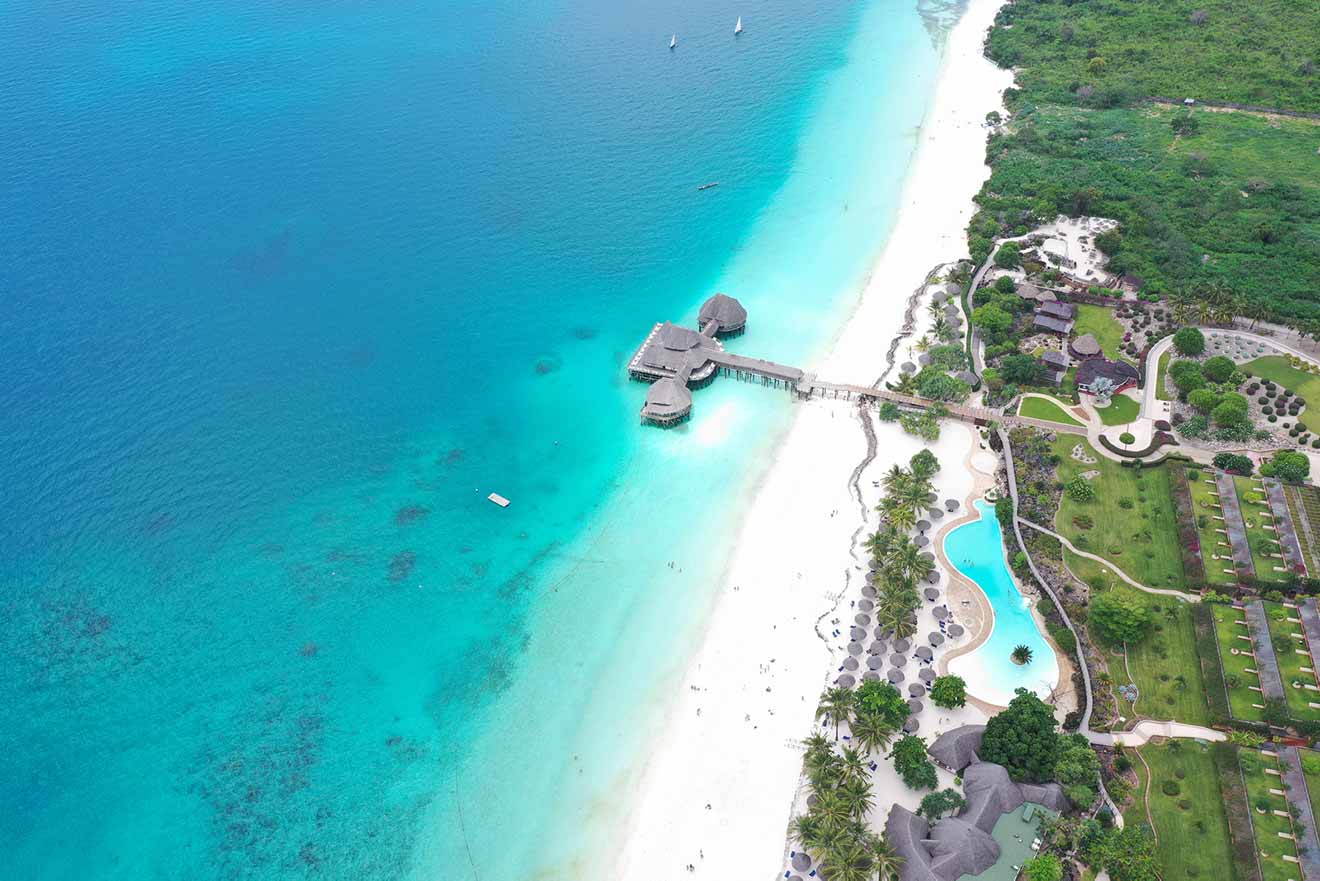 Do you already know when you are going to visit?
When planning your trip, I recommend you consider the rainy season.
Hot season (January to March) – popular time to visit is during the hotter months of the year. I visited in January, and even though we had a couple of cloudy days, the weather was very comfortable, especially on the South Coast.
Long rainy season (April and May) – while it can be rainy during this season, you might also get lucky and have no rain during your vacation, perfect to spend it on the Northern Coast!
Dry season (June to October) – it's best to visit Zanzibar in these months when it's cool and dry. I recommend the East Coast during this season.
Short rainy season (November and December) – in November, it tends to rain every day, but just for a short while, so the best part to stay at is in the Northern Coast.
NOTE: Wondering when to go to Zanzibar for scuba diving? It is best to go from June to October on the North coast and between November and March on the South coast.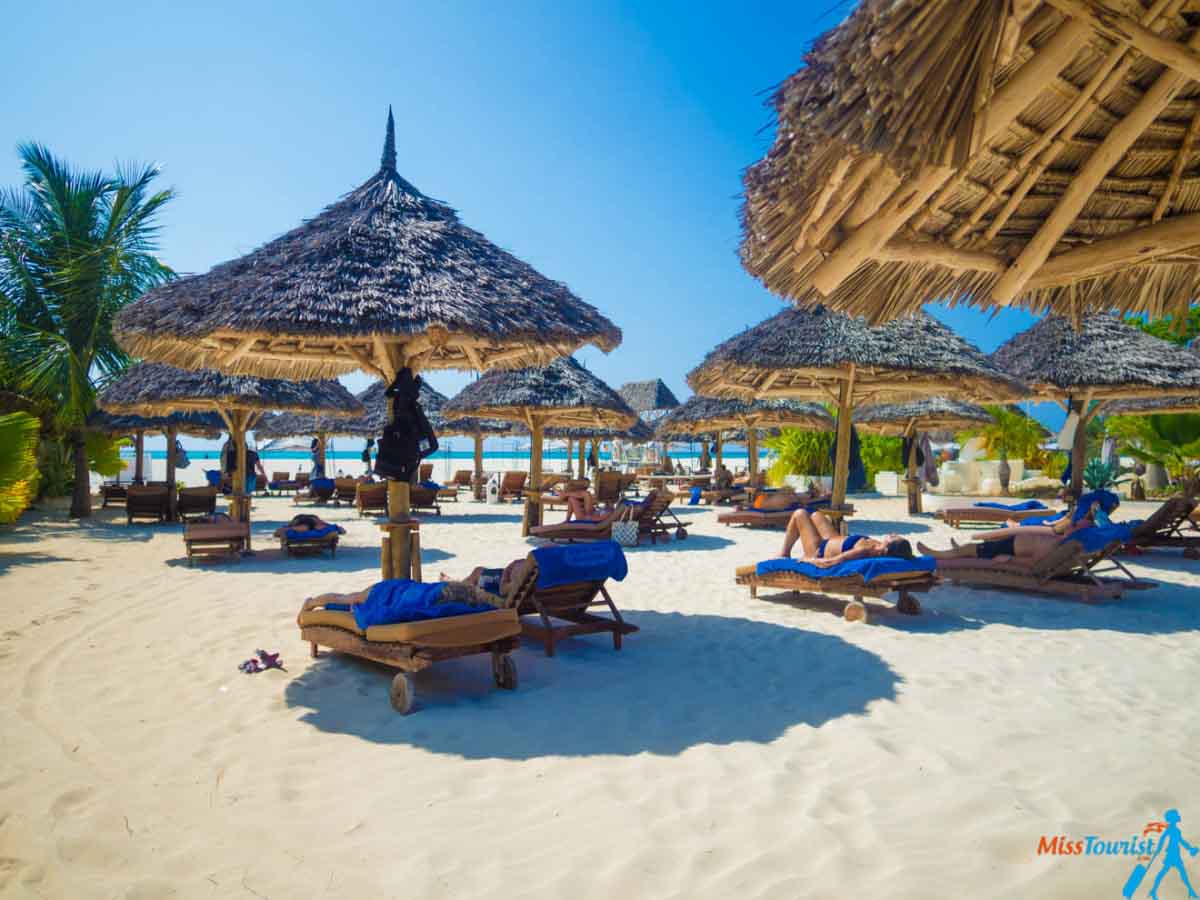 Zanzibar is a very interesting island in terms of accommodation choices. Why? There are really strong tides on the island, and the ocean in front of your sea-view room might disappear for hours! That is why I break down my recommendations by area.
IMPORTANT: More about the tides – the tide goes out to a coral reef that's 1 to 1.5 km offshore.
The northern coast is popular because you can always swim there, even at low tide. During high tide on the west coast, the beach entirely disappears as the water comes all the way up to the rocky cliffs.
The best way to know when high tide and low tide are is to check the Tide Forecast. It changes day to day, so you can check out predictions for when you're planning to visit.
Where to stay in Zanzibar
First of all, here is a Zanzibar map of all the best areas I am recommending: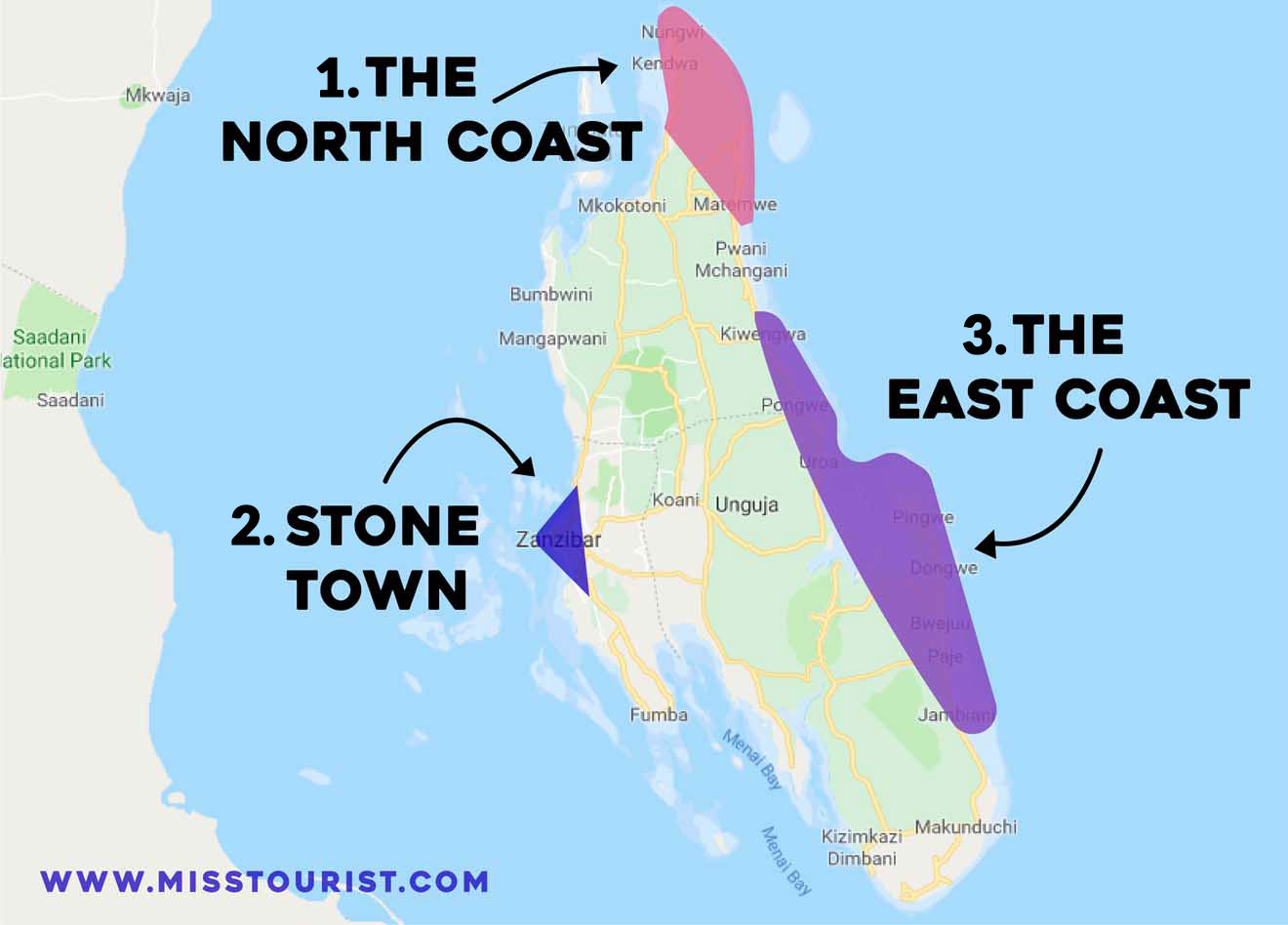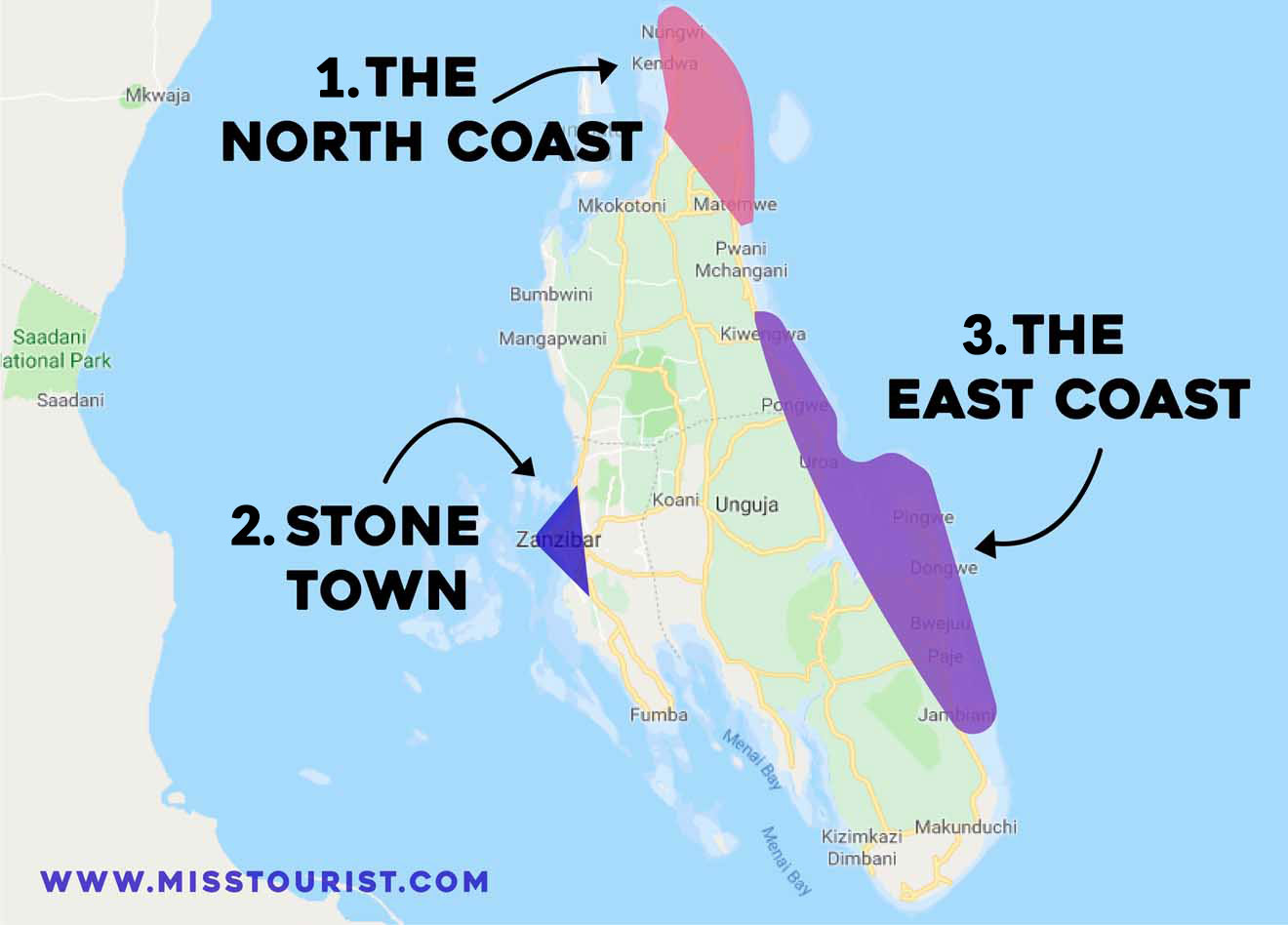 Now let's see the complete list of where to stay in Zanzibar that I can definitely recommend:
1. The North coast – Kendwa and Nungwi best beaches for first timers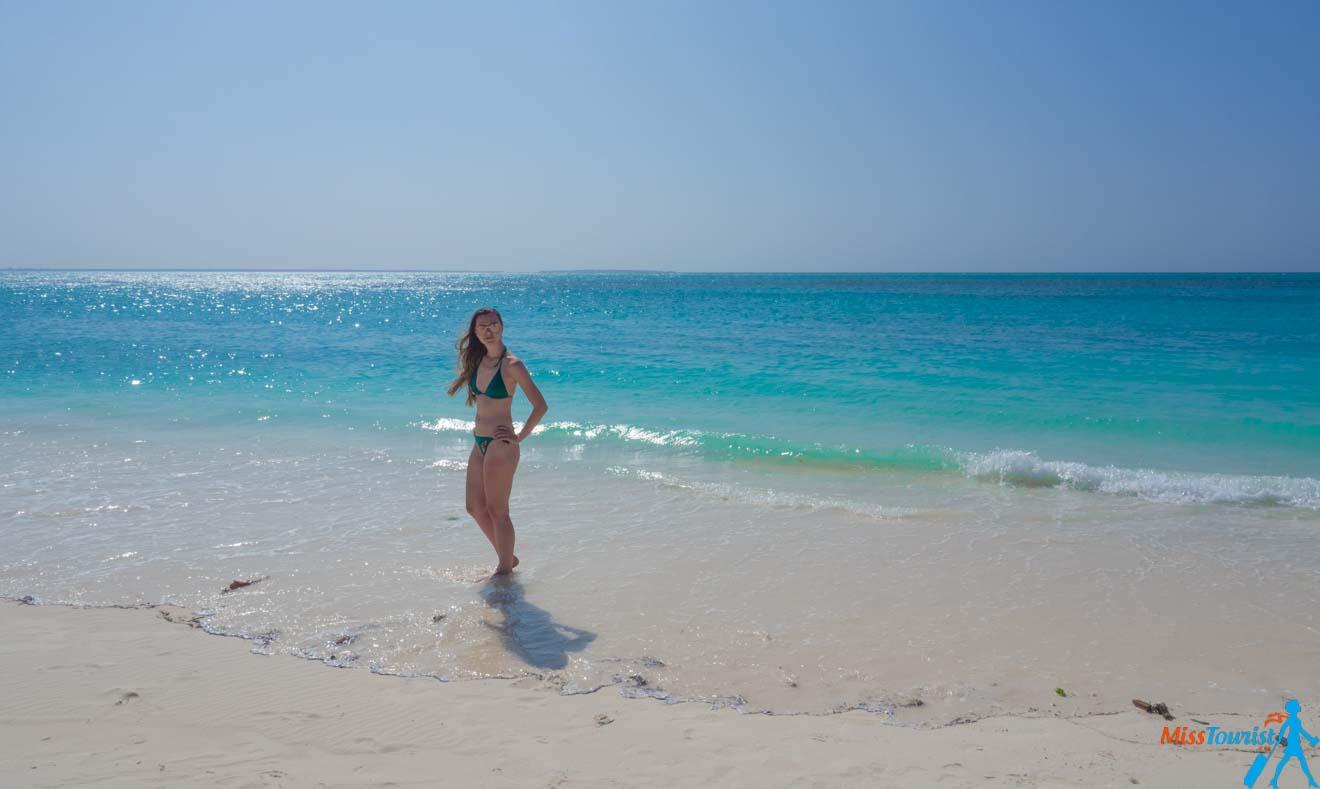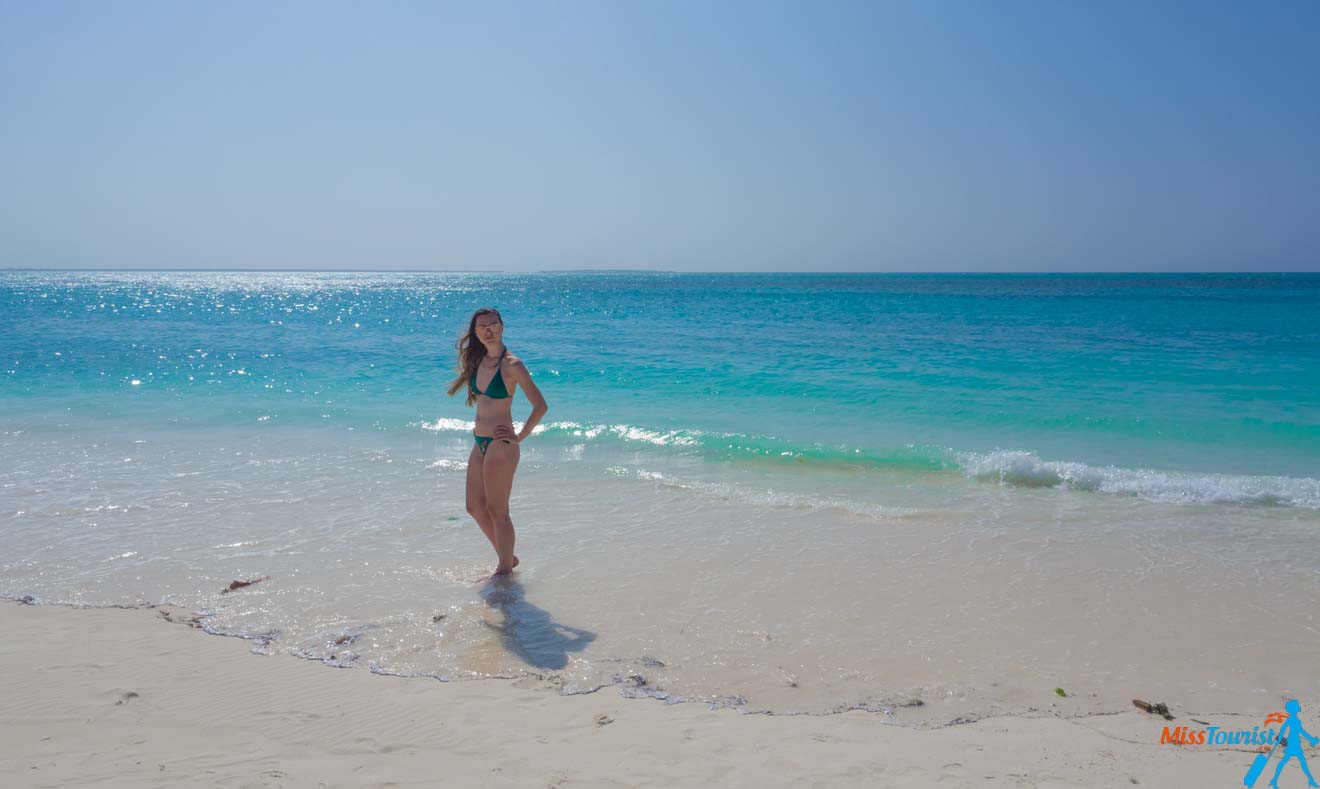 The Northern coast is popular because it's least affected by the tides. There are two popular Zanzibar beaches in the north, Nungwi, and Kendwa.
Nungwi is known for its diving and sunset cruises, while Kendwa has more nightlife to offer. In the north, you can also visit Mnemba Island, just a kilometer off the shore. This has great diving and snorkeling spots and is also home to green turtles! If you are looking for other activities, please check my detailed post on amazing things to do in Zanzibar here.
Fun Fact: The old name of the country was Tanganyika and it changed to Tanzania when they merged with Zanzibar!
Here is my list of hand-picked hotels in North Zanzibar, all sorted by price and category, so it's easy for you to find what you need: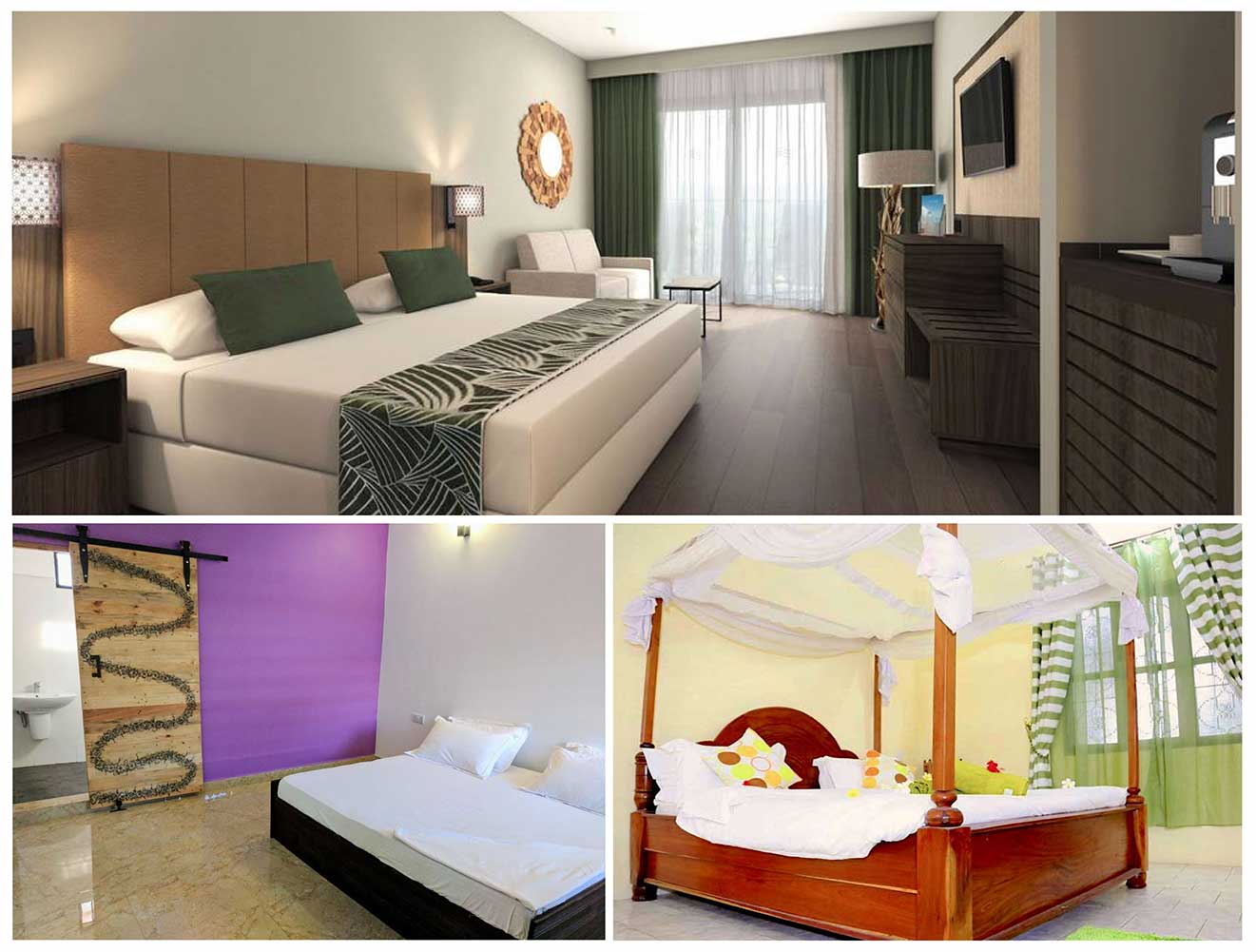 Luxury ($220 USD and above)
Middle-priced ($100 to $220 USD)
Budget (up to $100 USD)
Book your stay on the North coast
2. Best hotels in Stone Town – best place for a local vibe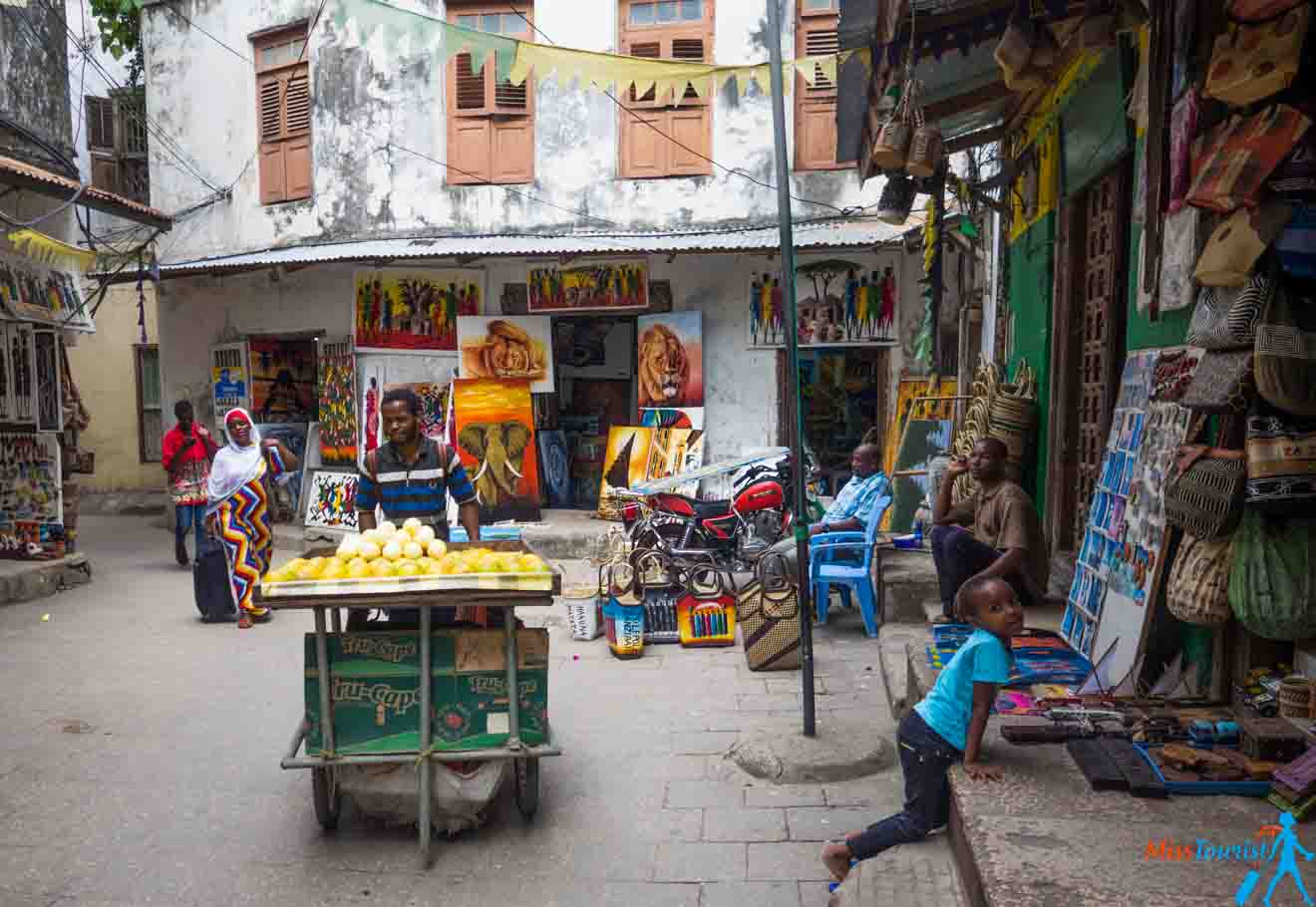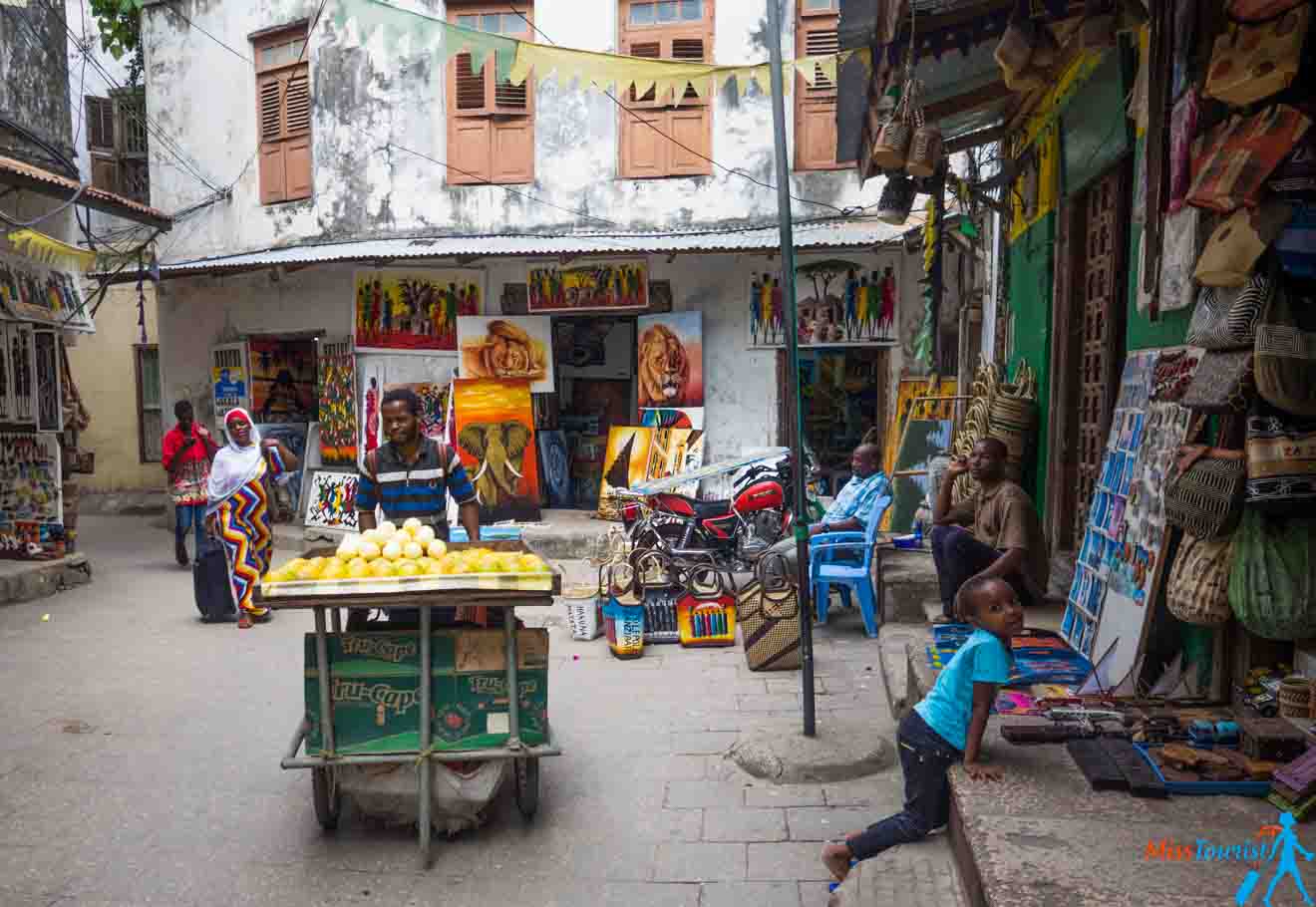 If you're looking for culture and history, this area is a must-see!
It almost feels like stepping into a time machine, with various old colonial buildings lining the streets. You'll indeed get lost in the maze of narrow streets, but that's half the fun! It's also the best place to try the cuisine and learn about the island's history. If you haven't yet, check out my post on things to do in Zanzibar, where I give tons of tips on what to see in Stone Town.
Moving on, here are some great hotels with fabulous reviews and facilities:
Luxury ($170 USD and above)
Middle-priced ($80 to $170 USD)
Budget (up to $80 USD)
3. The East Coast – home to the best beaches in Zanzibar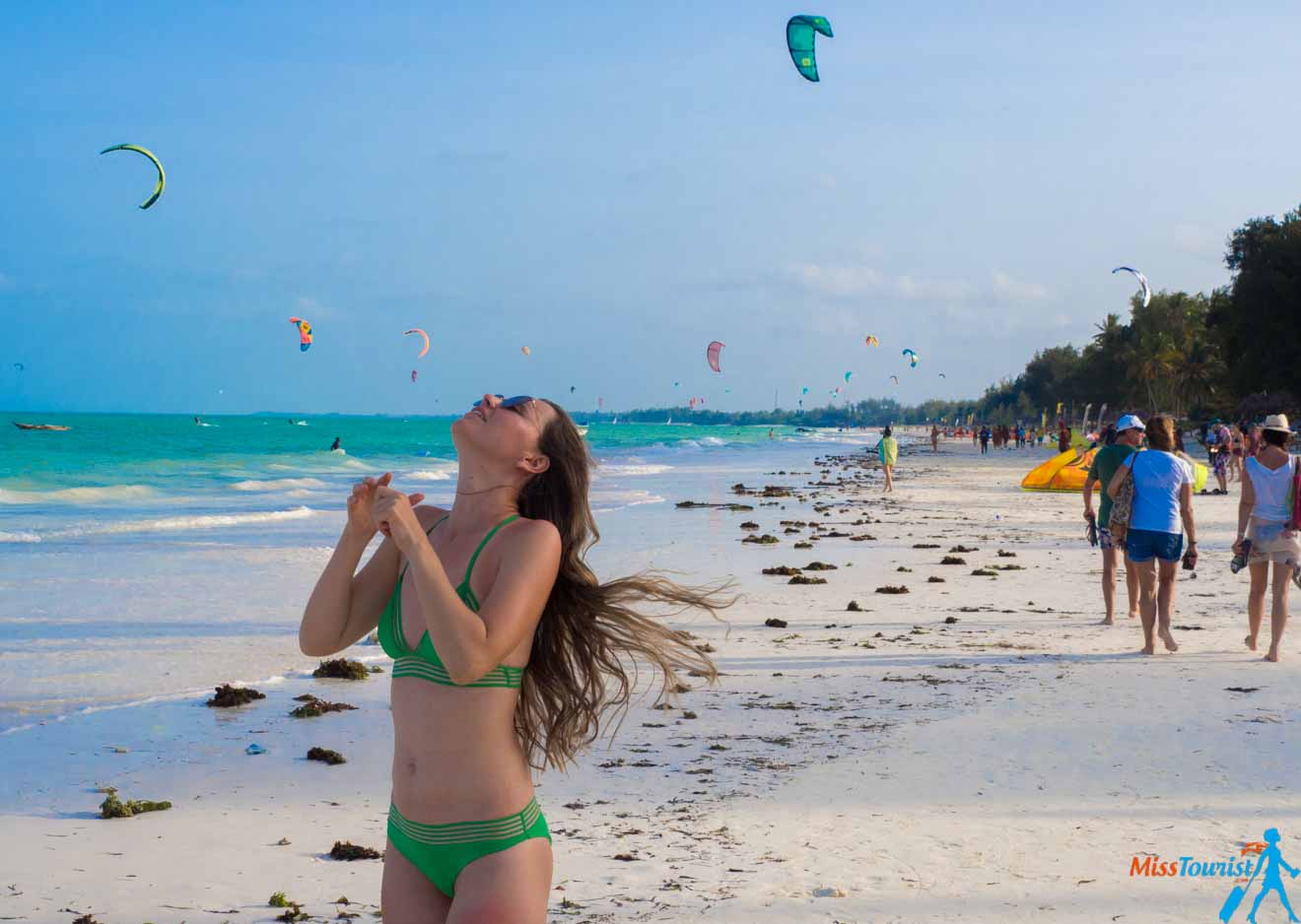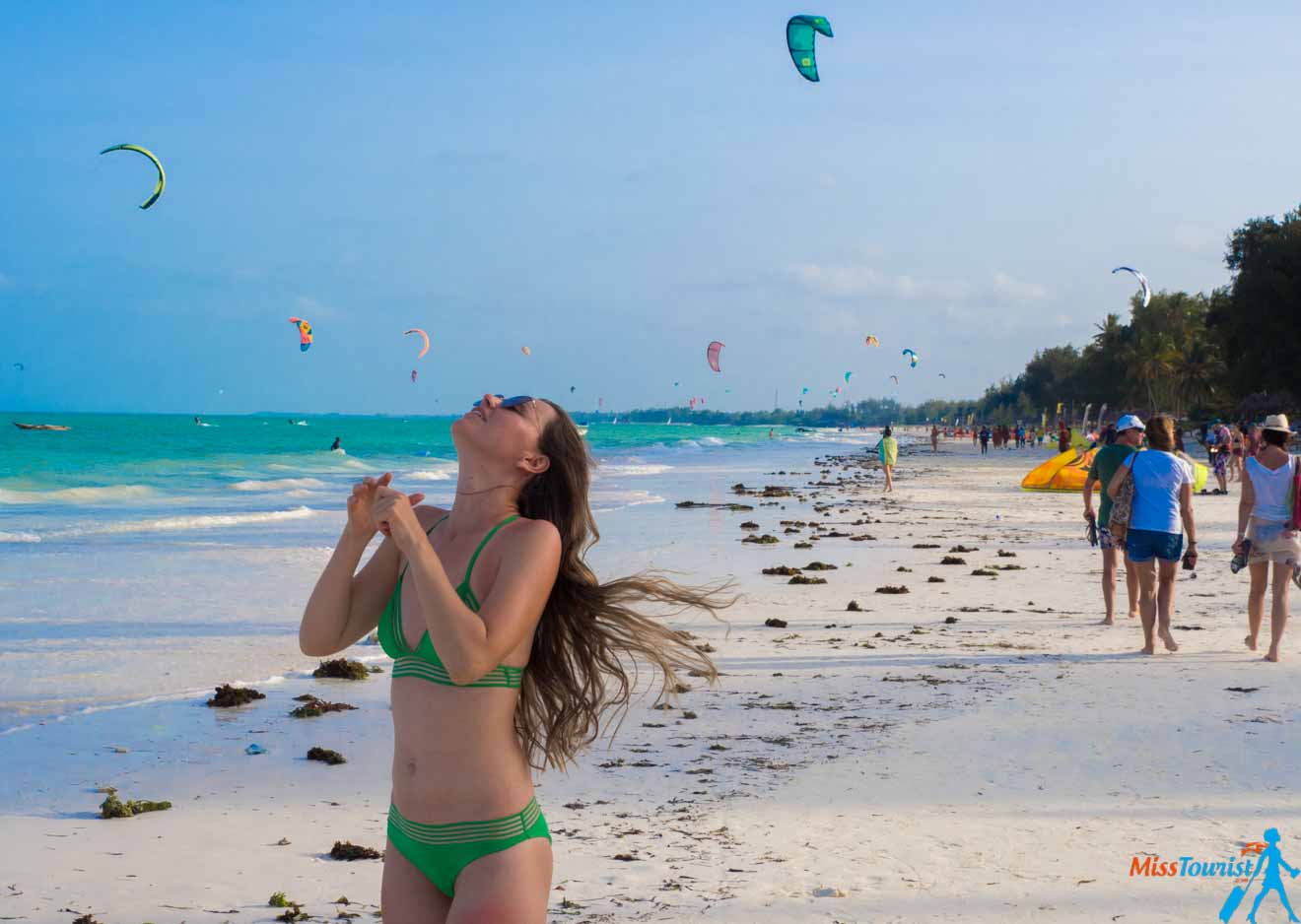 Zanzibar's East Coast features what some people consider the best Zanzibar beaches, and it is the area I chose to stay in as well! Typically less touristy than the North coast, the East Coast has beautiful, idyllic beaches like Pingwe, Paje (don't miss the scuba diving experience!), and Jambiani. I personally stayed somewhere between Paje and Jambiani; read more about my experience below.
These powdery white sand beaches have turquoise waters that come to the palm trees along the shore during hiding tide.
NOTE: Keep in mind that you can't swim at low tide but can still enjoy walks along the beach.
If you're looking for places to stay during your east coast holidays, you've come to the right spot for information! I've found some great hotels along the east coast for you to choose from.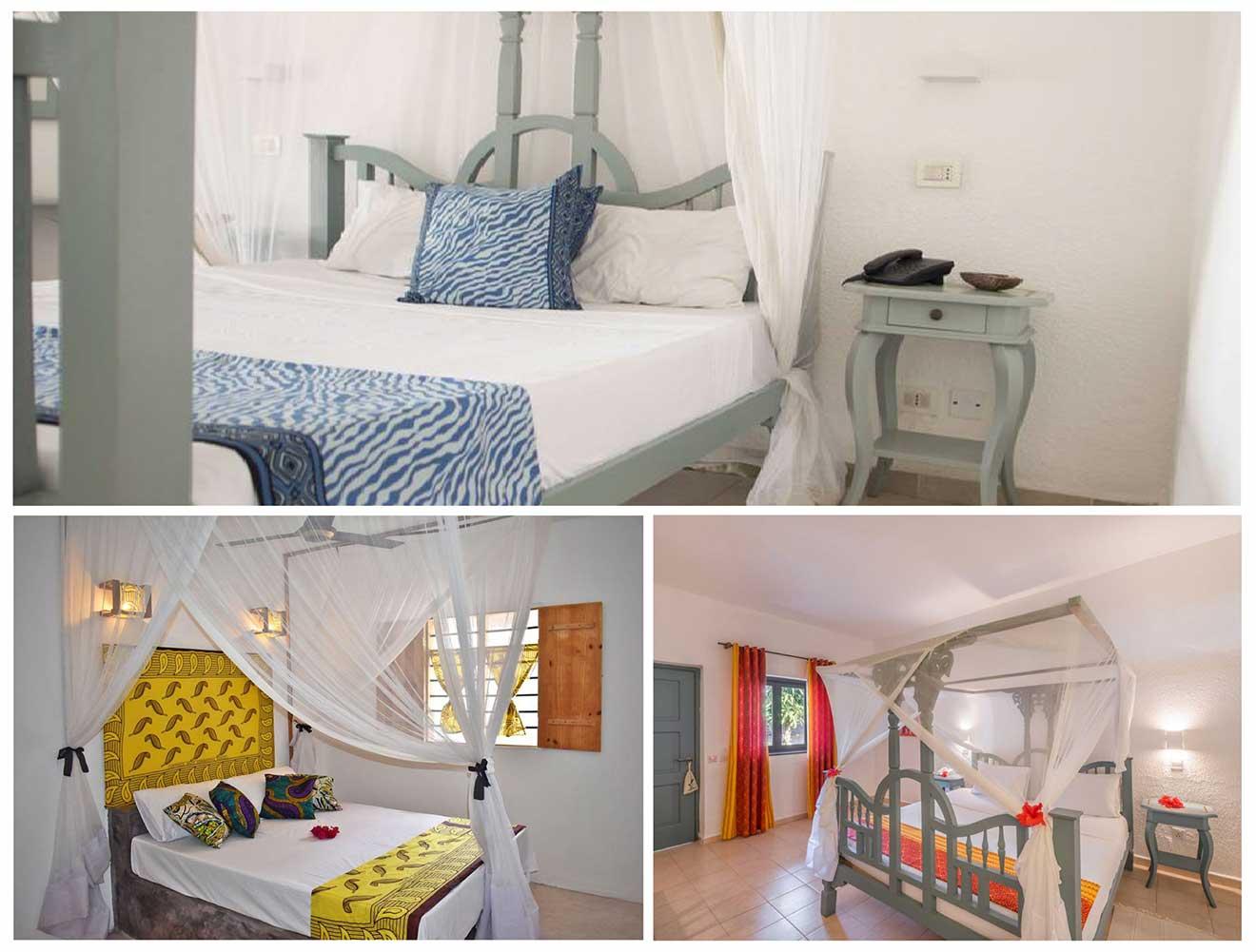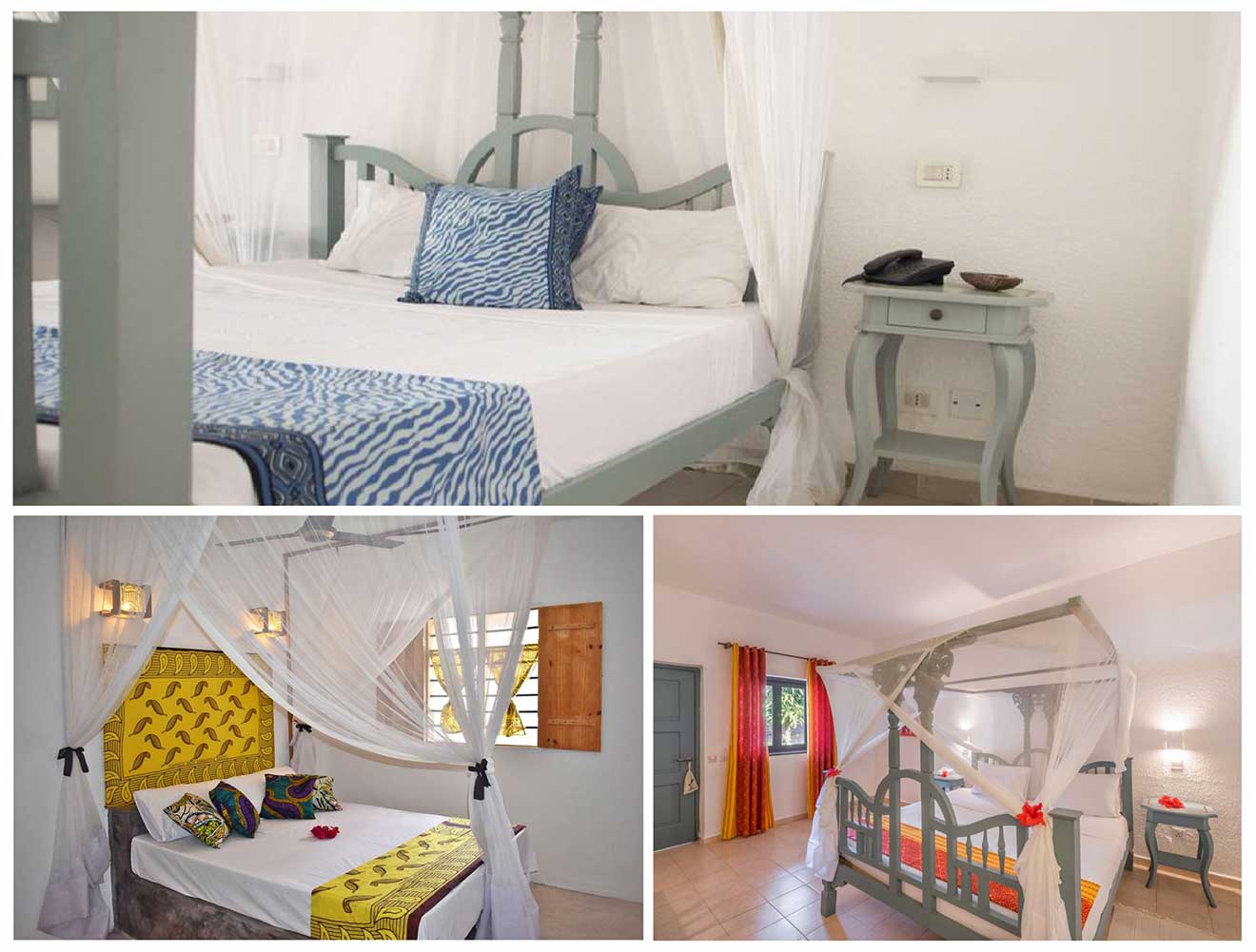 Luxury ($180 USD and above)
Middle-priced ($80 to $180 USD)
Budget (up to $80 USD)
Book your stay on the East coast
BONUS 1: Special hotels in Zanzibar
Underwater hotel
If you want a truly unique experience in Zanzibar, consider staying in a Zanzibar underwater hotel. The Manta Resort has an underwater room off the shore where the bedroom is underwater. You may have heard of "sleeping with the fishes," but never like this!
The top floor of the room is a lounge area where you can lay out in the sun and relax. The main floor has a deck, an outdoor living room area, and private bathrooms, of course. Then, you head down a ladder and experience the magic of the ocean. Windows in the underwater bedroom let you see the Indian Ocean life around you. This is a once-in-a-lifetime experience that will immerse you in the ocean like never before.
Checking in on a private island!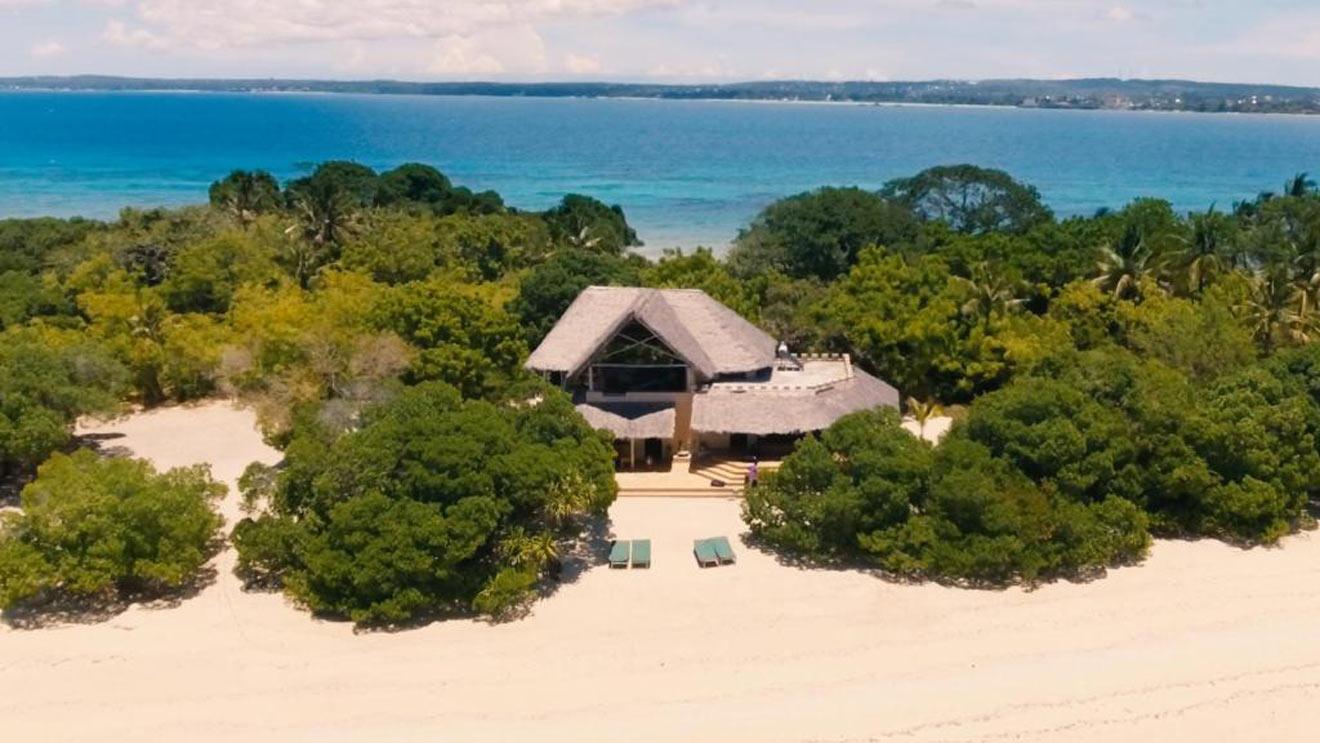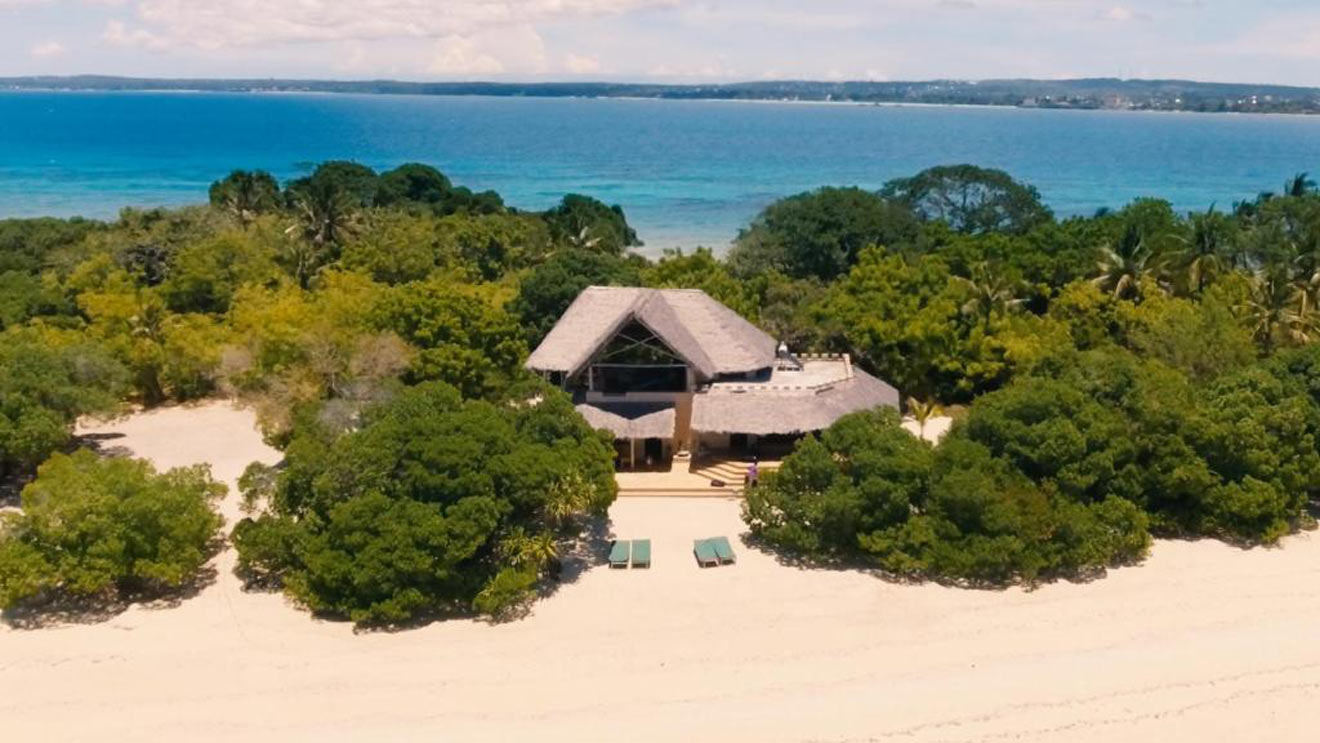 If you want to stay right on the water, check out Chapwani Private Island. You can rent a bungalow right off the coast of Grave Island and really enjoy the ocean. Surrounded by beautiful coral reefs and top private villas, you will enjoy a barefoot luxury experience!
Another fantastic idea is to stay on Mnemba Island, a small island located around 3 km off the coast of Zanzibar and probably the most intimate and secluded place you can stay in Tanzania. It is truly a beach paradise, and it is also perfect for people who are going to Tanzania for their honeymoon, but not only them! If you want to truly feel like you are on your own private island paradise, I recommend staying at AndBeyond Mnemba Island! There are only 12 rooms on the entire island, and each of them is equally gorgeous!
Feel the history of colonialism in style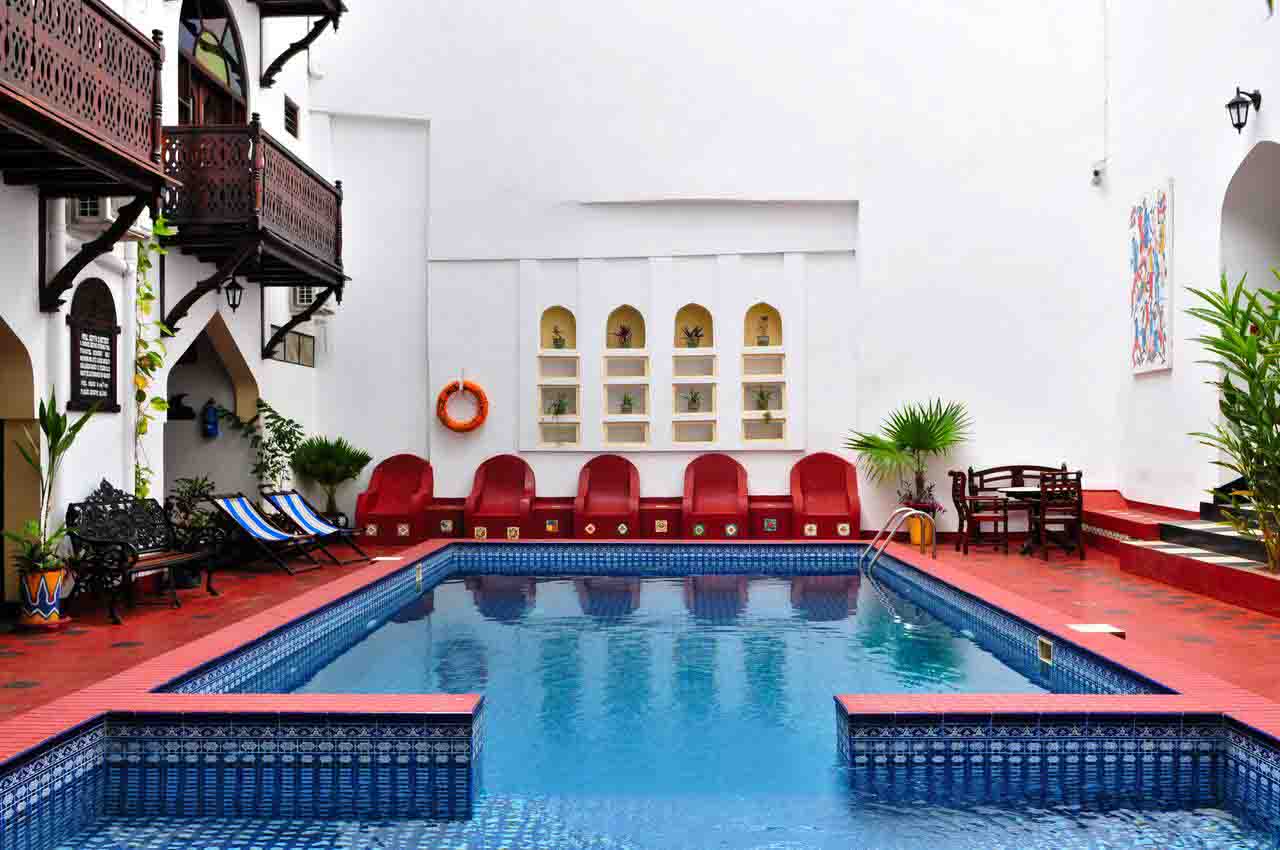 Another unique hotel in Zanzibar is the Dhow Palace Hotel in Stone Town. This hotel is a converted historical building that was built in 1559. The décor is in true Zanzibar style. If you want to get the full Zanzibar experience, travel back in time to this boutique hotel! There's also a pool, a restaurant, and a rooftop terrace.
My Experience Staying at a Hotel in Zanzibar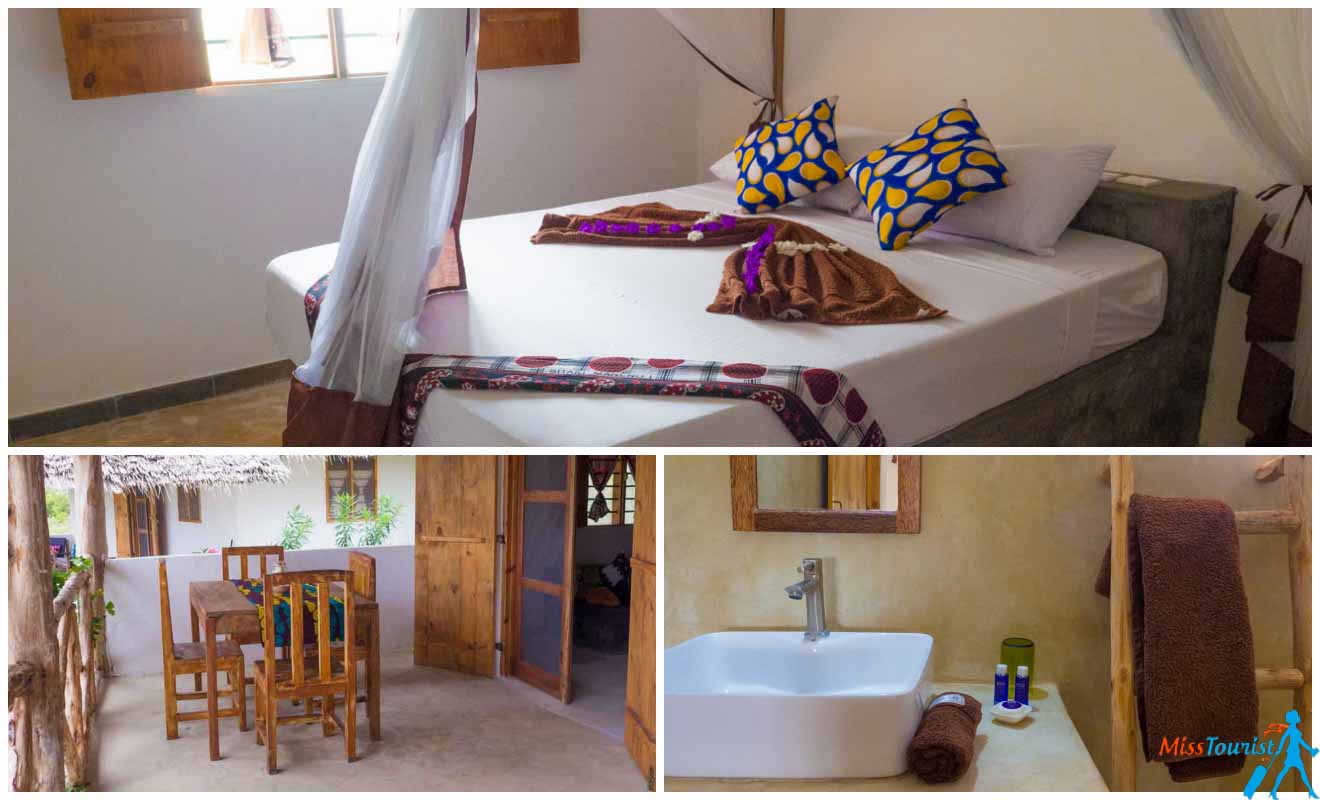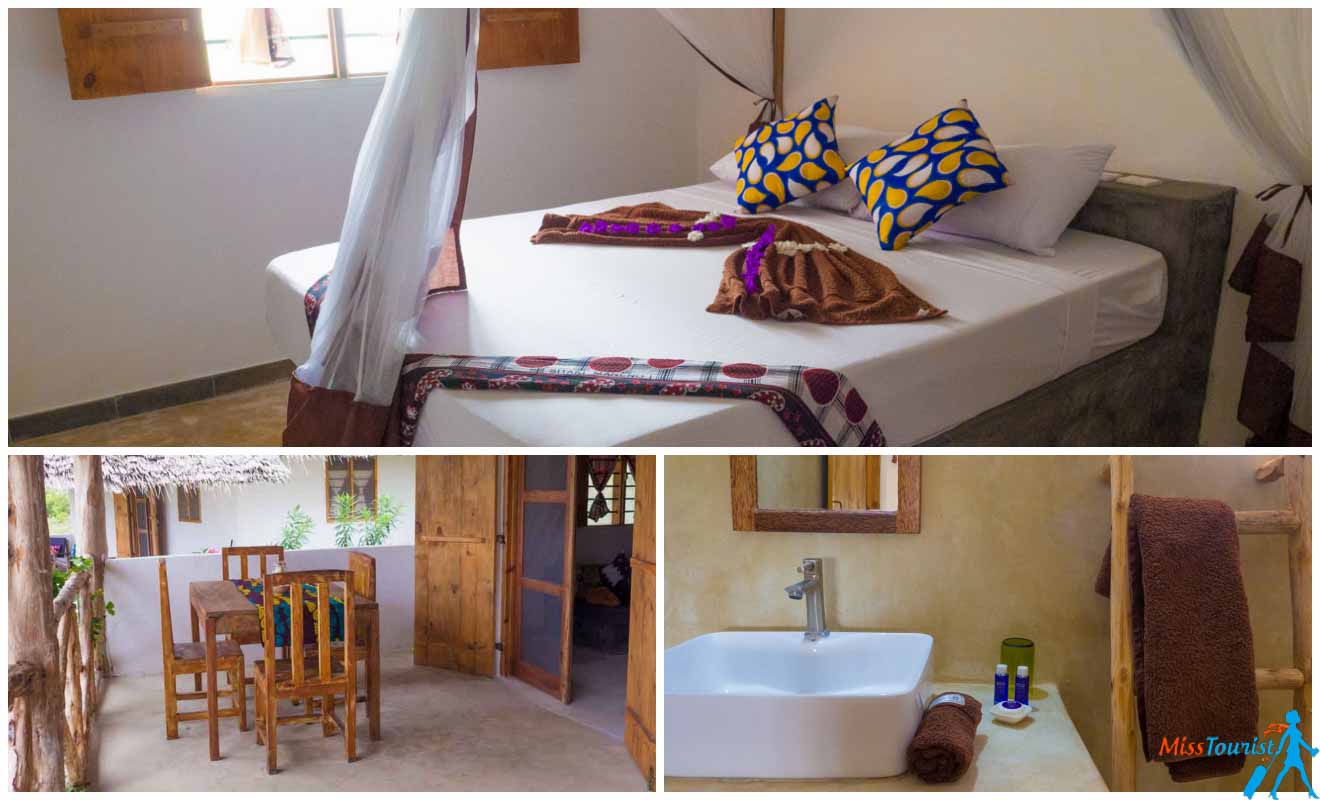 When I visited Zanzibar, we stayed at Nyumbani Residence. This charming hotel has a pool and is 2 minutes away from the beach in Paje. I got to stay at this place when it was brand new – it had opened literally a couple of weeks before we checked in!
The owner of the hotel, Daniele, even woke up at 3:30 in the morning just to say goodbye to us when we left for the airport! And I promise you this wasn't because he knew I was a blogger (he didn't)!
Most of the time when I travel I go "incognito" because I don't want any extra attention and I want to get a real experience – without anyone trying to impress us for free publicity!
Daniele got up to say goodbye purely in the name of hospitality. He and his wife were also extremely nice and welcoming during our whole stay.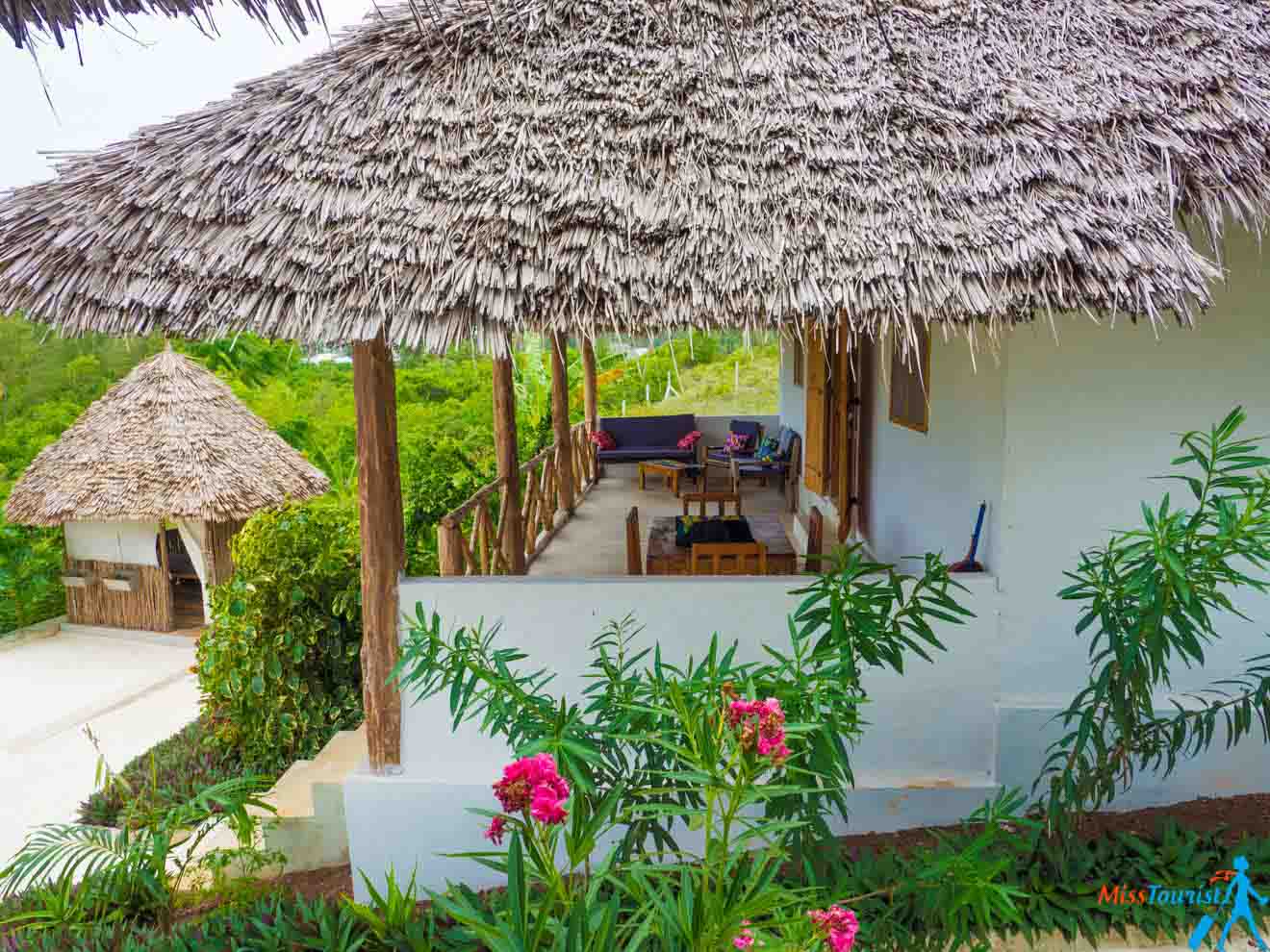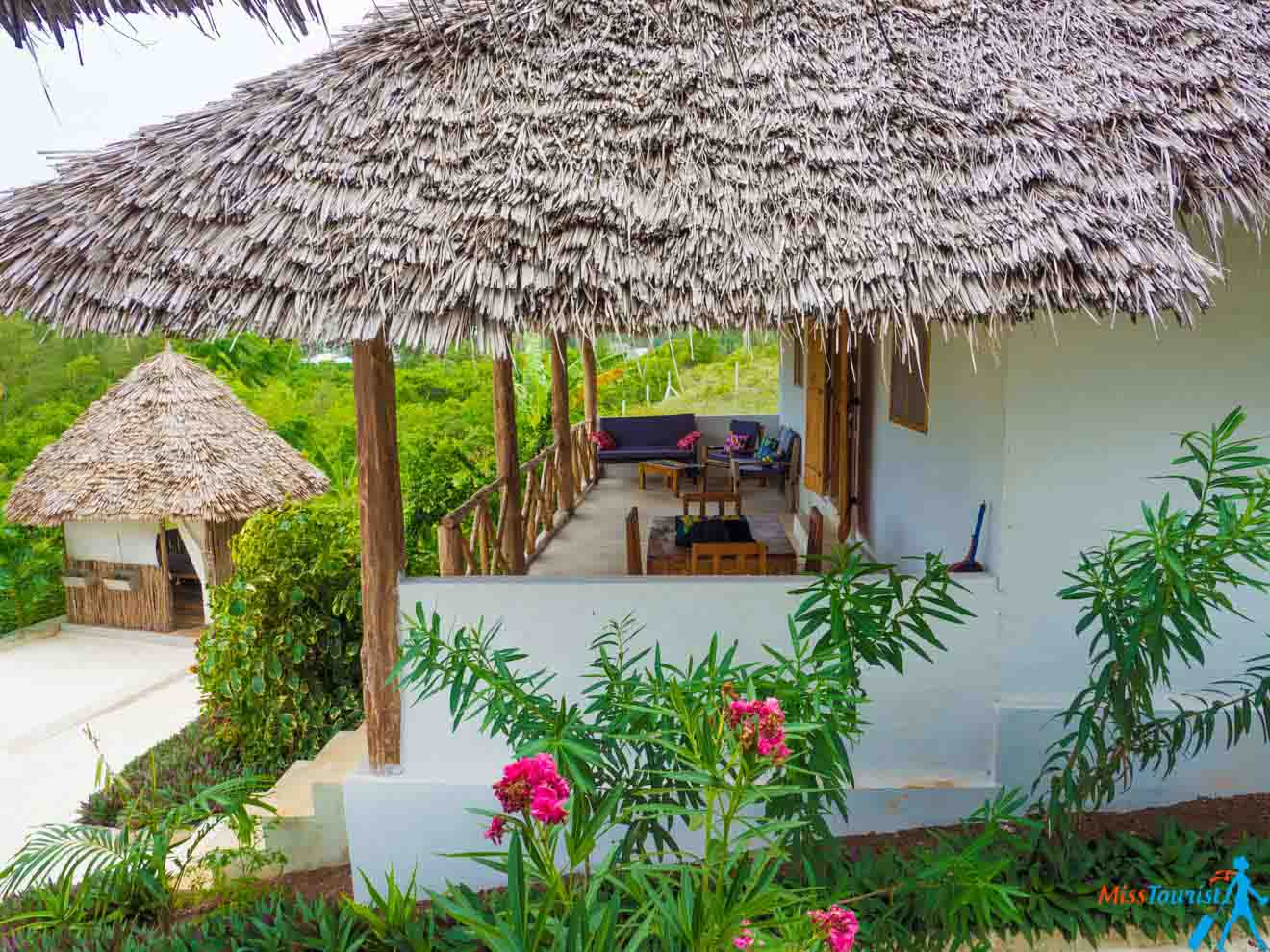 So, Nyumbani is actually a residence meaning we had the whole apartment (60 m2) to ourselves with a fully equipped kitchen and huge living room. They only have about 7 rooms I think and they all face the pool- how cool is that! I loved making smoothies for us every morning and having breakfast with this wonderful view- it was an amazing way to start the day!
Laundry service and food delivery as well as the transfer from the airport can be arranged (I think it is about $50 USD one way to the airport). They can also call a taxi for you to get to the nearest "town" (Paje); this will cost about $6 USD one way. Otherwise, we found that there are tons of restaurants within a 5-minute walk (ask the owner for recommendations as they are Italian and they know the good places! 😉 )
If you're addicted to Wi-Fi, I will tell you that the internet isn't super fast (it's not fast anywhere on the island to be fair!). But there is a router right in your bungalow, so no need to go to the lobby or anything like that.
All in all, I really enjoyed my time there and I highly recommend this place if you want somewhere tranquil and intimate.
Check the rates for Nyumbani Residence
BONUS 2: Practical info about staying in Zanzibar
Now that you know about all the best areas and hotels to stay at in Zanzibar, let's take a look at some practical information about staying on the island:
How do I get to Zanzibar?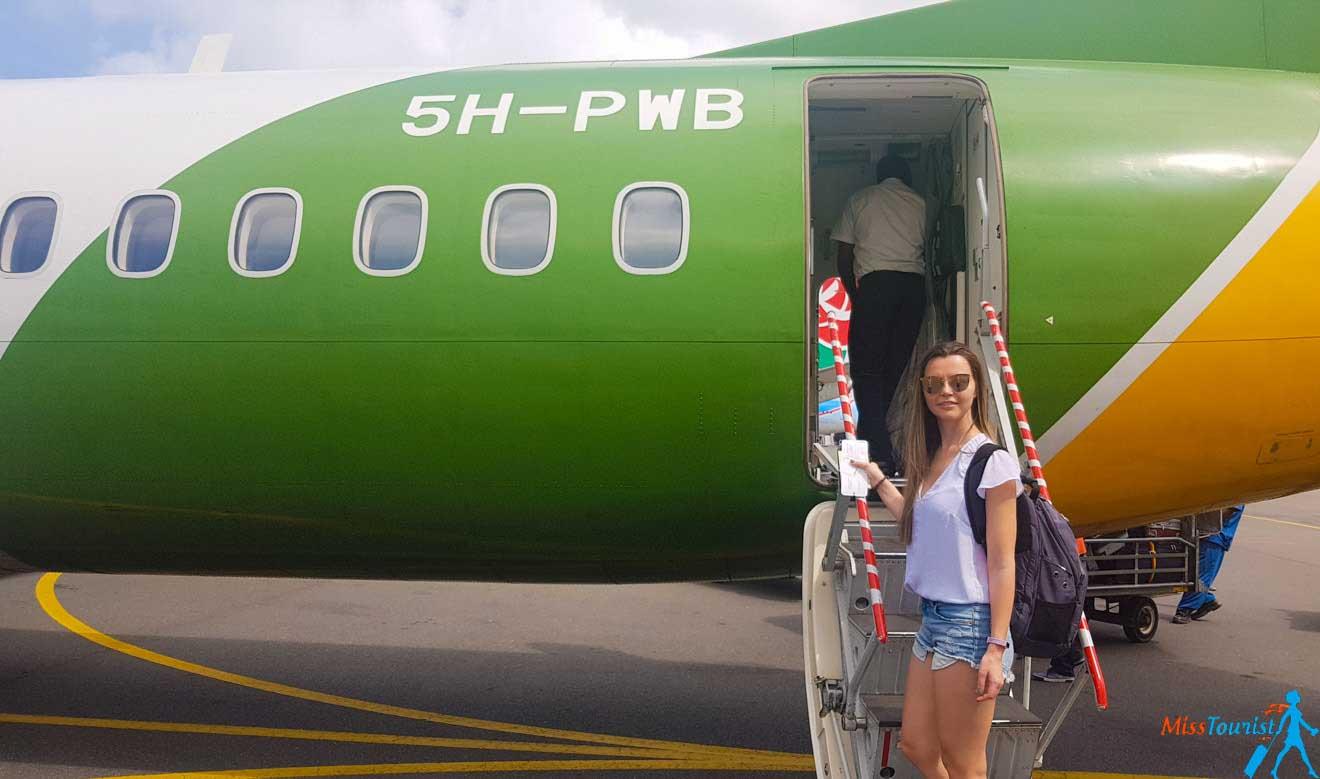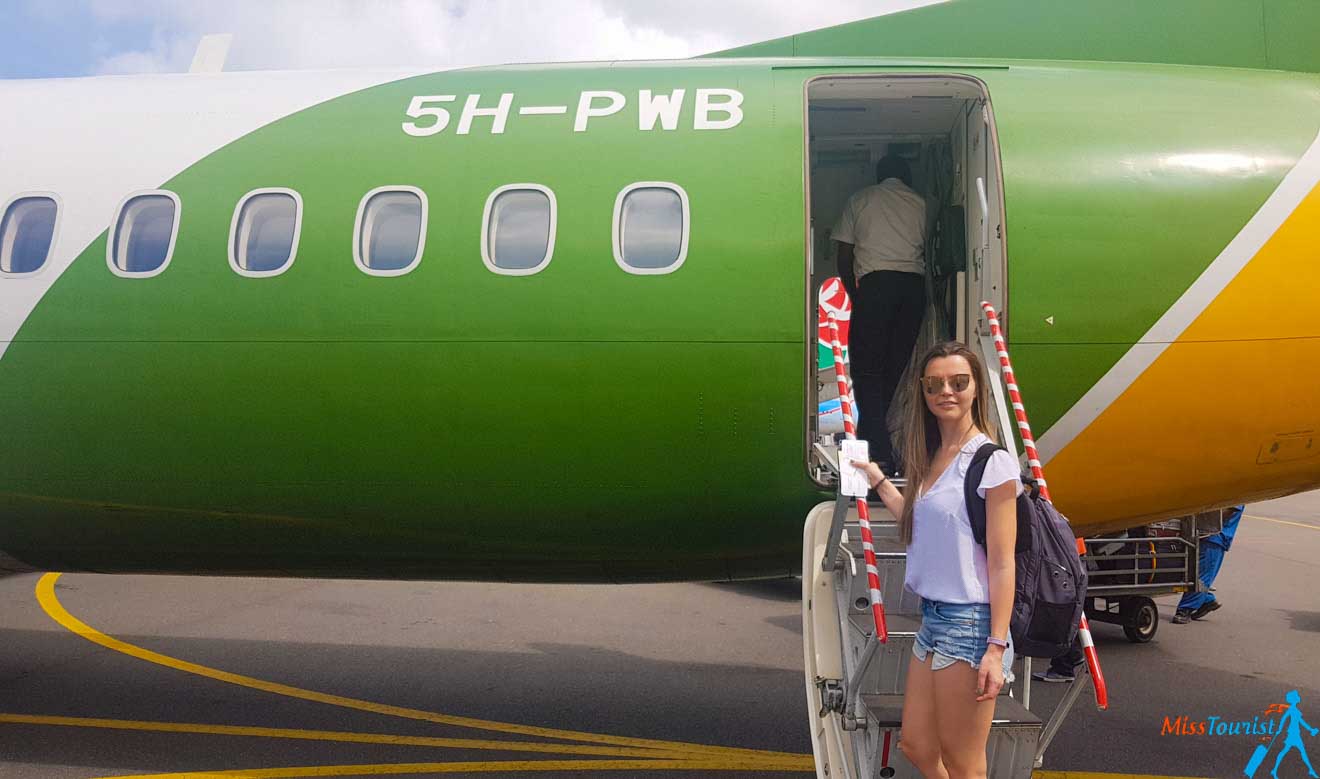 You can get to Zanzibar either by ferry or plane. Both leave from Dar es Salaam on the eastern coast of Africa. There are also plenty of international flights that land in Zanzibar. I arrived by Oman Air, and there was a transfer to Muscat Airport. Check the best rates from your city here.
By plane
Flights to Zanzibar run daily from Dar es Salaam and cost about $100 USD. If you're coming from Arusha at the base of Kilimanjaro, you can also catch a flight to Dar es Salaam for about $180 USD and then transfer to a flight to Zanzibar.
Please read more about my safari trip in Arusha here. I also climbed Kilimanjaro and I will talk about my experience here!
If you are traveling from your home country, you are in luck since Zanzibar is a popular destination now and many international flights land there. For example, I arrived by Oman Air, (there was a transfer to Muscat Airport). Check the best rates from your city here.
By ferry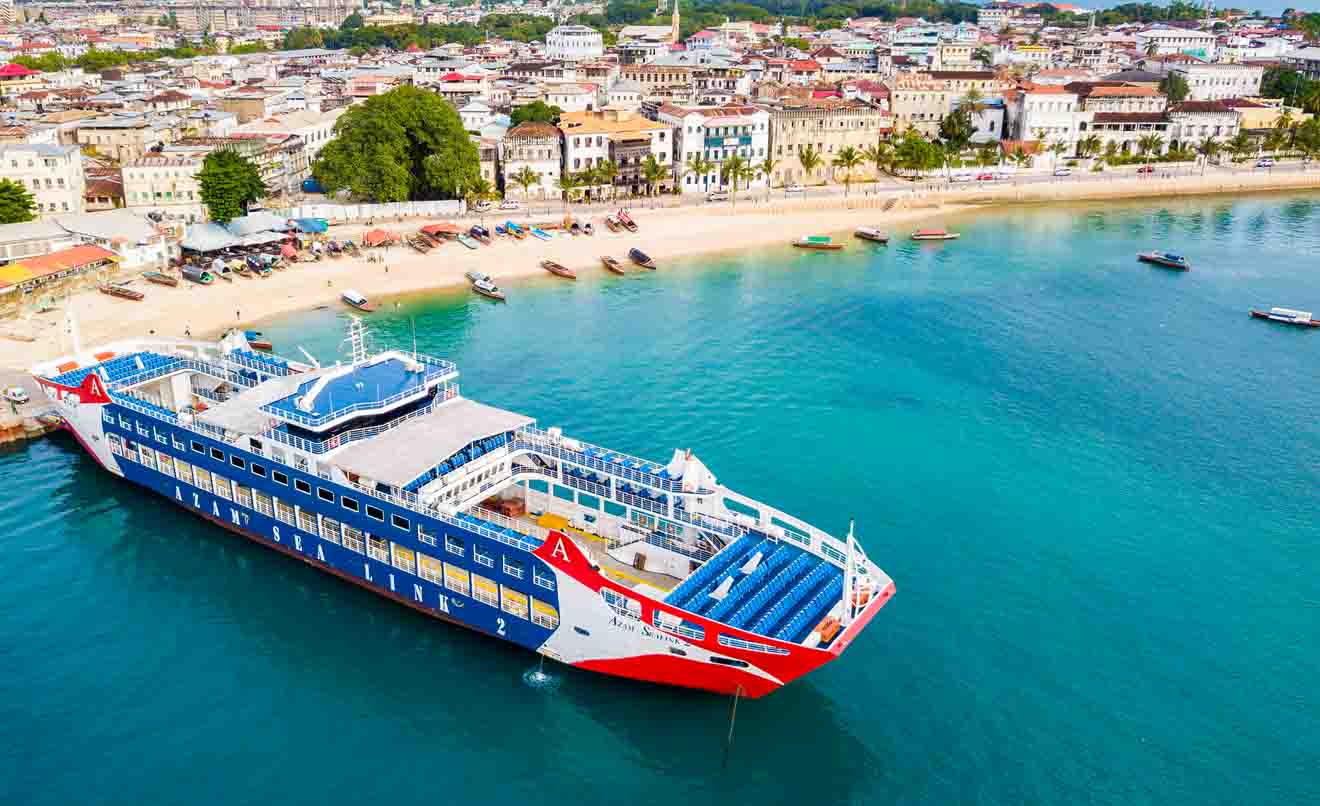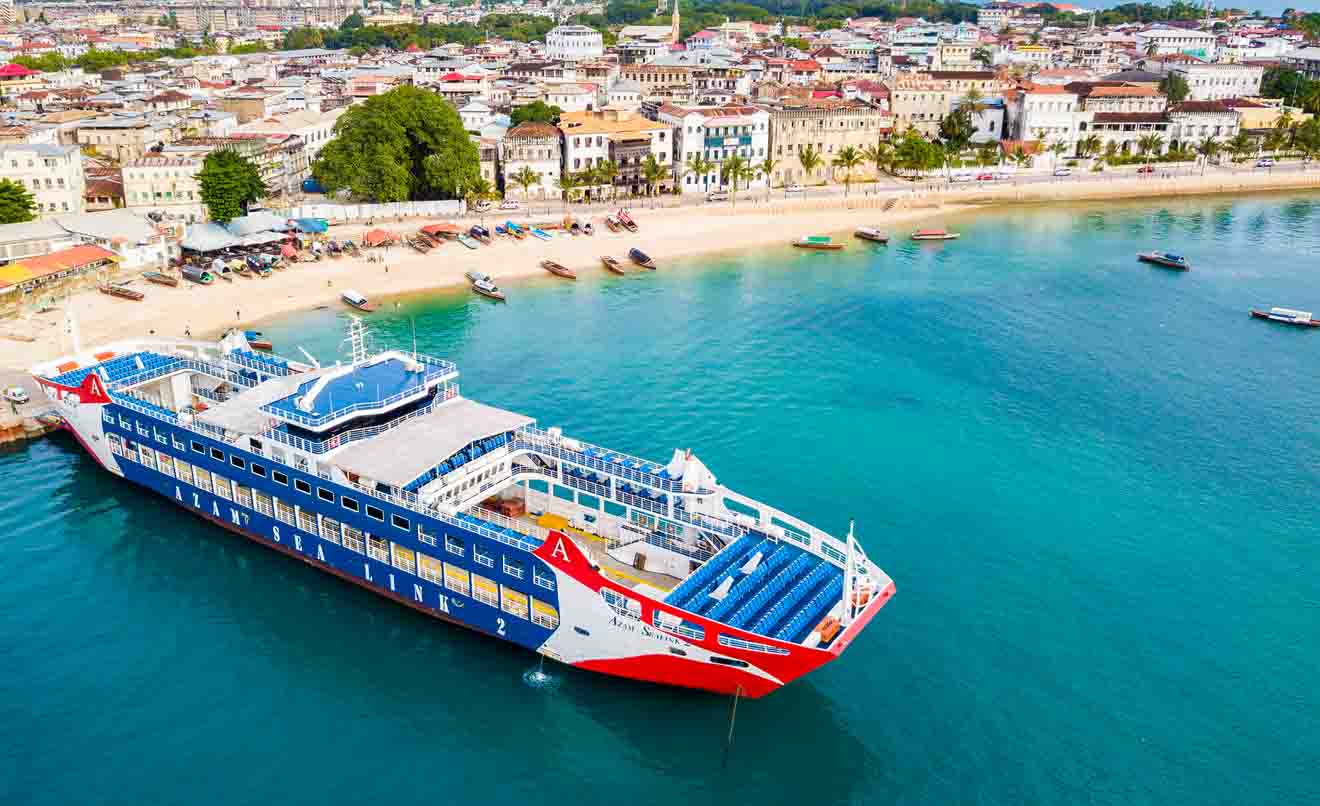 There are various companies that have ferries leaving from Dar es Salaam. Tickets one-way cost between $35 to $70 USD. Some ferries are faster than others. You can get cheaper tickets if you're willing to take an older, slower boat.
Be sure to reserve ferry tickets ahead of time as the boats fill up quickly. You can book online with most of the companies to ensure you have a spot on the boat.
Where should I stay in Zanzibar for nightlife?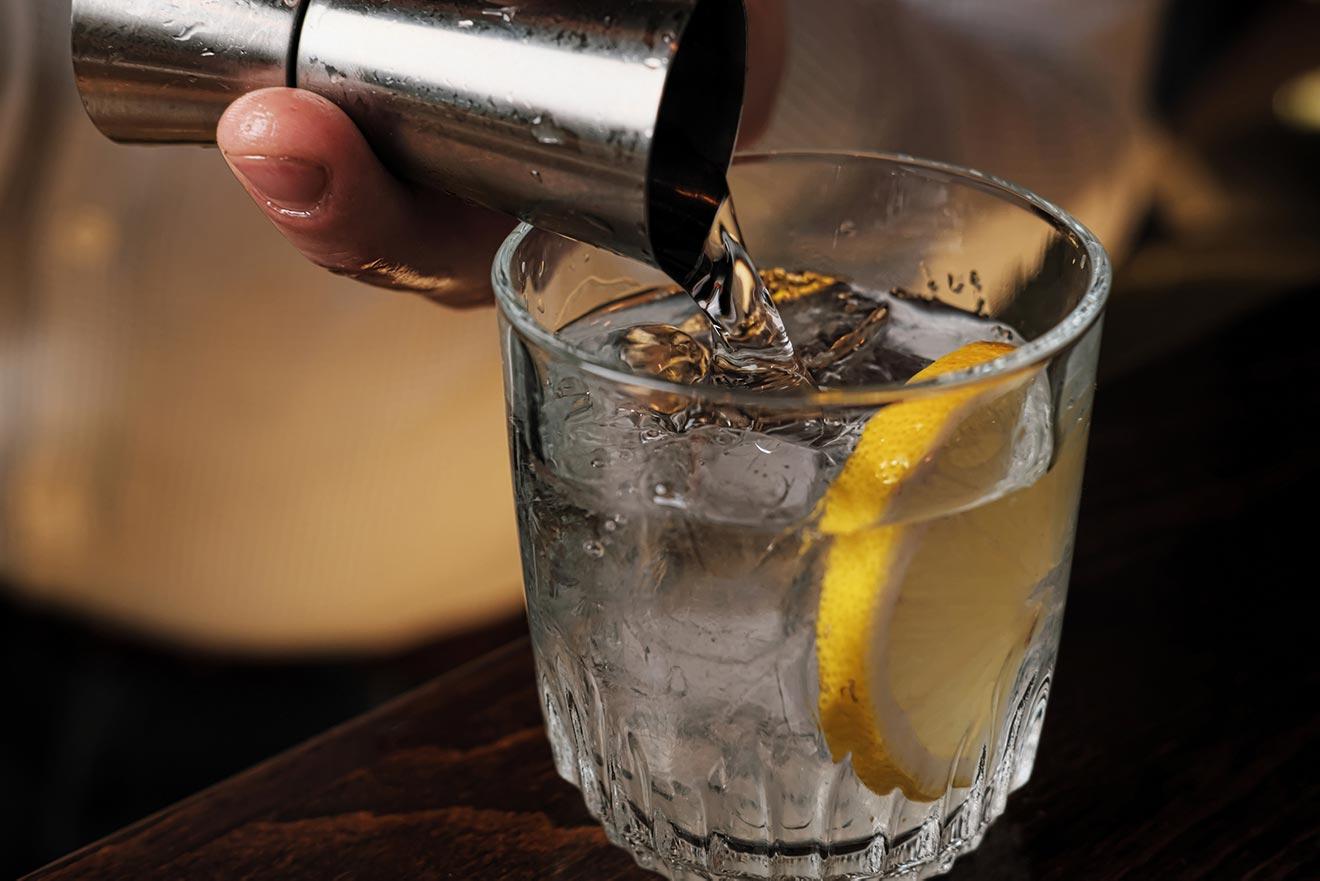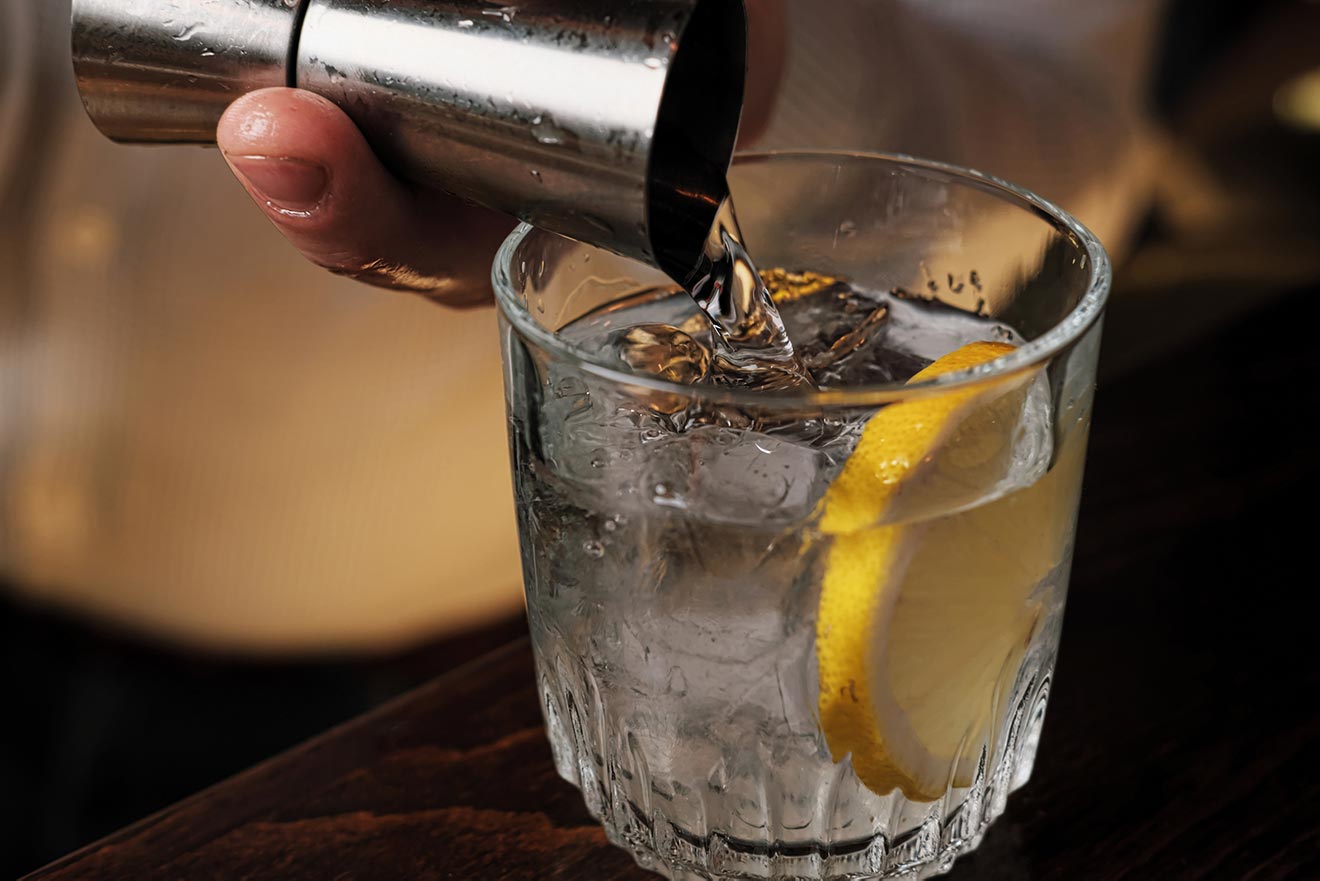 Even though the majority of people in Zanzibar are Muslim, you will not have a problem finding a bar or pub to go to at night for a drink.
If you want more traditional bars and nightclubs, Stone Town is the place to go. I recommend 6 Degrees South if you're looking for the perfect place to have some cocktails while watching the sun go down.
For beach bars, in the north, you can head to Kendwa and Nungwi. Kendwa is also home to the once-a-month Full Moon Party (similar to the one on Koh Phangan in Thailand!), which is usually held the first Saturday after the full moon. It's a recipe for a perfect night of dancing on the beach.
To the East, there's Jambiani and Paje, which each have lounges on the beach. Jambiani has Monday night parties at the Red Monkey Beach Lodge. You can also head to Pingwe and hit one of the most unique beach bars, The Rock. You have to wade out into the water to reach this restaurant/bar, which is literally just on a rock in the Indian Ocean!
Where should I stay in Zanzibar for a honeymoon?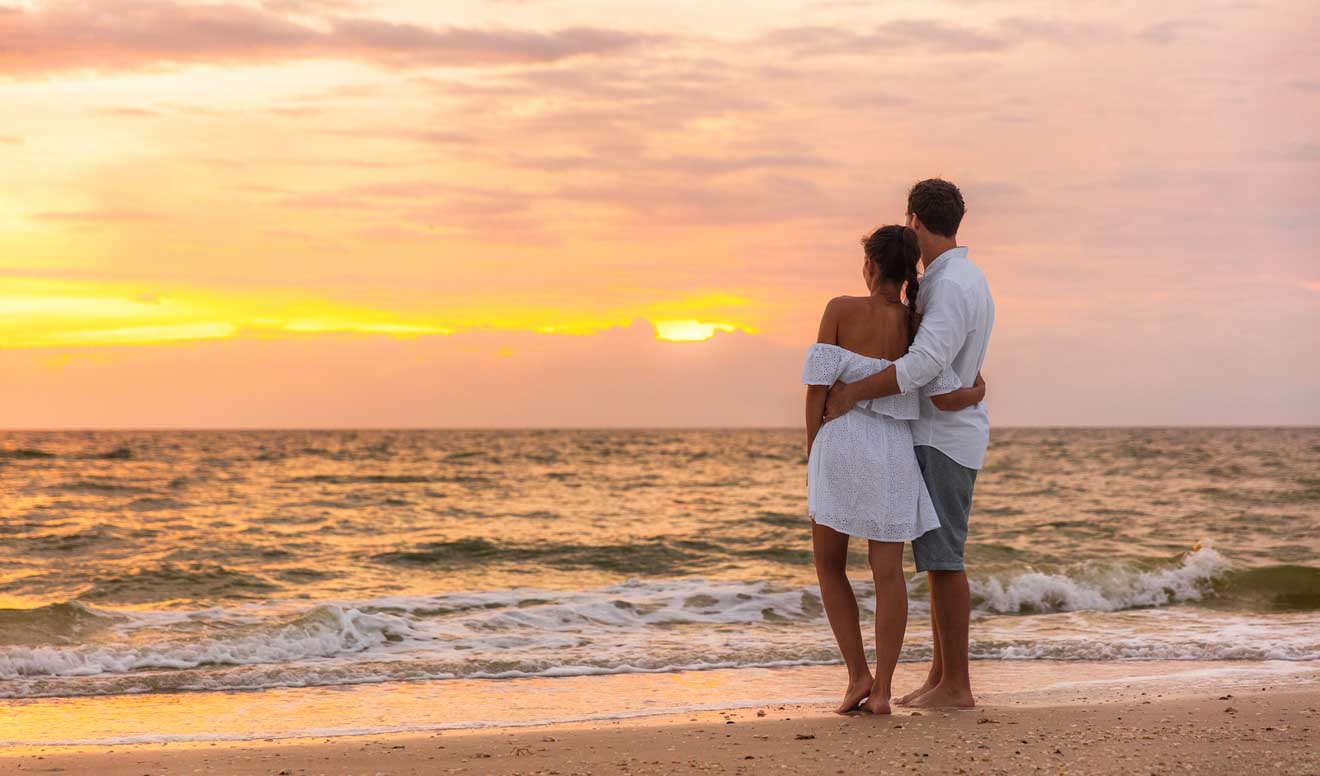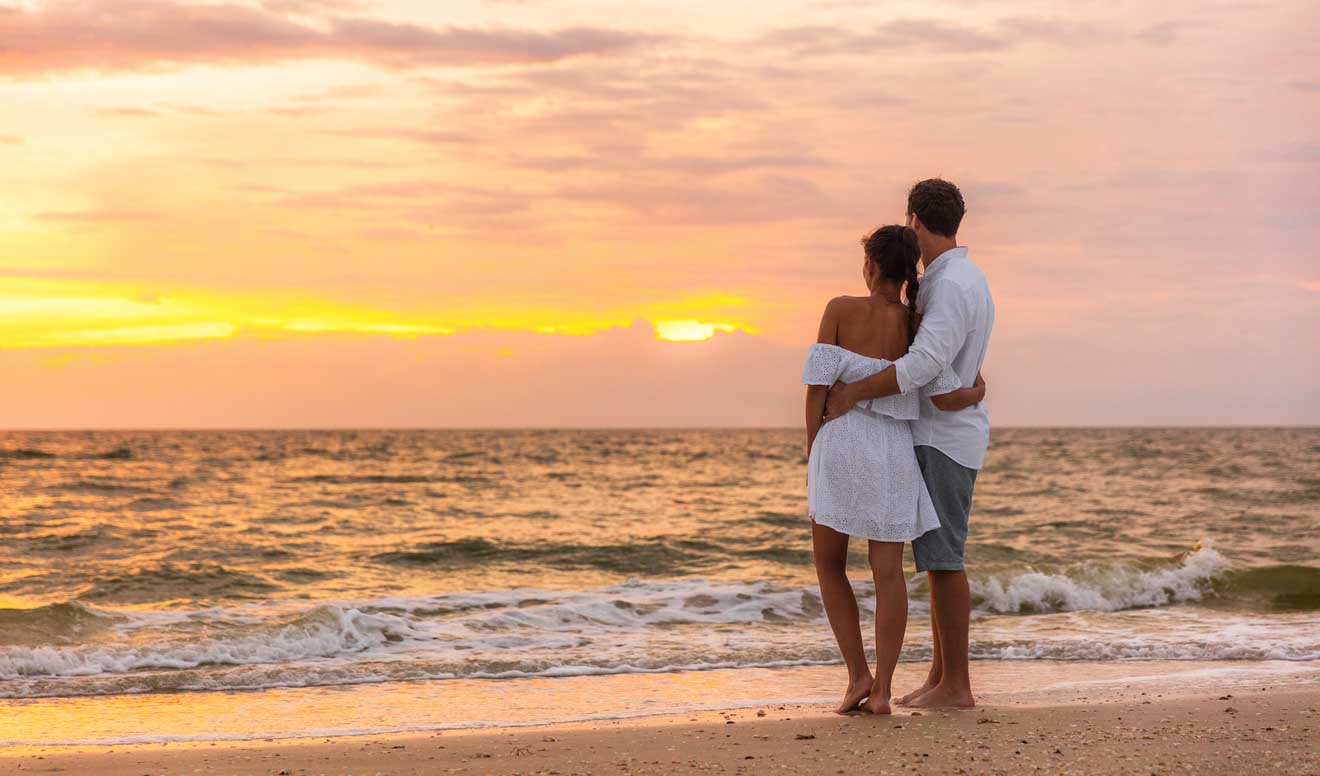 Any of the luxury hotels I've mentioned before would be perfect for a honeymoon!
Another option would be the Konokono Beach Resort on the Michamvi Peninsula. With monkeys surrounding this beach hideaway, it has all the makings of an incredible honeymoon.
The restaurant also has spectacular views from the top of a cliff so you can take panoramic shots of the sunset.
Another spot for a romantic getaway is the Hotel Riu Jambo. Located in Nungwi right on the beach, this resort will give you a fully relaxing experience. With evening entertainment activities, spa treatments available, and a variety of private pools, newlyweds can spend quality time together in luxury.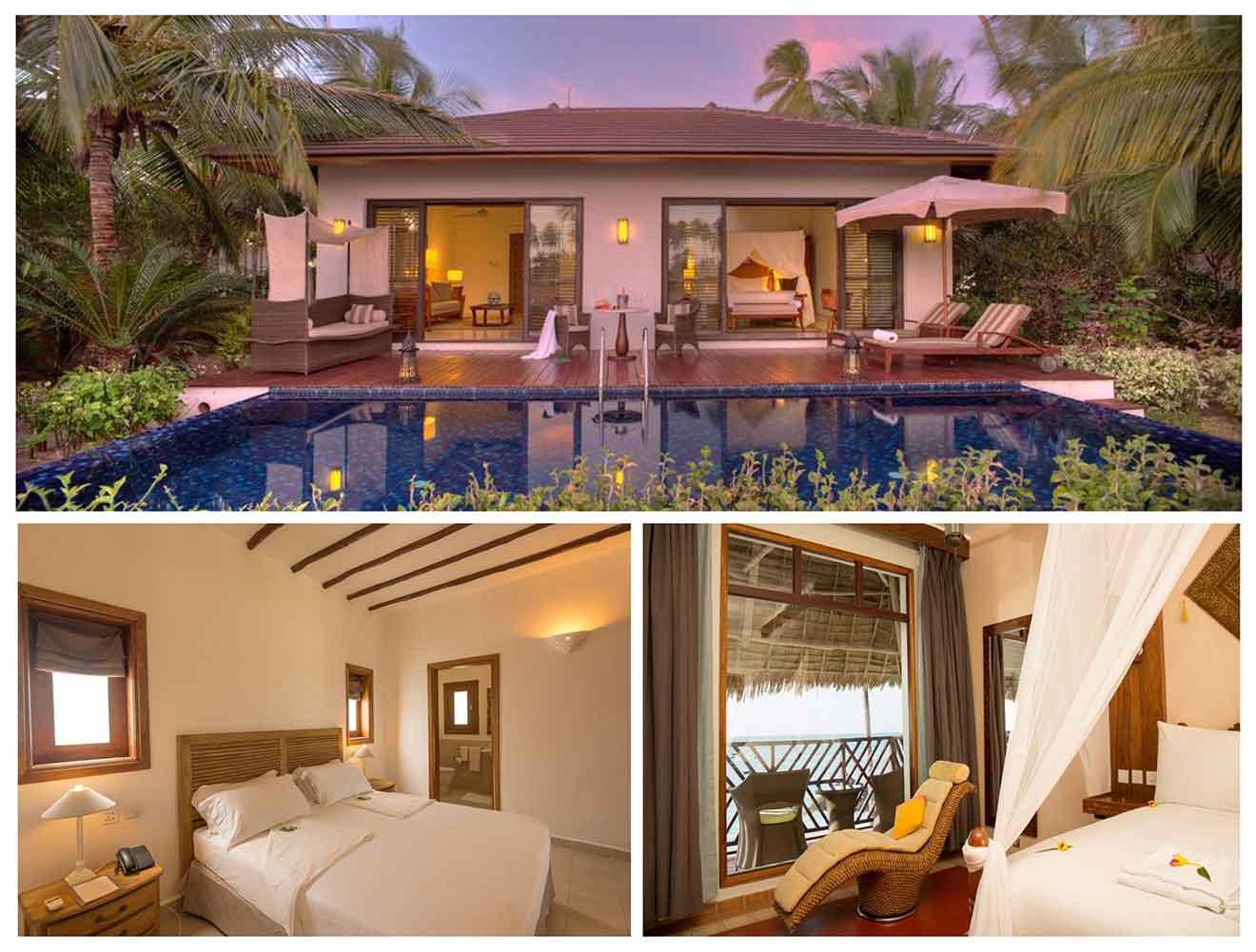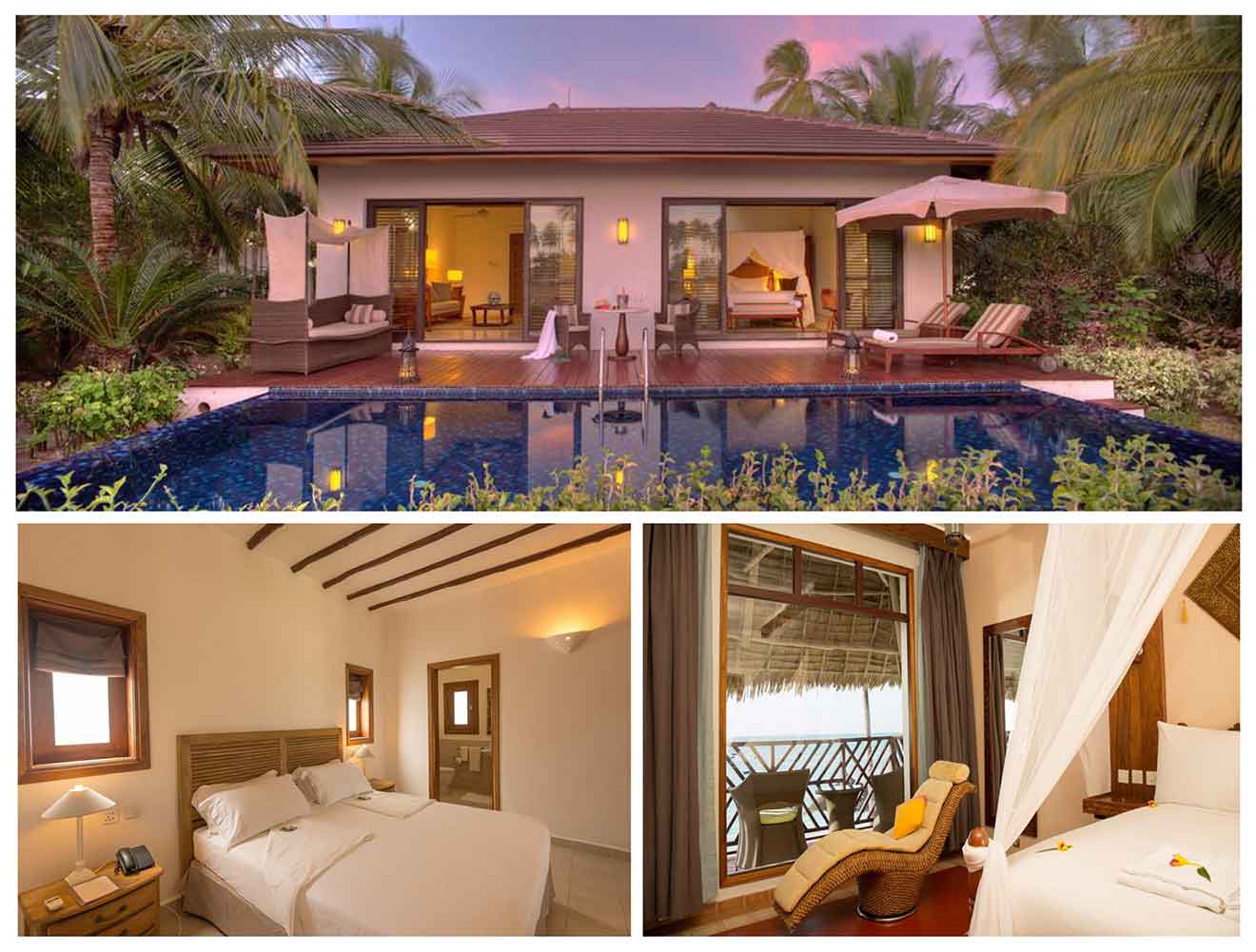 For a more private honeymoon, you can rent a villa at The Residence Zanzibar. You can get your own ocean-side villa with a private pool. Wake up every morning to sunrise over the Indian Ocean and go to sleep to the sound of the waves! Their location offers a wide variety of activities as well, from a wellness center and a glass-walled pool to tours of the nearby Jozani Forest Reserve. Or if you want to just enjoy some alone time together, you have the privacy of your villa, pool, or the beach right outside your front door.
Where NOT to stay in Zanzibar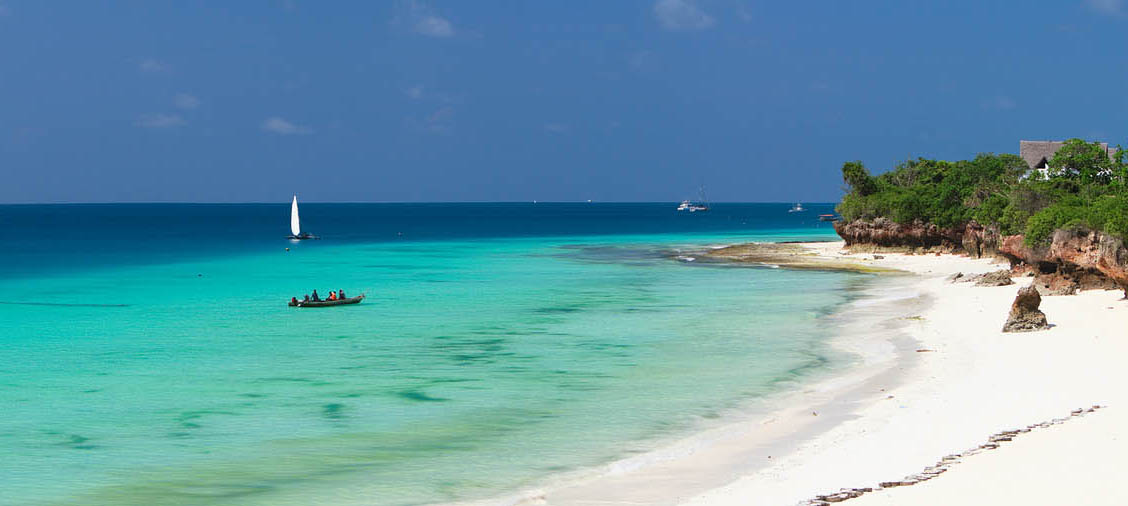 You may have noticed I haven't included any hotels in the west of Zanzibar, except for Stone Town.
The West coast is more remote than the rest of Zanzibar and the beaches just can't compete with the Northern and Eastern beaches. This is mostly because of the rocky shoreline in certain areas.
There are resorts on the West coast, but I personally would rather hit the beaches up north or to the east. If you do head to the West coast and want to go somewhere besides Stone Town, you can consider heading to an island devoted to eco-tourism.
The South coast of Zanzibar is the most populated part of the island, which means it is a great place to visit to understand more about their culture and take some very interesting tours. But if you are dreaming of a beach vacation, staying on the South coast is not the greatest idea, as the height difference between high tide and low tide is more noticeable there.
If you really want to see it for yourself, I recommend Nest Style Beach Hotel or Eden Rock for your stay in the Southern coast of the island!
FAQs about hotels in Zanzibar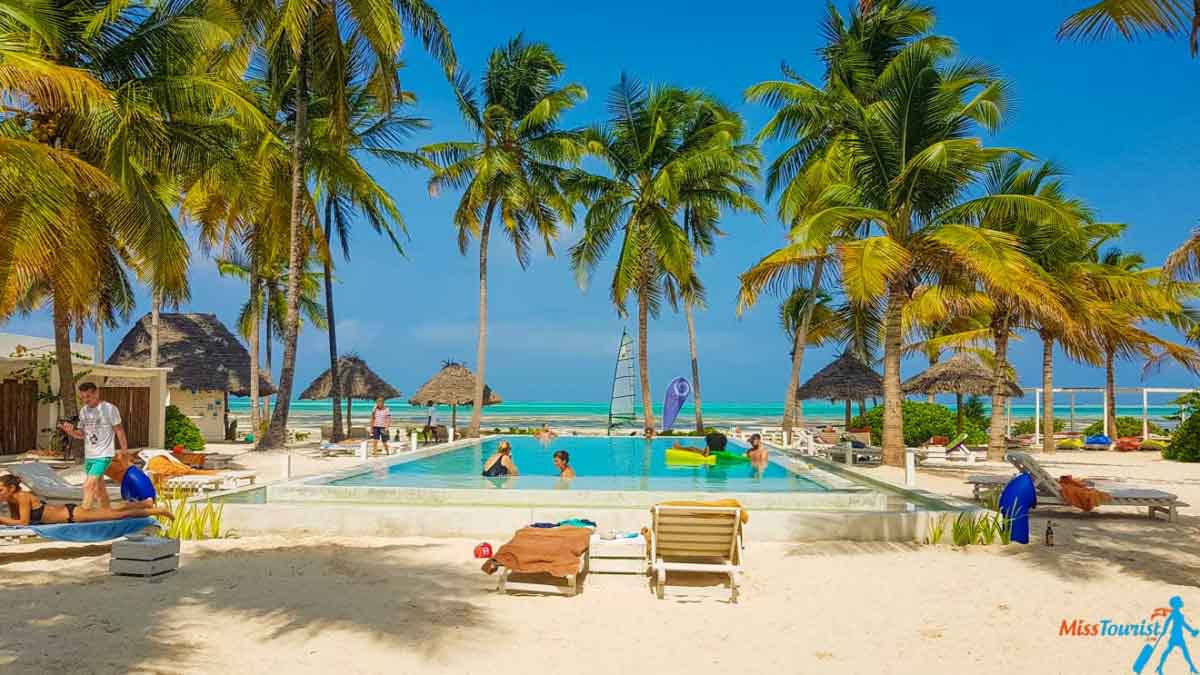 ☀️ What is the weather in Zanzibar?
The weather in Zanzibar is hot almost all year round (high temperatures around 38°C and in the cooler months around 29 °C) and has two rainy seasons; from March to May and from Mid-October to early December. So I recommend visiting the island from June to October where the weather is amazing and it's the dry season.  
🏖️ What is the best beach in Zanzibar?
In my personal opinion, Nungwi beaches are the most picture-perfect. During high tide, East coast beaches are amazing! But, as I said, during low tide, the water is so far from the beach that you have to walk up to 1 km to reach it!
👨‍👩‍👧 Where should I stay with my family?
The North coast is definitely the best place to stay in Zanzibar for a family vacation! I recommend the Zuri Zanzibar hotel.
💑 What is the best hotel for honeymooners?
🌊 What part of Zanzibar has the best beaches?
The East coast has the best beaches in Zanzibar! In case you are looking to stay there, I recommend Nyumbani Residence and Amka House! I'm sure you will love both options!  
Conclusion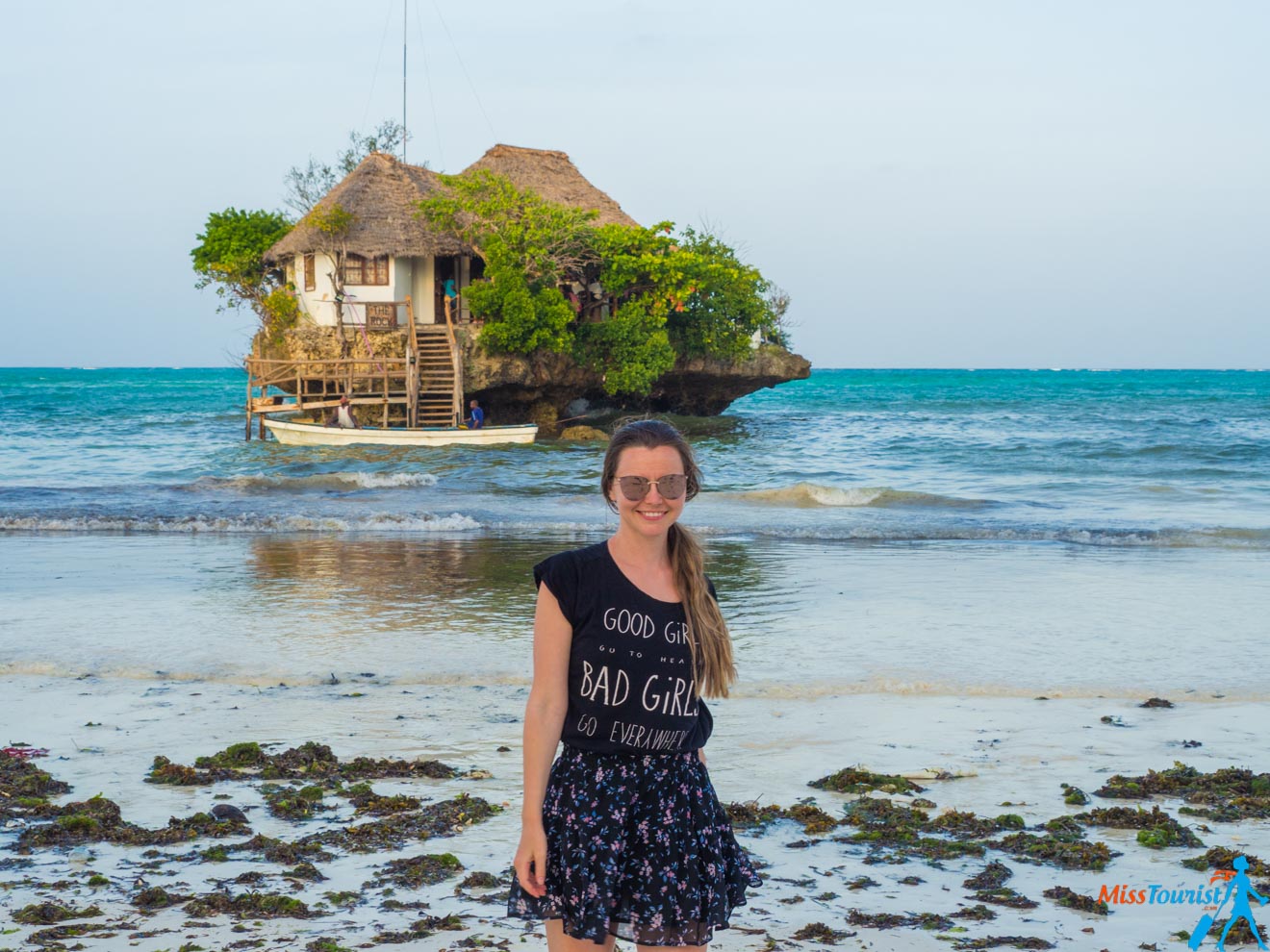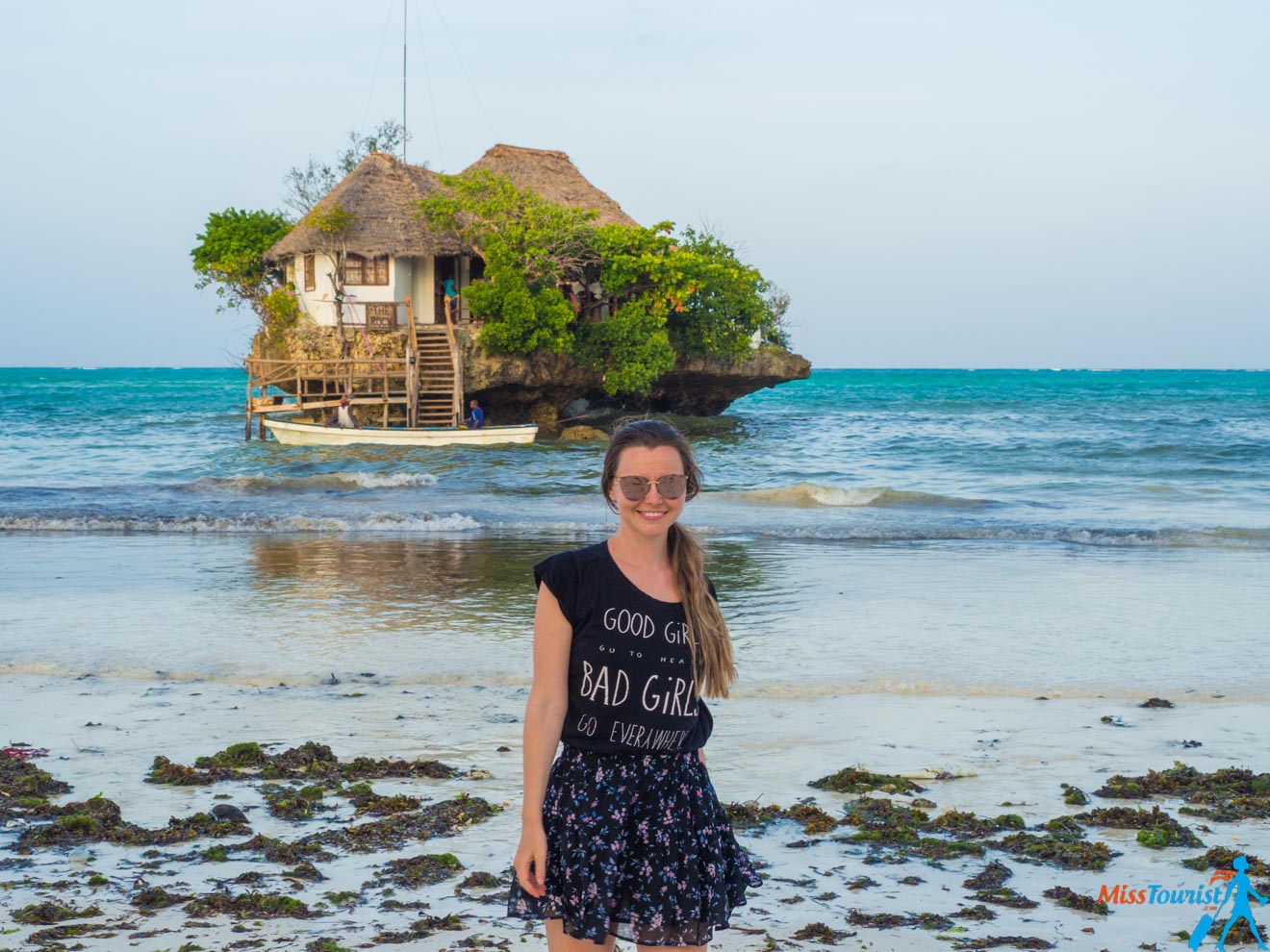 In this article, I recommend the 3 best areas where to stay in Zanzibar and the best hotels for each of them. I've handpicked each hotel based on price category and amenities so that no matter where you choose to stay, you can have the best experience!
I also mention areas where I don't recommend you stay and I give you practical information about the island and other useful tips for your trip!
Depending on what kind of Zanzibar vacation you're looking for, you can pick the perfect hotel for you depending on your budget! On Zanzibar's Northern coast you'll see more travelers, but you'll also get beautiful Zanzibar beaches. Stone Town offers so much culture and history. Then, to the East, you get more remote beaches and exclusive resorts.
Each area of Zanzibar has amazing things to offer but only you can decide what kind of trip you want to have. Or visit them all, why not?
To make things a little bit easier, let me tell you my top 2 choices:
Riu Palace Zanzibar – if you want a luxury stay in Zanzibar, this is the best option for you – plus, it is an all-inclusive hotel!
Mangrove Lodge – more on the budget side, but still perfect for an incredible stay!
Whatever you decide, I hope you have a relaxing beach vacation, and of course, do not forget as soon as you find the perfect accommodation option to secure your spot at this incredible destination!
If you have any questions, leave them in the comment section and I'll get back to you!
Yulia
---
Pin it for later!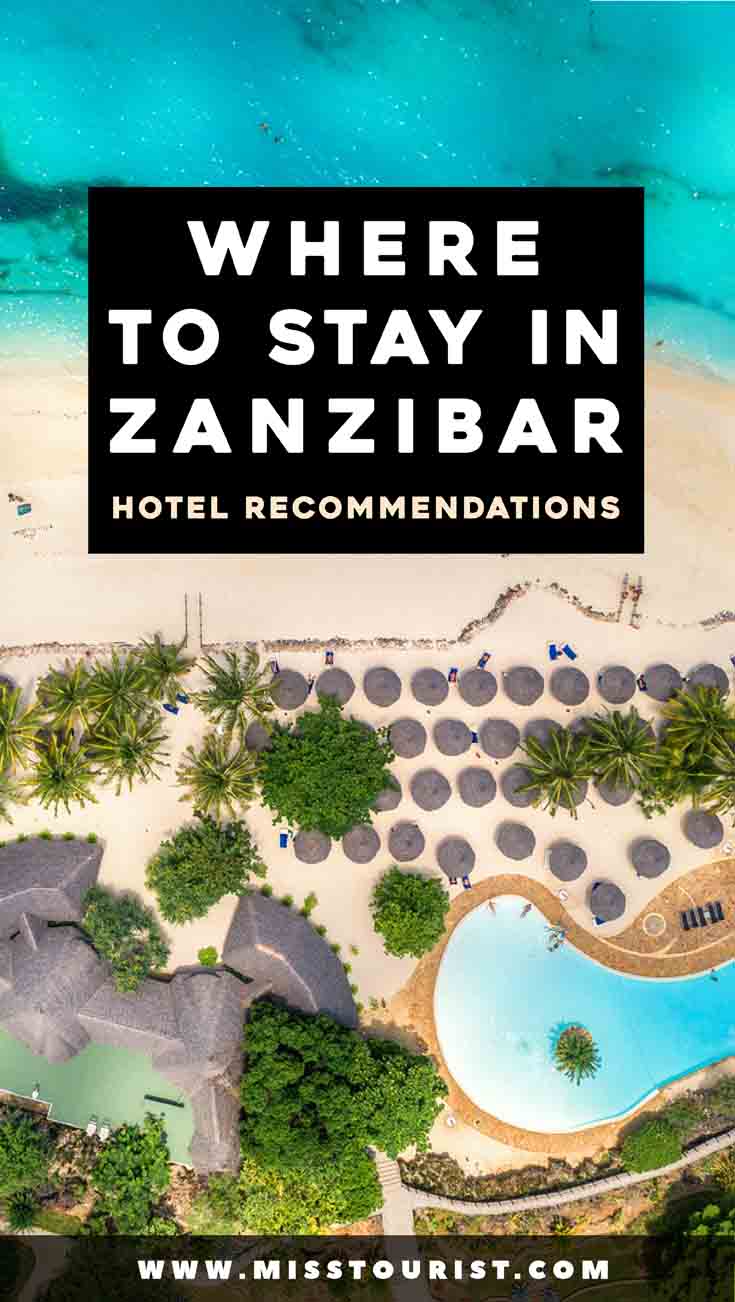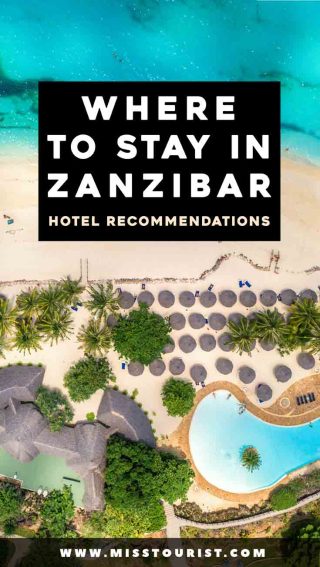 Pin it for later!