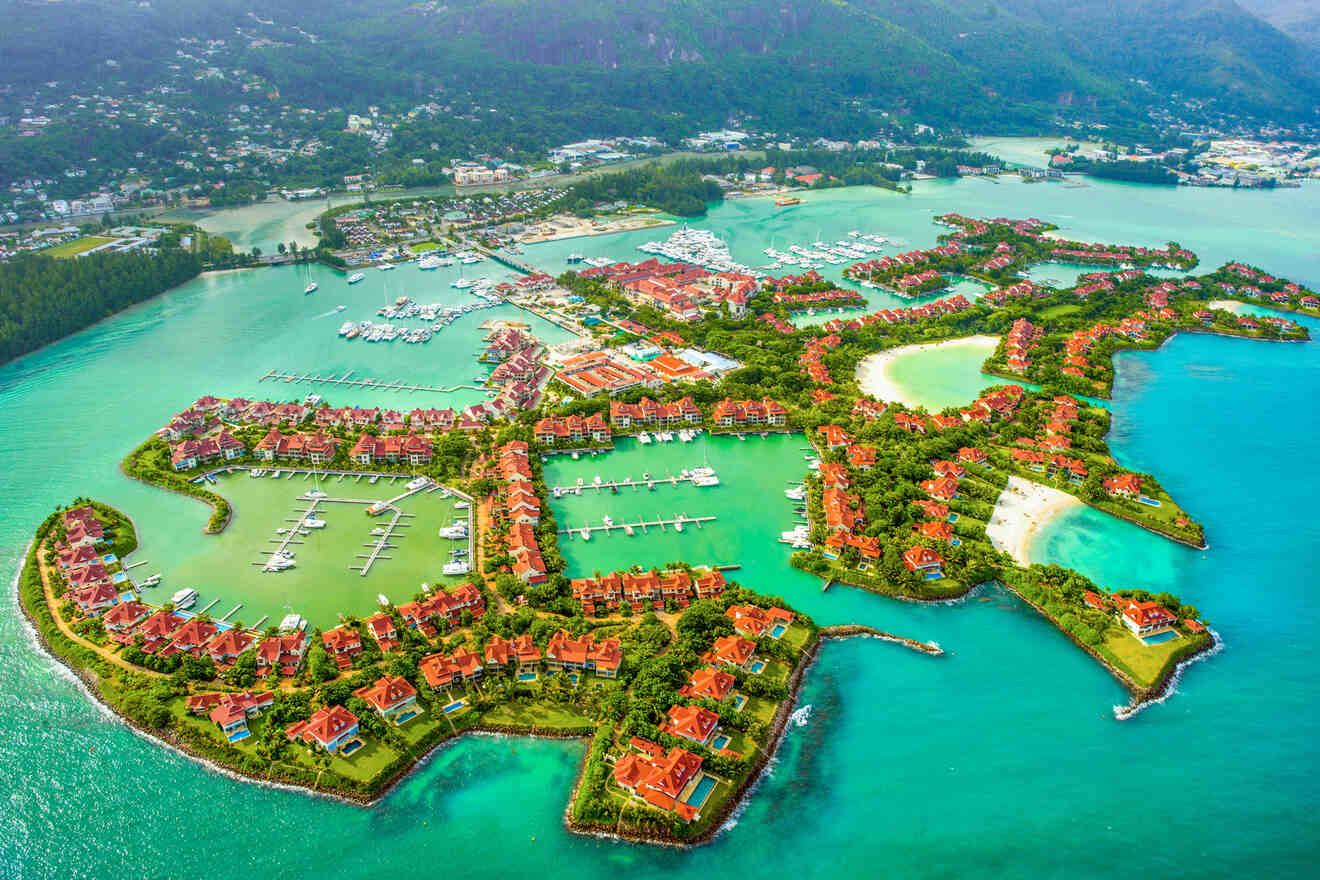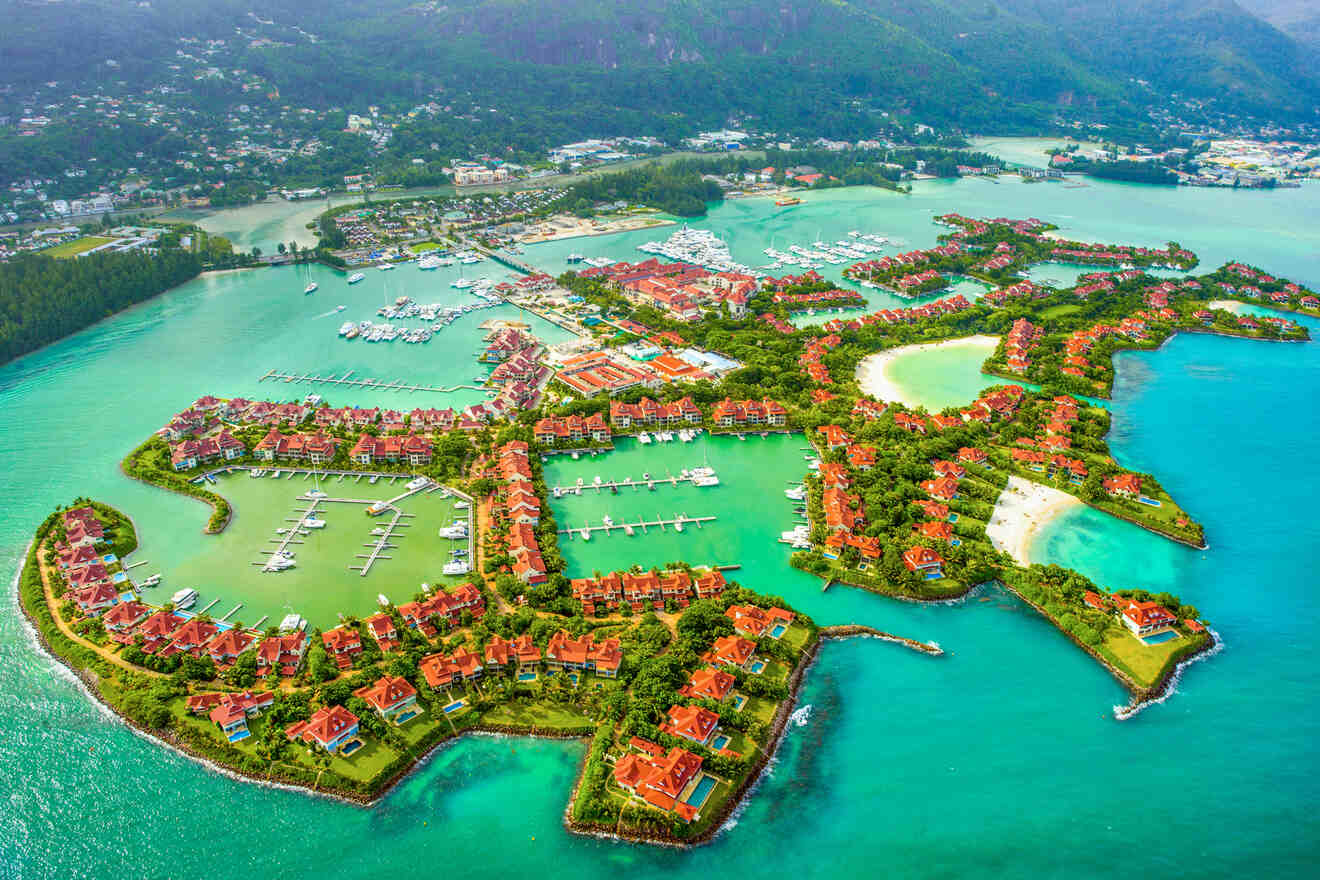 If you're heading to Seychelles you're probably looking for a secluded island where you can spend your days sunbathing, swimming, and drinking cocktails on the beach! But since Seychelles is such an exotic archipelago with no less than 115 islands sitting off the coast of East Africa, it's important to know where to go, and that's where I come in!
The best place to stay in Seychelles is Mahe, the largest island here, where you'll find amazing beaches and the best Seychelles hotels! However, in my guide, I will show you two more islands, perfect for romantic getaways and nature lovers; La Digue and Praslin.
And make sure to stick around until the end for a great bonus with some fabulous resorts for honeymooners! Remember Prince William and Kate, the Duchess of Cambridge spent their honeymoon here, the Seychelles hotels scream romance!
Even though the islands don't receive as many tourists as other tropical destinations. I highly recommend booking your Seychelles hotels in advance as there are many things to consider for this trip.
Ready to explore the stunning Grand Anse beach?
Me too! Let's go!
If you are in a hurry
I've prepared a list of the best Seychelles hotels for anyone eager to book their spot right now! All the accommodations are located on Mahe Island:
Here's a map to help you visualize all the islands where to stay in Seychelles that I will be talking about in this post:
1. Mahe – best place to stay in Seychelles for the first time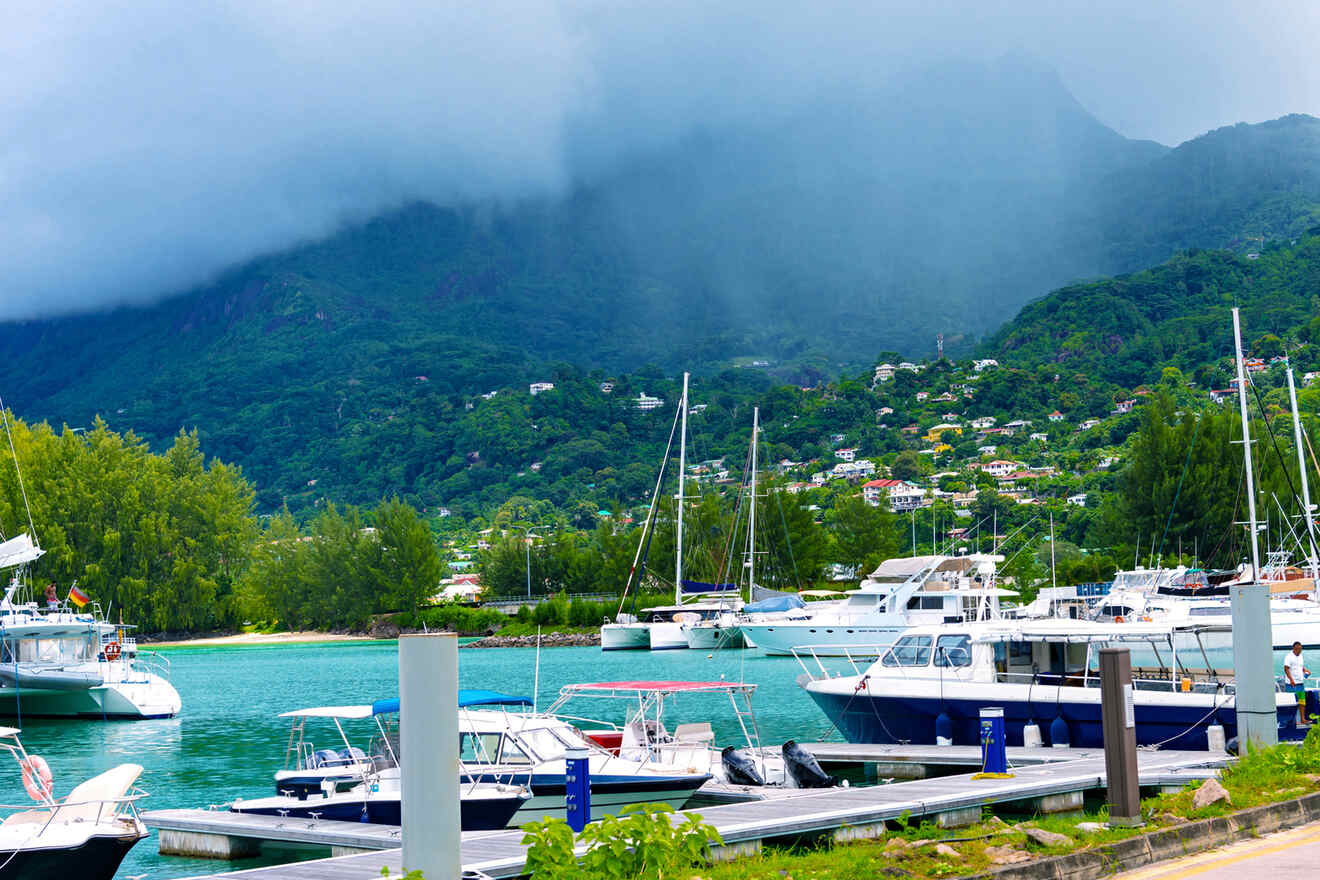 Grab your sunglasses and a hat. We're embarking on a trip around Mahe, the biggest island in the Seychelles Archipelago and, most likely, the starting point for your trip.
Most of the Seychelles population lives in Mahe, which is also home to the capital city and an international airport.
This island is the best place to stay in Seychelles if you're traveling for the first time as it offers the perfect combination of pristine beaches and cultural attractions.
Seychelles Mahe Island is not as busy as you would think. The population is still pretty low so don't worry about the crowds. However, I still recommend booking your hotels as soon as possible. Trust me, it will take you time to plan this island getaway!
Not only does Mahe have some of the best beaches in Seychelle, but the rainforests and mountains make this island a great spot for outdoor enthusiasts and nature lovers. Hiking or trekking fans, you'll love it here!
But don't think the fun ends here! If you want to do some island hopping and sunbathe on the white sand beaches of La Digue and Praslin, you can take the ferry service. And if you're looking to splurge during this trip, sailing charters and helicopters are also available!
Below are some of the best hotels on the whole island, but if you are looking for a specific location, next I will go into detail about two of the main towns on Mahe Island; Beau Vallon and Victoria.
Luxury hotel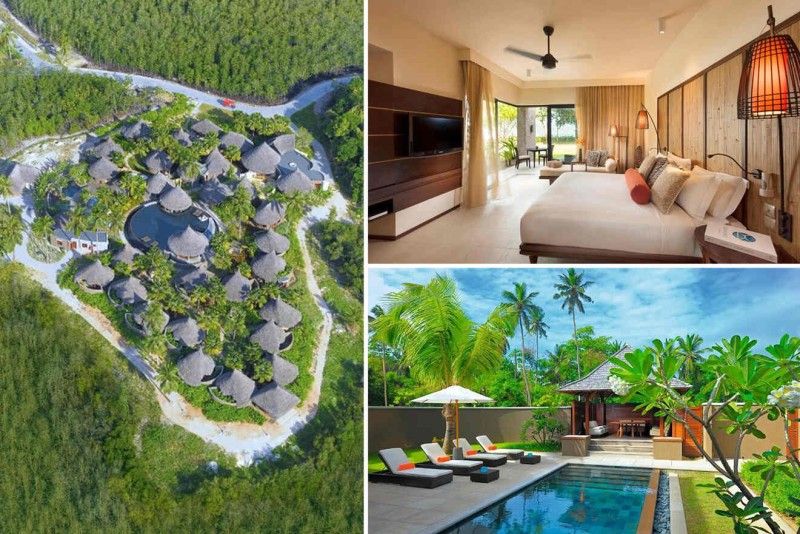 Surrounded by hillside views and dreamy white sand beaches, this resort on the main island looks breathtaking! Enjoy your morning coffee in the private garden of your villa while admiring the views of the Indian Ocean. Then head for a quick dip in the outdoor swimming pool or for a massage at the spa!
Other accommodation options in Mahe
Mid-Range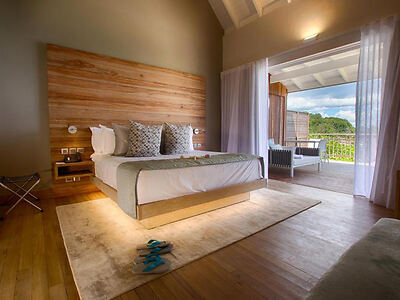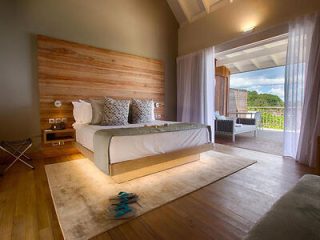 Catch a scenic sunset near the infinity pool of this hotel that offers a private beach area and spa services  
Budget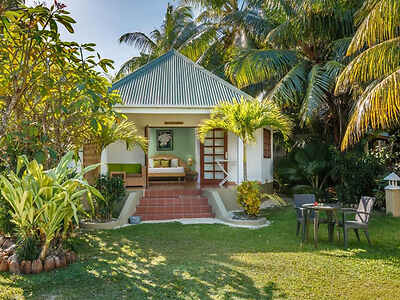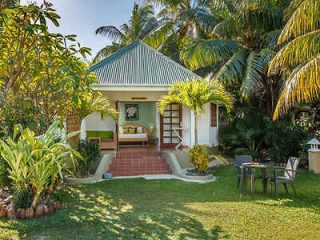 Feel at home at this comfortable hotel in Mahe Island that has a restaurant and a swimming pool  
Airbnb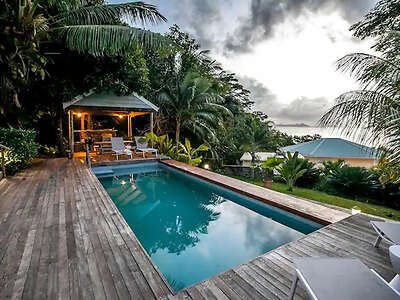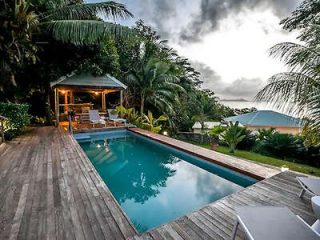 Soak up in the sun and admire the ocean views by the pool of this villa with a great backyard!
Mahe is a pretty big island (as we've seen) if you've missed your chance at any of the hotels above here are 4 more great options:
1.1 Beau Vallon – best place to stay in Seychelles for beach lovers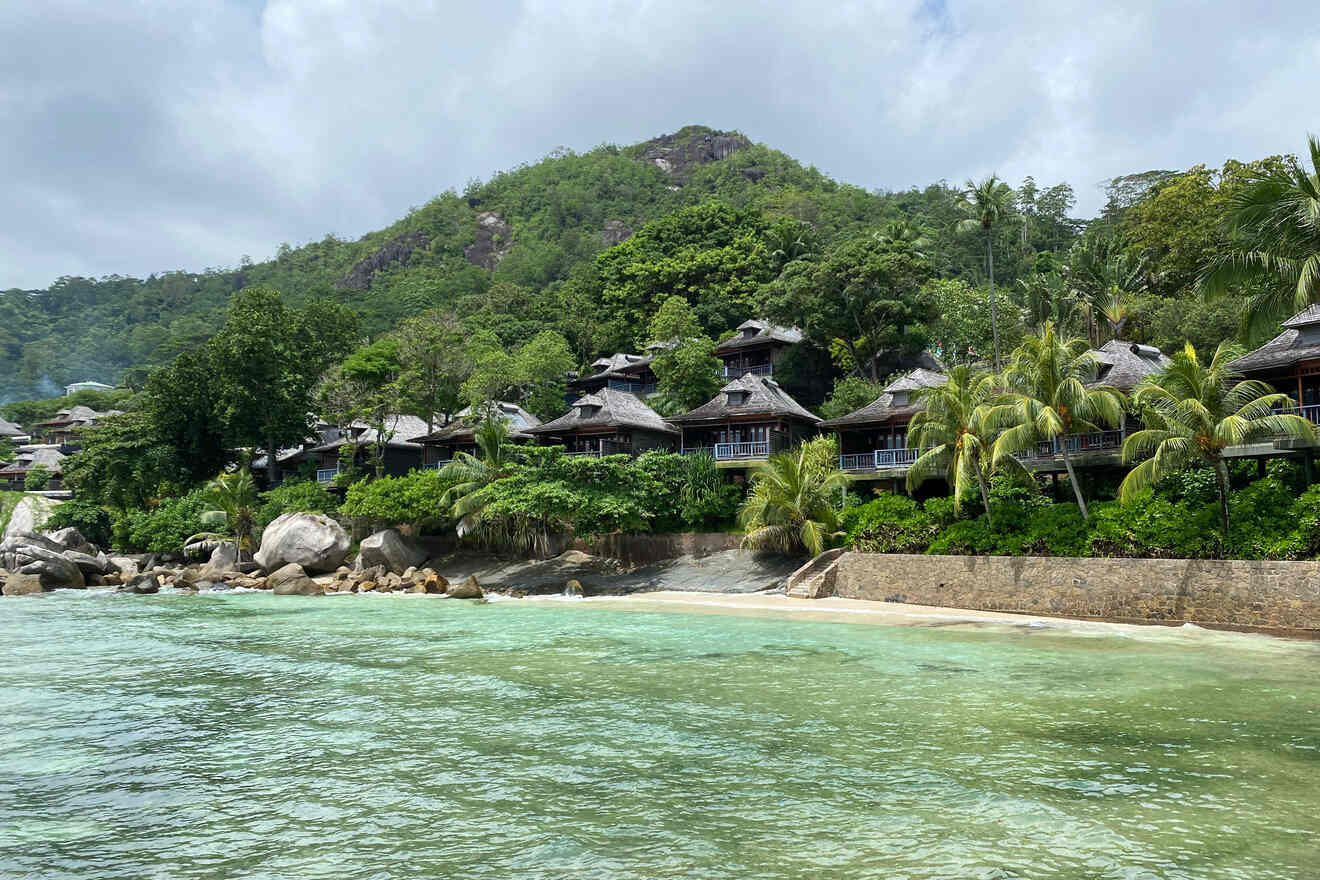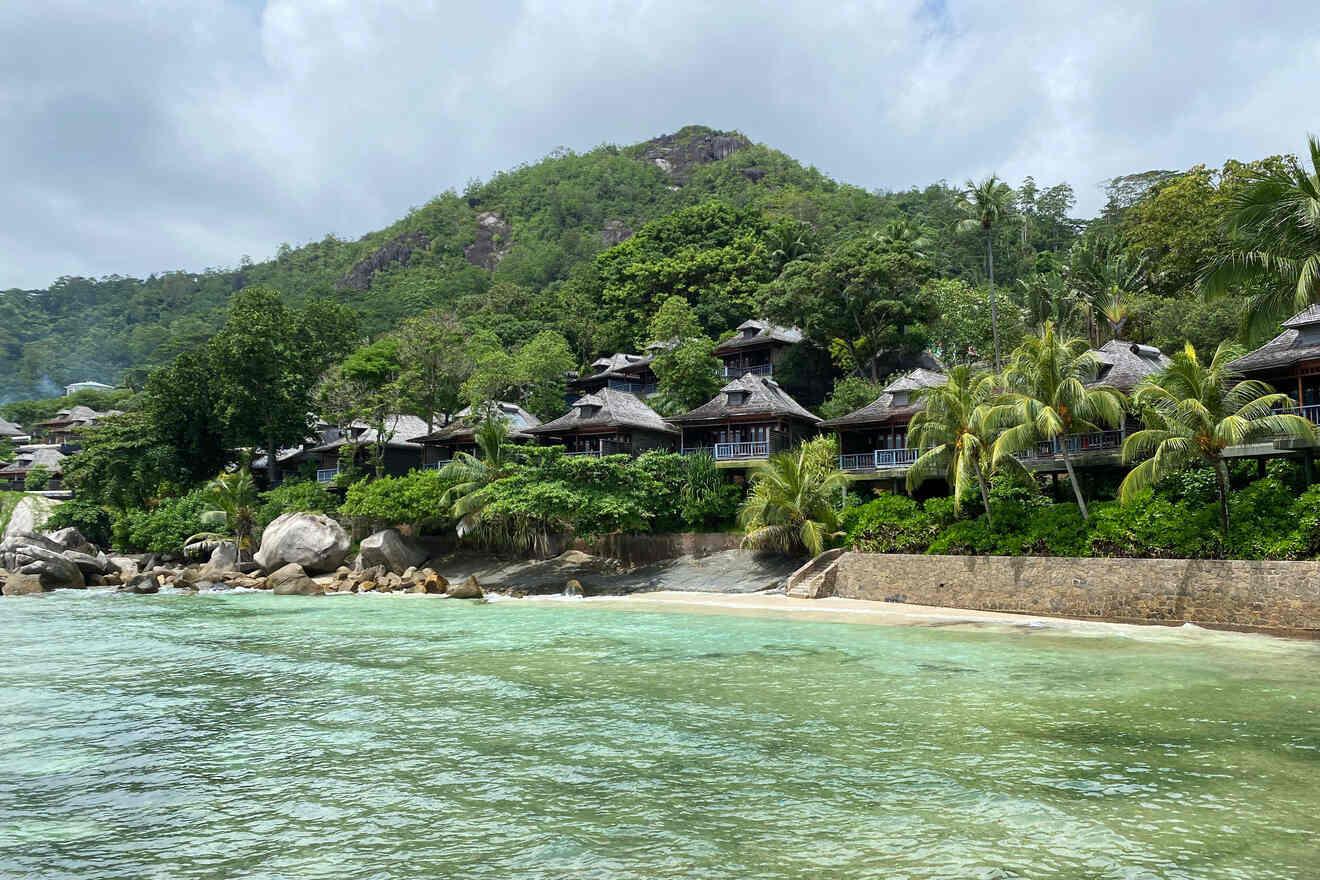 On the northern tip of Mahe Island you'll find Beau Vallon, famous for its beautiful white sand beach and crystal clear waters.
But not just that, fans of scuba diving and snorkeling also come here as the underwater world is pretty fascinating (expect lots of colors and unique shapes)!
Luxury hotel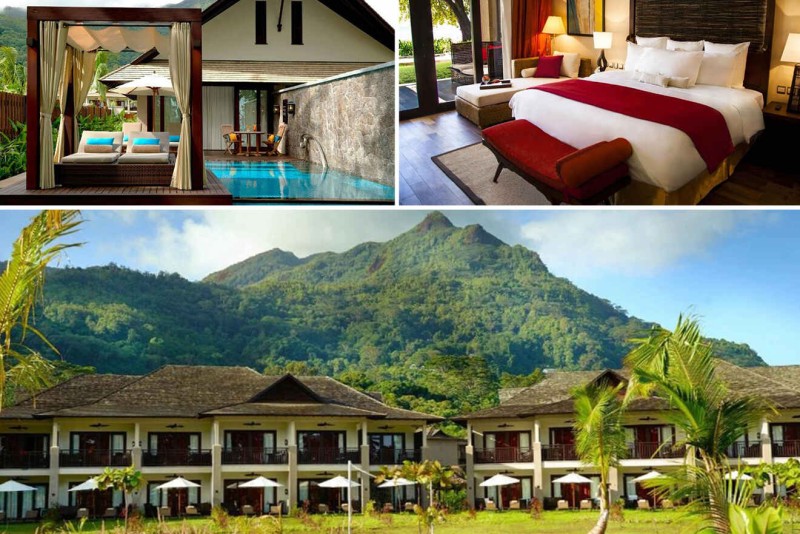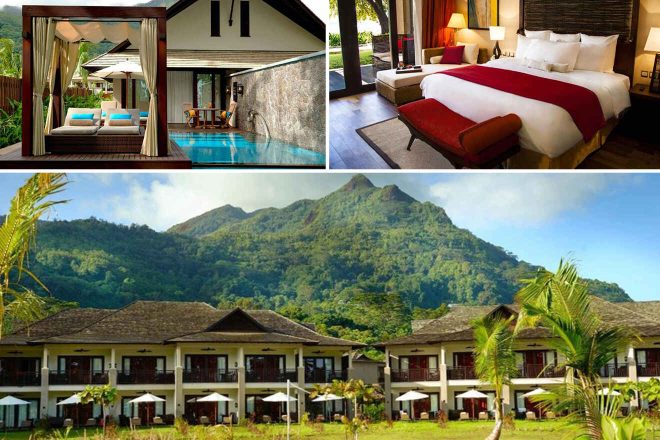 I'm such a big fan of wooden furniture and designs! You'll find lots of that in the Seychelles hotels, including this resort set on the beach and among the lush greenery! The modern villas come with an outdoor seating area where you can relax all day and private pools so no one can disturb you! 
Other accommodation options in Beau Vallon
Budget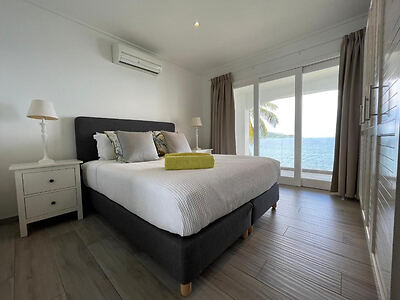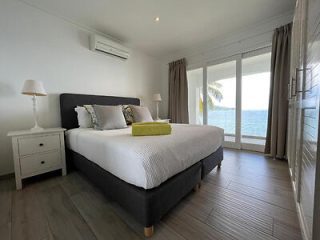 These self-catering apartments are just 1 minute away from the beach and offer a nice garden
Airbnb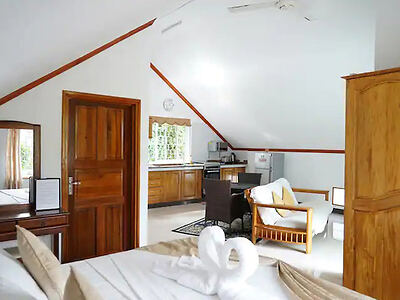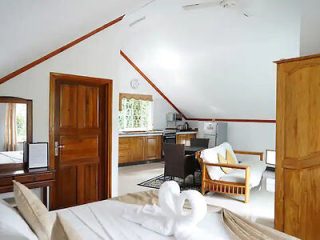 Sunbathe by the pool or on the terrace of this great place that has air-conditioning and free wifi
1.2 Victoria – where to stay in Seychelles for culture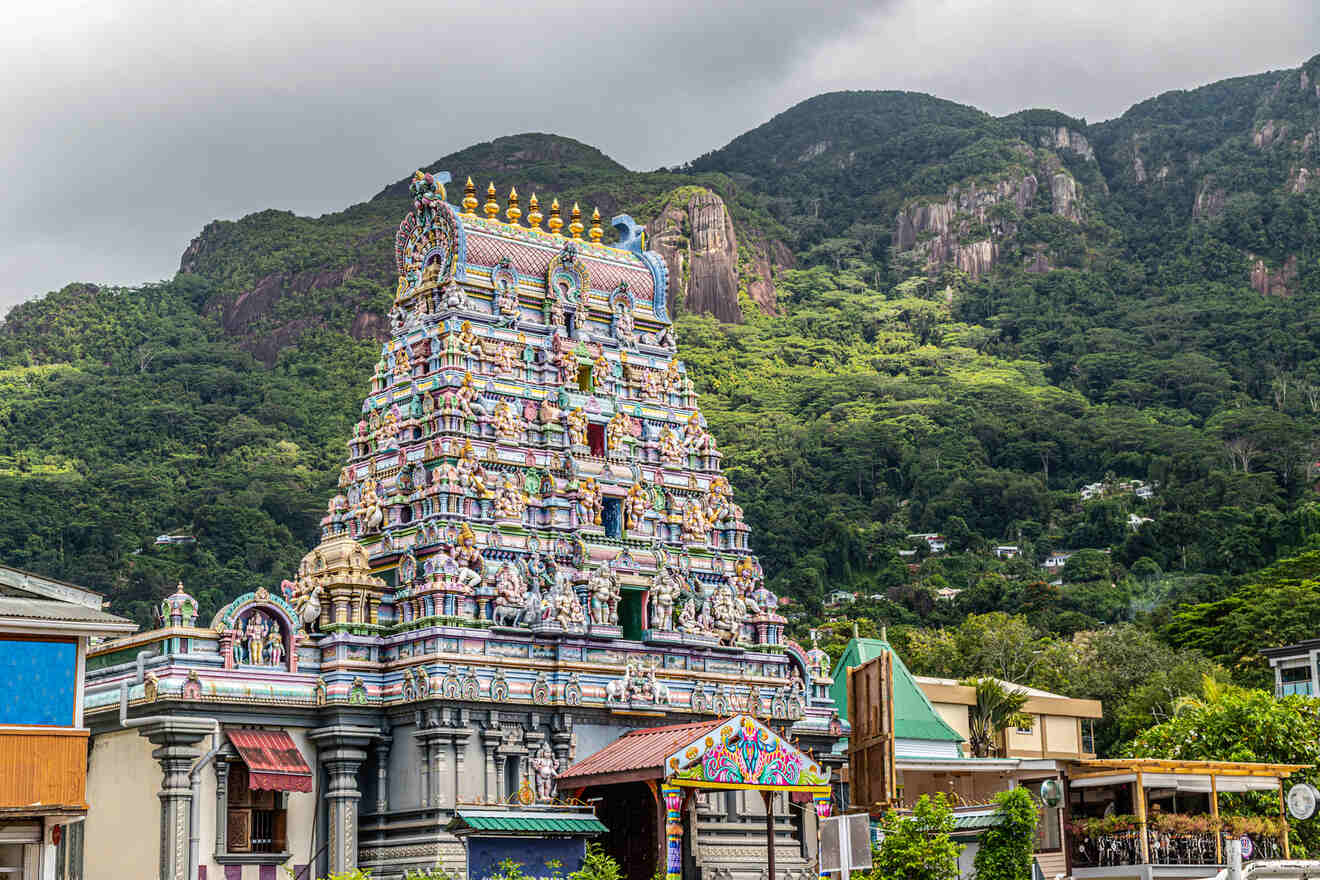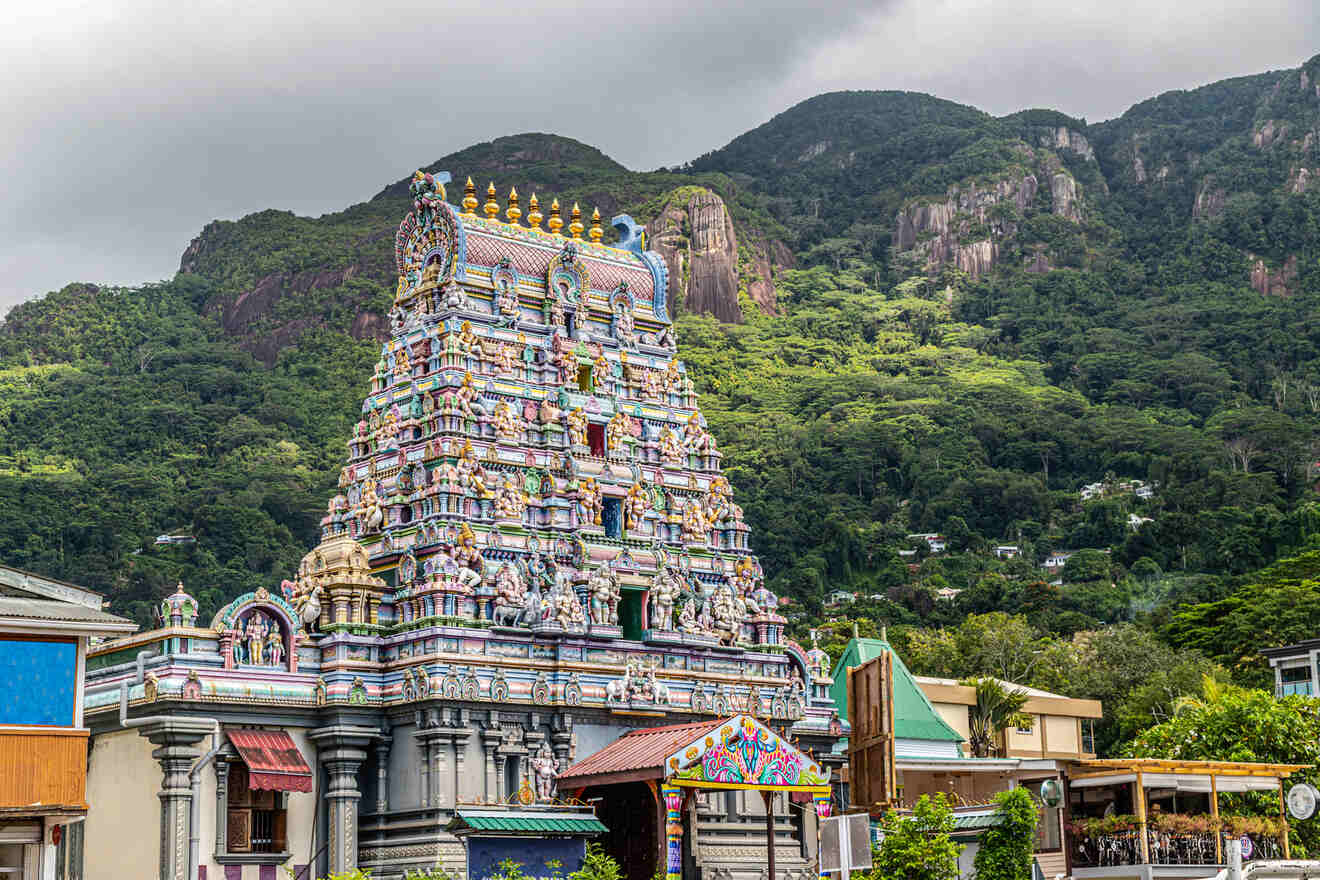 Your Seychelles trip doesn't have to be just with beaches and nature! Victoria, the capital city located in the north of the Seychelles Islands, is a great place to dive into the culture and history of the archipelago. Plus, you can easily do some island hopping with the ferry from here.
There are no luxury hotels in Victoria but if you have your heart set on booking a super fancy place, I recommend Story, a luxury resort in Beau Vallon, which is just 2 miles away from Victoria.
Other accommodation options in Victoria
Mid-Range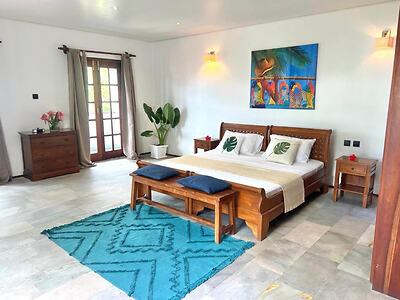 Enjoy a fruity breakfast at this hotel that has a garden, a terrace, and which offers activities like hiking
Budget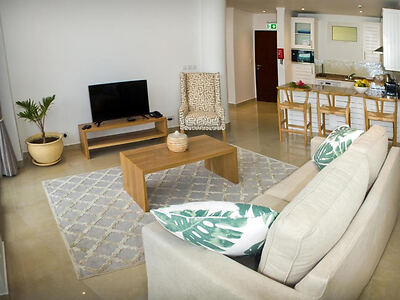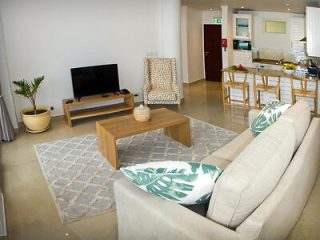 These modern apartments offer self-catering facilities, mountain views, and a balcony
Airbnb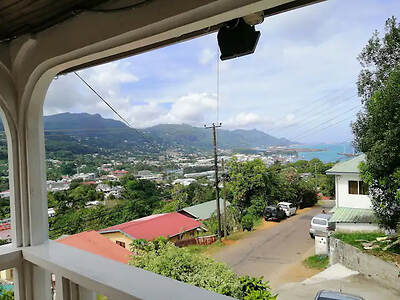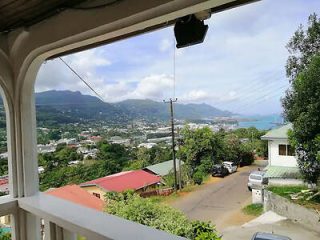 Admire the sea views from the balcony of this house that has room for 2 guests and a kitchen
Things to do in Mahe
Learn new things at the Seychelles Natural History Museum
Chill on Sunset Beach
Buy souvenirs from the Sir Selwyn Selwyn-Clarke Market
Visit the Baie Ternay Marine Park
Go snorkeling and scuba diving on Beau Vallon Beach
Spend a fun day at the Morne Seychellois National Park
Explore the hiking trails near Morne Seychellois Mountain
Go on a day trip to Praslin Island and La Digue Island
2. Praslin – where to stay in Seychelles for nature lovers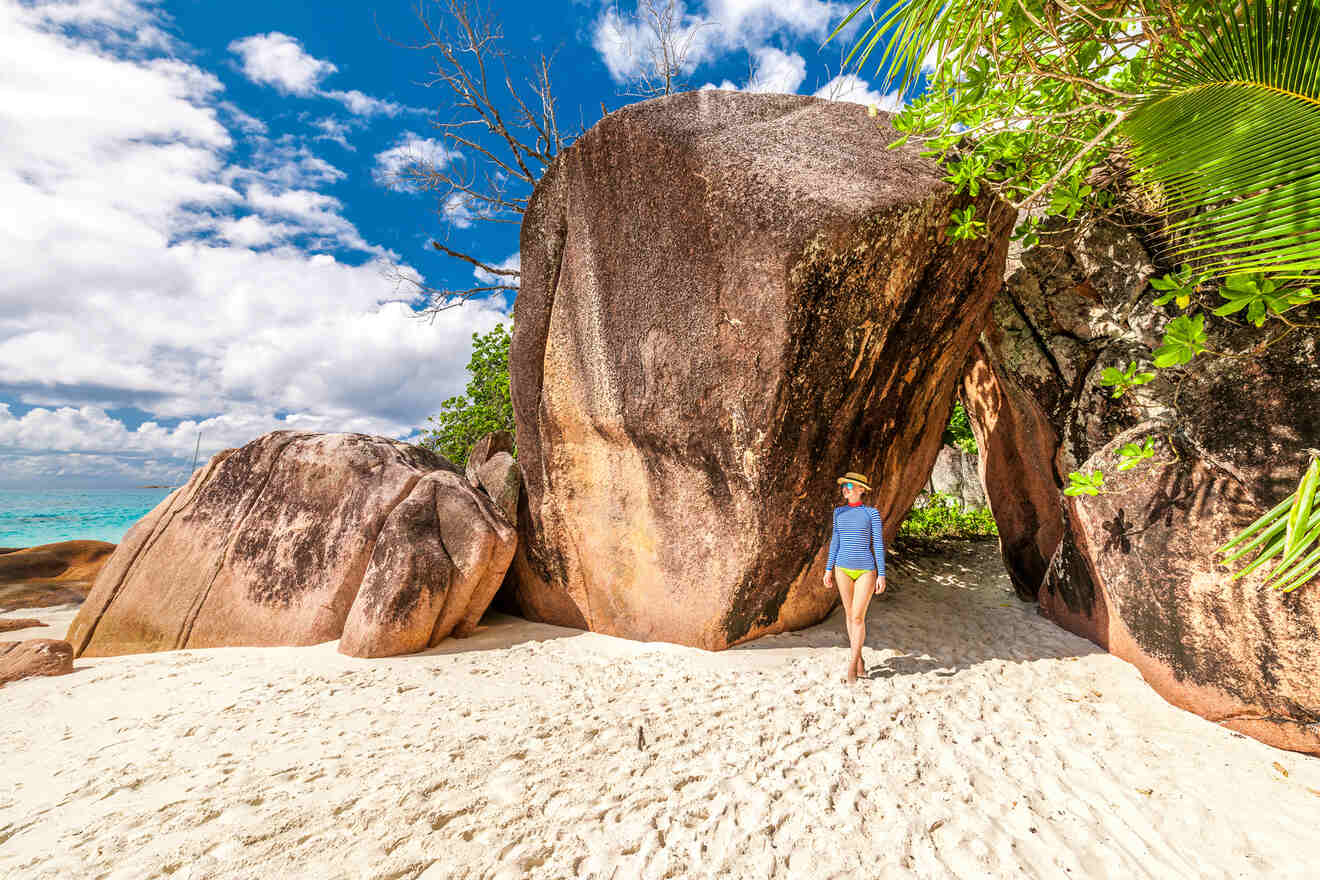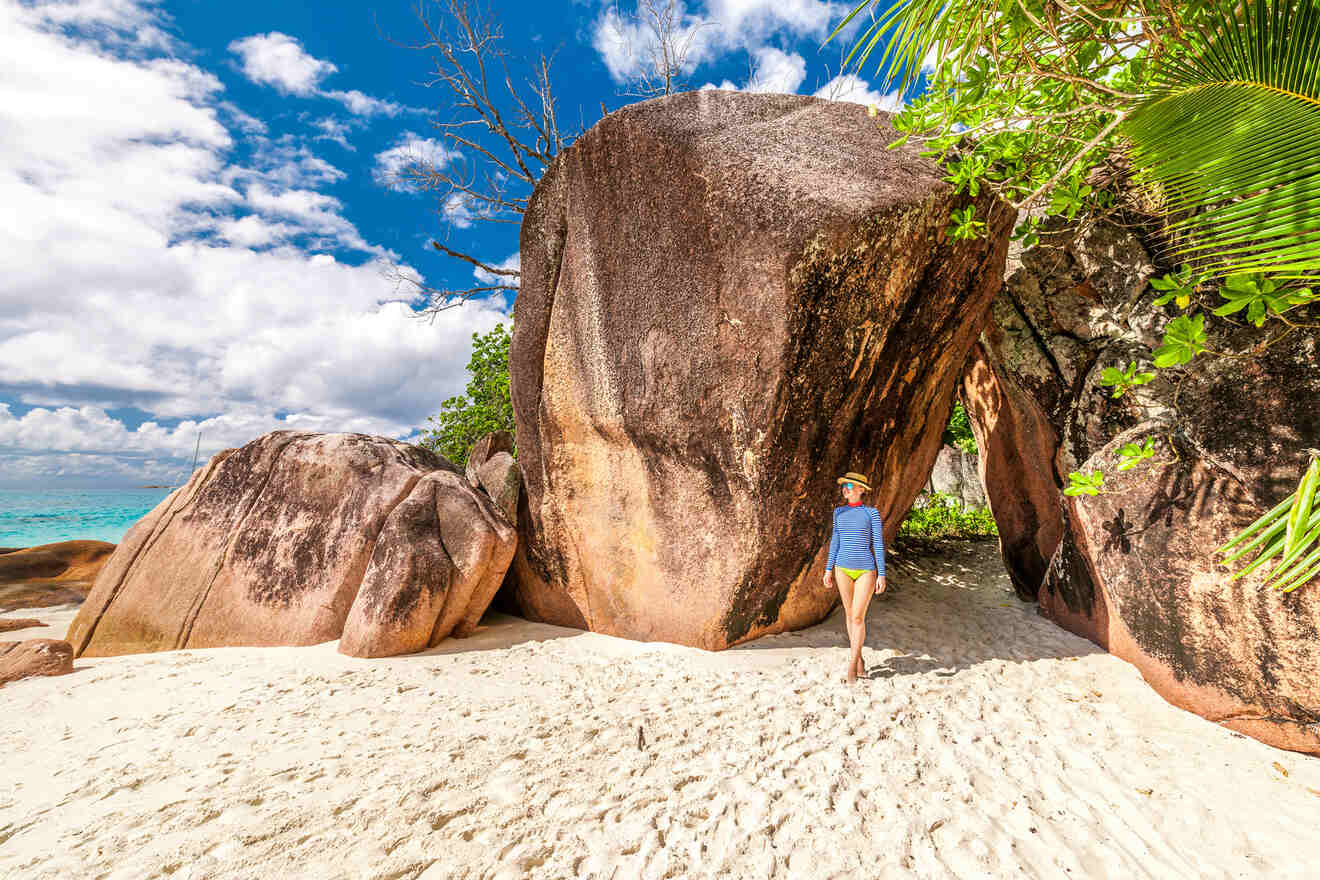 Welcome to the 2nd largest island in Seychelles! Praslin perfectly combines all of the aspects that the other two islands offer; beaches and nature, and sits just 1h away from Mahe by ferry.
If you're looking for a place where to stay in Seychelles to dive into the fauna and flora of this Archipelago, then I think that Praslin would be the right spot for you.
The palm-fringed beaches and the National Park on Praslin Island have brought people from all over the world to admire the beauty! It's just like one of those places in the movies. The island's center is filled with trees and mountainous landscapes, while the edges are made of beautiful beaches.
What a sight!
As I mentioned before, the best way to explore the Seychelles Islands is to rent a bike and start exploring each corner. Of course, you can also hike, and with all the trails and jungles here, you should certainly do that too!
The Vallée de Mai National Park should be your top priority, it has waterfalls and many unique animal species like birds and turtles. But I can't forget to mention the Golfplatz Lemuria, a golf course that I'm sure many of you will want to visit.
Luxury hotel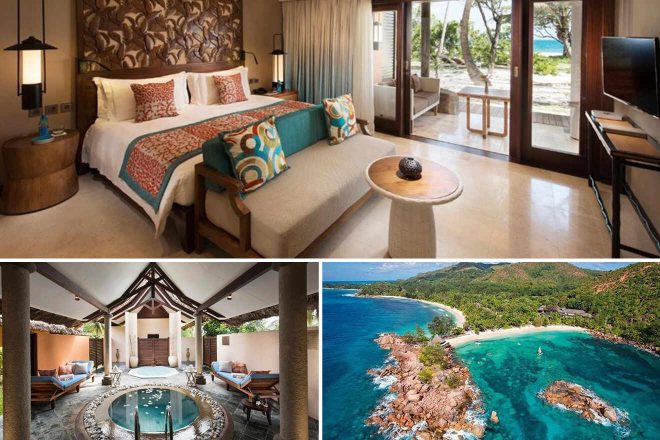 Ever heard of the lost land of Lemuria? This resort may not come from there but it sure does it justice! At sunset, you can enjoy a nice dinner near those peculiarly shaped rocks (so Lemurian) and admire the views. Featuring a 3 leveled pool, a spa center, and modern villas, this hotel is a keeper! 
Other accommodation options in Praslin
mid-range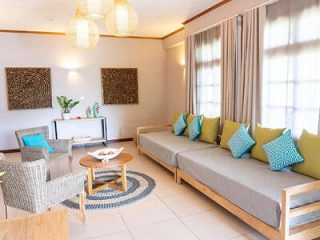 Chill on the sun loungers at the beach of this great hotel with a pool, a tropical garden, and two restaurants 
budget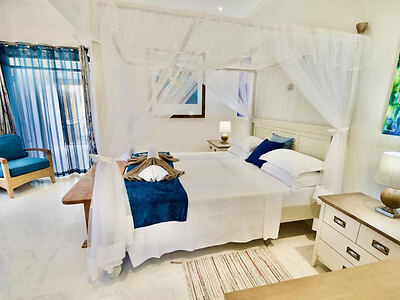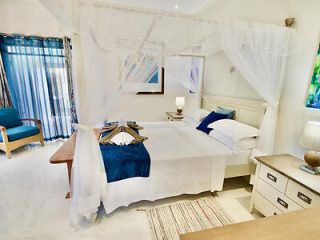 Loving how spacious this apartment on Praslin Island is. It offers sea views and a garden with bbq facilities 
airbnb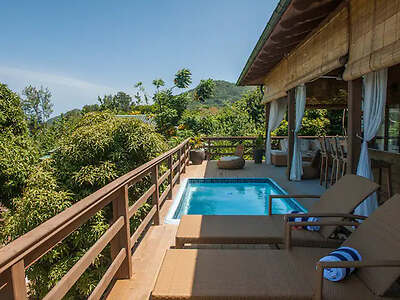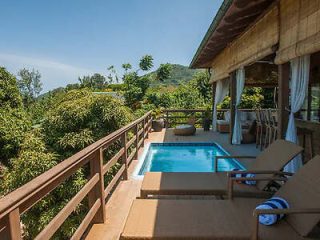 Enjoy your stay in Seychelles at this accommodation that has a private terrace, and a pool 
For most tourists, Praslin is the second choice after Mahe, so it can get busy at times. If you've missed your chance at one of the hotels above, I've made another list with some more unique options: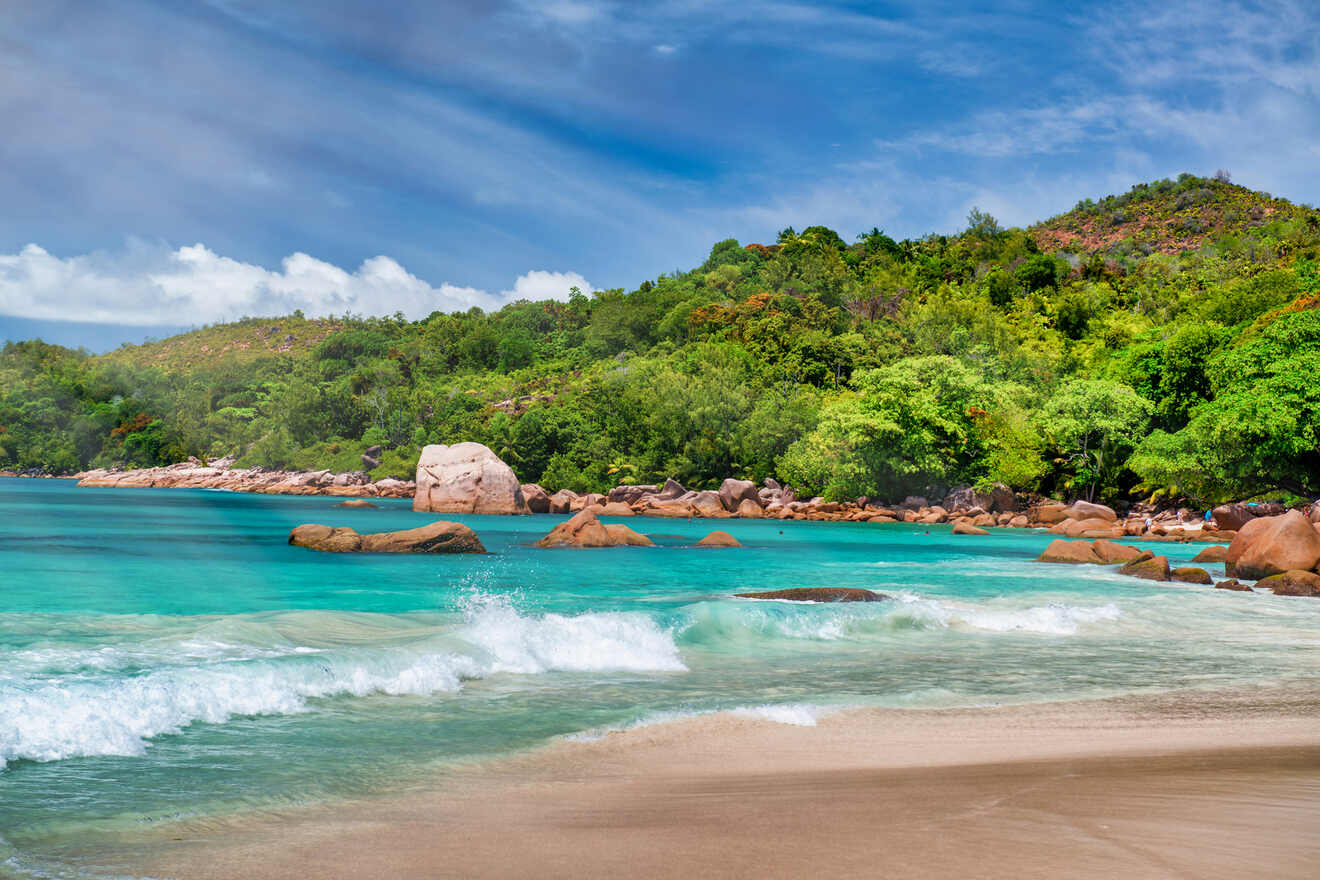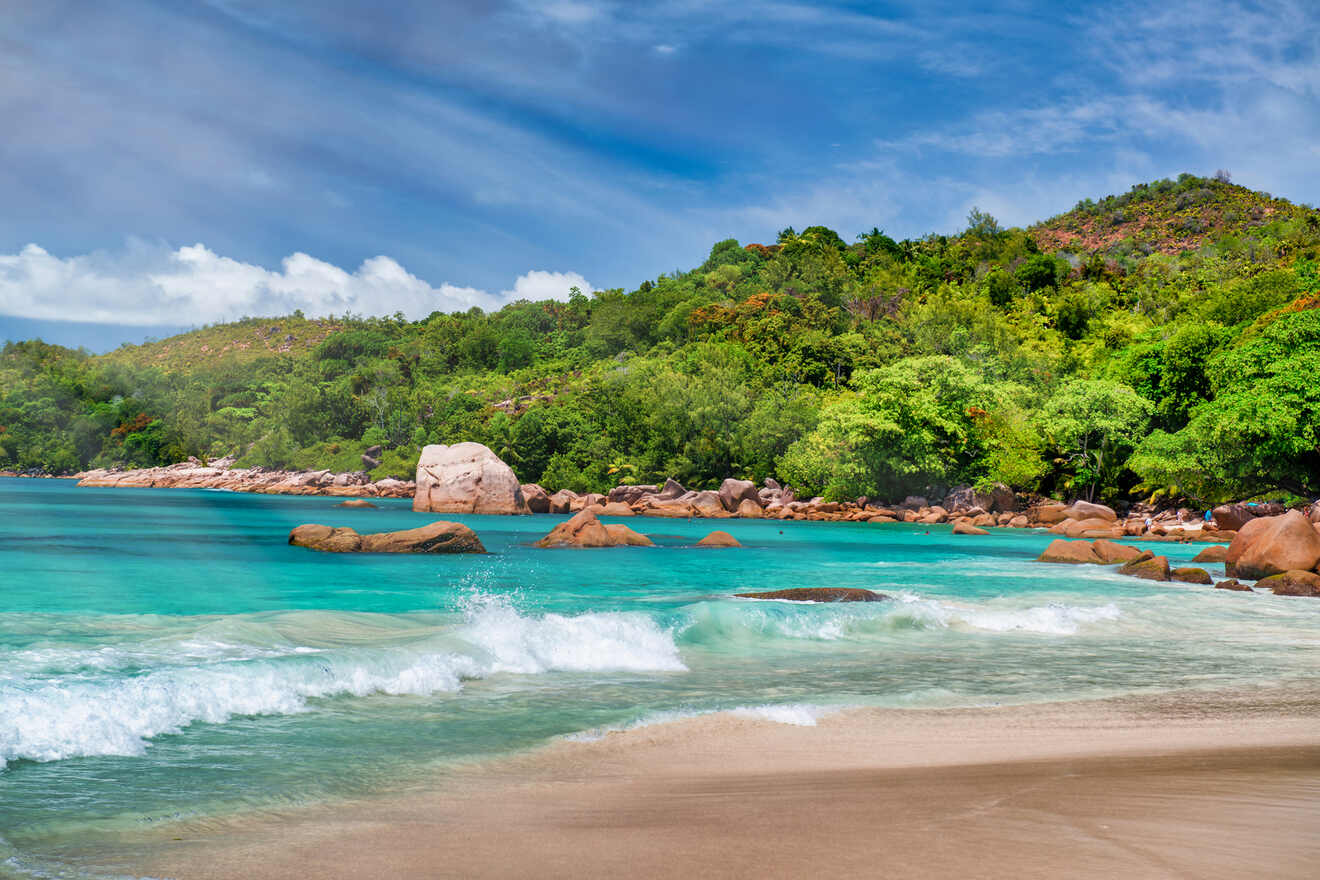 Things to do in Praslin
Spot cute birds in Vallée de Mai National Park
Admire the panoramic views from Fond Ferdinand
Go on a tour of Cousine Island from Praslin Island
Swim in the bluest beach at Anse Lazio
Visit the Praslin Museum
Check out the Pearl Farm on Praslin Island
Sunbathe on Grand Anse Beach or Cote D'Or Beach
3. La Digue – where to stay in Seychelles for couples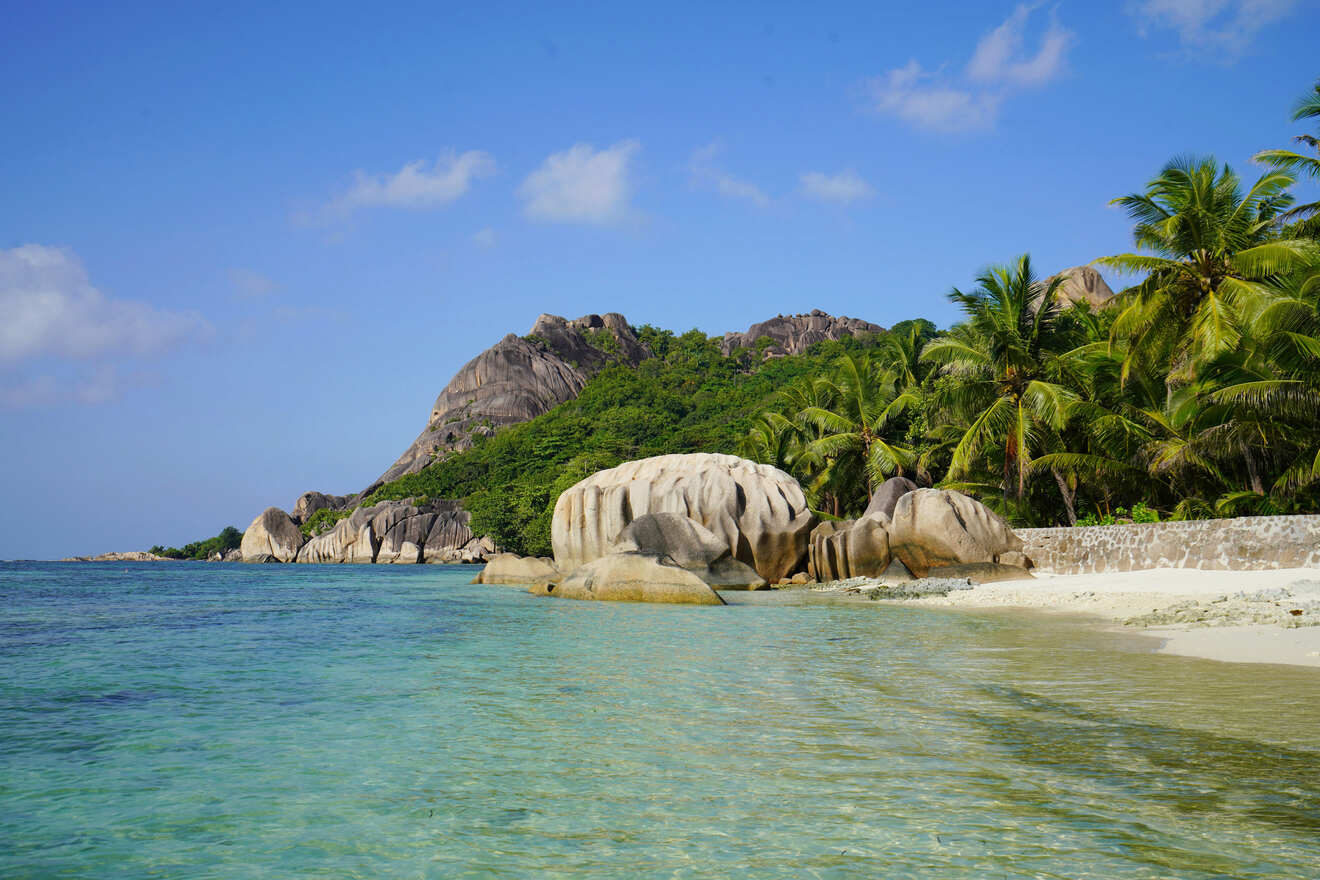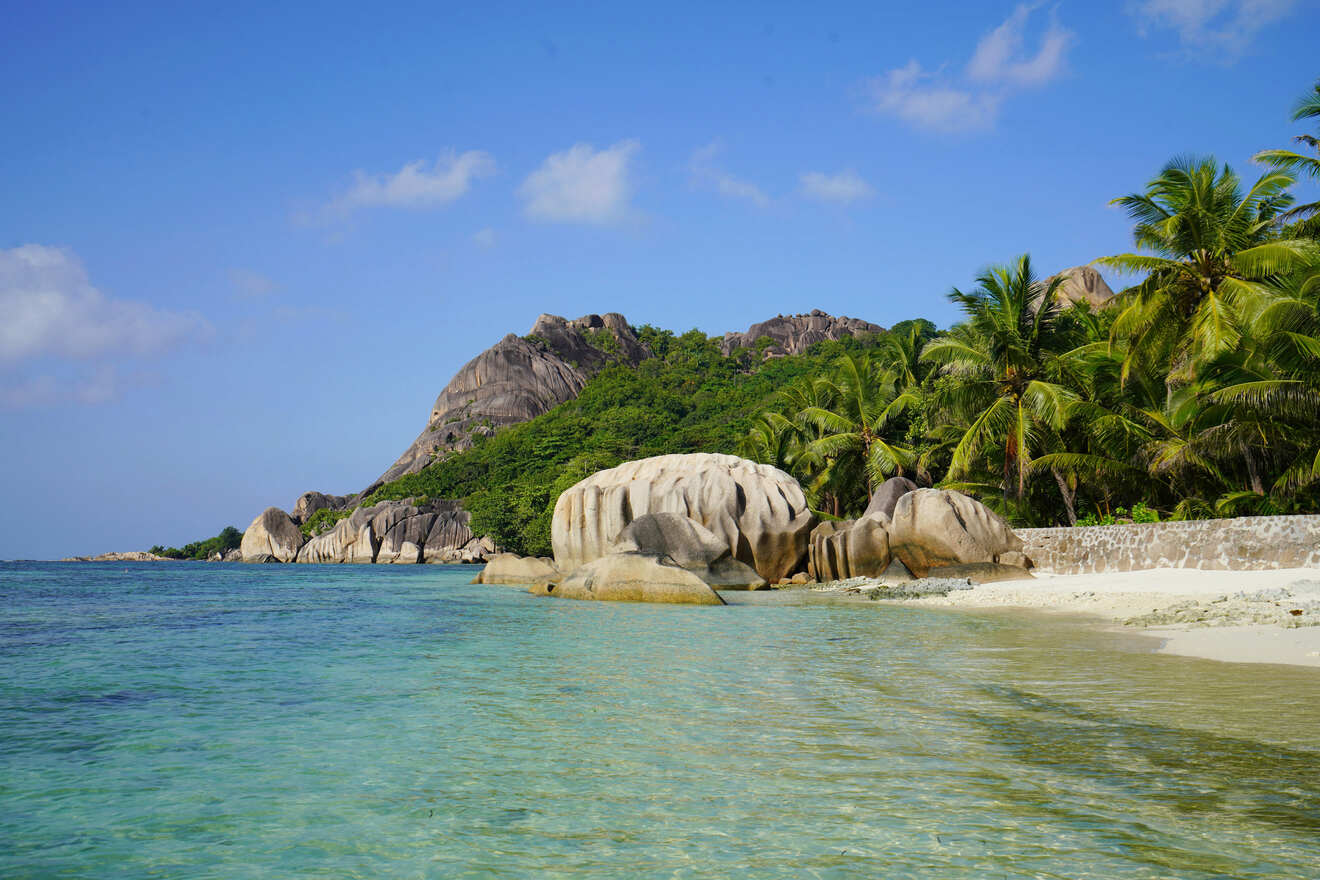 This is the 3rd largest island of the Seychelles Archipelago but oh my it's SO beautiful! Just wait until you see those peculiarly shaped rocks (they're all over Instagram).
If you're planning a romantic getaway to Seychelles, then I think La Digue island will be the right fit. Why?
Well, it's pretty secluded (I love that) as there is no airport, just a few vehicles, and most visitors come by ferry from Praslin. However, you can also arrange for a helicopter service from Mahe.
The atmosphere is so lovely here, super laid-back, that you'll feel like sunbathing on the beautiful beaches all day long with your partner. Make sure to snap a picture at sunset, you'll want to remember this one!
Now that we've moved to the beach chapter, I think it's the right time to stay that you'll find some of the best beaches on this island! Anse Source D'Argent and Anse Cocos are just some of the famous beaches that stole the heart of many tourists! On Anse Source D'Arget, you'll find the rocks I told you about!
Just like Maha Island, this place also has lush forests that you can explore all day long. You can hike as there are many trails, walk or do what most people do, rent a bicycle so you can easily check off all the spots on your things to do in Seychelles list!

PS: If you're heading here for your honeymoon, check out my list of the most romantic hotels in Seychelles below! 
Luxury hotel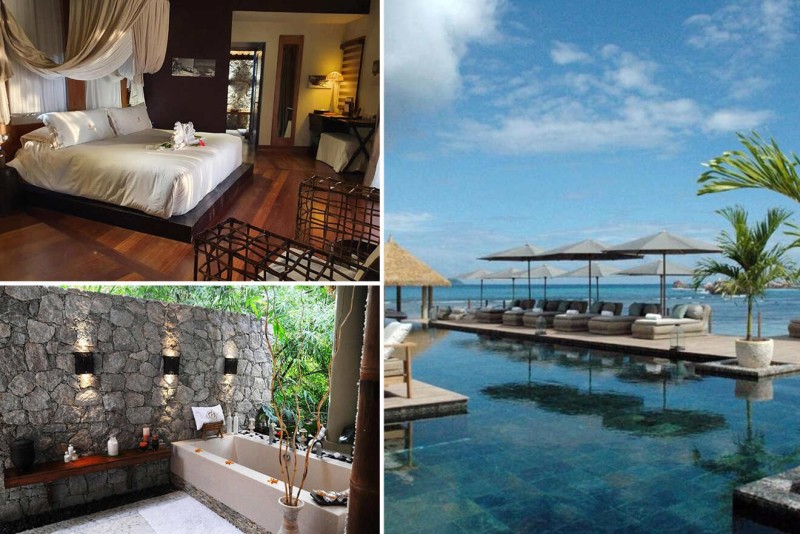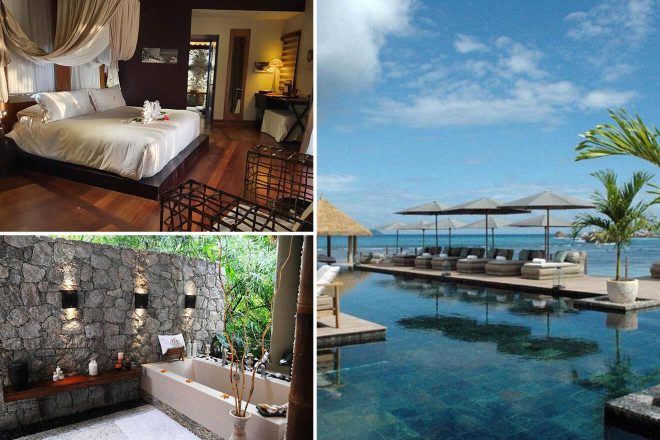 Spend a romantic evening by the infinity pool or in the hot tub during your stay in the Seychelles islands at this beachfront resort. Each room has its minibar and a balcony from where you can admire the views and the resort also organizes live music shows!  
Other accommodation options in La Digue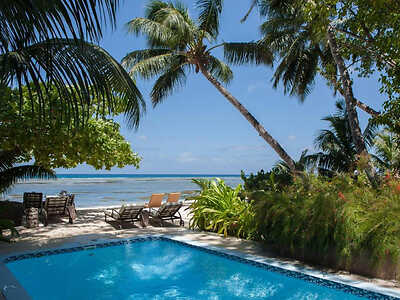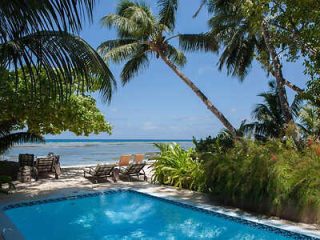 Get a book and enjoy a tranquil afternoon in the garden of this hotel overlooking the Indian Ocean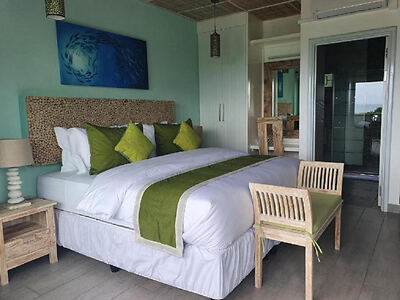 Comfortable apartments that have spacious rooms, balconies that offer a beautiful sea view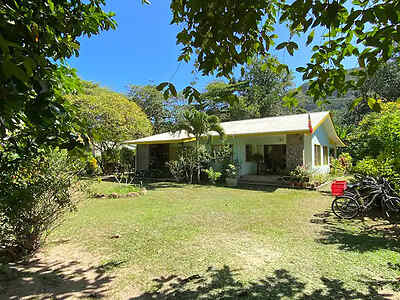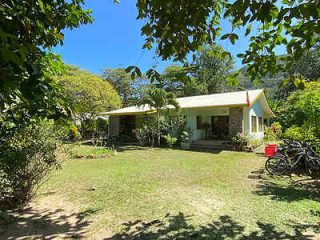 Perfect for a romantic getaway, this secluded villa has a backyard, a kitchen and free wifi 
Things to do in La Digue
Take many pictures on Anse Source D'Argent beach
Go for a walk in the Veuve Nature Reserve
Sunbathe on Petite Anse beach
Rent a bike and explore L'Union Estate Park
Catch a sunset on Anse Cocos Beach
Swim in the bluest waters at Grand Anse Beach
Visit the L'Union Estate Farm on La Digue
Explore the pristine beaches during a tour
BONUS: Romantic resorts in Seychelles for honeymooners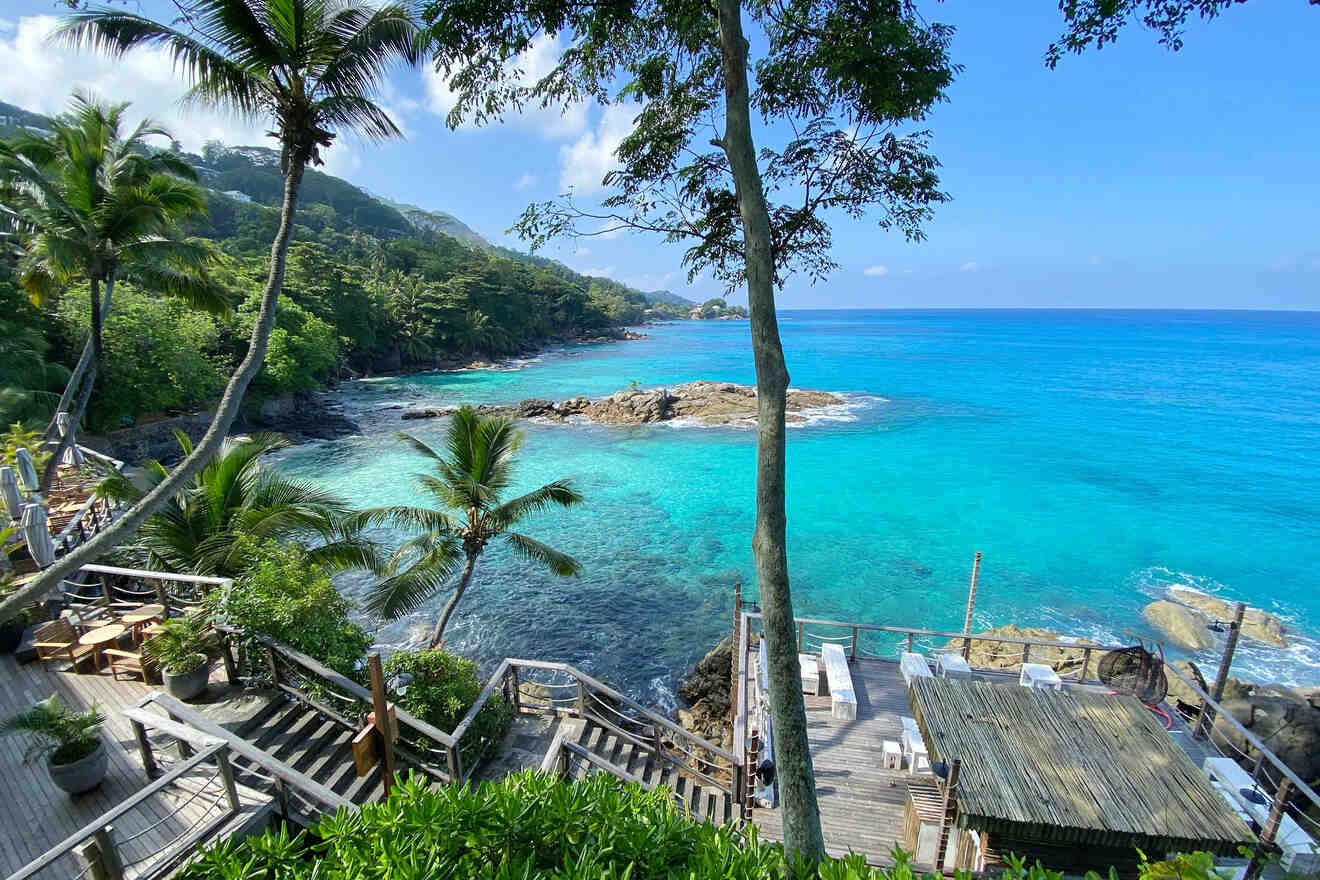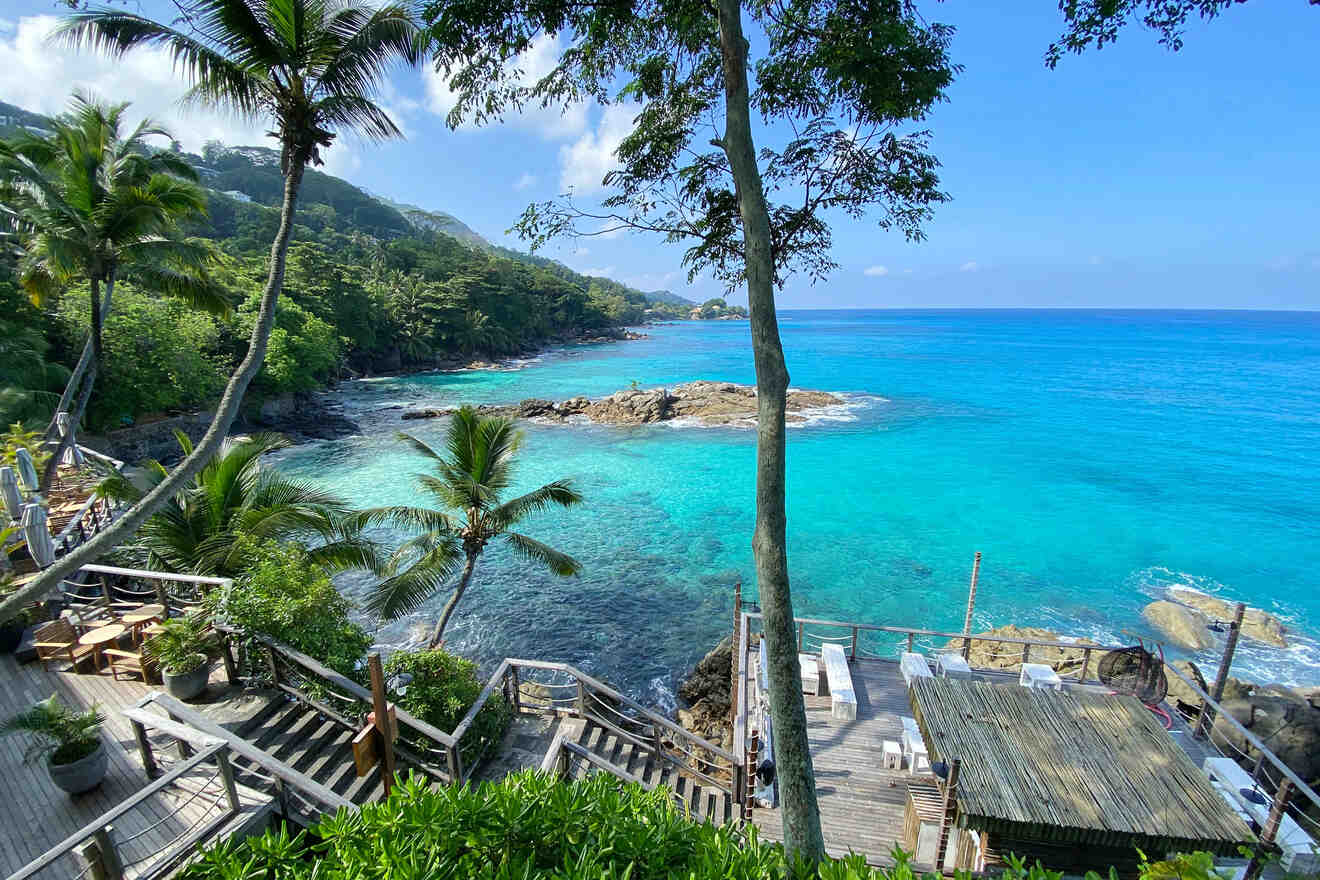 There's nothing like a honeymoon on a secluded beach at a private island resort right? Long walks on the white sand, moonlight dinners by the sea, and discovering tropical jungles together!
Seychelles has long been a top destination for honeymooners who are looking for a private island getaway. Even the royal family thinks so!
Prince William and Kate, the Duchess of Cambridge, spent their honeymoon here as well.
The pristine beaches and feeling you get when you're the only 2 people there, can't compare with anything else. So if you're planning your honeymoon or romantic trip and looking for where to stay in Seychelles, have a look at the list below. It has the best hotels and luxury accommodations for an extra special getaway!
All the hotels below are luxurious with prices from US$650 to US$3000, and they're listed from most to least expensive: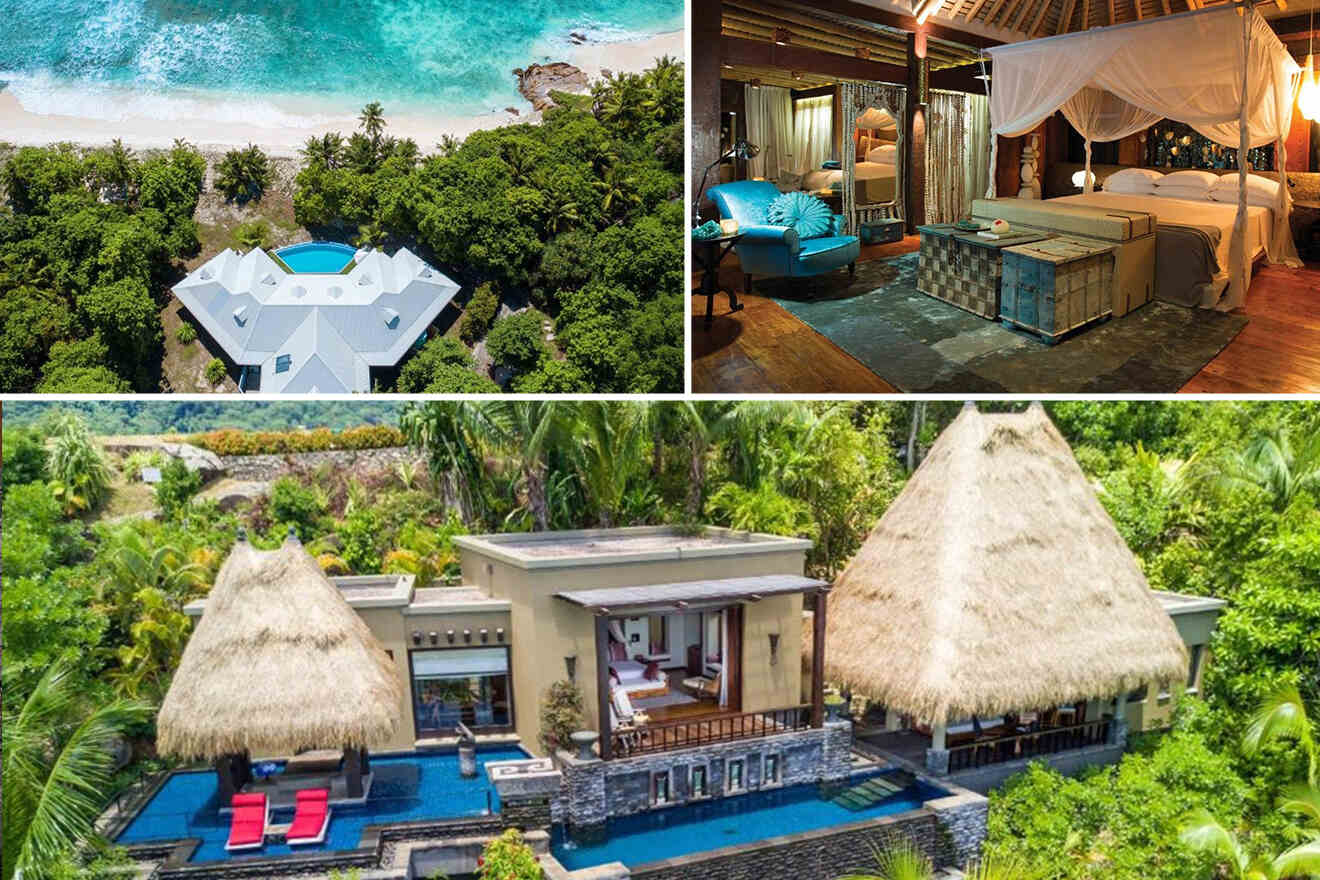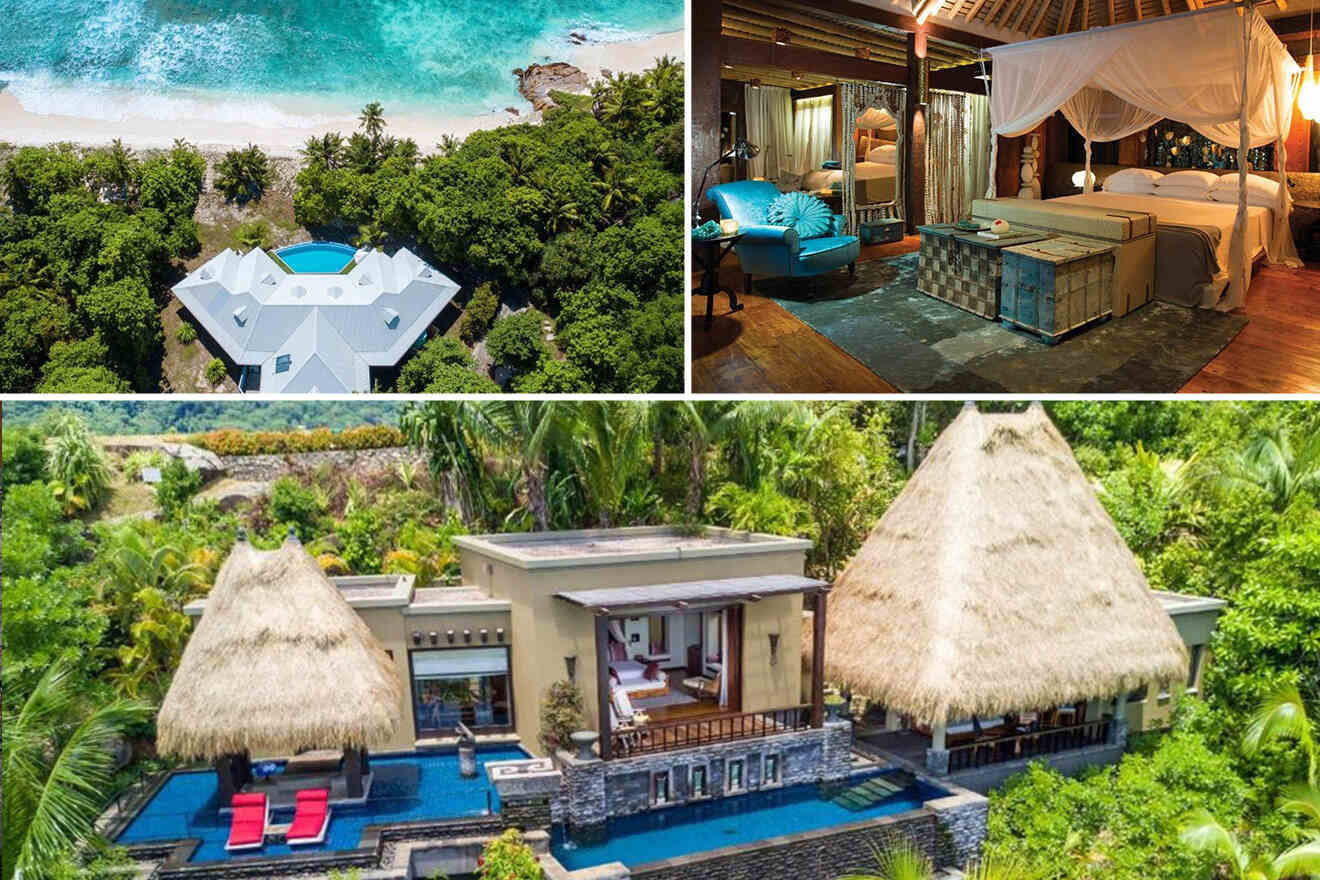 North Island Resort – Untouched beaches where you can spend romantic nights under the moonlight, listening to nothing but the sun of the waves! In the morning, drink your coffee in one of the hammocks while watching the sunrise, then head back to your villa and go for a dip in your private plunge pool.
Anantara Maia Luxury Resort – Soak up in your own private infinity pool at this luxurious resort on Anse Louis Beach. Then prepare for a super romantic candle-lit dinner on the beach. Continue your honeymoon with some massage treatments and tropical flowers baths. Now that's what I call the perfect romantic getaway!
Six Senses Zil Pasyon – This resort looks like a modern temple or spaceship! Wow, just look at that design. It's so unique. Six Senses is set between the pecuniarily shaped rocks on Felicite Island, and it offers breathtaking views of the sea.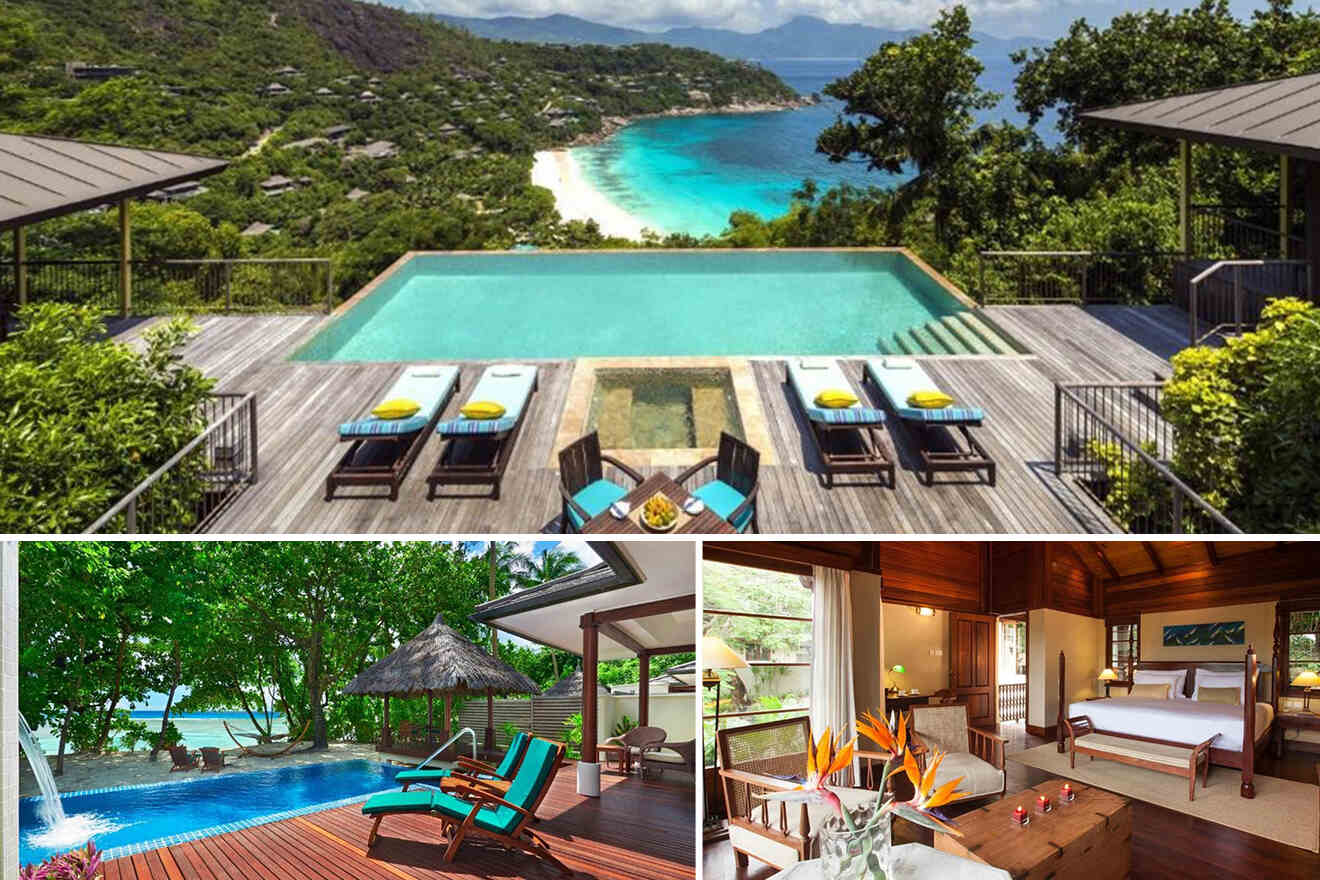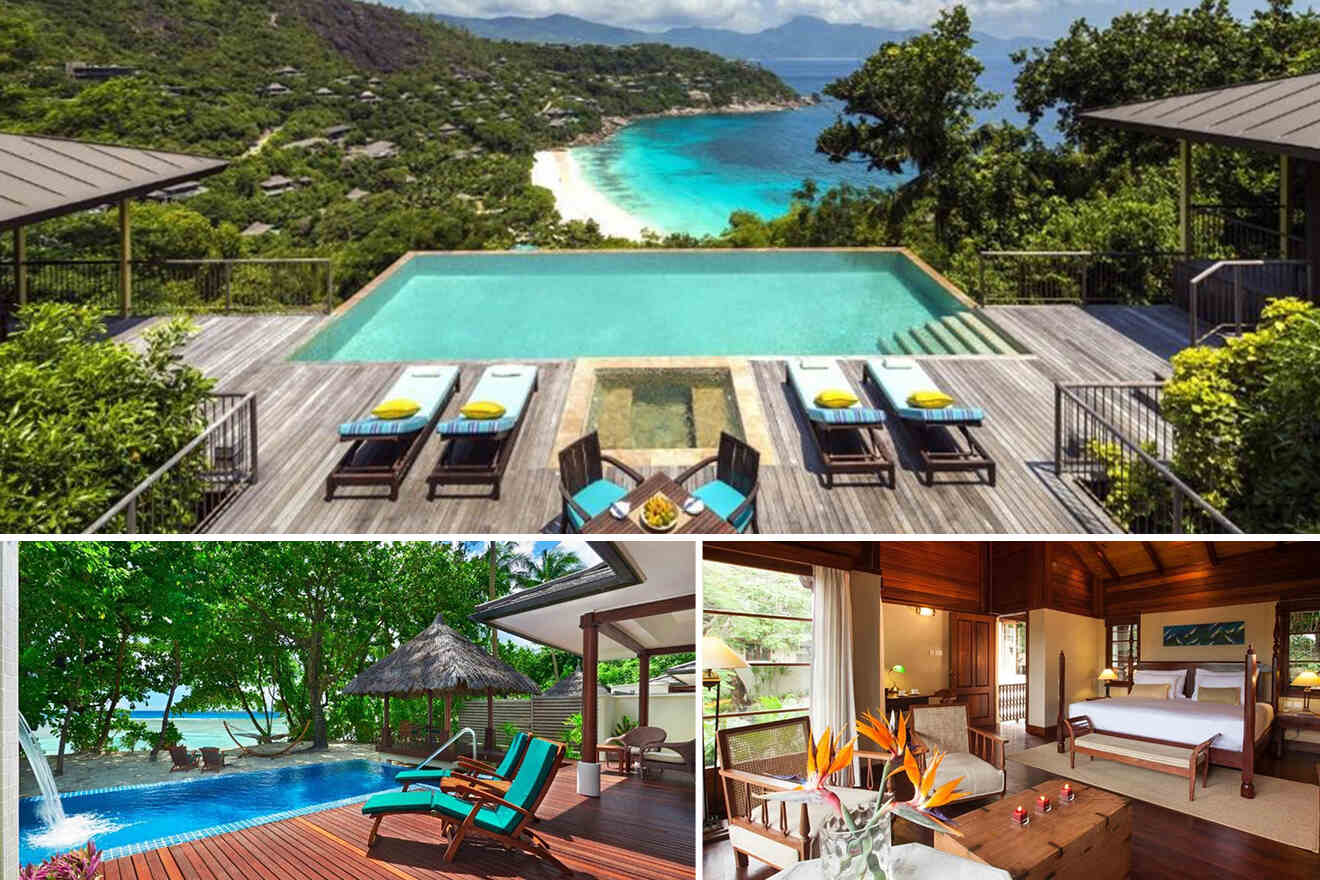 Four Seasons Resort Seychelles – Turn the world off and welcome the tranquility of this resort near Petite Anse Beach with open arms. Spa services, villas with private pools, and delicious food. Put on your swimsuits and head over to the infinity pool for cocktails and an epic sunset. Enjoy a romantic day with your partner in your own private pool while admiring the views!
JA Enchanted Resort – Nestled in lush greenery, this private island resort sits off the coast of Mahe Island. Get ready for days of chasing sunsets on the beach with your significant other, sunbathing, snorkeling under the bluest waters, and swimming in your own private infinity pool. Squeeze a yoga session or 2 to get you ready for the next days' adventures!
Hilton Seychelles Labriz Resort – This will be the honeymoon of a lifetime! Seychelles will make sure of that! Immerse yourself in the island life, hike through the lush forests of Silhouette Island and swim with the sea turtles. At night you two can enjoy a romantic moonlight dinner and then enjoy a live show!
Frequently asked questions about hotels in Seychelles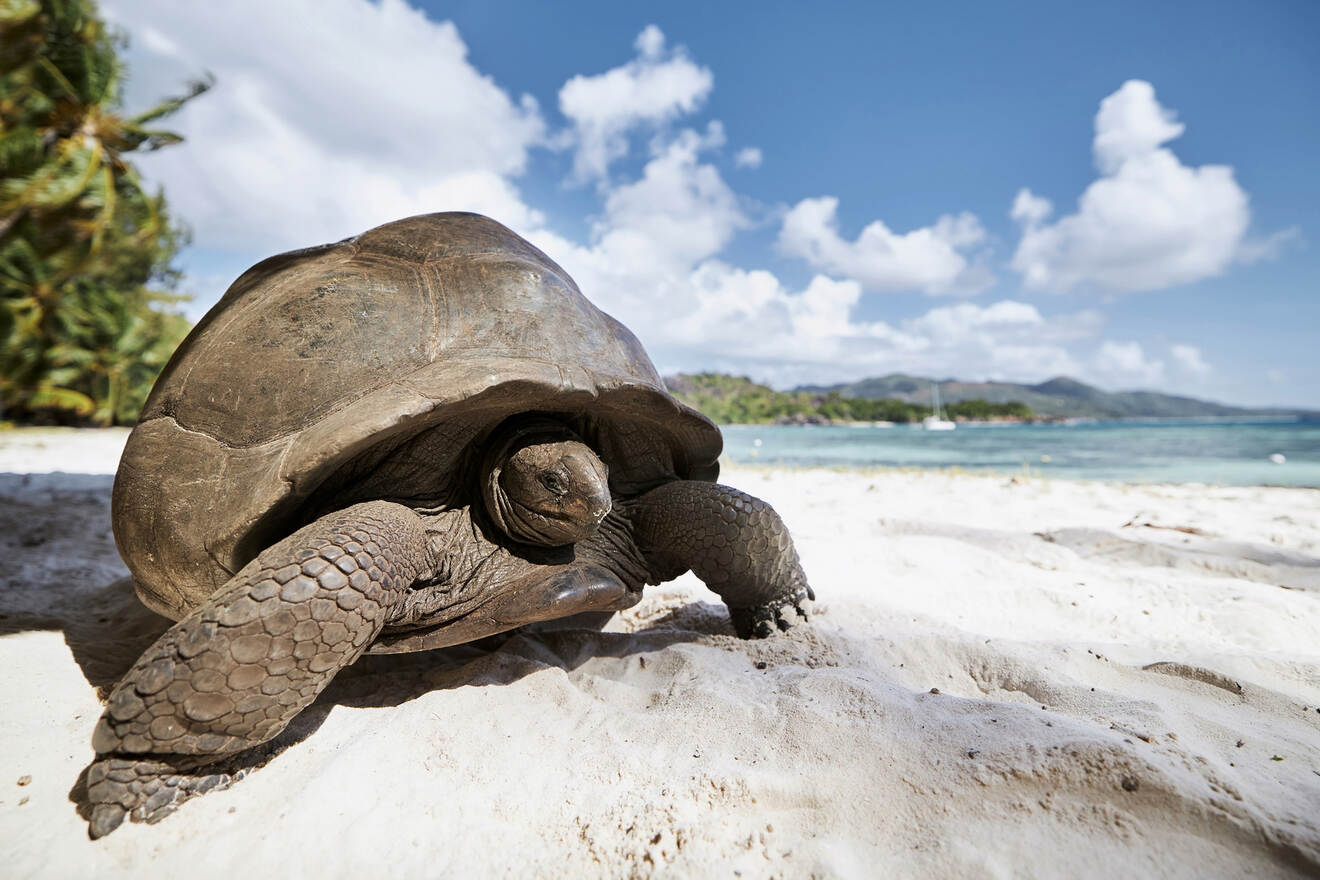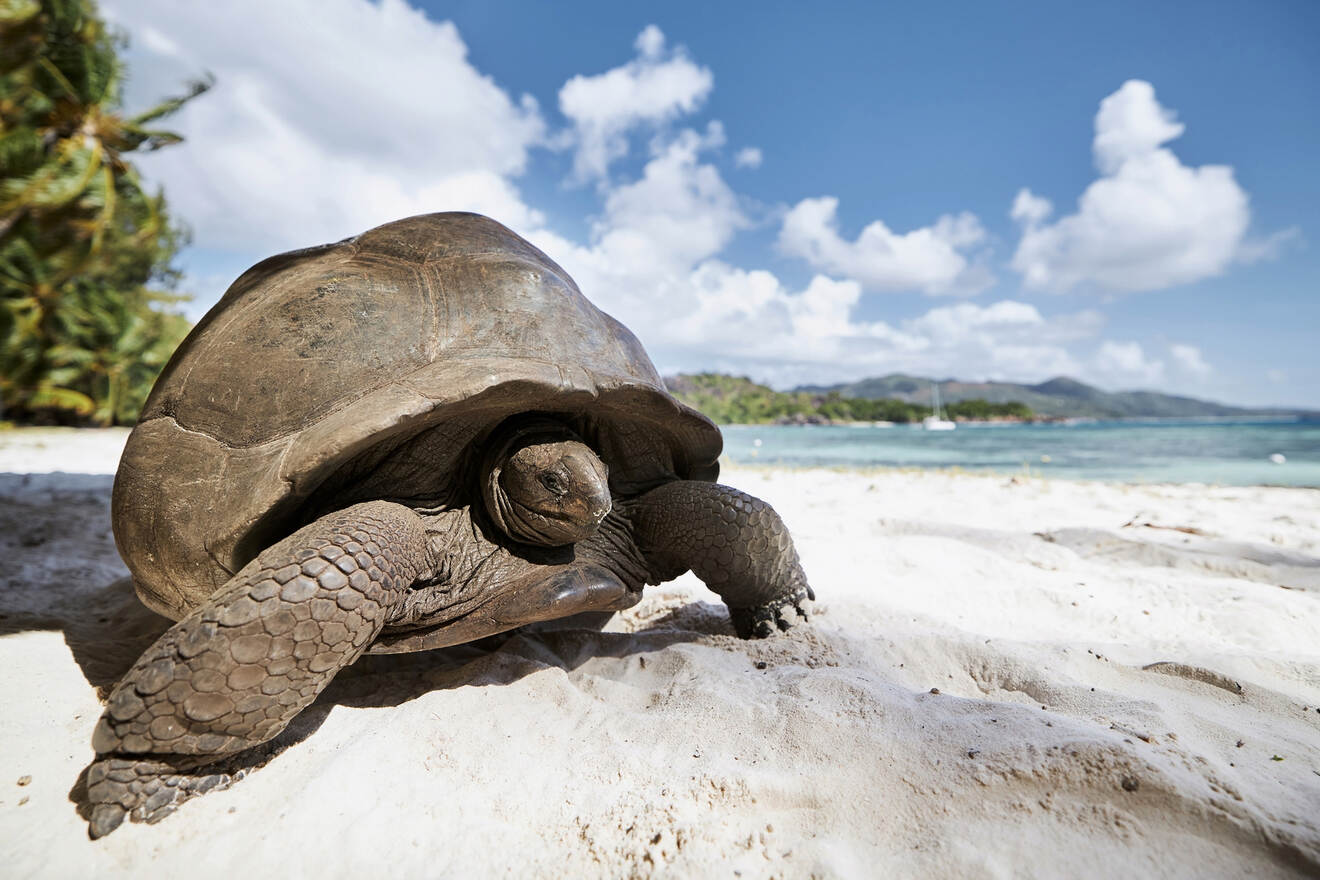 🤔 Which part of Seychelles is best to stay in?
Mahe is one of the best places where to stay in Seychelles, especially if you're traveling here for the first time. It's the largest island in the Archipelago and it has ferry connections to all the other ones. Plus some fantastic beaches! 
🏖️ Where do people stay in Seychelles?
Tourists usually stay on Mahe Island as it is the largest one. It's also home to some great beaches, an international airport, and fabulous hotels such as Constance Ephelia. 
❓ Is the Maldives better than Seychelles?
Both the Maldives and Seychelles are great locations! However, the Maldives is a more tranquil destination focused on your stay and water activities whilst Seychelles is more active in general with things to do like hiking in the forests.   
📅 What is the best month to visit Seychelles?
The best time to visit Seychelles is between April – May, or October – November. These are the calmer periods between the two trade winds which hit the Seychelles Islands every year.
Conclusion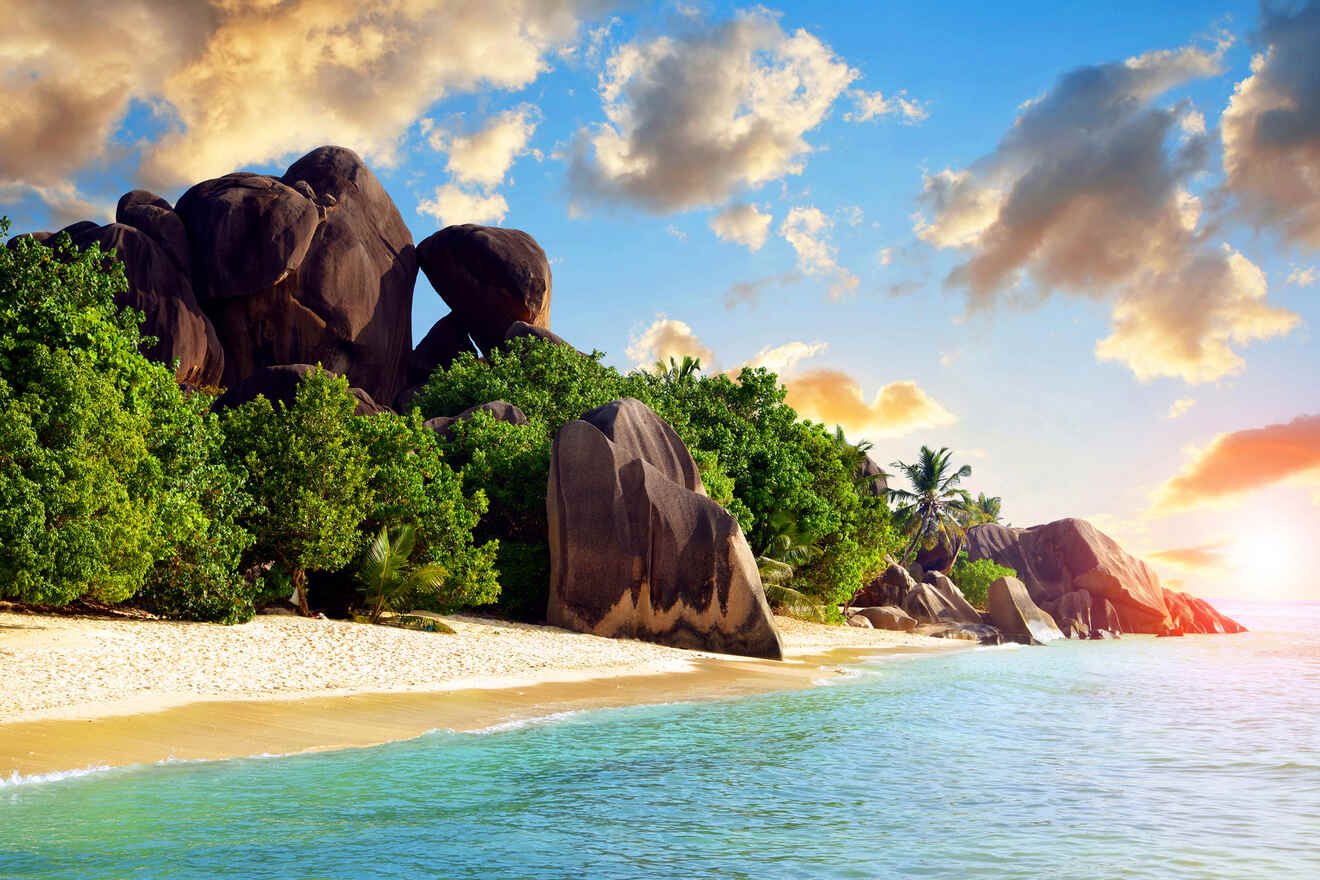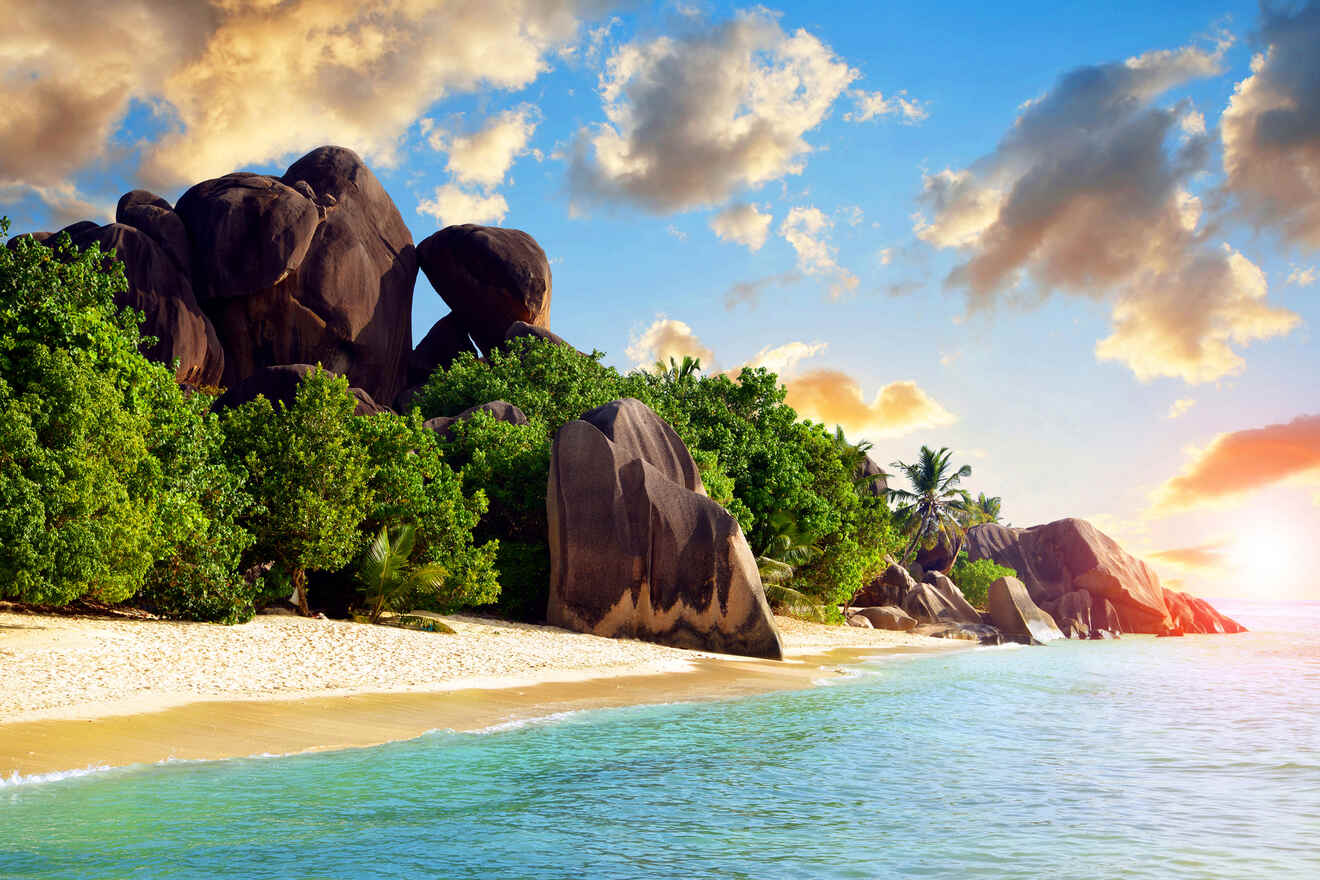 Wow! Are you as impressed as I am? This destination looks so amazing!
Let's quickly go over what I've talked about in this post. In the first part, you'll find a well-detailed guide to the best places where to stay in Seychelles plus some unique hotels. Then, I added a section on the top hotels in the Archipelago for honeymooners.
In case you're having a hard time trying to decide which accommodation to pick. Here are my top 2 favorite Seychelles hotels, both located in Mahe:
As I mentioned, you'll need a few months (at least) to plan this holiday, so I highly recommend booking your accommodations in advance. Plus, these are the best Seychelles hotels, and they'll sell out super fast!
Have a fabulous trip to Seychelles! Go on sunset cruises, chill on Anse Source D'Argent beach, take a day trip to Bird Island, and learn new things about the marine life here! I'm sure you'll have the best time.
In case you have any other questions about Seychelles, the hotels or you just want to make other suggestions for our traveling community, leave me a comment below, and I'll make sure to answer it super fast!
Victoria,
Safe Travels