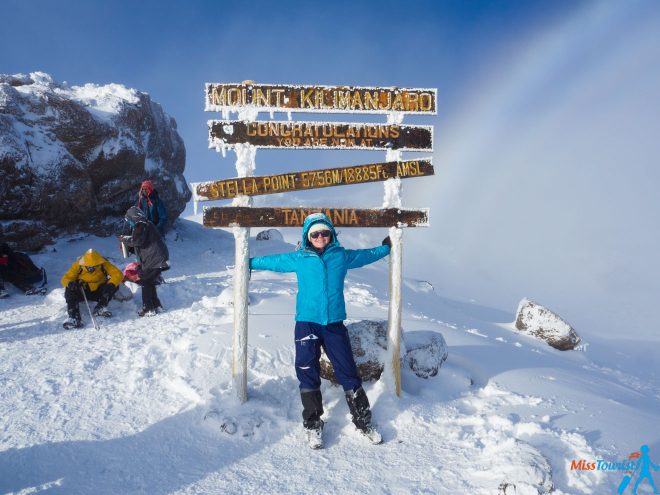 Are you planning to climb Kilimanjaro mountain in Tanzania? Congrats, you are in for a true adventure and a life-changing experience! In case you are wondering what on Earth should you bring with you during this trip, I am here to help!
In this article you can find the complete packing list for climbing Kilimanjaro, regardless of your chosen route. My list contains everything from clothes to accessories, electronics, and equipment, so you won't need anything more than this article to prepare for your trip!
Please note that there is a direct correlation between the quality of the items (especially clothes) you are going to take with you and the success rate of the hike. Of course, this is not everything you will need, but it is an important factor, so pack responsibly!
If you are preparing to climb Kilimanjaro soon, here are the 7 Things You Should Know Before Climbing Kilimanjaro!
Here is the video where I show you all the things I packed and had with me for climbing Kilimanjaro:
Let's talk about each of the things you need to pack:
General packing guidelines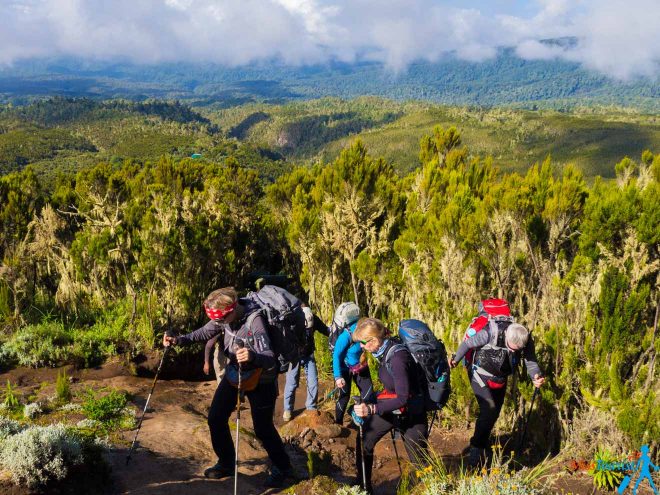 You don't need to overly stress about your packing list, as you will have guidance! One day before doing the trek, your guide will go through all of the things in your bag together with you and he will make an analyzation of the items you are missing and the items you don't need to bring on the mountain. In case you need something and you don't have it, he will provide it for you. In my case, I was missing on 2 pairs on underpants which my guide brought to me on the day of the summit (I rented them from the company, basically). I do not remember the price exactly, but I don't think it was more than 10 US$ for the whole duration of the hike. You might want to buy something, there are stores that sell professional equipment but almost certainly it will be a bit more expensive than buying it in advance in your home country.
The general rule when you start organizing the things that you need is to not over pack. The trek by itself will be a challenge, but if you pack according to this list, I am sure that you will have no problems!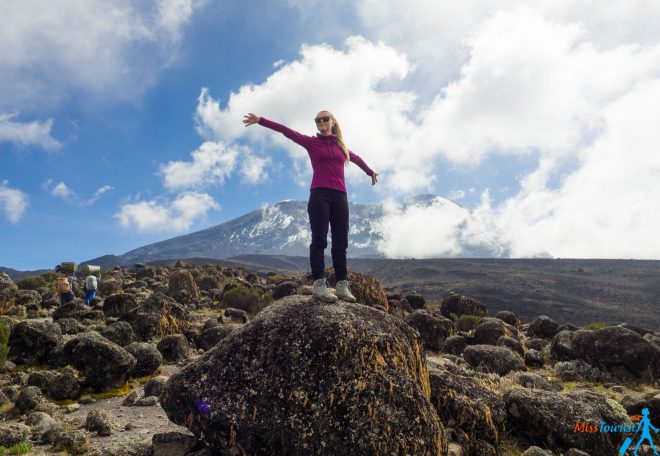 Also, you don't need to worry about how you are going to carry your luggage each day up the mountain! You will have a backpack in which you will have your rain gear, snacks, and water bottle. The rest of the items will be in the duffel bag (a big, spacious bag), which is carried by the porters from the hiking company of your choice to the next camp each day.
The duffel bag and all the equipment (tent, sleeping bag) will be provided by the company as well. More details about this below.
By the way, if you haven't chosen the company you are going to summit with, I have a very good post on questions you should ask the company before you make a decision on booking your trip with them. Click here to read my tips on finding a great tour company for Kilimanjaro.
For your convenience, I have sorted all items by category so you can scroll down and easily find a specific category. Enjoy!
Clothes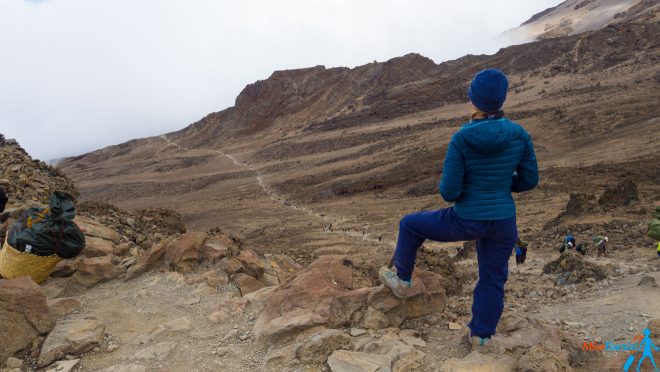 Clothes are one of the most crucial items on your packing list, so make sure to pay close attention to each piece of clothing you will take with you. You don't want to have inefficient clothes in your bag that won't keep you warm or help you with layering.
NOTE: I advise you to bring with you clothes made from moisture-wicking fabric, not cotton. This type of fabric will rapidly absorb sweat and will keep you dry and warm.
Tops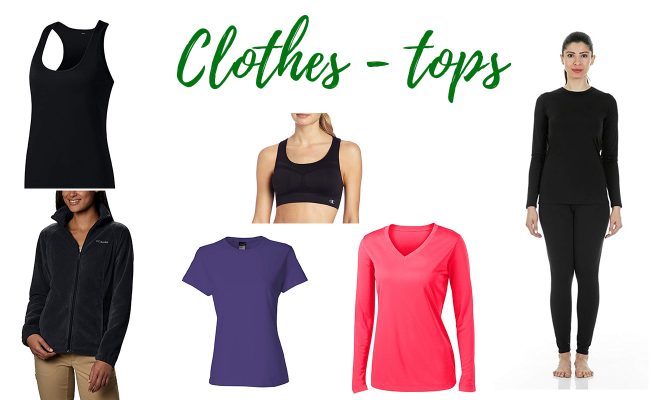 Pants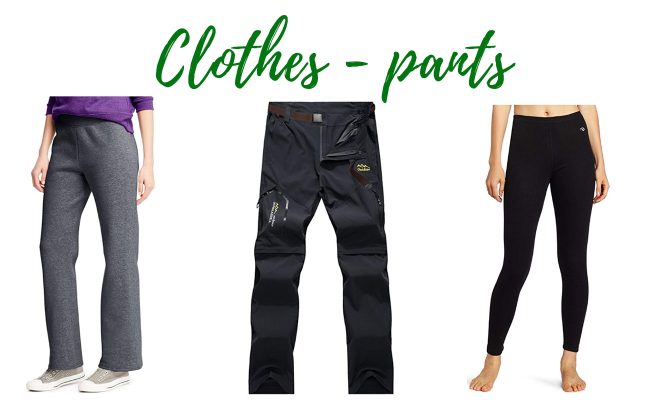 1 x convertible hiking pants – I recommend taking the convertible hiking pants which have a side zipper – they convert from short pants to long pants, super convenient!
1 x fleece pants – Make sure you can wear them in layers and they are also perfect for when you are in your camp
3 x thermal underpants – Just like the thermal tops, these will keep you warm at all times, you will use all of them on the summit day
Jackets & Rain Gear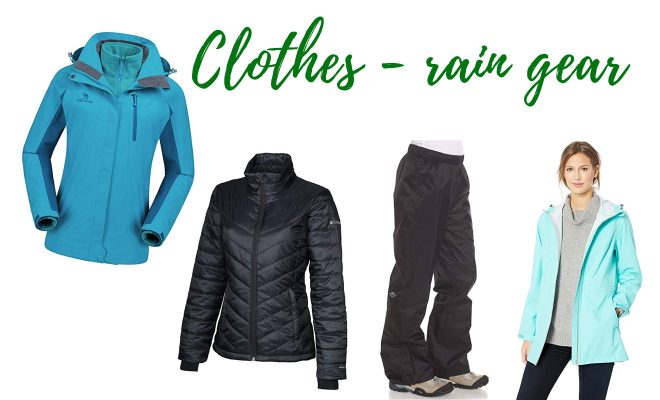 Rain gear is very important because the weather on the mountain is so unpredictable! It can start raining at any moment, so having some waterproof clothing items is crucial. Also, the better quality your rain gear is, the better!
NOTE: You will carry the waterproof pants and the waterproof jacket with you in your daypack every day, so make sure to make it light.
Headwear & Handwear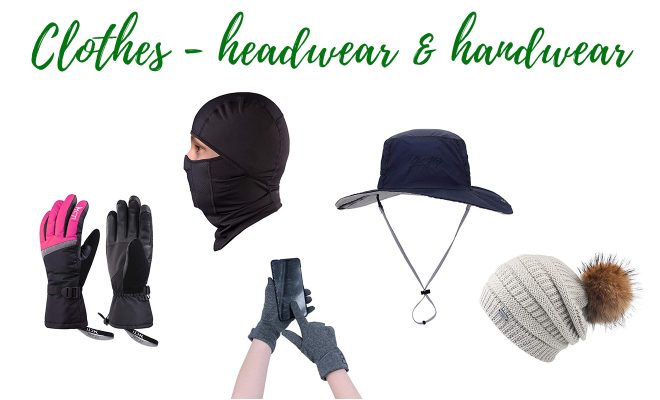 Toiletries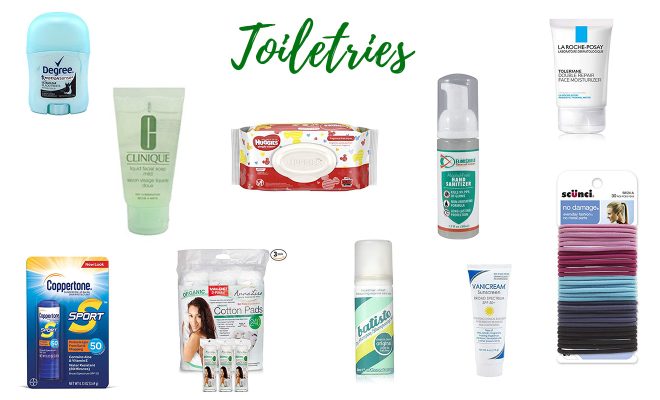 As I mentioned before, I advise you to pack as light as possible. There is no point in carrying a shampoo or a perfume with you, as you will, most probably, not use them. Stick to the essentials instead.
Your make-up case should contain:
a lip balm – very important, the sun is super strong and you will definitely need it!
a small moisturizer – you can bring a small container which you fill with a good moisturizer; very good, especially for girls
a face cleanser – I used a konjac sponge which helped me clean my skin fast; you only need to dip it in hot water
sunblock SPF 50+ – a very important item as well, as the sun is strong and you don't want to get a sunburn
some hair ties – to keep your hair in place in case you have long hair
cotton pads – travel-size are better, as they are smaller and don't take up much space
baby wipes – my advice is to have a big pack of wet wipes in your duffel bag and a small one in your backpack to carry with you every day
hand sanitizer – efficient and easy to use
toilet paper – even though your guide will have plenty of toilet paper for you during the hike, you might want to have your own
a dry shampoo – optional. I had one with me but ended up not using it because I feel like I'd need to wash my hair at least a day after using it
Electronics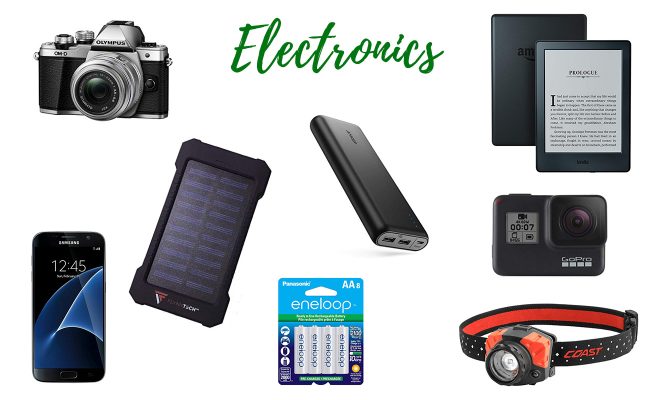 I do not recommend taking many electronic devices with you, as will most probably not use them on the mountain and you won't be able to charge them in any way.
Here is what I brought with me:
Equipment
As I mentioned before, all the big equipment (tent, sleeping bag and duffel bag) you will need for your trek will be provided by the hiking company. They will provide these for you, as well as carry them and install everything at the next camp each day.
In my case, everything was of good quality and I had no problems. If you wish to bring your own tent or your own sleeping bag with you, that is no problem, of course (it will be carried by porters).
Accessories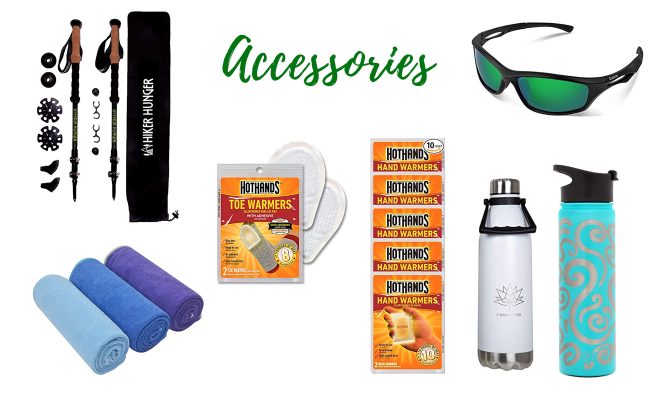 Shoes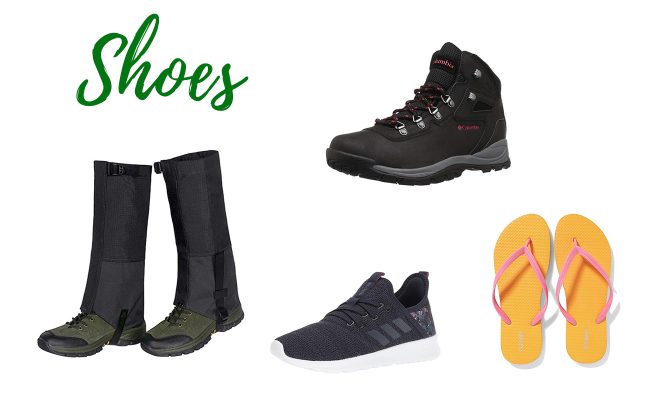 Backpack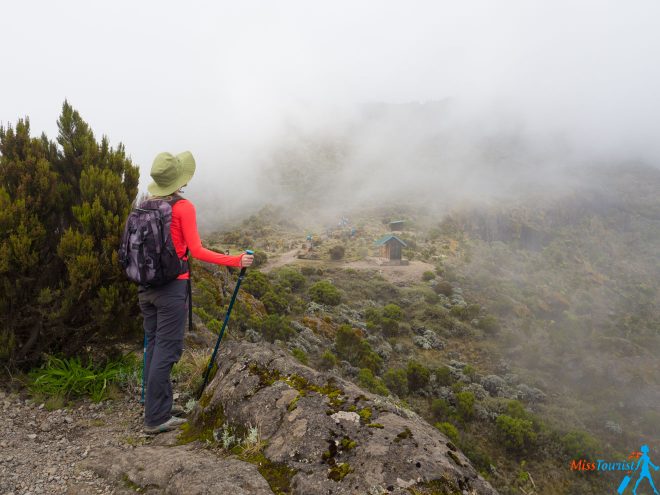 Make sure the backpack that you bring with you up to Kilimanjaro is waterproof and spacious enough (25-35 liters) for the rain gear, snacks, and water bottle. Also, another very important aspect of the backpack is to have the adjustable waist and chest straps – these will help the weight distribute better and it will be less pressure for your shoulders.
Snacks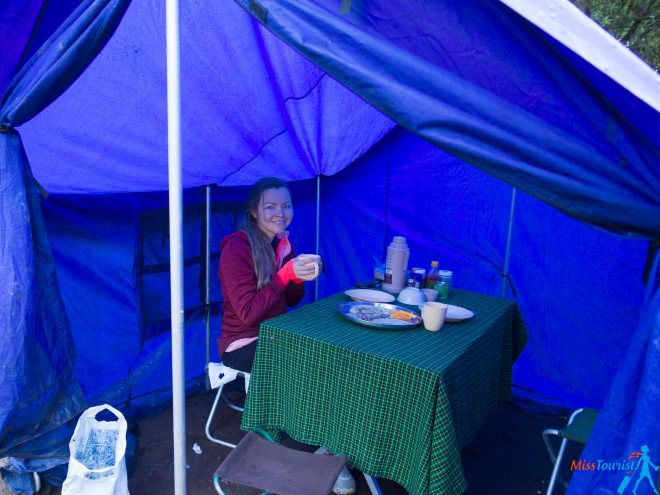 During your trek, you will eat 3 meals per day provided by the hiking company. The food is plentiful and of very good quality, but I still advise you take some of your favorite snacks with you to have in your backpack during the day, just in case you get hungry all of a sudden. I recommend having 2 snacks/day with you, just in case.
WHAT TO TAKE: Some good snack options are protein bars, chocolate bars (such as Snickers), nuts and potato chips. Of course, you can bring your favorite snacks with you from home if you want. If not, there are shops before the starting point where you can buy these without any problems.
Optional Things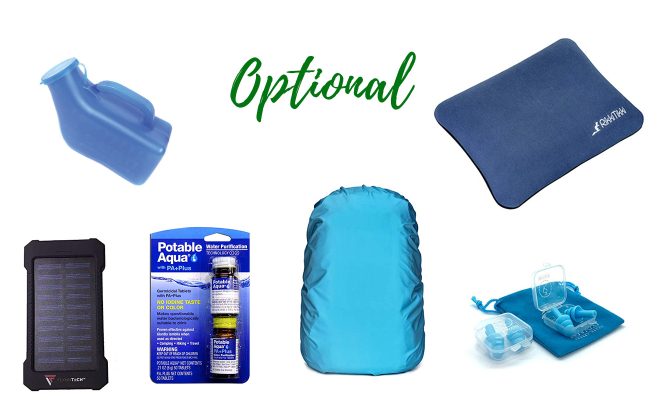 The list above is more than enough to prepare you for the climb, but here are some optional things you might want to take with you, just in case:
Medication, Documents and Money

Medication
Although the Kilimanjaro guides will make sure you will have all the items you need, all the equipment, medications and good food, they do not actually check if your health status allows you to do this climb. I strongly advise you to go to your doctor for a consultation before planning this trip and ask if you are medically able to climb Kilimanjaro. For example, people with asthma are not allowed to climb the mountain.
The guides will have all the basic medications with them for you (such as pain killers or altitude sickness pills – Diamox), but if you have any special prescriptions, make sure to bring your pills with you.
Documents
You can leave your passport at the accommodation before the trek together with your big luggage if you want to. I personally decided to take my passport with me, but keep in mind that if you decide on leaving it aside, you will need a copy of your passport when you enter the Kilimanjaro National Park.
Money
You will need to have some cash with you for tipping the team (porters, assistants and cook) after the hike. You can find more details about how much exactly to tip and everything else about this trek on my article about 7 things you should know before climbing Kilimanjaro
Conclusion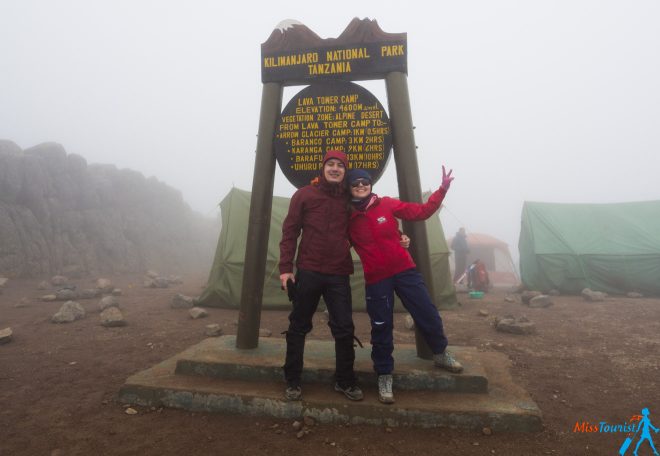 That was everything I needed to pack to climb Kilimanjaro and I did it successfully! I am sure that if you follow this complete list of things you need for your Kilimanjaro hike, you will be able to do it as well!
The experience itself is incredible, life-changing and definitely worth it, so if you buy all the things you need in advance, there is nothing that can stop you for going up the mountain.
REMEMBER: Try not to over-pack and do not be very stressed about the hike itself. If you prepare well and you have the right mindset (you can do this!), the mountain will welcome you.
I hope that, after reading this article, you will feel like you can do this hike without any problems!
If you still have some questions and concerns, please leave them in the comments below – I am happy to answer with more details and advice!
Good luck!
Yulia
---
Pin it for later!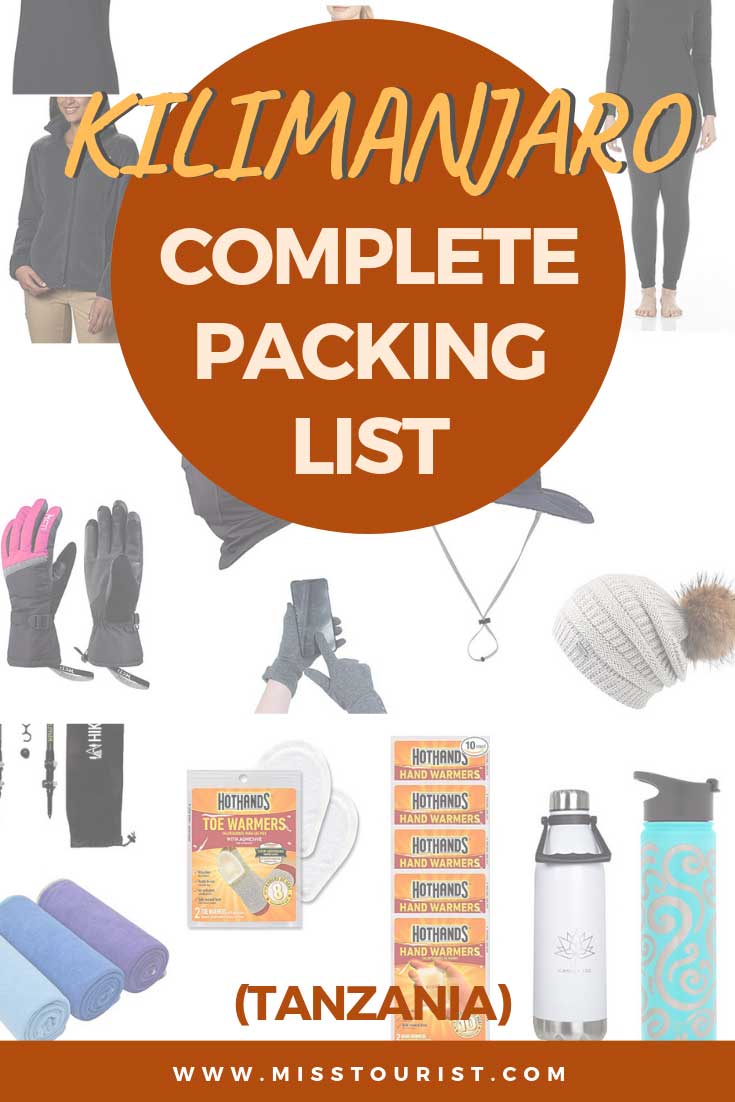 Pin it for later!