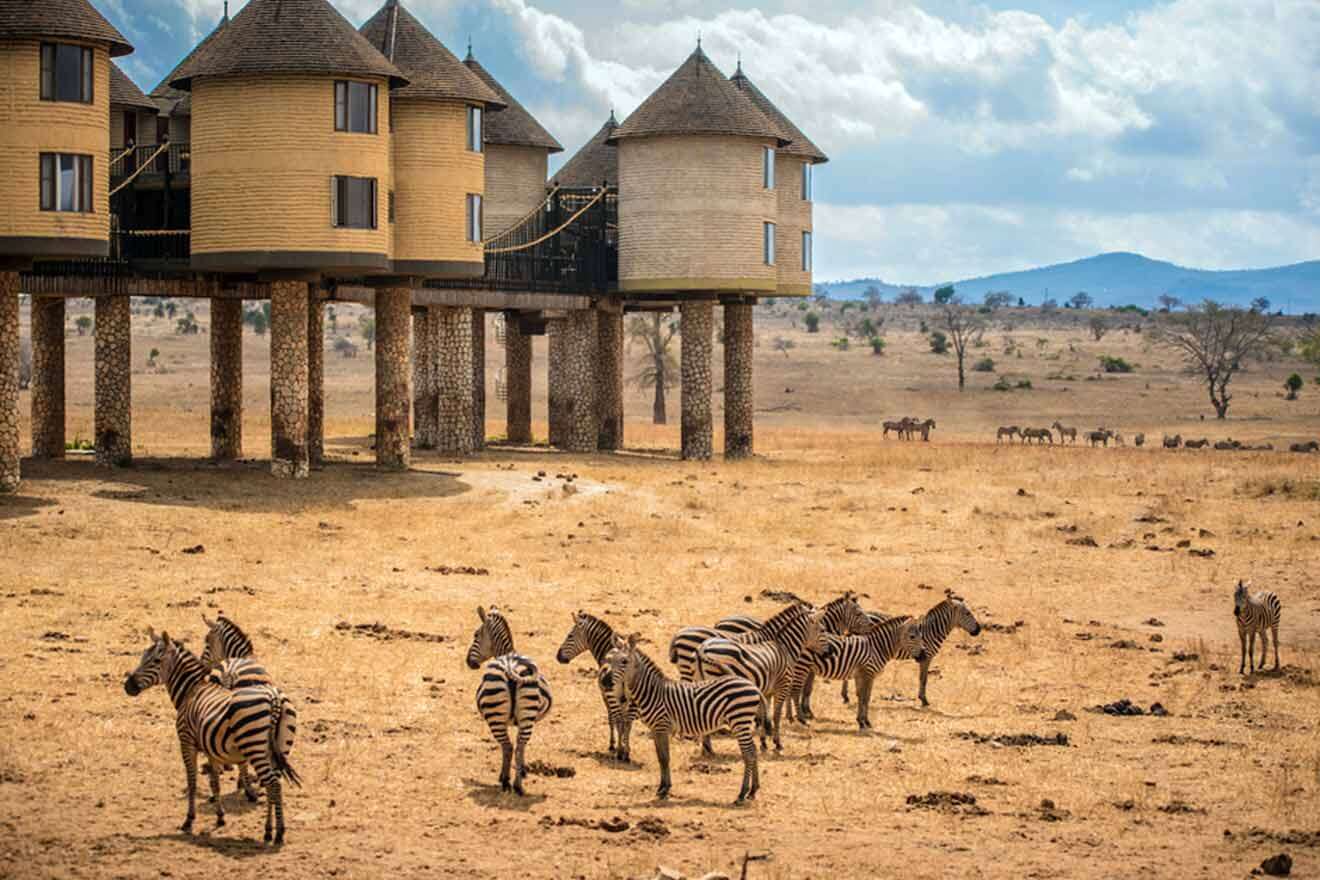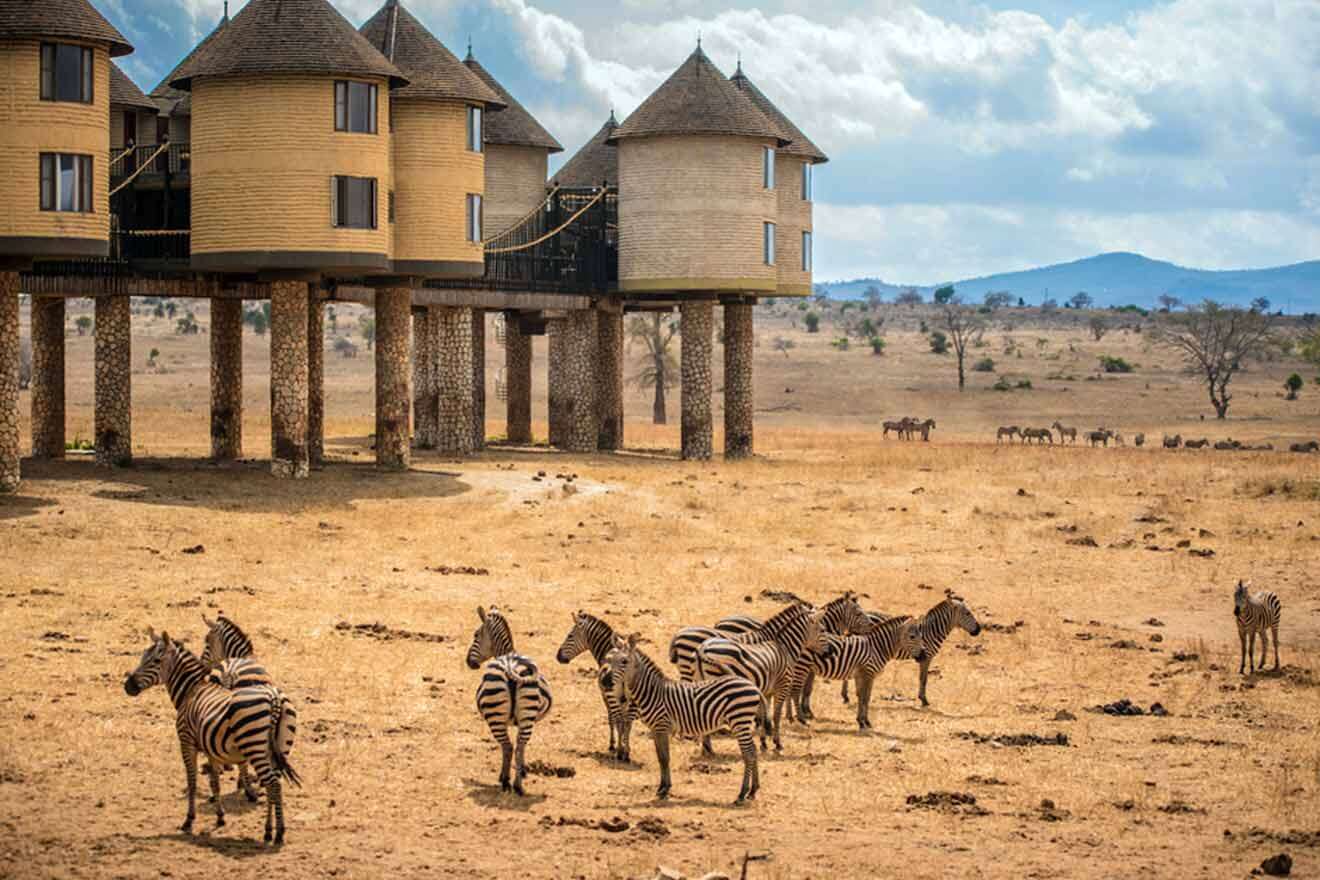 Are you looking for South Africa safari lodges? Awesome! I have compared all the options for you and gathered the 14 best safari lodges in South Africa, offering deluxe amenities and set in beautiful reserves and national parks.
I'm here to make planning your trip easy! All you have to do is pick your favorite!
The article is arranged to start with the luxury safari lodges first, but to be honest, all of them are gorgeous, so I am more than sure that by the end of the article, you will be booking the safari lodge of your dreams.
NOTE: Safari lodges tend to book very fast, especially the luxury options, so the best thing you can do is book in advance!
If you are in a hurry
If you don't have much time to read the whole article, here you have the top 3 South Africa Safari Lodges so that you can click and book!
And just in case you need it, here's a useful map for you to see all the most epic safari lodges in South Africa!
1. Londolozi Game Reserve – lodge with private pools
This Safari luxury lodge is nestled within renowned game reserves (Sabi Sand Game Reserve) and Greater Kruger National Park. It features guided tours with expert trackers and offers an early morning game drive, an African bush walk through pristine wilderness, and experiences like the "Futuristic African Village," where you can dive into cultural experiences with local tribes and engage in safaris with professionals.
They offer immersive wildlife sightseeing and experiences where you can witness the Big Five in their natural habitat. Providing luxurious accommodations in the wilderness, Londolozi Lodge is South Africa's most exclusive reserve. It features a vast array of camps: exclusive villas that come with 3 luxury suites that offer an infinity pool or your own private plunge pool overlooking the private reserve and its abundant wildlife sightings.
2. Singita Lebombo Lodge – with twice-daily game drives
In this stunning lodge, you can experience guided game drives at dawn and walking safaris known for spectacular views and top-notch service. The accommodation is in Kruger National Park and offers upscale dining where you can savor gourmet bush dinners under the stars featuring wine from the lodge's exclusive wine cellar.
Enjoy panoramic views from this hilltop retreat! The 1 bedroom suite at this property comes with a private terrace and a bed where you can look at the stars at night. The 2-bedroom suites and villas come with a private deck with a private pool. The biggest accommodation is the Villa which can host up to 8 guests and comes with separate cottages, making it perfect for families or friends.
3. Singita Boulders Lodge – offers a walking safari
Enjoy intimate bush walks with expert guides and engage in nighttime safaris for nocturnal sightings. This amazing lodge, run by the same company as the lodge above, offers a day and evening game drive (where you might encounter African Wild Dogs) and the chance to indulge in spa treatments amidst the wilderness. The lodge comes with a gallery where you can admire South African art and prints, as well as buy crafts and safari clothing.
This lodge even has a private pool! The property comes with a wide range of accommodations for 2 to 8 guests. All the rooms come with a big terrace where you can witness magnificent riverfront or bus wildlife views.
4. Lion Sands River Lodge – Immerse in bird-watching paradise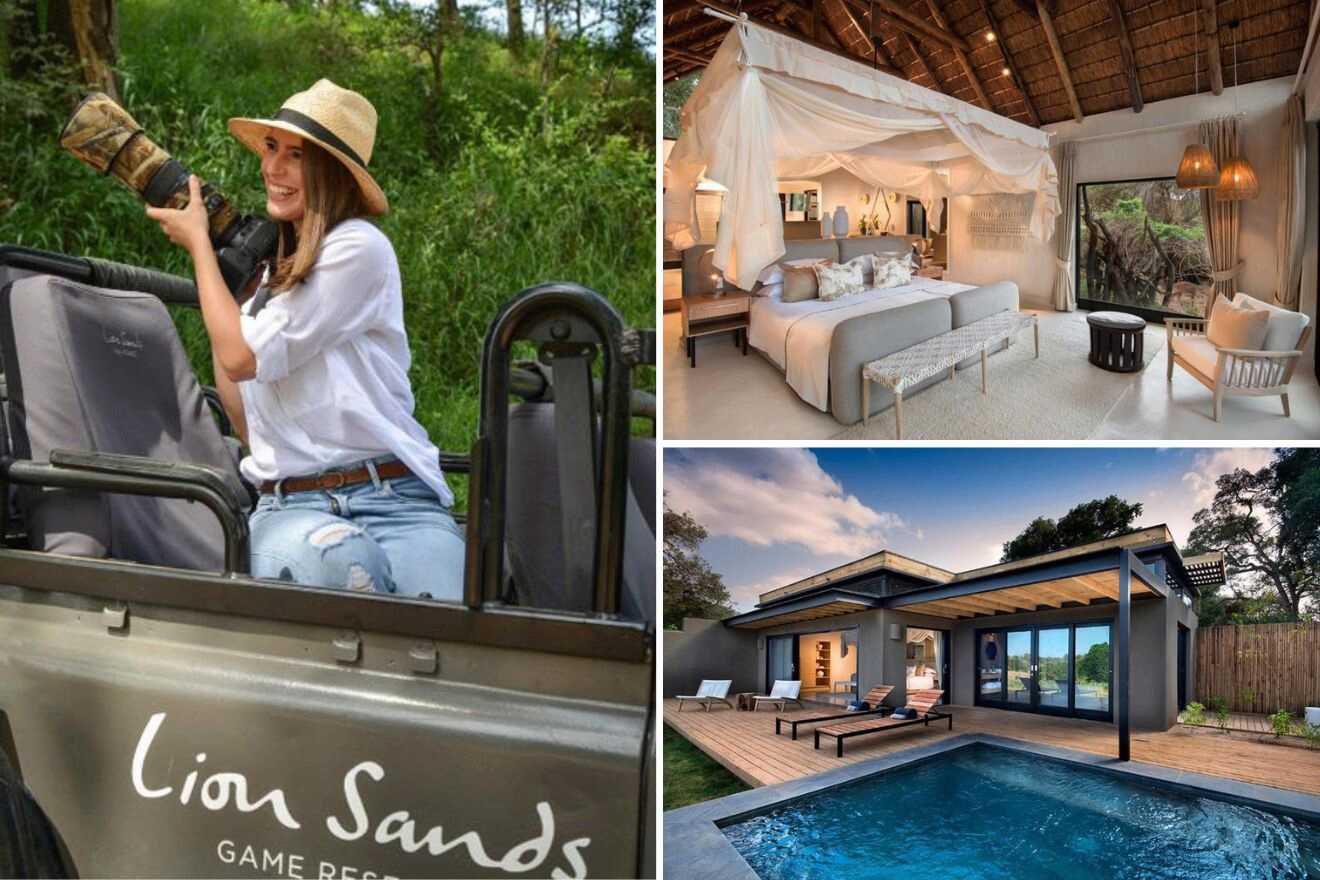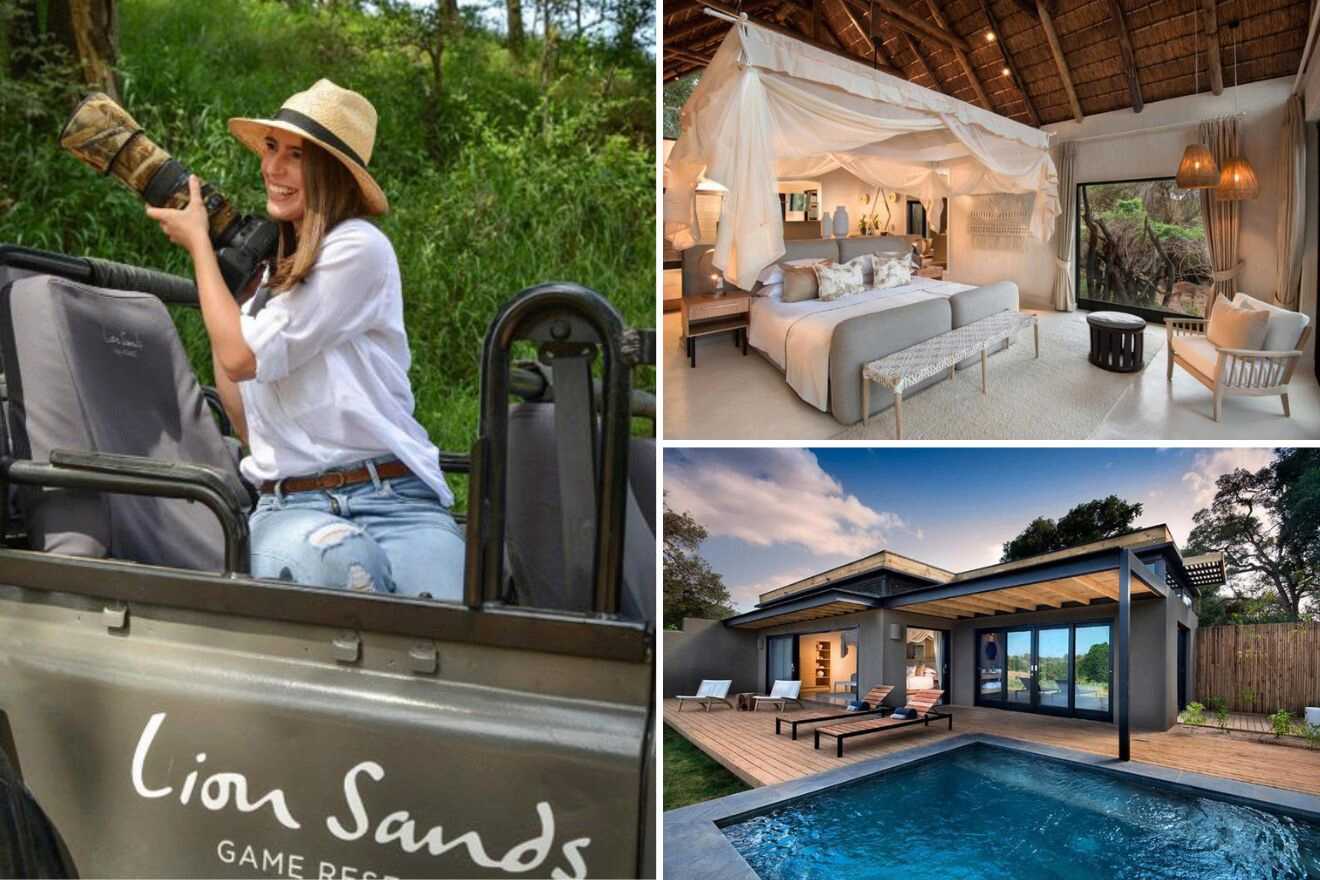 I highly recommend this lodge promoting conservation! It is possible to stay at Lion Sands; this lovely accommodation has a wide range of activities, including daily safaris and safari walks, a spa center offering a wide range of relaxing treatments, and a big swimming pool.
Lion Sands Game Reserve looks like a dream and features stunning views of the wilderness; imagine relaxing on your private terrace and seeing wild animals in their natural habitat. Sounds like a complete dream!
5. Thornybush Game Lodge – experience luxury with a view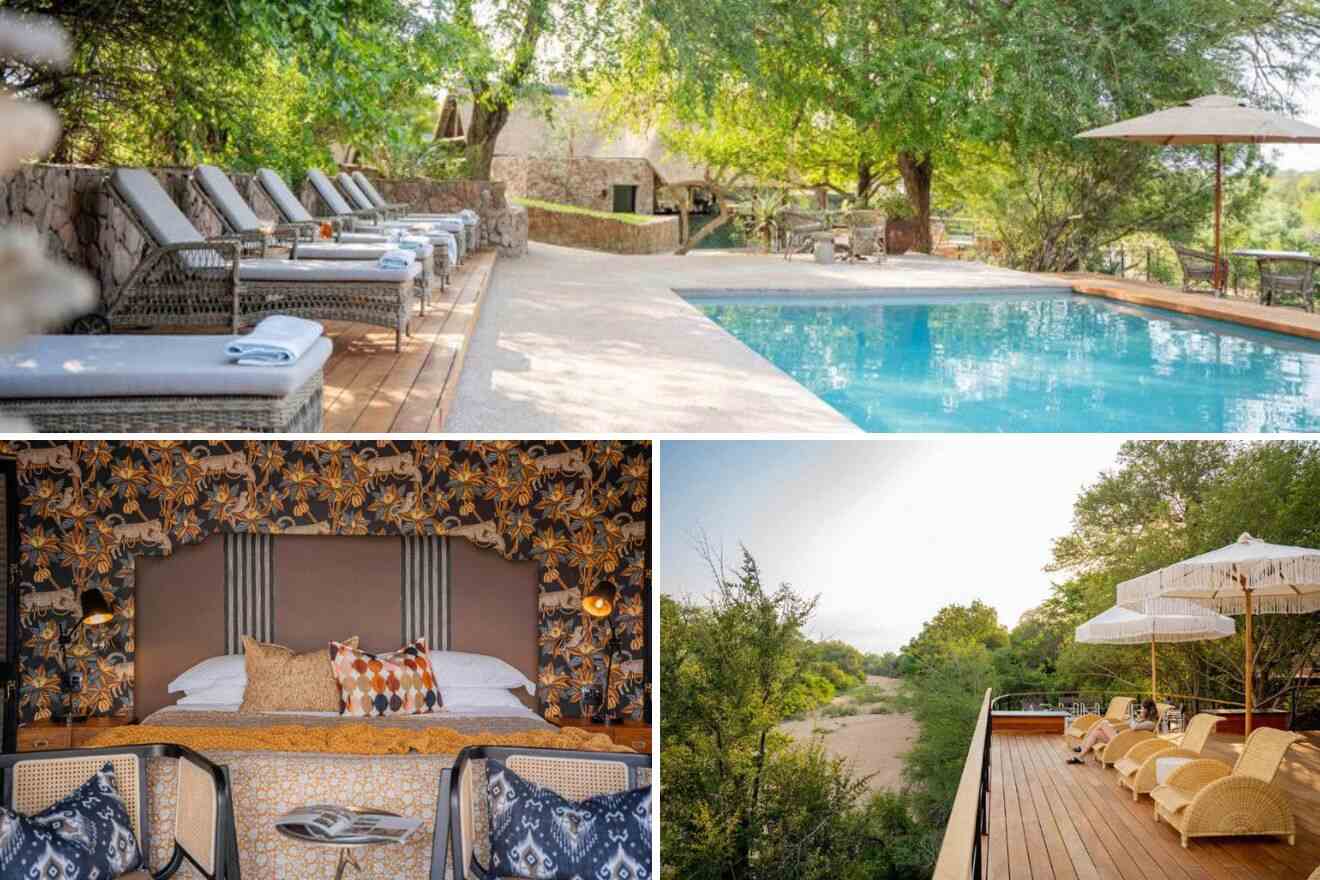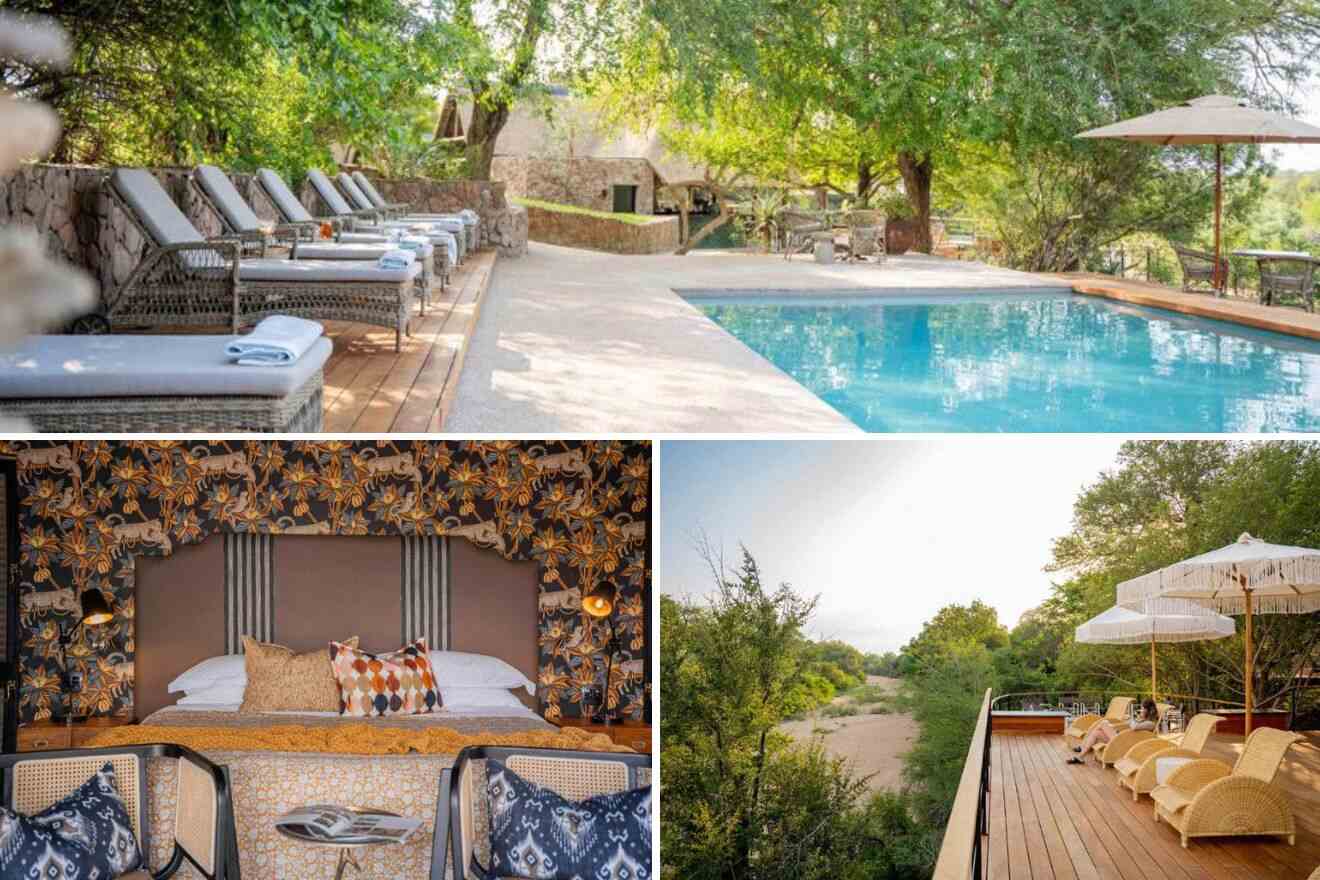 Thornybush Game Reserve is located in Greater Kruger National Park. It offers safari games every day so you can observe herds of elephants and buffalos on their journey passing by a sand river; nothing more majestic than those views! The lodge will take care of every little detail, so your stay in South Africa is more than memorable. It has an onsite restaurant, so you can have all your meals there while taking in your surroundings.
The accommodations at Thornybush Lodge look fantastic; the decoration is impeccable, with African motifs in the bedsheets and decorations, and featuring natural elements that will make you feel at one with nature.
6. Madikwe Hills Private Game Lodge – with outdoor showers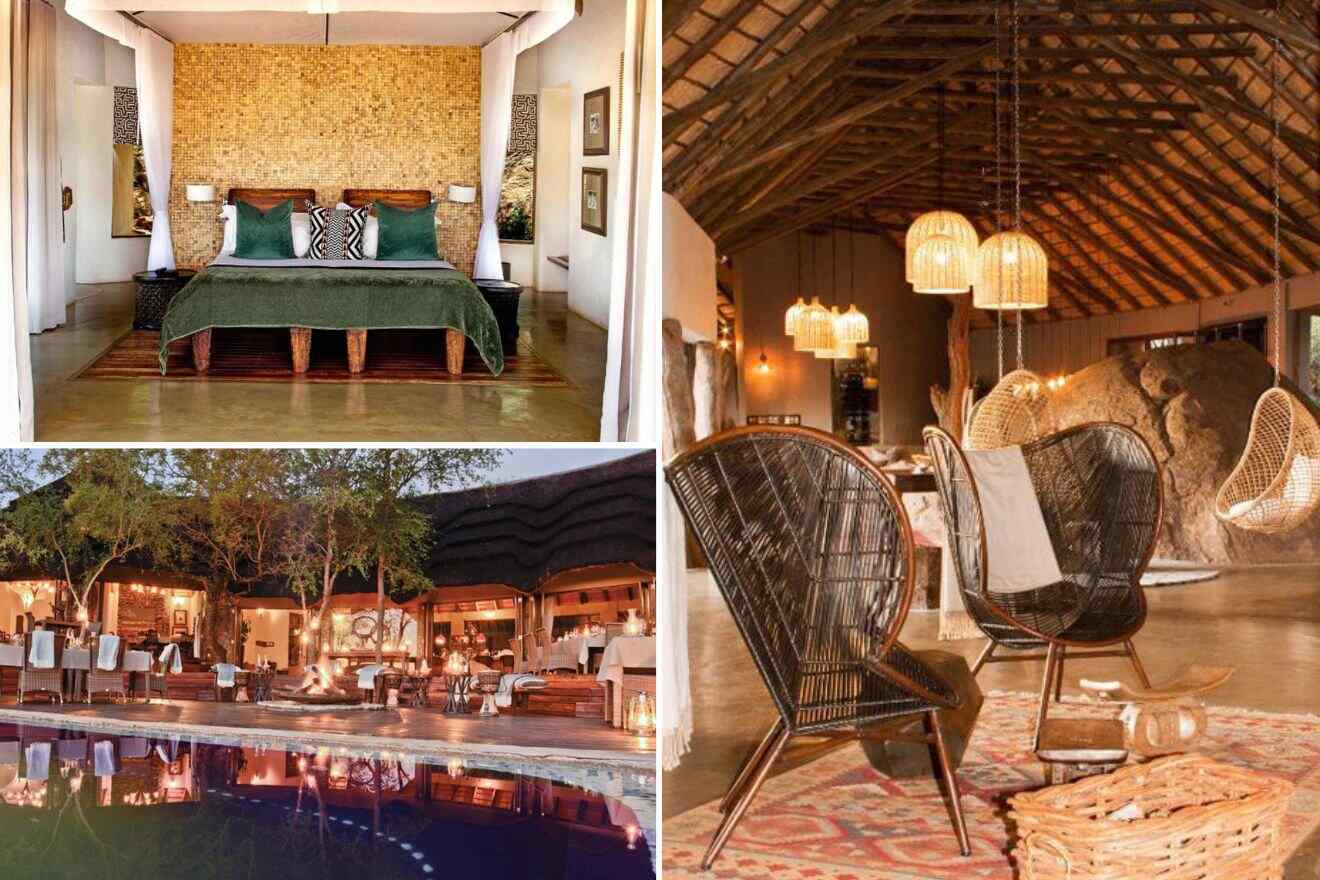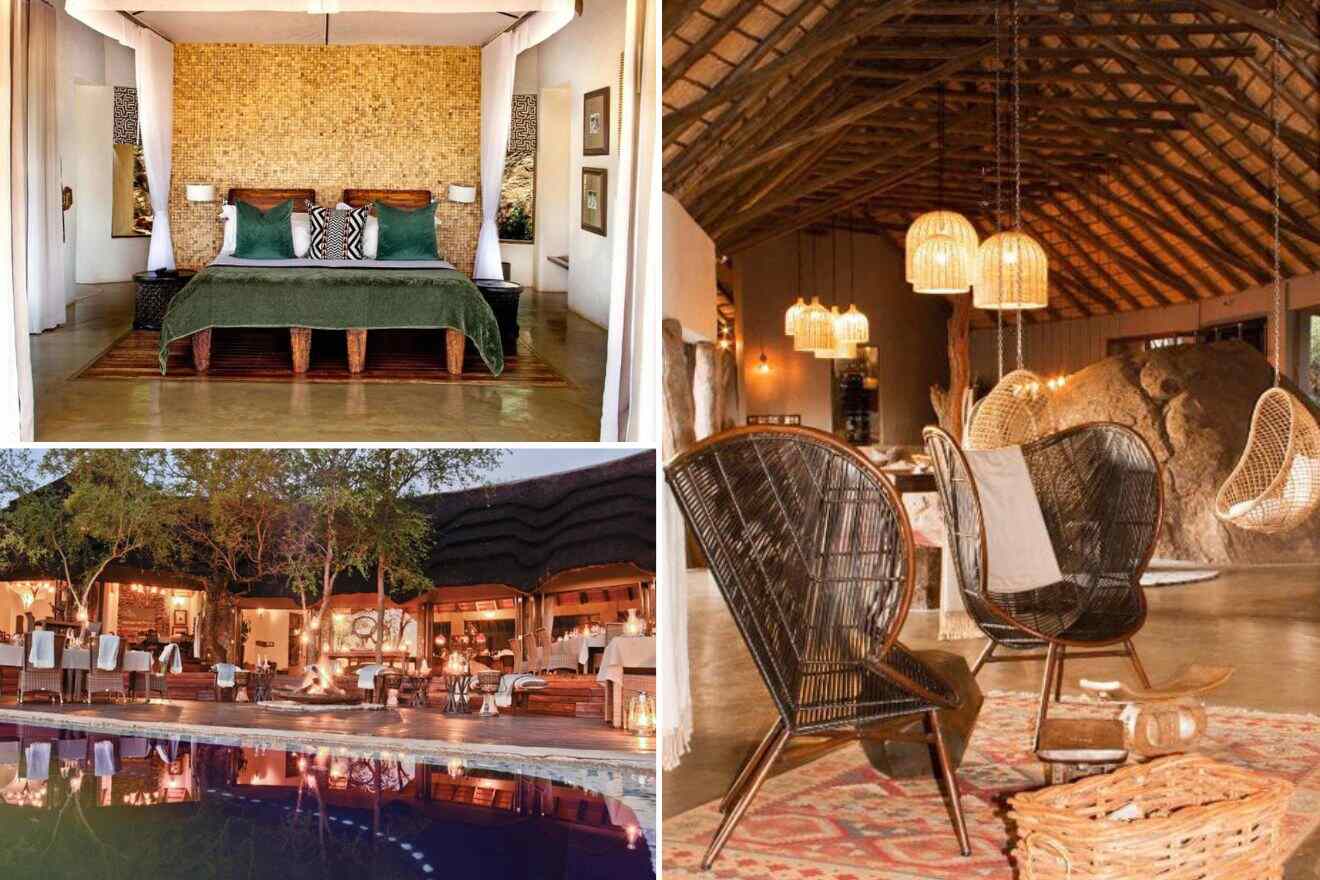 If you want a wholesome and unique experience, this lodge in Madikwe Game Reserve has just the thing for you! The accommodation offers morning and night safaris so you can see South Africa's charms in all lighting and experience different types of wildlife watching! There is free Wi-Fi on the property and a fitness center.
If you are traveling with the family, there are activities for children at the lodge's kids club, and all your meals will be covered by the accommodation. The luxury suite and the 2 bedroom suite come with indoor and outdoor showers, private pools, and jaw-dropping views.
7. Gorah Elephant Camp – stay in luxury safari tents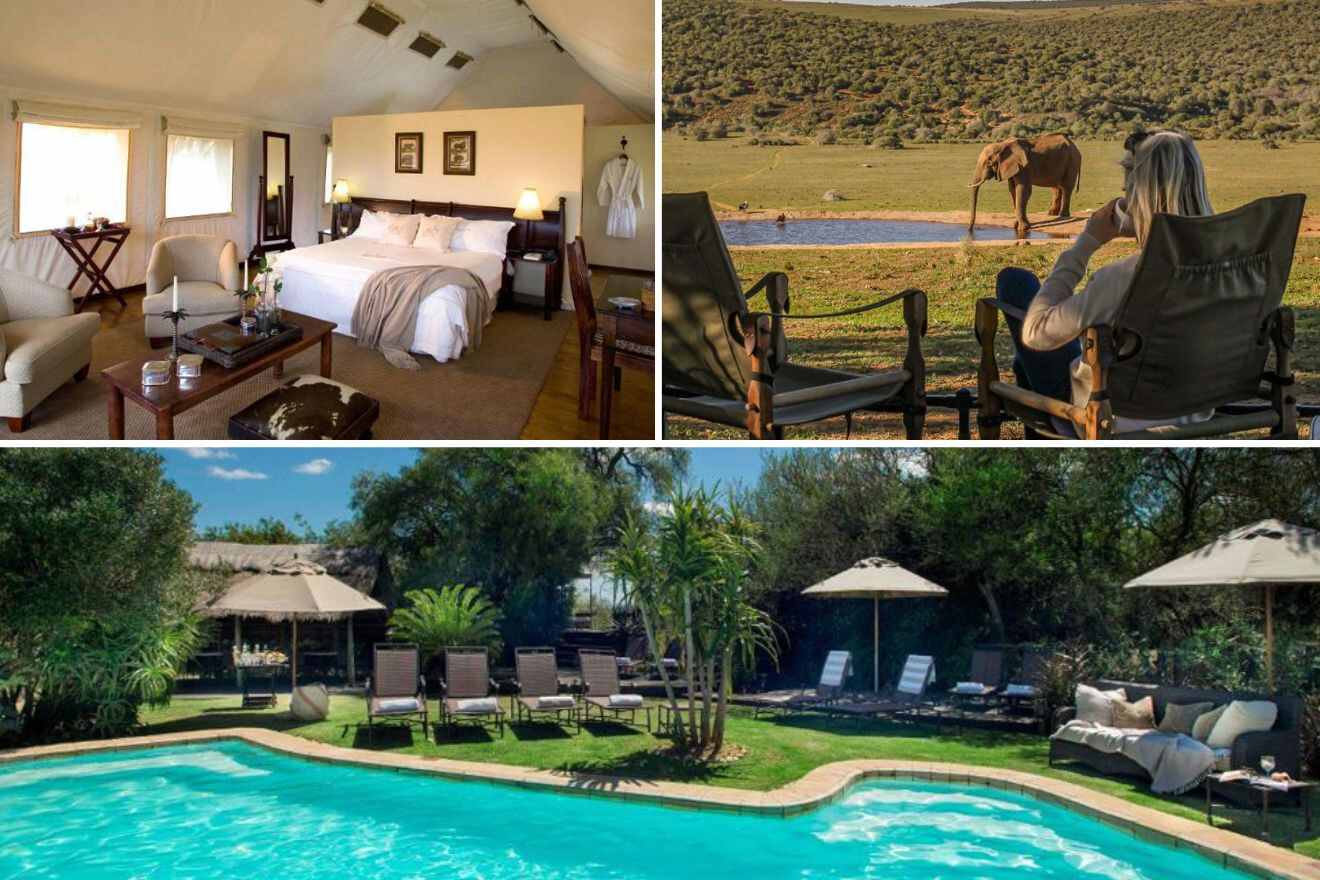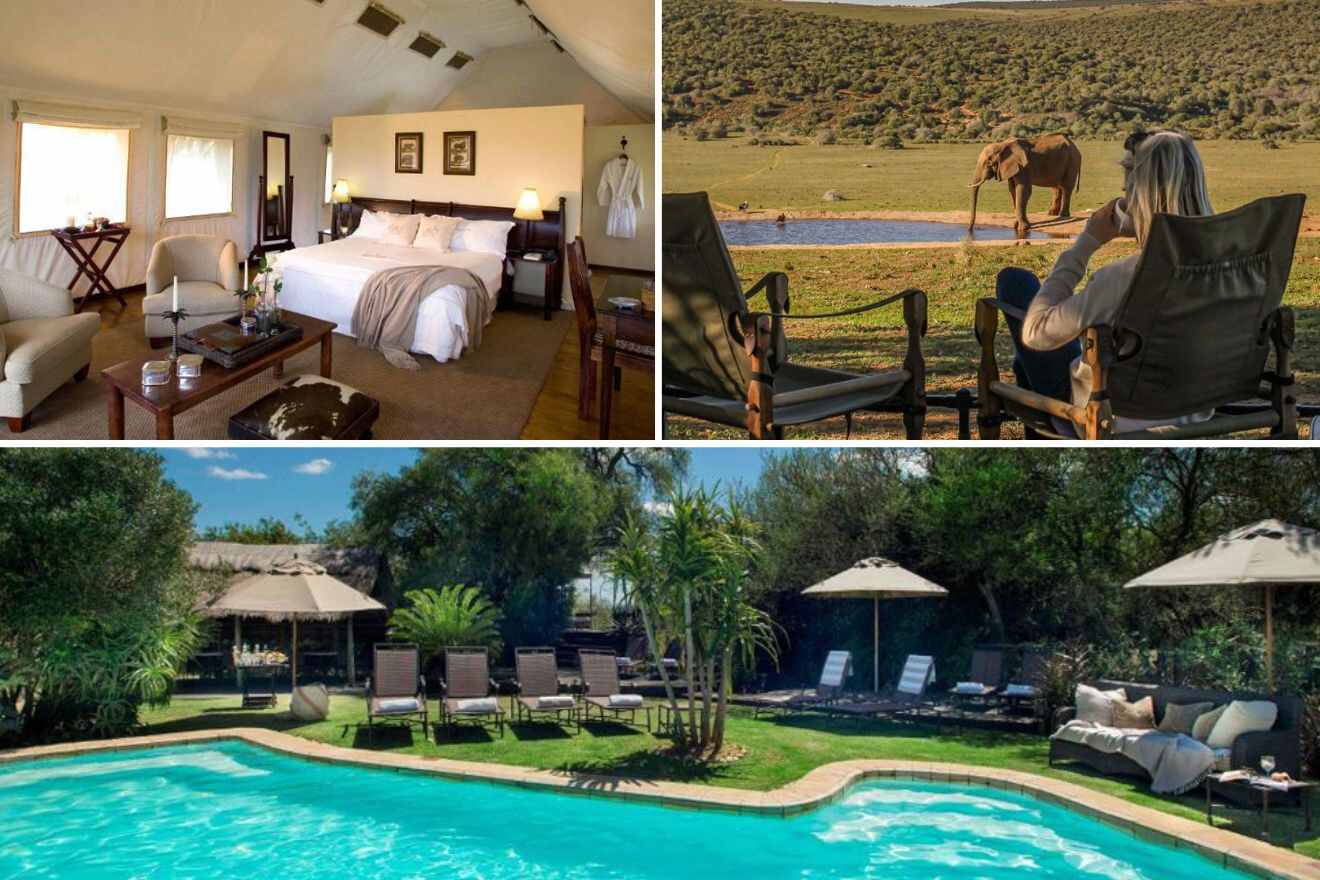 Revel in luxury tented accommodations! This unique tented camp is located in Addo Elephant National Park and features amazing views of nature. Staying in this lodge, you will feel like you are part of The Thornberrys, with herds of elephants and lions passing by your front porch! This lodge offers safari walks and drives every day and comes with 3 onsite restaurants offering breakfast, lunch, and dessert.
The property comes with 24-hour security, and there is a fire pit in the garden where you can relax in the nighttime while looking at the shining stars! All the tents have private decks overlooking the reserve, luxurious beds, and private bathrooms.
8. Phinda Rock Lodge – for a nourishing experience
What a fantastic lodge in the unique Phinda Private Game Reserve, offering movie-like cliff views! The lodge offers morning and night drives and nature bush walks, both of which are memorable experiences. Something unique about this reserve is that it is close to a pristine beach that connects to the Indian Ocean, where you can see beautiful coral reefs.
I love the fact that the lodge has impactful experiences for guests; you can join different research workshops to see their conservation work. Another enriching experience they offer is a visit to Zulu communities, where you can learn about their daily lives and African culture. The lodge's suites come with an elegant decor and a deck with views.
9. Ngala Safari Lodge – a unique setting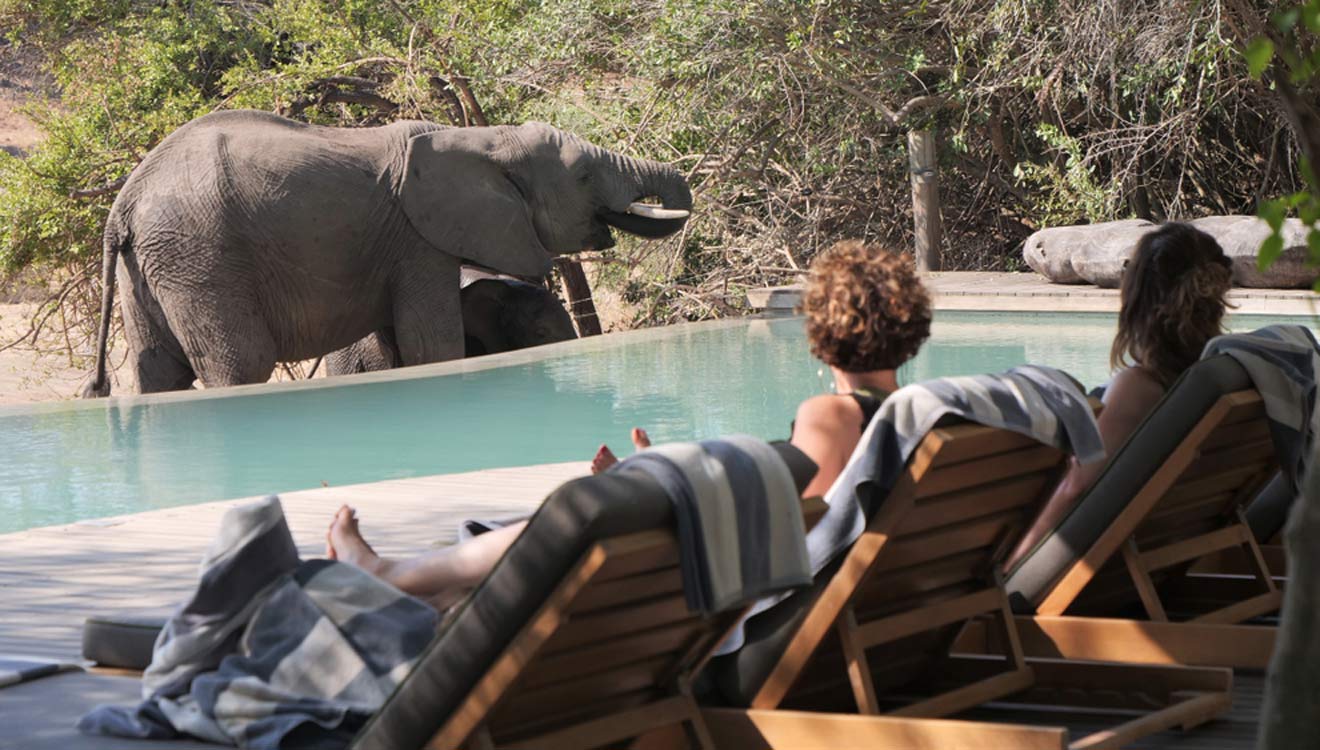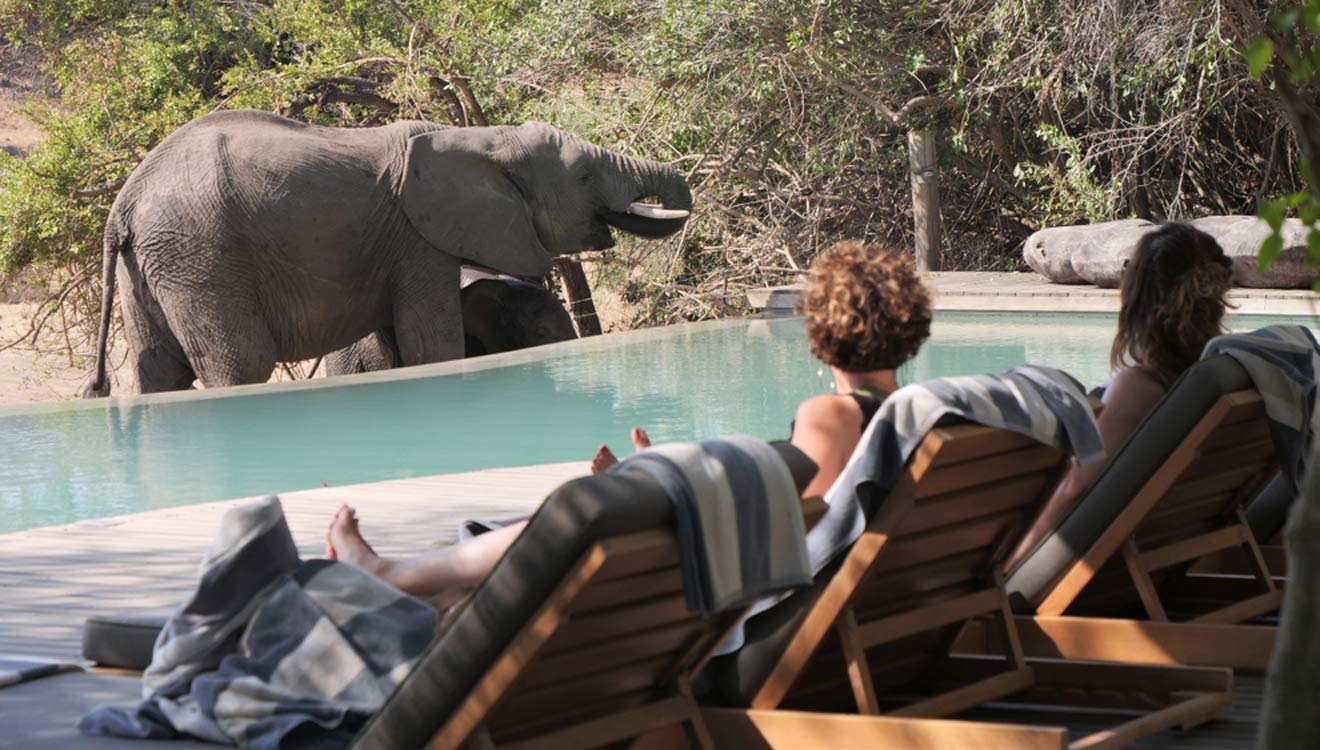 Located in Kruger National Park, this jaw-draping lodge, from the same company as the above lodge, offers the chance to see the big 5! You can have a face-to-face encounter with them during the game drives around the location. If you have kids, they have safari experiences made especially for them! If you rather take a safari walk, you can join the bush walks around the reserve.
If you are traveling with a partner and are looking for the perfect secluded piece of paradise, in the suite, you have all the amenities you need, and on the rooftop, you can see the stars, reserve, and beyond! If you are traveling with your family, they also offer regular suites.
10. Sabi Sabi Selati Camp – for a romantic stay
This stunning camp is located in Sabi Sands Game Reserve and offers a wide range of activities to all the guests; for example, you can go on daily safari rides where you can spot the big 5, on safari walks with a guided option, bird watching, and more! On the property, you can relax in the outdoor fire pit or go for a refreshing swim at the outdoor swimming pool.
There are 3 types of rooms available, all equally luxurious and spacious. My favorite thing about them is the private terrace overlooking the reserve, where you can relax while having a drink. The fully inclusive package includes meals, beverages, and other extras of your liking.
11. MalaMala Main Camp – see the big 5
Located on MalaMala Game Reserve, this fantastic lodge offers guided walks, where a knowledgeable guide will teach you everything you need to know about wildlife, so get your questions ready for the game drives and bush walks! A flock of birds will fly by, and if you wish, you can join a bird-watching session to admire them in all their glory.
The hotel offers many activities for kids, so if you are traveling with your family, there is something for people of all ages! All the luxury rooms come with beautiful decorations and earthly tones resembling their surroundings and spacious bathrooms with rainfall showers.
12. Lalibela Game Reserve – a once-in-a-lifetime experience!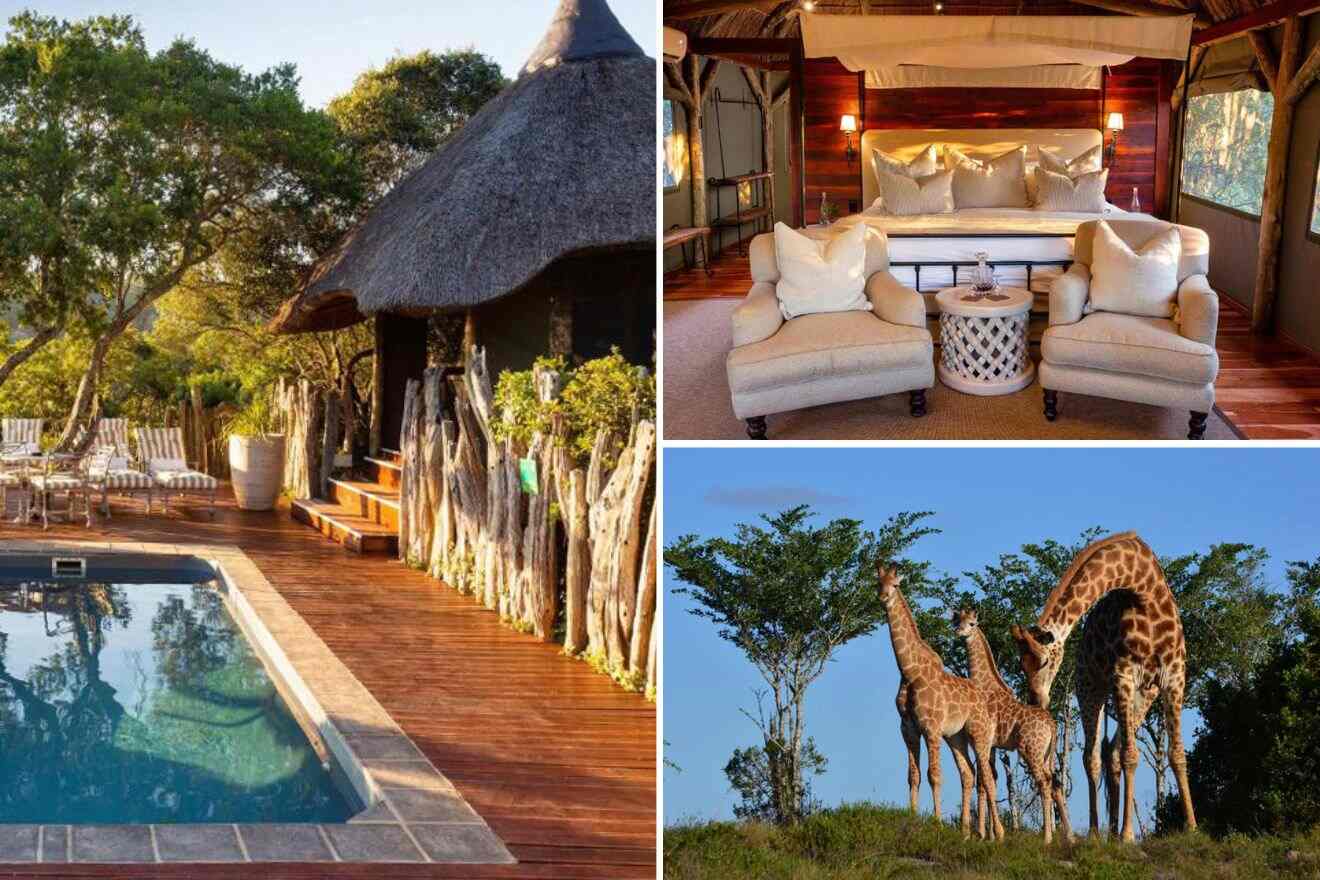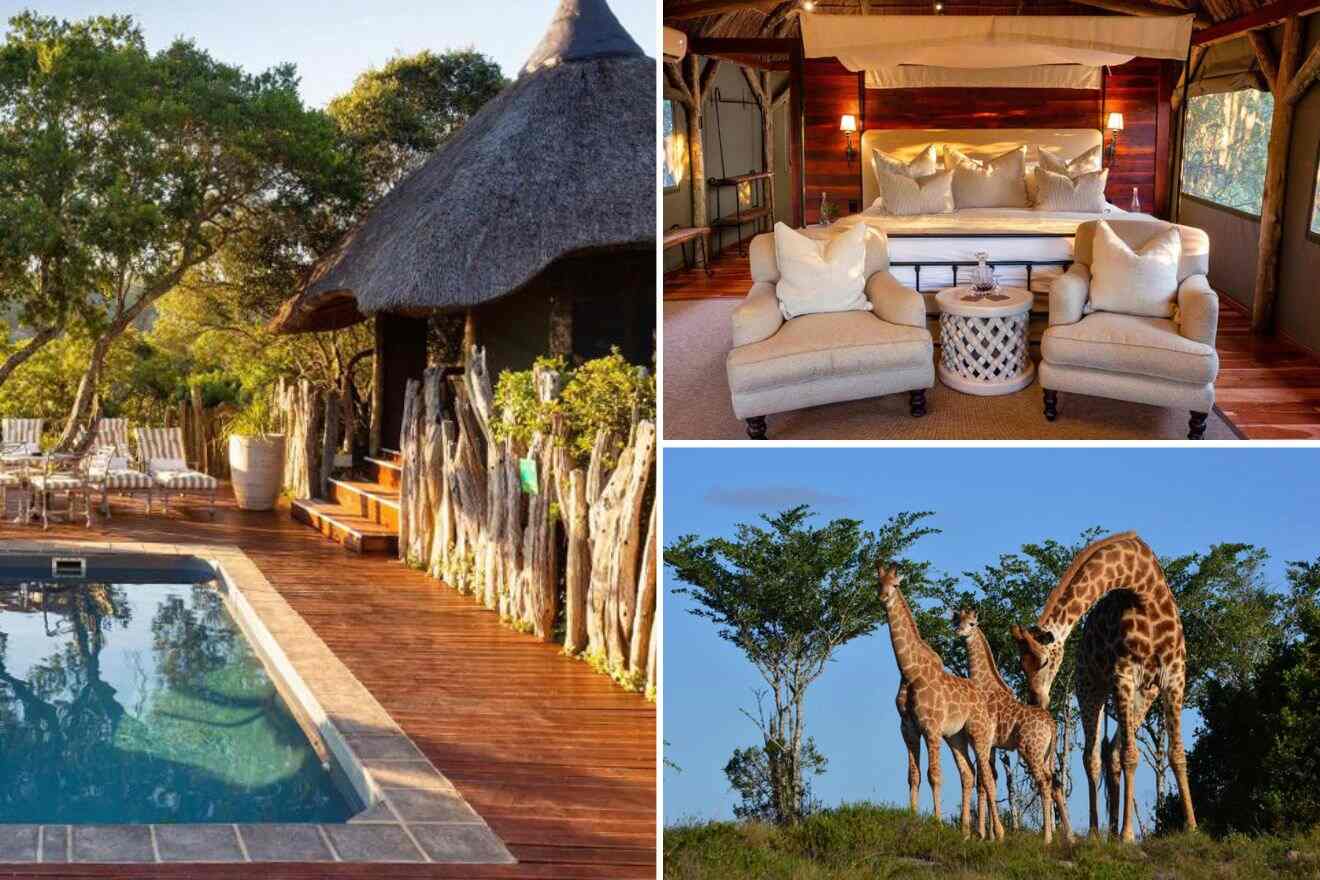 Oh my God! This safari lodge looks like a dream! It features the best mix of deluxe amenities and natural elements in the decor. It is located in Lalibela Game Reserve and offers great amenities. Apart from unique game drives where you can see rhinos, elephants, and lions, this property offers relaxing on-site features, such as outdoor swimming pools to freshen up during the summer.
The outdoor fireplace is located in the lodge's garden, where you can sit and drink complimentary wine or champagne. The luxury double room comes with a private deck with furniture and a cozy bedroom with stunning views!
13. Kapama River Lodge – for a fairytale stay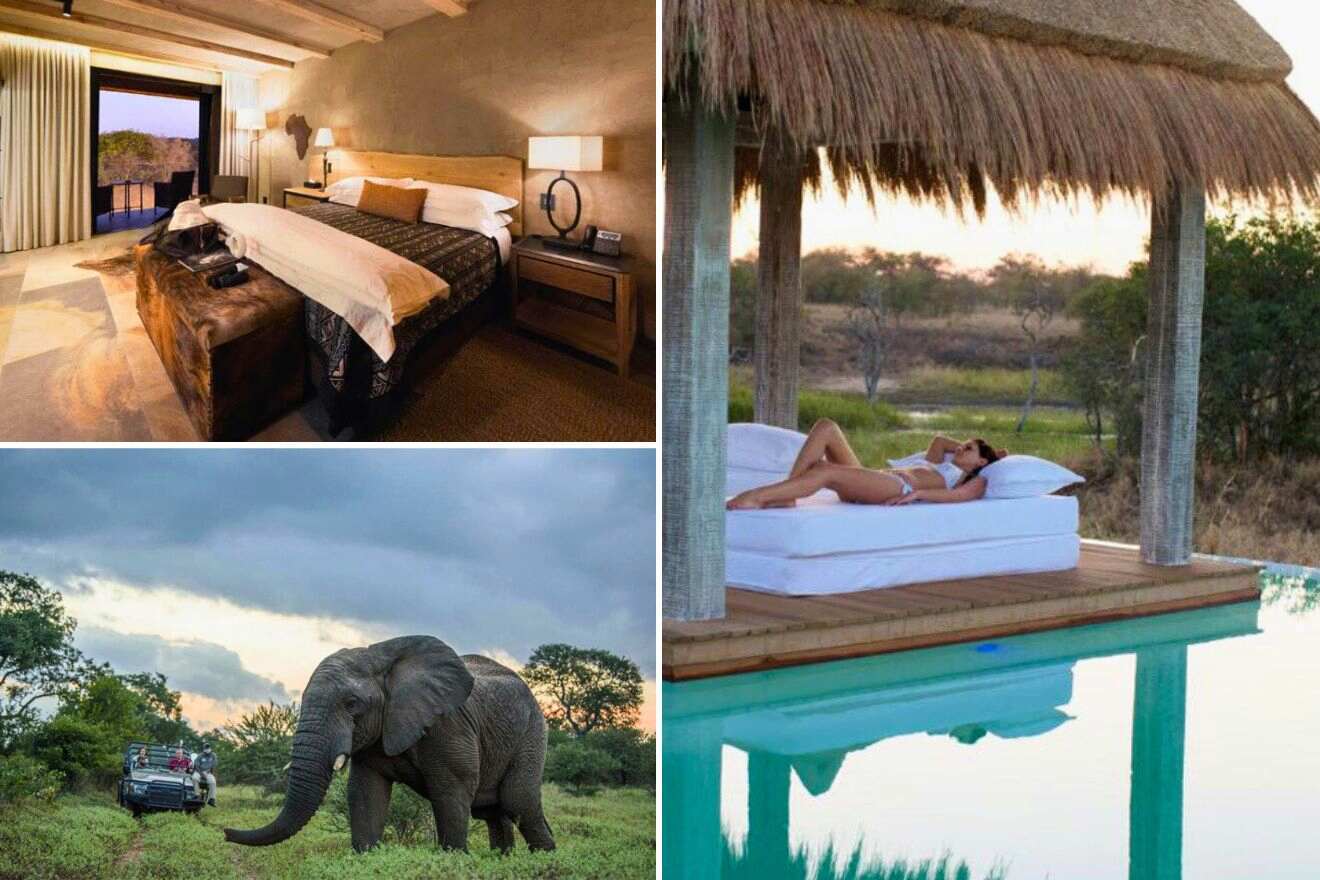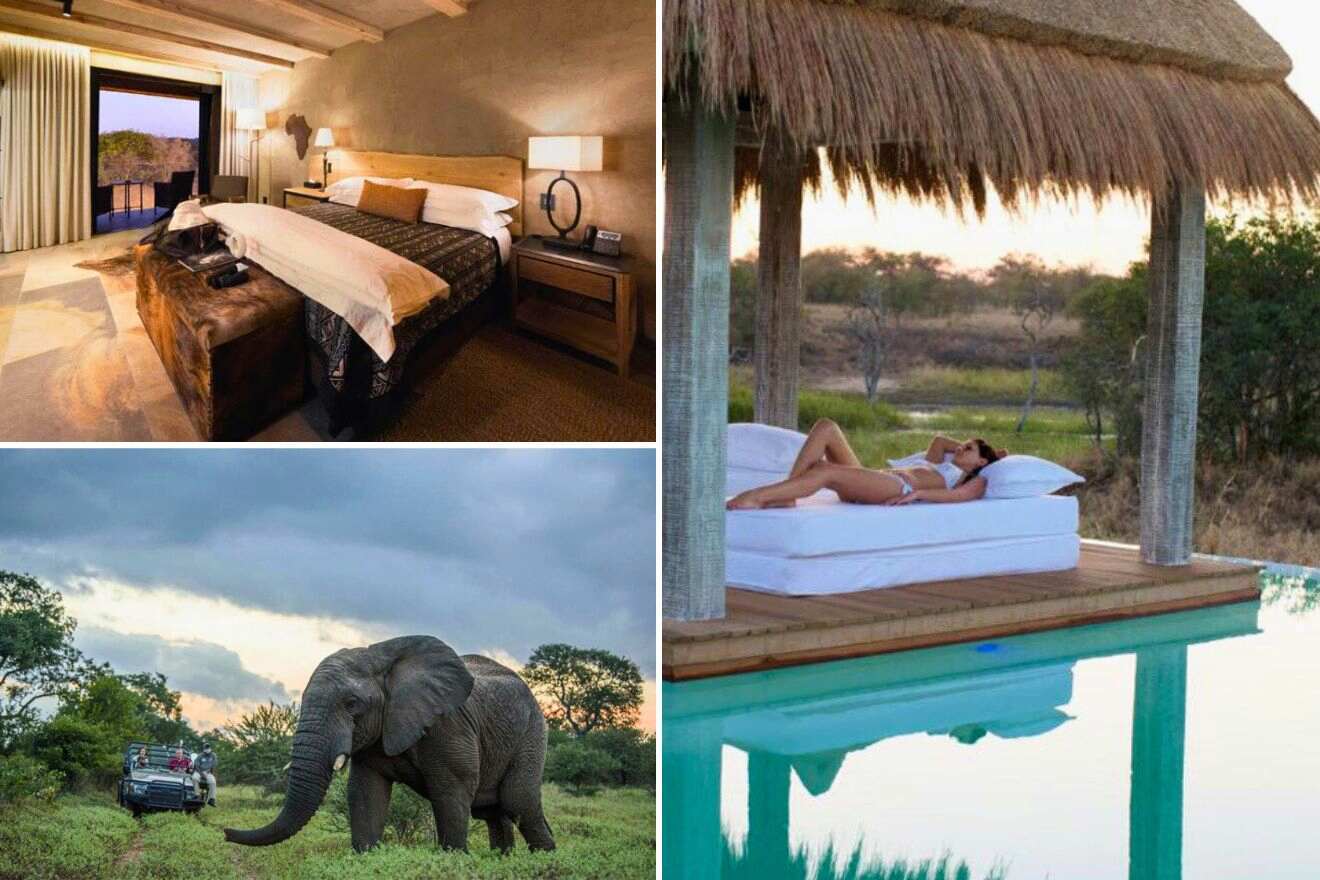 Discover Kapama Game Reserve in this lodge! If you want to live a unique and magical experience for yourself, stay in this lodge; the staff will make sure to create it for you! The lodge setting looks exactly how you would imagine it needs to look: earthly and warm! A ranger will guide all the safari rides, and when you are not in the wilderness, you can enjoy spa treatments and beauty massages at the spa center!
There is an onsite pool with lovely views of the reserve, complimentary yoga classes, and an airport shuttle. The rooms are spacious and have elegant decor. If you are traveling with your family, the family suite will host 4 members!
14. Hoyo Hoyo Safari Lodge – unique design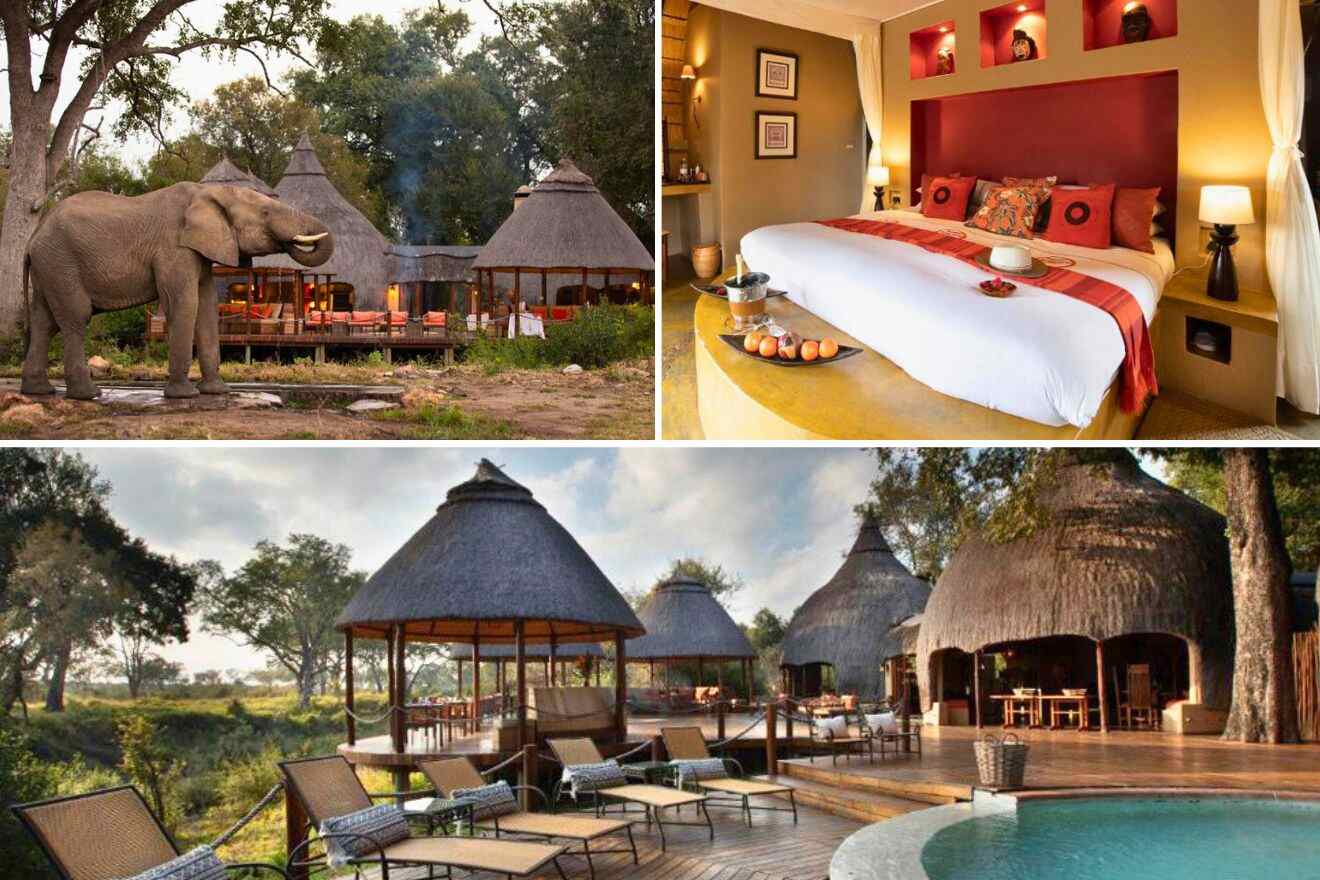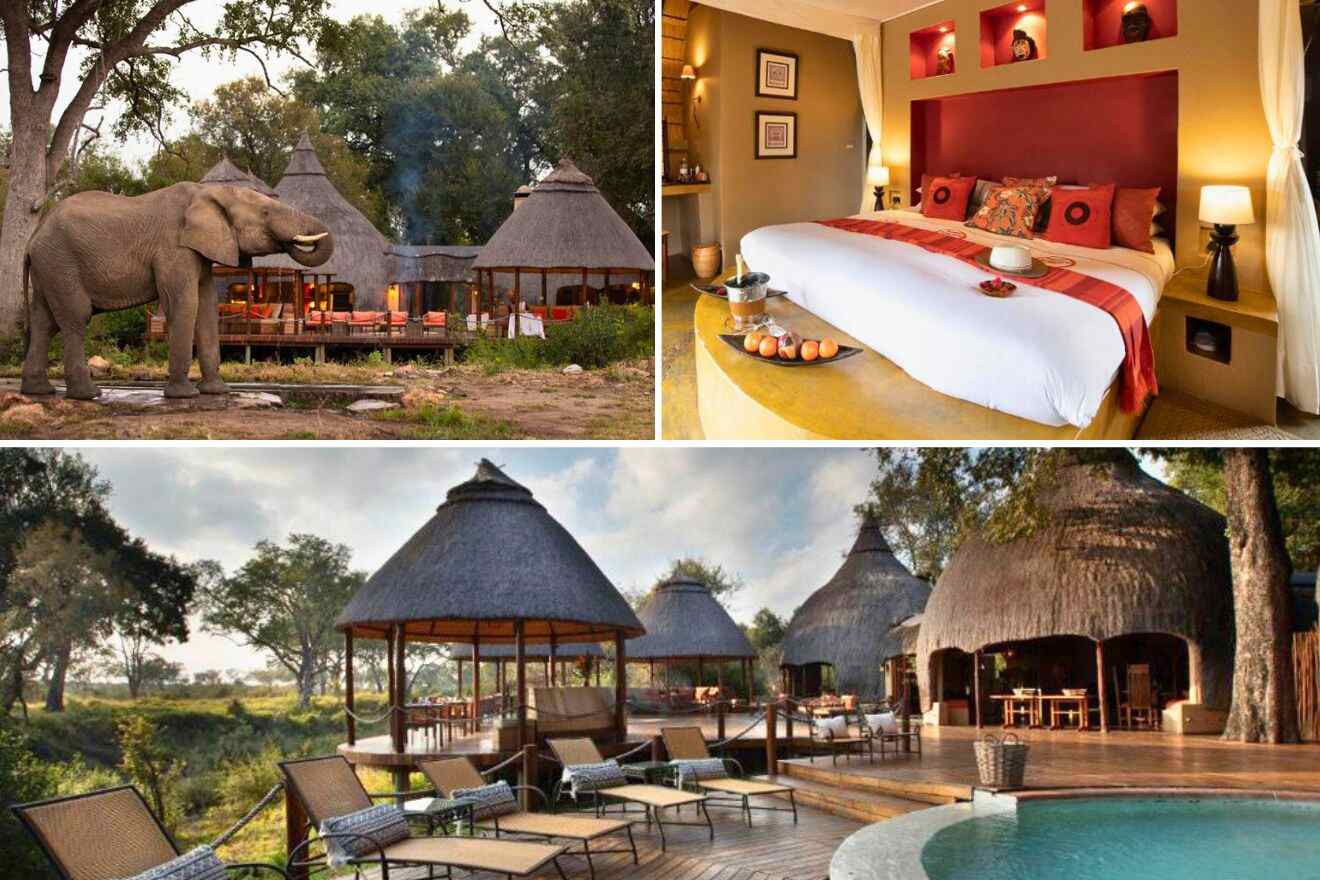 Wow! I am obsessed with this lodge architecture in Kruger National Park; it looks so unique! One of the best things about the surroundings is that it is set near a watering hole, so many wild animals stop by for a drink during the day when it happens you might be having a morning coffee, can you imagine?! So awesome!
The property offers guided walking bush, birding safaris, and game rides around the reserve. The lodge has complimentary wine and a spa center with relaxing treatments. The rooms look simply perfect, and have a nice private deck and a bathroom with a sinking tub. Usually, every room includes 2 game drives!
FAQs about South Africa safari lodges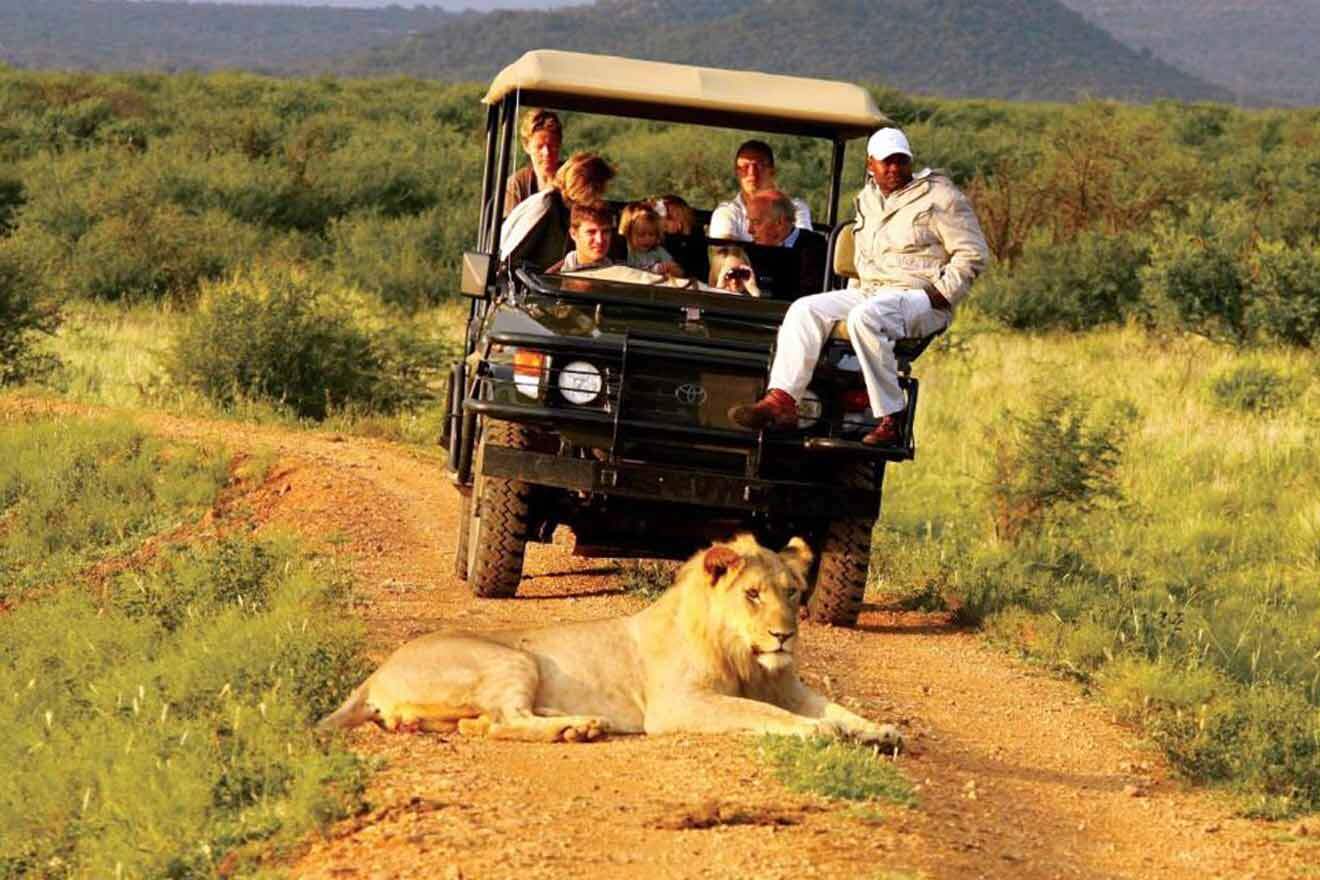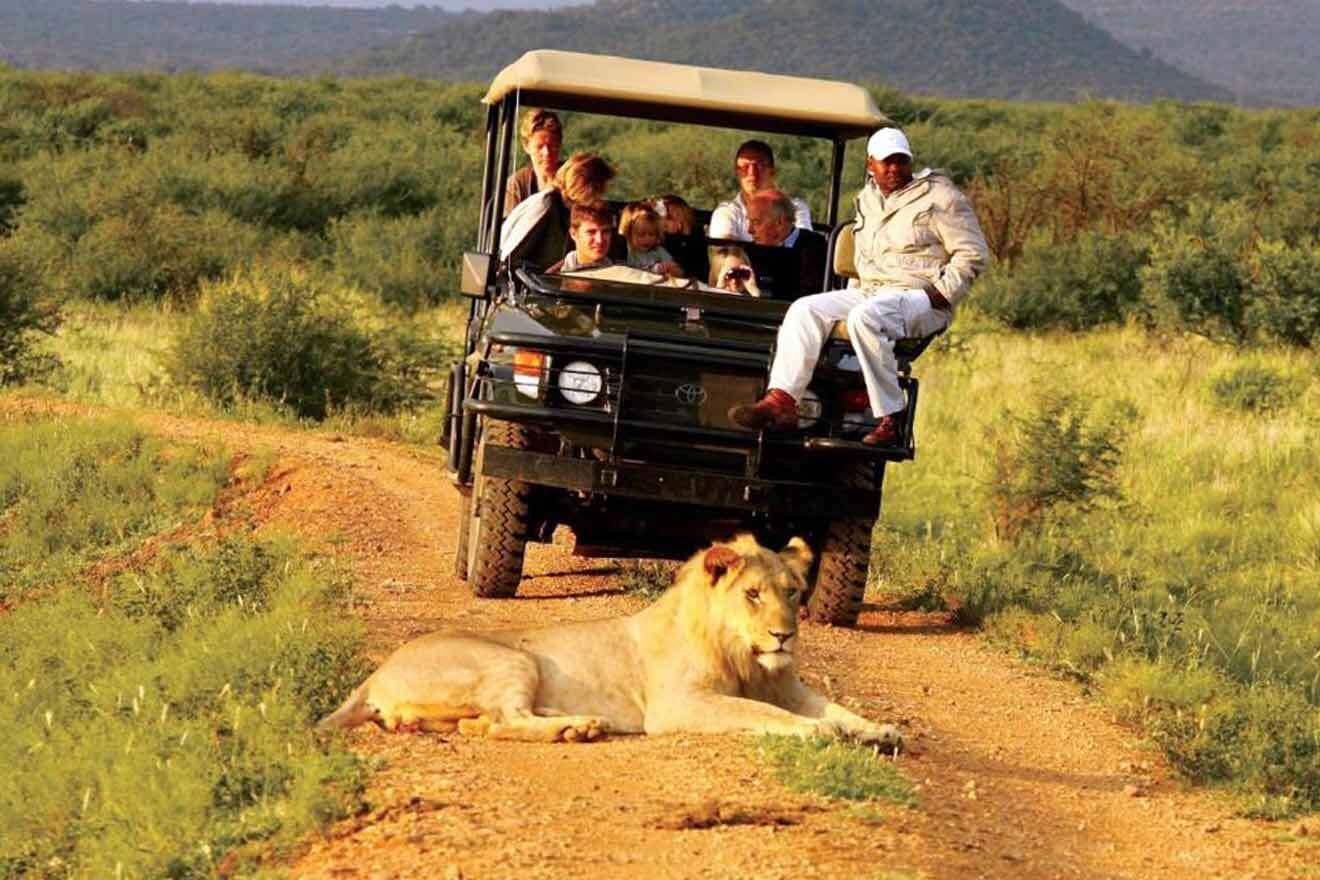 Conclusion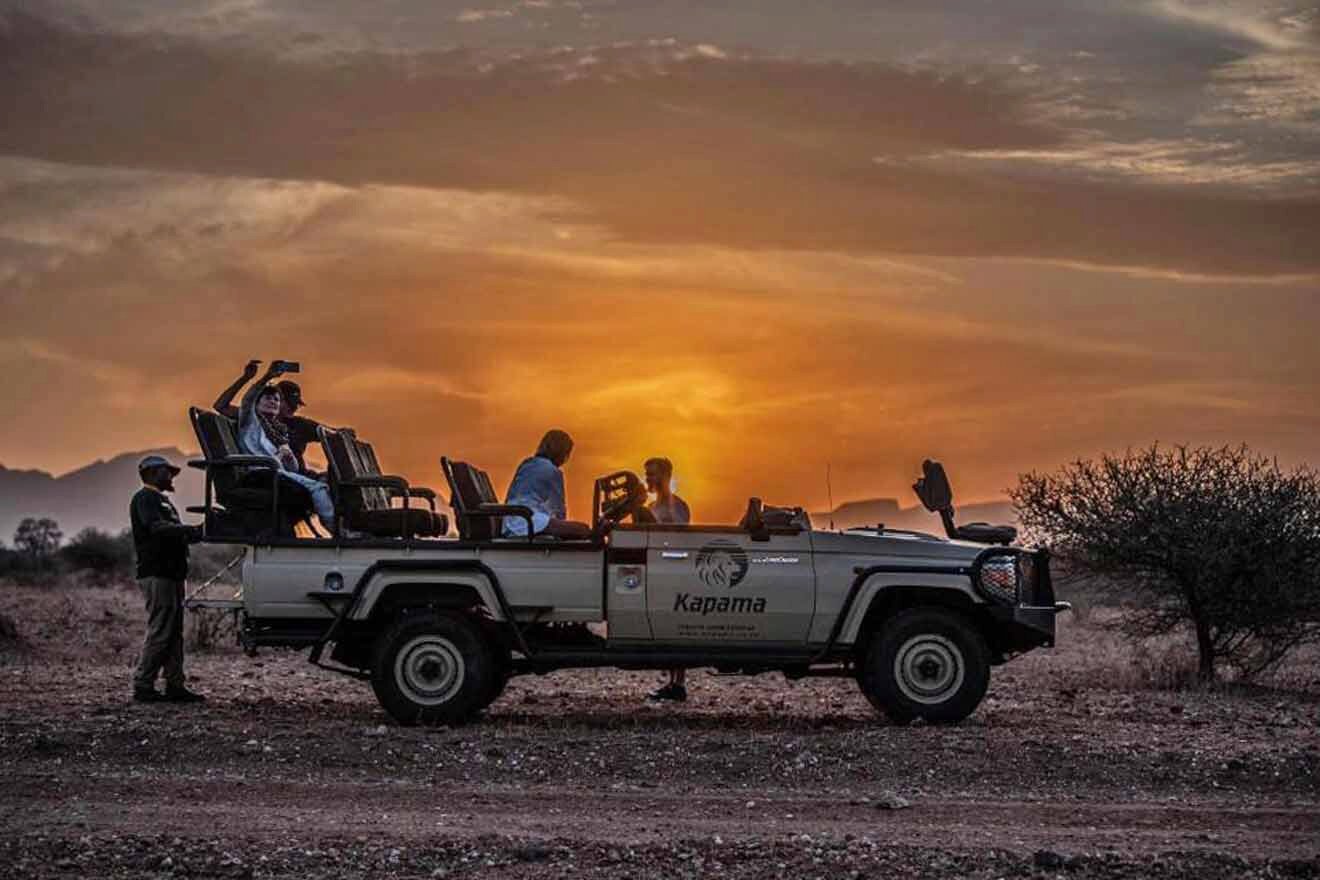 That is all for today, cool travelers! Those were the 14 best South Africa safari lodges, with great amenities and amazing wildlife views! I am sure you found your dream safari accommodation among these luxury lodges.
I loved all the safari lodges in this article, and I would be on cloud 9 if I were staying in any of them, but if I had to choose my top 2 favorites, I would go with:
Londolozi Game Reserve – This safari camp just looks out of this world and is so luxurious! Also, I would love to go on the evening game drive!
Phinda Rock Lodge – Apart from the game drives and bush walks, you can check out the beach and coral reef! And I love that it also focuses on conservation and connecting with African culture!
If you want to spend some time in the largest city in South Africa, here you have our complete area guide of Johannesburg.
Which one of these South Africa safari lodges was your favorite? Let me know in the comments! And right after, book the safari lodge you like before someone else does!
Until the next African safari,
Daniela
---
Pin it for later!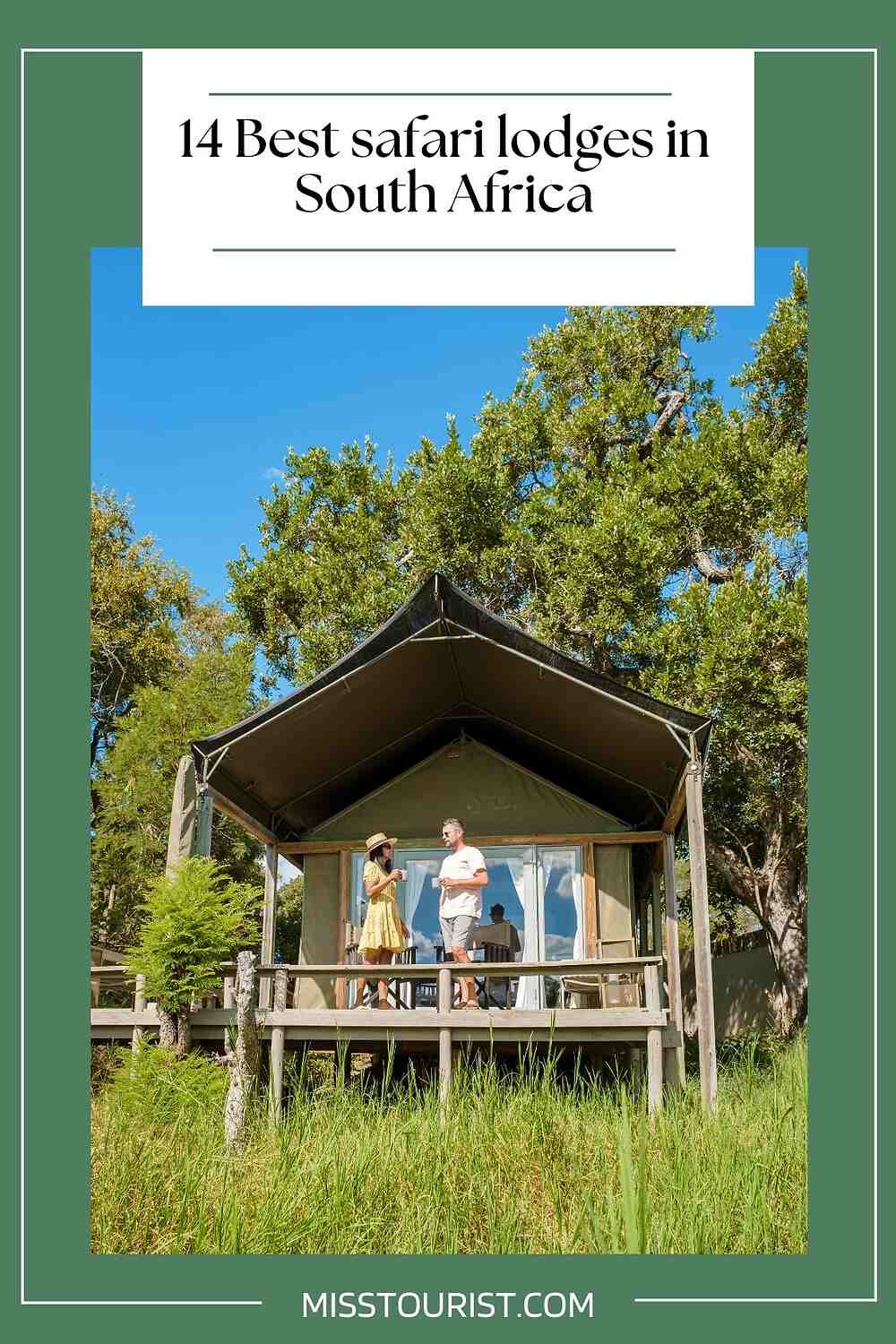 Pin it for later!