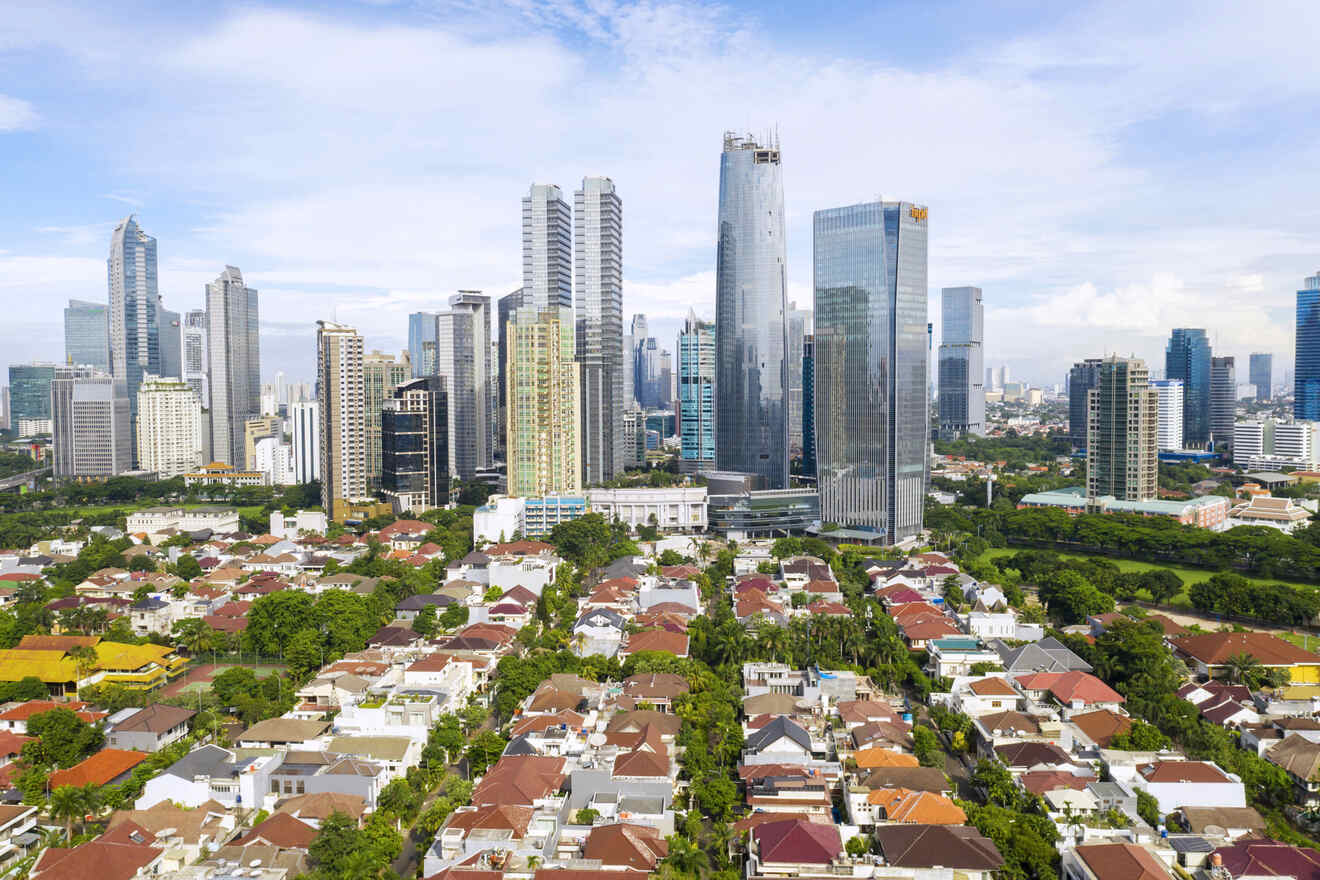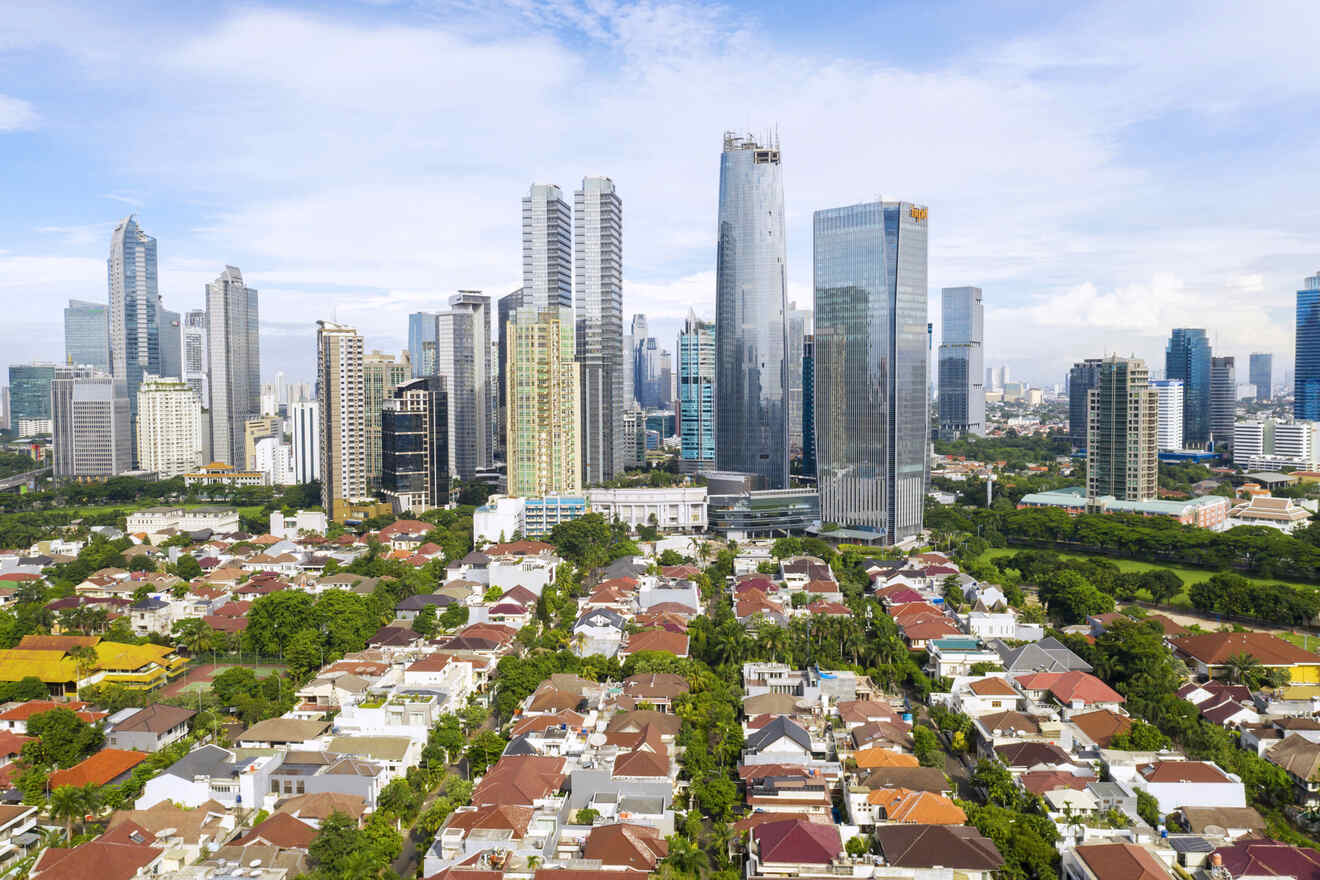 This multicultural capital city, located on Java island on the northwest coast of Indonesia, is a dream destination for any traveler! Its charming and vibrant atmosphere will make you fall in love with it, of that I'm sure! In this Jakarta neighborhood guide, I'll point you to the top neighborhoods to stay in the city and give you some great hotel recommendations.
Menteng is the best area where to stay in Jakarta as it has numerous tourist attractions, fabulous restaurants, and hotels! But don't worry if you want something a little different, you'll find 4 more sites in this post, perfect for a luxurious holiday, culture lovers, relaxation, and budget; Sudirman Central Business District, Old Town, Kemang, and Jalan Jaksa.
Plus, keep reading if you're traveling with kids as I added a great bonus section with a list of some fantastic family hotels with all the facilities you need!
Luckily there are many spots in the capital that suit every pocket and interest! But although the city is big, you still can risk not finding a place to stay if you book late, even if it's for just one night! I recommend booking your hotels in advance because this city is super popular and crowded! Luxury hotels, mid-range hotels, it doesn't matter. All of them sell out in a second!
Hop on and let's discover this beautiful town!
If you are in a hurry
Eager to book your Jakarta hotels right this minute? Then have a look at the list below, it has the best accommodations, all located in Menteng:
Check out this map! It will help you visualize all the areas where to stay in Jakarta that I will talk about in this post: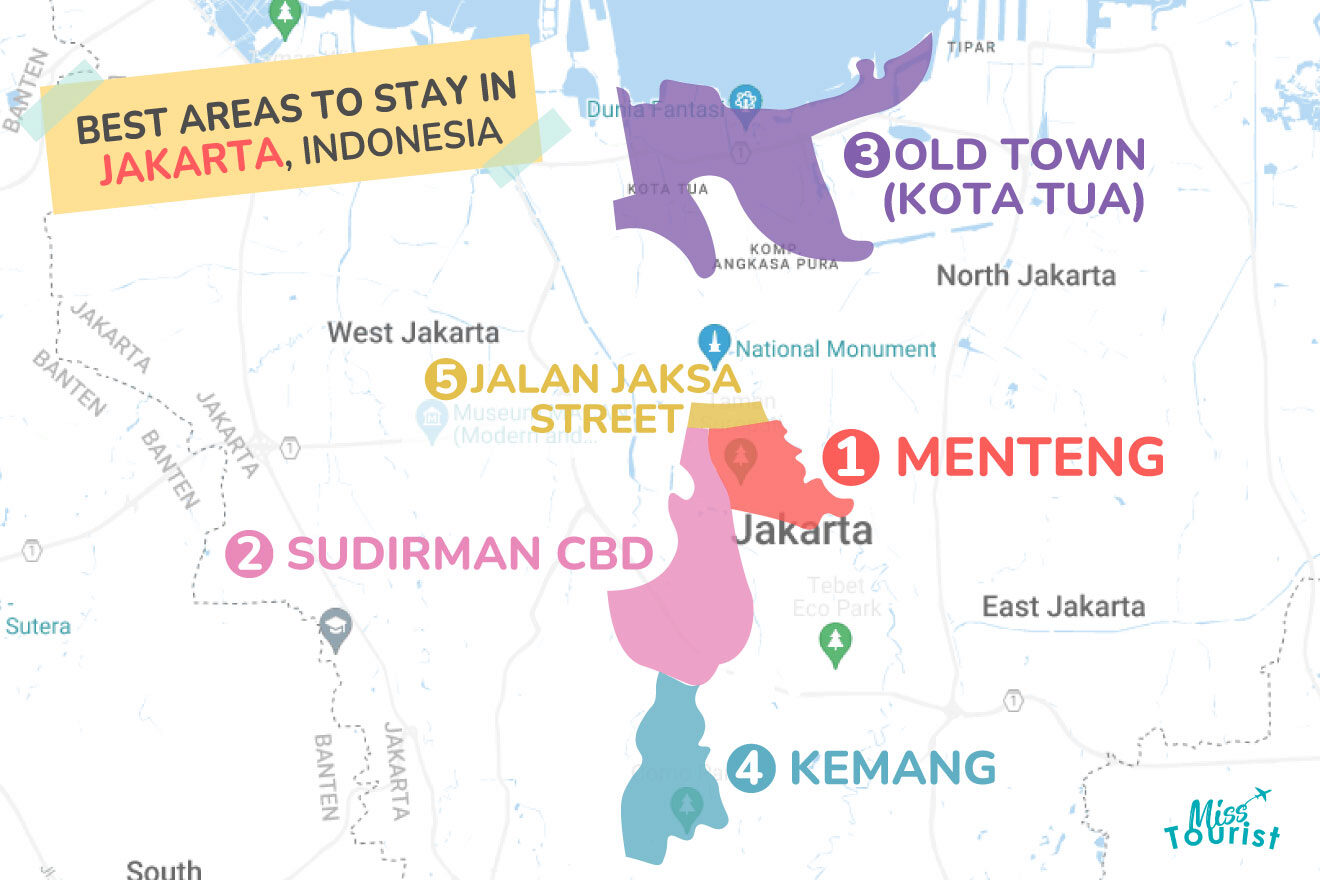 1. Menteng – where to stay in Jakarta for the first time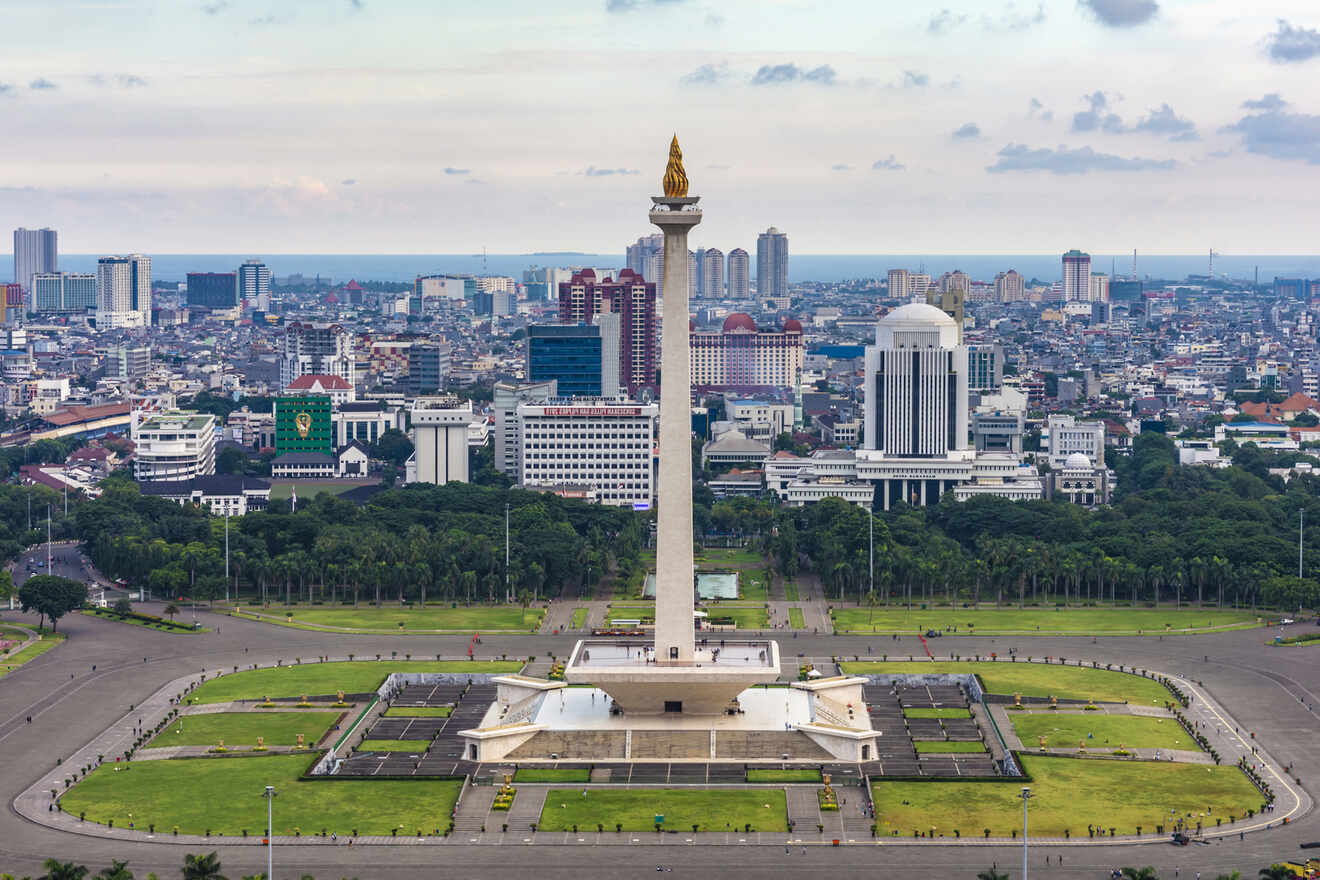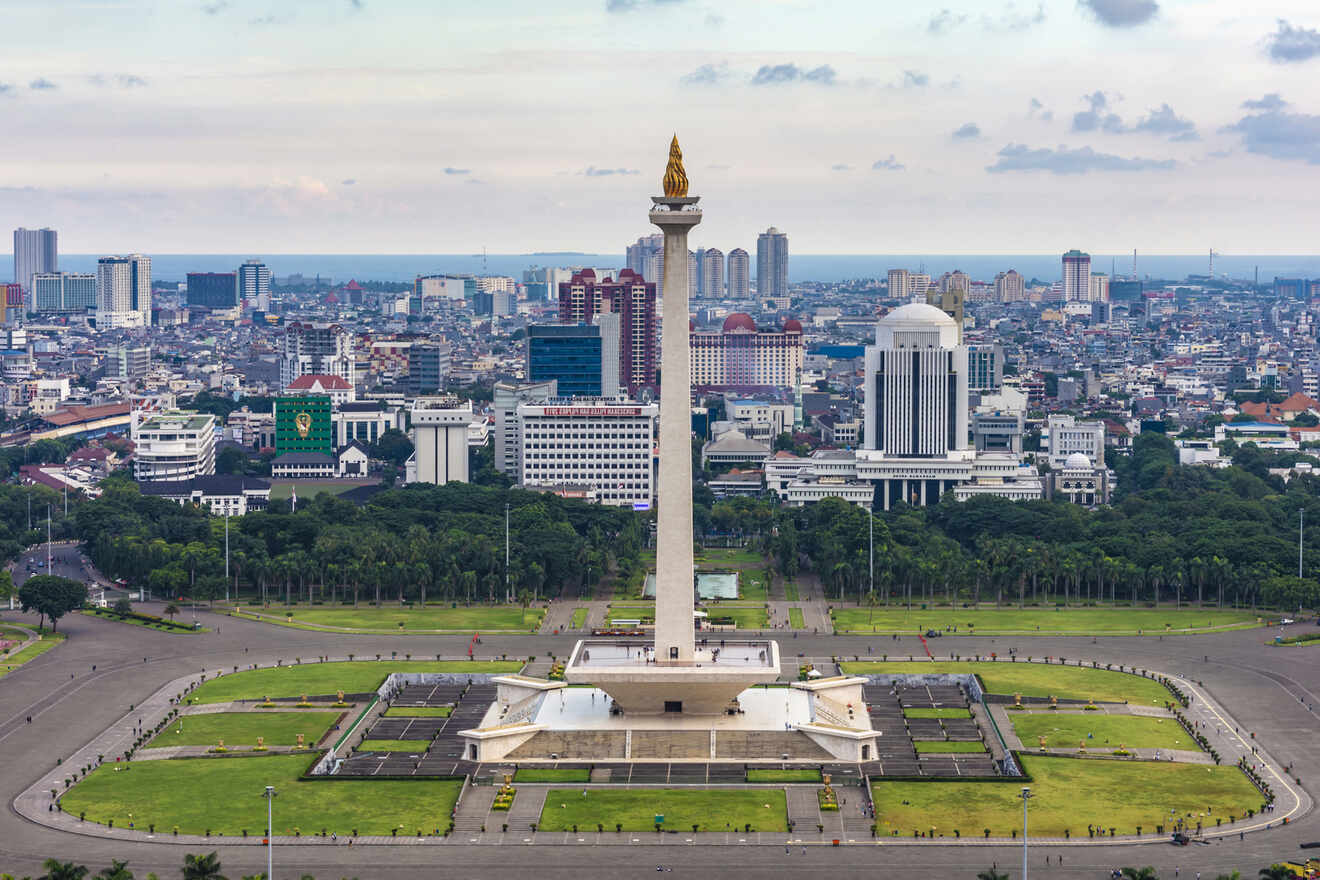 Looking for the best area in central Jakarta? Then come along and let's discover this vibrant neighbrohood which was once a colonial suburb, but is now filled with tourist attractions, markets, and fabulous restaurants!
Yes, Menteng is perfect for first-time visitors, and trust me, you'll find so many cool things to see and do. Although it's located in Central Jakarta, the area has tree-lined streets and plenty of parks where you can catch a breath of fresh air and escape the crowds.
You'll also be super well-connected to other areas by public transport to explore around as much as you want! Although it might take you a few days to discover all of Menteng's major attractions on its own. Some spots that you shouldn't miss in Menteng are the Jalan Surabaya Art Market, the National Museum of Indonesia, and the National Monument.
There's even a school here that former President Barack Obama attended. You can drop by Besuki Public School and check out his statue!
There are so many hotels in Menteng but this city gets millions of visitors, so I highly recommend booking yours in advance as chances are, you may not find a room if you book last minute!
Luxury hotel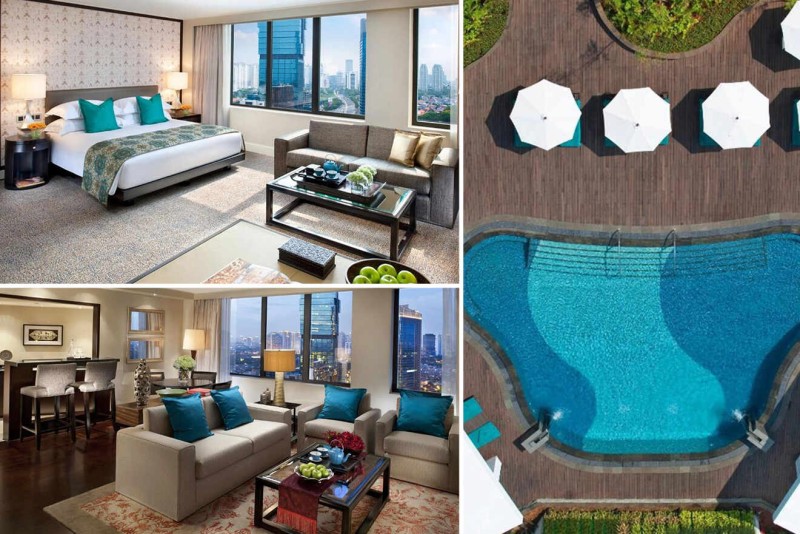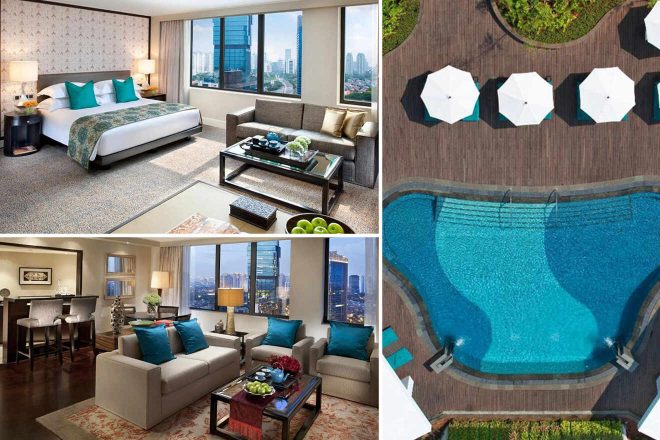 Featuring rooms with fabulous city views and a marble bathroom with a rain shower and tub, this luxury hotel is close to all the popular attractions. Relax after a day of exploring Jakarta with a dinner at one of the 3 restaurants and a massage at the spa center. The accommodation also has an outdoor pool for you to enjoy!
Other accommodation options in Menteng
Mid-Range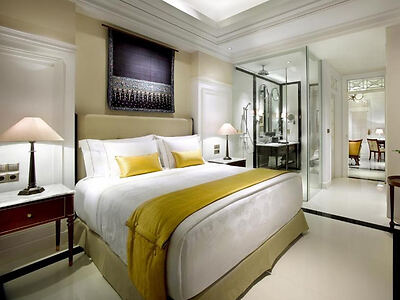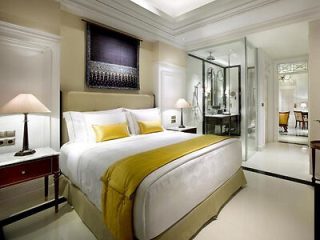 Enjoy your stay in Jakarta at this modern hotel with a swimming pool, a spa, and beautifully decorated rooms
Budget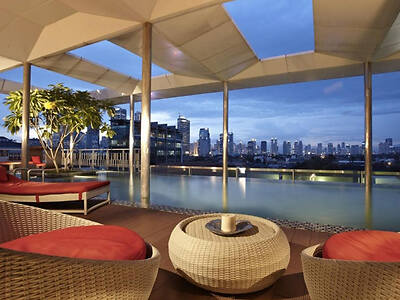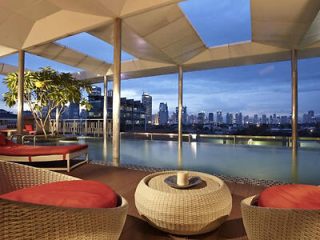 One of the best budget hotels, that has an outdoor pool and rooms with comfortable beds
Airbnb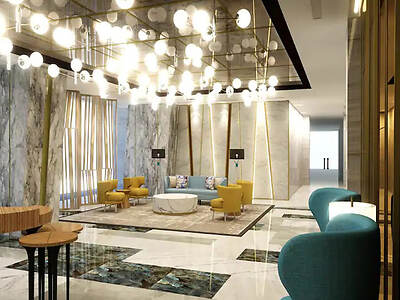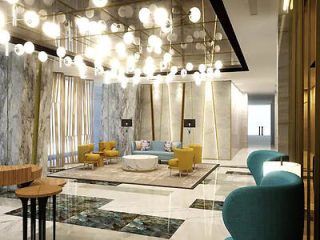 A well-equipped studio with a great balcony, a kitchen, free wi-fi and offers access to a pool
Things to do in Menteng
Admire the art at Kunstrung Art Gallery
Relax in Taman Situ Lembang Park
Go shopping at Plaza Indonesia Mall
Visit the beautiful Cut Meutia Mosque
Explore the Selamat Datang Monument Area
Check out the National Monument
Learn new things at the Museum Nasional Indonesia
Buy souvenirs from Jalan Surabaya Art Market
2. Sudirman Central Business District – best place to stay in Jakarta for luxury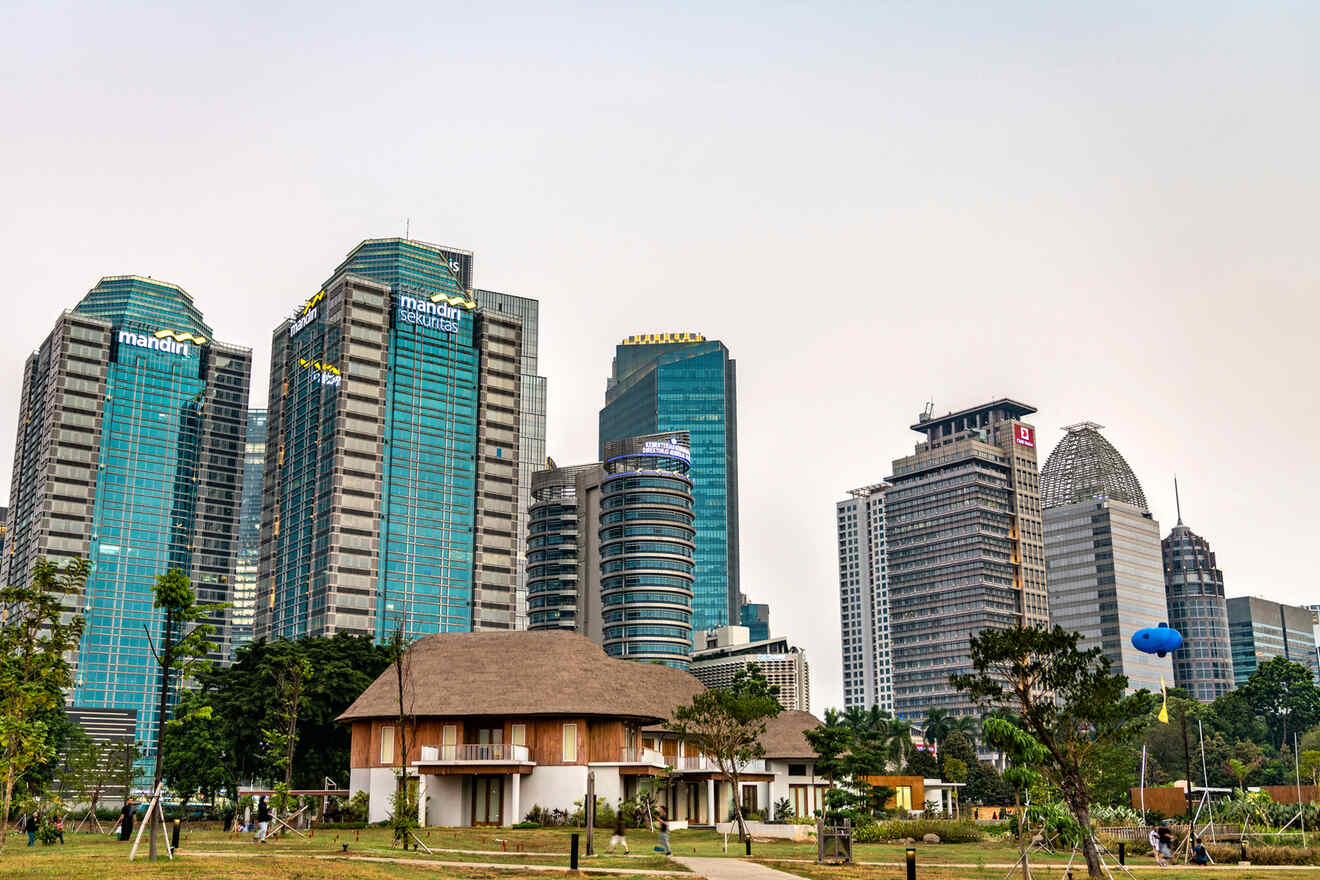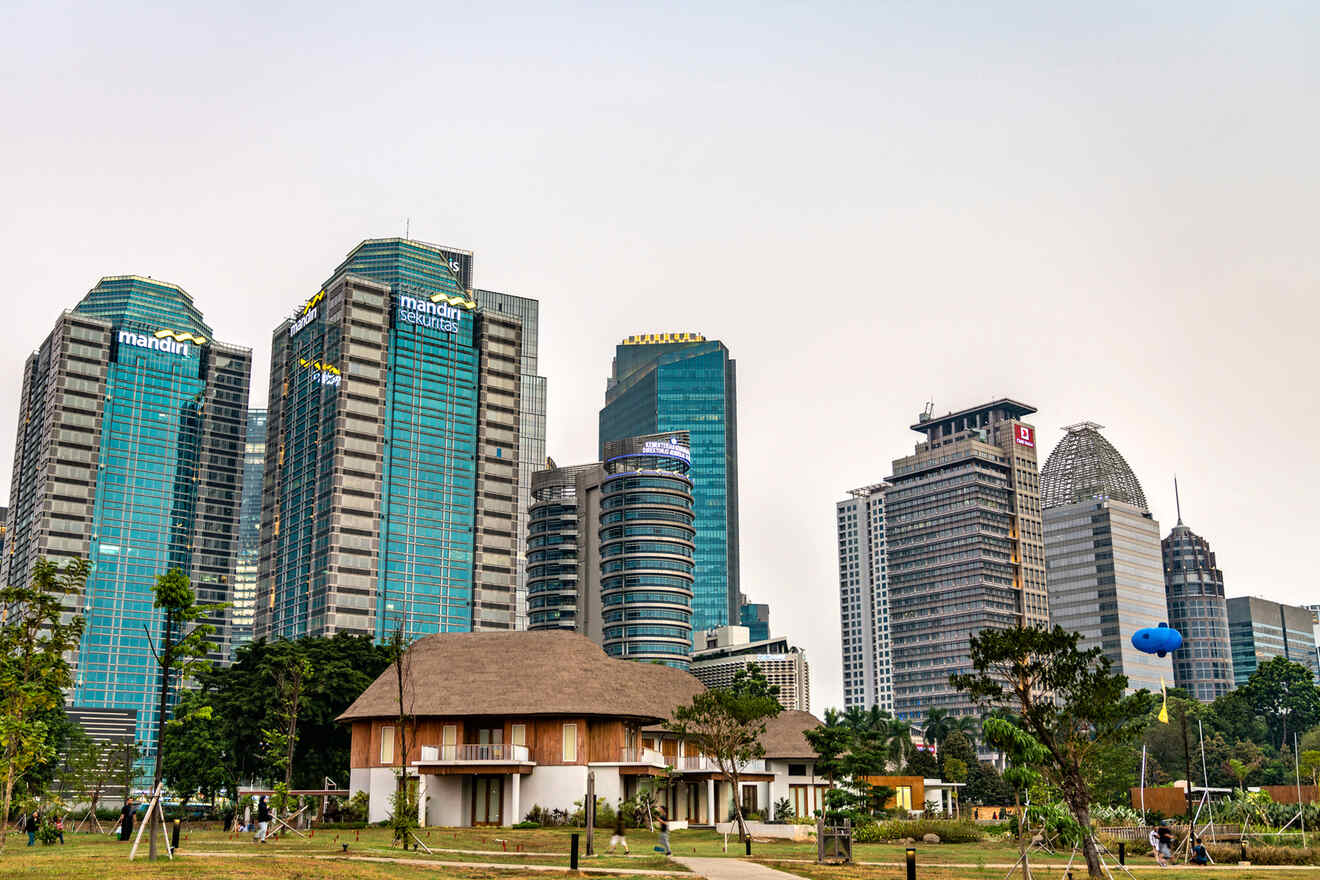 Jakarta's Business District is one of the largest business centers in Asia! As you can imagine, this famous neighborhood is filled with office buildings, skyscrapers, exclusive shopping malls, and many tourist attractions.
Located in South Jakarta, the Central Business District is perfect for anyone looking to stay at the fanciest hotels! This area is more expensive than the other neighborhoods, and if you don't mind paying extra for some fantastic views, check out the list below.
The Central Business District never sleeps! There's always something to do here no matter the hour. If you can check out all the shopping malls during that day, once the sun sets, get ready to drink and party in the most vibrant clubs!
Yes, this area is known as a great place to party! There are many nightlife venues here. And if you're planning to take a break from all these urban activities, don't forget that beautiful Bali is not too far away!
If you want to indulge in the most delicious dishes and try their local cuisine, there are plenty of cool restaurants, super posh, that I'm sure you'll love. But I also recommend trying out the street food. There's a certain charm about it and sometimes it tastes even better than the restaurant food!
Luxury hotel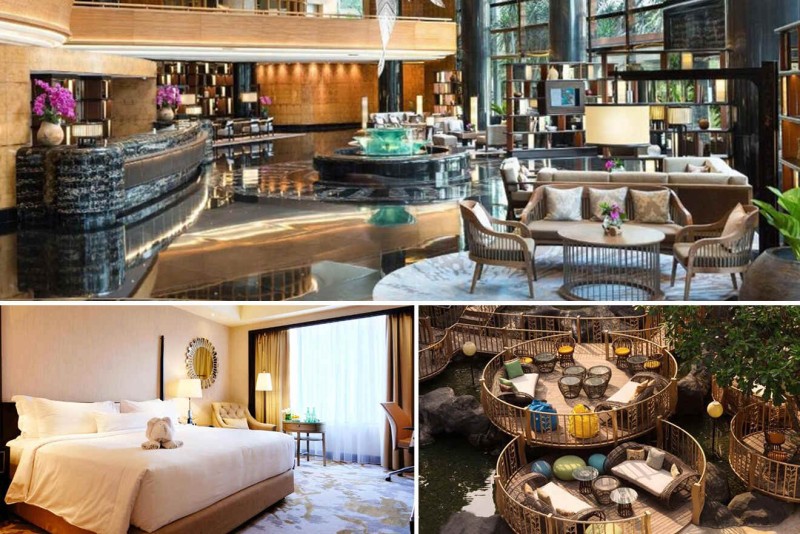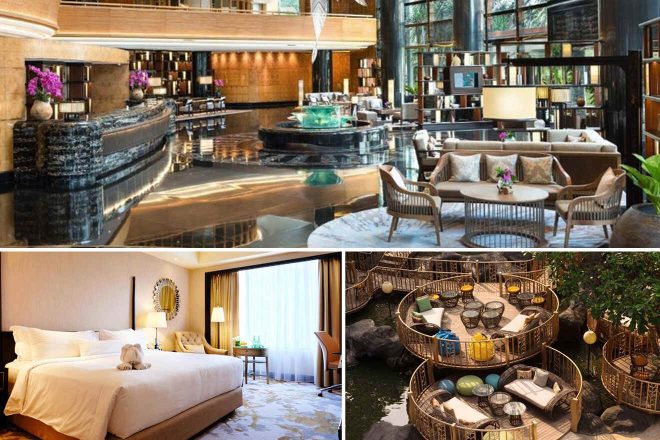 I love the outdoor lounge area at this incredible hotel, the views are unbelievable! This luxurious hotel has so many fantastic amenities, including a spa, 2 pools, and 5 restaurants (wow)! The rooms have a modern design, lots of space, private bathrooms, and classic wood elements. Play some tennis and then chill in the hot tub for the perfect afternoon!
Other options in Sudirman Central Business District
Mid-Range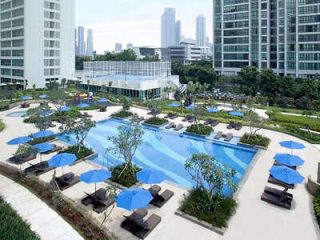 Modern apart-hotel equipped with many facilities including free private parking, free wi-fi and 2 pools
Budget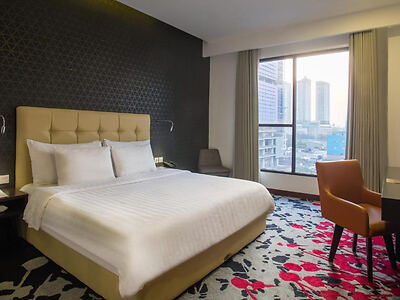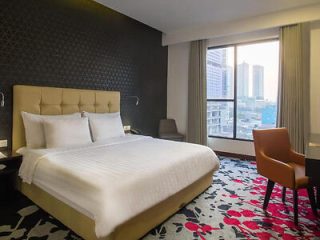 Close to all the attractions, this hotel has a restaurant and rooms with ceiling-to-floor windows
Airbnb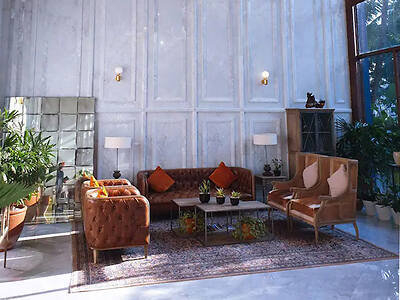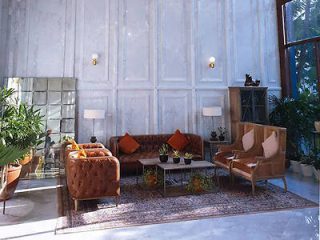 Admire the panoramic city views from the large windows of this place that offers a pool, and free parking
Sudirman Central Business District has so many amazing hotels that I couldn't let you go on with just 4 options! I had to add a few more since all of them look amazing! Let's check them out: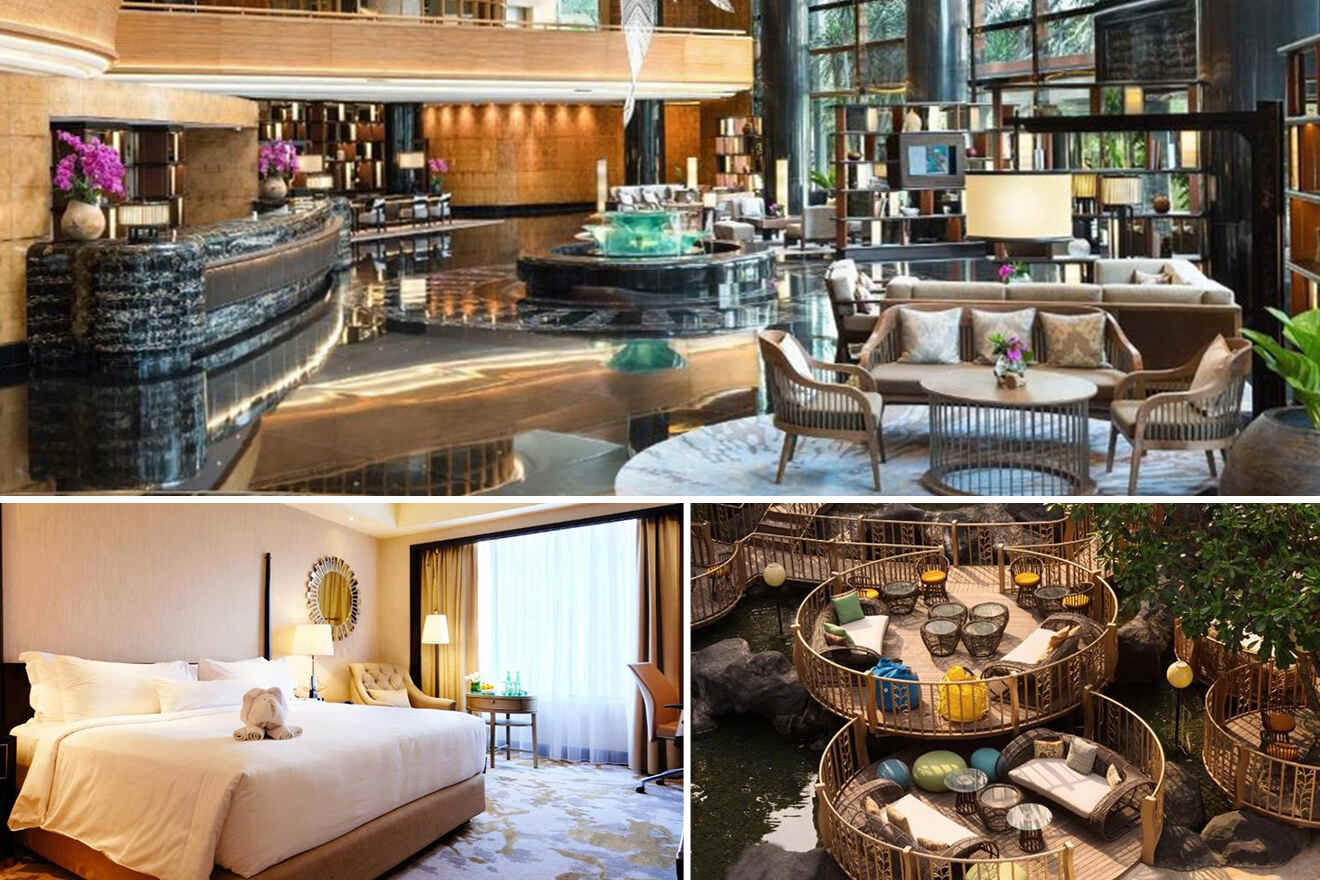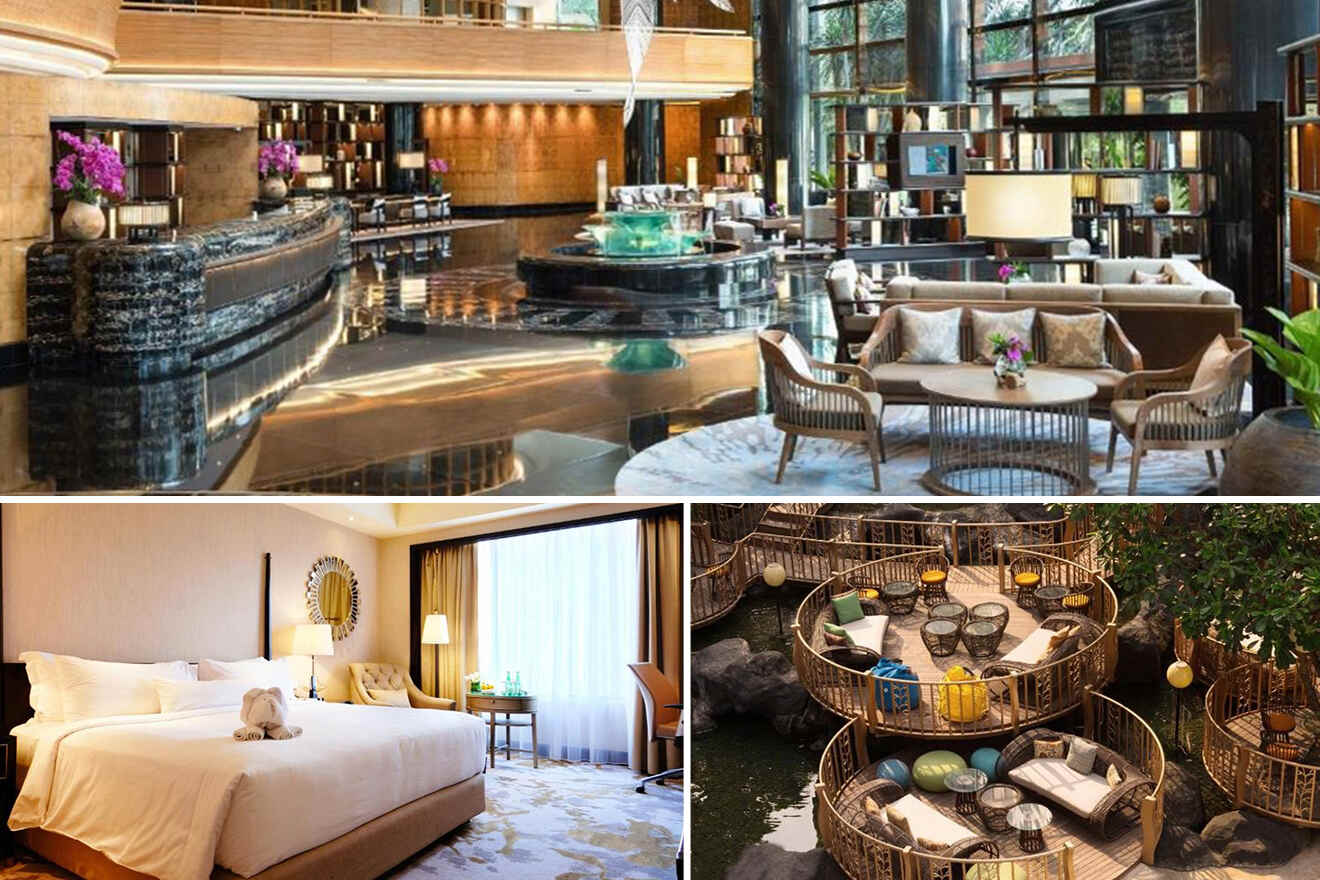 Things to do in Sudirman Central Business District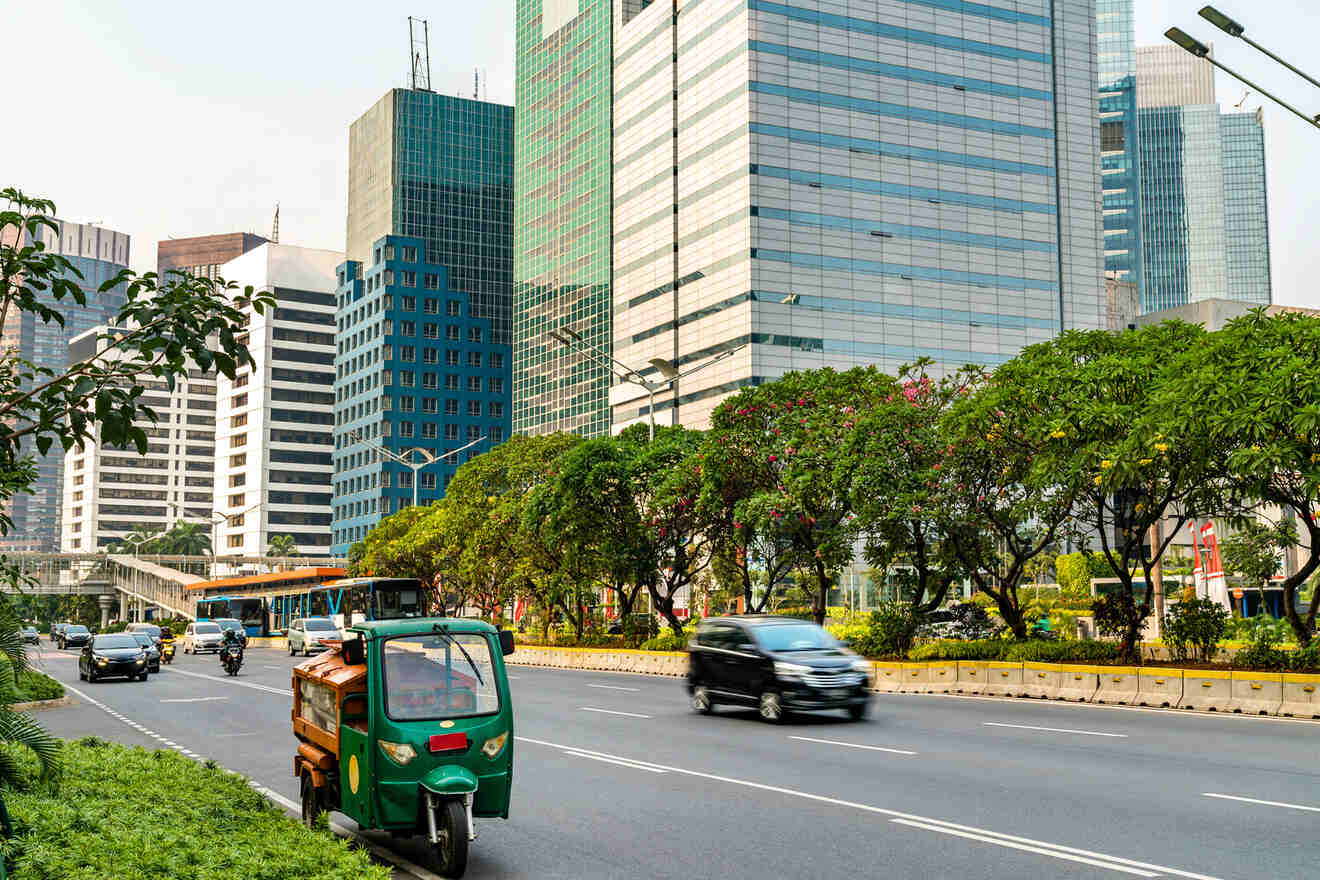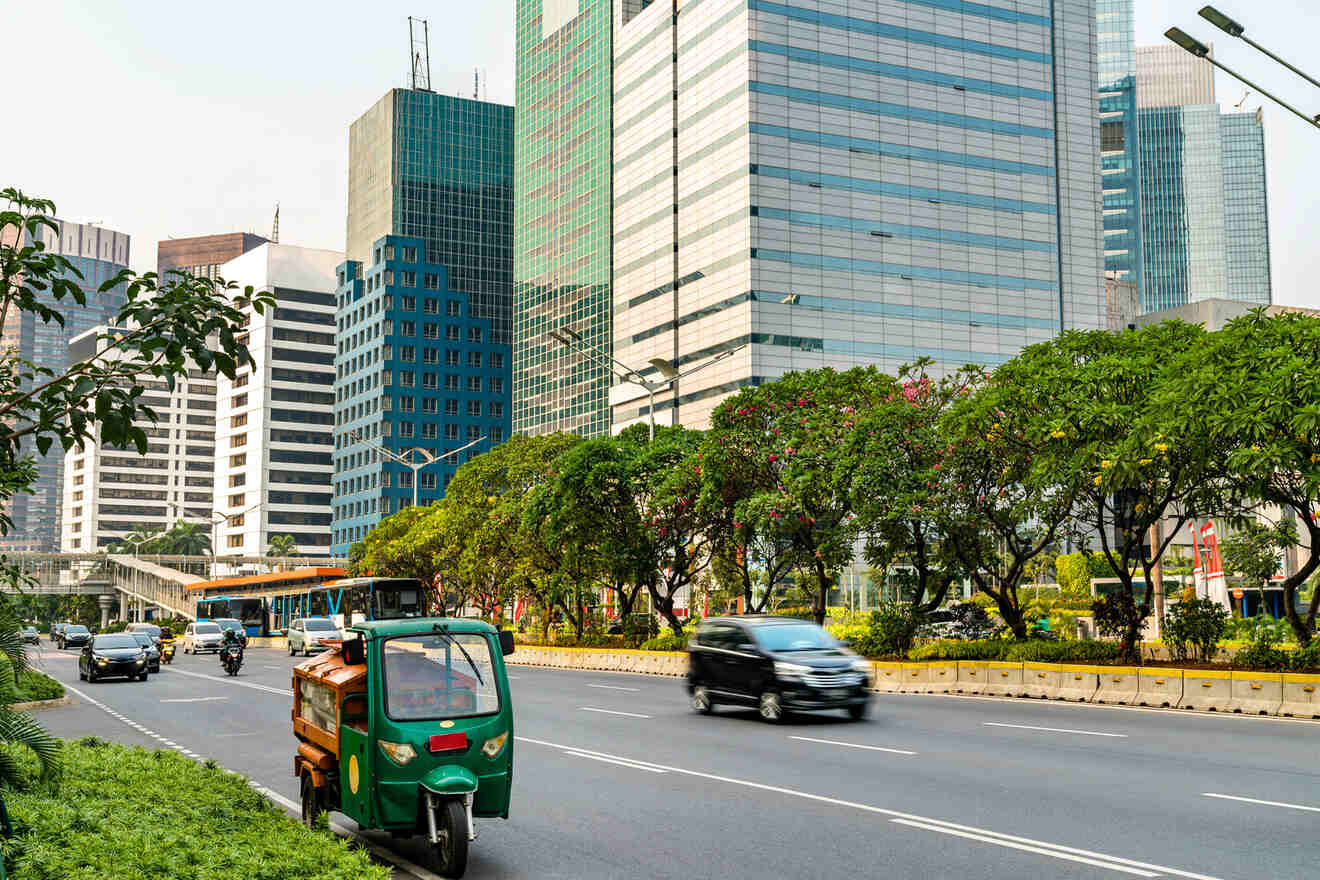 Visit MOJA Museum
Take a cool picture at night on the JPO bridge
Grab a drink at Artoz Bar
Buy luxurious items from Plaza Senayan Shopping Mall
Admire the architecture of Al-Bina Mosque
See the skyscrapers from Hutan Kota GBK
Indulge in all the street food
Shop until your drop at Grand Indonesia Mall or Senayan City
3. Old Town (Kota Tua) – where to stay in Jakarta for culture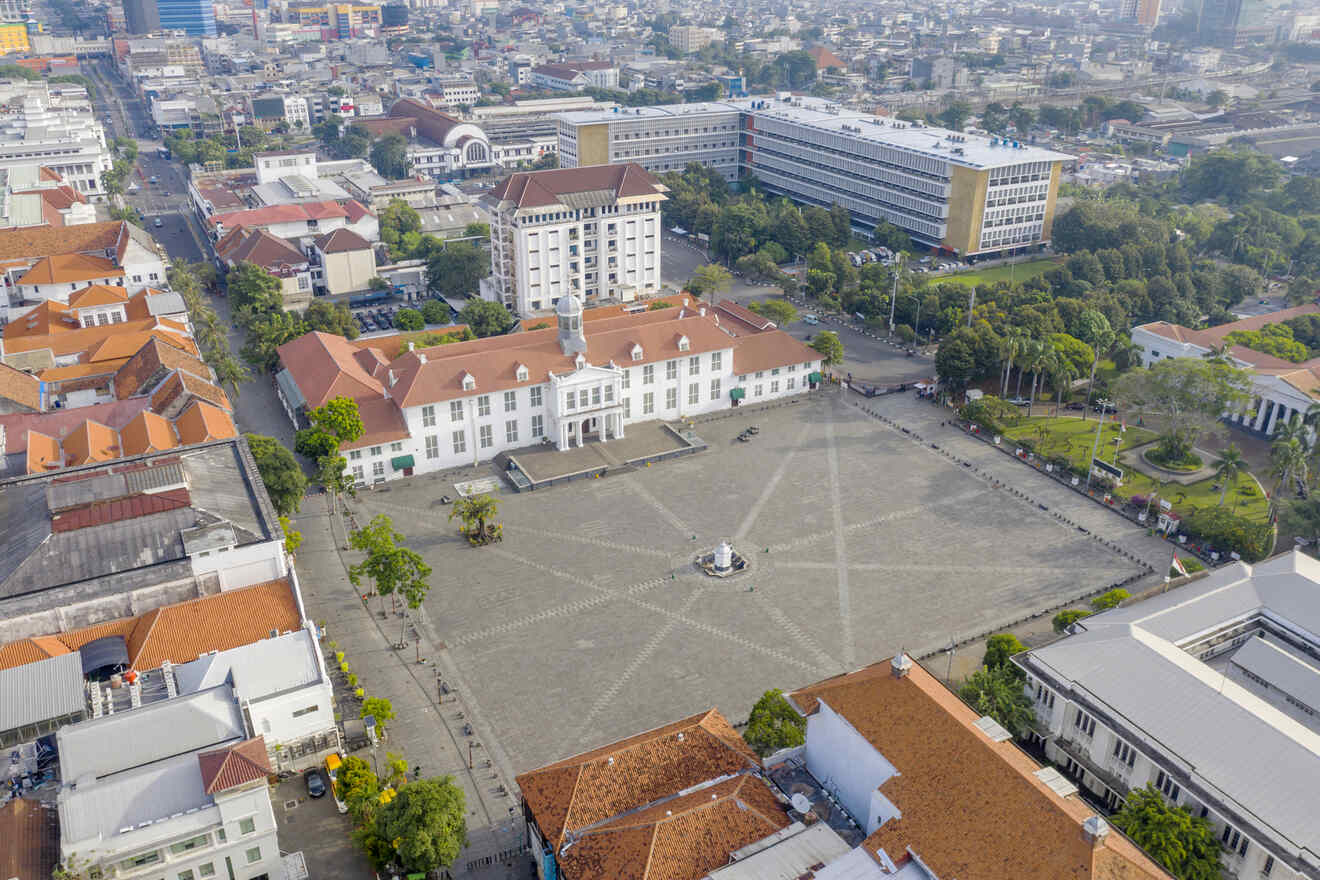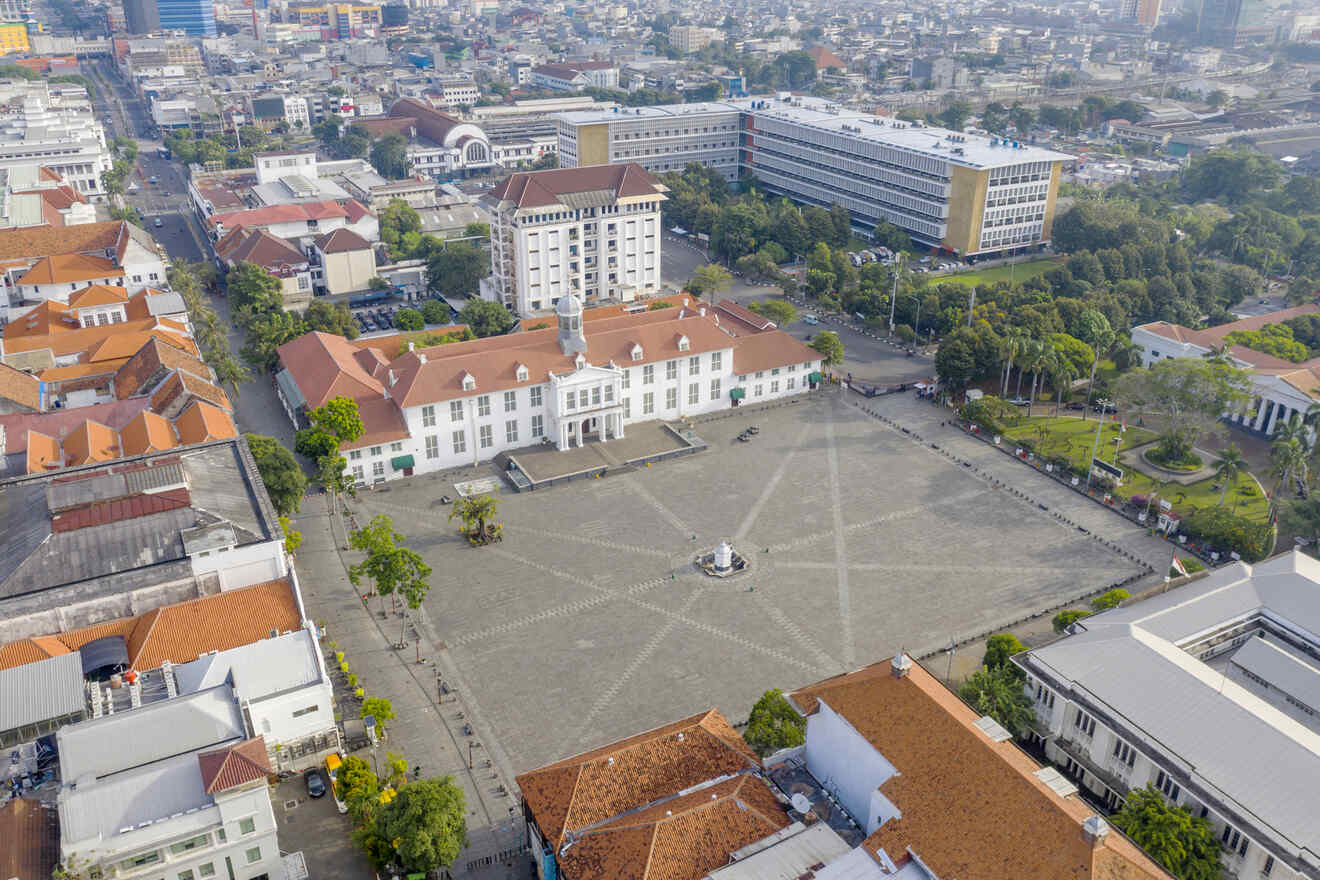 Do you want to dive deep into Jakarta's culture and visit all its museums and historic sites?
Then you'll love the Old Town (or Kota Tua in Indonesian)! This is one of the most famous neighborhoods in the city and you'll soon understand why!
Set around Taman Fatahila Square in North Jakarta, the neighborhood is simply packed with tourist attractions. It's also the oldest part of the city and it was established in the 17th century by Dutch colonialists.
Your eyes will be amazed by the fusion of colonial architecture and modern elements! There are many Chinese temples and museums in the Old Town that you shouldn't miss, like the Wayang Museum and Jakarta History Museum.
And if you're looking for other places to visit in Indonesia, check out Canggu in Bali, a stunning resort village with a similar vibe!
But besides all the cultural and historical attractions, there are many fun theme parks in Jakarta Old Town! Most of them are set in Ancol Bay City, an entertainment complex located along Jakarta's marina district that includes Sea World aquarium, Ocean Dream Samudra, and other spots. This is also a great spot for families, as there are many fun and amazing things to do!
Glodok, Jakarta's Chinatown, is located here, and you can't miss at least one trip here. It's such a great spot to spend your day and get some souvenirs for the people back home!
Now let's check out the best hotels in Jakarta Old Town:
Luxury hotel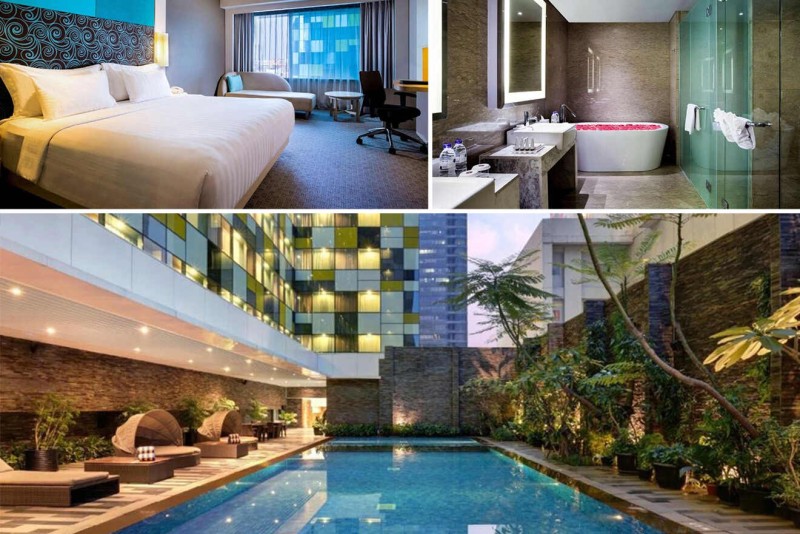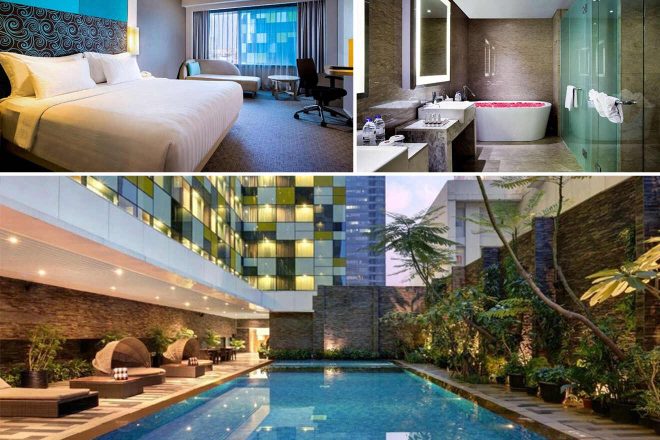 Hop in the pool after a day of exploring Jakarta Old Town at this charming hotel! The rooms are beautifully decorated with modern elements and feature breathtaking city views from the large windows. Start your day with some room service, and then head to the spa center to start your morning right!
Other accommodation options in Old Town (Kota Tua)
Mid-Range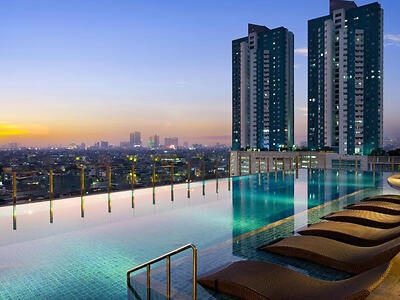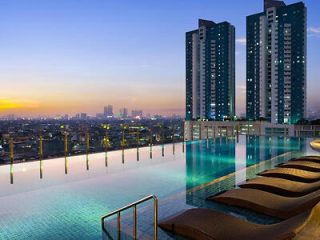 With 3 restaurants, an infinity-edge pool, and comfortable rooms, this hotel is a keeper
Budget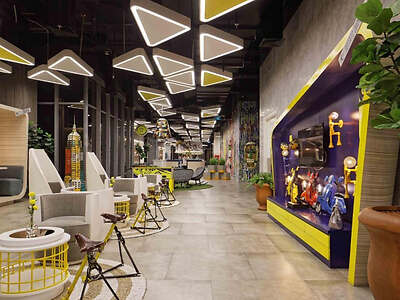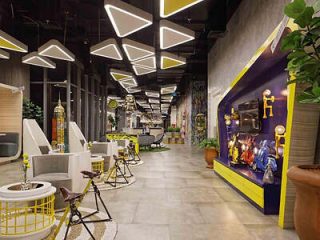 Enjoy your stay in Jakarta Old Town at this budget hotel that has family rooms, a spa center and a restaurant
Airbnb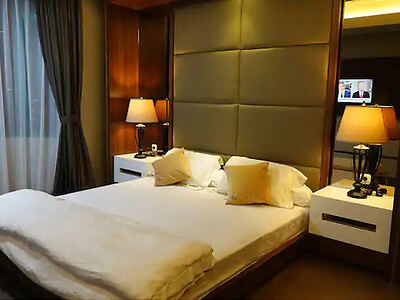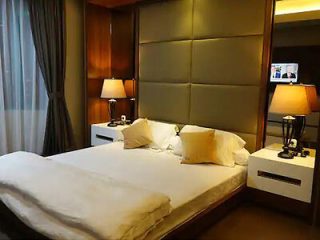 Perfect for 5 or 6 guests, this apartment comes with a kitchen, a balcony and access to a shared pool
Things to do in Old Town (Kota Tua)
Learn new things at the Jakarta History Museum
Explore the beautiful Fatahillah Square
Catch an exhibition at the Wayang Museum
Visit the Museum of Fine Art and Ceramics
Go to the Dharma Bhakti Temple
Visit Jakarta's Marina Dis
Shop for souvenirs in the Glodok Chinatown Market
Have fun at the Sea World Aquarium in Jakarta's marina district
4. Kemang – best place to stay in Jakarta for relaxation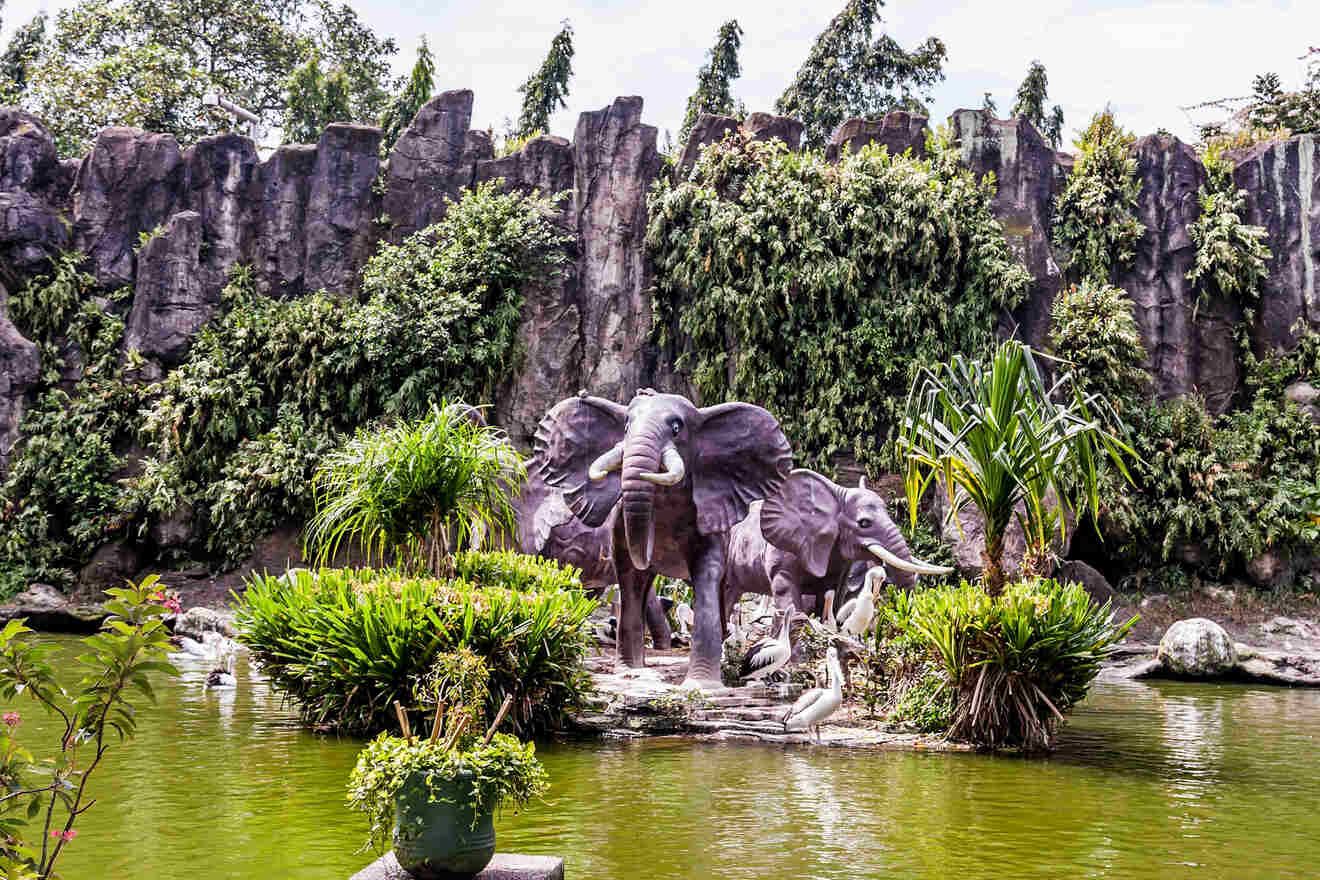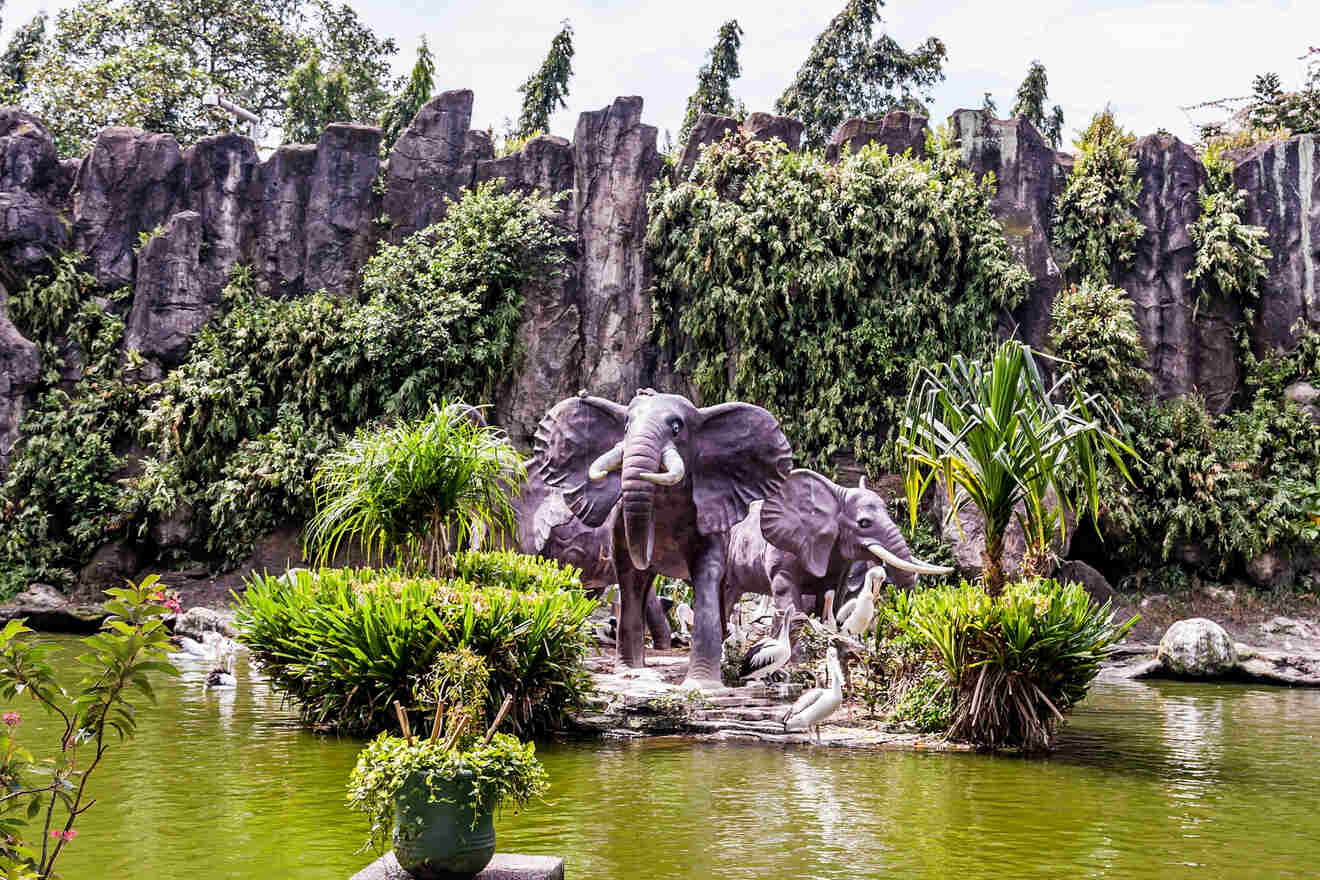 Finding a place where to stay in Jakarta that isn't filled with tourists or super noisy can prove difficult.
Not everyone appreciates all the noise or the many crowds you'll stumble upon in this dynamic city! But visiting Jakarta doesn't have to be complicated if you're not a big fan of that urban atmosphere.
And I'm here to help you with that!
If you don't want to be in the center of all the action, right where all the shopping malls and skyscrapers are, I recommend this area in South Jakarta. It's not as popular, and it doesn't have so many attractions, but there are plenty of parks here and some family-friendly places.
The residential area is very popular with ex-pats as there are many international schools around. There's even a zoo nearby located in a rainforest setting that looks amazing!
During the day you can explore the neighborhood's small streets, and if you want to visit the city center you can get there by using public transport. Under normal traffic conditions, you should get there in 30 minutes, but it may take longer if it's super crowded.
Let's check out the hotels where to stay in Jakarta, Kemang:
Luxury hotel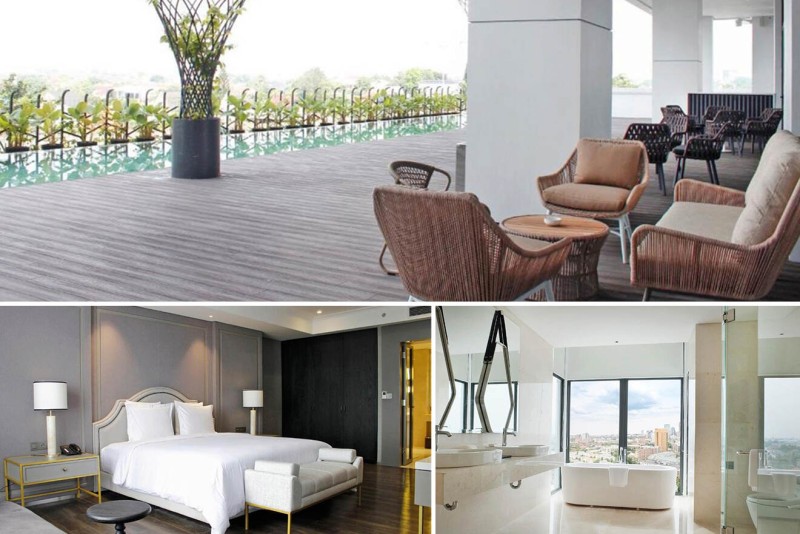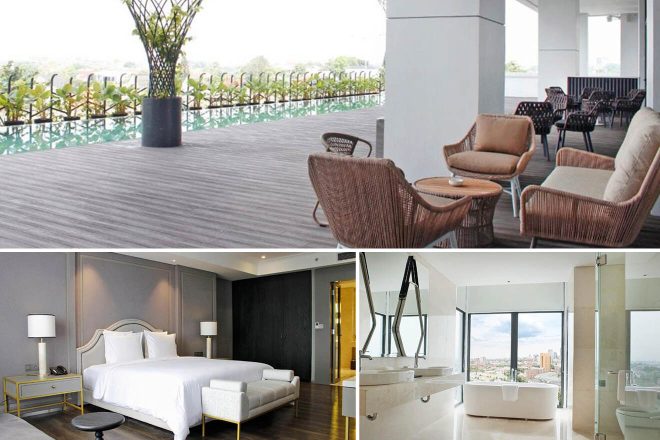 Take a long and relaxing bath and admire the city views in your elegant and spacious room at this hotel with a fitness center and a bar. I love modern hotels like this one. They have all the amenities you need, including a pool, a fitness center, and concierge services.
Other accommodation options in Kemang
Mid-Range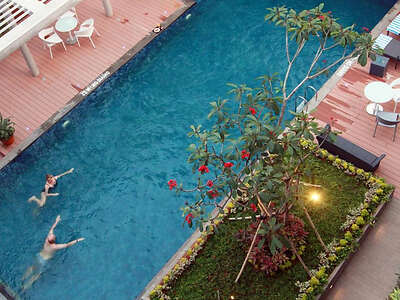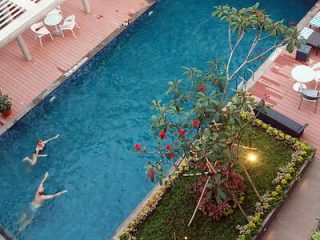 A perfect place where to stay in Jakarta that has fully-equipped apartments, a pool, and a garden
Budget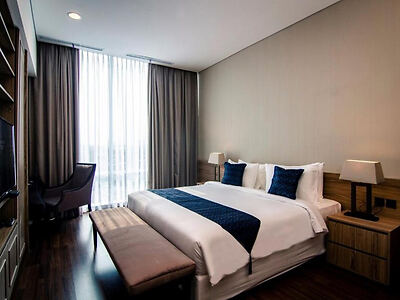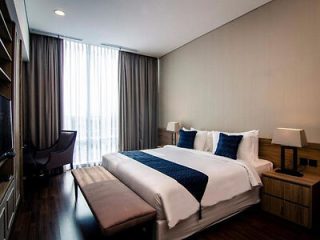 Catch a scenic sunset by the pool of this budget accommodation that has a terrace and family rooms
Airbnb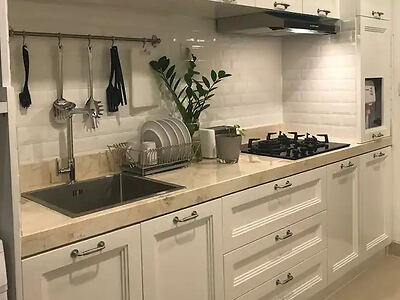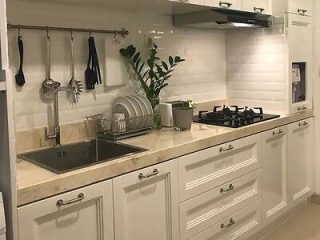 Offering comfort and space, this studio comes with a kitchen and access to a shared pool
Things to do in Kemang
Go shopping at Pejaten Village Mall
Relax in Como Park
Grab dinner at Antasore Japanese Dining
Visit the Ragunan Zoo
Stop by Museum di Tengah Kebun
Enjoy a coffee at Ol' Pops Coffee Ampera
5. Jalan Jaksa Street – where to stay in Jakarta for budget travelers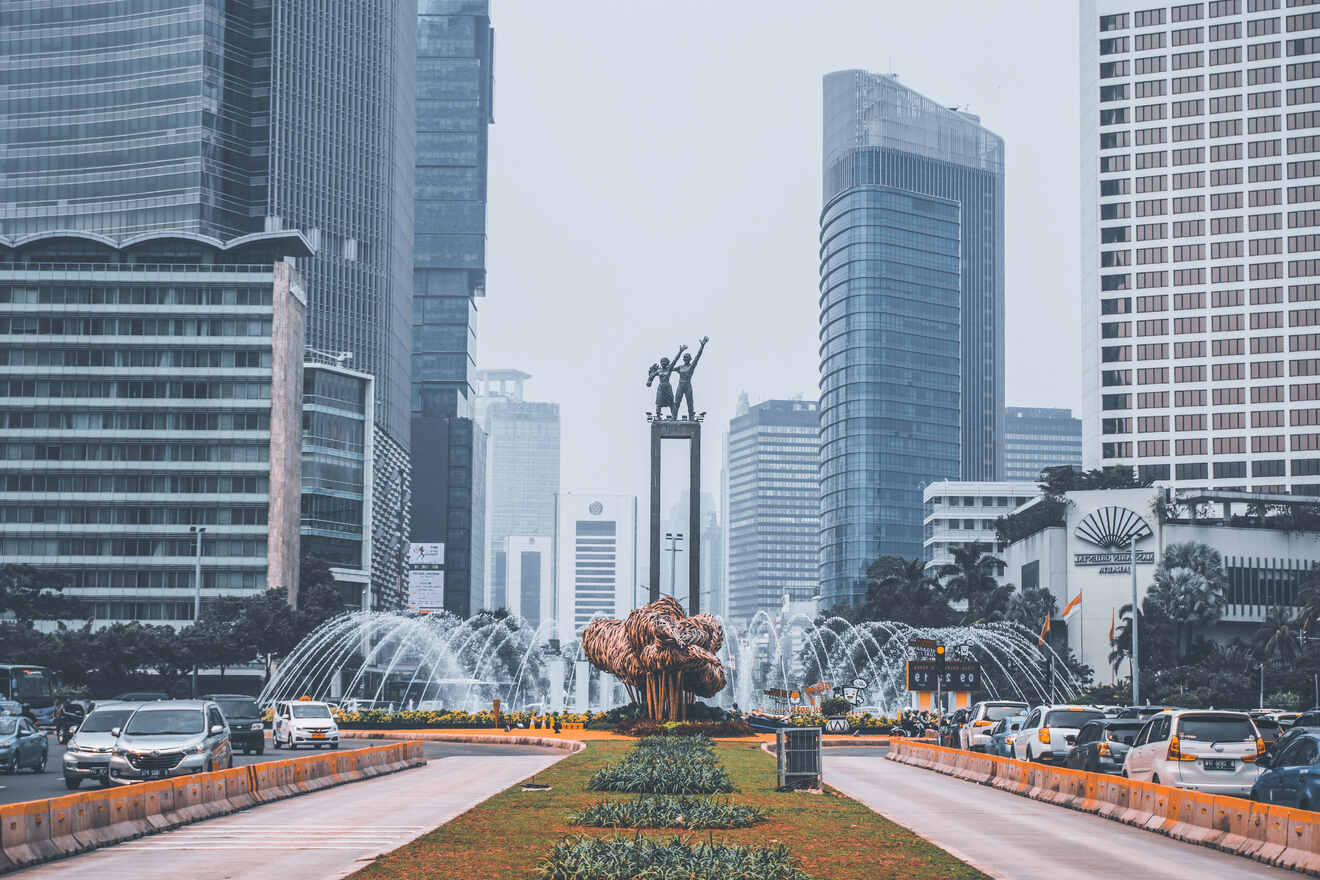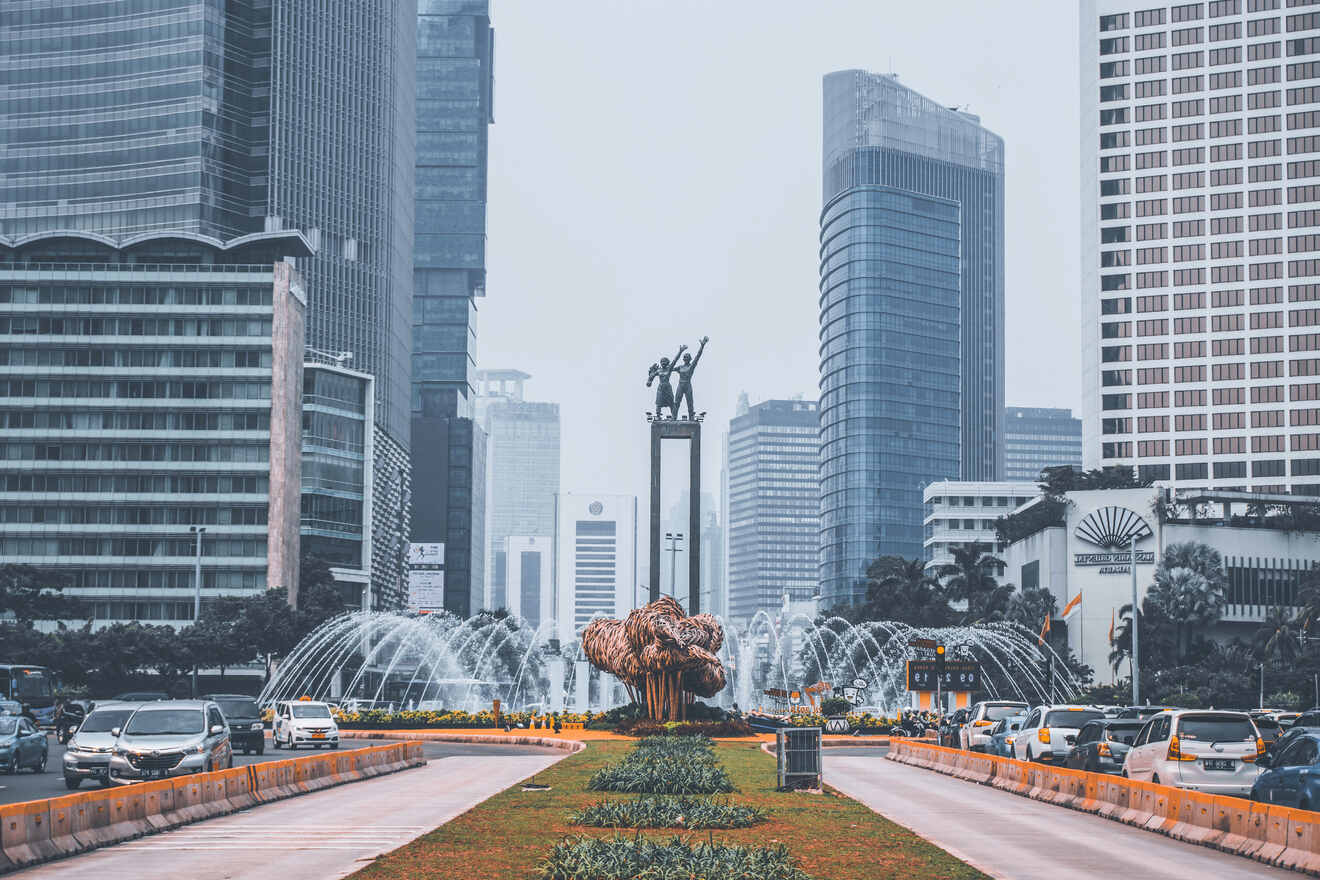 Don't worry, backpackers and budget travelers, there are also budget-friendly hotels where to stay in Jakarta! I've just saved them at the end as they're so great!
The Indonesian capital is big, and although most hotels are expensive, there are plenty of budget hostels with dorm rooms perfect for a Jakarta backpacker! You just need to know where to find them, and this is where I come to help you out!
Jalan Jaska is a street that is technically located in Menteng, but it acts as a subdistrict as the area is different from Menteng, and it's mostly filled with backpackers, ex-pats, and budget hotels.
Although it's set in the city center, this area is not as expensive, and many hotels here have super cheap prices. Plus, there are tons of secondhand bookstores, pubs, money changers, and laundromats.
If you're just staying for one night in the city and then moving on to the next location on your bucket list then Jalan Jaksa may be a great option as you can easily visit the other neighborhoods by public transport. West of this street, you'll find the Gondangdia railway station!
Now let's see which are the best hotels where to stay in Jakarta, around here!
As I mentioned, this street mainly offers budget hotels, so there are no luxury hotels around. However, if you want to check other options where to stay in Jakarta that may be a bit more expensive, I recommend Mandarin Oriental hotel in Menteng.
Other accommodation options in Jalan Jaksa
Mid-Range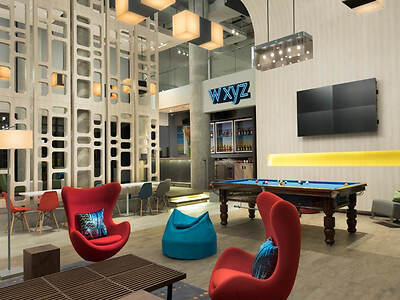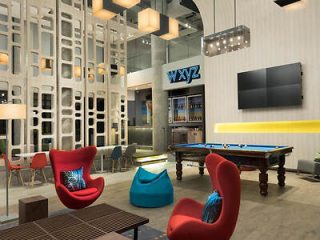 A trendy hotel with a pool and a restaurant that has comfortable rooms and a lounge area
Budget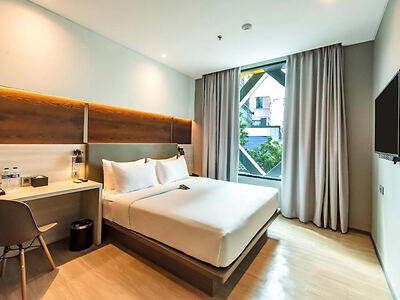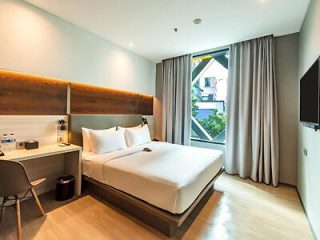 Enjoy your stay in Jakarta at this hotel offers rooms with private bathrooms and an airport shuttle
Airbnb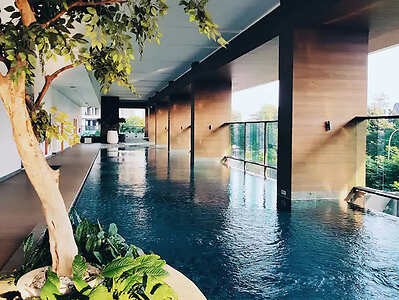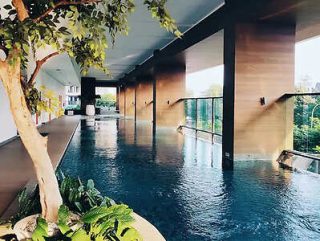 There are no Airbnb exactly here, but this is located nearby and has a kitchen and a shared pool
Things to do in Jalan Jaksa
Grab something to eat at Sate & Seafood Senayan
Visit the National Monument
Go for a coffee at Point Coffee
Explore the Menteng area
Mingle with other tourists at Melly's Garden
| | |
| --- | --- |
| 👑 Luxury price: | $220 |
| 💵 Mid Range: | $100 |
| 🛏️ Budget: | $40 |
| 🏠 Airbnb: | $50 |
| 💰 Accommodation prices: | Medium |
| 📍 Best area: | Menteng |
| 👪 Best area for families: | Kota Tua |
| 🛎️ Best luxury hotel: | Mandarin Oriental |
| 💵 Best mid-range hotel: | The Hermitage |
| 👛 Best budget hotel: | Stanley Wahid Hasyim |
BONUS: The best hotels for families in Jakarta
Planning a family trip to the Indonesian capital? Well, you're going to need some fantastic hotels that will satisfy the needs of all your family members. That may be a bit hard to accomplish but don't worry I've got you!
Below you'll find a list of accommodations where to stay in Jakarta, perfect for you and the kids that come with lots of amenities!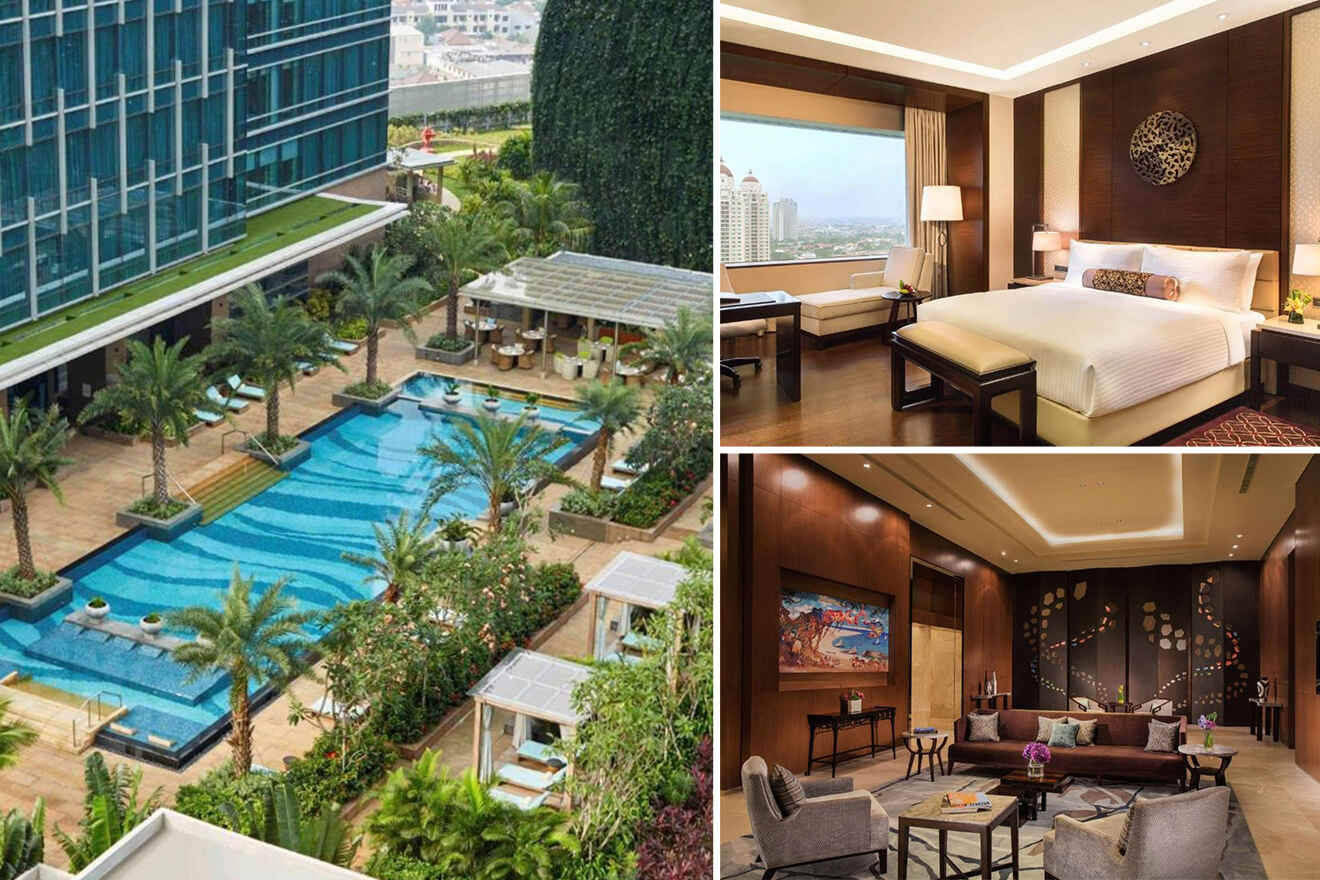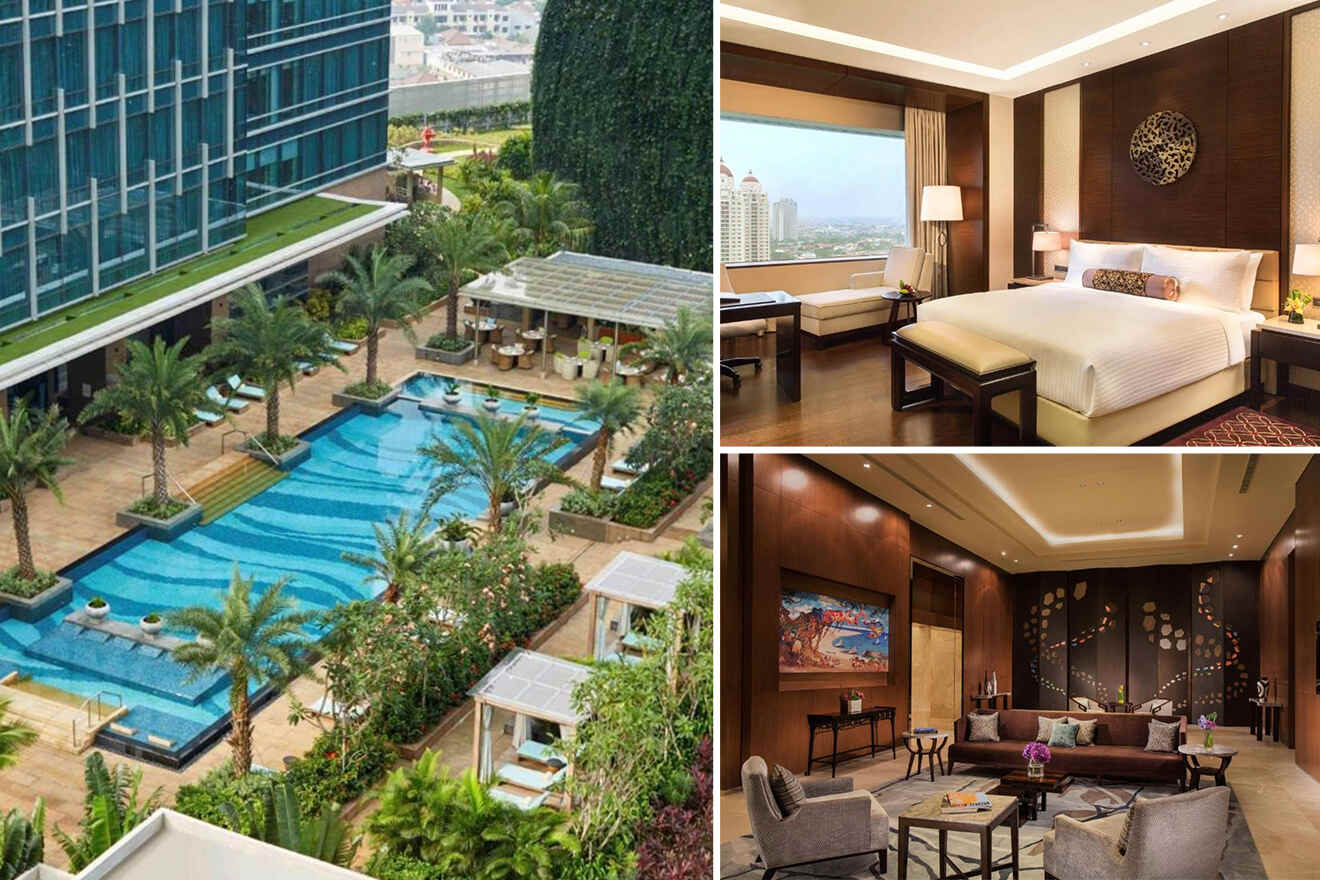 Luxury (US$200 and up)
Fairmont Jakarta – Relax by the pool with the kids, play in the garden, or go cycling! This hotel offers so many incredible activities, plus it has 7 restaurants on-site (basically 1 for each night of your stay)! The accommodation also comes with beautifully furnished family rooms, a spa center, and a fitness center.
Raffles Jakarta – Spend some quality time with your family in the children's playground or take the little ones to the kids' club. This hotel features luxurious amenities, including an outdoor pool and a garden, linked to the Ciputra Artpreneur Centre and a theatre complex.
The Mayflower – Enjoy all the privacy that you and your family need in these spacious apartments that come with a well-equipped kitchen, a flat-screen TV, and fabulous city views! When you're not out exploring Jakarta with the kids, go for a swim in the pool or have a fun movie night if you're too tired.
Mid Range (US$100 – US$200)
Ascott Kuningan – Play some tennis with the kids after breakfast at one of the best mid-range hotels for families. The accommodation offers amazing city views, and it has apartments and private rooms with a flat-screen tv and a kitchen. Other amenities include a swimming pool, a garden, and barbecue facilities.
Frequently asked questions about hotels in Jakarta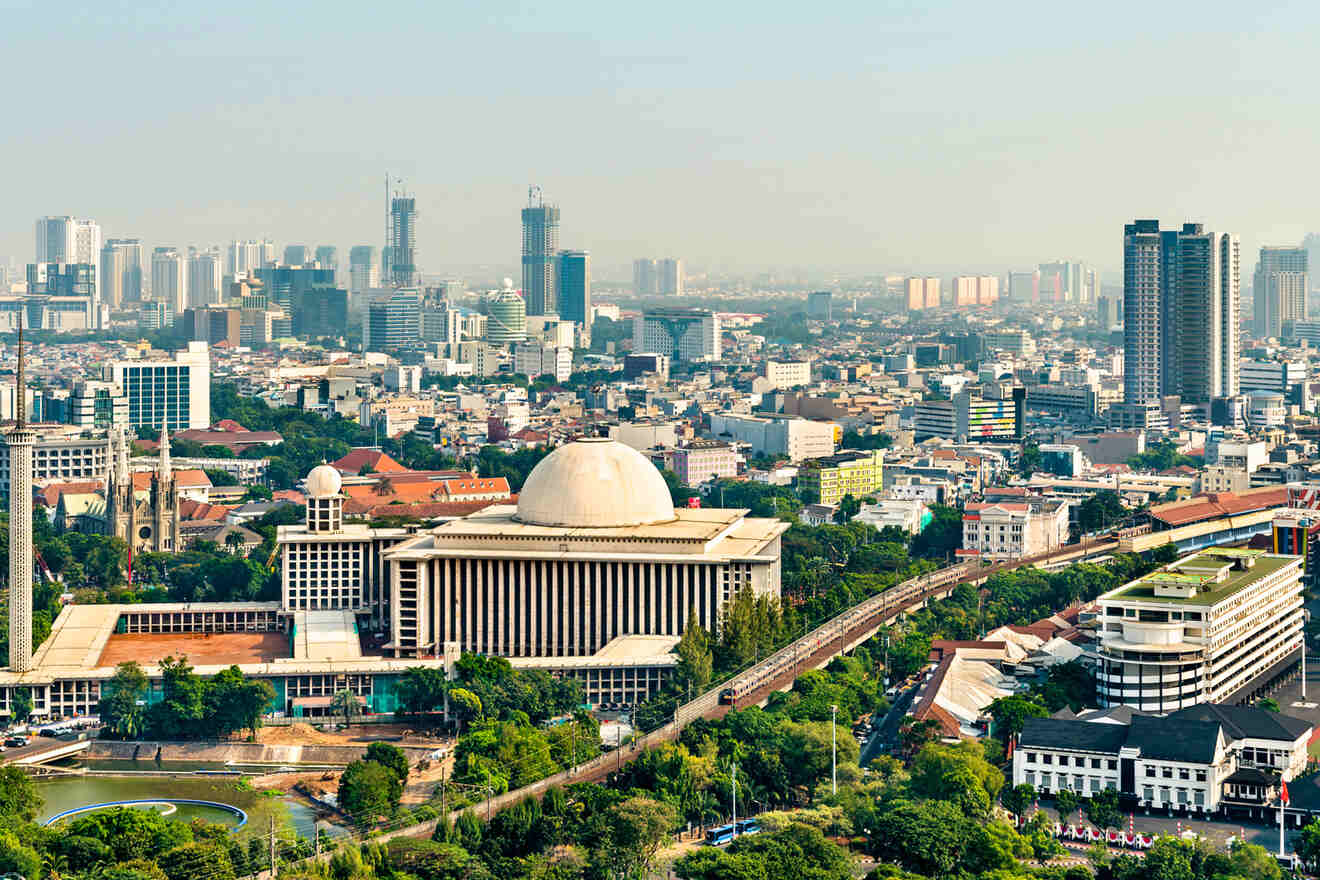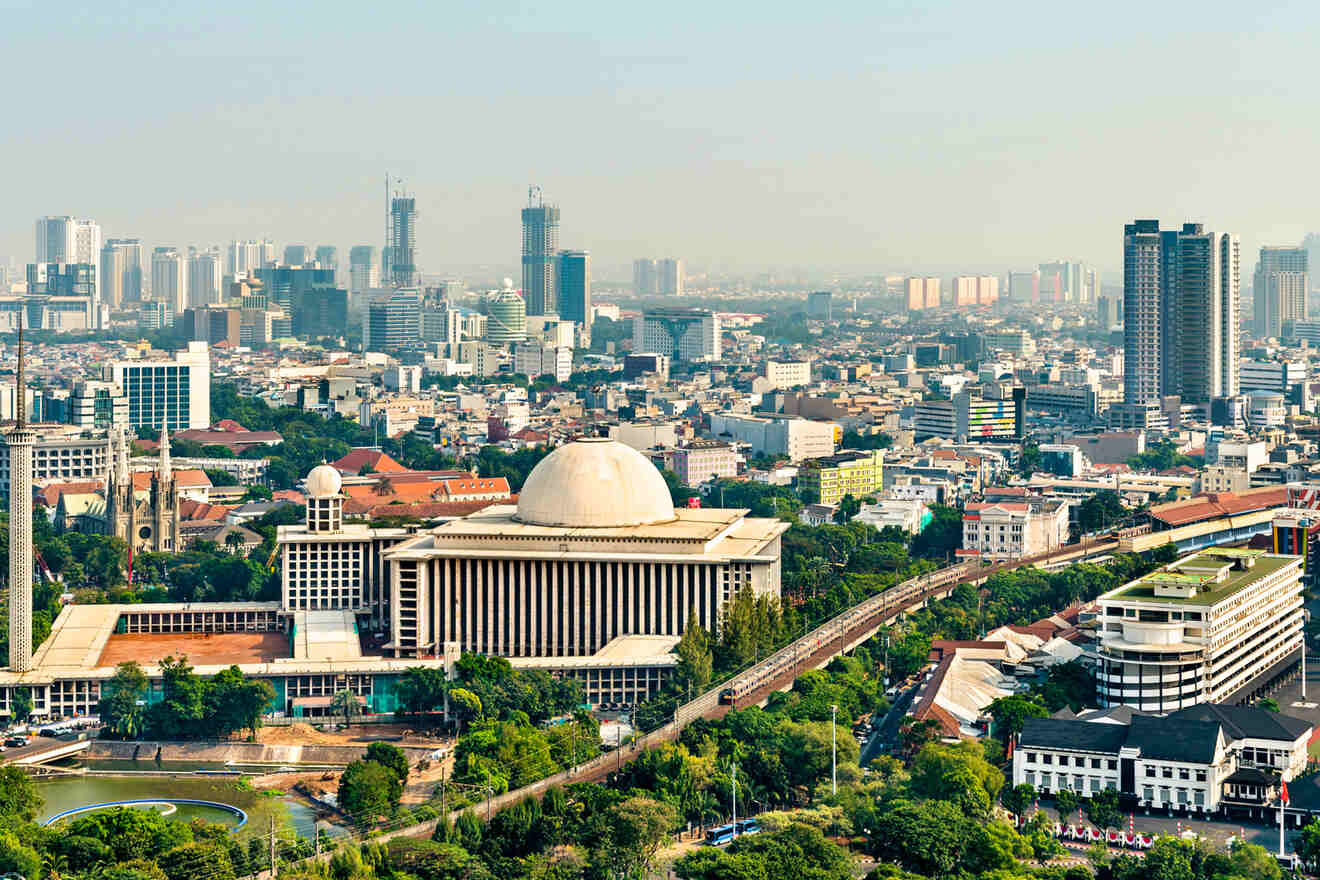 🤩 Which is the best area to stay in Jakarta?
Menteng is the best area where to stay in Jakarta. This neighborhood is located in the city's central area, where you'll find many attractions, great restaurants, and fantastic luxury hotels like Mandarin Oriental.
⚠️ Is Jakarta a safe place to visit?
Yes, Jakarta is a safe city, but tourists should be careful of their belongings when visiting busy areas and avoid walking alone at night. 
📅 How many days do you need in Jakarta?
I recommend staying 4 or 5 days in Jakarta, that way you can explore the city without being in a rush and get to visit the main attractions. 
🏨 Which are the best hotels in Jakarta for families?
Fairmont Jakarta and Raffles Jakarta are some of the best hotels in Jakarta for families. These accommodations have great reviews and facilities like swimming pools and a children's playground. 
Conclusion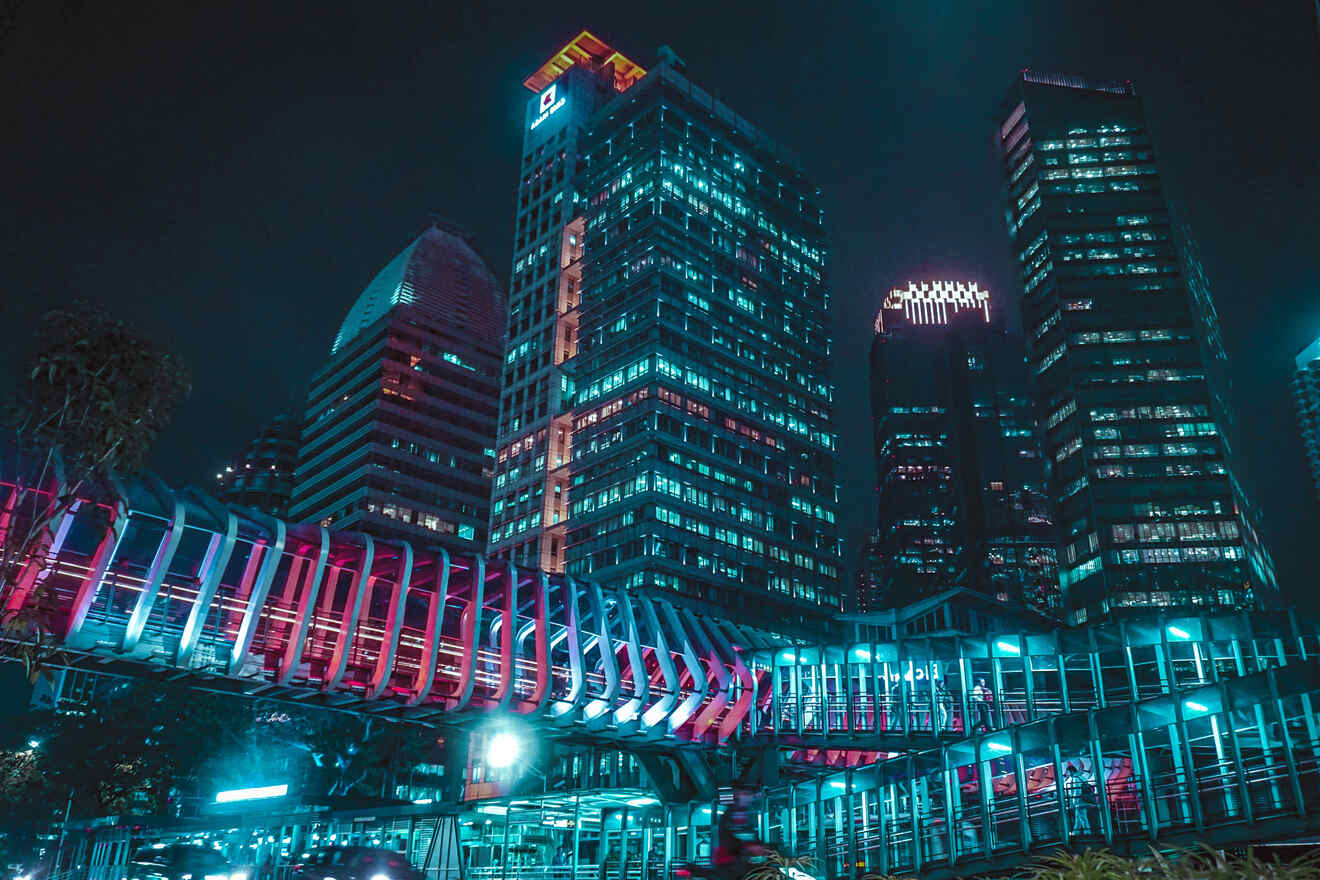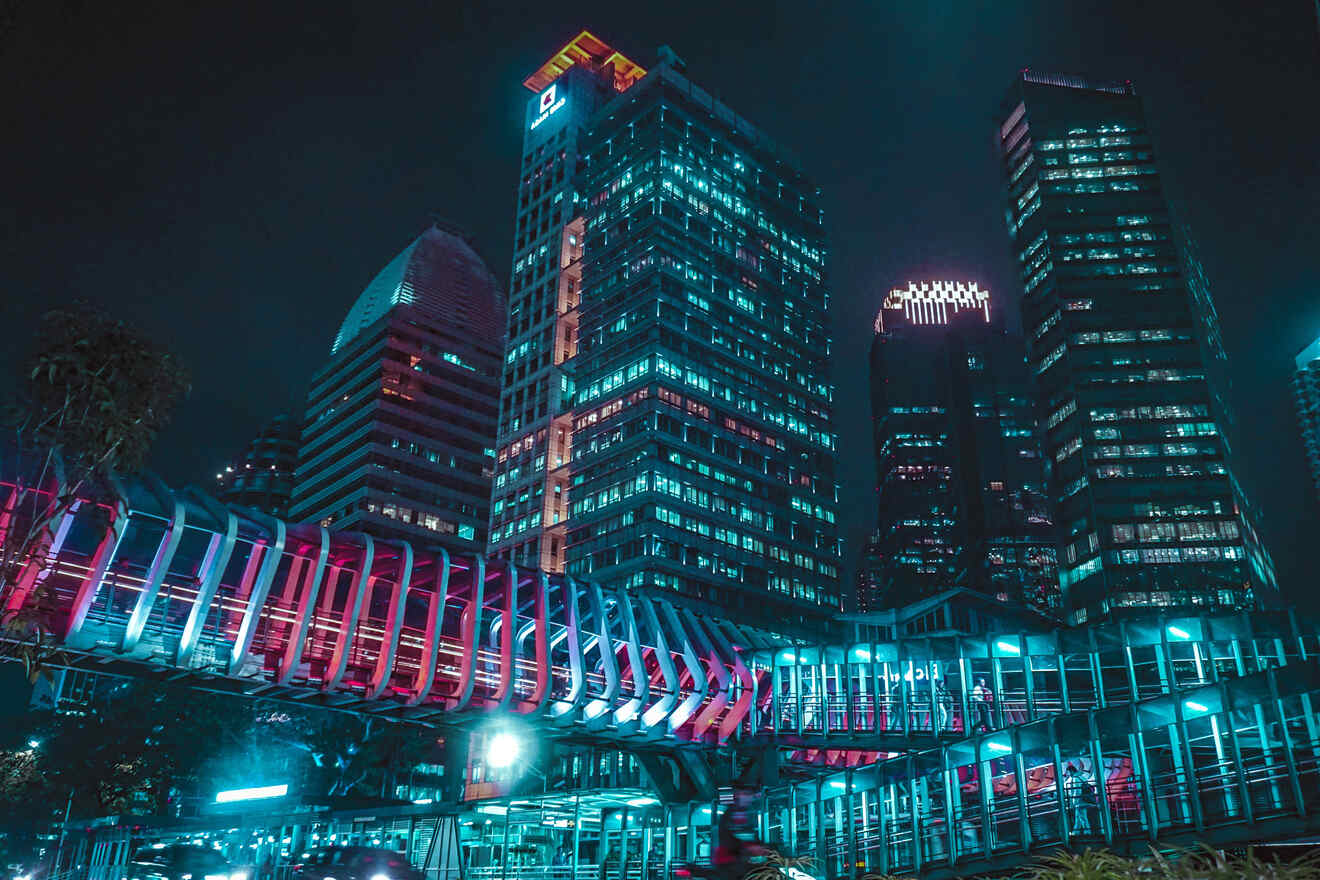 I love traveling to cities that never sleep! They have a certain atmosphere where you can always do something at any given time. Jakarta is that kind of place, and I'm so excited for you to discover it!
This Jakarta neighborhood guide has all the information you'd need for your holiday! First up in the article we went through all the areas where to stay in Jakarta, plus a list of accommodations from luxury to budget hotels with some things to do to give you a start.
But if you're traveling with the kids, I hope you didn't run to book your hotels just yet! Hopefully, you checked out my bonus section with family hotels that you shouldn't miss out on!
For anyone who's super indecisive (aren't we all when we're planning a trip?) or a bit overwhelmed by this long this of accommodations. I've picked my top 2 favorite places to stay in Jakarta for you:
Mandarin Oriental – This luxurious and elegant hotel offers incredible city views, has a spa center and an outdoor swimming pool
The Hermitage – One of the best mid-range hotels that have elegantly-decorated rooms, and a fabulous outdoor terrace overlooking the city
As I mentioned before, book the hotel for your stay in Jakarta in advance! You can't imagine how crowded this city can get, and its accommodations as well!
I've had such a great time writing about this fantastic capital city in Southeast Asia and I'm sure you'll have a wonderful trip here.
If you have any questions about Jakarta, or maybe some other hotel and things to do suggestions, leave me a comment below and I'll answer it ASAP!
Have a fun trip,
Victoria
---
Pin it for later!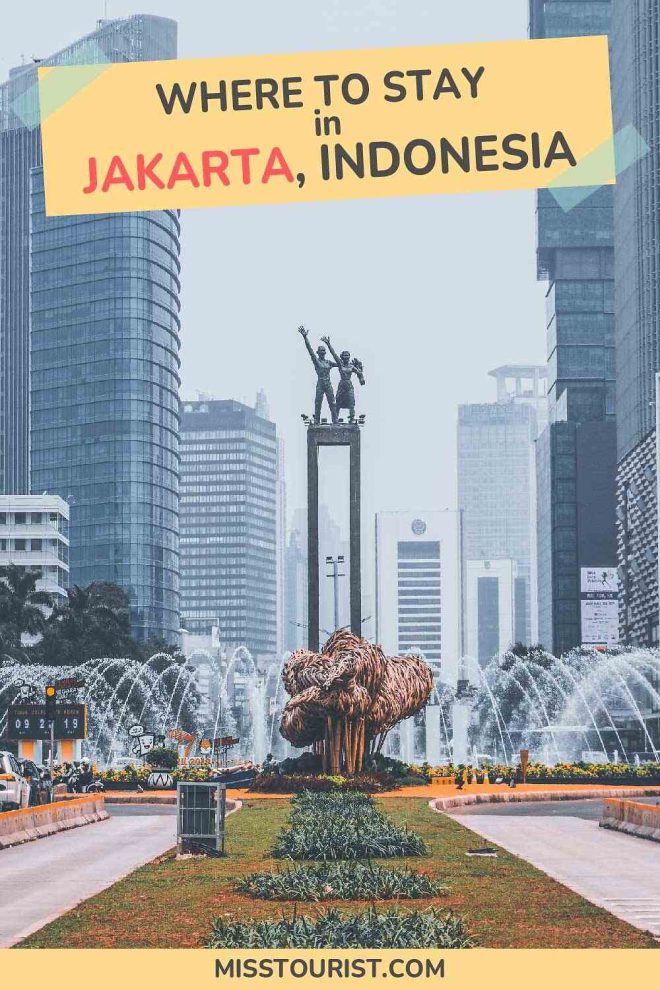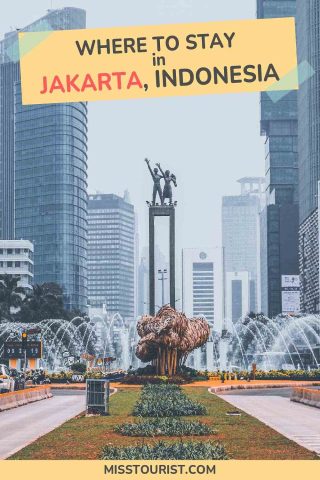 Pin it for later!