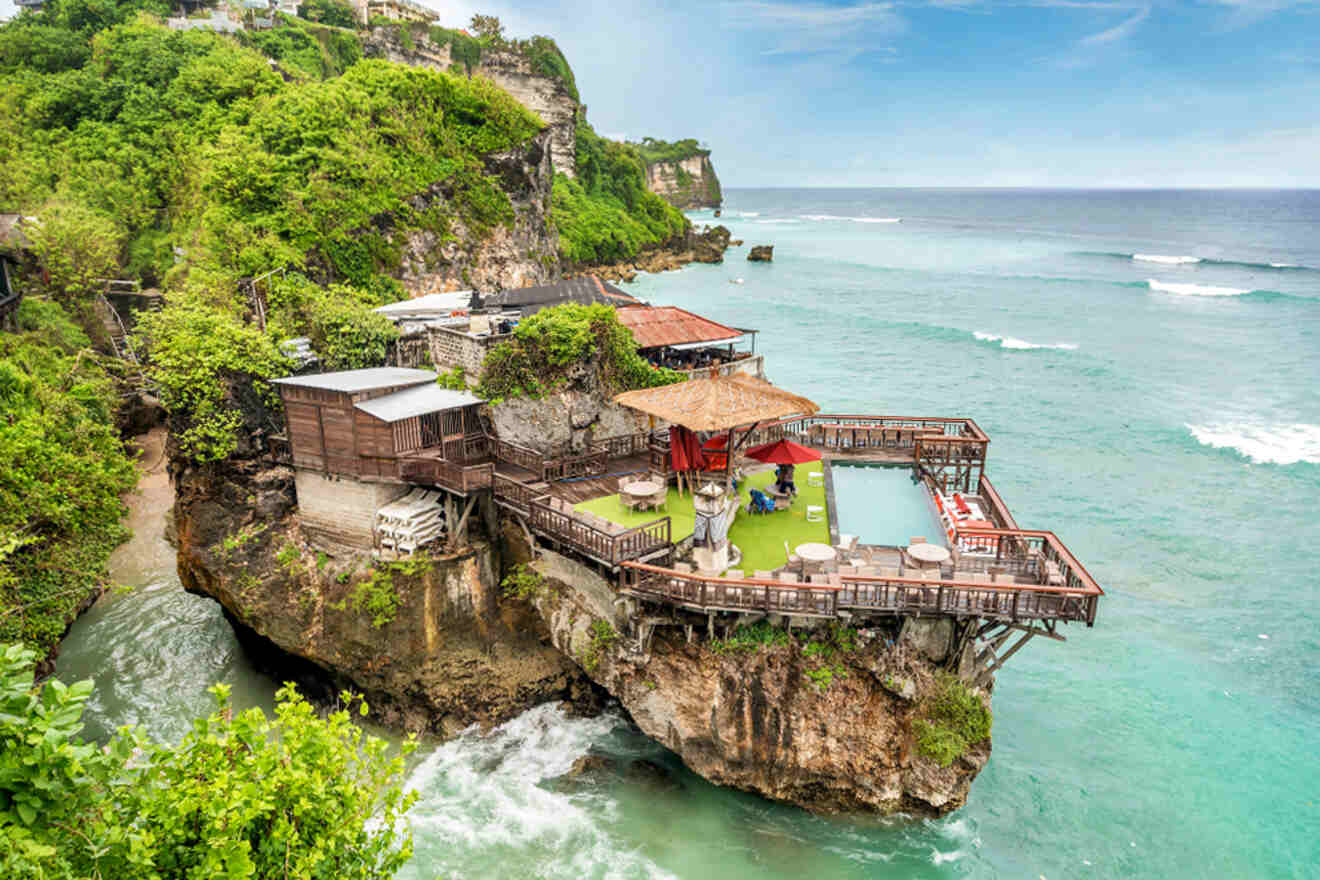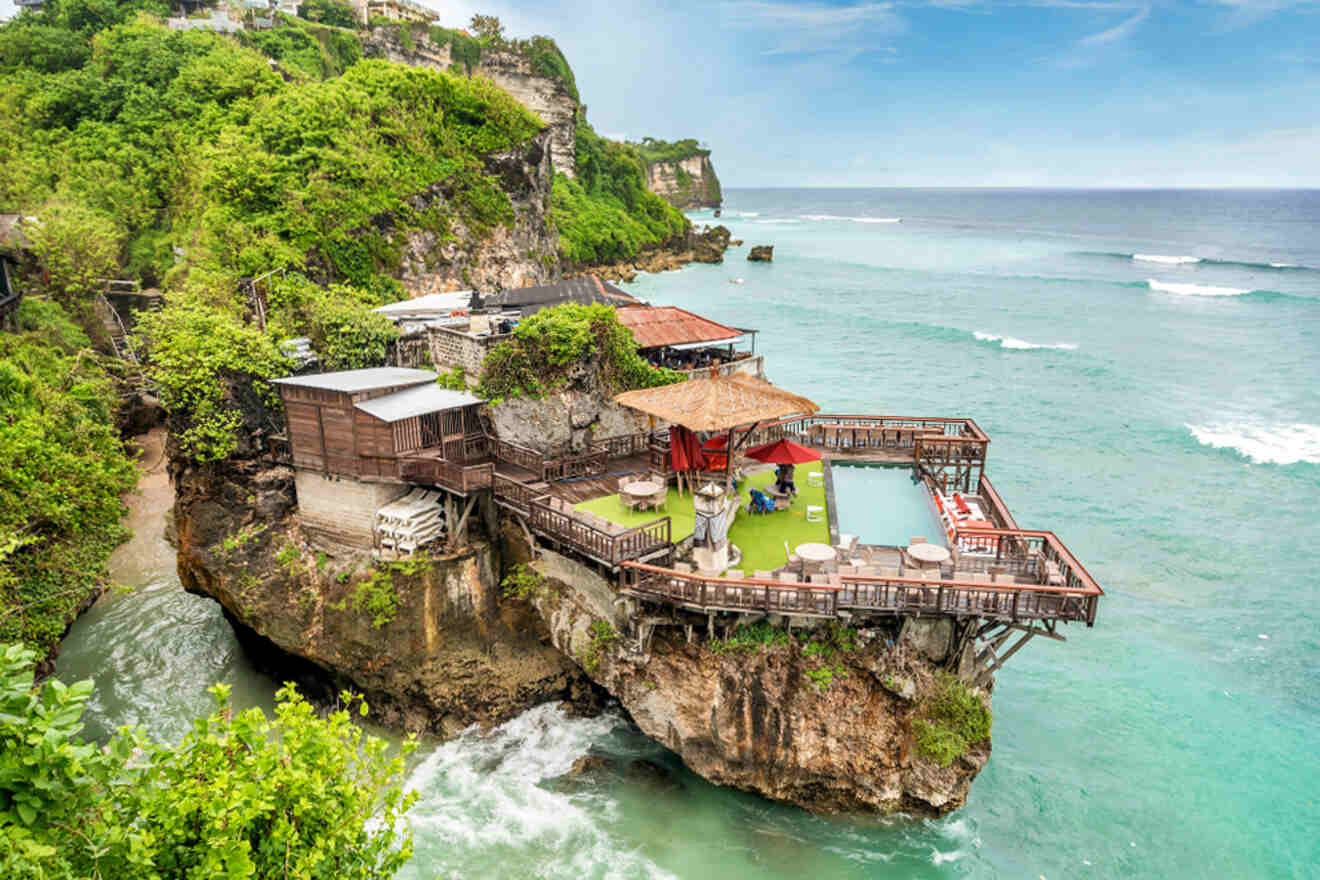 Looking for a paradise destination for your next vacation? Look no further, I have the perfect place for you: Uluwatu, Indonesia! Bali is such an amazing place, full of beautiful nature, rich culture, and delicious food. I have been looking for hotels in Uluwatu so you can go on the most amazing vacation to the most amazing place! Whether you're looking for the best luxury hotels or you're on a budget, you'll find something for you!
This post is arranged by price, starting with the best hotels with luxurious amenities first, followed by the mid-range options, and last but not least, the budget options, so you can find an option that fits your pocket. Since the hotels in Uluwatu are fantastic, I added 2 bonuses at the end: the best Uluwatu hotels with private beaches and the best beachfront villas in Uluwatu.
Uluwatu is super popular amongst families, couples, friends, and solo travelers looking to spend some time surfing world-class waves, admiring sunsets over stunning cliffs, and relaxing at the beach! So, book it as soon as you make a decision, you don't want to end up without the room of your dreams!
Let's see the best Uluwatu hotels!
If you are in a hurry
I know not everyone has the time to read the entire post, which is why I gathered the top 3 options of Hotels Uluwatu so you can click and book right away!
Luxury (US$200 and up)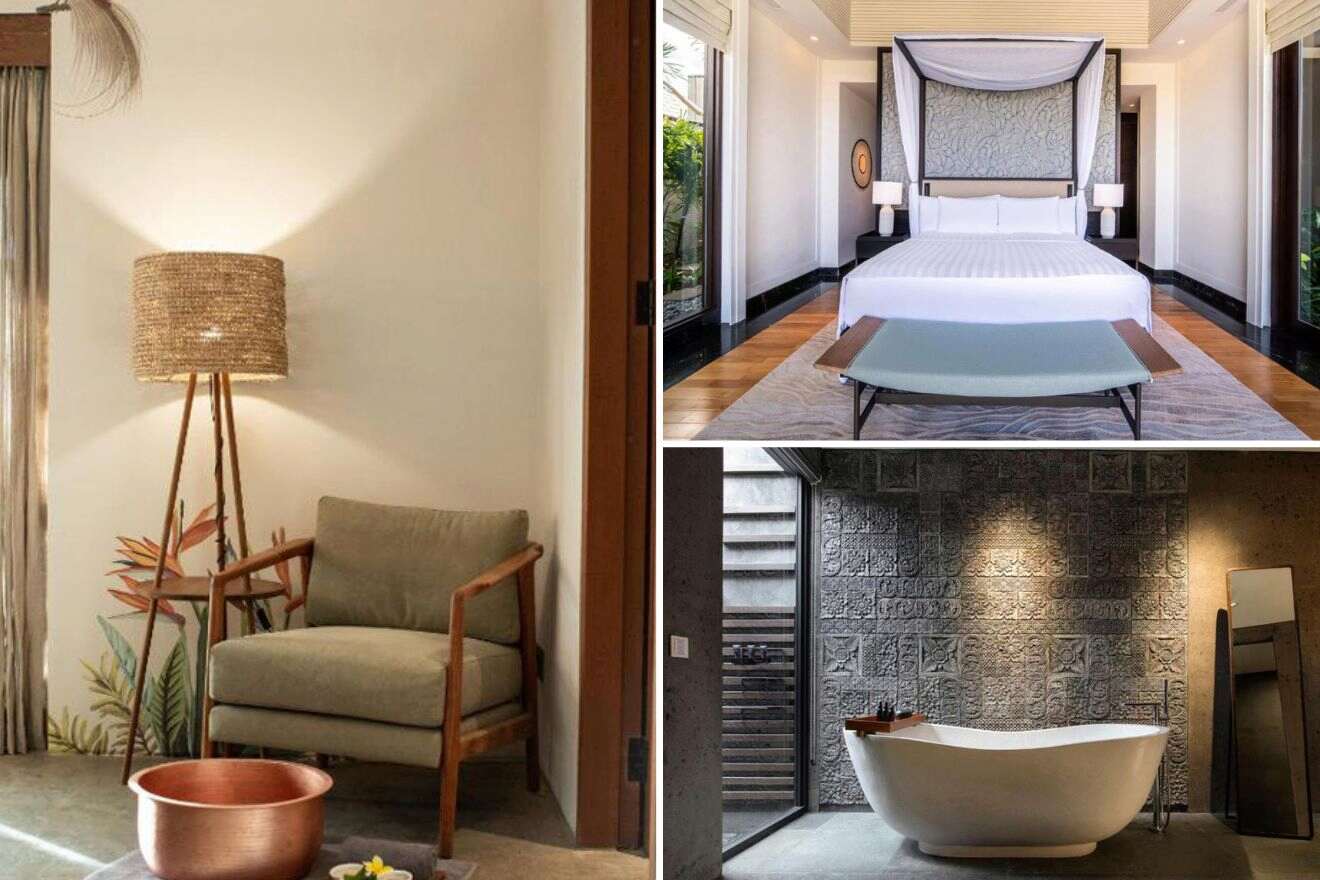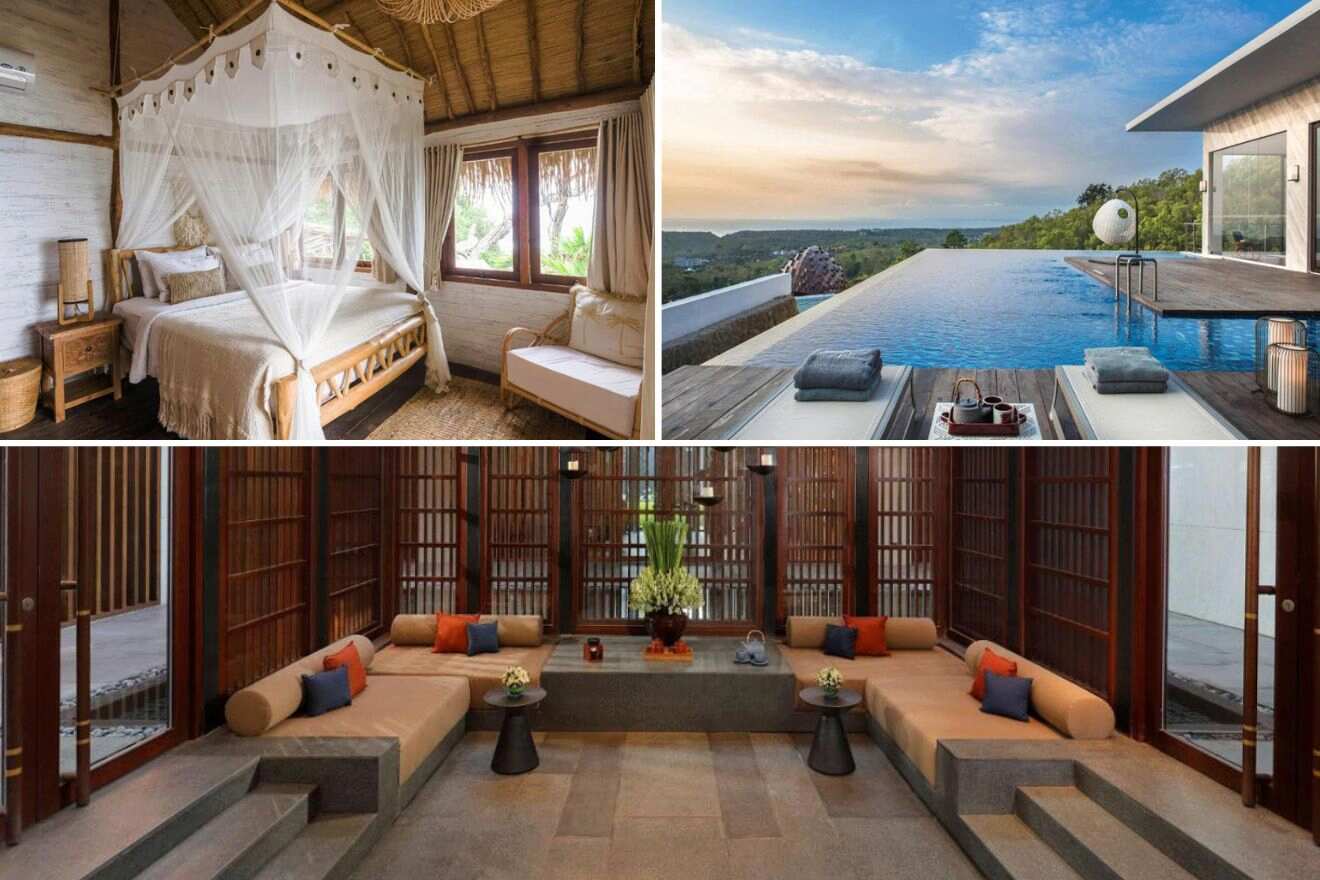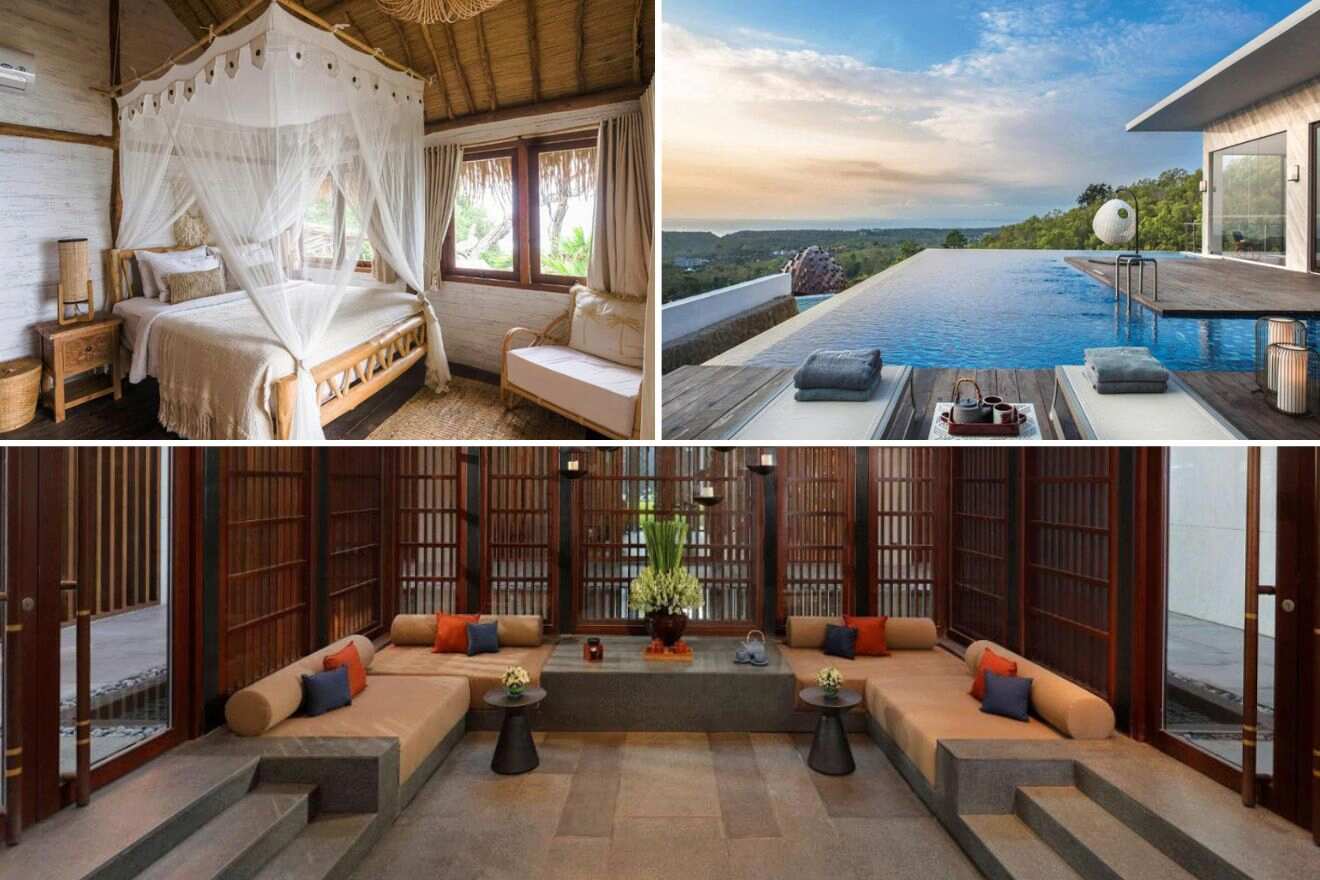 Mid Range (US$100 – US$200)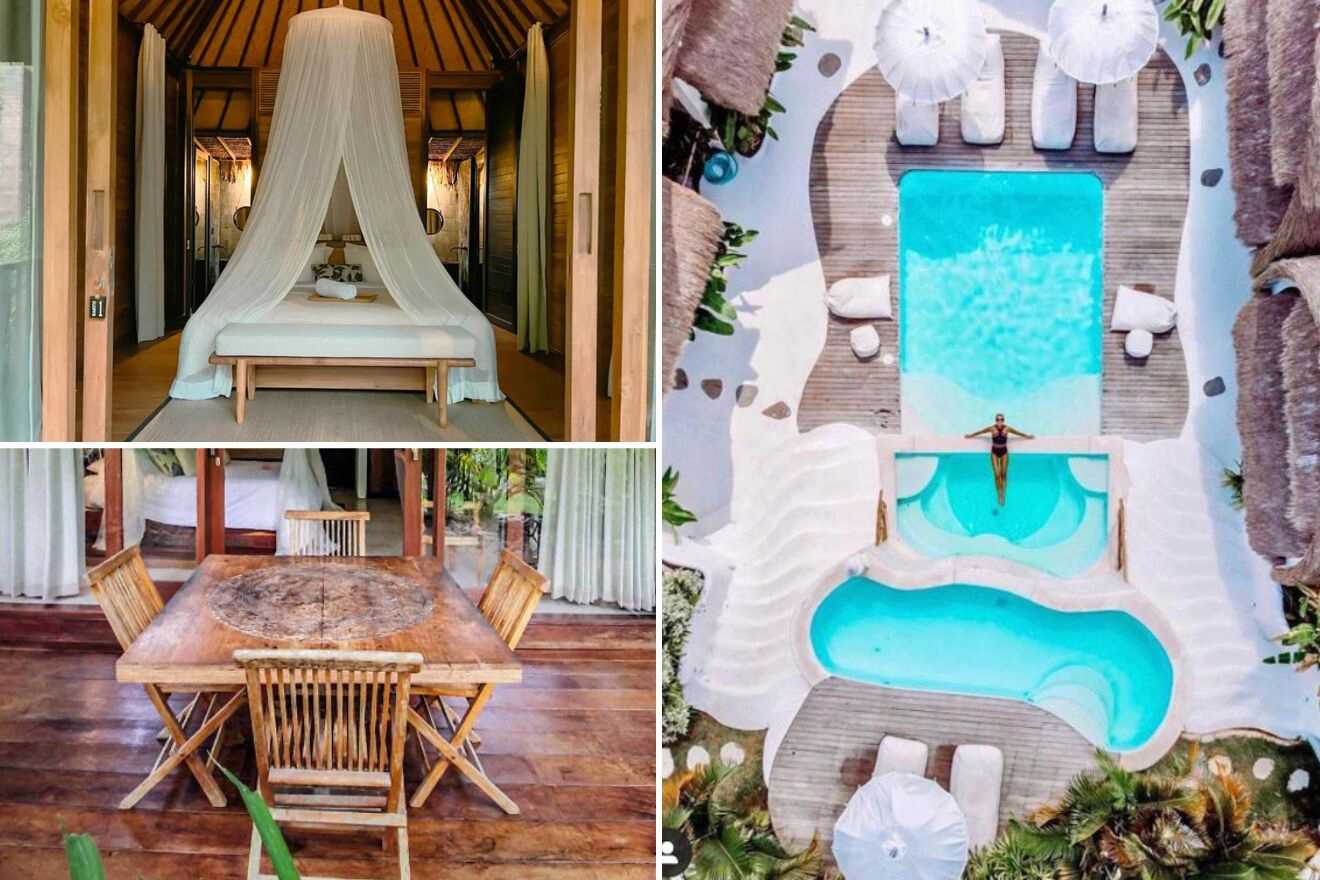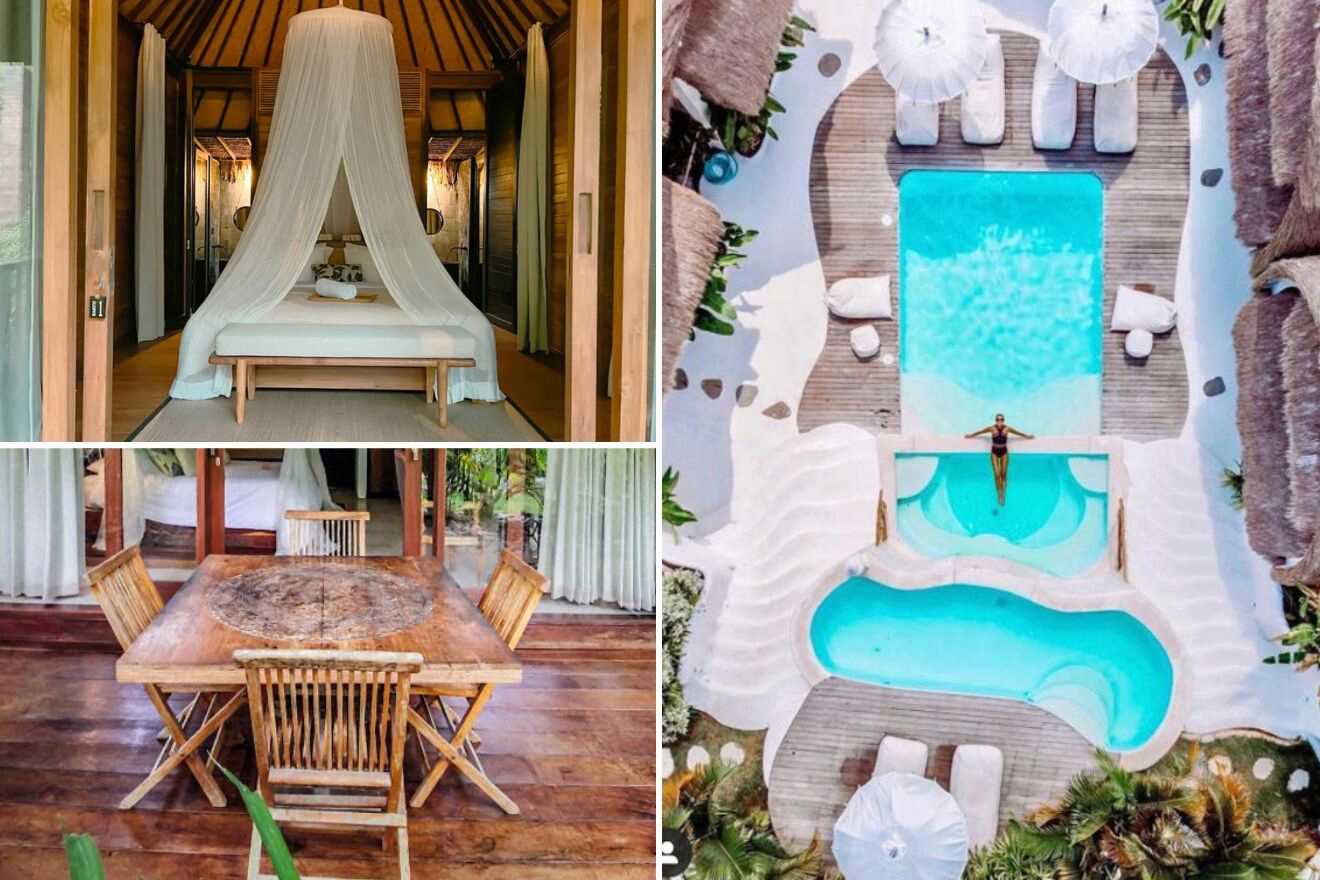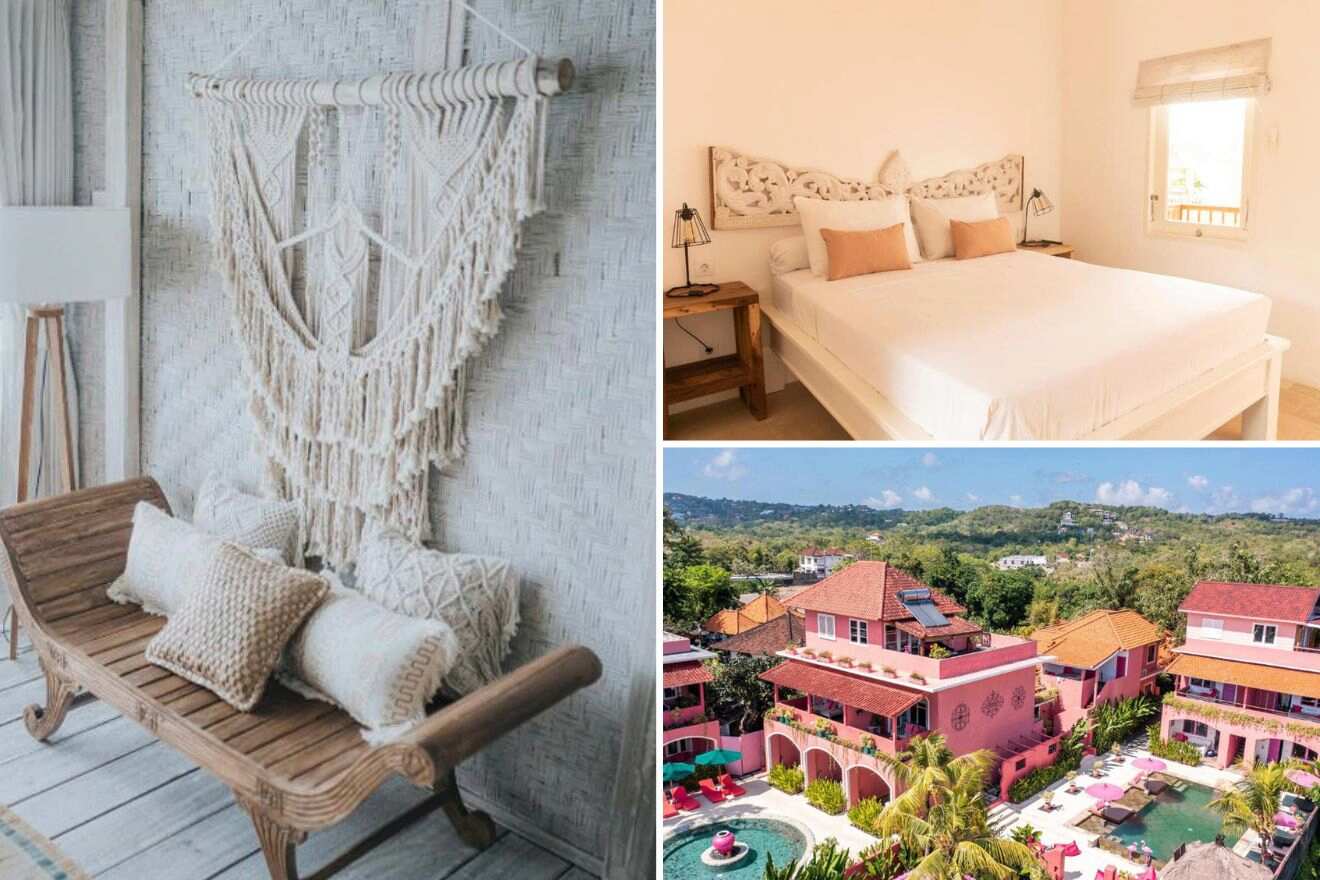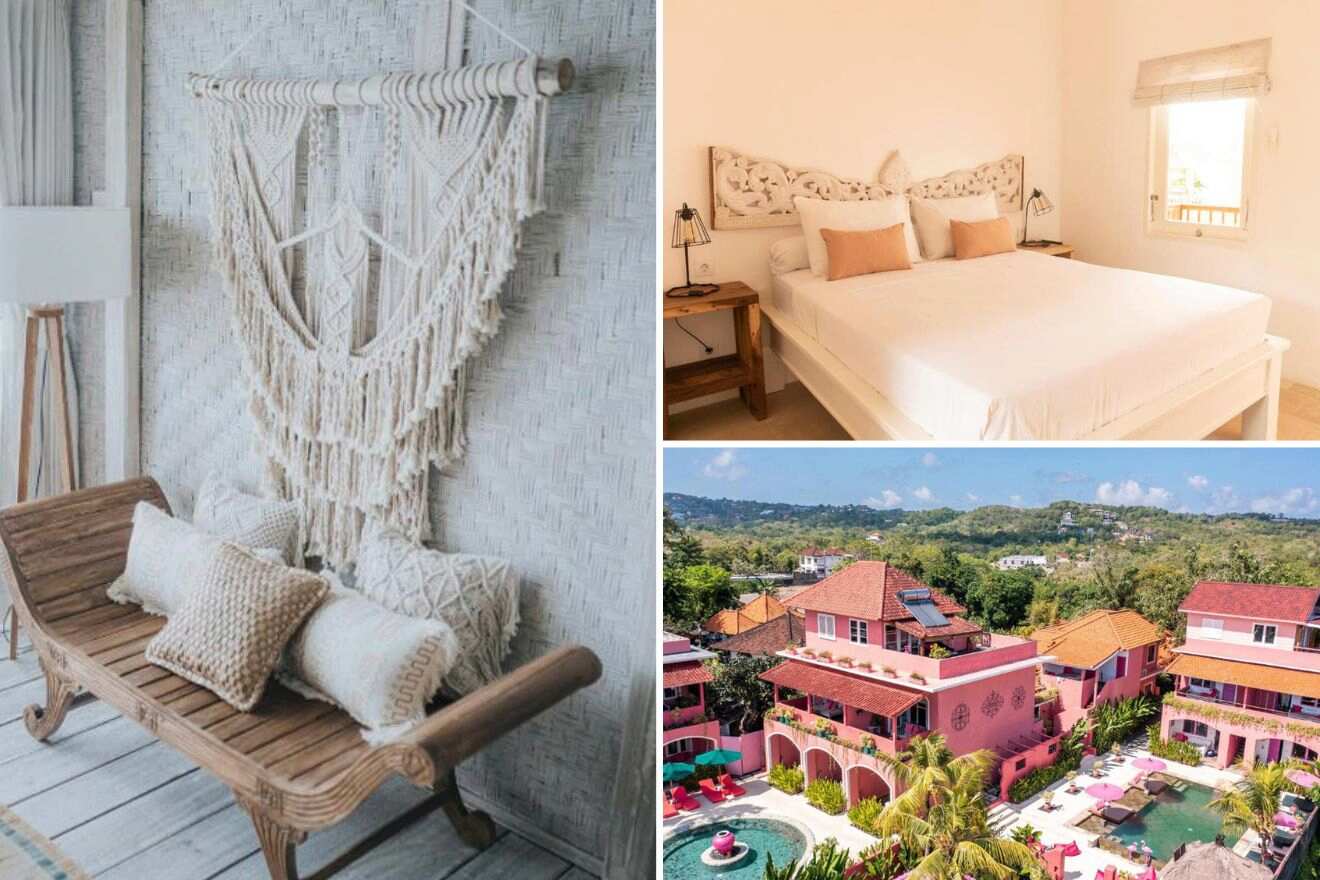 Budget (up to US$100)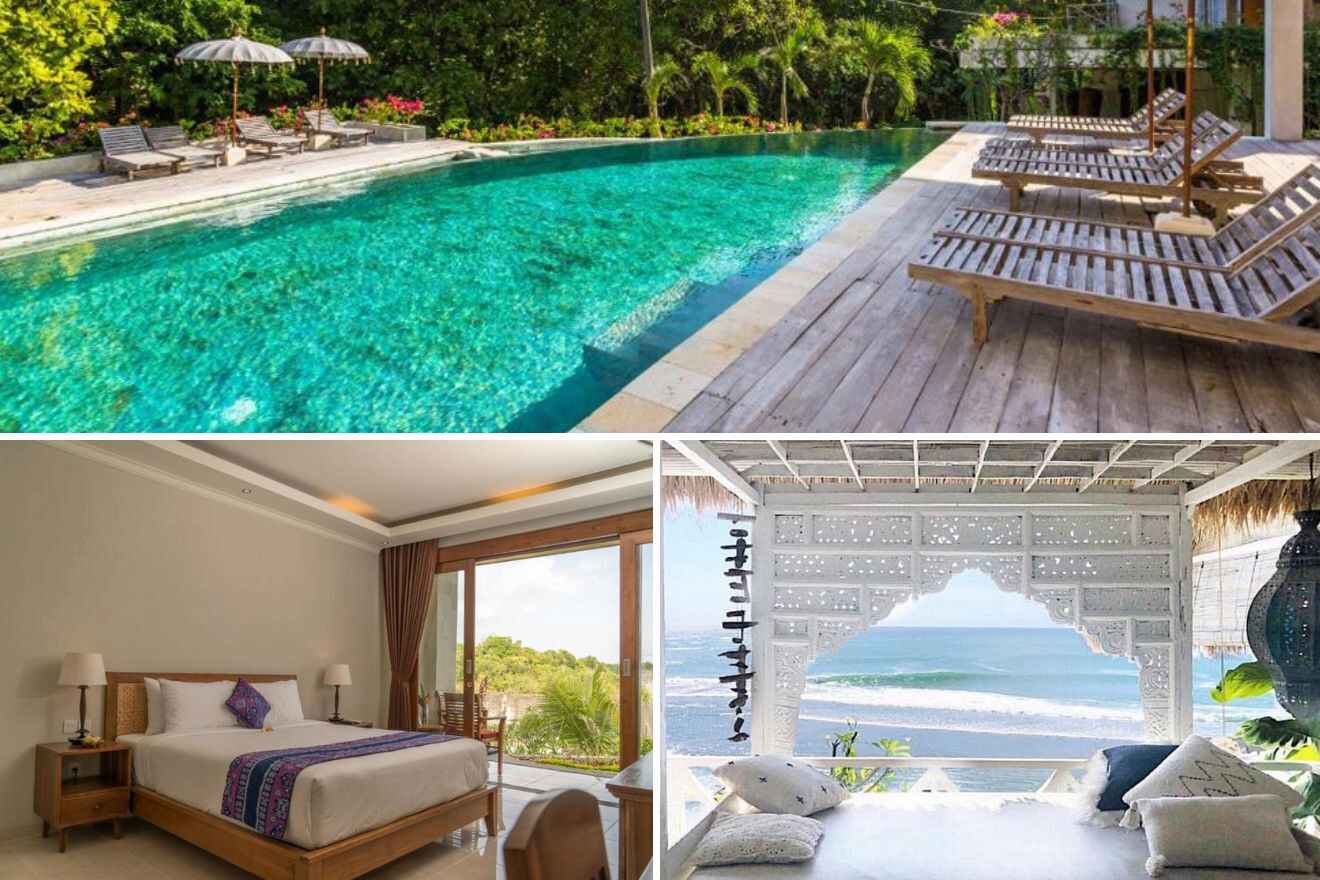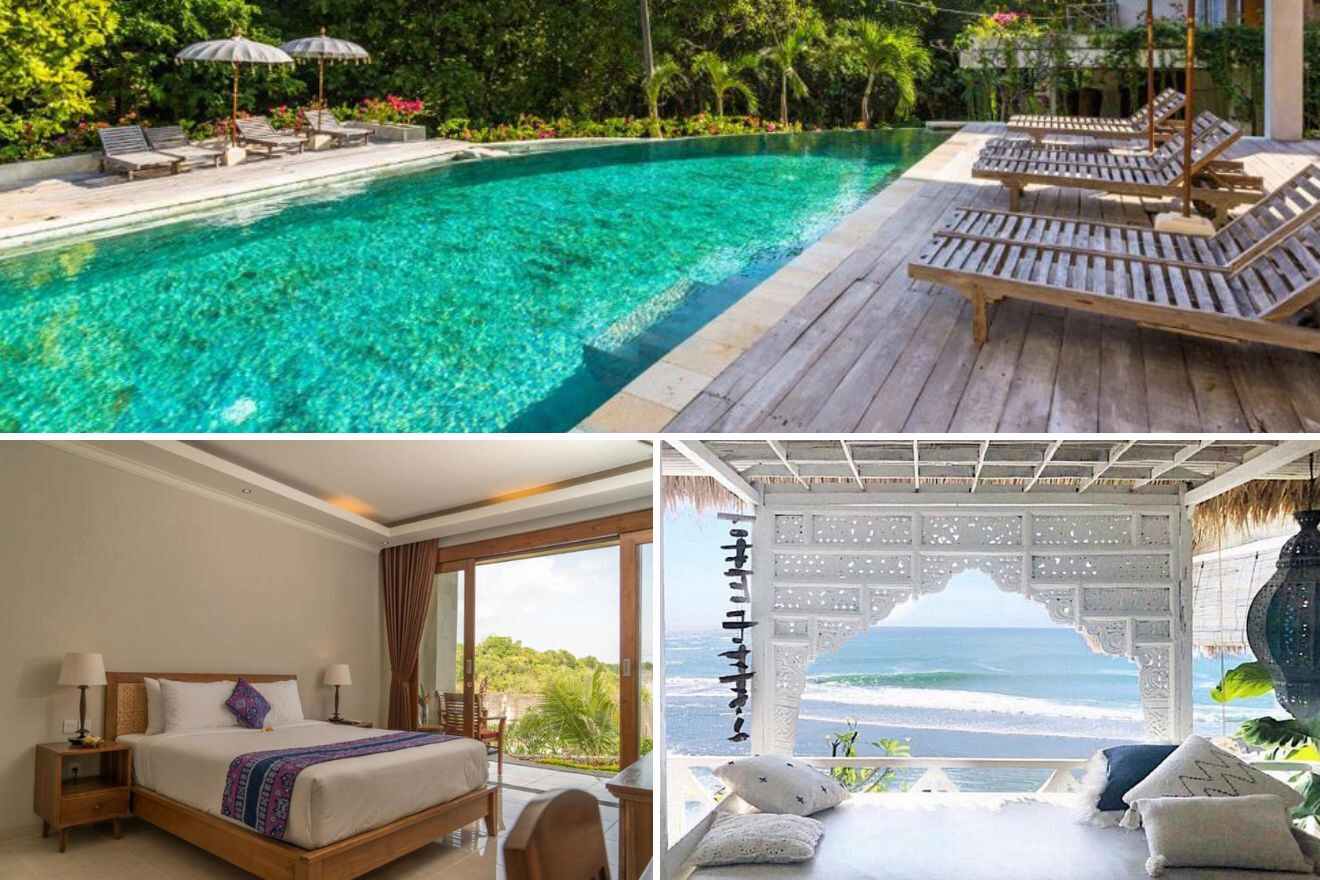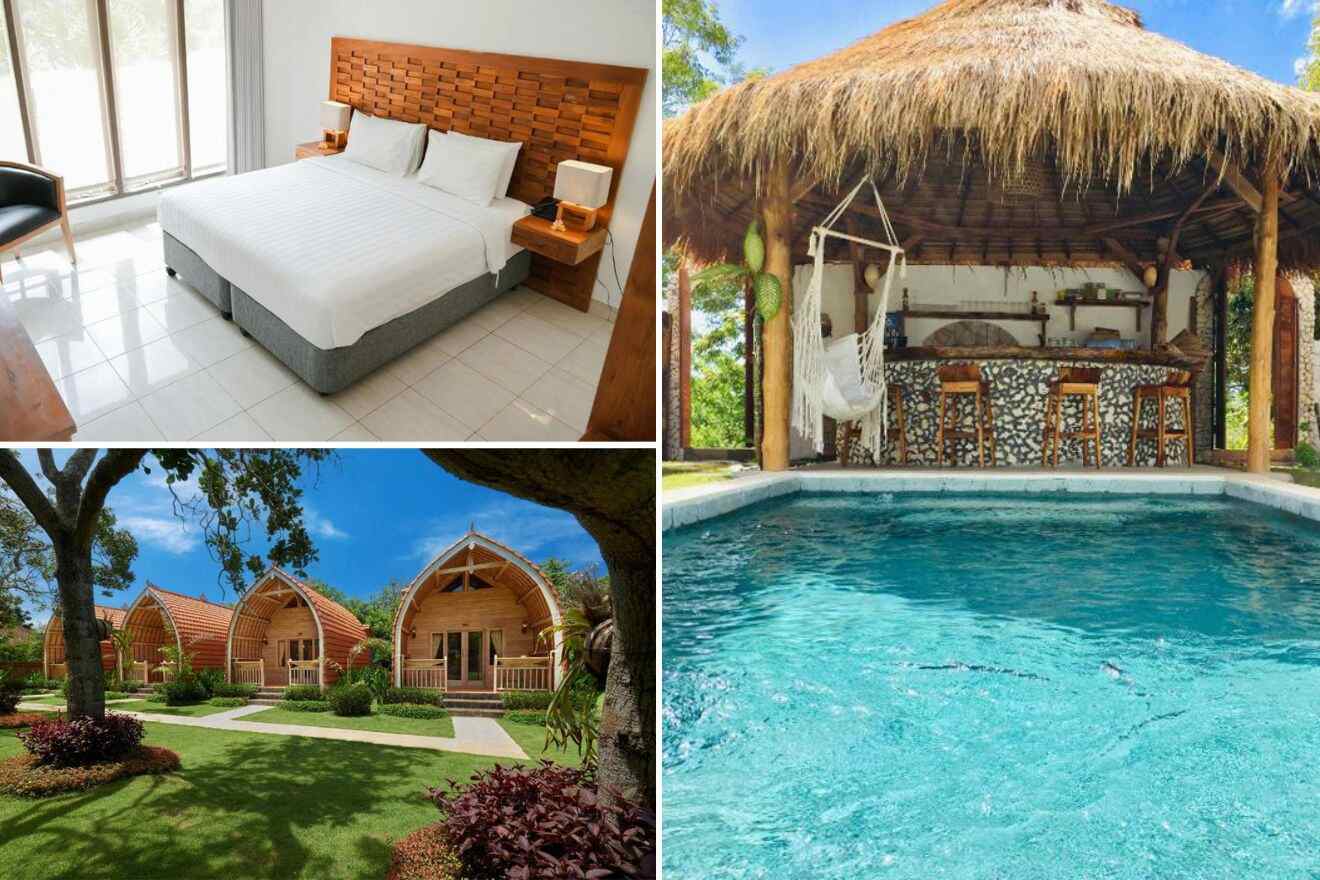 BONUS #1: Best Uluwatu hotels with a private beach
I couldn't end this Hotels Uluwatu post without sharing with you the best Uluwatu hotels with private beaches! There is nothing better than a beachfront property with a private beach area, so here you have luxurious options to choose from!
These amazing accommodations' prices per night range from US$200 to US$1500. Let's take a look at them!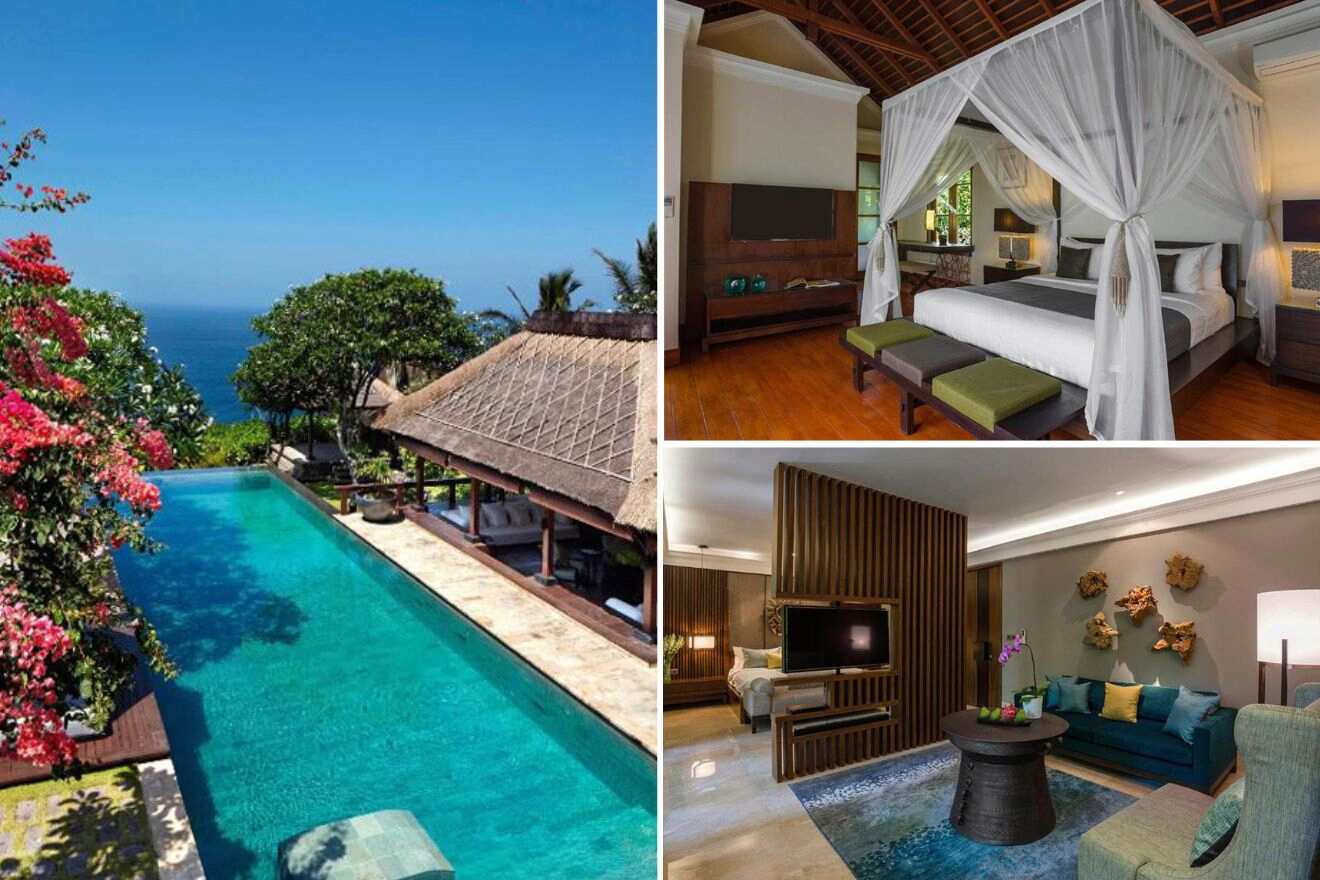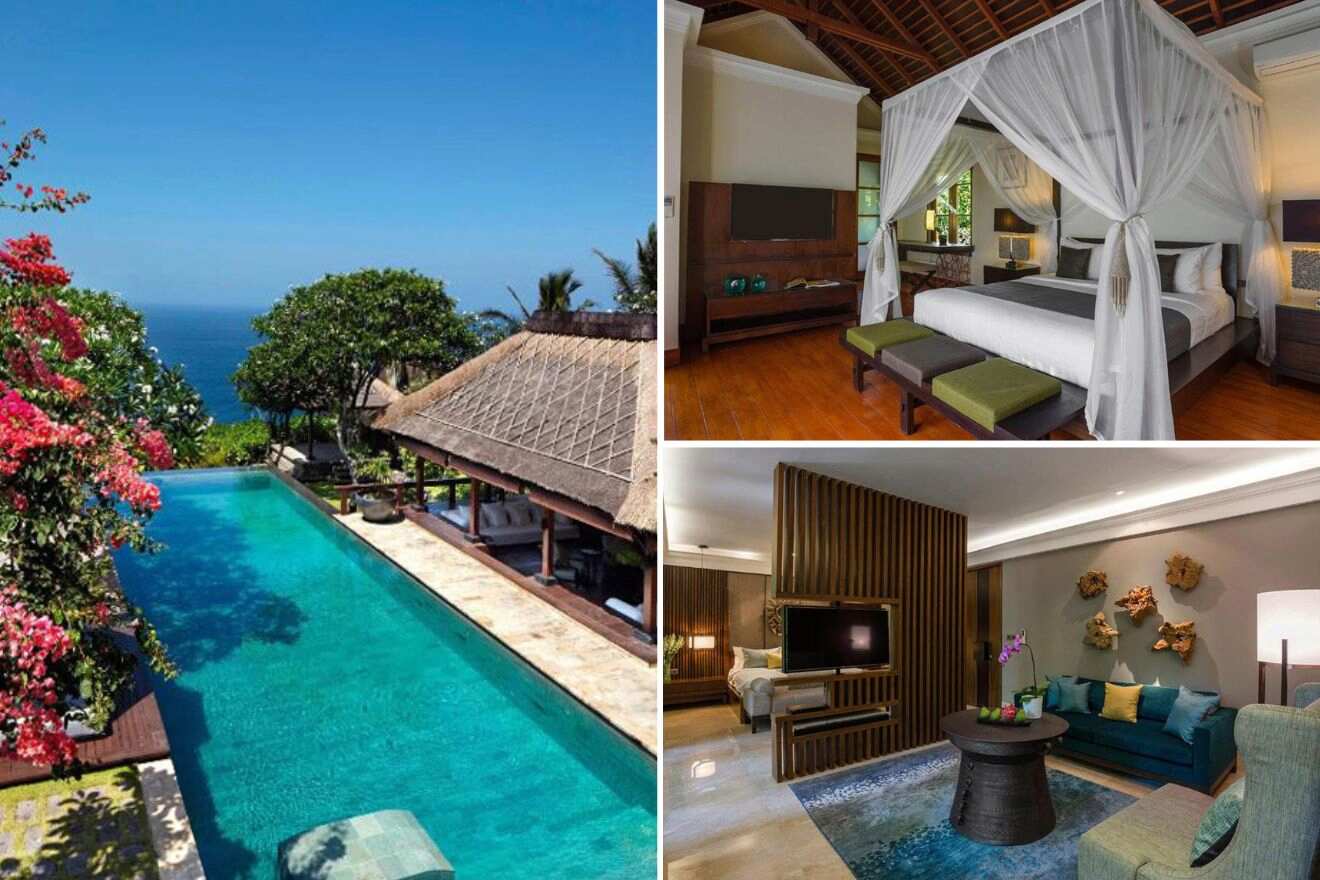 1. Bulgari Resort Bali
This fantastic resort, located on Nunggalan beachfront and with access to a private beach area, has a delightfully modern and minimalistic style, a lot of open spaces, and natural elements! The amenities of this resort will help you reconnect with yourself and the environment through relaxing spa treatments, and there is a cliff-top onsite restaurant that features amazing views of the ocean. All the villas offer private pools and luxurious amenities.
2. Ungasan Beach Villas
Imagine staying at this luxurious hotel located on Bali's Bukit Peninsula on top of a cliff! You will get an incredible view of the Indian Ocean from this Ungasan clifftop resort, a beautiful and refreshing infinity pool, and private beach access from the hotel. The villas have an exquisite contemporary style, are very spacious, and have an open space design; all of them come with private pools to make your stay in Uluwatu memorable.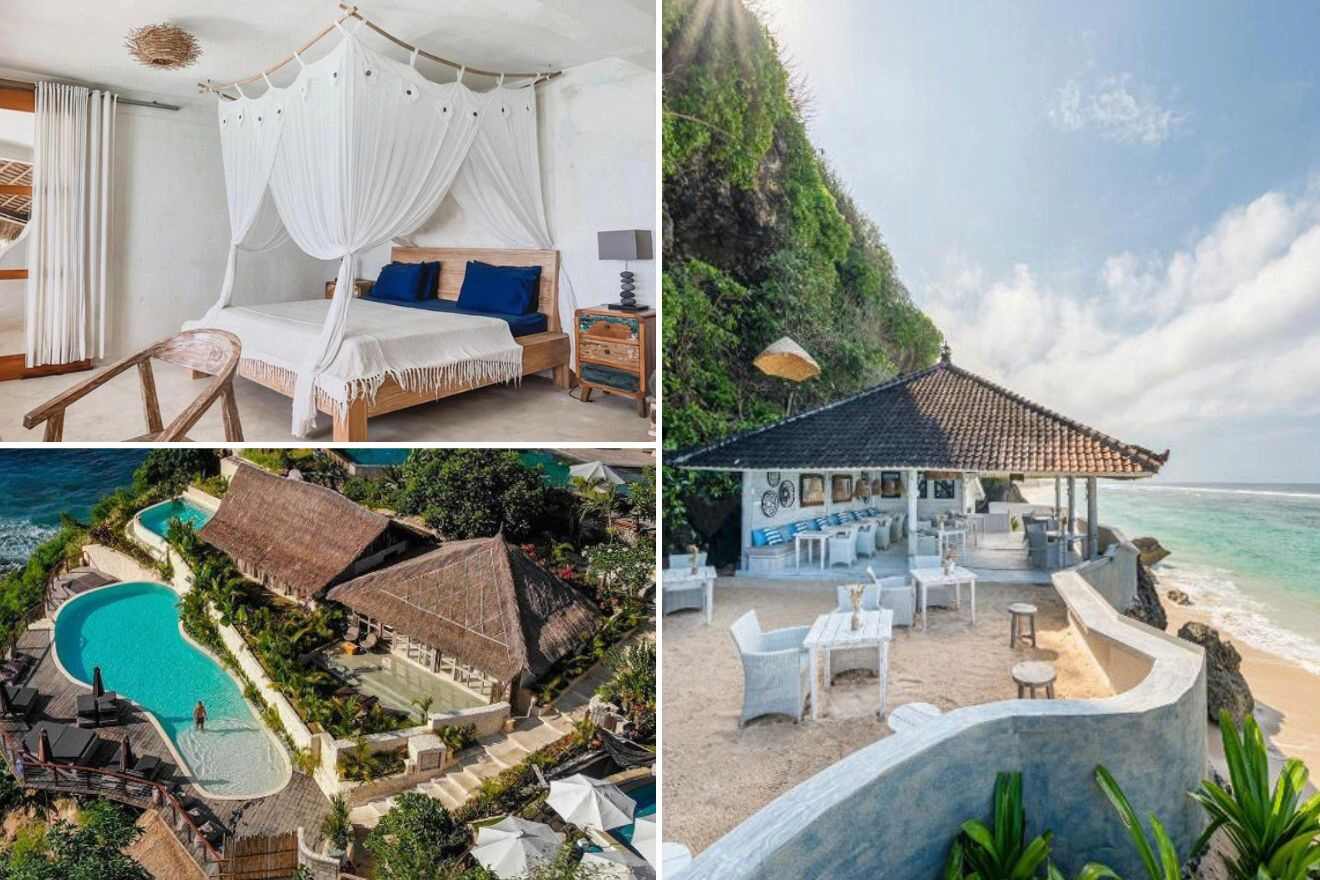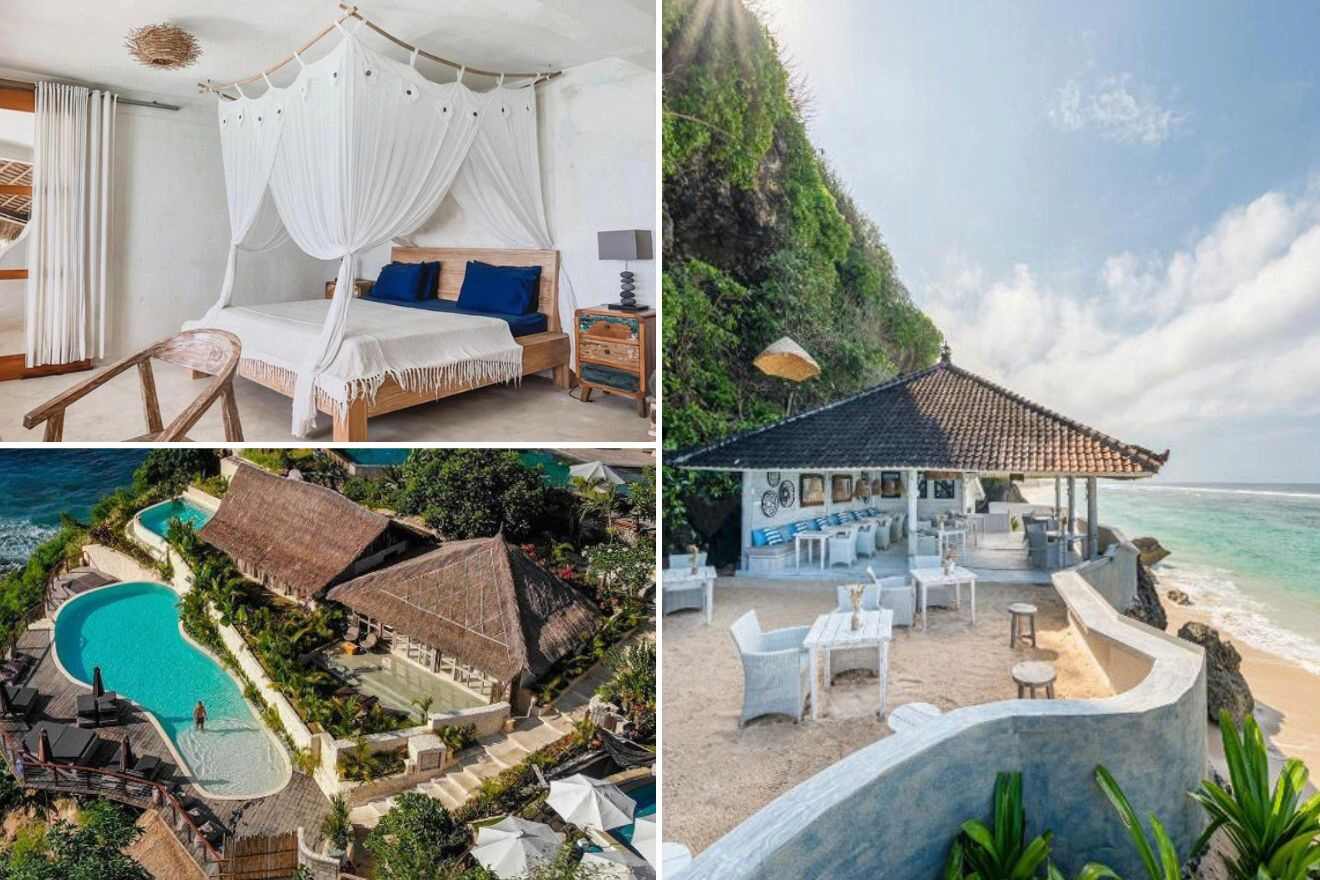 3. Karma Kandara
Are you looking for the perfect getaway to Uluwatu? Look no further! This hotel has deluxe amenities and a luxurious design, apart from featuring amazing amenities, from an infinity pool to 3 onsite restaurants offering breakfast, lunch, dinner, and cocktail hours. Spend time at the hotel's private beach, indulge in a spa treatment, or simply relax in your villa, which will have a private pool and a view!
4. Rock'n Reef
This lovely hotel would be perfect for a family vacation; it comes with a swimming pool for adults and another one for kids. The onsite restaurant is open for all the meals of the day and offers plenty of options for those with food restrictions. The beachfront and private beach area open to all guests make it perfect for playing beach games or enjoying canoeing and snorkeling – plus, the hotel has equipment for this!
5. La Joya Biu Biu Resort – CHSE Certified
What a fabulous option for your Uluwatu vacation! This hidden gem is located on a private beach area and surrounded by beautiful tropical gardens, which makes it perfect for all of those looking for a tranquil and private vacation! The 2 infinity pools have breathtaking views of the ocean, and the traditional-style bungalows share this same fantastic view.
BONUS #2: Best beachfront villas in Uluwatu
Since I love spoiling you all, apart from the best Uluwatu hotels and the best Uluwatu hotels with private beach, I have for you the best beachfront villas in Uluwatu! Sounds good, right? So many amazing options!
The price per night for these stunning villas goes from US$200 to US$1600. I am sure you will fall in love with one of these; let's dive into the villas!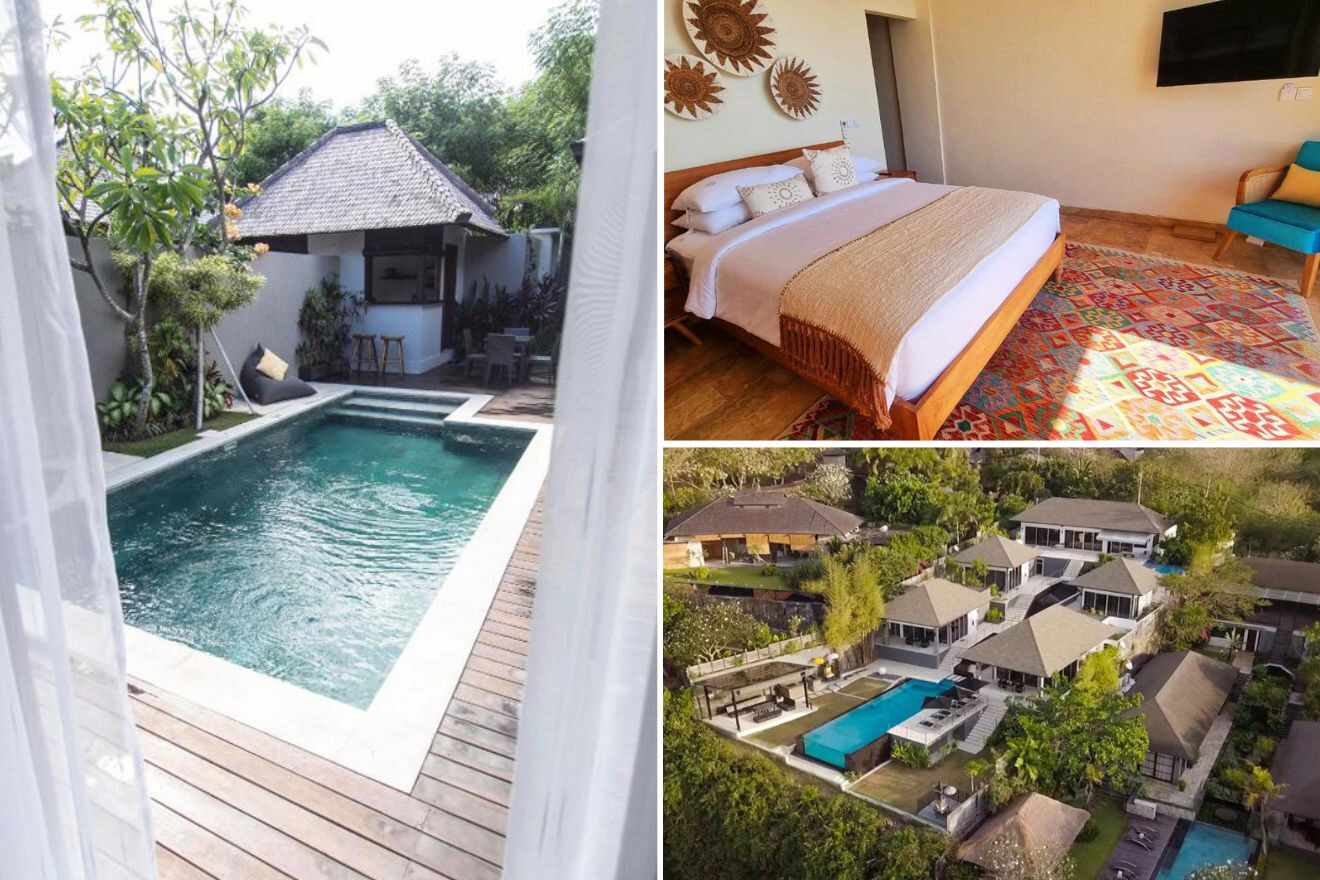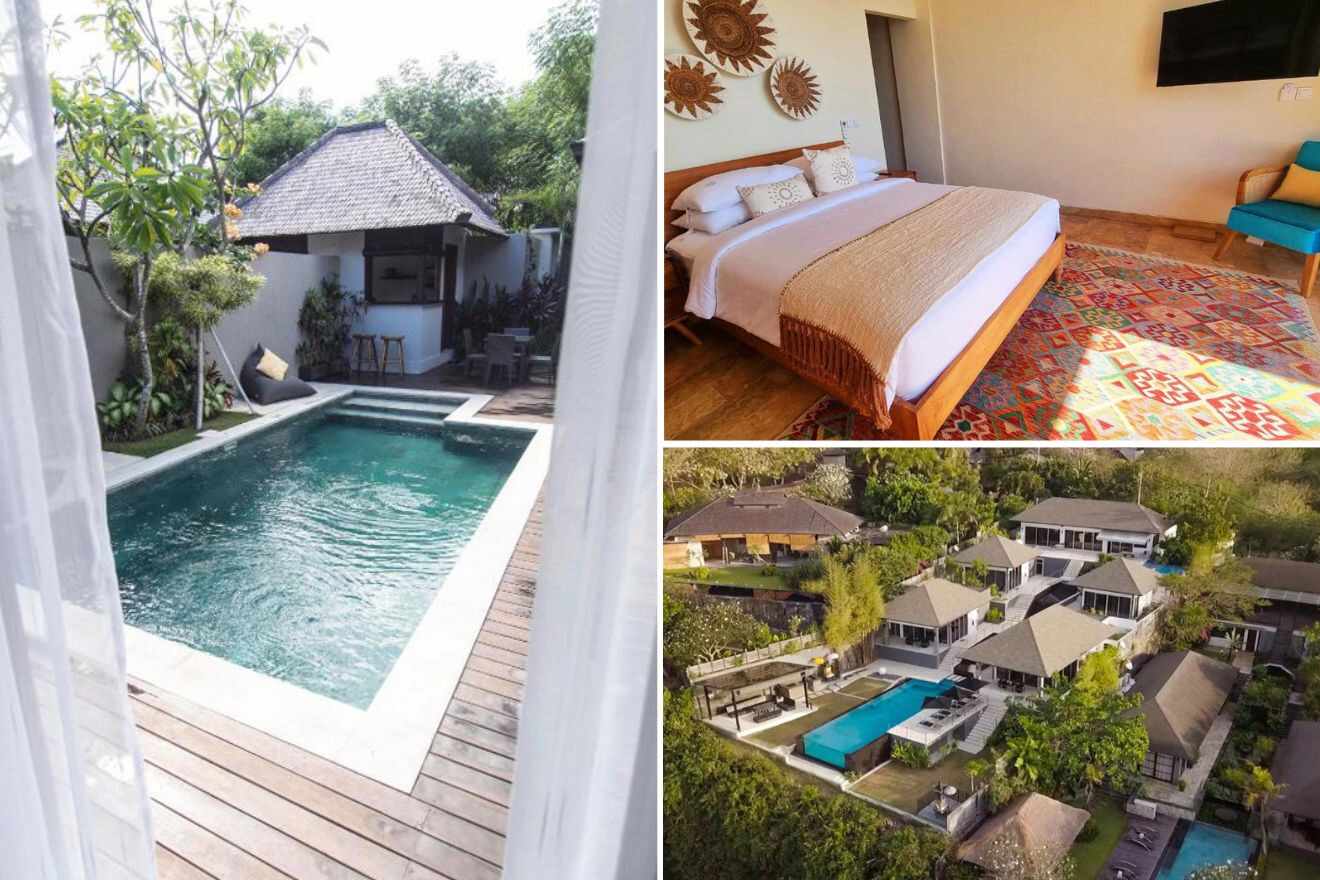 1. Suluban Cliff Bali Villa
Located on Uluwatu's majestic cliffs, it's like living in a dreamy movie scene! With perfect views of the deep blue ocean and with private access to Suluban Beach, it's a paradise for adventure seekers. The villas feature their own infinity pools, delightful stylish decor, and outdoor terraces that make it the perfect place to relax, have a meal and a drink, and take in the beauty of the place.
2. Uluwatu Sunset Hills
This little piece of paradise will take your breath away; located on top of a hill, stunning sunsets and beautiful views of the ocean are guaranteed! All the villas have private infinity pools, private kitchens, and lovely terraces to relax and admire life. Take advantage of the amazing beachfront location and sunbathe on the beach, swim in the ocean, or go surfing!
3. Bingin Castaways
With Cemongkak Beach just steps away from the property, this accommodation is perfect for those looking to spend fun times playing beach volleyball at the beach, enjoying the Indian Ocean's world-class waves, and relaxing at the cozy villas that come with all the amenities you need to disconnect from everyday life, a lovely private pool, and a soaking tub for bubble baths!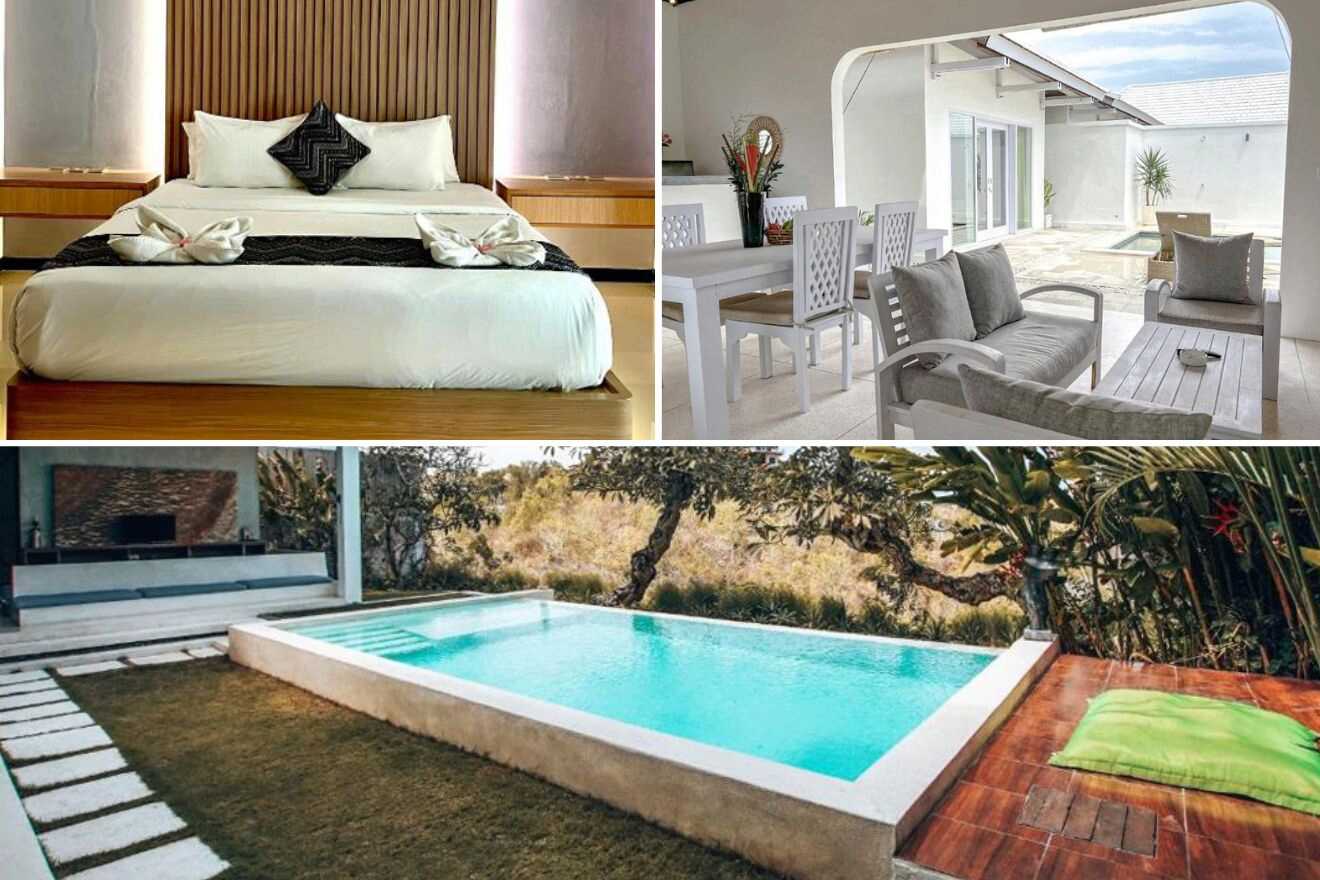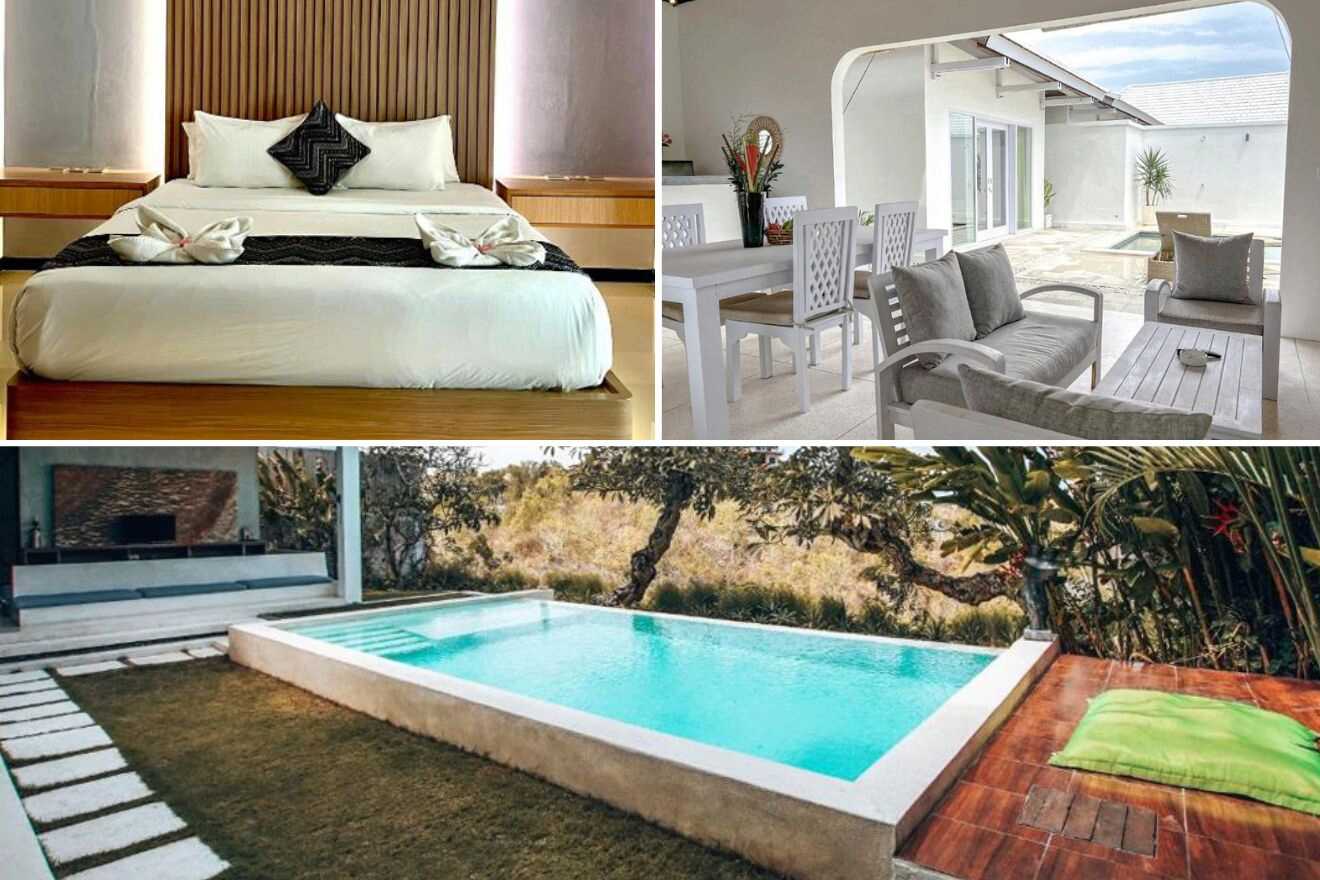 4. Villa Shanti Bingin
Feel at home in any of these private villas; everything looks so fresh and pure; it is the perfect setting to let go of all your worries and surrender to relaxation! How dreamy! The villas have a very convenient covered terrace area with a fridge so you can enjoy your breakfast while you enjoy the views of your private pool. The biggest villa can host up to 6 guests!
5. Nazeki Villa
Wow! I love how modern and stylish these villas look! The perfect mix between luxurious and artsy crafty elements! With Melasti Beach being the closest beach to the property (less than a mile, 1 km away), this accommodation is perfect for all of those who would like to explore the surroundings and enjoy all the commodities of a private villa with a private pool!
6. Daniswara Villa
Whether you are looking for a romantic getaway or a family vacation, this property has a villa for you; they offer 2 villas, one for 2 guests and the other one for 8 guests. The big villa has a private pool, and the 2-person villas have a shared pool. This property offers breakfast to its guests and spa treatments.
FAQs about Hotels in Uluwatu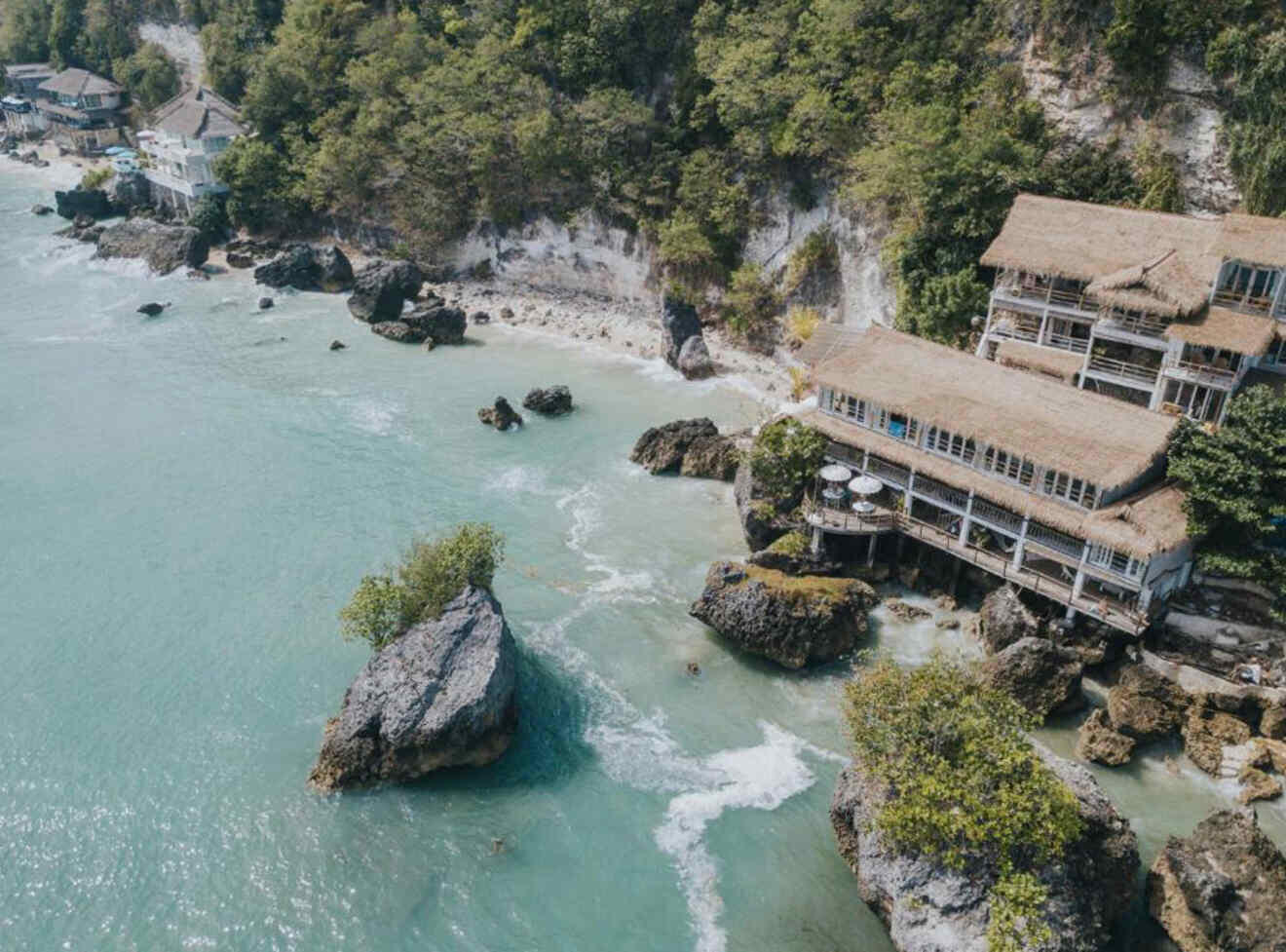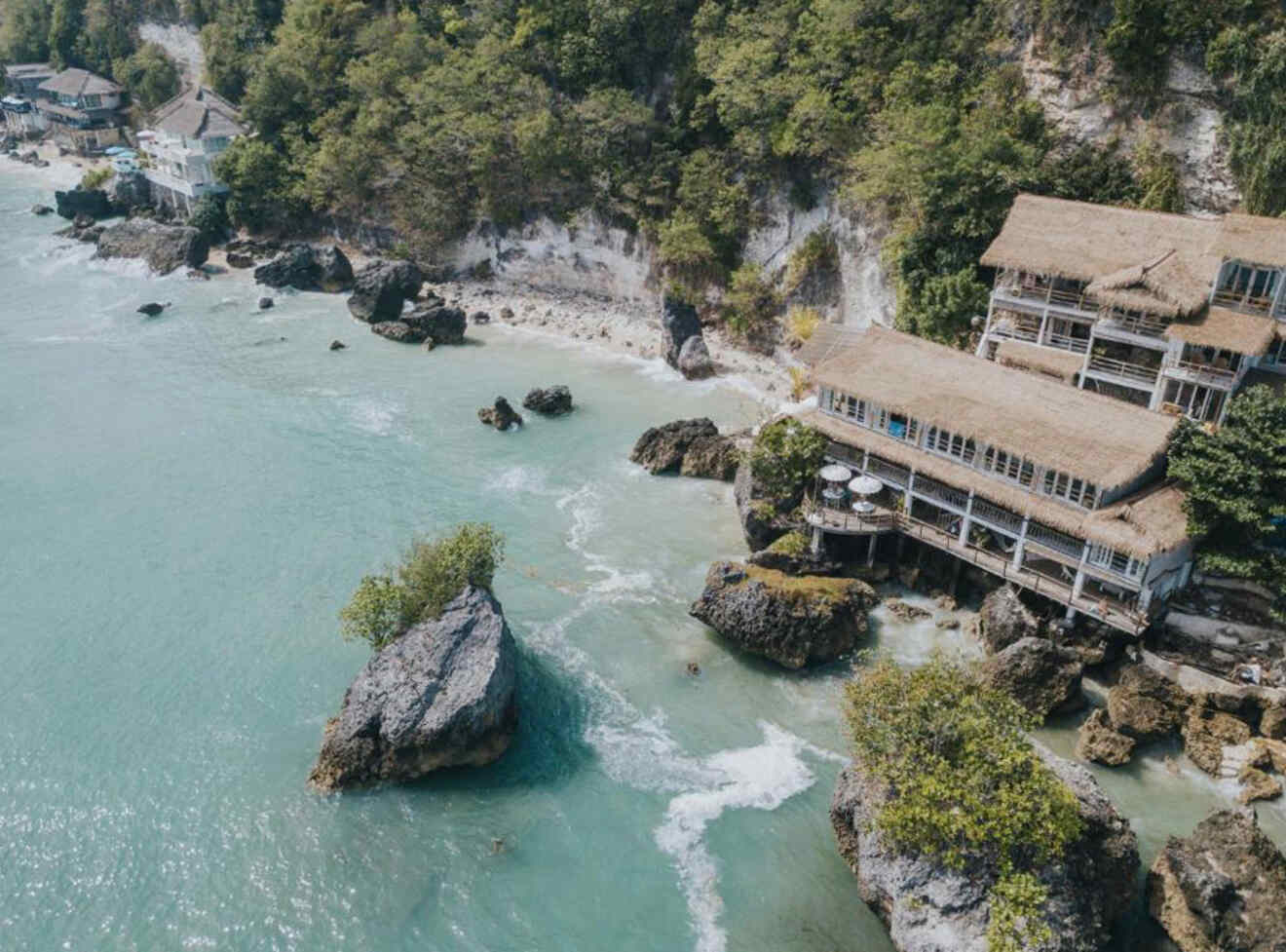 Conclusion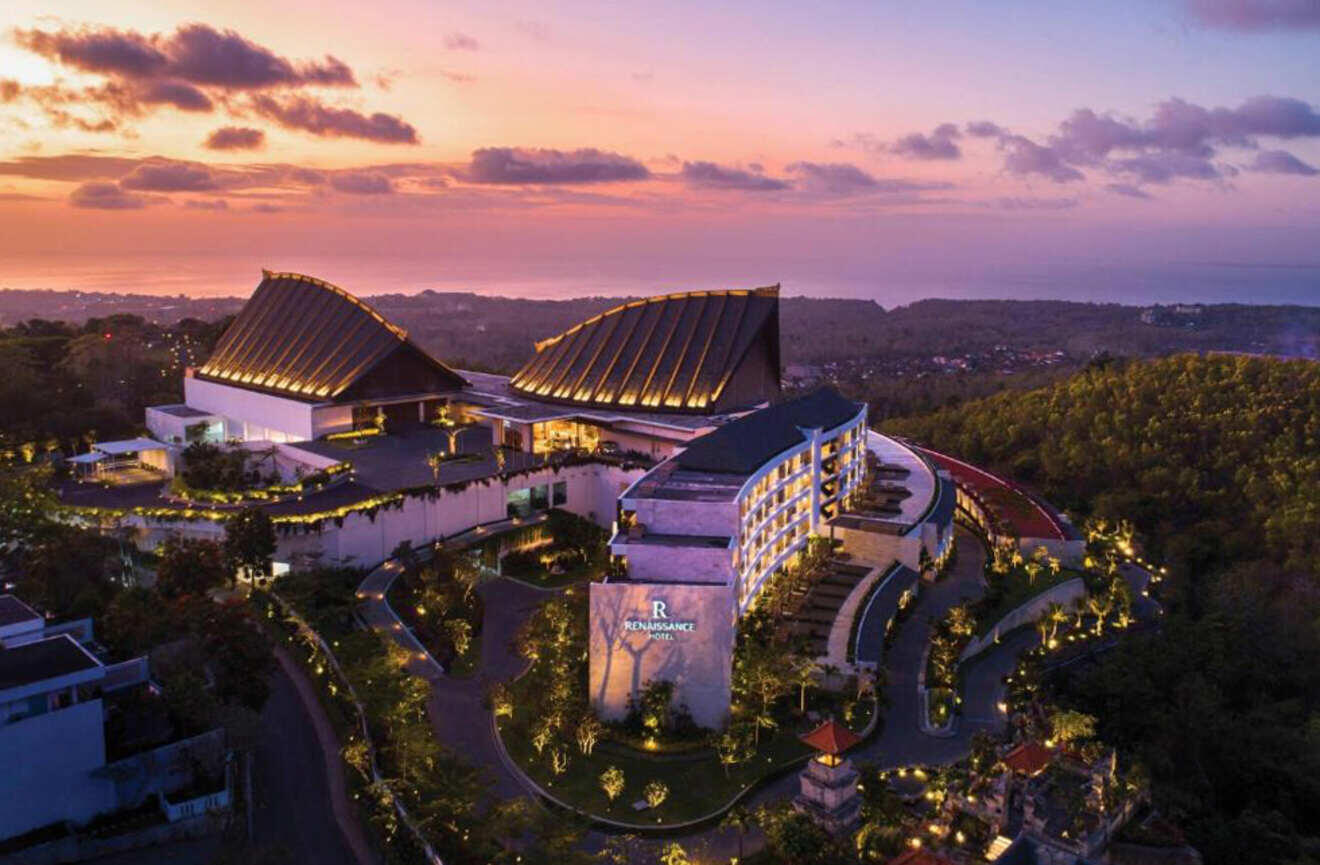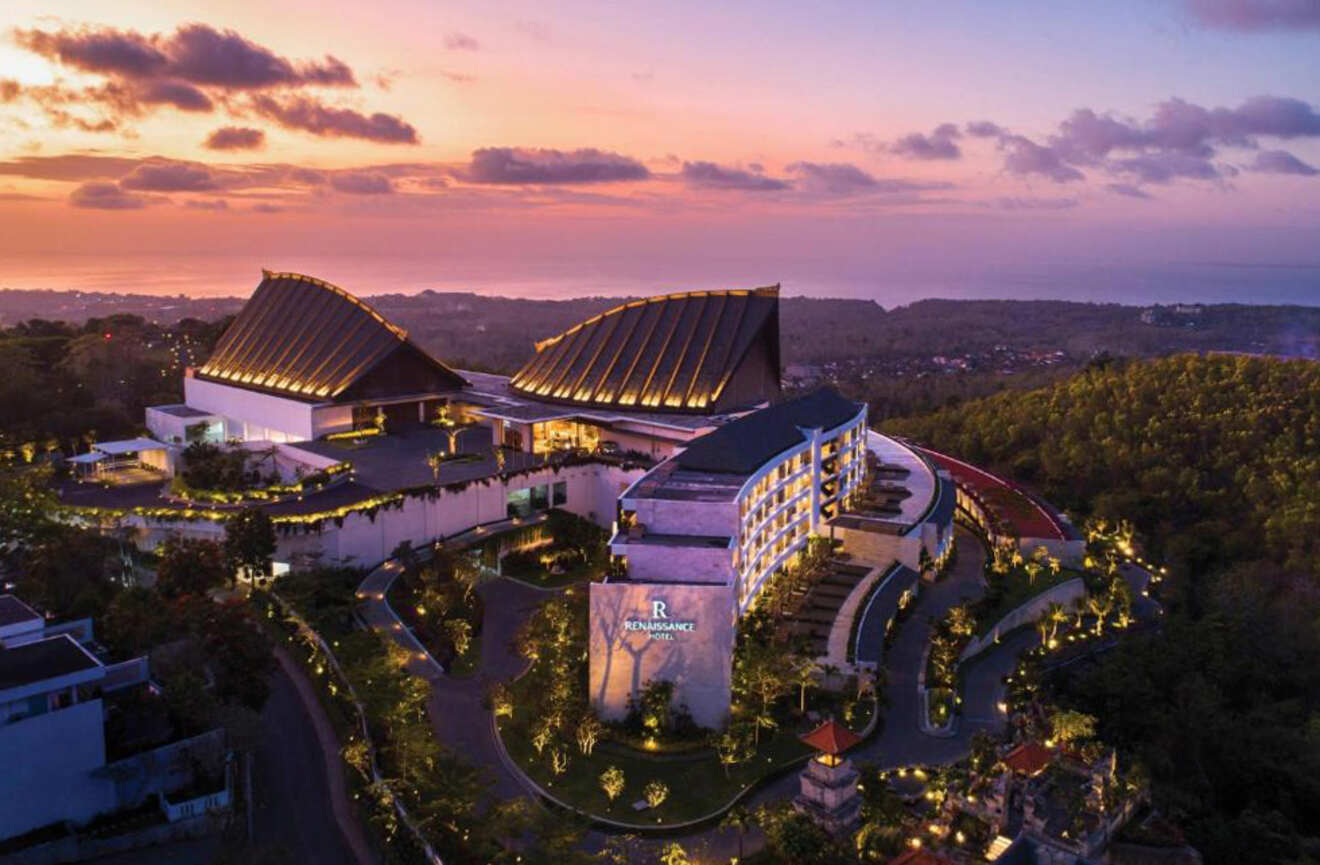 That's a wrap for today, my sweet angels! You have a very wide range of options for all budgets and for all tastes, plus 2 bonuses of the best Uluwatu hotels with private beaches and the best beachfront villas in Uluwatu. So, I am very sure you will leave this article with a successful booking 😎
Honestly, staying at any of these amazing properties would be such a dream, but if I had to choose my top 2 favorites, I would go with:
Which one of these hotels, Uluwatu, is your favorite? Let me know in the comments, and if you have any questions, I am here to answer them! Book your hotel room ASAP, this destination is super popular, and rooms book quickly, so you don't want to miss out on your favorite hotel!
Until the next amazing vacation,
Daniela
---
Pin it for later!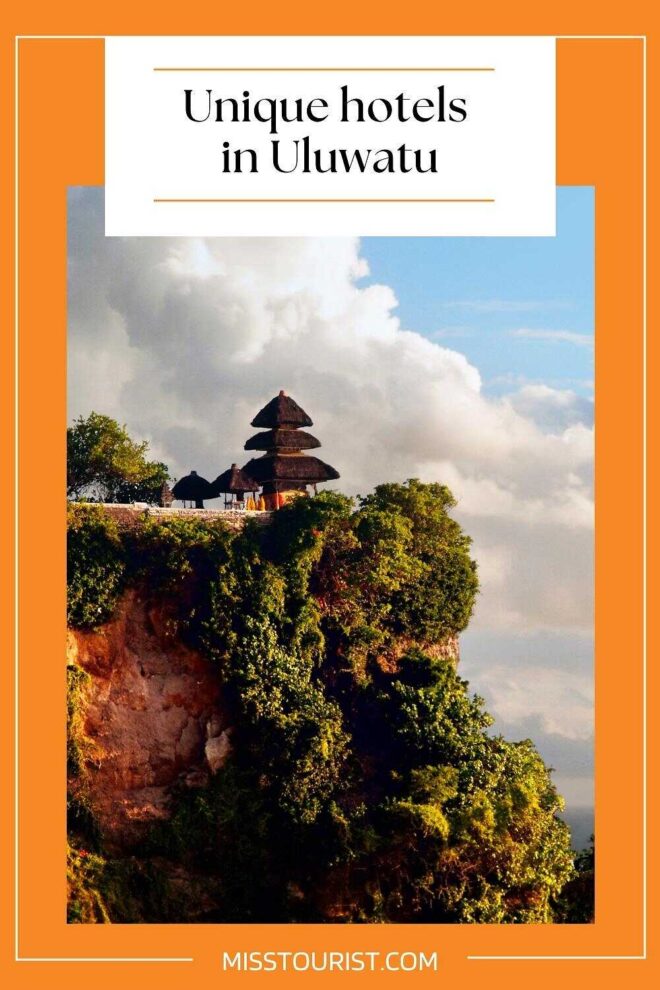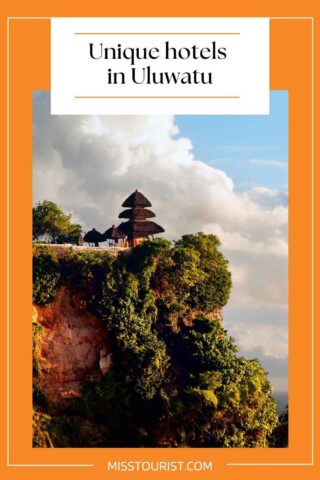 Pin it for later!