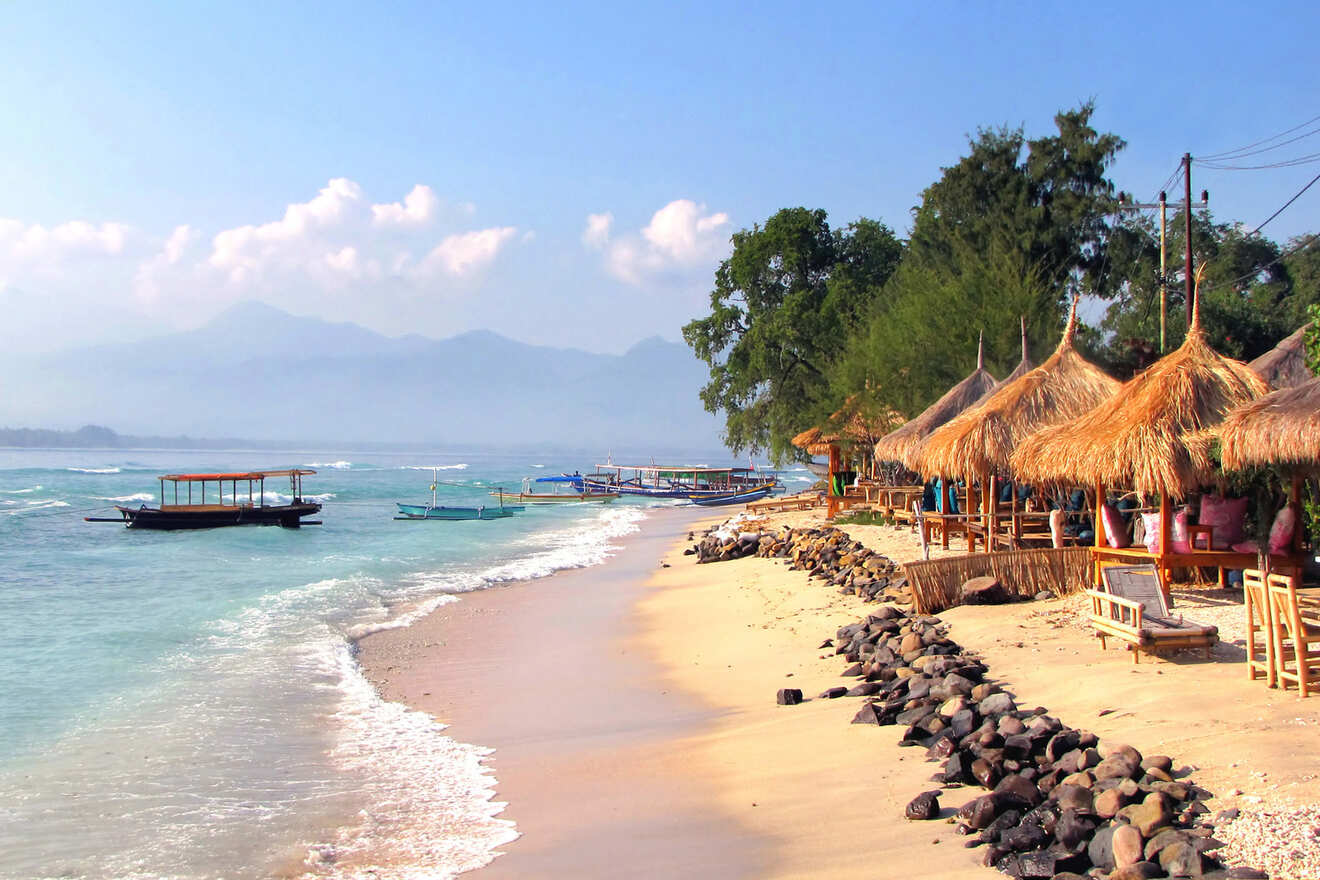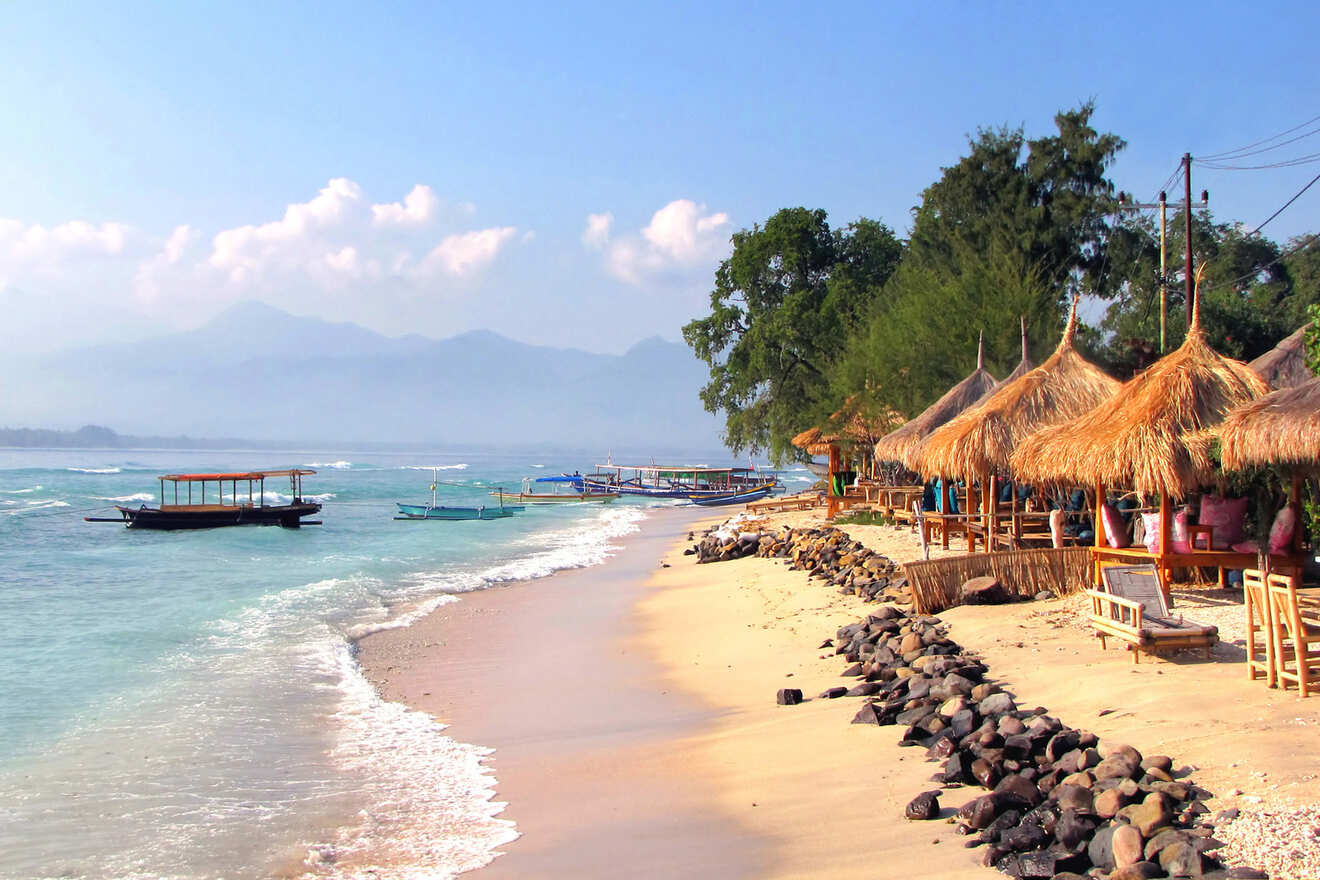 The paradisiac island of Lombok, located next to Bali, is a more tranquil alternative than its neighborhood, giving you access to great waves, stunning nature, and the trio of the Gili Islands (including Gili Meno, Gili Air, and Gili Trawangan).
The island is quite big, and each part of it has something different to offer, so deciding where to stay in Lombok can really make a difference on your vacation! That's why I decided to write this guide with the top areas in Lombok. I also included 2 of the nearby Gili Islands, located a very short boat ride from Lombok in case you're looking for something a little different.
Here you will find something for literally any kind of traveler: Kuta Lombok Beach is the best place where to stay in Lombok for first-timers, alternatively, Sengiggi is great for nightlife, Tanjung for luxury, Gili Air for families, or Gili Trawangan is the coolest island in the area!
For each one, I also included hotels for any budget, so once you decide which is best for you, make sure you book your accommodation there immediately to secure yourself a spot… This is one of the most loved islands in Indonesia and places sell out fast!
Now, let's jump right in!
If you are in a hurry
If you just want to quickly book your accommodation, check out the best hotels where to stay in Lombok, divided by budget:
Here's a map so you can have a visual representation of where the best areas & islands to stay in and around Lombok are located: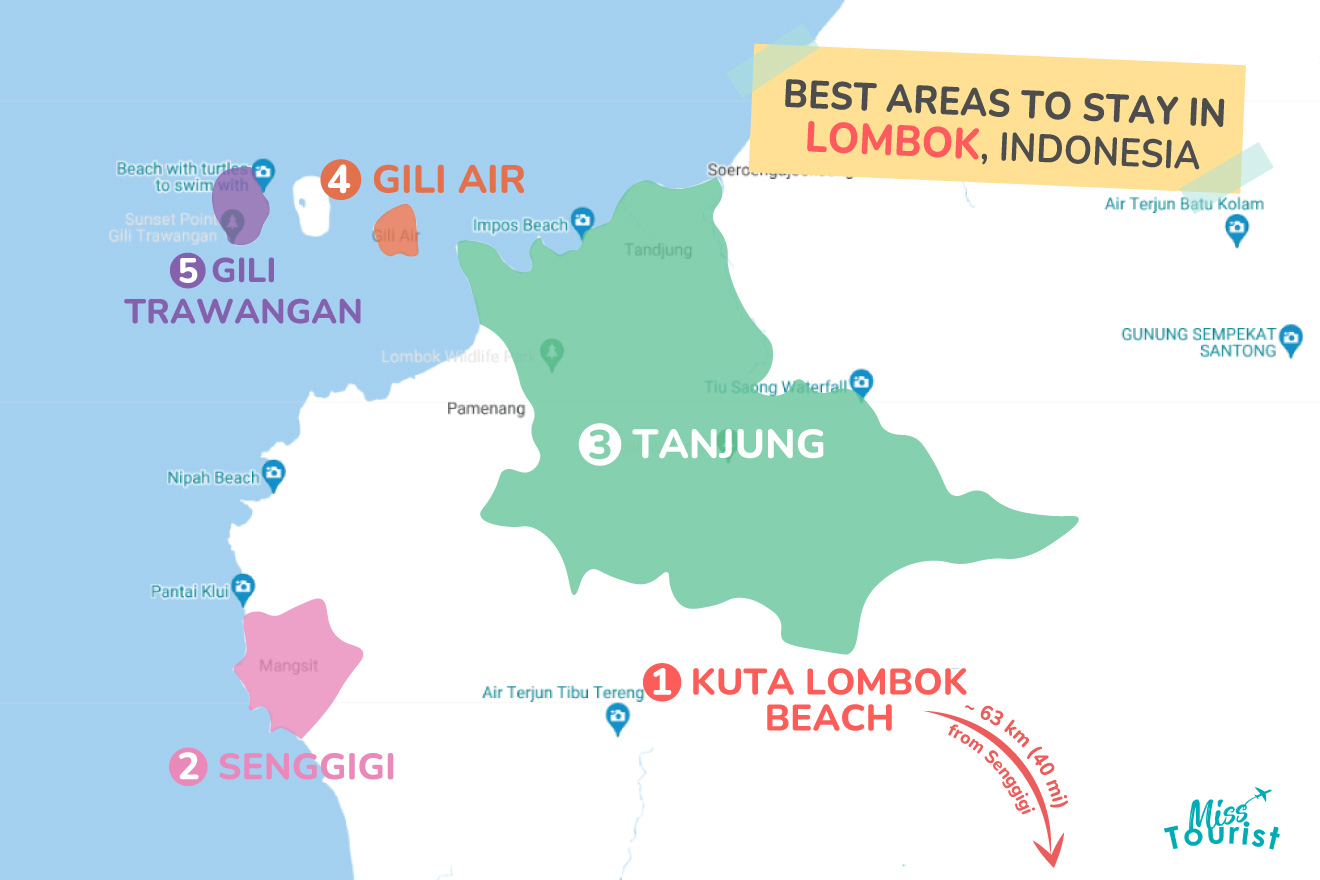 1. Kuta Lombok Beach – where to stay for the first time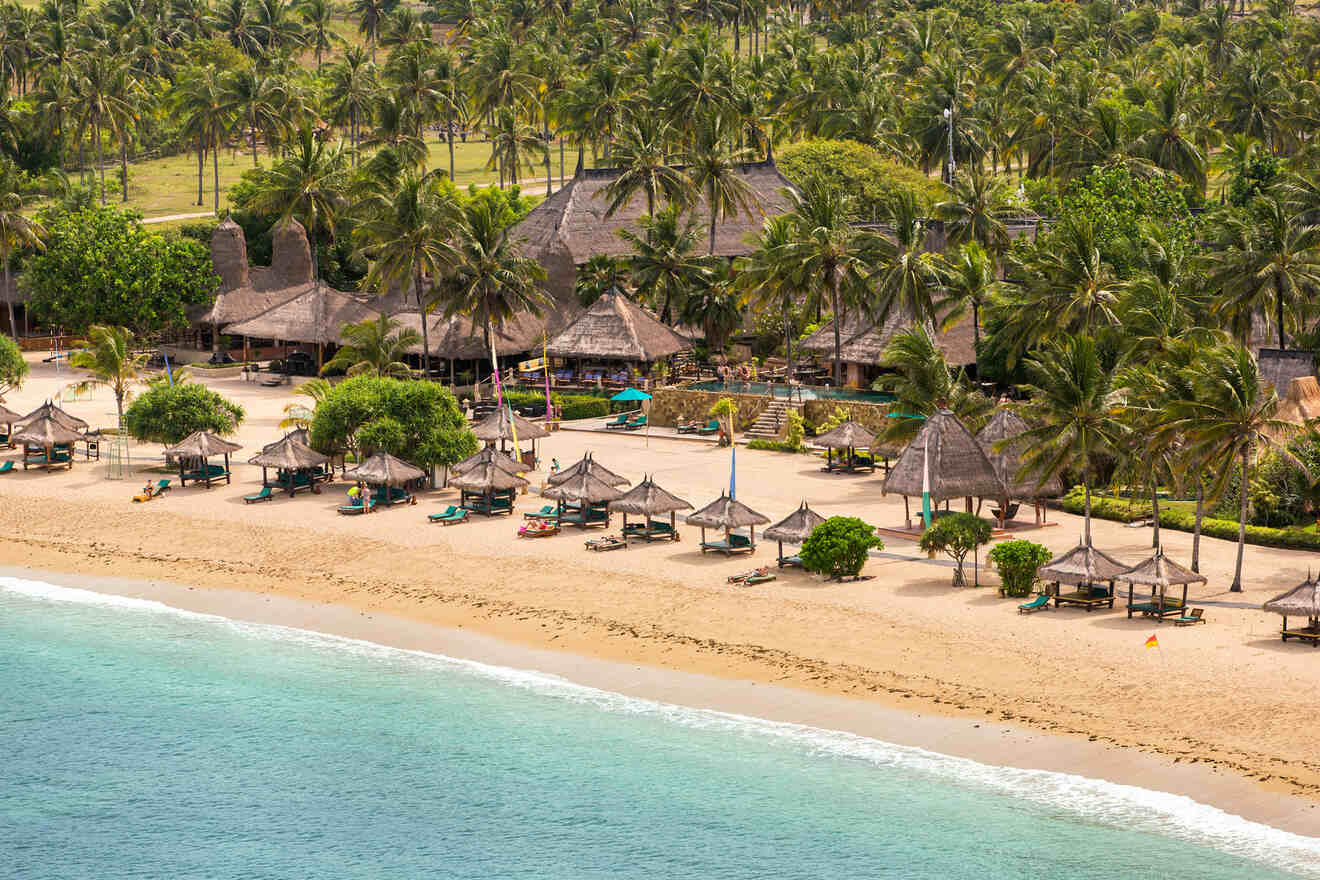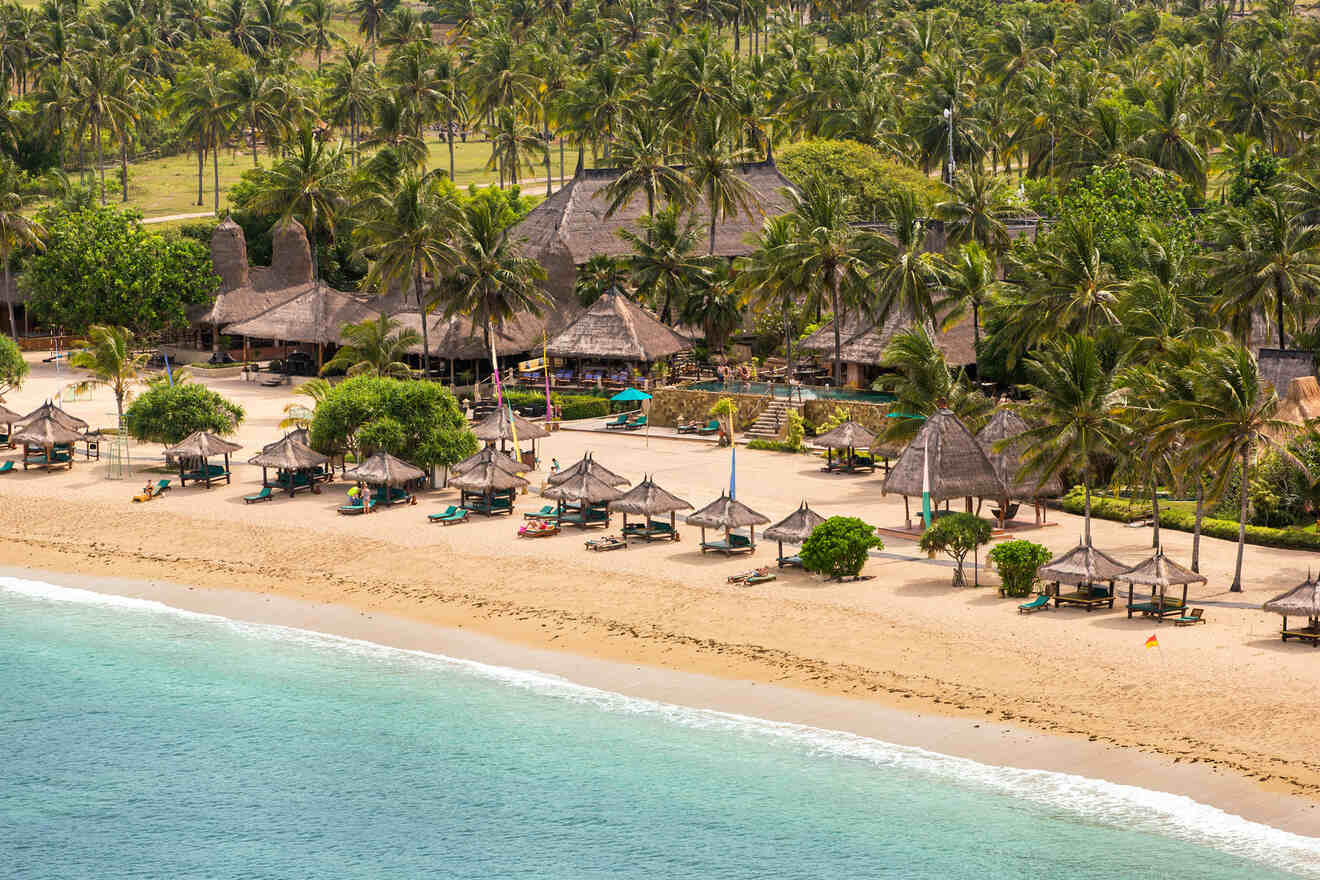 Located in the south of Lombok, the stunning Kuta beach is a long stretch of white sand and crystal clear waters, surrounded by lush landscapes, green hills, and dramatic cliffs, the perfect place for first timers who want to experience the magic feel of the island!
Kuta beach is also the perfect place for a surf addict like me, offering several surfing spots with some of the best waves in Indonesia and many surf schools surrounding the main village if you want to learn this incredible sport or improve your skills.
NOTE: Some surf breaks are quite far from the beach, so to reach them, you'll just need to catch a short boat ride, but it will definitely be worth it!
But if surfing is not for you, here, you can also go exploring the other beautiful beaches on the south of Lombok and try delicious local food in the many cafes and restaurants while you gaze at breathtaking sea views.
Another plus of the area is that you'll have easy access to the international airport, located within a 30-minute drive, and to public transport connections to the nearby towns, so you really have everything you need here!
If you agree with me, check out the following hotel options in Kuta Beach (since it is one of the most popular areas on the island, prices might be a little higher than average).
Luxury hotel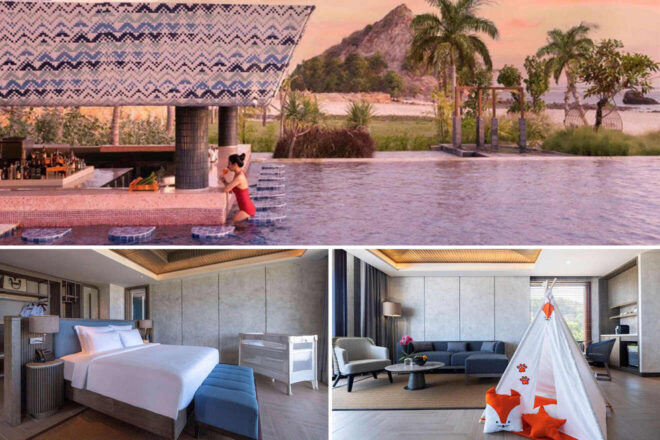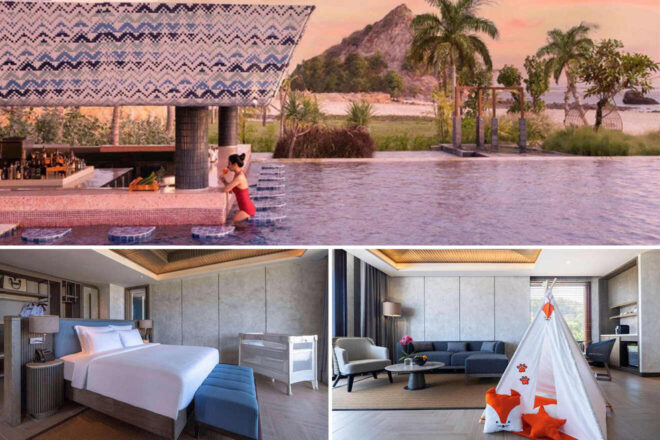 This luxury beach resort offers all the comfort you need for an exclusive vacation: an on-site restaurant where to have delicious dinners, an outdoor swimming pool where you can relax and a fitness center to keep yourself in shape. And wait until you see the elegant rooms, all coming with air conditioning, a seating area, a flat-screen TV, and a private bathroom with a shower. Some of them even boast a balcony with garden views, check out the pictures!
Other accommodation options in Kuta Lombok Beach
Mid-Range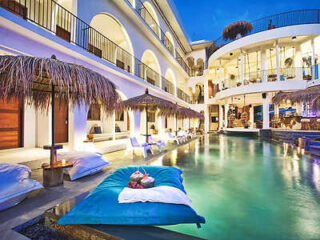 This 4-star boutique hotel is just stunning, offering an on-site restaurant, free private parking, an outdoor swimming pool, and a bar.
Budget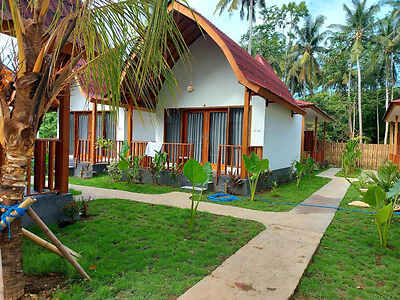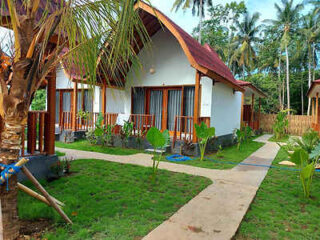 If you want to save some money during your holiday in Lombok, check out this cheap hotel with air-conditioned rooms with private bathrooms
Airbnb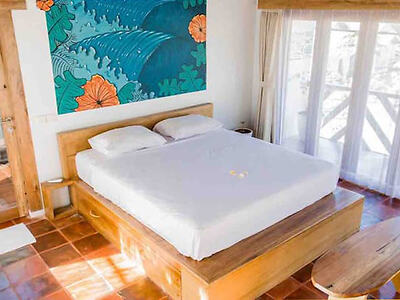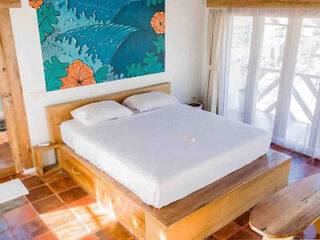 Check out this traditional (and beautiful) style grass-roof house with two private bedrooms, a private terrace, and an open-air bath-tub!
Things to do in Kuta Lombok Beach
2. Senggigi – the best area in Lombok for nightlife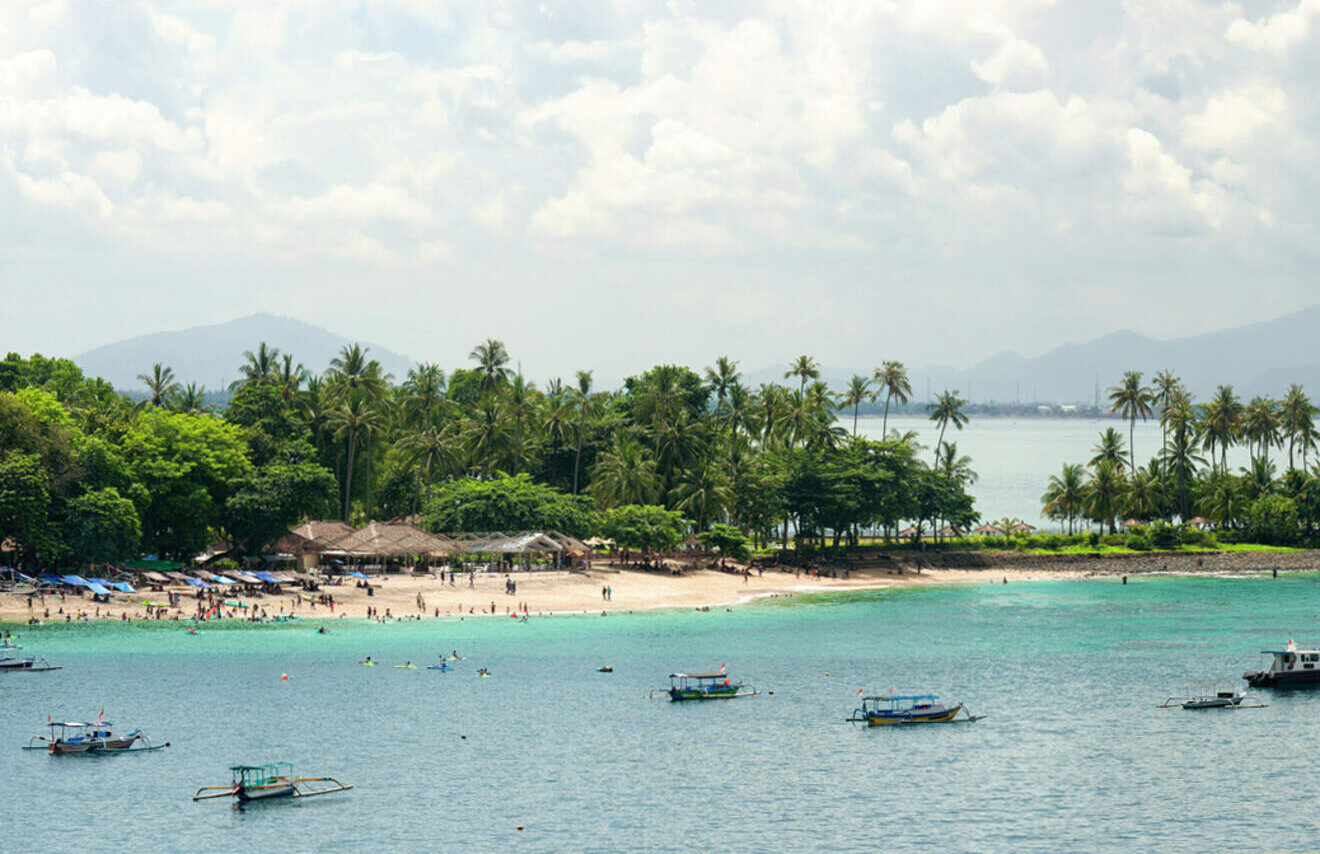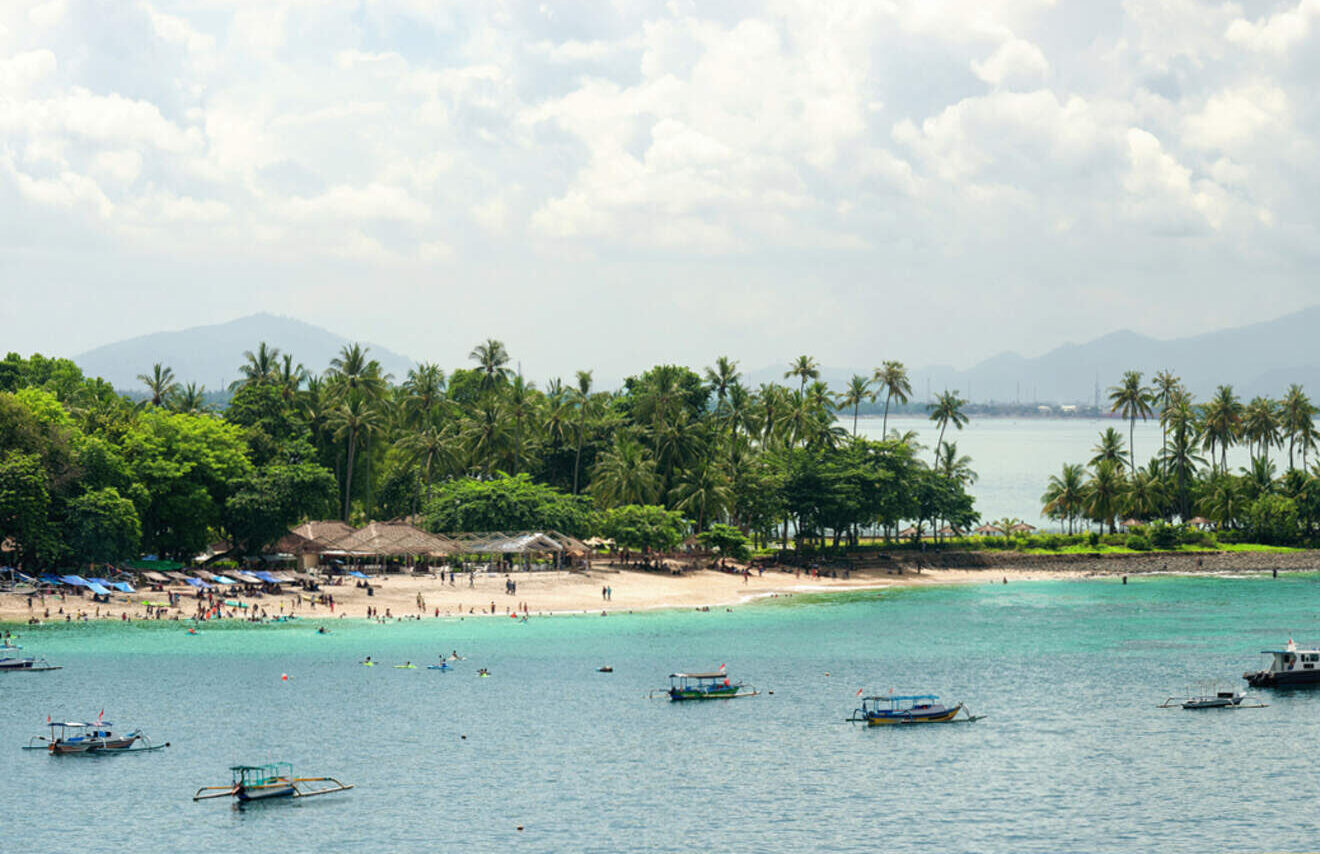 If during your holiday you just want to chill during the day and party at night, Senggigi is the place for you, one of the most popular areas in Lombok, located in the northwest of the island.
Here you can spend your day soaking up some sun on the volcanic beach, gaze at the most stunning sunsets in the evenings from one of the many beachside bars, and finish your lazy day with a delicious dinner.
And when the sun goes down, get ready to dance the night away and have some crazy fun in the many bars and clubs of the area!
As I said, Senggigi is one of the main tourist places in Lombok, so here you'll also find many tour sellers, travel agents, and fast boat connections to Bali and the Gili islands.
If you are already seeing yourself there, you'll be happy to know that here you'll find many hotels and guesthouses at very affordable prices. Check out the best ones here below!
Luxury hotel
Puri Mas Boutique Resort & Spa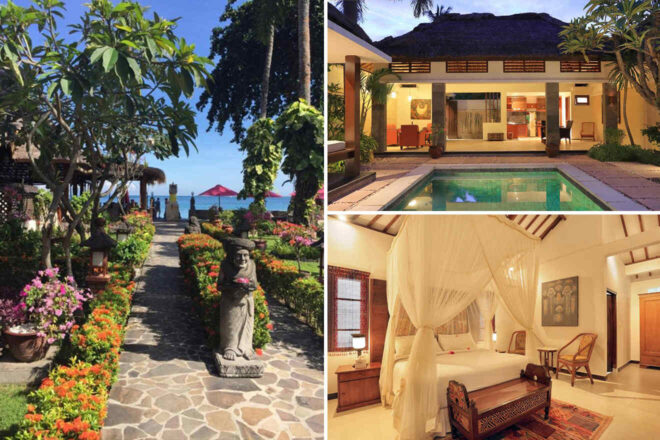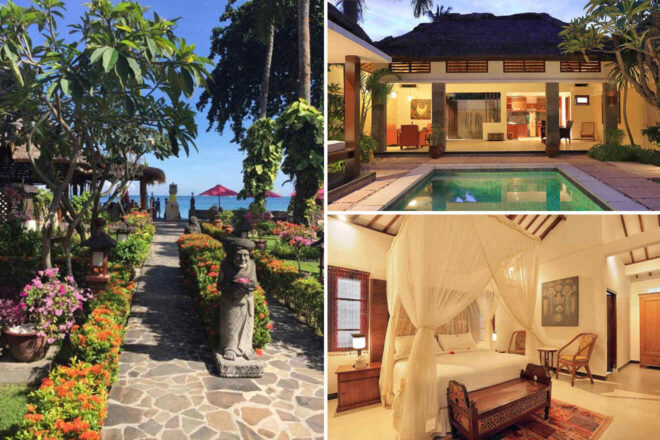 If you want to have a luxury getaway in Senggigi, this exclusive resort is for you, located just a few steps from the sandy beach! The property is surrounded by charming tropical gardens and  offers everything you need to enjoy full relaxation including a spa, a beautiful infinity pool and a yoga garden. But here you can also enjoy many activities: take diving lessons in the pool with certified instructors, have a private dance lesson, or join the many tours offered by the on-site tour desk.
Other accommodation options in Senggigi
Mid-Range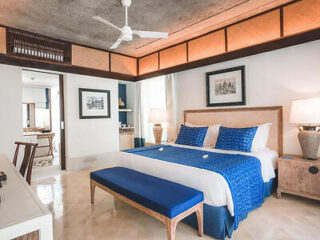 This beachfront resort in Senggigi offers stunning suites and villas overlooking the ocean or the lush green courtyard
Budget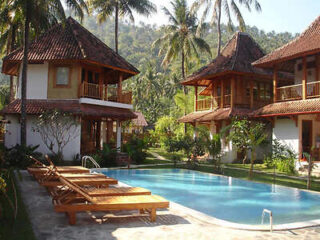 This affordable hotel is located at only a 5-minute drive from Senggigi Beach and offers a swimming pool, free parking, and free wi-fi
Airbnb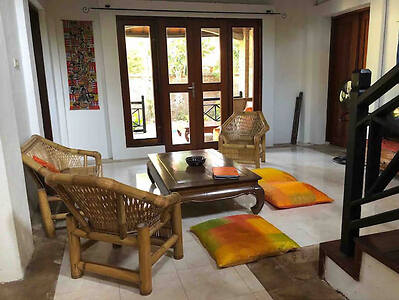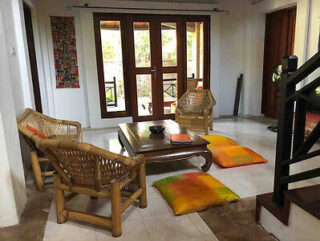 Enjoy all the comforts of a home in this relaxing, beautiful, villa with a private garden. The property is huge, hosting up to 10 people!
Things to do in Senggigi
3. Tanjung – where to stay in Lombok for luxury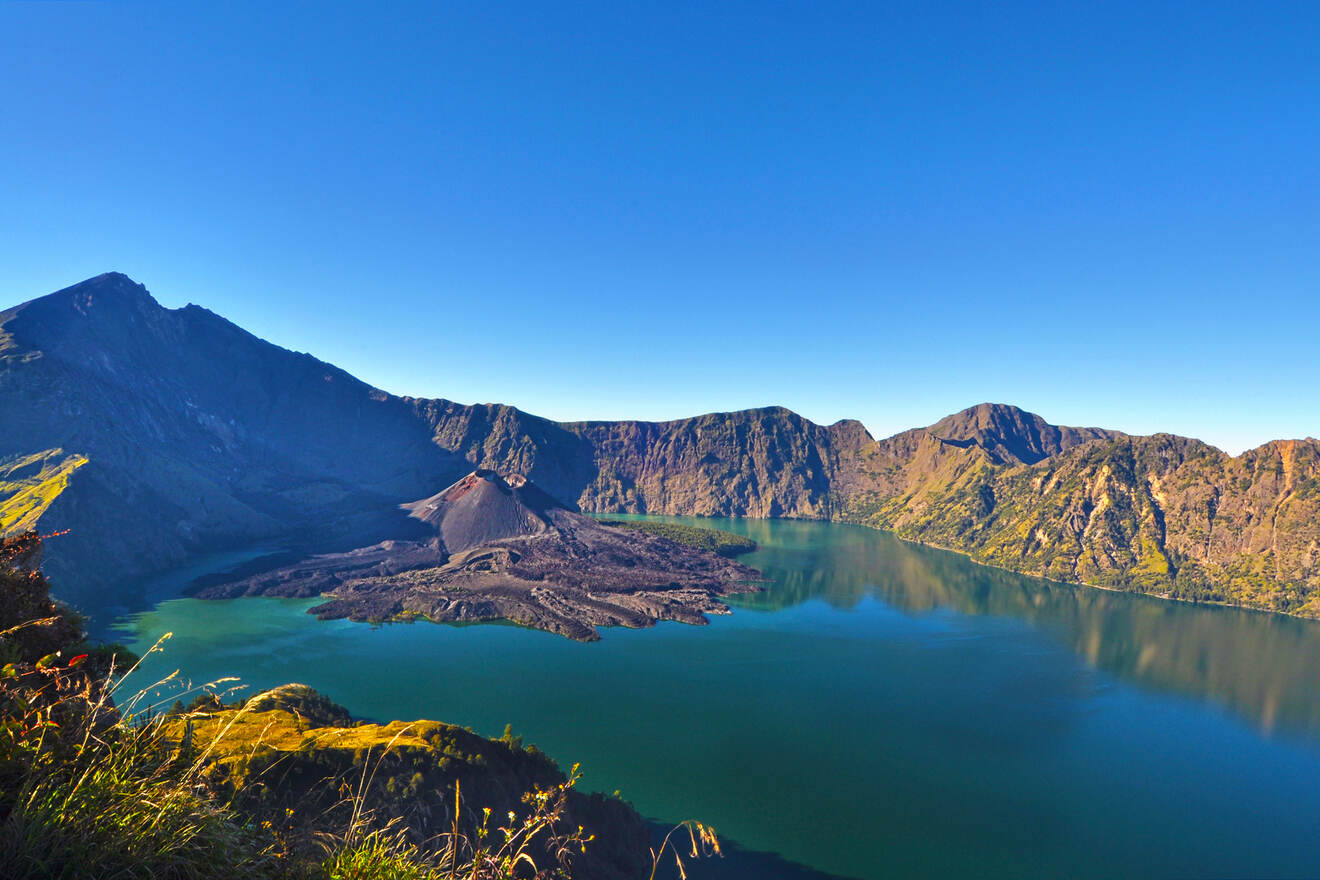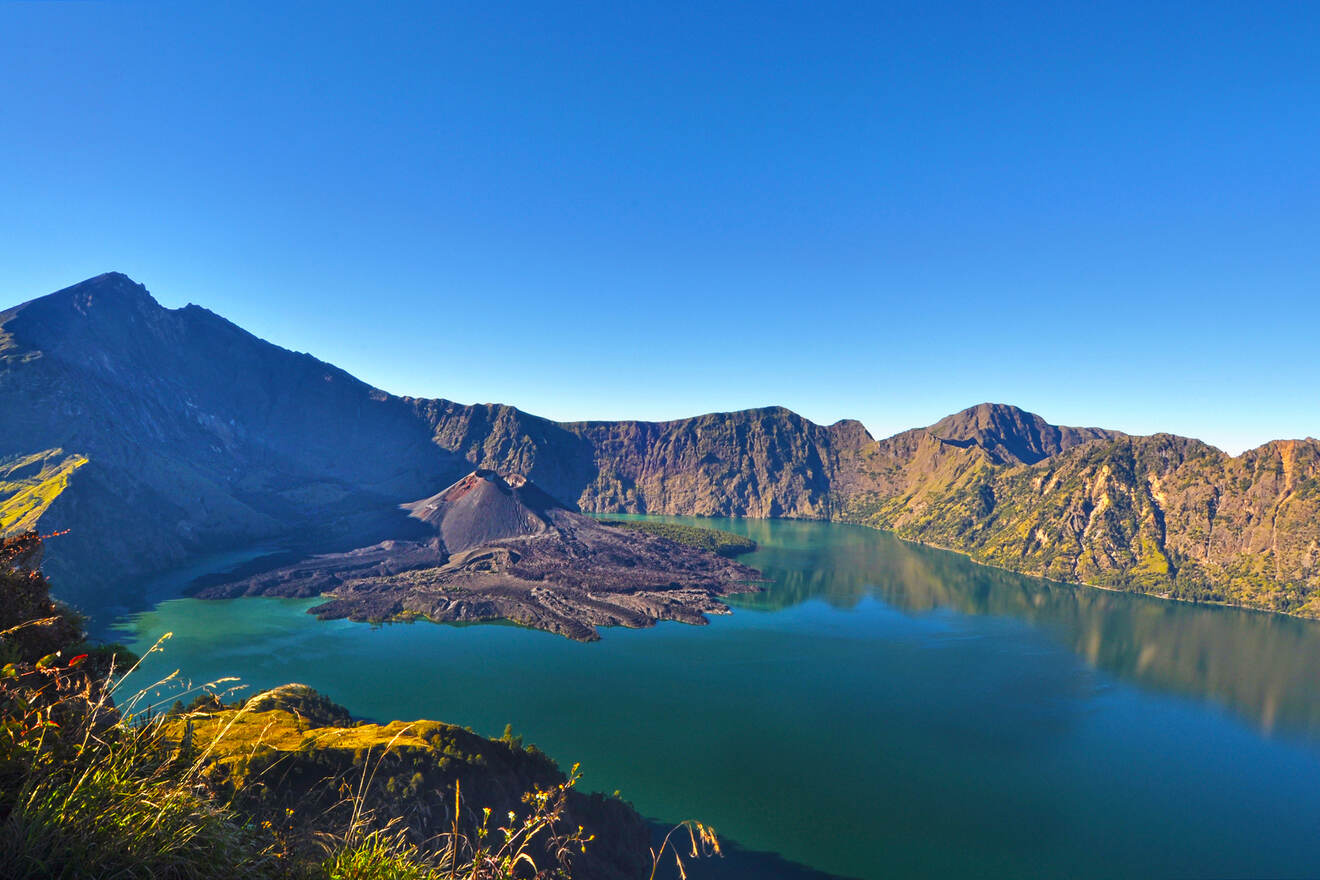 If you want to splurge a little during your holiday, or to have an exclusive getaway with your special one, you will love the resort village of Tanjung, located in the north of Lombok, facing the Gili Islands.
This upscale area hosts a few luxury resorts but still preserves the natural landscapes untouched, which makes it a very special place on the island!
Here you can just enjoy some well deserved relaxation on the beautiful beach, play golf on the many courses of the area (some resorts even have their own!) or join a tour to explore the Mount Rinjani volcano, located just nearby: an experience you cannot miss in Lombok!
But that's not all, Tanjung town hosts a traditional market which is the perfect place to experience the local culture, try some new fruit and buy super fresh fish, or stroll along its charming marina… In other words, you'll never get bored here!
And if one day you want to explore the other Lombok towns, from here you can take public transport to most of the parts of the island. What else could you ask for?
Luxury hotel
The Oberoi Beach Resort, Lombok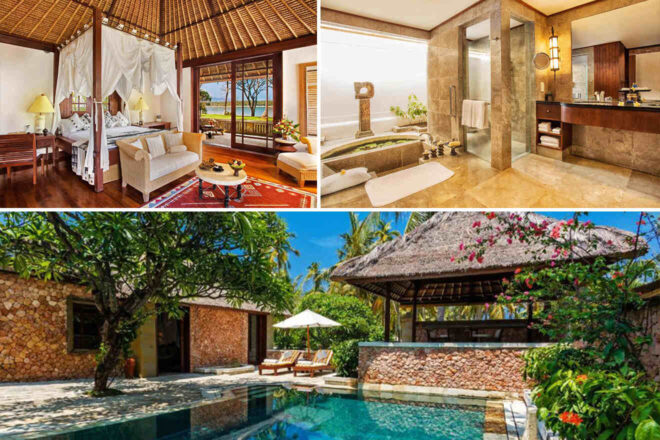 Get ready to fall in love with this amazing beach resort, offering some of the best ocean views on the island! Here you can relax in the outdoor infinity pool overlooking the sea, get a massage at the spa, keep yourself in shape at the fitness center, or work out with a game of tennis at the on-site course. You can even rent mountain bikes at the property and explore Lombok, or go scuba diving and windsurfing at Oberoi's Beach Club. One thing is for sure, you won't get bored here!
Other accommodation options in Tanjung
Mid-Range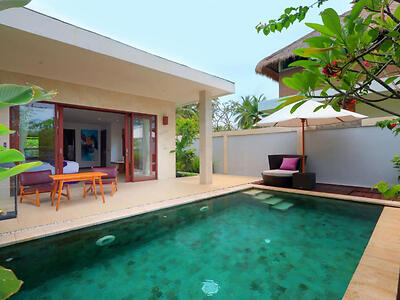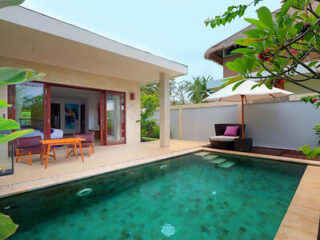 This resort is the perfect place for a tranquil beachfront getaway, offering a big pool with lovely views of the bay
Budget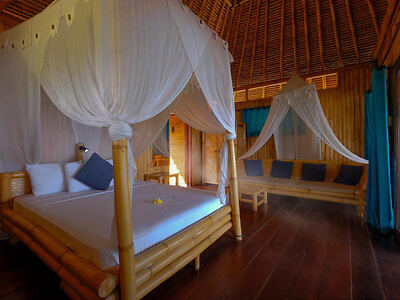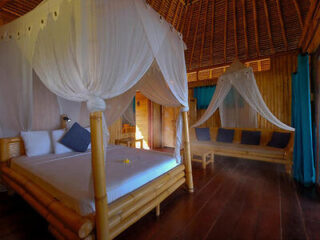 Are you on a budget? Then check out this affordable resort located just steps away from the beach!
Airbnb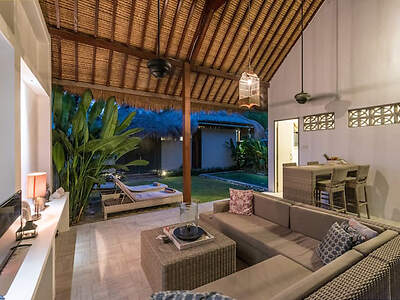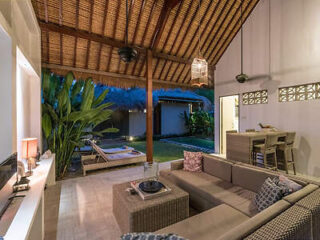 This cozy and intimate villa is perfect for a romantic getaway, offering plenty of privacy in a quiet setting
Things to do in Tanjung
4. Gili Air – where to stay in Lombok with family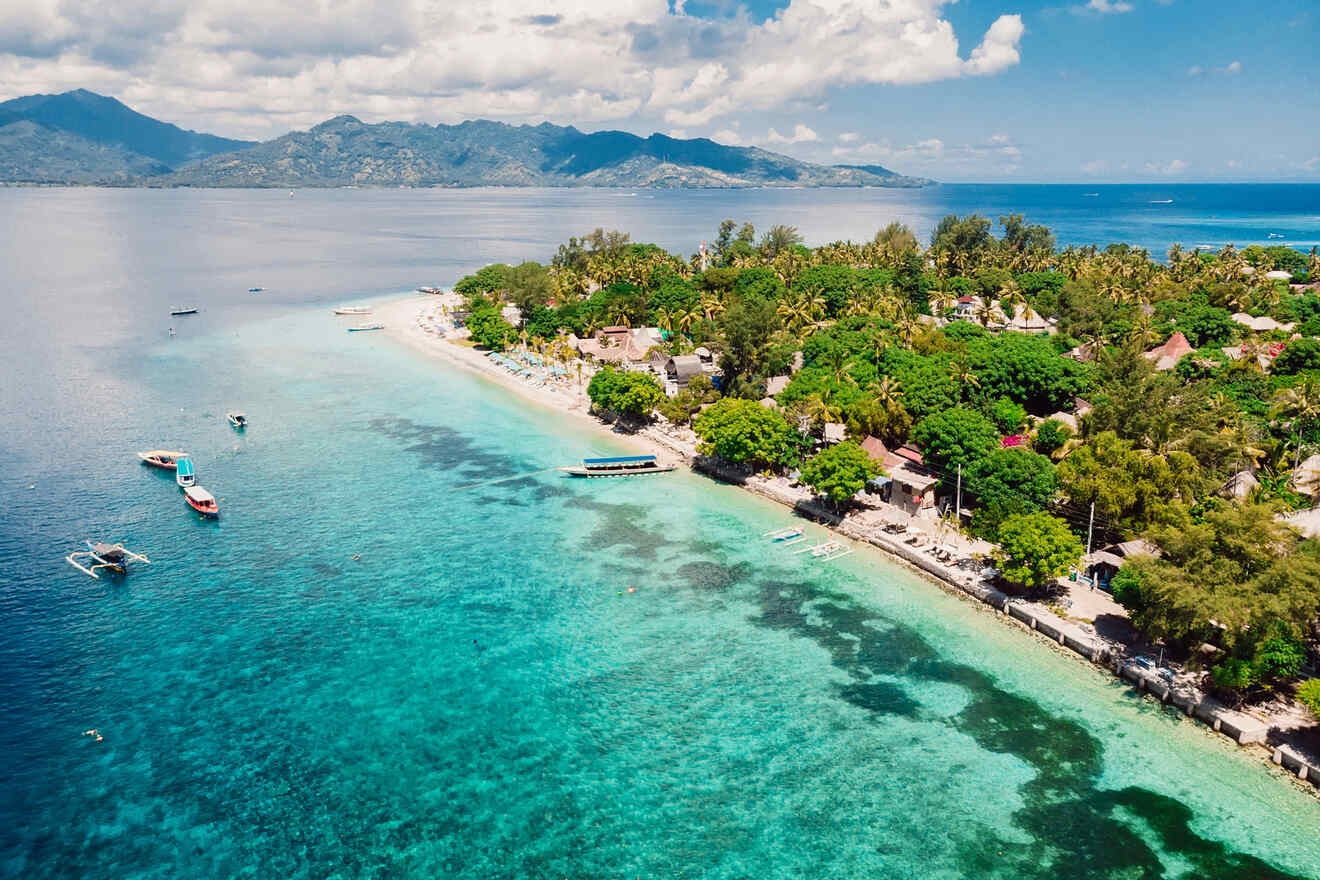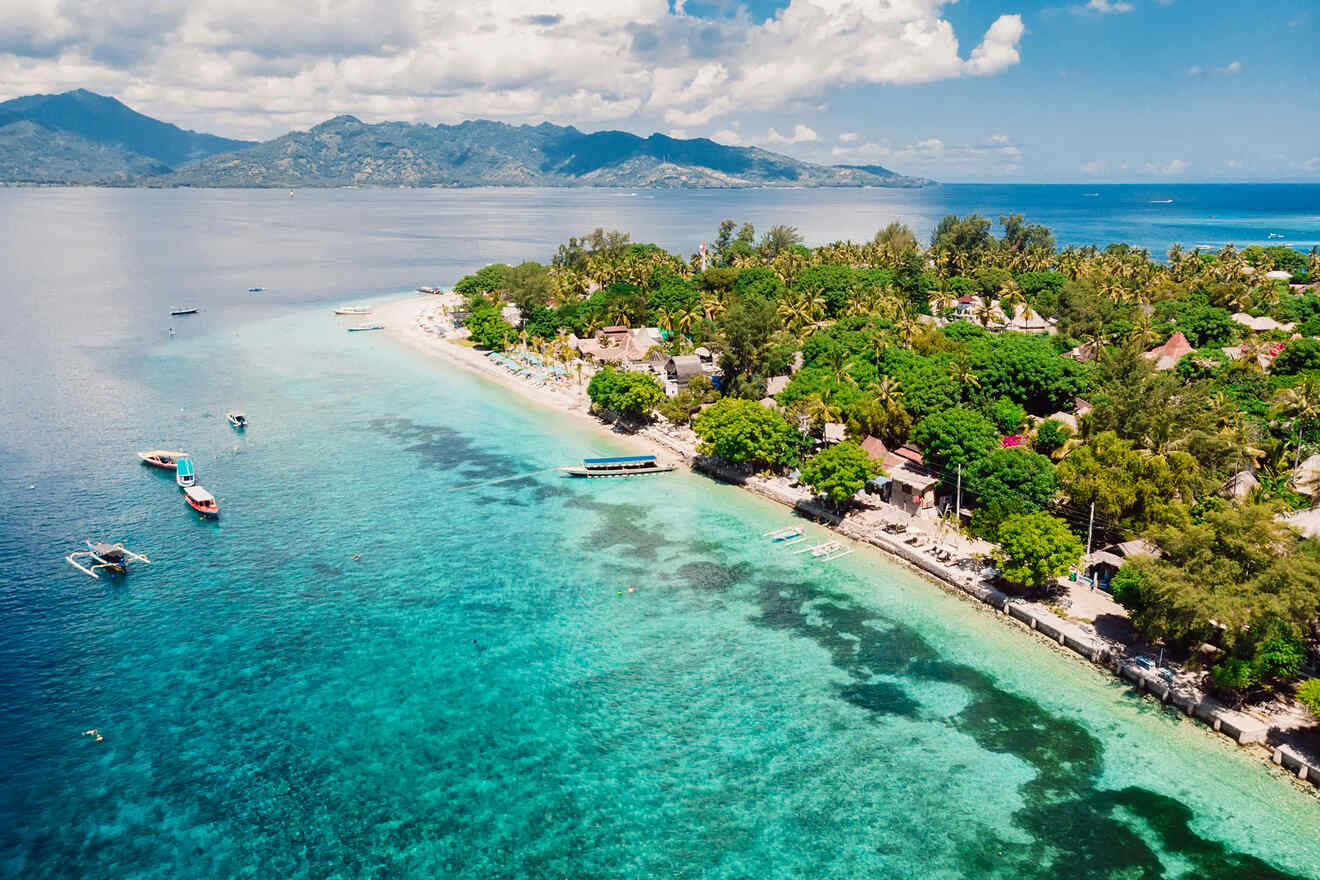 Gili Air is a small green island about 15 minutes away by boat from the coast of Lombok, offering stunning beaches and a very laid-back atmosphere… the perfect place for a tranquil holiday with the family!
There are cool activities for people of any age, you can hike all around the island (while gazing at wonderful panoramic views), go diving in the crystal clear waters, or snorkel to explore its coral reefs and rich marine life, from turtles to colorful exotic fish!
PRO TIP: The best time of the day to spot turtles is at high tide, when the waters get full of these magical animals, so check this website to know exactly when it is the day you are there!
And after a day enjoying all the outdoor (or underwater) activities, you can end your day eating delicious, fresh barbecued fish in the many laid-back local eateries on the beach… How great does it sound?
As I said, the island is so small that you can easily walk it all in under 2 hours, otherwise, you can also hire a bicycle to get around here. There are many pathways all around the island going through stunning natural scenery.
If it sounds like the perfect place for your holiday, check out the accommodation options here below. Plus, prices are quite affordable in Gili Island, great if you are traveling on a budget!
Luxury hotel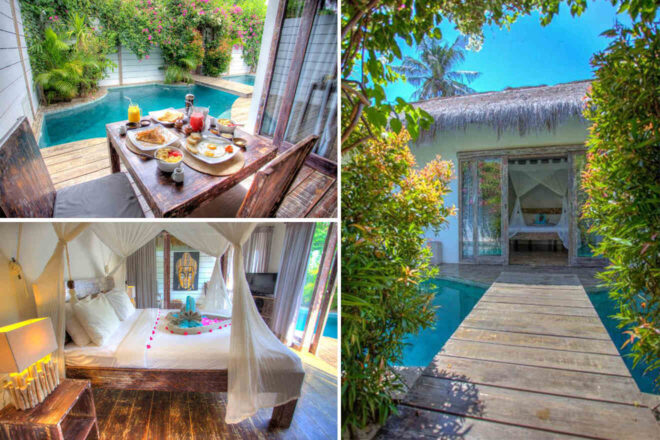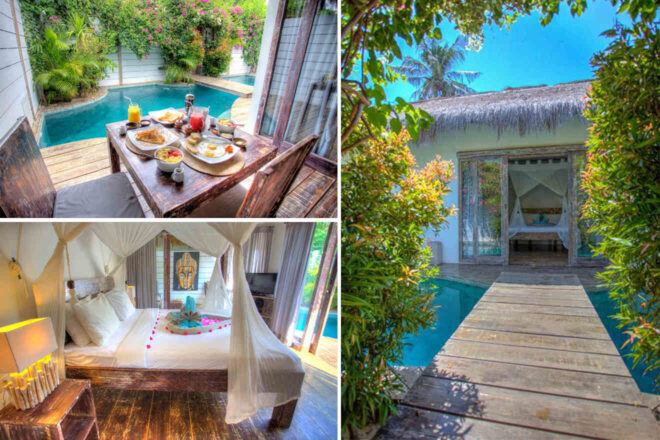 These stunning villas in Gili Air offer the perfect balance between comfort and luxury! Each villa is decorated in soothing colors and offers big comfy beds, a refrigerator, a private bathroom, a dining area, and a terrace overlooking the pool. And here you will also have access to many amenities, like an outdoor swimming pool, free parking and free Wi-Fi throughout the whole property.
Other accommodation options in Gili Air
Mid-Range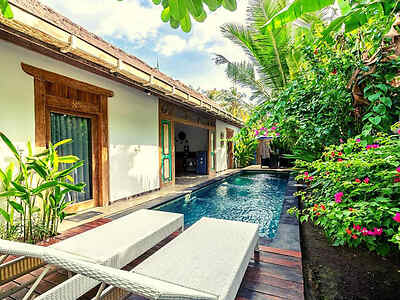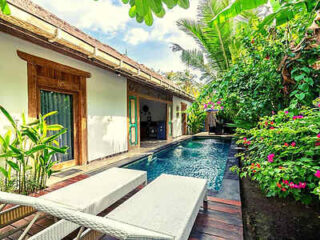 Check out these amazing villas, offering access to a swimming pool, a lovely garden, and free Wi-Fi throughout the property
Budget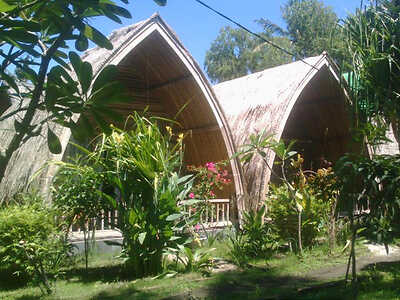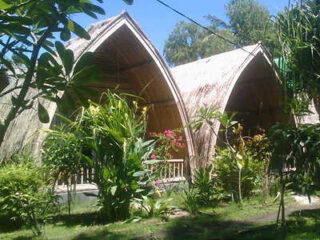 Looking for affordable accommodation in Gili Air? Then check out these big rooms with garden views and private balconies
Airbnb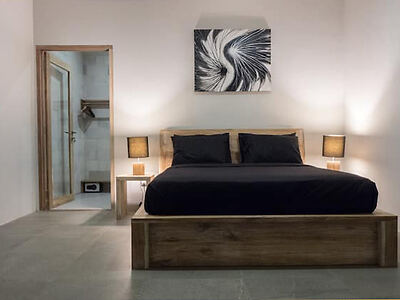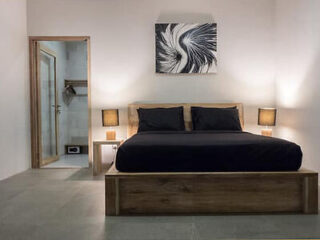 This unique, cozy and modern villa in Gili Air offers a private swimming pool, a garden, a living area and a large bathroom
Things to do in Gili Air
5. Gili Trawangan – the coolest island near Lombok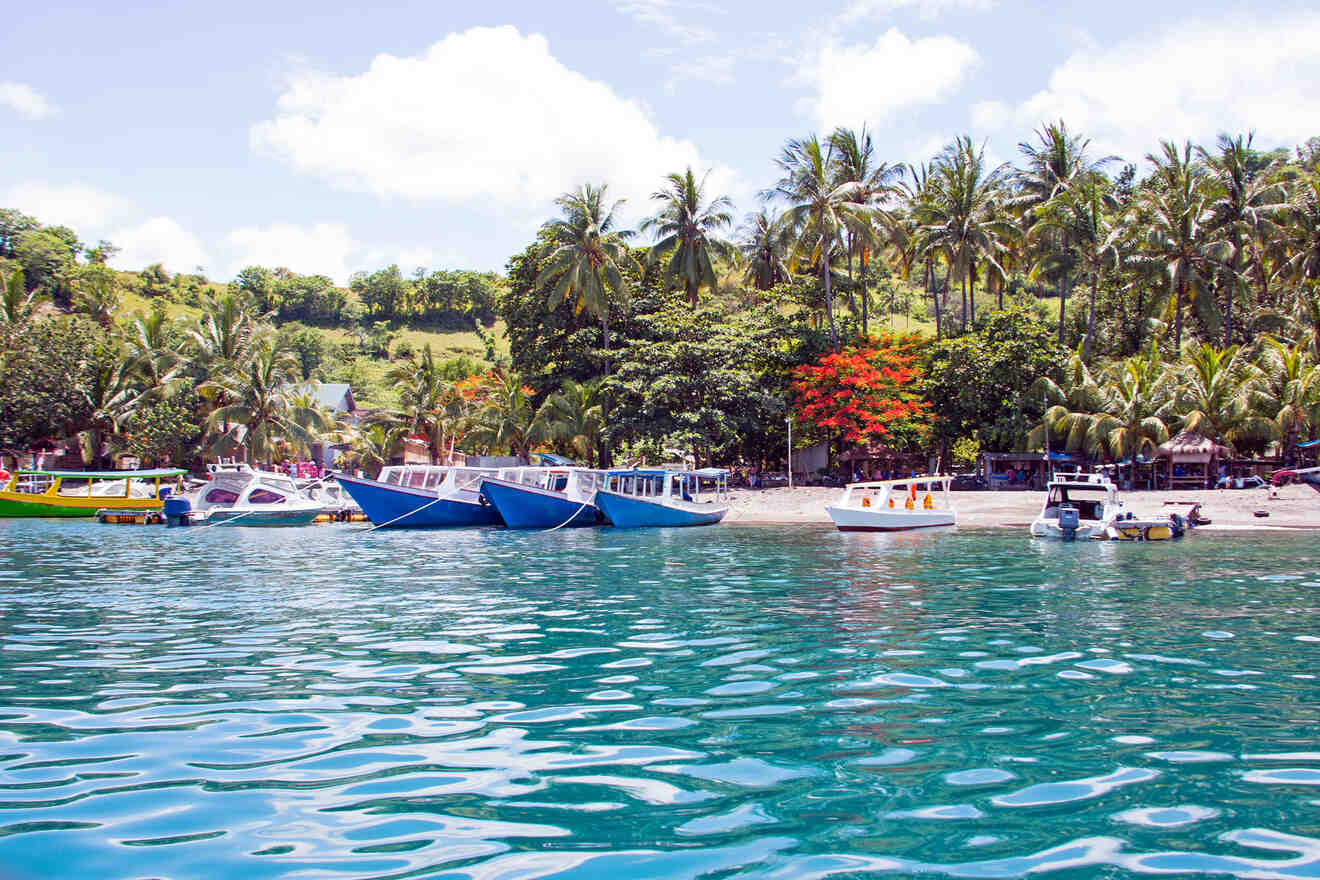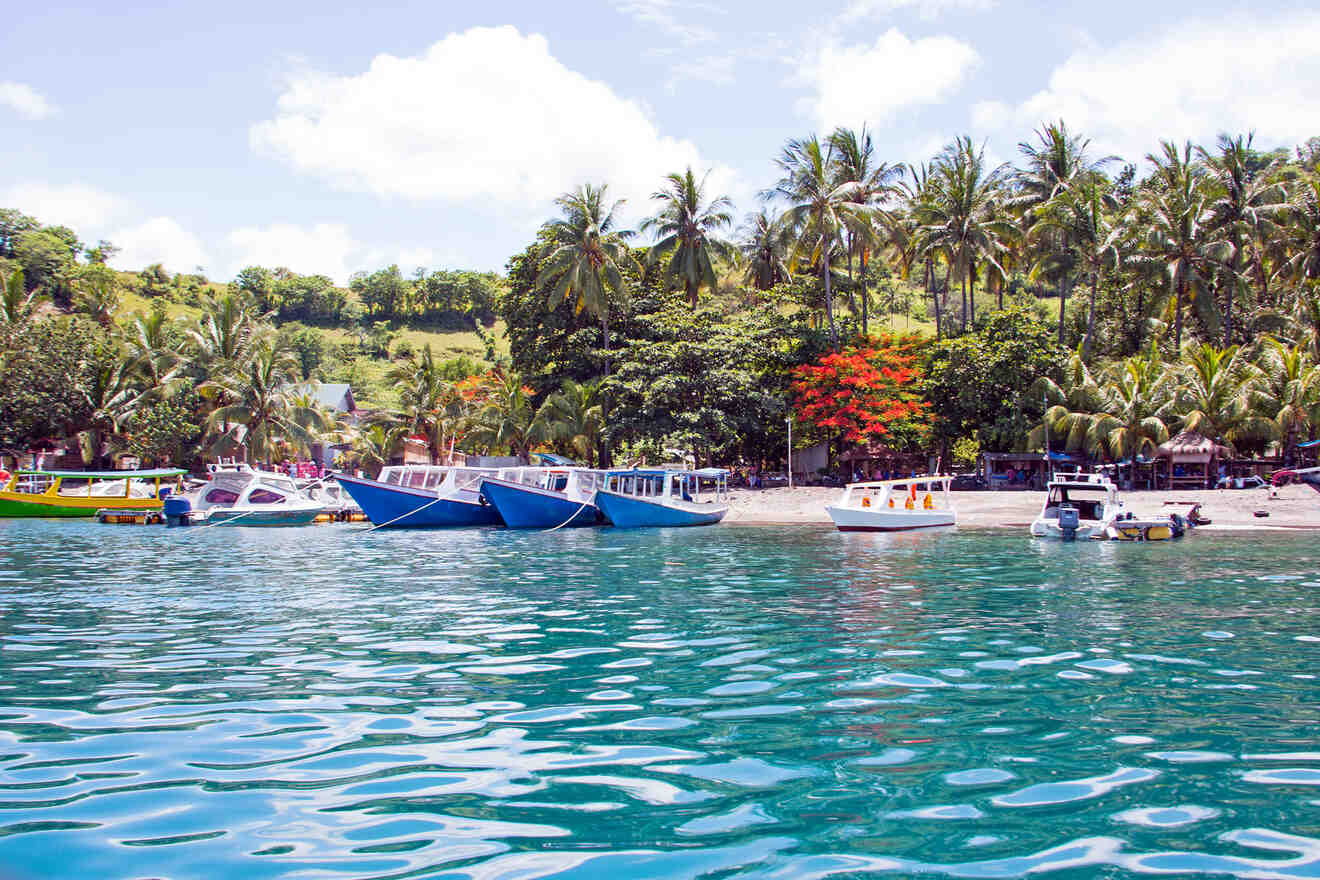 Gili Trawangan is the biggest and the coolest of the 3 Gili islands (including Gili Meno and Gili Air), located just a 2 hour boat ride from Lombok.
This paradise offers white sandy beaches, turquoise waters, swaying palm trees, and lively beach bars throwing daily parties… so it will satisfy the tastes of literally any kind of traveler.
In Gili Trawangan you will have something to do from morning to night. During the day you can snorkel with turtles, go scuba diving with sharks, join an island hopping tour, or go explore the island by bike (here there are no cars or motorbikes).
And when the sun starts going down, make sure you catch one of the most epic sunsets of your life from the many beach bars, while you sip an ice-cold cocktail or a fresh coconut and listen to cool live music!
NOTE: Sunsets here are so great that to watch them at most of the bars along the sunset strip, you'll need to pay IDR 150,000 (about US$10) on top of your drinks/food. I know, paying for sunset is crazy, but you won't be disappointed!
After watching this unforgettable natural spectacle, you can either have dinner in one of the many oceanfront restaurants or at the Gili T Night Market if you want to try delicious Indonesian food at super cheap prices, nestled in a buzzing local atmosphere!
And the nightlife keeps going in Trawangan, here you will find clubs and bars where you can dance the night away until the next morning! I told you… Gili Trawangan is the coolest place!
Luxury hotel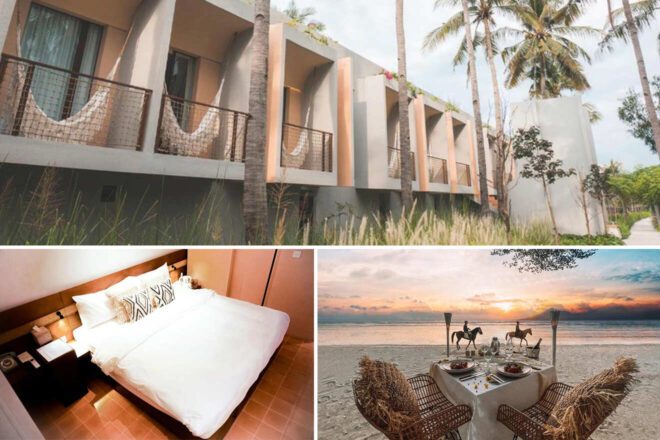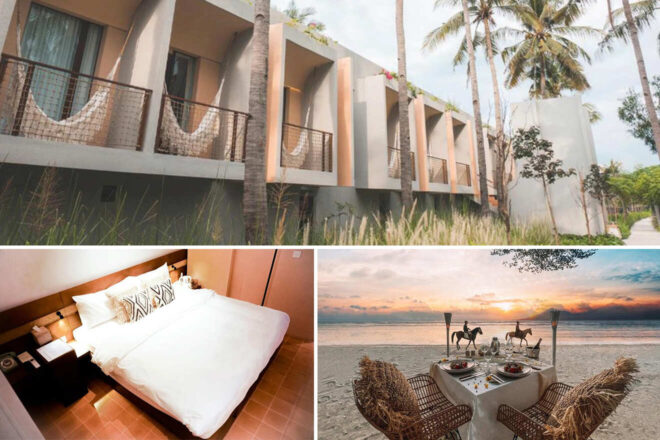 If you want to splurge a little bit during your holiday in Gili Trawangan, then check out this amazing hotel in Gili Trawangan, offering many amenities for a stay full of comfort. Some examples? Here you'll have access to an on-site restaurant, an outdoor swimming pool, and free bikes. And to start your day in the best way, the hotel offers a delicious buffet breakfast every morning!
Other accommodation options in Gili Trawangan
Mid-Range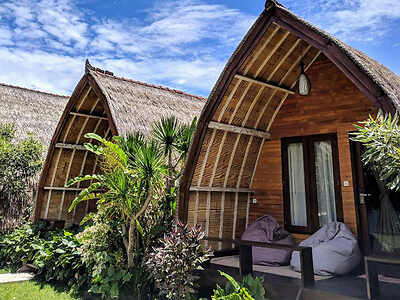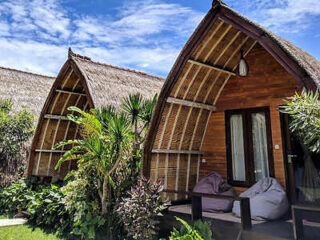 The great hotel features a restaurant, a bar, a lovely garden, a year-round outdoor pool, and a sun terrace… What else do you need?
Budget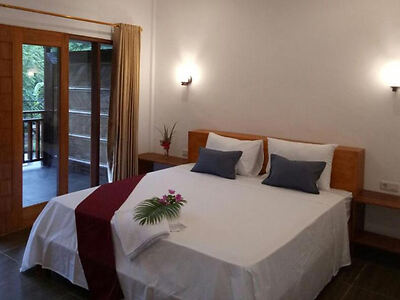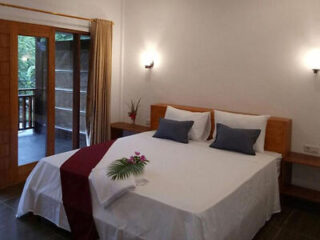 Save some money at this bed and breakfast offering spacious rooms with air conditioning and access to room service and free Wi-Fi
Airbnb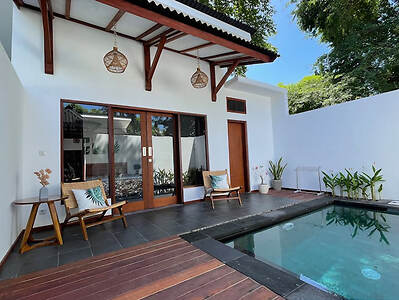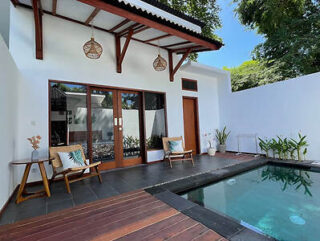 Feel at home in this amazing villa a short bike ride from the beach, offering a delicious breakfast every morning
Things to do in Gili Trawangan
FAQs about hotels in Lombok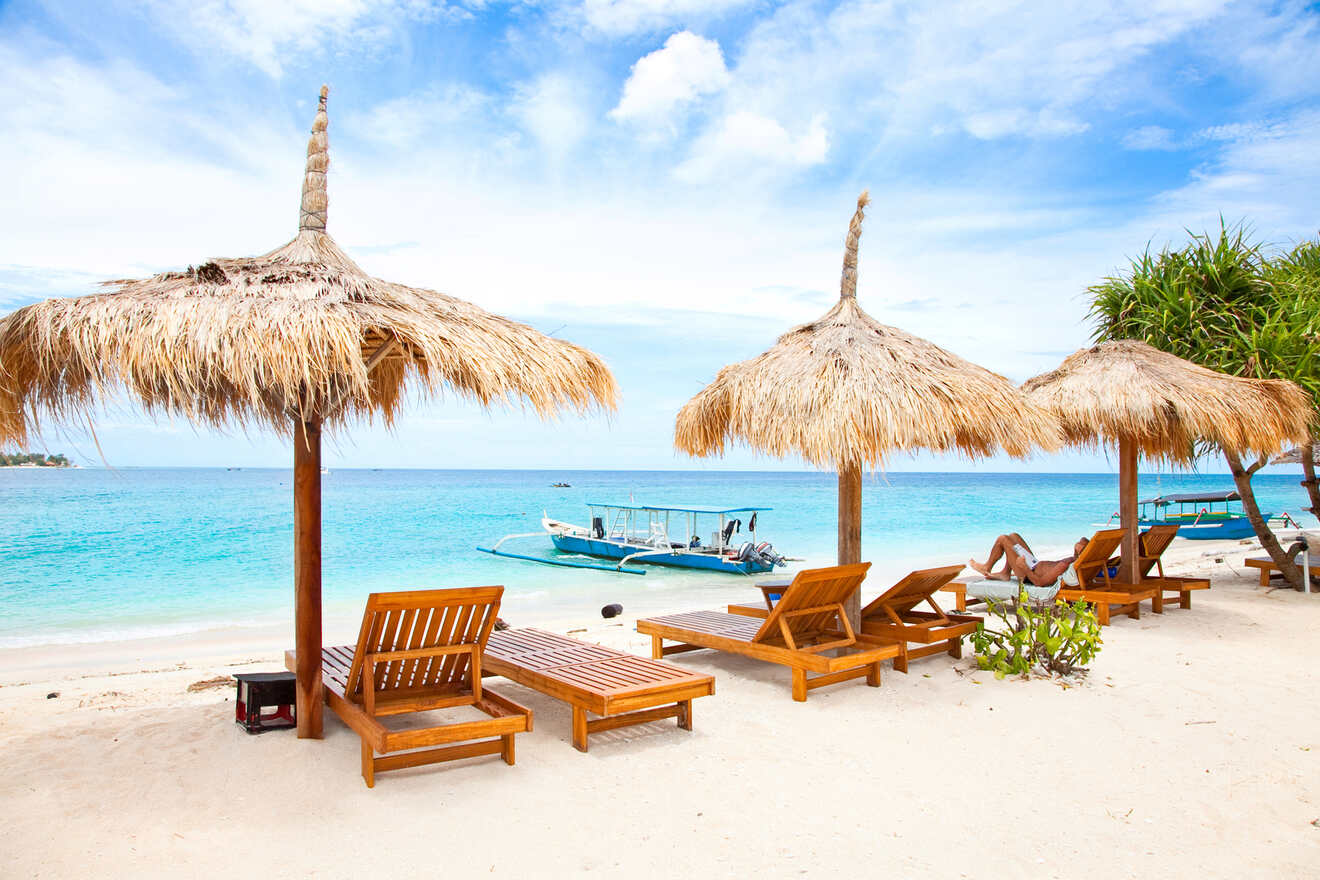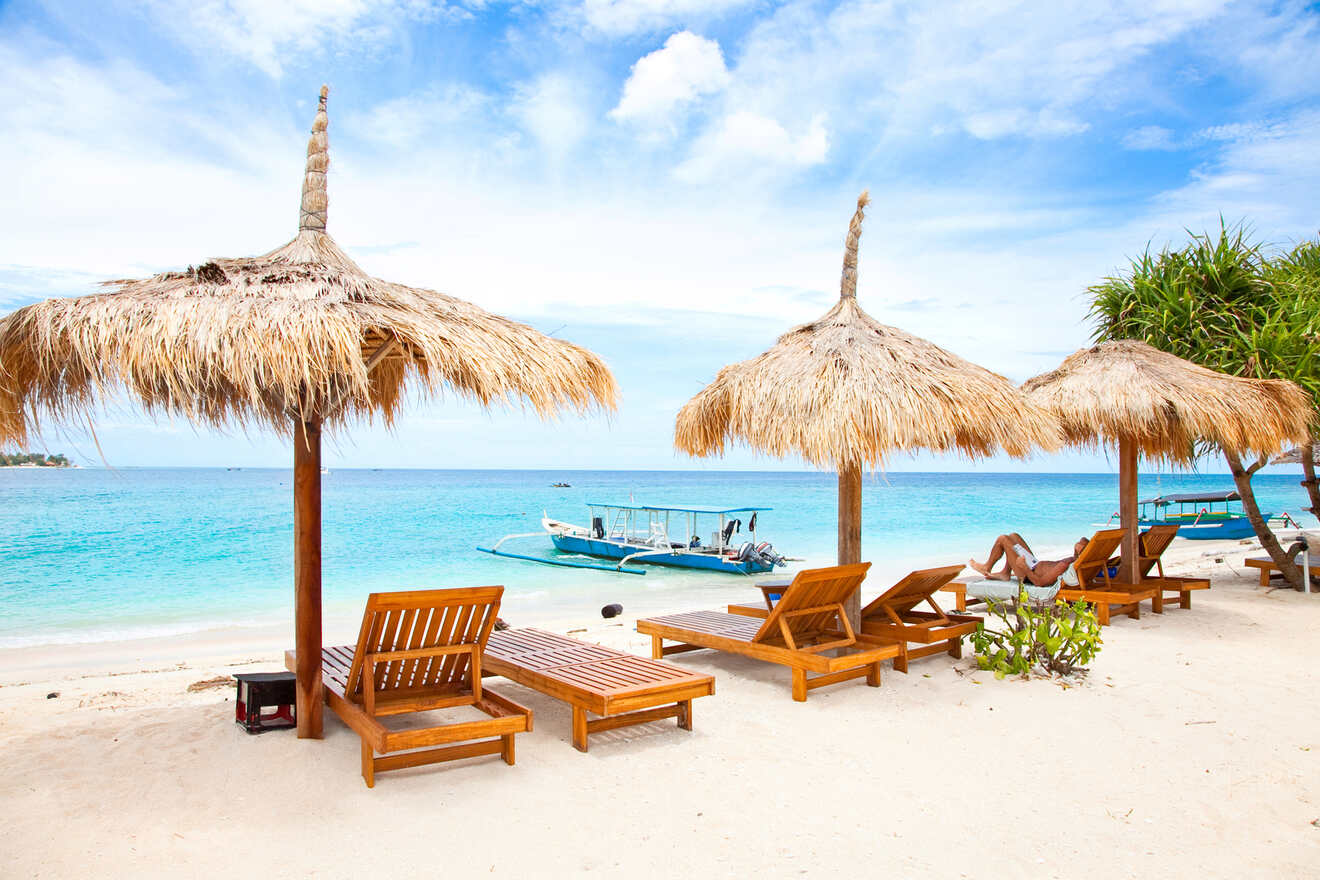 📍 Which is the best area where to stay in Lombok?
The best area to stay in Lombok, especially if it's your first time on the island, is Kuta Lombok Beach, at the luxury Pullman Lombok Merujan or at Twiny's if you want to stay on a budget.
🗓️ How many days should I spend in Lombok?
Lombok is quite a big island, so 3-5 days is the minimum amount of time to make the most out of your holiday there, but if you have more time, you should definitely stay longer and visit the Gili Islands nearby.
👍 Is Lombok safe for tourists?
Yes, the tranquil island of Lombok is super safe for tourists, being one of the most-visited places in all of Indonesia as popular as Ubud.
👑 Which is the best area in Lombok for luxury? 
Conclusion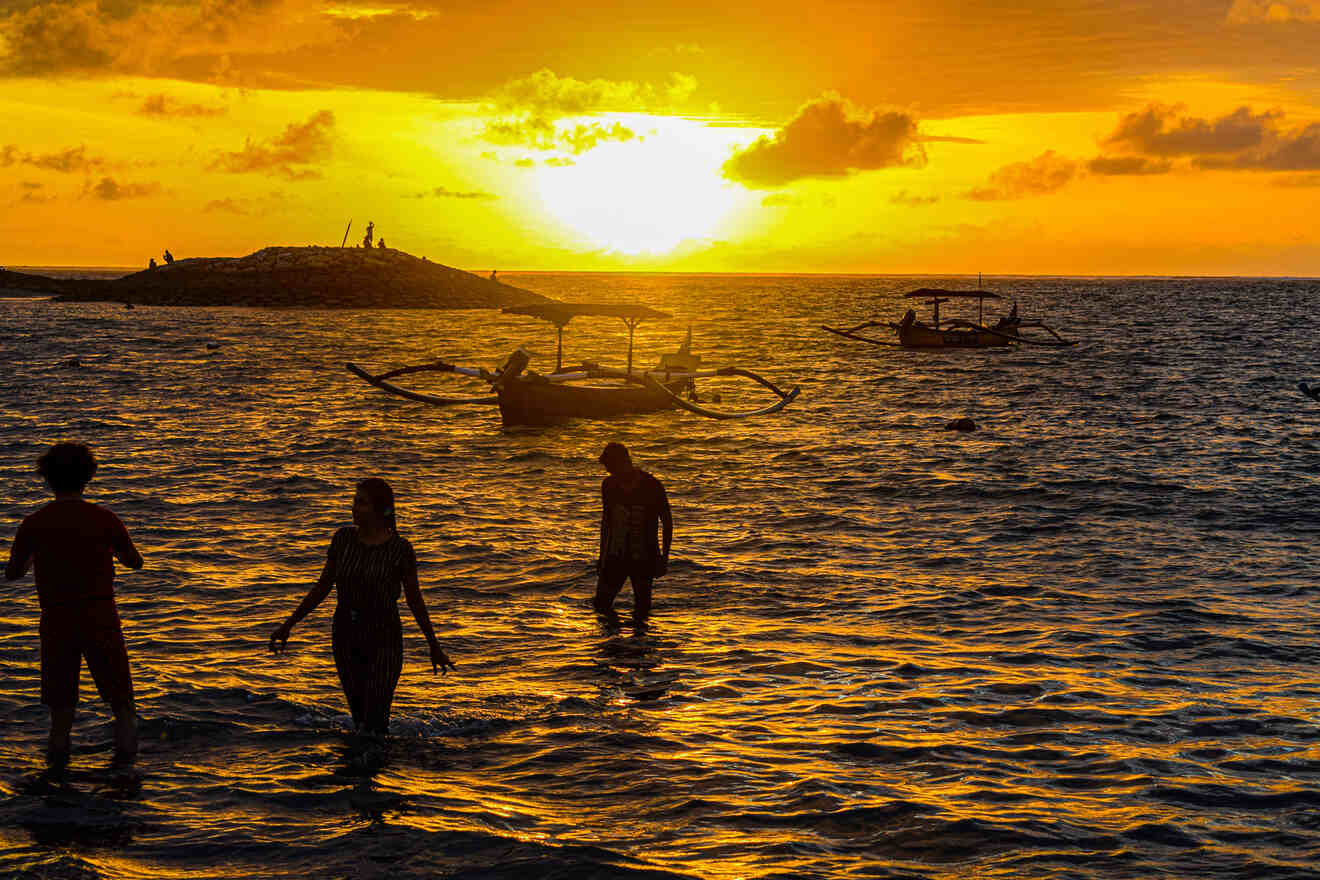 Here we are at the end of this useful guide about the best areas where to stay in Lombok, including something for any taste and accommodation options for any budget.
So… where will you stay during your holiday? If you are still undecided, check out my 2 absolute favorite hotels in Lombok, located in the island's most popular area (Kuta Beach):
If you like something, make sure you book it immediately (or at least some months in advance) so you secure yourself a spot and maybe also find some good offers!
I hope you enjoyed my guide, and if you have any questions for me, please make sure you share them in the comments below, I am looking forward to clarifying your doubts!
Have an amazing holiday!
Elena
---
Pin it for later!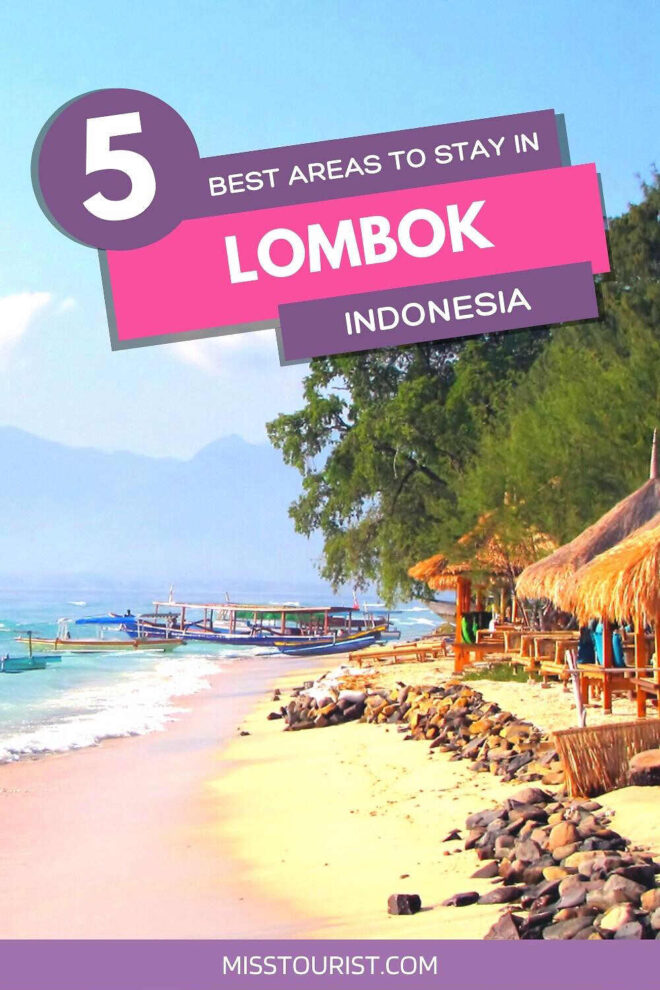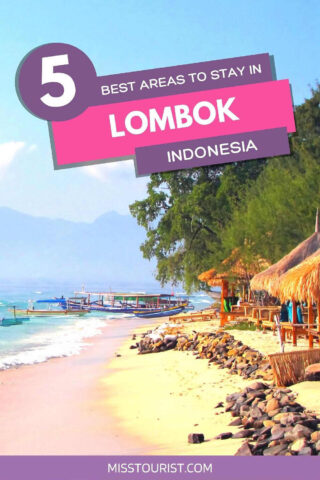 Pin it for later!