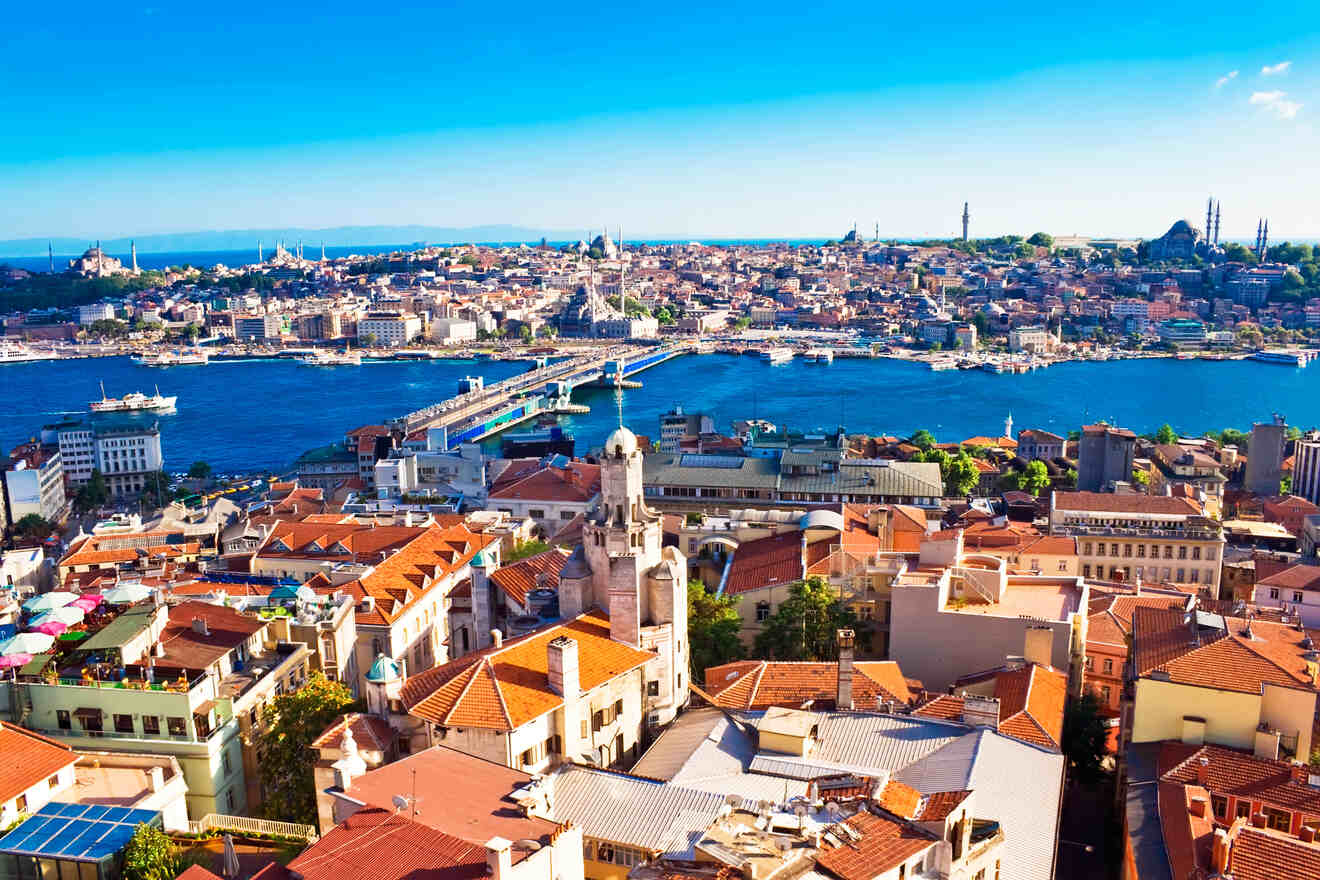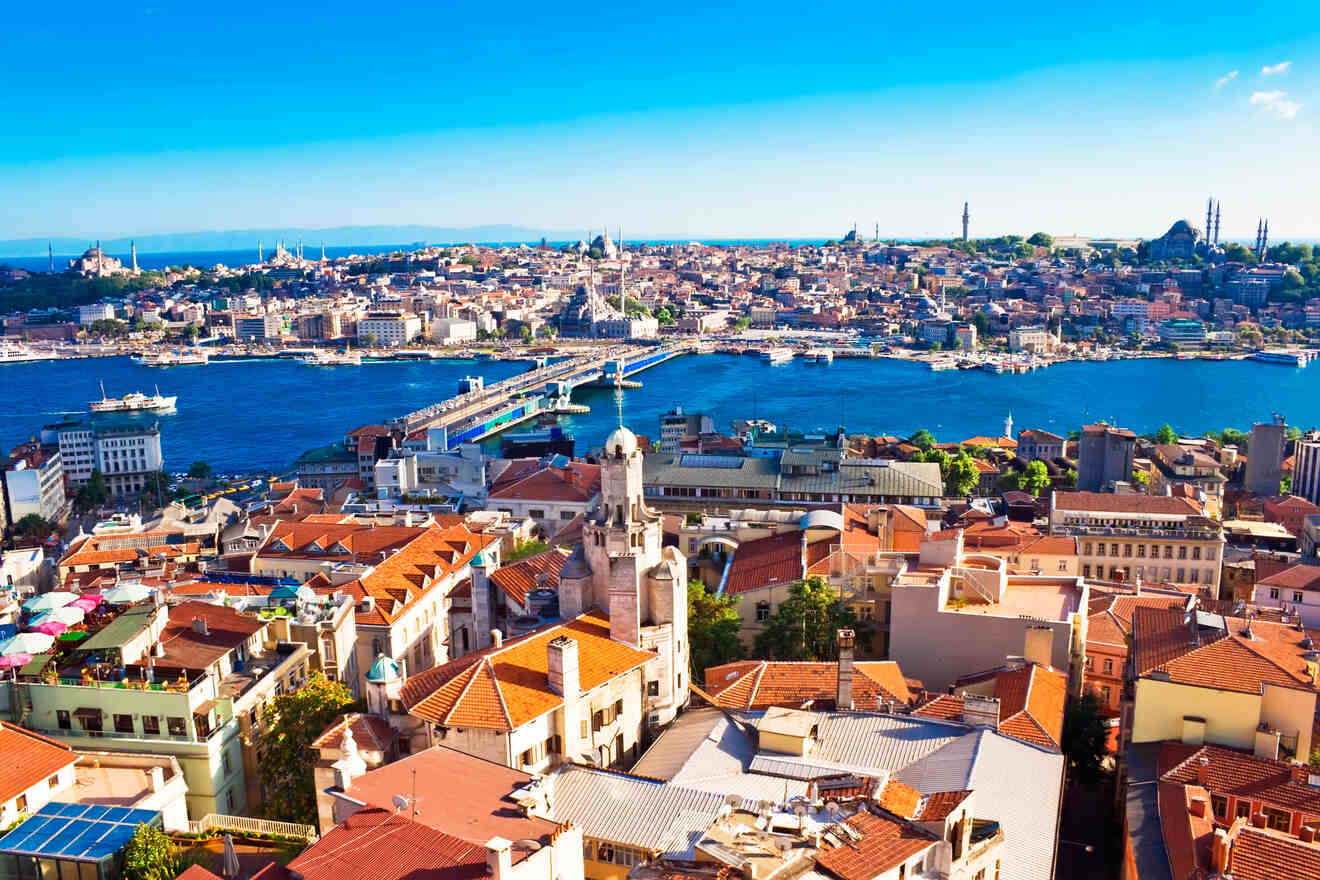 Hello from Istanbul where the two continents, Europe and Asia meet! Get ready for a journey through history, food, and entertainment!
Istanbul is the city that I grew up in so I can tell that you are in safe hands! I am so excited to share the best activities in Istanbul with you!
For a quick entry, the historic part of Istanbul is called Golden Horn that is located on the European side and it is the place where you will find the famous historical attractions like the Blue Mosque and Mosque Hagia Sophia. Imagine yourself watching a whirling dervish in a mosque, having Turkish tea with a slice of baklava then taking a ferry between two continents and watching the spectacular Bosphorus views. This city will mesmerize you!
In this blog post on things to do in Istanbul, I will talk about the unmissable activities in Istanbul that can attract all kinds of travelers no matter if you're 7 or 70! For the famous museums and attractions, I highly recommend joining a guided tour and buying your ticket in advance to skip the lines.
Let's check out the must-have experiences in Istanbul city!
European Side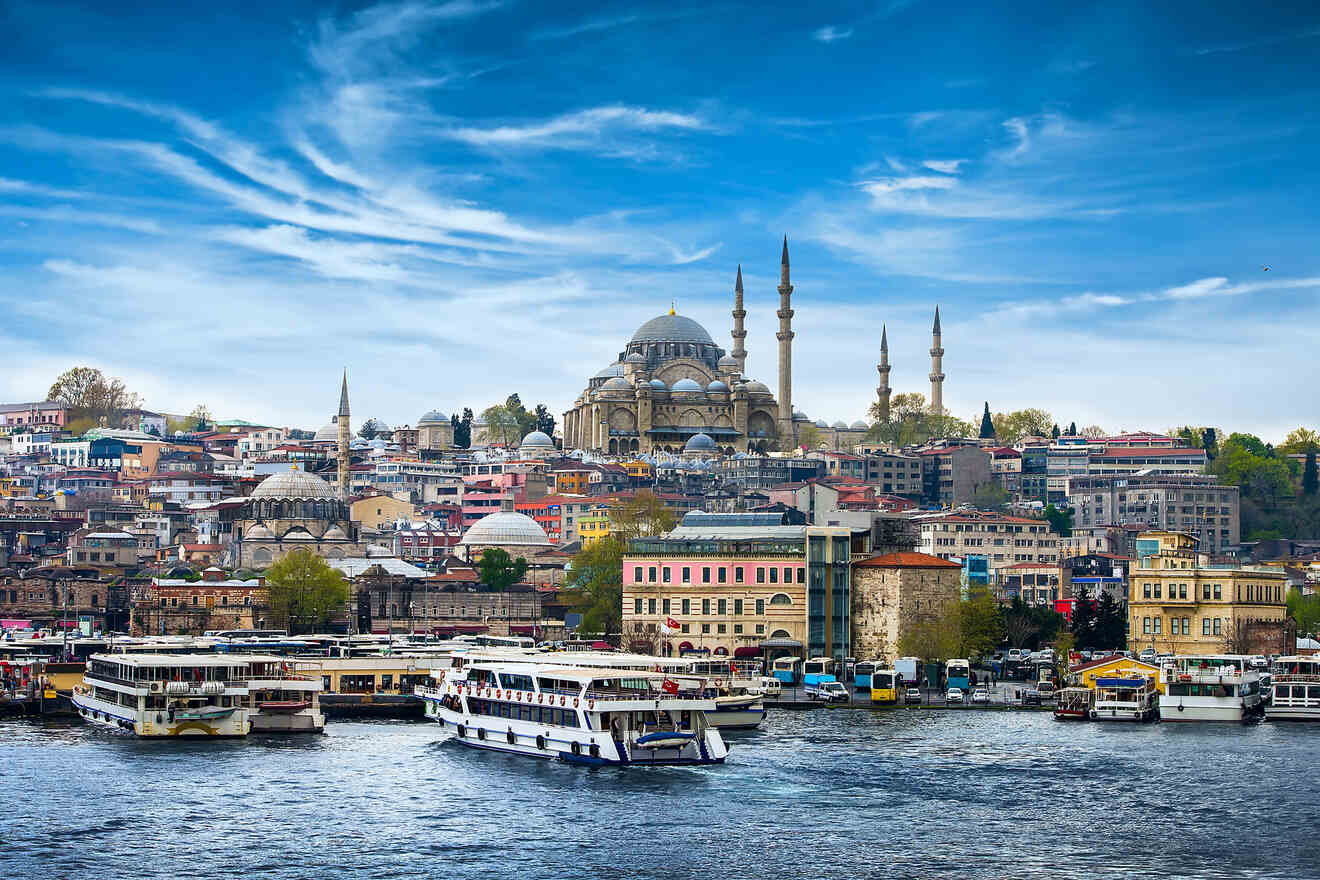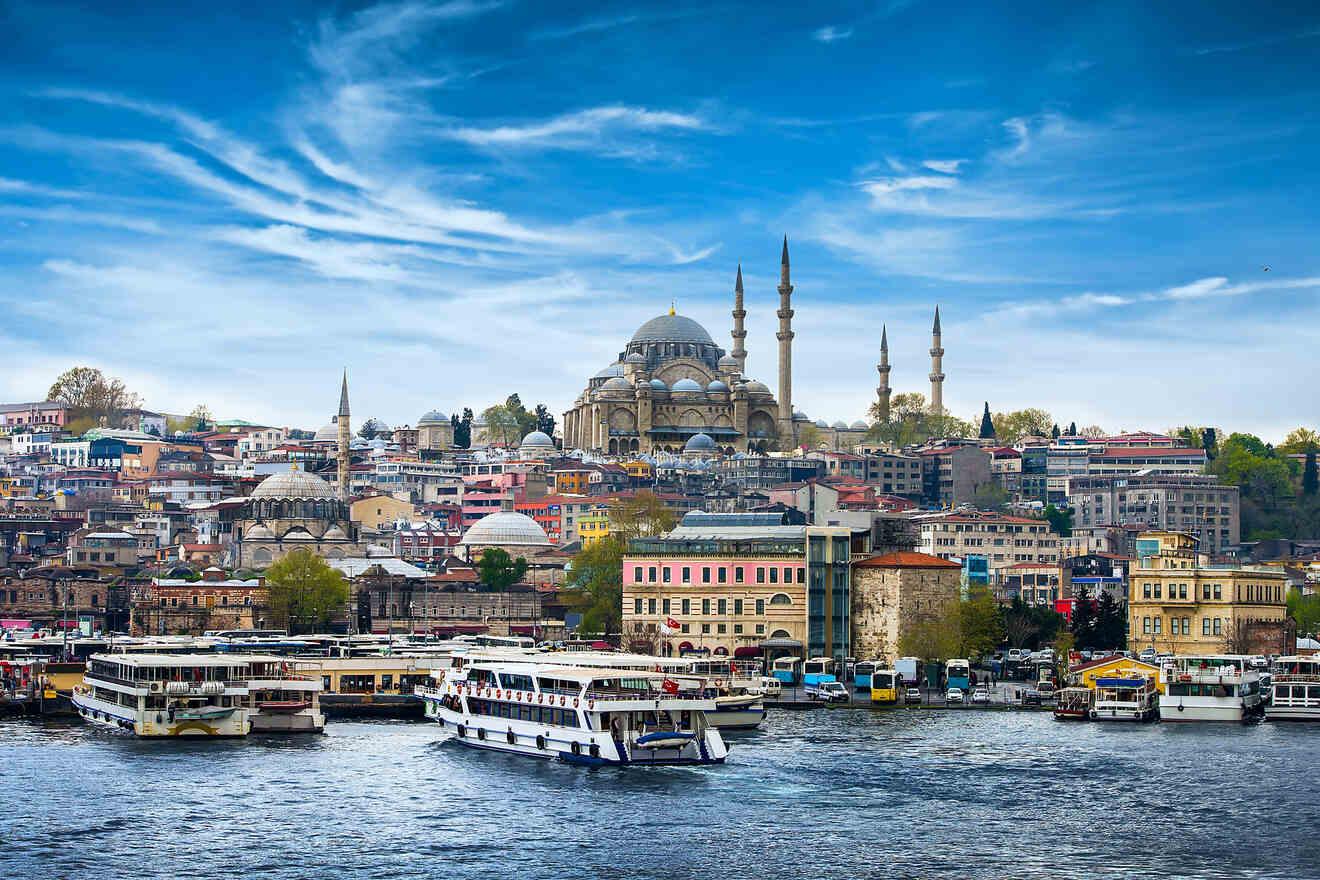 Located on the west of the Bosphorus, the European side is the most popular part of Istanbul where you will find the historical peninsula, popular museums, and vibrant nightlife.
Since most of the attractions are found here, it is also the most popular place to stay in Istanbul so while you will find that you'll spend the majority of your time here, that isn't to say that the Asian side isn't worth a visit! I will talk about Asian Istanbul a little later but let's get started with the things to do on the European side of the city…
1. Visit a Mosque (or two)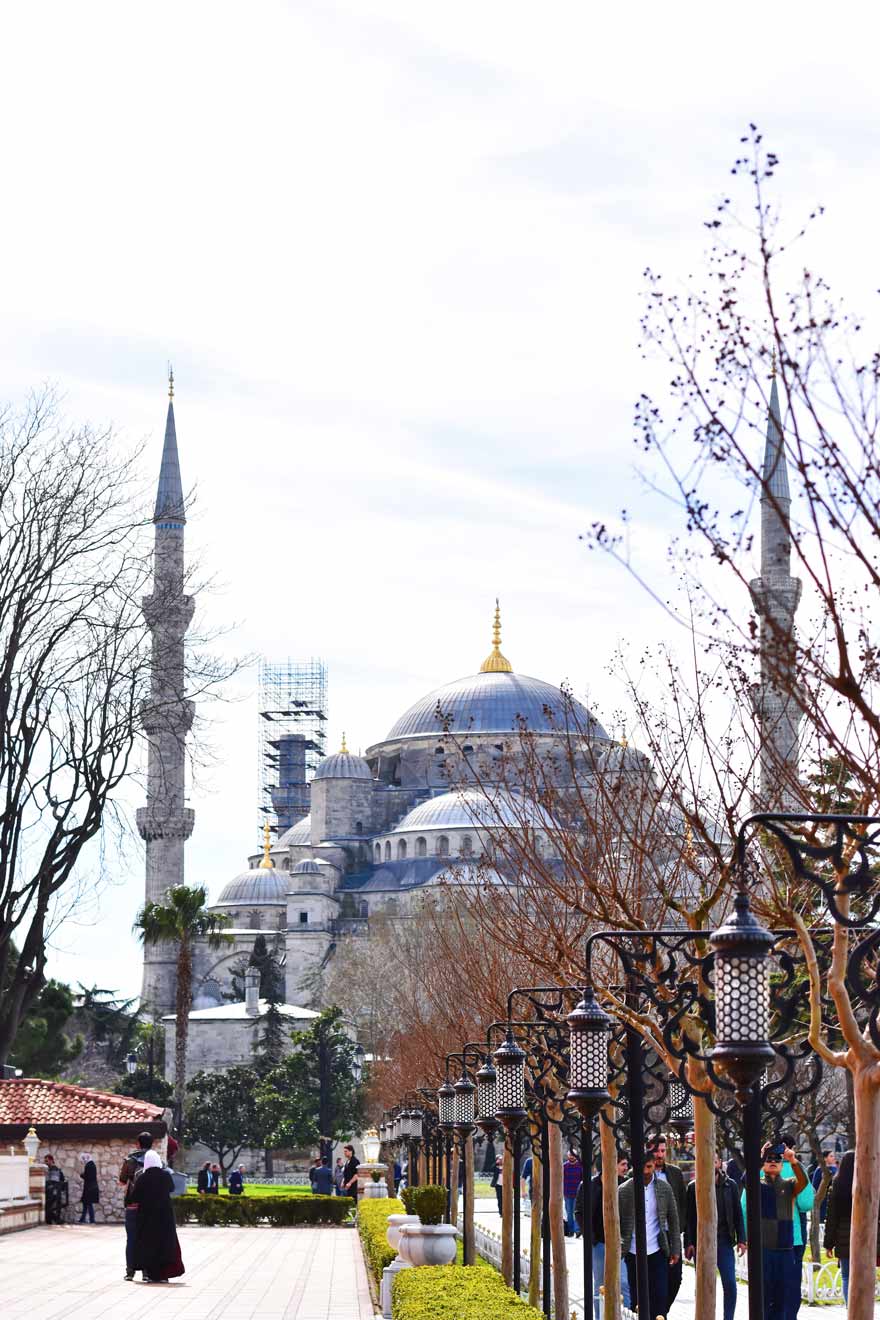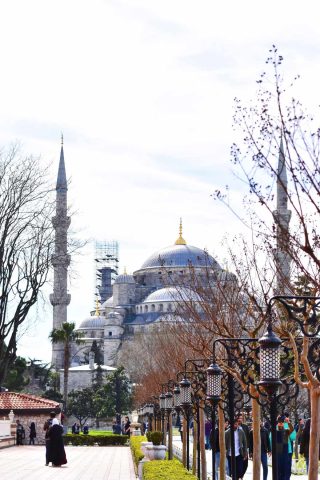 Once you are in Istanbul, the first thing that will take your attention is the great number of mosques.
Before entering a mosque you have to wear a long dress or pants and a T-shirt that covers your whole body. Women must also cover their hair with a scarf. In some of the mosques, they lend you a scarf but if not, you can buy one from a street seller that can be found in front of many mosques.
PRO TIP: All of the mosques are closed for a visit around 90 minutes before the prayer time. Prayer times are changing every day according to sunset and sunrise times. You can check the prayer times online.
NOTE: I noticed that the English version of many websites in this section is not kept up to date and opening times may change, so it's best to check with your hotel or ask a local.
1.1 Blue Mosque
A trip to Istanbul without a visit to the Blue Mosque would simply be incomplete. Completed over 7 years during the era of Ottoman Sultan Ahmet, the Blue Mosque (also known as the Sultan Ahmed Mosque) is a unique site and one of the most famous Mosques in the world!
Once you enter the Blue Mosque you will be impressed by its tiles and gorgeous interior design but to get the most out of your experience, I recommend you join a guided tour that covers both the Blue Mosque and Hagia Sophia.
Open: Everyday 09:00 am – 19:00 pm
Price: Free
Location: Sultan Ahmet, Atmeydanı Cd. No:7, Fatih
1.2 Hagia Sophia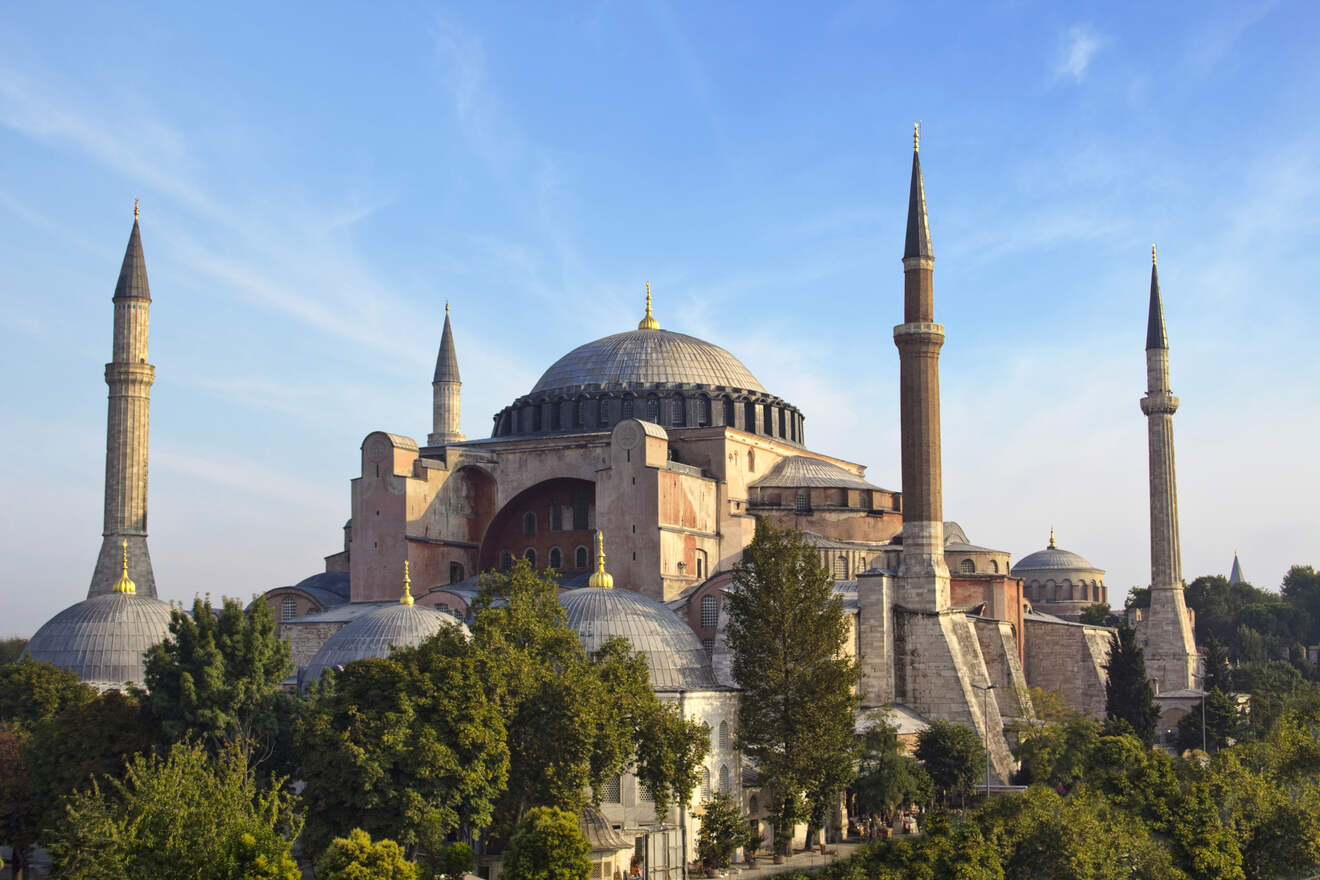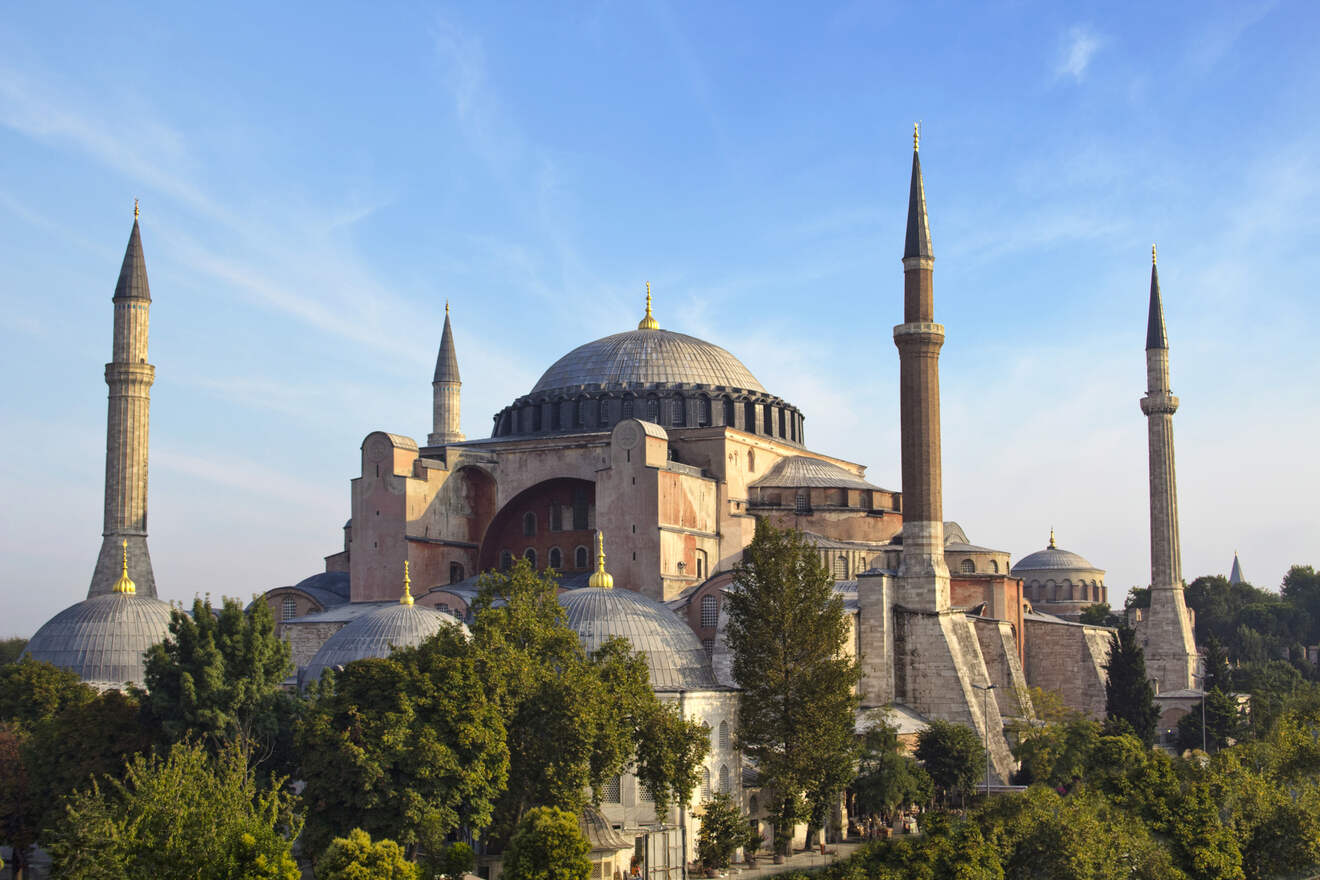 Another must-see mosque in Istanbul city is Hagia Sophia which was converted into a mosque from a church in the 15th century. Its unique architecture still keeps its mystery and I assure you will have the most unique photos while you are exploring Mosque Hagia Sophia.
PRO TIP: Visit during the night to see the impressive lighting of the mosque!
HACK: Buy your entry ticket in advance to skip the long lines!
Open: Every day, 24 hours
Price: 72 TL (US$6.60) per person
Location: Sultan Ahmet, Ayasofya Meydanı No:1,Fatih
Once you are done at Hagia Sophia you can visit the ancient Hippodrome that is very close to the mosque. Hippodrome is an open-air museum where you will see the Egyptian Obelisk and ruins from ancient times.
1.3 Ortaköy Mosque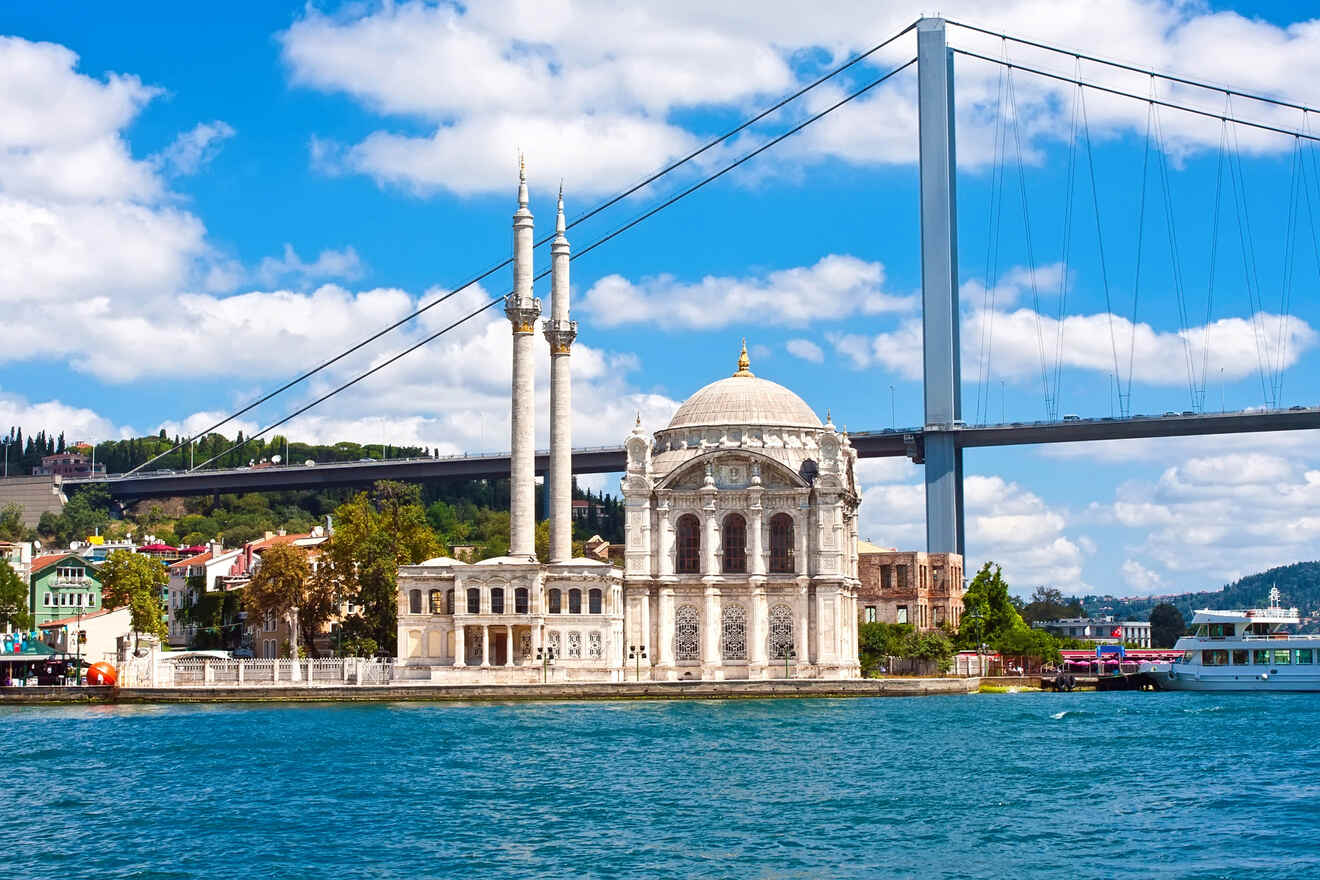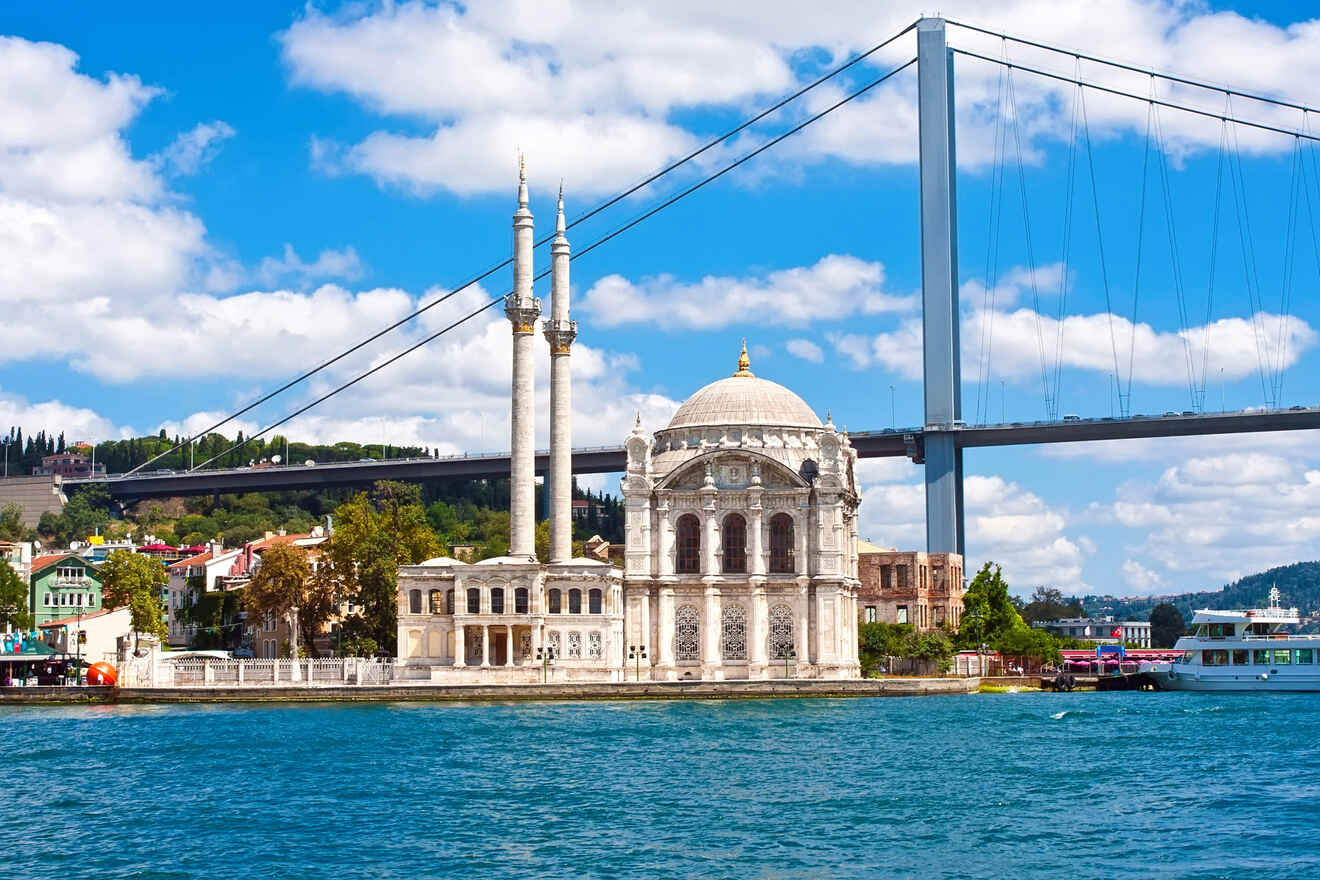 Ortaköy Mosque is one of the most picturesque mosques in Istanbul that is located right under the Bosphorus Bridge. This historic mosque was built in the 19th century and is a great representative of Ottoman architecture. Another beauty of it is that you can capture a photo of both the mosque and the Bosphorus Bridge at the same time!
PRO TIP: The Ortaköy neighborhood is also famous for its seafood restaurants and the Turkish baked potato, kumpir. You will see many kumpir places lining the street at the entrance of Ortaköy. Pick your favorite ingredients and sit on a bench overlooking the sea. Don't forget to feed the pigeons hanging out in the Ortaköy square!
Open: Everyday 04:00 am – 22:00 pm
Price: By donation
Location: Mecidiye Köprüsü Sk. No:1 D:1, Beşiktaş
If these 3 aren't enough, I also recommend you to visit Süleymaniye Mosque in Golden Horn as it has spectacular interior design and an amazing Bosphorus view!
2. Discover Istiklal Street and Taksim Square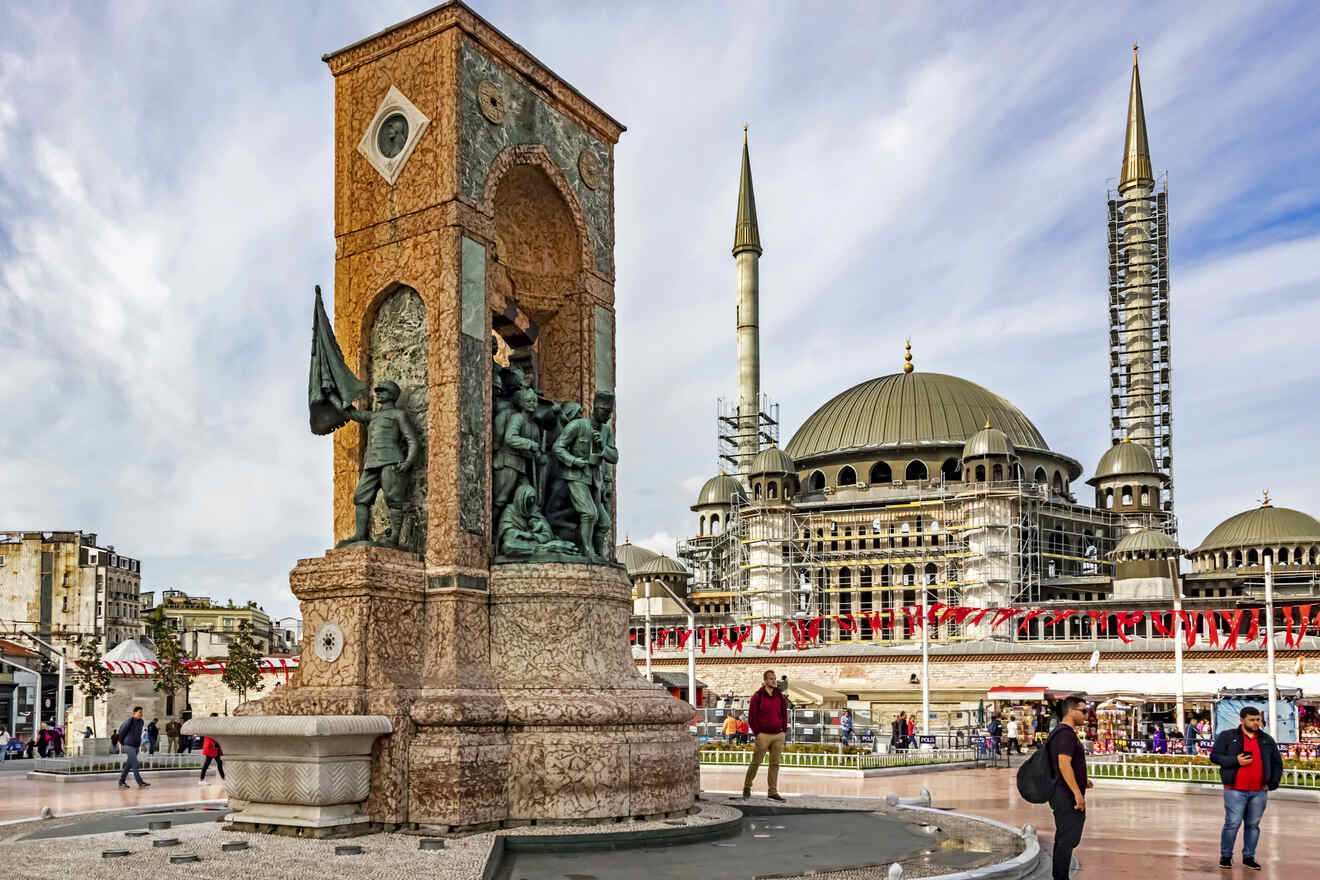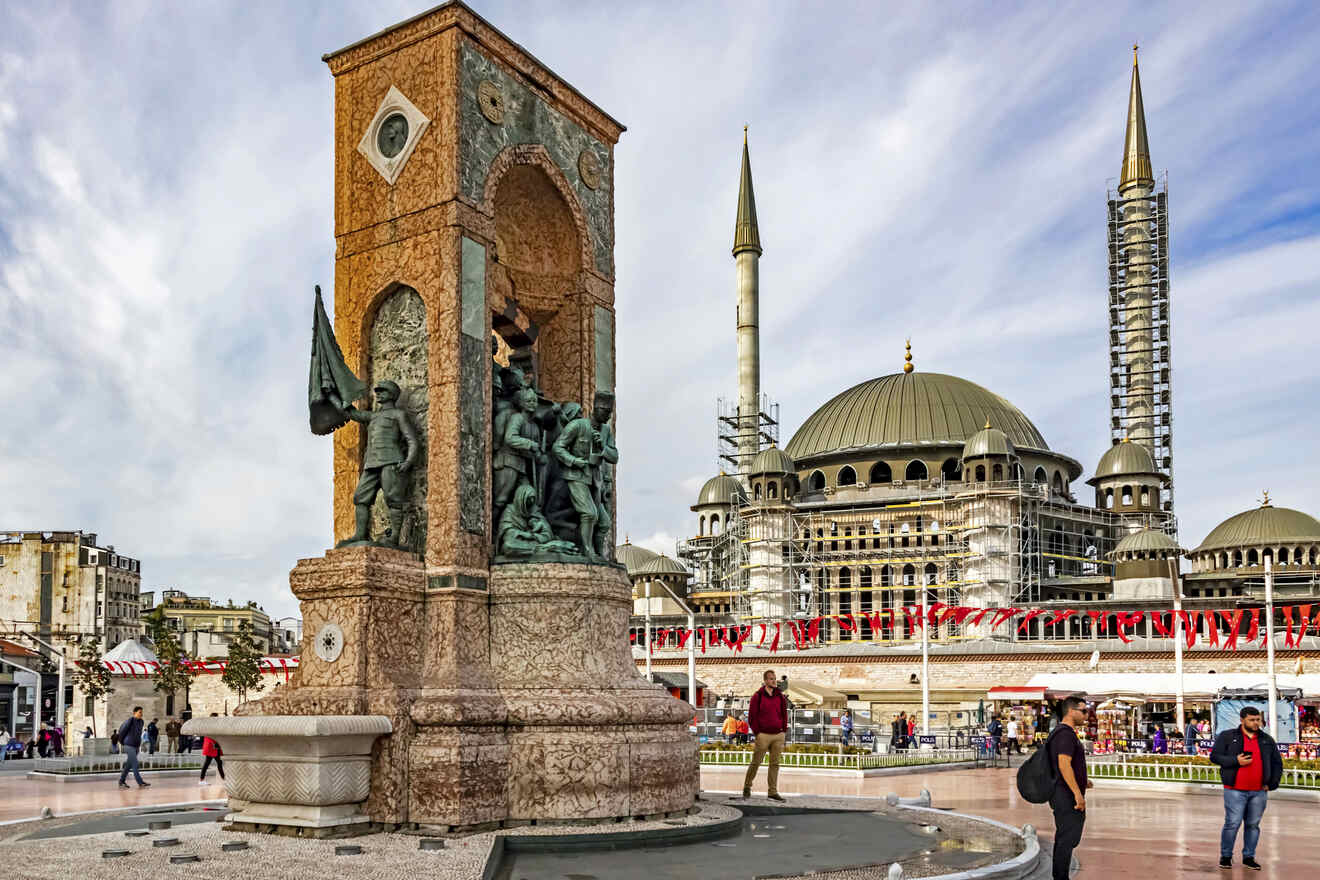 There is no doubt that Taksim Square is one of the most popular spots on the European side and a great place to start your sightseeing. Taksim square is the entry point of the famous Istiklal Street that goes till Karaköy. Make sure to allow enough time to explore this colorful street where you will find so many shops, bookstores, cafes, restaurants, and famous nightlife.

On Istiklal Street, you will also see the historical tram that operates between Taksim Square and Galata. These trams date back to the 19th century and have a small passenger capacity but are one of the iconic symbols of Istiklal Street. It is fun to walk along historical streets but for nostalgia lovers, I recommend taking a ride.
Here you will have the chance to taste so many local Turkish food and delicious desserts. For foodies, I recommend checking out my section below for the must-try foods in the city as well as my post all about where to eat in Istanbul to discover the food scene more deeply!
3. Explore some stunning palaces
If you are visiting the city of Istanbul, one of the must-see tourist attractions are Topkapi Palace and Dolmabahçe Palace. Palaces were where Sultans lived during the Ottoman Empire, so get ready to be impressed by the luxury of these incredible buildings!
3.1 Dolmabahçe Palace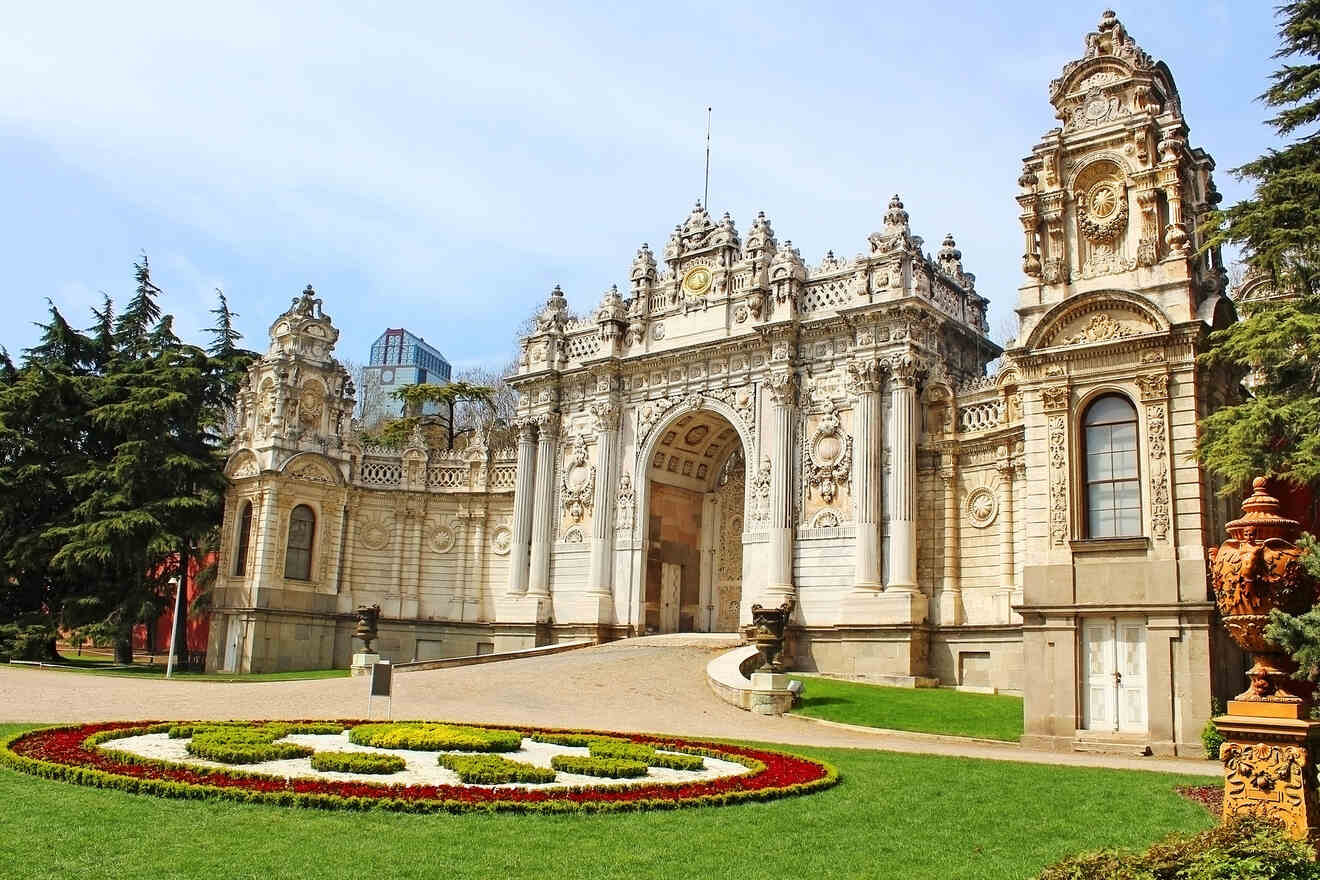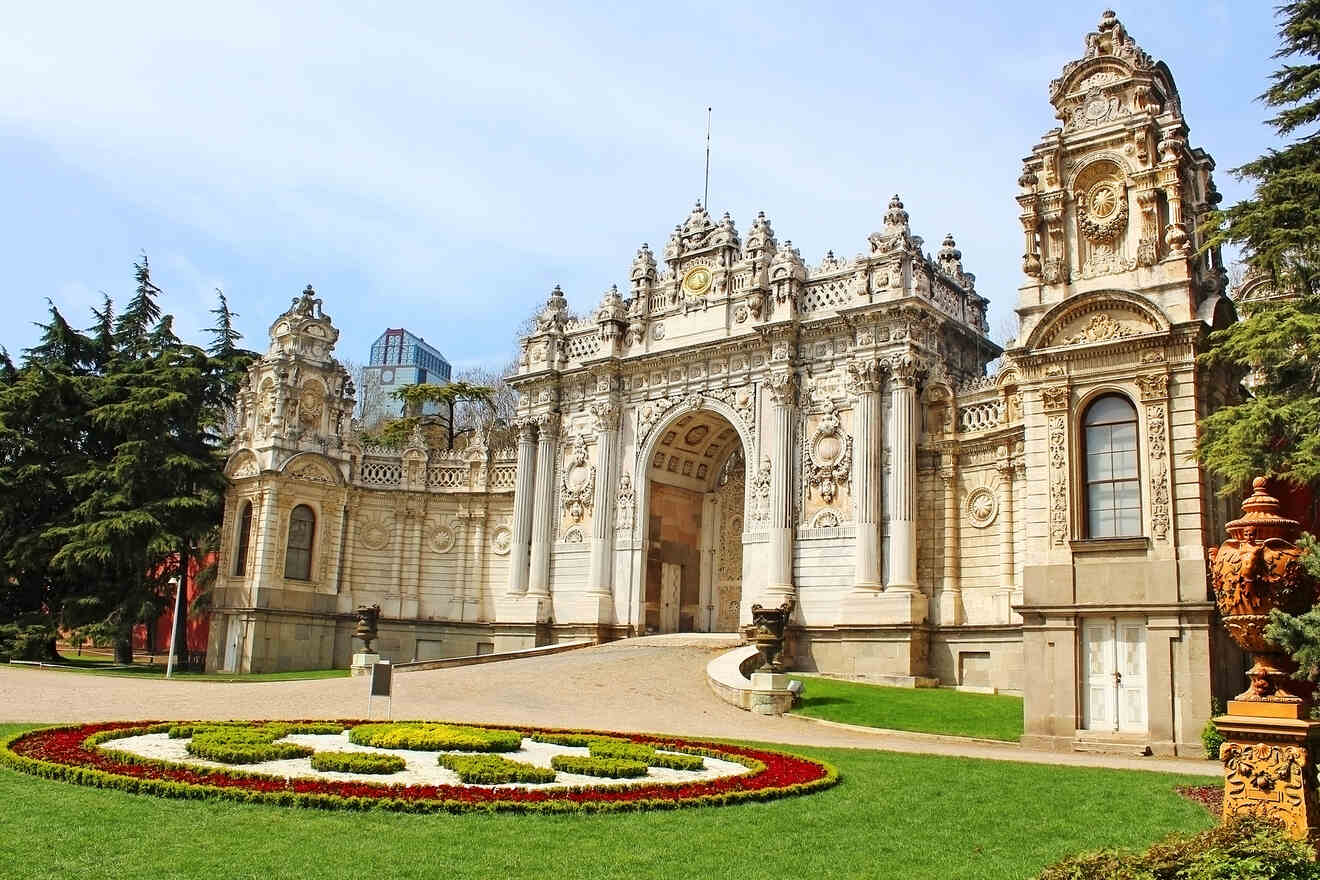 Located in Beşiktaş, Dolbahçe Palace was built in the 19th century during the Ottoman Empire and is a massive palace with 285 rooms and 43 salons! It does not only have impressive interior design but also offers amazing views of the Bosphorus. I recommend joining a guided tour to learn about the Ottoman Empire and explore the impressive rooms of the palace.
Open: Tuesday to Sunday: 09:00 am – 18:00 pm
Price: 120 TL (US$12.20)
Location: Vişnezade, Dolmabahçe Cd, Beşiktaş
3.2 Topkapi Palace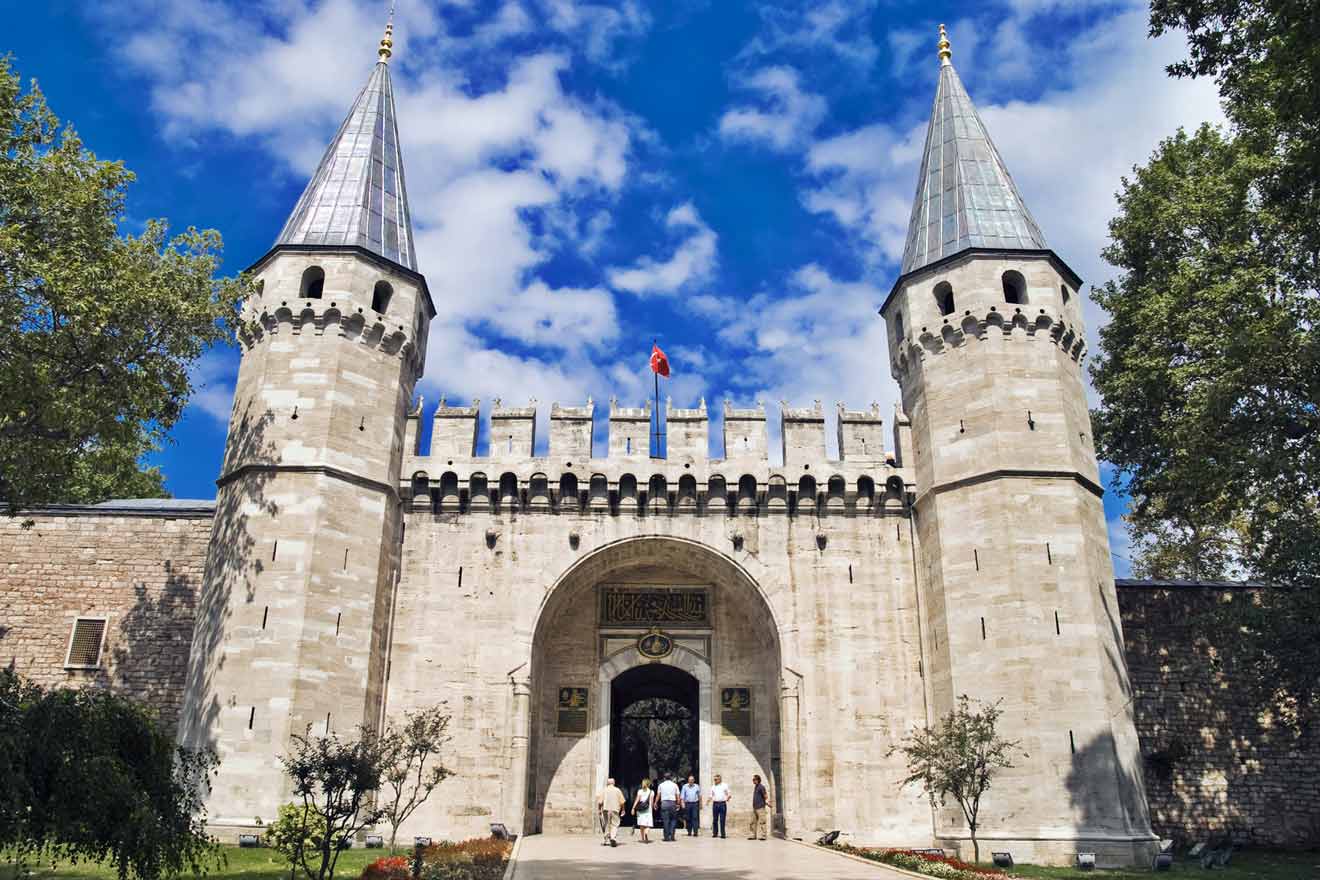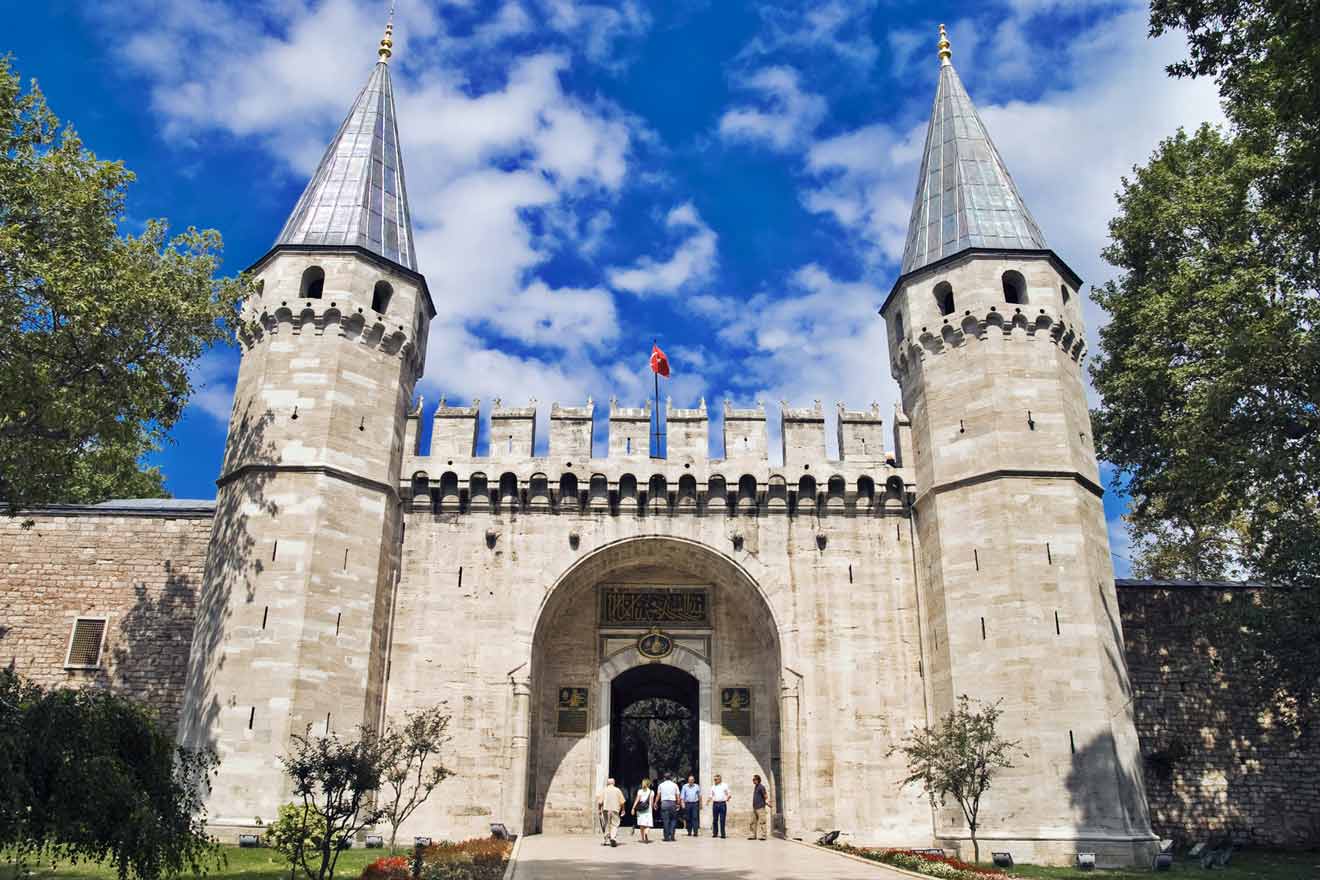 Topkapi Palace is for sure the most famous palace in Istanbul that you must definitely visit. You will be discovering where the Ottoman Sultans lived, their personal belongings as well as the famous 86-carat Spoonmaker's Diamond in Topkapi Palace!
PRO TIP: In order to skip the line and to learn more about the history of the Ottoman Empire I highly recommend you to book a guided tour of Topkapi Palace.
Open Tuesday to Sunday: 09:00 am – 18:00 pm
Price:120 TL (US$12.20)
Location: Cankurtaran, Fatih
4. Go shopping at Spice Bazaar and Grand Bazaar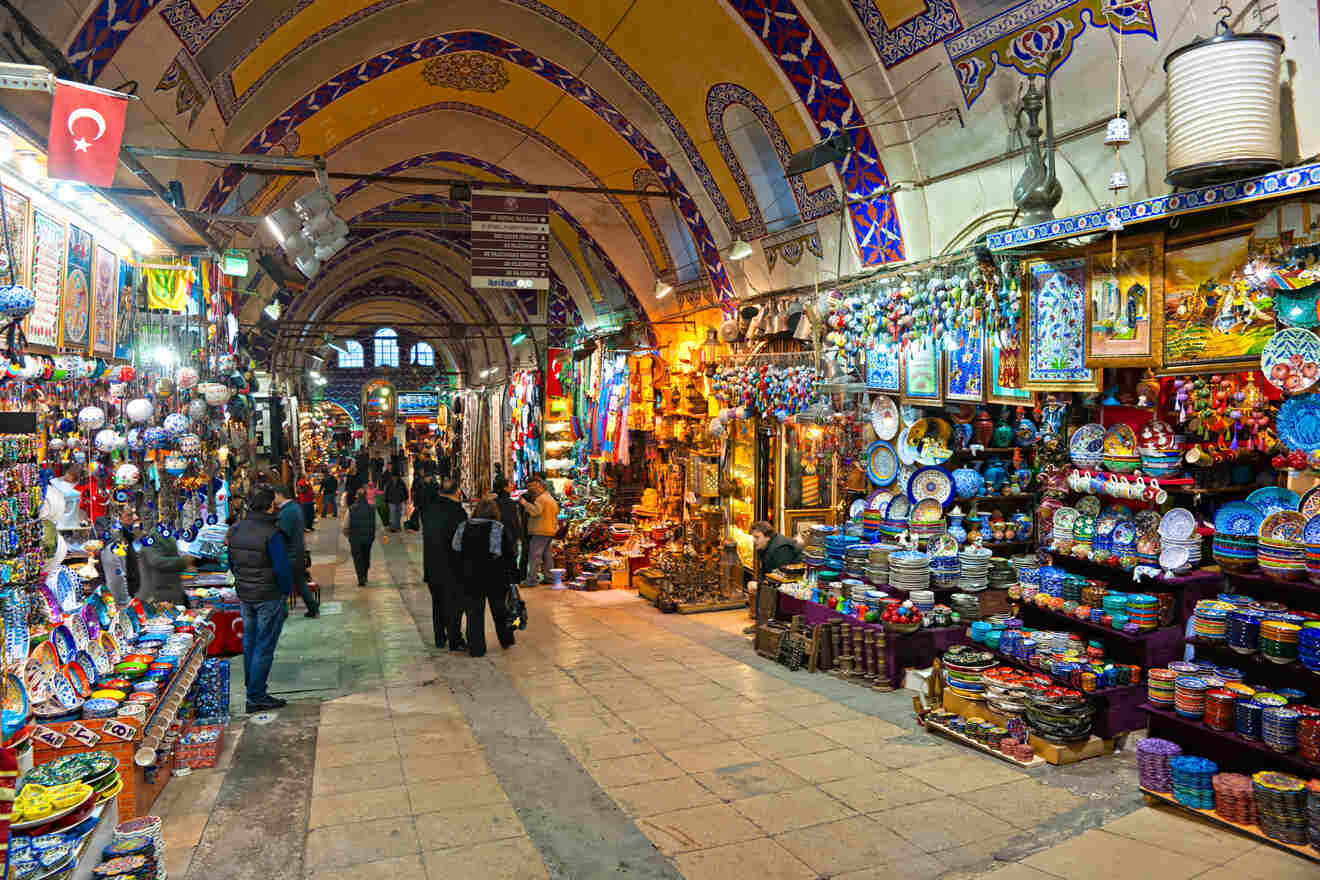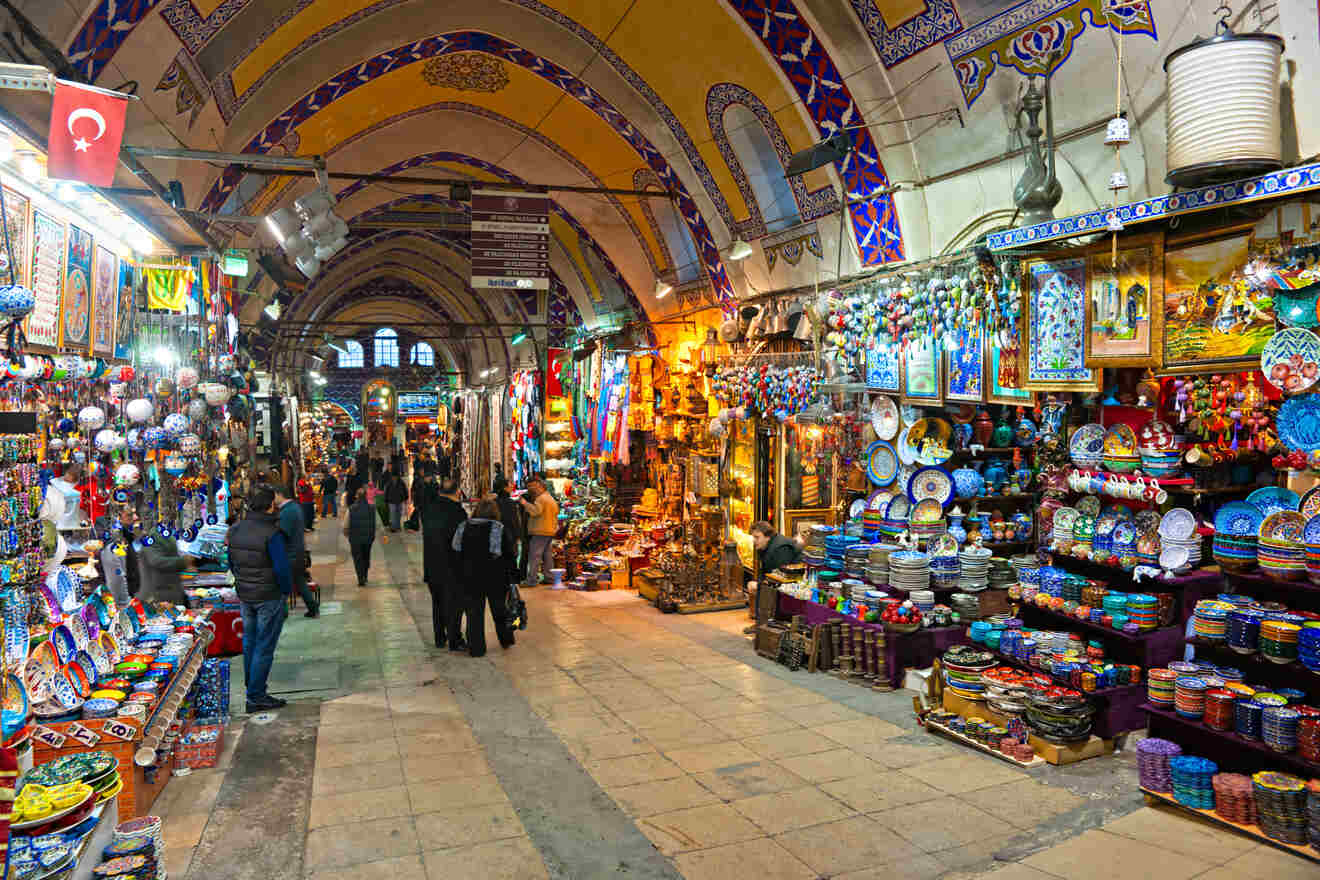 When you are discovering Golden Horn you must definitely pay a visit to the famous Grand Bazaar and Spice Bazaar!
PRO TIP: Make sure to bargain before buying anything in the Bazaar as sometimes tourists can be charged more than local people. If you have local friends you can ask for their help to get the best deals!
Grand Bazaar
Grand Bazaar is one of the oldest markets in the world and is a huge bazaar where you will find numerous colorful shops selling souvenirs, carpets, and local flavors. This is the perfect place to grab some souvenirs from your trip!
Open: Everyday 10:00 am – 18:00 pm
Spice Bazaar
If you walk 10 minutes north from Grand Bazaar You will reach Spice Bazaar. As you can guess from the name, here you will find tons of local spices, local products, and souvenirs. You can also find a great selection of Turkish Delight here, something you have to try while in Turkey! When iIvisit, I love to take my goodies from the market and have a picnic in the nearby Gülhane Park.
Open: Everyday 09:00 am – 19:00 pm
5. Explore Galata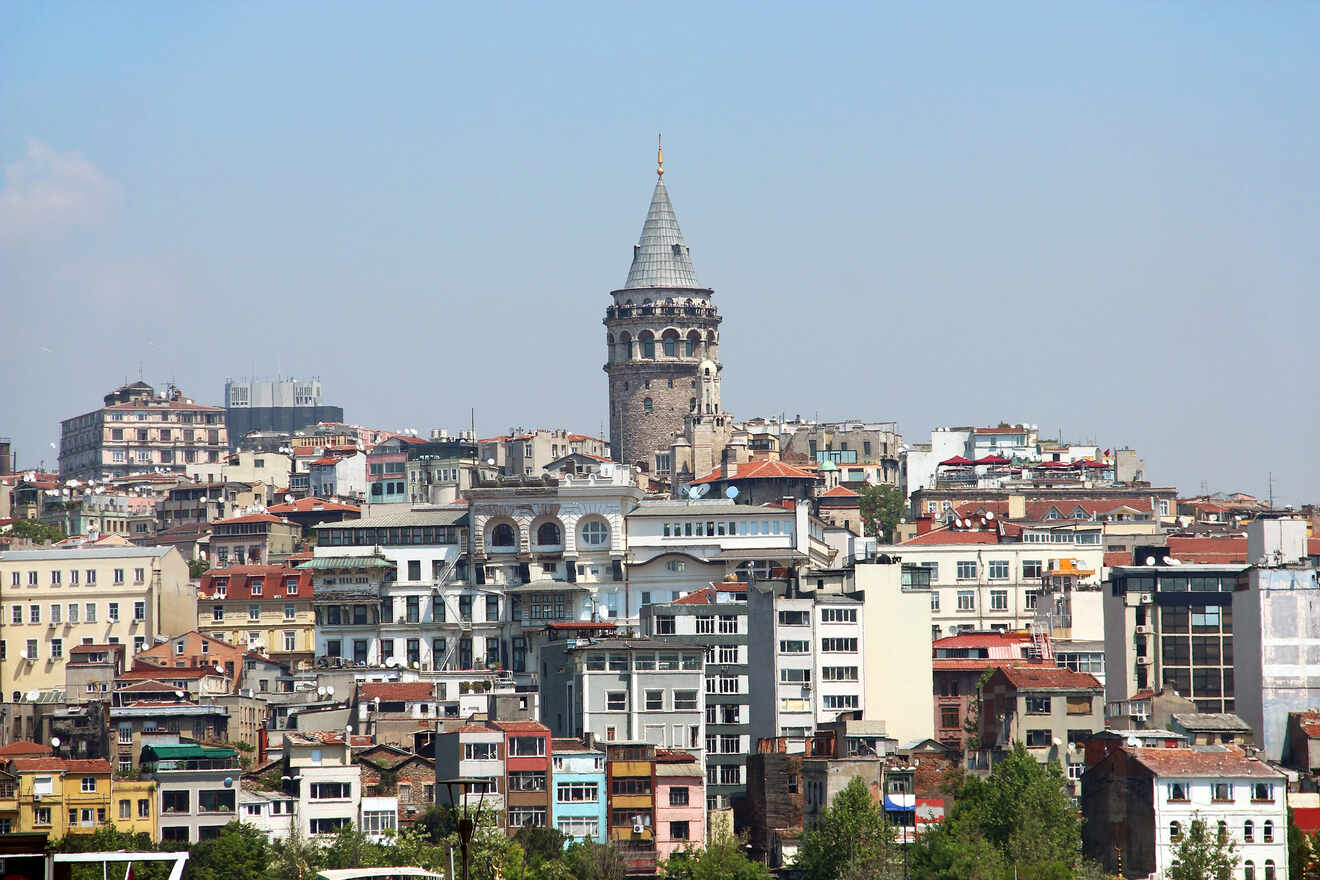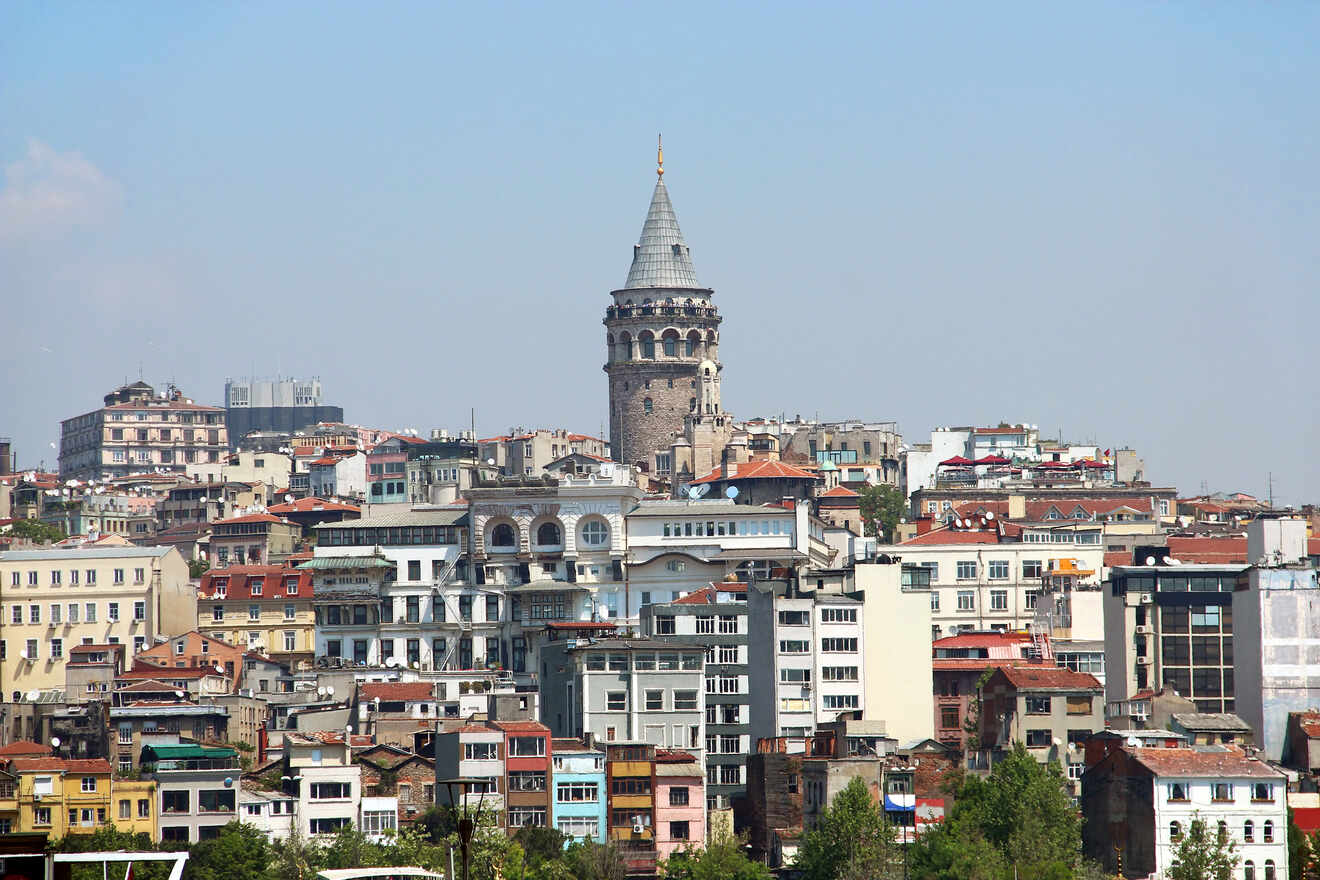 Located in the Beyoğlu area and in the north of the Old Town, Galata is one of the most beautiful and historic parts of Istanbul you should definitely pay a visit. It is one of my favorite neighborhoods where you can feel the texture of the city and have different experiences.
PRO TIP: I recommend walking over the Galata Bridge from the Old Town to see the Bosphorus from another angle, watching fishermen and eating a delicious balık ekmek ( fish sandwich).
Visit the Galata Tower
One of the icons of Istanbul Cities architecture is the Galata Tower. The tower was built in the 16th century as an observatory tower to have a 360 degrees view of Istanbul.
It is said that during the Ottoman Empire, the scholar Hazerfen Ahmet Çelebi built his own wings and flew from the tower over the Bosphorus. You should definitely climb up and see this amazing panoramic Bosphorus view. Don't worry there is an elevator inside the tower!
Open: Everyday 10:00 am – 19:00 pm
Price: 100 TL (US$9.90)
Location: Bereketzade, Beyoğlu
Visit Galata Mevlevi Museum
After you are amazed by the view of Galata Tower you can go to the nearby Galata Mevlevi Museum and learn about the Mevlevi culture.
Open: Tuesday to Sunday, 09:00 am – 17:30 pm (April – October), 09:00 am – 19:30 pm (November – March)
Price: 25 TL (US$2.10)
Location: Sahkulu, Galip Dede Cad. No:15 Beyoğlu
6. Visit the impressive museums of Istanbul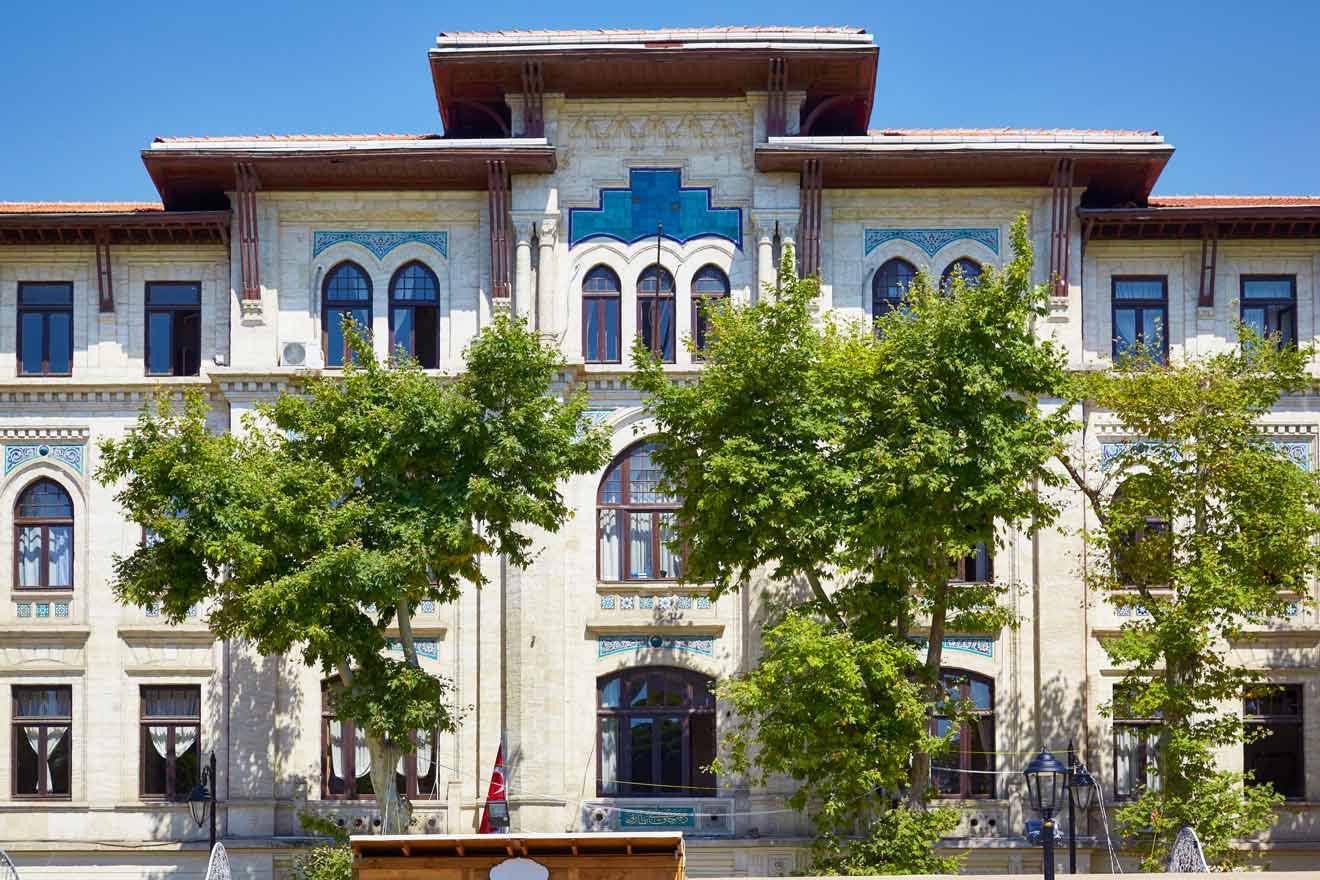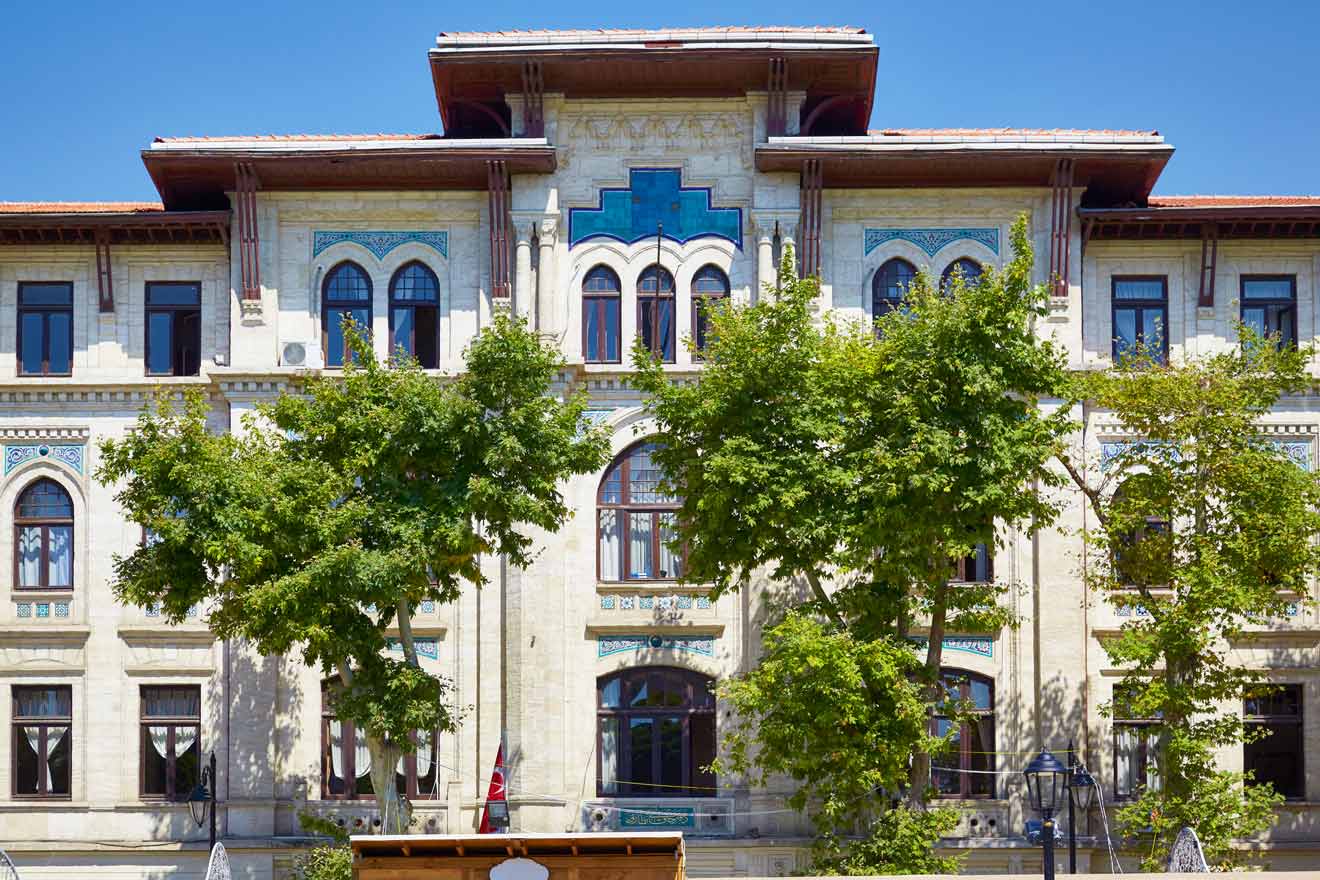 For those who are into history and art, there are so many nice museums in Istanbul that are definitely worth a visit.
HACK 1: I highly recommend buying a museum pass if you are planning to visit more than 4 museums (including Topkapi Palace and Hagia Sophia) to save on ticket prices. The 5-day museum pass price is 700TL (~US$37), you can order it online and it will be delivered to your hotel free of charge within 2 hours.
HACK 2: Alternatively, if you want to do more than visit museums on your trip, you can buy a tourist pass that allows you access to 40 attractions plus the hop-on-hop-off Bosphorus boat cruise. There are passes for 2 – 7 days and prices start from 950 TL (US$107).
UPDATE: there is a new pass on the market that also offers a great value for money option now (and it is digital, no need to receive it somewhere!), check it out here.
Now that you've got your tickets sorted, here are my top 7 museum picks in Istanbul:
6.1 The Museum of Innocence
The Museum of Innocence is perfect for literary lovers. The name of the museum comes from the famous author Orhan Pamuk's book and you can find many historical objects and cultural materials about Istanbul.
Open: Tuesday-Sunday, 10:00 am – 18:00 pm
Price: Adults 65TL (US$5.80), students 40TL (US$3.50)
Location: Çukurcuma Caddesi, Dalgıç Çk. No:2, Beyoğlu
6.2 Istanbul Art Museum
For those who are into contemporary art, you will love the creative exhibitions in Istanbul Art Museum. You will find paintings from various artists, visual art shows, and film events here. There is also a library where you can find books about art, architecture, and photography and special exhibitions.
Open: Tuesday – Saturday, 10:00 am-18:00pm, Sunday, 11:00am-18:00pm
Price: Adults 72 TL (US$6.50), students 54 TL (US$4.80)
Location: Asmalı Mescit, Meşrutiyet Cd. No:99
6.3 The Turkish Islamic Art Museum
The Turkish Islamic Art Museum has the world's richest Islamic art collection and a great museum to learn about Islamic culture and history. You will find so many impressive Islamic calligraphy, Turkish rugs, and ancient orient tiles.
Open: Every day, 9:00am – 19:30pm (April – October), 09:00 am – 17:30 pm (November – March)
Price: 60 TL (US$6.20) per person
Location: Binbirdirek, Atmeydanı Cd. No:12,Fatih
6.4 Chora Church / Kariye Museum
Chora Church is a historic Orthodox church and has spectacular ceilings and mosaics. If you want to time travel back in time you should add Chora Church to your Istanbul itinerary.
Open: Every day 09:00 am – 19:00 pm
Price: 54 TL (US$4.50) per person
Location: Dervişali, Kariye Camii Sk. No:18, Fatih
6.5 Archeology Museum Istanbul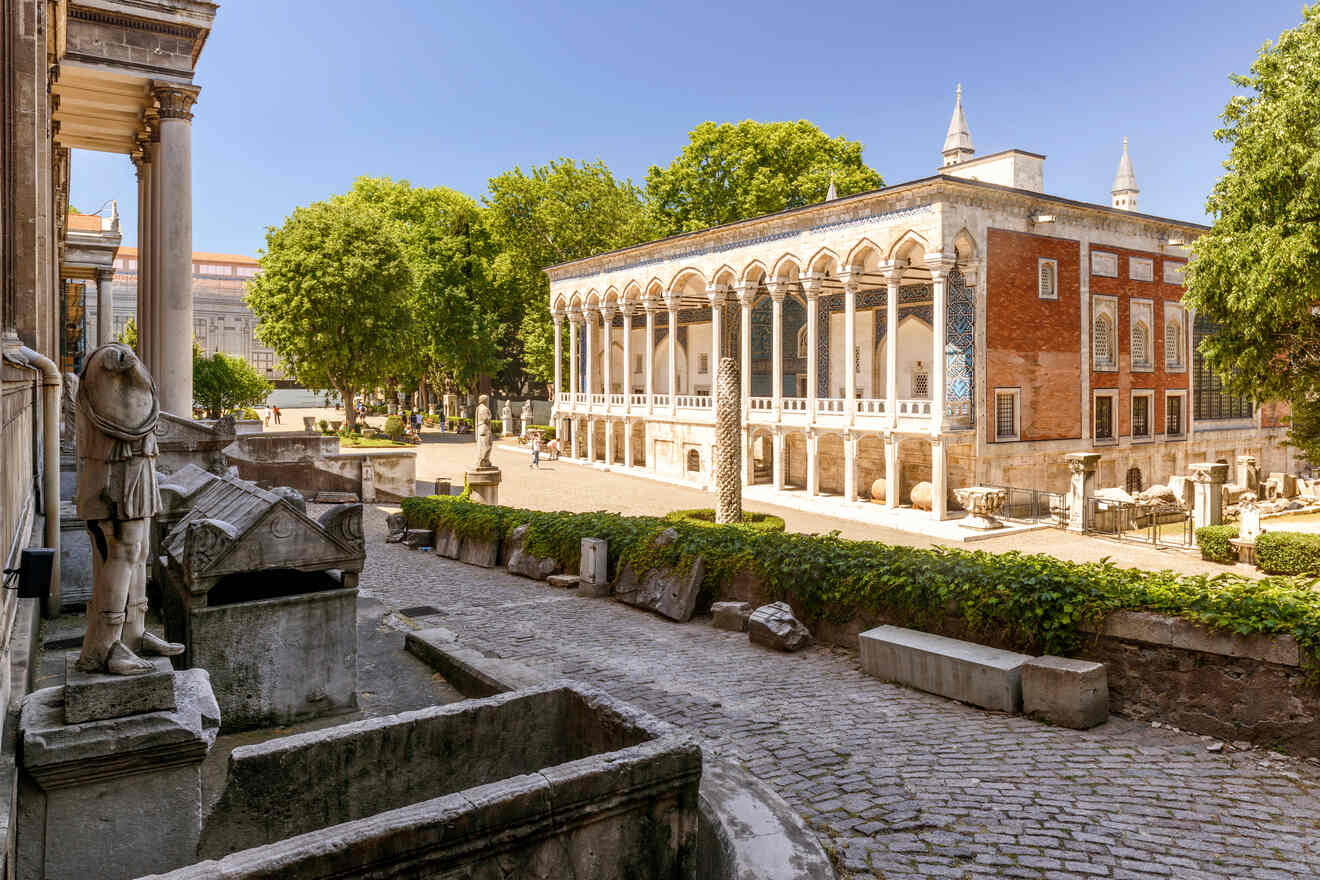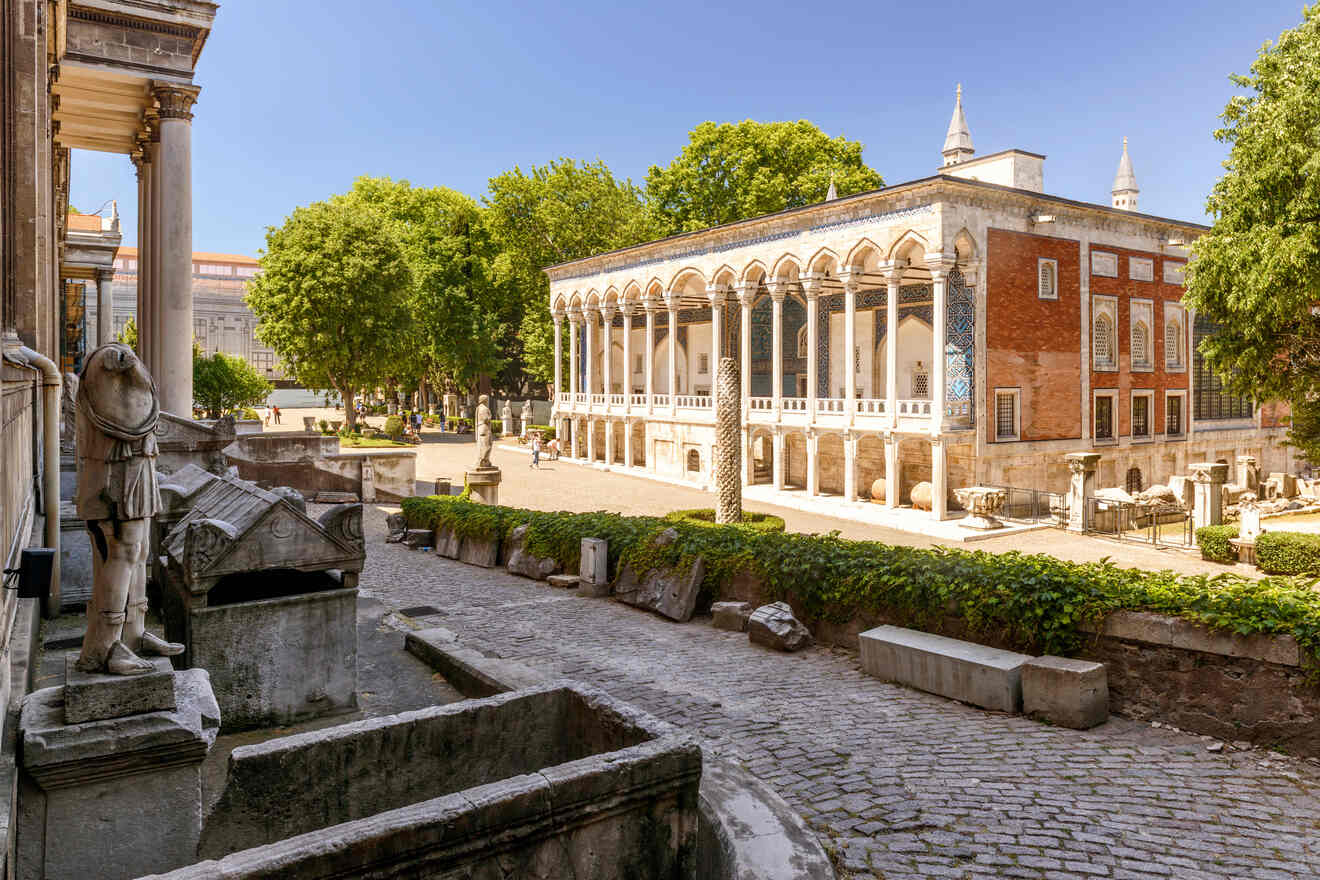 The Archeology Museum Istanbul has a huge collection of art pieces and remains from the Ottoman Empire. For history lovers, I highly recommend visiting this museum to dive deep into Ottoman culture.
Open: Every day 09:00 am – 18:30 pm
Price: 60 TL (US$6.20) per person
Location: Cankurtaran, 34122 Fatih, Istanbul
6.6 Pera Museum Istanbul
Pera Museum is one of the most reputable museums in Istanbul that hosts exhibitions by various artists. They also organize movie nights and show movies from film festivals. You can check the event and exhibition program from their website.
PRO TIP: Students can visit the museum for free on Wednesdays.
Open: Tuesday – Sunday 10:00 am – 19:00 pm,
Sunday & public holiday 10:00 am – 18:00 pm
Price: 25 TL (US$2.50) per person
Location: Asmalı Mescit, Meşrutiyet Cd. No:65, Beyoğlu
6.7 Rahmi M . Koç Museum
Rahmi M . Koç Museum is located in Haliç by the sea and is a very interesting museum where you can see historical cars, old trams, ships, and time travel back in time in history. There is also a very cool cafe and restaurant with a nice view.
Open: Tuesday – Friday: 10:00 am – 17:30 pm
Weekends & public holidays: 10:00 am – 18:00 pm
Price: Adults 30 TL (US$2.90), students 15 TL (US$1.40)
Location: Hasköy. Cad. No: 5 Hasköy
7. Cruise on the Bosphorus River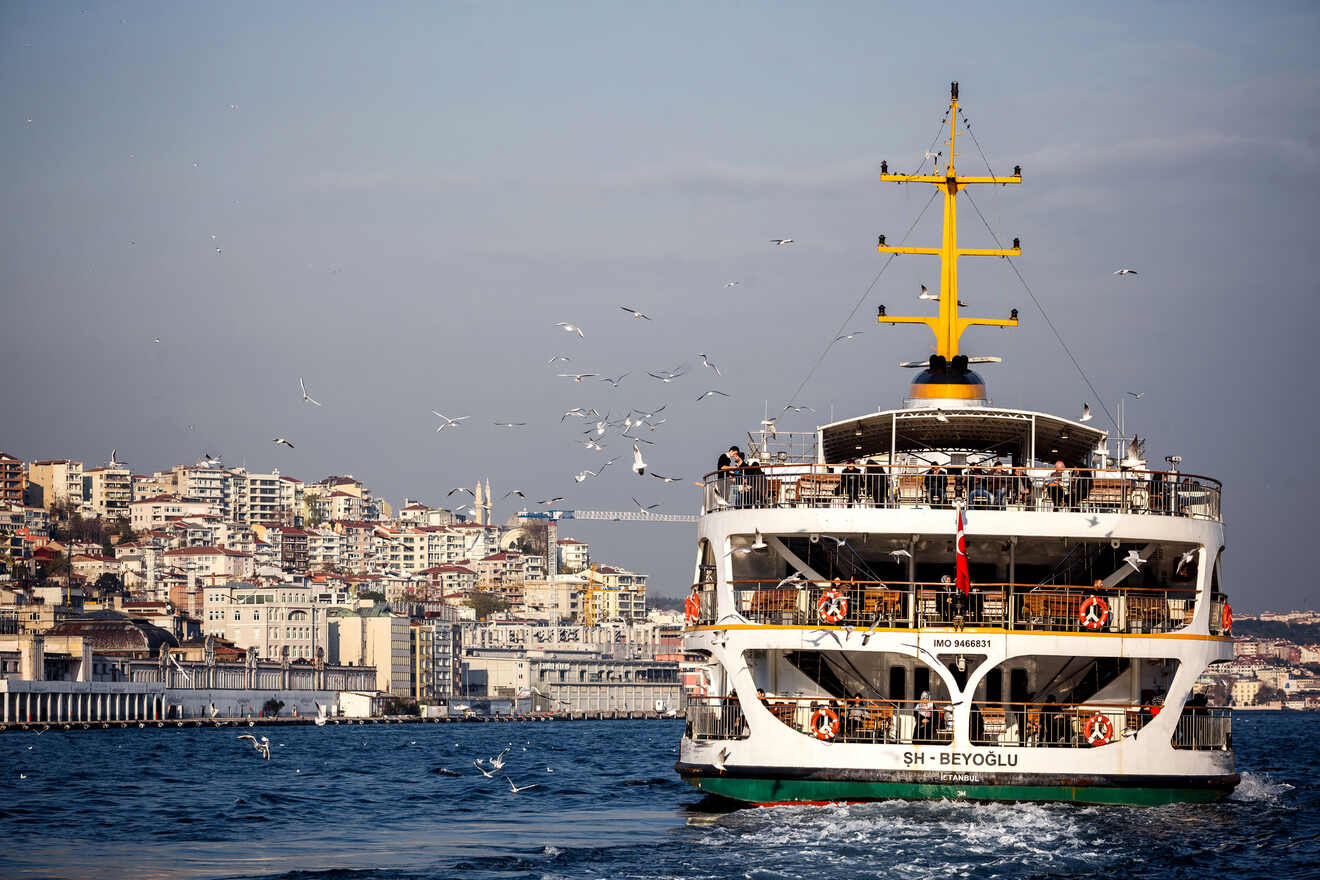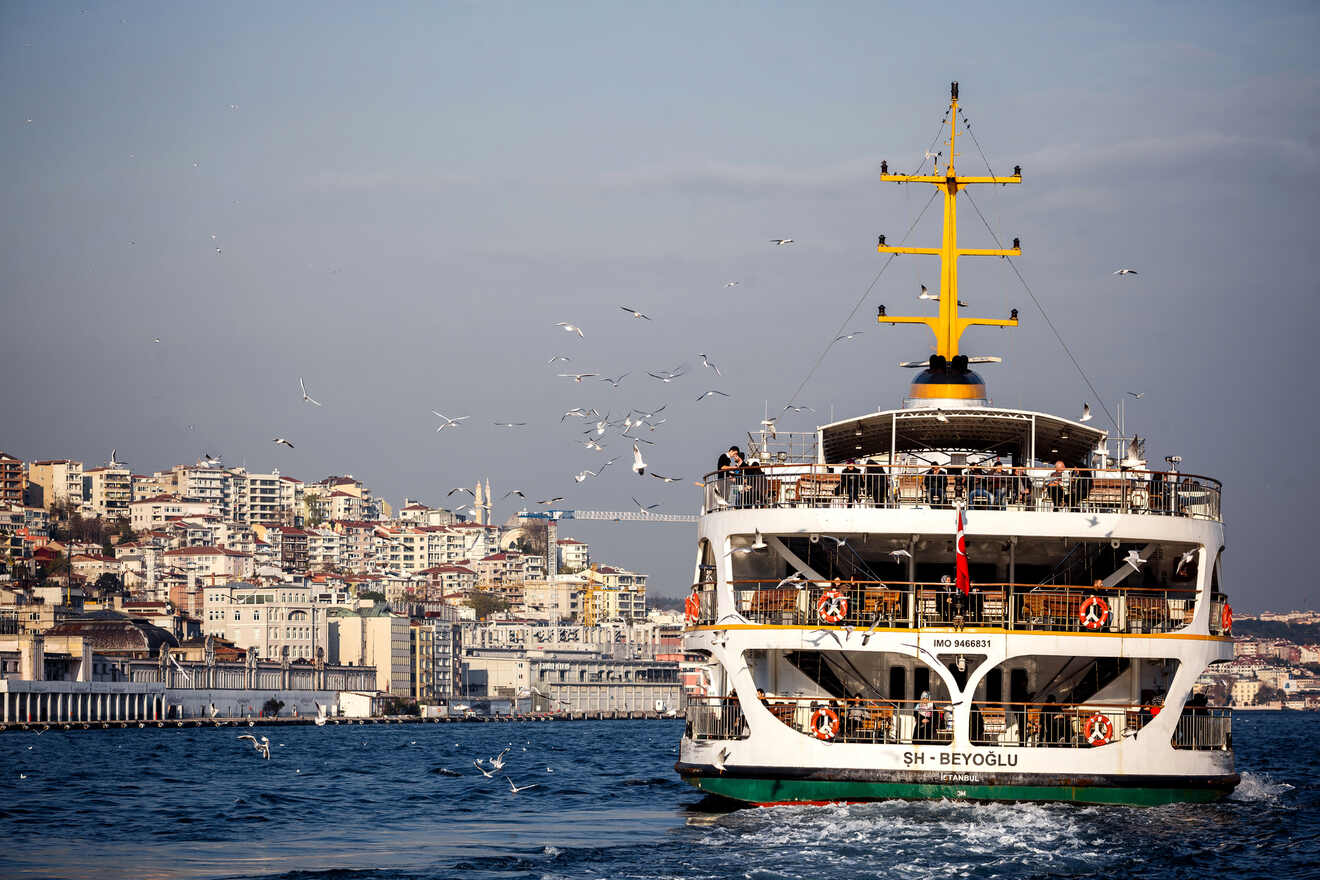 Cruising on the Bosphorus River is a must-thing to do for everyone visiting Istanbul, but especially for couples because it is super romantic.
There are several cruise tours to discover the Bosphorus river that will enable you to see whole parts of the Bosphorus from the Marmara Sea to the Black Sea. You can join a cruise from Eminönü, Beşiktaş, and Kabataş on the European side, or Kadıköy and Üsküdar on the Asian side where you will see ticket booths for the various companies.
For many of them, you can hop off in one of the stops and have local food then continue the tour by taking the next ship. Alternatively, I think the best ones are the themed cruises that give you something a little bit special. You will usually need to pre-book these but why not enjoy a nice meal and a show to accompany the gorgeous views?
Sunset Cruise – If you want to enjoy the beautiful views at the most magical time, this sunset cruise on a luxury yacht with drinks included is the one for you! This cruise starts at 600 TL (US$57.10) and takes 2.5 hours departing from the Kabatas pier.
Bosphorus Dinner Cruise & Traditional Show – For those who want to have fun, there is also an option to join dinner cruises with live music and traditional belly dance shows. From 600 TL (US$57.10) you get a 4-hour cruise including food and dinner as well as pick up and drop off from your hotel on the European side.
8. See a miniature Istanbul at Miniatürk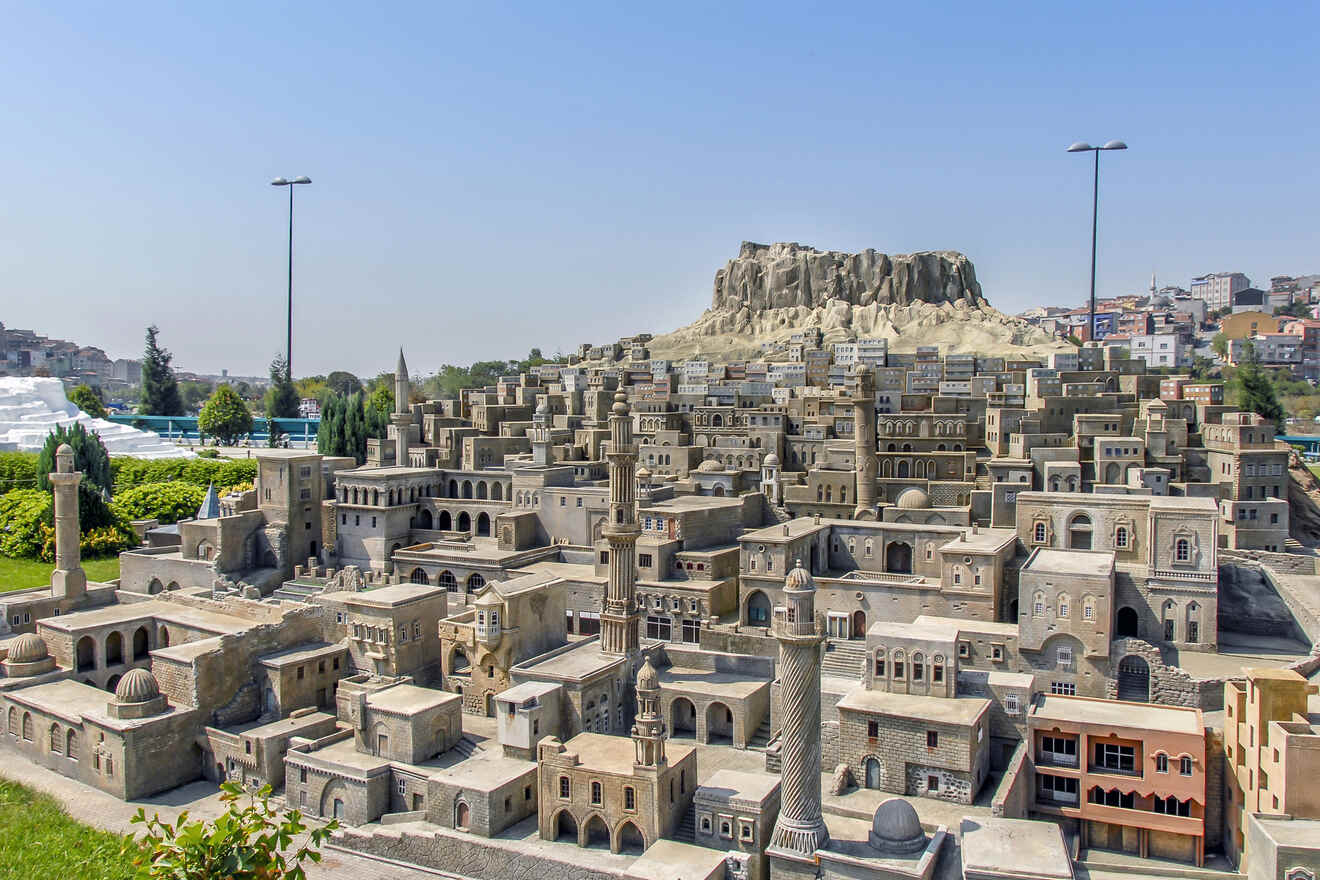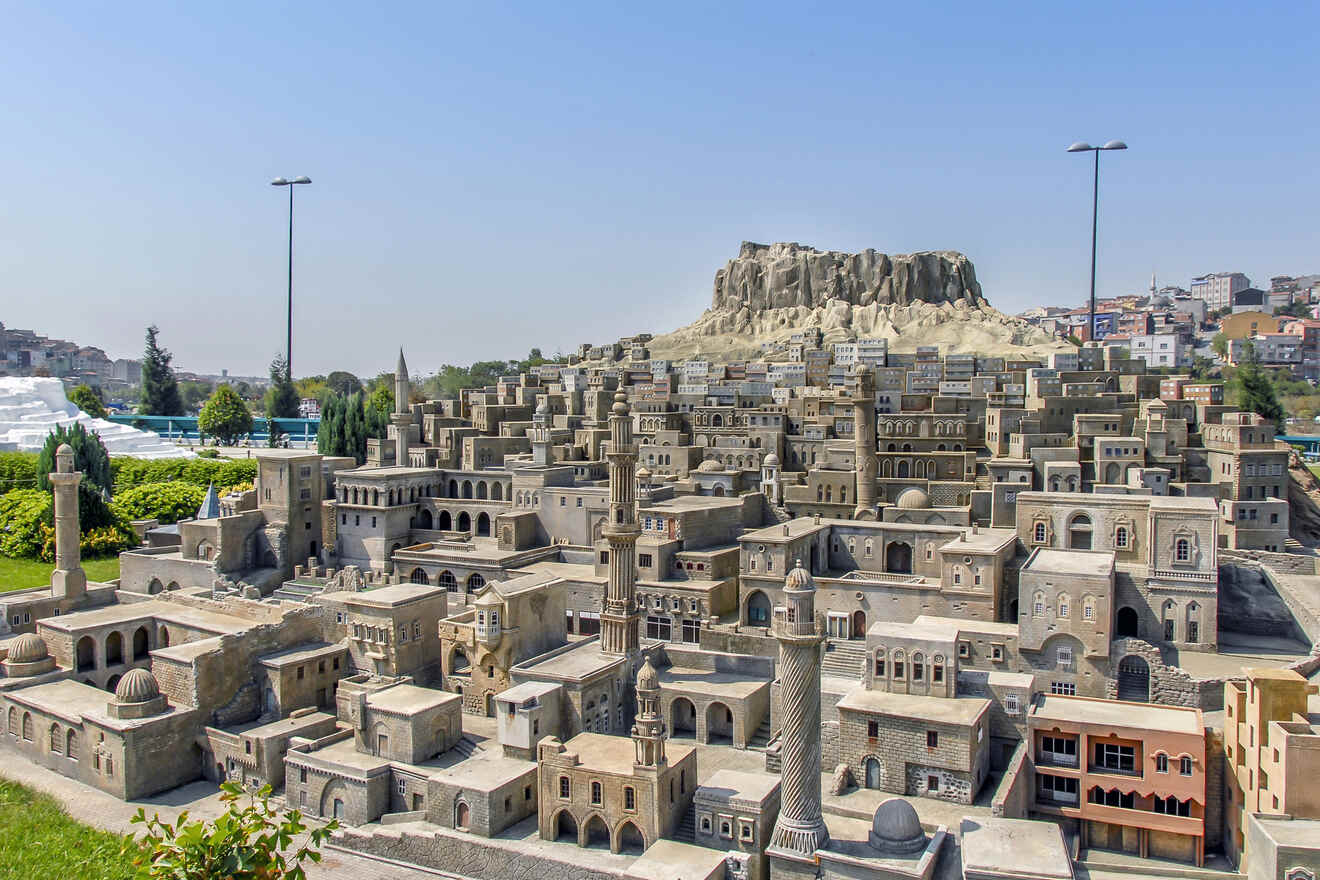 Visiting Miniaturk is one of the most family-friendly activities to do in Istanbul. Here you will find 128 miniature versions of famous tourist attractions in Istanbul such as Hagia Sophia, Selimiye Mosque, Rumeli Hisarı, and Galata Tower.
Open: Every day 09:00 am – 18:00 pm
Price: Adults 10TL (US$1.10) Students 5TL (US$0.60)
Getting there: Take bus line 47 from Eminonu to the Miniaturk stop (30mins) and walk 2 minutes to Miniaturk. Alternatively, hop on hop off buses also make a stop here.
9. Join a walking tour of Fener Balat to discover hidden gems of Istanbul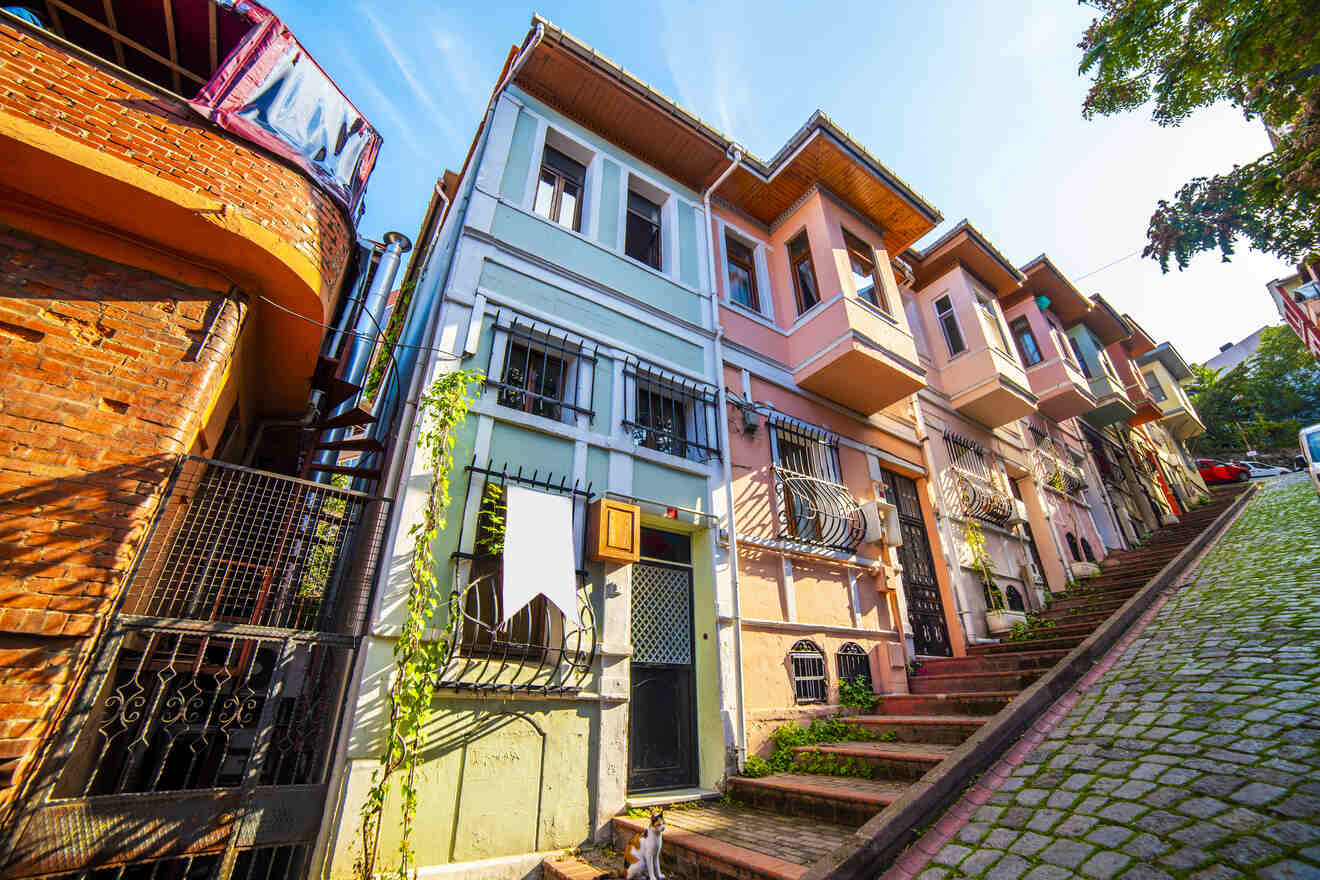 Fener and Balat are two districts whose popularity has been increasing day by day in recent years. These neighborhoods are adjacent to each other in the Golden Horn and reflect the Ottoman era of Istanbul in the best way and have great historical importance.
In this past, this is where non-Muslim Ottoman citizens lived and today it still contains significant cultural heritage represented by the mosaic structure of Istanbul with its Mosques, Churches, and Synagogues in the neighboring streets.
Walking in Fener Balat is one of the most fun activities to be done in Istanbul and the best way to truly appreciate the history here is to join a 5-hour walking tour where a local guide will teach you all about the area.
Getting there: Take bus lines 30D, 55T, or DT2 and get off at Balat stop or take a taxi from Beşiktaş (20 minutes).
After exploring Balat, make a stop at the Walls of Constantinople, also called the Old City walls with a 10-minute taxi ride. The Old City walls were built by the Roman Empire to protect Constantinople (the old name of Istanbul) from the invaders. The Walls of Constantinople still remain durable and can be seen from along the coast from Topkapi to Yedikule.
10. Spend some time in nature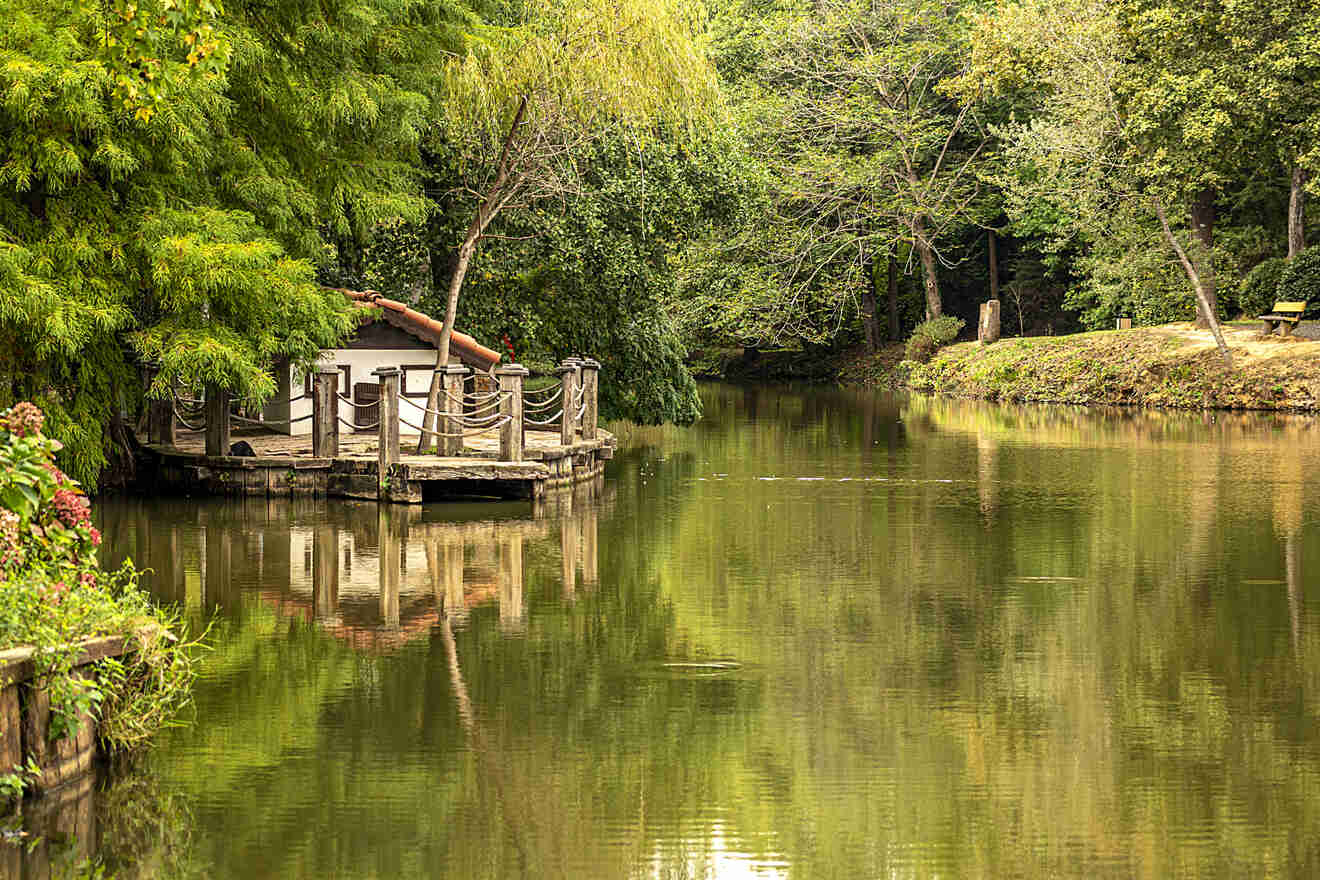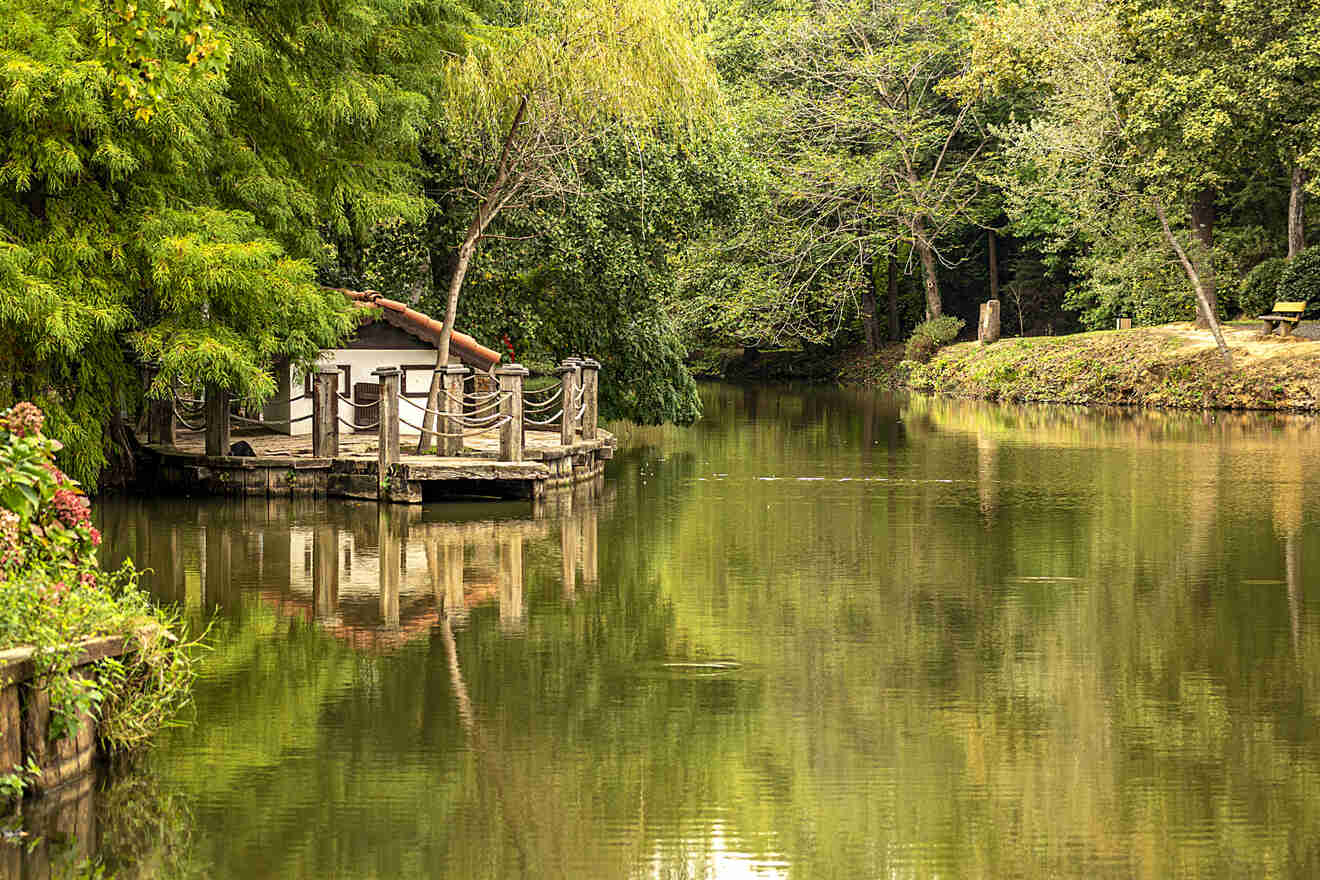 Since Istanbul is surrounded by concrete buildings, you might want to have a break and enjoy lush green gardens. Here are the best parks in Istanbul where you can chill and have a great time.
Atatürk Arboretum
Atatürk Arboretum which is a special botanical park with wood plants and trees is like an oasis in the desert for those who want to escape from the busy city life. In the Arboretum, you can take a walk in amazing nature and take wonderful photos.
Getting There: Take the 42HM bus from Beşiktaş and get off at the Kemerburgaz Yolu stop (40minutes).
Yıldız Park
The other beautiful park in Istanbul is Yıldız Park that stands in the middle of one of the busiest districts of the city, Beşiktaş. As soon as you enter the park, you are isolated from the traffic and crowd of Beşiktaş. Have a peaceful walk in the park, watch the squirrels and sit on a bench with a Turkish tea.
Getting There: Walk for 15-minute from Beşiktaş or take the minibus from the Beşiktaş ferry pier (10 minutes).
Asian Side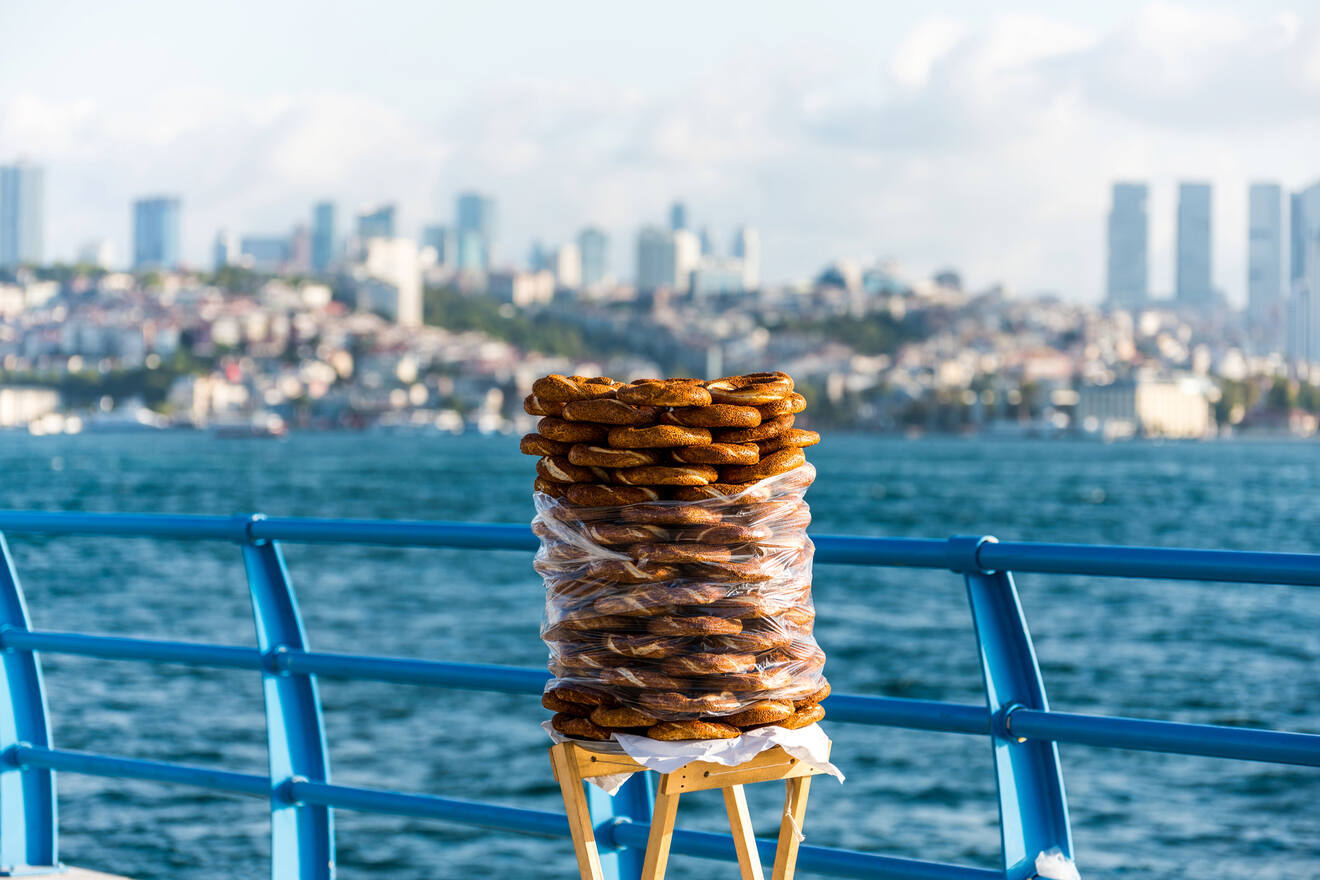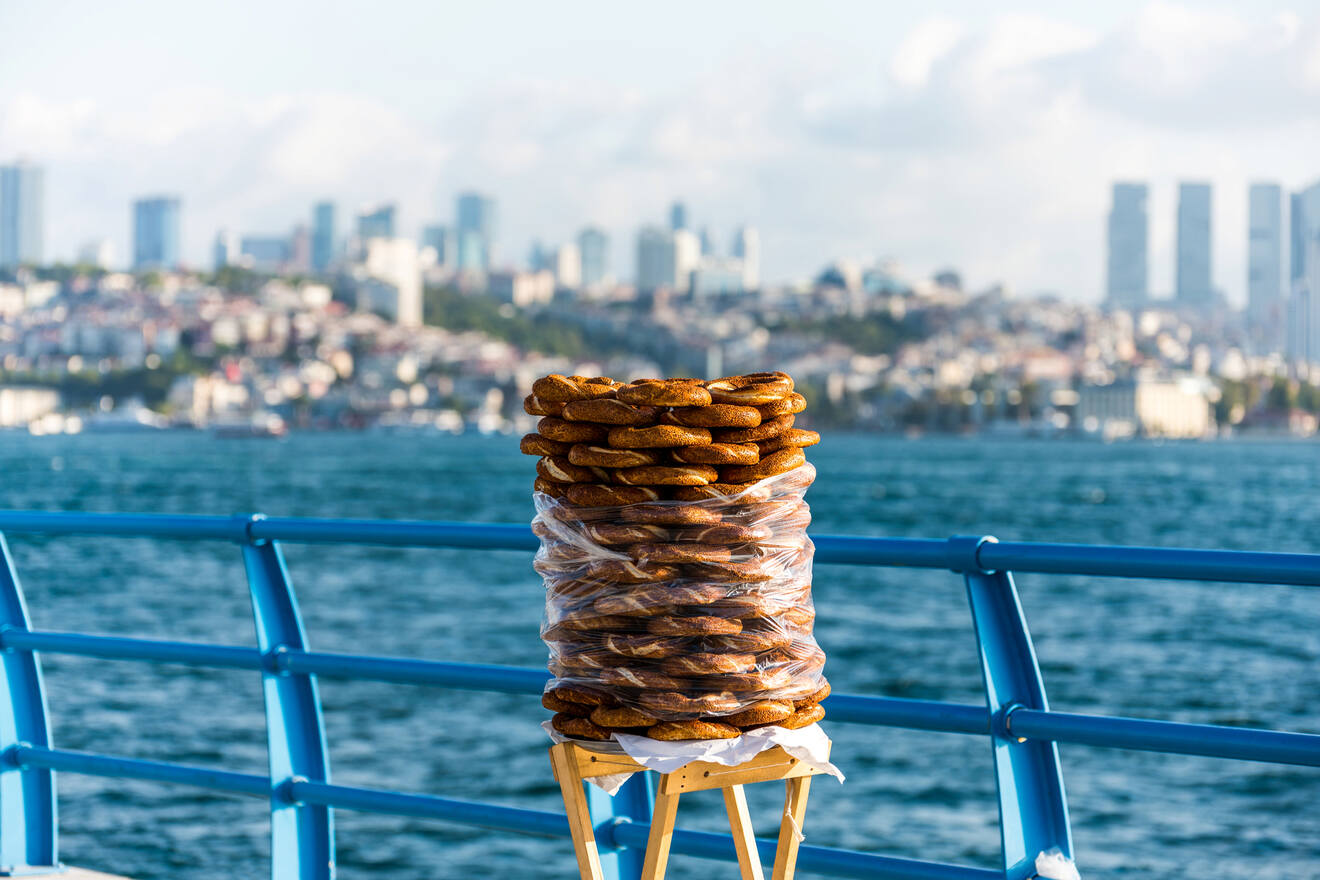 Even though the Asian side of Istanbul is not as popular as the European side and is often skipped by tourists, it is definitely worth a visit. There are so many fun things to do so let's get started!
11. Take a ferry between Europe and Asia
I personally think getting on one of the ferries running on the Bosphorus line is one of the most beautiful, cheapest, and most fun activities to do in Istanbul city. Taking a public ferry costs just 7TL (US$0.50) per person and you can enjoy the views of Haydarpaşa Train Station, Dolmabahçe and Topkapı Palaces, Galata Tower.

On the European side, more convenient ferry terminals for this trip are Beşiktaş, Karaköy, and Kabataş. On the Asian side, you can return from the terminals at Kadiköy or Üsküdar. The ferries run every 15 mins everyday between 06:00-23:00
You can simply buy the tickets from the ferry terminal and the trip takes about 20 minutes. Take many photos and enjoy the Bosphorus view and being in the middle of two continents!
PRO TIP: Don't forget to buy simit (Turkish bagels) from the street sellers in front of the pier before getting on the ferry to throw to the seagulls.
12. Visit Maiden's Tower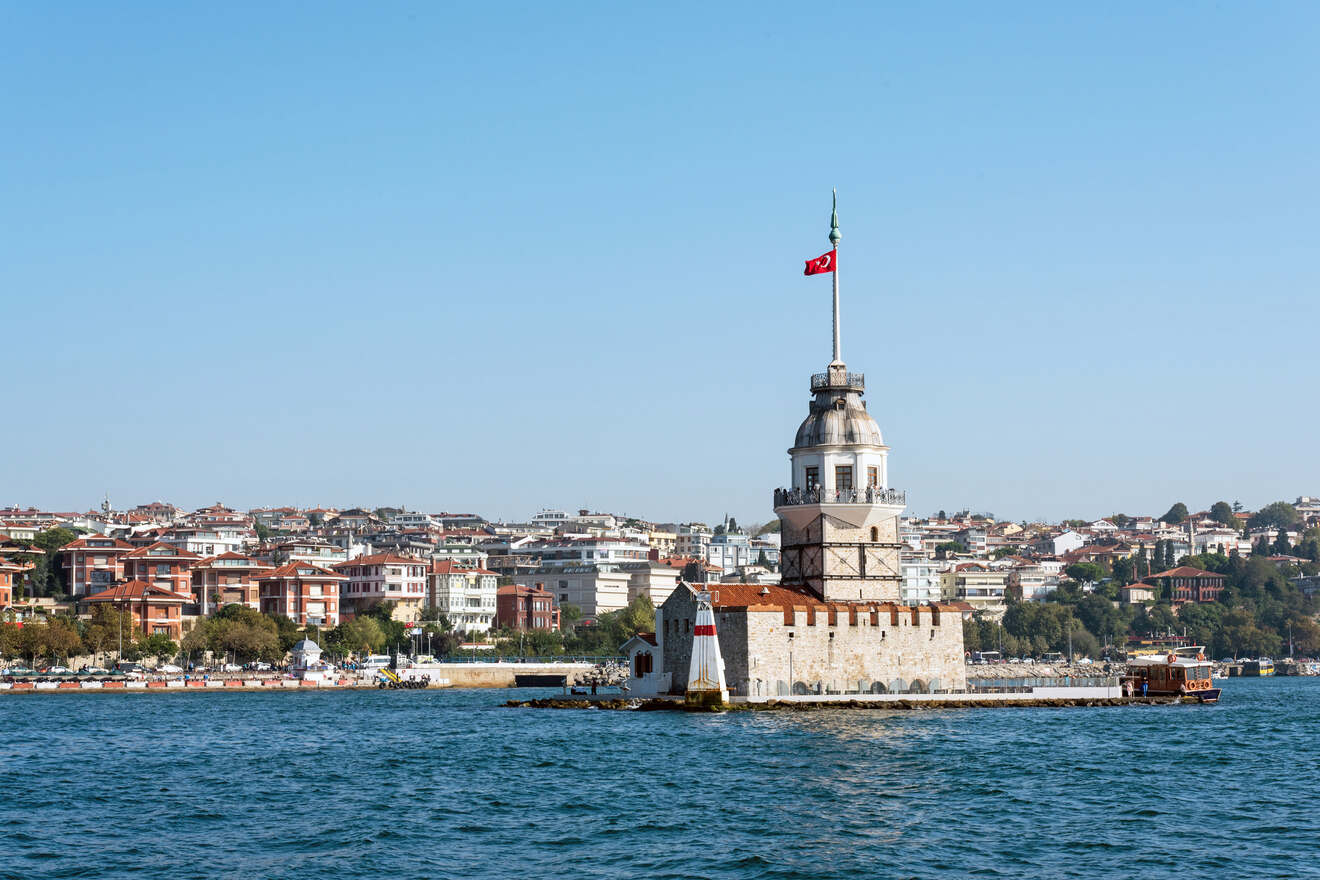 According to rumors, the name of the tower comes from the warrior Battalgazi who wanted to lock her daughter here to protect her from snakes and fires.
Located in the middle of the Bosphorus, the Maiden's Tower is one of the most important symbols of Istanbul. This historical tower that dates back to the 18th century is on a small island that was built as a lighthouse and used as a tax collection center for years.
Once you are on the island you can visit Maiden's Tower, have many Instagrammable photos, and enjoy a fancy dinner in the on-site restaurant.
I also love enjoying a Turkish tea or coffee in the cafes located on the stairs in Salacak while watching the view of the Maiden's Tower.
Open: Every day 09:00 am – 19:00 pm
Price: Boat & entrance fee, 30 TL (US$3.10)
Getting there: Take a boat from Salacak, departing every 15 minutes
13. Take a trip to Princess Islands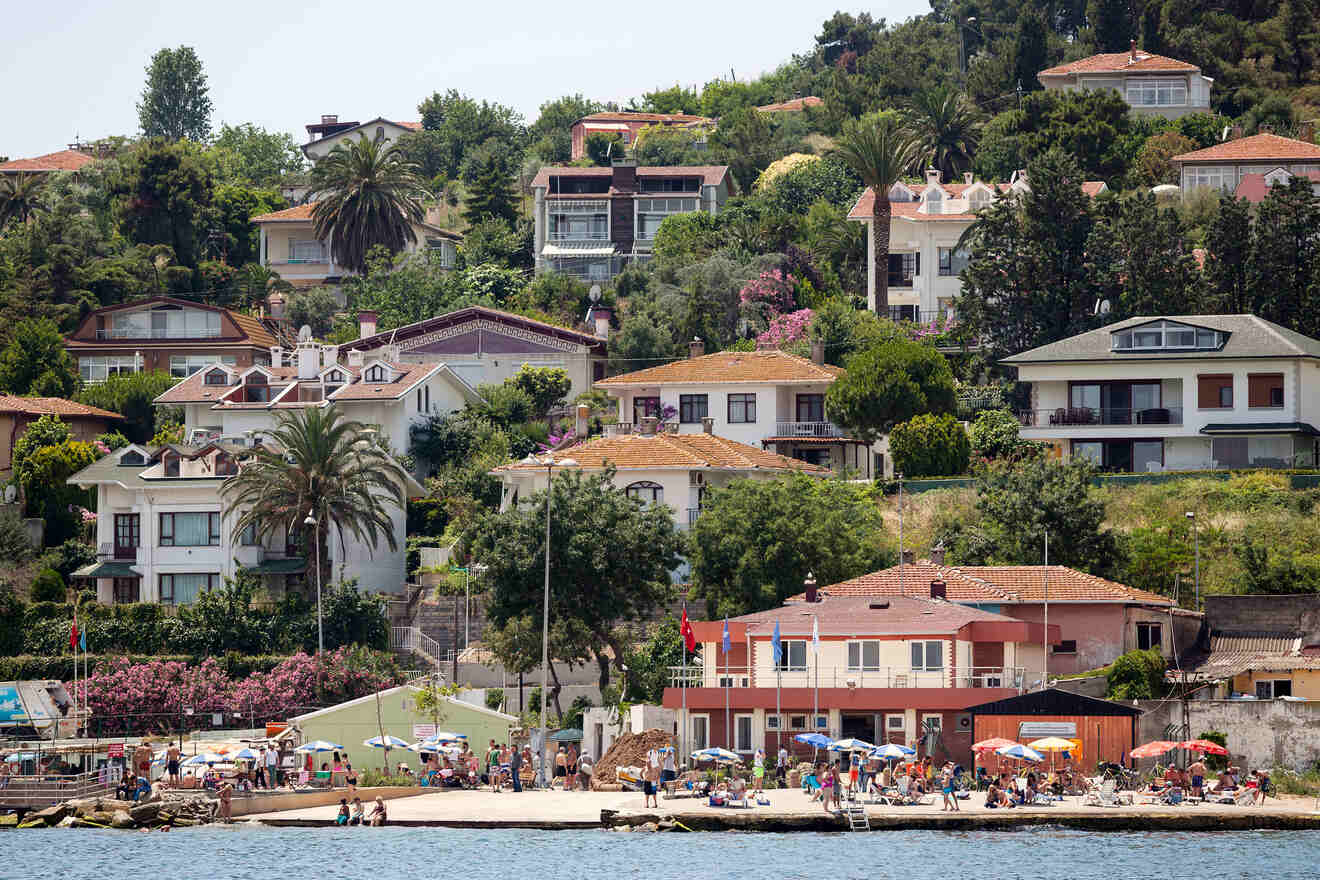 One of the most fun stuff to do in Istanbul city is to visit the beautiful Princess Islands that are known for their charming historical buildings, beaches, and scenic island views. There are also so many nice seafood restaurants, cute cafes, and souvenir shops. I've always enjoyed having an afternoon dinner here while watching the sunset and I am sure you will also love it!
Start your trip by buying ice cream, then rent a bicycle and go for a tour to check out amazing scenery. Rental bikes with child seats are also available for families with young children. You will feel like you are teleported to the past when you see the magnificent historic houses of the island!
Getting there: Take a ferry or motorboat departing from Kadıköy, Bostancı, Eminönü or Beşiktaş. (30mins). Buy your tickets from the cashiers on the pier for 15 TL (US$1.50) per person.
14. Check out the upscale shops at Bagdat Street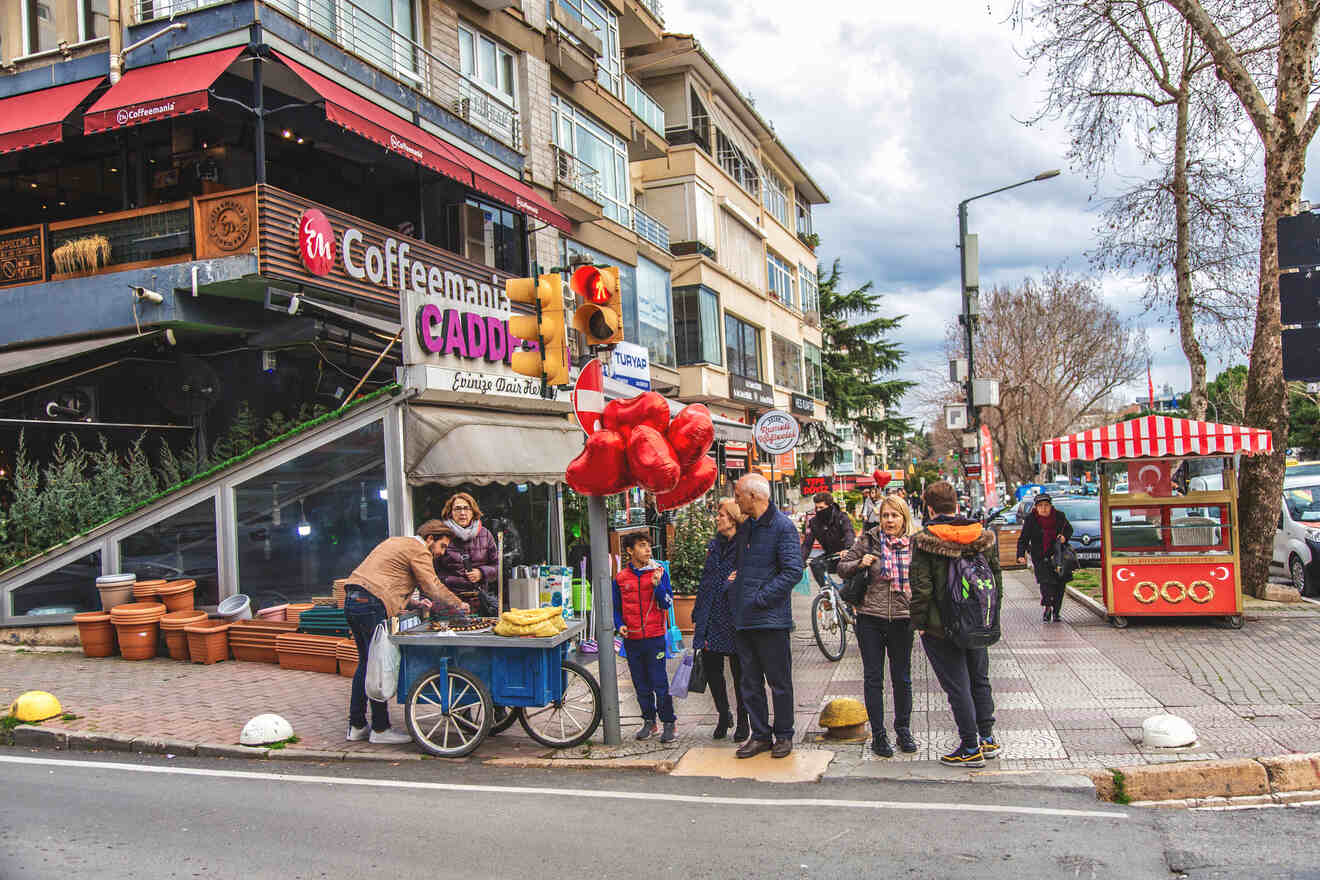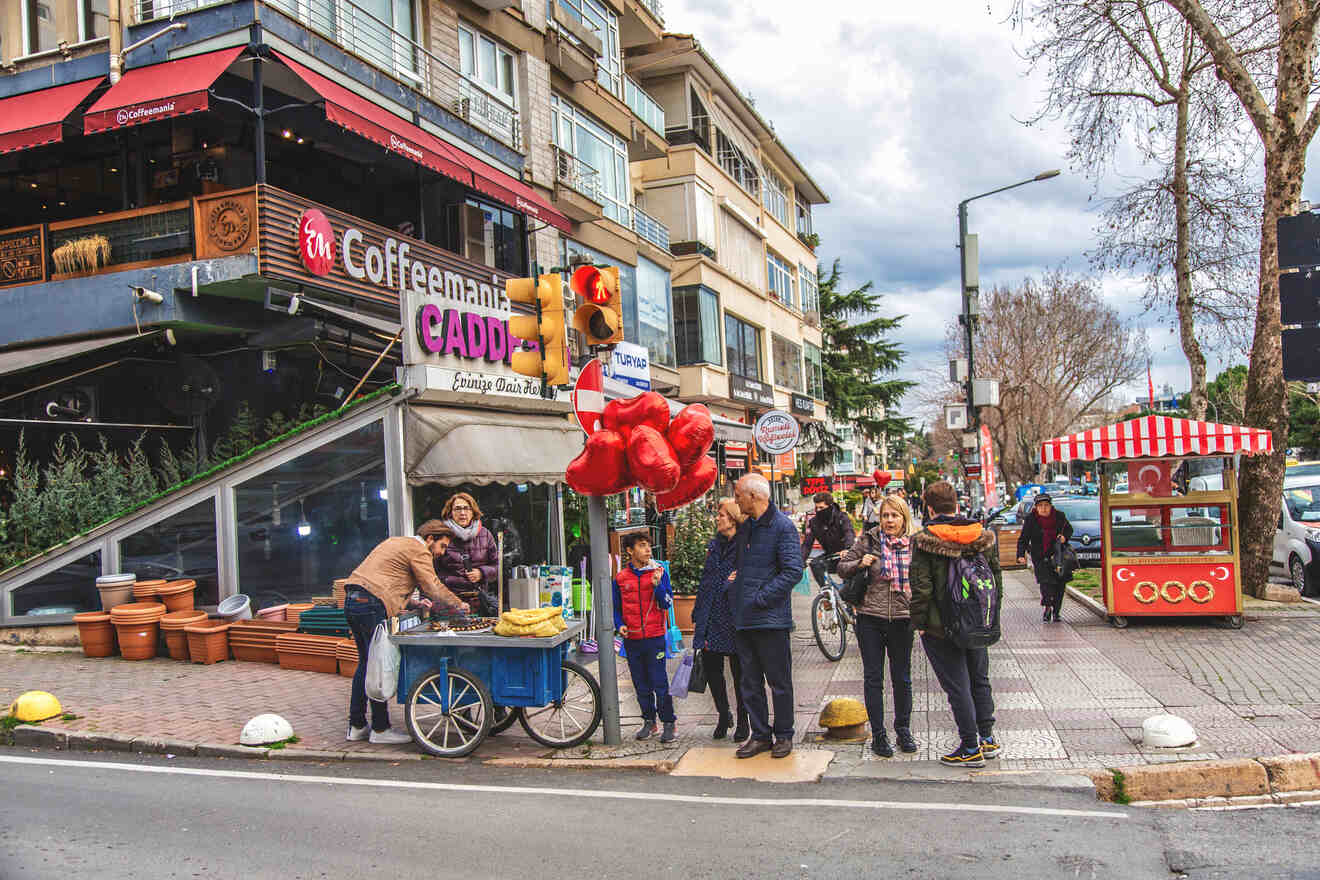 In Istanbul, you will see so many shopping malls in every neighborhood but for those who like window shopping on the street, Bağdat Caddesi is a very famous affluent street with many upscale shops. It is a 9km long street where you will find luxury brands from Louis Vuitton to Burberry and Chanel as well as local high-end brands.
If you don't want to be stuck in a closed shopping mall in Istanbul, you can go shopping on Bağdat Street, have a coffee in the fancy cafes, and go to patisseries to have delicious bakery products.
Must-Try Experiences in Istanbul
15. Treat yourself at Hammam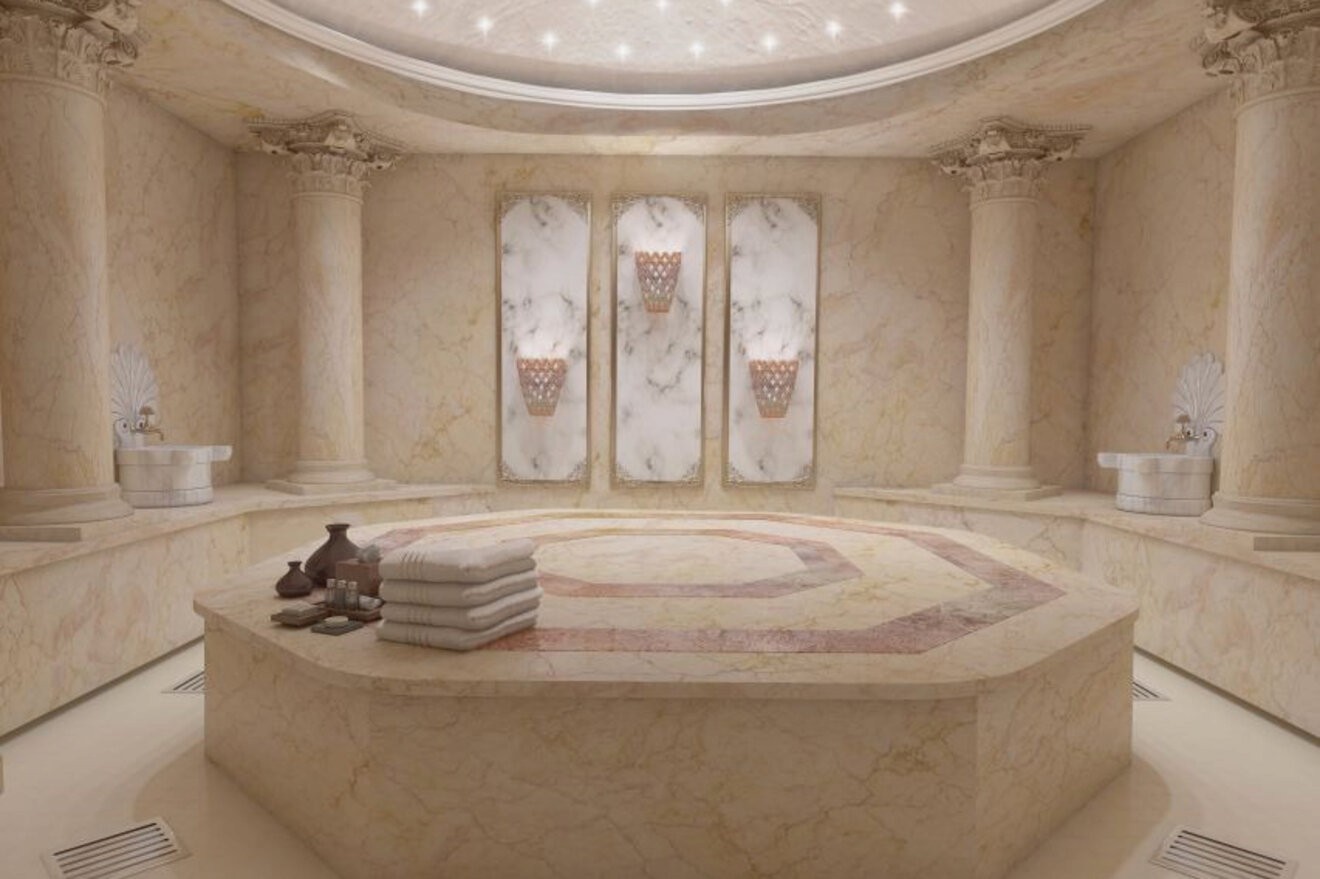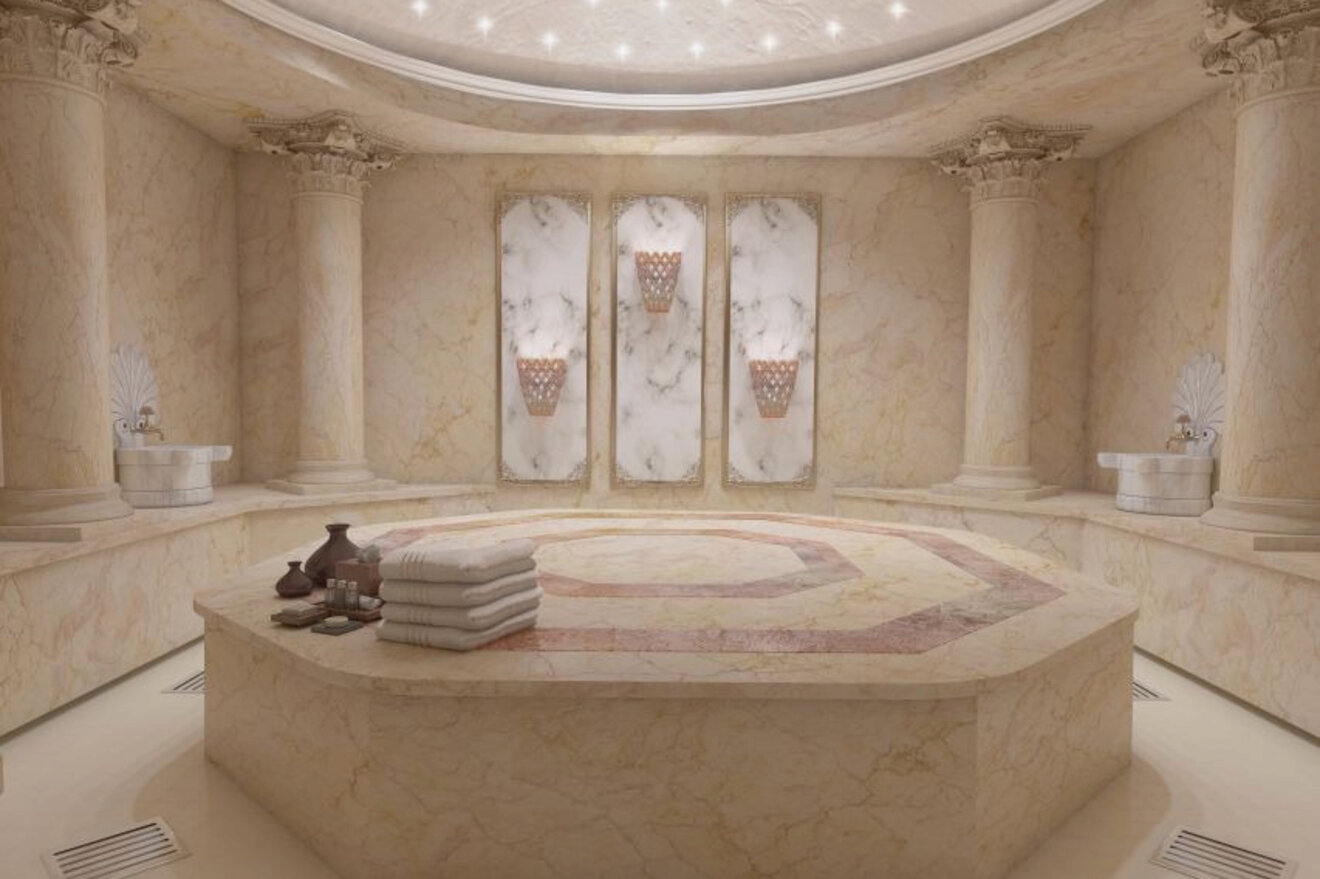 Since you are here, why don't you pamper yourself with a Turkish bath, massage, and traditional scrubbing! Go on, you're on holiday!
Turkish Bath (Hammam) is part of Turkish culture and you will find historical hammams all over the Golden Horn area. Even though you can find hammams in many hotels, I recommend you go to the historic ones in the old town to feel the authentic atmosphere. The heat of the hammam will help you to peel your skin during the massage and you will go out with shining skin!
NOTE: In Hamam, you generally need to get naked but you will be provided with a traditional sarong style towel to cover yourself. For those who don't feel comfortable stipping down, it is still allowed to wear swimsuits but it's not the norm. Go on, what is traveling about if not for new experiences?
16. Try some unique Turkish food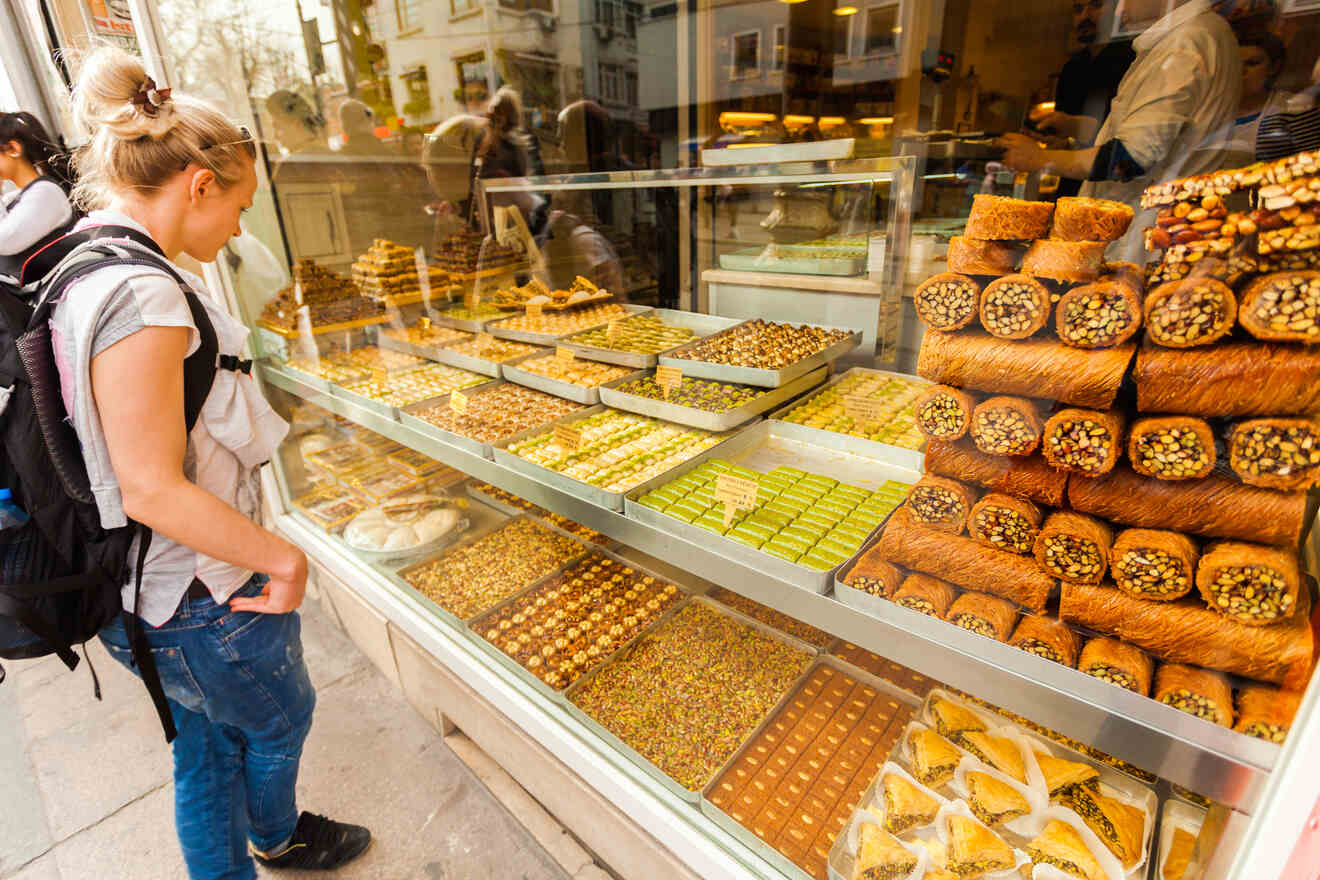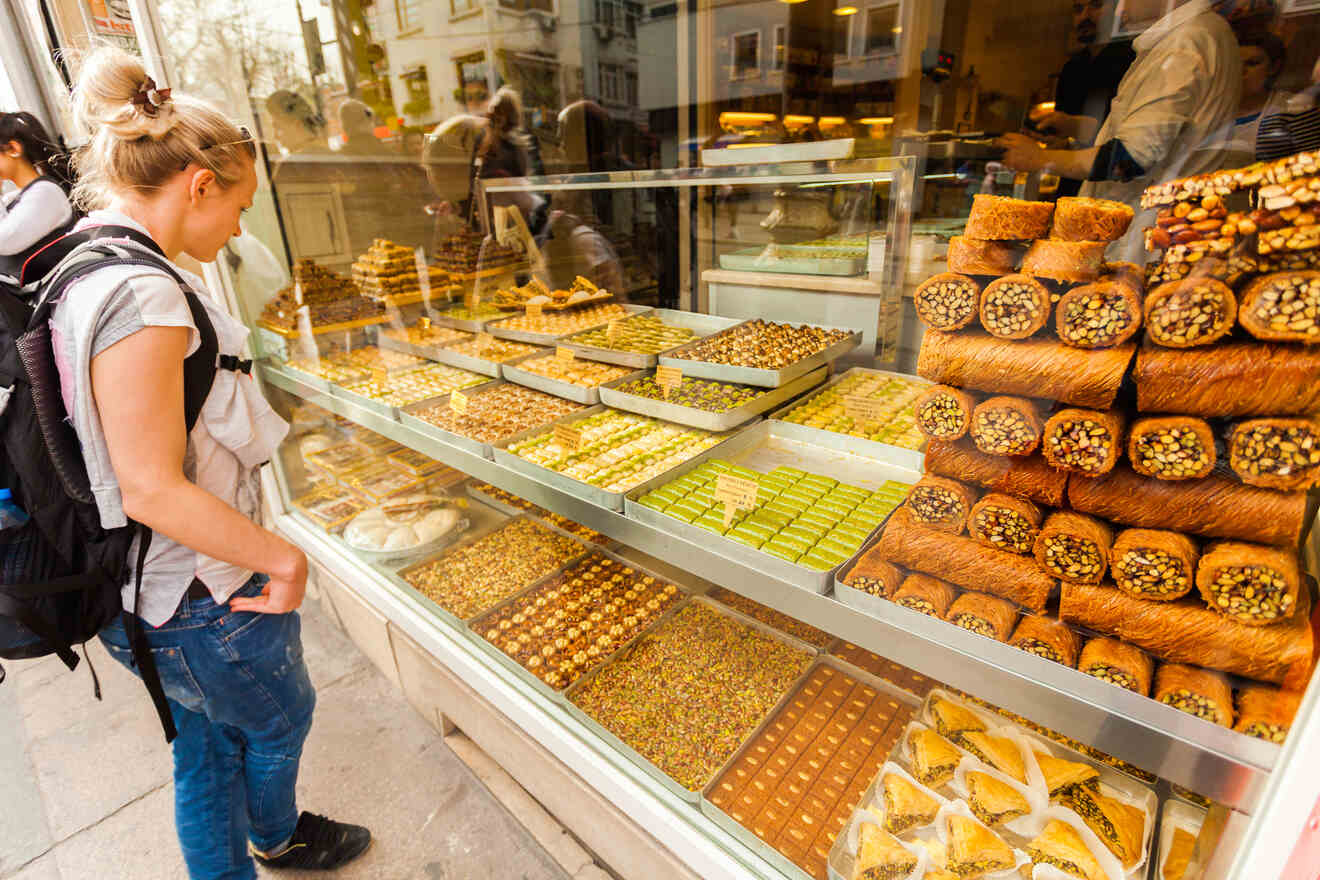 Turkish food's fame is well known all around the world thanks to its incredible variety of choices from street snacks to desserts and a great selection of meat and fish dishes. Even though there is so much food to try here I would like to give you the most famous and delicious ones you should definitely try during your trip. If you're looking for more, check out my post on the best restaurants in Istanbul.
What to eat:
Turkish coffee – traditional coffee that is made in a special coffee pot with a finely grounded coffee by boiling
Döner – sliced lamb meat served in a Turkish bread called lavaş with salad
Midye Dolma – famous street food of a muscle filled with spicy rice
Kumpir – baked potato filled with butter, cheese, and your choice of salads
Mantı – a traditional dumpling filled with meat and served with yogurt
Kebab – spicy roasted lamb or chicken served with lavaş and salad
Baklava – the most famous Turkish dessert that layered pastry filled with pistachio
Turkish delight (lokum) – candy that has a soft gummy texture made of starch and sugar with rose flavor
Hookah (Nargile) – flavored water pipe that you smoke. Can be found in nargile cafes in almost every neighborhood
Rakı – a local drink that has 40% alcohol level made of distilled grape and drunk with water and ice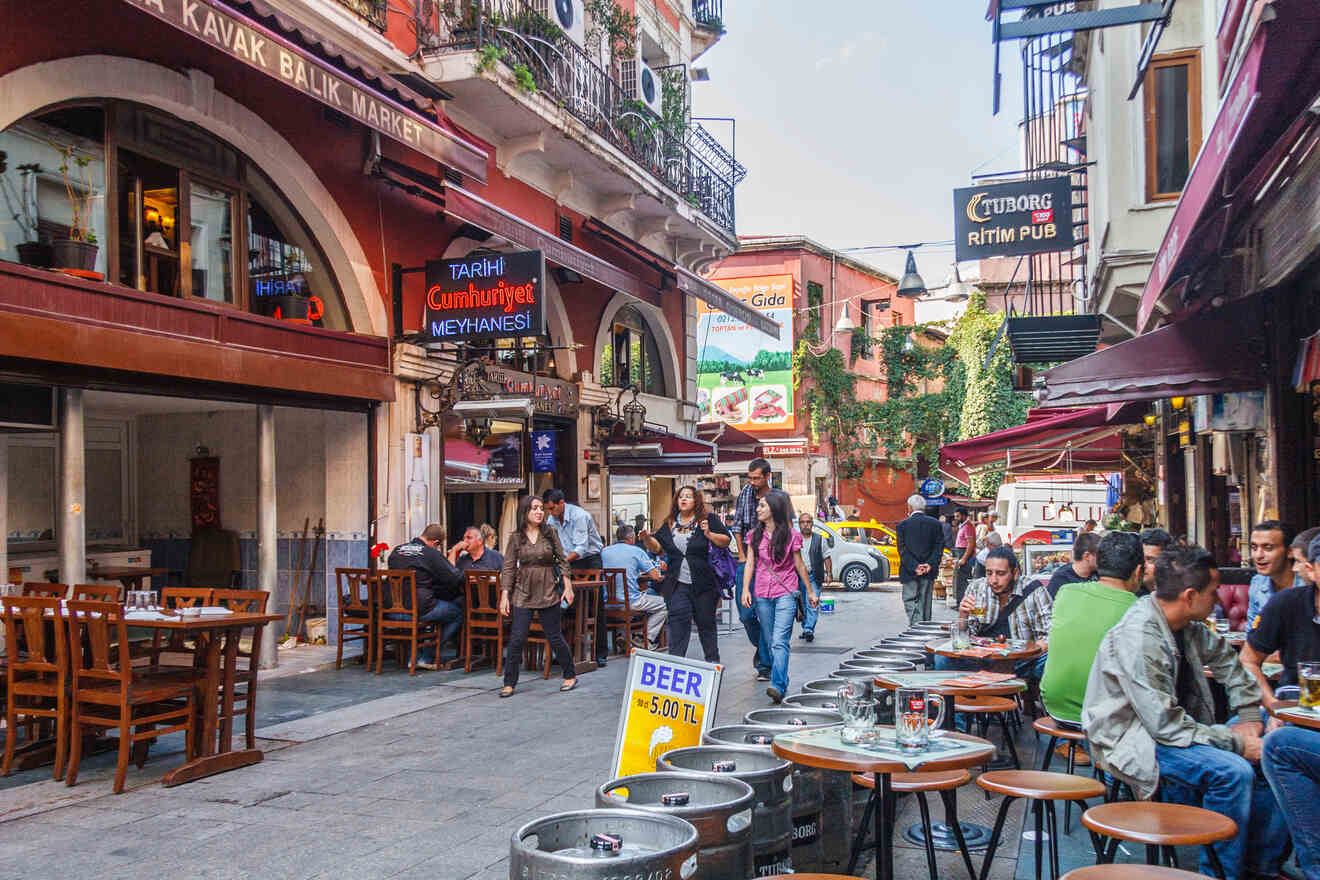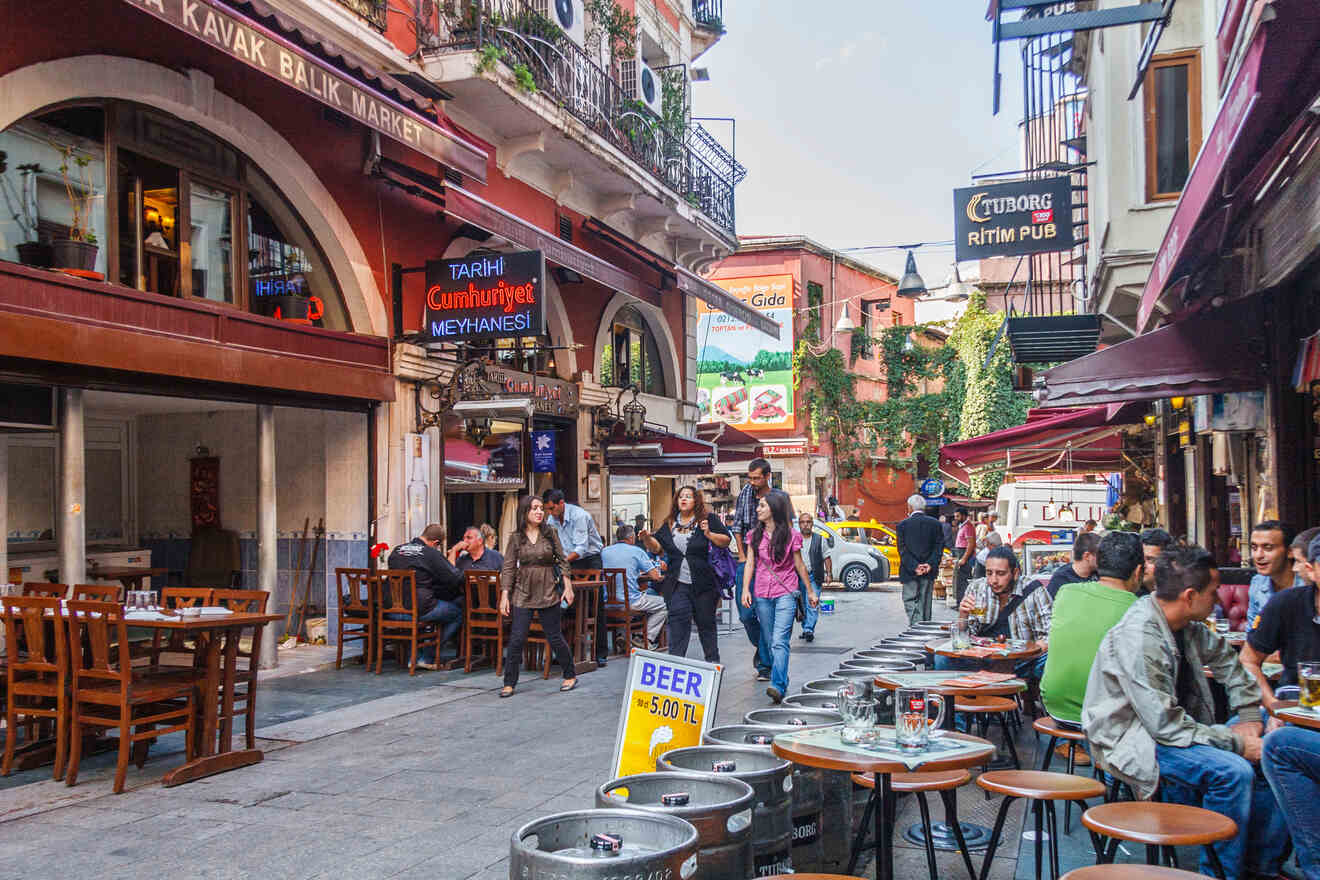 Where to eat:
17. See the Whirling Dervishes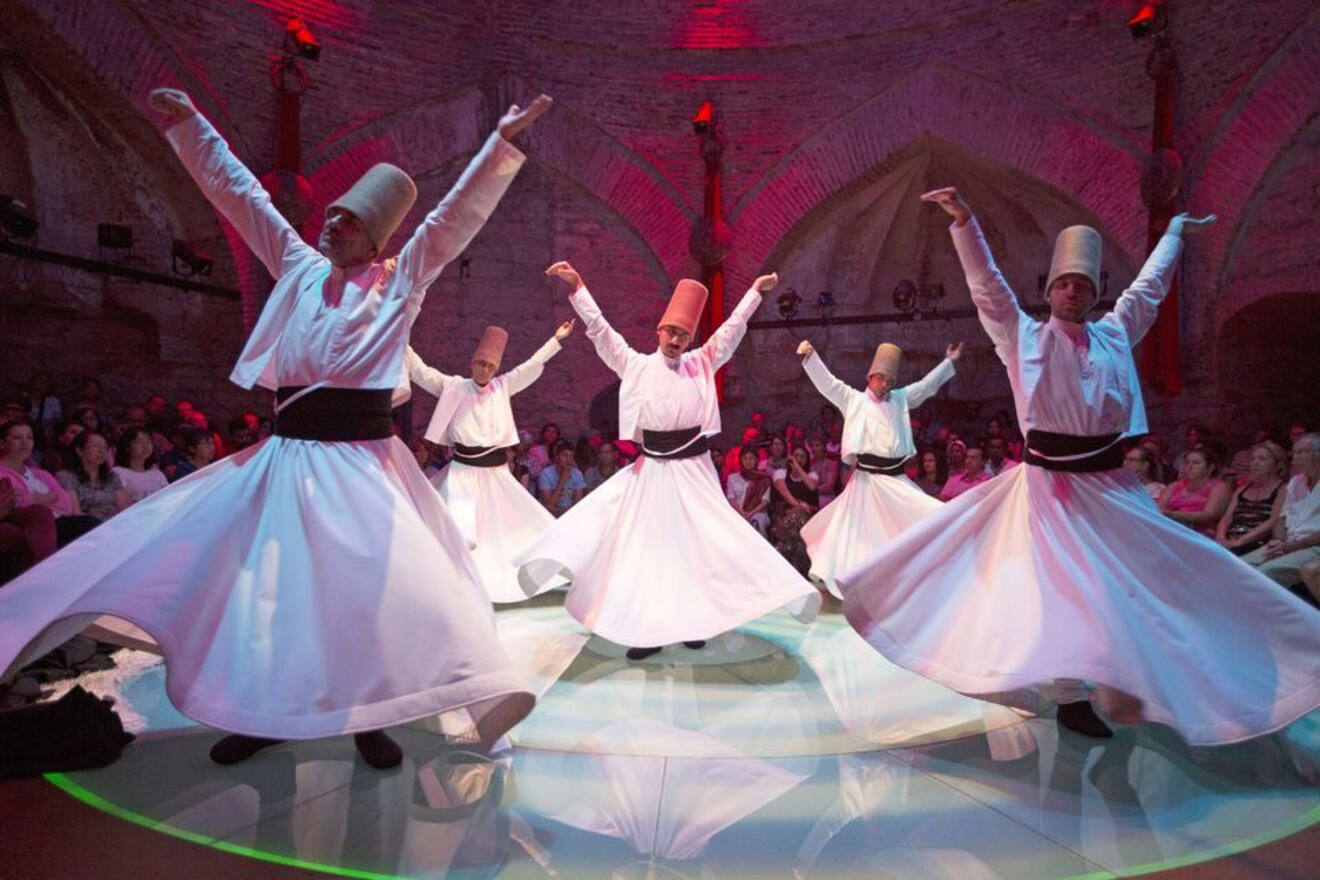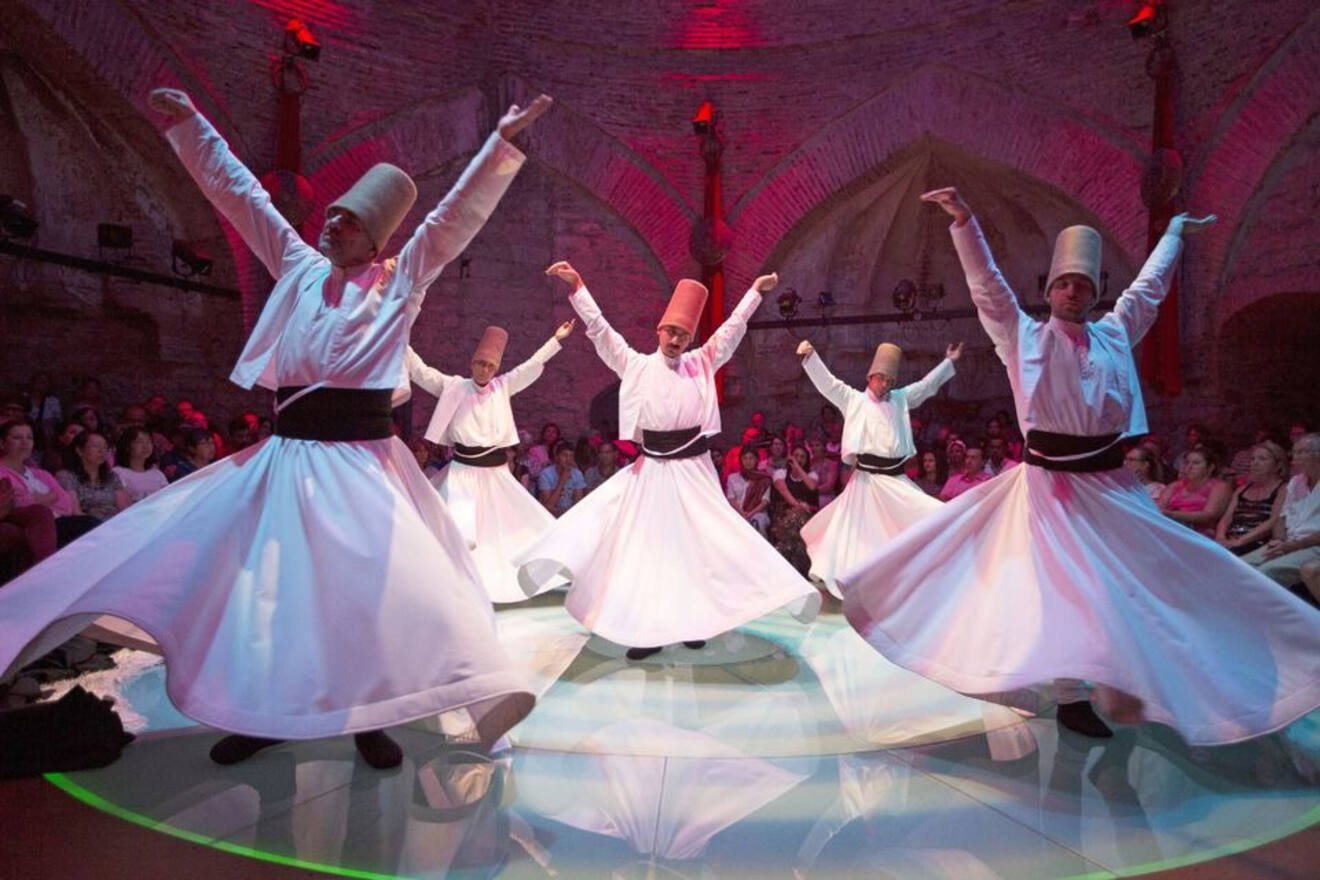 Watching whirling dervishes is one of the unique experiences to have in Istanbul. It is a meditation and dance show and the Mevlevi Sema ceremony accompanied by its unique music and represents a man's spiritual and mystic journey. The dance show originates in the middle Anatolian city, Konya but you don't need to go that far to see them luckily.
Showtime: Tuesday, Thursday, Saturday & Sunday 19:00 pm – 20:00 pm
Price: 250TL (US$22.10)
Location: Hoca Paşa Mahallesi Ankara Caddesi, Hocapaşa Hamamı Sk. No:3
| | |
| --- | --- |
| 🤩 Range of activities: | Large |
| 👪 Family-friendly score: | High |
| 🏛️ Best museum: | Topkapı Palace |
| 🚤 Best paid activity: | Boat tour on the Bosphorus |
| 🚶🏽‍♂️ Best free activity: | Grand Bazaar |
| 👧 Best attraction for kids: | Miniaturk |
| 🕺 Nightlife: | Istiklal Street |
| 🥟 Must try food: | Midye Dolma |
Practical Information about Istanbul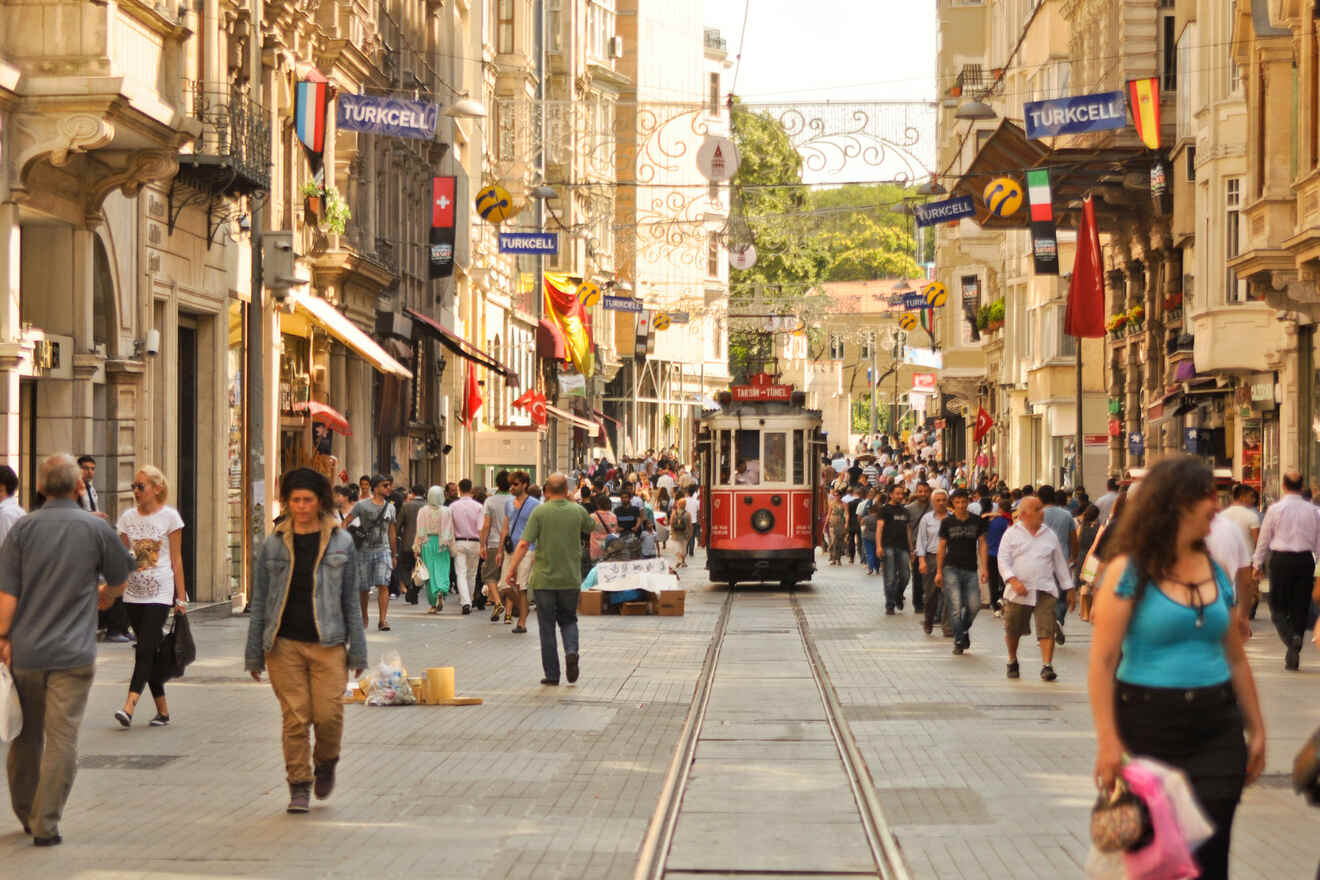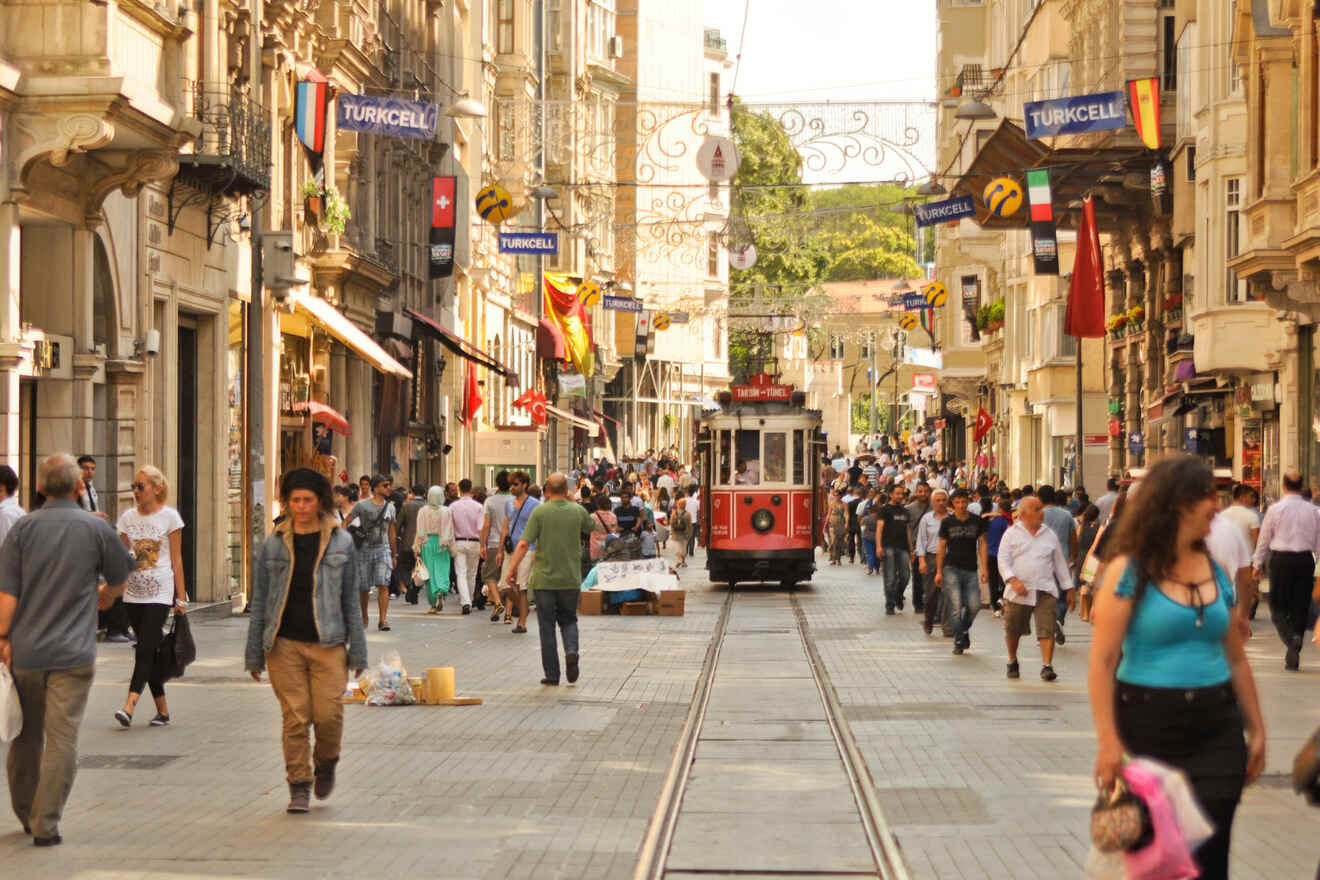 Since we covered the best things to do in Istanbul city, now it is time to take a look at some useful information that will help you to have a comfortable holiday.
Where to stay in Istanbul
I would like to share my top hotel picks for those having difficulty deciding where to stay in Istanbul. If you need more options there is a whole blog post dedicated to the best areas and hotels in Istanbul. So here we go!
Luxury (US$450 and up)
Four Season Hotel Bosphorus – For those who want to stay in a palace in Bosphorus, Four Season Hotel is the most unique hotel to stay in Istanbul. You will love the luxurious hotel rooms with a view of the sea of Marmara. There is a swimming pool overlooking the Bosphorus, a fully-equipped fitness center, a fabulous breakfast, and a glamorous spa.
The Ritz Carlton Bosphorus – The Ritz Carlton Hotel features an epic rooftop pool with a Bosphorus view, beautifully decorated hotel rooms overlooking the sea, a fully-equipped fitness center, a full-service spa, and a chic on-site restaurant. You will love the Turkish breakfast with a great selection of fresh products. All the main city attractions are just a short walk and you can reach the seaside on foot.
Mid Range (US$200 – US$400)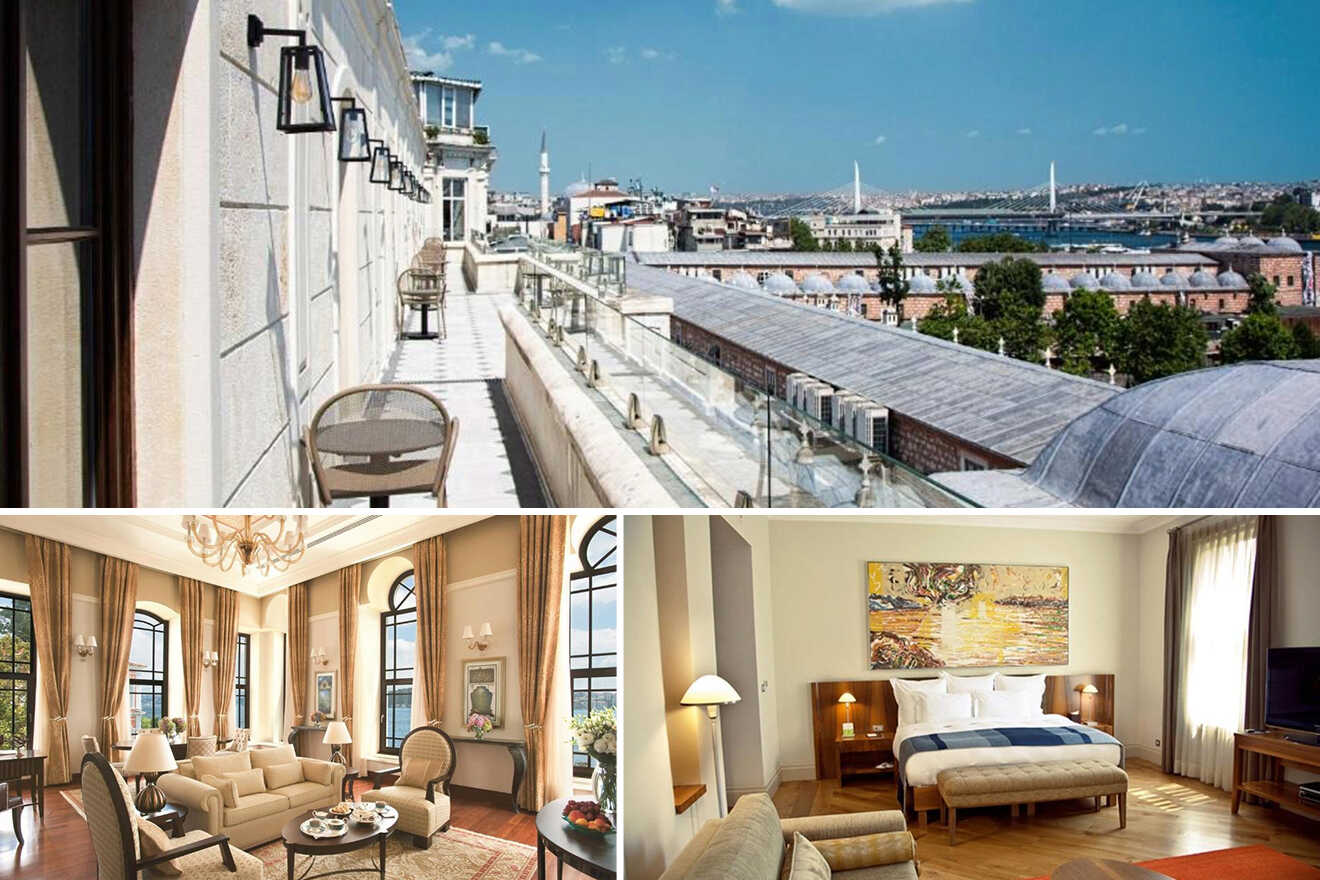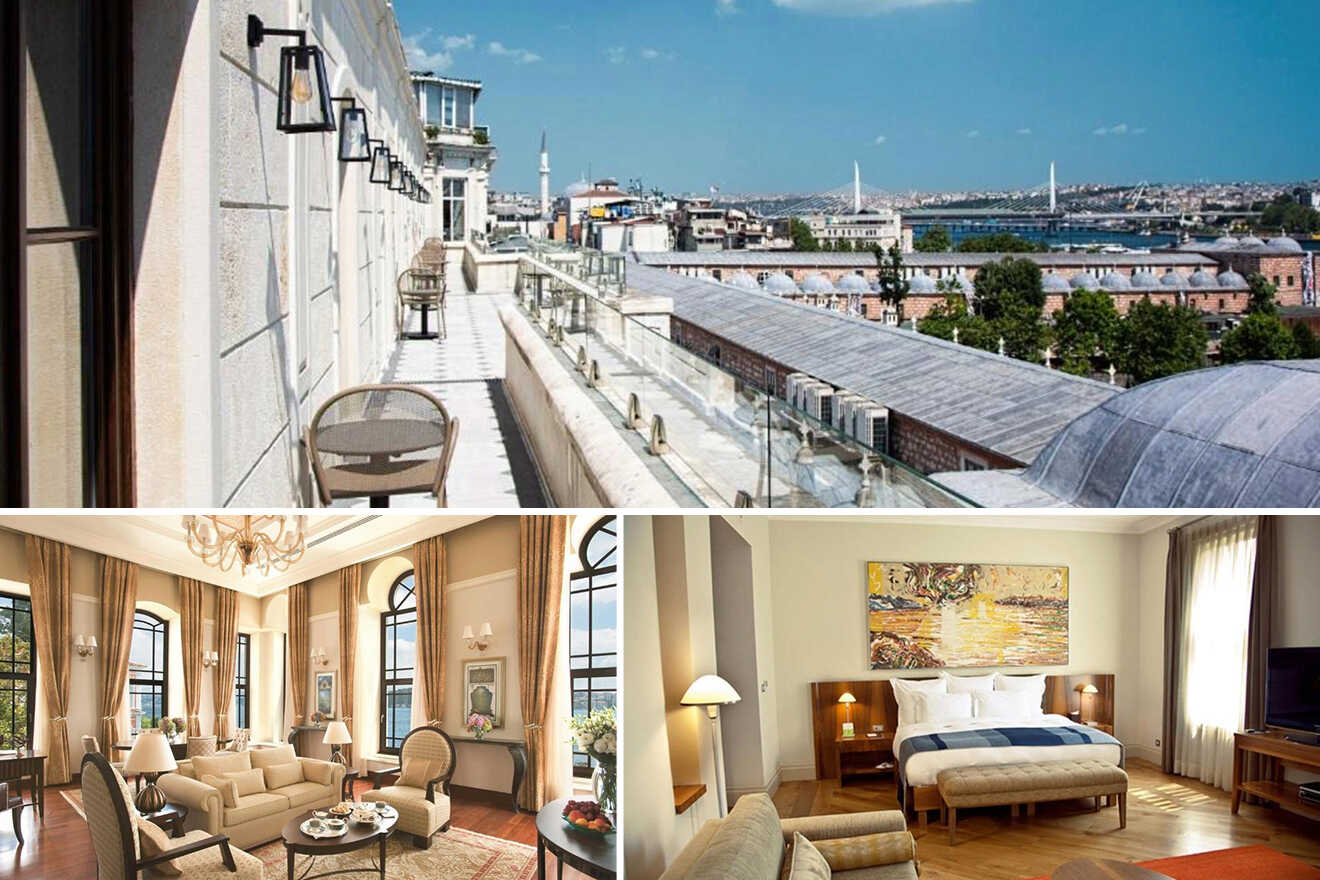 Tomtom Suites – Located in the coolest area of the city, Tomtom suites have beautifully decorated rooms, a fabulous Turkish breakfast, free wifi, and a bar. You can have mouth-watering food in the on-site restaurant while watching the views of Bosphorus and enjoy drinks on the rooftop terrace.
Mest Hotel Istanbul Sirkeci – This hotel has a very central location in the historic site of Istanbul and is just a 15-minute walk to the Blue Mosque and the Hippodrome. Mest Hotel offers glamorous rooms with amazing city views, a very good Turkish breakfast, airport shuttle, free wifi, an on-site restaurant, and a bar.
Budget (up to US$100)
Catch Hotel Sultanahmet – If you are visiting Istanbul on a budget this is one of the best accommodation options located at the heart of the city. Cath Hotel Sultanahmet is within walking distance to Blue Mosque and offers comfortable rooms, a great Turkish breakfast, an airport shuttle, and free wifi.
Miller Hotel – Centrally located in the city, Miller Hotel is within walking distance of public transportation and has easy access to main city attractions. I love the hotel rooms that have a mosque and sea view and there is an airport shuttle, free wifi, and a good breakfast.
How to get around Istanbul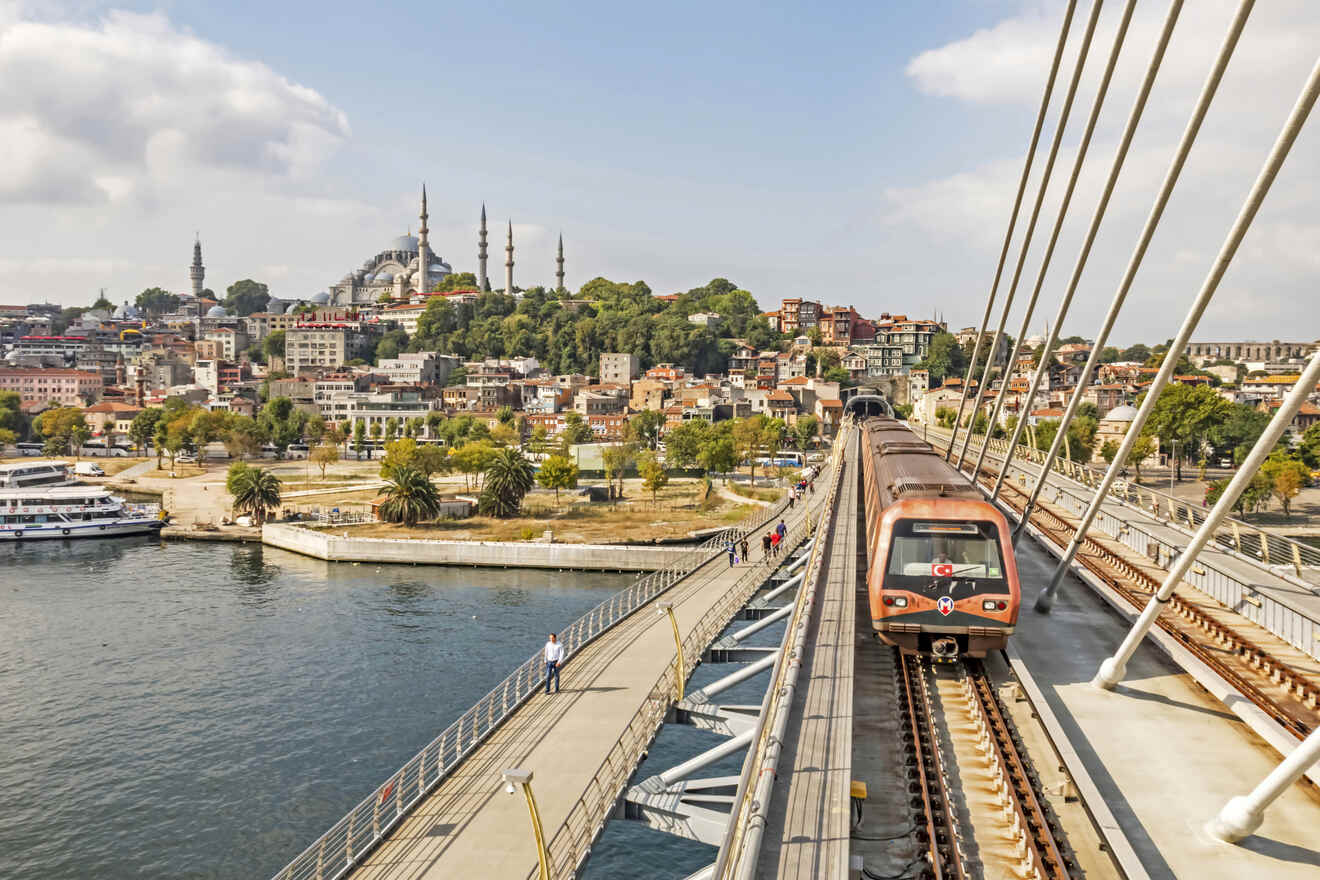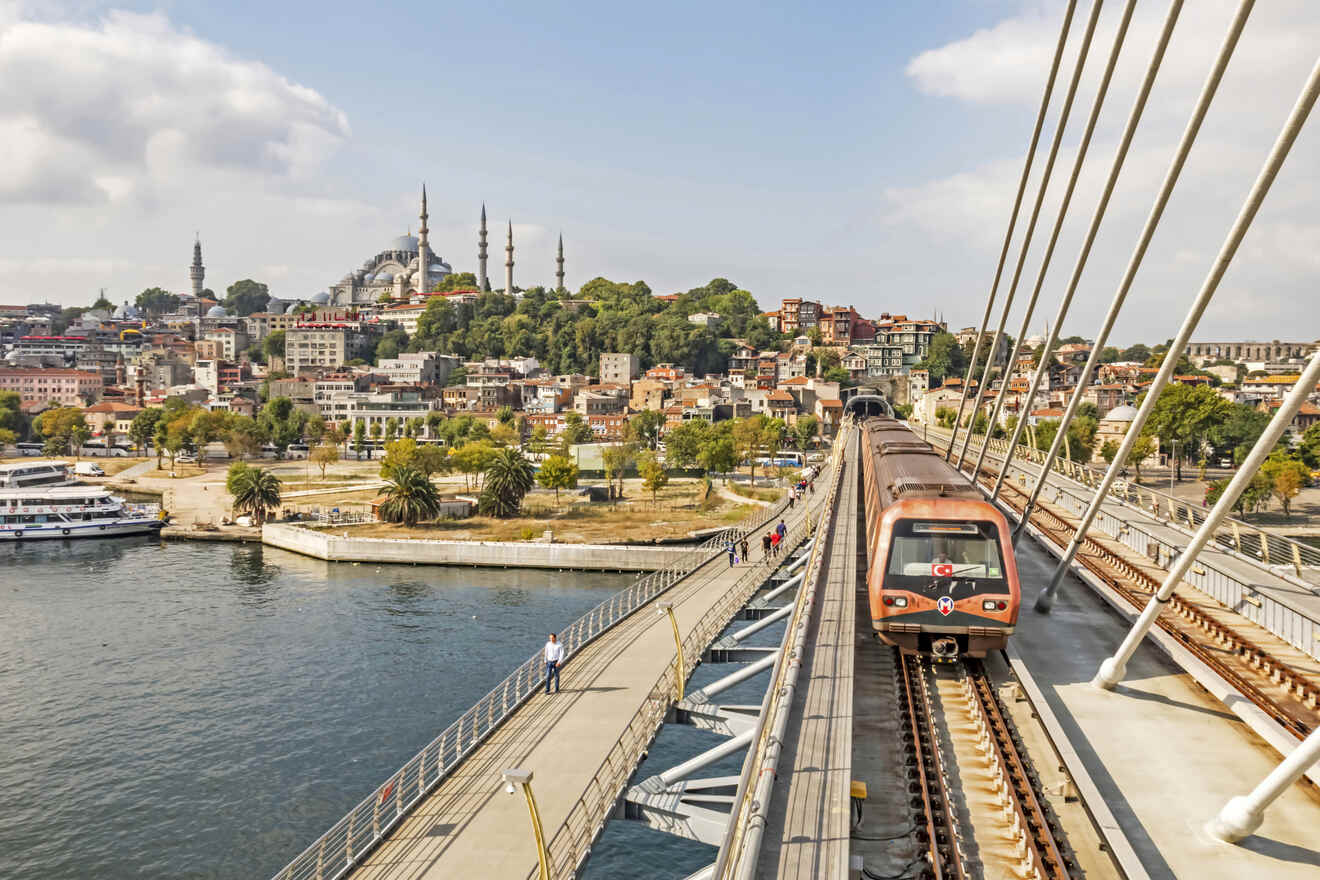 Since we have a lot of things to do in Istanbul it is very crucial to nail the transportation. Istanbul is a very big city and traffic jams might be crazy. That's why I try to avoid traveling during the rush hours which are between 07:00-9:00 in the morning and 17:00-19:00 at night.
You can also use google maps to check traffic conditions and plan your route in Istanbul. All you need to do is to put in your location and destination then you will see the fastest option!
Public Transport
If you want to use public transport you will need to buy "Istanbulkart". It is valid in all public transportation and you can easily buy it from machines at every bus or metro stop. The English version is available but notes that you have to make payment in cash.
Metro – Metro is one of the most convenient and fastest public transports in Istanbul. You can reach most of the popular areas by metro and it has connections to other public transportation. Istanbul metro runs between 06:00-24:00.
Buses – Buses are the most common public transport in Istanbul. You can reach almost every area by bus. Depending on the lines, they usually run till midnight and buses stop at every bus stop and you have to wait at the bus station to take it.
Minbüs – Minibüs is the small version of buses and you take it from anywhere by just waving your hand. They are the only public transportation that accepts cash instead of Istanbulkart. They usually operate between 06:00-24:00.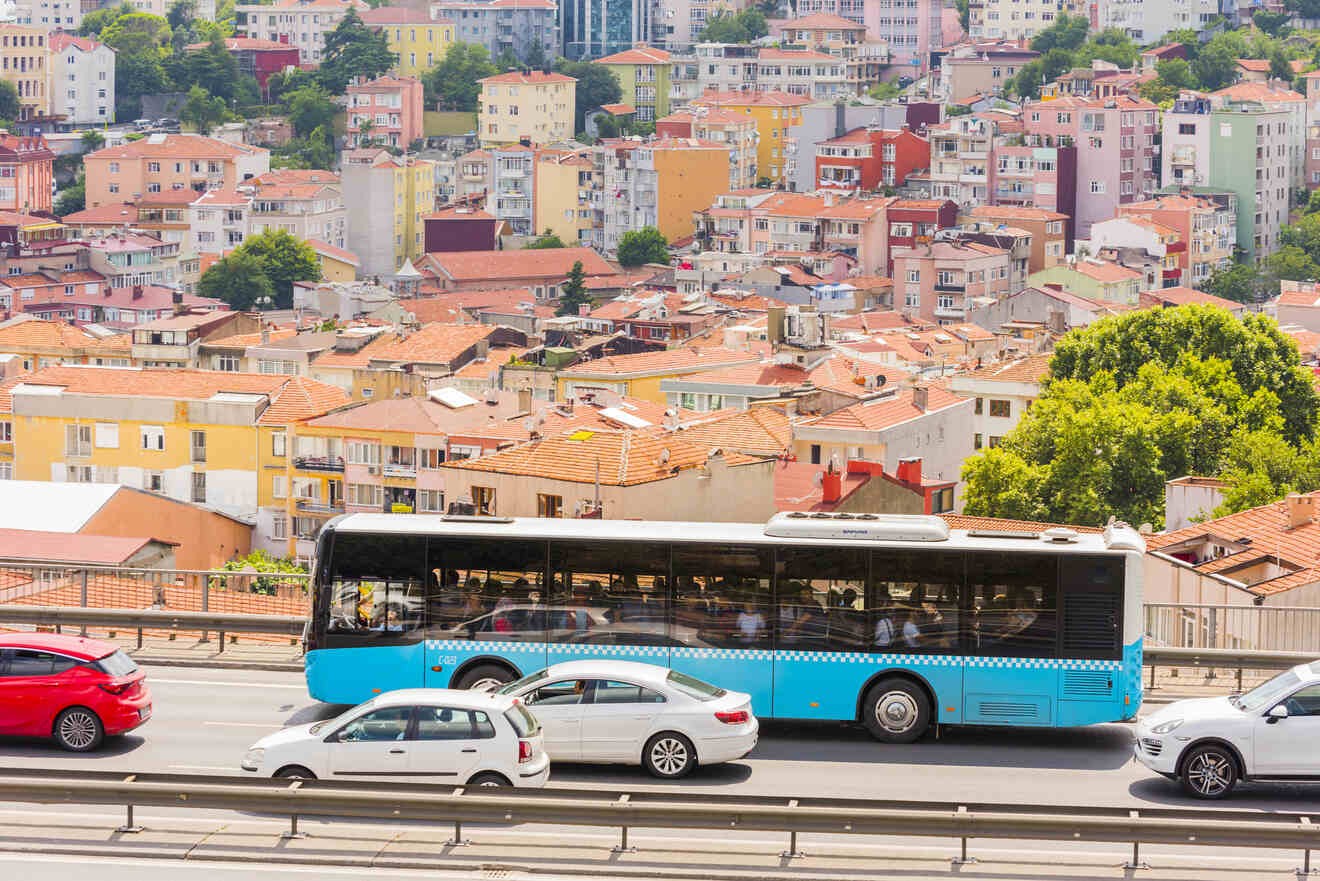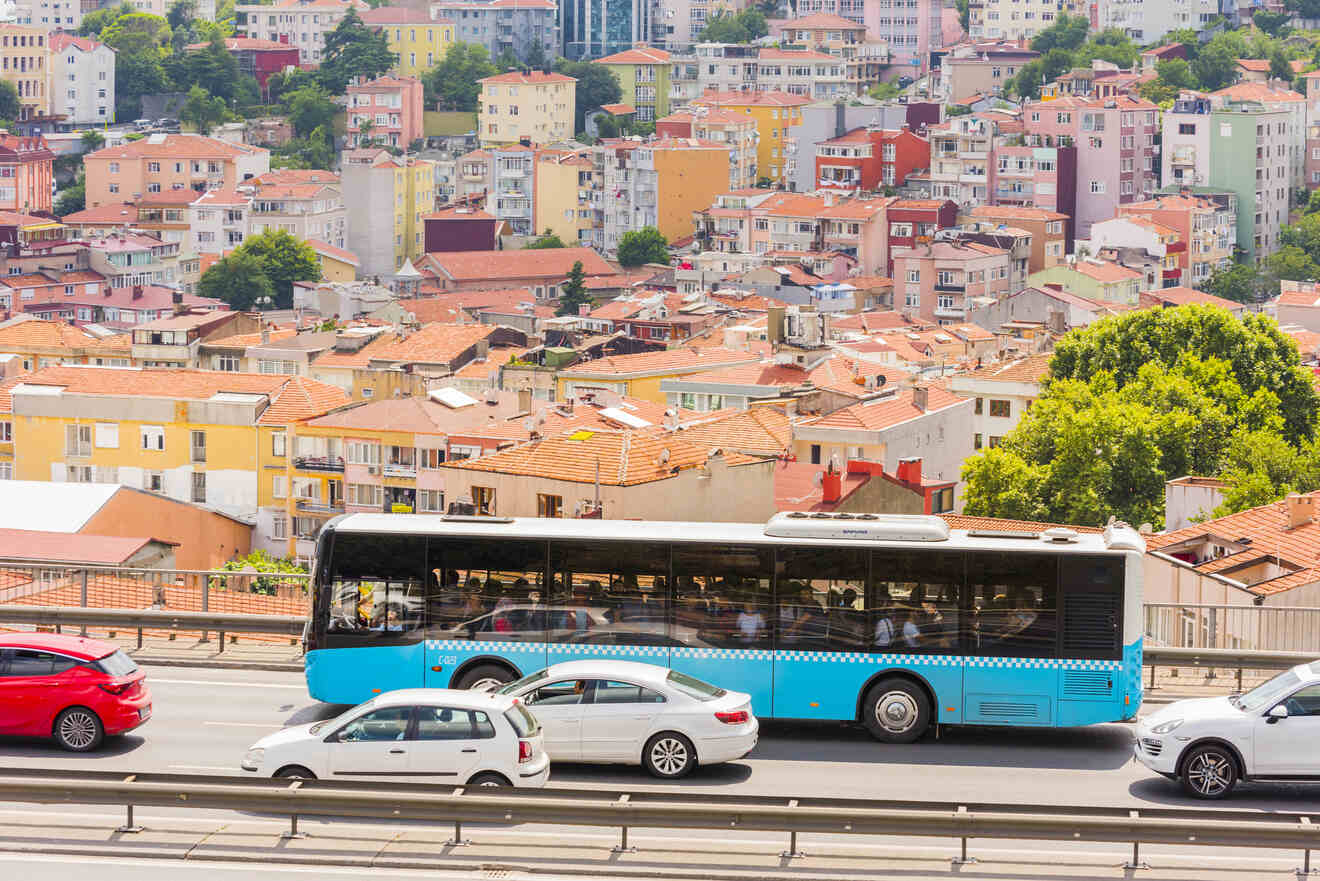 Metrobüs – Metrobüs is another fast public transportation option that has its own bus stops and its own road (kind of like a tram set up but without the tracks). That's why it is a good option to avoid traffic and they are running 24 hours.
Ferries – Ferries are the most fun public transportation in Istanbul that enables you to cross from the Asian side to the European side or vice versa. Depending on the lines, they usually operate between 06:00-24:00.
Tram – There are two types of trams in Istanbul: historical and regular trams. The historical tram runs on Istiklal Caddesi between 07:00 – 22:00. Regular trams are usually connected to the metro and you can use Istanbulkart for both trams.
Hop on hop off bus
The hop-on-hop-off bus allows you to see all the main attractions in the easiest and most efficient way (which is especially important in cities as big as Istanbul). These buses stop at 15 stops around the city and the accompanying audio guide is available in 7 languages on the bus.
I especially recommend hop on hop off buses for families with children as it is the most stress-free way to reach the attractions which are a bit further away such as Miniatürk and the Dolphinarium, and family tickets are available.
1 – 3 day tickets are available and prices start from 520TL (US$50) per adult or 1250 TL (US$120) for a family of 4 and you can choose from two different routes.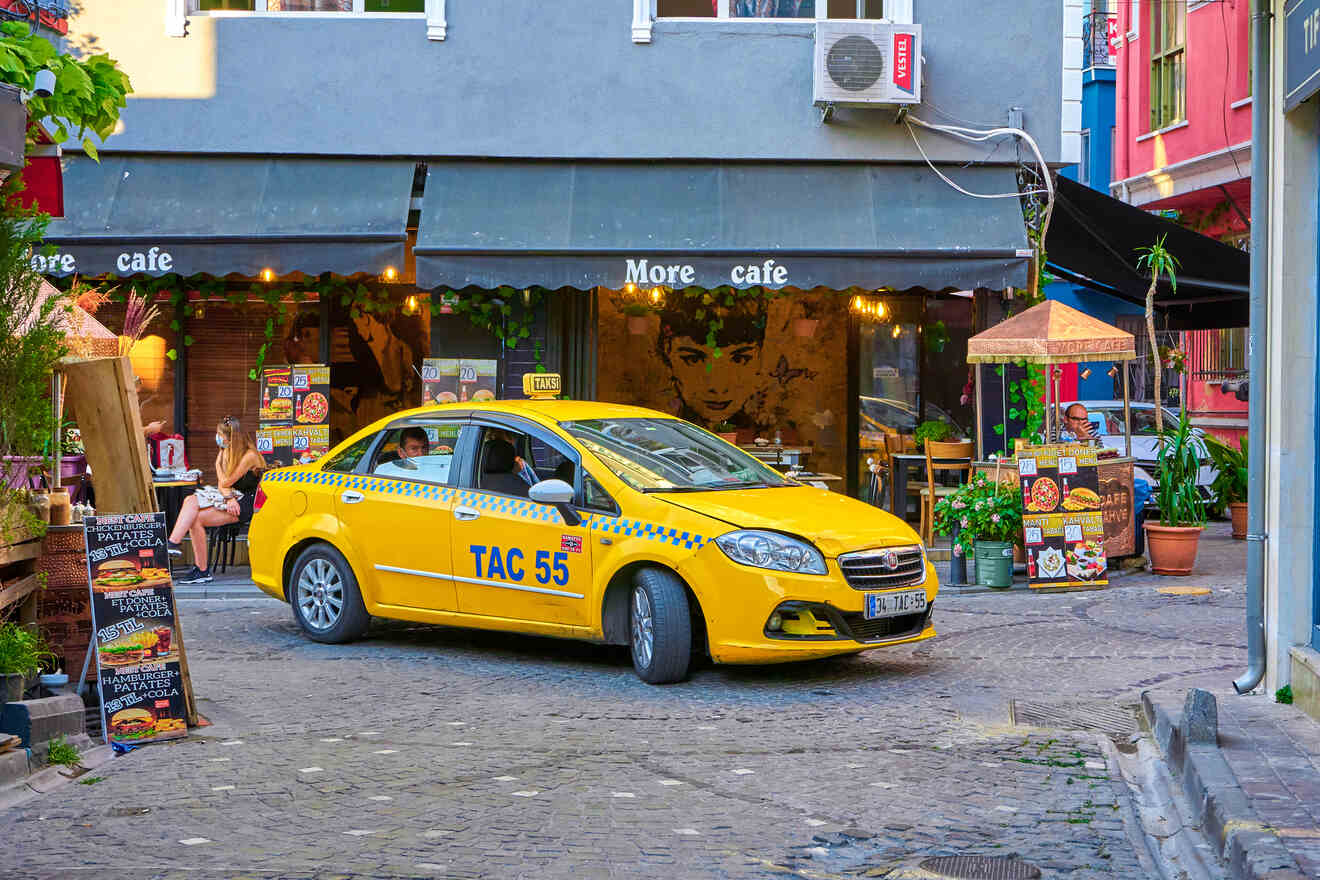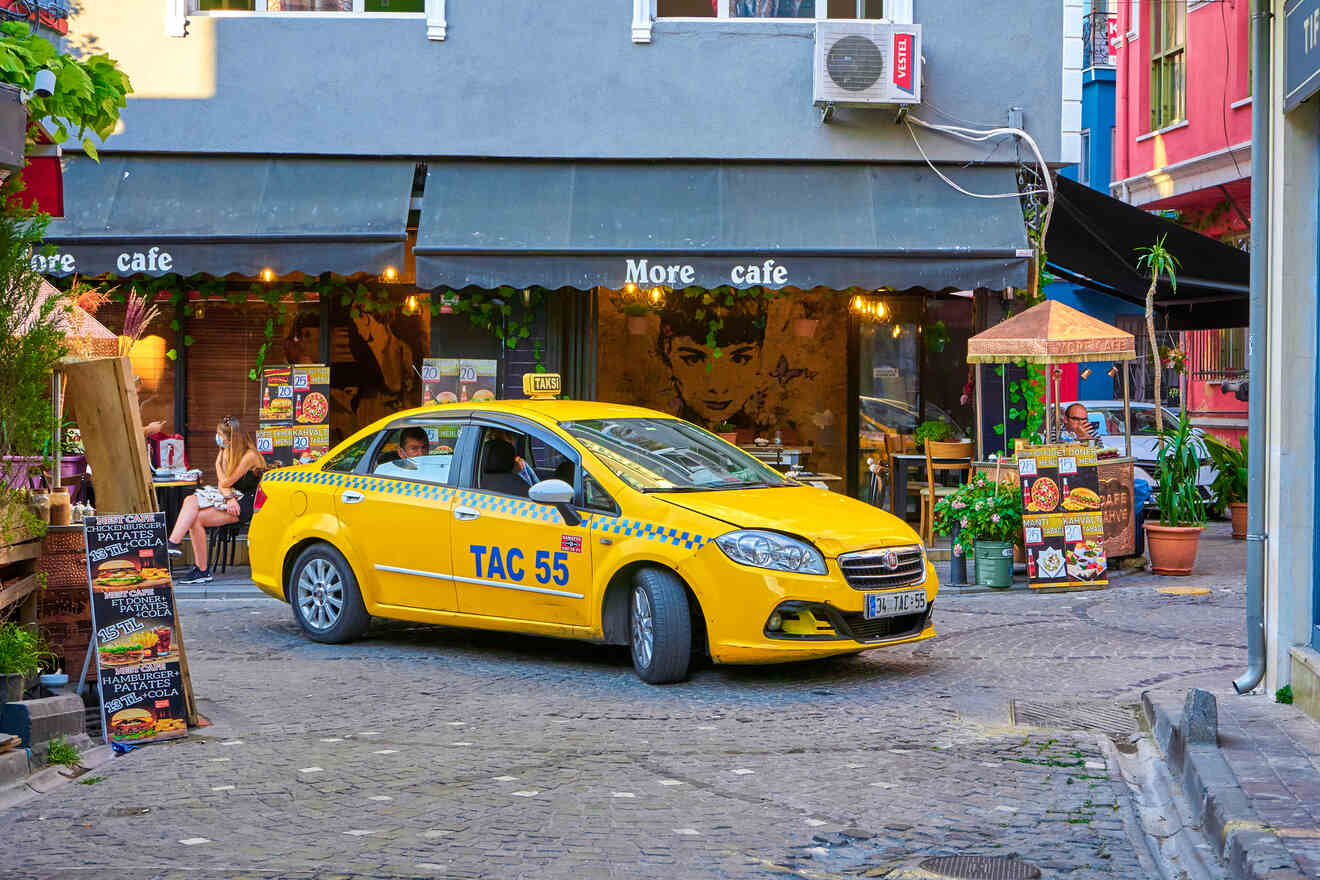 Taxis and Uber
Taxis are cheap and convenient to take in Istanbul. All of the taxis have meters and a 10-minute ride costs around 30TL (US$3.10). You can easily take a taxi on the road by waving. In general taxi drivers don't speak English so I recommend using the taxi app Bitaksi to call a taxi. Taxis are operating 24 hours and you can make payment by credit card or cash. You can also use the Uber app to call for a ride. The prices are pretty much the same with the taxi app.
All about sim cards
You can easily buy a sim card at the airport or from one of many telecom stores on the streets and you just need to show your passport.
There are 3 prepaid sim card providers for you to choose from:
Vodafone Turkey
Turk Telekom
Turkcell
Turkcell is the most common prepaid sim card for tourists and 10 GB of data usually costs around 90 TL (US$8.50).
Frequently Asked Questions About Istanbul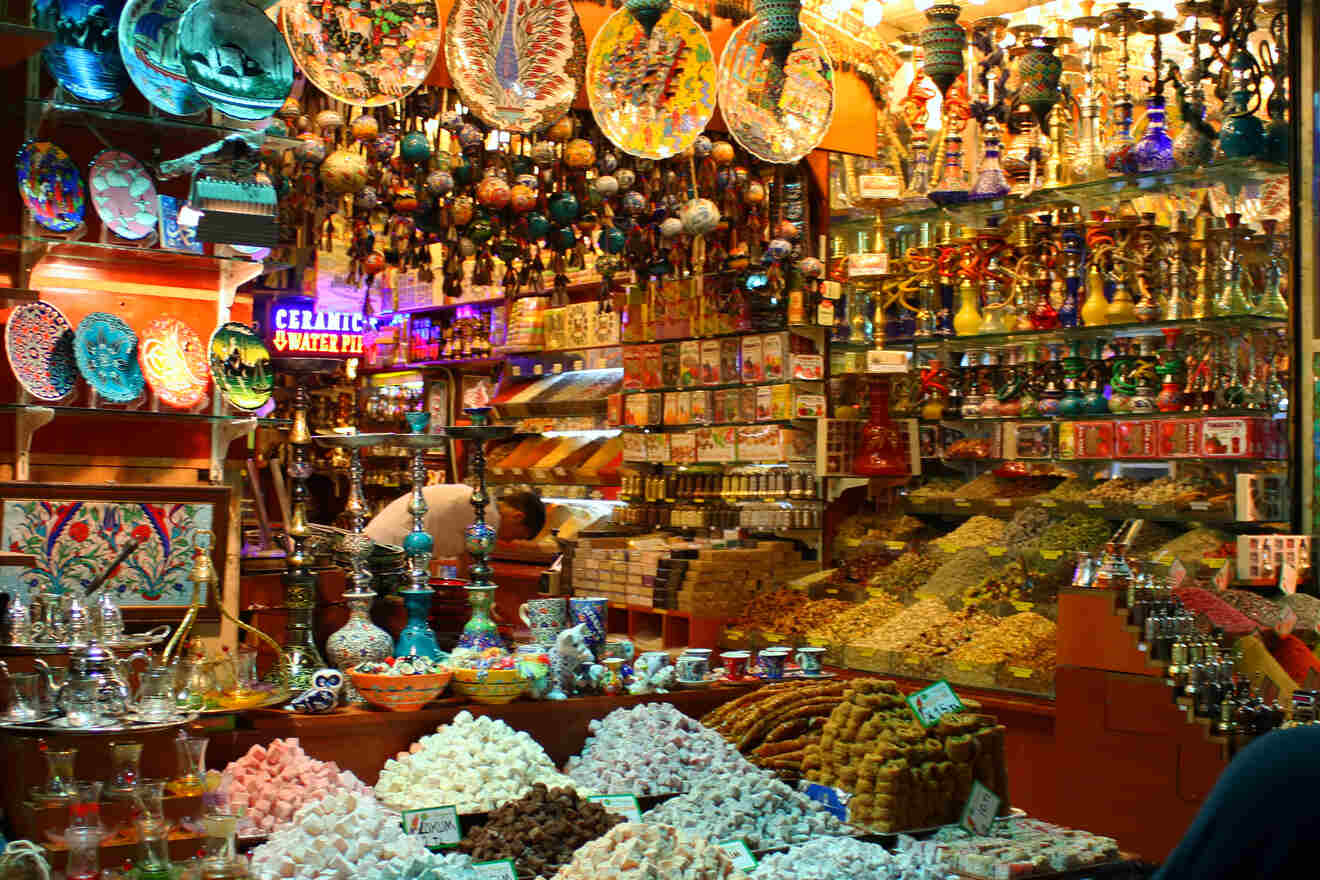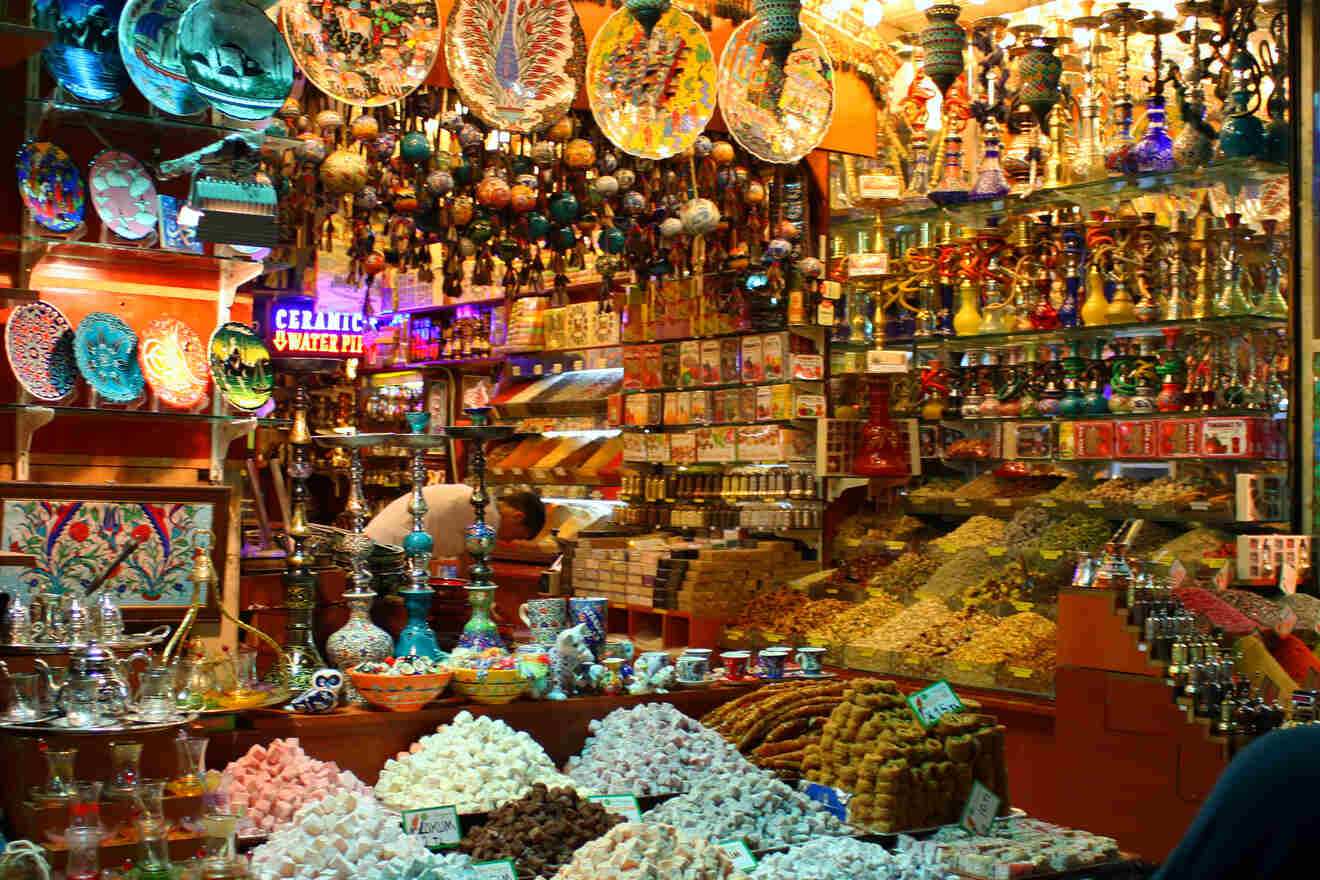 ❌ What should I avoid in Istanbul?
You should leave your valuable belongings at your hotel and avoid walking in isolated streets. The main streets and touristy areas are generally safe but people should be more careful walking at night.
🤔 Can you do Istanbul in 3 days?
Yes, you can see the main Istanbul attractions in 3 days. However, I recommend staying 5 days to discover both European and Asian sides and taste a lot of delicious food. 
☀️ What is the best time to visit Istanbul?
The best time to visit Istanbul is between March-May, and September – October when the weather is warm and touristy sites are not very crowded. 
❓ Is it OK to visit Istanbul during Ramadan?
Yes, it is OK to visit Istanbul during Ramadan as there are no restrictions. 
🛎️ What are the best hotels to stay in Istanbul?
📷 What should I not miss in Istanbul?
Some of the main tourist attractions in Istanbul you should not miss are:
● Blue Mosque
● Hagia Sophia
● Galata Tower
● Topkapi Palace
● Grand Bazaar
● Dolmabahce Palace
● Spice Bazaar
● Süleymaniye Mosque
Conclusion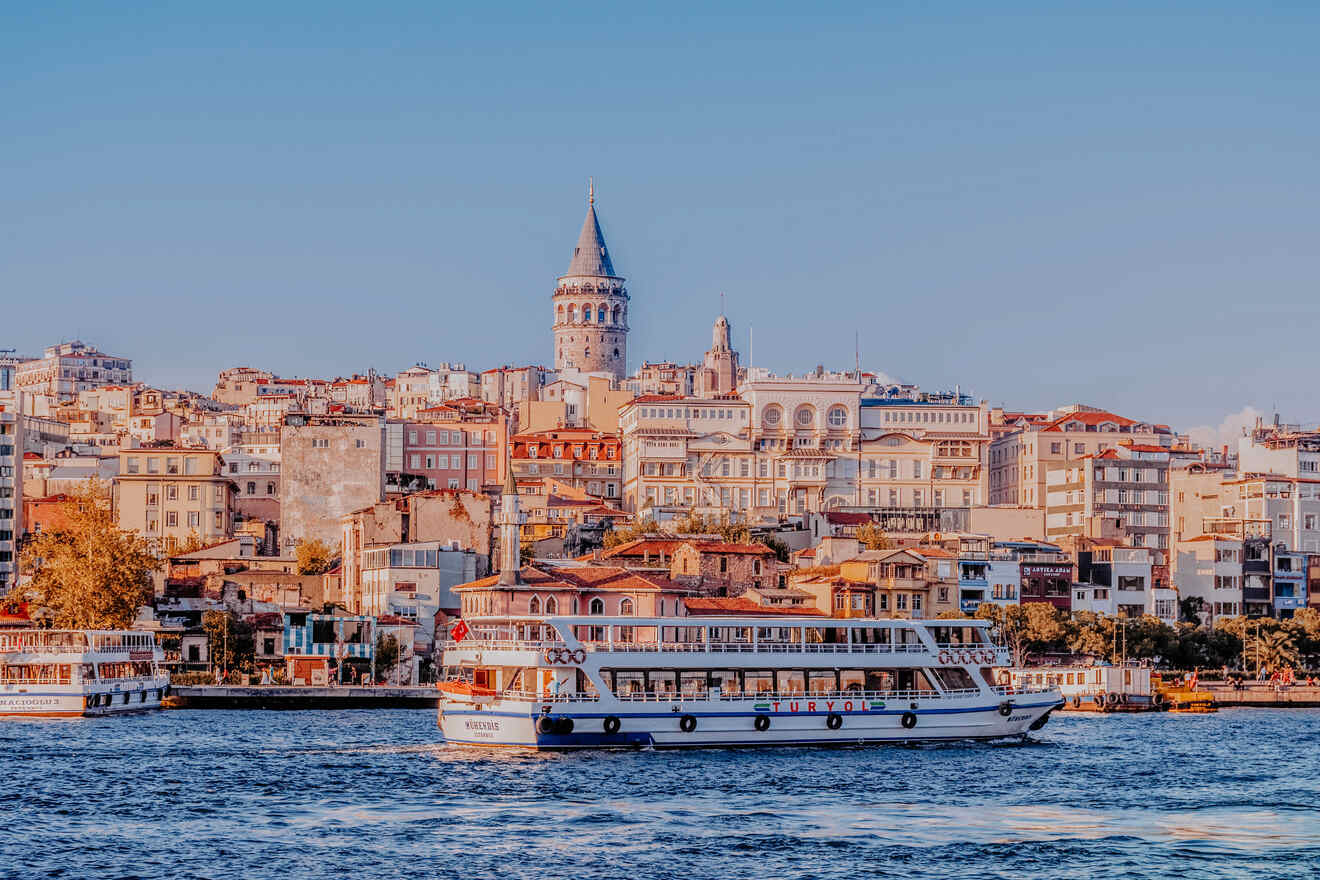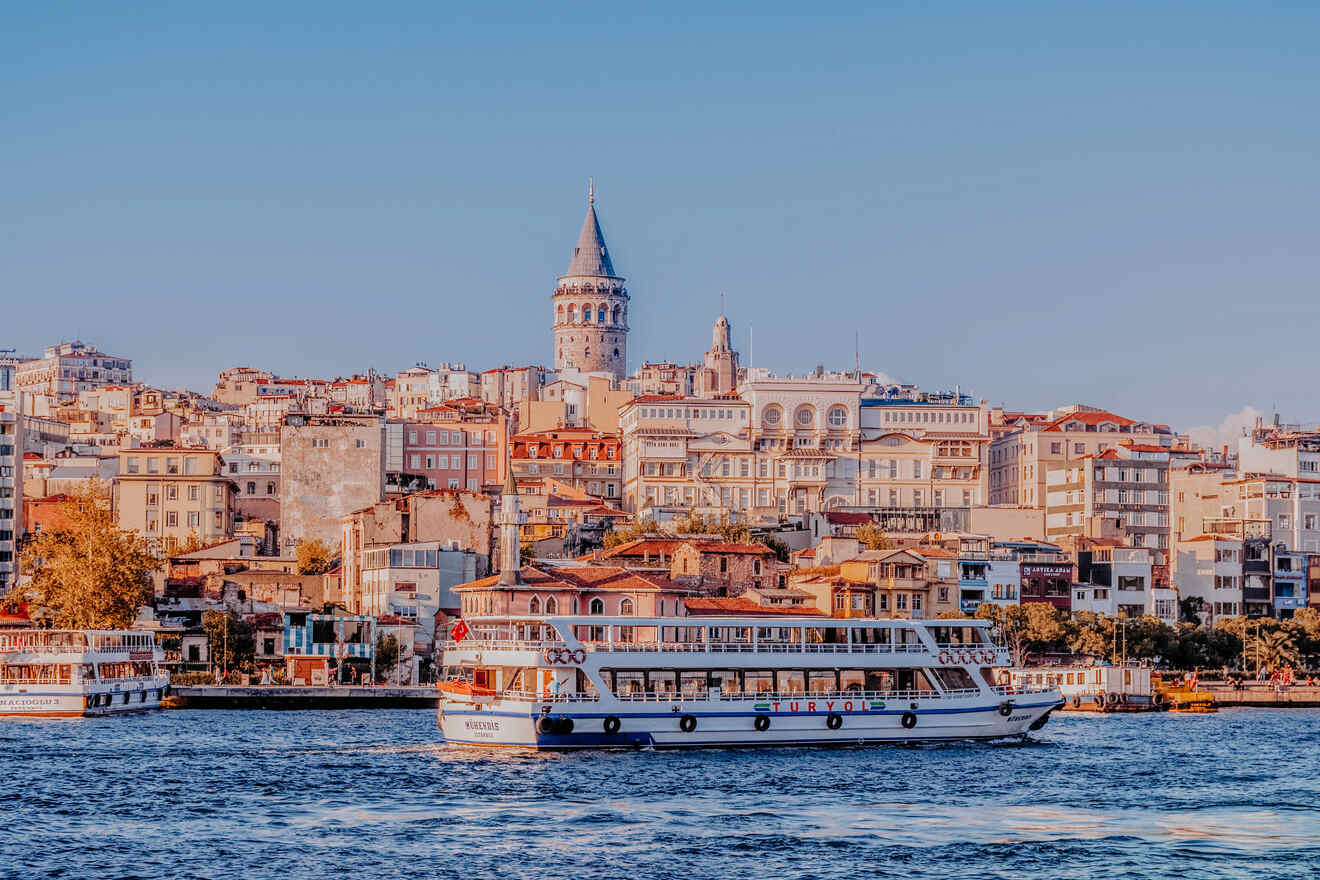 That was quite a journey! Hope this blog post on things to do in Istanbul helped you to prepare your Istanbul itinerary and you are already ready to roll. Istanbul is my hometown and the city where I lived for more than 30 years, so I did my best to give the best local tips and I'm sure you will have so much fun!
Especially in the spring and summer season tourist attractions in Istanbul can be crowded so make sure to make a reservation for the tour you want to join and your accommodation in advance!
Take a lot of pictures of the Blue Mosque and Mosque Hagia Sophia, shop until you drop at Grand Bazaar, eat as much delicious Turkish food as you can, and do not forget to bring Turkish delight with you back home!

If you have any more questions or suggestions about the things to do in Istanbul, don't be shy and leave a comment below. I will be more than happy to give a reply!
Enjoy your trip to Istanbul,
Eylul
---
Pin it for later!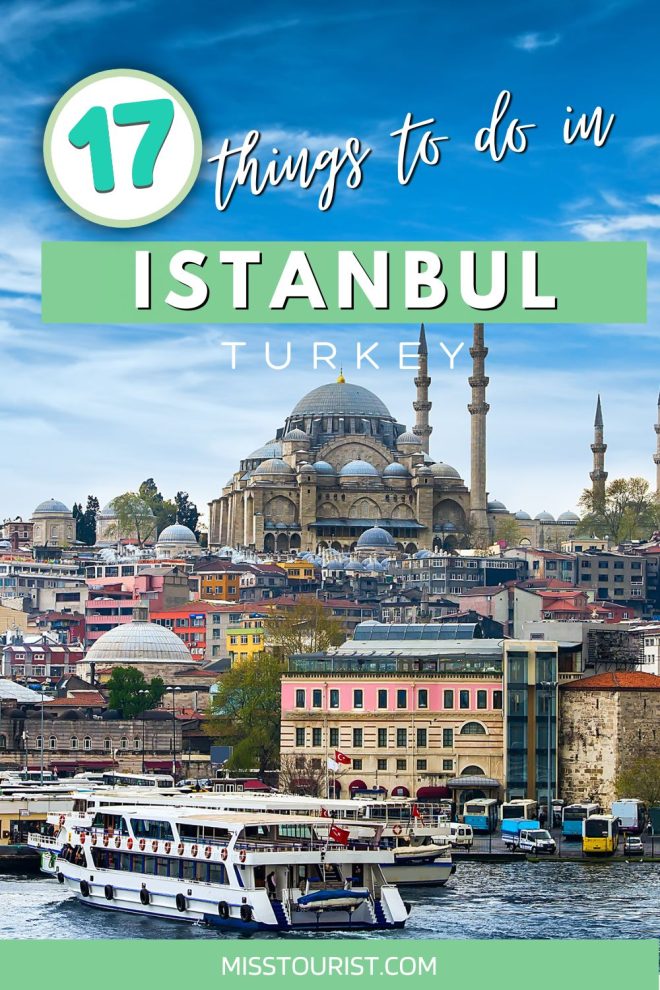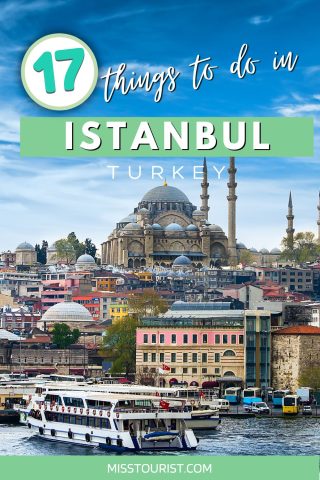 Pin it for later!