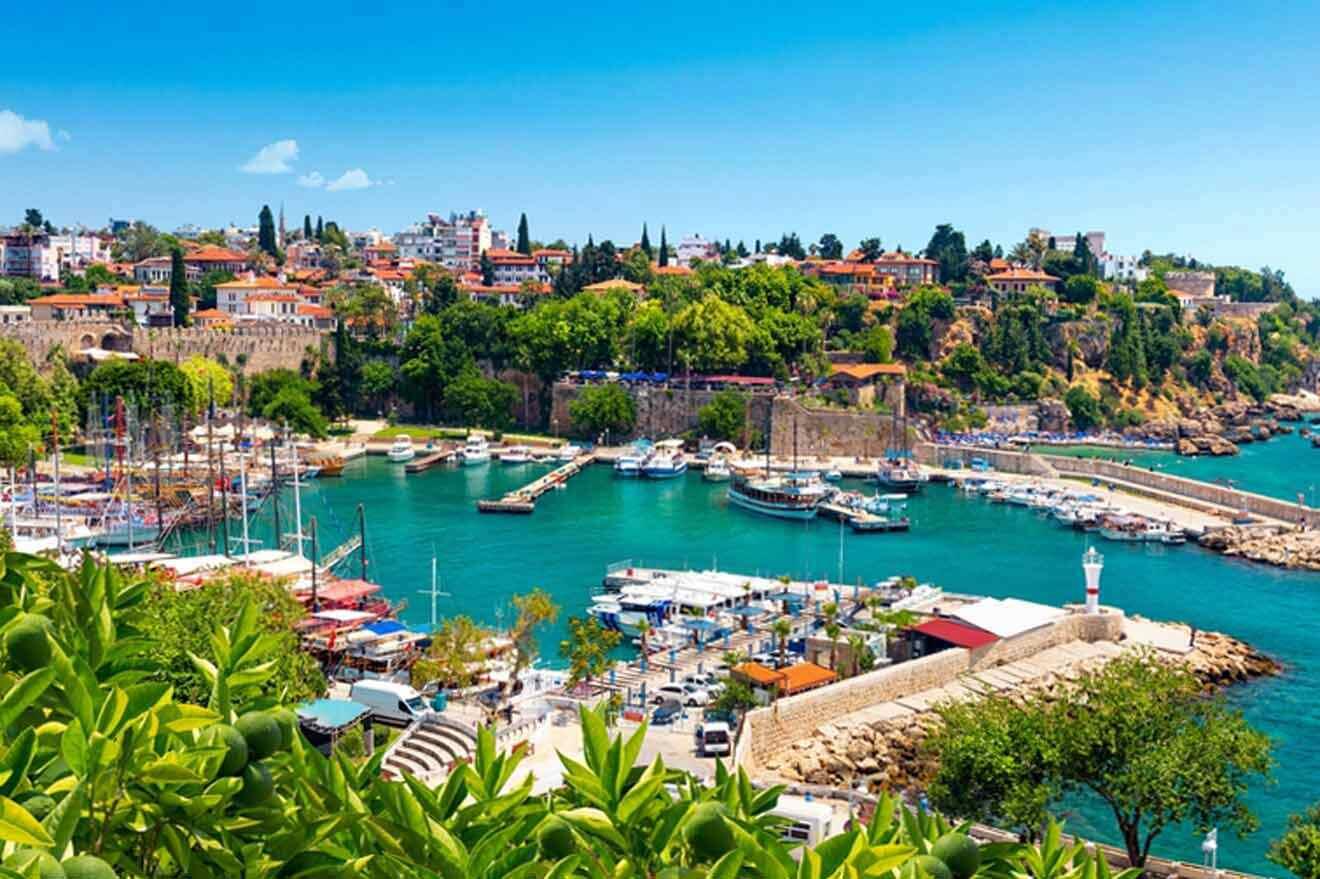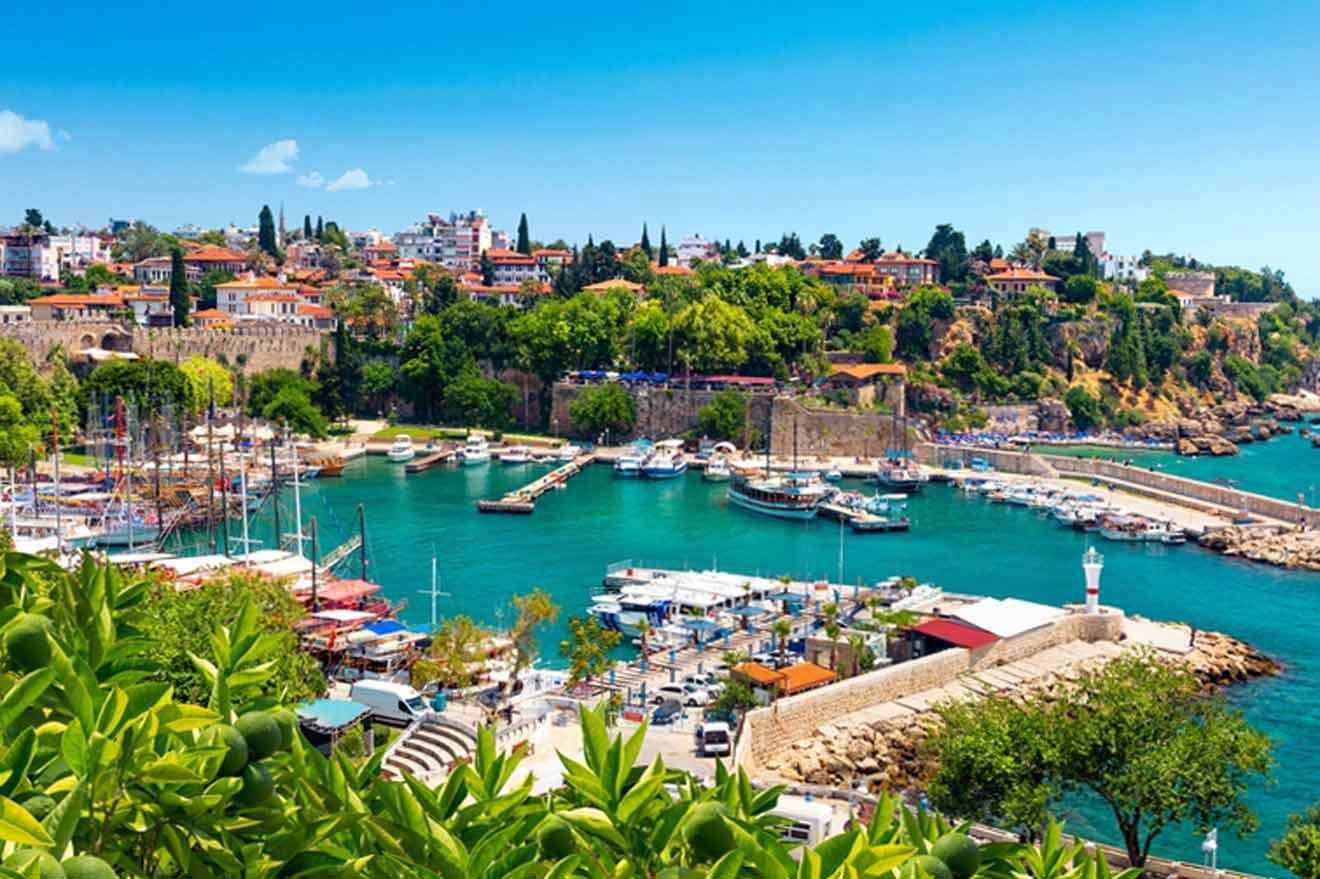 There's nothing like the golden beaches in Antalya! If you're headed there, let's check out this guide on where to stay in Antalya! After doing all the research for you and comparing all the best Antalya hotels and areas, I've got the only guide you need!
Kaleici (Old Town) is one of the best areas to stay in Antalya! Of course, that's not it! You'll find 4 more areas (Konyaalti Beach, Belek, Olympos Beach, and Lara Beach) that are great for families, luxury, nature lovers, and beach lovers! Each area has multiple accommodation options for all budgets!
This resort town, located on the Mediterranean coast, is one of the most popular places in Turkey! That's why I recommend booking your hotel fast and securing your spot, especially for June, July, August, and early September.
If you are in a hurry
We're all in a hurry these days, so if you need to quickly book your hotel, then check out this short list of the best hotels in Kaleici (Old Town):
Check out this amazing map that will help you visualize all the areas that I'll talk about in the post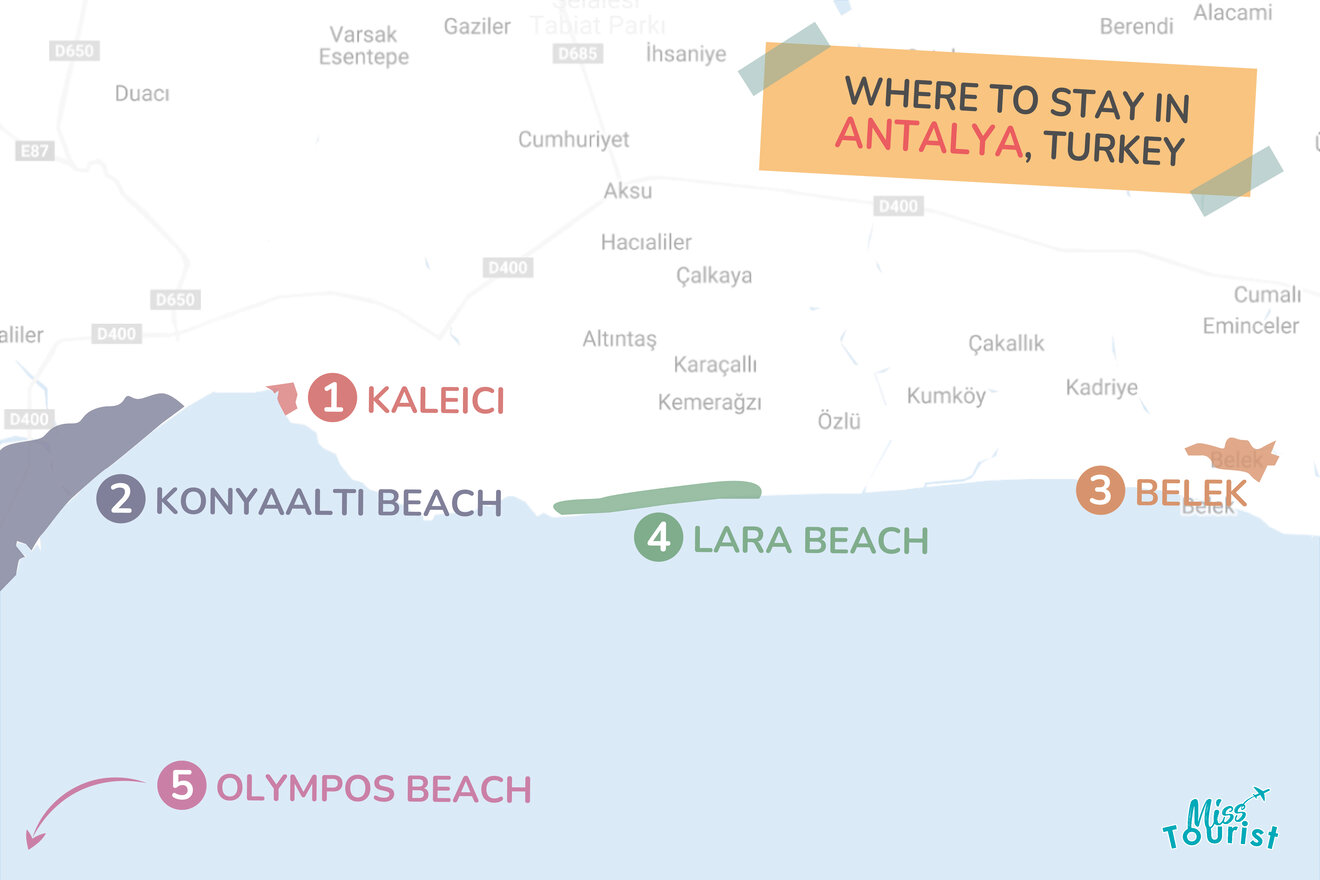 1. Kaleici (Old Town) – where to stay for the first time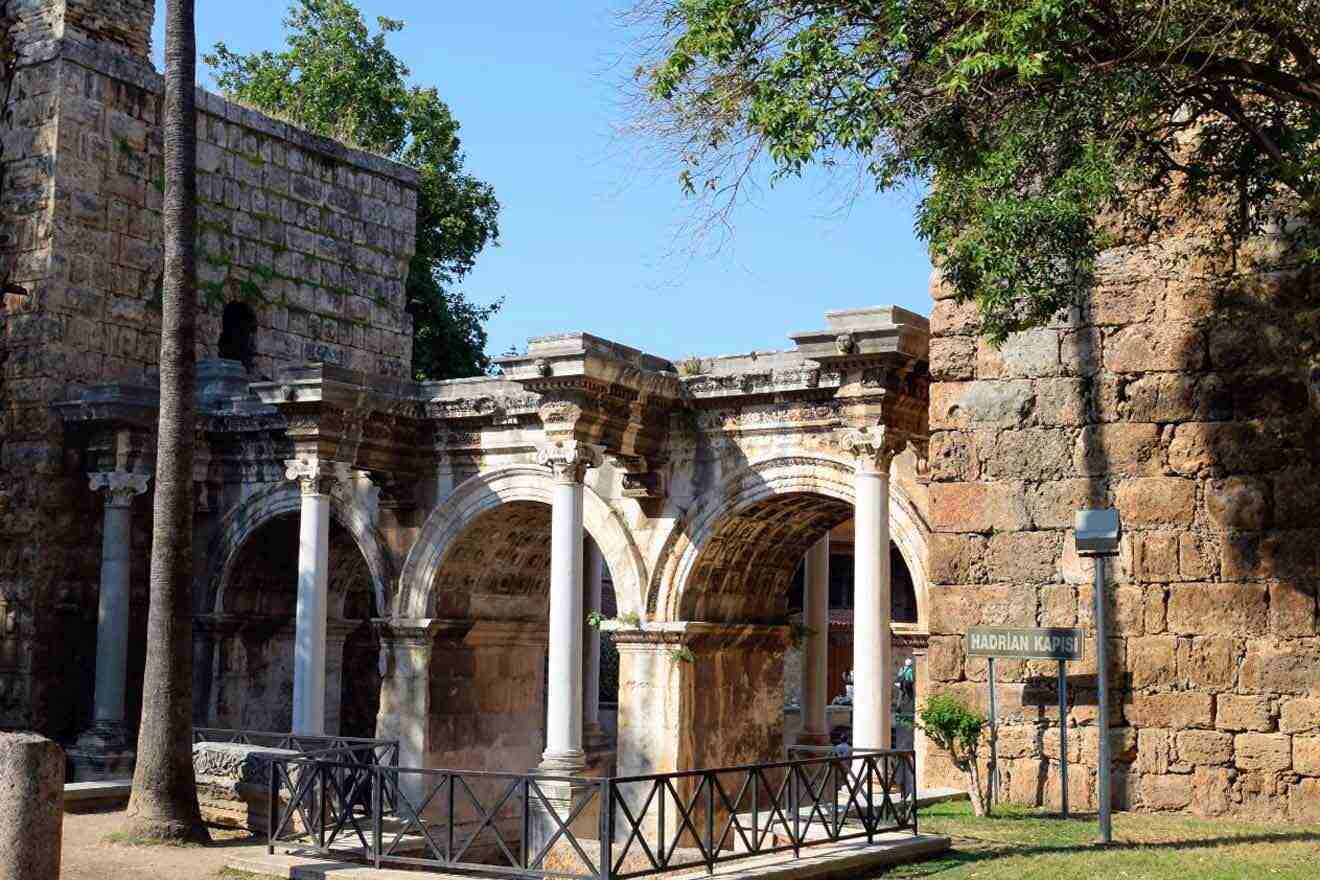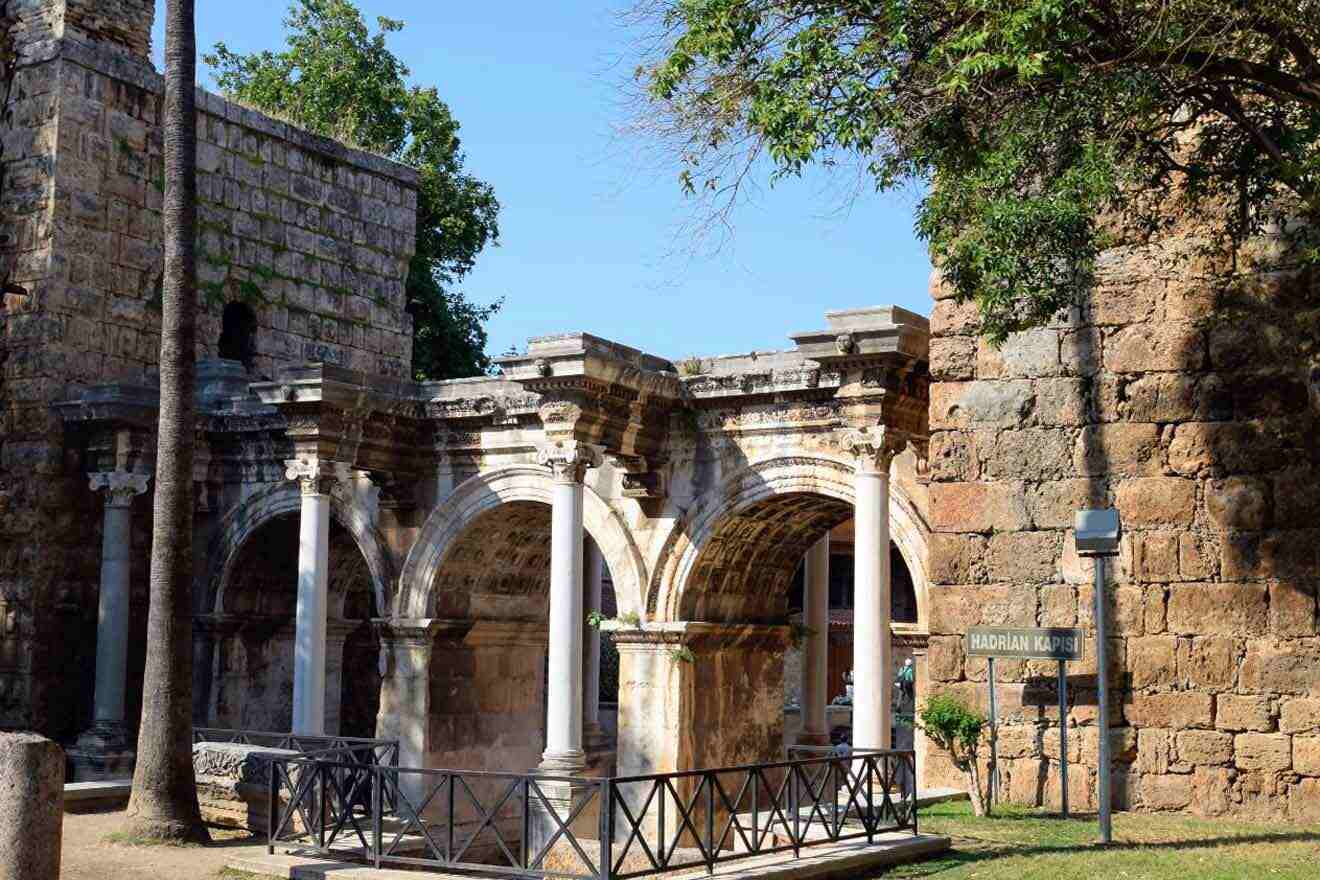 There's something about these Turkish lands! They hold so much, and you can see that especially in the ancient Old Towns and temples!
If you're coming for the first time to Antalya, then get ready to experience the allure of the Old Town, Kaleiçi, which is just steps away from the lively marina!
Here you can explore locations with rich historical charm and enjoy genuine Turkish hospitality! Not to mention that you'll be just a short walk away from the main tourist attractions, some of the best restaurants and hotels!
As most Old Towns, this area is perfect for long walks on the narrow-cobbled stone streets (there's nothing better than pedestrian-friendly zones), visiting the city's main attractions like Ottoman era houses and sites that date back to the Hellenistic, Roman, and Byzantine periods.
Some places that you shouldn't miss out on are Hadrian's Gate, the Suna & İnan Kıraç Kaleiçi Museum, and the very popular Uzun Çarşı Street, where you'll find all sorts of shops. Because let's face it, you can't leave Turkey without some souvenirs!
Luxury hotel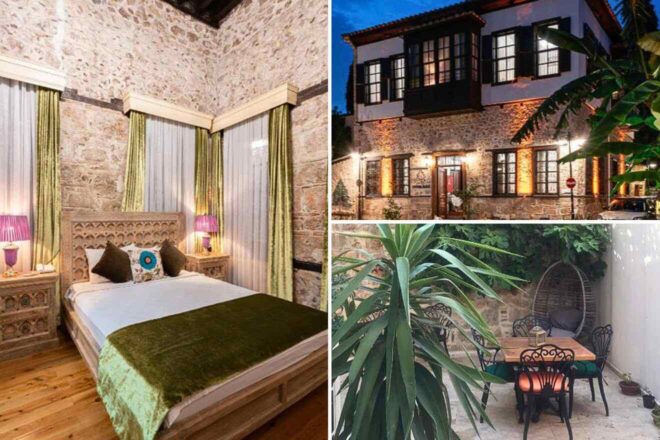 Not only is this boutique hotel conveniently situated near top attractions in Antalya's City Center and the ancient city walls, but it also has such an amazing design, spacious rooms with stylish furnishings and air-conditioning, and a bar! Each morning, you can grab breakfast here before visiting the City Center.
Other accommodation options in Kaleici (Old Town)
mid-range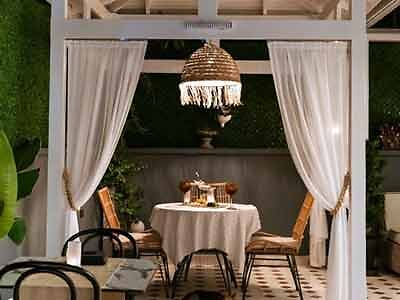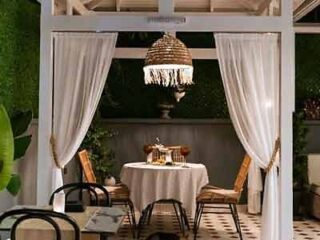 Opt for this place close to the ancient ruins that offers modern rooms, a terrace, a bar, and a delicious breakfast
budget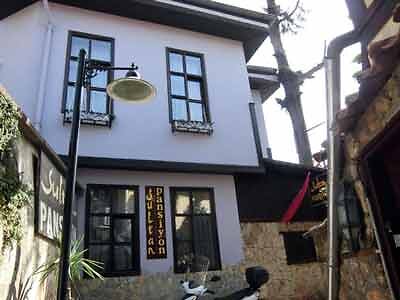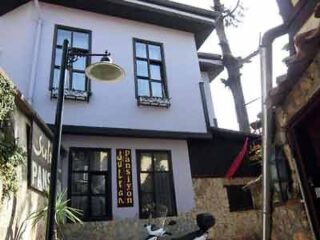 Feel at home in this cozy place that comes with a central location and rooms with air-conditioning
airbnb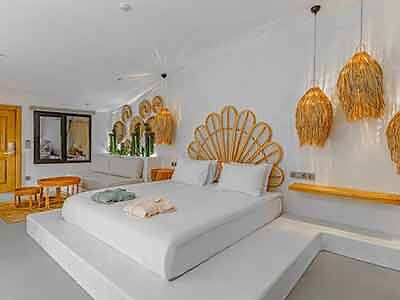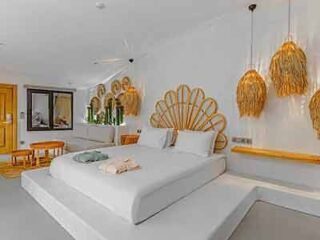 Perfect for 3 guests, this apartment has such cool decor, a courtyard view, and free Wi-Fi
Things to do in Kaleici (Old Town)
Snap a pic at Hadrian's Gate
Shop for souvenirs on Uzun Çarşı Street
Explore the cobbled streets
Check out the Antalya Saat Kulesi landmark
Join a tour to Duden Waterfalls
Visit the Antalya Museum
Eat yummy falafel at Rokka Pizza Falafel
2. Konyaalti Beach – best place to stay in Antalya for families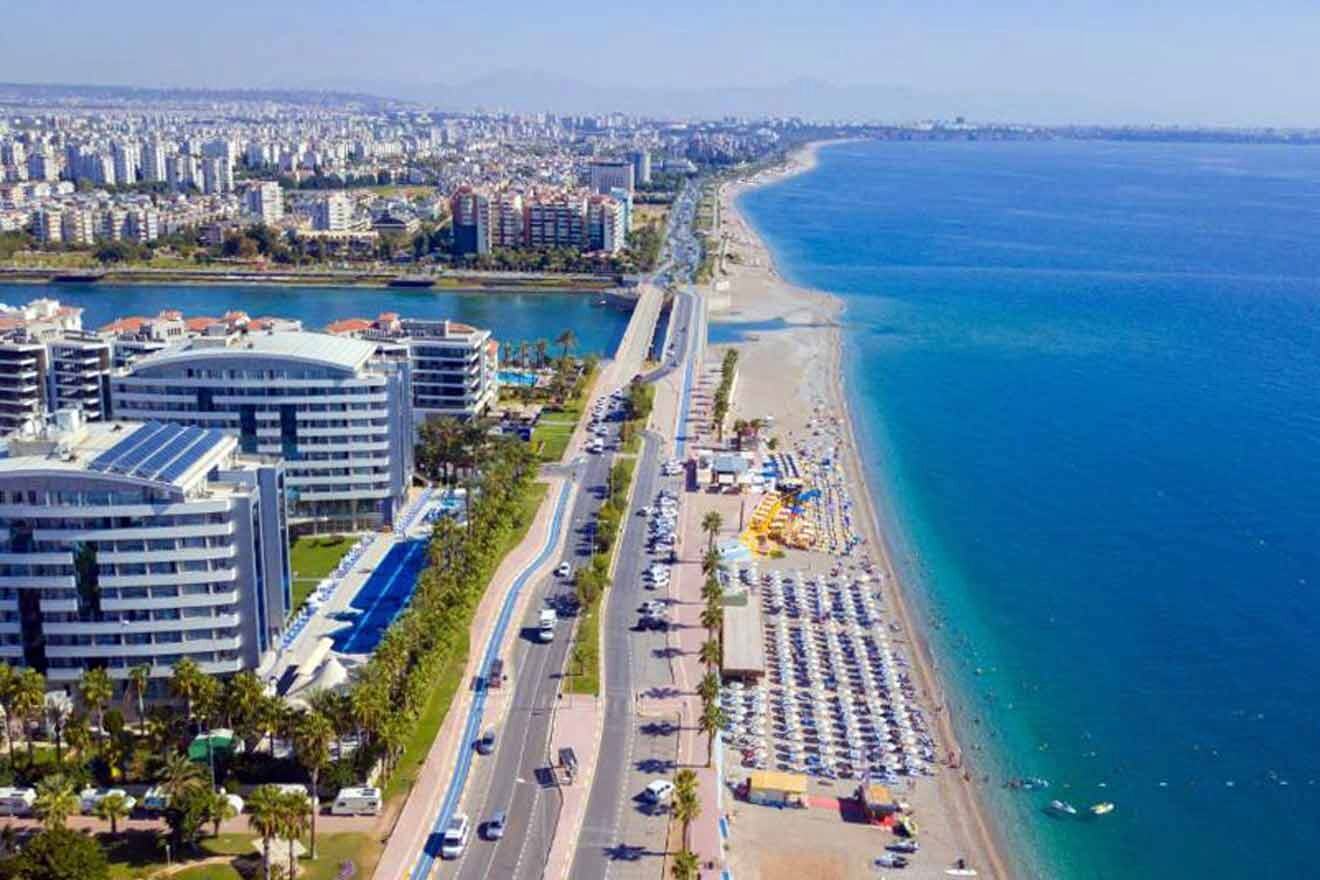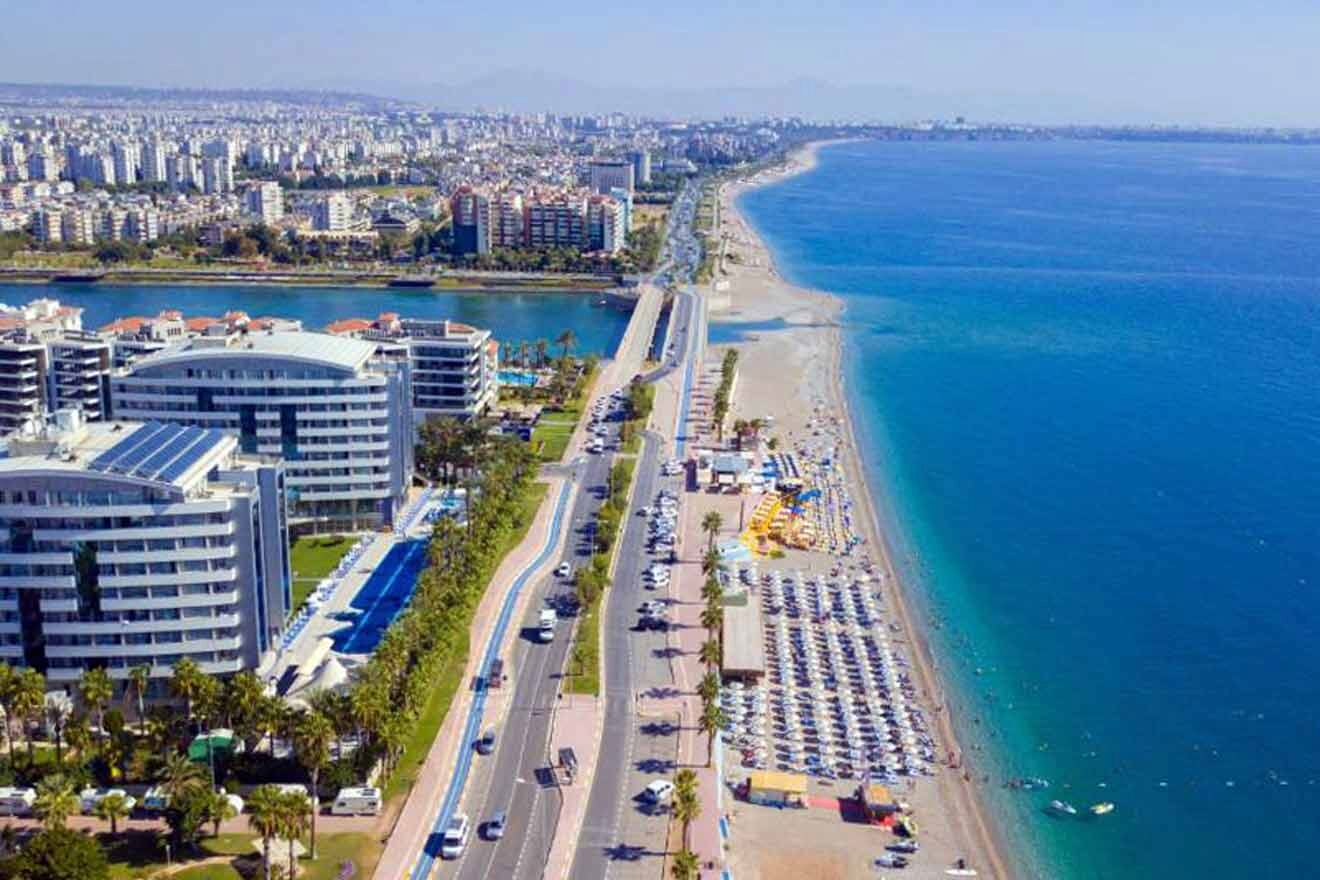 Antalya is known for its all-inclusive resorts and as a fabulous destination for families who want to bring their little ones and have fun in the sun!
If you're looking for an amazing area, I recommend Konyaalti Beach! Not only is it super close to theme parks like the Antalya Aquarium, the Waterhill Water Park, and Konyaalti Beach Park, but it also offers accommodations with sweeping sea views and places to stay near crystal-clear beaches.
I mean, what can be better than waking up to some breathtaking views of the Mediterranean in Antalya, eating delicious Turkish food, and then heading to a golden sand beach to sunbathe? Konyaalti Beach is even more amazing as it was awarded a "Blue Flag" for its clean and clear water!
Yep, this popular resort town has it all, and I bet your kids will love every moment spent at all those theme parks, which is why Konyaalti Beach is such a convenient location for all your family members!
Whatever you do, I recommend booking your resorts here in advance! Antalya is like the Turkish Riviera, and everyone comes here for the beautiful beaches (especially in June, July, August, and early September)
Luxury hotel
Porto Bello Hotel Resort & Spa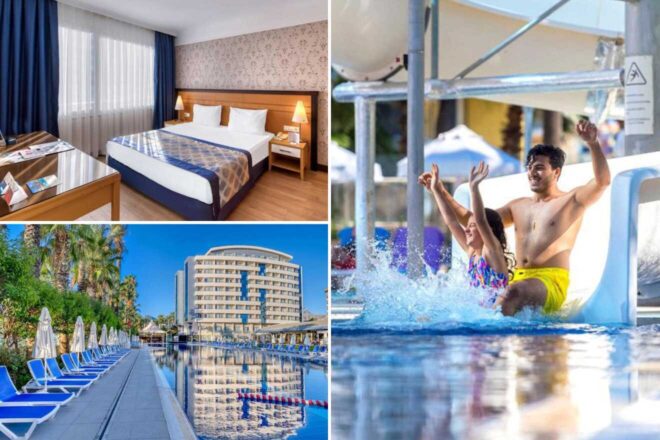 Dive into luxury with world-class amenities at this resort that offers a private beach area! If you're looking for spots with tranquil spa retreats, then this is the place for you! You'll also find a fabulous indoor swimming pool and 2 outdoor swimming pools, a fitness center, and 3 restaurants where you can indulge in the delicious Turkish food.
Other accommodation options in Konyaalti Beach
mid-range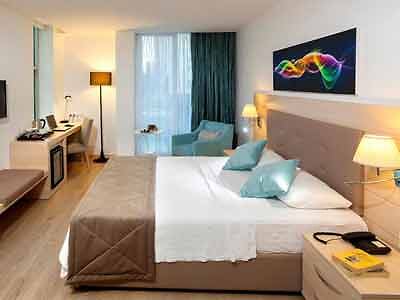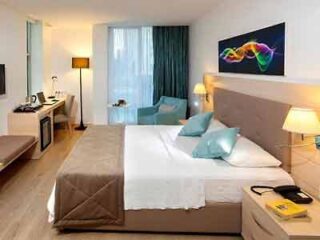 Nestle in this modern retreat along the coast that has a kitchen, family rooms, and a garden
budget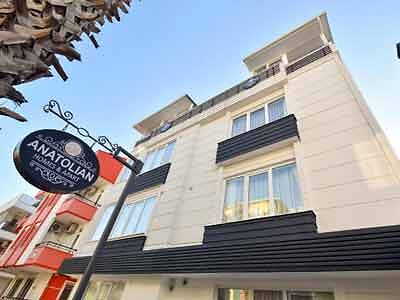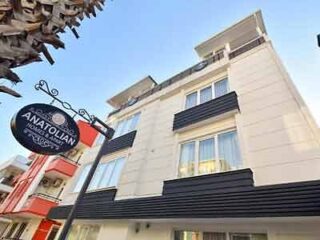 Set within walking distance of the beach, this hotel offers rooms with a balcony and bike rental
airbnb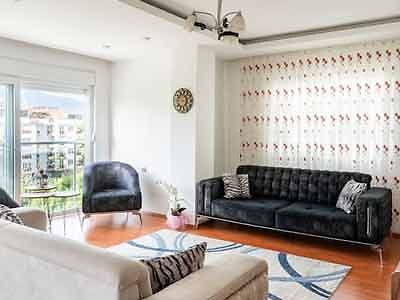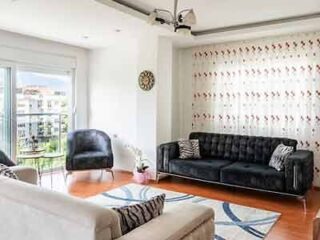 A fabulous apartment equipped with all necessary facilities with beach access and mountain views 
Rixos Downtown Antalya – I wanted to add one more incredible place that overlooks the Taurus Mountains and features a lagoon-style pool, a private beach area, and rooms with balconies!
Things to do in Konyaalti Beach
Get tickets for the Antalya Aquarium & Wax Museum
Spend the whole day at Waterhill Water Park
Take the kids to Konyaalti Beach Park
Go for a swim in the sea at Konyaalti Beach
Visit the historic city center
3. Belek – where to stay in Antalya for luxury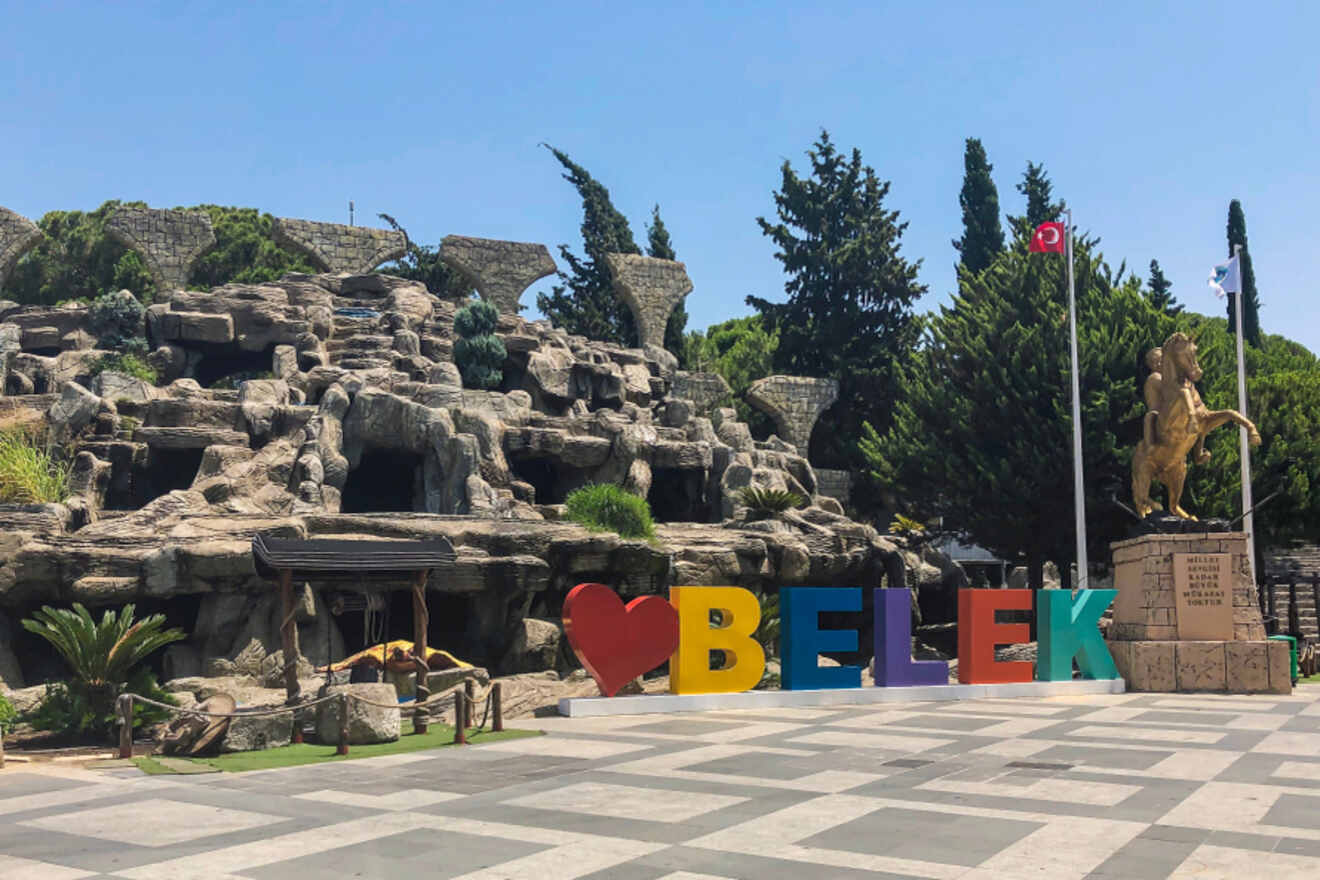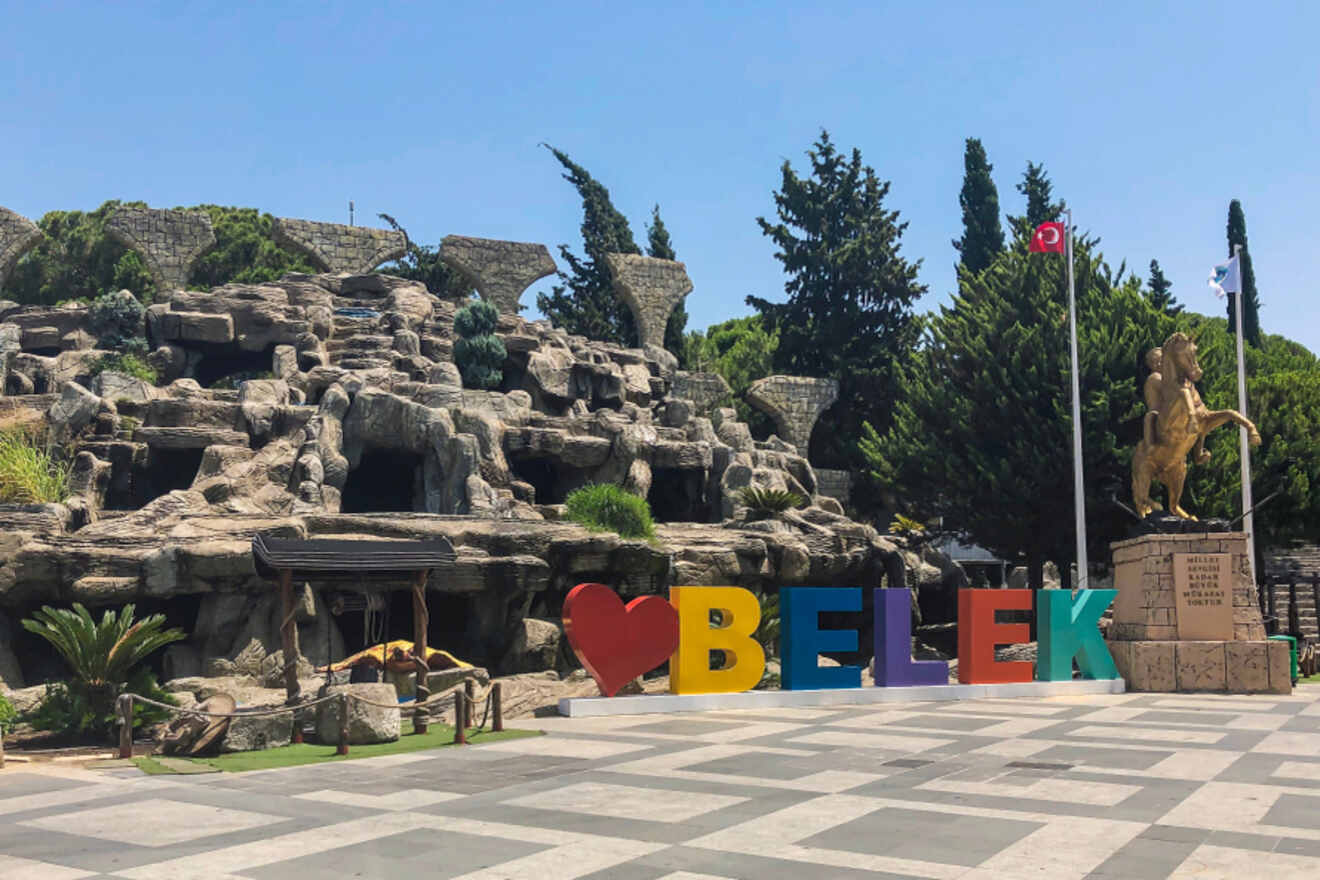 If you really want to go all in on this holiday and really treat yourself by staying in some of the most luxurious resorts in Antalya, then Belek is the place for you!
Set a bit further away from the city center, around 50 min by car, this area is known for its golf courses (Belek is actually the country's golf capital), fabulous hotels, theme parks, and other ancient attractions!
Yep, Belek is the real deal, where you can spend your days indulging in gourmet Mediterranean cuisine and relaxing while admiring the sunset views from a private terrace.
Although you won't be as close to the attractions in the Old Town, fear not, you'll have plenty to see here like the Roman Theater called Aspendos and Perge ancient city.
I swear, this place really has it all! Leave it to the Turks to mesmerize all their tourists with these historical attractions. You'll find something similar to these places in Antalya, in Cappadocia (we've got a whole post with the best tours to take there, so definitely have a look while you're still under the Turkish spell)!
Luxury hotel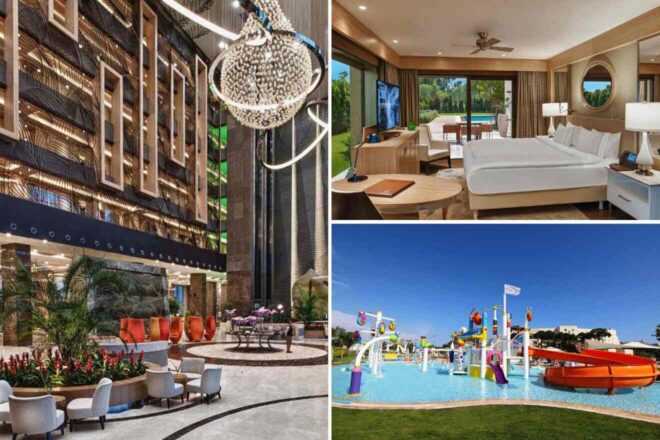 What a place! You'll never want to leave this corner of heaven with everything you want, from golfing, 5 outdoor swimming pools, spa facilities, a kid's club, and 10 restaurants! Enjoy your mornings on the sun loungers by the outdoor pool, and jump in a Turkish bath before starting your day!
Other accommodation options in Belek
mid-range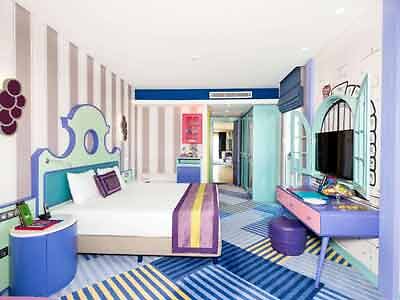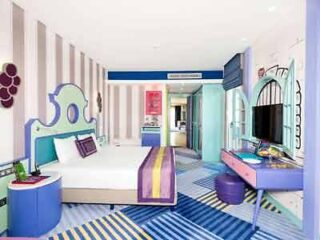 This place offers water sports adventures, a 5D cinema, custom-designed rooms, and a spa center
budget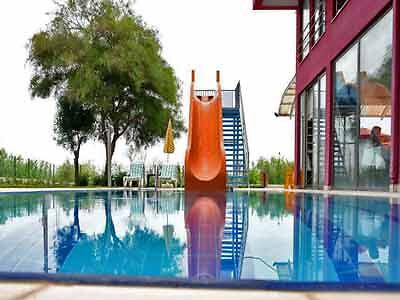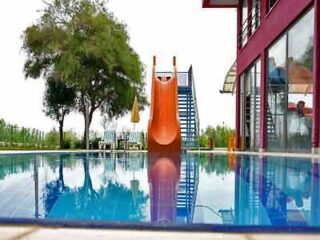 An amazing hotel with great prices that has 2 restaurants, an outdoor pool, and an indoor play area for the kids
airbnb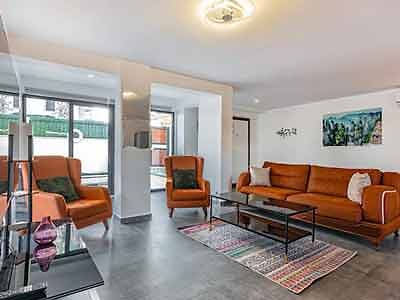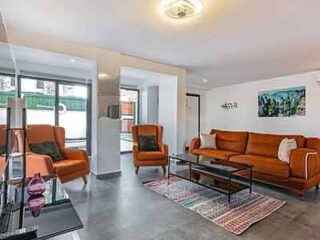 The perfect villa for a larger family, which comes with a private outdoor pool, a kitchen, and a garden view
Things to do in Belek
Play some golf at Cornelia Golf Club
Visit the Roman Theater Aspendos
Explore Perge, the ancient city
Relax in all the thermal baths
Swim in the Mediterranean Sea
Book your tickets for The Land of Legends Theme Park
4. Olympos Beach – best place to stay for nature lovers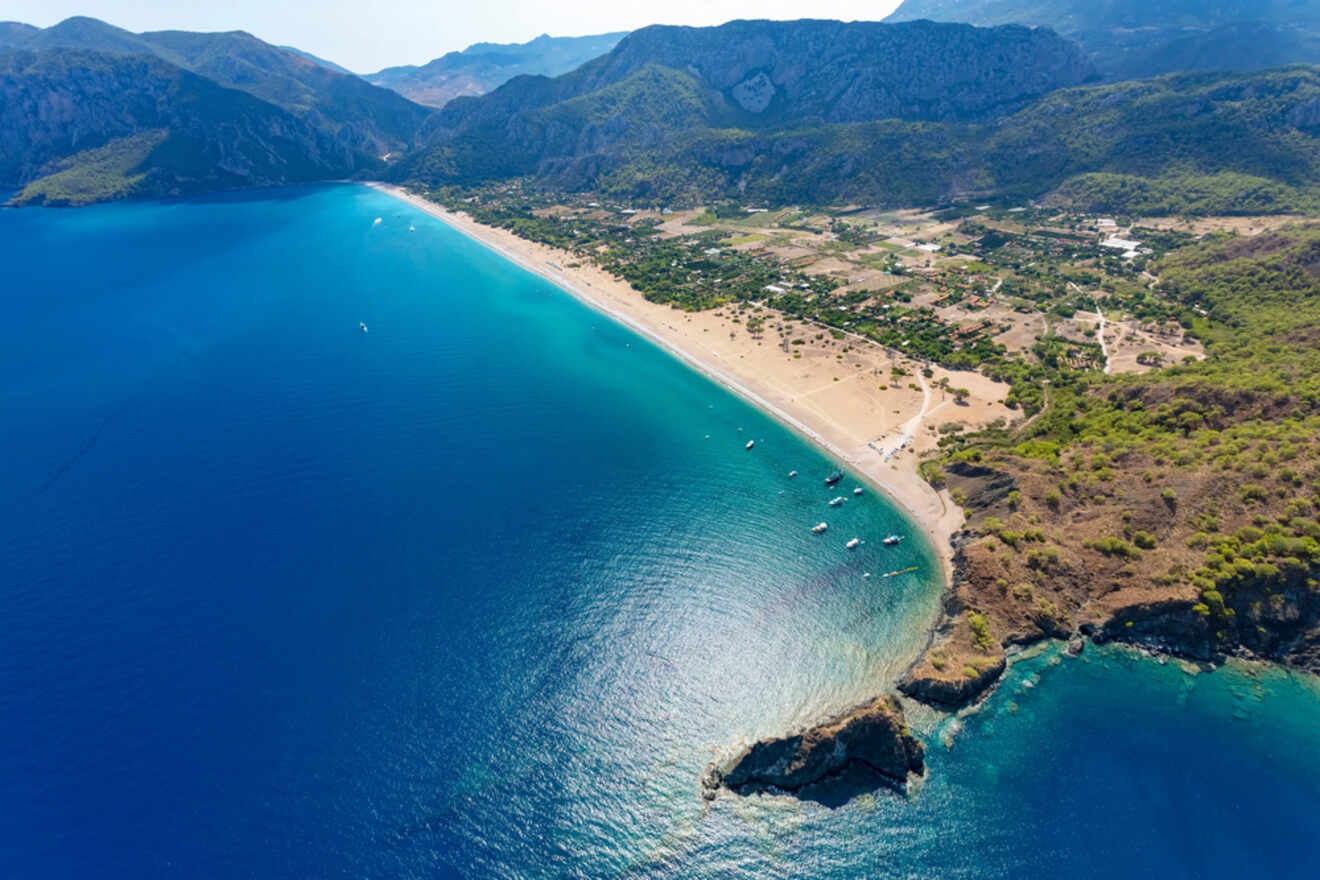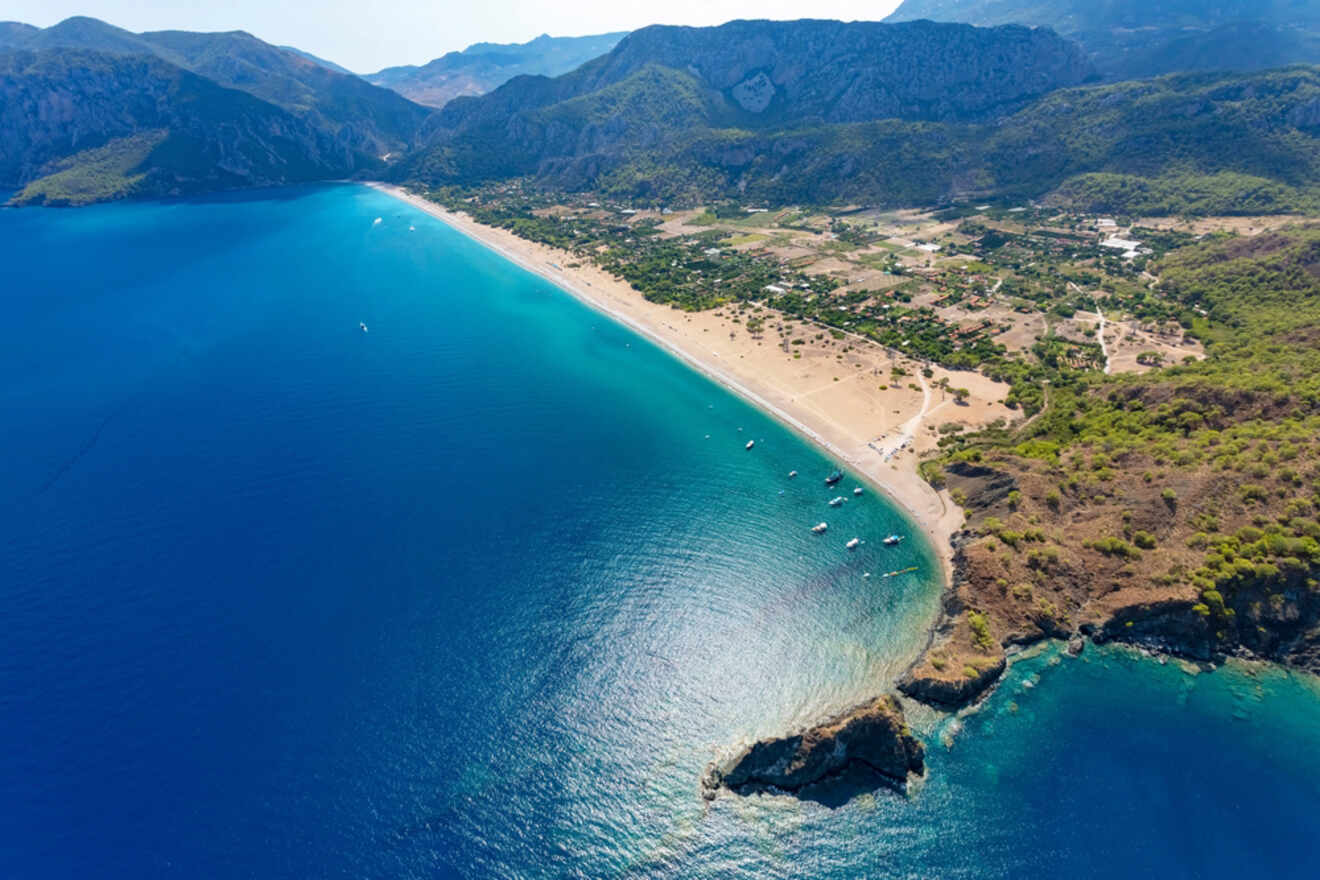 So this area may be a bit too far from the historic center and all the attractions there, but trust me, what it lacks in proximity, it gives back in natural beauty!
Olympos Beach is set 1.5 hours from the city centre, and it's an absolute gem! Frequented by backpackers, families, and people who love spending time in nature, this place is not to be missed while you're on holiday in Antalya!
This is a protected beach, and no cars are allowed, nor any sunbeds, umbrellas, food, or things like that!
But don't worry because you'll find plenty of restaurants and hotels just a short walk from Olympos Beach, so you won't lack anything!
The beach is part of Olympos Town, an ancient city that nowadays is mostly in ruins and was once a very important harbor! There are traces here from the Hellenistic, Roman, and Byzantine eras.
If you're into history and learning about ancient cultures, then you'll definitely have a blast exploring places like the temple gate, Acropolis Hill, Necropolis church, and Olympos theater!
Luxury hotel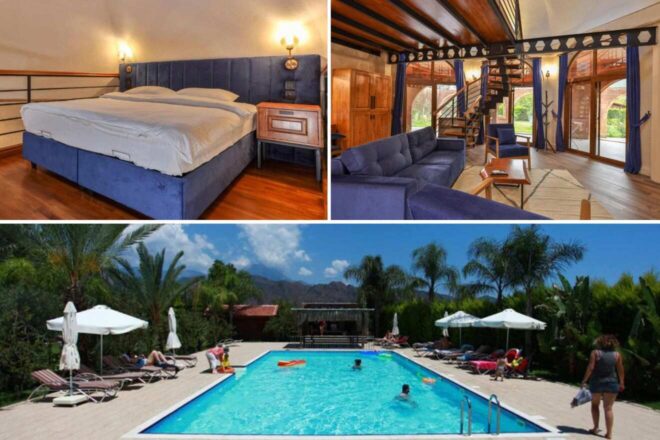 Relax at this accommodation that has lush tropical landscapes, and find a moment of peace in their secluded garden hideaway! If you like discovering boutique lodgings with artful interiors, then this hotel, which has an outdoor swimming pool, is for you! You'll also get to indulge in Turkish food here and relax with some spa facilities!
Other accommodation options in Olympos Beach
mid-range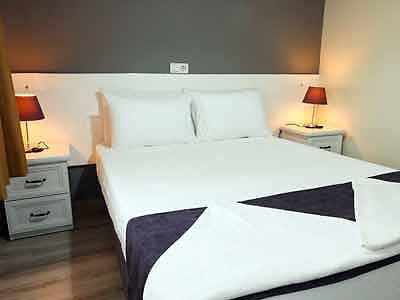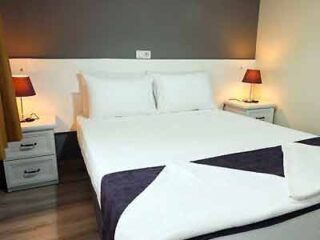 Opt for this hotel that blends old and new and which features a swimming pool and rooms with balconies
budget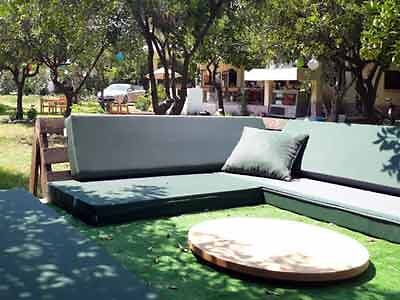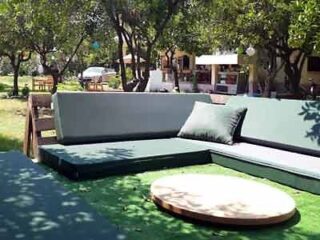 Feel at home at this hotel with an extensive garden, air-conditioning, and free bikes
airbnb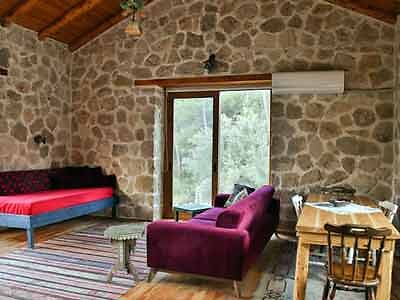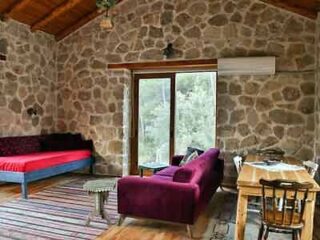 Retreat to this spot with a serene garden, gorgeous mountain views, an outdoor hot tub, and beach access 
Things to do in Olympos Beach
Explore the Olympos Ruins
Enjoy the waves on Olympos Beach
Check out the Olympos Episcopal Palace
Grab a bite at Olympos Yavuz Restaurant
Visit the nearby Çıralı Beach
5. Lara Beach – where to stay in Antalya for beach lovers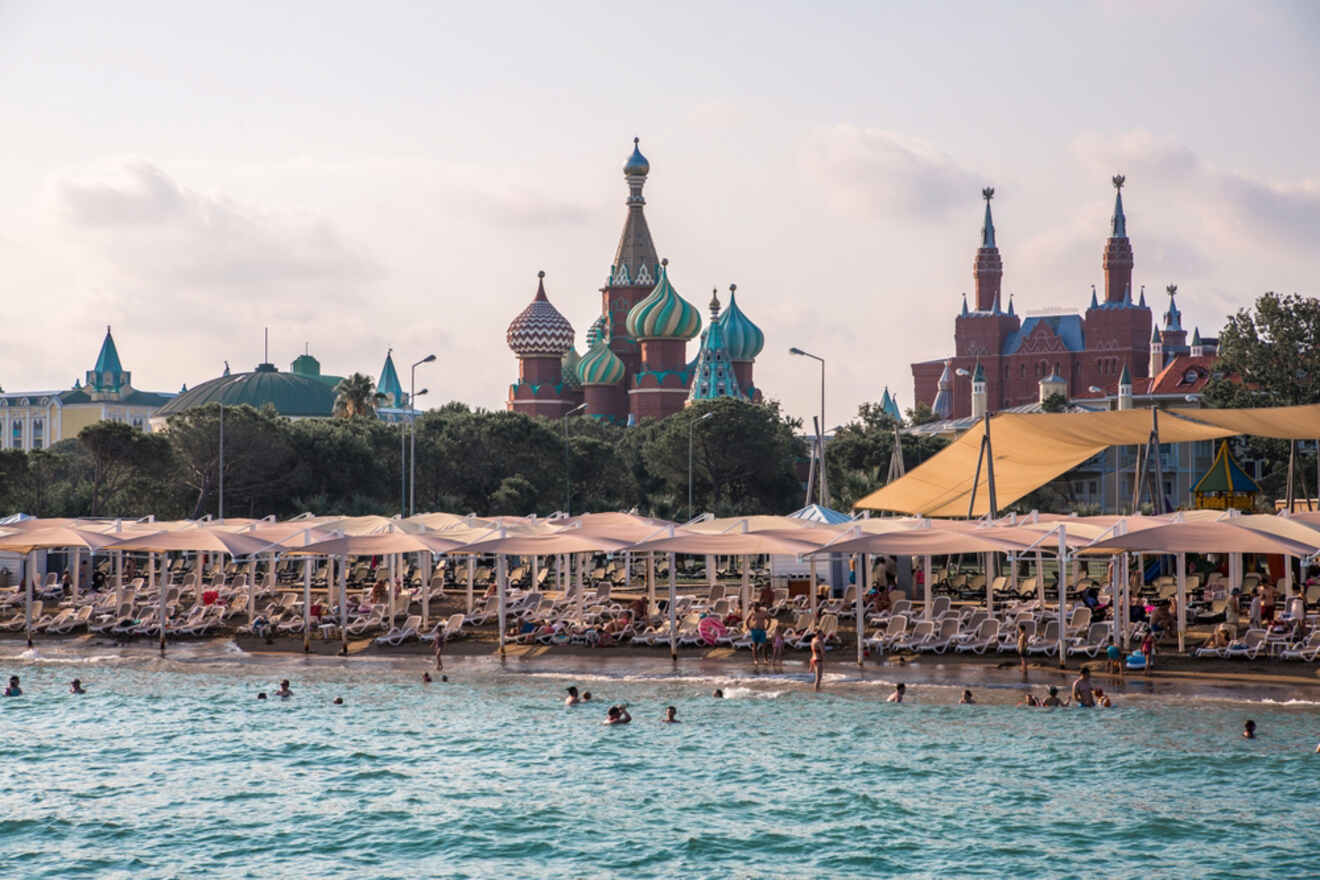 If this holiday, all you want to do is lay somewhere on a golden beach and swim in the Mediterranean Sea all day long, then Lara Beach is for you!
Located a 30-minute drive away from the Antalya city center, this area is packed with beach resorts (many all-inclusive ones), and it also has a lively nightlife! Yep, clubs, terraces, beach bars, you name it, there are plenty of those here!
So, if you want to secure a spot near this dynamic nightlife hub, check out some of the best hotels in the area which I listed below.
Although the beach is its main attraction point, Lara has other fun things to offer! I've already mentioned the clubs, but you'll also find a shopping center here (Lara Beach Shopping Centre or Terra City Shopping Mall), some small leather shops, and souvenir stores as well.
This place offers such a perfect combo of all the amazing things that you can find in Antalya! The only thing is that you'll have to travel a bit to visit the Old Town, but if you don't have a car you can always rent one or use public transport to get there!
Luxury hotel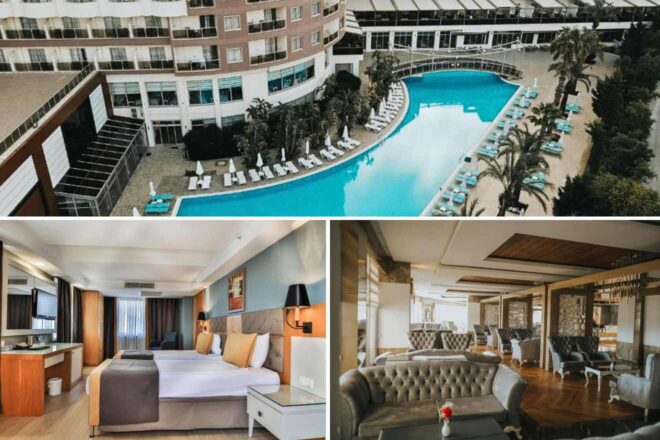 This hotel is highly rated for its comfort and services, which include spa treatments, a private beach area, room service, and many others! Here, you can enjoy traditional Turkish baths, sunbathe by the swimming pool, play tennis, work out in the fitness centre, and have fun with the little ones at the kids club.
Other accommodation options on Lara Beach
mid-range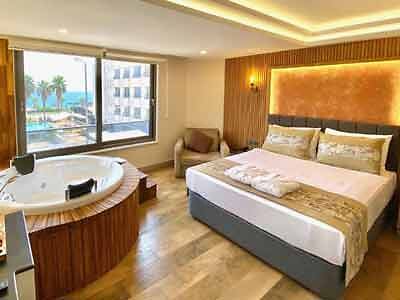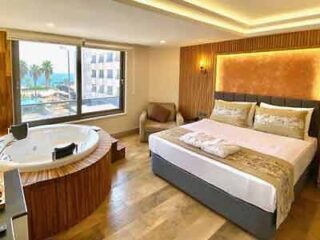 Enjoy your stay in Antalya at this hotel, which has rooms with private hot tubs, a garden, and an airport shuttle
budget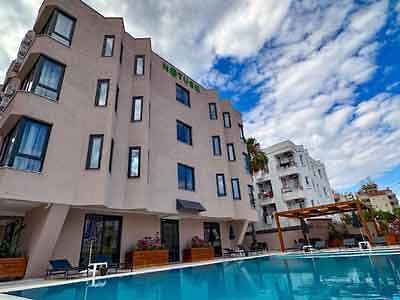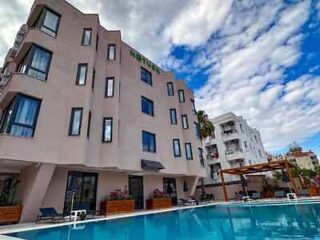 Modern apartments equipped with a kitchen, a furnished patio, and an outdoor swimming pool
airbnb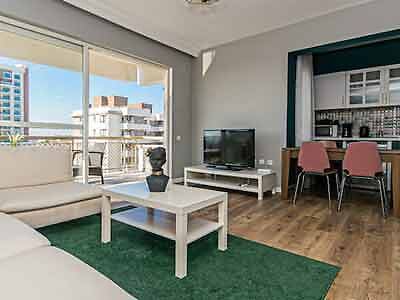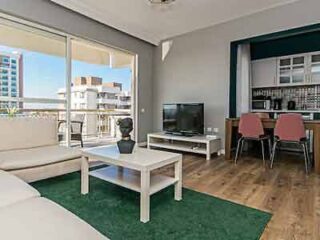 A great apartment for 4 guests that comes with a kitchen, a lovely sea view and free parking 
Things to do on Lara Beach
Shop for souvenirs at Terra City Shopping Mall
Visit the Sandland open-air museum
Enjoy the sun on Lara Beach
See cute dolphins at Aksu Dolphinarium
Grab a drink at Lazlo Beach bar
FAQs about hotels in Antalya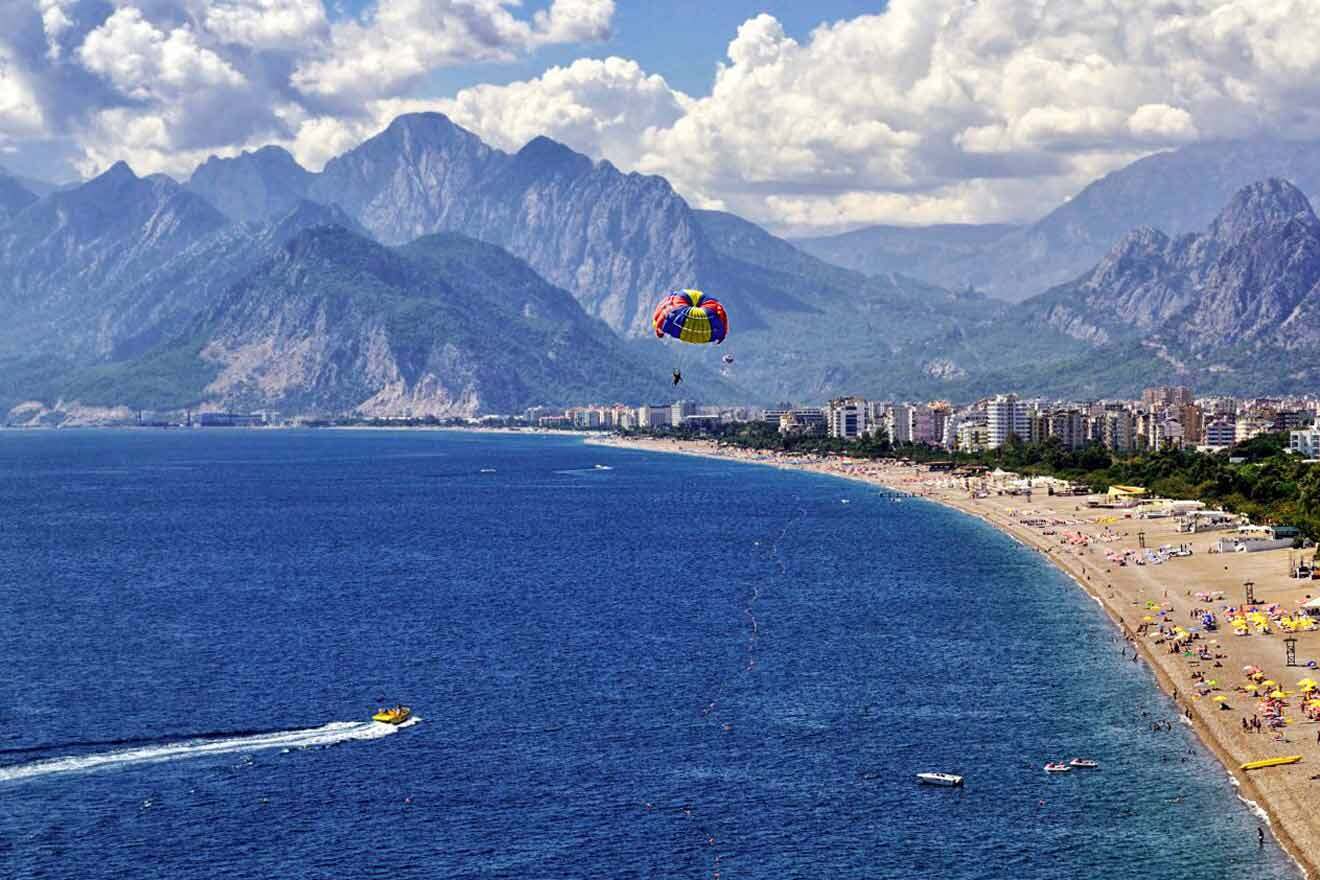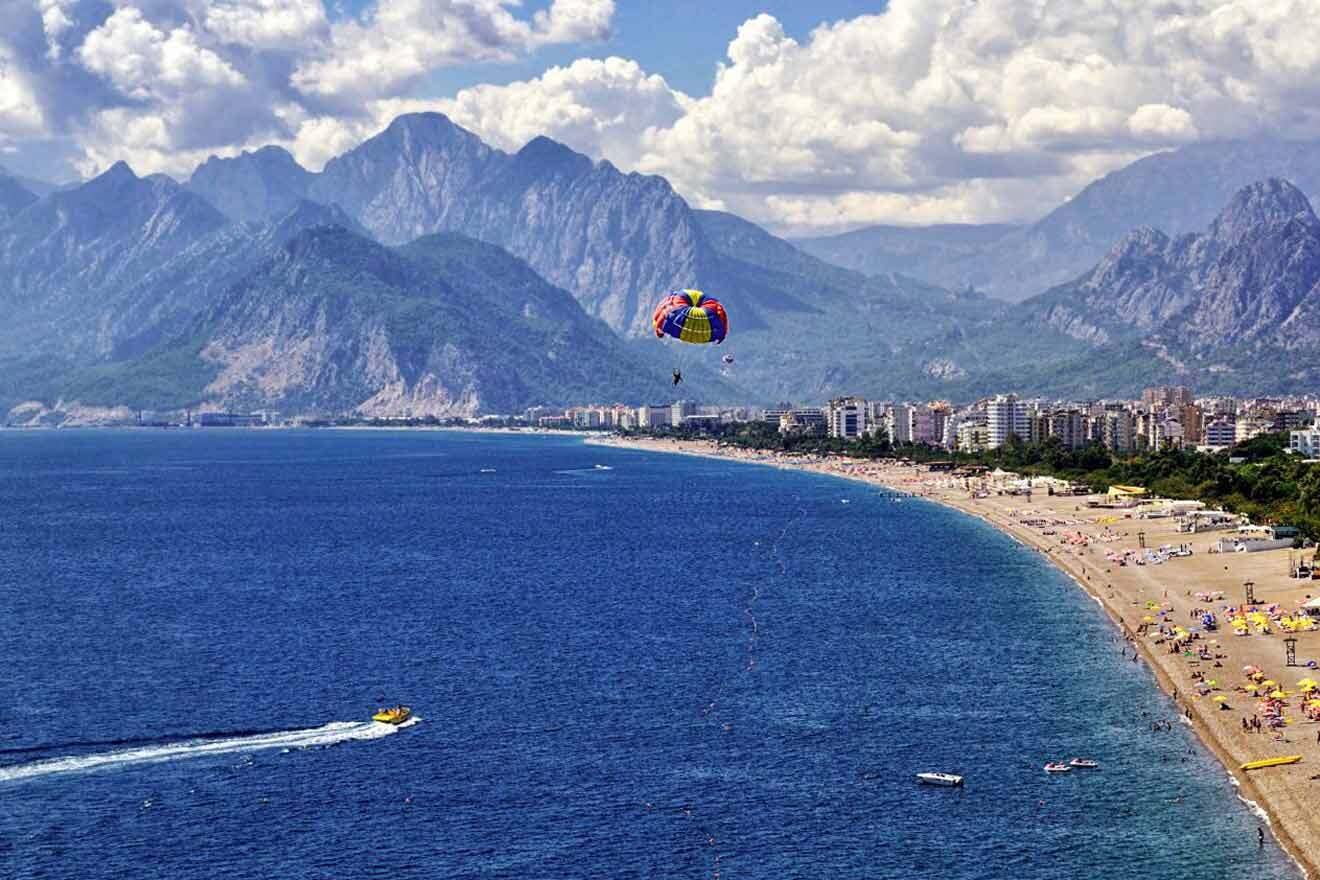 🤩 What's the best area to stay in Antalya?
Kaleici (Old Town) is one of the best areas to stay in Antalya! There you'll be close to the ancient attractions and also within walking distance of the beautiful beaches!
🧐 Which is better, Lara or Belek?
Both have the same beachy atmosphere! However, Belek tends to be much more expensive as it has many luxurious hotels and golf resorts, and Lara is more affordable.
👪 Which is the best place to stay in Antalya for families?
Konyaalti Beach is one of the best areas to stay in Antalya for families as it has so many theme parks and amazing hotels like The Room Hotel!
🍹 Where is the lively part of Antalya?
The Old Town and Lara Beach are some of the most lively areas in Antalya, where you'll find many bars, clubs, and beach bars!
🏨 Which are the best hotels in Antalya's Old Town?
Cedrus Hotel and Kiana Kaleici are some of the best hotels in the town center! Both hotels feature amazing locations and fabulous services!
Conclusion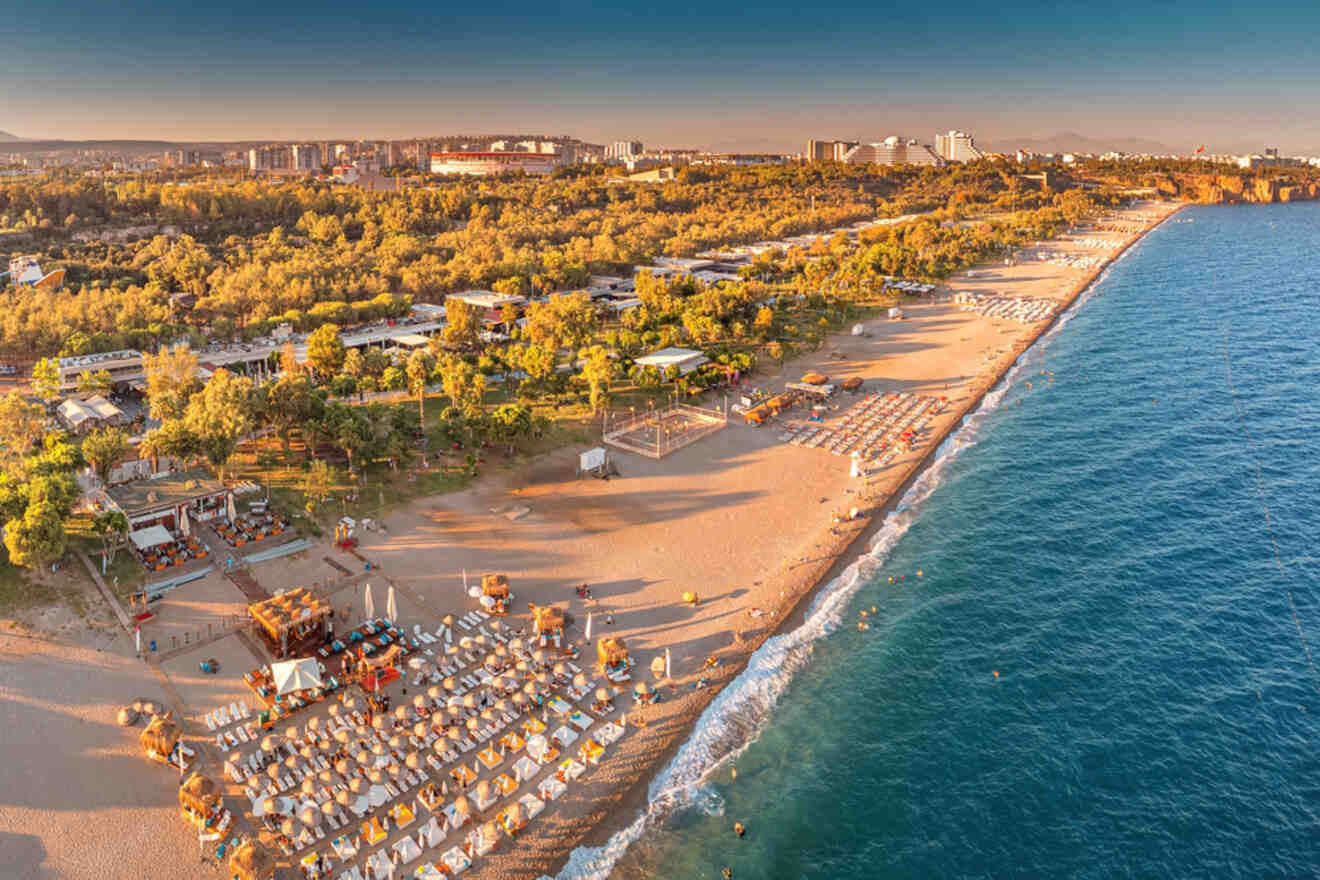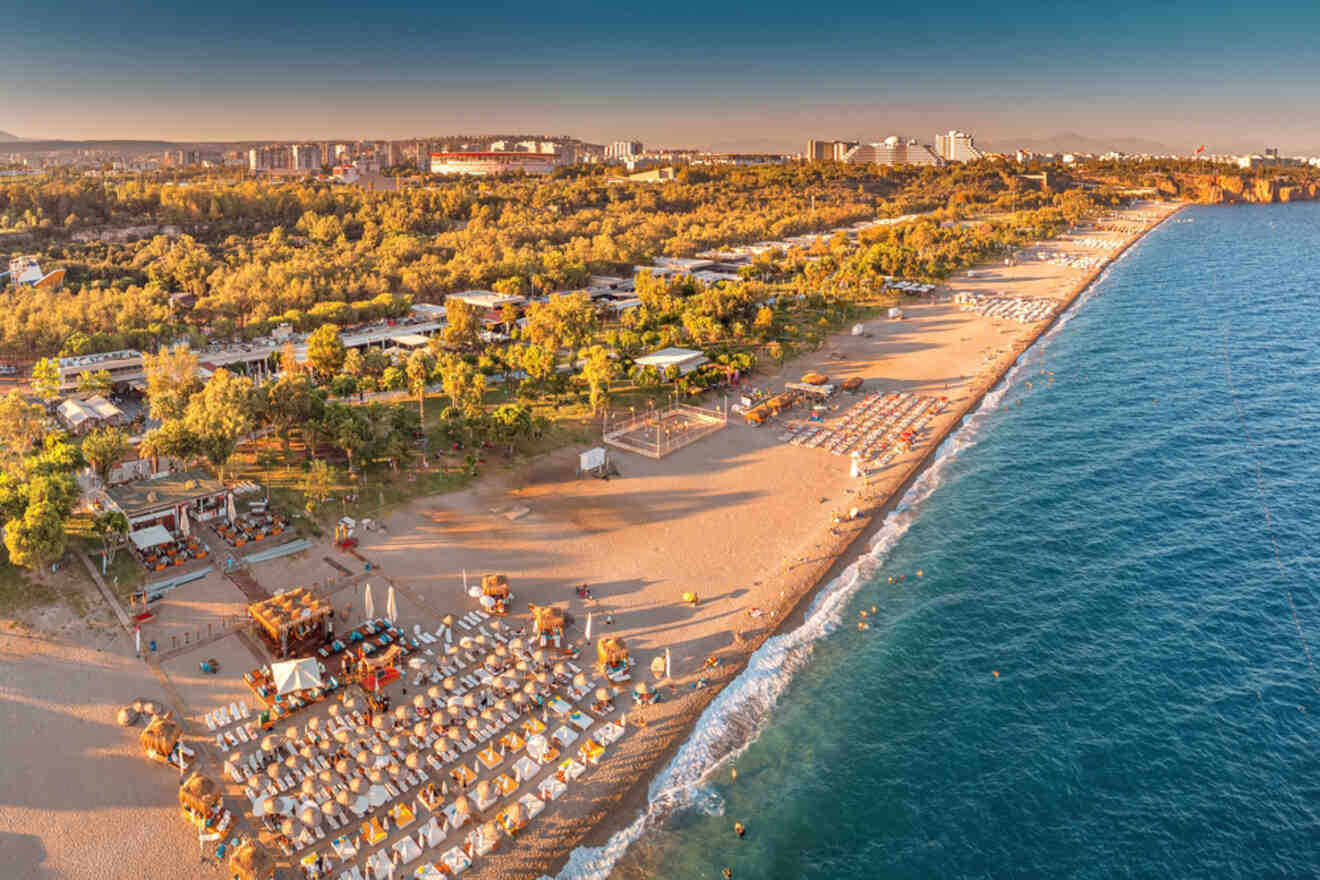 Honestly, I can't wait to go back to Turkey! This country is so incredible!
I'm so happy you're headed to Antalya, on the country's southwest coast, to discover its beautiful beaches and the unique Taurus Mountains! Now that you've read this post on where to stay in Antalya, you're more than ready to start planning!
Just bear in mind that the Antalya hotels listed in this post are some of the best ones! Whether you're booking luxury hotels or budget ones, I recommend doing it in advance, as Antalya is so popular with tourists from all over the world!
If you're still not sure which hotel to pick, then have a look at my 2 favorite ones below:
Cedrus Hotel – located within walking distance of Antalya's historic attractions, this boutique hotel features a restaurant, stylish rooms, and a bar.
Kiana Kaleici – a great hotel near Mermerli Beach that offers a delicious breakfast and a shuttle to Antalya Airport.
Both places are renowned for their traditional Turkish hospitality in Antalya!
Well, everyone, have fun wandering from lodgings to vibrant bazaars and stunning attractions, and don't forget I'm always around for more questions!
Safe travels,
Victoria
---
Pin it for later!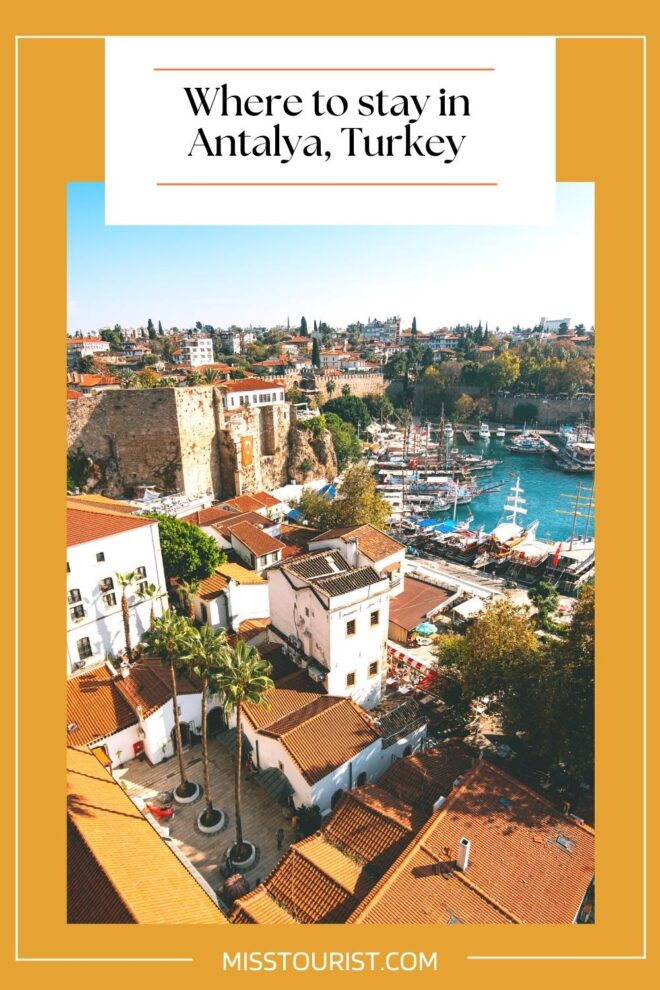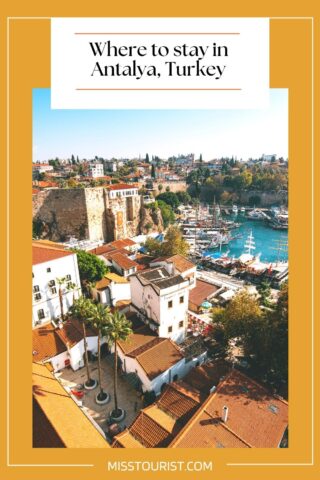 Pin it for later!