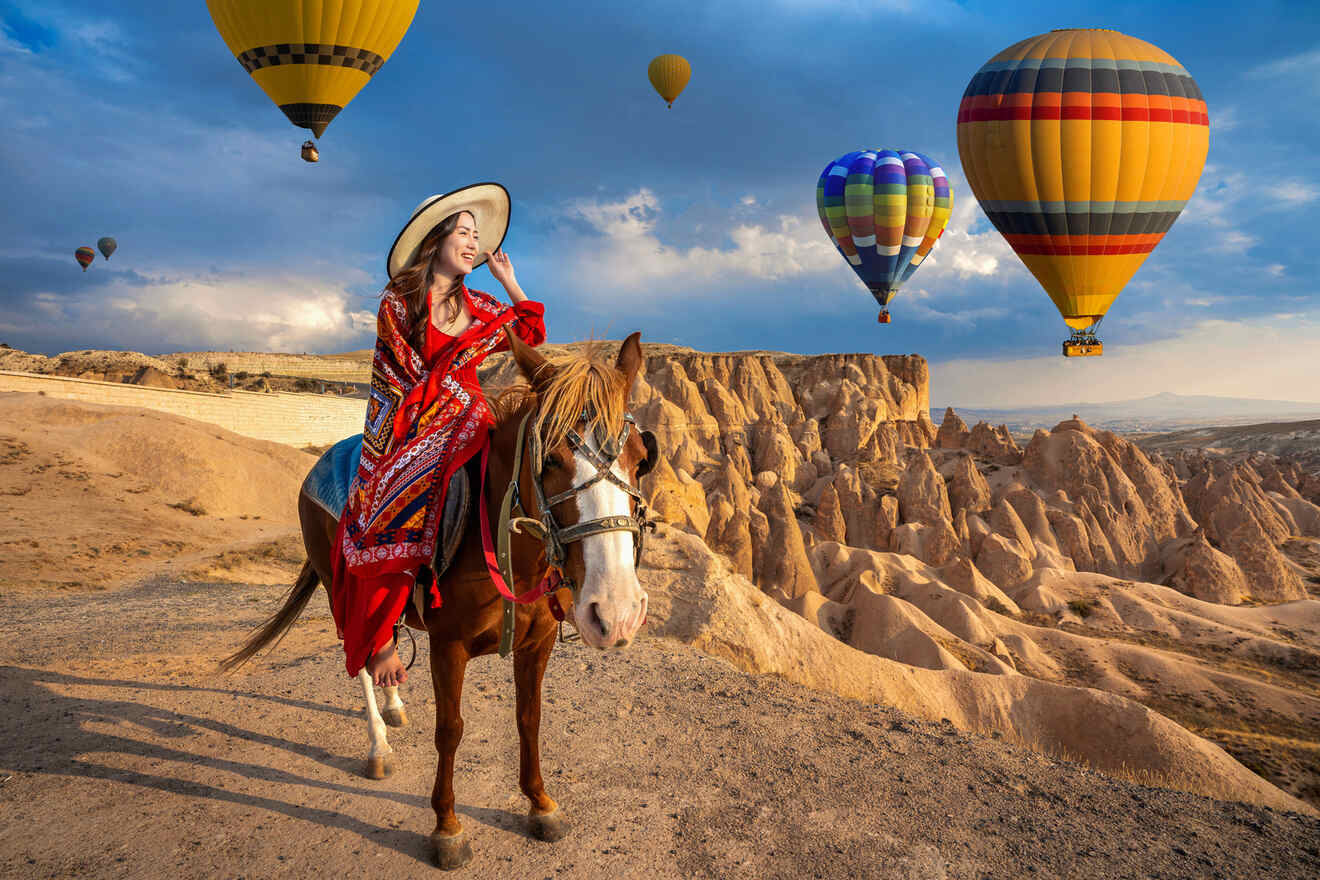 Welcome to the lands of magical natural wonders and myths! Cappadocia is known for its hot air balloon tours but there's so much more to this region! Otherworldly rock formations (the famous fairy chimneys), underground cities and neverending valleys, these are just a few highlights!
I have just come back from an amazing trip there so follow me, and let's discover the best Cappadocia tours, and things to do in the region! Since the area is so extensive and many places are hard to reach, most tourists take tours. That's what I did, and it was a great experience as you don't have to worry about anything!
There are many things to do in Cappadocia, and I've made it my mission to gather the best tours, including the ones that I've been on. But firstly, I highly recommend booking all the tours in advance as the tour price only gets higher the longer you wait especially during peak season.
NOTE: Another important thing to know is that you need to be careful where you are buying your tours because there's a big black market for them (especially the hot balloon tour) in Cappadocia. I recommend using GetYourGuide or Viator where you can check the reviews, and avoid buying anything when you arrive there as they'll charge you much more.
Let's go!
If you are in a hurry
If you don't have time to read the whole post, here is a quick summary of the best tours in Cappadocia to book in advance:
Here are the best tours in Cappadocia for a well-rounded experience:
Check out the map below, which will help you find the best tours in Cappadocia:
1. Admire the stunning views from a hot air-balloon ride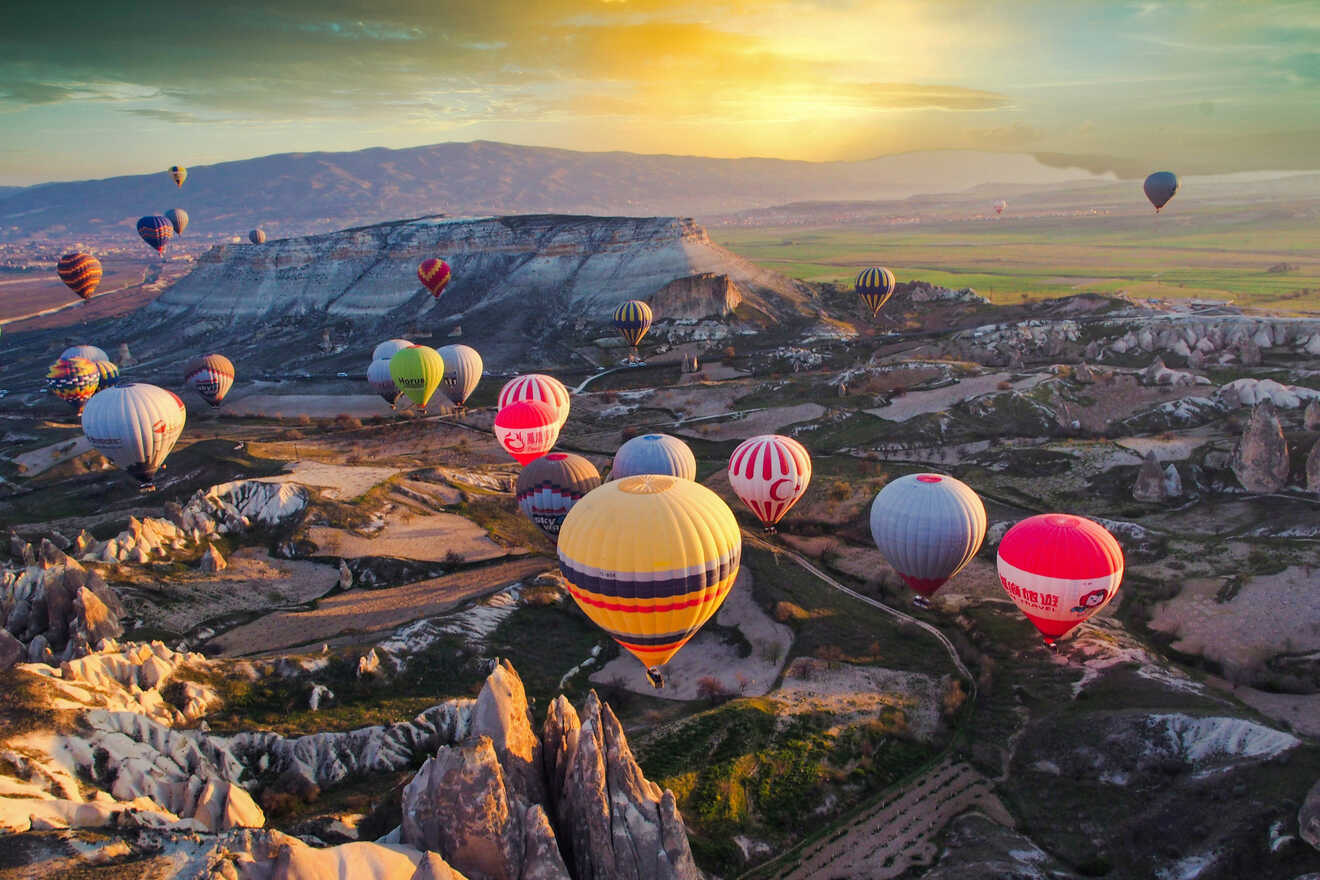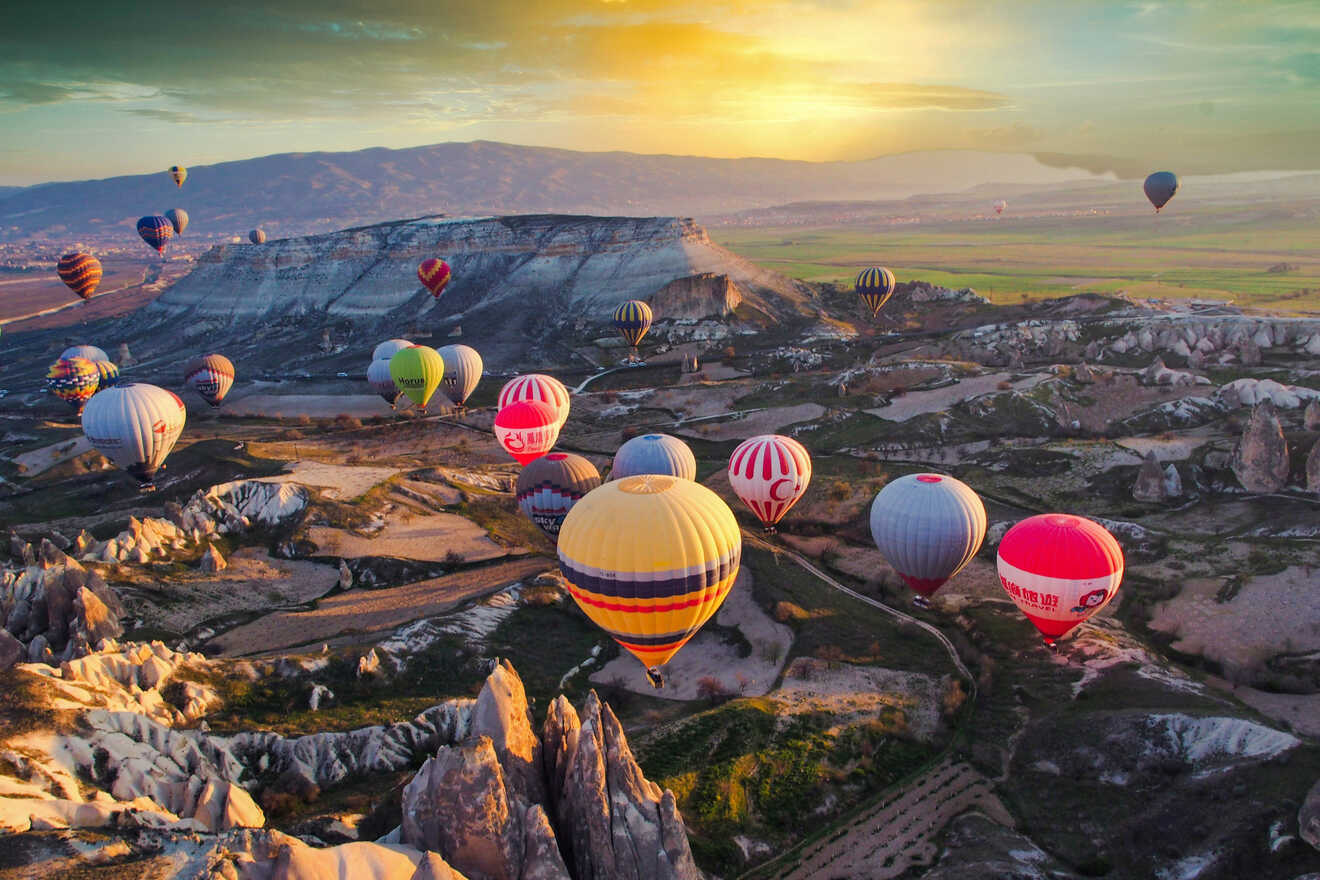 The Cappadocia region is absolutely magical! And one of the highlights of your trip will definitely be going on a hot air balloon ride!
If you've seen any tourist pics you probably know that hot air ballooning is a must thing to do in Cappadocia!
I recommend buying your hot air balloon ride as soon as you decide to go on holiday here. The prices get super high the closer you book to your traveling date.
NOTE: Another crucial thing to know: there is black market where people sell these hot air balloon rides at double the price, so make sure to only get them from reliable sources.
During this magical experience you'll get a bird's eye view of the ancient rock formations from above at sunrise! The tour starts super early, so you'll have to wake-up around 4AM (don't worry though, after a strong cup of Turkish coffee you'll be ready to go).
PRO TIP 1: No matter the season, make sure you wear comfy and thick clothes. In the morning it is super chilly, not to mention that up in the air it can get even colder.
As with most Cappadocia tours, someone will come to pick you up from your hotel and take you to the location. While you eat your light breakfast (included in the tour) you'll get to see how they inflate the balloons and watch them go up one by one.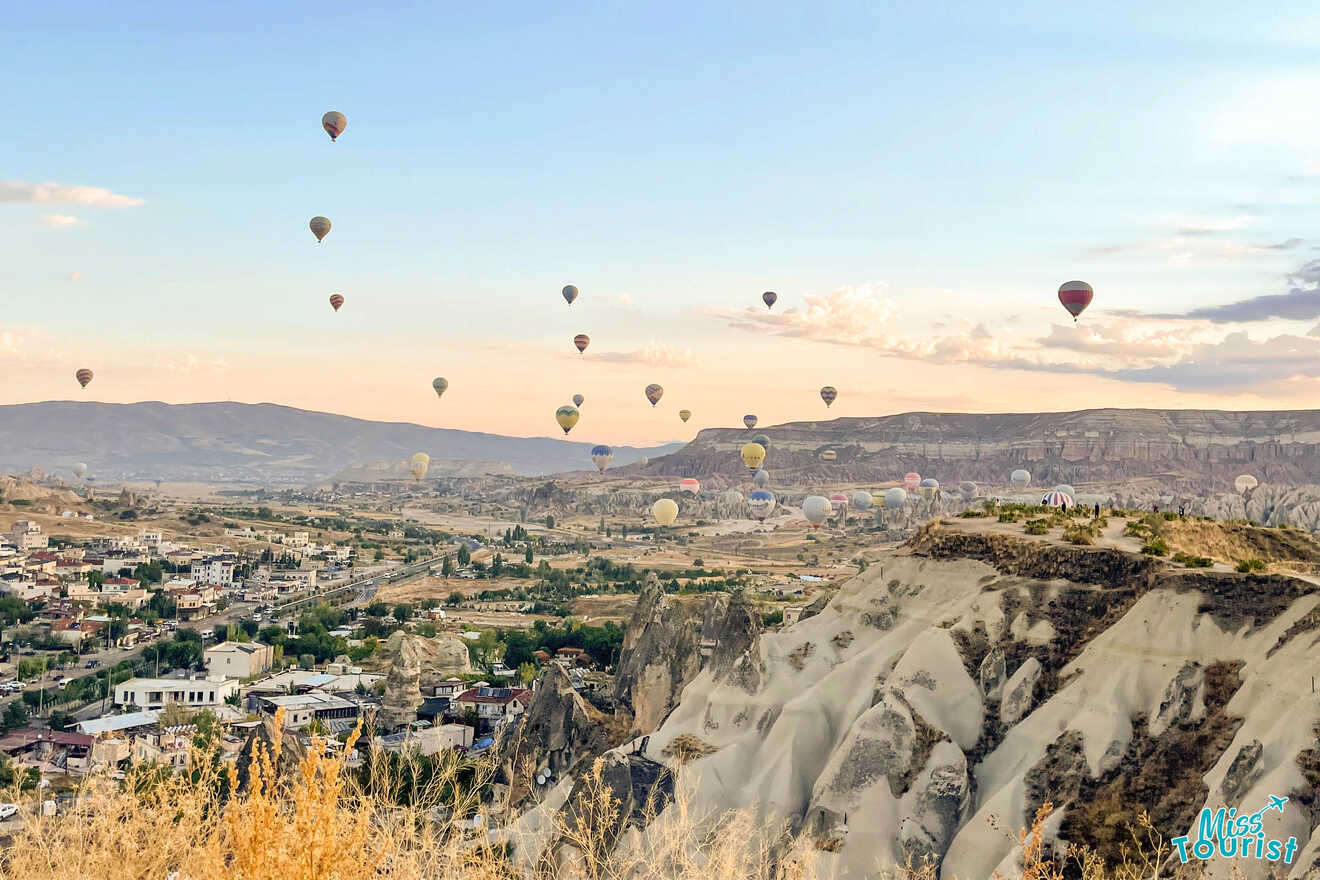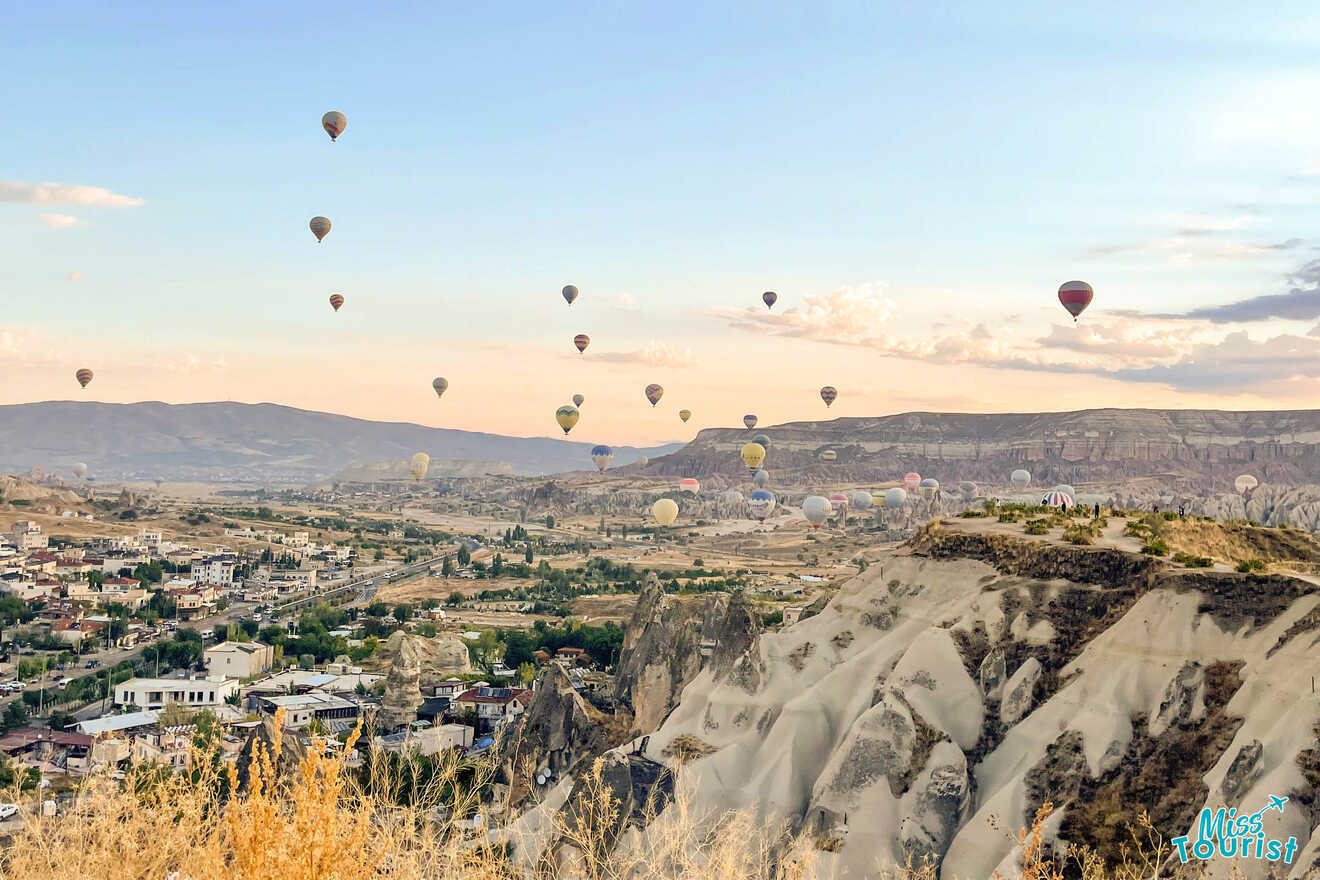 It's such an incredible sight! Especially as the sun comes up and starts lighting up the valleys around you!
After you get a short safety briefing, the crew will help you get in the balloon basket. As the hot air balloon starts ascending into the skies you'll be swept off and transported to a whole other world!
The balloon flight will last around 1h. Take advantage of that time to snap plenty of pics but most of all, to admire the views! After the time's up the hot air balloon will start landing somewhere safe and you'll get a free champagne glass to celebrate this unforgettable experience.
NOTE: Sometimes the hot air balloon tours get canceled if the weather is not favorable. Don't worry though, they usually let you know. But if you don't get any messages, call the tour operator the night before just to make sure. If they do cancel, you'll get to go on the hot air balloon tour the next day, so try to book it for your first day there, to make sure you have a few days available as a backup
PRO TIP 2: The hot air balloon ride is pretty expensive (especially if you buy it last minute). If you don't want to pay for this but still want to see them in the morning. Head to this sunset point (before sunrise), where you can see all of them in their full glory for free!
2. Discover Cappadocia on the Green Tour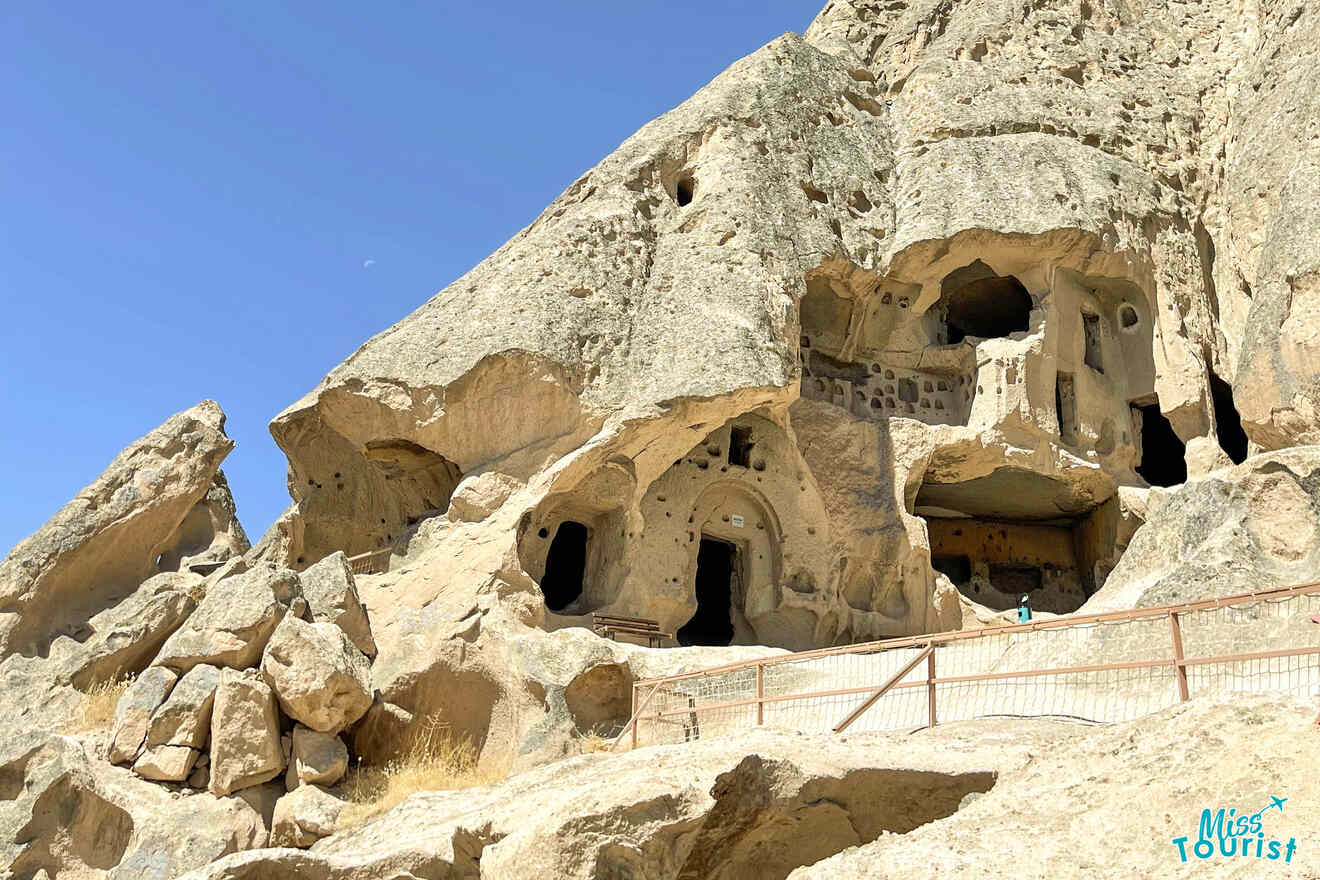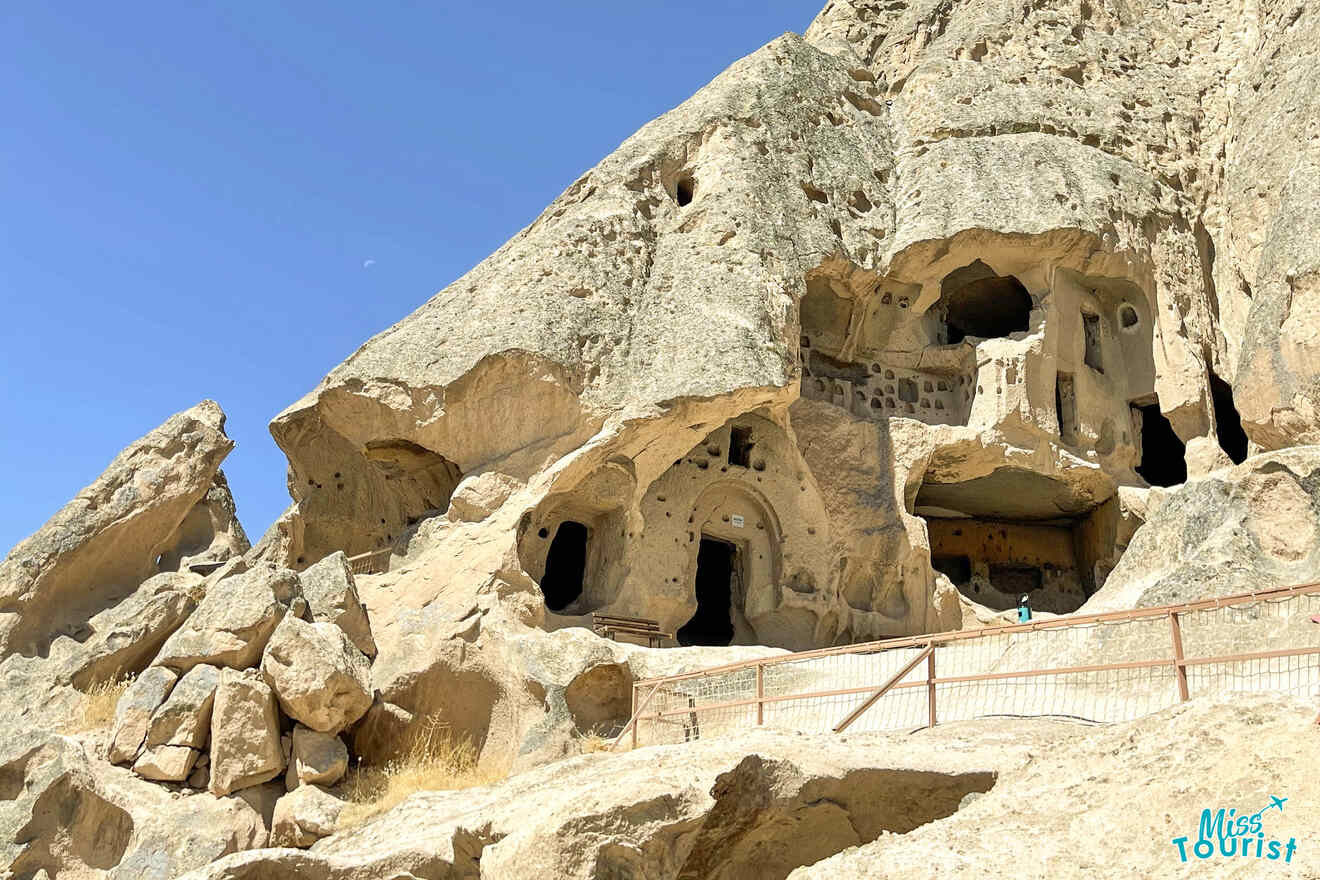 Better put your hiking shoes on (or the closest thing to that) because you're going to spend an entire day exploring the valleys and rock formations on one of the best tours in Cappadocia.
PRO TIP: One major thing you need to know when you visit Cappadocia is that most tour agencies run 3 main tours that take you to the main attractions in the area: green, red and blue. These tend to be different but to be honest, if you're planning to do all of them, I recommend booking them all through one agency because if you book with different ones, you may end up going to similar attractions twice.
That's what I did, I booked 3 different agencies. And although I didn't go to the same particular attractions I went to something similar. Of course this is up to everyone, but trust me, it's much more convenient to pick an agency and stick with them, at least for these green, red and blue tours.
Okay, sorry for the long intro but I surely don't want you to repeat my mistakes! Now let's move to the exciting green tour, which is thought to be one of the hardest tours in Cappadocia, just because it involves a lot of walking.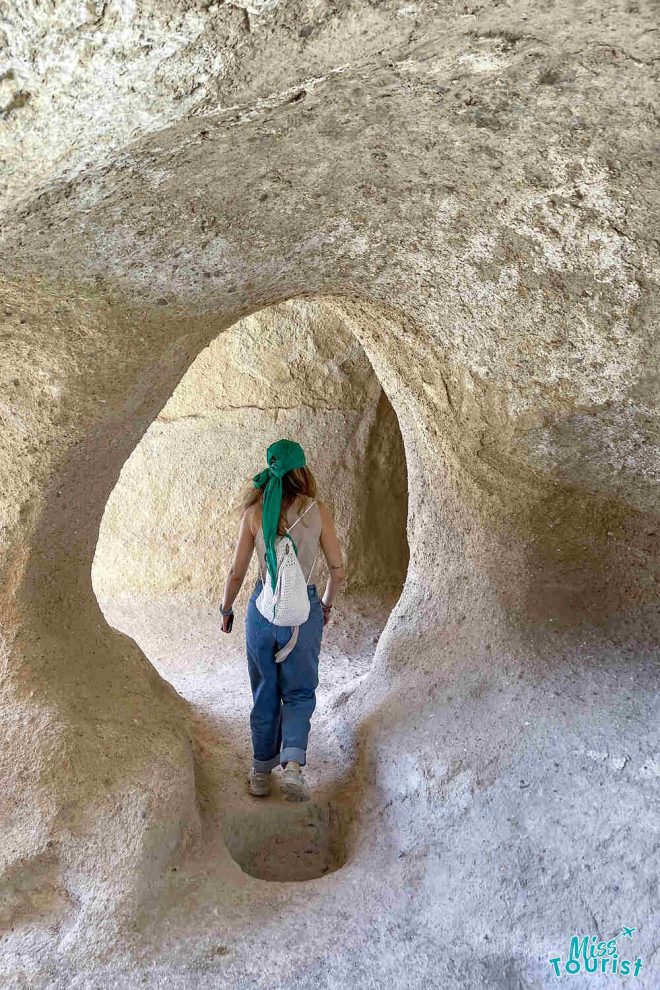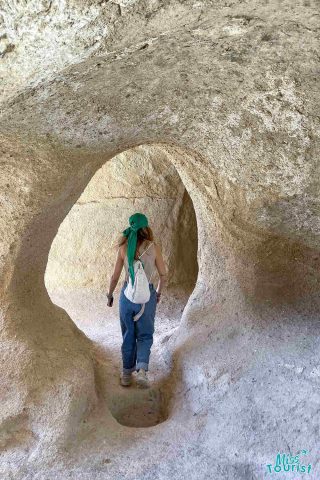 I took this tour and I really enjoyed it! It starts early at 9:30 usually, with a pick-up from your hotel. Then you'll get in the air conditioned vehicle with the others on this small group tour, and your tour-guide and start the day!
We went down in the Derinkuyu Underground City (definitely don't visit the underground city if you're claustrophobic), walked along the mysterious Ihlara Valley (where you can see the cave churches), visited the incredible Selime Monastery, stopped by the Pigeon Valley to see the rock formations and ended the tour with a visit to a onyx factory in Uchisar.
NOTE: Most full day tours in Cappadocia offer a free lunch at a local restaurant. I got one for each of the red, green and blue tours. The food was good, but the places are usually super crowded as all tour agencies go to the same restaurants.
PRO TIP: If you're traveling during the summer months (although I don't recommend it because it's so hot) make sure you wear proper clothes and something on your head as you'll have to walk in the sun a lot. Plus something a bit thicker for the underground city where it is colder.
Each place was super special and you really get to see all the natural wonders (Ihlara Valley) and the human made ones (like Selime Monastery and the underground city) which are absolutely unbelievable!
3. Explore the valleys on a horse riding tour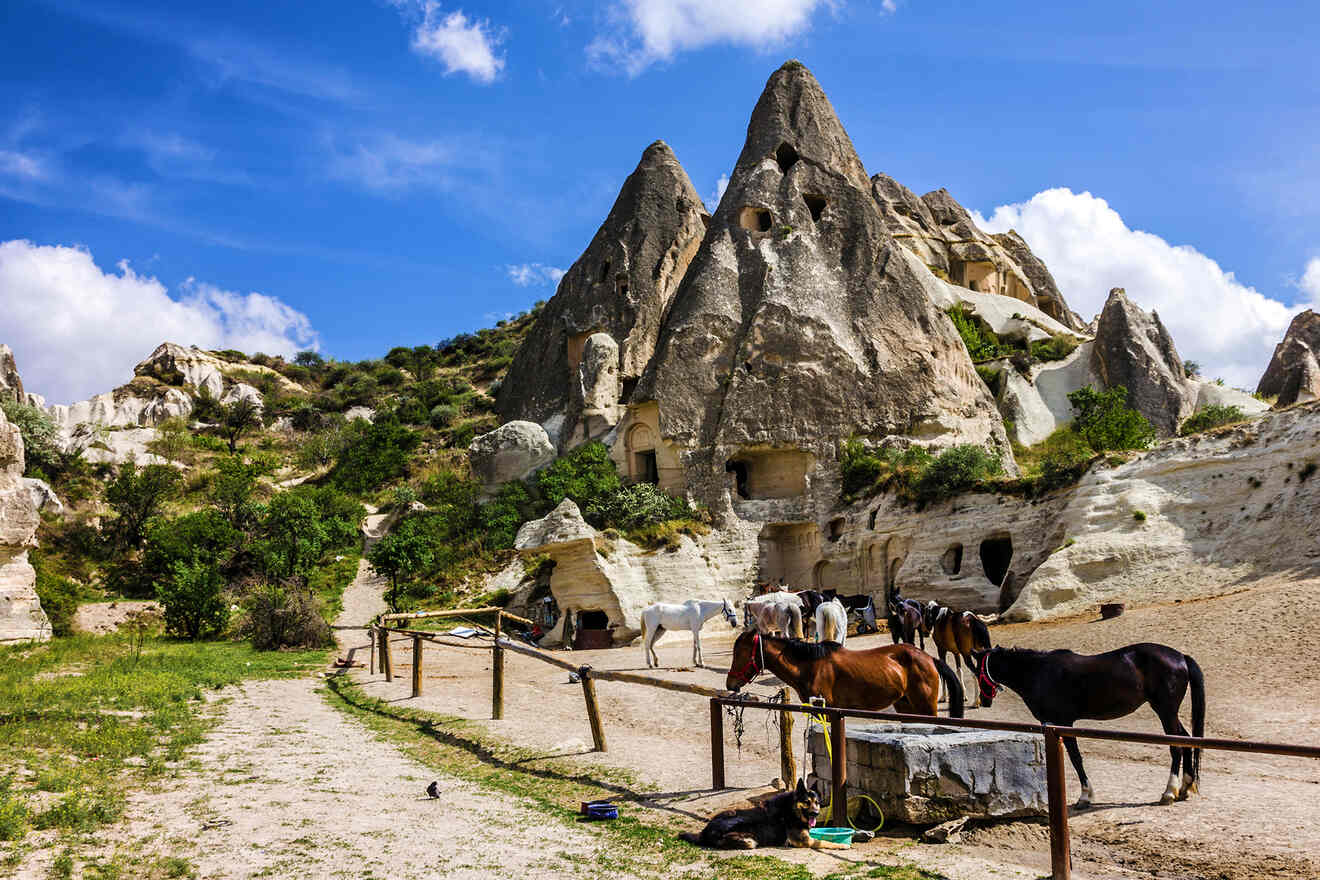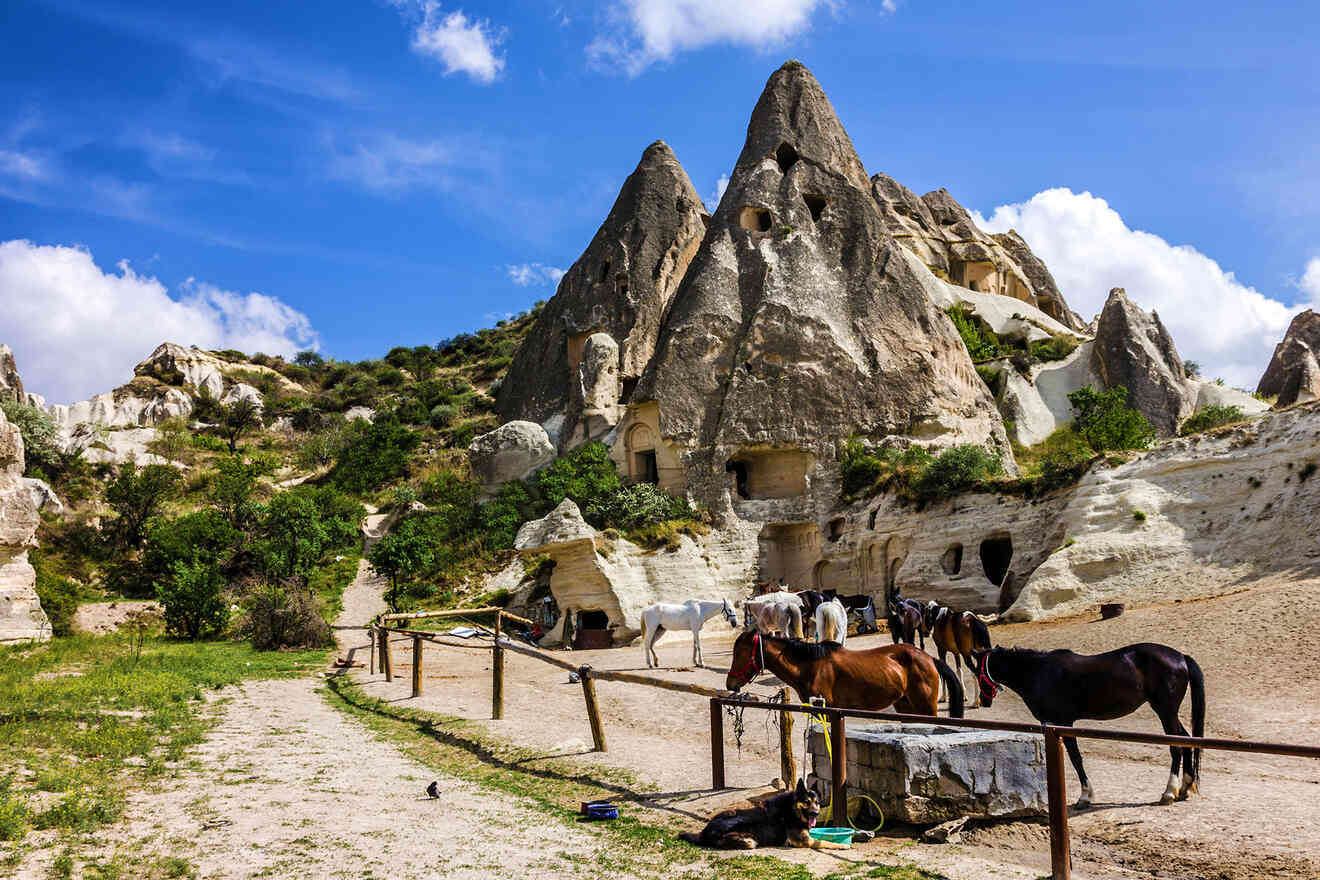 Before I went to Cappadocia I did a little digging for information on the area and its history. I found many cool facts and one of them was that the Cappadocia region is also called the "land of beautiful horses."
There are lots of tours in Cappadocia but the horse riding tour one is super special! It lasts 2h and you'll be exploring the lunar terrain of the Rose Valley.
It's okay if you've never ridden a horse before, as you'll be escorted by a professional guide, however I recommend thinking about it well, and weigh in all the risks. They will try to accommodate all your needs and give you all the necessary equipment, just make sure you wear comfortable clothes.
4. Attend a unique whirling Dervish ceremony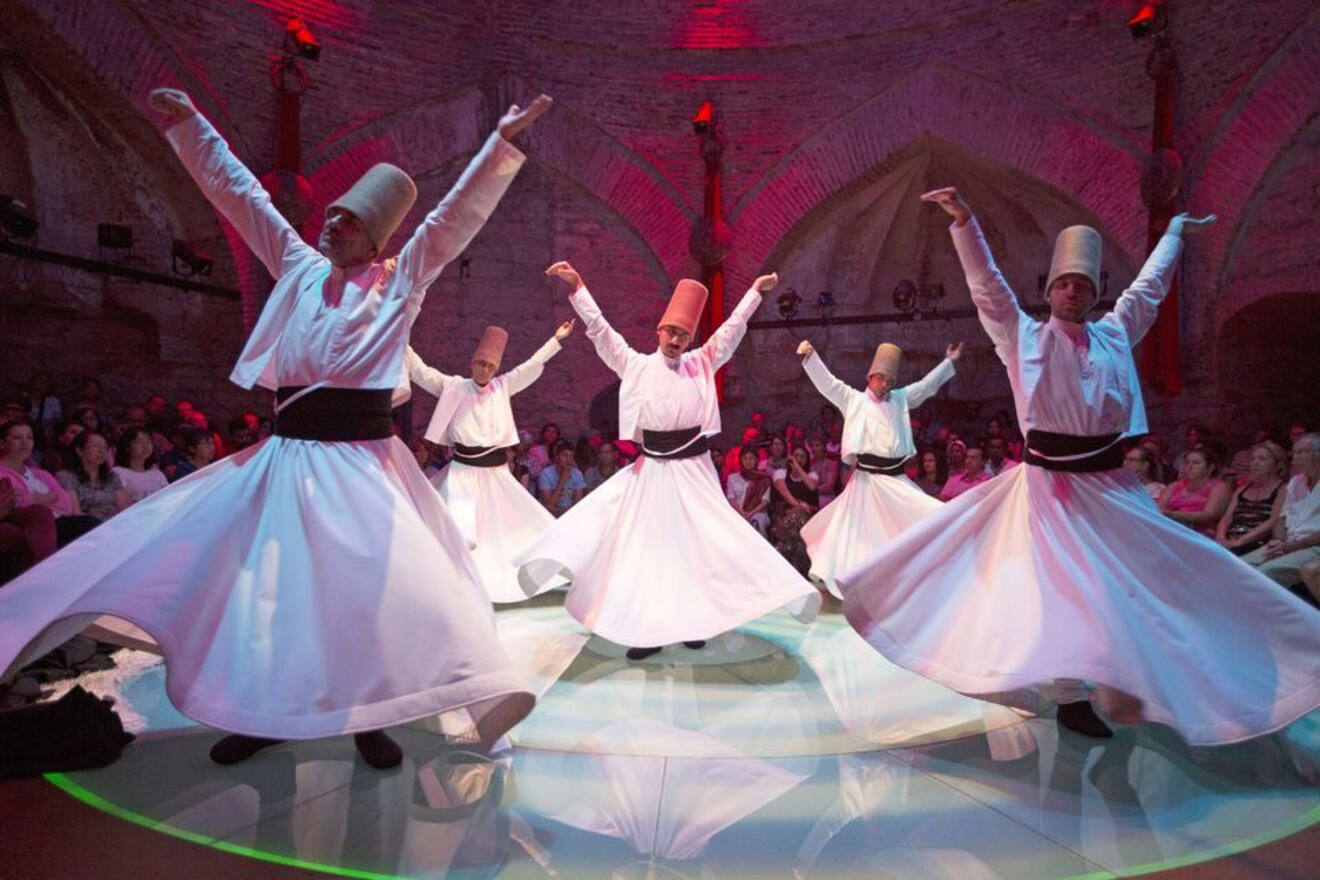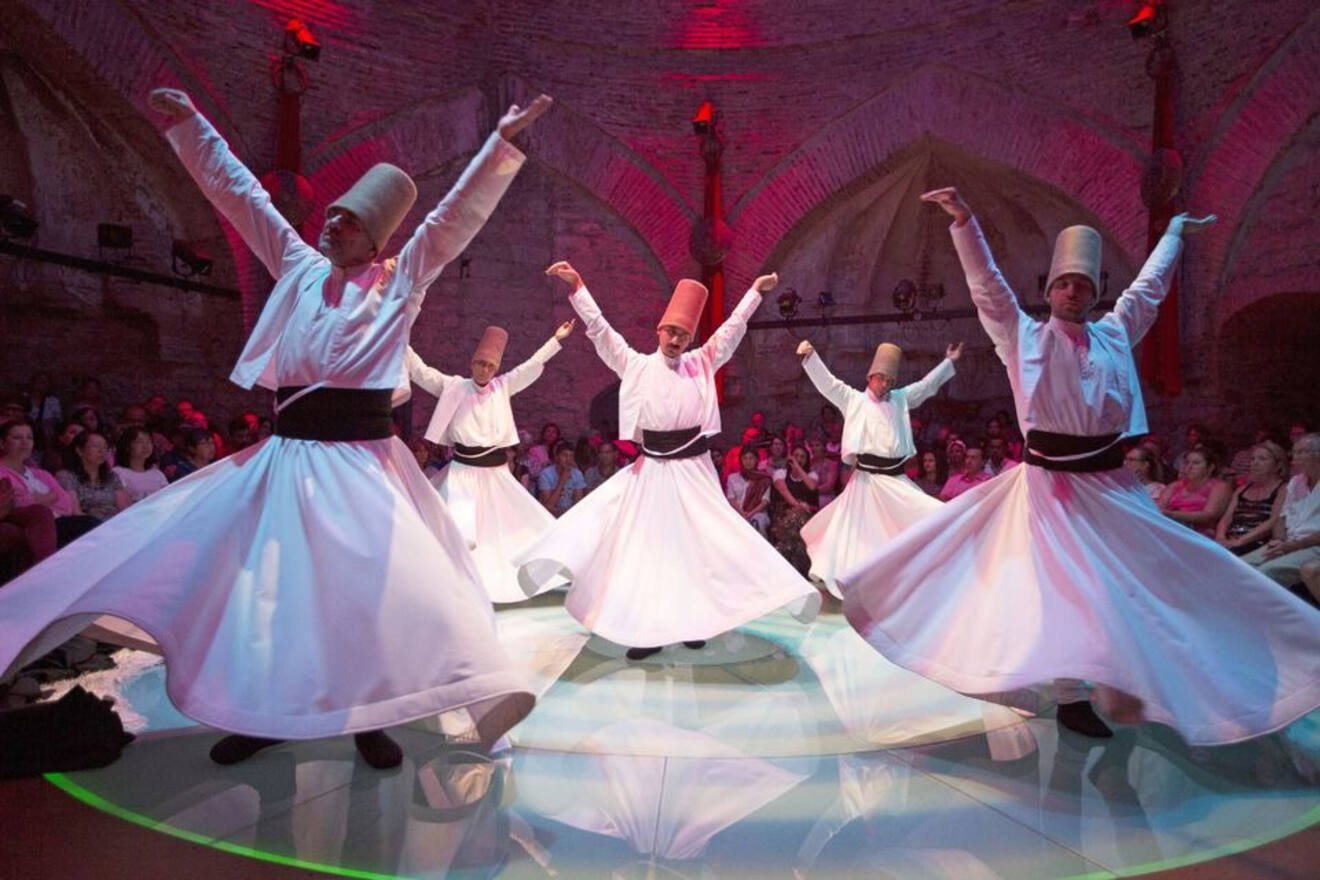 This was for sure an amazing lifetime experience and one of the highlights of my trip to Cappadocia!
For anyone who hasn't heard of them, a dervish is a member of the Sufi fraternity and the ceremony that you're going to see is called Sama, which is performed as a part of meditation and prayer practice.
I don't want to give away all the details (I knew very little about it and it was amazing) but you'll probably see from the pictures that it's a dancing ceremony, divided in 4 sections that also involve singing and instrumental music.
The ceremony is absolutely magical and you'll be transported to a whole other dimension. Its mysticism and sacredness is so palpable that you'll leave this place feeling completely different. At least that's how I felt!
As I mentioned before, most tours in Cappadocia provide transportation, including for this activity with the whirling dervishes. They will cover your entrance fees, and usually the whole thing lasts around 1h.
Join a whirling Dervishes ceremony
5. Catch a scenic sunset on an quad bike tour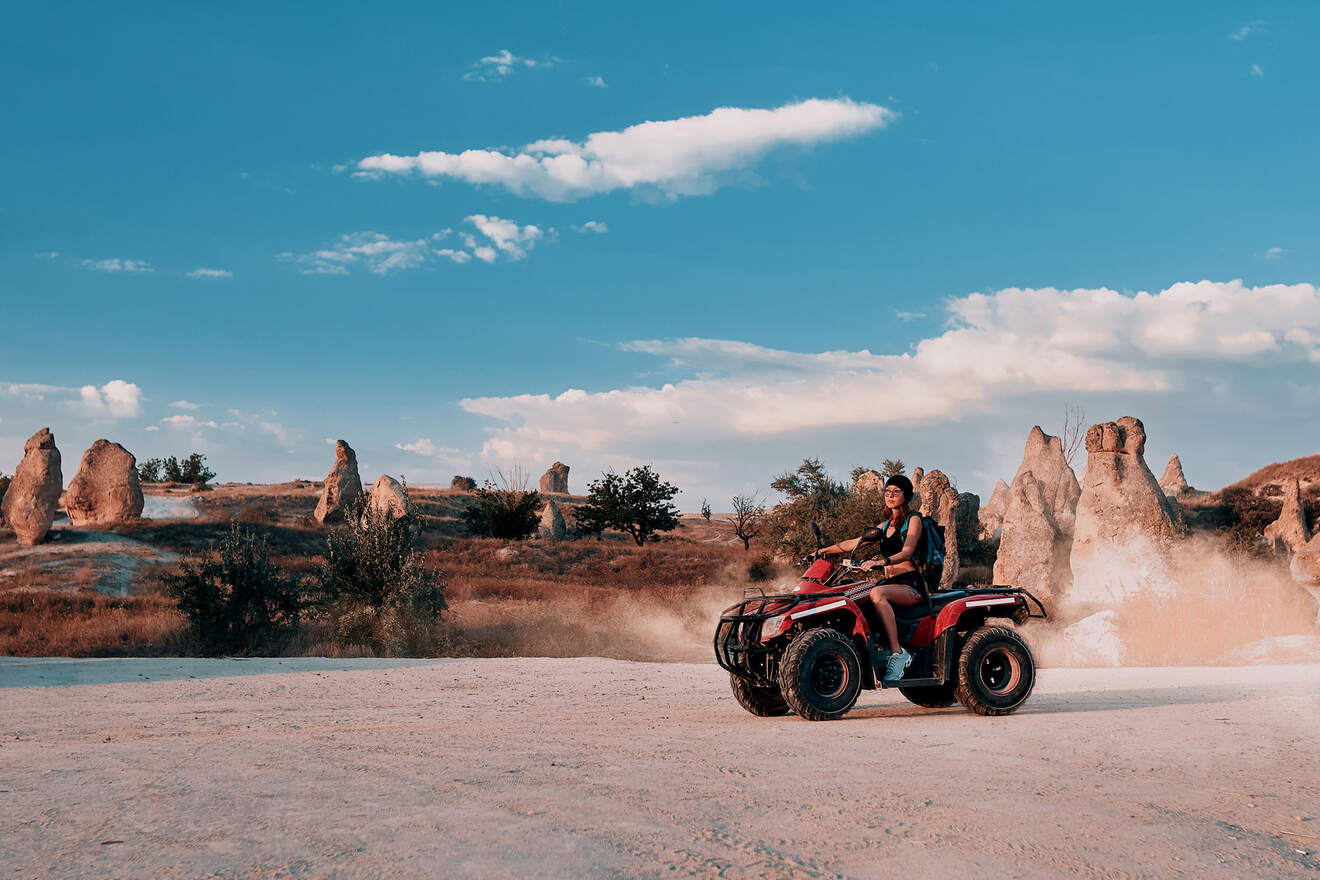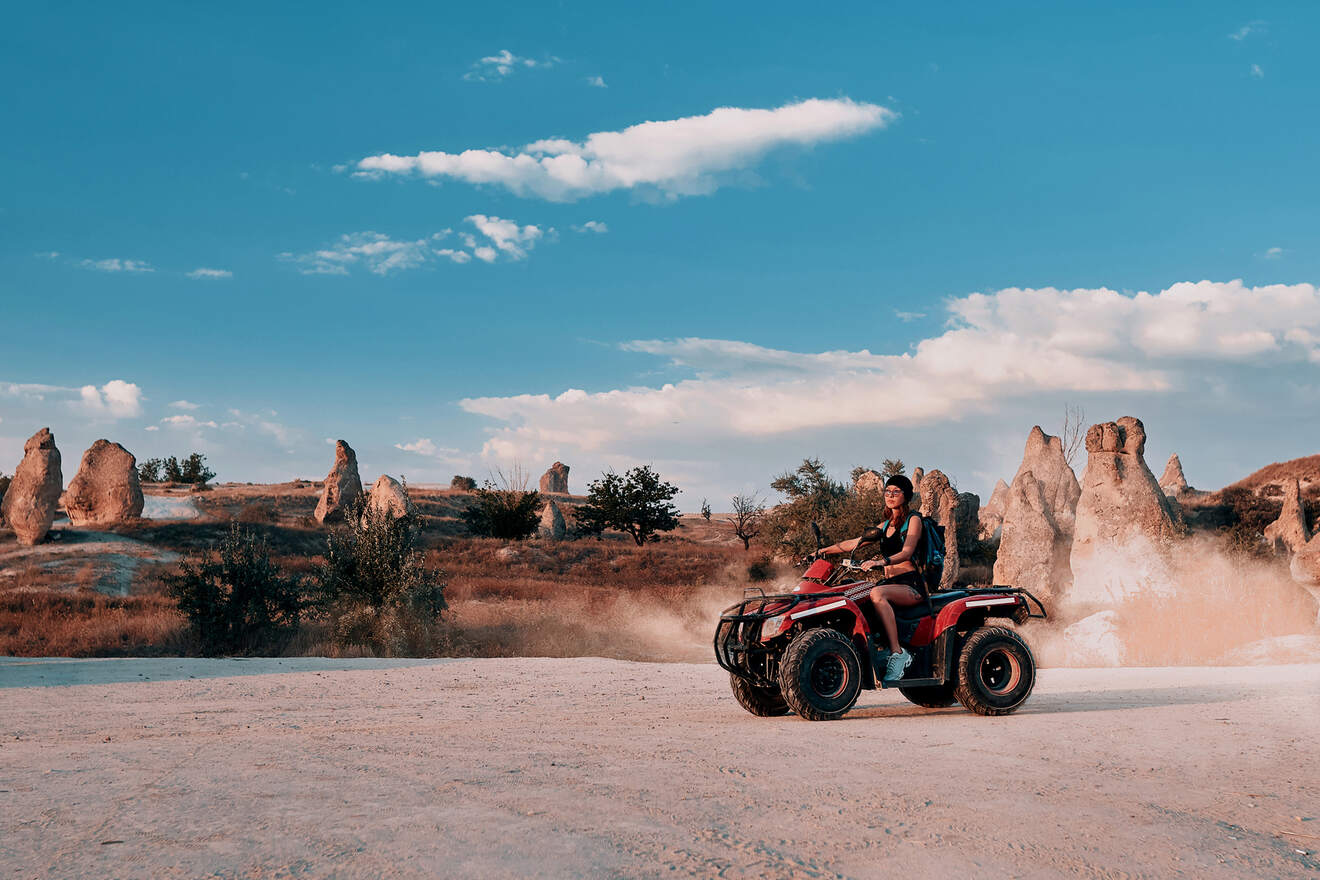 If you've been missing your adrenaline shot lately, then I might have just the right activity for you!
There are so many tours in Cappadocia, Turkey that you won't know which one to pick, but hey, just follow your instincts and try not to do all of them just because they're there.
Still, if there's something that you've always wanted to try like going on a quad bike tour, the valleys in this region are just perfect for that!
During this quad bike tour you'll drive through the Swords Valley and the Red and Rose Valley at sunset time! Oh that Cappadocian golden hour is just breathtaking!
This Cappadocia tour lasts around 2h, which will give you plenty of time to take pictures and admire the Red Rose Valleys.
After being picked up from the hotel, they'll take you to the starting point of the tour. There you'll receive your equipment and a quick intro on the tour on how to use the quad bike. Then your guide will take you to each location and stop there so you can take some pics and chill for a few moments.
6. Visit the Goreme Open-Air Museum on the Red Tour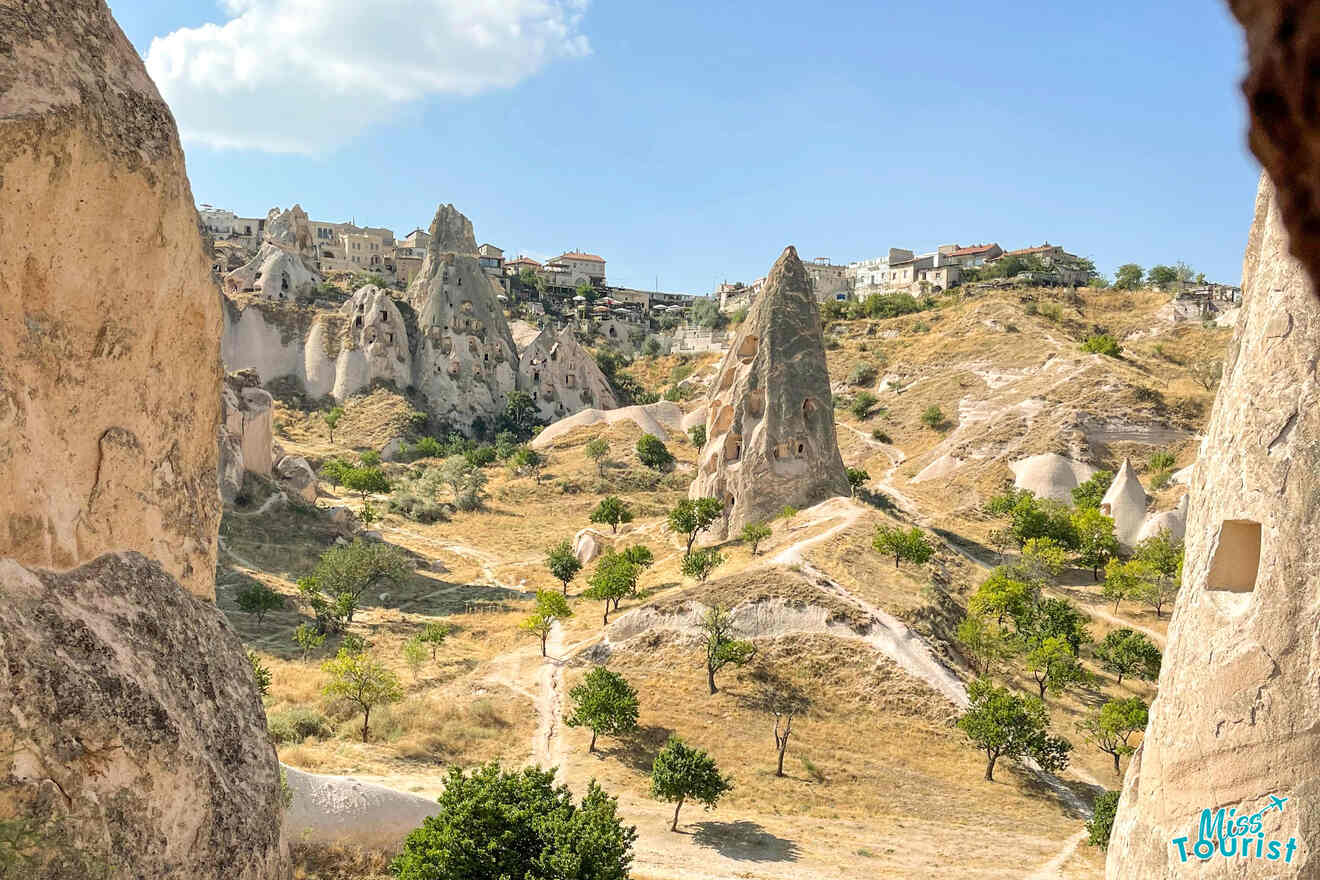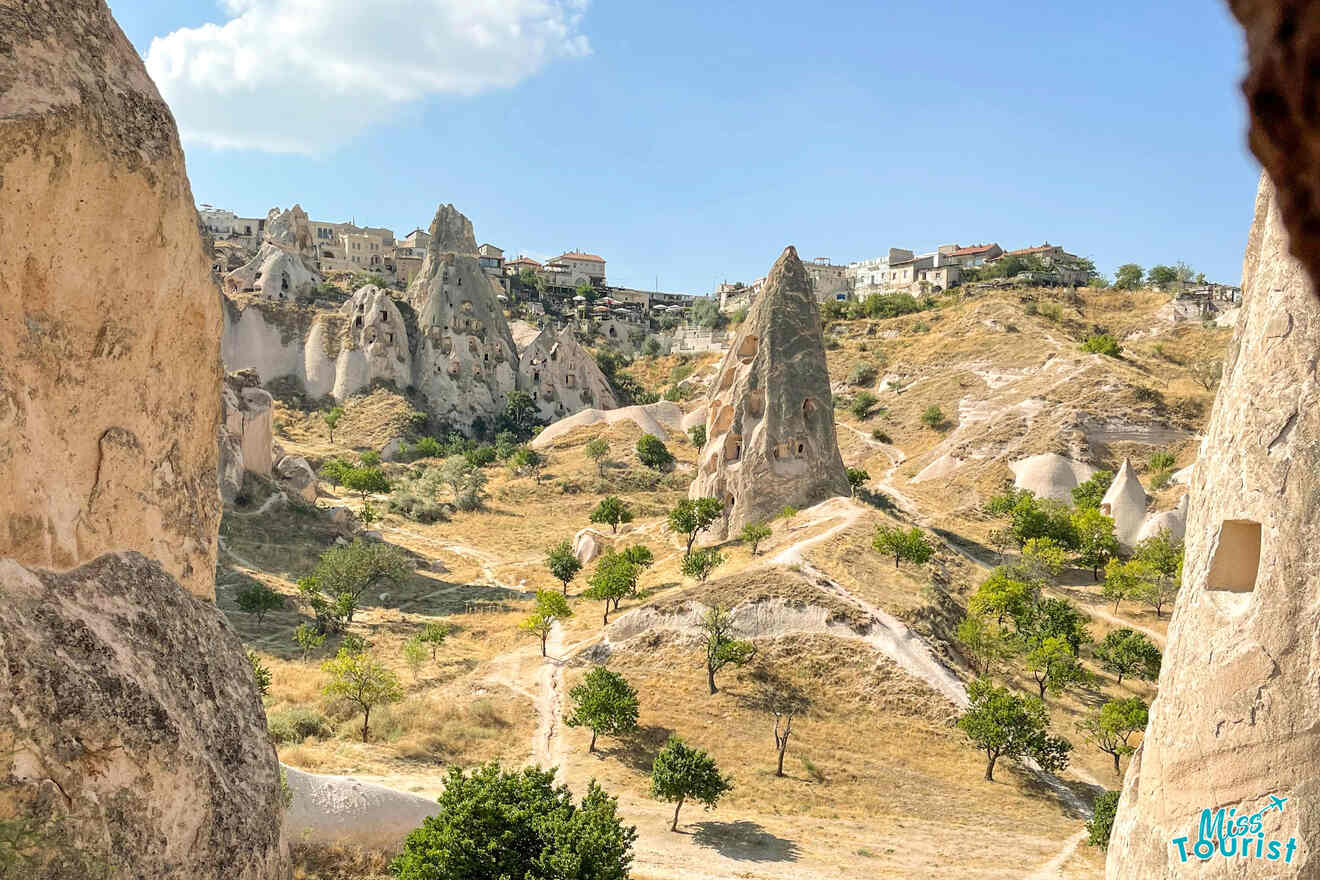 Who's up for another full day tour? This time we're taking the red tour, which goes around the main attractions in the North side of the Cappadocia region.
This was definitely one of my favorite tours in Cappadocia. We got lucky with a super tour guide who told us a lot of interesting facts about the Goreme open-air Museum, and the origins of the rock formations in the Devrent Valley.
A highlight of this full day tour was the Pasabag Valley, where you can see the fairy chimney rock formations and walk on your own, discovering places that were once used as a seclusion spot for monks.
She even told us that the fairy chimneys are called this way because everyone thinks that before the humans moved to the Cappadocia region, fairies were actually living in these rock formations!
But that was just one of the things we saw. After our pick-up we went to Uchisar Castle (the highest point in the area), then to Avanos town (where we saw a demonstration of earthenware pottery), afterwards we went to Çavusin, an old Greek village, where we walked along the Devrent Valley (also known as the Imagination Valley) to see more rock formations, and our last stop was the Goreme Open Air Museum.
Book your spot on the Red tour
7. Ride a camel through Cappadocia's Valleys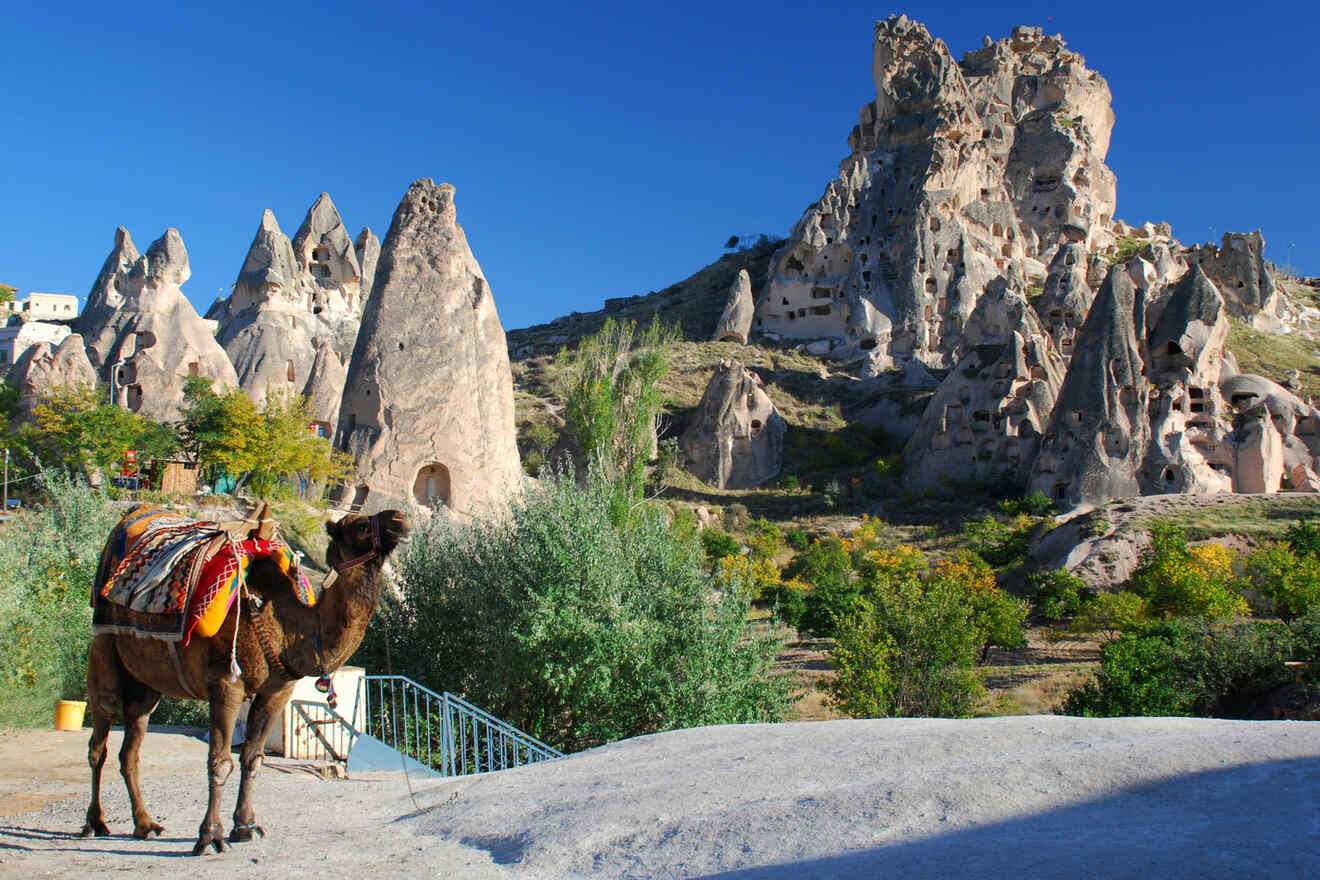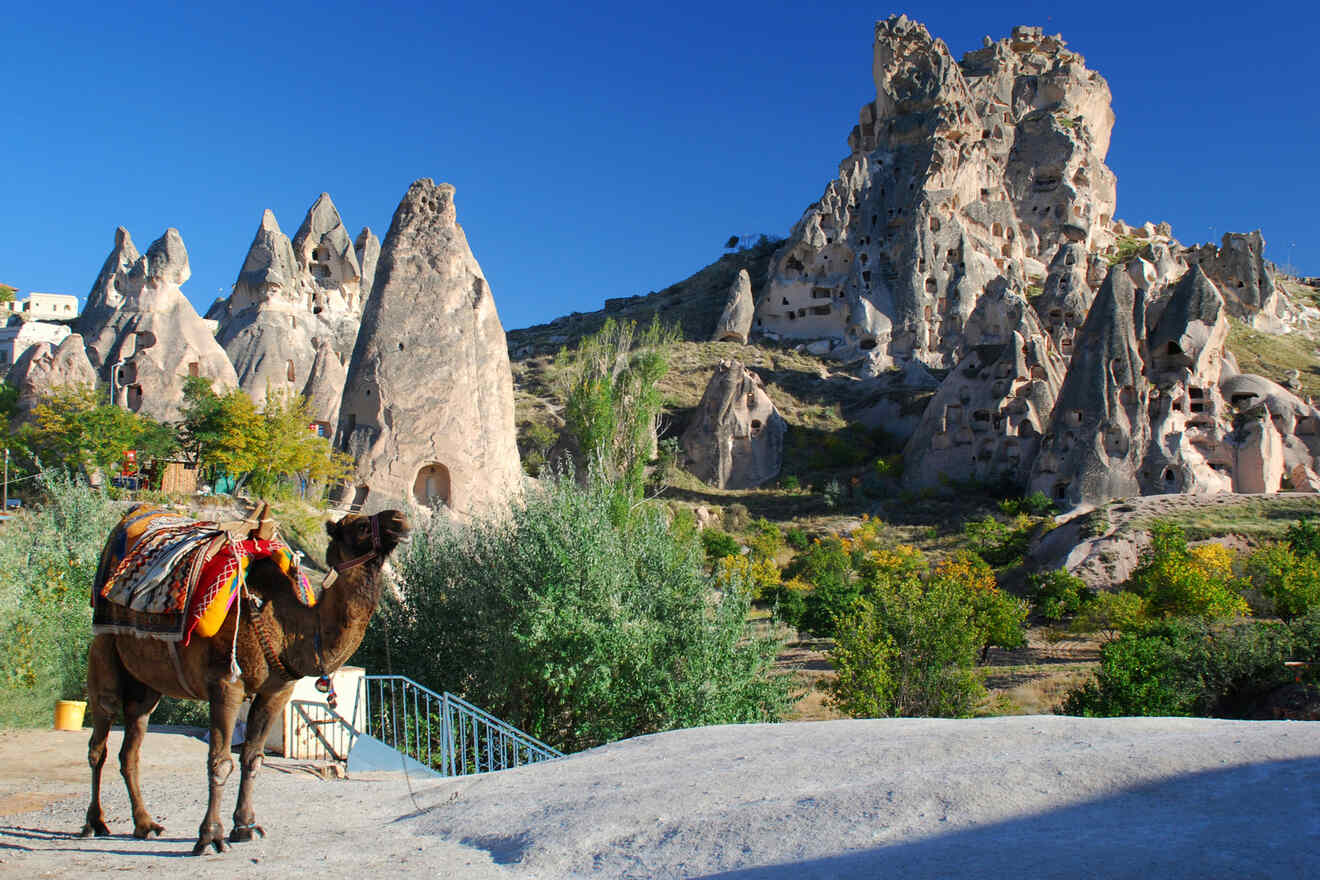 Who's in for a super special experience? When it comes to tours, Cappadocia sure knows how to surprise its tourists (you'll feel the same after taking the underground city tour).
Visiting Cappadocia will be something you never forget, especially after going on this camel safari tour. Including hotel pick-up and drop off, this tour is available at sunrise, midday or sunset.
After they pick you up, you'll go to meet your new camel friends! Your guides will offer a safety briefing and of course help you to get on the camels. The whole tour lasts around 1h 30min and you'll get to ride your camel on the beautiful Rose and Red Valley.
I would definitely either go for sunrise or sunset rides, since the scenery is out of this world during those times of the day!
8. Learn some dance moves at a Turkish Night Show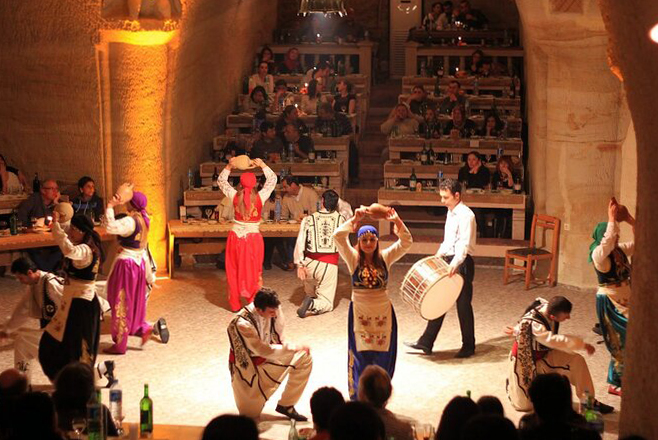 After watching a few Turkish tv series on Netflix (Attye & Another Self) I was so fascinated with Turkish culture (hence the impromptu trip to Cappadocia). Their history and heritage is so amazing, and let's not forget about the food!
What better way to get a glimpse of their culture than with a fun Turkish night at a cave / local restaurant?
Prepare for a proper introduction into the Turkish ways during this Cappadocia tour when you'll eat traditional food, drink wine and watch a series of folk dances and belly dancing shows in a cave restaurant.
The activity includes hotel pick-up and drop-off, so get all dressed up and spend an unforgettable night!
9. See the mesmerizing Lake Tuz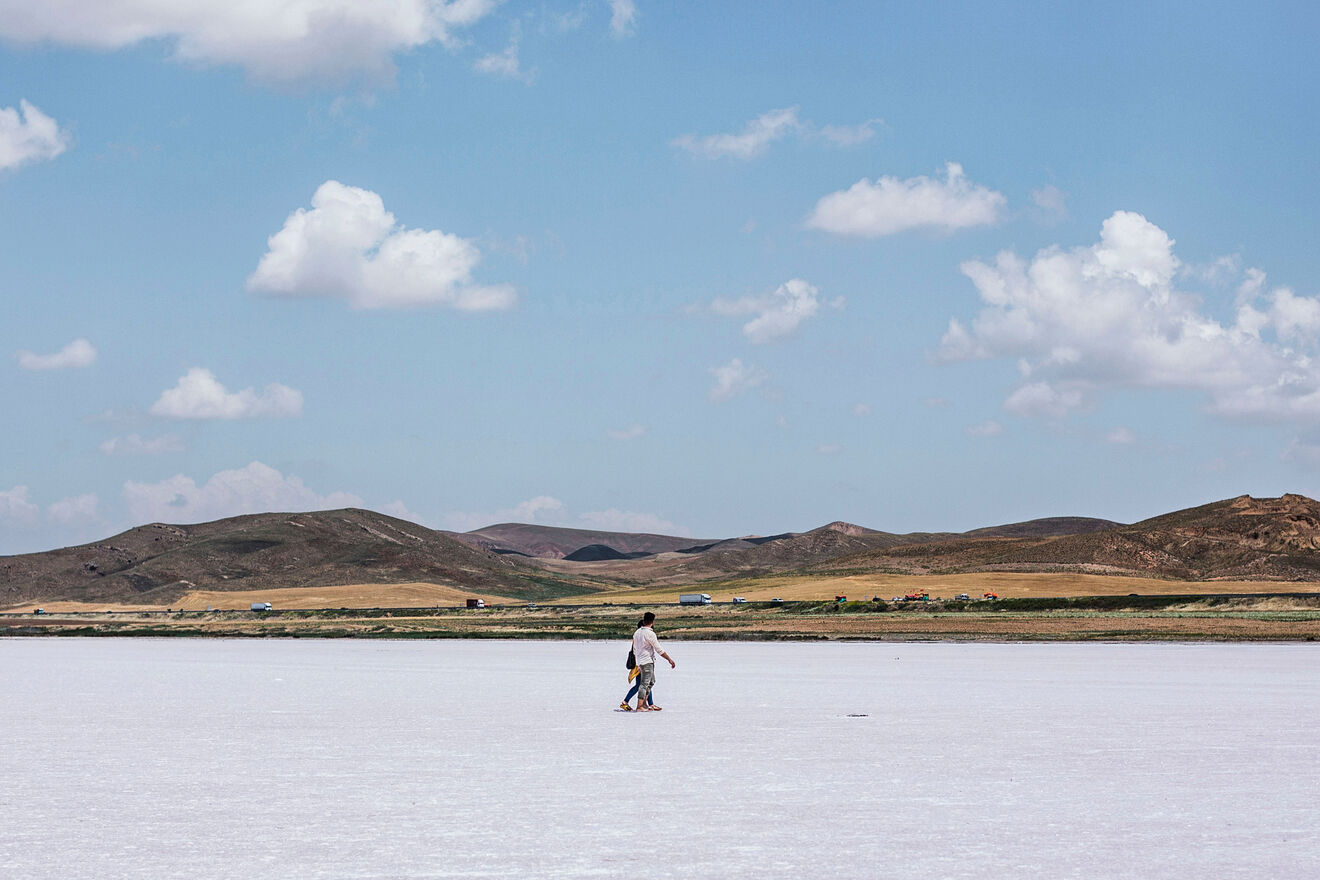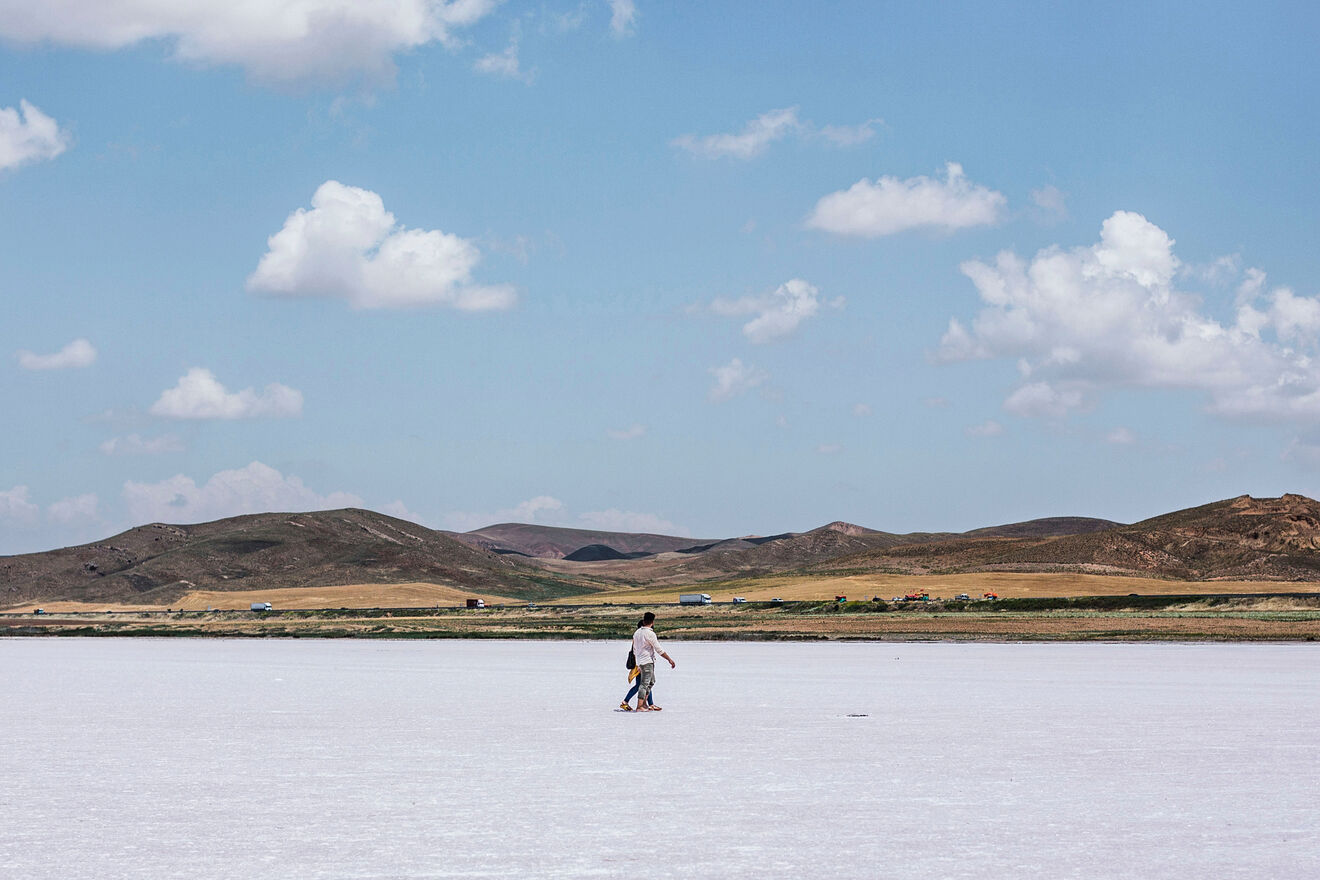 This one is definitely a must-see when you visit Cappadocia! Lake Tuz is super popular because of its pink color and highlights. However it's probably one of the least popular tours in Cappadocia, Turkey (which means you won't be fighting with other tourists for space!).
Set 1h away from the region, the salt lake's colors are absolutely incredible and it's best to go there at sunset as that's when the light is perfect and you can really see the contrast.
This private tour is great as it will drive you there around that time, and also offer you a free lunch! As it's a private tour you'll get to explore around at your own pace and get to ask the tour guide as many questions as you want about the area.
PRO TIP: Make sure you check before booking your guided tour if there's been a drought that year, or at the time of your trip. If that's the case then you may not be able to see much of the lake, and you'd kind of waste your time and money. So definitely make sure all is well, maybe even give the tour agency a call to ask them as well.
10. Learn how to cook traditional food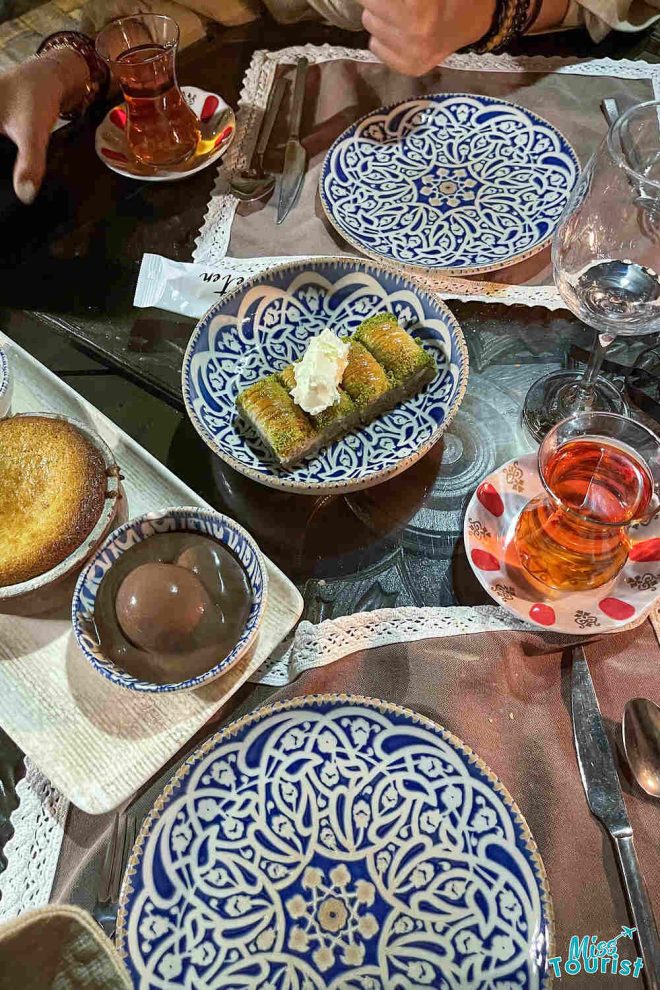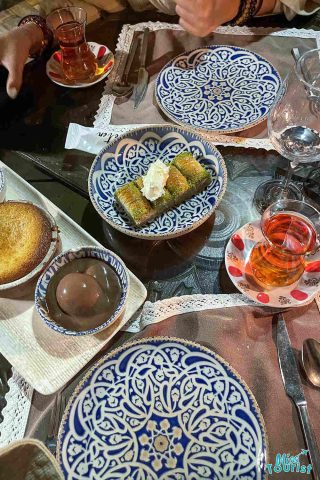 I'm a major foodie and I was so excited to try all the food in Cappadocia since the Turkish cuisine is one of my favorites!
And I wasn't disappointed at all! The food was delicious and it had that "home-cooked meal" vibe that our traditional food in Romania also has! And by the way if you're looking for some amazing restaurants in Cappadocia, I highly recommend Seten Restaurant (where the view is extraordinary) and Topdeck Cave which is also really nice.
But if you actually want to learn how to make the food for yourself, then I recommend this fun 4h cooking class, where you can learn all the tricks and tips from local women!
After your pick-up you'll go shopping in the local market for ingredients to prepare the 3 course meal.
NOTE: As you probably know the Turkish cuisine is super rich in meat dishes but fear not. If you're vegetarian you can let your guide know in advance so you can shop for the right stuff!
11. Admire the Pigeon Valley on a Blue Tour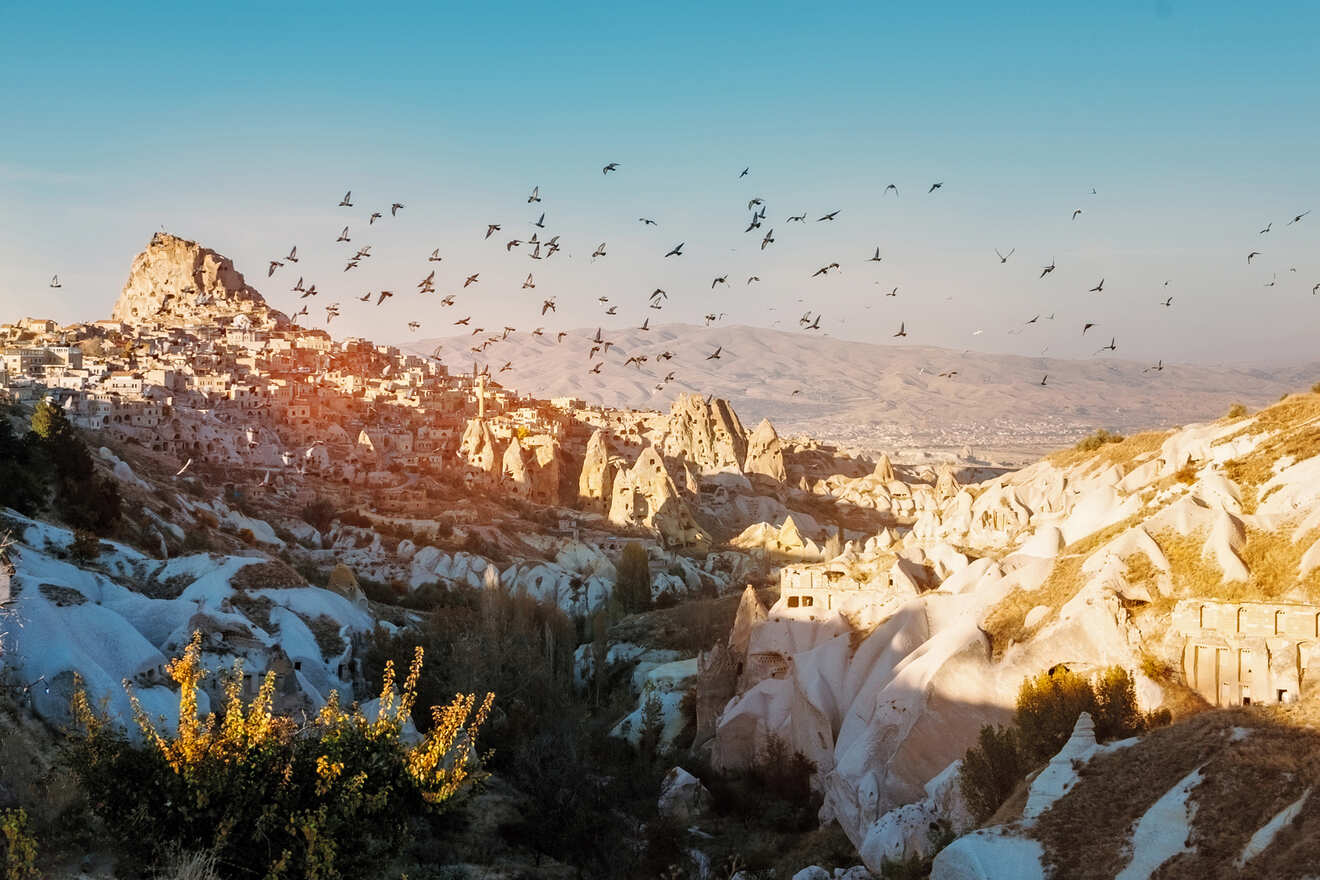 Before I start explaining what you can visit on the Blue Tour I think it's super important to know that the Blue Tour usually overlaps with parts of the Red Tour in the south part of the region.
Meaning that you'll see more or less the same attractions so I'd highly recommend just taking one of the tours (Blue or Red). I took both of these tours and to be honest I wished I only picked the Red since I had already seen the underground city and a couple of the other attractions.
Now let's see what you can discover on the Blue Tour! As most full-day tours, it includes hotel pick up and drop off. After they get everyone who signed up you'll go visit the Rose and Red Valley, Cavusin Village, Kaymakli Underground City, Pigeon Valley and Ortahisar Castle where you can admire the unique fairy chimneys!
Bonus: Best places to stay in Cappadocia
Looking for some amazing cave hotels in Cappadocia? If you've had a look online you've probably seen that most hotels here are made out of stone! All of them look incredible and it's such a cool experience to stay in one if you haven't done it before (I loved it)!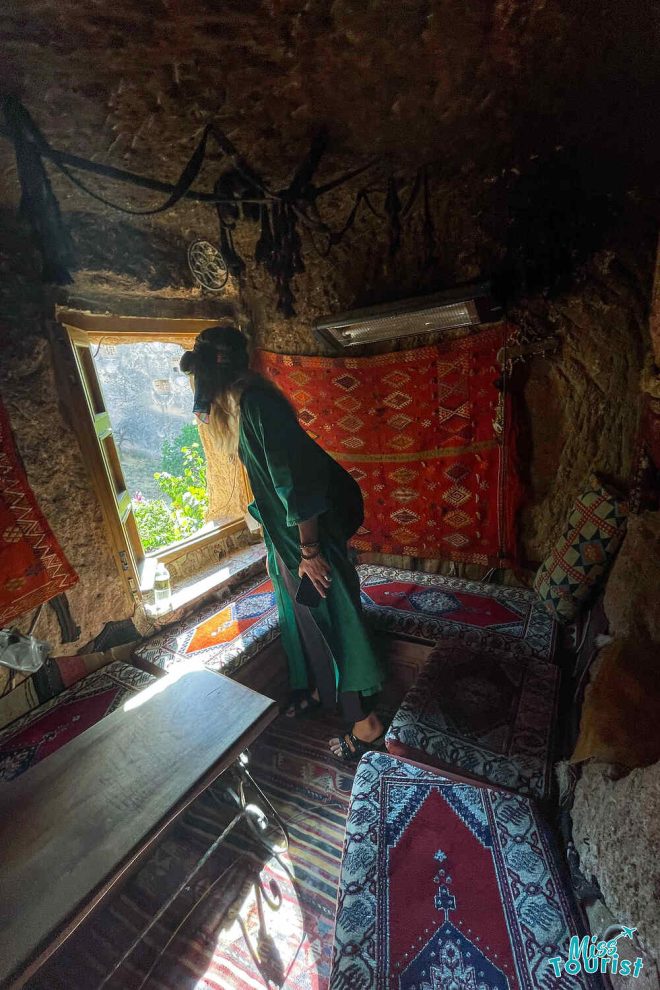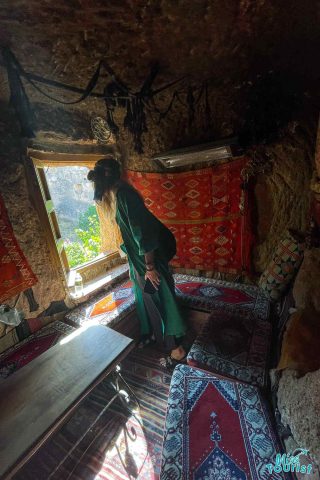 So let's check them out:
Luxury: Artemis Cave Suites & Spa – Named after the Greek Goddess of hunting, this amazing cave hotel offers a breathtaking view of the city and the hot air balloons! They offer a free breakfast, a spa center and spacious rooms with comfortable beds.
Mid Range: Stone House Cave Hotel – Enjoy your breakfast on the outdoor terrace of this great cave hotel that offers a unique decor, an airport shuttle and free breakfast.
Budget: Angel Cave Suite – I stayed at this lovely hotel (with super nice staff) and it was great. The rooms were clean (they even had a bed made out of stone), the food was good and they also had some awesome views!
FAQs about Cappadocia tours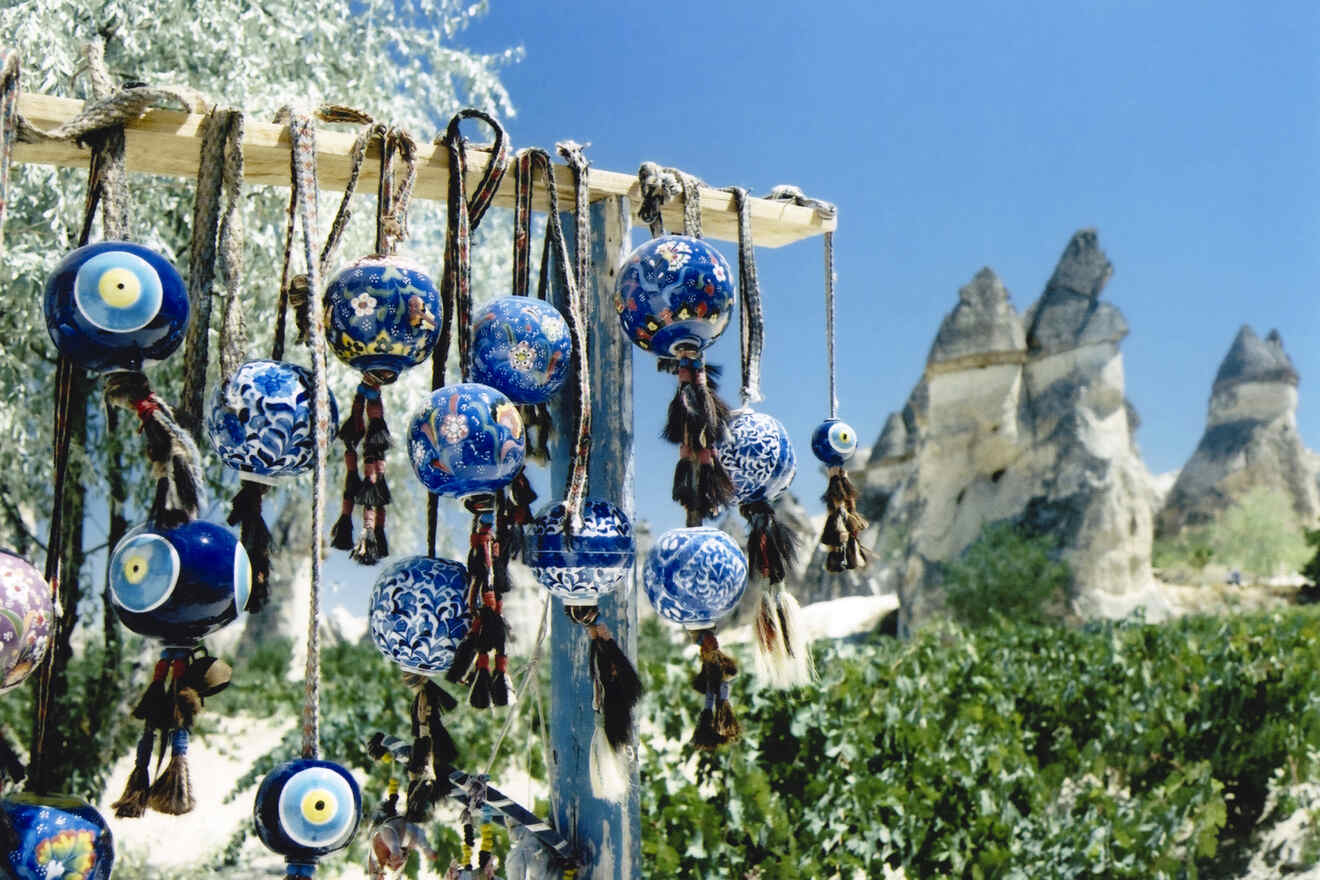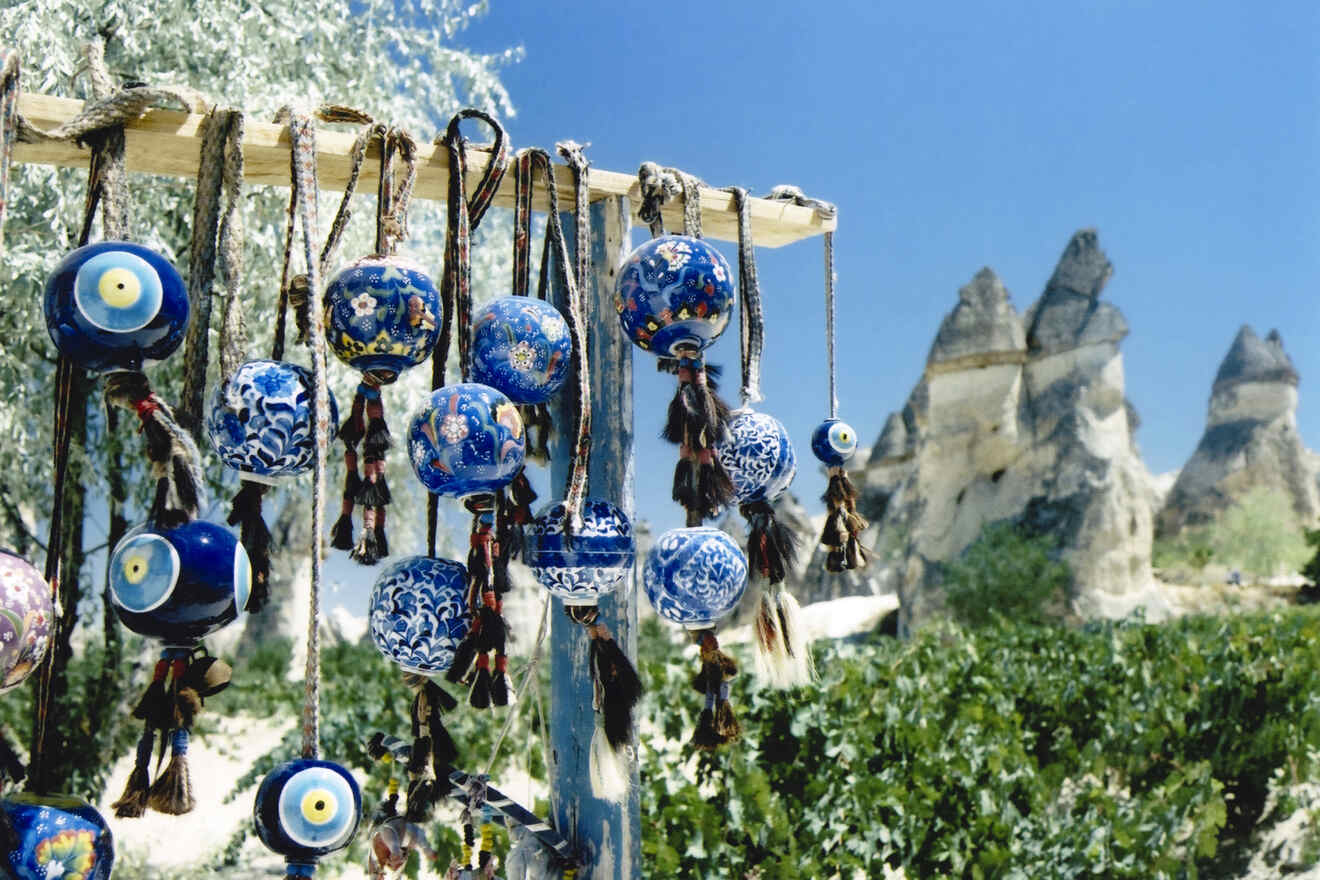 🔴 What are the best tours in Cappadocia?
Some of the best tours in Cappadocia are the red tour and green tour. Which include important highlights like an underground city tour, the rock hewn churches, the Goreme open-air Museum, and the popular fairy chimneys.
📅 How many days is enough for Cappadocia?
It depends on how many tours you want to take. I'd recommend spending between 4 to maximum 5 days.
🤩 Is Cappadocia worth the hype?
Yes! Although most people think the hot air balloons are the region's biggest attractions, this historical place is absolutely magical and filled with mystery and unique spots like the fairy chimneys.  
🌅 What time do the hot air balloons go up in Cappadocia?
Most flights usually start at 5:00 – 5:30 AM, but you can also see them around 7:00 AM, although that's when most tours end.
Conclusion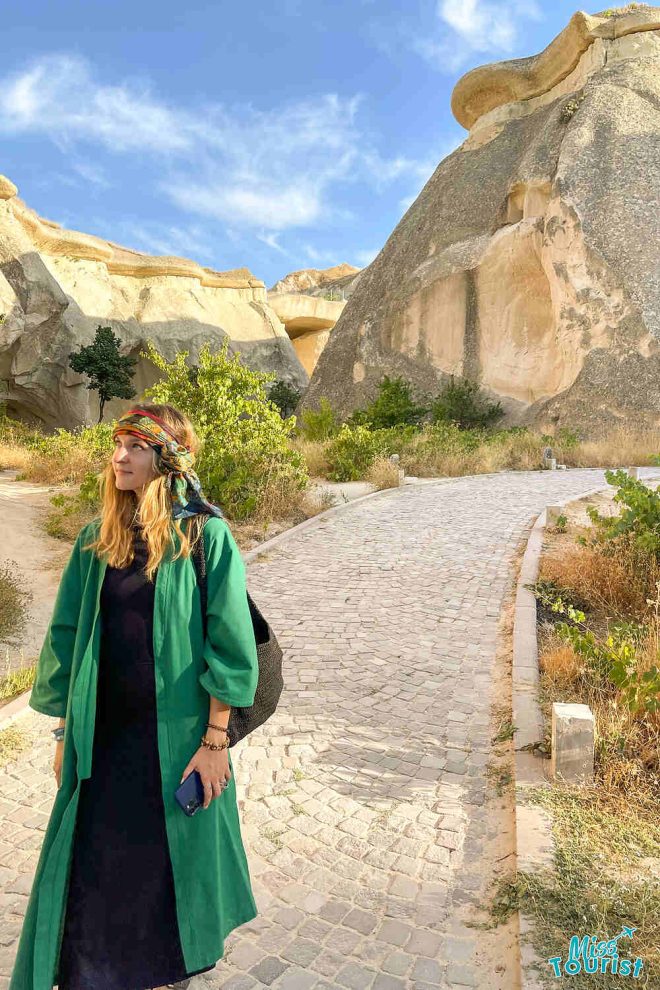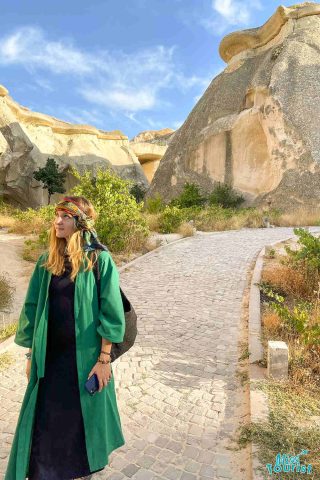 I hope you're ready for a super special adventure! I didn't expect Cappadocia to be so transforming but it really is one of the most special places I've visited!
The underground cities, fairy chimneys and the valleys are forever imprinted in my mind and I'm sure you'll feel the same after going on these tours in Cappadocia, Turkey.
Before we wrap up for today, let's do a quick recap of what you'll find in the post: The article has the best Cappadocia tours, plus a section with some amazing hotels in Cappadocia (including the one that I stayed at).
There are lots of tours in this post and in Cappadocia. Picking just a few if you're on a time limit is hard (been there, done that). So if you're looking for an honest opinion on which are the best tours in Cappadocia, check out my 2 favorite ones below:
Green tour – Admire the man-made monasteries and walk through Ihlara Valley on this amazing full-day tour
Red tour – Discover the mysterious fairy chimneys and visit the Goreme open-air Museum on this tour
By the way, I recommend booking your hotels in advance. Accommodation is probably the most expensive thing in Cappadocia, and then the tours. These should also be booked early as the prices will increase, the closer you get to your traveling date.
Well everyone, I hope you enjoy these tours in Cappadocia, Turkey as much as I did. Don't be shy to make any extra suggestions, or ask questions about Cappadocia. Just leave a comment below and I'll answer, ASAP.
Have a wonderful trip,
Victoria
---
Pin it for later!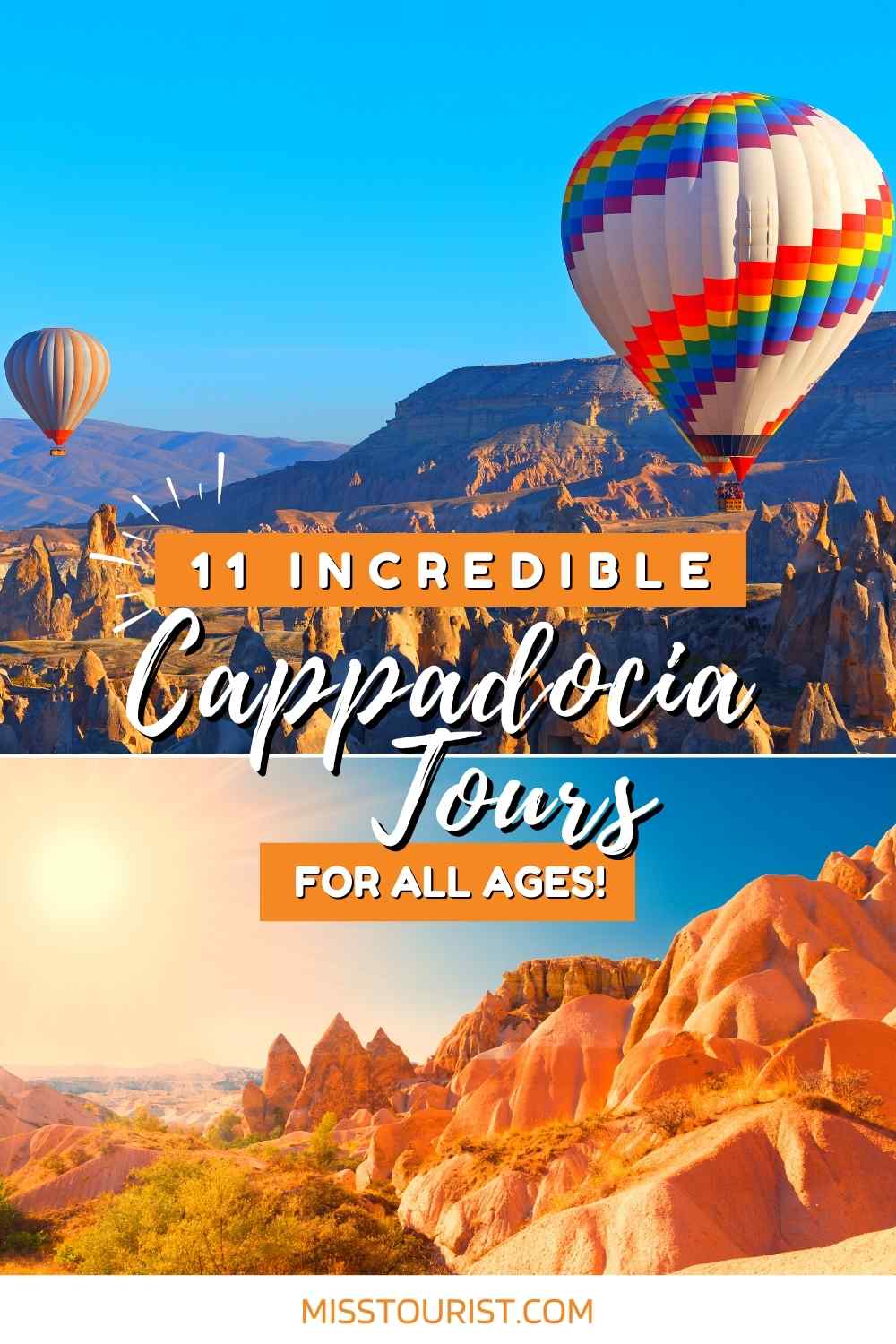 Pin it for later!