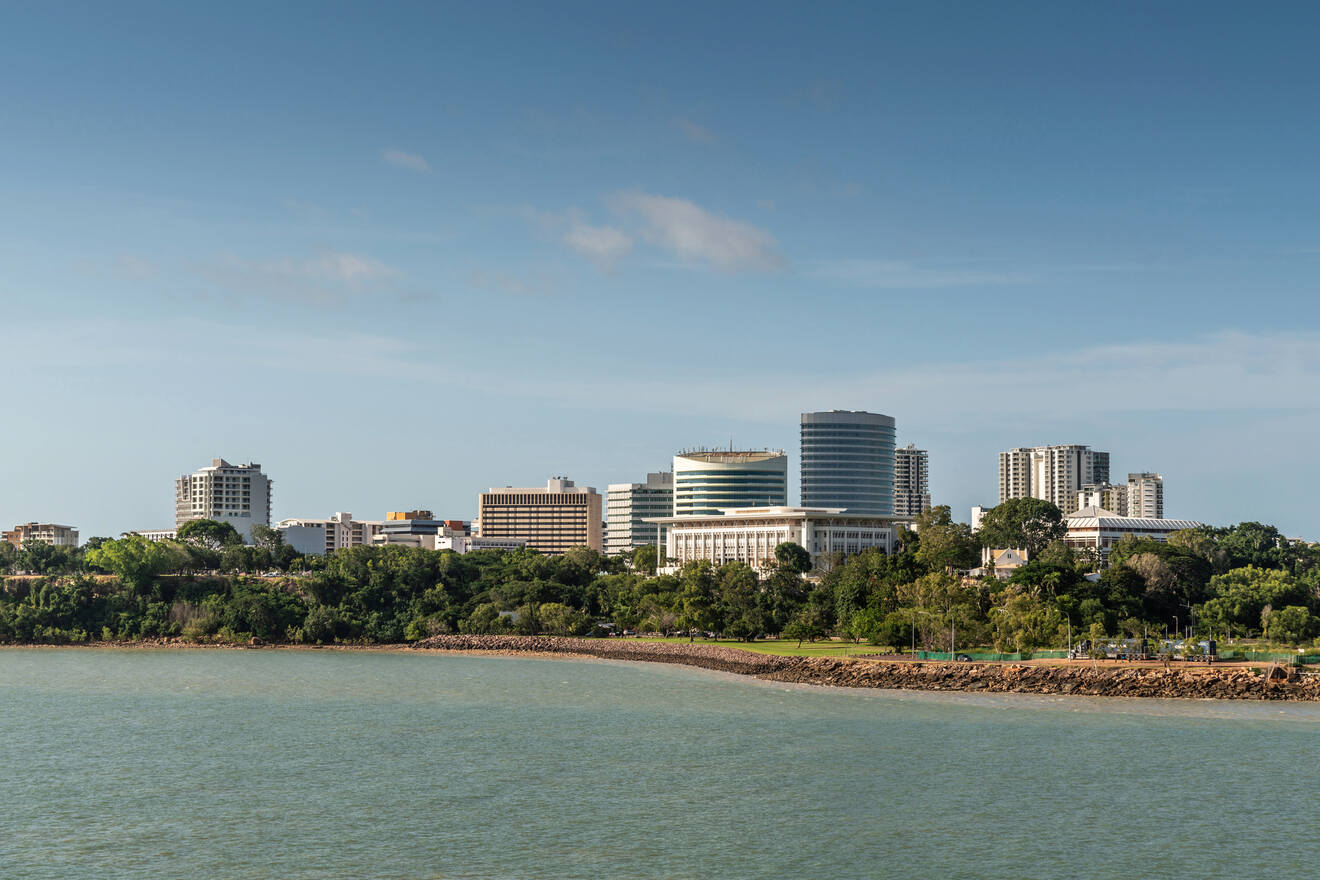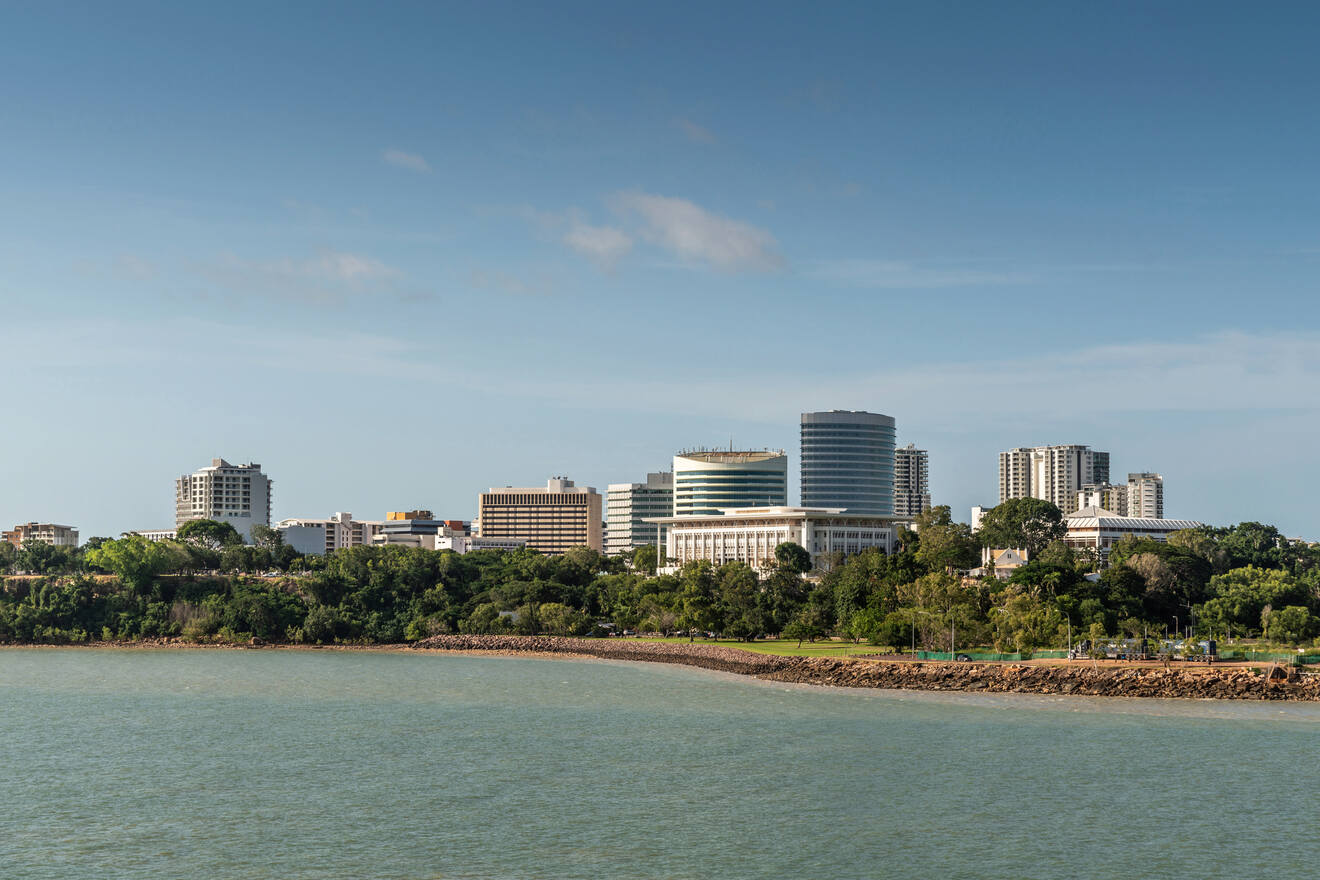 Darwin is the capital city of the Northern Territory in Australia and it's considered the smallest city in the country, but don't make the mistake of underestimating it because of that! As you'll discover, it's filled with stunning places not only inside the town but also in the areas nearby!
As you've noticed, the city's name belongs to the famous naturalist Charles Darwin, and although he never visited the place, he sailed on the same ship that discovered the area later. The ship's captain was impressed by Darwin's accomplishments, so he named the city in his honor!
Now let's switch to present times and find out all the fantastic things about Darwin. There are many, so bear with me! What I like most about this location it's that even if it gives off that urban atmosphere, you only need to walk a bit further away from the city center area and you've arrived in a tropical setting including spots where you can swim with crocodiles!
But to see all of that, you'll need to find a place where to stay in Darwin. Don't worry, I've covered that too. This post contains a detailed guide on the best hotels in the city, but I highly recommend booking in advance because they sell out super fast. Darwin, it's small after all but highly appreciated by tourists!
Let's hit the road!
If you are in a hurry
If you want to book your hotels now, then quickly browse this list of the best places where to stay in Darwin city, all located in the CBD
To help you visualize better the areas where to stay in Darwin, here's a map of all the places that I will be talking about in this post:
1. CBD – where to stay in Darwin for the first time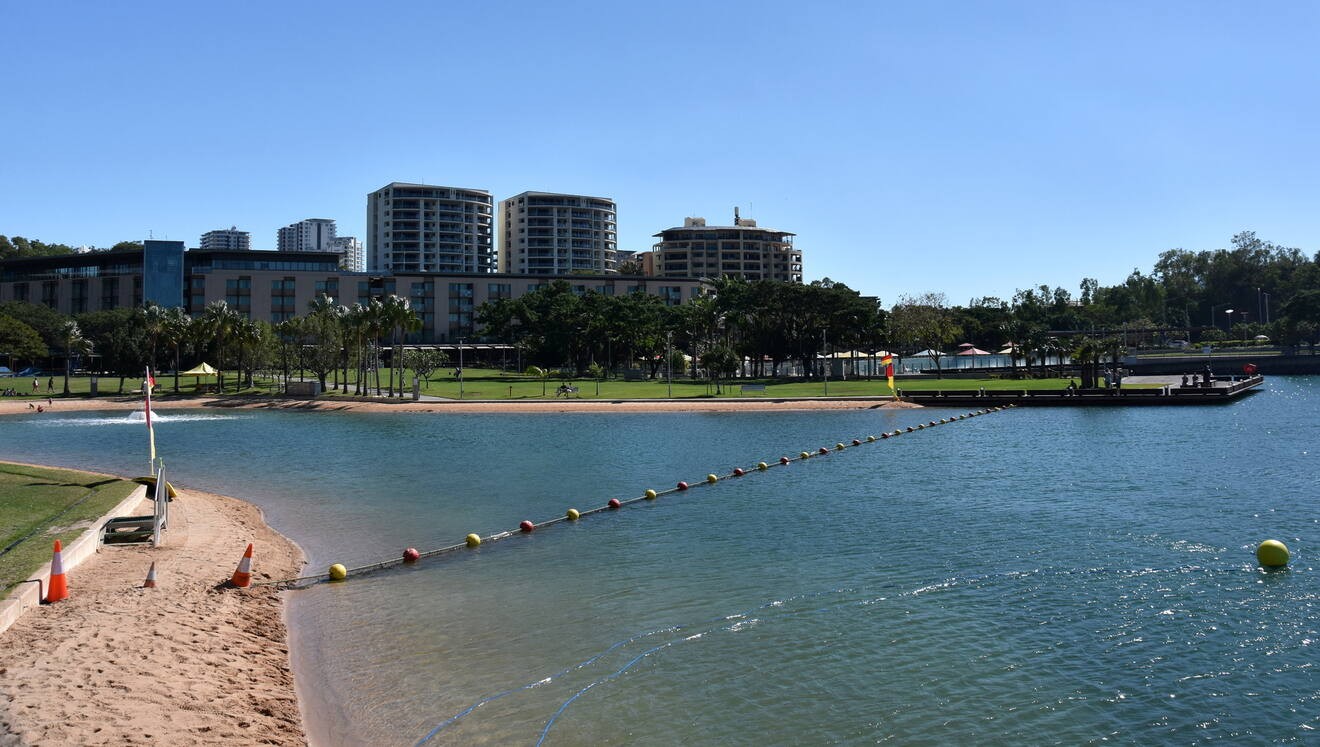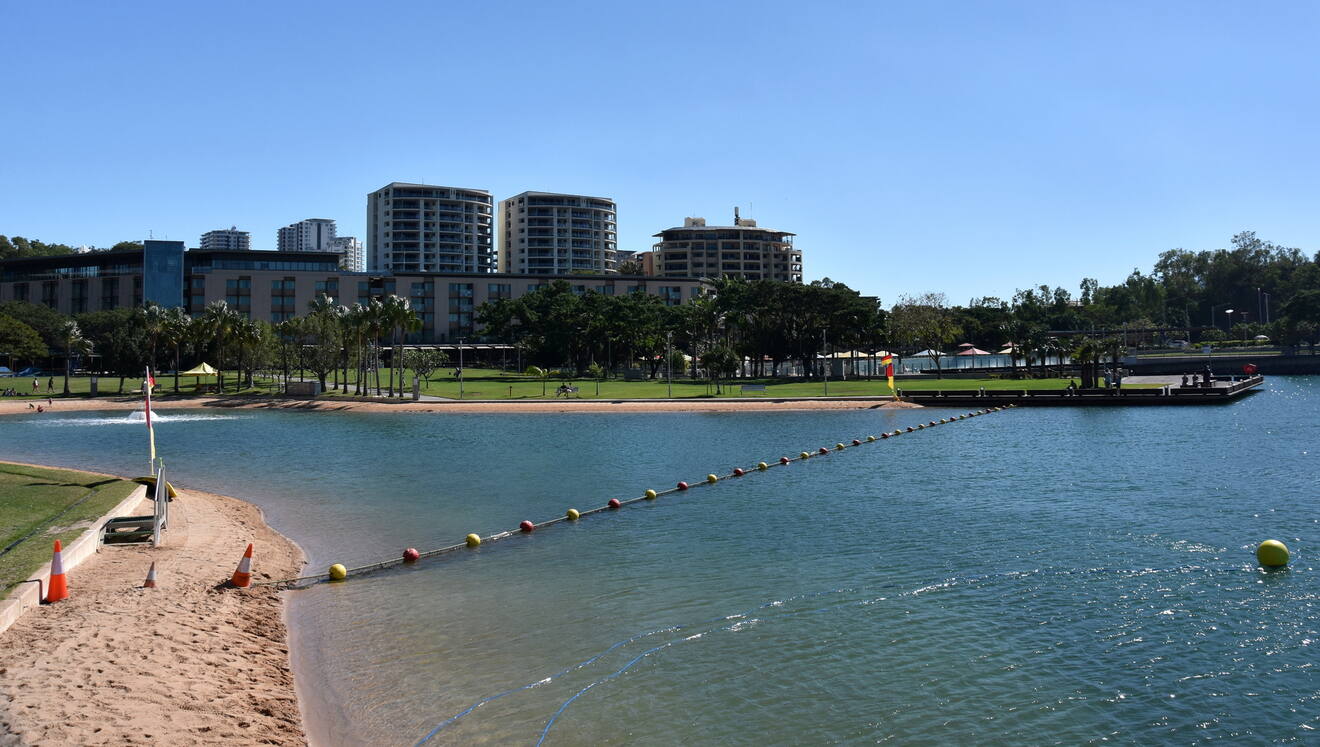 Getting ready to head for a fun trip to Darwin city? Then come along because I'm about to dive in and explore the best places where to stay in the capital Northern Territory, Australia! Featuring some pretty iconic landscapes for a city of its size, Darwin CBD (Central Business district) is certainly the best place to stay for those visiting for the first time!
You shouldn't let the fact that the city is considered the smallest one in the country fool ya! There are so many things to try here, plus Darwin serves as the gateway to Kakadu National Park, a unique place that you should visit!
But before we get all excited about day trips, let's see what the famous Central Business District is all about! The city's heart will naturally host some of the best restaurants, shops, and museums, and given that it's located waterfront, the views and beaches just make Darwin CBD one of the best places to stay during your holiday.
But if you've got your heart set on a hotel in the Central Business District, you should make sure you book it in advance. The city center is every tourist's first choice for accommodations, and the good ones will sell out! If you've already left it to the last minute, don't stress too much as I'm giving you many extra options to choose from in the CBD due to its popularity!
Other accommodation options in the CBD
1.1 Waterfront hotels in the CBD
The Darwin waterfront area offers an incredible view, and what better way to enjoy that than to wake up to it every day during your trip to the Northern Territory! So if you look below, you'll find a list of the best waterfront hotels in the city for those of you who can't say no to a room with a view!
Other waterfront hotels in the CBD
1.2 Family hotels in the CBD
Are you heading with the whole crew to Darwin in the Northern Territory? Well, you'll have many things to do and see, but for that, you'll need super comfortable accommodation that will have all the facilities you need.
It's pretty hard to find the perfect place where to stay in Darwin with the family, especially in the city center, but I'm here to help you and offer you a carefully curated list of the best hotels.
Other family accommodation in the CBD
Things to do in the CBD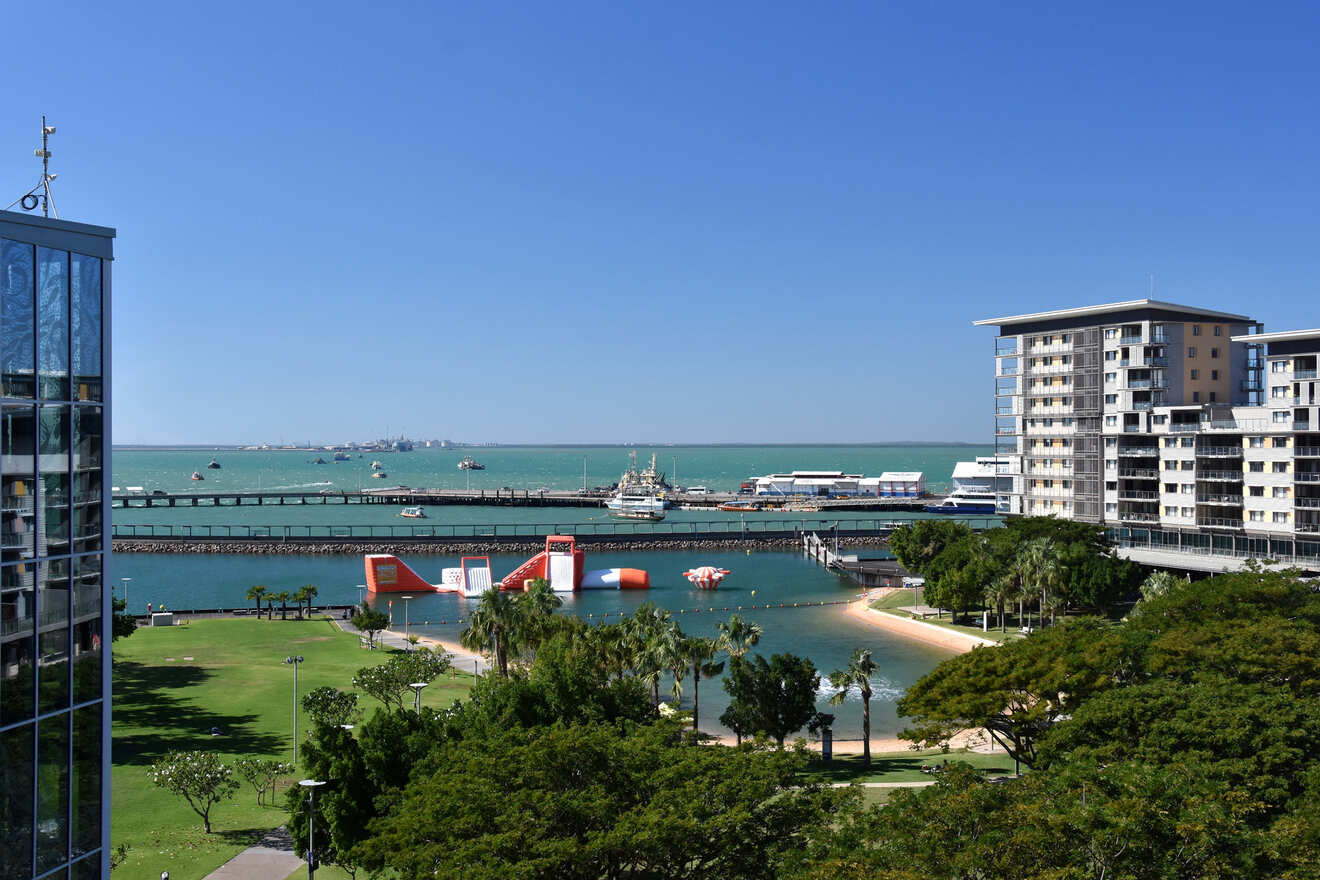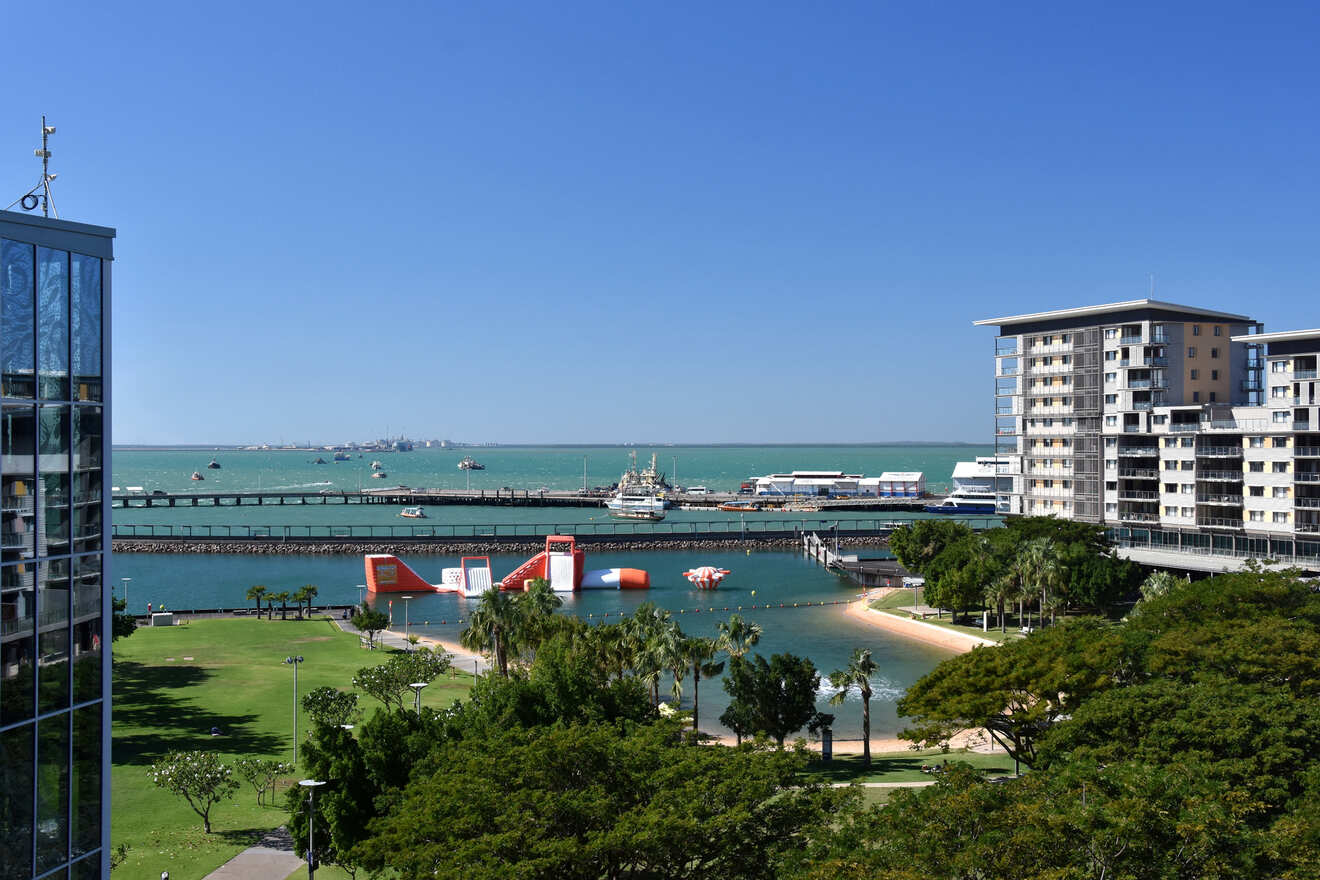 Swim with the crocodiles at Crocosaurus Cove
Enjoy the restaurants near Darwin's Waterfront Precinct
Grab some fish & chips from Stokes Hill Wharf
Enjoy the nice weather at Darwin Wave Pool
Take a walk around Bicentennial Park
Relax on Lameroo Beach at night
Head to Cullen Bay, the posh area in Darwin
Visit the House of Government in the city center
2. The Gardens & Mindil Beach – best placein Darwin for beach lovers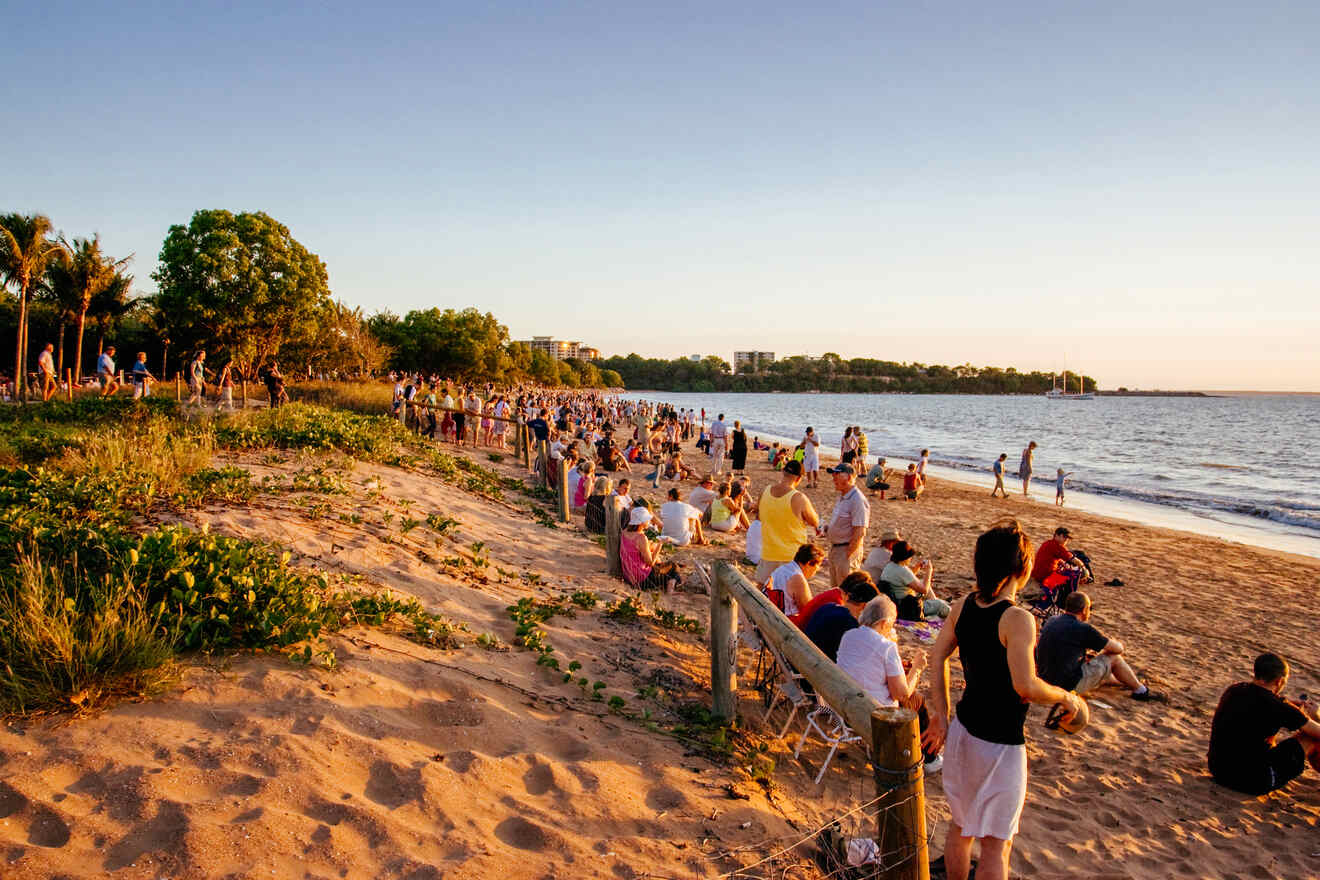 Located 2 miles (3 km) northwest of the Central Business District, this area is a suburb of Darwin, and it was named after the Botanical Gardens, which are located here.
If you love sunbathing, swimming in the ocean, and chilling on the sand, I recommend finding a place to stay in The Gardens neighborhood, as the city's most famous and visited beach is also located here.
Mindil Beach hosts the Mindil Beach Sunset Markets, which take place during the dry season between May and October, so you're super lucky if you're planning a visit to Darwin, Australia, during those months! There's nothing like a bit of time by the ocean to make you feel like you're on holiday, and I love night markets. I think they're a super fun place where you can eat, drink, and buy some cool souvenirs.
If this area sounds like your kind of place, then I highly recommend booking your Darwin hotels in The Gardens & Mindil Beach! And if you're looking for some cool day trips that you can take from Darwin, check our post, there are many interesting spots, including national parks and islands!
Other options in The Gardens & Mindil Beach
Things to do in The Gardens & Mindil Beach
Swim and sunbathe at Mindil Beach
Visit the George Brown Darwin Botanic Gardens
Explore the Cullen Bay area nearby
Search for souvenirs at Mindil Beach Sunset Markets
Check out the historical Burnett House
Have some cake at Eva's Cafe in The Gardens
3. Parap – where to stay in Darwin for foodies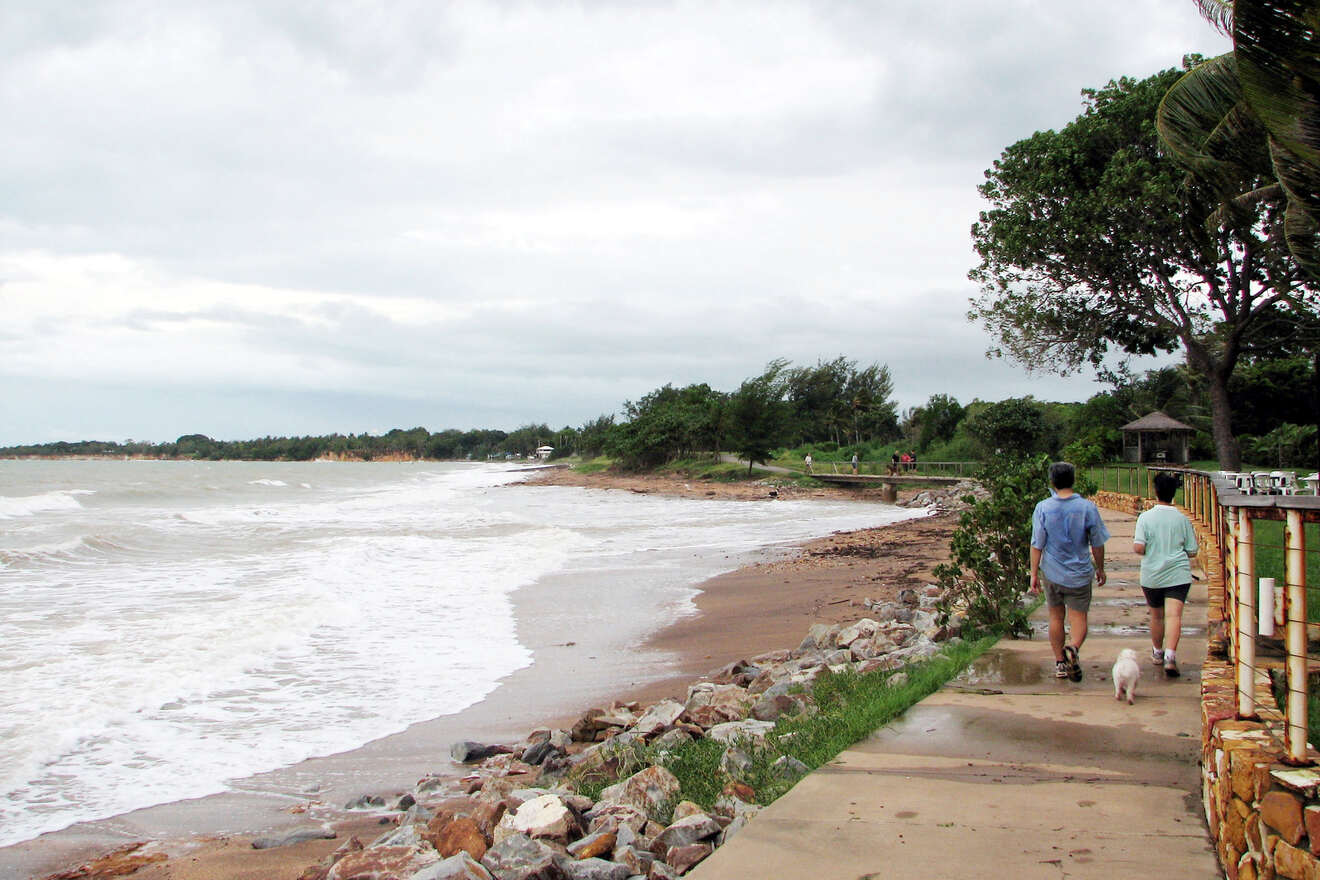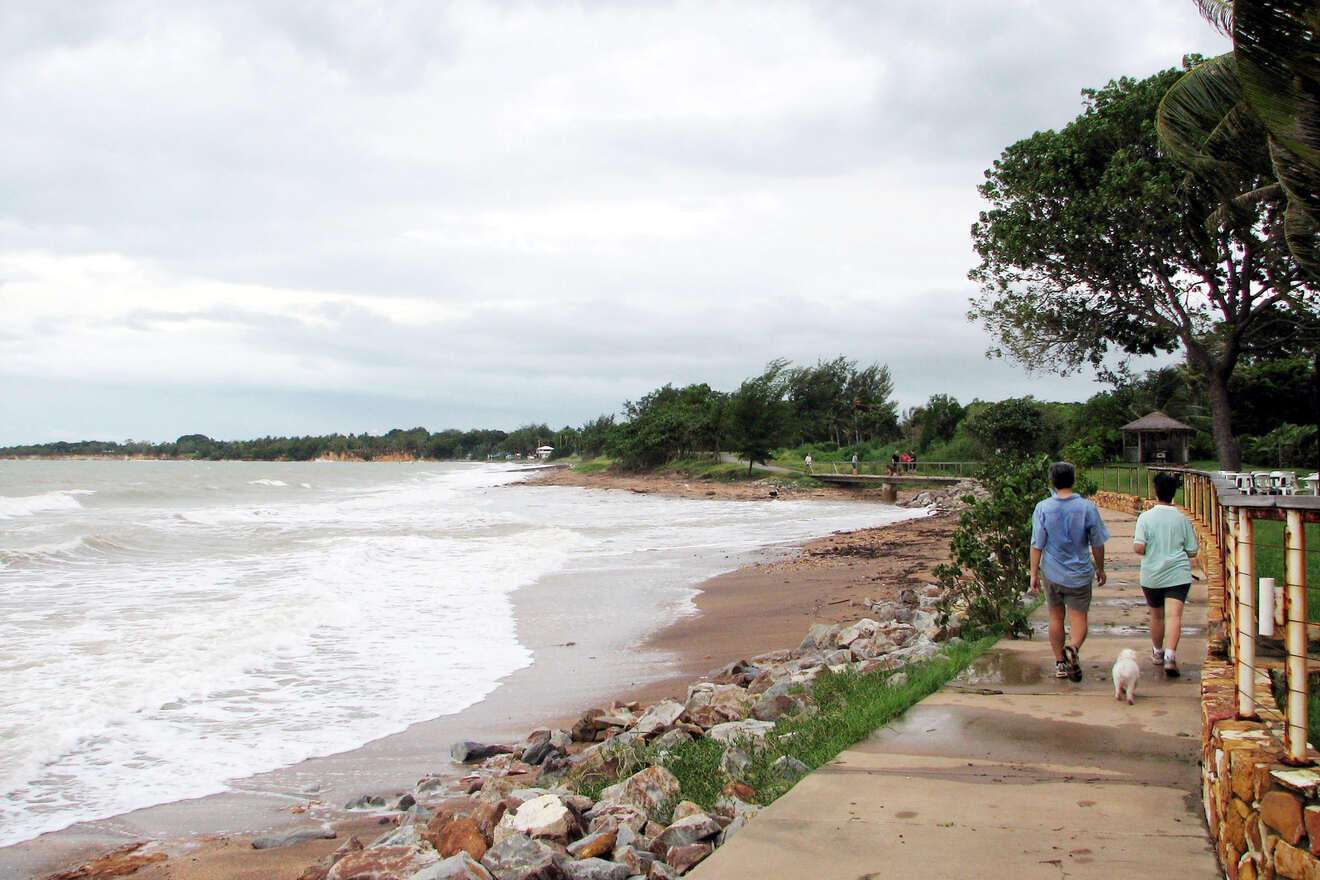 Located 3 miles (4 km) northwest of Darwin city center, Parap is also a suburb and a great spot to look for accommodations during your holiday, especially if you love food as much as I do!
Known for its local market, one of the oldest ones in Darwin, Australia, this neighborhood has a laid-back atmosphere, which maybe because it's a bit further away from the city center. So if you're looking for an area where you can chill, eat and just enjoy the city's charm, you've come to the right place.
Parap village market is considered the perfect spot to have a breakfast get-together by the locals! So if you're an early bird, get ready and hit the market stalls as early as you can. It's not only food that you'll find there but also arts and crafts, which will make great souvenirs for your loved ones back home.
As you explore around you'll also find an interesting art center and a really cool car museum which is located in an old hangar (it's definitely a great place to take some pictures)!
Other accommodation options in Parap
Things to do in Parap
Search for goodies at the local village market
Check out the vintage cars at 1934 Qantas Hangar
Chill on Vesteys Beach
Go on a tour of Litchfield National Park from Darwin
See the cool art at Outstation Gallery
Take a trip to Cullen Bay
Visit the Museum and Art Gallery of the Northern Territory
4. Nightcliff & Coconut Grove – best place to stay near Darwin airport

Located 6 miles (10 km) northwest of Darwin city center, these 2 suburbs are great places to find hotels if you want to stay near the airport.
Maybe you're in Darwin for a layover, or just a short time before you head to some other cool destination in Australia, either way, booking accommodation near the airport will save you a lot of time.
Both areas are located just 3 miles (5 km) away from the airport and offer a great variety of hotels. I think you should also take some time to explore the neighborhoods even if you're in town only for a short while! I mean, Nightcliff has a beach!
What better way to kick off your Australian trip than with a few hours spent on one of the country's beaches. The surroundings there are stunning, especially in the morning and at night. There are also a few parks in Nightcliff that are great spots for people who just want to spend some time in nature, exploring and getting to know the Northern Territory and its unique places.
Let's search for the best hotels in these areas!
Other accommodation in Nightcliff & Coconut Grove
Things to do in Nightcliff & Coconut Grove
Go for a swim at Nightcliff Beach
Explore the Foreshore Park
Catch a sunset at Nightcliff Jetty
Check out the Nightcliff local markets
Walk around Easther Park in Coconut Grove
BONUS: Best holiday parks for campervans & caravans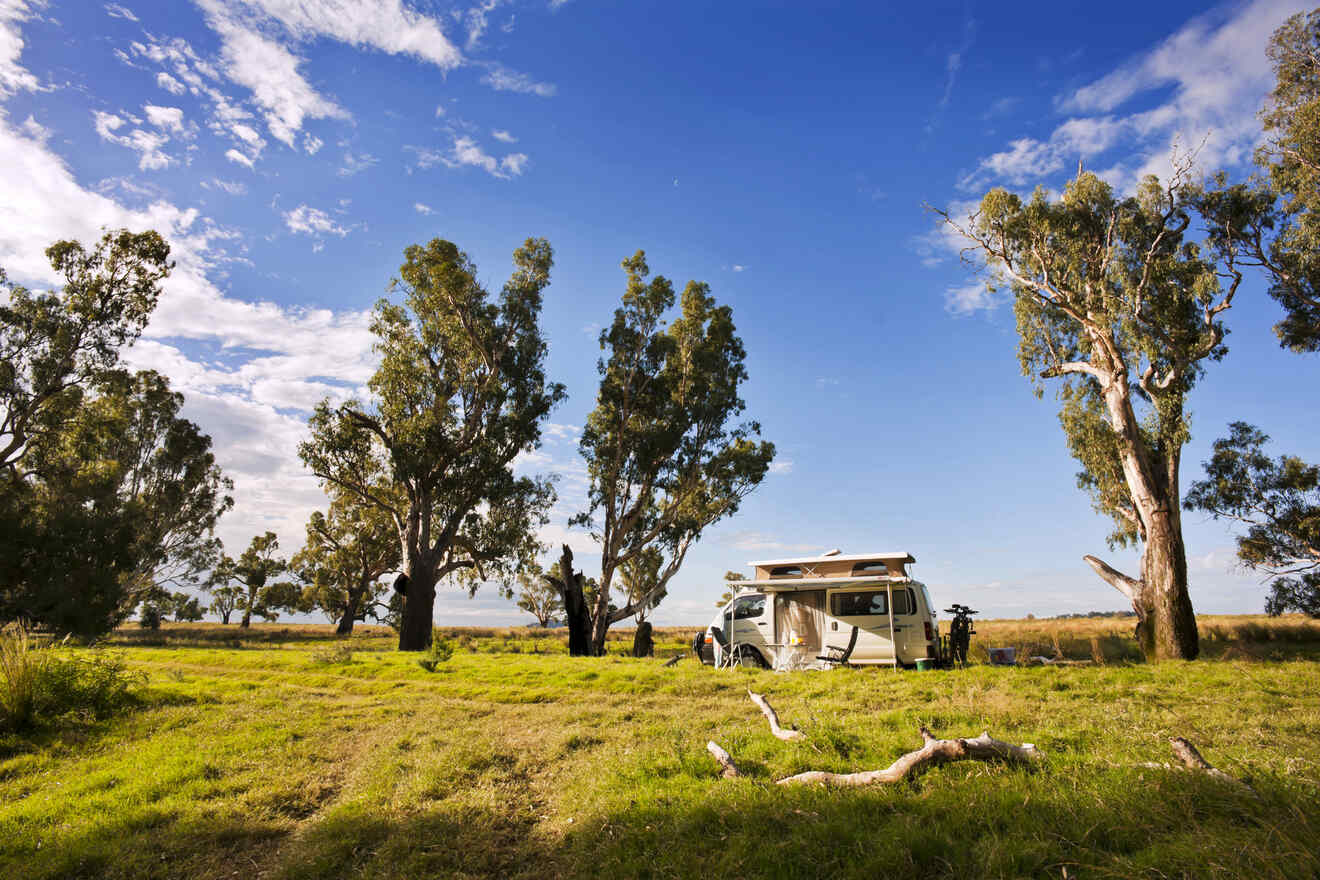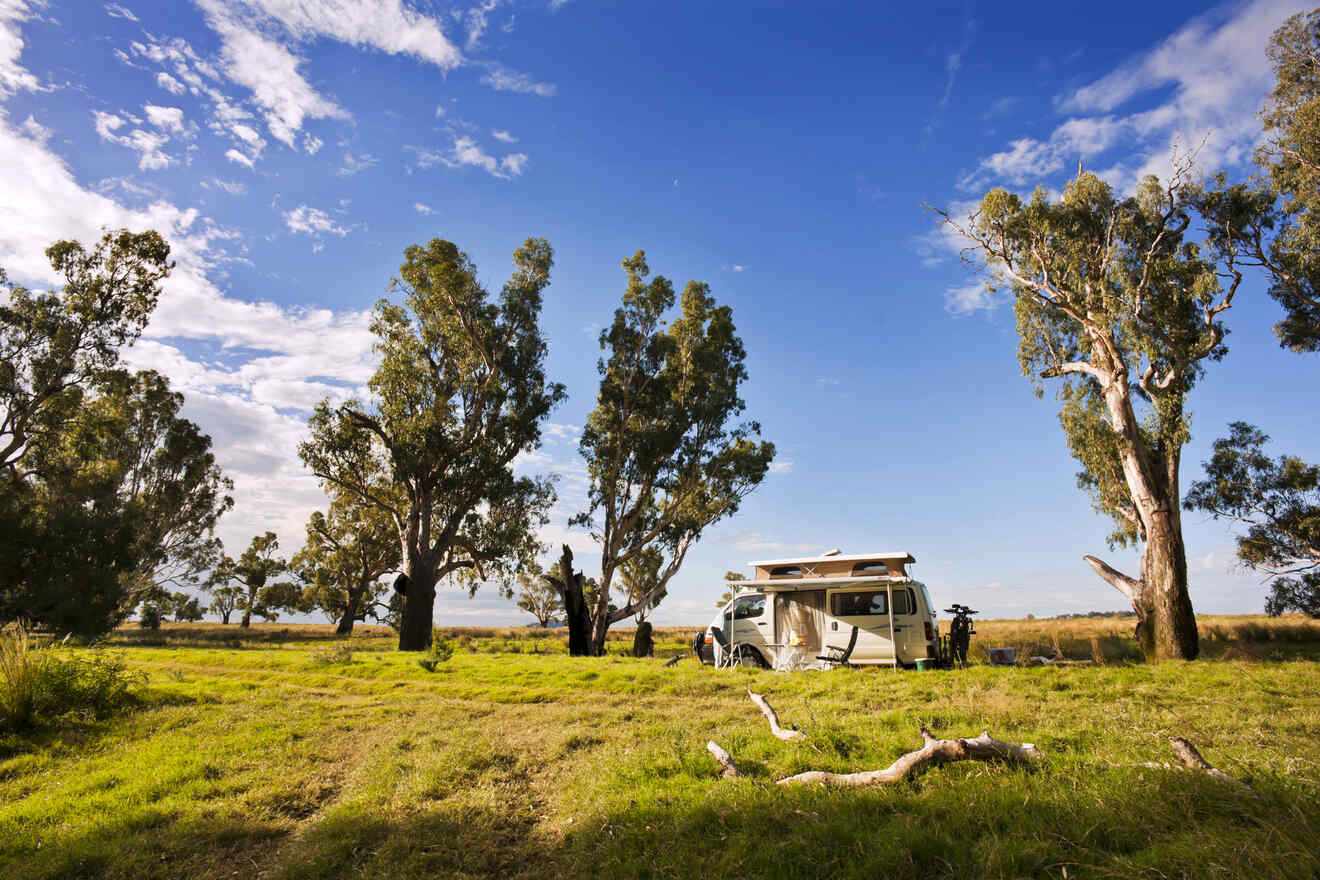 Heading on an Australian road trip and looking for somewhere to stay with your camper? Well, then I recommend you search for accommodation in one of the many caravan parks in the city!
Whether you're looking for campsites, cabins, or caravan, and RV parking, holiday parks are a great option, especially for a family vacation as they often have lots of fun extra facilities like epic playgrounds, pools, shared kitchens, and maybe even a games room!
Below you'll find a list of the best holiday parks for campervans and caravans where to stay in Darwin!
Frequently asked questions about Darwin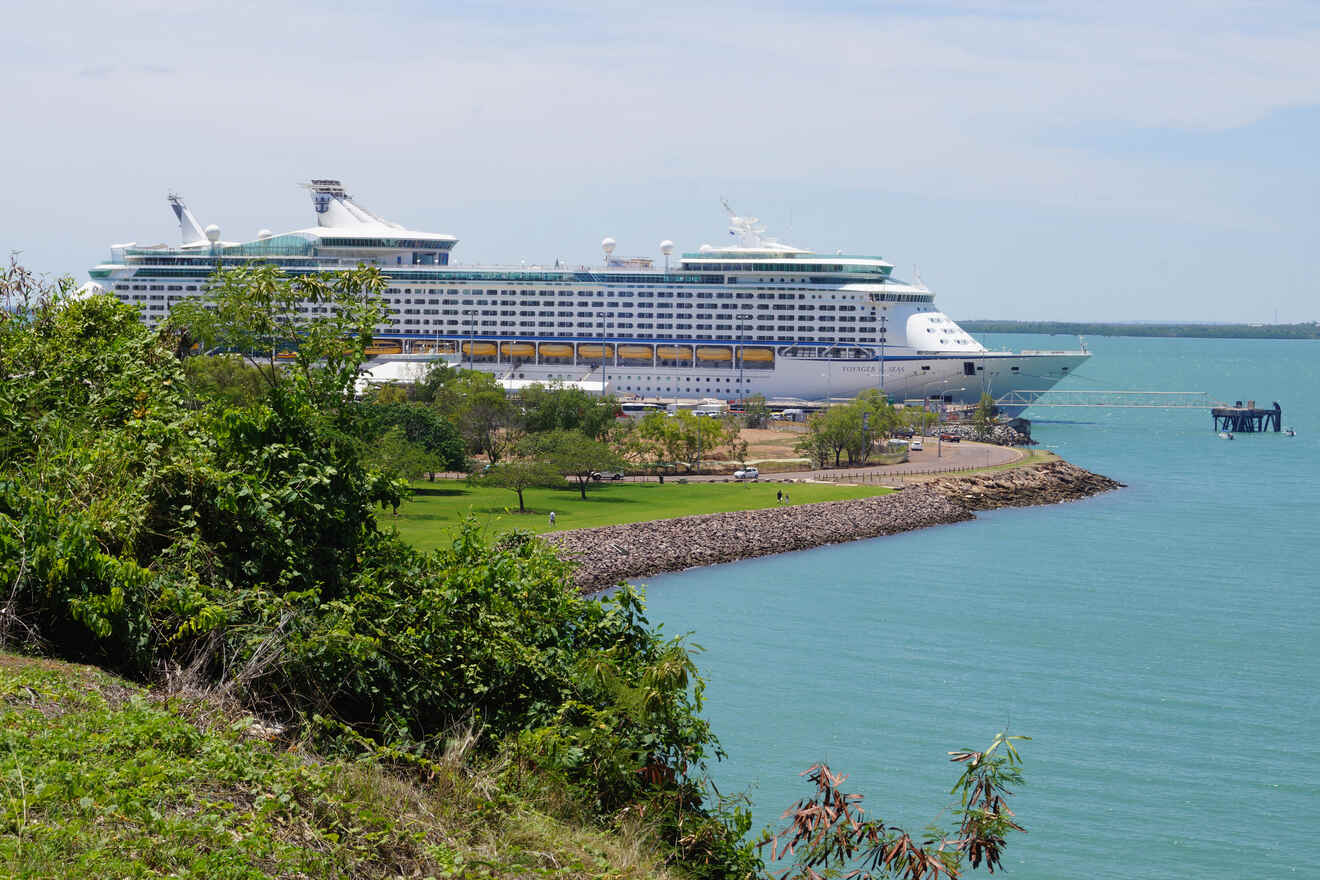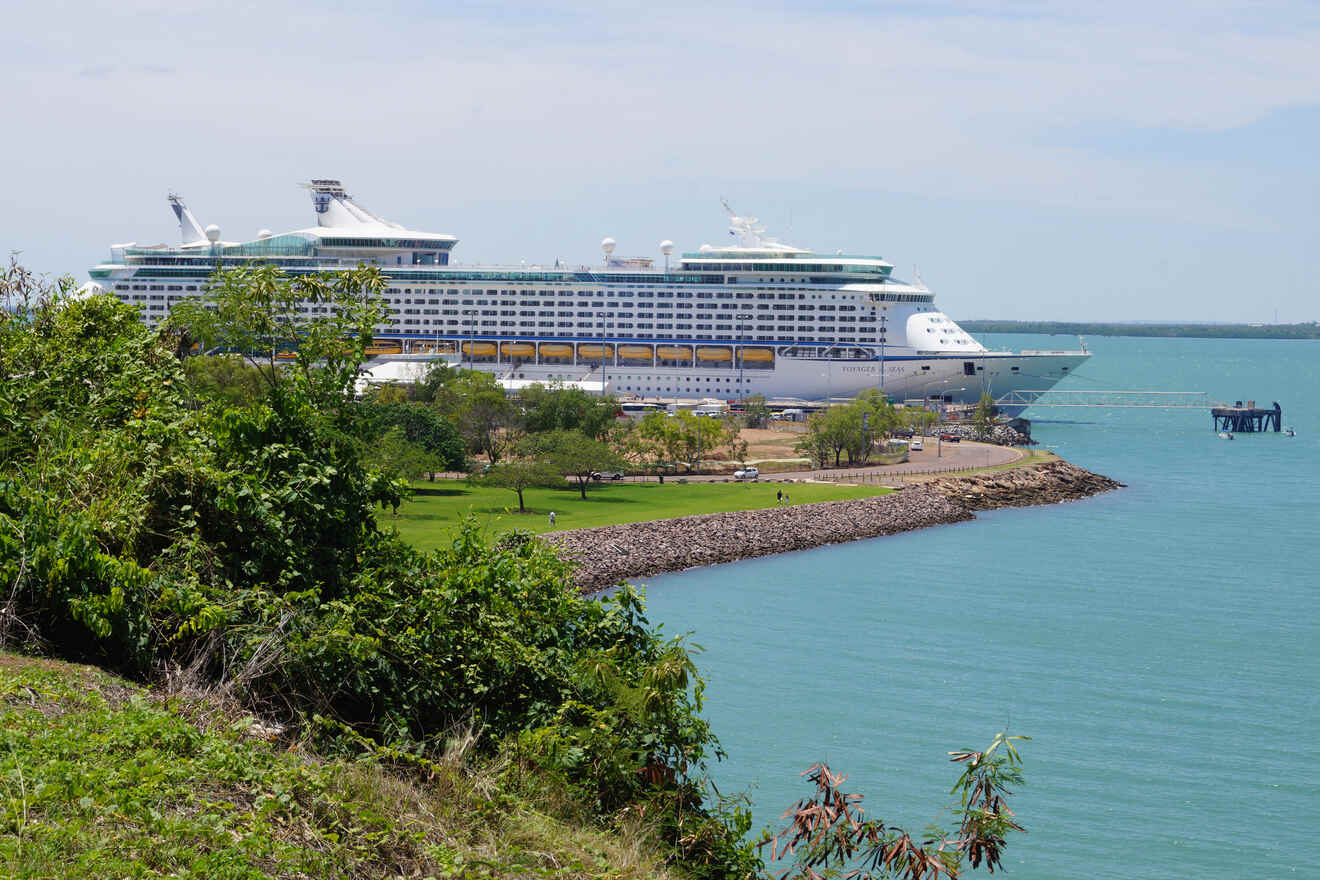 Conclusion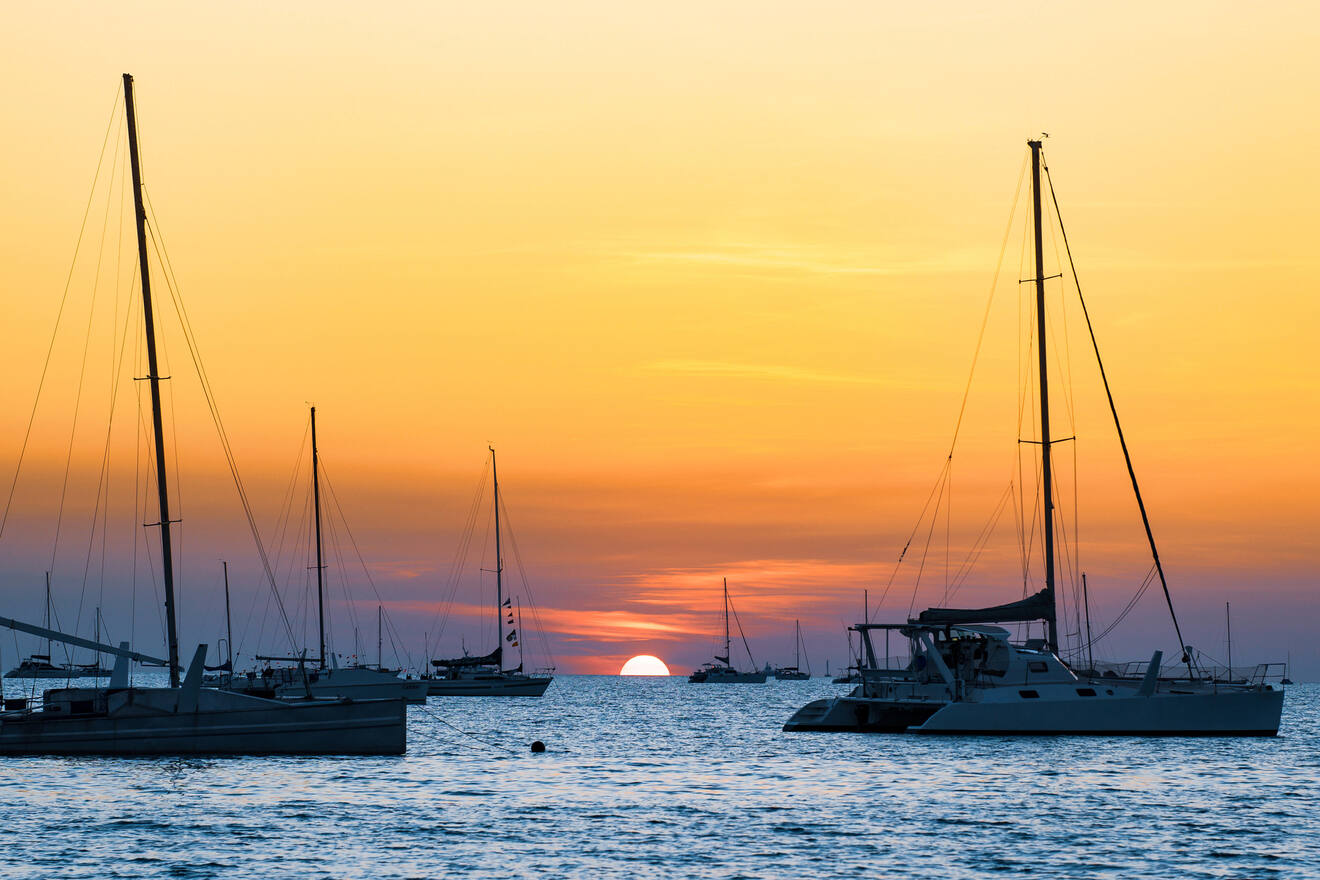 What an incredible adventure! I hope this post helped you decide where to stay in Darwin Australia and which hotels to pick.
It might be hard to make a decision with such a long list of hotels at your disposal but to give you some extra help, here are my top 2 favorite spots both located in Darwin's CBD:
As I said earlier, Darwin city is a super famous location, so I highly recommend booking your hotels in advance if you want to get your hand on the best deals and prices.
Have a fantastic trip to this stunning city! Visit all the markets, national parks, and beaches! I'm sure you'll love it! If you have any questions about Darwin, Australia, leave me a comment below, and I'll answer it as quickly as I can!
Enjoy your adventure,
Victoria